Transportation Options at Disney's All-Star Resorts (Movies, Music, and Sports)
This article details the transportation options at Disney's All-Star Resorts.
"We are never going to make it on time!" These words from a frustrated father echoed as we stood in line waiting for the bus at All-Star Sports.
It's the kind of phrase I've become accustomed to hearing during my travels around Walt Disney World. Often, I think to myself, how are they possibly running late? They are on vacation.
But our real-life habits tend to follow us on vacation. Ironically, the money you made from that real-life job likely funded your vacation.
A vacation that's so expensive you ended up staying at one of Disney's All-Star Resorts to help balance the budget. With that budget-conscientious decision comes a lack of amenities, including only having access to one form of Disney transportation at your resort.
Buses. Not the dreaded buses!
I'm only kidding. They are not that bad. We've stayed at the All-Stars plenty of times over the years.
So below, we'll go over the transportation options for Disney's All-Star Resorts. We'll look at where the buses go, when they begin running, and whether or not the All-Stars share buses.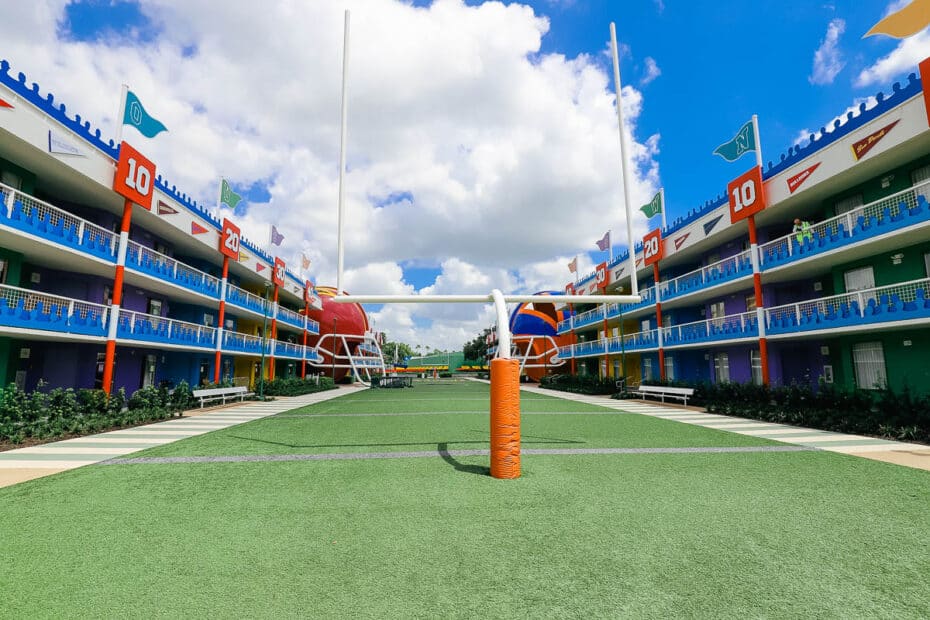 Bus Service at Disney's All-Star Resorts
When it comes to the All-Star Resorts at Walt Disney World, there are three options. Below, I've listed each resort by order of its location.
For the most part, the All-Star Resorts are laid out similarly. Each resort has one sole bus stop located on the front side of the lobby.
For example, here is a photo of the bus stop at All-Star Sports.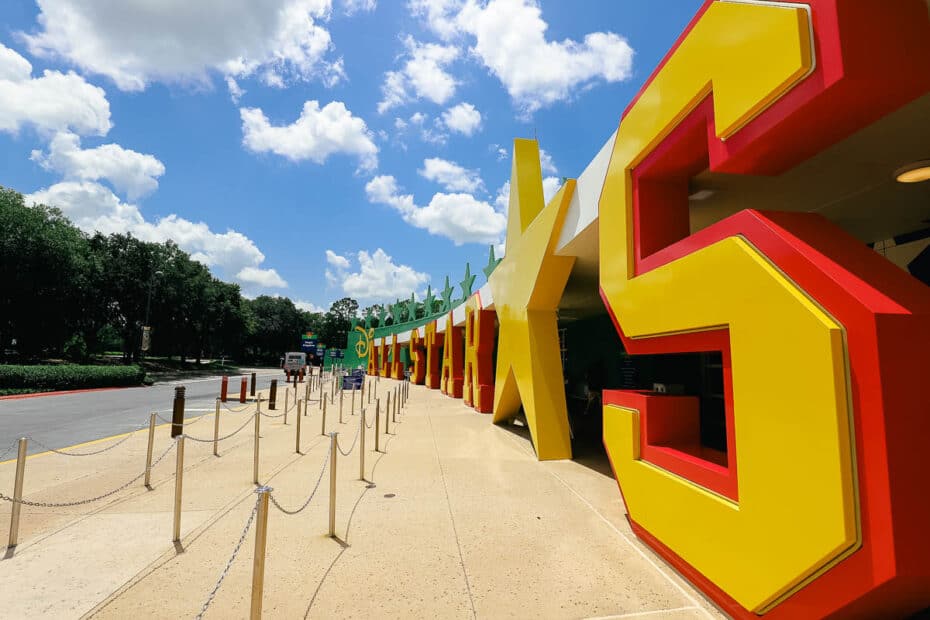 Here is All-Star Music's bus stop.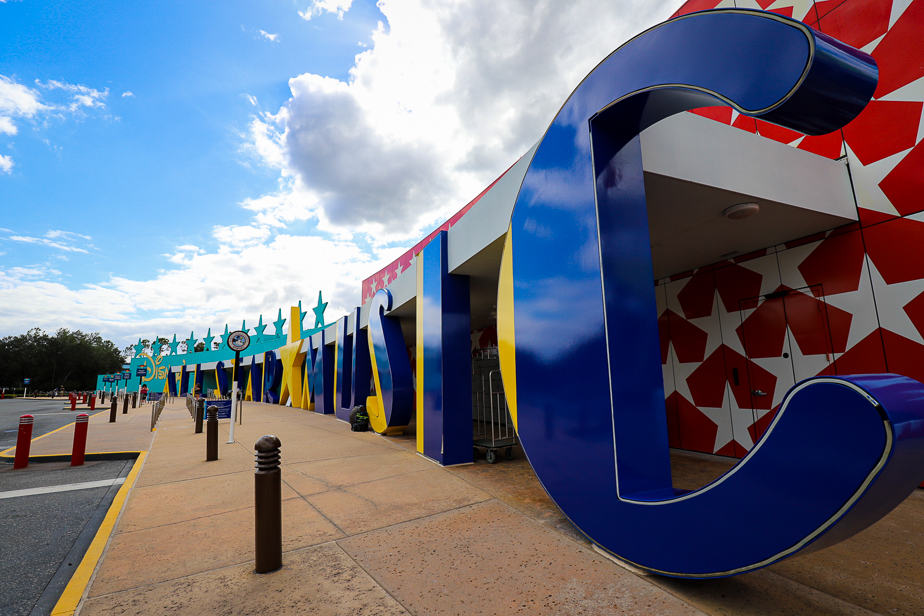 Finally, we have the bus stop at All-Star Movies. Notice a common trend?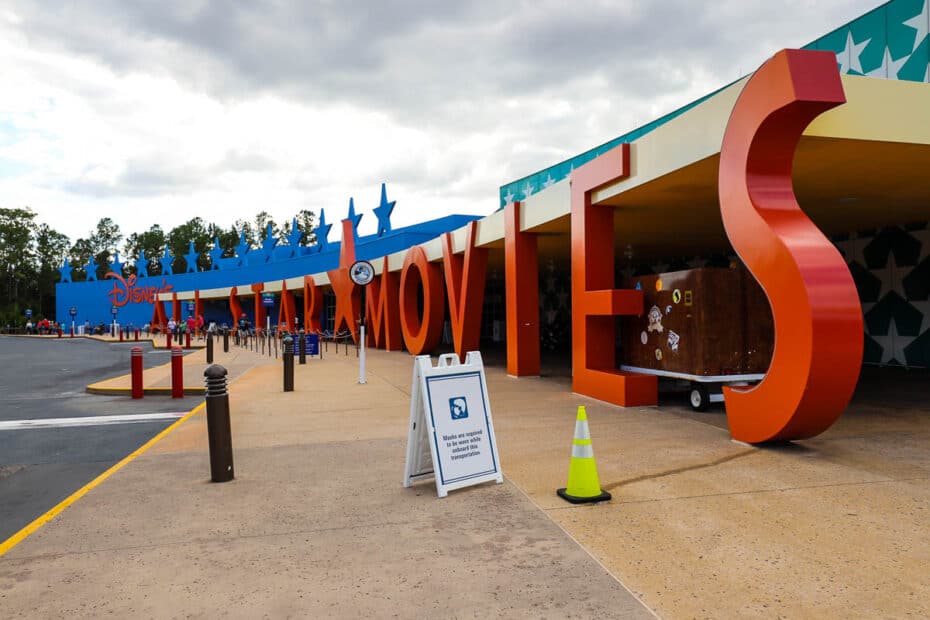 Each of the All-Star Resorts provides bus service to the following locations:
Magic Kingdom
Epcot
Disney's Hollywood Studios
Disney's Animal Kingdom
Disney Springs
Typhoon Lagoon*
Blizzard Beach*
ESPN Wide World of Sports**
*Take a bus to Disney Springs for Typhoon Lagoon. Then you'll transfer from Disney Springs to Typhoon Lagoon. You'll take a bus to Disney's Animal Kingdom for Blizzard Beach. Then you'll transfer to Blizzard Beach.
**You'll want to check with the resort during your visit to learn more about scheduled transportation to ESPN Wide World of Sports.
Screens are available at each bus stop indicating when the next bus is expected to arrive. However, these times fluctuate based on the bus's proximity to the resort.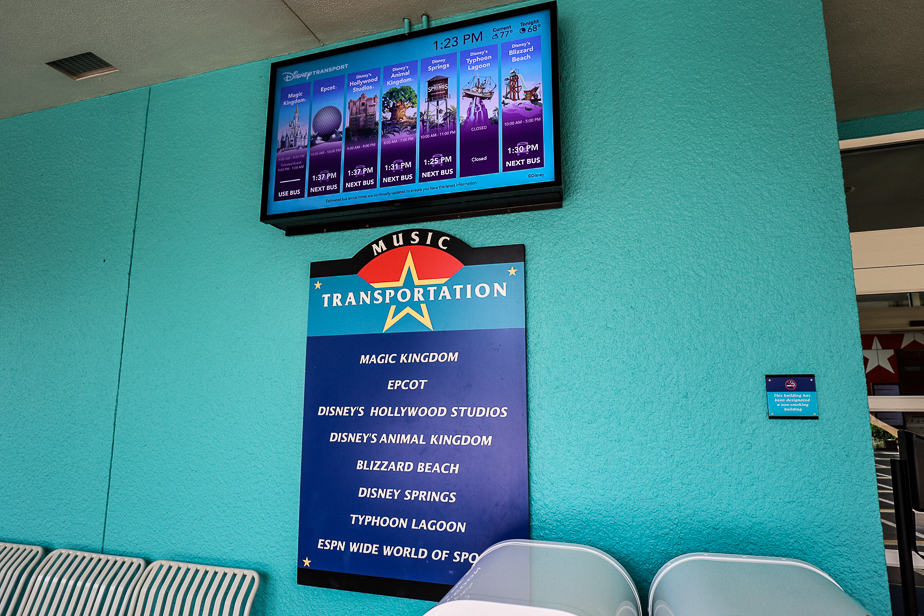 Each destination has a roped-off queue. One year during the Christmas holidays, my son thought he would jump one of the chains when the bus arrived.
Suffice it to say, we're lucky we didn't spend Christmas in the hospital. It was not pretty.
And I'm only mentioning this in case you would like to share this story with your child in an attempt to warn them. I'm still unsure what caused him to think he should jump the rope.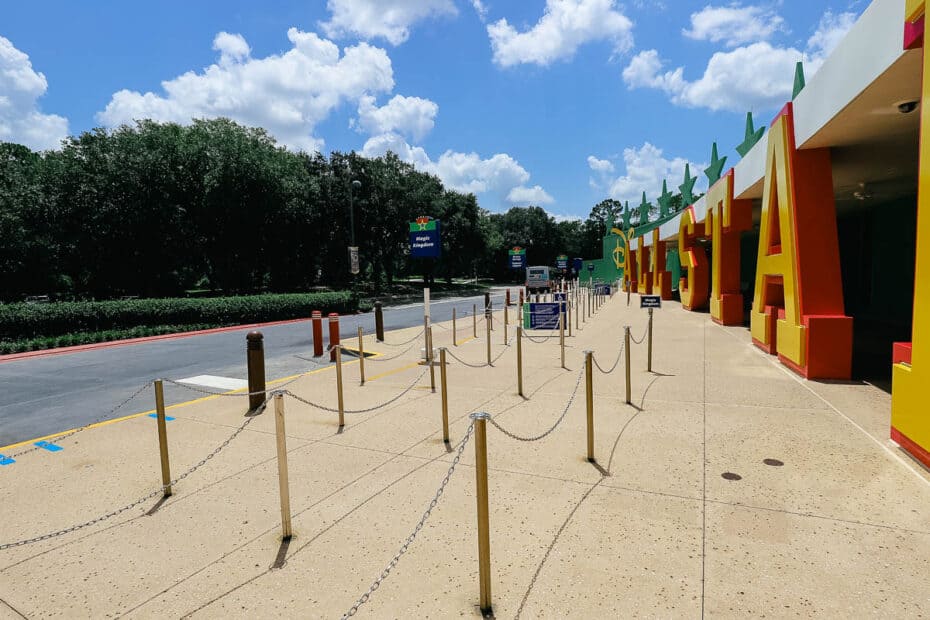 Buses begin running approximately one hour before the park opens. So if a park opens at 8:00 a.m., buses for that park should begin running at 7:00 a.m.
Additionally, while the early morning park benefit is available, resort guests can enter a park a half hour before it opens. So if the park opens at 8:00 a.m., resort guests can enter the park at 7:30 a.m. In this case, buses should begin running at 6:30 a.m.
During the busier times of the year, especially in the mornings, there are long lines for the buses. However, during the slower times of the day, the queues look like the photo above.
While the queue looks empty, several guests are waiting in the shade, hidden behind the large letters. When their desired bus arrives, they'll join the queue as returning guests unload.
Now the most commonly asked question for transportation at these resorts is…..
Do the All-Star Resorts share buses?
Yes and no. Unfortunately, there's never an easy answer to these types of things.
On my last stay at All-Star Sports, the buses ran on this schedule:
Mornings (Buses were not shared with other resorts.)
Late Mornings through Early Evenings (Buses were shared with other resorts.)
After 5:00 p.m. (Buses were not shared with other resorts.)
One afternoon during my stay, I left All-Star Sports at 12:10 p.m. to travel to Epcot.
After loading the bus, we stopped at All-Star Music and All-Star Movies. At one of the stops, the bus driver had to unload a scooter, which took a few extra minutes.
It was 12:31 p.m. when we arrived at Epcot. Overall it took approximately 21 minutes to travel from the All-Star Sports to Epcot when the bus stopped at multiple resorts.
Later that afternoon, while waiting to return, a bus for All-Star Movies pulled up next to the All-Star Sports bus stop. So before boarding, I asked the driver if she would stop at all the resorts on the way back.
She told me that Disney tends to split the buses up in the mornings and late afternoons. But in the slower times of the day, when fewer guests are coming back and forth, they almost always share buses.
She also mentioned that her manager had just sent a message over the radio that they would return to separate buses for each resort. This was at approximately 5:00 p.m.
So I took the bus to Movies, then walked back to Sports. My reasoning for doing this was that I needed to take a few photos on the way.
However, I wouldn't recommend you do the same unless you want to see the different resorts. It's a long walk and won't save you any time. Plus, you have to cross over the parking lots between each resort.
Finally, you'll likely see super-size buses servicing the All-Star Resorts during busier times.
These buses tend to appear during the holidays or late in the evening when everyone's leaving the park. So if you're toward the back of the line, you'll probably still get to board when these larger buses are operating.
Trust me, you'll know if you see one. They are huge!
Hopefully, this article gave you an idea of how the buses work at Disney's All-Star Resorts. While you're stuck with buses at the All-Stars, you can always take other forms of transportation around Walt Disney World.
The following guides will help you get started:
Oh, and about that guy who was running late? We got nearly all the way to Animal Kingdom, and his wife realized she had forgotten something.
They were only in a hurry because they had gotten to the park later than expected. His frustration turned to worry as I overheard him ask how they would find each other if she returned to the room.
Thankfully, I was sitting nearby. So I suggested they explore the Oasis area near the front of the park while they waited for her to return.
Those things are not a big deal for someone who visits the parks regularly. But for someone who doesn't visit often, theme parks can be overwhelming.
I totally get it. So in the event, you get turned around, confused, or realize that maybe you didn't plan things out as well as you should have, ask someone for help.
There are plenty of people at Walt Disney World, guests and cast members alike, who would be more than happy to get you going in the right direction.
And if you're running late for a Lightning Lane or a Dining Reservation, it's not the end of the world. When you get to your destination, explain what happened to the cast member.
So far, it's been my experience that Disney is forgiving and will work you back into the rotation.
In the comments
Do you have any other questions about the transportation options at the All-Star Resorts? Did you find this article helpful?