Transportation Options at Disney's Coronado Springs
Disney's Coronado Springs Resort offers one sole form of transportation–Disney buses. As a matter of fact, Coronado Springs is the only moderate resort at Disney World offering only one form of transportation.
For example, Caribbean Beach is home to the central Skyliner station in addition to buses. Disney's Fort Wilderness has a boat that runs back and forth to Magic Kingdom. And the Port Orleans Resorts provide boat service to Disney Springs.
On the forefront, it might seem that the lack of transportation at Coronado Springs doesn't warrant an entire blog post. But after you arrive at the resort, you may think differently.
You see, Coronado Springs is a mammoth of a resort. It's so extensive that the resort offers an internal bus service that makes four stops before it comes full circle.
So for this article, we'll look at the need-to-know details for transportation at Disney's Coronado Springs. Additionally, we'll discuss travel times to and from the resort to the theme parks, water parks, and Disney Springs.
I'll also provide a few tips for getting to other resorts from Coronado Springs for dining reservations.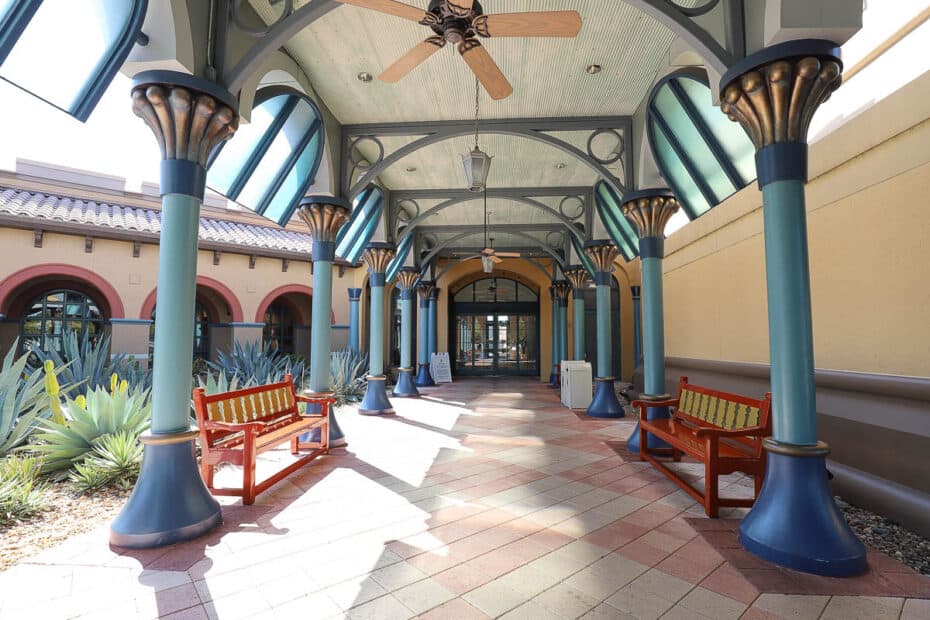 The Bus Stops at Coronado Springs
Coronado Springs has four bus stops spread out over the resort. When a bus arrives at the resort, it travels to the back entrance and stops in the following order:
Bus Stop 2 (Casitas)
Bus Stop 3 (Ranchos)
Bus Stop 4 (Cabanas)
Bus Stop 1 (El Centro and Gran Destino Tower)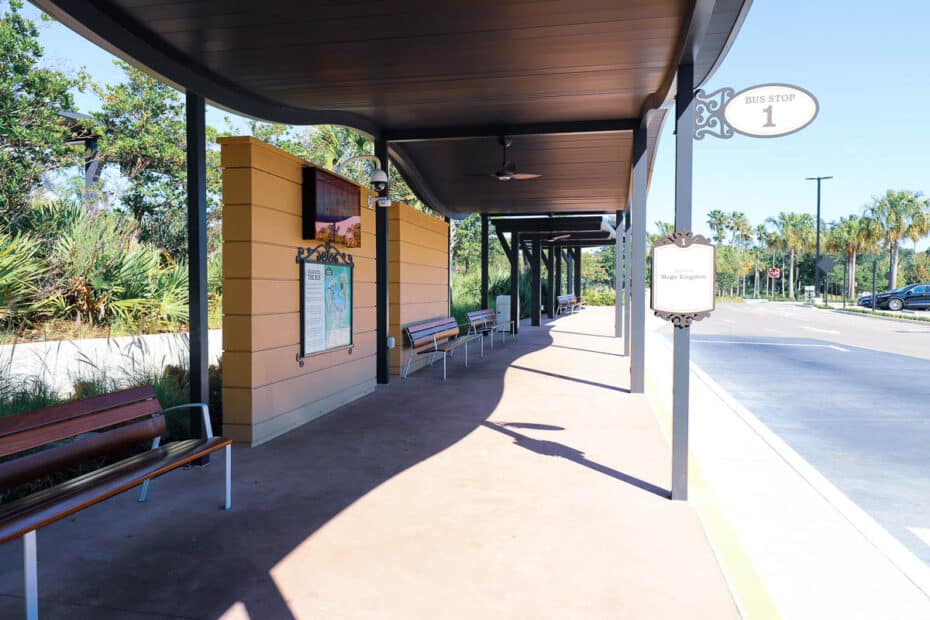 You'll want to access the bus stop nearest your room in most cases. However, you might exit or board the bus at other locations for various reasons in some instances.
For instance, you could mobile order food from El Mercado on your way back to the resort. In that case, you would want to exit the bus at El Centro, where El Mercado is located.
Related: El Mercado Food Court at Coronado Springs
Or you might have breakfast one morning at Rix Sports Bar before heading out to the parks. Then, if you didn't need to go back to your room, you could take the bus from El Centro to the theme park.
There could be a time when you're on a bus that's so crowded you can hardly breathe. If I were on that bus, I would get off at the first stop and walk back to my room. You might elect to do the same.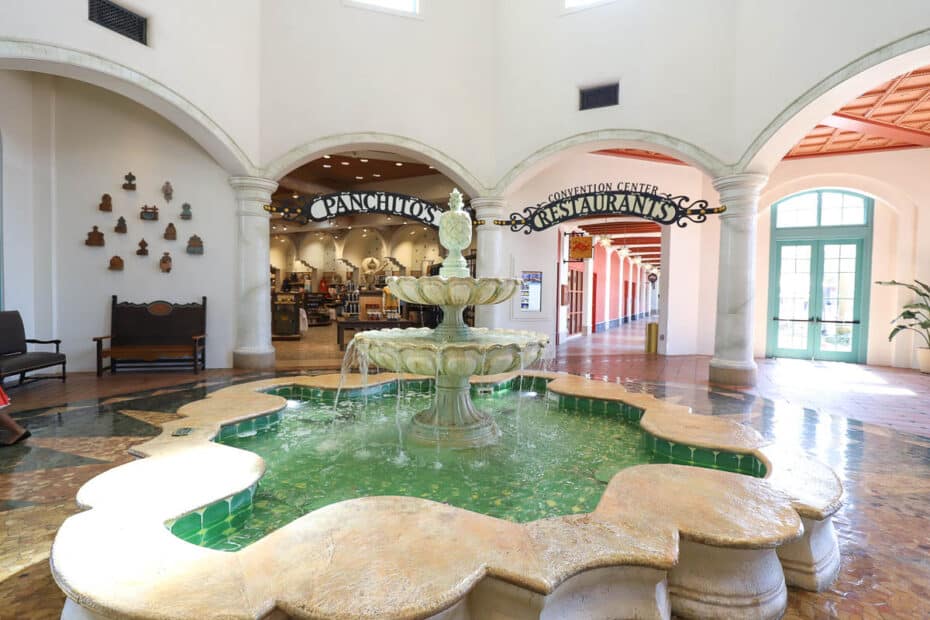 As you can see, there are numerous reasons for using the multiple bus stops at Coronado Springs to your advantage. So on a recent visit, I rode the entire way around the resort to get an idea of how long it takes.
Bear in mind that the time it takes at each bus stop is subjective to how many people unload and reload each bus. Additionally, there are circumstances where someone might have an accessibility need that could take longer.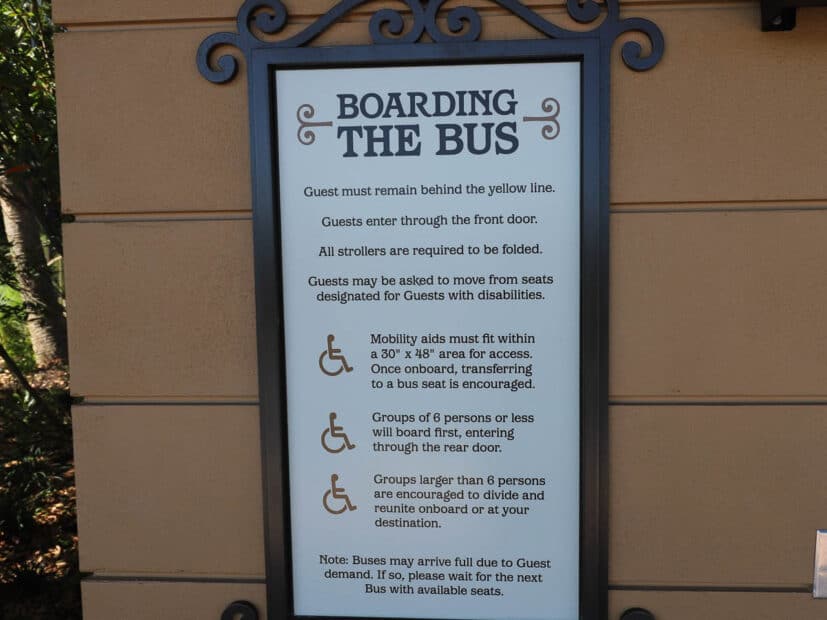 On this day, I arrived at the Casitas Bus Stop (2) at 4:29 p.m. There were approximately 15 other guests on the bus, so none of the stops were time-consuming.
After loading and unloading, we were at the Ranchos Bus Stop (3) at 4:31 p.m. Not too shabby, huh?
Then we arrived at the Cabana Bus Stop (4) at 4:33 p.m. Yes, I recorded these times in my notes as we made our way around the bus loop.
Lastly, our final destination was the El Centro Bus Stop (1) at 4:36 p.m. (This is also the stop for Gran Destino Tower.)
Related: Gran Destino Tower Review
So it took seven minutes to make it full circle around the resort. If this were around park opening or close, I would imagine this same route would average 10-15 minutes, given the extra crowds.
But that should give an idea of how long it will take between your bus stop and the point where the bus exits the resort to head to its destination.
Therefore, if you stay in the Casitas, you might have a fifteen-minute ride around the resort before ever leaving. I would factor in that time when deciding what time to leave.
Once you leave El Centro, traveling to the theme parks shouldn't take terribly long. Here are a few estimates of times between the resort and each park.
Anywhere you see the word exactly, that is the exact travel time I recorded:
Coronado Springs to Magic Kingdom (Approximately 14 minutes)
Coronado Springs to Epcot (Exactly 9 minutes on my last recorded visit)
Coronado Springs to Hollywood Studios (Approximately 8 minutes)
Coronado Springs to Animal Kingdom (Approximately 6 minutes)
Coronado Springs to Disney Springs (Approximately 12 minutes)
Those with plans to visit Typhoon Lagoon need to know that Disney is currently using a transfer bus for the water park. This means you'll take a bus to Disney Springs first.
Once you arrive at Disney Springs, you'll take a bus that transfers across the street to Typhoon Lagoon. In addition, you'll follow the same route on the way back.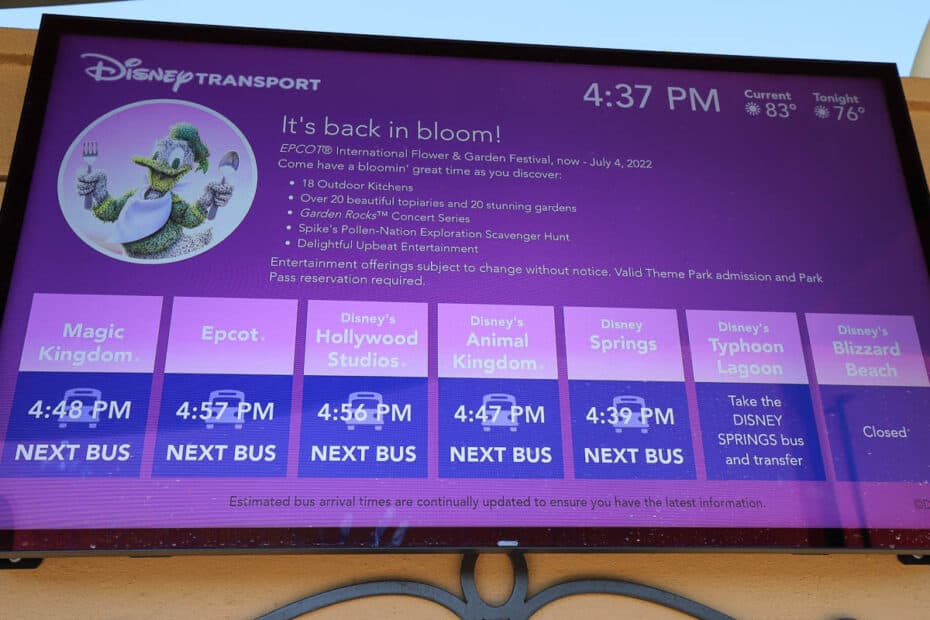 Traveling from Coronado Springs to Other Resorts
In addition to traveling to and from the theme parks during your stay, you might have plans to dine at other resorts. And if you're anything like me, you hope to use free transportation options to get to that dining reservation.
So I thought it would be helpful to provide a few tips for traveling to some of the more popular dining destinations. We'll start with Disney's Boardwalk Inn.
Disney's Boardwalk has several popular dining options like Flying Fish and Trattoria al Forno. You can browse them all in our list of restaurants at Disney's Boardwalk.
If you're headed to the Boardwalk from Coronado Springs, you'll want to take the bus from Coronado Springs to Disney's Hollywood Studios. When you reach Hollywood Studios, you can walk to the Boardwalk or take a Friendship Boat.
Related: Walking from Hollywood Studios to Epcot via the Boardwalk
You'll want to return to Coronado Springs in the same manner. However, if you're staying out past theme park hours, you might have to order a car service in the event bus service has concluded for the evening.
Those would be pretty late hours to keep. But the Boardwalk does have a few places geared toward adults that are open relatively late.
If you're traveling to the monorail resorts, you will have a few options. The monorail resorts are Disney's Polynesian, Grand Floridian, and Contemporary.
You'll take a bus from Coronado Springs to Magic Kingdom. At Magic Kingdom, you will have to walk through security, but then you can take the monorail or walk to the Contemporary.
Related: Disney World Monorail Guide
If you're visiting the Grand Floridian or Polynesian, you can walk, boat, or take the monorail. For example, you might take a boat over to the resorts and then walk or monorail on the way back.
Related: The Walkway from Magic Kingdom to Grand Floridian
Additionally, you'll take a bus to Magic Kingdom for Wilderness Lodge or Fort Wilderness. Once you arrive at Magic Kingdom, you'll take a boat to either resort.
However, you'll take a bus from Magic Kingdom in inclement weather since the boats quit running. Hopefully, you'll get to take the boat, though. It's a pleasant ride.
Related: Magic Kingdom Resort Boat Service
Final Thoughts on Transportation at Coronado Springs
Overall, Disney's Coronado Springs is a beautiful resort. Whether you're staying in one of the villages or Gran Destino Tower, there should be a bus stop reasonably close to your room's location.
As far as getting around the resort, when Coronado Springs was last refurbished, a bridge was built across the lake. The addition of the bridge allows guests to cut across the lake.
Everything is so much easier to access. The bridge will save you a ton of steps since you no longer have to walk around the parameter of the lake to reach your room, The Dig Site, or El Centro.
However, if you would prefer to ride around the resort to reach the front, you can hop on any bus and exit at El Centro. Just make sure to exit the bus when you reach the front of the resort.
For more information about staying at Coronado Springs, our guide lists all of our resort coverage.
Or you might enjoy these individual articles:
In the comments: Do you have any questions about the transportation options at Coronado Springs? Did you find this article helpful in planning your vacation?
Planning a Walt Disney World or other Disney Destination vacation?
Our friends and travel partner, Firefly Travels, excels at doing Disney differently. You can fill out a plan your trip form on their website, and someone will reach out shortly to discuss the specifics.