Transportation Options at Disney's Riviera Resort
When it comes to transportation at Disney's Riviera Resort, there are a few options. Those options include taking the Skyliner and using Disney's bus transportation system.
This article will go over best practices for using transportation at the Riviera Resort during your stay. Additionally, I'll provide tips for traveling from the Riviera to a few other resorts for dining reservations.
Since Disney's Riviera Resort is considered part of the Epcot Resorts area, you can easily travel from the resort to Epcot. Therefore, the resort is an excellent choice for those planning to spend a good deal of time at Epcot or utilize the park-hopper ticket.
Let's take a closer look at your transportation options.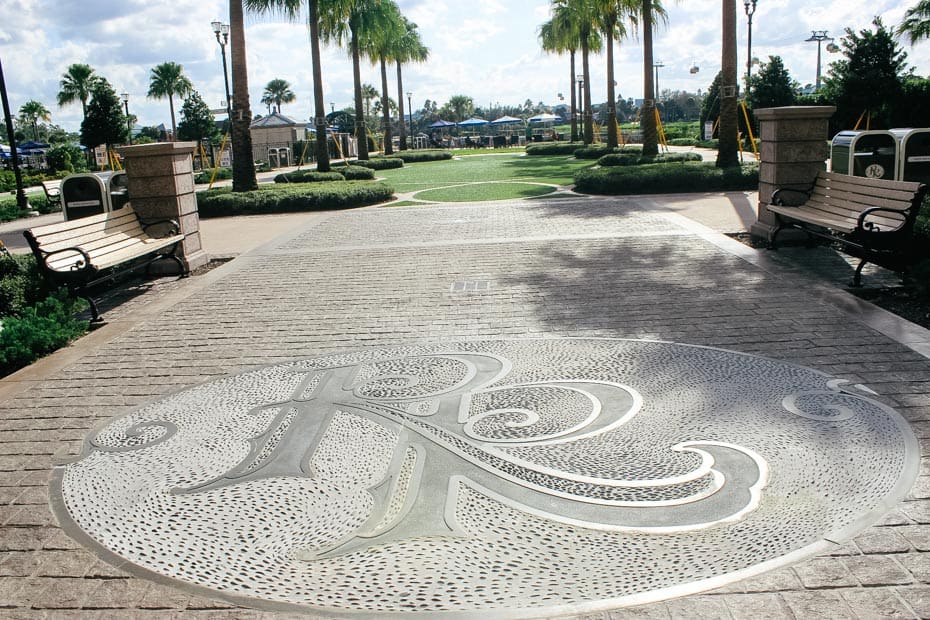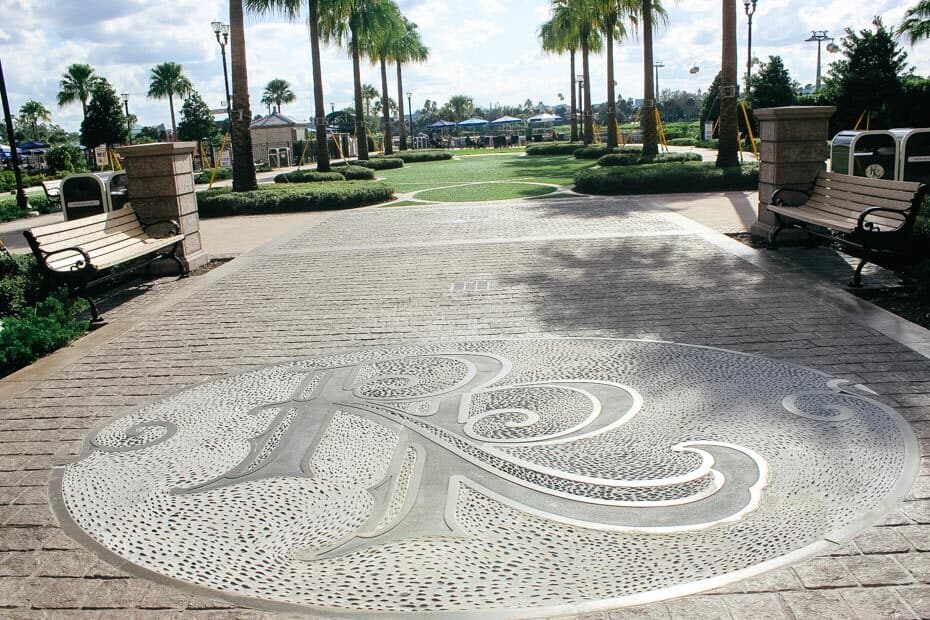 Skyliner Transportation at Riviera Resort
Guests of the Riviera Resort are privy to having a Skyliner station that sits immediately next door to the resort. Due to the resort's functional layout, the Skyliner is only a short walk away from most guest rooms.
From the Riviera, you can board the Skyliner to two locations. First, you can take the Skyliner from the Riviera directly to Epcot.
Secondly, you can take the Skyliner to Disney's Caribbean Beach Resort. Caribbean Beach is the central station that feeds all of the Skyliner lines.
When you arrive from Riviera at Caribbean Beach, you must exit the Skyliner and join another line. From Caribbean Beach, you can travel to Hollywood Studios.
Or, if you would like, you can travel to Disney's Pop Century Resort or Art of Animation. These two resorts share a Skyliner station.
The Skyliner usually begins operation about one hour before the theme parks open. Expect a significant line at busier times of the day.
The longest line is usually at Caribbean Beach in the mornings. With so many guests coming from Caribbean Beach, Pop Century, Art of Animation, and the Riviera on their way to Hollywood Studios, the line becomes extensive.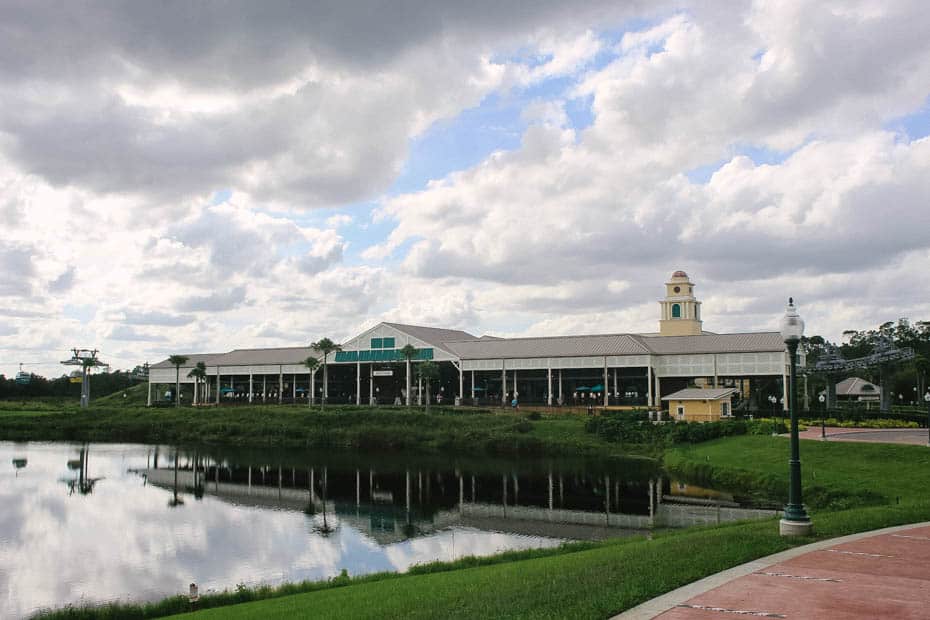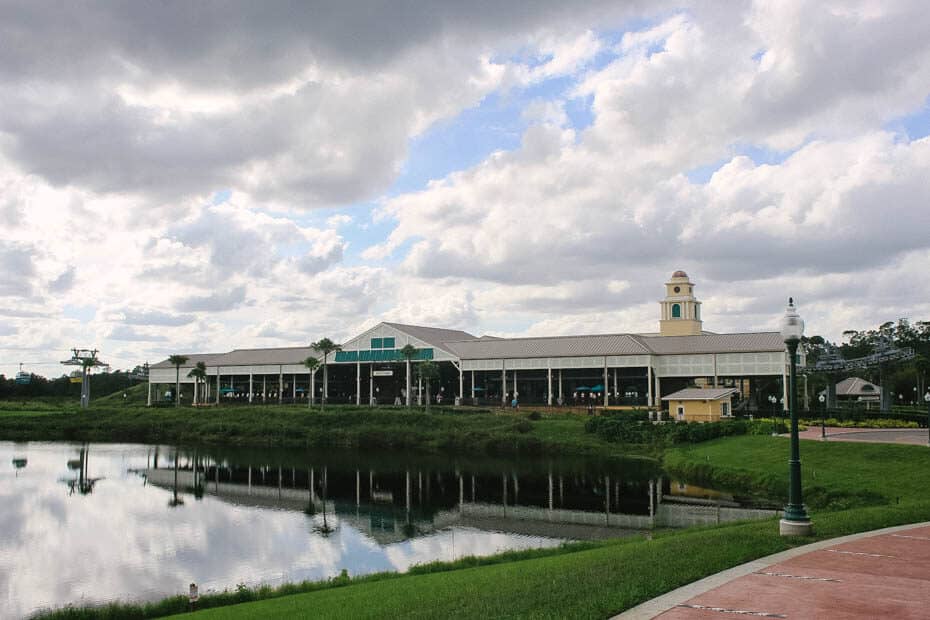 If you want to take advantage of the early theme park benefit, you'll need to get in line for the Skyliner as early as possible.
It takes approximately five minutes to get from Riviera to Caribbean Beach via the Skyliner. From Caribbean Beach to Hollywood Studios, it takes about eight minutes.
Remember, for this route, you'll encounter a line at the Riviera and then again at Caribbean Beach.
Additionally, it takes an average of ten minutes to get from Riviera to Epcot. The Skyliner drops you off at Epcot's International Gateway, the park's back entrance.
Tip: You'll want to know which way to go when you enter Epcot. The International Gateway entrance is much more convenient than the front of the park. But you will be a little further away from some sought-after attractions.
When joining the line for the Skyliner at Riviera, you'll want to make sure to get in the right line. The line for Caribbean Beach is on the immediate side of the resort.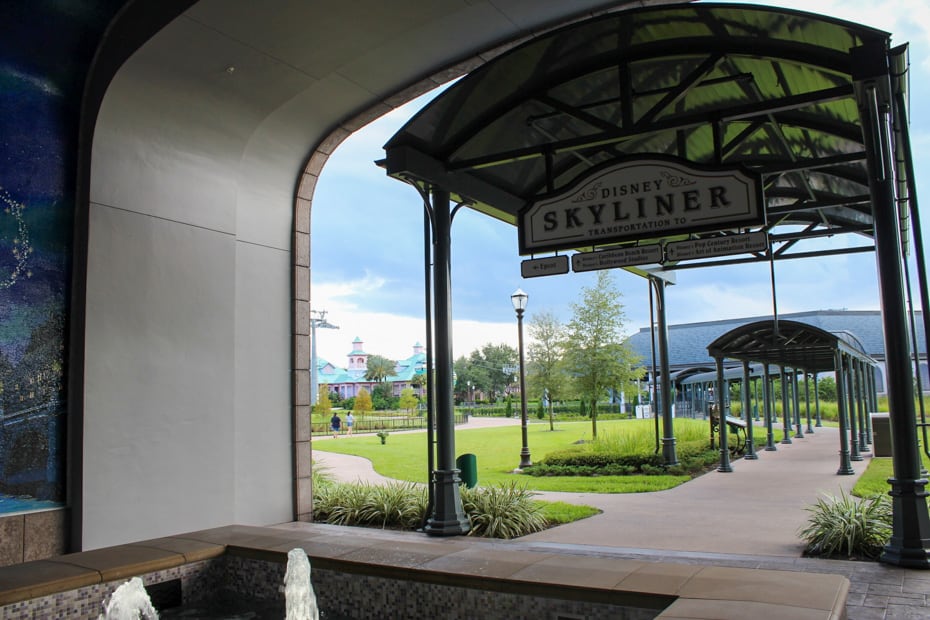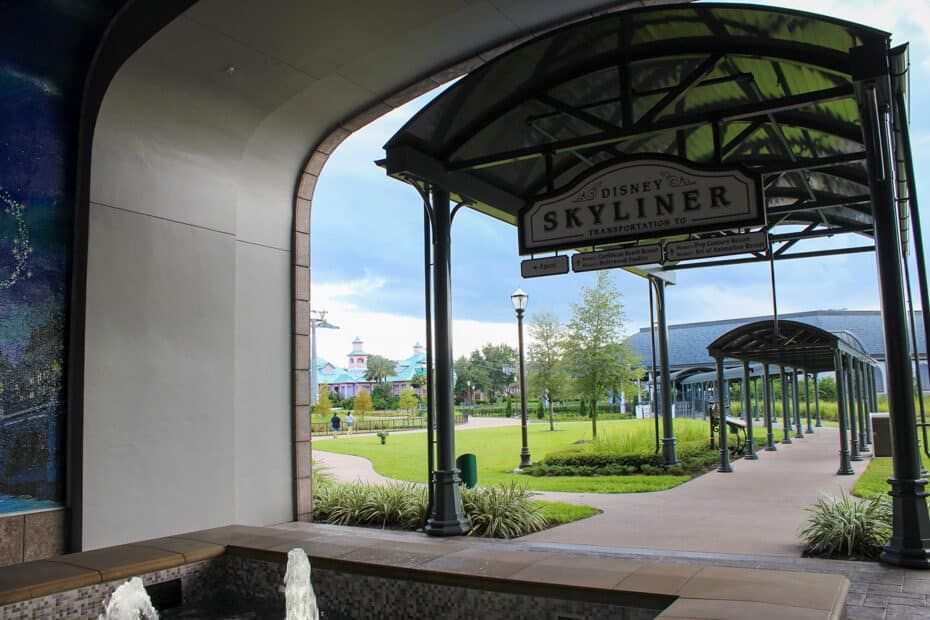 The line for Epcot is on the opposite side (the Caribbean Beach side) of the gondola station.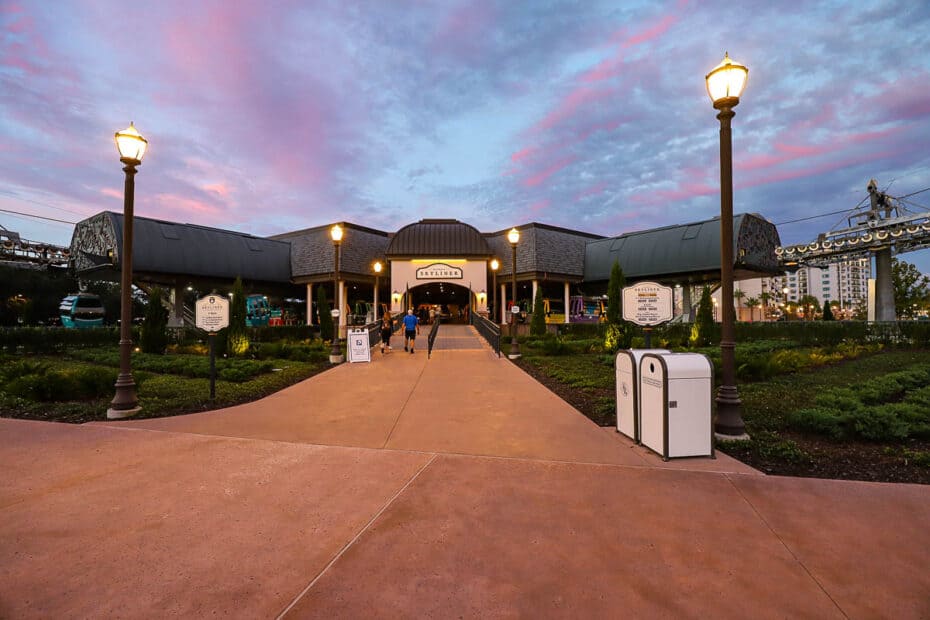 We have a complete guide covering every resort stop and travel times for the Disney Skyliner.
Related: Disney Skyliner Resorts with Travel Times
Tip: You might consider taking a car service to the park on your days at Hollywood Studios. It's a very short drive, and you can always return to the resort via the Skyliner later in the day.
Disney Bus Service at Riviera Resort
Additionally, Disney's Riviera Resort guests will have access to Disney's bus service. Bus service is provided to multiple theme parks, Disney Springs, and water parks.
The bus stop sits out in front of the resort. You'll exit through the resort's main lobby and take a dedicated walkway down to the bus stop.
Here is a list of the bus stops at Disney's Riviera Resort:
Magic Kingdom
Animal Kingdom
Disney Springs
Blizzard Beach
Typhoon Lagoon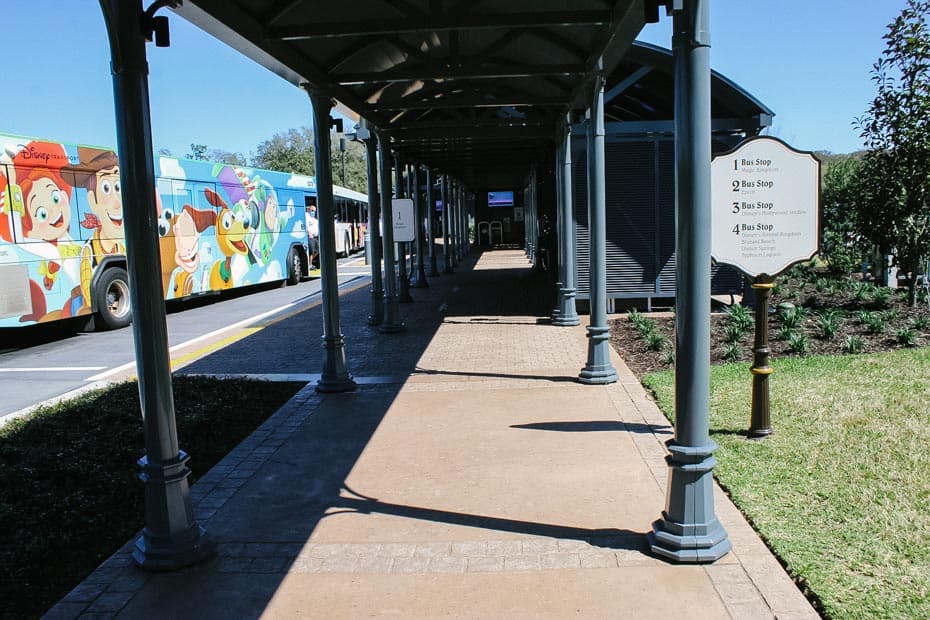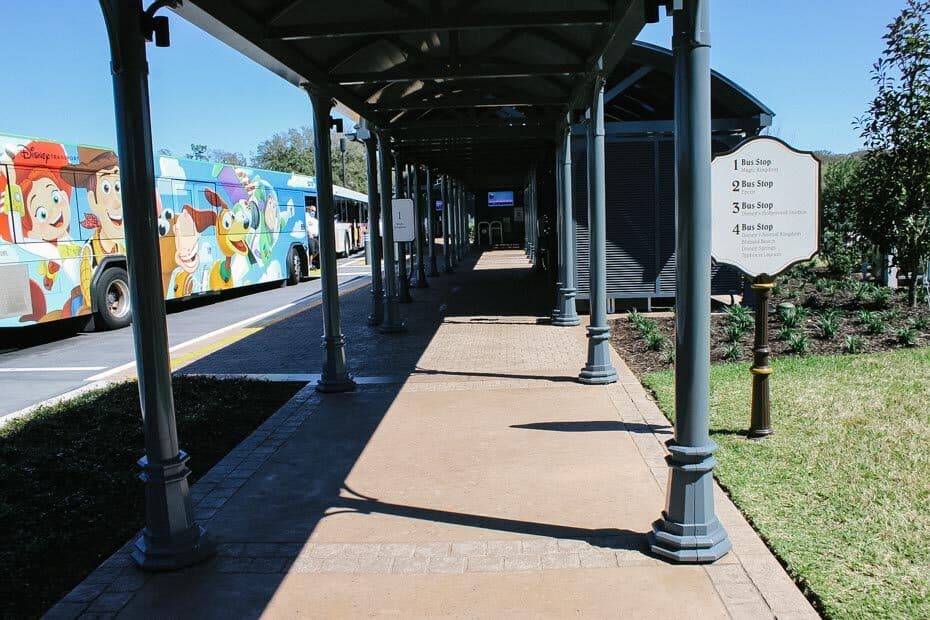 Magic Kingdom and Animal Kingdom are the longest distances from the Riviera Resort. Depending on traffic, the bus ride to both will average between 10-15 minutes.
Disney Springs and Typhoon Lagoon are the closest destinations to Riviera Resort. Both require a turn out of the resort and are a straight shot down Buena Vista Drive.
The bus ride from Riviera to either Springs or the water park will average 5-10 minutes, depending on traffic. Note, the area around Disney Springs will have more traffic than other areas on the property.
Blizzard Beach is another straight shot in the opposite direction. The bus ride from Riviera to Blizzard Beach averages 5-7 minutes.
These times do not include wait times for the bus. Wait times for the buses are displayed at the bus stop.
*If the Skyliner is not operating, bus service is provided to Epcot and Hollywood Studios.
*From time to time, the resorts do not have direct bus service to the water parks. If that is the case during your visit, there will be instructions to take a transfer bus at the bus stop.
For instance, you would take a bus from Riviera to Disney's Animal Kingdom and then transfer to a separate bus stop for Blizzard Beach. This route will take significantly longer.
For Typhoon Lagoon, the transfer bus is to Disney Springs, and then you'll transfer to Typhoon Lagoon. Unfortunately, you'll have to take the same transfers on the way back at the end of the day.
Walking at Disney's Riviera Resort
Unfortunately, you cannot walk to Epcot from Disney's Riviera Resort or any of the other theme parks, for that matter.
However, you can walk from Disney's Riviera Resort to Disney's Caribbean Beach Resort. It's approximately a 12-minute walk (at an average pace) from Riviera's lobby to Old Port Royale, the lobby at Caribbean Beach.
Related: Disney's Caribbean Beach Review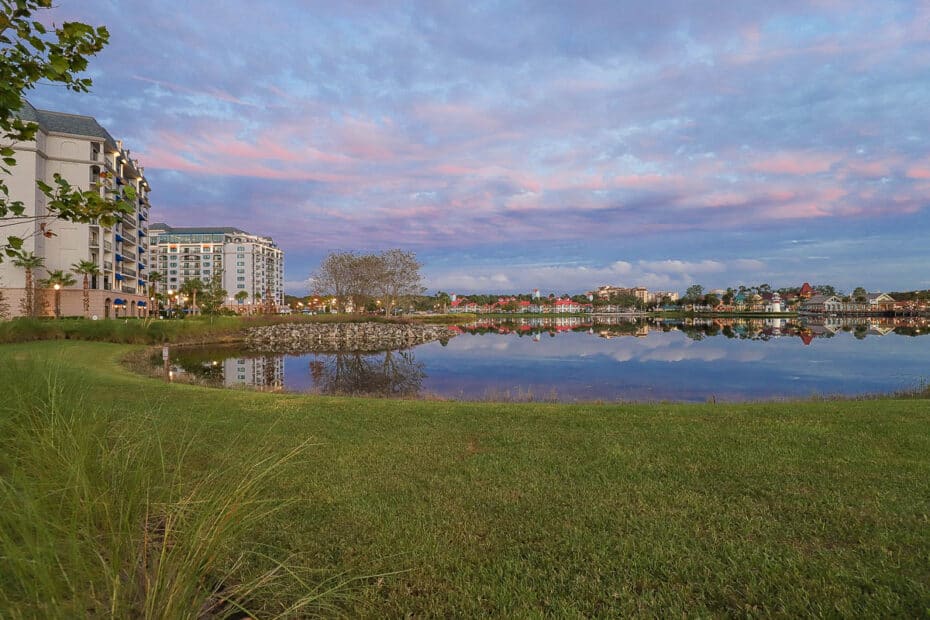 Additionally, you can walk from Riviera to Caribbean Beach's Skyliner station. However, that walk will be considerably longer and is intended more for leisure than convenience.
Caribbean Beach and Disney's Rivera sit around a beautiful lake, Barefoot Bay. There is a 1.4-mile walking path around the lake guest that guests can enjoy.
Related: Best Jogging Trails at Disney World
Getting from the Riviera to Other Resorts
Lastly, I wanted to provide a few tips for traveling from Disney's Riviera to other resorts. There are many ways to get around Disney using the transportation options offered to guests.
For instance, you might want to have dinner in the Epcot Resorts area one evening. If that is the case, you'll want to take the Skyliner from Riviera to Epcot.
Once you are dropped off at Epcot's International Gateway, you can walk or take a Friendship Boat to any of the following resorts:
If you're looking for signature dining, you might want to try Yachtsman Steakhouse, Flying Fish, or Shula's Steakhouse. We recently enjoyed a steak dinner at Yachtsman, and it was delicious.
Related: Yachtsman Steakhouse Review
To travel to the Magic Kingdom Resorts, you'll want to take a bus from the Riviera to Magic Kingdom. From Magic Kingdom, there are several ways to travel to the surrounding resorts.
You can:
Take a bus or boat to Wilderness Lodge
Take the monorail to Contemporary, Grand Floridian, or Polynesian
Take a separate walkway to the Contemporary
Take the new walkway to Grand Floridian (can continue to Polynesian)
Take a boat to Grand Floridian or Polynesian
Take a bus or boat to Fort Wilderness
Related: Disney World Monorail Transportation
If you're leaving the Riviera and headed to Animal Kingdom Lodge, you can take a bus to the Animal Kingdom. Then, reboard a bus to Animal Kingdom Lodge from the Animal Kingdom park.
Related: Animal Kingdom Lodge Transportation Guide
Of course, you can always take a bus to Disney Springs and then reboard another bus back to a resort.
However, if you're visiting Saratoga Springs, you can walk over to the resort from Disney Springs.
Related: Walking from Saratoga to Disney Springs
Or you can take a boat from Disney Springs to several resorts like French Quarter, Riverside, and Old Key West.
Related: Disney Springs Transportation Options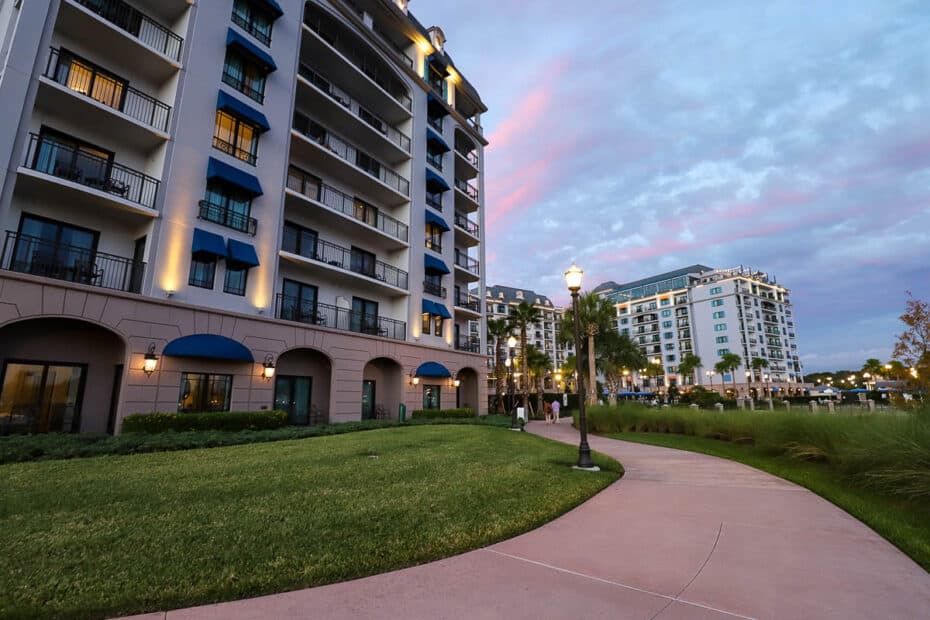 Final Thoughts on Transportation at Disney's Riviera
While transportation options at Disney's Riviera are pretty straightforward, it's important to know what's available to you during your stay.
When I started this site, I knew I wanted to tackle transportation at Disney World. No matter when I visit, I always run into guests that could use a bit of direction.
And as you probably know, it's often more about the journey than the destination. Many of us love to take Skyliner tours, and Monorail crawls are definitely a thing.
Related: Resort Hopping at Disney World
Hopefully, this guide will help set you in the right direction. All of our articles related to this hotel are listed in our resort guide.
Or you might enjoy these individual articles:
Related: Disney Hotel Transportation Guides
In the comments:
Do you have any questions about transportation options at Disney's Riviera Resort? Did you find this article helpful? What are your thoughts on using the various forms of transportation at the Riviera?
Planning a Walt Disney World or other Disney Destination vacation?
Our friends and travel partner, Firefly Travels, excels at doing Disney differently. You can fill out a plan your trip form on their website, and someone will reach out shortly to discuss the specifics.