Meet Mary Poppins at Disney World
In this article, we visit the Mary Poppins character meet-and-greet at Epcot. We'll also discuss a few other places you might find Mary Poppins during your Walt Disney World vacation.
Mary Poppins is one of the most iconic Disney characters of all time. The original film was a huge success, and the character is beloved by generations of fans.
For many, Mary Poppins is a must-do character meet on your visit to Epcot. Below, we'll look at exactly where you can find her!
So grab your best umbrella and magic carpetbag (if you have one) because we're off on an adventure to meet Mary Poppins at Walt Disney World.
This article was updated on February 14, 2023.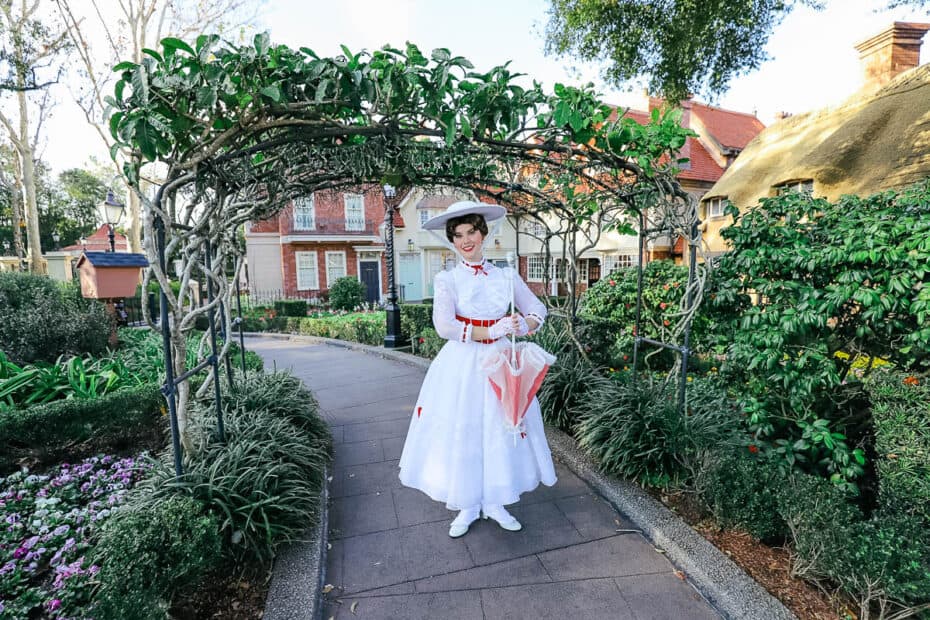 Mary Poppins meets guests daily at Epcot in the United Kingdom Pavilion. She meets guests daily from mid-morning until usually around 4:00 to 5:00 p.m.
As always, you'll want to check the exact times for her meet-and-greet in the My Disney Experience app on the day of your visit.
As of this last update, Mary Poppins has been meeting towards the front of the pavilion under the archway that leads to the garden.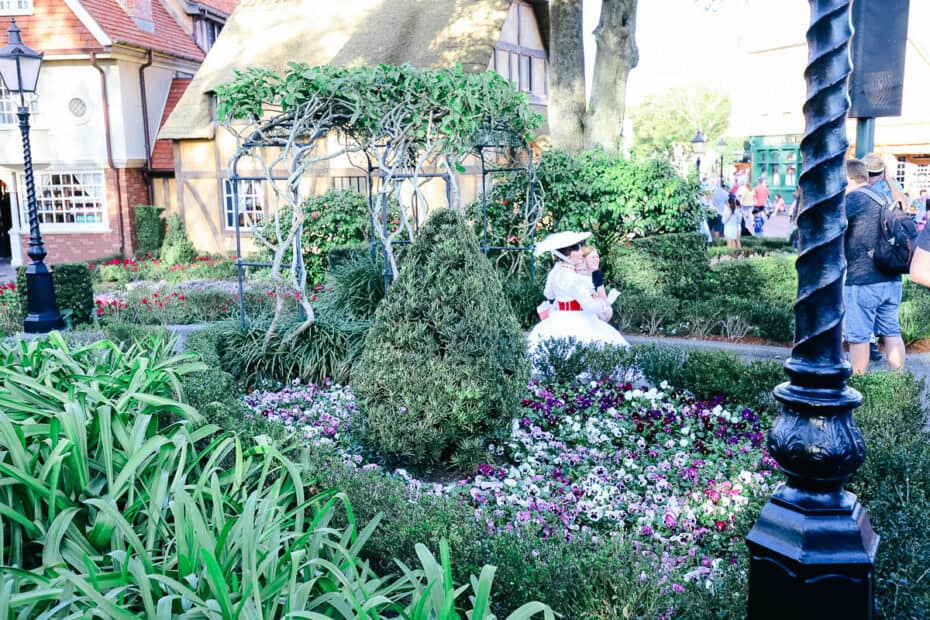 This area is adjacent to where Alice in Wonderland greets guests. They are usually both out from time to time during the day.
However, Mary Poppins has been known to meet toward the back of the pavilion. So if her time is scheduled and you don't see her, you might check toward the back near the gazebo.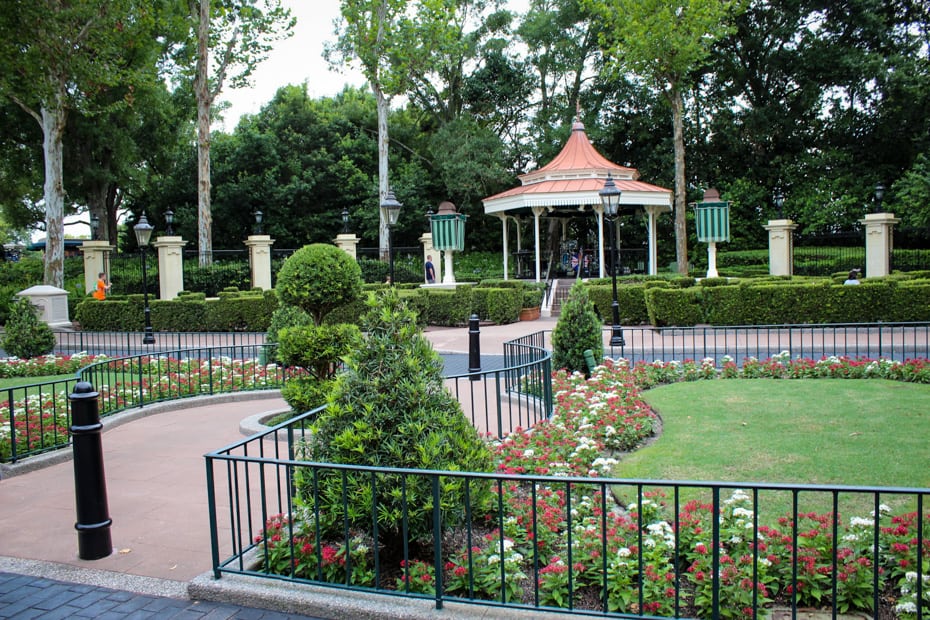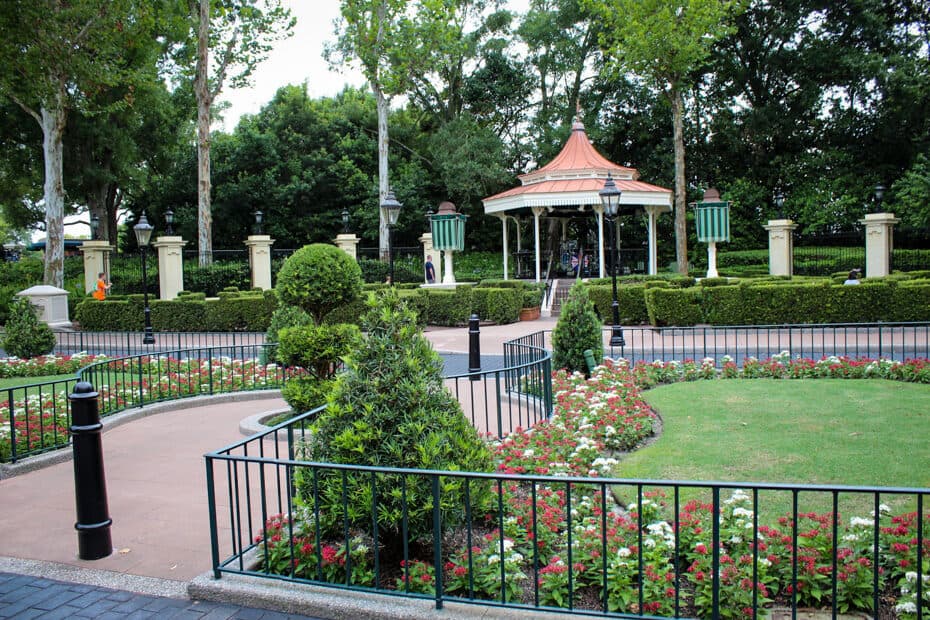 On this day, I had been in a lengthy line to meet Aurora in France. I finally met Aurora at 2:19 p.m.
Related: Meet Princess Aurora at Epcot
Since Mary Poppin's meet-and-greet began at 2:20 p.m., I wasn't sure I could make it before her line closed. So I hurried to the United Kingdom Pavilion and arrived at 2:27 p.m.
Thankfully, there were only about 15 guests ahead of me, and the line was still open to join. I was able to meet Mary Poppins at precisely 2:43 p.m. All total, it was a 16-minute wait to meet Mary, which wasn't bad at all.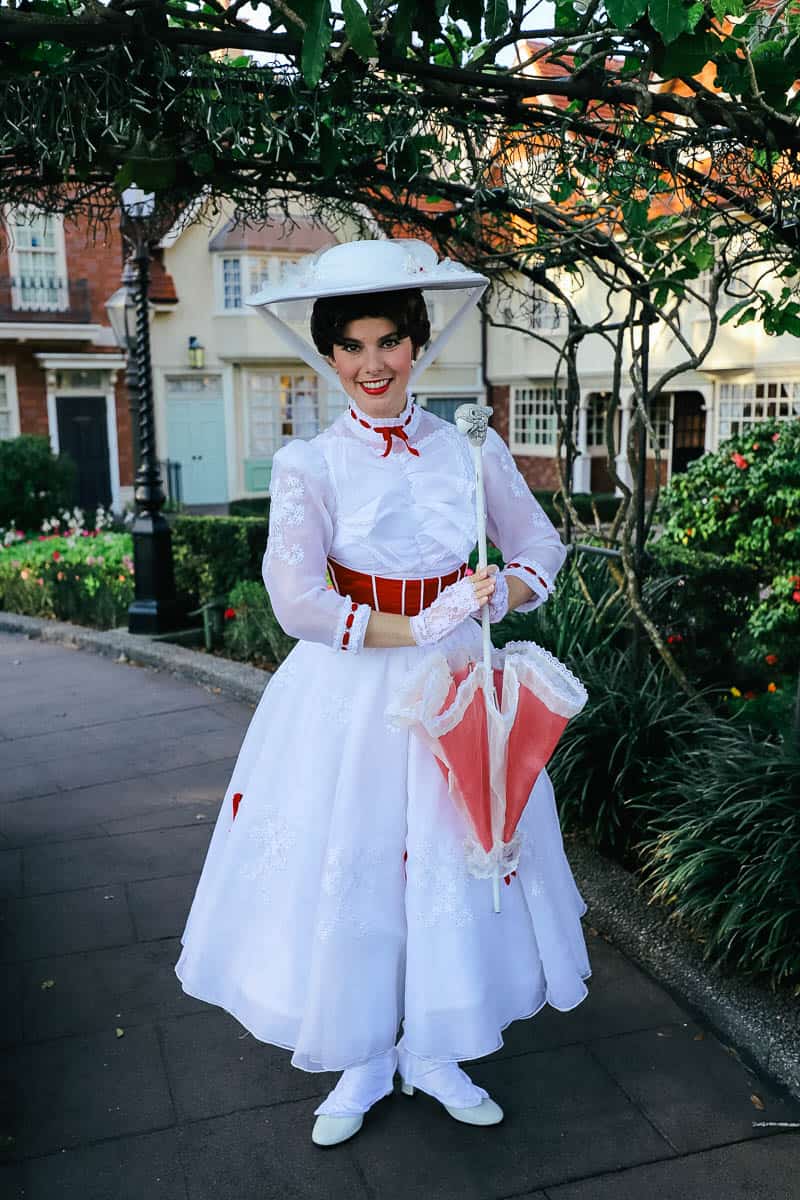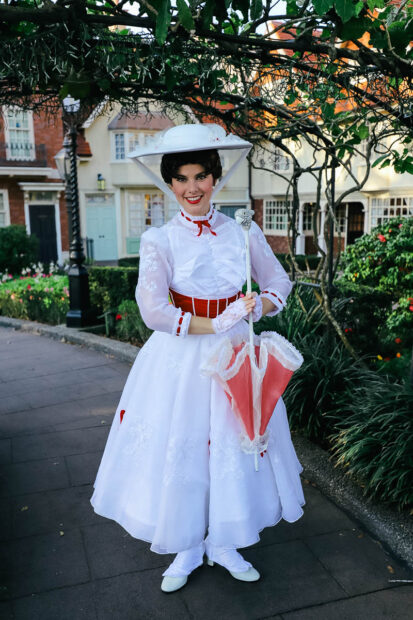 There was no PhotoPass photographer present on the day of this visit. However, she did sign my autograph book.
Unfortunately, we are seeing fewer PhotoPass photographers at the character meets. If you want your photo made, you can ask the cast member attending the meet to help you. Or you could make friends with someone in line and ask them to help.
Mary Poppins wears her Jolly Holiday costume at this character meet. And as I'm sure you already know, she is practically perfect in every way.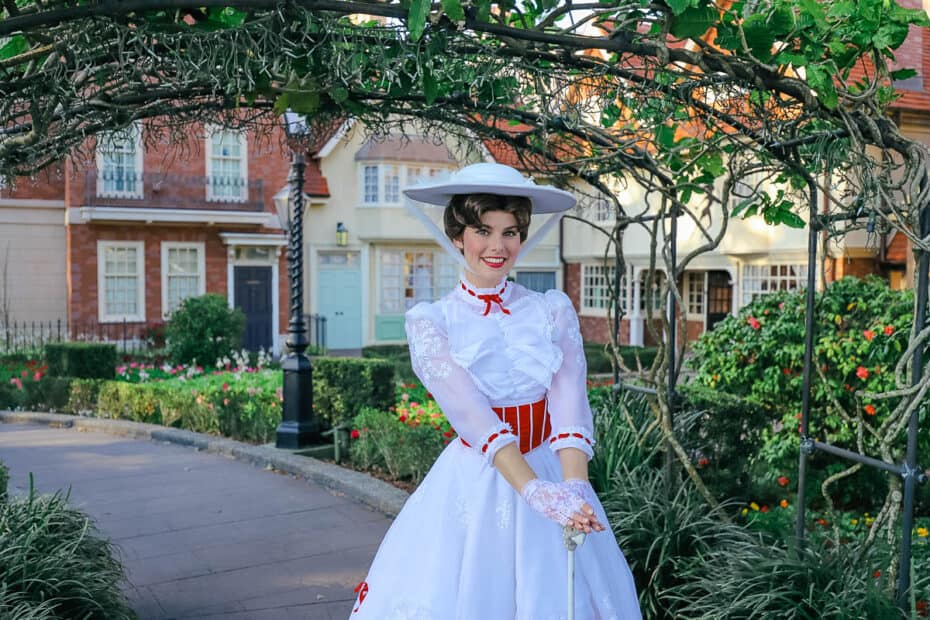 Mary Poppins enjoys talking about Jane and Michael, the flowers in the nearby garden, or you could discuss the perfect cup of tea. True to form, she delivers an air of utmost properness.
Mary Poppins formerly met daily Magic Kingdom, but that meet has yet to return. However, you can usually see her daily in the Adventure Friends Cavalcade.
We'll look at other opportunities to meet the beloved nanny in the future.
During your visit, you might run into the following Epcot characters:
Or you can browse our list of Disney World Character Meets. Additionally, we have a complete overview of character dining that discusses every character restaurant at Disney World.
Related: Dining with Characters at Disney World
In the comments:
Do you have a favorite character you hope to meet? Do you plan to meet Mary Poppins on your visit to Walt Disney World?
Planning a Walt Disney World or other Disney Destination vacation?
Our friends and travel partner, Firefly Travels, excels at doing Disney differently. You can fill out a plan your trip form on their website, and someone will reach out shortly to discuss the specifics.