Meet Wreck-it Ralph Characters at Disney World (Vanellope Von Schweetz is Back in 2022)
Vanellope Von Schweetz has returned to her former character meet at Epcot! You may remember that she formerly met here with Ralph from the Wreck-It Ralph and Ralph Breaks the Internet.
Meeting the Wreck-It Ralph characters at Disney World is a real treat. And we're excited to see Vanellope return to her former home at Epcot in the Imagination Pavilion.
However, at this time, Wreck-It Ralph has not returned to this meet and greet. We'll update when that changes. But for the time being, you can meet Vanellope Von Schweetz.
This article was updated on May 9, 2022.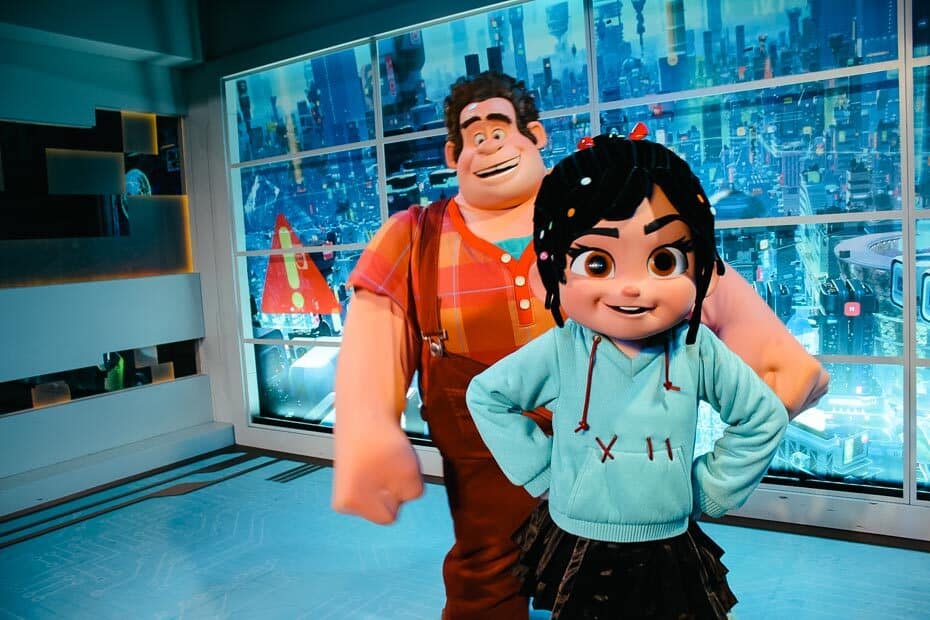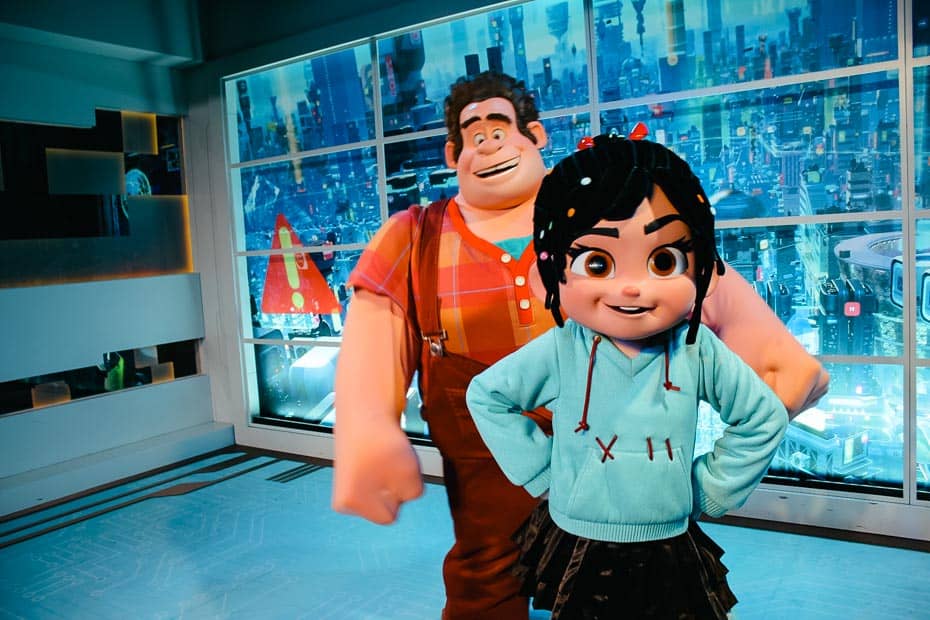 This meet is quite adorable and a must-do for any Sugar Rush Race fans. Vanellope Von Schweetz is one of the friendliest characters you'll ever meet.
Wreck-it Ralph Character Meet
Epcot's former Future World has been an entire construction zone over the past few years. And with so many walls up, it's hard to tell precisely how much progress has been made.
However, it is positive that several beloved characters meets are returning to the park.
You will find Vanellope Von Schweetz from Wreck-It Ralph inside ImageWorks. ImageWorks is located inside the Imagination Pavilion, which is part of World Celebration.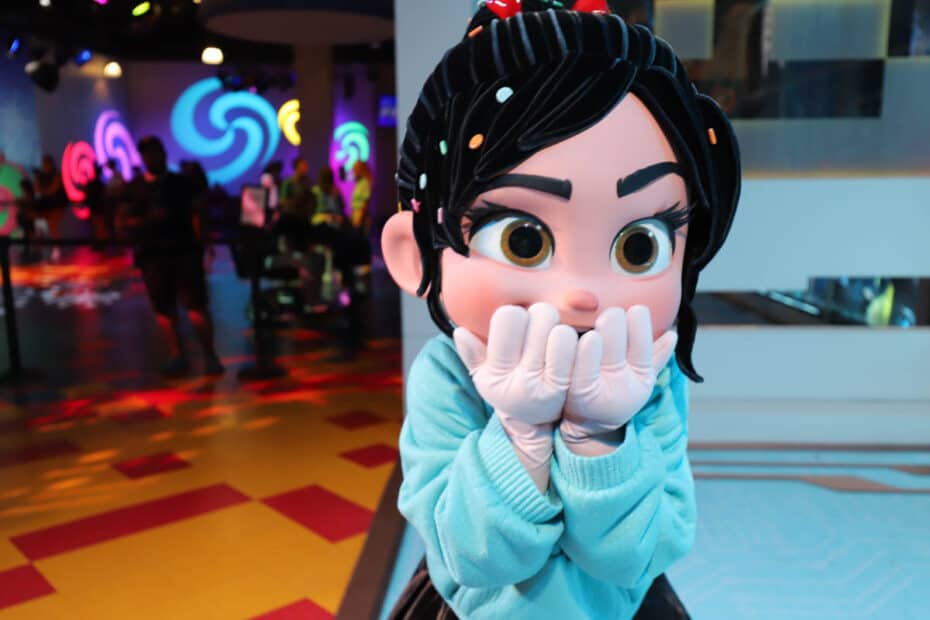 This internet surfing character meets several times per day. You'll want to check the My Disney Experience App for the exact times of her meet on the day of your visit. Or you can check here on Disney's site.
For instance, as of this update, the times for meeting Vanellope are listed as:
10:45 a.m. — 2:15 p.m.
3:25 p.m. — 5:55 p.m.
There are two options for entering the Imagination Pavilion. The first is to ride Journey Into Imagination with Figment. At the end of the ride, you'll exit into the ImageWorks area where these character meets are held.
The other option is to walk around the side of the building and enter through the gift shop. There is typically a sign out pointing you in the right direction.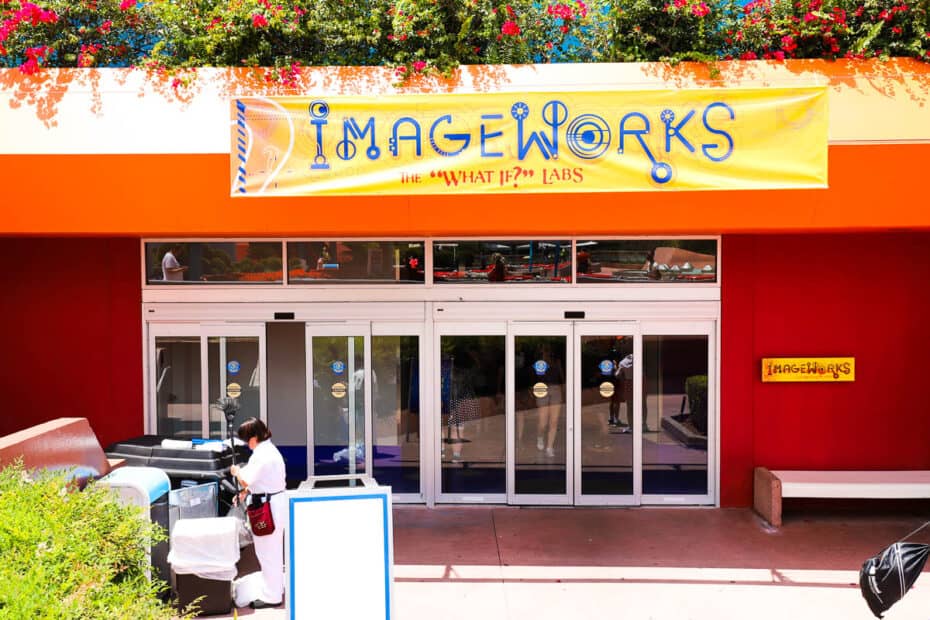 When you enter the pavilion, you will walk through a retail store that opens up into the Image Works Lab. The center of this room is where the character meet is held.
The picture below shows people waiting to meet Vanellope Von Schweetz.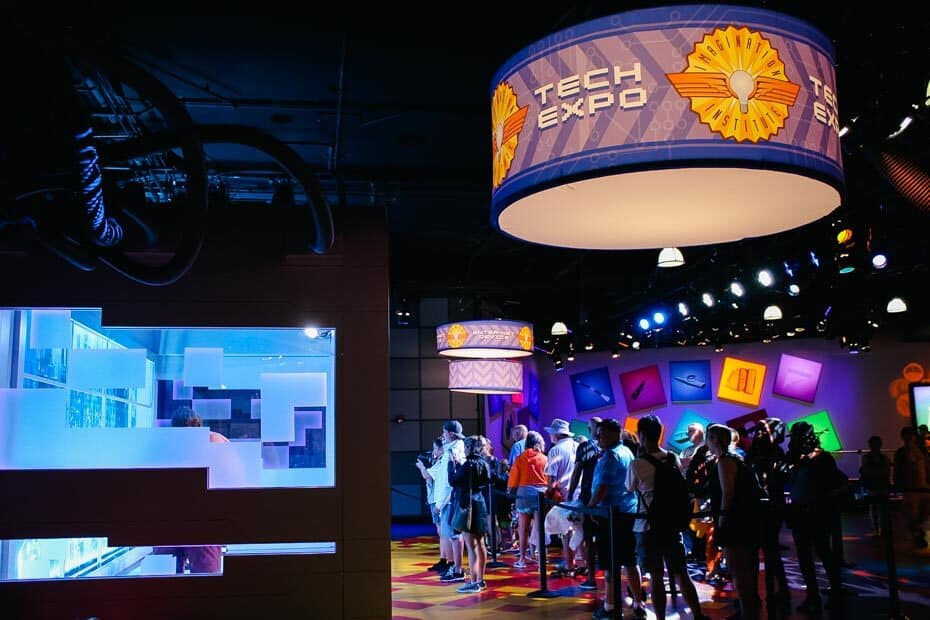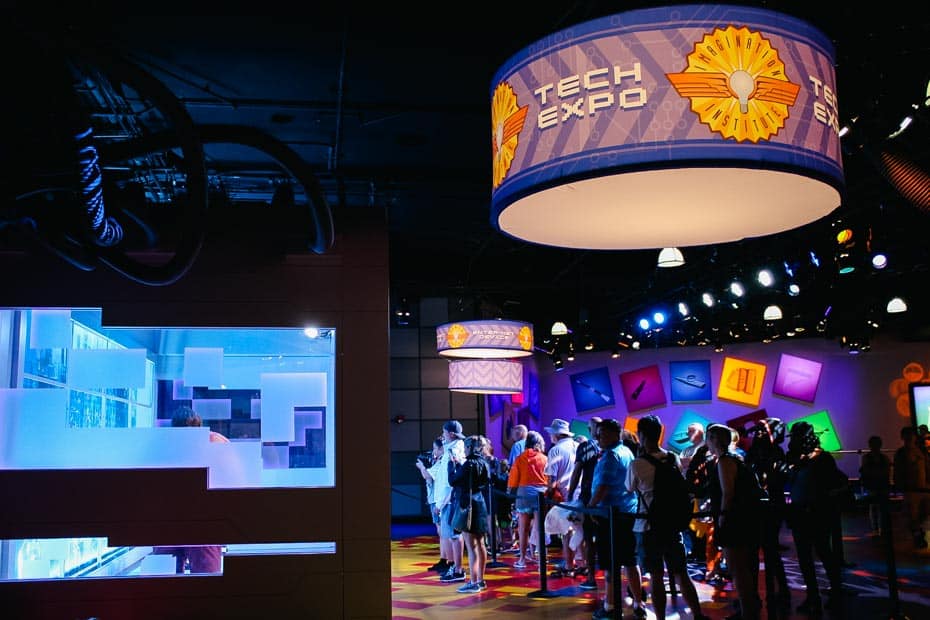 Vanellope Von Schweetz meets with guests in this large open area. She is extremely popular, so you can expect to wait approximately 30 minutes if the queue appears full.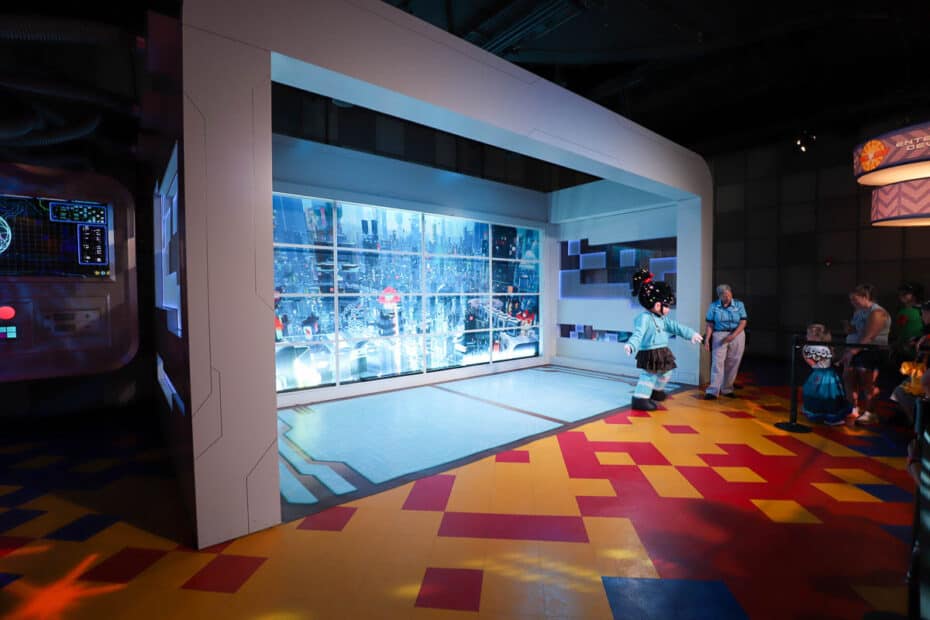 Vanellope will take breaks to "visit the internet" for short periods throughout her meet. Taking breaks is routine practice at all of the character meets.
If you were to see her leaving while you're waiting in line, remain put. She will return momentarily.
Here is the area where she leaves to visit the internet.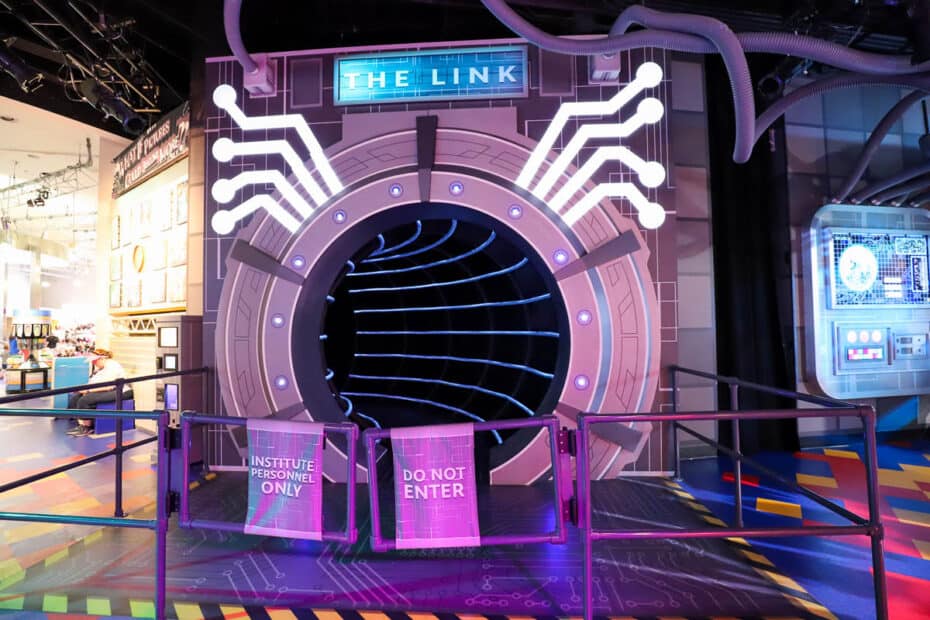 It can seem frustrating if this happens, but everyone needs a break now and then. Plus, she won't be gone more than a few minutes.
Vanellope Von Schweetz is super cool! She is full of energy! You can tell she's ready to hop in a candy racer at any moment and take you for a couple of laps around the World Showcase.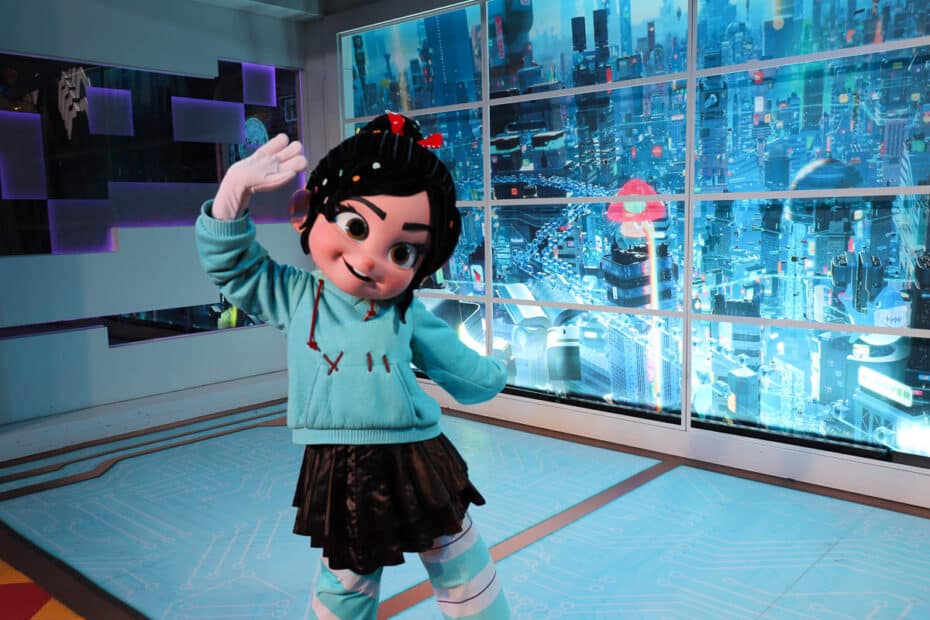 Vanellope Von Schweetz is an autograph-signing character. Additionally, a PhotoPass photographer is usually present at this meet and greet.
If you didn't purchase the Memory Maker, you could always ask the cast member attending the meet if they will take a photo with your personal device.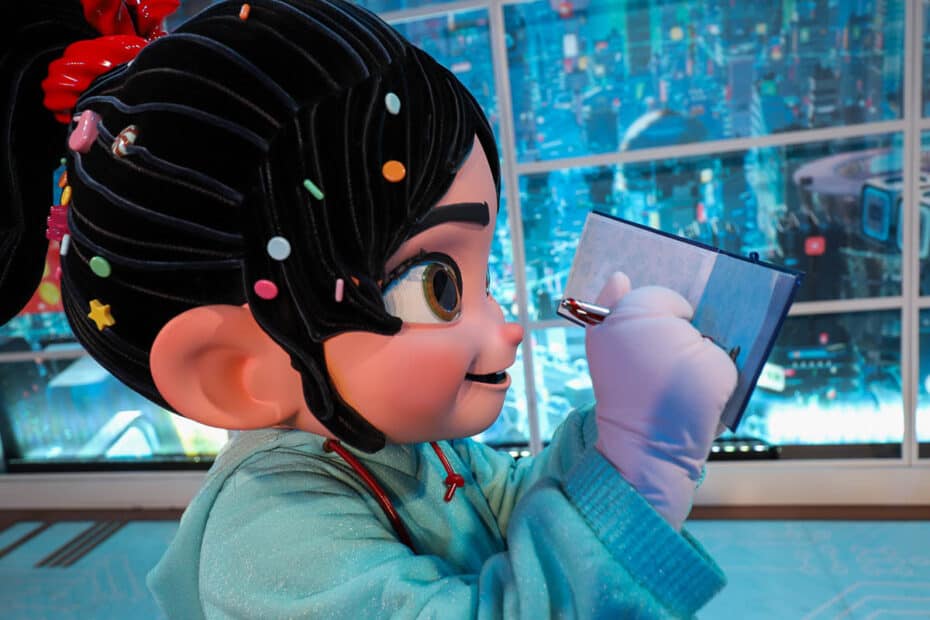 Make sure to have your pen and autograph book ready when it's your turn.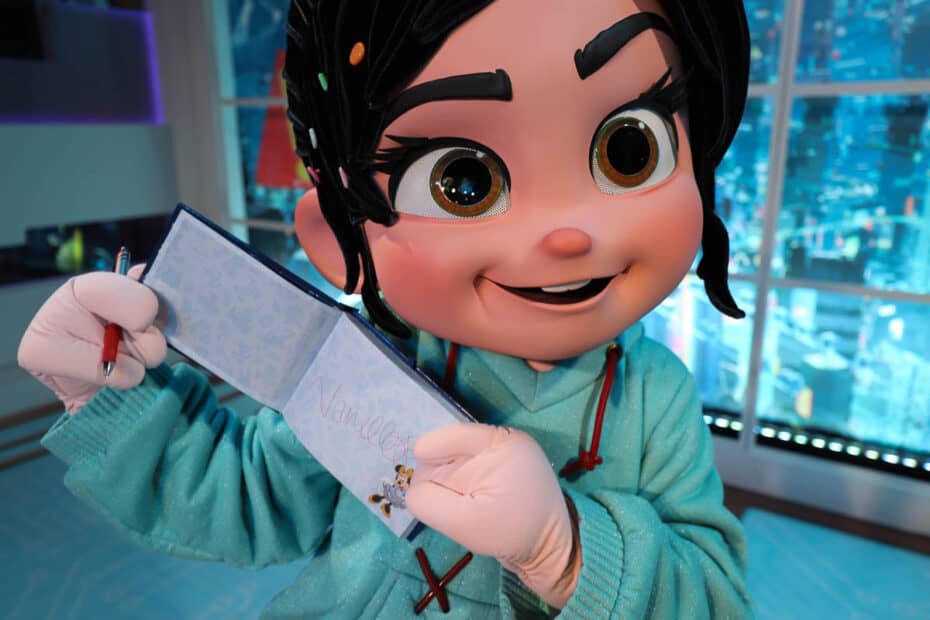 Here is a video we recorded a few years back, capturing the moment when Ralph and Vanellope visited the internet. The kids in the area gathered around and were genuinely excited to see the characters come by and wave before leaving the room.
Check out our guide to meeting Disney World Characters for other character meet information. We try to keep it updated as much as possible.
And remember to always check the My Disney Experience app on the day of your visit. It will list which characters are meeting at what time.
Additionally, you might meet Joy from Inside Out at ImageWorks. Her character meet is in the same area as Vanellope Von Schweetz.
Or you might enjoy meeting some of these other characters at Epcot:
If you want to learn more about character dining at Disney World, our guide includes updates for 2022 with a comprehensive list of what meals offer characters.
Hopefully, you will get a chance to meet the Wreck-It Ralph characters on your next Epcot visit. Leave a comment below with your favorite character meets or questions about meeting Vanellope Von Schweetz at Epcot.