Meet Wreck it Ralph Characters at Disney World
Meeting Wreck-it Ralph Characters at Disney World is a real treat. The popular duo of the film, Vanellope Von Schweetz and Ralph, have a fun location for their own special character meet at Epcot!
The following character meet was available at Epcot before last year's closure. When normal characters meets resume, I'll update these reviews to provide any changes. In the meantime, make sure to check out the following reviews for meeting characters at Disney in 2021.
Meet Anna and Elsa at Disney World (New March 2021)
Socially Distanced Characters at Disney World
Or you can continue reading about this former meet below.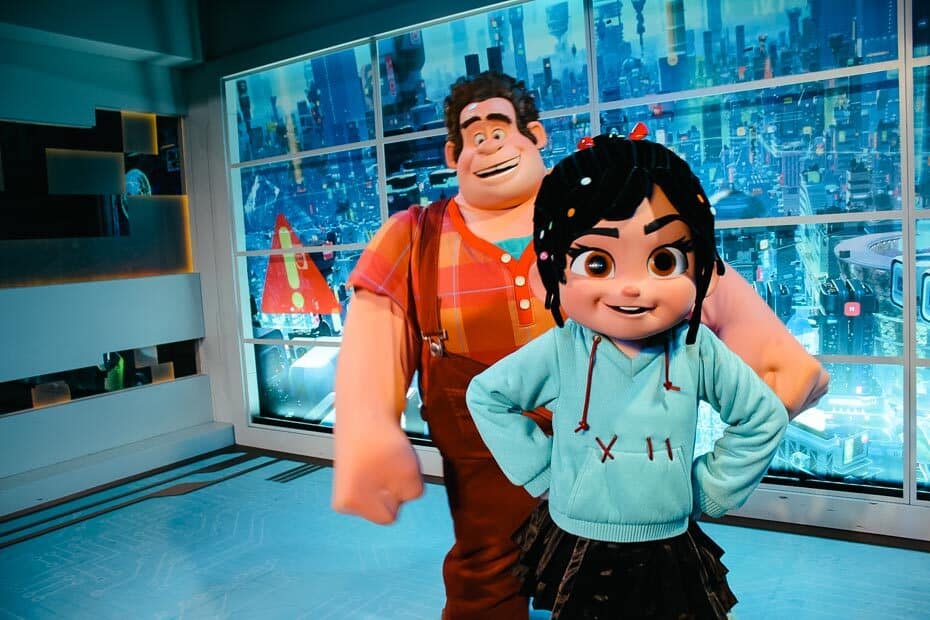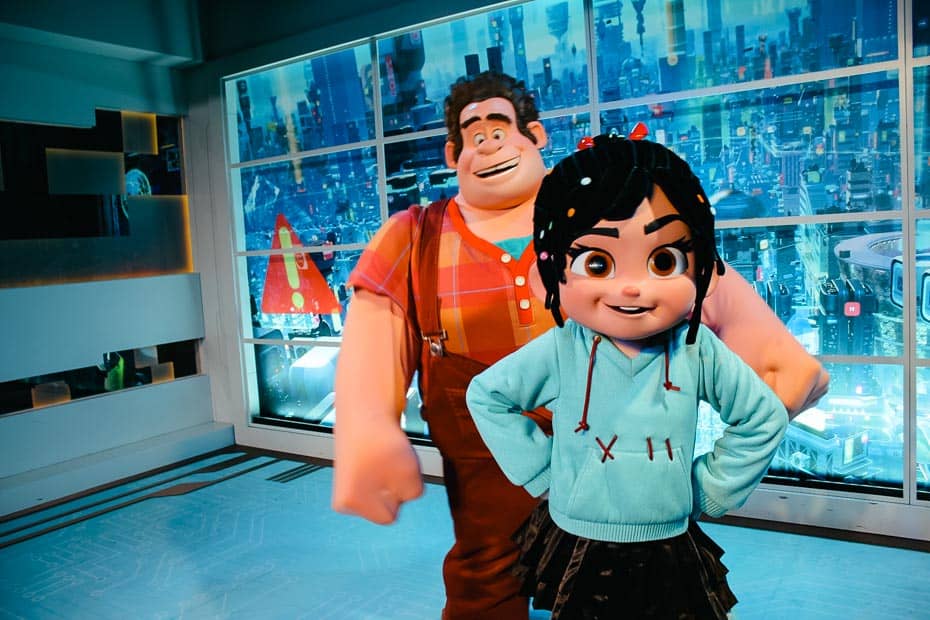 This meet is quite adorable and a must-do for any Sugar Rush race fans out there! Vanellope Von Schweetz and Ralph do meet together so you also get to meet two characters at one time. I don't know about you but I can always go for a 2-for-1 when it comes to meeting characters!
Wreck-it Ralph Character Meet
If you haven't had the opportunity to visit Epcot lately you might not be aware that the Wreck-It-Ralph characters found a new home a couple of months ago in Future World.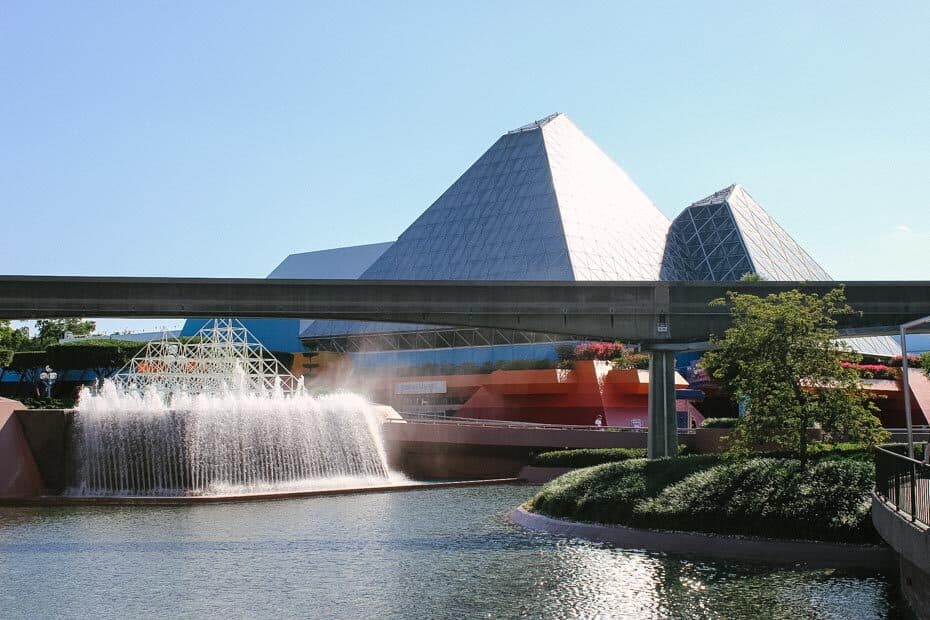 These two internet surfing characters can be found in the Imagination Pavilion. There are two options for entering the Imagination Pavilion. The first is to take a ride on Journey Into Imagination with Figment and visit the characters at the end.
The other option is to walk around the building's side, behind the fountain area, and enter on the right-hand side. There is typically a sign out pointing you in the right direction.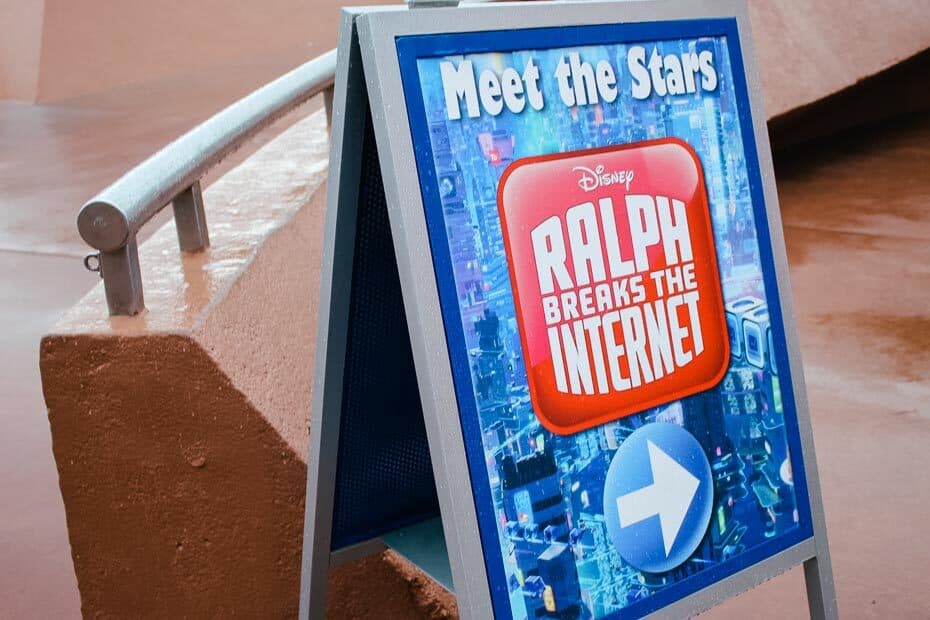 This is also in the general area where the Disney Visa character meet is held for cardholders.
When you enter the Imagination Pavilion from the exterior side entry, you will walk through the retail store area that opens up into the Image Works Lab. This large open area is full of fun activities for children to burn off some steam. The center of this room is where the character meet is held.
The picture below represents the line of people waiting to meet Vanellope Von Schweetz and Ralph. You can see them through the clear portion of the glass wall on the far left-hand side of the photo.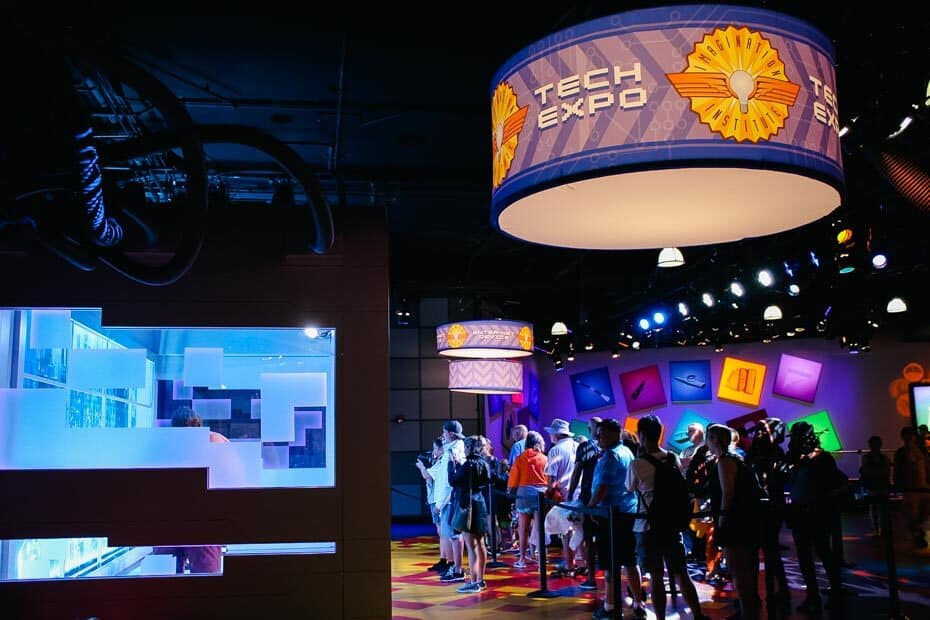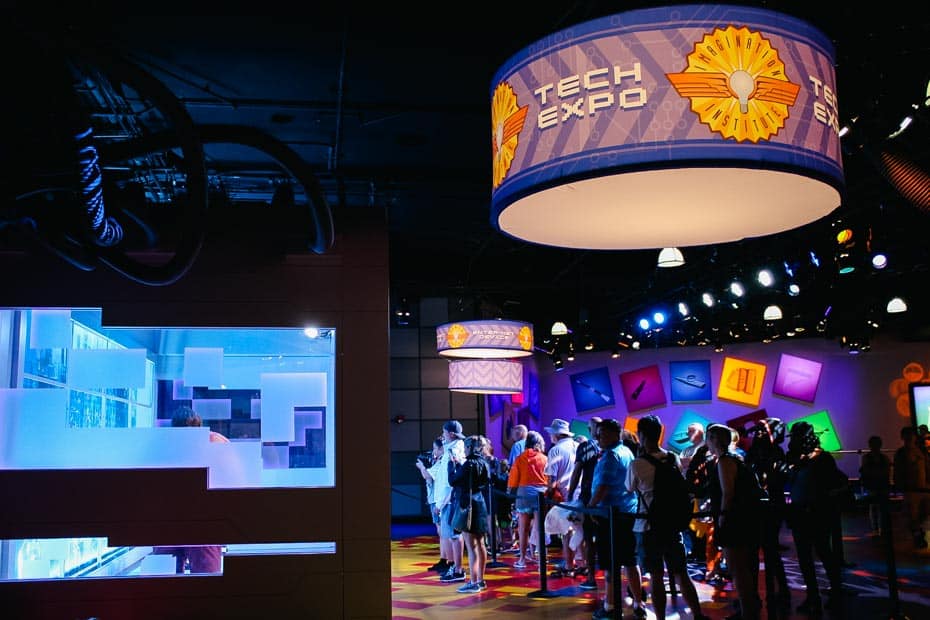 The Wreck It Ralph characters meet with guests in this large open area one family at a time. These two are very popular so you can expect to wait about 30 minutes if the queue area looks full.
Keep in mind they do take breaks to "visit the internet" throughout the day. Most characters do this, and they will return shortly if this happens to you.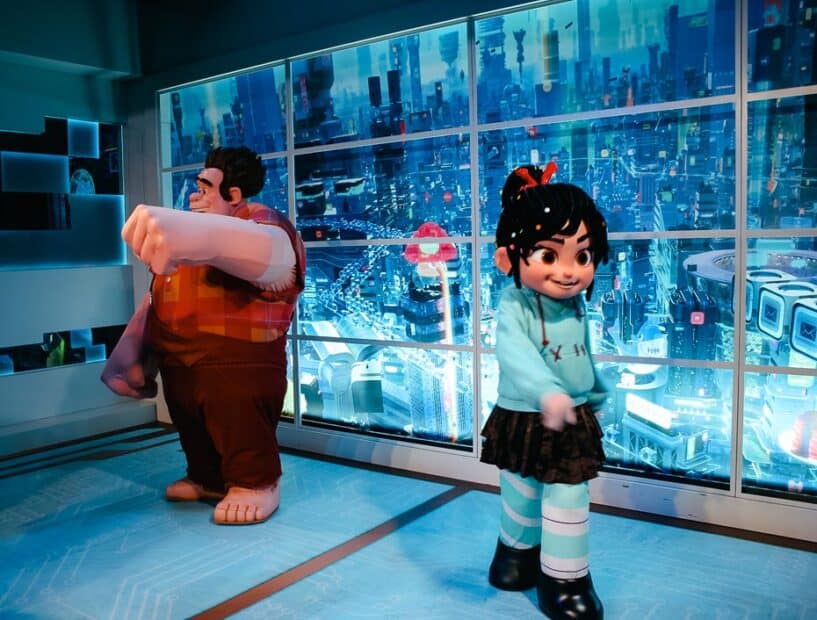 Don't lose your place in line because you think the visit is over or didn't notice them disappear. It can seem frustrating if this happens, but everyone needs a break now and then. Plus, they really won't be gone more than a few minutes.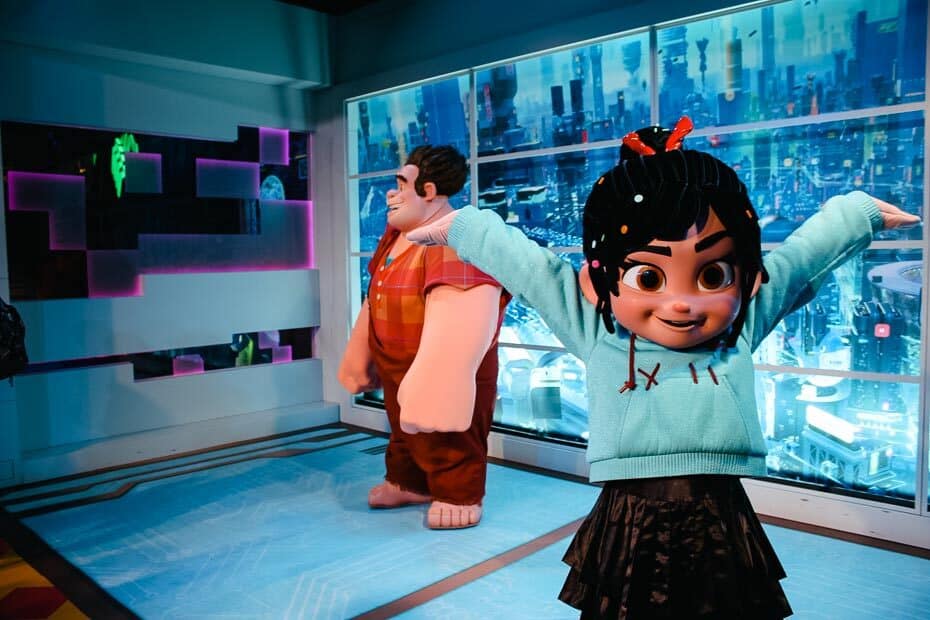 Vanellope Von Schweetz is super cool! She is full of energy ! You can just tell she's ready to hop in a candy racer at any moment and take you for a couple of laps around the World Showcase.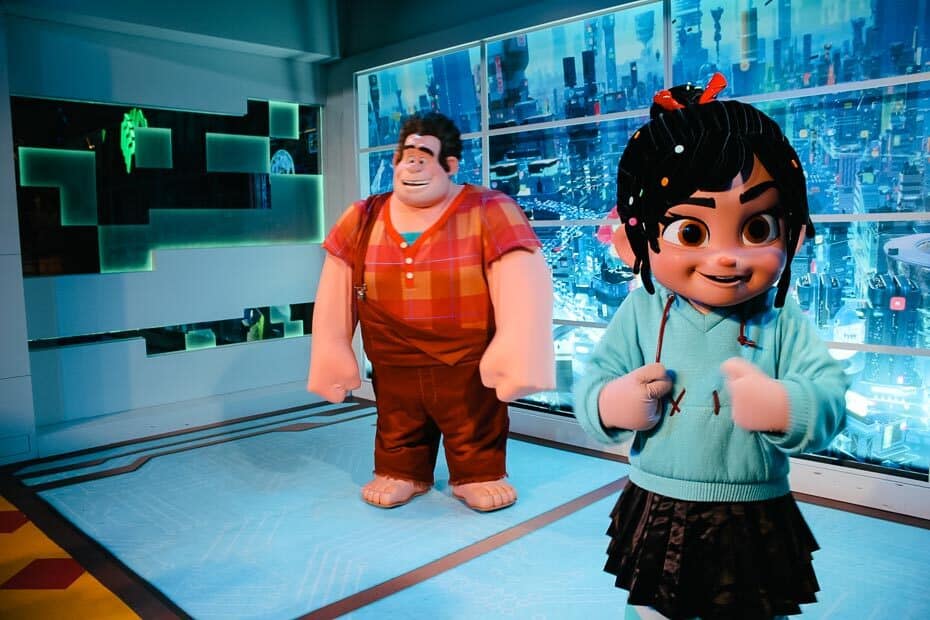 Rumor has it that Wreck-It Ralph has been making some new tracks out in the front of Spaceship Earth with all the newly open space. Shhh! Don't tell anyone!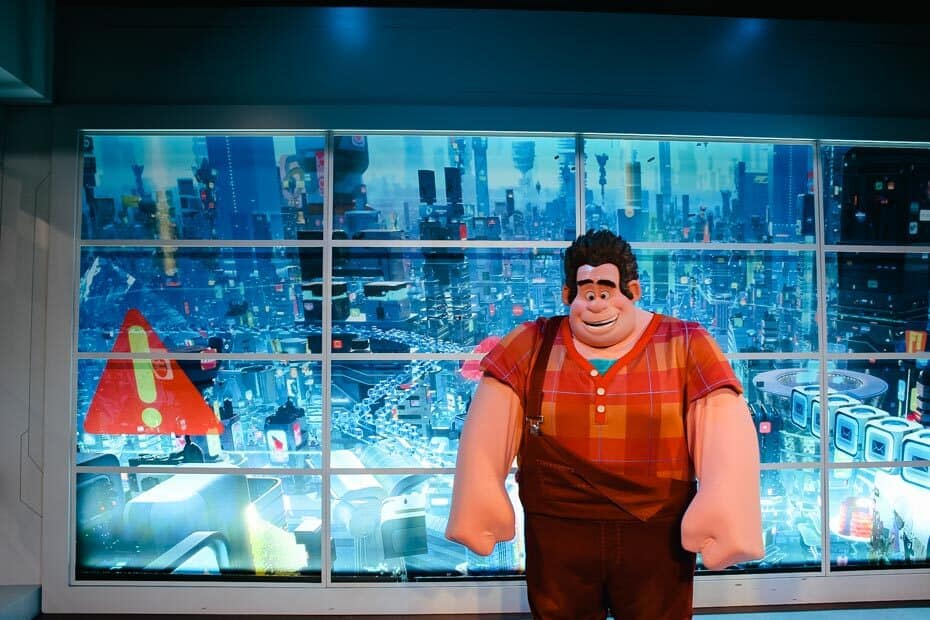 Ralph is not quite as animated as Vanellope Von Schweetz and that's probably due to his arms. He is still a lot of fun and maybe a little awkward due to his large size. Ralph for sure likes to cut up with his fans though. However, I noticed he appears to be in deep thought sometimes as well.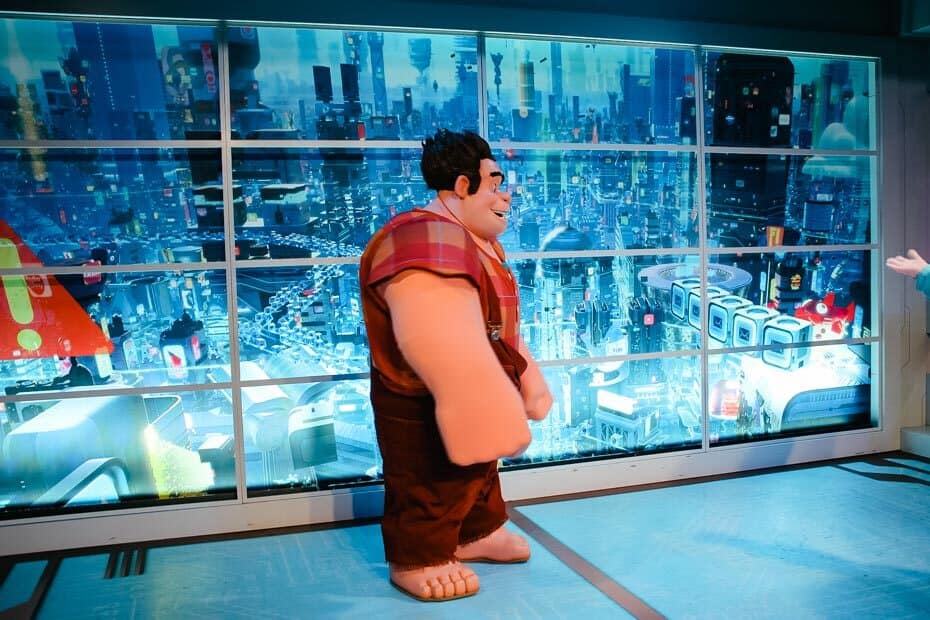 Another bit of information about the Wreck It Ralph character meet is there are no FastPass+ options. So if the line is long, you just have to wait. If the line happens to be short, lucky for you! The good thing is the meet is indoors, which means a temperature-controlled environment. It's also a great stop for when it's raining as well.
Personally, I recommend meeting these two in the late afternoon to early evening. They usually retire for the day around 7 p.m. when the pavilion typically closes. Make sure to check the My Disney Experience app times for the day of your visit. Times can vary for certain visits.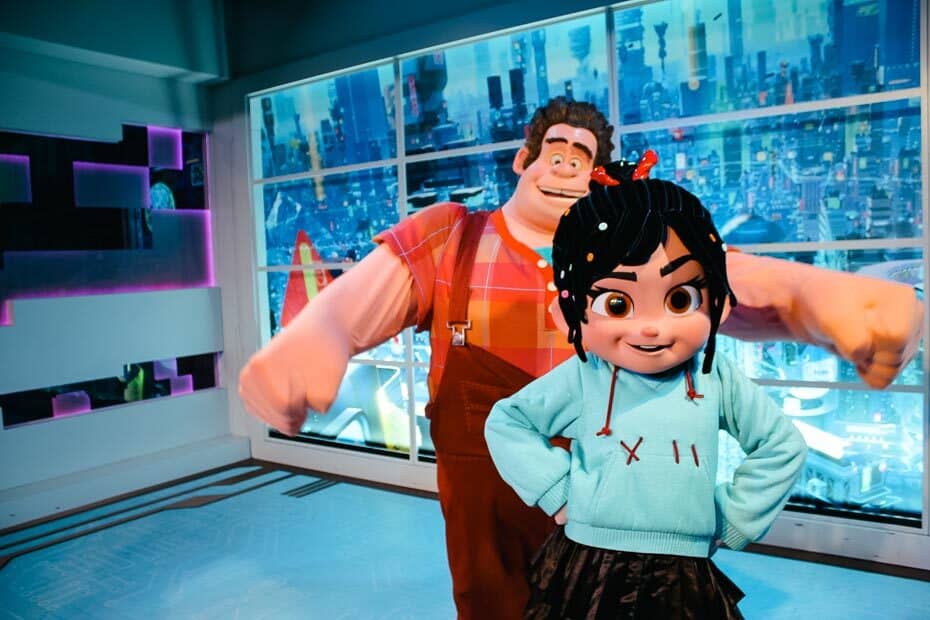 Here is a video we recently recorded capturing the moment when Ralph and Vanellope visit the internet. The kids in the area gathered around and were genuinely excited to see the characters come by and wave before leaving the area.
For other character meets and updated information, check out the Disney World Characters review.
Additionally, guests might enjoy learning more about character dining at Disney World. That guide lists every meal available, along with tips and need-to-know details.
Hopefully, you will get a chance to meet the Wreck It Ralph characters on your next Epcot visit. Let me know in the comments about your favorite character meets or any characters you are interested in meeting!