Meet Chip and Dale at Disney World
Chip and Dale are the cutest when it comes to character meets at Disney World. These friendly chipmunks meet guests daily at several locations around the theme parks and resorts.
This article will discuss the locations to meet Chip and Dale during your vacation. Additionally, I'll add a few tips for other places you might run into them.
If you're wondering how to tell the two apart, Chip has a dark black nose. Think chocolate chip. Meanwhile, Dale has a red nose, and his teeth have a bit of a separation between them.
This article was updated on February 16, 2023.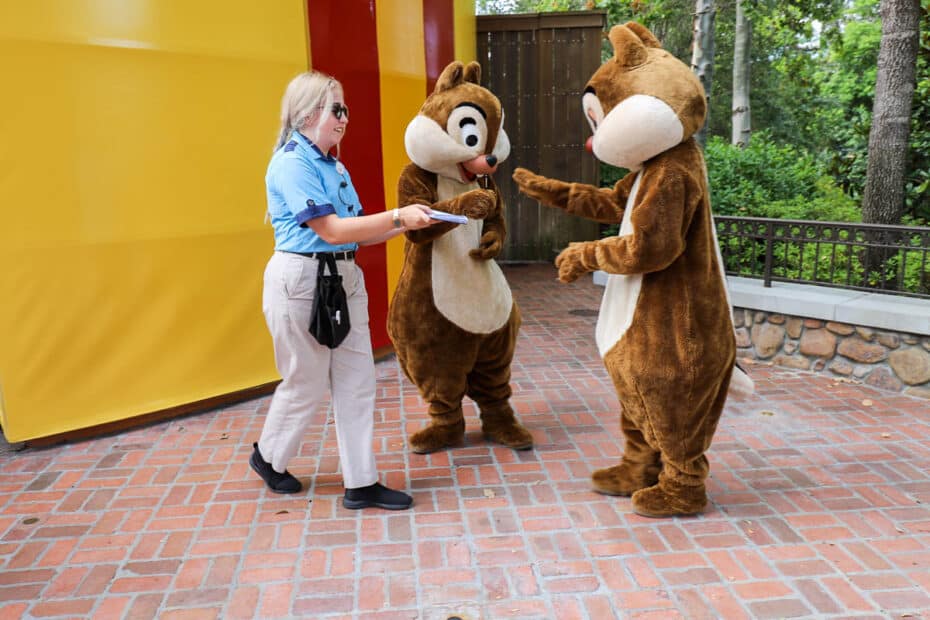 Chip and Dale at Magic Kingdom
Chip and Dale have a daily character meet-and-greet toward the back of Storybook Circus at Magic Kingdom. This location sits between Pete's Silly Side Show and the Fantasyland Train Station.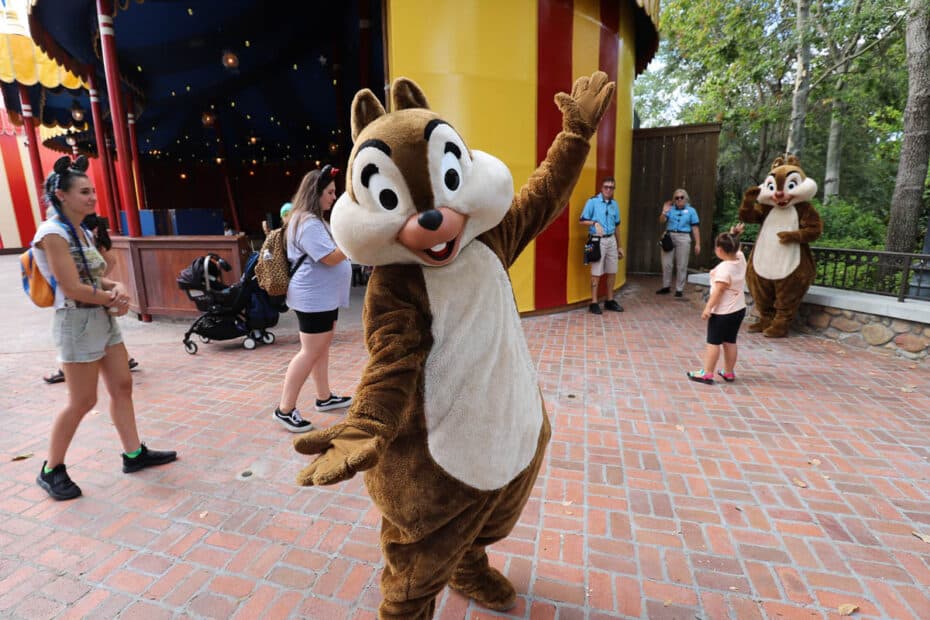 Chip and Dale usually meet at this location throughout the day. Times for this character meet are located in the My Disney Experience app.
Like most character meets, it's crucial to get to the designated location before the listed time for the meet. Unfortunately, I got here a few minutes late one afternoon, and the line was already cut off, meaning no one else could join.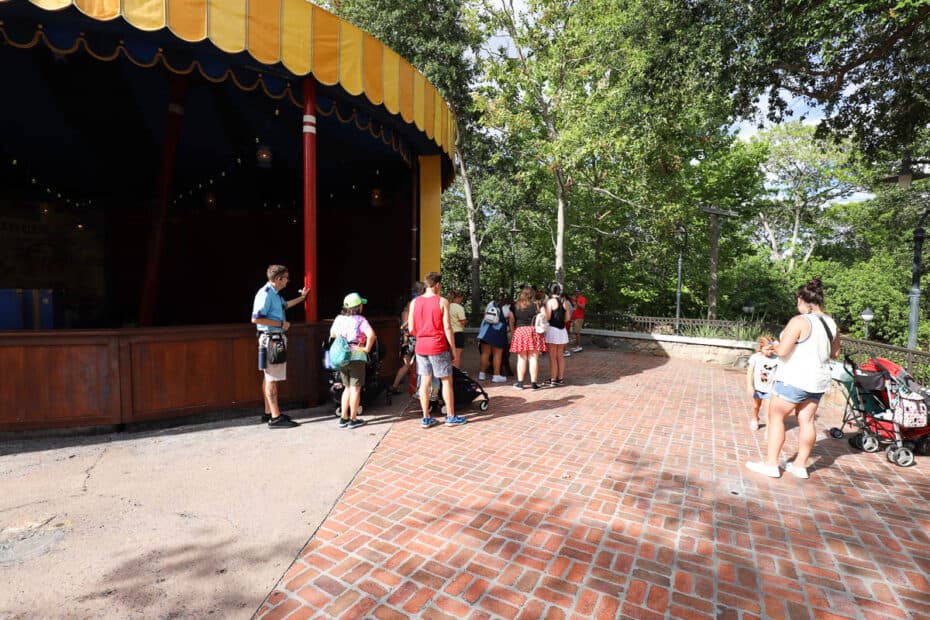 Chip and Dale do sign autographs at this location. However, there wasn't a PhotoPass photographer present at the meet-and-greet.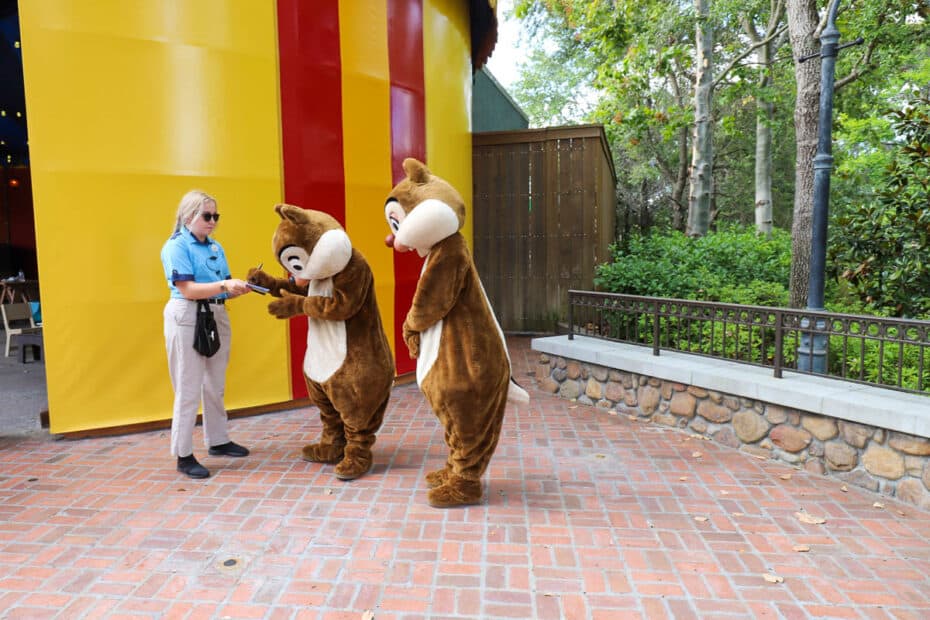 Here is a look at their autograph.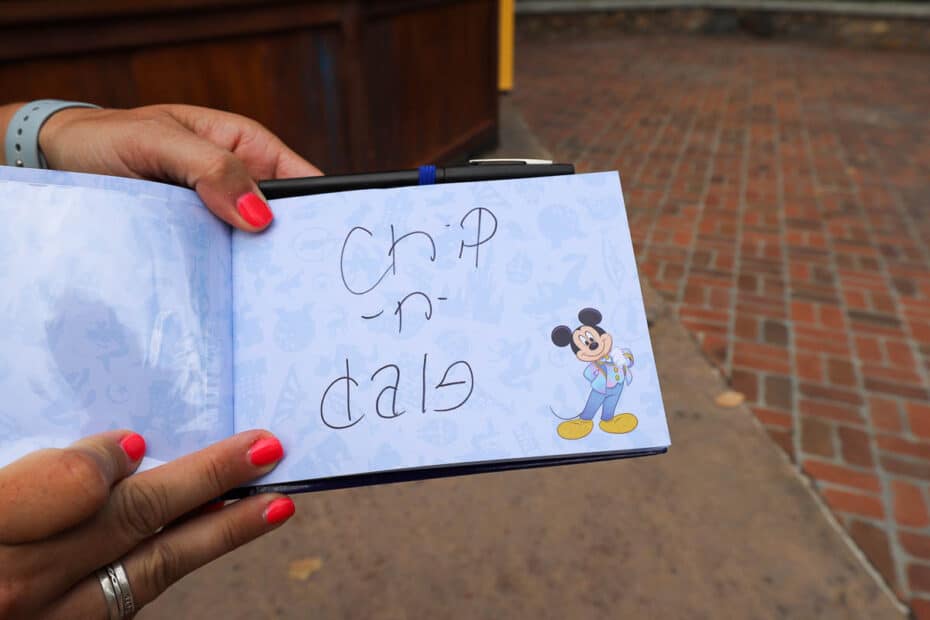 Elsewhere at Magic Kingdom, you might find Chip and Dale as walking characters in the Festival of Fantasy Parade at Magic Kingdom.
They also ride on one of the floats in Mickey's Celebration Cavalcade. However, that cavalcade is expected to end with the rest of the 50th-anniversary celebration.
Hopefully, we'll see Chip and Dale return to Mickey's Halloween Party this next year. If so, we'll add their meet to our guide.
Related: Character Meets at Mickey's Not-So-Scary Halloween Party
Chip and Dale at Hollywood Studios
Chip and Dale did meet guests throughout the day at Disney's Hollywood Studios. Often, they were out in the grassy area in front of the Hollywood Brown Derby. However, Donald and Daisy have recently moved to this location.
Related: Disney's Hollywood Brown Derby Review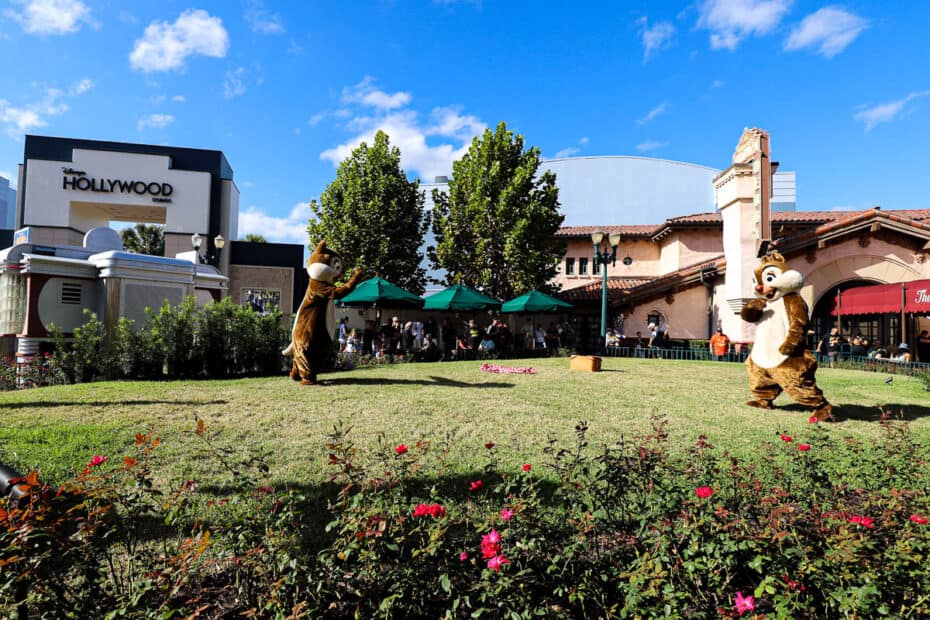 Chip and Dale have a new character meet-and-greet at Disney's Hollywood Studios. You'll find them to the far left of the Indiana Jones Epic Stunt Spectacular.
They meet here from mid-morning to the afternoon in their Rescue Rangers outfits. Their appearance times will be listed in the My Disney Experience app.
Related: Meet Chip and Dale as Rescue Rangers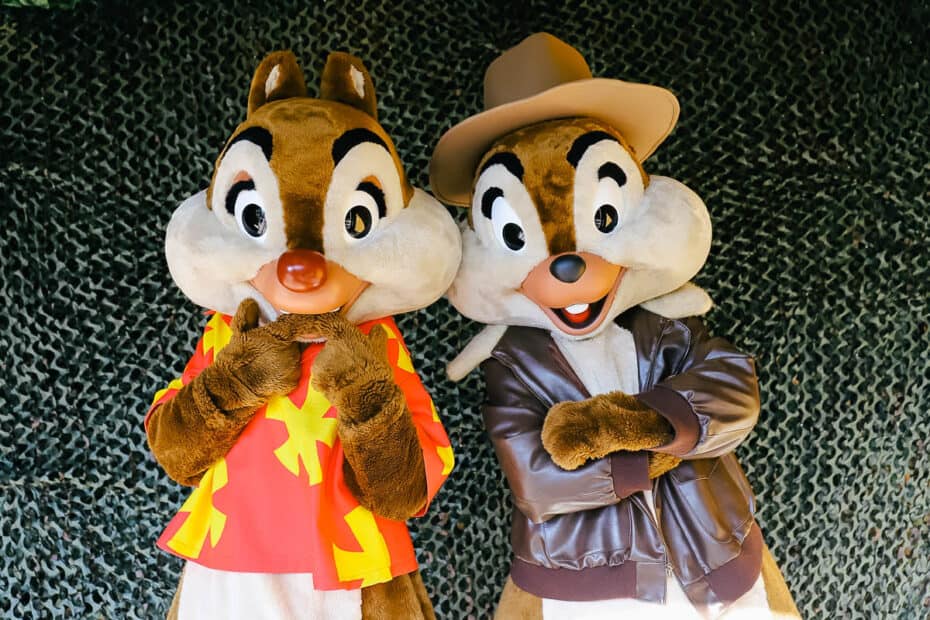 Chip and Dale at Animal Kingdom
Lastly, Chip and Dale meet at Disney's Animal Kingdom in their Dino-Bash outfits. This character meet is called Chipmunk-o-Saurus.
You'll find this meet in the Dinoland U.S.A. area of the park. The pair meet intermittently throughout the morning and afternoon hours. Their exact times are listed in the My Disney Experience app.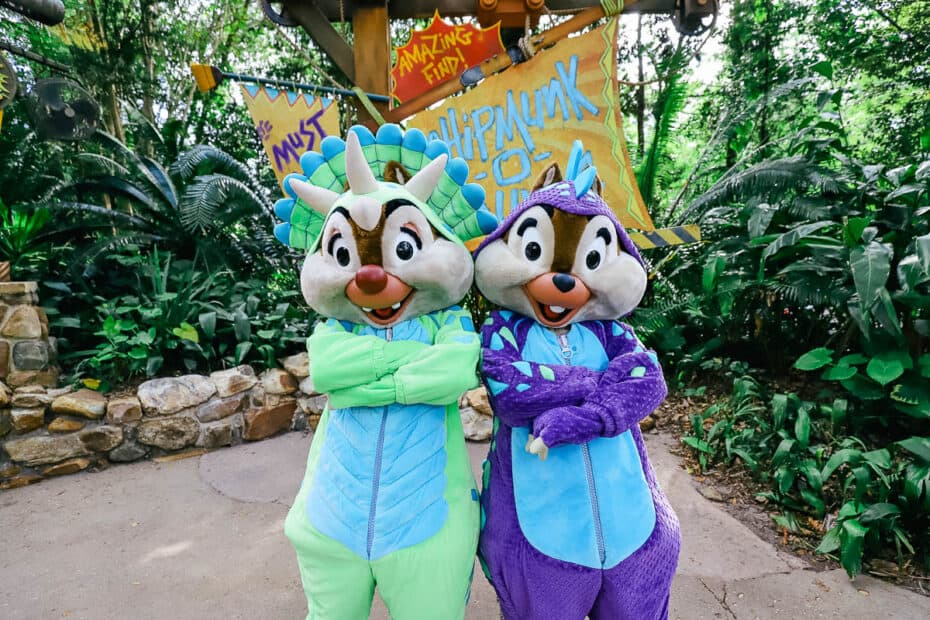 Chip and Dale at Epcot
While Chip and Dale do not currently have a formal character meet at Epcot, they appear at the Garden Grill Restaurant. Garden Grill is a character dining restaurant that requires a reservation.
Chip and Dale meet at the restaurant alongside Farmer Mickey and Pluto. Garden Grill is located in The Land Pavilion at Epcot. You can read more about the experience and an overview of every character meal in our guide.
Related: Disney World Character Dining Guide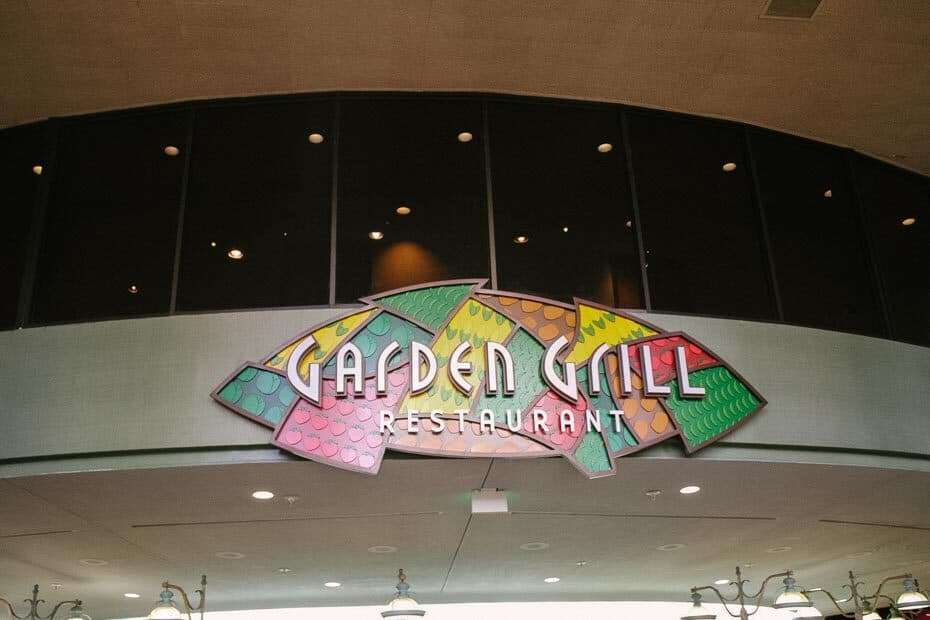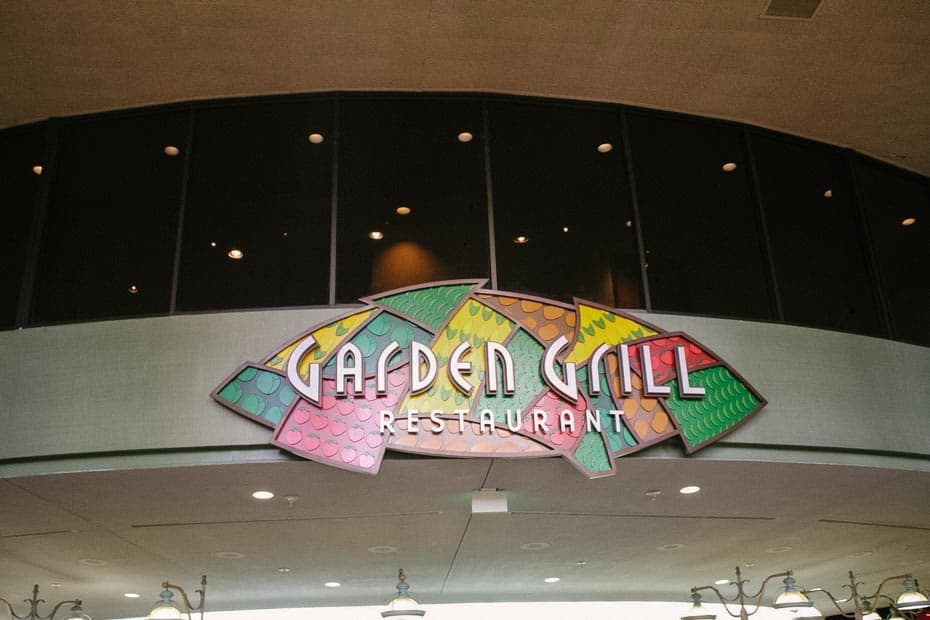 Other Places to See Chip and Dale
Additionally, we recently visited Fort Wilderness to attend Chip 'n' Dales Campfire Sing-A-Long. This free event happens every evening and is open to anyone who wants to attend.
You'll see Chip and Dale, take part in the sing-a-long, and roast marshmallows if you bring some or purchase a kit. We have an entire article that includes a video detailing the experience.
Related: Chip and Dales Campfire Sing-A-Long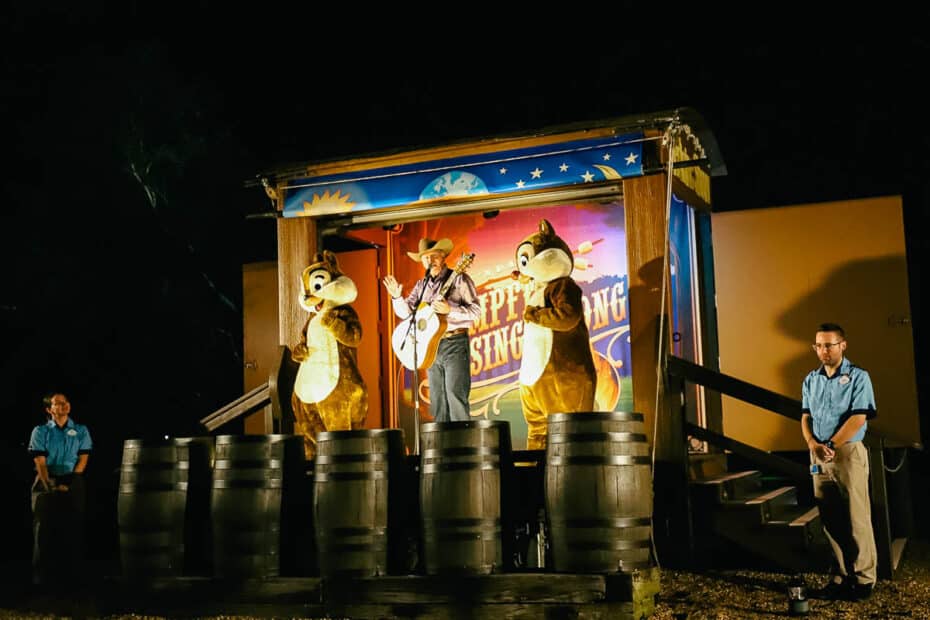 Formerly, Chip and Dale met guests at Mickey's Backyard BBQ before it closed in 2018. They also met guests near the Epcot Character Spot before it closed in 2019.
If you're looking for more character meets at Disney World, you might enjoy a few of these articles:
In the Comments
I hope you meet the pair during your Disney vacation! Have you met Chip and Dale before? Leave a comment and tell me about your experience.