Meet Minnie Mouse at Epcot (Near the World Showcase Plaza)
Everyone needs to meet Minnie Mouse during their Disney World vacation. Thankfully, you can typically find her at most of the parks.
But what about classic Minnie Mouse? Well, you can only find her at Epcot. That's where Minnie Mouse meets in her red with white polka dot dress, bow and all.
So for this article, we'll specifically look at where to find Minnie Mouse at Epcot. Unfortunately, since her former meet was demolished a few years ago, she's been relatively difficult to find.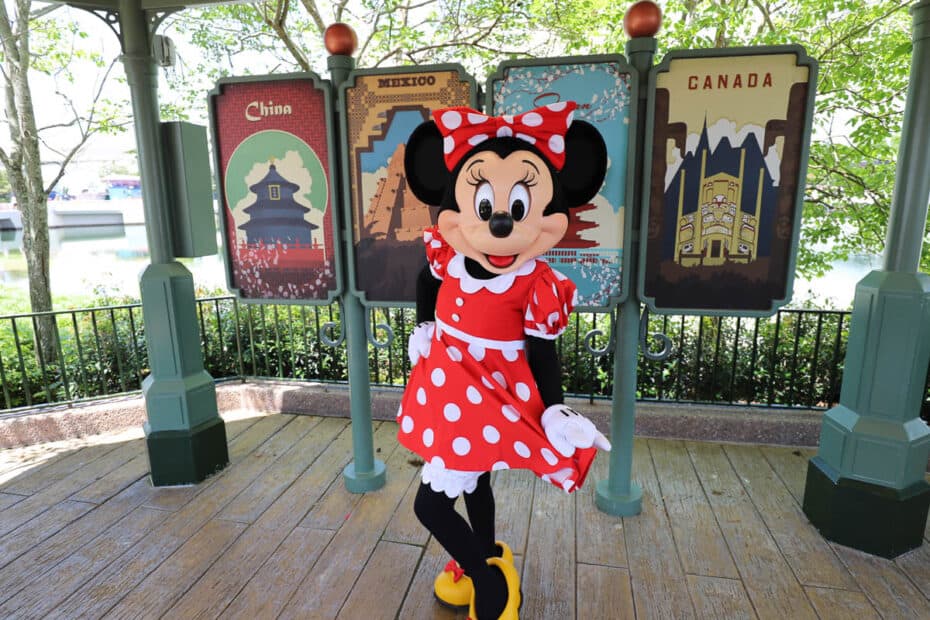 But as of late, Minnie has found a temporary home in the gazebo at the World Showcase Plaza. The gazebo is located at the front of the World Showcase. It is on the left before you get to the Mexico Pavilion.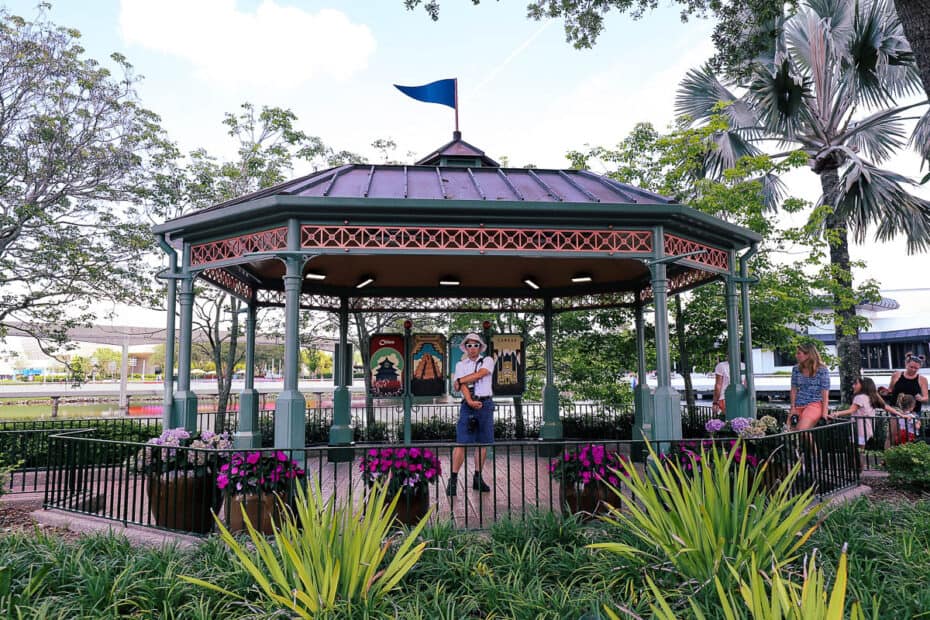 I say "temporary location" because Disney finally announced that a new Mickey and Friends character location would be included in the CommuniCore building. However, construction hasn't started on that building yet.
So in the meantime, let's hope she'll continue to meet here in the gazebo.
When I arrived at this meet, it was 2:10 p.m. which was the exact time she was supposed to start greeting guests. However, she was nowhere to be found, and the line was significant.
Within a few minutes, she magically appeared and was more than ready to greet guests.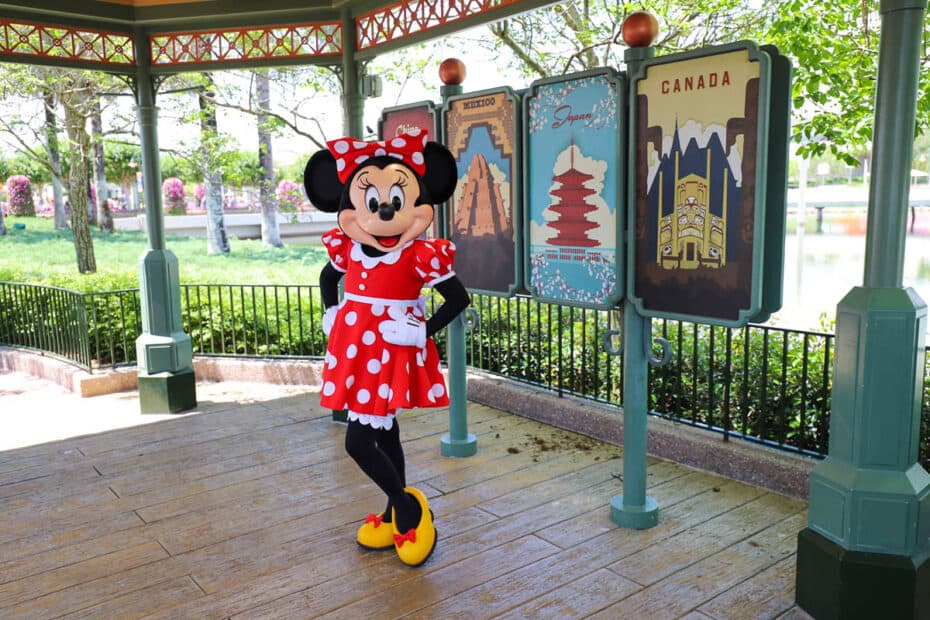 And by 2:25 p.m. I was getting Minnie to sign my autograph book. So, it took approximately 15 minutes to meet Minnie Mouse from when I got in line.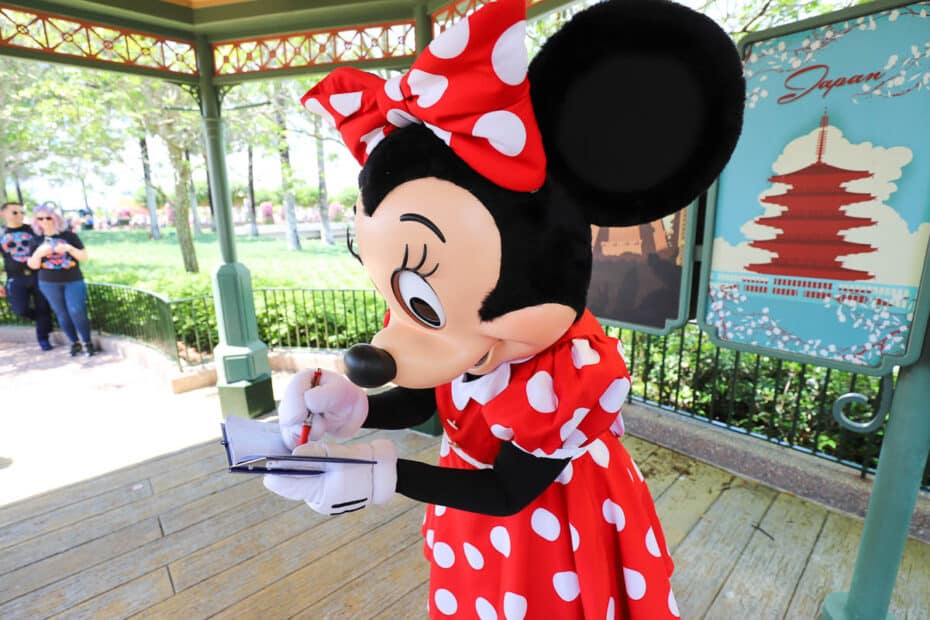 However, after my turn, cast members warned guests that she was about to take a five-minute break. It was scorching this afternoon, and the characters have to take breaks frequently.
So if one were to disappear, don't fret. They will return shortly.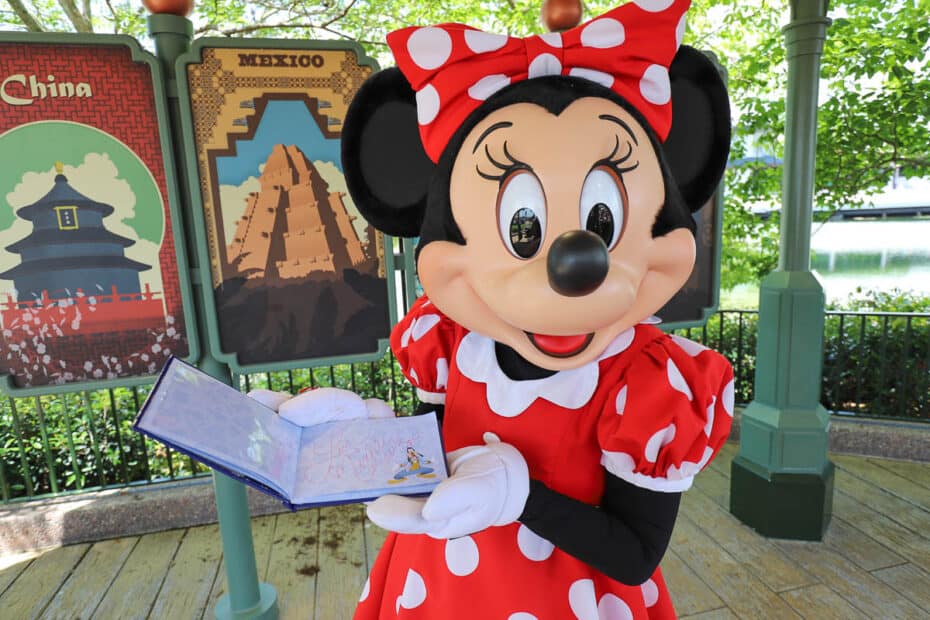 Additionally, Minnie Mouse has a PhotoPass photographer available at this location. They will take your photo and scan your band if you have the Memory Maker.
If you didn't purchase the Memory Maker, you could ask if they'll take a family photo with your device.
And here's a look at her autograph. She signs her name with love and dots her i's with hearts.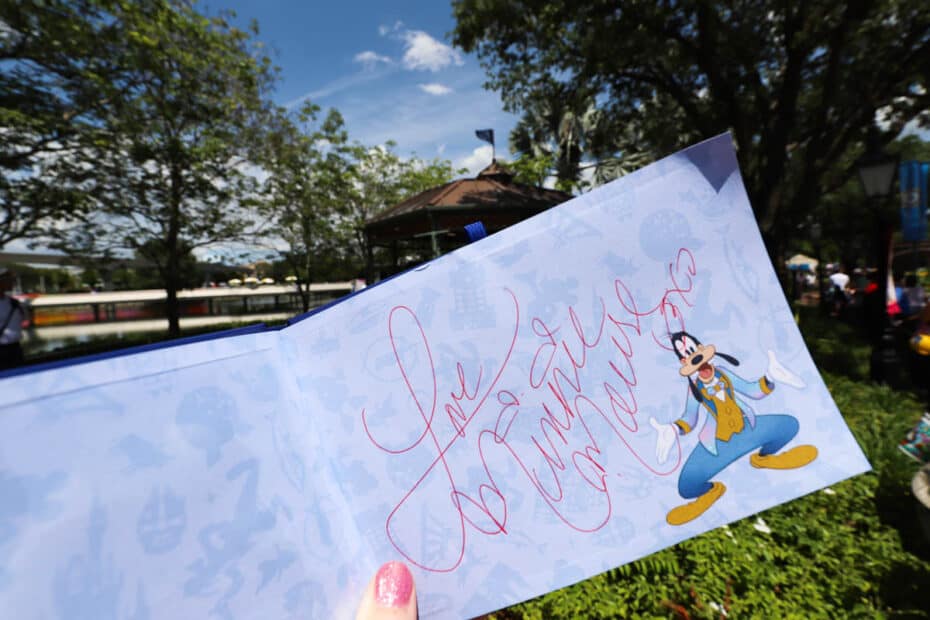 At this time, Minnie Mouse meets at this location at the following times:
11:30 a.m.
12:00 p.m.
12:30 p.m.
1:00 p.m.
2:10 p.m.
2:40 p.m.
3:10 p.m.
3:40 p.m.
4:10 p.m.
4:40 p.m.
You'll want to check Disney's site here, or the My Disney Experience for exact times on the day of your visit.
Check out our complete guide that details how to find characters at Epcot. Or you might enjoy the following meet and greets:
Additionally, we have an entire list of character meets at Disney World. That page goes over each park and what characters you can expect to find.
Do you plan to meet Minnie Mouse at Epcot on your vacation? Did this article answer all your questions about this character meet?