Disney Wish Stateroom Tour–Deluxe Oceanview with Verandah (Room 7518)
In this article, we tour a deluxe oceanview stateroom with a verandah on the Disney Wish. We stayed in room 7518.
"A dream is a wish your heart makes" (Cinderella). This lyric came to mind more than once when we set sail on the Disney Wish a few weeks back. She's a beautiful ship.
She is so beautiful that you might wish to sail on her again after that initial voyage.
When planning a Disney Cruise, most of us wonder what room we'll end up with on the ship. And when it comes to the Wish, there are a variety of rooms with different categories and layouts.
Our room, number 7518, was located on the forward of the ship, starboard side. For those unfamiliar, the forward is the front of the ship, and the aft is the back. Starboard is on the ship's right side, and the port is on the left.
Here is a look at our room.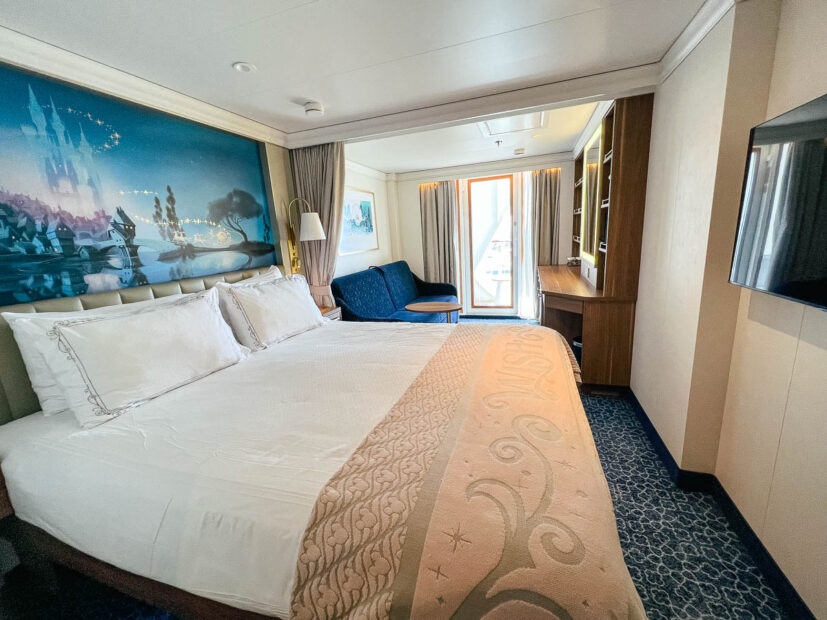 Our room had a queen-size bed and a single sofa bed. I appreciated the throw with the ship's name embellished on it. Every evening, we came in to find the throw had been transformed into some kind of animal, with the help of a few towels, of course.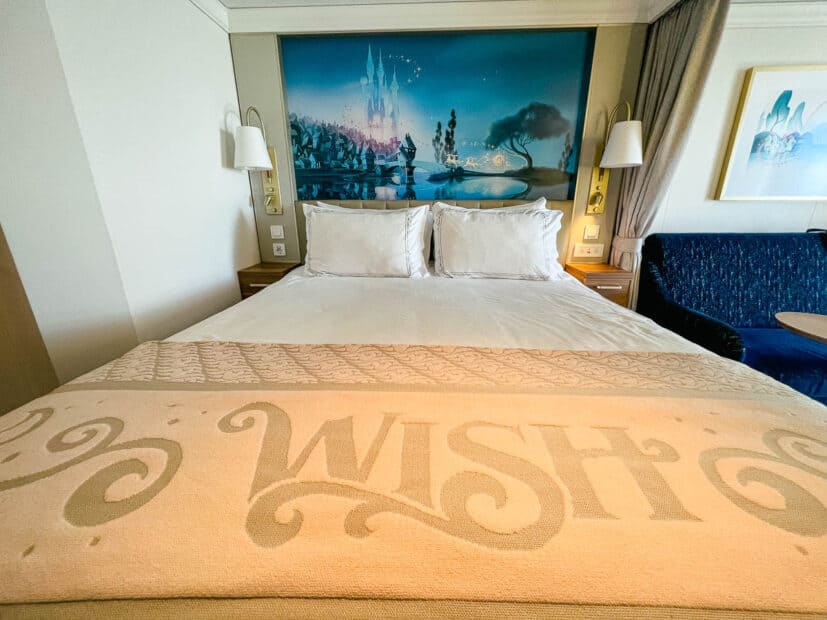 Here is an alternative view of the room.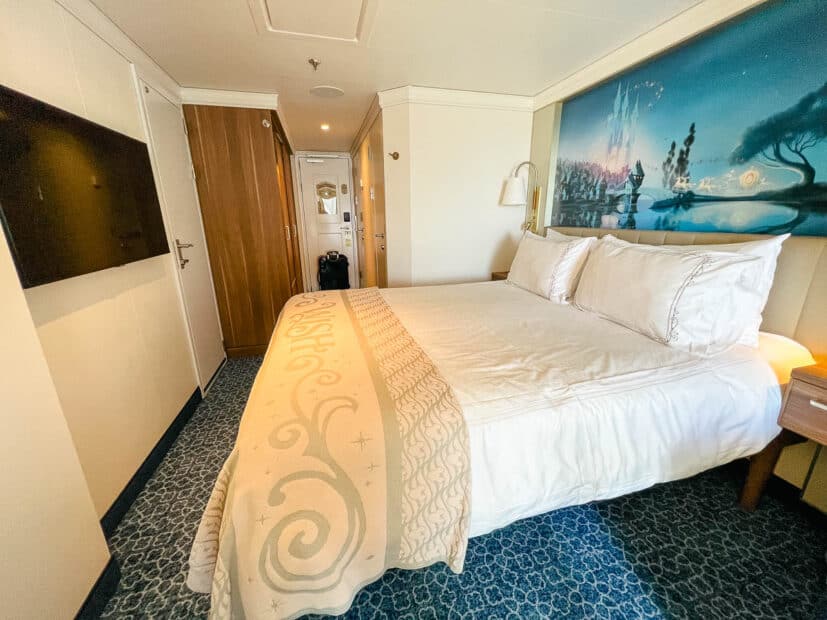 A curtain can be used as a divider between the two spaces allowing for privacy. Since I was traveling with a friend, we used the curtain when we were getting ready for dinner each evening.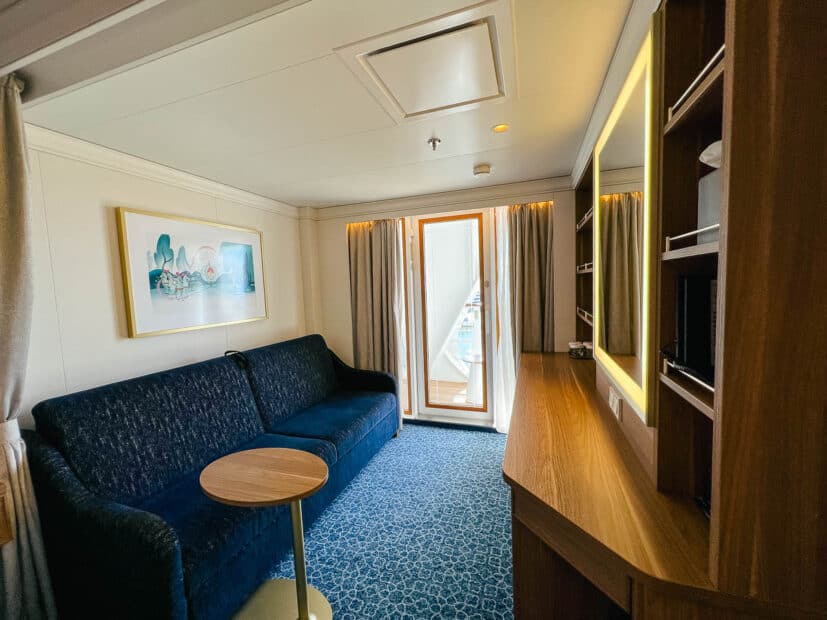 Here is my humble abode, which was relatively comfortable.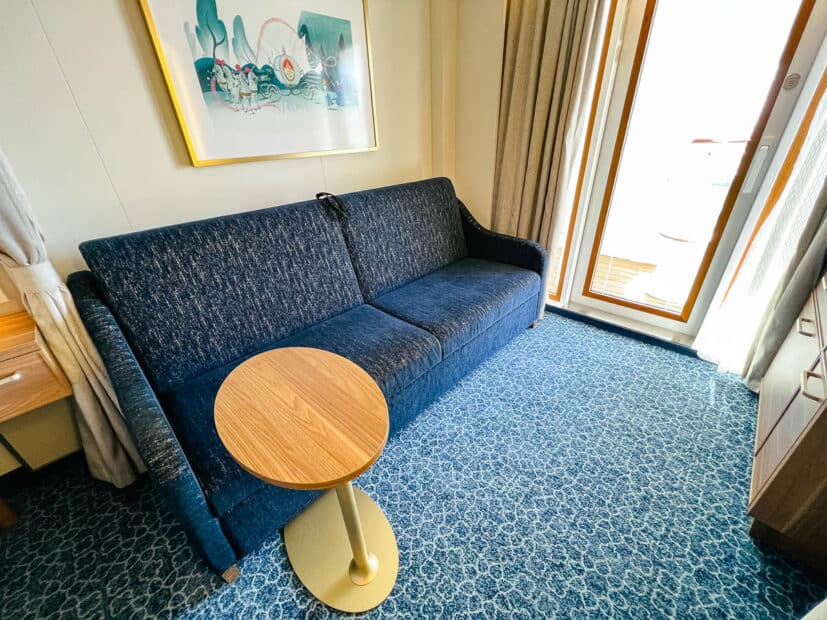 It reminded me of the sofa bed we recently saw in the newly refurbished Incredible rooms at Disney's Contemporary.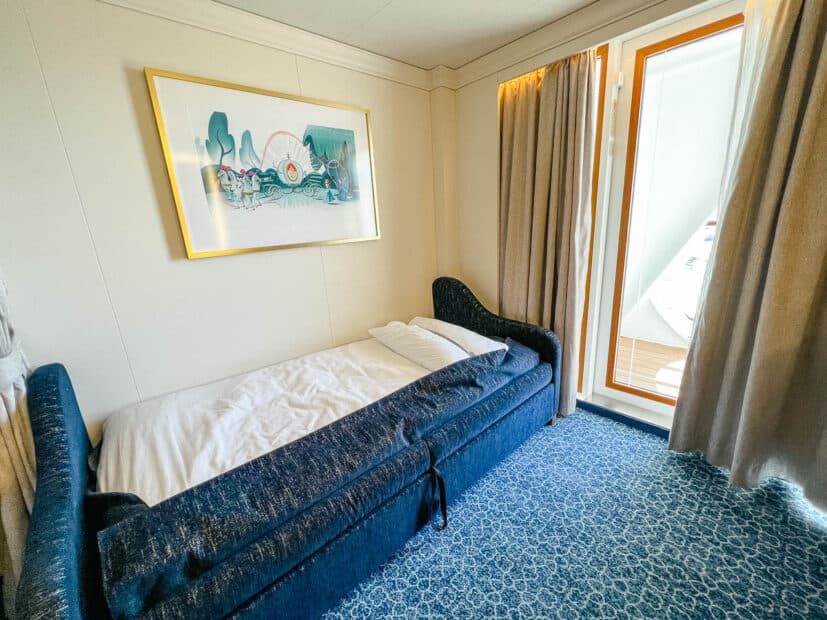 Artwork hangs above each bed. Our room had Cinderella references. From my understanding, different rooms have various theming. So you might end up in a room featuring artwork from The Little Mermaid or Tangled, among other Disney films.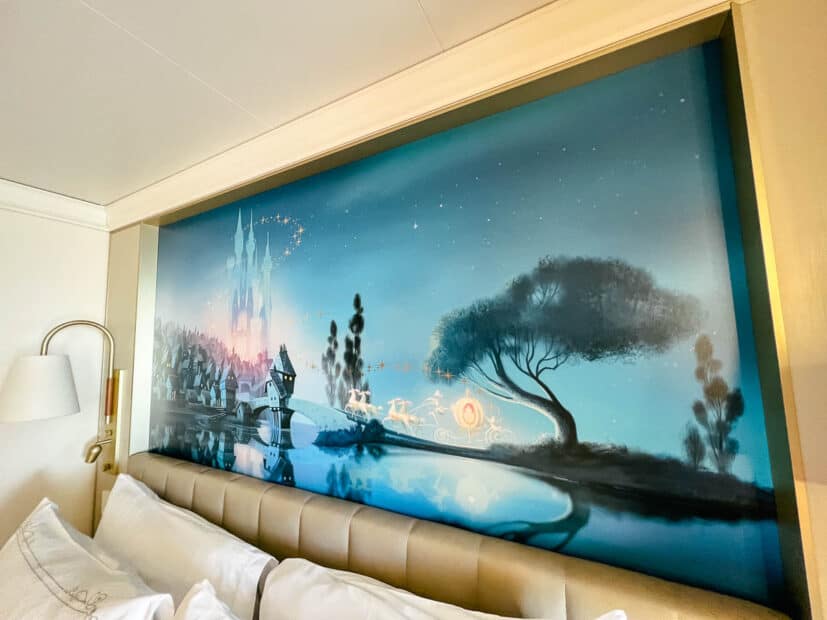 Another piece of artwork hangs over the couch. This one featured Cinderella and the Fairy Godmother as she turned the pumpkin into a carriage.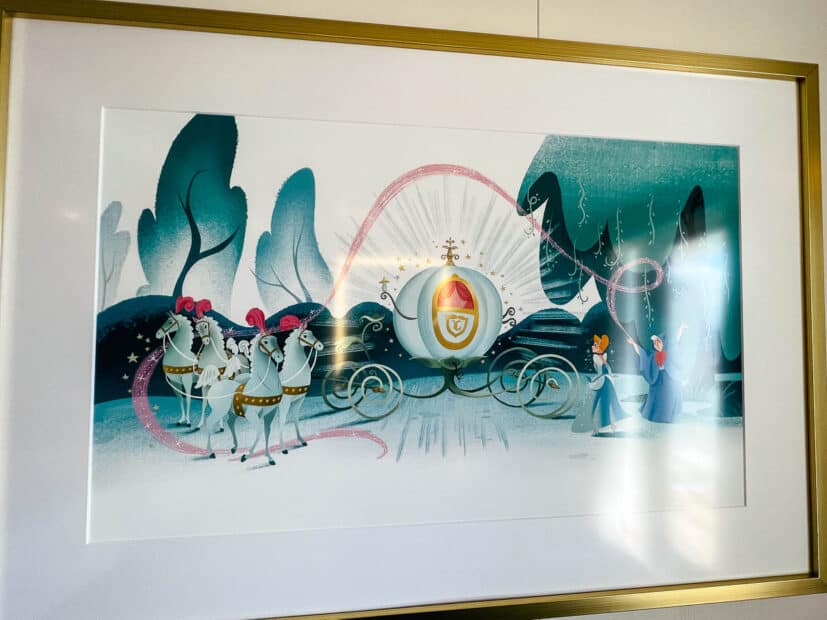 A nightstand sits on each side of the bed. The one between the bed and the sofa had outlets and USB ports.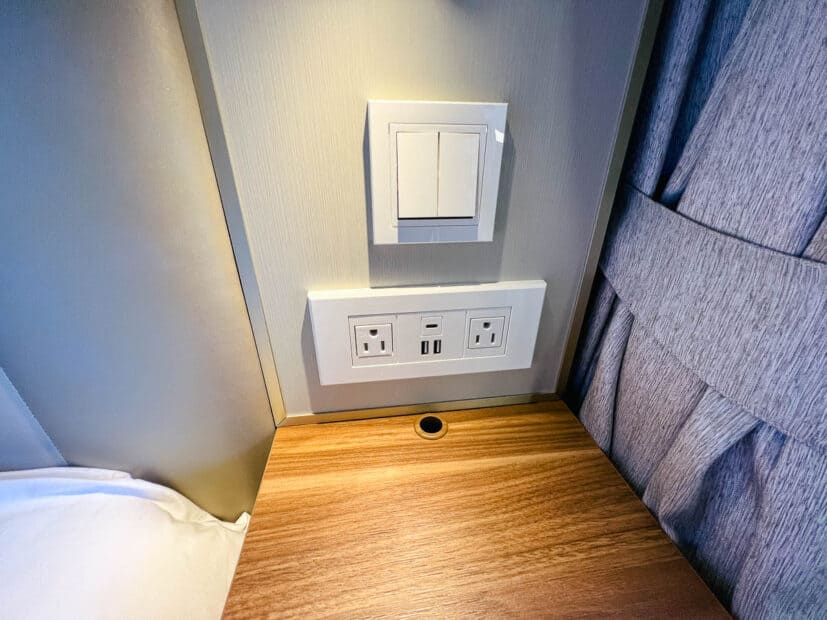 Along the opposite wall, there's a dresser with built-in cabinetry. This area has a vanity, storage space, and room to work if desired.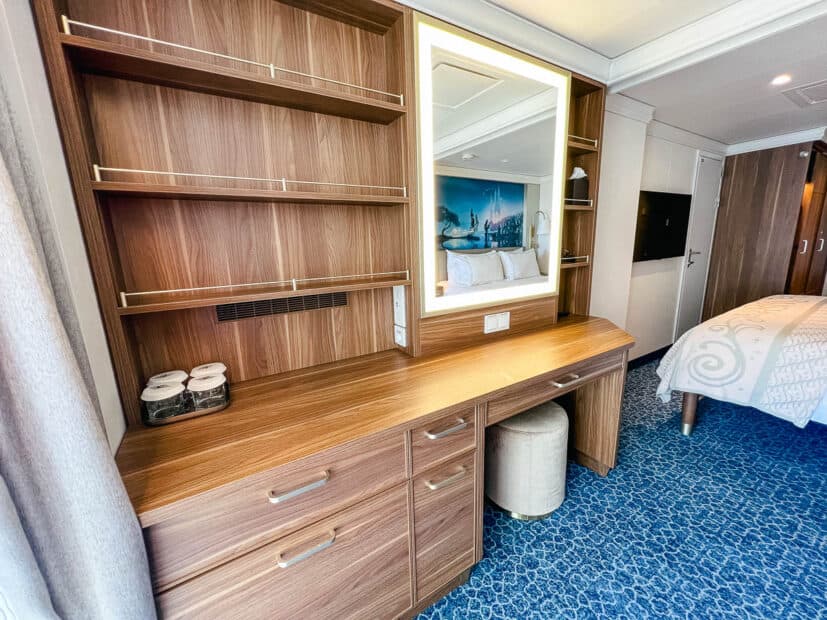 There are several more outlets here if needed. The odd-shaped plug at the bottom of the photo works for the hair dryer. A hairdryer is available in one of the dresser drawers.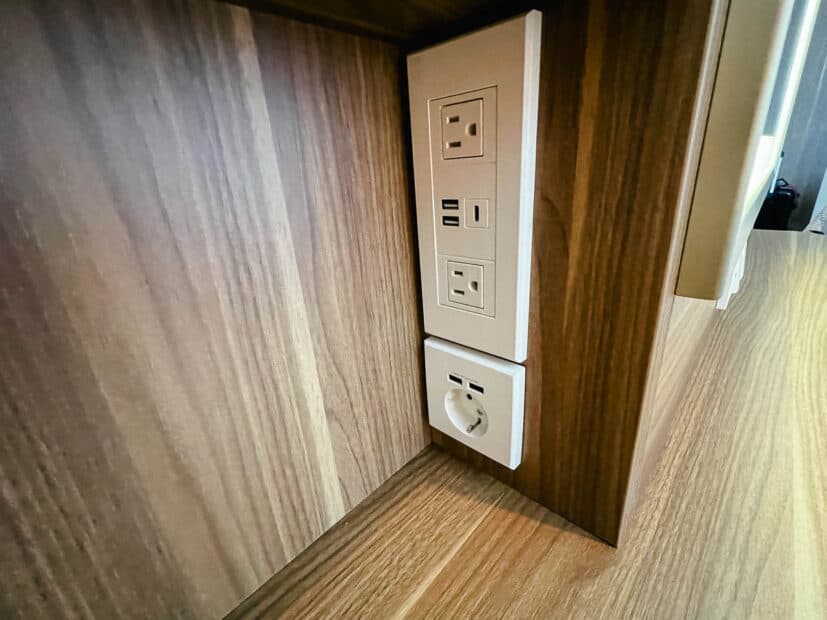 On the far left, there's a pull-out drawer that serves as the room's mini-fridge.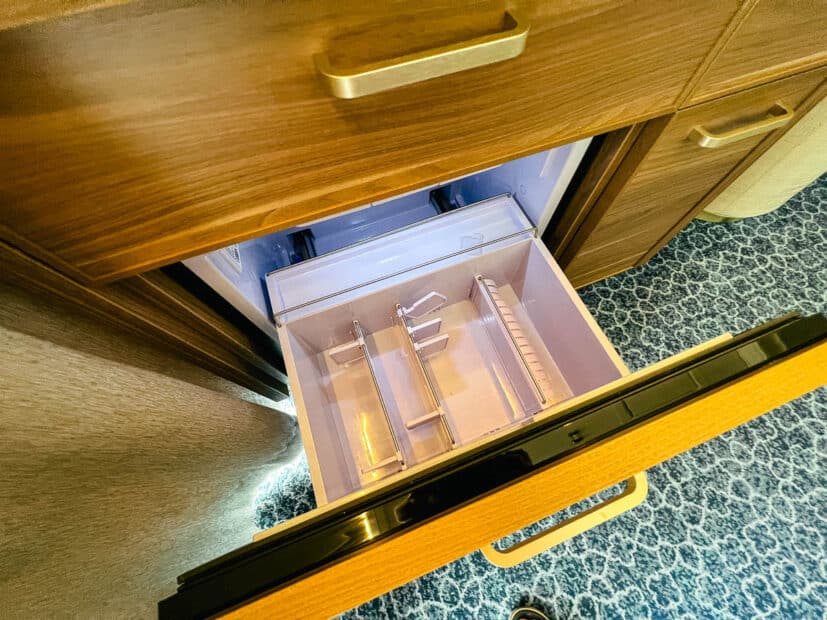 Overall the room was spacious and comfortable. I appreciated the vanity area and used it when I was getting ready each evening.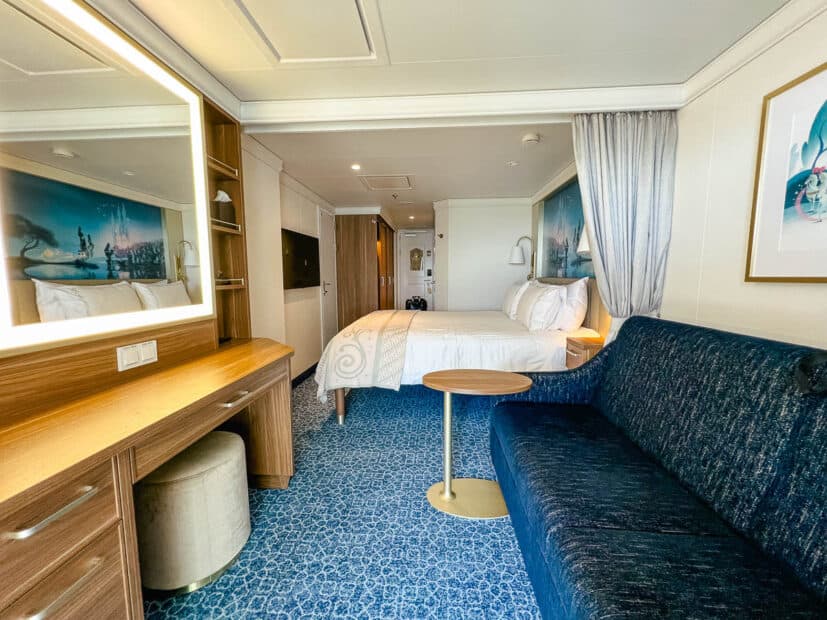 We had a full verandah with two chairs and a balcony. Our balcony had what is called an obstructed view. You can see where the side of the ship blocks the full view.
For me, this wasn't a deal-breaker. Additionally, the obstruction provided a little shade from the sun.
However, some of you might not be fond of having an obstruction. So if that's the case, make sure to stress this to your travel agent when choosing a room.
Related: Benefits of Using a Travel Agent for Disney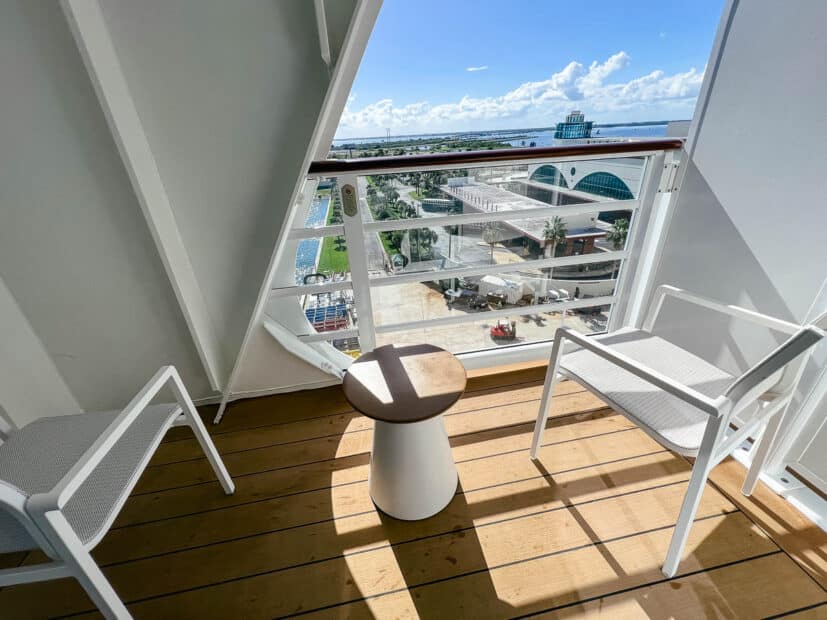 Bathrooms are set up differently on the Disney Wish than on other cruise ships. There are two separate rooms. Ours had a full shower with a tub combination and one single vanity.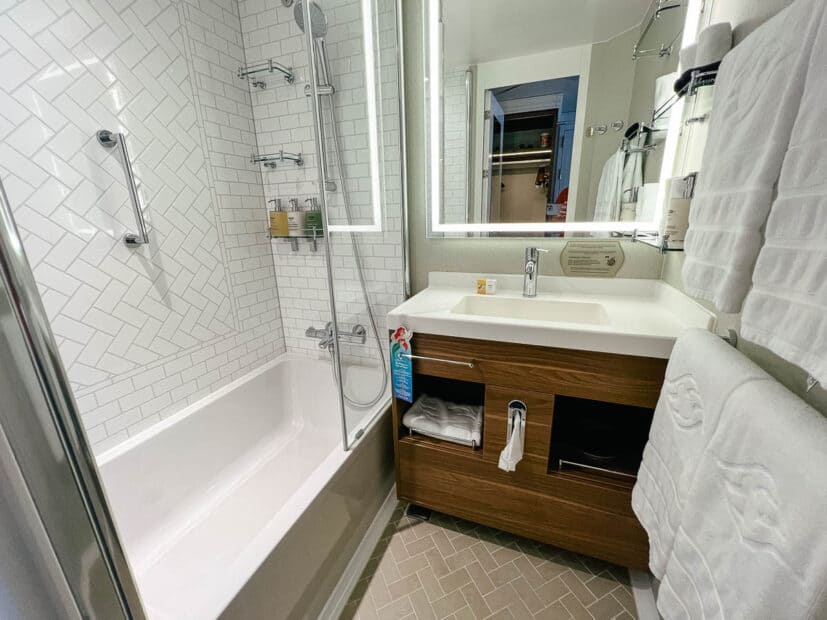 There was a little storage underneath the vanity, but not much.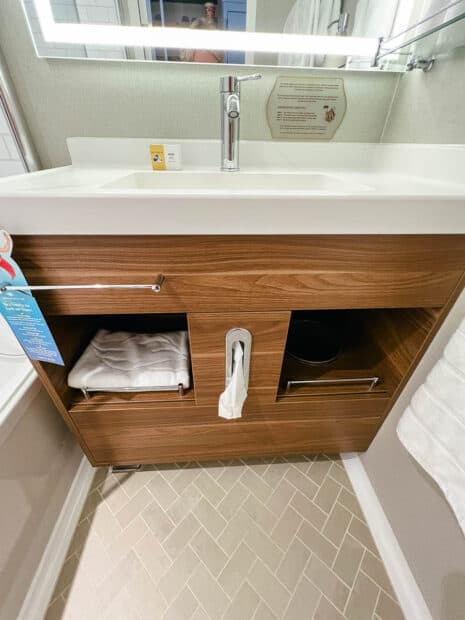 However, you could place personal items on the glass shelves that hung on the nearby wall.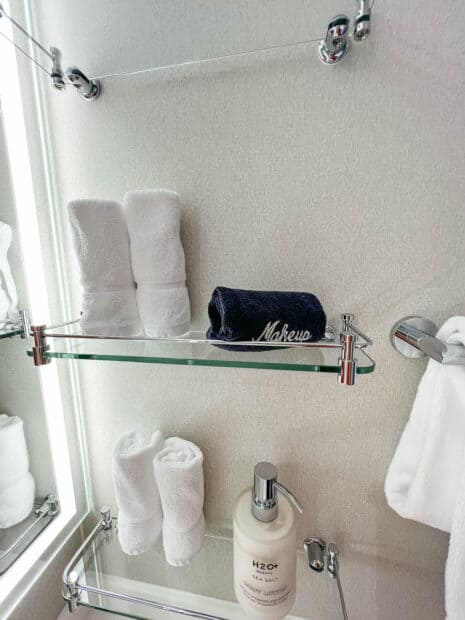 Our shower had a detachable showerhead and several small glass shelves for toiletries.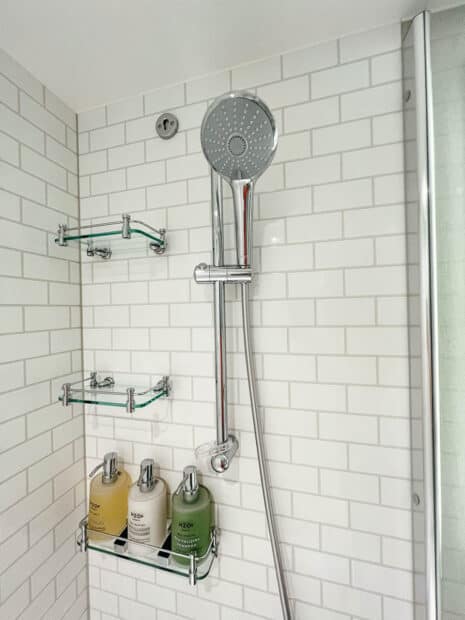 Soap, shampoo, and conditioner are available in built-in containers.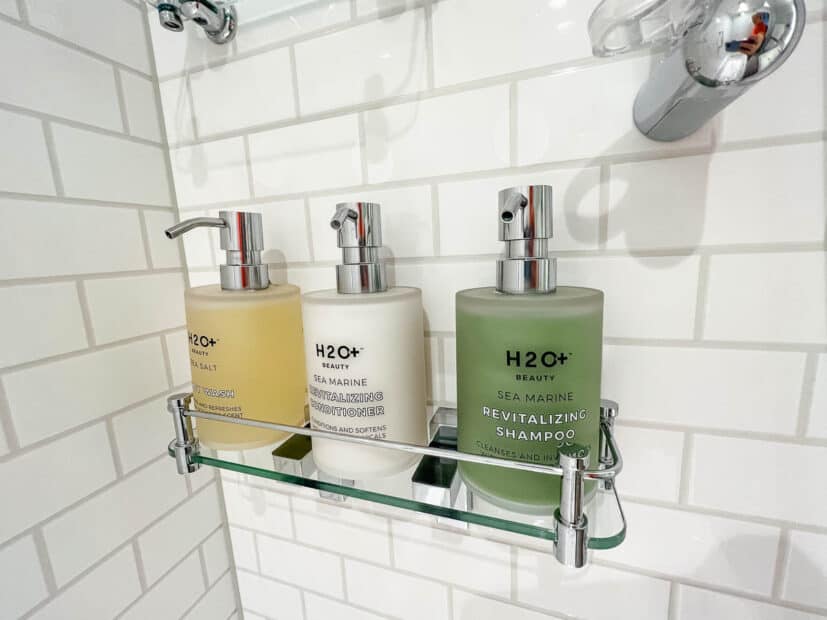 I appreciated the Mickey shapes on the towels.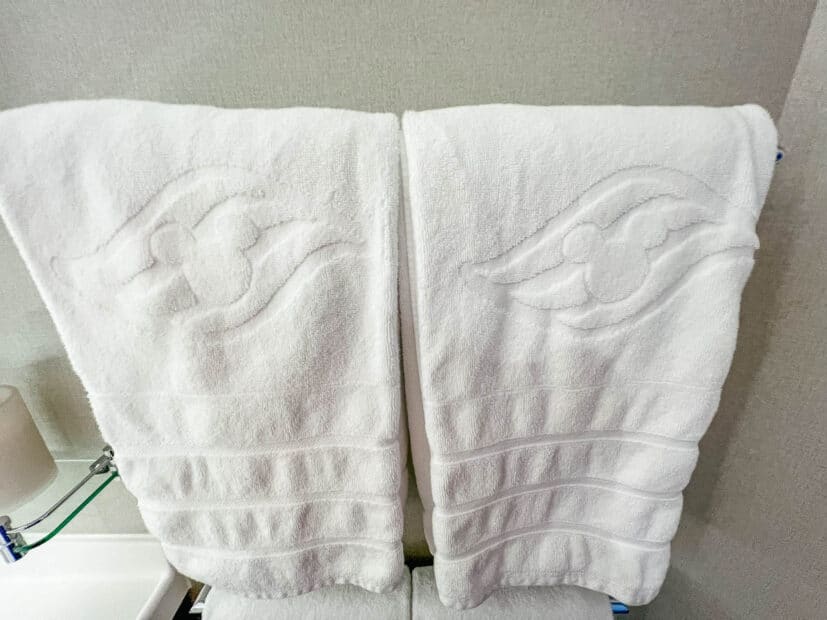 A water closet is located in its own room inside the stateroom. Most will prefer this layout because while one person is showering, the water closet is still available.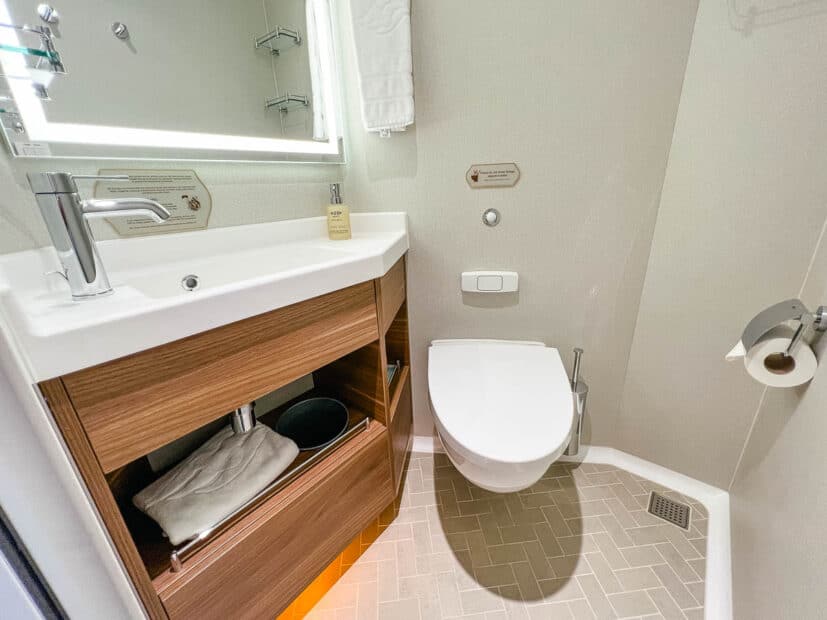 The vanity in the water closet was identical to the guest bath.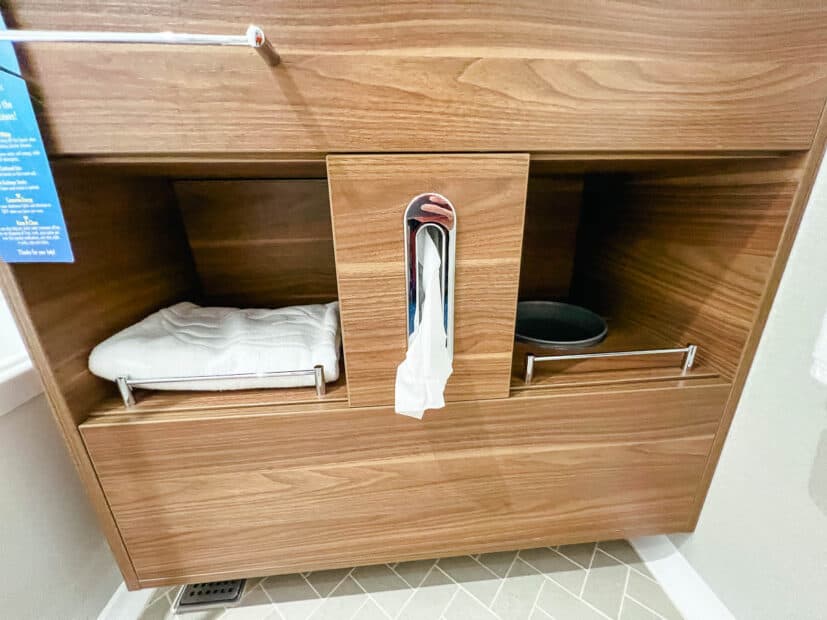 A flat-screen television hangs on the wall. I was impressed with the offerings. When we cruised with Royal Caribbean to Cabo, we hardly had any channels. But on the Disney Wish, there were multiple options and Disney on Demand.
Disney on Demand is similar to Disney+. So every evening (well, almost), you would find me tucked into bed watching television by 10:00 p.m. So that's how I ended up with the nickname, Tangled by Ten.
I don't know about you, but I can't wake up early and then go to bed late. A girl's got to have her sleep.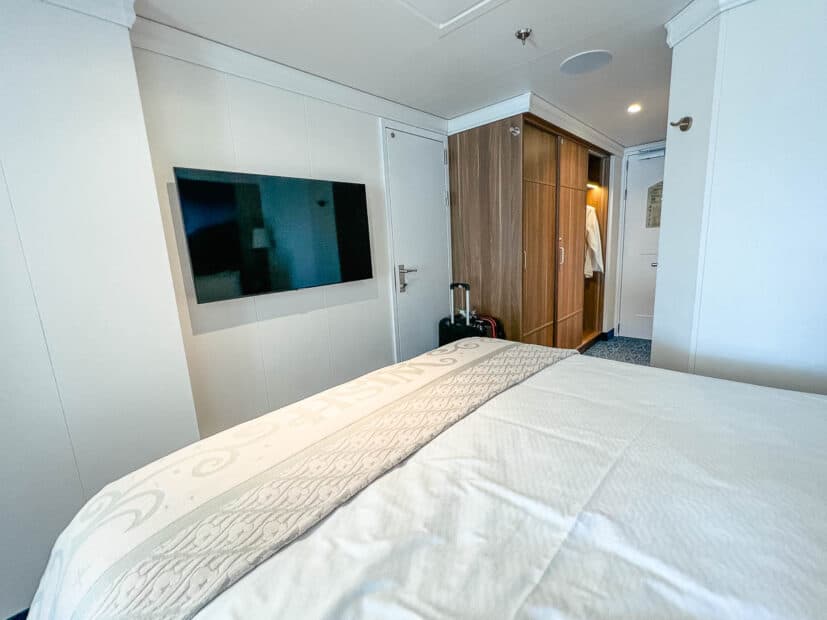 There were three sets of closets in our stateroom. The ones on each end were identical, providing room to hang clothing items.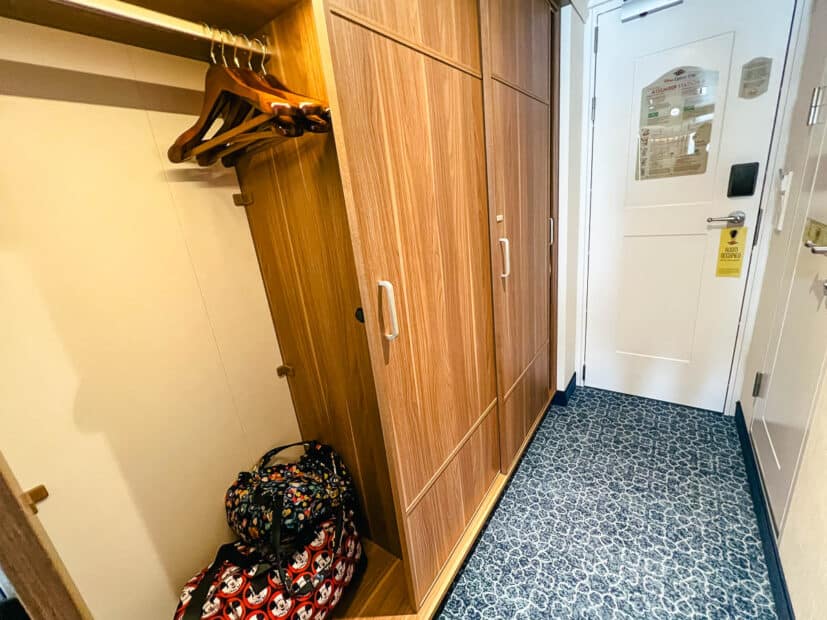 The middle closet had shelving and contained life jackets and an in-room safe.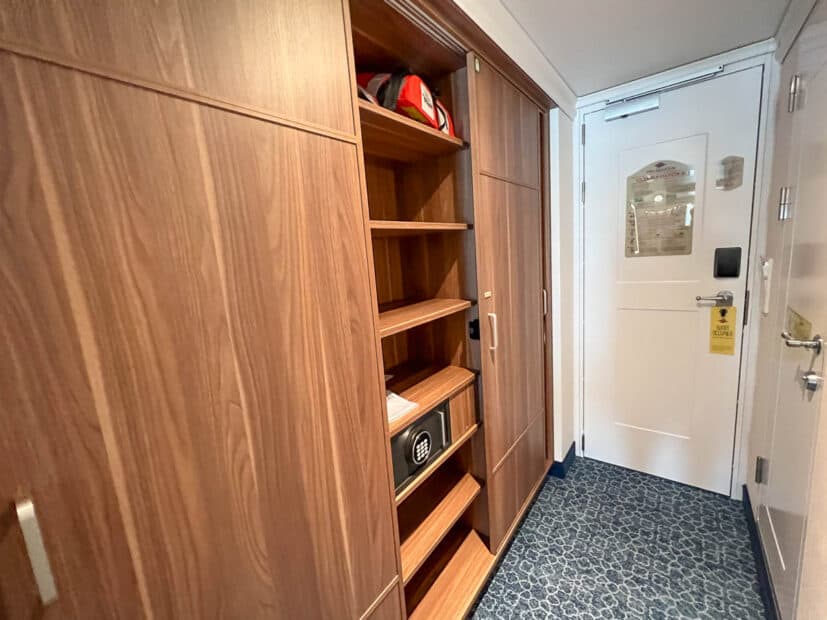 Laundry services are available if needed. But you can also do your laundry. The Disney Wish has a more-than-sufficient laundry room located mid-ship on Deck 8.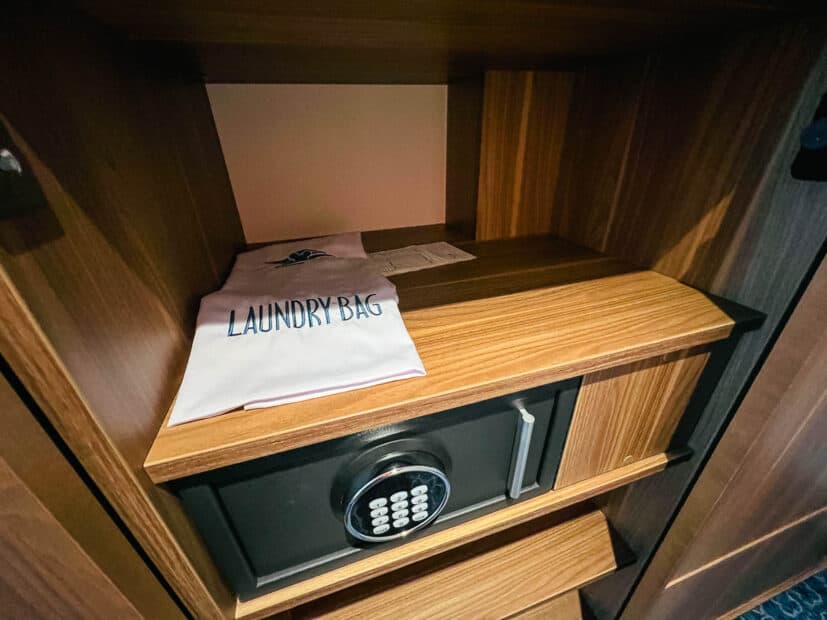 We were provided with two Disney Cruise Line branded robes for the week. I thought this was a nice touch and used mine when getting ready in the evening.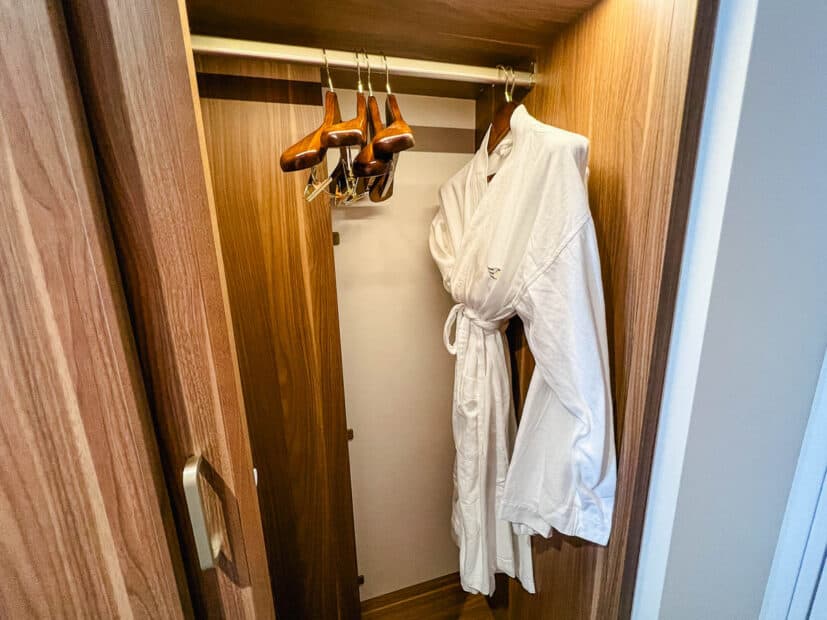 Here is a photo of our verandah when we were at sea.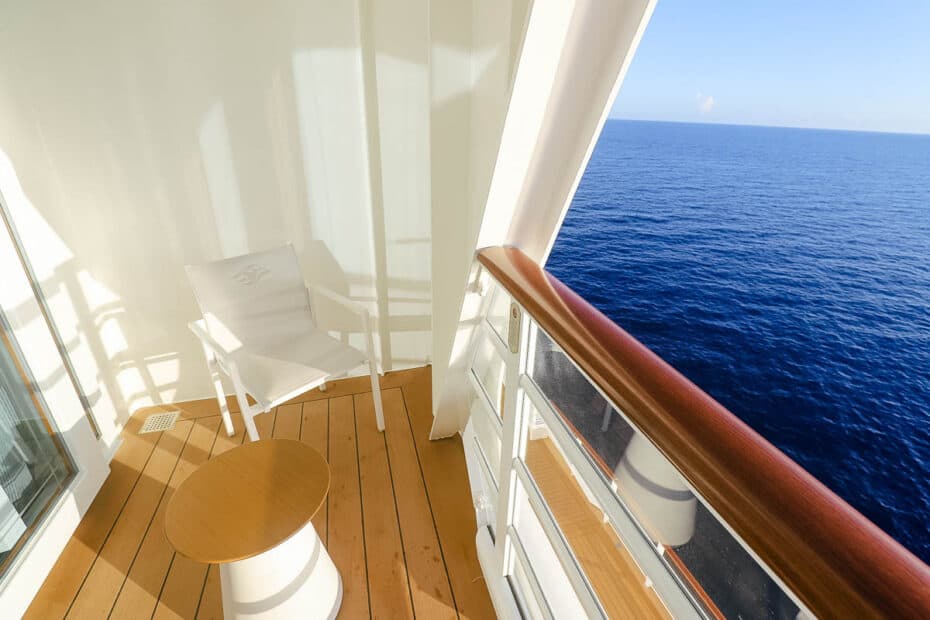 Overall, we enjoyed our room, and I'm looking forward to the next voyage, whenever possible.
Now for the question–do you need a room with a verandah? My answer is two-fold.
If you plan to spend a good deal of time in your room during the day, then yes, you would likely want to have a view of the ocean, at the very least.
While I didn't spend much time in the room, I enjoyed sitting on the couch and looking at the ocean, especially around sunset, while getting ready for dinner.
With that said, there is much to do on a cruise ship like the Disney Wish. So you'll probably be up and out for breakfast and other activities on your days at sea. And on your days at port, you'll probably disembark the ship for other excursions.
So if an oceanview room or a room with a balcony doesn't meet your budget, consider an interior room instead. Most of these sailings are only for a couple of days and nights, and there are plenty of stunning views from other areas of the ship.
Here is a video tour of the room:
If you have any other questions feel free to leave them down below. I'll be happy to answer them based on my experience.
For other articles, you might enjoy:
In the Comments
What do you think about our stateroom on the Disney Wish? Would you prefer a room like this, or would you need a room with more bed options?