2022 Gingerbread Display at Disney's Contemporary Resort (with Photos and Treats)
Our holiday season continues with a trip to Disney's Contemporary to see the return of the resort's gingerbread display in 2022. However, this year the resort features a different theme focused on the 50th-anniversary of Walt Disney World.
Formerly, this gingerbread display was dedicated to Disney's Cinderella, featuring characters like the Fairy Godmother, Cinderella, and Prince Charming. We'll likely see a return to that theming next year or possibly something new altogether.
In the meantime, with only a few months left to spare, the 50th-anniversary of Walt Disney World lingers. For us, that means a gingerbread display featuring our favorite duo, Mickey and Minnie Mouse, as their golden anniversary statues.
Let's look closer.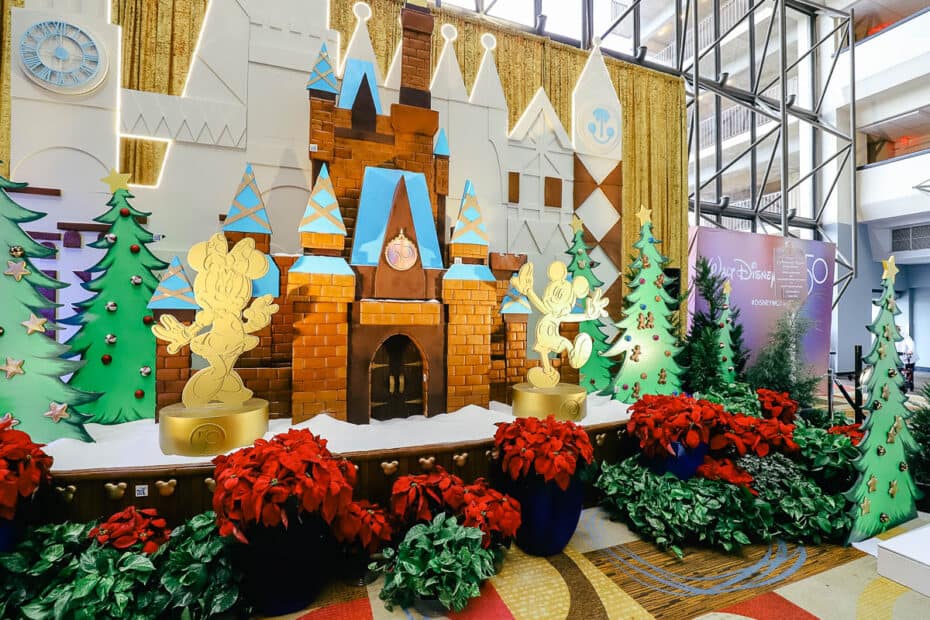 To access the gingerbread display at Disney's Contemporary, you'll need to visit the fourth floor (Grand Concourse). You can do so by taking the elevators or escalators up from the lobby.
Additionally, since the Contemporary is a monorail resort, you can take the monorail over and exit at the Grand Concourse. You'll be able to look down and see the display before exiting the monorail car.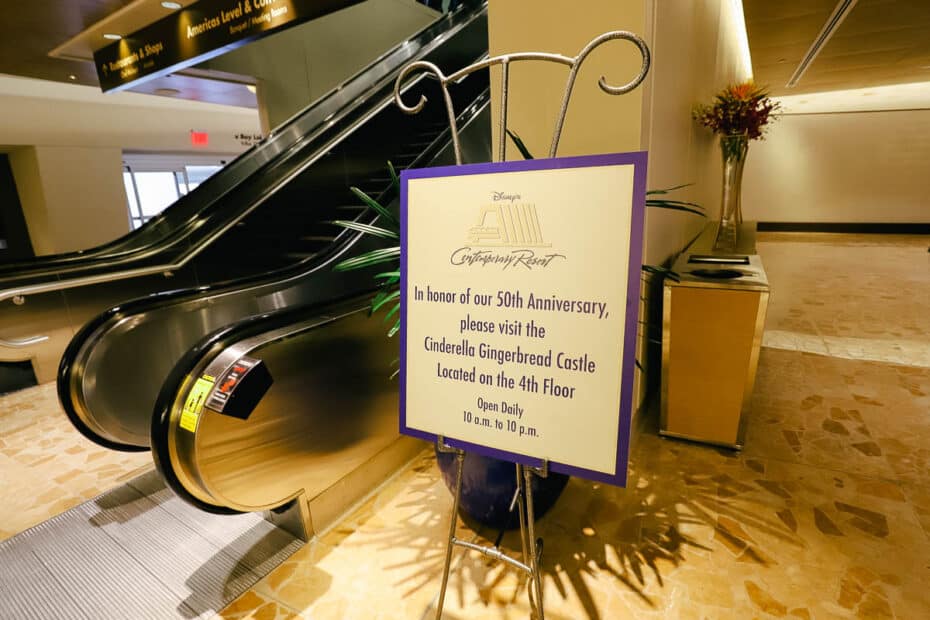 Disney's Contemporary gingerbread display is open daily from 10:00 a.m. until 10:00 p.m. Of course, you can walk by and view the display anytime. There just won't be anyone to sell you treats if you visit after hours.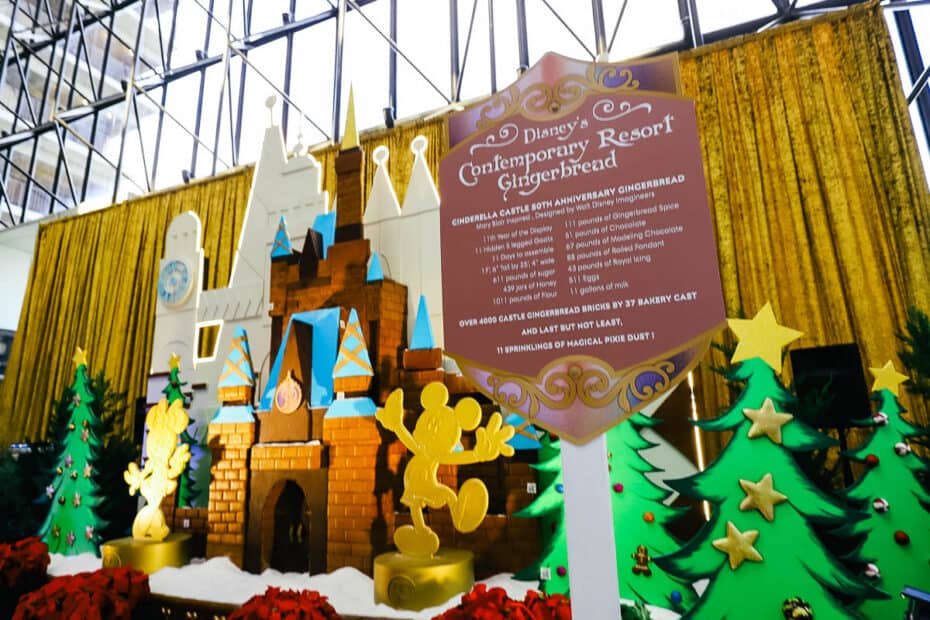 A sign in front of the display lists the ingredients used along with a few other points. Some highlights include:
Mary Blair Inspired Design (note the "it's a small world" references)
11th year of the Display
The display is made up of over 4,000 gingerbread bricks.
37 Bakery Cast Members worked on the display.
Lots and lots of Pixie Dust included.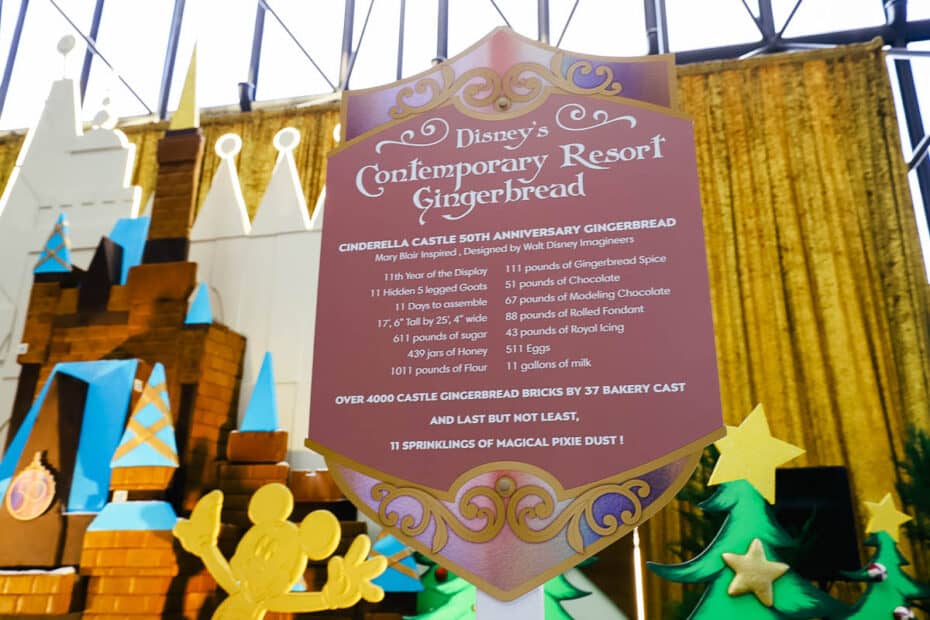 Looking closely at the gingerbread display, you'll notice fine details like the golden decor wrapped around the castle turrets.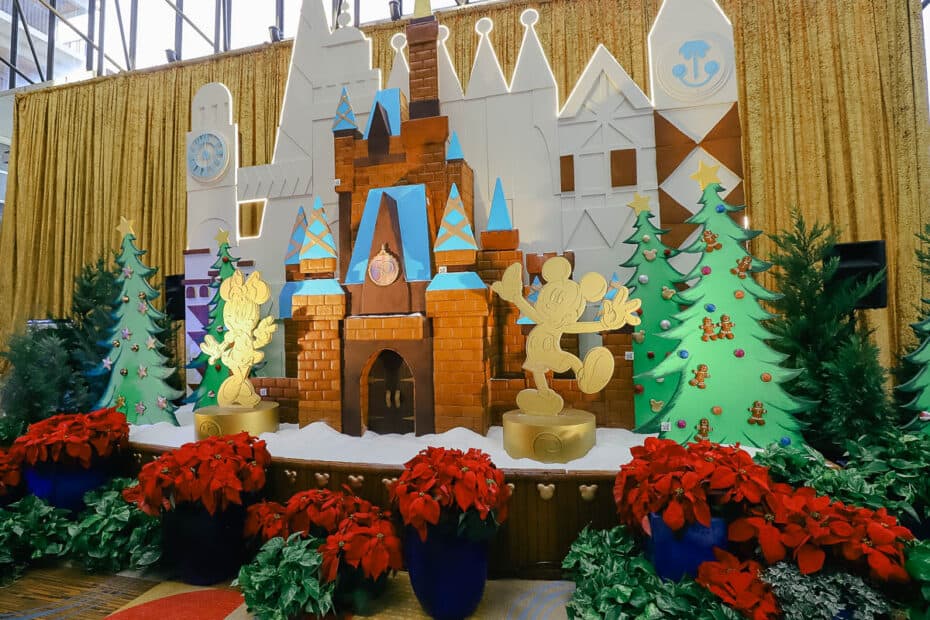 Mickey and Minnie Mouse sit prominently in front of the castle. From my understanding, they are not made of edible material.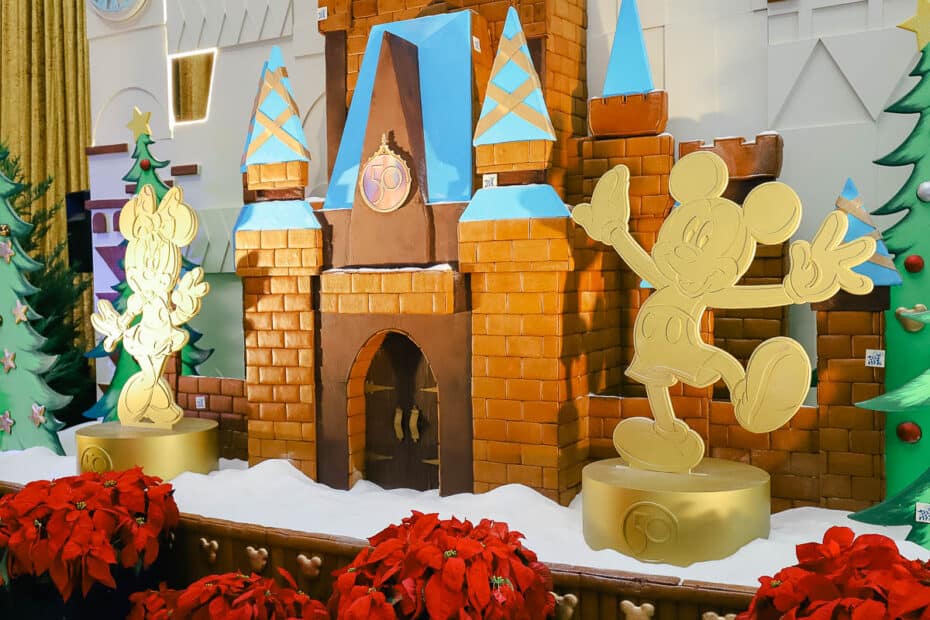 A 50th-anniversary medallion is centered over the castle decor, and a white backdrop references "it's a small world."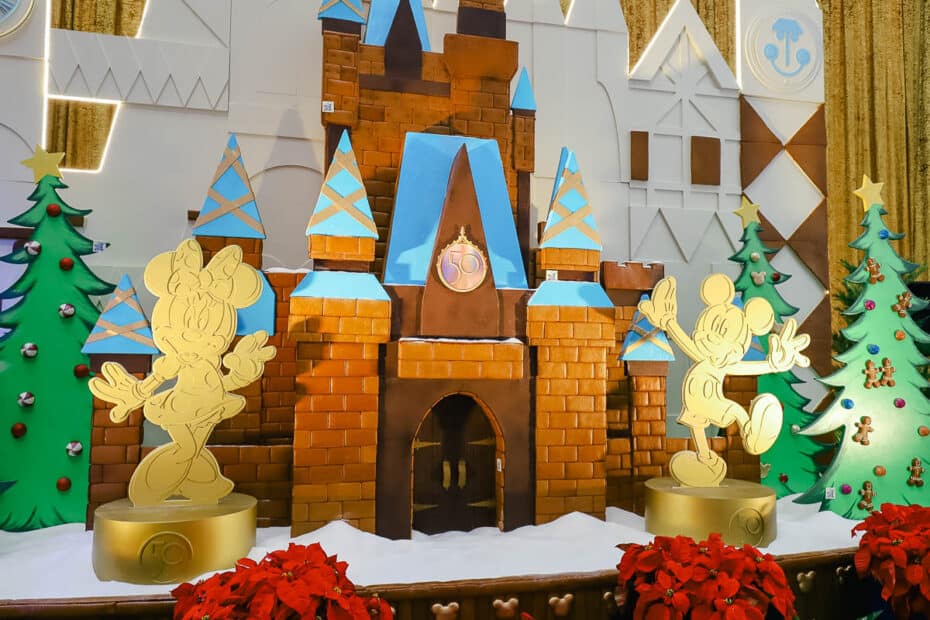 Here is a view of the gingerbread display and its proximity to the monorail platform.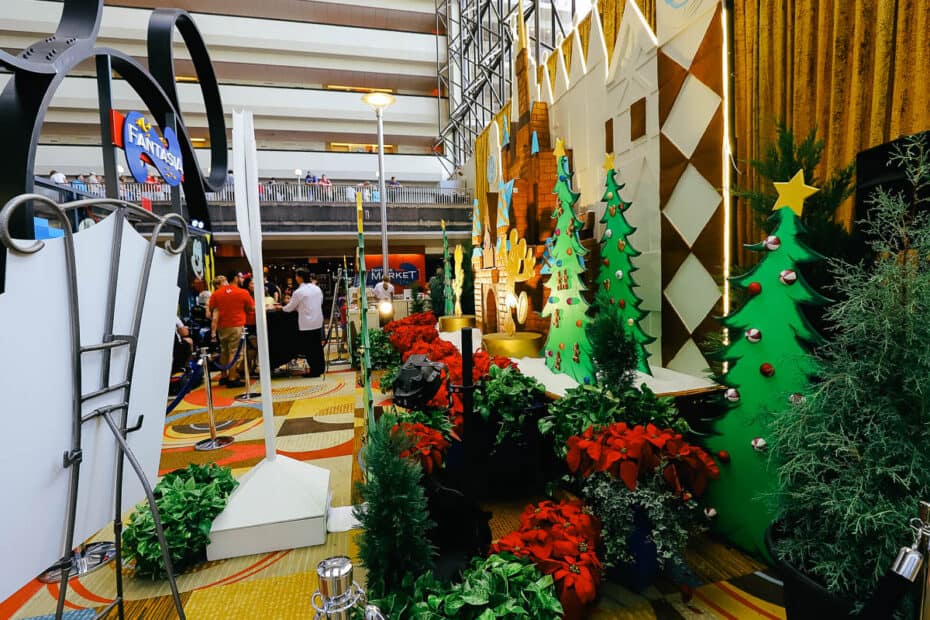 In addition to the display, a few treats are available for purchase.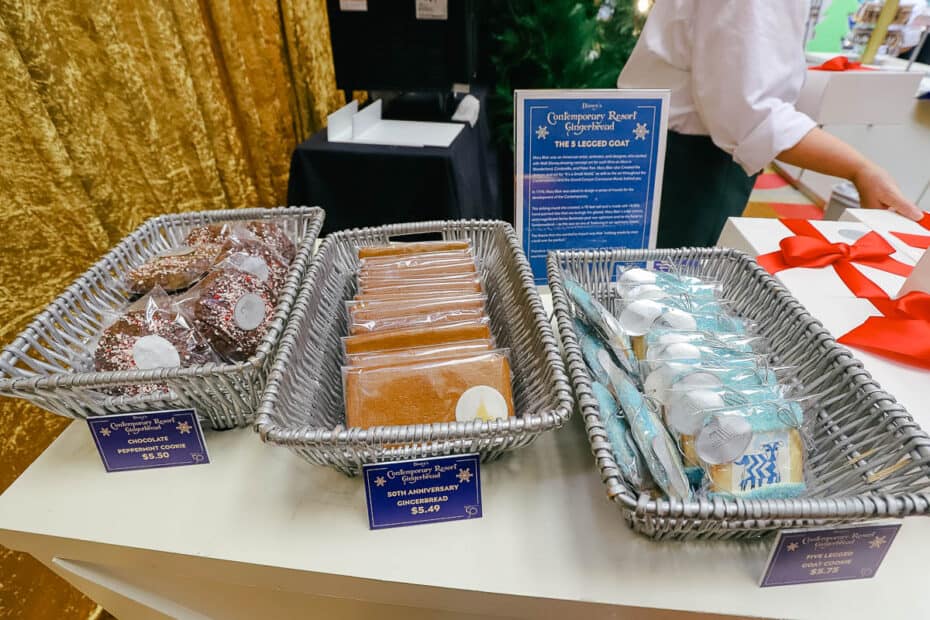 Here we have a chocolate peppermint cookie.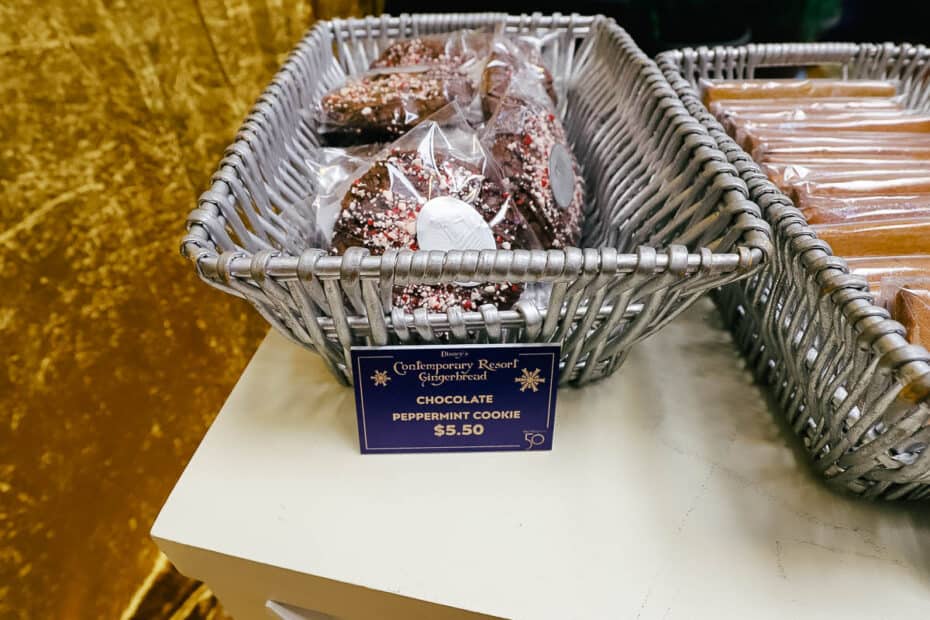 You can buy a brick of 50th-anniversary gingerbread.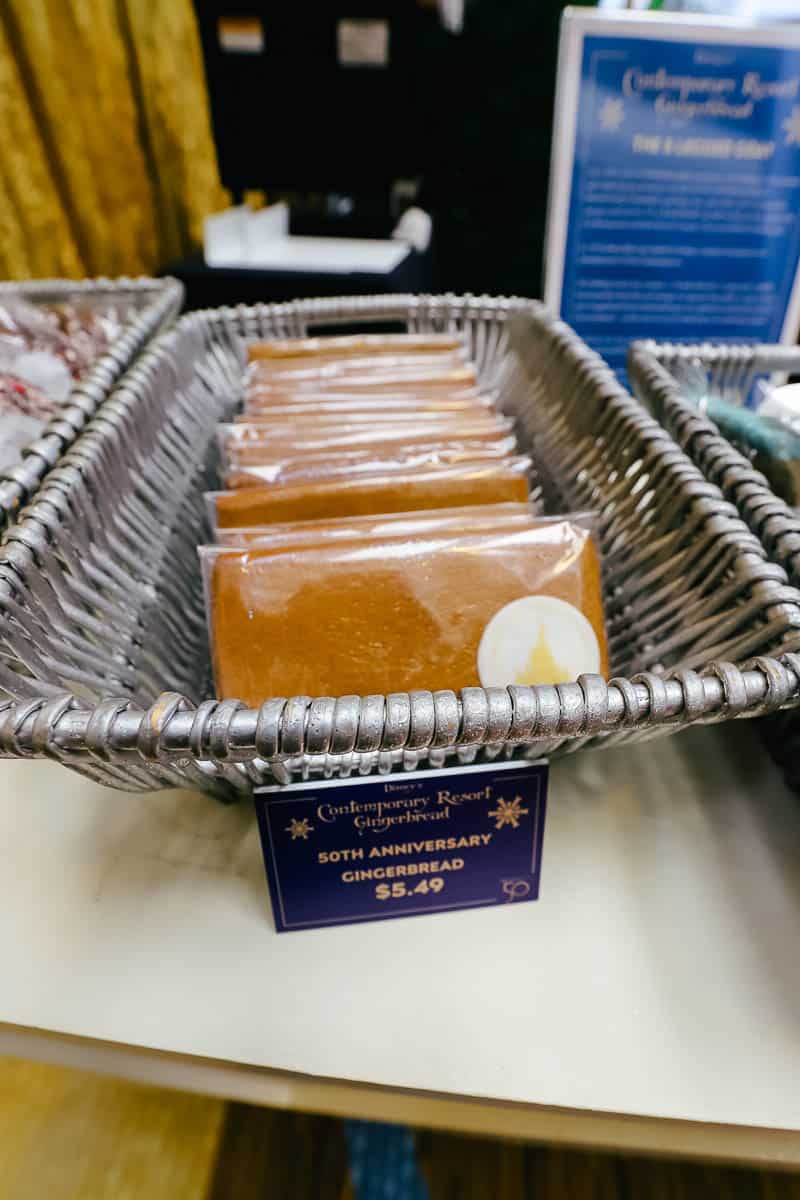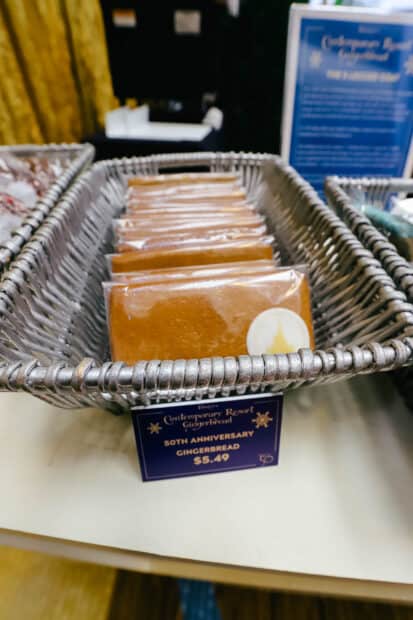 Those hoping for something more anomalous might enjoy the five-legged goat cookie.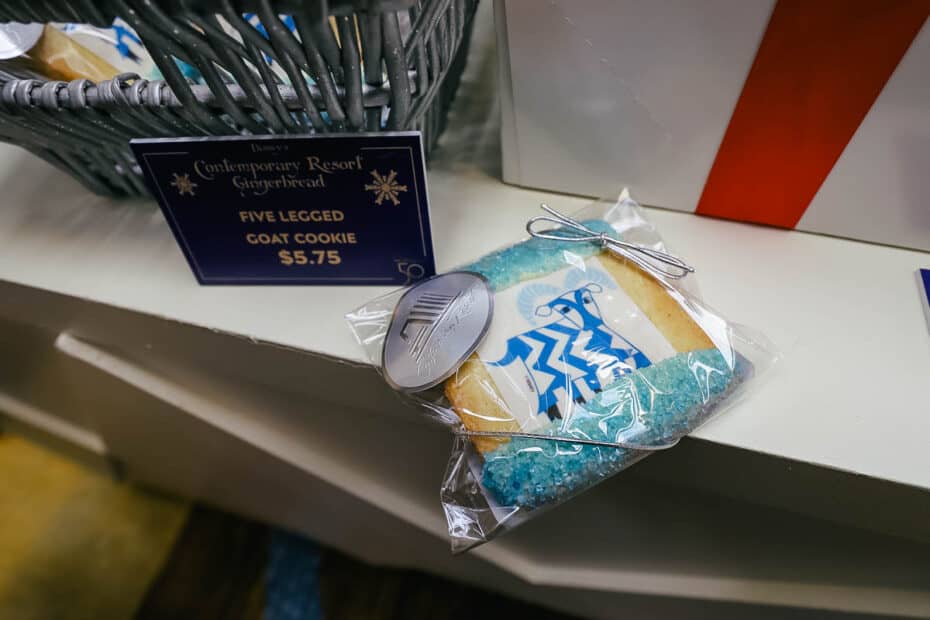 Chefs at Disney's Contemporary contributed to a bakery box this holiday season. This sign shares several of the chef's favorite cookies and why they are special to them. Each flavor is included in the family tradition cookie box.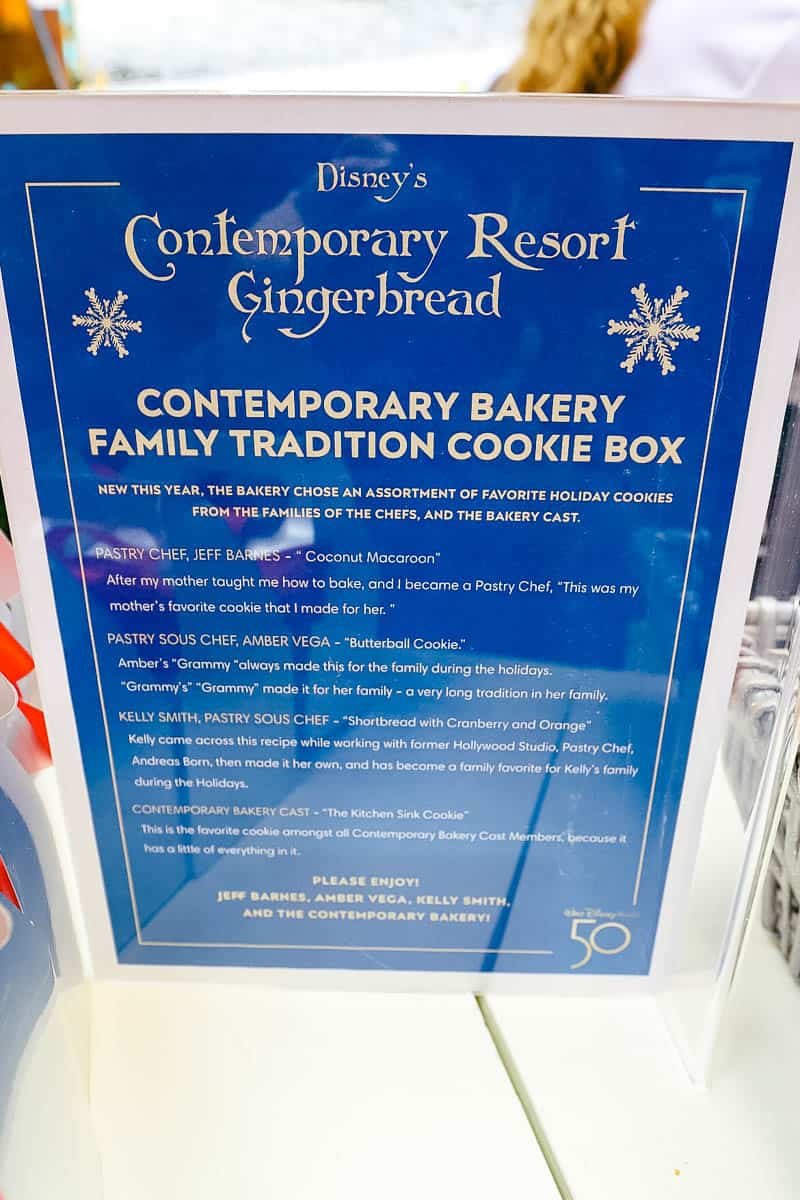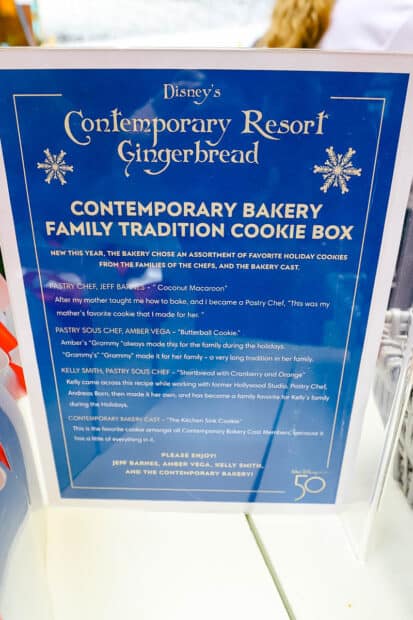 I thought the wrapping was cheerful.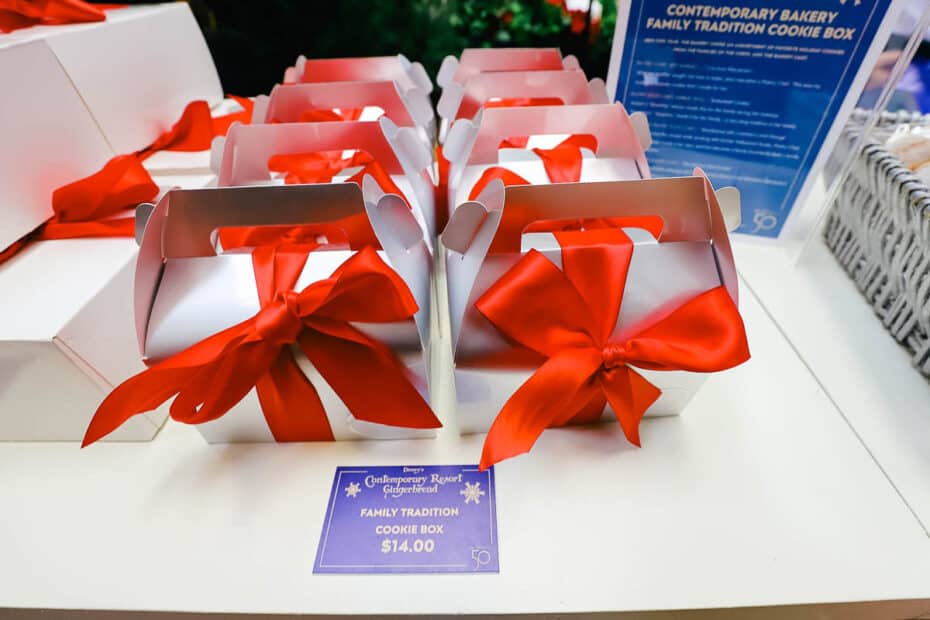 Or you could purchase a gingerbread kit to make when you return home. However, from my limited experience, I wouldn't advise thinking it might turn out okay.
But if you know what you're doing, by all means, go right ahead. I'm sure it will turn out much better than my last attempt.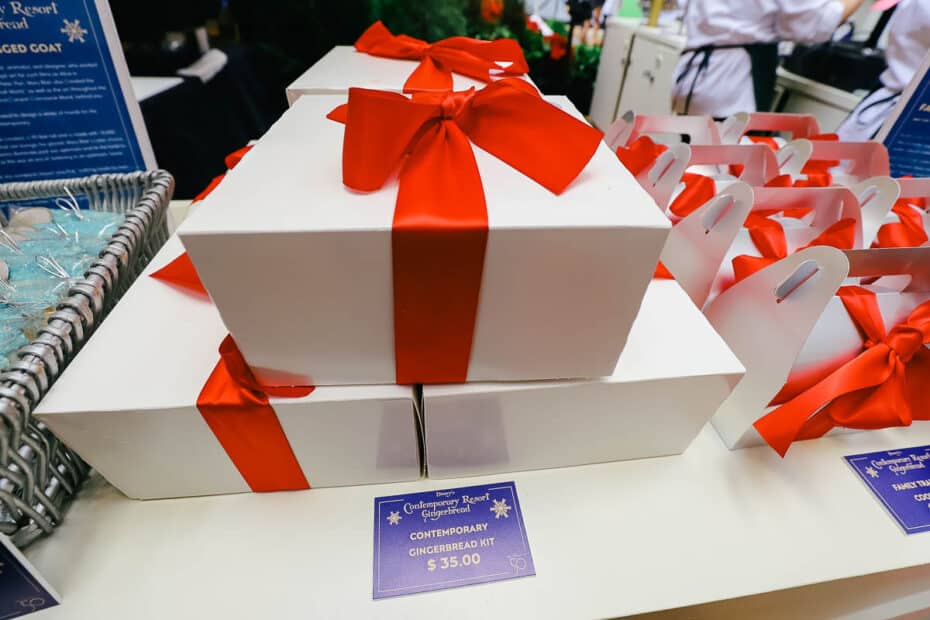 A Linzer cookie is available with a Mickey-shaped cut-out on top.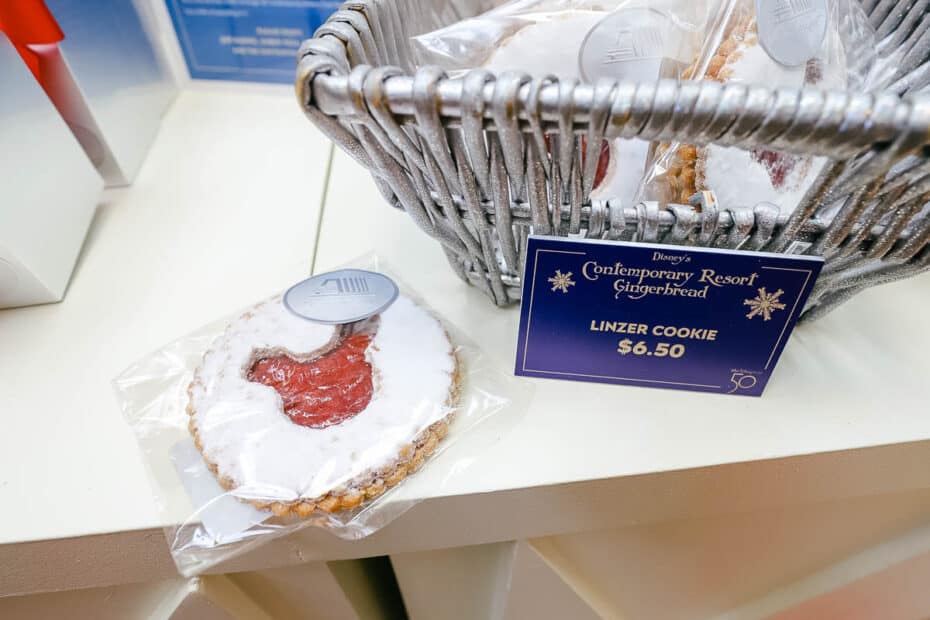 I thought this peppermint chocolate bar looked scrumptious. Sigh.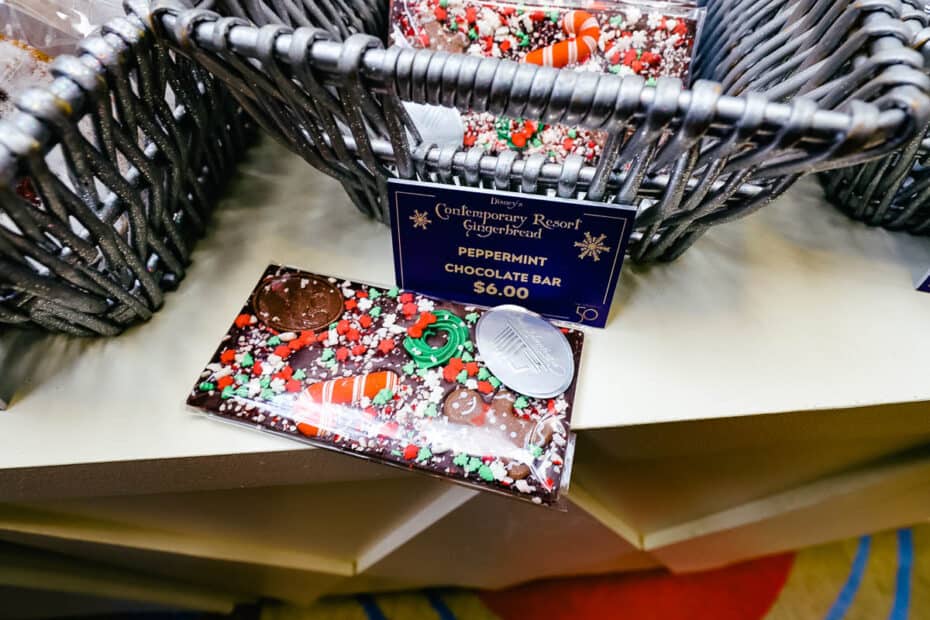 And this hot cocoa bomb was even more intriguing. I'm not familiar with this type of drink trend other than knowing that it is a trend. A pastry chef told me that you drop it in hot milk, and all sorts of things result in hot cocoa.
There was even mention of edible glitter inside.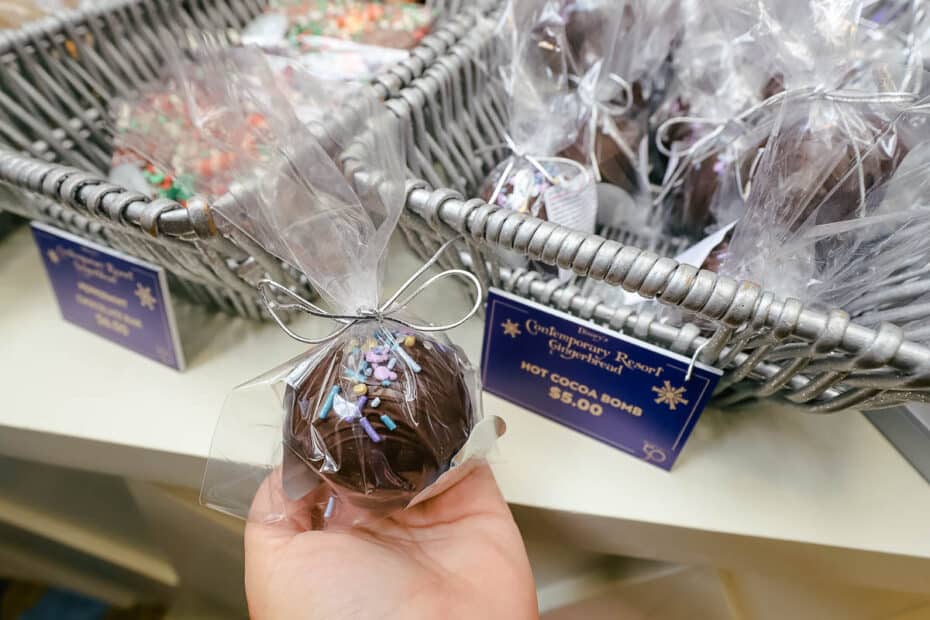 Toward the back of the display, I noticed two frozen drinks. One was a frozen cocoa, and the other was something that I believe translated to an egg-nog(ish) drink. The cast member couldn't remember the name, and I was clueless.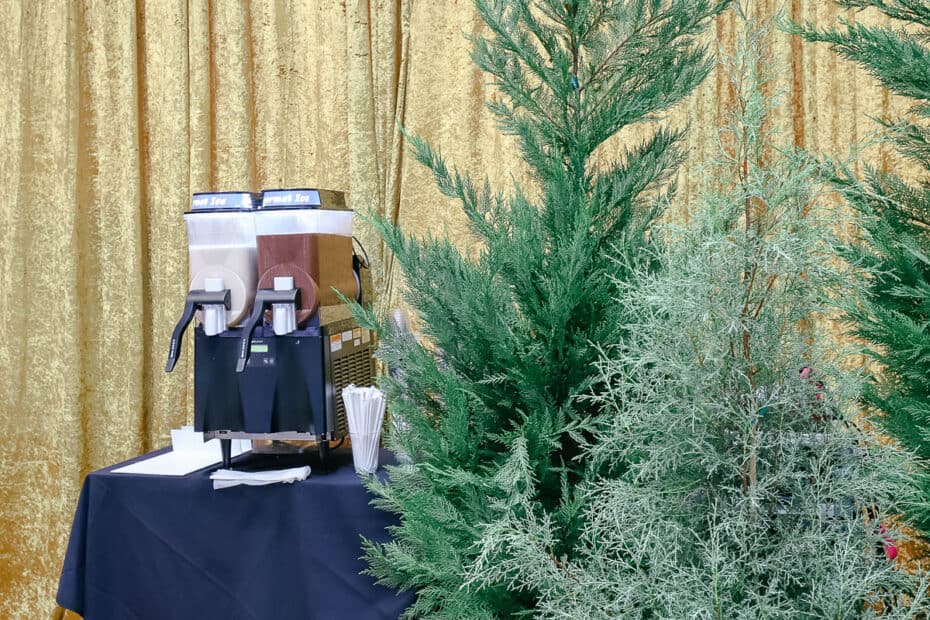 At the register, there were a few holiday pins available. We also saw Christmas pins at these other Disney World gingerbread displays: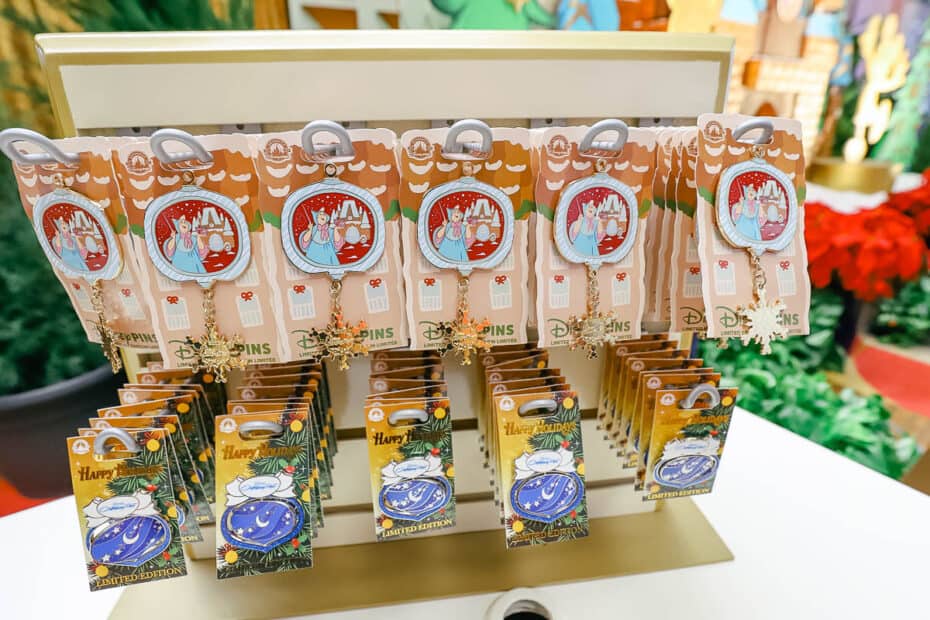 Lastly, these resort ornaments are some of the cutest I've seen. The sign hanging underneath the gingerbread house ornament says the resort's name and logo.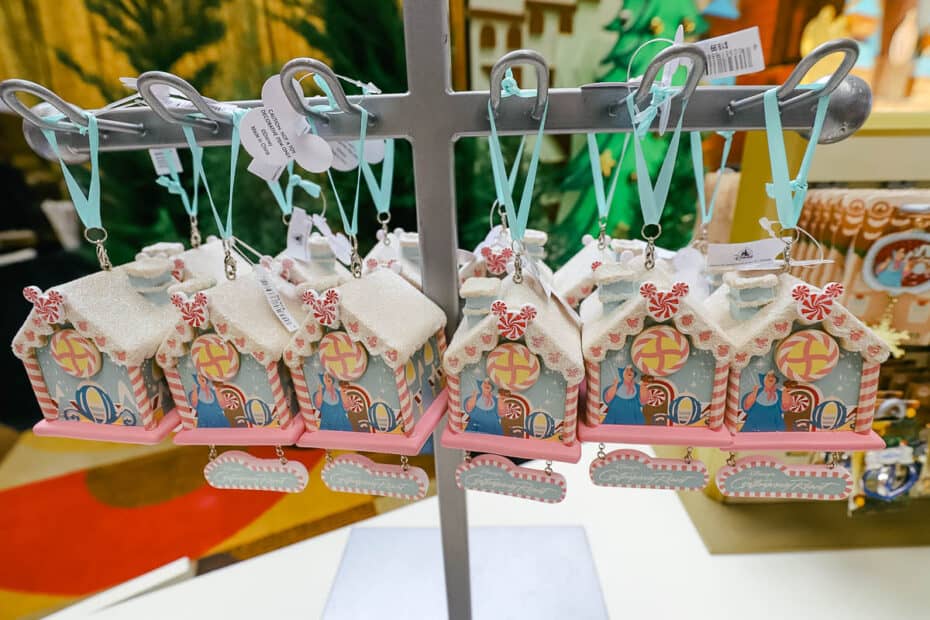 For more information on this resort, all of our articles are listed in our guide:
You may also enjoy some of our other popular holiday articles:
In the Comments
What do you think about the gingerbread display at Disney's Contemporary Resort? Do you plan to visit this holiday season? If so, will you stop in to see this display?