Tour a Pool View Room at Disney's Grand Californian Hotel and Spa
I bet you didn't think we would be visiting Disneyland here at the start of Walt Disney World's holiday season. But with the weather putting a bit of a damper on things, I thought we'd hop over to California and preview a pool-view room at Disney's Grand Californian Hotel and Spa.
For starters, I doubt we will ever have much coverage of the Disneyland Parks here on the site. But as a first-time visitor, I was impressed with the hotel and felt like some of you might enjoy seeing a few photos of our room.
Unfortunately, due to the busyness of our Adventures By Disney Trip, I was unable to focus on a full resort review. However, I wrote several blog posts from the balcony of our pool-view room and enjoyed that time immensely.
So pack your suitcase and hop on a plane. We're doing things West coast style today.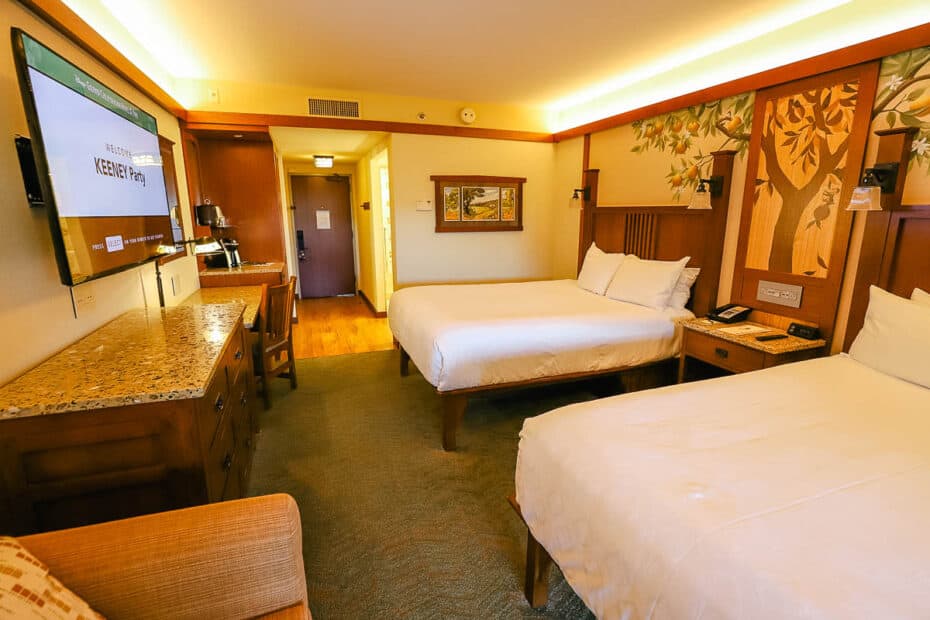 Grand Californian Pool View Room
We arrived at Disney's Grand Californian Hotel late on a Tuesday afternoon. Thankfully, our room was ready upon arrival. Most of us were eager for a brief break after an entire morning of touring Walt Disney Studios, followed by a trip to Walt Disney Imagineering.
Little did we know, we'd get to visit Walt's apartment later that evening after entering Disneyland Park. But I'll be sharing that in an upcoming trip report via email–when time allows.
On this visit, I was with my friends Kristen and Anna from Firefly Travels. We were joined by about 25 new friends who made up our tour group.
My first impression of the room was that it was cheerful. But on closer inspection, I began to notice more high-end details.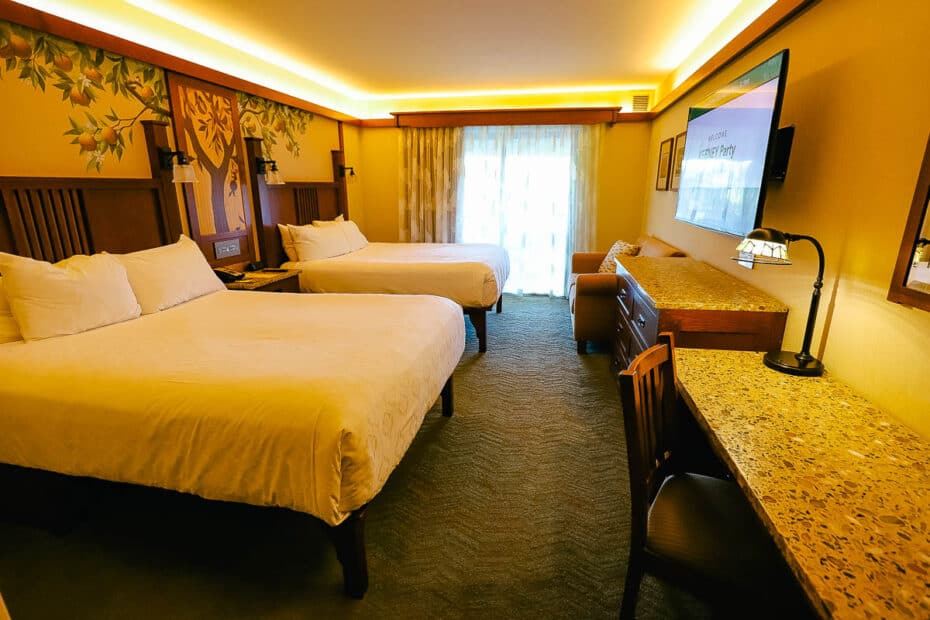 Our room came with two queen-size beds with an Arts and Crafts style.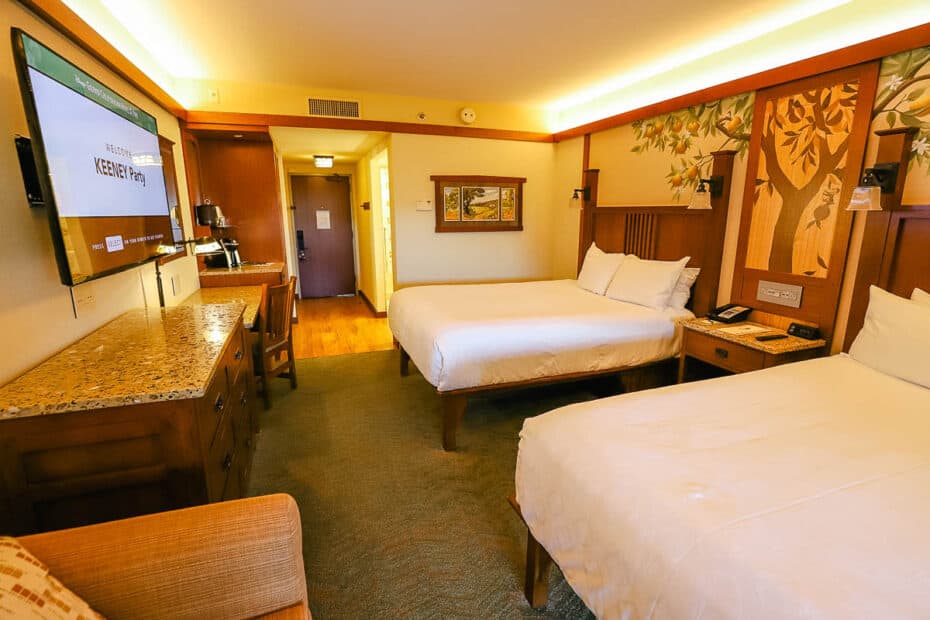 On the feature wall, there's a mural with Chip and Dale busy at work in an orange tree. I liked how the mural transitioned from wood tones to a painting.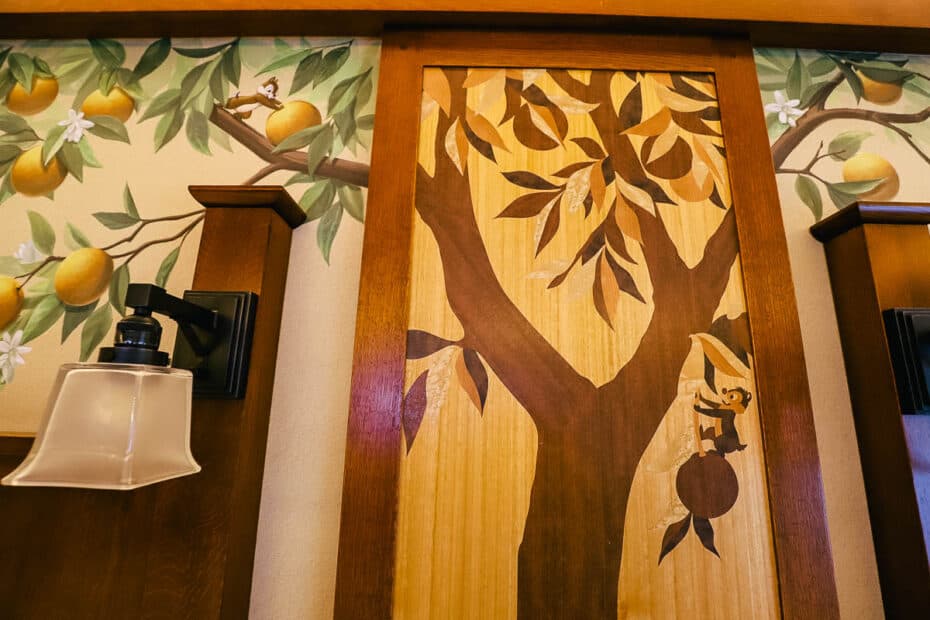 Some of the artwork paid tribute to the history of oranges in California. I remember visiting Walt Disney World as a child with my family and staying at Orange Lake Resort.
Back then, there was an abundance of orange groves in Florida. Until this trip, I didn't realize that California produced such a large crop of oranges.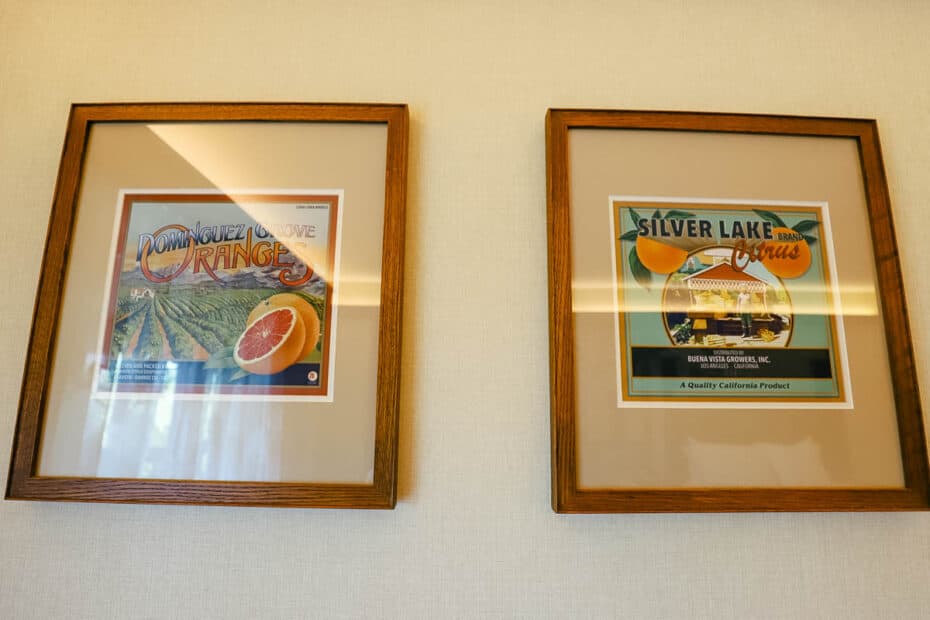 When we first met with our Adventure by Disney tour guides, they asked us where we hoped to go on the trip. I immediately mentioned that I hoped we would stop at Griffith Park to see the carousel.
This carousel is where Walt Disney took his children on the weekends and was inspired to create a theme park where families could enjoy time together. Unfortunately, given several circumstances over the last few years, the carousel is now boarded up.
But we did do a drive-by, so there's that.
Anyway, I found this artwork in our room at the Grand Californian to be a beautiful representation of a time when one dreamer dreamed.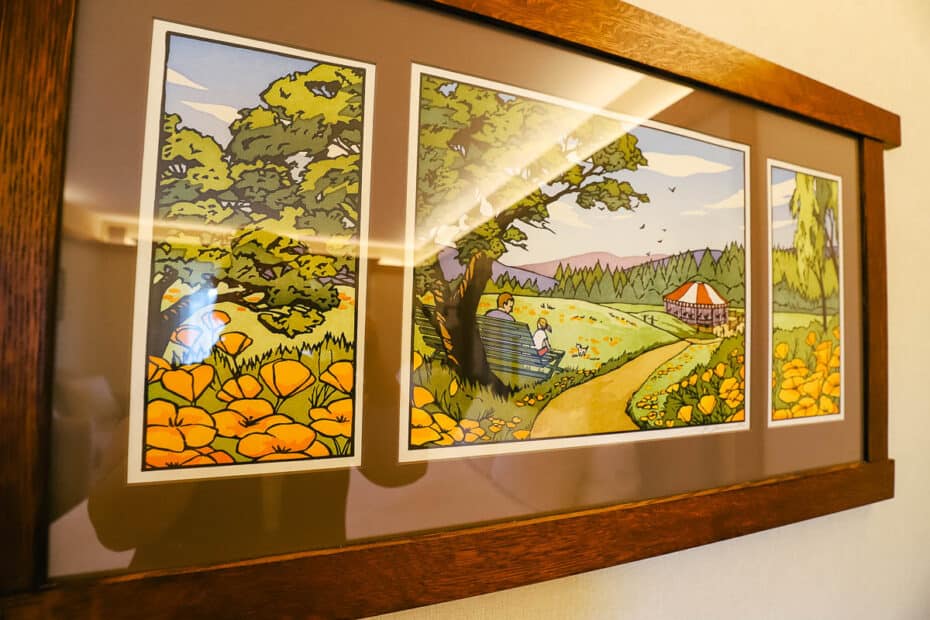 I found another ancient relic of times past in our room as well–a room service menu. Okay, I'm partially joking, but I was shocked that full-room service was available all day. Unfortunately, we have yet to see it return to Walt Disney World.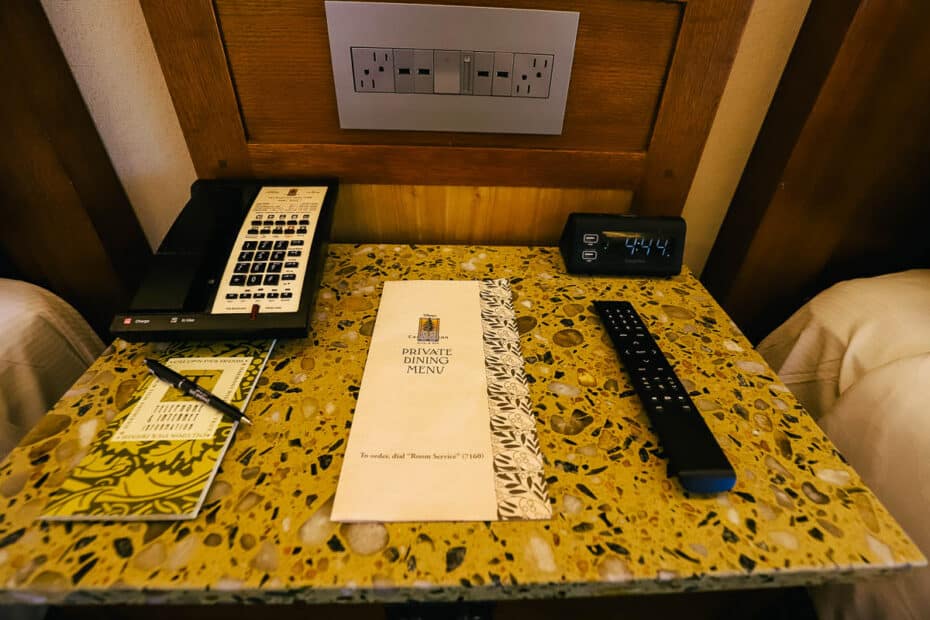 Not only that, but the halls were lined with carts of leftover room service during our stay. Had not the majority of our meals been included, we would also have had a cart of leftovers sitting outside of our room.
Here in Orlando, you would have to visit the JW Marriott Orlando at Bonnet Creek to get a decent meal delivered to your room. Technically, you could order DoorDash to your Walt Disney World Resort, but that's not special.
A dresser sat immediately under the television, and a sofa was in the corner.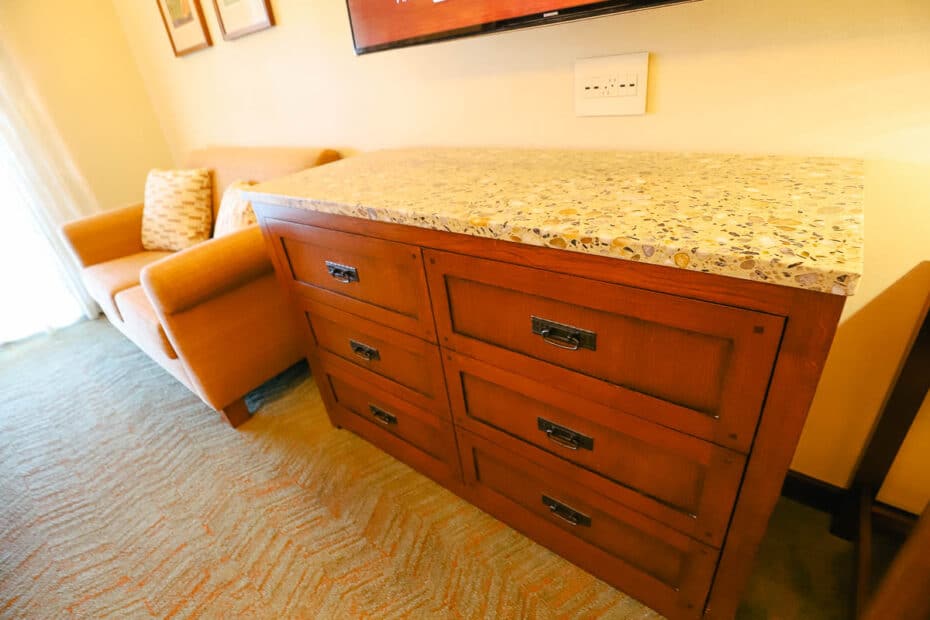 Standard amenities included a Keurig coffee maker.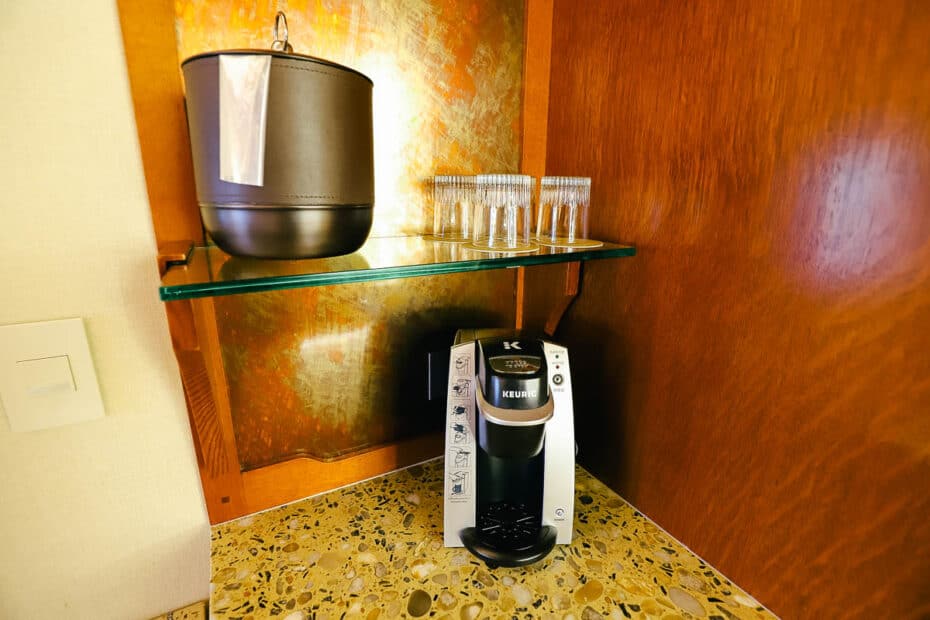 A drawer beneath it had the accompaniments.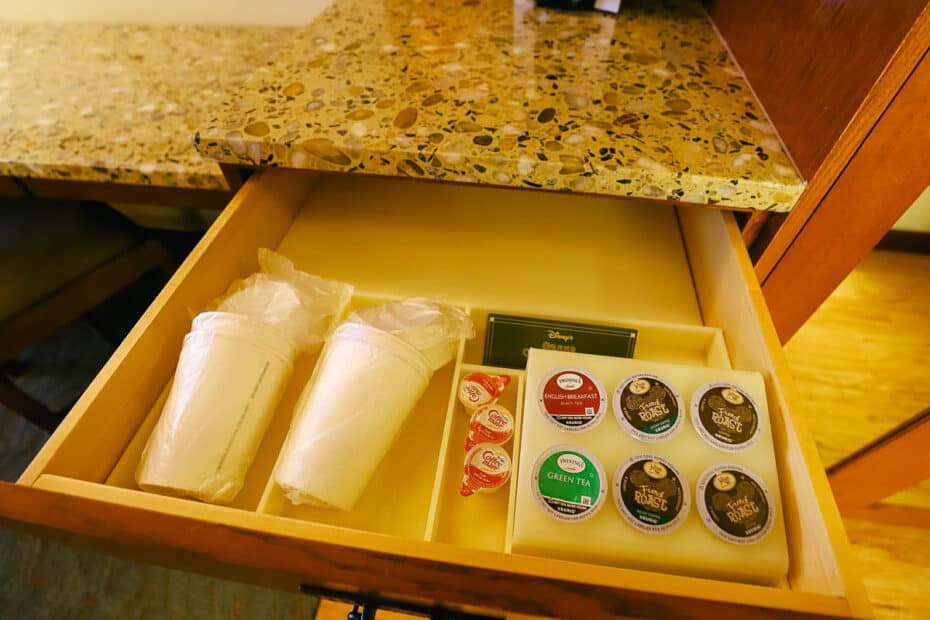 We see the same beverage cooler available in most standard resort rooms.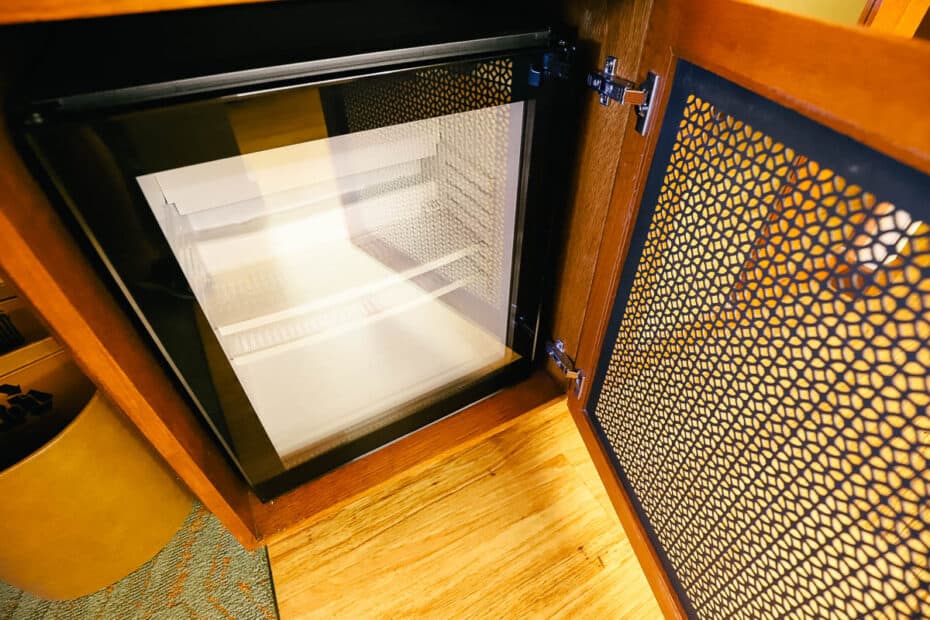 One of the most impressive things was this guest bath. It had a full shower, and guess what else it had? A small triangular bench with plenty of room to shave your legs. This should be the standard for every future remodel.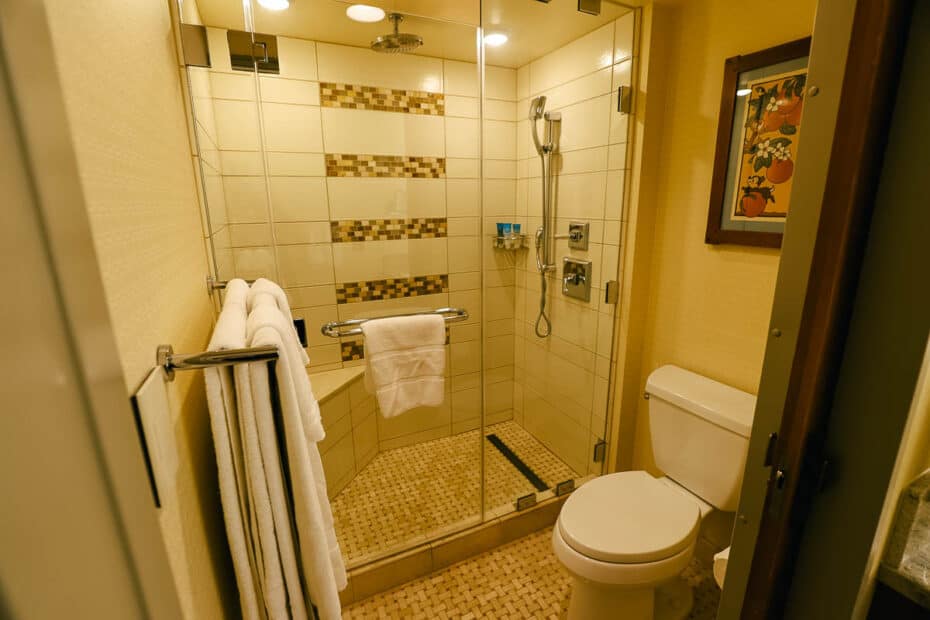 That overhead rain shower was another first-class touch.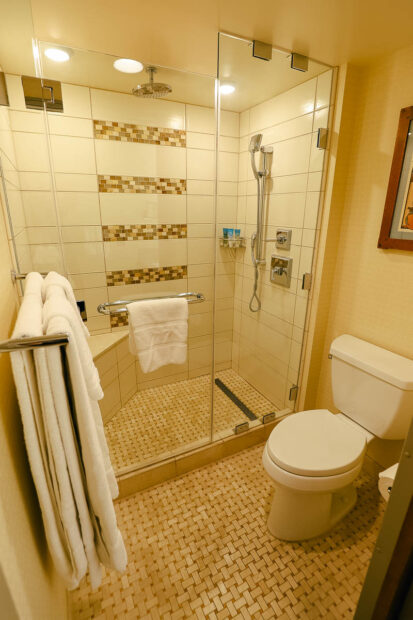 I have to take a minute to brag about the rest of the guest bath. There was a double vanity providing plenty of room. Our bath had a split layout so multiple guests could get ready simultaneously.
And if you look closely, there's a step stool for children, open storage space, and a laundry basket.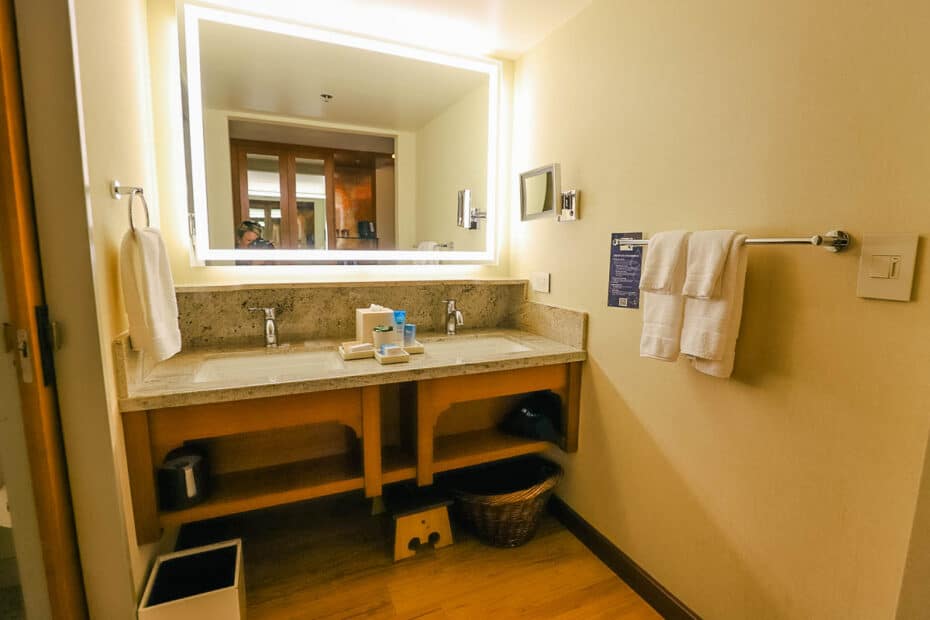 I cannot tell you how happy I was to see that laundry basket. Before this trip, we'd been on a week-long cruise to Cabo with no laundry room on the cruise ship.
Then we spent a long weekend at the Loews Santa Monica hotel, a very fine hotel. But they had no laundry room.
After that, the first portion of our ABD trip was at the Loews Hollywood Hotel, still no laundry room. Everyone was laughing at me because one of my biggest concerns was getting my laundry done when we got to Disneyland.
So yes, there is a laundry room at Disney's Grand Californian Hotel, and the laundry basket was so helpful. However, if you need to locate the laundry room, I suggest finding someone who works there to walk with you.
Depending on your room location, it can be challenging to find. It's a bit of a hike.
Lastly, we'll take a look at our hotel balcony. I was pleased to find enough room for a table for two. We also had a lovely pool view.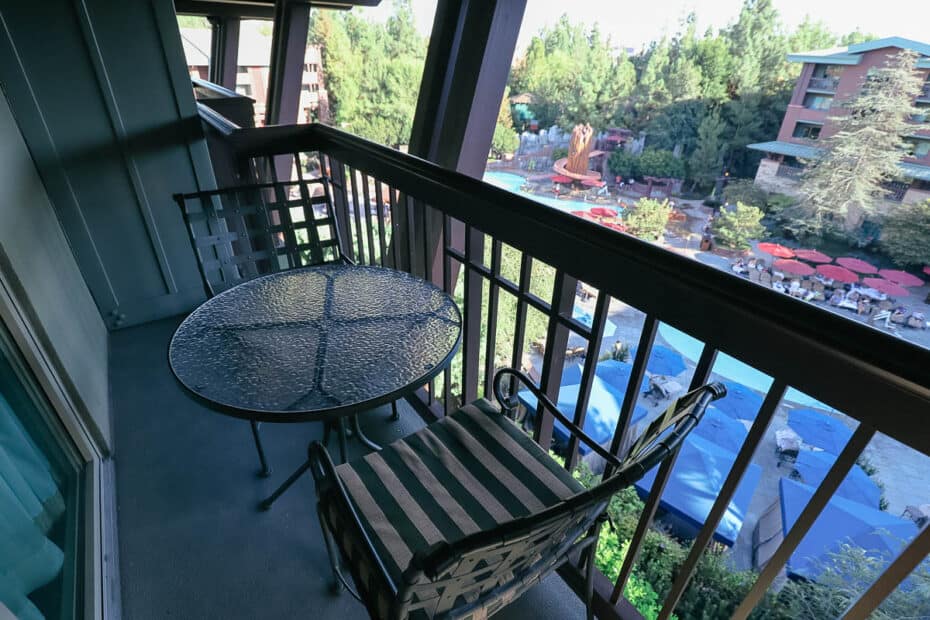 I would have gladly spent several days out here working on Resorts Gal. There are few places (or jobs) where one could say that.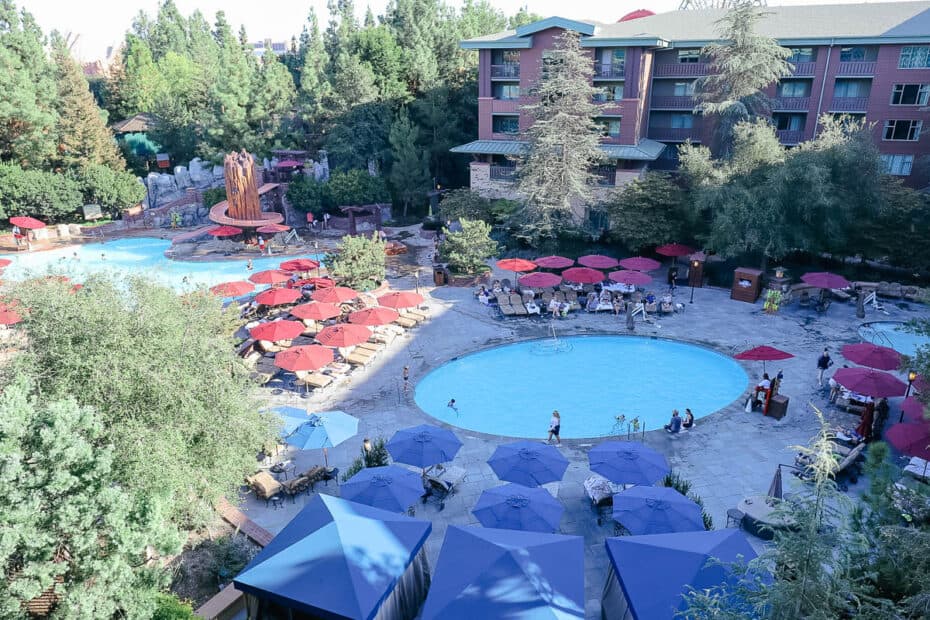 We could see the top of the Pixar Pal-a-Round over the roof of the adjoining building. That's how close we were to Disney's California Adventure Park.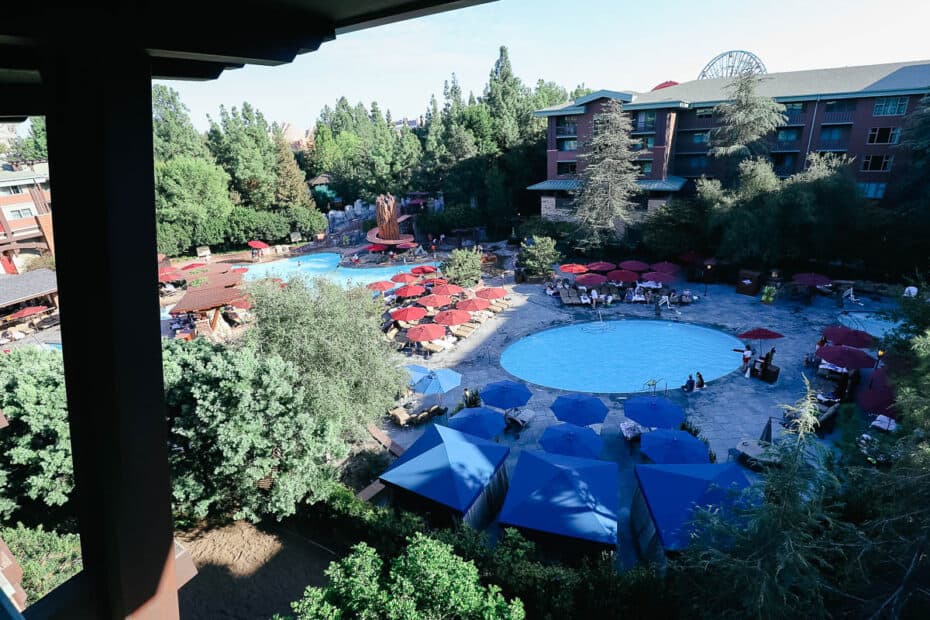 If you've never visited Disneyland before, without a doubt, the most significant benefit of staying at the Grand Californian is the proximity to the theme parks. One exit leads to Downtown Disney and is only a short walk to the entrance of Disneyland Park.
Another exit leads directly inside Disney's California Adventure Park. You can be out of your room, down the elevator, and through the turnstiles in less than 10 minutes.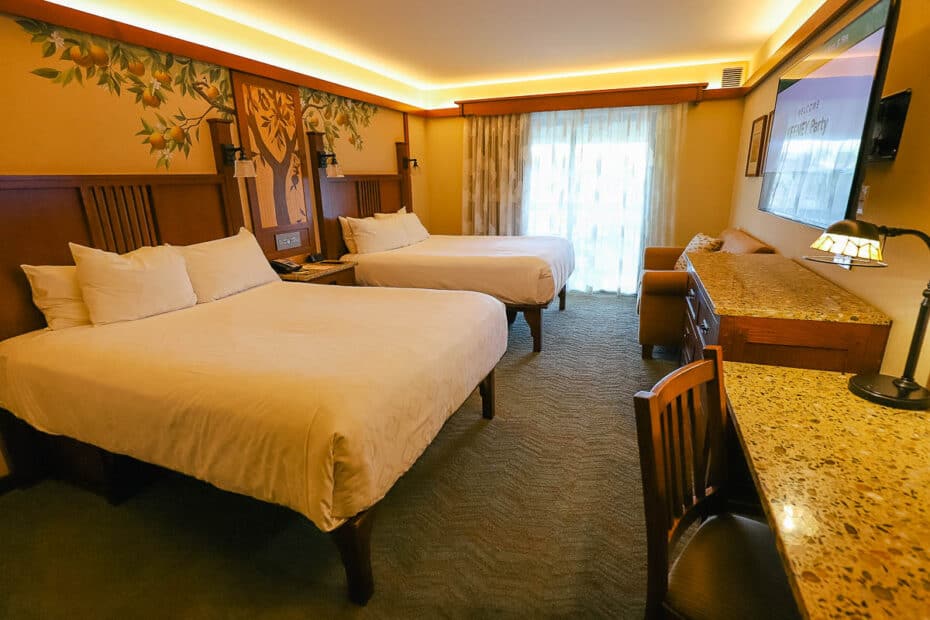 Ultimately, our room and stay at the Grand Californian ended up being one of my favorite things about our Adventures by Disney trip. So, if you are planning on taking a trip to Disneyland, I believe it's worth the splurge to spend a few days at Disney's finest hotel.
You might consider doing a split-stay where you can plan a full resort day at the Grand Californian. Just don't forget to order room service!
For more obscure(?) hotel rooms, you might enjoy our trip to Universal Studios, where we stayed in a water park view room at Universal's Cabana Bay. And I'll have a review of our stateroom on the Disney Wish coming up, hopefully, sooner than later.
Who knows where else we'll end up, Lord-willing.
In the Comments
What do you think about our pool-view room at Disney's Grand Californian Hotel? Have you ever visited? Do you have any questions about staying here? Feel free to share your thoughts in the comments.