A Favorable Review of Yachtsman Steakhouse
Yachtsman Steakhouse is the signature dining location at Disney's Yacht Club Resort. Those looking to enjoy a meal with quality steaks during their Disney World vacation will want to consider this establishment.
In this review of Yachtsman Steakhouse, we'll look at our latest dining experience along with a few thoughts for planning a meal here. Of course, given the title of this review, you probably already know our meal was delicious.
Looking back, I'm so glad this was the one signature dining location we chose over a week-long trip to Walt Disney World. Unfortunately, we had three fine dining experiences lined up for the week and had to cancel all of them.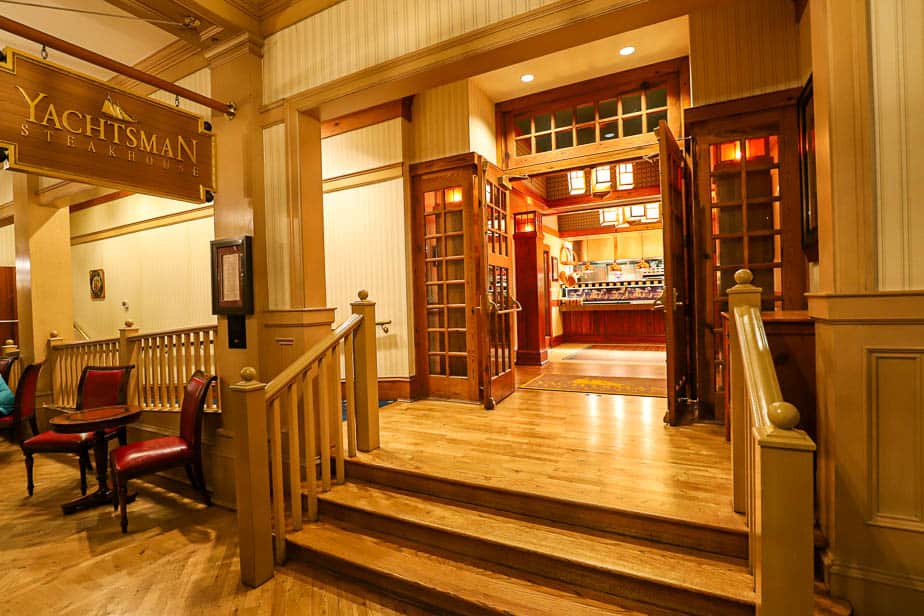 Since I had spent most of the Fall months in Orlando, I returned home for the holidays. My son was finishing up his college semester, so I planned a short trip for us to return right before Christmas.
Initially, we had planned to do all of our favorite restaurants. However, I had recently dined at California Grill and wasn't a fan of the prix fixe menu. Also, I wasn't crazy about forking out another $200+ for the both of us since I recently reviewed the meal.
Related: California Grill 50th Anniversary Dinner Review
Yachtsman Steakhouse had been on my list to review for a while now, so I knew I wanted to include it in our trip. We tried to get Space 220, but that never came through.
However, we planned a few others, like Hollywood Brown Derby, Frontera Cocina at Disney Springs, and Topolino's Terrace.
I wish I could tell you I'll have new reviews from all these restaurants. But unfortunately, I won't. We had to cancel all of our dining reservations because my son got sick with asthma issues.
He couldn't go out for the majority of our trip. Unfortunately, he didn't visit a park or dine out until the last three days. It was terrible having to rearrange everything.
Thankfully, we have been fortunate enough to visit the parks often. And as you know, I'm there nearly every time I turn around. So it wasn't a huge disappointment for either of us. Most days, I'm grateful to halfway function.
Anyway, this experience left me on the My Disney Experience app canceling theme park reservations and dining reservations right and left. We had to take a trip to guest relations at Disney Springs to figure out his ticket since he could only use part of it.
The part we didn't use was refunded on a Disney gift card, and he was allowed to pick out a few extra Christmas presents. So that worked out. And we enjoyed a meal at Chef Art Smith's Homecomin' while we were there, which turned out delightful. It is on our list of the best restaurants at Disney Springs.
Thankfully, when things settled down, I was able to secure a reservation at Yachtsman Steakhouse. Again. We ended up dining here on a Thursday evening instead of Sunday.
And after the meal, I was reminded why I only recommend one to two signature experiences for a week's vacation. We were stuffed. And there's no way I would have wanted to indulge in another elaborate meal the next day.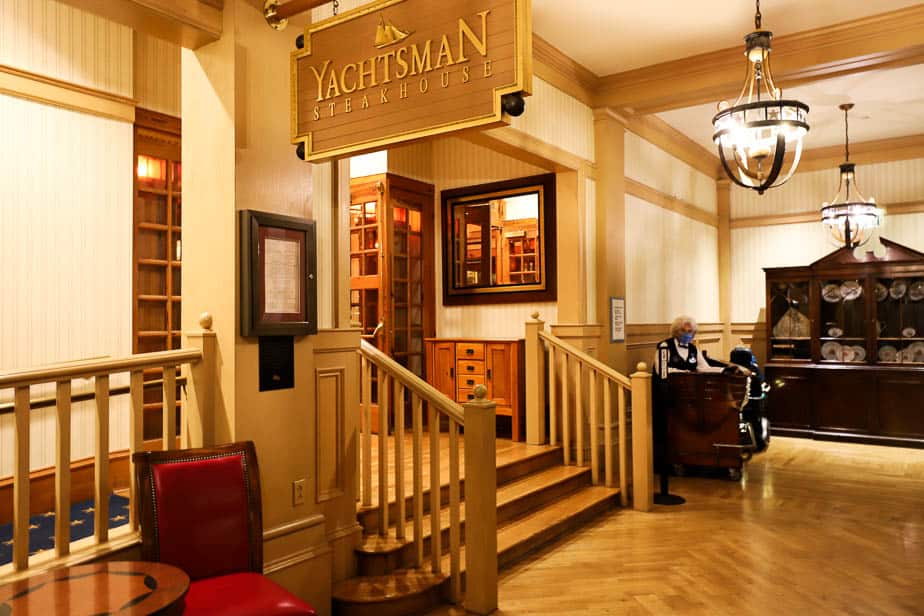 Yachtsman Steakhouse is located directly behind Stormalong Bay. A long walkway alongside the pool connects both Beach and Yacht Club. Yachtsman is the first restaurant you'll encounter when you walk inside the Yacht Club from the pool area.
If you're coming from the main lobby, you'll want to walk down the hallway past Ale and Compass and then around the corner. You'll run directly into the restaurant.
Next door to Yachtsman Steakhouse is Crew's Cup Lounge. Crew's Cup is a bit of a hole in the wall.
It's one of the best places around the area to enjoy dinner when you don't have a reservation. You can also order from Yachtsman's menu since both locations share a kitchen.
Related: Crew's Cup Lounge Review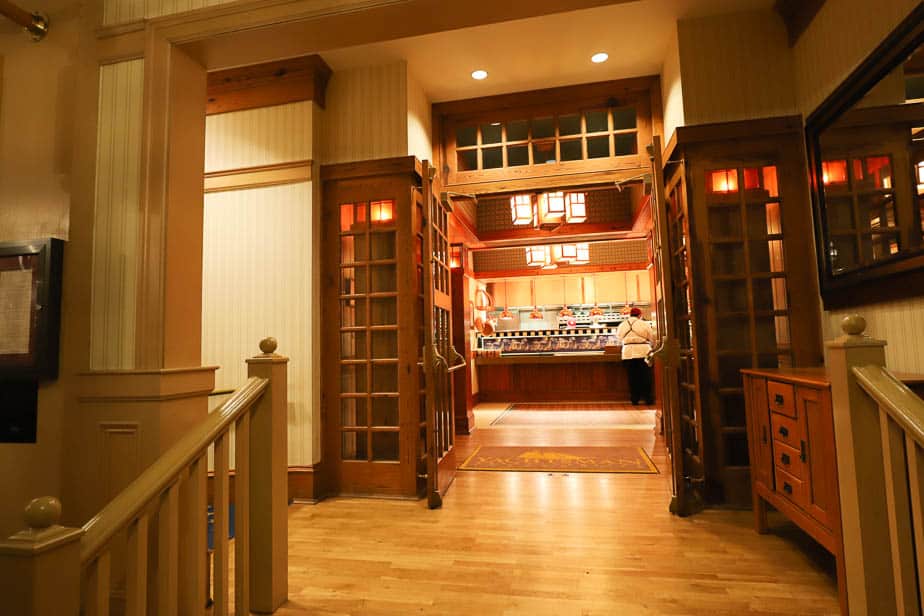 Upon arrival, we checked in and briefly waited to be seated.
A display shows all the butcher cuts served at the restaurant right inside the entrance. Regarding beef, you'll have a choice of Filet Mignon, Roasted Prime Rib, New York Strip, Rib Eye Steak, or a Dry-Aged Porterhouse for two guests.
Here is a preview of the menu we received. Or you can view it here on Disney's site.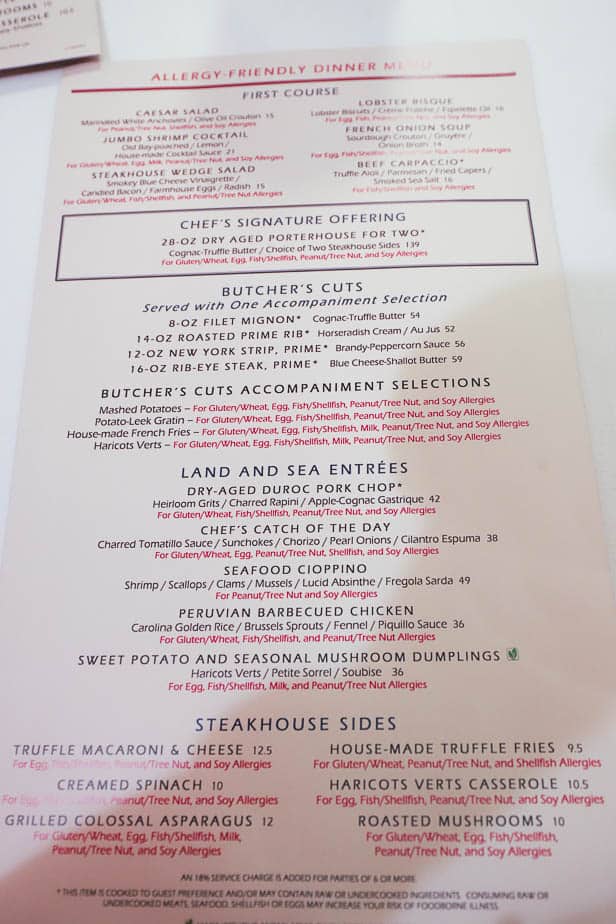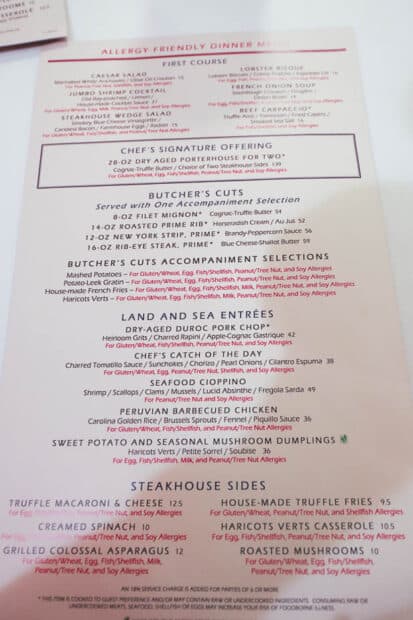 After being seated, our server took our drink order. Not long after, we received bread service. If you've ever heard of Yachtsman before this review, you've likely heard mention of their incredible onion rolls.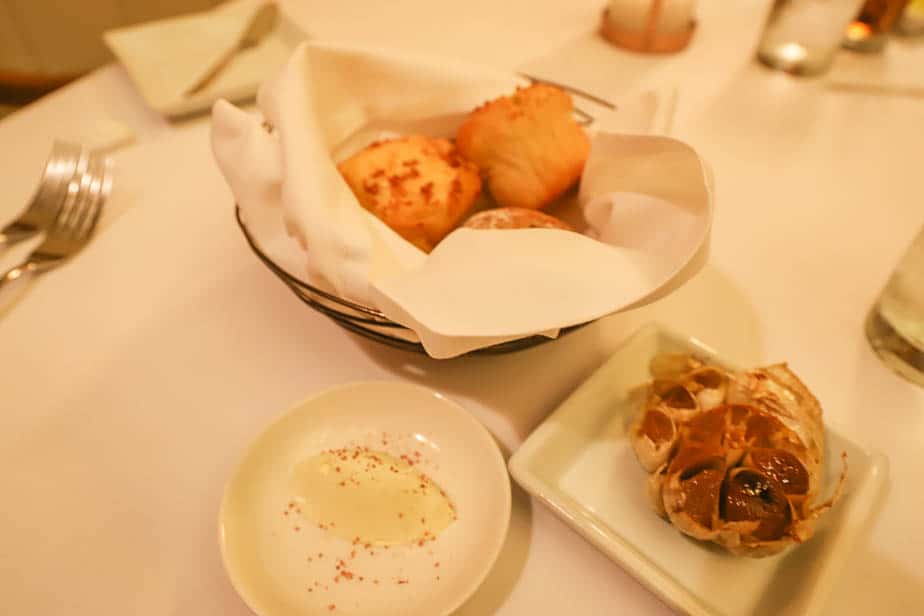 These rolls are so soft, and they pull apart in layers. You can peel back a layer and smother it in the yummy goodness that accompanies it. What yummy goodness is that?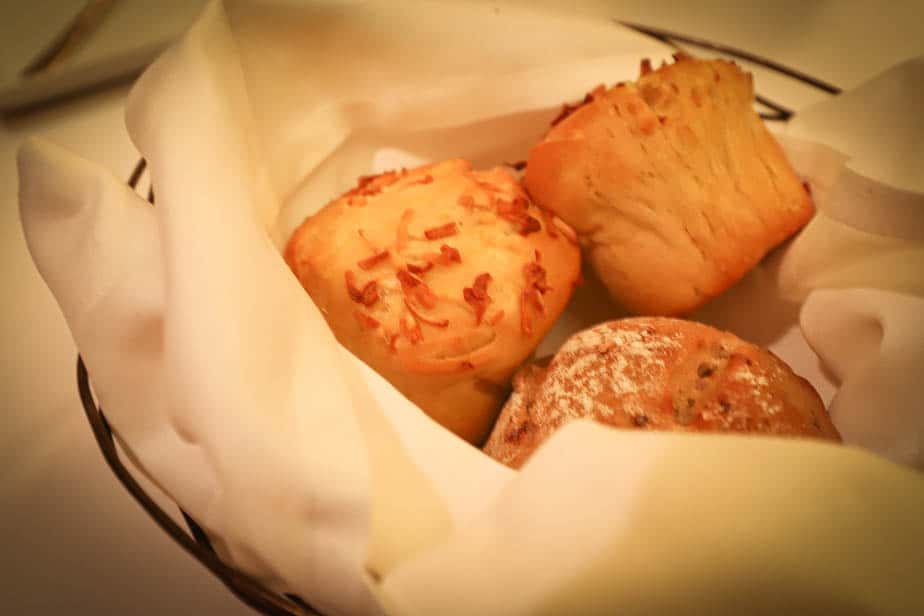 Well, it's this roasted garlic that comes out cooked to smithereens. Additionally, soft butter comes on the side sprinkled with pink Himalayan salt. You'll want a little bit of this and a little bit of that added to each layer of bread.
Yachtsman's onion rolls were so good that I don't even know if we should talk about the steak.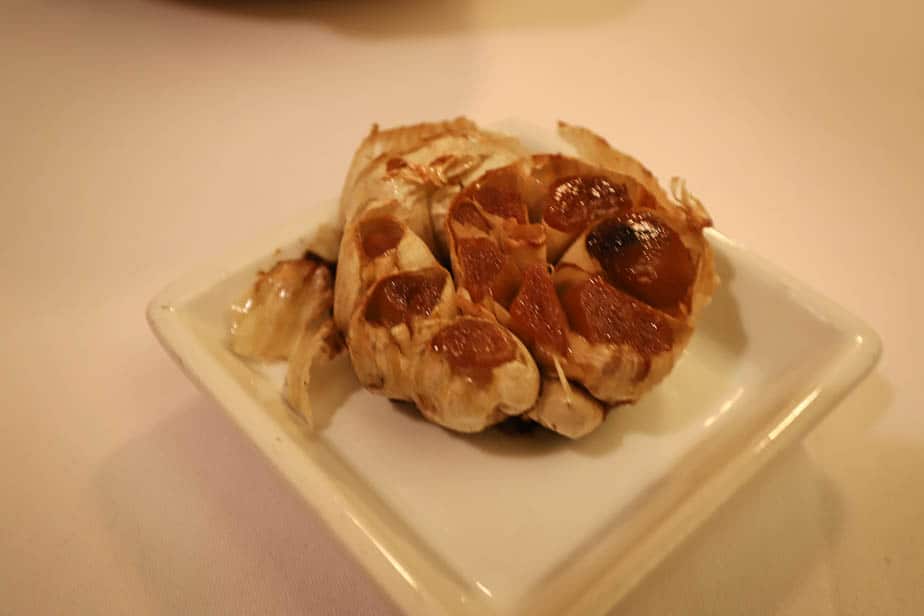 But we will.
However, I want to remind you that my son has severe food allergies. He was brought a separate basket of rolls with olive oil on the side. Additionally, he could have the roasted garlic.
Our server provided him with a separate food allergy menu when it came time to order. We were told they could accommodate most of the menu items to meet his needs.
The last time we had dinner at Yachtsman was a few years ago, and we both ordered the filet mignon. Our meal was memorable, but this time I told him we had to order different menu items for the sake of this review.
I hoped he would go with the New York Strip, which our server mentioned was the house specialty. My only rule was that I was ordering the Rib Eye, and he couldn't. But, of course, he wanted the Rib Eye then. You know how that goes.
However, he ordered the Prime Rib and a side of house-made fries. Each entree came with a choice of one accompaniment selection. Those selections were house-made fries, mashed potatoes, potato leek gratin, or haricot verts (green beans).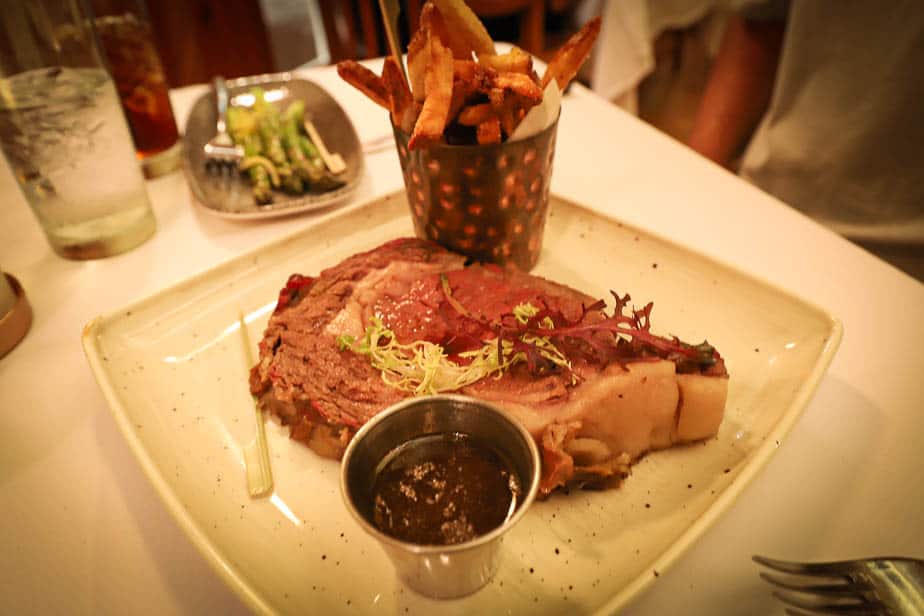 He ordered the medium-rare prime rib, which is a warm, red center. Since he has food allergies, he received a special sauce on the side. So, your presentation might be a little different than pictured.
The meat was tender and juicy, and it was a tremendous serving. It was so large he couldn't finish it.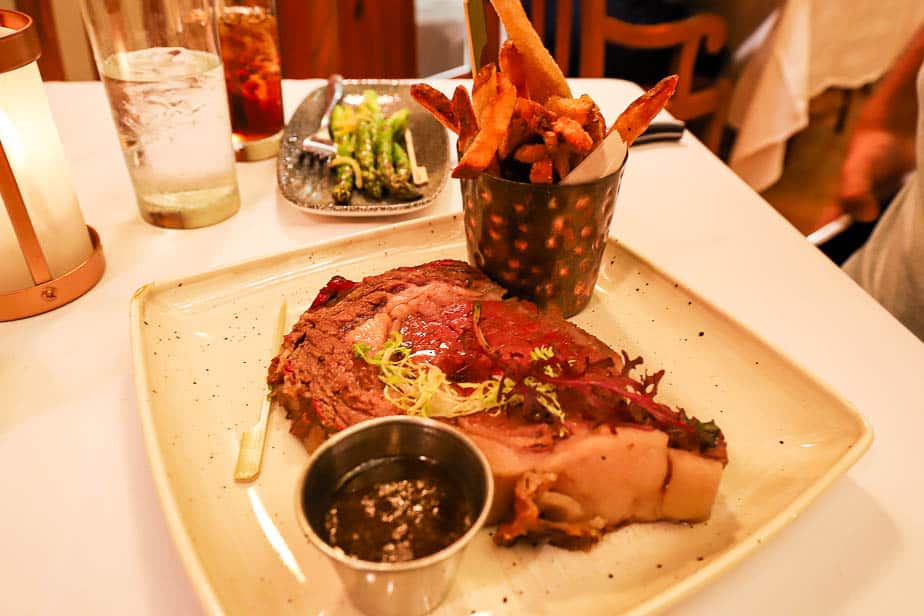 For my order, I went with the Rib Eye Steak that comes topped with blue cheese shallot butter. This might be the very best steak I've ever enjoyed. I can't think of another off the top of my head.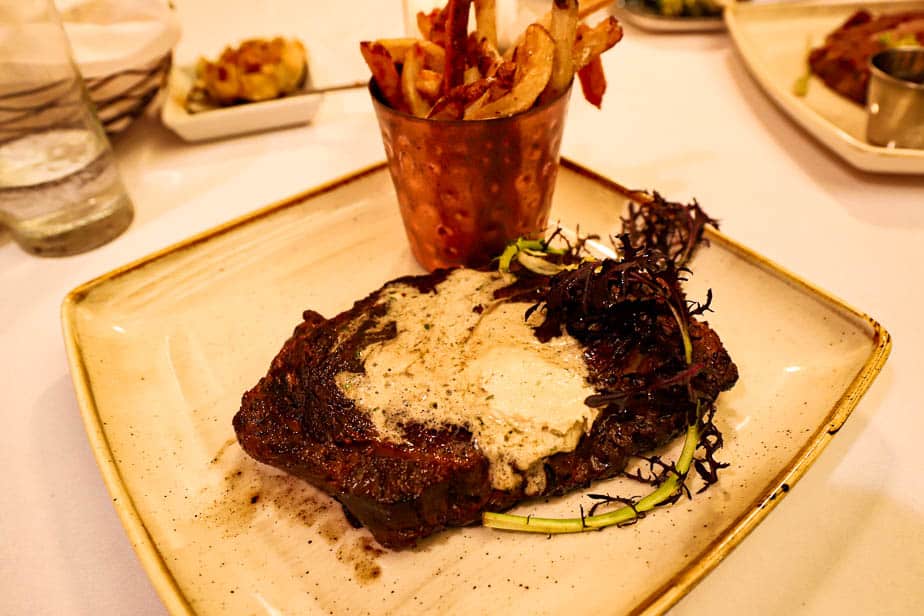 I also ordered my steak medium rare and could cut through it with a fork. My steak sauce was divine.
I've already tried to make it at home but haven't gotten it right yet. But my family enjoyed it with Christmas dinner. Thankfully, they didn't have anything to compare it.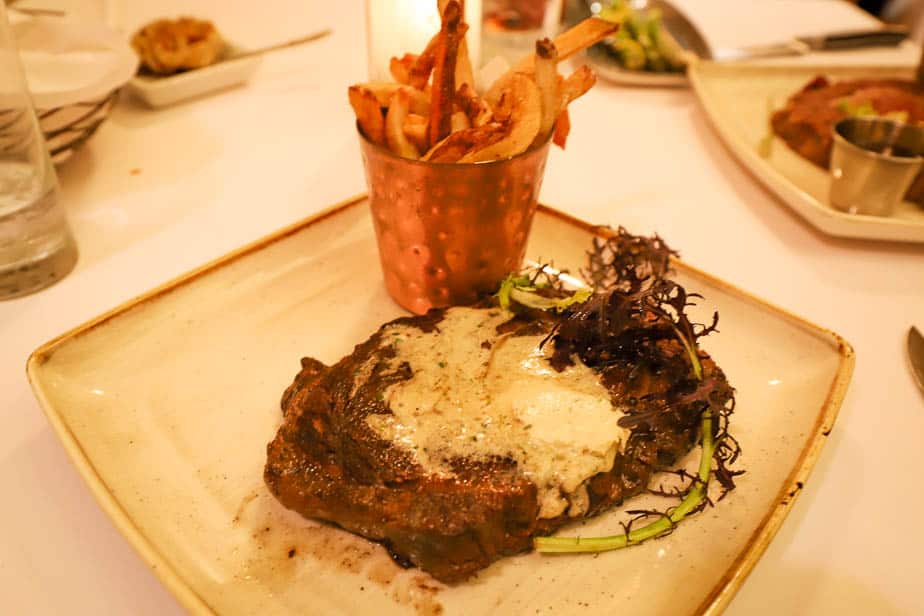 My only issue with this meal was that I didn't want any of the sides that came with the entree. If you peruse the menu a bit, you'll notice a separate selection of steakhouse sides. These all looked good, especially the colossal asparagus.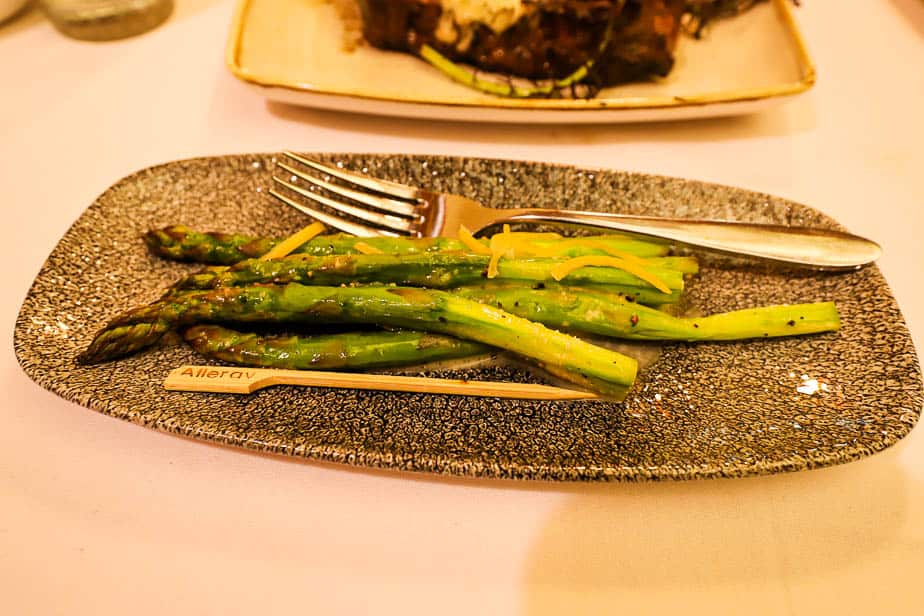 So I ordered a side of asparagus. My issue was that I couldn't substitute one of the steakhouse sides for an upgraded price. I still had to order the side that came with my steak and then order this separately. So that's a $12 order of asparagus you're admiring.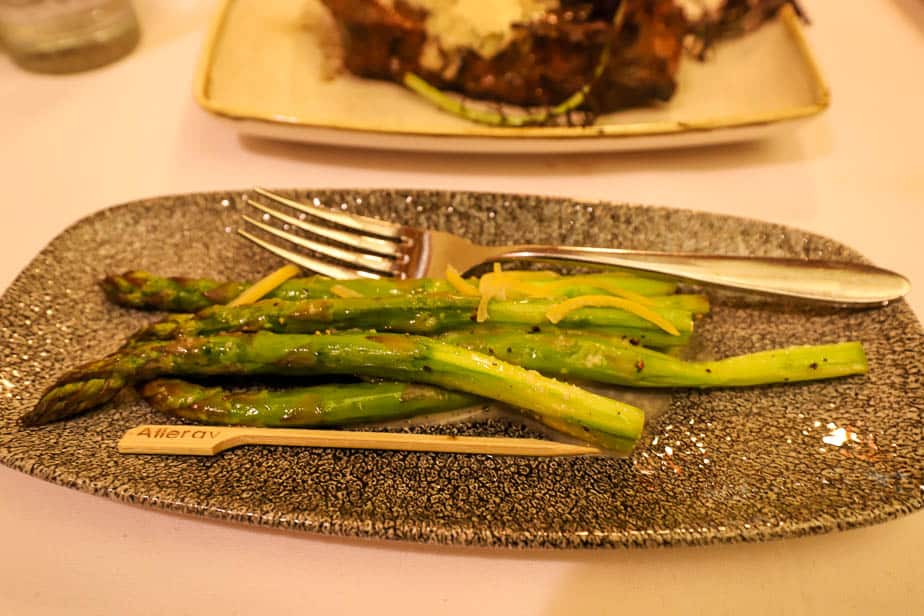 But it was delicious with the Meyer lemon vinaigrette. This dish felt much healthier in comparison to the large side of fries. However, I did end up nibbling on the fries since they came with my steak.
I planned to order the pineapple and coconut tart for dessert. But, unfortunately, I was so full upon finishing the steak that I completely forgot to order dessert! It wasn't until I walked out of the restaurant that it occurred to me that I had forgotten it!
And I rarely order dessert, so I was looking forward to it beforehand. Oh well, maybe next time.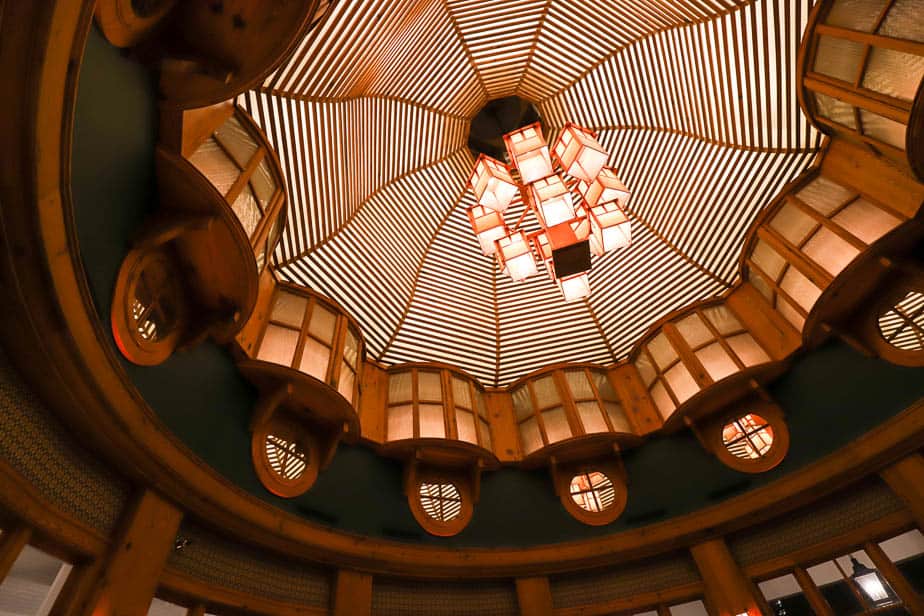 Overall, we loved our dinner at Yachtsman Steakhouse. If you enjoy steak, it's hard to go wrong here.
Additionally, as with all fine dining, remember that a meal like this is typically slower-paced. Please remember not to have any significant plans afterward or allow enough extra time to enjoy the meal.
We were here for over an hour and a half from start to finish. Our meals usually take a bit longer given considerations for food allergies. However, we only enjoyed bread service and then entrees with no other courses. So it very well could have been longer.
If you would like to learn more about Disney's Yacht Club, our complete list of articles is listed in our guide:
Some recent articles include:
In the Comments
I hope you enjoyed this review of Yachtsman Steakhouse. We had a lovely time there. f you have any questions or thoughts, feel free to leave them in the comments below.
Planning a Walt Disney World or other Disney Destination vacation?
Our friends and travel partner, Firefly Travels, excels at doing Disney differently. You can fill out a plan your trip form on their website, and someone will reach out shortly to discuss the specifics.