Is Disney After Hours at Epcot Worth It? (A Review)
In this article, we visit Epcot to attend Disney After Hours, an extra-ticketed event that allows guests per Disney to "experience more magic in less time." We'll discuss whether or not Disney After Hours at Epcot is worth the cost, and I'll provide a detailed walk-through of our experience.
A few months ago, Disney announced the first ever After Hours at Epcot would debut in early June. Since we'd had such a positive experience this year at the Disney After Hours events at both Hollywood Studios and Magic Kingdom, I was immediately onboard for Epcot.
It's no secret that we are big fans of Guardians of the Galaxy: Cosmic Rewind. So the opportunity to potentially walk on one of Epcot's newest attractions with little to no wait sounded too good to be true.
We bought tickets as soon as they were available, and I decided to find a nearby hotel to return to quickly after the event. I initially thought of staying in one of the new rooms at Disney's Boardwalk Inn.
However, availability was an issue, so I considered Disney's Caribbean Beach. But then, I wasn't sure if the Skyliner would run that late. After some thought, I realized we hadn't stayed at the Swan Reserve yet. Thankfully, I was able to secure a room.
You know I love to kill two birds with one stone. So our little staycation combined with After Hours at Epcot allowed me to do just that.
But was it worth it?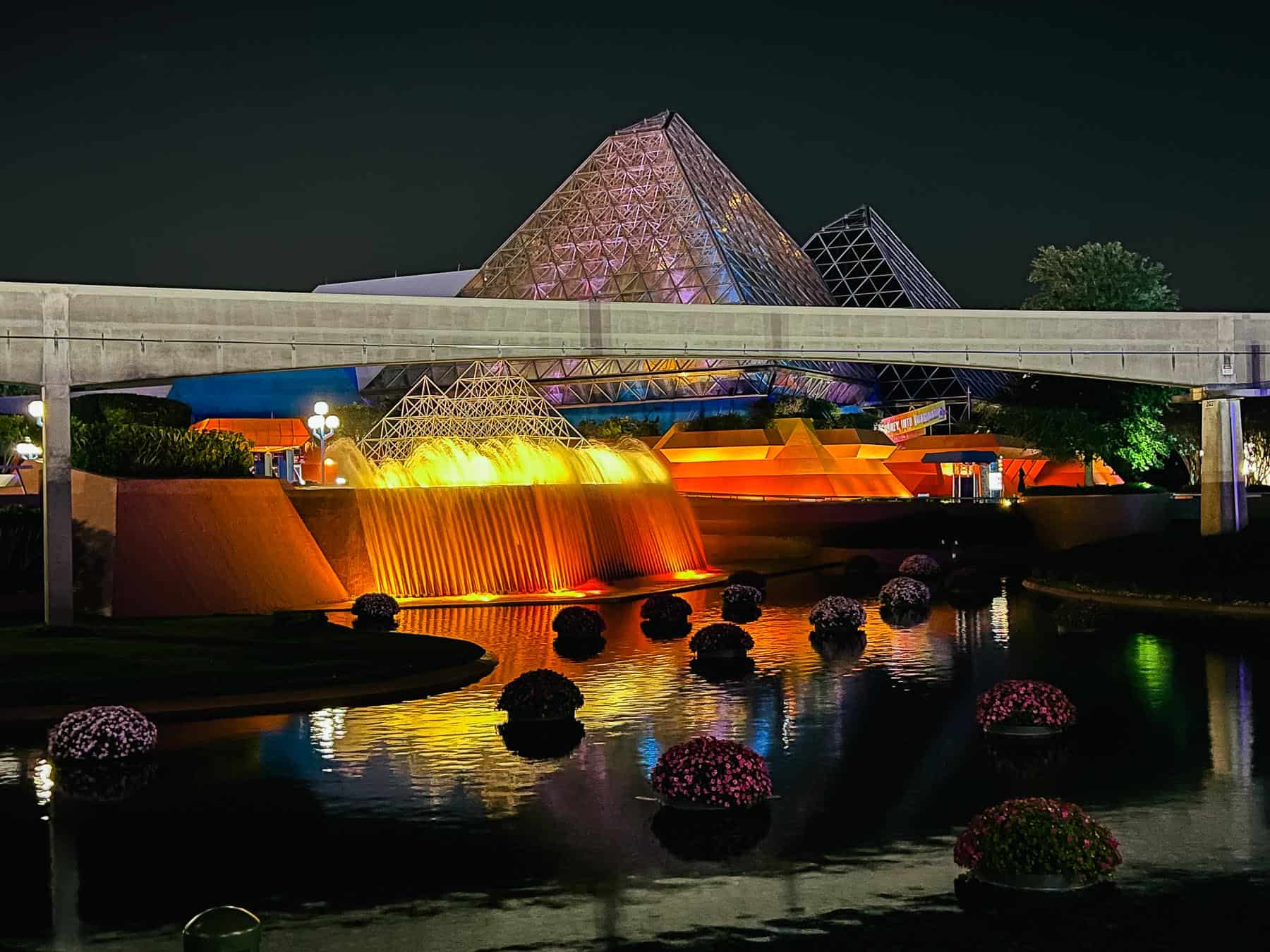 What is Disney After Hours at Epcot?
Many of you are probably aware that Disney After Hours is the branded name of a special-ticketed event offered at several theme parks and Typhoon Lagoon water park. But some might confuse this event with the extended evening theme park hours benefit for select resort guests.
Extended hours are offered once a week at Epcot for guests of deluxe and deluxe villa resorts. Those hours do not require an extra ticket (other than general admission), but guests must stay in one of the specified hotels.
Anyone can purchase tickets to attend Disney After Hours. At Epcot, guests can use their After Hours ticket to enter the park as early as 7:00 p.m. However, the event officially begins at 10:00 p.m. and lasts until 1:00 a.m.
When you arrive and scan your ticket, a cast member will provide a special wristband that indicates you're an After Hours guest. This wristband must be shown at most ride entrances after the event's official start. It prevents stragglers from joining the line.
Between 10:00 p.m. and 1:00 a.m., guests can expect shorter lines with lower wait times and complimentary snacks. Additionally, exclusive entertainment, character meets, and PhotoPass photographers are present.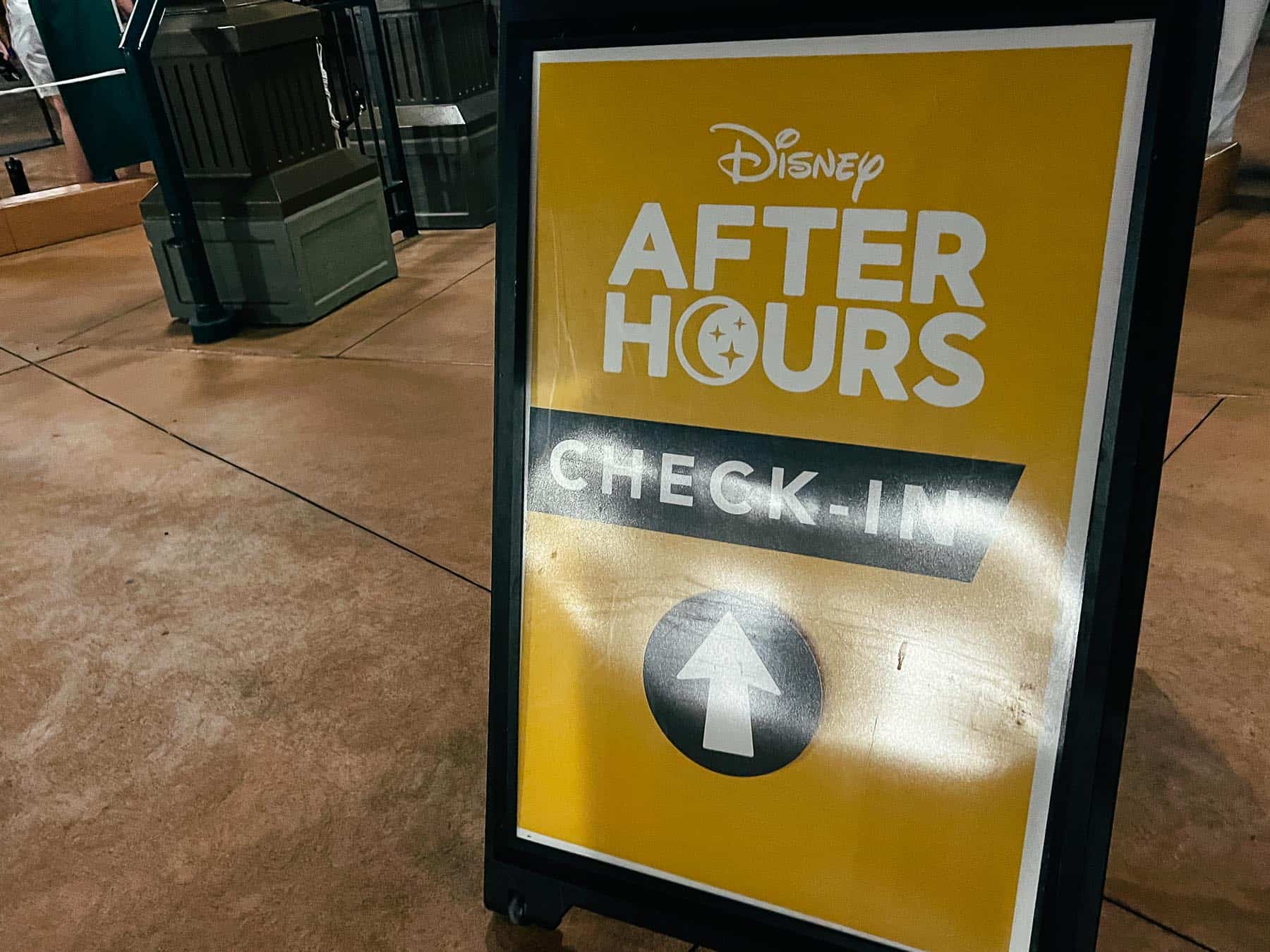 What's Included with Disney After Hours at Epcot?
Before we get into how our evening went, we'll examine what's included with Disney After Hours at Epcot. While most guests visit After Hours for short waits times, the event also provides a unique opportunity to experience the parks without crowds.
So if shopping in an almost empty gift shop or enjoying strolling through wide open spaces in the park sounds tempting–Disney After Hours delivers.
Entertainment
Two forms of entertainment were listed in the After Hours event handout. First, a DJ was present in World Discovery near Connections Eatery. He played pop dance tunes for the entirety of the event.
You could hear the music throughout the park because it was broadcasted over the PA system. I thought this was a fun, family-friendly touch that helped keep things upbeat while touring the park.
Chip and Dale were present off and on throughout the evening. They did an excellent job getting guests to join them on the dance floor.
Mariachi Cobre was listed on the event handout. However, we didn't run into them. They could have been inside the Mexico Pavilion since the Gran Fiesta Tour was an After Hours attraction.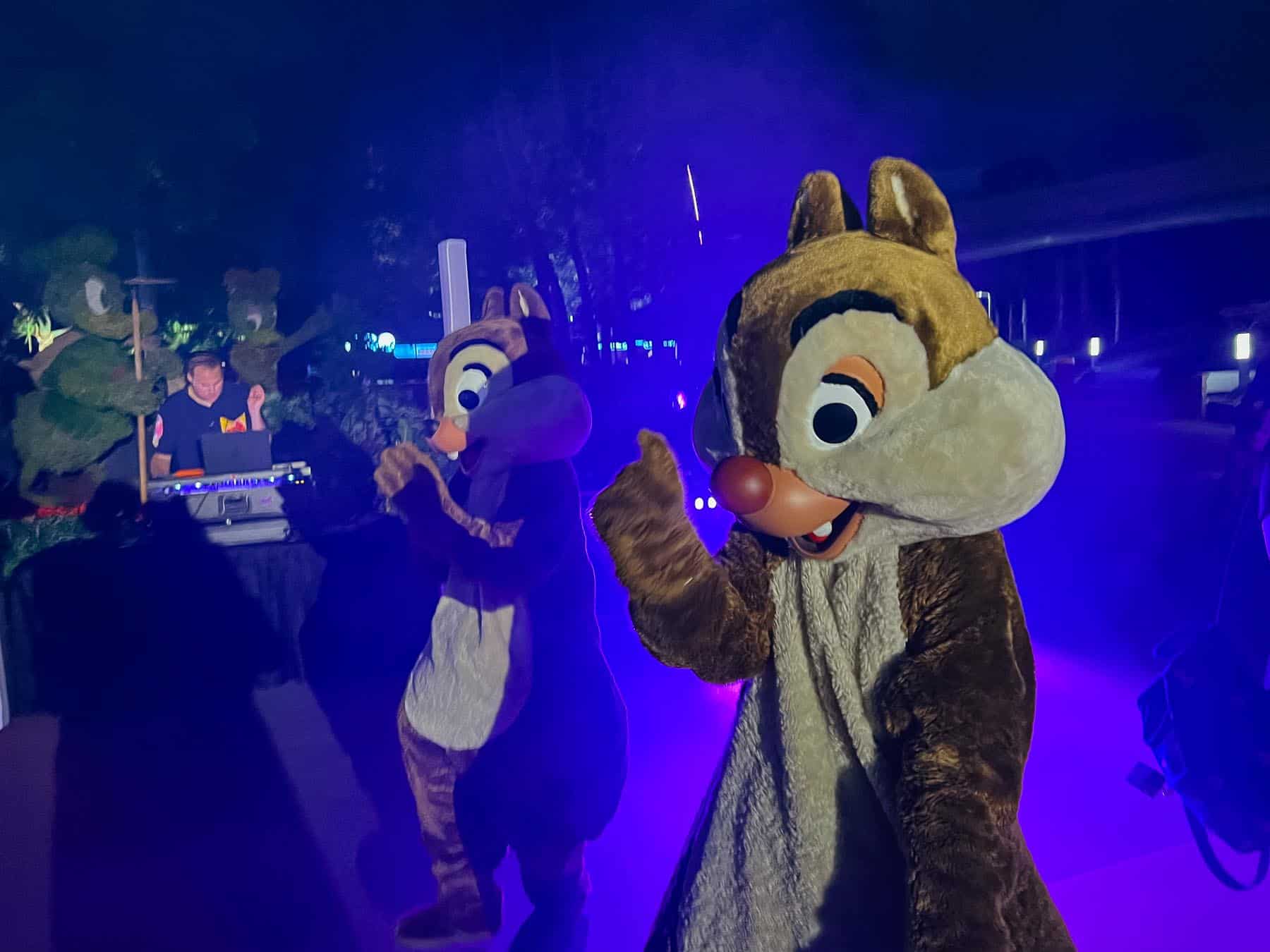 Characters
Pluto was meeting in his usual location at the World Showcase Plaza. Mickey Mouse was also present in his suit and tie look. He met guests in the gazebo at the France Pavilion, where Princess Aurora usually meets during the day.
Mickey was a nice touch, especially outside his usual location, and it's always great to see Pluto. However, given the exclusivity of this event, I anticipated seeing rare characters or characters dressed in rare outfits.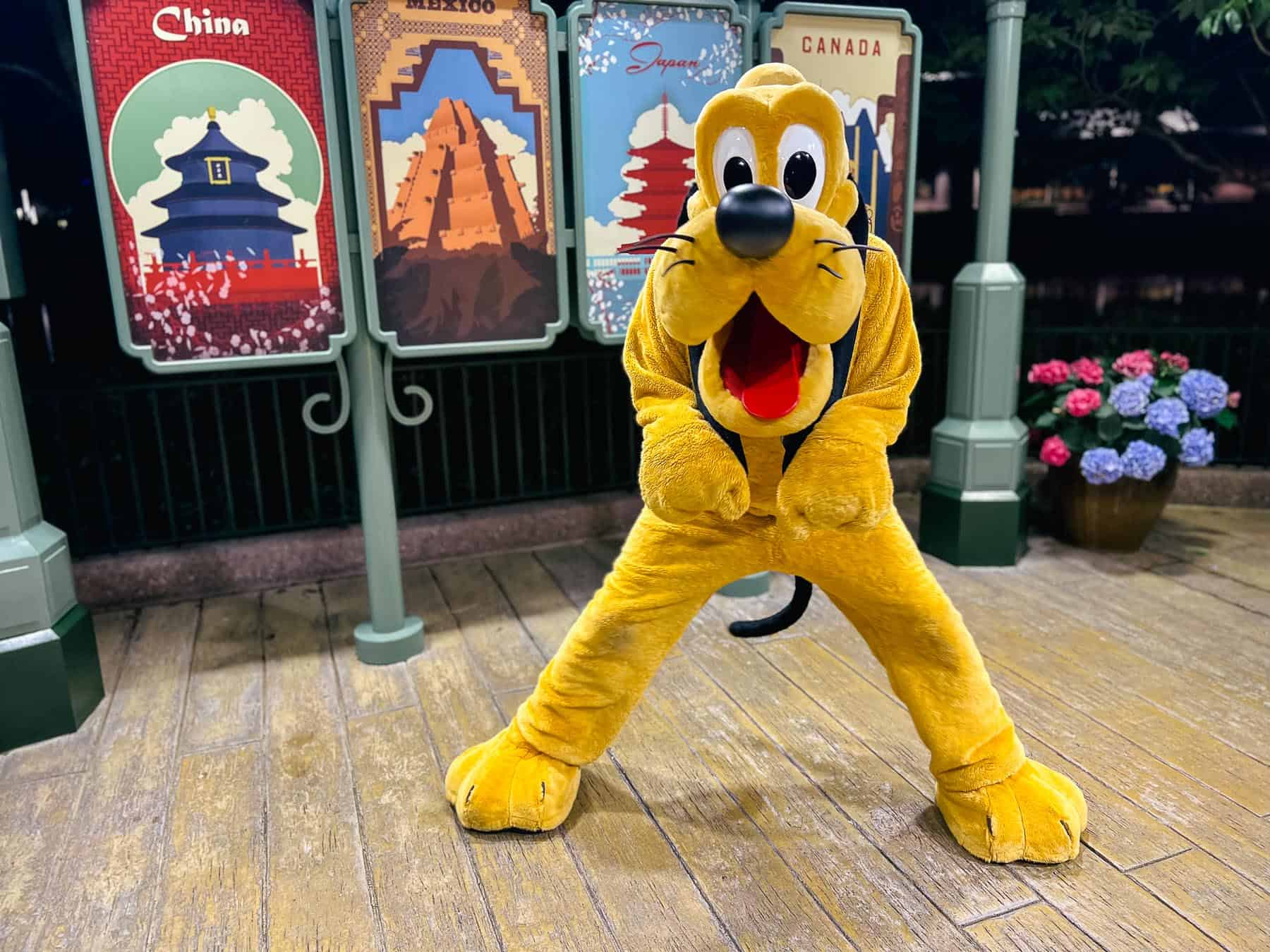 Snacks
Select beverages, popcorn, and ice cream novelties are included with event admission. Guests could pick them up from the following snack carts:
Near Mission: SPACE
Near Creations Shop
Near The Seas with Nemo and Friends
Near Imagination!
Norway
Canada
Snack options included popcorn, Mickey ice cream bars, Mickey ice cream sandwiches, strawberry popsicles, and bottled soft drinks (including water).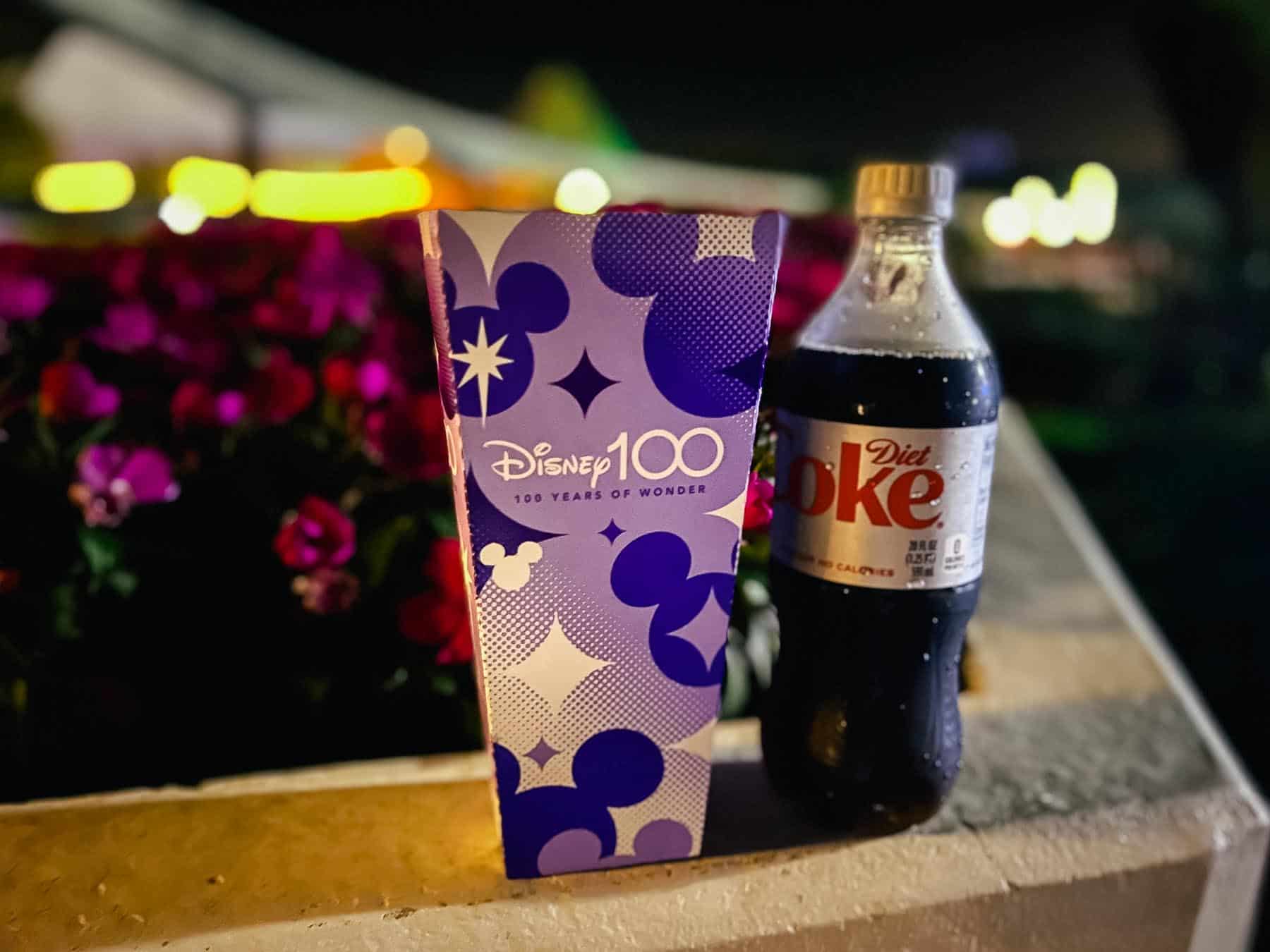 In addition to complimentary treats, the following locations were open with items available for purchase:
Connections Eatery (Until 10:00 p.m.)
Connections Cafe (Until 11:00 p.m.)
World Discovery Hot Dog Cart
Kringla Bakeri Og Kafe
Yorkshire County Fish Shop (Until 11:00 p.m.)
Rose and Crown Pub
*Additionally, the following merchandise locations remained open throughout the event:
Creations Shop
Image Works (The "What If" Labs)
Treasures of Xandar
Mission: SPACE Cargo Bay
Test Track
SIMporium
SeaBase Gift Shop
Plaza de los Amigos
World Traveler
Epcot Disney After Hours Attraction List
The following attractions were available at Epcot for Disney After Hours.
World Celebration
Spaceship Earth
Journey Into Imagination with Figment
World Discovery
Guardians of the Galaxy: Cosmic Rewind
Mission: SPACE (Green and Orange Mission)
Test Track (Presented by Chevrolet)
World Nature
Soarin' Around the World
Living with the Land
The Seas with Nemo and Friends (Ride)
World Showcase
Gran Fiesta Tour Starring The Three Caballeros
Frozen Ever After
Remy's Ratatouille Adventure
How Our Disney After Hours at Epcot Went
On the day of our event, we checked into the Walt Disney World Swan Reserve, a boutique offspring of Marriott's Swan and Dolphin Hotels. This day was primarily spent poolside.
As someone who's attended many special events at Walt Disney World, I have found that I do better when I take the day to rest. If I had been in the parks most of the day, I would have been exhausted for After Hours and probably would have left early.
So after a leisurely resort day, we were off to Epcot at approximately 8:40 p.m. We could have entered Epcot as early as 7:00 p.m. with our ticket. But I wanted our focus to be on getting more done in less time without feeling exhausted by the end of the night.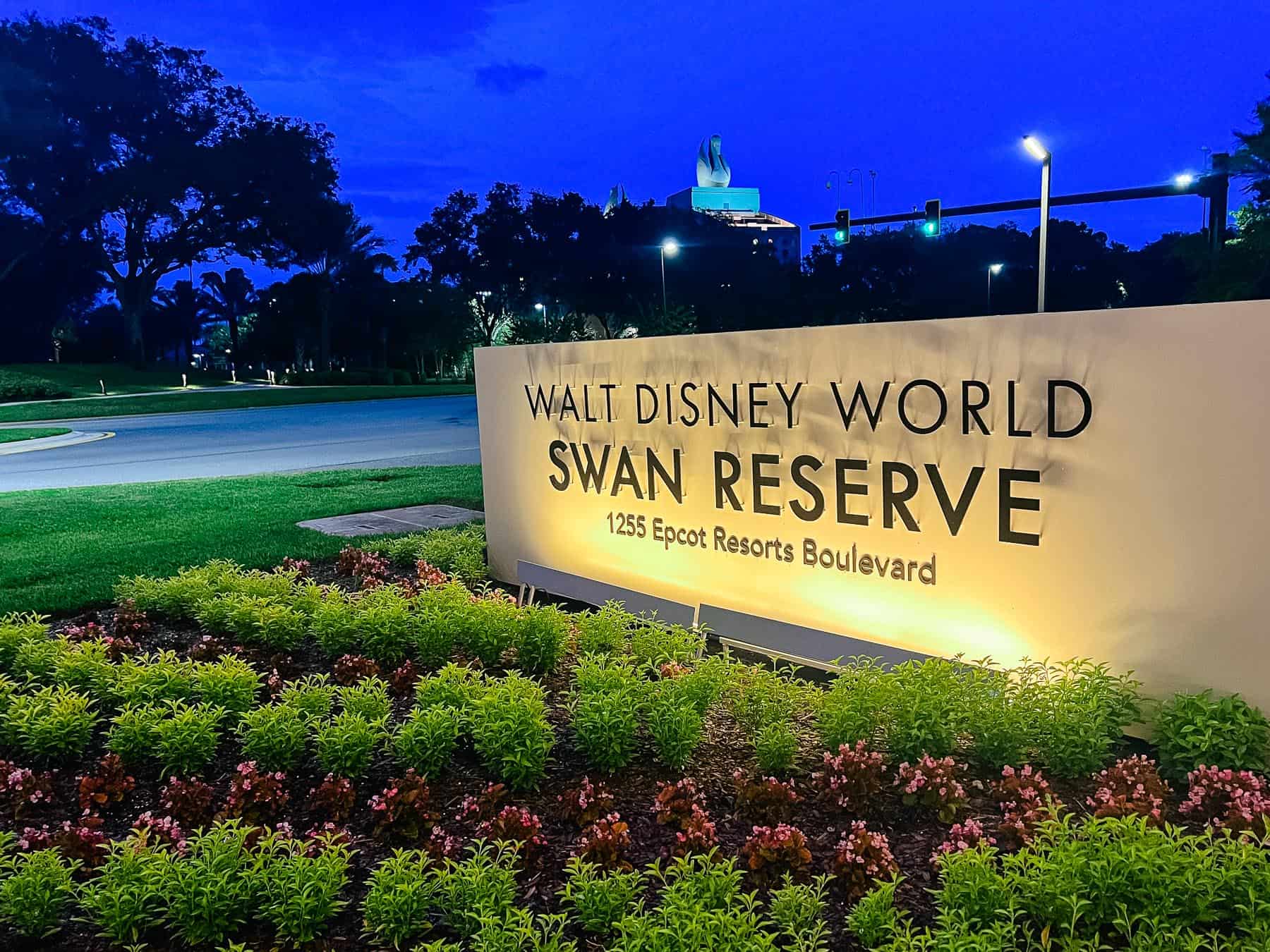 It was a pleasant walk to Epcot, and I got a few halfway-decent mobile phone photos on the way. Since we focused on touring, I traveled lightweight and left my camera in the room. Therefore, the pictures in this review were all taken with my phone.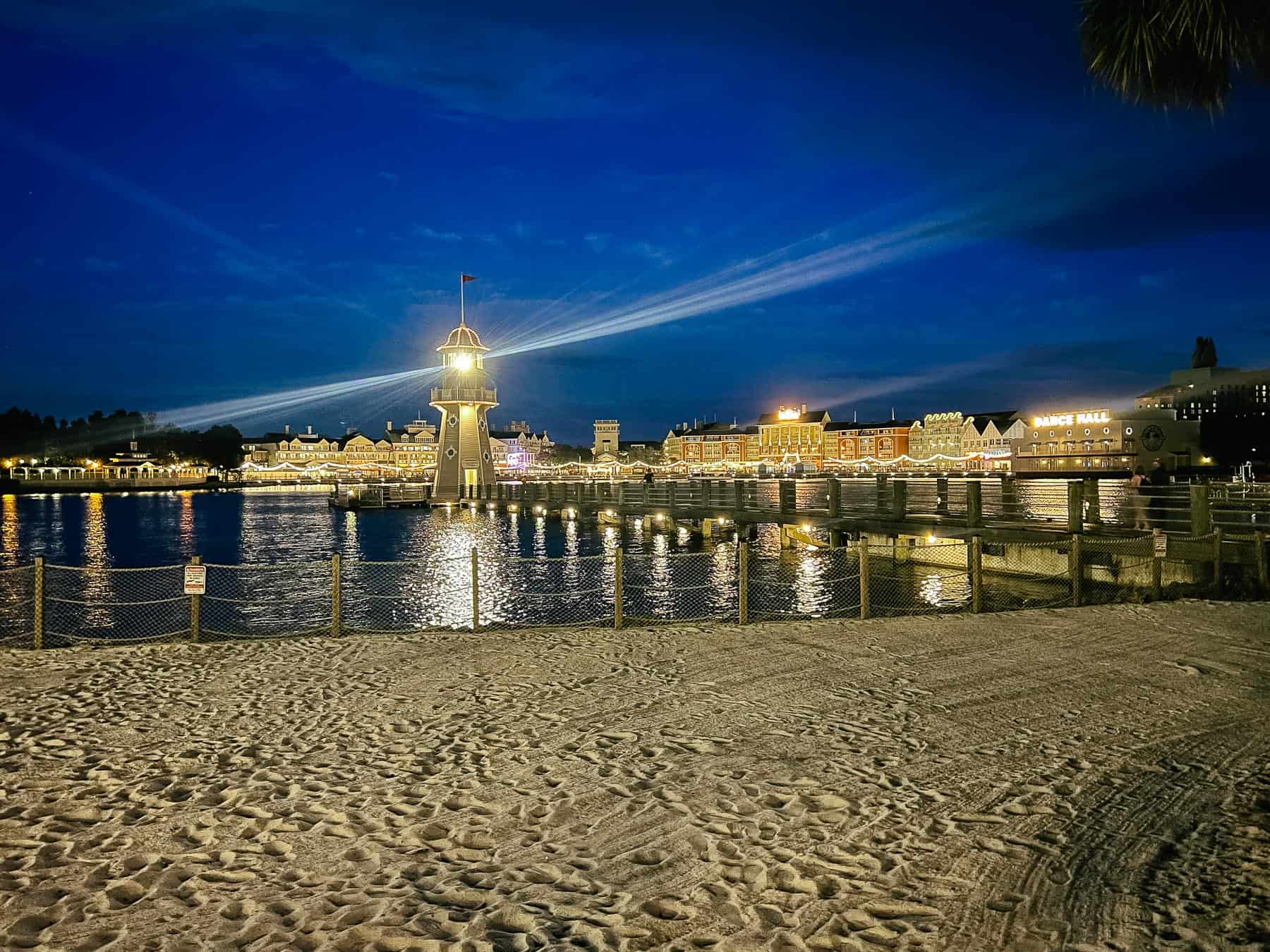 A separate line was available for guests to check in for Disney After Hours at the International Gateway. We walked into the park at approximately 9:00 p.m. as fireworks began.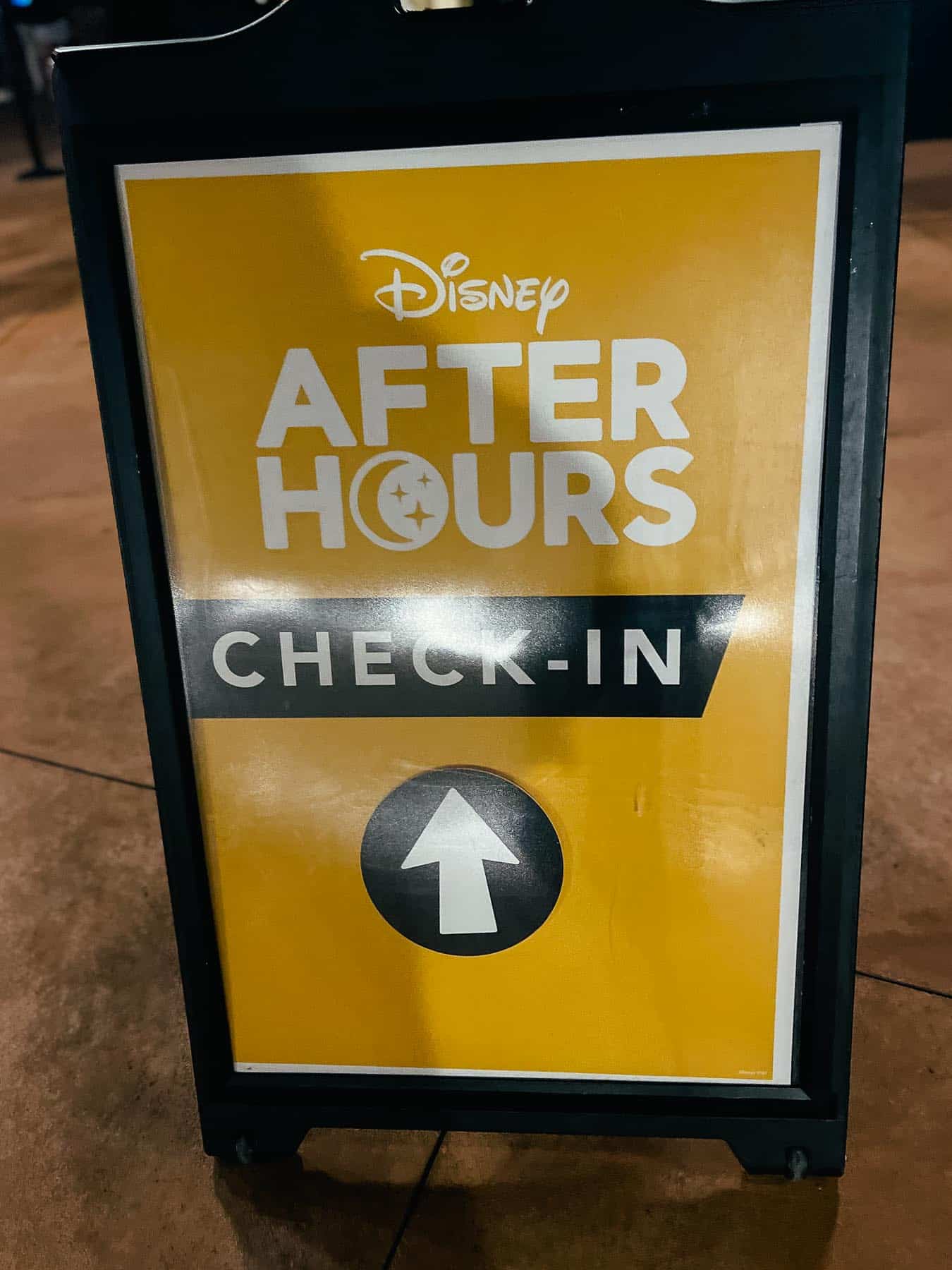 We were given a wristband and a handout that listed what was included.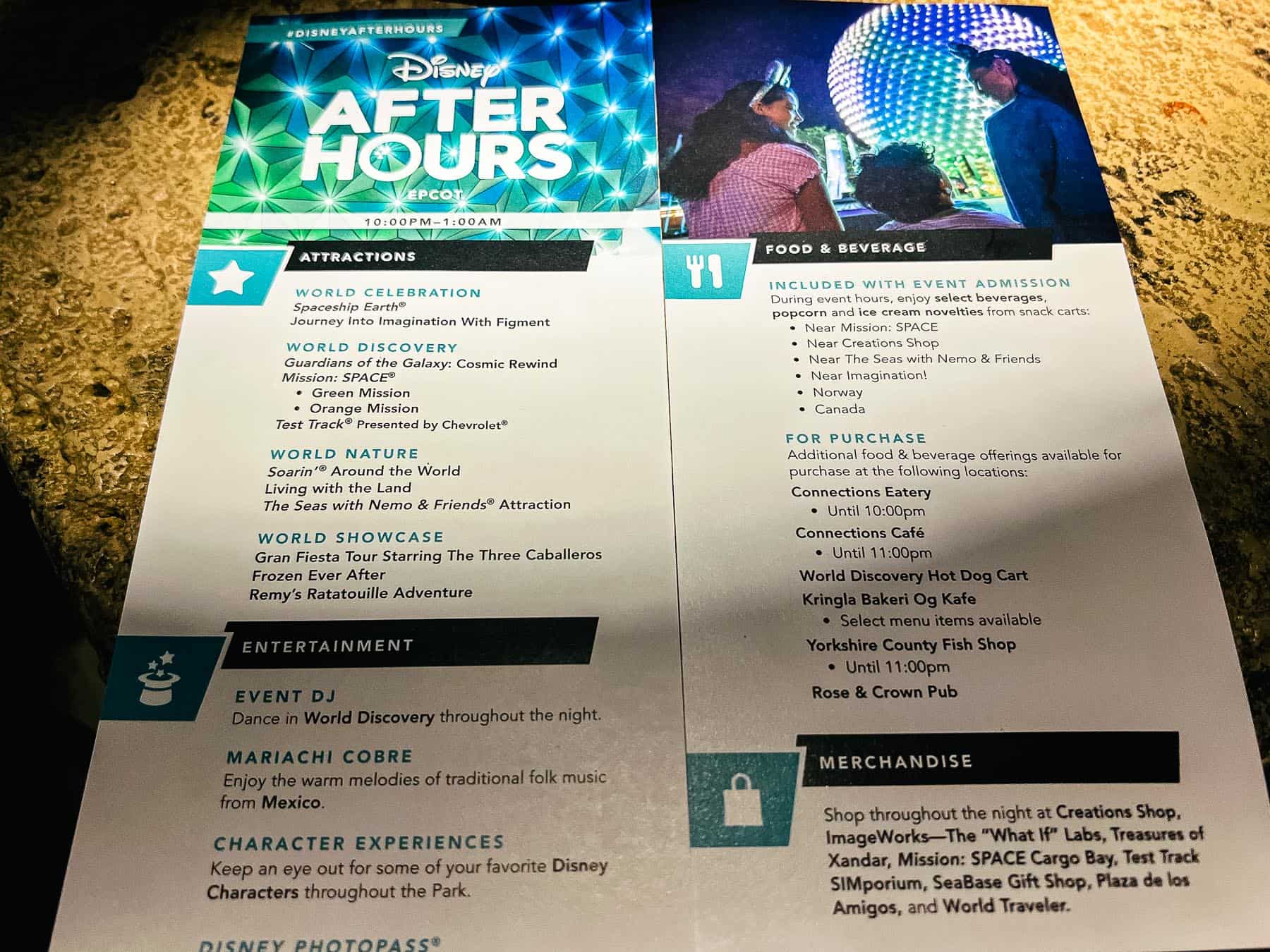 Before going into the evening, I had devised a loose plan for tackling things. As far as distinguishing value, I felt like we needed to ride a few things twice to get our money out of the evening, even if that meant skipping timeless attractions that we've ridden plenty of times.
I hoped to ride Frozen Ever After, Remy's Ratatouille Adventure, and Guardians of the Galaxy two times each. I also wanted to ride Test Track and Soarin' at least once. That would be eight rides between 9:00 p.m. and 1:00 a.m., which sounded reasonable.
Our plan was also based on entering and exiting the park at Epcot's International Gateway. This meant starting and ending the night with Remy's Ratatouille Adventure.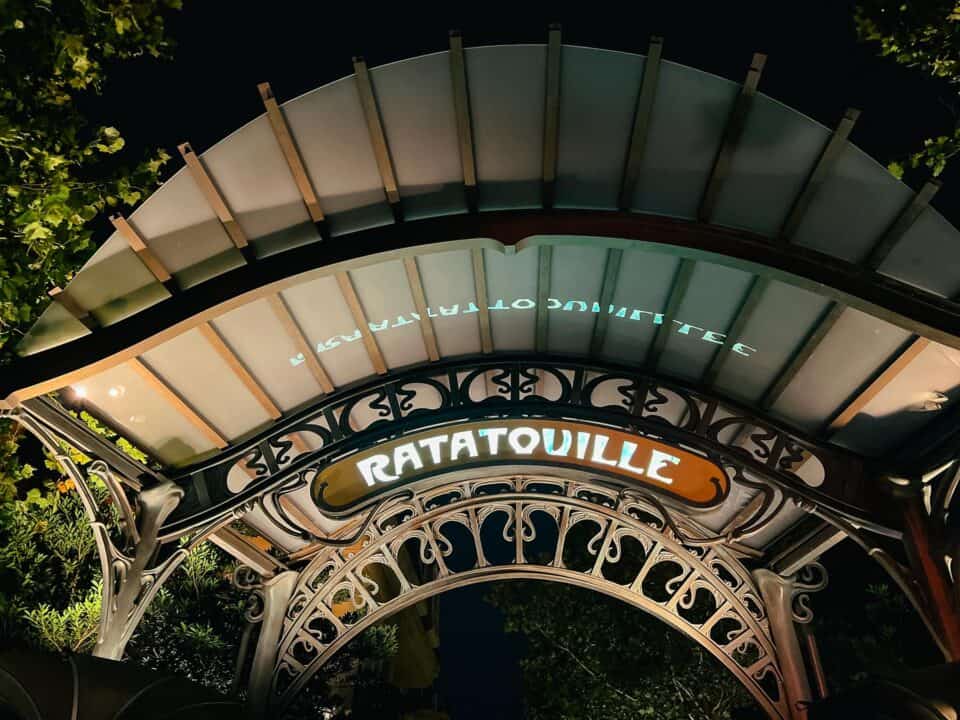 When we arrived at Ratatouille, the fireworks were in full force. It was 9:10 p.m. when we entered the queue. The posted wait time was 25 minutes. However, you can see from the photo below that the courtyard was fairly empty.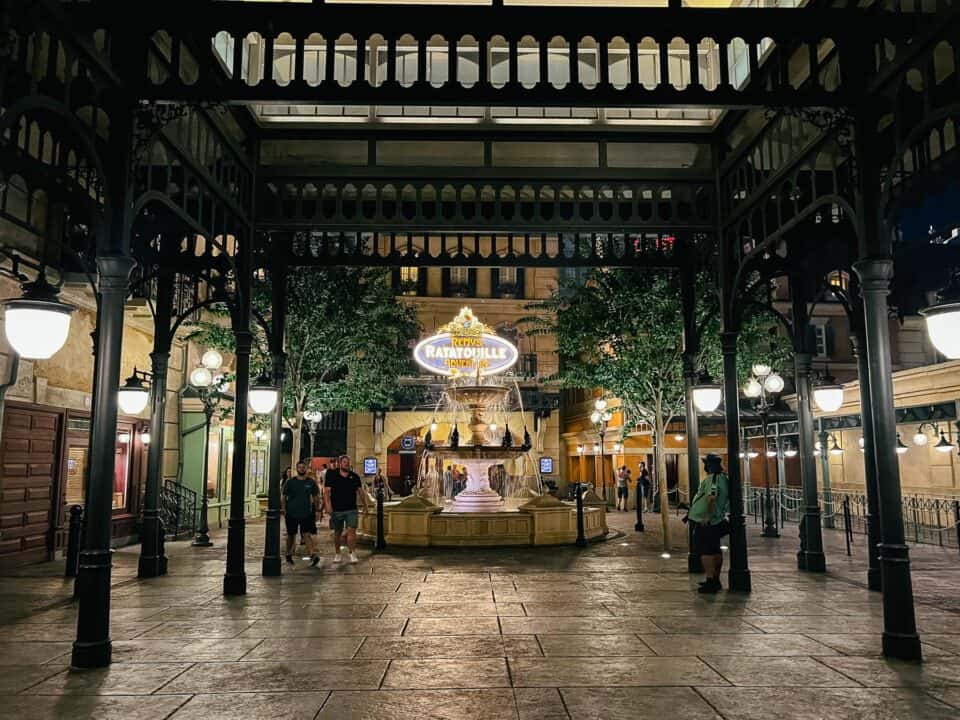 Going into the evening, I knew the park closed at 9:00 p.m., which meant no regular park guests could enter the attraction's line or Lightning Lane after 9:00 p.m. So we were on the ride by 9:20 p.m., which was only a 10-minute wait.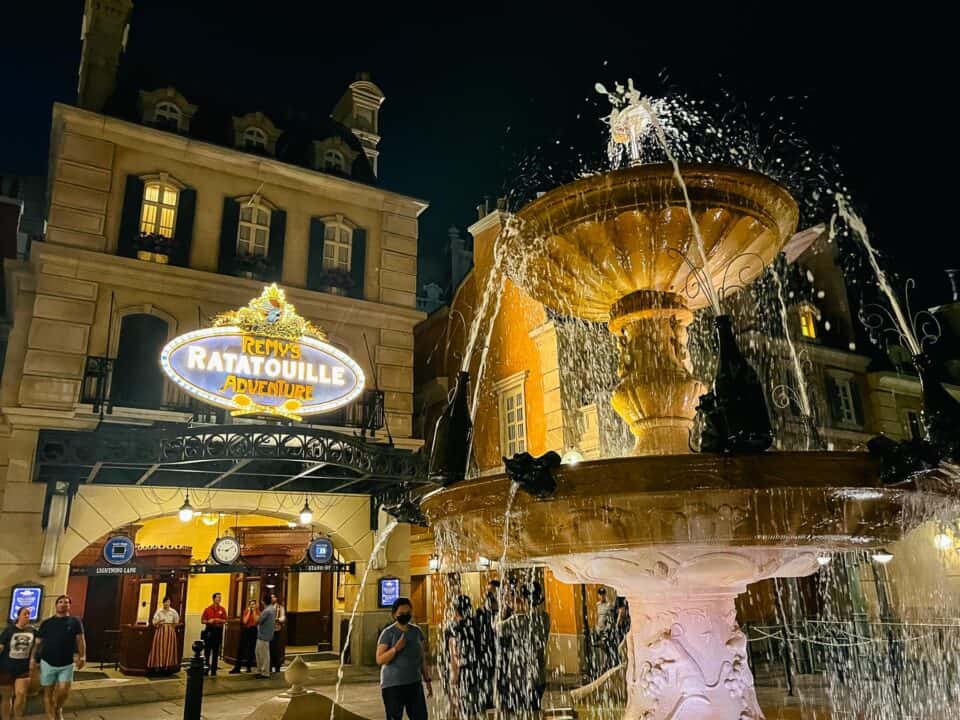 When we exited the ride, the evening fireworks had ended, and After Hours guests were filling the standby queue. I was astonished to see the outdoor portion of the line was already at a standstill.
Granted, we weren't in that ripe After Hours period of 10:00 a.m. until 1:00 a.m. But the only guests left in the park eligible to ride attractions were After Hours guests.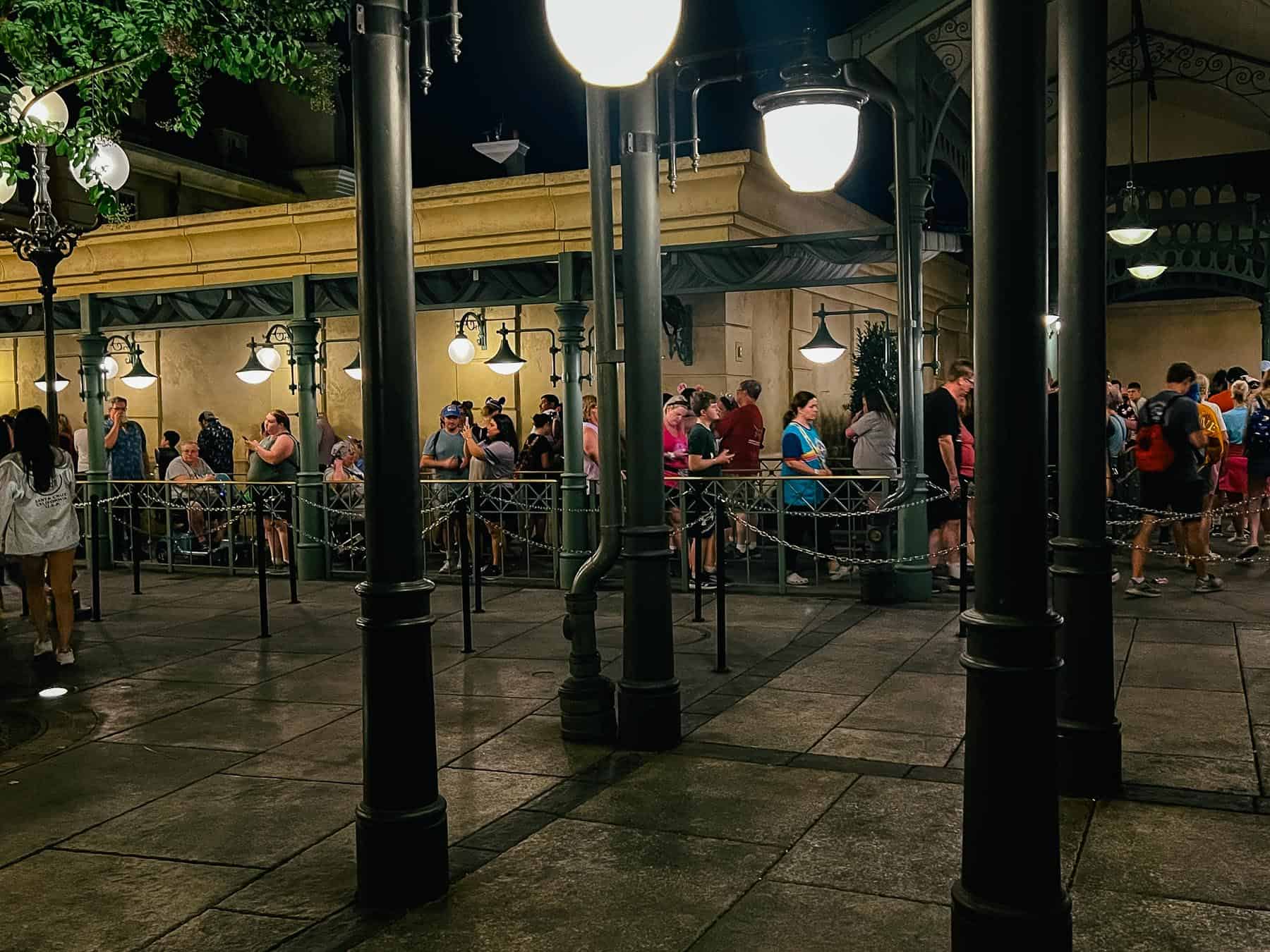 Needless to say, I felt good about skipping the fireworks and getting a jump start on Ratatouille. We were then headed to Frozen Ever After. My hopes were that we could walk through the World Showcase to get there, but it was already roped off.
This is how the park operates each evening, even during extended hours. So you must walk through the United Kingdom, Canada, and across the plaza to get to Mexico and Norway.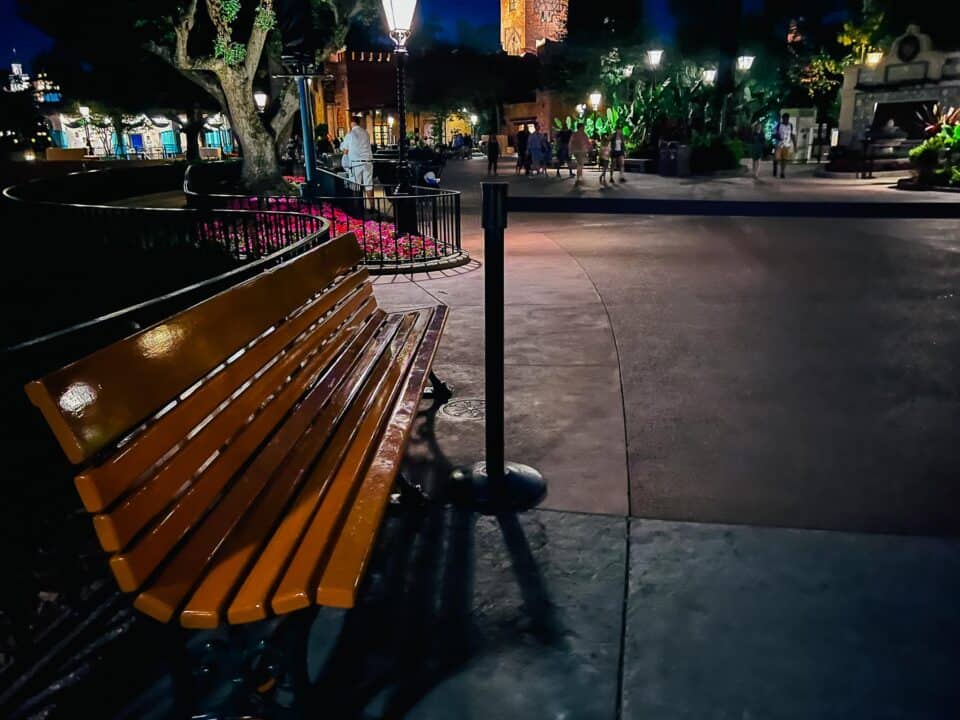 It was 9:44 p.m. when we arrived at Frozen Ever After.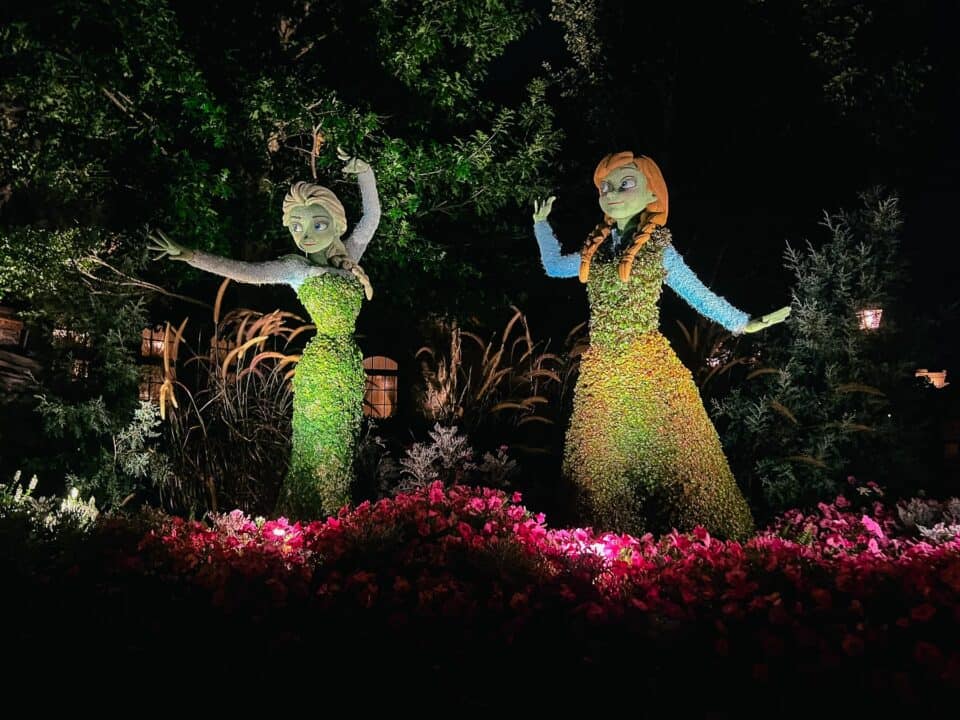 A 20-minute wait was posted, a little more than I wanted. However, we were on the ride within 12 minutes. So I couldn't complain. By the time we exited, it was a few minutes after 10:00 p.m.
I initially planned to ride Frozen Ever After twice while we were in the area. That way, we didn't have to backtrack. But it was sprinkling, so we headed straight to Test Track.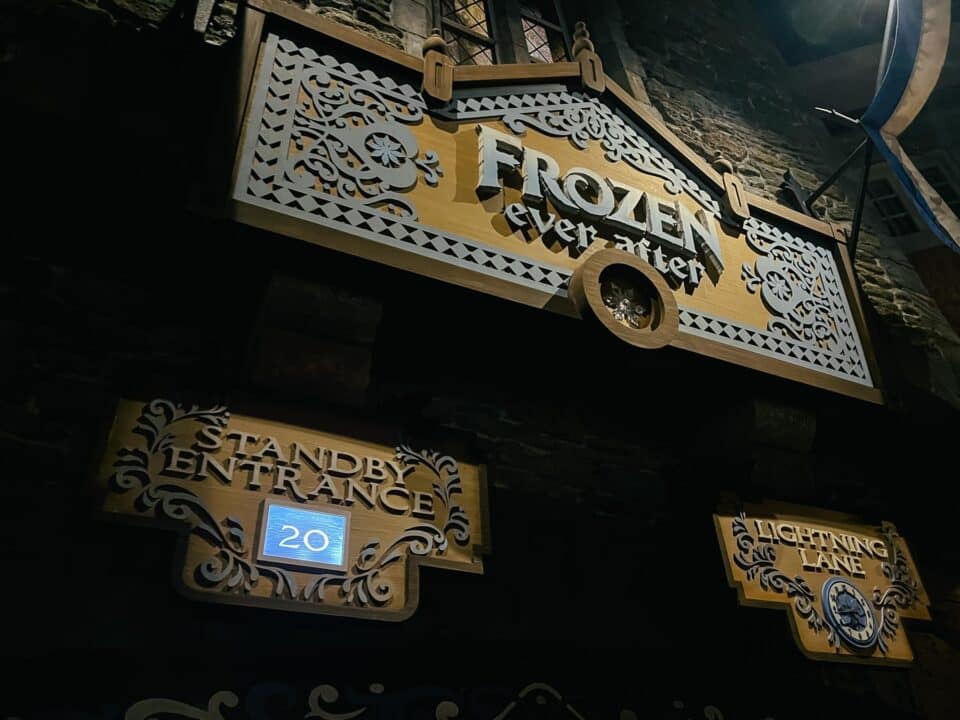 We joined the queue for Test Track at 10:09 p.m. While in line, an announcement was made that inclement weather was approaching, so they might have to close the attraction at any moment.
As we walked through the queue, the preshow area before us was loading. We were assigned a number for the next preshow.
Since I was fearful we wouldn't make it, I asked the cast member if we could join the preshow that was filling before us if we didn't design a car. She said yes, and we were allowed to move forward.
Looking back, for Test Track, it would have been nice to have the option to walk through the single rider line and skip the preshow altogether. Thankfully, we were on the ride at 10:17 p.m. The only wait was walking through the queue and the preshow.
However, we would have had to wait through an extra preshow had we not asked to join the one ahead of us, forfeiting our right to design a car.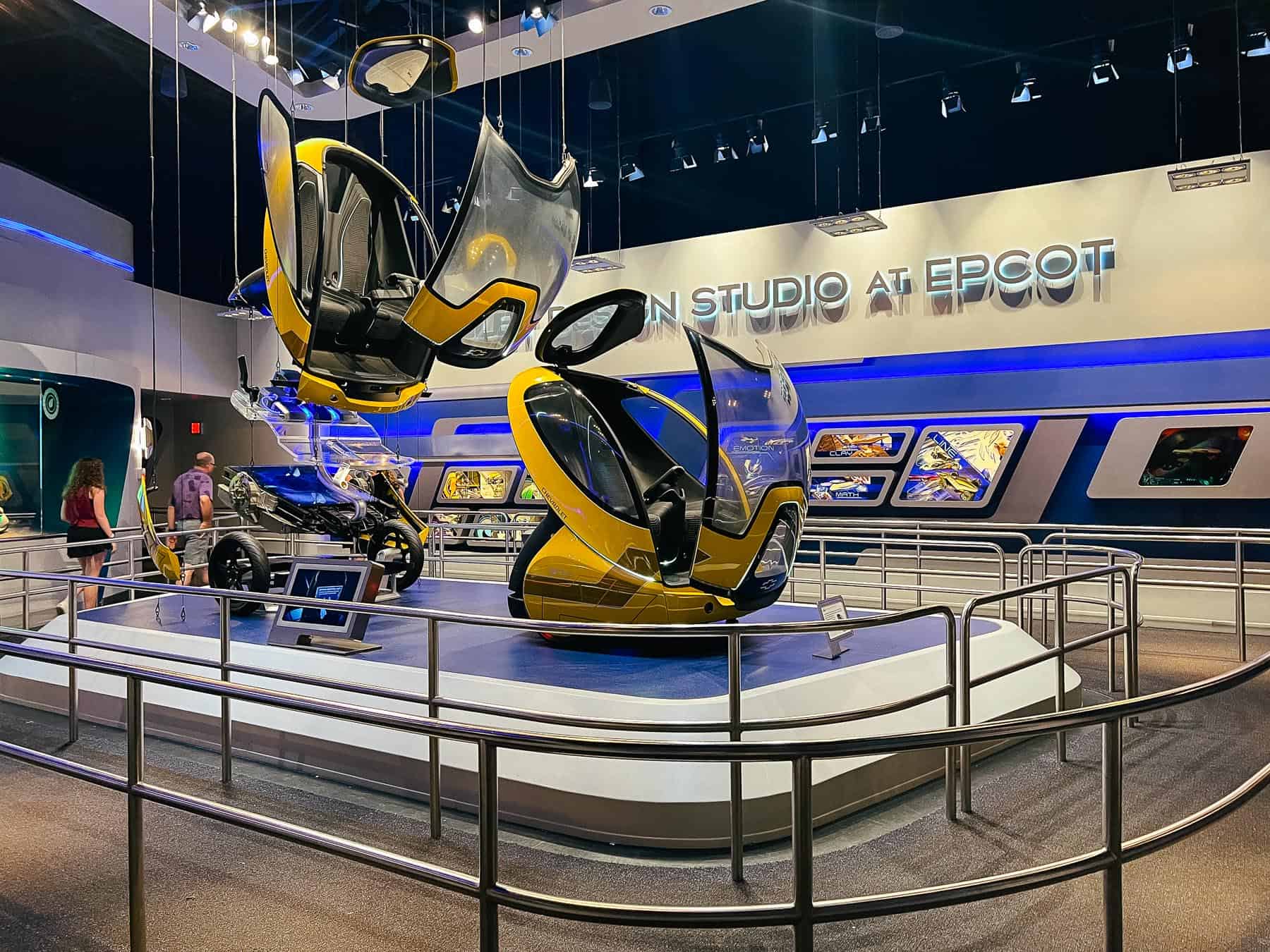 After exiting Test Track, we stopped and took a few photos of Chip and Dale on our way to Guardians of the Galaxy. My initial plan here was to ride Test Track and Guardians of the Galaxy. Then repeat Guardians of the Galaxy.
Unfortunately, when we got in line for Guardians, it was 10:30 p.m., and an hour wait was posted for the attraction. After joining the queue and seeing the length of the line, I felt it would be a solid 40-minute wait based on my previous experiences.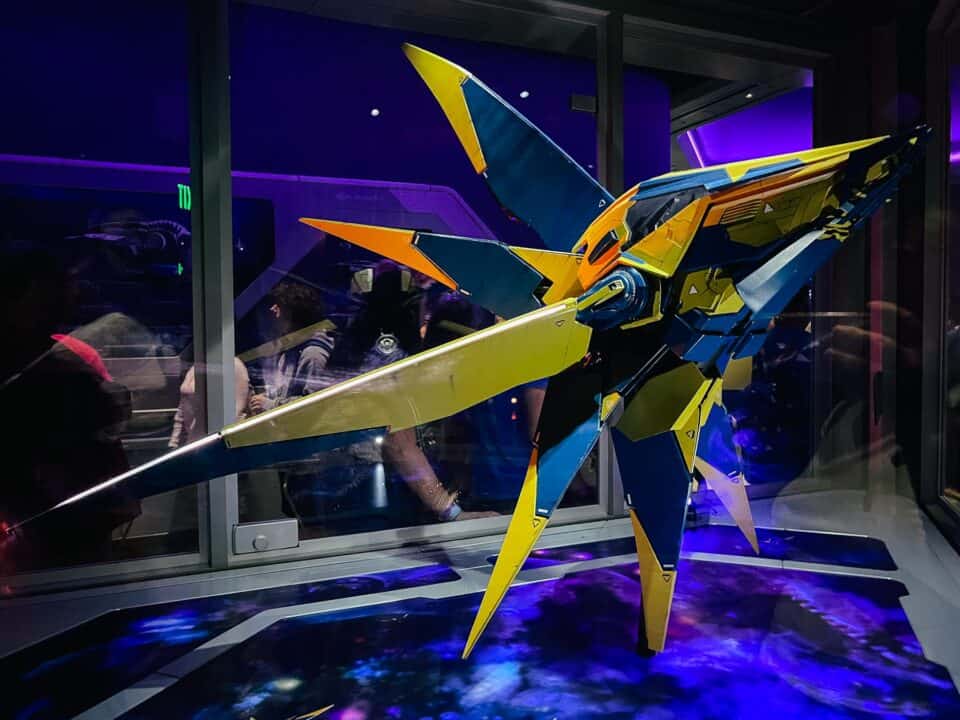 We made it to the initial preshow area at 11:01 p.m. At this point, I was curious because they only allowed a few guests into each preshow. So I hoped there wouldn't be an additional line when we got to the ride loading area.
Then we were out of the preshow by 11:11 p.m. and immediately met the line in the photo below. You can only imagine the dismay of the guests. We had all paid extra for this event and were spending so much of it waiting in line.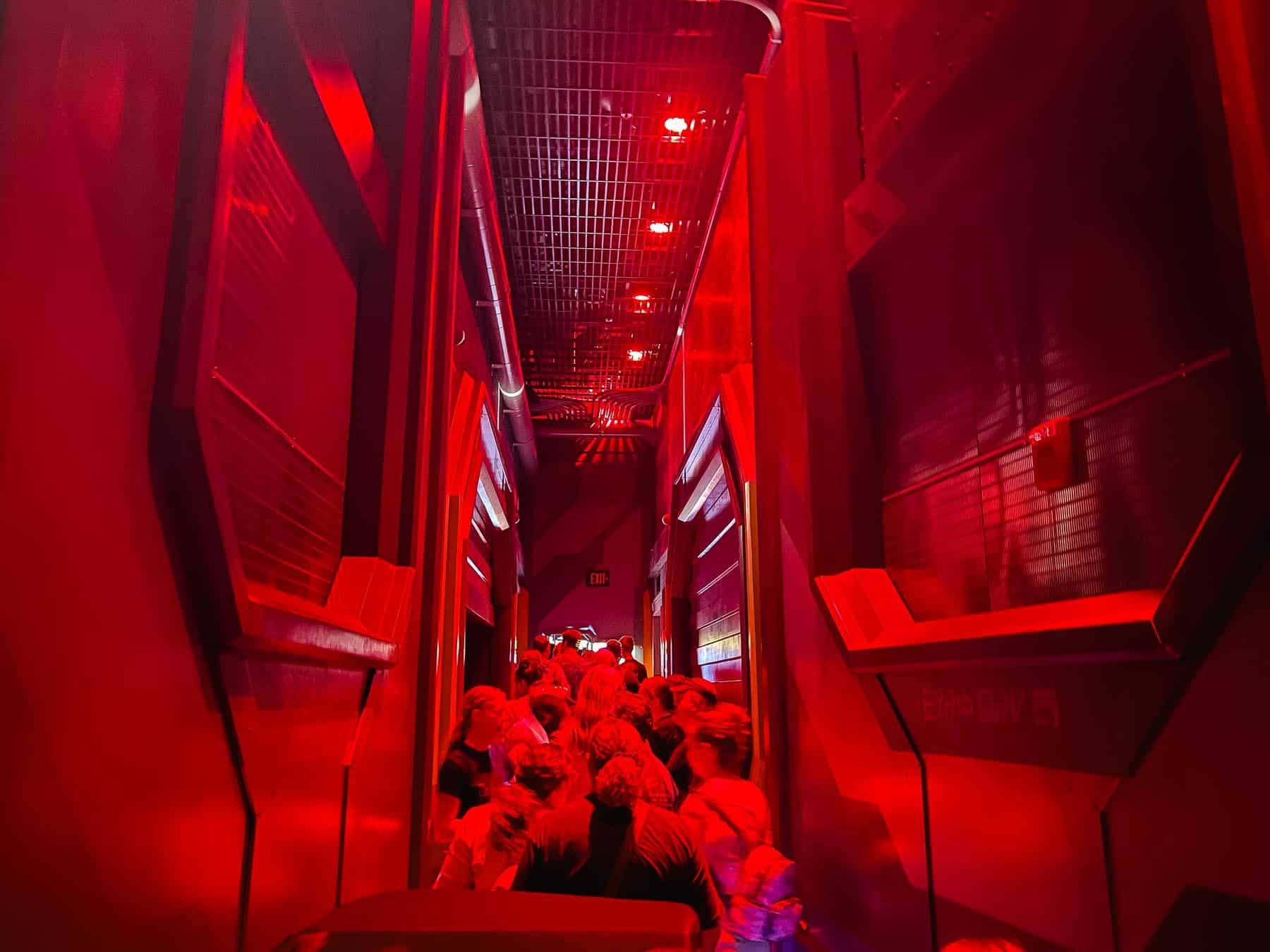 Unfortunately, one side of the attraction wasn't operational. It was 11:36 p.m. when we boarded the ride. So it was an hour and six minutes wait! That was over one-third of our night!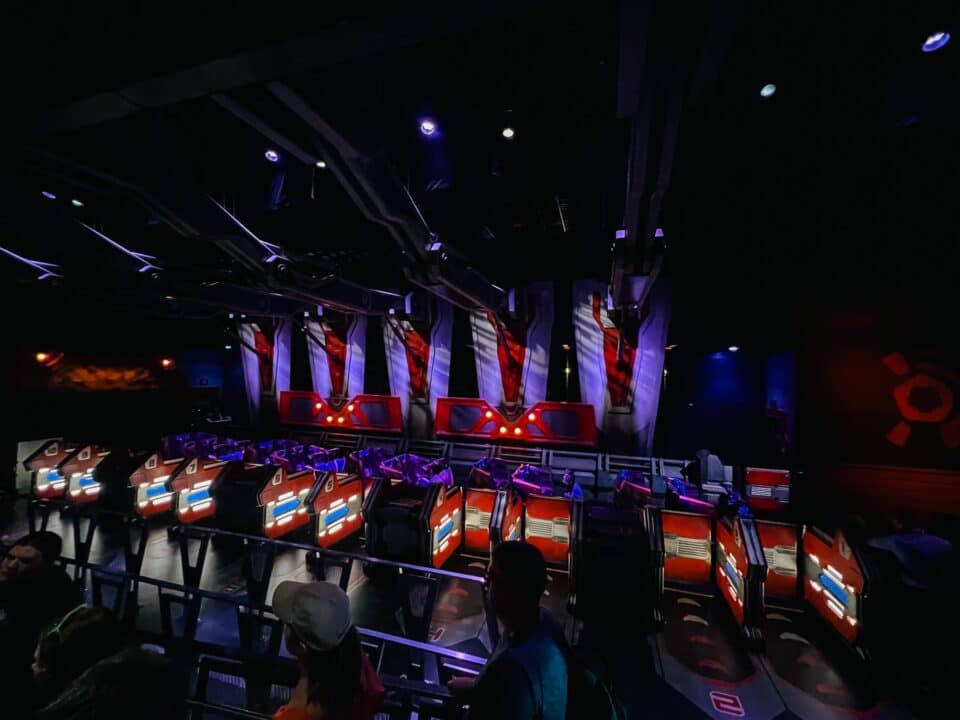 After exiting Guardians, it was time for a quick snack. At this point, I was ready to throw in the towel. The long wait had put such a damper on our evening. Realistically, I knew we couldn't return to Frozen Ever After.
So we walked our soda and popcorn to The Land Pavilion and got in line for Soarin'. There was no way it was going to have a line, right?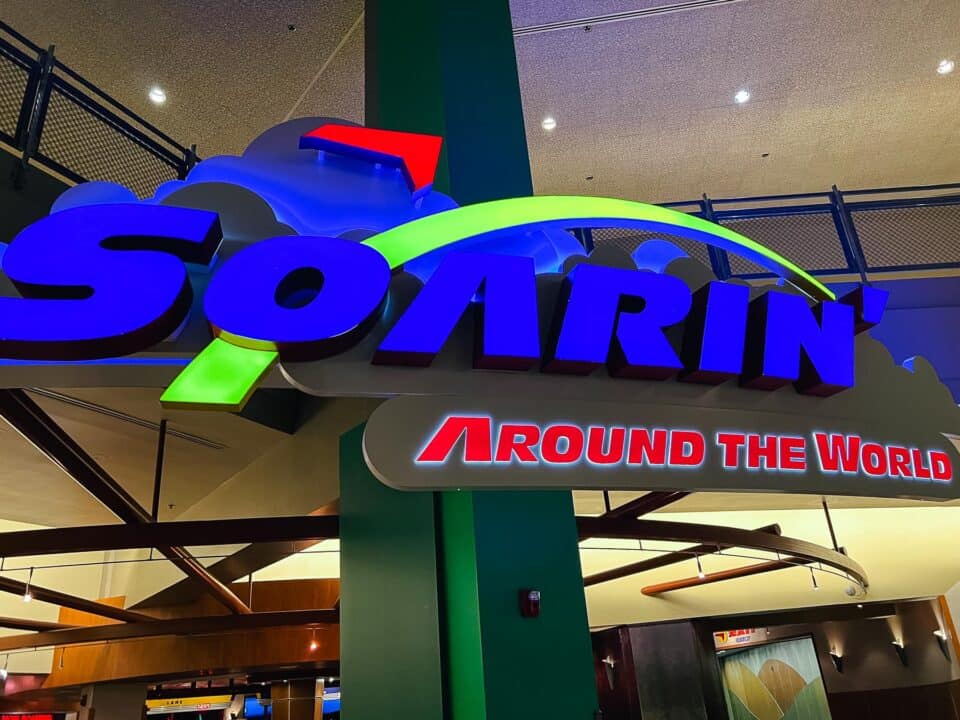 It was 12:04 a.m. when we got in line for Soarin' with a posted 10-minute wait. We were quickly met with the line shown in the photograph below. Can you imagine how people felt? Everyone was complaining, and rightfully so. Disappointed was the overall mood.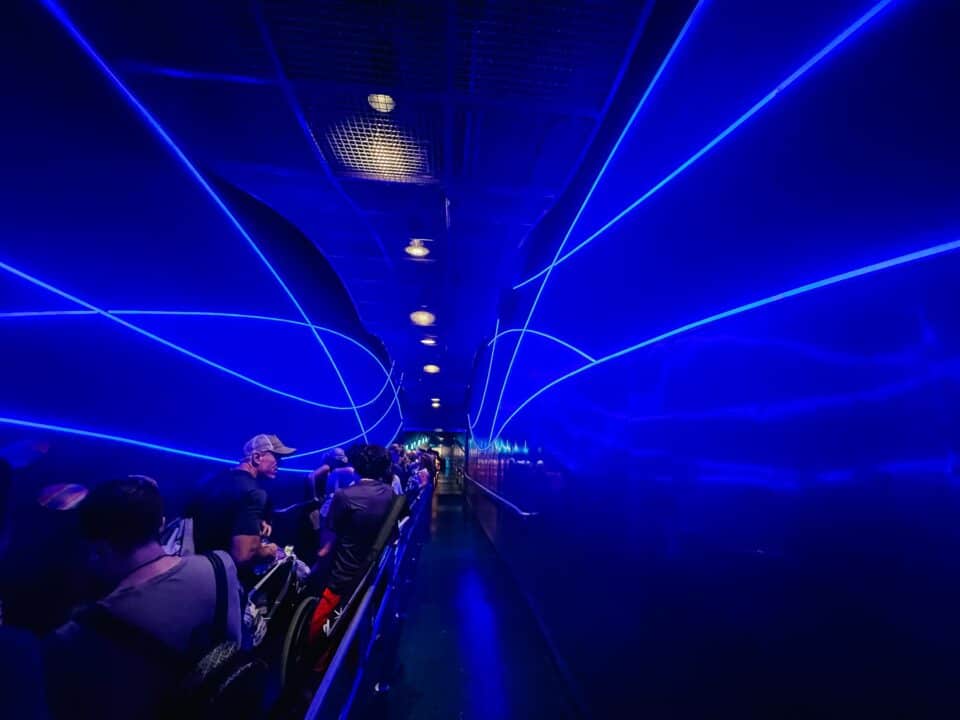 It was 12:18 a.m. when we were let into the theater–a 14-minute wait. In reality, most evenings, you can get in line for Soarin' toward the end of the night for a similar wait. So while 14 minutes doesn't sound terrible, it wasn't great.
After exiting Soarin', we passed Spaceship Earth (a walk-on) and headed back to ride Cosmic Rewind again. If we could at least get another ride on Guardians, maybe I would feel better about the entire evening.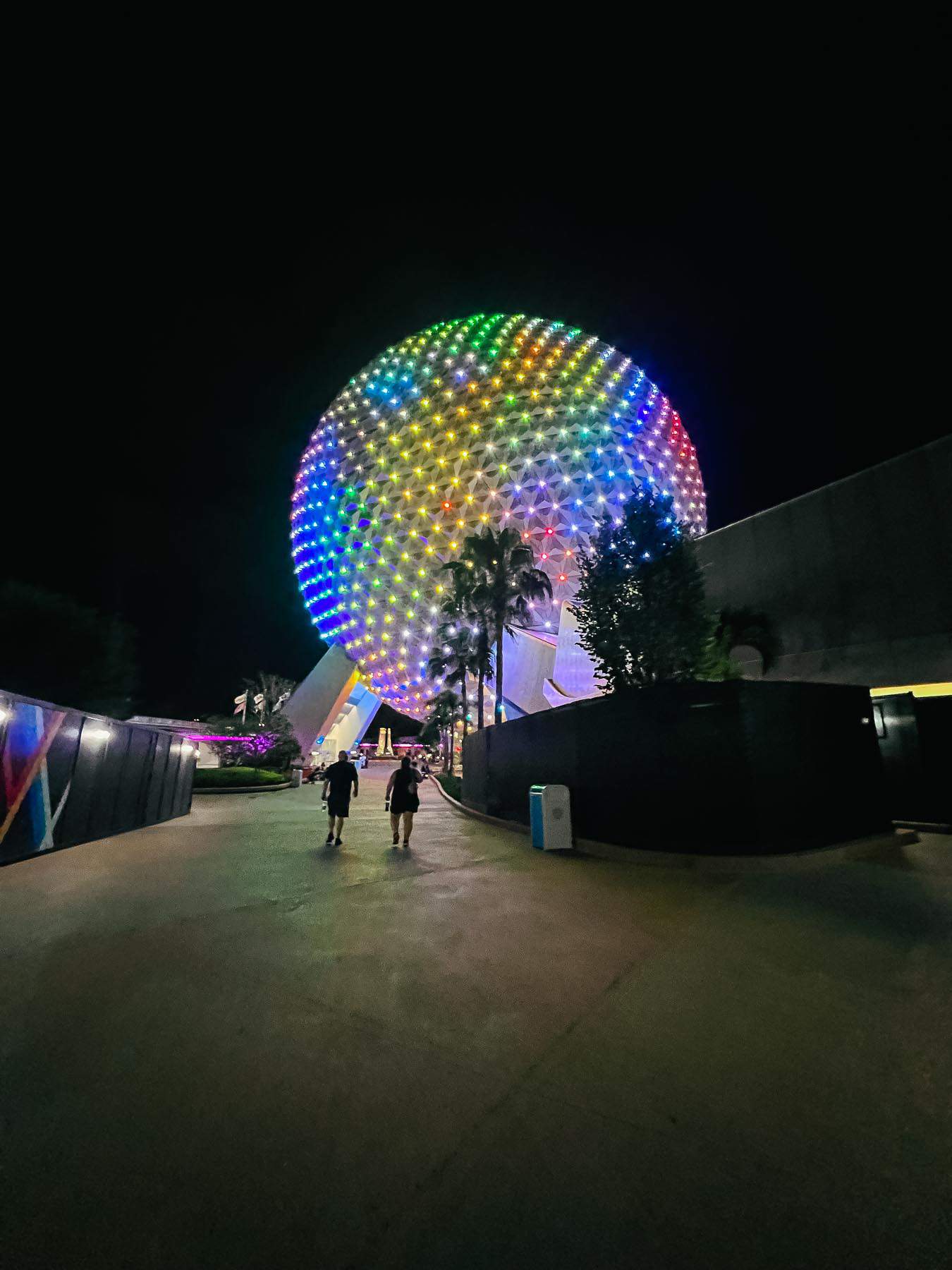 Unfortunately, at that point, the line was extended outside of the queue. So ultimately, I decided it wasn't worth it.
On a regular day, if I had the virtual queue for Guardians of the Galaxy and got to the attraction to find this wait, I would cancel the queue and do something else. Since I visit often, I have the luxury of deciding where to appropriate my time.
But many of these guests were on vacation, and this was their limited window to ride. Since we spent so much time standing in line, I talked with multiple guests. One pair were on their first day and had bought the ticket mainly to ride Guardians of the Galaxy.
Another couple was leaving the following day, and they had also hoped to ride the major attractions twice that night. Unfortunately, they had only succeeded in riding Frozen Ever After twice before getting stopped dead in their tracks at Guardians of the Galaxy.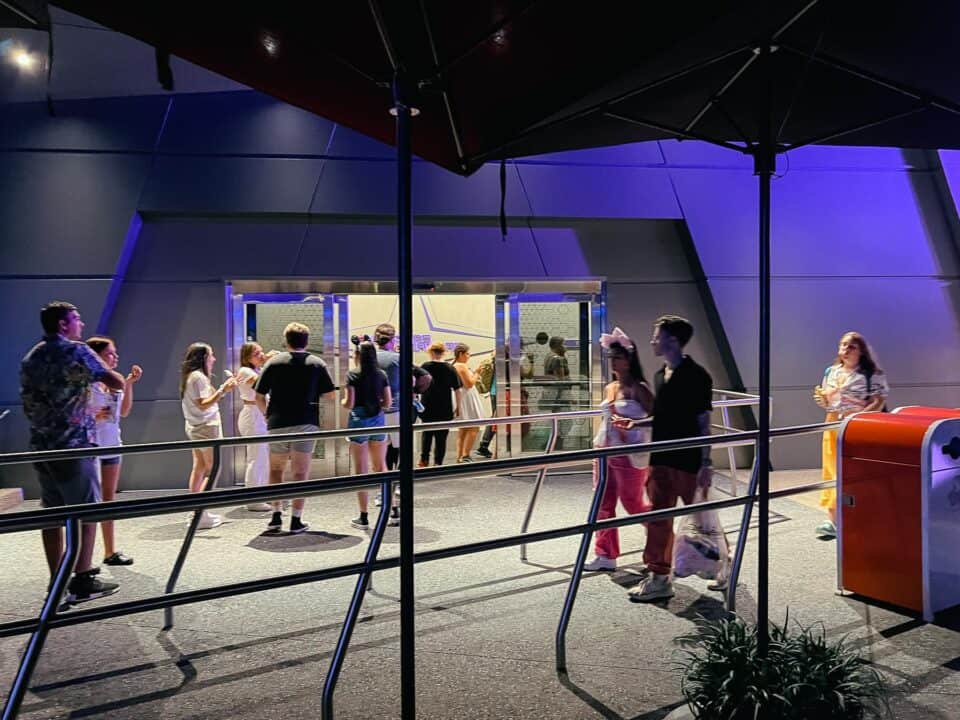 When I took the photo above, it was 12:41 a.m. So we grabbed another soda and started making our way back to the France Pavilion. At least we could ride Ratatouille again on the way out.
It was 12:59 a.m. when we joined the queue for Ratatouille. We almost didn't make it! But thankfully, it was a complete walk-on, and they allowed us to walk through the Lightning Lane.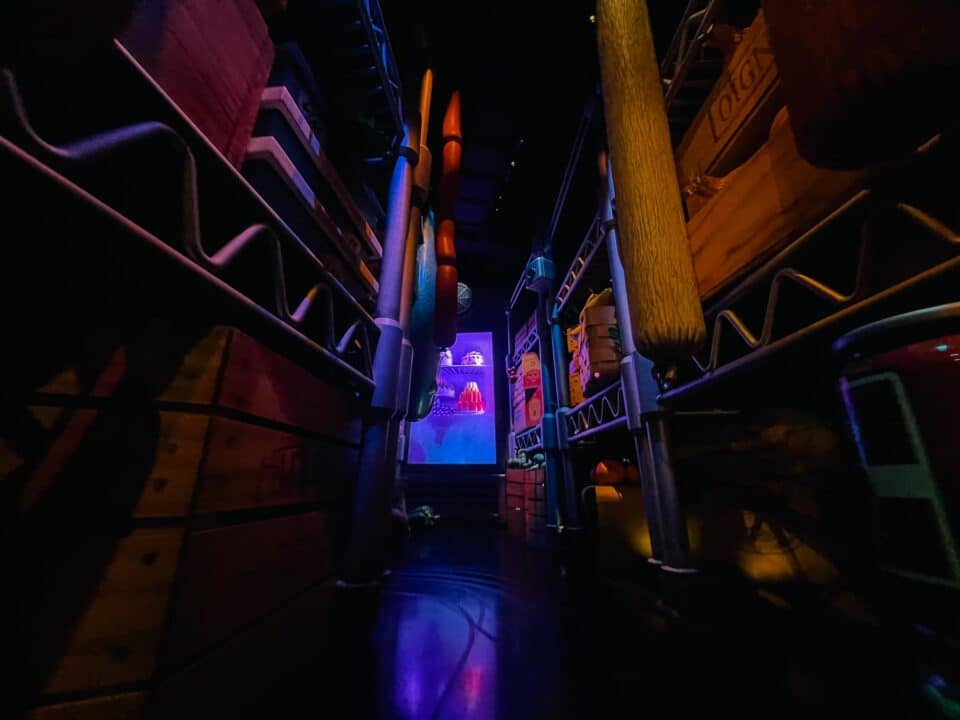 After exiting, we started to make our way back to the International Gateway. Even though things didn't go smoothly, it was nice to enjoy the intimate feeling of a quiet park.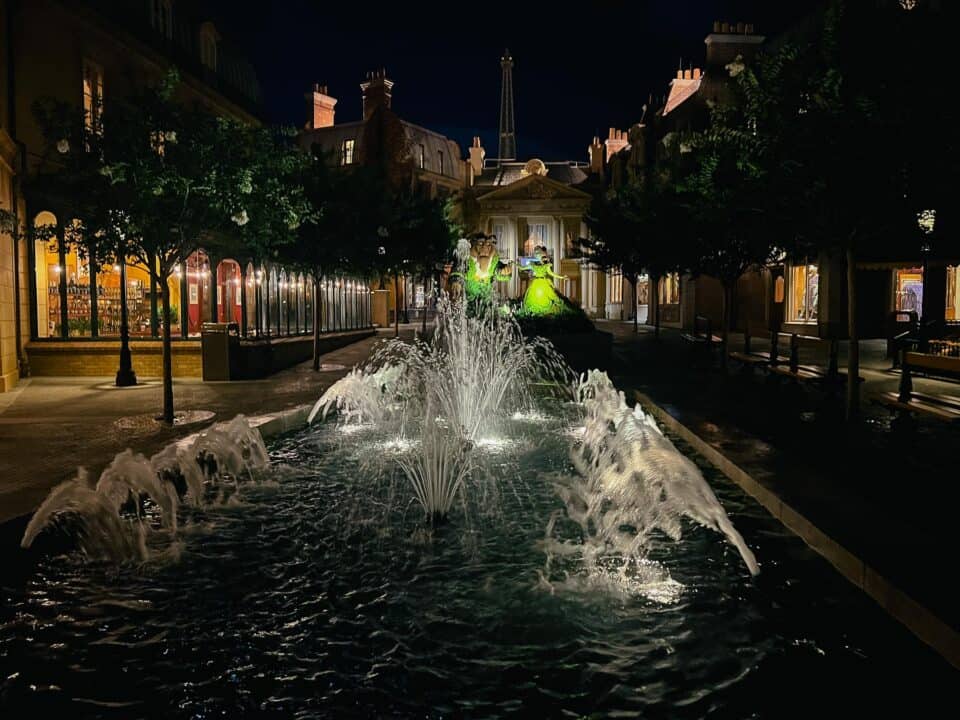 When we got to the International Gateway, I noticed a sign letting guests know they needed to return to the front of the park for a bus since the Skyliner had closed. So you would not want to plan to end your evening at Ratatouille if you were staying at a Skyliner Resort.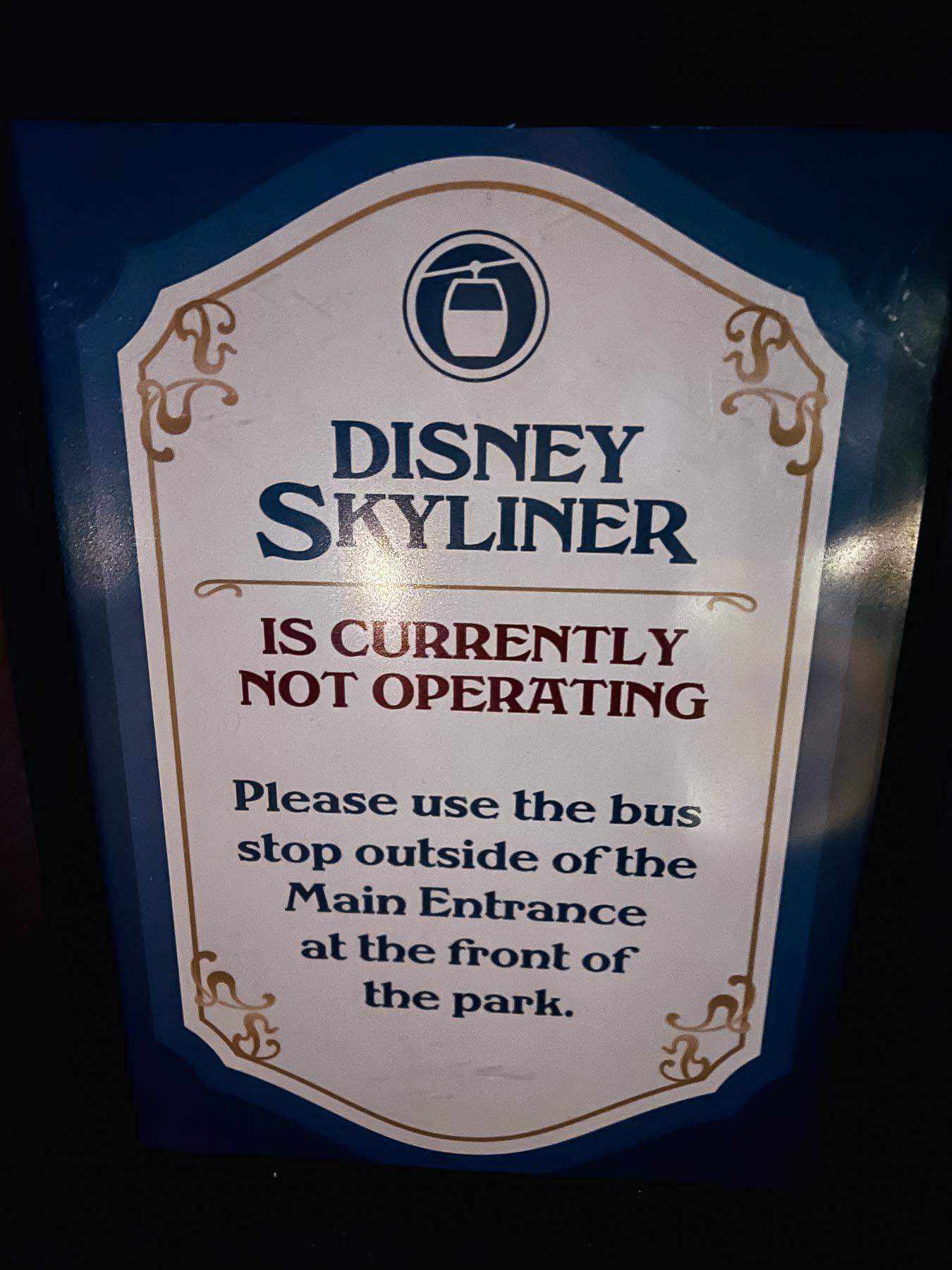 Thankfully, it was a peaceful walk back to the Swan Reserve. With no Friendship boats running, you could see a reflection on Crescent Lake.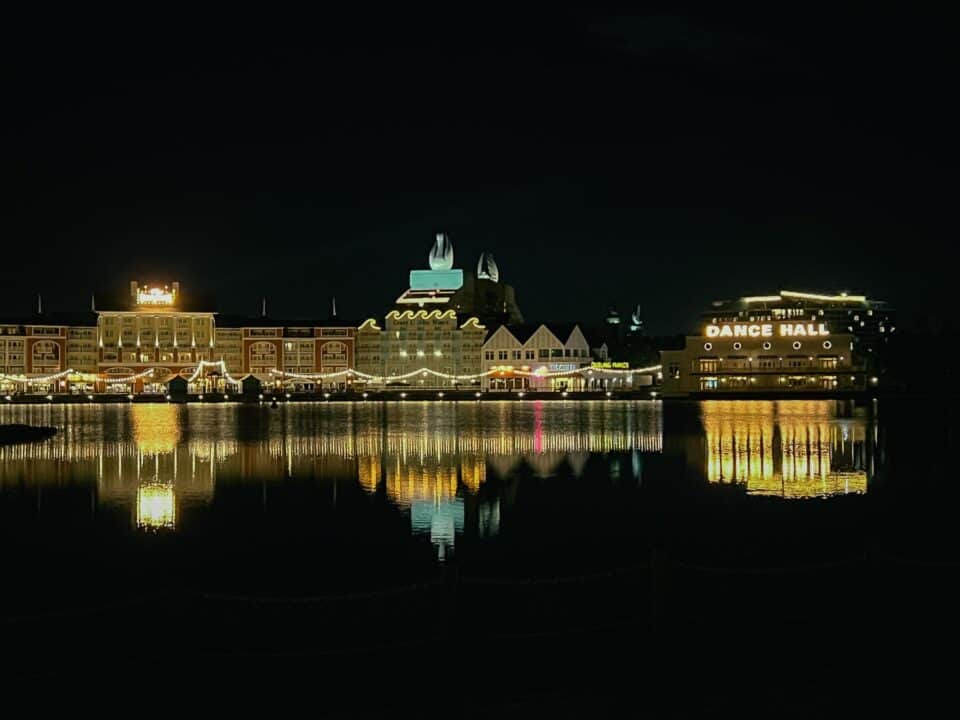 Was Epcot's Disney After Hours Event Worth it?
Overall, between 9:00 a.m. and 1:00 a.m., we did the following:
Remy's Ratatouille Adventure
Frozen Ever After
Test Track
Guardians of the Galaxy: Cosmic Rewind
Soarin'
Remy's Ratatouille Adventure
So in four hours, we experienced six attractions. Unfortunately, Disney After Hours at Epcot was not worth it–not on this evening anyway.
This was a huge miss compared to our After Hours experiences at Hollywood Studios and Magic Kingdom. We experienced 16 attractions at Magic Kingdom and 10 attractions at Hollywood Studios! Epcot didn't come close.
Additionally, if we hadn't knocked Ratatouille out during the fireworks, our experience probably would have been worse. As far as touring goes, we could have arranged things differently.
But ultimately, a long wait at Guardians of the Galaxy would have been inevitable. Should it have been a long wait? With both sides of the ride operating, my guess is that the highest wait time would have been approximately 30 minutes, with averages of around 20 minutes.
If that had been the case, experiencing Guardians of the Galaxy would have become a matter of timing it right. That's something that most of us could probably figure out if we gave it much thought.
Since this was the first After Hours event at Epcot, we'll give Disney a break for now. Then, we'll return for a rerun if and when it's offered again next year. But in the meantime, I wouldn't have the highest expectations.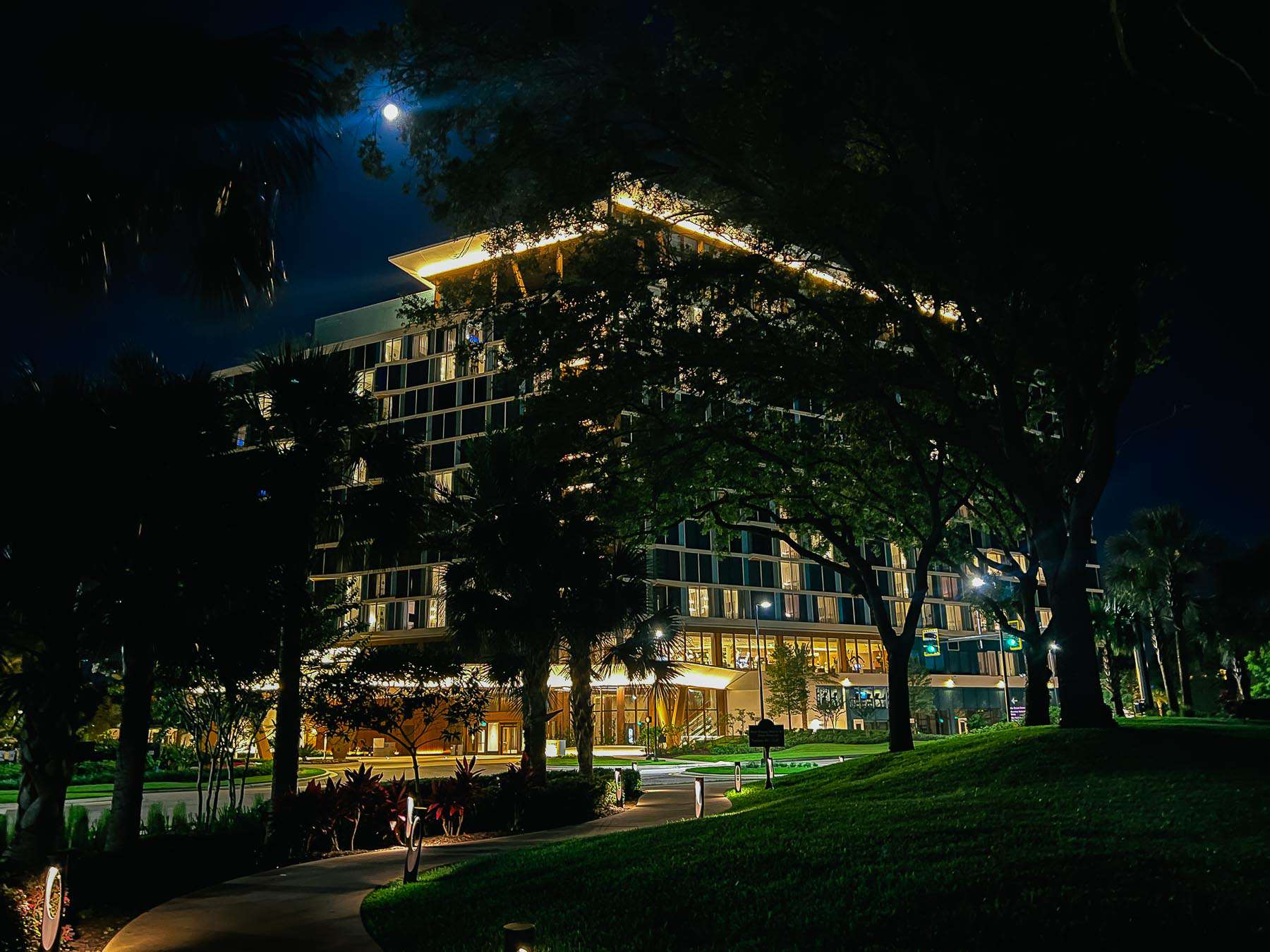 Final Thoughts
Overall, some things need to change for Epcot to have a successful After Hours event. But, maybe after a few of these events, Disney will have enough data to adjust those things so they work in favor of the guests.
For something like this to succeed, the rides must operate at enough capacity to accommodate the number of guests within a reasonable timeframe. However, that cannot happen when a ride is not operational due to technical reasons, as with Cosmic Rewind.
That said, when we attended After Hours at Hollywood Studios, Rise of the Resistance did go down when we were on the attraction. But cast members remedied the situation by giving everyone (guests in the queue and those of us riding it) a pass to return and ride it or any other ride in the four parks upon our return.
I ended up using that pass to ride Frozen Ever After a few days later. Unfortunately, no one told us that half the ride was down when we got in line for Guardians of the Galaxy. We were also not offered any compensation or any explanation.
So it felt like no one cared. And I don't believe that's the kind of way Disney wants their guests to leave feeling. But in this case, they did.
For more Disney After Hours reviews, we have the following:
Spoiler–the answer is yes. But those articles provide a detailed walk-through of our experience at both events.
For some of our more popular articles, you might enjoy the following:
In the Comments
What did you think of this review of Disney After Hours at Epcot? Do you have any questions?