Frozen Ever After Ride Review at Epcot
This article details our experience with Frozen Ever After, commonly known as the Frozen Ride at Epcot.
Frozen Ever After is one of Epcot's newer and more popular attractions in Walt Disney World. More specifically, you'll find this ride in the Norway Pavilion of the World Showcase.
Formerly, Frozen Ever After was home to the Maelstrom attraction, where you embarked on a Viking boat through the history of Norway. Now, you visit the fictional country of Arendelle and see animatronics featuring everyone's favorite Frozen characters.
Below, we'll discuss details for experiencing the Frozen attraction at Epcot. Then we'll take a virtual ride through the attraction.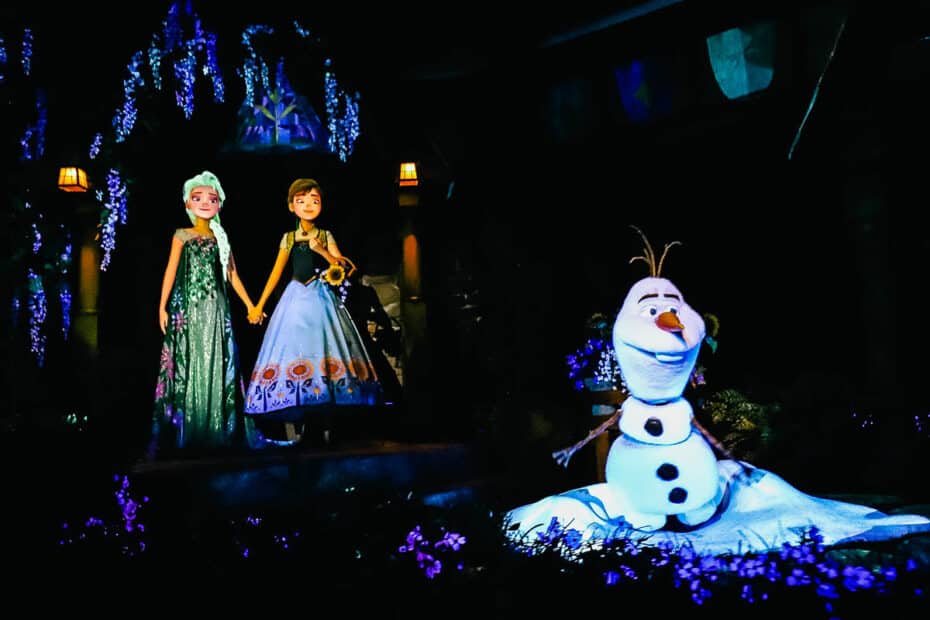 Here is a quick reference chart for Frozen Ever After.
Frozen Ever After
Epcot Attractions

Location:

Norway Pavilion

Disney Height Requirements:

None

Genie+ Eligible

Yes

Ride Type:

Boat, Mild Thrill, Dark Ride

Seats Per Vehicle:

2-3 per row

Disney's Rider Switch:

None

Good For:

Everyone

Scare Factor:

Mild drop similar to Pirates
of the Caribbean at Magic Kingdom

Must-Do List:

High Priority

Perfect For:

Frozen Fans

Special Mention:

On-Ride Photo Opportunity
Frozen Ever After Ride at Epcot
While Frozen Ever After is no longer the newest attraction at Epcot, it consistently has long wait times throughout most of the day. Those who consider this attraction a priority might consider heading straight to it at rope drop when the park opens.
Additionally, Frozen Ever After is eligible for Disney Genie+ if you elect to purchase this upgrade. When selecting your initial Genie+, Frozen Ever After and Test Track are the most popular choices.
These two options are also the most difficult to obtain of the regular Disney Genie+ selections. Both usually exceed one-hour wait times during peak times.
Currently, Remy's Ratatouille Adventure and Guardians of the Galaxy: Cosmic Rewind are both a la carte individual Lightning Lane attractions. So Frozen Ever After falls into the regular Disney Genie+ category.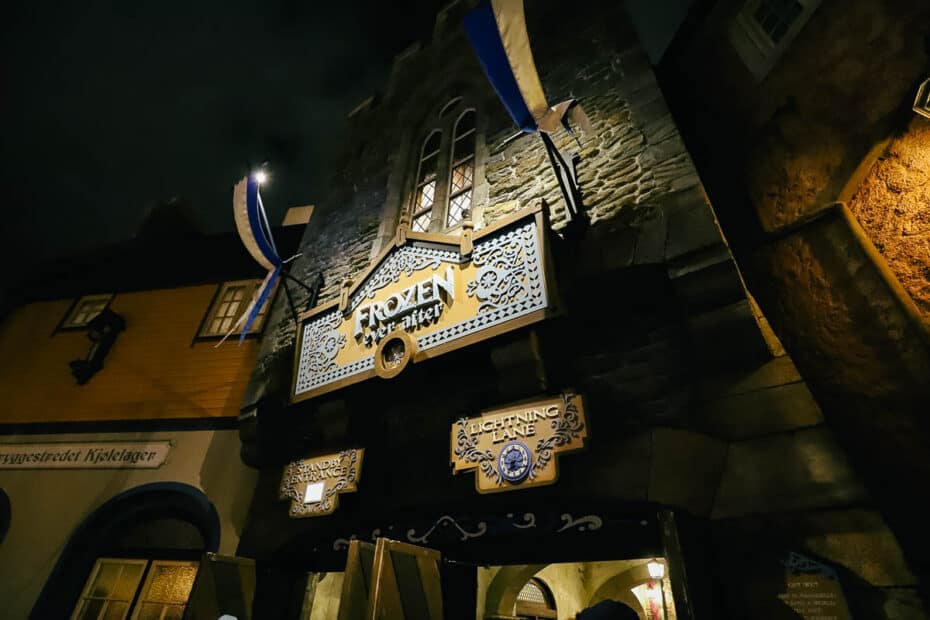 For those who don't purchase Genie+, you'll probably want to check out the entrance before joining the line. Unfortunately, since most of the queue is inside, it's difficult to gauge the length of the line.
When the line is exceptionally long, it extends outside. If the line is completely stopped outside or extends past Akershus, I would skip it and return later. You're probably looking at over an hour of wait time at that point.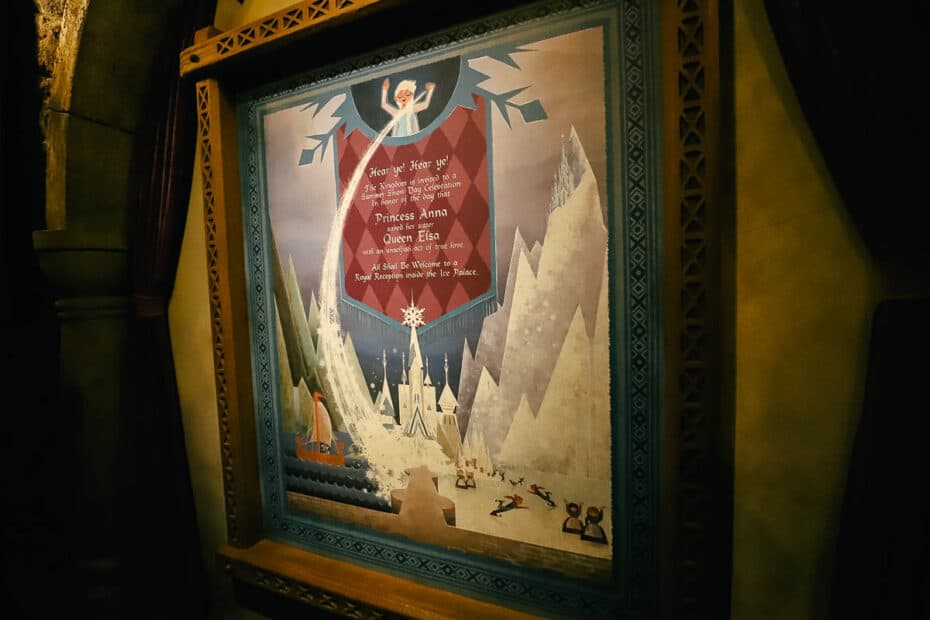 Frozen Ever After FAQs
Here are a few frequently asked questions about the Frozen ride at Epcot.
Is there a height requirement for Frozen Ever After? No, there is no height requirement to enjoy this attraction.
Is there a ride drop? You can expect a small backward drop in the boat during the Elsa scene. It is gradual, and you might be more surprised than anything. You will likely enjoy the surroundings from a different vantage point. Additionally, when you straighten back up and finish the ride, there is a forward drop toward the end. Think Pirates of the Caribbean drop for comparison. The drops are not significant, and there is minimal splash.
Is there a PhotoPass opportunity? Yes–at the end of the ride on the forward-facing drop, remember to look up and smile for the camera.
Can we ride Frozen Ever After during theme park benefit hours? Frozen Ever After is available for Walt Disney World Resort guests during early theme park hours. Additionally, the attraction is open during extended evening hours for deluxe and deluxe villa resort guests.
*Unfortunately, Walt Disney World no longer offers Extra Magic Hours. We have a list of the resorts eligible for early theme park hours. Or you can read more about the extended evening hours here on Disney's site.
Frozen Ever After Review
When you reach the ride's boarding area, you'll be assigned a row or rows based on how many guests are in your party. Each boat has four rows that sit approximately three to four guests per row.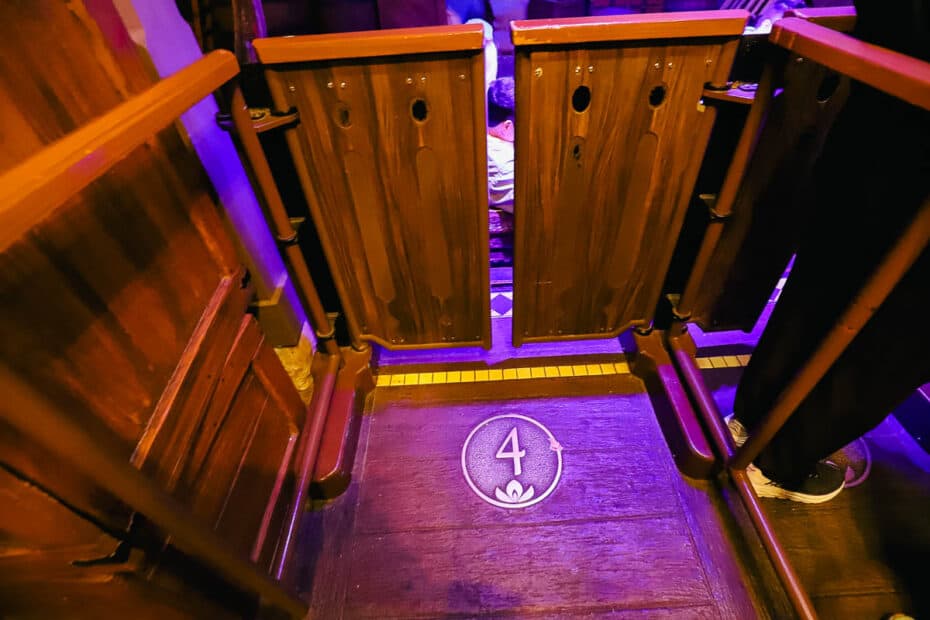 Here is a look at the boat. You'll step onto the seat and then down into the boat to board it.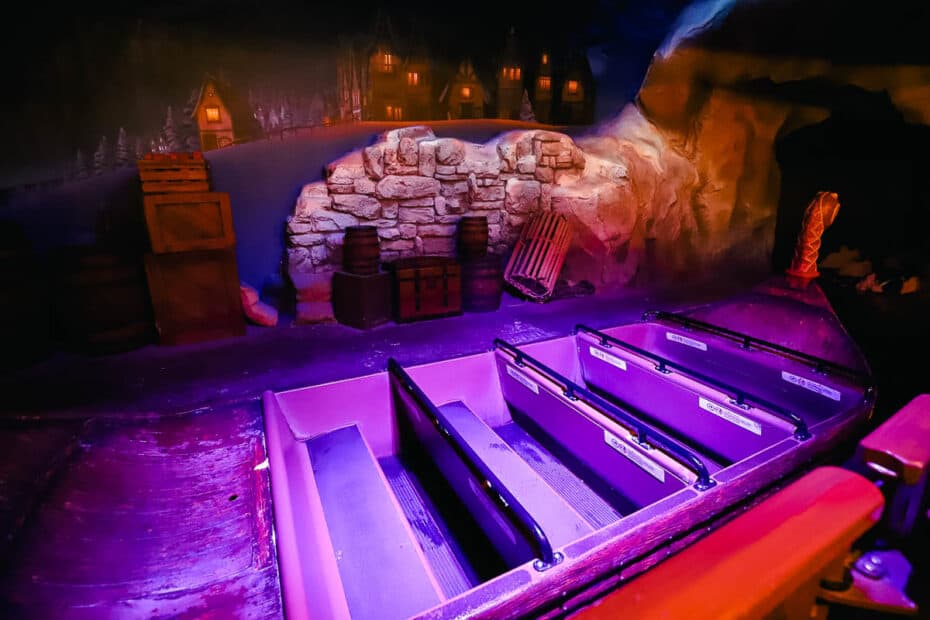 We're headed off to Elsa's Ice Palace. Olaf and Sven are the first characters we'll encounter.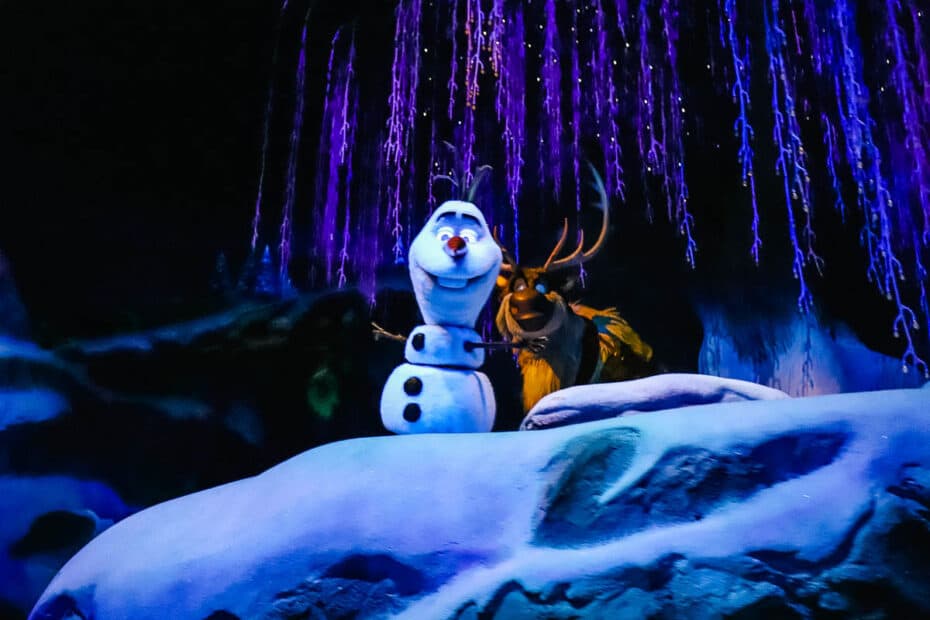 The next scene features the trolls sharing the story of the two Frozen princesses.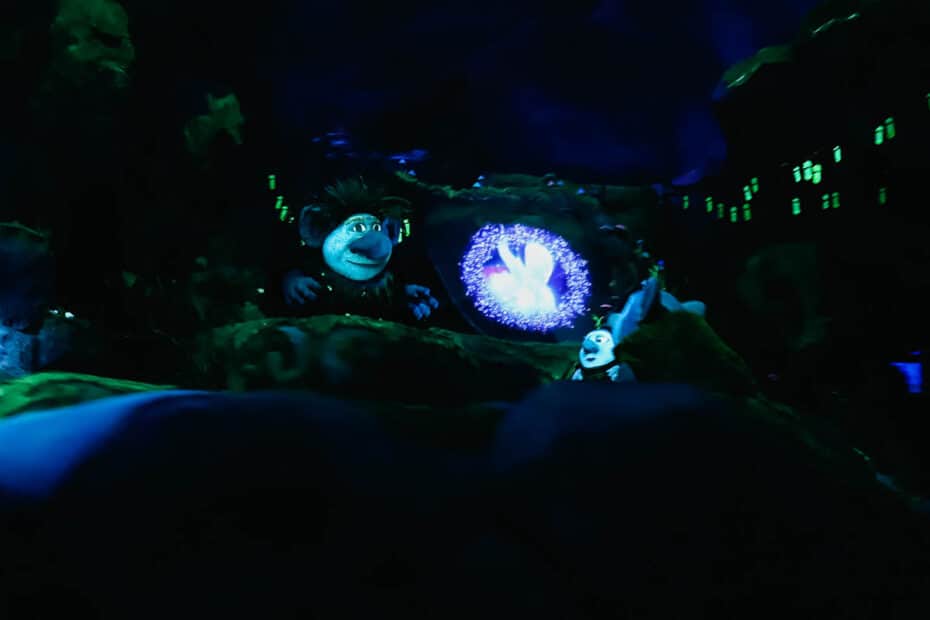 As we continue, we run into Anna, Kristoff, and Sven.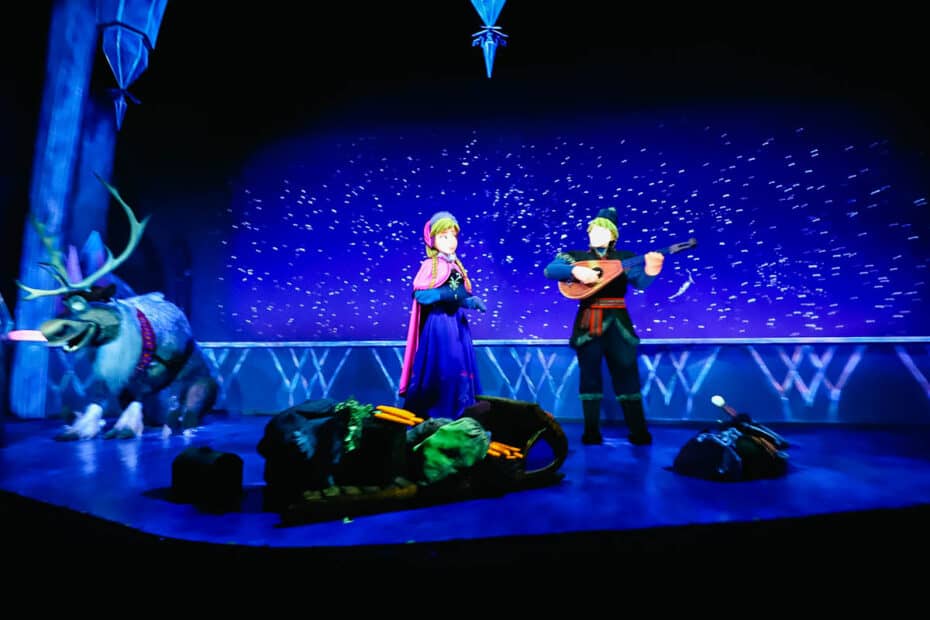 Sven mistook a piece of ice for a treat and got himself into a sticky situation.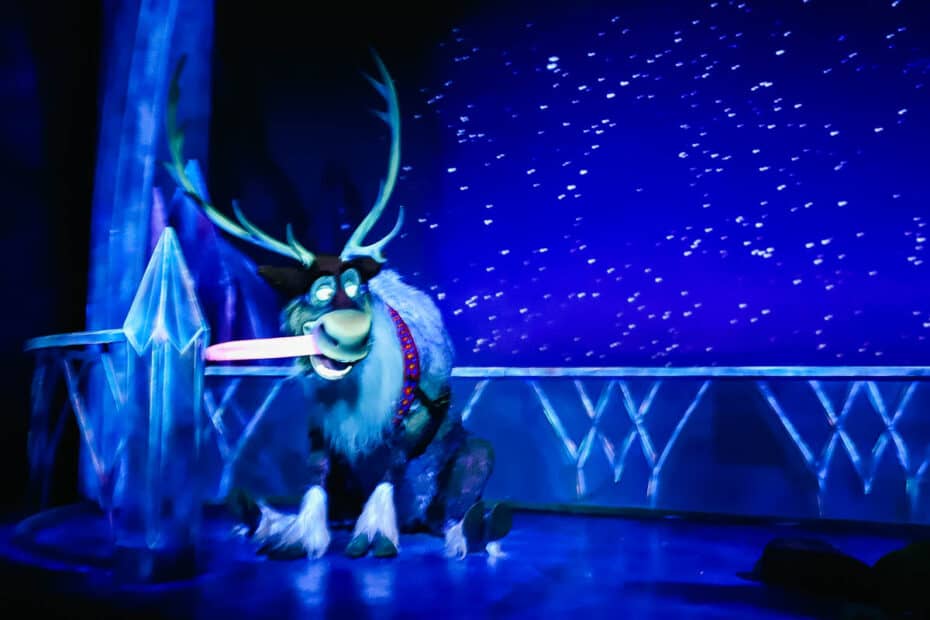 Next, we run into Elsa singing, Let it Go. She sends you away, kind of like how she does Anna in the movie.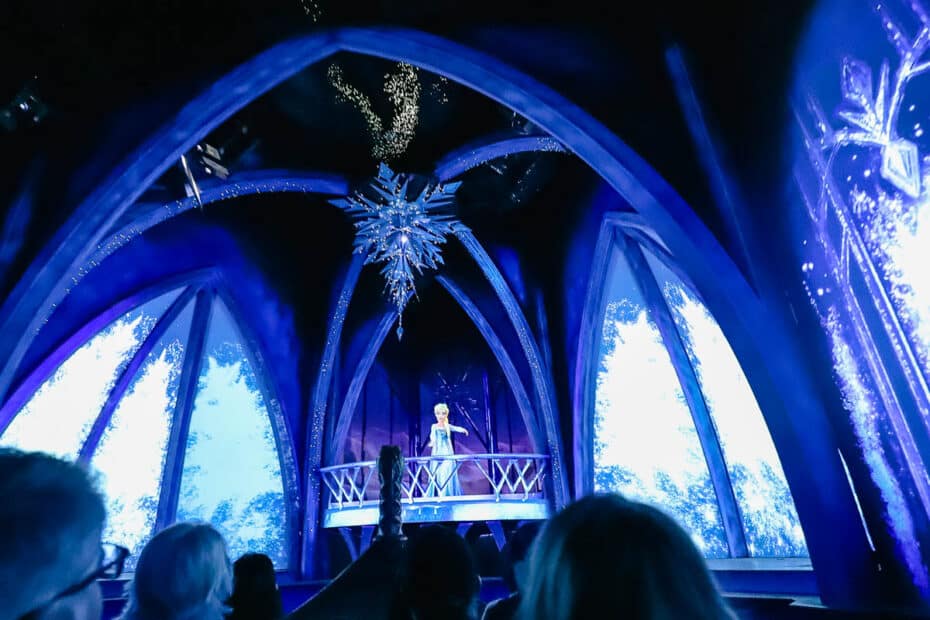 Before the final scene, we run into Marshmallow and the Snowgies. Here your boat will shift and prepare for the final drop.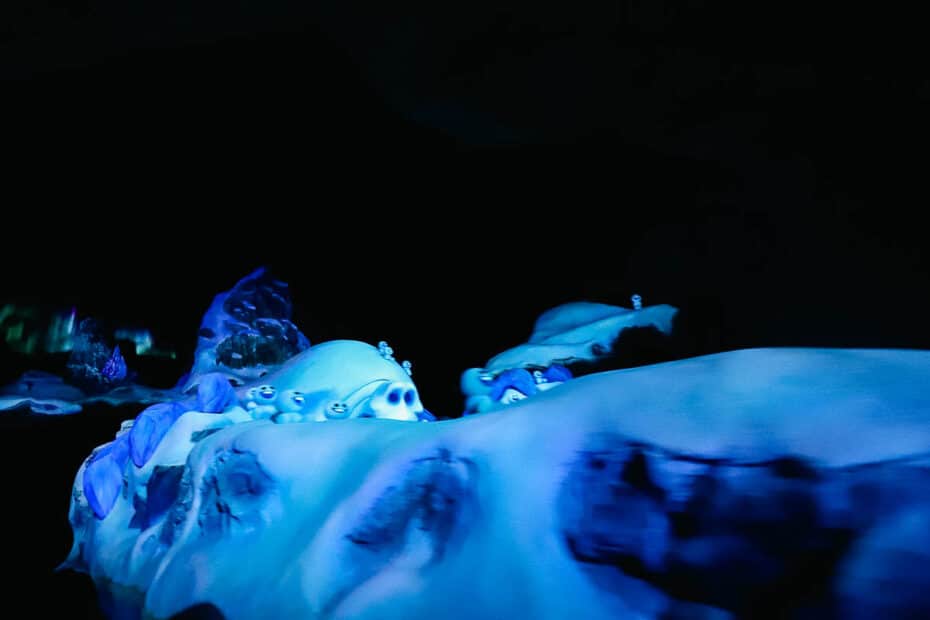 You'll want to look up and smile at the camera as you make your way down.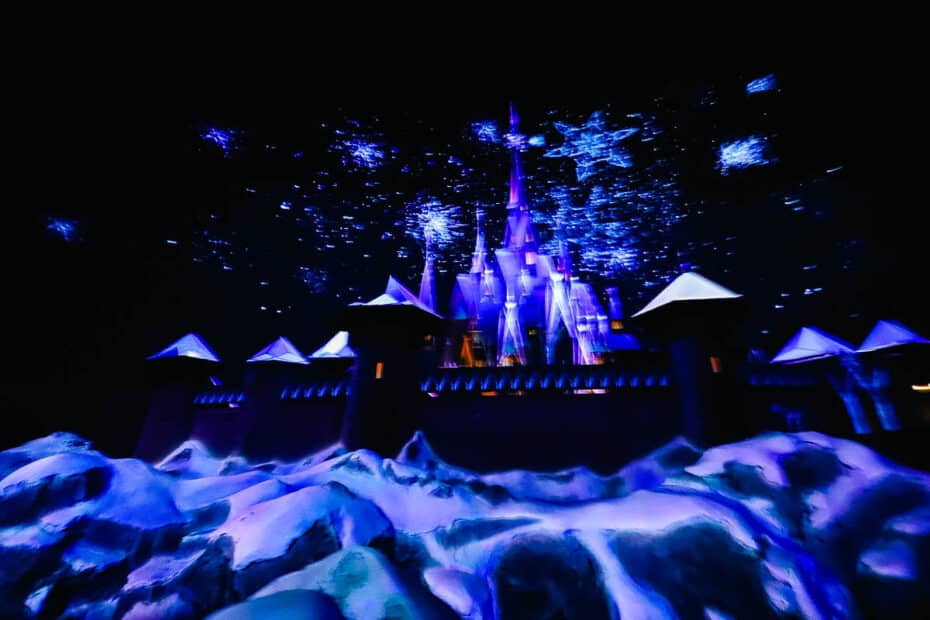 We've reached the final scene, where Olaf finally "gets to do what frozen things get to do in summer."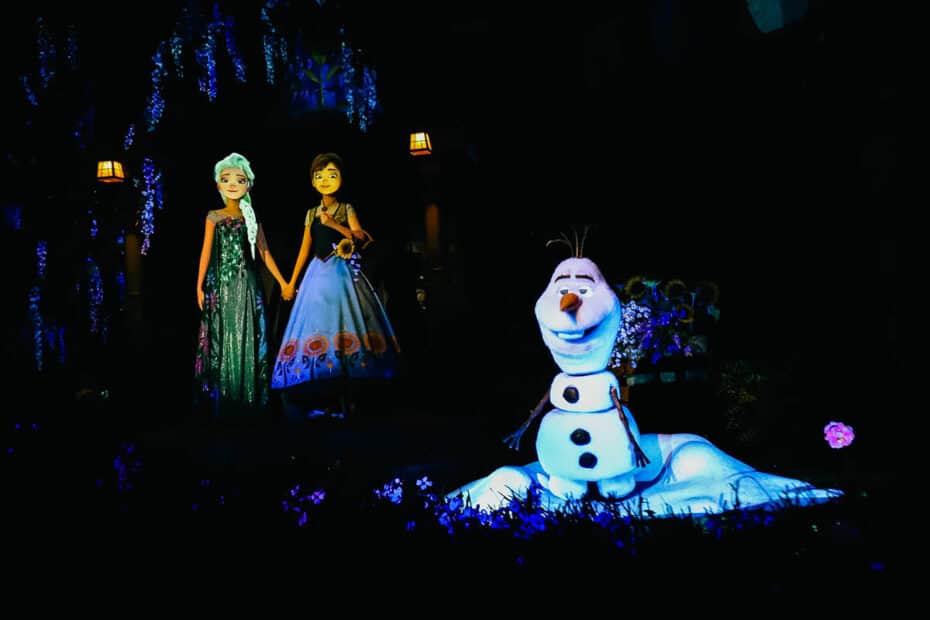 Frozen Ever After is a cute ride worth experiencing at least once during your vacation. If you're a Frozen fan, you might enjoy our list of everything Frozen at Walt Disney World.
Additionally, the Frozen Sing-Along at Hollywood Studios is not to be missed. Or you might enjoy these individual Epcot Attractions:
We also have a lengthy list of Disney World Resort Reviews. If you're planning to spend a good deal of time at Epcot, you might enjoy our guide to Epcot Resorts. All of these resorts are only a Friendship Boat ride or walk away.
In the Comments
Do you have any thoughts or questions about the Frozen ride at Epcot? We would be happy to answer them based on our experience.