Frozen Ever After Ride Review at Epcot
Frozen Ever After is a popular attraction located in the Norway Pavilion at Disney's Epcot theme park. The ride opened in the summer of 2016 and is modeled after the original Frozen movie.
This review covers everything you need to know about experiencing Frozen Ever After on your next vacation. And if you are a Frozen fan, make sure not to miss the list of Everything Frozen to do at Disney World.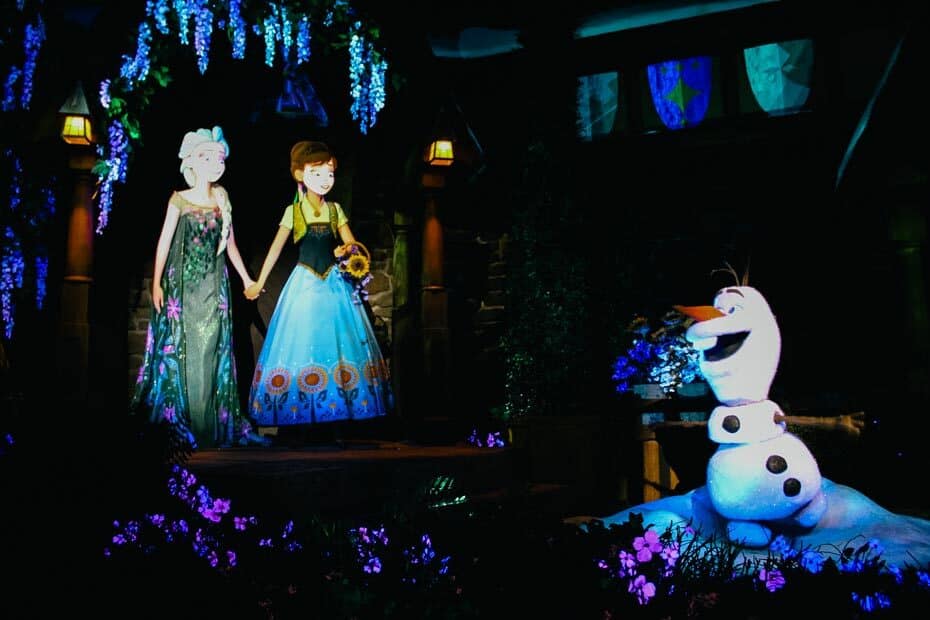 Below is a quick reference chart that gives details about Frozen Ever After.
Frozen Ever After
Epcot Attractions

Location:

Norway Pavilion

Disney Height Requirements:

None

Genie+ Eligible

Yes

Ride Type:

Boat, Mild Thrill

Seats Per Vehicle:

2-3 per row

Disney's Rider Switch:

None

Extra Magic Hours:

Mornings
Evenings

Good For:

Everyone

Scare Factor:

Mild drop similar to Pirates
of Caribbean at Magic Kingdom

Must-Do List:

High Priority

Perfect For:

Frozen Fans

Special Mention:

On-Ride Photo Opportunity
Frozen Ever After
Frozen Ever After is eligible for Disney Genie+ if you upgrade. The attraction meets to long wait times throughout the majority of the day.
When selecting your initial Genie+, I recommend choosing between Frozen Ever After and Test Track. These two options are the most difficult to obtain, and both will have you waiting an hour or more on average to ride.
Of course, this advice will change when newer attractions like Remy's Ratatouille Adventure (virtual queue and Lightning Lane) and the Guardians Coaster open.
If you arrive in the Norway Pavilion and decide you want to ride Frozen Ever After without Genie+, know that the queue setup is really difficult to gauge. When the line is extremely long, it will loop around in an exterior portion of the queue. If the line is completely stopped outside, I suggest returning later to ride it. 
The interior part of the queue winds around and is quite lengthy. If the line is fully indoors, but you can't venture far into the interior portion, you are probably looking at a full hour wait. This can vary depending on how many people will experience the attraction using FastPass while you are waiting.
Frozen Ever After FAQ's
Is there a height requirement for Frozen Ever After? No, there is no height requirement to enjoy this attraction.
Is there a ride drop? You can expect a small backward drop in the boat during the Elsa scene. It is very gradual, and you might be a bit taken by surprise more than anything. You will likely end up enjoying the surroundings from a bit of a different vantage point. 
Additionally, to straighten back up and finish the ride, there is a forward drop toward the end. Think Pirates of the Caribbean drop for comparison. It's not anything major, and there might be a minimal splash. 
Is there a PhotoPass opportunity? Yes–at the end of the ride on the forward-facing drop, remember to look up and smile for the camera. 
Can we ride Frozen Ever After during evening theme park benefits hours? Yes, Frozen Ever After is available for eligible guests. This is a program for guests of deluxe and deluxe villa resorts.
Overall, Frozen Ever After is a cute ride and worth experiencing at least once on your vacation! If you are looking for more Epcot attractions to experience during your vacation, check out these reviews:
Resorts Gal has a lengthy list of Disney World Resort Reviews here on the site. Make sure to check out some of our favorite Epcot Resorts. All of these resorts are only a Friendship Boat ride (or walk) away.
Have fun riding Frozen Ever After!