Test Track at Epcot Review
This article discusses Test Track at Epcot. We'll look at the height requirement, best times to ride, and other need-to-know details for experiencing this attraction.
Test Track, presented by Chevrolet, is a thrill attraction located at Epcot in Walt Disney World. The original version of this attraction opened in the late 90s and was sponsored by General Motors. It replaced the former World of Motion.
However, in 2012, the thrill ride underwent lengthy refurbishments. When it reopened, the ride had a new pre-show where guests could design their own virtual concept car.
After designing a virtual vehicle, guests join the loading dock for a simulated excursion with rigorous testing procedures to see how their vehicle holds up.
Toward the end, you'll head outside on the Sim Track for a high-speed drive around the exterior of the attraction. Be prepared. This is one of the fastest Disney theme park attractions ever built, topping at 64.9 miles per hour!
Below, we'll look at a few more details for experiencing Test Track at Epcot.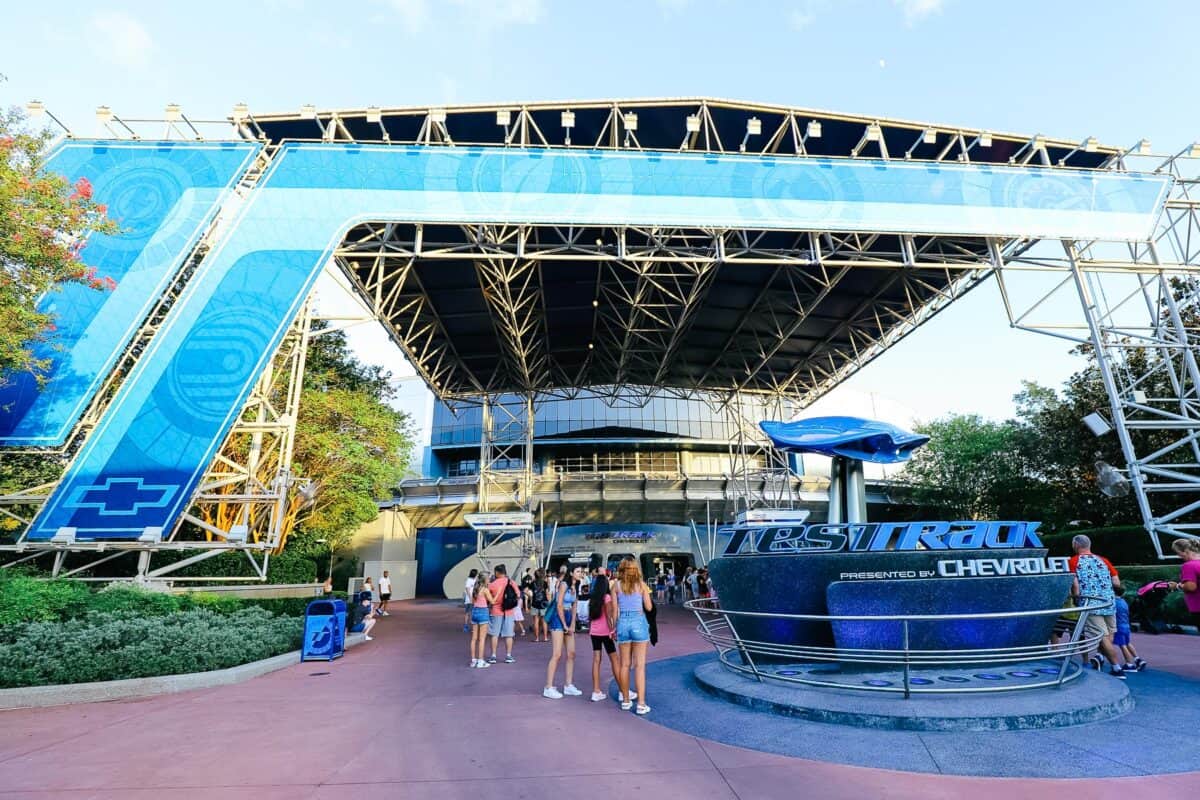 Test Track
Epcot Attractions

Location:

World Discovery

Disney Height Requirement:

40 inches

Genie+ Eligible

Yes

Ride Type:

Track Indoor and Outdoor

Seats Per Vehicle:

Six

Disney Rider Switch:

Yes

Accessibility:

Guests must be able to transfer from a wheelchair or ECV. More details regarding accessibility are here on Disney's site.

Scare Factor:

Medium

Must-Do List:

High

Perfect For:

Tweens, Teens, and Adults

Special Mention:

*On-Ride Photo
*Single Rider Line
*Service animals not permitted.
Test Track
Test Track is located on the outer rim of World Discovery near the Mexico Pavilion side of the World Showcase. Formerly, this area was known as Future World.
From the park's main entrance, you'll take a left at the Creations gift shop and continue through the breezeway. Mission: SPACE will be directly ahead of you, Guardians of the Galaxy: Cosmic Rewind is to the left, and Test Track is to the back right, almost at an angle.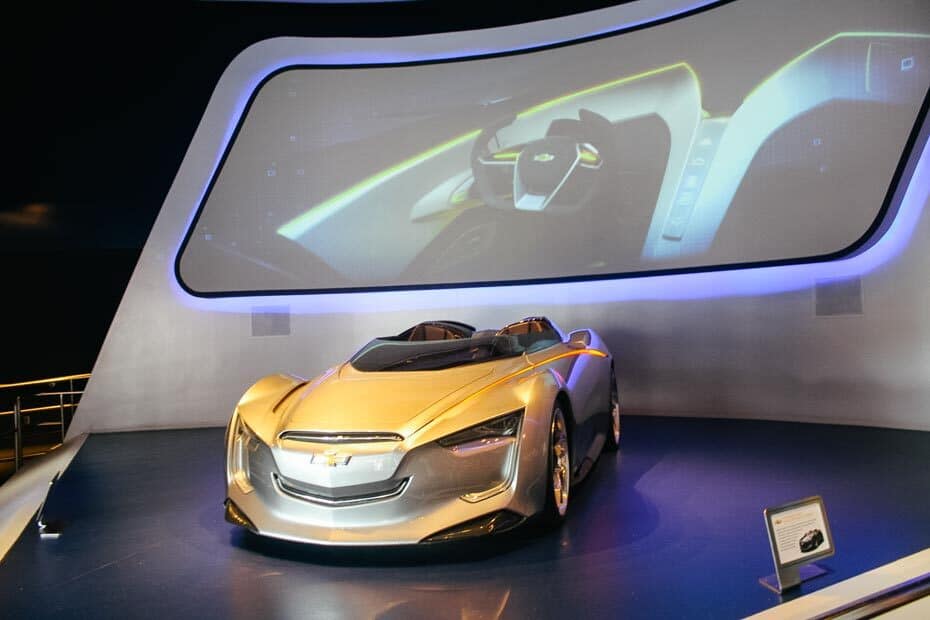 Test Track is one of the Epcot's primary rope drop attractions. Many guests will head straight to this attraction at the park opening.
Meanwhile, a few will go directly to Frozen Ever After, some will go toward Soarin', and others to Remy's Ratatouille Adventure. When we visit Epcot early, Test Track is typically our number one option.
Test Track offers three different line options:
Genie+ (Lightning Lane)

Standby

Single Rider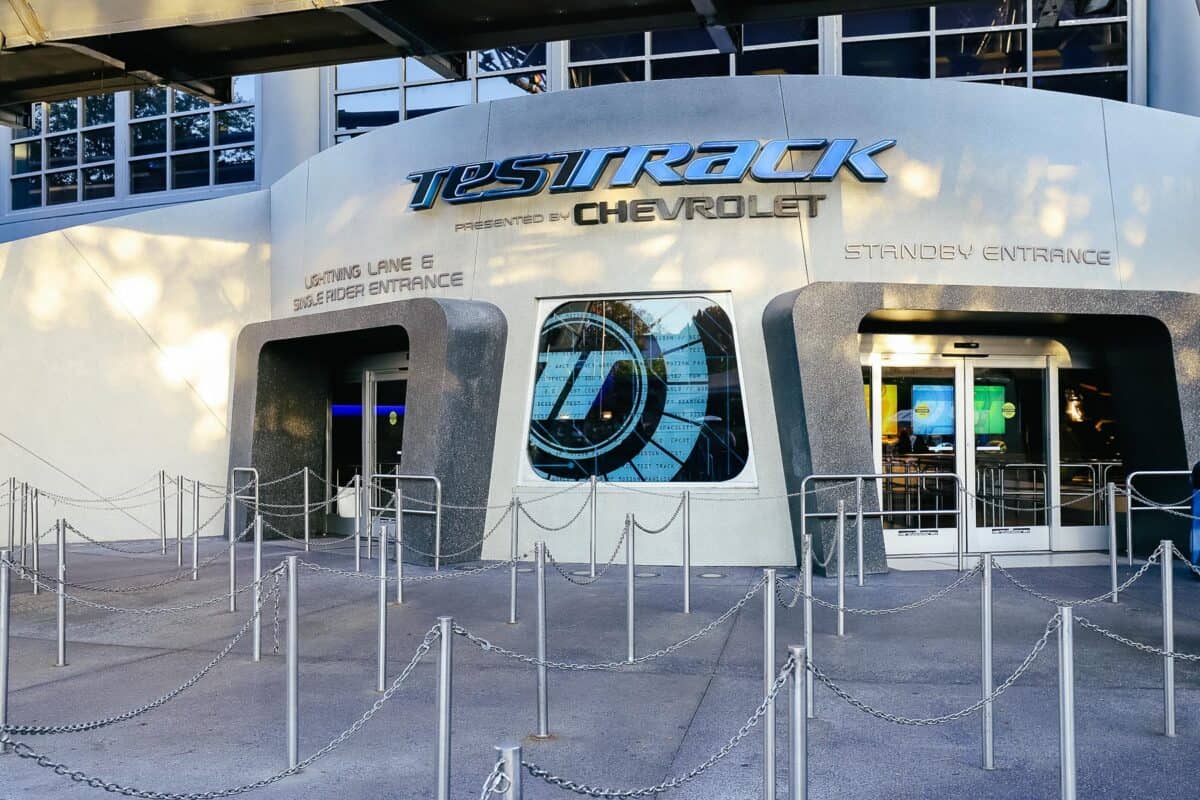 Guests who wait in standby or purchase a Lightning Lane will have the chance to create their vehicles in the Design Studios. Of course, for many, creating automobiles is part of the fun.
However, if you want to skip the Design Studio and don't mind being separated from your party, there is a single rider option. Test Track is one of only a few attractions at Walt Disney World that offers a single-rider line option.
On most of our visits, we elect to ride this attraction via the single-rider line. So when the ride first opens, it takes guests a few minutes to get through that area. Often that creates an opportunity for those waiting in the single-rider line to directly board the ride with little to no wait.
When riding single rider first thing in the morning, we sometimes still get to ride together. The idea here is that you will bypass the car design portion of the queue while the initial standby queue is building. Of course, this isn't a guarantee, so don't expect it. But if you time it right, you'll find it works out that way.
Remember that Disney's rule when riding alone is that any child under the age of 7 must be accompanied by an adult age 14 years or older. So if you plan to try the single-rider queue, make sure everyone meets the minimum age requirement to ride alone.
(Also, keep in mind that this only works for resort guests who are privy to entering the parks 30 minutes early each morning.)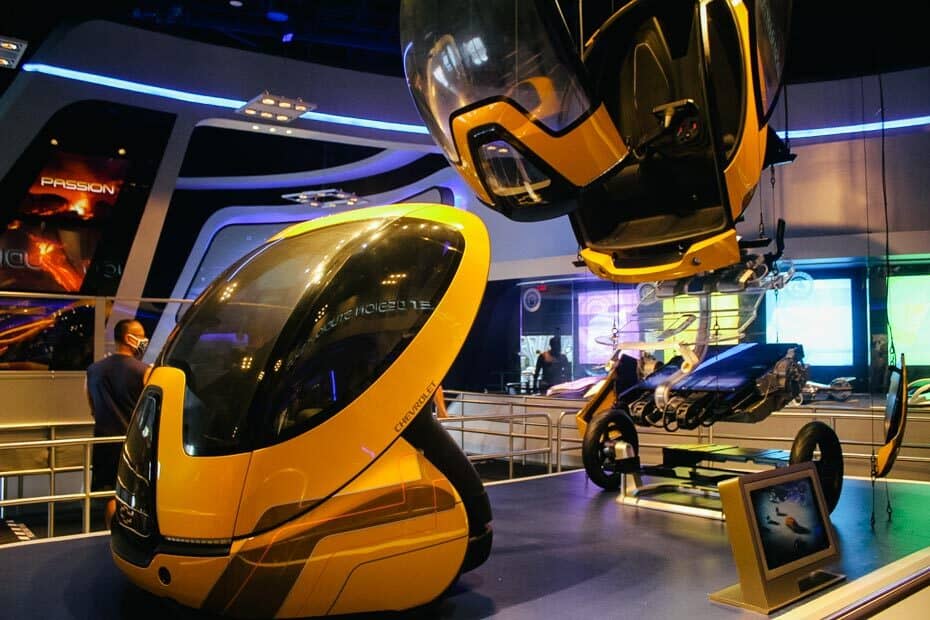 If you elect to ride standby, you'll wind around the queue and eventually get to the Chevrolet Design Center. In the Design Center, you'll spend a couple of minutes using an interactive touch screen to design your own car.
After the timer runs out, the doors will open, and you'll exit into a long hall that leads up to the ride's loading area. If you are toward the back of the room, I recommend taking your time. This portion of the queue can feel like a horse corral as it narrows from a large room to a standard line.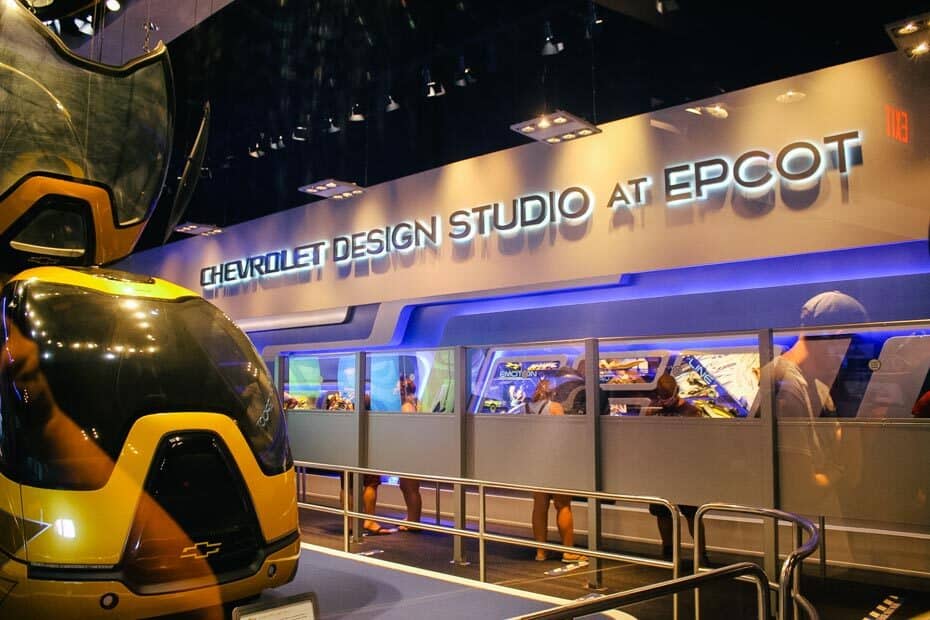 When you reach the loading platform, you'll be seated with your party. Each 6-passenger vehicle sits three across the front and three on the back. So if you are a party of four, they would typically put two of you in the front seat and two in the back.
Then a cast member will likely assign a single rider to each row to fill the seats. Once you sit down, you'll need to secure the restraints. End seats have a standard seatbelt with a shoulder strap, while middle seats only have a lap belt.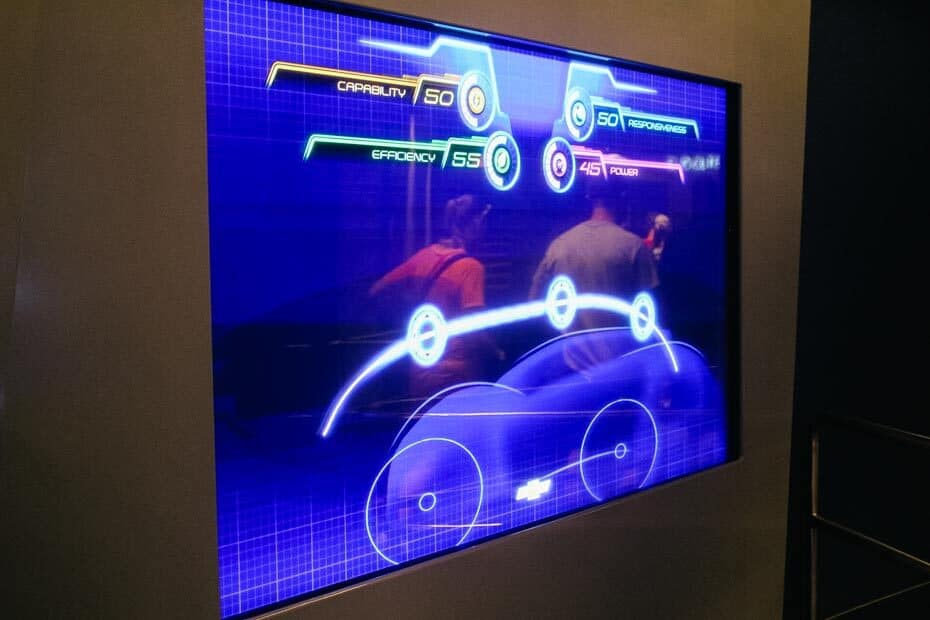 Now you're ready to see how your car holds up in common road situations. As you enter the testing facility, you'll face a few obstacles like rough terrain and inclement weather.
At one point, your car will swerve to prevent hitting an oncoming vehicle. This also serves as a test of the car's anti-lock braking system.
After passing these challenges, you're now ready for the high-speed test. At what appears to be the end of the track, two double doors open so you can do a real test run outside. This is where you'll reach a speed of up to 64 miles per hour in mere seconds.
When the doors open and you begin to speed up, look to the right side of the track. There is an on-ride photo option here.
This photo option is easy to pose for if you can remember it. Just look slightly to your right and smile.
At the end of the ride, a large screen shows how everyone's car tested overall. So don't be too disappointed if your car didn't do well. You can always design another one the next time around.
As you approach the exit, you'll walk through a showroom featuring the latest Chevrolet vehicles. Guests can preview the cars and talk to a sales rep if they have any questions.
As far as the best time to ride Test Track, first thing in the morning is usually the best option. Or you can usually ride it in the afternoon or later evening via the single-rider line to experience the lowest waits.
However, if Test Track has experienced downtime during the day, lines will almost always be long until the park closes. Additionally, this attraction tends to hold a decent wait time during the extended evening hours at Epcot.
For more Epcot ride reviews, check out these popular articles:
While we cover a good deal of information on the site, Resorts Gal specializes in providing detailed information about the Walt Disney World Resorts. Browse our list of Disney World Hotel Reviews to begin planning your next Disney vacation.
Some of the resorts near Epcot include:
In the Comments
Do you have any questions or thoughts about Test Track? Do you enjoy this attraction?