A Review of Via Napoli at Epcot (Pizza & More)
Via Napoli at Epcot is one of the most popular dining locations at Walt Disney World. The restaurant is famous for its delicious pizzas and flavorful Italian cuisine.
This Via Napoli review, we will look at a combination of several meals we've enjoyed. Most will agree that the food is superbly unique and the atmosphere inviting.
Via Napoli is commonly referred to as the best place to get pizza at Disney.
If you consider yourself a gourmet or foodie, you don't want to sleep on Via Napoli during your Walt Disney World vacation. Trust me.
The restaurant is located in the Italy Pavilion of Epcot's World Showcase. Specifically, you'll find it at the very back of the pavilion behind the fountain.
Related: Italy Pavilion at Epcot
This article was updated on March 10, 2022.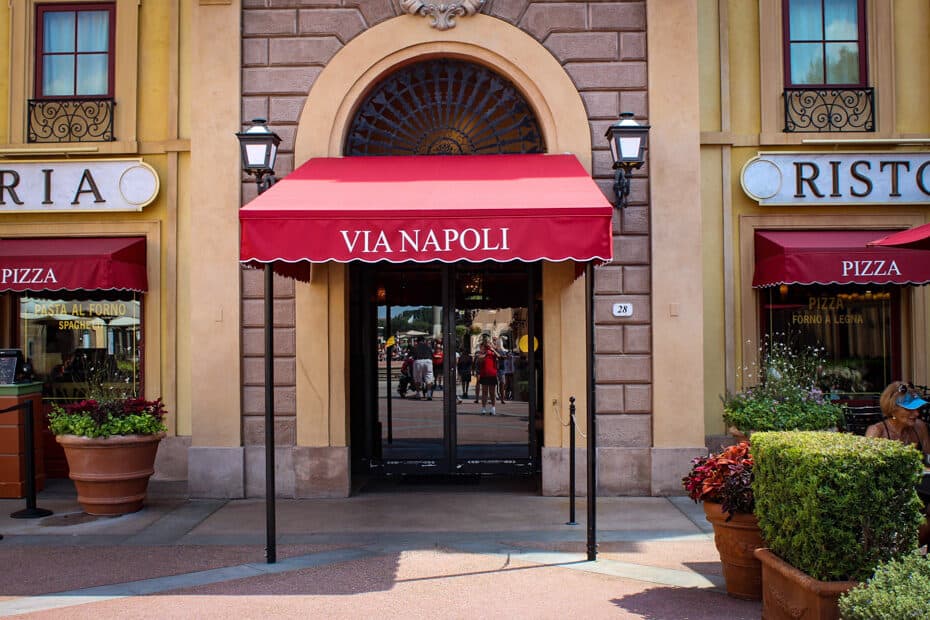 Via Napoli is considered table service dining. Therefore, you'll need a reservation to secure a table here.
However, if you find yourself visiting on a not-so-crowded day, you might be able to get a walk-up reservation. It never hurts to ask.
The restaurant is open daily from 11:30 a.m. to 9:00 p.m. The restaurant begins serving dinner at 4:05 p.m.
A menu is posted outside the restaurant if you are curious about the offerings. In addition, there is a walk-up pizza window available on the left-hand side of the restaurant.
From my experience, the walk-up window is open during busier times. You can see it in the picture below.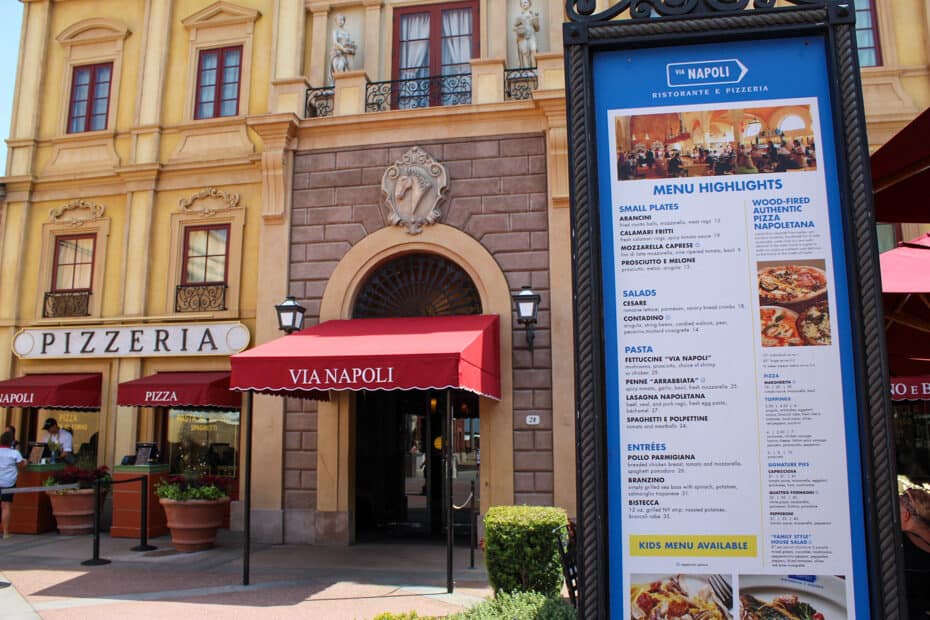 Usually, a more expansive menu is provided at the table.
The restaurant's interior provides a warm, Tuscan vibe. It feels as though you have stepped into an authentic Italian kitchen.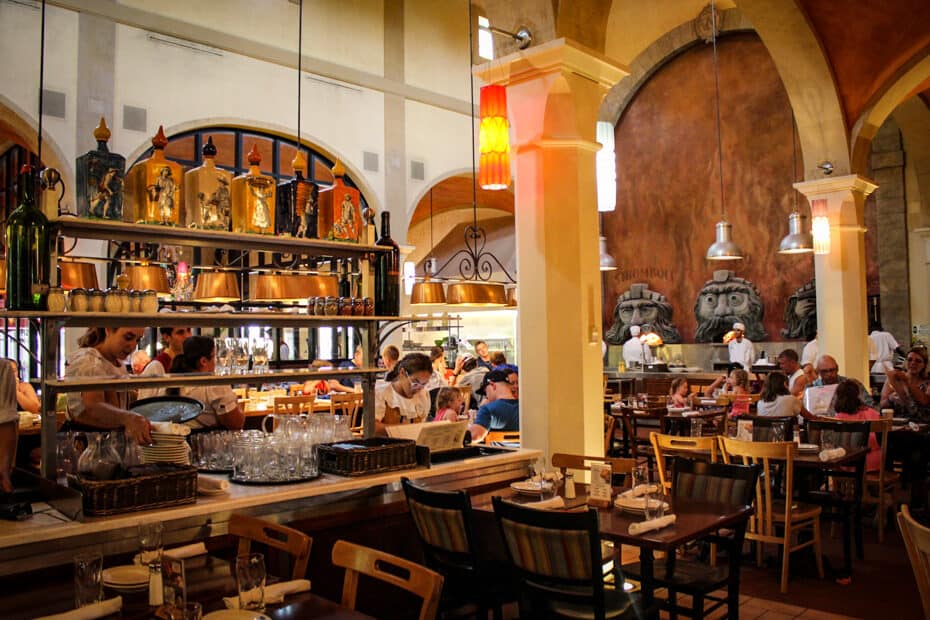 The decor is subtle and provides a pleasant ambiance with warm undertones no matter what time of day you visit.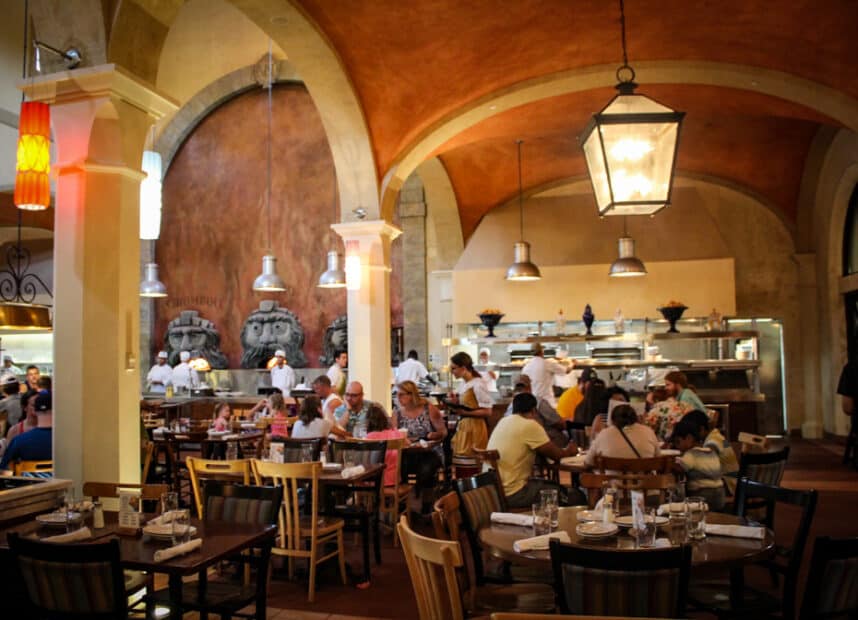 The heart of Via Napoli is the open kitchen with wood-burning ovens. Fun fact, each pizza oven represents a volcano in Italy. Their names are: Etna, Vesuvius, and Stromboli.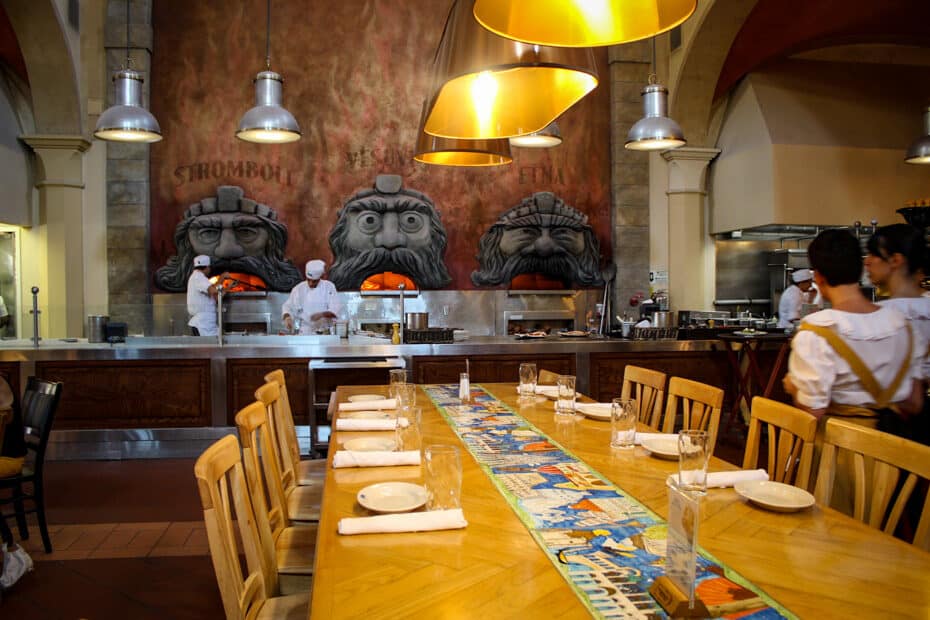 Via Napoli is divided into three separate dining rooms. The one pictured below is the extended portion with windows looking out into the pavilion.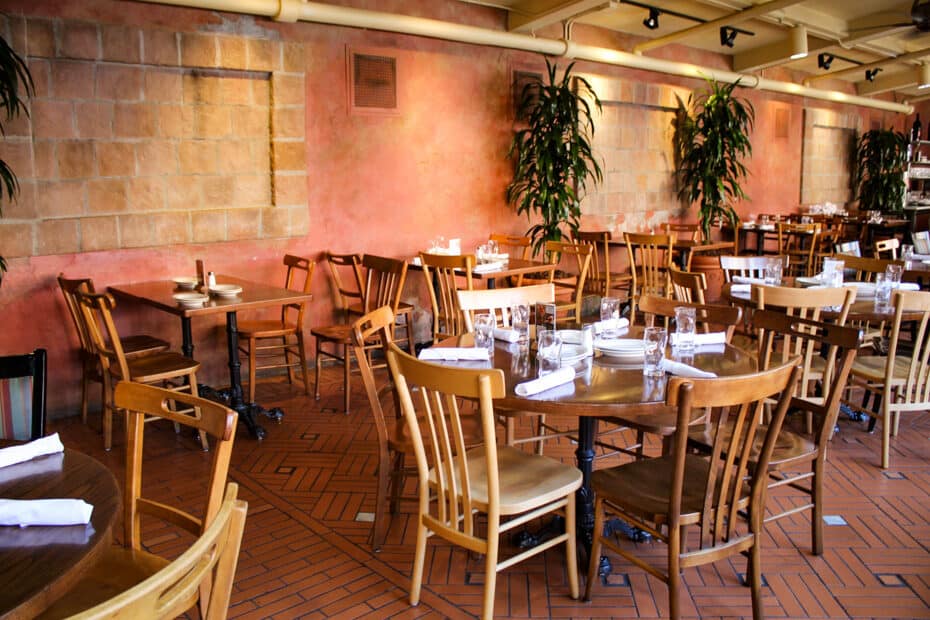 The back of the house offers more private seating.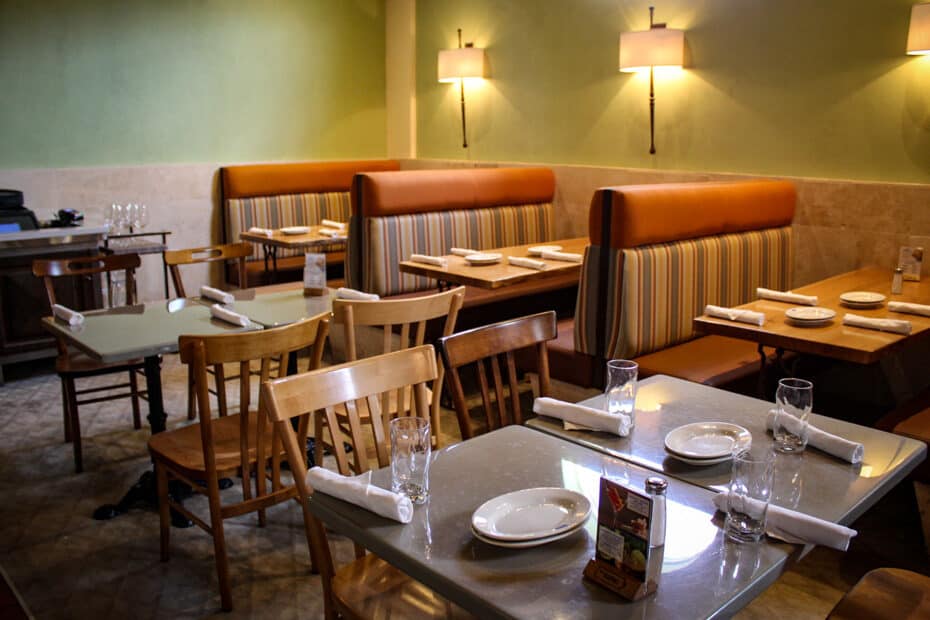 One side of the restaurant is lined with a service area off the main kitchen. It's nice how everything is out in the open.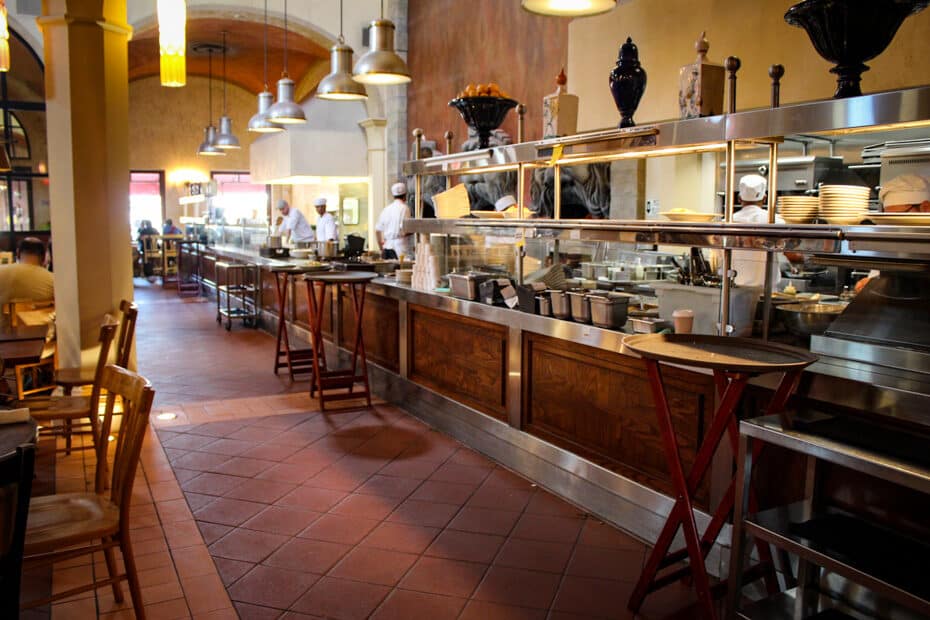 Feel free to walk by and look at some of the food preparation. It's fun to see the chefs preparing pies and sliding them in and out of the oven.
On a recent visit, a chef showed me some of the processes. You might notice that some of the wood for the oven is sitting below it.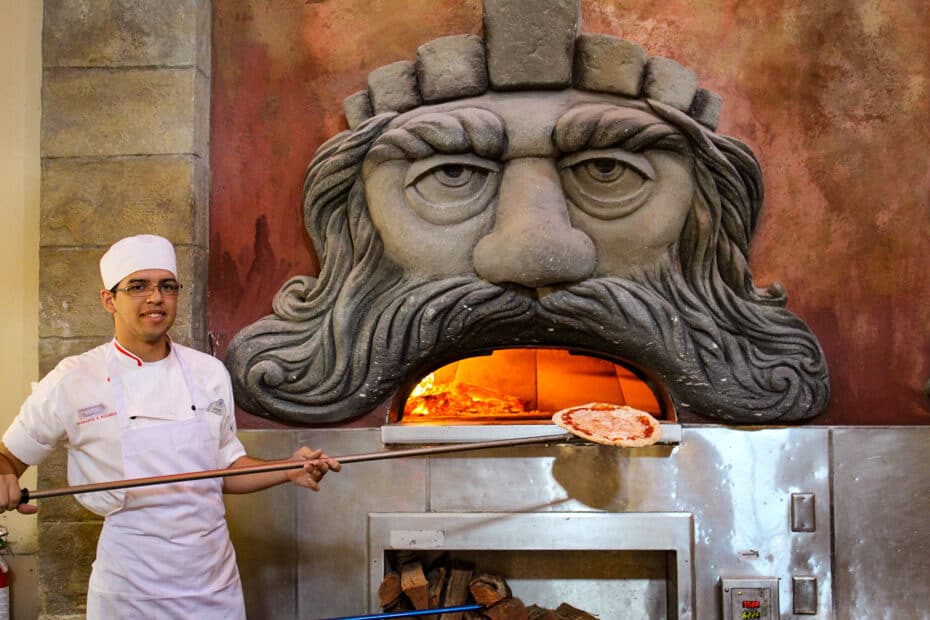 It's not every day you see such craftsmanship go into pizza.
I dined here for lunch around the Independence Day holiday a while back. There was a new seasonal drink available on that visit.
Sometimes these seasonal offerings turn into long-term menu items. Other times they become a distant memory or resurface in another season.
Here we have the Peachy Dream Bellini.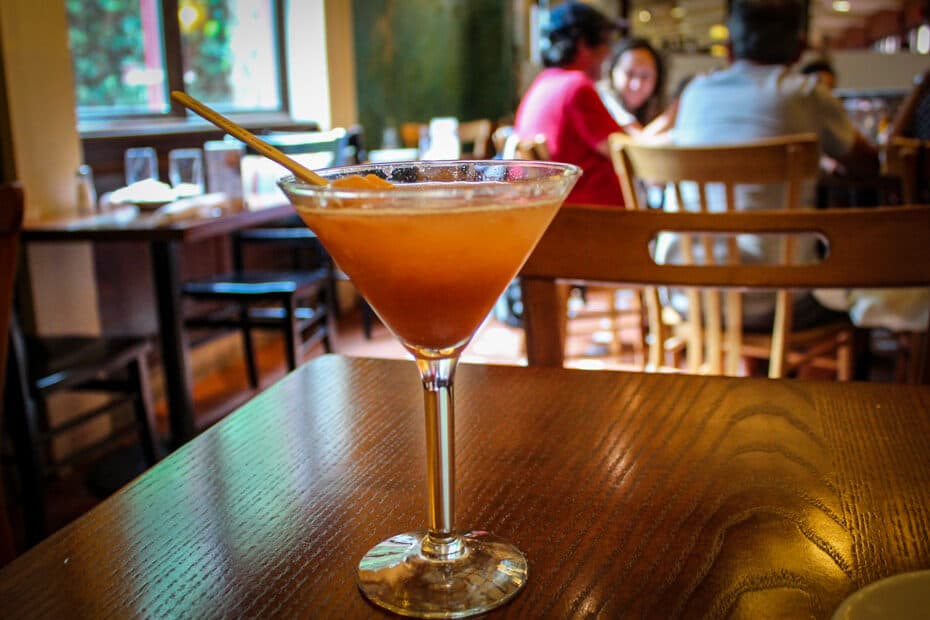 The Bellini is served with a frozen peach wine popsicle. I liked this one, but I'm not a big fan of cold, icy drinks. They tend to give me a headache.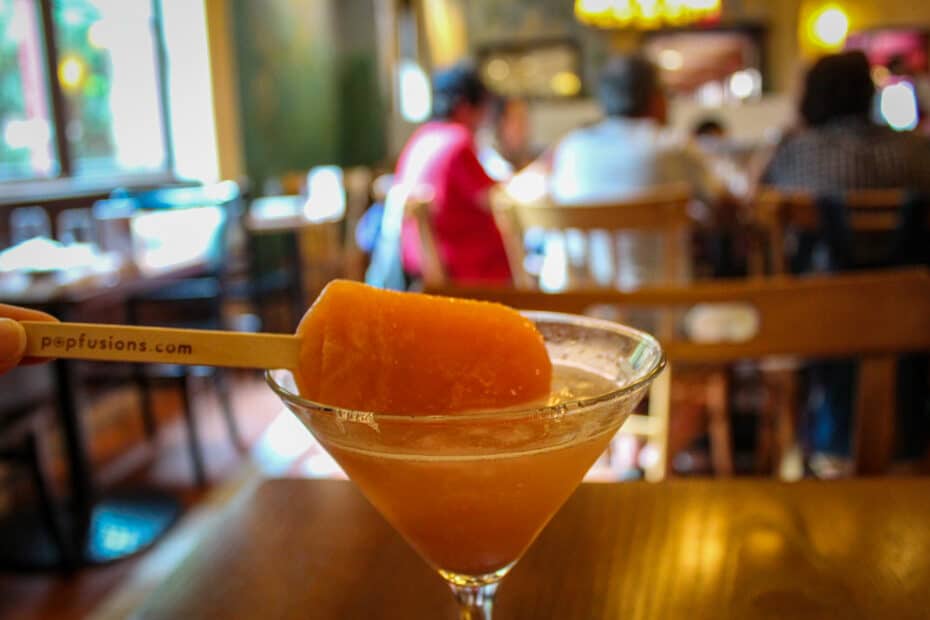 On this visit, I asked the server for her recommendation on trying a new pizza. My personal preference for pizza has always been the Quattro Formaggi.
The Quattro Formaggi, as you can probably imagine, is a white pizza with four kinds of cheese: mozzarella, parmesan, fontina, and provolone.
I wish I had a photo of that one. It's a pizza worth considering. But truthfully, I don't think you can go wrong here.
Since I've been doing the whole blogging thing, I've pretty much committed to trying new things every time I visit a restaurant. So, on this visit, I went with the Capricciosa, and it was fantastic!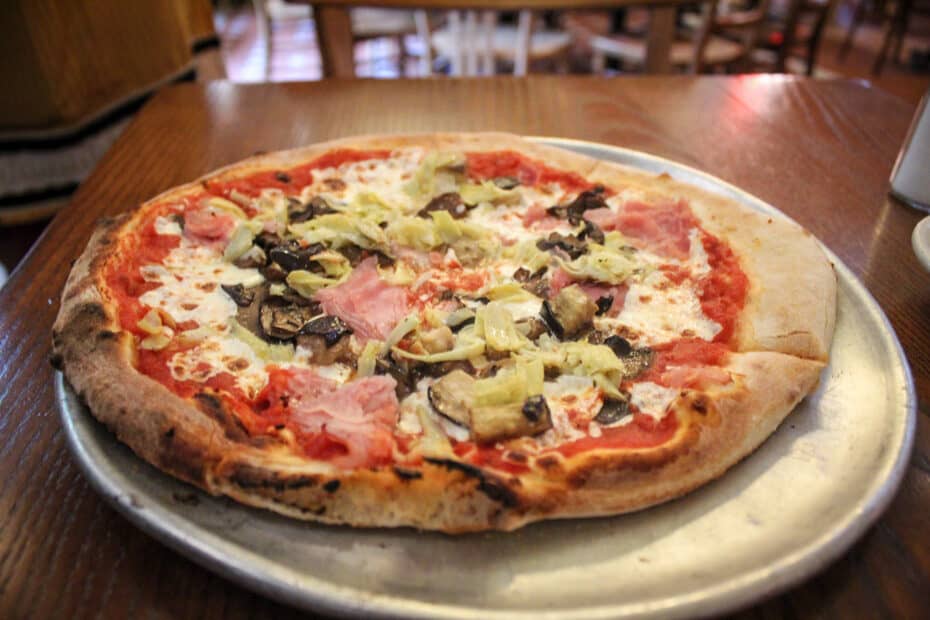 This is the Capricciosa Pizza in the individual size. The Capricciosa comprises tomato sauce, mozzarella, eggplant, artichokes, ham, and mushrooms.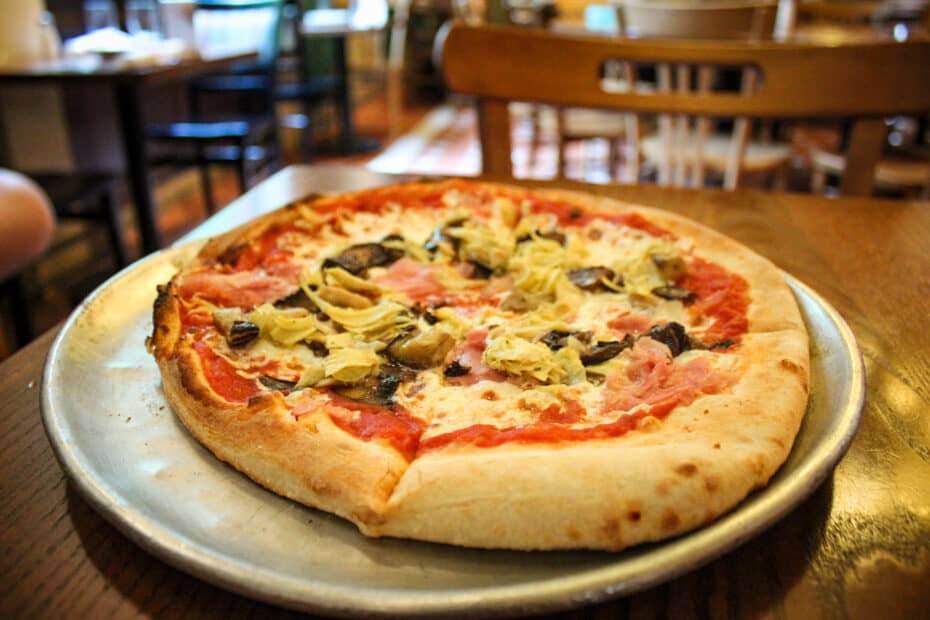 Another fun option is ordering a custom pizza. This option works great when there are picky eaters in your group.
Below is a custom pepperoni and mushroom pizza. So if everyone in your group is leaning in a different direction, you can all order an individual pizza.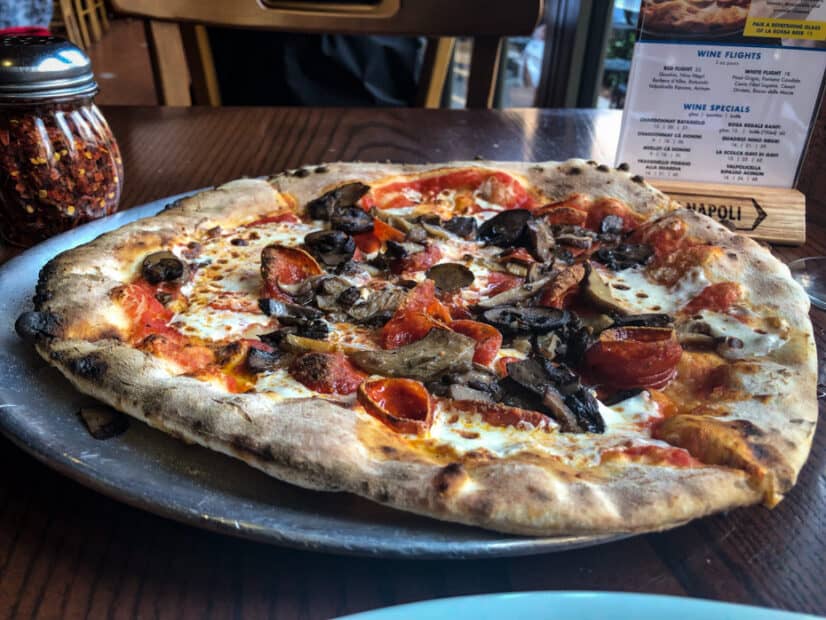 As far as pizza sizes go at Via Napoli, you or your group can select from the following:
Individual
Large
Mezzo Metro
If you can't tell from the photos, the individual size is more than enough for one person.
Most large groups will opt to order the Mezzo Metro. It's massive and probably the best-priced meal in Epcot for a family.
If you aren't looking for pizza, Via Napoli provides an outstanding menu of other Italian fares. Here are a few items I've had on another visit.
First, we have the Ravioli di Ricotta e Spinaci. This dish is described as ravioli filled with ricotta and served with a tomato sauce.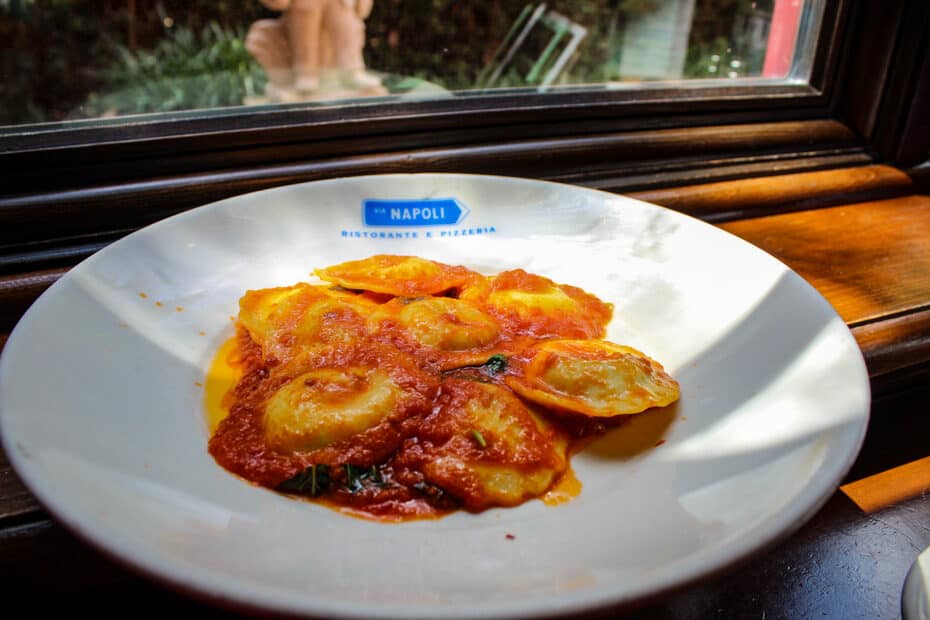 Before this visit, I had eaten at Via Napoli countless times but had never ordered anything other than pizza.
The ravioli was delicious. I can guarantee that I'll have a bit of a dilemma deciding what to order the next time I visit.
My only issue was the food was so appealing I was afraid the stone rabbit in the background might come to life and eat it if I turned my head.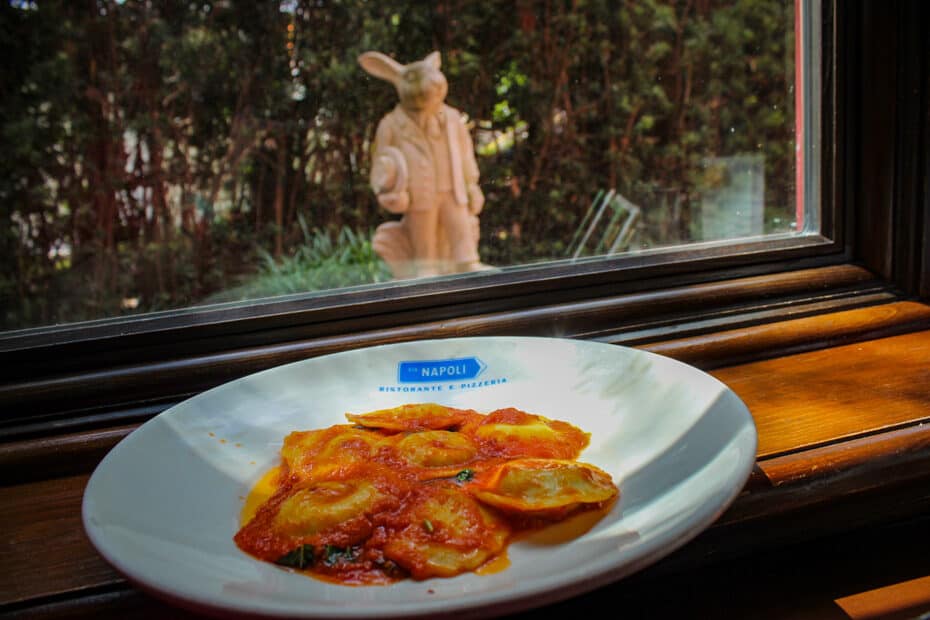 Other pasta dishes include:
Tortellini
Spaghetti e Polpettine
The tortellini is described as "cheese stuffed pasta, with sautéed pancetta, sweet peas, tossed in a Parmesan cream sauce."
And I still feel guilty about consuming this excellent preparation of calamari. It's not something that you'll want to share with the crisp beer batter and twist of lemon, bringing out the natural seafood flavors. However, it is entirely shareable.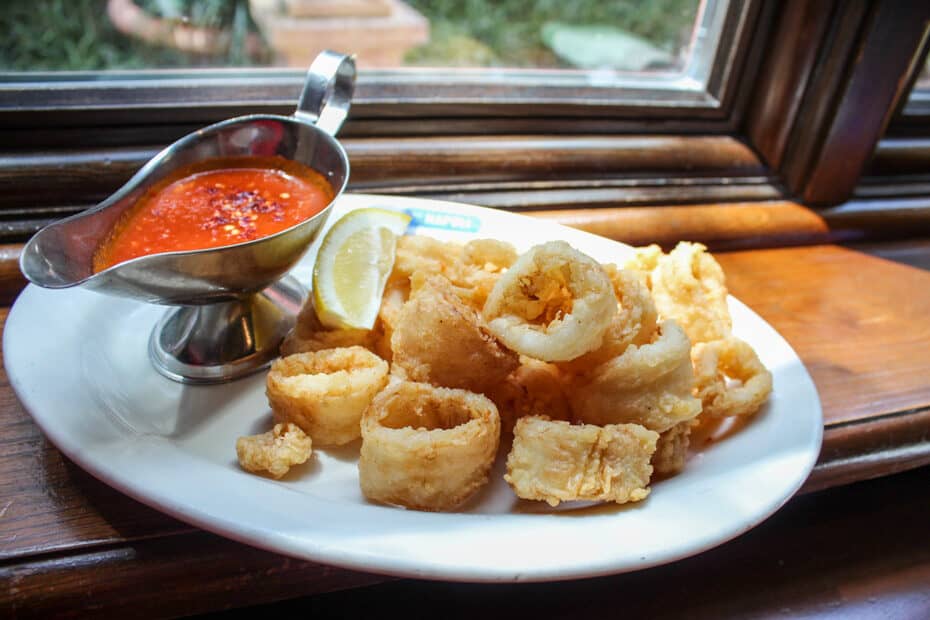 Not to mention the properly seasoned spicy marinara. This entire meal was so good. I can hardly express how much I enjoyed it.
The rabbit was clearly coveting the calamari.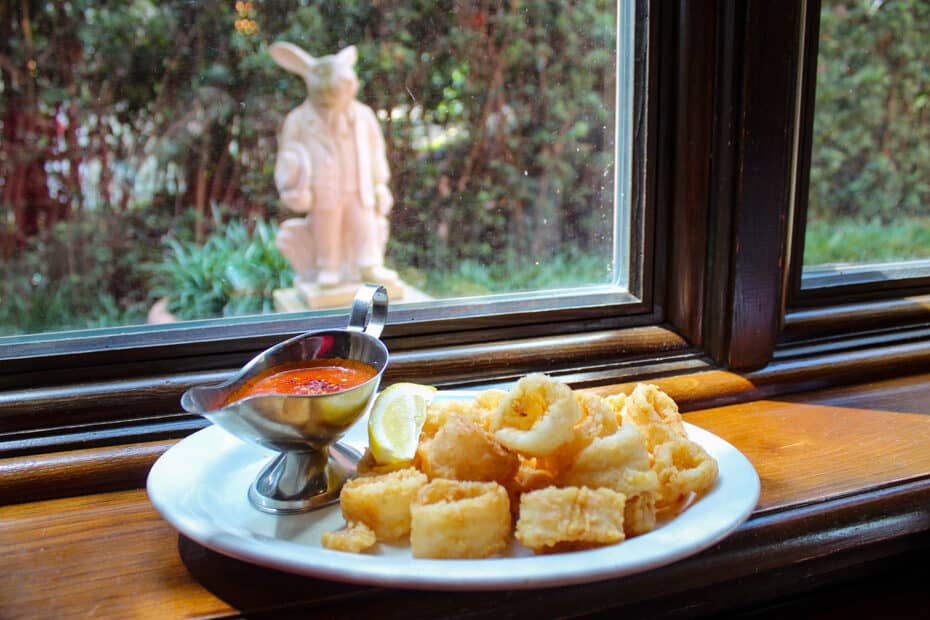 And if all that wasn't enough, there's dessert. Here we have the Coppa di Brutti Ma Buoni otherwise called the "Ugly But Good Sundae."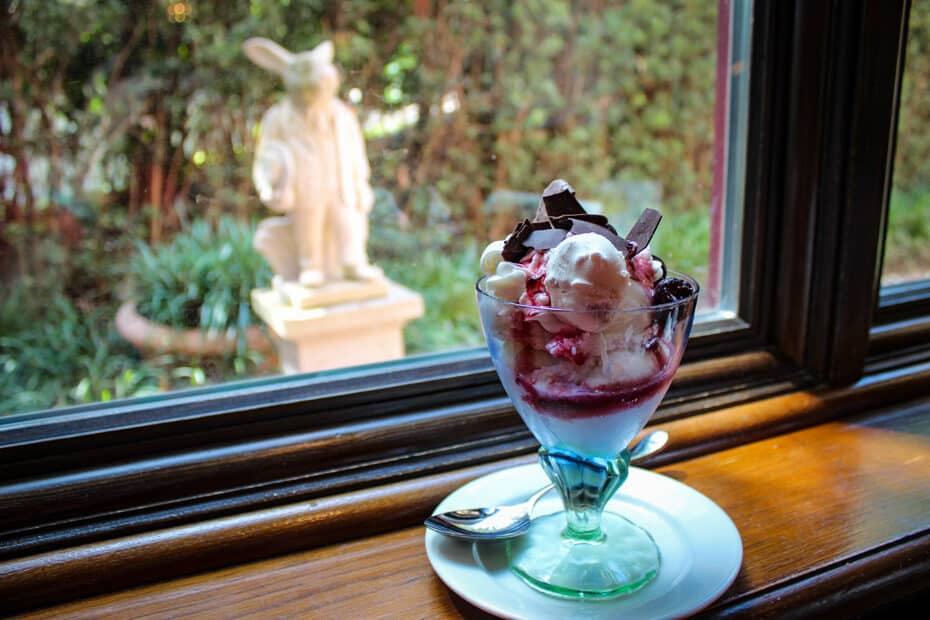 It is so over the top and unlike anything I would typically order. The dish features Amarena cherry, chocolate, gelato, and an Italian-style cookie.
This dessert will not be forgotten. It's the best sundae I've ever had.
How about a closeup? Make sure to keep this one on your list for a future visit. You will not regret indulging in the combination of crisp and creamy flavors.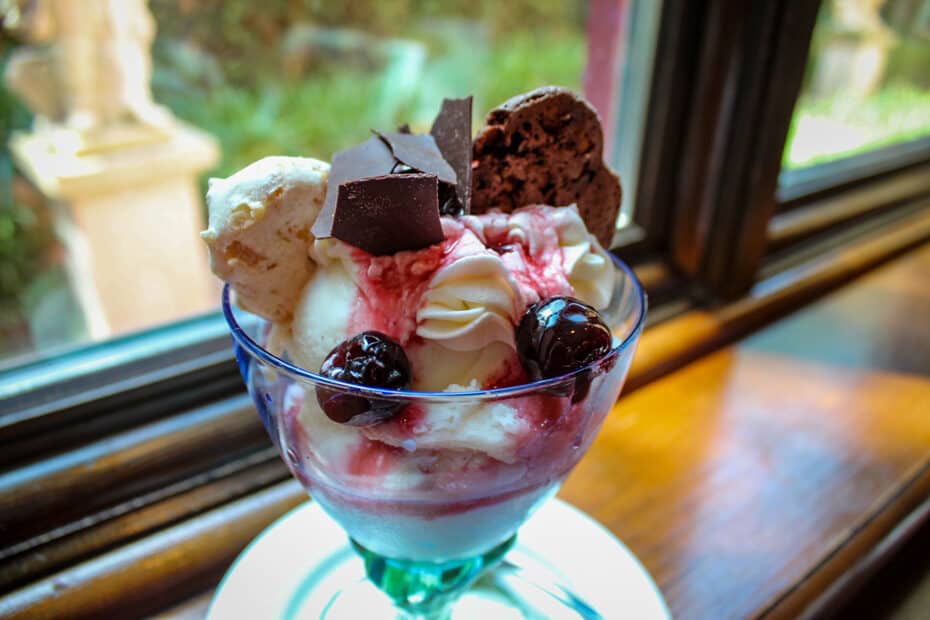 Now that's a sundae!
Hopefully, this Via Napoli Review provided you with enough details to secure a reservation on your next visit. Some of their other popular pizza combinations include:
Prosciutto e Melone Pizza
Piccante Pizza
Carciofi Pizza
For more information about dining at Walt Disney World, we have a list of all of our dining reviews.
Related: Disney Restaurant Reviews
For other dining options in the theme parks try these:
Both Tiffins and The Brown Derby are considered signature dining locations.
Related: Signature Dining at Disney World
For character meals you might try these reviews:
Related: Dining with Characters at Disney World
There are so many dining options at Disney. It can become overwhelming when trying to consider everyone in your party.
My best advice is to pick a few places that get rave reviews and try your best to secure a reservation. And don't over plan.
If you get busy in the parks, you might end up wishing you didn't have a full book of dining reservations for the week. Try your best to leave room in your schedule for spontaneous counter-service meals.
Sometimes they are the most fun!
In the comments: Have you dined at Via Napoli before? If so, what did you order? Did you find this review of Via Napoli helpful? Is there anything you're looking forward to ordering?