Frontierland at Magic Kingdom, Disney World
Frontierland is one of the six lands that make up the Magic Kingdom at Disney World. The land is themed to resemble the early 19th century wild Western Frontier. There are even popular attractions that include a roller coaster through a gold mine, an arcade, and a railroad stop.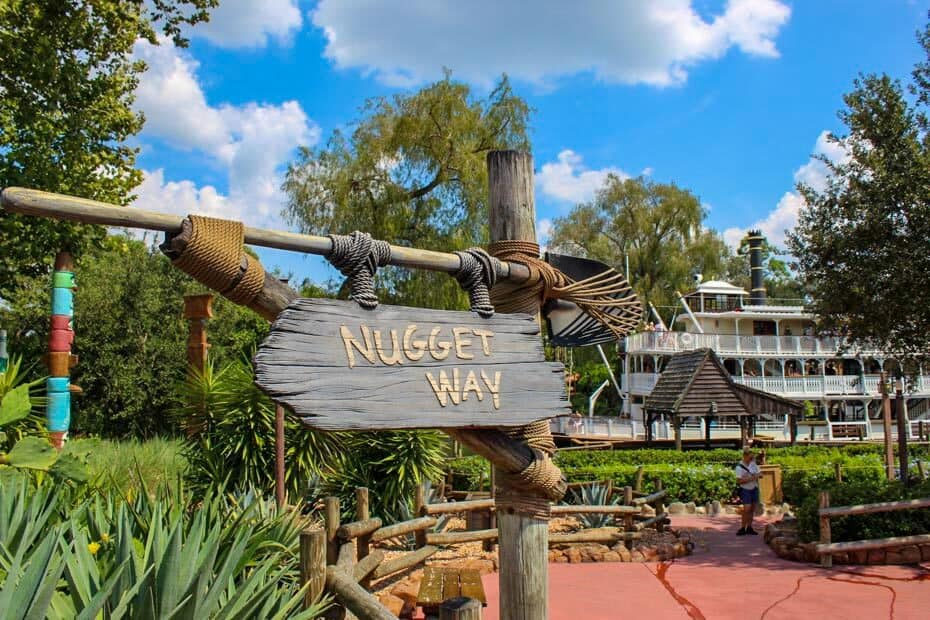 If you have ever visited Frontierland at Magic Kingdom before, then you know that it's so much more than that. The land is where you'll find classic attractions like Big Thunder Mountain Railroad and Tom Sawyer Island.
And by all means, let's not forget that Frontierland is home to the Country Bear Jamboree. It's an audio-animatronic performance that was originally invented by Walt Disney Imagineering.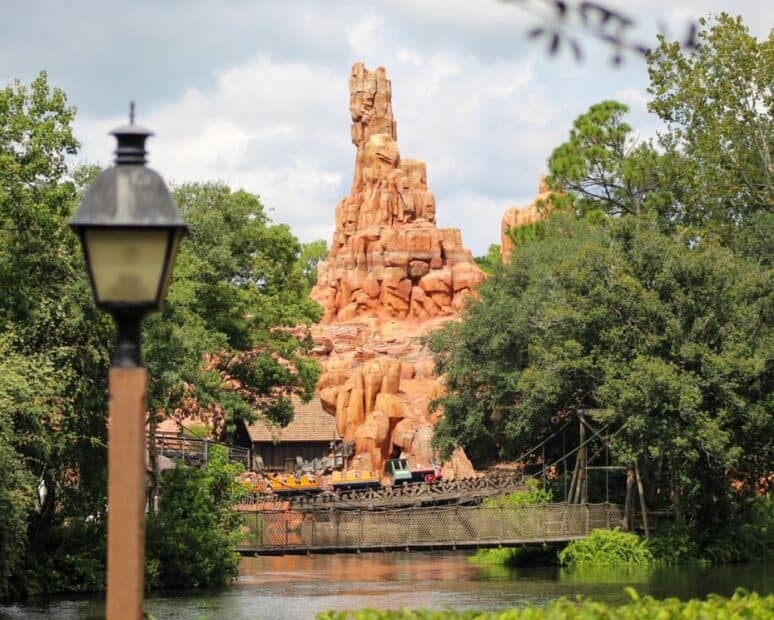 This review will cover the attractions, dining, and shopping options in Frontierland at Magic Kingdom. Here's a preview of what all the land has to offer:
Attractions
Big Thunder Mountain Railroad
Country Bear Jamboree
Frontierland Shootin' Arcade
Splash Mountain
Tom Sawyer Island
Walt Disney World Railroad Station
Dining
Golden Oak Outpost
Pecos Bill Tall Tale Inn and Cafe
Westward Ho
Retail
Big Al's
Briar Patch
Frontier Trading Post
Prairie Outpost & Supply
Splashdown Photos
Entertainment
Festival of Fantasy Starting Point
Frontierland Review
Unlike Adventureland, where all the attractions are good for anyone, Frontierland has two main rides that have height restrictions. But don't let that alarm you too much. There are plenty of things for everyone to do and experience while touring the land. We'll start with one of my favorites.
Big Thunder Mountain Railroad is one of those attractions that always puts a smile on my face. If we are going to get personal, I might as well share a little secret with you. This ride always makes me feel like I'm in one of those Disney commercials that you see on television.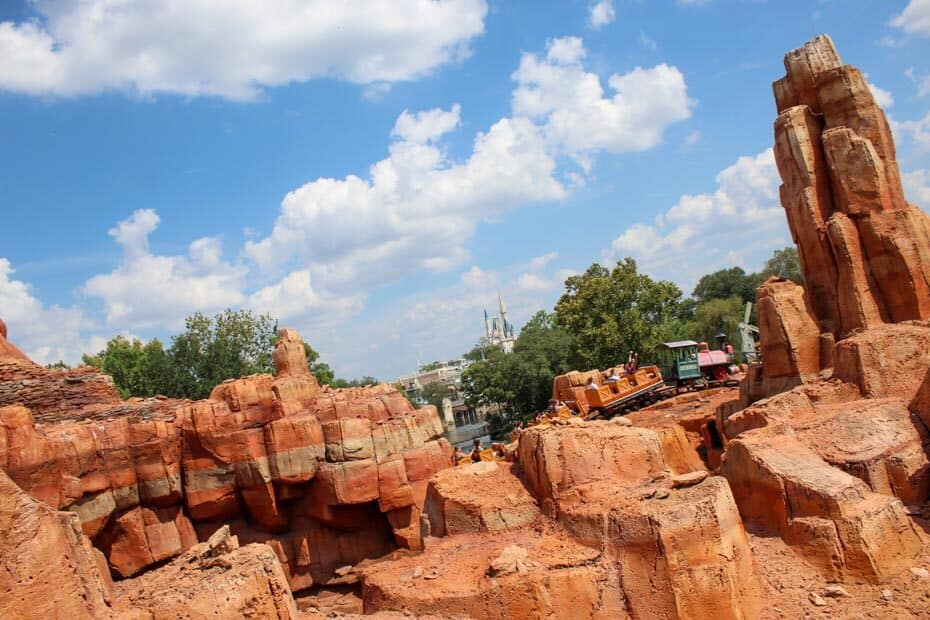 You know the one with the train flying by on the tracks full of people having fun with their families? The most recent version has a few grim grinning ghosts docking at the Grand Floridian. But that's a neighboring land, not Frontierland.
Anyway, something about flying around these fast tracks leaves me erupting with laughter. I can equate that feeling of looking up and smiling when I'm away from my Disney home and see one of these ads somewhere. It's a feeling that keeps me coming back.
This Frontierland roller coaster does have a 40″ height requirement. There's also a warning sign out front with a few advisories you might want to take into consideration before riding.
While riding Big Thunder Mountain Railroad you can expect to encounter sharp turns, sudden stops, and a few drops. The drops are fairly mild in comparison to a larger roller coaster like Expedition Everest over at Animal Kingdom.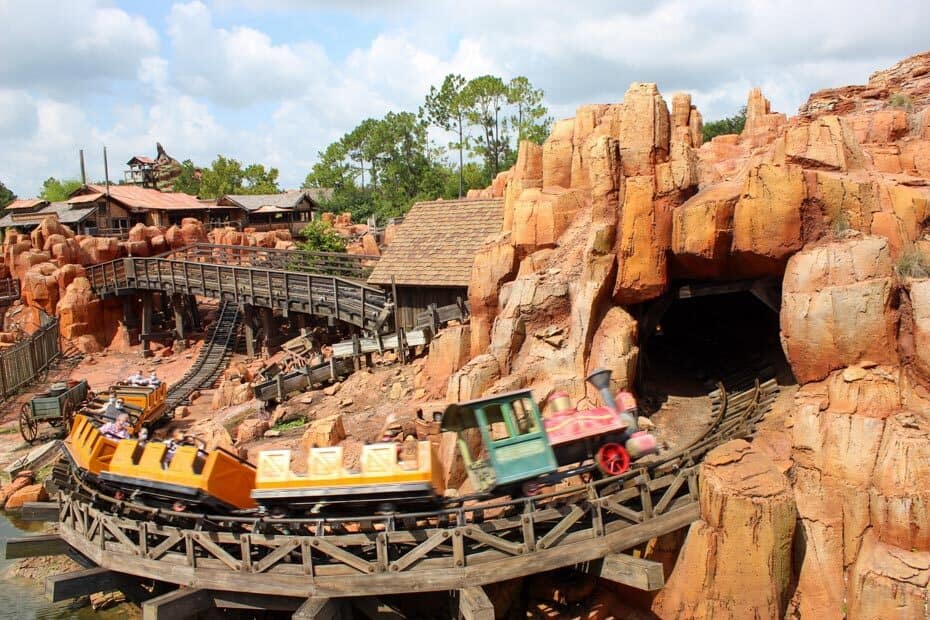 Personally, I think that if you have a younger child that meets the height requirement they will probably end up enjoying the ride. However, you know your child better than anyone.
There is an observation area where you can see a portion of the ride if you desire. Just walk up to the area where guests are exiting and you'll see an overlook. This is also a good place to wait for any riders that might be exiting if you elect not to ride.
Our next Frontierland attraction at Disney is the Country Bear Jamboree. This is an audio-animatronic show performed in a dim theater known as Grizzly Hall. It is one of those attractions you might want to keep in your back pocket for a portion of the day where wait times are high and you need a break.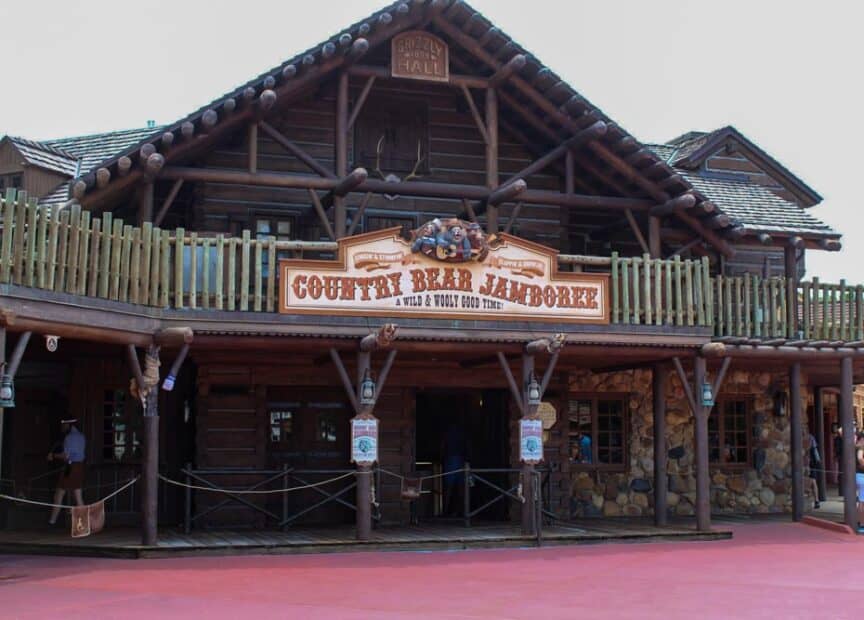 You can expect to see eighteen different backwoods bears performing a variety of tunes on stage. I'm sure at some point during the show you'll find that the Country Bears are quite relatable.
Country Bear Jamboree has a performance time of approximately 16 minutes. This attraction also has an indoor holding area for guests waiting to see the next show. That should be the only wait time you encounter at this experience.
Additionally, a few of the Country Bears are out at different times of the day greeting guests in Frontierland. Lately, they've been greeting guests at a proper distance from the balcony above their attraction.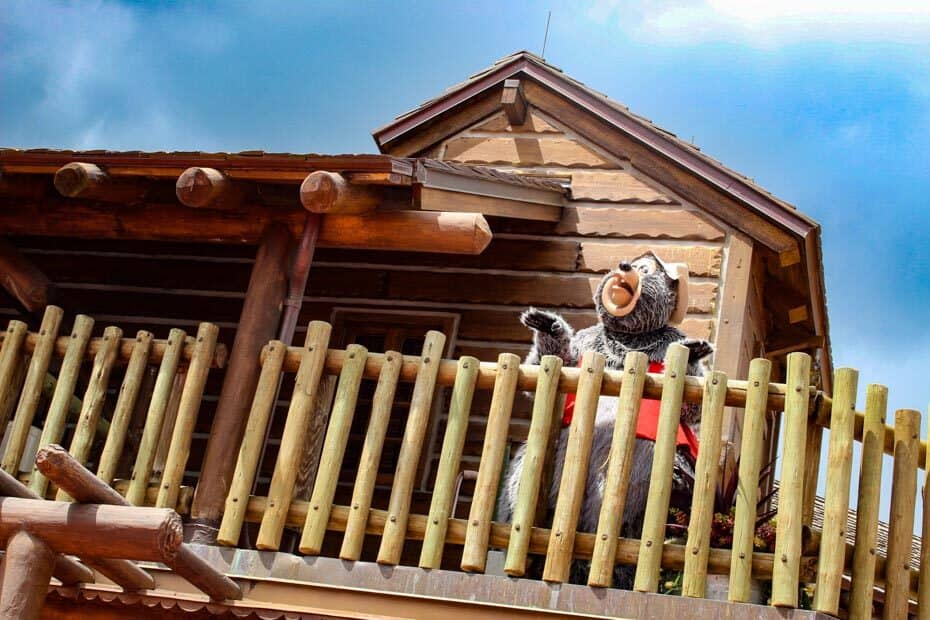 Make sure to look up when you are out touring Frontierland, there's no telling who you will run into.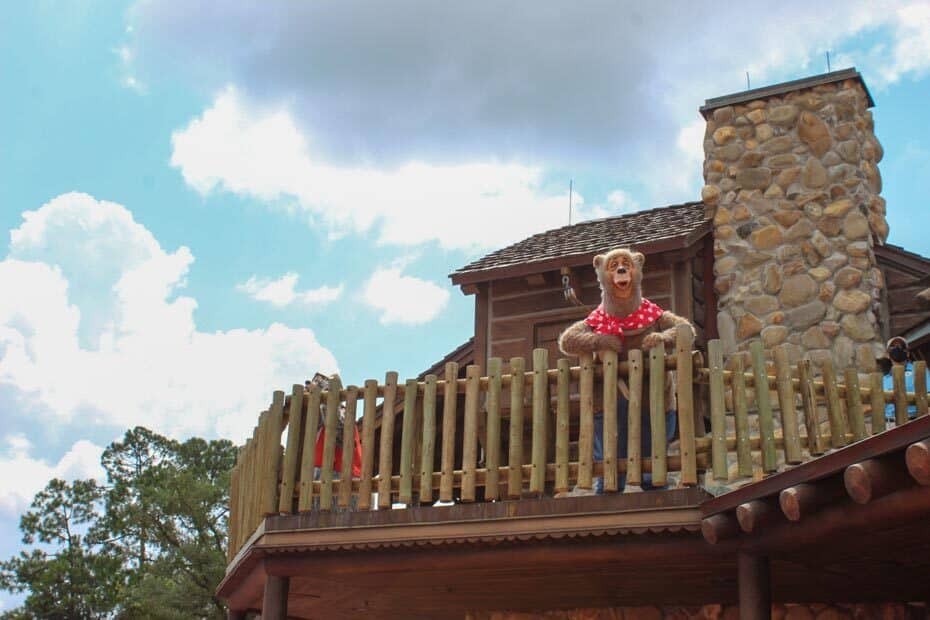 If you would like to learn more about meeting characters, make sure to visit our guide to meeting Disney World Characters.
Frontierland Shootin' Arcade offers the opportunity to shoot game-style rifles at moving targets. This is a Frontierland attraction that can be experienced anytime during the day.
The Shootin' Arcade does require an additional fee. It currently costs $1.00 per 35 shots.
The summer of 2020 brings news that Splash Mountain will close in the future and the ride will become a new attraction.
A favorite attraction for many, Splash Mountain is home to the beloved tale of Brer Rabbit as he outsmarts the likes of Brer Fox and Brer Bear. The theming of this attraction is on point and the story unfolds as you wind your way up to the top.
Will you make it safely to the Laughing Place? Or end up in the briar patch?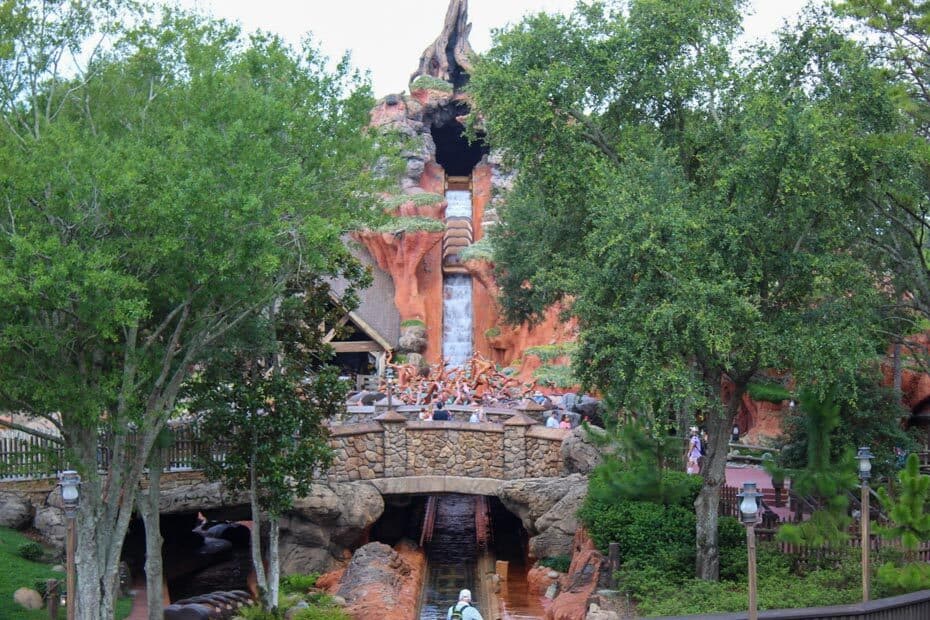 Splash Mountain does have a 40″ height requirement and offers FastPass+. You can expect to experience three small drops before the large five-story one toward the end.
Regular guests call the smaller drops "fake drops" because those not familiar with the ride expect each one to be the large drop. And the attraction does really feel that way leaving a build-up type feeling to each one. Once you reach the final drop, you'll know for sure.
Make sure to smile right before the drop for the on-ride photo shot. And hopefully, I'll see you at the end where I personally reside in the Laughing Place. But please don't tell anyone, I like to keep a low profile in my neck of the woods.
Tom Sawyer Island is an almost anytime of the day attraction in Frontierland. That is with the exception of evening time. This attraction is one of the few that closes around nightfall.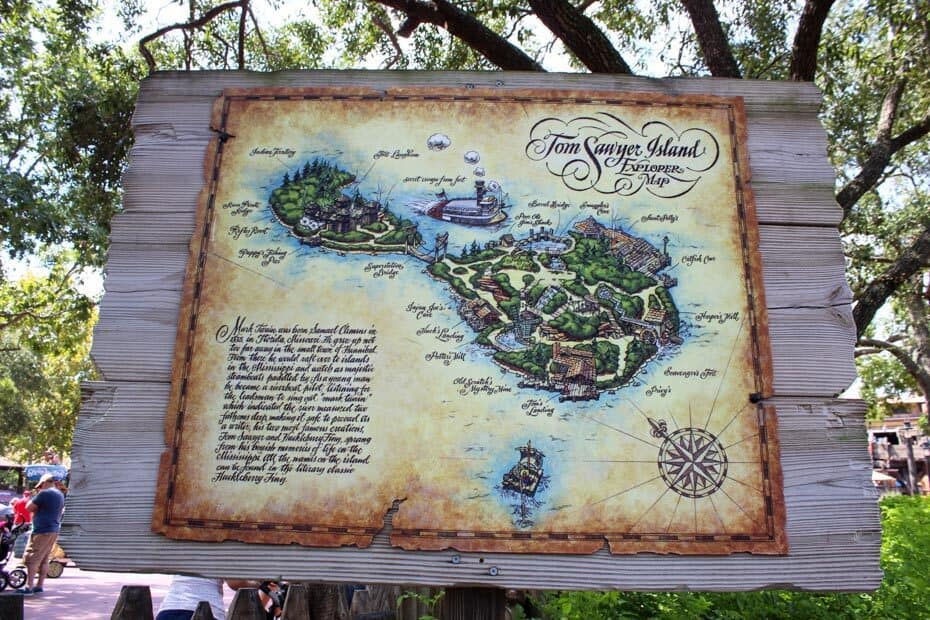 While this attraction is for everyone, there are a few things you need to know before heading over:
The island has a hidden fort with trails and activities.
You must board a log raft and sail over to access the island.
The signage indicates that the raft does offer wheelchair access but you must be ambulatory to board.
It also notes that everyone needs to remain on the trails and naturally, to supervise children at all times.
Frontierland Station at Disney World
Frontierland Station is currently closed due to Tron Roller Coaster Construction. It is not expected to reopen until after Tron is completed. If you have an interest in the Walt Disney World Railroad you can tour the Main Street U.S.A. train station in the meantime.
The railroad travels a circle around the Magic Kingdom stopping at Main Street U.S.A., Storybook Circus in Fantasyland, and Frontierland.
Frontierland Dining Options
Here's a look at the dining options you'll find on your visit to Frontierland.
Golden Oak Outpost serves lunch and dinner. This is a walk-up style window where you can pick up a bite to eat and then find your own seating. There's plenty of seating options at the other counter service dining locations in the area to find a seat if needed.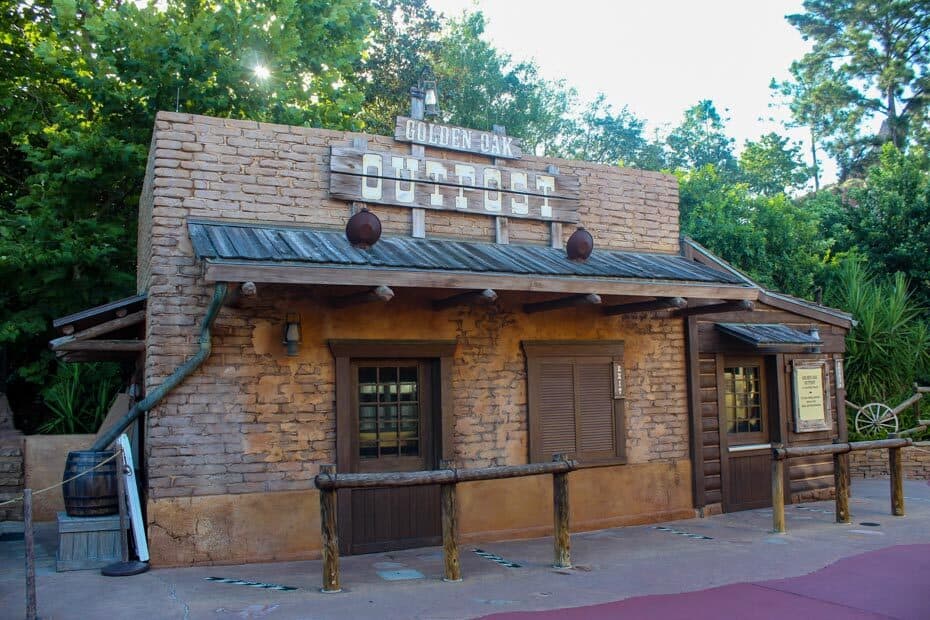 Golden Oak Outpost is commonly known for serving chicken nuggets and waffle fries. They have a few other options if you want to review their online menu here.
Pecos Bill Tall Tale Inn and Cafe is the large counter service dining location in Frontierland. This dining establishment features classic South West flavors served fajita and taco-style.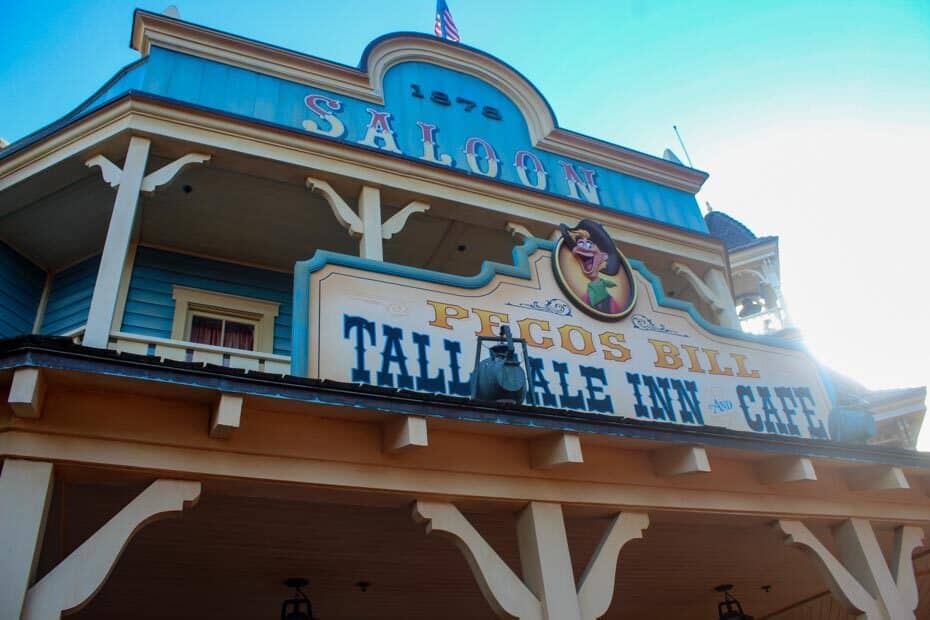 You can also expect to see a few traditional items on the menu here like cheeseburgers and salads. There are typically even be a few plant-based items available.
Lastly, we have Westward Ho on the main thoroughfare of Frontierland. This kiosk is a great place to pick up a frozen lemonade or popcorn prior to the Festival of Fantasy Parade.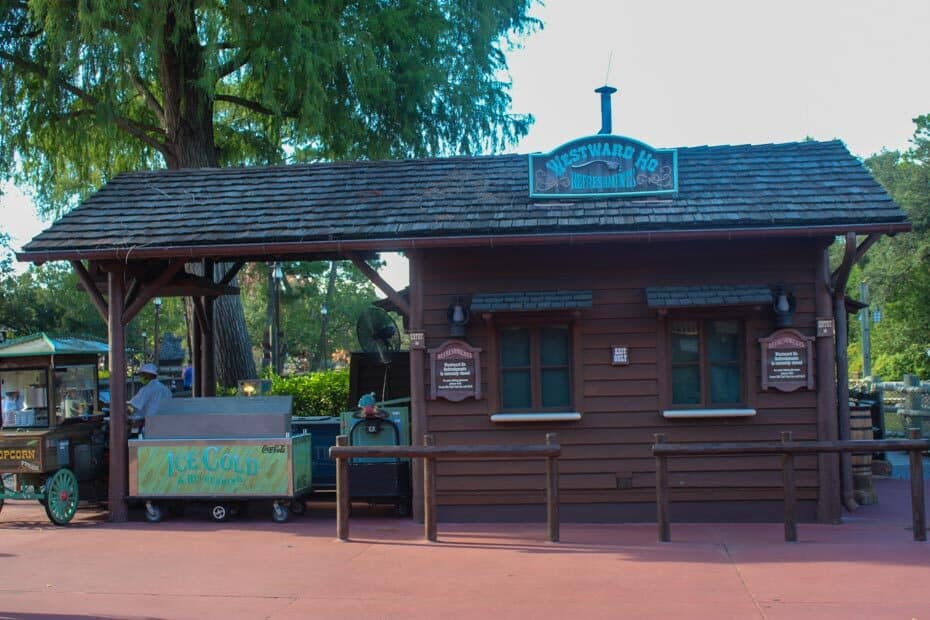 For planning dining reservations, we have a full list of our Disney restaurant reviews available. Normally, we recommend planning at least one Disney World character dining meal and a Disney signature dining reservation.
Frontierland Shopping Locations
Frontierland has several places to pick up a souvenir while you are in the parks.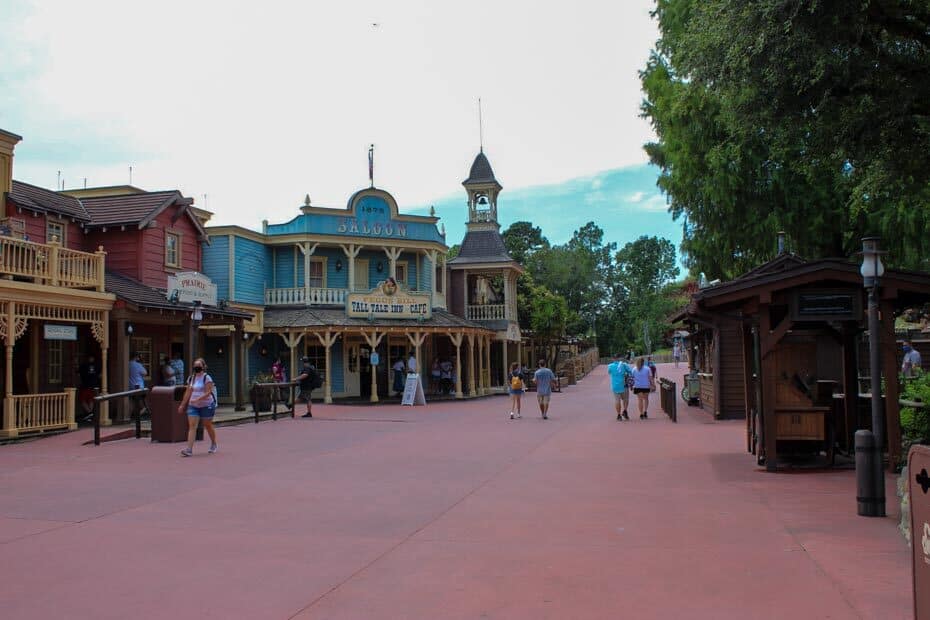 Big Al's is a kiosk-style souvenir stand offering coonskin caps (think a raccoon wrapped around your head) and cowboy hats. If that's what you are looking to sport, this is the place for you.
Briar Patch and Splash Down Photos are located at the ride exit to Splash Mountain. If you are waiting on someone to exit Splash Mountain this is a good place to browse in the meantime.
Splash Down Photos provides a glimpse at your on-ride photo made available for purchase at the end. For those that have the Memory Maker, you probably won't want to stop in here. But this does make a nice family souvenir if you are visiting on a once-in-a-lifetime style trip.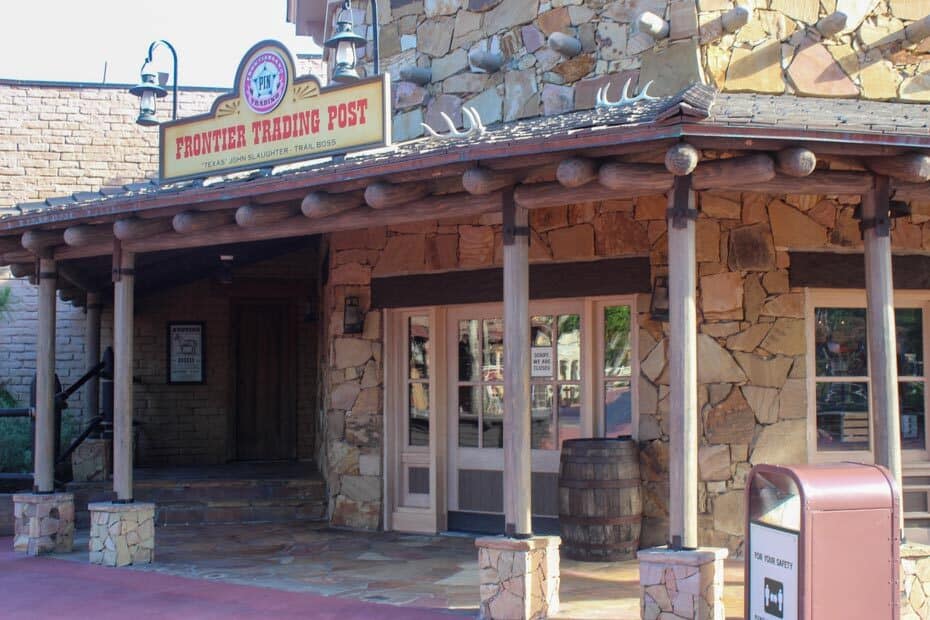 If you are looking to trade a few pins you'll definitely want to stop in Frontier Trading Post. This is a great location for a shopping break during the heat of the day.
We always enjoy taking a look around here. Additionally, there are several different snack and candy options available next door in Prairie Outpost and Supply.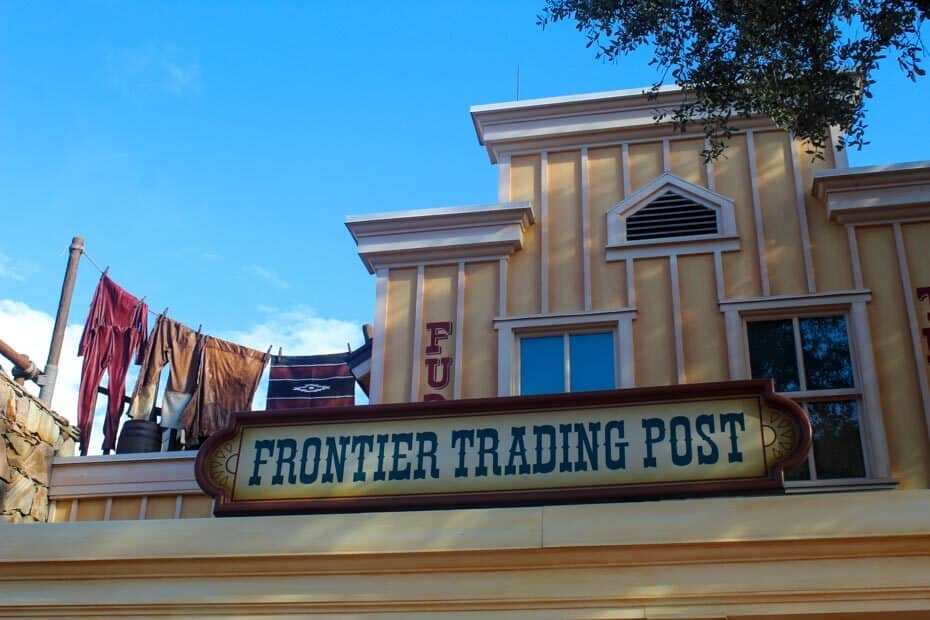 Entertainment in Frontierland
While not an entertainment option specific to Frontierland, this is a good time to note that normally the Festival of Fantasy Parade steps off in Frontierland daily. Below is a picture of a daily parade crowd in Frontierland.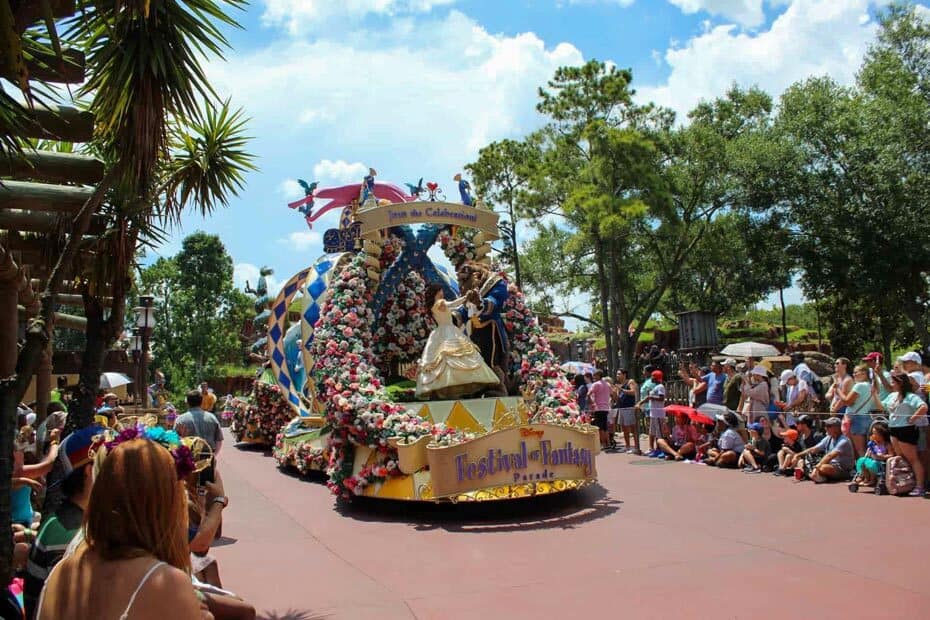 If you have spent any time around my site previously, you probably know that I'm a huge advocate of the Festival of Fantasy Parade.
There are so many reasons that I think the parade should be included in your Magic Kingdom itinerary. Make sure to read the review covering all of my parade viewing tips and location suggestions to better plan your day.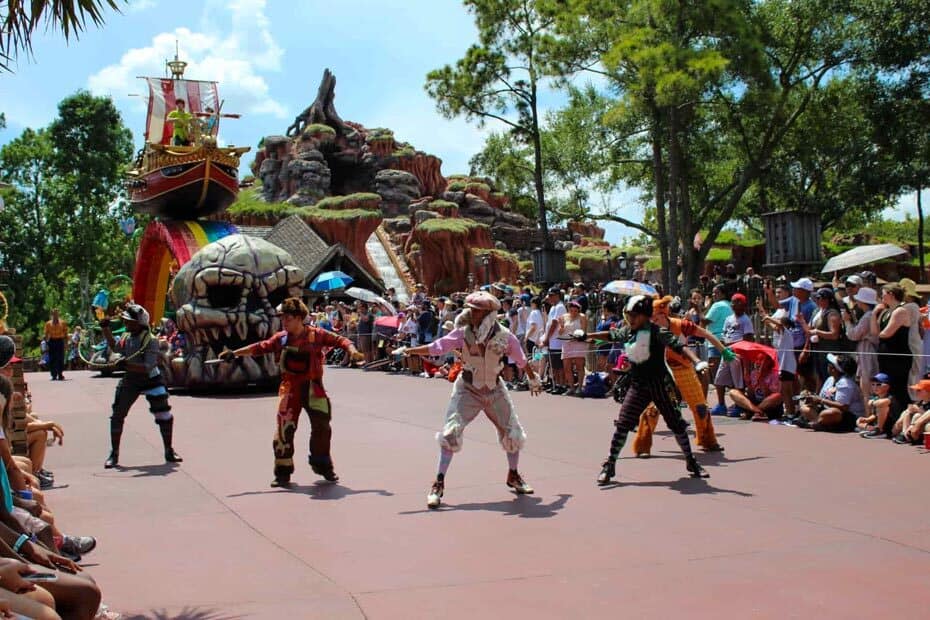 However, at this time the parade might not be an option due to social distancing. The character cavalcades that are performed multiple times throughout the day do come through this same area.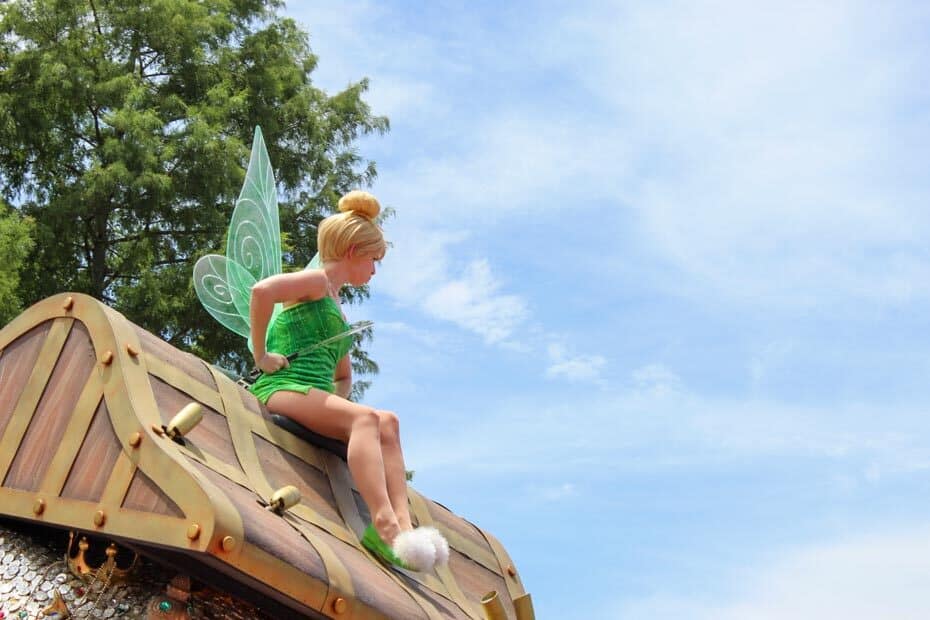 Final Thoughts on Magic Kingdom's Frontierland
Frontierland is a fun place to hang out on a visit to Magic Kingdom. You can escape to an island, watch the daily parade, and experience two headliner attractions all in one afternoon here!
Frontierland is bordered by Liberty Square on one side and meets Adventureland toward the back of the park. Make sure to leave plenty of time in your touring schedule to see everything Frontierland has to offer.
You can also check out the entire series of Magic Kingdom by land reviews:
Resorts Gal specializes in Disney World Resorts, Characters and Dining. Make sure to check out some of our resources like the list Walt Disney World Resorts with reviews. That article gives a brief overview of every resort at Disney
Lastly, our most popular reviews include the best restaurants at Disney Springs and I keep a timeline going of Disney Loungefly mini-backpacks.
Hope you have fun touring Frontierland!