Frontierland at Magic Kingdom (Rides, Dining, and Shopping)
In this article, we visit Frontierland at the Magic Kingdom in Walt Disney World. We'll discuss the rides, dining options, characters, and shopping you'll find in the land.
Howdy Partners! It's time we burn the breeze and make our way to Frontierland as we continue our tour of lands at Magic Kingdom.
Frontierland is a land themed to resemble the early 19th-century western frontier. This land is home to popular attractions, including a roller coaster, an arcade, and a private island. It's also a stop on the Walt Disney World Railroad.
Additionally, a new attraction, Tiana's Bayou Adventure, is scheduled to open in 2024. This attraction will replace the former Splash Mountain, which closed in early 2023.
So saddle up your favorite horse, and let's mosey into Frontierland. Along the way, we'll check out everything you'll want to do during your next Walt Disney World vacation!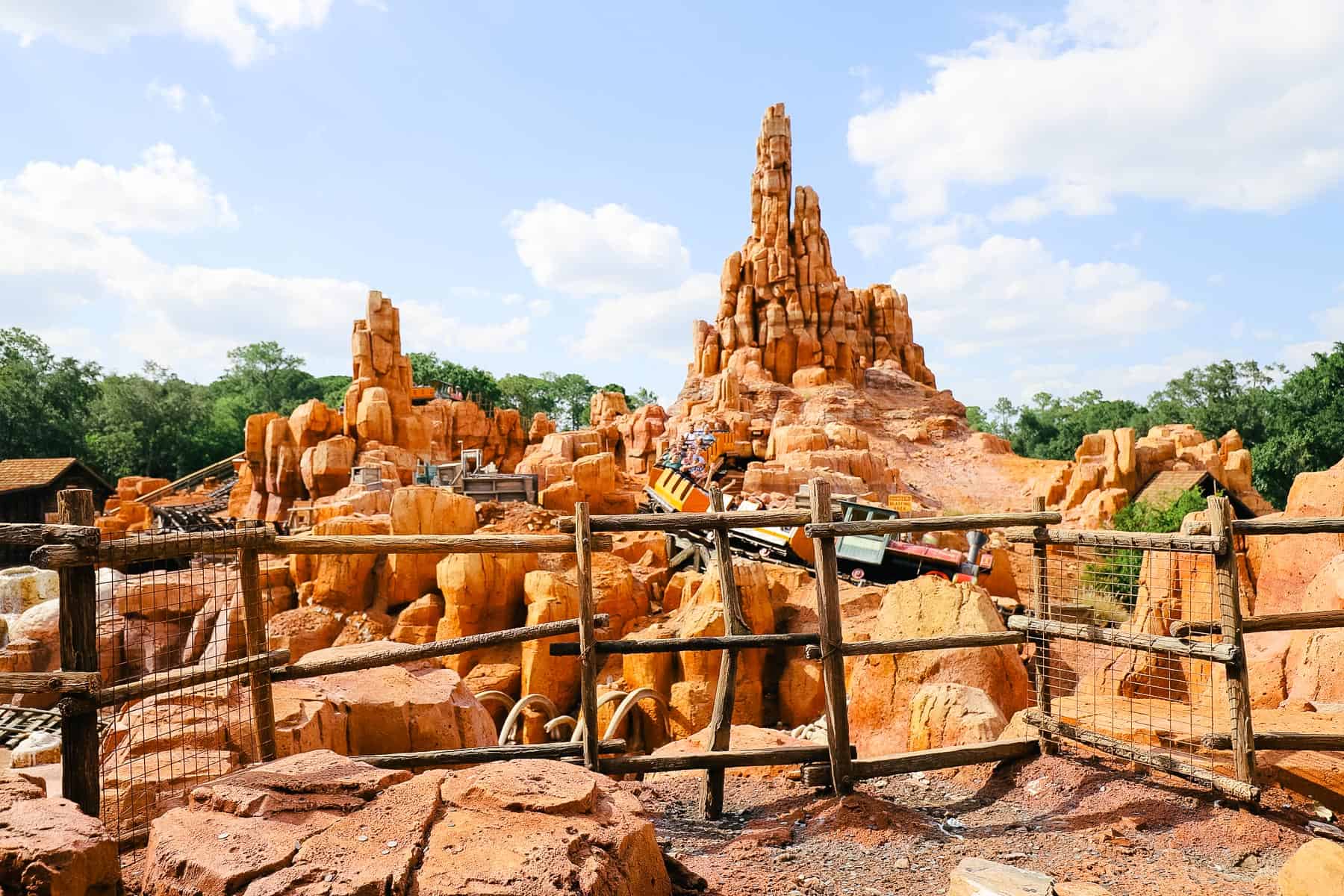 Frontierland at Magic Kingdom
Here's a preview of what all the land has to offer:
Attractions
Big Thunder Mountain Railroad
Country Bear Jamboree
Frontierland Shootin' Arcade
Tom Sawyer Island
Frontierland Station
Tiana's Bayou Adventure (Coming Soon)
Character Meets in Frontierland
Country Bears
Frontierland Hoedown
Dining
Golden Oak Outpost
Pecos Bill Tall Tale Inn and Cafe
Westward Ho
Retail
Big Al's
Frontier Trading Post
Prairie Outpost and Supply
Entertainment
Festival of Fantasy Parade Starting Point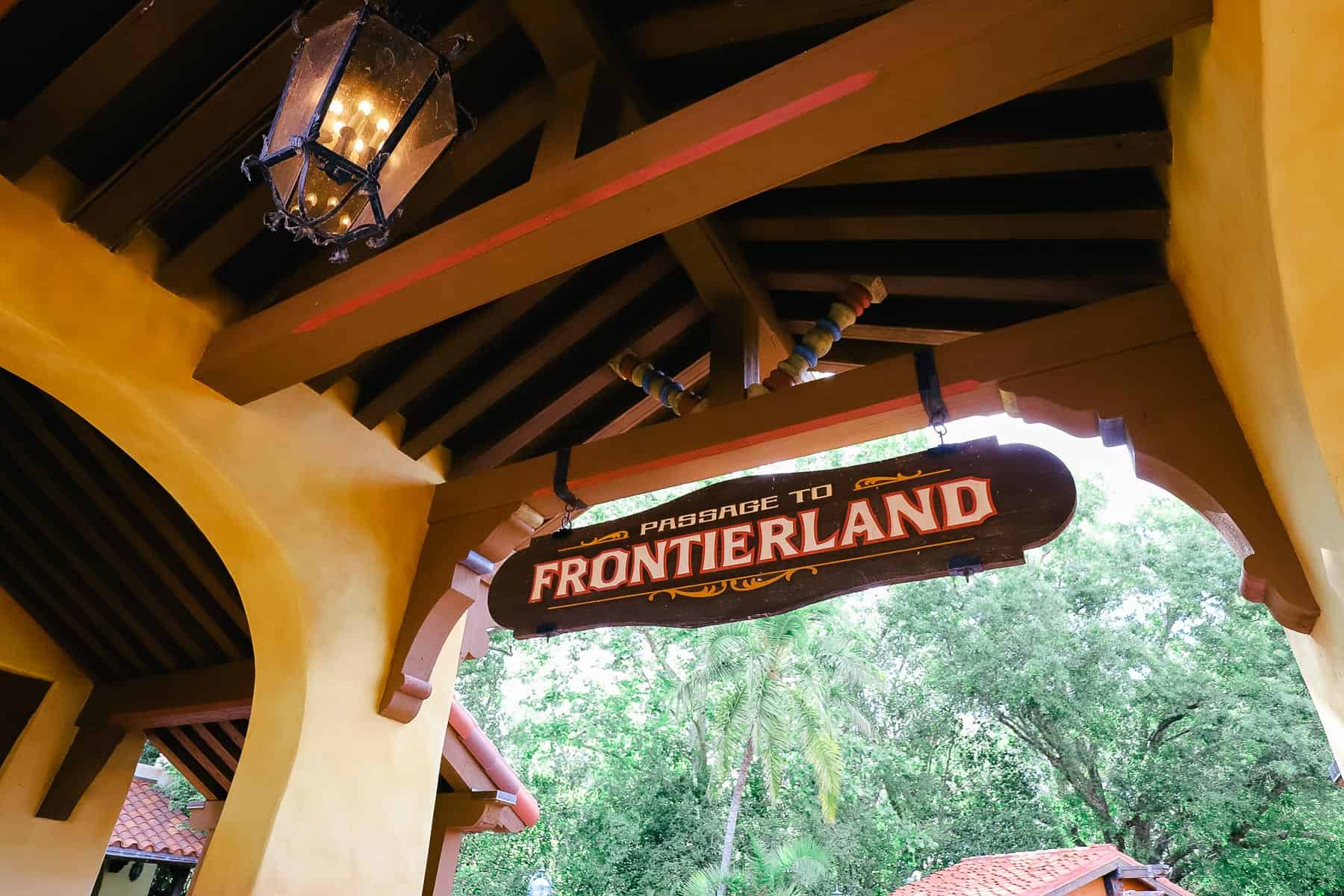 Frontierland Rides
Frontierland has a few attractions that are good for everyone. However, one ride will have a height restriction, Big Thunder Mountain Railroad.
Additionally, Tiana's Bayou Adventure will likely have a height restriction when it opens since it will use the same track as the former Splash Mountain.
Big Thunder Mountain Railroad
Big Thunder Mountain Railroad is an attraction near and dear to many of us. It's a ride that makes you feel like you're in one of those Walt Disney World commercials you see on television.
This fun roller coaster has a 40″ height requirement. While riding Big Thunder Mountain Railroad, you can expect to encounter sharp turns, sudden stops, and drops. However, the drops are mild compared to a larger roller coaster like Expedition Everest at Animal Kingdom.
From my experience, Big Thunder Mountain is the kind of ride that makes you laugh. Its runaway trains will have you agreeing–It's the wildest ride in the wilderness!
Related: Big Thunder Mountain Railroad at Magic Kingdom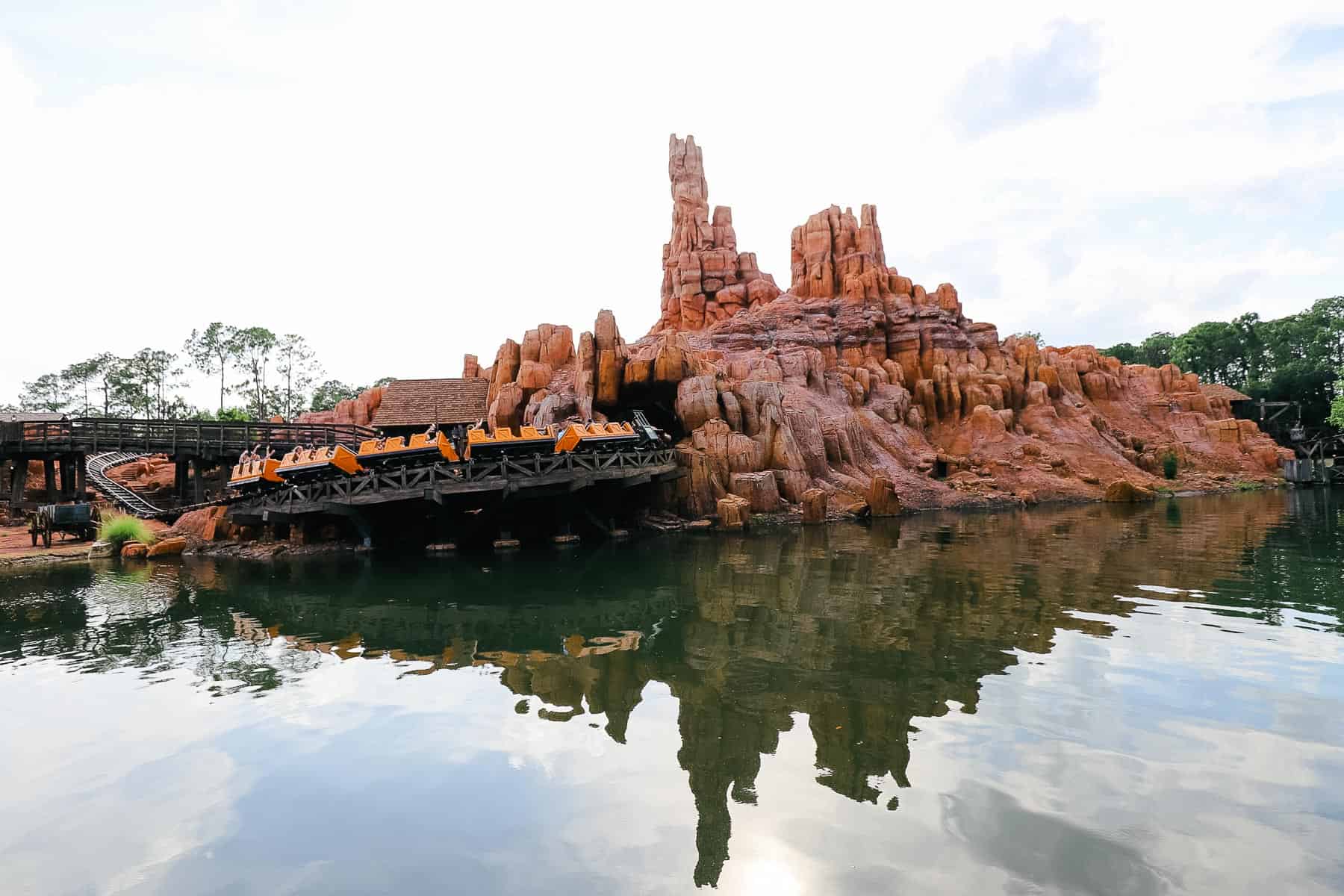 Country Bear Jamboree
Our next Frontierland attraction is the Country Bear Jamboree. This is an audio-animatronic show performed in a dim theater known as Grizzly Hall.
Country Bear Jamboree is one of those attractions you might want to keep in mind in the event of inclement weather or if you need a break. The performance has a duration of approximately 16 minutes. Therefore, the longest wait should be for the next show to begin.
During the show, you will see eighteen backwoods bears performing a number of tunes. Walt Disney inspired this unique performance, initially conceived to be implemented in a ski resort that never came to fruition.
Related: Country Bear Jamboree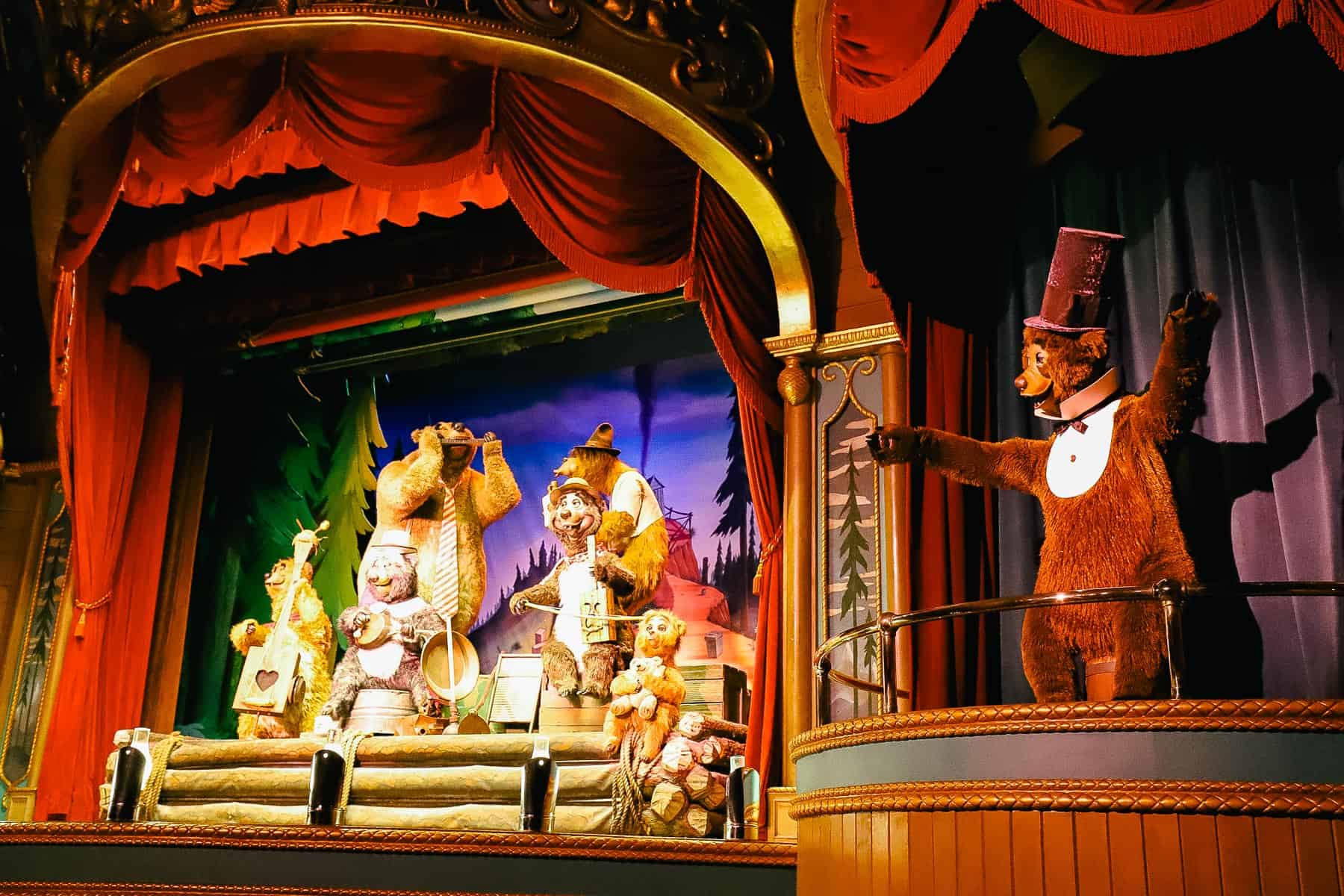 Frontierland Shootin' Arcade
Frontierland Shootin' Arcade is the first attraction you'll encounter when entering Frontierland from Liberty Square. This fun experience is a rifle range.
Guests can shoot a real rifle at interactive targets. However, it's important to mention that the rifles fire an invisible beam of safe infrared light. No pellets or other projectiles are used.
Frontierland Shootin' Arcade's backdrop is the famous Boot Hill cemetery in Tombstone, Arizona. Formerly, a small fee was charged, but now the experience is free.
Related: Frontierland Shootin' Arcade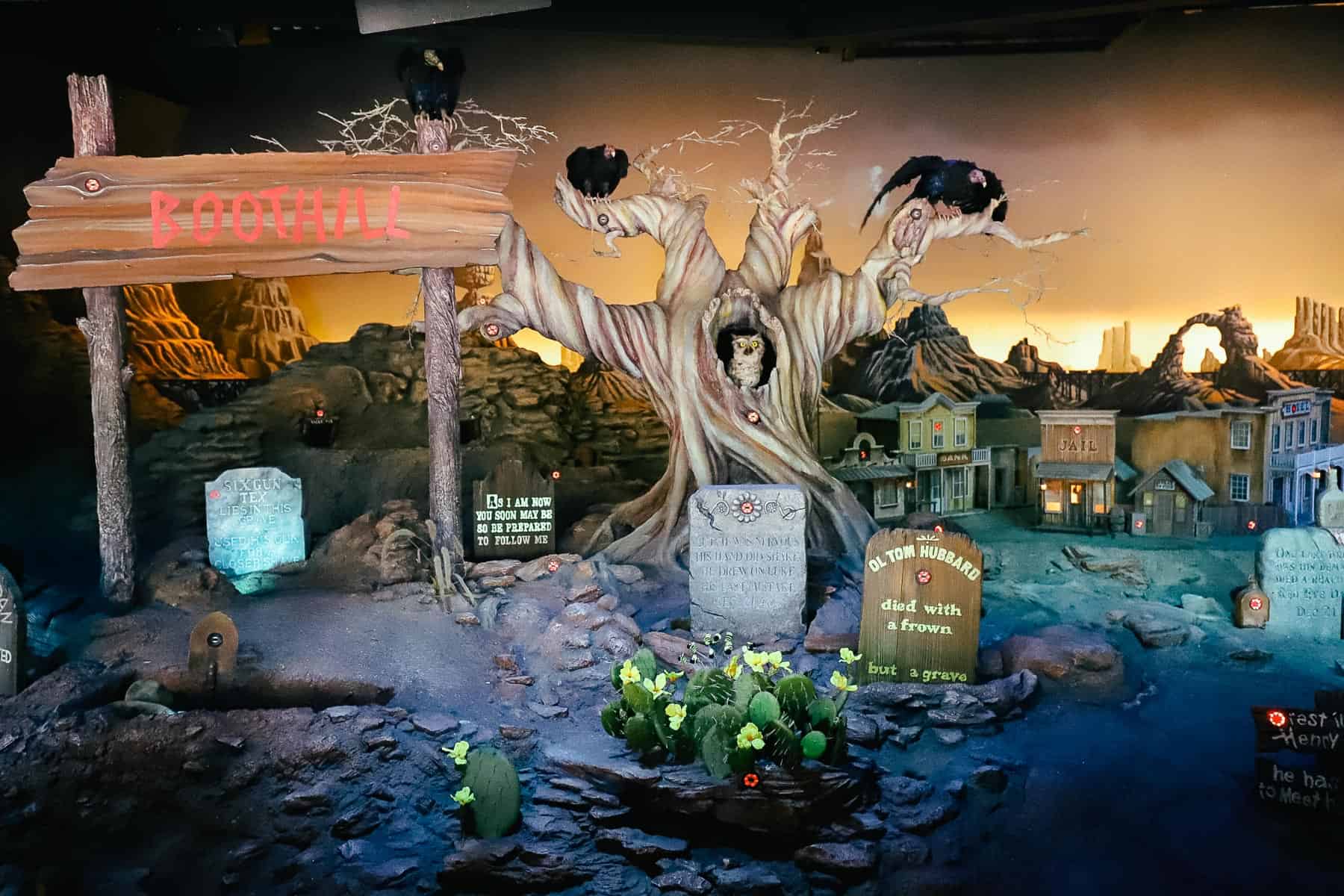 Tom Sawyer Island
Tom Sawyer Island is an almost anytime attraction in Frontierland, except evening time. This attraction closes at dusk.
Guests will board a river raft and cross the Rivers of America to visit Tom Sawyer Island. There, guests can participate in several activities, including trails, a suspension bridge, a barrel bridge, a hidden fort (Fort Langhorn), and more.
While this attraction is for everyone, there are a few things you need to know before heading over:
You must board a log raft and sail over to access the island.
The raft does offer wheelchair access, but you must be ambulatory to get around various parts of the island.
Ultimately, Tom Sawyer Island is worth exploring if you've never visited and love the outdoors. However, it takes some time to explore everything. So it might not be the best time investment when you only have one day to spend at Magic Kingdom.
Related: Tom Sawyer Island at Magic Kingdom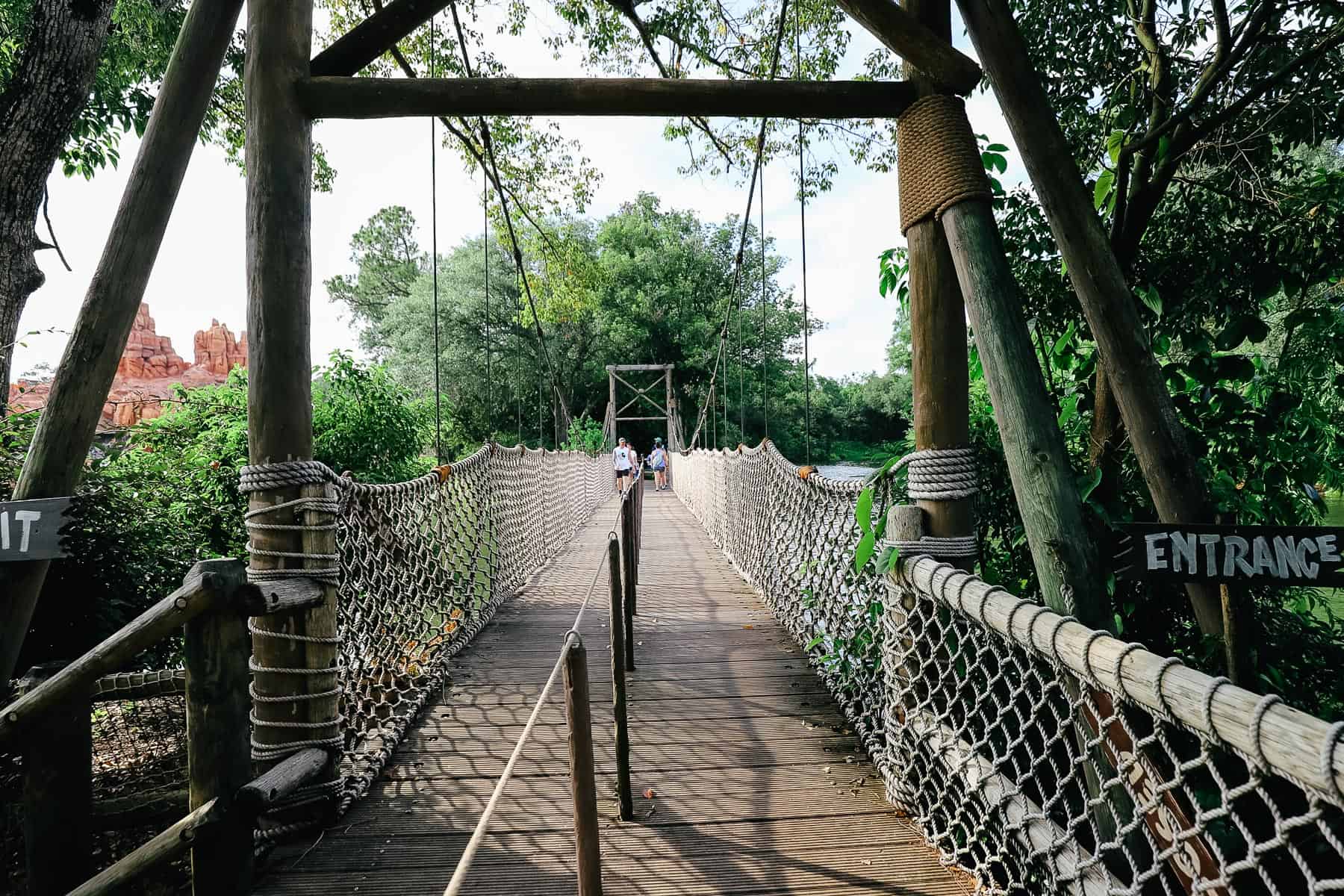 Frontierland Station at Disney World
Frontierland Station is one of three stops on the Walt Disney World Railroad. The train travels in a large loop around the outskirts of Magic Kingdom.
Stops include Main Street Station, Frontierland Station, and Fantasyland Station in Storybook Circus. If you need a break, the train is an excellent place to relax. Grab a bottled soda or water and stay on board until you're ready to hit the park again.
Related: Frontierland Station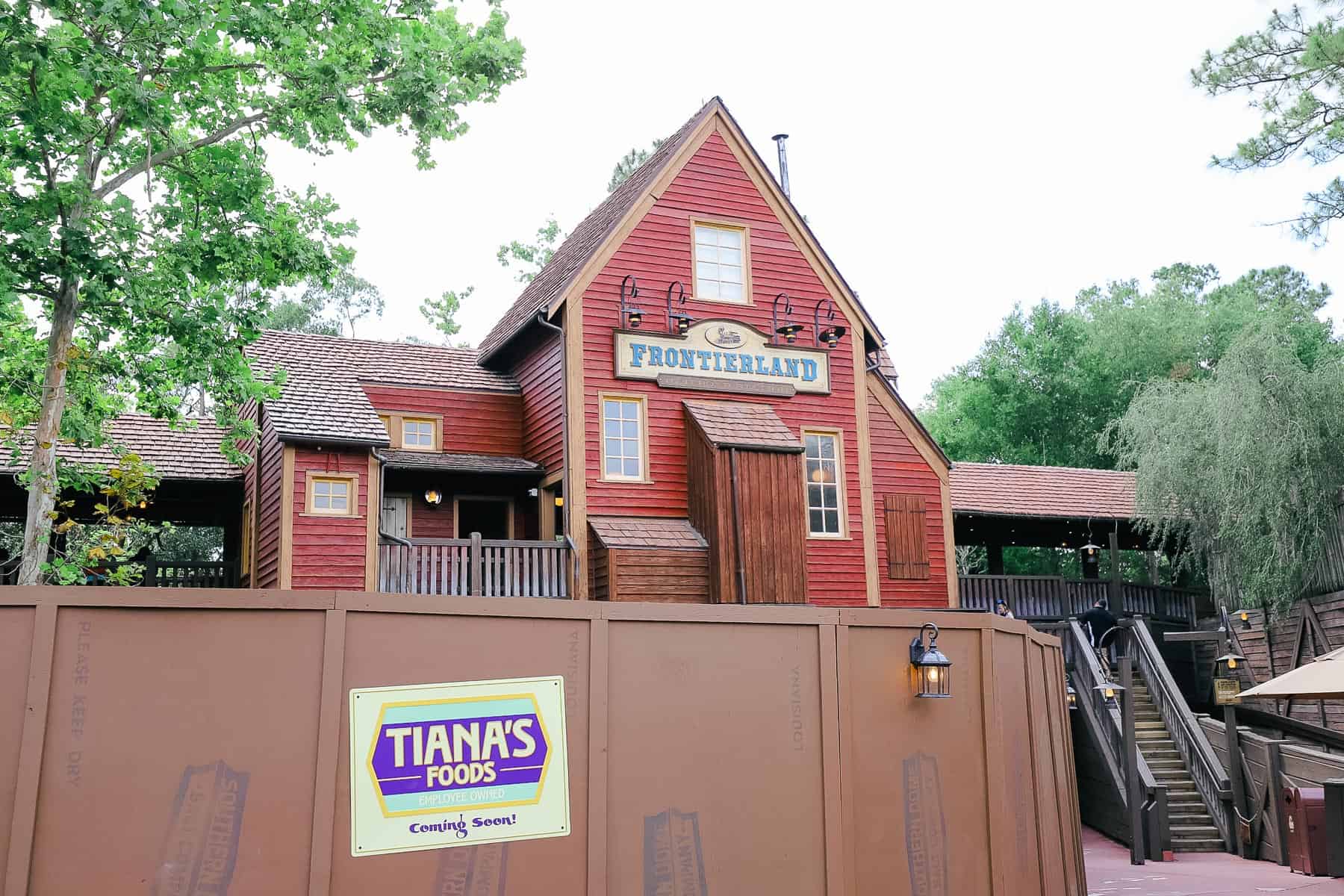 Tiana's Bayou Adventure
Tiana's Bayou Adventure is currently under construction at Magic Kingdom. Formerly, this location was home to Splash Mountain, the home of Brer Rabbit, Br'er Bear, Br'er Fox, and more.
Guests would travel through the story of The Song of the South and eventually make their way down a five-story drop into the briar patch. Thankfully, they ended up in the laughing place.
Due to dehumanizing issues (namely, enslaved people being portrayed joyfully), Disney has eradicated almost all ties to the film, including Splash Mountain.
In its place, Tiana's Bayou Adventure will feature more characters that we all know and love from Disney's animated film The Princess and the Frog. Expect to learn more in 2024!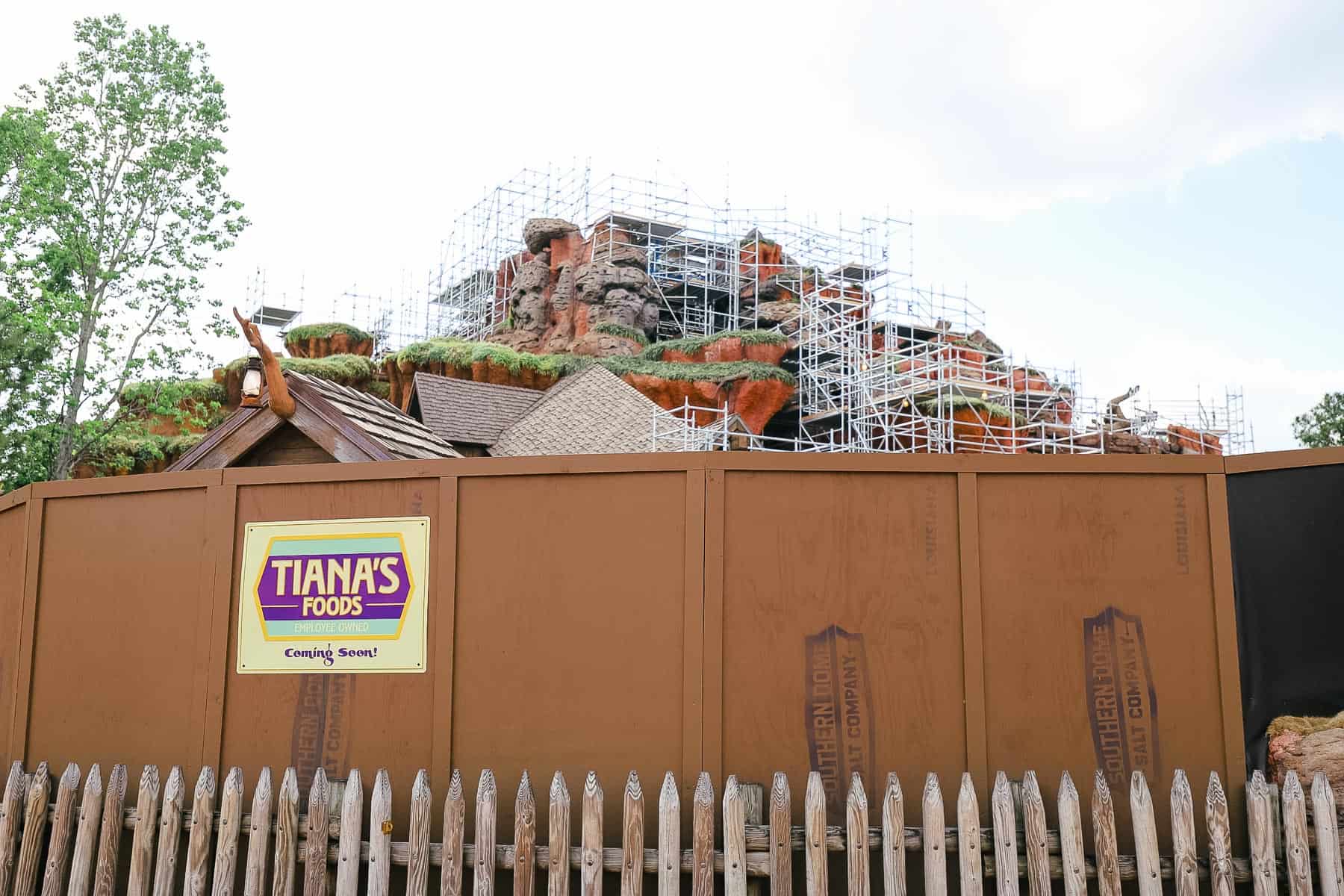 Frontierland Character Meet-and-Greets
Frontierland doesn't have any traditional character meet-and-greets at this time. However, you can find several characters roaming the land.
Country Bears
For example, the Country Bears roam Frontierland daily. You might find them roaming at any given time throughout the day. They are often in the area near Country Bear Jamboree.
Usually, we see Big Al, Wendell, Liver Lips McGrowl, and Shaker. These fun-loving bears do not sign autographs but will pose for a photo if you ask nicely.
Related: Meet the Country Bears at Magic Kingdom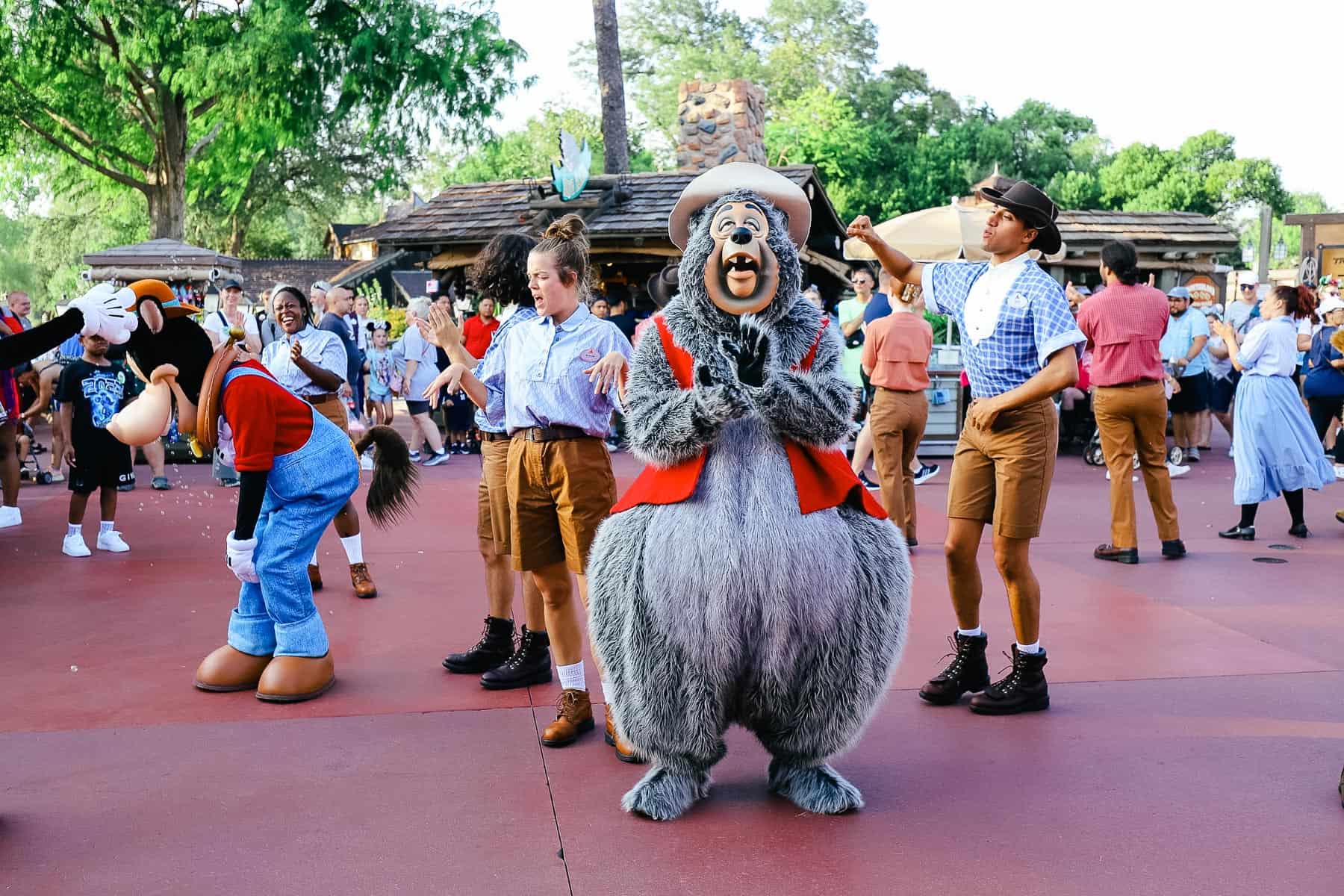 Frontierland Hoedown
Occasionally, you might encounter the Frontierland Hoedown while you're in the old west! However, this is more of a flash mob type of event that's not listed on any schedule.
On a recent visit, we ran into the Fronierland Hoedown toward the end of the afternoon before sunset. Cast members and characters gathered in the middle of the main walkway and performed three songs with dances.
Guests are invited to join in on the fun. This afternoon, we saw a few rare characters like Clarabelle Cow, Horace Horsecollar, and more!
Related: Frontierland Hoedown at Magic Kingdom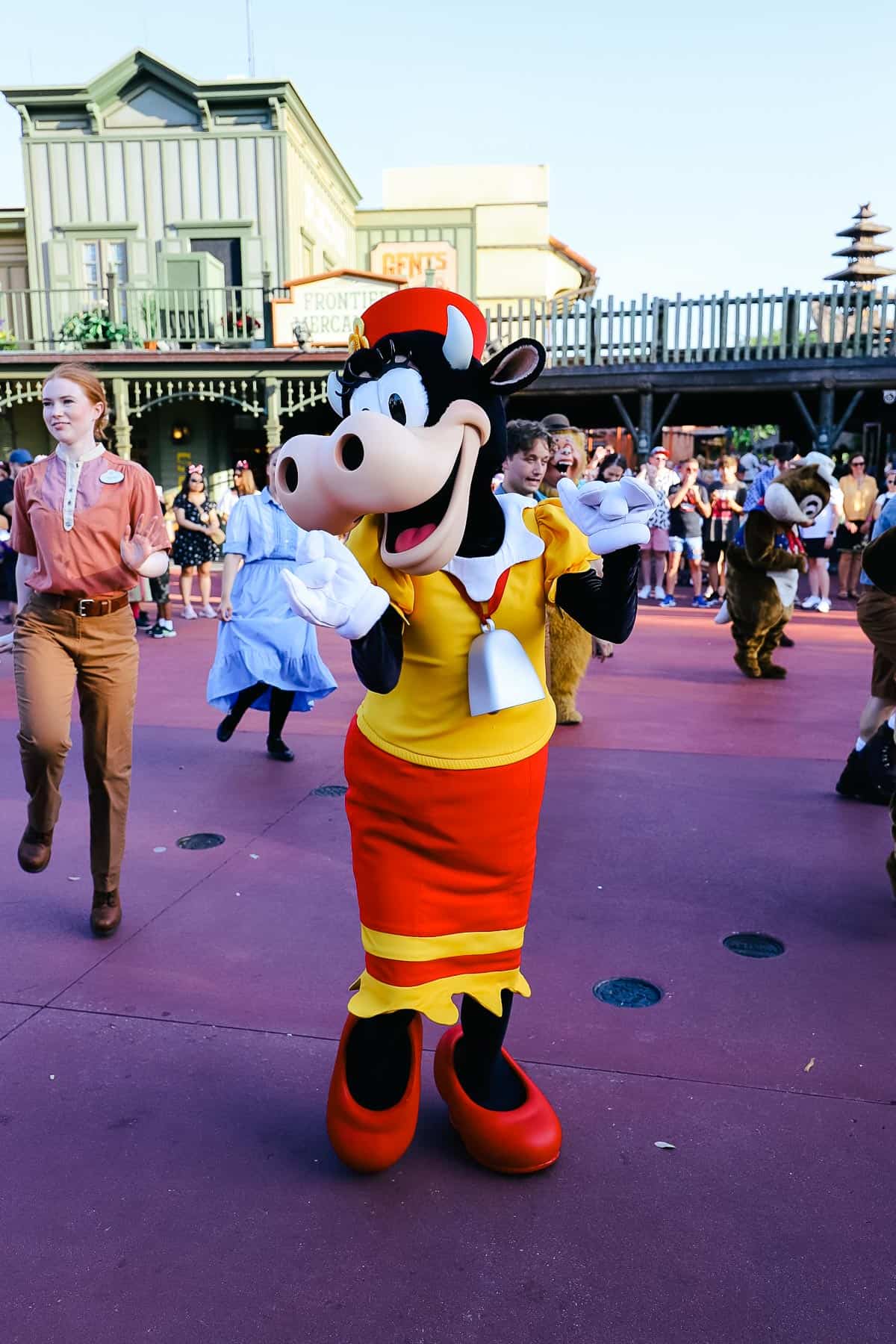 Frontierland Dining Options
Dining is probably not Frontierland's strongest suit, but the land still has a few options.
Golden Oak Outpost
Golden Oak Outpost sits on the outskirts of Frontierland. It's located right outside the back entrance to Adventureland.
This quick service location serves lunch and dinner. It has a walk-up window where you can order and pick up food. Seating is available nearby at either Pecos Bills or Tortuga Tavern in Adventureland.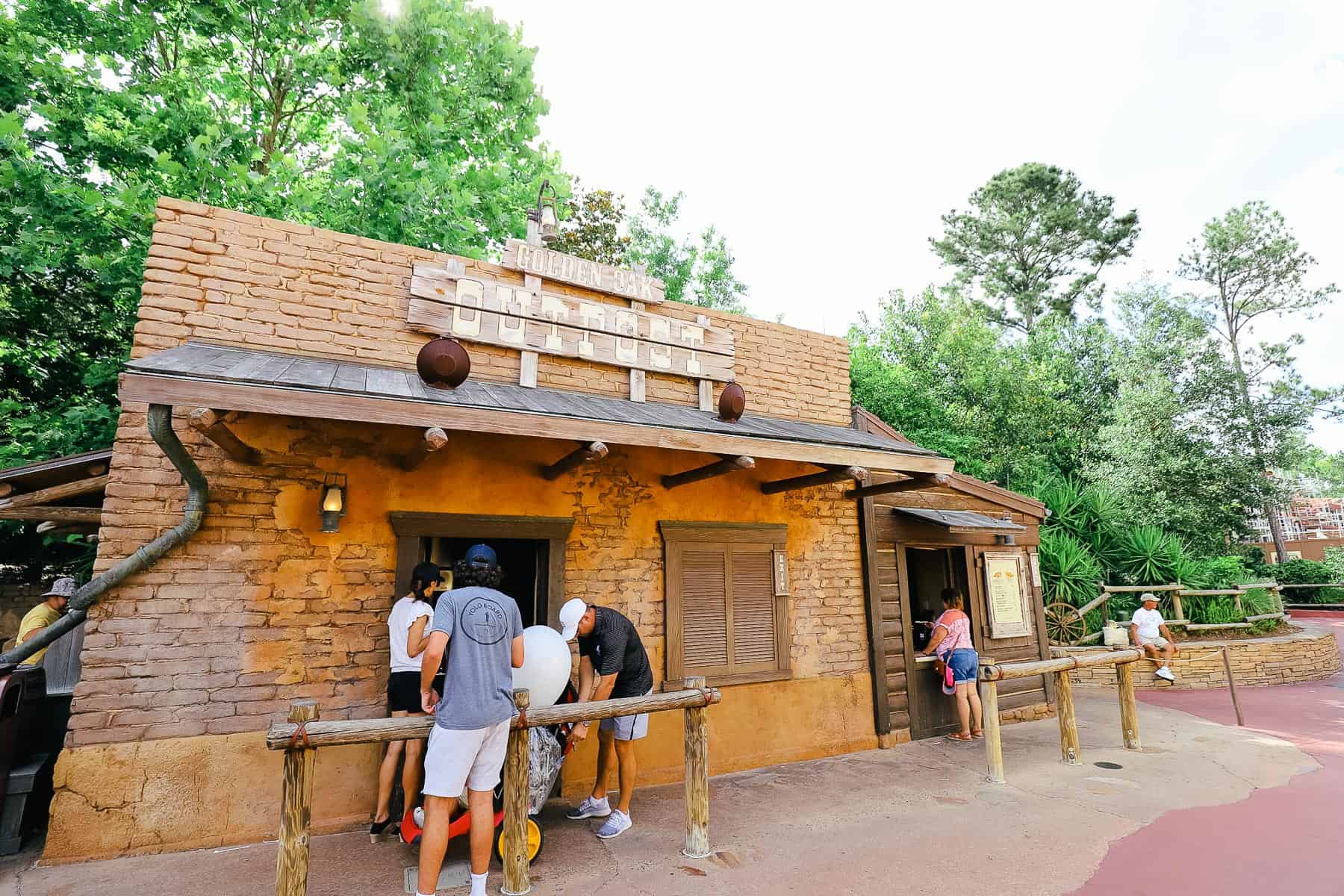 This location is popular because of unique items like loaded chicken strips and chili-cheese fries. In addition, you can get regular chicken strips with waffle fries or a fresh-baked chocolate chunk cookie. A few refreshments are available.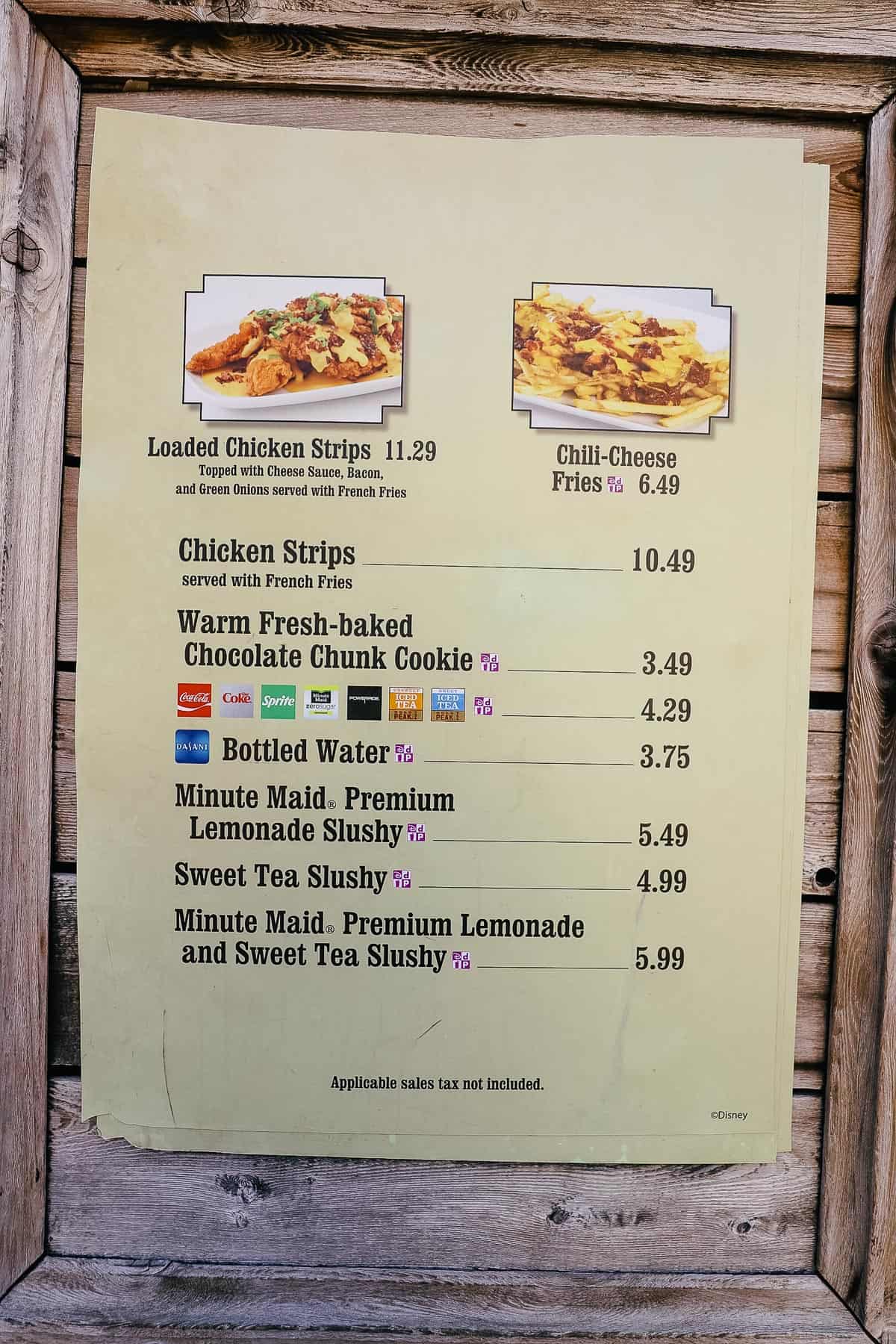 Pecos Bill Tall Tale Inn and Cafe
Pecos Bill Tall Tale Inn and Cafe is Frontierland's significant counter service dining location. This dining establishment features classic South West flavors and a few traditional items.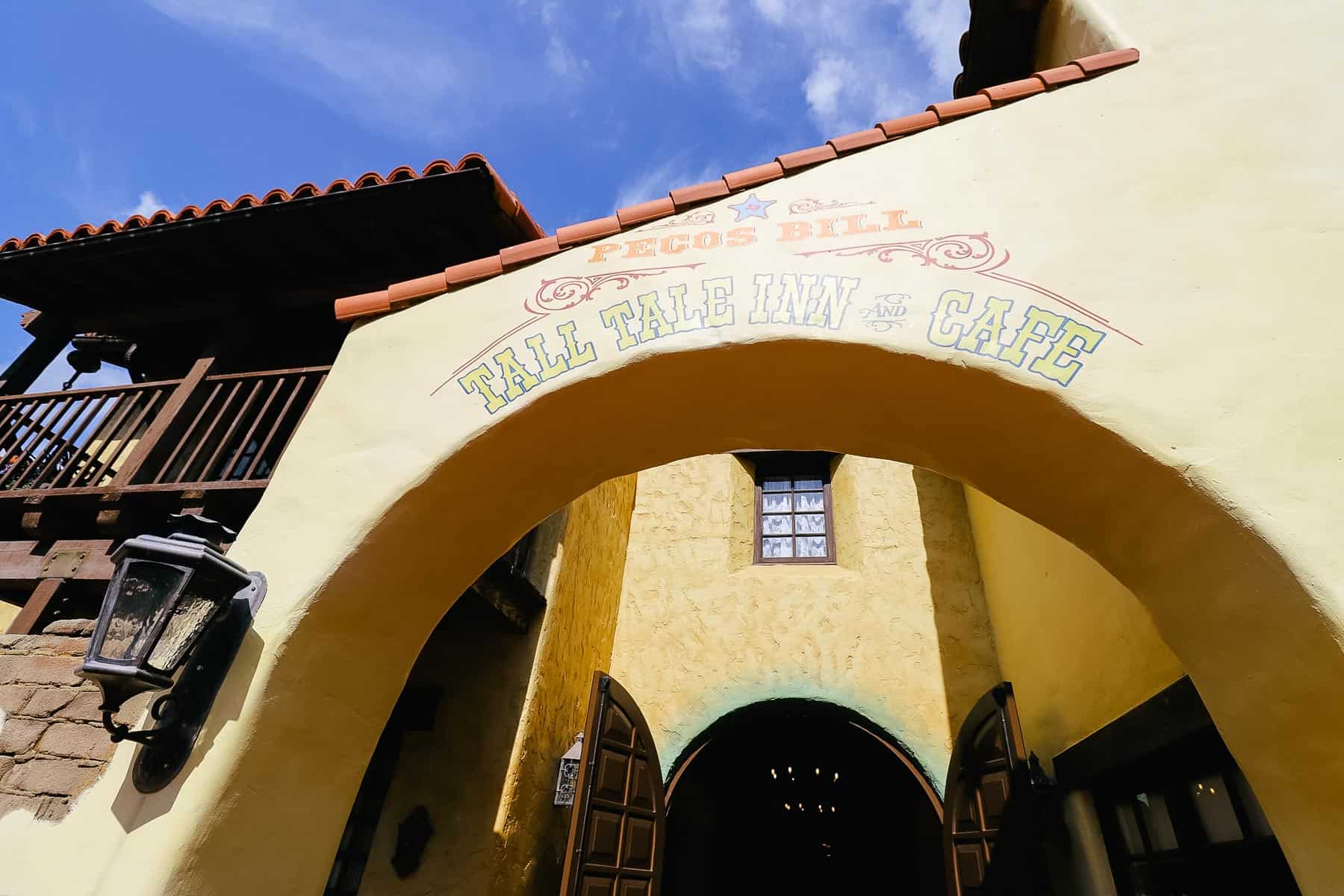 We previewed the menu on our last visit and found a fajita platter, salads, beef nachos, and a veggie rice bowl. (You can get those beef nachos with chicken or plain.)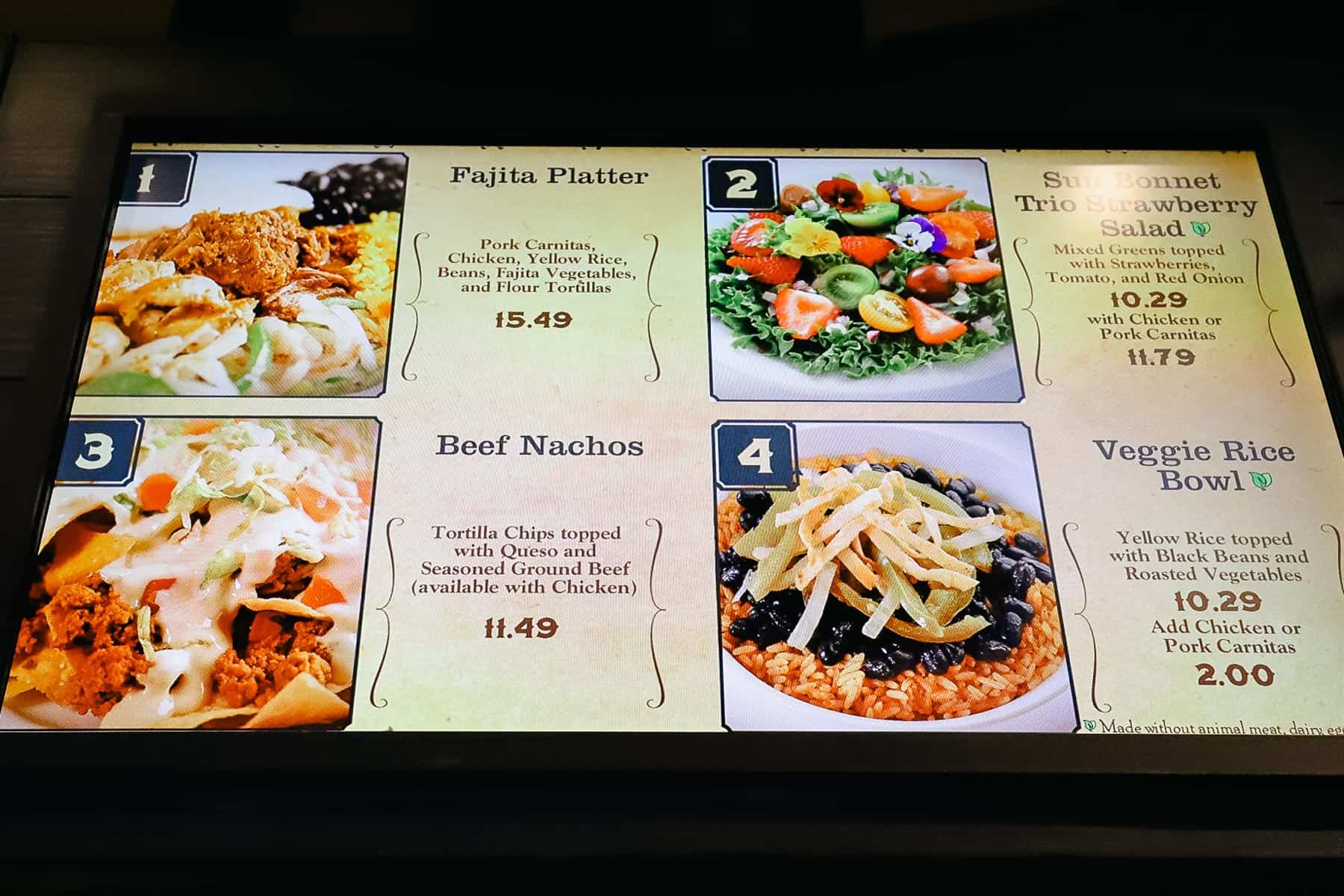 They also had a double bacon barbecue cheeseburger and a taco trio.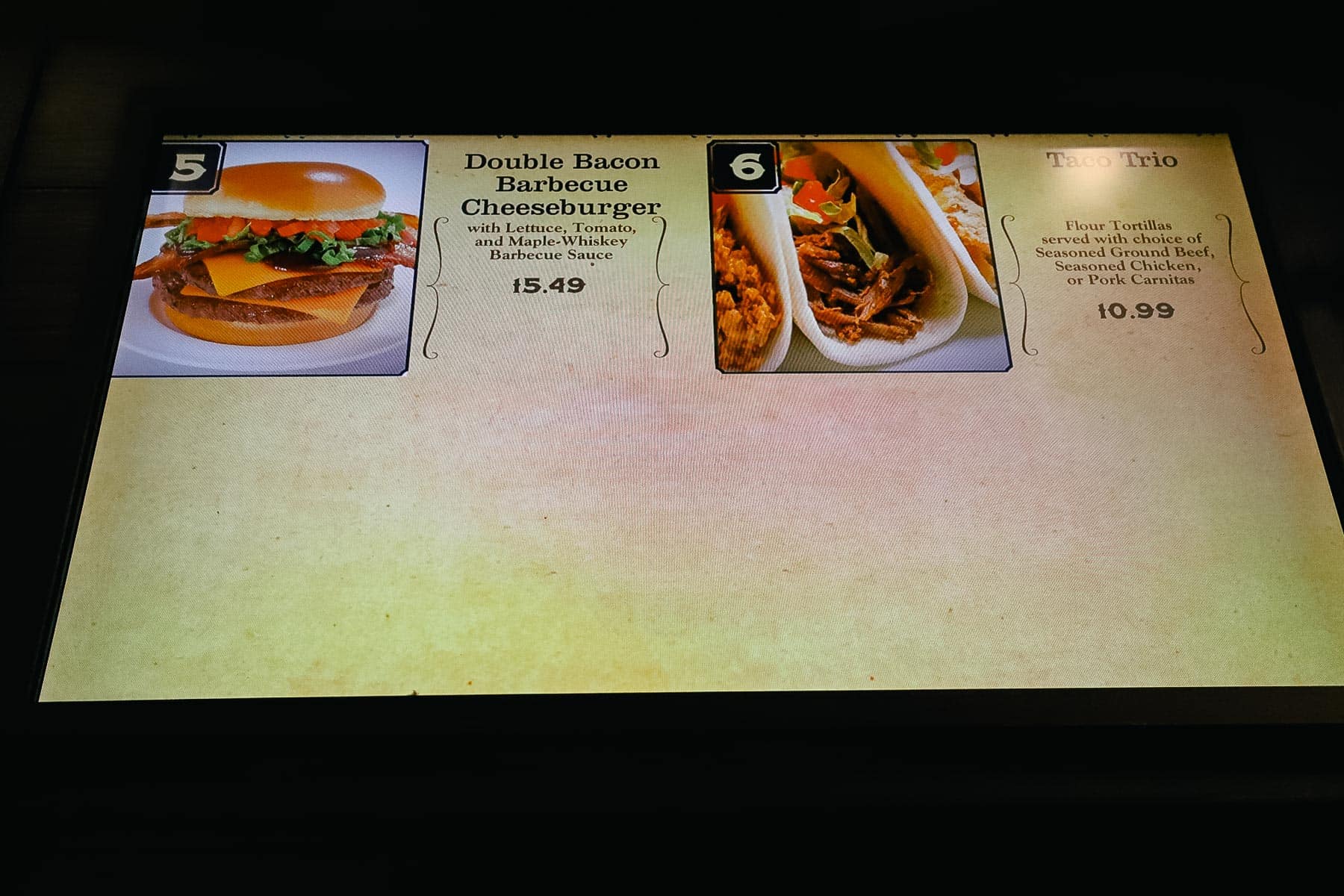 Kids' meals include tacos, bowls, burgers, and macaroni with cheese.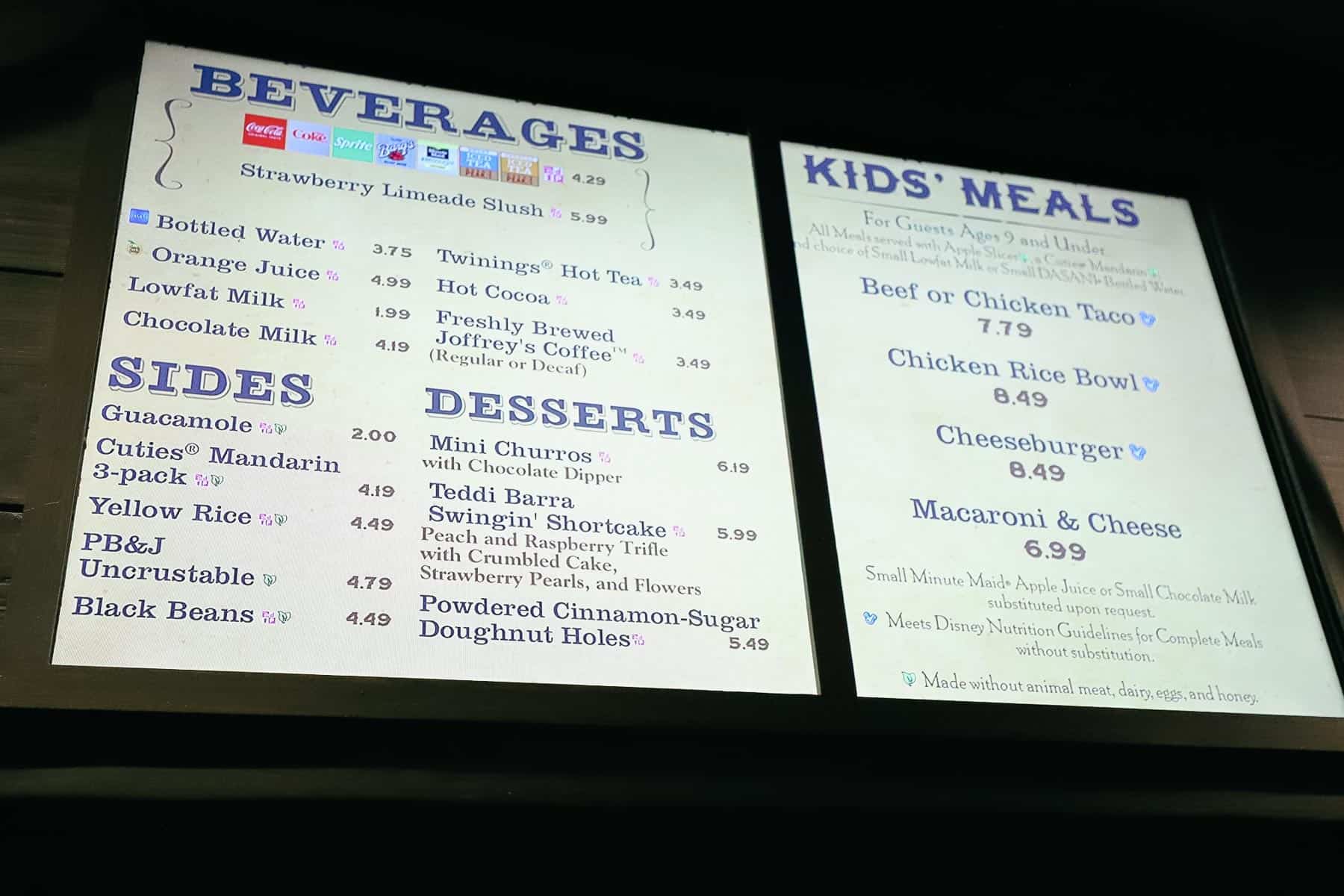 Westward Ho
Westward Ho sits on the main thoroughfare of Frontierland. This kiosk is a great place to refill your popcorn bucket before the parade.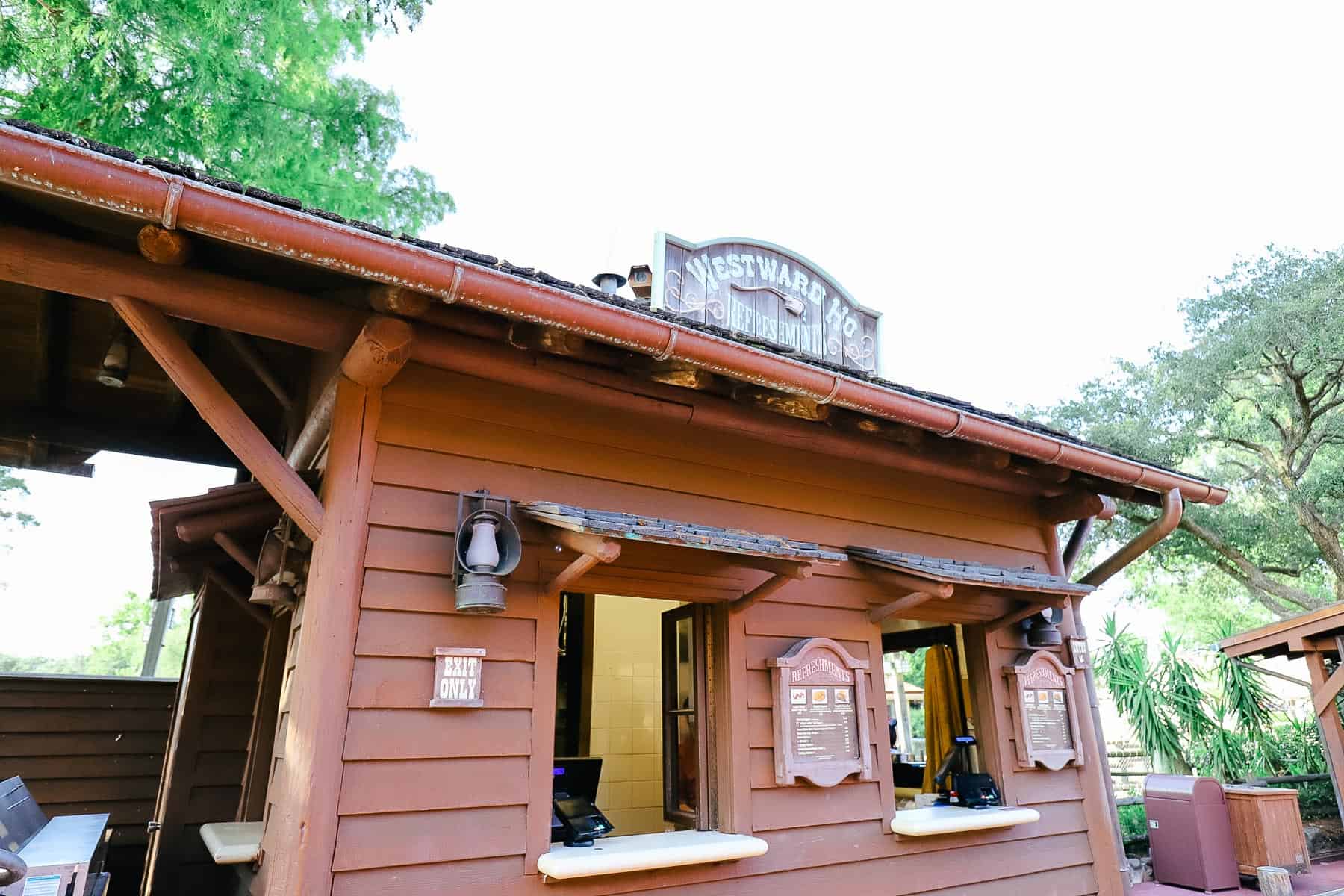 Other refreshments include candied bacon skewers with chips, jalapeno poppers, Wendell's bear claws, or a frozen coke or lemonade slushy.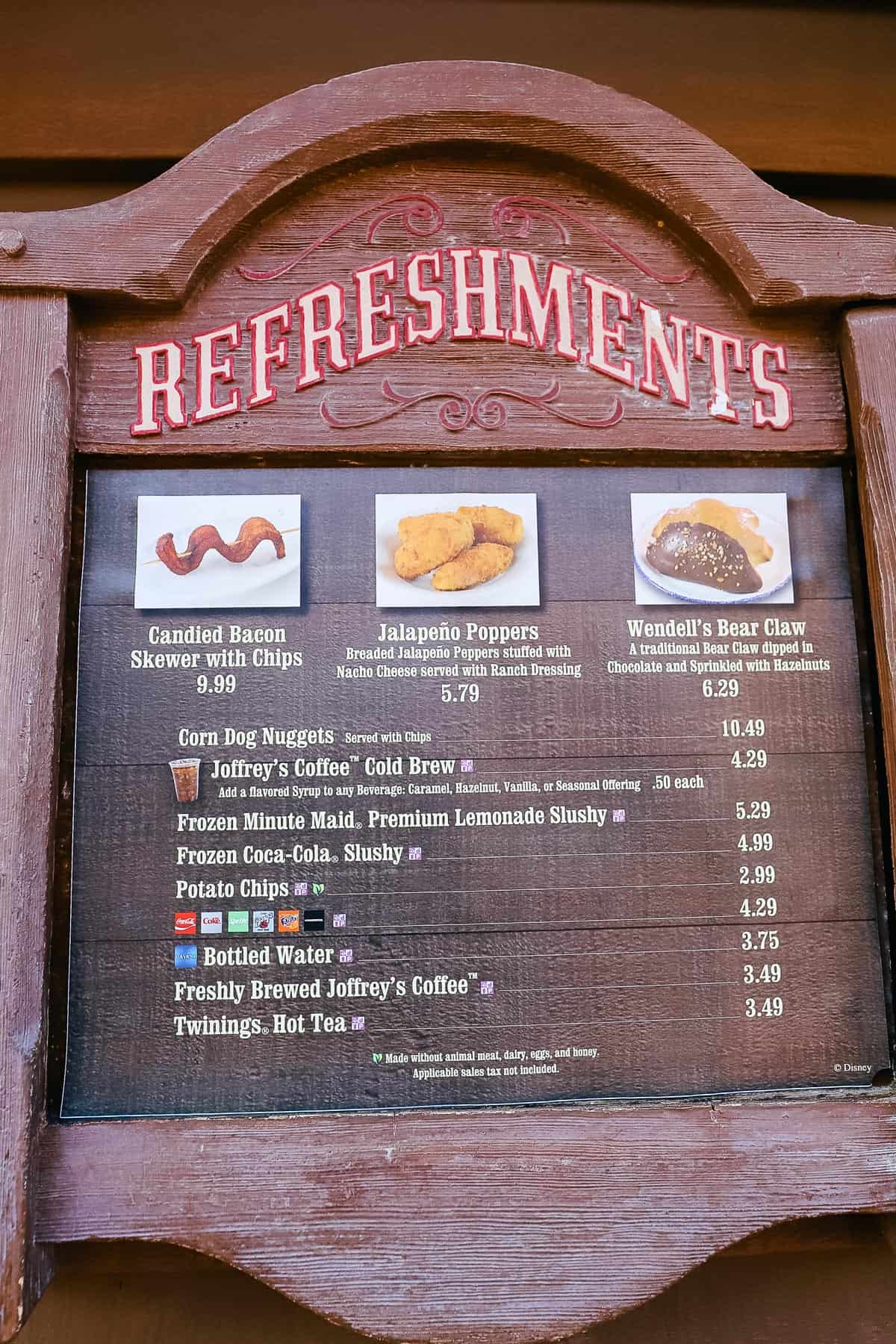 Pretzel and Churro Cart
Additionally, Frontierland has another cart with pretzels and churros. Specifically, you can get a Mickey-shaped pretzel, pepper jack pretzel, or an order of churros with chocolate dipping sauce.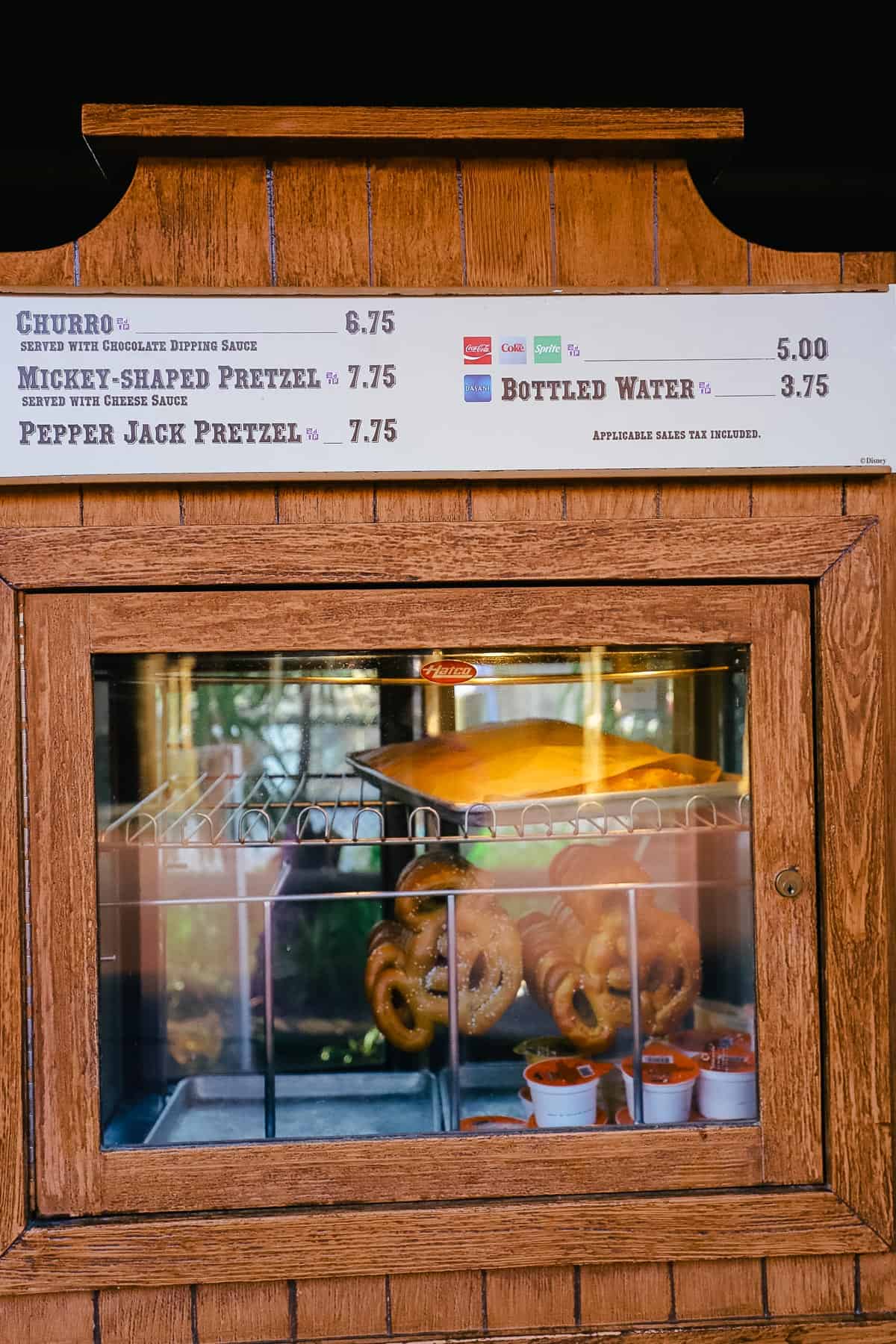 For more dining details, we have a list of Disney Restaurant Reviews. We recommend planning at least one character dining meal and one signature dining reservation during your trip.
Frontierland Shopping Locations
When it comes to merchandise, Frontierland is lacking, even more so in recent years. However, there are a few places you might like to browse while you're in the area.
Big Al's
Big Al's is a kiosk-style souvenir stand selling coonskin caps (think a raccoon wrapped around your head) and other novelty items.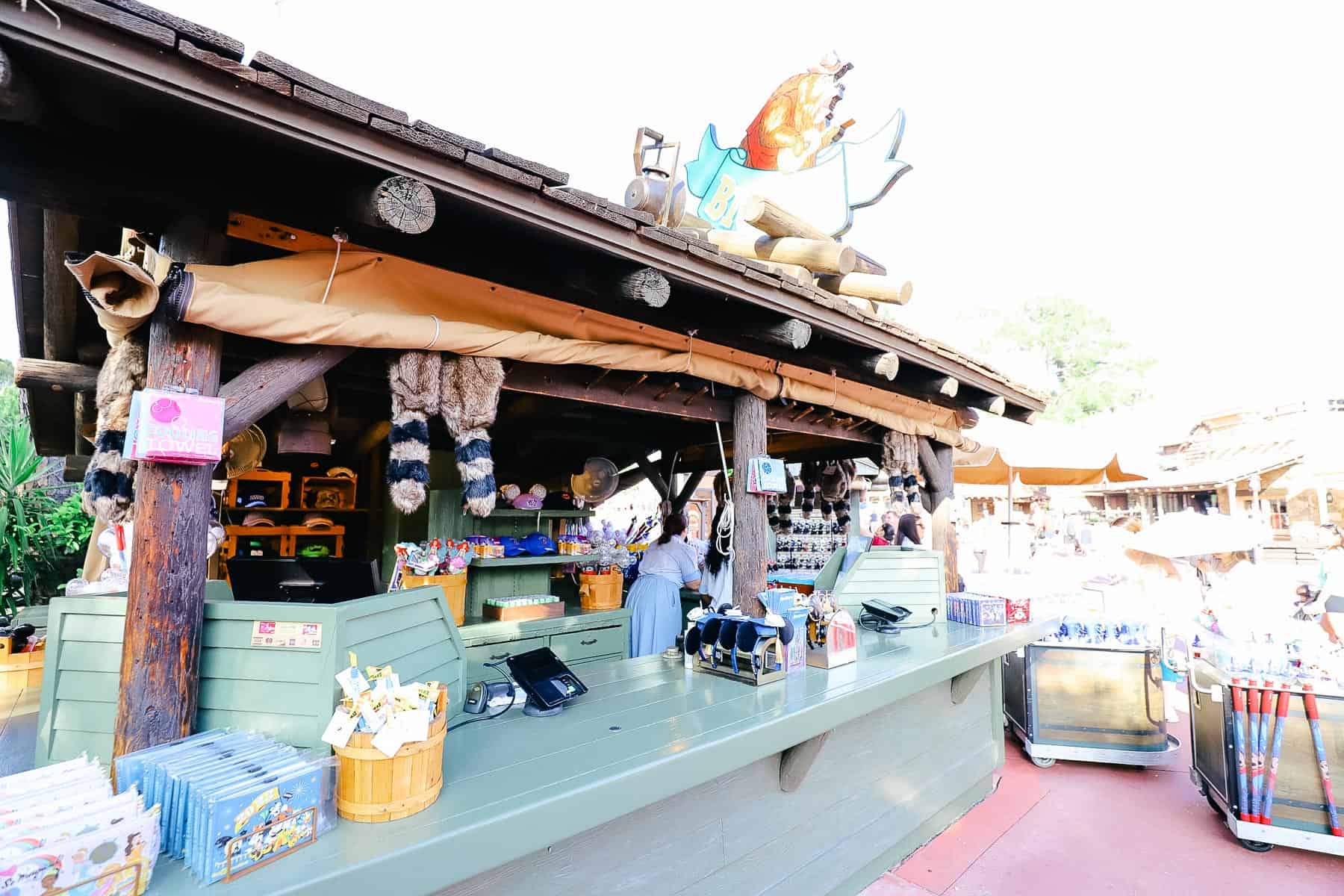 Here are a few of those coonskin caps now.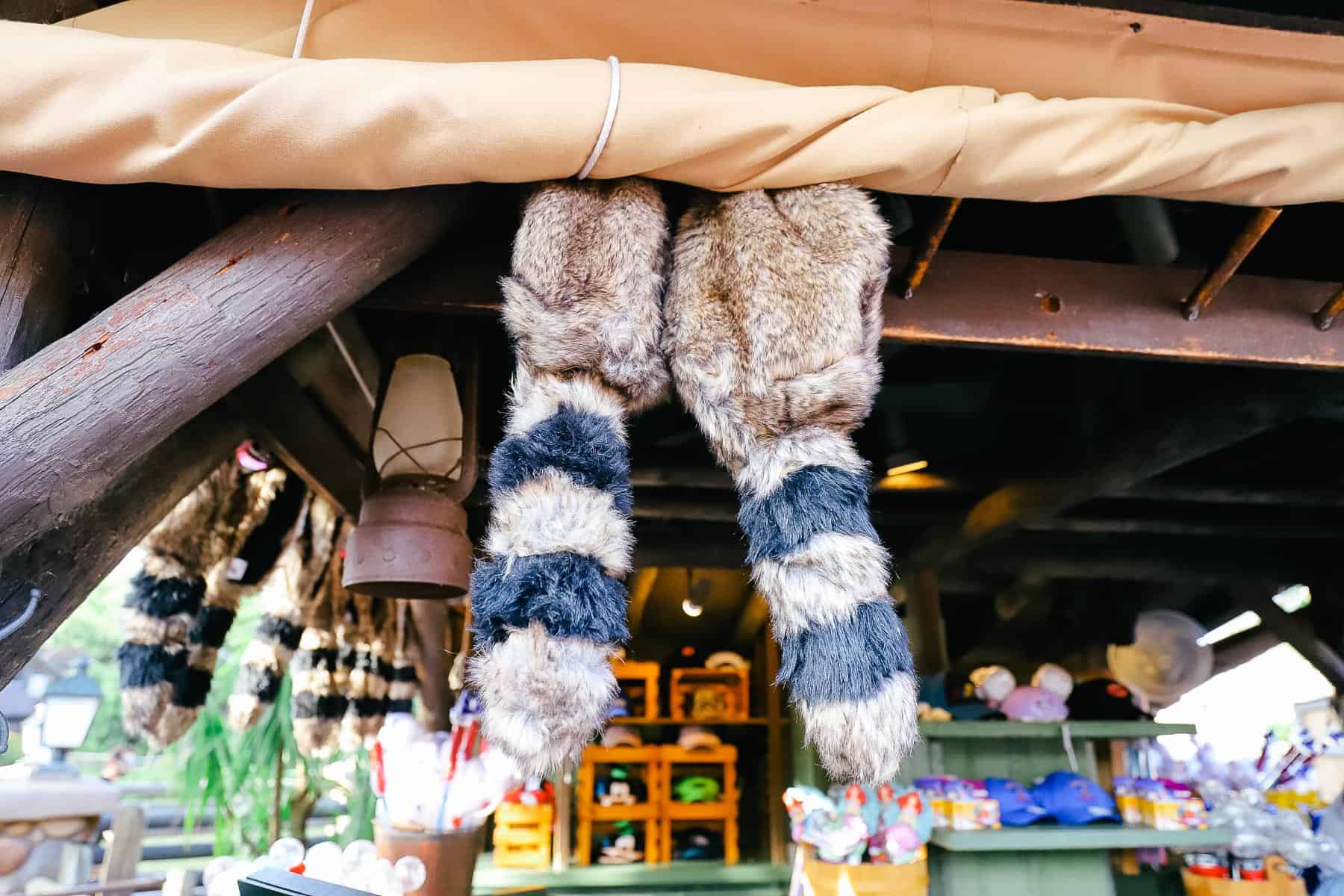 Frontier Trading Post
Frontierland Trading Post is a place to pick up souvenir pins.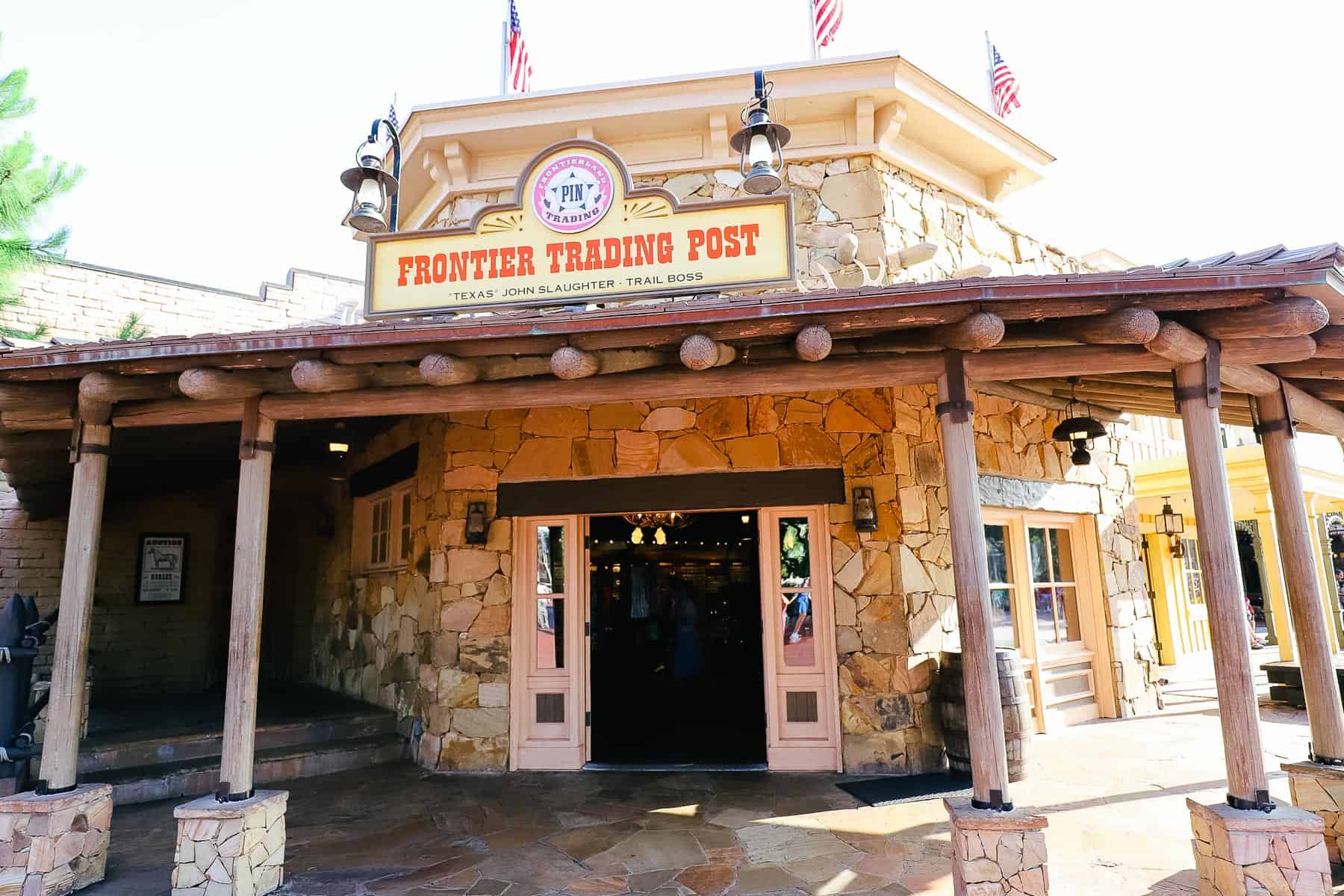 During this visit, I took a few photos to give you an idea of the pin selection.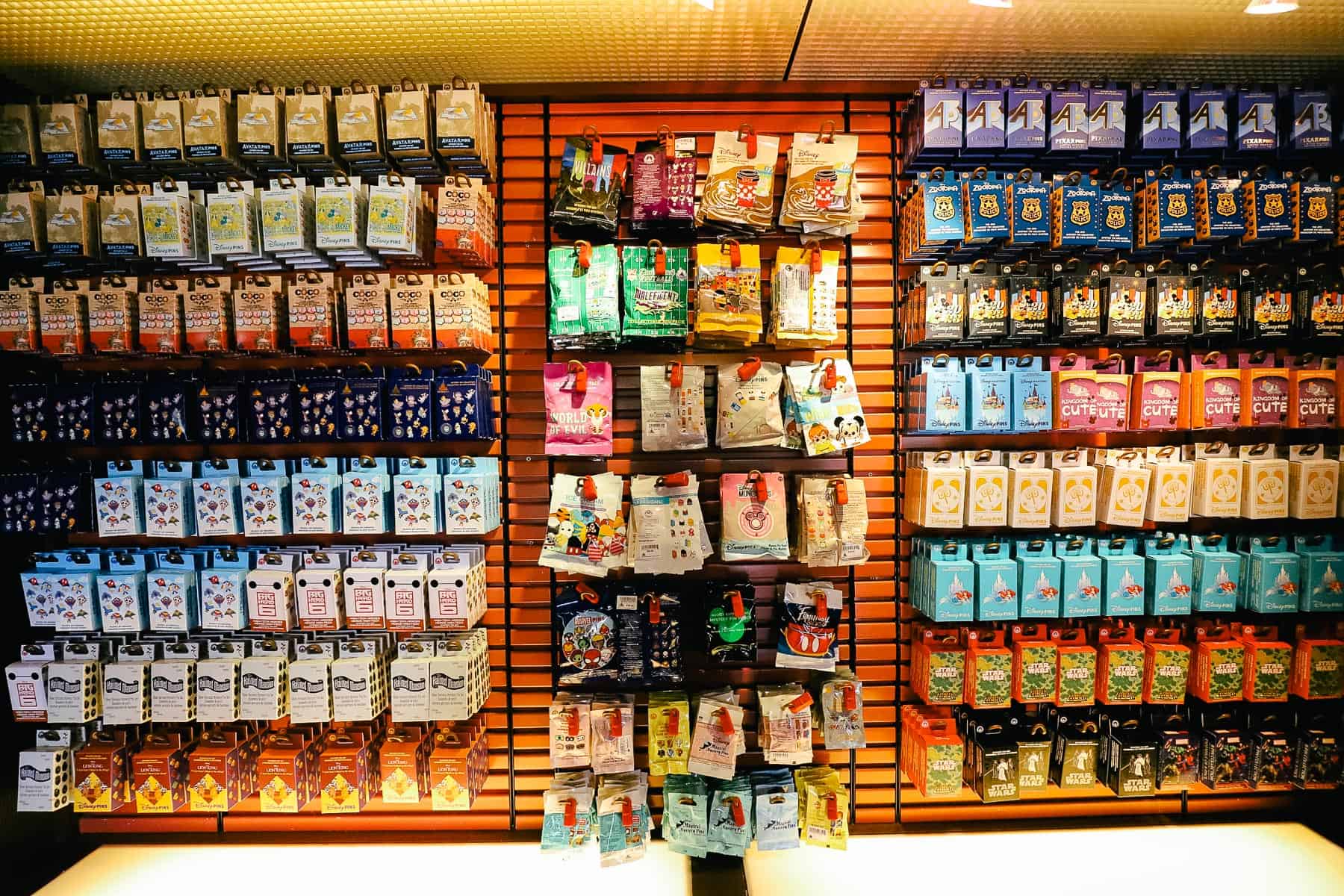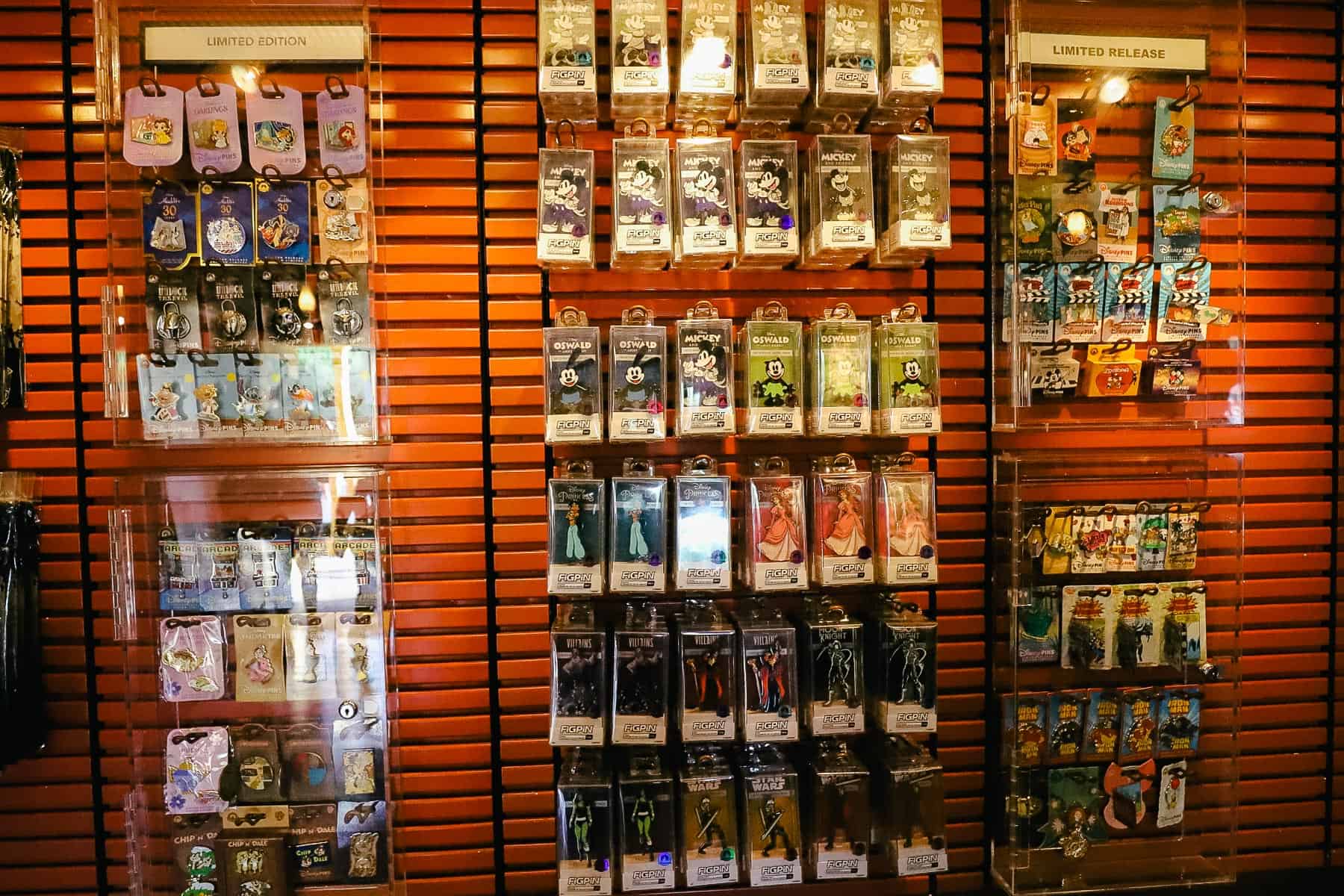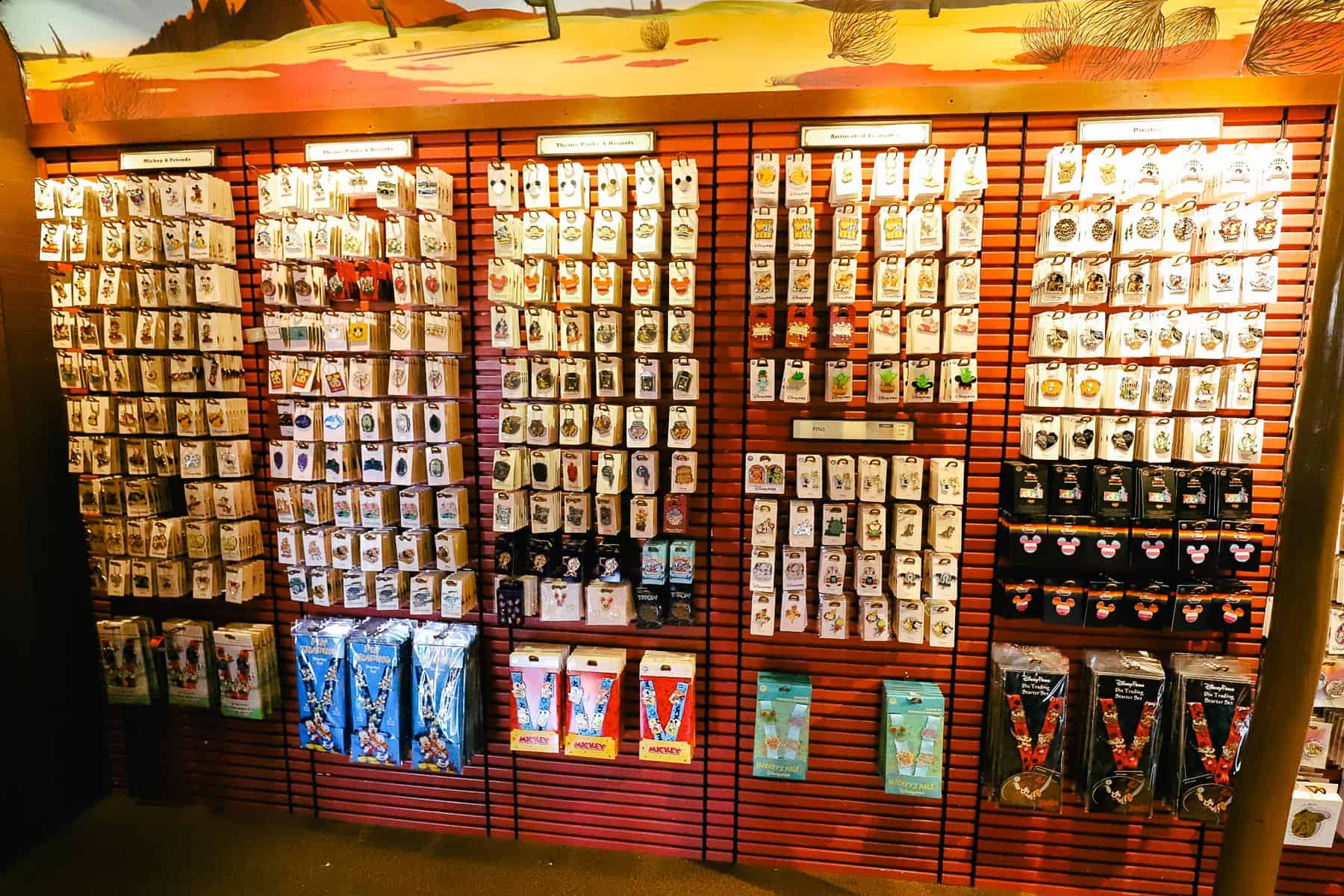 Prairie Outpost and Supply
On the opposite side of Frontier Trading Post, the shop runs into Praire Outpost and Supply. This shop used to have snacks like candy and other treats.
Unfortunately, it's now only more pins, hats, and rocks.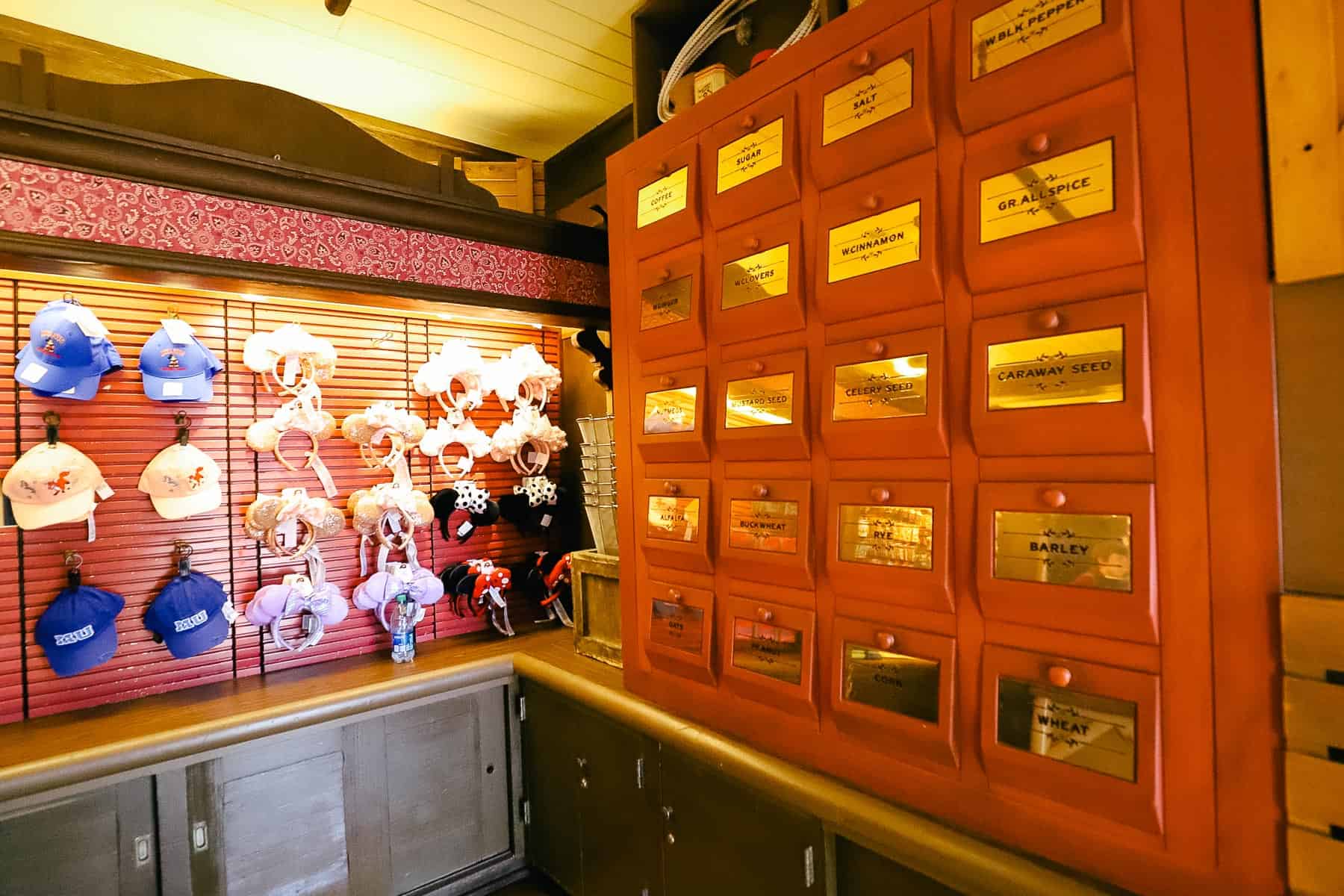 Entertainment in Frontierland
Lastly, while not an entertainment option specific to Frontierland, it's important to note that the Festival of Fantasy Parade steps off in Frontierland. Additionally, this is where all cavalcades and seasonal parades begin.
Below is a photo of the Tangled unit as it comes through Frontierland. While this isn't our favorite place to watch the parade, it still has perks. For instance, as soon as the parade passes, you can easily ride a nearby attraction with little to no wait.
Since the main walkway to Frontierland and Adventureland is blocked off during the parade, wait times drop at attractions like Big Thunder Mountain, Pirates of the Caribbean, and the Jungle Cruise.
Related: Festival of Fantasy Parade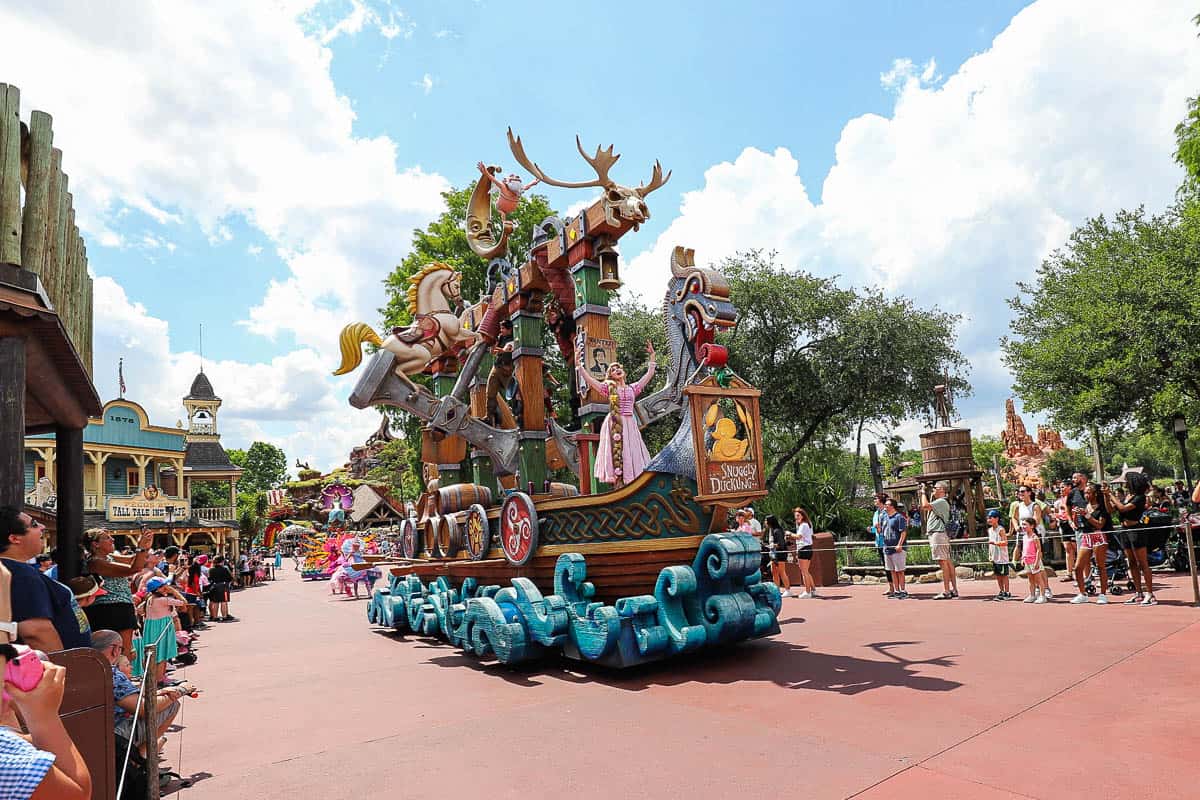 Final Thoughts
Frontierland, the Wild West of Magic Kingdom, is a fun place to spend a little time during the day. Whether you want to escape to an island, watch the parade, or experience the wildest rides in the wilderness, there's something for everyone.
For more information, we have an entire series of Magic Kingdom by land reviews. So far, we've been to:
Resorts Gal specializes in Walt Disney World Resorts, Characters, and Dining. Make sure to check out some of our resources, like the list of Walt Disney World Resorts. Or you might like to browse our Disney World Resort Reviews.
Lastly, our most popular reviews include the best restaurants at Disney Springs, and we keep a timeline of Disney Loungefly mini backpacks.
In the Comments
What is your favorite thing to do in Frontierland? Do you have any questions about this area of the park?