Main Street U.S.A. at Disney World
Main Street U.S.A. is the first place you'll lay your eyes on when you enter Magic Kingdom at Walt Disney World. Disney's Main Street beckons you into the park.
You'll soon have a direct view of Cinderella Castle at the very end of the beloved street. It's common to feel immediately immersed in the magic of Main Street U.S.A.
This article will cover details of Main Street U.S.A., including attractions, dining, and shopping. This is the final post in our series of the different Magic Kingdom lands for those joining along.
Main Street U.S.A. is an extraordinary place in the park. Hopefully, you'll take the time to get to know it a little better when you visit again.
This article was updated on April 18, 2022.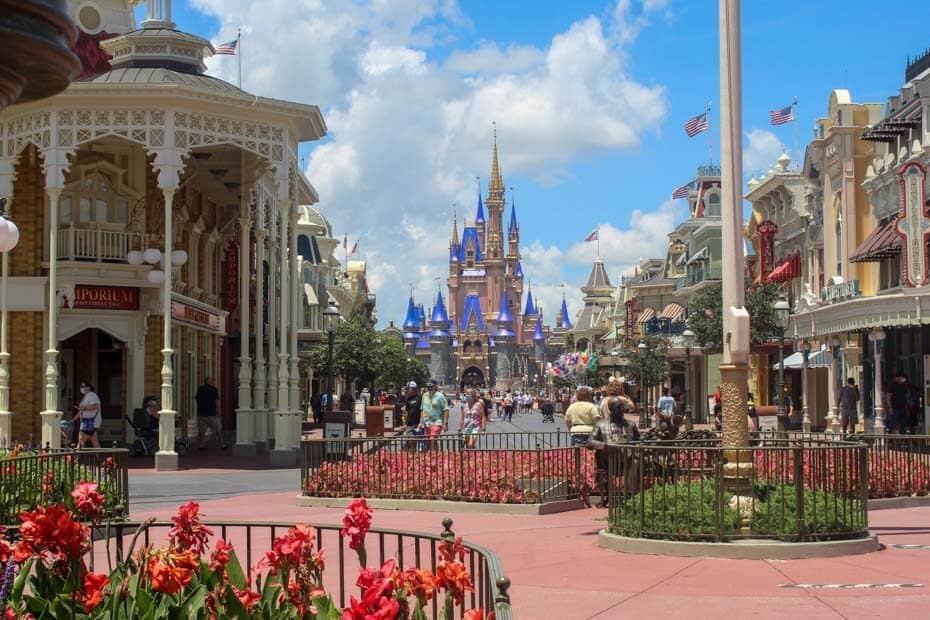 Main Street U.S.A.
As you can see below, Main Street U.S.A. has a lot to offer. With so many things to cover here, I'll focus on the important (need to know) information. Then I'll link to other reviews for more details if you seek additional information.
Below is an overview of what we'll cover:
Attractions
Main St U.S.A. Vehicles
Horses
Walt Disney World Railroad (Temporarily Closed)
Characters
Meet Mickey Mouse at Town Square Theater
Meet Tinkerbell
Meet Snow White
Flagpole Characters
Dining
Casey's Corner
The Crystal Palace
Main Street Bakery
Plaza Ice Cream Parlor
The Plaza Restaurant
Tony's Town Square
Entertainment
Casey's Corner Pianist
Citizens of Main Street U.S.A.
The Dapper Dan's
Flag Retreat
Let the Magic Begin
Main Street Trolley Show
Mickey Royal Friendship Faire
Magic Kingdom Cavalcades
Main Street Philharmonic
Disney Enchantment
Once Upon a Time (Temporarily Unavailable)
Festival of Fantasy Parade End
Retail
Harmony Barber Shop
Box Office Gifts
The Chapeau
Crystal Arts
Curtain Call Collectibles
Disney Clothiers
Emporium
Main Street Chamber of Commerce–Package Pick Up
Main Street Confectionery
Uptown Jewelers
Disney World's Main Street U.S.A.
Main Street U.S.A. has a few things to offer as far as attractions go. However, these aren't actual rides.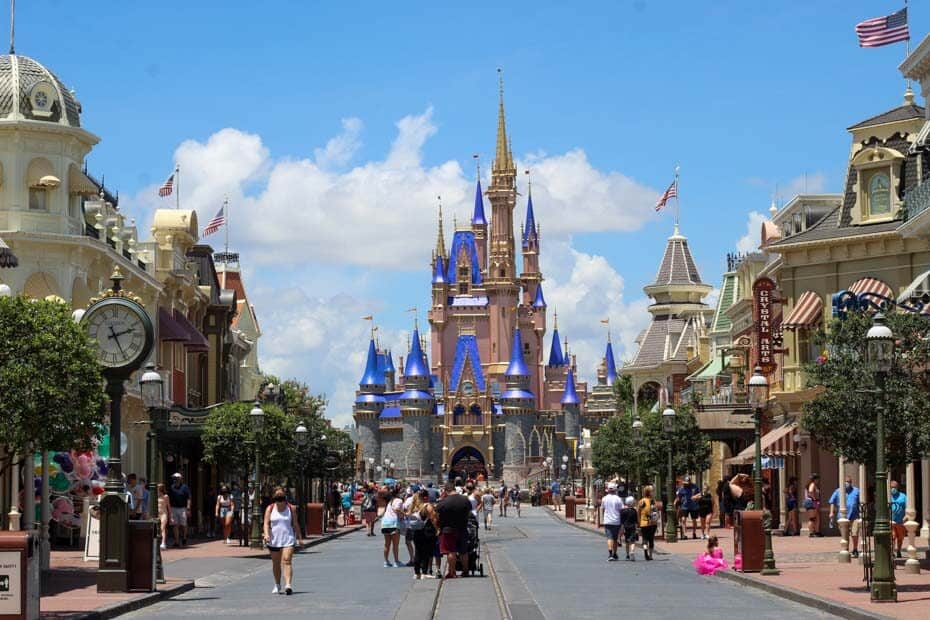 For starters, there's the Main Street Vehicles. The Main Street Vehicles consist of an antique motor car, horse-drawn carriages, and the Omnibus. They are available to ride at various times but are mainly out in the morning.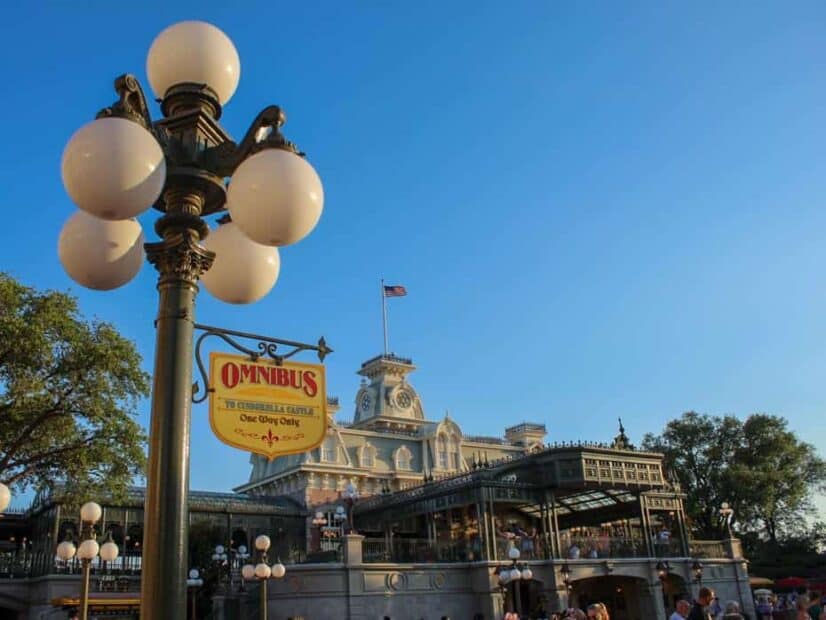 The sign above indicates where the Omnibus stops to pick up guests. If you encounter the two-story bus, you are in for a real treat.
I can't remember the last time I saw it, but it is out from time to time. Since I rarely get to the parks early in the morning, I sometimes miss these things.
The picture below was from a day when I caught a ride on the horse-drawn trolley car. It is so much fun to promenade down Main Street USA in one of these modes of transportation.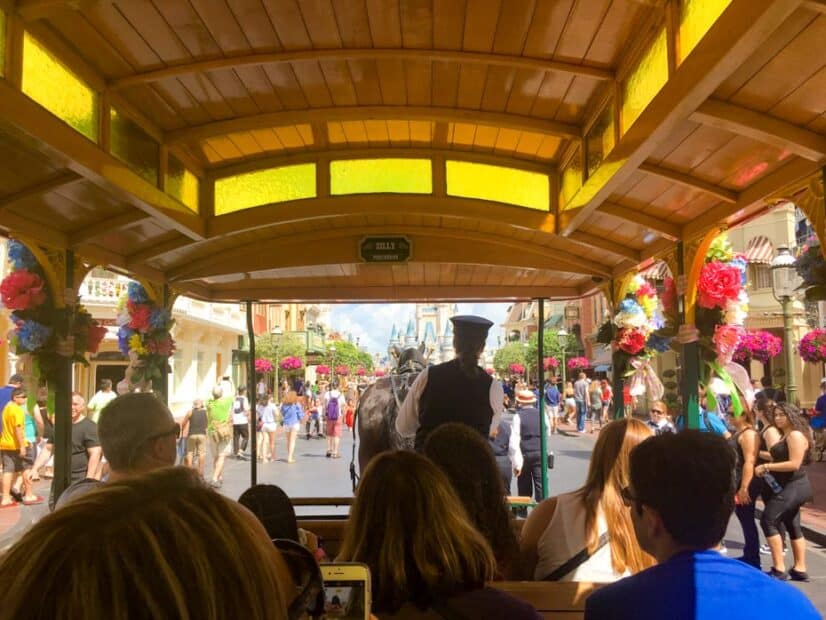 The horses of Main Street are also listed as an attraction, so I felt it best to mention them. Below is one of the horses you might see out and about on Main Street. These horses have a beautiful home at Disney's Fort Wilderness Resort and Campground.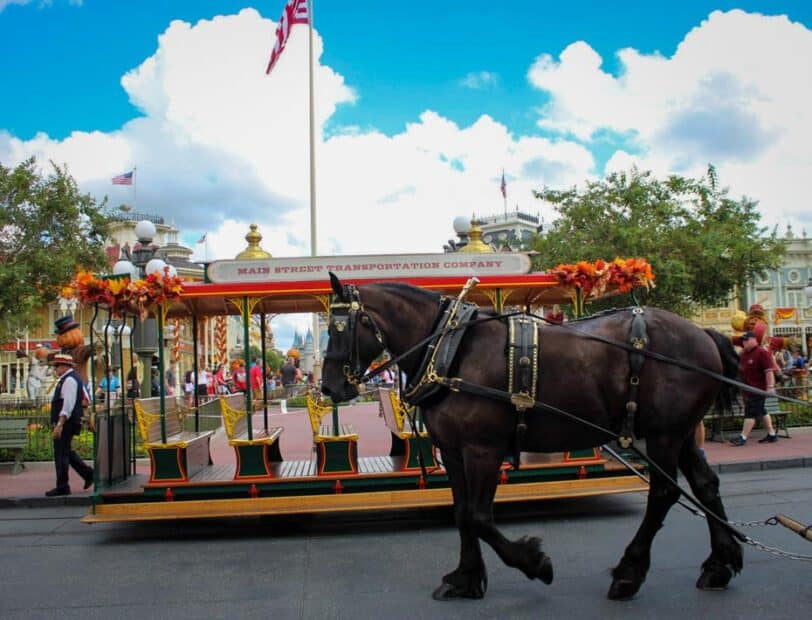 And they have a fairly new barn! I hope to share a review of the place soon!
Fort Wilderness is one of my favorite places to go for a jog when I'm on the property, and I like to visit the horses after my run.
Related: Jogging Trails at Disney World
Unfortunately, an attraction closed last year. The building below was the former home of Sorcerers of the Magic Kingdom.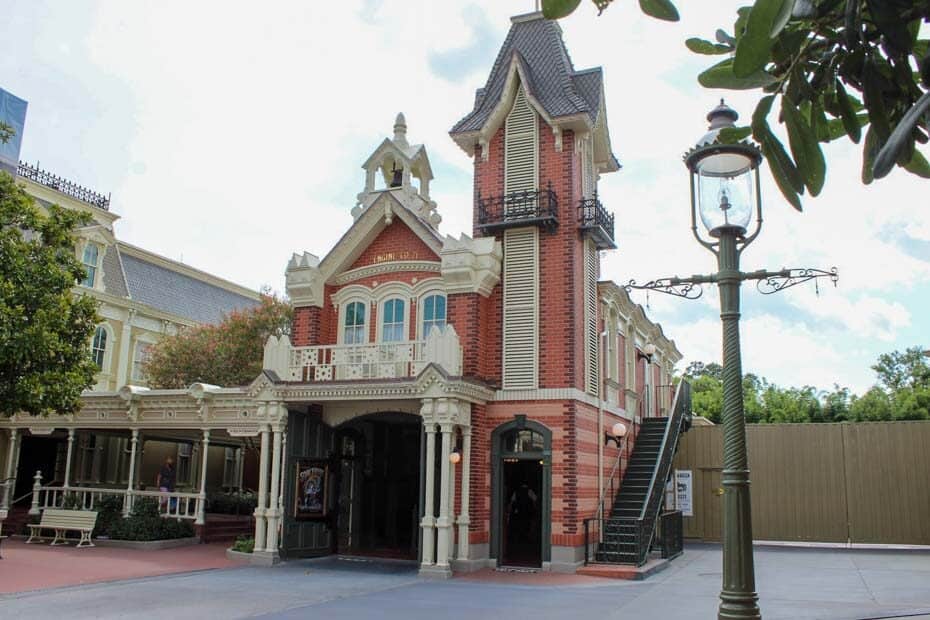 The Walt Disney World Railroad is another attraction located on Main Street U.S.A.
You will see the train stop from outside the entrance of Magic Kingdom. It's one of the most popular backgrounds for family photos.
Unfortunately, the train isn't operating at this time. However, the train station is expected to re-open after the completion of the new Tron roller coaster.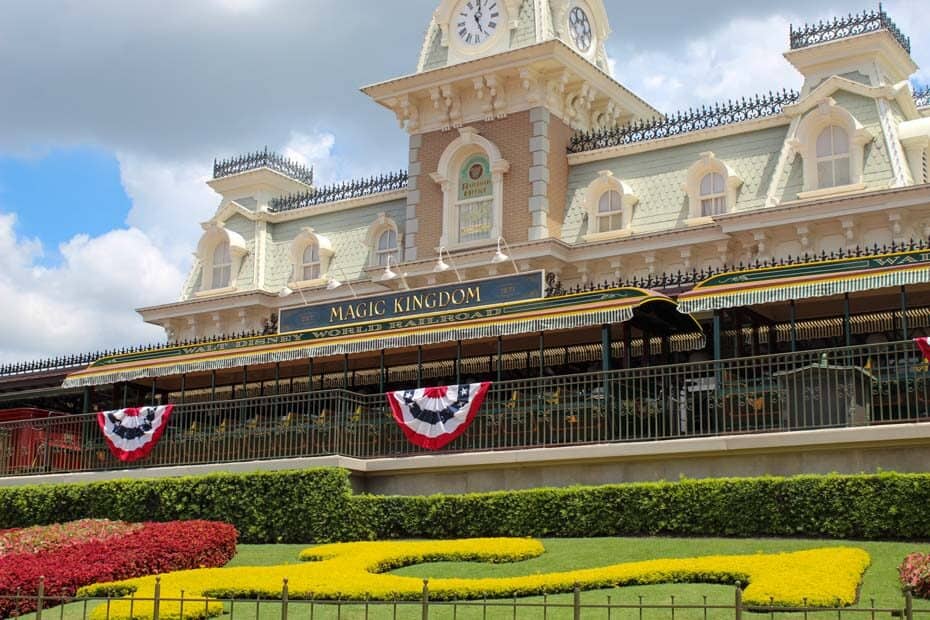 Often you'll find a PhotoPass photographer taking photos. If you didn't purchase Memory Maker, ask them to take a picture for you with your camera or mobile device.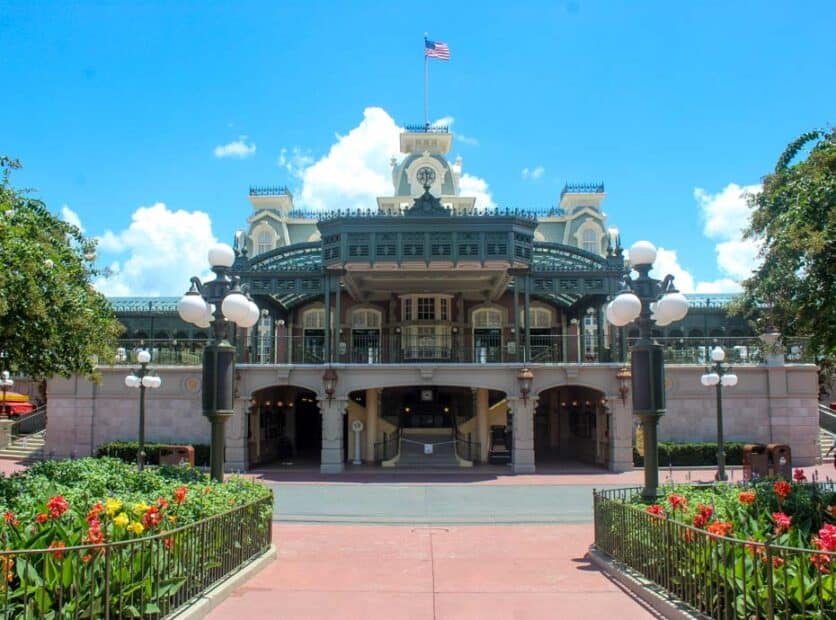 The train station does have a lot of interesting information and displays to browse if you like these sorts of things. And the views of Main Street U.S.A. from the upper balcony are stunning.
You'll find quite a few character locations on Main Street U.S.A. at Disney World, including the one and only Mickey Mouse!
Related: Meet Mickey Mouse at Magic Kingdom
Mickey Mouse and Tinkerbell usually meet in Town Square Theater. Unfortunately, Tinker Bell hasn't returned at this last update.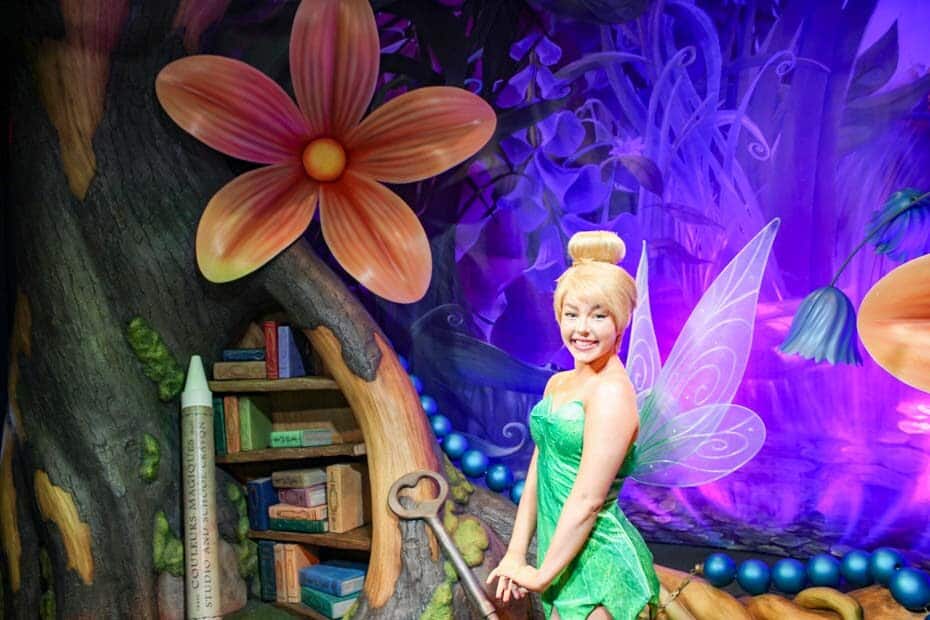 Snow White formerly met at Town Square Gardens. We are hopeful this meet will return in 2022.
Related: Meet Snow White at Disney World
My best advice for meeting characters is to check the My Disney Experience app on the day of your visit. It will list the exact characters with times for the day.
The outdoor characters meet intermittently, meaning they can be challenging to find.
We keep an updated list of character meets at Disney World for planning.
Disney World's Main Street U.S.A. is home to a couple of different dining venues, sweet stops, and even an ice cream parlor.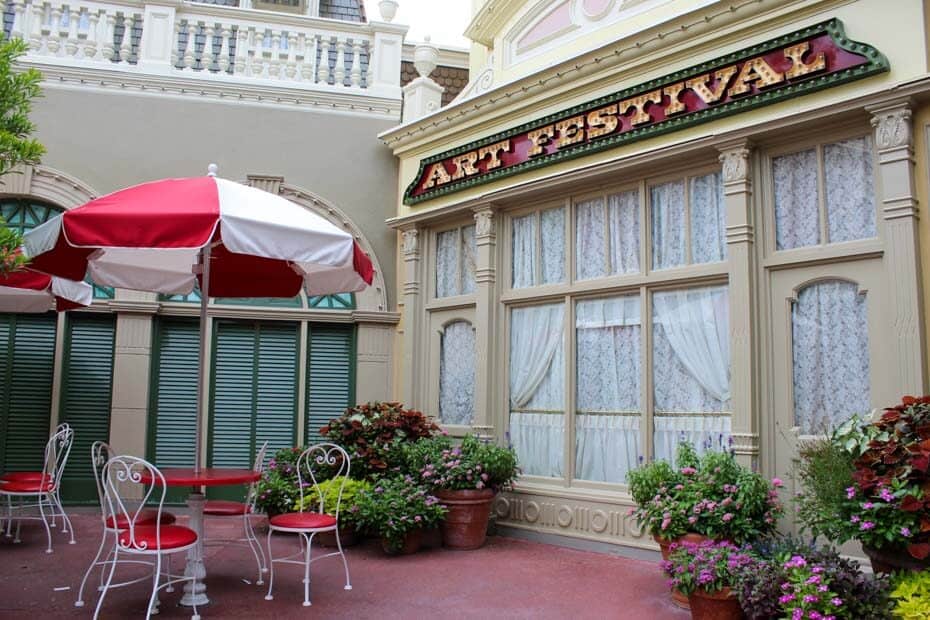 Below I'll provide each location, and I'll add a link to view the menu for each one where available.
Casey's Corner
Casey's Corner joins the Emporium lineup of stores on the left-hand side of Main Street. This stop is on the corner and offers limited indoor seating and a lovely outdoor area. Casey's is where you can pick various hot dogs and other similar items.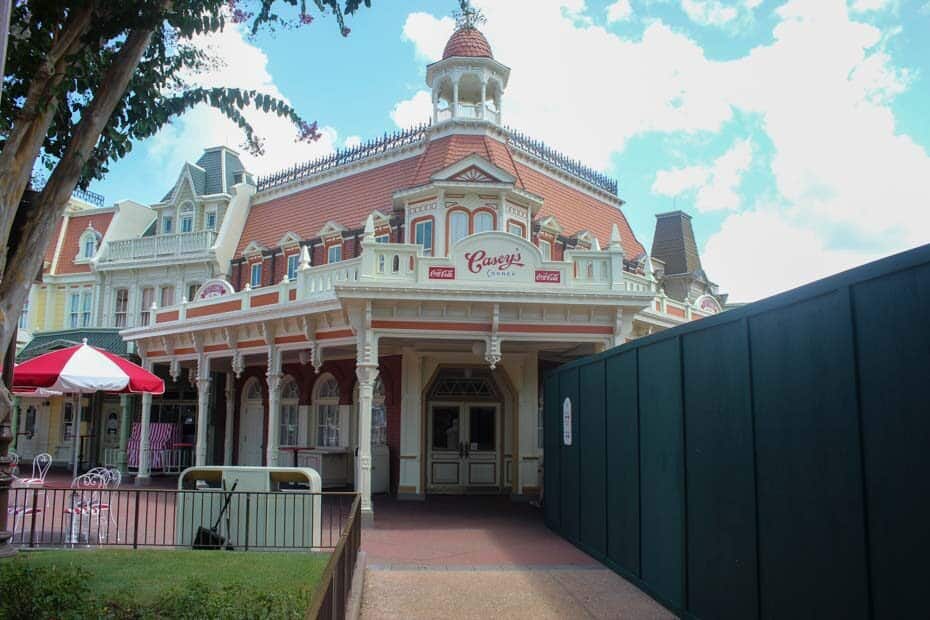 You can preview their menu on Disney's site here.
The Crystal Palace
The Crystal Palace is right off Main Street U.S.A., only a few steps away from Casey's Corner. Fans of Winnie the Pooh and Friends will want to make a reservation here for breakfast, lunch, or dinner.
Characters are typically Winnie the Pooh, Tigger, Eeyore, and Piglet. This meal comes in the form of a buffet.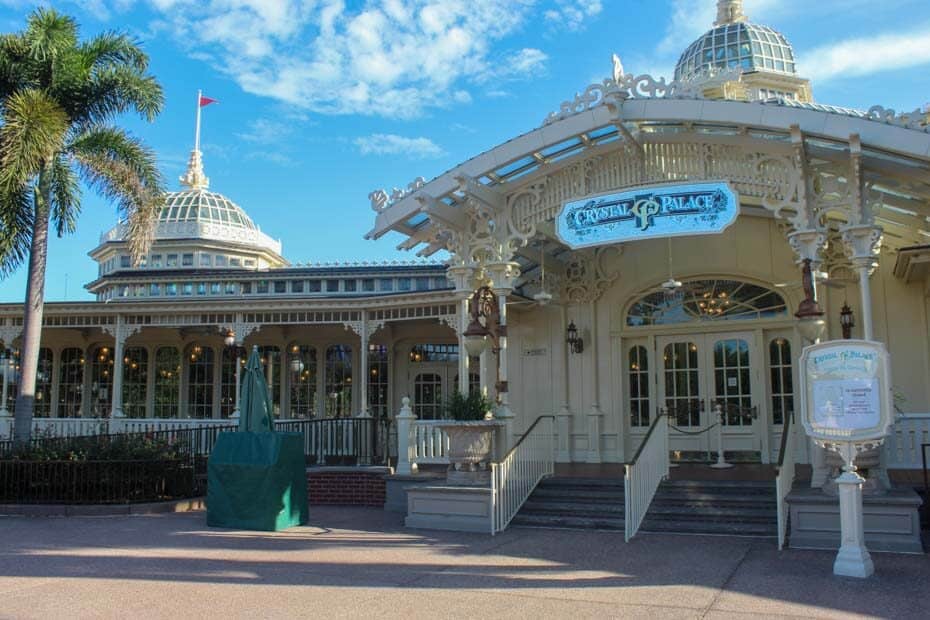 Preview their menu here on Disney's site. You can adjust the menu to display breakfast, lunch, or dinner at the top of the screen.
Related: Character Meals at Disney World 2022
Main Street Bakery
Main Street Bakery is the local Starbucks stop for Magic Kingdom for those looking to get their morning coffee. The bakery carries the typical pastries you would find at a regular Starbucks location.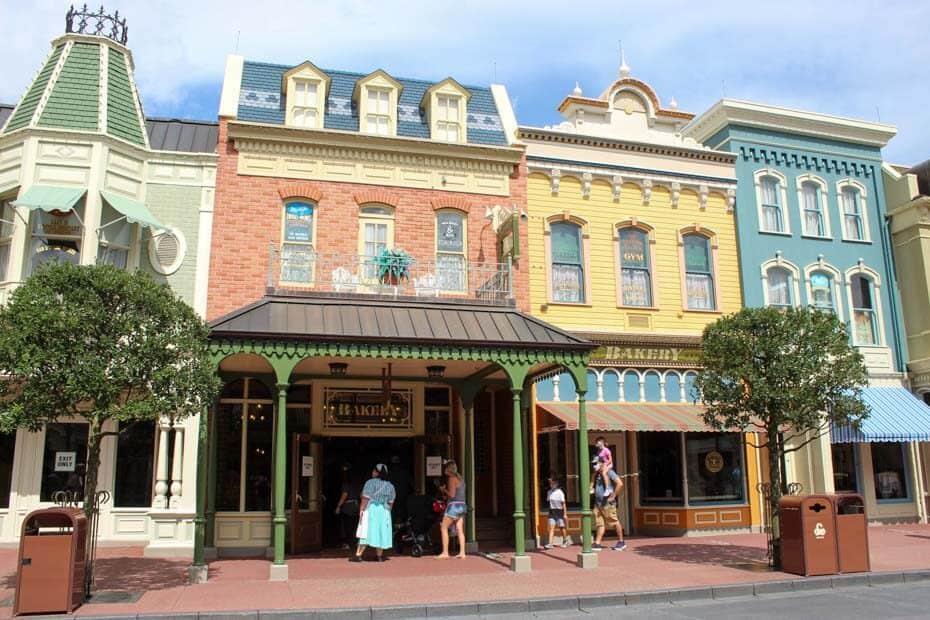 I stop here for a coffee from time to time, and I always request a free cup of ice water. Do not forget that all counter services will provide you with free ice water upon request.
A cast member once told me that this was the best place to get one because the water is filtered.
Here are all of the selections available.
Plaza Ice Cream Parlor
On the opposite corner of Main Street from Casey's is the Plaza Ice Cream Parlor. It's a reasonably popular stop offering hand-scooped ice cream and sundaes. Edy's Ice Cream is the sponsored brand of ice cream here.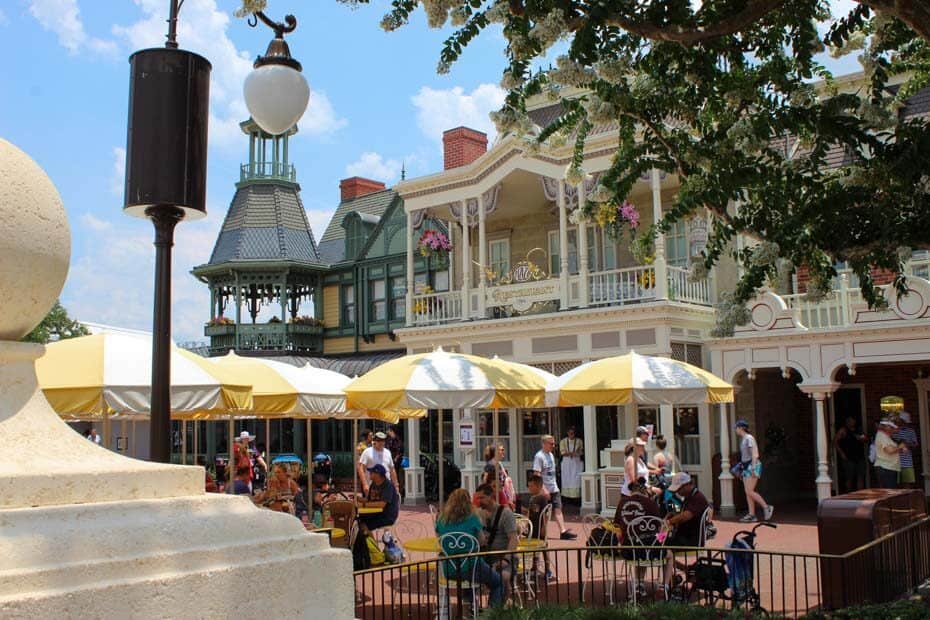 You can visit the menu here.
The Plaza Restaurant
Moving on around the corner, next door to the ice cream parlor is The Plaza Restaurant. Think salads, sandwiches, and milkshakes.
The Plaza Restaurant started offering a breakfast menu a few years back. Lunch here is reasonable but it's not a place that's always on my radar.
Food and service have always been good, but if I had to describe the restaurant with one word, it would be "average."
You can preview the menu here.
Tony's Town Square
Tony's Town Square is your stop for Italian cuisine while in the Magic Kingdom. The restaurant is themed after Lady and the Tramp and offers a lunch and dinner menu.
Tony's is located in Town Square at the front of the park. It's right next door to the Mickey Mouse and Tinkerbell character meets.
Take a look at the Tony's Town Square menu here.
To learn more about dining at Disney visit our list of Disney Restaurant Reviews.
Thankfully, in 2022, most entertainment has returned to Main Street U.S.A.
However, the Magic Kingdom Cavalcades are still performed daily in addition to the Festival of Fantasy Parade.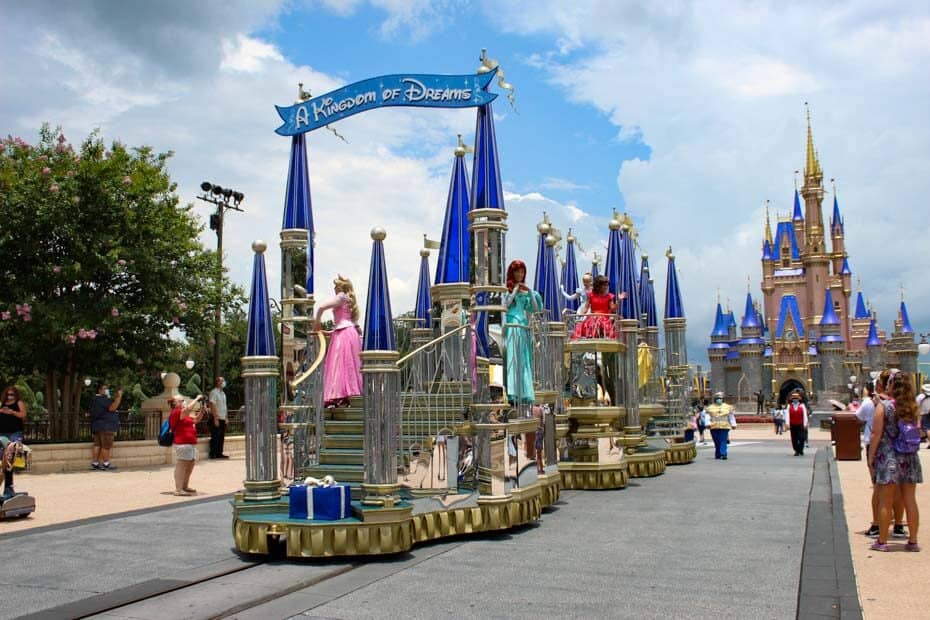 Here is the Fairy Godmother making her way down Main Street U.S.A.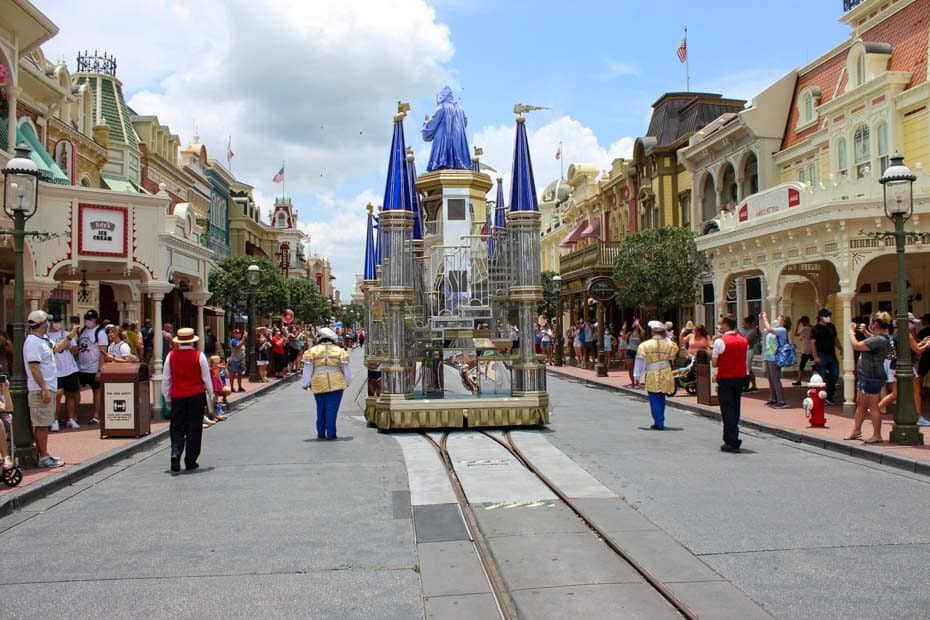 The mini-parades happen at all different times throughout the day. Expect to see a variety of favorite characters at any given time.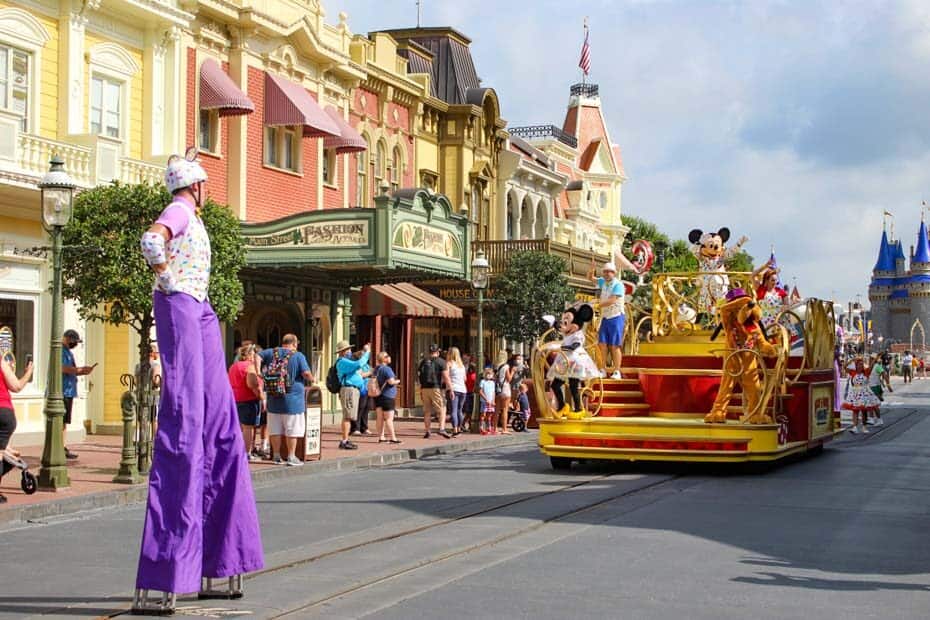 Casey's Corner Pianist
You'll occasionally find a pianist out playing some fun tunes outside Casey's Corner. The performances usually last about 20 minutes. So if you see someone out playing, make sure to stop for a few minutes.
Citizens of Main Street U.S.A.
You won't be able to miss the Citizens of Main Street if they are out roaming among guests. Dressed in attire from the early 20th century, they tend to stand out.
Make sure to stop for a photo. Trust me. The citizens are not shy! They will probably fill you in on all of the latest local gossip.
The Dapper Dans
I've had a few run-ins over the years with The Dapper Dans. This quartet puts on quite the performance. Each performance lasts approximately 20 minutes.
Feel free to stop and watch at any point during the performance. These types of experiences are come-and-go.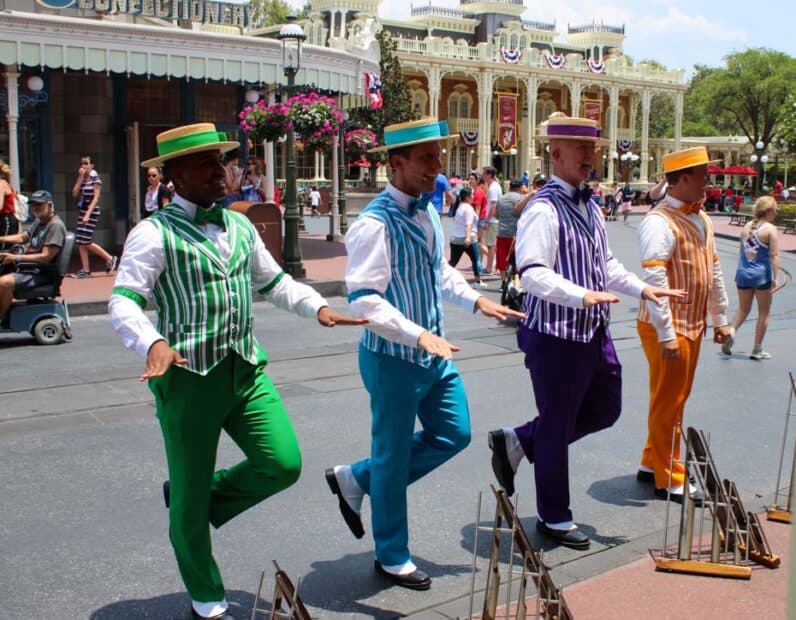 Flag Retreat on Main Street U.S.A.
The Flag Retreat happens every day in Town Square on Main Street U.S.A. It usually begins at around 5:00 p.m. and lasts for 15 minutes.
The Flag Retreat is patriotic and worth taking a few moments to recognize all the many things that our flag symbolizes. In addition, the flag is presented to a veteran of our country's armed forces.
Let the Magic Begin
For those who like to get to the park before opening, you'll likely want to experience "Let the Magic Begin." Let the Magic Begin is a five-minute welcome show performed on the castle stage.
Guests are allowed into the Magic Kingdom up to an hour before the official opening. In addition, there will be some shopping locations available along with the Main Street Bakery.
Main Street Trolley Show
My favorite entertainment is the Main Street Trolley Show. Below is a photo I caught of a Fall performance.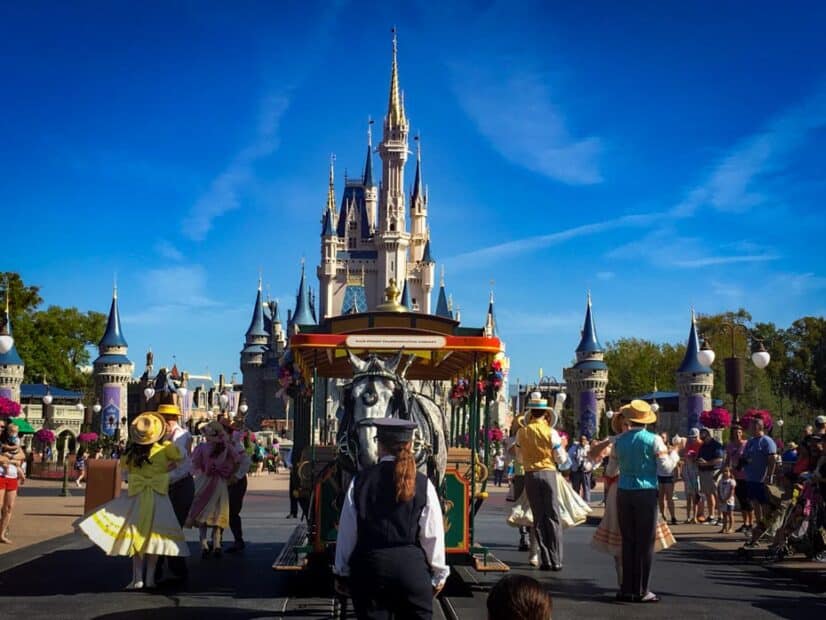 Their costumes change seasonally. This troupe of performers rides the trolley down Main Street stopping every few moments.
They'll hop out and perform a song and dance number at each stop. The duration of the entire performance is around 10 minutes.
Above is a Springtime performance. During the summer months, dancers usually wear red, white, and blue. And at Christmas, you'll find them in full holiday attire.
Mickey's Royal Friendship Faire
Mickey's Royal Friendship Faire is usually held daily on the castle court stage. Check the daily time guide for the exact timings of the performance on the day of your visit.
Things can change overnight at Walt Disney World, so it's essential to pick up a daily schedule on your way into the park. Of course, you can always use the My Disney Experience app, but often having the time's guide in your pocket is a simple, reliable asset.
Mickey's Royal Friendship Faire characters include Mickey Mouse, Minnie Mouse, Goofy, Donald Duck, Daisy Duck, Tiana and friends, Rapunzel with Flynn Rider, and Anna with Elsa.
Mickey's Royal Friendship Faire lasts for approximately 20 minutes. We tend to stop from time to time when we run into it.
I think it's an easy way for children to see some of their favorite characters. The only negative is that you are in direct sunlight, and it can get a little uncomfortable on a hot Orlando day.
Don't forget to pack plenty of sunscreen.
Main Street Philharmonic
The Main Street Philharmonic performs up and down Main Street U.S.A. at different times of the day. I have run into the band anywhere from morning to late afternoon.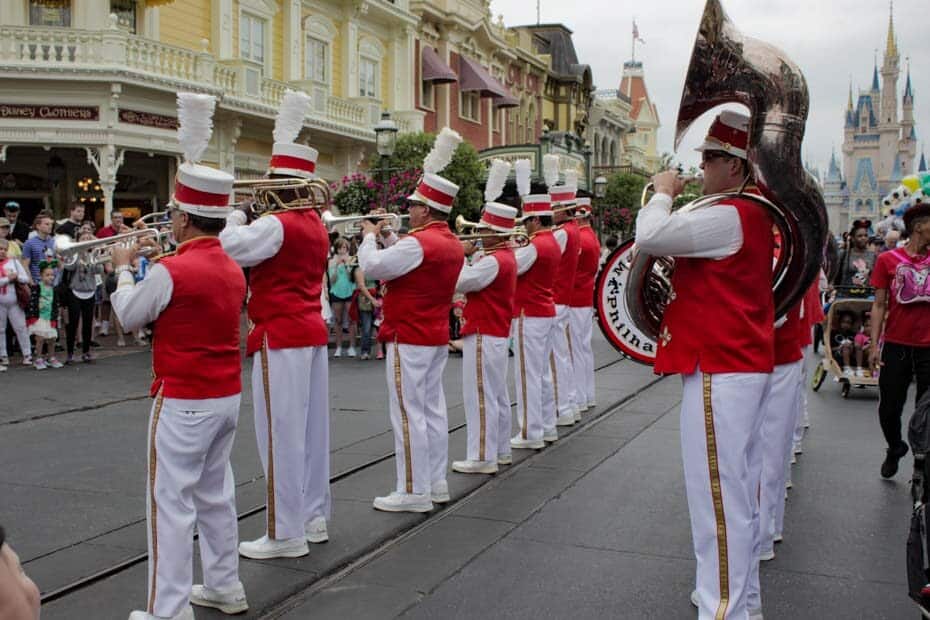 Each performance lasts for about 20 minutes. These guys are authentic entertainers and another act that we always stop for when we see them out. You might also catch them at their other performance venue from time to time back in Storybook Circus.
Once Upon a Time
2022 Update: This performance is currently unavailable.
Once Upon a Time is an evening castle projection show with a duration of 14 minutes. Most performances are held nightly, about 30-45 minutes after the evening fireworks.
The projection show features Mrs. Potts reading a bedtime story to Chip. The story will unfold before you on the backdrop of Cinderella Castle.
I prefer to use this time to ride attractions with lower wait times. But if you need a break and your family isn't ready to call it a day, this might be a good place to rest.
Happily Ever After
Unfortunately, Happily Ever After was replaced by Disney's Enchantment.
Disney's Enchantment
Enchantment is the nightly fireworks spectacular at Magic Kingdom. Check the showtimes for the day of your visit here on Disney's site.
Festival of Fantasy Parade from Main Street U.S.A.
Another must-do item at Magic Kingdom is the Festival of Fantasy Parade. If you asked me what's the best thing to do during your day at Magic Kingdom was, the parade is it!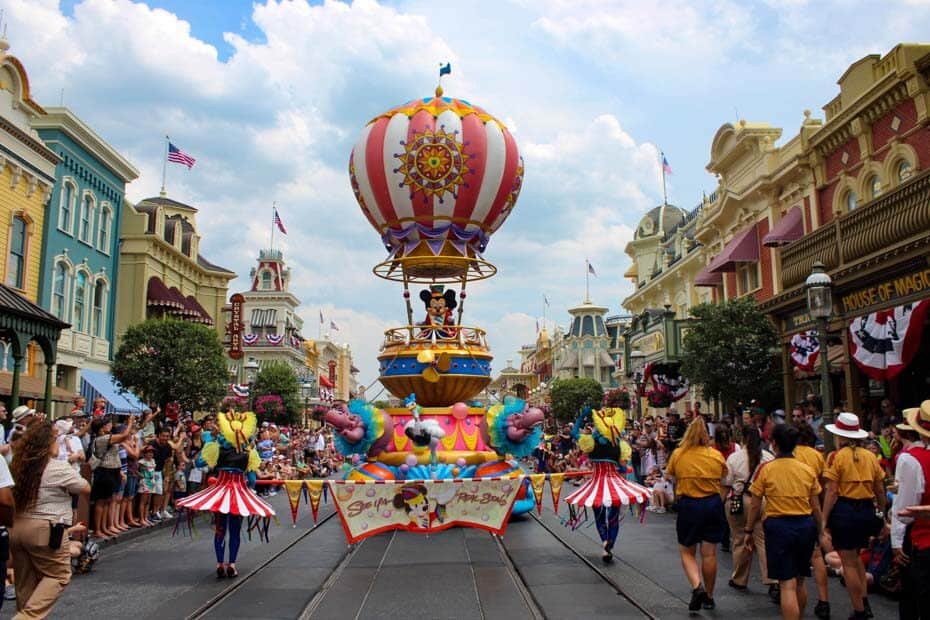 Main Street U.S.A. is the last leg of the parade. While it's probably the most crowded area to enjoy the parade, it's also one of the most pleasant.
Lastly, Main Street U.S.A. has shops galore. Here's a look at all the locations you might be interested in browsing on your vacation.
Guests needing a haircut might want to check out Harmony Barber Shop. If you're going to make a reservation, you can do that here.
Box Office Gifts offers items like cameras and magic bands for purchase.
The Chapeau is a great place to pick up a hat or new Disney Ears.
Collectors of glass will probably want to check out Crystal Arts. I love to peep in the window here to see what they are creating.
Curtain Call Collectibles features items like Mickey ears, pins, and other collectibles.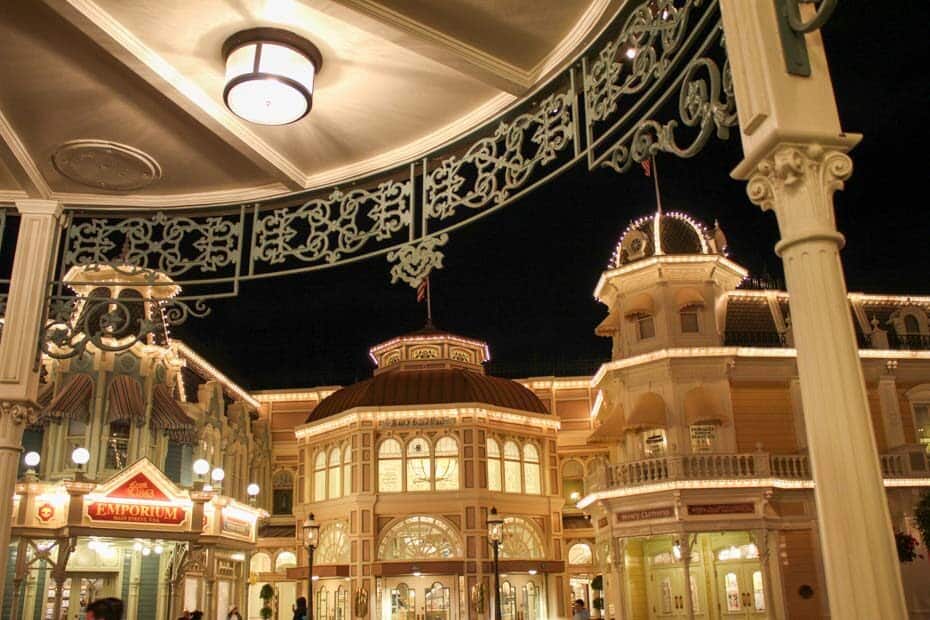 Lovers of the latest Disney fashion will want to step inside Disney Clothiers. The window display here will pull you into the store.
The Emporium is the large store down the left-hand entirety of Main Street U.S.A. You can find a little bit of everything here as you would expect in an emporium. Just watch out. Sometimes guests use the store as a shortcut to avoid Main Street.
Main Street Chamber of Commerce is where to pick up packages you might have purchased on the way out of the park.
Anyone who's ever visited the Magic Kingdom is probably familiar with the Main Street Confectionery.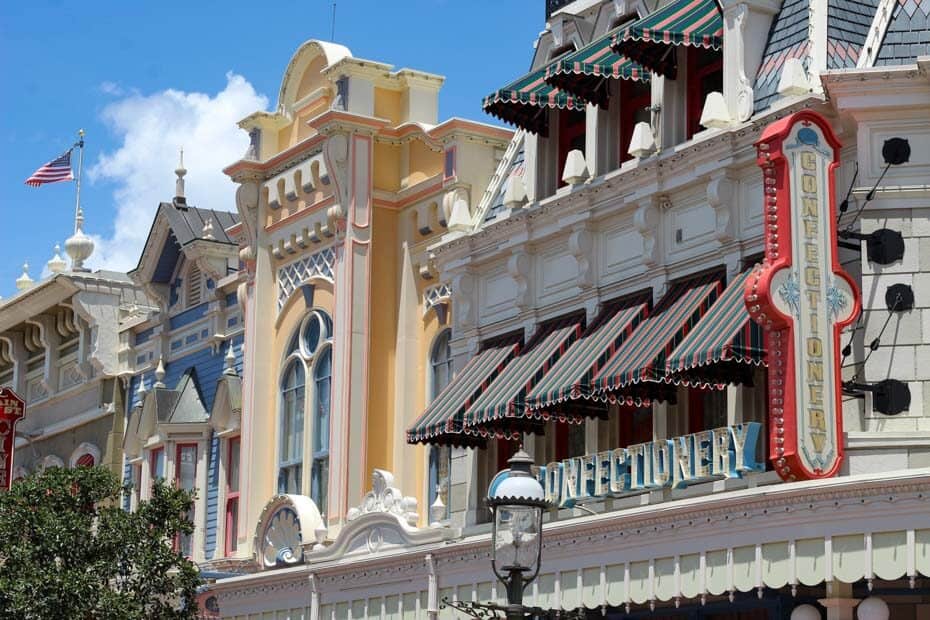 It's one of the best locations to pick up an extreme variety of treats. The Confectionery is such a popular location and well worth the visit.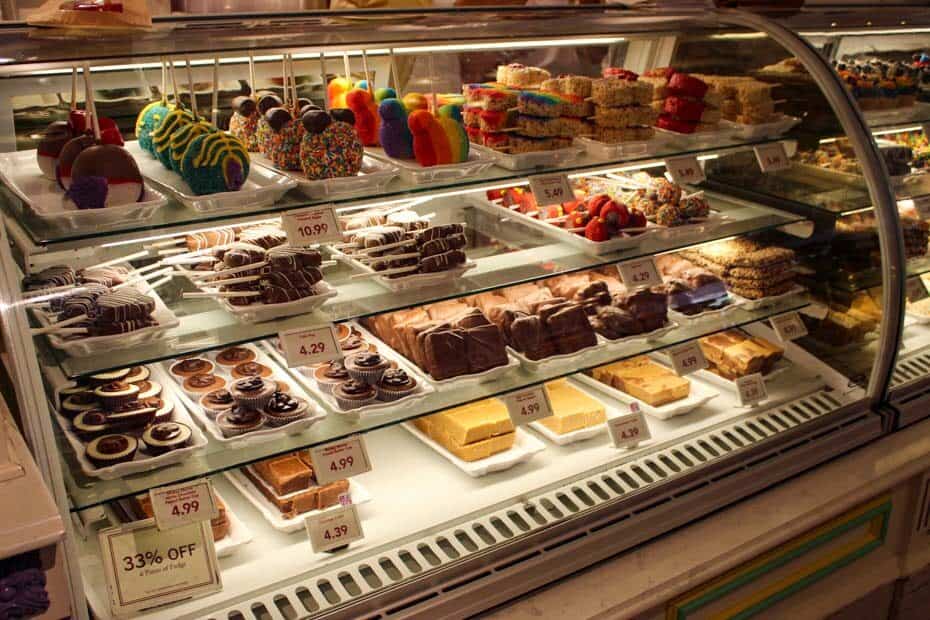 Lastly, we have Uptown Jewelers, where you'll find the latest high-end Disney purses, jewelry, and accessories. For those on a budget like me, it's probably best to avoid this stop. You are sure to find something that you just have to have here.
Whether it's morning, noon, or night, Main Street U.S.A. is one of the most alluring and detailed lands of Magic Kingdom. There are so many different things you can do here.
We didn't even get into all of the PhotoPass photographers in the area, but that's something we will have to discuss further in a future review.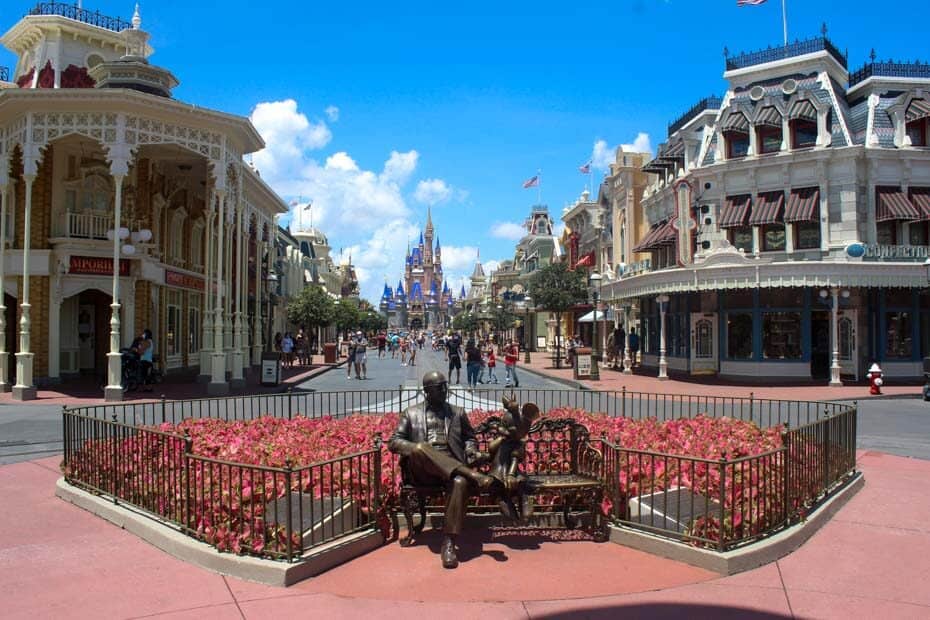 I hope you enjoyed this Magic Kingdom series of reviews. You can find the review for every land here on the Magic Kingdom planning page.
Resorts Gal specializes in Disney World Resorts, Characters, and Dining. Check out some of our resources, like the list of Walt Disney World Resorts.
If you are planning on staying close to Magic Kingdom, try these resorts:
Some of our most popular reviews include the best restaurants at Disney Springs, and I keep a timeline going of Disney Loungefly mini-backpacks.
So now that we've finished, what is your favorite land? Let me know below in the comments.
I have to admit. I have a sweet spot for Tomorrowland and Main Street U.S.A.