Meet Mickey Mouse at Magic Kingdom(50th Anniversary Outfit)
Meeting Mickey Mouse at Magic Kingdom is a must-do for most families during their visit to the park. Thankfully, Mickey Mouse is once again at home greeting guests from a sociable distance at Magic Kingdom's Town Square Theater.
In this article, we'll discuss the details for the Mickey Mouse character meet along with a few tips for when might be the best time to meet him! While meeting Mickey Mouse might be similar to vacations past, there have definitely been a few changes. You'll want to be aware of these changes in advance so you'll know what to expect.
First of all, this beloved character formerly met as a magician here at Town Square Theater. However, during Disney World's 50th-anniversary celebration, you can meet Mickey Mouse in his special celebration outfit.
And he is so cute! Here is a look.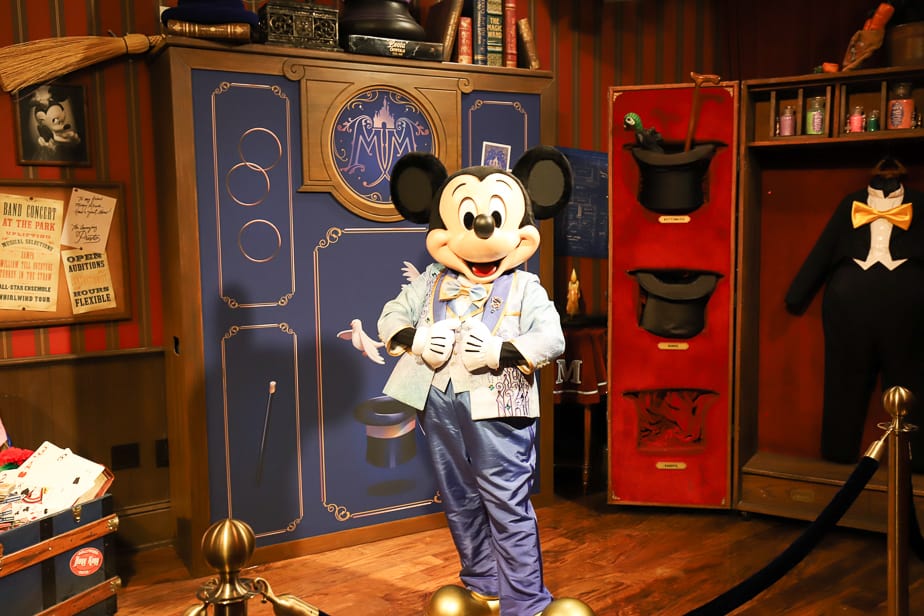 To meet Mickey Mouse, you'll want to know where to find him at Magic Kingdom. Town Square Theater is located immediately inside the entrance of Magic Kingdom. It will be to your far right no matter which side of the entrance you walk through.
Mickey Mouse's wait time will be posted outside the entrance of the theater.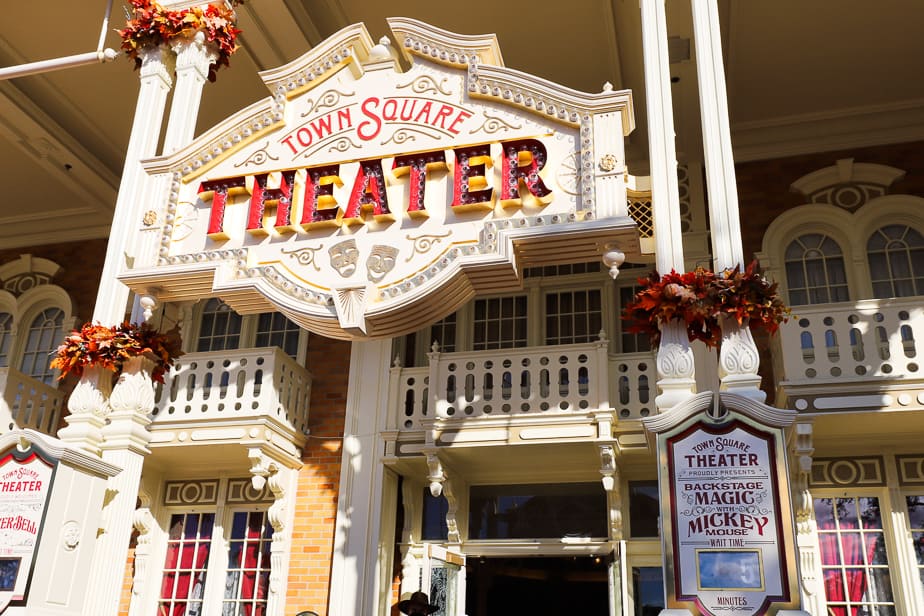 Town Square Theater is gorgeous on the inside. In the past, this location was home to an additional character meet. However, traditional character meets have yet to return to Magic Kingdom, other than Mickey Mouse and the Princesses at Fairytale Hall.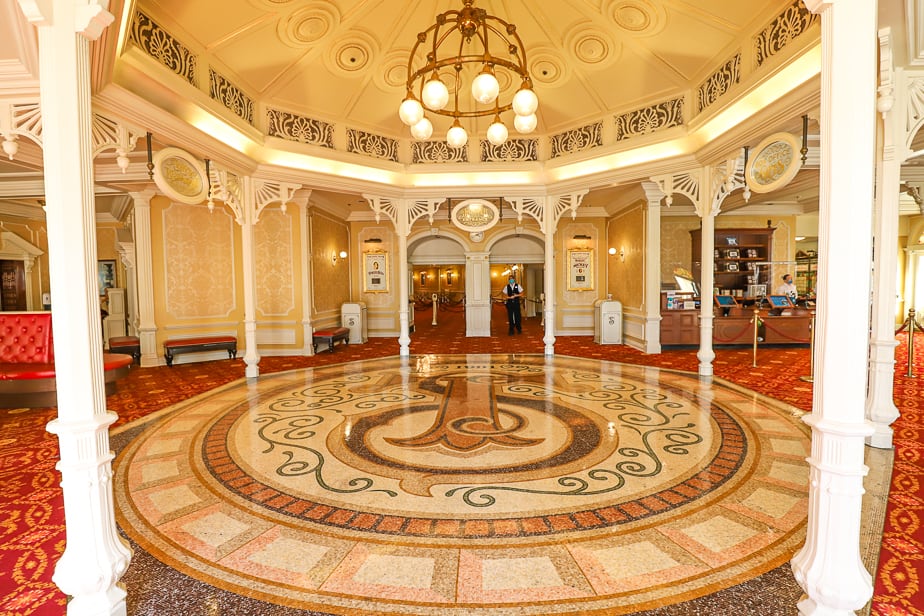 Once you enter the theater, you'll join the line. Eventually, you'll make your way into a series of smaller lines in private rooms. Not to spoil the magic, but there are typically several rooms where Mickey Mouse meets guests simultaneously.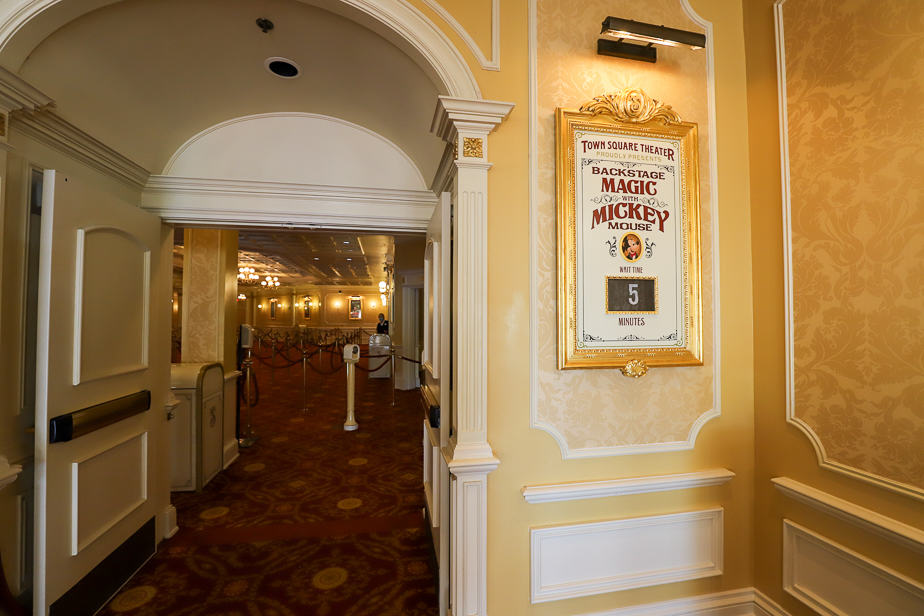 Fortunately, you'll never be aware of this as you're ushered into the next private meeting area to see him.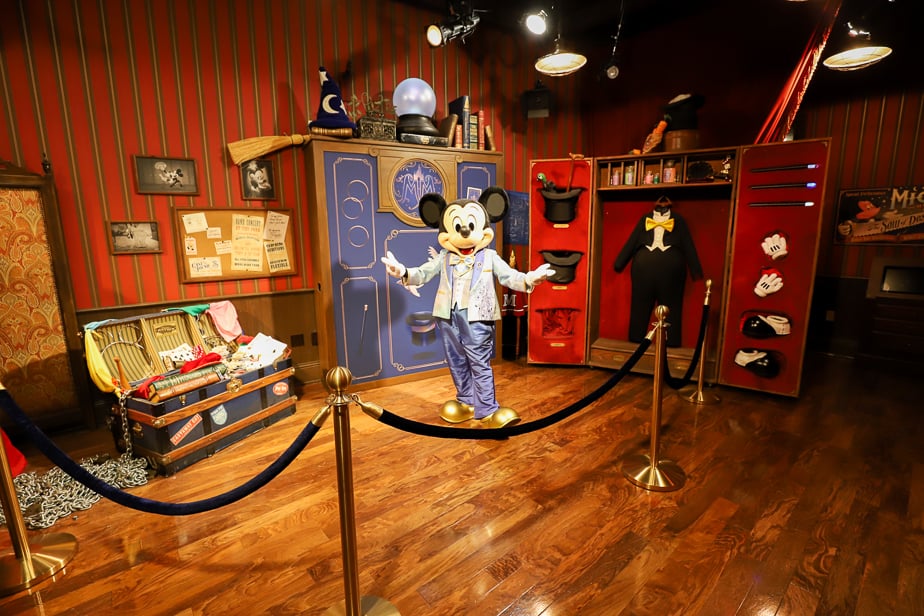 If you've had the opportunity to meet Mickey in the past, you'll notice a few changes. First, Mickey Mouse is standing in a roped-off area. This means you stay on one side of the rope, and he stays on the other. Unfortunately, there are no embraces right now. However, you can always blow him a kiss!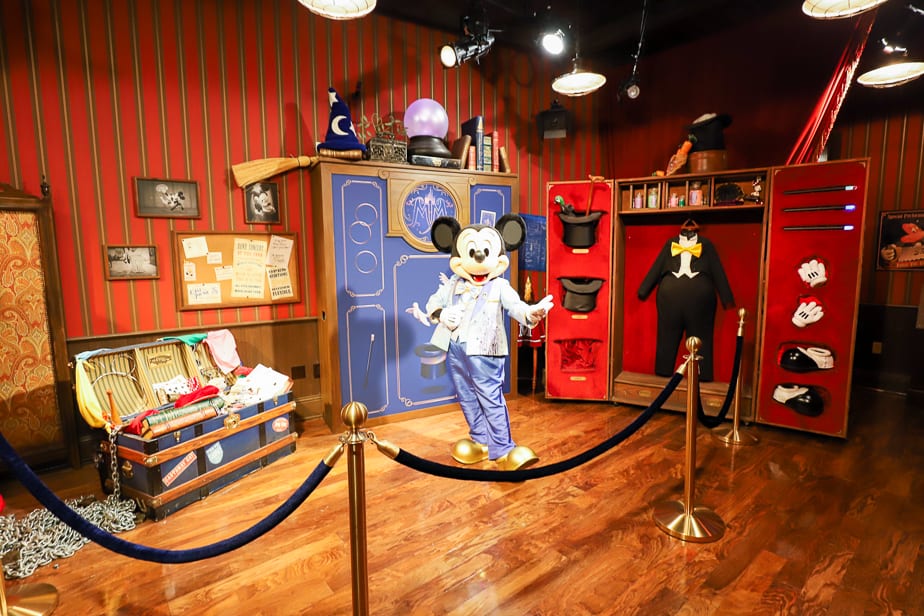 Additionally, there's no need to bring character autograph books. Disney is calling these new character meets "character sightings." Therefore you can see Mickey, talk to him, wave, blow kisses, or give him the old thumbs up. It's still just as magical, I promise.
You'll want to make sure to have cameras or cell phones out and ready for the meet. There are no PhotoPass photographers available at the character sightings.
I noticed some families would group together to take a selfie. Others would let their children stand in front of the rope and take a photo. Mickey will pose accordingly.
Mickey Mouse meets daily at Town Square Theater from around 9:00 a.m. until 8:30 p.m. You can check the exact timing for the day of your visit on the My Disney Experience App or here on Disney's site.
Usually, the best time to meet Mickey is right around mid-afternoon or in the evening closer to time for the fireworks. However, if you are planning to watch the fireworks, you'll probably want to take advantage of this meet earlier in the day.
Hopefully, you now have a good idea of where and when to meet Mickey Mouse when you visit Magic Kingdom. I highly recommend taking the time to stop in and say hi at some point during your day.
For other available character meets at Disney World, try these articles:
Are you planning to meet Mickey Mouse at Magic Kingdom? Is this a tradition for your family when you visit the paks? I know it is for mine.