Snow White's Character Meet-and-Greet Details for Magic Kingdom
Are you looking to meet Snow White on your Magic Kingdom visit? If so, you're in luck because Snow White meets daily on the porch of Town Square Theater right inside Magic Kingdom's entrance.
On a recent visit, we visited Snow White to provide an overview of what to expect at this character meet. Below we'll look at a few photos from the meet and tips for squeezing it into your visit. I'll also share who else you should meet while you're in the immediate area.
As you probably know, Snow White is a unique character. She is the star of Walt Disney's first full-length animated movie, which received a whopping eight Oscar awards. Needless to say, she was a big deal to Walt Disney and his company.
So wipe your tears of nostalgia, and I'll do the same. We're off to the Magic Kingdom to meet Snow White!
This article was updated on January 24, 2023.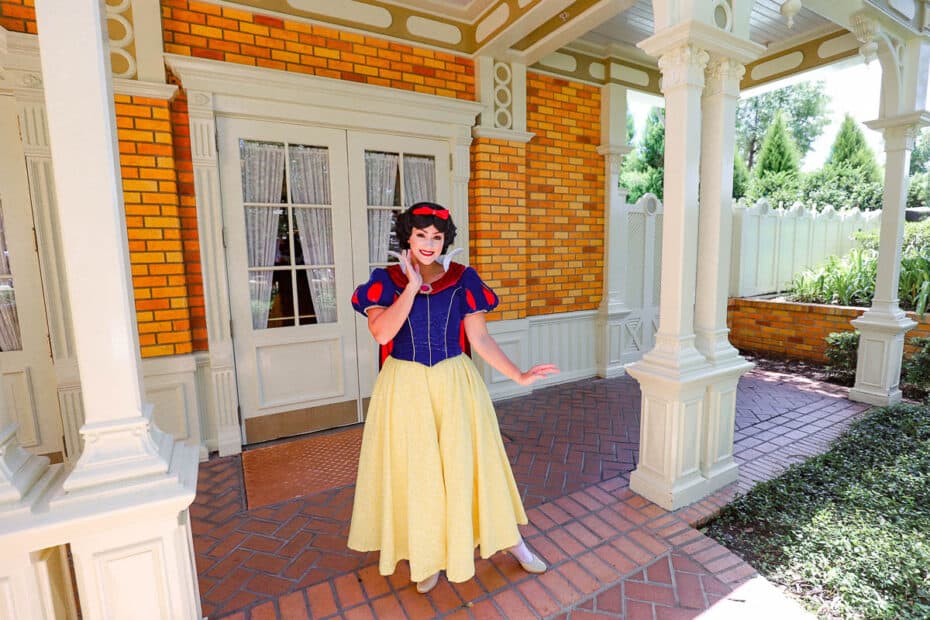 Snow White meets on the far right-hand side of the Town Square Theater porch. Town Square Theater is the first building on your right when you enter the Magic Kingdom.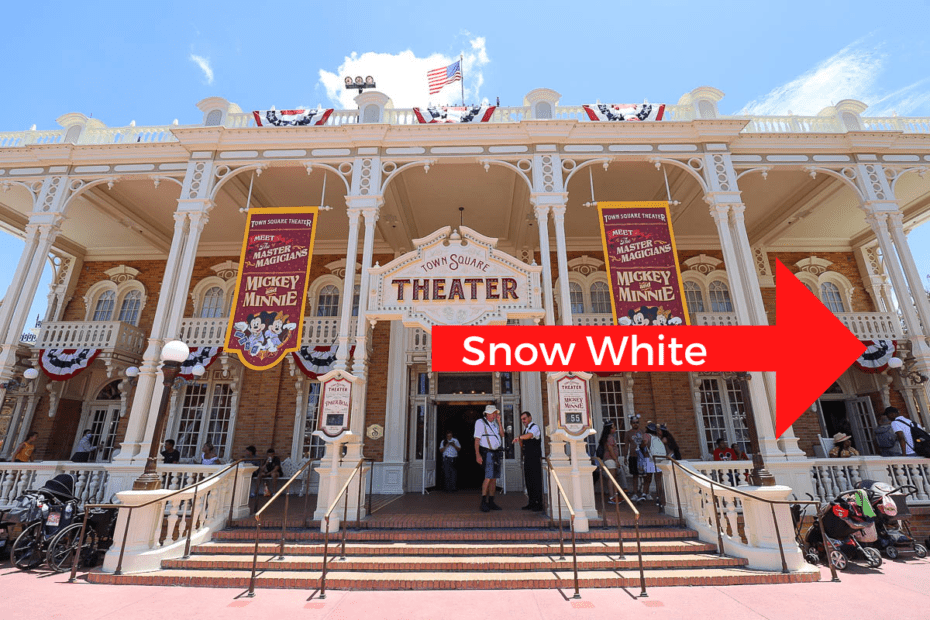 If you want to visit Mickey Mouse, you can do so inside the theater. At the time of this update, he meets daily in his 50th-anniversary outfit. However, he should change back to his magician outfit after the anniversary ends.
Related: Meet Mickey at Magic Kingdom
Snow White's character meet is outside. But most of the line for this meet is underneath a covered walkway, providing a little reprieve from the sunshine.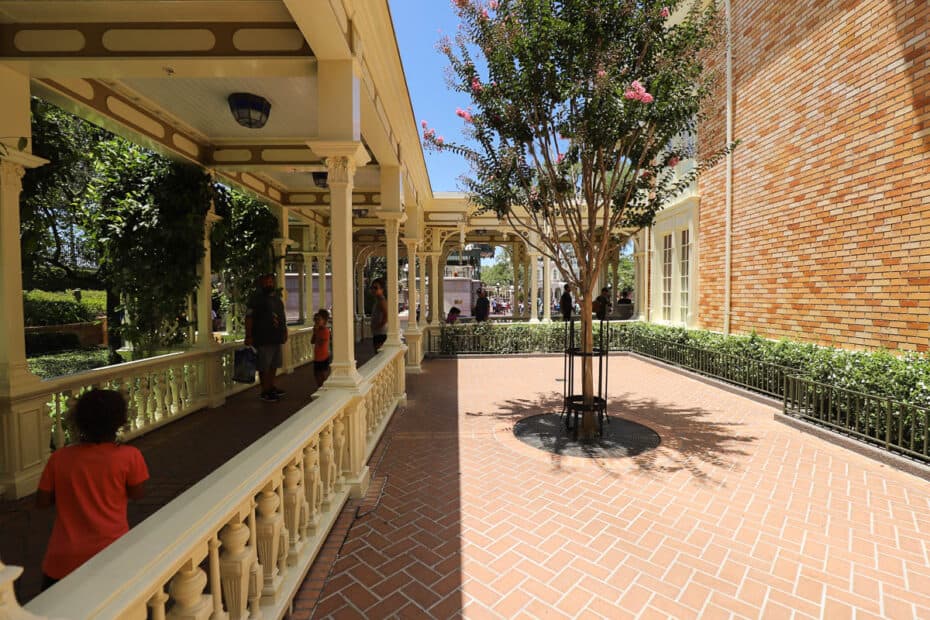 Times for this character meet can vary, but she usually meets between the late morning and mid-afternoon. For example, on the day of this visit, her scheduled times were as follows:
10:45 a.m.
12:45 p.m.
1:30 p.m.
2:15 p.m.
Snow White is one of the characters in the Festival of Fantasy Parade. So likely, the reason for her time gap between 10:45 a.m. and 12:45 p.m. is to accommodate her appearance in the first parade. Additionally, her meet wraps up before the second parade begins.
*Check the My Disney Experience app on the "day of your visit" to find the exact time Snow White meets at the Magic Kingdom that day.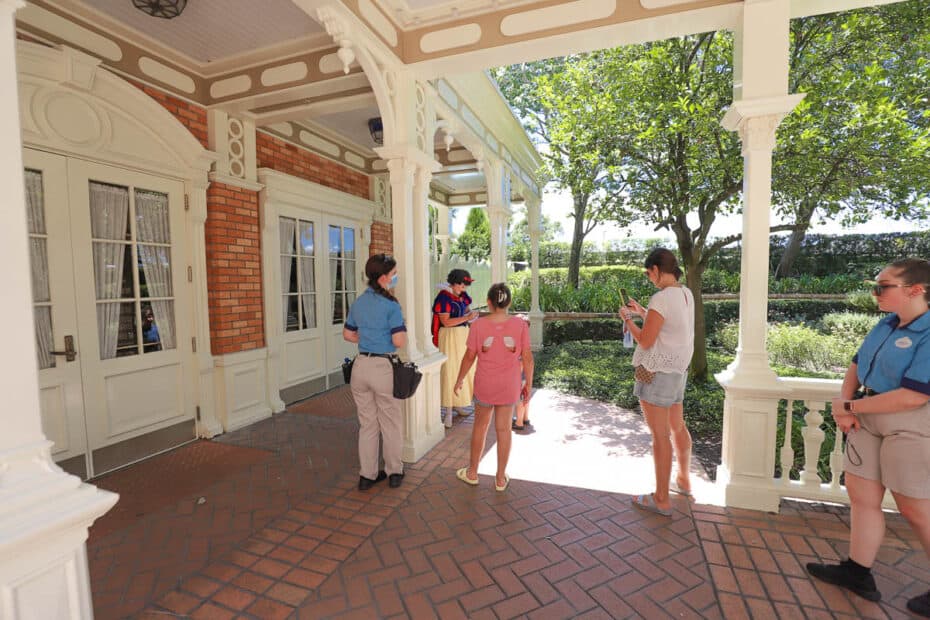 On this day, I found a rocking chair in the shade on the front porch of Town Square Theater. Since I hadn't had breakfast, I picked up a coffee and banana bread from Main Street Bakery.
Luckily, I found an empty seat on the porch about 45 minutes before the first parade. When I realized the timing, I decided to stay in my seat and watch the parade.
Afterward, I planned to head straight inside the theater to meet Mickey. One of my favorite tips is to watch the parade from Town Square and then head straight into this meet. Since the area is cut off during the parade, the line becomes shorter, and wait times drop.
When I came out on the side exit of Mickey's meet, Snow White was greeting guests. I couldn't believe my luck.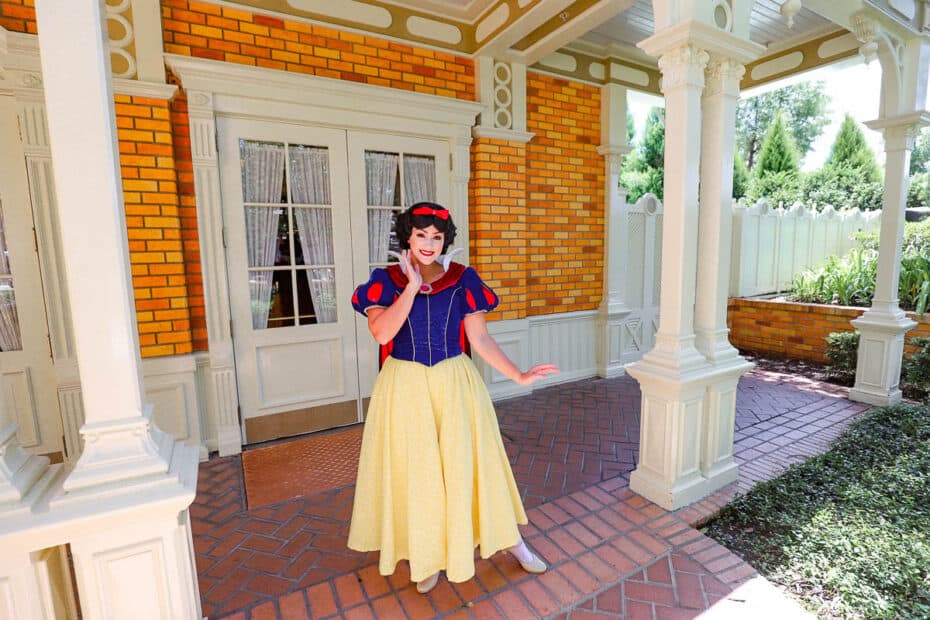 Thankfully, there were only a few guests ahead of me. So my wait time was less than five minutes.
Snow White enjoys talking about gooseberry pie and how it's Grumpy's favorite. Also, she enjoys talking about all of the Seven Dwarfs.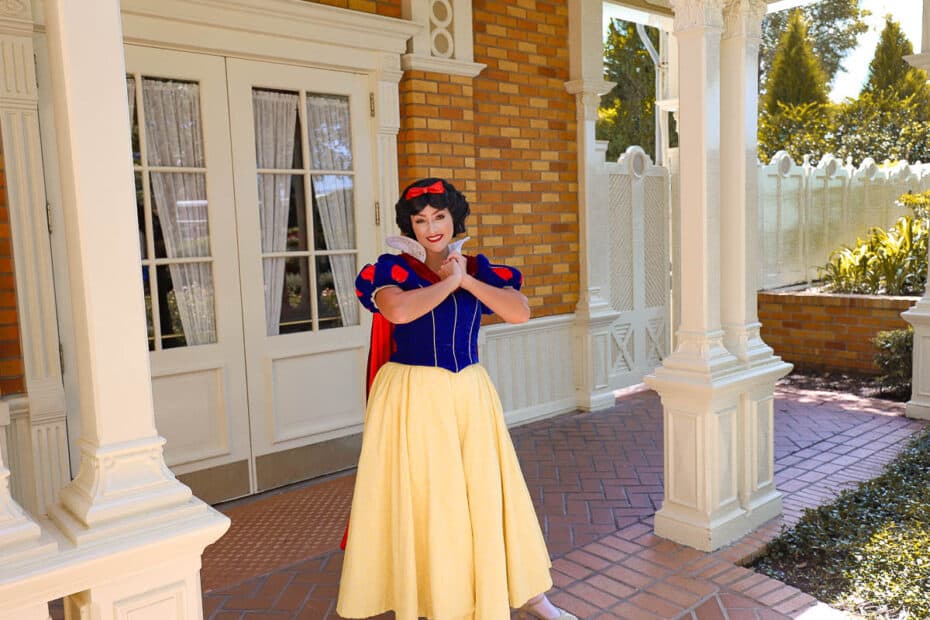 Additionally, Snow White signs autographs. So don't forget to bring your autograph book and an ink pen.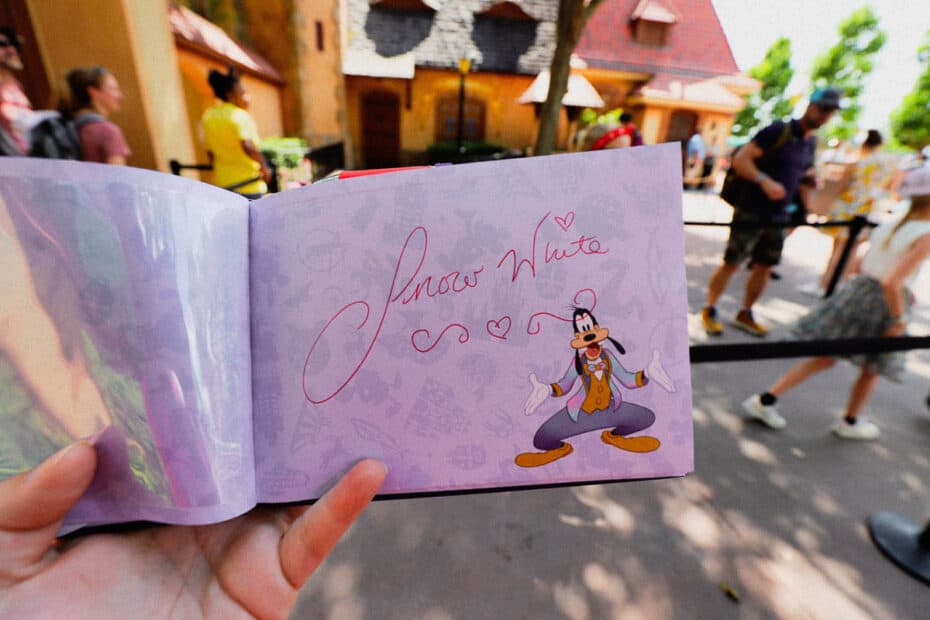 Unfortunately, this character meet doesn't have a PhotoPass photographer present. However, you can always ask the cast member attending the meet if they're willing to take a photo with your personal device.
Snow White is a wonderful meet-and-greet. At this time, you can find her at several other locations:
Below we have a few more character meets at Magic Kingdom:
Or you can browse our list of where to meet characters at Disney World.
In the Comments
If you have questions about Snow White's character, meet at Magic Kingdom and leave them in the comments below. We'll be happy to answer them based on our experience.