Mickey's Boo to You Halloween Parade (Character's You'll See in the Parade)
Mickey's Boo to You Halloween Parade is a special entertainment offering exclusive to Mickey's Not So Scary Halloween Party. Usually, the parade is offered twice during each party.
In this article, we'll look at the characters you can expect to see in Mickey's Boo to You Halloween Parade. I'll also provide details on the best places to see the parade and how early you should secure a spot.
For many of us, this particular parade is the heart of Mickey's Not So Scary Halloween Party. The return of this year's parade has been warmly welcomed by large crowds waiting in anticipation to see it.
So Boo to You!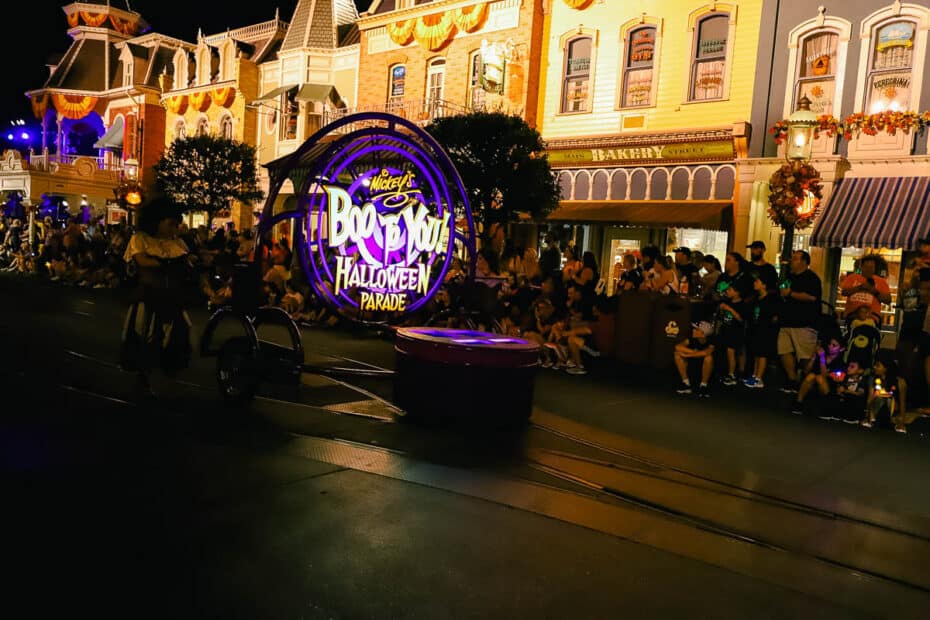 Mickey's Boo to You Parade is only available during Mickey's Not So Scary Halloween Party. Therefore, you'll need to purchase a ticket to one of the events to see it.
Unfortunately, many of the party dates have sold out for 2022. However, a few dates are still available.
Boo to You steps off in Frontierland during the party. The parade follows the same footprint as the Festival of Fantasy Parade and other cavalcades. Times for the parade are 9:15 p.m. and 11:15 p.m.
After the initial sign at the front of the parade, you'll start to see a few characters. Here we have the following:
Snow White
Alice in Wonderland
Mad Hatter
Winnie the Pooh
Tigger
Goofy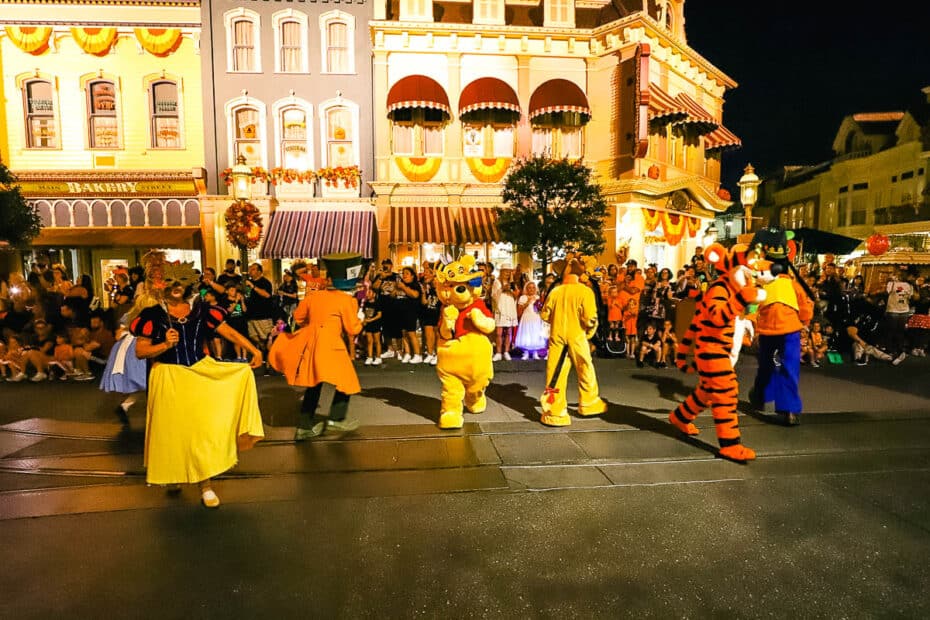 All of these characters have masquerade masks except Pluto. He's dressed like a lion.
Behind them, Mickey Mouse and Friends ride on a gazebo with wheels. Mickey Mouse and Minnie Mouse are in their Halloween costumes.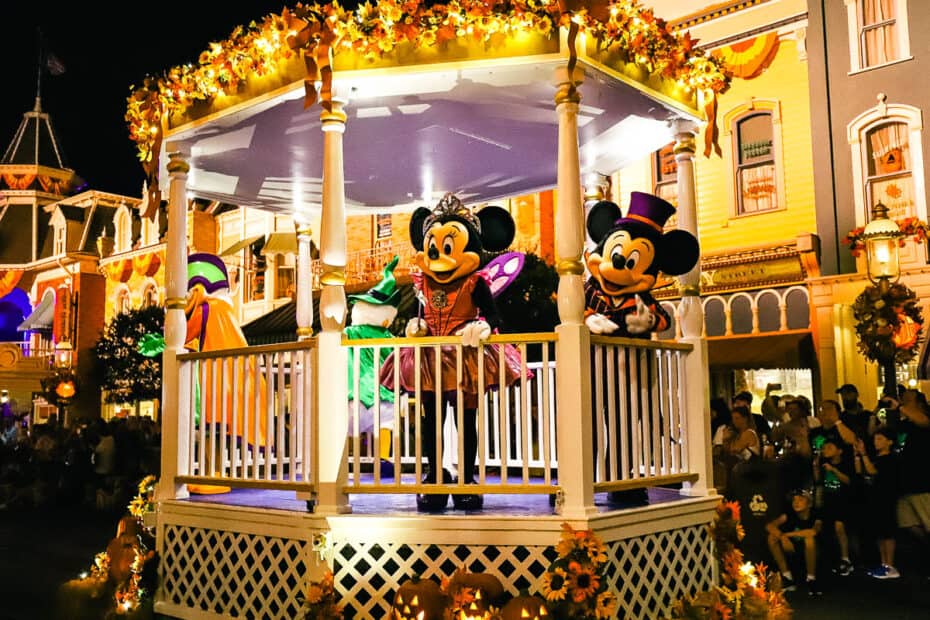 On the opposite side, there's Daisy Duck and Donald Duck.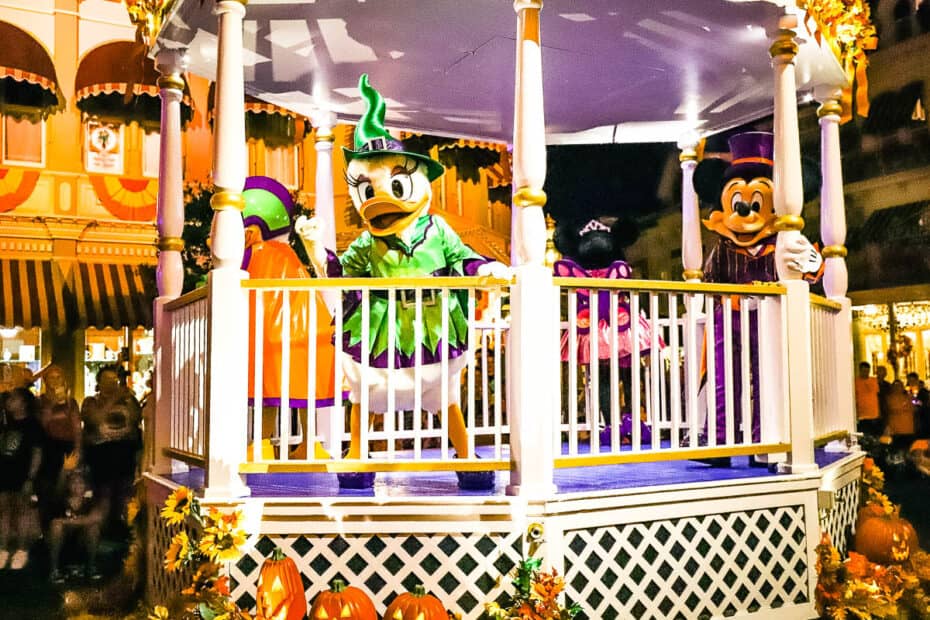 Another troupe of walking characters comes next that includes:
Peter Pan
Wendy
Captain Hook
Smee
Tinker Bell rides behind them atop her lost treasure float.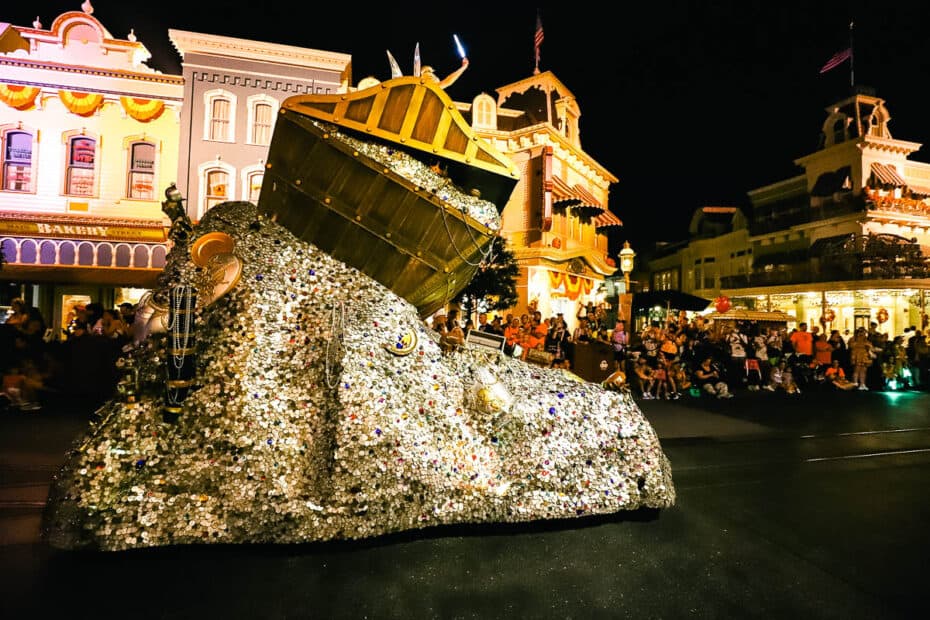 Real pirates from The Pirates of the Caribbean are not far behind. This may be Captain Barbossa, but I'm not entirely sure.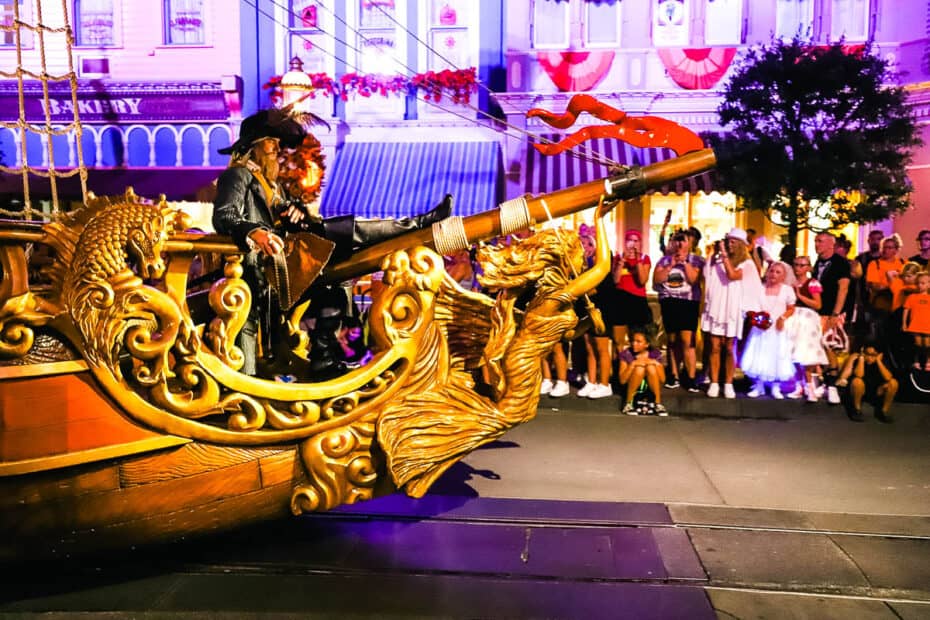 And I believe this pirate in the middle is Angelica.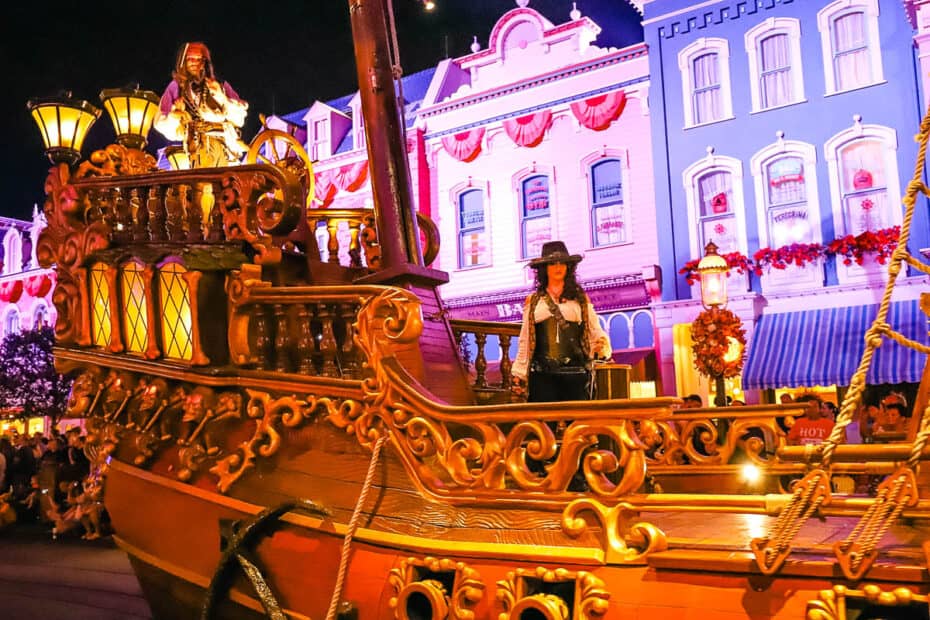 Of course, we have all heard of Captain Jack Sparrow. At least, I hope.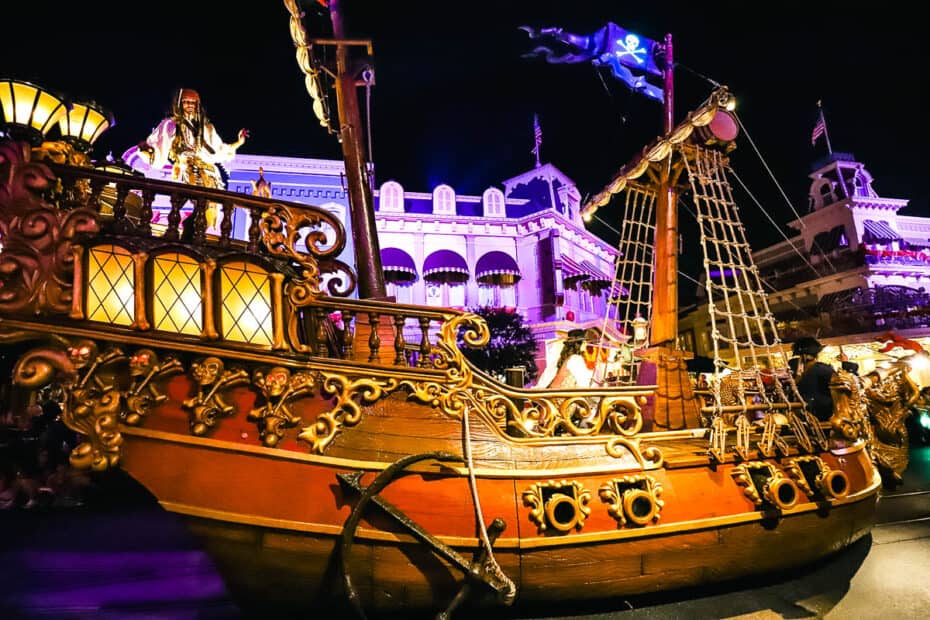 Not far behind are two of the best parade performances of the evening. First, there's the Haunted Mansion Gravediggers. They do a dance number while scraping their shovels on the pavement.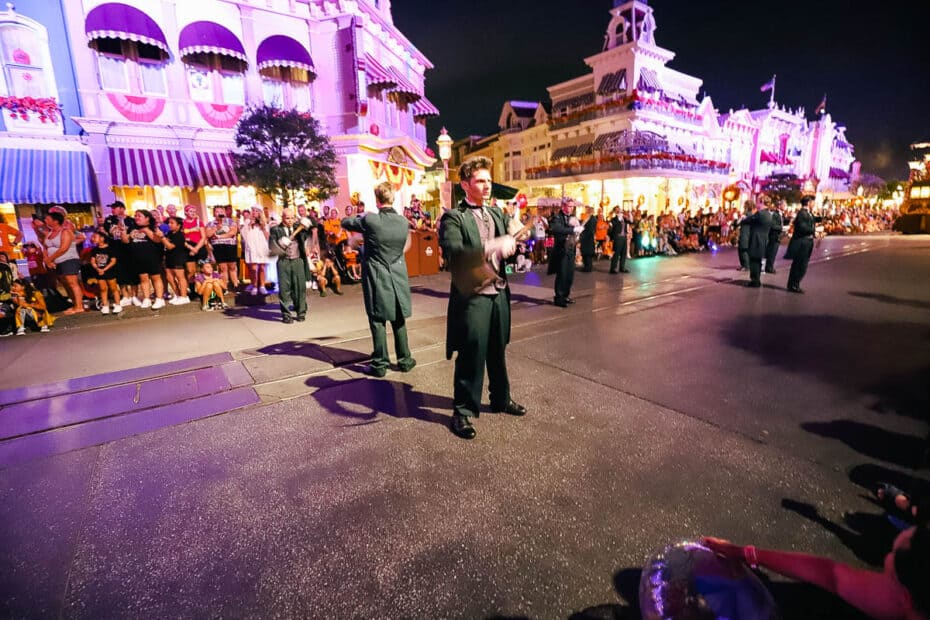 Mesmerizing their way down Main Street, USA, the Haunted Mansion ballroom dancers come next.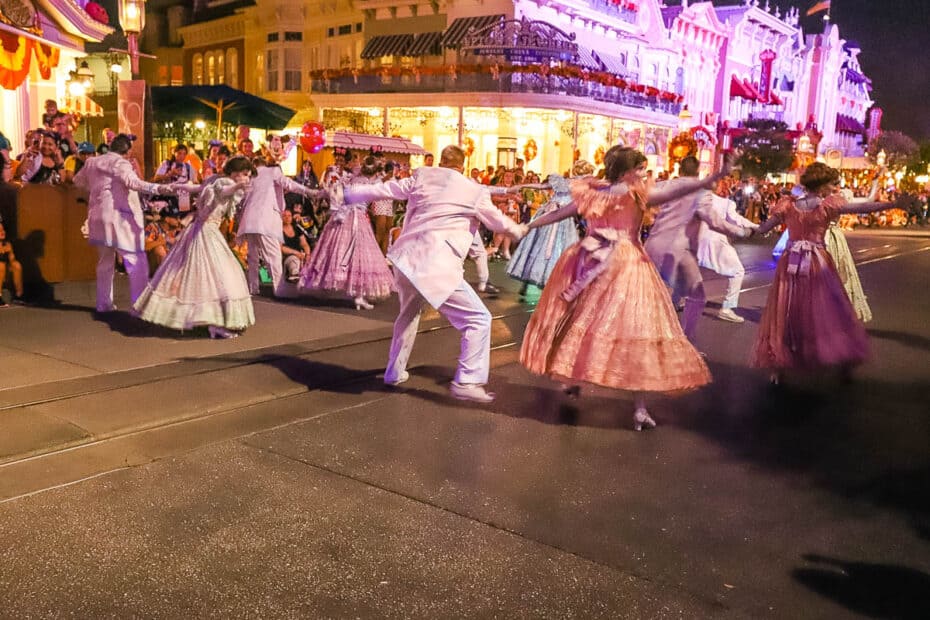 Followed by a trio of Hitchhiking Ghosts.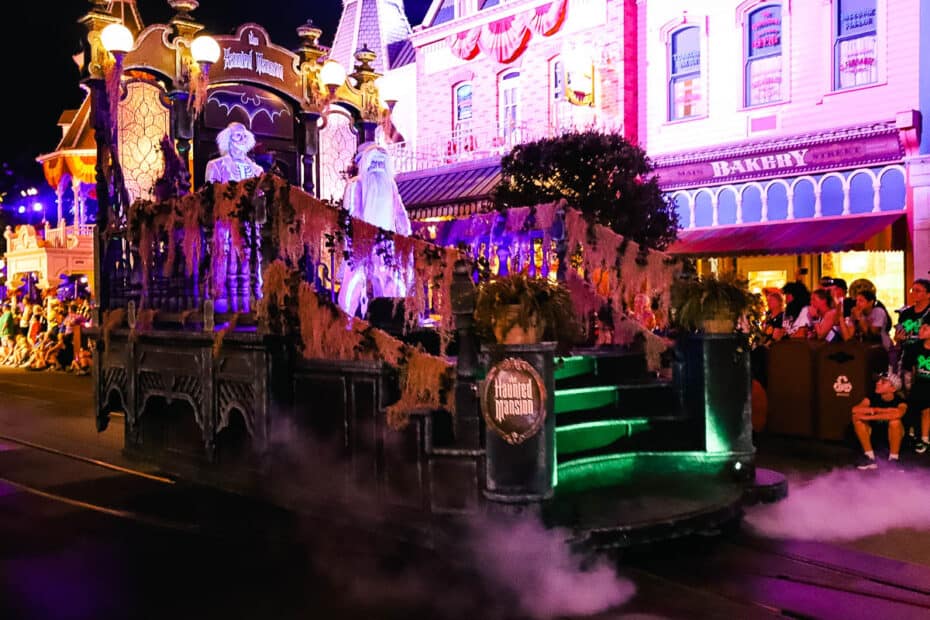 Since it's really not so scary, the mood is lifted by a few square dancers.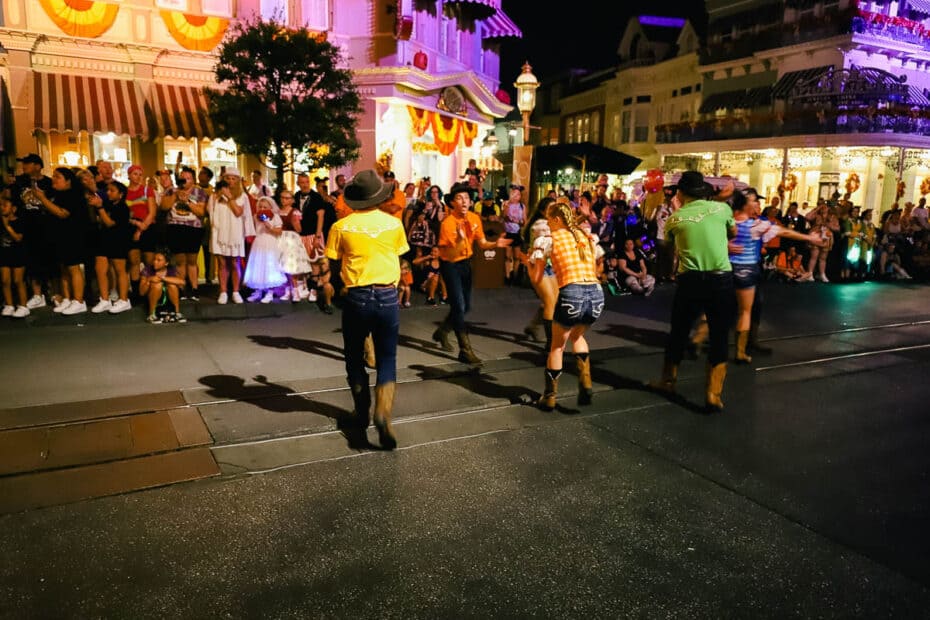 Clarabelle Cow is hosting a Halloween Hoedown.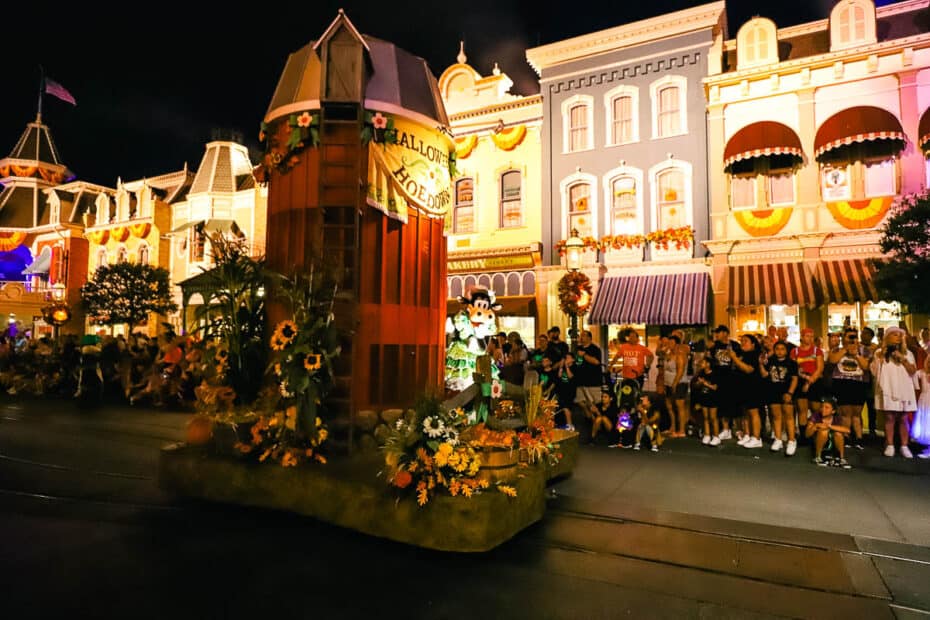 A few Frontierland Friends join the parade.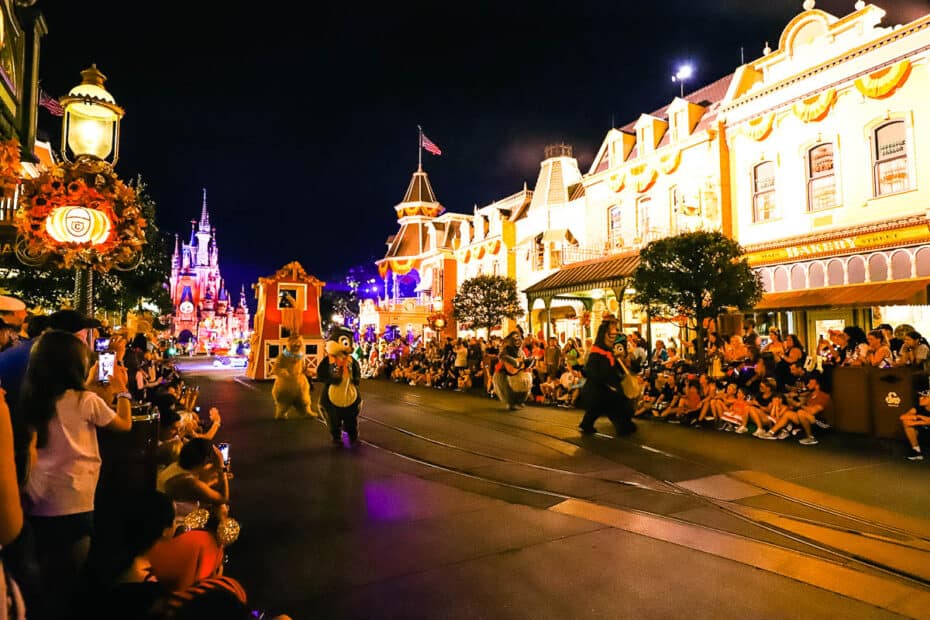 They include:
Big Al
Liver Lips McGrowl
Wendell
Chip and Dale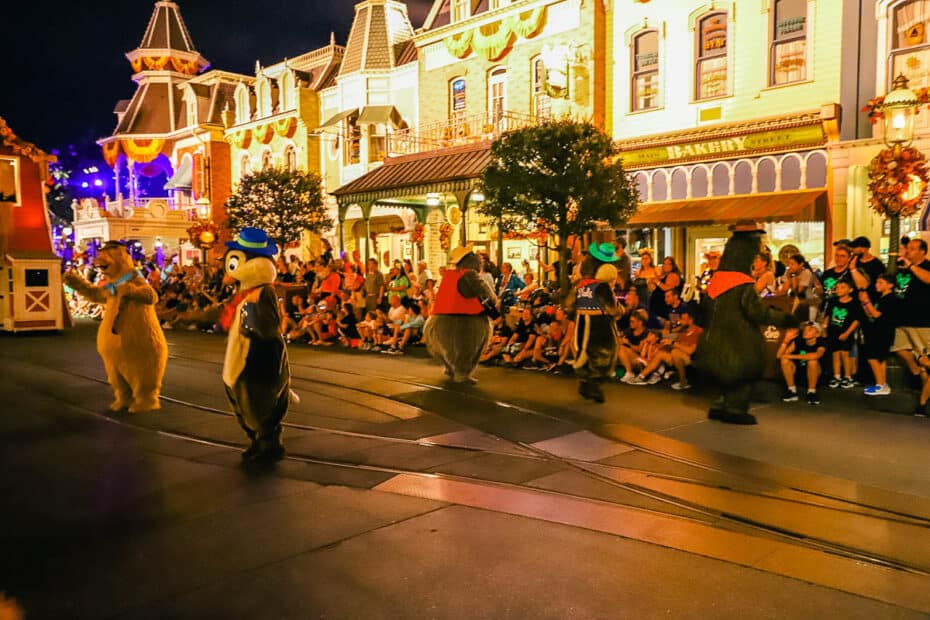 Clara Cluck follows behind in the hen house. She is an original character from animated classics dating back to the 1930s.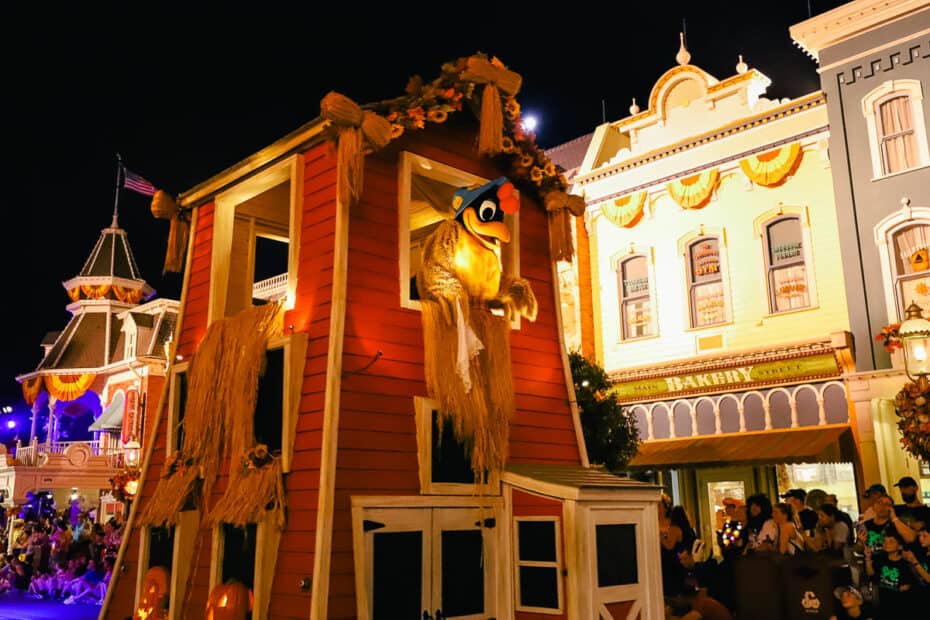 Next, we see a few of the aliens from Toy Story.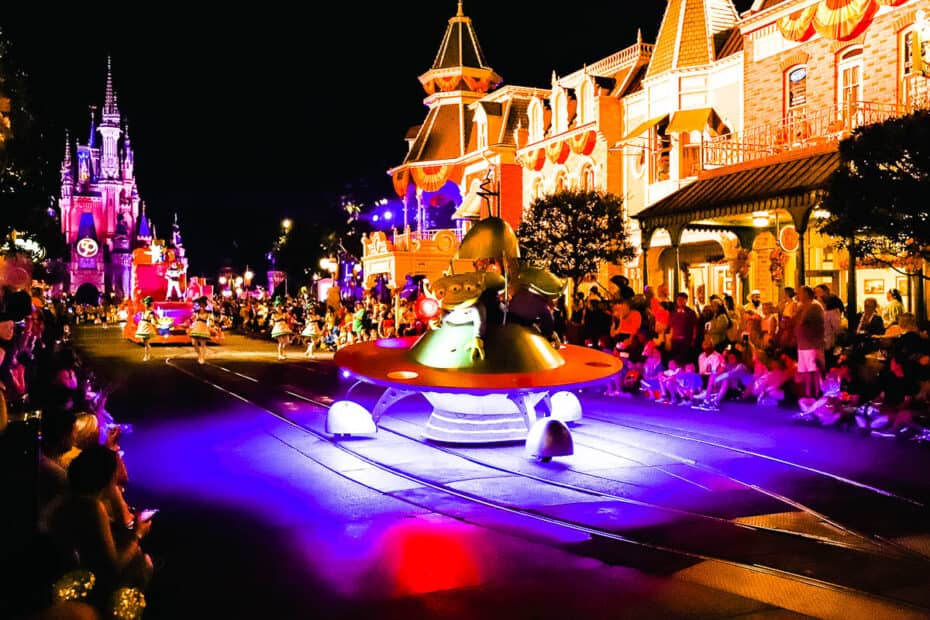 They are looking back toward their hero.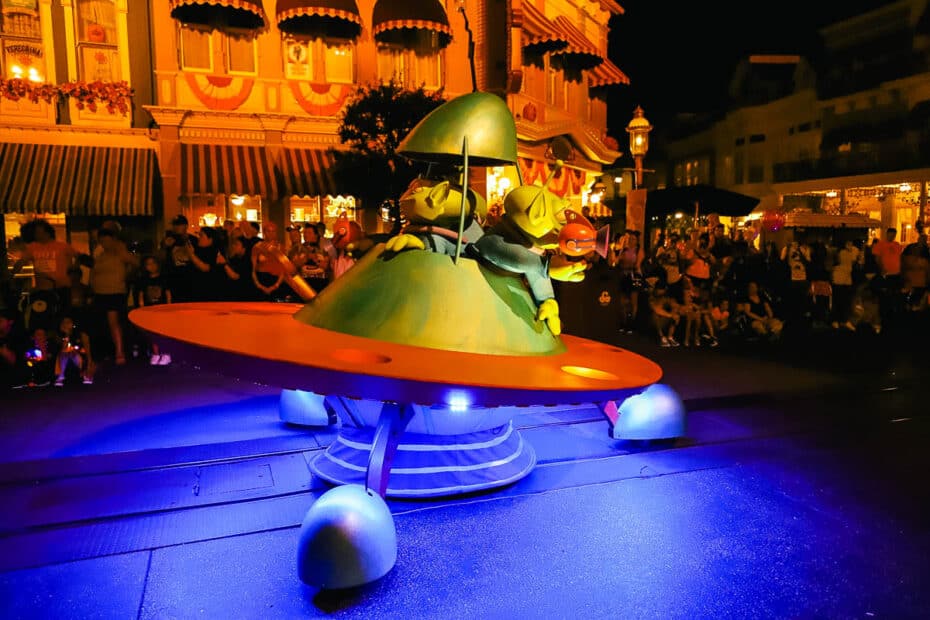 Or maybe they're just checking out these dancers bounding as Buzz.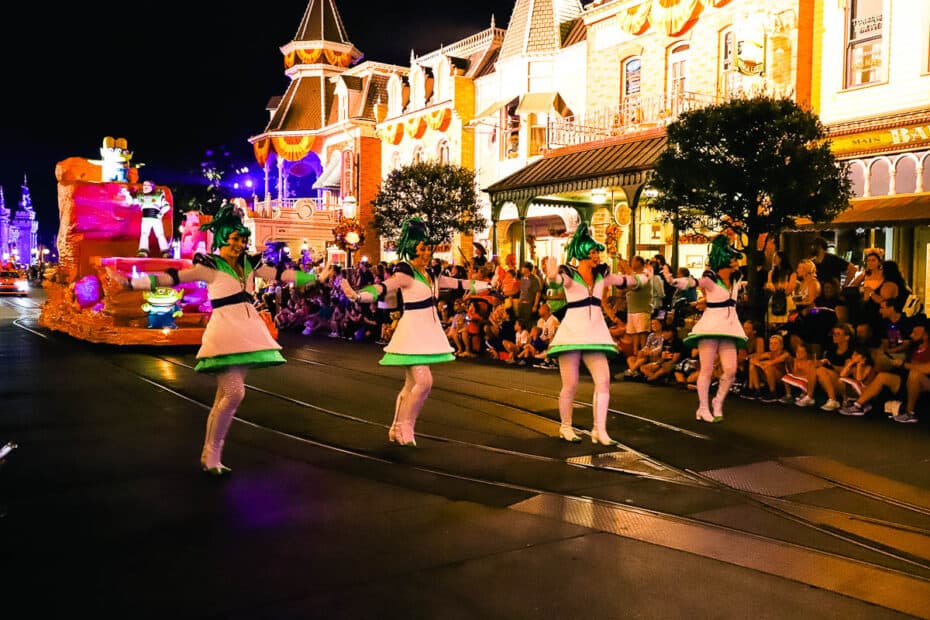 Nah, they're definitely looking to Buzz Lightyear.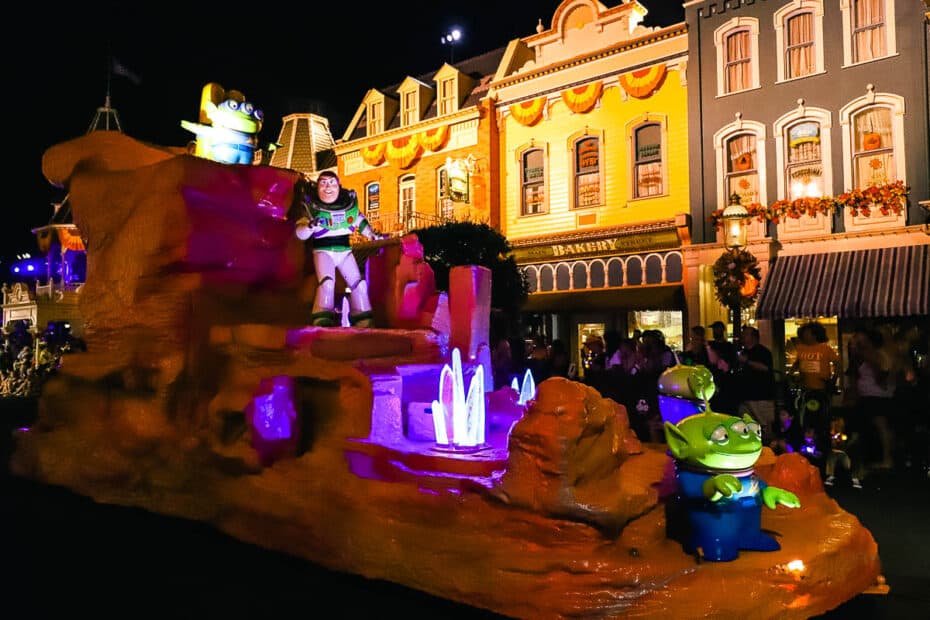 Edna Mode comes along doing the Monster Mash as the tune of the parade changes a bit.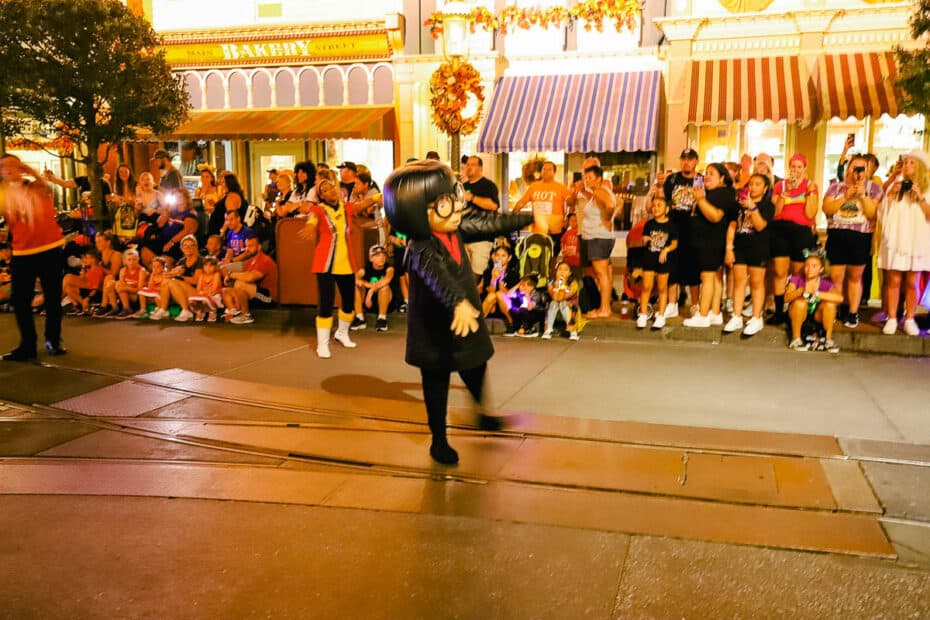 Mr. Incredible and Elasti-Girl are definitely "on parade."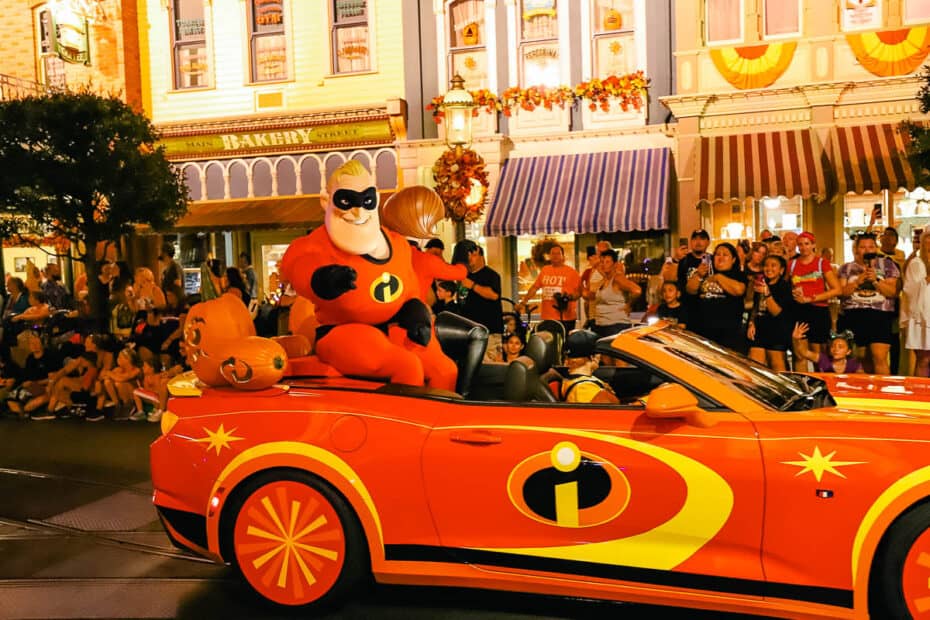 Here's Wreck-It-Ralph with a load of candy corn.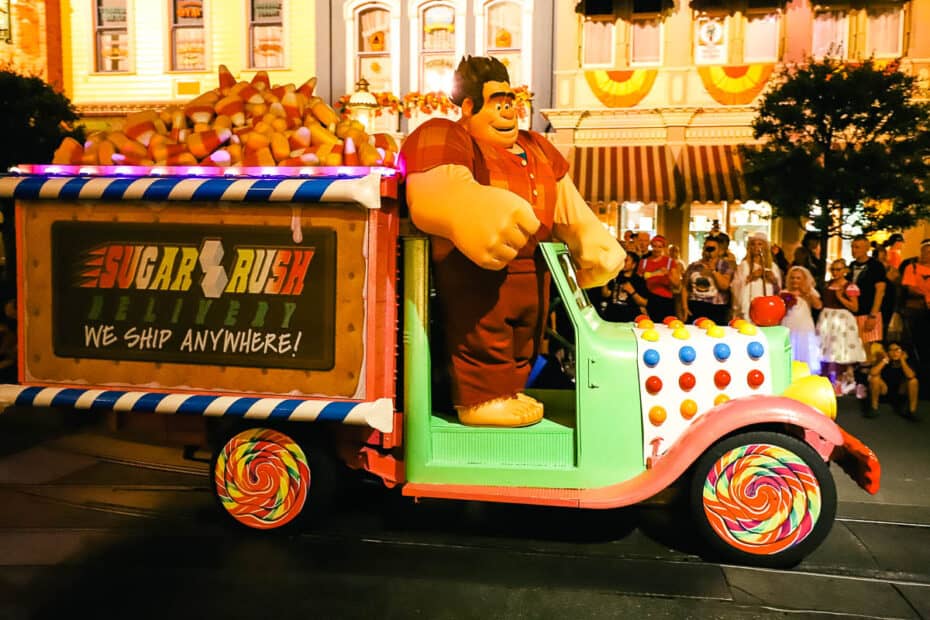 A few Sugar Rush Racers follow.
Of course, Vanellope von Schweetz is not far behind.
Related: Meet Vanellope von Schweetz at Epcot
Suddenly, this skeleton band comes through, playing an entirely new tune, It's Good to Be Bad.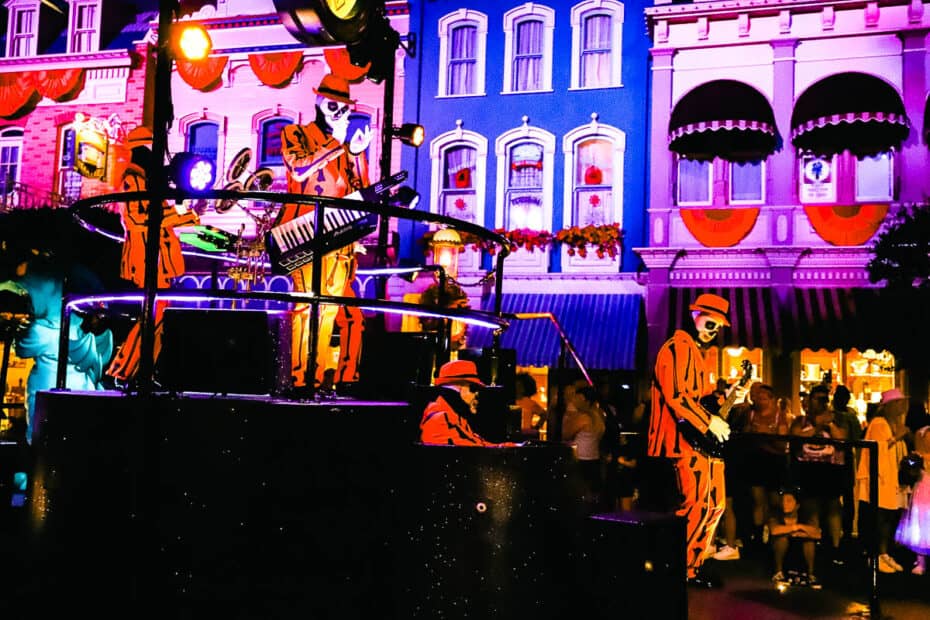 Pain and Panic from Hercules round out the back of this float.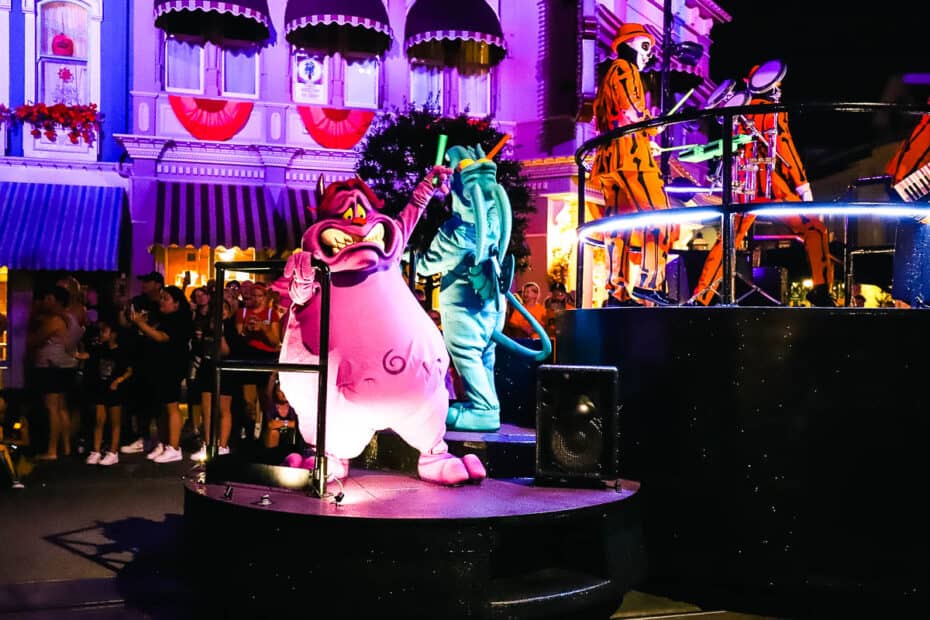 A few villains seemingly appear from out of nowhere, as they do. Here we have the Bowler Hat Guy from Meet the Robinsons. Then there's Cruella de Vil, Oogie Boogie, and the Queen of Hearts.
The Queen of Hearts meets at the party. We detail her meet-and-greet in our guide.
Related: Mickey's Not So Scary Halloween Party Characters Meets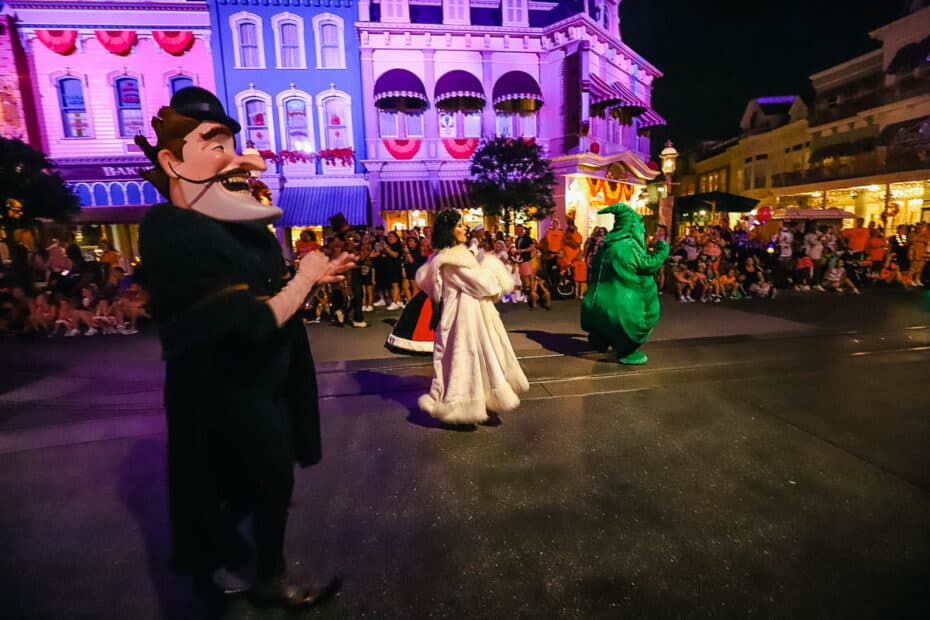 Jafar rides on the float and Maleficent is perched behind him.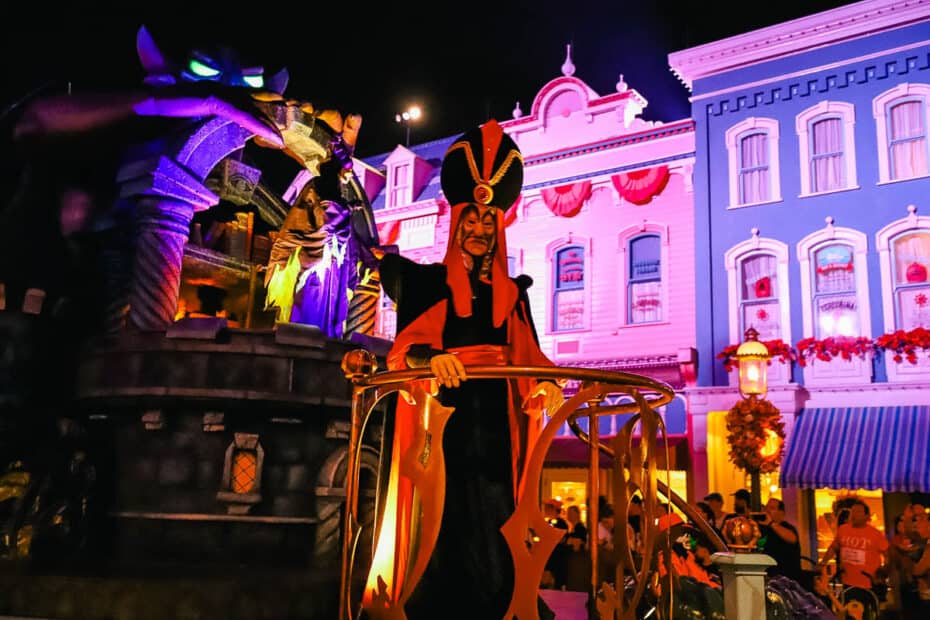 The Evil Queen from Snow White is on the very tail end of the parade. She's standing in front of her magic mirror.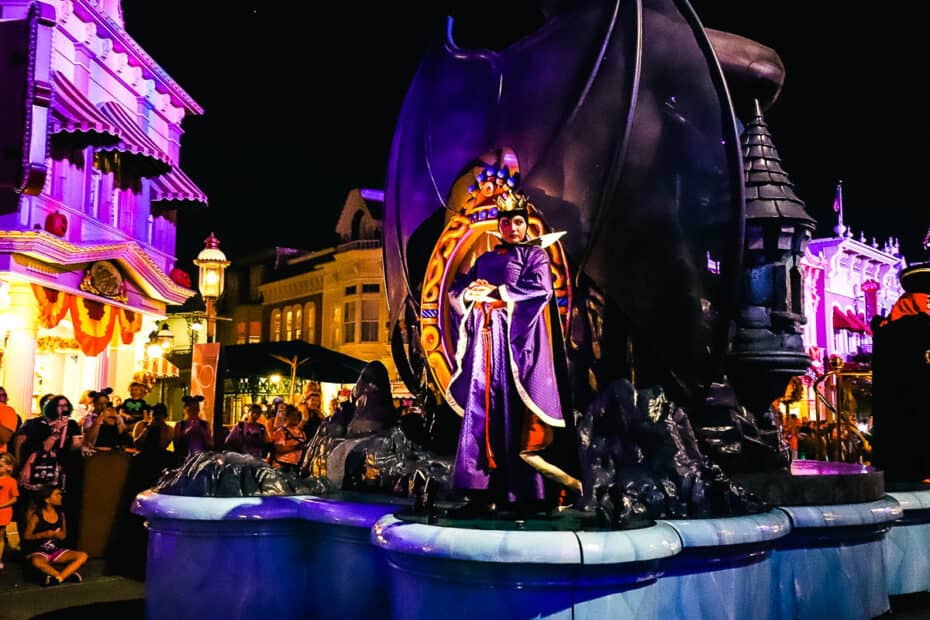 Of course, entertainment is subject to change. So don't be surprised if you see a mix-up of characters during your party.
For instance, I attended the first two Halloween parties this year. Unfortunately, due to rain, there was only one parade performance at the first party. Additionally, there were more characters in the parade at the second party.
Since Mickey's Boo To You Parade is a must-do for most guests, the first parade tends to be more crowded than the second. However, with so many sold out nights in 2022, I would anticipate both parades drawing a sizable number of guests.
Additionally you have a few options for watching the parade. If you would like to see Boo to You fairly quickly, you might consider watching it from Frontierland.
However, watching any of the parades from Main Street U.S.A. is always a superior experience. Main Street offers a unique ambiance with the crowd cheering and Cinderella Castle lit in the backdrop.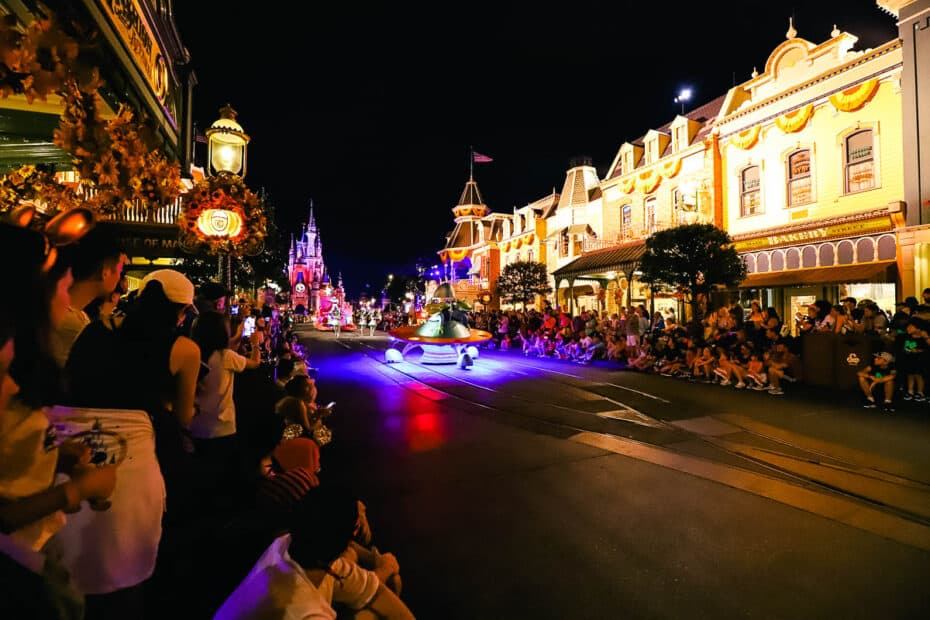 Just know that it takes approximately 20 minutes for the parade to reach Main Street. But that doesn't mean you can find a spot later.
If you want a good spot toward the front row, guest begin to pull up a curb anywhere from 45 minutes to an hour ahead of the performance time.
For this party, we got snacks and found a spot a full thirty minutes before the parade's start. And we were on the second row. Thankfully, all of the guests on the front remained seated when the parade came through.
Because such a large crowd forms, guests watching from Main Street are privy to a special pre-parade performance. Max Goof cosplaying as Powerline comes out with a song and dance number.
Max is joined by a group of dancers. They offer two song-and-dance numbers as they make their way up Main Street.
In addition, before the parade arrives, you'll be treated to a special appearance of the Headless Horseman as he trots down Main Street. This appearance is only available as weather allows and the horse cooperates.
For more details, try our Halloween Party guide:
You might also enjoy these other forms of entertainment at Magic Kingdom, during regular operating hours:
What character's do you hope to see in Mickey's Boo to You Parade? Do you have plans to see the parade?
Planning a Walt Disney World or other Disney Destination vacation?
Our friends and travel partner, Firefly Travels, excels at doing Disney differently. You can fill out a plan your trip form on their website, and someone will reach out shortly to discuss the specifics.