Mickey's Once Upon a Christmastime Parade (Characters and Photos)
Mickey's Once Upon a Christmastime Parade is a twice-nightly parade exclusive to Mickey's Very Merry Christmas Party. Well, for the most part.
During the week of Christmas, Mickey's Once Upon a Christmastime Parade replaces the afternoon performance of the Festival of Fantasy Parade. Last year, the Christmas parade was scheduled for the following dates during the park's regular hours:
Friday, December 23rd through Saturday, December 31st
On these dates, the parade is scheduled twice daily at 12:00 p.m. and 3:00 p.m. You can check the exact schedule here on Disney's site or within the entertainment section of the My Disney Experience app.
As for Mickey's Very Merry Christmas Party, a separately ticketed event at Magic Kingdom, the parade is offered at 8:30 p.m. and 11:00 p.m. each evening of the party.
So for the Christmas Party, you'll get to see the parade at night. Additionally, if you decide to watch it from Main Street, U.S.A., you'll get the added effect of faux snow.
Below, we'll look at a few photos and some of the characters you can expect to see in Mickey's Once Upon a Christmastime Parade. If you have plans to attend one of this year's parties, make sure to add this to your schedule.
We have a review of Mickey's Very Merry Christmas Party that includes details for the best places to watch the parade and how to fit it into your schedule.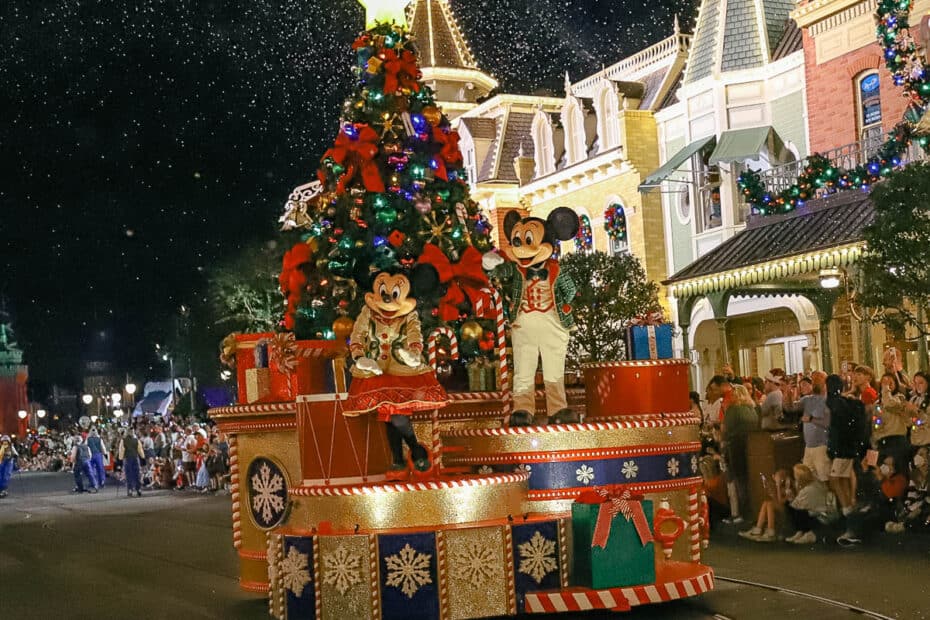 When Mickey's Once Upon a Christmastime Parade reaches your area, you'll know it. Suddenly, the speakers in the area change over, and the first few notes of the parade begin to fill the air.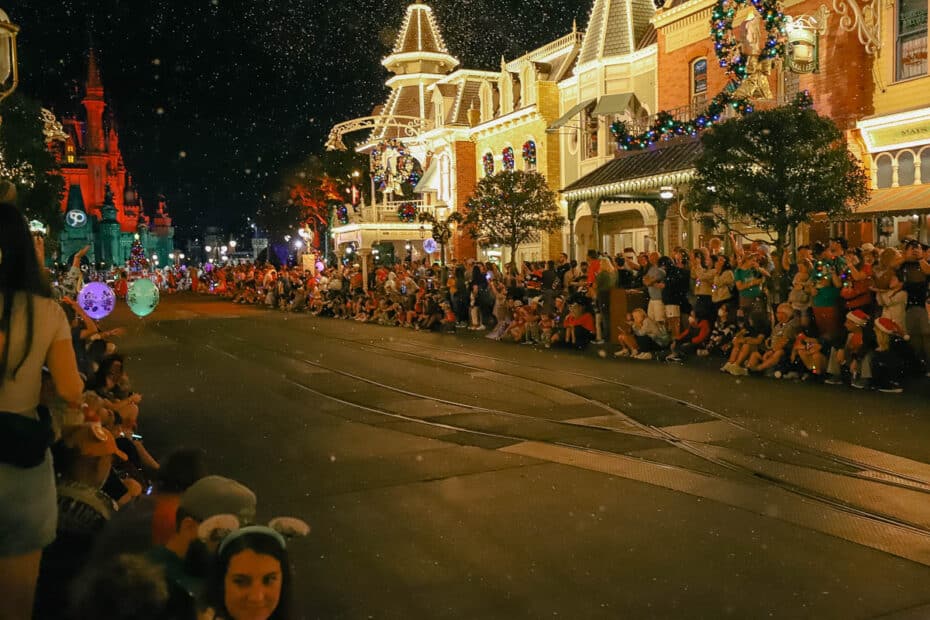 Mickey's Christmas parade begins with an assortment of characters frolicking down Main Street.
We see Pluto, Peter Pan, Wendy, Pinocchio, Gepetto, Donald Duck, Daisy Duck, Mad Hatter, Alice, Mary Poppins, Bert, and Tigger.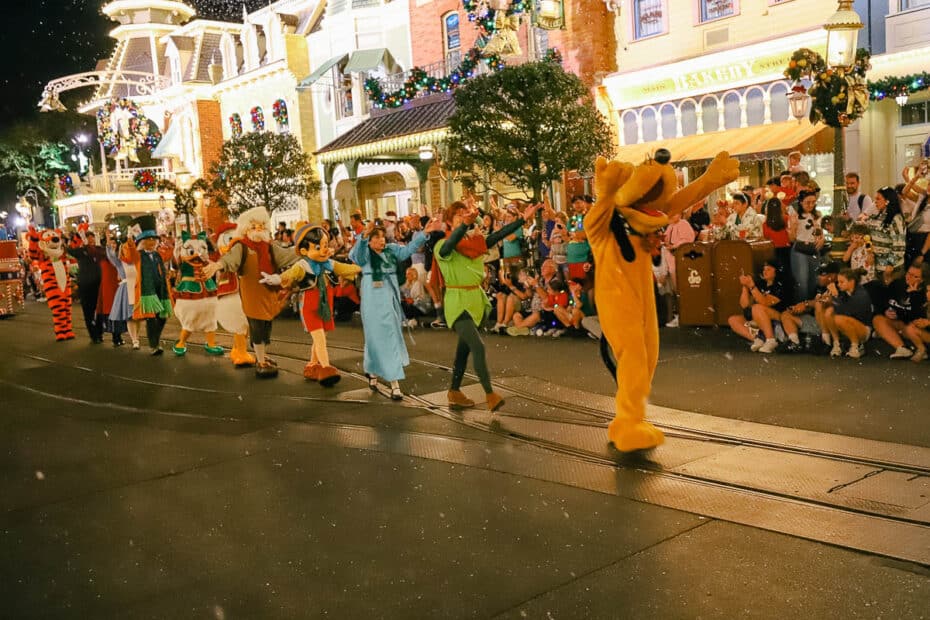 They playfully make their way through the crowd.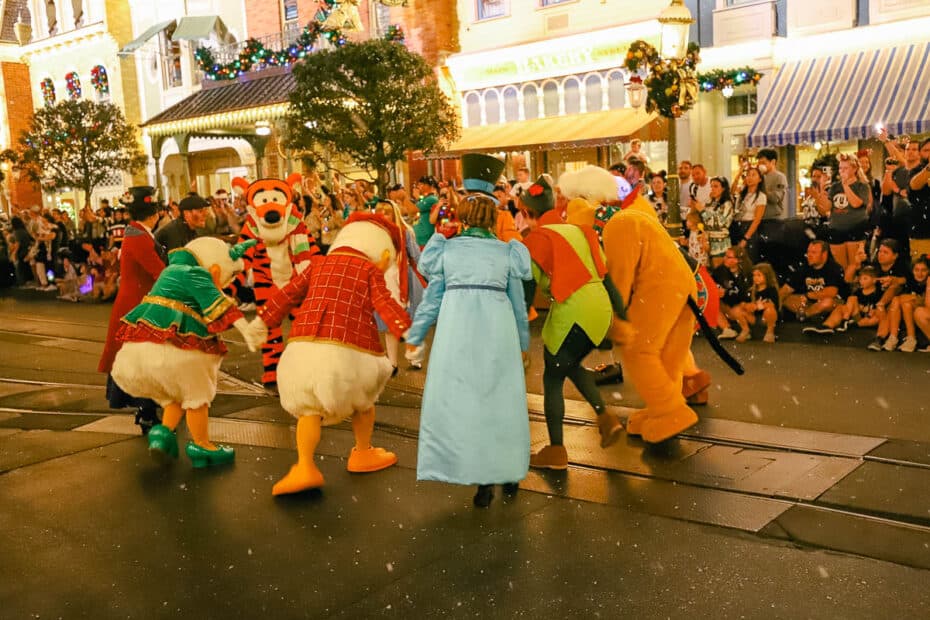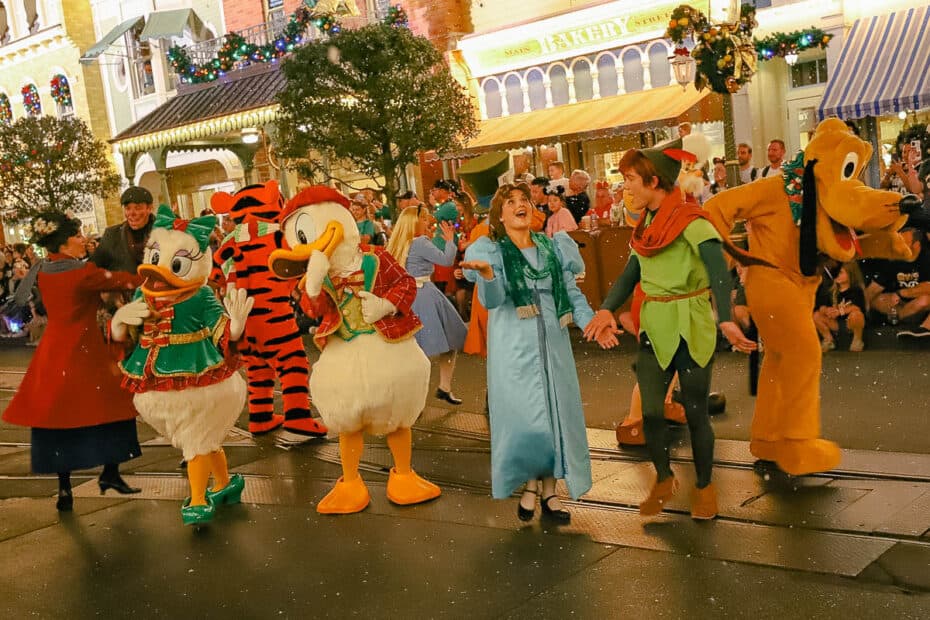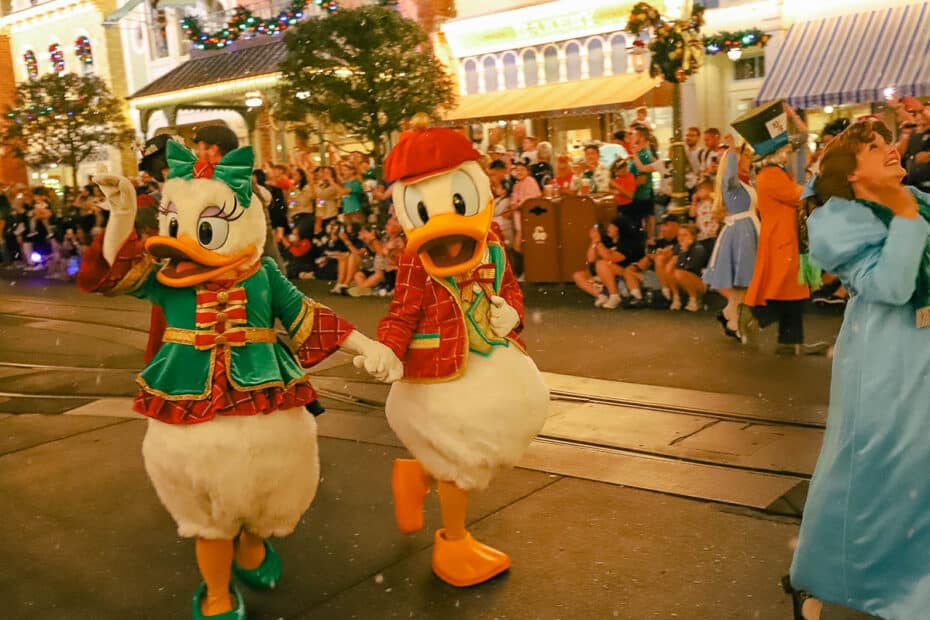 These fun characters are followed by the first parade float featuring Mickey and Minnie Mouse.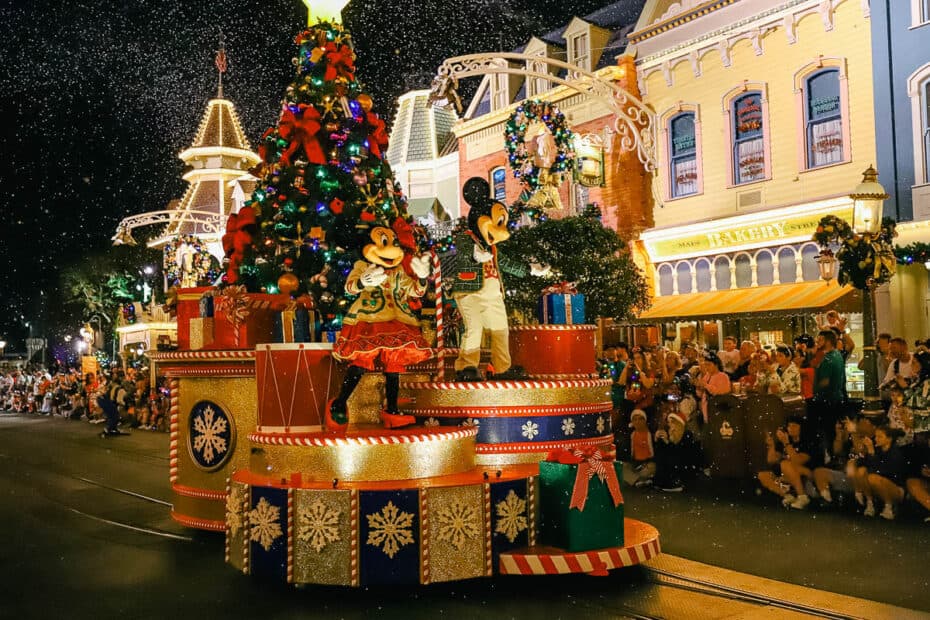 They are wearing festive holiday attire as they wave to the crowd.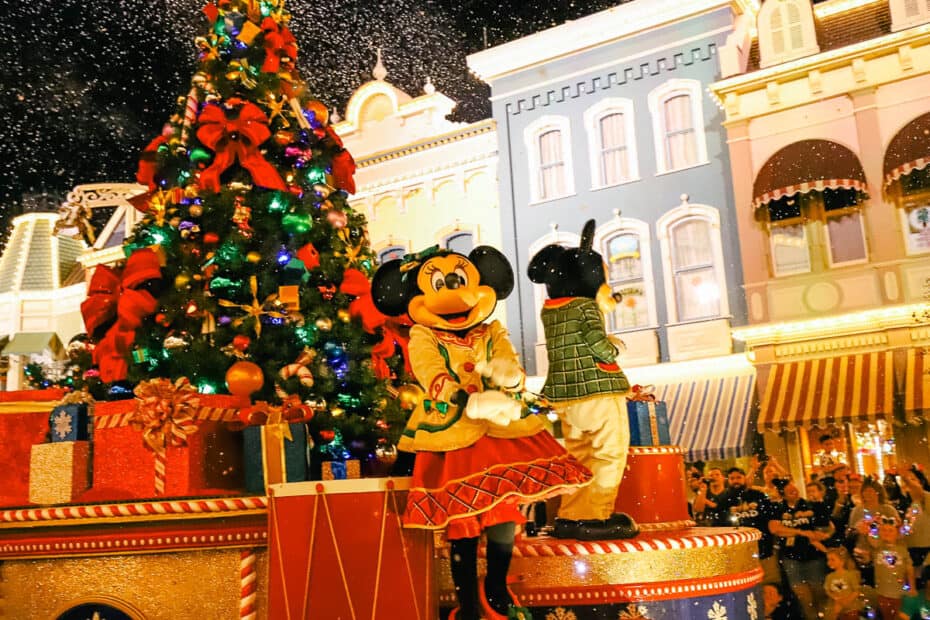 Next comes the Frozen unit, which starts with a group of skiers.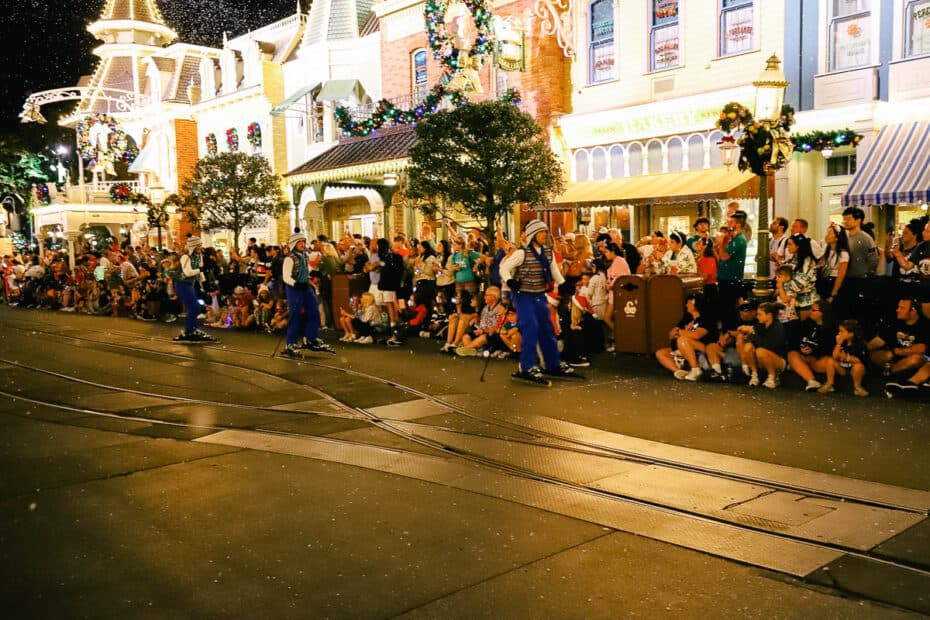 Olaf is not far behind on a gingerbread float.
This unit features a group of dancers with ice picks. Kristoff and Anna lead the group.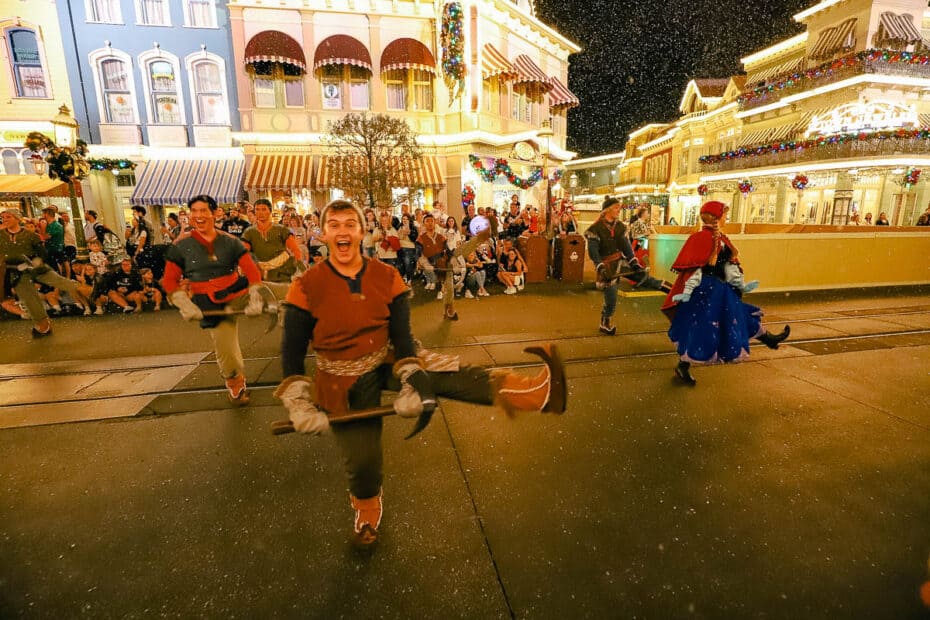 Elsa is on a separate float at the end of this segment.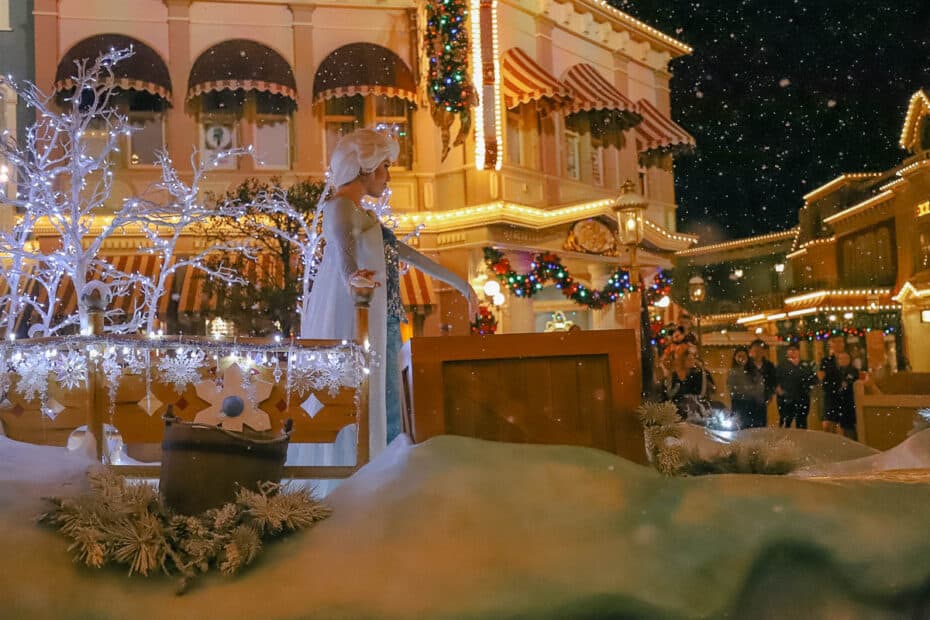 Vanellope von Schweetz drives the cutest gingerbread car down the street.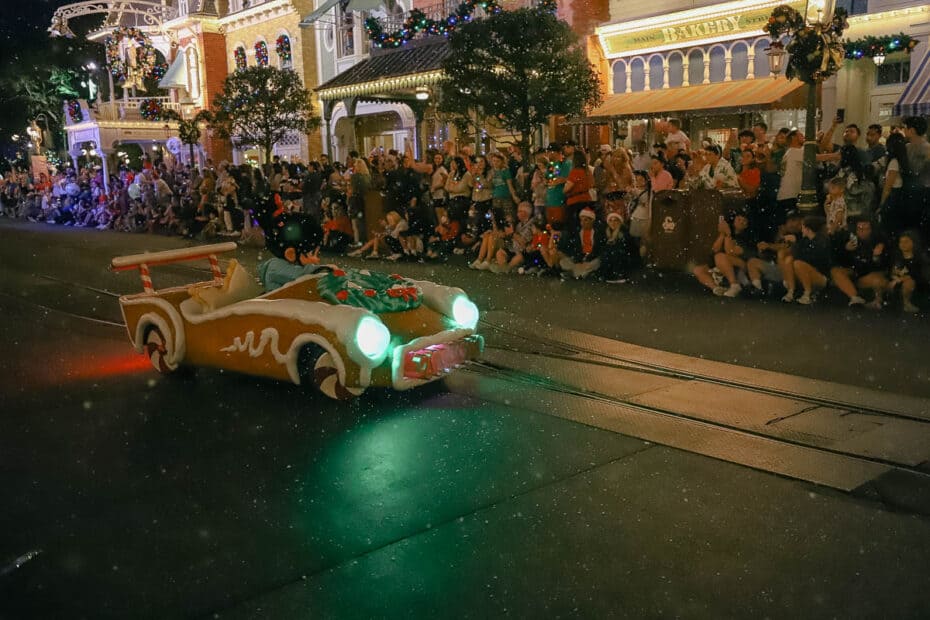 Behind her is a gingerbread house. Wreck-It Ralph used to ride on the front of this float. But we've yet to see his return to Walt Disney World.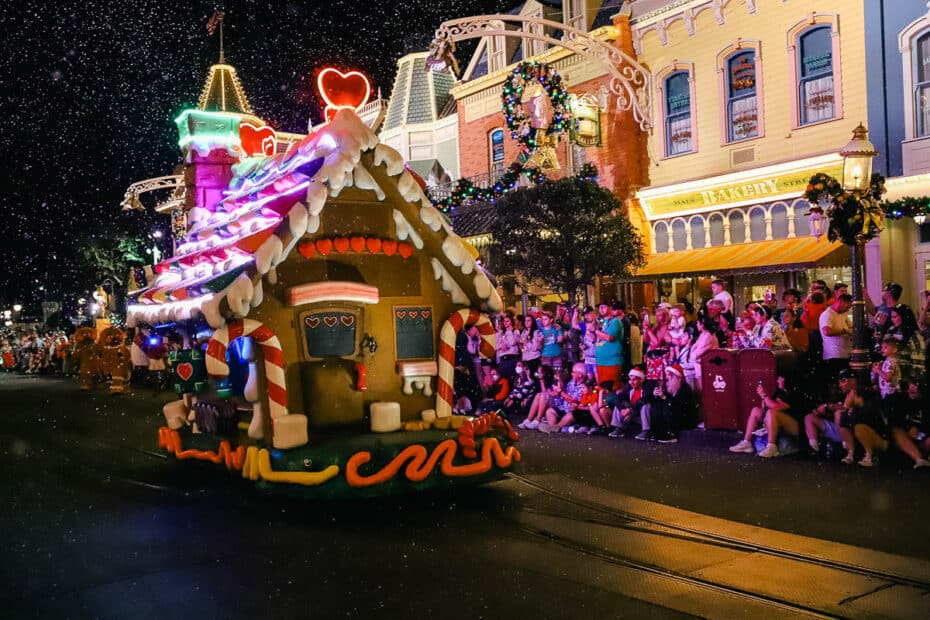 Here we have Chip and Dale as bakers, dancers, and gingerbread men.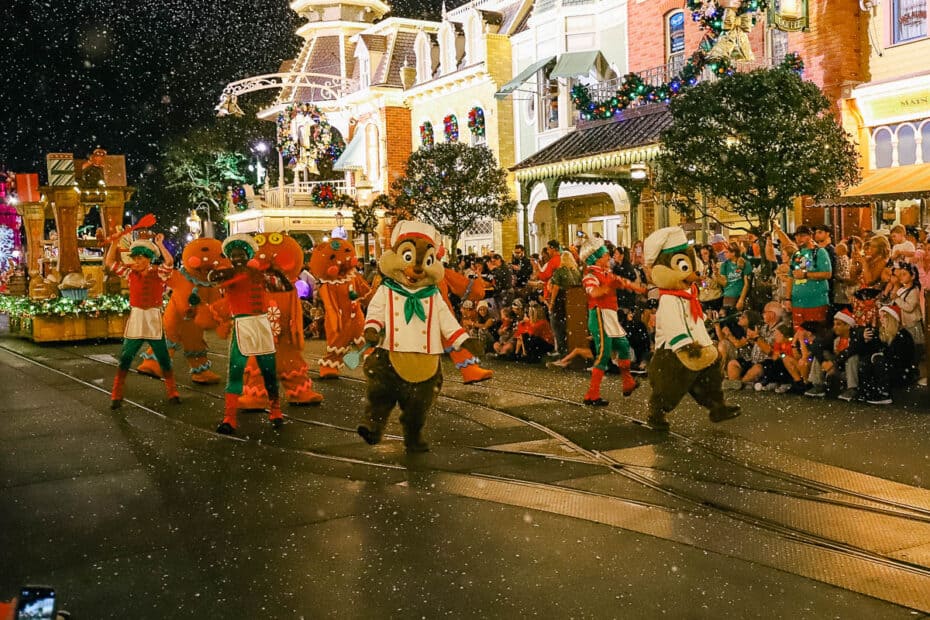 They are too cute.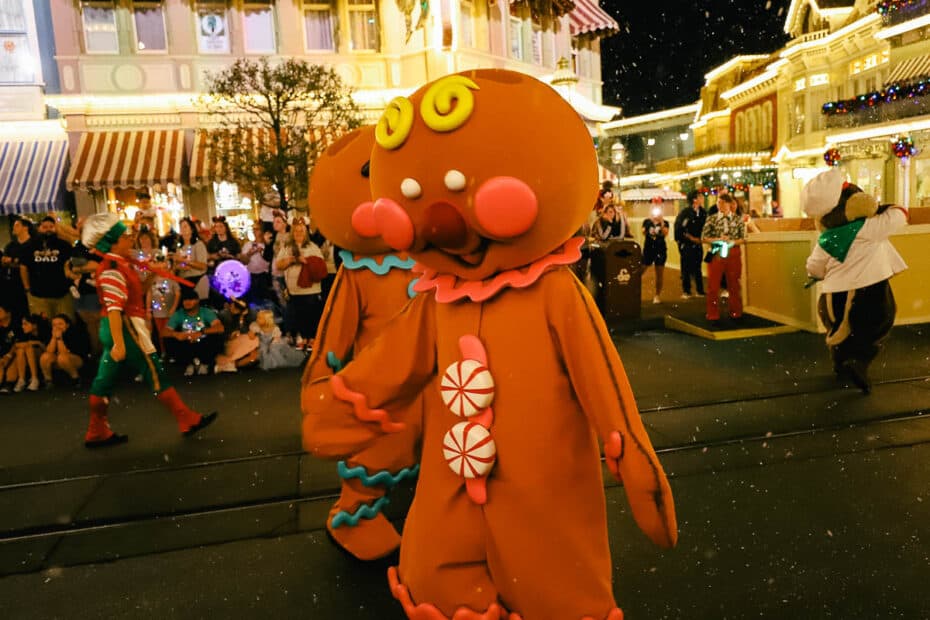 Behind this group, we see Clarabelle Cow. She is busy baking in her kitchen.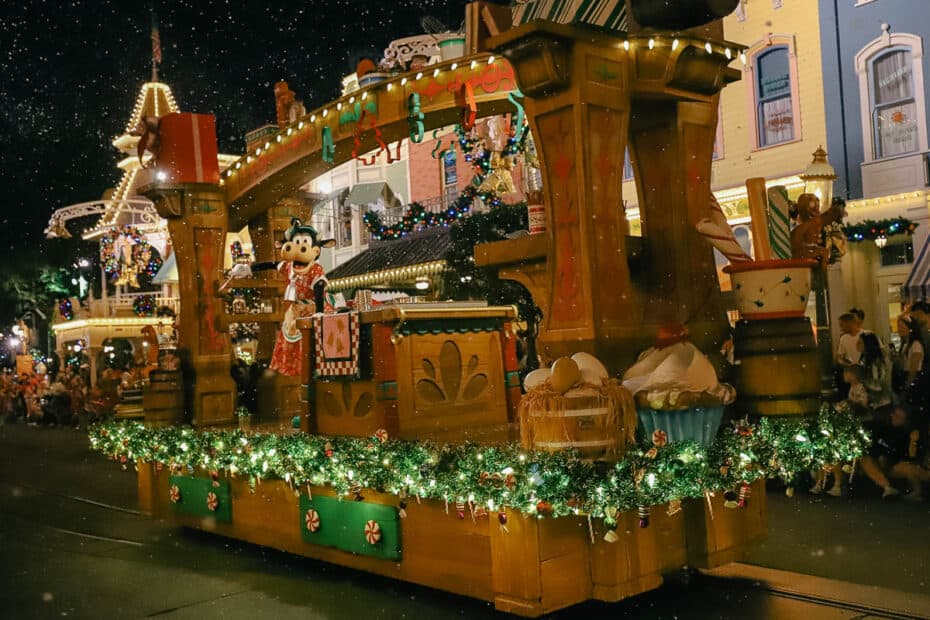 Looking closely, you might catch the gingerbread cookies coming to life on her counter.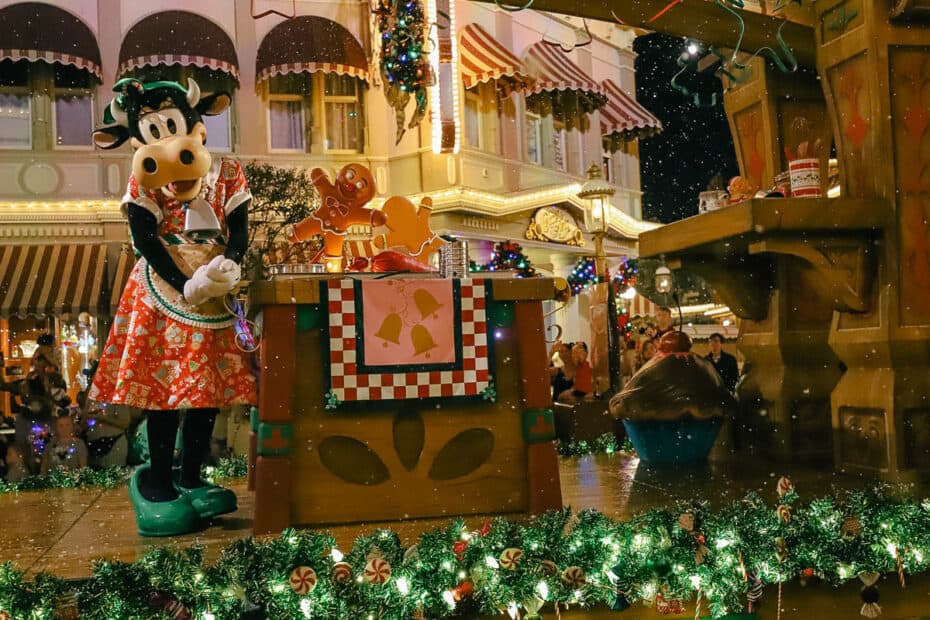 What kind of parade would it be without an ensemble of candy cane dancers?
Even their hair is striped!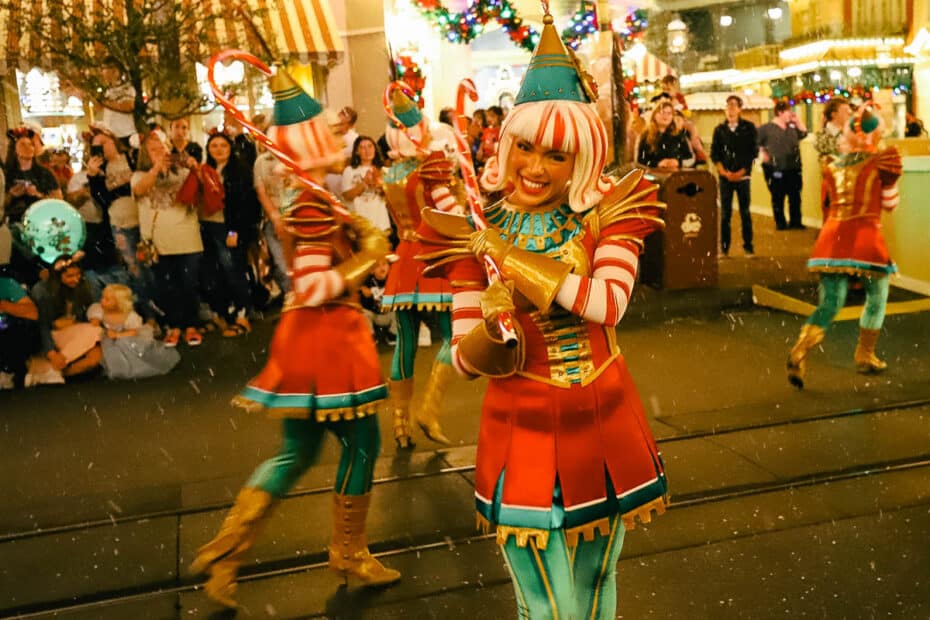 With the nod toward candy, you know that Goofy isn't far behind.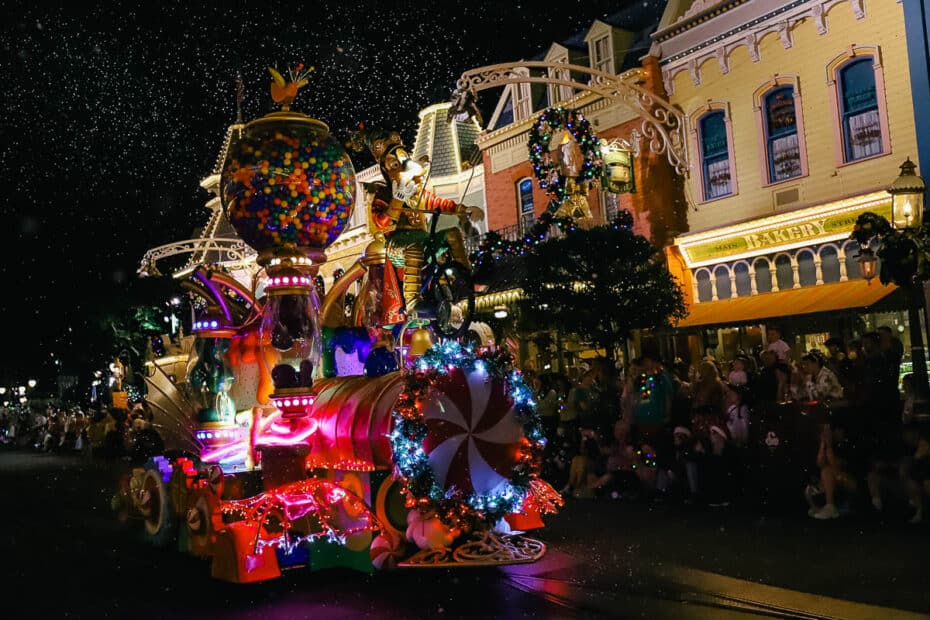 His float releases delicate wafts of sweetness into the air.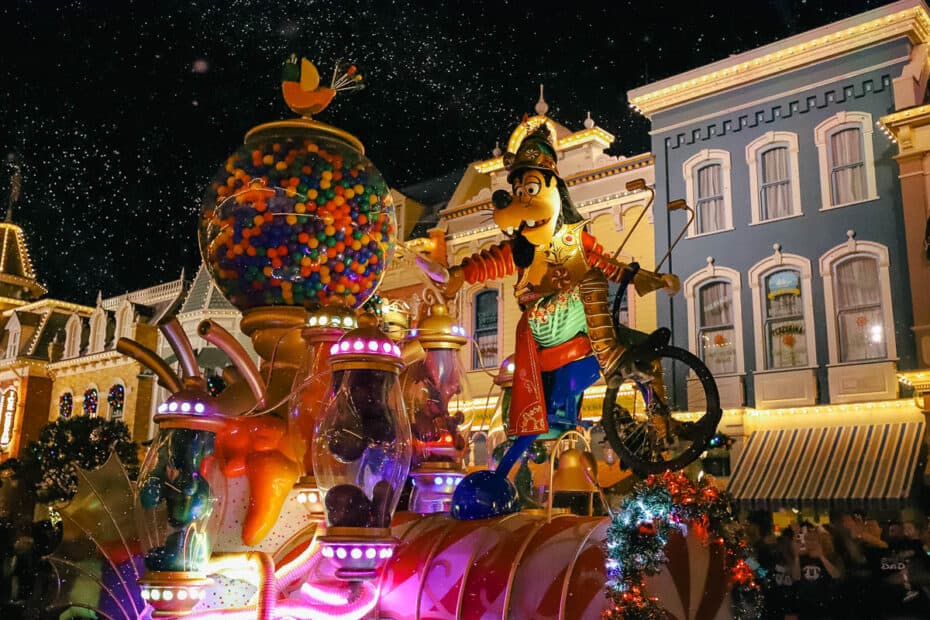 Unfortunately, we didn't see the Seven Dwarfs return to a traditional meet-and-greet at this year's party. However, they do make an appearance in Mickey's Once Upon a Christmastime Parade.
Related: Character Meets at Mickey's Very Merry Christmas Party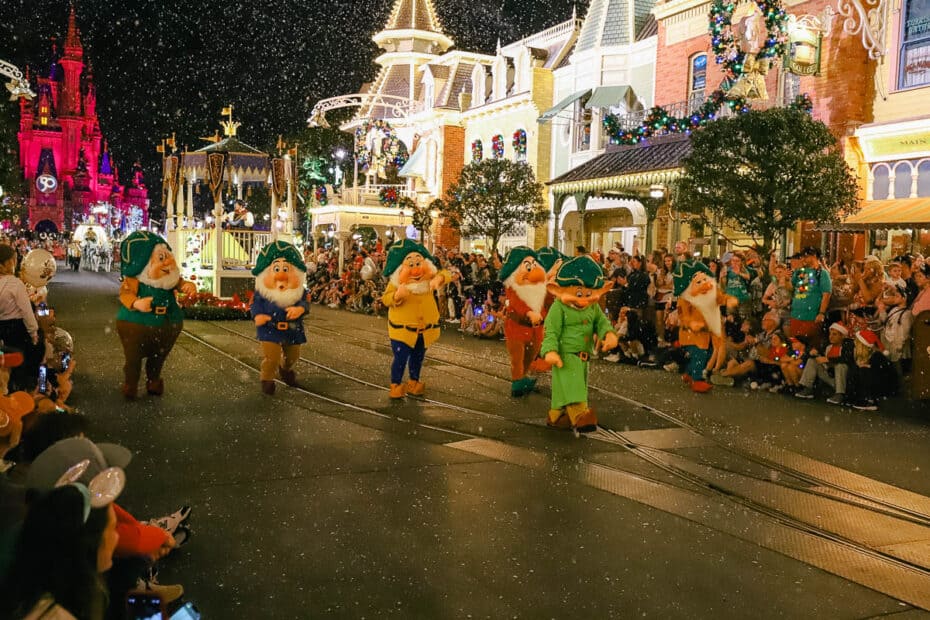 Adorable.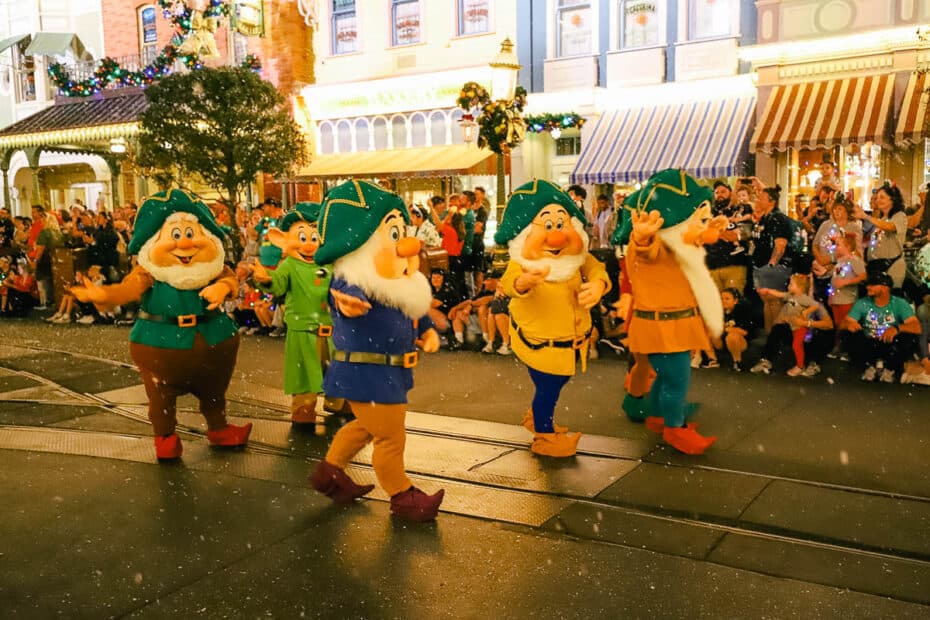 Snow White and The Prince are not far behind on the gazebo float.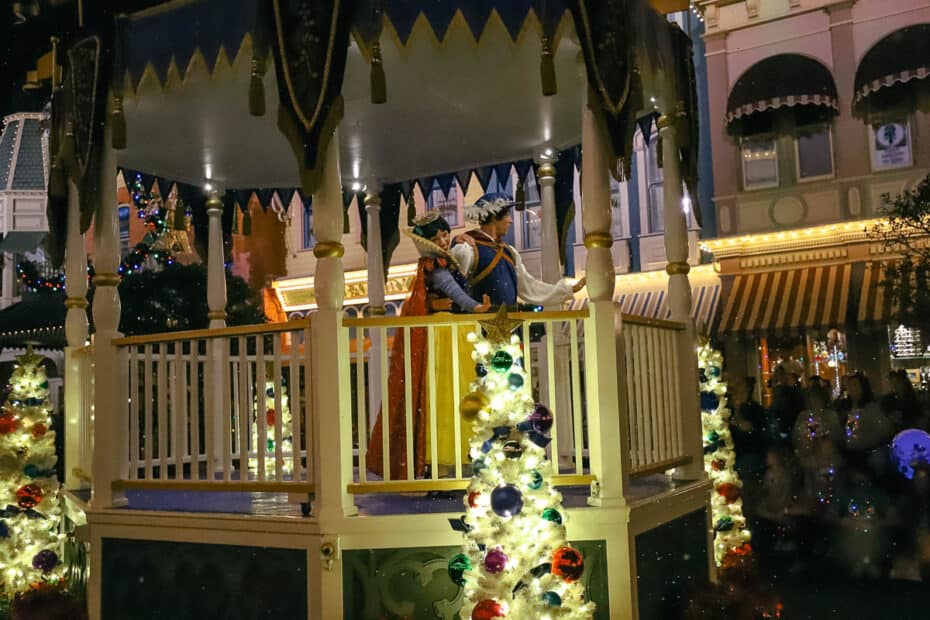 Perhaps the most jaw-dropping unit is next, featuring miniature horses pulling Cinderella's carriage.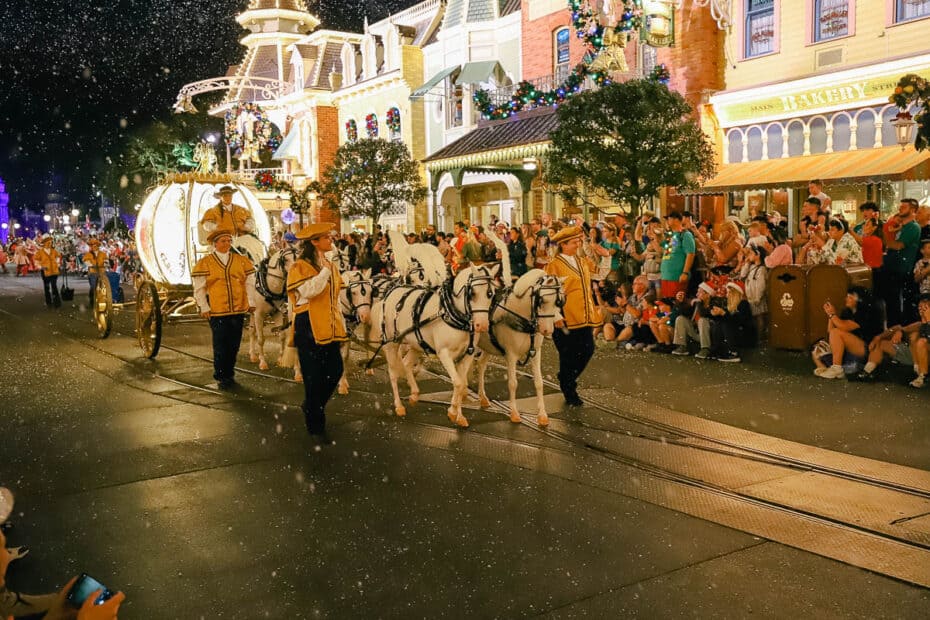 Prince Charming and Cinderella wave to guests from inside.
Ballroom dancers come next in rich holiday costumes.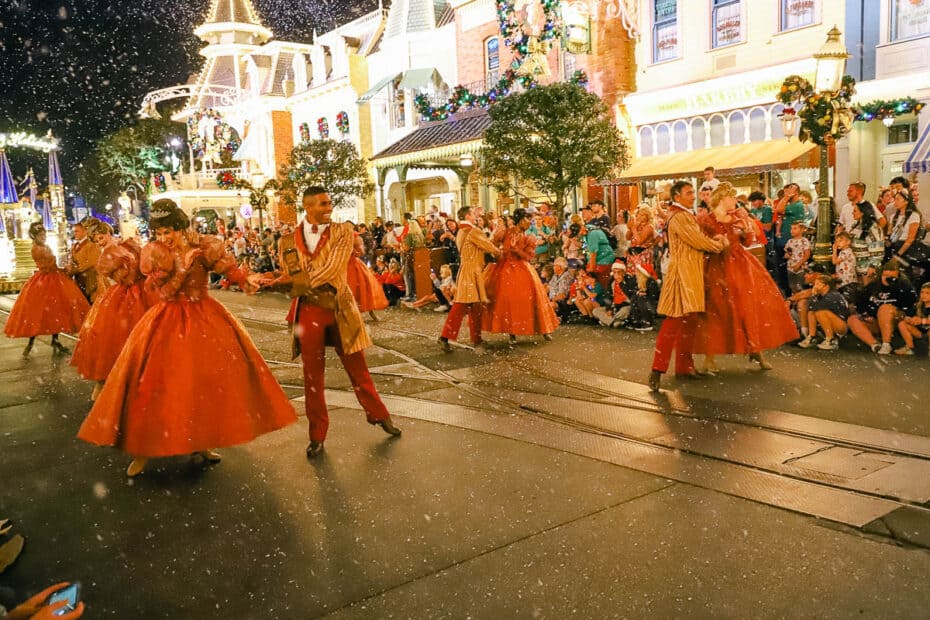 The mirror float follows them.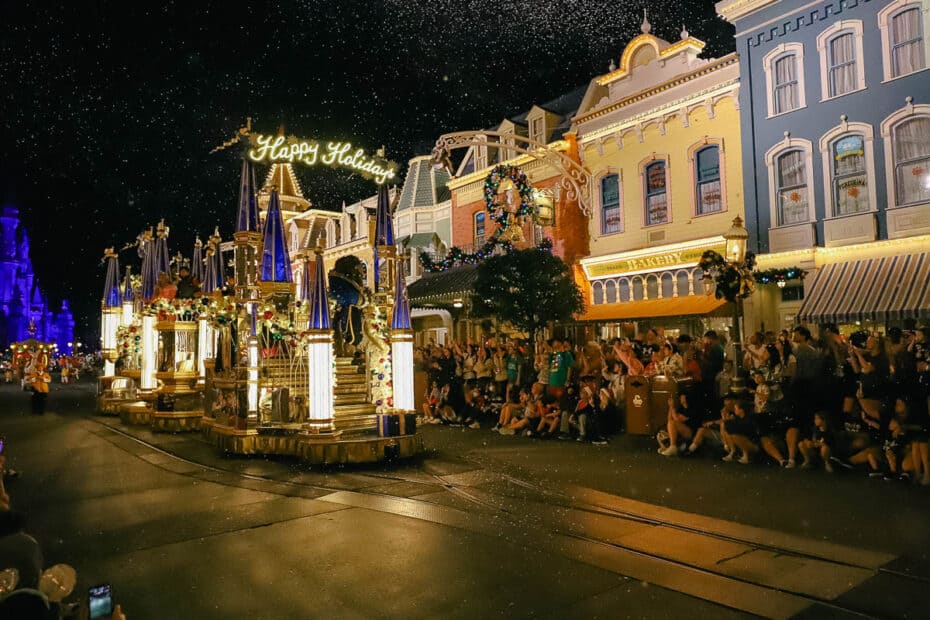 Traditionally, the mirror float is where you'll find ALL the princesses. We see Beast and Belle.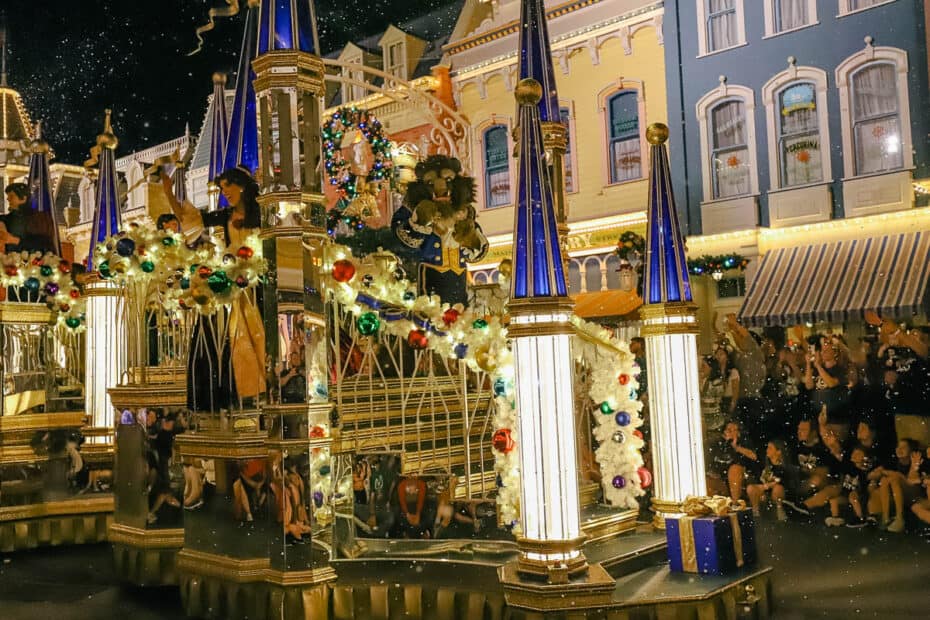 Aurora and Prince Philip.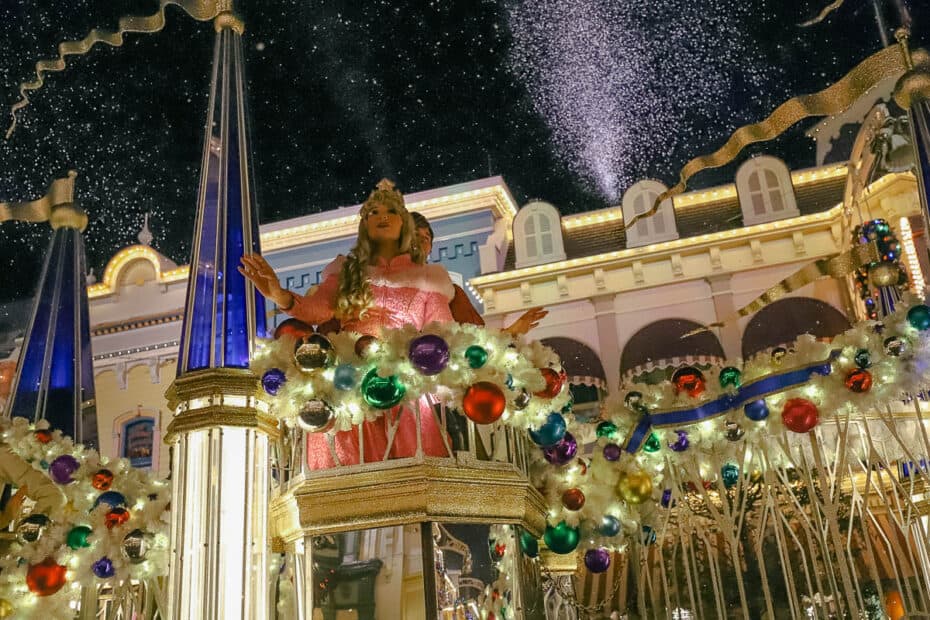 Jasmine and Aladdin.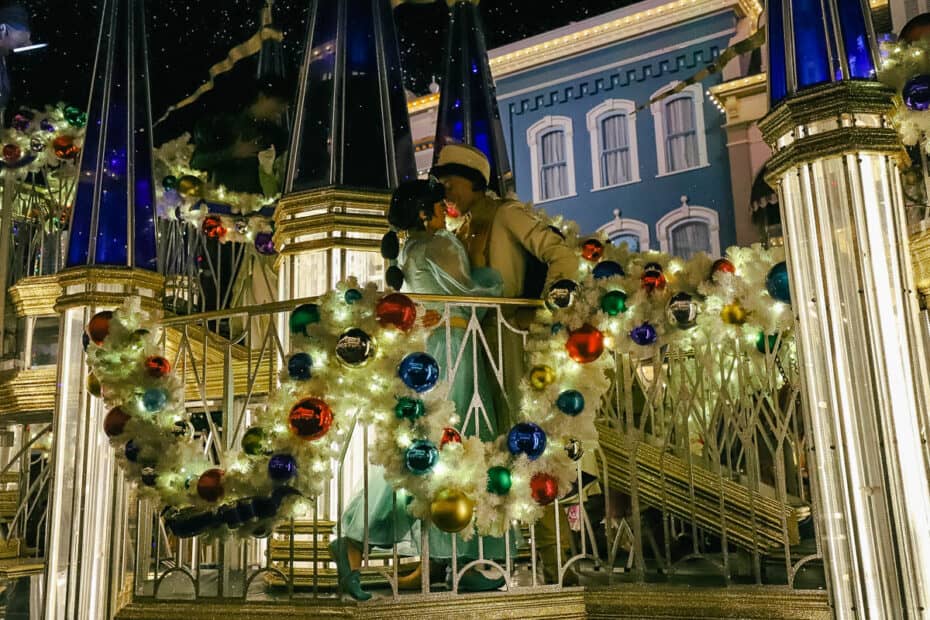 Additionally, Prince Naveen, Tiana, Prince Eric, and Ariel were riding on the opposite side of the float. The Fairy Godmother is perched up high on the back of the float.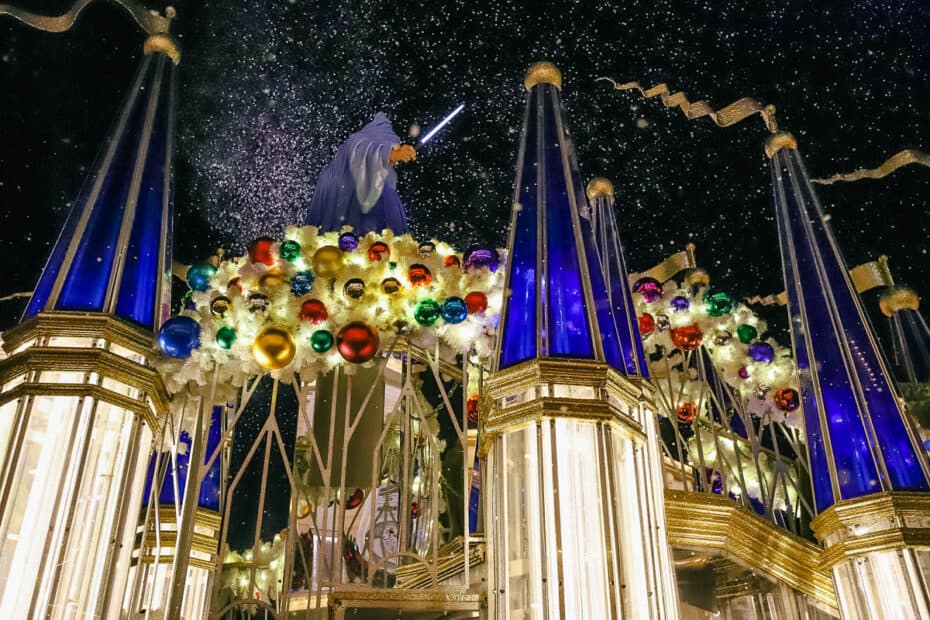 What Christmas parade would be complete without toys?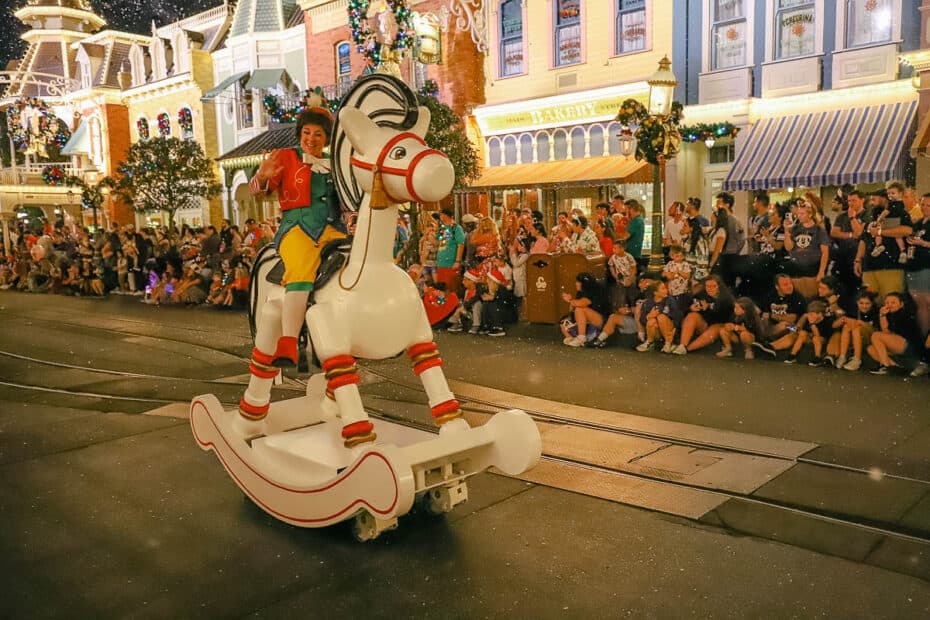 With the anticipation of Santa, we start to see a few elves.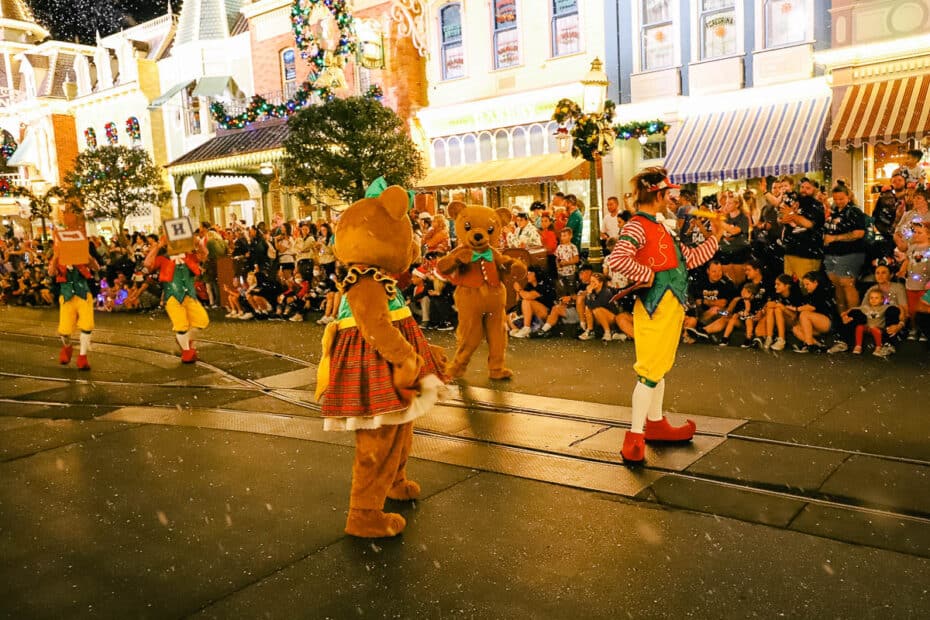 Santa's workshop float comes next.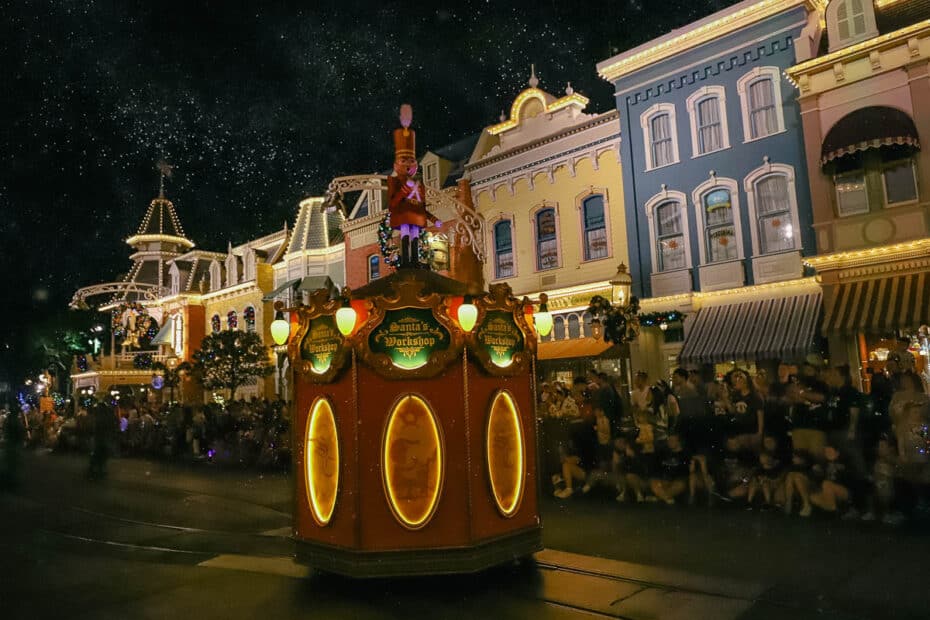 Here are a few of Santa's helpers carrying Pixar balls.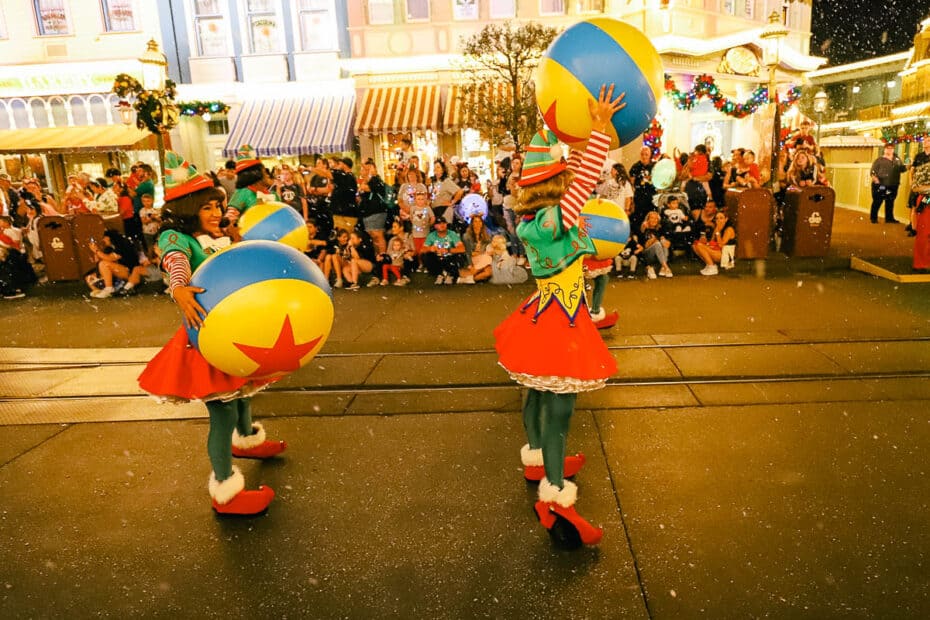 Woody and Jesse come along next on a float that looks like it might have been made in Andy's backyard.
A troop of Toy Soldiers rounds up the group giving a nod to Babes in Toyland.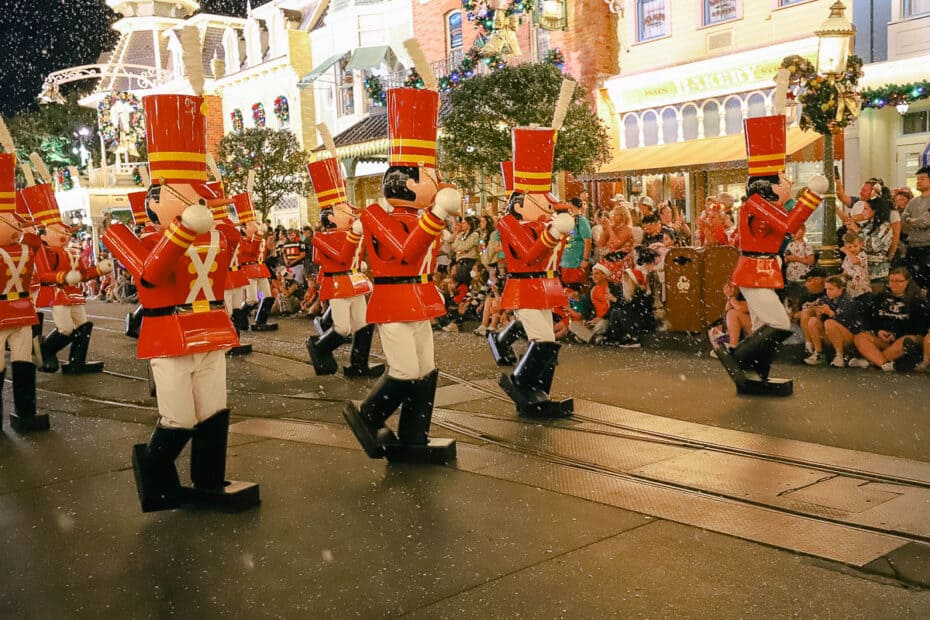 Right before the finale, we see a few wrapped presents.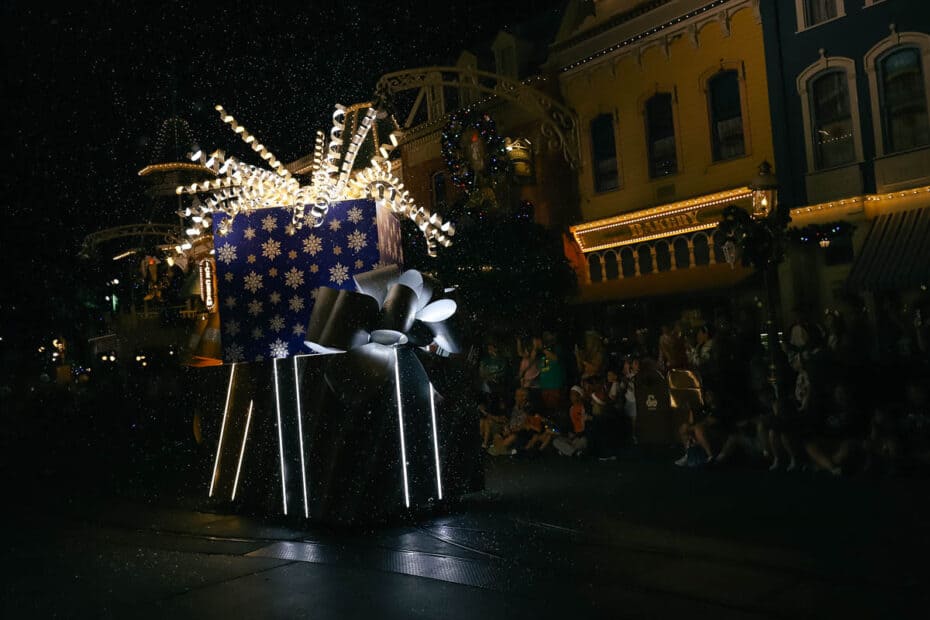 Then reindeer appear.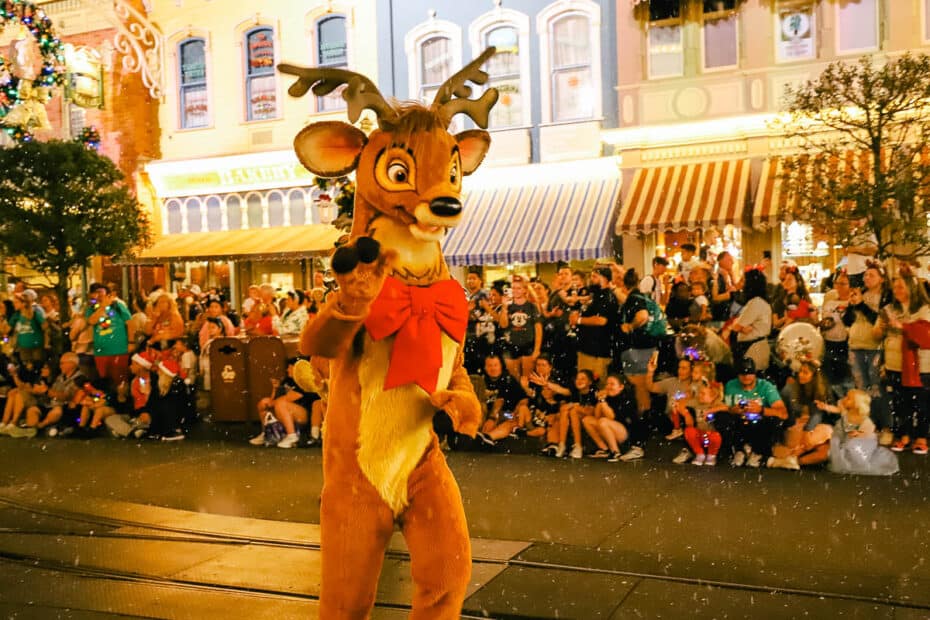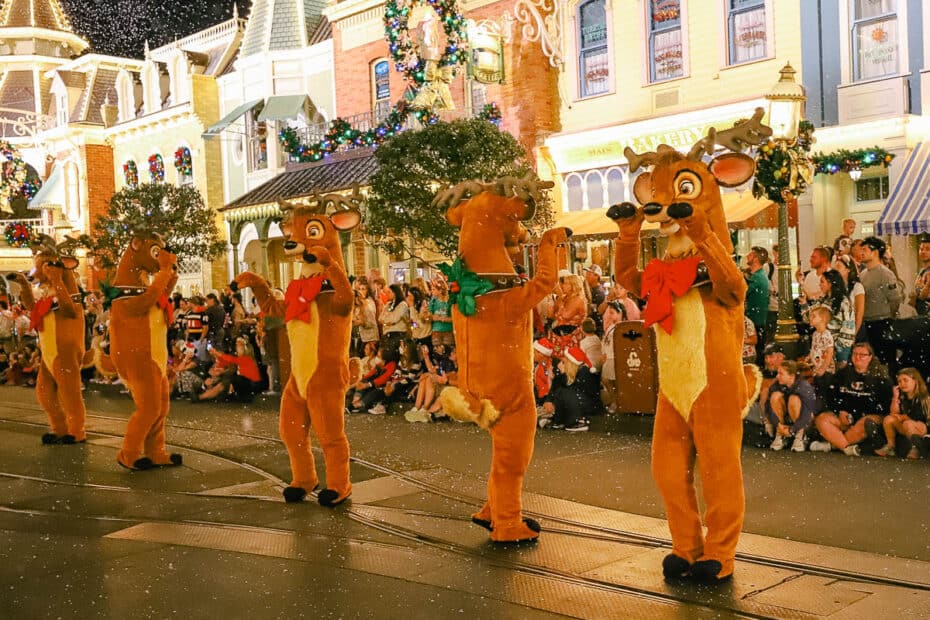 Finally, we see Santa Clause in his stunning sleigh closing out the parade.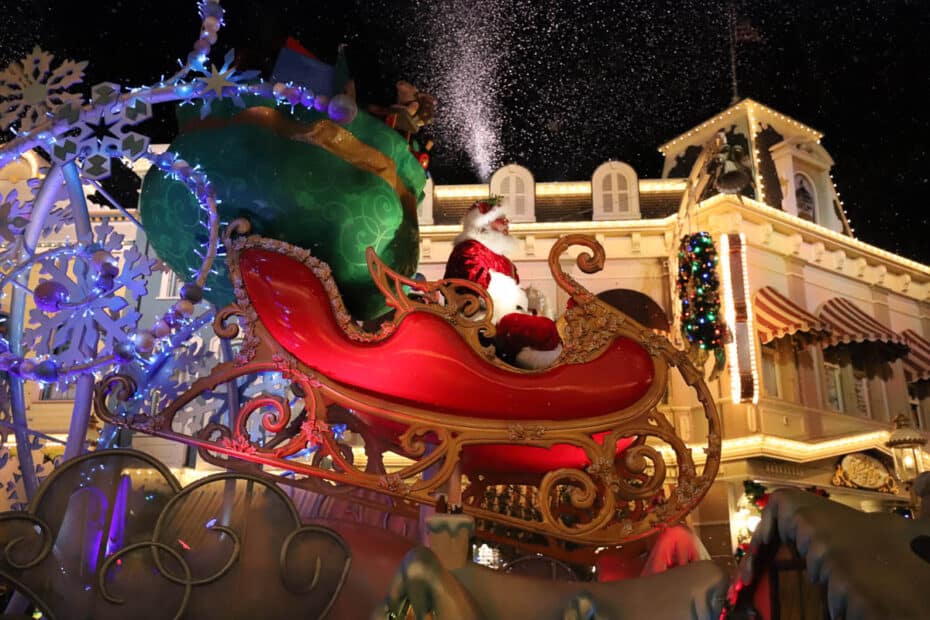 Overall, Mickey's Once Upon a Christmastime Parade is an incredible entertainment offering that you won't want to miss. Additionally, the parade provides the opportunity for children to see a ton of characters in one setting.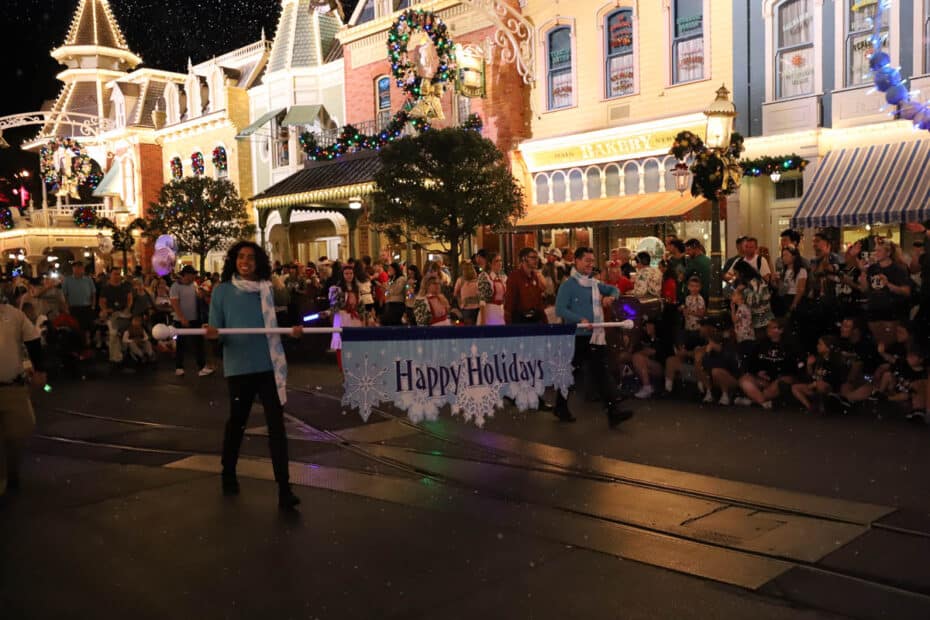 For more Christmas at Disney World, you might enjoy the following:
You may also enjoy our photo posts of the 2022 Gingerbread Displays:
In the Comments
Do you have plans to see Mickey's Once Upon a Christmastime Parade? Is there a character in the parade you hope to see?
Planning a Walt Disney World or other Disney Destination vacation?
Our friends and travel partner, Firefly Travels, excels at doing Disney differently. You can fill out a plan your trip form on their website, and someone will reach out shortly to discuss the specifics.