Characters at Mickey's Not So Scary Halloween Party
Meeting characters at Mickey's Not So Scary Halloween party can be quite the task. Guests actually attend this party with the sole purpose of spending the evening meeting rare and hard to find characters. Not only that but if you aren't aware in advance of what characters meet at the Halloween Party, you might have a difficult time locating them.
For instance, if you pick up the guide map to Mickey's Not So Scary Halloween Party, you will notice a black and white Mickey symbol indicating where the characters meet. Unfortunately, the actual characters at each location are not listed on the map. Therefore you really have no way of knowing where to meet specific characters when you get there.
2021 Disney Halloween Characters Update
Instead of a regular Mickey's Not So Scary Halloween Party in 2021, Disney has announced an After Hours Boo Bash taking place on select evening from August 10th through October 31st from 9:00 p.m. until midnight.
Festivities including character cavalcades and character sightings will be available throughout the park. There will be other items like special performances by the Cadaver Dans, special decorations, treat stops with candy, and more.
This is pretty much the only information we know at this time per Disney's announcement.
Below are the character meets from the last Mickey's Not So Scary Halloween Party for reference.
This is a problem, and I wanted to come up with some form of solution for my readers and friends. Below is a preview of the map and guide for Mickey's Not So Scary Halloween Party.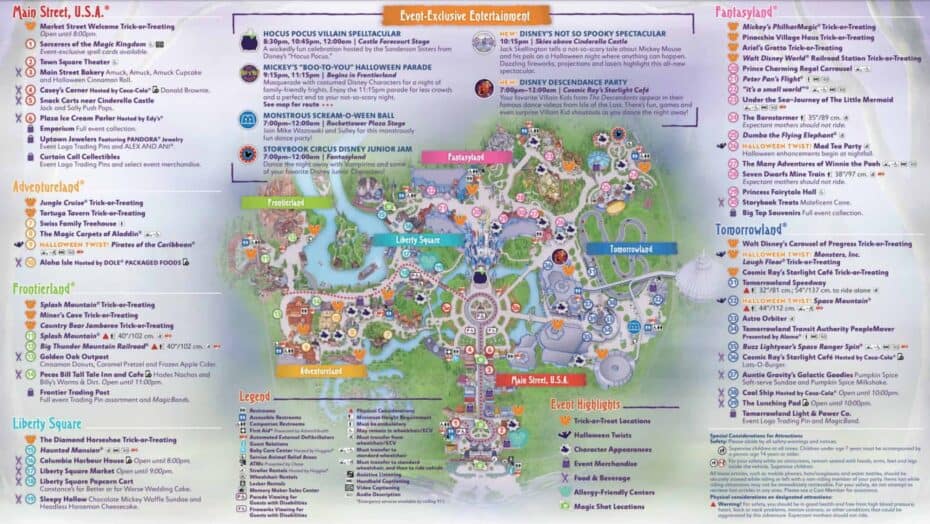 And this is the Halloween Party Character Map I came up with to help find the character locations during your visit.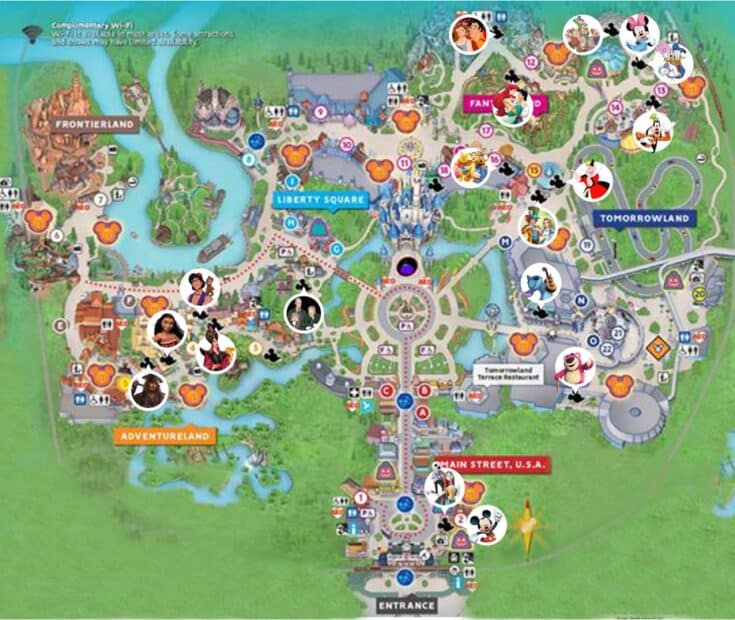 During my last visit to Mickey's Not So Scary Halloween Party, I went out and scouted all the character locations. I spent time observing lines, talking to cast members, and asking many questions to fellow party-goers while waiting in line.
Leaving the party, I realized that many people go to these events to meet characters specifically. So I felt it was important to put together a guide with all of the characters you can expect to meet, plus their location and tips on the best times to meet them.
Characters at Mickey's Not So Scary Halloween Party
Here's a list of the characters you can expect to meet:
Mickey Mouse in his Halloween Costume
Jack Skellington and Sally
Tarzan, Jane & Terk
Moana
Jack Sparrow
Aladdin & Abu
Jafar
Grave Diggers
Belle & Gaston
Prince Eric and Ariel
Seven Dwarfs
Minnie Mouse, Daisy and Donald Duck in Halloween Attire
Goofy in Halloween Costume
Winnie the Pooh, Tigger, Piglet Eeyore in Halloween Costume
Rock N Roll Stitch (Think Elvis!)
Queen of Hearts and the Tweedles
Alice in Wonderland with the Mad Hatter
Lotso
Anastasia & Drizella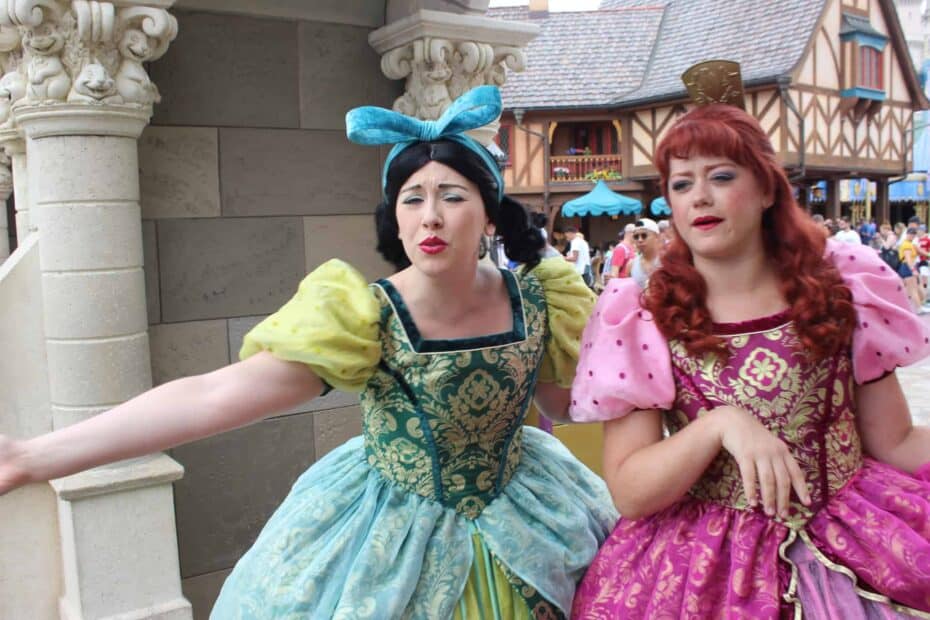 Halloween Characters at Mickey's Not So Scary
One of the benefits of Mickey's Not So Scary Halloween Party is the opportunity to meet "special" characters. By special, I mean rare character meets available that you won't find on an average day at the park.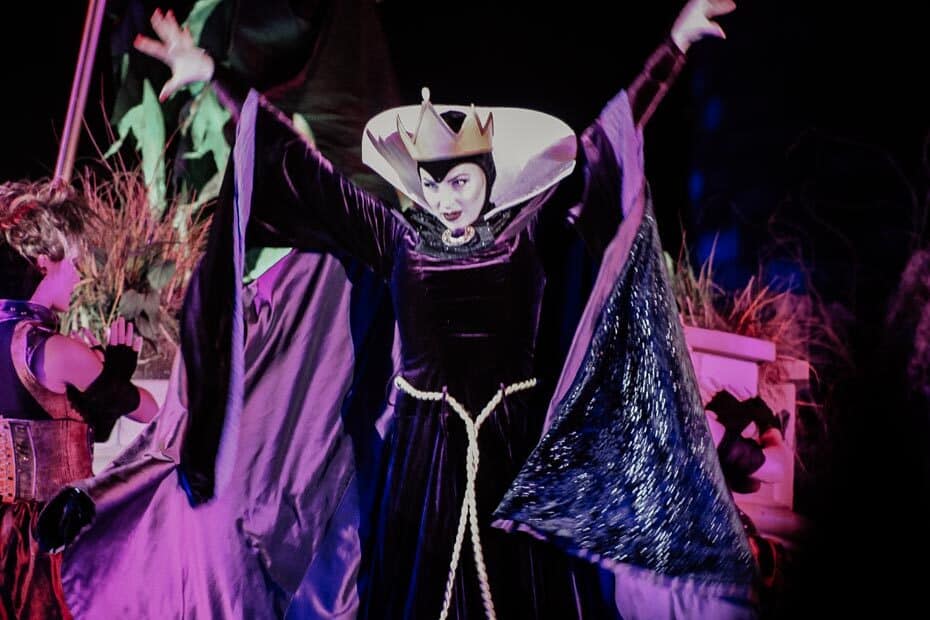 For instance, Jack Skellington and Sally. Their character meet is by far the longest line of the evening.
And where is Moana at Disney World? Well, she's over in Adventureland during the Halloween party. She is one of the rare characters that hold a pretty extreme line.
Don't get me started on the 1.5-hour wait for the Seven Dwarfs at 6:15 p.m.! Fortunately, I was able to meet them later in the evening for a 20-minute wait.
Inevitably if you are going to the Halloween Party to meet characters, you will have to wait in a long line at some point. I was able to talk with a cast member who let me take some notes from his character schedule. If you are at the party and have a specific question, the cast members who attend the character lines carry a daily schedule of unpublished times and locations.
There are about 18 characters meet and greets during the Halloween party. Some of them start around 4:00 p.m. even though the party formally lasts from 7:00 p.m. to 12:00 a.m. Let's take a look at all the characters we have placed on the map.
There are two sets of characters that meet at Town Square Hall during the Halloween Party.
Jack Skellington and Sally
Jack Skellington and Sally begin meeting around 4:30 p.m. before the start of the party. At 5:45 p.m. on my visit, their wait was already 2.5 hours long. A helpful hint here is that their wait time typically dies down during the first parade. This is usually the lowest wait for them of the evening.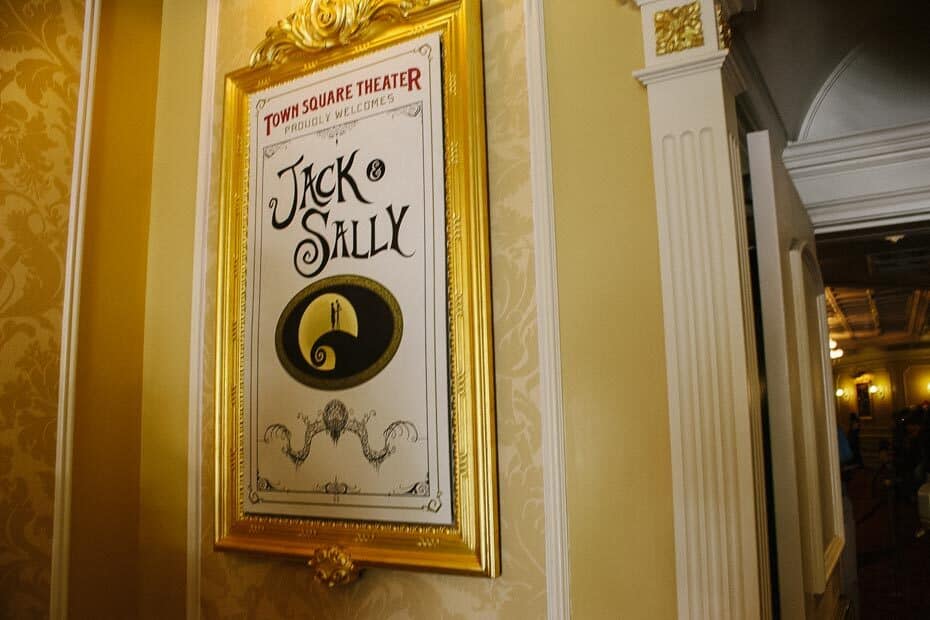 Due to popular demand, cast members usually cut off the line at 11:00 p.m. for this meet. This means that while Jack and Sally do meet until midnight there might not be a chance to get in line at say 11:45 p.m. and still hope to see them.
This is not one of those get in line last-minute type deals. If the line is cut off, then that will be it for the evening.
Mickey Mouse in Halloween Costume
Unlike Jack and Sally, Mickey Mouse doesn't start meeting until around 7 p.m. at the party. You can meet him before this time, but he will be in regular costume. He takes a break sometime between 6:00 p.m. and 7:00 p.m. to change into his party outfit and then heads back out to meet Halloween party guests. So if you get in line prior, know you will meet him in a regular outfit.
Over in Adventureland, you will find quite a few unique character meets. Here's a look at who you might run into:
Moana at the Halloween Party
Moana meets in the Enchanted Tiki Room during Mickey's Not So Scary Halloween Party. This meet starts usually around 5:15 p.m. There will be signage up as shown in the picture below that indicates the area.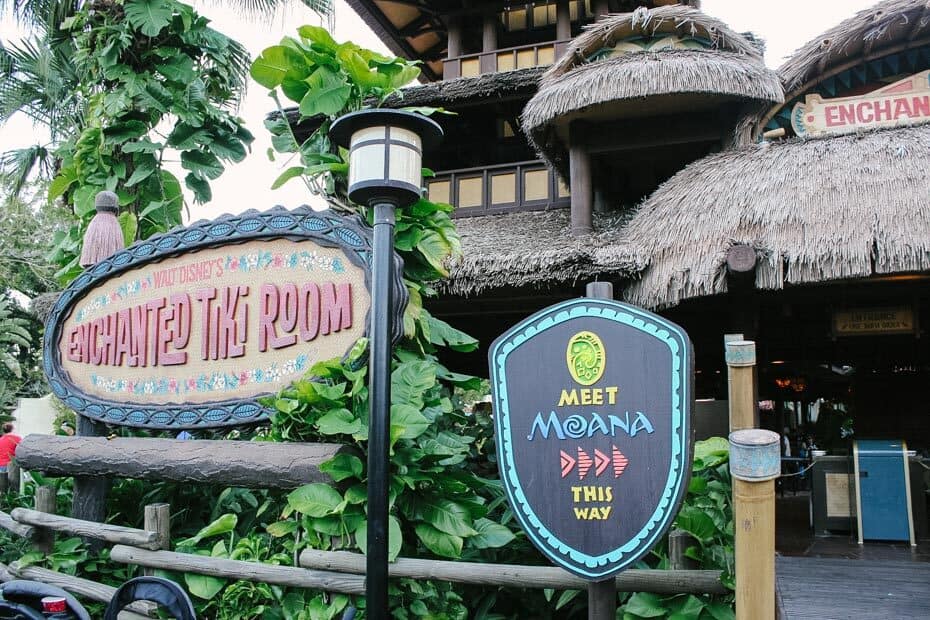 Aladdin and Abu Meet
Aladdin and Abu meet over next to the back of the Bazaar which sits directly behind the Magic Carpets ride. This is the same location where Aladdin typically meets with Jasmine during the day.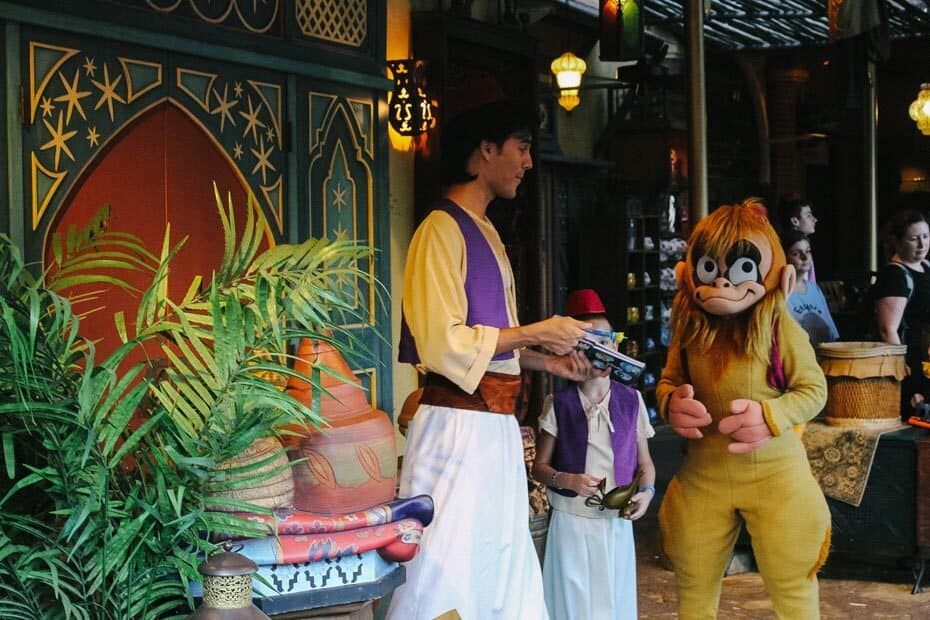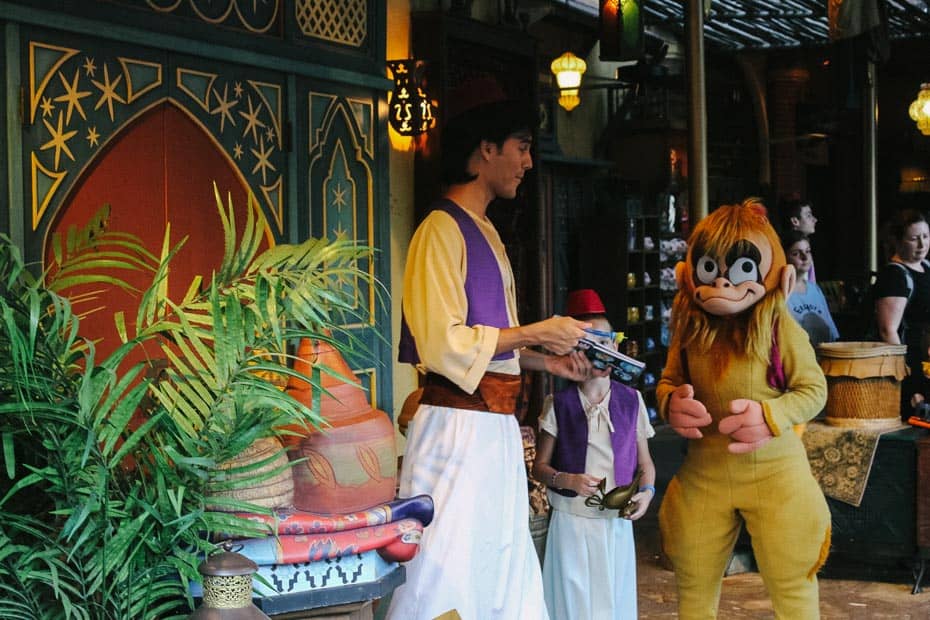 Jafar
Jafar is directly out in front of the Magic Carpets ride in Adventureland. He's quite the tall character and you probably won't miss him.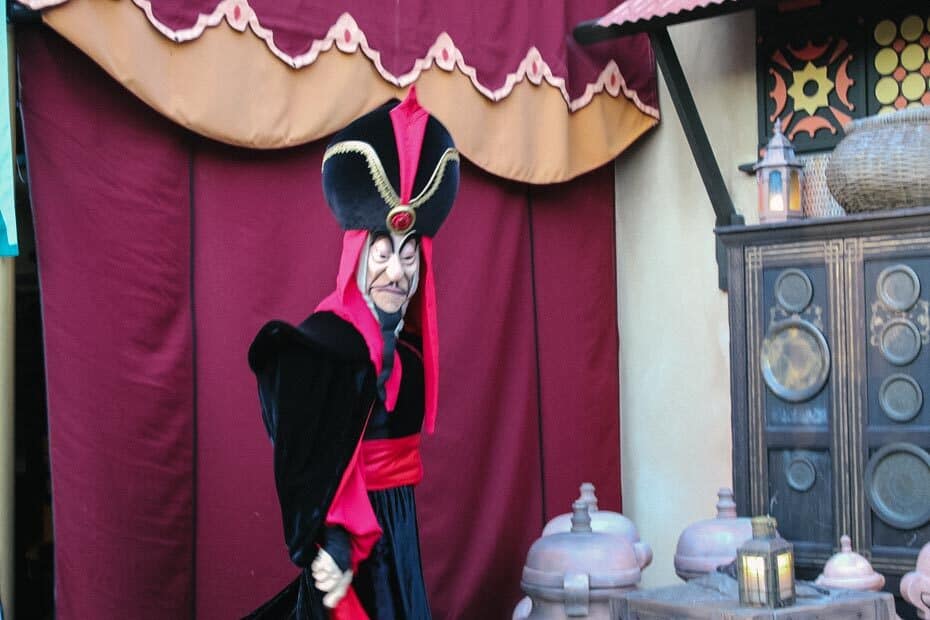 Jack Sparrow
Jack Sparrow can be found across the way from Pirates of the Caribbean.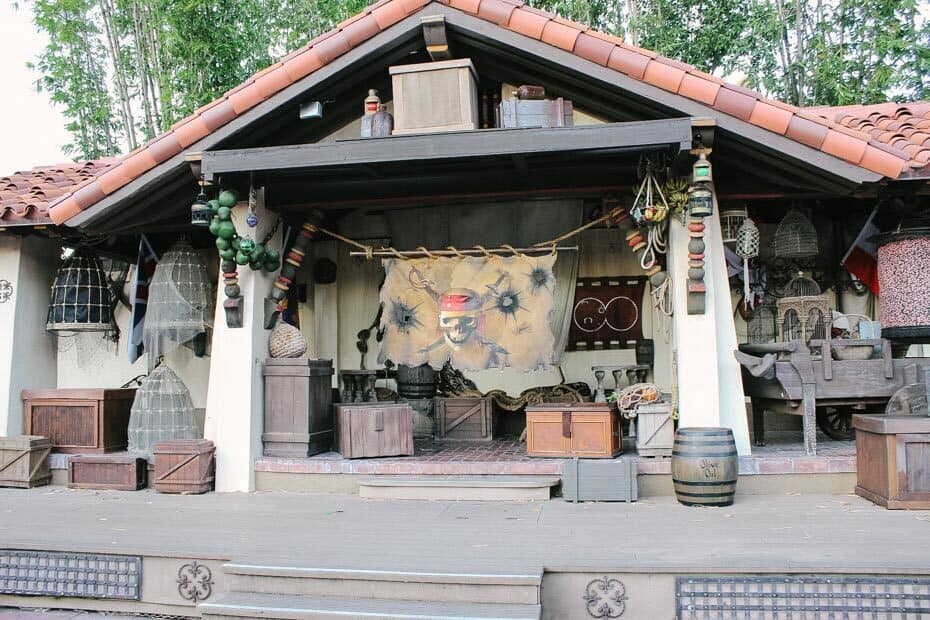 Tarzan, Jane and Terk
Meet in Adventureland near the Swiss Family Robinson Treehouse. This meet was accidentally left off the character map above.
Grave Diggers
These guys can be found in the gazebo area of Liberty Square. They are a little off the beaten path but still pull a long line as well.
Belle and Gaston
This meet is unique to Magic Kingdom because Belle typically only meets at Epcot. However, you can see her in Enchanted Tales with Belle at Magic Kingdom.
Gaston is one of the daily characters at Magic Kingdom but never meets with Belle. You can find them on the side of Bonjour Gifts just across from Gaston's Tavern and his fountain in Fantasyland.
Prince Eric and Ariel
Prince Eric and Ariel are another unique pair. Occasionally I find them over at Epcot as well but they do not meet on any schedule.
Winnie the Pooh and Friends
Additionally, Winnie the Pooh and Friends, offer another long line, but they are so worth it! Pooh is dressed as a honey bee, imagine that! Tigger a pirate, Eeyore is in his birthday suit, and Piglet is a butterfly. They are so cute!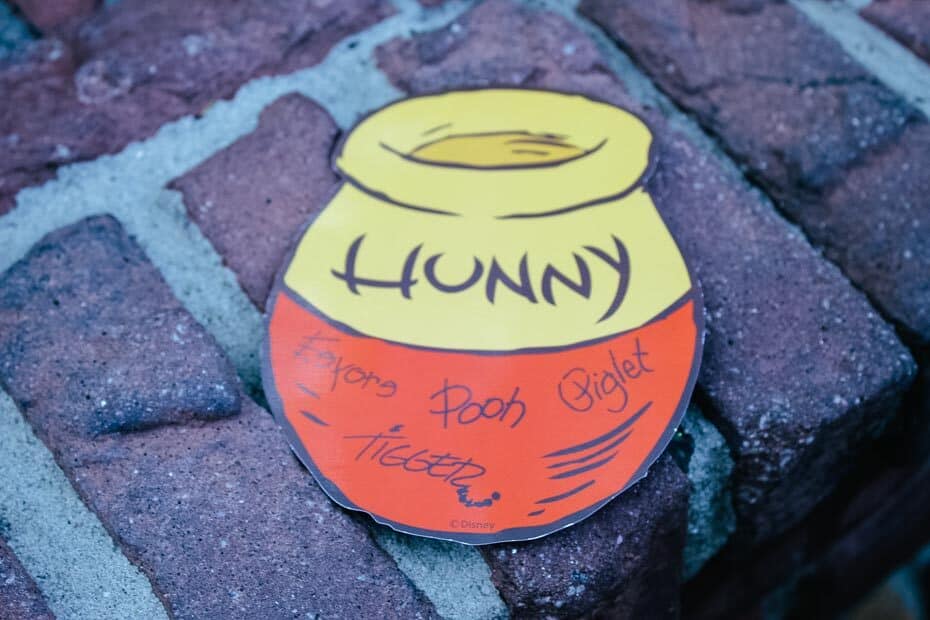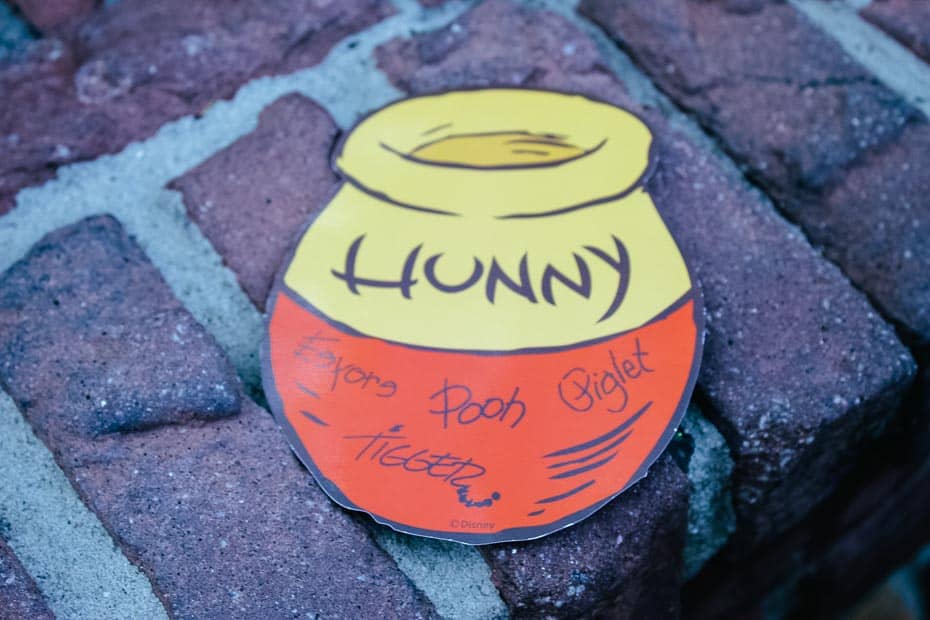 Princess Fairytale Hall
I don't have this one on the map, but I did want to note that all 4 princesses typically meet at Princess Fairytale Hall to low waits during the Halloween Party.
Mad Hatter and Alice
Mad Hatter and Alice start visiting typically around 7:00 p.m. and can be found directly at the Mad Hatter Tea Party signage.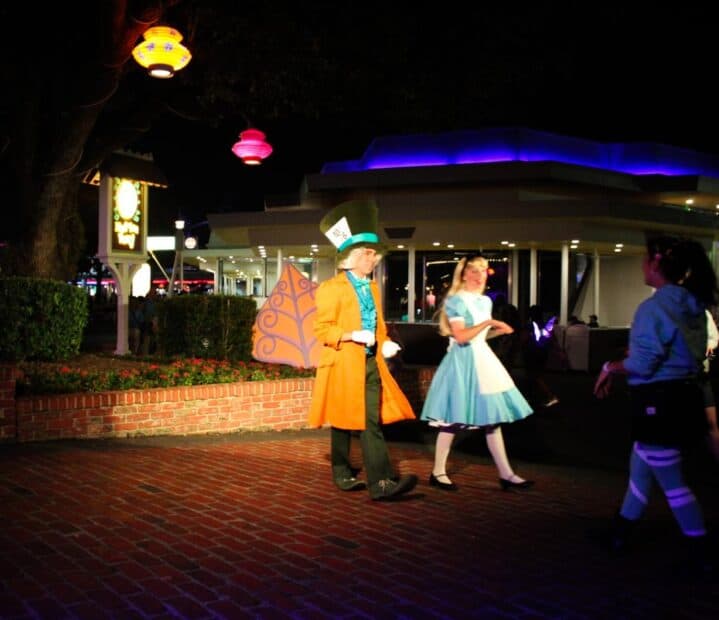 Queen of Hearts and Tweedles
This trio starts meeting at 7:00 p.m. Don't expect anything but surly expressions from the Queen of Hearts. She has that villainous freeze face thing going on, probably from yelling "Off with her head!" so many times.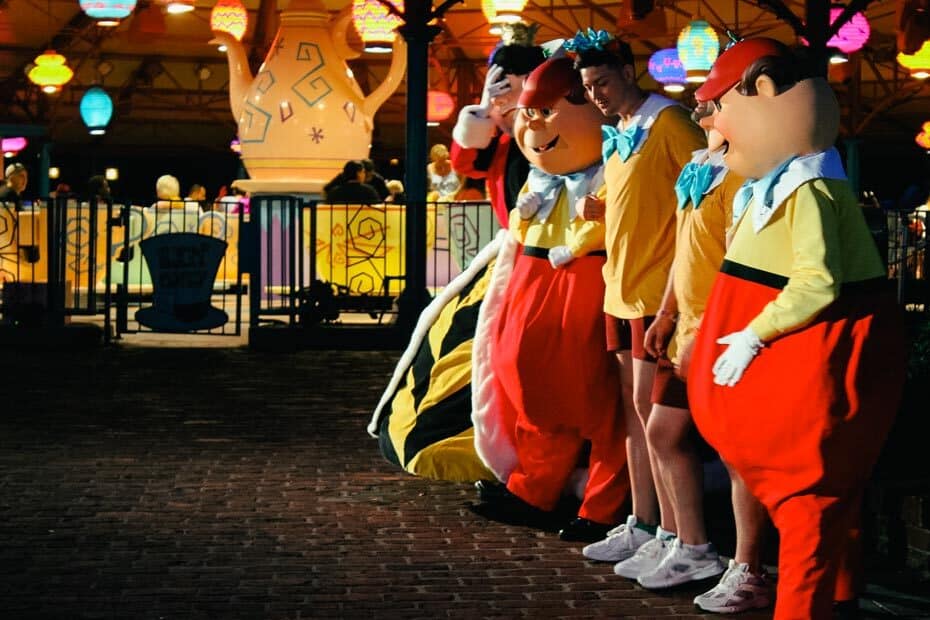 Seven Dwarfs
If you have ever visited Pete's Silly Slide Show, this is where you will find the Seven Dwarfs Halloween party meeting location. It actually really works because these guys hold a long line, and it's nice to have a little air conditioning while you wait. They start meeting around 6:15 p.m. if you want to get there early.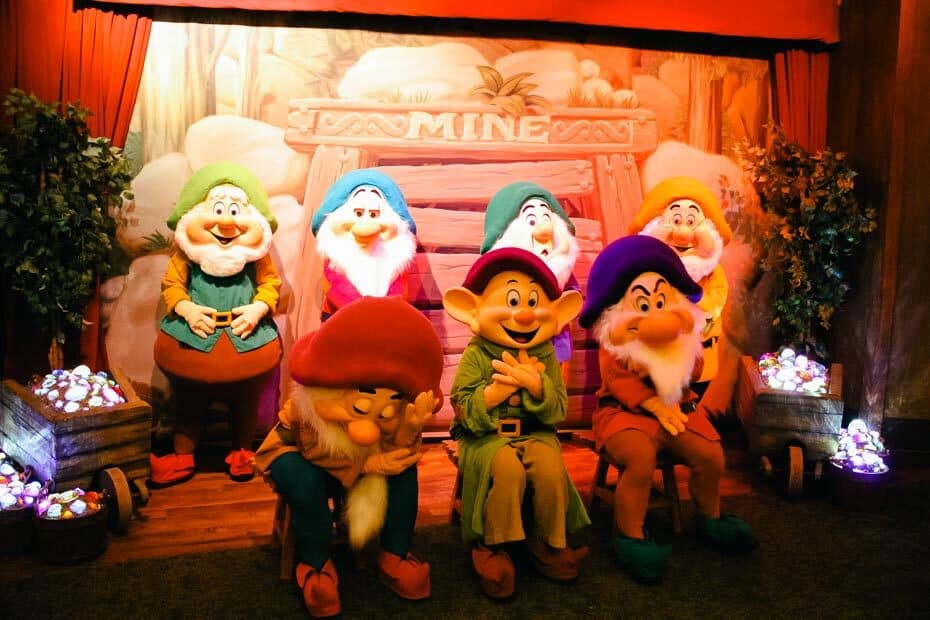 Minnie Mouse
Minnie Mouse meets outside in the Casey Jr. Splash area. She will be dressed in her Halloween costume and I'm sure she can't wait to meet you. Her standard meet time begins around 7:00 p.m.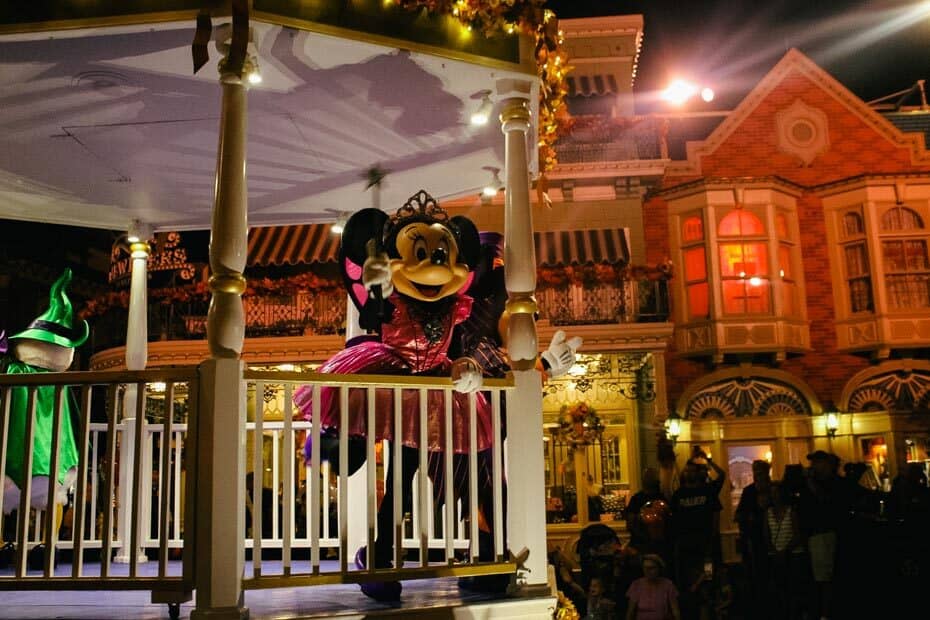 Donald and Daisy Duck
This iconic duo will also start meeting around 7:00 p.m. in the Casey Jr. Splash area in Halloween costume.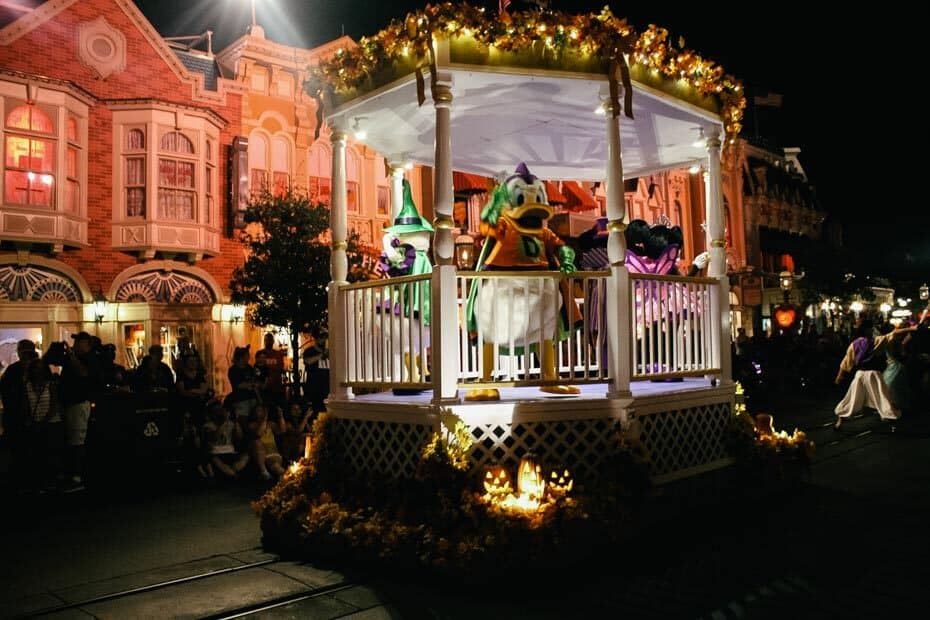 Goofy
Always a fun meet, Goofy is located just outside his ride, Barnstormer, for a fun picture! He also starts meeting at the 7:00 p.m. start of Mickey's Not So Scary.
Rock N Roll Stitch
If you are a fan of Elvis you might want to get to this line early! Rock N Roll Stitch meets in his old attraction area across from Monsters Laugh Floor. He gets to the party a little early starting around 6:45 p.m. You can see that a long line had already formed for him in the picture below.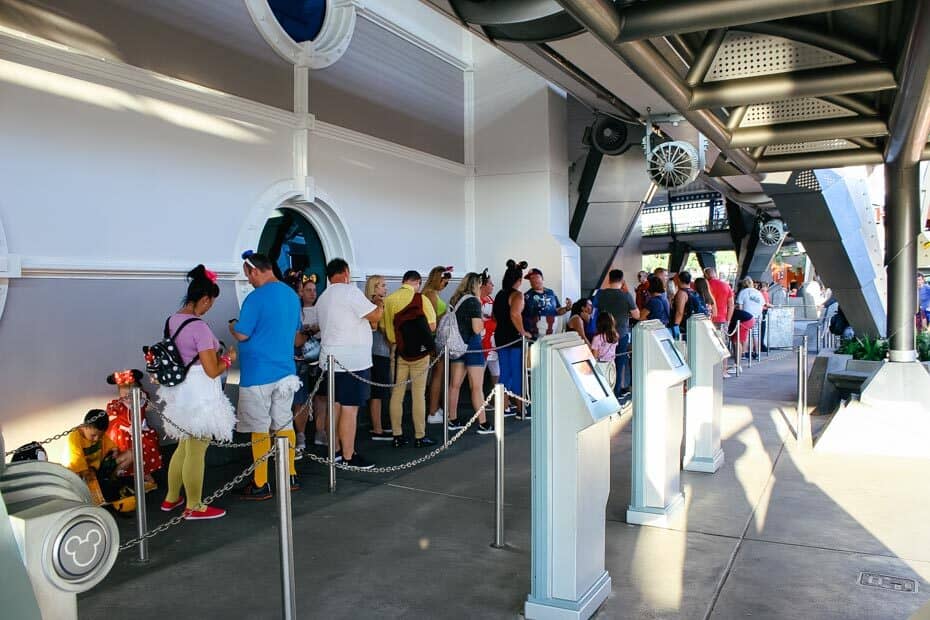 Lots-O'
Want to meet a unique character from Toy Story? Be prepared to wait! Lots-O' is located between Space Ranger Spin and the Carousel of Progress. Lots-O' doesn't come out until 7:00 p.m. and is another lengthy line.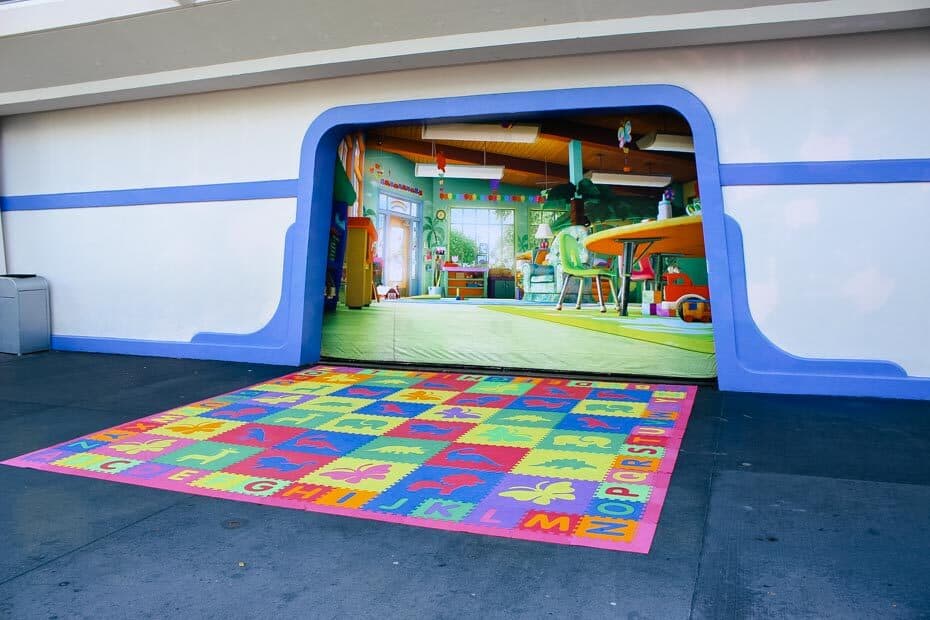 One of the things I noted was that Lots-O' had an extensive line before the evening entertainment. I went back by after the fireworks, and the line was around 15 minutes long at that time. This may or may not be your luck when you visit, but you can always try to meet a few of the popular characters later in the evening for shorter waits.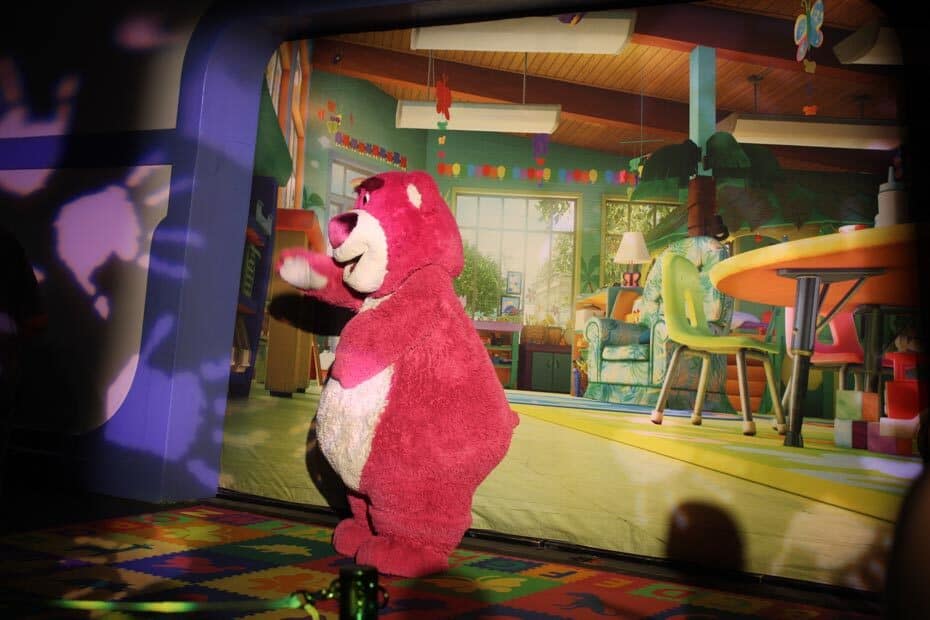 Anastasia and Drizella
Additionally, Anastasia and Drizella were out roaming around Fantasyland during the evening. These two are always a lot of fun to run into when visiting the parks. Make sure to stop and try to have a conversation with them if you see them out.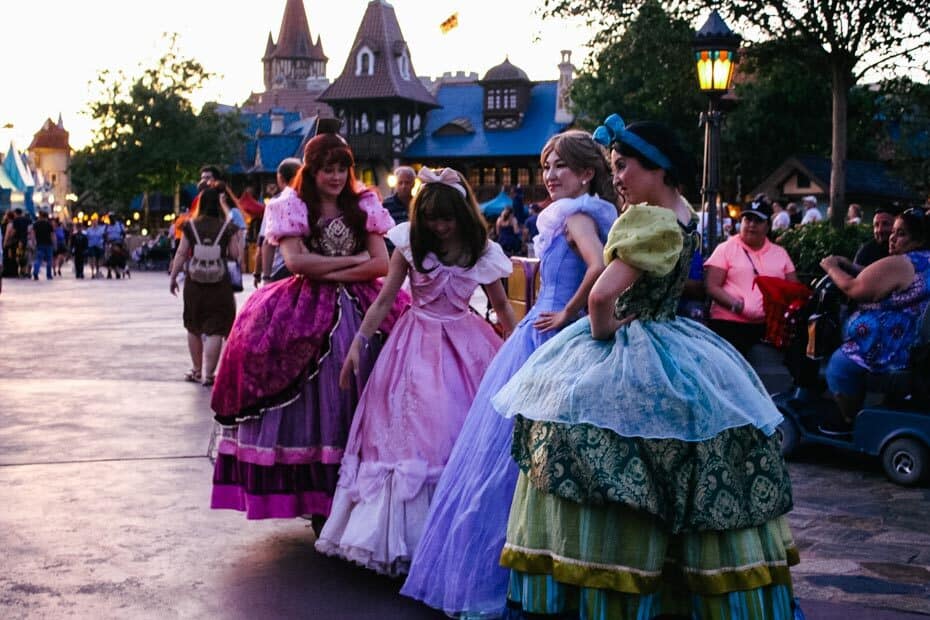 It probably won't go well because they like to talk over each other and everyone else in between.
Final Thoughts on Characters at Mickey's Not So Scary
The characters at Mickey's Not So Scary Halloween party are probably going to have extremely long lines. Be prepared to wait if characters are your thing. Prioritizing which characters are important to you and forming a plan to meet them will go a long way on your visit.
If you are looking for more information on planning your Halloween party I have a full party guide here. The guide talks about seeing the three main events at the party: Villains Spelltacular, Boo to You Parade, and Disney's Not So Spooky Spectacular Fireworks. It goes on to discuss the timing of this entertainment and how best to use your time before and after to meet characters or do rides.
I hope you enjoy your Halloween Party and get to meet lots of characters!
You might also enjoy the Walt Disney World Characters guide or the list of Magic Kingdom Characters.
For those planning a vacation to attend one of the seasonal parties, I recommend staying at one of the Magic Kingdom resorts like Grand Floridian (review) or Disney's Polynesian Resort (review).
You might also enjoy staying at the Contemporary Resort (review) or Bay Lake Tower (review).
I recommend these because they all provide simple access to Magic Kingdom. That way at the end of a long party, you can get back to your room easily. You can hop on Disney's monorail from Magic Kingdom and be at your room in a matter of minutes.
And if there were to be a line you can always walk back. That is not something you can do when staying at another Disney World Resort.
Lastly, leave me a comment below and let me know which character you look forward to meeting at Mickey's Not So Scary Halloween party? I can't wait to share more details about the 2021 Halloween Party characters!