Characters at Mickey's Not So Scary Halloween Party (2023 Meet-and-Greets)
This article shares the character meet-and-greet opportunities at the 2023 Mickey's Not So Scary Halloween Party. We'll discuss who you can meet, what kind of wait times to expect, and preview photos of each character.
Meeting characters at Mickey's Not So Scary Halloween party is often daunting. Many guests attend the party with the sole purpose of meeting rare characters.
Since Disney doesn't provide a list of the characters who meet at Mickey's Not So Scary Halloween Party, it's difficult to know who is available. While a special map and guide are provided to party guests, it doesn't detail which characters are meeting.
On the first night of the party, we noticed a few characters listed in the My Disney Experience app. However, many of the meets didn't appear.
Like every party we've ever attended, the character lines were exceptionally long. We spent the better portion of the evening waiting in line to meet them.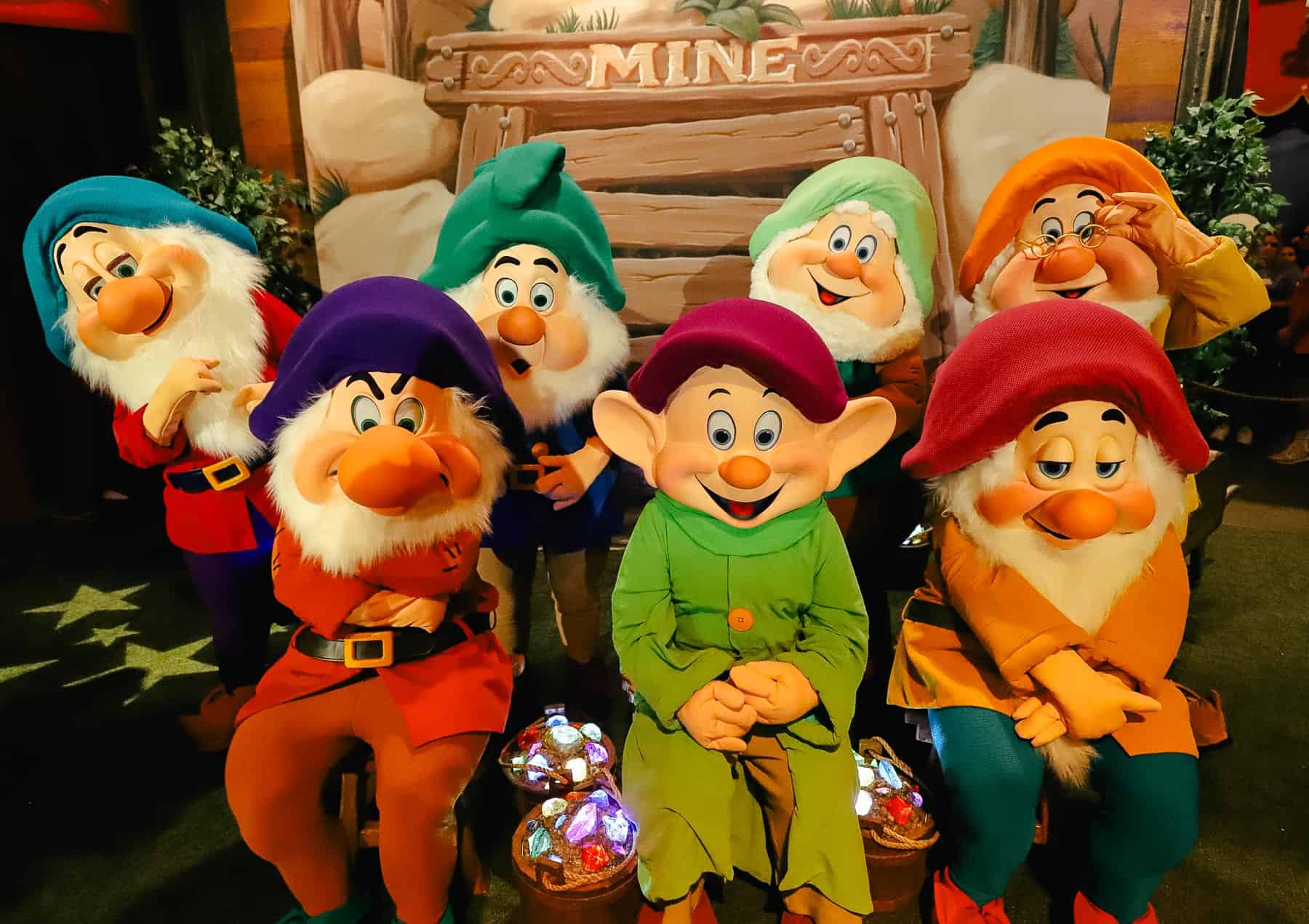 Mickey's Not So Scary Halloween Party Characters
Here's a list of the character meet-and-greets at the Halloween Party:
Mickey Mouse in Halloween Costume
Seven Dwarfs
Jack Skellington and Sally
Aladdin and Abu
Jasmine and Genie
Jafar

Jack Sparrow

Belle
Prince Eric and Ariel
Winnie the Pooh, Tigger, Piglet, and Eeyore in Halloween Costume
Alice in Wonderland with the Mad Hatter
Queen of Hearts
Tweedles

Minnie Mouse

in Halloween Costume

Donald Duck and Daisy Duck in Halloween

Costume
Goofy in Halloween Costume
Anastasia and Drizella
Rock 'n' Roll Stitch (Think Elvis!)
Princess Fairytale Hall (usual characters remain throughout the party)
*This is an exclusive list of formal meet-and-greet opportunities. It doesn't include characters in the parade or dance parties. We spoke with a cast member who noted that Disney could add additional character meets in the future. So always be on the lookout for surprise characters.
**A PhotoPass photographer was present at every meet-and-greet on the night of our visit, except in instances where photo boxes have been installed, like at Mickey's meet-and-greet and Princess Fairytale Hall.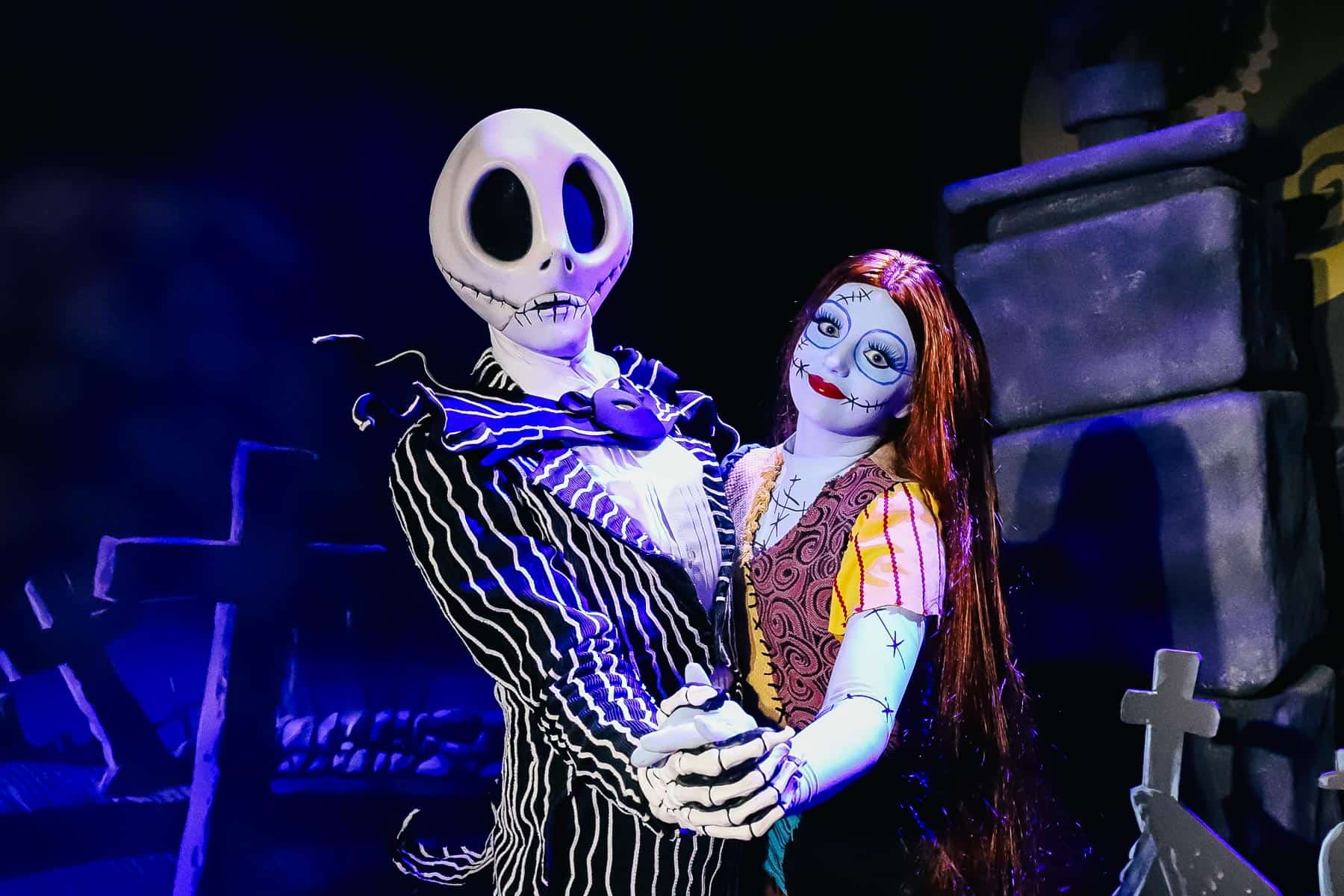 Mickey Mouse in Halloween Costume
Mickey Mouse meets in his regular location at Magic Kingdom, Town Square Theater. On most days, he meets here as Mickey the Magician. However, on Halloween Party nights, that meet-and-greet closes at 6:00 p.m. Mickey then takes a break and returns in his Halloween costume at 7:00 p.m.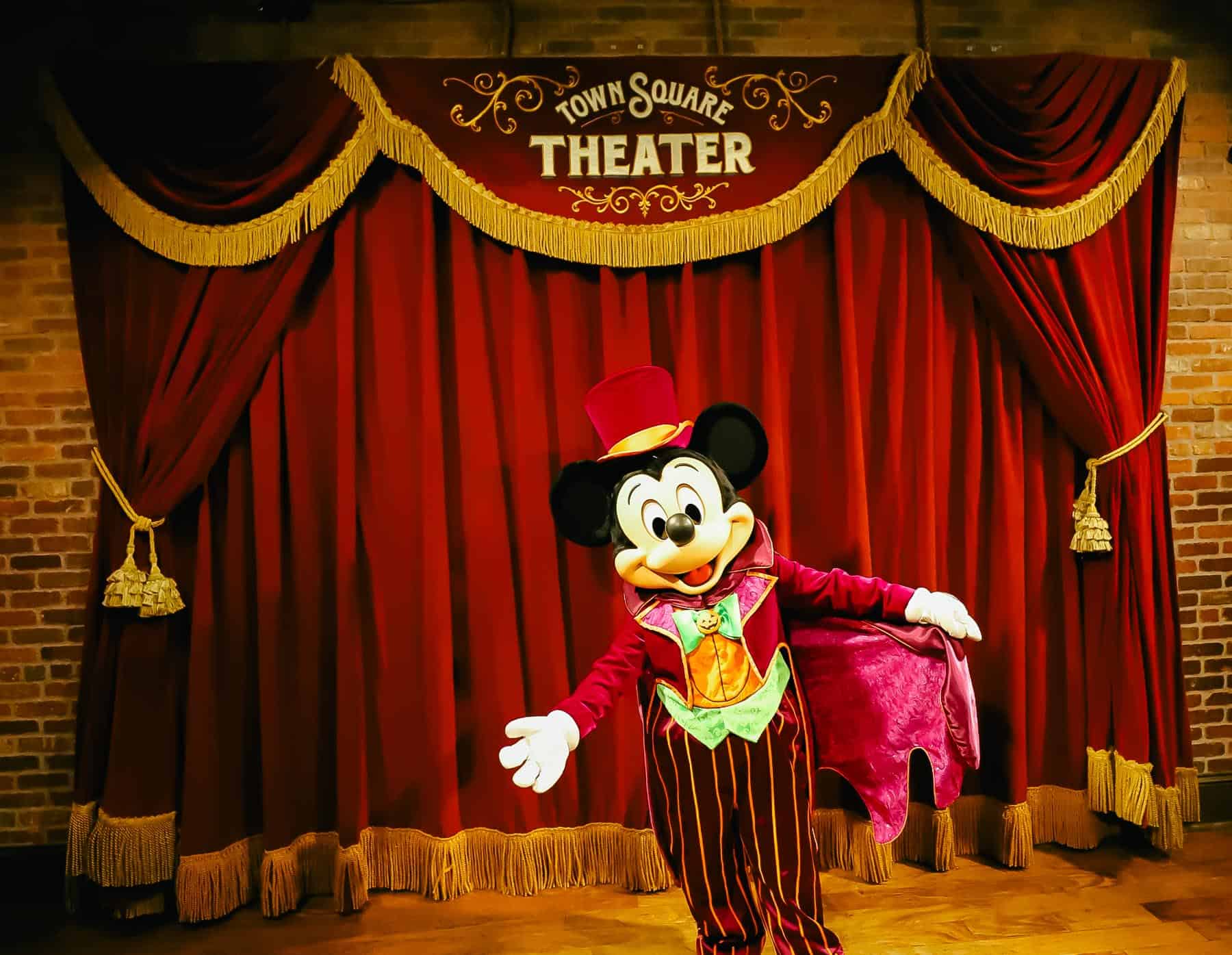 We waited until 11:45 p.m. to get in line to meet Mickey. It was when the last parade of the night was coming down Main Street. We hurried inside Town Square Theater as soon as the parade passed. Surprisingly, no one was waiting to meet him. However, a number of guests followed behind us to do the same thing.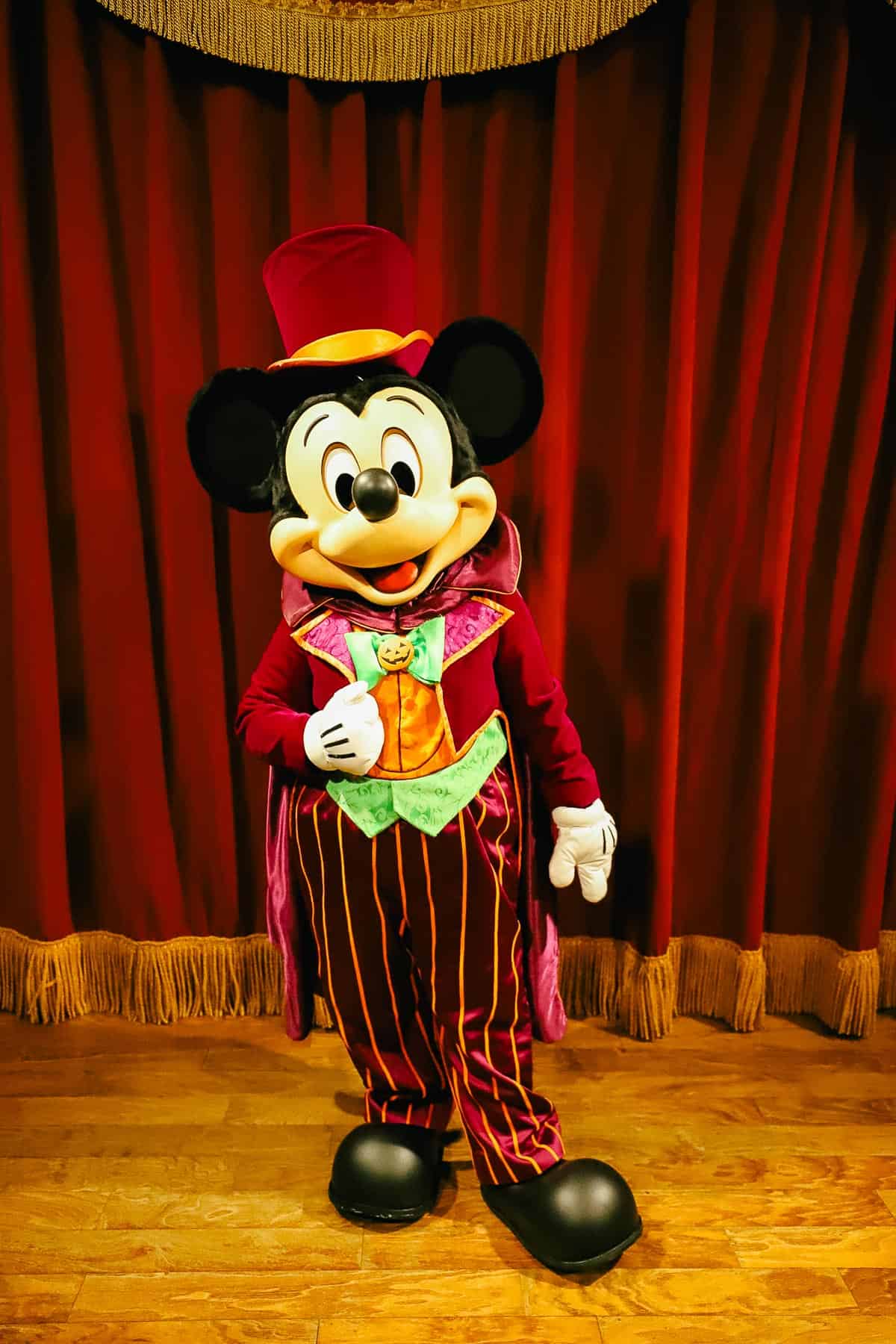 Seven Dwarfs
Our first Mickey's Halloween Party of 2023 started with a visit to Pete's Silly Sideshow in Storybook Circus. During the Halloween Party, the Seven Dwarfs have a special meet-and-greet opportunity in this area. This is the only place to meet the Seven Dwarfs at Walt Disney World, and the first time they've returned since 2019.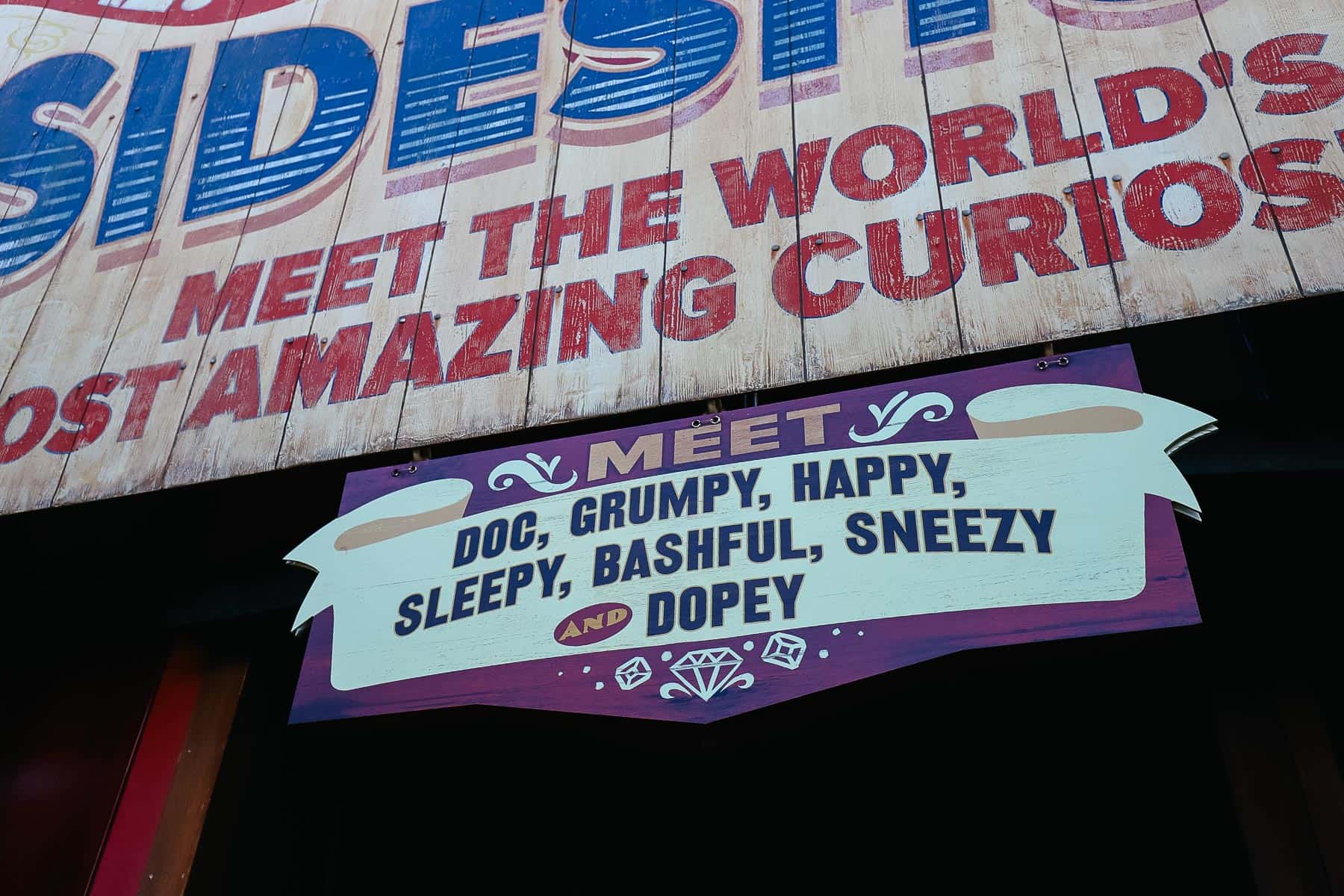 We got in line a few minutes after 6:00 p.m., and the Seven Dwarfs came out at approximately 6:20 p.m. They are one of the few sets of characters that make an appearance before the official 7:00 p.m. party time.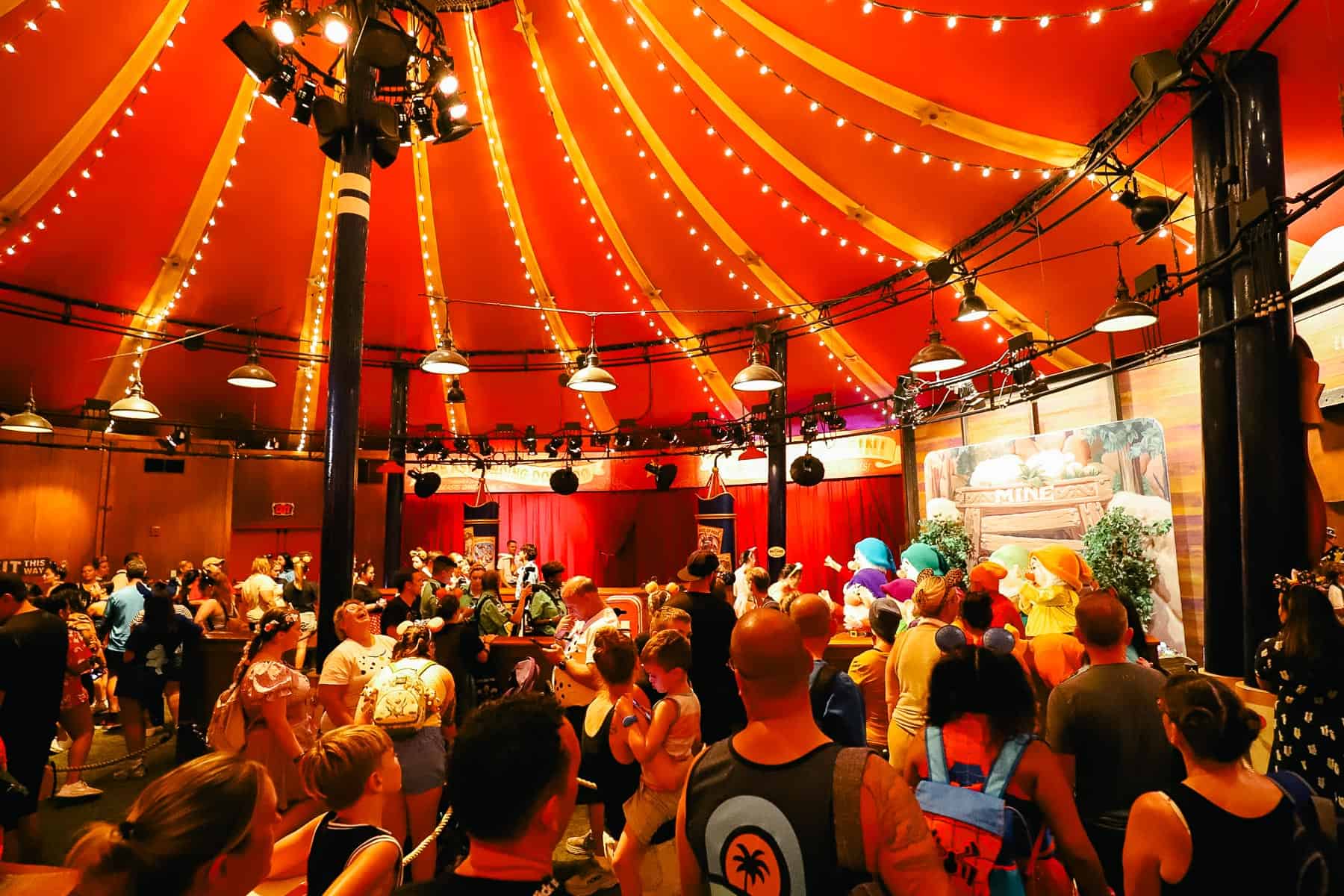 We waited 1 hour and 50 minutes to meet the Seven Dwarfs. We were handed a character autograph card with their signatures when it was our turn. Some of the characters at the party sign autographs. But when you have seven characters at once, it works better to provide a handout.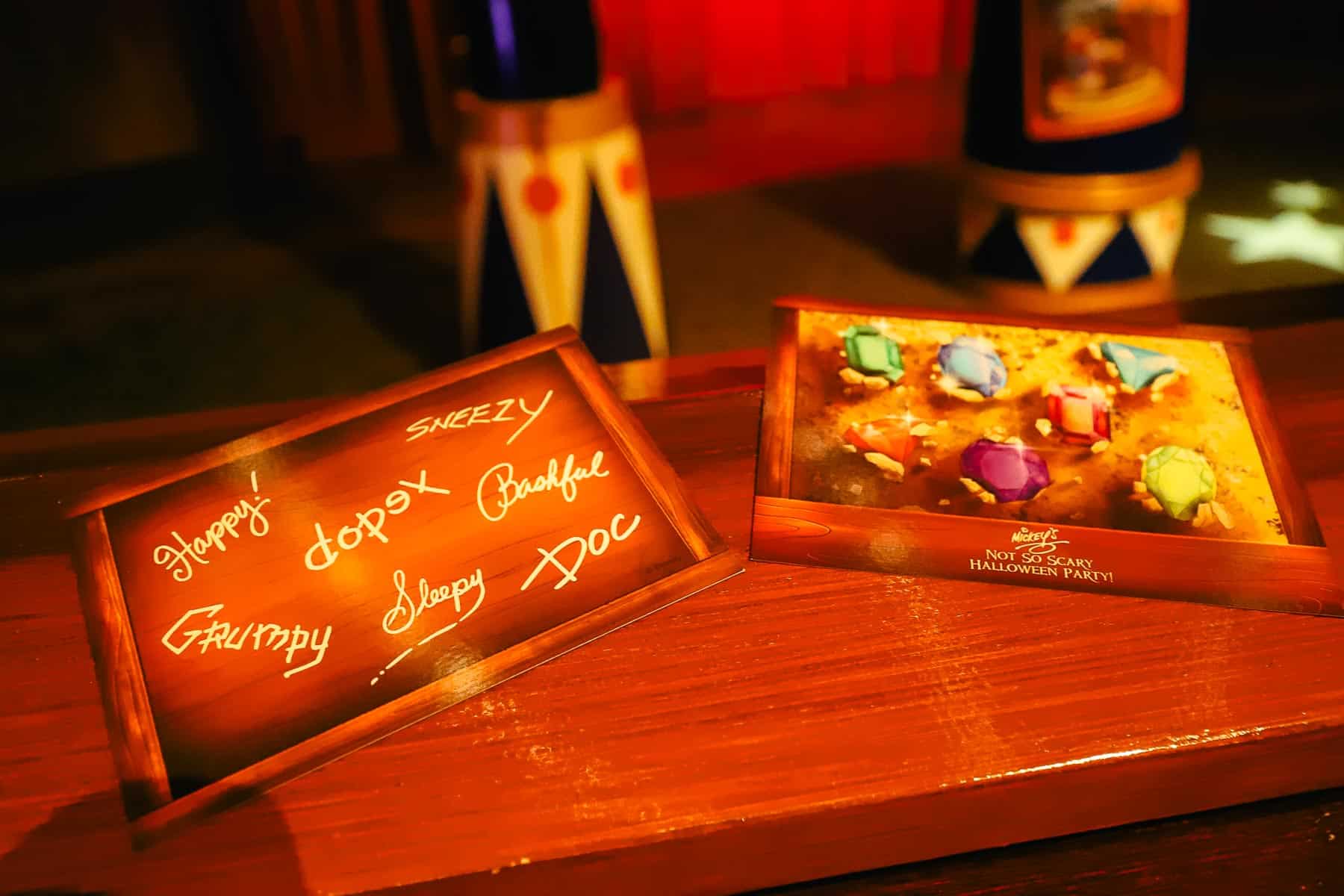 If you want to meet them without such an extreme wait, you might consider joining the queue during one of the parades or the evening fireworks. Unfortunately, given their popularity, long waits are almost always guaranteed.
On the flip side, the circus tent is indoors, and the air-conditioning was a Godsend. Plus, who wouldn't want to have their picture made with these guys?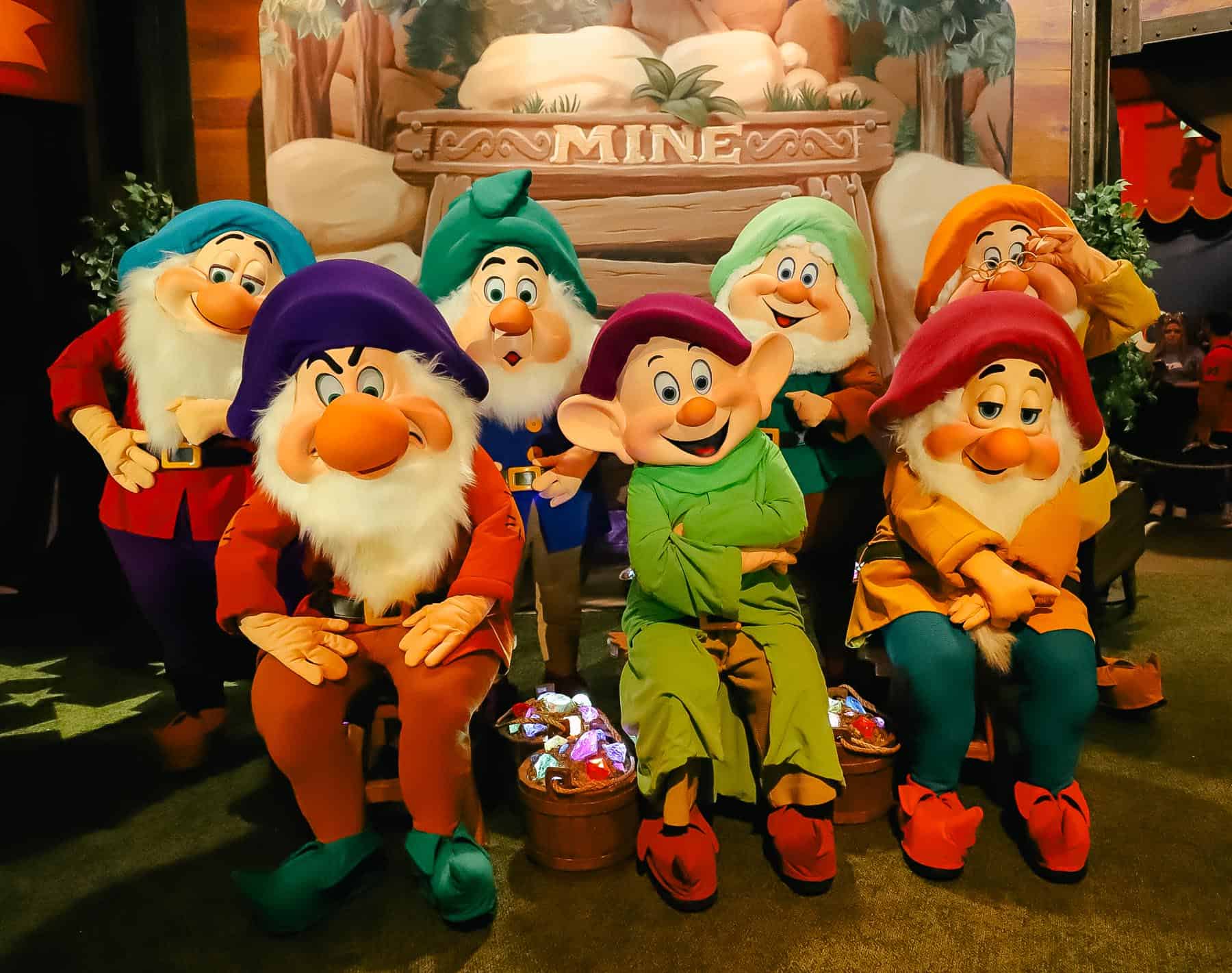 Jack Skellington and Sally
Jack Skellington and Sally begin meeting at approximately 4:30 p.m. They usually have the longest wait time of all the character meet-and-greets, which is why they begin meeting before the party.
Jack and Sally meet inside Town Square Theater in the queue next to Mickey Mouse's meet-and-greet. When we arrived at the party at 6:00 p.m., cast members were quoting a two-and-a-half-hour wait!
Last year, we got in line to meet Jack and Sally at 4:01 p.m. with approximately 40 guests ahead of us. We were at a standstill until 4:30 p.m., when they began meeting guests. It was our turn to meet them at 4:58 p.m. So by being close to the front of the line, we only had about an hour's wait.
One important note–given the popular demand for Jack and Sally, cast members usually cut off the line by 11:00 p.m. So while Jack and Sally meet until midnight, there might not be a chance to get in line with hopes of seeing them if you don't join the line early enough.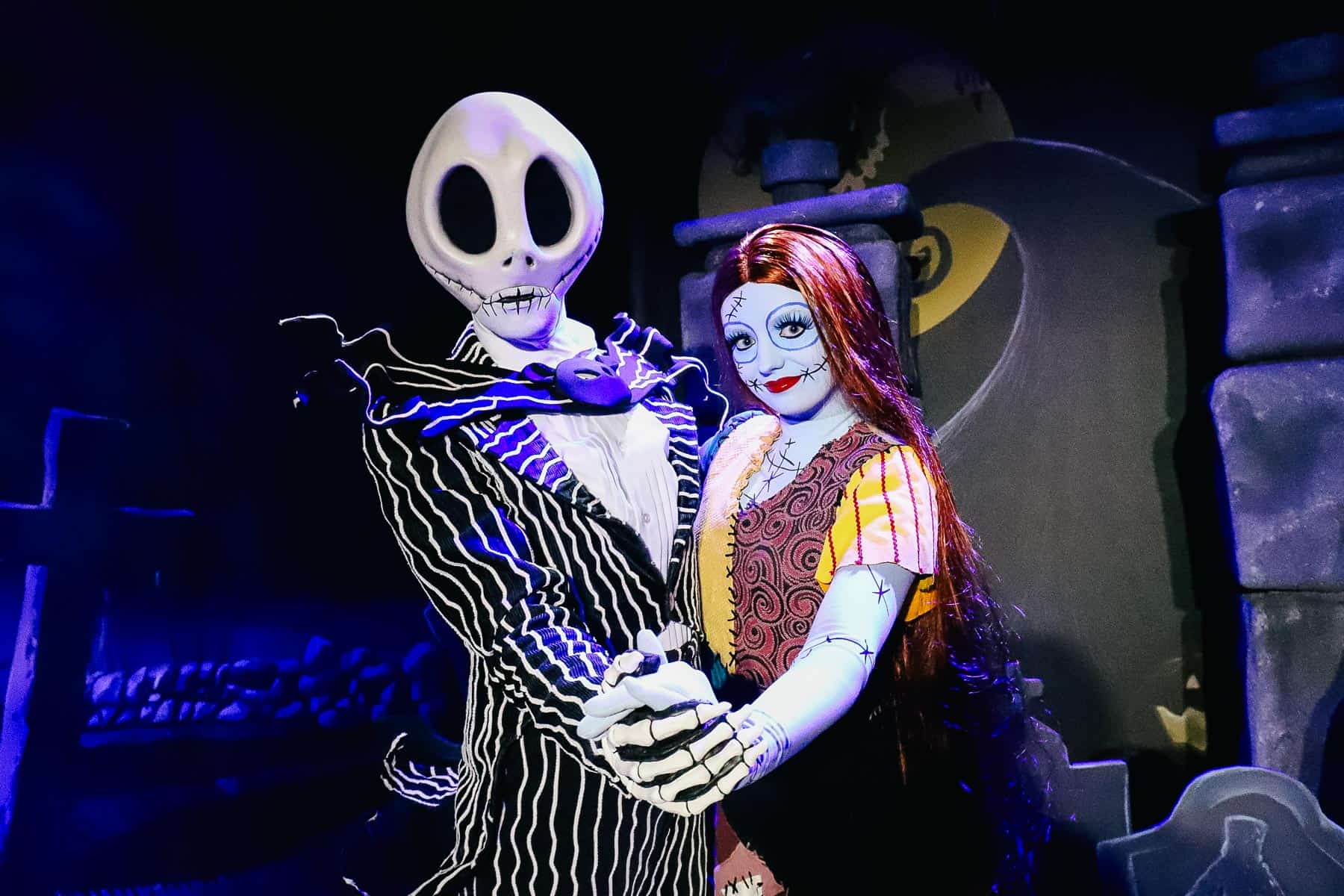 Aladdin and Abu
Aladdin and Abu meet in Adventureland at Magic Kingdom toward the end of Agrabah Bazaar. This location is directly across from the Magic Carpets attraction. It's also where Aladdin regularly meets with Jasmine during the day.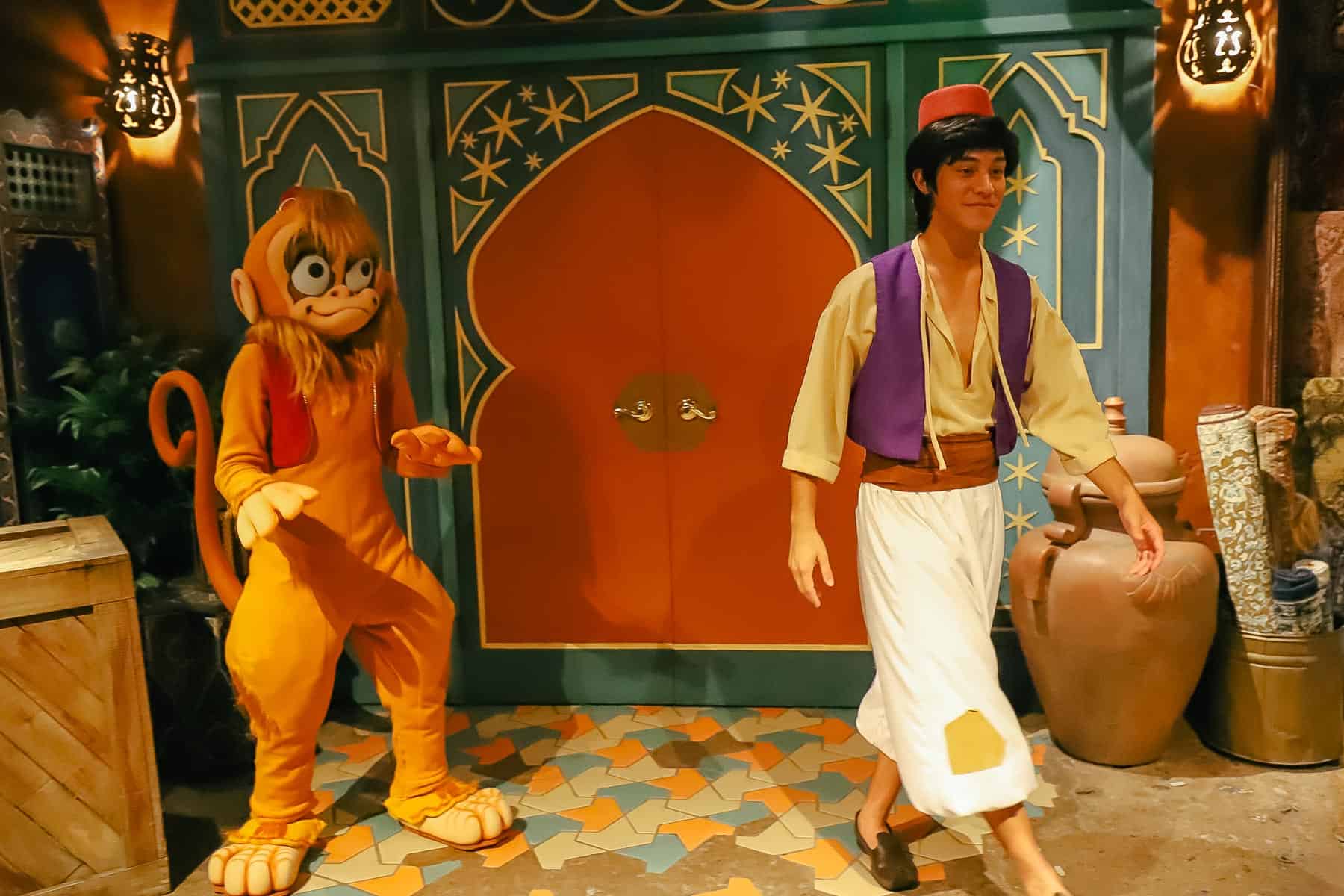 While Aladdin is available daily, Abu is an extremely rare character. You'll typically only find him at an extra-ticketed event.
It can be tricky if you want to meet the pair because Aladdin and Abu rotate this meet-and-greet with Jasmine and Genie. For instance, this evening, Aladdin and Abu were greeting guests when we joined the line. However, they took a break. Soon after, Jasmine returned with Genie.
Thankfully, I was able to take a few photos of them between guests. But I would have had to wait to the side for their next appearance to meet them.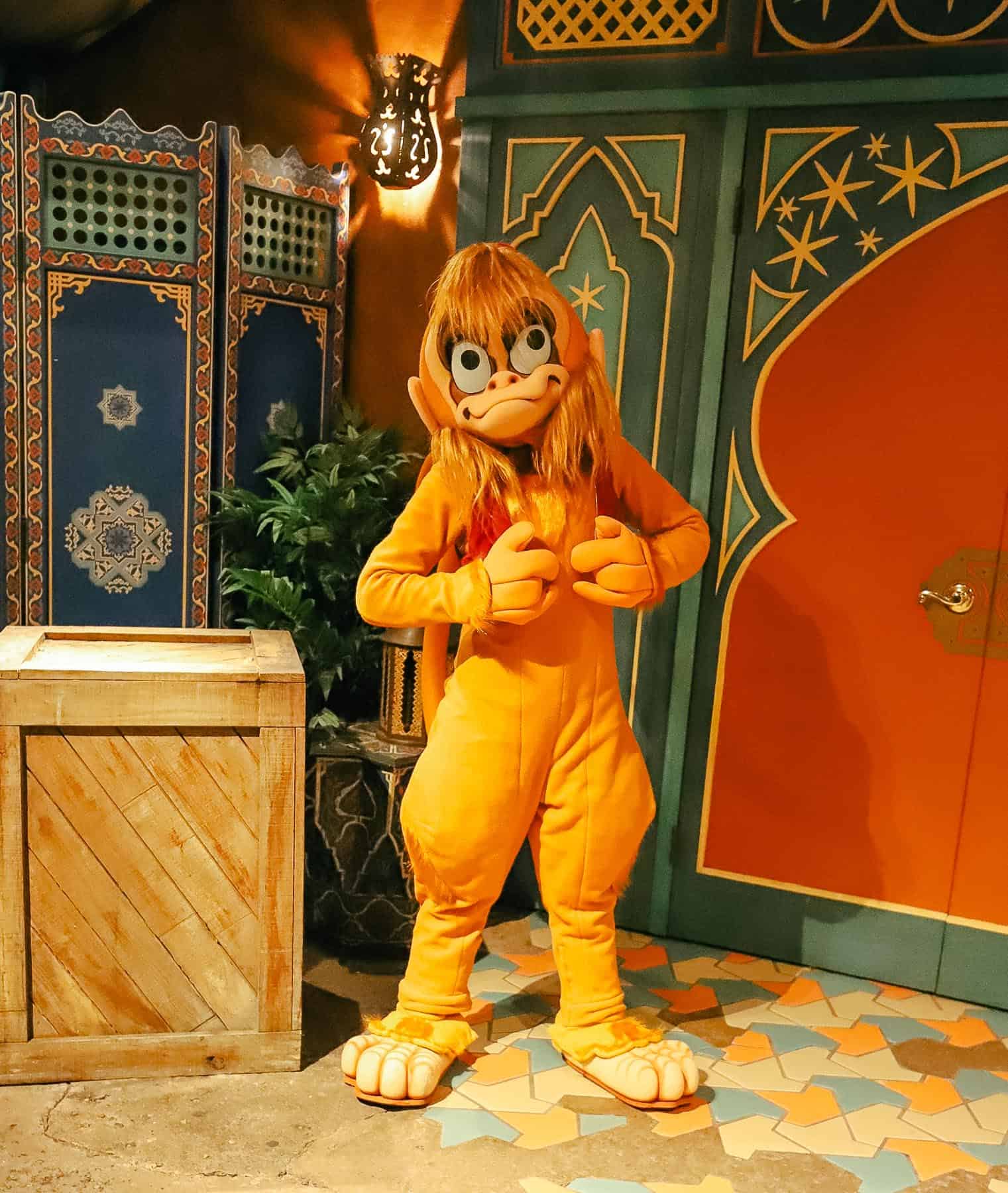 Jasmine and Genie
When Aladdin and Abu aren't meeting, Jasmine and Genie greet guests in the same area. They are a wonderful pair to meet.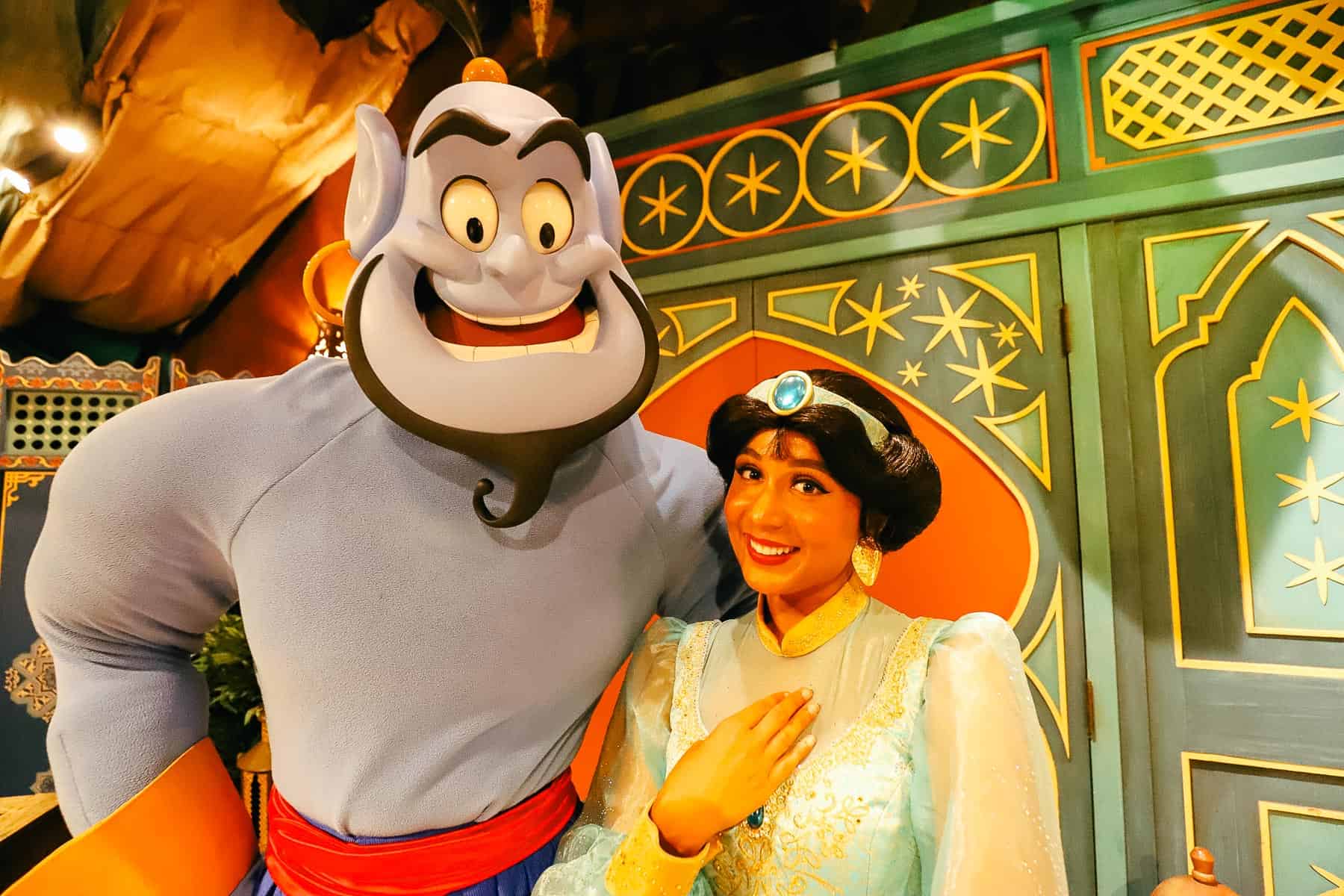 Similar to Abu, this is the only place to meet Genie at Walt Disney World. However, Jasmine meets at this exact location daily with Aladdin.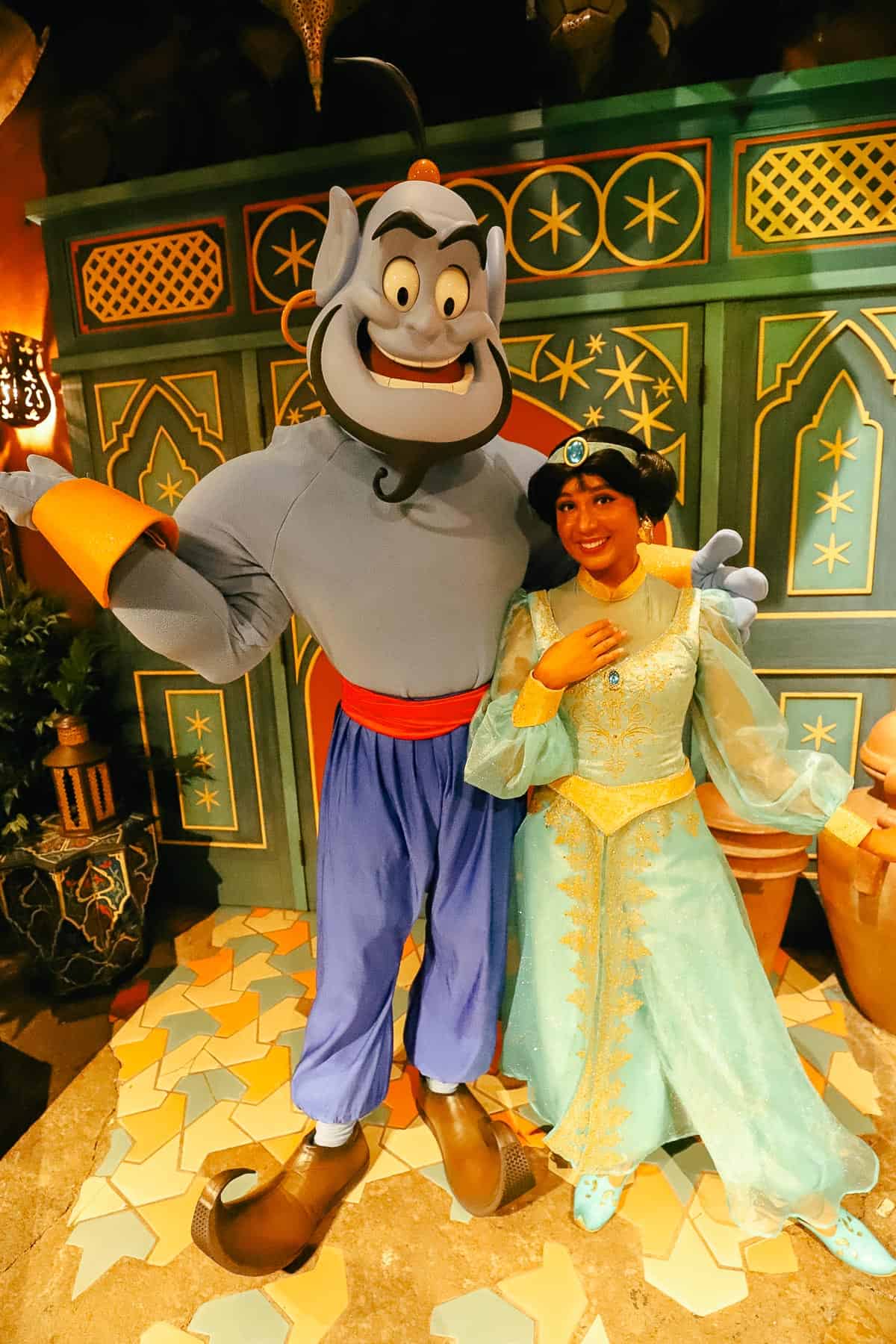 Jafar
Jafar meets to the immediate right of Aladdin and Abu or Jasmine and Genie. He has a dedicated area that received a few enhancements this year.
Jafar is another rare character unique to the Halloween Party. He's also exceptionally tall, making him pretty hard to miss if you're anywhere nearby.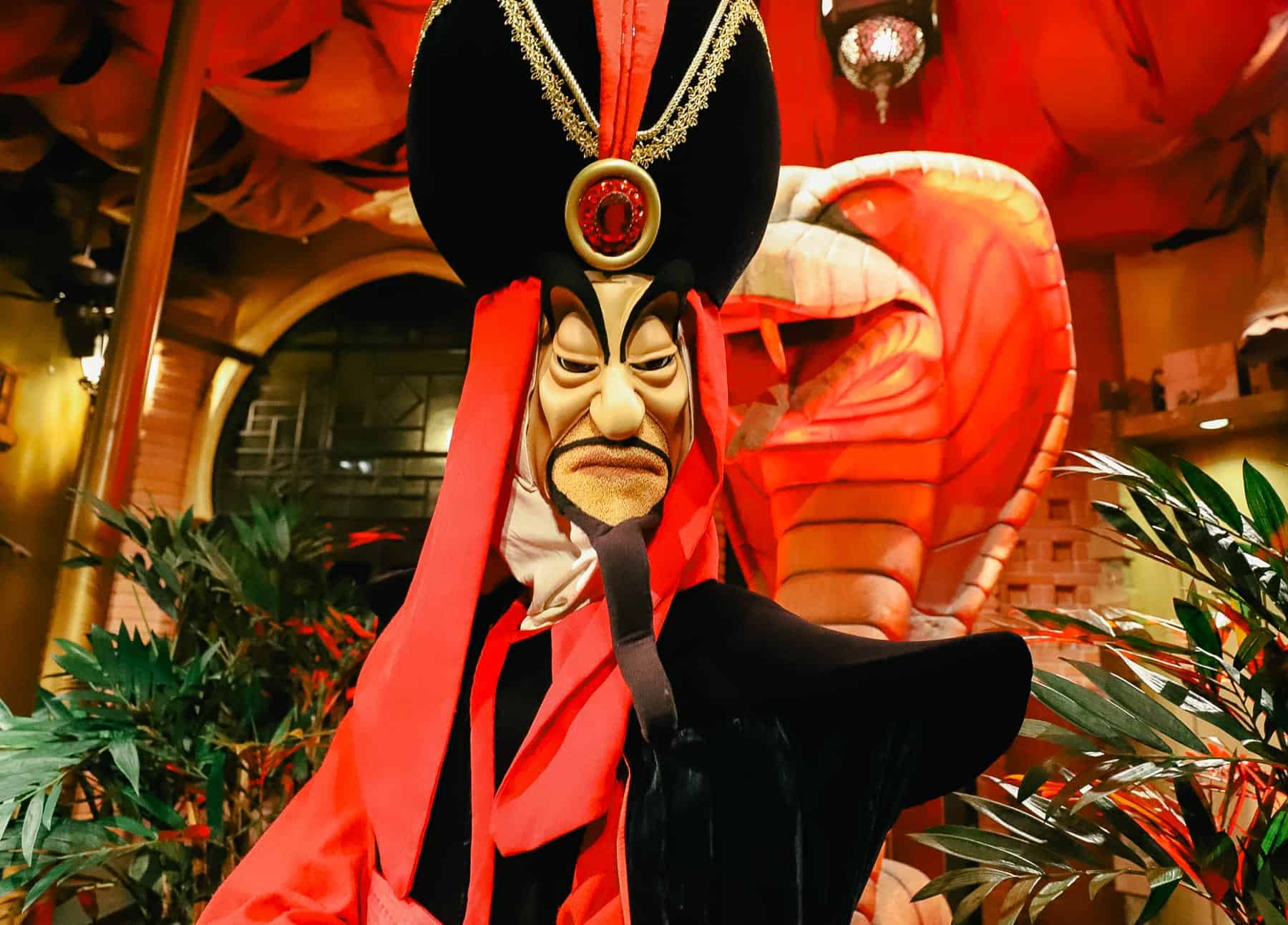 Jafar begins meeting at 7:00 p.m. Last year, we waited 30 minutes to meet him toward the beginning of the party. However, we met him during the fireworks this year and only waited a few minutes to meet him, Jasmine, and Genie.
Usually, we wouldn't recommend missing a parade or the fireworks to meet characters. However, we can afford to do that since we're attending multiple parties. You will encounter a significant difference in wait times if you choose to forgo the larger entertainment offerings to meet characters.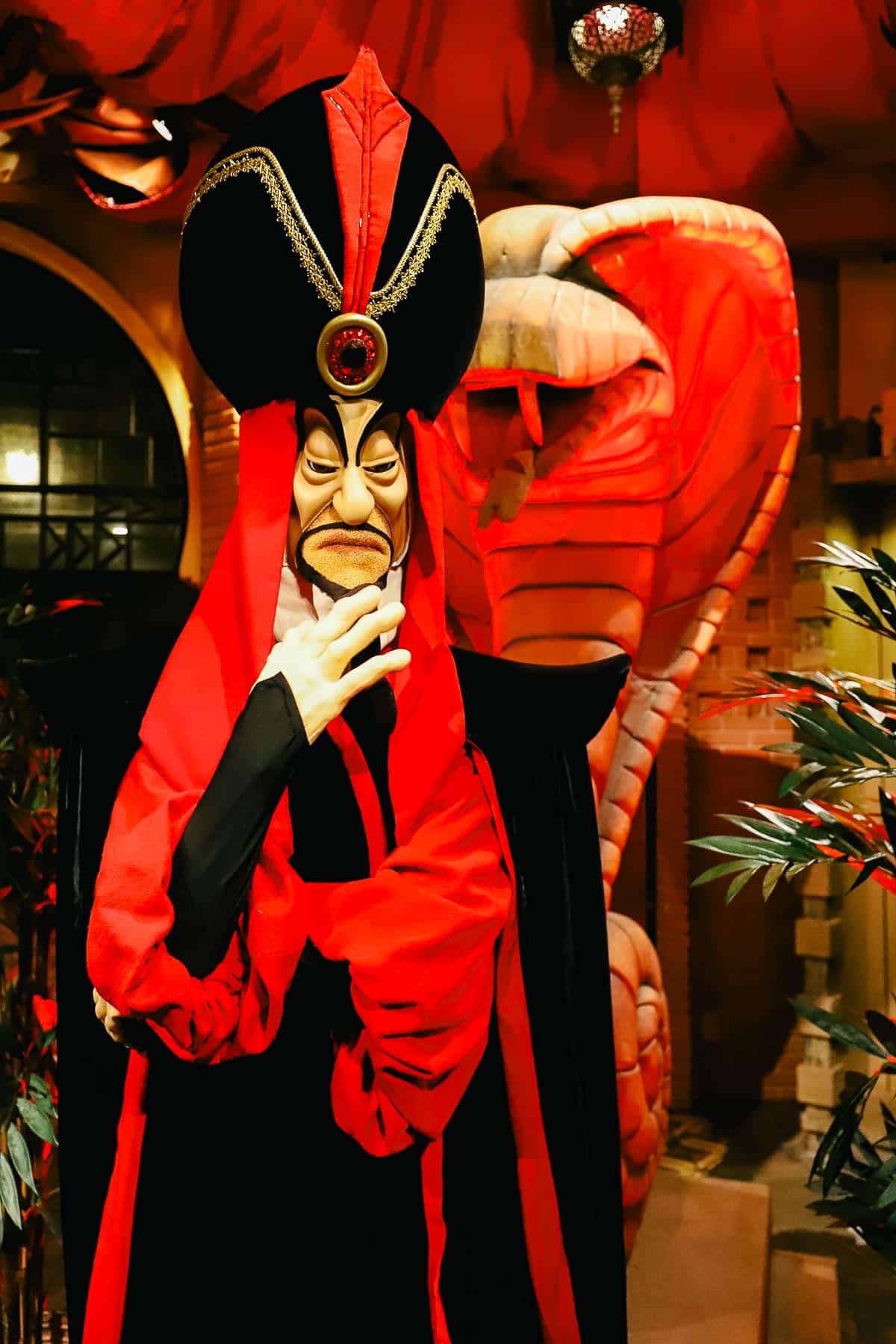 Jack Sparrow
Jack Sparrow meets guests at Mickey's Not So Scary Halloween Party near the Adventureland Stage. The stage is located directly across the walkway from Pirates of the Caribbean.
This meet-and-greet rarely has a long line. However, Jack Sparrow is a bit of a character, so you might have to catch him first. You know what he says, "This is the day that you almost caught Captain Jack Sparrow." So good luck finding him!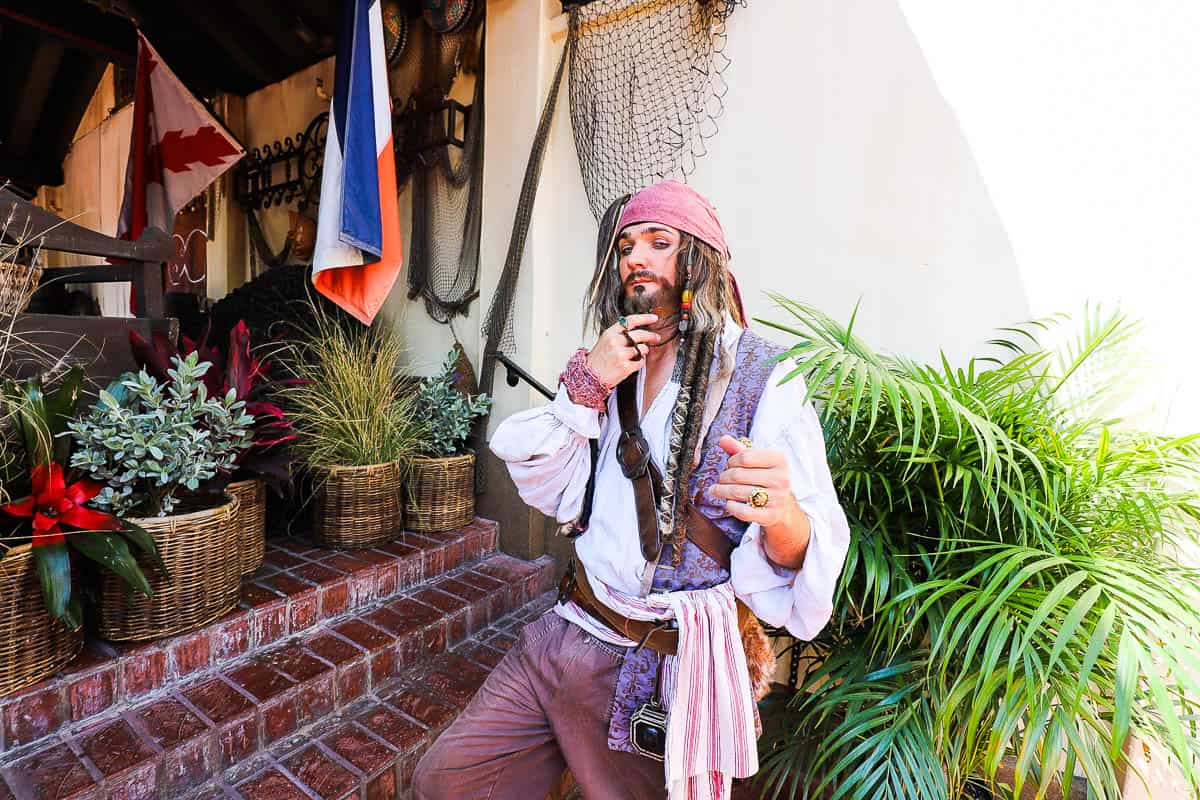 Belle
Belle meets in an area outside of Enchanted Tales with Belle during Mickey's Not So Scary Halloween Party. She formerly met with Gaston at the Halloween Party.
Unfortunately, we were told Gaston would not have a character meet opportunity at this year's party. However, he appears in the final villain's unit of the Boo To You Parade.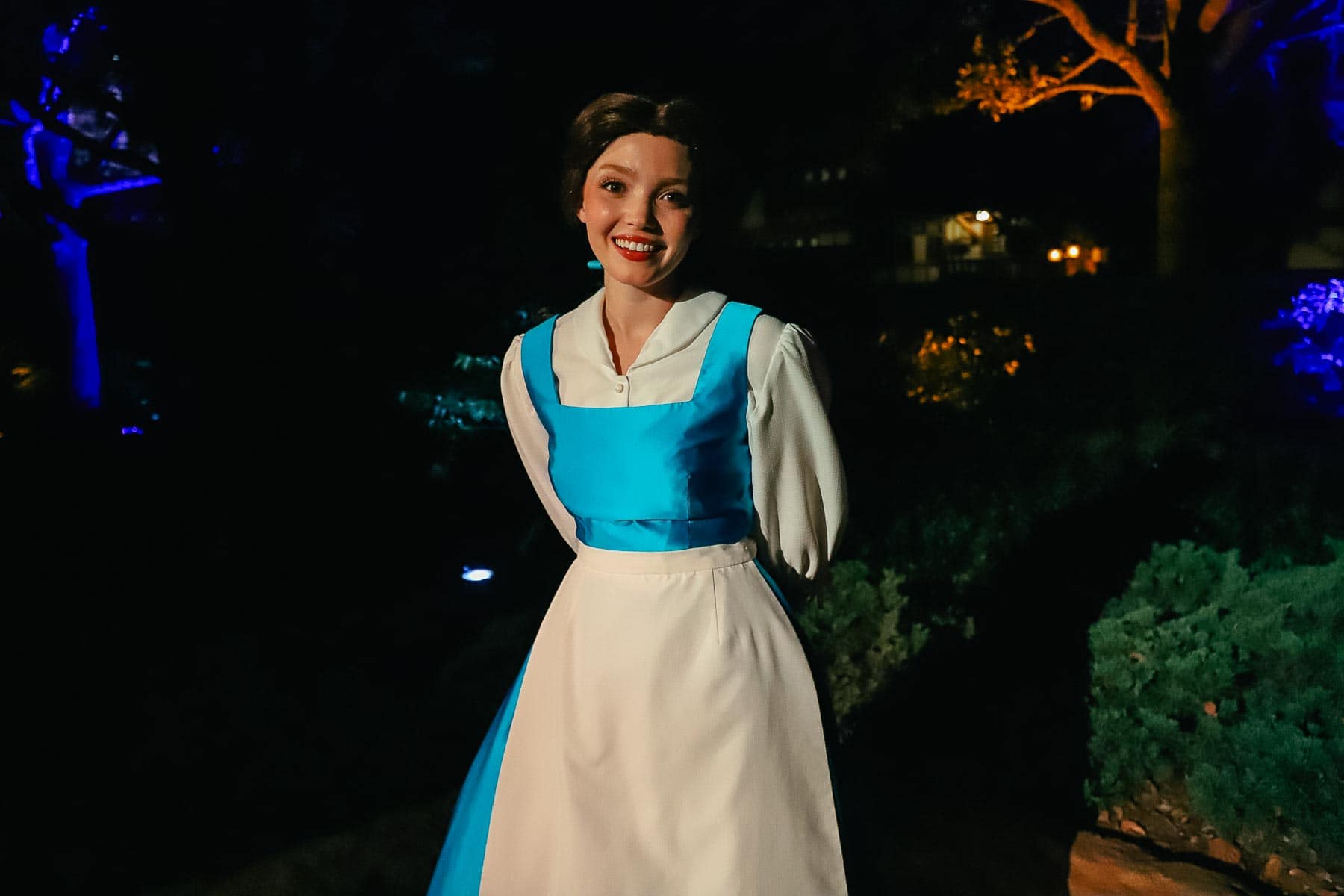 We met Belle at nearly 10:00 p.m. At that time, only a few guests were ahead of us. So the wait was less than five minutes.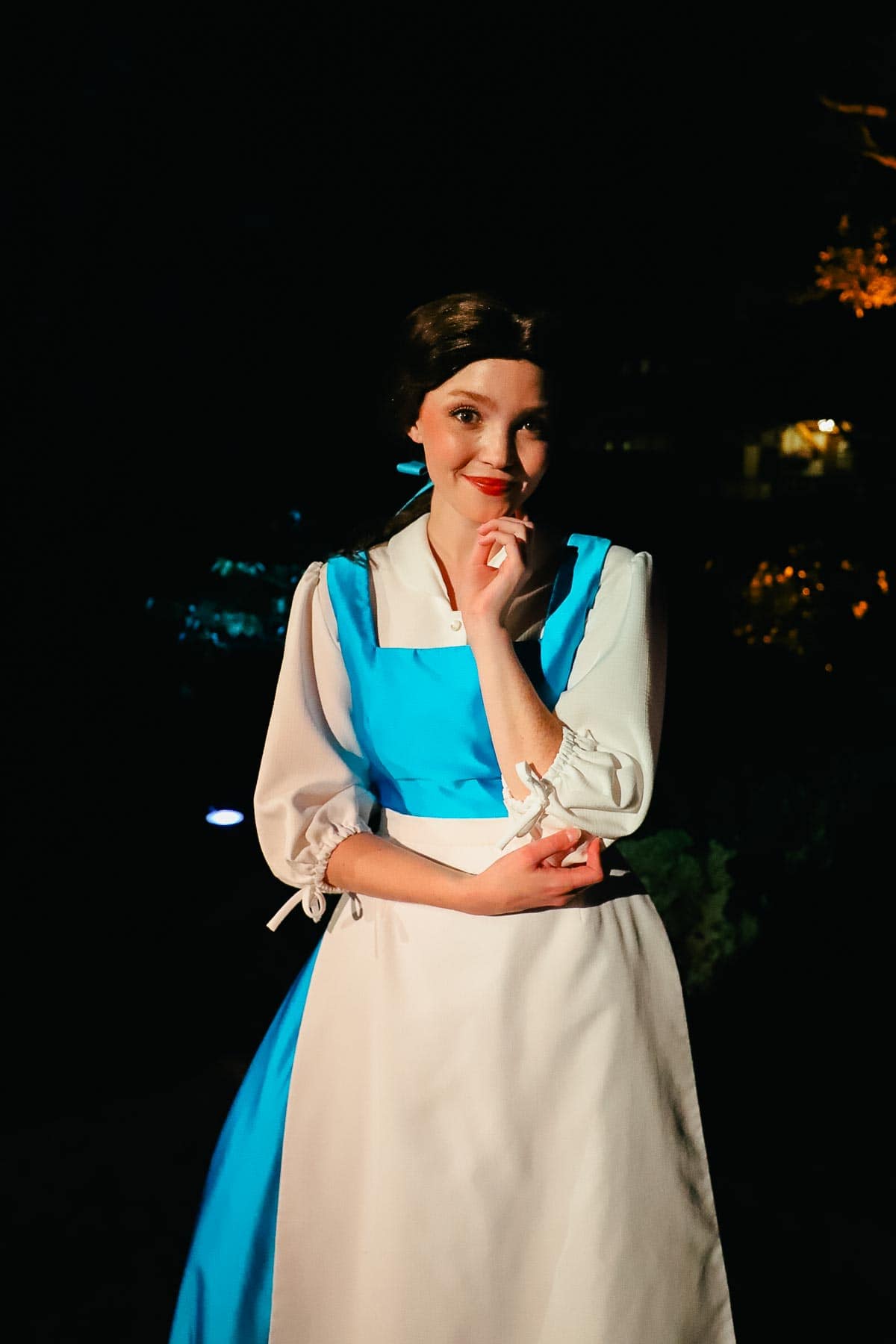 Prince Eric and Ariel
Prince Eric and Ariel are another unique pair that have a meet-and-greet at Mickey's Not So Scary Halloween Party. They are meeting in front of Prince Eric's castle in New Fantasyland.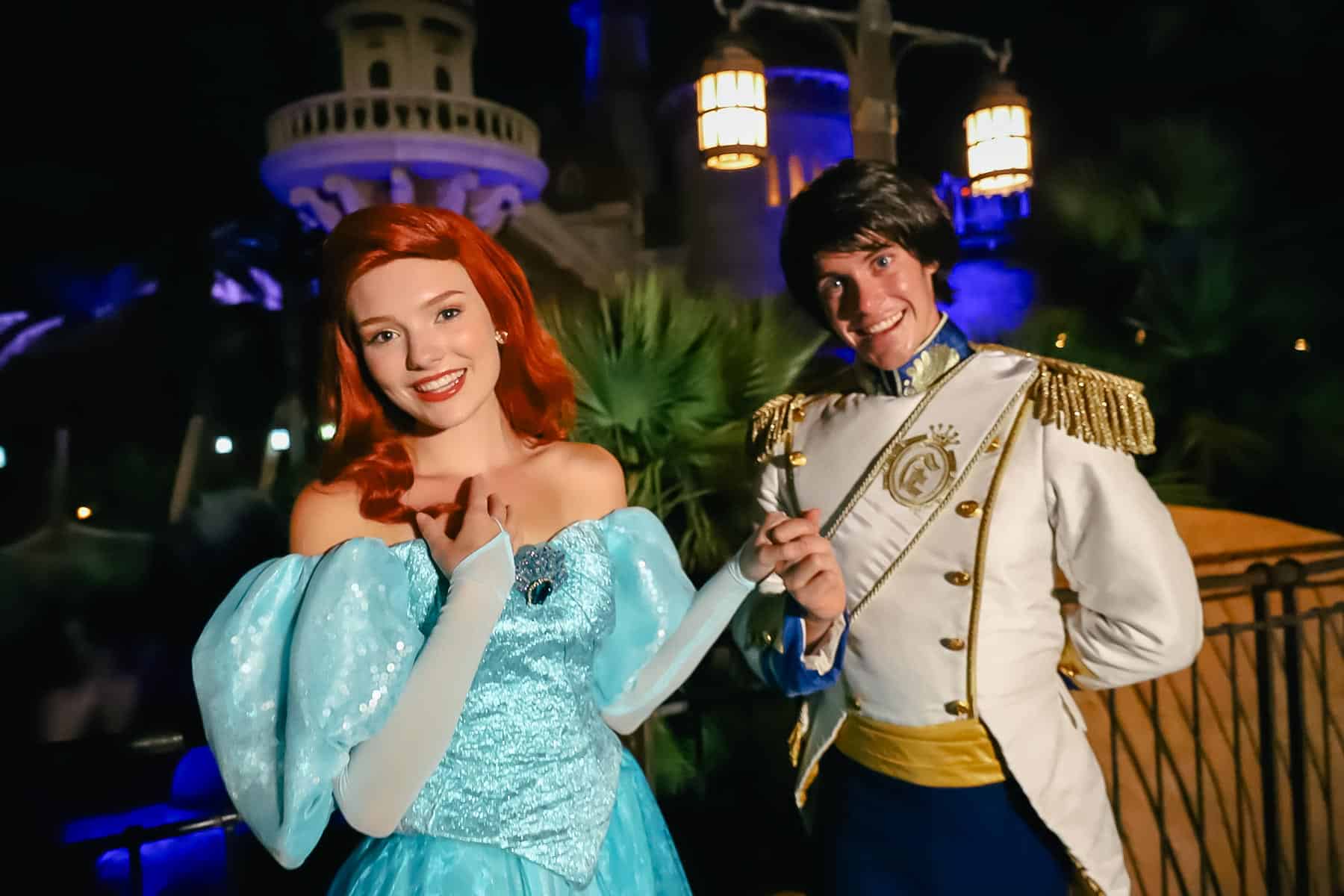 We got in line to meet them at 9:42 p.m. and met them by 9:50 p.m. However, earlier in the evening, we could have easily waited an hour to meet them. They make their first appearance at 7:00 p.m.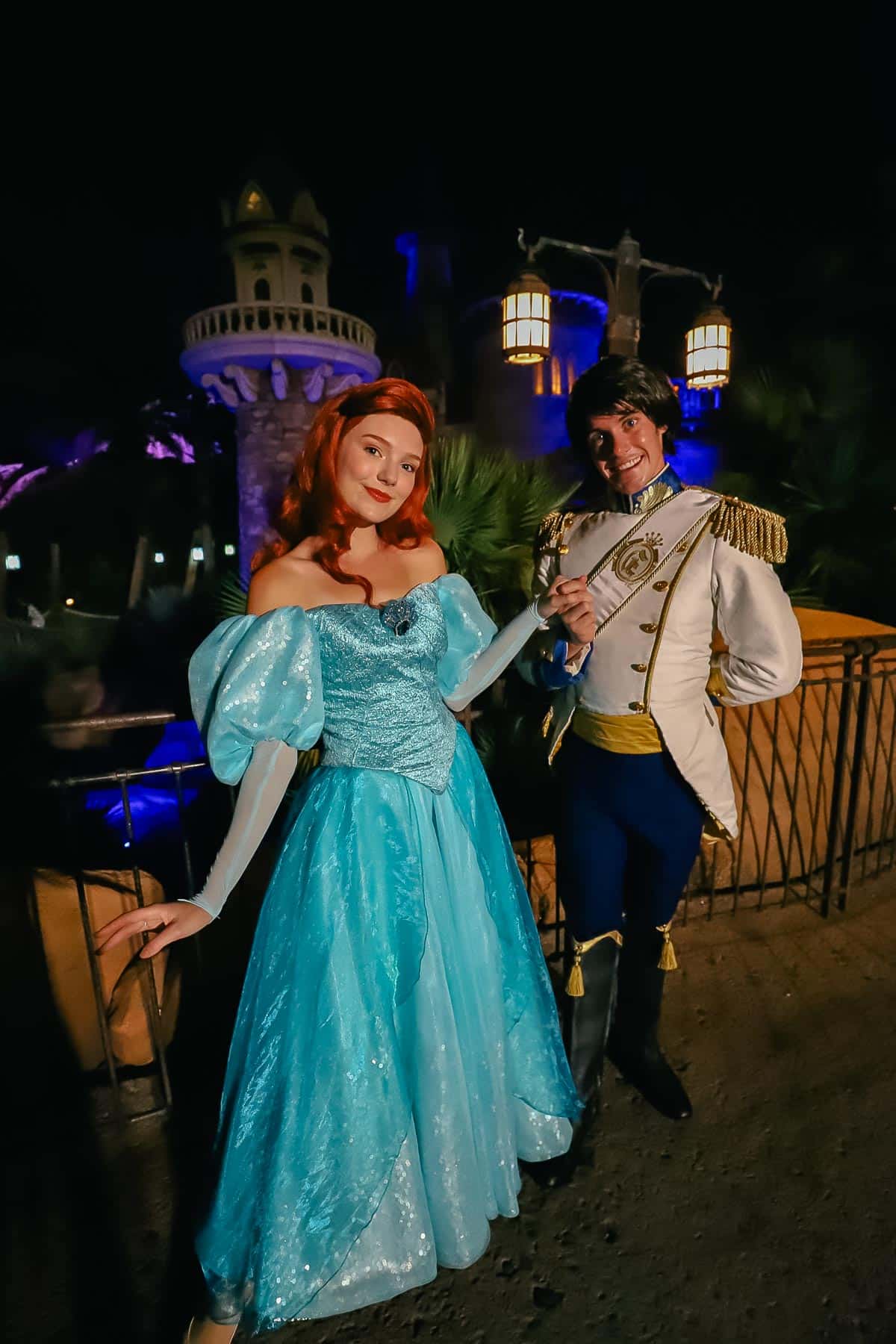 Winnie the Pooh and Friends
Winnie the Pooh, Tigger, Eeyore, and Piglet meet guests in their Halloween costumes at Mickey's Not So Scary Halloween Party. They are among the most popular characters at the party, like Jack and Sally, Stitch, and the Seven Dwarfs.
They came out at approximately 6:30 p.m. to a long line of waiting guests. This character meet is one of the best photo opportunities because the friends meet in their Halloween costumes.
Pooh dresses as a honey bee, and Tigger is a pirate. Eeyore meets in the cutest birthday suit, and Piglet is a butterfly!
Last year, we waited in line for nearly two hours to meet them. Unfortunately, a thunderstorm temporarily closed the meet-and-greet when we were only a few guests away from meeting them and never got to meet them! So since this meet-and-greet is outdoors, you might want to check the weather before making the time commitment.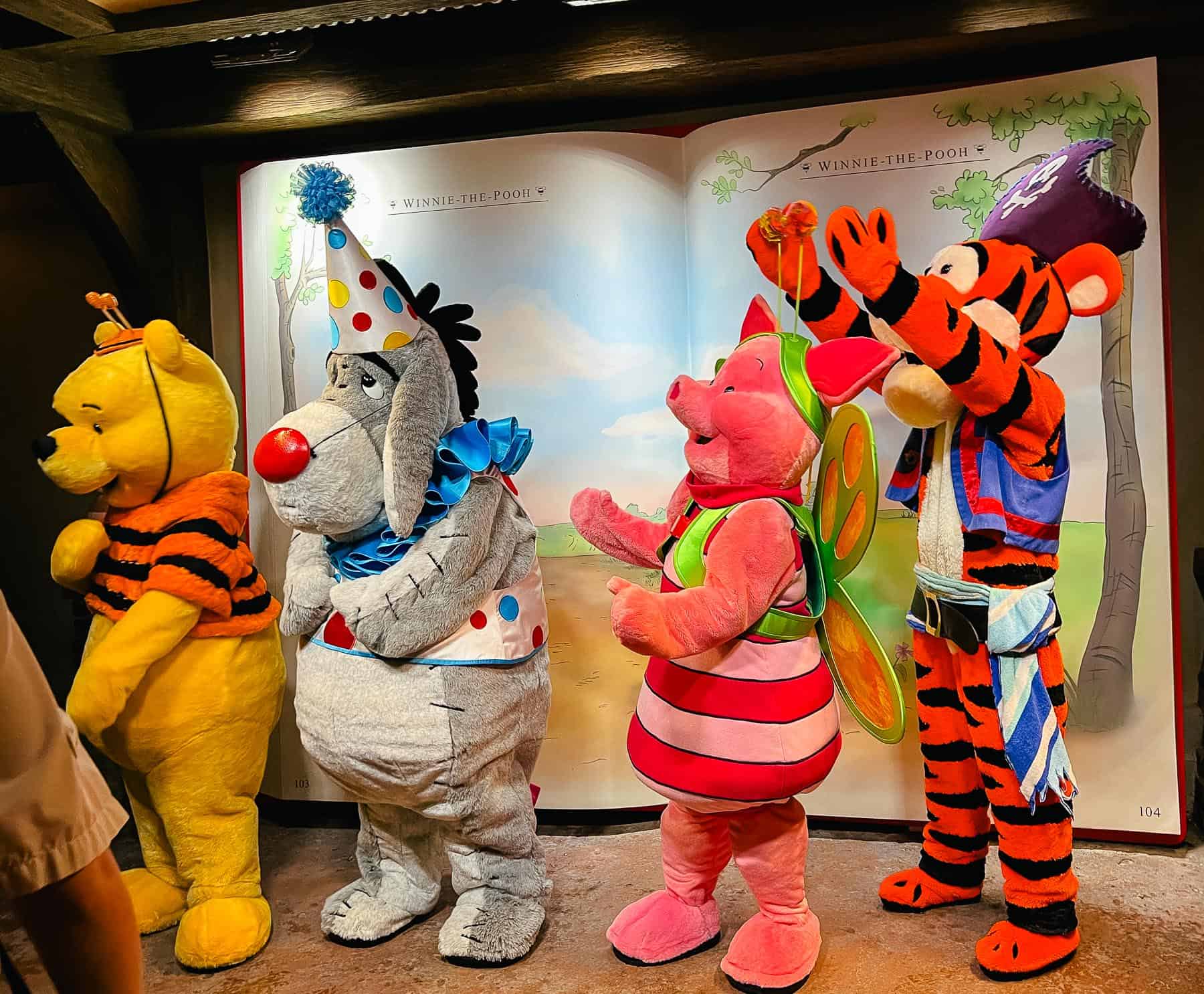 A keepsake card with their signatures is provided at the meet-and-greet.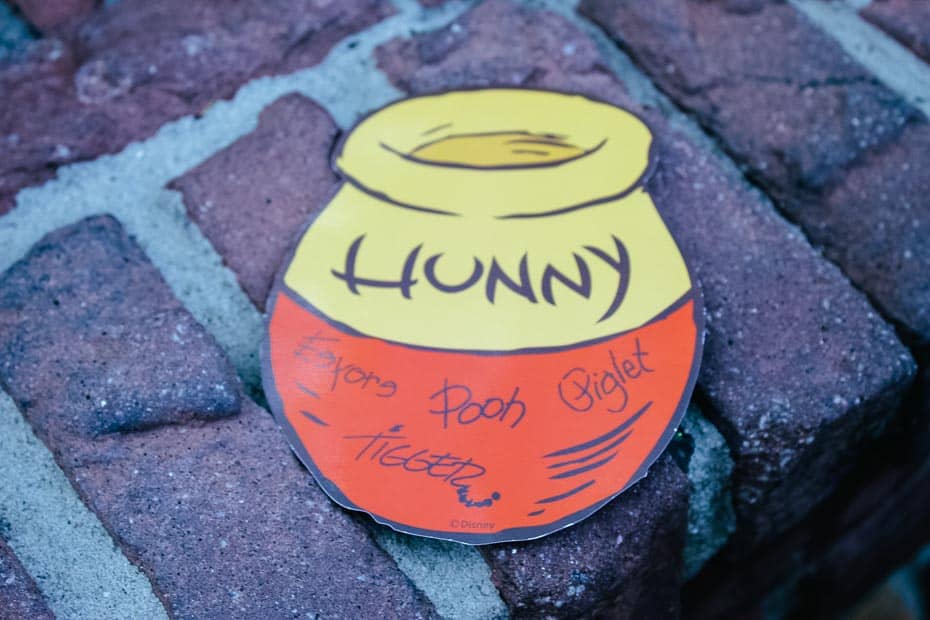 Mad Hatter and Alice
Next, we have the Mad Hatter and Alice from Alice in Wonderland in Fantasyland. This duo begins meeting around 7:00 p.m. near the Mad Tea Party entrance.
Like other characters at the party, they hold a significant line. From our experience, you can expect to wait between 30 to 45 minutes to meet them.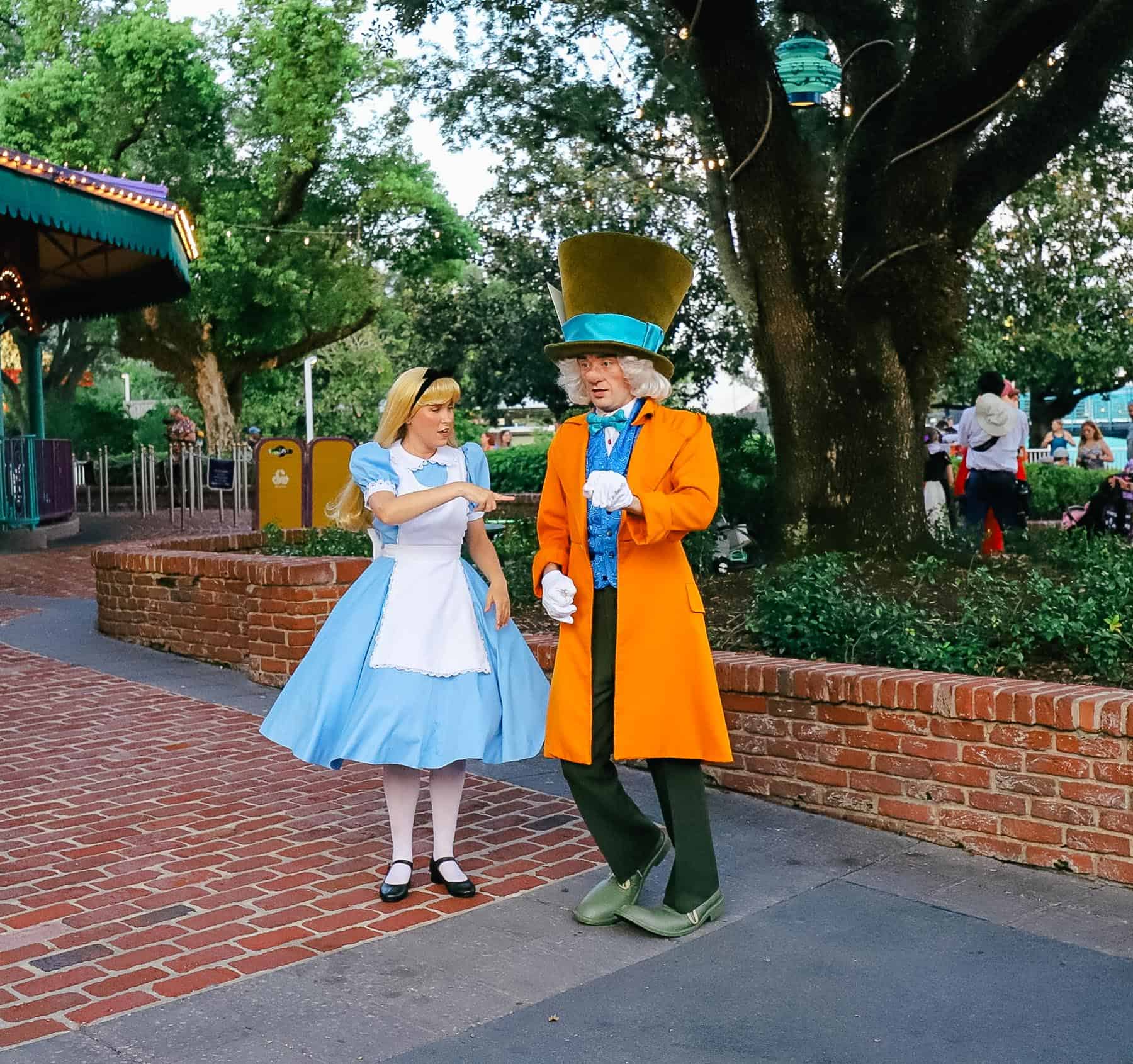 Queen of Hearts
On the opposite side of Mad Tea Party, you'll find the line for the Queen of Hearts meet-and-greet, which is rotated with the Tweedles. In the past, we saw these three meet guests simultaneously.
However, now the Queen of Hearts meets for about 15-20 minutes. When she leaves, the Tweedles return, exchanging places. A cast member was letting everyone know the characters rotated. But you'll want to remember that you might not meet the character who was there when you got in line.
On this evening, the Tweedles were out when I got in line. However, as I neared the front of the line, they disappeared. So I was stuck with the Queen of Hearts.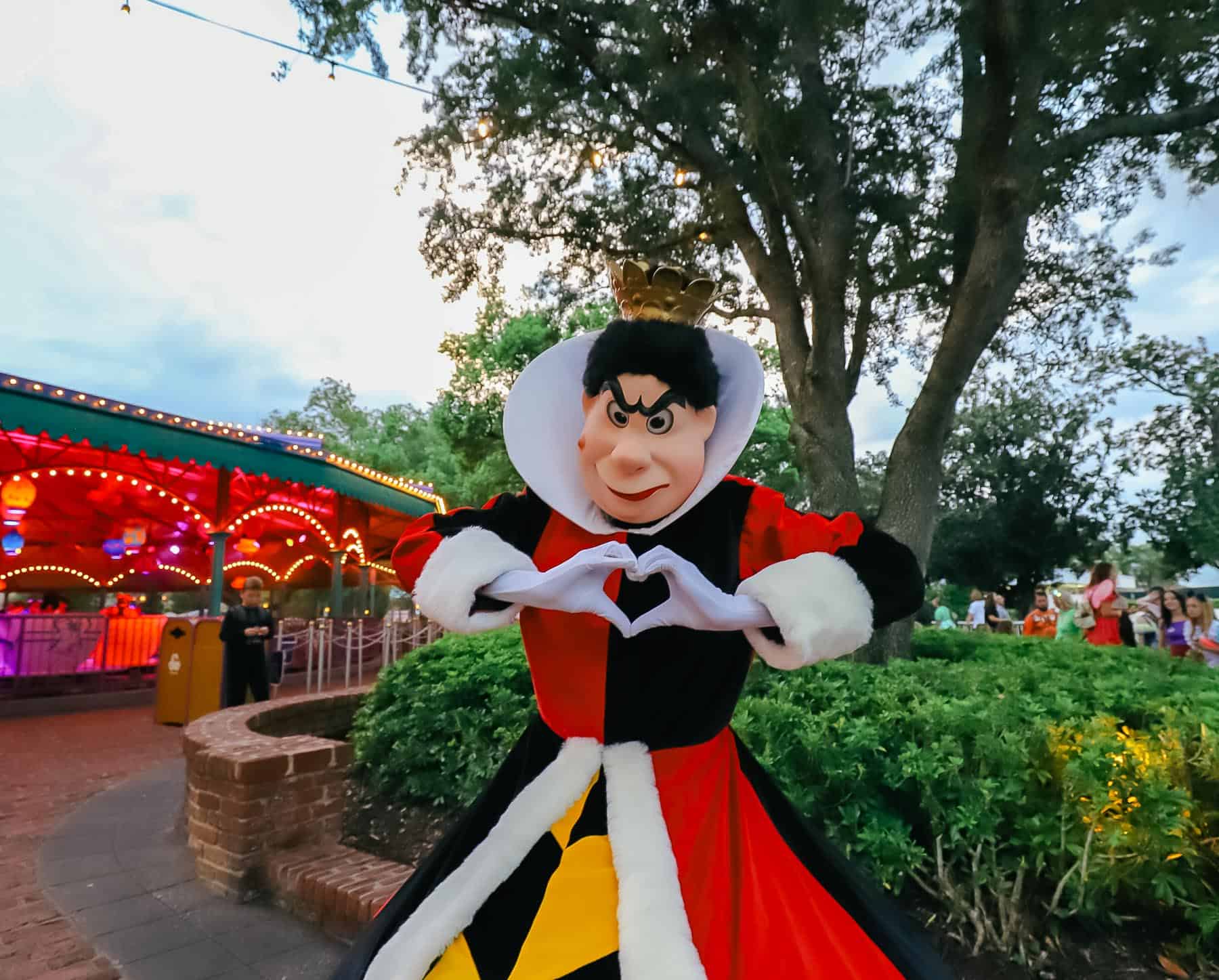 Okay, I wasn't really stuck. I was looking forward to meeting her!
Don't expect anything but surly expressions from the Queen of Hearts. She has that villainous freeze-face thing going on, probably from yelling, "Off with your head!" so many times.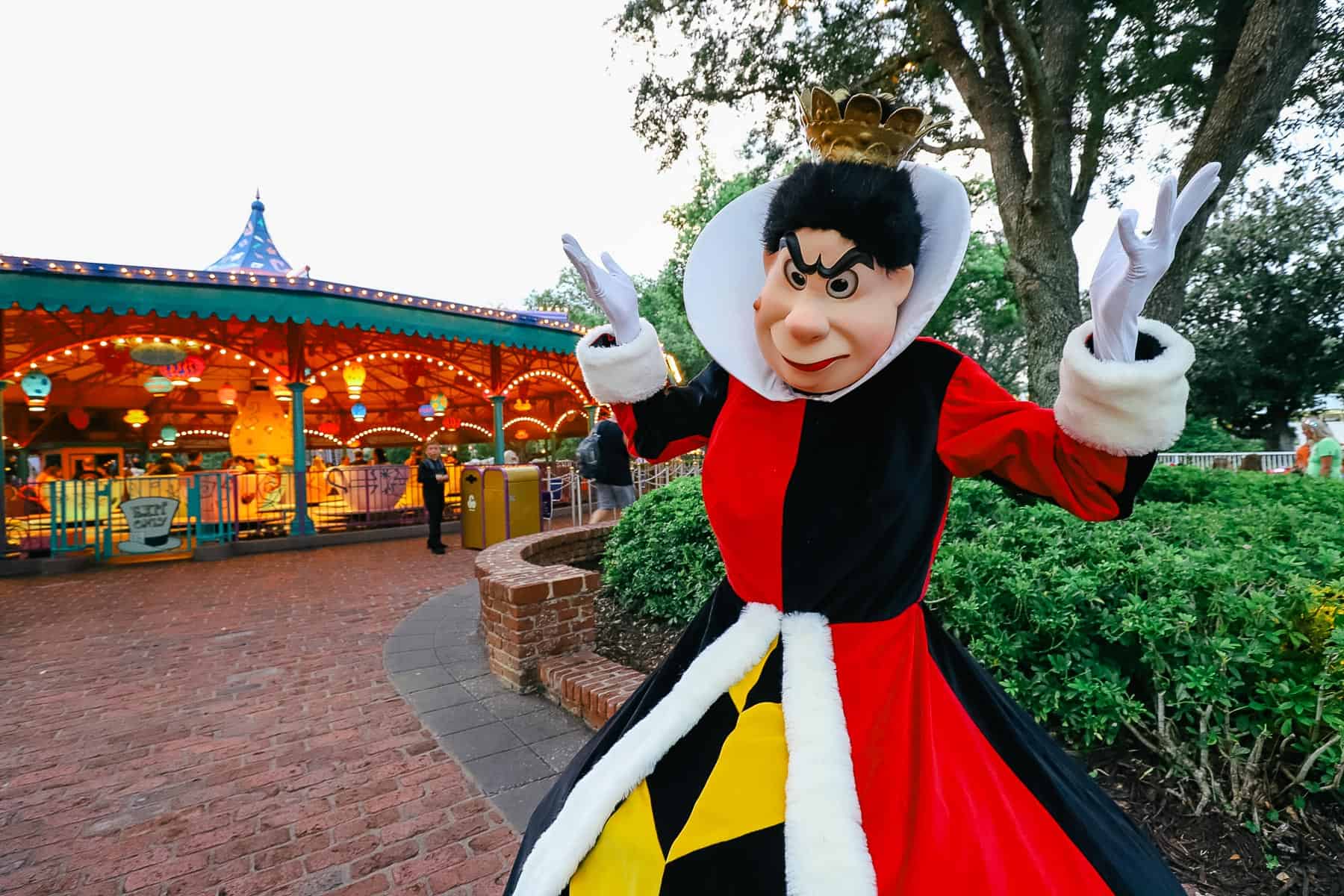 Tweedles
Here is a photo I got of the Tweedles before they left. One of these days, we'll time it right and meet them.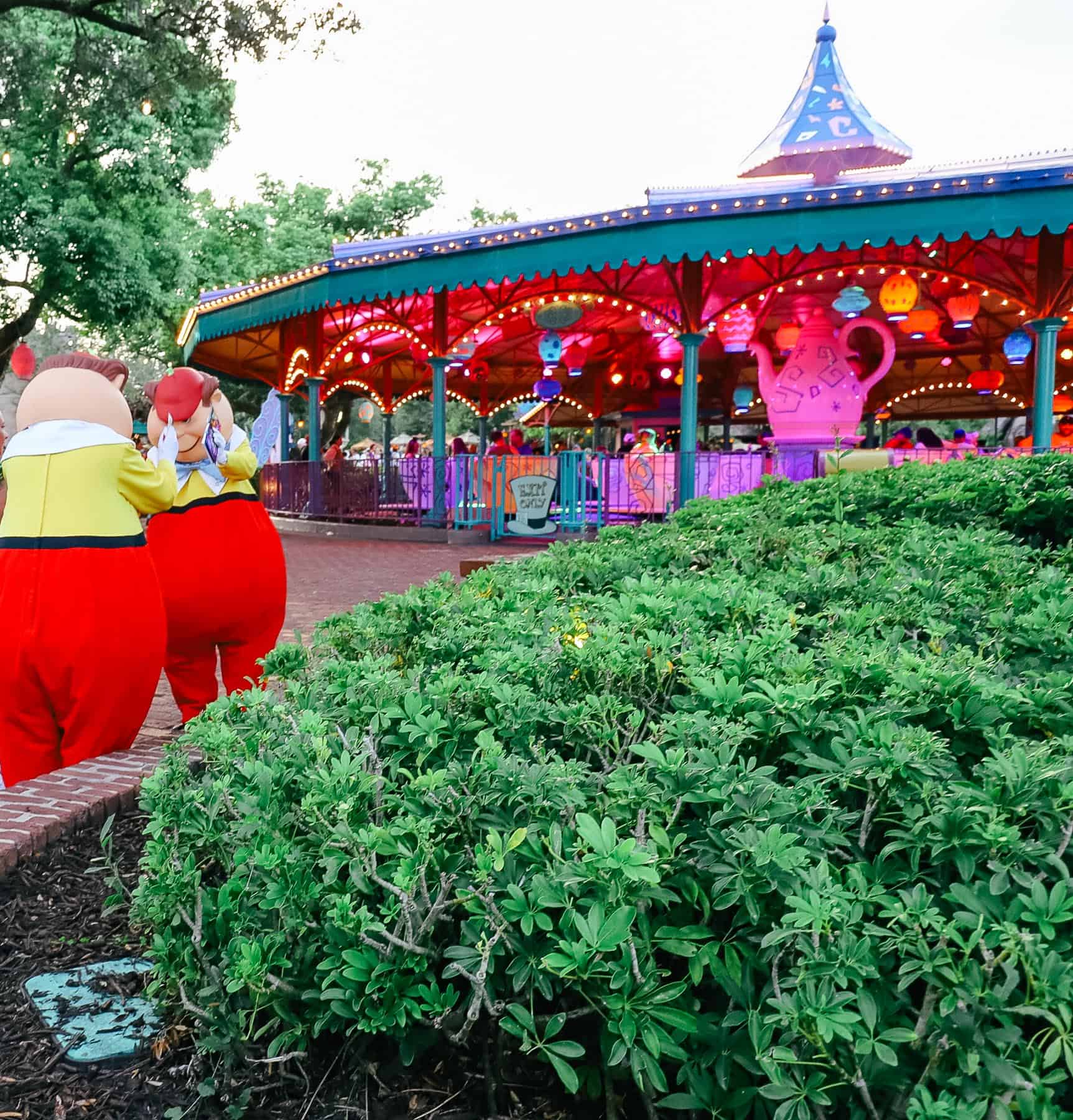 Minnie Mouse
Minnie Mouse, Donald, and Daisy Duck meet inside the circus tent at Dumbo's Flying Elephant during Mickey's Not So Scary Halloween Party. We waited a little over an hour to meet them on the first night of the party.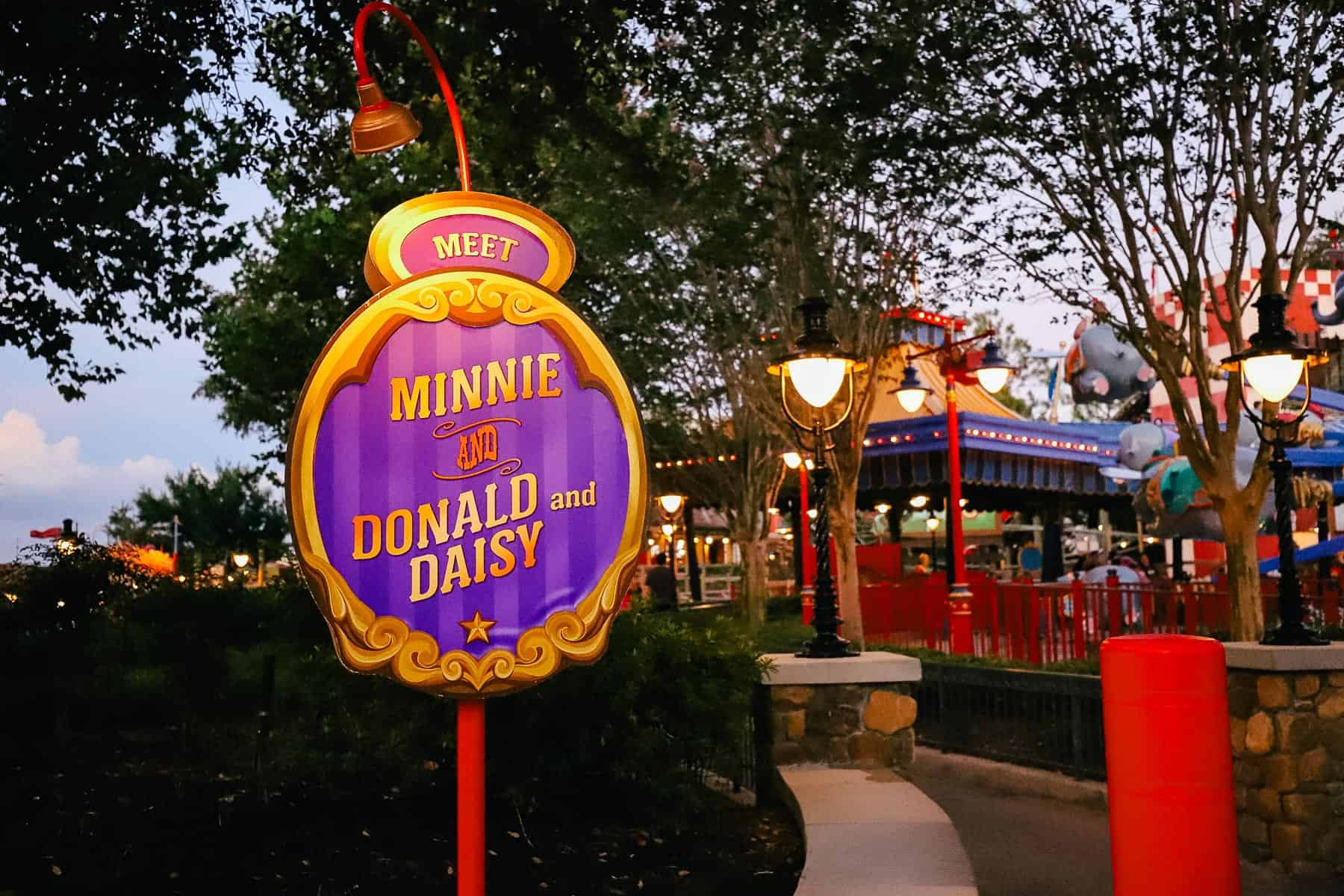 Minnie Mouse is dressed in her Halloween costume.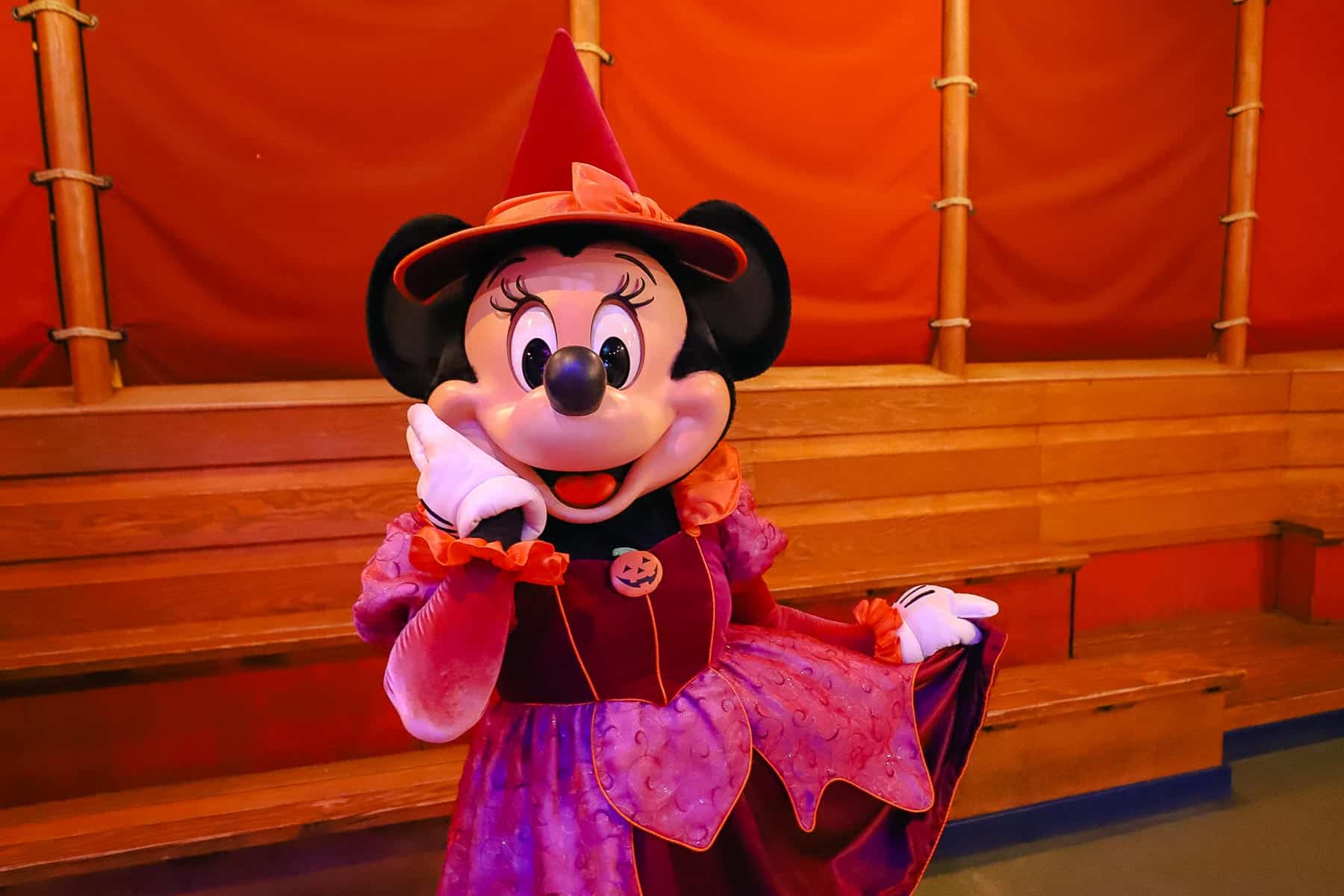 She begins meeting guests at 7:00 p.m., and she signs autographs. Note this meet-and-greet is a two-for-one. You'll meet Donald with Daisy first and then meet Minnie Mouse.
This is an excellent location if you're waiting out bad weather because it's indoors. I have also met some of the kindest people while waiting in line at this location.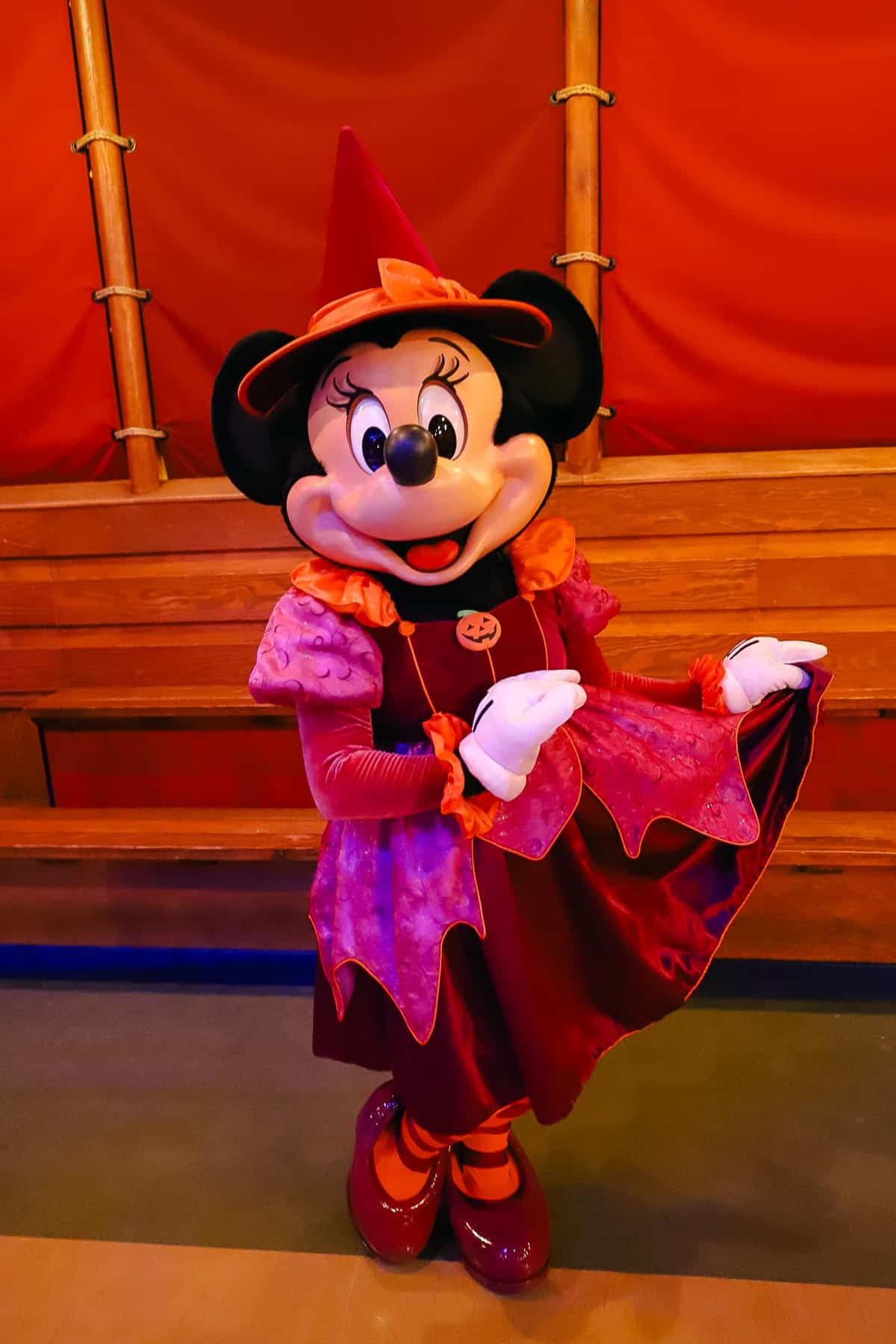 Donald and Daisy Duck
Donald Duck and Daisy Duck meet beside Minnie Mouse in the circus tent at Dumbo, the Flying Elephant. Daisy is dressed like a princess, while Donald is a pumpkin.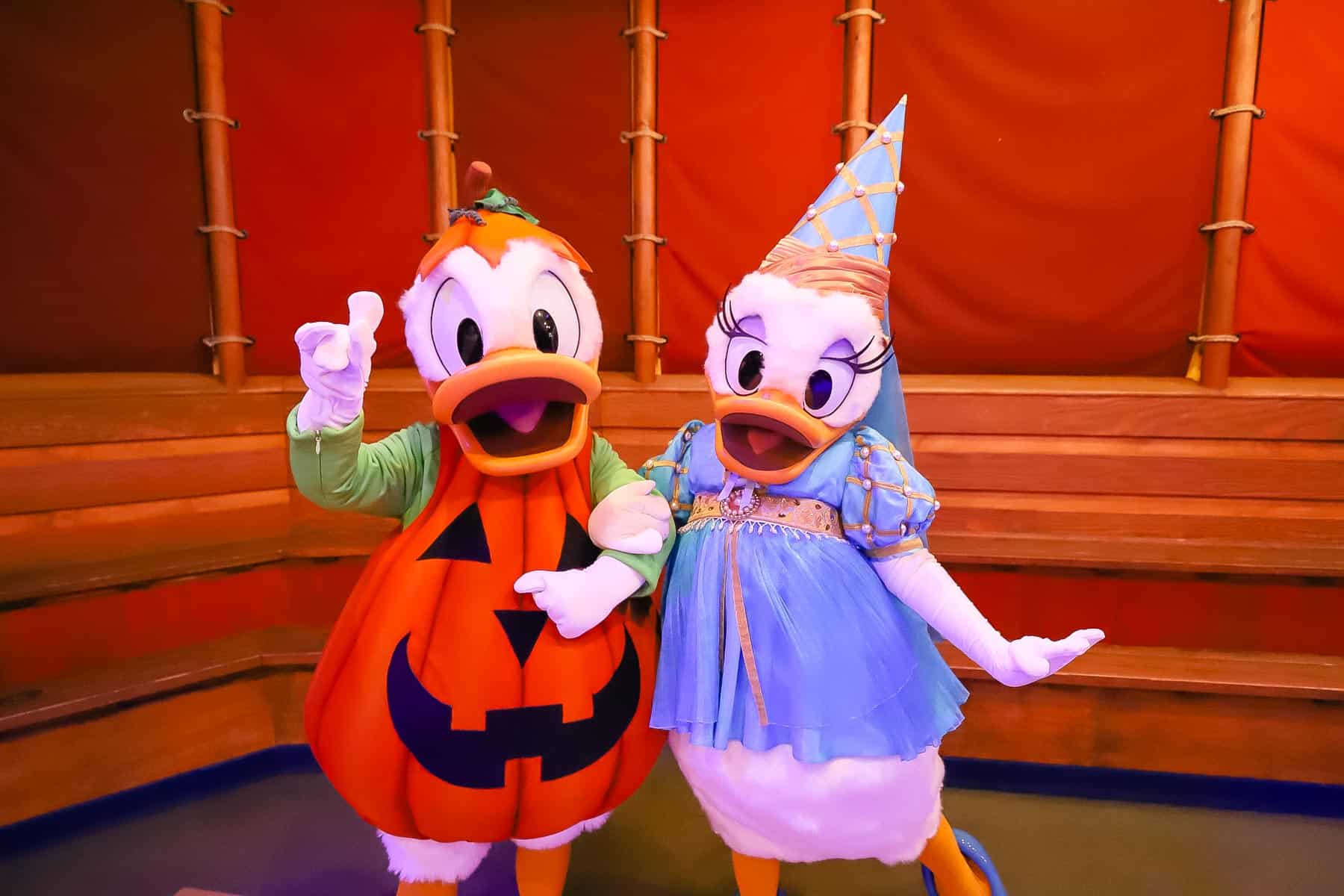 They love to carry on with each other.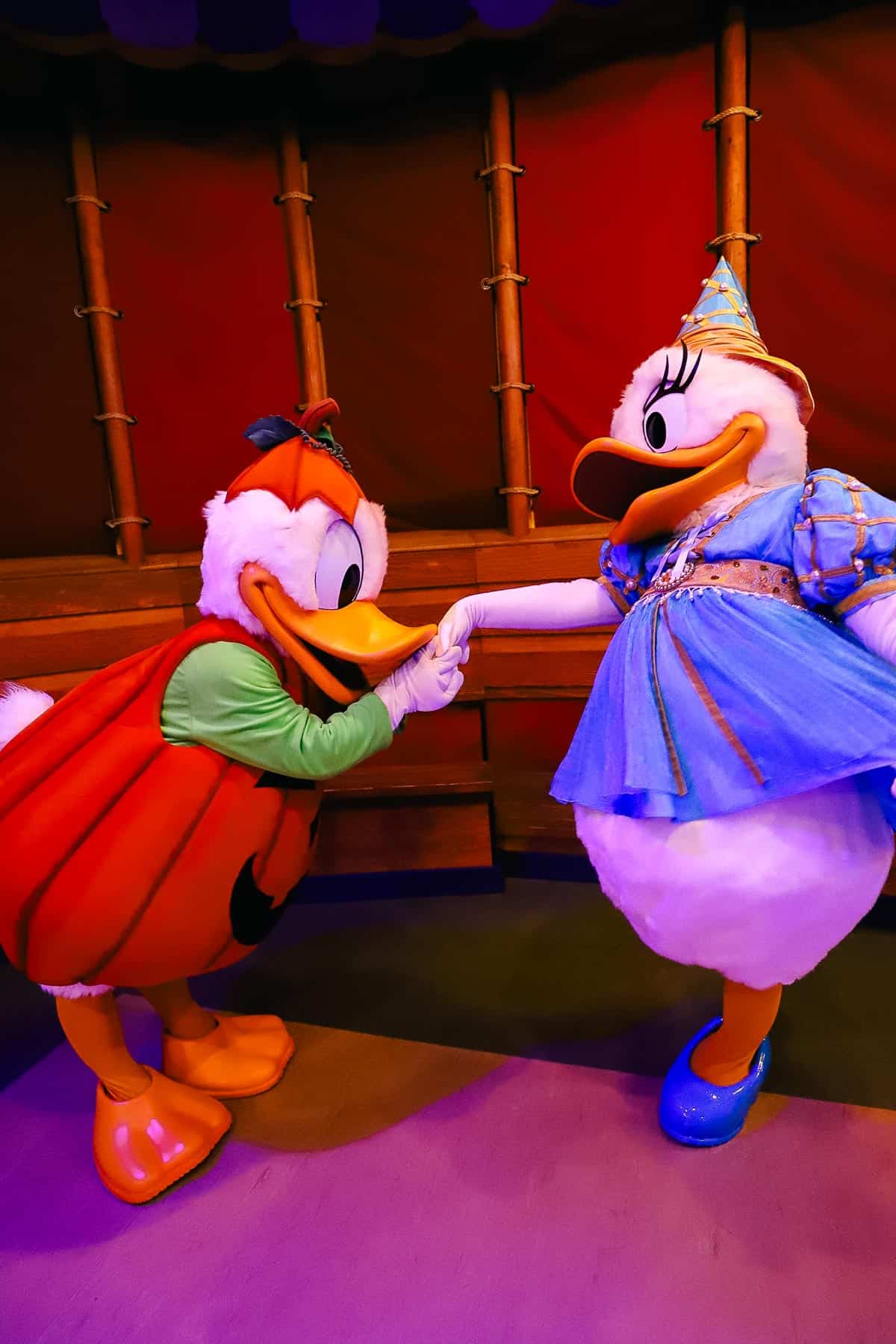 Goofy
Goofy meets as a pirate at this year's Mickey's Not So Scary Halloween Party.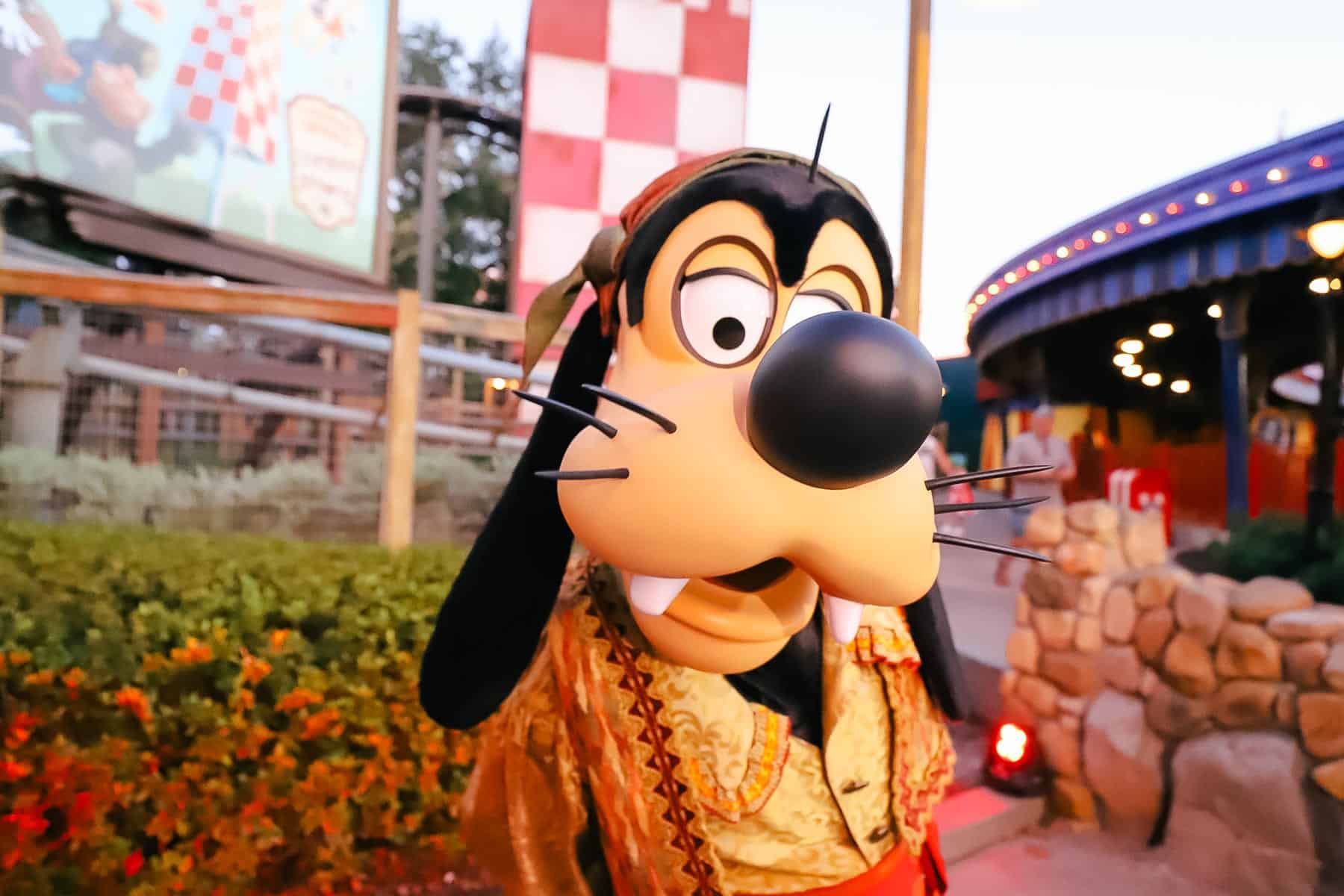 Like most character meet-and-greets, he comes out at 7:00 p.m. He meets in front of The Barnstormer.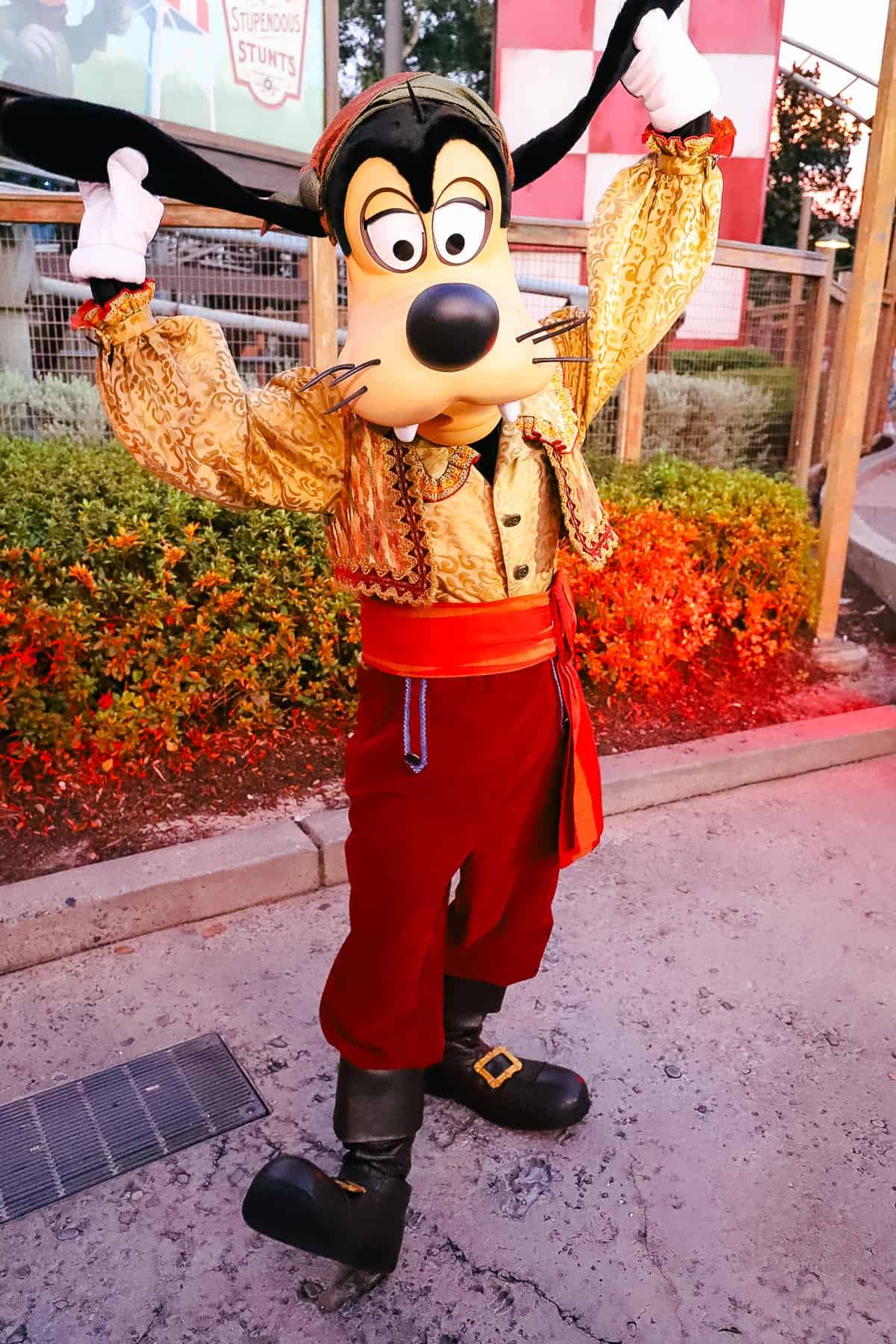 Anastasia and Drizella
Anastasia and Drizella are roaming characters at Mickey's Not So Scary Halloween Party. We didn't have enough time to look for them this year, but we confirmed their return with a cast member.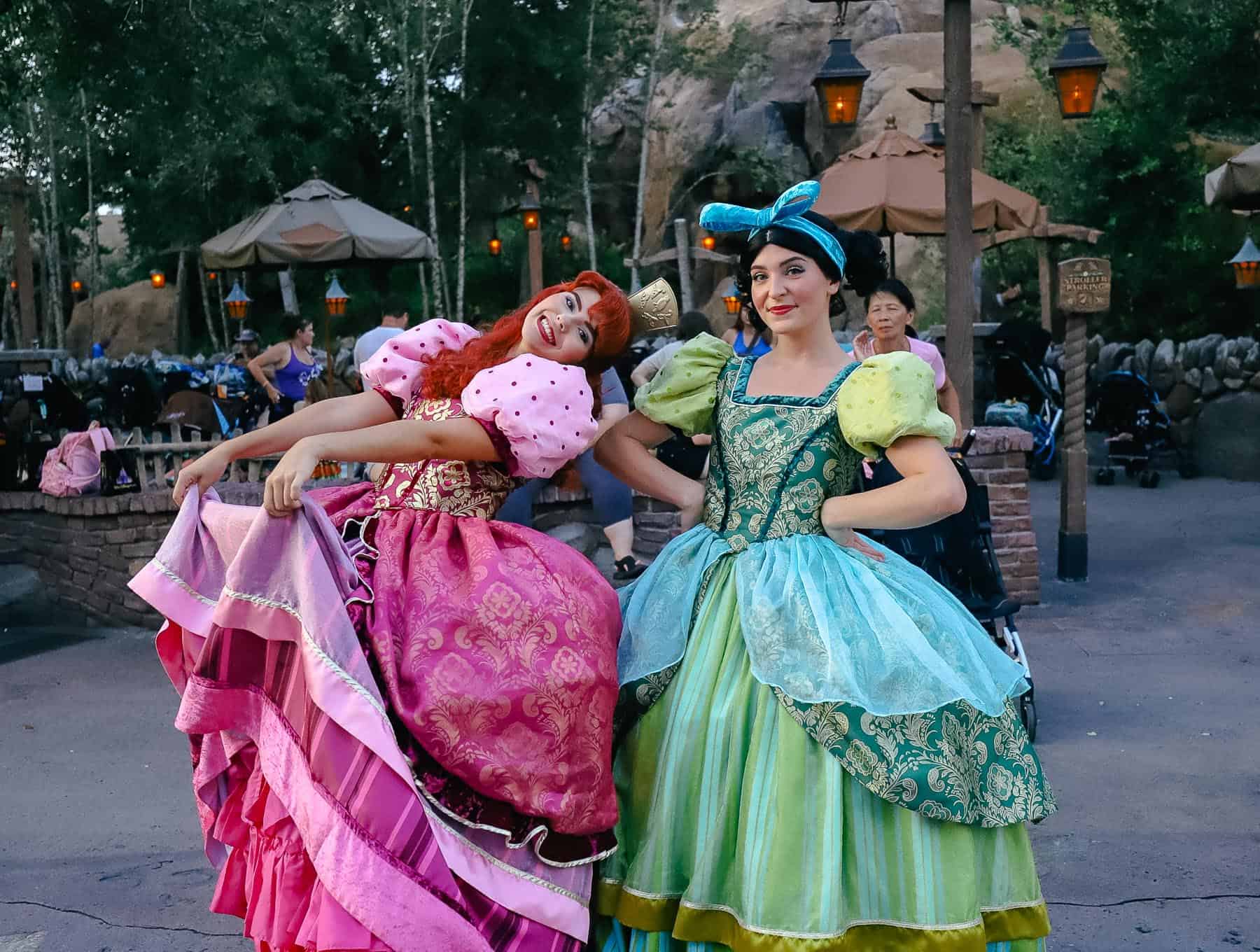 They are usually out between the back of Cinderella Castle and Seven Dwarf's Mine Train. It doesn't take much to locate them.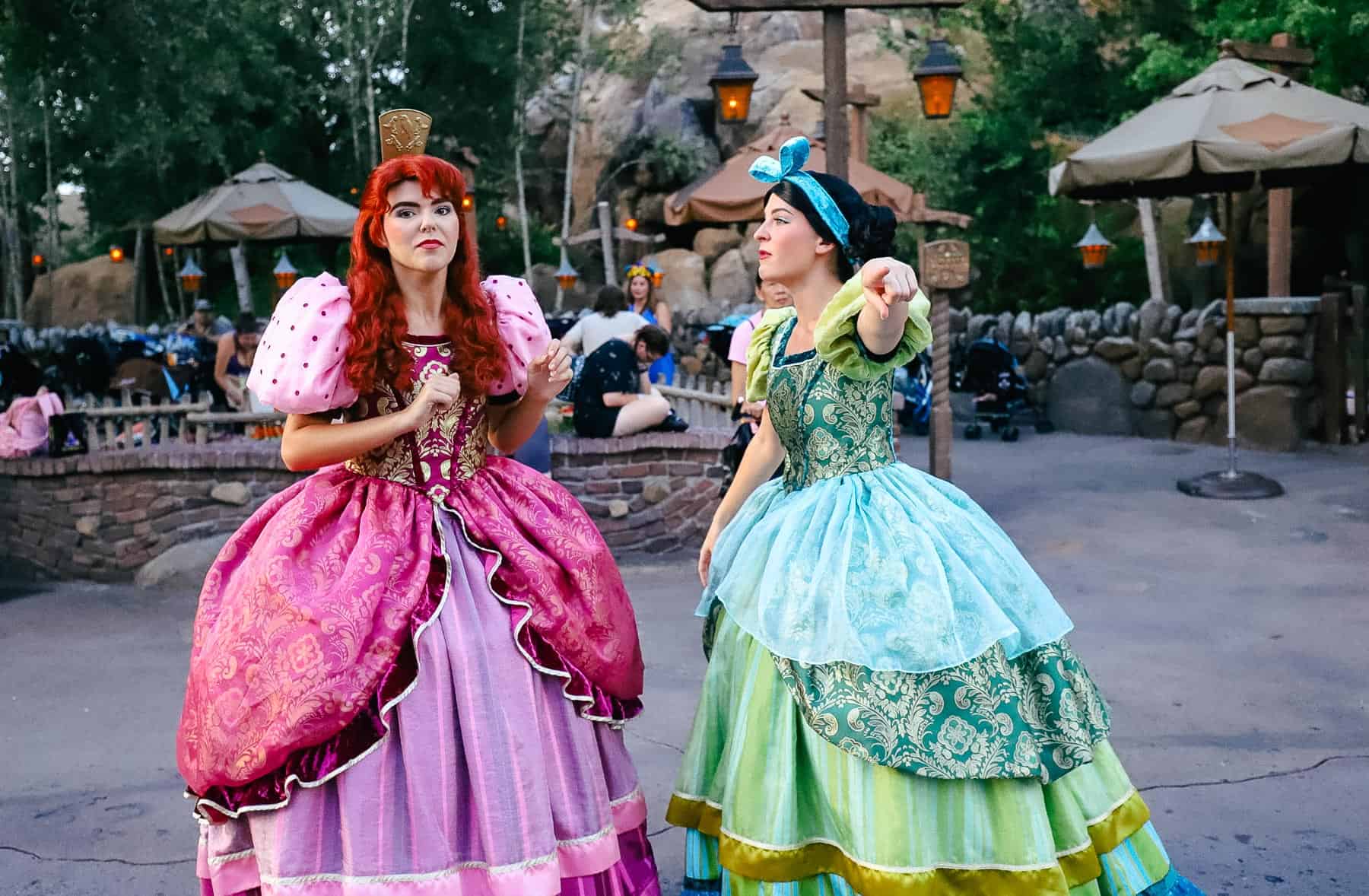 Rock 'n' Roll Stitch
Rock 'n' Roll Stitch (Elvis Stitch) meets next to Buzz Lightyear's Space Ranger Spin in Tomorrowland. Last year, I got in line to meet Stitch at 6:34 p.m. Approximately 40-50 guests were ahead of me. He arrived at 6:45 p.m.
From that point, the line only grew longer. Stitch left for a break at 7:09 p.m. and returned at 7:15 p.m. It was 7:30 p.m. when I met him.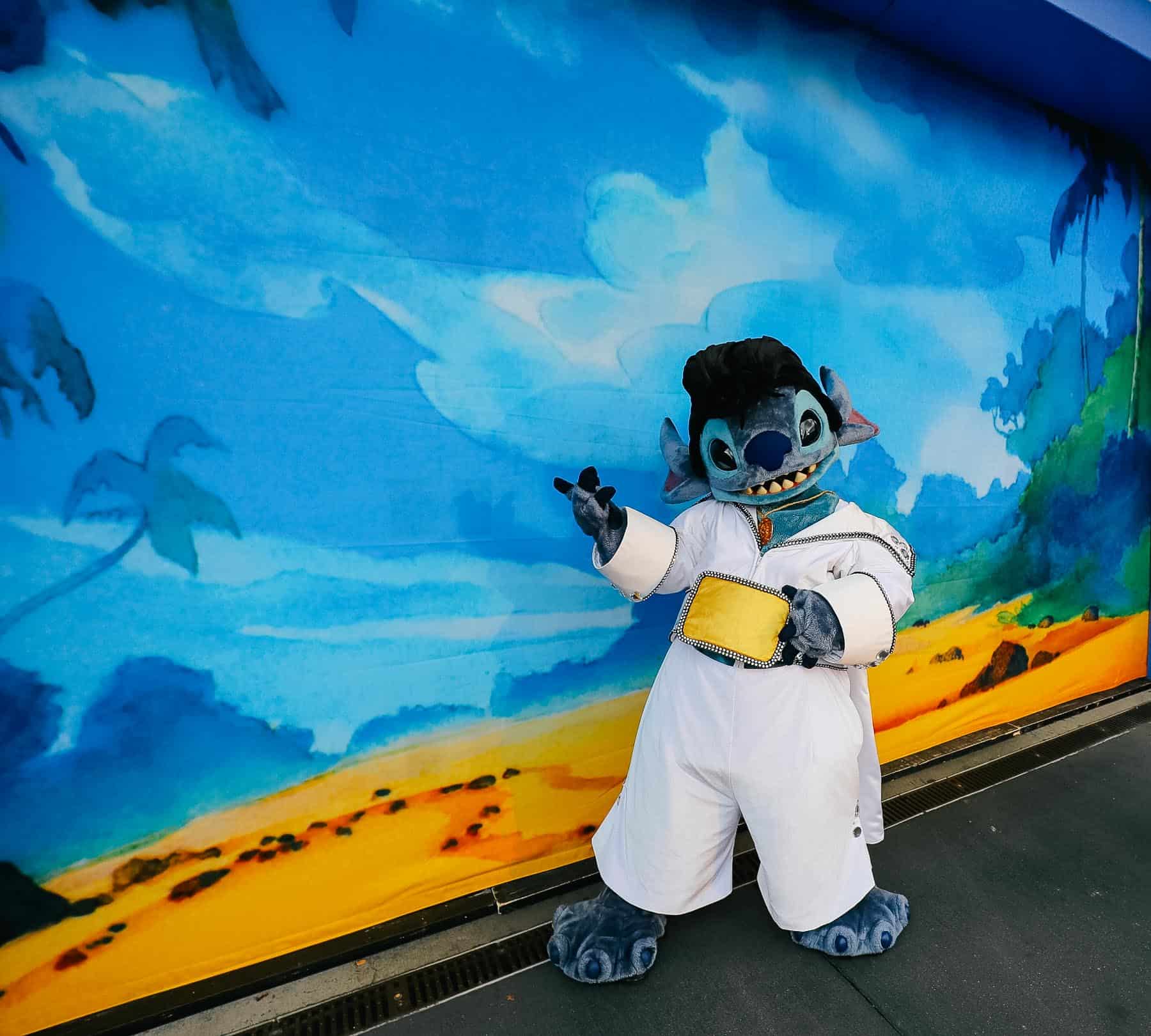 Princess Fairytale Hall
Guests can meet princesses at Princess Fairytale Hall during the Halloween Party. This is a traditional character meet that's available daily at Magic Kingdom. However, it continues to remain open for the party.
Characters at Princess Fairytale Hall include Tiana, Rapunzel, Cinderella, and Elena of Avalor. This location typically has low waits during the party.
Final Thoughts on Characters at Mickey's Halloween Party
Mickey's Not So Scary Halloween Party is the perfect place to meet rare characters, get autographs, and have a few photos made! Our only complaint is the long waits at so many of the meet-and-greets.
So if character meets are important to you, be prepared to wait. Prioritizing which characters you want to meet the most and forming a plan to meet them will go a long way.
For more characters, you might also enjoy our complete guide to meeting characters at Disney World. Or try these individual articles based on characters per park:
I hope you enjoy the Halloween Party and meet lots of characters!
In the comments:
What characters are you hoping to see at Mickey's Not So Scary Halloween Party? Are you planning to attend the party in 2023?
Planning a Walt Disney World or other Disney Destination vacation?
Our friends and travel partner, Firefly Travels, excels at doing Disney differently. You can fill out a plan your trip form on their website, and someone will reach out shortly to discuss the specifics.