Disney's Beach Club DuckTales-Themed Gingerbread Carousel (2023 Photos and Videos)
Traditions are what makes Christmas at Walt Disney World so unique. One of our favorite traditions is visiting Disney's Beach Club to see their annual gingerbread carousel. Each year, a new working carousel is installed in the center of the resort's lobby. In 2023, the carousel's theme celebrates DuckTales and Epcot's World Showcase.
Since Disney's Beach Club is near Epcot, you'll almost always find a nod to the park represented in the carousel. But this year's theme is inspired by Disney's DuckTales World Showcase Adventure, an interactive game that guests can play while using the Play Disney Parks mobile app. The game encourages guests to help Huey, Dewey, Louie, and Webby follow clues to discover and return seven lost magic treasures to their owners.
We see elements of the game and the countries where the treasures are hidden referenced in this year's carousel! What a fun idea, right? Below, we'll preview photos, details, and a video of the gingerbread carousel.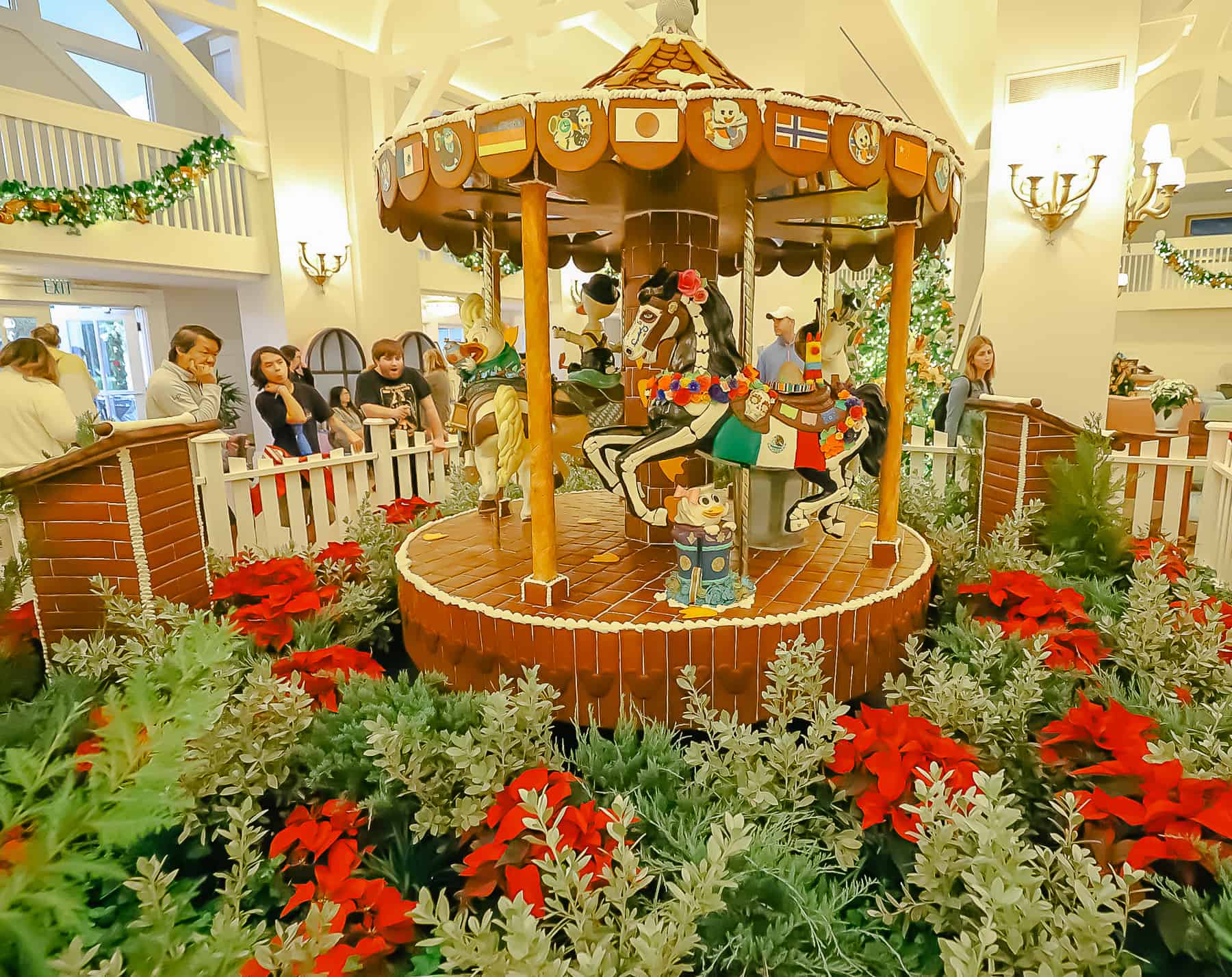 We stayed at Disney's Beach Club the night before the carousel was constructed. So, the next day, we were able to see Disney chefs assembling the magnificent structure.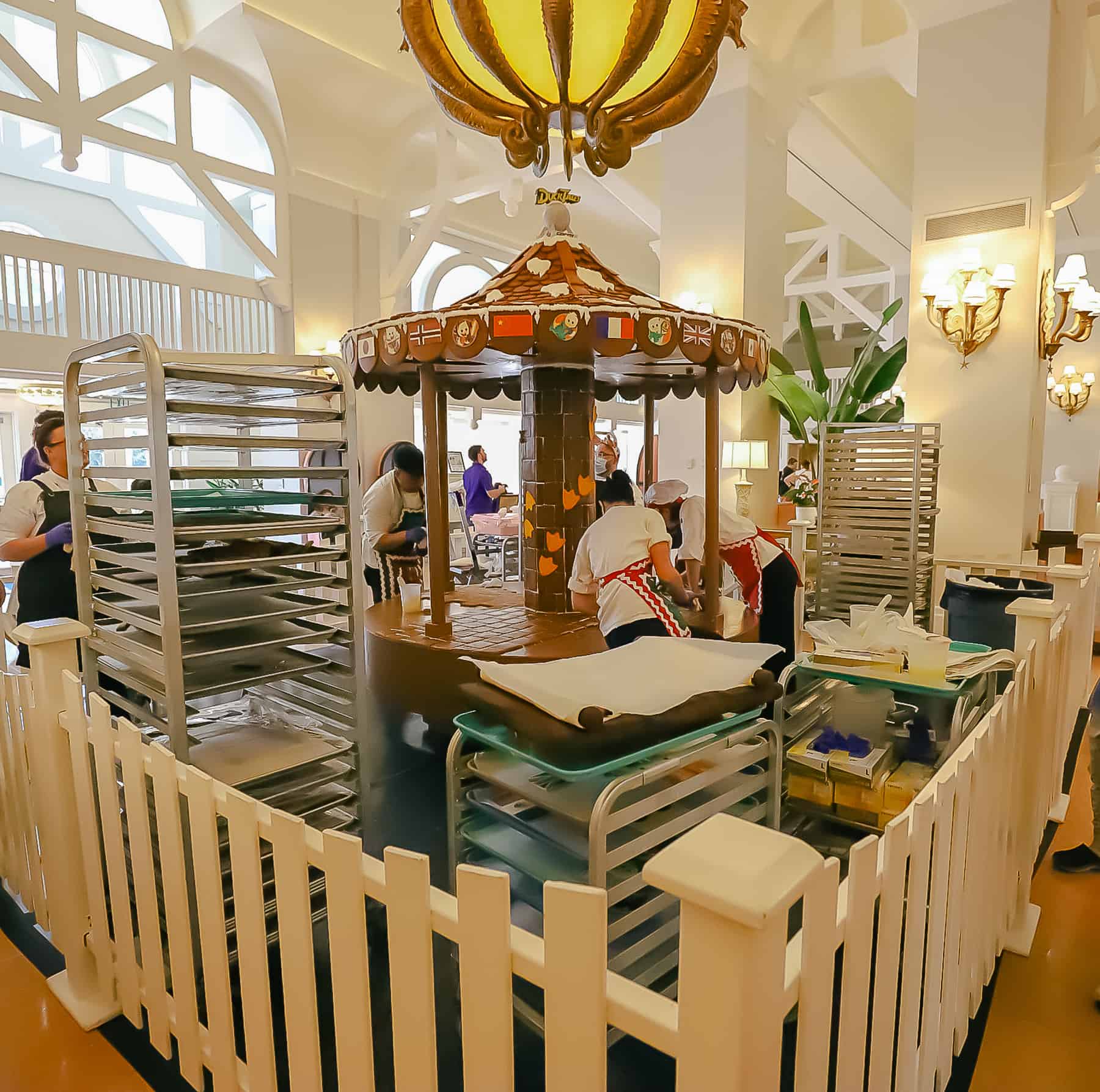 Each time we walked through the lobby, significant progress had been made.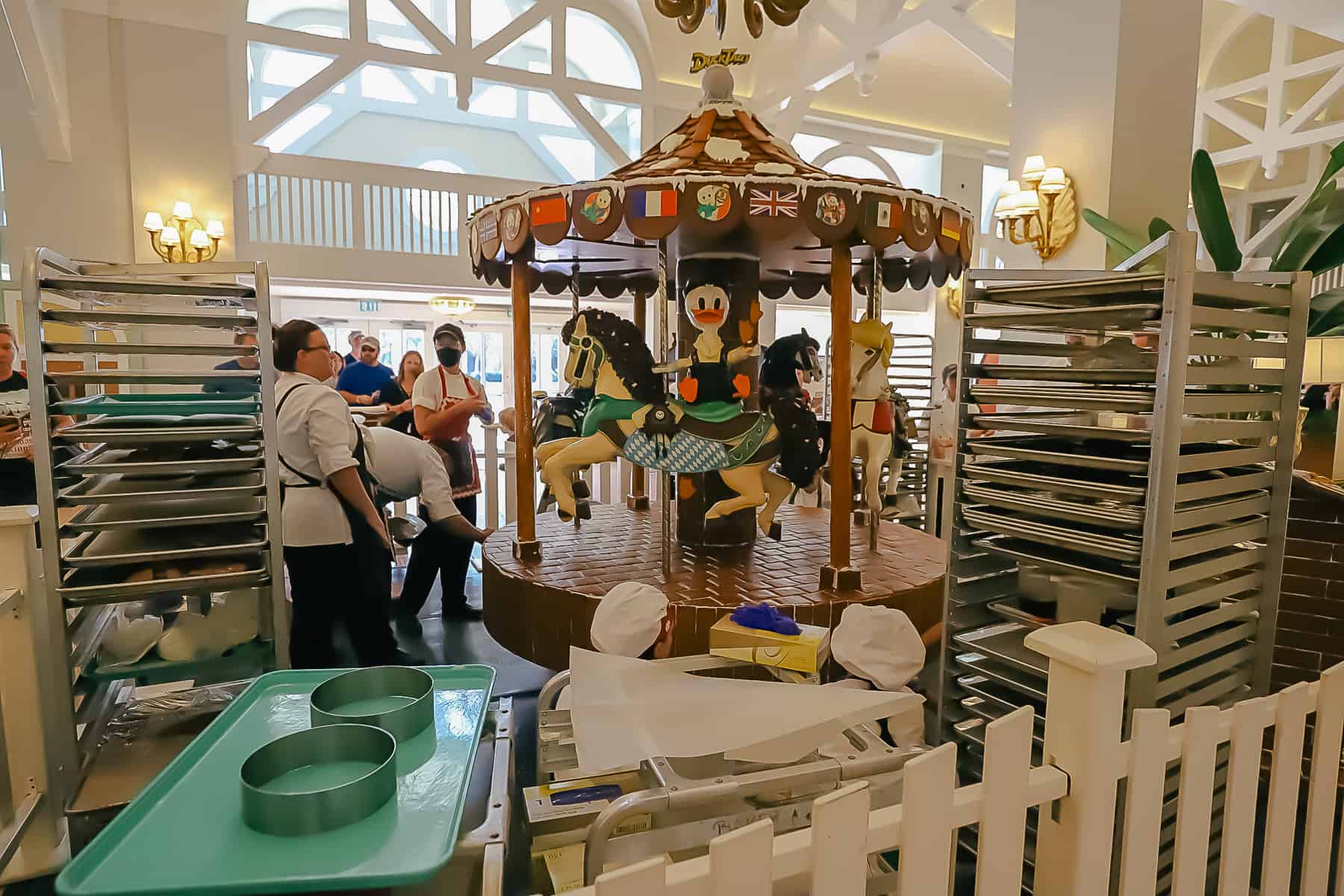 Decorative signage in front of the carousel reads:
"Greeting Adven-Sharers! This year's carousel is themed after the DuckTales World Showcase Adventure at Epcot! Take a stroll over and play! Happy exploring and Happy Holidays! Woo-oo!"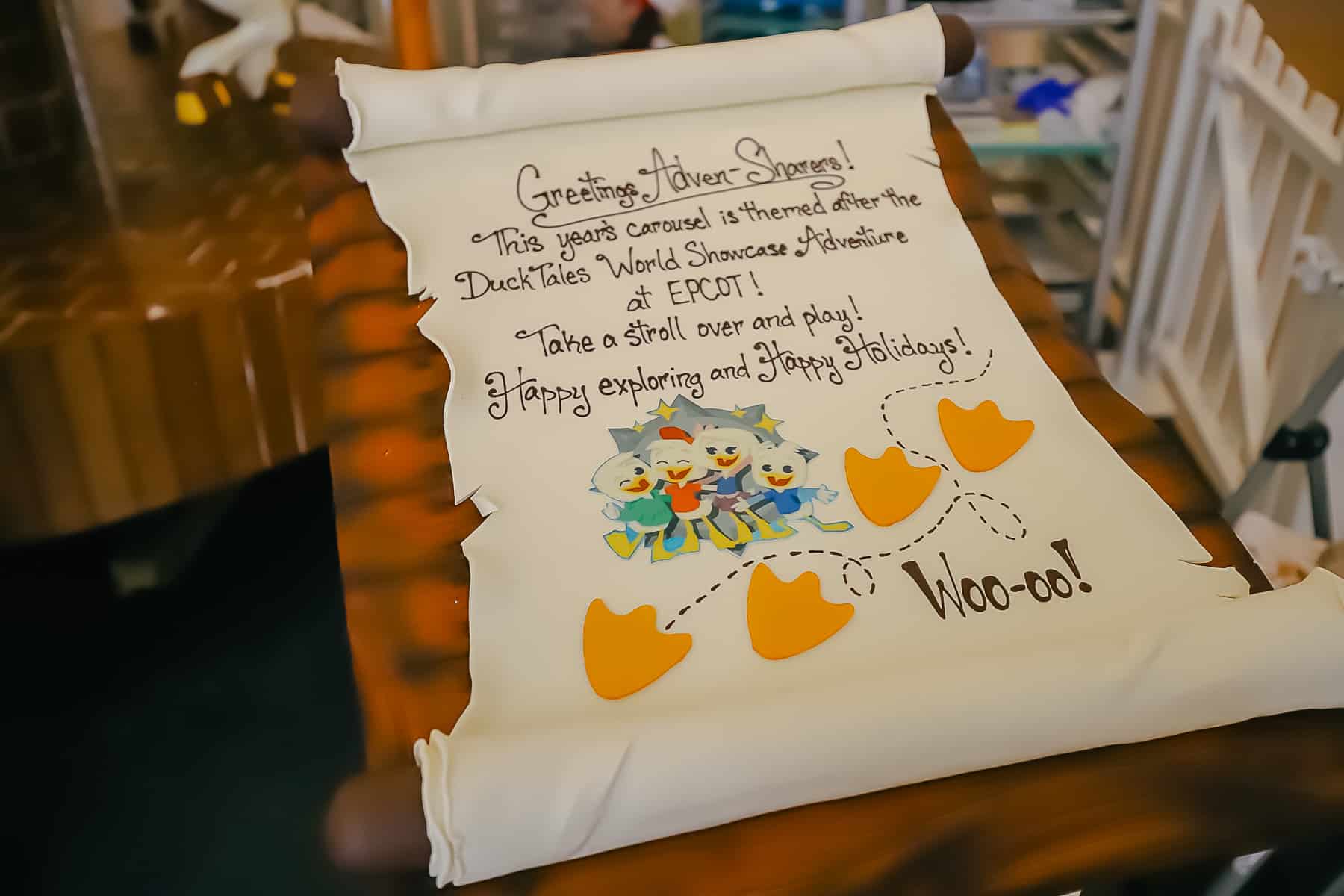 On the opposite side of the display, another sign made from fondant and icing lists the ingredients used in the gingerbread carousel. They include:
432 pounds of honey
1200 pounds of rye flour
100 pounds of eggs
25 pounds of spices
10 pounds of simple syrup
200 pounds of icing
10 quarts of egg whites
100 pounds of confectioner's sugar
50 pounds of dark chocolate
20 pounds of Grand Marnier
Lots of enthusiasm, energy, and talent.
2022 pieces of gingerbread
23 hidden gold Mickey's…can you find them?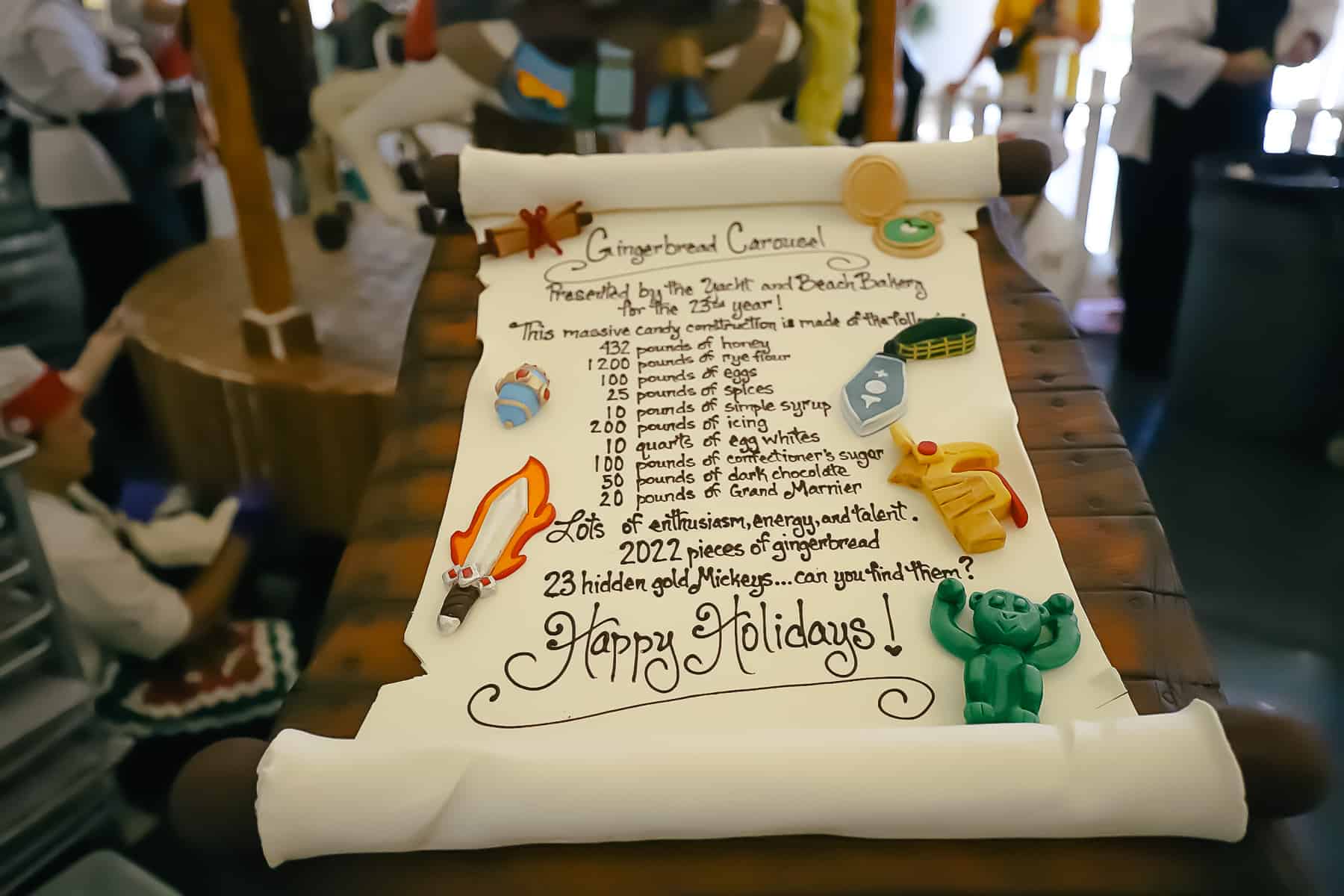 We returned to Disney's Beach Club the next week to get a few photos of the finished product and other decorations at the resort. It turned out splendidly.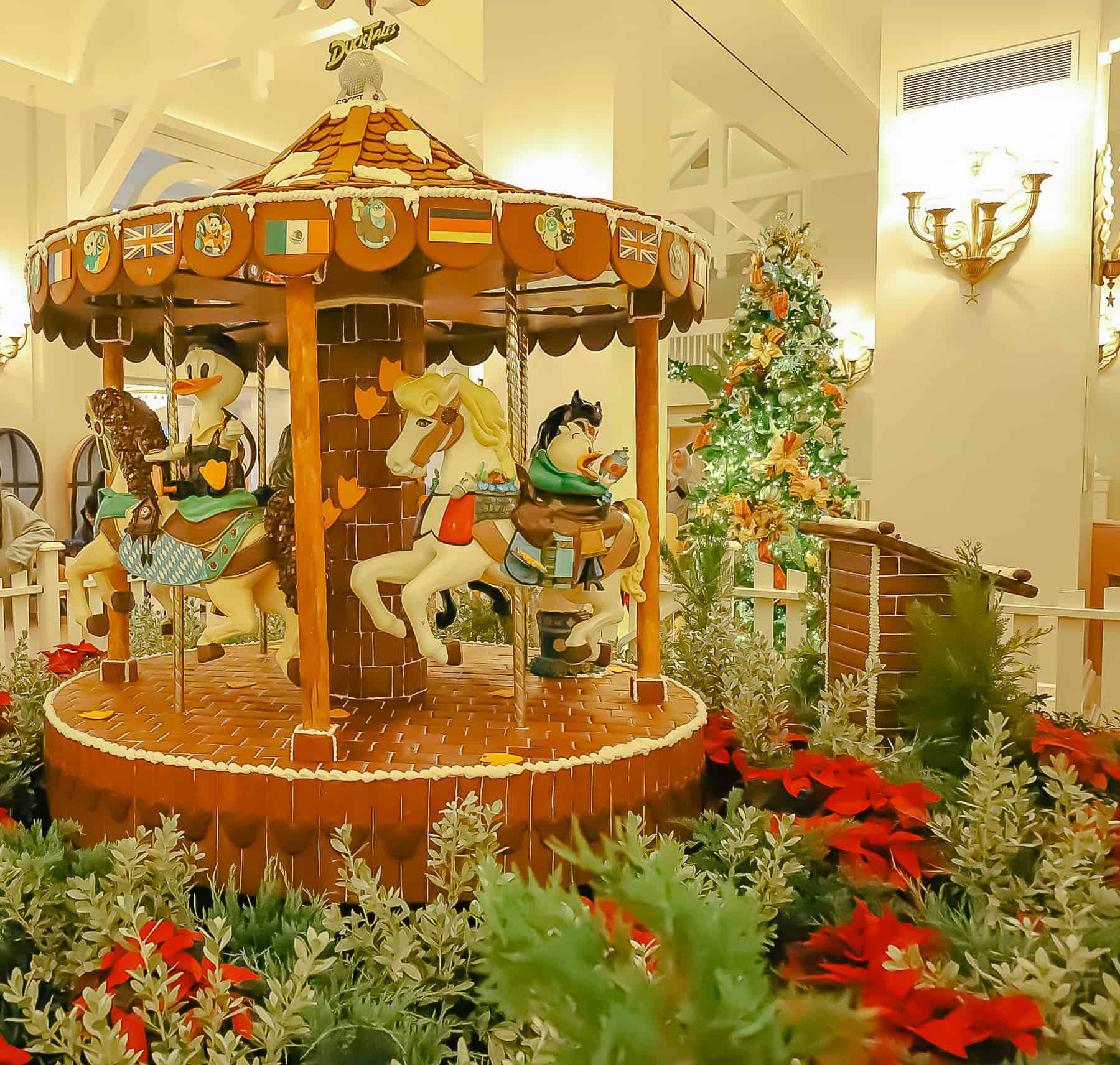 A Spaceship Earth globe and DuckTales sign sit like a crown on the carousel.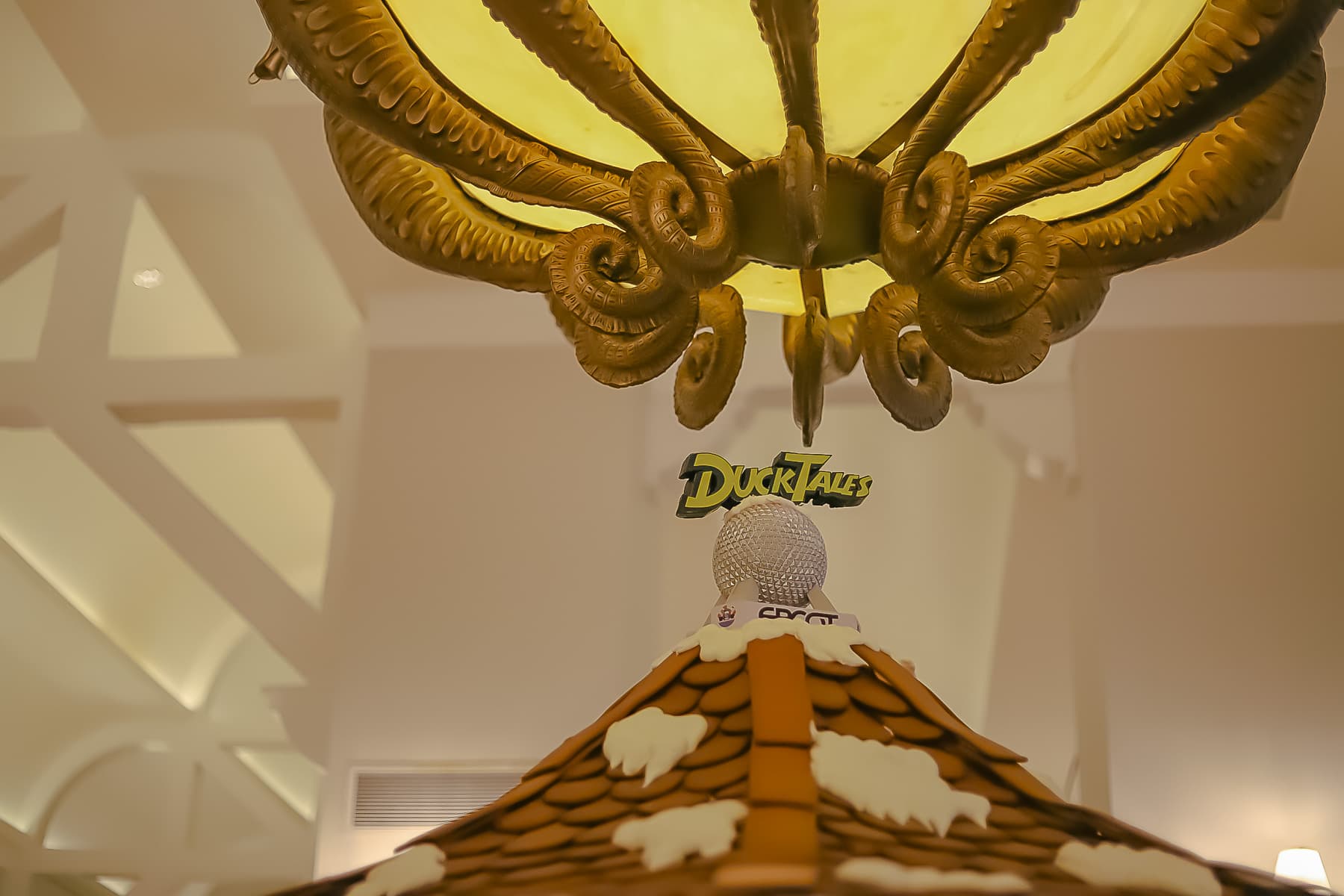 Each piece of trim represents one of the McDucks or a country's flag that participates in the game.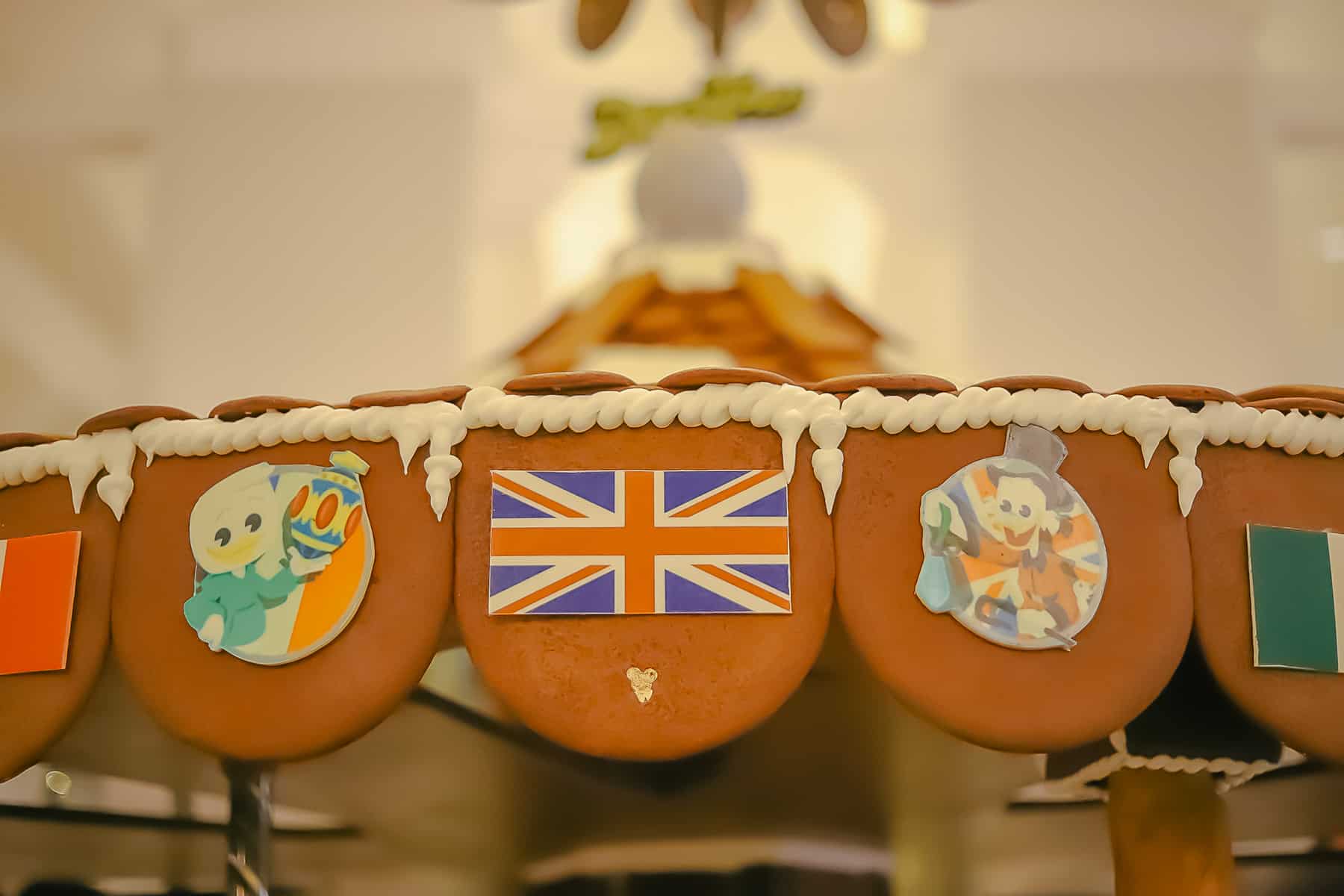 Here is Donald Duck, a China flag, and Webby.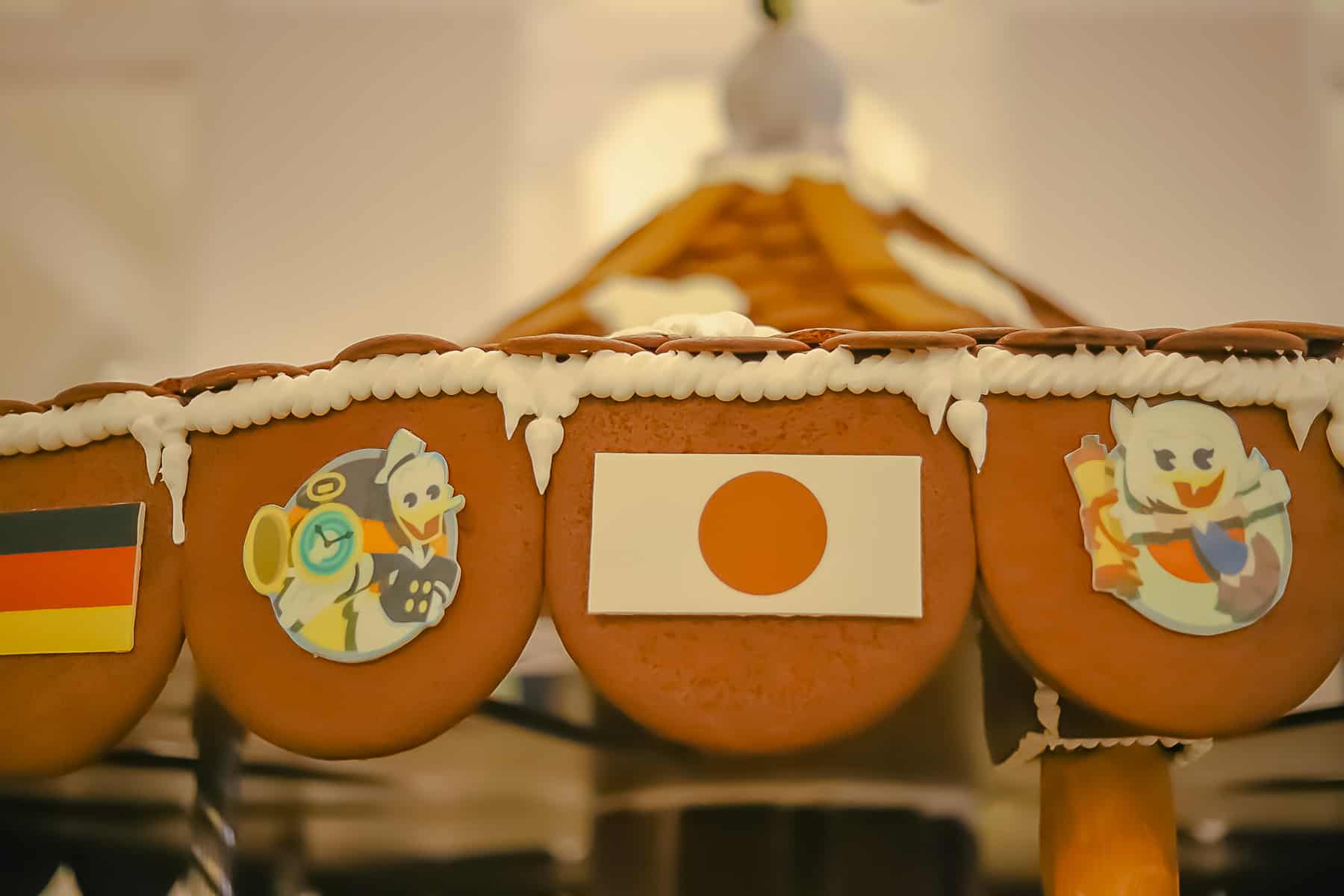 We see gingerbread pavers on the carousel's floor, a few duck footprints, and tons of Mickey-shaped details.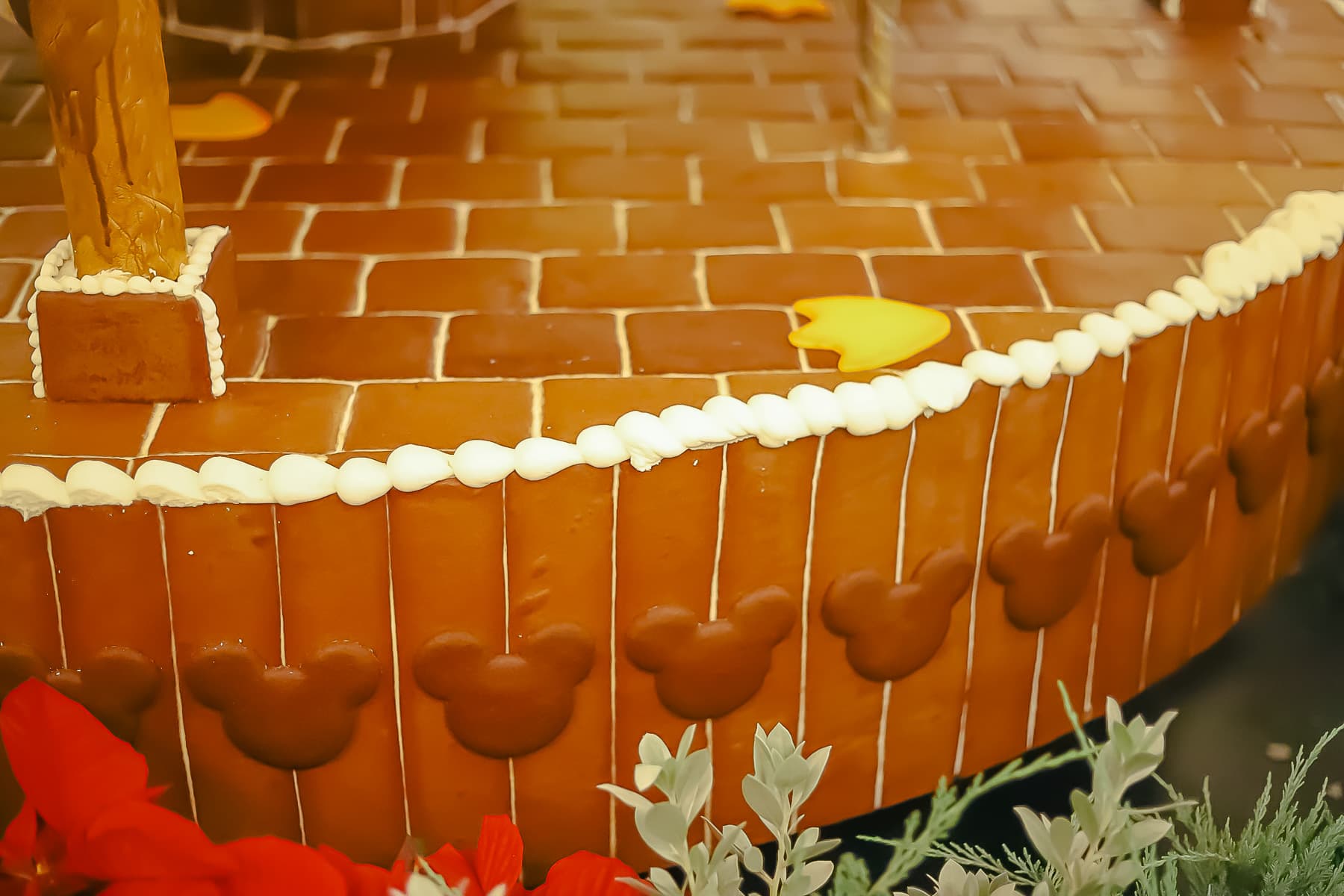 Beach Club's gingerbread carousel has four horses. This one represents the Mexico Pavilion.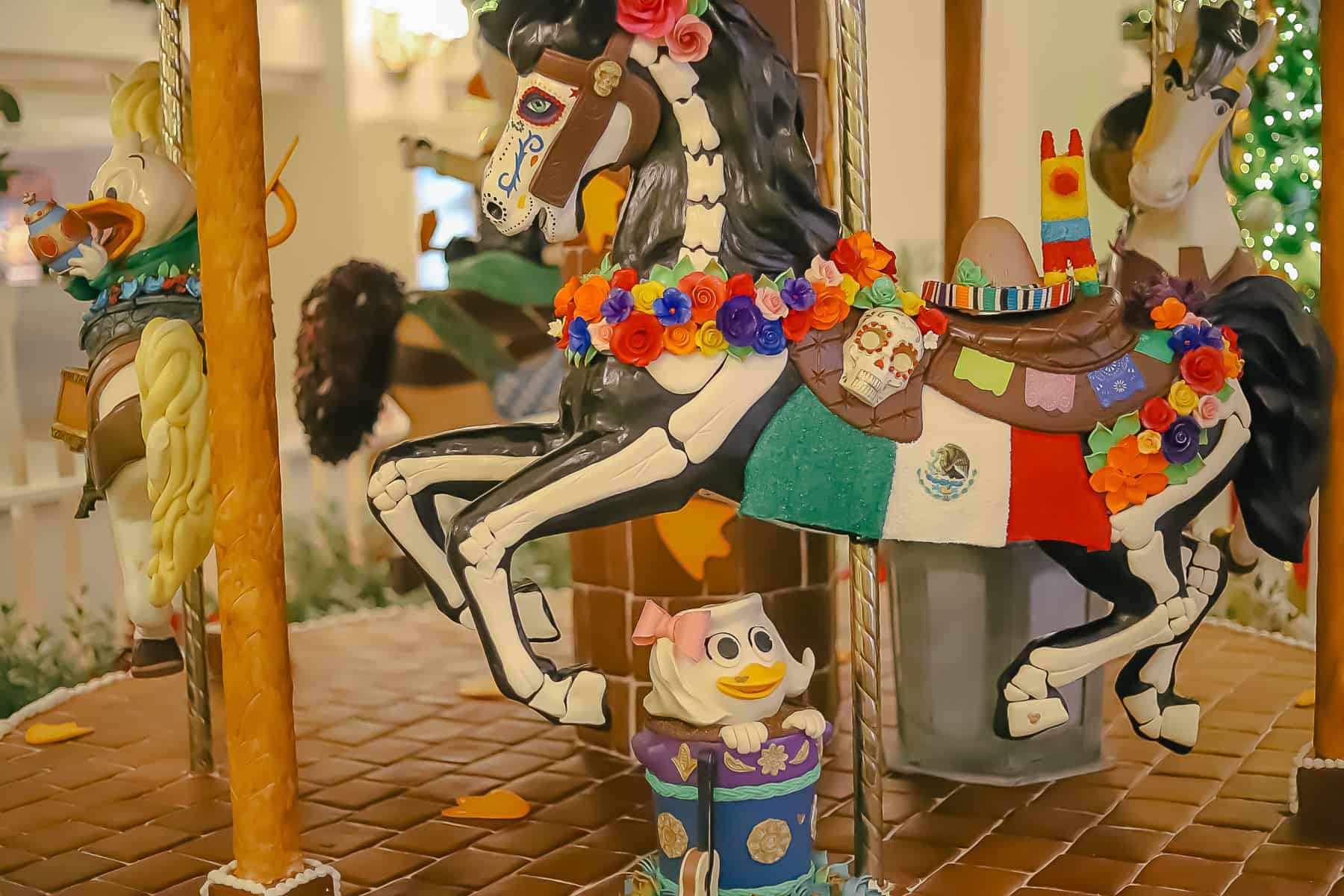 Webby looks on from underneath. You might notice how the horse has a Dia Los Muertos look. I spot a golden hidden Mickey or two in the photo below!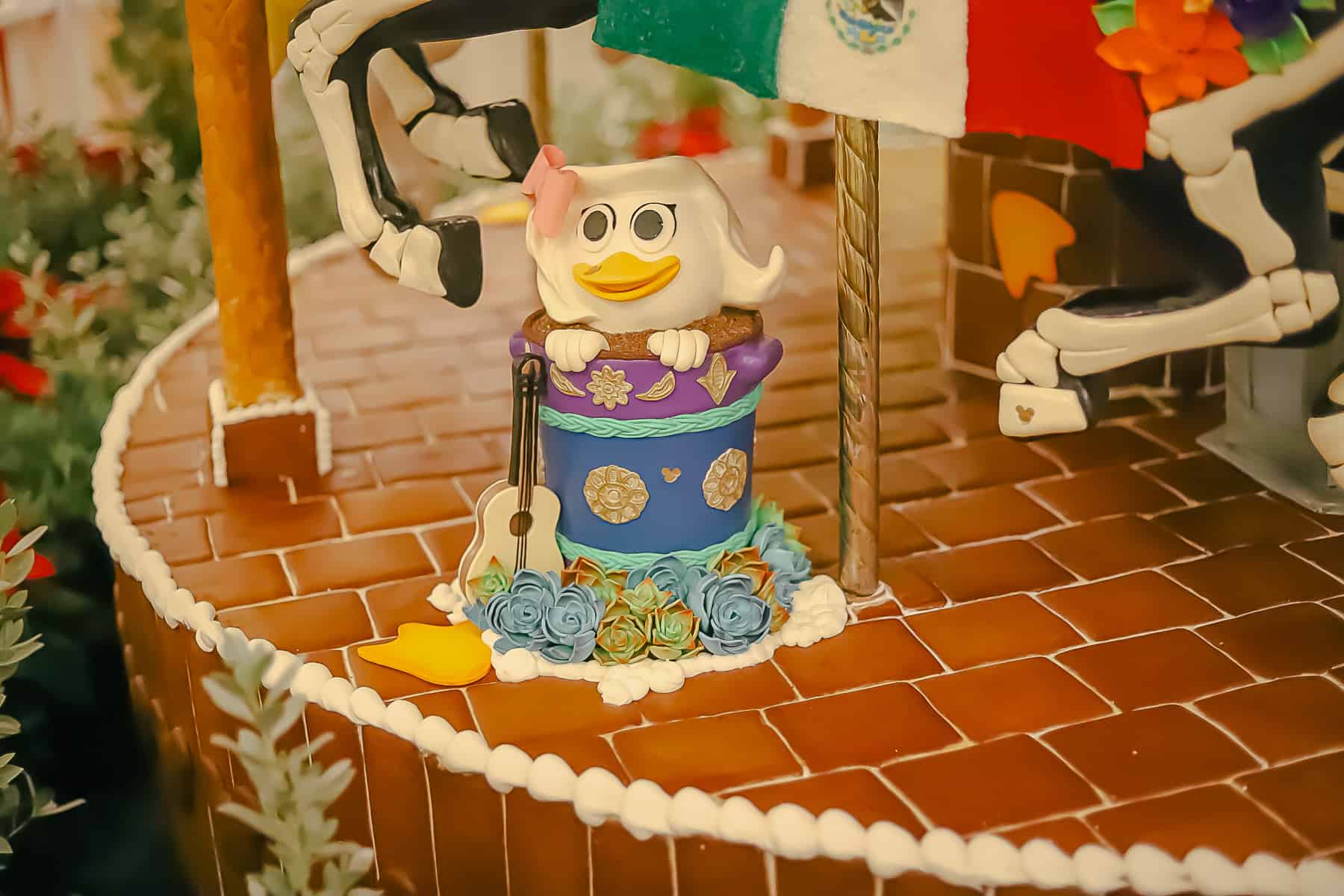 Unfortunately, I have not had a chance to play the game, so I'm sure what the globe on this carousel pony represents. But we can tell it's a United Kingdom Pavilion-inspired horse with a nod to golf and butterflies.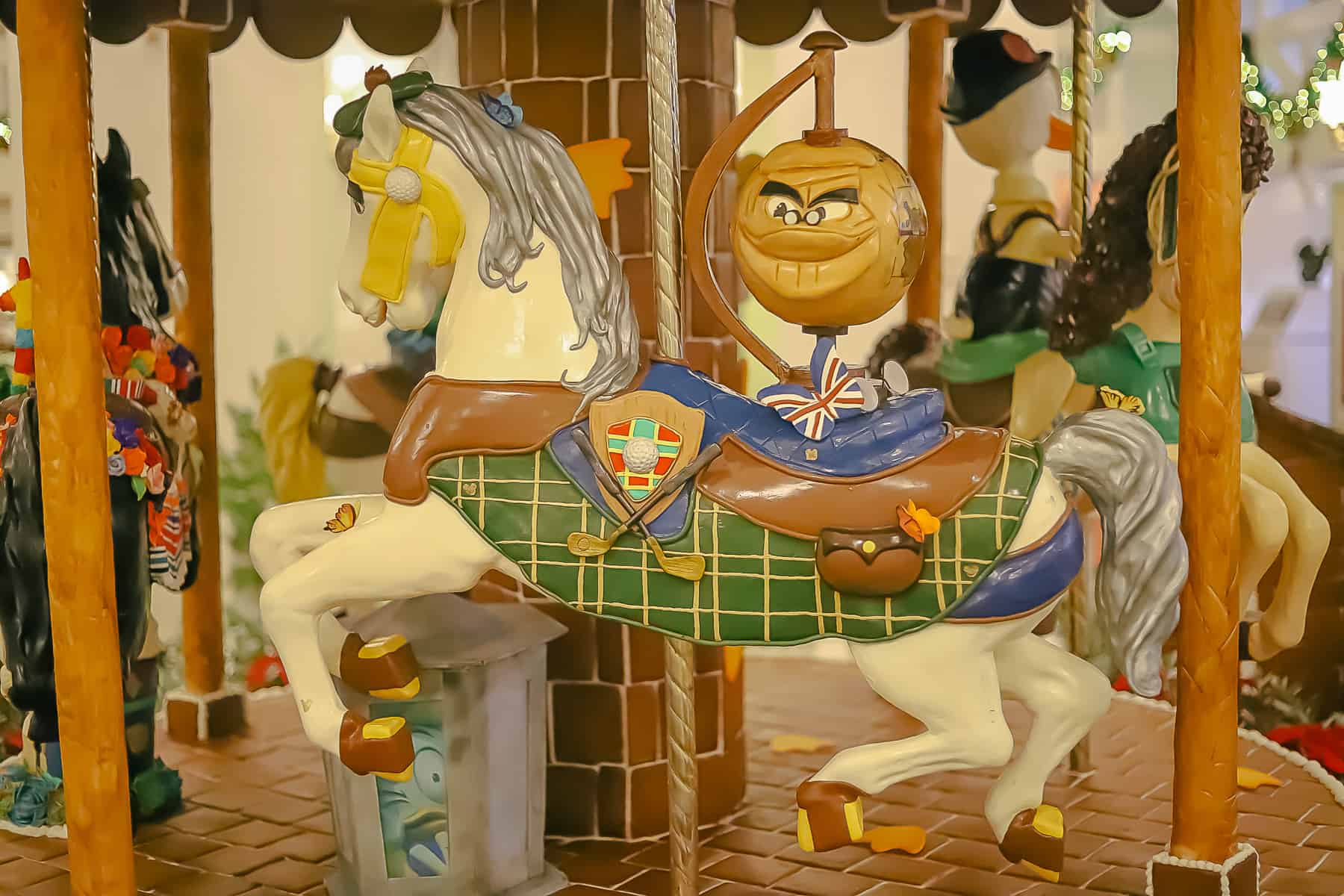 Here is a closer look.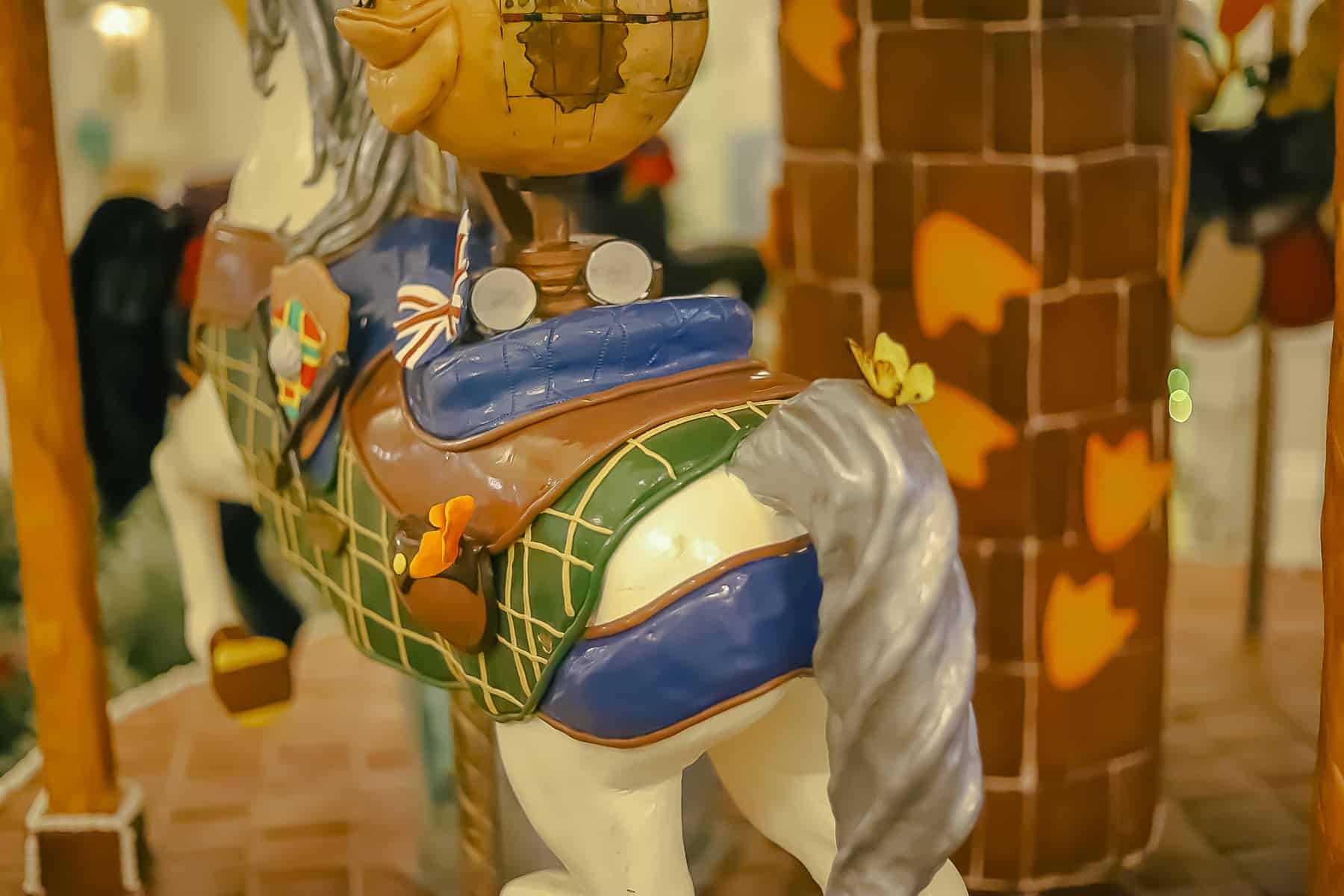 Next, we have a carousel horse inspired by the Germany Pavilion. This one's mane and ponty tail is made up of chocolate curls!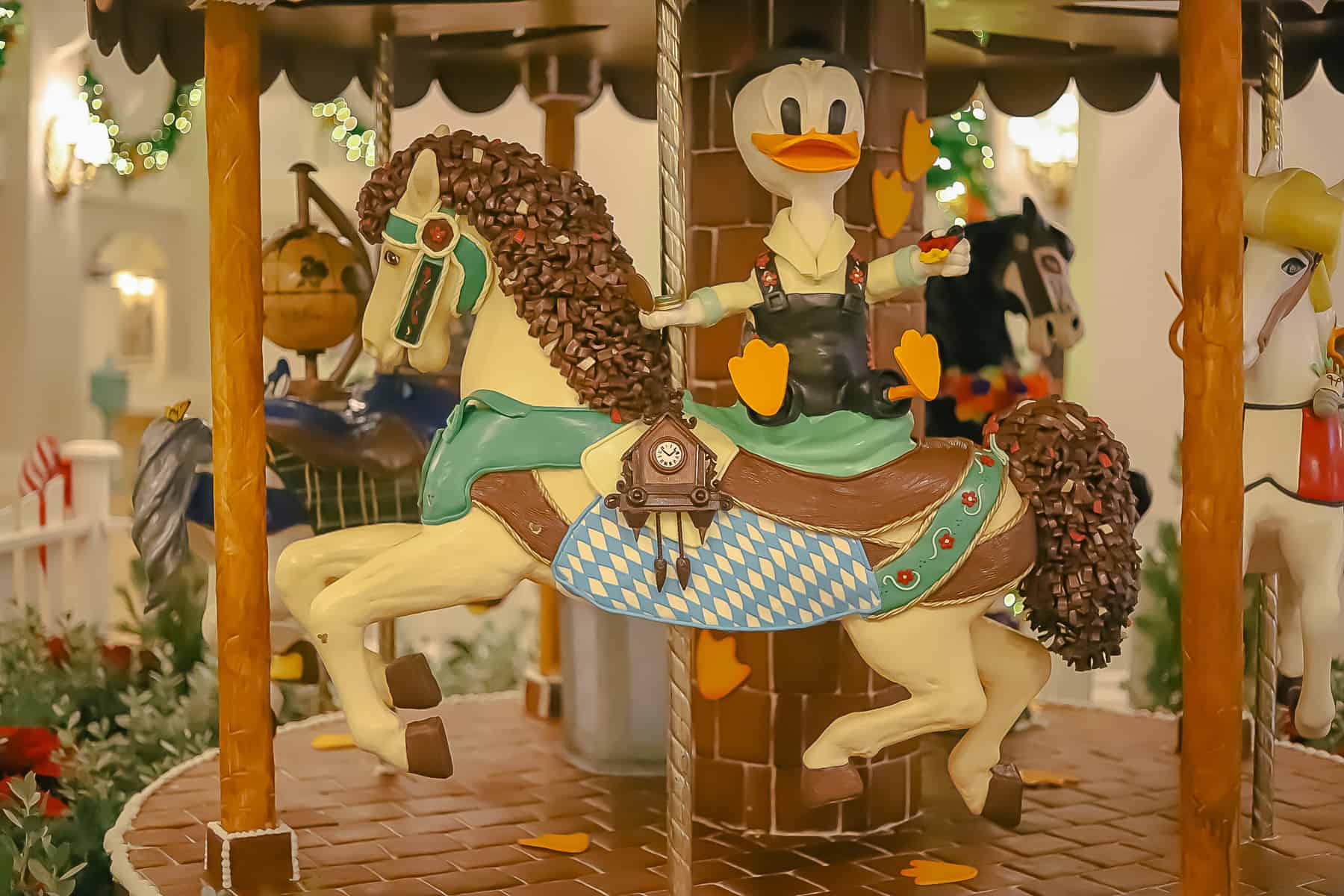 A closer look reveals a cuck-koo clock and one of Donald's nephews holds a compass.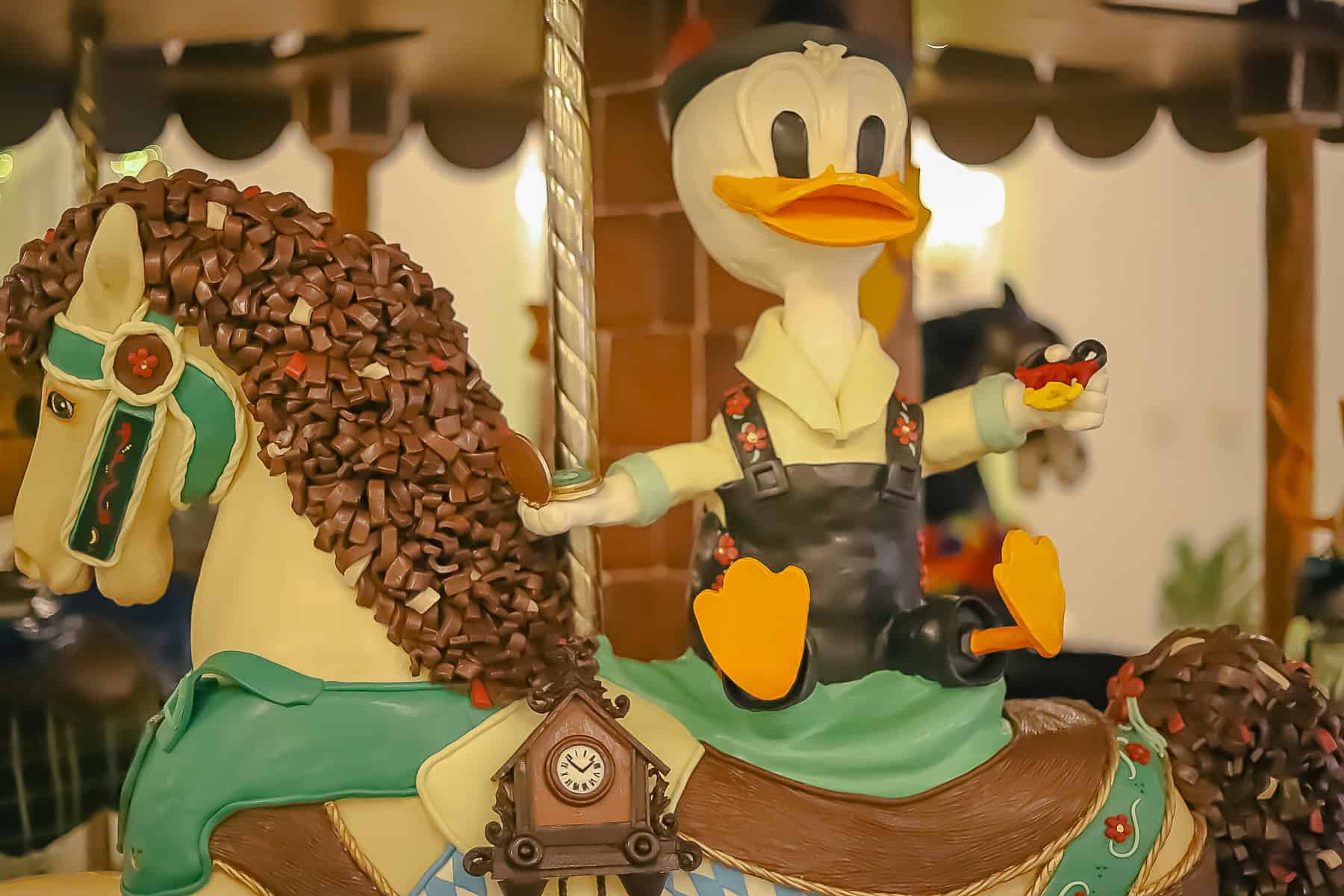 Lastly, we have a pony inspired by the France Pavilion.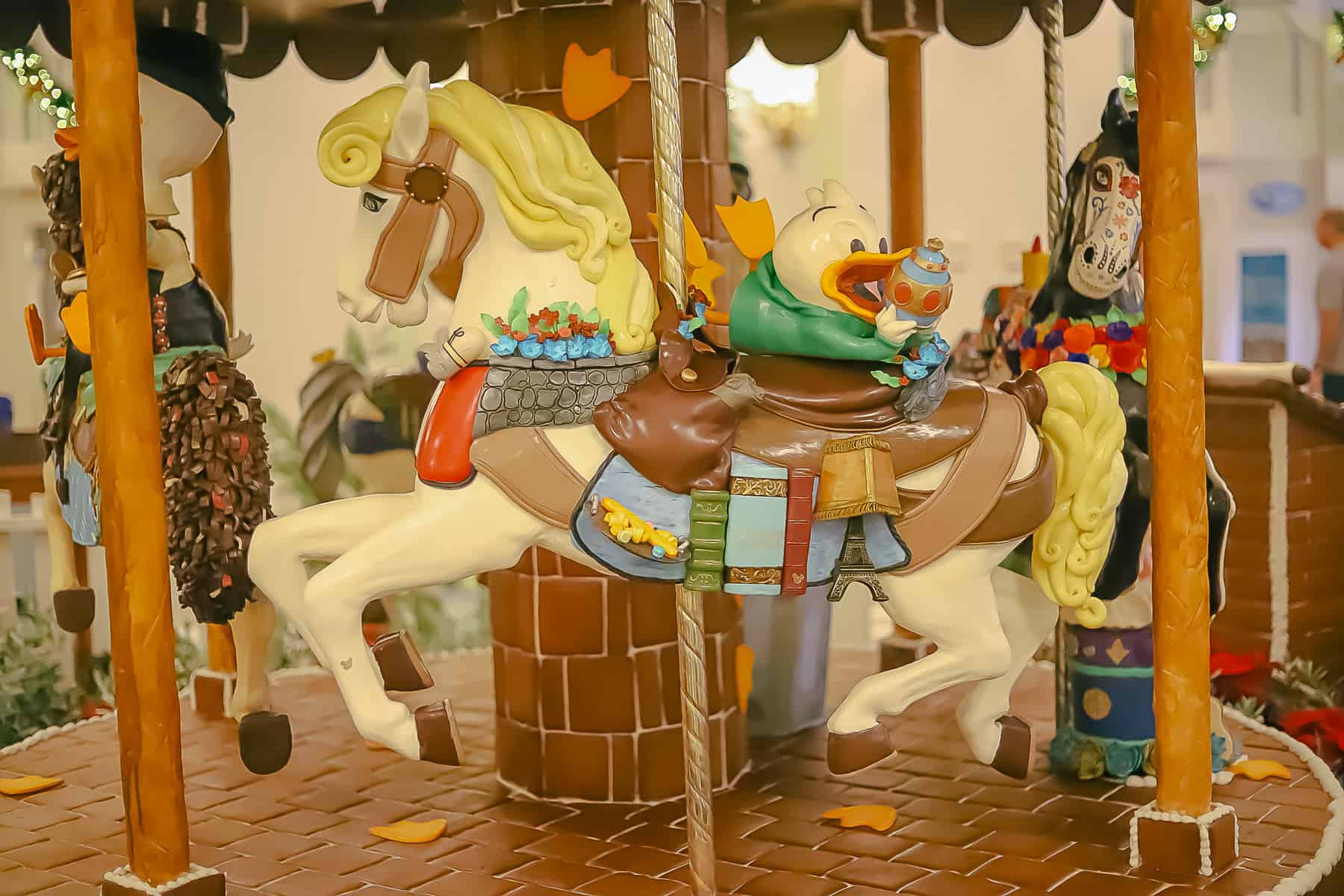 This one had many details, like French treats, books, an Eiffel Tower lamp with shade, and more. I'm sure if you've played the game, some of these details mean more to you than those of us who haven't played it.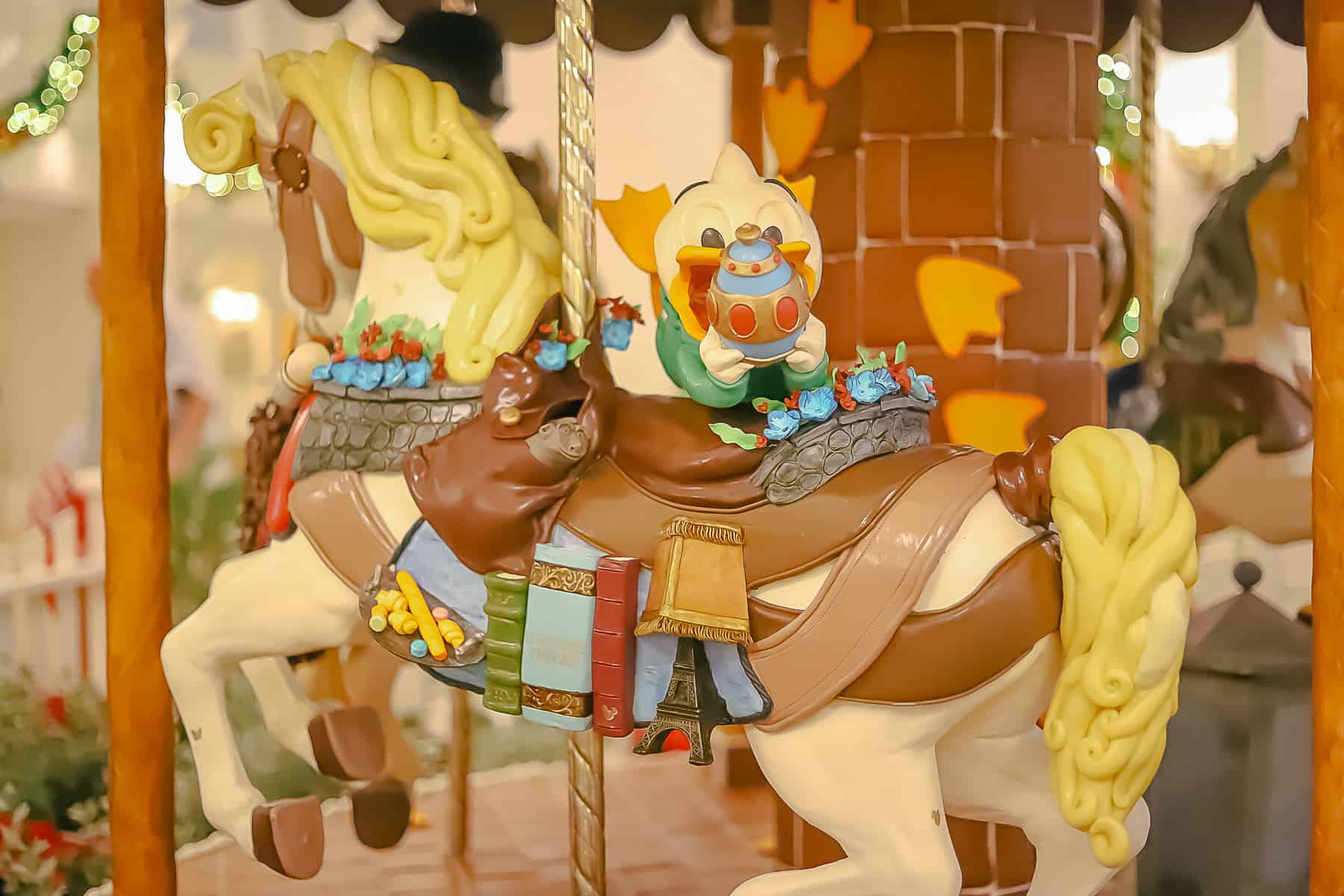 What I like most about this year's display is now I want to try the game. So not only does it entertain, but it also inspires guests to try something new.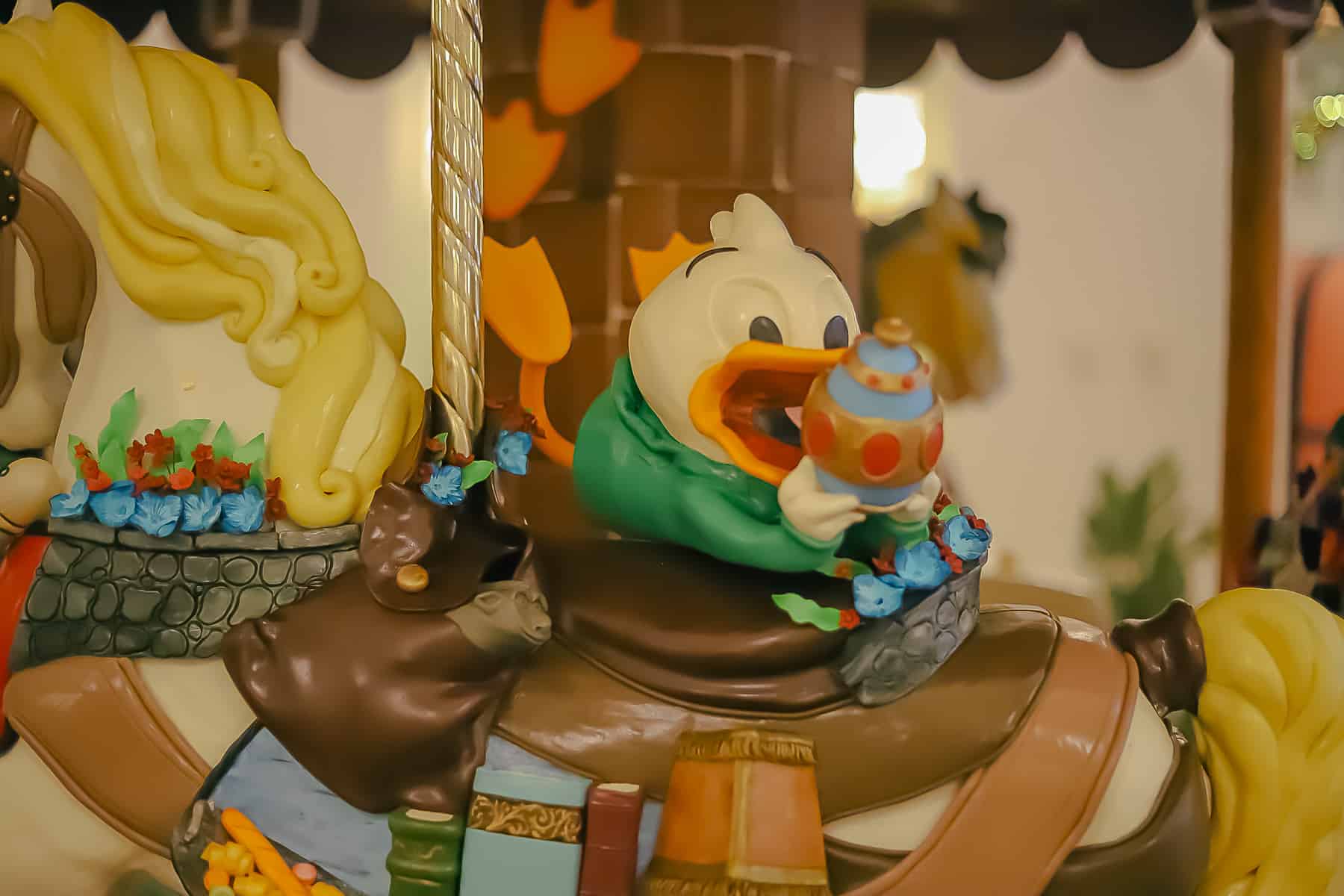 In addition to the gingerbread carousel, a pop-up shop selling Christmas treats is available in the Beach Club's lobby.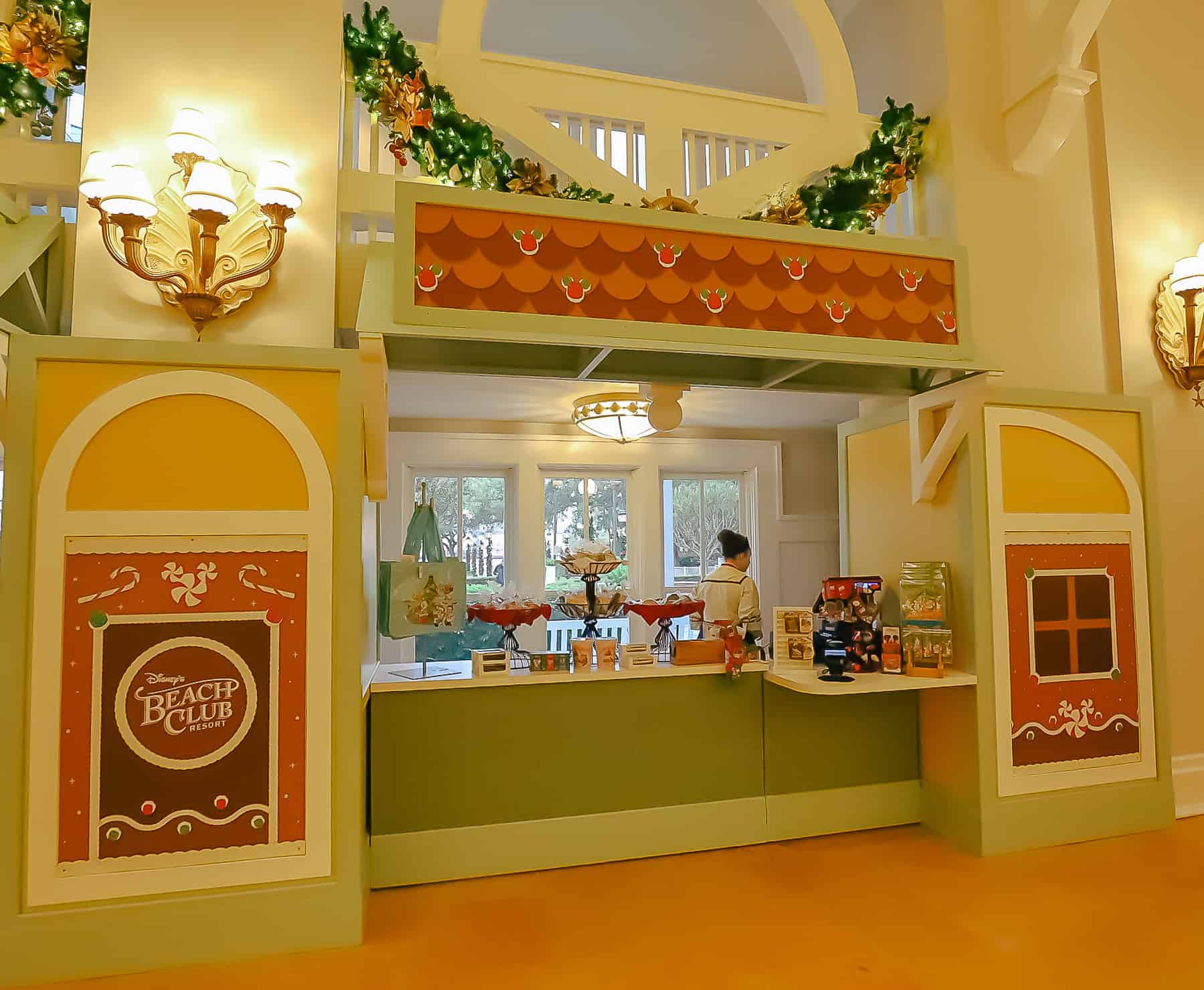 A sign indicated that pastry chef Michael Craig will sign holiday pins on Fridays and Saturdays from 2:00 p.m. to 3:00 p.m.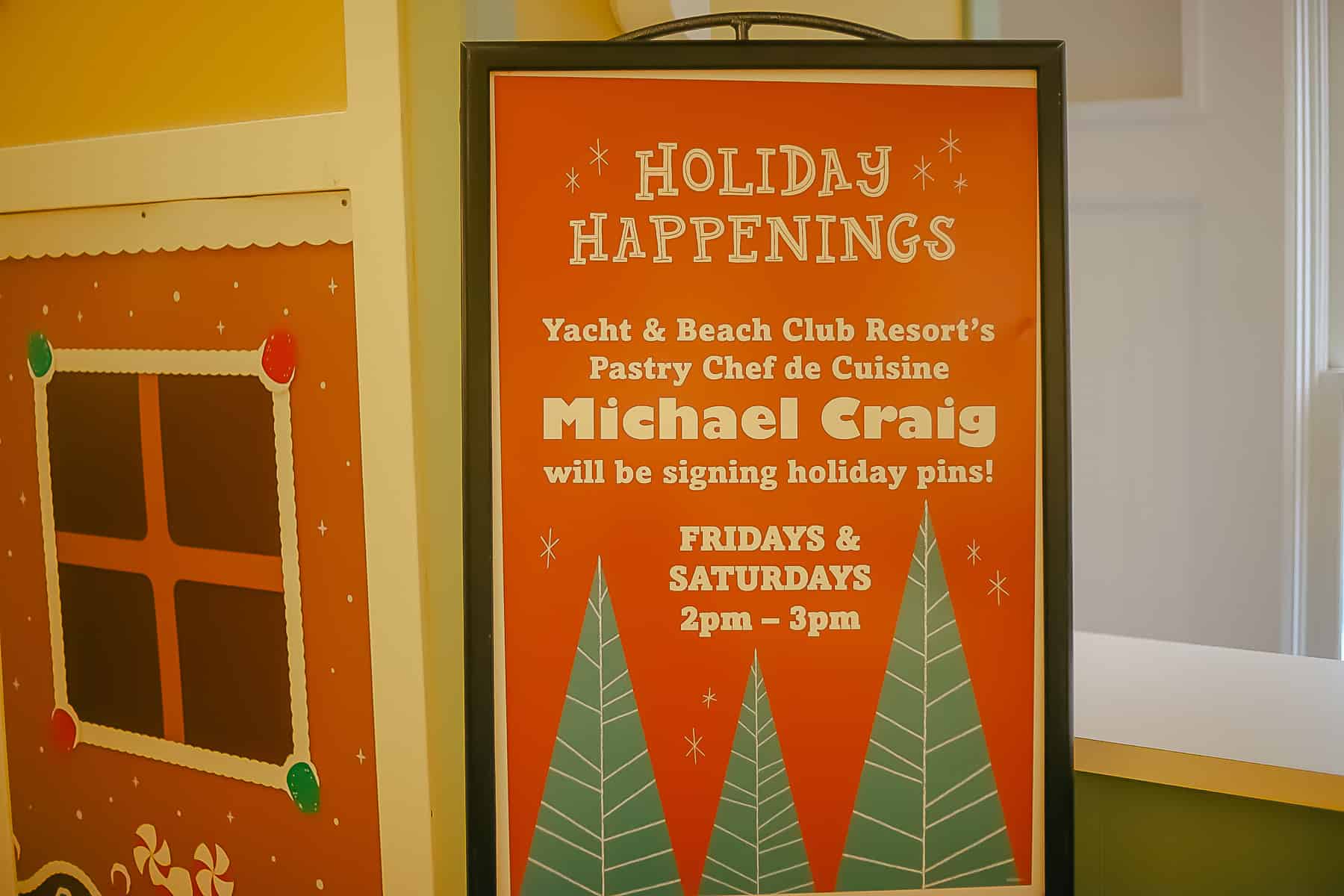 Here are a few of this year's holiday pins created for Disney's Beach Club and Disney's Yacht Club.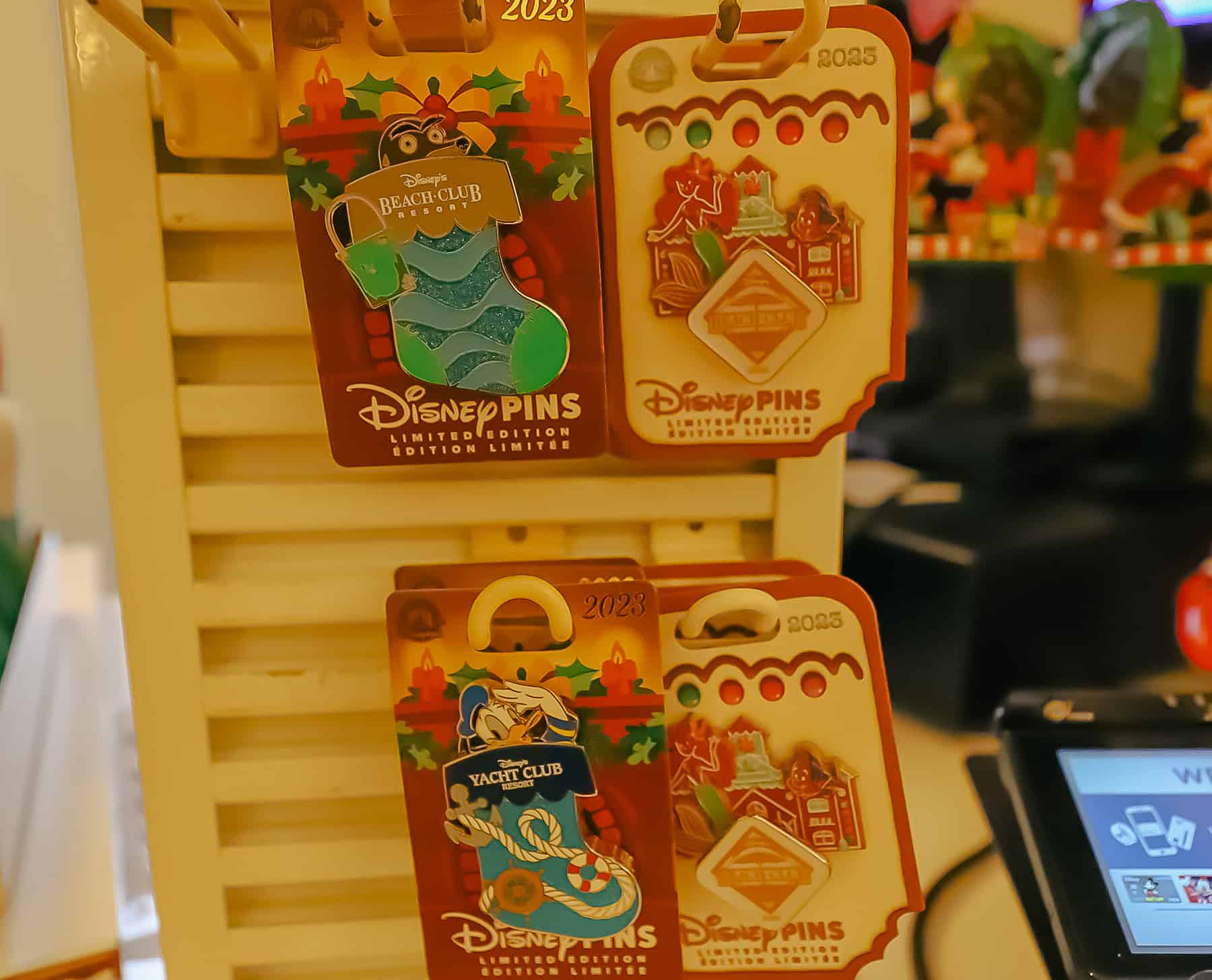 The stocking pins are adorable because the character pops up or slides back into place.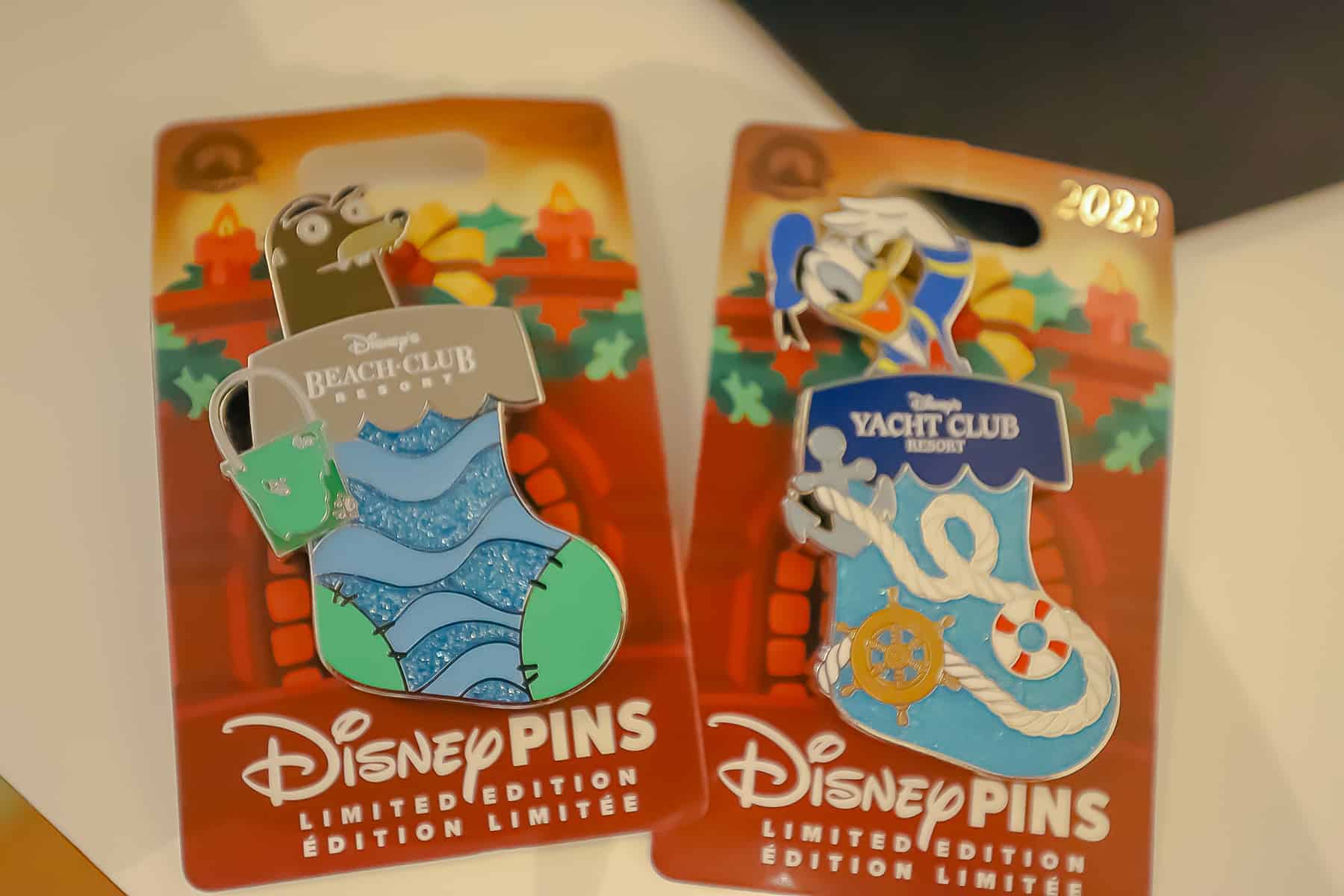 Several other treats include Mickey's Really Swell Cocoa Mix.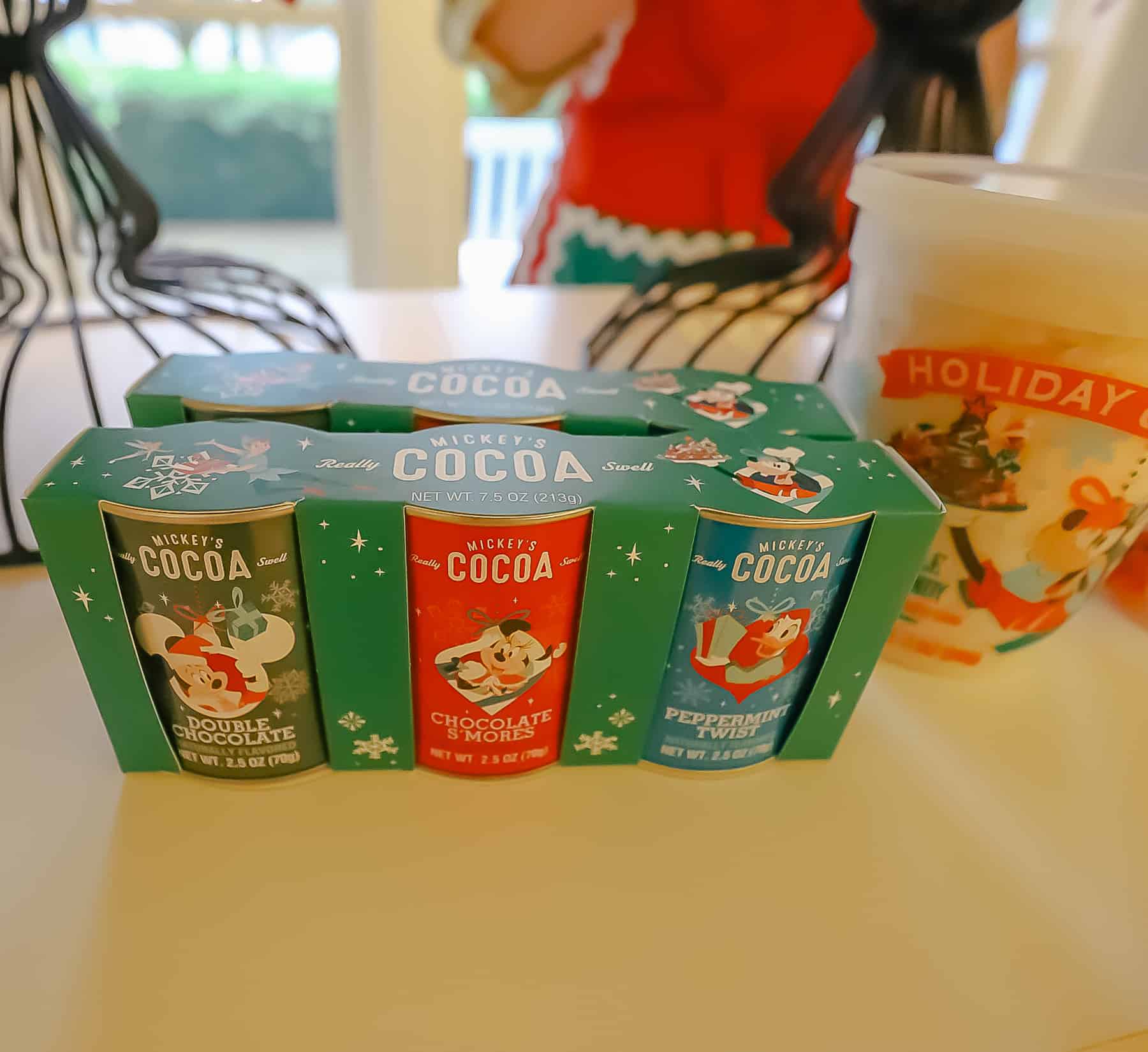 Holiday Crispy Rice Treats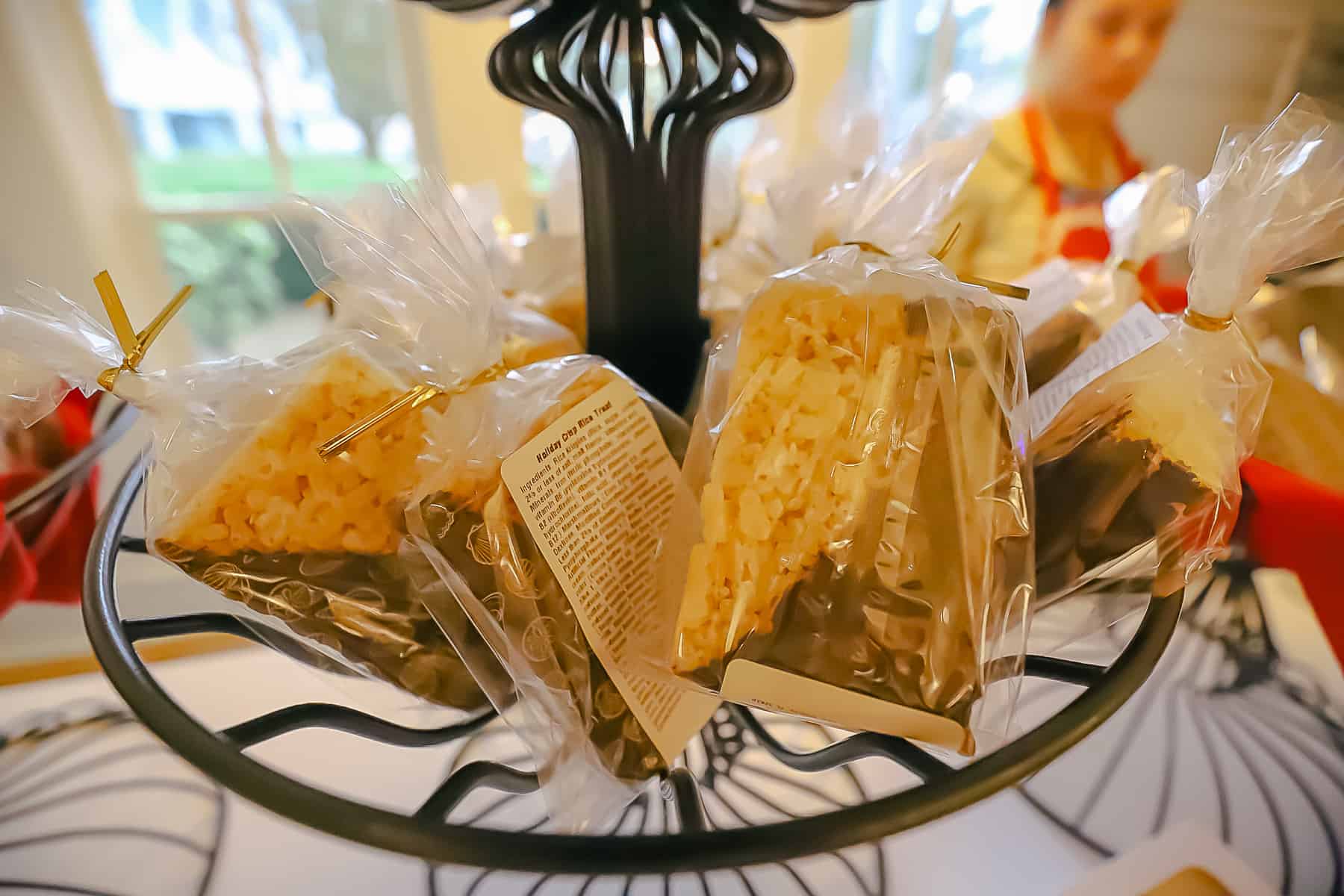 Peppermint Bark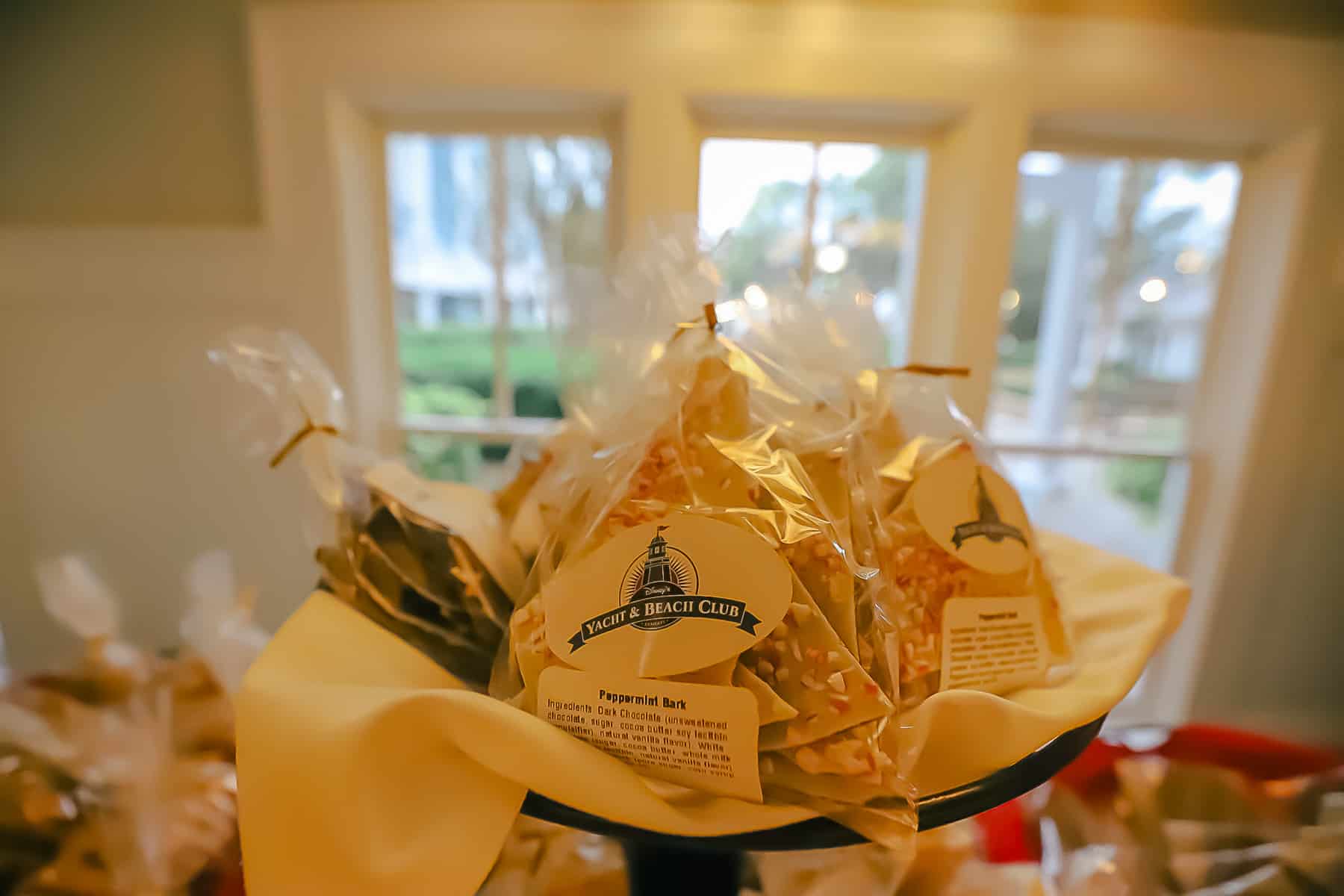 Candy Snowman Pops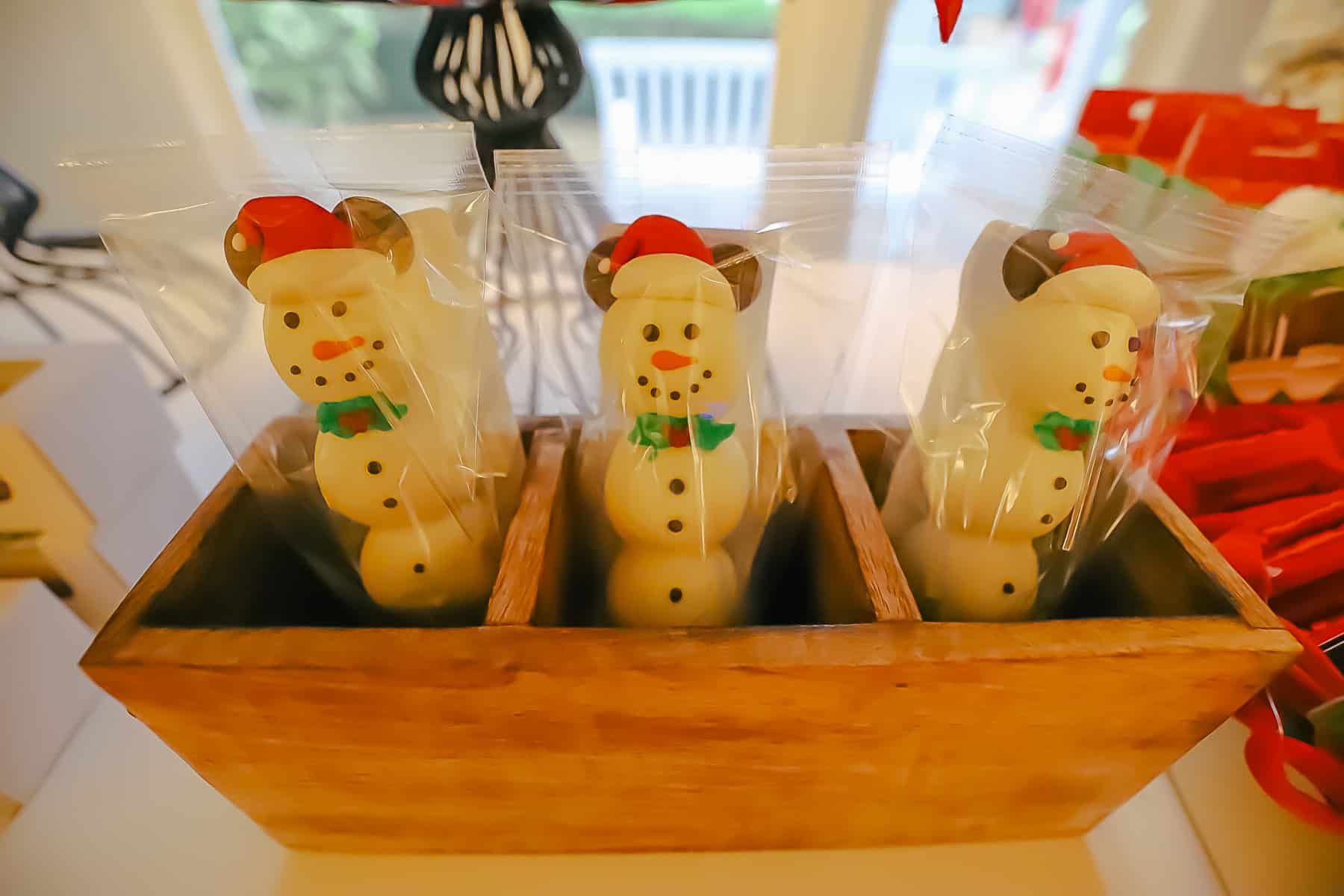 Gingerbread Shingles with Chocolate Backing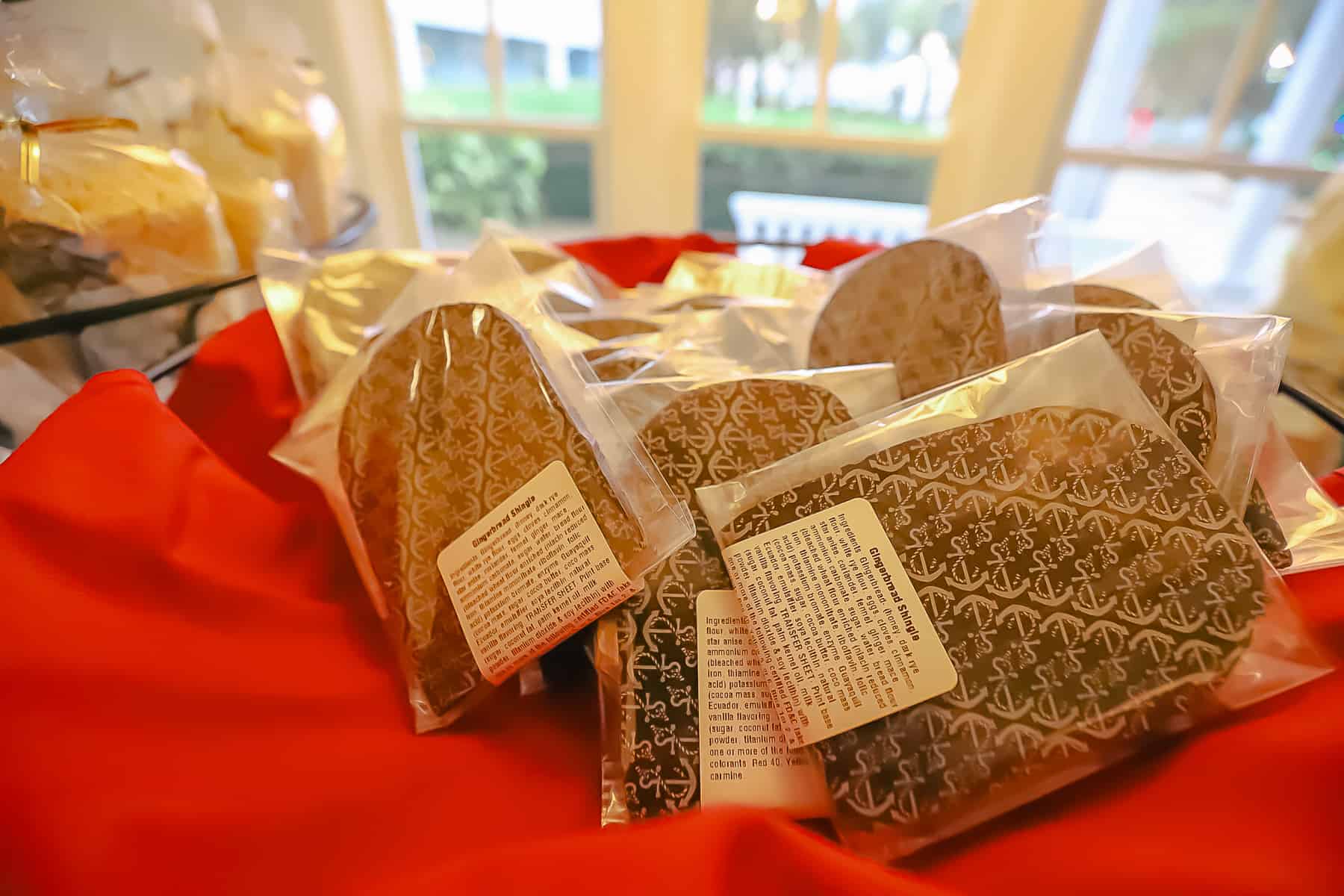 Lighthouse Fudge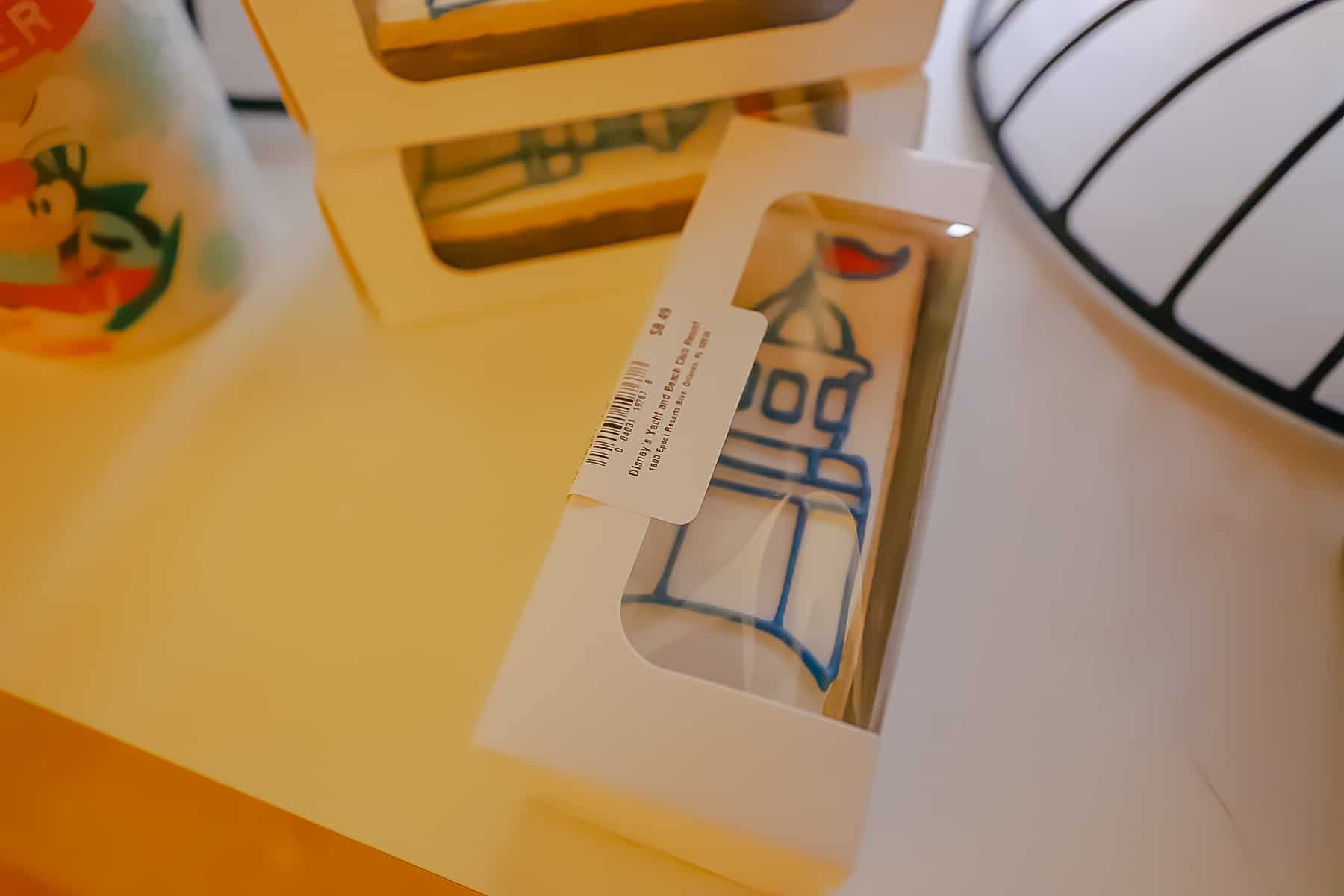 If you have the opportunity to visit Walt Disney World over the holidays, seeing the gingerbread carousel at Disney's Beach Club is a must-do.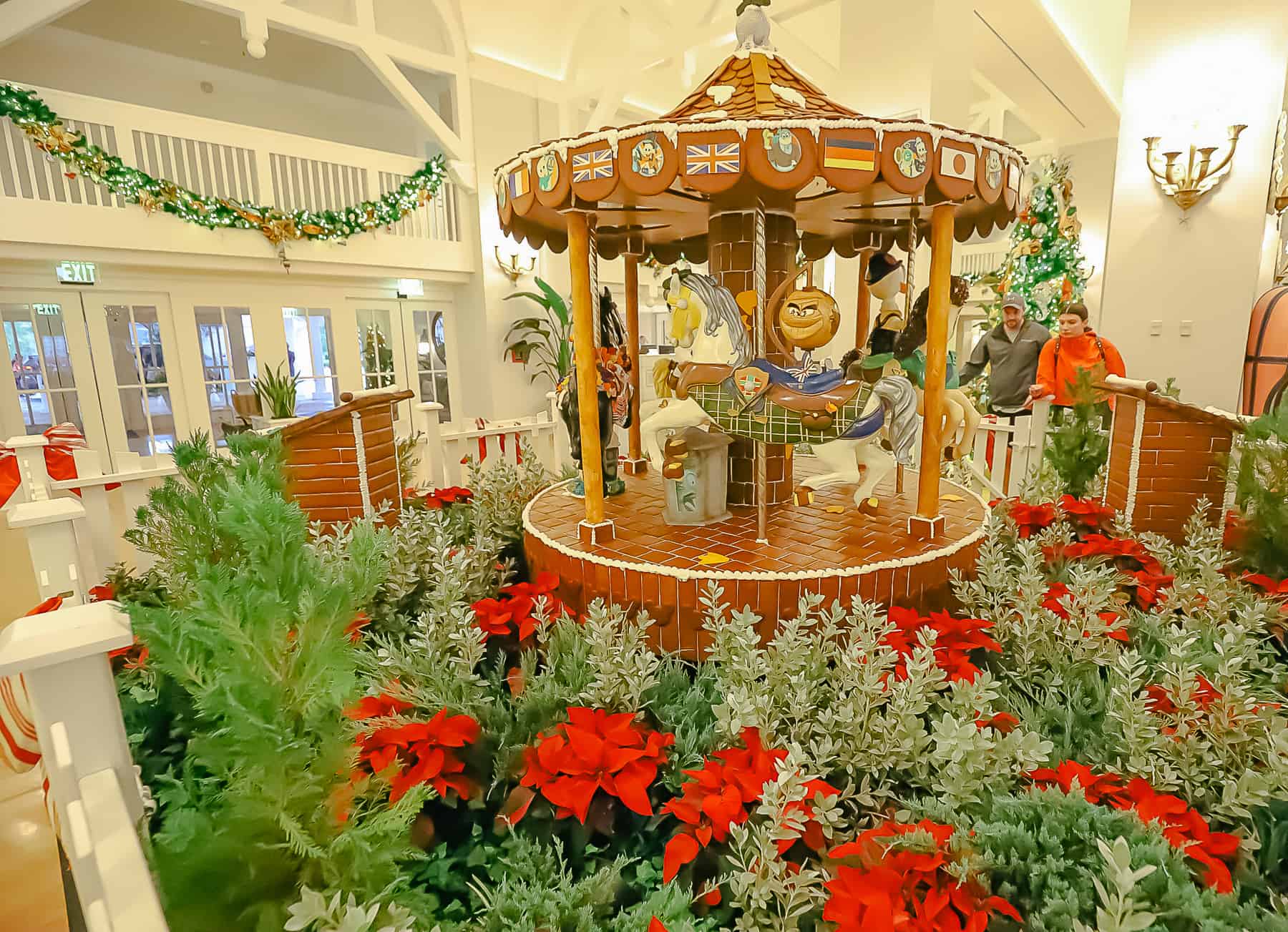 Video of the 2023 Gingerbread Carousel at Disney's Beach Club
Here is a video of this year's display.
Final Thoughts
I hope you enjoyed the photos and video of the gingerbread carousel! For more Christmas at Walt Disney World, here's where we've been:
What do you think? Do you like this year's DuckTales theme for the gingerbread carousel at Disney's Beach Club? Will you have the opportunity to see it over the holidays? Share your thoughts below in the comments.