Christmas at Disney's Yacht And Beach Club
It wouldn't be Christmas without a proper visit to Disney's Beach and Yacht Club to see the entirety of the seasonal decor. In addition to the popular gingerbread carousel and Christmas village train set, the sister resorts offer much more holiday appeal than you might expect.
Said holiday appeal includes nautical Christmas decorations at Disney's Yacht Club and all things beachy at Disney's Beach Club. If you, in any way, have an affinity for the sea, you'll be delighted with the Christmas decorations between the resorts.
So come along as we set sail for Christmas at Disney's Beach and Yacht Club. We'll start on the Yacht Club side of the resort and work our way over to the Beach Club.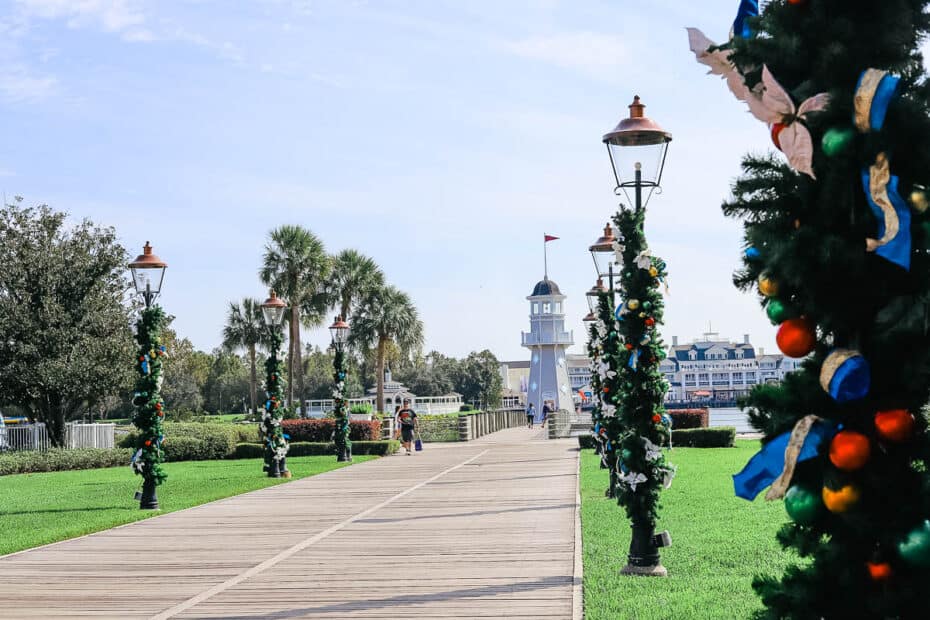 As you approach the lobby entrance of Disney's Yacht Club, you're greeted by light poles dressed in festive garland.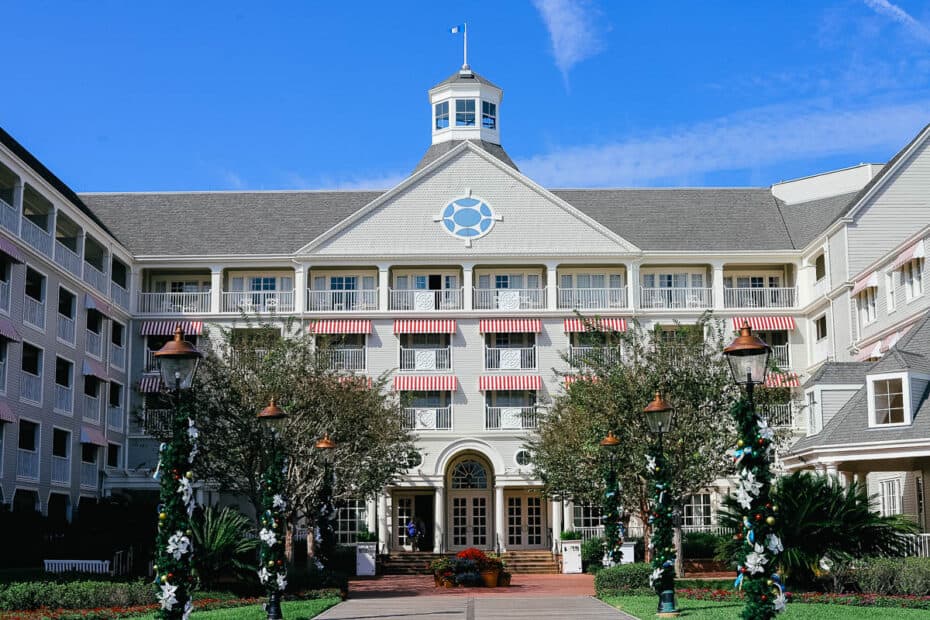 White poinsettias are a nice touch adding an elegant look.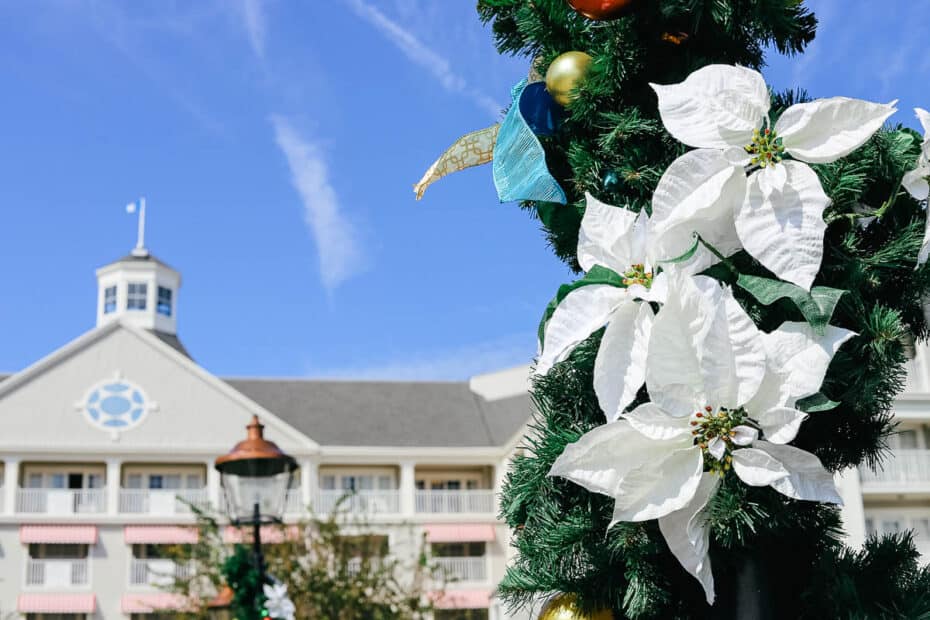 If you've ever visited Disney's Yacht Club, you probably remember this large set of potted plants. Several bright red poinsettias and begonias have been added for the holiday season.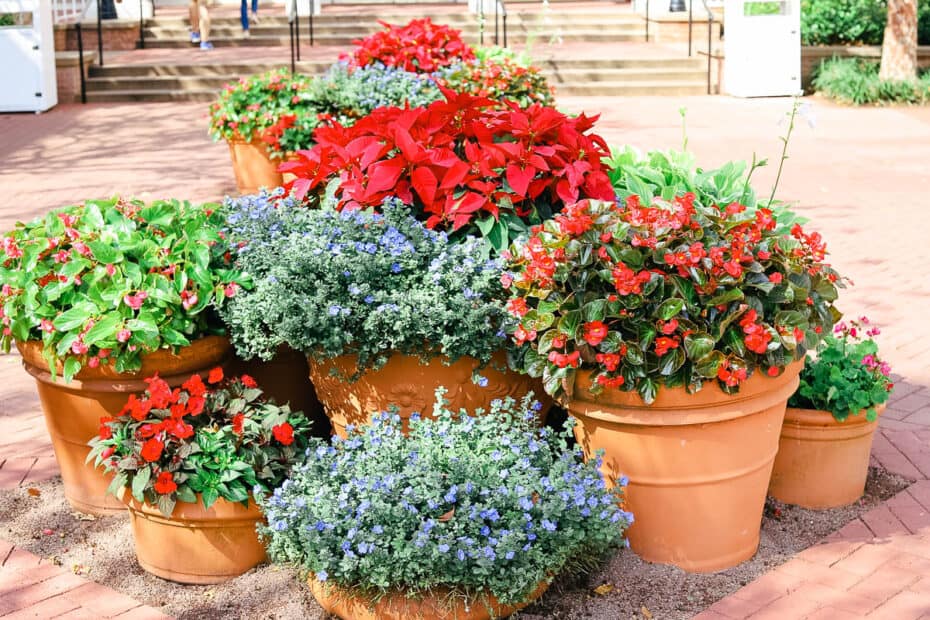 You're greeted by this tall, handsome Christmas tree inside.
Yacht Club's tree is a favorite for many with its unique decor.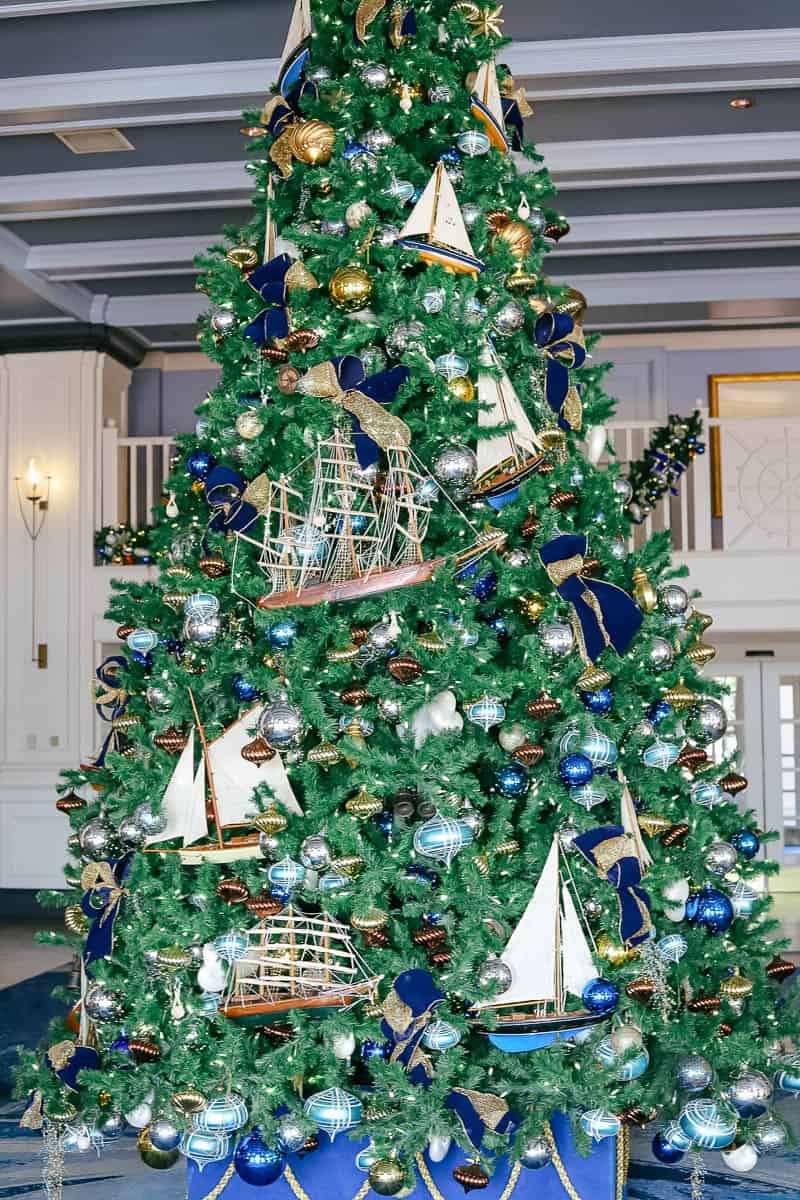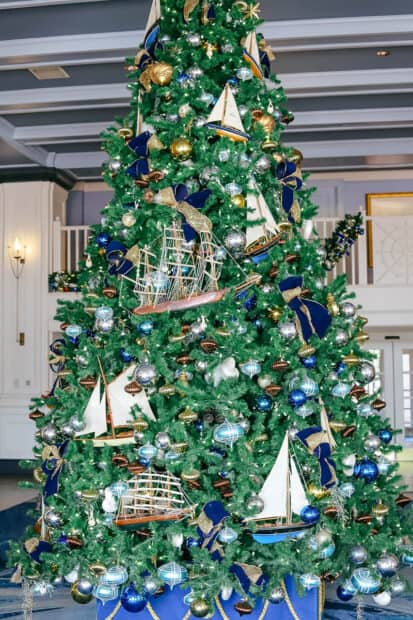 If you take a closer look, you'll notice the various sailboats.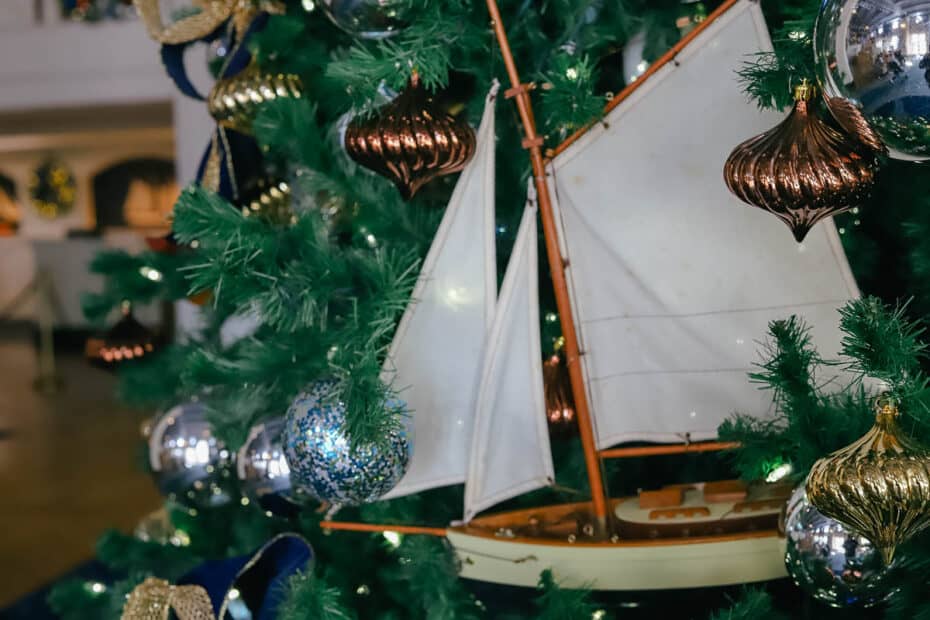 These binoculars made me smile. Since I fell in love with cruising this year, I've decided that a pair of binoculars is necessary for my next sailing. I'm determined to see something out in the water.
Related: Disney Wish Deluxe Stateroom Tour with Verandah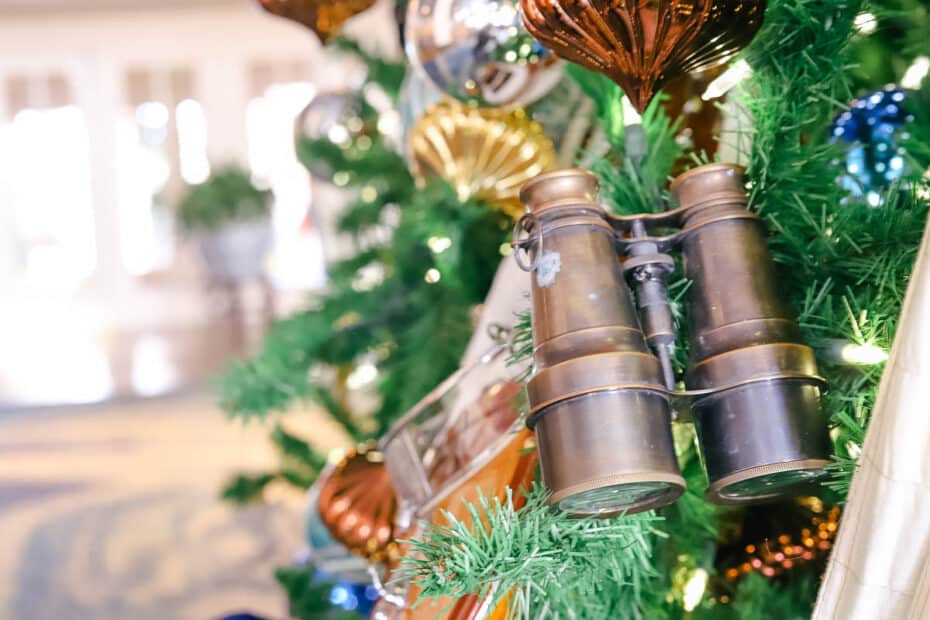 Here are a few more boats.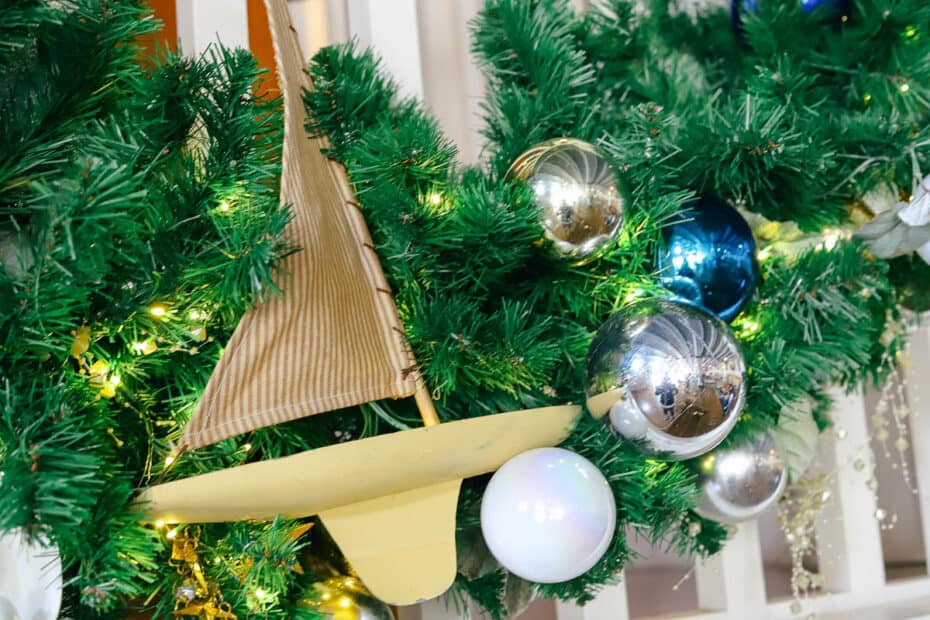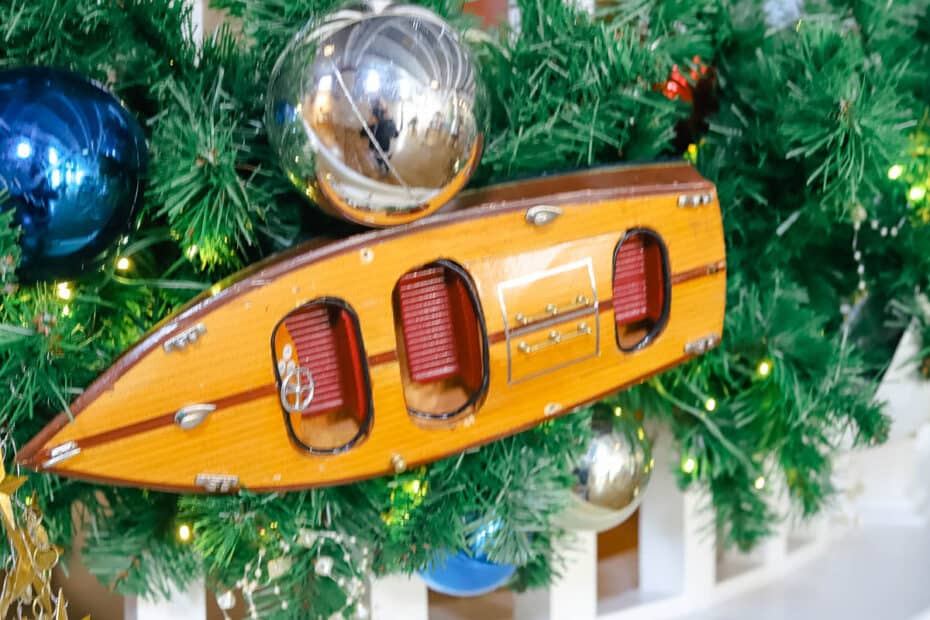 Long strands of garland cloak the stairwells.
You'll see a few ships here and there in the mix.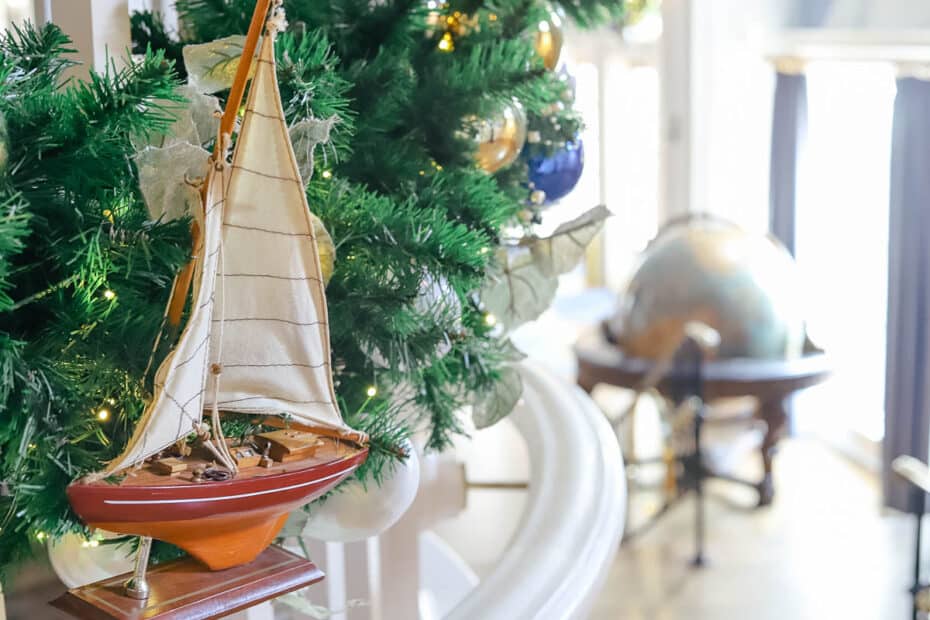 These little touches add a lot.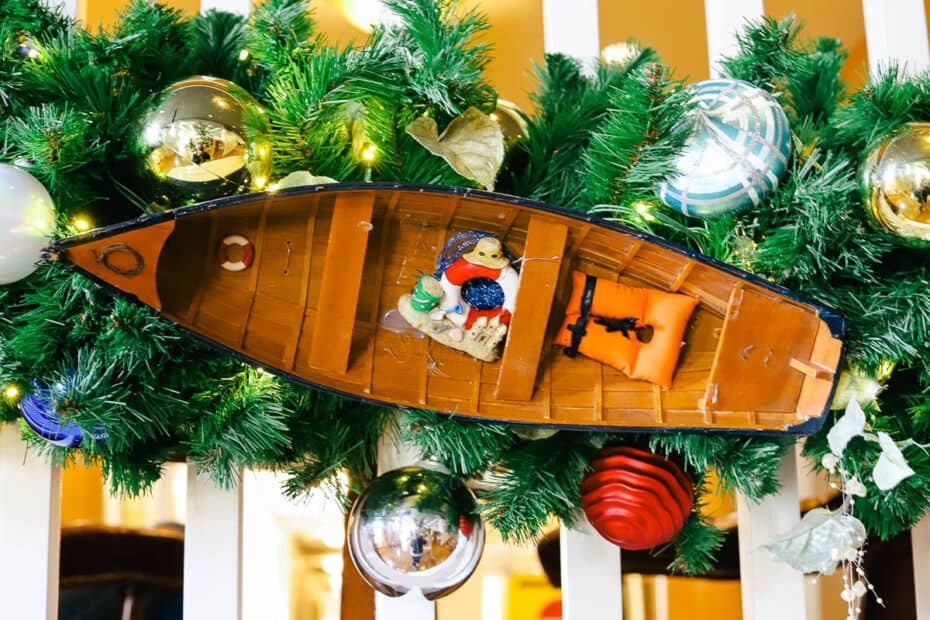 Everywhere you look, you'll see the attention to detail.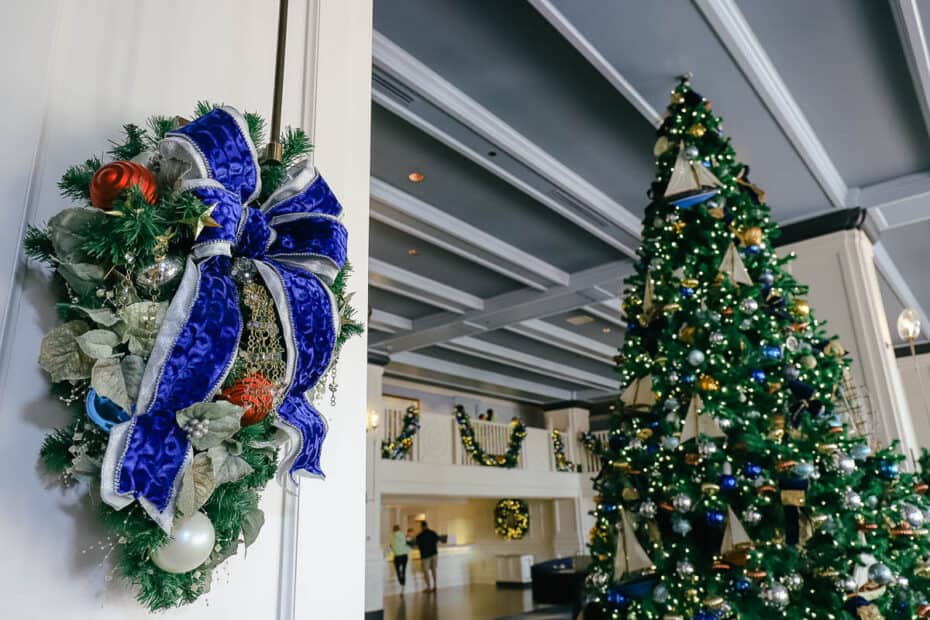 A large train set sits toward the back corner of the Yacht Club's lobby. We have a separate article that includes multiple photos and a video of the train set.
Related: Christmas Village with Train at Disney's Yacht Club
We see a few more wreaths on the Yacht Club side of things.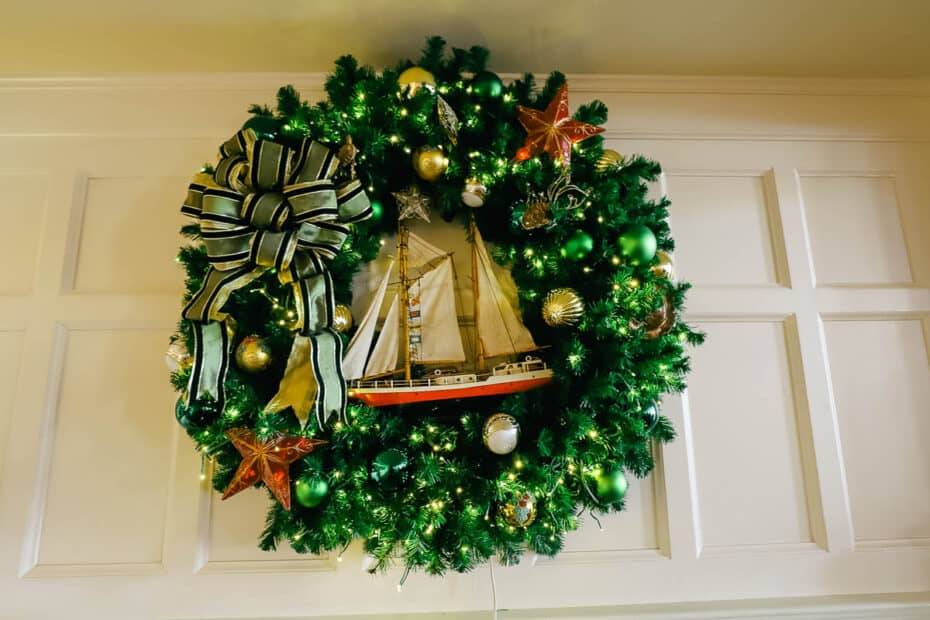 One of the things I tend to notice is that each decoration is different. Some pieces are hard to tell, while others are strikingly distinct. Yet, they all still work together.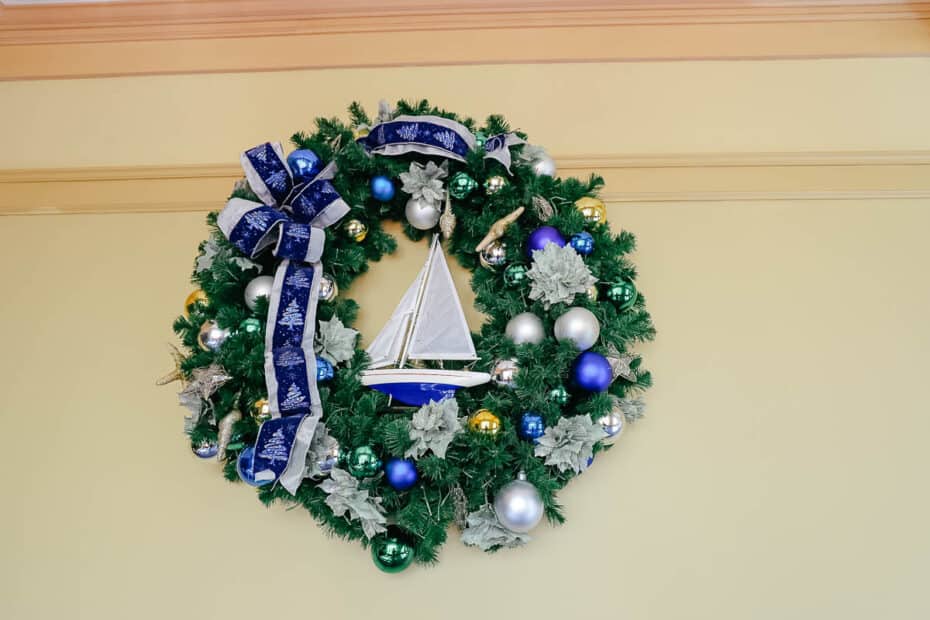 A walkway runs between Disney's Beach and Yacht Club. It's a pleasant walk that steps outside for a moment and passes Stormalong Bay. Stormalong Bay is the magnificent pool area that's shared between the resorts.
Here we see the decorations begin to look like a seaside retreat.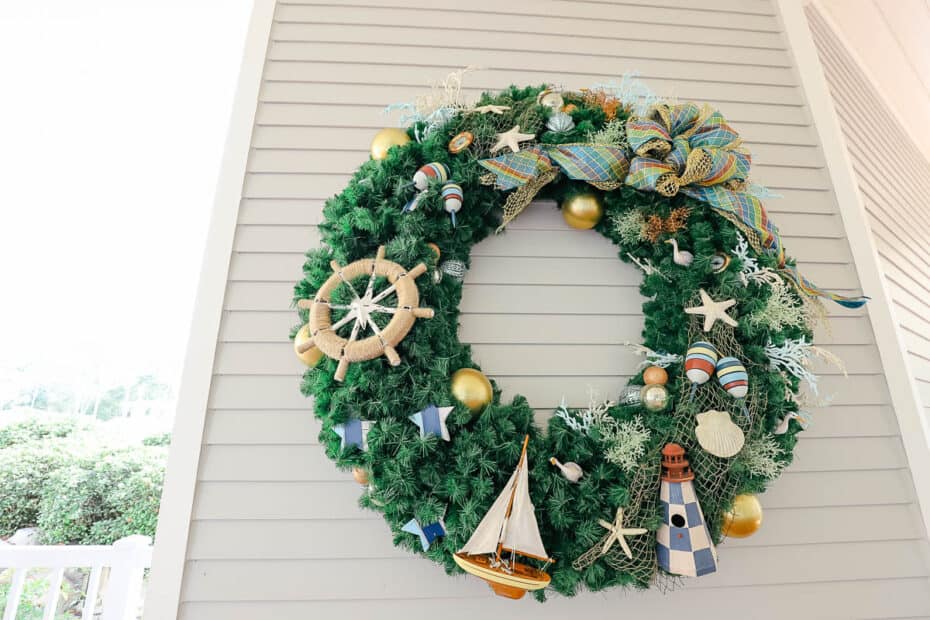 Birds and shells become part of the look.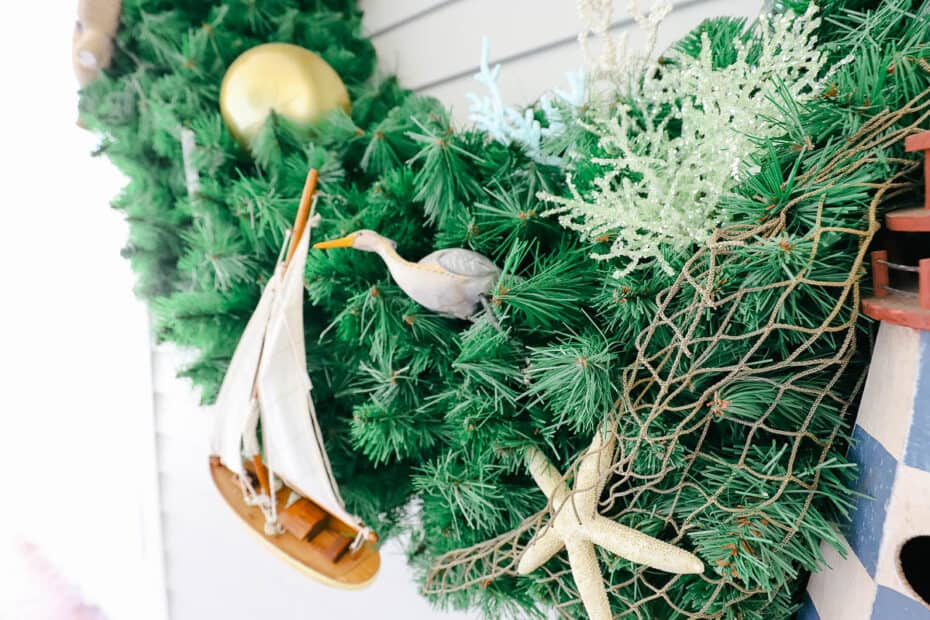 This wreath, in particular, caught my eye.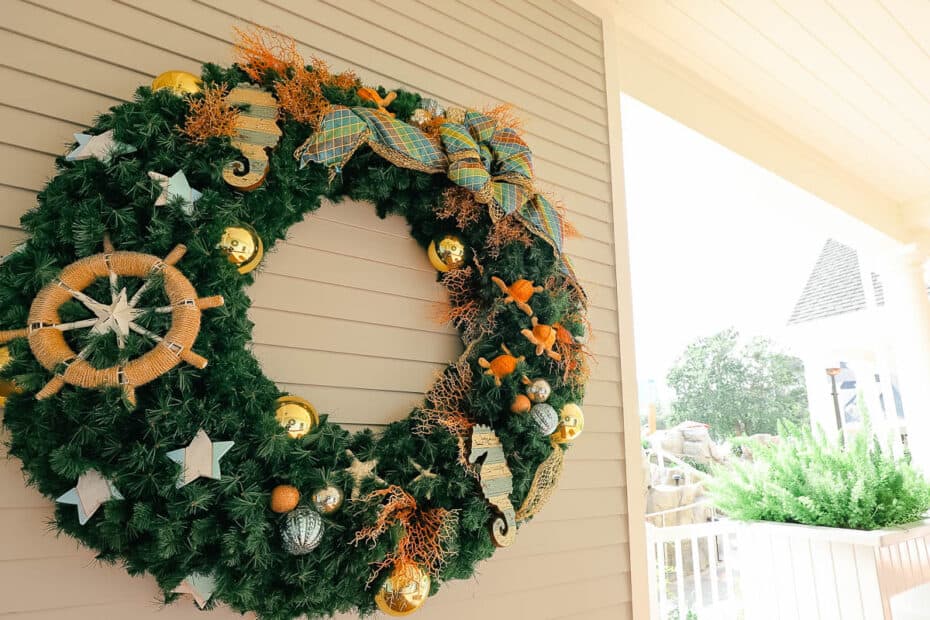 It was full of seahorses, turtles, and stars.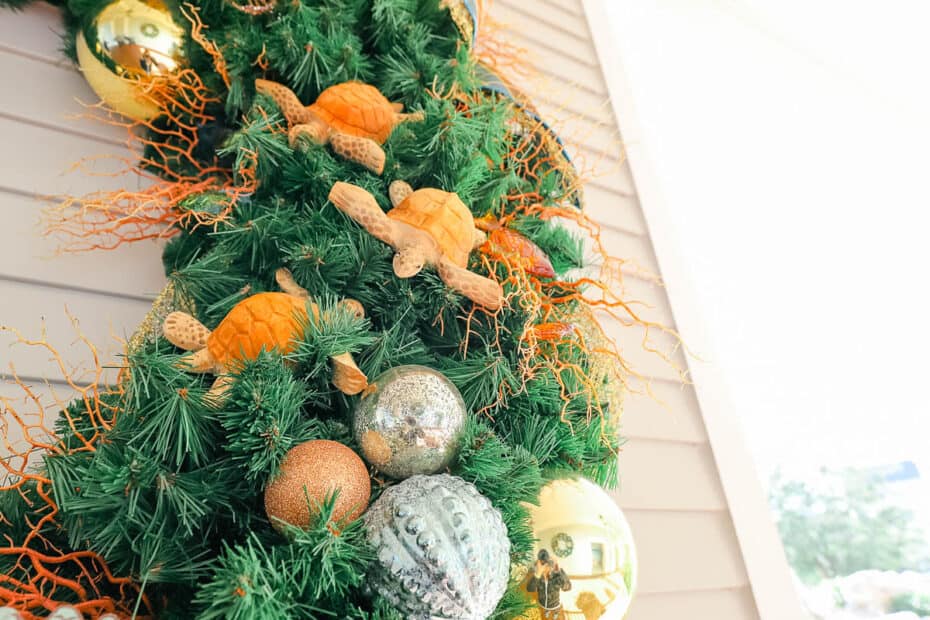 We'll step back inside. This time we're at Disney's Beach Club.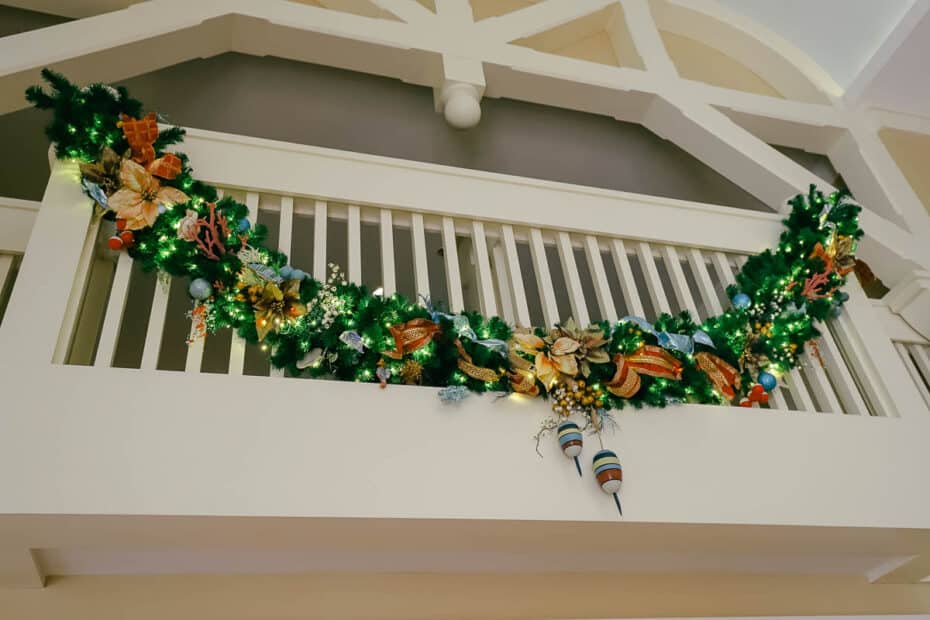 Disney's Beach Club has two Christmas trees in the lobby.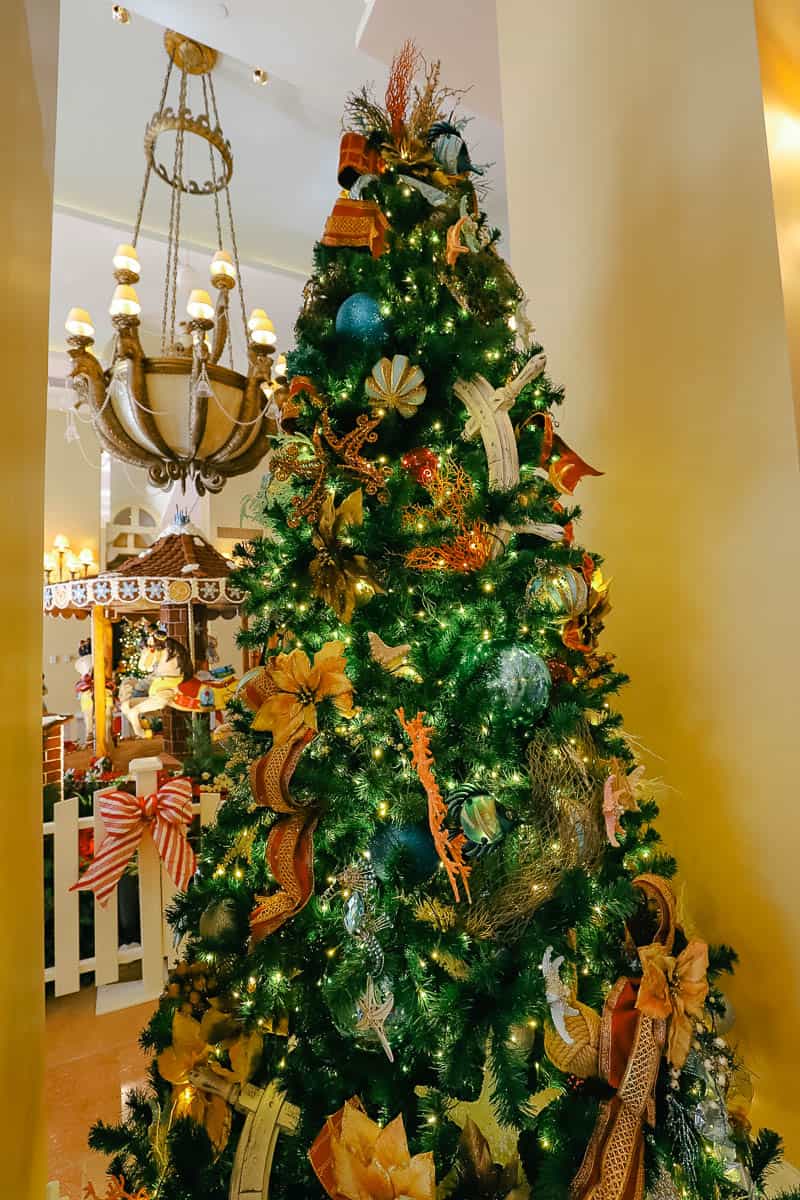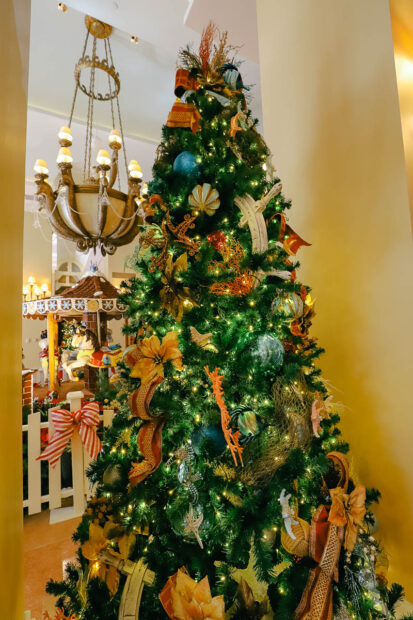 Here are a few of the decorations on the trees.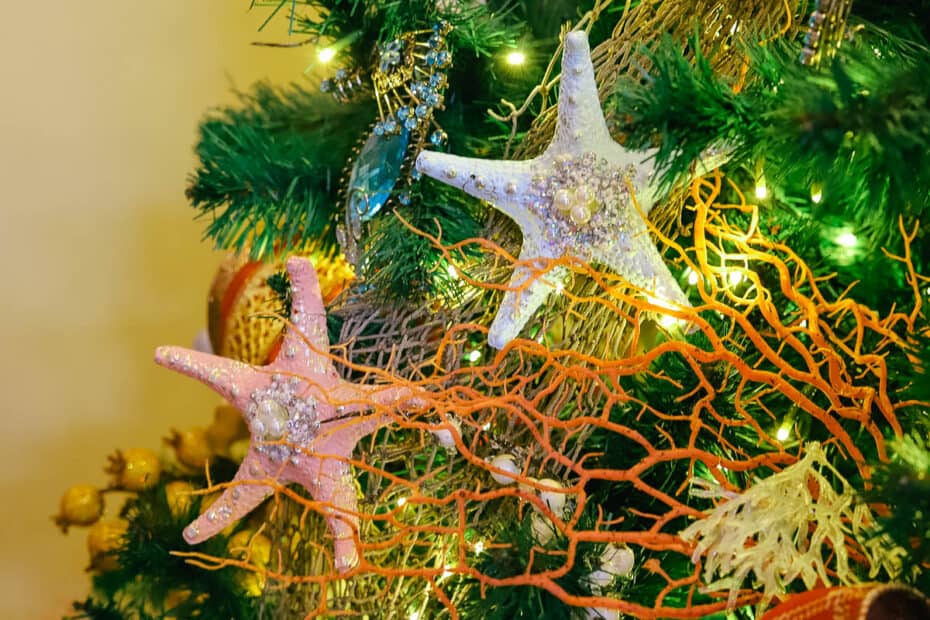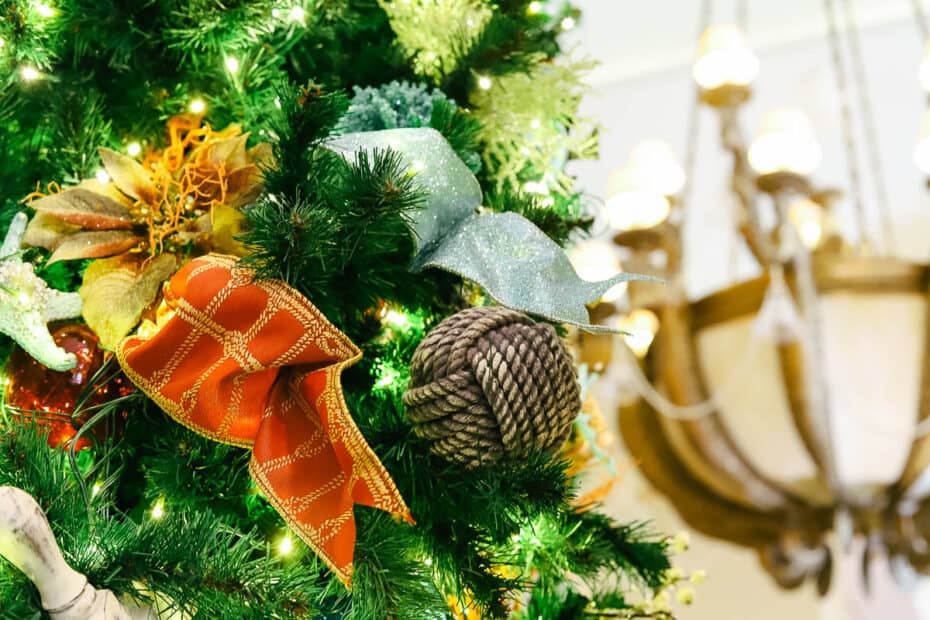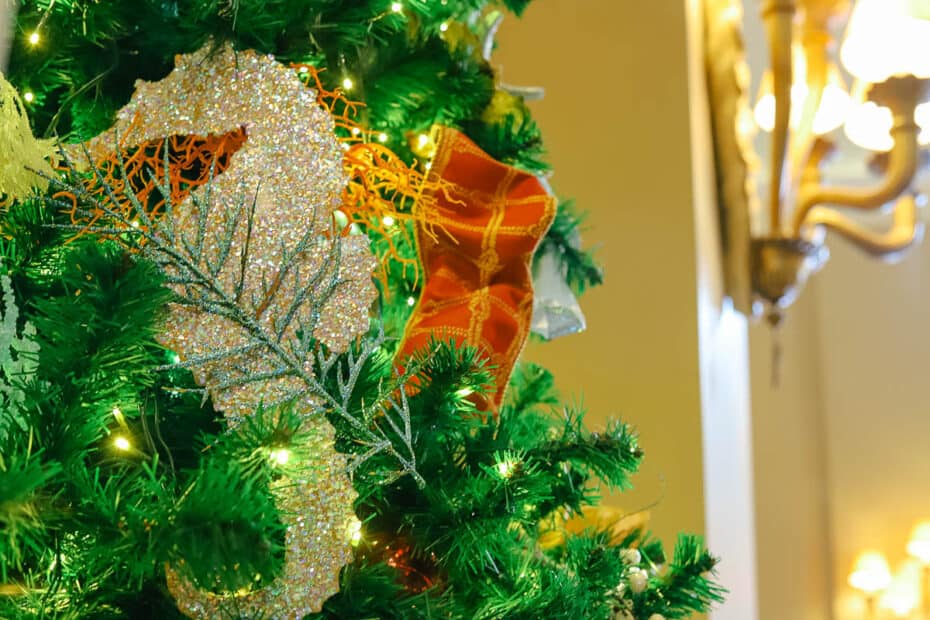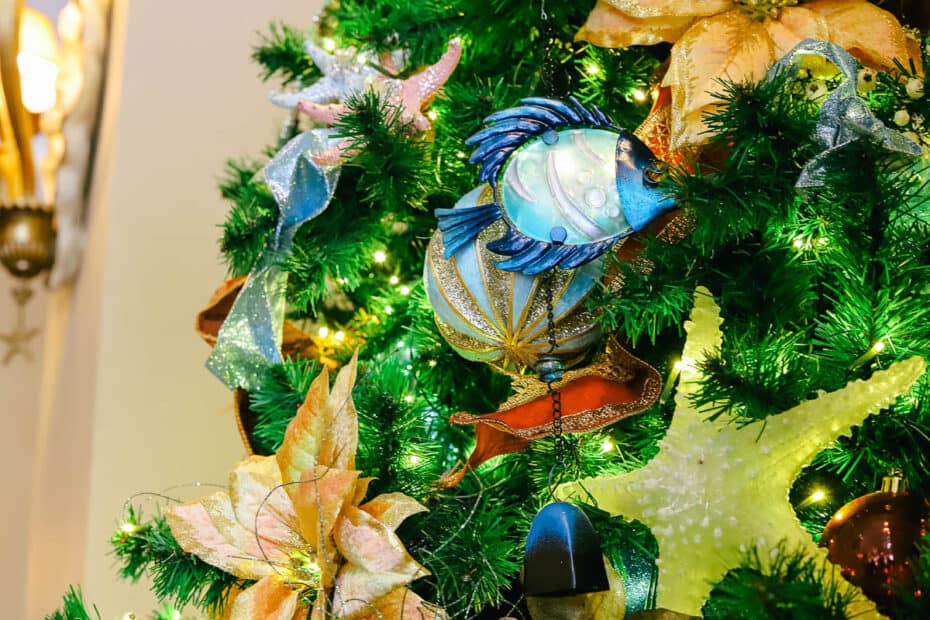 A gingerbread carousel sits between the two trees in the lobby. We have a separate article with photos and a video of the carousel. It's a stunning work of art that moves like a real carousel.
Related: 2022 Disney Princess Gingerbread Carousel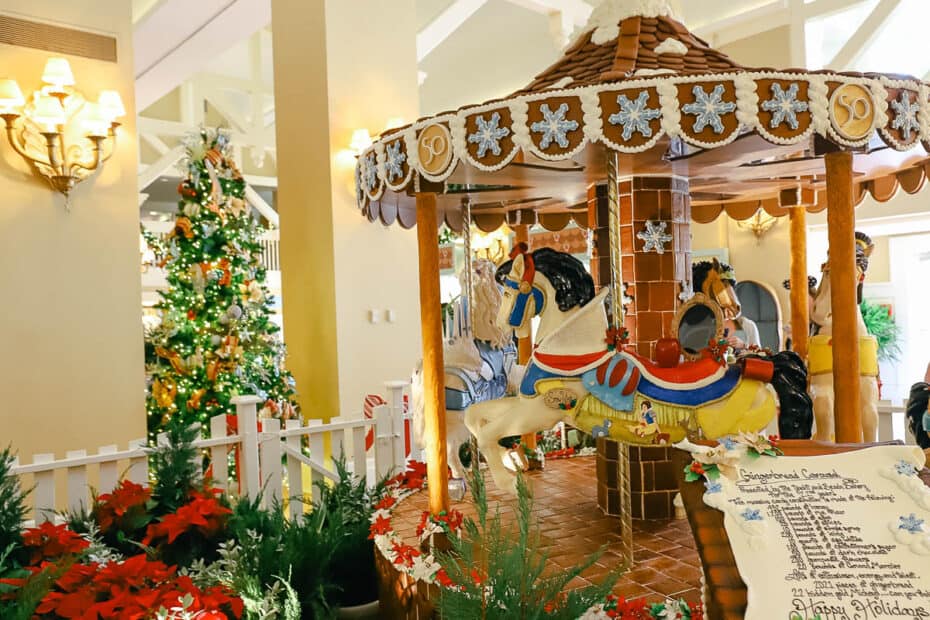 A special shop set up off the Beach Club's lobby has holiday treats for sale.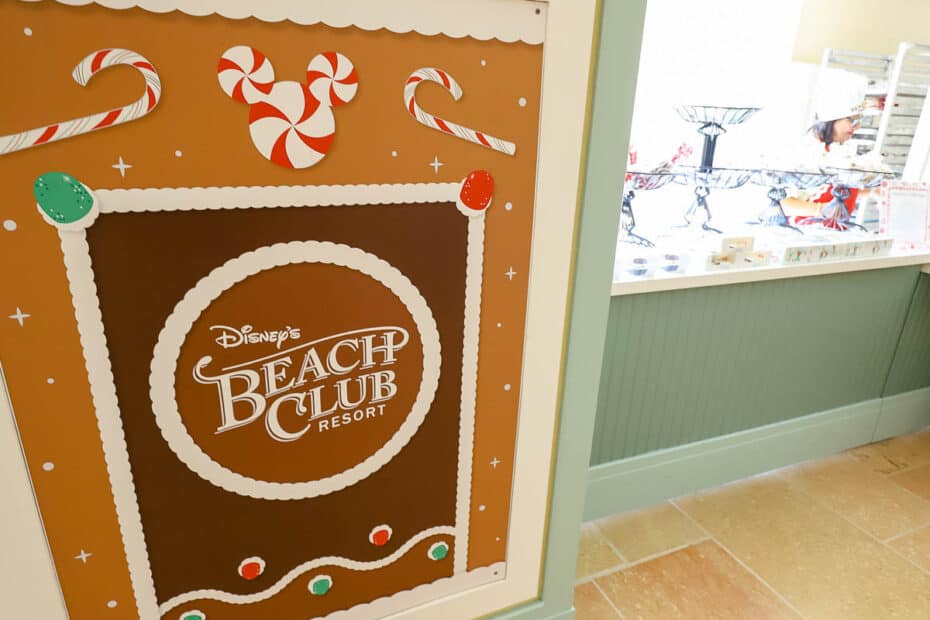 You might also find this darling ornament for sale. It features a gingerbread house with the Beach Club's branded logo.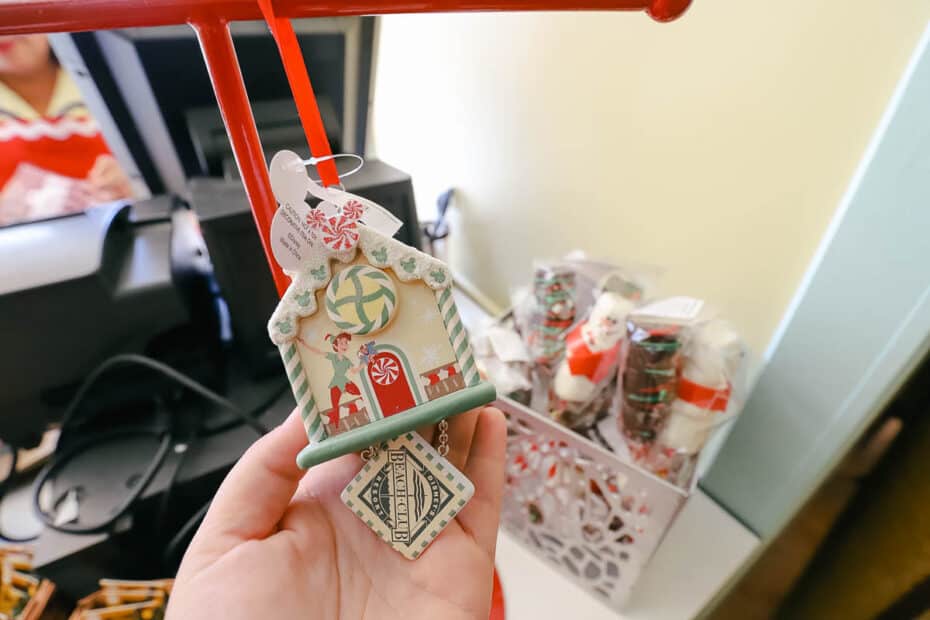 Off the lobby, we'll continue along toward Beach Club Marketplace.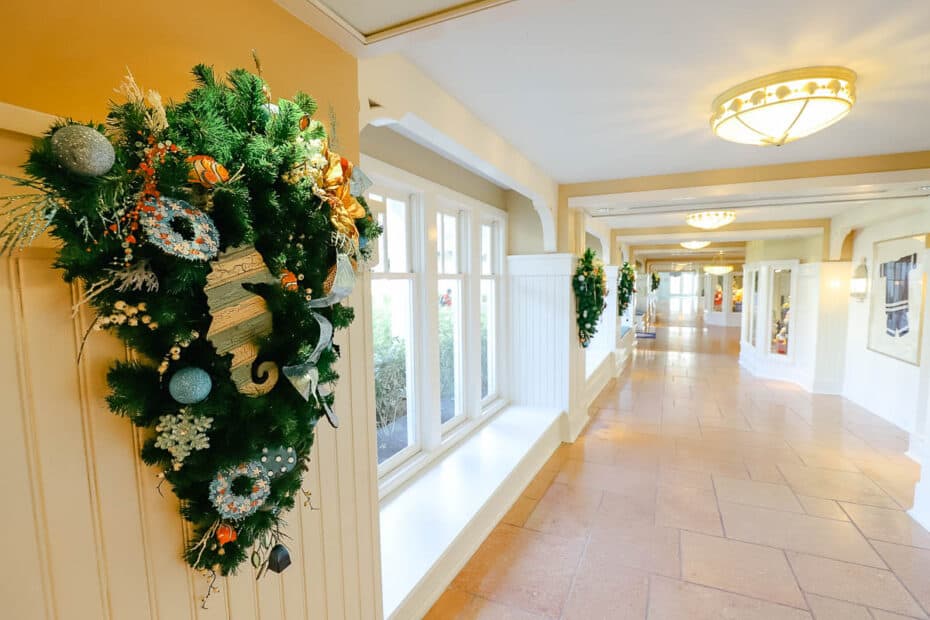 And stop in at the Solarium for a look at its traditional decorations.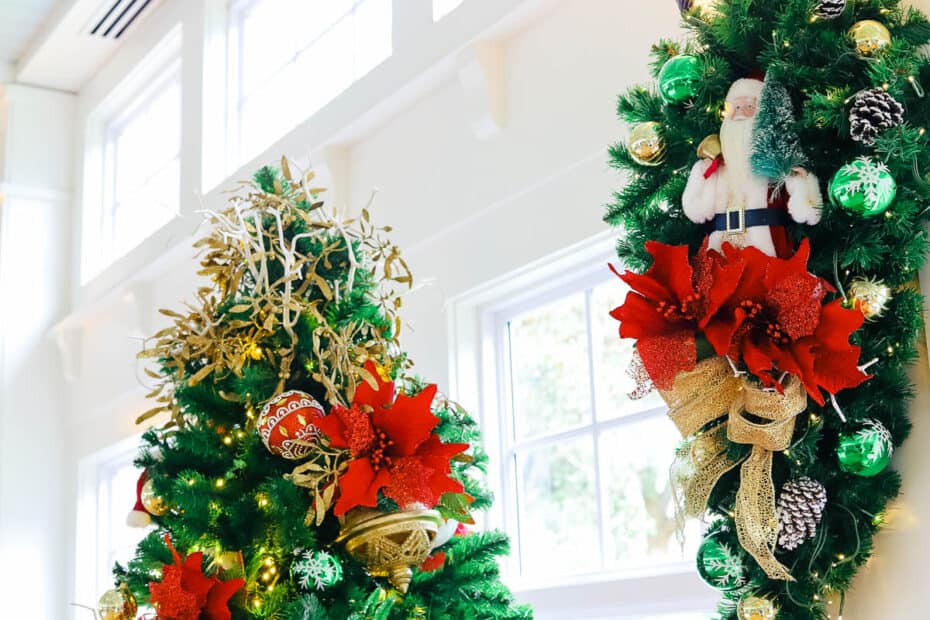 Everything here is red, green, and gold.
Santa suits hang from the tree. I thought these were delightful.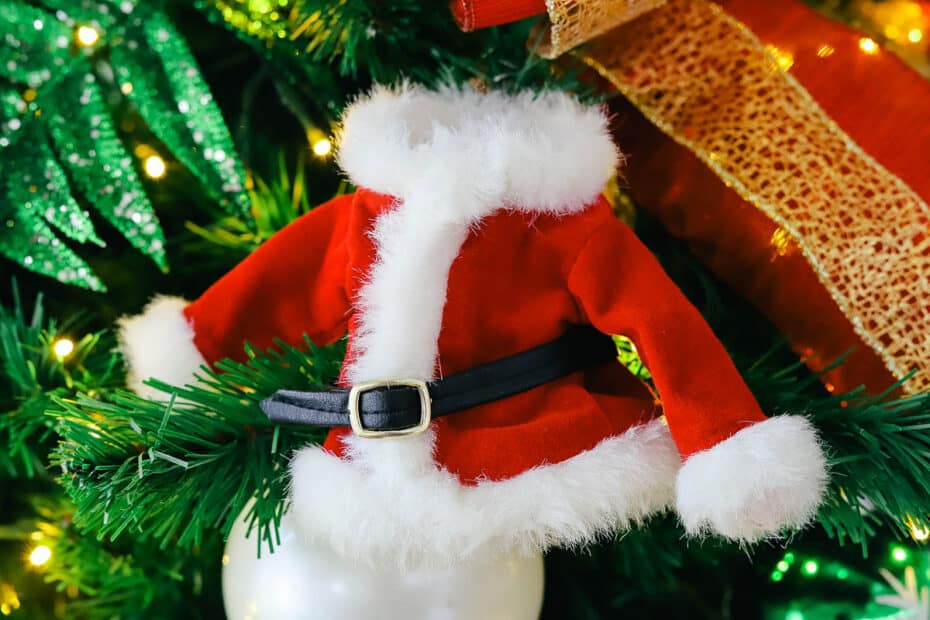 We'll continue from the Solarium across the sidewalk to Disney's Beach Club Villas wing.
Related: Disney's Beach Club Villas Review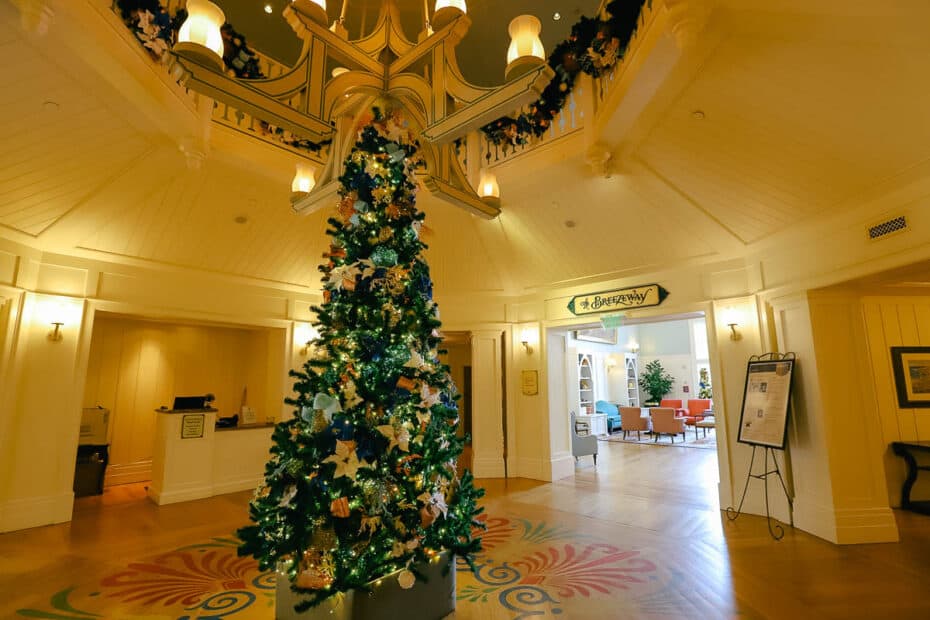 Here we see a festive tree decorated in stunning corals, whites, and blues.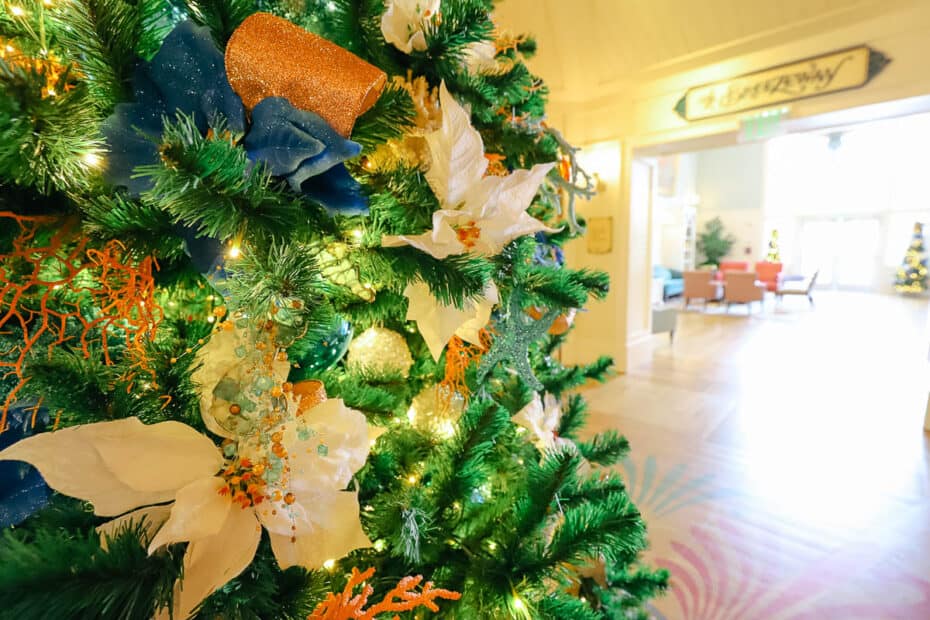 Wreaths in this area have lighthouses, corals, ropes, and more.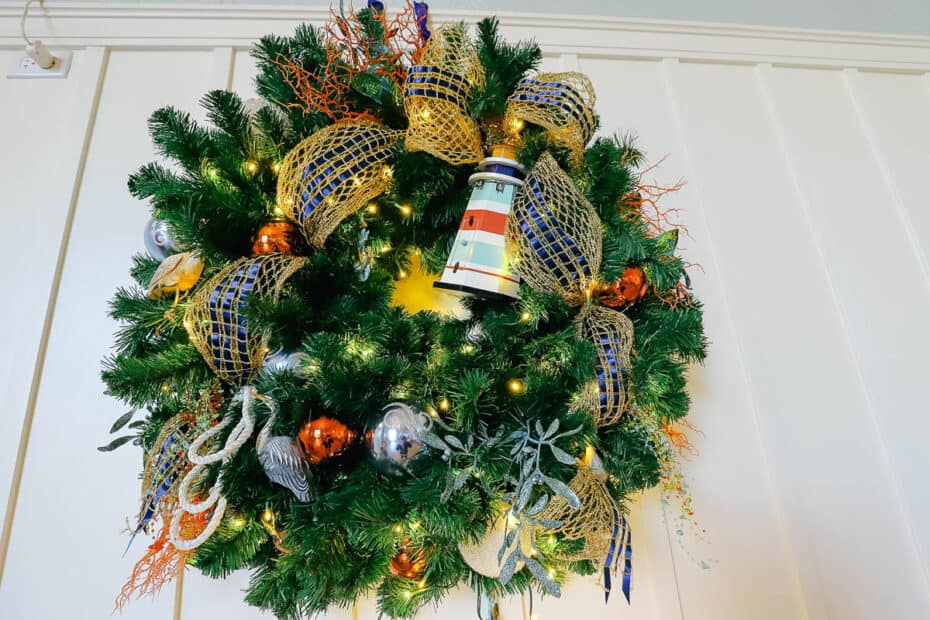 If you have never been to the villas, you might enjoy taking a few moments to visit. They have a pretty lobby with a pleasant sitting area.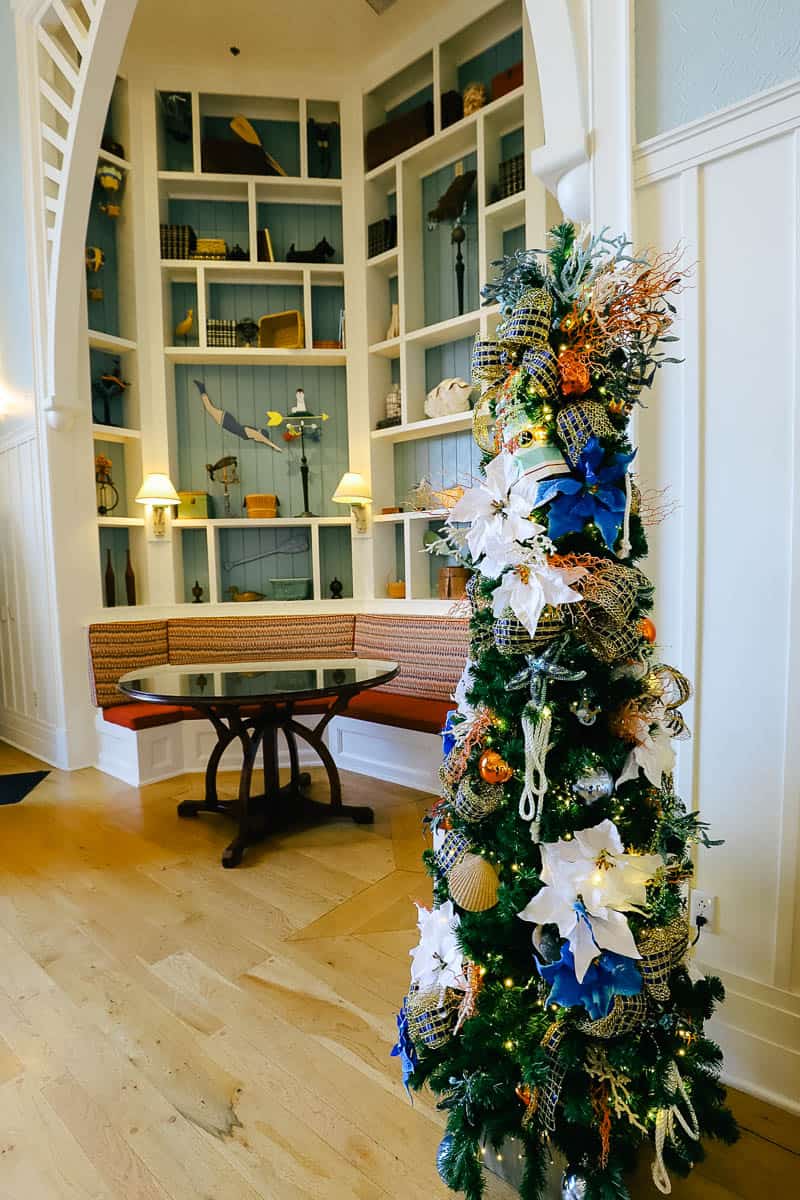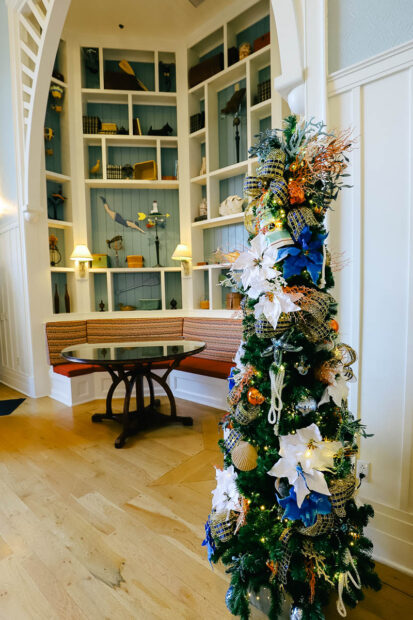 Here are a few more photos.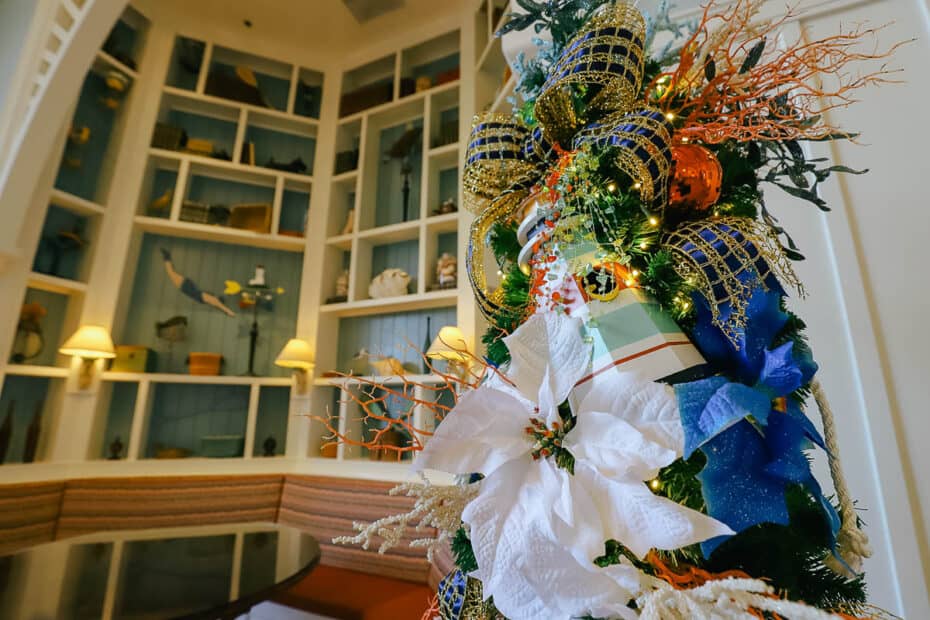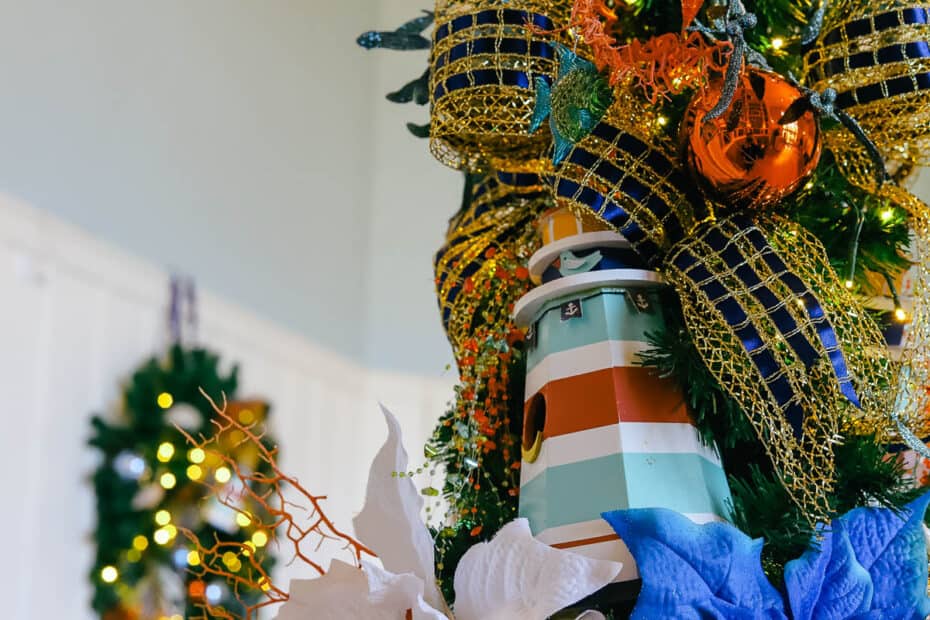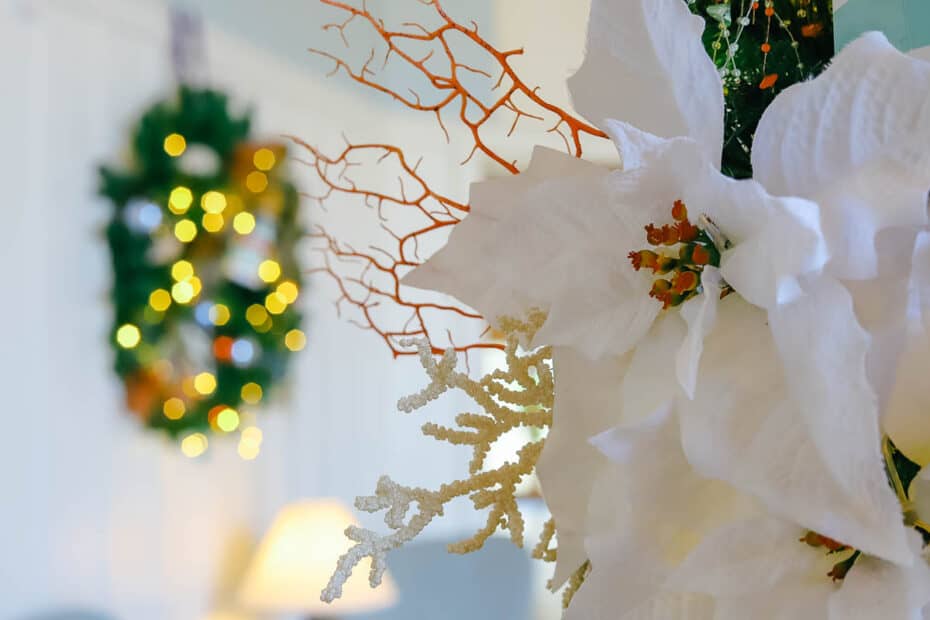 Back outside, the light poles at Disney's Beach Club are also wrapped in Christmas garland.
This garland is more on the playful side of things, with beach bags and chains of flip-flops hanging from it.
Overall, the Christmas decorations at Disney's Beach and Yacht Club Resorts are worth seeing. You might plan a meal here or need to escape the busyness of the parks at some point on your trip.
Since the resorts are within a five-minute walk of Epcot, you could easily exit the International Gateway and stop for a break to see the Christmas decorations. While you're at it, you could walk or take a boat over to Disney's Boardwalk to see their Christmas display.
Related: Christmas at Disney's Boardwalk
Additionally, there's plenty to do in the immediate Epcot Resorts Area. You might enjoy doing a full resort-hopping tour of the area.
For more Christmas at Walt Disney World in 2022, you might like the following articles:
Thanks for joining us on our tour of Disney's Yacht and Beach Club at Christmas!
In the Comments
Have you ever visited the Yacht or Beach Club for Christmas? What are your thoughts on the Christmas decorations?
Planning a Walt Disney World or other Disney Destination vacation?
Our friends and travel partner, Firefly Travels, excels at doing Disney differently. You can fill out a plan your trip form on their website, and someone will reach out shortly to discuss the specifics.