Christmas at Disney's Yacht And Beach Club
Christmas is a special time of year at Disney's Yacht and Beach Club Resorts. Both the resorts are worth visiting to see the seasonal decor.
So come along as we visit Disney's Yacht and Beach Club for Christmas! These sister resorts are connected and located in the popular Epcot Resorts Area on Crescent Lake.
The Yacht and Beach Club are pretty well known for their extravagant Christmas displays. For starters, Yacht Club hosts a tremendous Christmas village with a train set running through it. The train village takes up an entire corner of the large lobby.
In addition, guests usually enjoy walking next door to the Beach Club to see the large-scale gingerbread carousel.
Both resorts are beautifully dressed for the holidays. Therefore, continuing our resort Christmas tour, we'll look at what is available this holiday season.
If you haven't visited the Yacht Club in the last year or so, you might be surprised by the lobby's finished outcome.
It turned out very lovely, and the Christmas decor here at Yacht Club accents everything appropriately.
Disney's Yacht Club Christmas includes nautical decor. From the sailboats sitting daintily in the wreaths…
…to the touches of navigational stars scattered throughout.
Everything is magical.
The lobby is stunning.
Christmas here is a job well done.
These bright blue ribbons add a burst of vibrant color to the space.
And the Yacht Club Christmas tree is truly one of a kind.
I do love it here.
Inspecting the tree closer, you'll notice a variety of copper, golden, and sea tones.
A variety of boats and ships appear in the tree.
There are even some hanging from the boughs.
Make sure to check out our review of Disney's Yacht Club for details on what it's like to stay here.
Related: Disney's Yacht Club Review
Or you can visit our list of articles for Disney's Yacht Club here.
The long walkway between the two resorts has a color transition in the Christmas decorations.
It goes from blues to greens.
The exterior portion of the walkway has these gorgeous wreaths with sea creatures.
Each one features different seaside elements. These are all located on the exterior walkway parallel to Stormalong Bay.
Related: Best Pools at Disney World
While Yacht offers a more formal, modern feeling, the Beach Club is its delicate balance. The cooler tones shift to warm yellows with pinks and a mix of seafoam.
The Beach Club has twin Christmas trees in the lobby decorated with things found from the sea, like the starfish below.
The trees are cheerful.
Naturally, there are seahorses and coral.
Matching wreaths compliment the entire look.
Beach-like Christmas trimmings are everywhere.
Here is that gingerbread carousel created for the 2021 holiday season.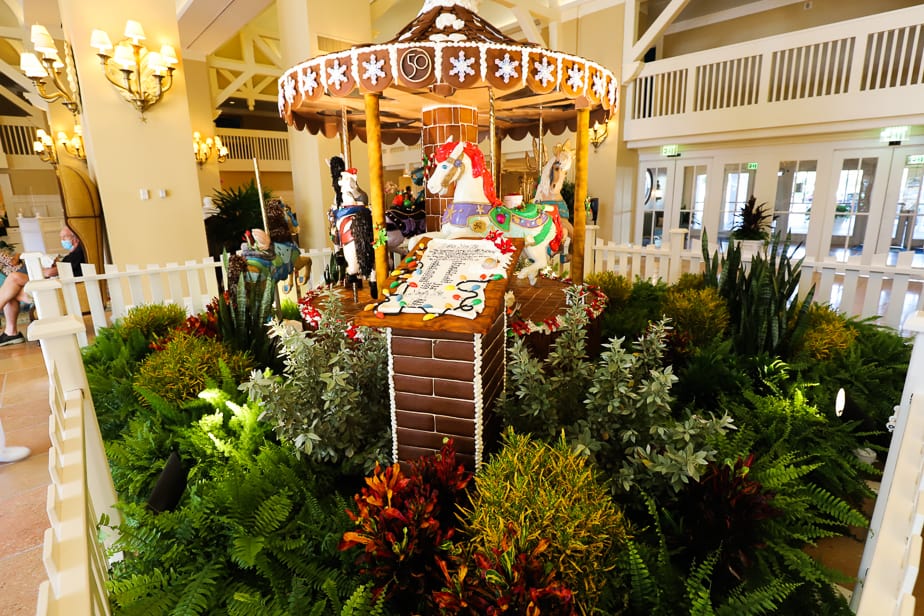 It was so nice to see the carousel on display this year. I have a separate review that takes a close look at it.
Related: 2021 Beach Club Little Mermaid Gingerbread Carousel
A few steps off the lobby is the Solarium. This area is just a gathering area of sorts for anyone visiting. I love to grab a meal in the area and bring it here to enjoy.
You might have noticed the Beach Club's Christmas decorations in this area are different from the rest of the resort.
Related: Disney's Beach Club Review
These decorations are all things red, traditional, and Santa.
Very merry.
And then there's the Disney Vacation Club section of the resort.
Related: Beach Club Villas Review
They have all brand new Christmas decorations this year.
I spoke with a cast member in the area a bit while taking photos. She told me how much she loved the vibrant colors they used in the tree. And I have to agree. They are spectacular.
The thing about Disney, during Christmas especially, is that you'll always see something fresh and new along with the traditions we love and expect.
I'm not sure I would have ever thought to put these white and blue poinsettias with orange coral and golds.
But somehow, it all works.
I love it here also. Our entire list of articles for Disney's Beach Club is available here.
Christmas at Disney's Yacht and Beach Club is a special time of year.
The resorts continue to inspire each other with their differences. But they unify the property as a whole with their passion for the sea.
One will never be better than the other, nor do they try to be. And yet somehow, each one will always strive to be the best in its own right.
I'm not sure I'm talking about hotels anymore. You probably understand.
Merry Christmas from my favorite place at Walt Disney World!
If you want to know more about the resorts, check out our list of Walt Disney World Resorts. Additionally, you might enjoy these other articles:
Thanks for joining along on our tour of Disney's Yacht and Beach Club at Christmas!
In the comments: Have you ever visited the Yacht or Beach Club for Christmas?