Christmas Village with Train Brings Festive Fun to Disney's Yacht Club
As we get back on track (no pun intended) with our holiday coverage, I thought we would take a brief stop at Disney's Yacht Club to check out the train set and Christmas village. This classic display resides in the far back corner of the Yacht Club's lobby.
Each year a large base is installed, and an entire village, train tracks, and all come to life overnight. Guests, young and old, visit Disney's Yacht Club to gaze in wonderment at the display.
Below, we'll look at a few photos of the train set. If you're visiting Walt Disney World over the holidays, you too can visit the Yacht Club to see the display.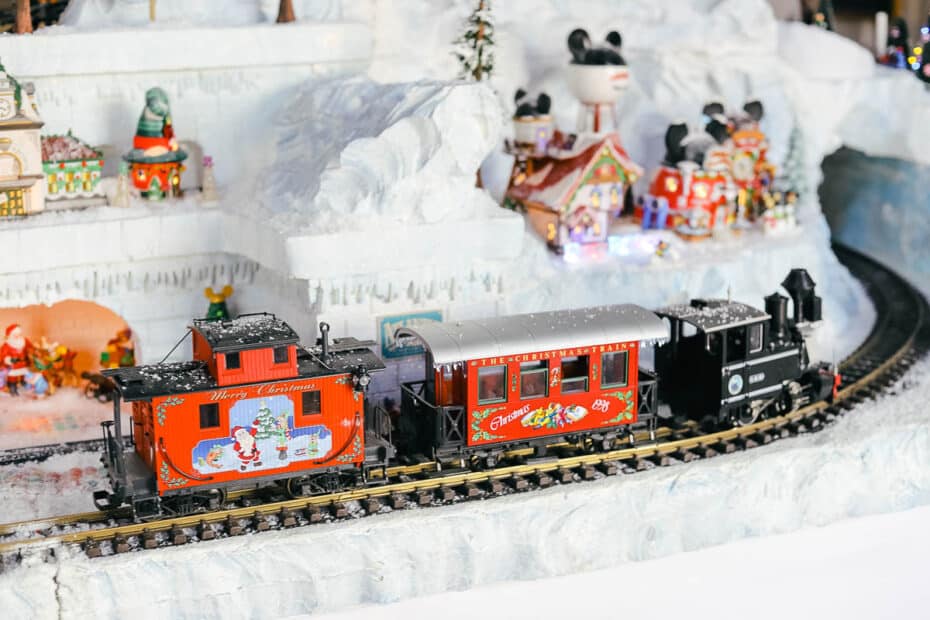 Most Christmas decorations at Walt Disney World will remain up through the first of January. If you're intent on seeing the train set, I suggest also stopping next door to see the gingerbread carousel at Disney's Beach Club.
Additionally, while in the area, you can take a boat or walk from the Yacht Club to see the gingerbread display at Disney's Boardwalk. You might want to plan breakfast, lunch, or dinner in the area and check out the displays afterward.
Anyway, the Yacht Club's train set sits on the Ale and Compass side of the lobby.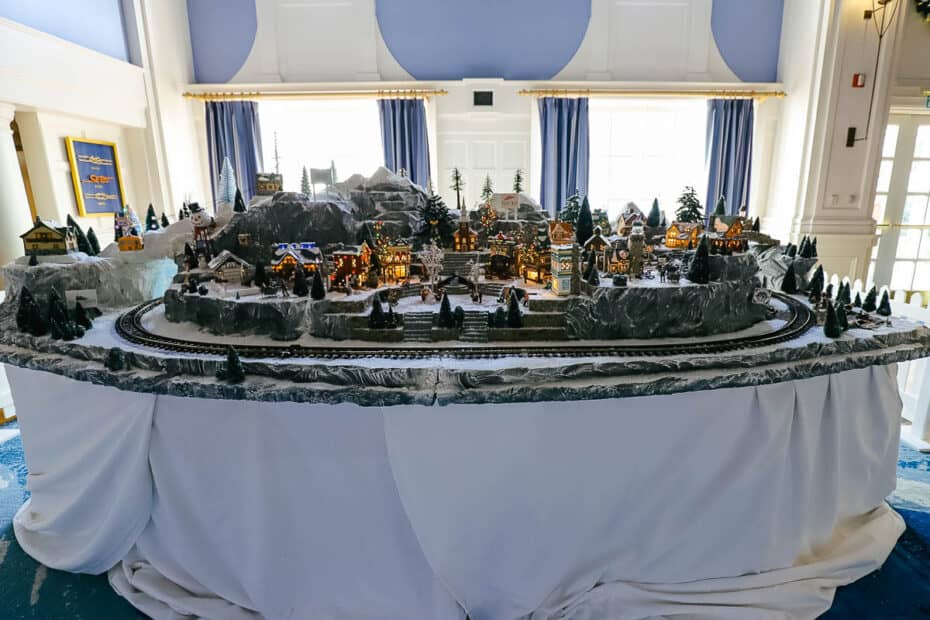 As you can see from the photos, the Christmas village takes up a significant amount of space.
Guests can walk around the entirety of the display.
All the while, a train loops around the village.
I don't know about you, but my sister and I loved playing with race tracks and train sets when we were younger.
If you have time, you might inspect a few of the village pieces.
Santa is busy in his workshop preparing toys for the big day.
A large water tower says Mickey's Village.
Minnie has a candy store, which seems very appropriate.
All of the trees are flocked with snow.
Look even closer, and you'll see references to Disney's Yacht Club. For instance, here is Bayside Marina.
Every few seconds, the train comes through.
Here are a few more photos.
Here is a video:
I hope you'll get a chance to see the train set at Disney's Yacht Club this holiday season. And if not, I hope our Walt Disney World holiday coverage will bring some of the season's joy into your heart.
We'll stop in for Christmas at Disney's Beach and Yacht Club next. There we'll preview the entirety of the holiday decor you'll find between the resorts.
Here is a list of some of our other updated holiday articles:
Or you might enjoy our complete guide to Christmas at Disney World in 2022.
In the Comments
What do you think of the train set and Christmas village at Disney's Yacht Club? Will you have time to see it this holiday season?
Planning a Walt Disney World or other Disney Destination vacation?
Our friends and travel partner, Firefly Travels, excels at doing Disney differently. You can fill out a plan your trip form on their website, and someone will reach out shortly to discuss the specifics.