Disney's Contemporary Resort
Disney's Contemporary Resort is an original 1971 hotel that opened with Walt Disney World.
This guide showcases the resort and includes information for planning a stay.
Disney's Contemporary Resort Address:
4600 North World Drive
Lake Buena Vista, FL 32830
Check-In Time: 3:00 p.m.
Check Out Time 11:00 a.m.
Disney's Contemporary Resort
---
Disney's Contemporary Resort is one of the two original Disney Resorts. This deluxe resort hotel is an A-frame almost immediately next to Magic Kingdom Park.
Fans of the resort will tell you that nothing beats staying in the main tower. When exiting your room, you can look over the interior balcony to see the Grand Canyon Concourse with the monorails coming through.
However, we have found a stay at the Garden Wing peaceful and private. So you'll want to weigh your options when deciding which portion of the resort works best for your family. You can refer to the resort's layout in this map of Disney's Contemporary to see the difference between the Garden Wing and Tower.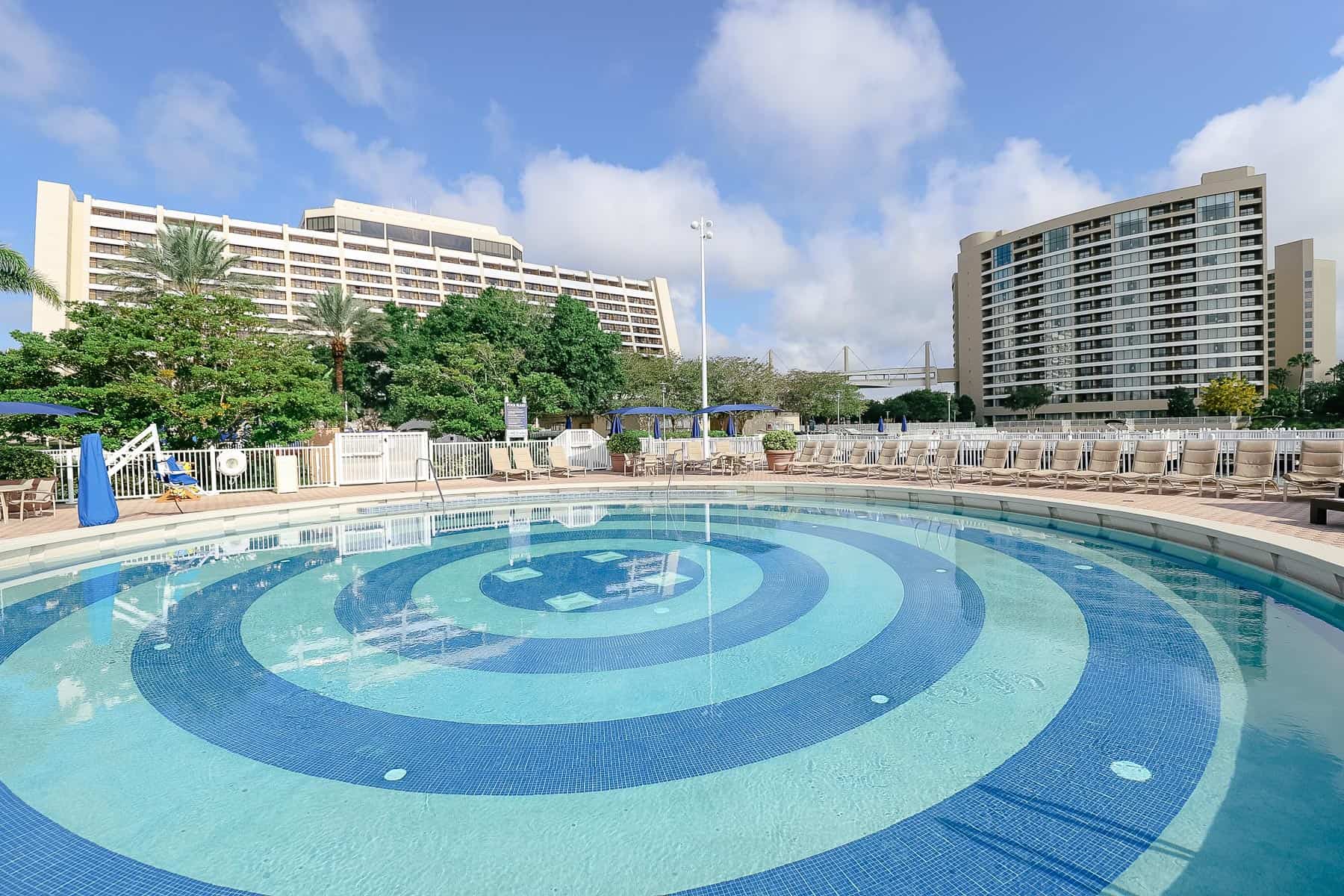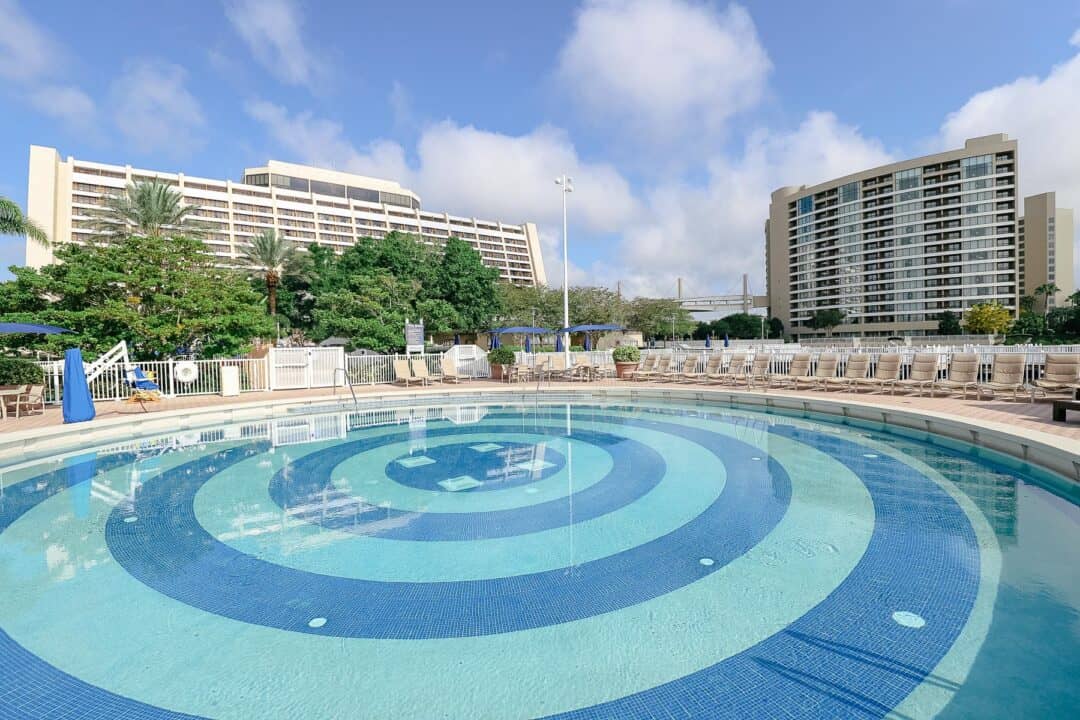 A Note on Bay Lake Tower
In addition to the Tower and Garden Wing, another tower hotel makes up part of the resort. This tower is called Bay Lake Tower and is connected to Disney's Contemporary via the Skyway bridge on the resort's fourth floor.
Bay Lake Tower is a Disney Vacation Club Resort. Disney Vacation Club members have a first-come, first-serve choice of rooms when reservations become available. However, Disney also makes these rooms available on a cash basis to regular resort guests.
Guests of Bay Lake Tower have access to all the resort amenities at Disney's Contemporary Resort. Additionally, they have a private pool area only available to Bay Lake Tower guests.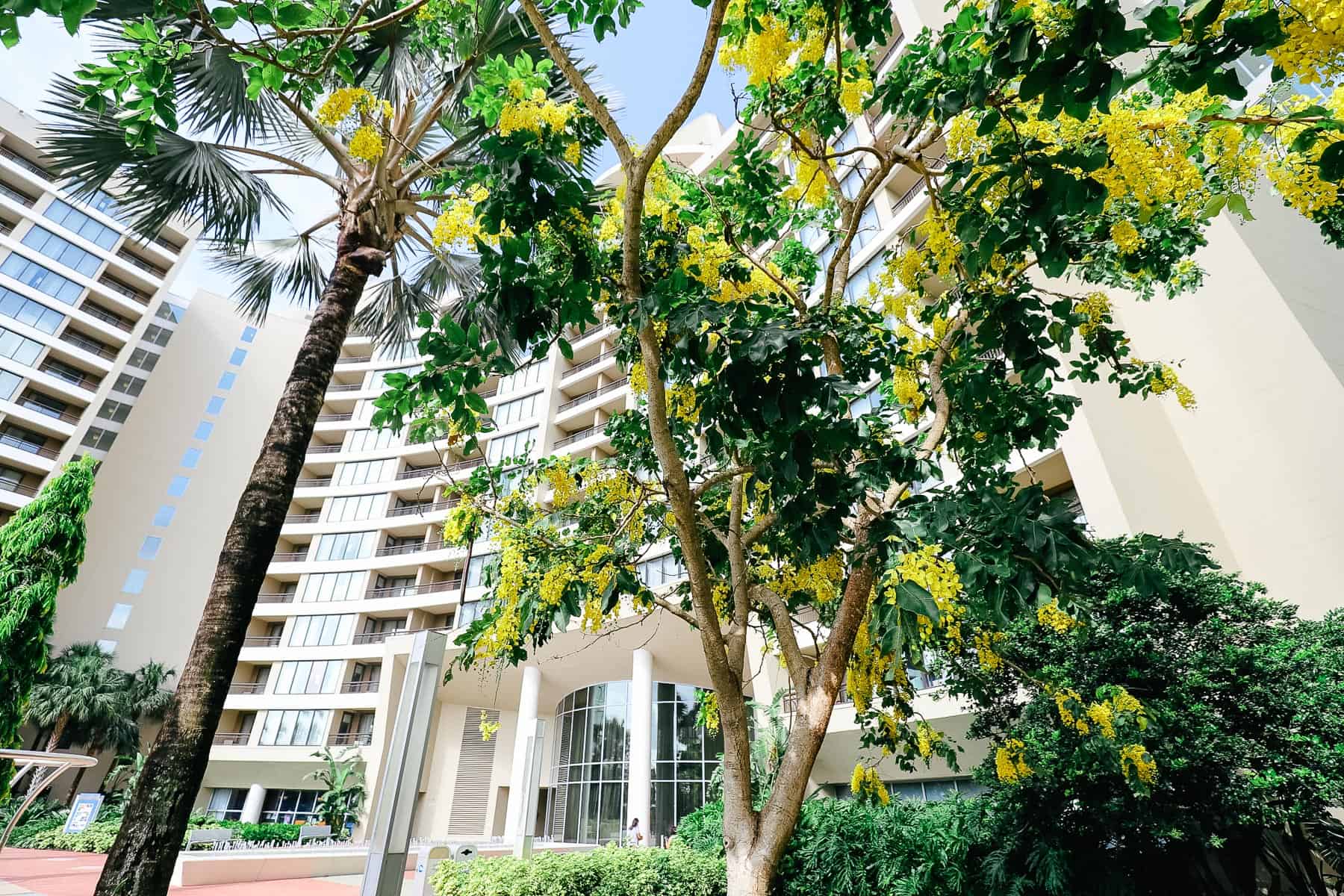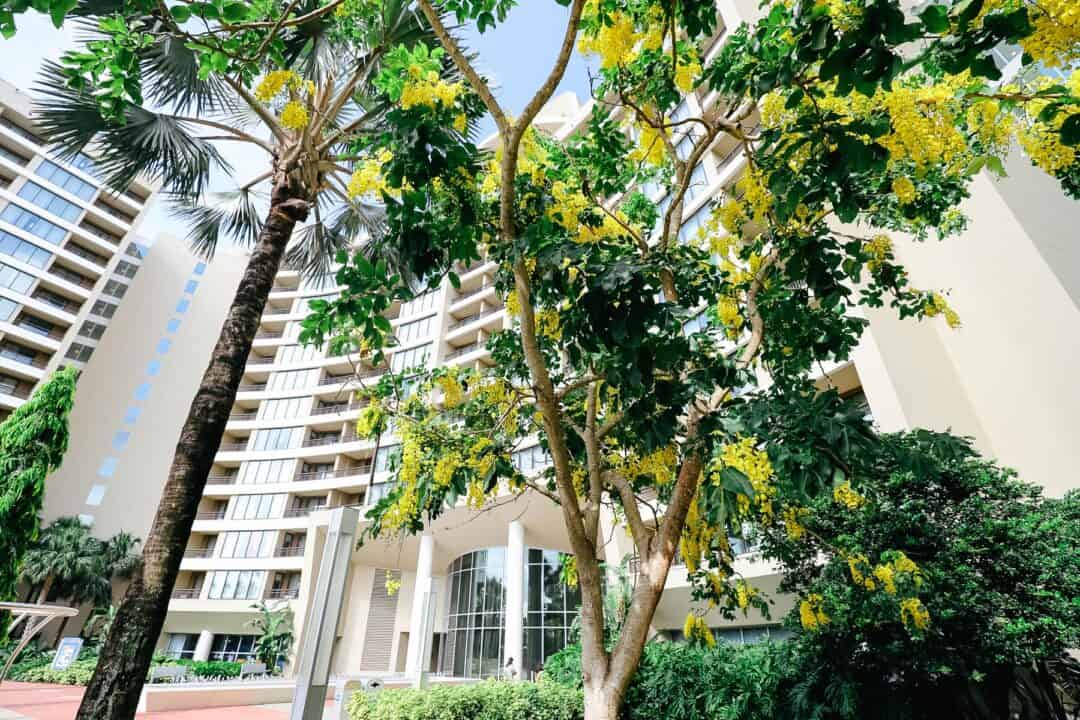 ---
Rooms
Below are the available room types for Disney's Contemporary Resort.
Incredibles Rooms
The rooms at Disney's Contemporary feature the Incredibles. Throughout each room, you'll find subtle nods to the superhero family.
Room options at Disney's Contemporary include the following:
Main Tower Standard Room (Theme Park or Water View)-Tower rooms are typically the most popular guest rooms at Disney's Contemporary. These rooms offer one king bed or two queen beds and an individual daybed. A sofa folds down to provide a single bed, which is more comfortable than a traditional sleeper sofa. A theme park view offers views of the Magic Kingdom. Guests can see the Magic Kingdom's fireworks from their balcony each evening.
Garden Wing Standard Room (Resort View or Water View)- Rooms in the garden wing often offer a garden view or a Bay Lake view. These rooms have a similar layout as the Tower rooms, with one king bed or two queen beds and an individual daybed. We do recommend upgrading to a water view room at the Contemporary if you think you'll spend a considerable amount of downtime in your room. Most guests with a water view should be able to see the Electrical Water Pageant pass each evening.
Garden Wing (1 Bedroom with Hospitality Access or 1 Bedroom Suite Access)-This special suite is adjacent to the main building and sleeps up to seven guests. It has the following setup: 2 queen beds, a day bed, a queen sleeper sofa OR 1 king bed, a day bed, and a queen-size sofa bed. This room has views of the parking lot.
Garden Wing 1 Bedroom-This room sleeps up to five guests. Similar to a standard room, it has a king-size bed, a queen-size sleeper sofa, and a single bed.
Garden Wing Deluxe Room-This room sleeps up to four guests. However, it is significantly larger than a standard guest room.
Atrium Club Level (Standard Room or King with Water View, Resort View, or Theme Park View)-Club level rooms are standard like the rest of the resort. Club-level guests will have access to the Atrium lounge, where they will have access to a continental breakfast, snacks, beverages, evening hors d'oeuvres, and desserts, among other things.
Other club-level suites include a 1-bedroom, a 2-bedroom, and a presidential suite.
Additionally, Bay Lake Tower offers the following room types:
Deluxe Studio
1-bedroom villa
2-bedroom villa
3-bedroom villa
We have the following room tours available for Disney's Contemporary Resort and Bay Lake Tower:
Most guest rooms at Disney's Contemporary have a shower with tub combination However, on our last stay, our bathroom had a stand-alone walk-in shower.
Guest rooms feature the following amenities: a dresser with storage, a mini beverage cooler, a hairdryer, a closet, an iron with an ironing board, a makeup mirror, a Keurig-style coffee maker with accompaniments, a flat-screen television, and other standard hotel amenities. Rooms have either a standard balcony or a Juliet balcony. Standard guest rooms are approximately 400 square feet.
Laundry rooms with washers and dryers are available in the Garden Wing section of the resort. For dry cleaning laundry service, you'll need to drop off any items with bell services before 9:00 a.m.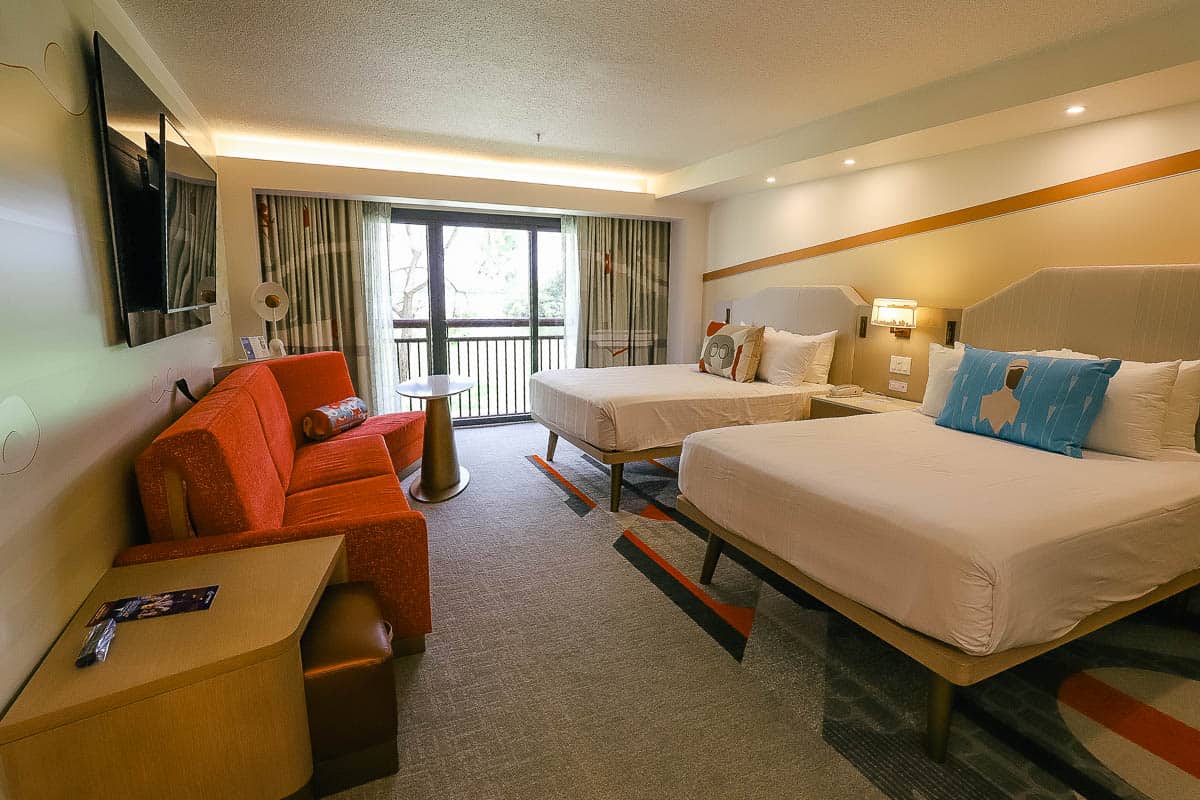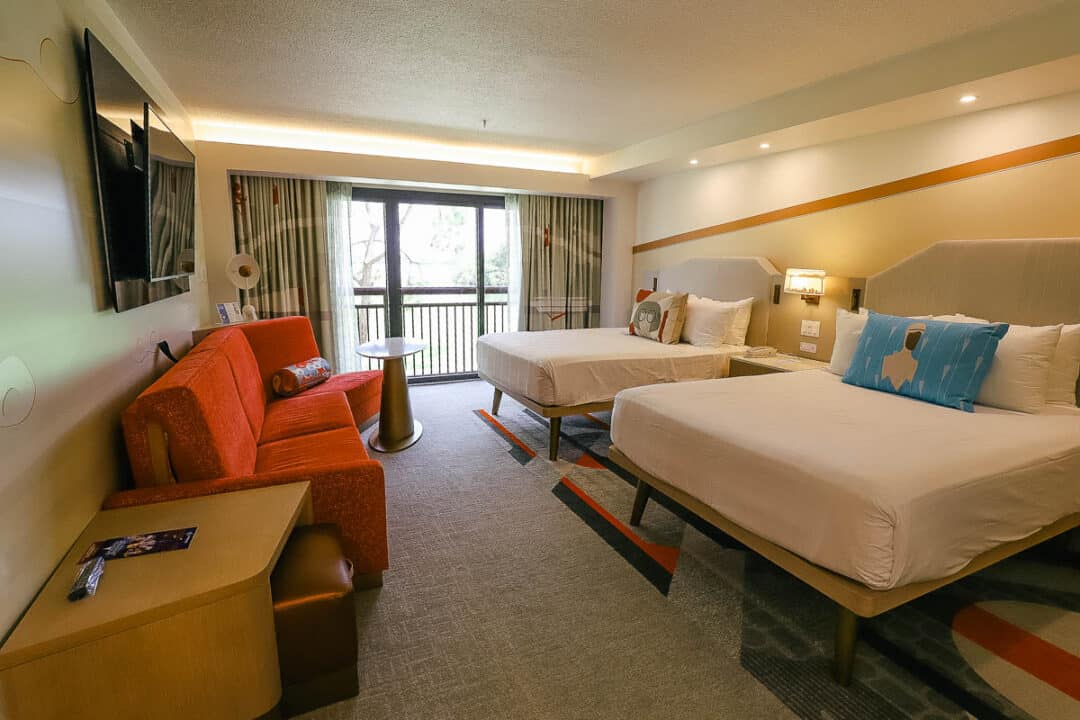 ---
If you've heard of Disney's Contemporary, you've likely heard of the Grand Canyon Concourse. It is said that when the resort was built, the interior was so large that it looked like the size of the Grand Canyon.
So the Grand Canyon Concourse became the common name of the resort's fourth floor. It's where you'll find dining, gift shops, and additional lobby or lounging areas. However, the Contemporary does have a formal lobby on the first floor.
During its construction, artist Mary Blair was commissioned to design a series of murals for the Grand Canyon Concourse. These murals and colors used were modeled after the Grand Canyon. They are works of art that stand up to 90′ tall and took approximately 18 months to complete.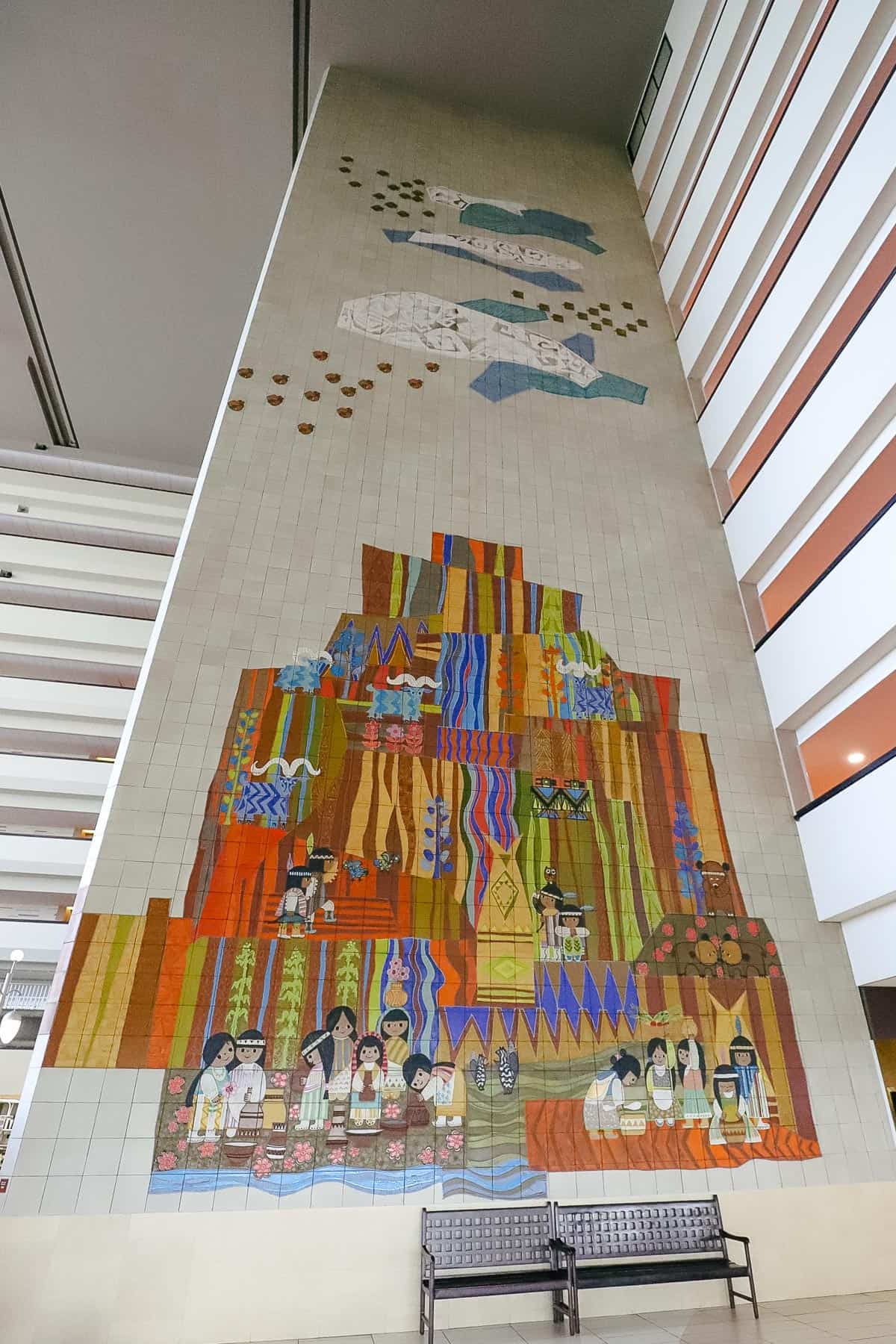 ---
Disney's Contemporary Resort has plenty of dining options. We have a summary of each restaurant below. But you'll likely want to read our resort dining guide for specifics.
Outer Rim-This location serves as the resort's lounge on the Grand Canyon Concourse. Beer, wine, and other specialty cocktails make up the menu.
Steakhouse 71 Lounge-This lounge is adjacent to Steakhouse 71. It has a large bar and several alcove areas offering multiple seating arrangements.
California Grill Lounge-When seating is available, guests can visit the lounge at California Grill. However, seating is limited, and you must request access on the resort's second floor.
Contempo Cafe-This location serves as the resort's primary quick service. They serve breakfast, lunch, and dinner. Contempo Cafe also accepts mobile ordering. You can expect sandwiches, salads, chicken nuggets, flatbreads, and similar items.
Contemporary Grounds-If you're looking for a specialty coffee beverage, Contemporary Grounds is an excellent stop. This coffee shop is off the resort's 1st-floor lobby.
The Sand Bar-Out by the main pool, the Sand Bar serves as the pool bar and resort's secondary counter service. This location has sandwiches, quesadillas, nachos, and various ice cream novelties.
The Cove Bar-Guests of Bay Lake Tower have access to the Cove Bar at the Bay Lake Tower pool. However, guests of the Contemporary do not have access to this poolside bar.
Steakhouse 71-Steakhouse 71 is the resort's standard table service restaurant. They serve breakfast, lunch, and dinner. You'll want to secure advanced reservations for this location, especially at breakfast and dinner. We consider this restaurant a not-so-hidden gem.
Chef Mickey's-This character meal is available for breakfast and dinner. Characters include Chef Mickey, Minnie Mouse, Donald Duck, Goofy, and Pluto. Chef Mickey's is a buffet and the only character dining experience at the Contemporary. Guests can watch the monorail glide by overhead while they dine.
California Grill-This signature dining location is one of the most upscale restaurants in all of Walt Disney World. Guests sitting near the window can take in Magic Kingdom views in the distance. Currently, California Grill has a prix fixe menu where guests select from an appetizer, entree, and dessert for one price.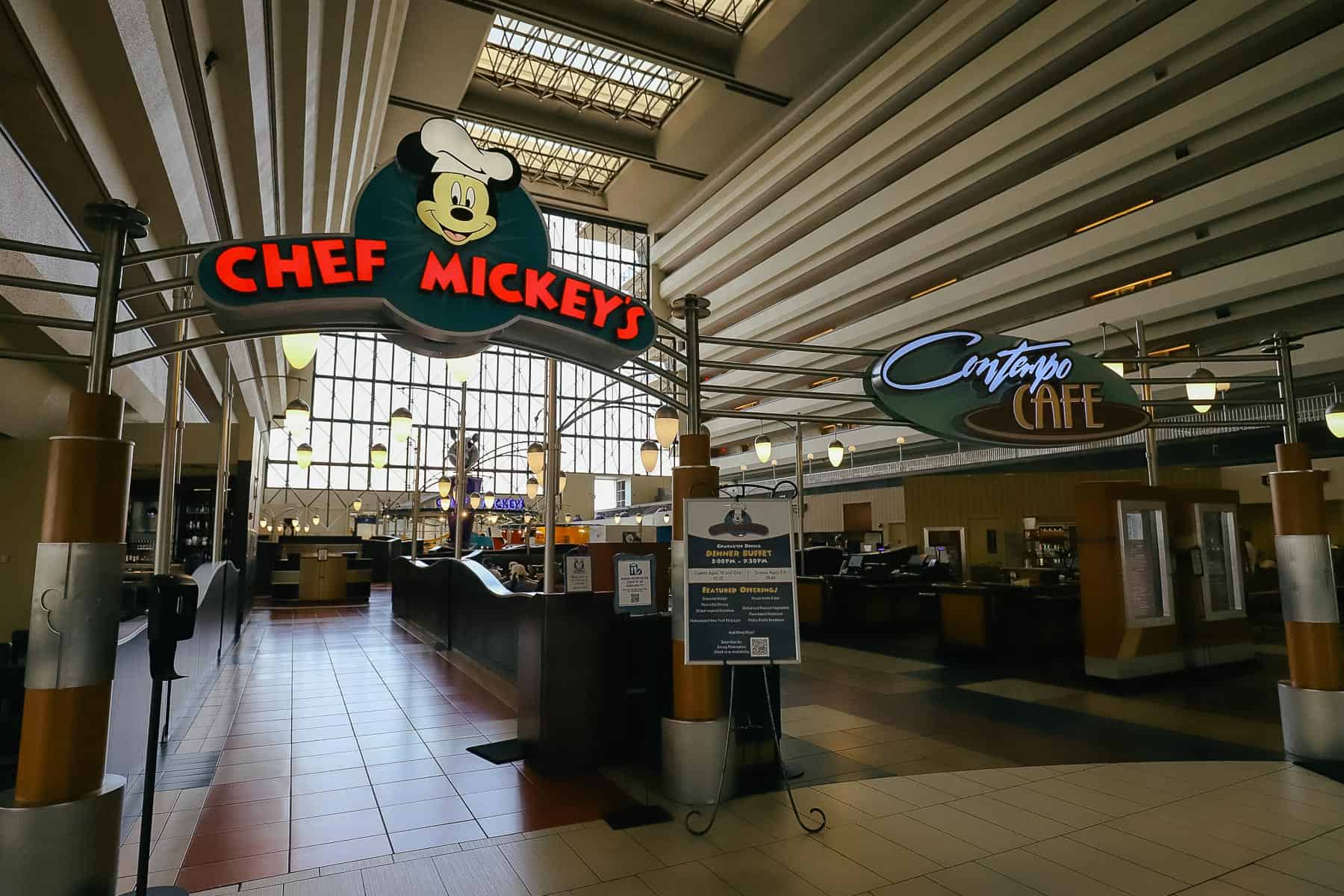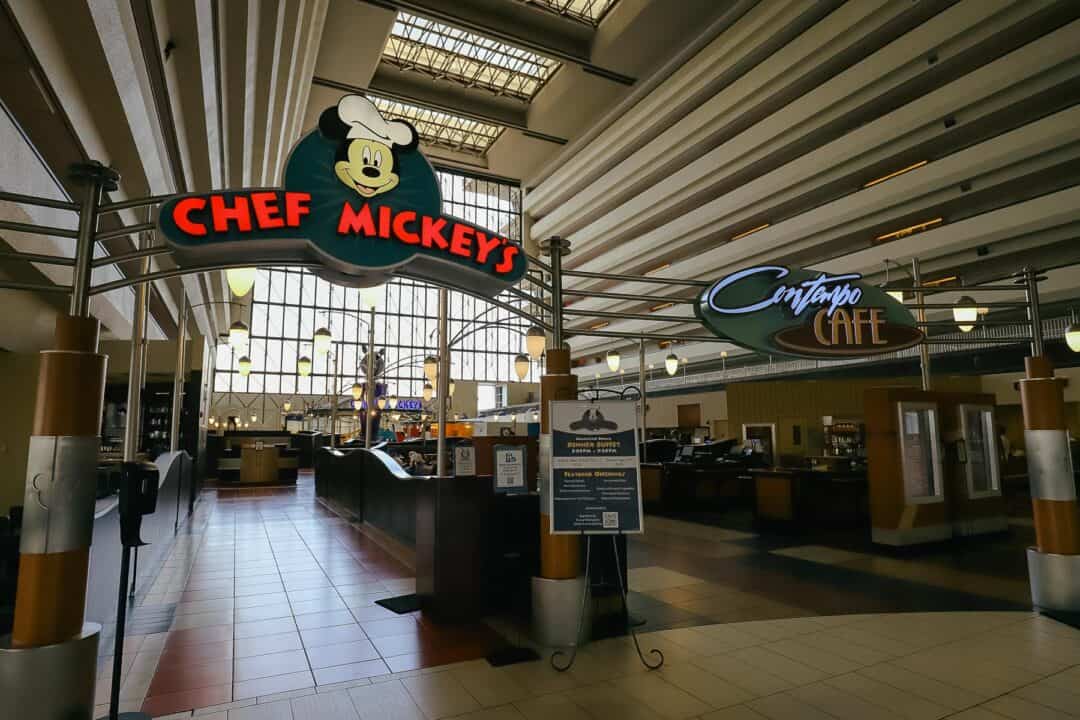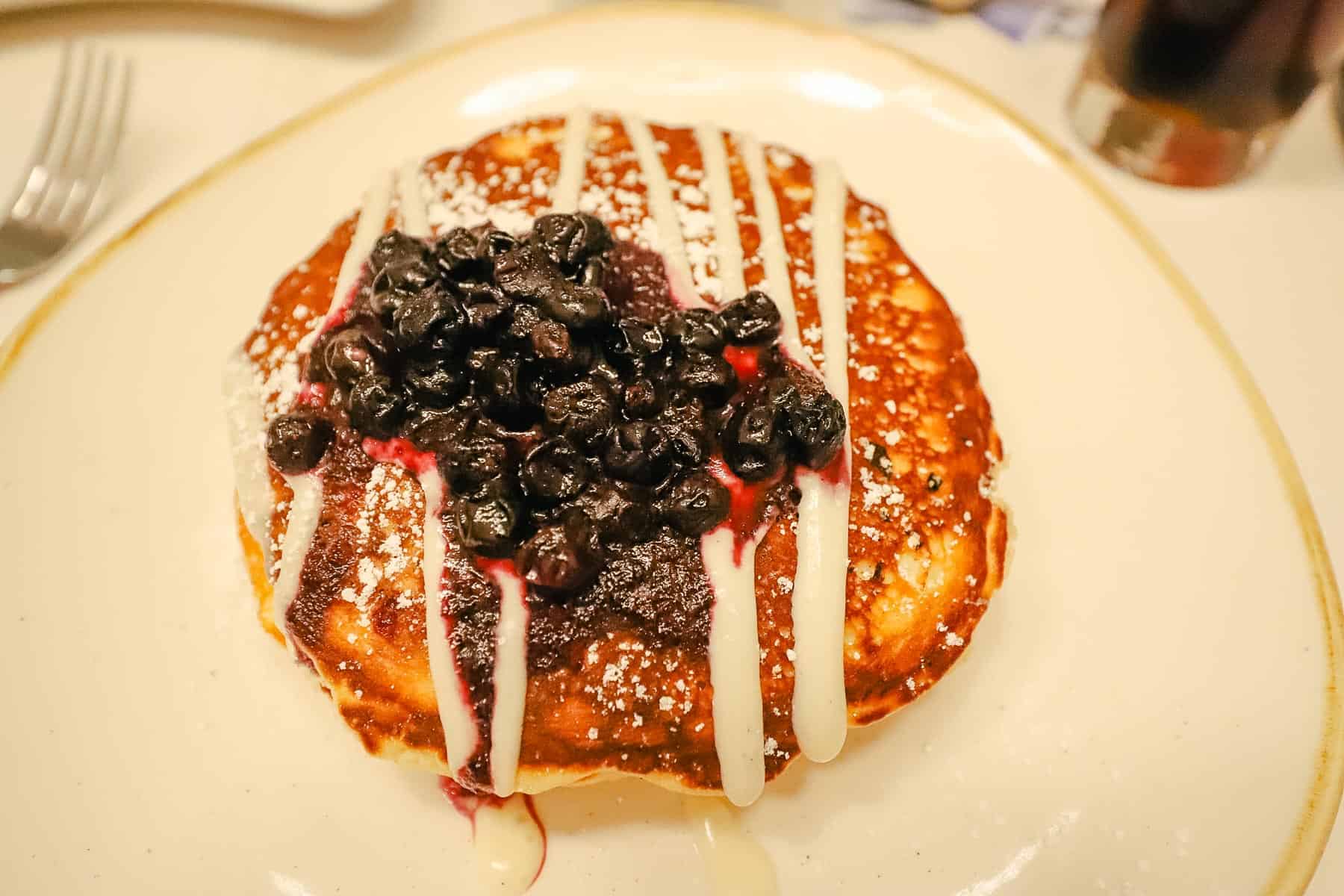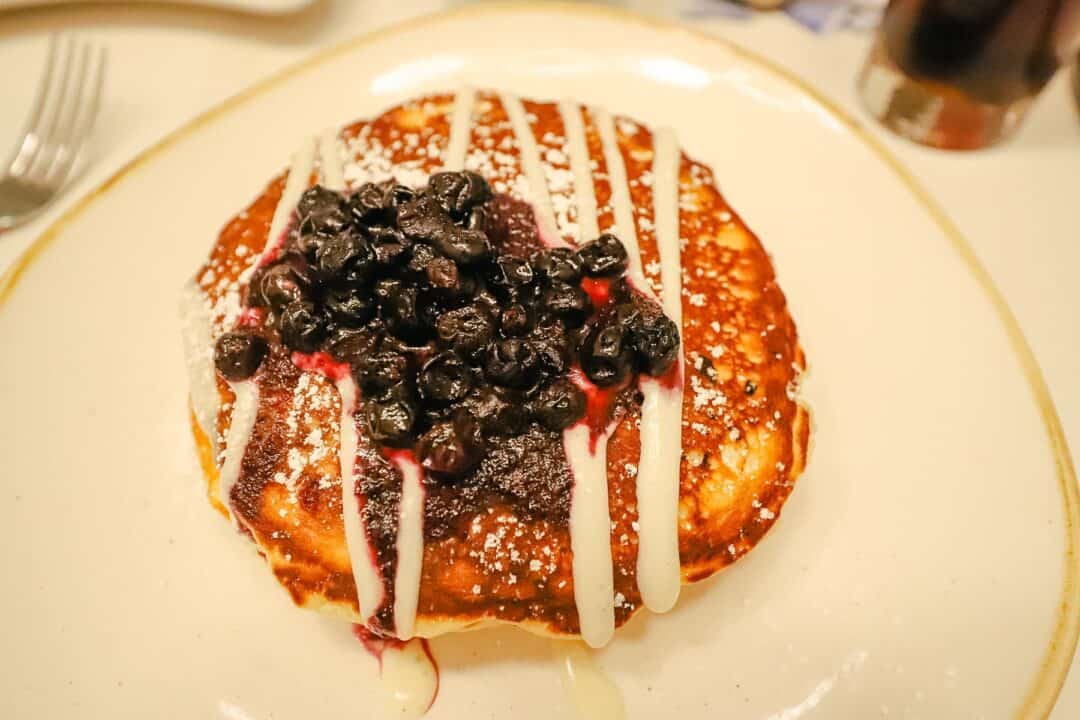 Our dining reviews for Disney's Contemporary include:
Recreation at Disney's Contemporary
Disney's Contemporary offers tons of recreational activities. From its pools to sports courts, guests can spend entire days enjoying all the resort has to offer. Its vast backyard is the resort's best-kept secret.
The Feature Pool-While most resorts have a "feature" pool, the Contemporary's pool is called the Feature Pool. It's a beautiful pool with whirlpool spas, a water feature, a 17-foot-high waterslide, and plenty of lounge chairs.
Splash Area-Adjacent to the Feature Pool, the Contemporary has a water playground for smaller children. This area sits outside the fenced pool, allowing kids to splash in the various sprinklers.
The Bay Lake Pool-This pool is considered the resort's leisure or quiet pool. It sits in a separately fenced area and appears as though it's floating on Bay Lake. This pool has a separate hot tub.
Bay Cove Pool-This private pool is only for guests of Bay Lake Tower.
Related: The Pools at Disney's Contemporary Resort
Private Cabana Rentals-Cabana rentals are available at the Feature Pool and the Bay Lake Pool. We have an article that discusses renting a poolside cabana at Disney World.
Table Games-Several table games and other recreation opportunities are available near the pool area. Disney's Contemporary has a peaceful backyard with plenty of room to lounge and relax.
Arcade-The Game Station is the Contemporary's arcade. It's located on the Grand Canyon Concourse next to Fantasia Gift Shop.
Olympiad Fitness Center-The Olympiad Fitness Center is located on the 3rd floor of Disney's Contemporary. This gym offers aerobic machines, weight machines, free weights, and a sauna.
Marina-Motorized boat rentals are available at the Contemporary's Boat Nook Marina. You can learn more about these special boat rentals on Disney.com.
Shuffleboard-Two shuffleboard courts are available at Bay Lake Tower.
Sports Courts-Additionally, the resort has a basketball and tennis court on the opposite side of Bay Lake Tower. Check with the recreation area inside Bay Lake Tower for equipment. A volleyball court is also available on the Contemporary's white sand beach.
Running Trails-Disney's Contemporary has a running trail that circles both the Contemporary and Bay Lake Tower. Take in scenic views of the lake as you jog along the trail. Every so often, you'll encounter a blue sign with Mickey that lets you know you're on the right track.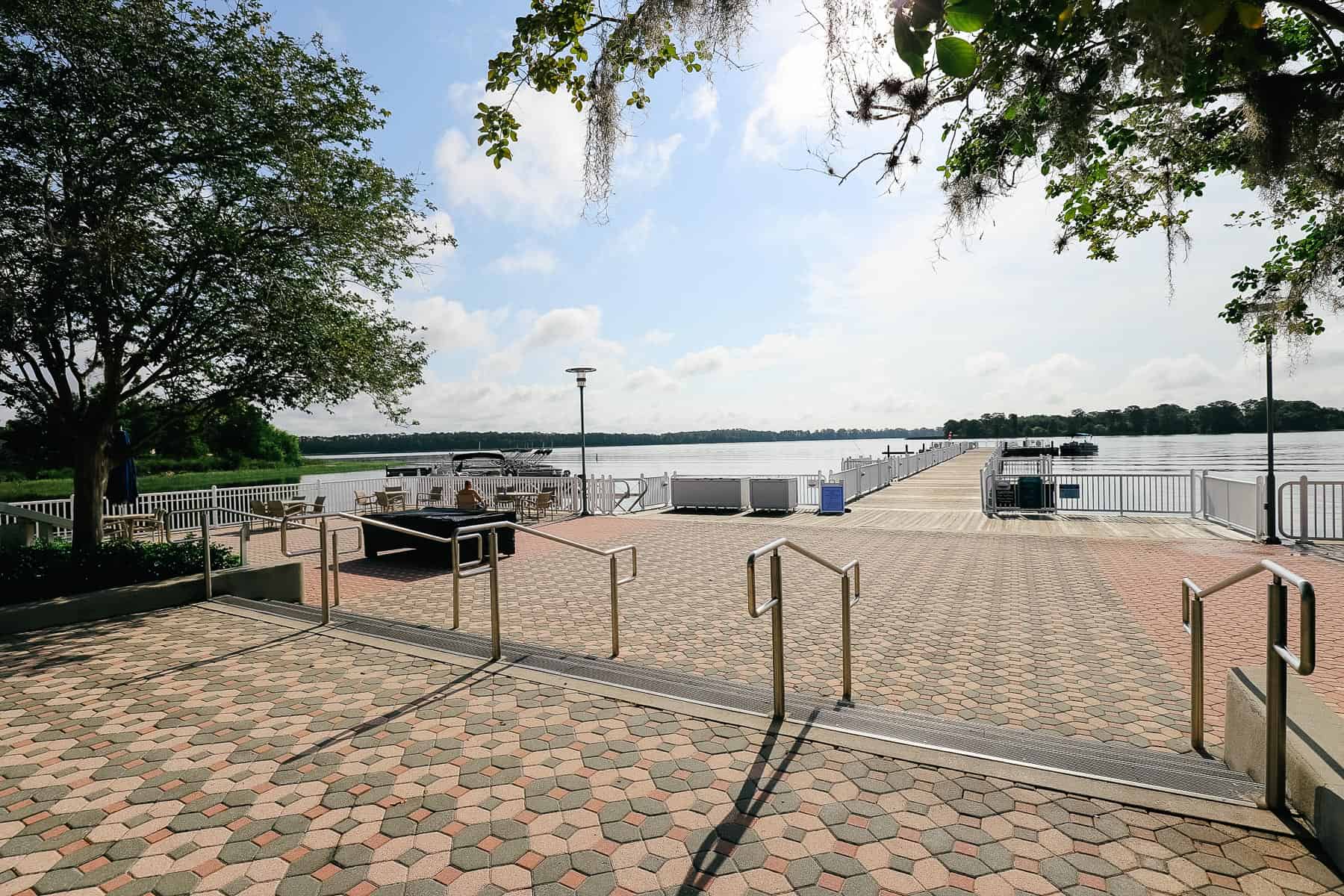 ---
The following forms of transportation are available at Disney's Contemporary Resort:
Monorail
Disney Bus Service
Walkway to Magic Kingdom
Guests of Disney's Contemporary can take the resort monorail to and from Magic Kingdom, the Polynesian, the Grand Floridian, and the Transportation and Ticket Center (TTC). Guests will also use the monorail station at the TTC to board a separate monorail line to Epcot.
Bus transportation is provided from the resort to Disney's Hollywood Studios, Disney's Animal Kingdom, Disney Springs, and Disney's water parks. Often guests will have to take a transfer bus to a water park. Signage at the bus stop will indicate how to reach the water parks.
Guests can walk to and from Magic Kingdom during their stay at the Contemporary. It takes approximately 10 minutes to walk between the two destinations. Guests will have to cross one road along the way.
Formerly, boat service was provided from Disney's Contemporary to Disney's Wilderness Lodge and Fort Wilderness Resort and Campground. However, that service has not been available for quite some time.
We have an entire guide to using transportation at Disney's Contemporary.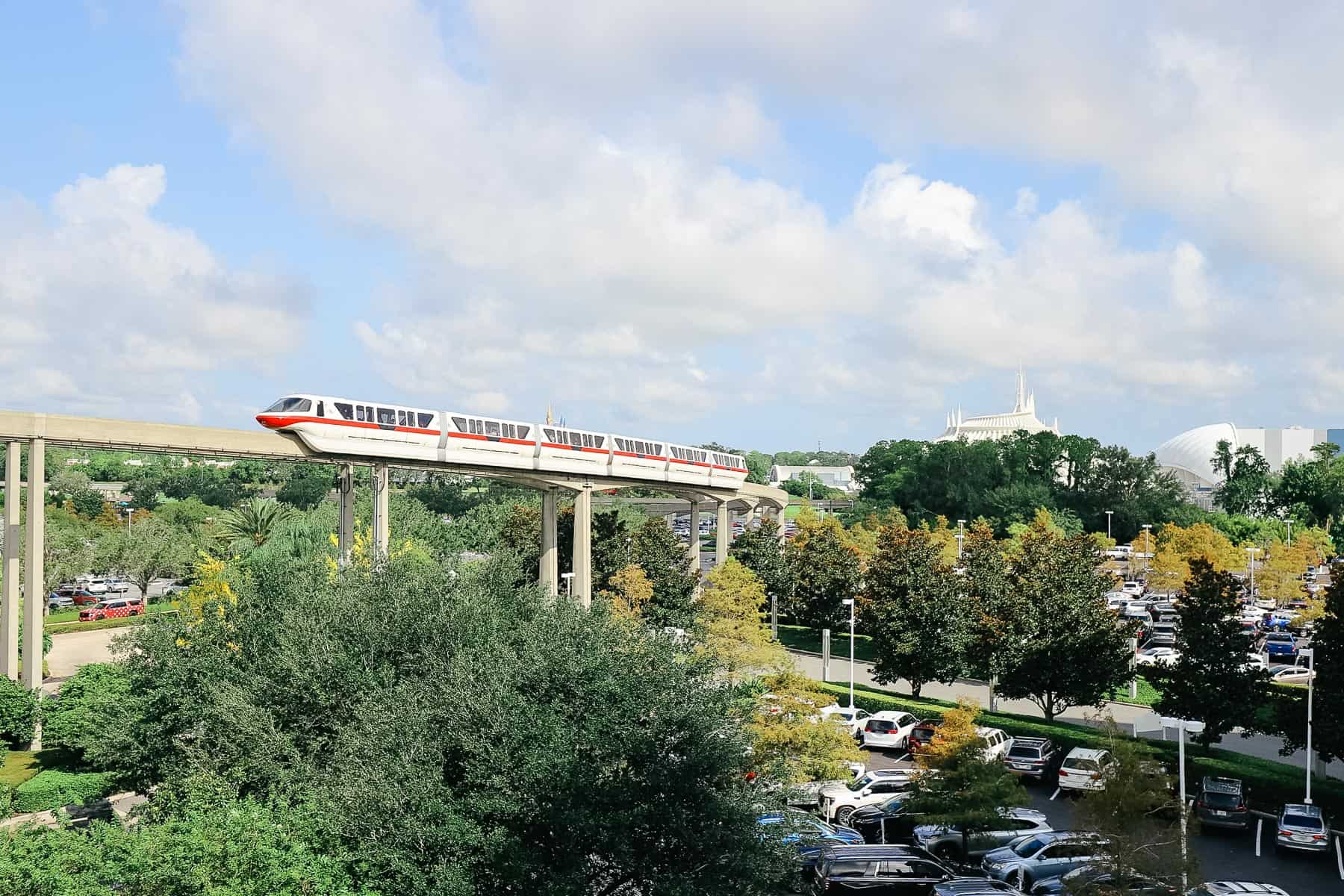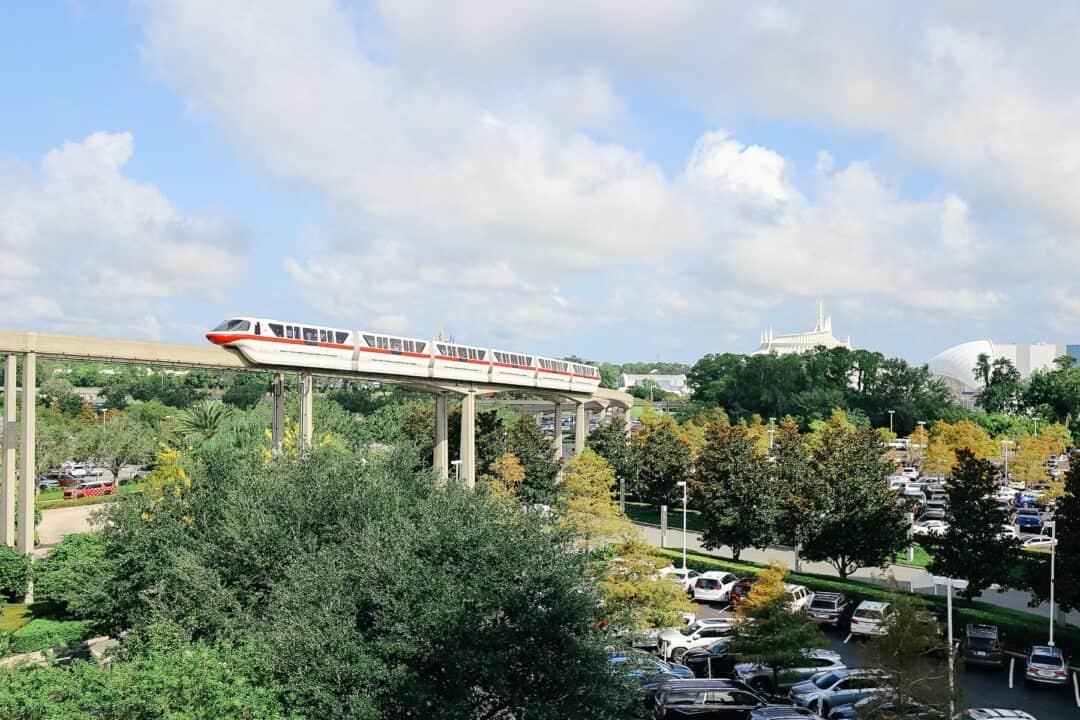 ---
---
Disney's Contemporary has three resort gift shops. All of the shops are located on the resort's Grand Canyon Concourse. Bay View Gifts is the primary resort gift shop where you'll find resort-branded merchandise.
Disney's Contemporary has seasonal offerings throughout the year. If you're visiting during the Christmas holidays, a gingerbread display is erected toward the back lobby area of the Grand Canyon Concourse. An Easter display featuring eggs decorated by cast members is available in early Spring.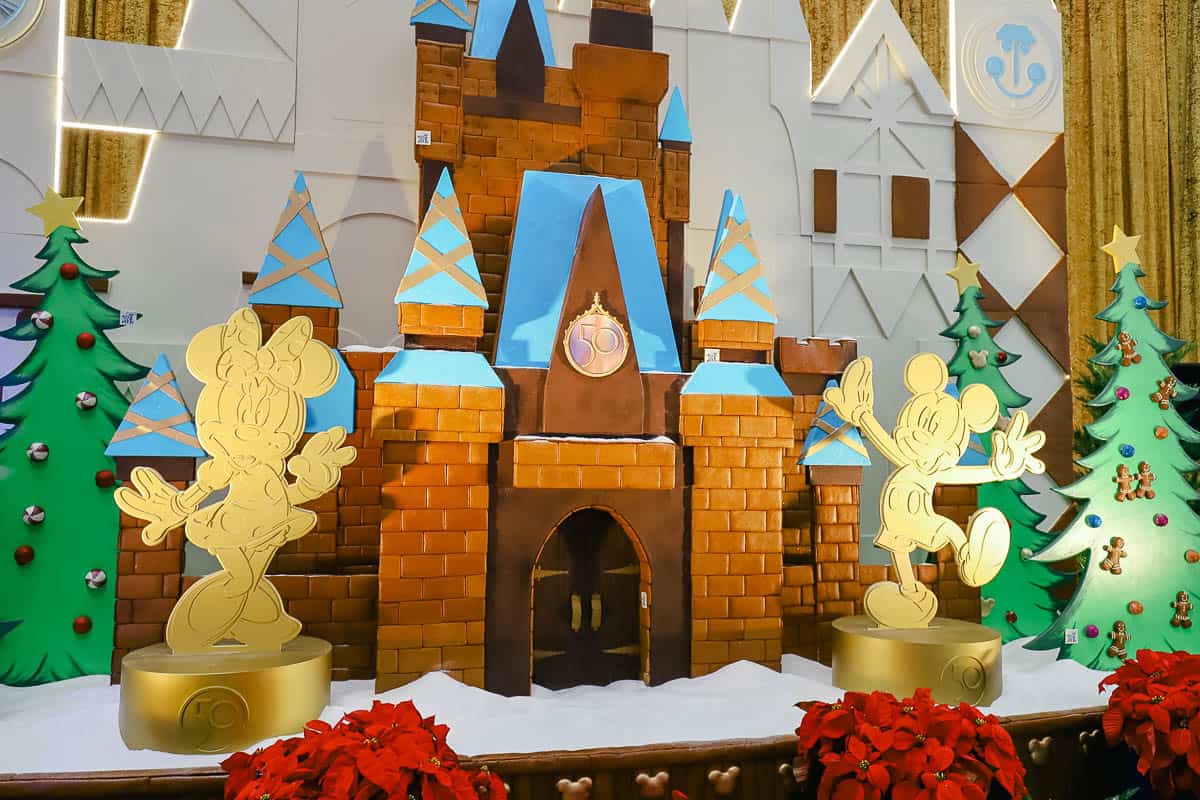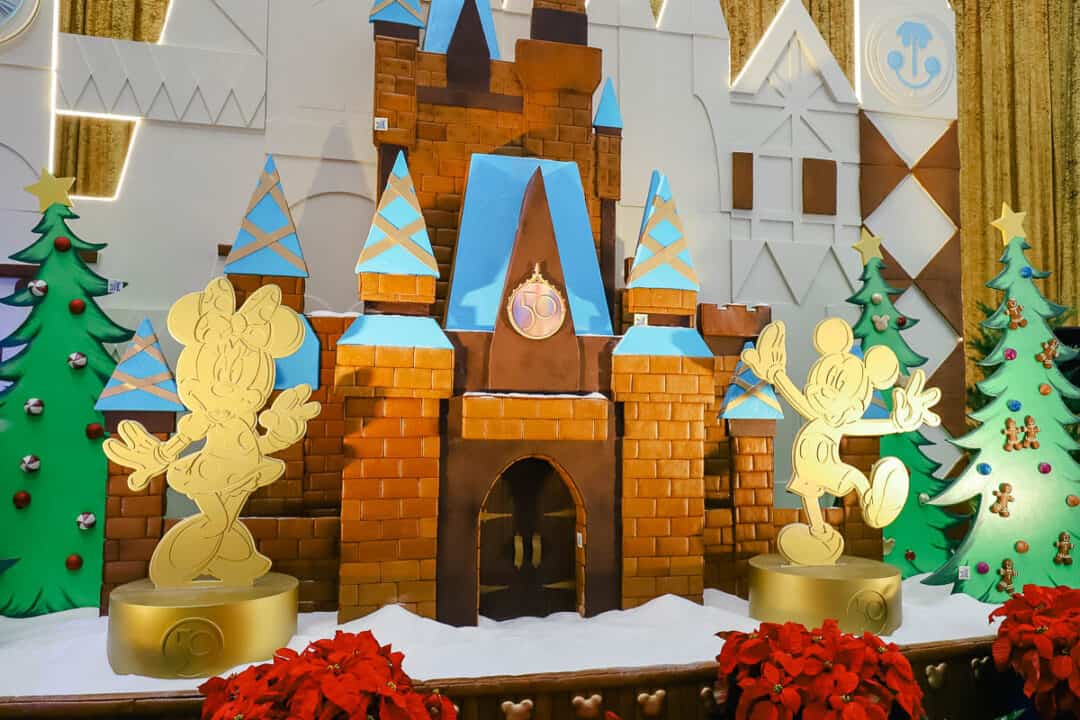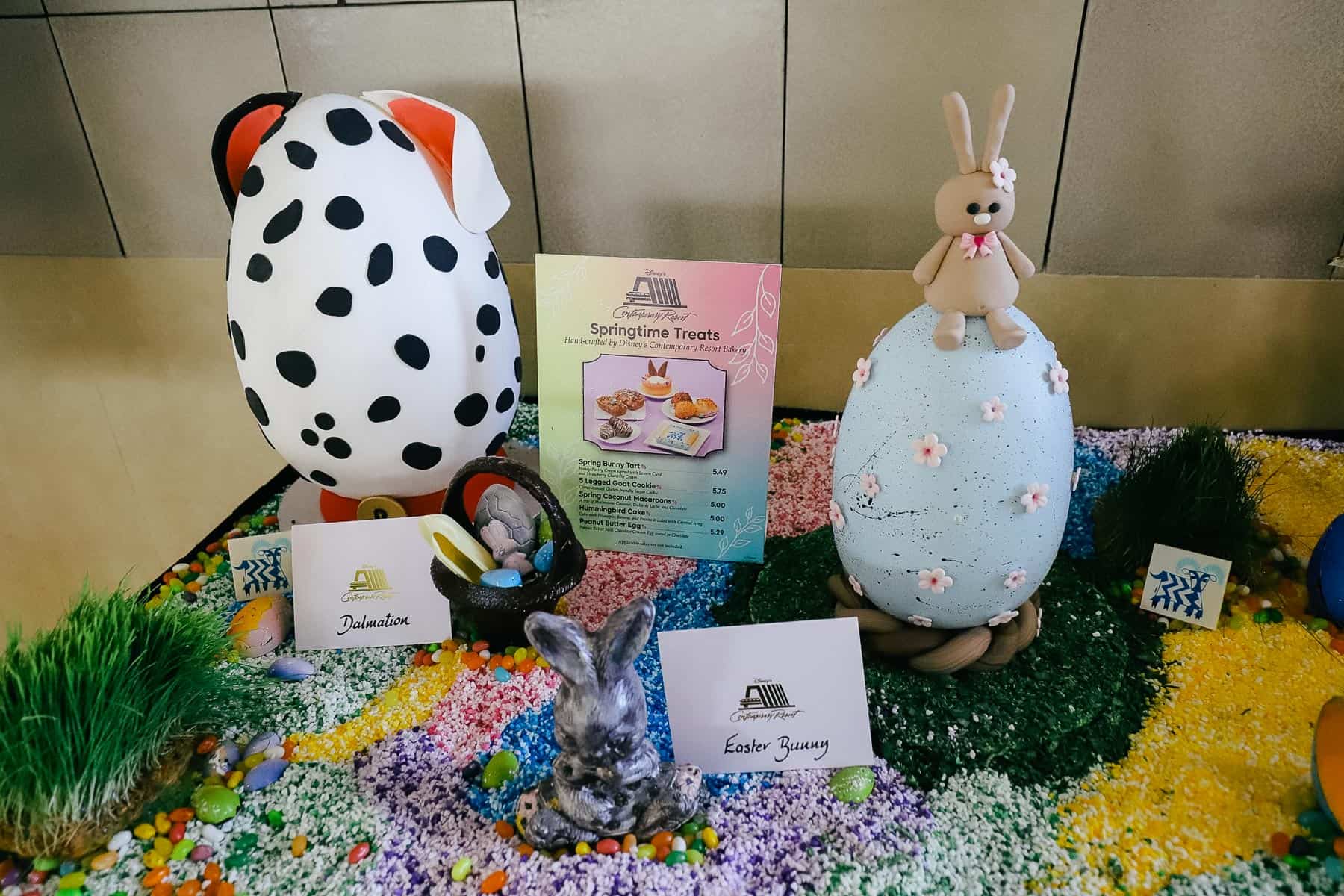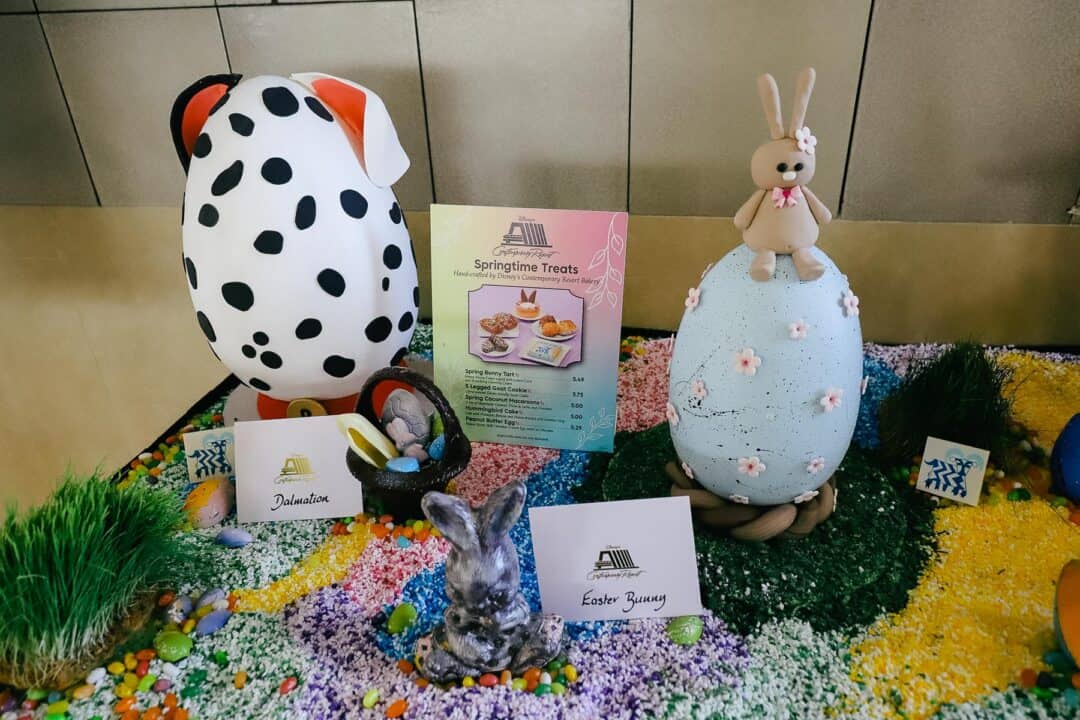 What We Love About Disney's Contemporary Resort (and Don't)
Disney's Contemporary is somewhat of a controversial Walt Disney World Resort. It has a modern design that some consider dated and cold. However, other guests love the resort and look forward to its unique amenities.
While it is not our top-rated hotel, it's within our five favorite deluxe resorts. We love that the resort sits on Bay Lake and has an expansive green space that consists of pool areas, private tables with chairs, loungers, and a white sand beach.
One can easily marvel over the spacious room to roam directly behind the resort. You might feel exhausted from the heat or crowds at the Magic Kingdom during your vacation. A 10-minute walk back to the Contemporary will feel like you've been transported worlds away from the busy hustle and bustle.
At night, guests can escape the crowds and watch fireworks from various places at the resort if desired. But if you want to be up close and personal, you can secure a spot in the park. After the fireworks, you can slip out and take the uncongested walkway back to the hotel as the masses leave. You'll be back in minutes while thousands of guests wait for transportation to other destinations.
As far as negatives go-we don't have many with this resort. However, you might want to know that the Contemporary has ballrooms, a business center, and a convention center. So it is likely that a large convention might be going on during your stay. It is also just as likely that you'll never be aware of it. Most of these events are held in out-of-the-way areas the general public doesn't access.
It is also essential to consider whether you want to be in the Tower or the Garden Wing. If you dream of staying in the classic Contemporary Tower, that is likely your best choice. However, if you value privacy and don't mind a few minutes more walk–we adore the Garden Wing. You might like to read our review of the Contemporary Garden Wing to learn more about this specific hotel area.
Other Articles of Interest
We hope you enjoyed our overview of Disney's Contemporary Resort. Below are a few other articles related to the hotel, nearby resorts, and transportation options in the immediate area.
Other
Disney's Contemporary Archives
Nearby Resorts
Transportation Details
Browse all of the Walt Disney World Resorts.