Garden Wing Rooms at Disney's Contemporary
Initially, I never anticipated enjoying my stay at Disney's Contemporary Garden Wing to the extent that I did. You see, the thing about staying at a Walt Disney World Resort is there are quite a lot of options.
And the rooms in the Contemporary's Garden Wing might be the obvious choice if you are looking to spend a lot of time at Magic Kingdom Park. That's because you can walk from the Garden Wing to the most magical place on earth within a matter of minutes.
As they say in real estate, there is something to be said about, Location, Location, Location! That statement holds for the Garden Wing at Disney's Contemporary Resort.
This article was last updated on January 19, 2022.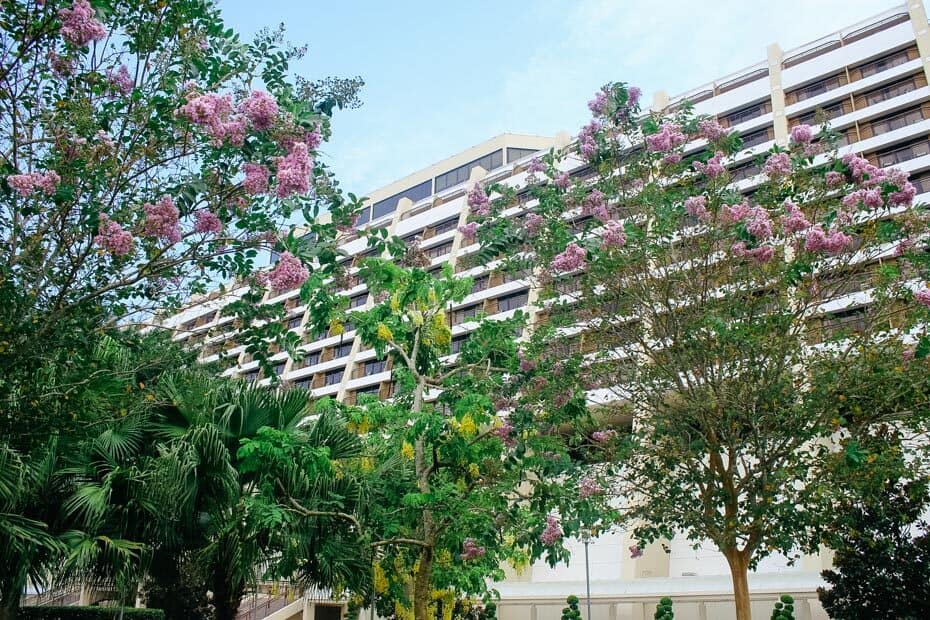 As a person who has spent a ton of time at Disney's Contemporary Resort over the years, I had never until recently indulged in the pleasure of staying there. There are just so many reasons to spend time here, from the Pirates and Pals Fireworks party to favorite meals at California Grill.
Related: Disney's California Grill Review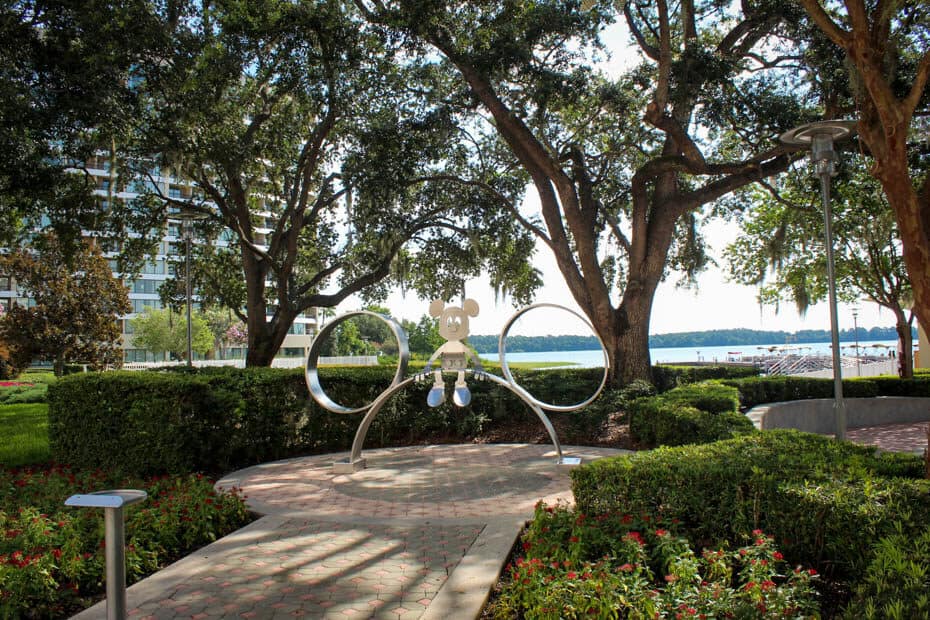 But stay here? This is something I have pondered over my years at Disney. For whatever reason, the timing never seemed to be right when I was booking prior stays. Mainly due to the pricing, it is expensive.
Then a few months ago, I was thinking about the summer and where I wanted to be on the 4th of July. It occurred to me that I had never stayed on Walt Disney World property on this particular holiday.
Searching the Disney website (pass-holder discount section, of course), I found a reasonable rate for a garden wing room on the 4th of July and reserved it. I knew this would be ideal if we were going to take on Magic Kingdom for a holiday.
My son isn't crazy about the crowds or fireworks, so he could easily walk back to the room if needed. We also wouldn't have to worry about waiting in long lines for transportation either. It just all seemed to add up as the perfect time to finally stay here.
Disney's Contemporary Garden Wing
This review is slightly different from the rest of my Disney resort reviews because it's based on staying in a specific area of the Contemporary Resort. I've also included a bit of a trip report style offering insight specific to our stay here on Independence Day.
After finishing this article, I have a complete resort review that might interest you. It goes into detail about the resort in its entirety.
Related: Disney's Contemporary Resort Review
As mentioned above, I wasn't expecting to be blown away by my visit to the garden wing. Maybe it was because we had stayed at Pop Century and Art of Animation the week before the holiday? The rooms at Contemporary Resort's Garden Wing were much larger here square footage-wise.
Related: Disney's Pop Century Resort Review
Maybe it was because the room was like an ice cave from the moment we entered? That is for sure a winner in our book.
Or maybe it was the tray of desserts that were left on our desk when we entered the room? It was the nicest treat, and we were so thankful.
The truth, it wasn't any of those things. It was the most unexpected thing that I would never have imagined. But I should have because I had read someone else express the same sentiment about the place years ago on another Disney forum.
It was a trip report I had read on the Disboards (many years ago) where a lady had visited while on a work trip with her husband. She ended up having the most magical trip, mainly due to ending up in the garden wing.
I had completely forgotten about it. Not realizing the gravity that came with the statements she had made about the Contemporary's Garden Wing. But when I stayed here, I was instantly reminded of her fond memories.
The Contemporary Garden Wing is the most serene, private setting that I have ever experienced in all of my Walt Disney World travels. And coming from me, that is saying a lot. I could have lounged on the bed and looked out our sliding glass doors all day long. I could have sat at the desk and written a thousand blog posts about Disney.
We even ordered room service! On the 4th of July, after the fireworks! And guess what? We never even made it to the Magic Kingdom on the actual holiday. Let me explain.
Our Stay at Disney's Contemporary Garden Wing
The morning of Independence Day didn't start out so great for us. We left Pop Century and headed over to the Contemporary to check in before a late breakfast reservation.
Unfortunately, our room wasn't ready, so we took the monorail over to the Polynesian for our character breakfast at 'Ohana. It ended up being a mediocre experience. And we were well over an hour past our reservation time before being seated.
From there we had decided to visit the Animal Kingdom, knowing it would be the least crowded park for the holiday. That had been unplanned as we had intended to tackle Magic Kingdom on the 4th.
However, we had spent the evening at Magic Kingdom the night before. Fortunately, we were able to participate in all the fun holiday events and special fireworks. If you aren't aware, Magic Kingdom holds two nights of celebrations for the Independence holiday.
While at Animal Kingdom, we received our resort room text, and before long, we were ready to head back. Both of us were pretty worn out at this point, and our goal was to get to the room, photograph it, and take a break.
I was also way off my jogging schedule (which happens frequently) and thought it would be nice to get in a jog on property. Who runs on the 4th of July? That would be me. And I can assure you a jog at this resort is well worth it.
Contemporary Resort Garden Wing
As you can see in the picture below, when you walk out of Disney's Contemporary on the backside, there is a covered walkway to your immediate right. This covered walkway leads straight into the Garden Wing. It's only a few steps from the main building. Therefore, I wouldn't be concerned about any extra walking distance.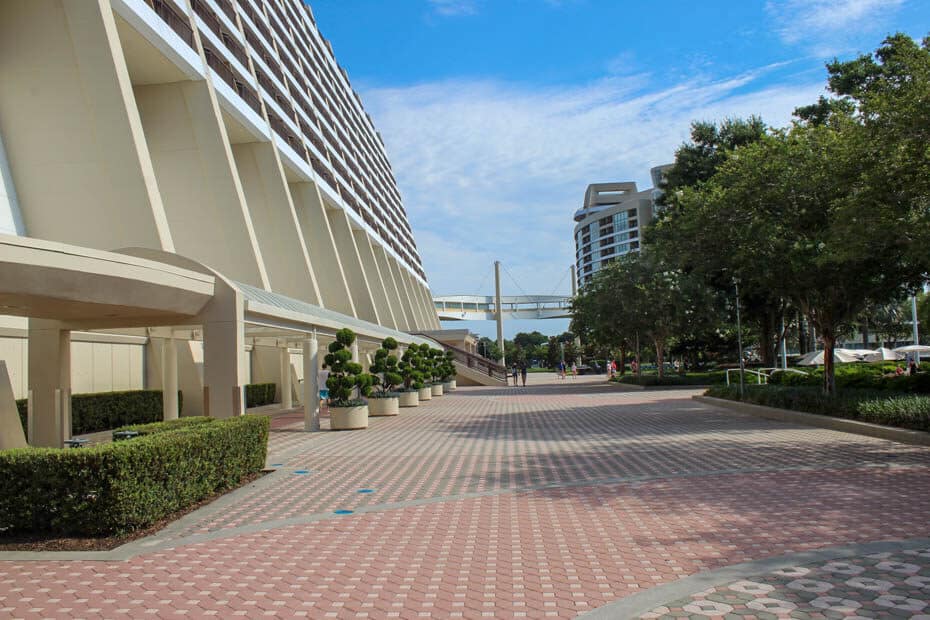 Here is a look from one end to the other from underneath the walkway to give you a better idea.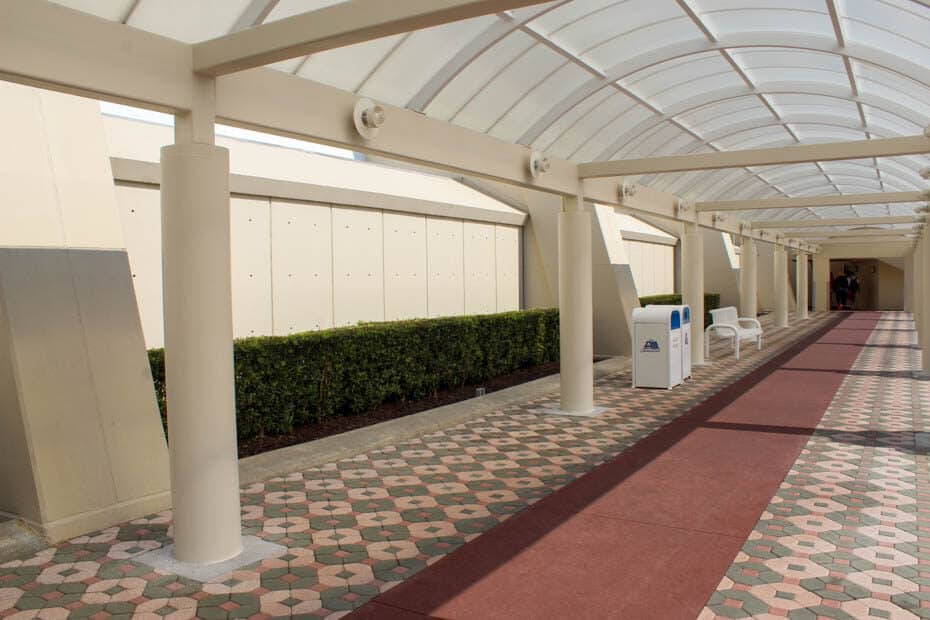 Once you get down to the other end, you will see the sign, and it also gives the room numbers for the building. They have one of those magic band scanners that you are required to scan after a certain time in the evening.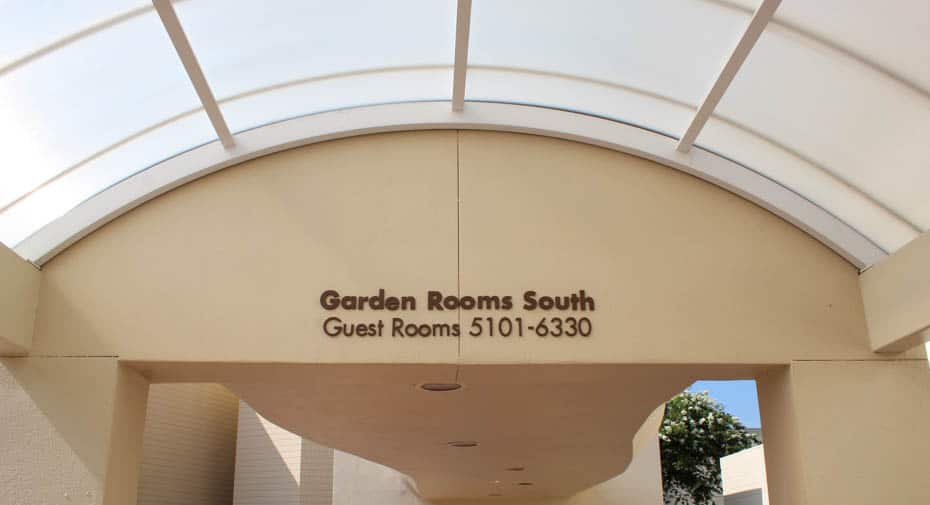 Garden Wing with Garden View Room
At first glance, you might notice that the garden wing room is quite a good deal wider than the average hotel room. This was a welcoming surprise.
Let's face it, even though we live in a "down-sizing" or "tiny house" world; space does matter. When we opened the door, it was to this view–crisp, clean, and cold.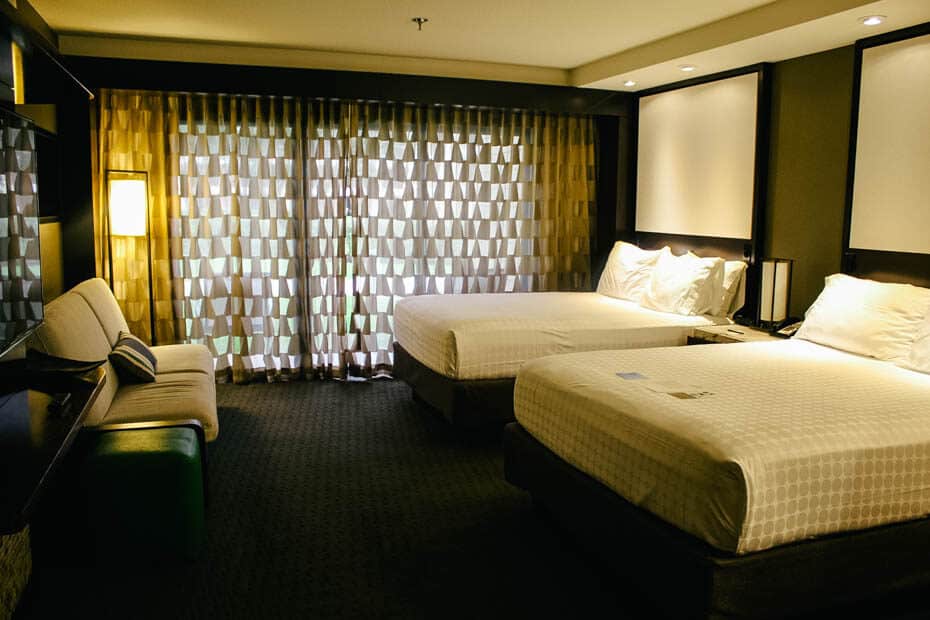 I knew I had made a good decision. Isn't that one of those great feelings? When you get to your destination, and you realize you picked the right place? With so much noise on the internet and different opinions, it's not always easy to select the perfect room.
And then I looked over on the bedside table and found a note with a platter of desserts from the California Grill. Be still my heart! I was exhausted but immediately felt renewed. Are those chocolate-covered strawberries? Macarons? (There was even Pistachio!) and the most darling monorail-shaped chocolate placed so carefully on a faux beam? Yes!
I immediately recognized that the Contemporary was trying to woo me away from my home at Disney's Beach Club. And they were doing a good job.
Related: Disney's Beach Club Review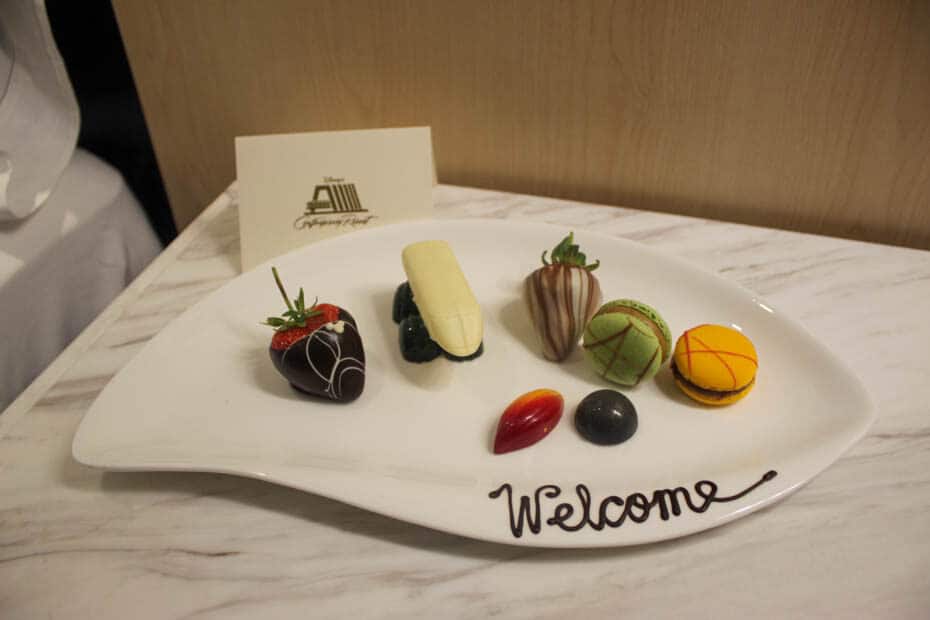 Then we pulled the curtains back and were greeted with this view. I even placed our dessert platter on the bed to make it look so much more surreal than it already was. You must admit it looks like it belongs there. And even better, we felt like we belonged there.
Now I don't want you to read this and think these kinds of things happen every day. Because they don't and they aren't expected.
But when they do happen, it is a special touch, and we are grateful. It's funny when a company can take a few extra steps out of their day to make someone feel unique. And if you haven't experienced any Disney magic yet, just wait. It will happen.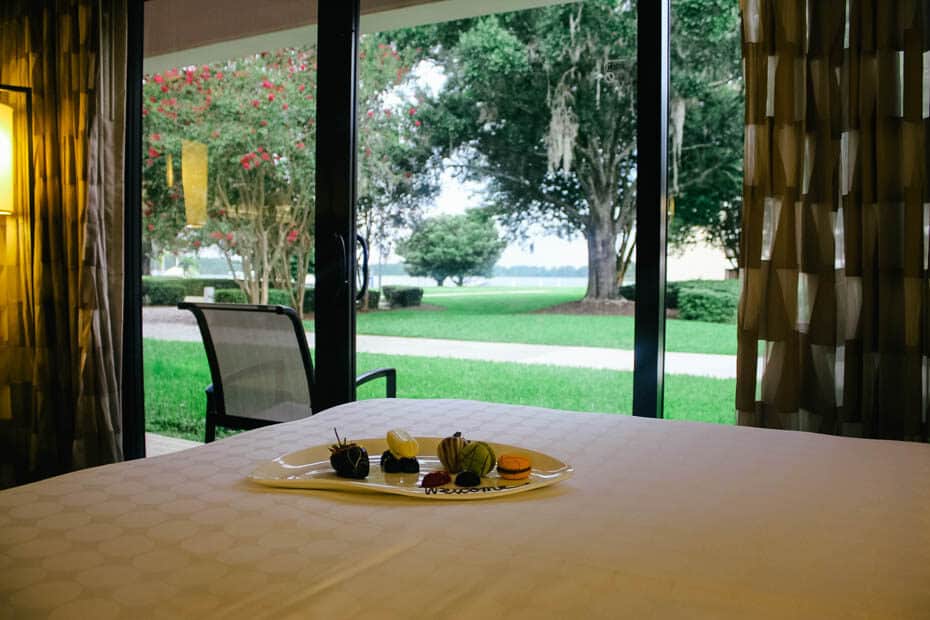 The room had soft beds and fluffy pillows. The pops of white made it feel bright, and the wall of panel doors let in a lot of natural light.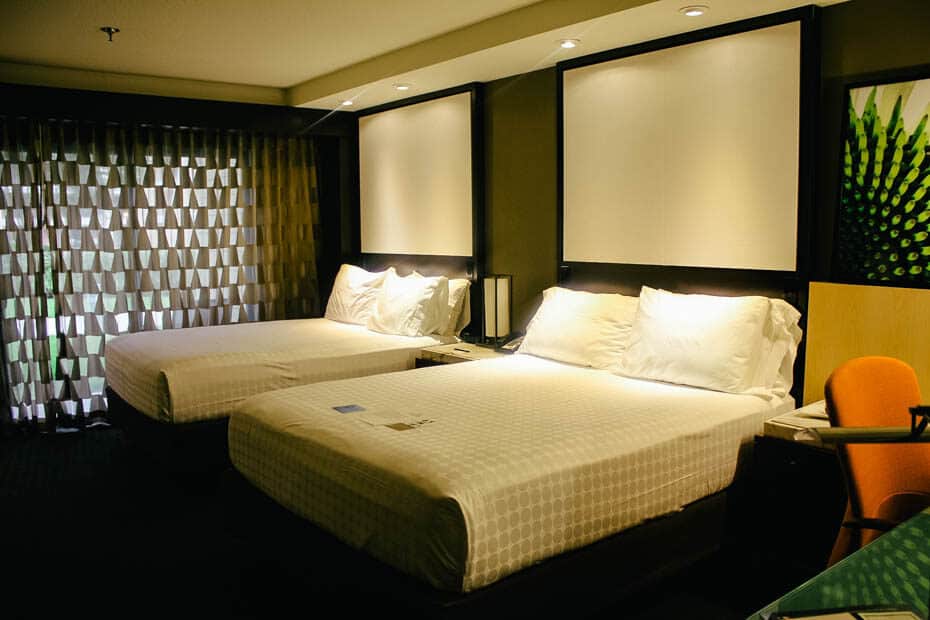 Here is a look at the room from an opposite angle. You might notice all the clean lines, reading lights above each bed, marble counters, and more! If you must take a working vacation, this is the most efficient room I have found on Disney property.
There is plenty of workspace on the built-in desk. A mirror rests above it. It reflects the natural light and helps make the space feel large. There is a bit of a pull-out table to the right side if you need to expand the area.
When I saw this I couldn't help but think what a perfect space to sit down and write. I like it here.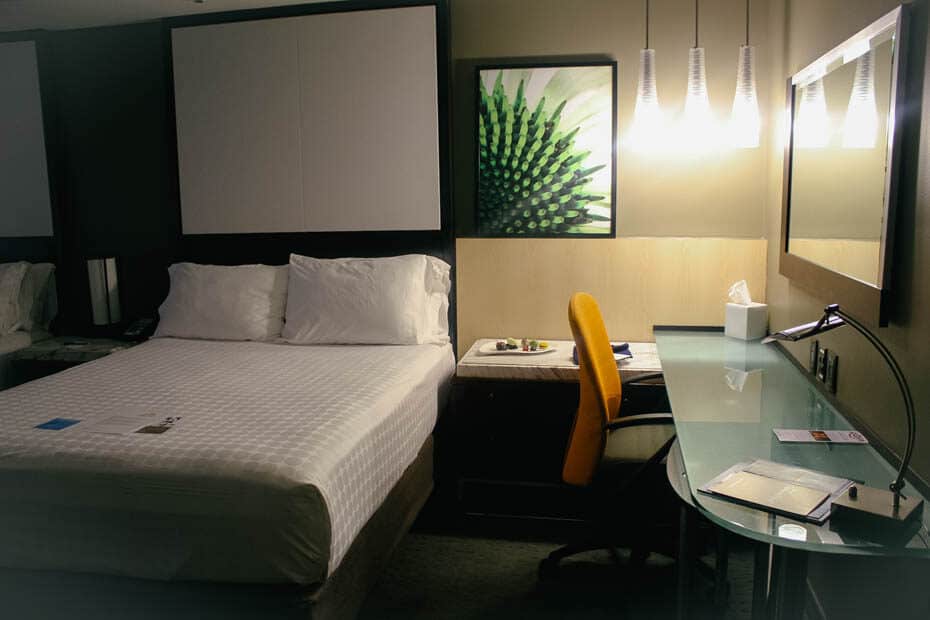 The bathroom felt tremendous as well. These pedestal sinks were sizable, and there was a decent amount of space underneath them for all my essentials. Additionally, there was a deeper style soaking tub and shower combination.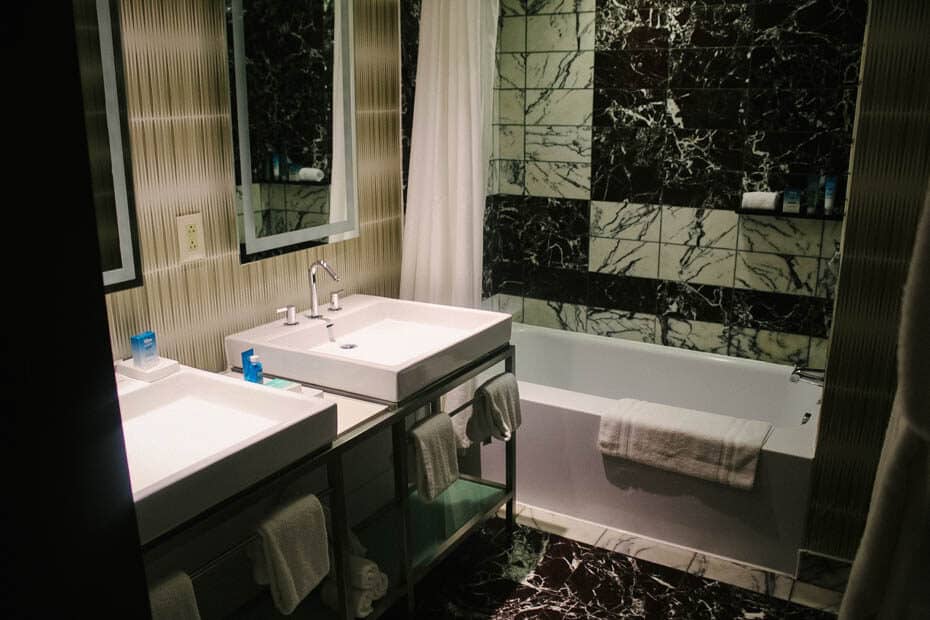 After staying here, my only complaint was that there wasn't a ton of counter space in the vanity area. But that is a mild issue in the overall scheme of things.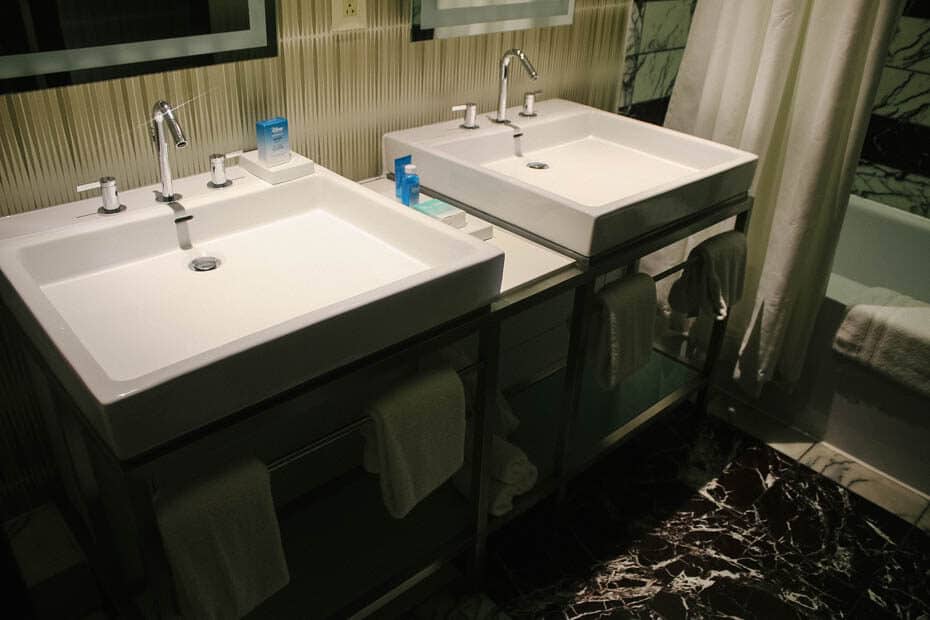 Here is a look at the tub area. This is the easier option when it comes to bathing children.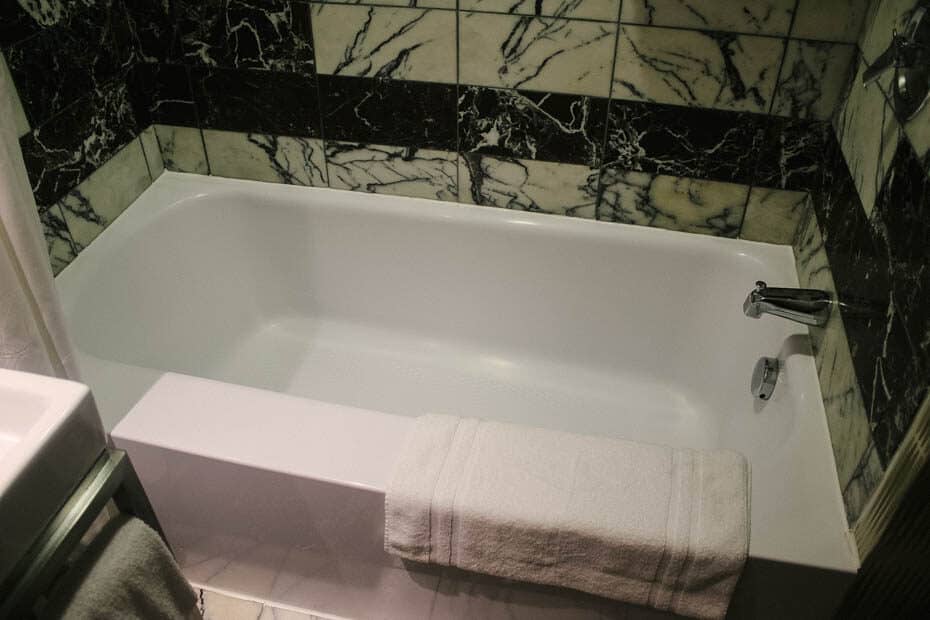 There was a sizable ledge full of the popular H20+ items in the shower.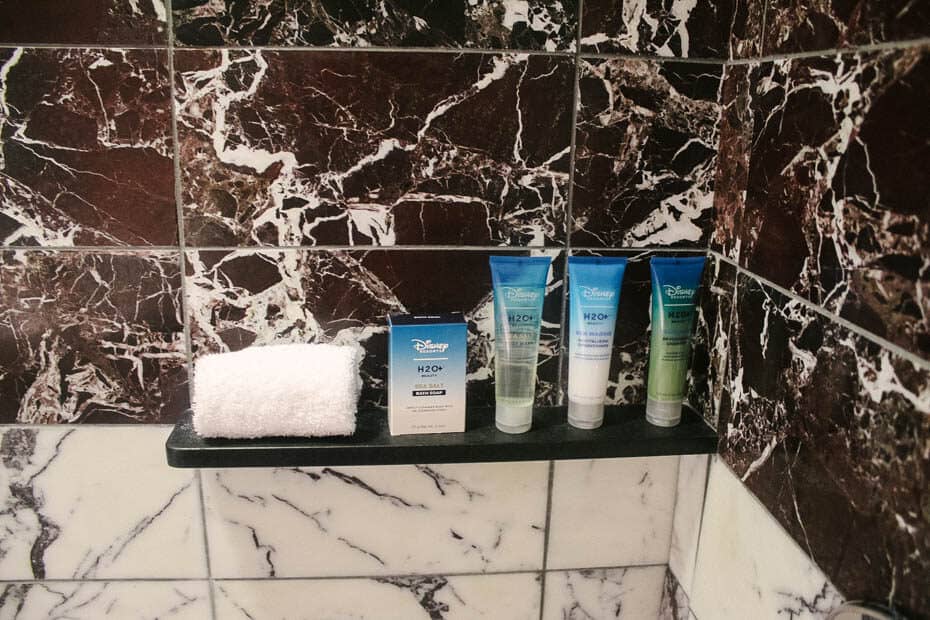 And a separate water closet with a pocket door for the toilet area.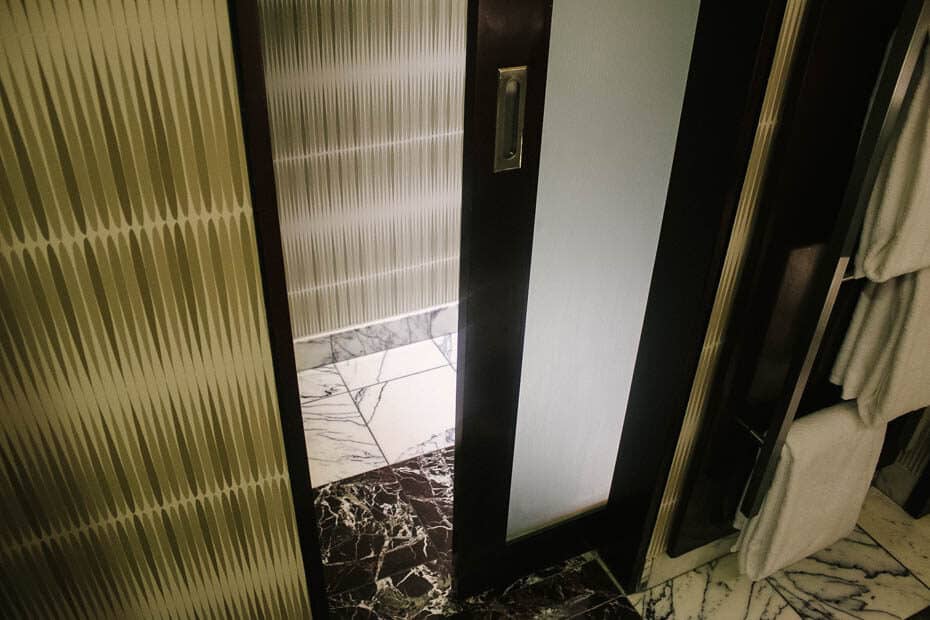 The foyer of the room provides a nice storage area with built-in closets and marble tile. If you look through the pictures, you might notice that the tile is either white with black veins or black with white veins. They were expertly laid to compliment each other.
The interior design in this room's layout and color choices were nicely made. Normally, a room with these mute tones might seem kind of dull and dark to me. But this one doesn't, and I have a lot of experience in looking at property.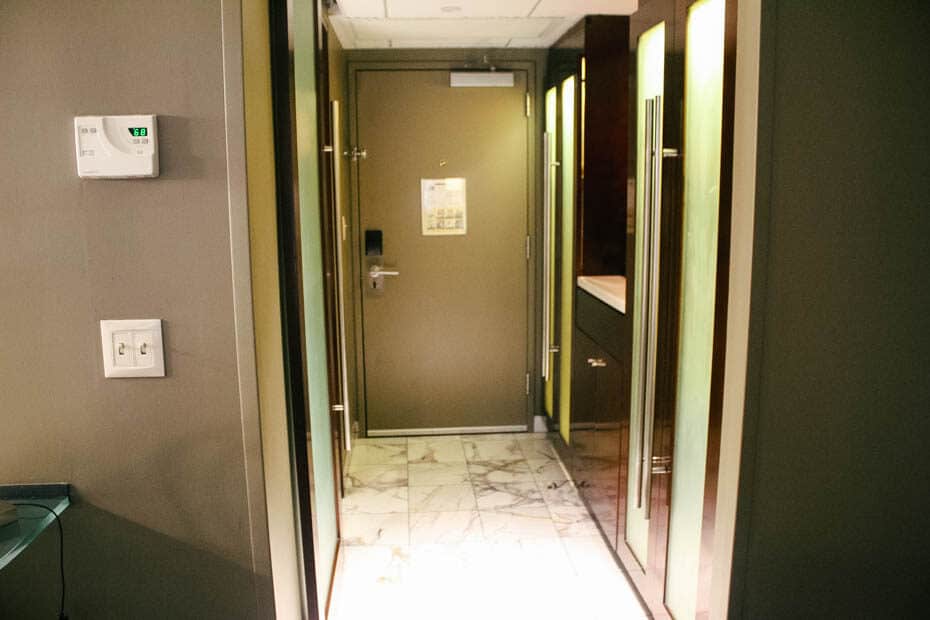 There are two closets with a coffee bar area. Below the bar area is where the room refrigerator is stored.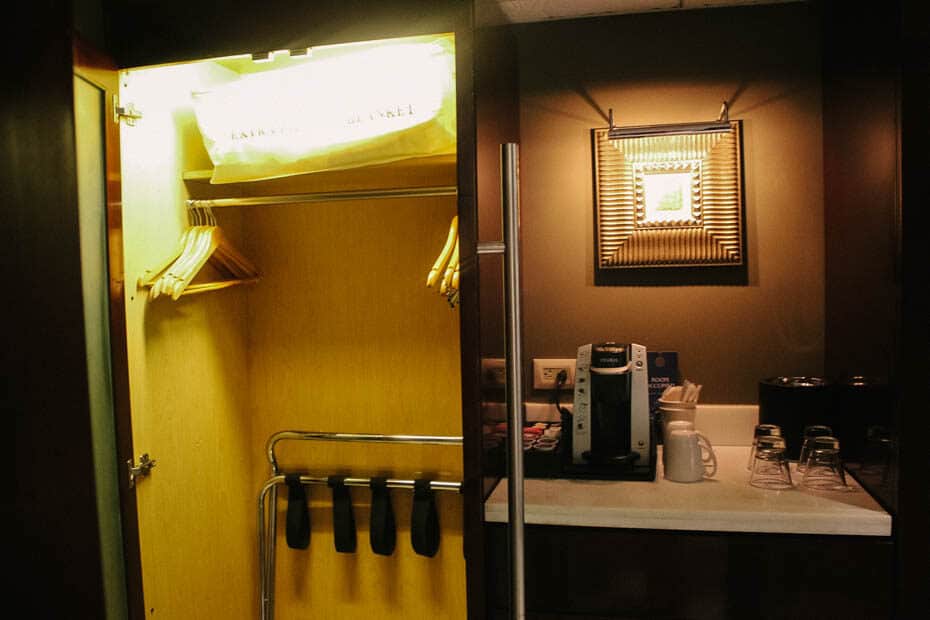 They have Joffrey's coffee in the Keurig style dispenser that makes individual cups. I am by no means a coffee snob so take my opinion lightly, but I actually enjoyed the coffee.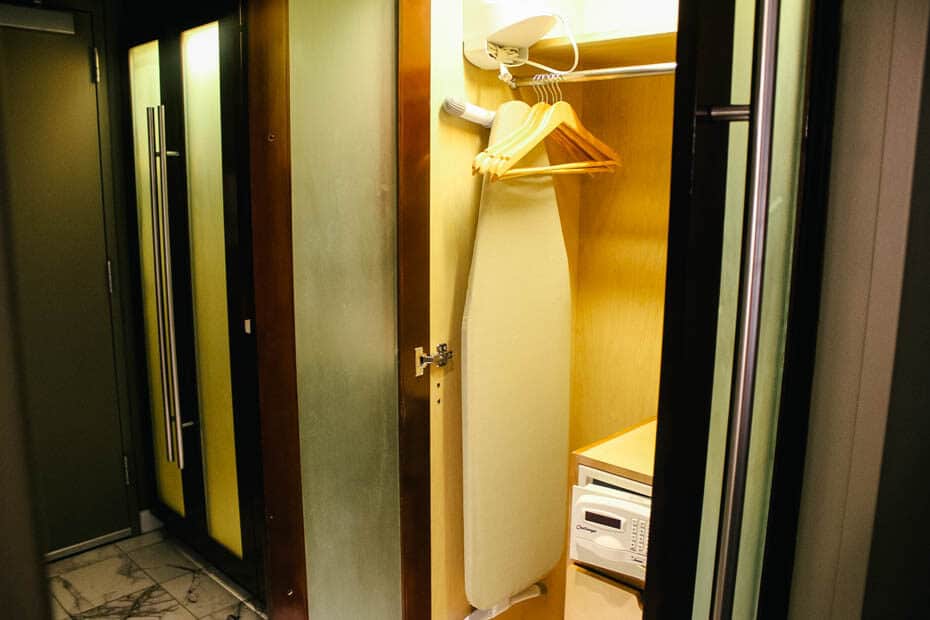 You will find an area with an iron and ironing board in the other closet, a built-in safe, and a little stand on top of the safe for extra storage. The picture below is a close-up of the coffee maker and other items like glasses, sugars, and to-go cups.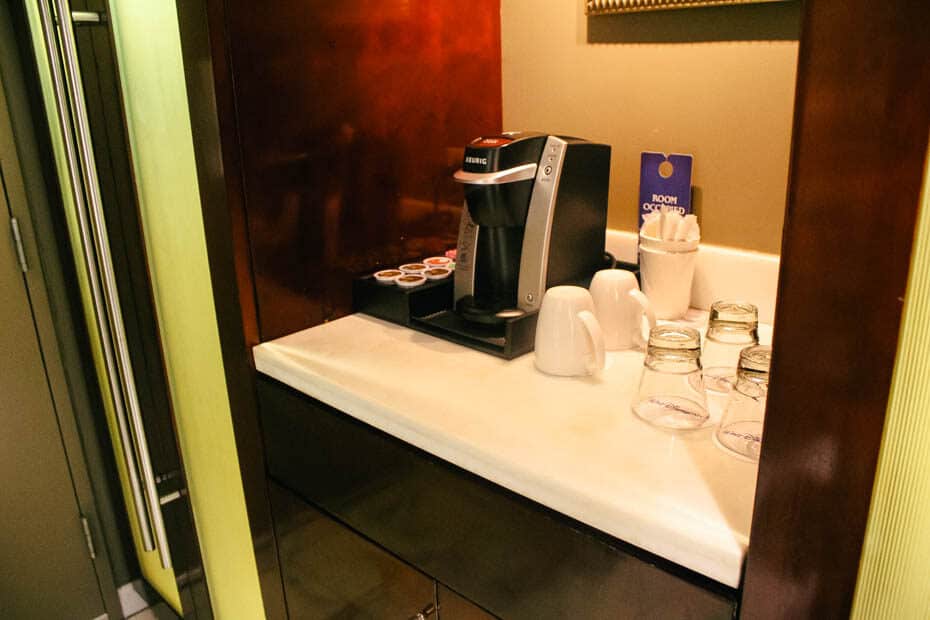 There is a built-in pantry of sorts with pull-out shelves. When we are staying on property, we like to bring snacks and sodas to help with expenses. If you are traveling by plane, there are many grocery delivery services available these days to the resorts.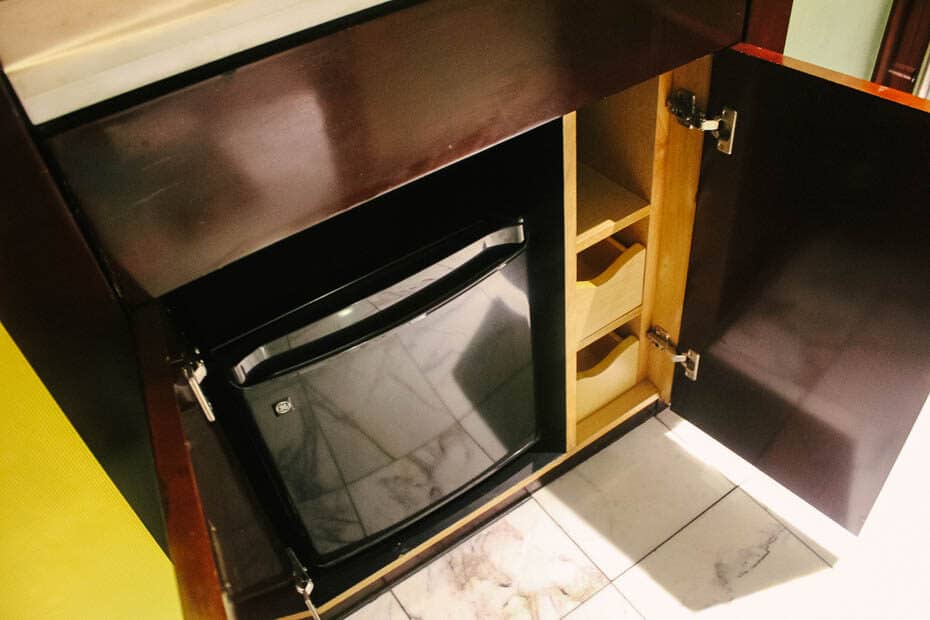 Here is a look at the TV on the wall and a sort of decorative area around it. I noticed they use a lot of mirrors in the space. This is one of those decorating tips that tricks the eye into thinking a space is larger.
My son kept going on about how massive the room size was here. And while it is larger than an average hotel room, I think it's safe to say the designer did a good job making it feel larger.
Additionally, there is a sofa that pulls out into a futon-style bed.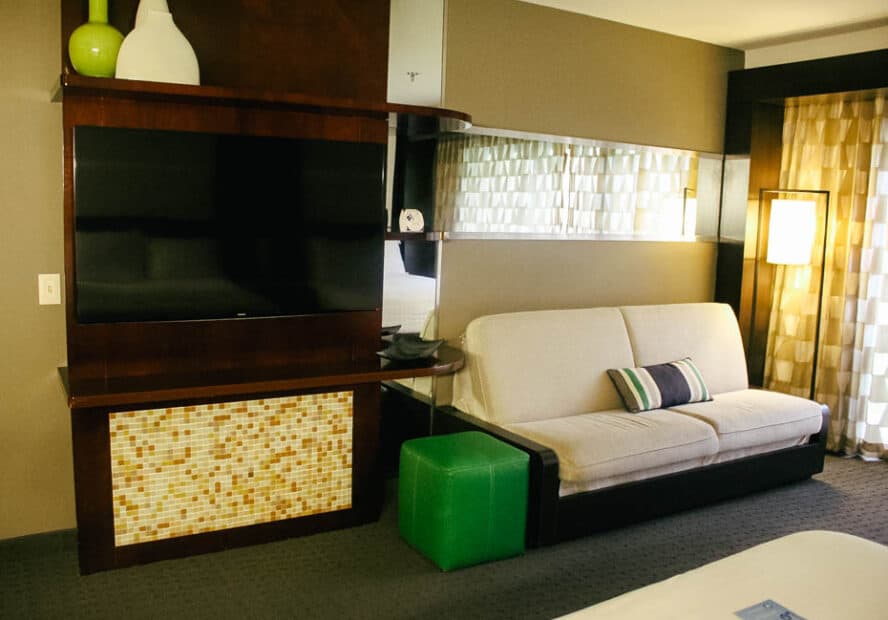 In the image below, if you look really close, you might notice that there is a boat floating by on its way to the Magic Kingdom. To the immediate left of the garden area is the resort's feature pool.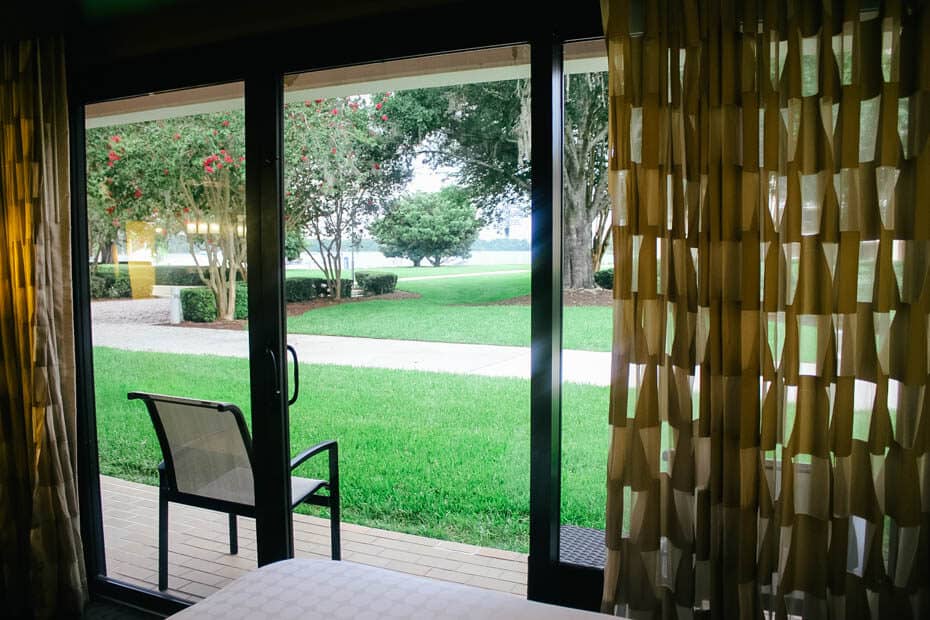 One of the things I couldn't quite wrap my mind around while staying here was the "boutique" feel of the property. Going into this resort stay, I knew that the convenience of Magic Kingdom being within walking distance was a win.
However, I didn't know that I would feel like I had been dropped off in a nature-like setting. All the while, we had access to so many amenities within steps of the room.
If you read anything about staying at Walt Disney World, you will almost always see someone complaining about how far their room is from this or that. Trust me; you won't get that feeling here. It's quite the opposite.
Below is a look at the patio off of our garden wing room. Most of the time, I go on and on about the views from higher floors at the resorts. Staying here on the ground floor ended up feeling right for us. Consider making a ground floor request when you book your room.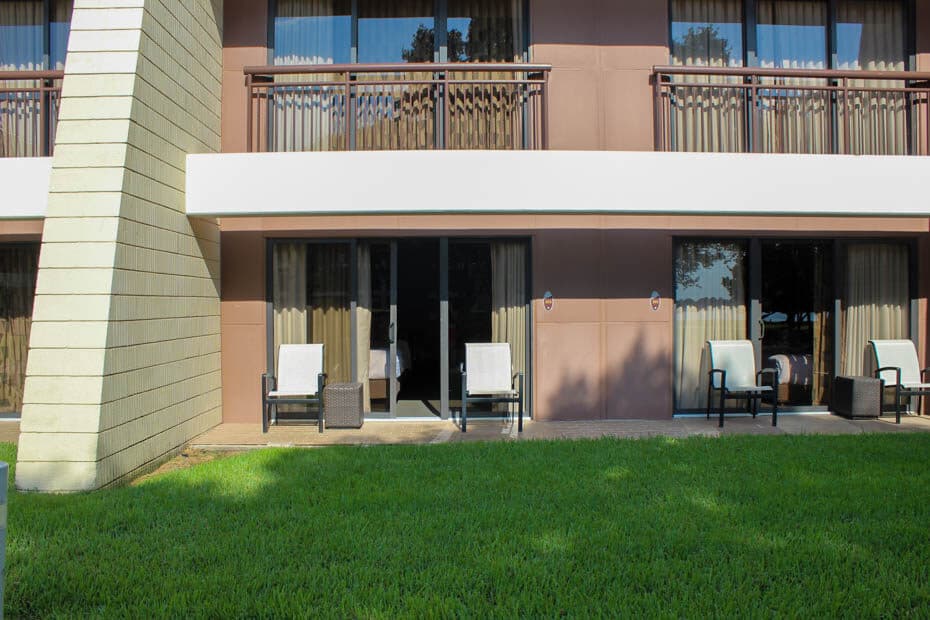 Here is the walkway right outside the back of our room. It almost looks like it walks directly into the waterslide at the pool. And that's exactly how close the feature pool is to this room.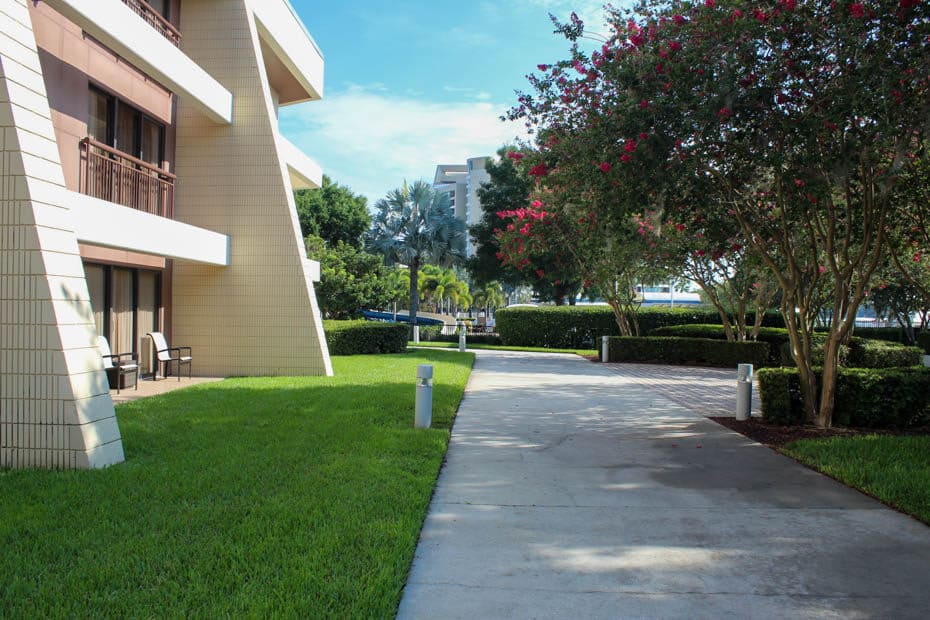 When comparing resort rooms at Disney's Contemporary, you might also be interested in the deluxe studio rooms at Bay Lake Tower next door. Spoiler, I prefer the garden wing, but the tower might work well for some.
Related: Bay Lake Tower Review
Below is a photo I took from our room's patio. You can only imagine how expansive the view is in real life. When considering a stay at a Disney deluxe resort, I think it's wise to look into the different amenities offered.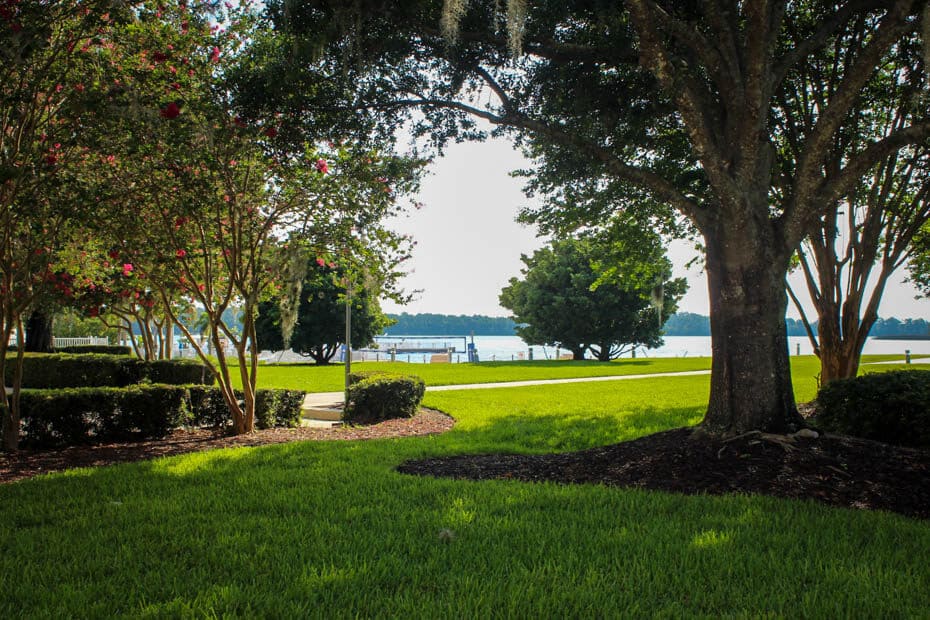 The location would always be my number one factor. Many people comment that you don't spend any time in your room or at the resort on a trip to Disney. If that is the case, then you are missing out on the actual vacation part.
Don't forget to allow for time to rest and enjoy what these amazing resorts have to offer. When we first started traveling to Disney regularly years ago, I would leave feeling like I never got to spend any time at the resort. On one vacation, you will never be able to "do everything."
I've spent over 60 days in the actual parks year to date. Can you believe that there are still attractions, restaurants, and things that I just haven't gotten around to yet? So don't feel bad about what you can't do. Remember to enjoy the things that you can. Focus on the time you have here with your family.
Briefly, while on this subject, also remember that money isn't everything. Sometimes, the expense invested into these trips drives people to pack it in and wear themselves out. Don't look longingly at your resort on check-out day, thinking you never made it to the pool or took a walk around the resort.
As far as the garden wing goes, it is extremely private. I could go on and on about how this location is only steps away from thousands of guests traveling through the Contemporary via the monorail every single hour to Magic Kingdom. But you would never know it when you stayed here.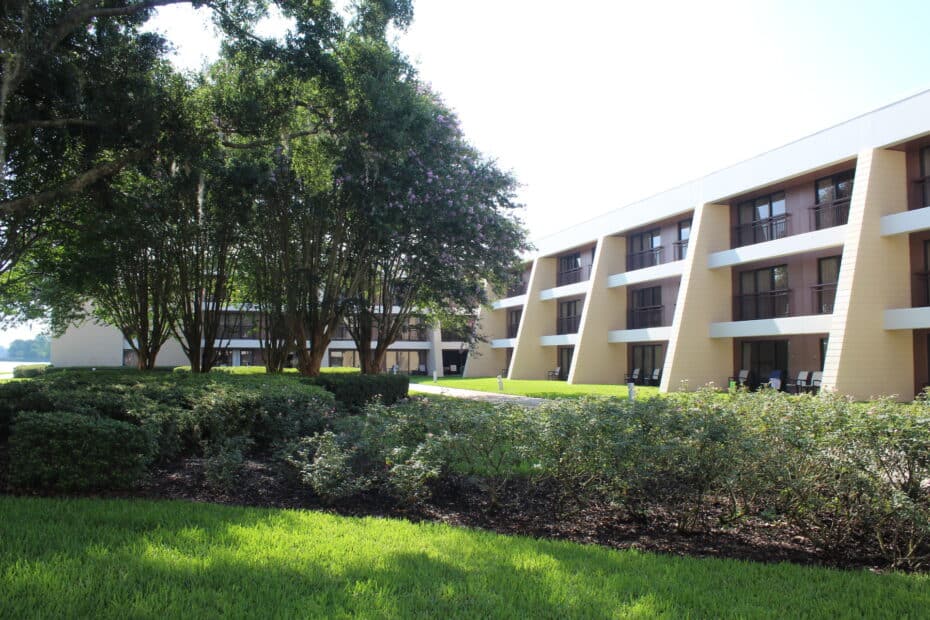 Garden Wing Amenities
With this is mainly a review of the garden wing rooms at Disney's Contemporary Resort, I felt it would be fun to include a few amenities and pictures of the property. We won't go into the main resort in this review, but we will look at what's in the Contemporary's backyard.
For starters, there is the topiary of Sorcerer Mickey, which makes for a great photo opportunity. (Unfortunately, it's been removed, but we hope to see it return in the future.)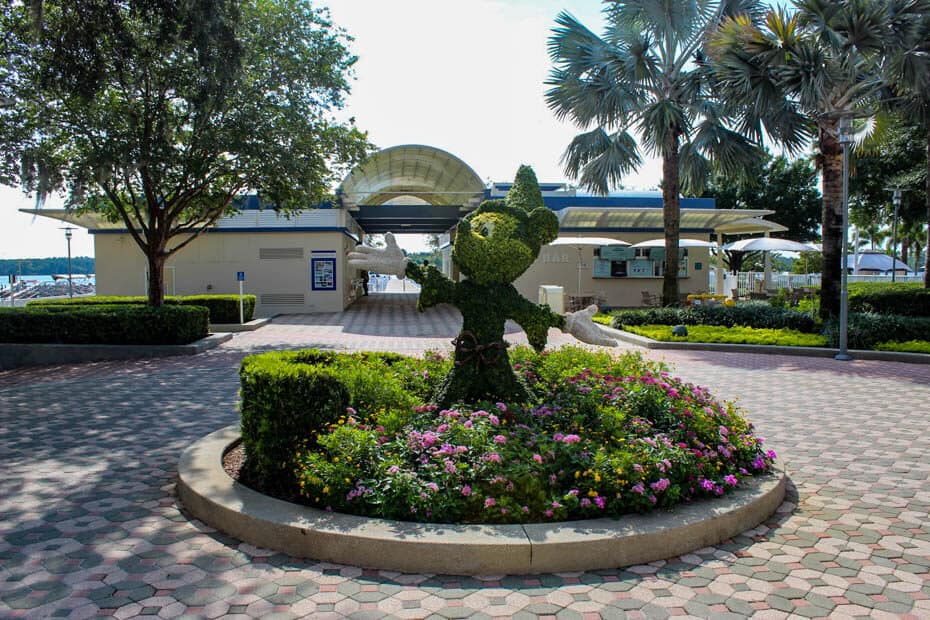 There is also a variety of outdoor activities like pool tables, foosball, and cornhole. That bridge in the distance is the walkway between the Contemporary Resort and Bay Lake Tower. You can access it from the fourth floor of either resort.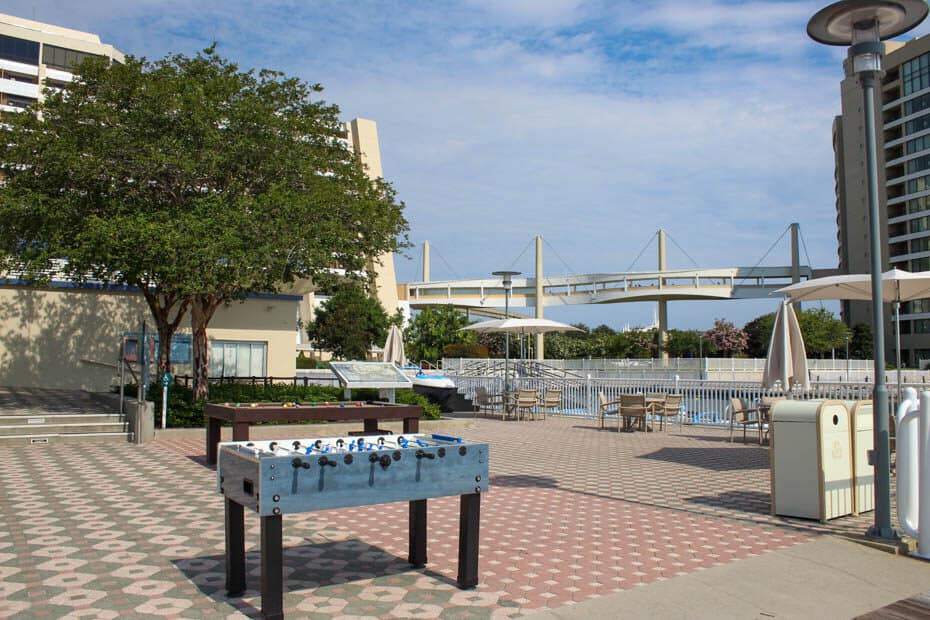 There are several pools around the property as well. This splash pad area is located around the resort's feature pool. It offers a fun place for children to play.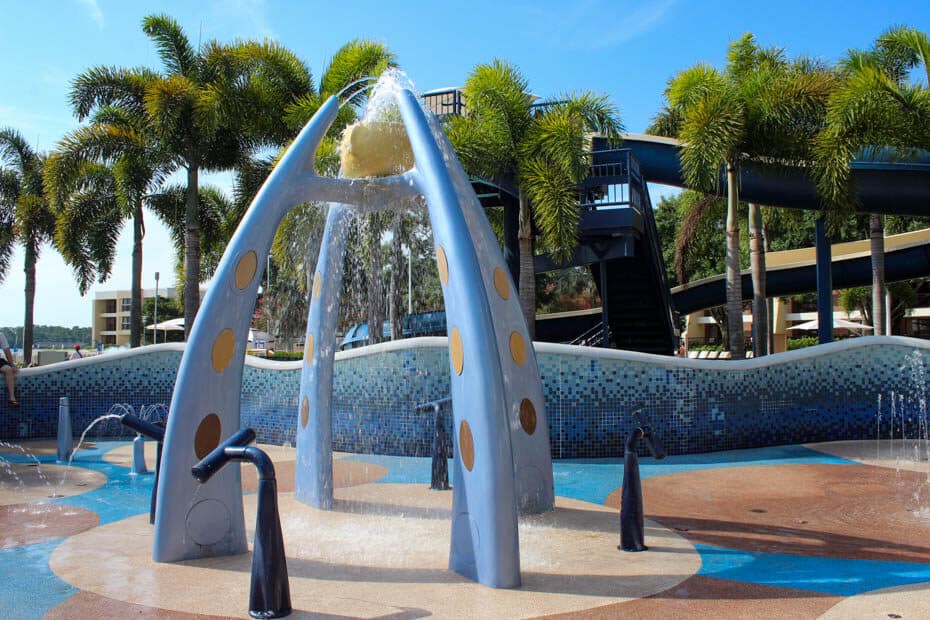 There are plenty of areas to dine al fresco if you want to grab a bite to eat and enjoy it outside. The Contemporary has numerous dining options. Make sure to familiarize yourself before visiting.
Related: Contemporary Restaurants Guide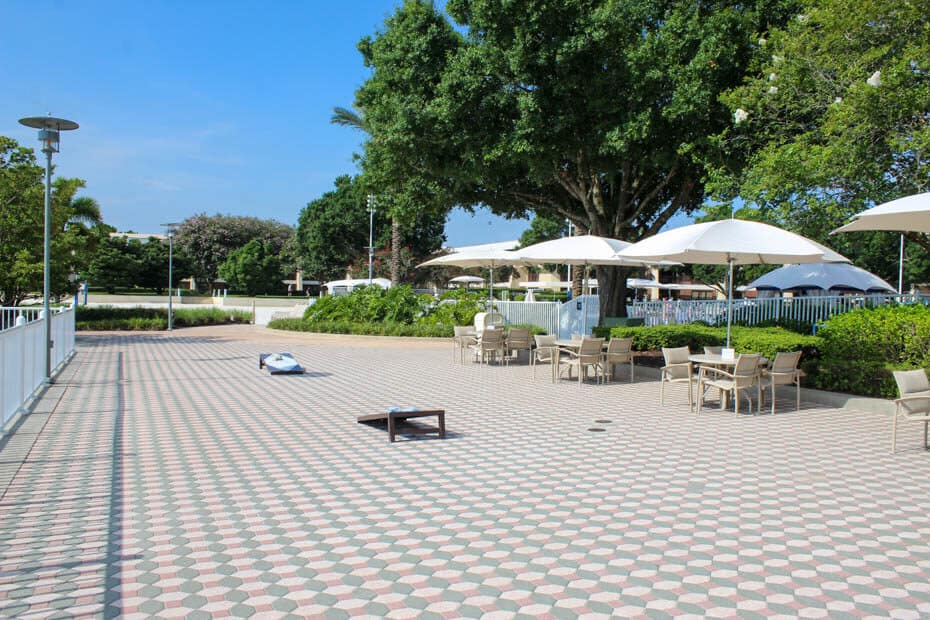 The water slide isn't necessarily themed, but it is a nice size and looks fun. There will be no review because my water sliding days are nearing an end. Probably.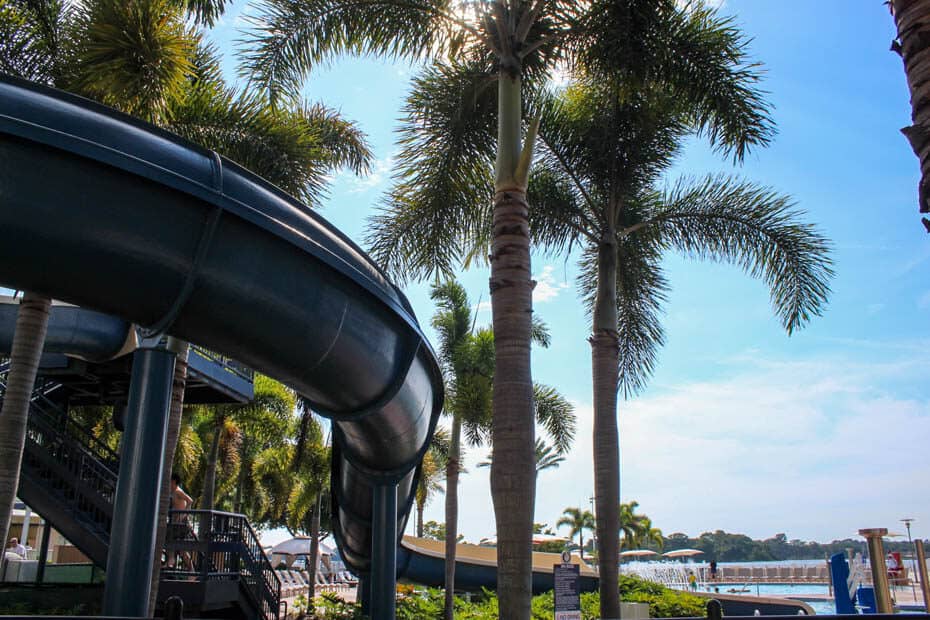 The main pool area is large but still offers scenic views of the lake from the pool deck.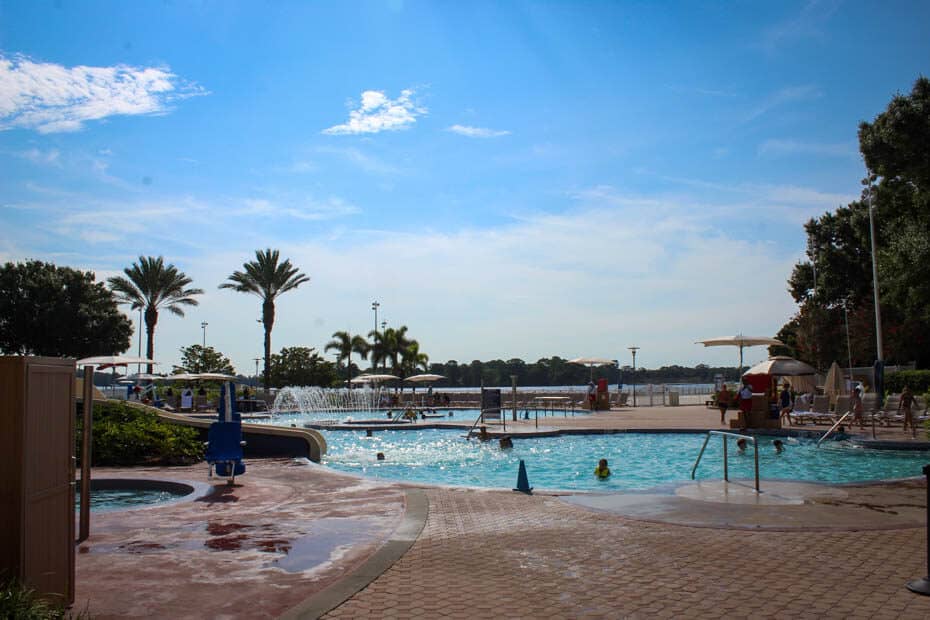 Closer to the boat dock, there are a few more seating areas and extracurricular activities.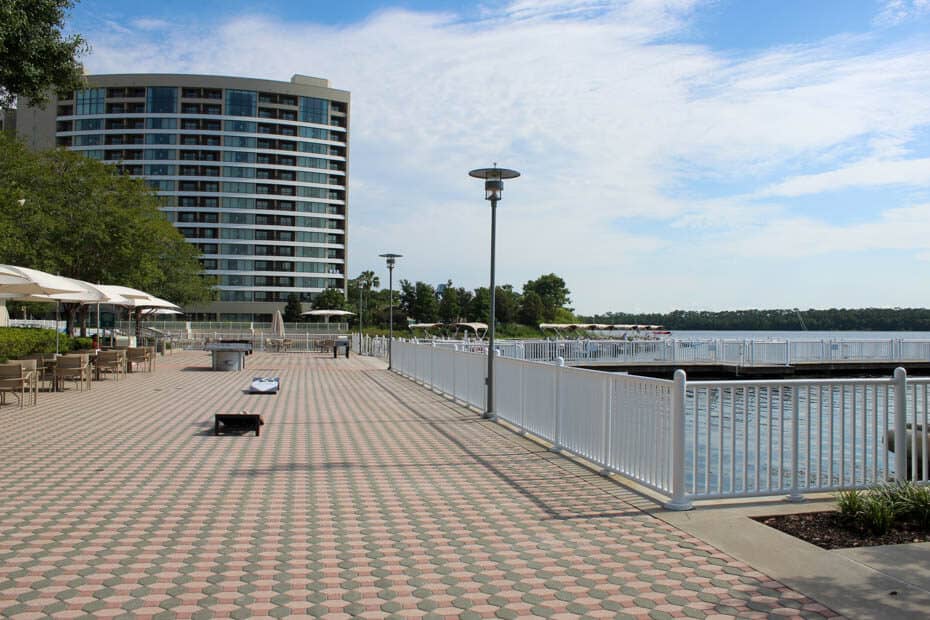 Themed gaming is available.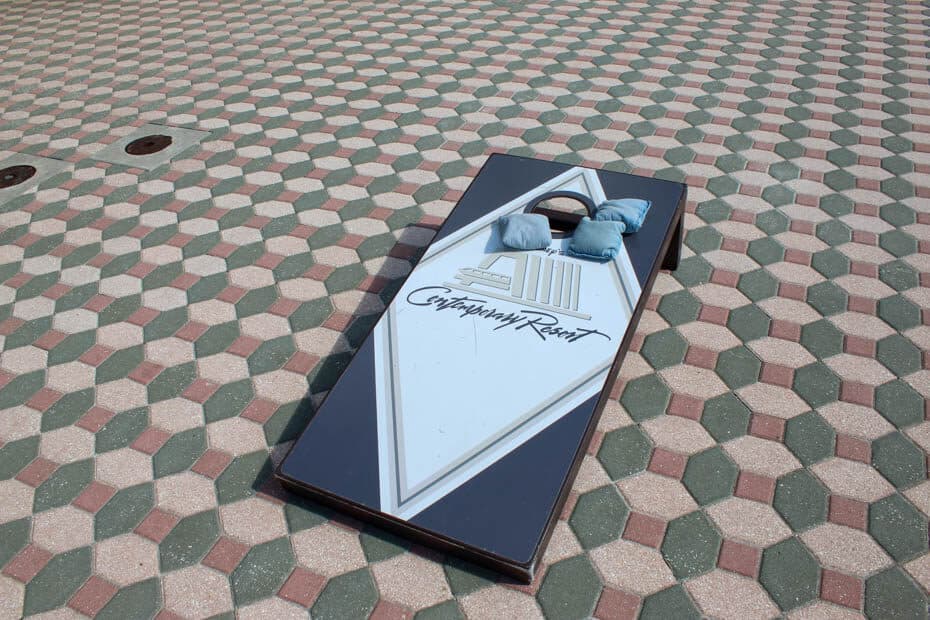 Another option for swimming is what appears to be a floating pool out on the water. This is a view of it from the boat dock.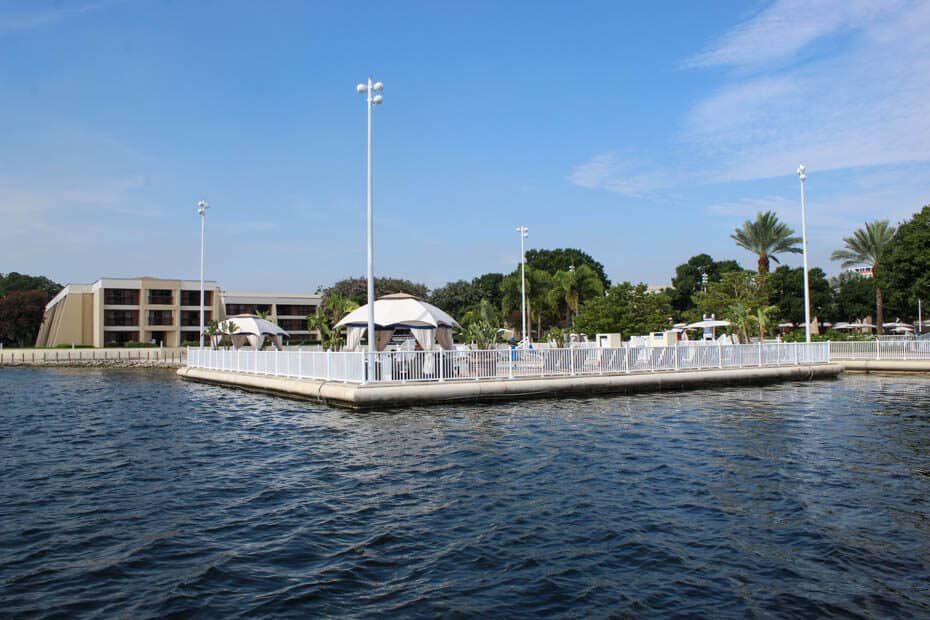 Here is a closer look. Yeah, it's nice. Just don't forget the sunscreen.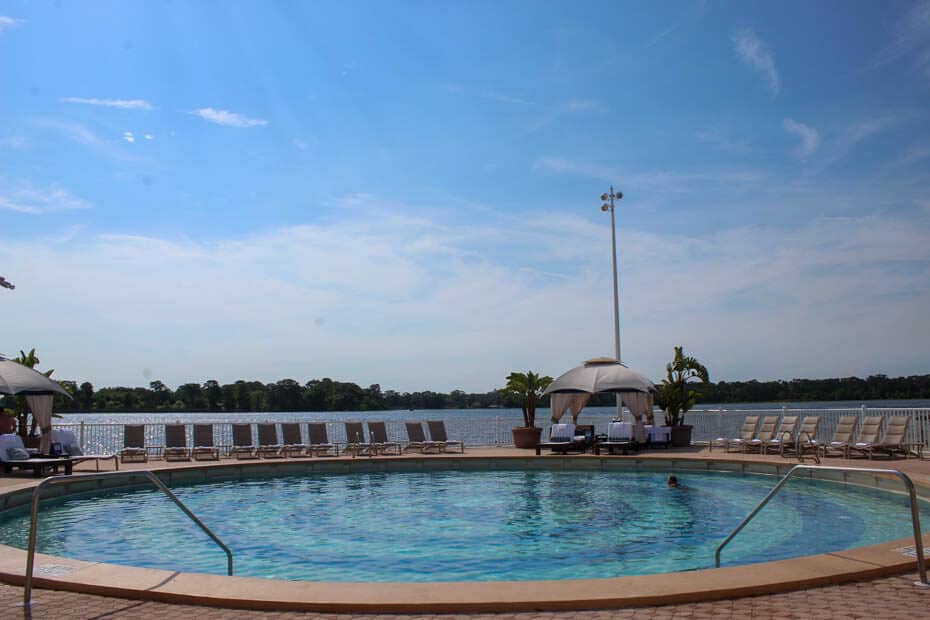 From most points on the property, you can see the monorail gliding by in the distance.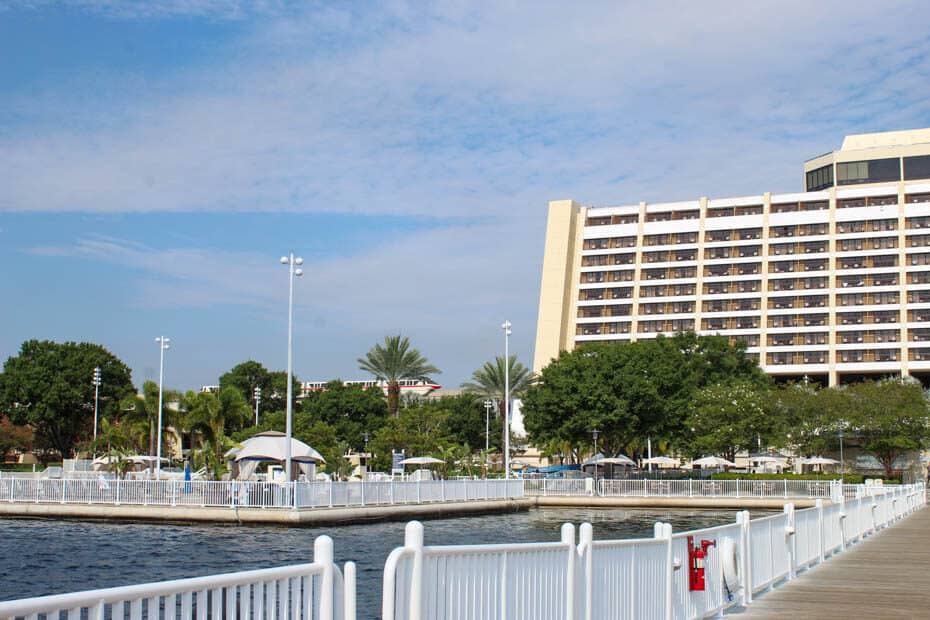 Here is a little closer look at the monorail as it passes the Garden Wing of the Contemporary.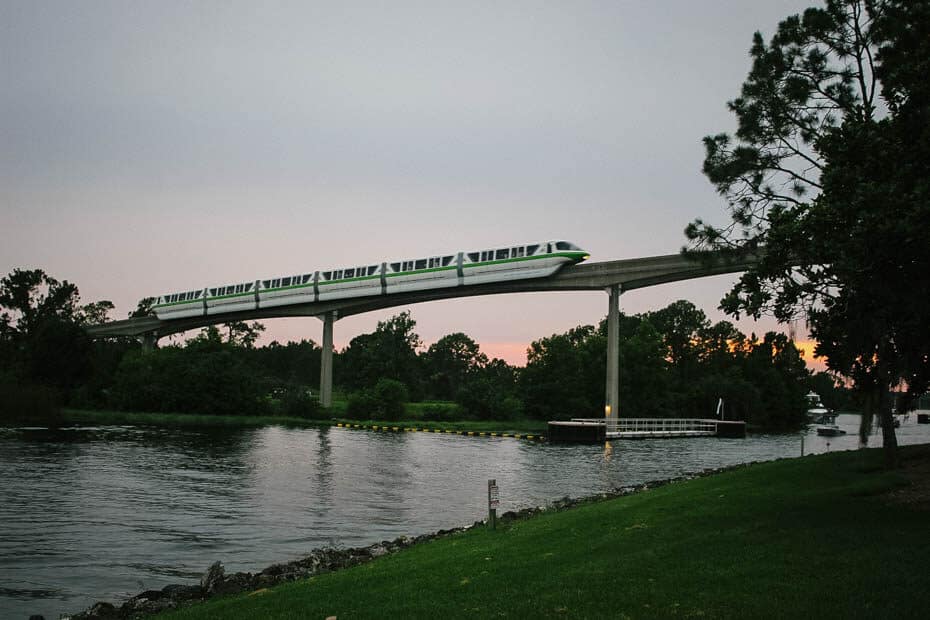 Fishing excursions and boat rentals are available.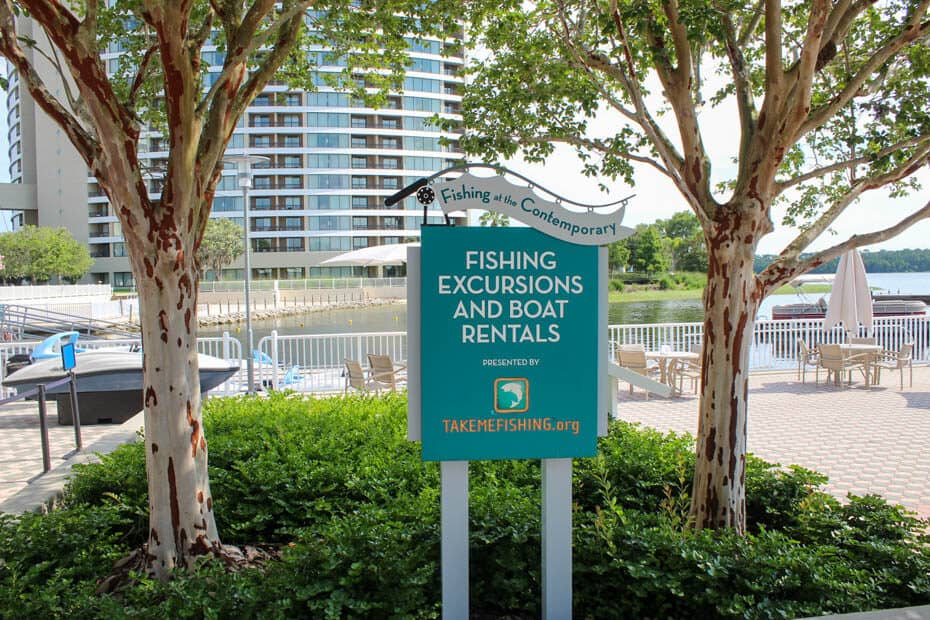 The boat launch is also nice if you need to head over to Fort Wilderness and/or Wilderness Lodge. It's just a short boat ride away. (2022 Update-This boat launch may or may not be available on your next trip. You'll want to check with the resort during your stay.)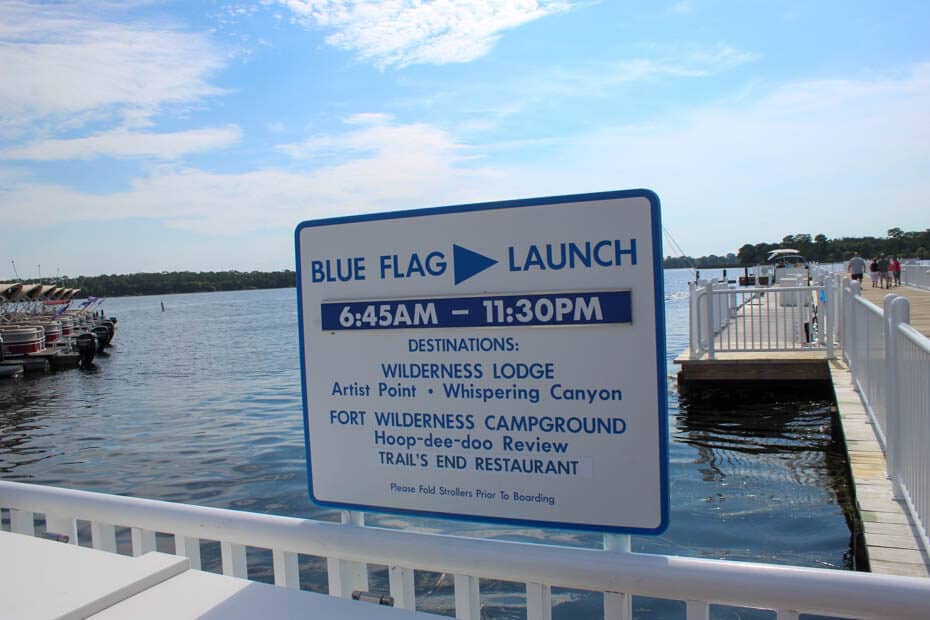 There are beautiful sandy beaches with an area for volleyball, hammocks, and loungers.
The Sand Bar is located out by the pool areas and is a great place to pick up a drink or bite to eat.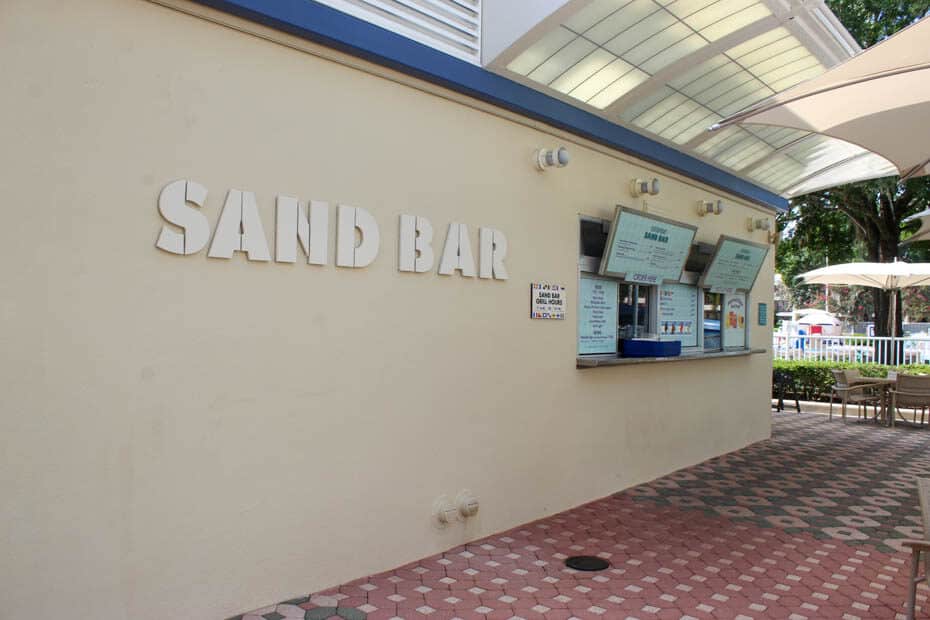 This is the walkway between the resort and the boat launch.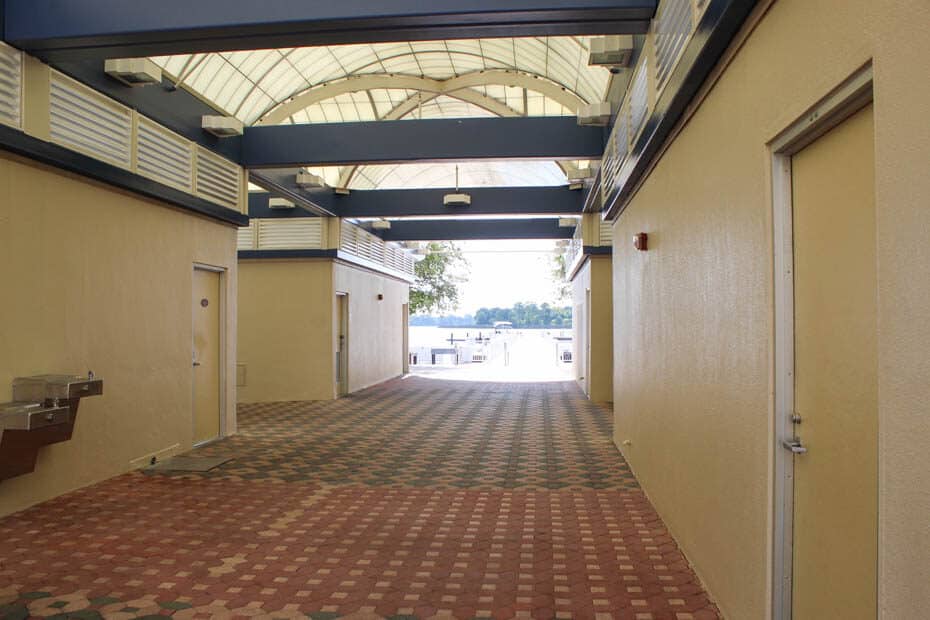 They have a nice section of lockers and a laundry area.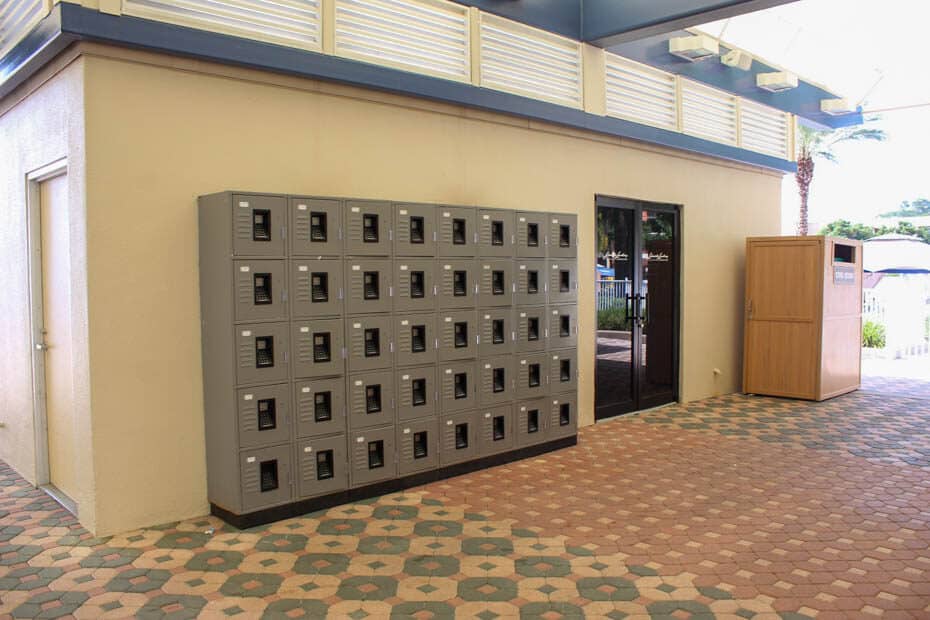 The boat service is great for dining at those nearby resorts.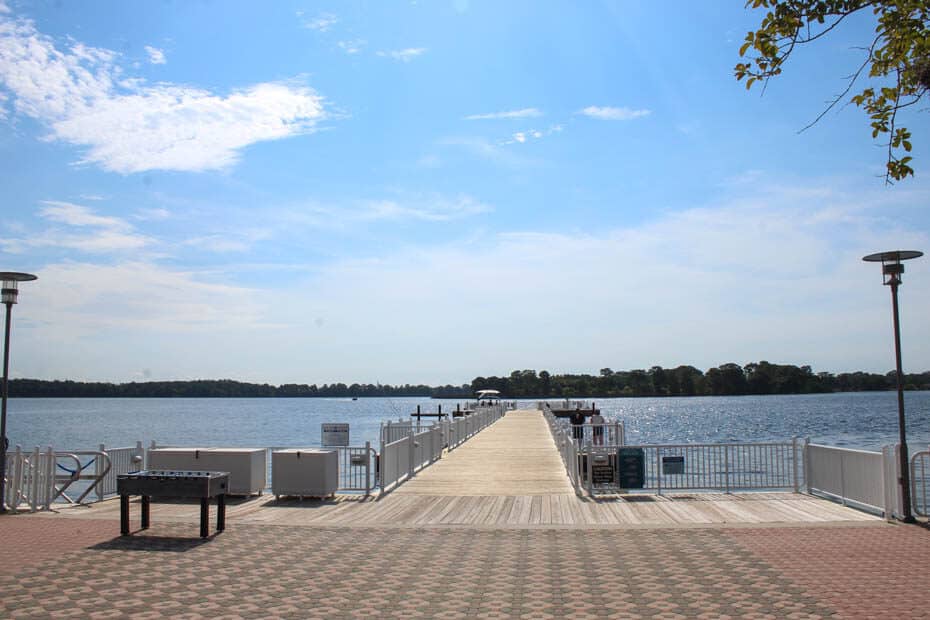 Disney Contemporary Garden Wing for 4th of July
For our stay, we ended up hanging out at the resort for the rest of the evening. I did enjoy a pleasant sunset jog. There are plenty of running directionals on the trail to help you stay on course.
I actually finished up my jog about an hour before the holiday fireworks show. As you can imagine, I was pretty hot and sweaty. Instead of conquering the crowds, we decided to walk around the resort to see what was going on there and check out the crowds.
There are plenty of viewing locations to see the fireworks nightly from the resort. A nice touch is that they pipe in the music to a lot of these areas.
Not wanting to deal with the crowds, we ended up sitting at a bench to ourselves from underneath the bridge. It wasn't the fireworks spectacular that you would take in front and center at Magic Kingdom, but it was nice all the same.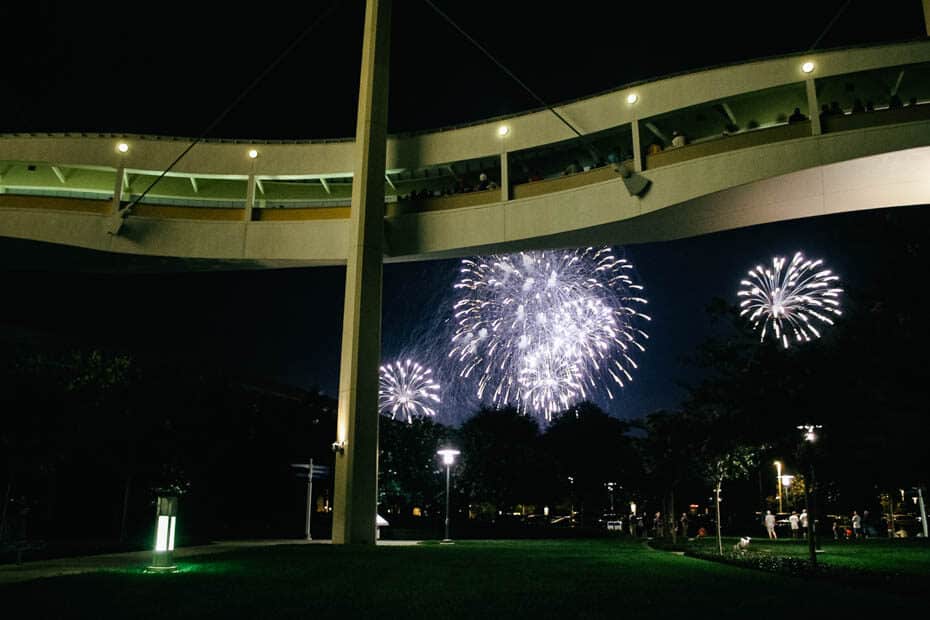 When the show was over, we stood up and took the less than two-minute walk back to our room. Then we ordered room service (something we never do) and watched the Star Wars marathon playing on TV that week. I guess those are things we could have done at home, but somehow it turned out to be one of the most magical holidays I've had in a while.
Final Thoughts on the Garden Wing
Sometimes life brings you times of sadness that overshadow these special moments. This was the first time in a while that I didn't have many "what might have been" thoughts hanging around on our staycation.
In fact, I didn't spend any of my time here dwelling on anything, come to think of it. I'm sure anyone reading this can understand the sentiment. Life happens to everyone. I'm thankful for the memories I have here and looking forward to making many new memories soon!
I hope this review was helpful if you are considering a stay in the Garden Wing at Disney's Contemporary Resort. The unexpected sometimes turns out to be pretty darn great after all! I guess you could say this was another one of those Unexpected Trips that left me feeling Unexpected!
Enjoy your stay!
For more information about Disney's Contemporary, all of our articles related to the resort are available here. Or you might enjoy these nearby resort reviews:
If you are looking to stay in a larger type of room at Disney, you might consider a deluxe studio room at Grand Floridian Villas. Or you might consider checking out our review of Disney's Riviera Resort.
Resorts Gal specializes in providing information on the resorts and hotels at Walt Disney World and in the surrounding area. You might be interested in checking out a few of our other reviews:
In 2022, the Contemporary Garden Wing Rooms are expected to receive updates. Last year the Disney Parks Blog announced that when the new Incredibles rooms were completed in the main tower, work would begin on the Garden Wing. That announcement is available here.
We'll be back in the future to look at the updates to the Contemporary Garden Wing. I think you probably know I'm looking forward to staying there again.
Now that we've finished up our look at the Garden Wing at Disney's Contemporary, what are your thoughts? Do you like the rooms? Or do you think you would like to be in the main tower amidst all the action? Leave a comment below with your thoughts.