Disney's Contemporary Garden Wing Review
Do you really want to stay in the Contemporary Garden Wing on your next Walt Disney World vacation? You've probably heard that this private wing of the resort is inconvenient or that it requires a long walk to your room.
Sure, the room prices are more reasonable than the tower. But will you regret not staying in the main building?
Unfortunately, I can't answer those questions for you. We may not always see eye to eye.
However, I can share why I love the Garden Wing at Disney's Contemporary and why I choose to stay there. No, it's not my favorite resort, but the Garden Wing is among my top choices.
So for this review of the Garden Wing at Disney's Contemporary, I'll share a few details of our latest stay. In addition, I'll offer a few pros and cons of staying in the Garden Wing.
By the end of this review, I hope you'll have a clear picture of whether or not the Garden Wing is right for you. One thing's for sure. This subtle portion of the hotel will always have a special place in my heart.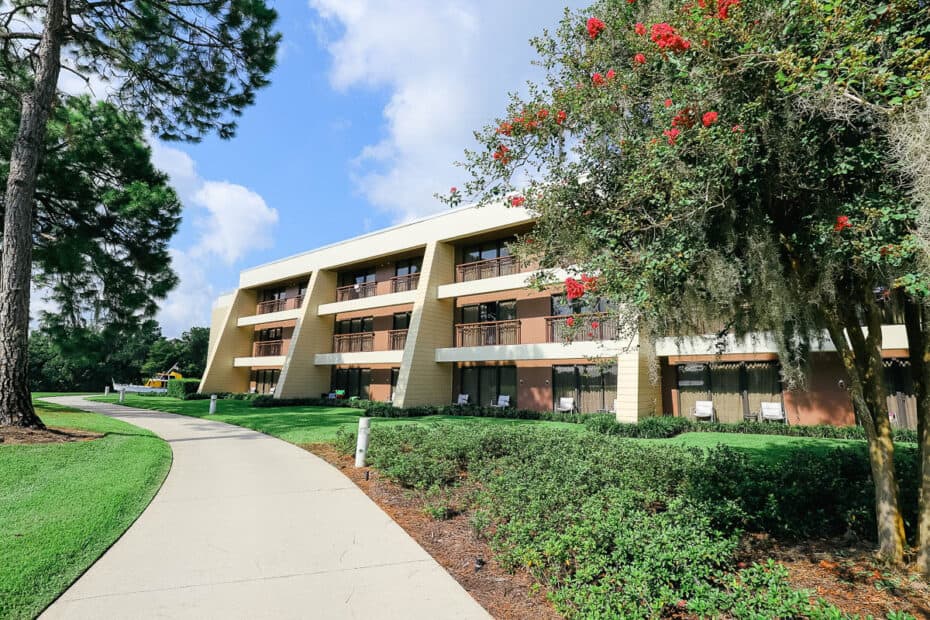 Contemporary Garden Wing Review
Given the past few years, it felt like it had been forever since we last stayed at the Garden Wing. However, memories of that stay linger.
Contentment. An online dictionary tells us that contentment is "a state of happiness and satisfaction." That's what I felt when I last stayed here.
While we are only talking about a week's vacation, whether then or now, I always find pure joy in the simplicity of the resort. Something is refreshing about parting the curtains and staring out to Bay Lake.
Of course, all the rooms won't have a view of the lake. Options are garden view and standard view.
Most standard-view rooms face the Garden Wing's parking lot. Those rooms don't have the best view, but you could get a bonus view of the monorail.
With that said, the Garden Wing is one of the few resorts where I insist upon upgrading to a garden view. Returning to such a quiet, tranquil view after being in a busy theme park with thousands of other guests helps you unwind.
Some might argue that you must walk a reasonable distance to get that feeling. But I'm afraid I have to disagree.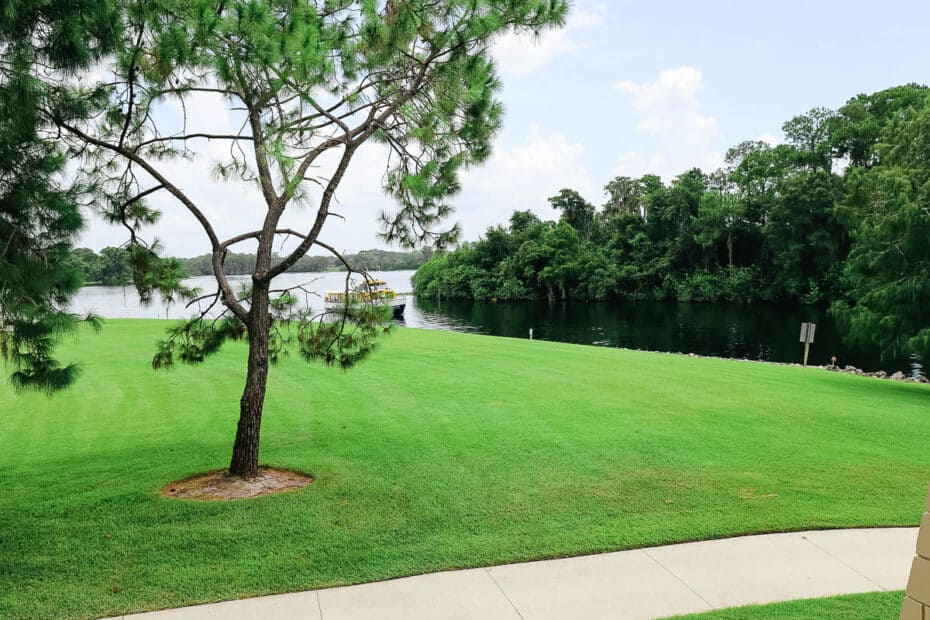 How Far Away Is the Garden Wing From Everything Else?
Is it really that far? On the days I'm not in the theme parks, I'm usually in a gym class or walking a wildlife trail. Suffice it to say I'm reasonably active and take a decent amount of steps daily.
One of the biggest complaints about the Garden Wing is that guests say it's terribly far from everything else. Okay, here is a photo from the Contemporary's entrance to the Garden Wing entrance.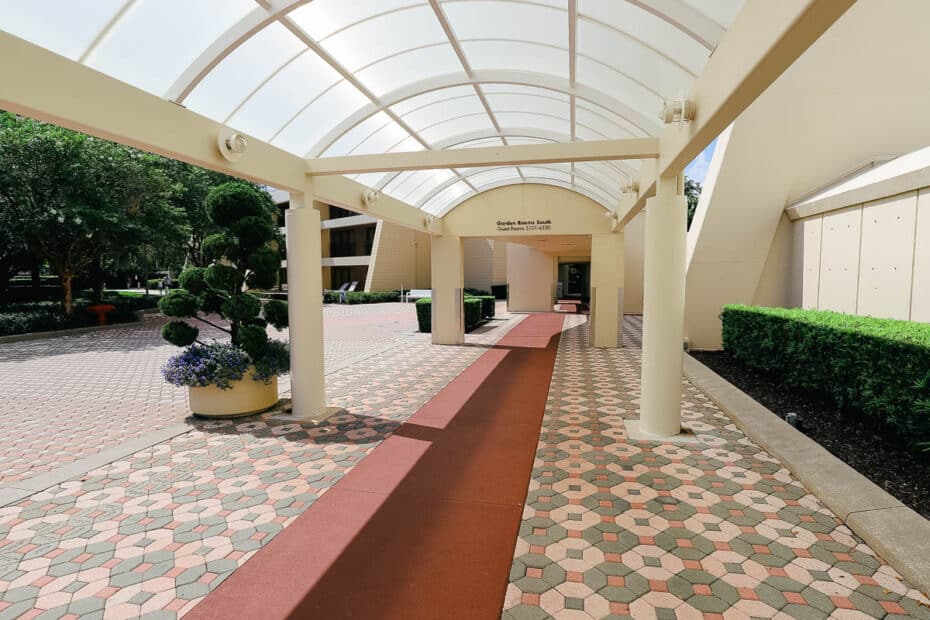 No, it's only a few steps under a covered walkway. However, some of you might get a room assignment on the far end of the Garden Wing, and guess what?
On this trip, your unassuming blogger was assigned the next-to-last room on the far end of the 2nd floor. So when I realized my room was SO FAR AWAY, I thought, well, this will be a good experience or a wake-up call.
I will give you this much. It is a long hallway. It's a long hallway like the long halls at the Beach Club, Yacht Club, Wilderness Lodge, Animal Kingdom Lodge, and almost every other resort with interior halls.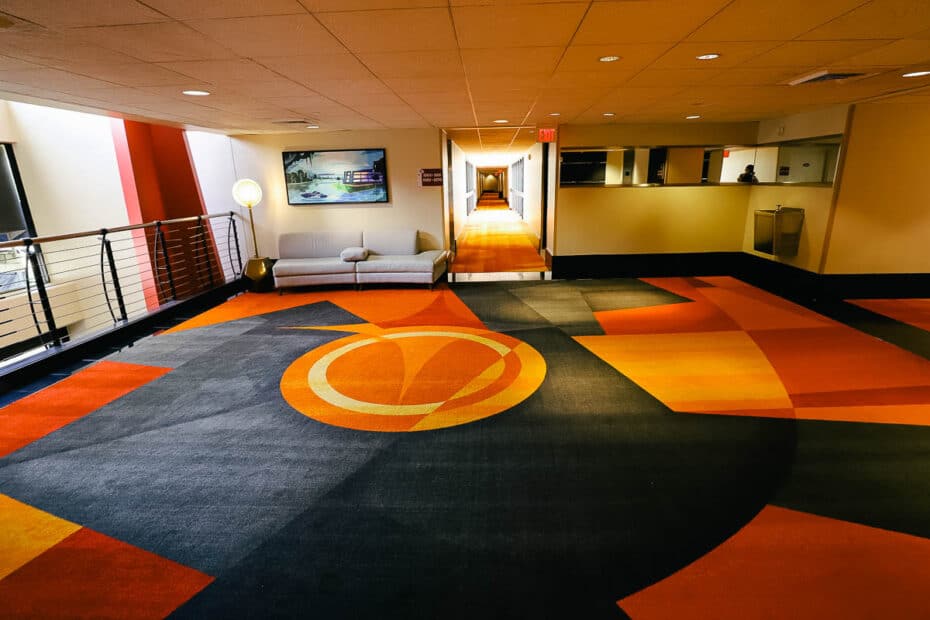 However, I didn't think the walk was that bad compared to the extensive nasty complaints I've read in the past. So one day, I decided to track my walk.
From the far end of the Garden Wing to the entrance of the main building, it was 0.15 miles. In addition, it took me 415 steps and approximately 4 minutes, including taking the elevator down to the first floor. (Oh, and I stopped for a photo or two.)
So in the overall scheme of things, you'd have difficulty convincing me that we were SO FAR AWAY from everything else. With that said, if you have a specific need to be as close as possible to the main resort, the extra distance might annoy you.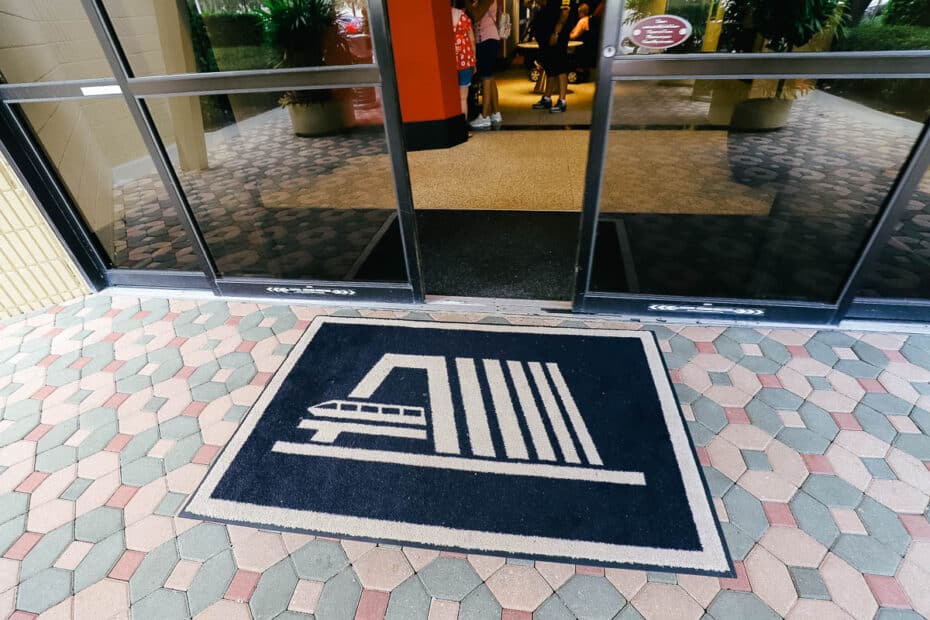 Parking at the Contemporary Garden Wing
While we're on the subject of convenience, I want to mention parking. Since I'm in the area often, I usually have my car on hand.
Probably little known to most, the Garden Wing has its own private parking lot and entrance. So if you have a car, you can come and go from the resort with little effort.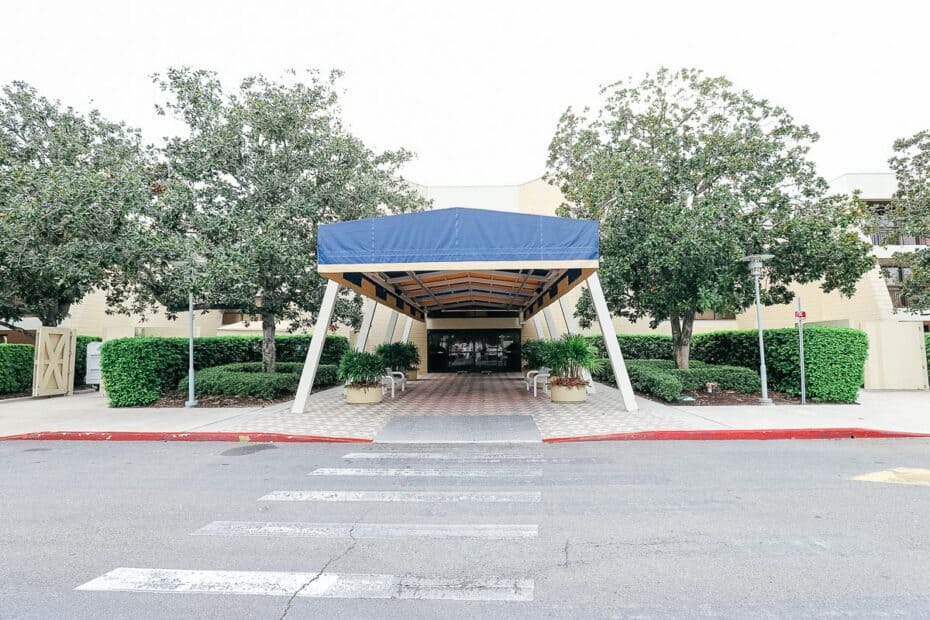 During our stay, we would exit our room, walk down the nearby staircase, and then be within a few steps of the parking lot.
Additionally, there were several bell carts available. When I checked in, I dropped my luggage off with bell services and had them deliver my things to the room later.
But the morning I checked out, I grabbed a luggage cart and took my things to the car. It was simple.
Disney Resort guests now receive complimentary parking.
Related: Parking at Disney World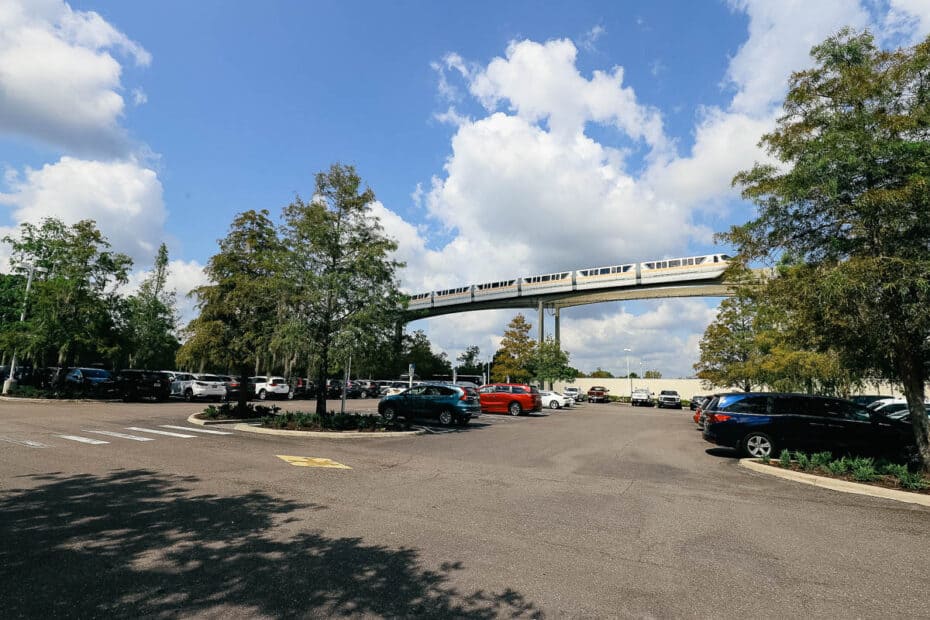 The Rooms at the Garden Wing
Before we get any further into this review, let's preview the newly refurbished rooms at the Garden Wing. All of the rooms at Disney's Contemporary Resort have undergone refurbishment. 
Thankfully, the room portion of the remodel is completed in both the Tower and the Garden Wing. So if you have an upcoming stay planned in either, you'll get an Incredibles-themed room.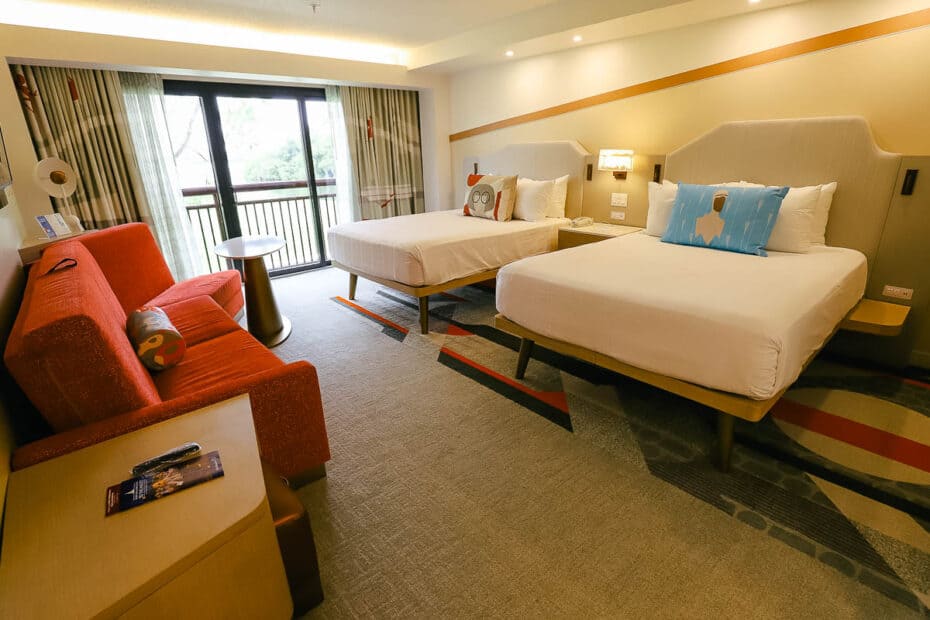 Our standard room had two queen-size beds and one futon-style sofa bed. This room sleeps up to five guests.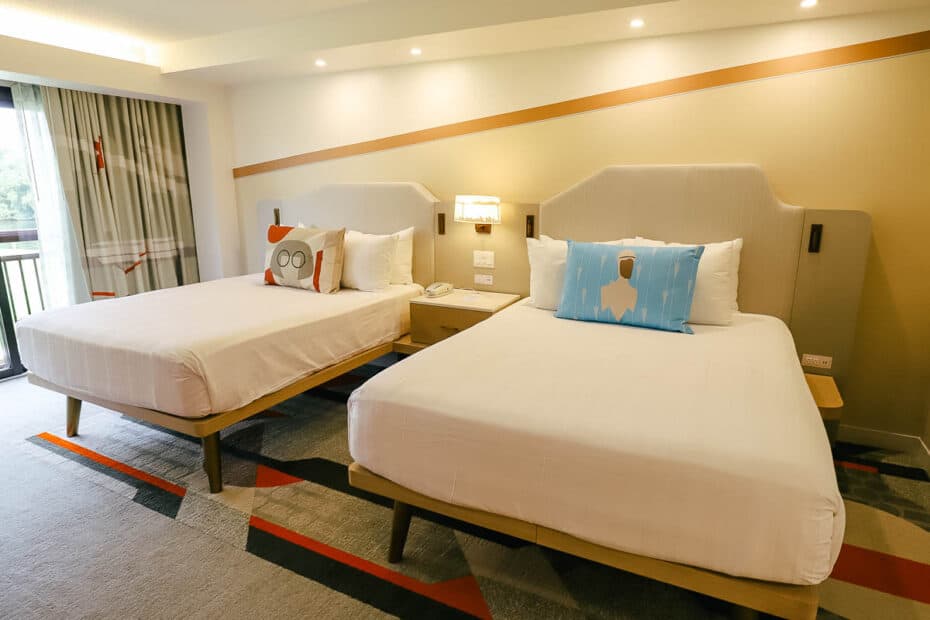 Here is the single bed inside the fold-down sofa.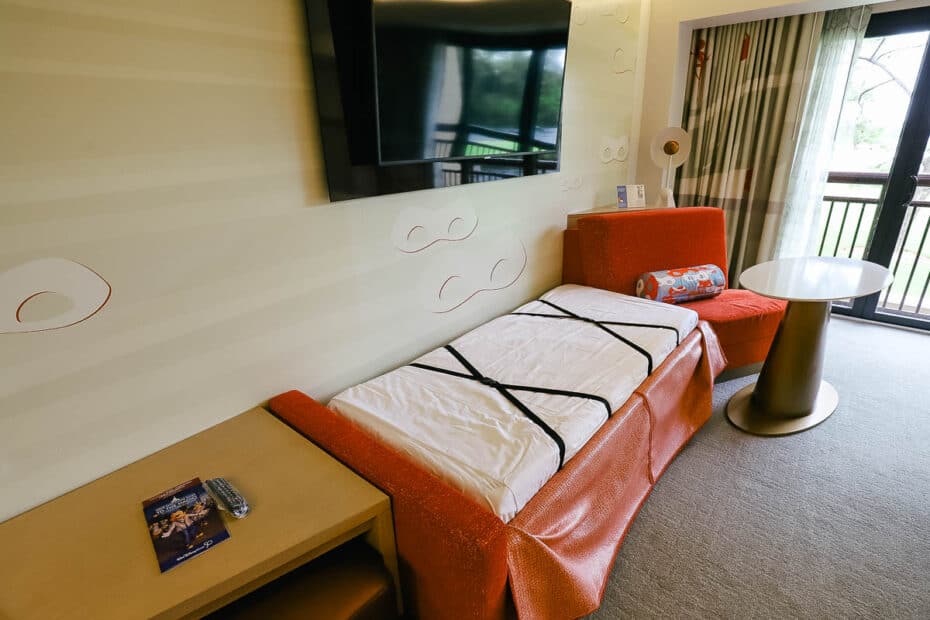 Like most deluxe hotels, the guest bath had a separate water closet, two vanities, and a walk-in shower. Some rooms have a tub with a shower combination, so have your travel agent make a special request if you need a room with a traditional bathtub.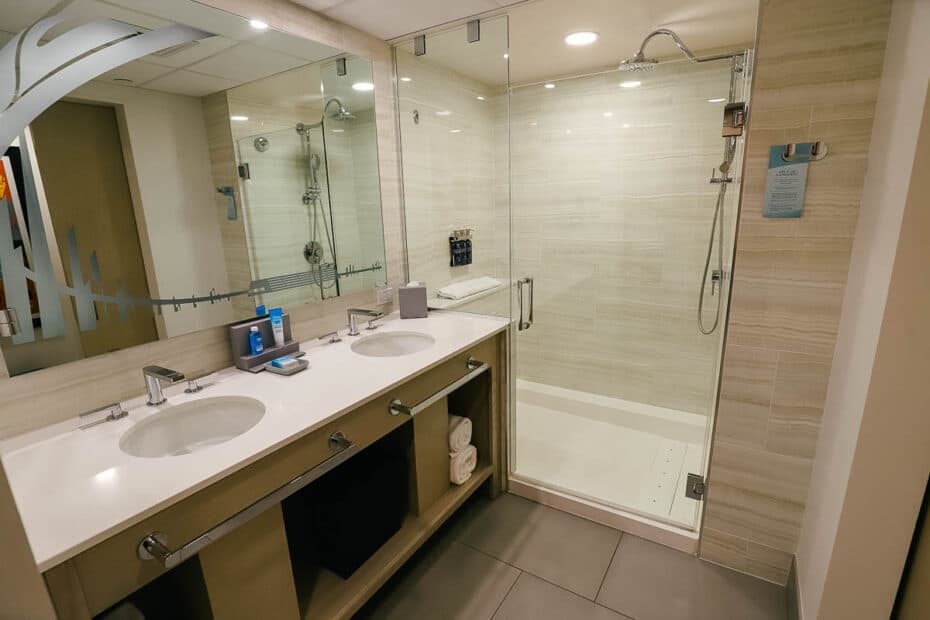 Regarding special requests, there's one important thing you'll want to know in advance of making reservations. Floors two and three of the Garden Wing do not have formal balconies.
They have sliding glass doors that are met by a railing when opened. Unfortunately, there's not even a tiny space to step outside.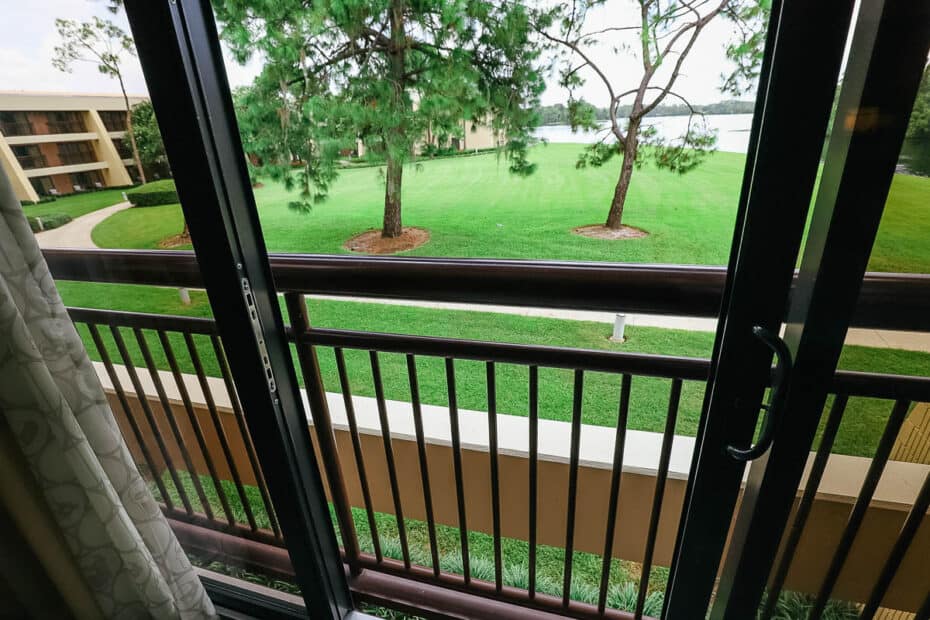 For us, this wasn't a dealbreaker. But on my last stay at the Garden Wing, we were on the first floor and enjoyed an entire patio.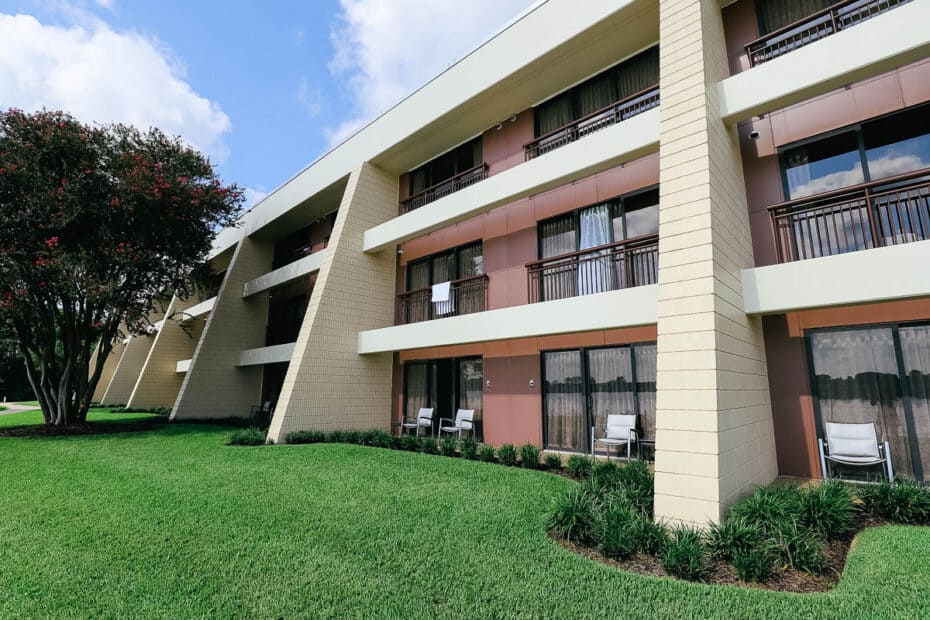 Therefore, if you would prefer a patio, this is something else I would request in advance. Hopefully, your request will be granted, but know that special requests are not guaranteed.
All in all, I enjoyed our view tremendously. During my stay, there were several days I had to work. So I would sit on the sofa and look out to the water.
A boat would pass by every few minutes, taking guests to and from the Magic Kingdom. In the evenings, the Electrical Water Pageant comes through, making its way to several performances before returning.
For more photos and details specific to the rooms, we have a separate room tour with lots of pictures.
Related: Incredibles Rooms at Disney's Contemporary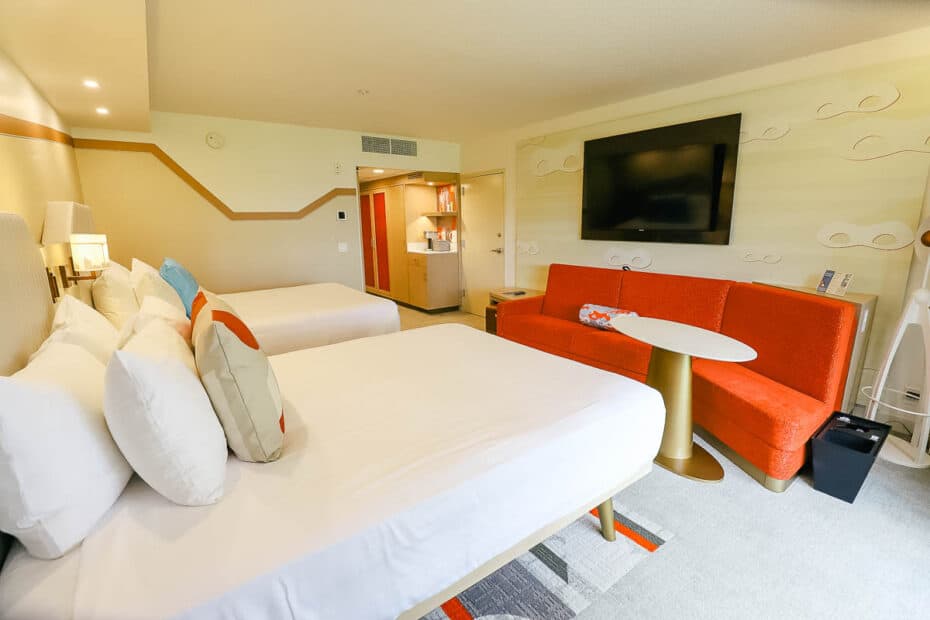 Around the Garden Wing
When you stay at the Garden Wing, finding your way around is pretty easy. However, it's still important to familiarize yourself with the surrounding area.
For instance, the Contemporary has a jogging trail that loops around the Garden Wing. You can use these sidewalks to walk to the parking lot or back of the resort if needed.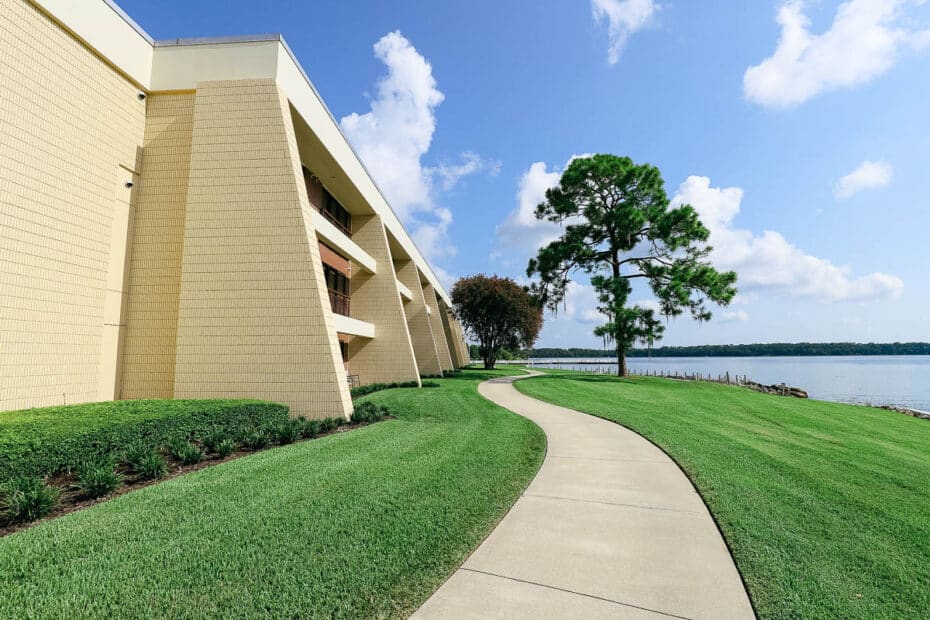 In the evening, you can walk to the Contemporary's beach to see the Electrical Water Pageant pass. It will stop right in front of the beach at a scheduled time, depending on what time of year you visit. Check Disney's site here for exact times.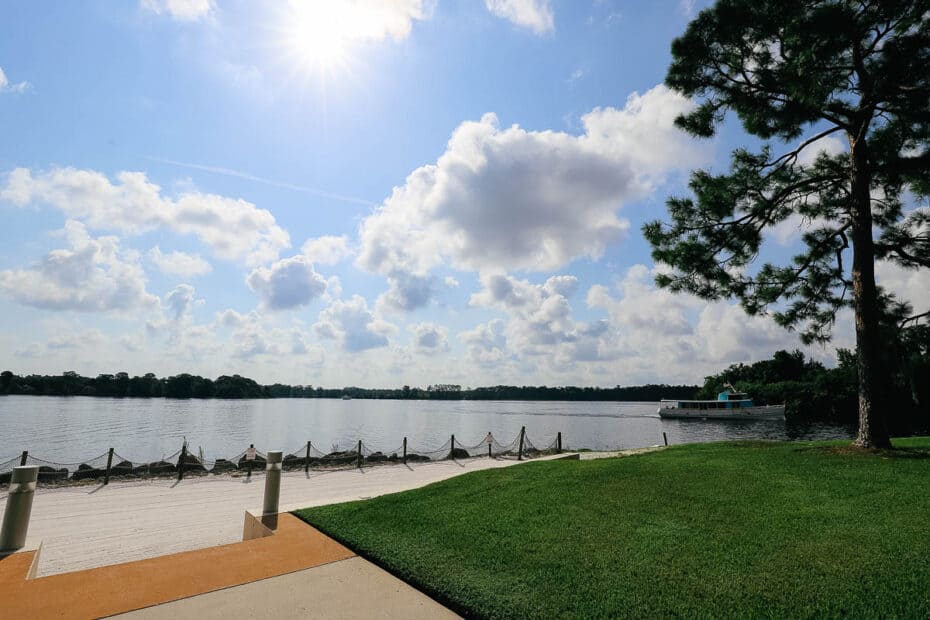 Additionally, if you park in the Garden Wing parking lot but need to go straight to the main resort, there's a quick shortcut you can take. You'll walk through this area, where there's a large wall covered in greenery.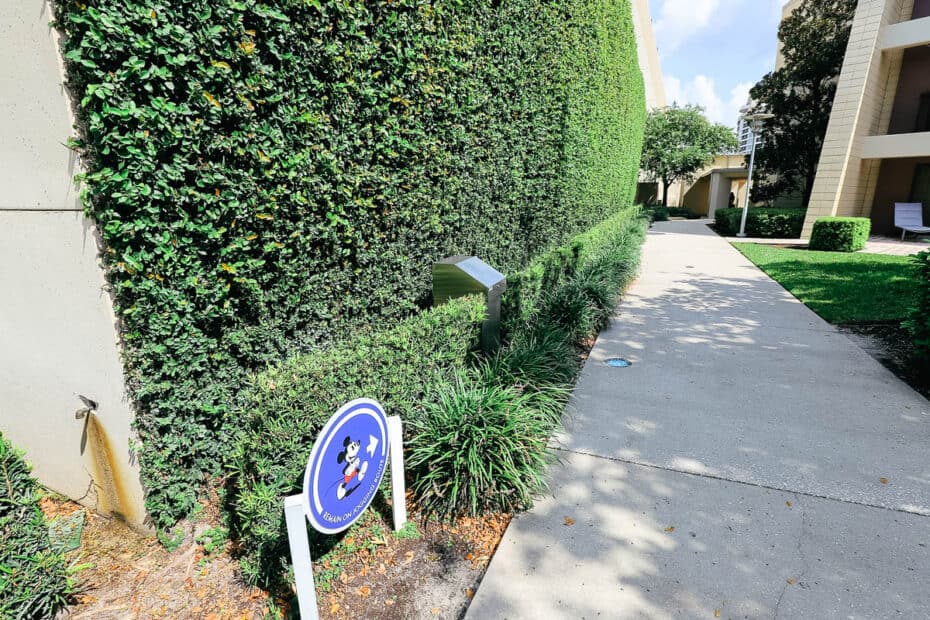 Here is a view from the tower side that looks out to the Garden Wing parking lot.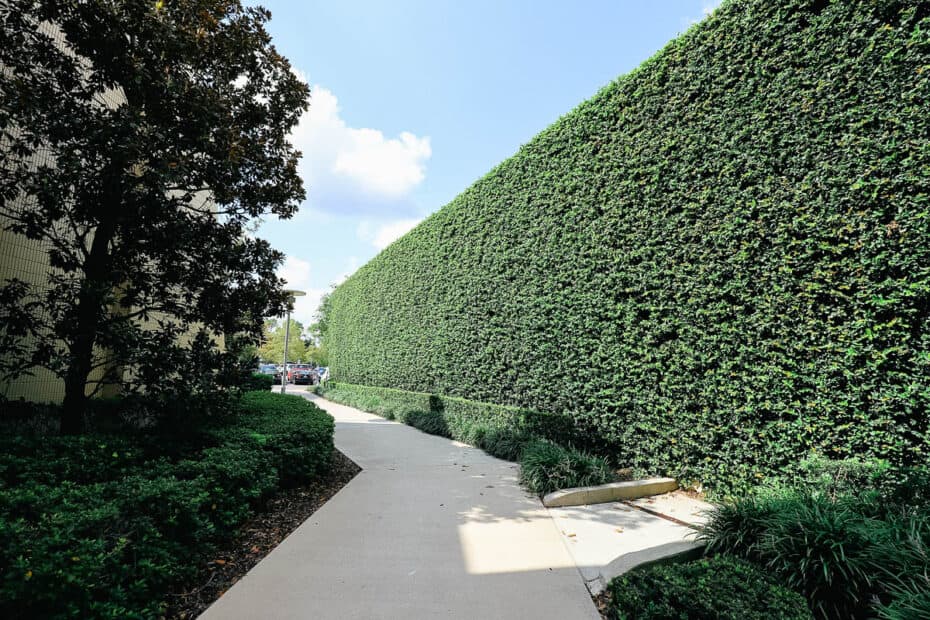 Additionally, there's a separate walkway from the Garden Wing to the main pool at Disney's Contemporary. You can enter from the side entrance.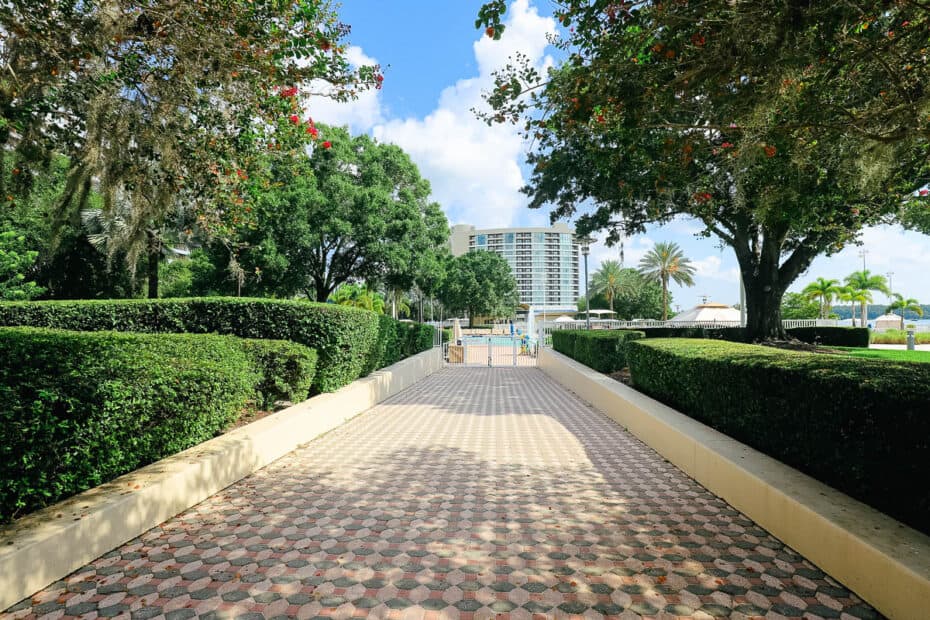 Like most of the resort, the pool area offers stunning views of Bay Lake.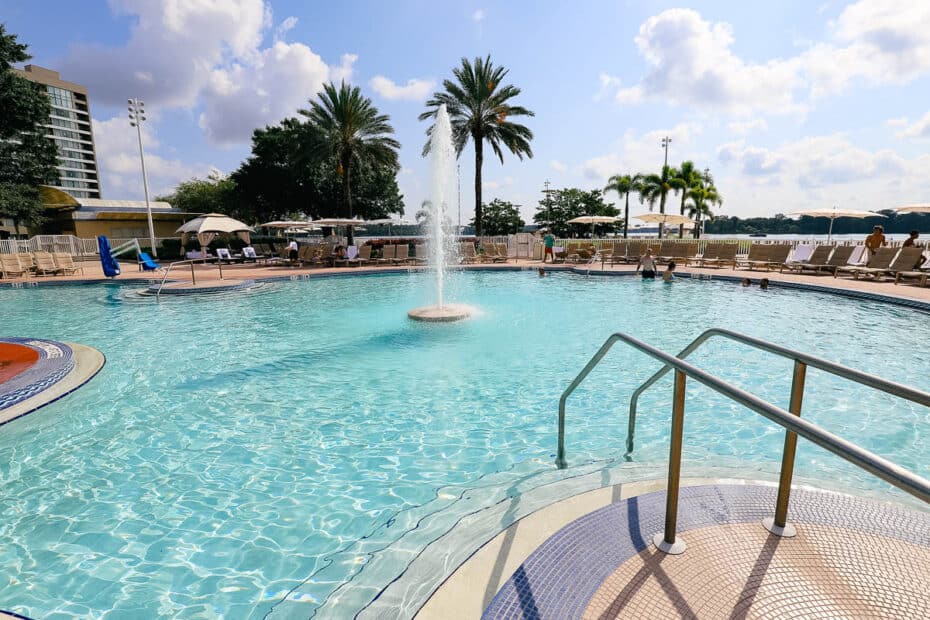 Additionally, you'll have access to the resort's quiet pool, which sits almost directly on the lake.
Related: The Pools at Disney's Contemporary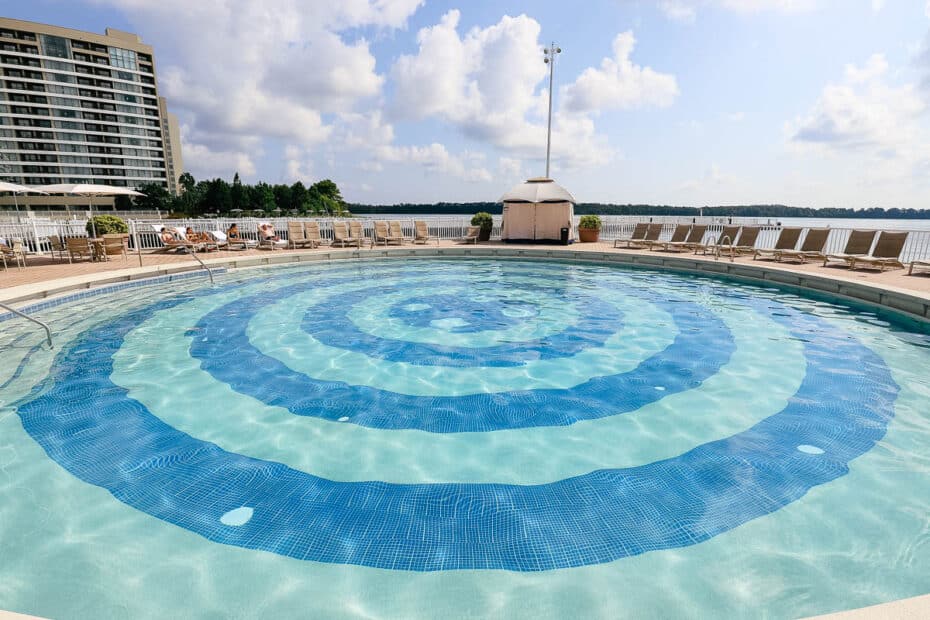 A sandy beach sits out to the front side of the Garden Wing. There are several loungers and a volleyball court.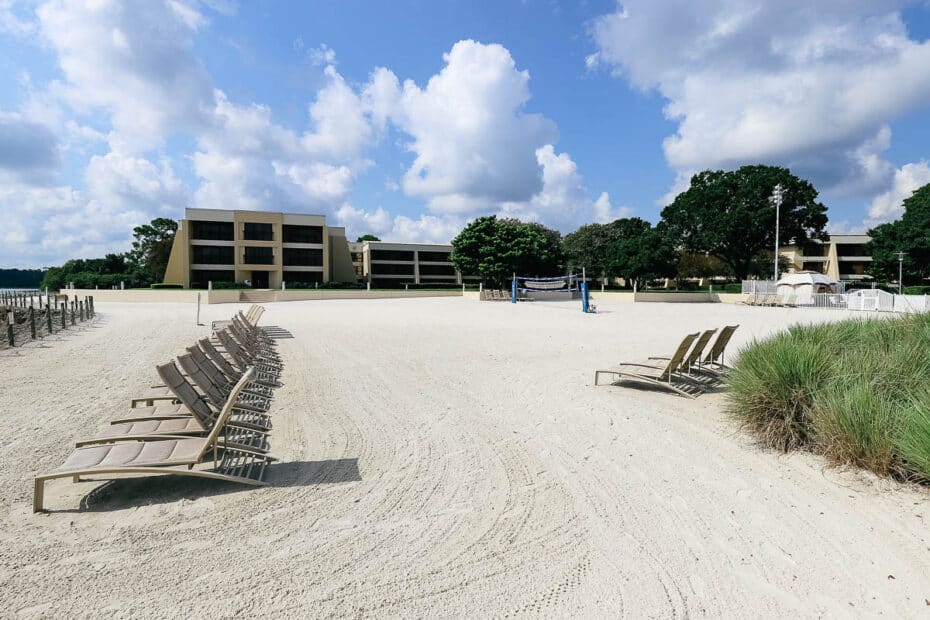 Whatever you do, don't forget to have your photo made with this iconic Mickey sculpture.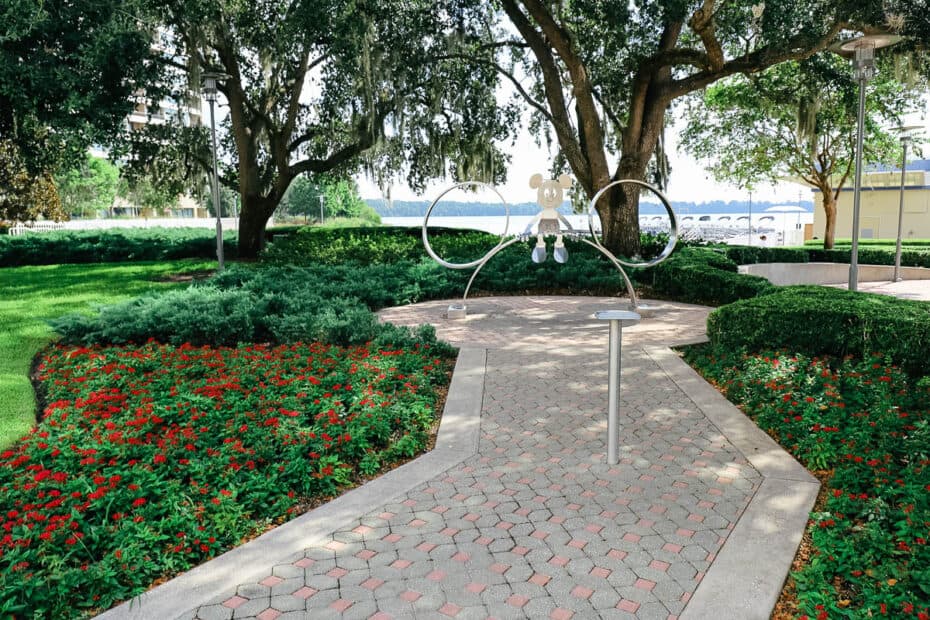 Dining Options Near the Garden Wing
When you stay in the Garden Wing, you'll have access to the dining options at Disney's Contemporary. They are as follows:
Contempo Cafe
Contemporary Grounds (Coffee)
Outer Rim
Steakhouse 71
Chef Mickey's
California Grill
The Sand Bar
Contempo Cafe is the resort's primary counter service on the Grand Concourse (4th floor). Guests can mobile order breakfast, lunch, and dinner from this location.
While at the Garden Wing, I ordered a grilled breakfast sandwich. This was similar to a grilled ham with cheese since I ordered mine without eggs.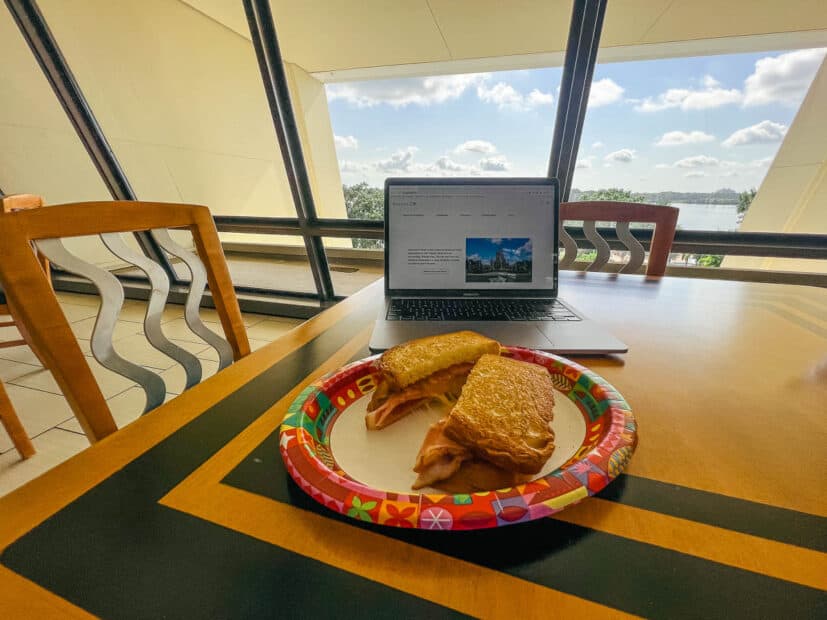 You can preview the menu for Contempo Cafe here.
While this was a great breakfast option, I ordered breakfast to-go from Steakhouse 71 several times during my stay. I found I could do better by ordering the kids' meal with two sides.
However, I still picked up my to-go order and brought it up to the same area on the Grand Concourse. Several tables and chairs are set up near the window looking out to the lake. It's a beautiful place to enjoy a meal.
Related: Steakhouse 71 Breakfast Review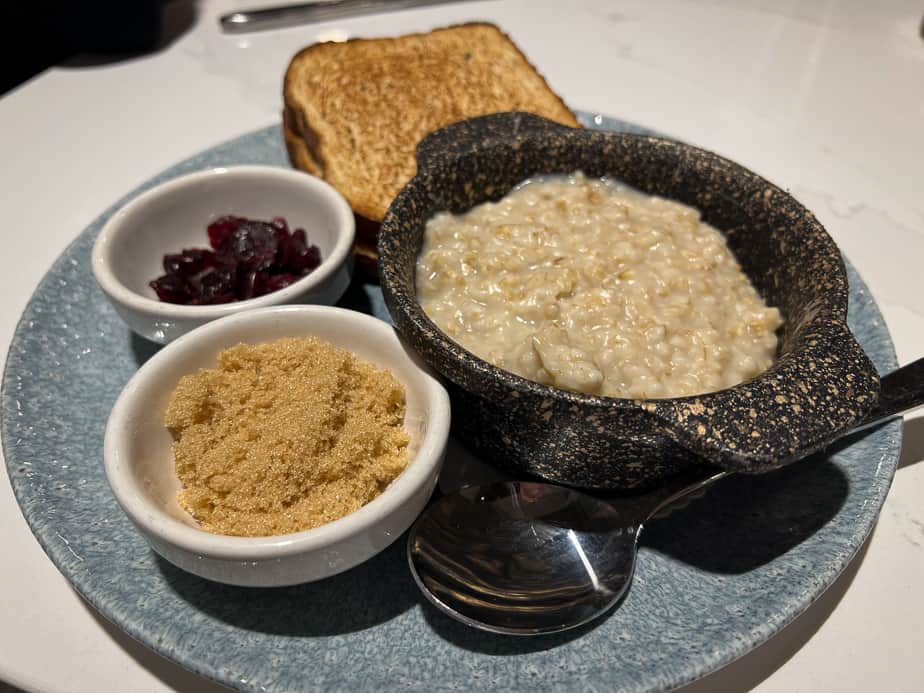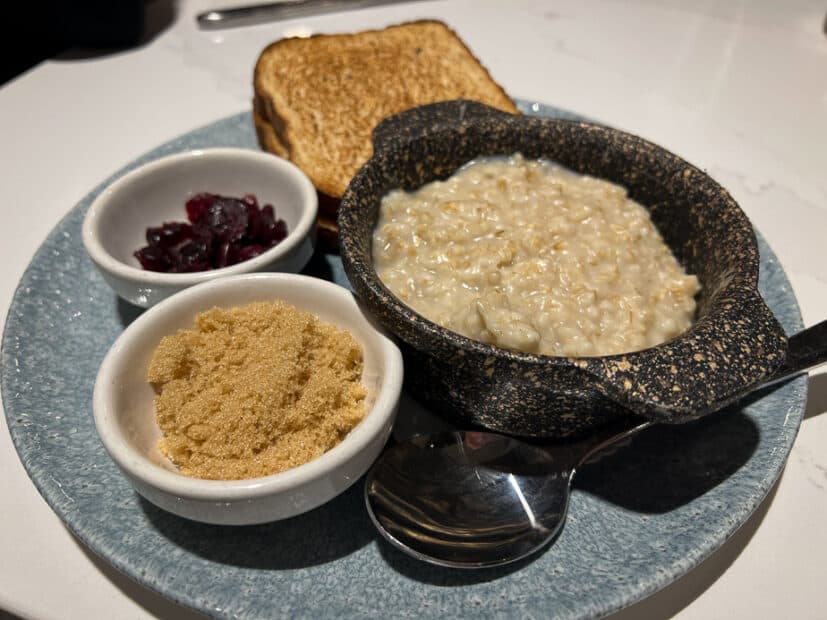 Additionally, you might like to have dinner at California Grill while at the Garden Wing. If you can't get a reservation, you can always ask if there's room at the bar. You can order a full meal from the bar and still enjoy the restaurant's ambiance.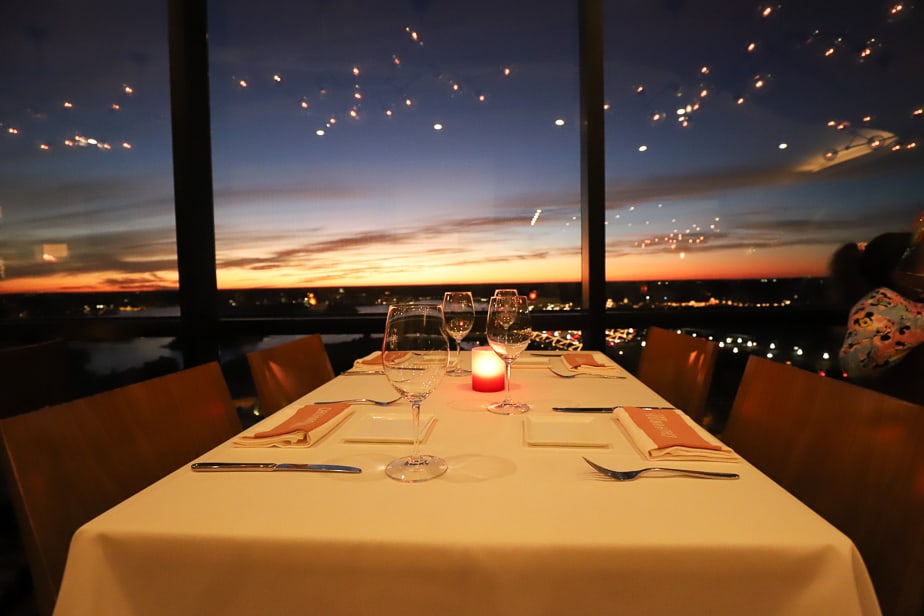 Chef Mickey's is another option for breakfast or dinner. This popular buffet-style meal offers the opportunity to enjoy a meal with characters.
You can preview the menu here.
In addition to these options, there are several other lounges and a pool bar, the Sand Bar. More details are available in our restaurant guide.
Related: Restaurants at Disney's Contemporary
If you're looking for coffee, you might also want to check out Contemporary Grounds near the resort's main entrance. They serve a variety of specialty coffees, tea, and smoothies.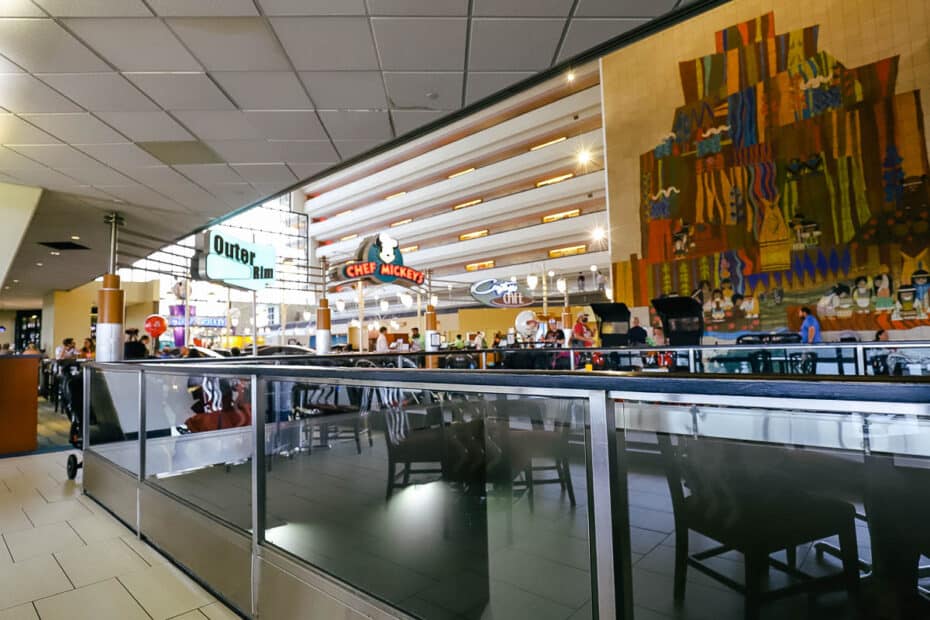 Other Amenities
Before we wrap things up, I wanted to mention a few other amenities for guests of the Garden Wing. One of those amenities is the laundry room.
The laundry room is located on the Garden Wing's second floor. Several washers and dryers are available. Laundry costs $3.00 per load, and detergent is available for $1.00 per pack.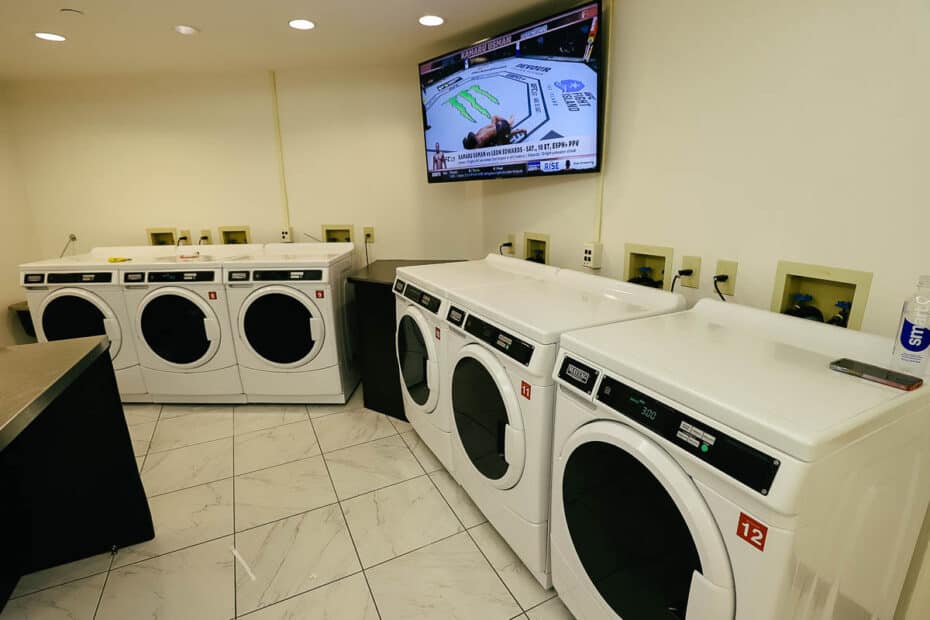 If you would like to use the fitness center, you'll find it on the third floor of the Tower.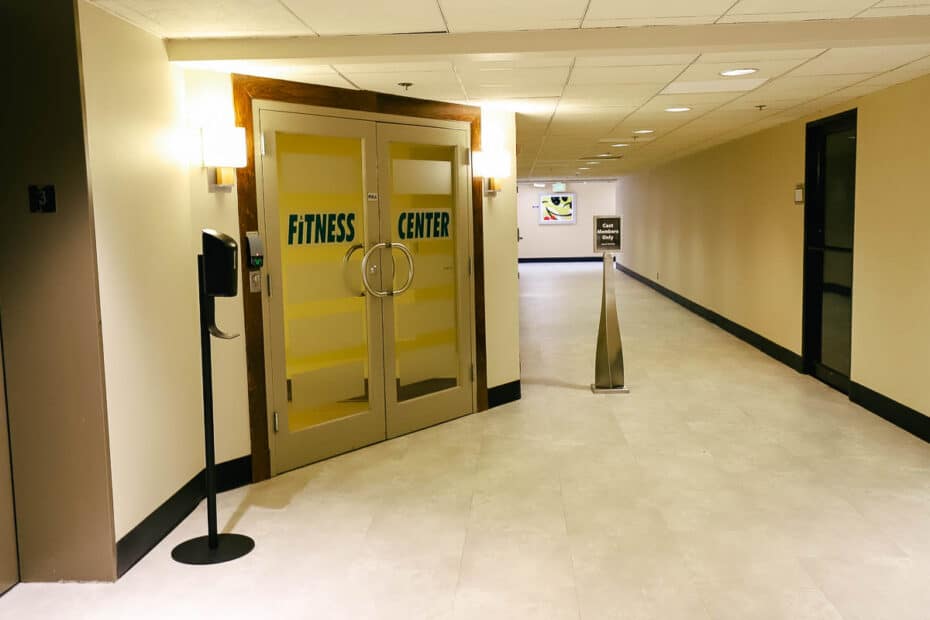 It's a large fitness center with everything you could want or need to get in a good workout.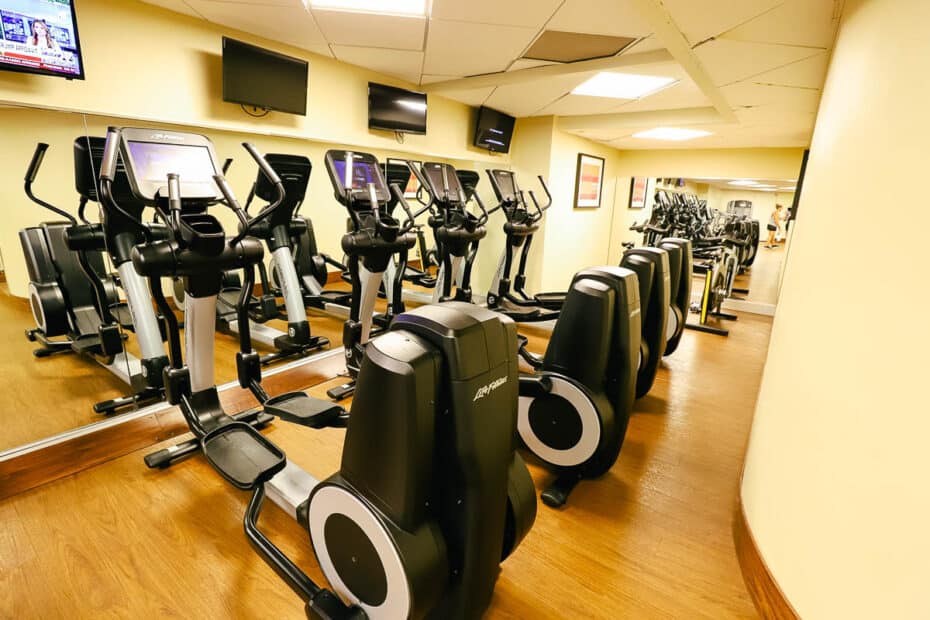 Final Thoughts on the Garden Wing
Sometimes life brings you through times of sadness that overshadow these special moments. Similar to my last stay at the Garden Wing, this was the first time in a while that I didn't have many "what might have been" thoughts hanging around on our vacation.
Partially, that's due to having the company of good friends along for this visit. I like to think that the other part is because the Garden Wing is so pleasant.
During this stay, we attended two Mickey's Not So Scary Halloween parties, which was my primary reason for reserving the Garden Wing. At the end of both parties, we were able to walk back to the resort without having to deal with lines for transportation.
Being able to walk to and from Magic Kingdom is one of the best feelings on vacation, especially at the end of a long day. You can't beat it.
Overall, I'm thankful for the memories I have here at the resort and look forward to making new memories as life allows. I hope this review was helpful if you consider staying in the Garden Wing at Disney's Contemporary Resort.
Enjoy your stay!
For more detail, try our full review:
Or you might enjoy these nearby resort reviews:
Resorts Gal provides information on the resorts and hotels at Walt Disney World and the surrounding area. You might be interested in checking out a few of our other reviews:
In the comments
Now that we've finished our look at the Garden Wing at Disney's Contemporary, what are your thoughts? Do you like the rooms? Or do you think you would like to be in the main tower amidst all the action? Leave a comment below with your thoughts.