Tour a Three Bedroom Grand Villa at Disney's Riviera Resort
When it comes to luxurious accommodations, the three-bedroom grand villa at Disney's Riviera Resort is difficult to outshine. This grandeur villa features many bells and whistles.
Below, we'll preview the 3-bedroom grand villa at Disney's Riviera. We recently had the opportunity to tour this Disney Resort, which included taking a peek inside this spectacular unit.
For reference, the Riviera is a Disney Vacation Club Resort. When it comes to a DVC Resort, units range from studios with small kitchenettes to tremendous suites with one to three bedrooms, kitchens, and multiple baths.
Of all the suites we've visited at Walt Disney World, Riviera's grand villa tops the cake. We even prefer it over the Bora Bora Bungalows at Disney's Polynesian, which are also impressive. But overall, this unit has a lot going for it that you won't find just anywhere!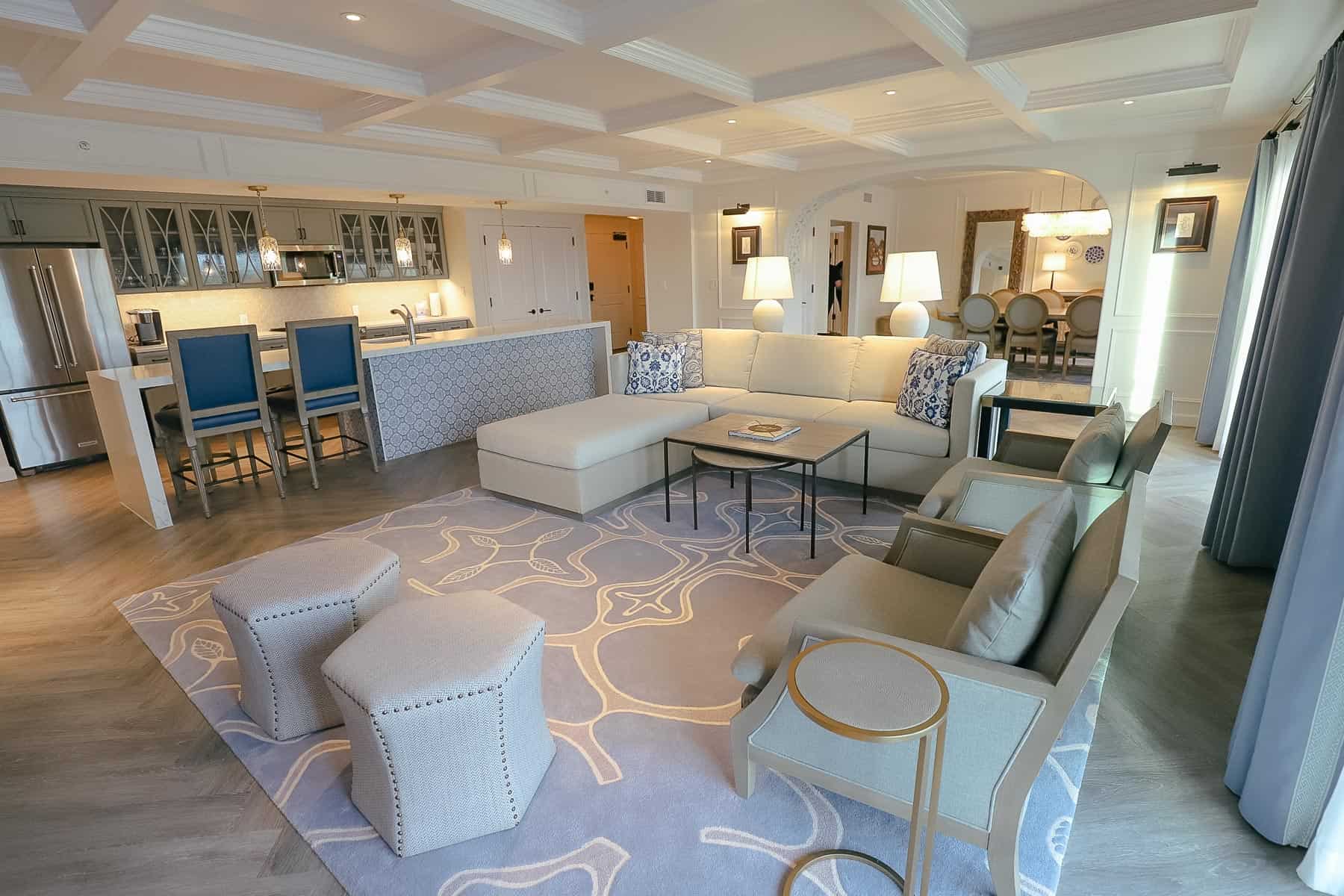 Here are a few of the specifics for the three-bedroom grand villa:
Sleeps up to 12 adults
Bedroom One (King Bed)
Bedroom Two (2 Queen-size Beds)
Bedroom Three (2 Queen-size Beds)
Living Room (1 Queen-Size Sleeper Sofa)
Full Kitchen with Island
Formal Dining Room
Three Full Bathrooms
Laundry Room (Washer and Dryer)
Approximately 2500 square feet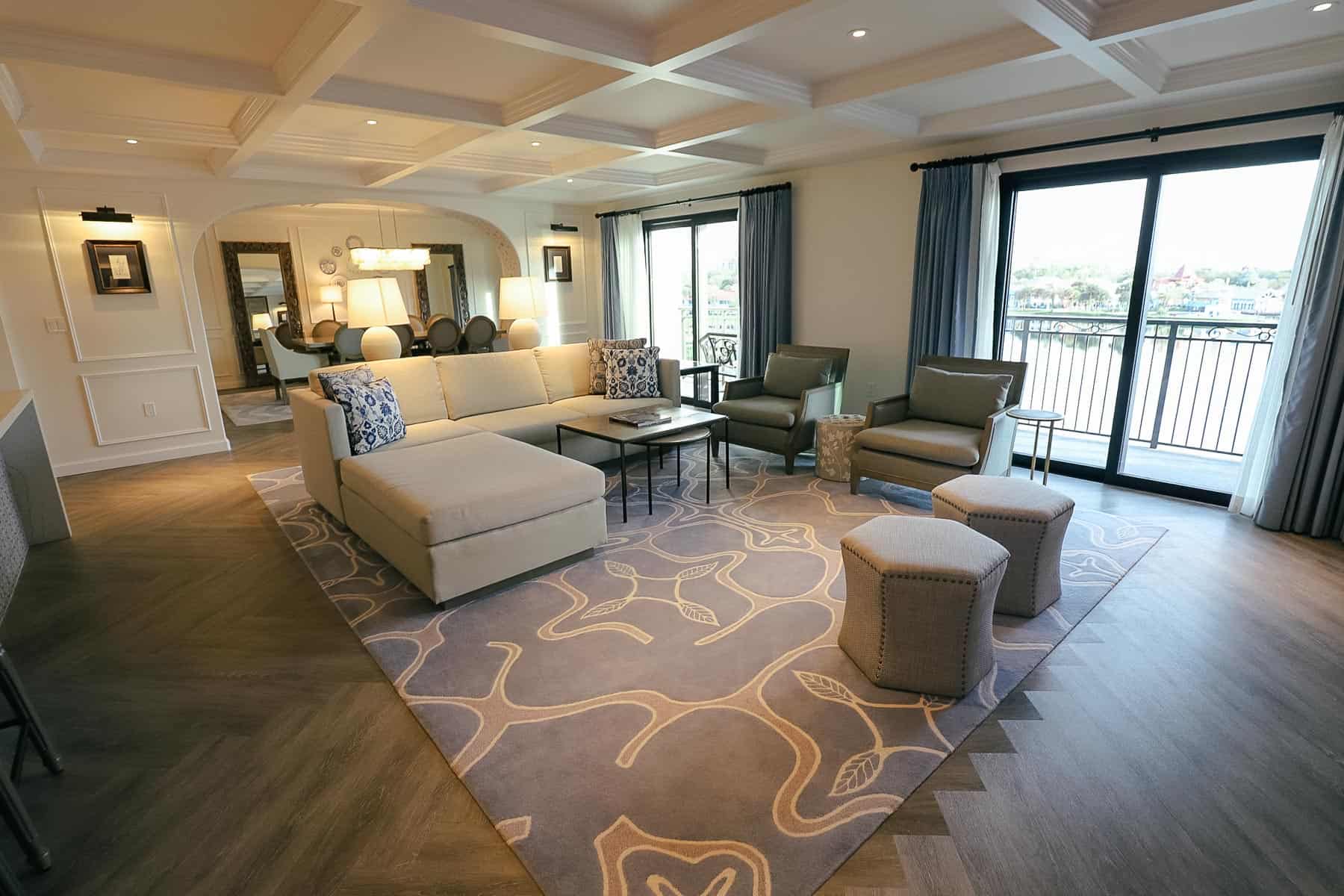 We'll start with the large, open floor plan in the living area. Coffered ceilings and paneled walls contribute to the luxurious feel of the unit. A large sofa has a built-in sleeper. However, this unit does not feature a queen-size pull down bed or single pull down bed like the one and two-bedroom units.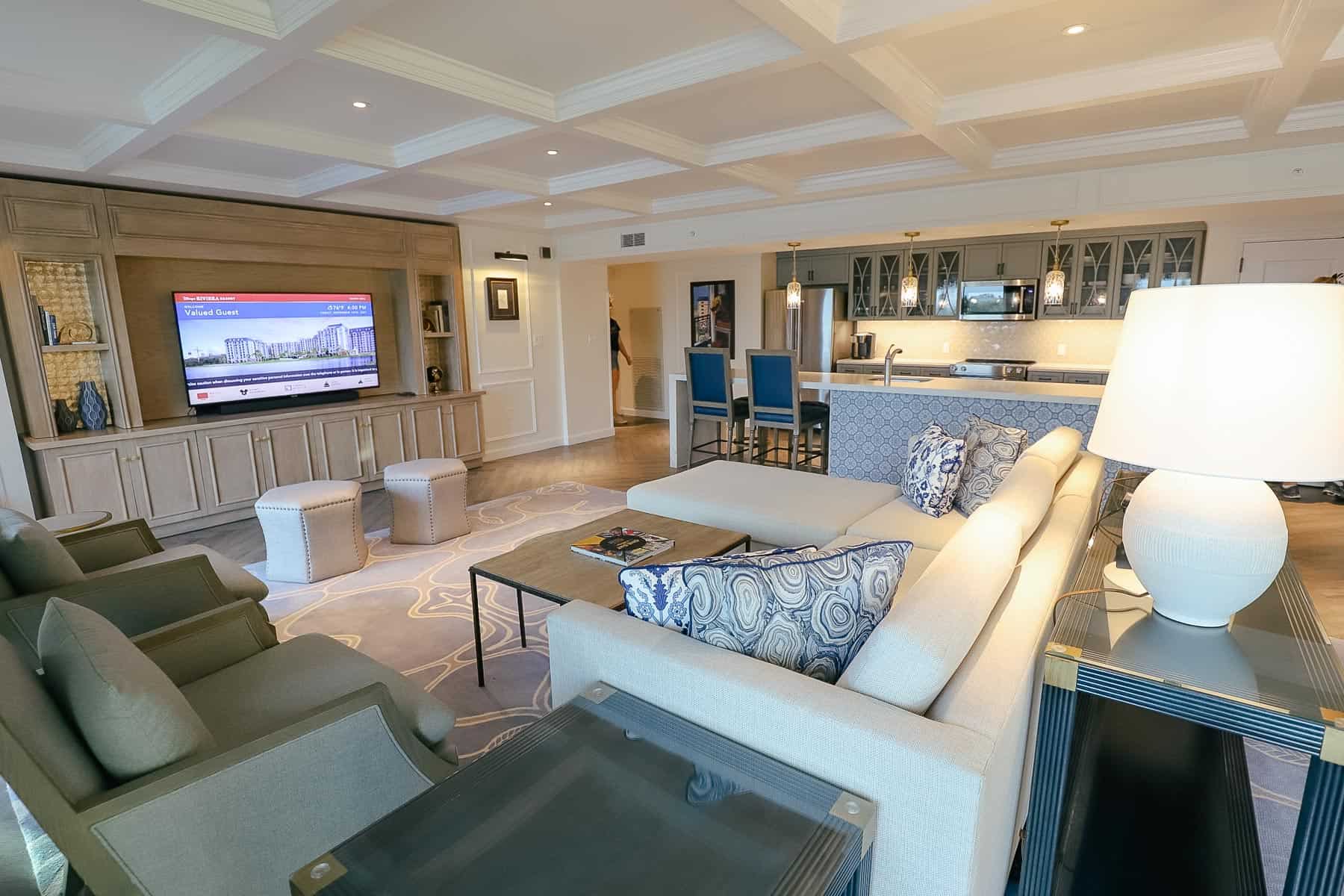 The unit reminds me of a modern-day penthouse with high-end furnishings and finishes.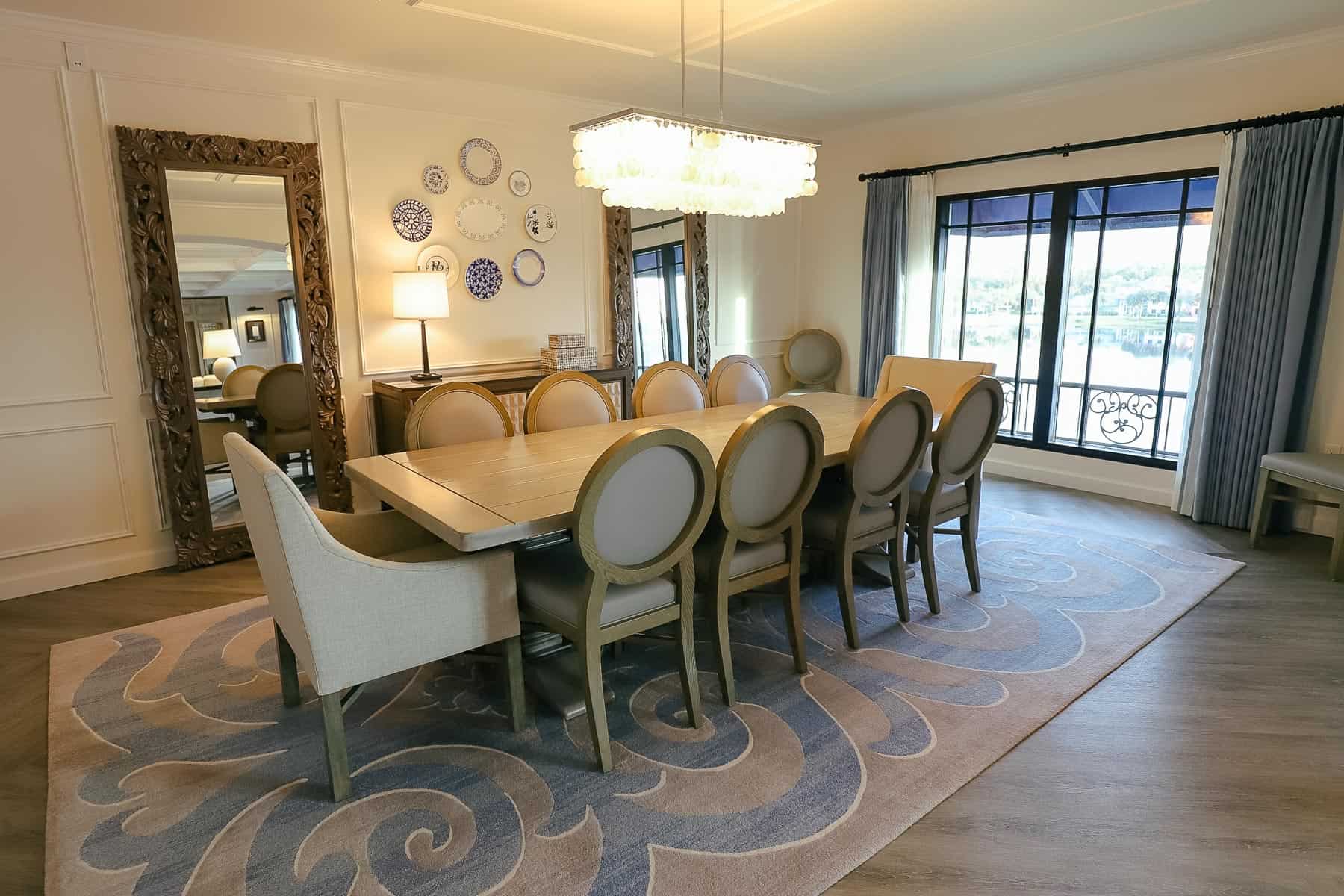 A formal dining room features a table with chairs for up to 12 guests. Can you imagine sitting at the table for a meal?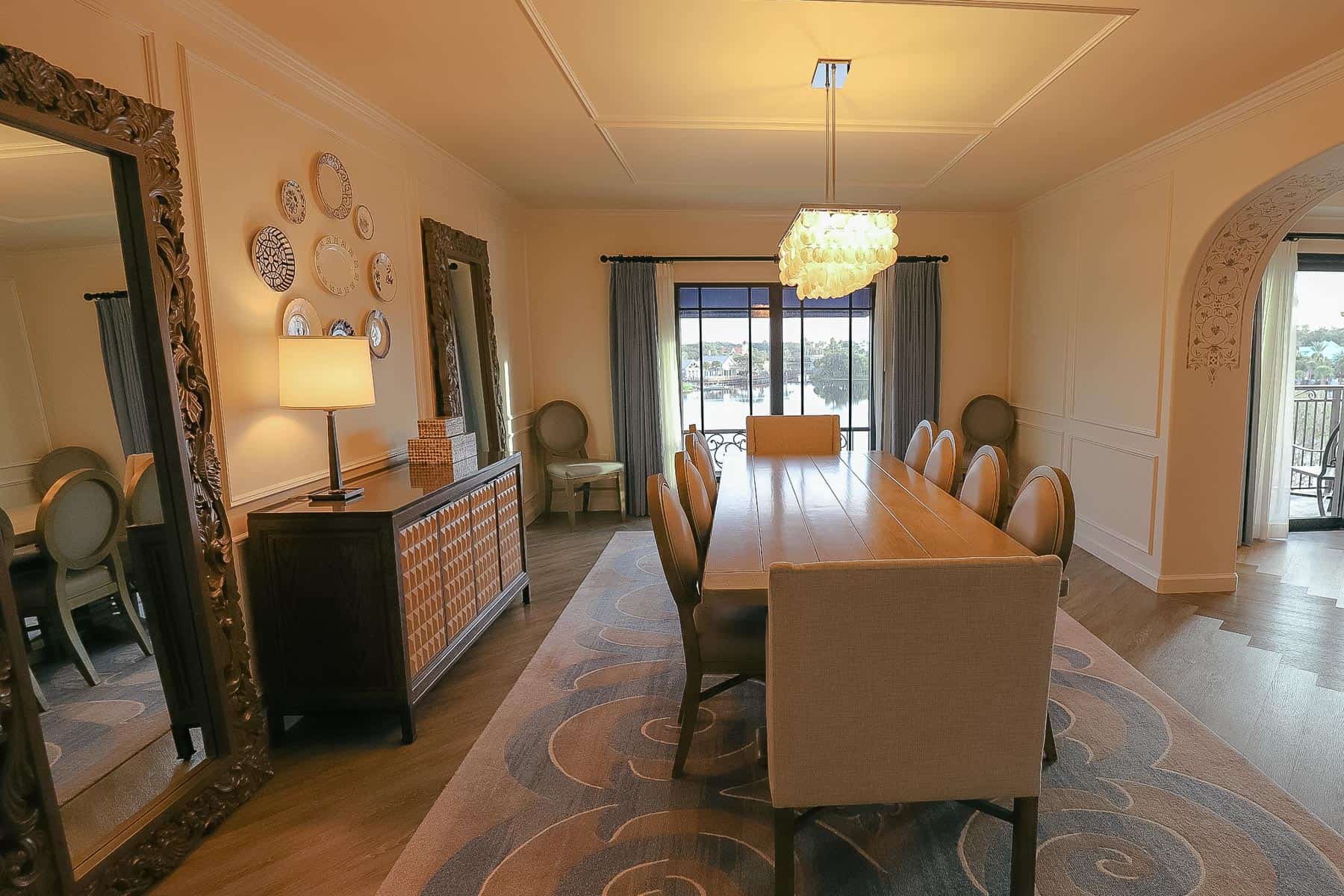 We could sit at each end of the table and slide things back and forth. You could say, "Hey, Disney! Play A Pirate's Life for Me," and music would fill the air. I can't help giggling thinking about it. Yo ho, yo ho!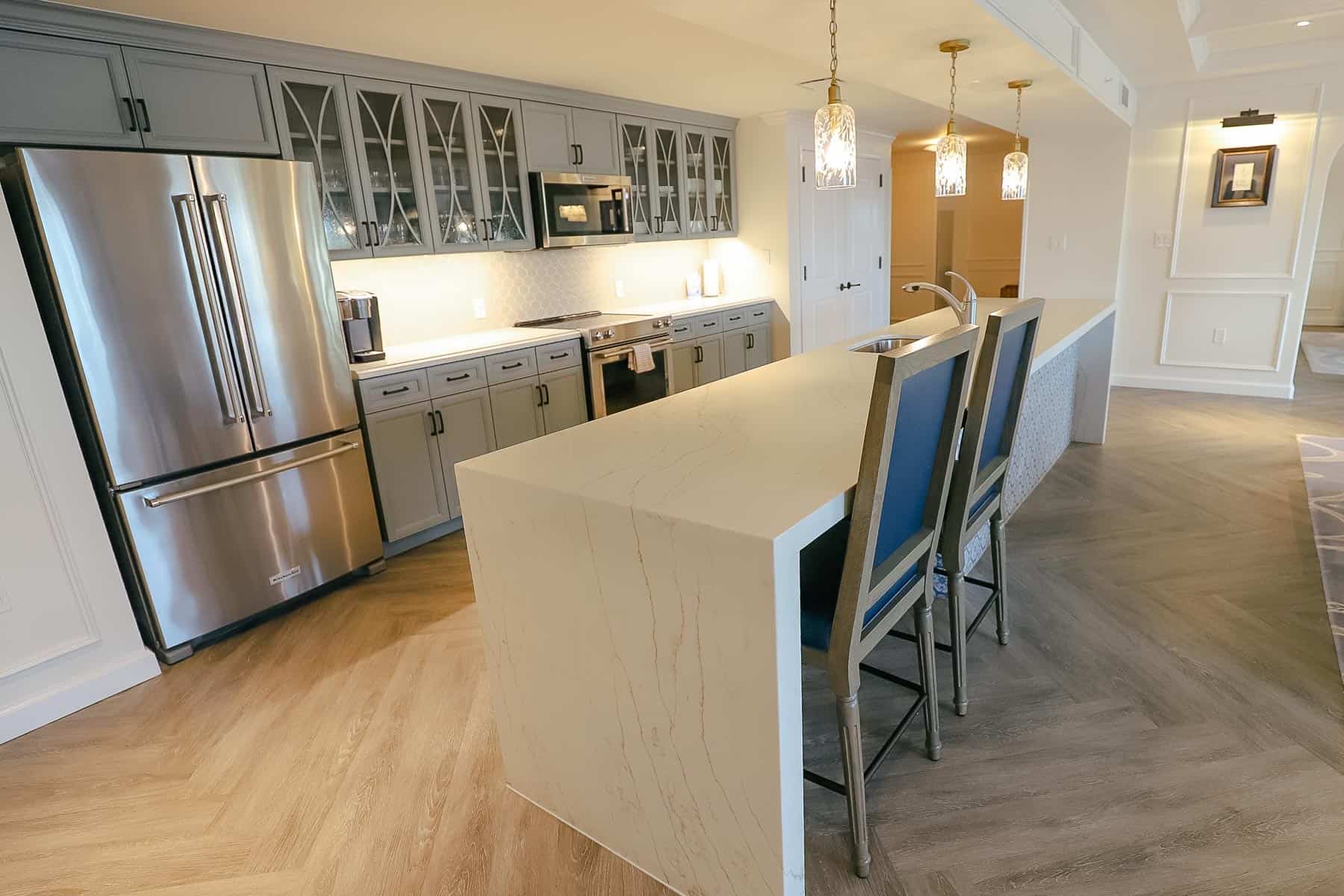 Since the grand villa features a full kitchen, you'll likely want to have groceries delivered. Cabinet and drawers are stocked with small appliances, dishes, pots, pans, glasses, utensils, and silverware.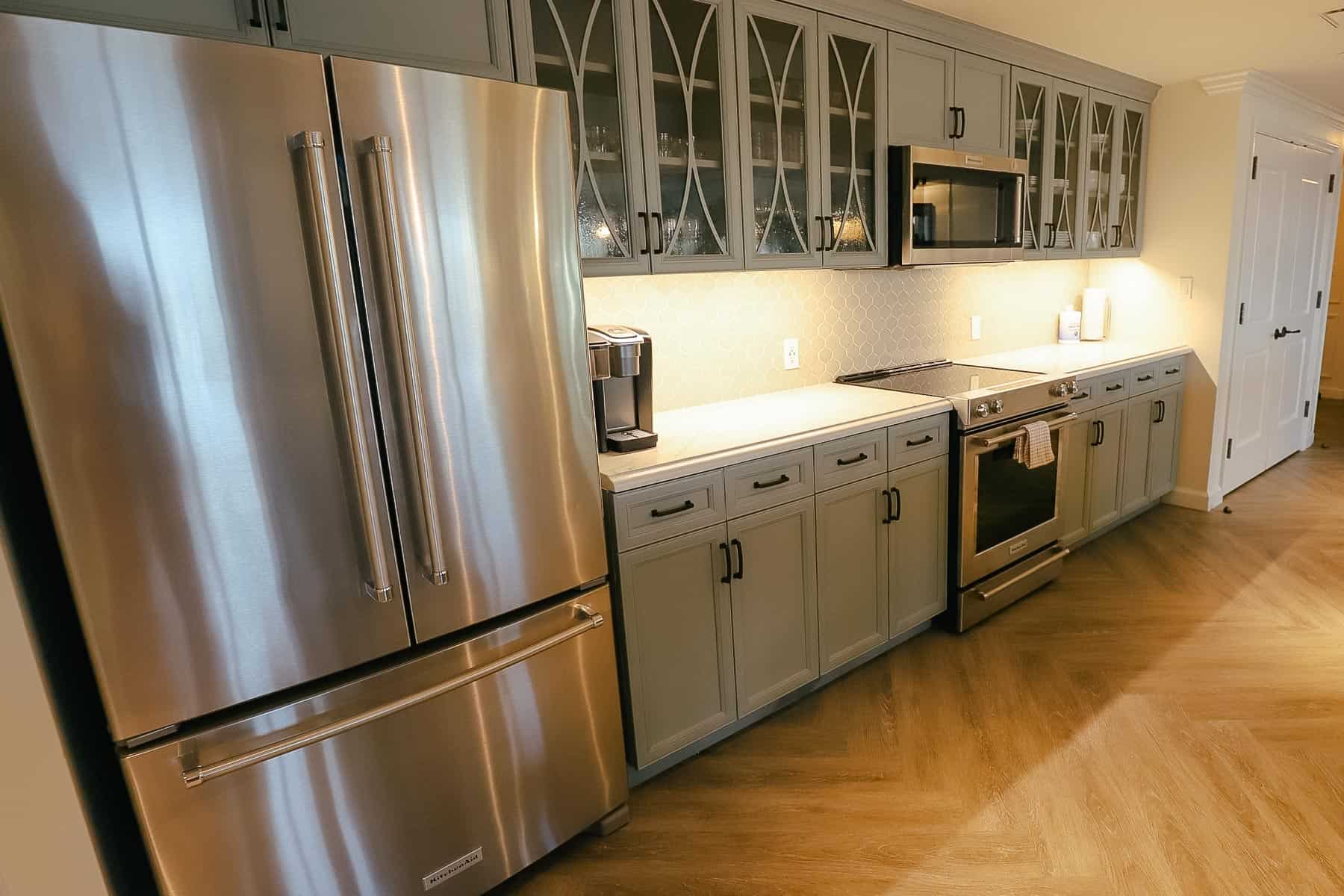 You'll also find plenty of counter space, a full-size refrigerator, a built-in microwave, and a cooktop with an oven.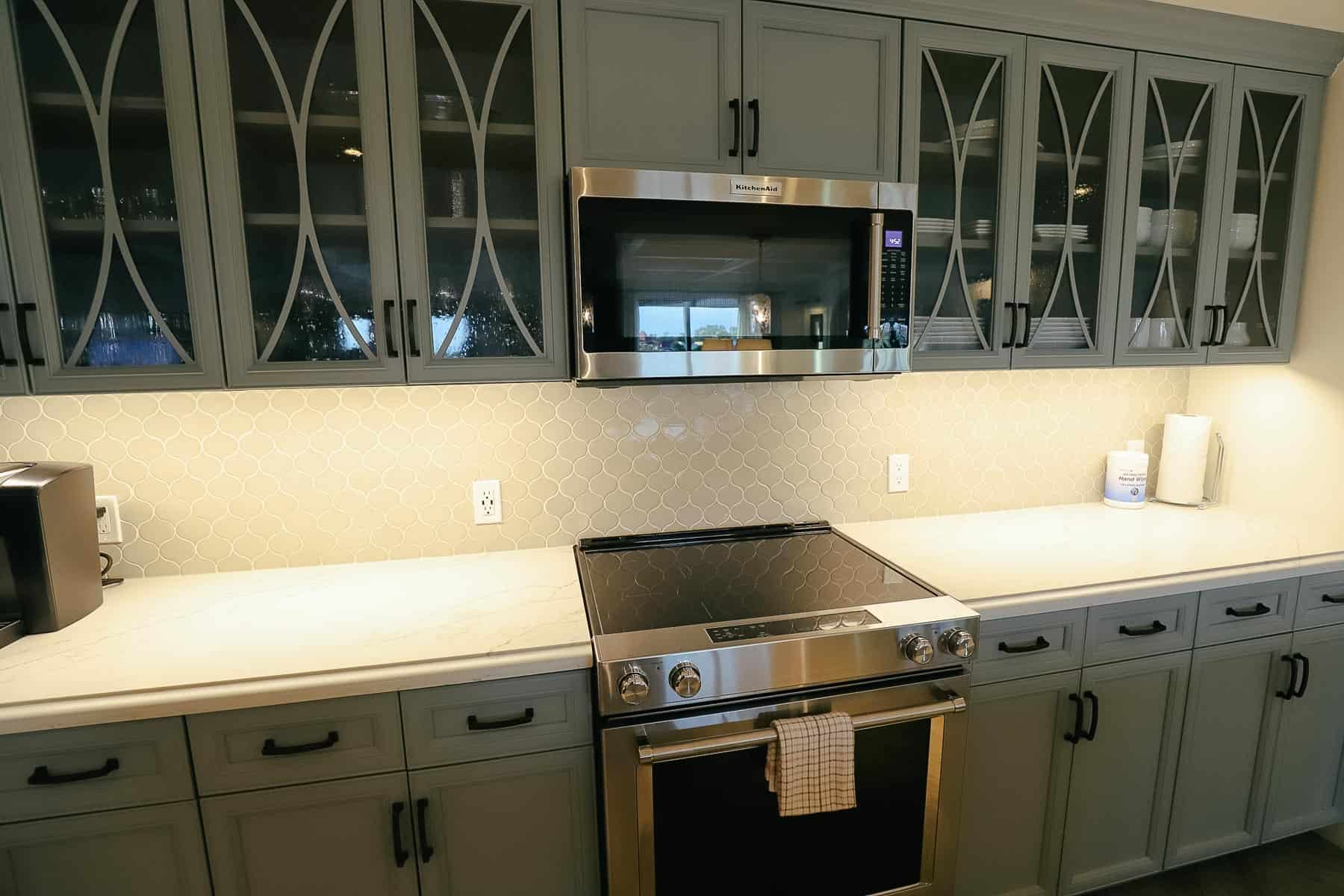 A long island makes up the opposite side of the galley-style kitchen. It has a dishwasher and sink. Bar seating is available on the outer portion.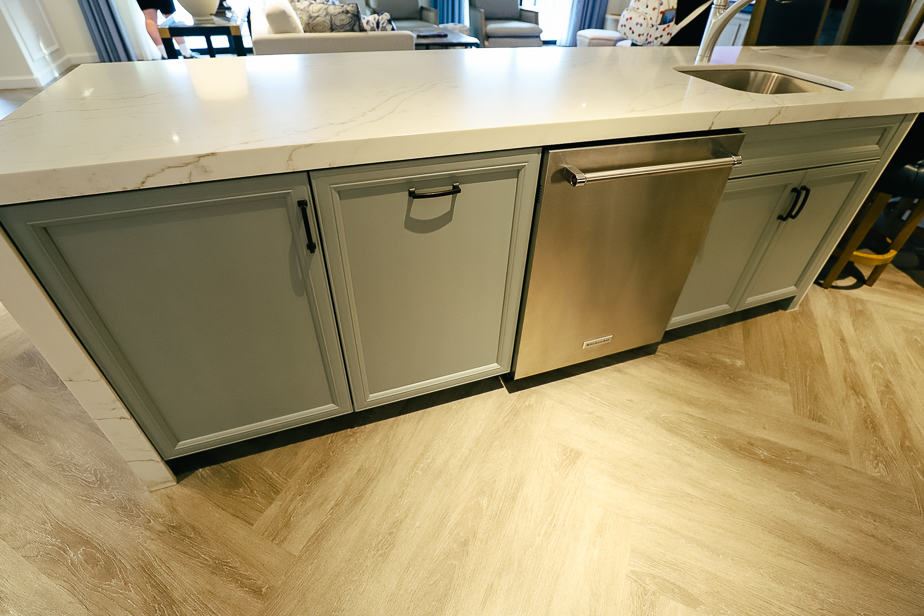 A pair of large double doors to the far right of the kitchen open to reveal a full-size washer and dryer.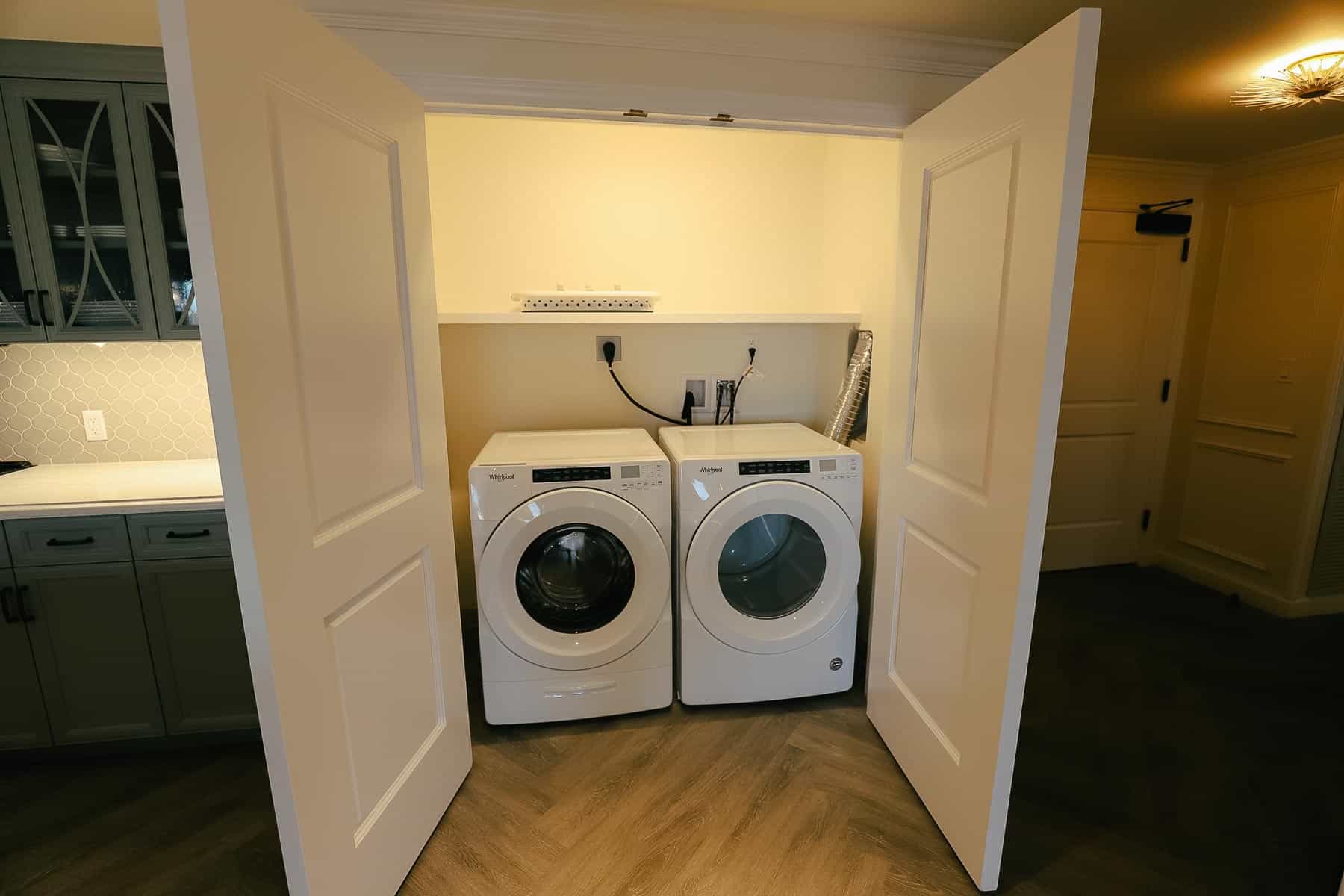 Riviera's three-bedroom grand villa has a split floor plan. A master suite takes up one entire side of the unit while the other two bedrooms sit on the opposite side. Below is a photo of the first guest suite. This room has two queen beds and a private balcony.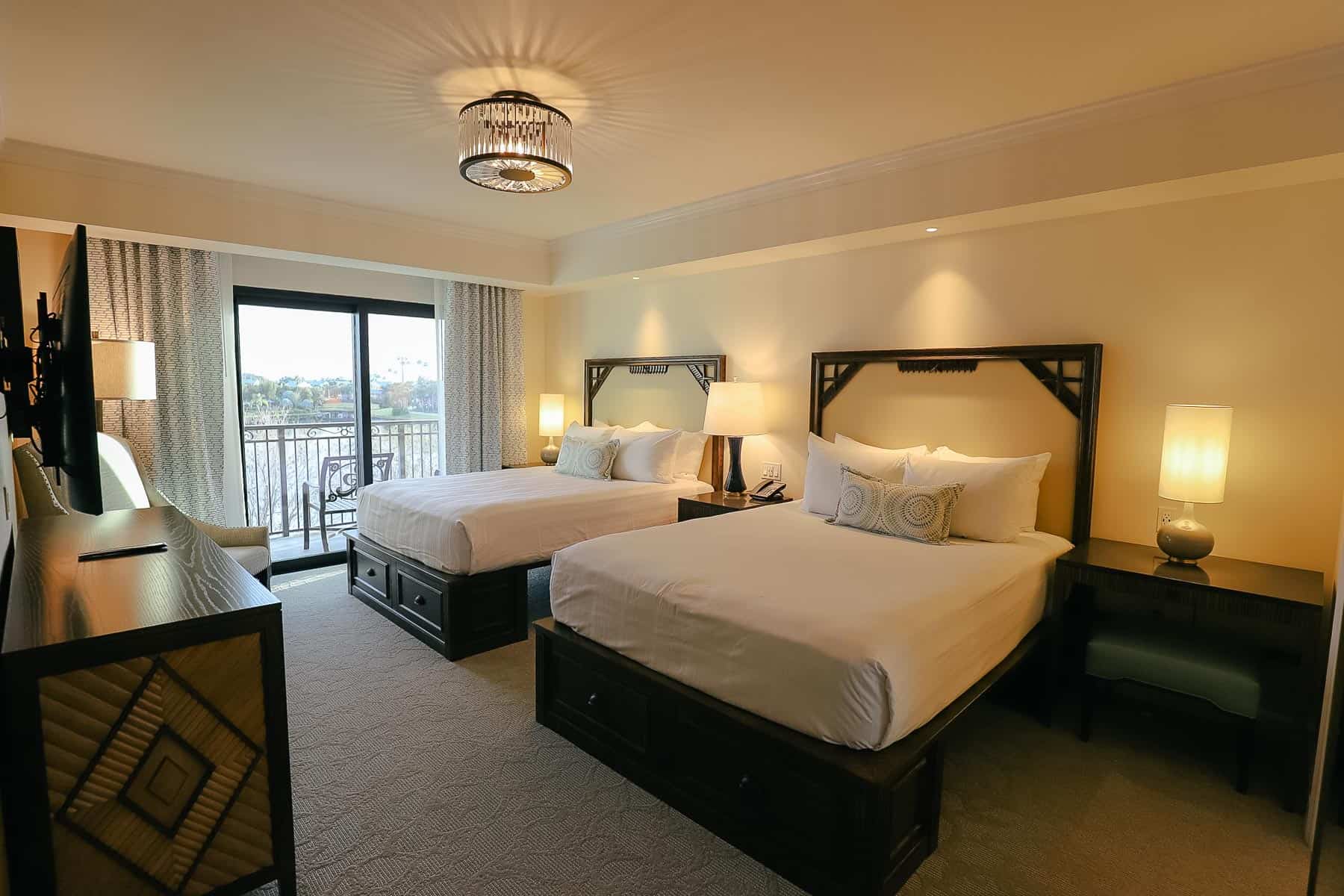 It's a gorgeous space that's comparable to the size of an average hotel room.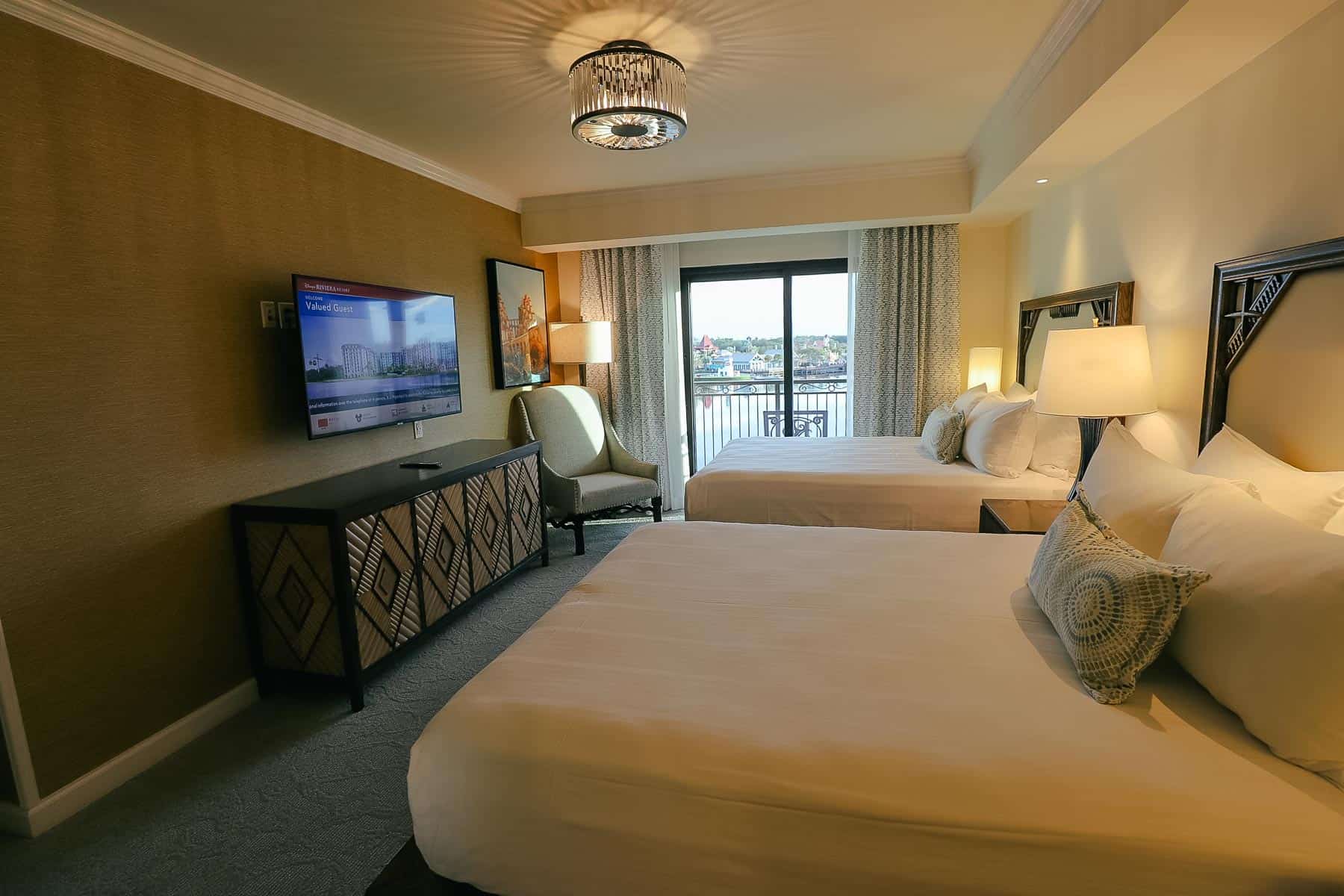 This bedroom has a full bath that sits across the hallway. So it's not technically en suite. It features a vanity area, a walk-in shower, and a separate water closet.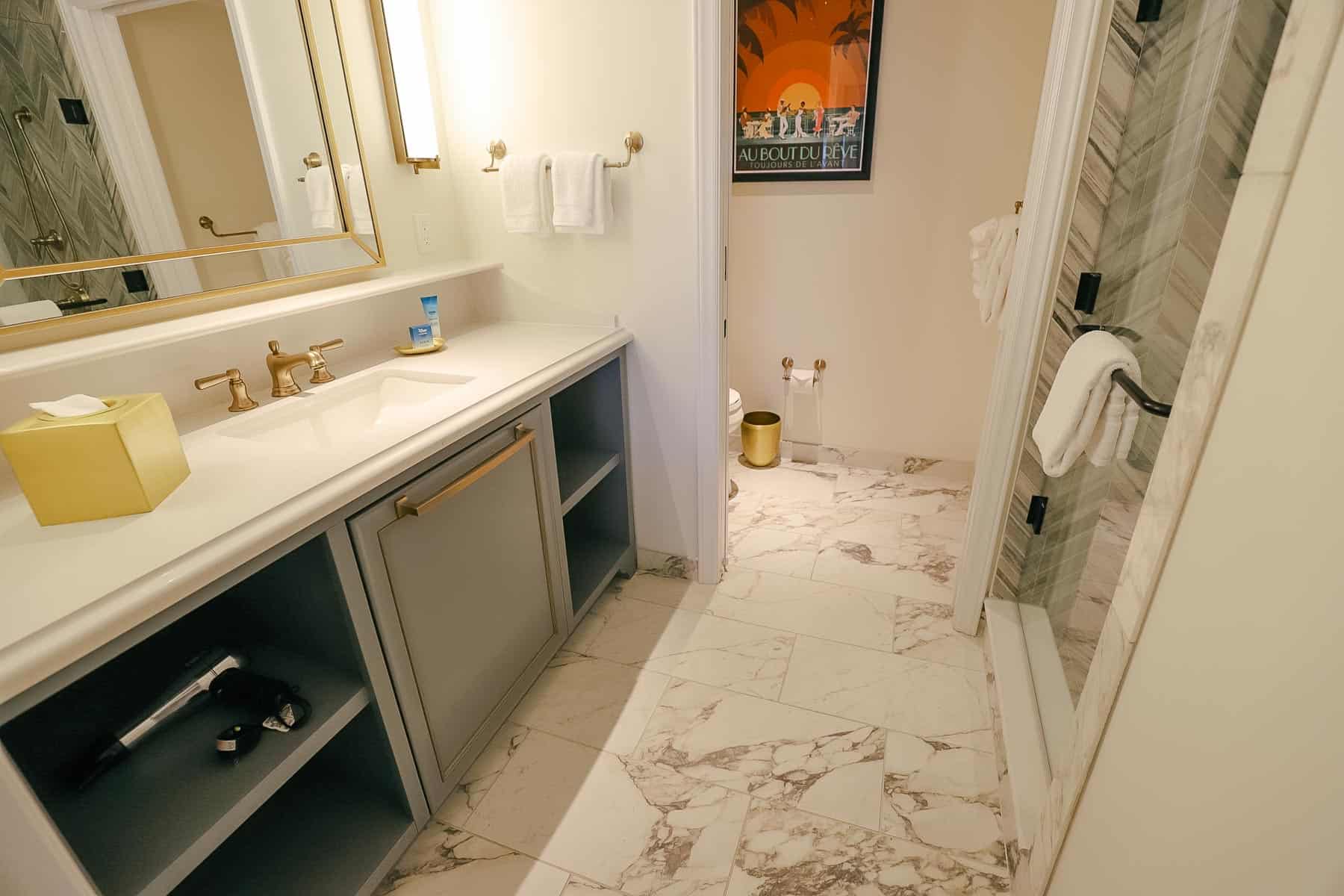 Next door, the second bedroom is a bit larger than the previous guest room. You might notice it has a separate door out to the balcony. Benches sit at the foot of each bed.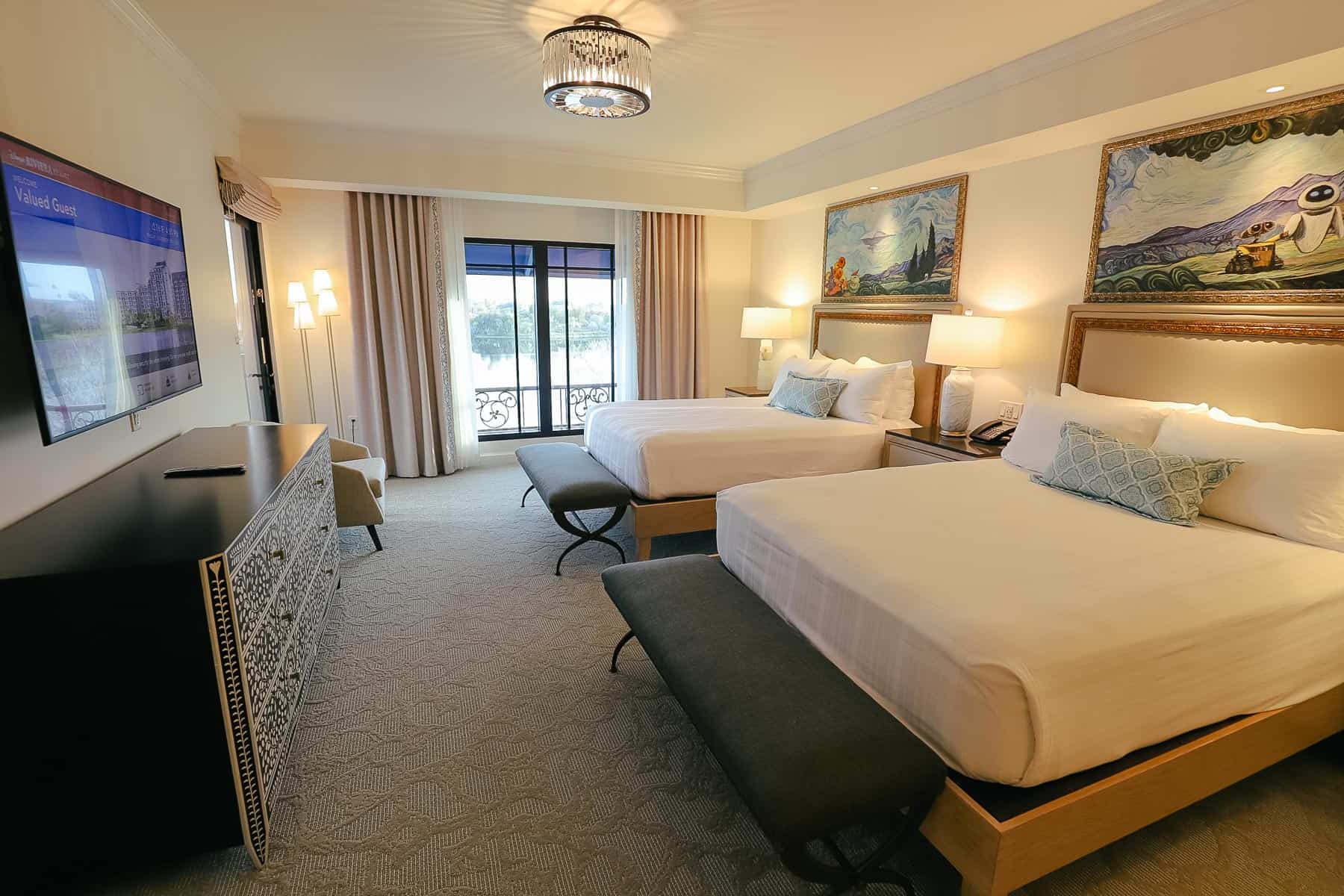 Artwork in this room was from Wall-E.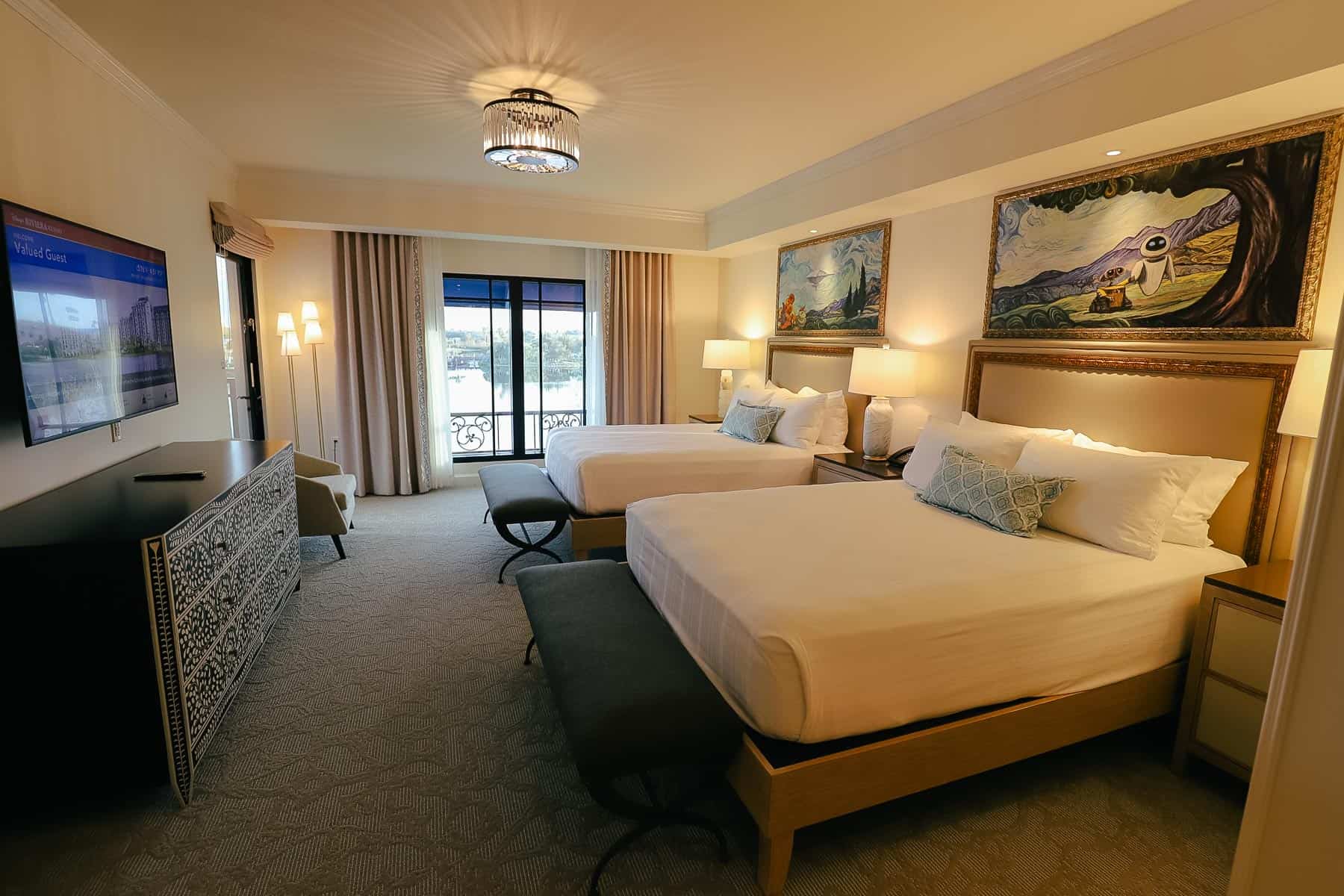 This guest bedroom has an en suite bath. It was a little smaller than the previous one. However, it features a tub with a shower combination.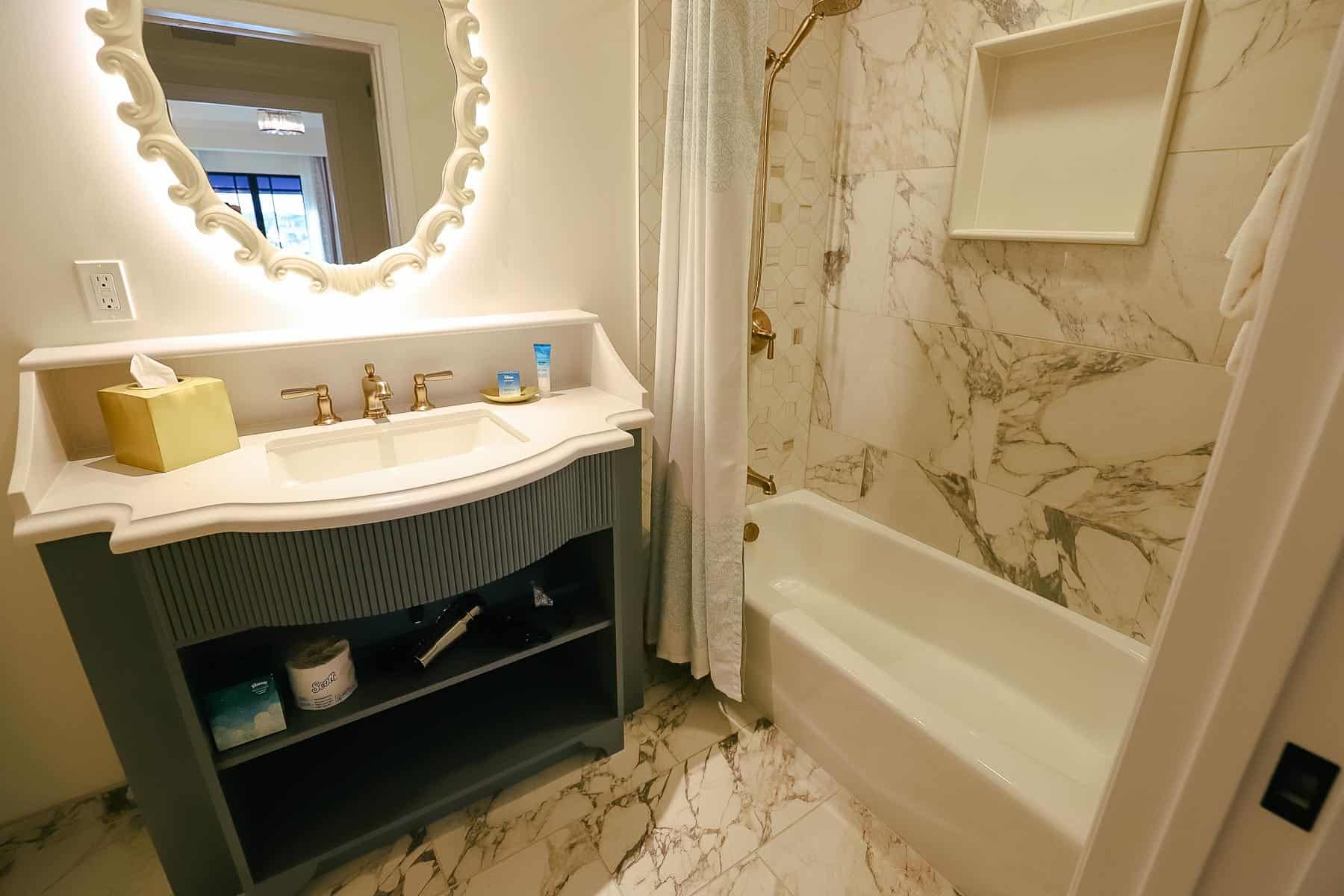 Below is another look at the layout.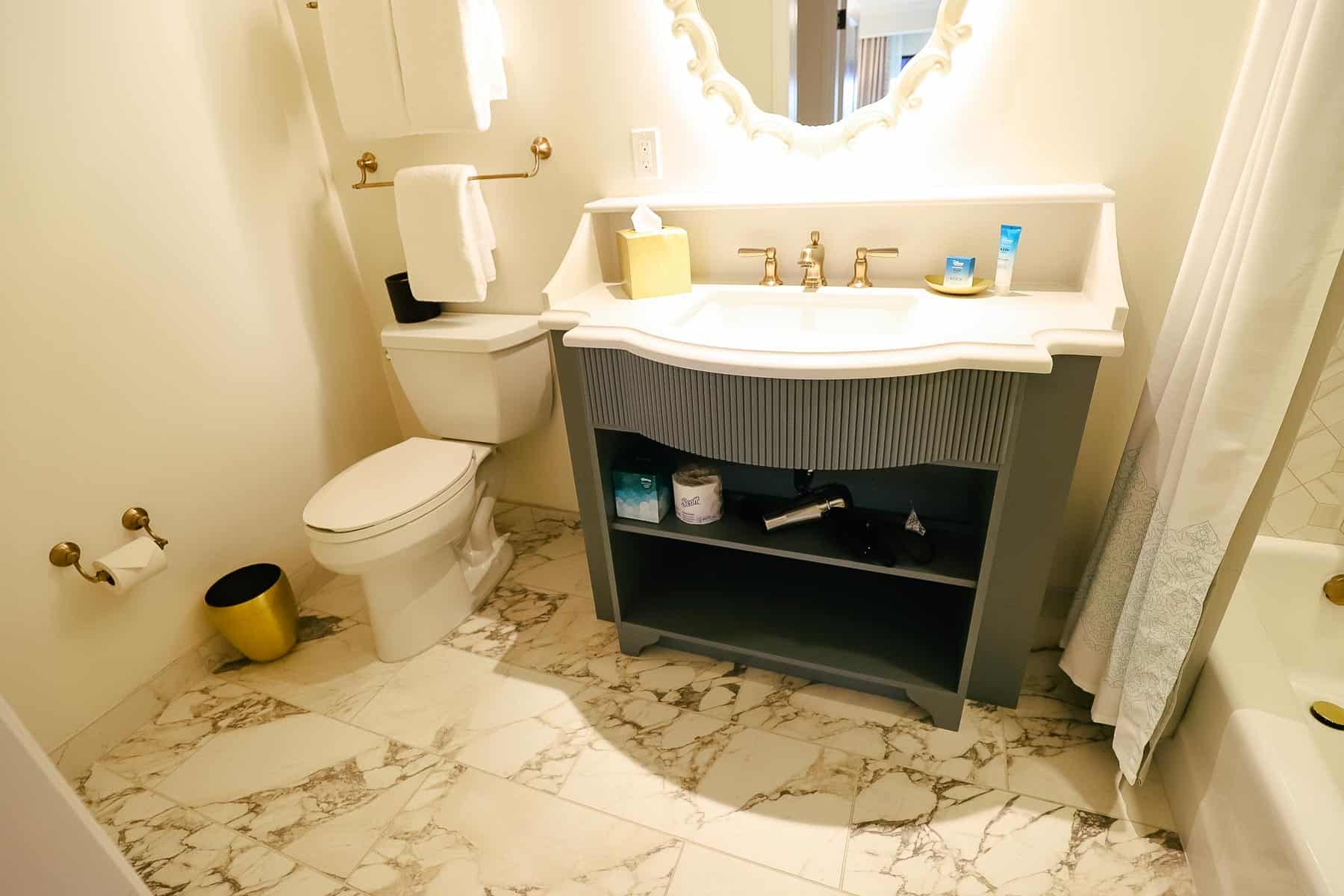 Lastly, the master suite sits on the opposite side of the three-bedroom grand villa.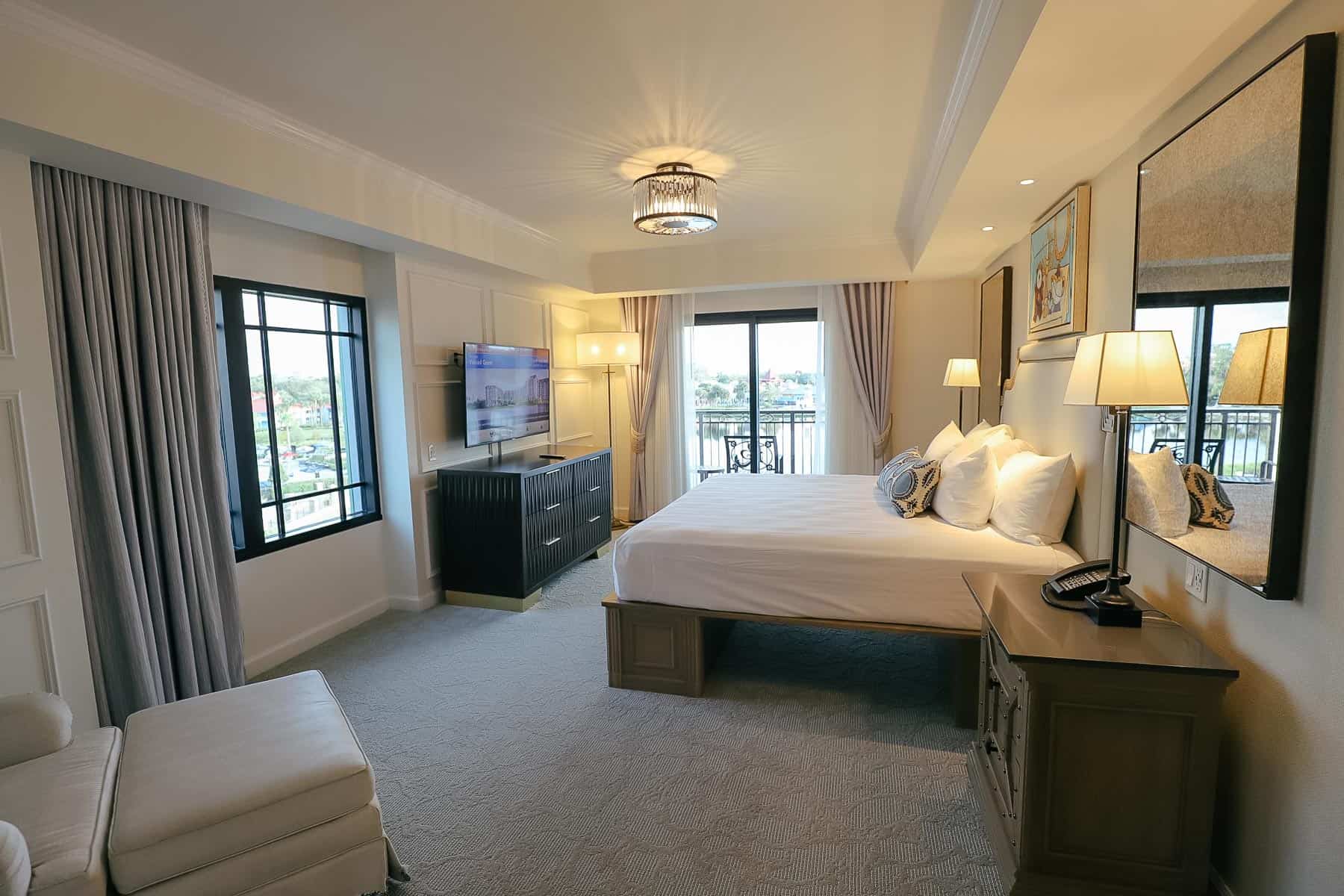 It's a magnificent master suite with a king-size bed.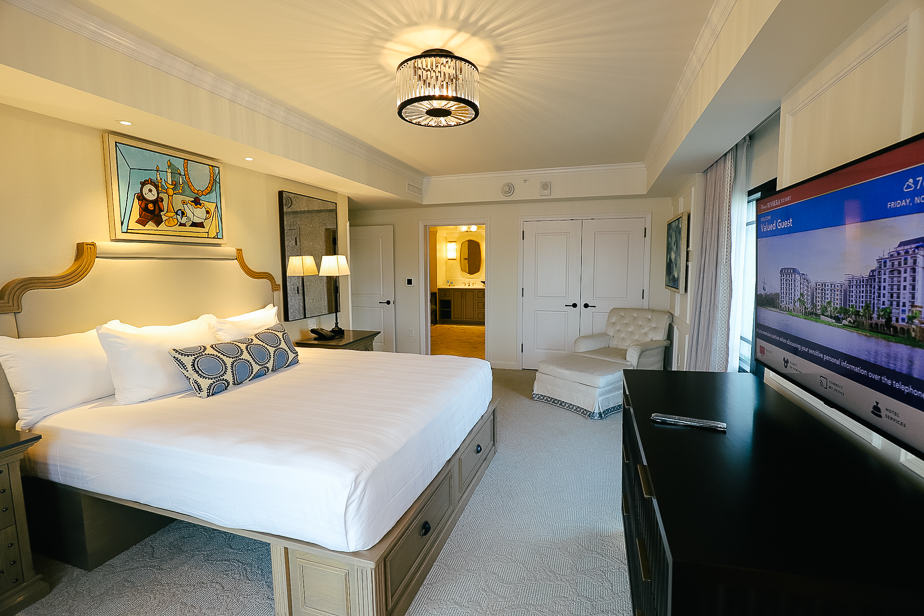 Plenty of closet space is available, along with a chair and ottoman.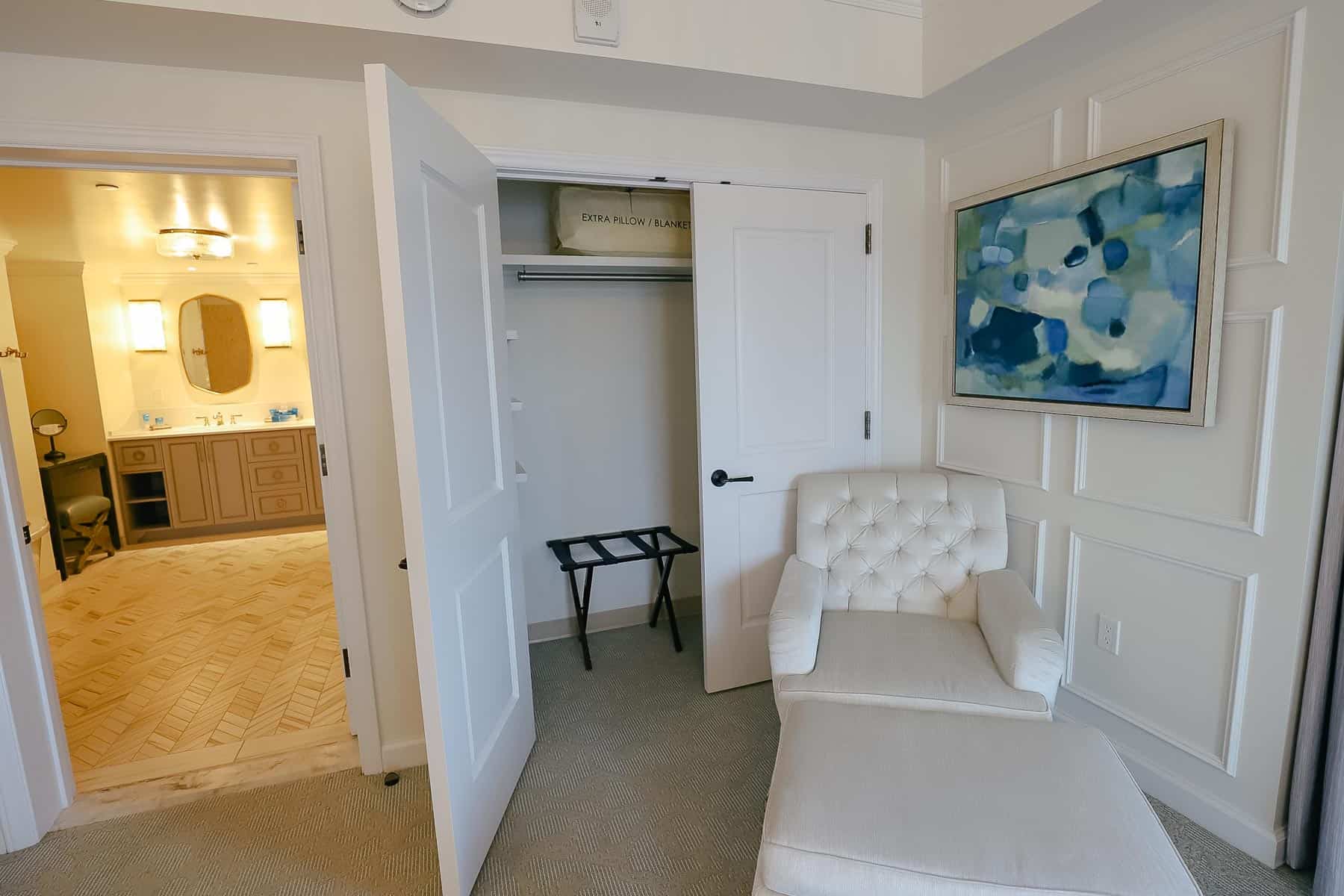 Grand villas at the Riviera all have a preferred view. You might see views of the courtyard, lake, Riviera Pool, or possibly Epcot in the distance.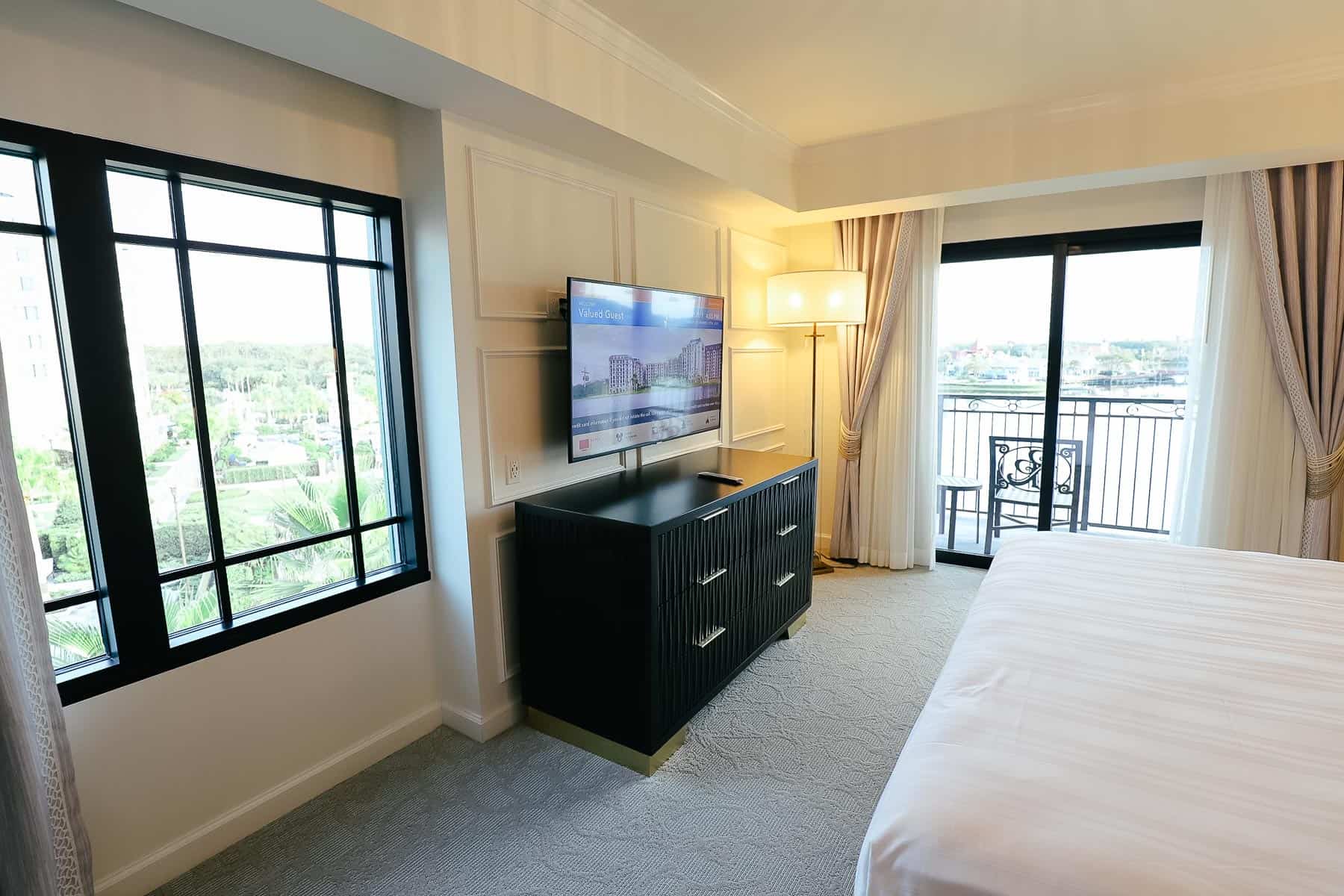 One side of the room looked out to the pools at Disney's Riviera Resort. That's the Beau Soleil Pool in the photo below.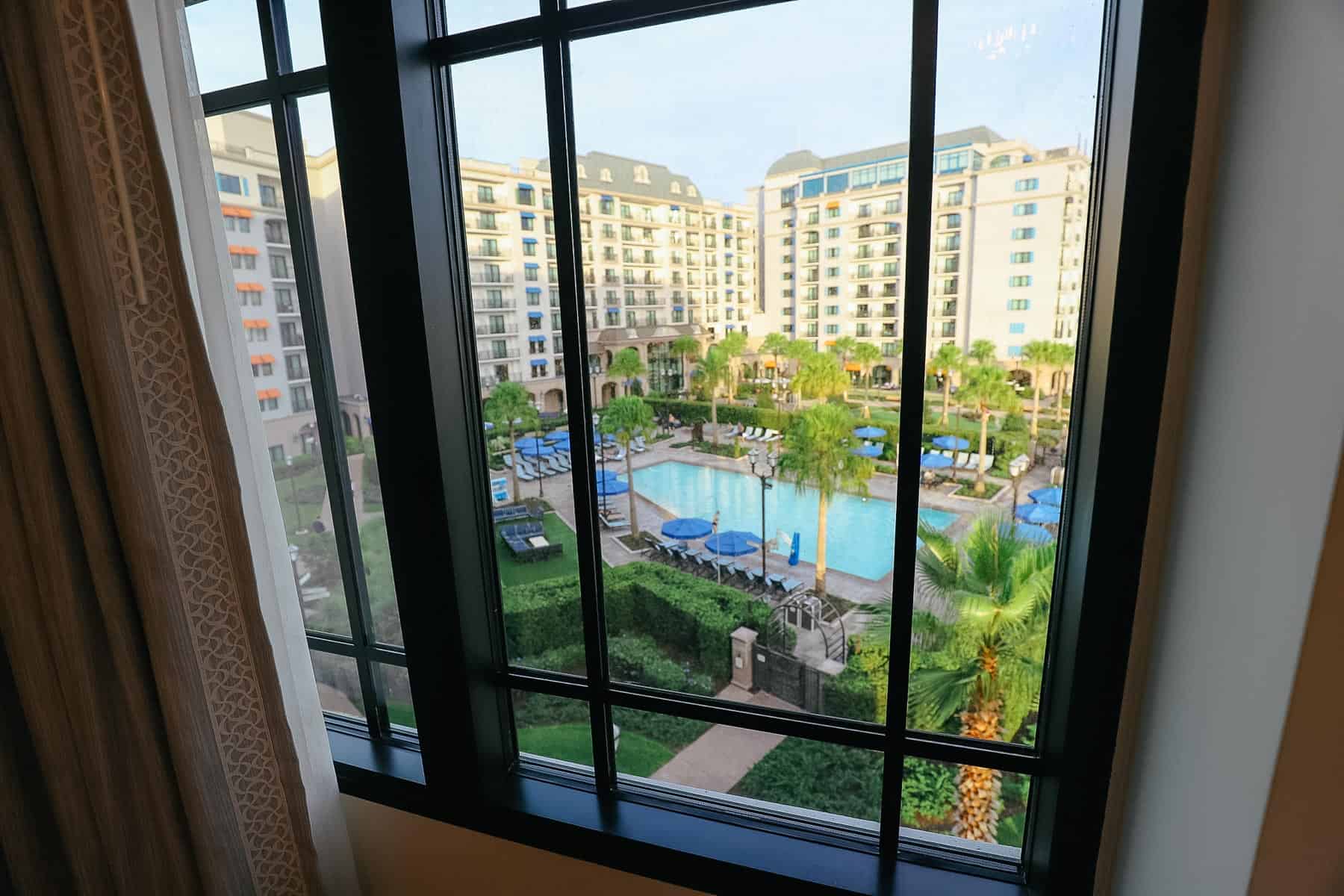 Here are views of lake Barefoot Bay and Disney's Caribbean Beach Resort.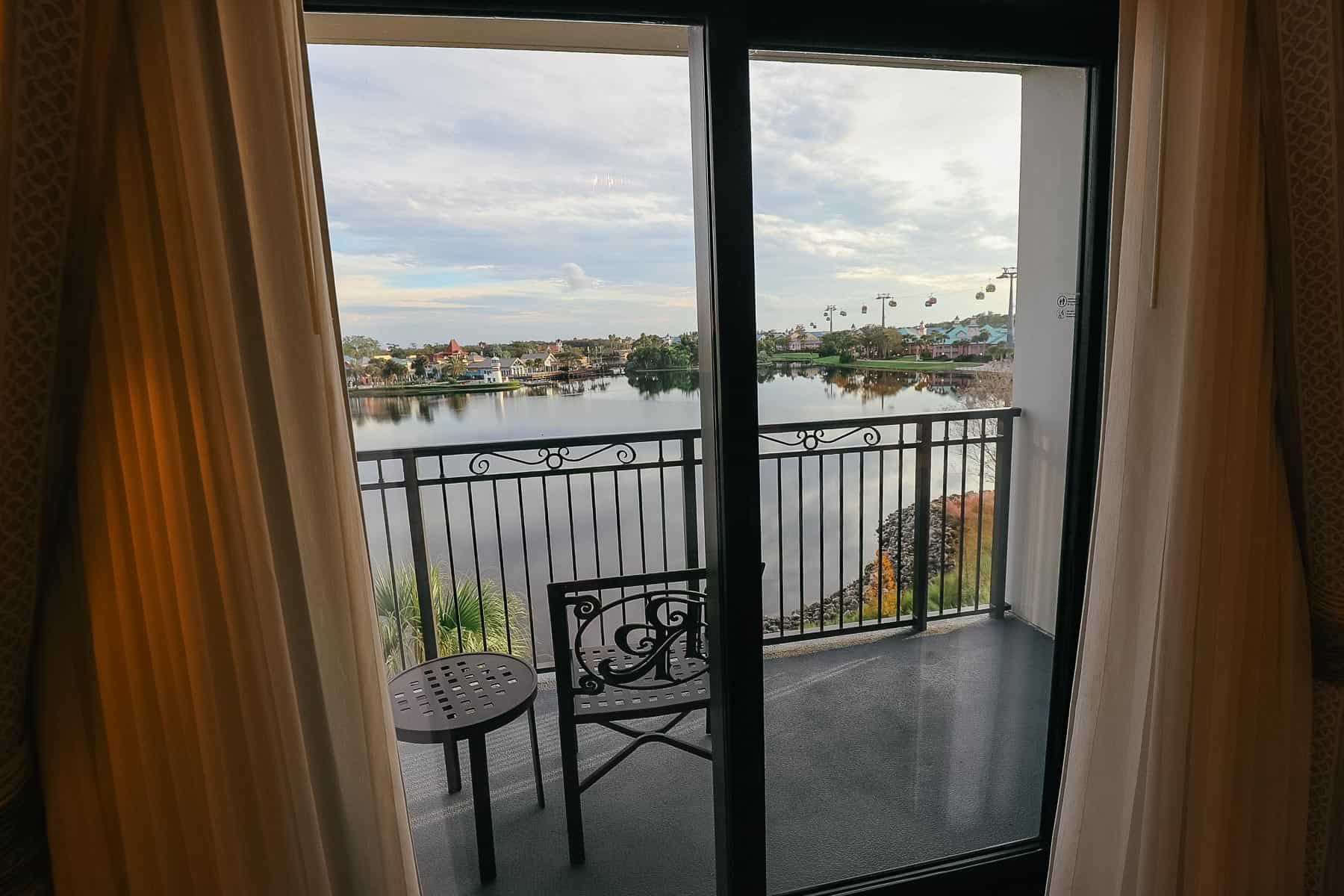 Of course, with every lovely master bedroom comes an en suite master bath. This one didn't disappoint.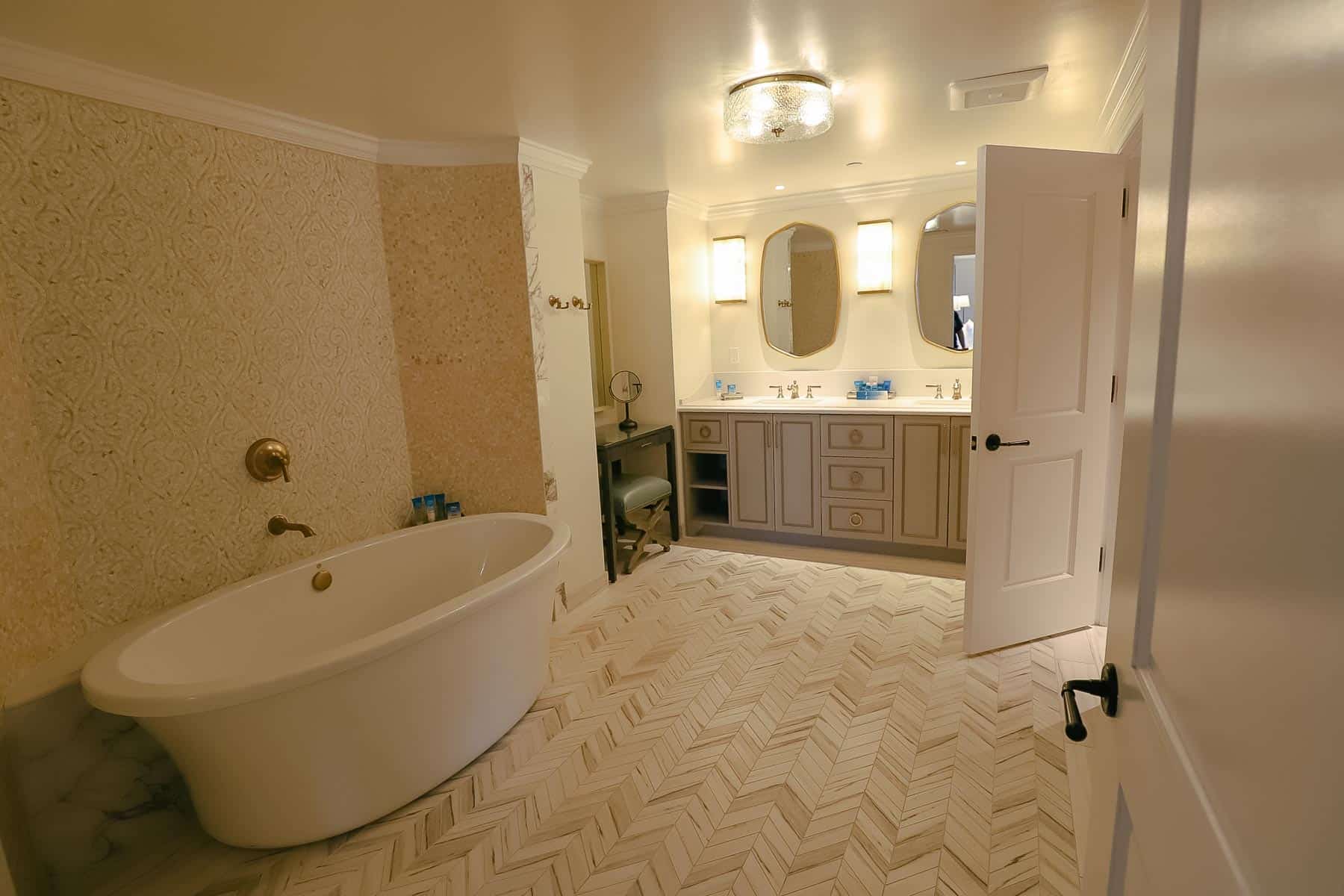 A large soaking tub sits to itself.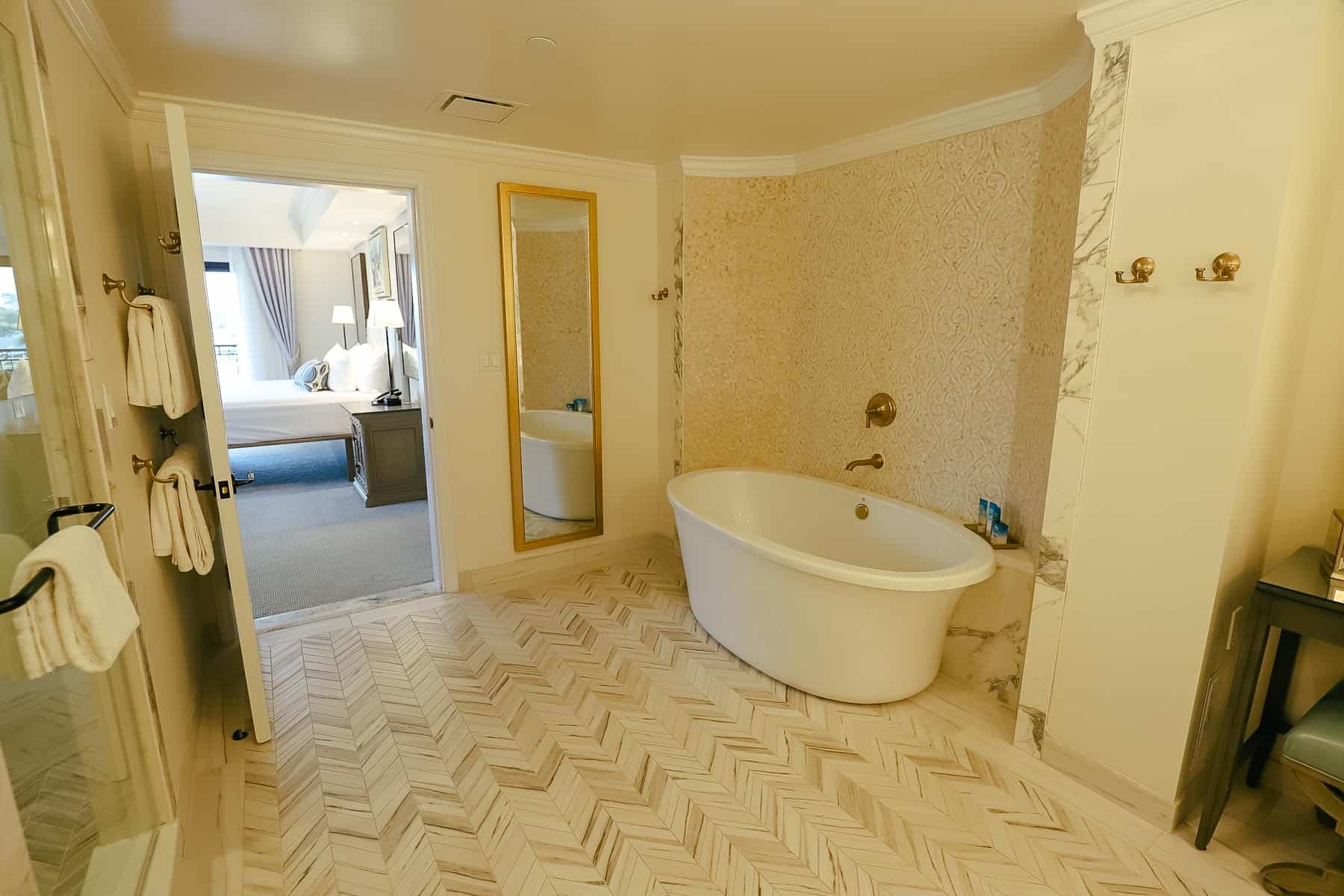 Additionally, this bath features a large walk-in master shower with a rainfall and detachable showerheads.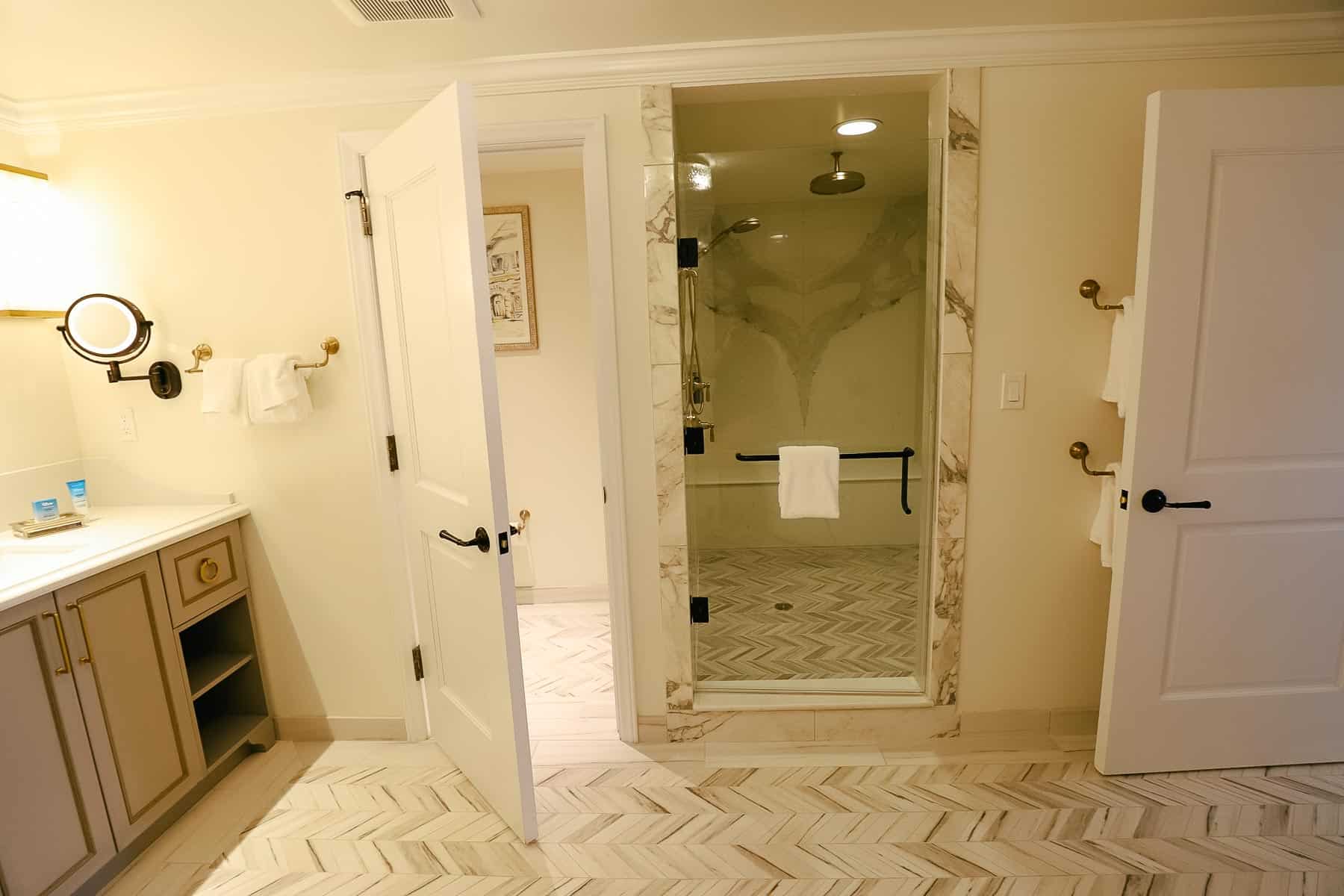 A large double vanity provides plenty of counter space and storage underneath.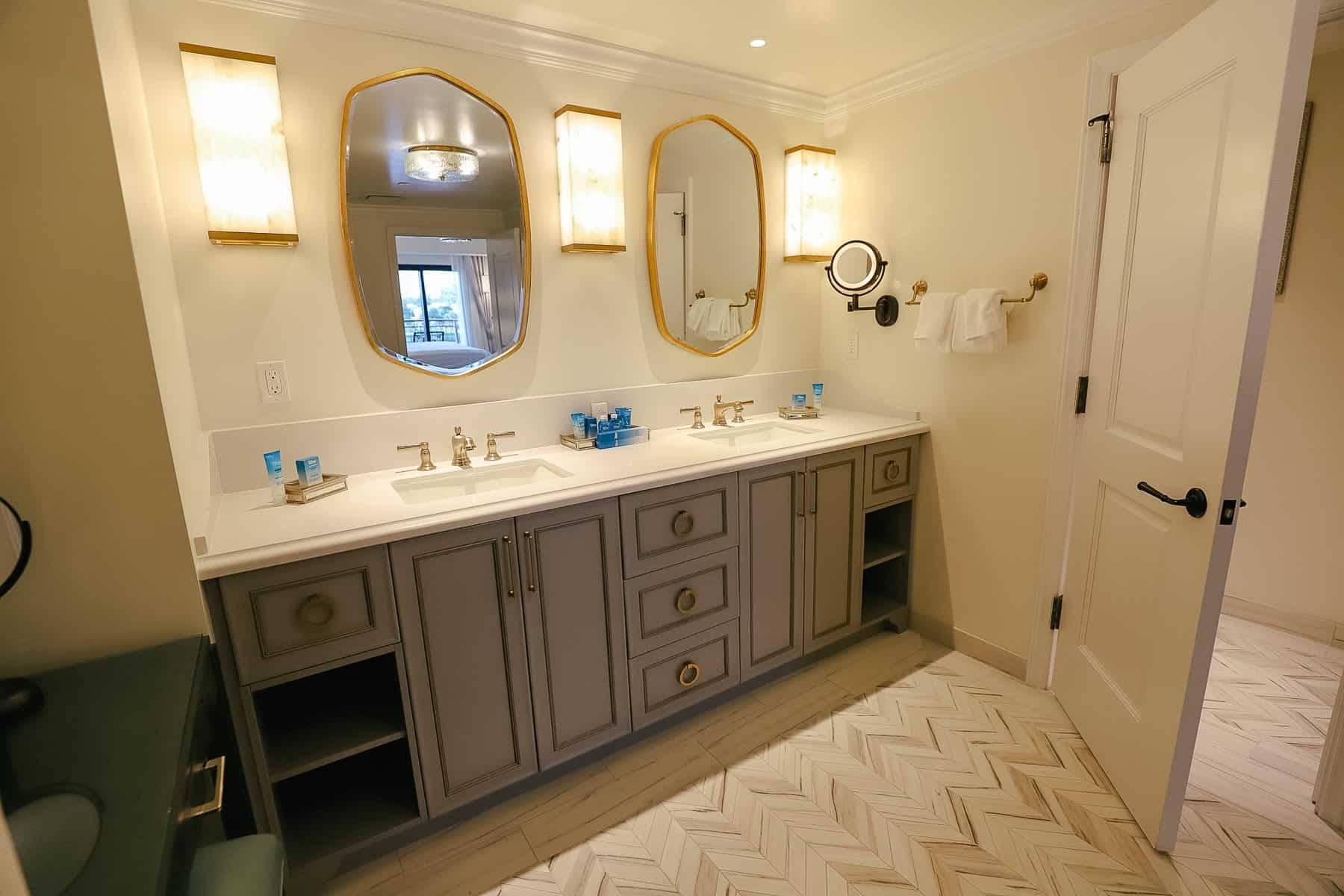 As far as hotel rooms go, I think we can all agree; you could do much worse.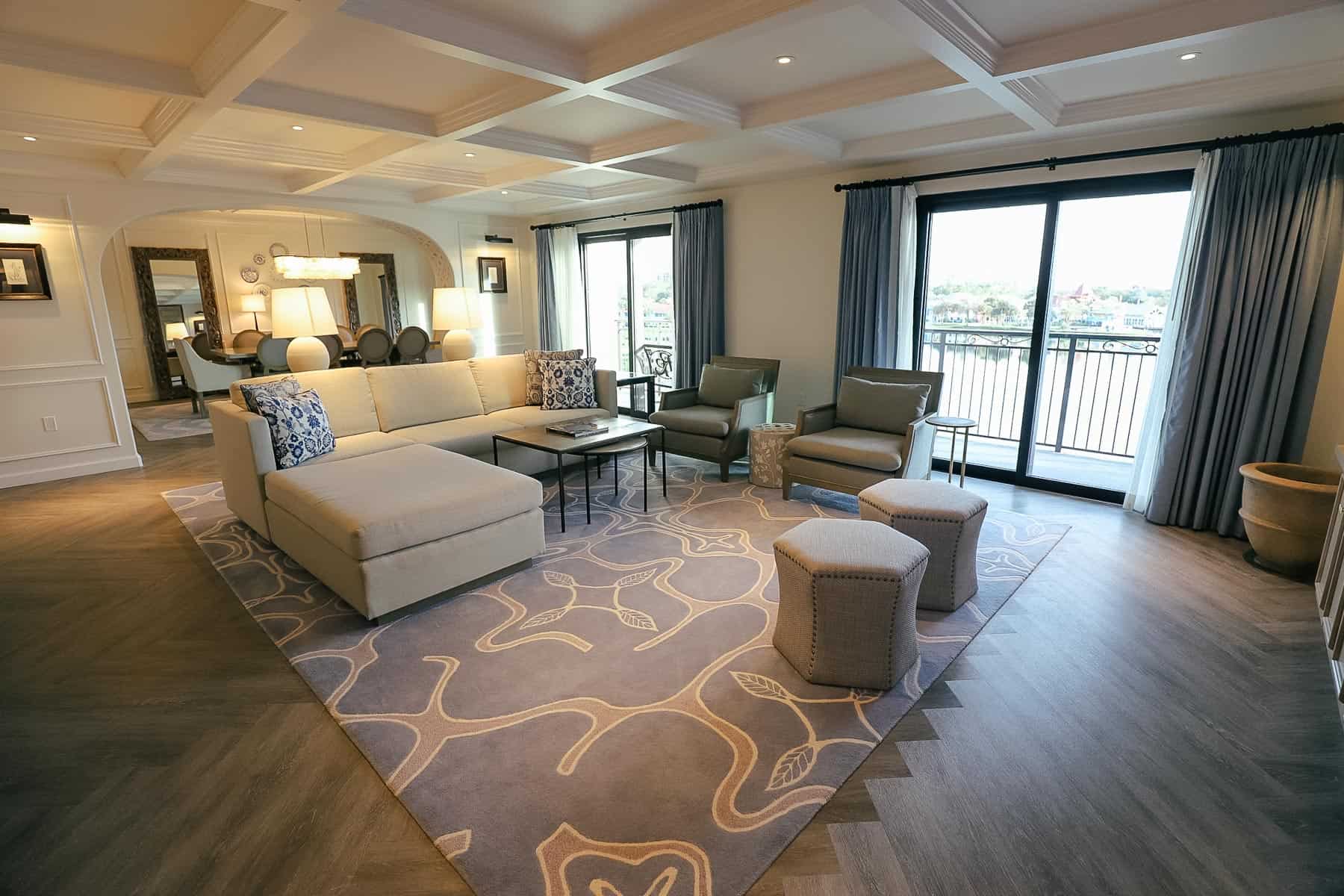 Overall, the three-bedroom grand villa at Disney's Riviera felt very French, with hints of Italian details here and there. Given the resort it themed after the French Riviera, it seemed on point.
As for Disney's Riviera Resort, I encourage you to plan a stay here or, at the very least, visit for dining during your next trip. The resort has a variety of room categories.
We have photo tours of the following rooms:
Additionally, we have a review of the Riviera Resort. For dining reservations at the Riviera, you might enjoy the following:
It's no secret that all the restaurants at Disney's Riviera are phenomenal. You might not need so many groceries for that grand villa stay, after all! I know I would end up ordering from Primo Piatto multiple times. Their lemon ricotta pancakes are delicious!
Hopefully, you enjoyed this preview of the three-bedroom grand villa at Disney's Riviera Resort. What do you think of the unit?
Planning a Walt Disney World or other Disney Destination vacation?
Our friends and travel partner, Firefly Travels, excels at doing Disney differently. You can fill out a plan your trip form on their website, and someone will reach out shortly to discuss the specifics.