A Visit to Le Petit Cafe at Disney's Riviera
Le Petit Cafe is one of the trendiest places around the Walt Disney World Resort right now! If you are looking for a sweet excuse to visit the new Riviera Resort, Le Petit has a delicious treat waiting for you!
In fact, I had better warn you now; it's extremely difficult to walk by the side entrance of the cafe without stopping to glance over their delectables. Oh, and they have coffee and cocktails on the menu if their dessert options weren't enough to tempt you.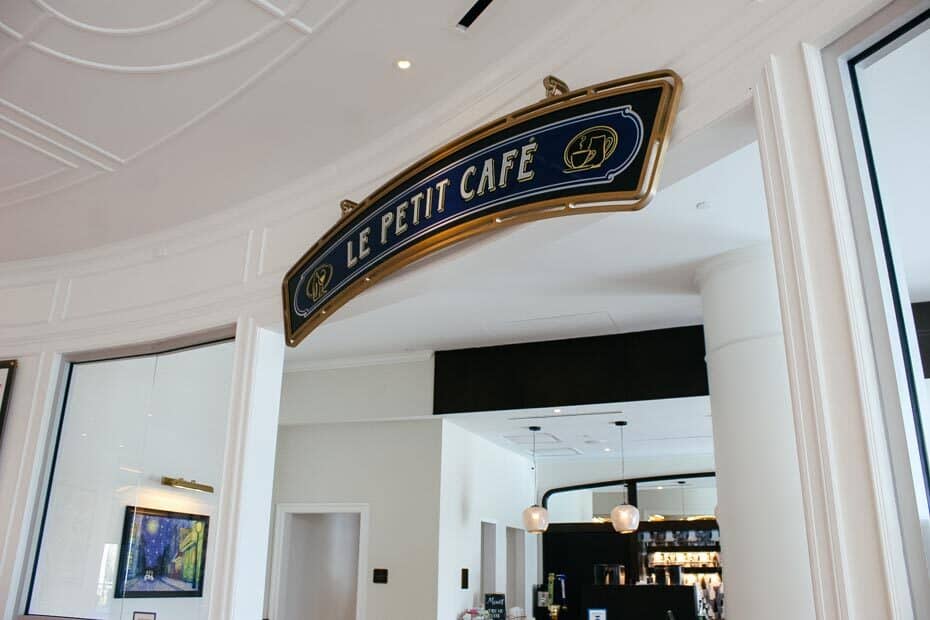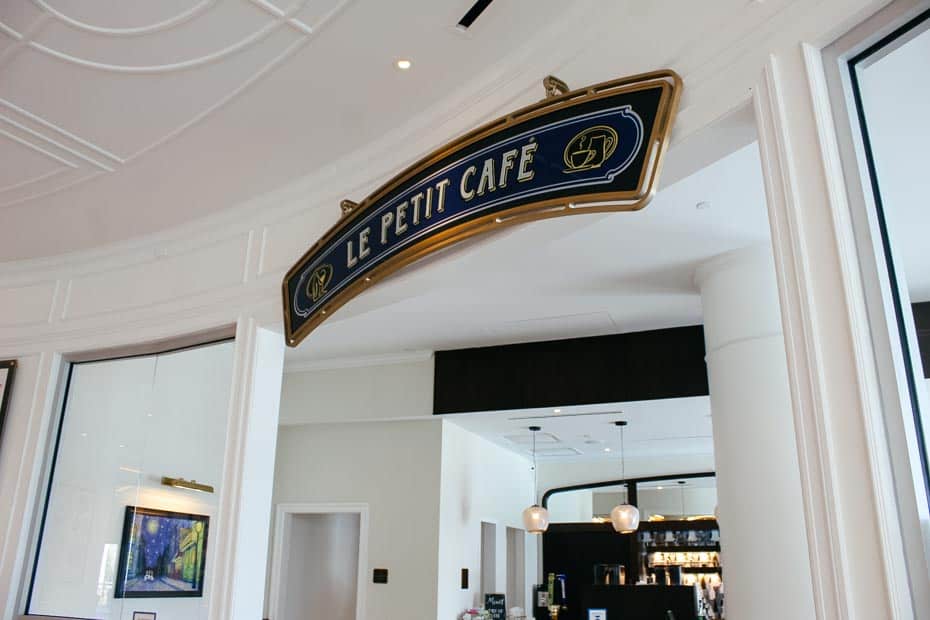 Since I've had the good fortune of staying at Disney's Riviera Resort (review), and because I am a Resorts Gal, I've made it my mission to find out everything the resort has to offer. You might remember our first trip to Riviera was for the character breakfast at Topolino's Terrace. That is hands down the best all-around character dining at Disney World, in my opinion.
And I've had breakfast and lunch at Primo Piatto multiple times, which is another wonderful option, especially to be a counter service location.
But what about dessert? That's where Le Petit Cafe comes in. The cafe is located off the lobby on the resort's first floor. Those coming in from the back of the resort will need to take the stairs or elevator from the ground floor up one level to the lobby.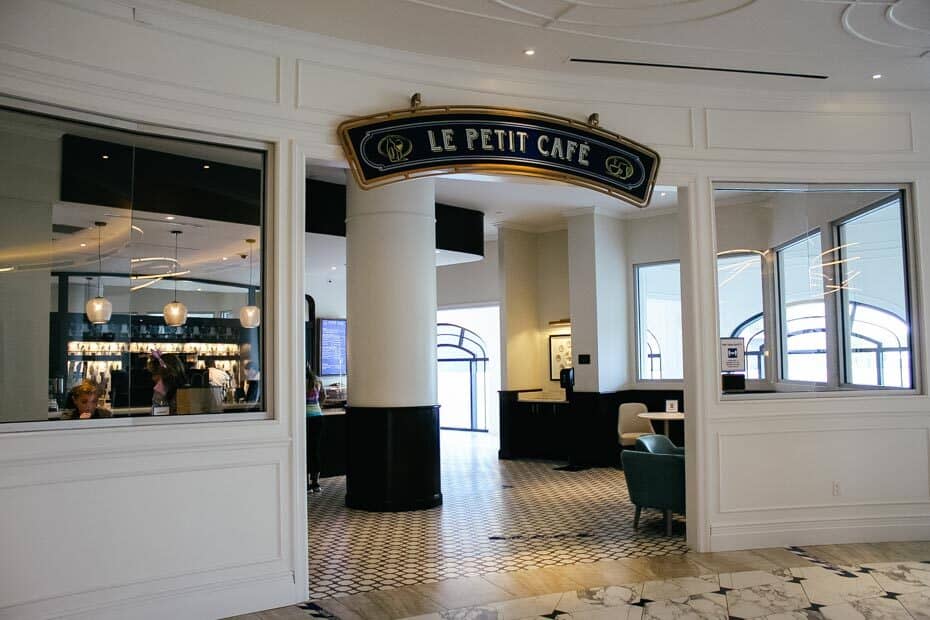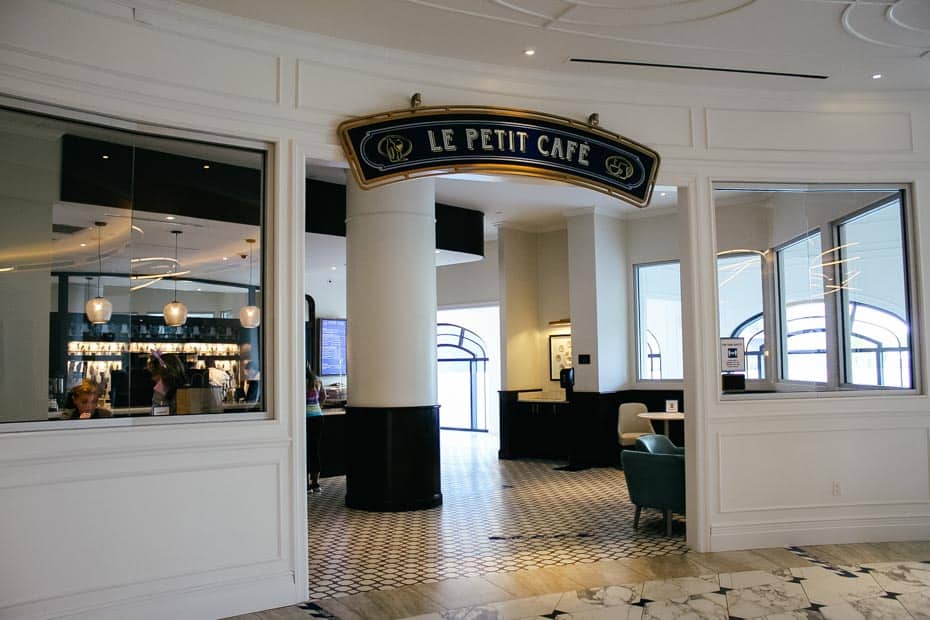 I mention this in case you take the Skyliner over from Epcot or Hollywood Studios to visit Riviera. The drop-off is at the back of the resort, and it's only a short walk to the lower-level entrance. If needed, there's an elevator down the hallway to the right of the staircase.
Le Petit Cafe displays a menu that includes coffee, specialty coffee, iced coffee, and hot tea in the earlier hours of the day. This is the perfect spot to pick up your morning Chai Tea Latte.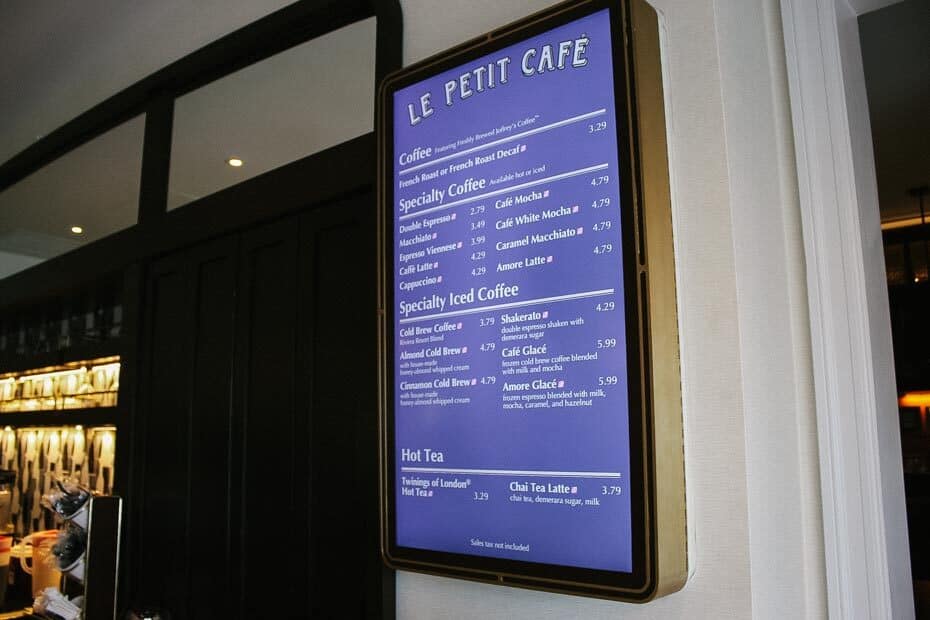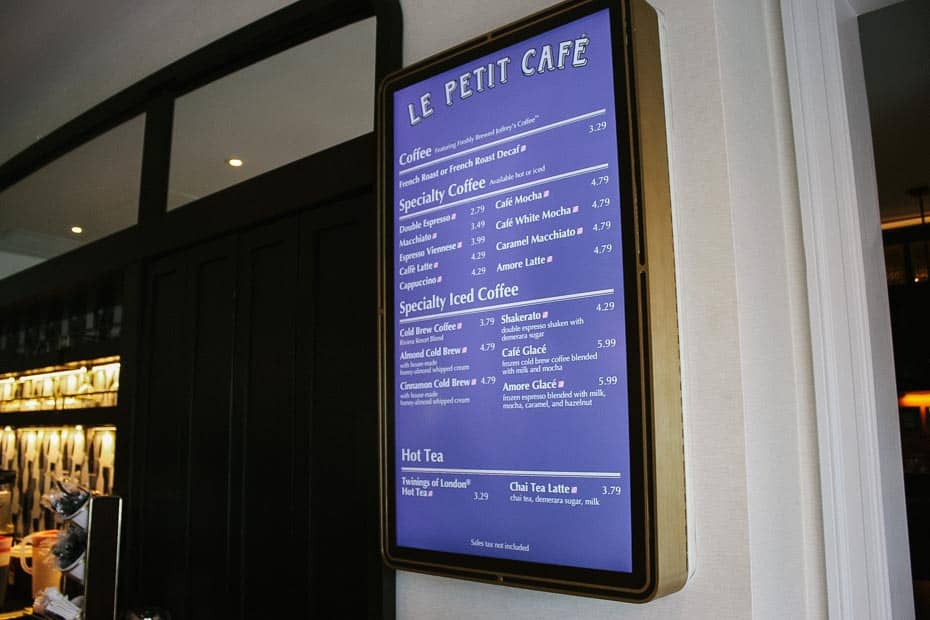 At some point in the day, the electronic menu board changes over to a menu that includes beer, hard cider, specialty cocktails, and wine.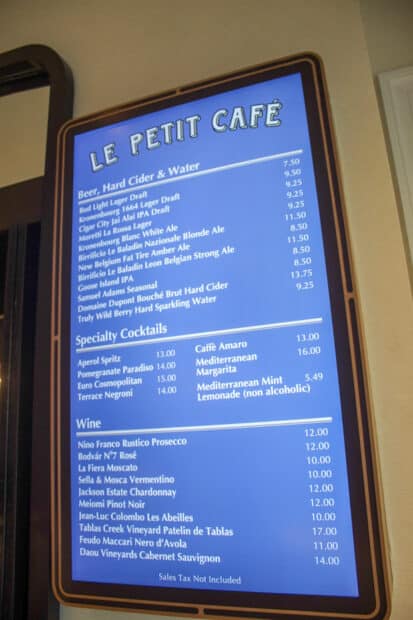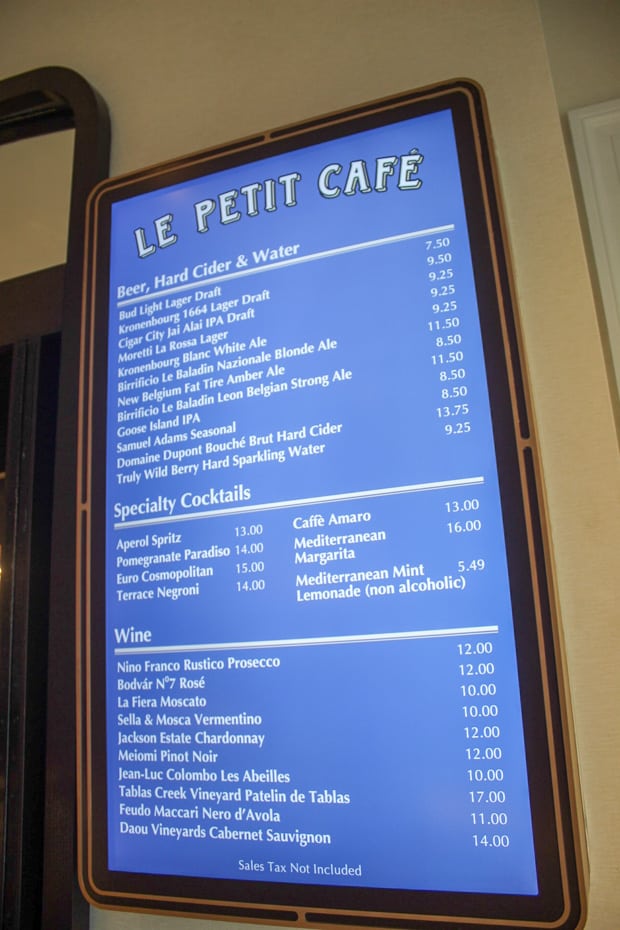 Since I'm not one to indulge in too many sweets when I'm at Disney, my approach has been to try one item per visit. Back in December, when I stayed at Disney's Caribbean Beach Resort (review), I stopped in for a treat one evening to take back to my room.
The line for Le Petit was longer than I would have liked to wait that evening. However, since I had made the special trip over specifically for a treat, I decided to wait it out. The result? I ended up with not only a pastry item but one of their signature cocktails, an Aperol Spritz.
Per the menu, the Aperol Spritz is a concoction of Aperol, Nino Franco Rustico Prosecco Superiore, and soda water.
Since a cocktail is a rare treat for me, I asked the cast member at the cafe for her suggestion. This drink was her recommendation, and I found it a refreshing choice with the Aperol adding a faint taste of bitterness on the end.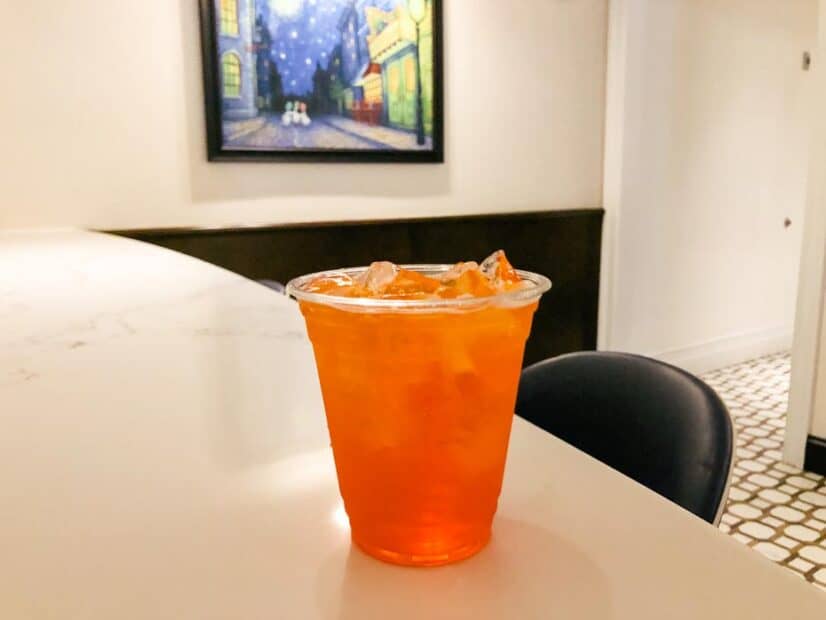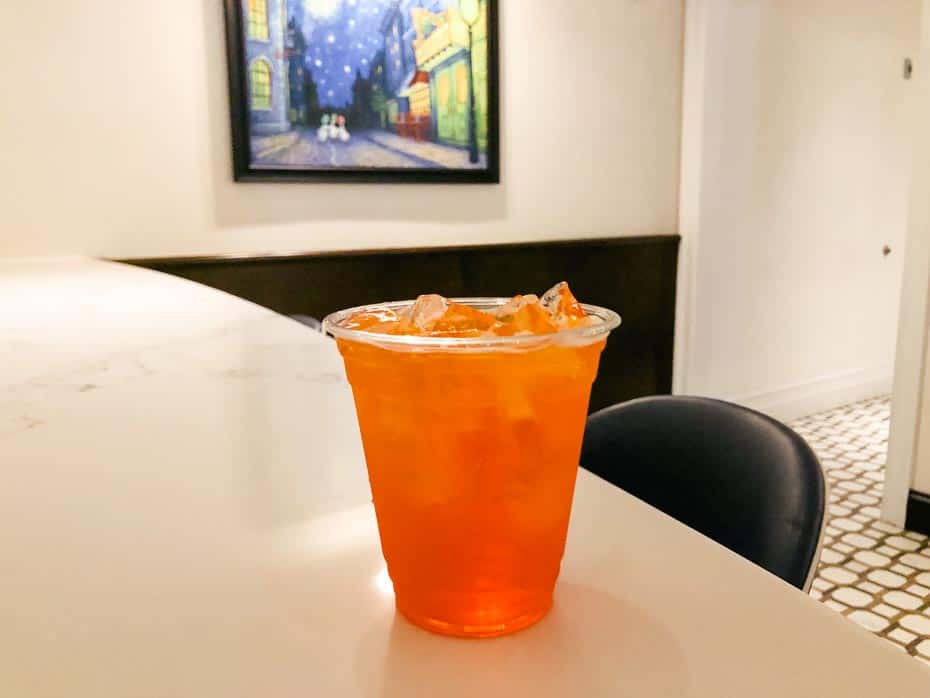 Other signature cocktails at Le Petit Cafe include:
Euro Cosmopolitan
Caffe Amaro
Pomegranate Paradiso
Terrace Negroni
Mediterranean Margarita
You can view the full Le Petit Cafe menu here on Disney's site.
Inside Le Petit Cafe, you'll find two or three places to sit along with a walk-up bar to place your order. Thankfully, there are plenty of places to sit next door at Voyageur's Lounge. Or you could walk outside and find a spot somewhere around the resort.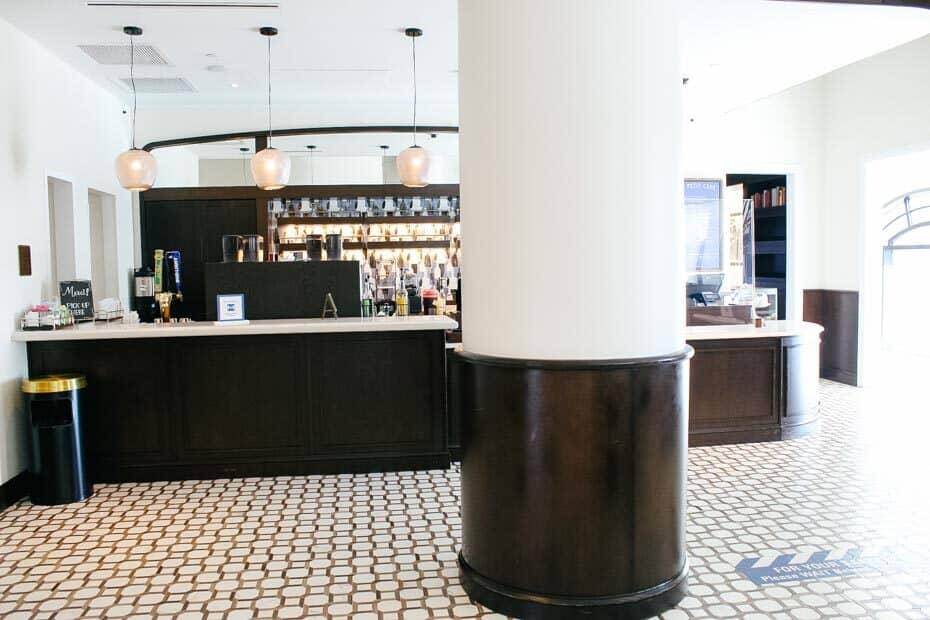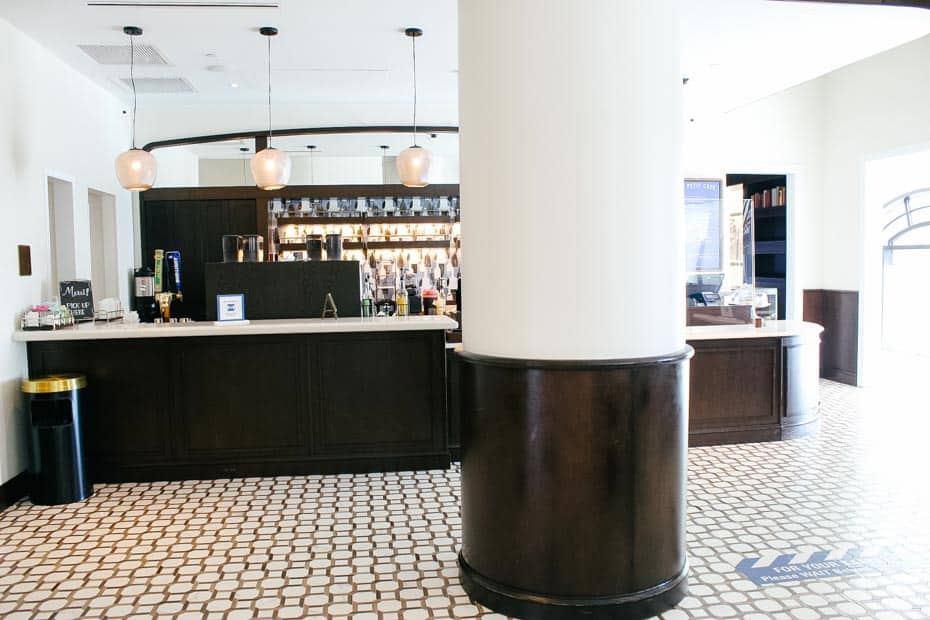 While there isn't much to the decor, I found this neat collection of tiny plates displayed on the wall. One of the great things about Riviera is the artwork displayed throughout the resort. I'm hoping to eventually put something together detailing the collection here on the site.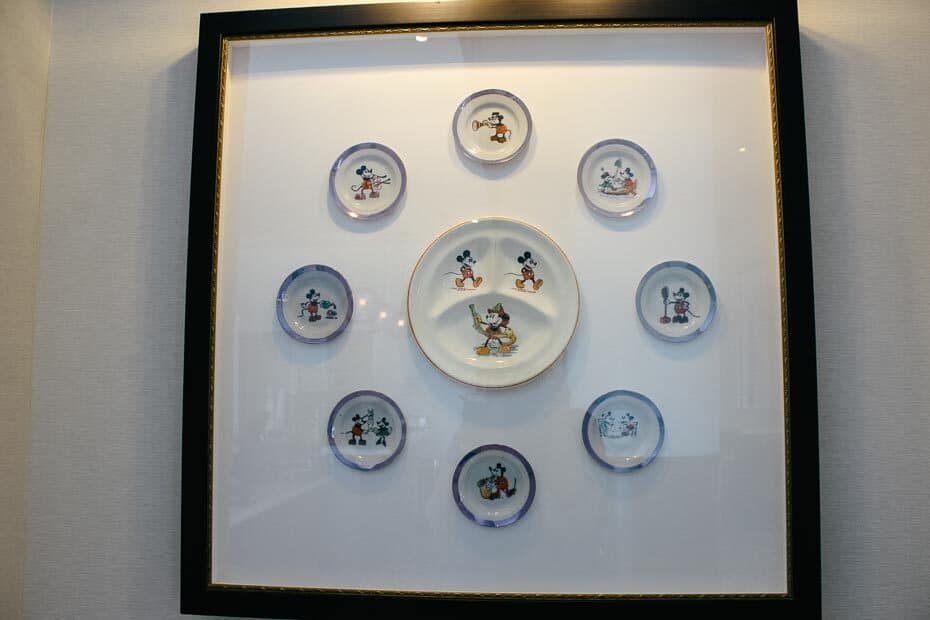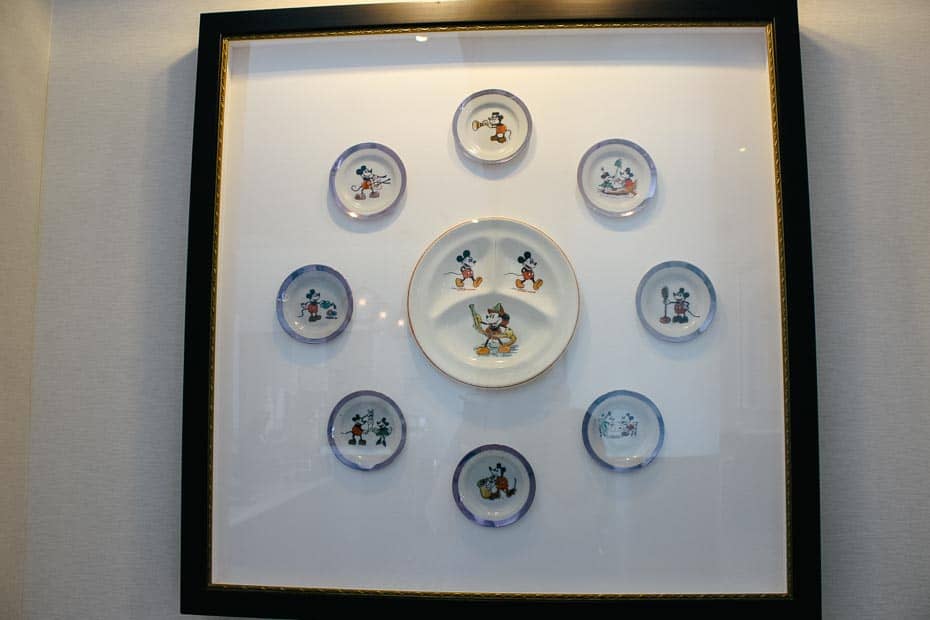 Here is the part you've probably been waiting to see. Le Desserts. Only say it in French.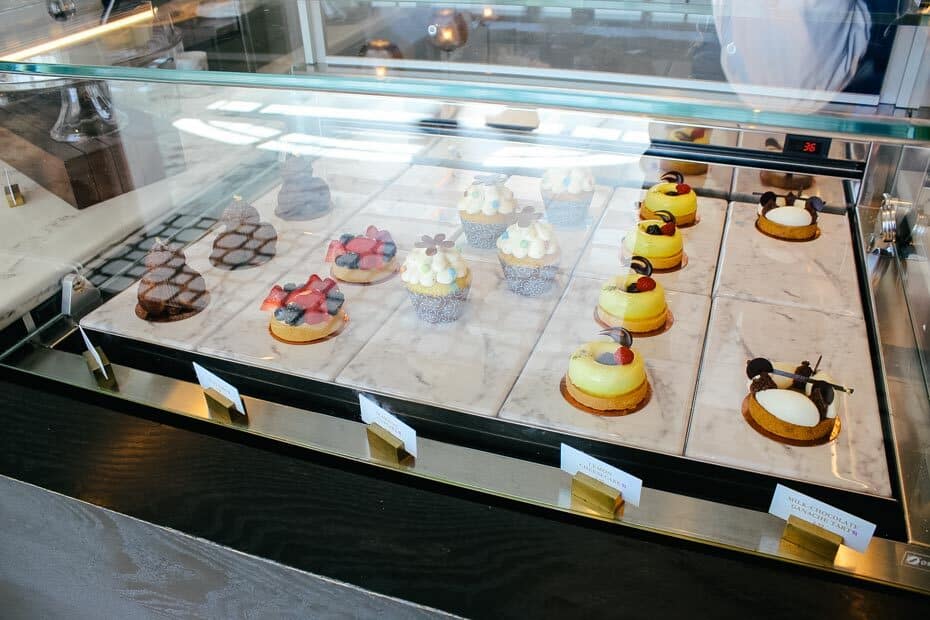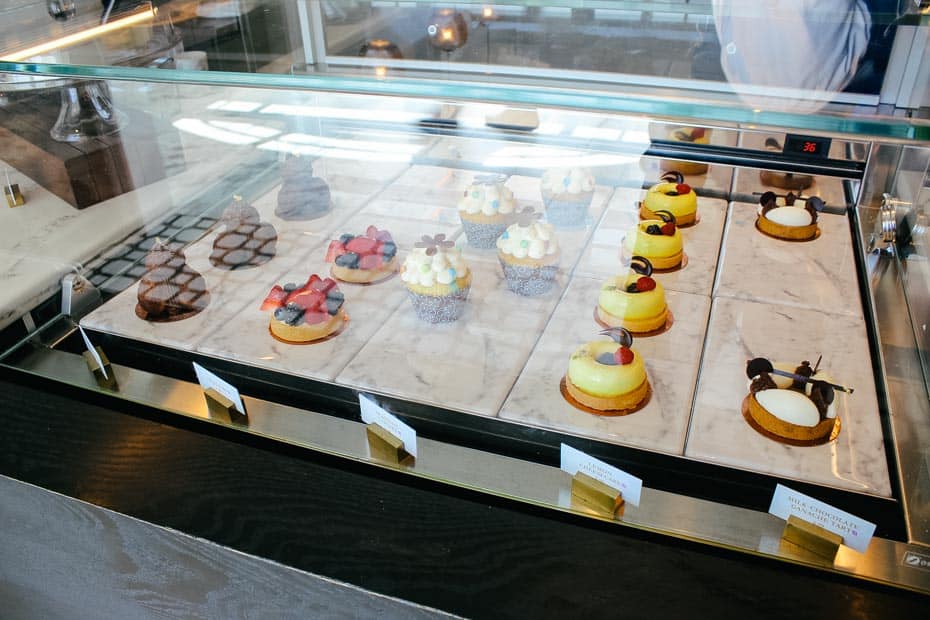 It is rare I find a counter of desserts where everything looks appealing.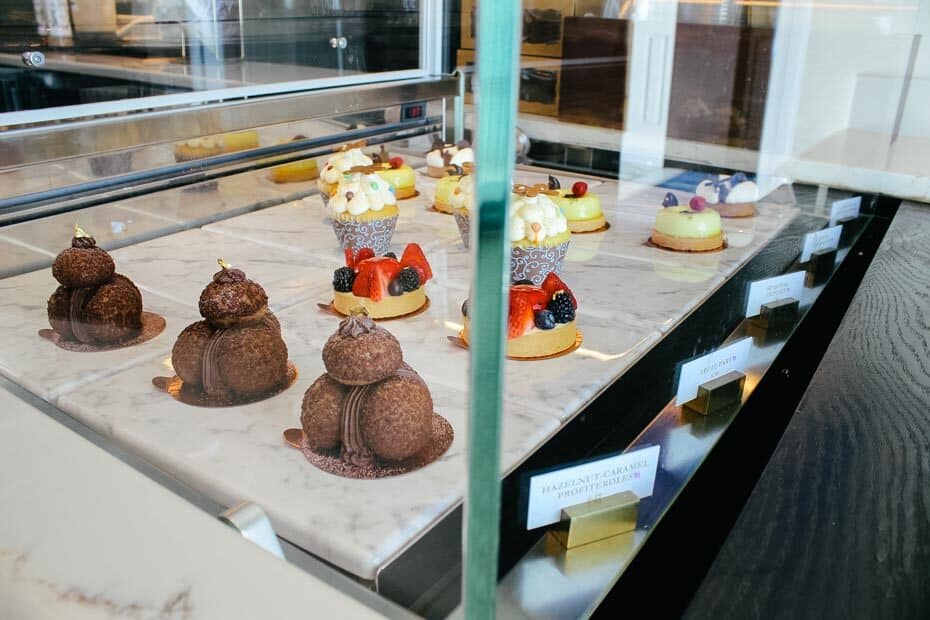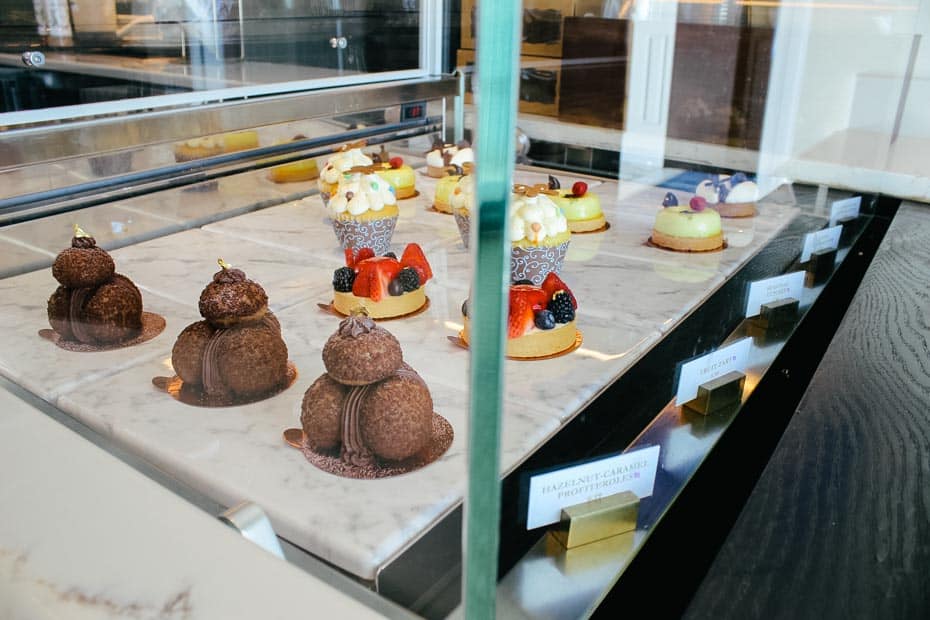 On all of my visits to Le Petit Cafe, I have asked the different cast members which item was their favorite. The response is always, all of them, they are all good. Now, you probably know, it is rare for such a statement to be true. However, I'm working my way toward treat three, and I have a feeling those cast members are right.
Those Bouchon brownies under the dome are next on my list.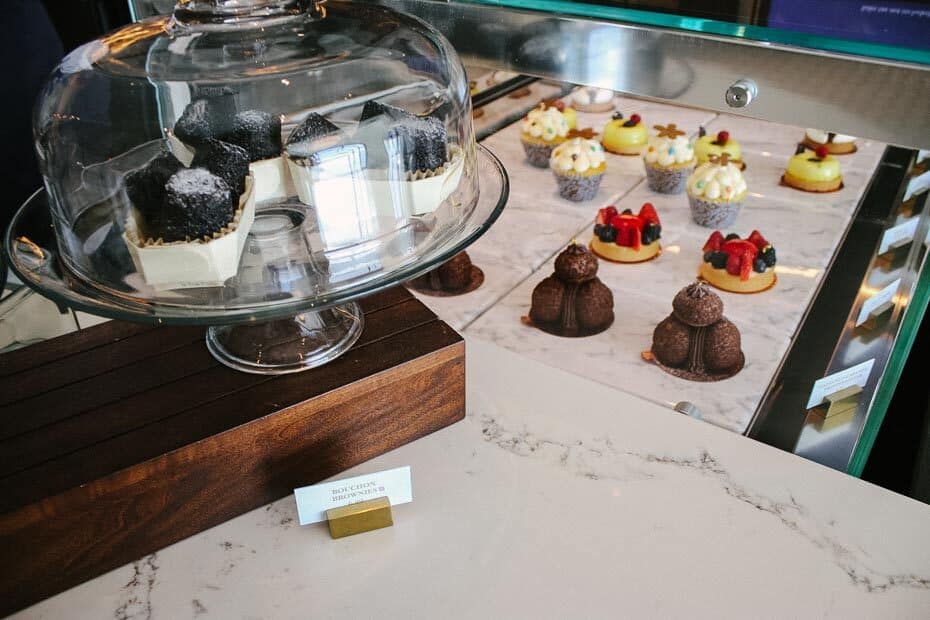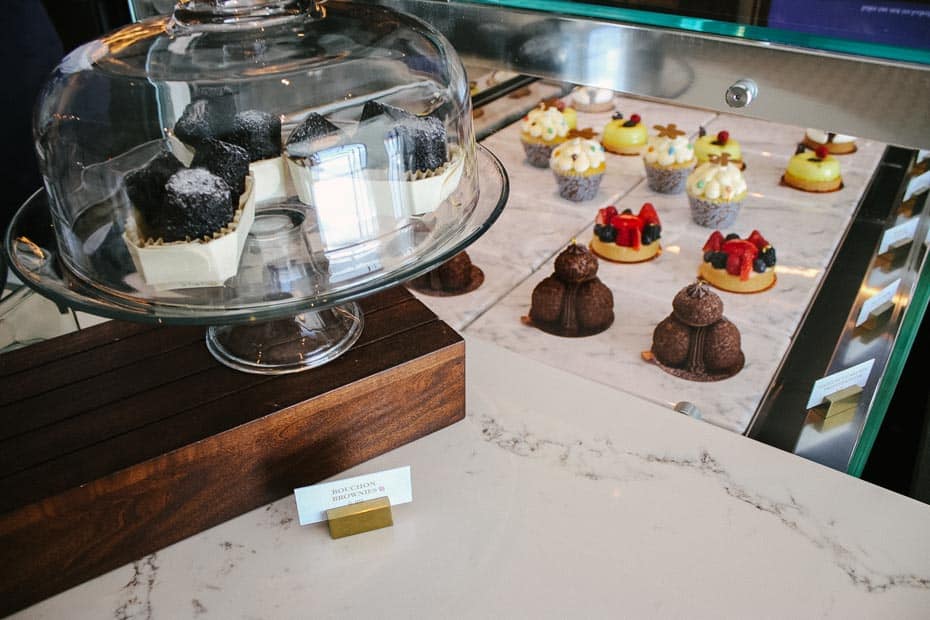 And after that, probably these Lemon Madeleines.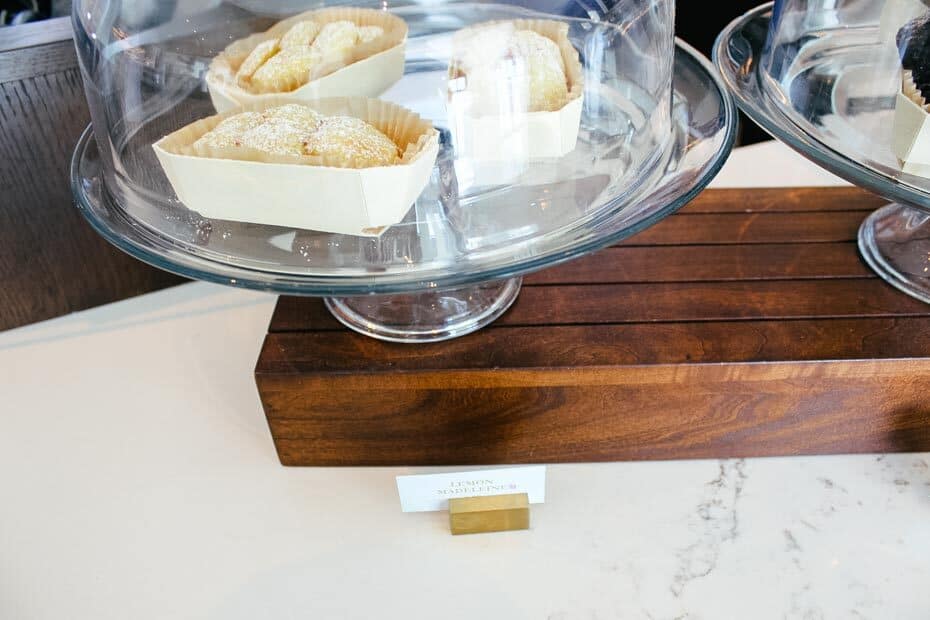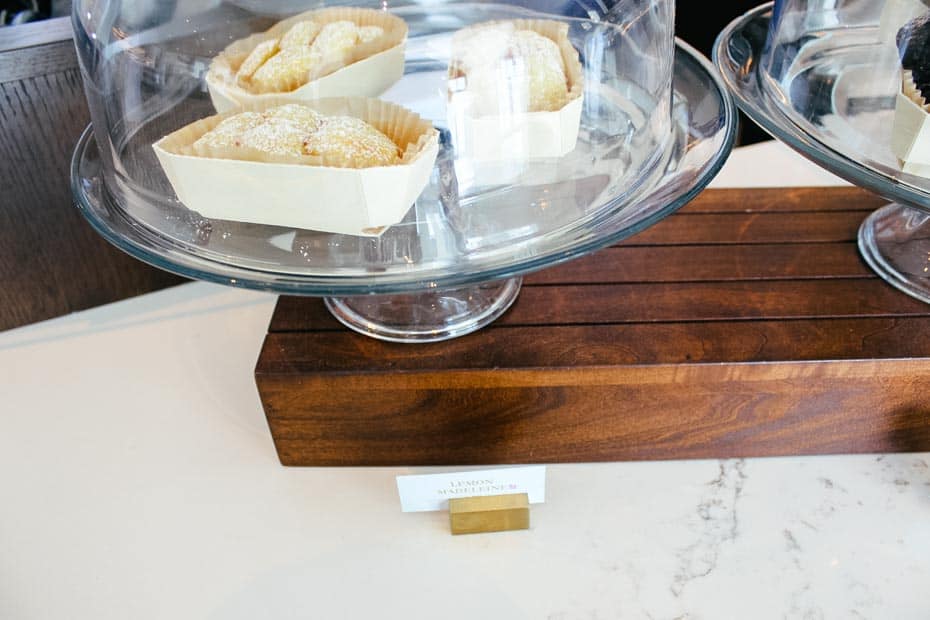 On my first dessert selection, I had to go all out with the Hazelnut Profiteroles. My recommendation is to find someone to share this with.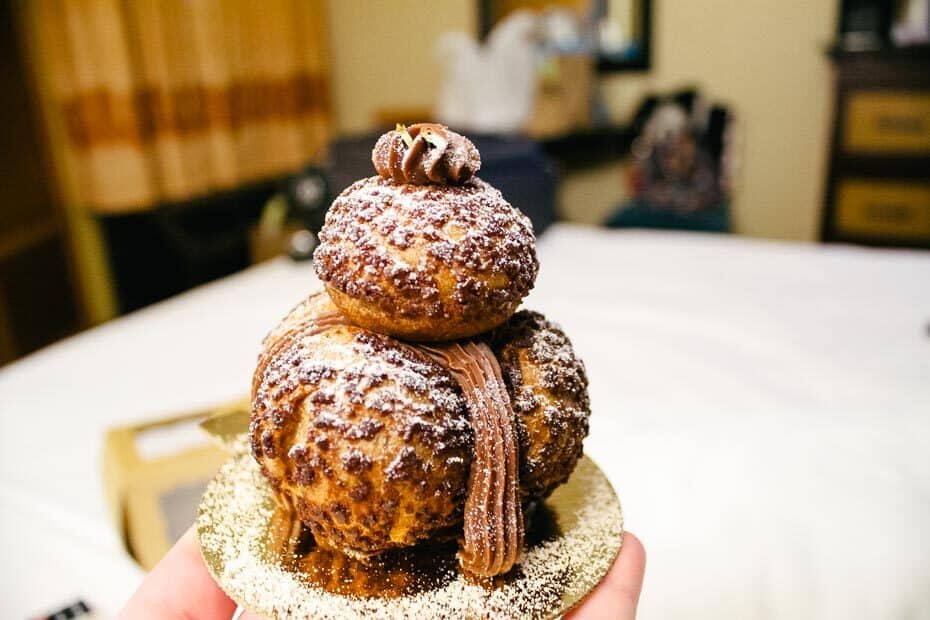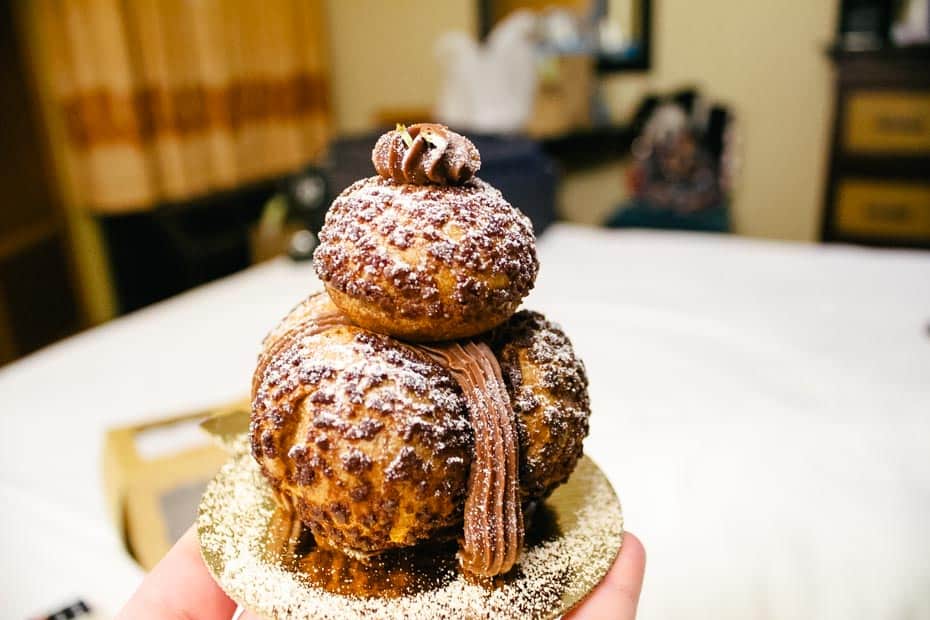 Think chocolate icing, puffy profiteroles, and hazelnut cream combined to make the most scrumptious miniature croquembouche.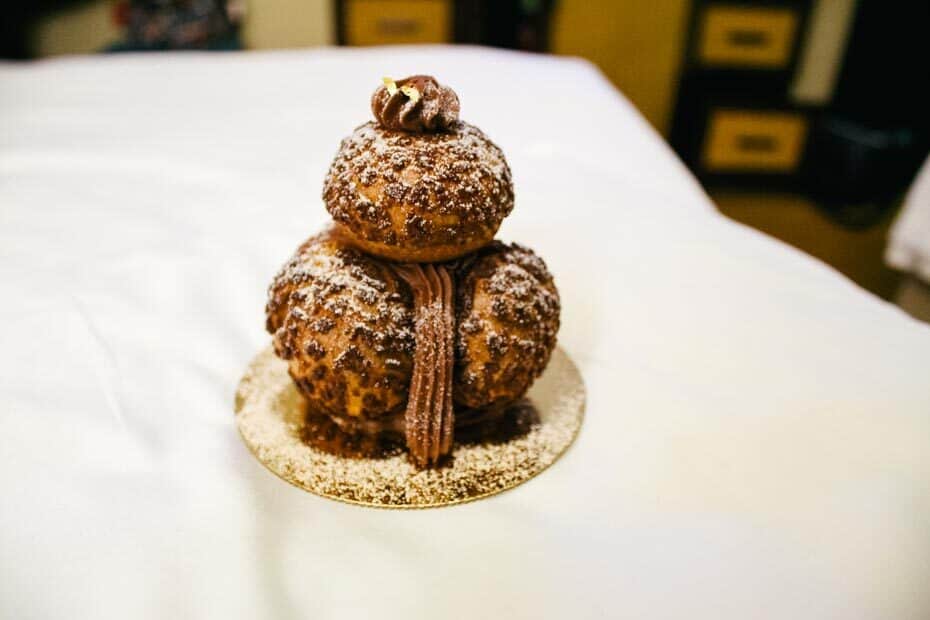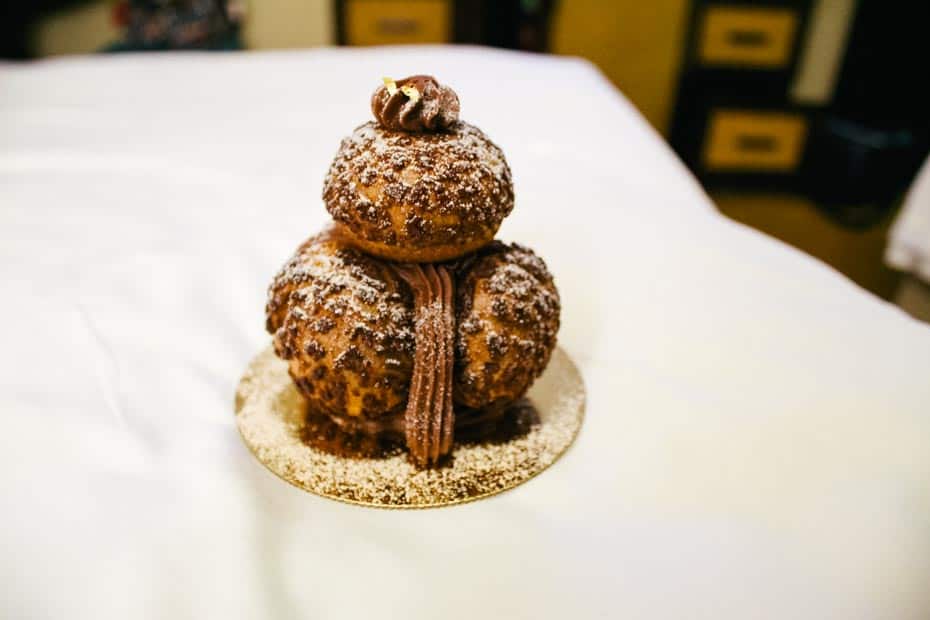 This tiny tower of sweet is immensely rich and flavorful. If you are on your own, I recommend cutting it in half and storing the rest in your hotel room's fridge to enjoy the next day.
A few weeks back, I returned to Disney's Riviera for lunch one day. I spent most of the day in the Epcot Resorts area, and when I returned to my car that evening, I stopped in Le Petit Cafe for a dessert. Earlier that day, I had surveyed my choices and already had my mind made up to go with the fruit tart.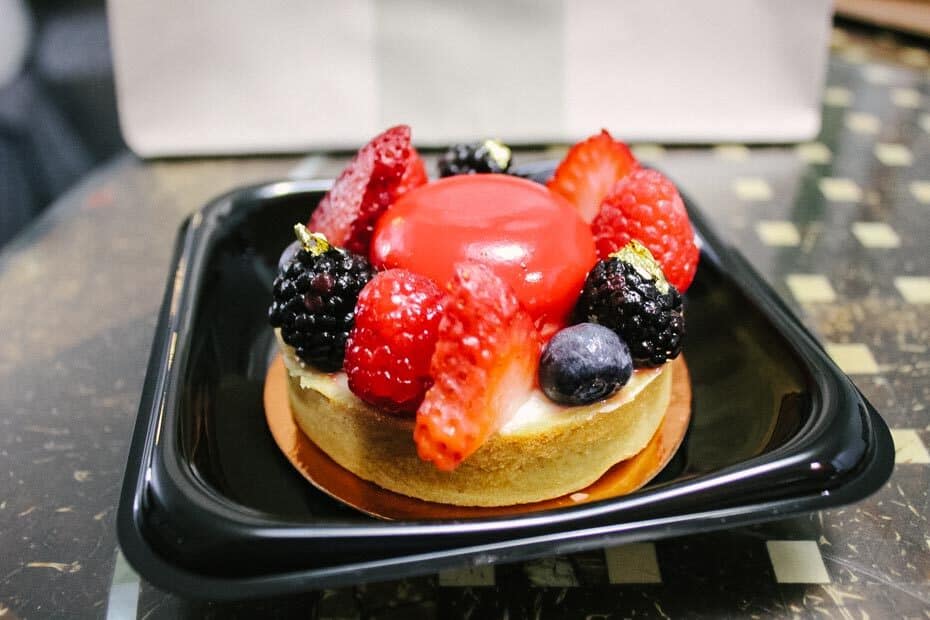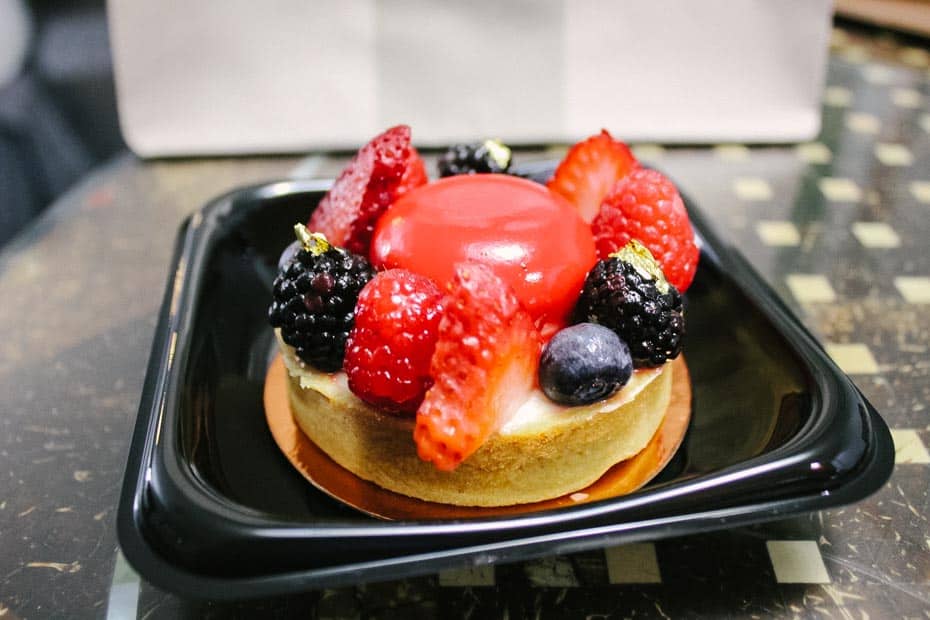 The fruit tart is probably the least rich of the desserts at Le Petit. It won't leave you feeling like you've been hanging out in Sugar Rush with Vanellope Von Schweetz all day.
The tart consists of a simple shortbread crust, traditional pastry cream, and fresh fruits. That red circle in the middle is a raspberry mousse with a candy coating. It will be the actual rich part of the dessert, adding a surprise flavor and texture.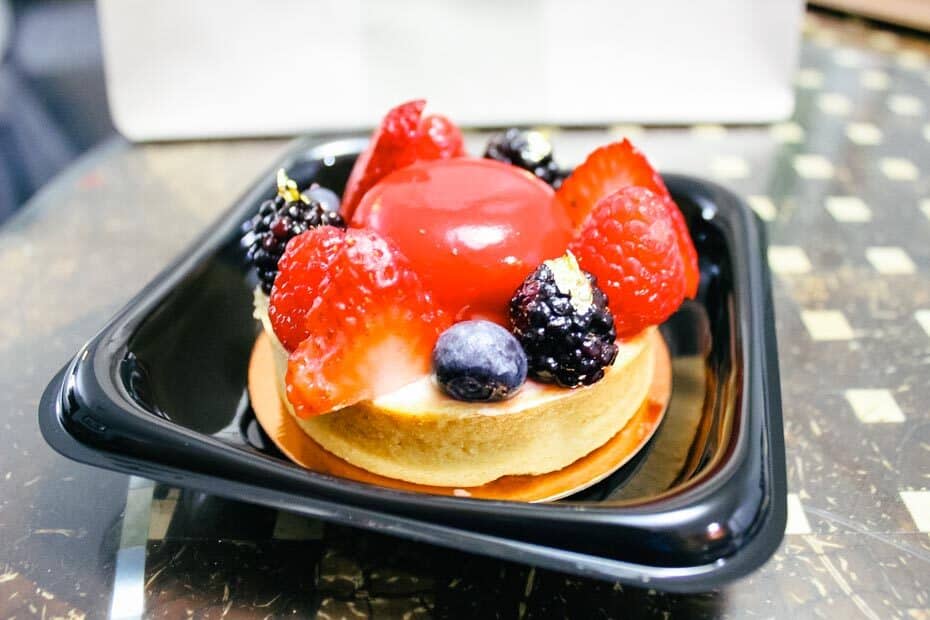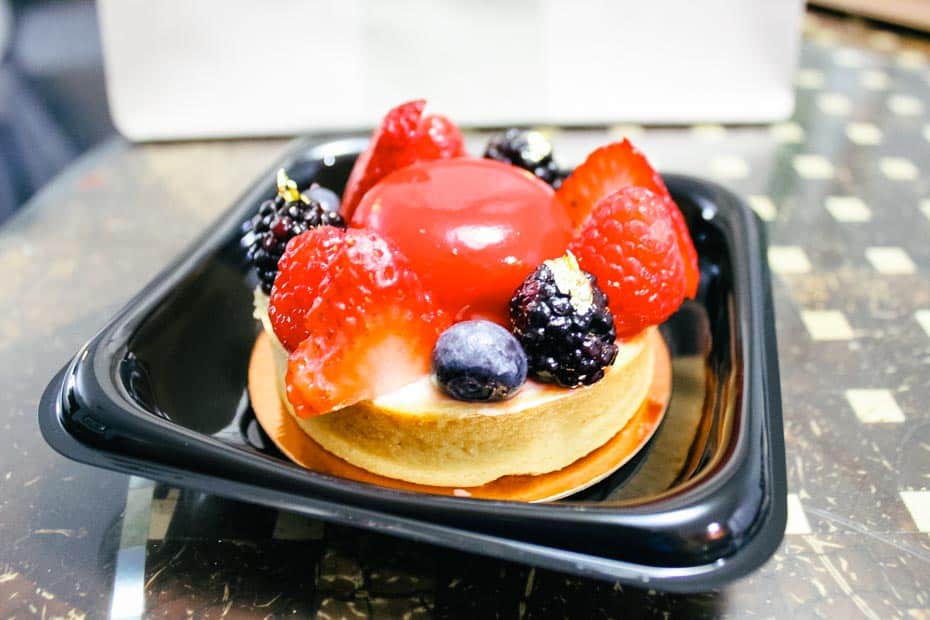 As if the dessert wasn't rich enough with those touches of edible gold foil on top. It's all very French.
I loved the tart and appreciated the fact it was topped with fresh fruit and not overly sweet. It's a beautiful dessert to look at, photograph, and enjoy. But so far, that seems to be the case with all the desserts here.
With that being said, I can't wait to get back and try my next item. I'll make sure to add it in here! But I think the real question is, what are you going to try on your next visit to Le Petit Cafe?
Don't miss out on our full list of Disney restaurant reviews. They include character dining, signature dining, table service, and quick service.
Leave a comment and let me know your thoughts on Le Petit Cafe.