Primo Piatto is a counter service dining location at Disney's Riviera Resort. The restaurant is located on the ground floor of Disney's Riviera Resort.
This Primo Piatto review will look at the popular quick-service dining location in detail. Since the resort opened, I've enjoyed several meals at this restaurant.
Whether you're looking to enjoy pancakes by the pool or want a late-night sandwich to take back to your room, Primo Piatto is an excellent choice. The menu items are a step above most other counter service locations at Disney World.
To provide a little backstory, my initial visit to Disney's Riviera Resort left me feeling on the fence about the resort. However, since then, I've returned to the resort multiple times and gladly admit I've fallen in love with the resort in its entirety.
Related: Disney's Riviera Resort Review
One of the things that won me over was the fantastic dining options at the Riviera. Primo Piatto has quickly become my choice for the best quick-service restaurant at Disney World.
It's that good. Let me share with you how good.
This article was updated on March 28, 2022.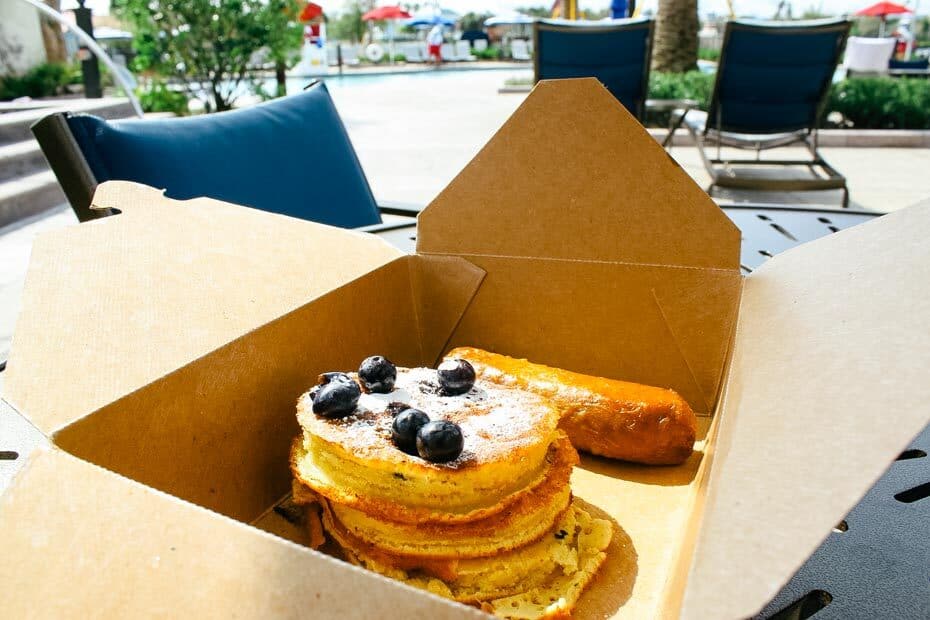 Primo Piatto Review
You'll find Disney's Riviera's main counter service dining on the resort's ground level. You can take the elevators on the East wing down to the ground floor from the lobby. After exiting the elevators, Primo Piatto is on the immediate left around the corner.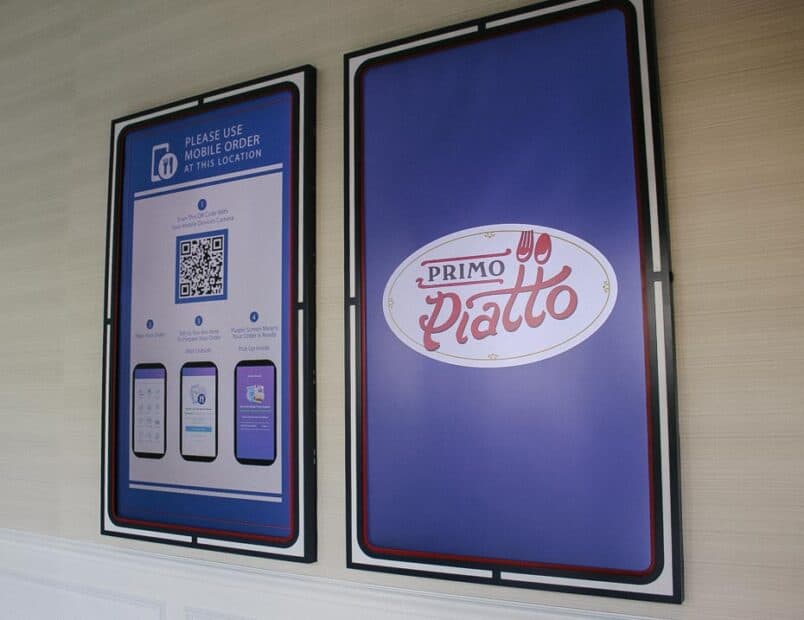 If you visit the resort via the Skyliner, Riviera's counter service sits directly behind the S'il Vous Play pool area. There is a large sign over the entrance. You can't miss it.
Related: Disney Skyliner Resorts with Travel Times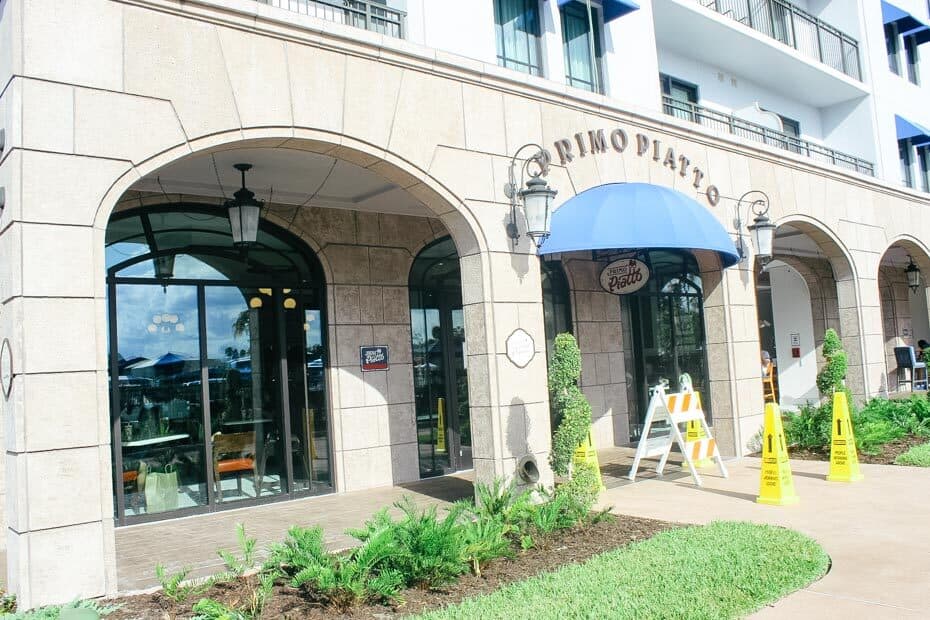 On the opposite side of Primo Piatto is Bar Riva, the resort's lounge that doubles as the pool bar.
Related: Bar Riva Review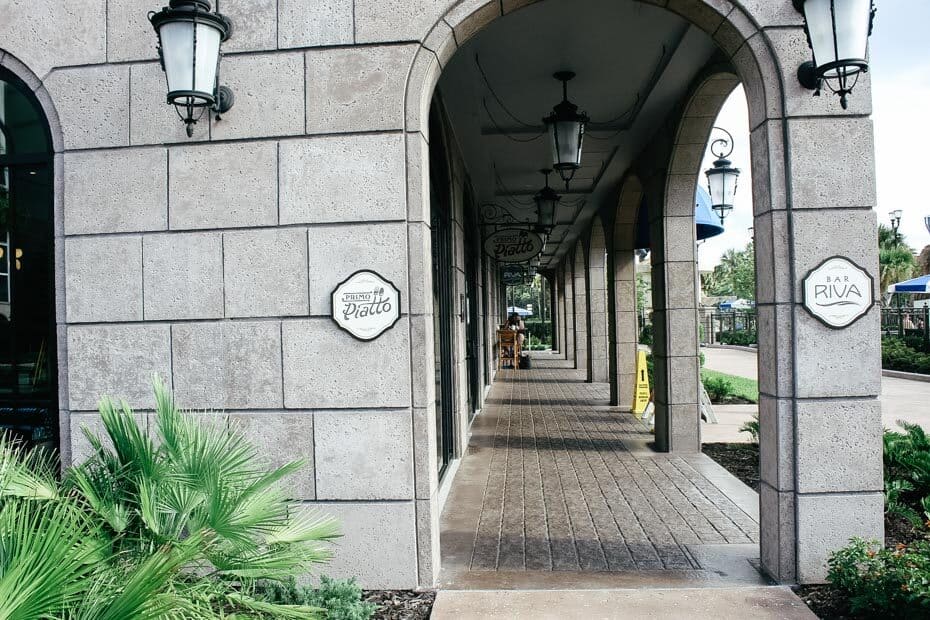 You will likely want to use Disney's mobile ordering service at Primo Piatto. However, if you can't or have a food allergy, a cast member at the entrance will assist in taking your order.
I recommend familiarizing yourself with how the process works because it is incredibly convenient and a huge timesaver.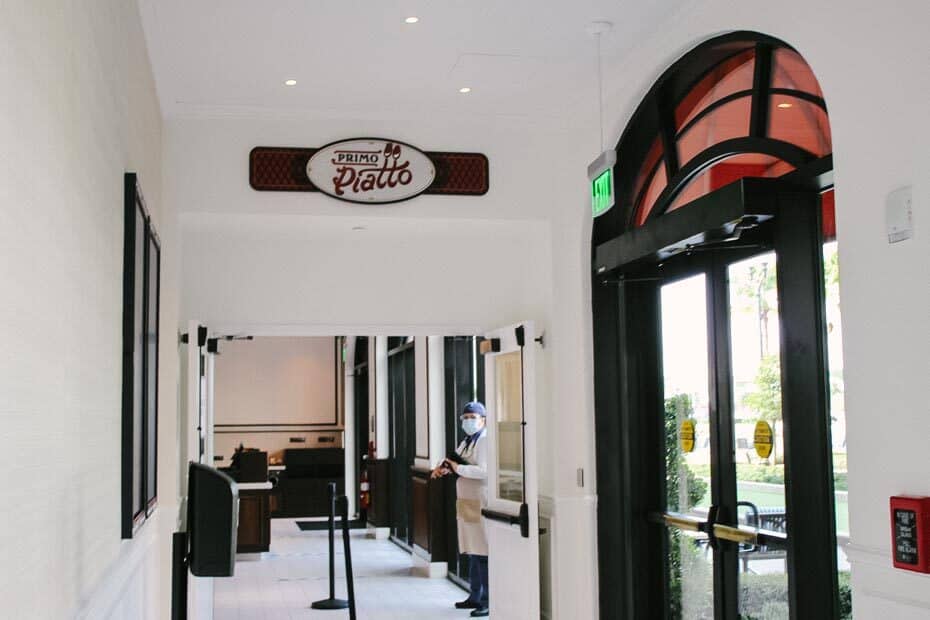 When your meal is ready, you'll receive a notification. If you stay at Riviera, I recommend selecting "I'm Here, Prepare My Order" while in your room or at the pool.
Since the resort has a lovely boutique layout, you can get over to the restaurant reasonably quickly after receiving the notice that your order is ready. You don't want to wait for your order number outside the entrance.
From my experience, it usually takes approximately 15 minutes for your order to be completed.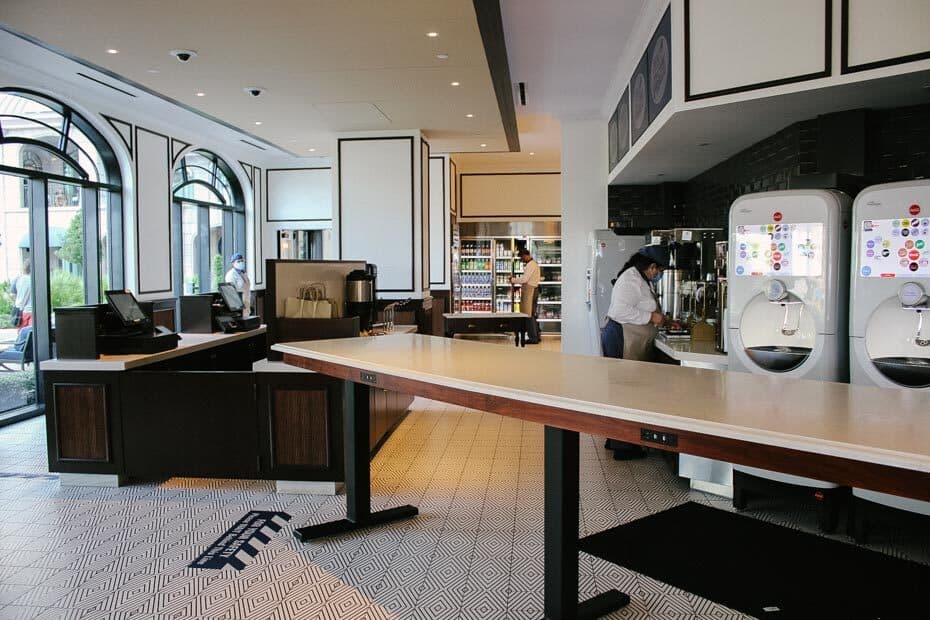 When your order is ready, the My Disney Experience app will provide you with an order number. Then, you'll show the cast member at the entrance, and they will direct you over to this counter to pick up your order.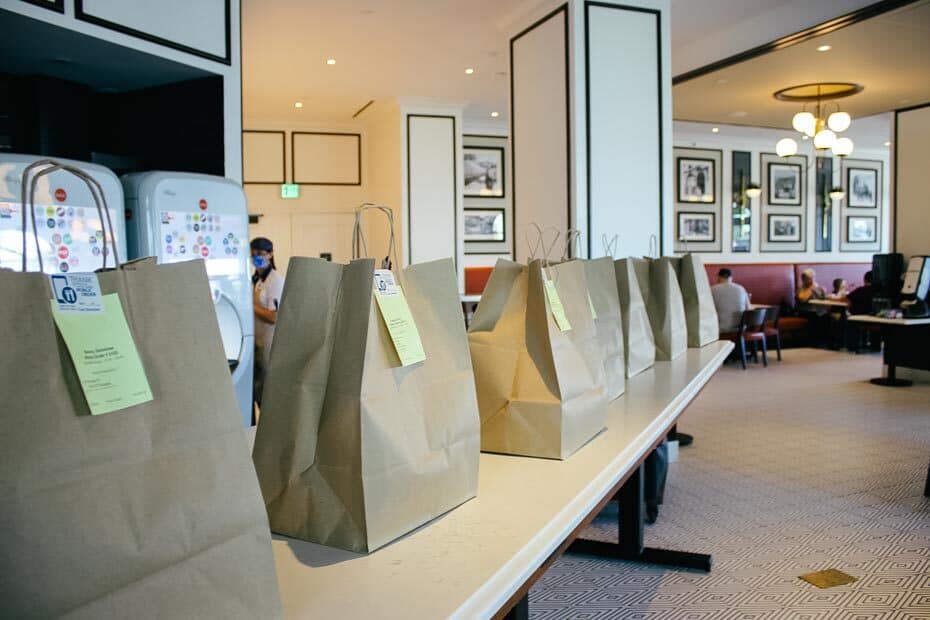 There are a few items out for coffee. At this time, Primo Piatto is putting most condiments, napkins, silverware, and things in with each order. If there is something you are missing, just let them know, and they'll be happy to get it for you.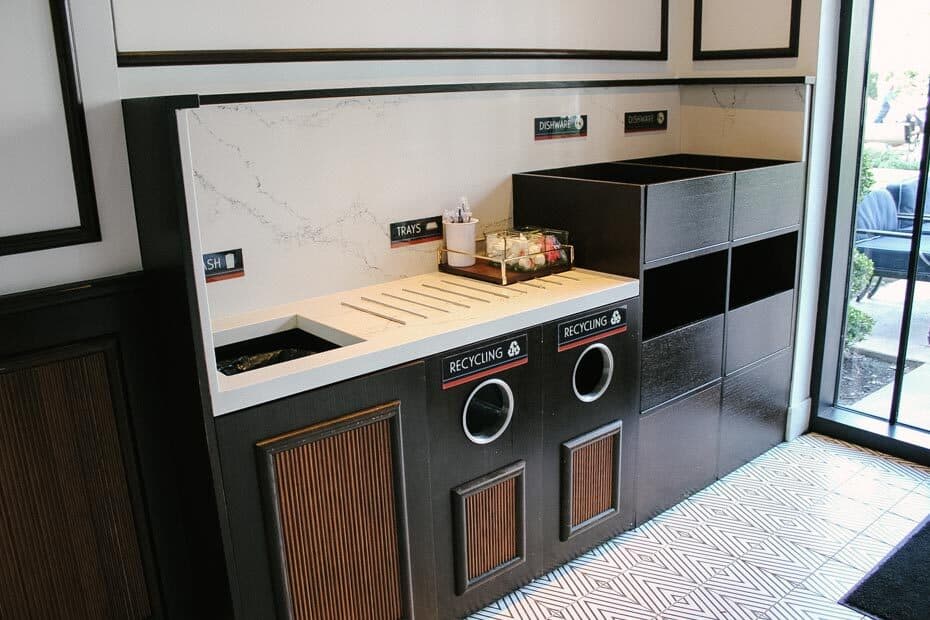 If you would like to dine inside, there is plenty of space.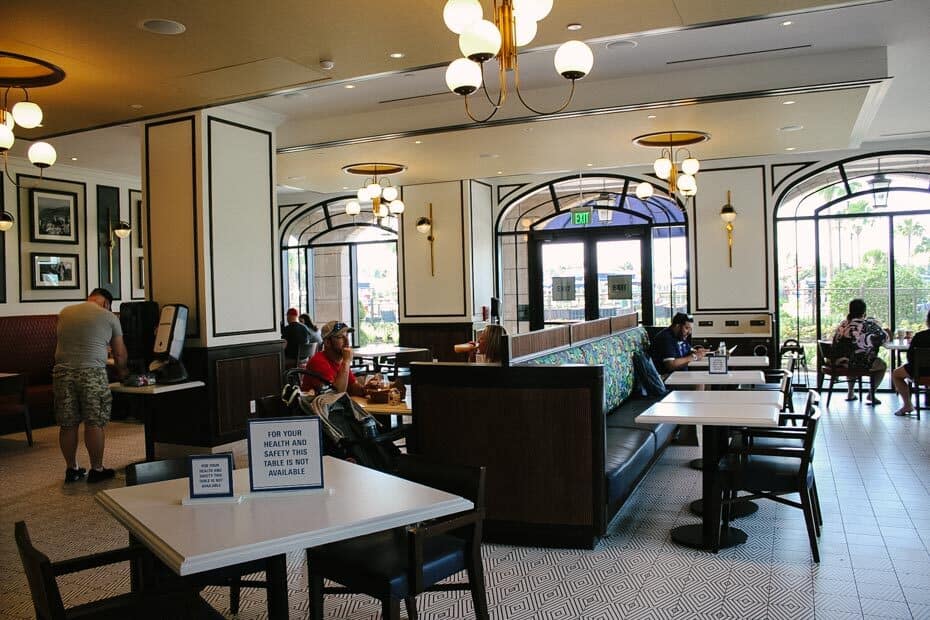 The dining room can accommodate several guests, and the large windows provide a pleasant natural light.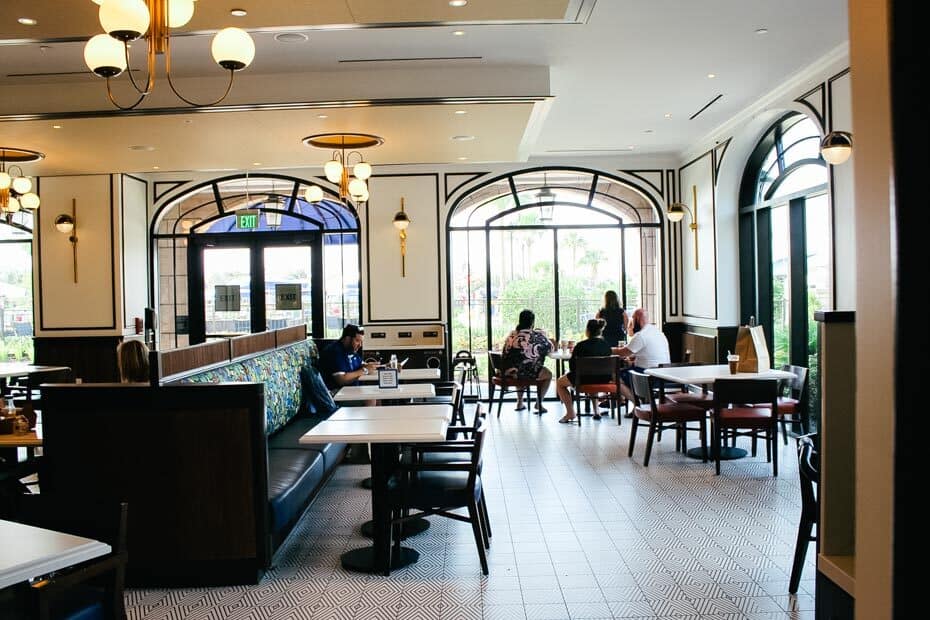 But I prefer to enjoy most meals outside when the weather allows. Riviera has plenty of outdoor tables with chairs spread out across the grounds. For those staying at the resort, you might enjoy taking your meal out to one of the pools.
Below we have the famous lemon blueberry pancakes from Primo Piatto.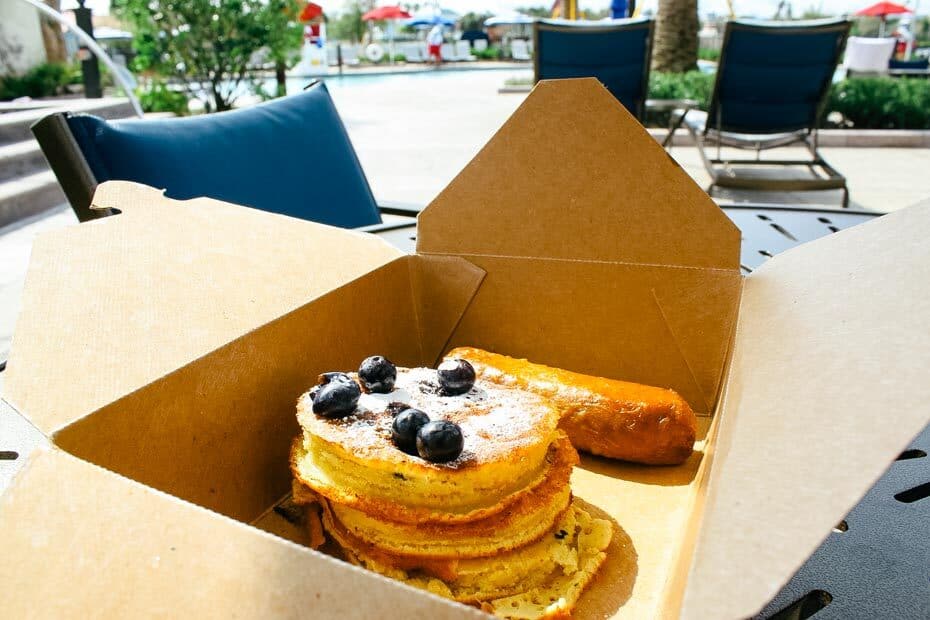 The menu description: "three, fluffy house-made pancakes filled with fresh blueberries topped with mascarpone cream and lemon zest served with choice of side."
Side choices include eggs, bacon, Italian sausage, and plant-based sausage.
I went with the plant-based sausage since I was practicing a vegetarian diet. However, the pancakes are not vegan.
You might remember that I compared the vegan-friendly sausage to the one I recently enjoyed for breakfast at Ale and Compass. These meals were great, but I found the link to be a little dry.
As for these pancakes, they were the perfect Disney breakfast! The lemon zest added the right citrus flavor, while the blueberries balanced the dish with their juicy sweetness.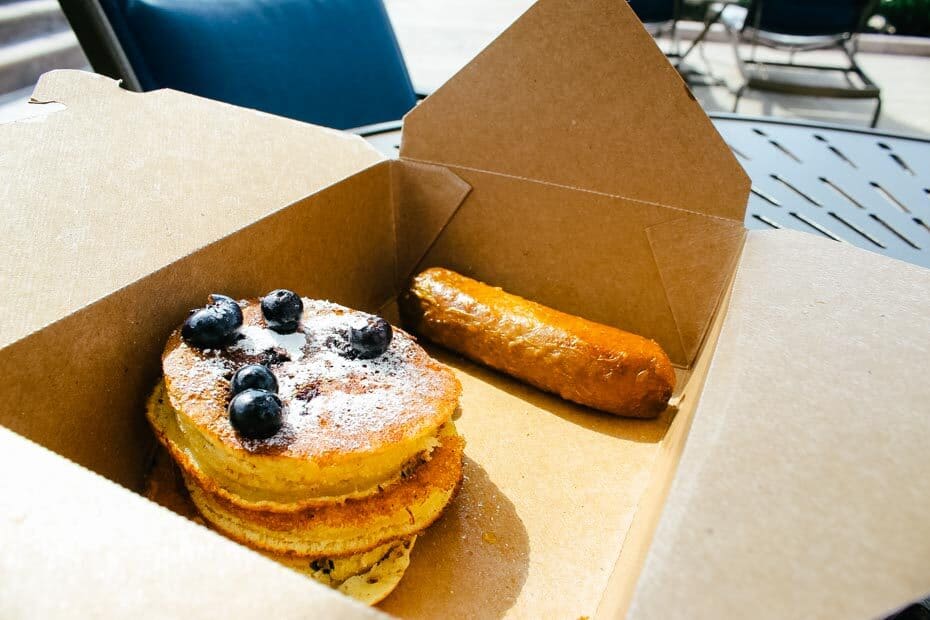 An individual syrup came on the side, but in my opinion, you do not need it. I recommend at least trying the pancakes before topping them with syrup. The only thing my dish was missing was the Mascarpone cream.
Mine didn't make it, and I never realized it until I started working on this review. I can only imagine the topping would have literally been the icing on the cake for this dish.
In hindsight, they might have removed it since I had ordered the vegan sausage on the side? However, I would imagine this batter probably had eggs in it.
You might remember that Caribbean Beach Resort sits next door to the Riviera. In December, I had lunch at Primo Piatto one sunny afternoon when I stayed there.
Related: Disney's Caribbean Beach Review
On that visit, I went with the plant-based grilled vegetable skewer.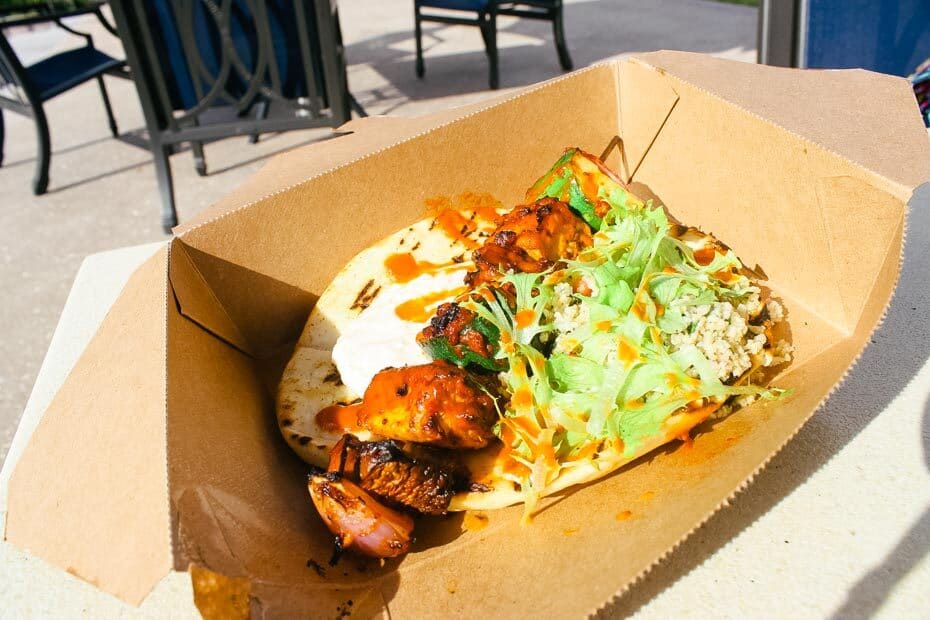 The menu description for this vegan item: "eggplant, zucchini, red onion, and Portobello mushroom skewer with Harissa-spiced vinaigrette, dairy-free cucumber yogurt, and bulgar salad served over a grilled pita."
This skewer was another delicious meal with fresh flavors and a nice variety of vegetables. I also liked that this meal was filling, but I didn't feel guilty about eating it.
The veggies come on a skewer and are placed over the pita. A salad sits to one side with bulgar in the mix.
I enjoyed my skewer out by the water.
On my initial visit to Primo Piatto, I had the Croque Monsieur, a classic French ham and swiss that reminded me of a grilled cheese sandwich. The main difference is a layer of Parmesan cheese grilled on the outside of the bread.
Sadly, I can't locate my photo, but I can say it was another tasty option. The sandwich came with a side item, and the choices were regular fries or fries with Romano cheese and herbs.
I didn't care for the Romano fries, but I would be willing to try them again. The cheese was a little overpowering.
Other popular menu items for lunch at Primo Piatto include:
Bacon Cheddar Burger: 1/3 lb Grilled Signature-blend Burger with Brisket and Chuck topped with Bacon, Aged Cheddar, Shredded Lettuce, Tomato, and Garlic-Mayonnaise on a Toasted Brioche Bun served with choice of side
Grilled Chicken Sandwich: Balsamic-marinated Grilled Chicken with a Sun-dried Tomato Relish, Spinach-Artichoke Spread, and Mozzarella on Toasted Focaccia served with a choice of Side
Hearth Baked Pizzas: Fresh Artisan Hearth-baked Pizza topped with Tomato Sauce, Italian Sausage, Pepperoni, Provolone, and Grated Romano
and for breakfast, these items:
Primo Piatto Breakfast: Scrambled Eggs served over Mascarpone Polenta with a Sweet Brioche Roll served with Bacon and Italian Sausage
Croque Madame: Classic French Ham and Swiss with a Fried Egg served with choice of side.
Plant-Based Egg Platter: Plant-based Eggs served with Grilled Vegetables and Plant-based Italian Sausage
If you would like to review the entire menu, it is available here on Disney's site.
Additionally, Primo Piatto has a large selection of grab-and-go type items. These are available on the mobile order menu as well.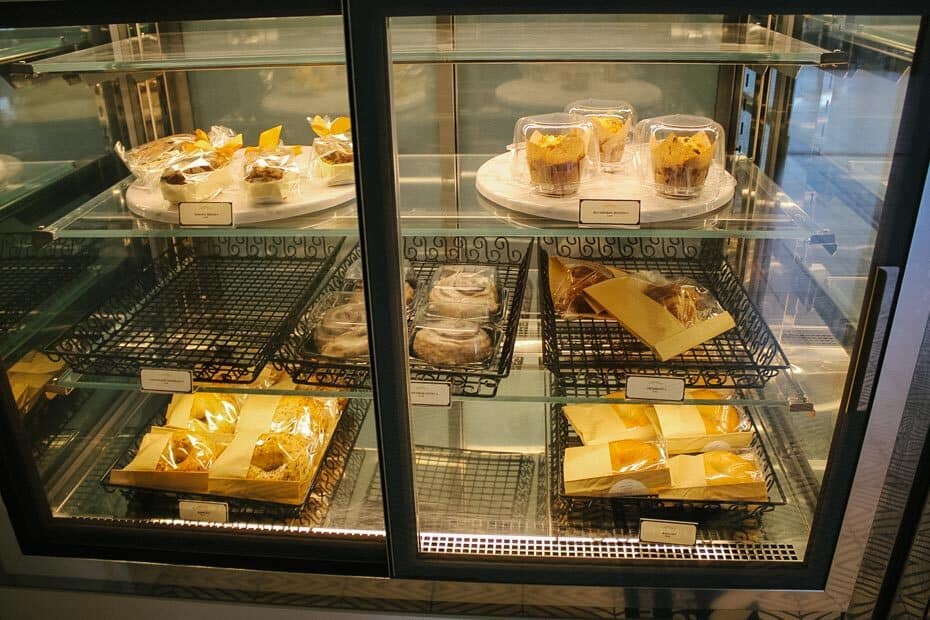 I am intent on trying this banana bread on a future visit. The bread is also available at Riviera's Le Petit Cafe in the mornings.
Related: Le Petit Cafe Review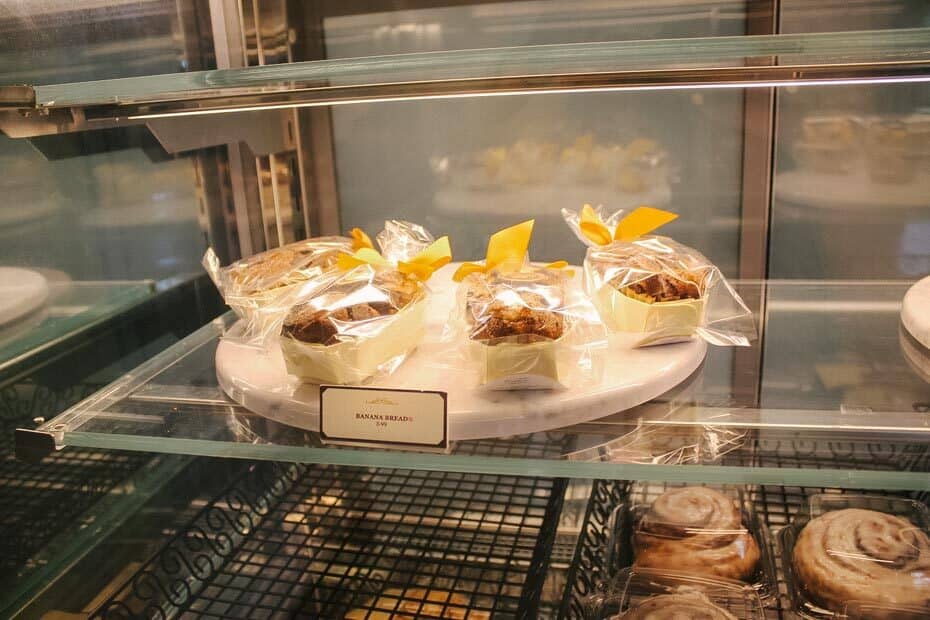 There were blueberry muffins.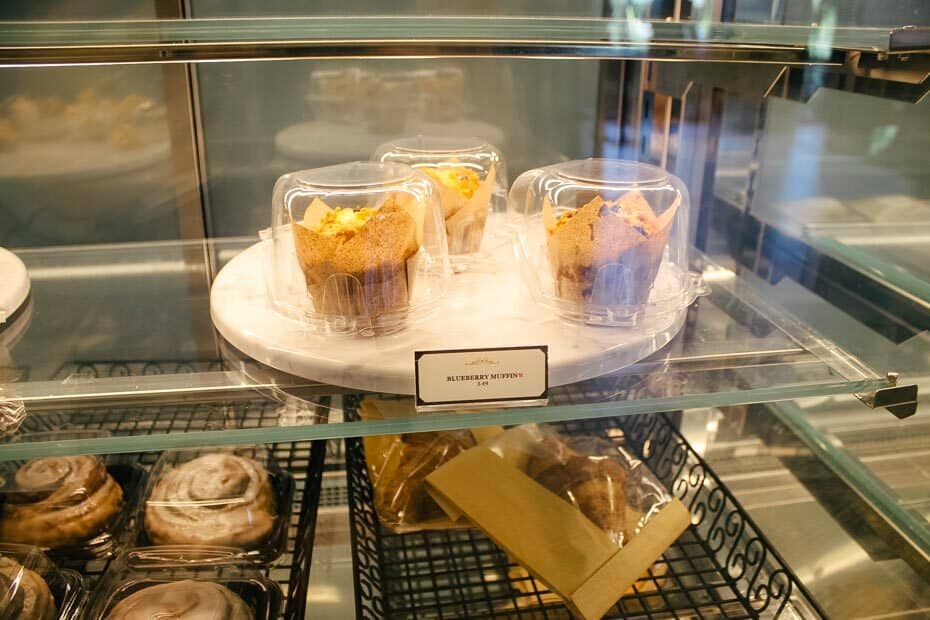 The cinnamon rolls looked like they would be easy to devour. I was glad you couldn't smell them. I would have been a goner.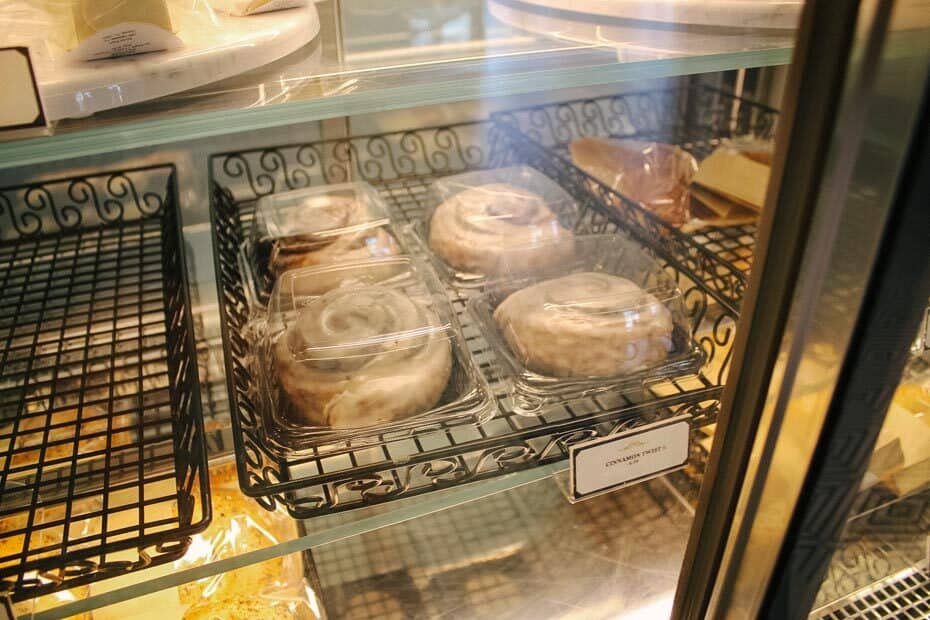 Croissants and bagels are a nice, simple breakfast carb.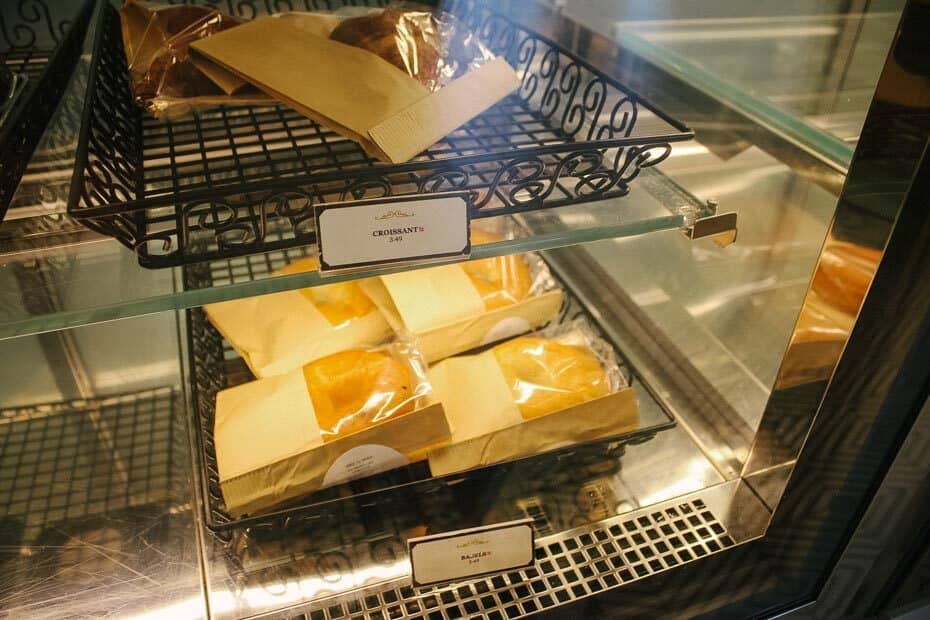 Below these breakfast sandwiches said eggs, ham, and cheese. Unfortunately, I was disappointed to see a pre-made offering.
Another case had different gelato selections.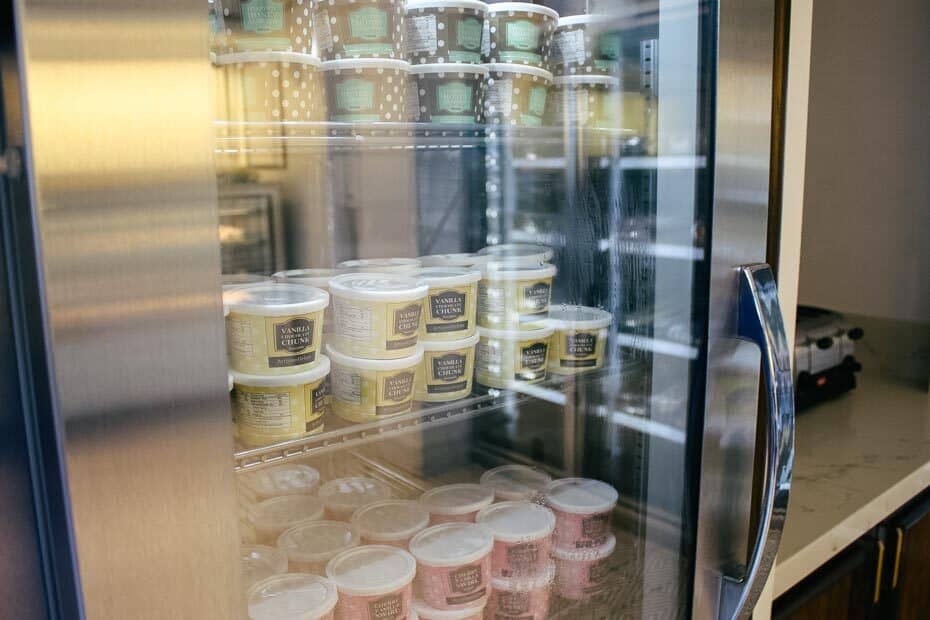 A refrigerated case has various drinks and a few packaged items like fresh fruit, salads, and snacks toward the back corner of the restaurant.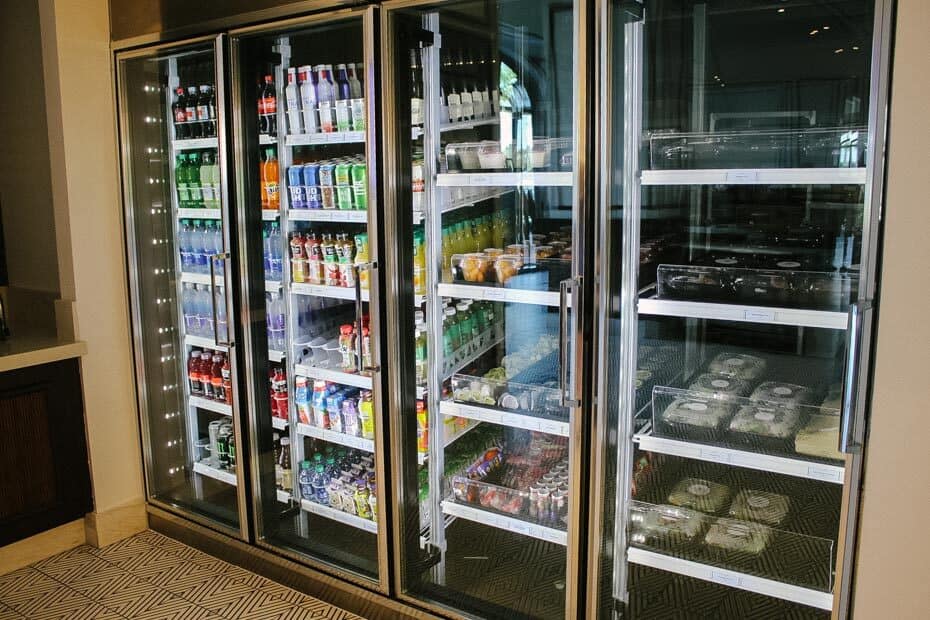 The only other place with a few of these grab-and-go type items is La Boutique (Riviera's gift shop) on the lobby level.
Before wrapping things up, I wanted to mention that Primo Piatto normally participates in the Disney Dining Plan when it is available. However, as of this last update, the dining plan has not returned.
For those interested in character dining at Disney World, you won't want to miss the Topolino's Terrace character breakfast. It has excellent food and classic characters.
For more information about Disney's Riviera Resort, all of our articles are listed here. Or you might enjoy the following:
Don't miss our complete list of Disney restaurant reviews. They include character dining, signature dining, table service, and quick service.
You might also enjoy learning about a few other resorts near Epcot. Try these hotel reviews:
If you're staying at any of those resorts, you can easily take the Skyliner over to the Riviera to enjoy a meal at Primo Piatto. And don't forget to pick up a dessert at the cafe!
Hopefully, this Primo Piatto review provided you with a good idea of what to expect at this popular counter-service restaurant. I know I look forward to enjoying more meals here in the future.
In the comments: What are your thoughts on Primo Piatto? Do you plan to enjoy a meal here on your next vacation? Did you find this review helpful?