Primo Piatto Review (A Mostly Upscale Quick Service Restaurant)
Primo Piatto is the primary counter service dining location at Disney's Riviera Resort. You'll find Primo Piatto on the resort's lower level, or if you're coming from the outside, it's on the ground floor.
In this Primo Piatto review, we revisit the popular quick-service restaurant for a fresh look at what to expect. Since the resort opened a few years ago, we've enjoyed multiple meals here and consider it a bit of a hidden gem.
So if you have an upcoming stay planned, you might enjoy pancakes by the pool for breakfast or a late-night Croque Monsieur to take back to your room after a long day in the parks. Whatever you decide, Primo Piatto has several excellent menu items.
Of course, you can always visit the resort for a meal even if you're not staying there. On this latest visit, I did just that.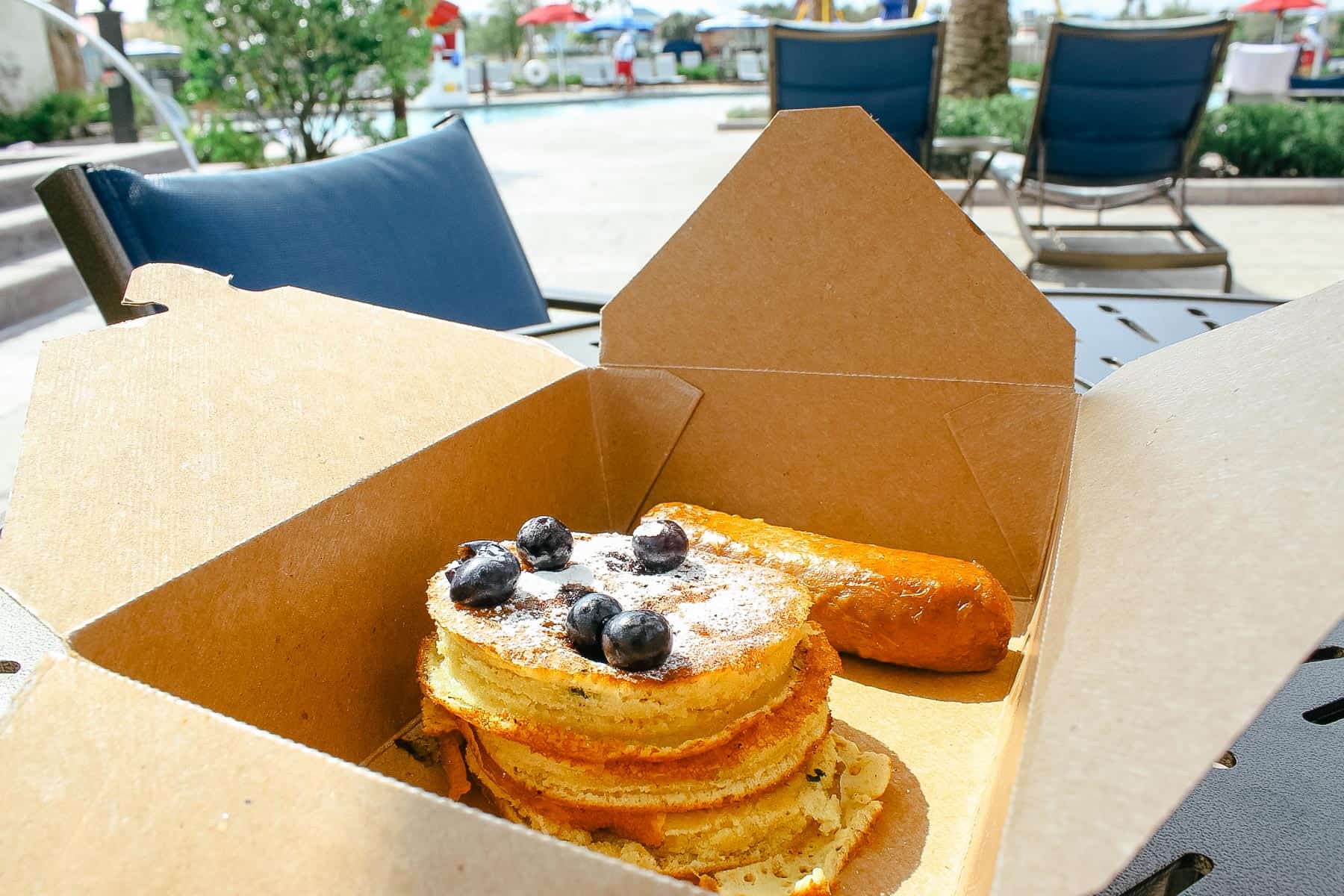 Primo Piatto Review
My day started at Epcot, rather nicely, I might add. But not long after my walk through the park, I found myself in need of lunch. Since I focus on resorts, I try to dine at them as much as possible.
You may remember a few months ago, we visited Bar Riva at Disney's Riviera for lunch. That is another excellent option for dining at the resort.
So when I was thinking of a resort near Epcot, I realized I hadn't visited Disney's Caribbean Beach in some time. So I decided to head that way via the Skyliner from the International Gateway.
However, on the way, I made an impulse decision to stop at Disney's Riviera first and have lunch at Primo Piatto. When I exited the Skyliner at the Riviera, I was immediately happy with my decision. It is a beautiful resort.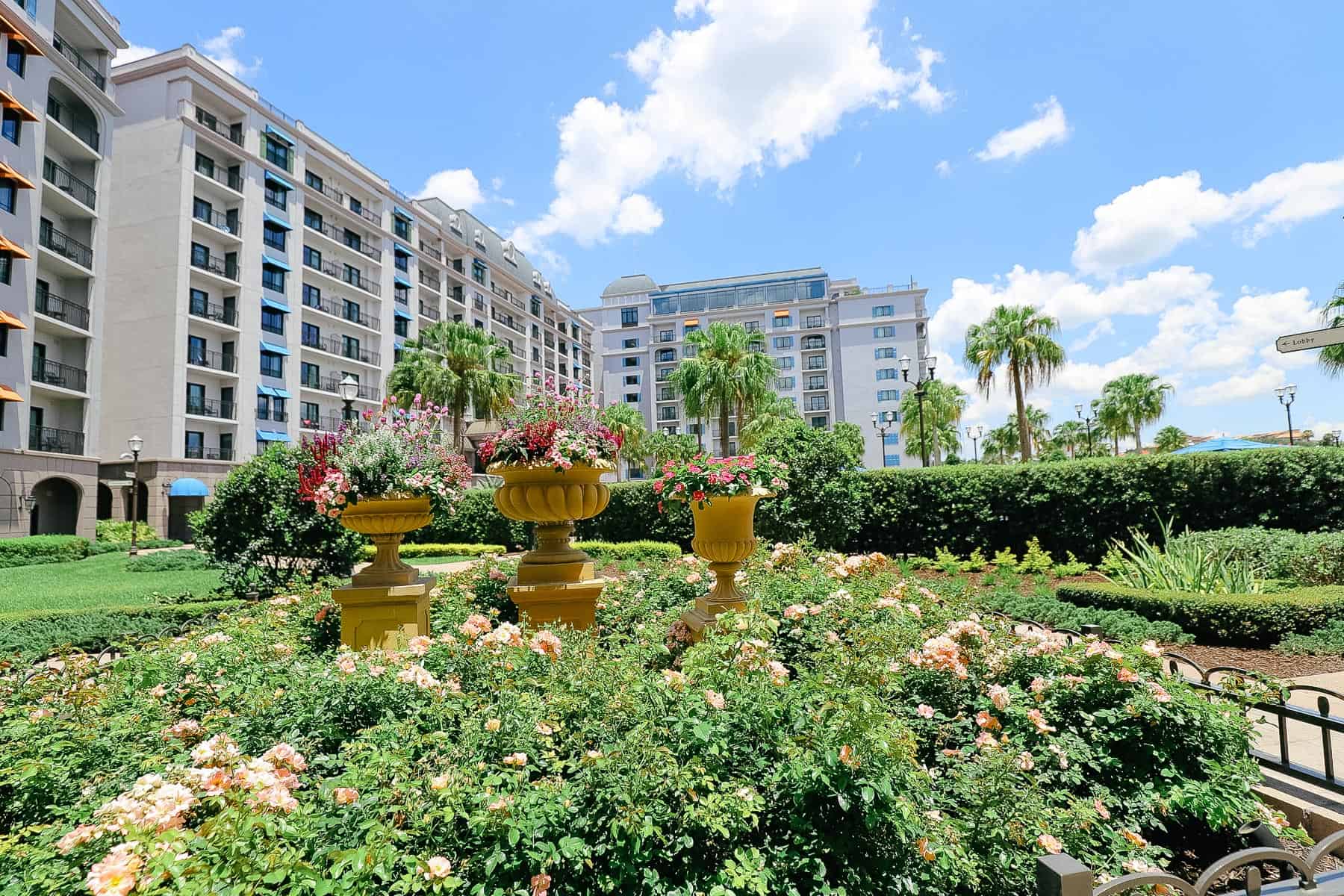 As I wandered through the resort's grounds, I took in the scenery. Riviera has a simple design with a boutique layout. So if you stay here, you'll likely find that you can easily navigate your way around the resort.
If you're visiting via Disney's Skyliner or Caribbean Beach, you can walk directly into Primo Piatto from the exterior. Primo Piatto's entrance sits behind the S'il Vous Play pool area.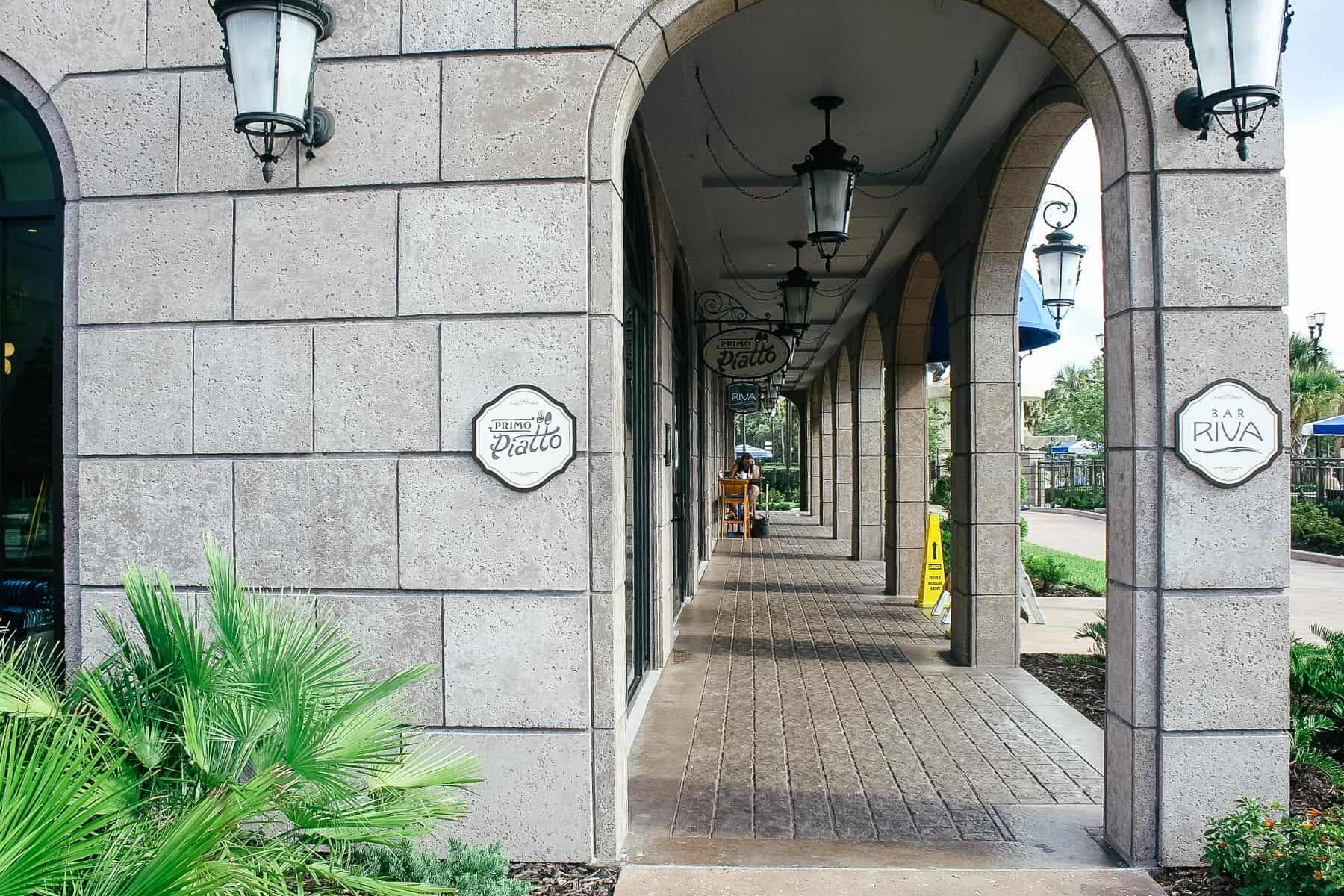 Bar Riva, the resort's lounge, sits directly next door to Primo Piatto. While that location is a lounge, it doubles as the pool bar. Additionally, Bar Riva and Primo Piatto share a kitchen.
But the main difference is that Bar Riva serves a few table-service items. For example, I ordered grilled salmon with orzo on my last visit.
Related: Bar Riva Review
When I arrived at Primo Piatto, I decided to take a few photos before ordering my meal. It wasn't too crowded, so it seemed like a convenient time.
A large sign near the entrance showed a few menu items.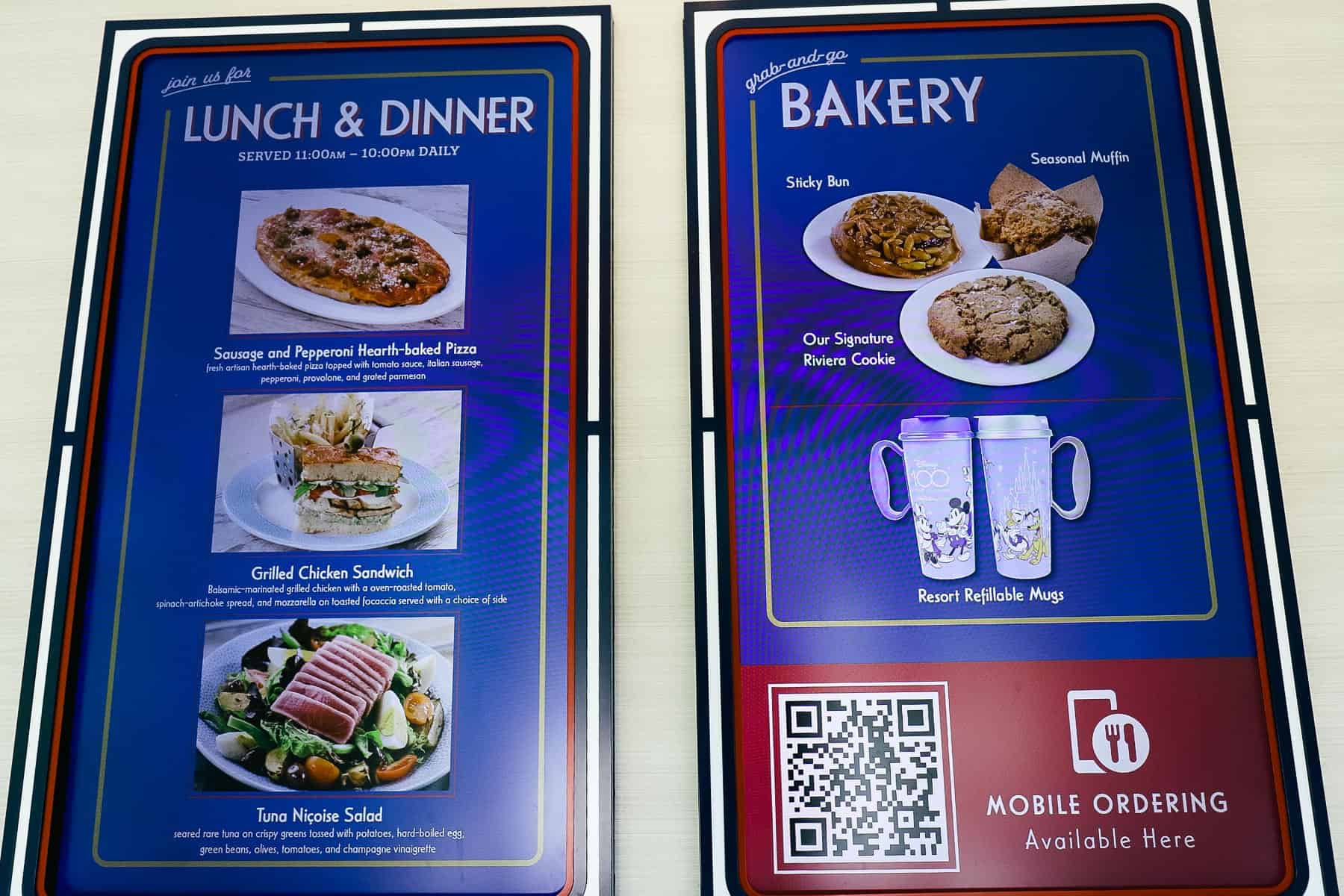 Inside, I browsed the pastry cases. A few of these items get rave reviews. For starters, people go nuts for the mini-wrapped loaves of banana bread.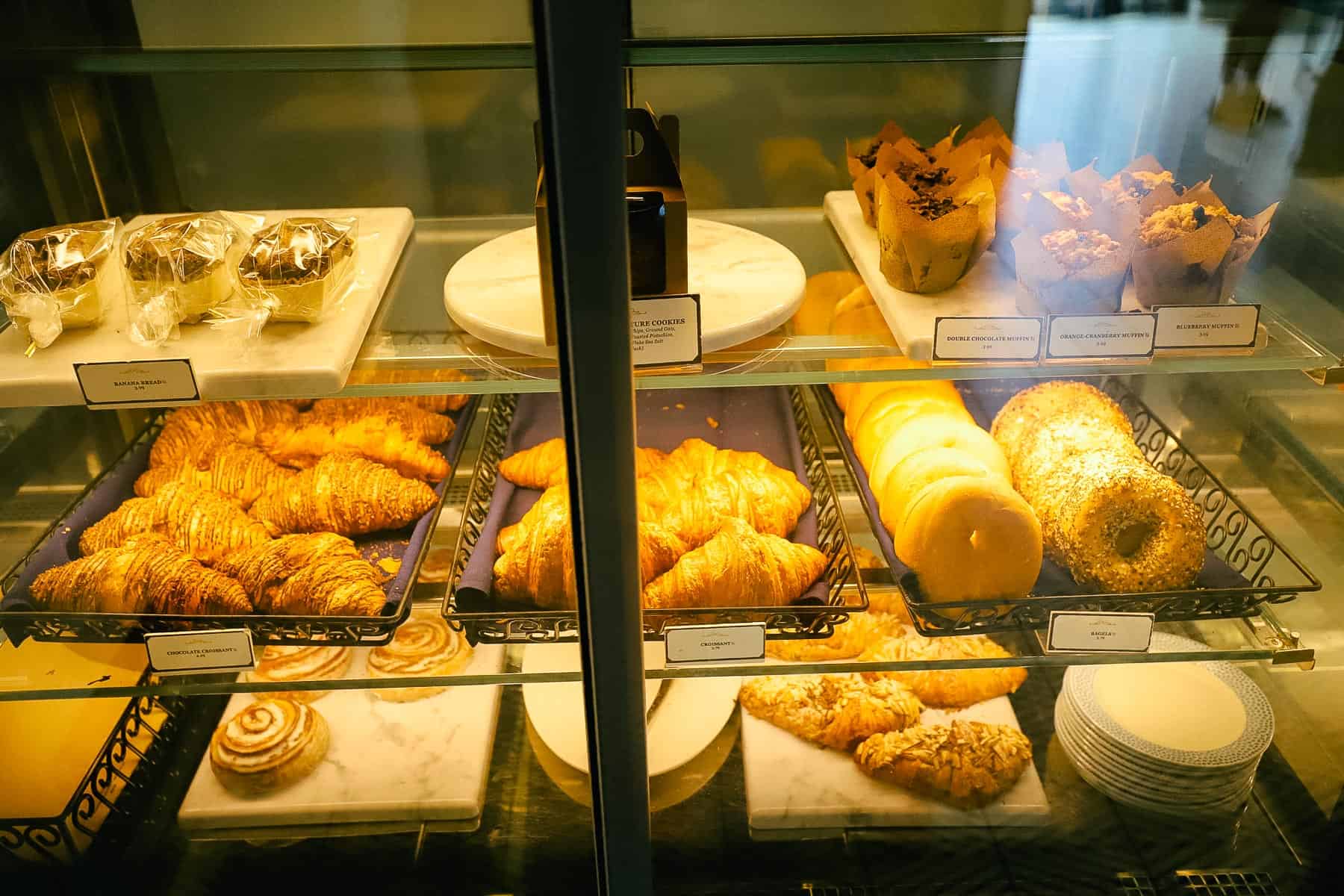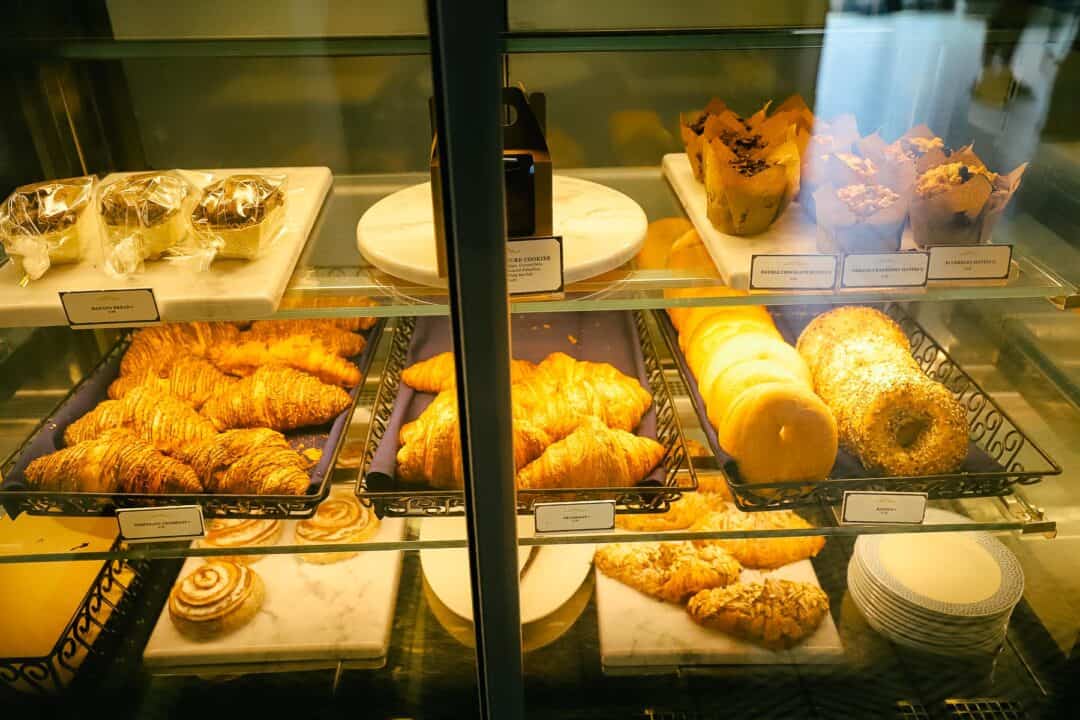 Another case had cookies, lasagna, and sticky buns. I thought the sticky buns looked good but I didn't try one.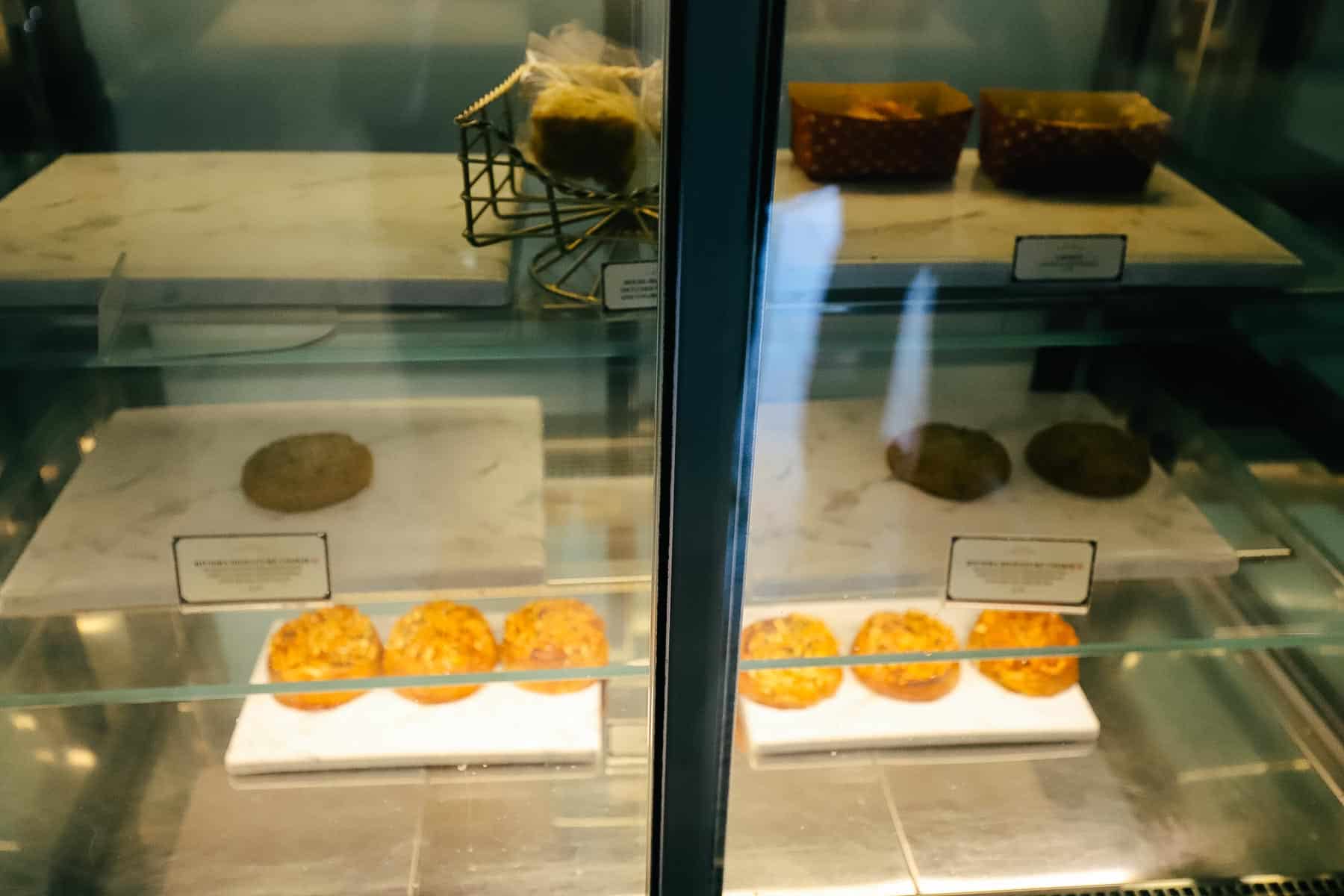 I intended to order Riviera's signature cookies, another popular item. But I had forgotten about it when I finished taking photos.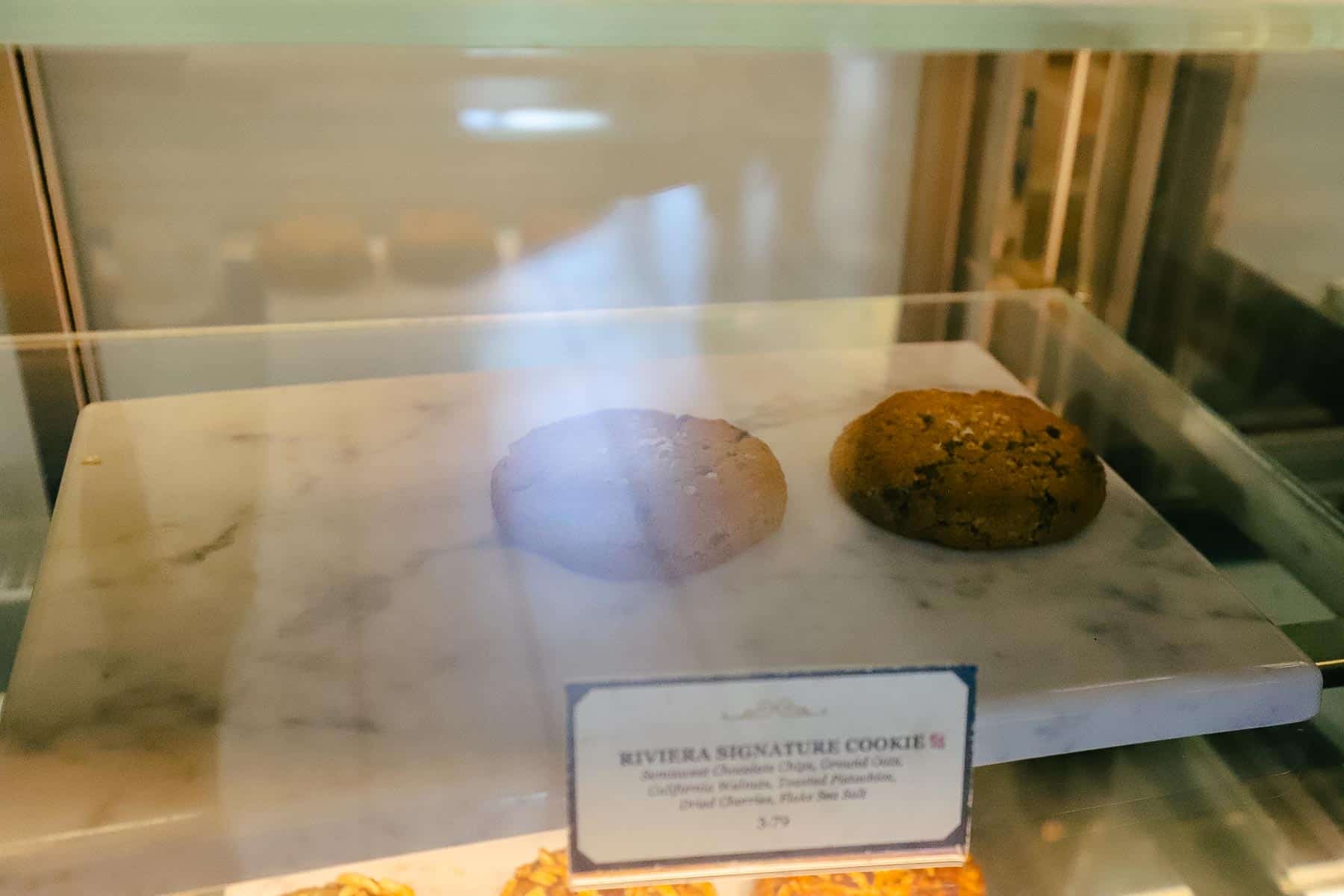 But what baffled me the most was the lasagna sitting at the back of the pastry case. A sign said "lasagna with housemade Focaccia bread" for $12.49.
So I'm standing there trying to make sense of these lasagnas, and a cast member walks up to refill the case. Naturally, I asked him if the lasagnas were there to show an example of what they looked like. He said–no, you grab one and heat it in the microwave.
This is an upscale quick service with a full kitchen, right? Why not let guests order lasagna off the menu and send it out piping hot with fresh bread?
But please, please don't make me walk to your pastry case, retrieve, and reheat my lasagna! This is a villa resort!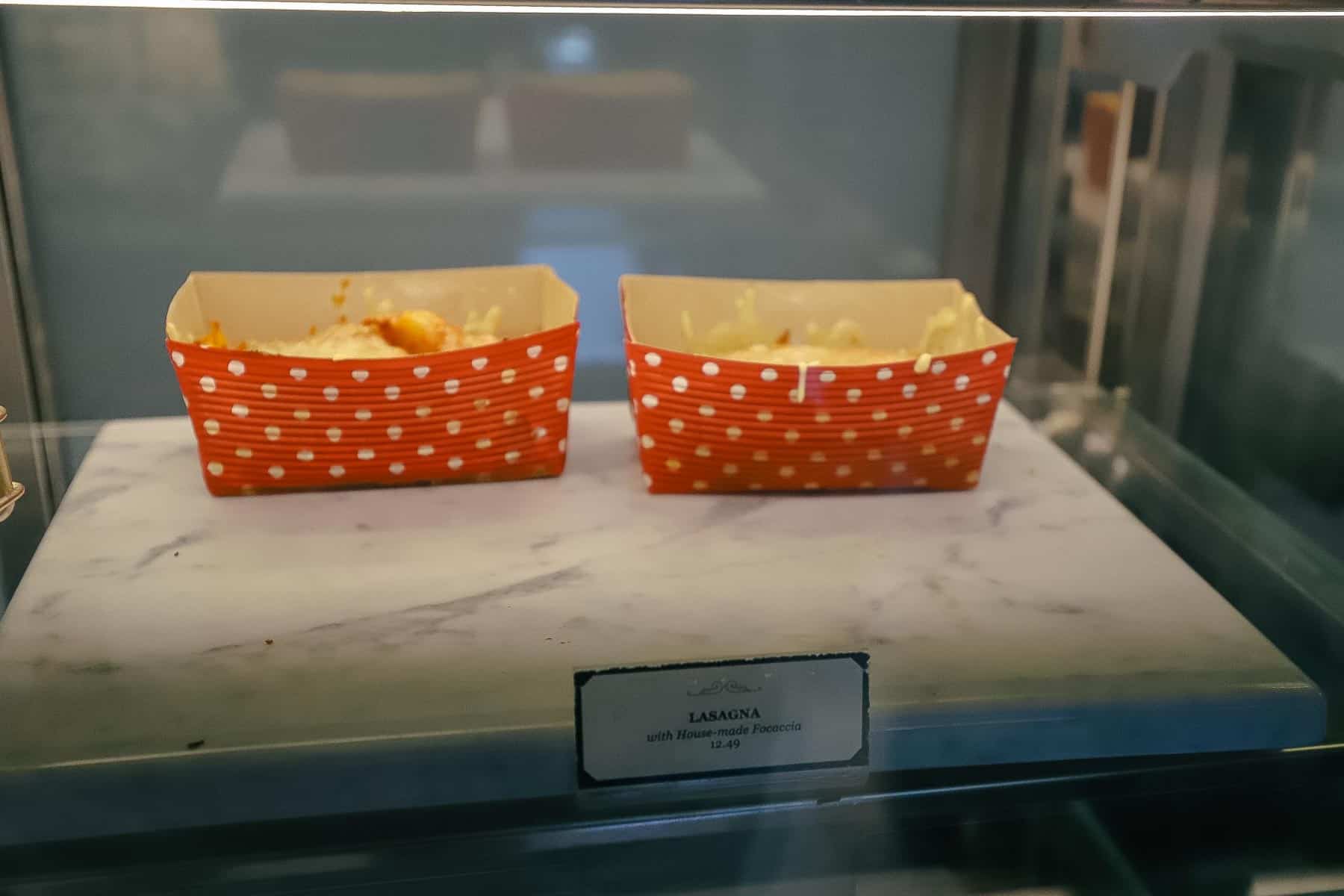 Thankfully, that was my largest complaint, and it's not a dealbreaker. But I don't feel this kind of offering matches the resort's clientele. Even a peasant like me expected more when visiting as a day guest.
Anyway, a large cooler case sits along the back wall. It contained sodas, juice, wine, and beer. Since the Riveria is a Disney Vacation Club Resort, you can find more items like this in the resort's gift shop, La Boutique.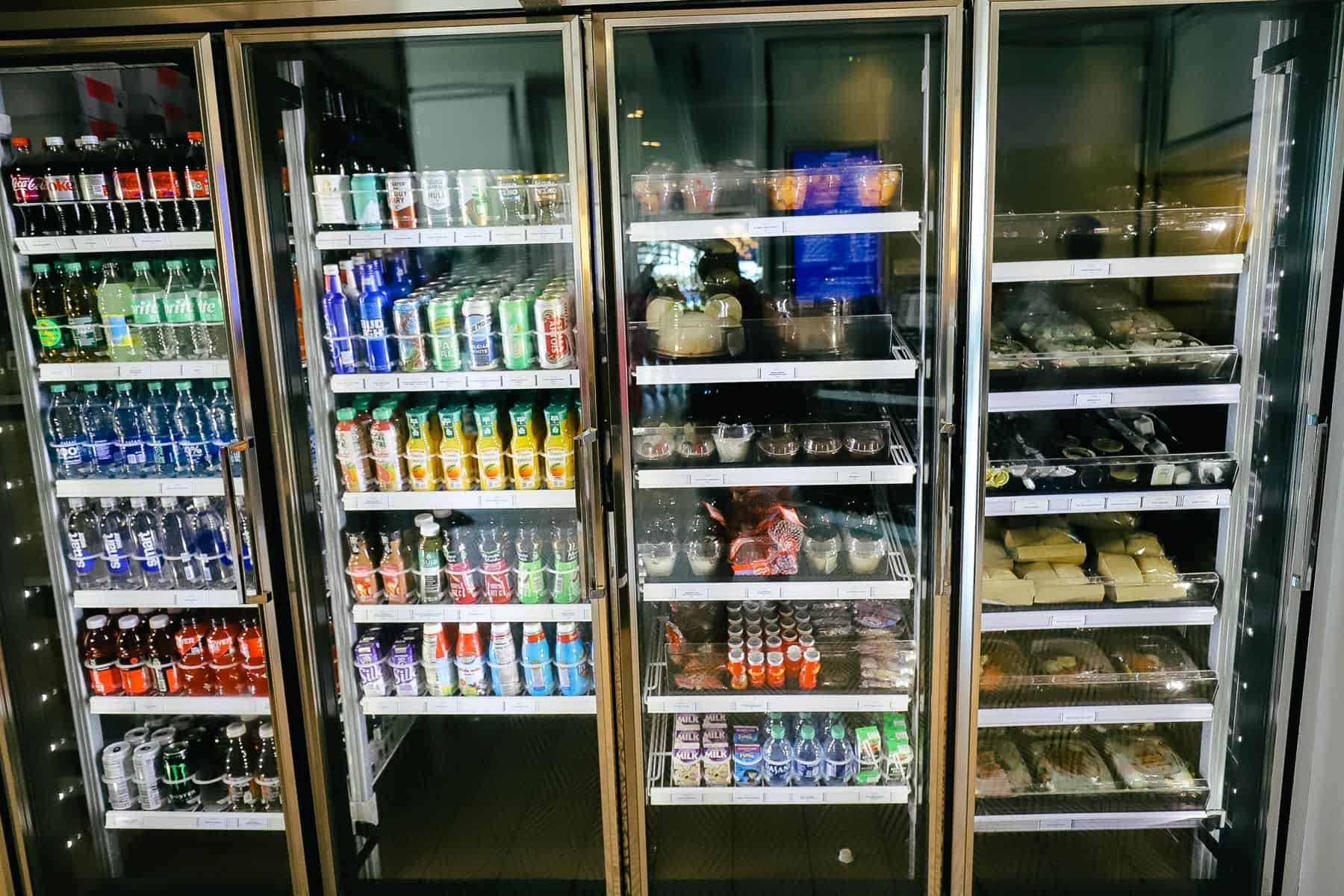 Toward the end of the case, we have fruit cups, Mickey Dome cakes, and several other refrigerated items.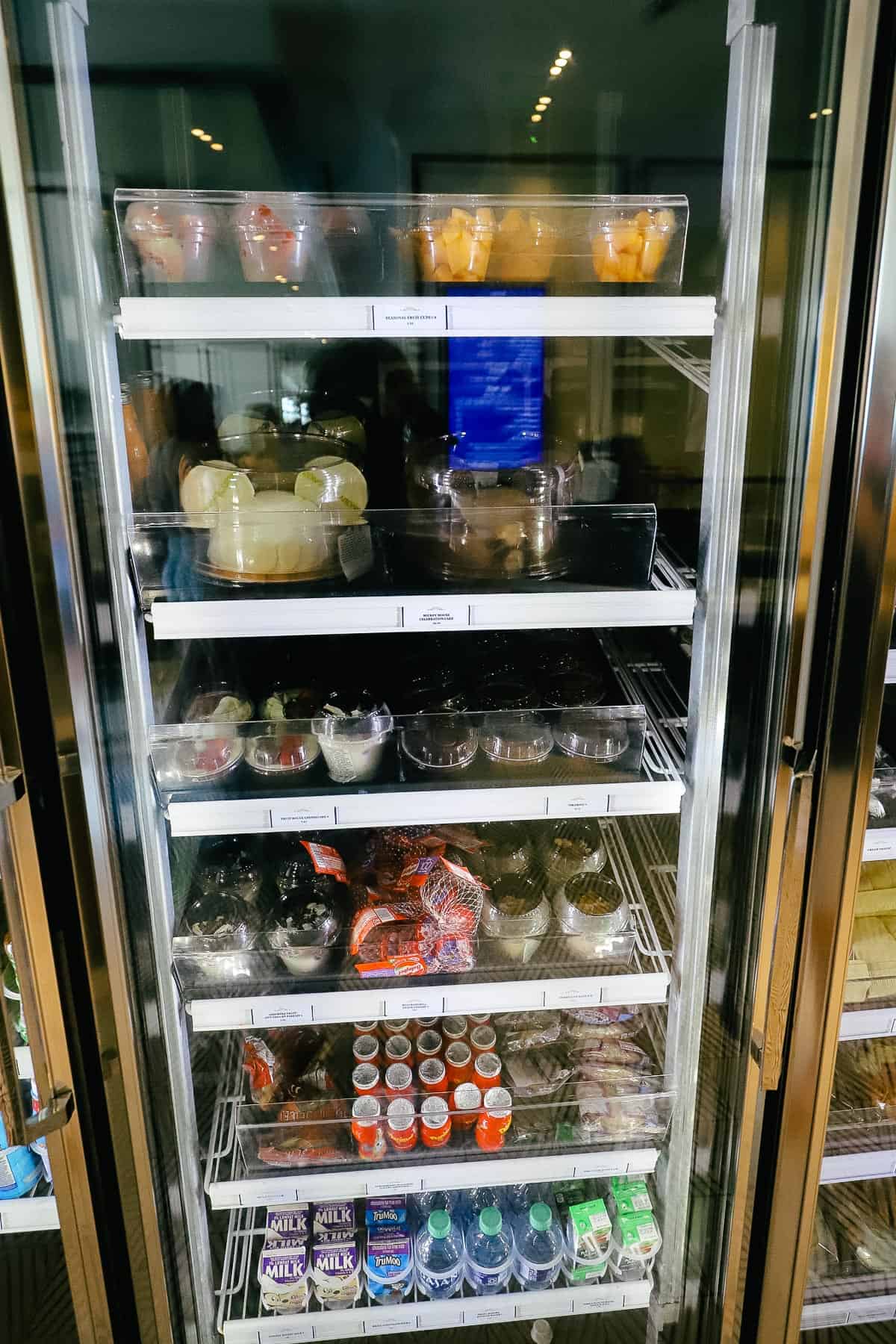 You might also note that all the salads on the menu are premade and sitting in this cooler. So when you see Tuna Nicoise and Greek Salad on the menu, you get this.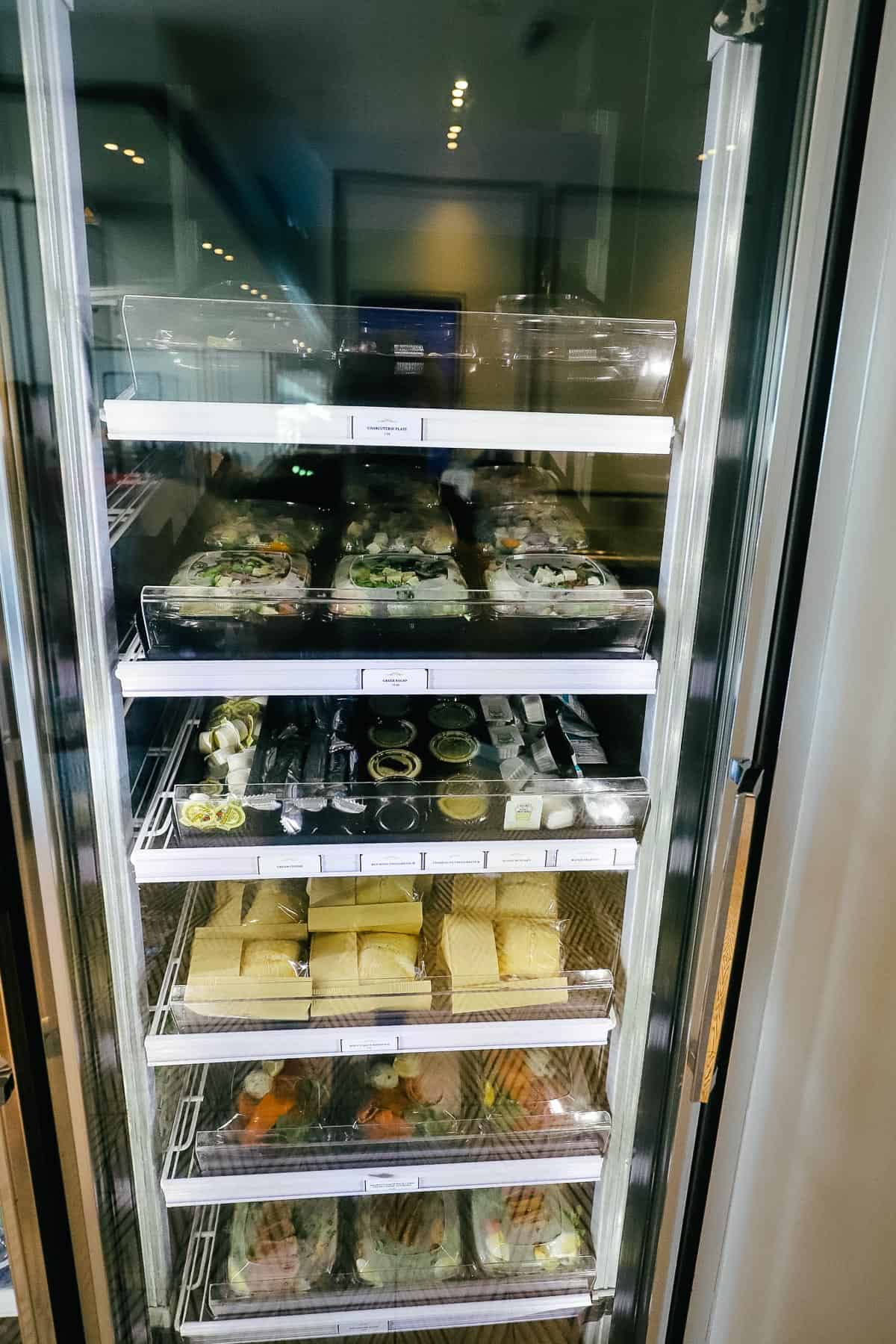 Like most resorts, Riviera has several ice cream novelties. However, they do have a few flavors of gelato considered signature to the resort.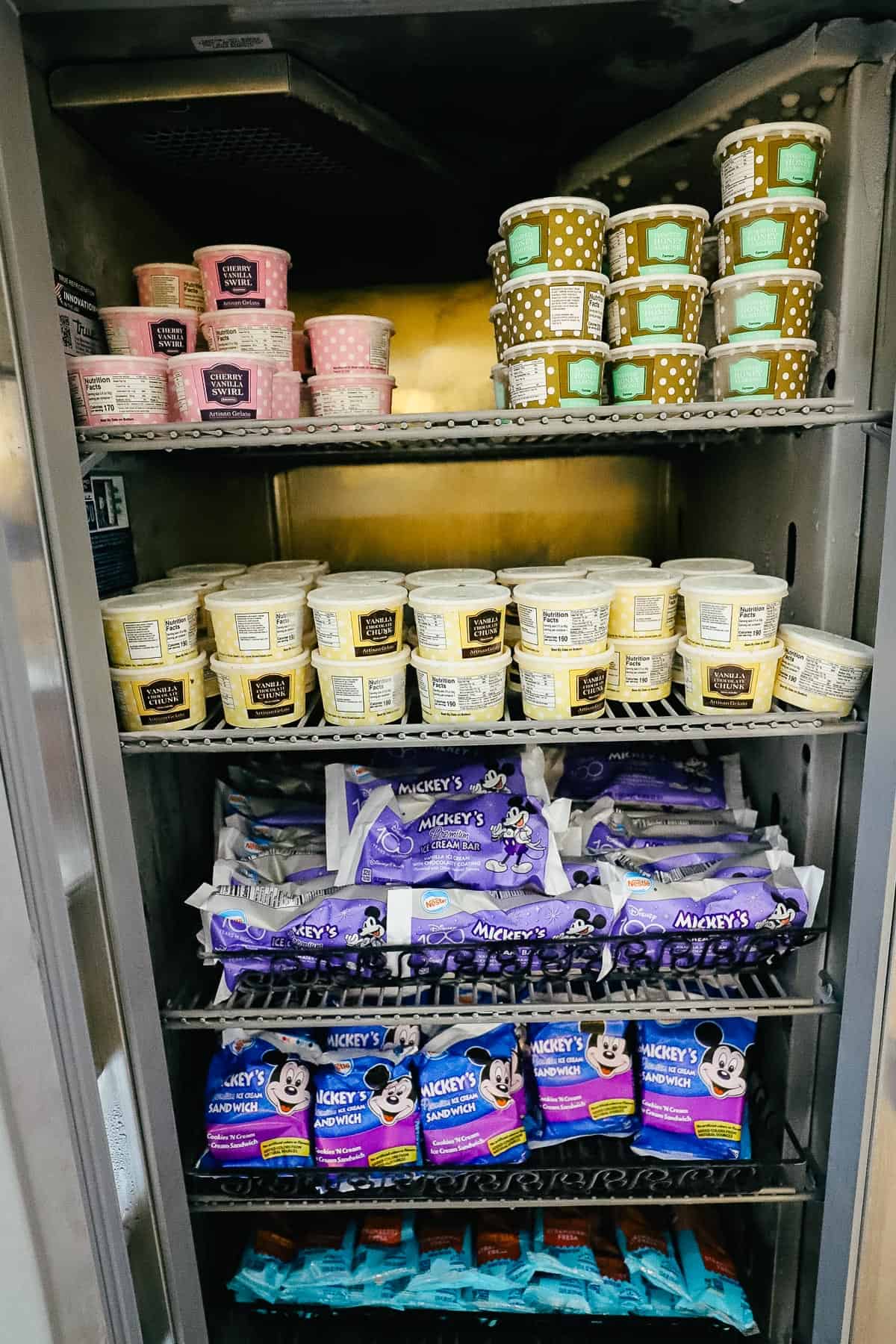 Here are a few photos of what else was available–chips and pretzels.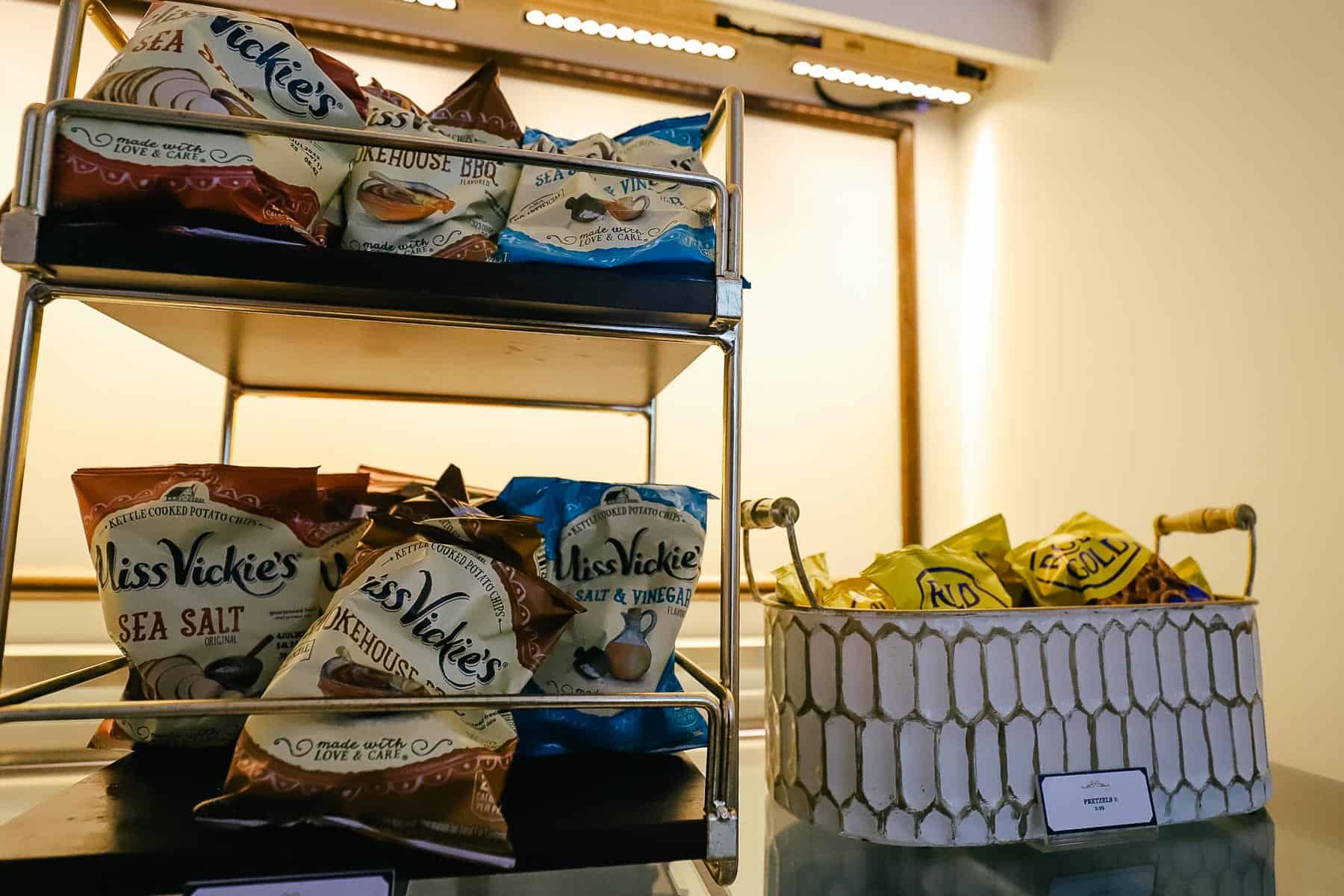 Individual bowls of cereal sat next to three packs of Cutie mandarin oranges.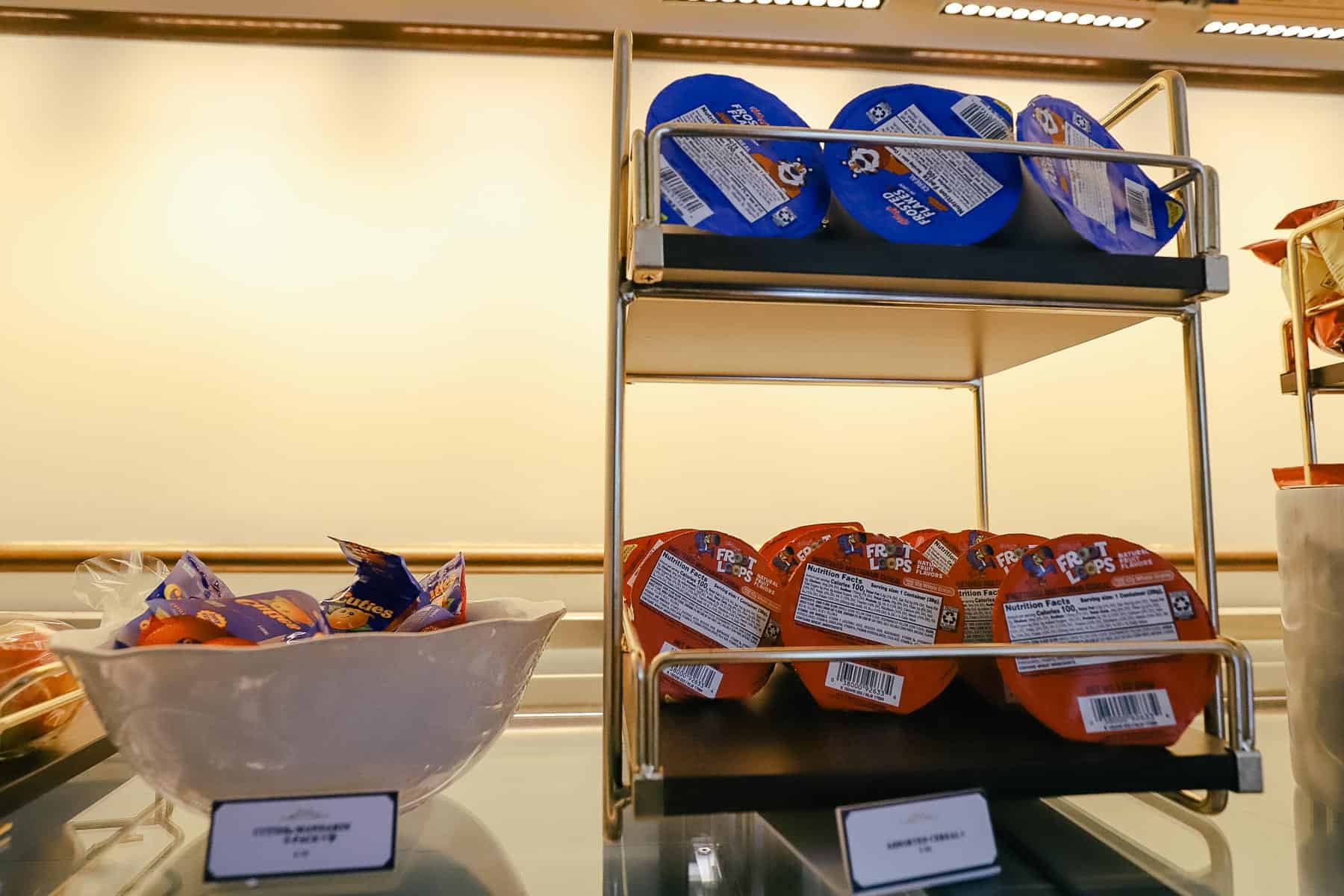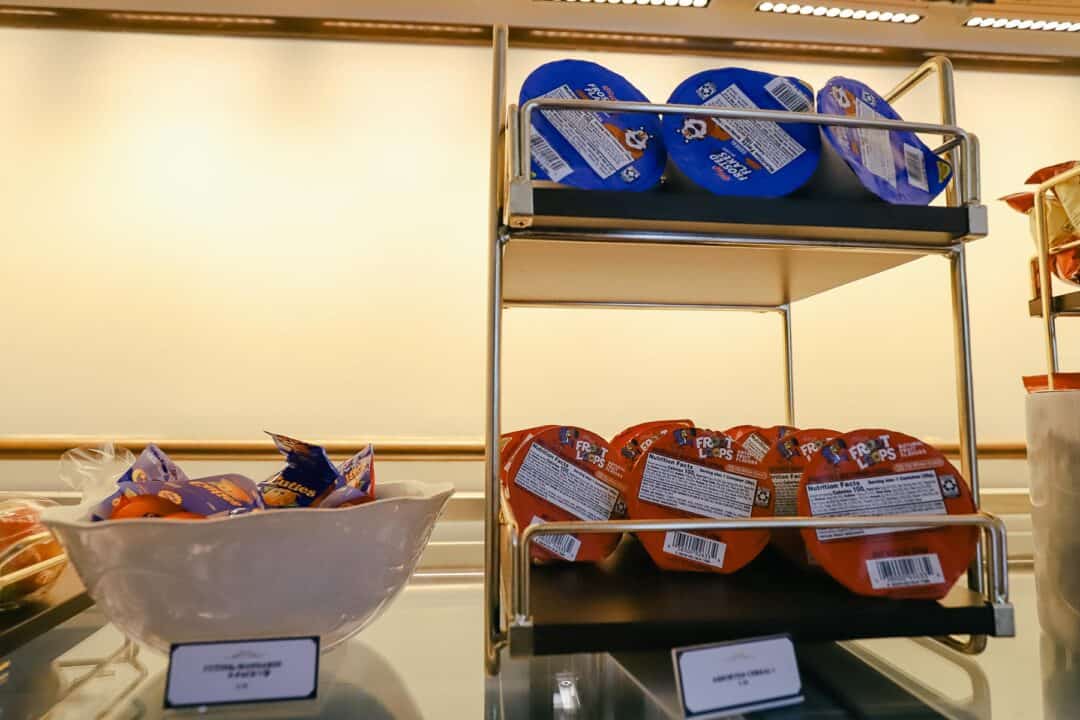 Regular oranges and individual bananas also made up the fruit selection.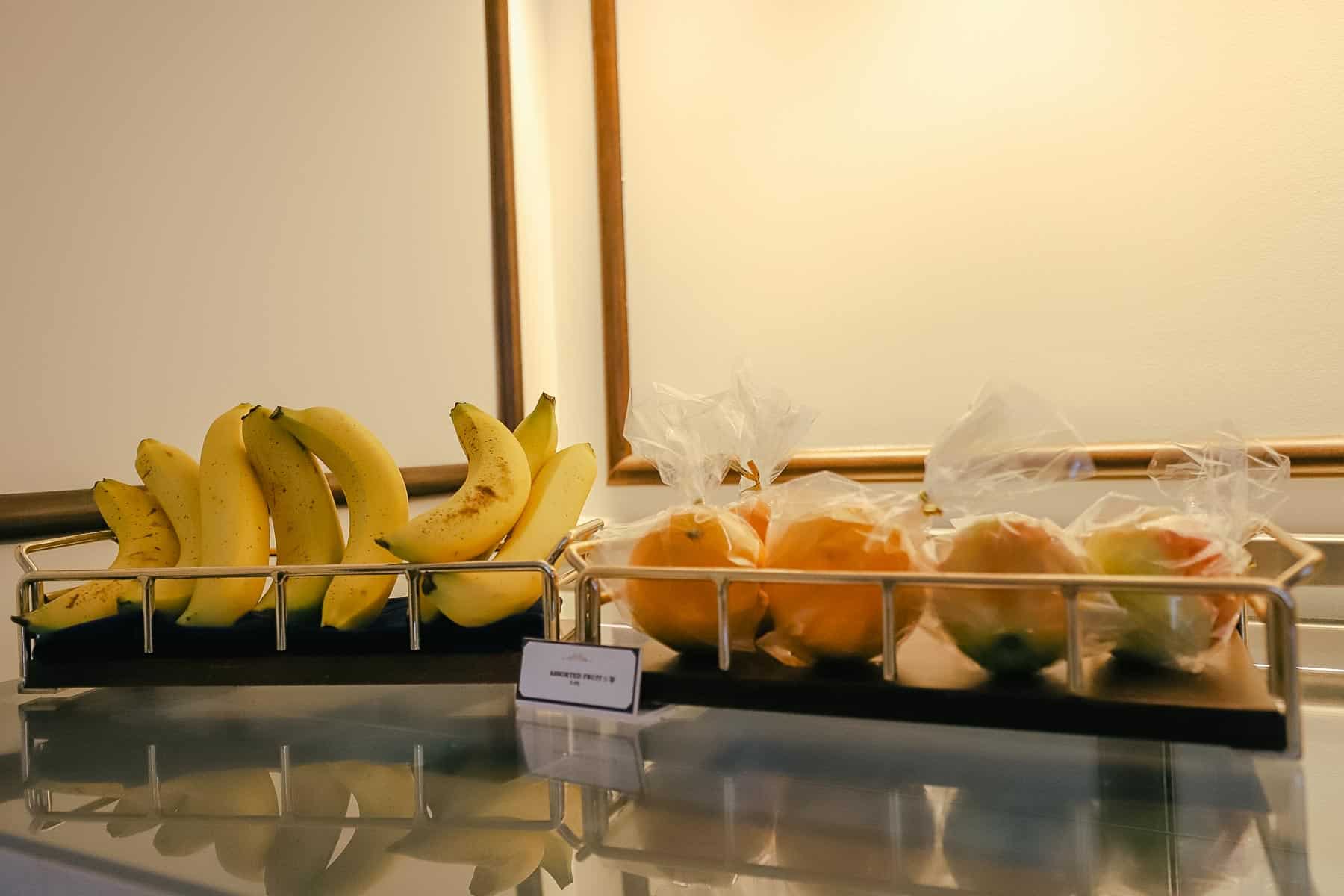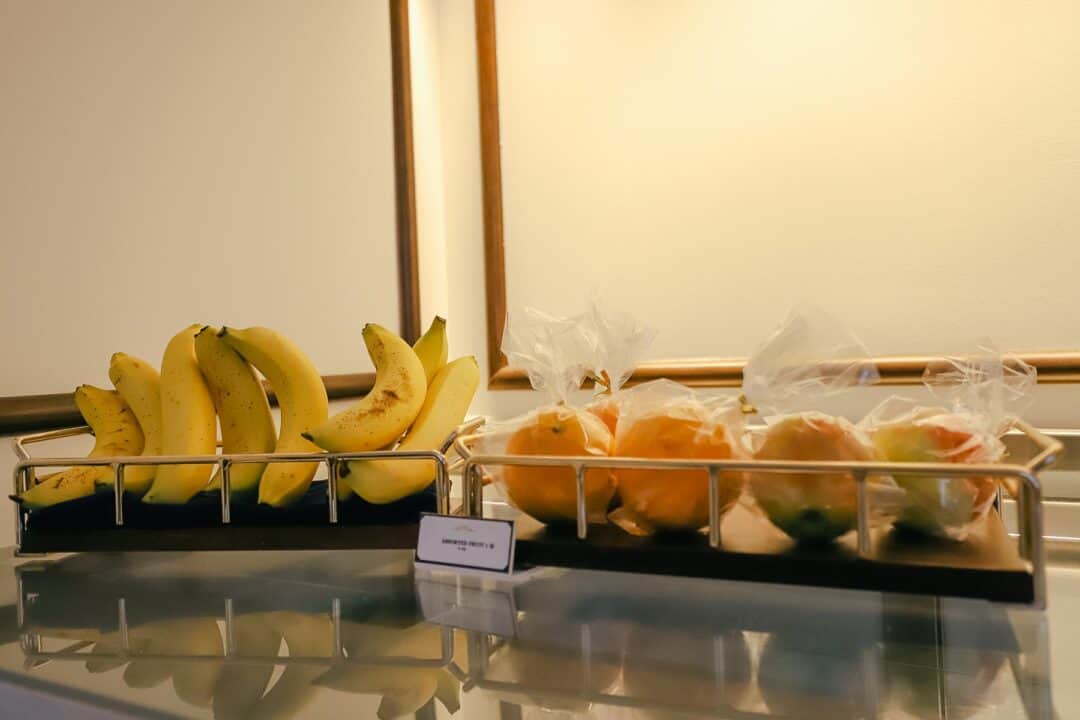 Lastly, a few gluten-free, organic, or allergy-friendly items were lumped together.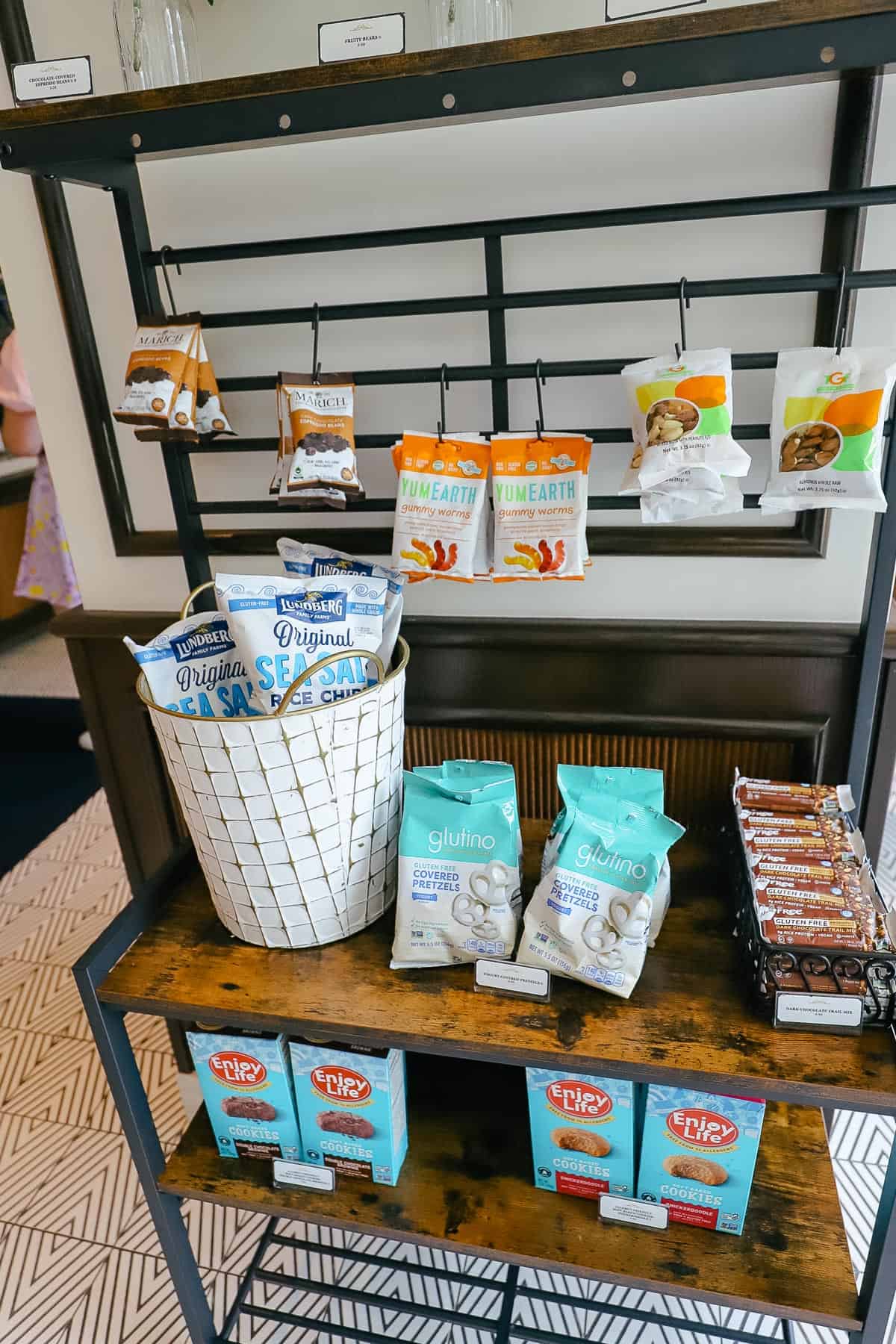 Here is that microwave for heating the lasagna. Technically, you could use it for anything. A toaster was also available.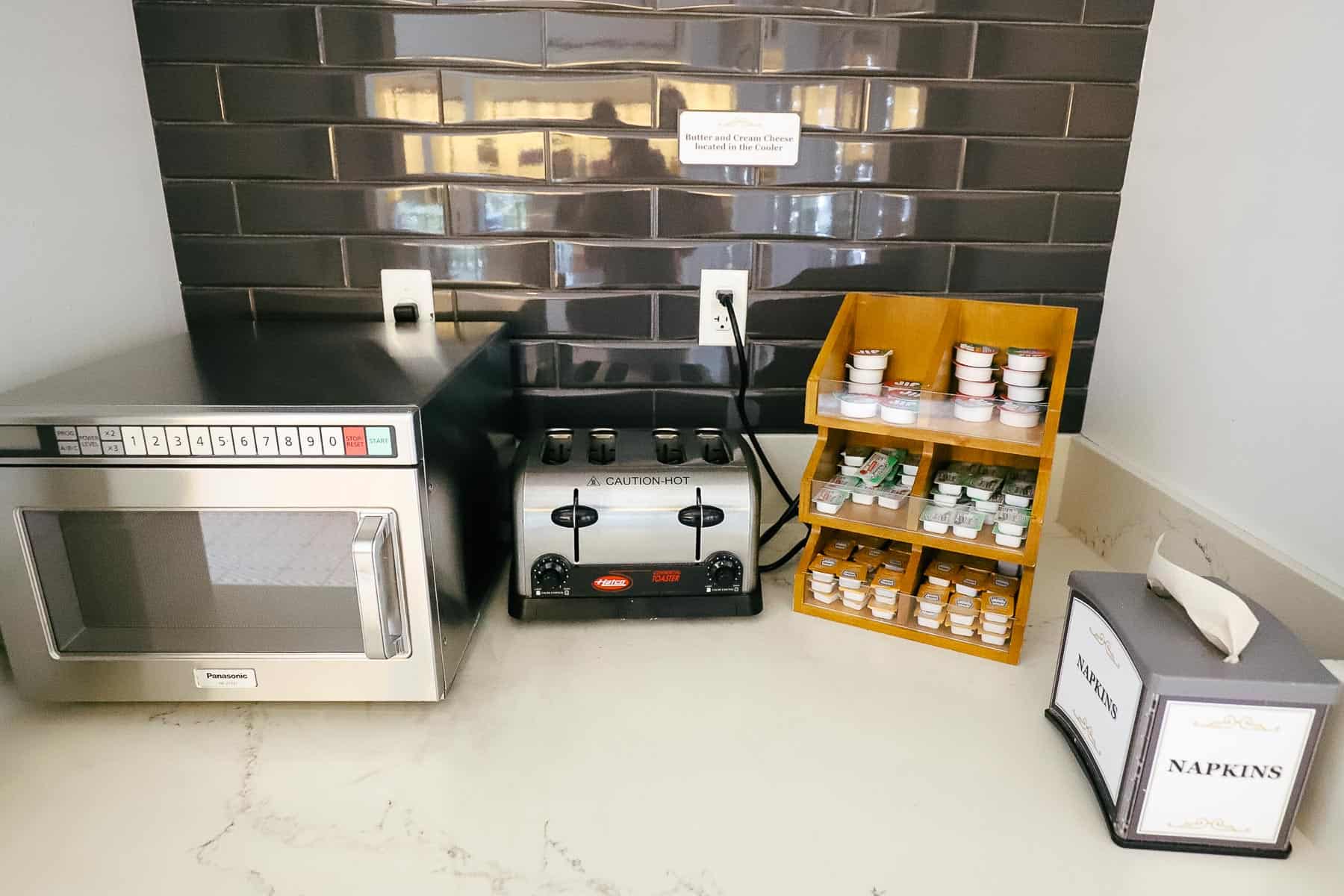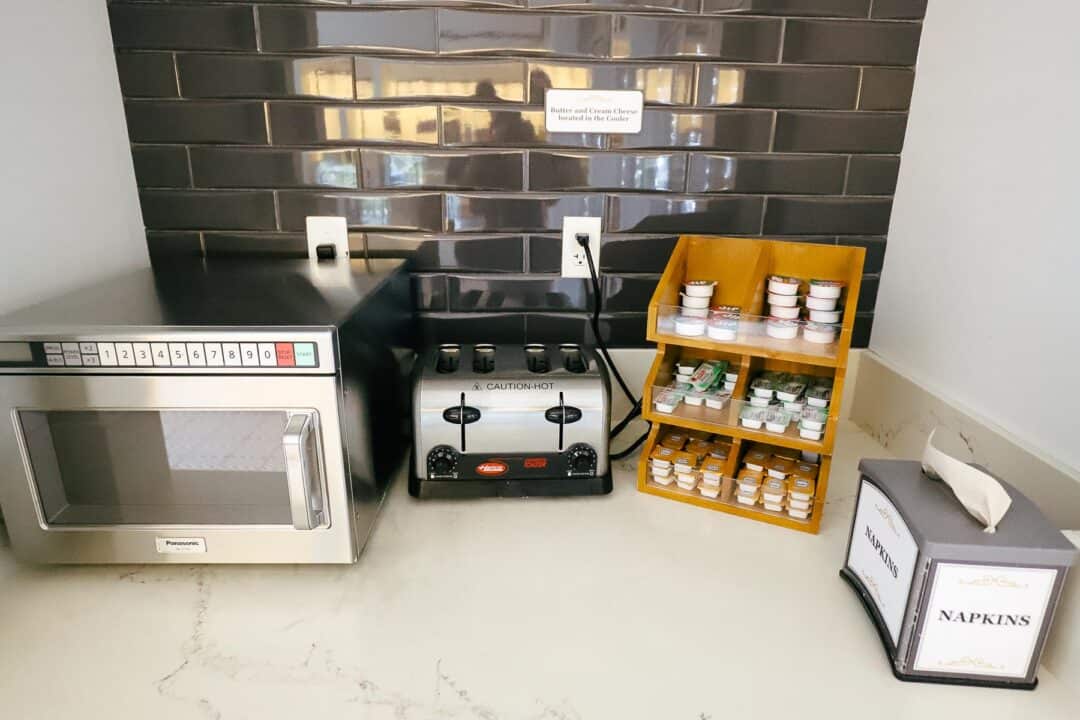 A Freestyle Coca-Cola machine is available.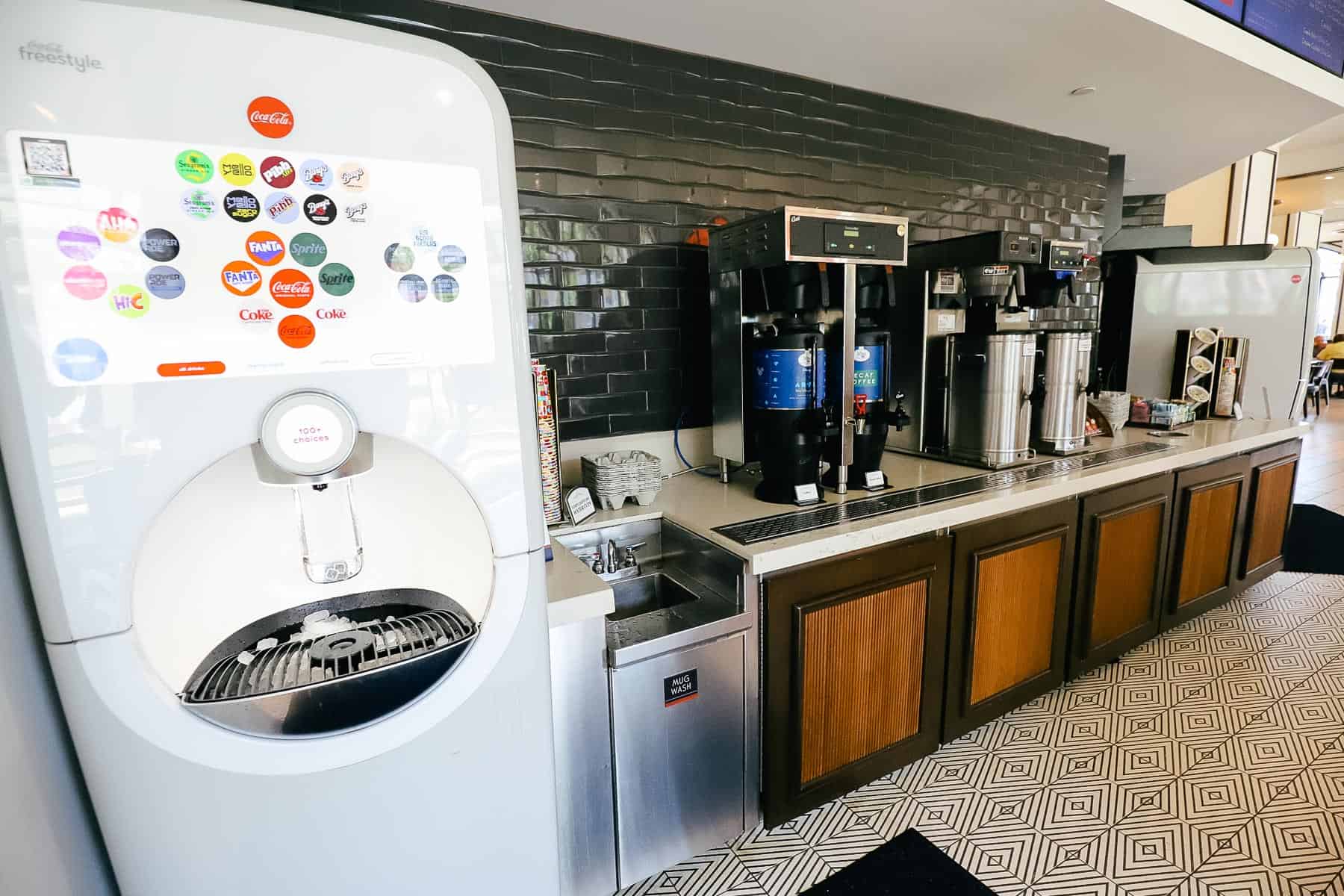 Other items included various sauces and condiments.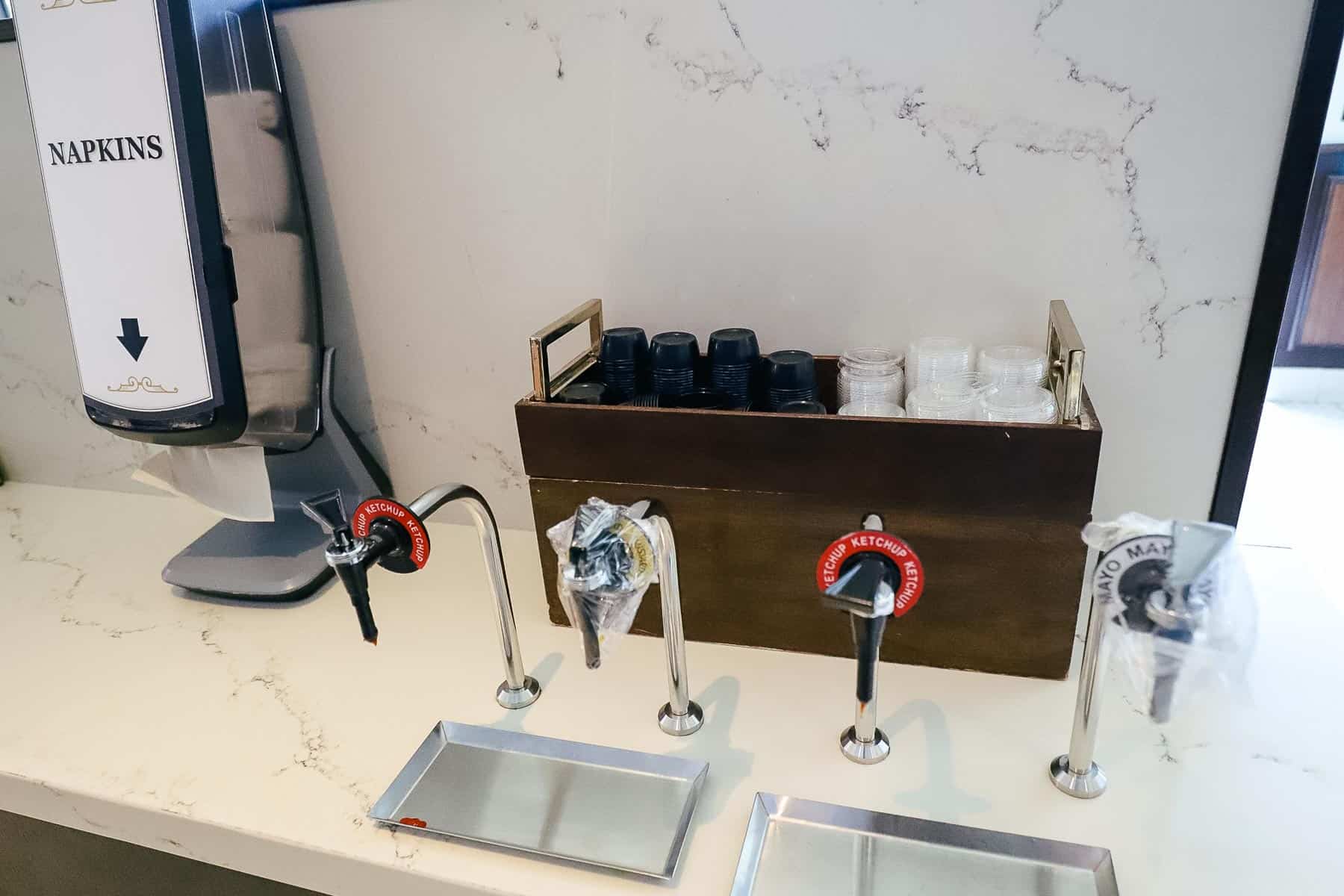 A few creamers and sweeteners were available for coffee. They also had individual hot cocoa mixes.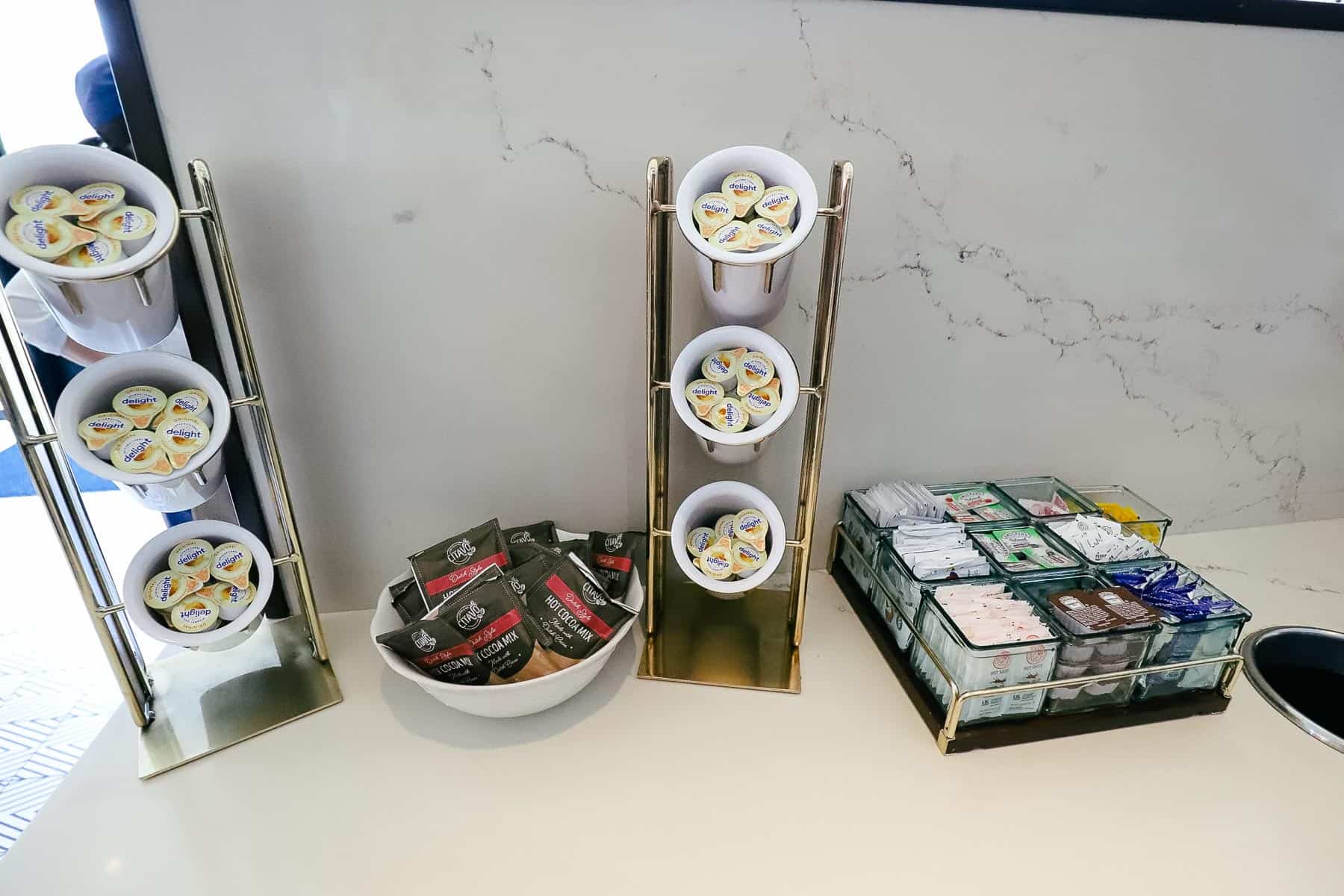 Here we see a few Twinings tea bags, more sweetener, and complimentary water cups.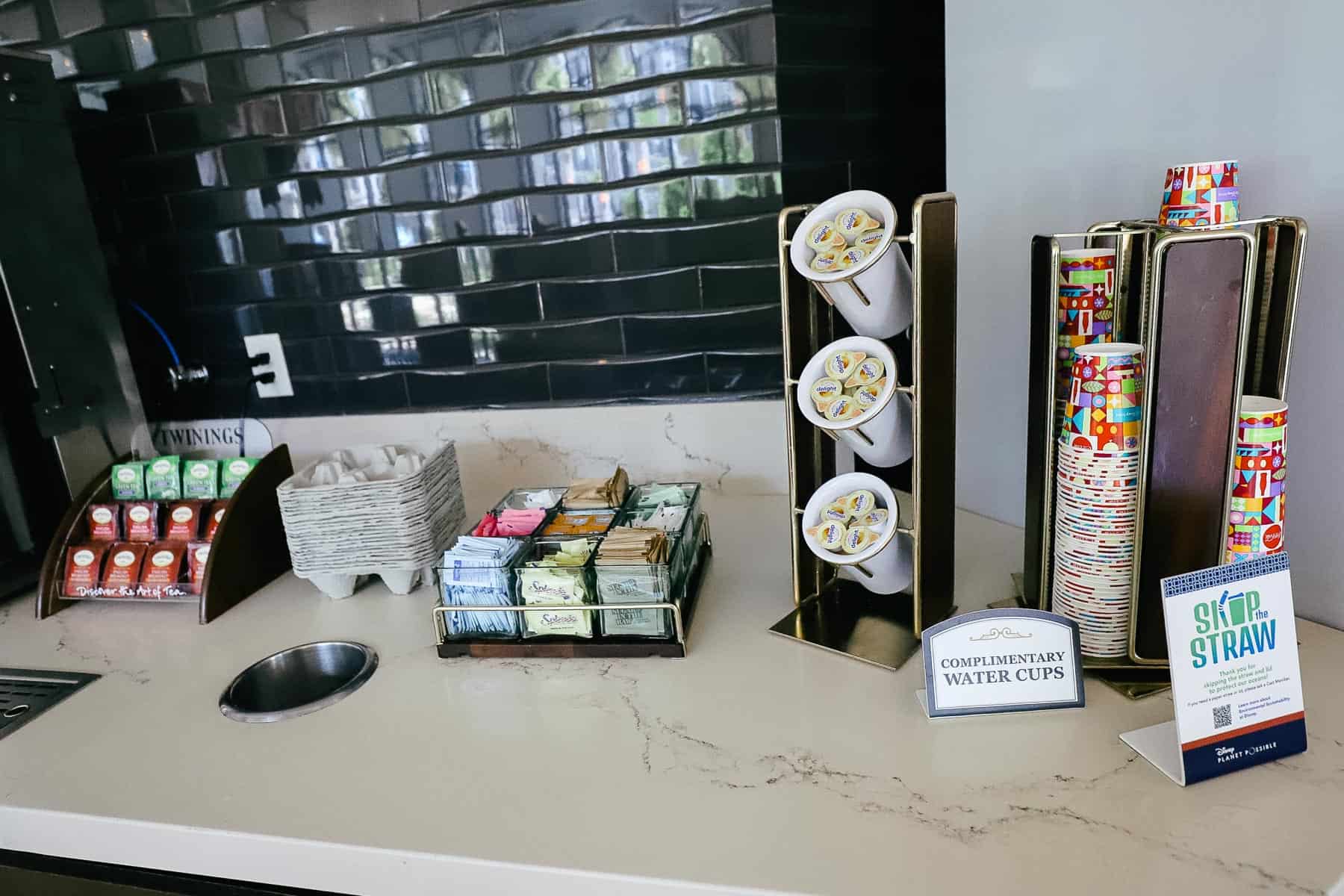 You can use the Freestyle machine for ice and water with the complimentary water cups. However, they likely wouldn't work for other beverages.
Most of the cups at Disney have chips. When you purchase a drink, the chip is activated. It's then good for up to three refills within the next two hours.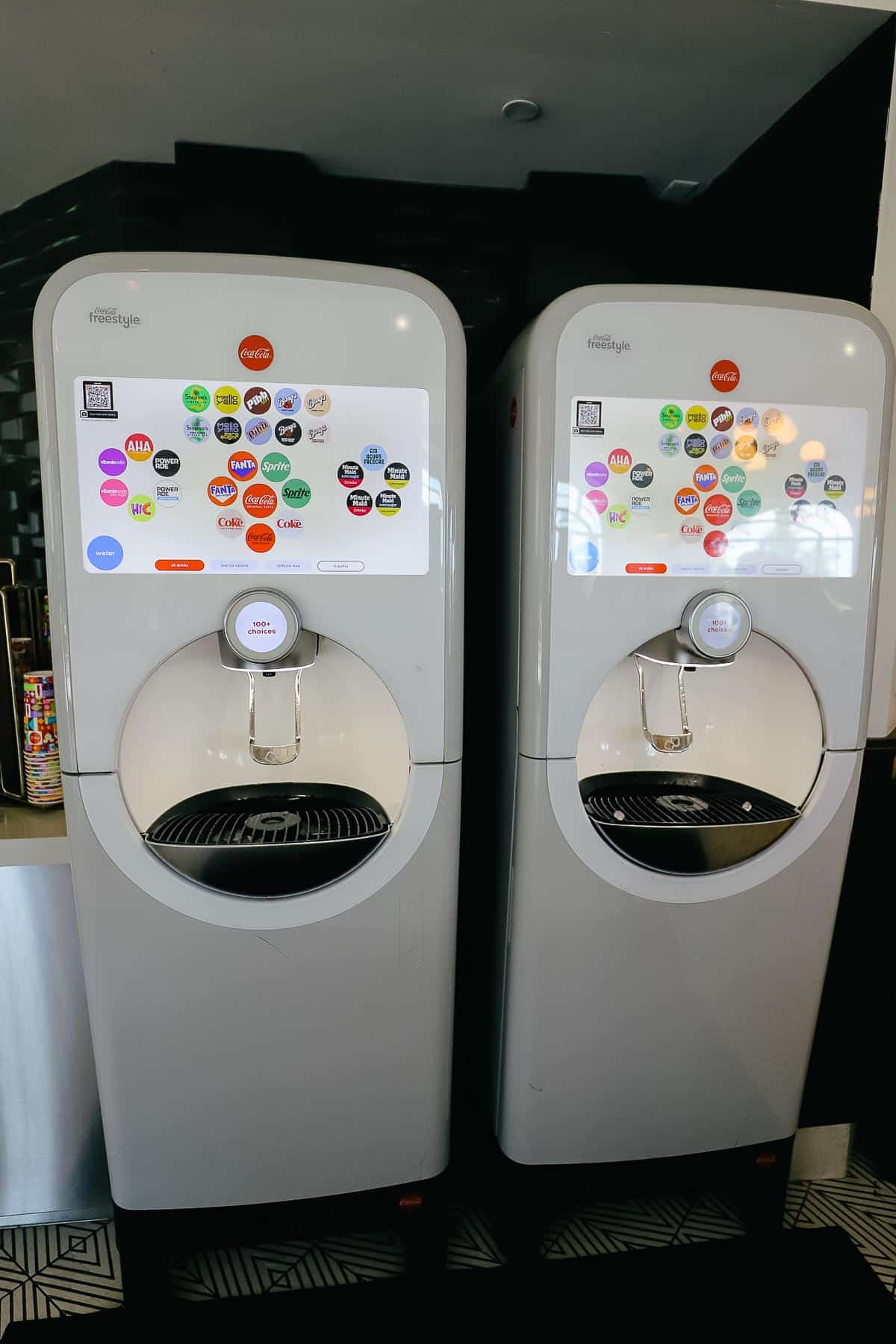 Joffrey's is the brand of coffee served at Walt Disney World Resorts. However, if you're looking for a specialty coffee drink, you'll do better at Le Petit Cafe, a coffee shop a few feet off the resort's main lobby.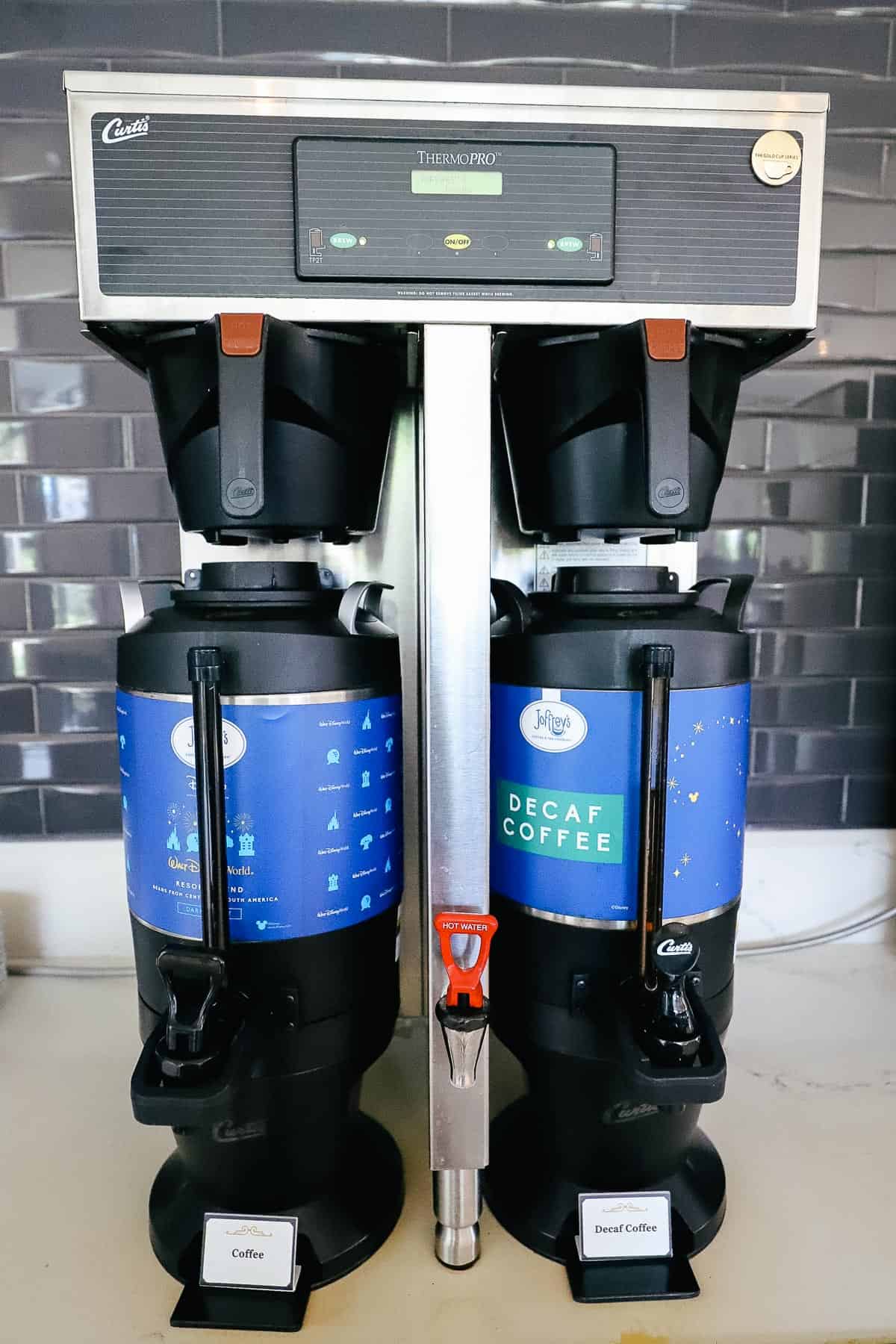 Sweet and unsweetened tea were both available.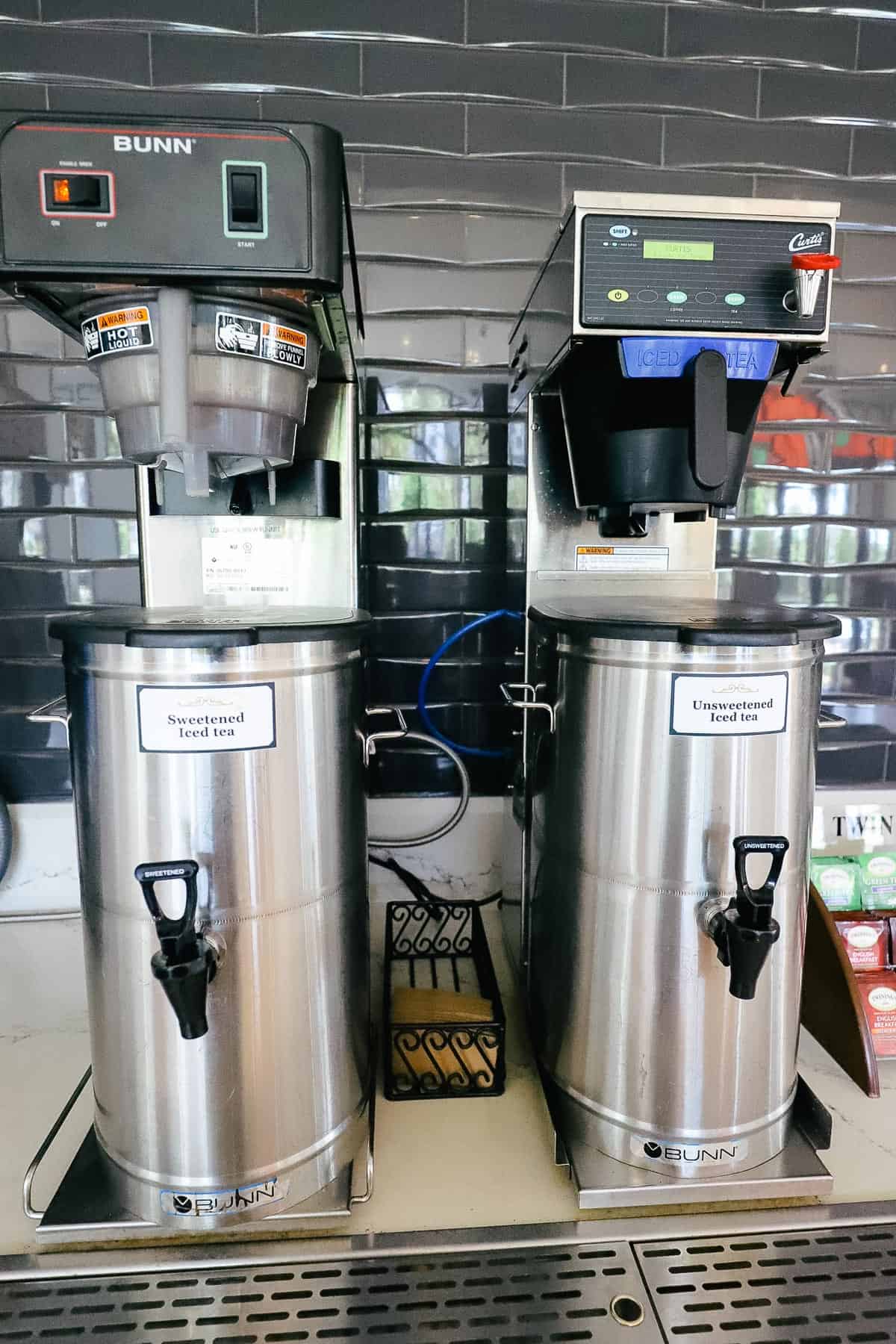 Additionally, a sink was available for guests to rinse Rapid Fill mugs. Rapid Fill mugs are available for purchase at Primo Piatto. They are $21.99 and good at any resort beverage refill location for the length of your stay.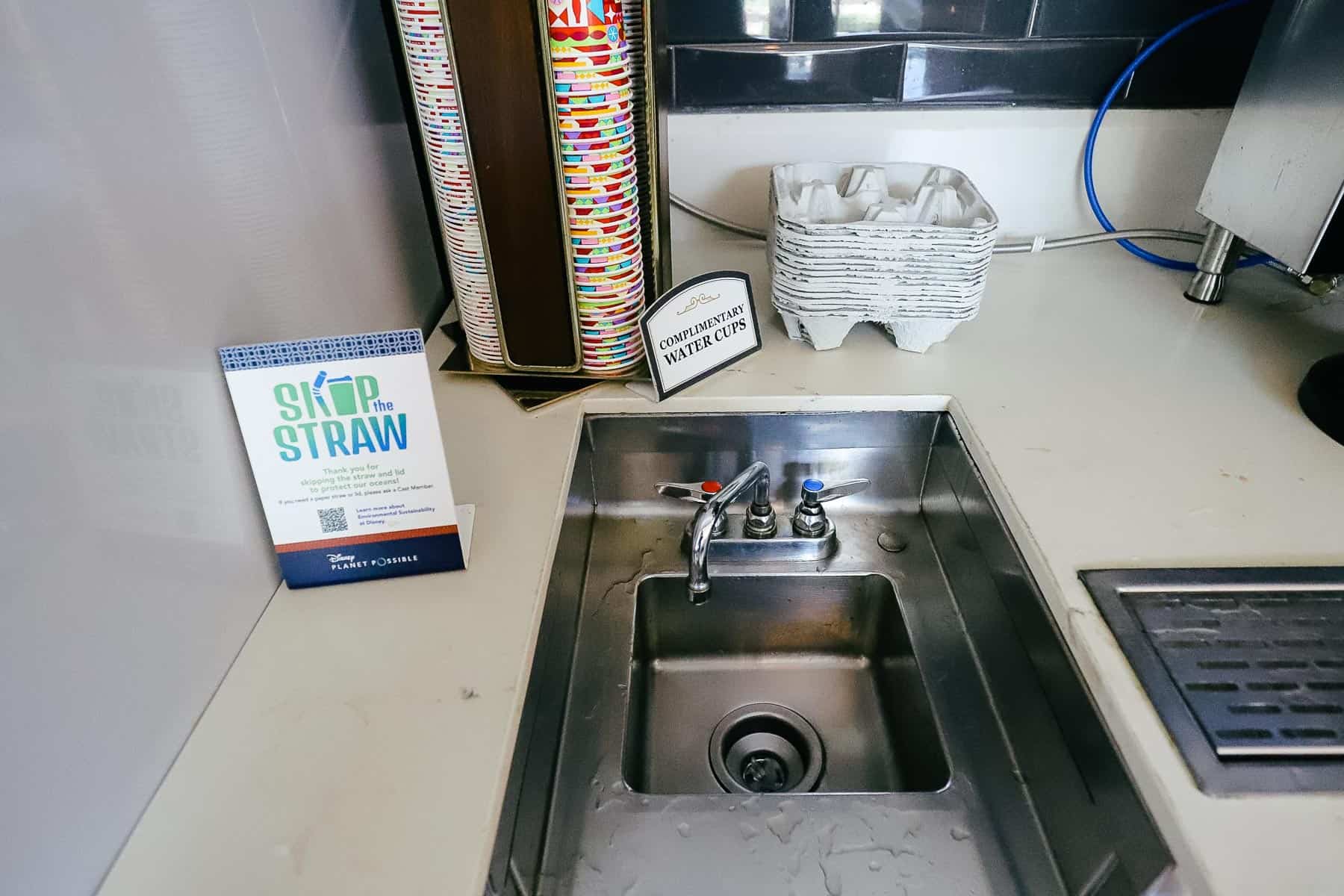 At this point, it was time to survey the menu and decide on something.
Salad and Soups
Soup of the day
Tuna Nicoise Salad
Greek Salad
Entrees
Grilled Vegetable Skewer
Sausage and Pepperoni Pizza
Margherita Pizza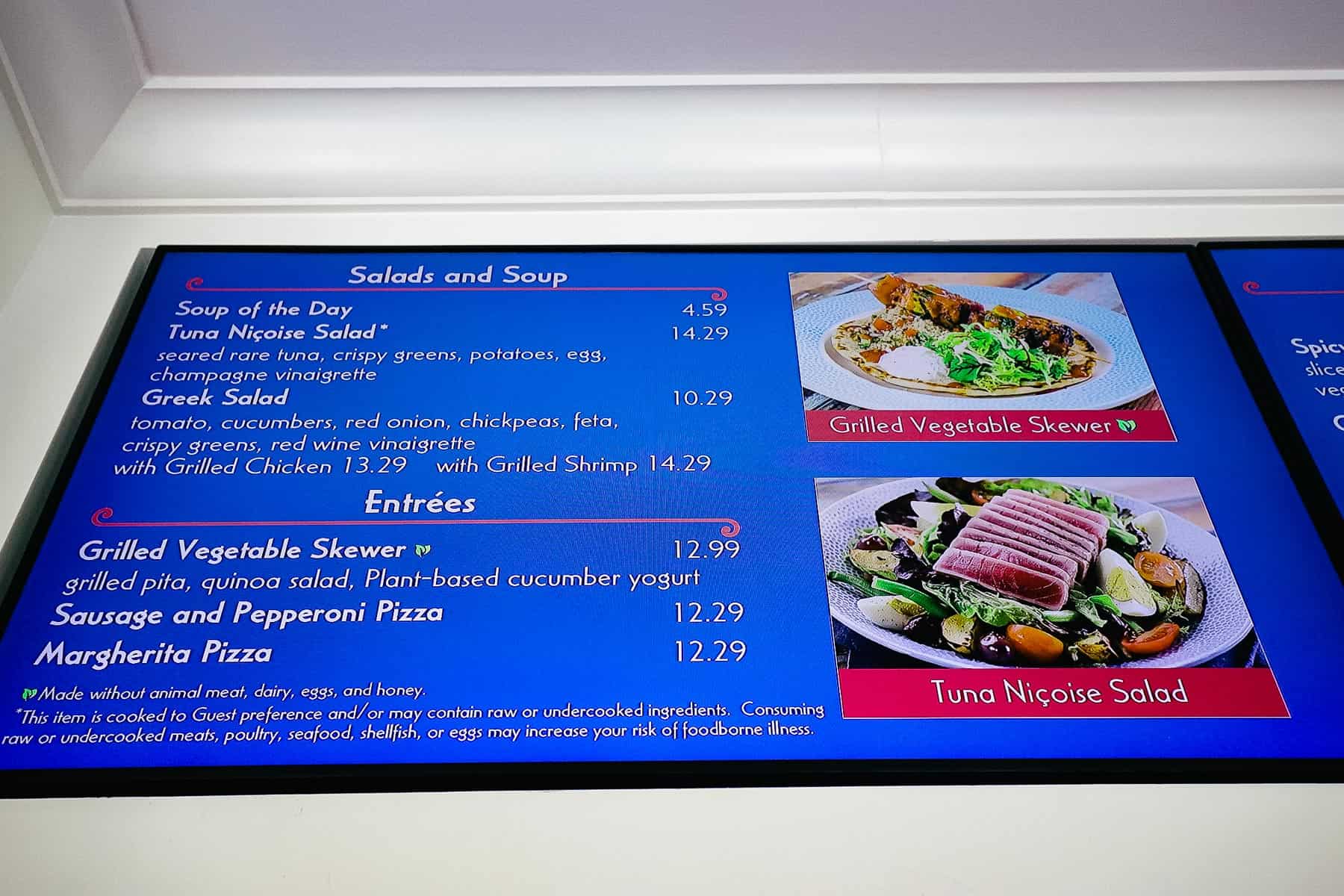 Sandwiches
Spicy Italian Sandwich
Croque Monsieur
Bacon Cheddar Burger
Grilled Chicken Sandwich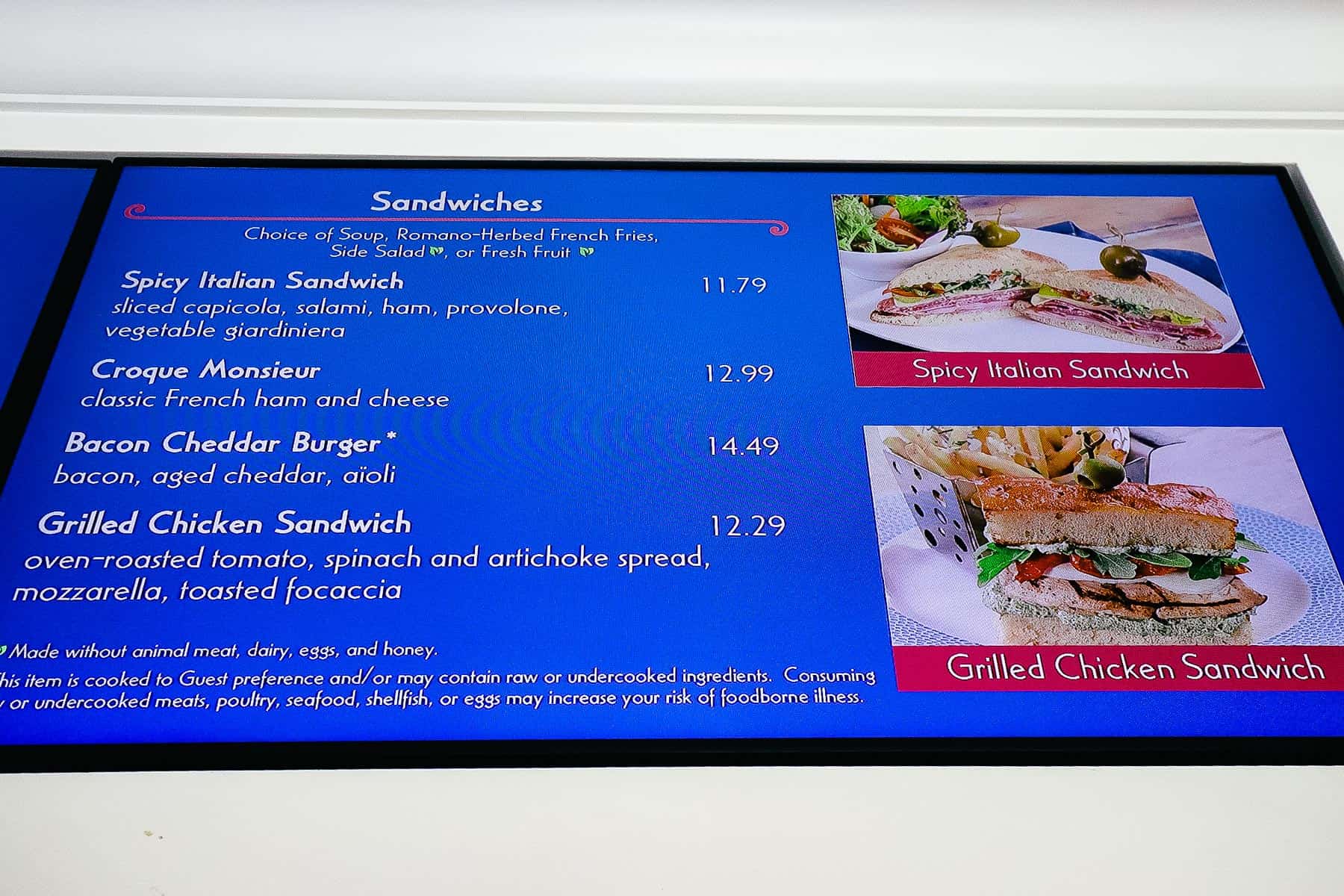 Kids' Meals:
Pasta with Tomato Sauce
Cheeseburger
Sauteed Shrimp
Grilled Chicken Breast
Cheese Pizza
Fried Chicken Strips
Desserts
Classic Tiramisu
Assorted Gelato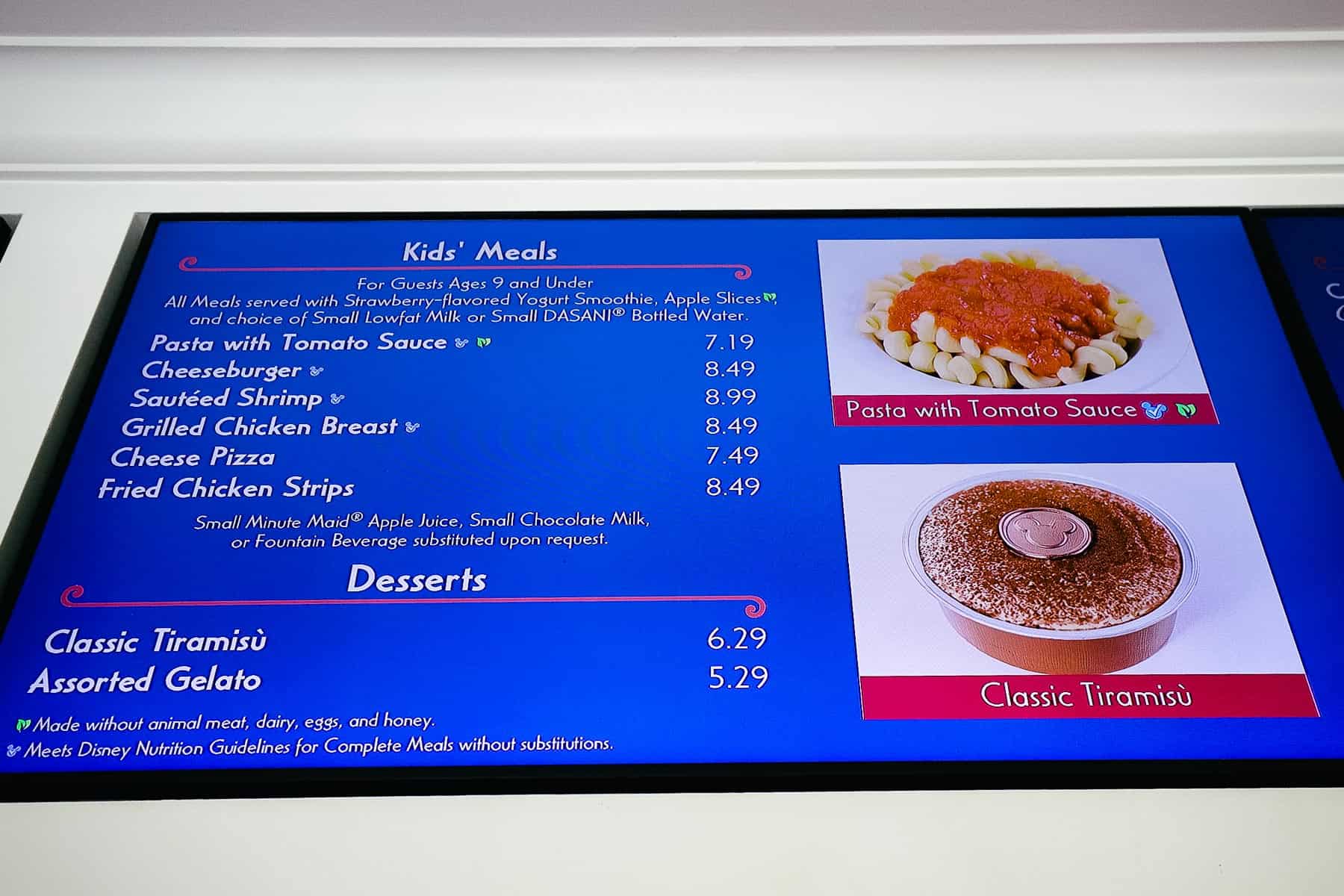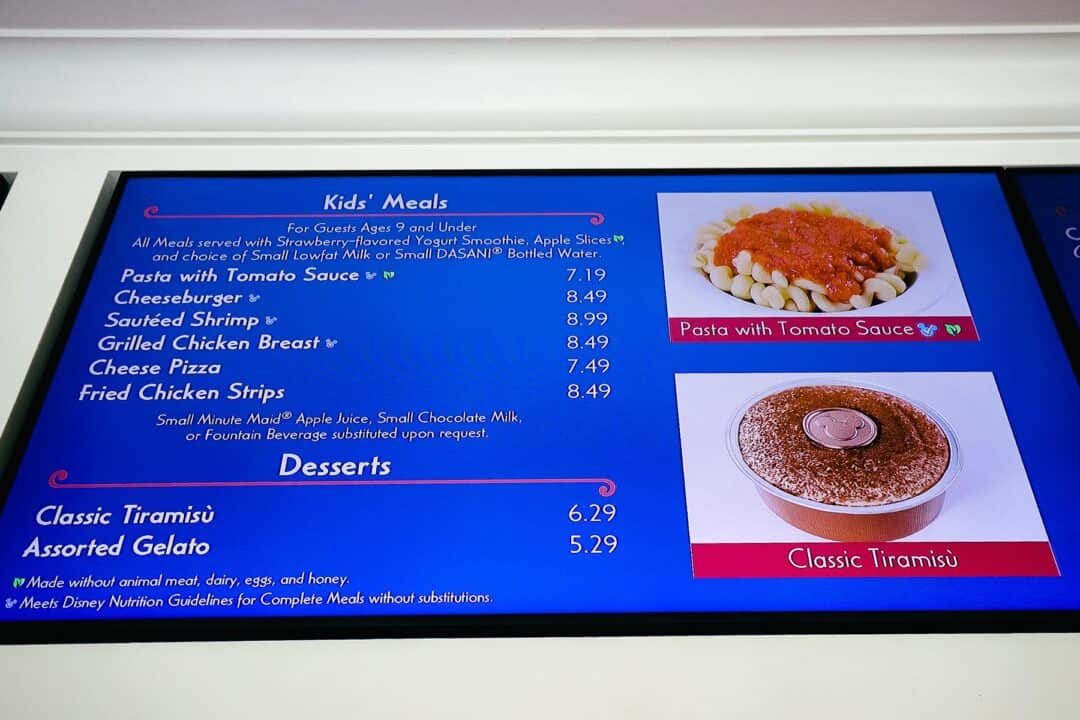 Additionally, here are a few of the beverages.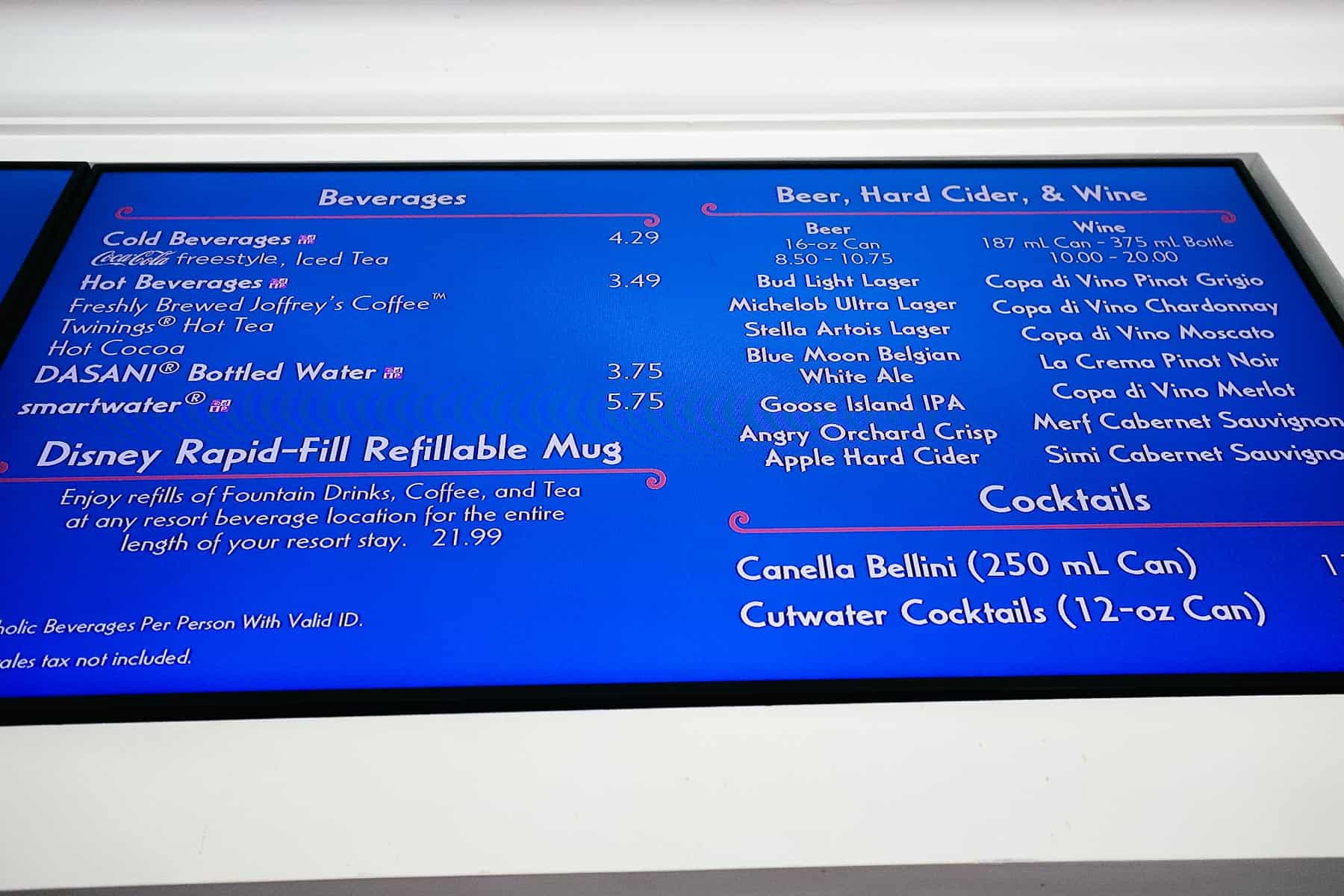 For breakfast:
Croque Madame
Turkey Bagel Sandwich
Ciabatta Breakfast Sandwich with Egg
Blueberry-Lemon Pancakes
Cinnamon Crumble French Toast Bread Pudding
Continental Breakfast
Primo Piatto Breakfast
Mickey-shaped Waffles
Frittata
Plant-based Egg Platter
Kids' Meals:
Egg White Frittata
Almond Milk Overnight Oats with Fruit
Primo Platter
Mickey-Shaped Waffle
You can preview the prices for these menus. *Primo Piatto normally participates in the Disney Dining Plan when available.
Items We've Had at Primo Piatto
For this visit, I tried the sausage and pepperoni flatbread. Usually, I'm not a fan of Disney's flatbreads. But while taking photos, I saw someone else's order and thought it looked delicious.
It took about 15 minutes from the time I ordered it until it was ready. But besides having to wait longer than expected, I enjoyed the dish. It was nothing like my previous experience with flatbread.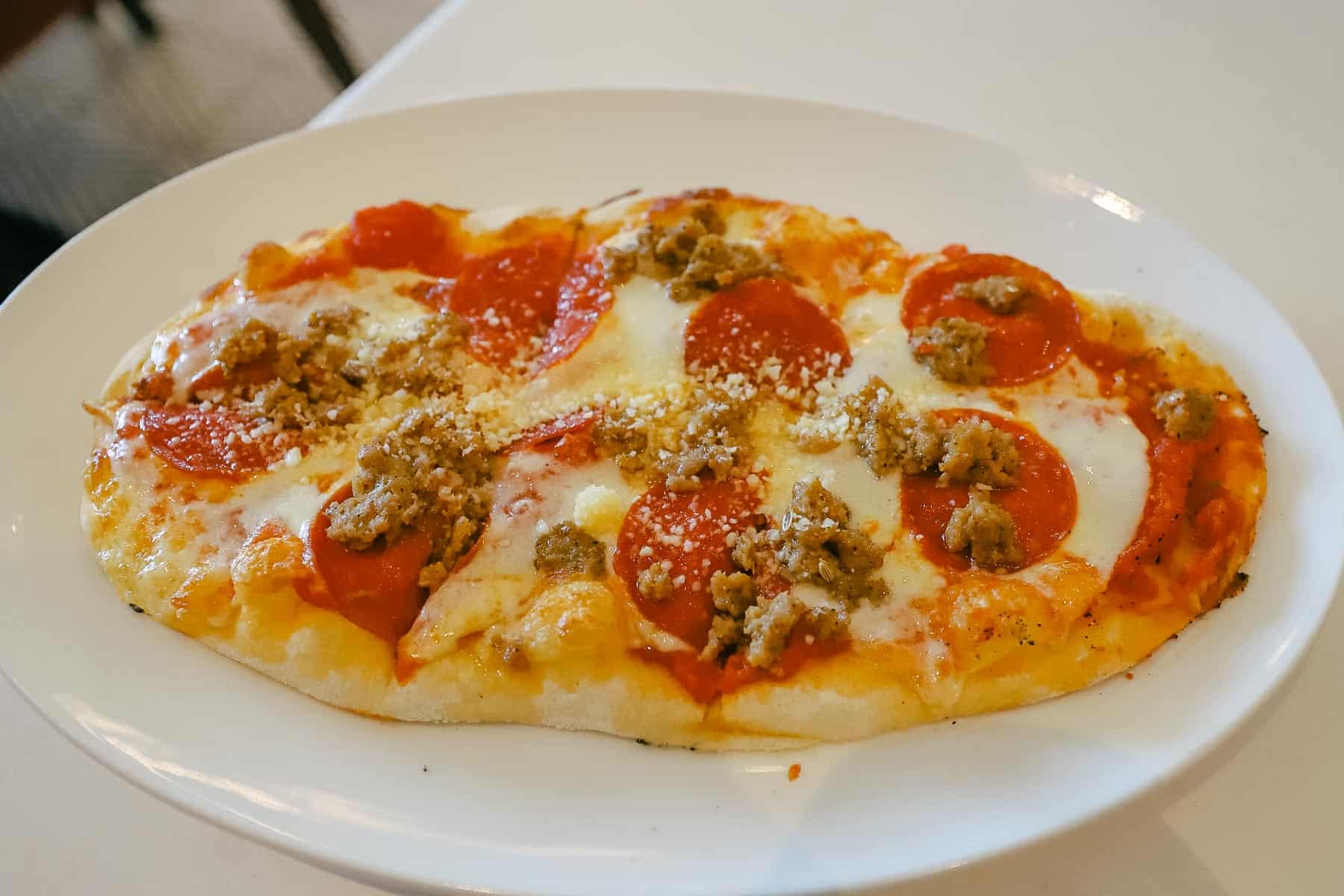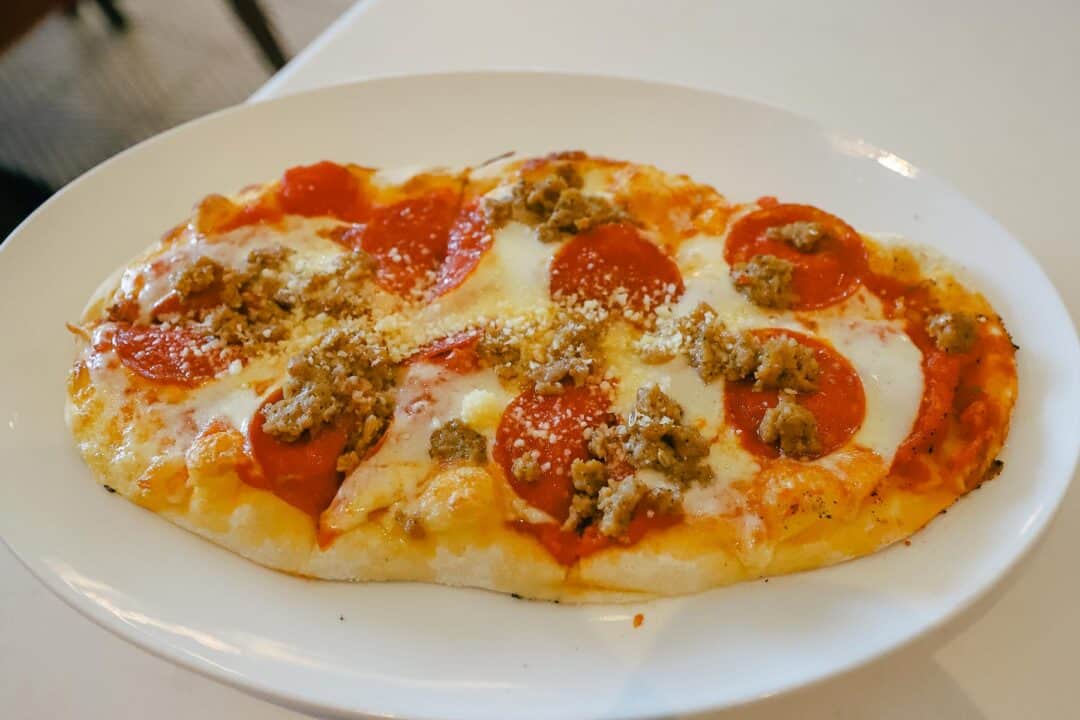 My flatbread had a crispy crust balanced with just enough pepperoni and sausage. I noticed my sausage had fennel seeds and wondered if it was made in-house.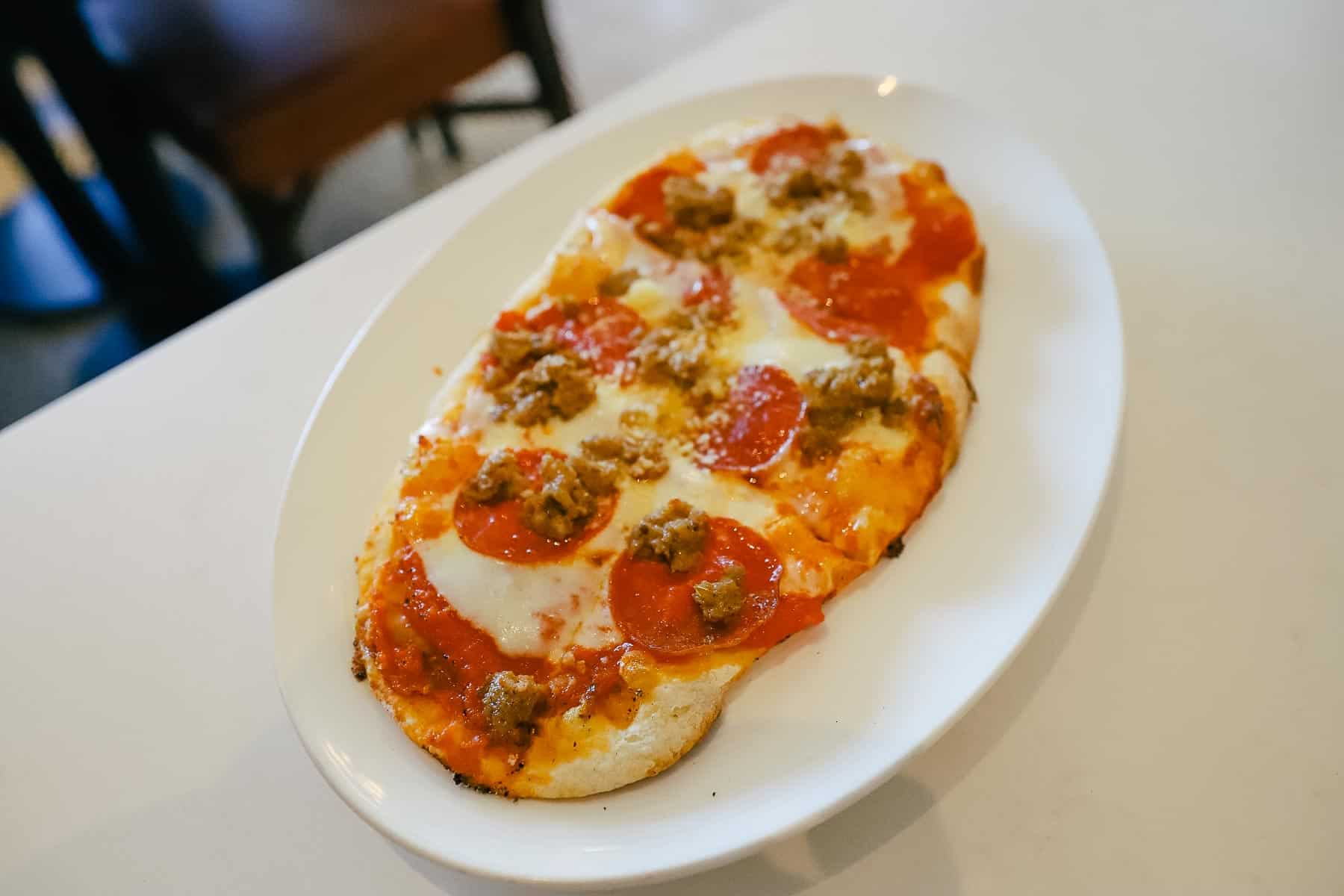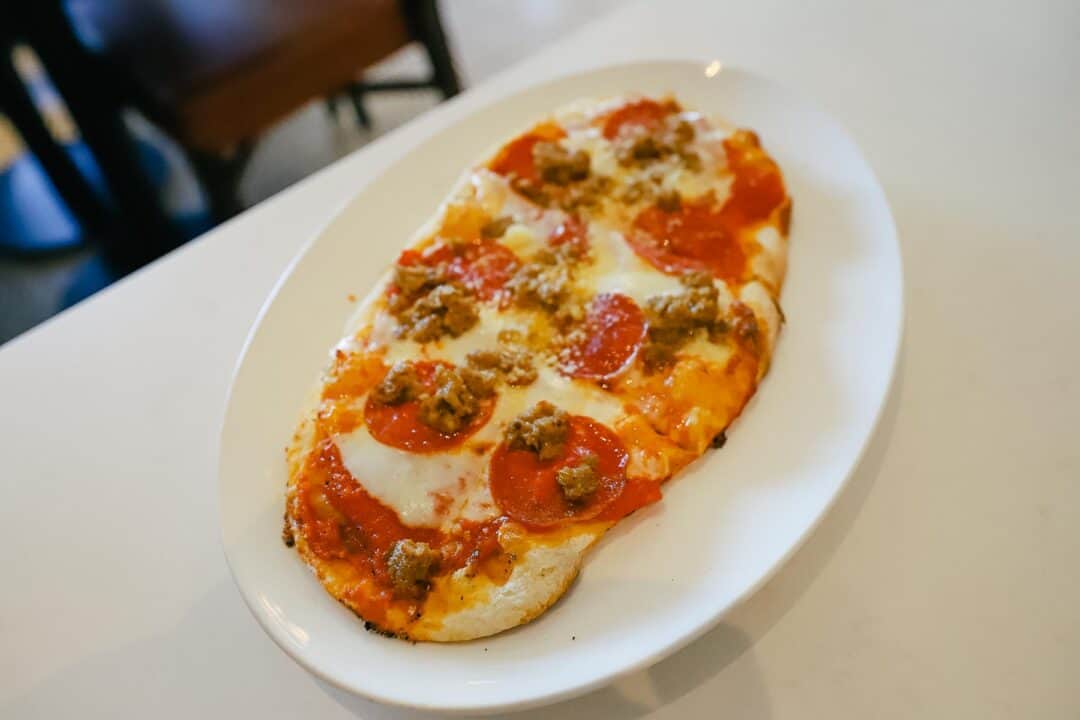 On a previous stay, I started my day with the famous lemon blueberry pancakes from Primo Piatto.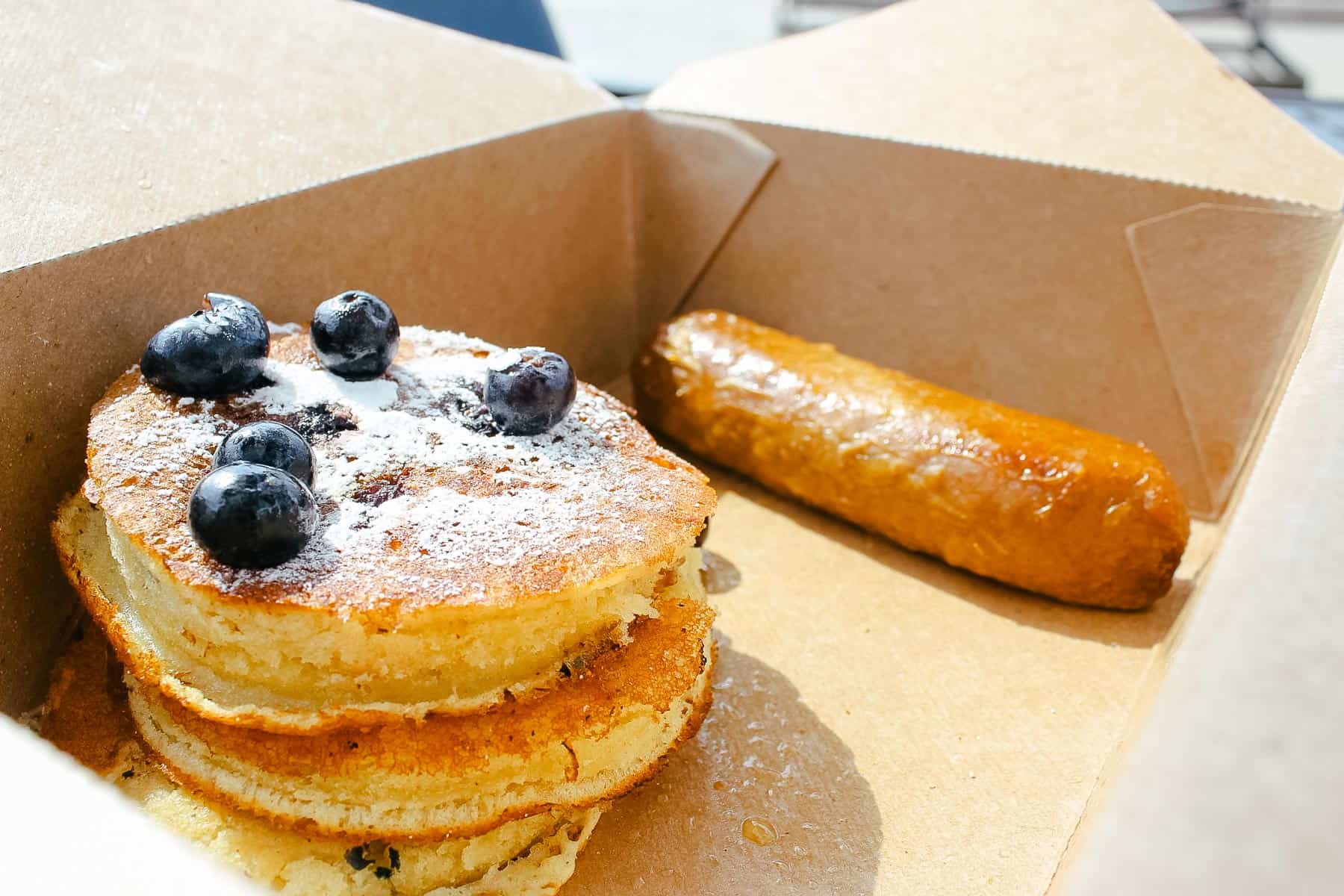 Per the menu, this dish consists of three fluffy housemade pancakes filled with fresh blueberries topped with mascarpone cream and lemon zest and served with a choice of side. Side choices include eggs, bacon, Italian sausage, and plant-based sausage.
As for these pancakes, they were the perfect Disney breakfast! The lemon zest added the right amount of citrus flavor, while the blueberries balanced the dish with their juicy sweetness.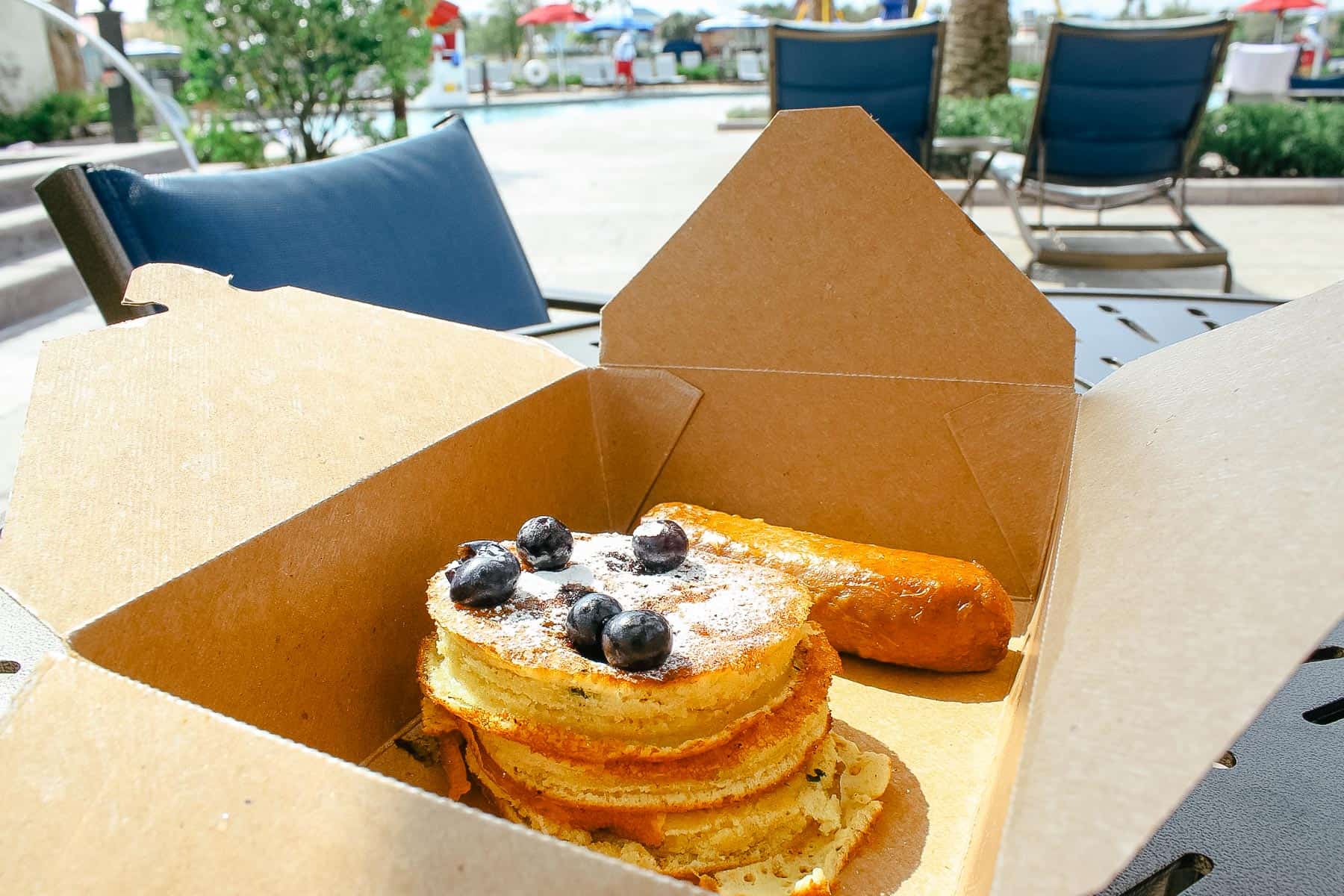 An individual syrup came on the side, but in my opinion, you don't need it. I recommend at least trying the pancakes before topping them with syrup. Unfortunately, my dish was missing the Mascarpone cream topping. But it was so good I didn't realize it until later.
On another visit, I ordered the plant-based grilled vegetable skewer. This item is described as eggplant, zucchini, red onion, and Portobello mushroom skewered with Harissa-spiced vinaigrette, dairy-free cucumber yogurt, and bulgar salad served over a grilled pita.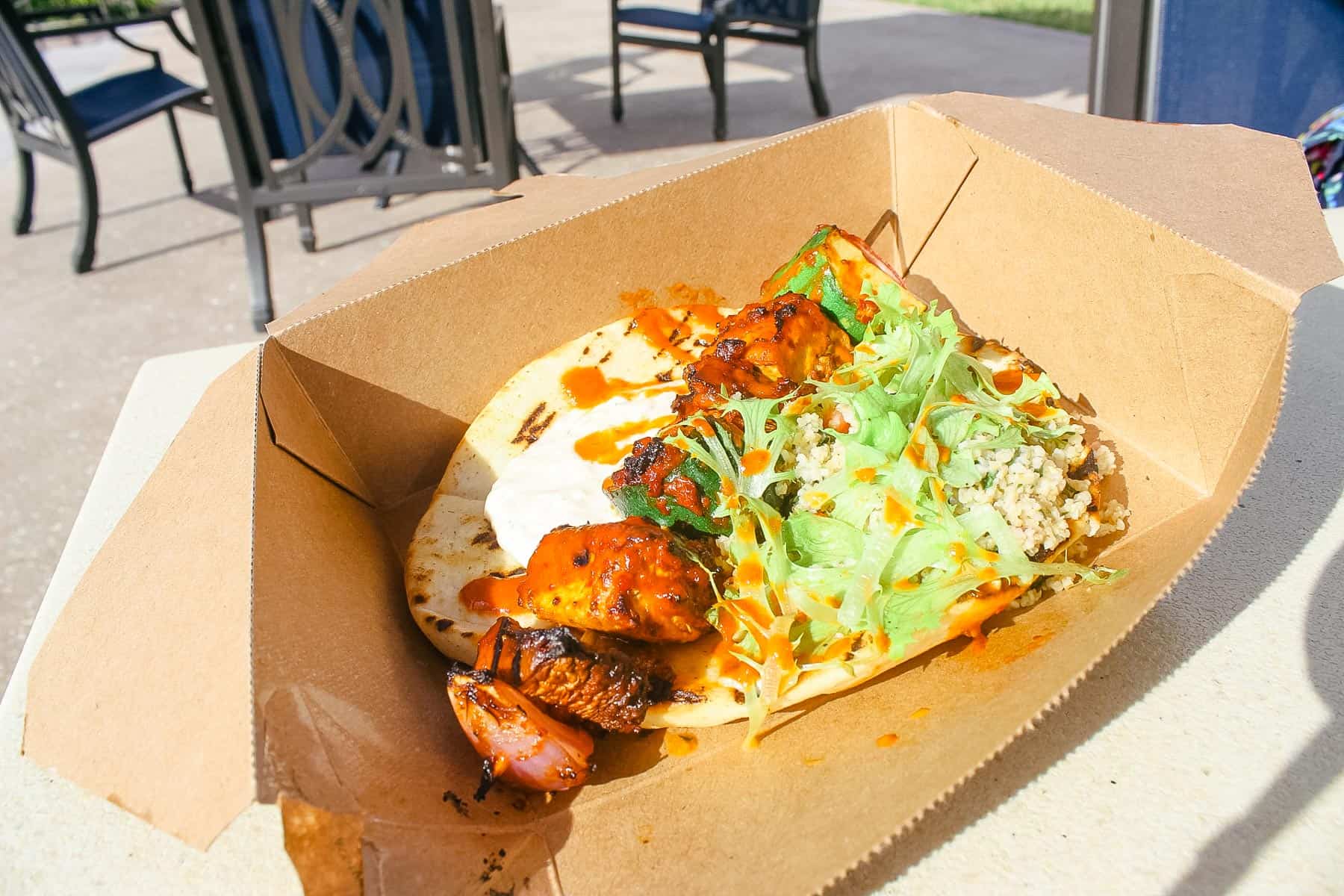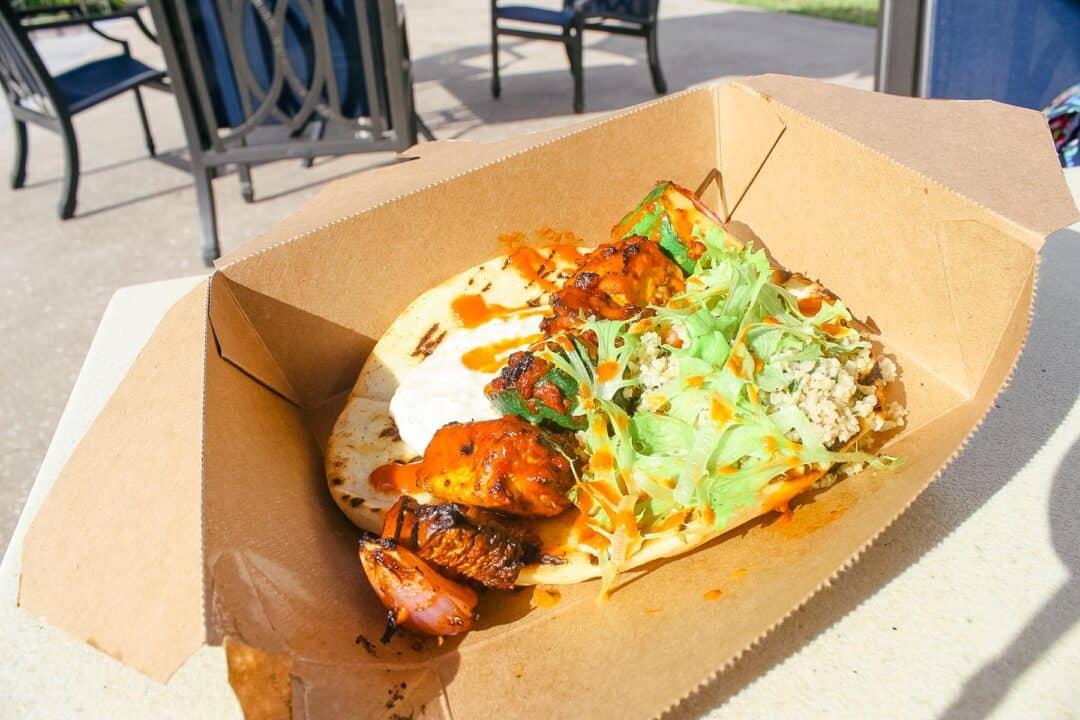 I cannot say enough good things about this plant-based option. It featured a nice variety of vegetables and was a filling meal that didn't leave you feeling guilty.
Lastly, I enjoyed the Croque Monsieur the first time we stayed at Disney's Riviera Resort. It's a classic French ham and Swiss cheese sandwich that reminded me of grilled cheese. However, it has a layer of Parmesan cheese grilled on the outside of the bread.
Sadly, I can't locate my photo, but it's worth considering. That sandwich came with a choice of fries. I ordered the fries topped with Romano cheese and herbs but found the extra elements overpowering.
Primo Piatto has a lot going for it, and I always look forward to returning. However, I think the real problem with the resort is deciding where to eat. They have so many great restaurants!
Related: Disney's Riviera Restaurants Guide
For more information about Disney's Riviera Resort, you might enjoy our resort guide:
Or you might enjoy the following:
Don't miss our complete list of Disney restaurant reviews. Some of our most popular posts include Disney World character dining, our signature dining guide, and the best restaurants at Disney Springs!
In the comments:
What are your thoughts on this Primo Piatto review? Have you had the opportunity to dine there? Do you like the resort?