JW Marriott Orlando Bonnet Creek Review (The Hotel with the WOW Factor)
It's sleek. It's sophisticated. It's the caliber of a hotel that you won't find just anywhere. We're talking about the JW Marriott at Bonnet Creek near Disney World.
When I planned a stay at this JW Marriott, I knew it would be a lush hotel. Suffice it to say, I had expectations.
But this Bonnet Creek Marriott blew me out of the water. The level of service I received during this visit was incomparable to other hotels.
Everyone pampered me, from the front desk staff to the server who brought me late-night room service. My entire stay here was a lavish experience that has left me longing to return.
As you probably know, I have many resorts to review. So it will likely be a while before I'm able to plan another stay here.
I think that's why I've lingered so long on writing this review of the JW Marriott at Bonnet Creek.
Once I'm done with the coverage of any resort, I will put it behind me. And with the economy on the verge of an impending recession, I feel we'll be looking at more and more budget-friendly options as we forge onward.
Not that the JW Marriott was outrageous compared to the prices Disney charges. It wasn't.
But as with any higher-end hotel, the price range was more significant. However, I felt my stay was worth every penny.
So if you're looking for a hotel where you won't want to leave the resort, this review is for you. I didn't leave the hotel from the time of my arrival until well after my check-out time.
I never do that. I'm always off to the parks or Disney Springs for dinner. But not here.
This hotel is like a cruise ship where everything you need is nearby. And before you think this is an adults-only hotel, think again.
There's practically a whole wing of the hotel dedicated to children, in addition to small nuances throughout. As I toured the hotel, I thought "wow" repeatedly.
There was so much wow that I decided to take a break and enjoy the hotel. So now, I invite you to come along with me and do the same.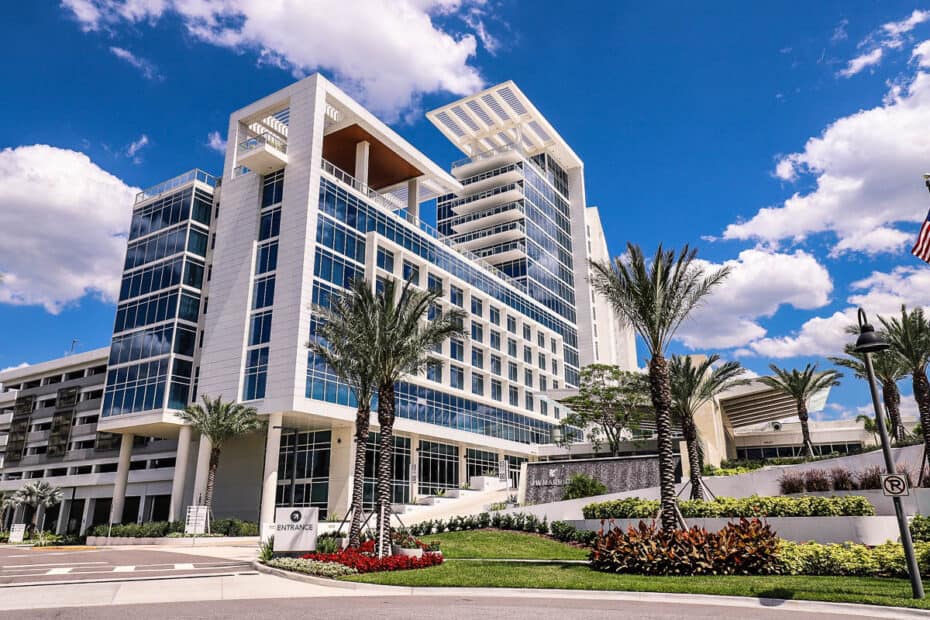 JW Marriott Bonnet Creek Review
It was a Saturday morning when I arrived at the JW Marriott at Bonnet Creek. To provide a little insight, this was my last stop in a string of four hotels in the previous ten days.
When I first got into town, I had plans to visit Volcano Bay water park for the first time. So I stayed in a water park view room at Universal's Cabana Bay.
Then I moved to the newer Fairfield Inn and Suites at Flamingo Crossings. This hotel is my favorite option for budget-friendly hotels near Disney World. Trust me. You can't go wrong here.
Related: Fairfield Inn and Suites at Flamingo Crossings Review
After that, I moved on to the Hilton Orlando Buena Vista Palace. This was a fun hotel with a lazy river. The hotel was also within walking distance of Disney Springs.
Related: Hilton Orlando Buena Vista Palace Review
So I was coming from Buena Vista Palace when I checked into Bonnet Creek's JW Marriott. I planned to spend Mother's Day weekend at the hotel before moving to an off-property condo for a couple of weeks.
This is typically how I travel to provide a couple of new hotel reviews and other Disney World coverage. It can be both rewarding and exhausting with all the moving between hotels.
Anyway, I was hopeful that the JW would have my room ready upon arrival. I tend to check out of most hotels on time, but I'm nearly always looking for early check-in.
Thankfully, my room was ready, and bell services were immediately available to gather my belongings. If you've traveled during the past few years, then you know that getting luggage assistance can be difficult due to labor shortages.
While bell services dropped my luggage off in my room, I was directed to park in the parking deck. The parking deck is nearby and offers an elevator that drops you back off in the lobby.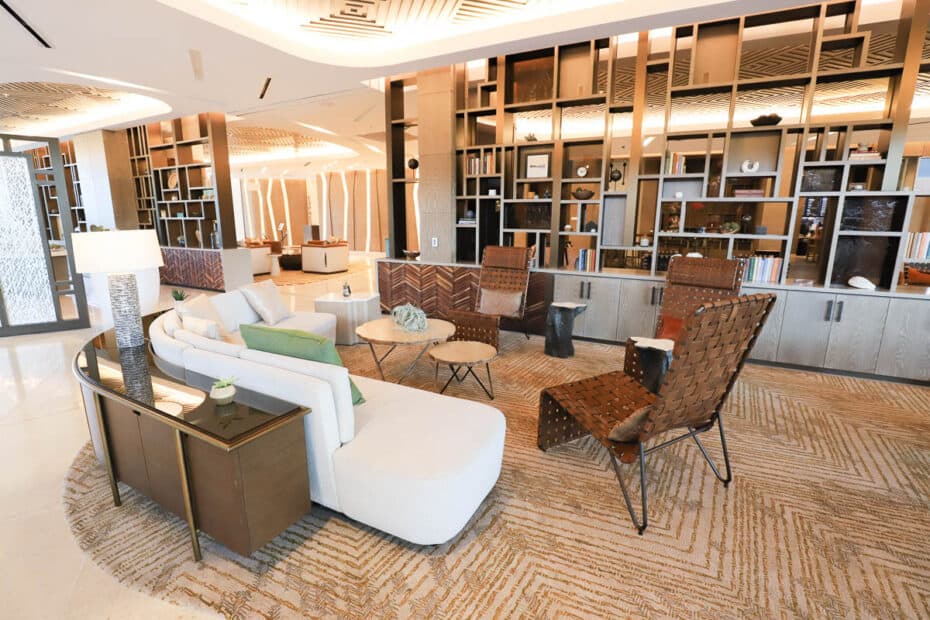 From there, you'll walk across the lobby to another set of elevators that service the hotel. My room assignment was on the sixth floor.
When I arrived at the room, I got my camera equipment out and began taking photos. This room featured a king-size bed with a standard view.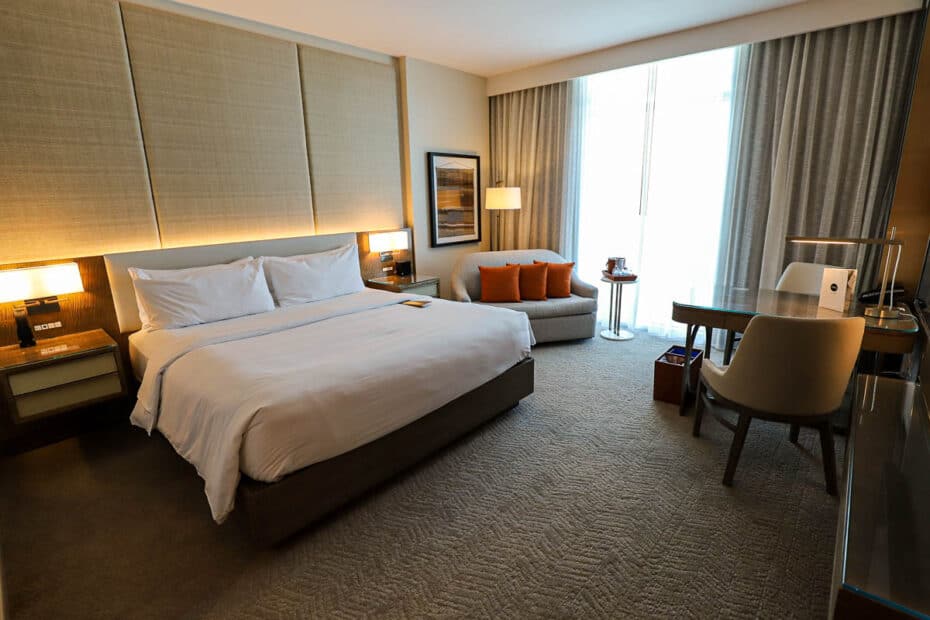 The room was impressive, and the finishes were gorgeous.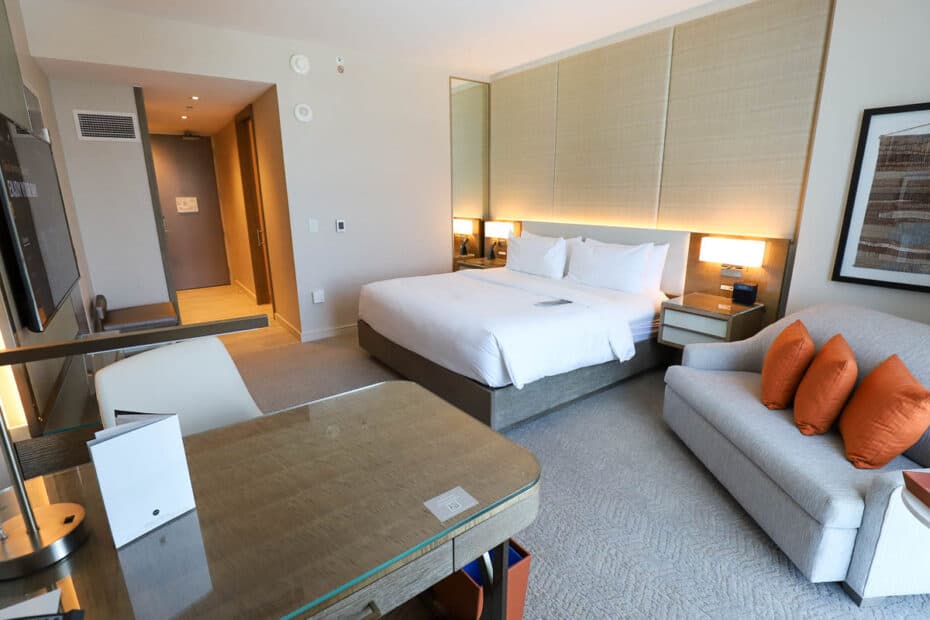 The muted tones provided a minimalistic feel. Here and there, a bright burst added just enough color to make the room pop without being overbearing.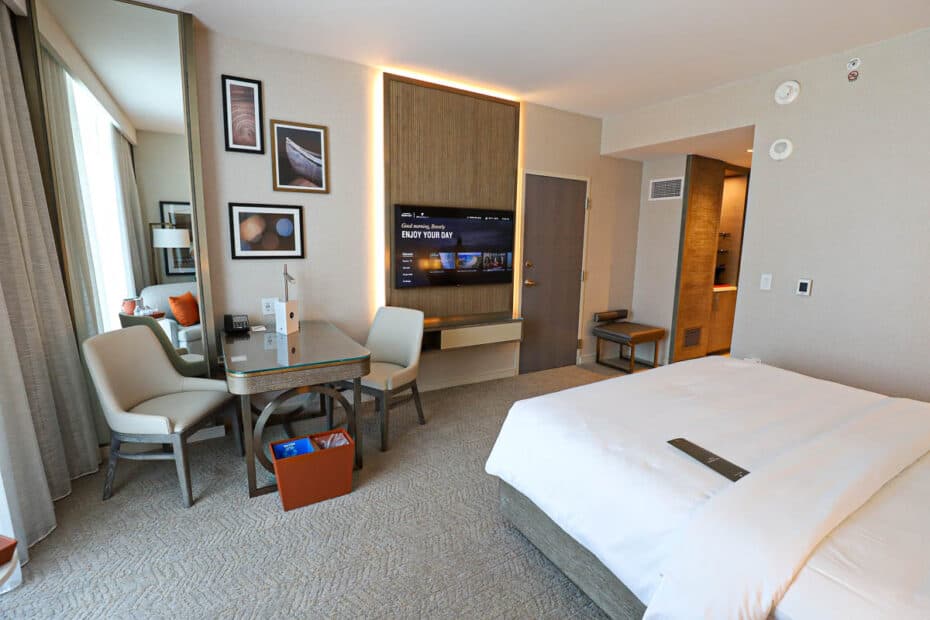 I appreciated the small sofa with pillows near the window.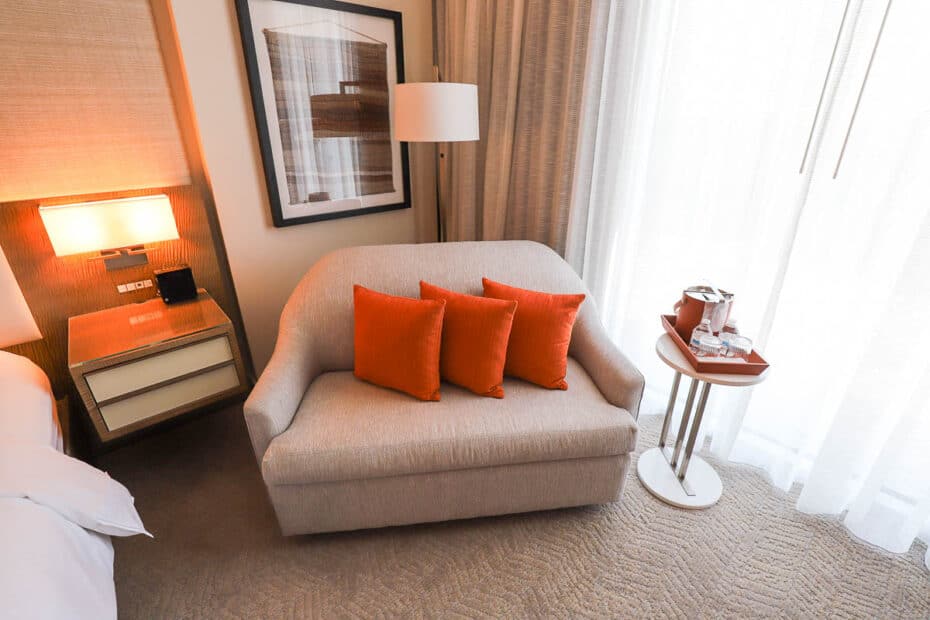 This table and chairs provided an ideal workspace, or you could use it to enjoy a meal in your room. But why skip room service in bed?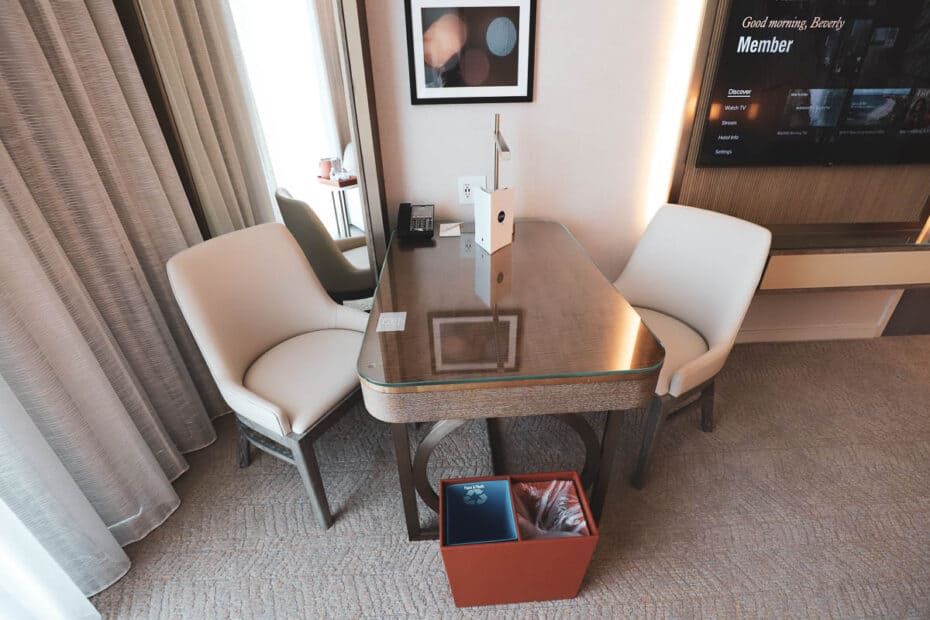 Inside the closet were built-in drawers, an iron, an ironing board, and a safe. But most importantly, a hotel robe was provided.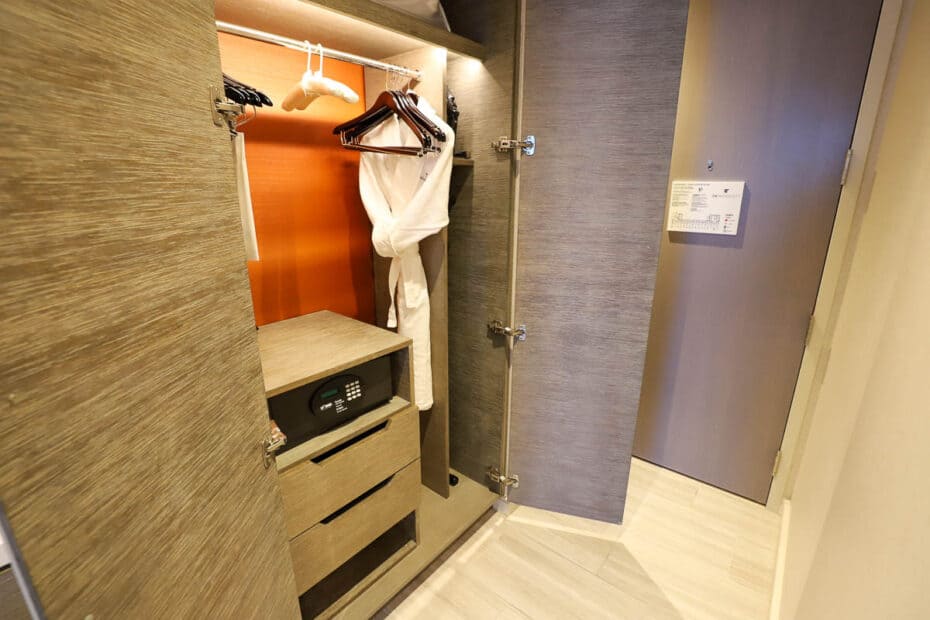 The satin hangers and extra blankets were a nice touch. I don't know about you, but I like to turn the air conditioner down low and pull out an extra blanket.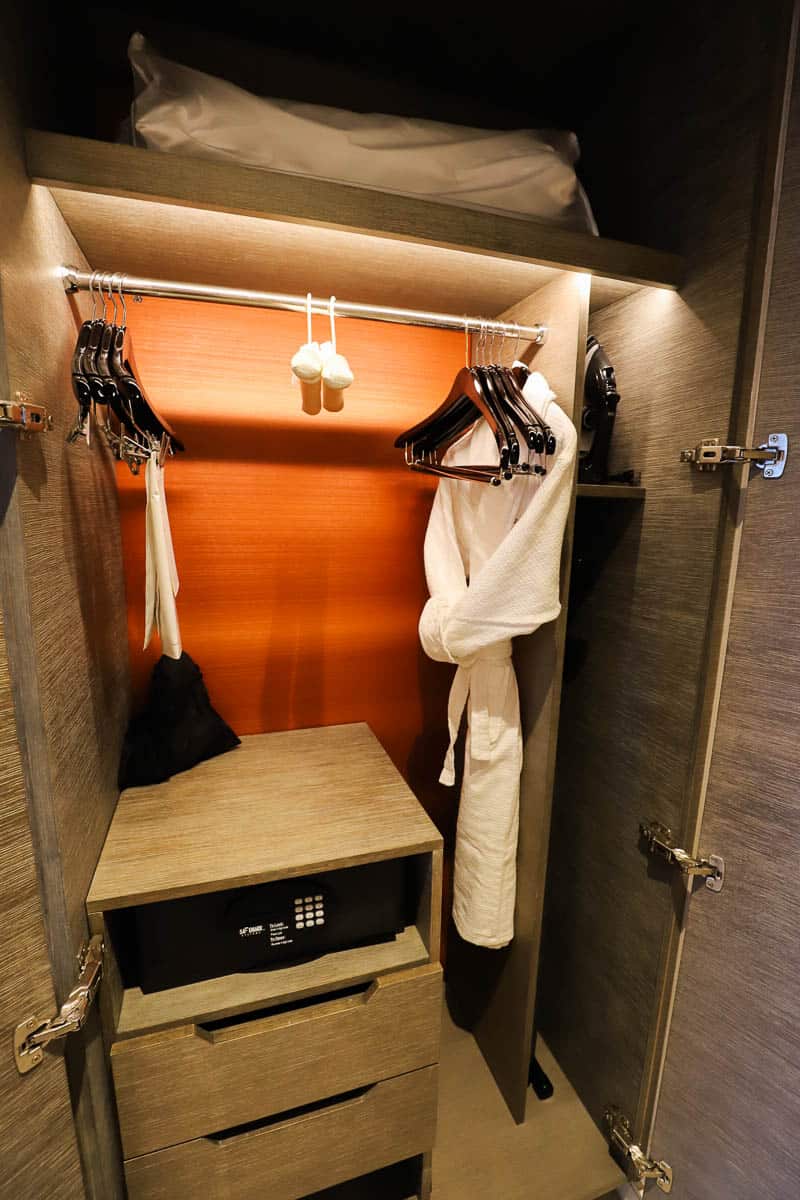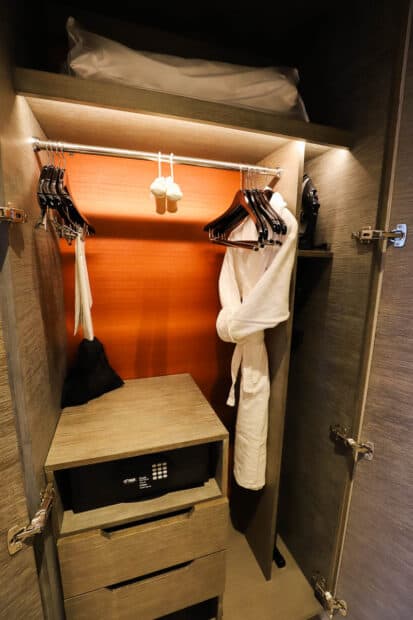 An individual cup coffee maker with accompaniments was provided.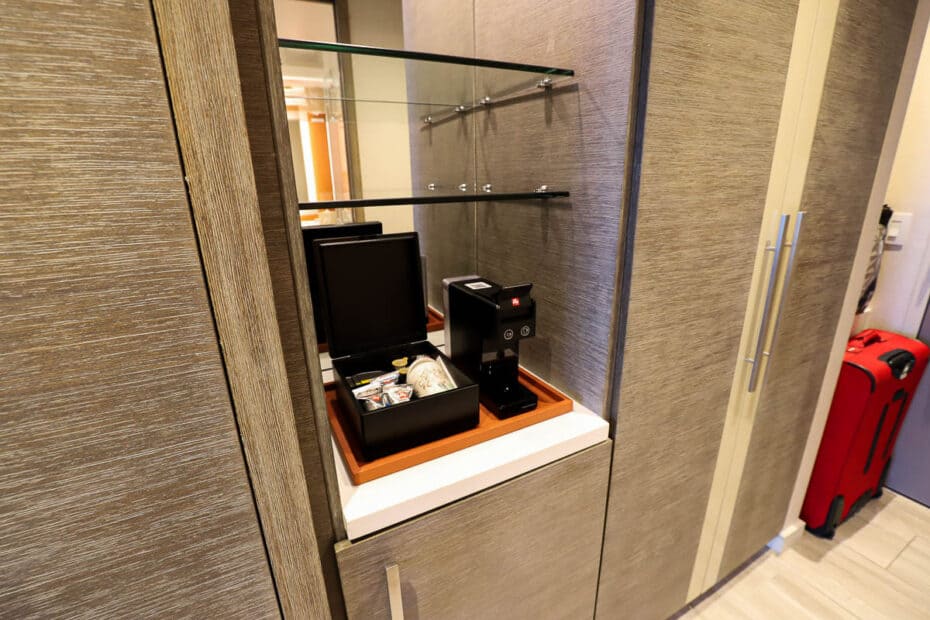 Here is a close-up.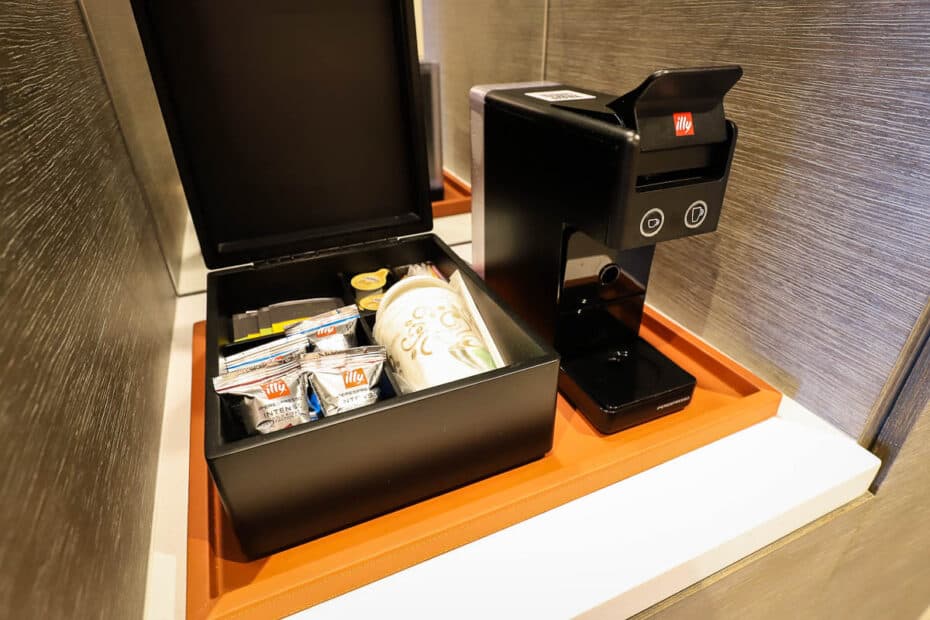 A beverage cooler sat underneath the coffee bar area.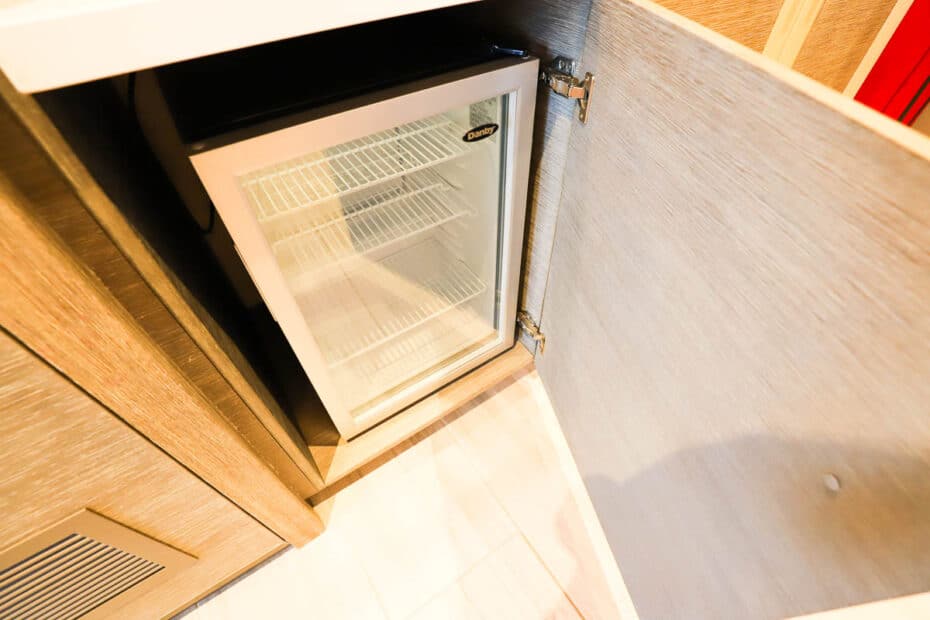 The bathroom was impressive. Note there was a second robe hanging beside the walk-in shower. And that's the water closet behind the frosted glass.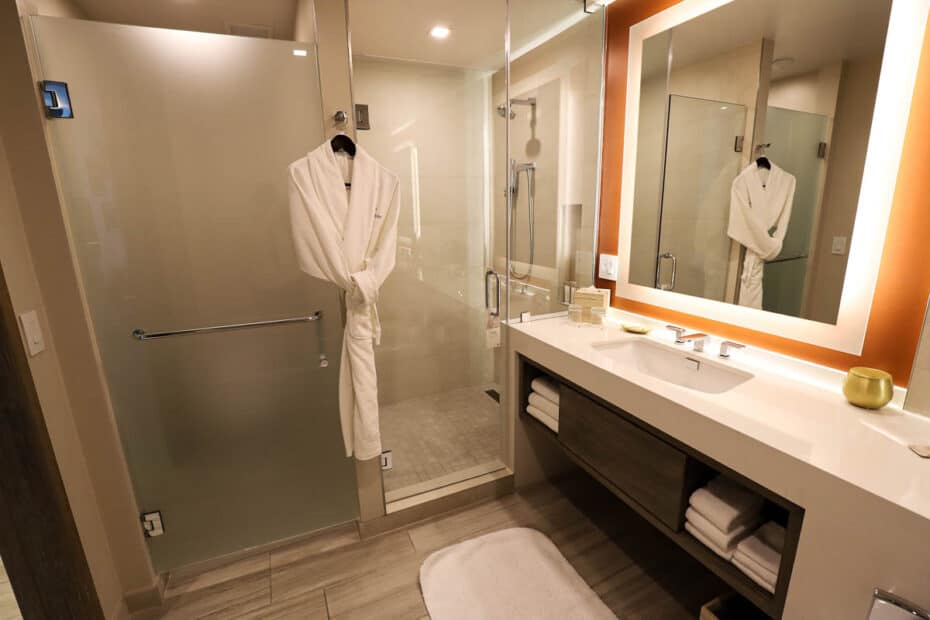 The walk-in shower had several different sprayers.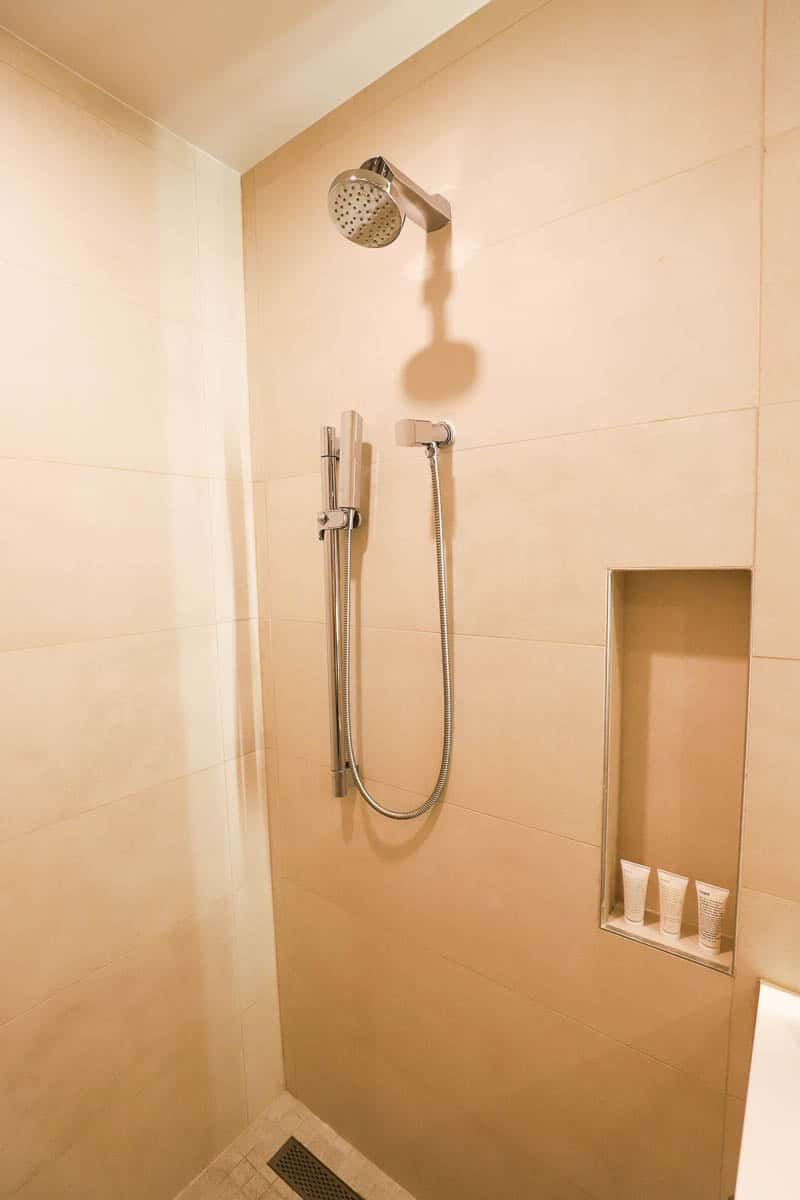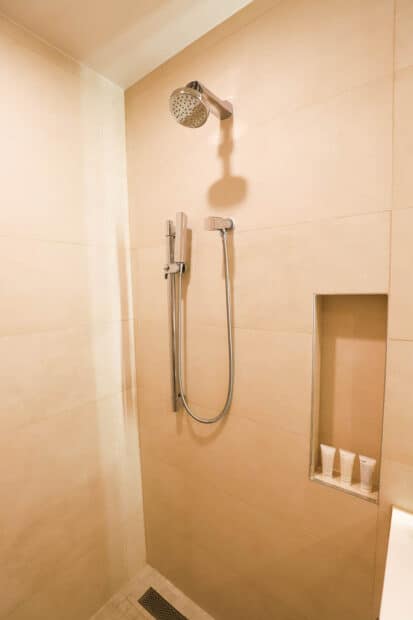 The vanity area had plenty of counter space, and the lighting behind the mirror was not too harsh.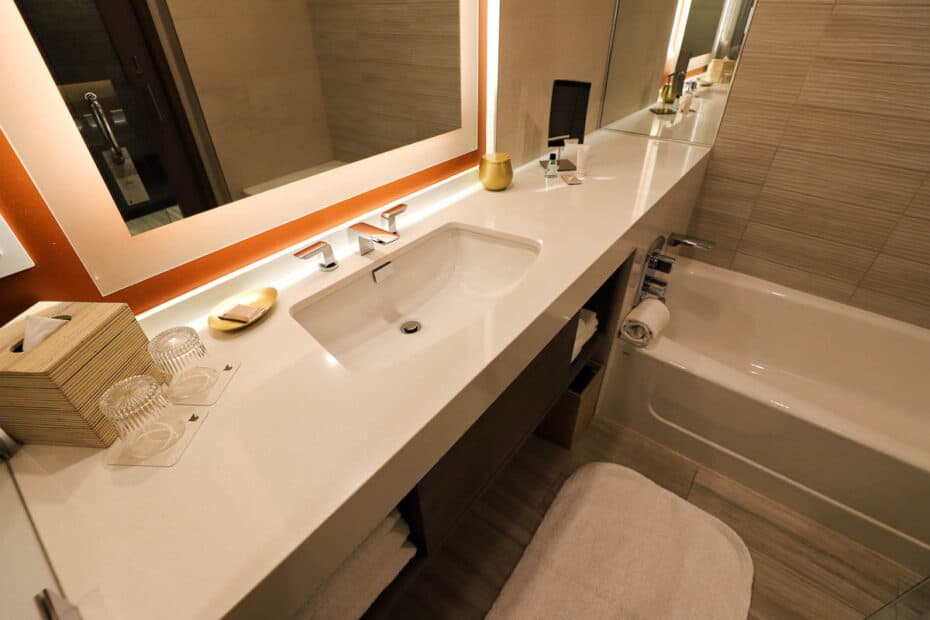 A separate soaking tub was available.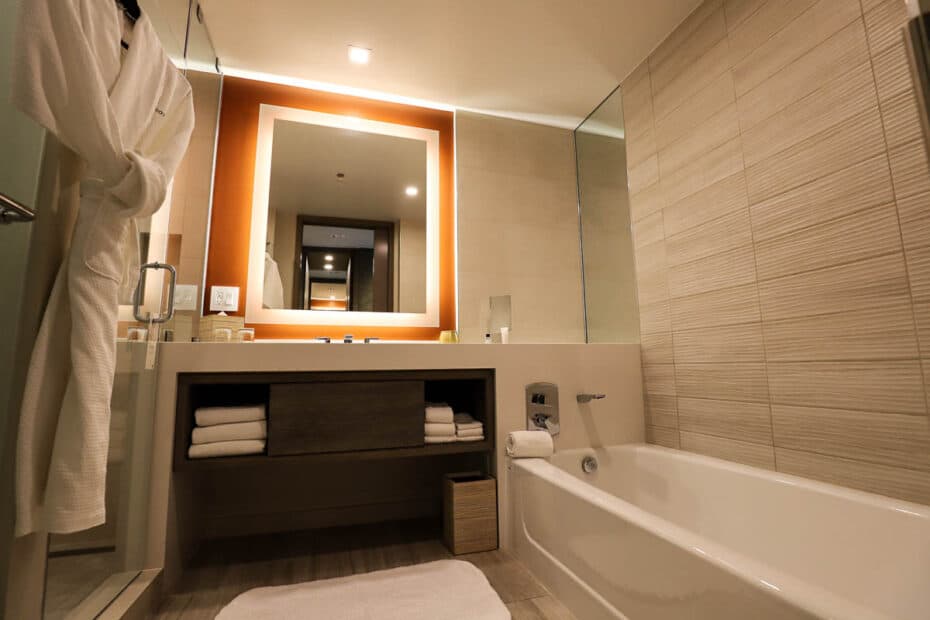 Be warned. The tub fills up quickly. I was shocked by how far the water shot out from the faucet. Don't forget to bring a bubble bath.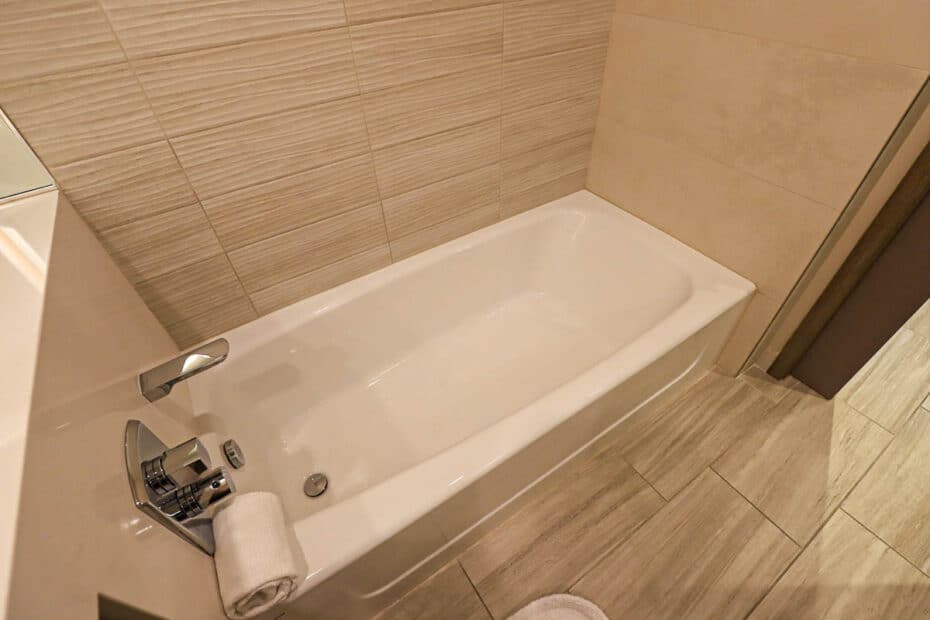 Overall, the room was gorgeous, and I found it an excellent spot to relax. After a long afternoon and early evening at the pool, I retreated to my room.
I thought about going out for dinner or picking up take-out and bringing it to the hotel. But, ultimately, I forced myself to take things slow.
For me, slow meant soaking in the tub and treating myself to a facial. Then I ordered room service and watched The Batman since Marriott offers premium channel choices.
It was the perfect end to a pleasant day. And I can imagine if you plan a stay here and take the time to relax you'll have a similar experience.
Here's a video tour of the room if you'd like to see a different perspective.
Let's look at a few other amenities the resort offers. Across the hall from my room, there was a Kids Conservatory Lounge and Activity Garden.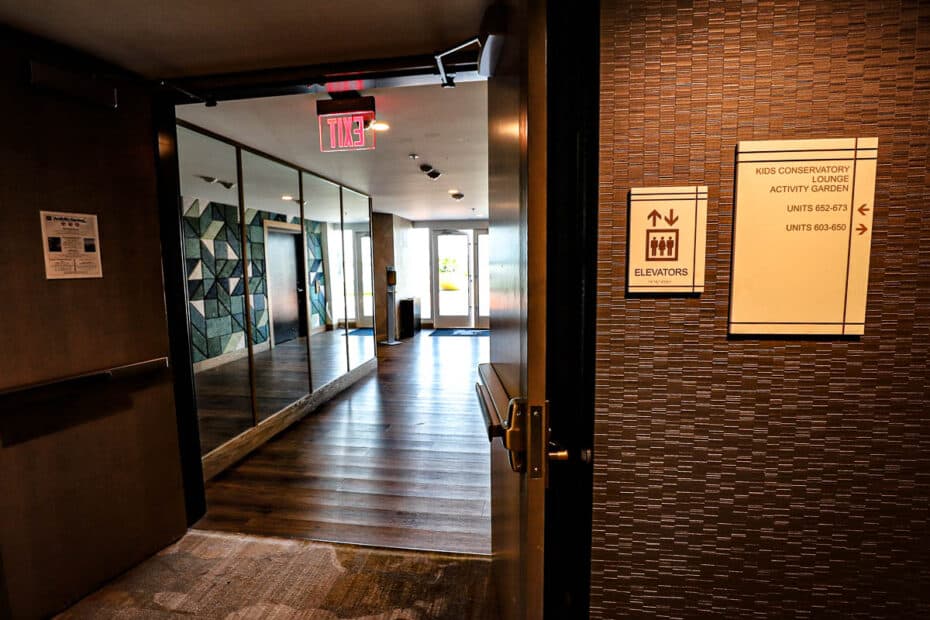 Yes, the children's area is included in the wow factor.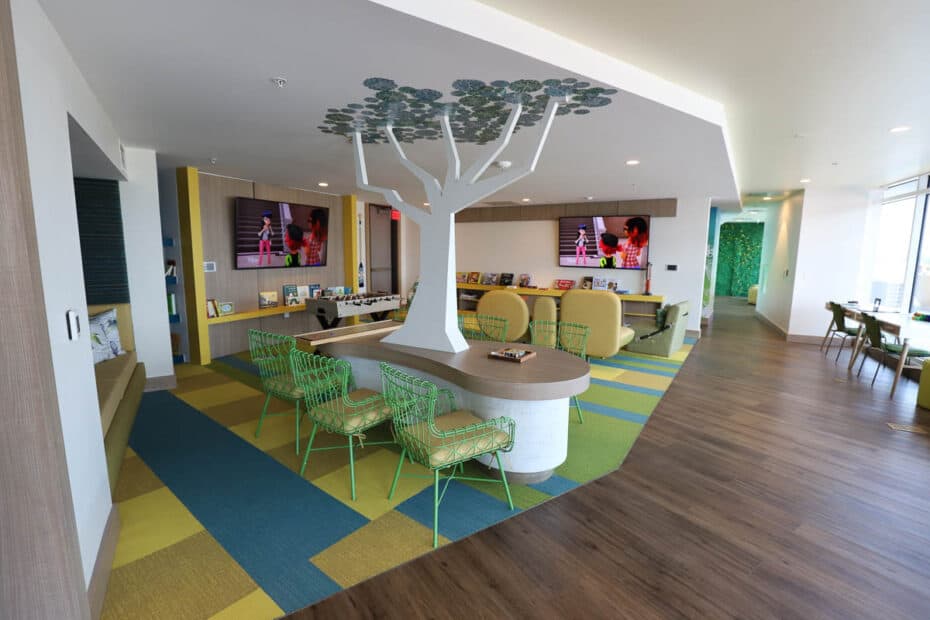 I couldn't get over the child-friendly vibe. Wouldn't it have been fun to spend a day here when you were a child?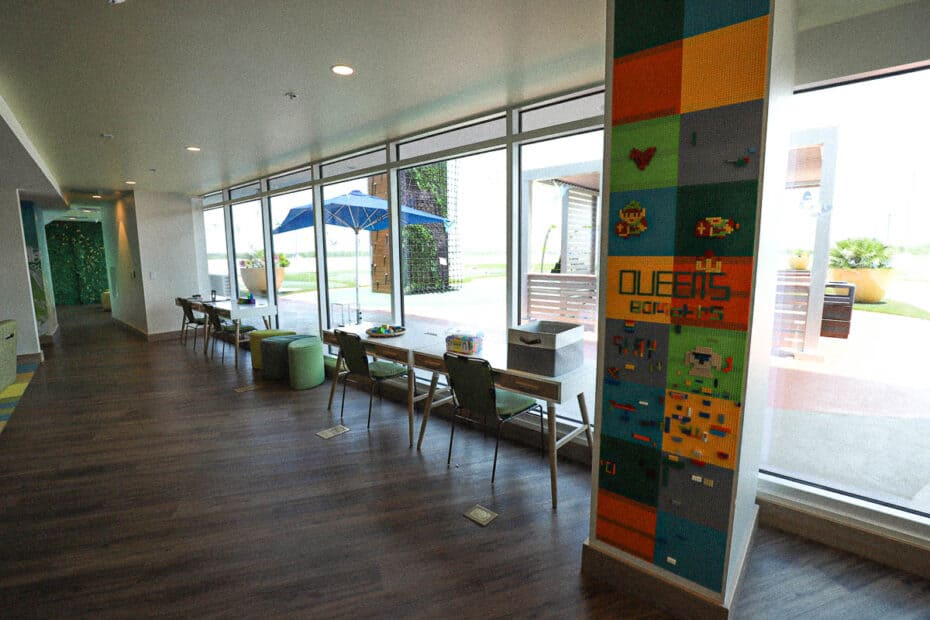 Seriously, the kids are the ones having all the fun on parents' night out.
Oh, and see the wall covered in greenery? It opens to another space where they have movie nights and other activities.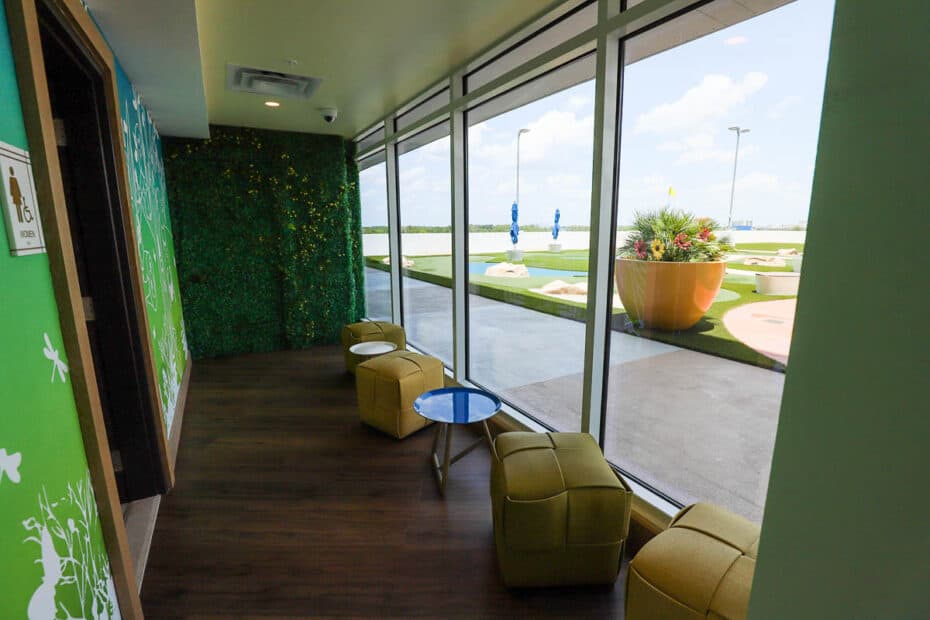 Here is a look inside. You can see all the plush spaces to sit and watch a movie.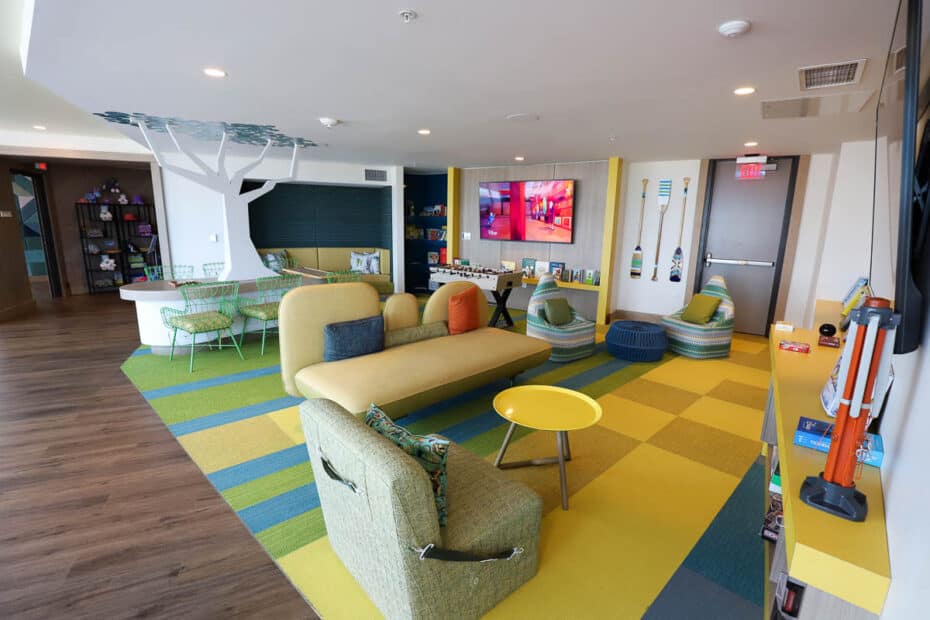 The Hidden Garden Kids Club has several options for day and night out programs.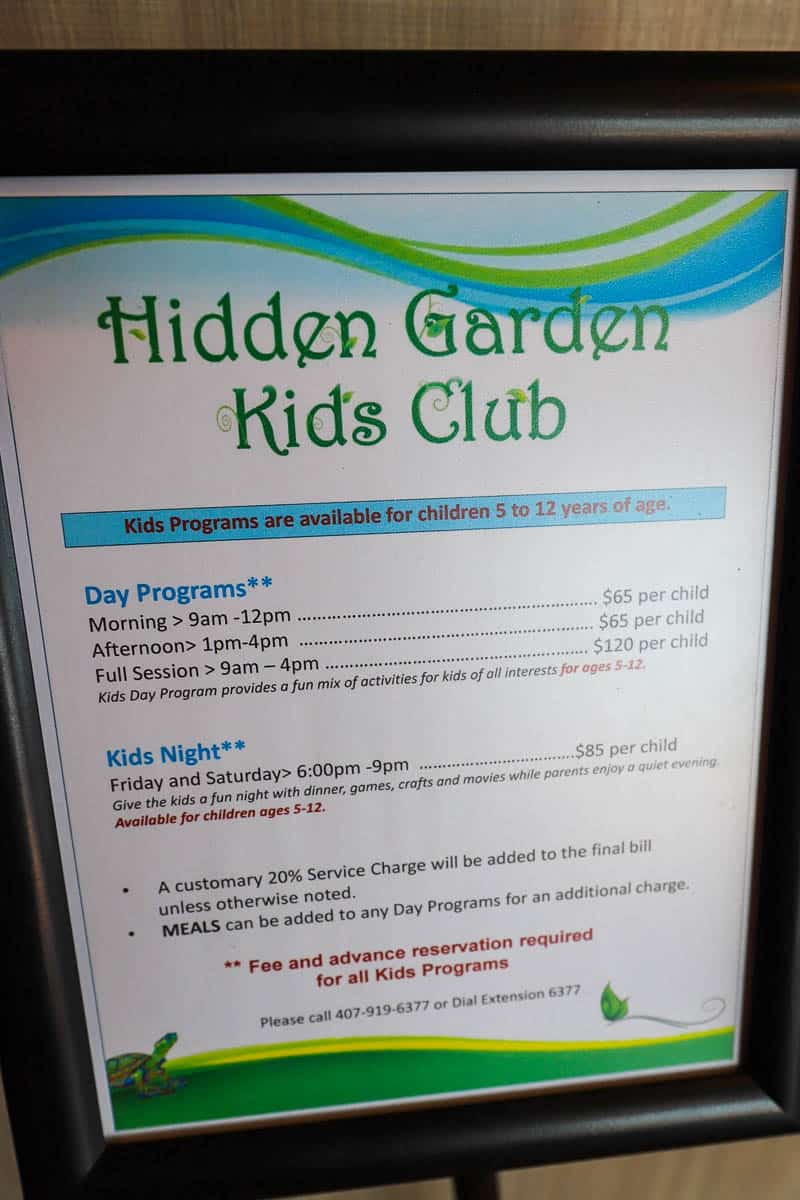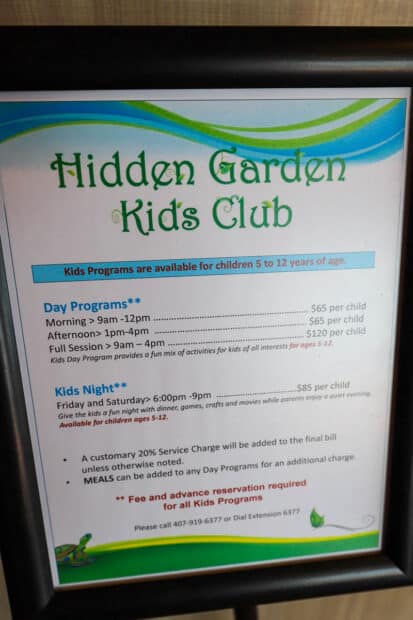 I don't know how well you can read the sign above, but here's a summary:
Morning 9:00 a.m. to 12:00 p.m. $65 per child
Afternoon 1:00 p.m. to 4:00 p.m. $65 per child
Full-Day 9:00 a.m. to 4:00 p.m. $120 per child
Kids Night (Friday and Saturday) 6:00 p.m. to 9:00 p.m. $85 per child
*A customary tip is added, and there's an option to add meals to any of the day programs.
While these kids' programs are suitable for offering parents a break, the Kids Conservatory Lounge is open daily to all children between 10:00 a.m. and 7:00 p.m. An adult must accompany any child under 12 years of age.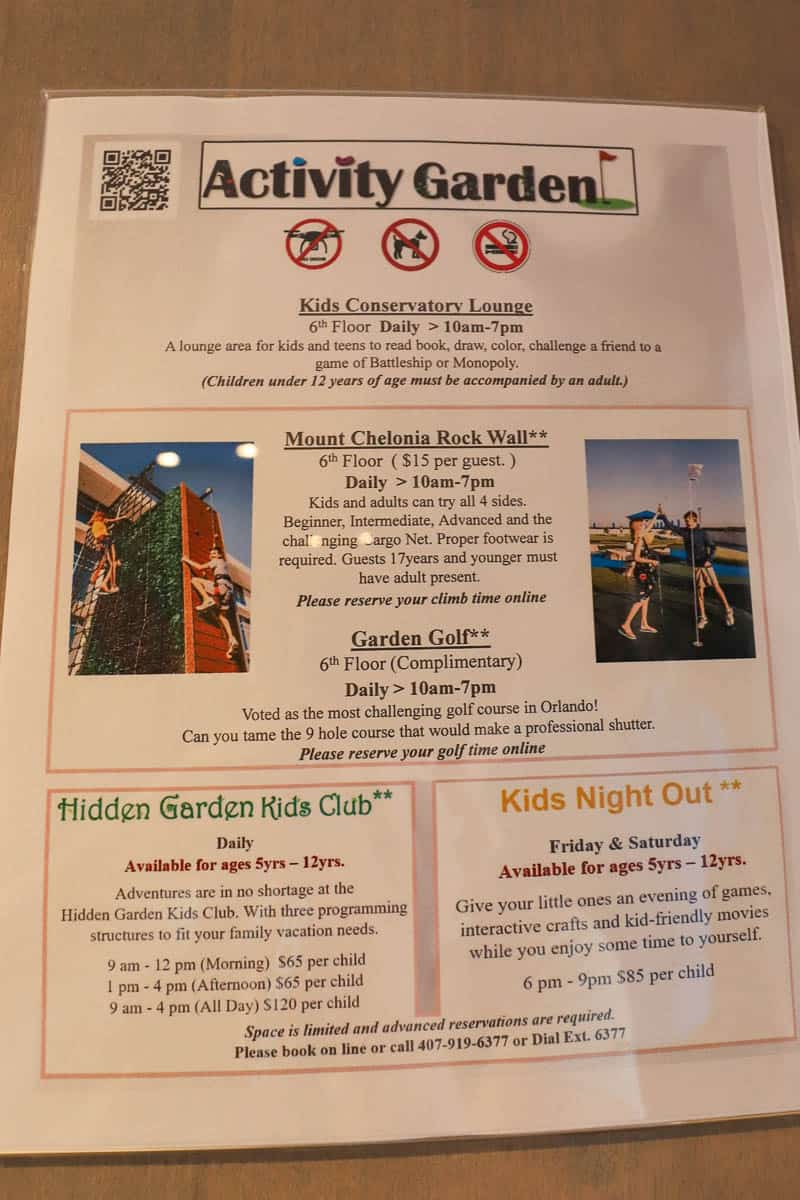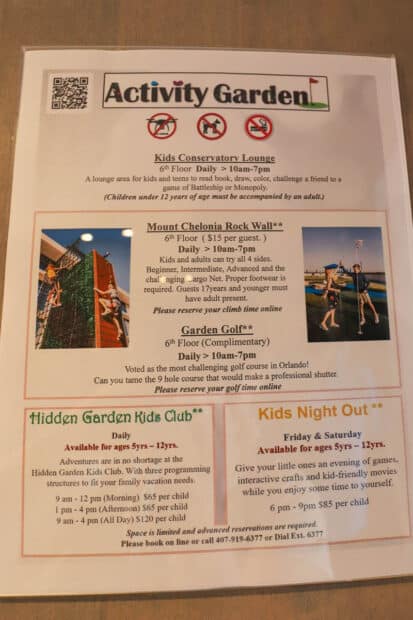 The outdoor Garden Golf is complimentary to all. And there's an additional charge of $15.00 per person to climb the Mount Chelonia Rock Wall.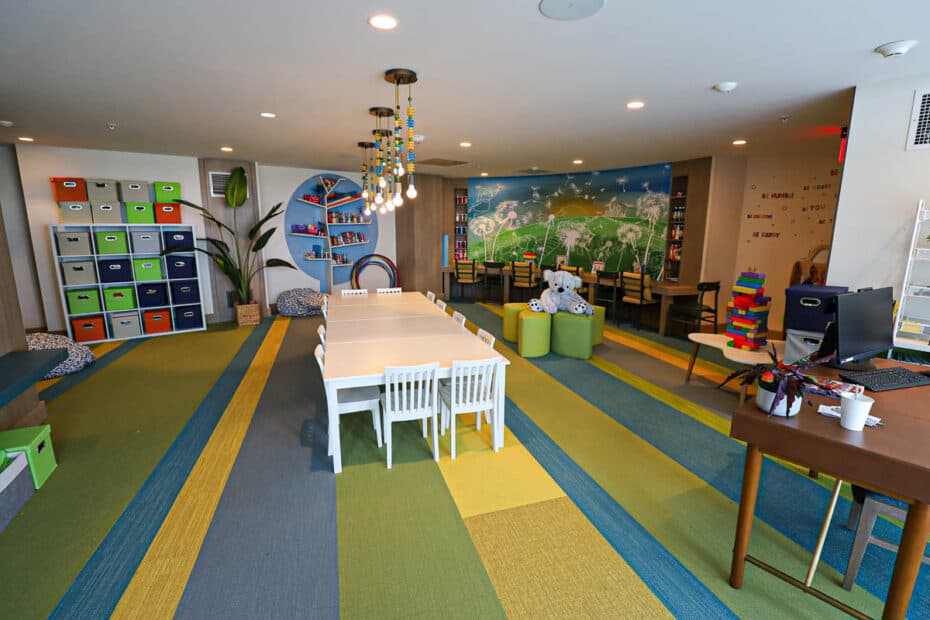 The space outside is massive and offers numerous activities.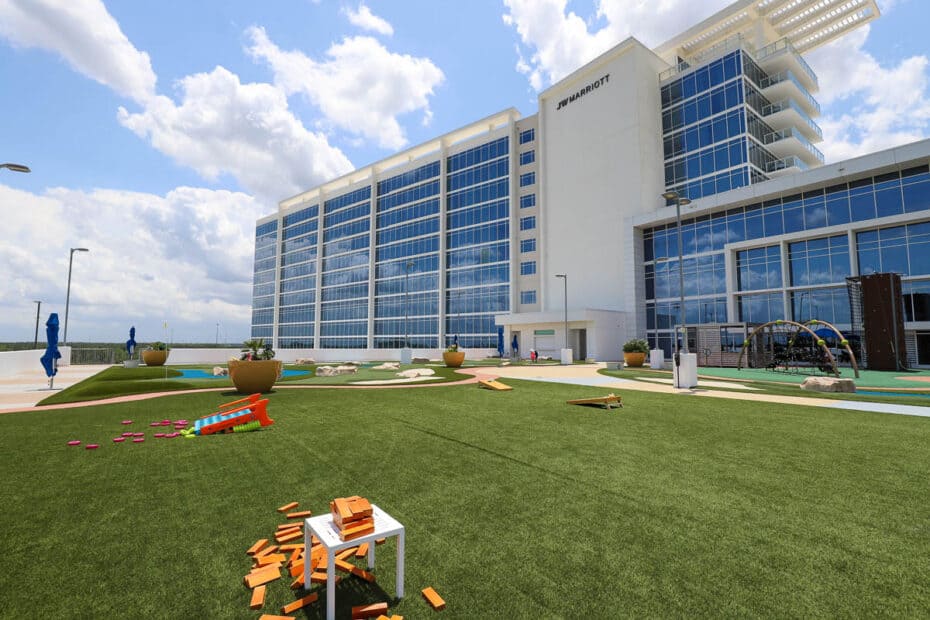 What adult, I mean child, wouldn't want to hang out up here?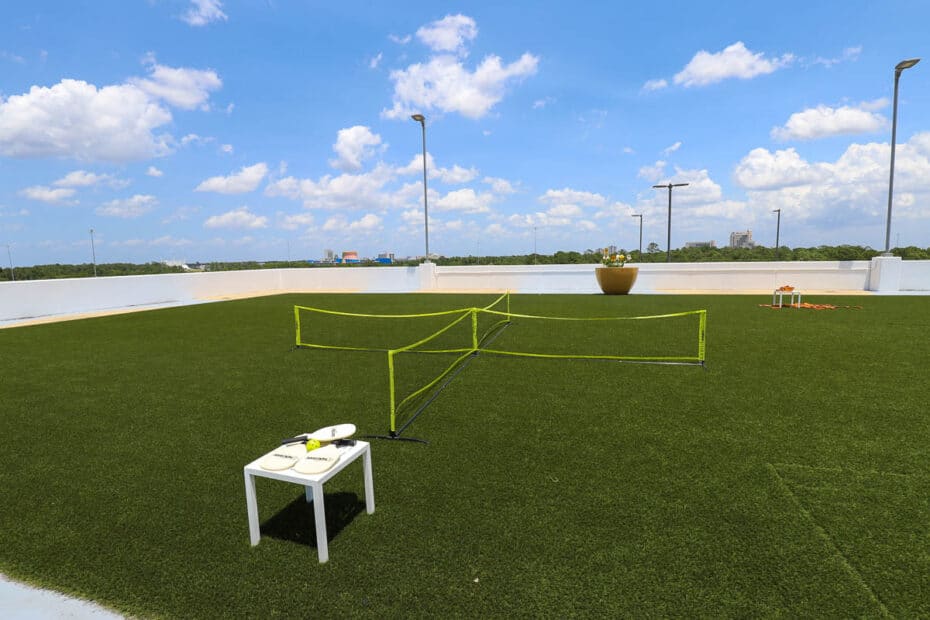 The rock wall looked like fun. I bet the view was even better from the top.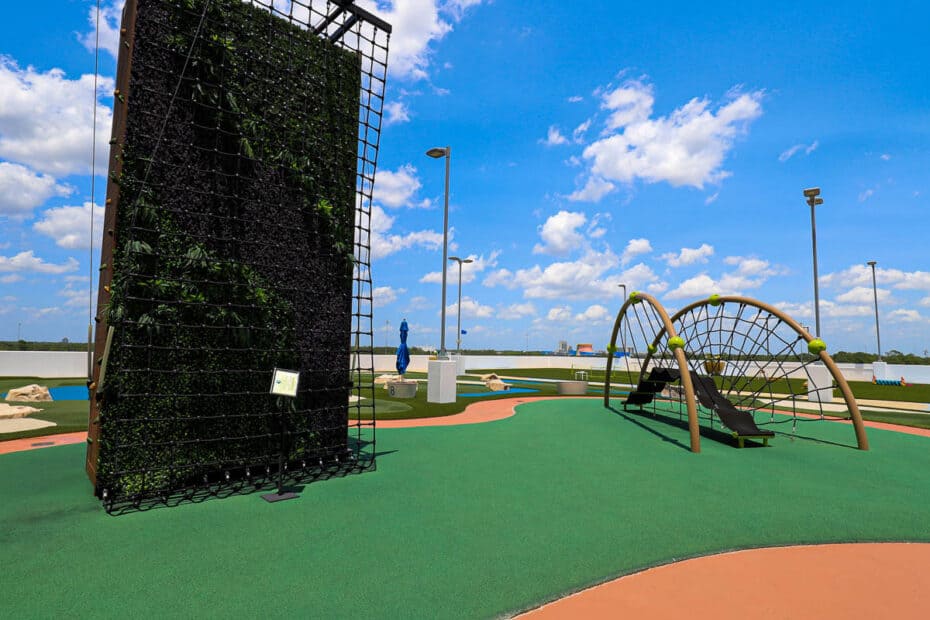 Back inside, I made my way down a floor or two to the JW Spa.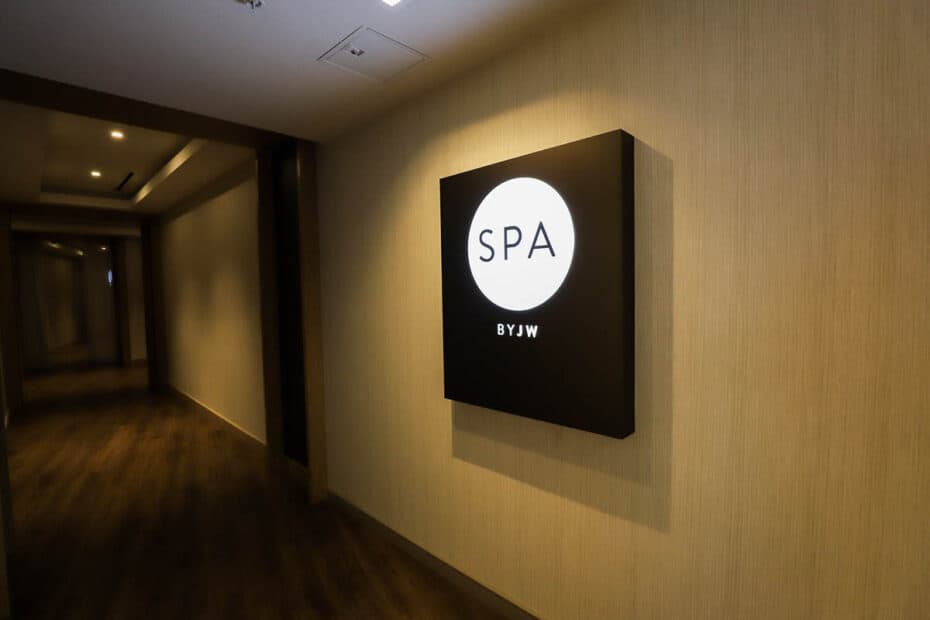 I didn't book an appointment at the spa, but I met a sweet lady visiting as a day guest. She had booked a Mother's Day massage and then spent the afternoon at the pool.
Why don't I ever think of these things?
The hotel has an aerobics room and a fitness center.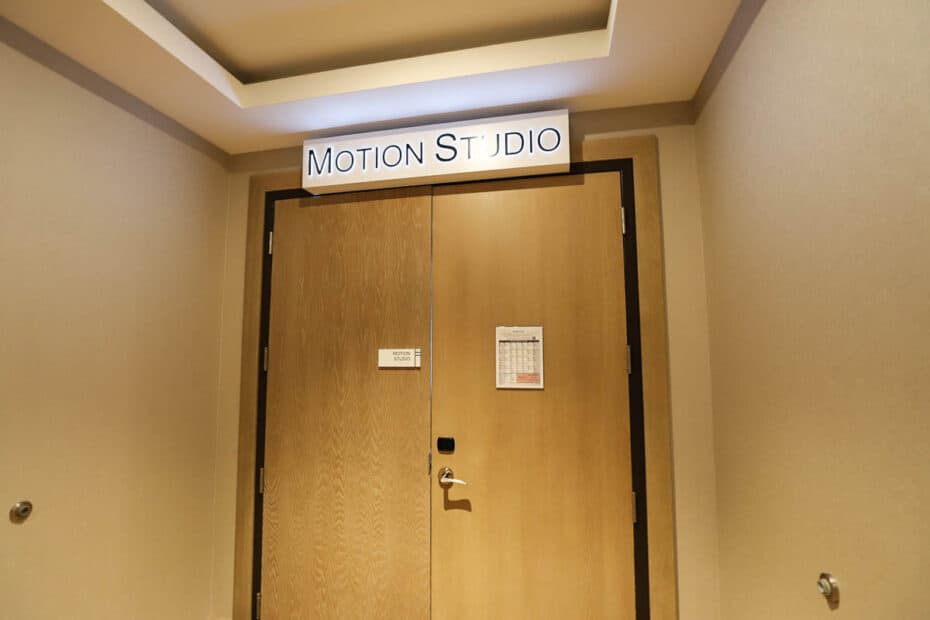 There are classes available nearly every day of the week, or you can book personal training.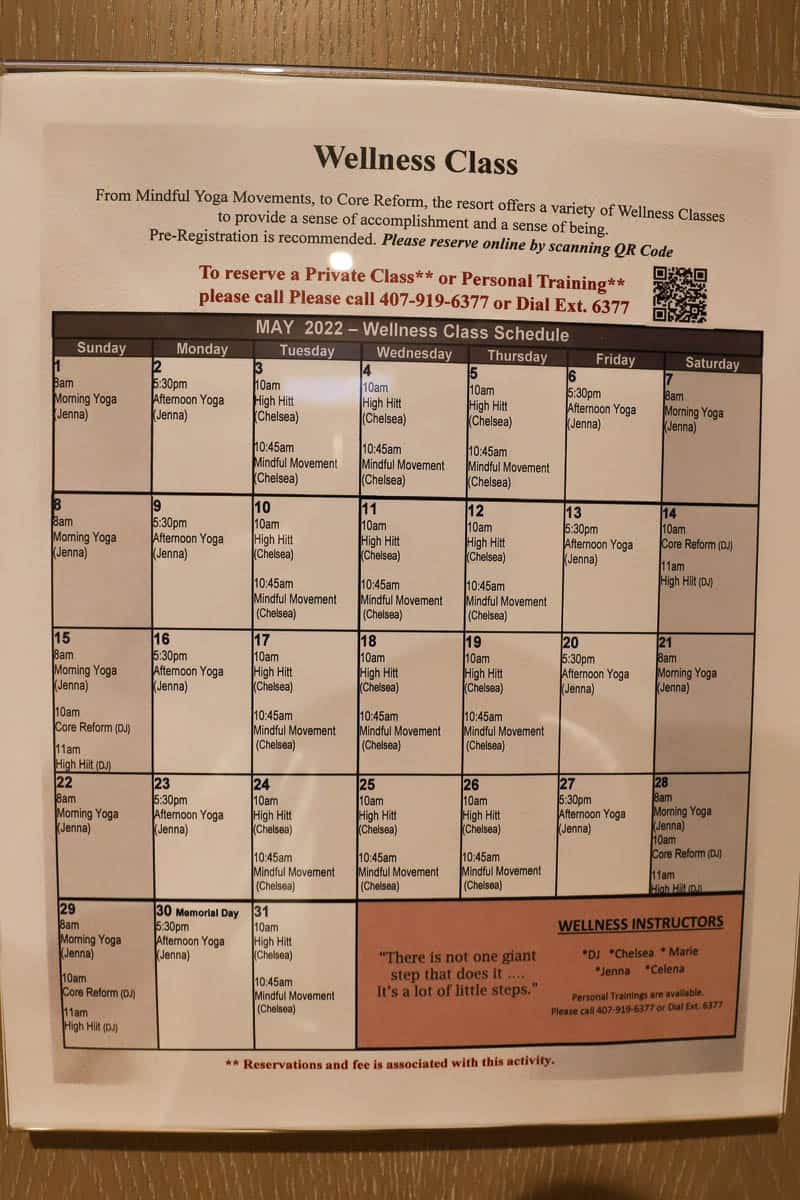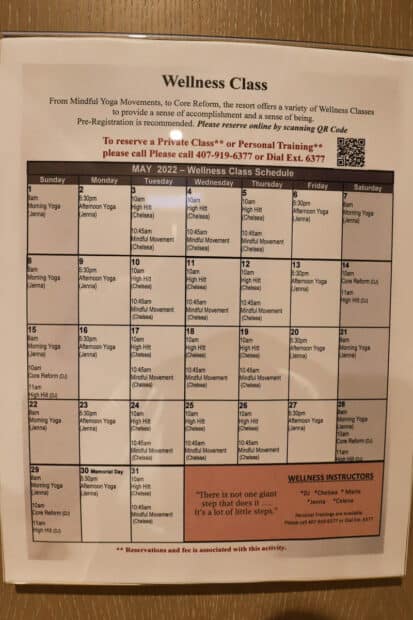 While we see more-than-adequate gyms at nearly every hotel, it's rare to see group fitness classes offered. I plan to take advantage of these the next time I stay here.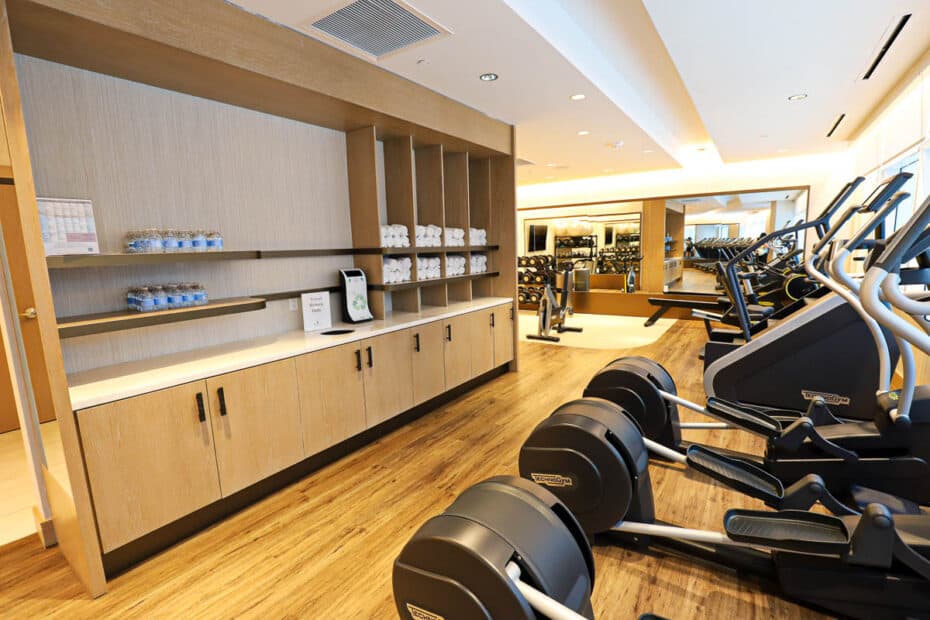 JW Marriott's gym had plenty of equipment.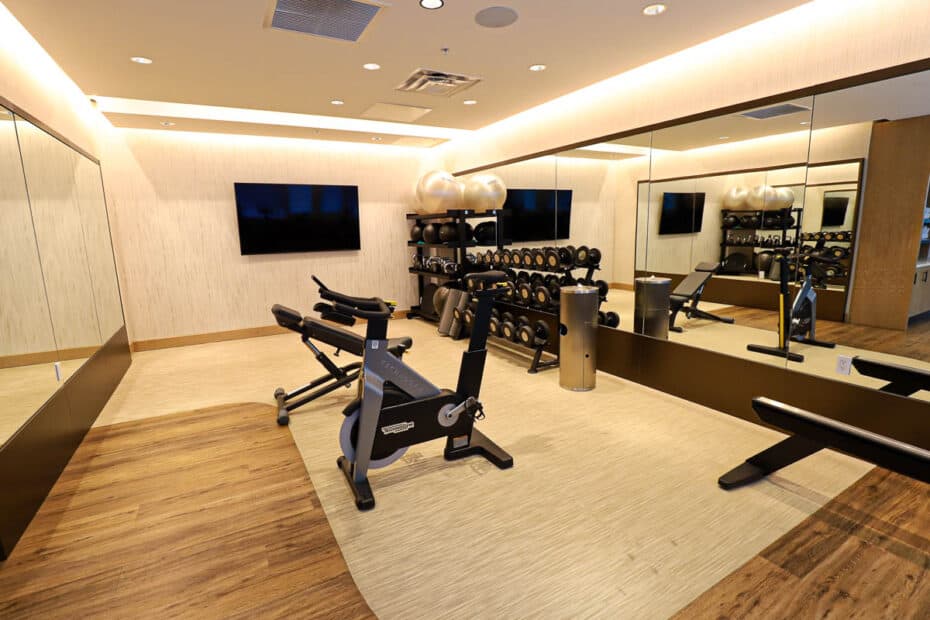 There was something for everybody.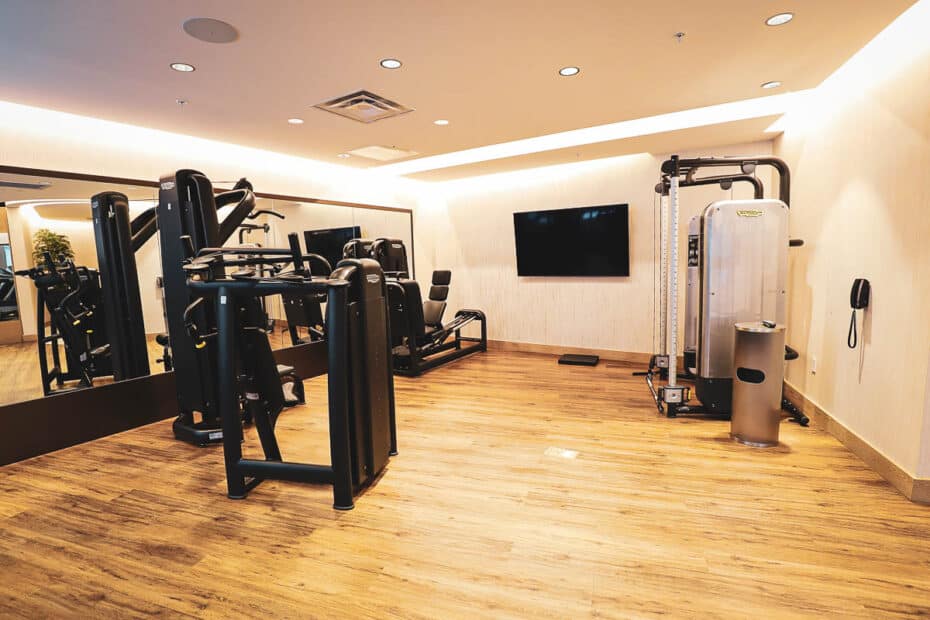 After touring the kid's area and the gym, I checked out the pool area. On the way down, I stopped in the lobby.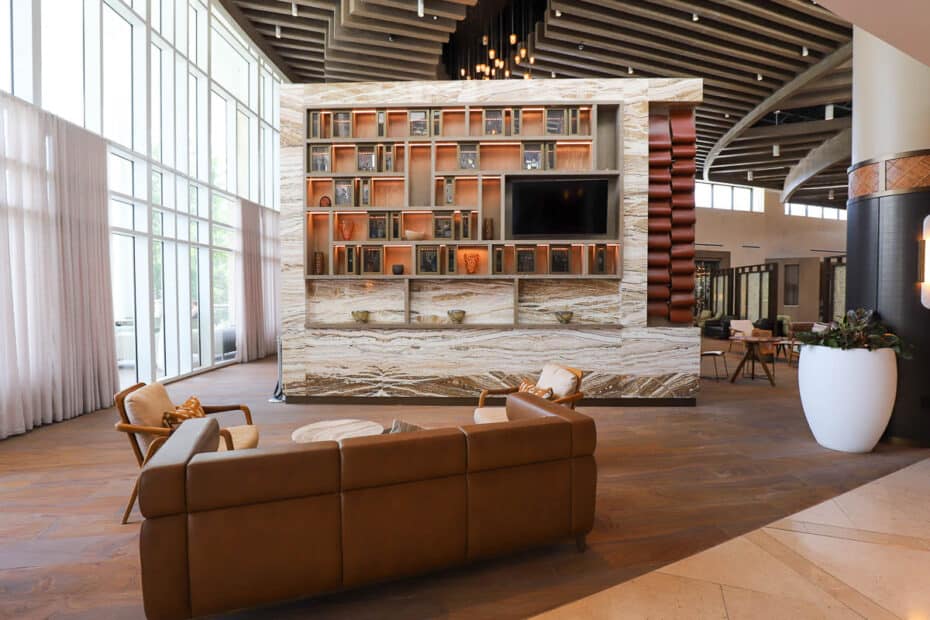 The lobby has a pleasing layout. Multiple spaces resembled someone's private living room.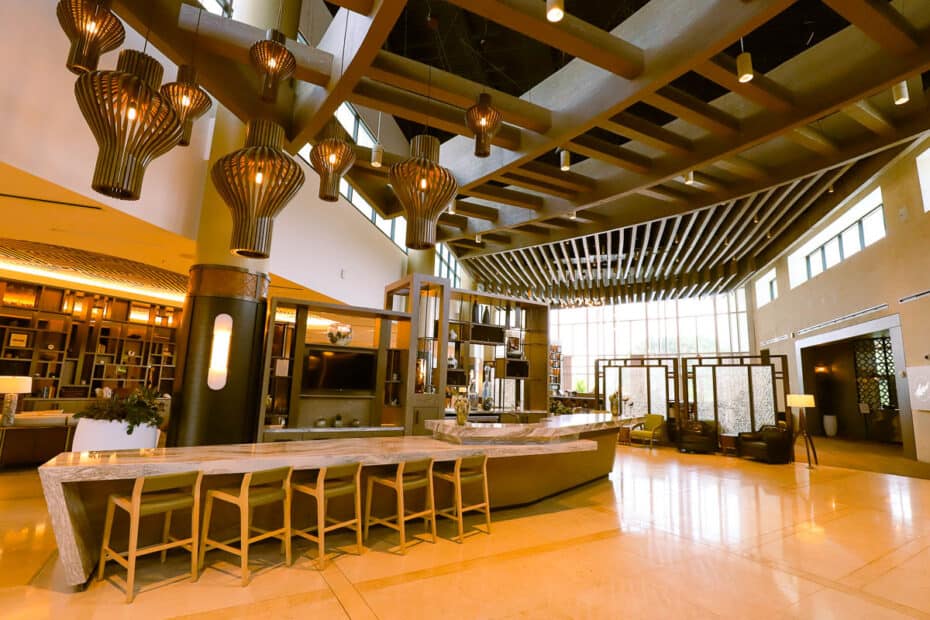 While the lobby was tremendous, it felt intimate with all the different seating areas.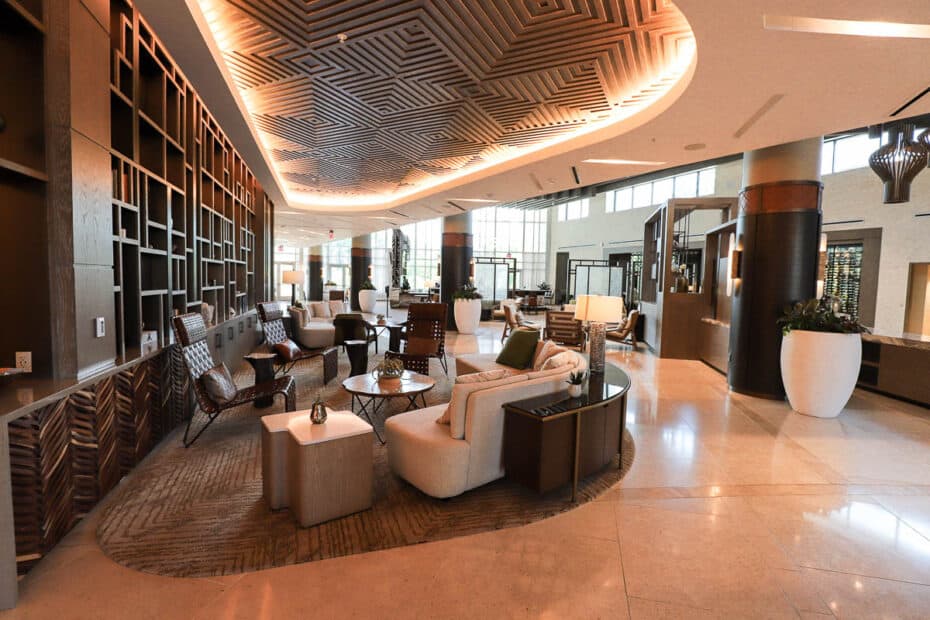 On checkout day, I didn't have early access to my condo. So I spent a good part of the day here in the lobby.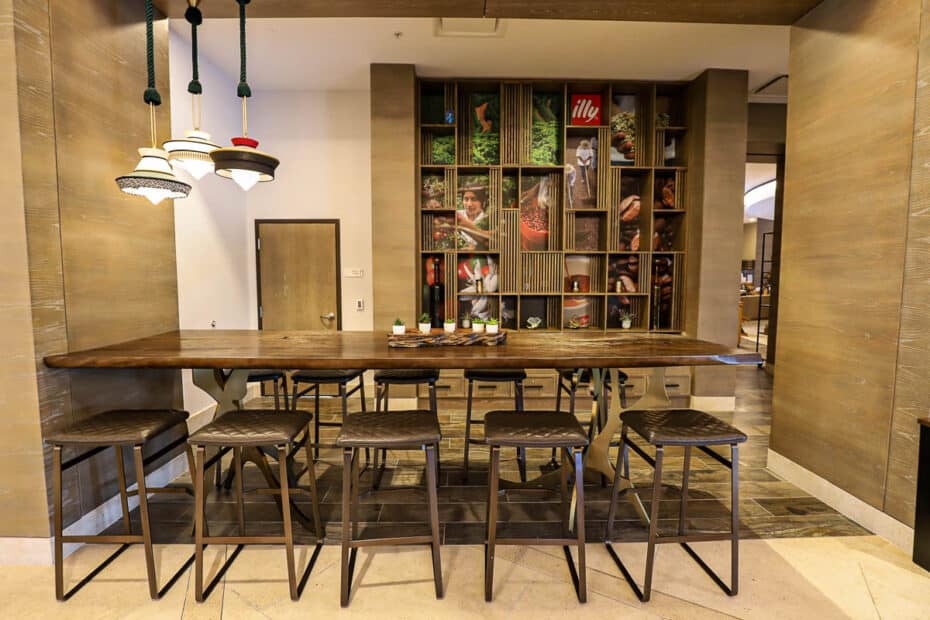 I found a nice spot to work outside for a bit. But when the battery on my laptop drained, I moved inside to this area pictured below.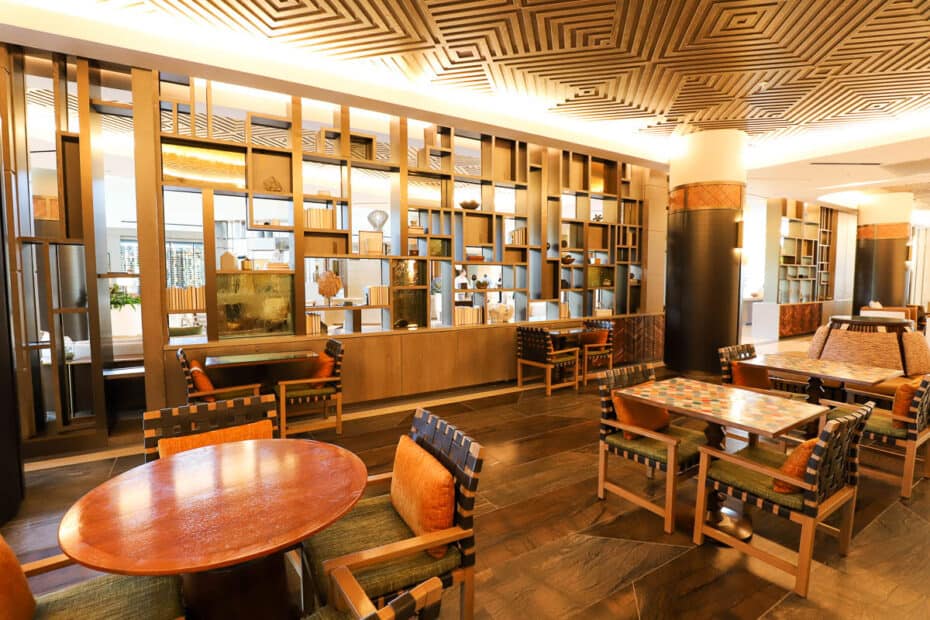 Off the lobby sits a JW Market.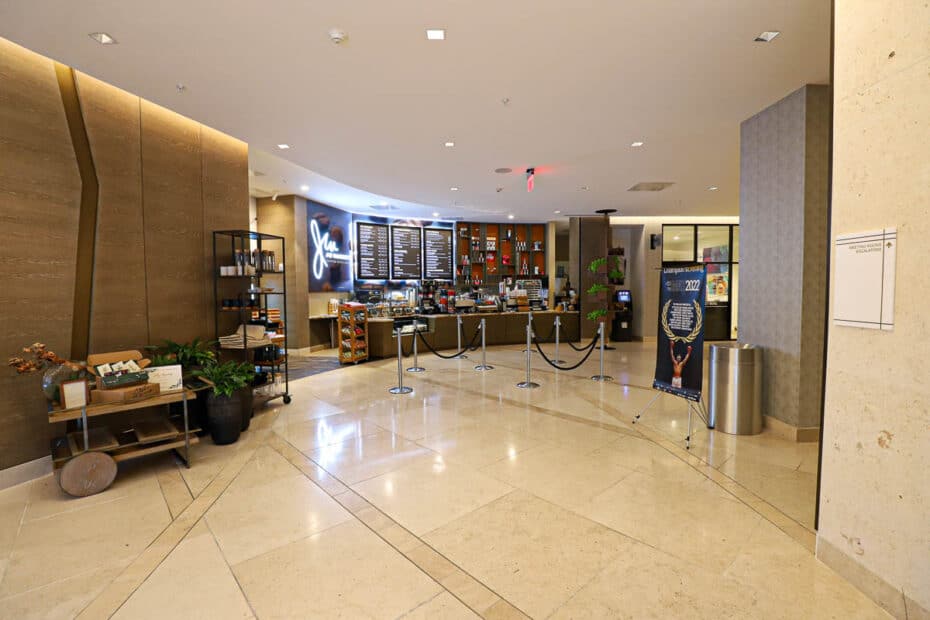 This is the formal coffee and smoothie bar at the resort.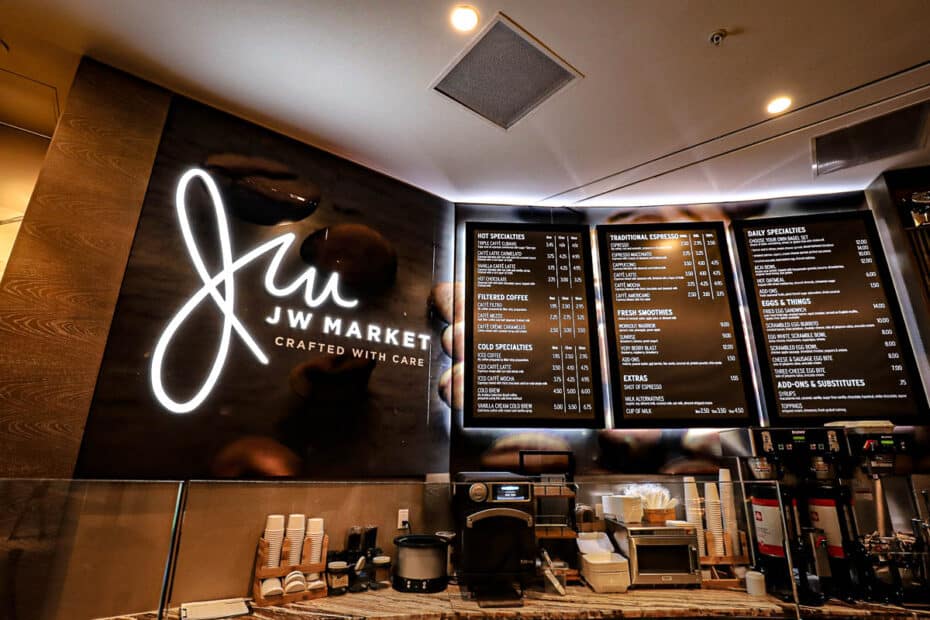 The menu featured several breakfast sandwiches during the morning hours.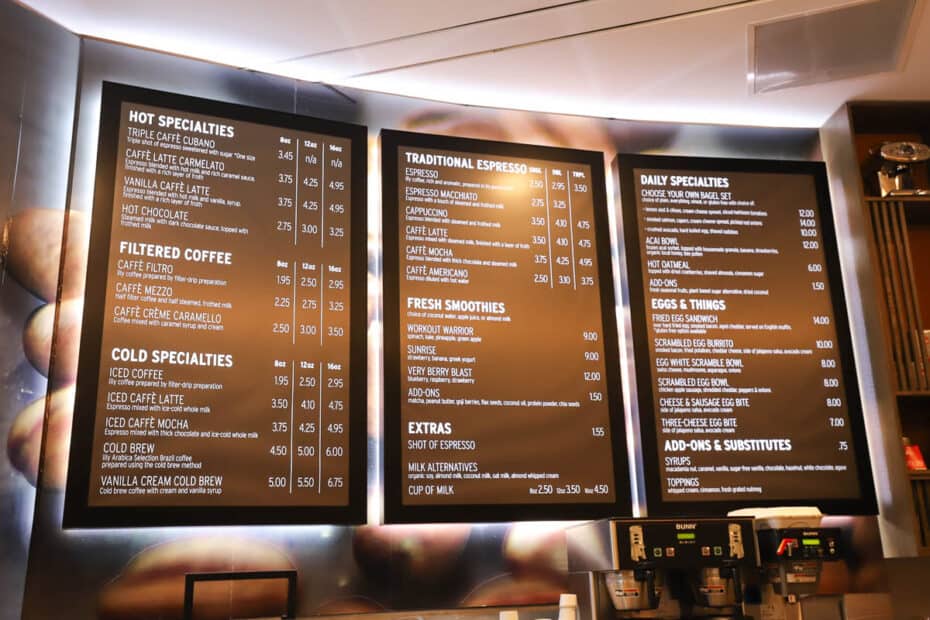 The JW Market also served as the convenience store for the resort.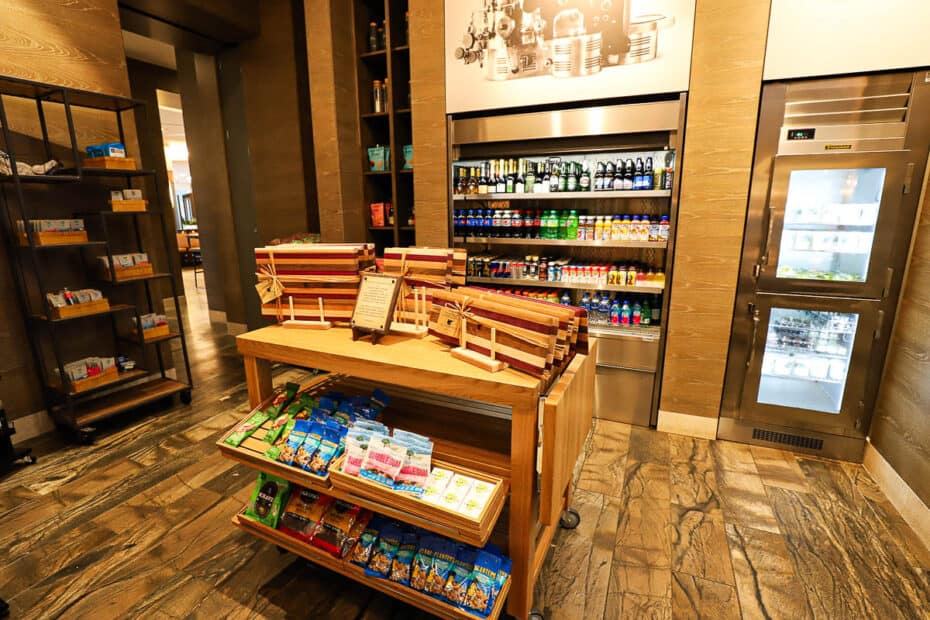 Here is a look at the grab-and-go drink selections.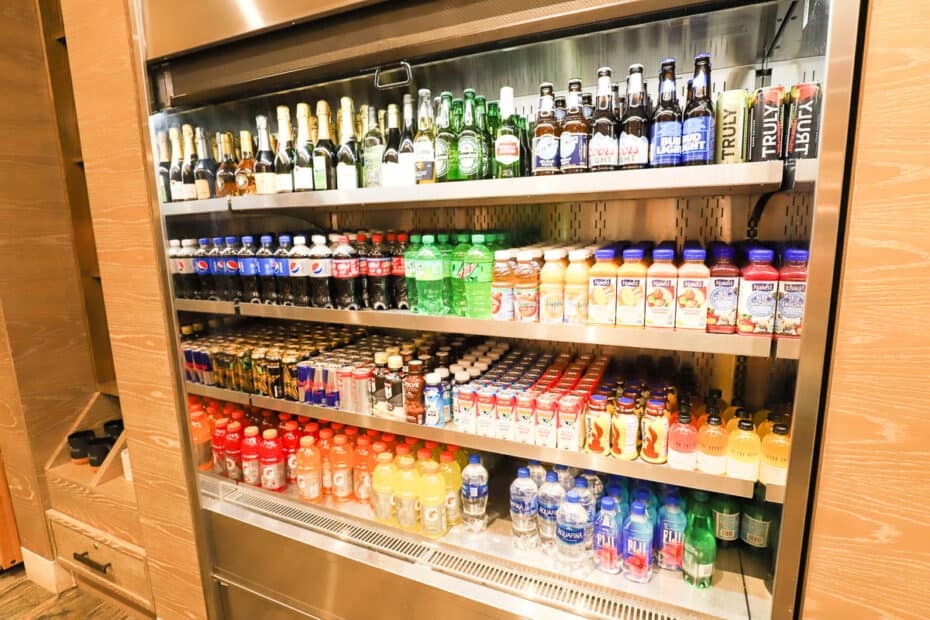 The pastries looked delicious, and a few healthier items were placed in the case directly underneath.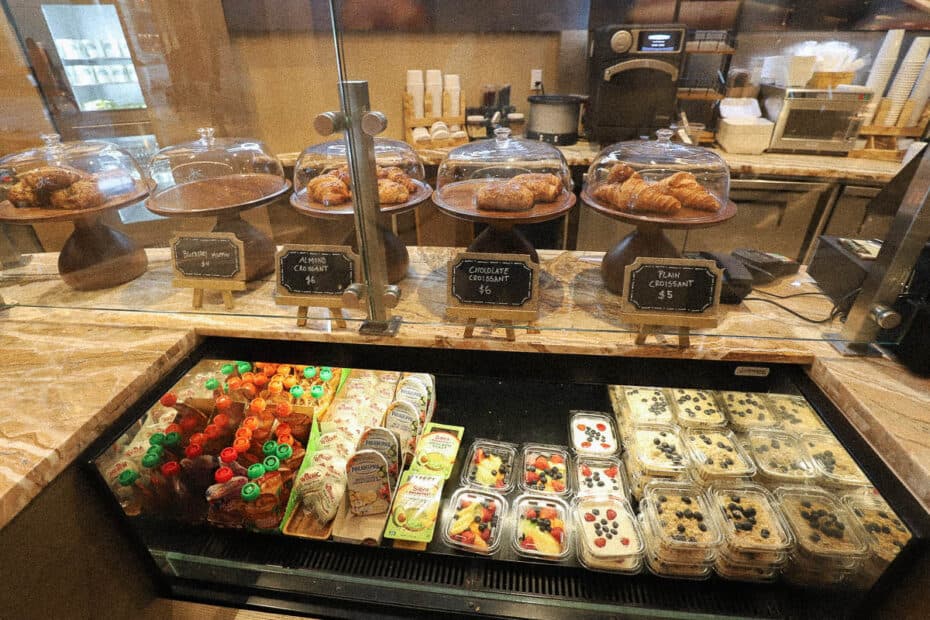 Since nearly every hotel in the area has a convention center, a FedEx office was available.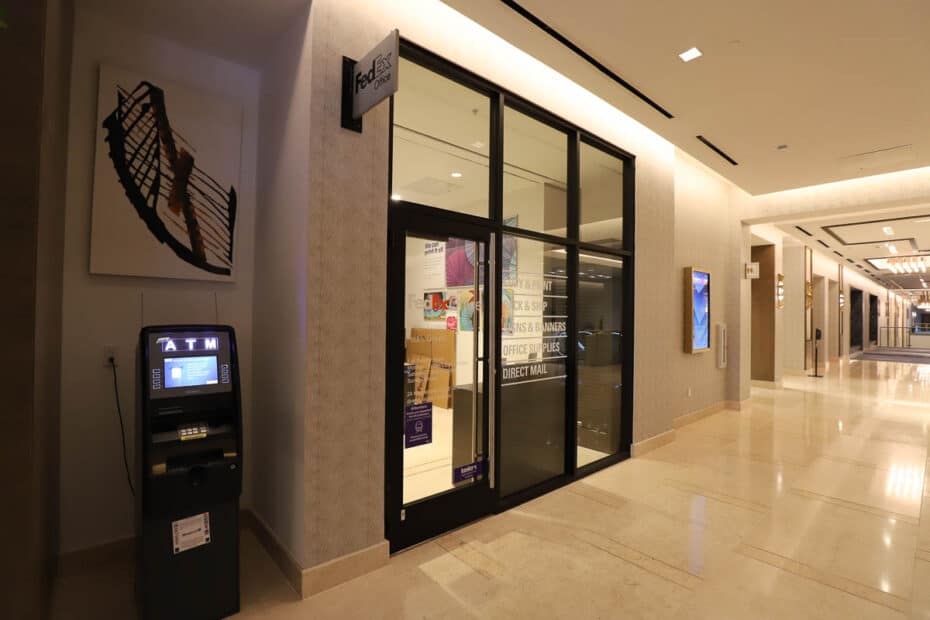 Here we have said convention center on the backside of the hotel. They were having a charity gala on Saturday night. It was fun to see everyone dressed to the nines that evening.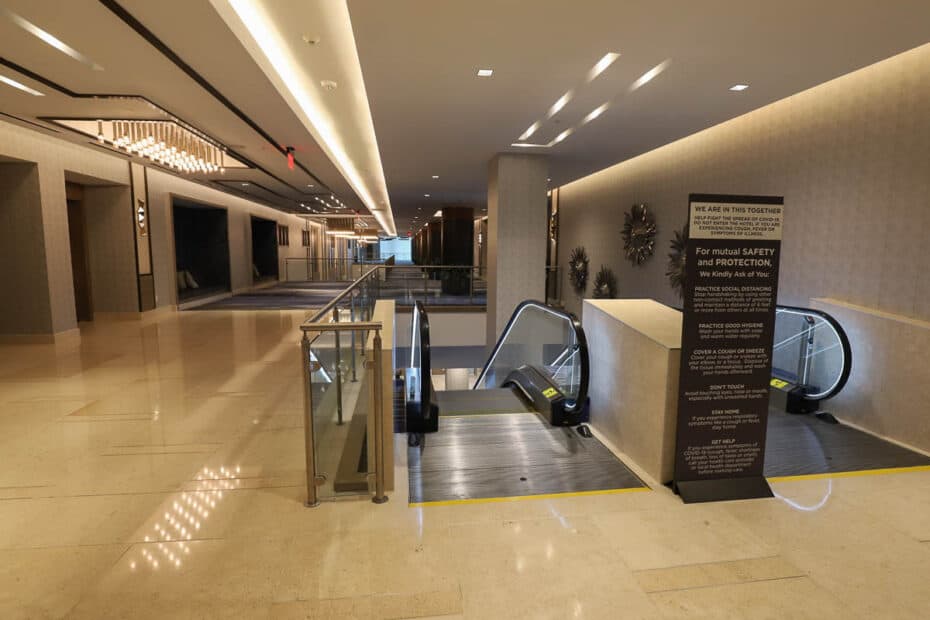 This convenience machine with over-the-counter medicine was pretty cool.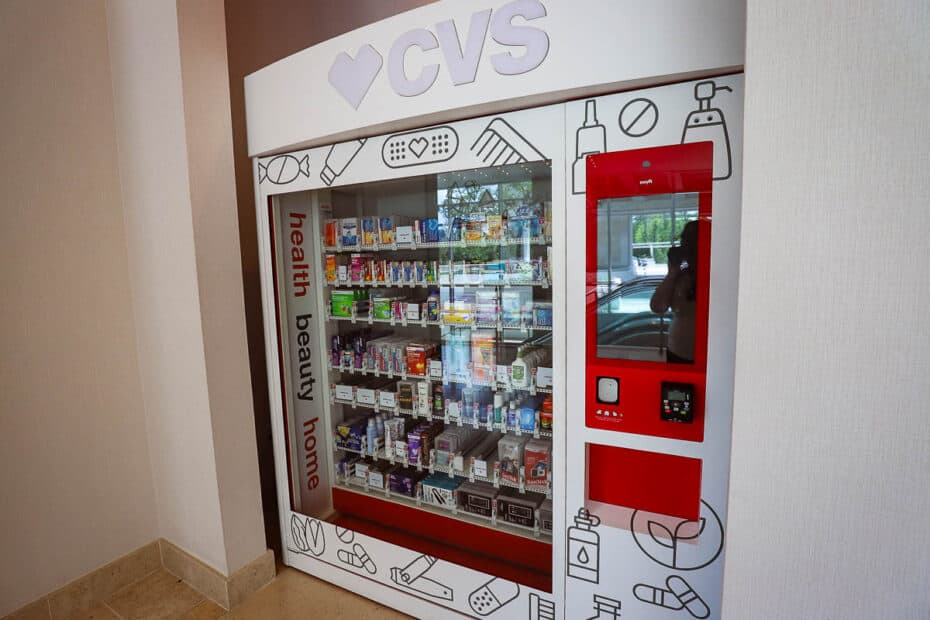 And there was a small boutique off the lobby.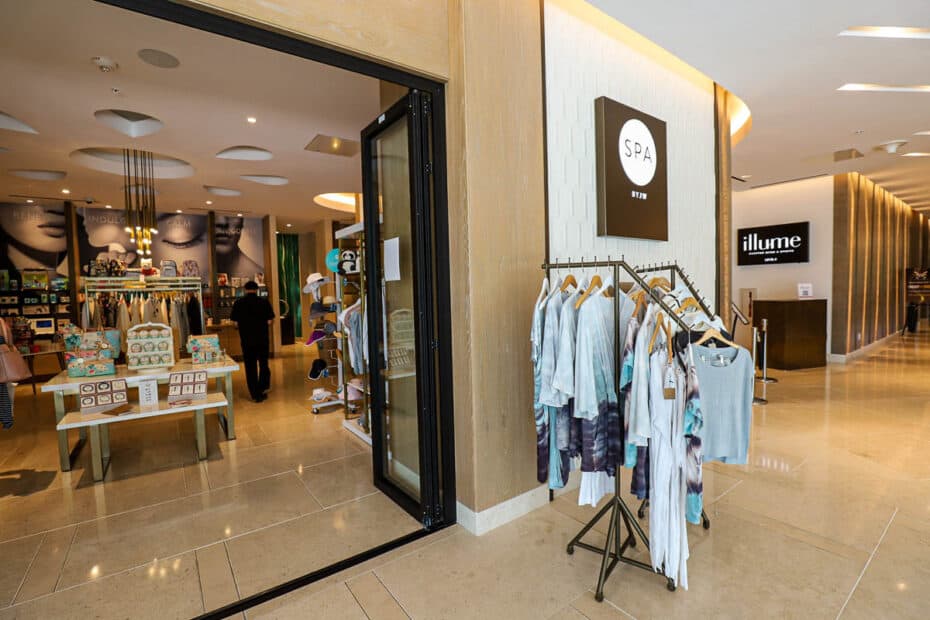 The boutique had several pieces of the Barefoot Dreams Disney collection.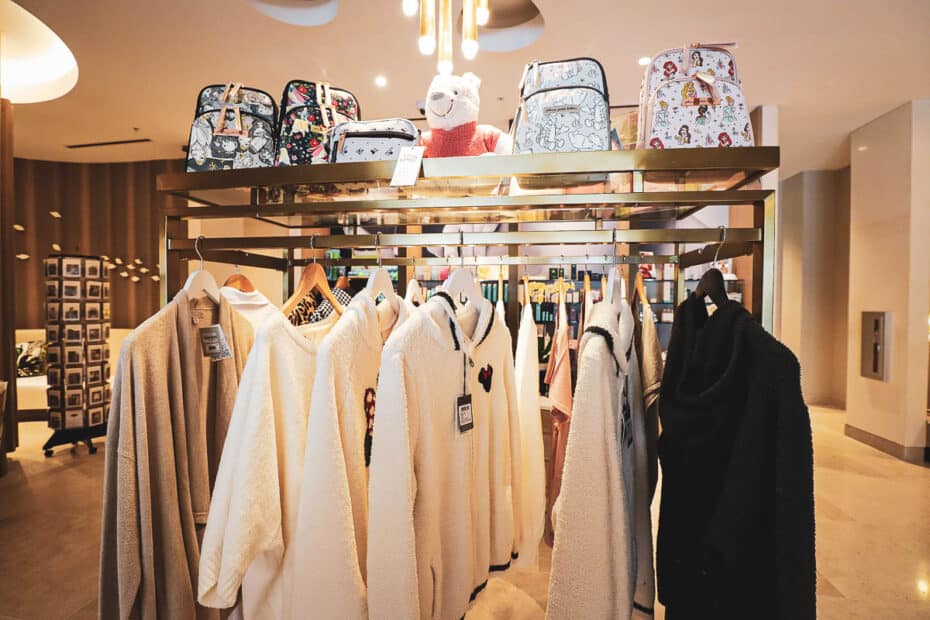 And here are a few Disney-themed cosmetic items.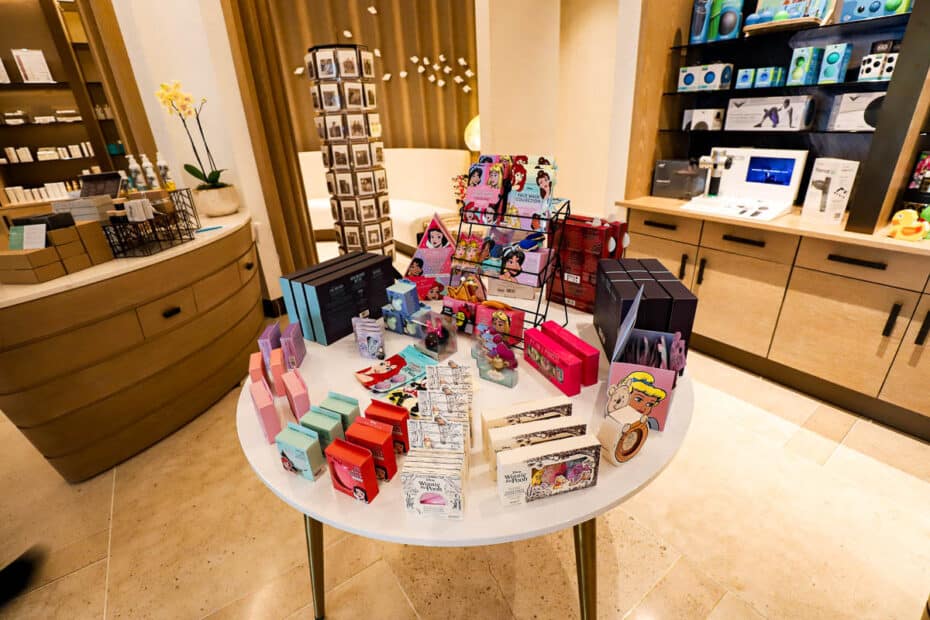 But most of the shop had various spa and beauty products.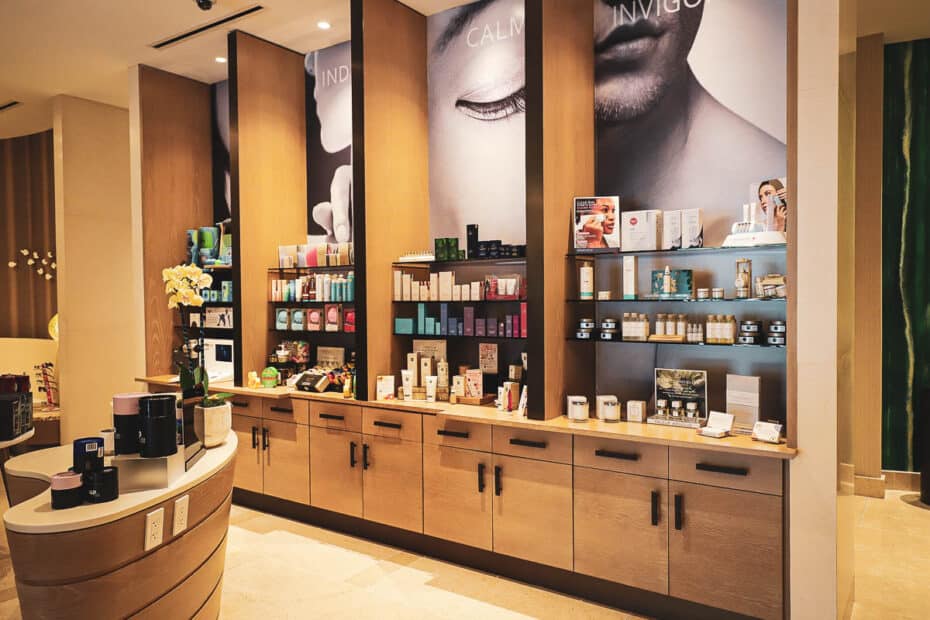 Sear and Sea is another restaurant located off the resort's lobby. If you haven't heard, they were recently listed as a recommended restaurant by Florida's new Michelin Guide.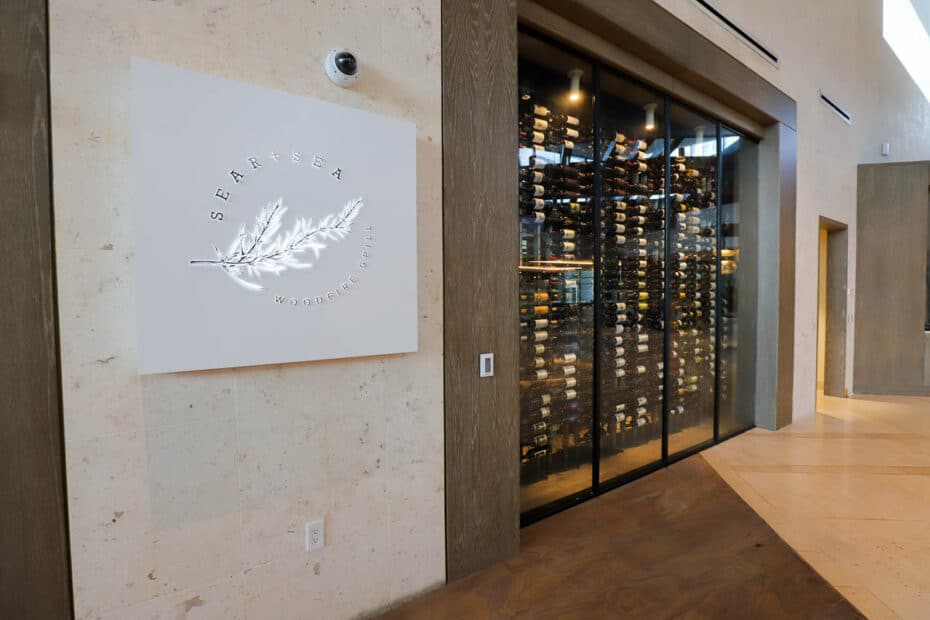 That's a big deal. And now I regret not eating there during my stay.
As we continue to the pool, we'll walk out via the balcony off the resort's lobby. There were several tables and chairs in the space behind where I was taking this photo.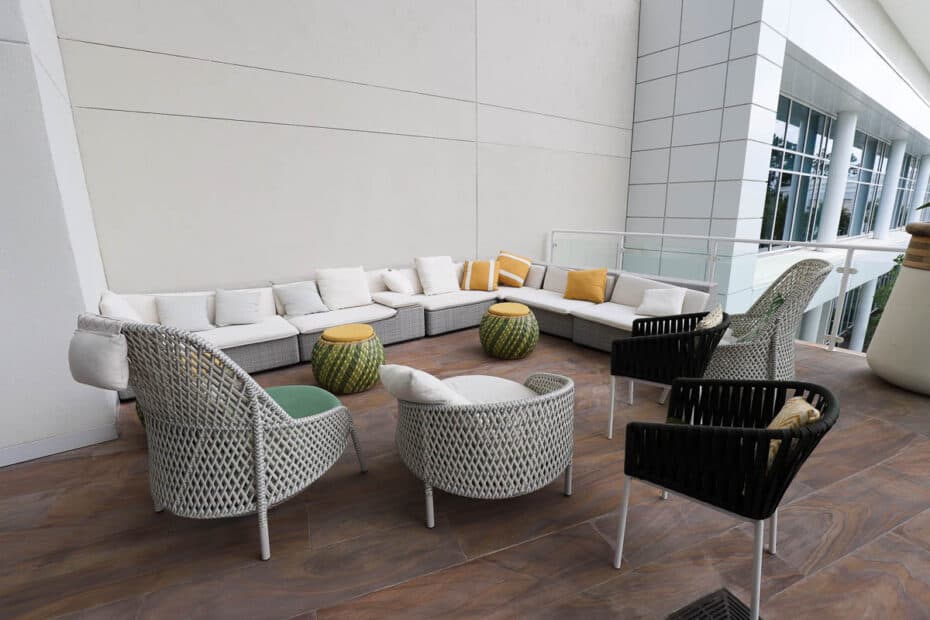 The view down to the pool was lovely.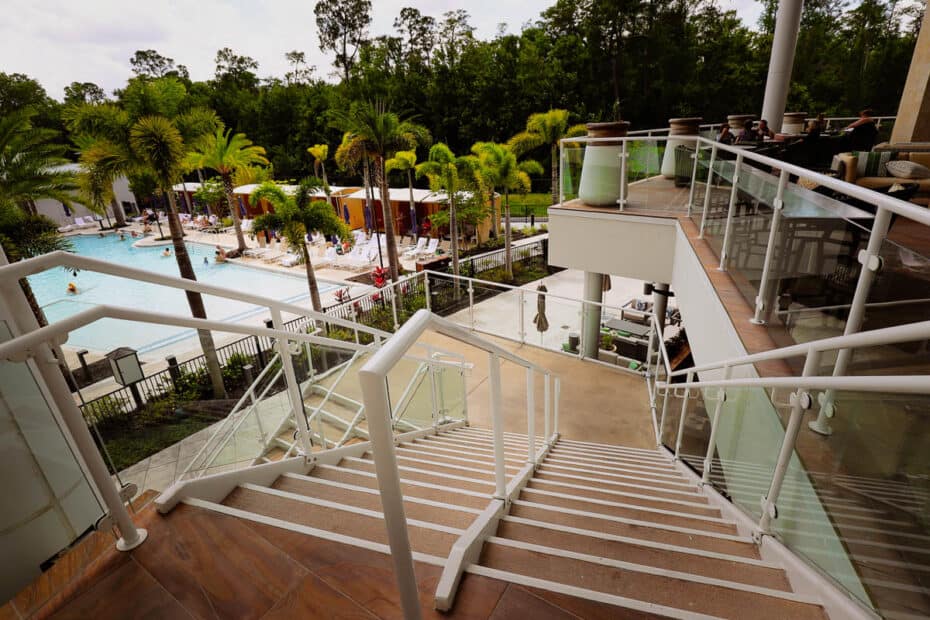 Here we have the first pool.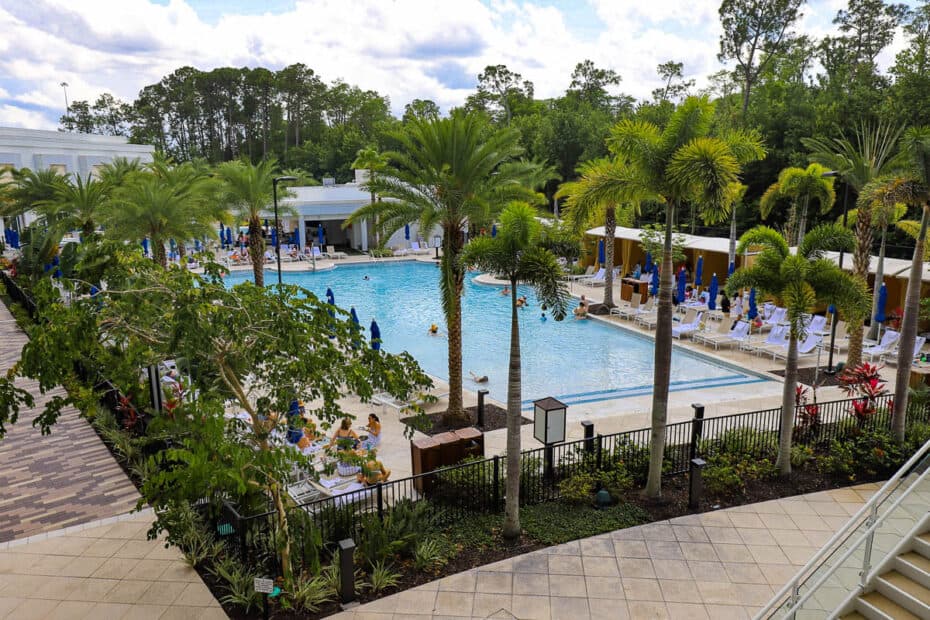 It is a beautiful space. However, there was a good number of guests using the area.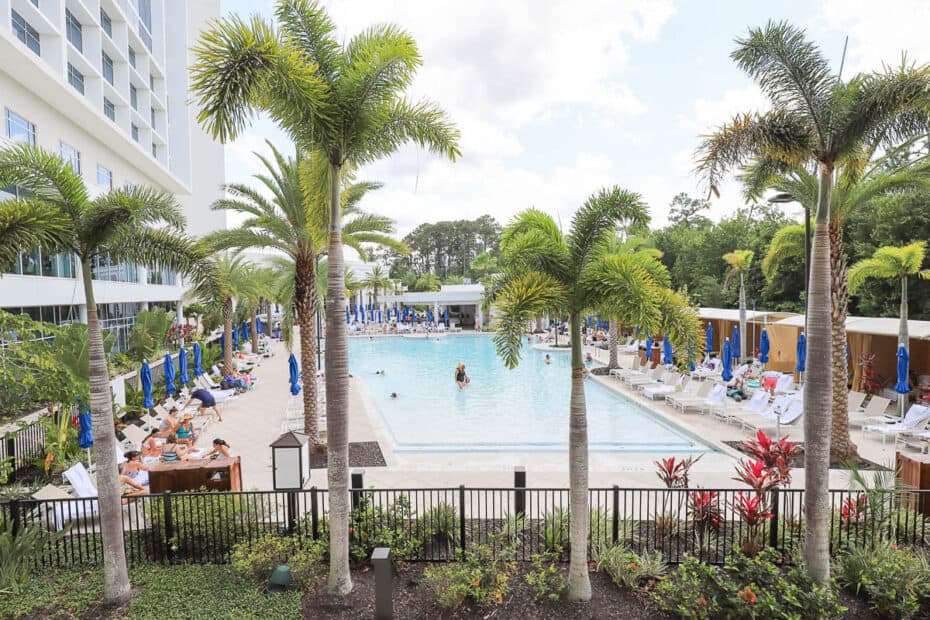 So, at this point, I decided to retire my camera for the day. One of the attendants at the pool told me he would be out early the following day if I wanted to get a few photos with no guests.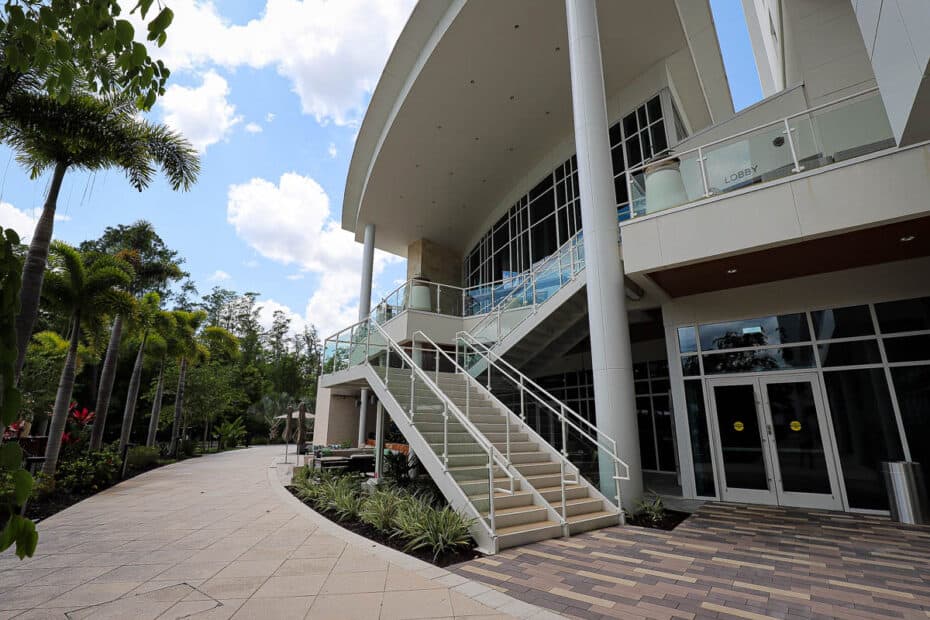 And since I hate taking photos of the pool when people are using it, I was happy to wake up early the next morning.
Who am I? An older me would have slept in until nearly check-out and then groggily walked down to the hotel restaurant to find some sort of breakfast…and coffee, of course.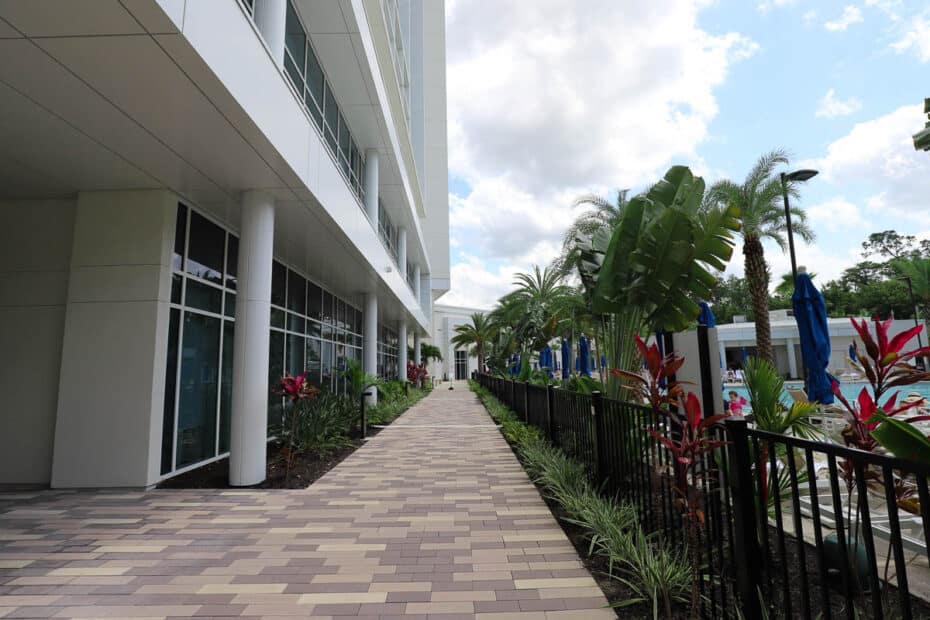 Pool hours are between 8:00 a.m. and 10:00 p.m.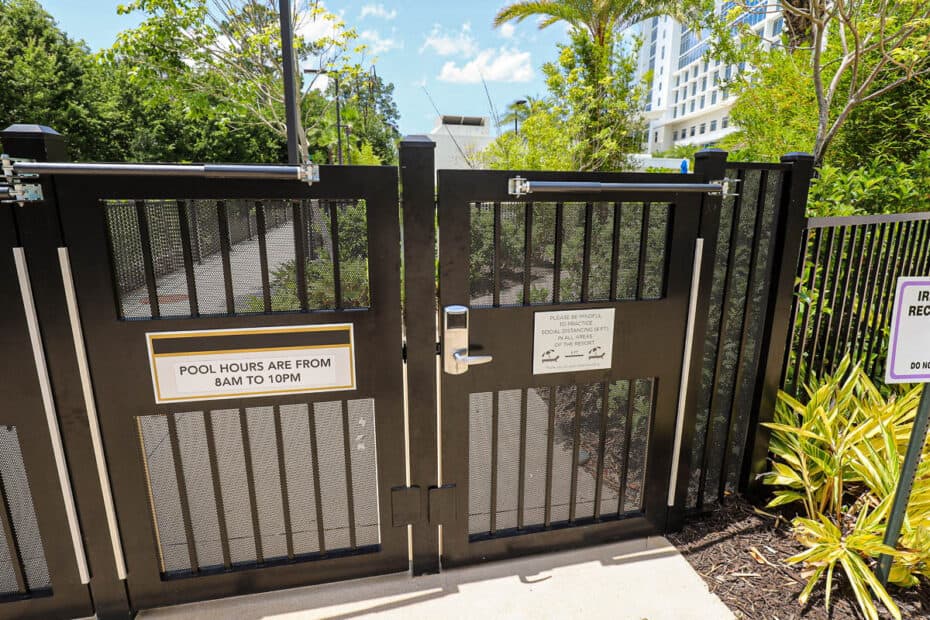 An attendant met me at the gate, where they escorted me to this stand. They asked how many towels I needed and if I wanted something to drink.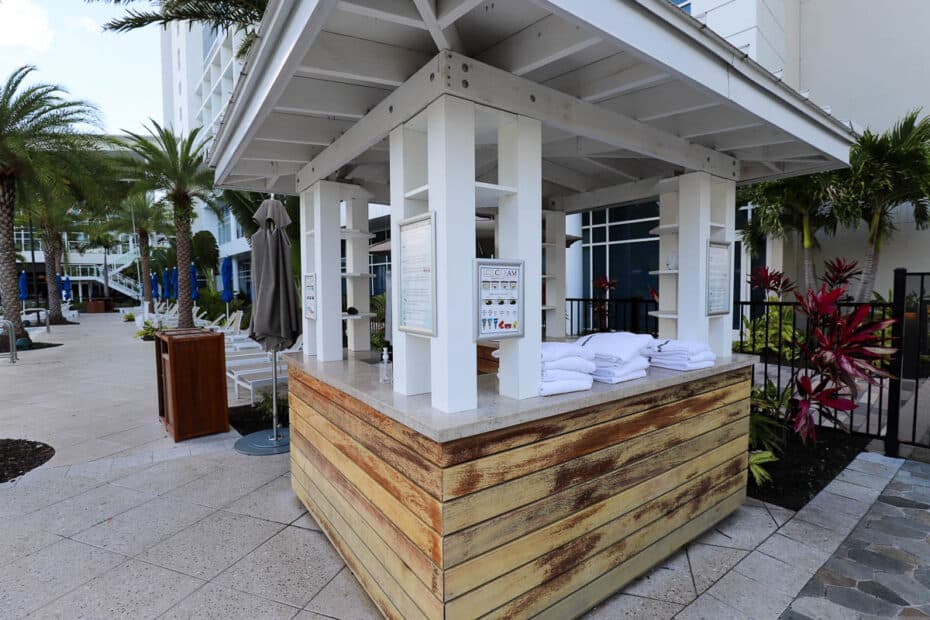 I didn't know this then, but they would have brought an entire pitcher of ice water with glasses to my desired seat.
Additionally, there were ice cream treats you could order from the stand. It was the good ice cream too.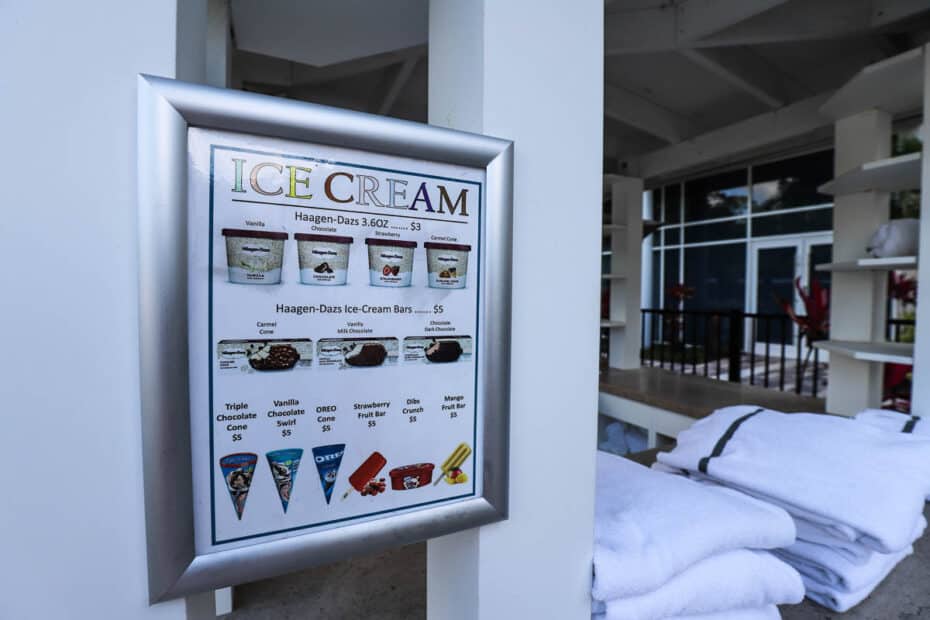 Anyway, the attendant walks with you to your seat. They roll up a towel to make a neck roll and adjust it properly over the back of your chair.
They'll adjust the umbrella to your liking and make sure you are comfortable before they leave. Then a server from Palm Cove, the pool's bar and counter service restaurant, drops off a menu at your seat.
Throughout the afternoon, several attendants stopped by to see if I needed anything. Additionally, I enjoyed a late lunch at the pool from Palm Cove.
The entire experience left me relaxed, and I remember distinctly thinking that I should do this more often. Shouldn't we all?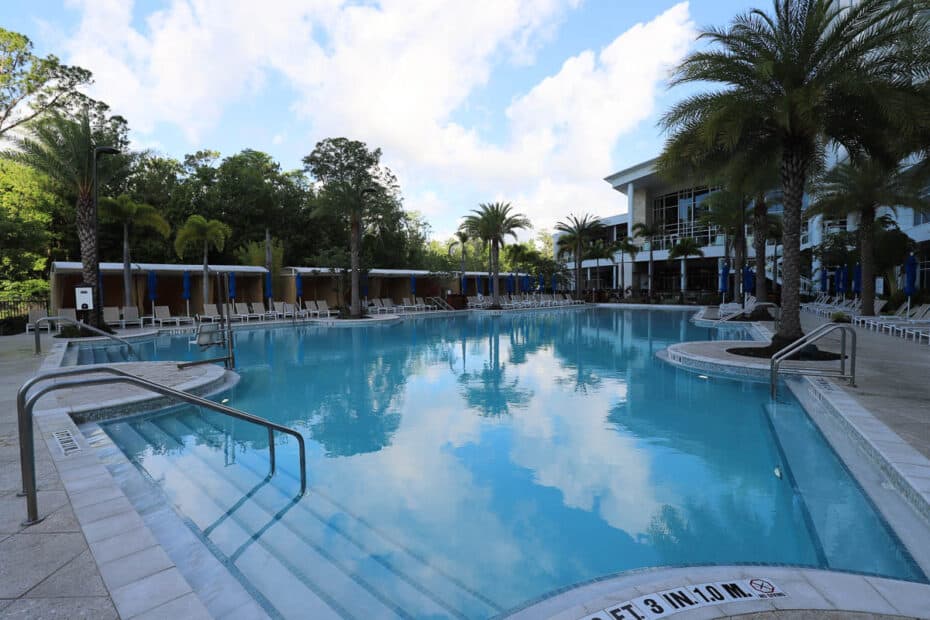 The pool was absolutely gorgeous.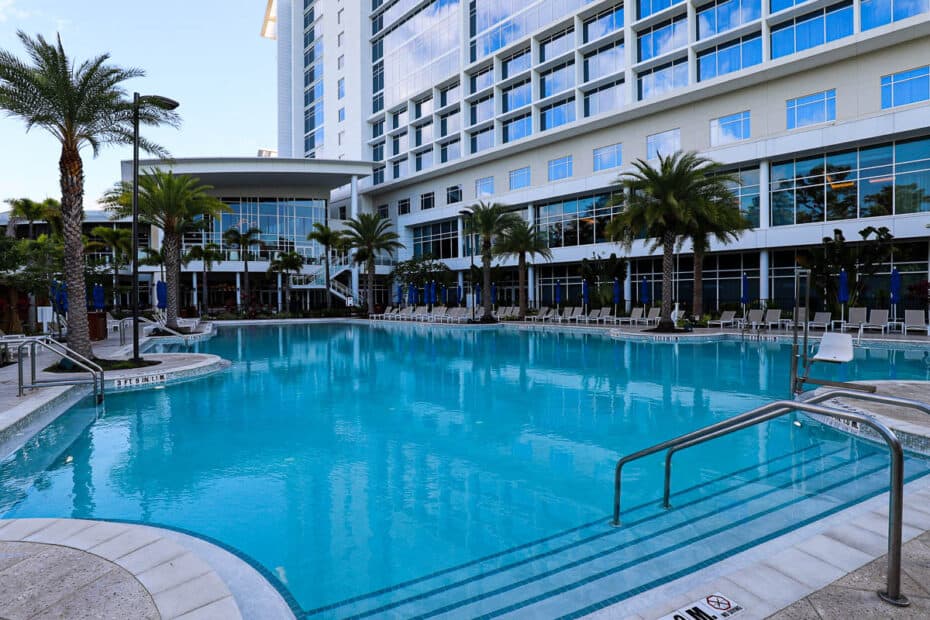 There were a variety of cabanas set up around the parameter.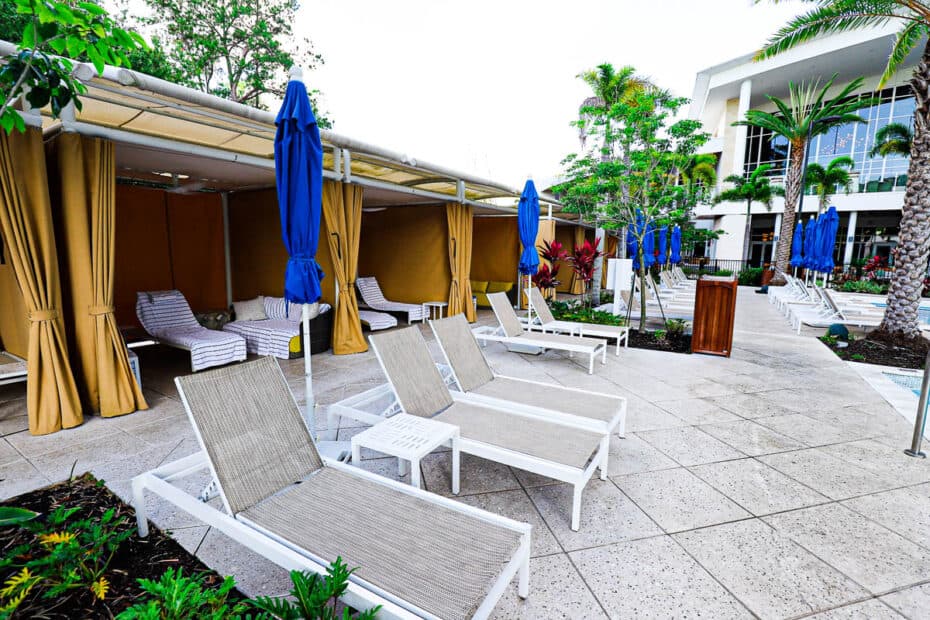 I thought this would be nice if you were planning an entire day at the pool.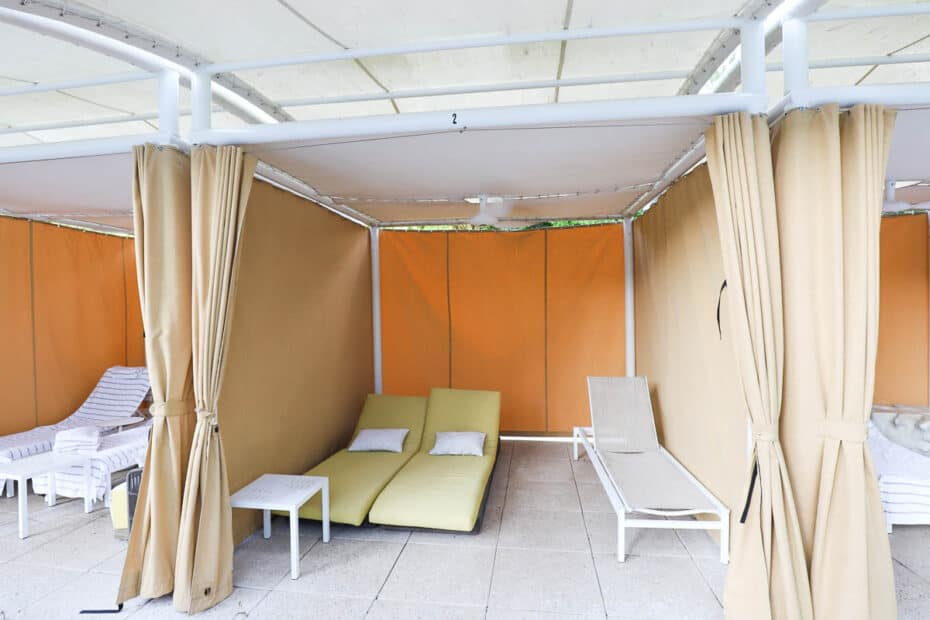 I was perfectly happy with a lounger, side table, and umbrella.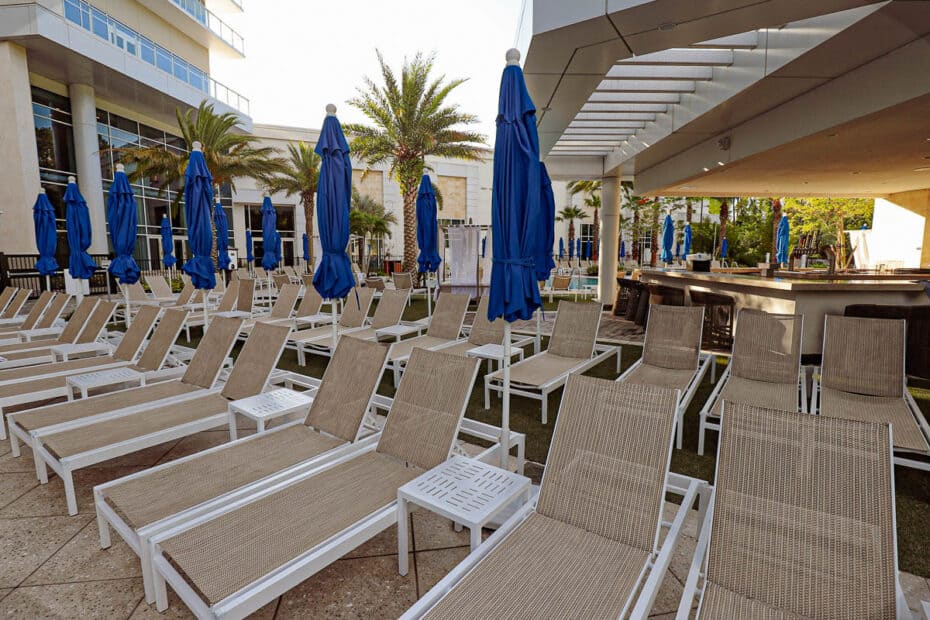 Here is Palm Cove. The restrooms for the pool area are located at the back of the building.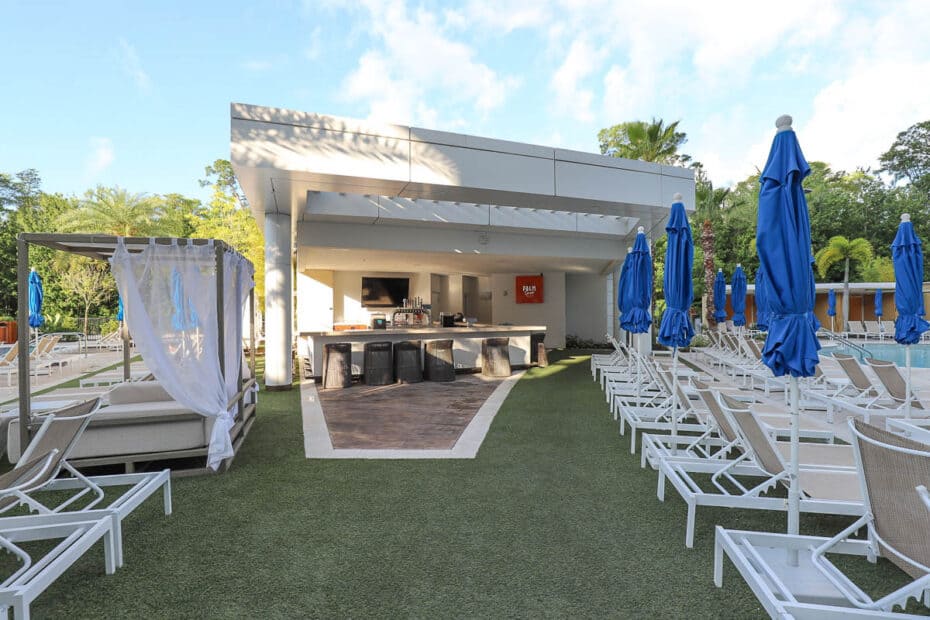 I plan to do a separate write-up of the different meals I had during my stay.
Related: Dining Options at the JW Marriott Orlando Bonnet Creek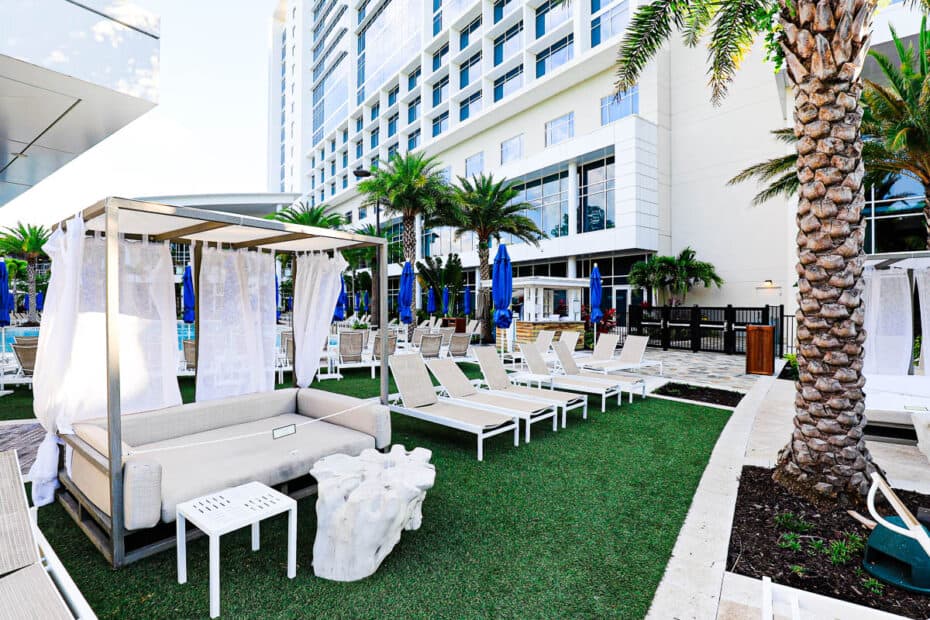 Opposite Palm Cove was the other pool. This pool is where I spent my afternoon.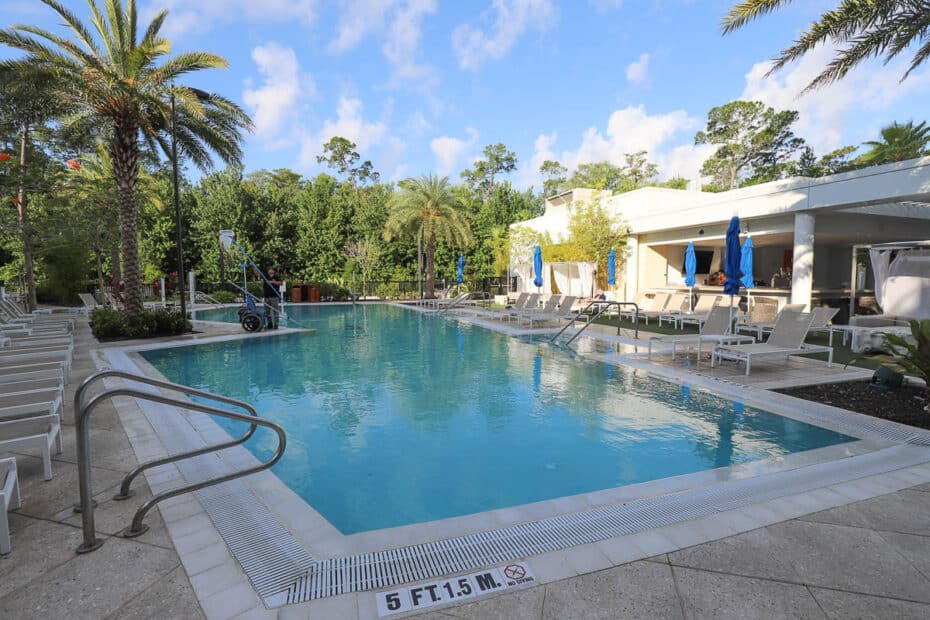 Here is a view looking back to the hotel to put things in perspective.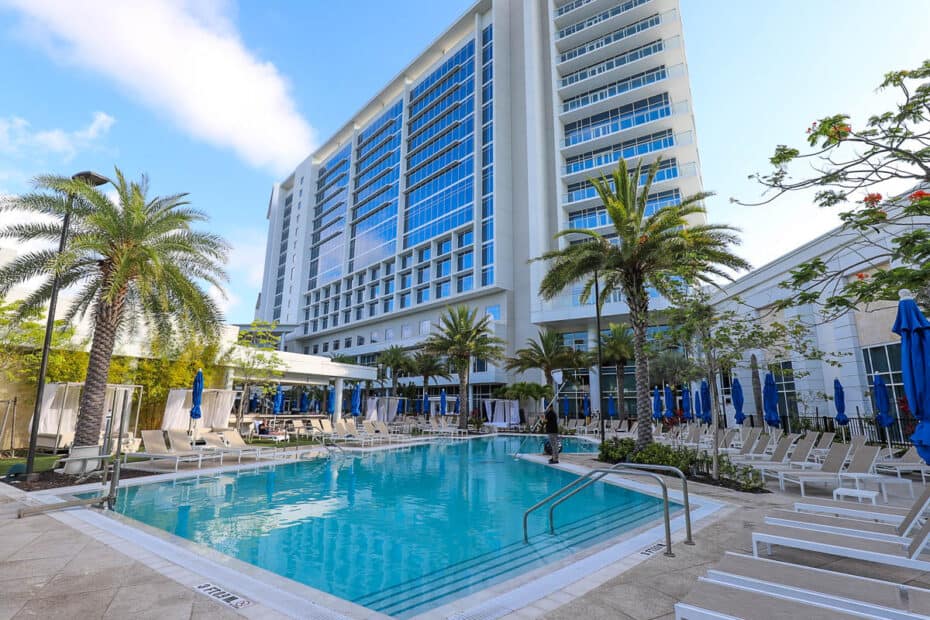 And there was a whirlpool spa toward the back of the pool.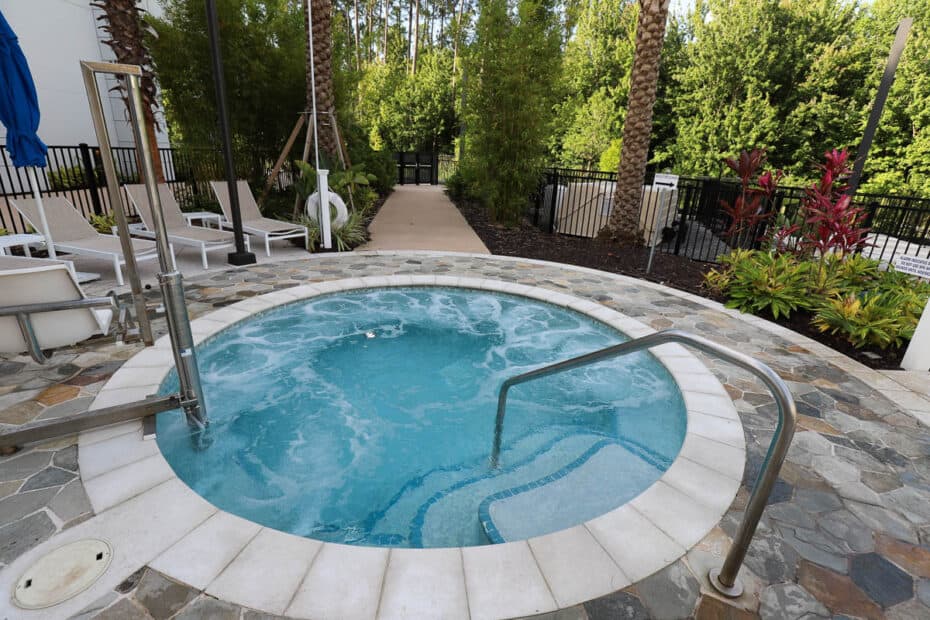 Behind the hot tub area, there was a splash pad, but it wasn't on during my visit.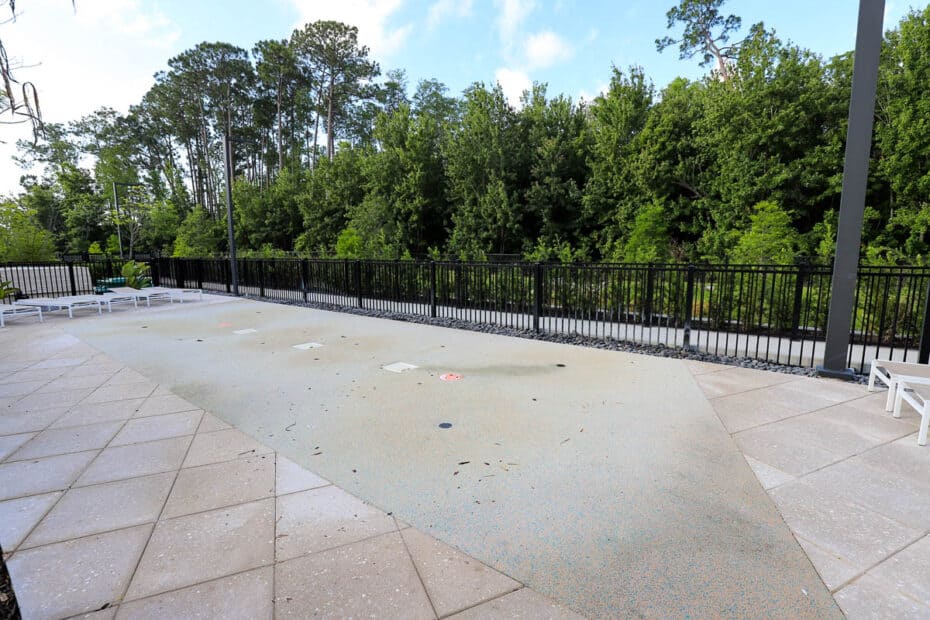 Back inside, on the lower level, you'll find Unreserved, a table service restaurant.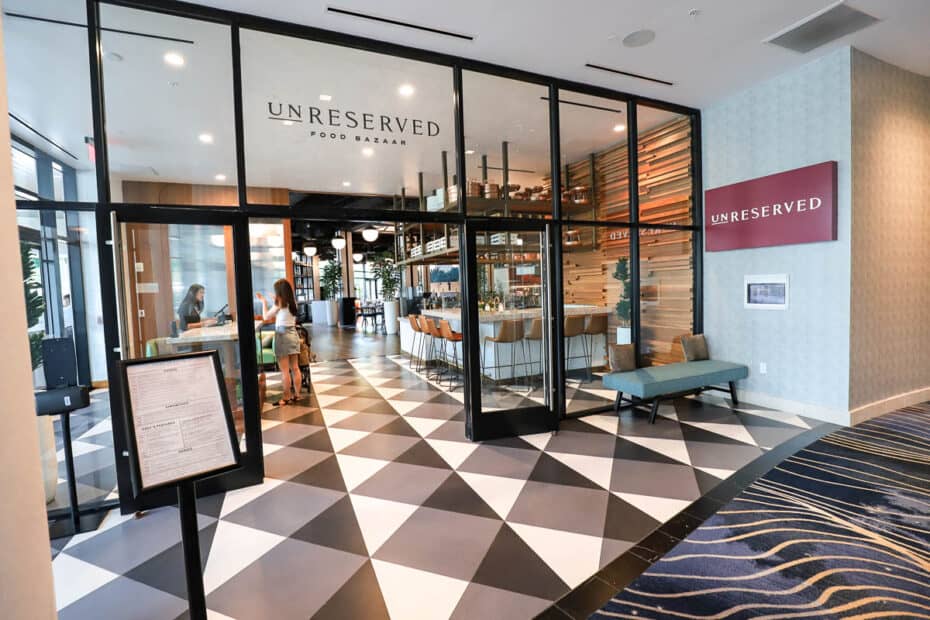 Unreserved has a separate outdoor bar area and lounge.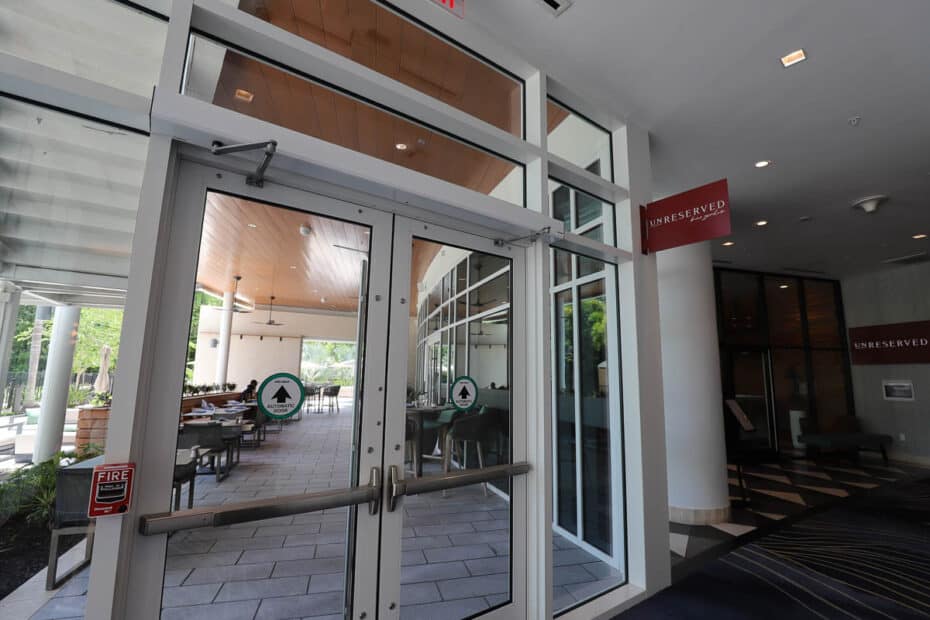 The restaurant serves breakfast, lunch, and dinner. Over the weekend, I ended up having the breakfast buffet, which was delicious.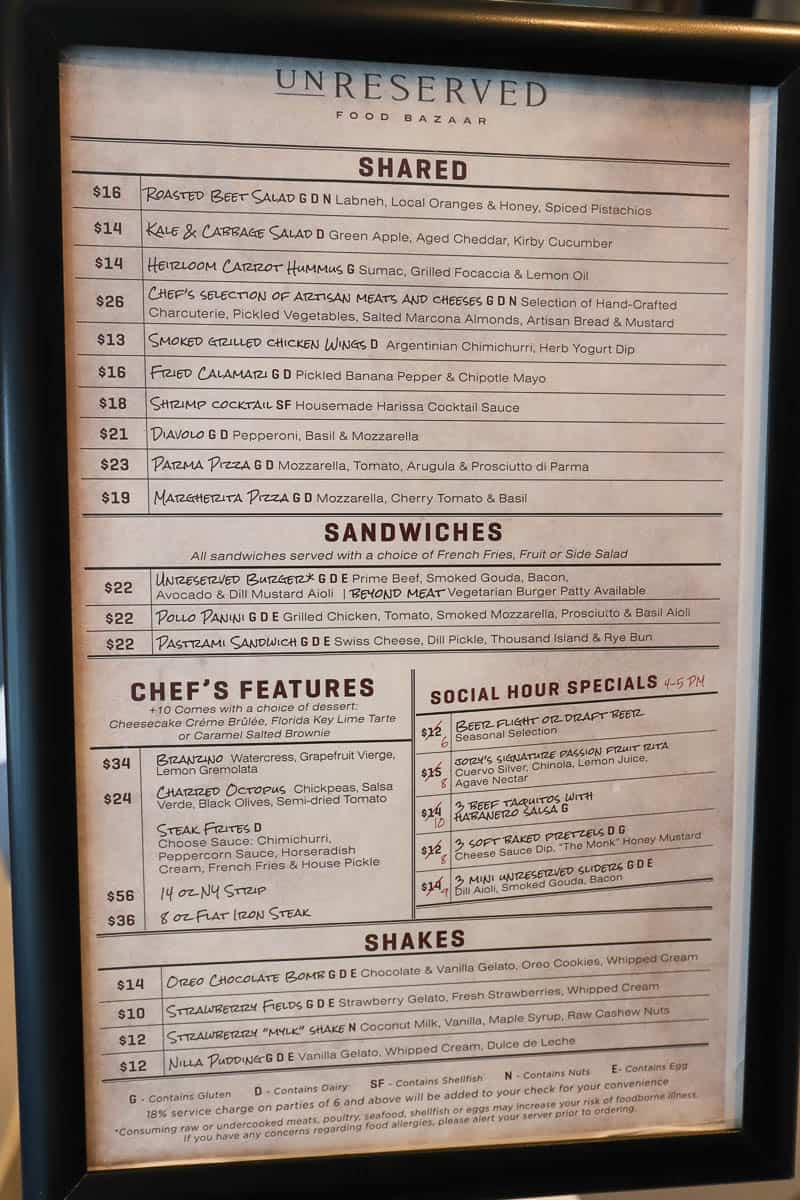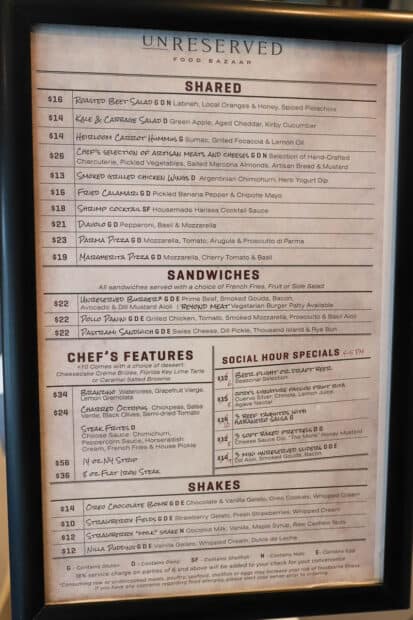 There was plenty of outdoor seating available.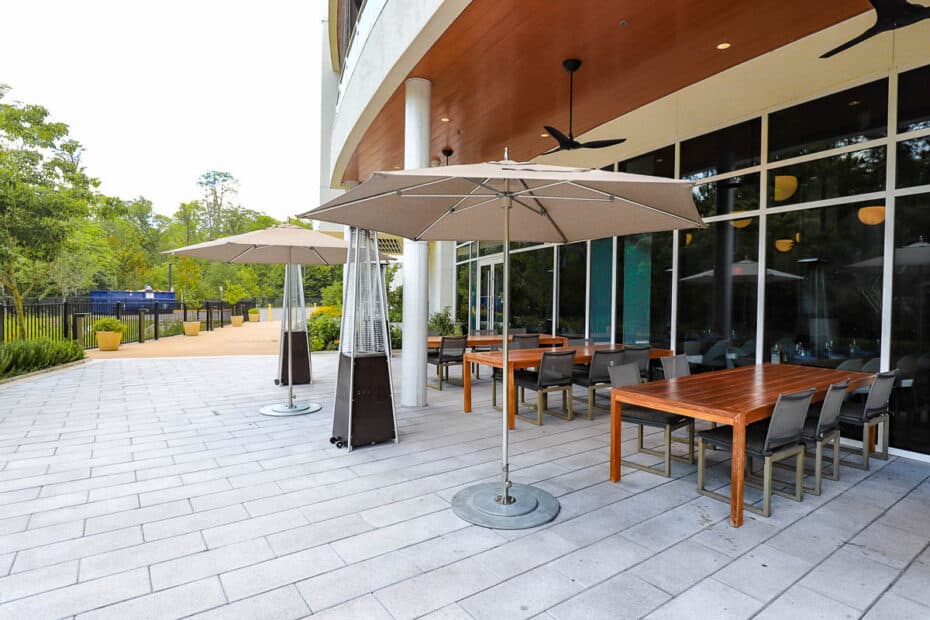 If you're visiting Florida during reasonable weather, you'll probably want to enjoy spending as much time outside as possible.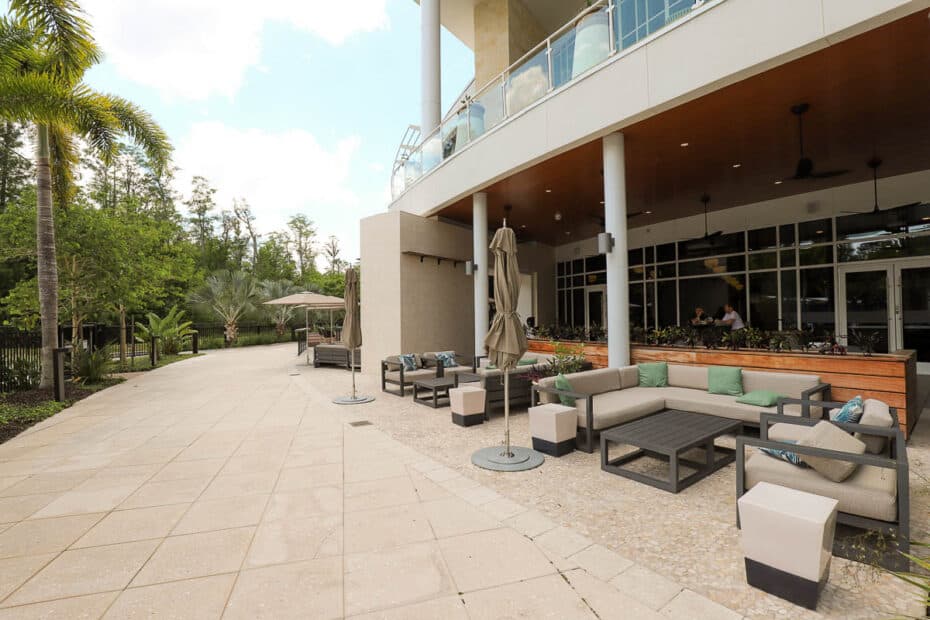 But if the temperatures have reached the point of smoldering, the inside of the restaurant is pleasant.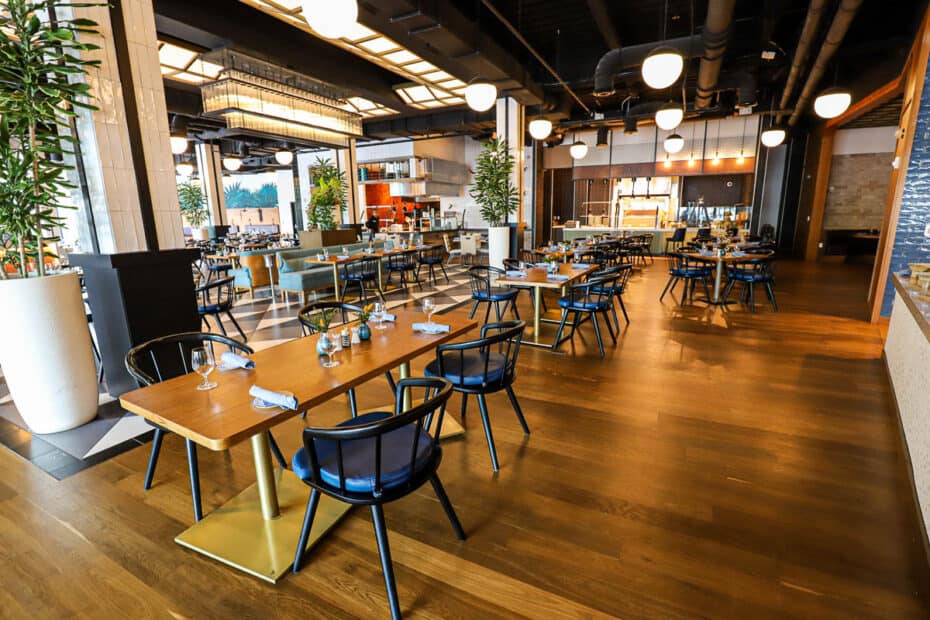 Unfortunately, the only thing I felt I missed while staying here was the rooftop restaurant, Illume. When I went to photograph it, the restaurant hadn't opened, so I intended to return the following evening.
But somehow, amid everything, I forgot. Who knows? Maybe that will be my reason for returning sooner than later.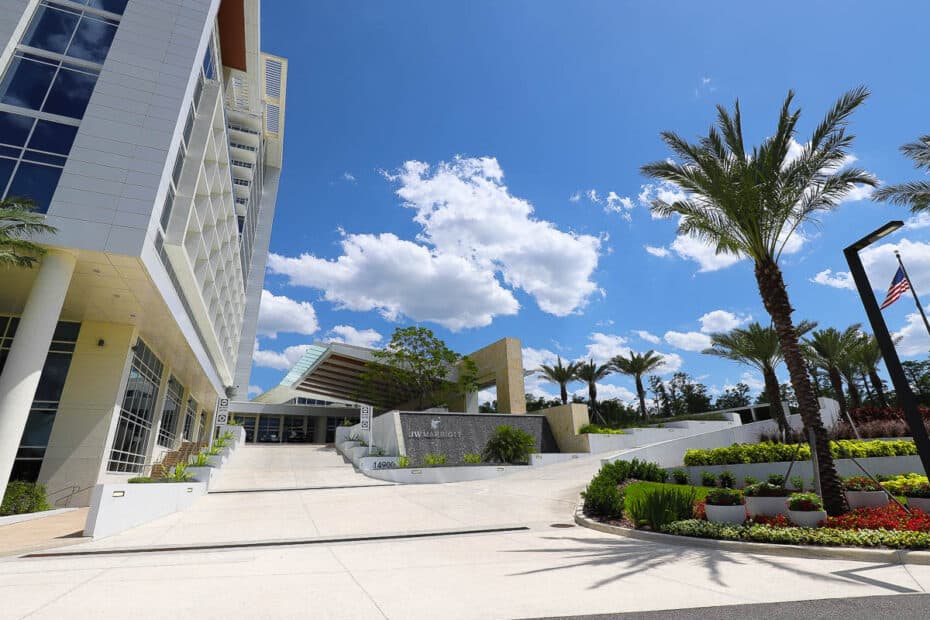 More than anything, I hope you enjoyed this review of the JW Marriott Orlando at Bonnet Creek. Maybe it opened your eyes to a new way of doing Disney that includes bonus hotel time.
If you decide to try this hotel, I hope you'll enjoy it as much as I did. It does have the wow factor.
Oh, and as far as proximity to Disney World goes, you're literally right around the corner. The Bonnet Creek Resorts are surrounded by Walt Disney World property on three sides.
You'll be closest to Disney Springs, Typhoon Lagoon, Hollywood Studios, and Epcot. Unfortunately, this hotel does not participate in the early theme park benefits.
However, there is a shuttle service to and from the Disney Parks and Disney Springs that's included in the $35.00 daily resort fee.
You can check the current rates for the JW Marriott Bonnet Creek here on Marriott's site.
For other hotels near Disney World, try these options:
In the comments: What are your thoughts about the JW Marriott Orlando at Bonnet Creek? Do you see yourself planning a stay here? Are you the type of person that enjoys the finer things in life?
Planning a Walt Disney World or other Disney Destination vacation?
Our friends and travel partner, Firefly Travels, excels at doing Disney differently. You can fill out a plan your trip form on their website, and someone will reach out shortly to discuss the specifics.