Disney's Port Orleans French Quarter vs. Riverside
Disney's Port Orleans French Quarter and Riverside are two popular moderate resorts at Walt Disney World. Each resort has a unique style along with a few similarities and several significant differences. So, it's essential that you know which one is right for you before making a reservation.
This article will compare Port Orleans French Quarter versus Port Orleans Riverside. We'll go over all the details so that you can make an informed decision between the two resorts.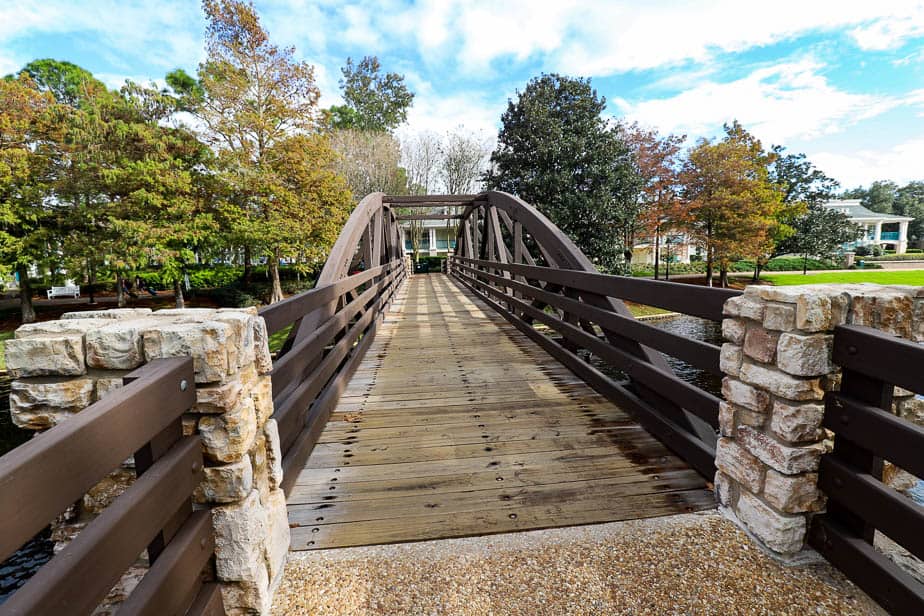 We'll start with the location factor. Both of these resorts sit beside each other on Disney's Sassagoula River. They make up part of the Disney Springs Resort area. Since they are located along the waterway, boat transportation is offered from the resorts to Disney Springs.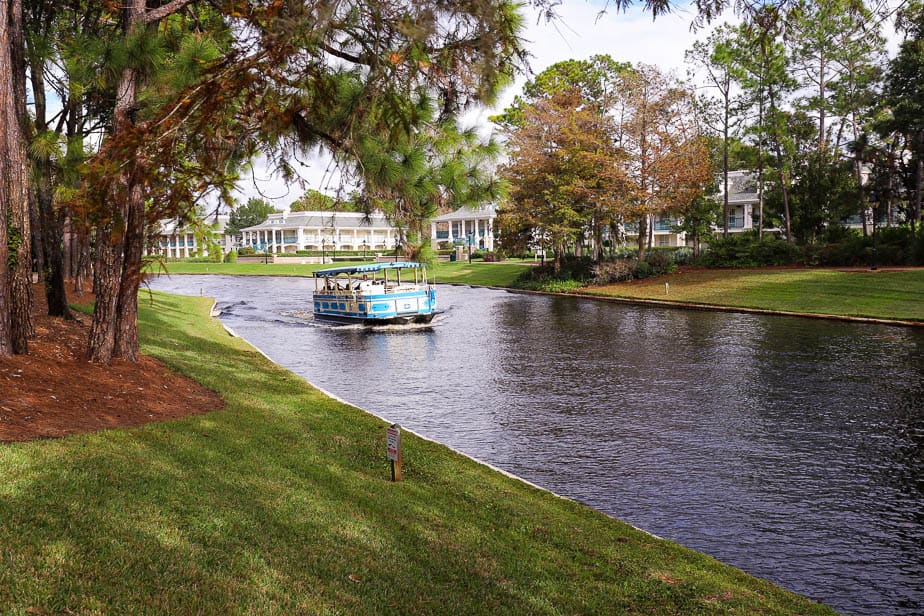 However, when traveling from the resorts to the theme parks, you'll need to take a bus. Epcot is the nearest theme park in proximity. Then there's Hollywood Studios and Magic Kingdom. Finally, Animal Kingdom will be the farthest away.
While we're on the subject, let's consider the transportation differences. As mentioned above, both French Quarter and Riverside offer boat transportation to Disney Springs. Each resort has one boat dock.
But there's a tremendous difference between the resorts when it comes to bus transportation. For example, French Quarter has only one bus stop in front of the lobby.
Riverside has four bus stops. There's a bus stop at the lobby, Alligator Bayou, one between Alligator Bayou and Magnolia Bend, and the last one is at Magnolia Bend.
How does a resort having one bus stop versus four bus stops impact your stay? Well, it depends.
If you're staying at the French Quarter, you'll have to walk to the front of the resort to catch the bus. However, the resort is boutique in size. Therefore, it will be a short walk from any building on the property.
When you stay at Riverside, you can walk to the bus stop nearest your location. However, Riverside is a huge resort. In some cases, it's a decent walk to get to the bus stop.
And since Riverside has an internal bus system, you'll have to stop at each different bus stop either before leaving or returning. So, for instance, if you're at the West Depot when the bus picks you up, you'll stop at the North Depot, East Depot, and main lobby before heading off to the theme park.
However, when you return, you'll be the first stop. So you won't have to wait so long both ways. But sometimes, these bus stops can take a long time when you factor in loading and unloading.
Additionally, if you're traveling with special needs or small children, you'll want to weigh your options. For example, will it be easier to deal with multiple bus stops at the resort or a one-stop shop like French Quarter?
That's hard for me to answer. But I can say that the last time I stayed at Port Orleans Riverside, many years ago, I was out of shape. At the time, I was miserable from all the extra walking.
In addition, I considered our room to have a terrible location in relation to the nearest bus stop. Overall, my condition at that time caused me to dislike Port Orleans Riverside. And I regretted not staying at French Quarter.
Do I feel this way now? No, but I'm in much better shape and walk long distances regularly. But these are things you might want or need to consider depending on your group.
Our next, and probably the most critical factor to consider, is the size of each resort. Port Orleans Riverside is the largest moderate resort at Walt Disney World, offering over 2000 guest rooms.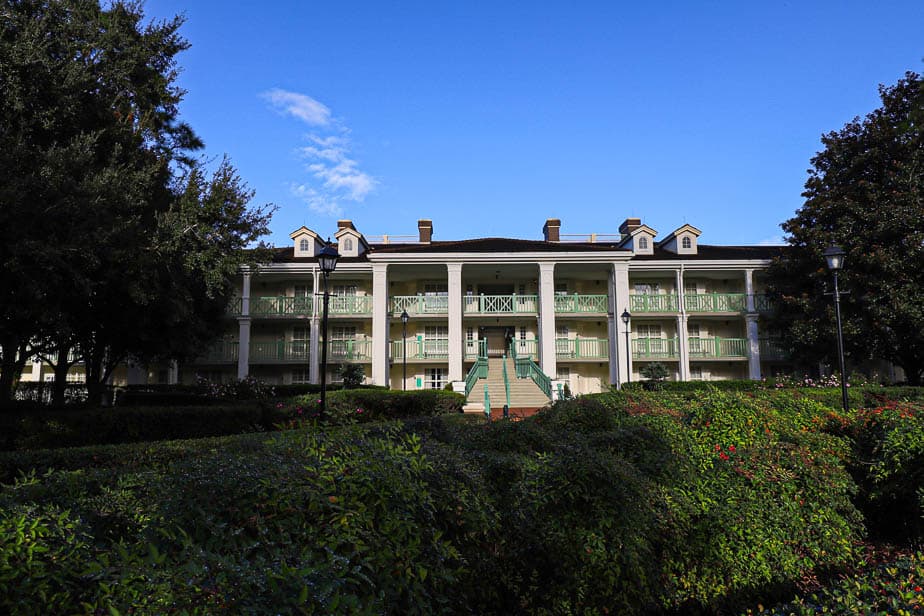 Port Orleans French Quarter is the smallest moderate resort with over 1000 guest rooms. French Quarter has seven buildings on the property in addition to the lobby. The lobby is easily accessible given its central location between the buildings.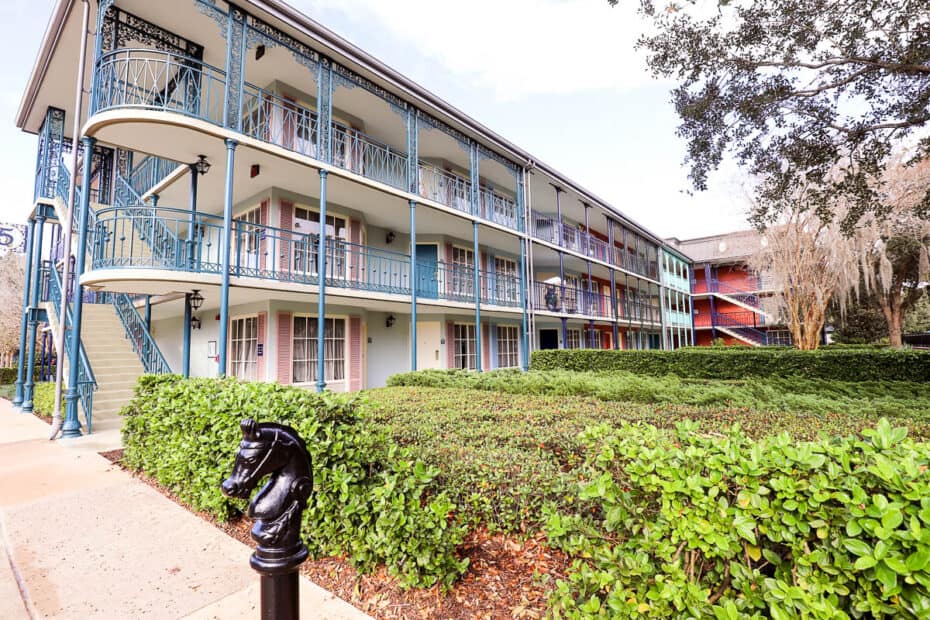 Over at Riverside, the lobby is also the hub of the resort. However, since the resort is large, it might be a long walk to the lobby.
Additionally, many of the rooms are located on the opposite side of the river. Therefore, you'll likely have to cross a bridge to get from the main lobby to your room.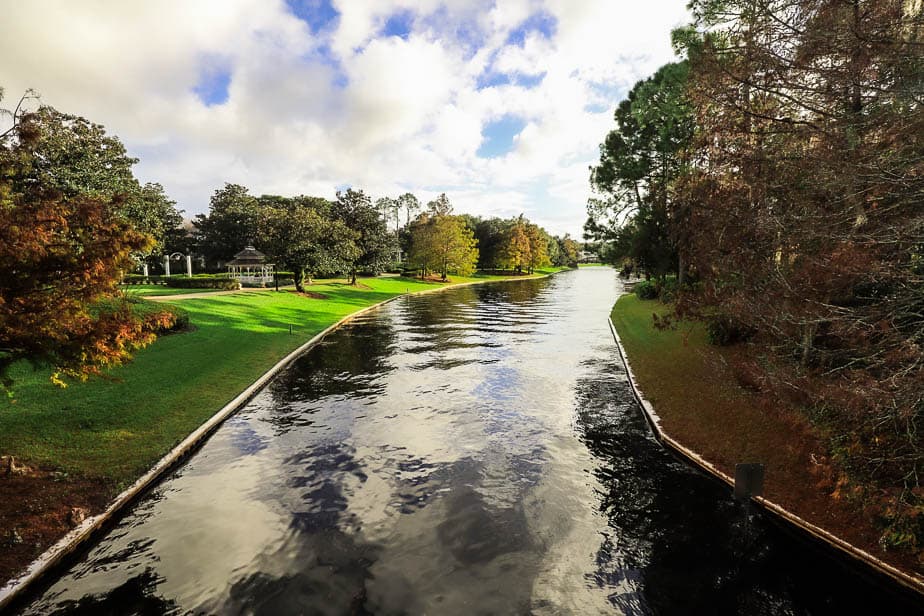 If you're handling your own luggage, the distance could be difficult. Thankfully, the hotel does provide bell services.
I mention this because, on a recent visit, I saw several guests trying to manage their luggage. Everyone in their family was carrying multiple items, and they had no idea where their room was located.
They were looking at a map, and it was one of those moments when dad was clueless, and mom was frustrated. Poor kids. They were beginning to learn what was really involved in a trip to Disney World.
At French Quarter, you could run into this same problem. However, you don't have to cross the river to get to a different section of the resort. And with only seven buildings, you should be able to find yours in at least seven tries.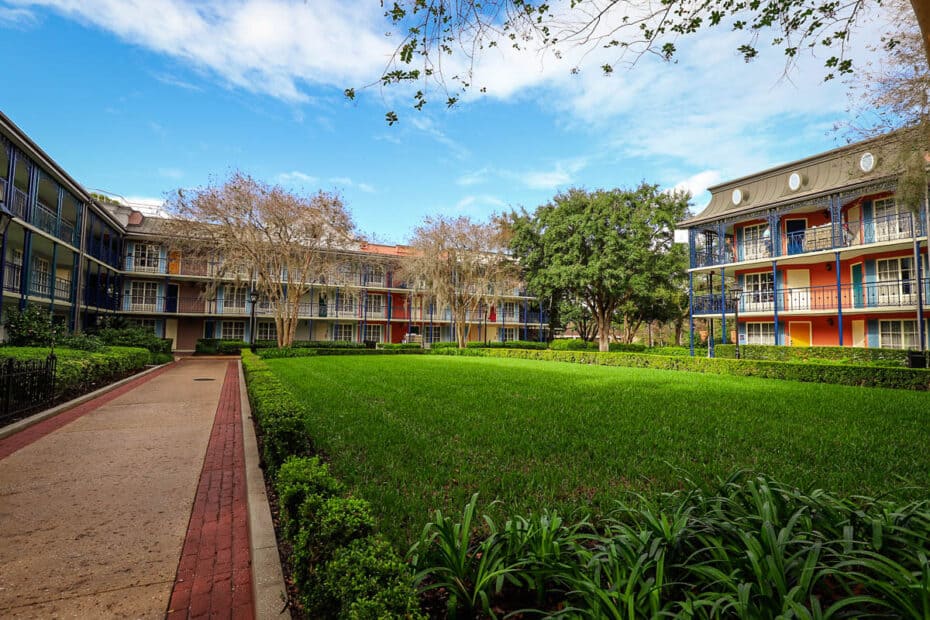 Another thing to consider when comparing the two resorts is theming. And while they are different, both are stunningly beautiful resorts in their own right.
As far as theming goes, French Quarter resembles the Victorian district in New Orleans. The buildings have bright colors with soft landscaping. Fountains are scattered throughout the grounds, and a variety of flowers bloom year-round.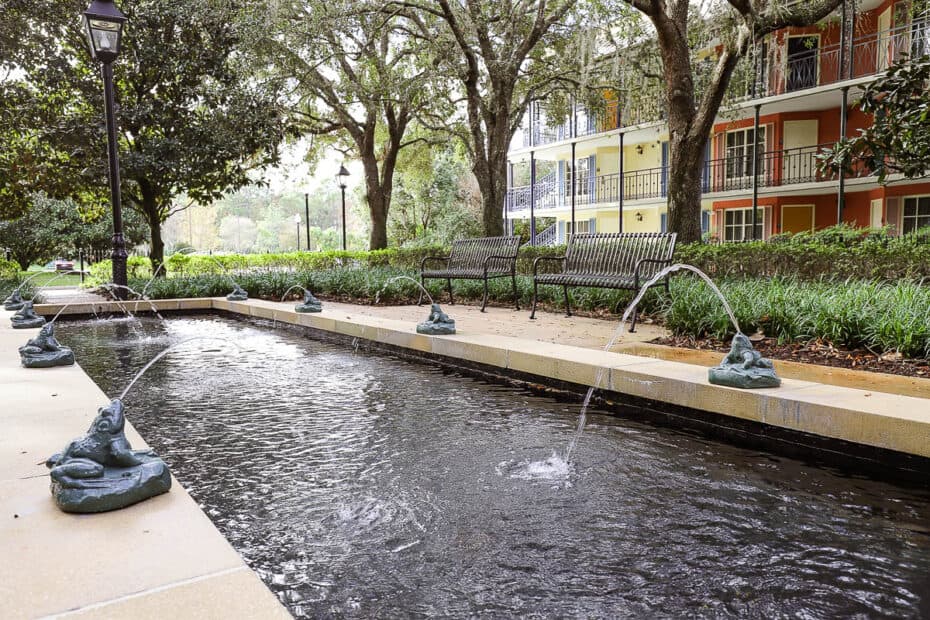 Friendly alligators are positioned between the lobby and the pool area. These elements offer a bit of fun for adults and children alike.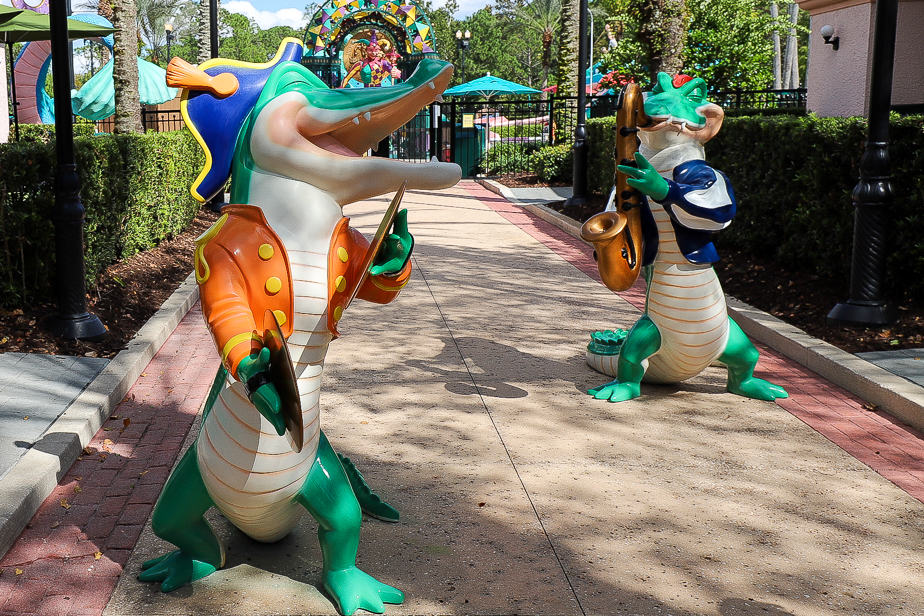 Riverside is beautiful in a completely different way from the French Quarter. Here you'll find two vastly different landscapes. The first is Alligator Bayou, which is made up of trees and moss that mimick a swampy feeling.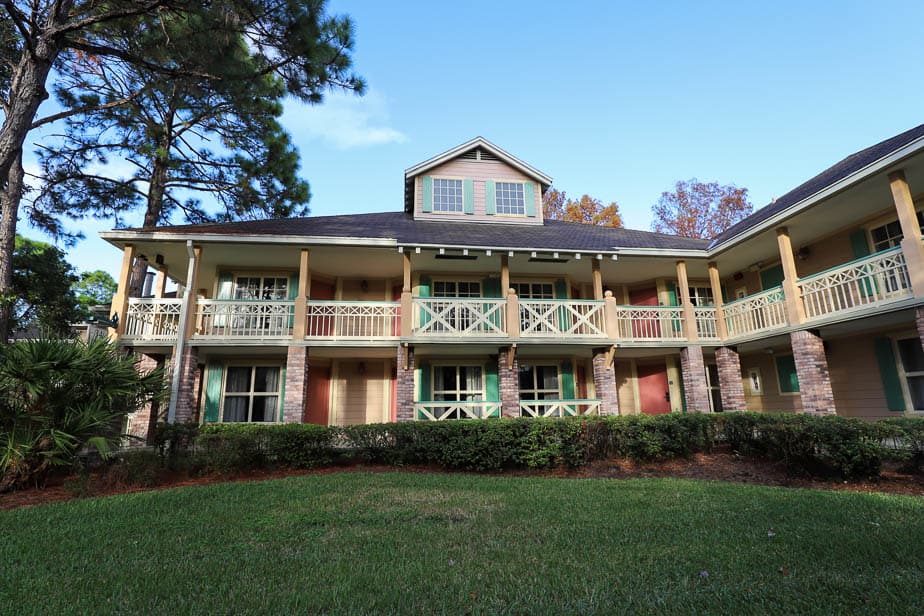 It's a lovely swamp, indeed.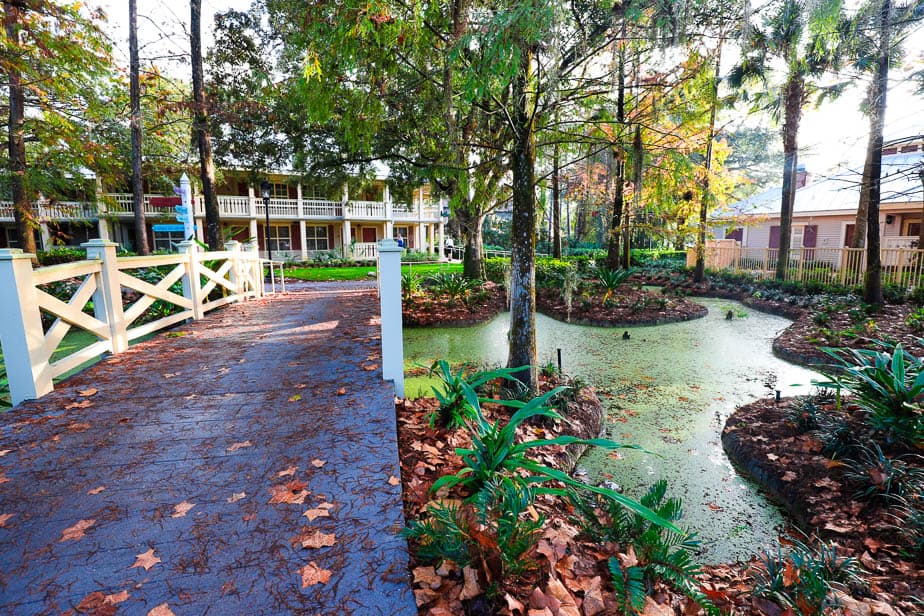 On the Magnolia Bend side of the resort, the buildings look like old Southern mansions. The landscaping here is meticulous, and you'll find roses blooming throughout the year.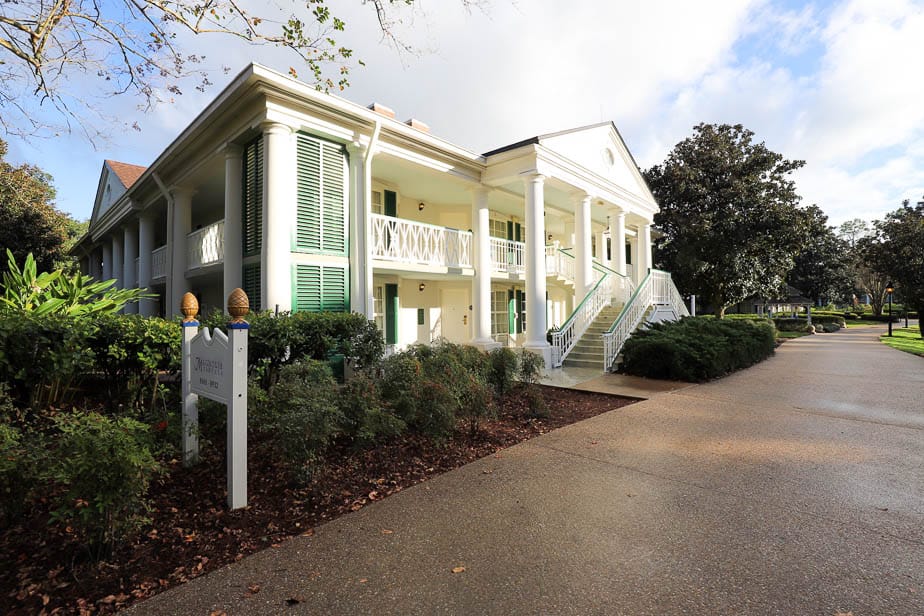 Between the two resorts, there are plenty of dining options. At Riverside, you'll find a large counter service, one table service, a lounge, and a pool bar with quick service food items.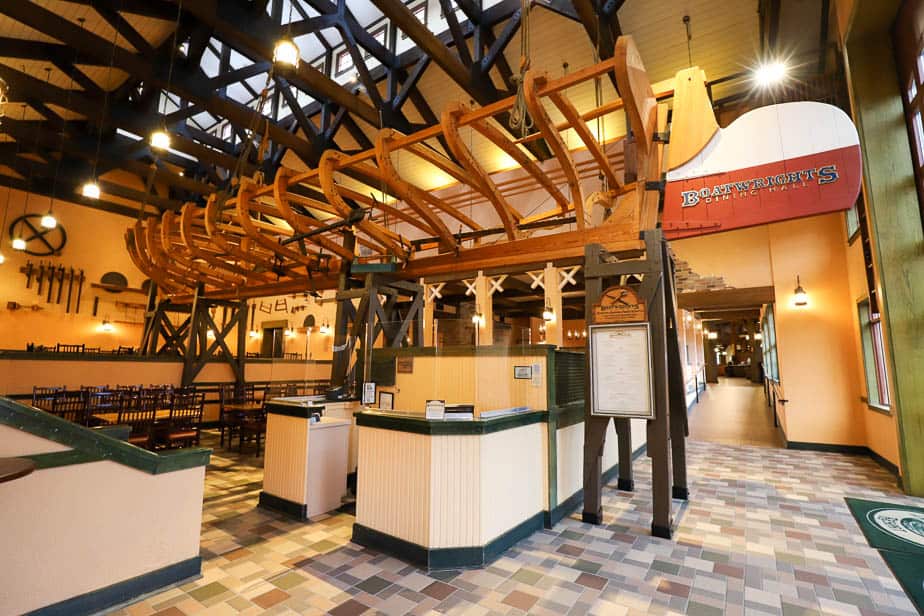 The main difference at French Quarter is the resort has one large counter service, a pool bar, and one lounge. There is no table service dining option at French Quarter.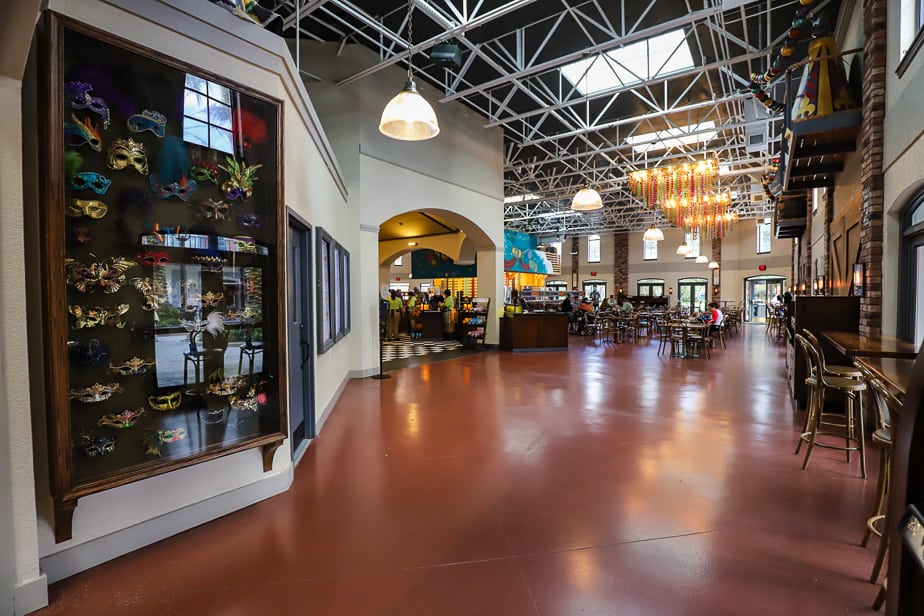 Related: Sassagoula Floatworks and Food Factory
However, I don't think that dining is a dealbreaker at either resort, given the proximity of Disney Springs. Disney Springs has well over 60 dining options and is only a short, pleasant boat ride away.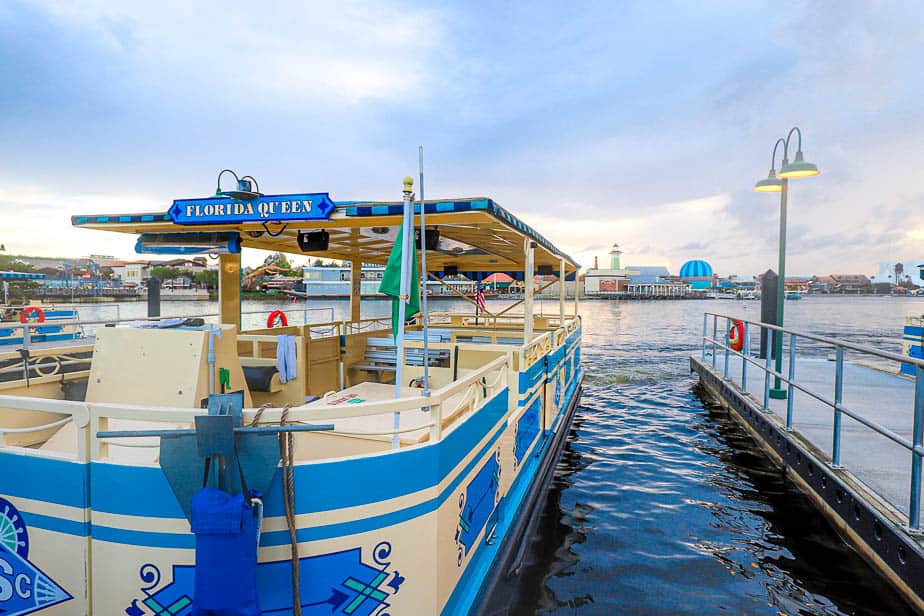 Related: Best Restaurants at Disney Springs
Another consideration between the two resorts is pools and recreation. Since Riverside is by far the larger resort, you'll find they offer much more.
Port Orleans Riverside has one feature pool, and five quiet pools between the mansions and bayou buildings. However, given the resort's size, you'll likely find the feature pool busy during high crowd times.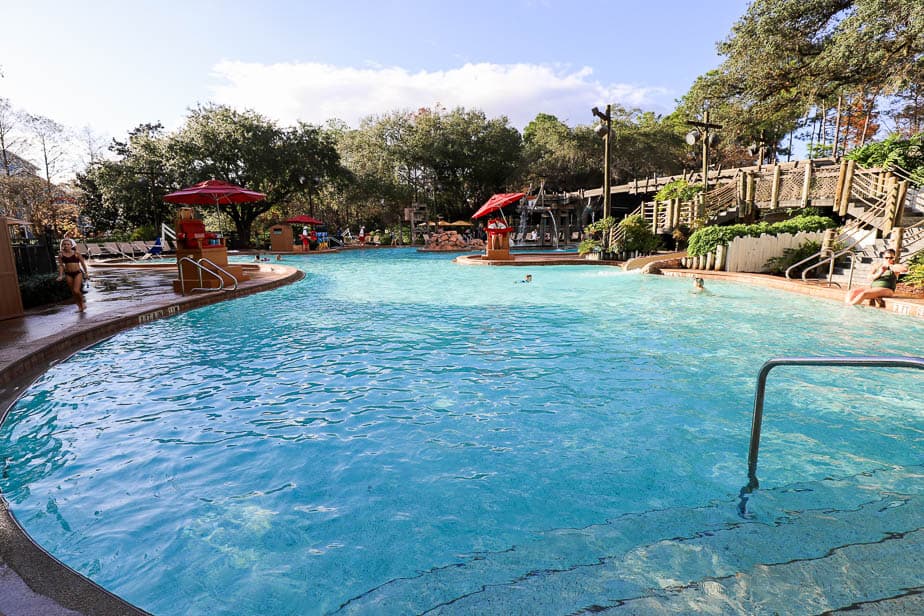 French Quarter has one large feature pool like Riverside. However, they do not offer any quiet pools. With that being said, the pool at French Quarter is a perfect size and gets an honorable mention in our list of resorts at Disney with the best pools.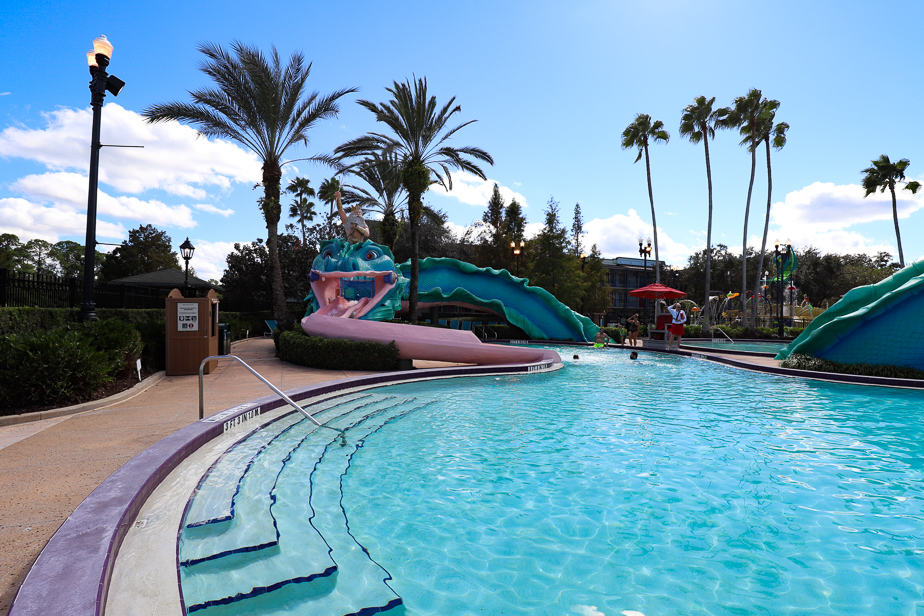 In addition, the pool at French Quarter has a sizeable aquatic play area that's separately fenced. I find the pool extremely child-friendly and easy to manage when traveling with small children.
Lastly, there is one other difference that some of you might want to consider when choosing between these resorts. Both resorts offer a base, standard room that sleeps up to four guests.
However, Port Orleans Riverside has rooms in the Alligator Bayou that sleep up to five guests. The fifth bed is in the form of a pull-down trundle bed that's built into the wall. This bed sleeps one small child. So this section of the resort might be worth considering in the event you have need of an additional bed.
Additionally, you might notice that Riverside offers royal princess room upgrades. I've stayed in these rooms in the past, and they have no advantage as far as location goes.
Royal rooms are standard hotel rooms, and the selling factor, if you can call it that, is the headboards light up with the push of a button. Sure, it's a cute feature, but by no means worth $30 more or whatever extra Disney is charging for the upgrade these days.
So, now that we've looked at the similarities and differences between Port Orleans Riverside and French Quarter, which resort gets my vote? Hands down, I would prefer to stay at French Quarter over Riverside.
My thinking is that I can stay at French Quarter and take advantage of the conveniences of the resort. And since Riverside is only a short walk away, I can always take a stroll over that way if desired.
With that being said, my choice might not be the best for you and your group. So I hope you'll take all of these factors into consideration when weighing your options.
Either way, both resorts are beautiful and it's Disney World, so I'm sure you'll have a great trip!
For more details, all of our articles related to French Quarter are listed here. And all articles related to Riverside are available here.
For those considering all of the moderate resorts at Disney World, you might enjoy these other articles:
As always, I'd love for you to share your thoughts in the comments below. Which resort do you prefer when it comes to Port Orleans French Quarter vs. Riverside?