Port Orleans Riverside Room Tour (Magnolia Bend with Woods View)
Disney's Port Orleans Riverside is a massive resort with many room categories. On this visit, we reserved a standard room with a woods view.
Upon arrival, we received our room assignment, which was located in the Magnolia Bend section of the resort. Our room was in the Magnolia Terrace building and offered a garden view.
For reference, the woods view rooms are either a view of the woods or a garden. However, we don't usually recommend upgrading room views at a moderate resort.
Since most moderate resorts have exterior rooms, they face directly out to a walkway. Therefore, guests will walk directly past your window when coming and going from the parks or other areas of the resort.
The only exception to that rule is Gran Destino Tower at Disney's Coronado Springs Resort. It is the only resort section offering interior rooms similar to a hotel.
Below we'll look at photos of our Magnolia Bend room at Port Orleans Riverside. Toward the end, we've added a video tour of the room to provide a different perspective.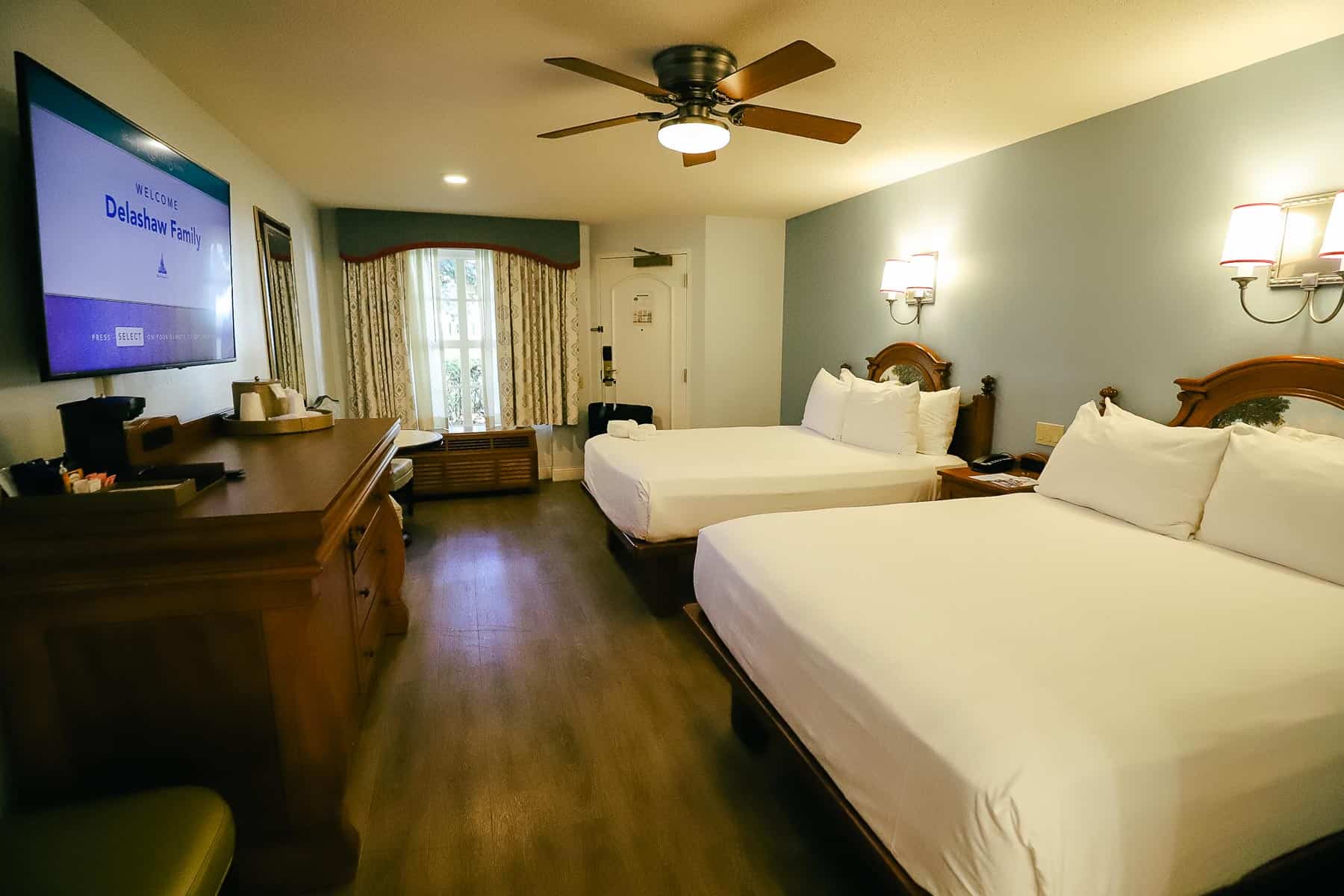 Magnolia Bend Standard Guest Room
It's been some time since we last stayed at Port Orleans Riverside. So long that the rooms have been entirely updated since our last visit.
You may remember we stayed at the sister resort, Port Orleans French Quarter, a few months ago for similar updates. Overall the resorts have their difference. But as far as standard rooms go, they offer pretty much the same layout.
Related: Port Orleans French Quarter Room Tour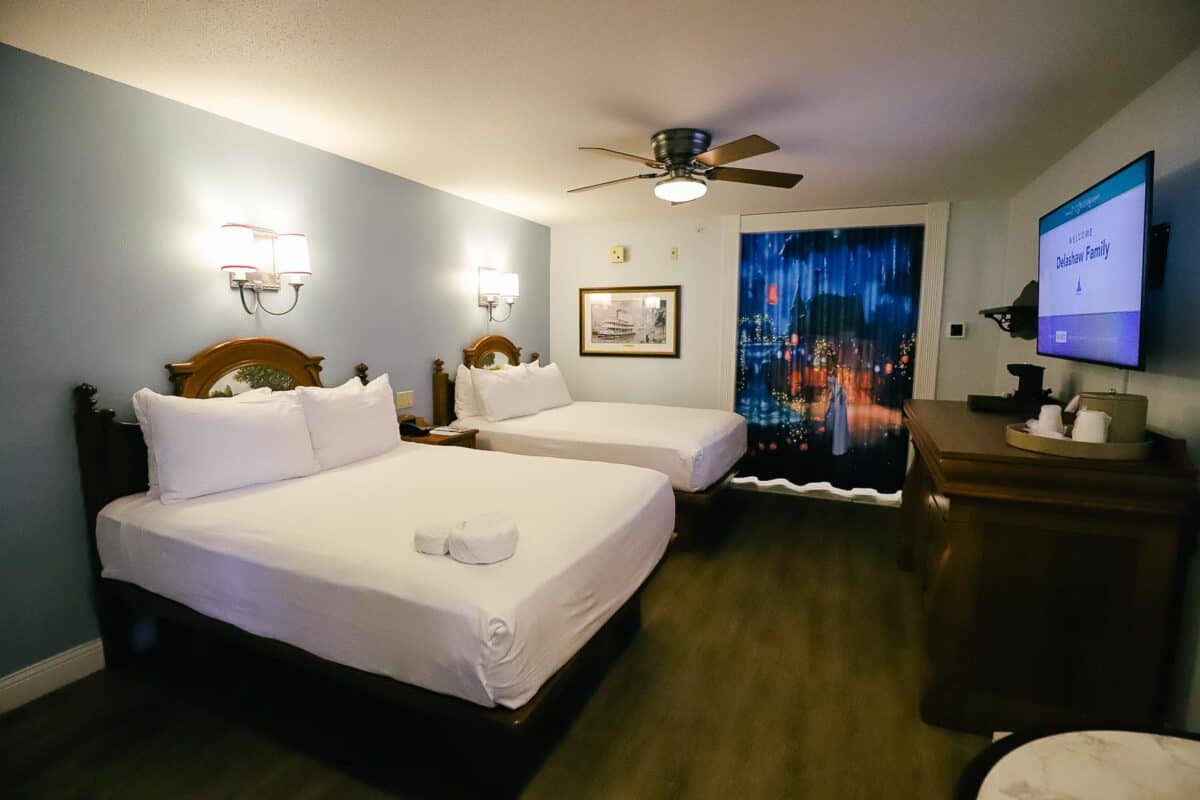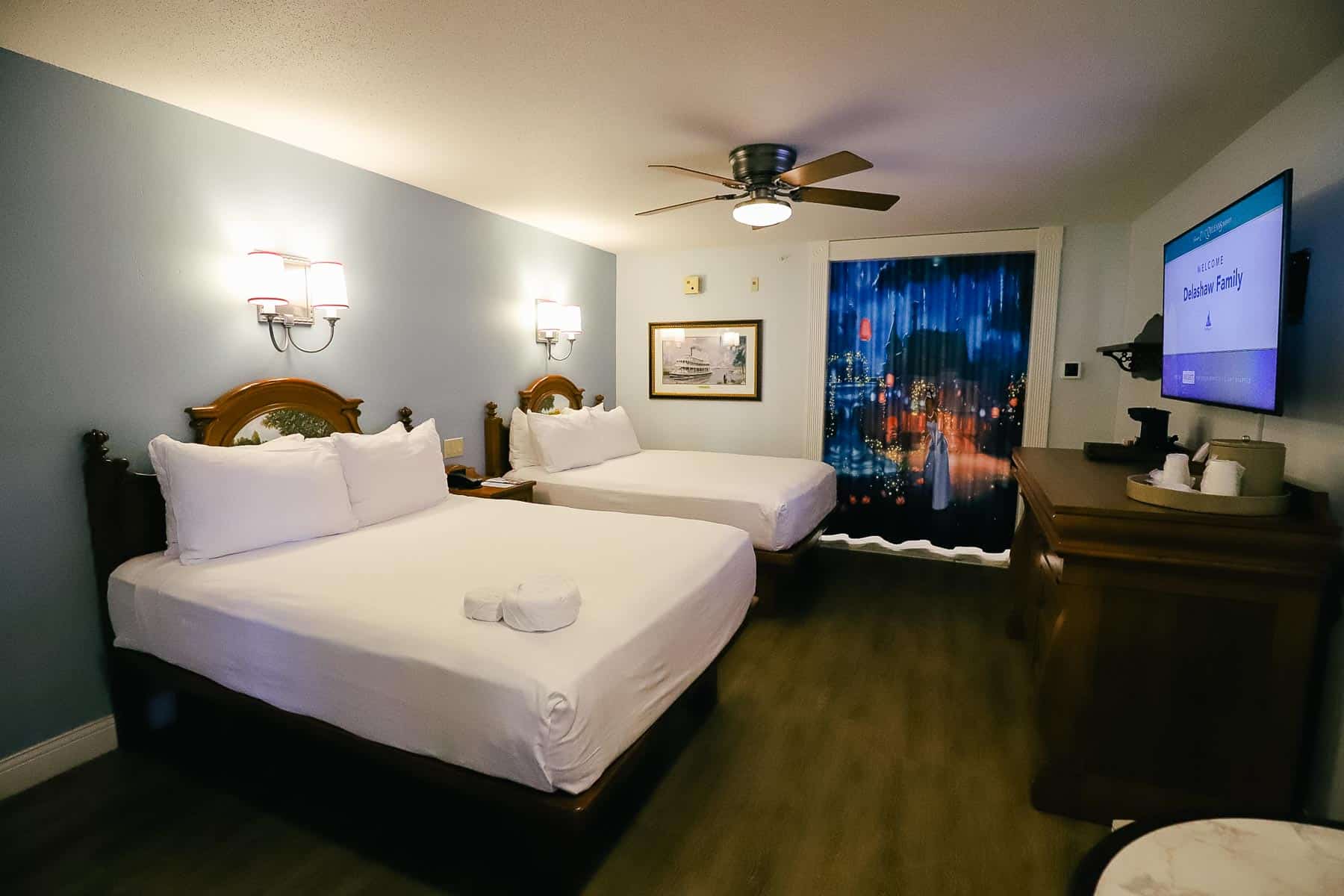 A standard room at Port Orleans Riverside has two queen-size beds and sleeps up to four guests. However, there is the option to reserve a room at the resort that sleeps up to five guests.
Those rooms are located in the Alligator Bayou section of the resort. A single pull-down sleeper is provided for a fifth guest.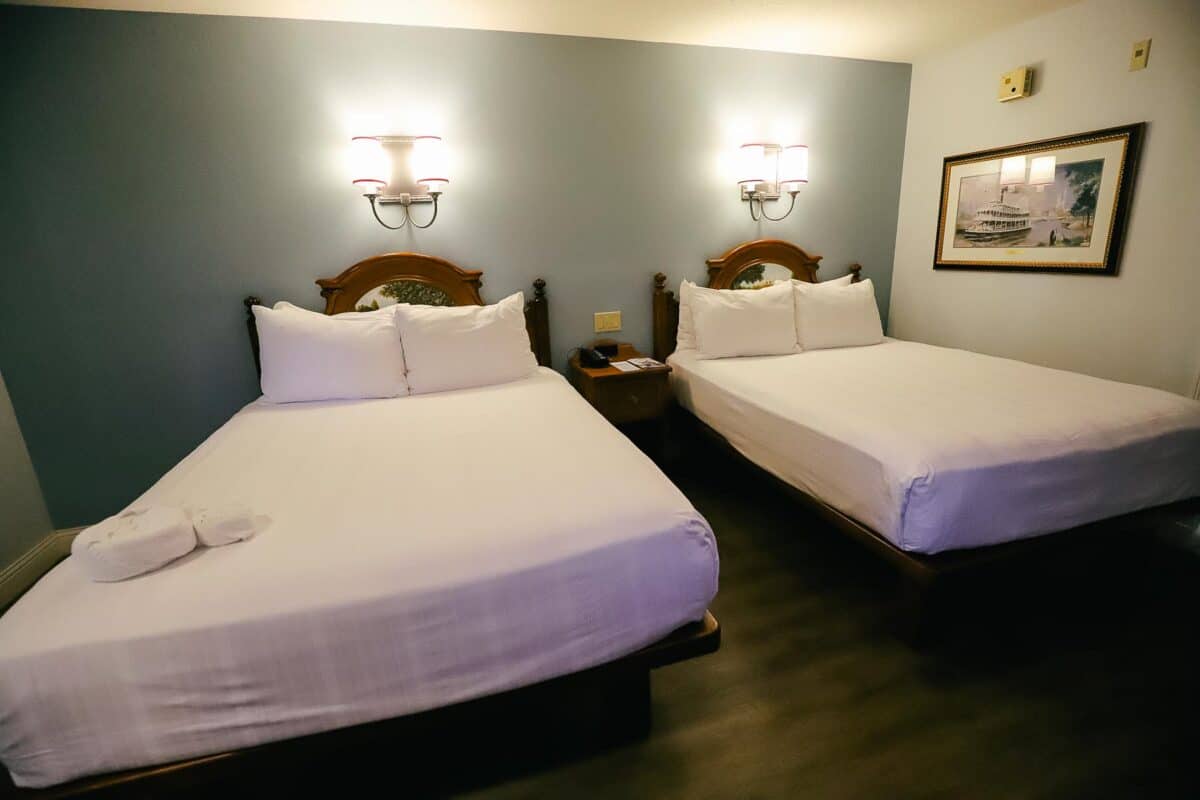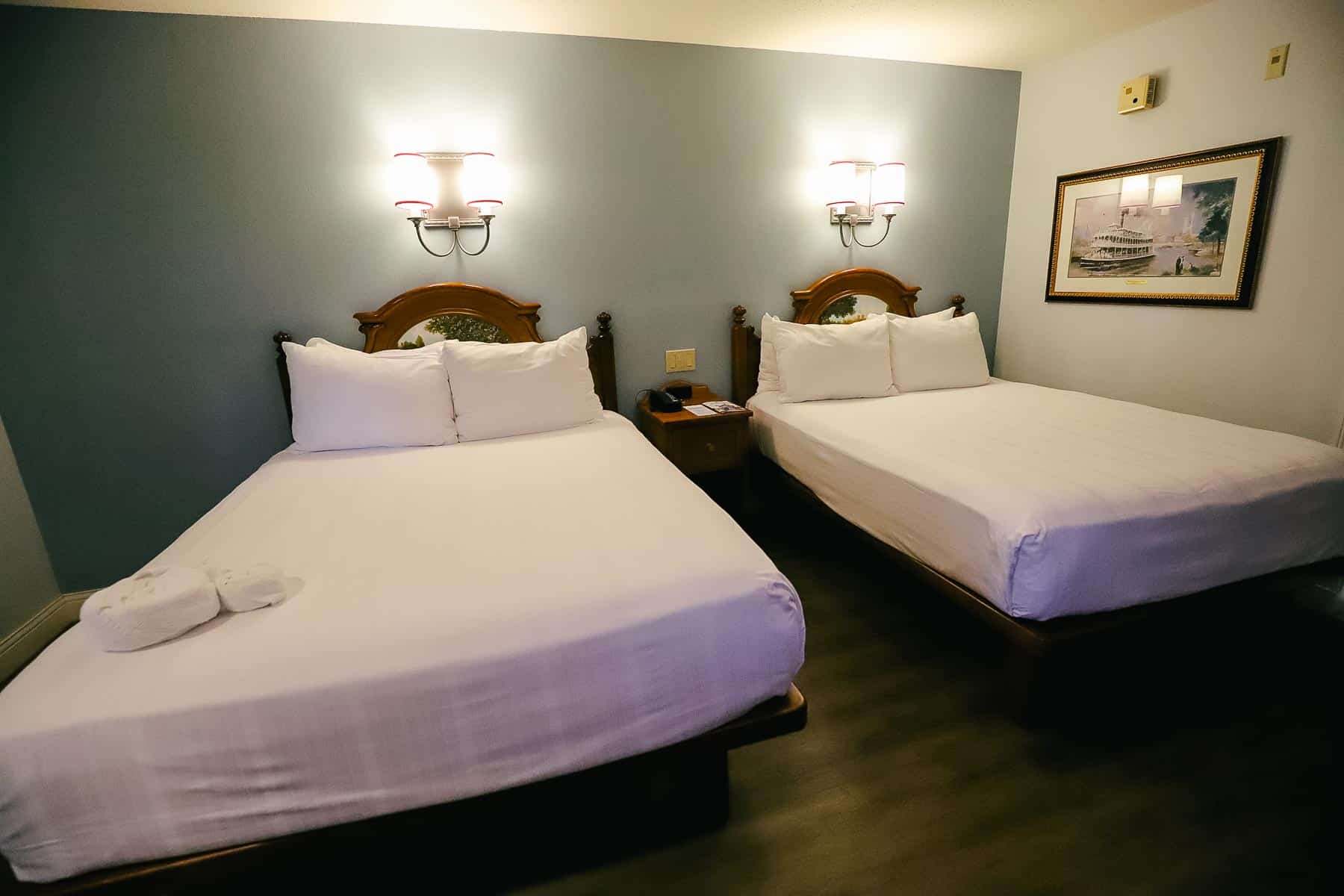 Artwork is displayed on the back of each headboard. A closer look reveals that Charlotte "Lottie" La Bouff and Big Daddy La Bouff are featured. These characters are from Disney's animated film The Princess and the Frog.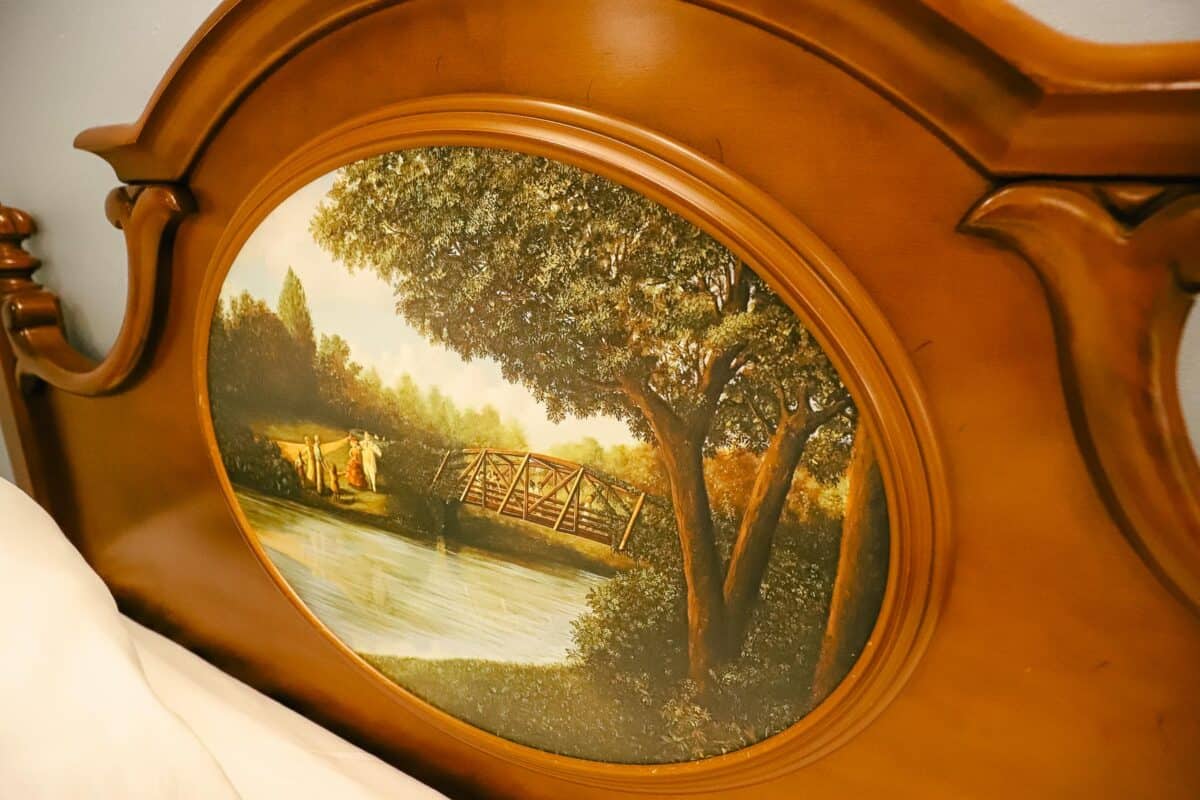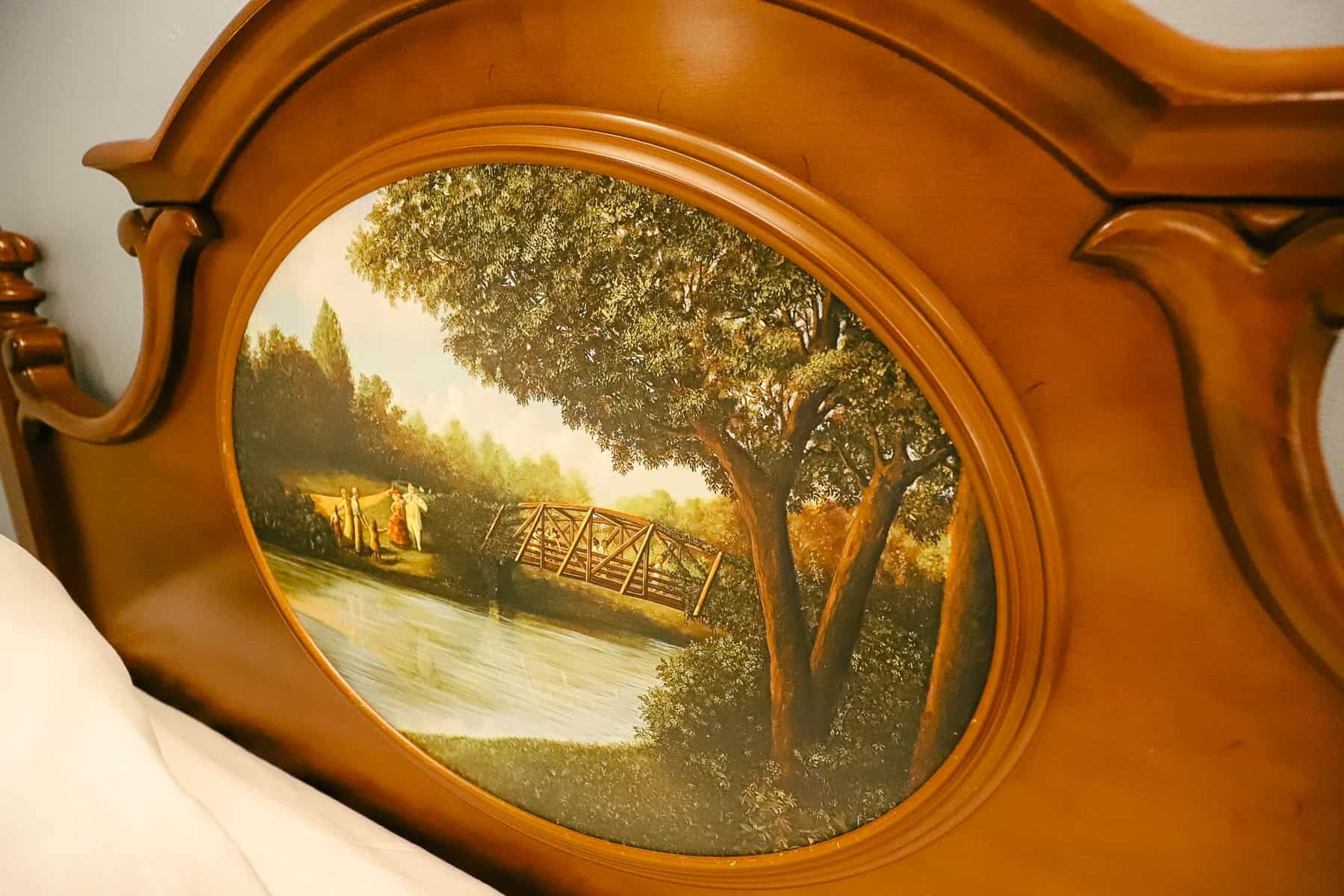 One piece of artwork hangs on the far wall. It features the Liberty Belle and Cinderella Castle in the background.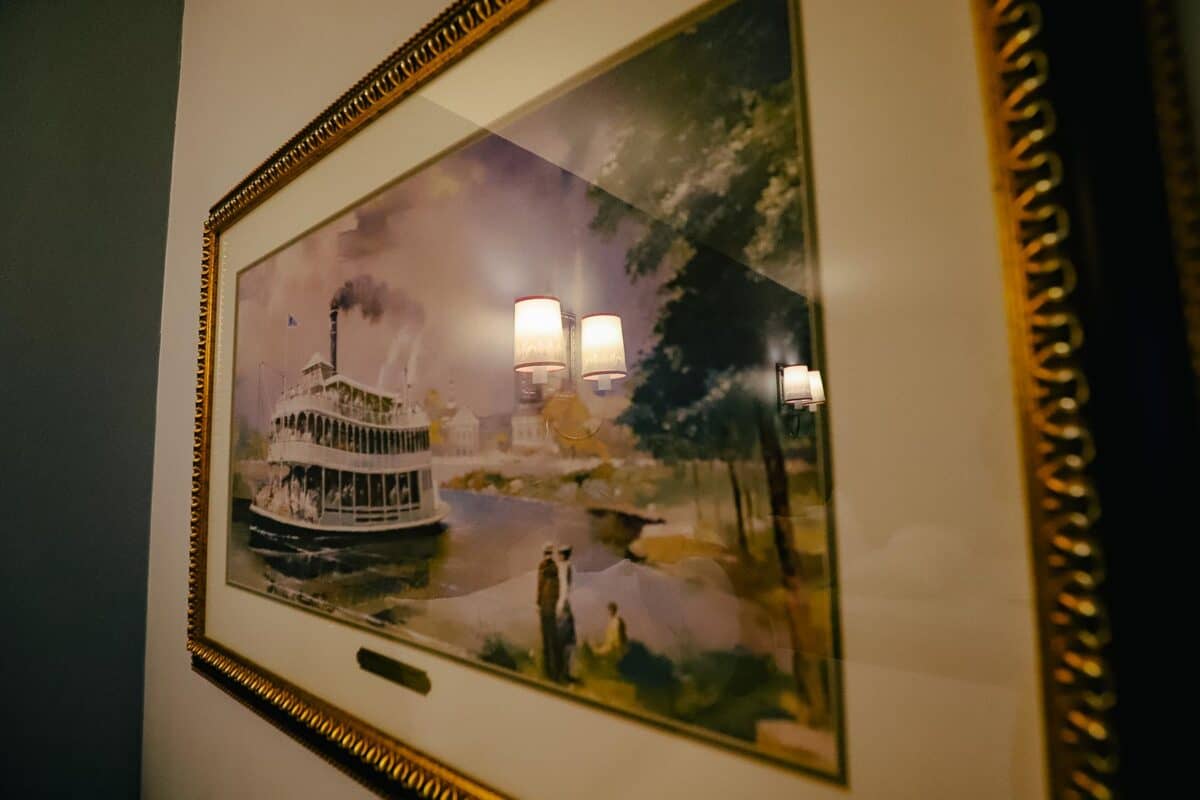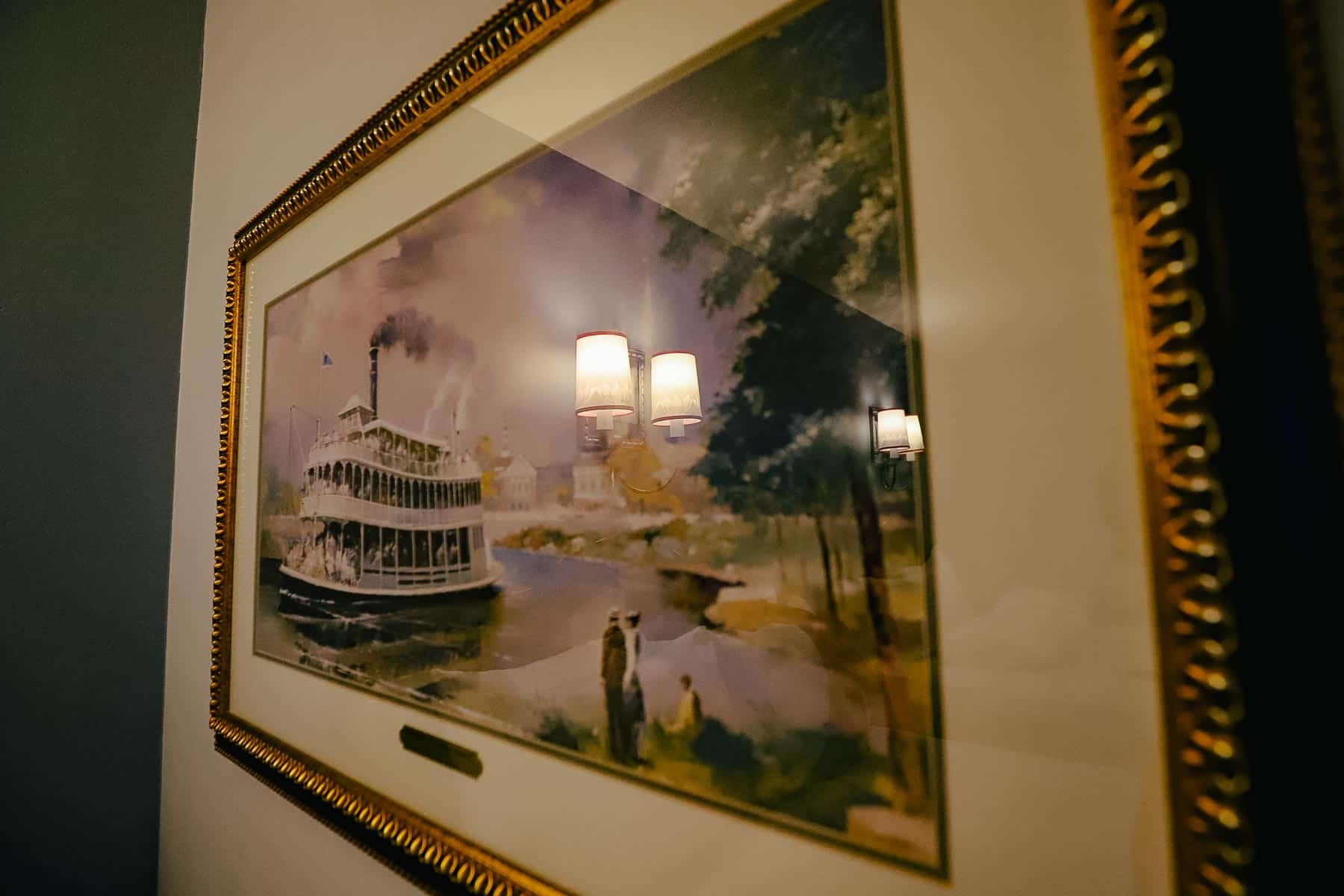 A nightstand sits between the two queen beds. There are no other stands on the outer edges of the bed.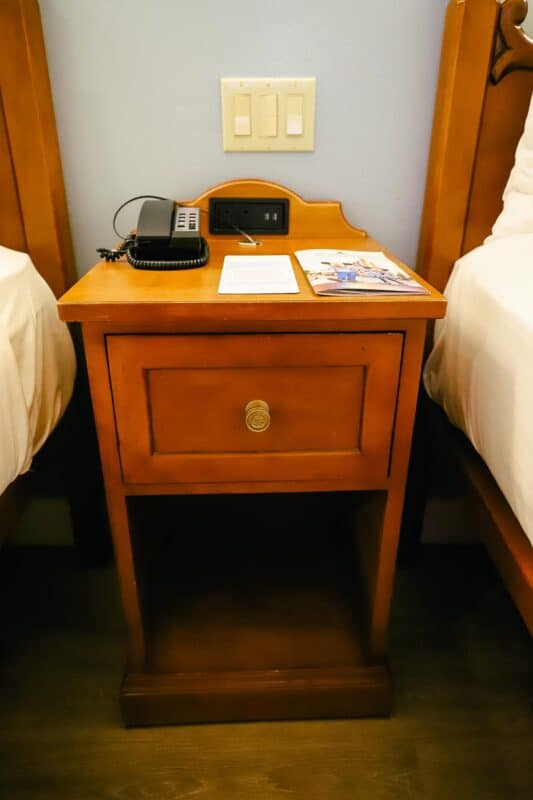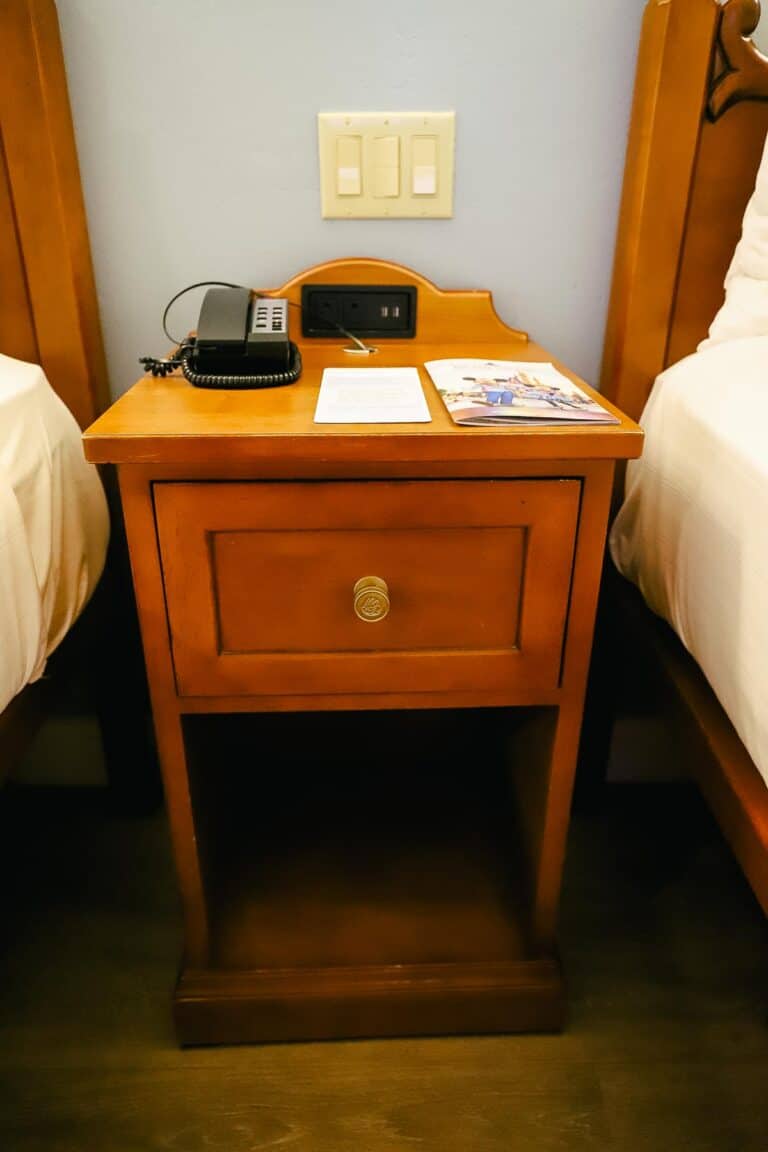 The nightstand offers two regular outlets and two USB outlets.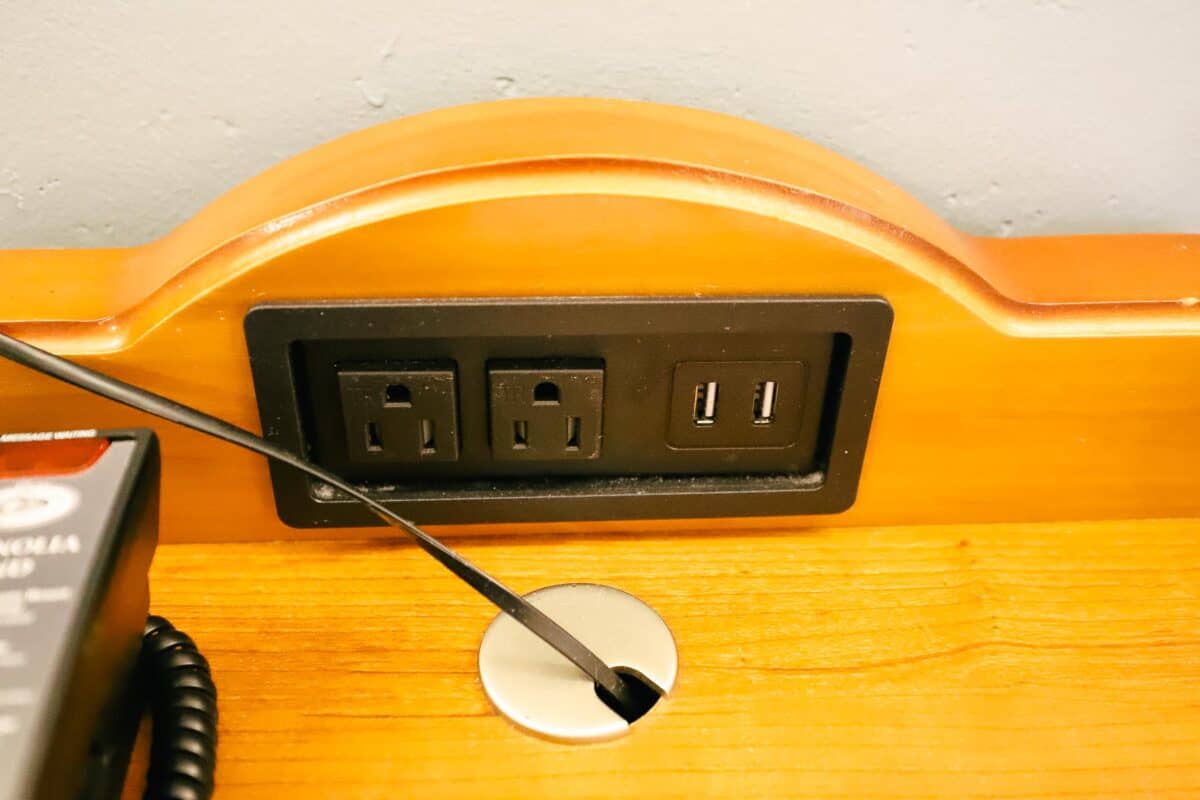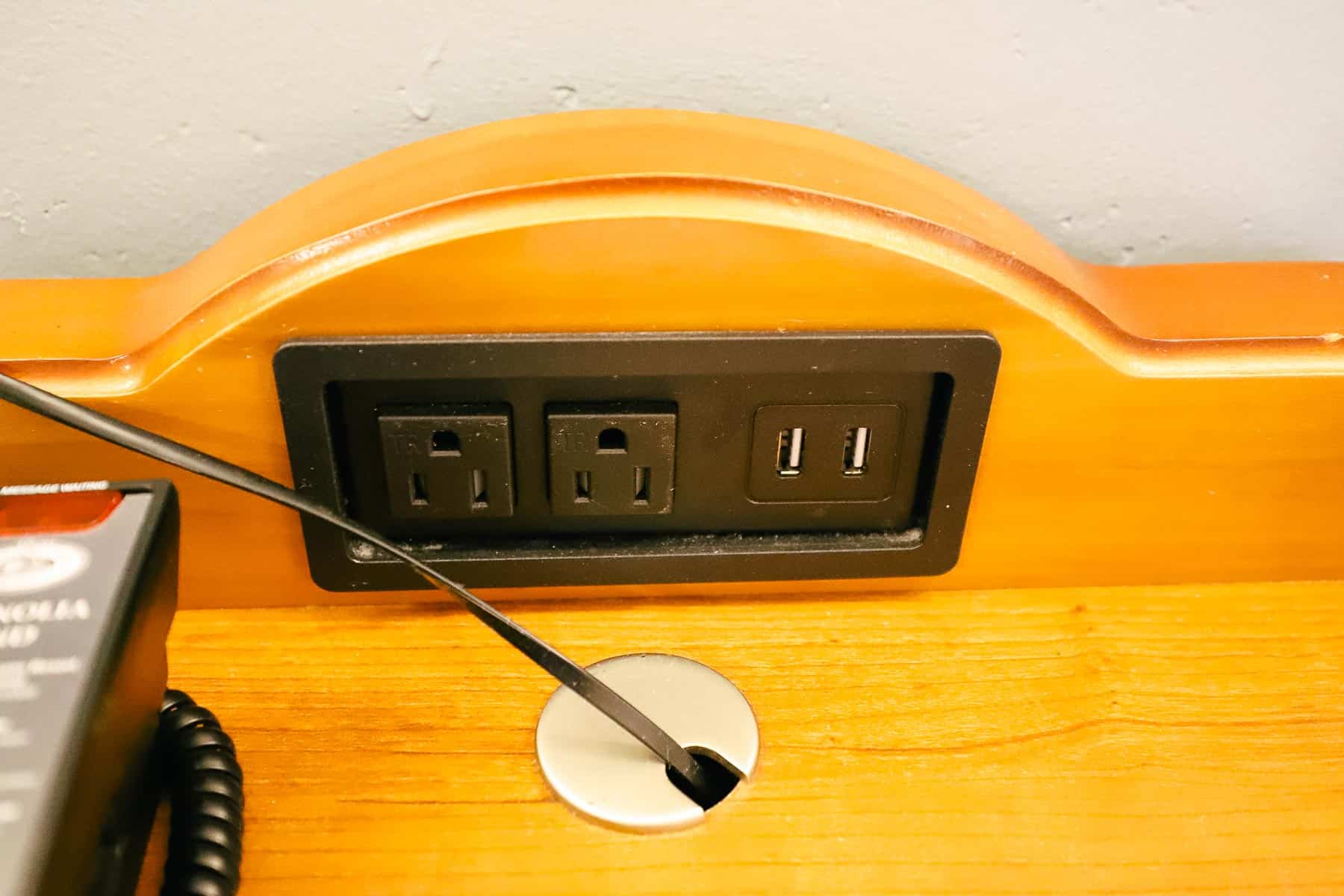 Across the room, a larger dresser holds a beverage cooler and three storage drawers.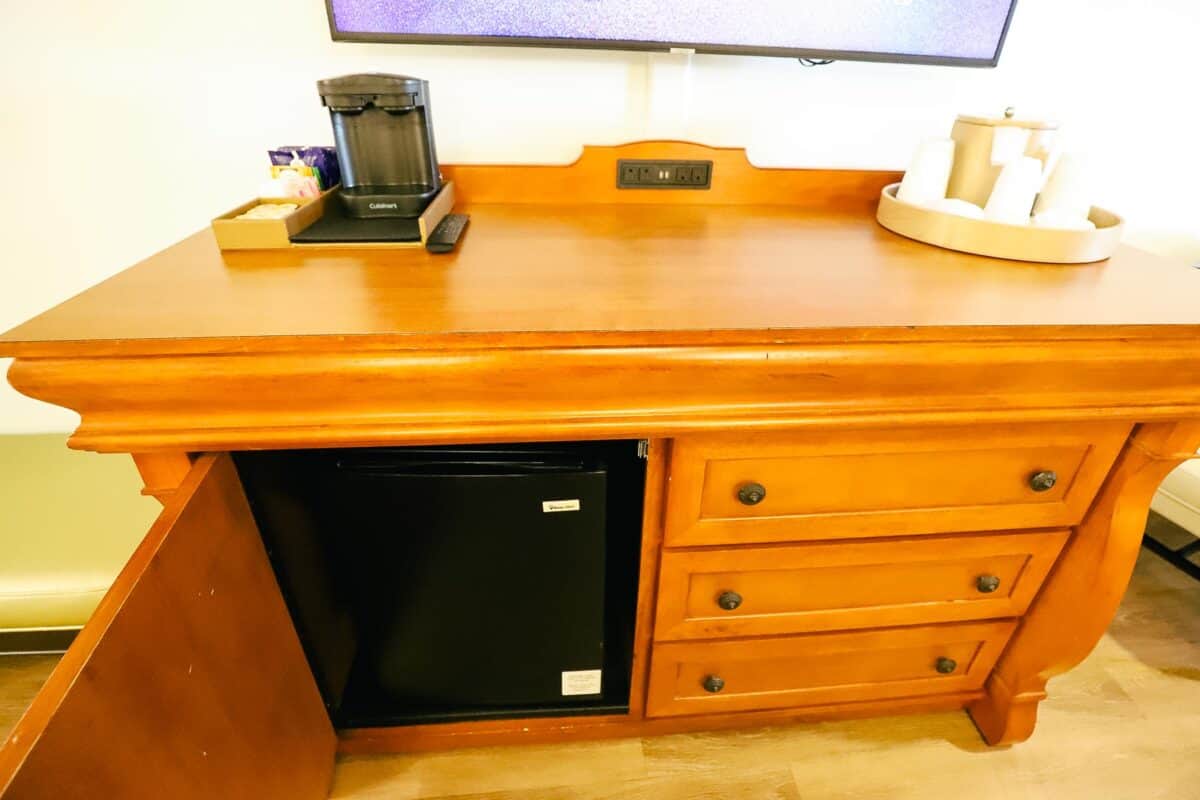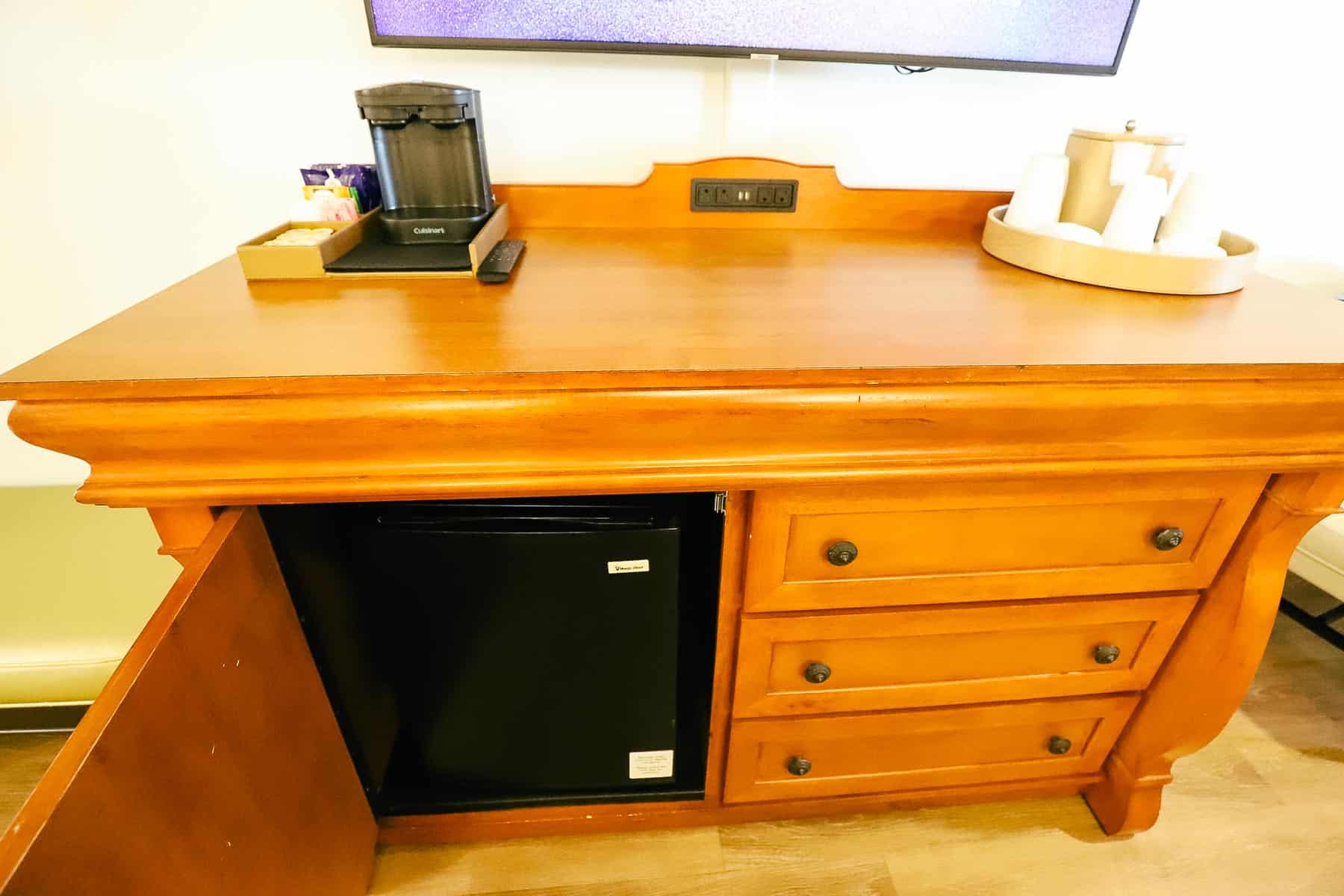 It's important to note that beverage coolers are designed to chill beverages and aren't necessarily good for keeping perishable items from perishing. Several tips suggest that pulling the cooler out from the wall will give it enough room to cool better.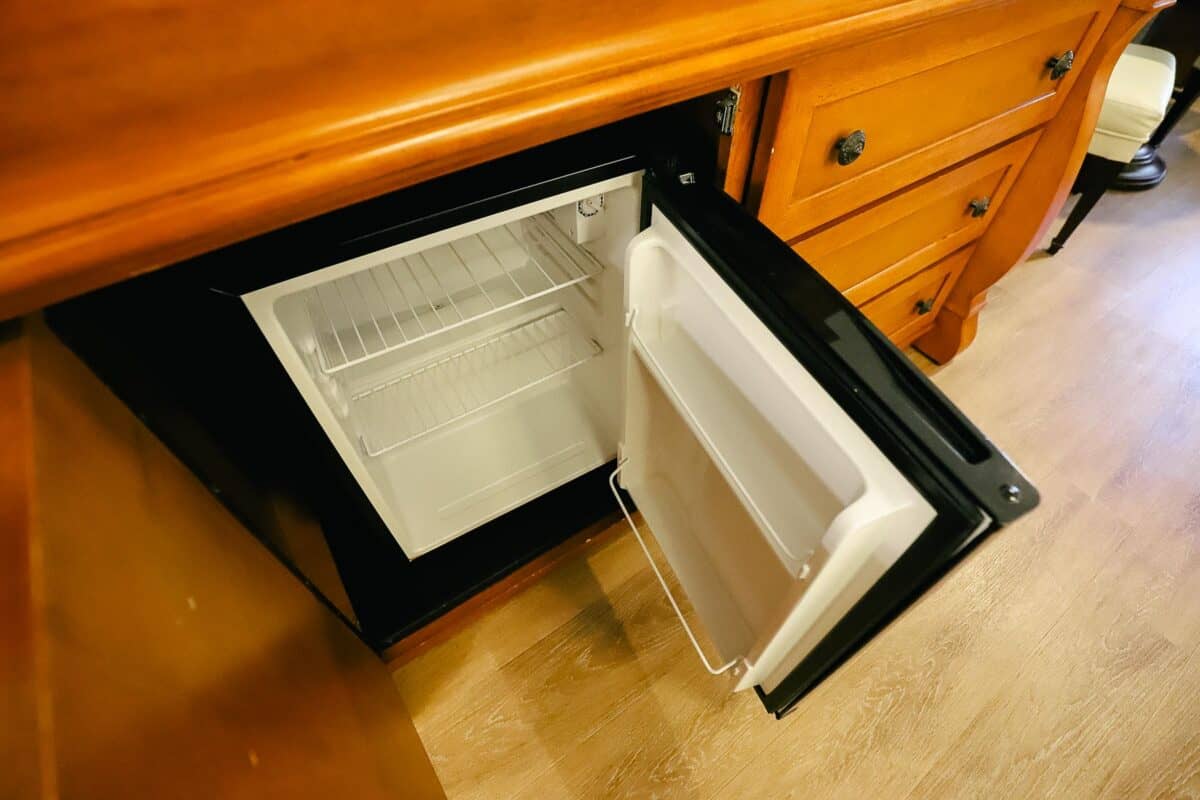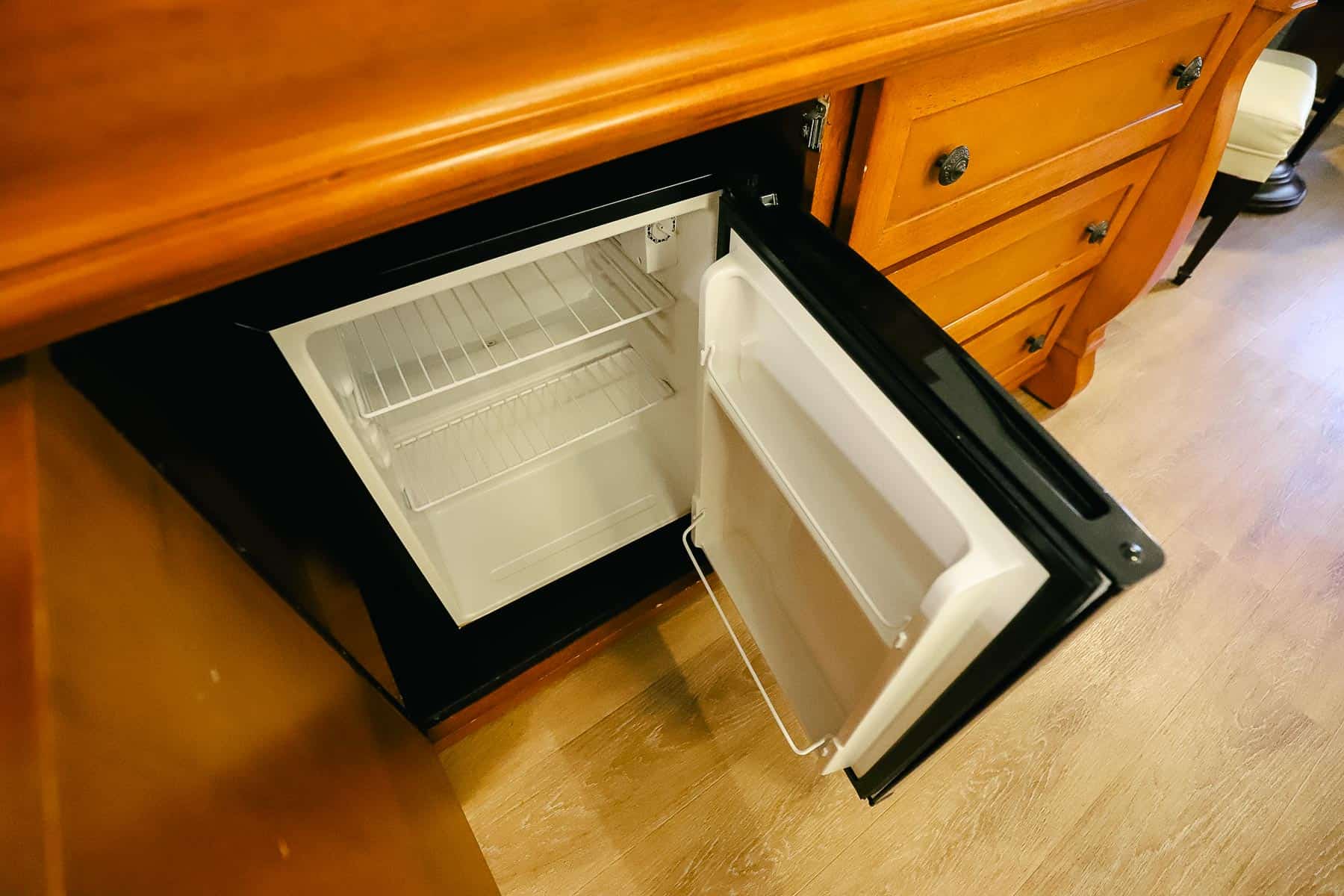 Four additional outlets and two USB ports are available at the back of the dresser.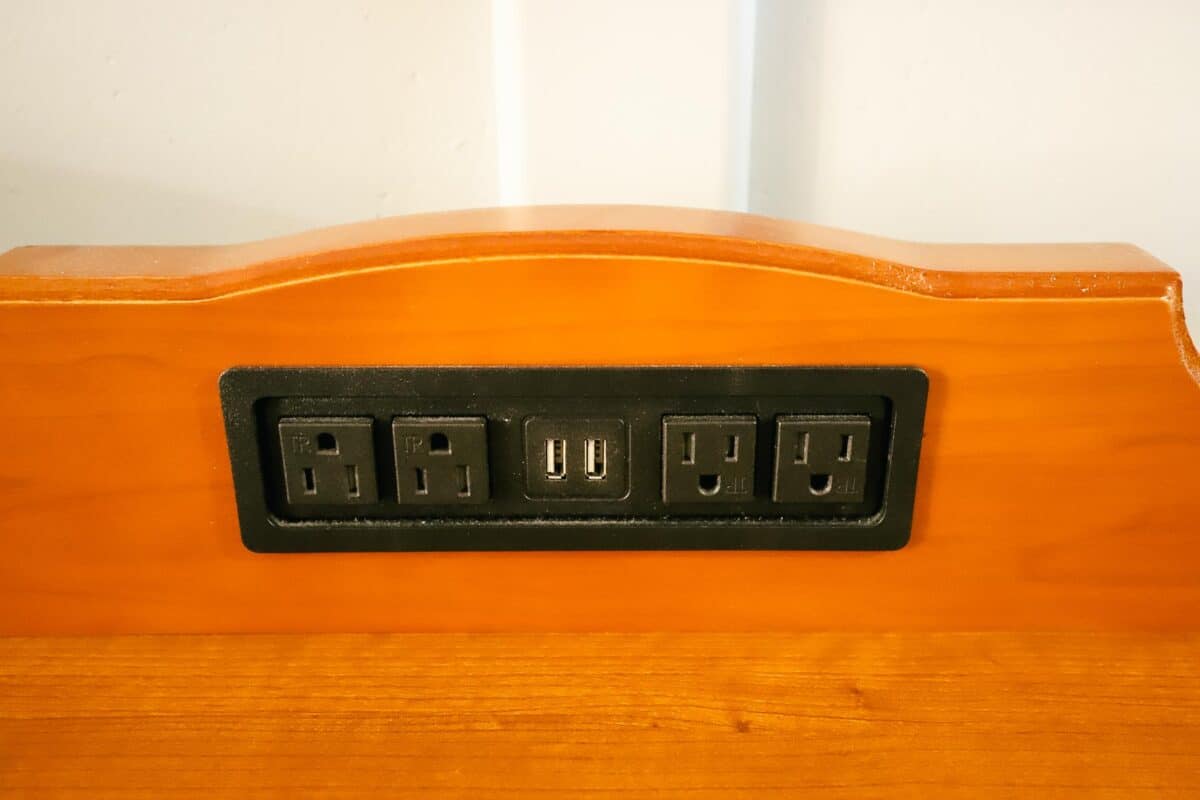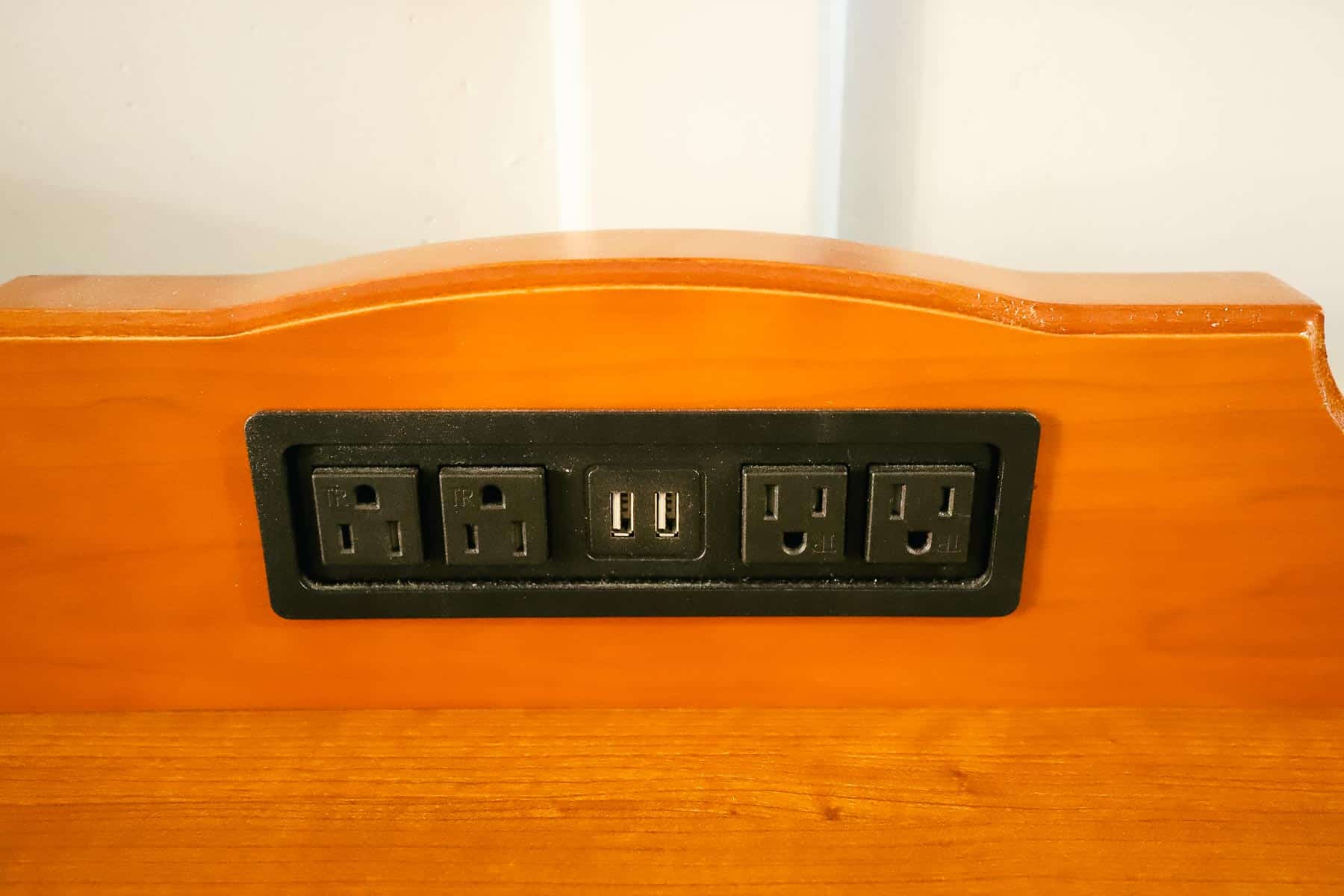 A double-cup coffee maker with accompaniments sits on top of the dresser.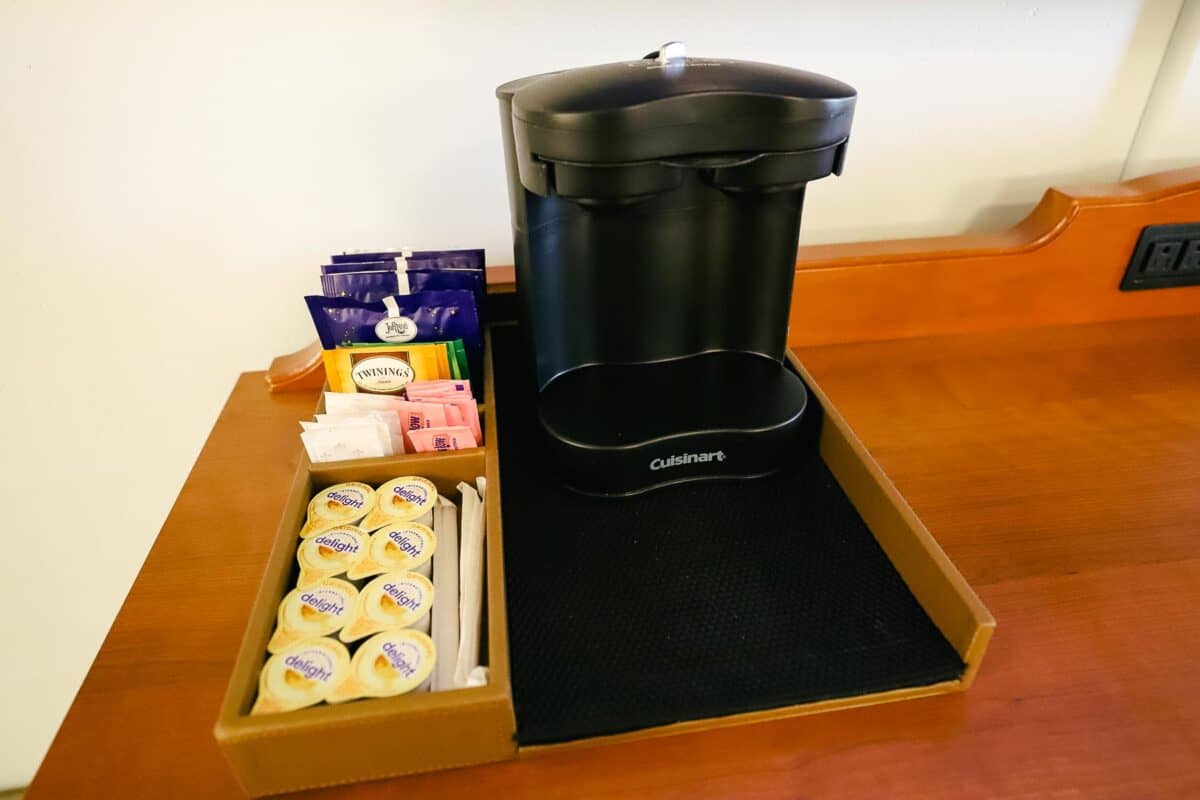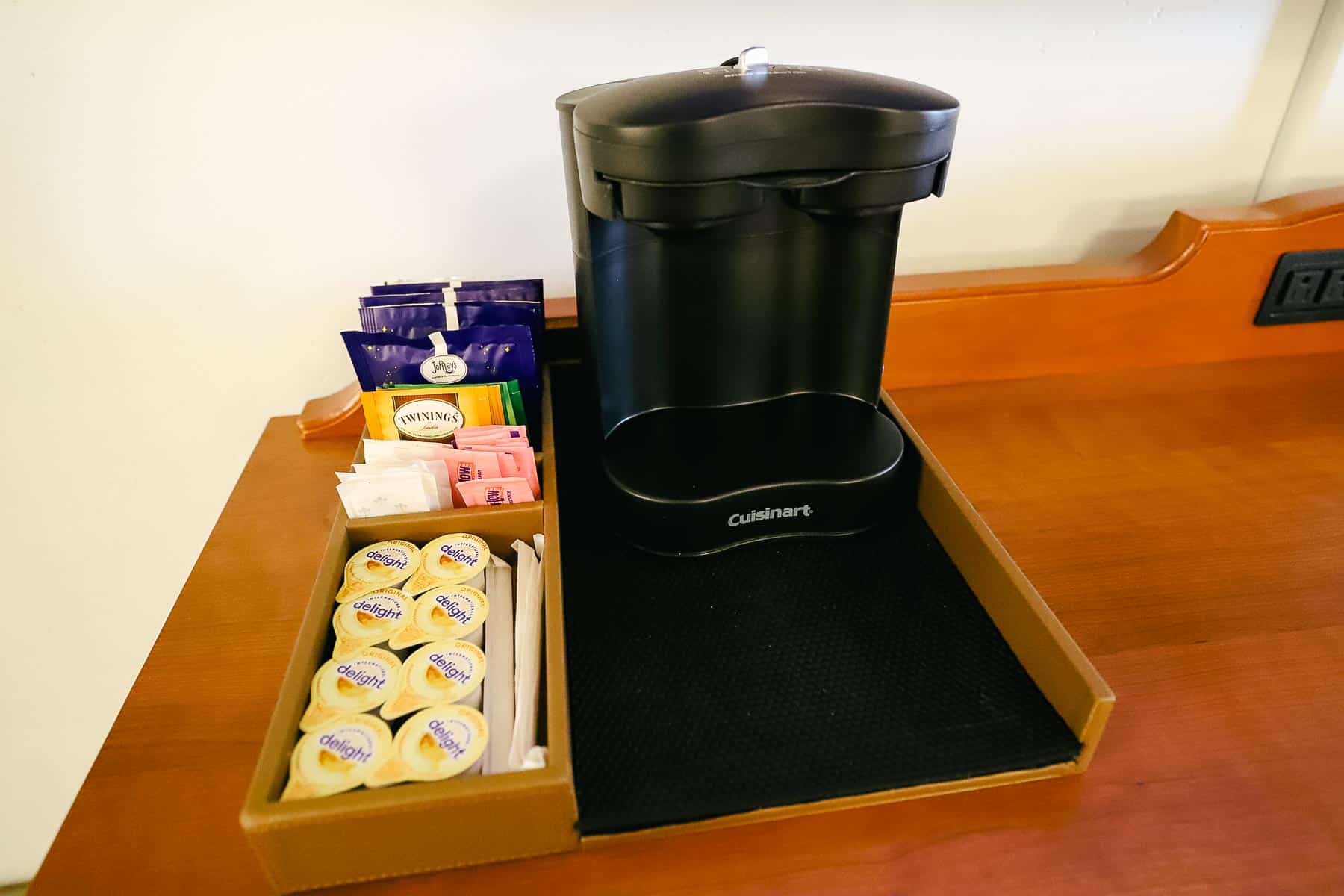 There was also a traditional ice bucket and a few plastic cups.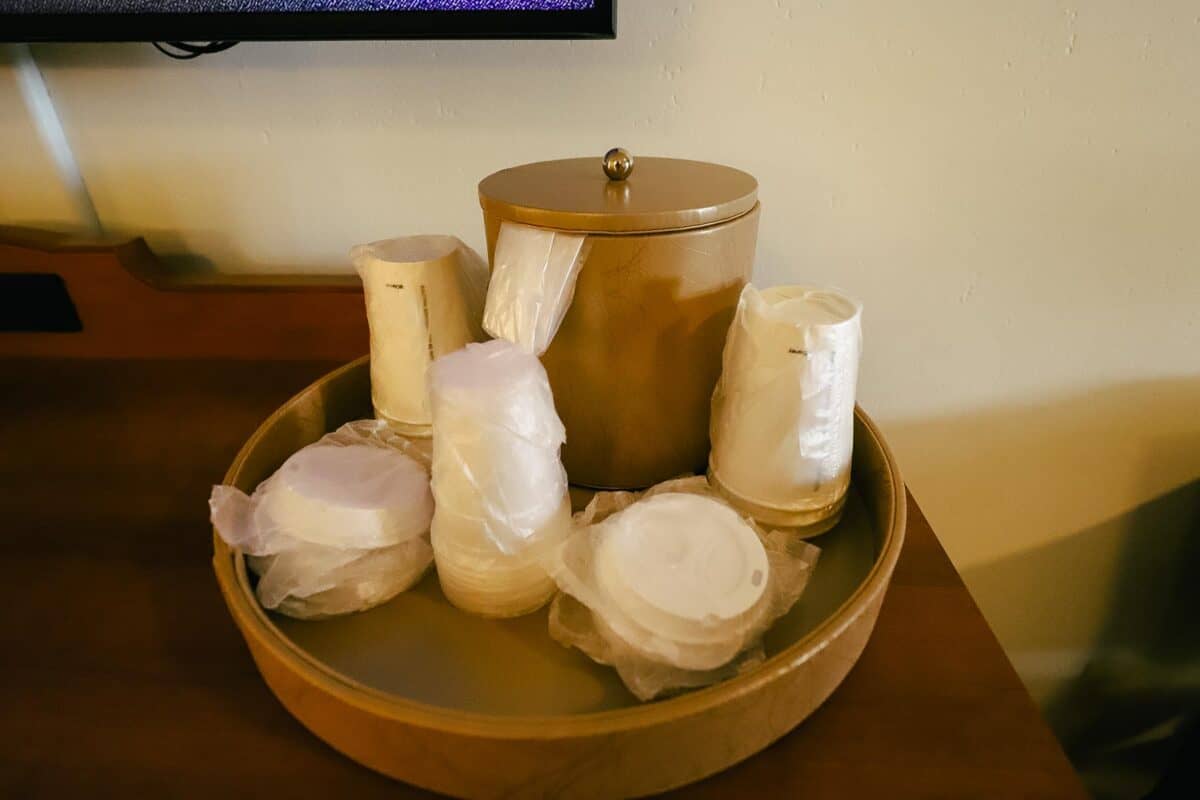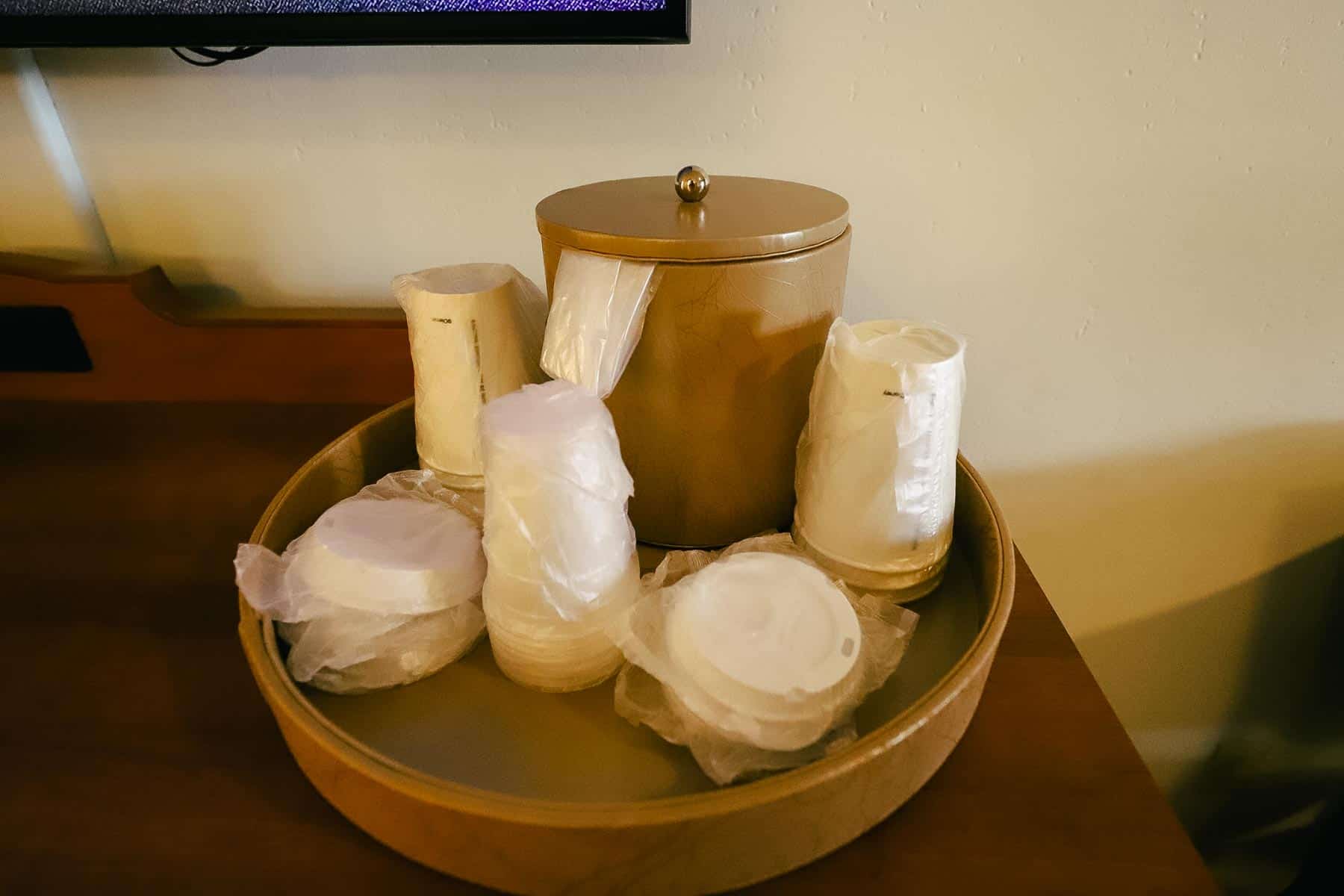 Platform beds allow plenty of room for guests to slide their luggage underneath the bed.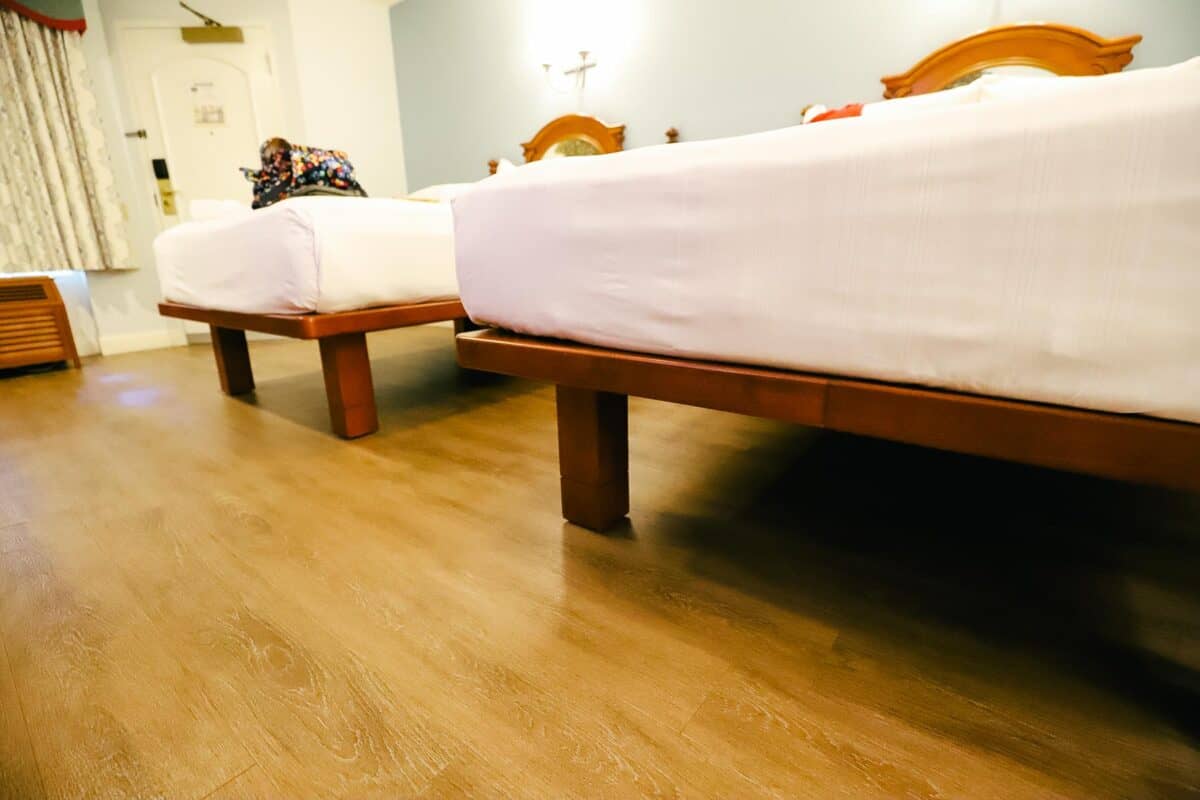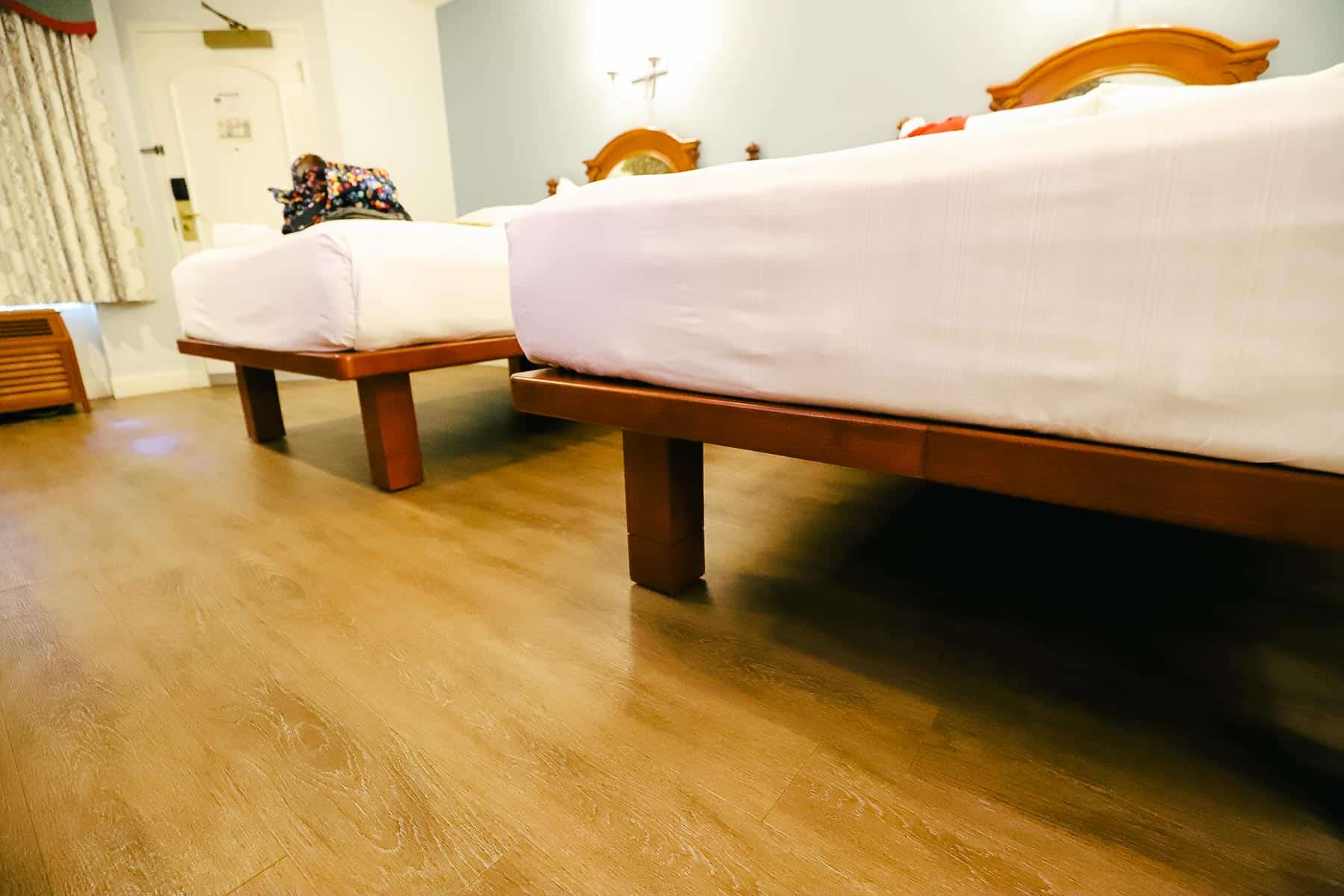 A small table with two chairs sits in the corner.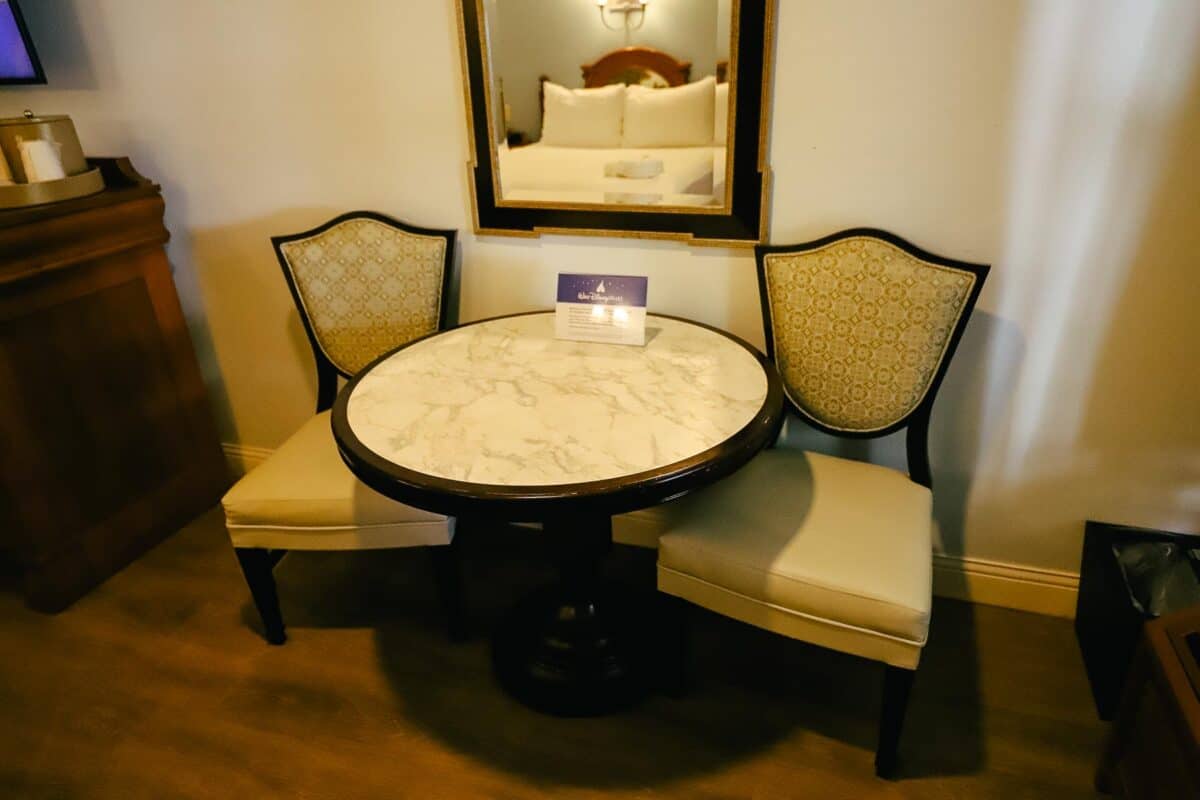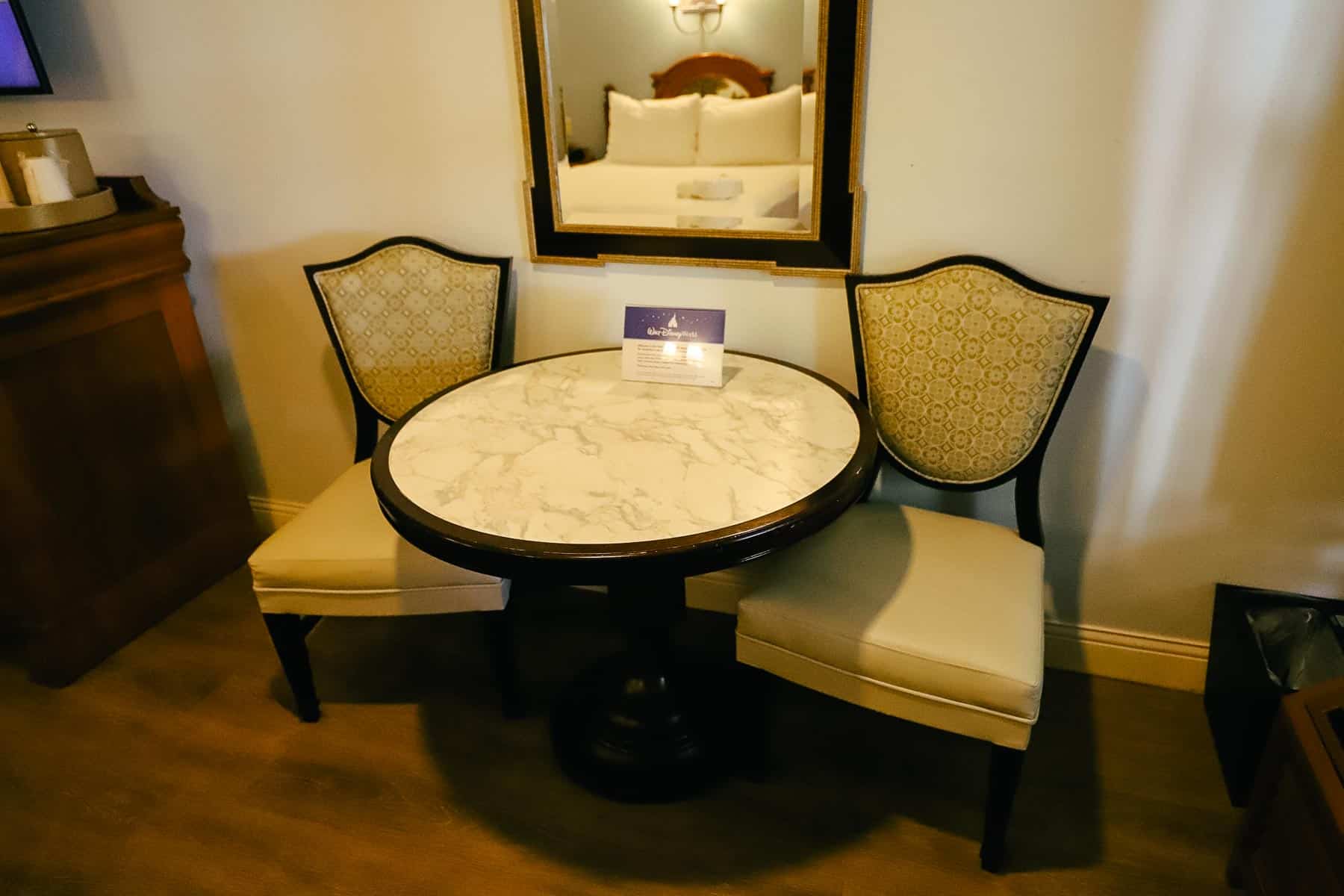 On the opposite side of the dresser, there's a rack for hanging items and a bench underneath. We usually use this rack for swimsuits and jackets during cooler weather.
As for the bench, it's a nice place to remove shoes and store them underneath. However, if you're anything like me and live out of your luggage, the bench becomes a luggage rack.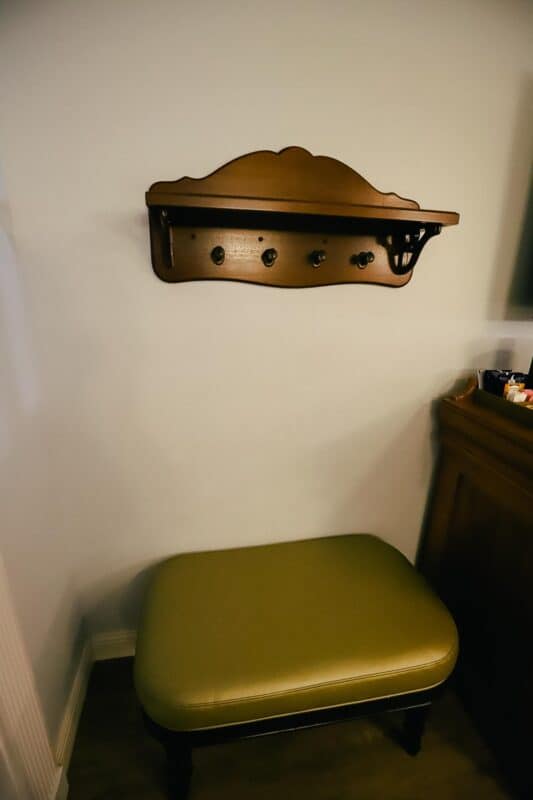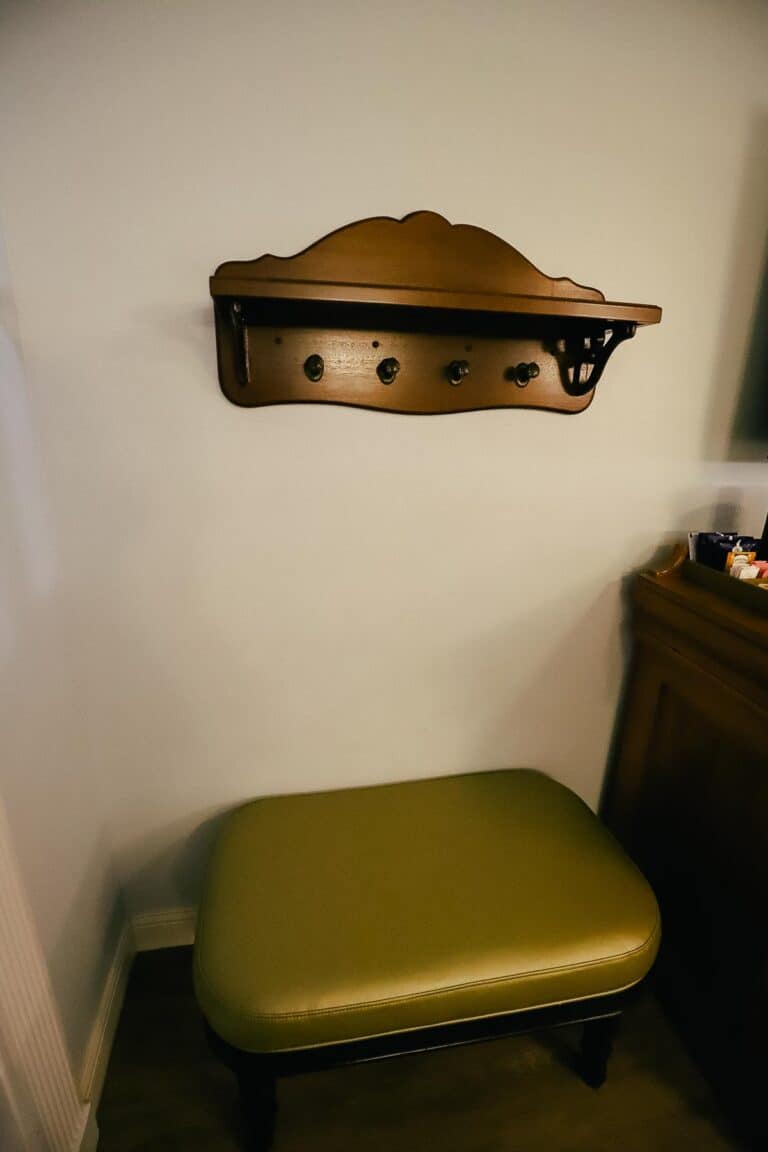 A thermostat on the wall allows you to adjust the temperature to your heart's desire. If you arrive in the room and feel like you've landed in Arendelle instead of Tiana's Bayou, you would do better to turn the thermostat off.
If you adjust the temperature setting, the heater will come on, and you'll be toasty within minutes. When you turn it to the off setting, the temperature will start to regulate normally, and you won't have the above-mentioned problem.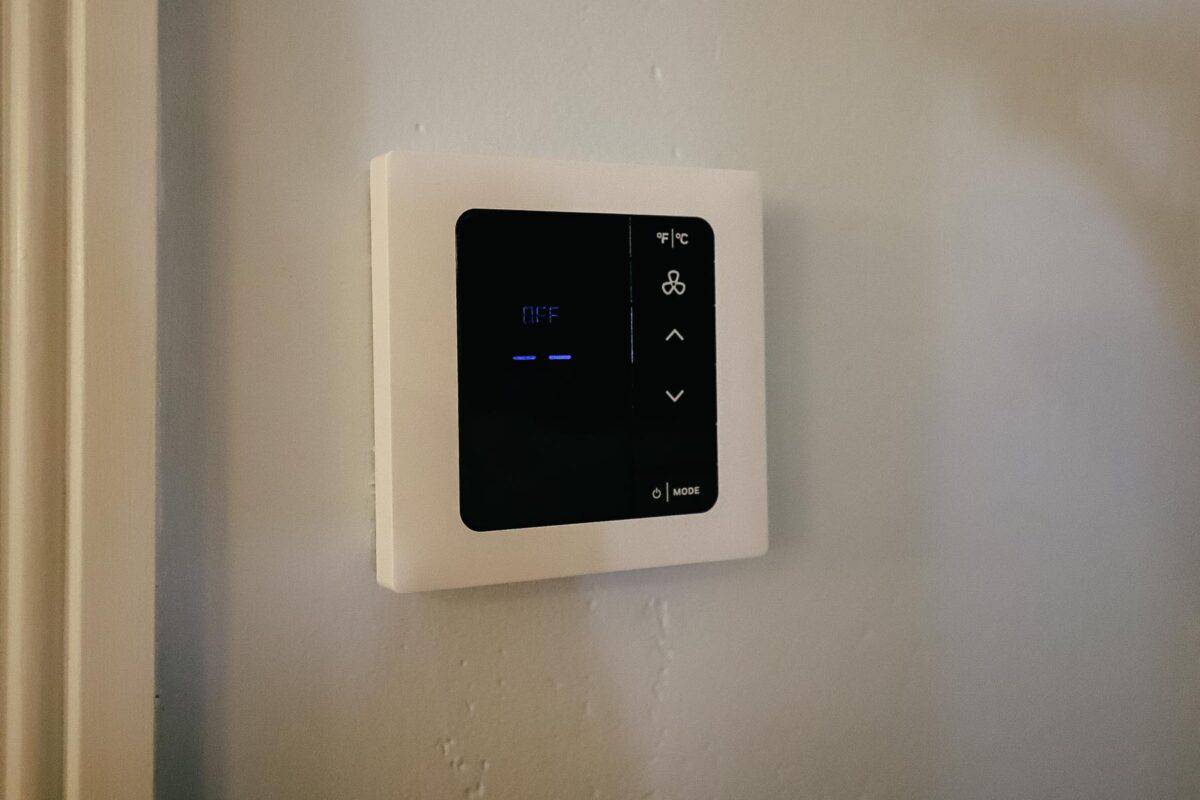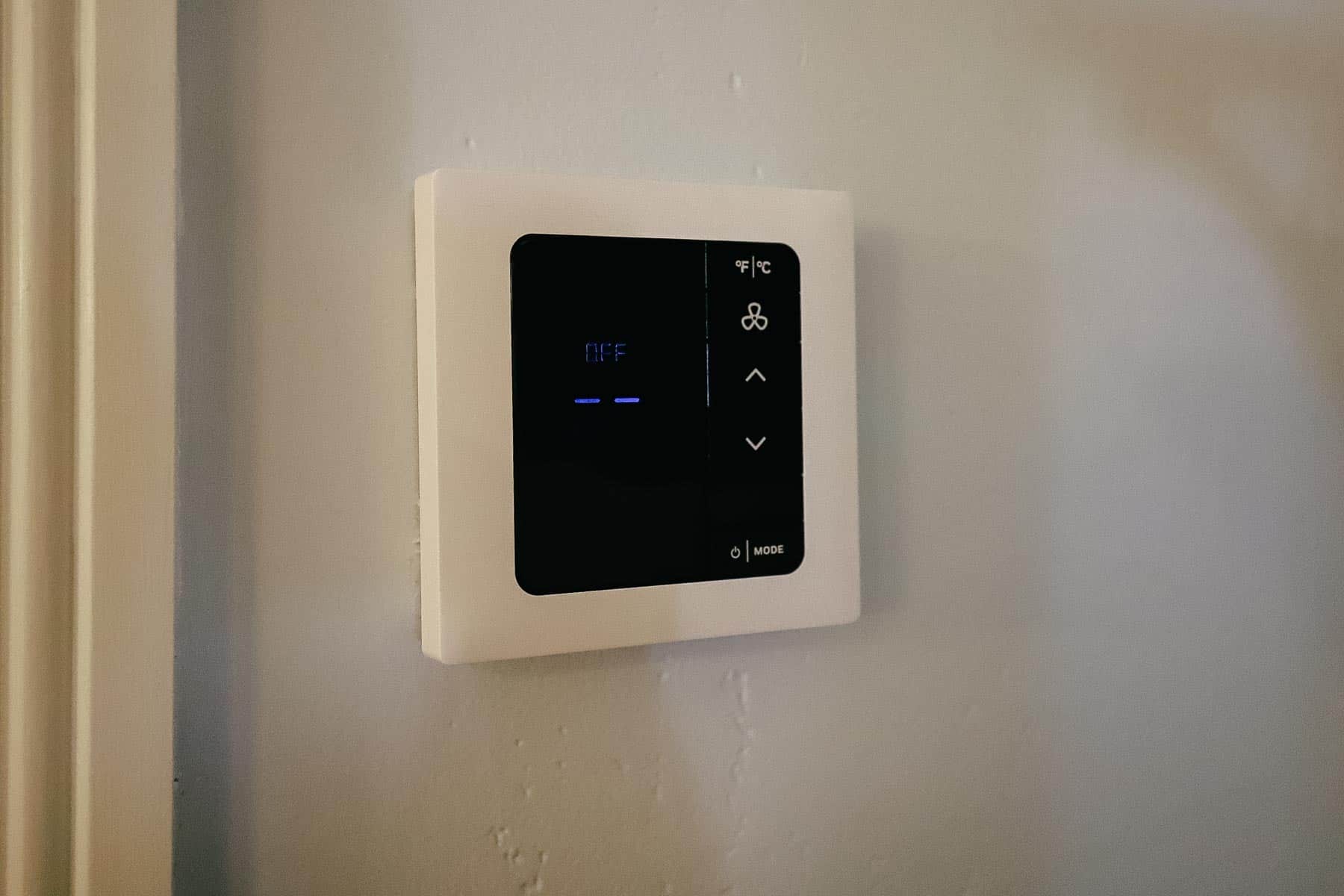 A curtain serves as a room divider between the bedroom and bath area. It features Princess Tiana, and Naveen is still a frog.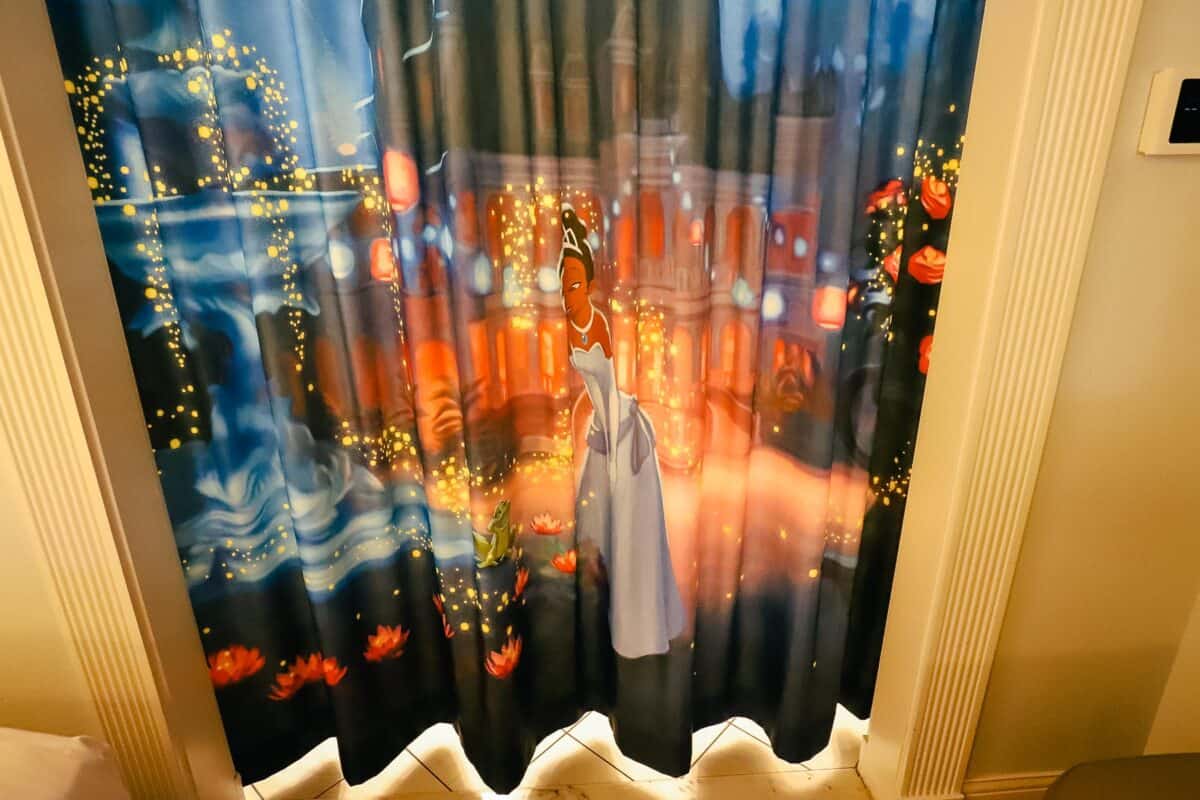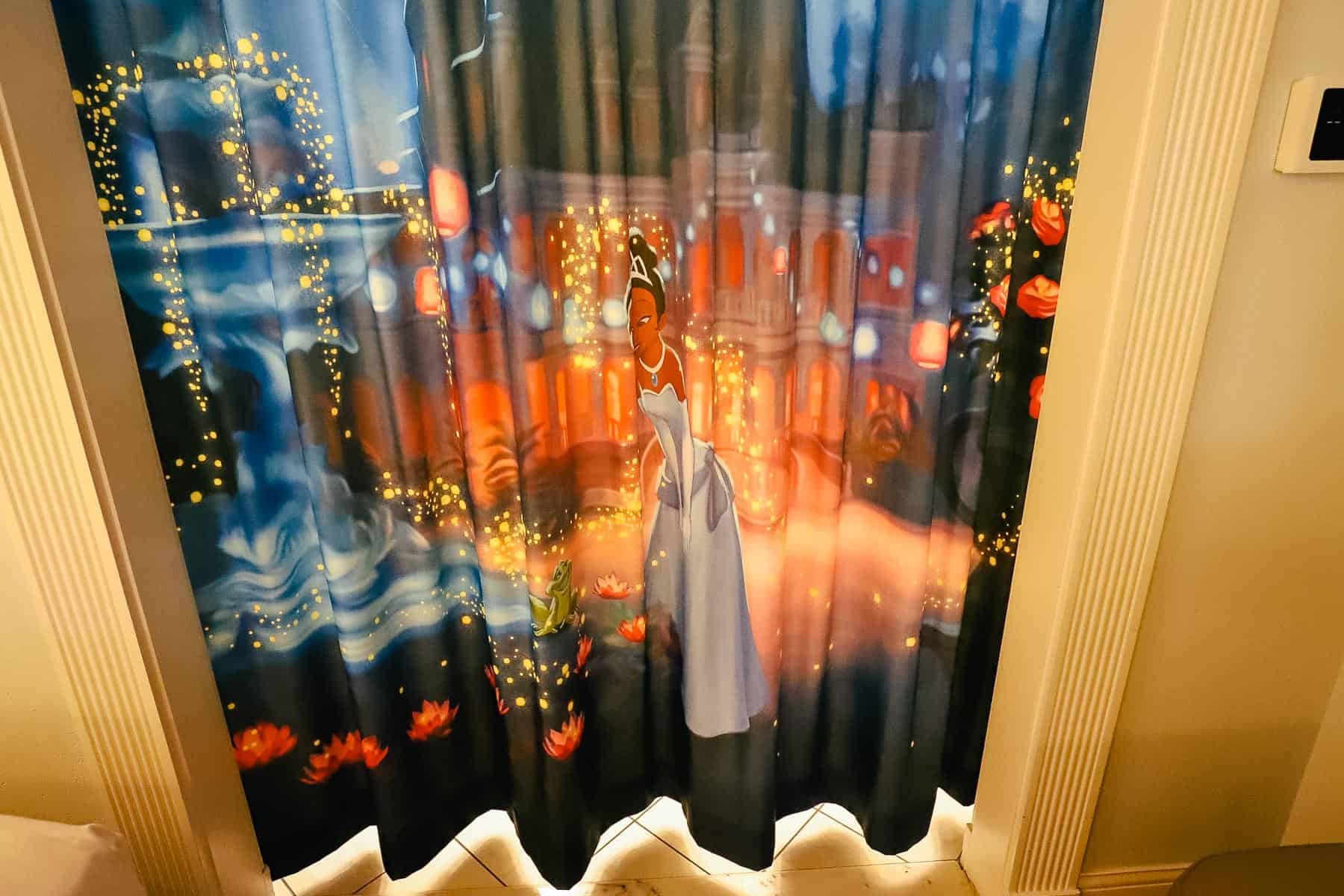 Since the room doesn't have a built-in closet, the bathroom is spacious. It's also nice that everything is painted white, making the space seem larger.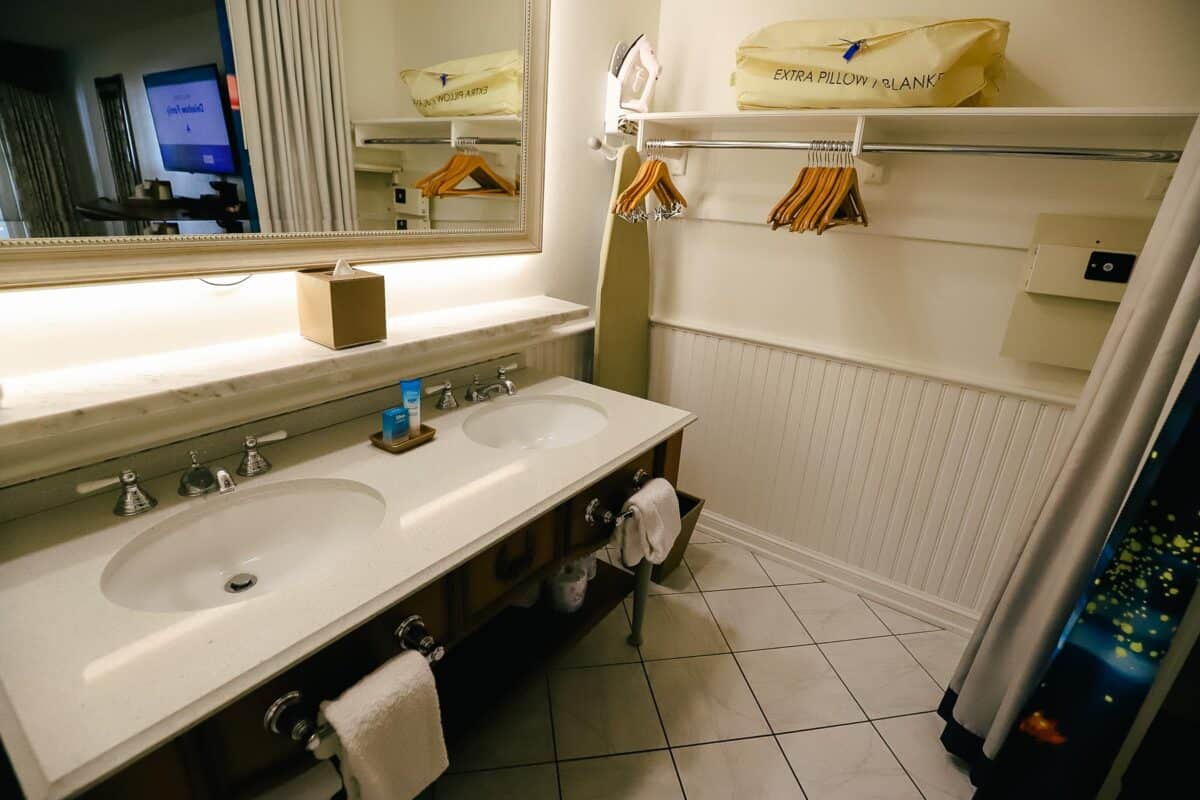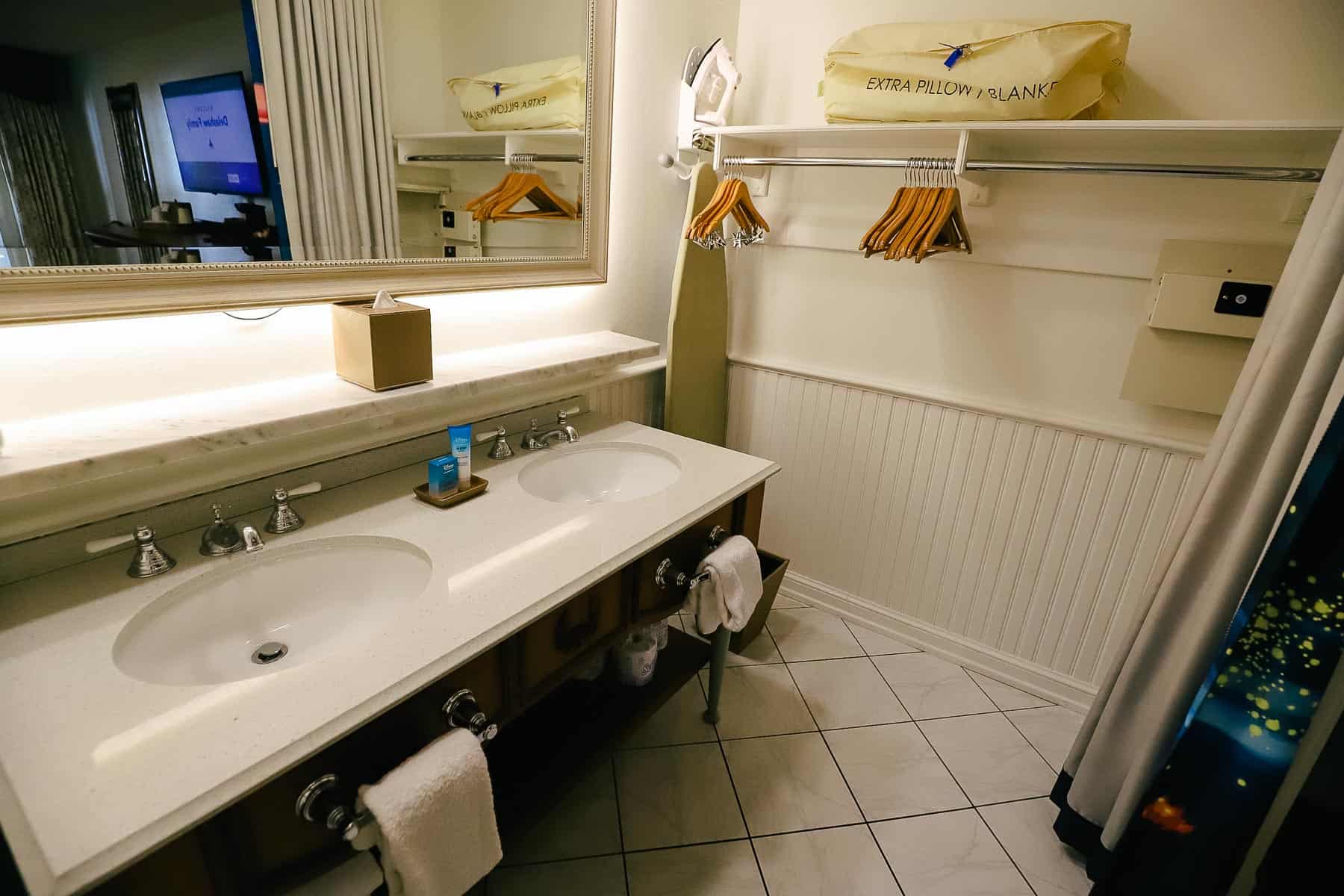 Moderates have a double vanity compared to the single vanities found at value resorts.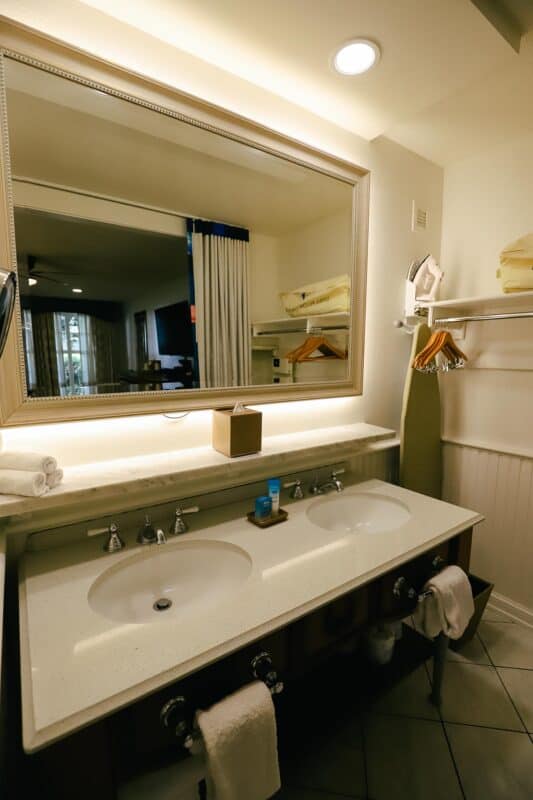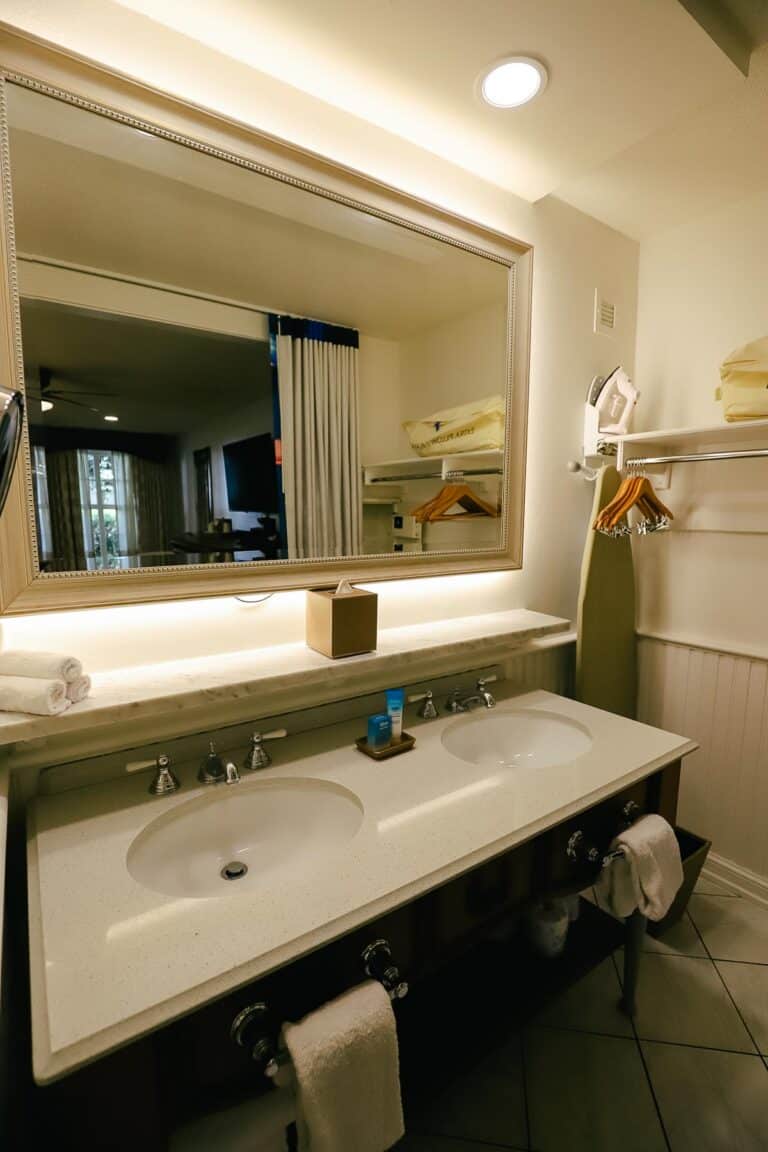 My favorite addition in recent years is the ledge that sits above the sink area. Guests can store their personal items on the ledge. Housekeeping can still tidy up, but they shouldn't have to move your items around like they would if you left them around the sink.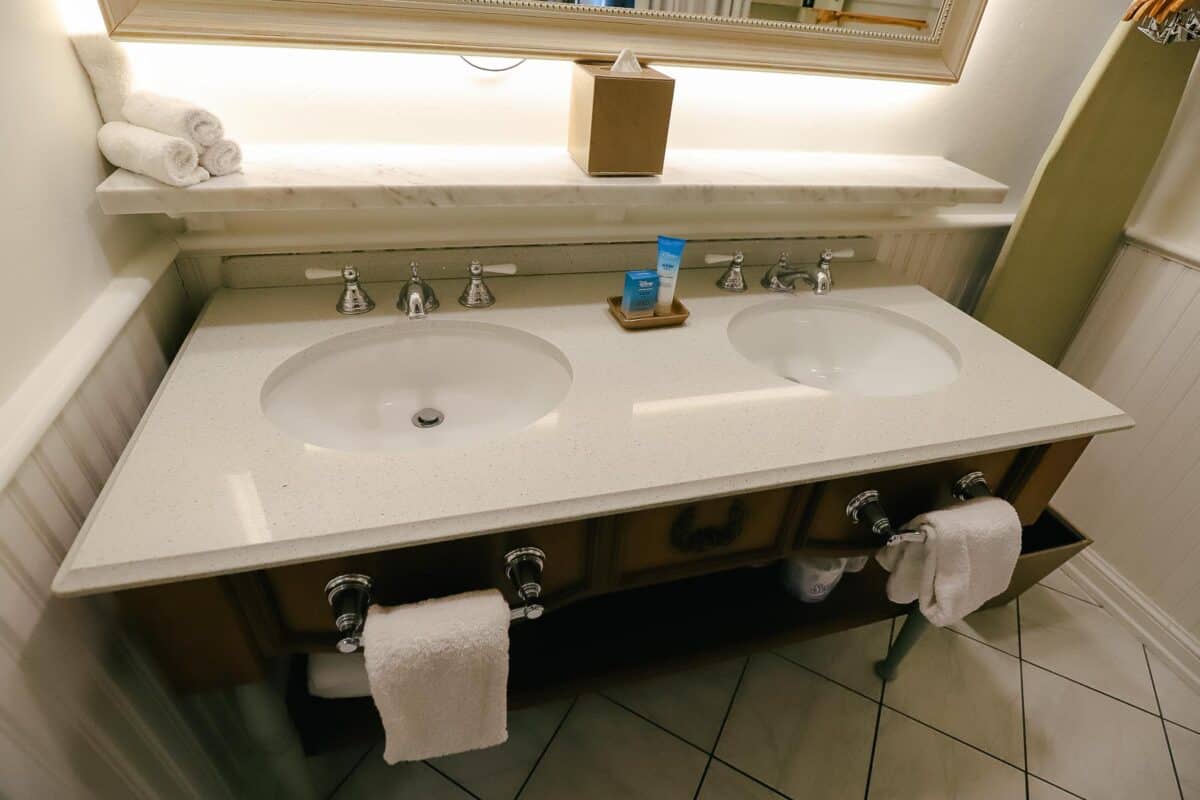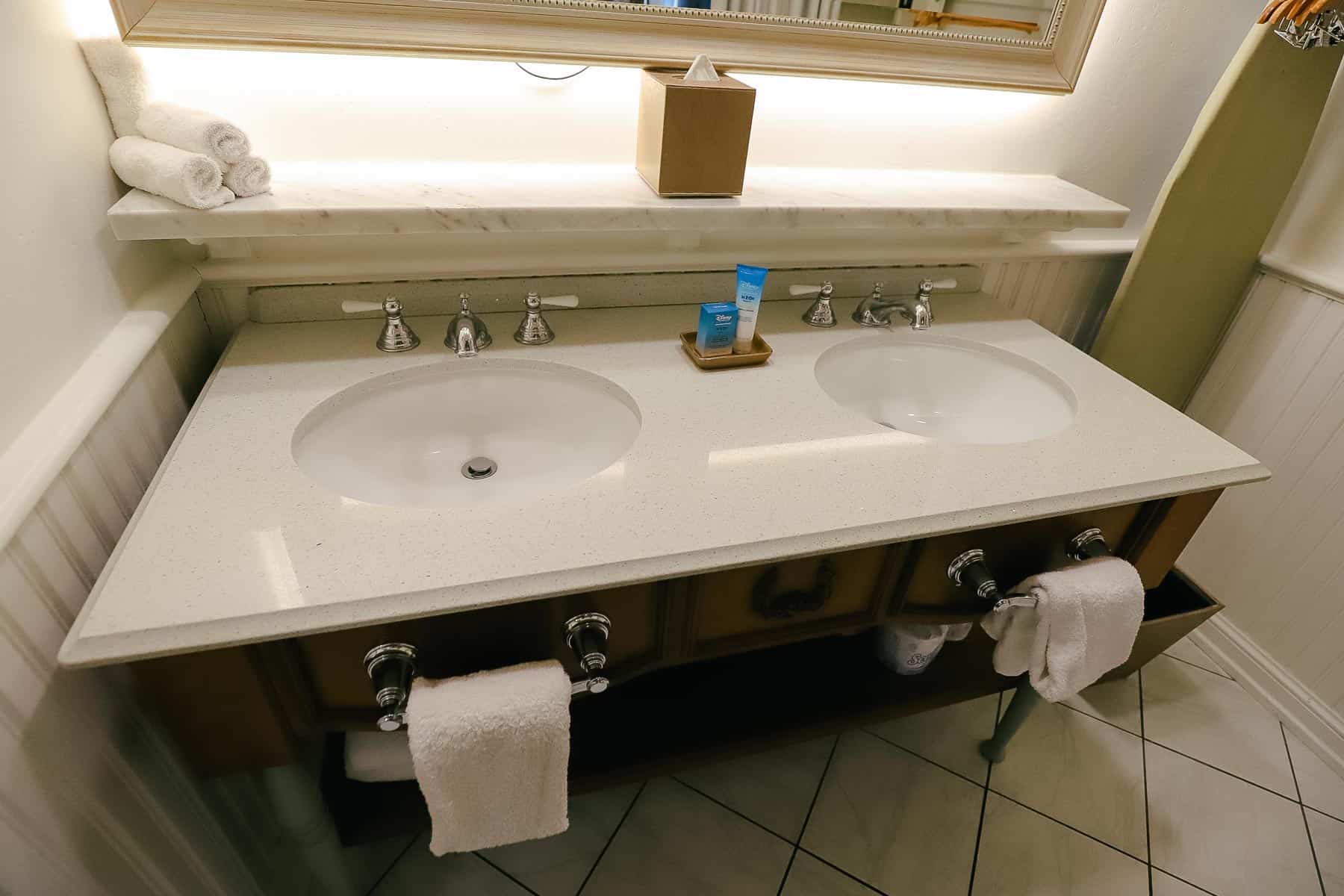 A large shelf sits underneath the vanity.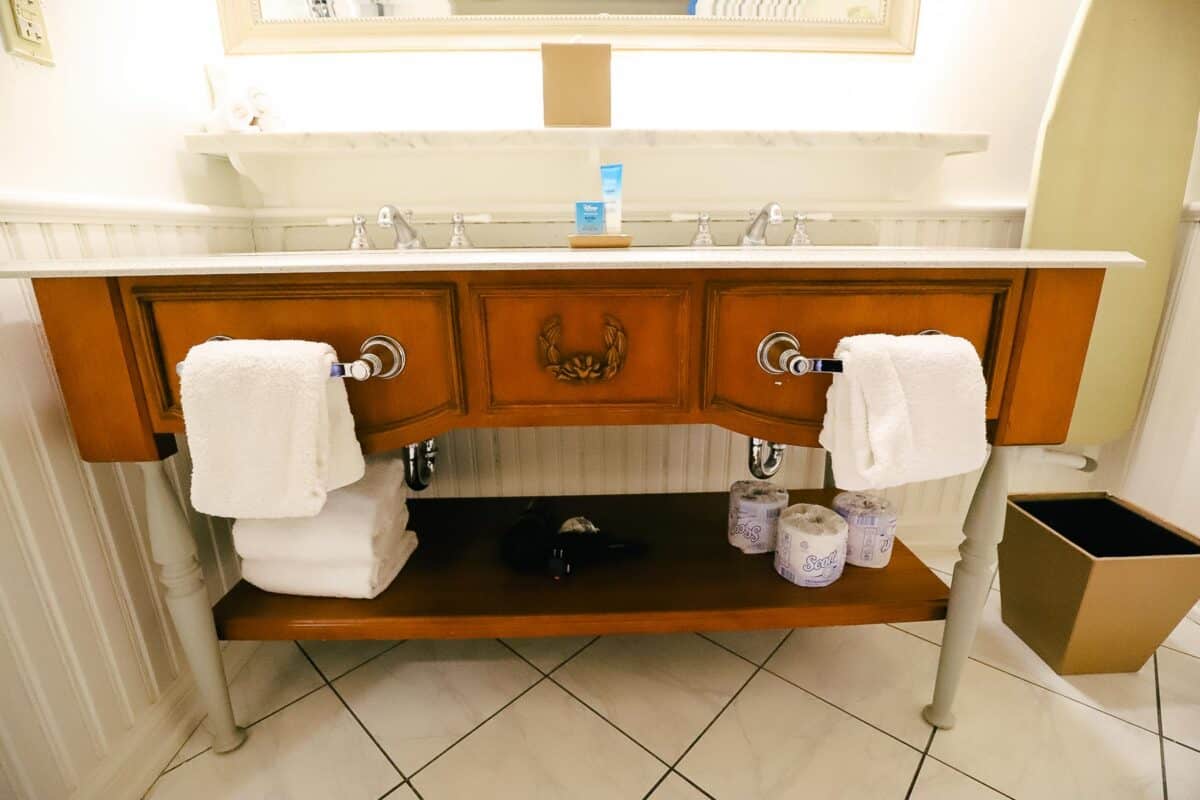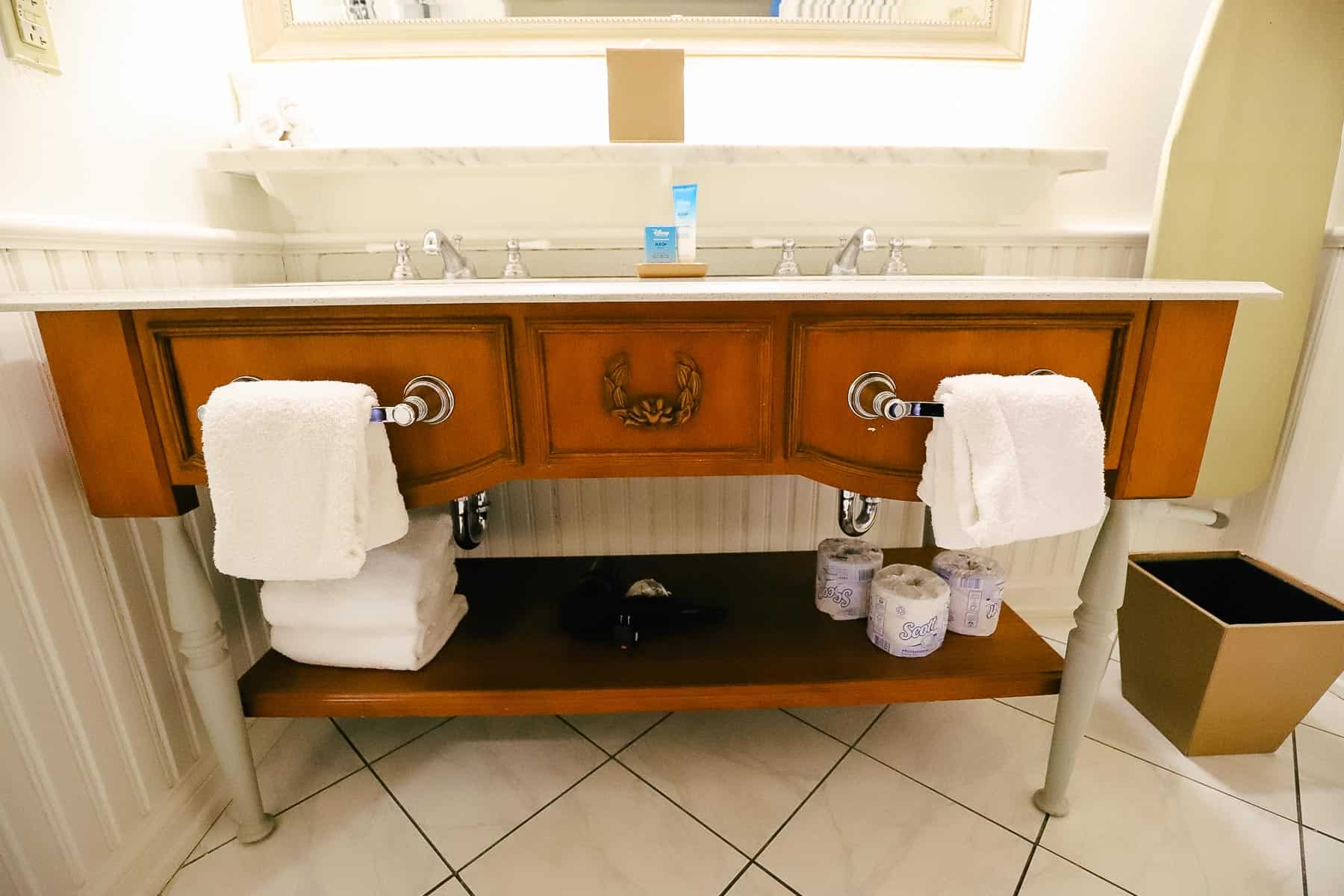 A make-up mirror is available.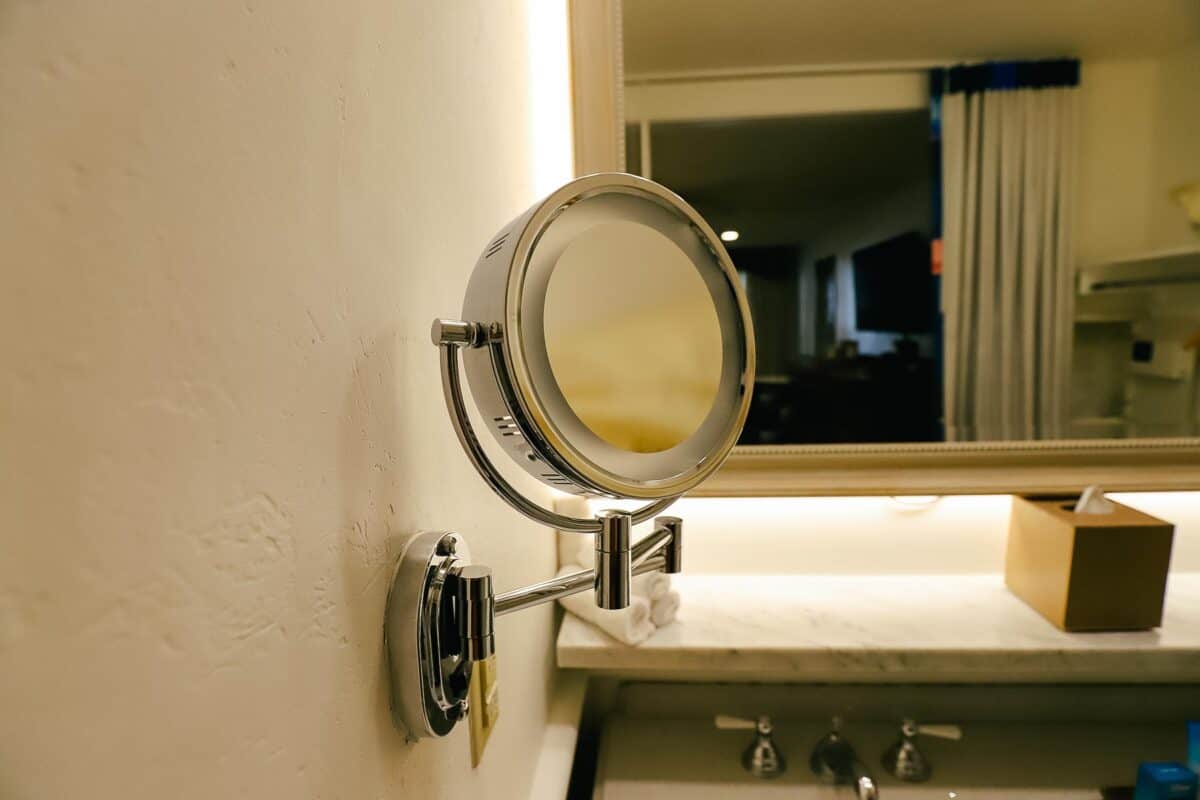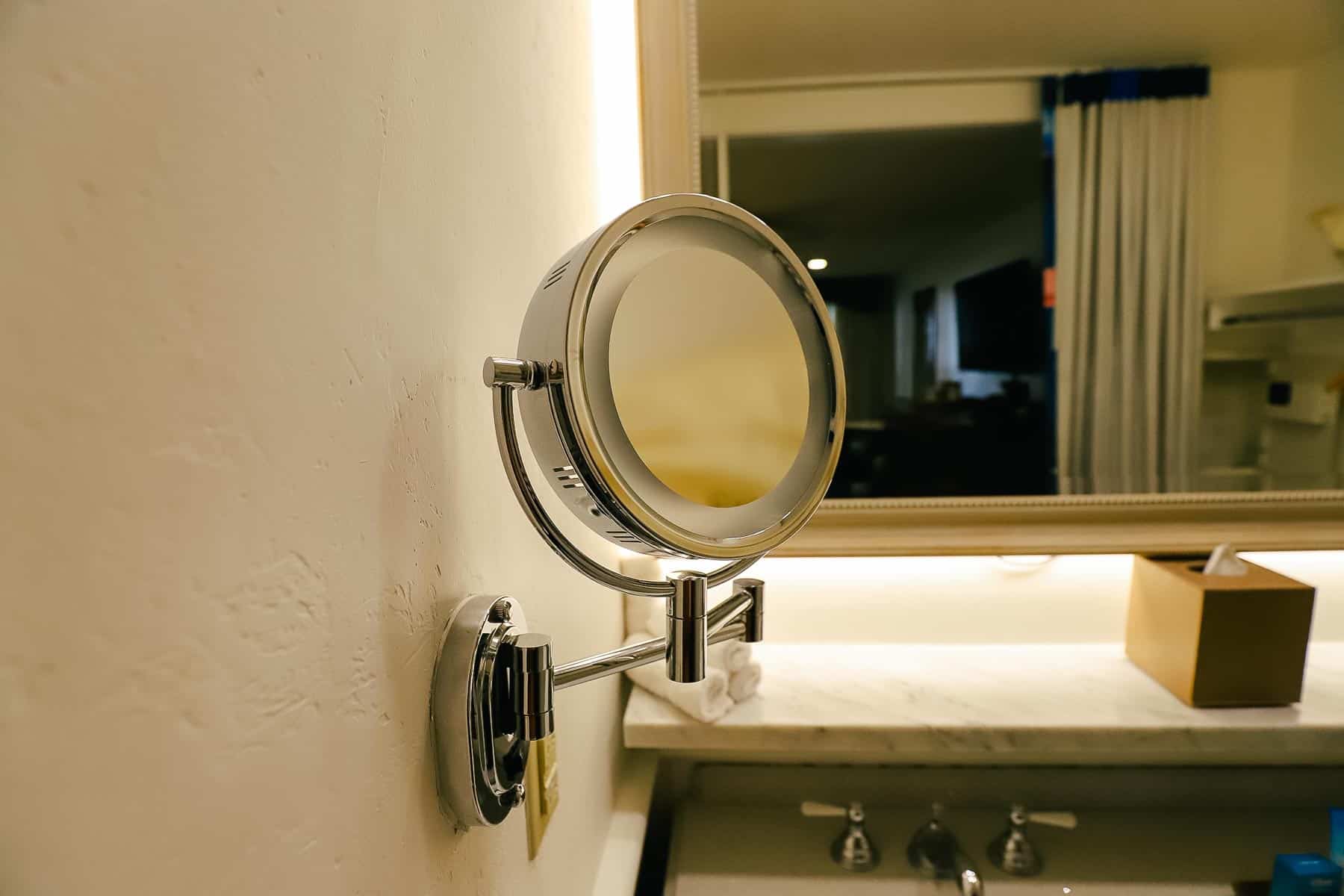 The open closet area provides a rack to hang clothes, an iron, an ironing board, an in-room wall safe, and an extra pillow with a blanket sealed in a bag on the top shelf. If you need more pillows or blankets, call housekeeping. They will gladly bring you extras.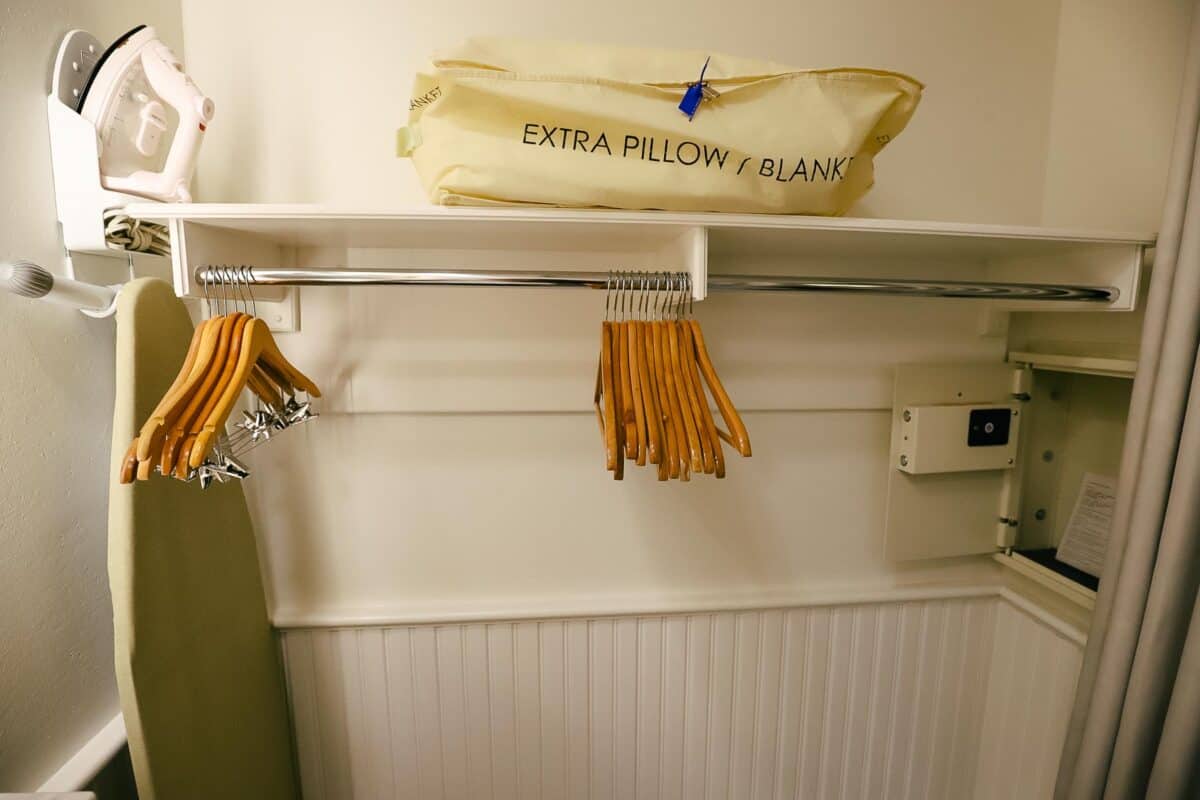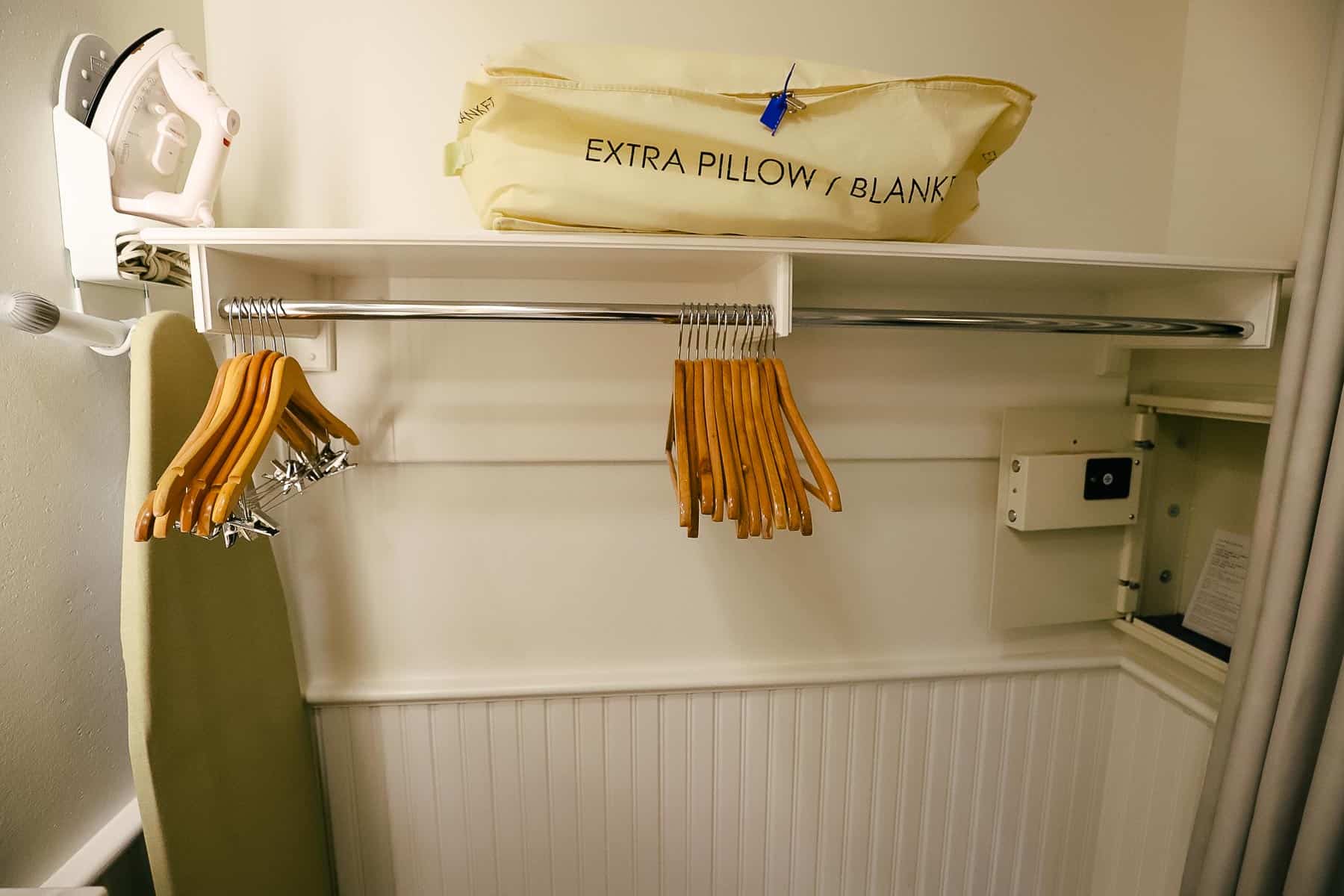 A door divides the vanity area from the water closet.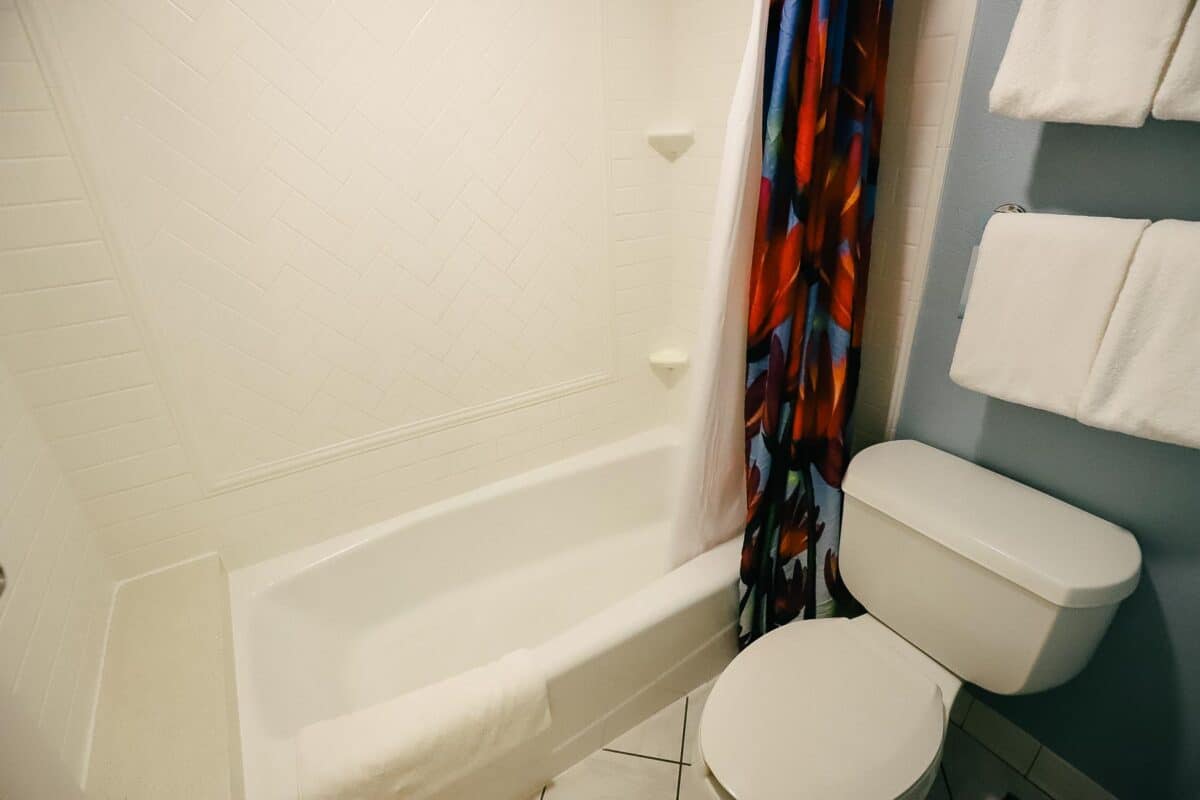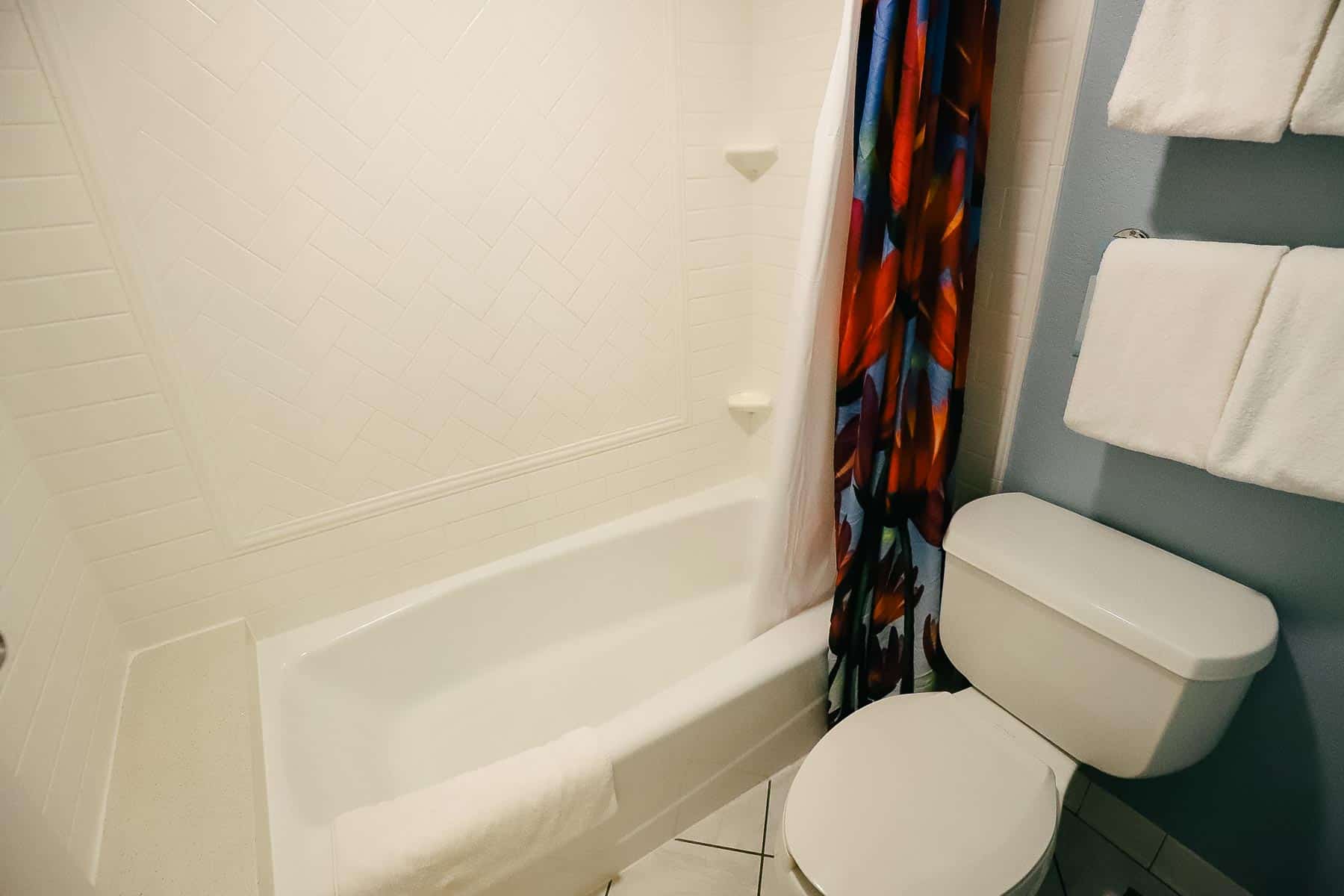 One large showerhead is available.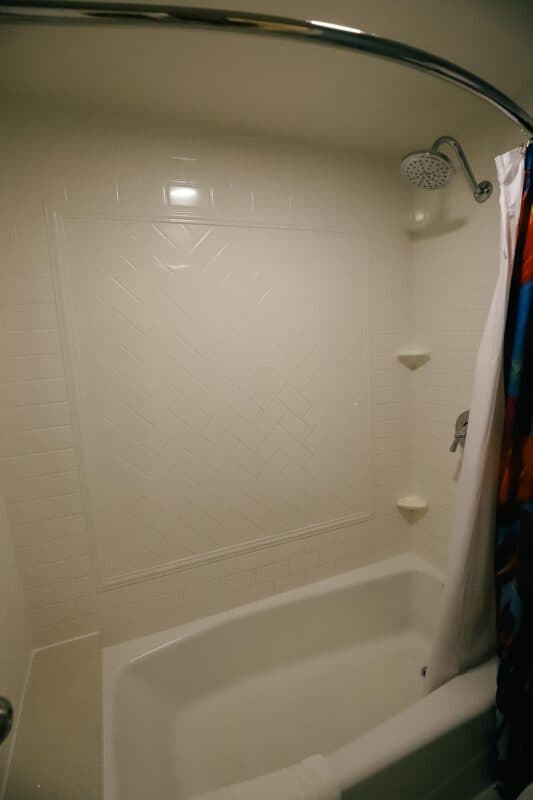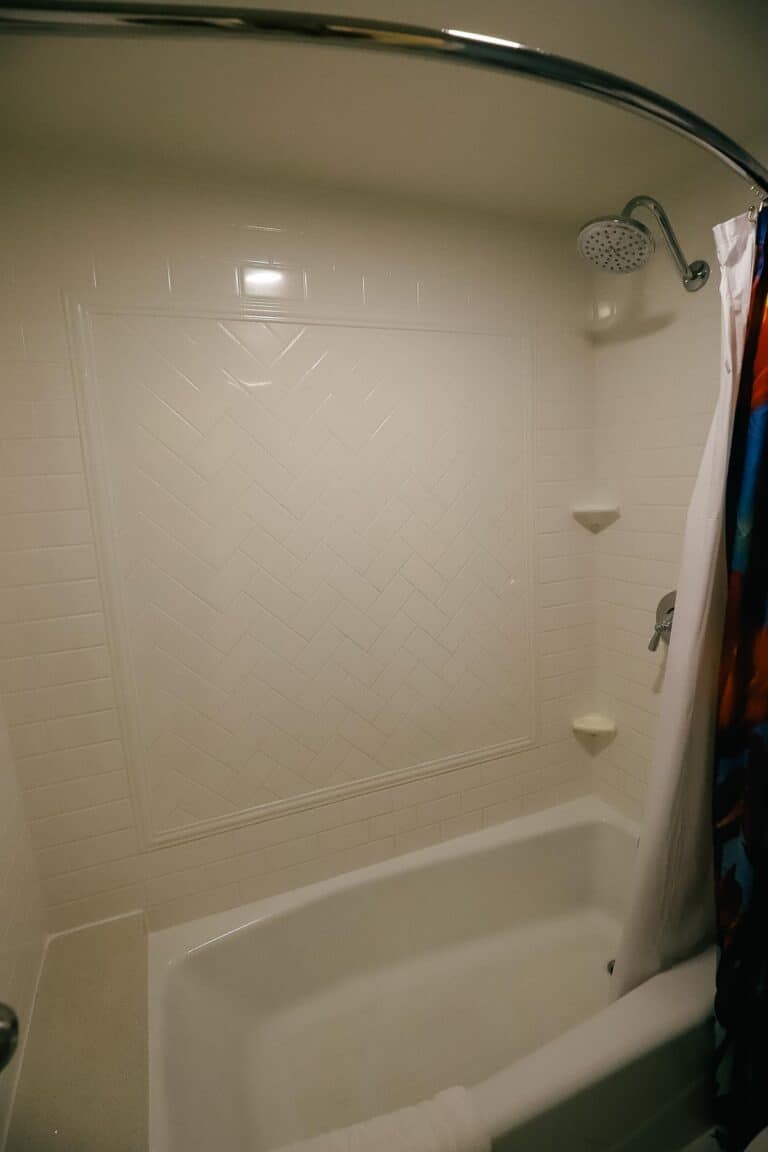 Built-in toiletries include body wash, shampoo, and conditioner.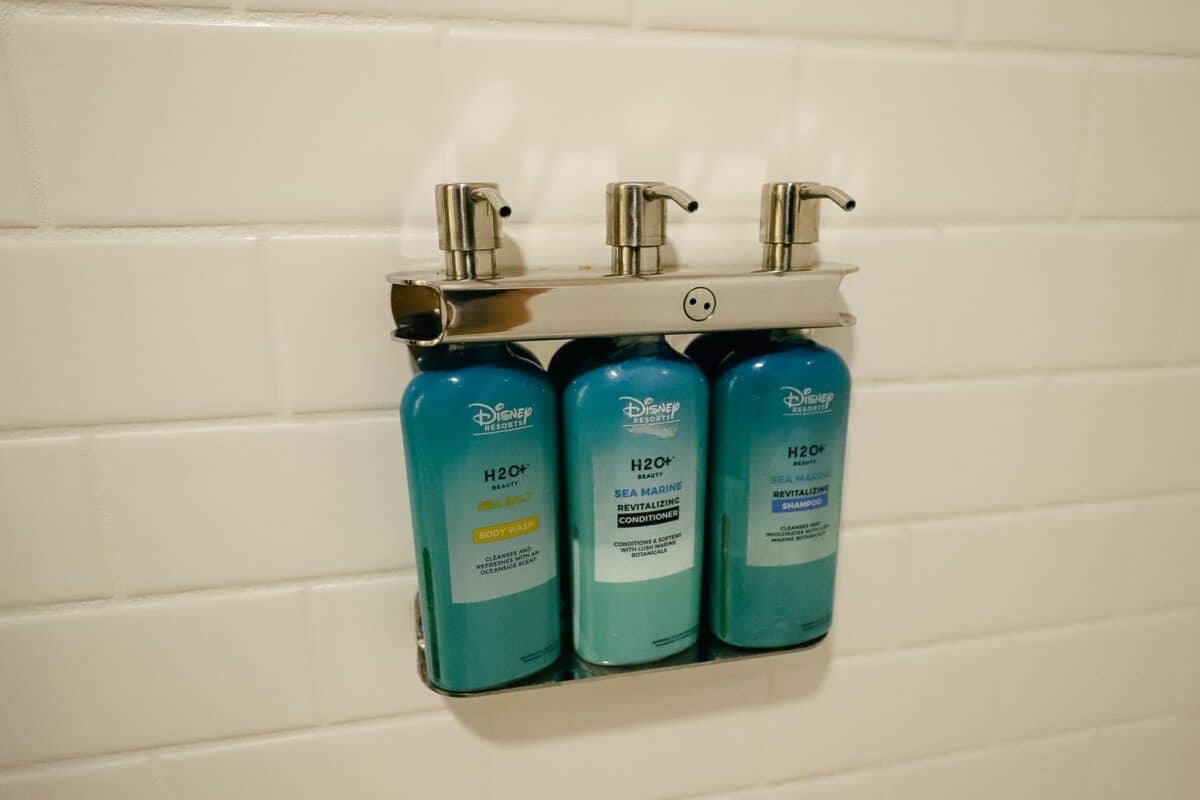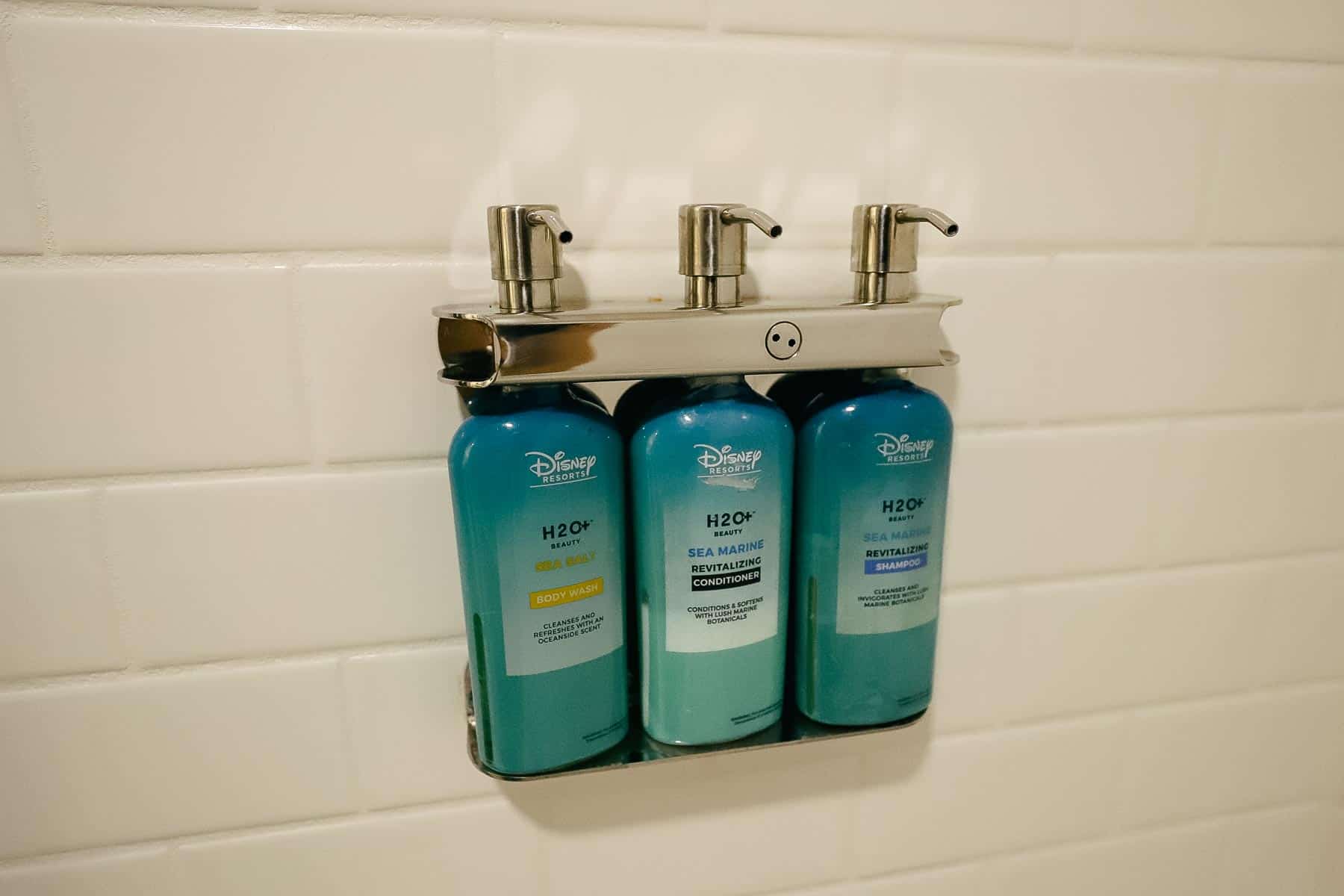 Here is the view from our room to the courtyard garden in the middle of Magnolia Terrace.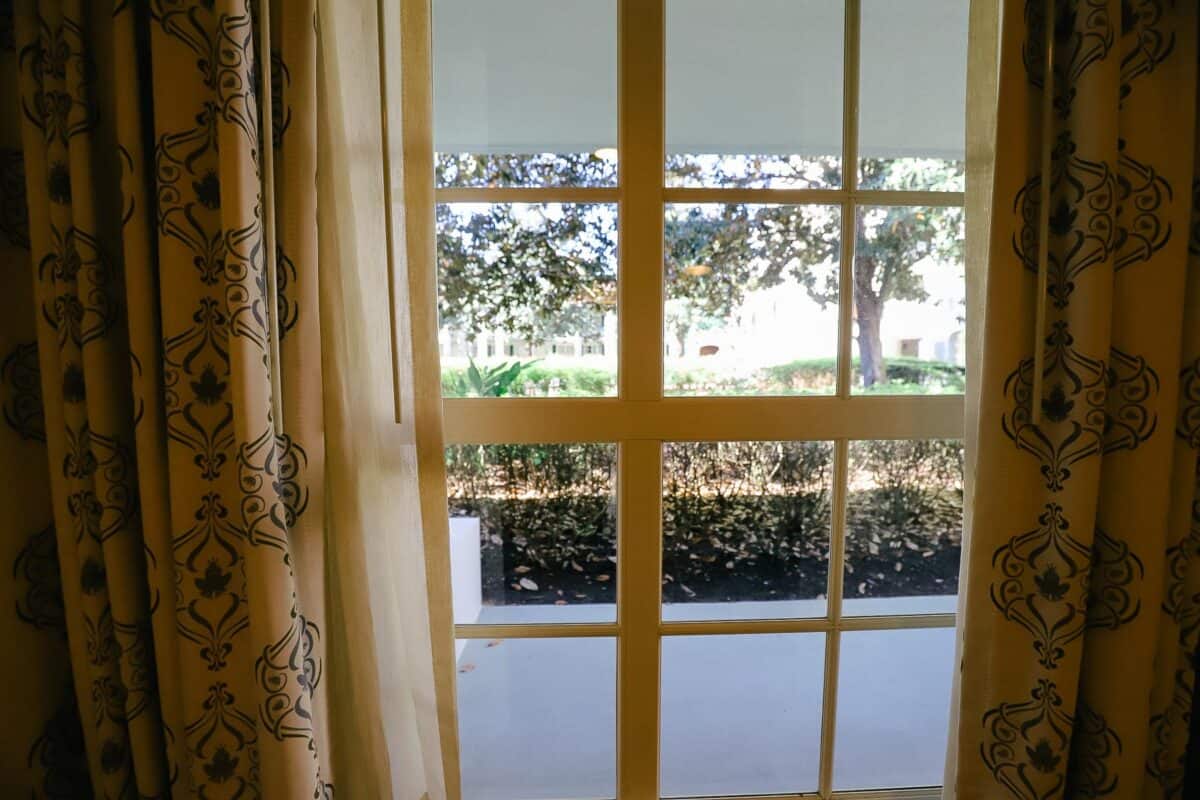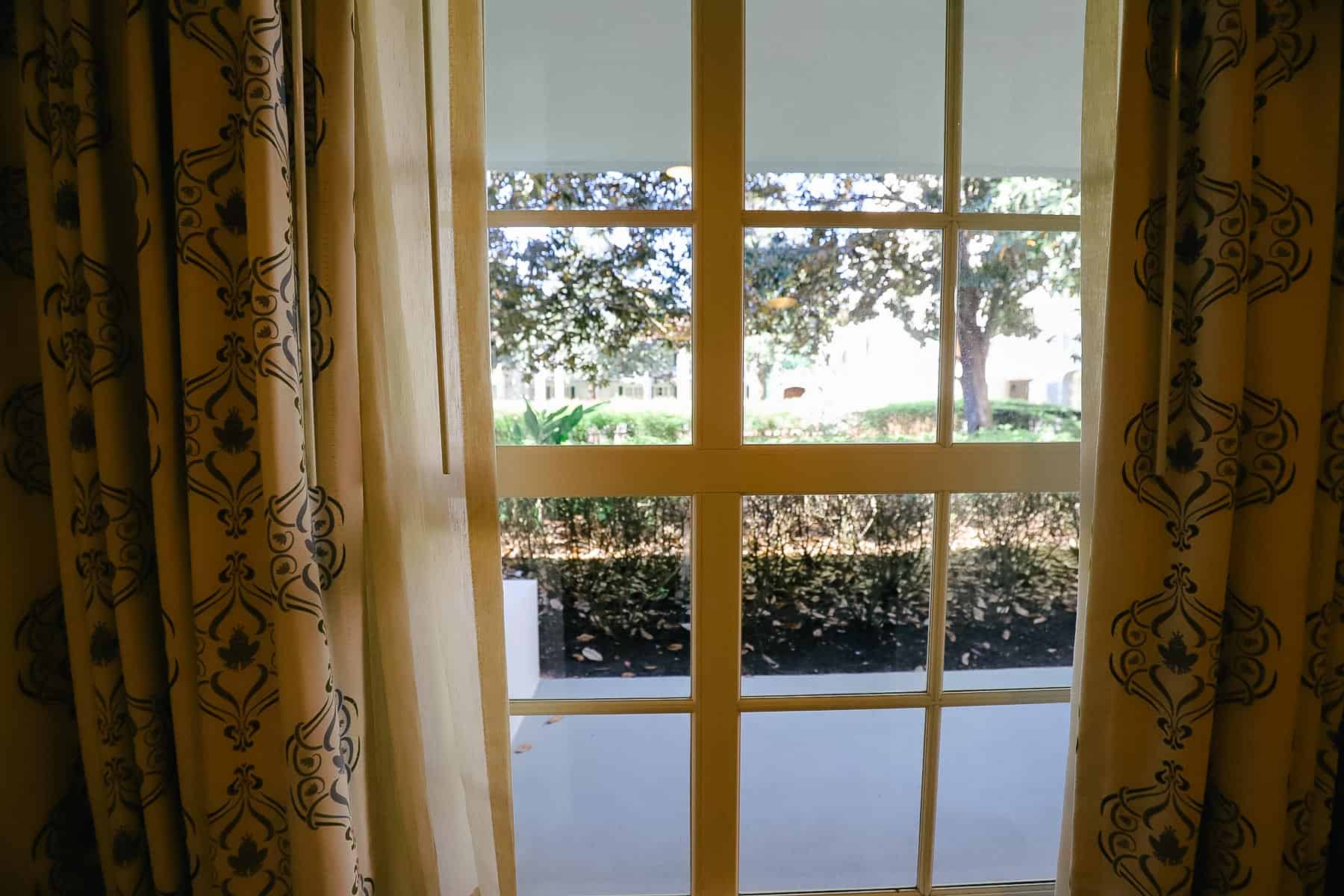 The curtains are super cute.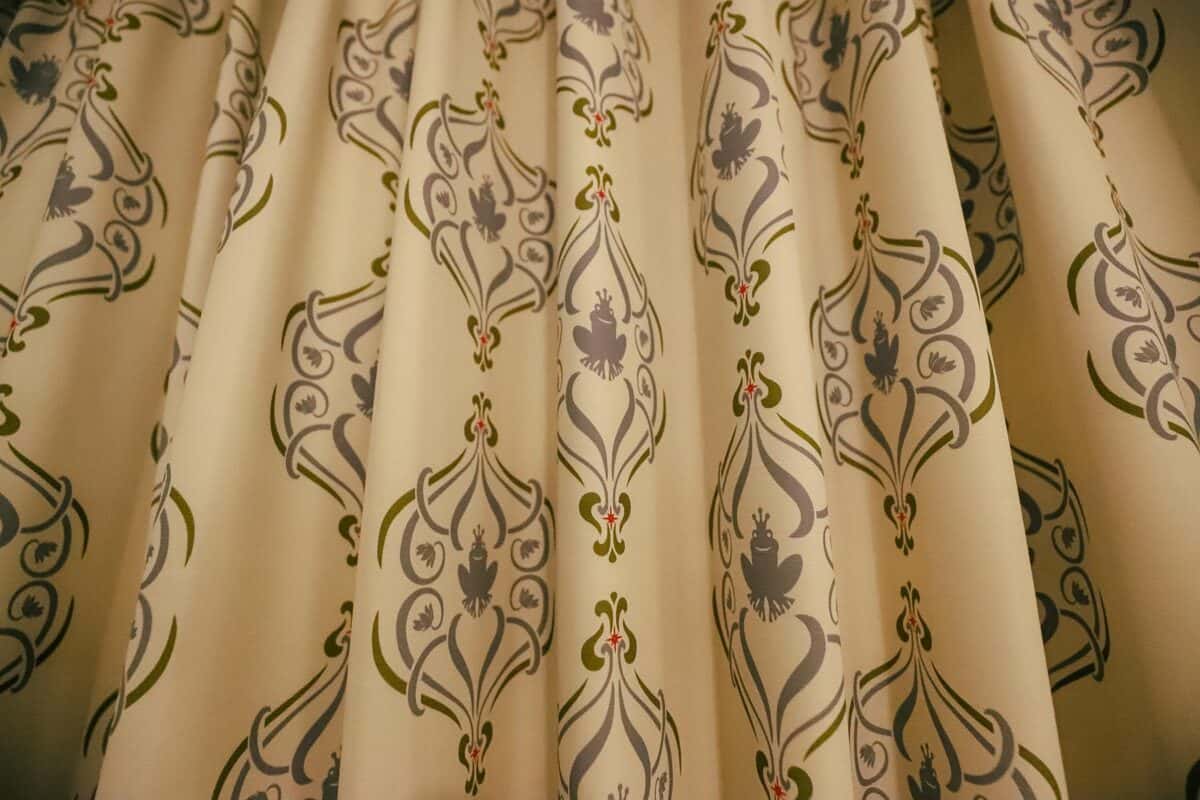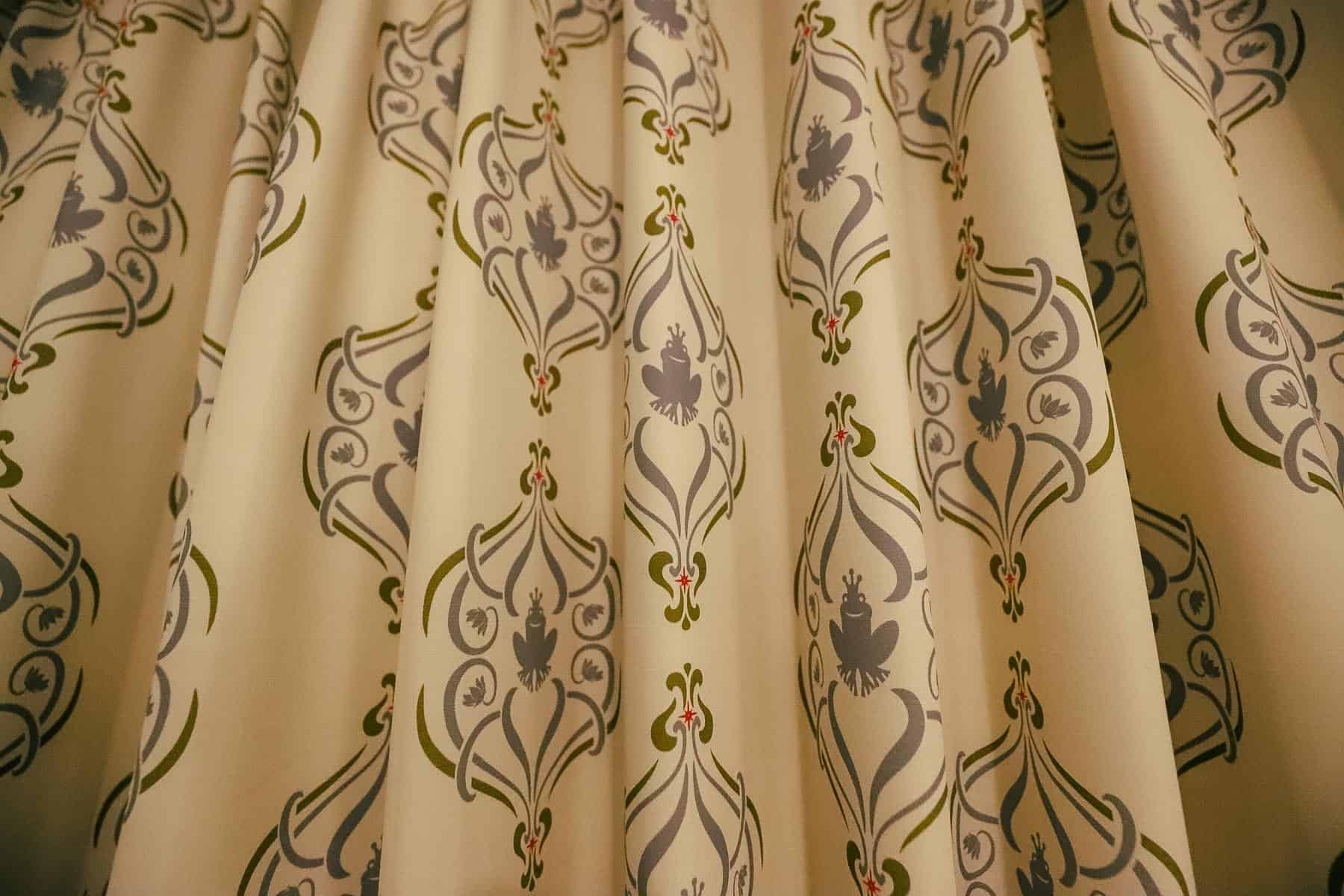 Below is a photo that shows why we don't think a room view is necessary. However, if you had a room with a balcony at a deluxe resort, that might warrant upgrading to a lovely room view.
But there isn't too much reasoning for a value or moderate unless you can't tolerate having a parking lot outside your room. We only booked this room because it was the only room category available for the days we needed.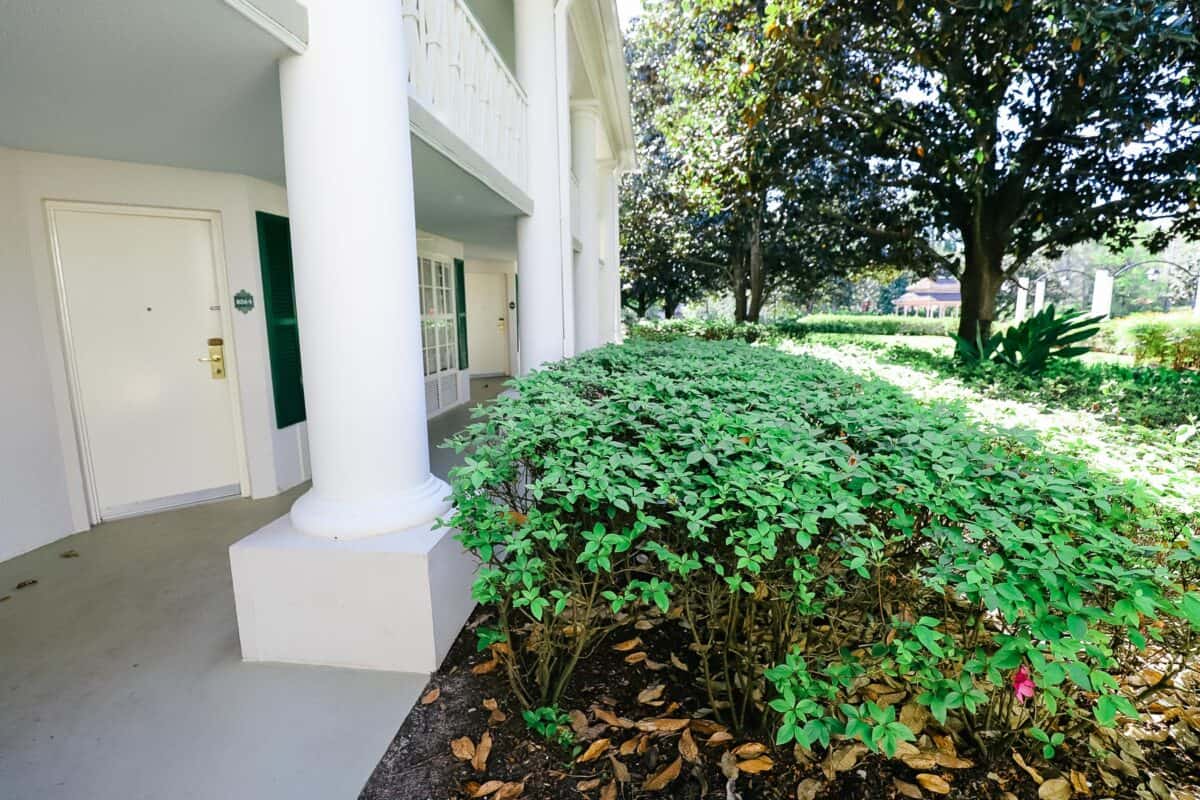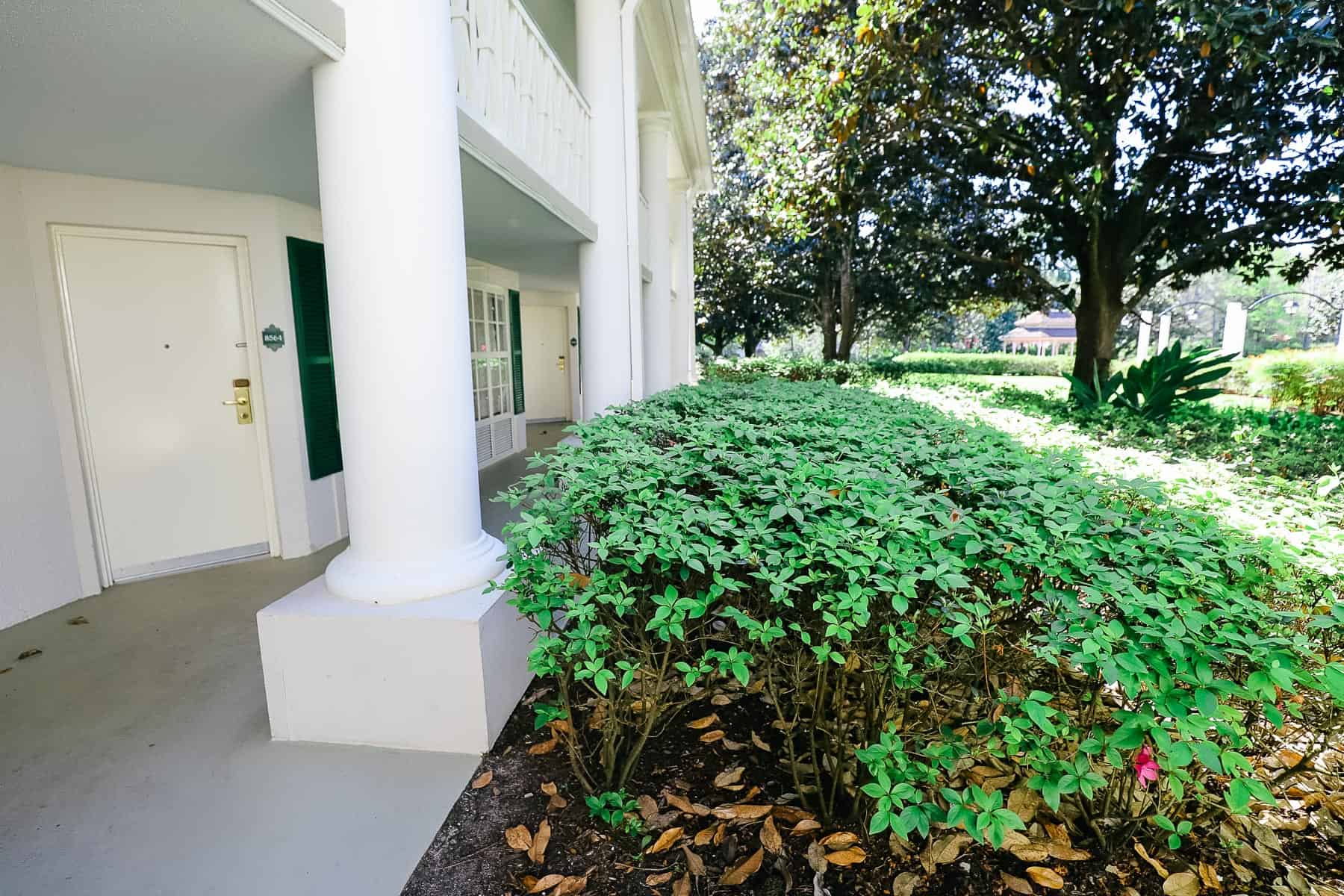 This stay was in room 8564. It was exceptionally close to a quiet pool in Magnolia Bend and Ol' Man Island, the resort's feature pool.
Related: The Pools at Disney's Port Orleans Riverside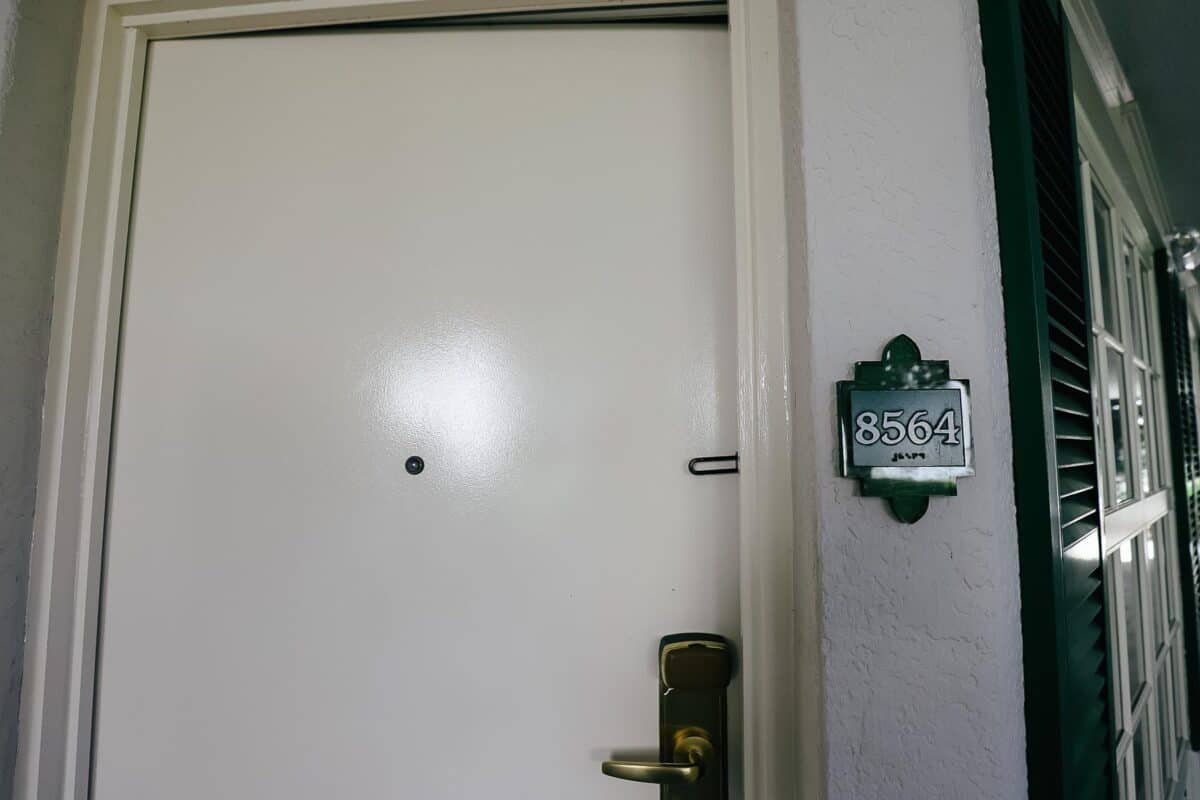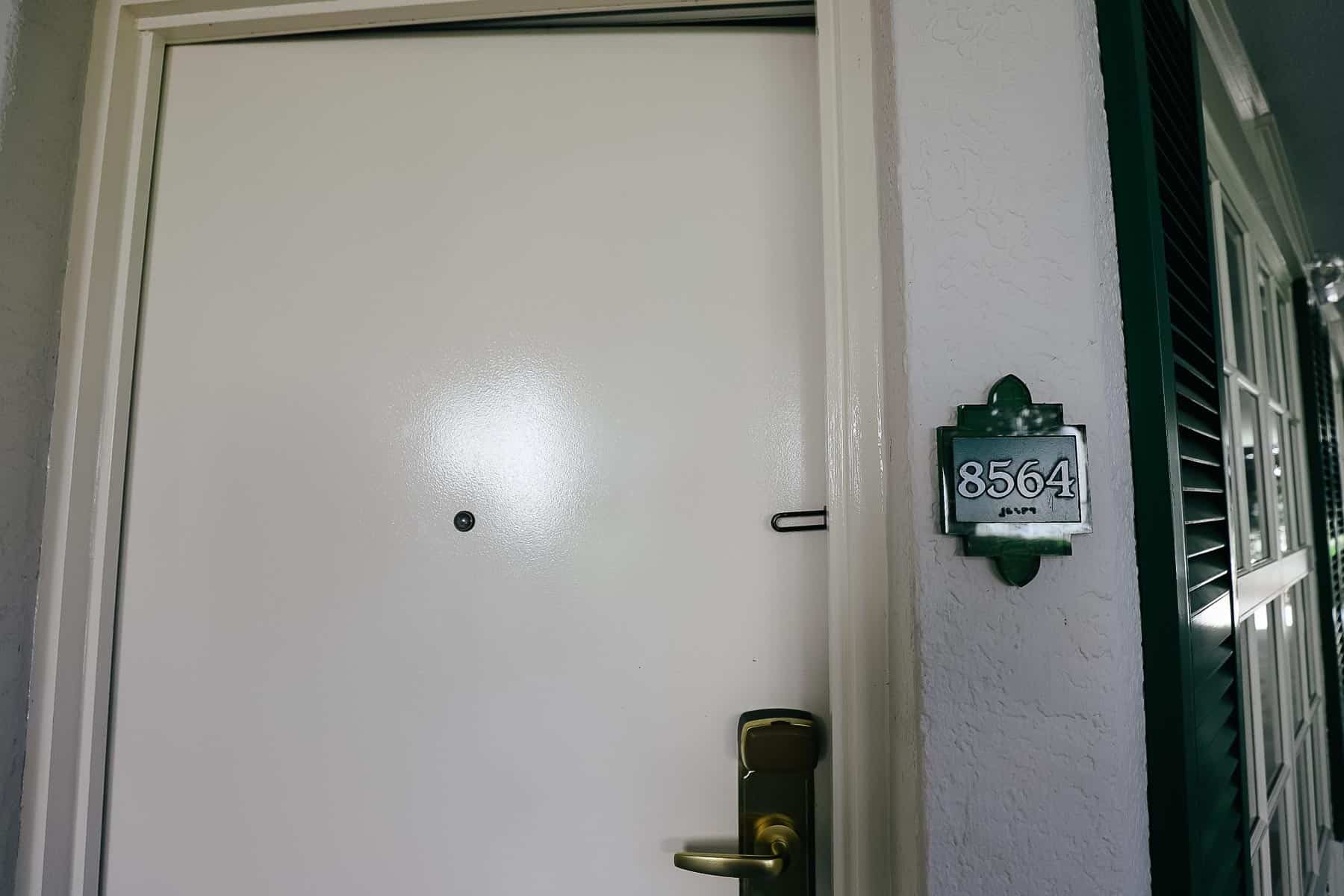 Video: Port Orleans Riverside Magnolia Bend Room Tour
Here is a video tour of our room.
Final Thoughts
We were happy with our room assignment at Disney's Port Orleans Riverside. While we could hear some noise from our neighbors, it was nothing compared to our room at All-Star Movies last month.
You may remember we didn't get much sleep because someone in the room next door had a terrible cough. Thankfully, the walls aren't as thin here at Port Orleans Riverside.
Related: Preferred Room at All-Star Movies
We'll have a few updates and a new resort review for Riverside in the coming days. For more information, all of our articles related to the resort are listed in our guide.
You may also enjoy the following room tours:
In the Comments
What are your thoughts on this standard room at Disney's Port Orleans Riverside? Can you imagine spending an entire week in this room?