Sassagoula Floatworks and Food Factory Review
Sassagoula Floatworks and Food Factory–what kind of name is that? I'm not 100% sure. But I do know one thing–I love to eat there.
Why? Well, for starters, the food is good, and the atmosphere is even better. So let me tell you about it.
Sassagoula Floatworks and Food Factory is the primary quick-service dining location at Disney's Port Orleans French Quarter. They serve anything from Creole-inspired dishes to American favorites.
My history with Sassagoula Floatworks and Food Factory dates back to before the world turned upside down. Back then, I was in the Orlando area almost full-time.
Often, I would work on the website during the day. Then, I would head to a resort for a jog in the evenings. This practice helped me familiarize myself with the different resorts at Disney World and their layouts.
I have many fond memories from this time in my life. You see, at that time, this website went by another name. And I tried to cover everything at Disney World, which felt impossible.
So it turns out that these evening resort visits helped me clarify what I love the most about Disney…the resorts.
Anyway, you came here to read about Sassagoula Floatworks, not the history of this site. But I can't help but reminisce about what I had for dinner after my jog that evening, a beignet burger with fries.
And that burger was the best counter-service Disney burger I've ever had. Unfortunately, it's not on the current menu. But there's always hope it will return.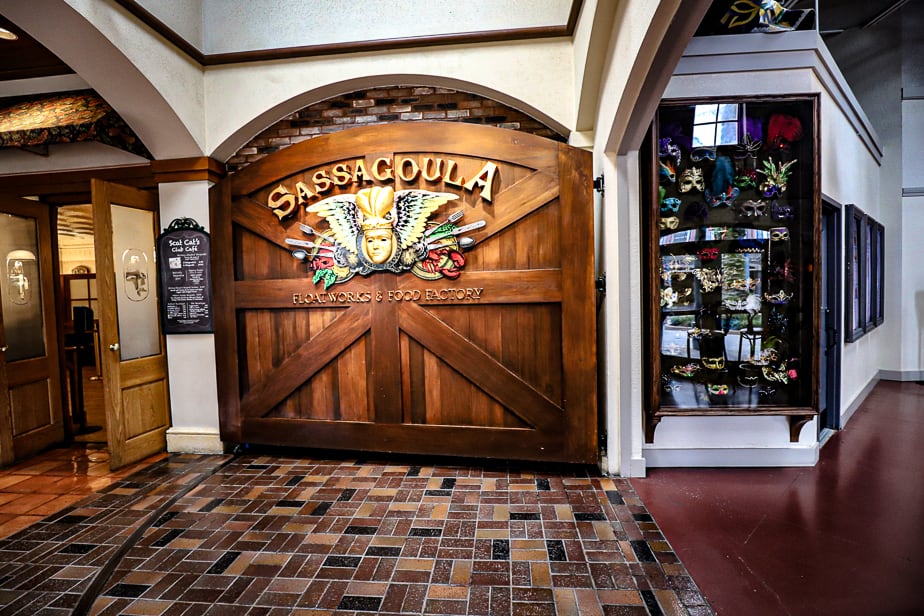 Sassagoula Floatworks and Food Factory is located off the lobby of Disney's Port Orleans French Quarter. They are open daily from 7:00 a.m. until 11:00 p.m.
These are pretty standard hours of operation for most resort counter services. However, I recommend checking the exact hours during your visit.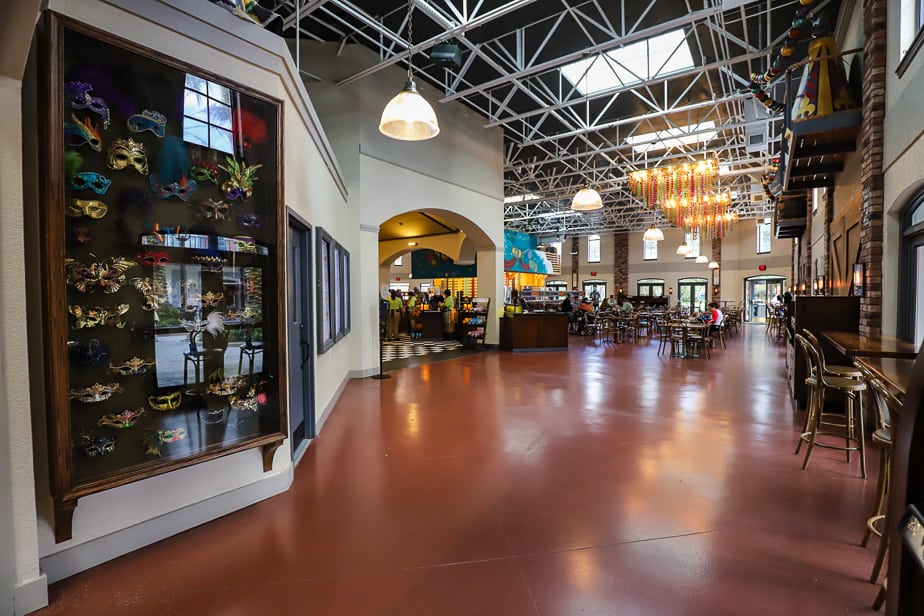 French Quarter is the smaller of the two Port Orleans Resorts. It has a boutique feel, with all of the resort's amenities centrally located in or around the lobby.
After entering the lobby from the main entrance, Sassagoula Floatworks is on your far left toward the back corner. Upon entering the restaurant, you're greeted by this large open space.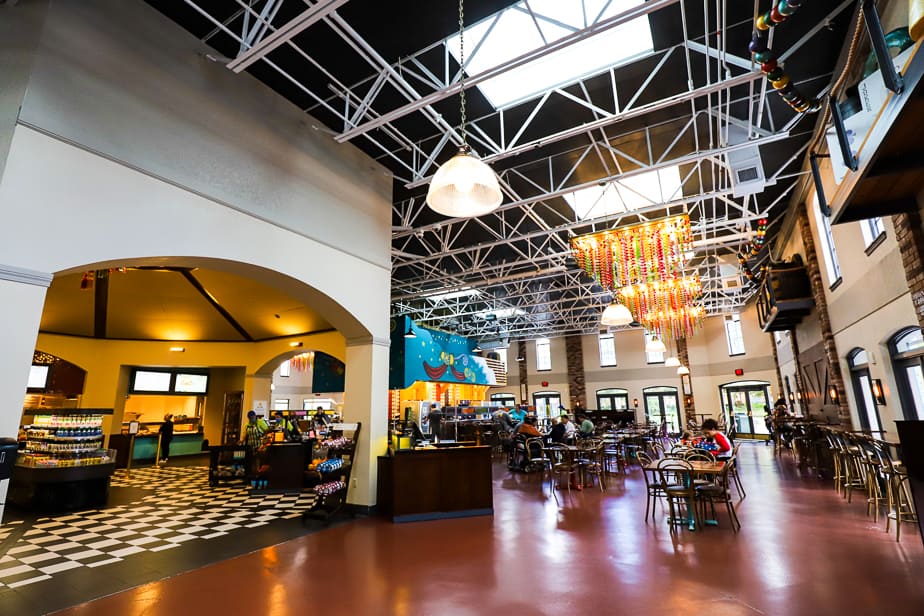 Several electronic menu boards offer a preview of what's available. Additionally, you can preview the menu in the My Disney Experience app and place a mobile order if you like. However, mobile orders are not required.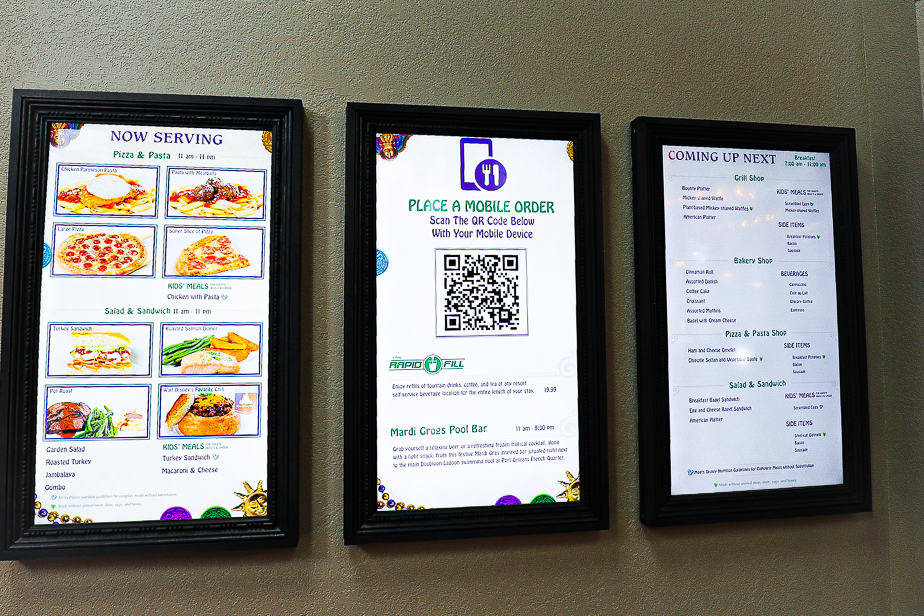 At the time I took these photos, the signature burger was the pimento bacon cheeseburger. However, on my recent stay, that's changed to a Baton Rouge burger.
Plant-based items include a "tuna" sandwich. Disney uses quotation marks to indicate when an item that sounds like meat really isn't. So if you see a grilled "cheese" sandwich on the menu, lean in a little closer to read that description, it's probably soy.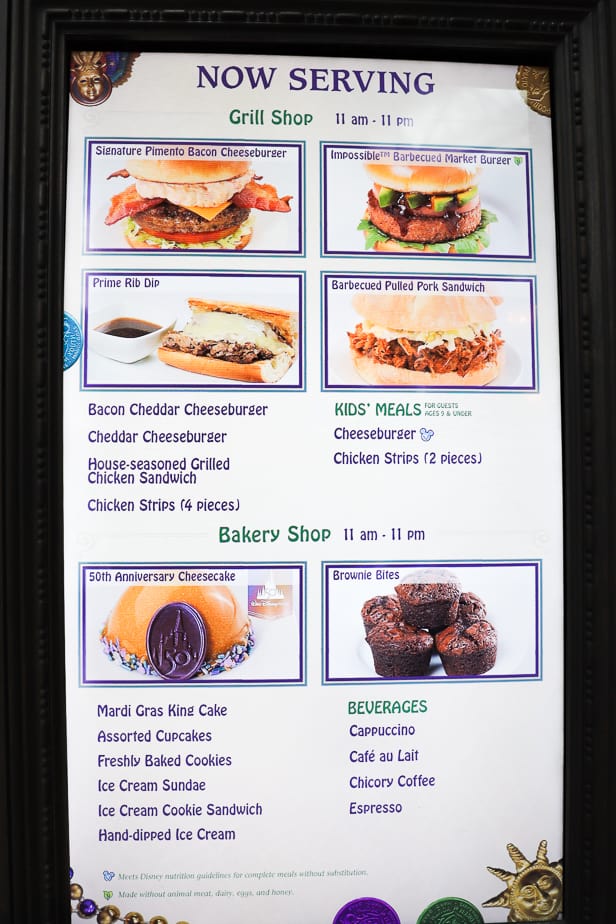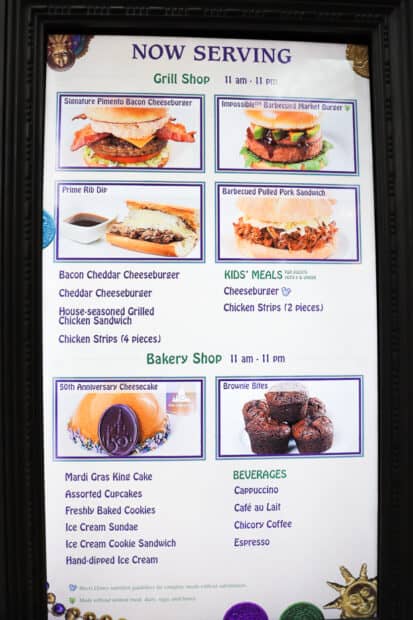 Similar to most resort quick services, Sassagoula Floatworks and Food Factory is set up like a food court. You can walk up to the various stations and see what's available before ordering.
Some of the American items include:
Jambalaya
Gumbo
Salmon with Vegetables
Shrimp with Grits
Buttermilk Chicken
Grilled Chicken Sandwich
Cheeseburgers
Chicken Strips
Prime Rib Dip
Ham and Cheese Sandwich
Honey Barbecued Pork Sandwich
Kids' Meals include:
Chicken Strips
Cheeseburger
Macaroni and Cheese
Chicken and Vegetables with Pasta
Bakery Items:
Mardi Gras King Cake
Cupcakes
Ice Cream
Brownies
Here is a look at the pizza and pasta station items: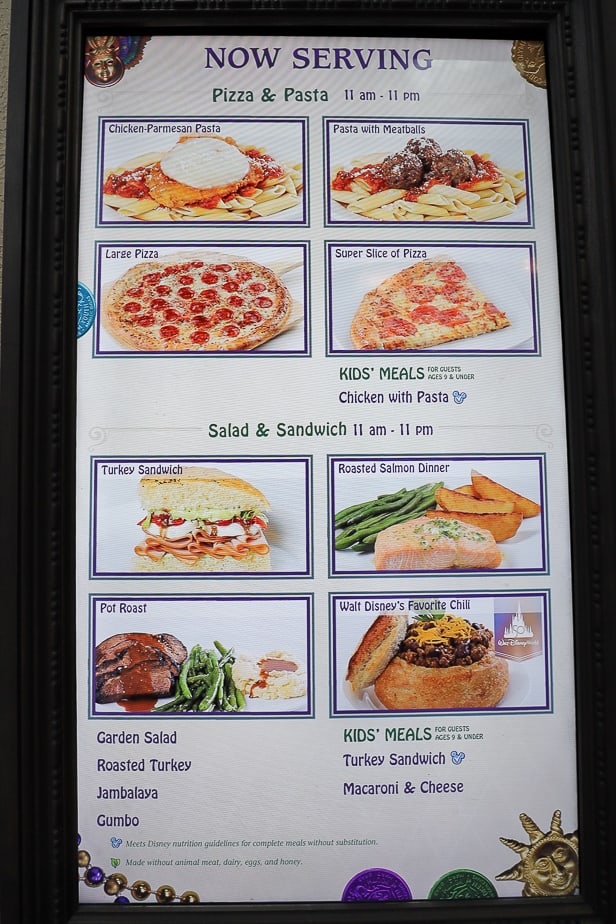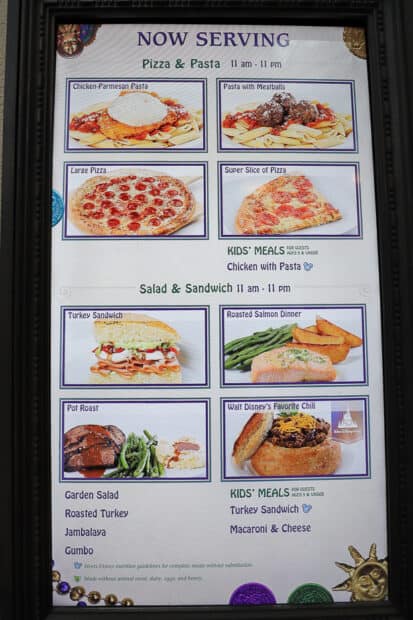 Items include:
Baked Turkey Gnocchi Bolognese
Chicken Parmesan Pasta
Pasta with Meatballs
Super Slice of Pizza (Cheese or Pepperoni)
Large Family Pizza (Cheese or Pepperoni)
Salad Choices include:
Caesar Salad (with or without chicken)
Greek Salad (with or without chicken)
Preview the entire lunch and dinner menu here on Disney's site.
During my last stay, I ordered the prime rib dip with a side of fries. I'm always happy to see this kind of offering.
It wasn't anything out of the norm as far as roast beef sandwiches go. However, it was warm, filling, and freshly prepared. I much prefer this kind of item over anything pre-made.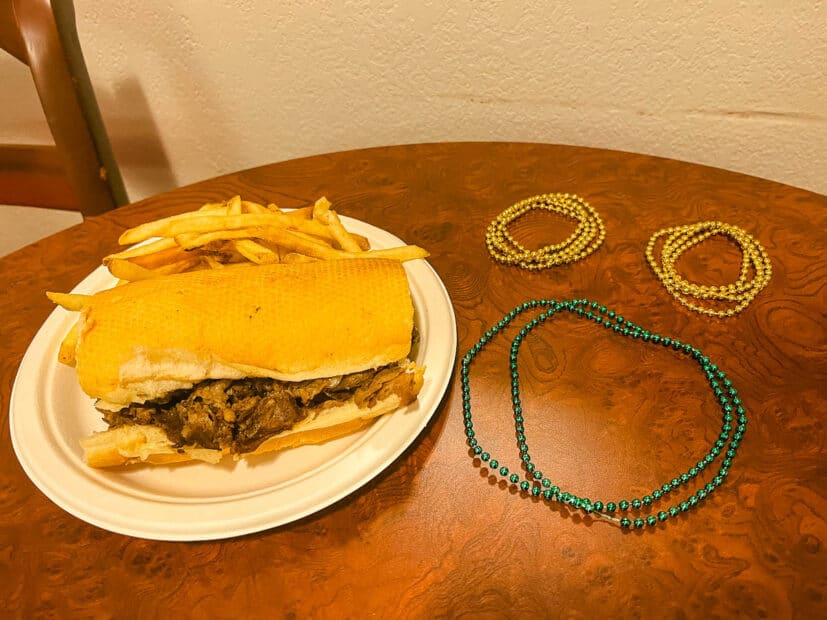 For breakfast, Sassagoula Floatworks and Food Factory offers pretty much the same items you'll find at most moderate resorts.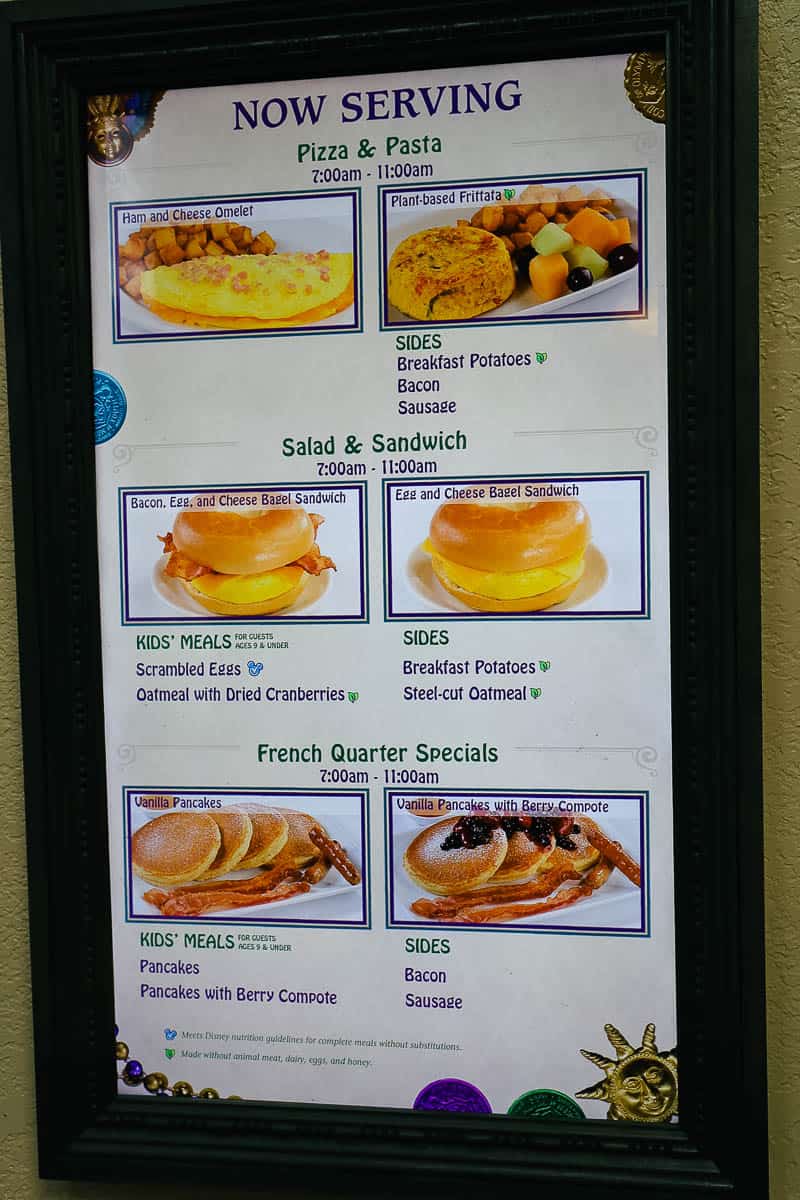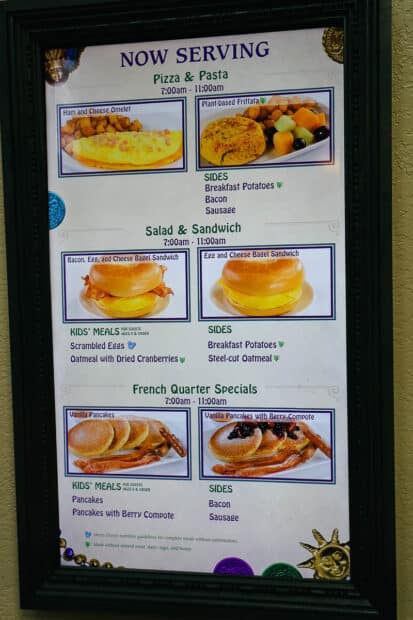 Menu items include:
Mickey-shaped Waffles
Waffle Bounty Platter
Bacon, Egg, and Cheese Bagel Sandwich
Ham and Cheese Omelet
Pancakes with Berry Compote
Plant-based items include:
Plant-based Frittata
Plant-based Waffles
Overnight Oats
Kids' Meals:
Oatmeal
Scrambled Eggs
Pancakes
Mickey Waffles
You can preview the entire breakfast menu with prices here.
For breakfast, I ordered the kids' meal with oatmeal and a side of sausage and a bag of apples. Instead of milk, I elected to get a fountain drink. Then I ordered a coffee and picked up yogurt from the refrigerated case.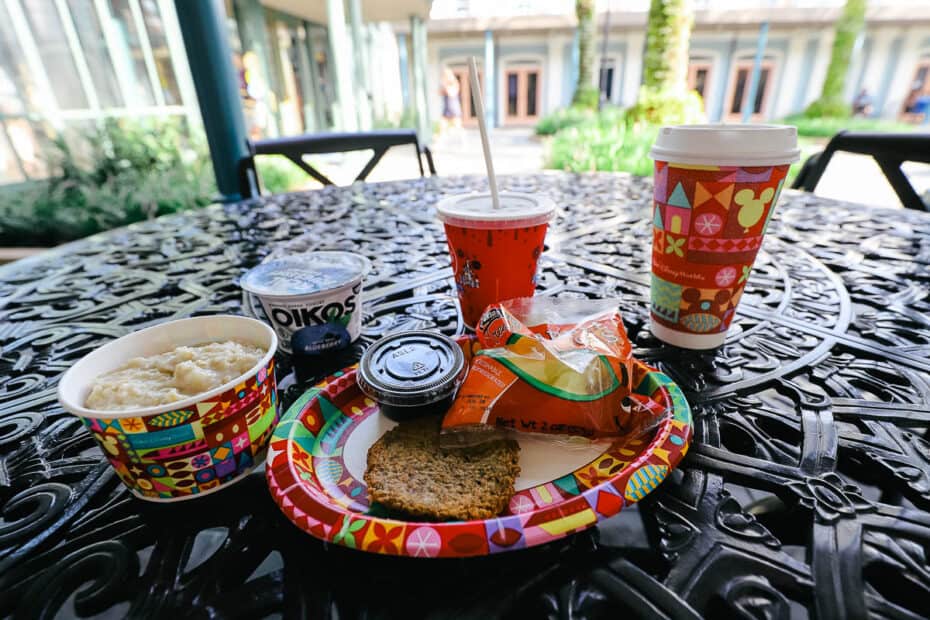 This meal aligns with what I often prepare at home, so I enjoyed it twice during my trip. Secretly, I was trying to make up for those beignets with chocolate ganache I had for breakfast the first morning of my stay.
You can order beignets for breakfast at Scat Cat's Club Cafe. I paired my beignets with an order of bacon and a coffee from Sassagoula Floatworks and Food Factory. It was a memorable breakfast.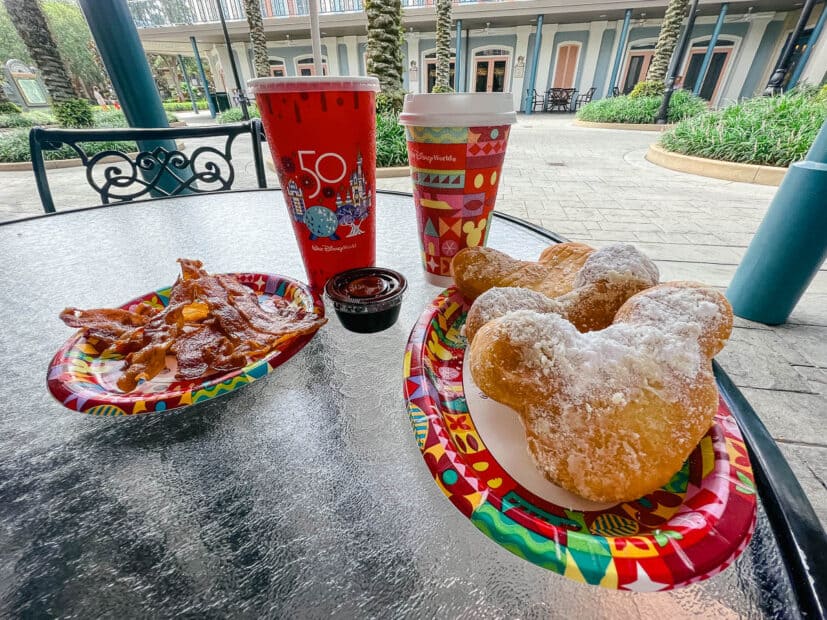 As far as decor goes, Sassagoula Floatworks and Food Factory underwent a significant refurbishment several years ago. As a result, many argue that the restaurant's theming went from over-the-top to bland.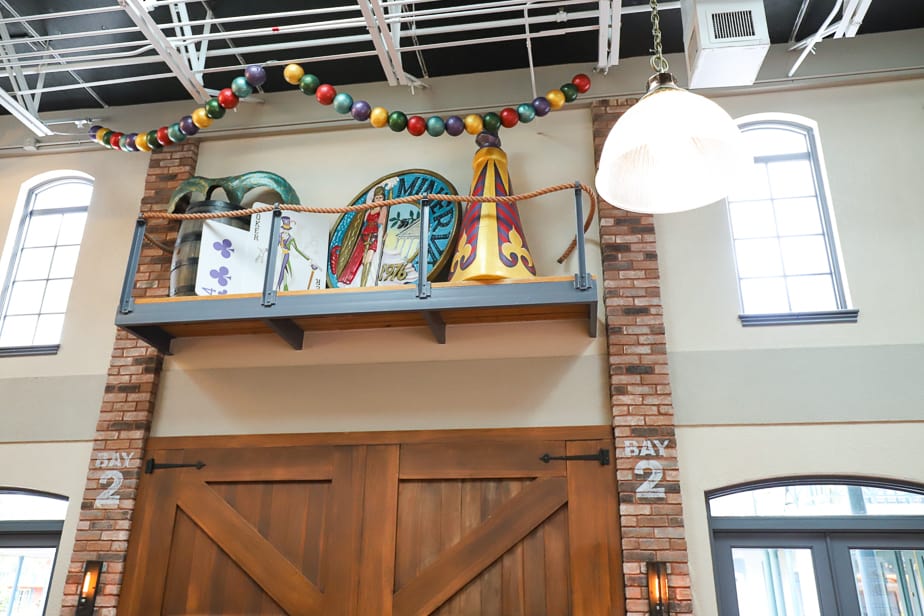 However, I think this resort's quick service is tastefully decorated. The design has a subtle charm and fun references to The Big Easy.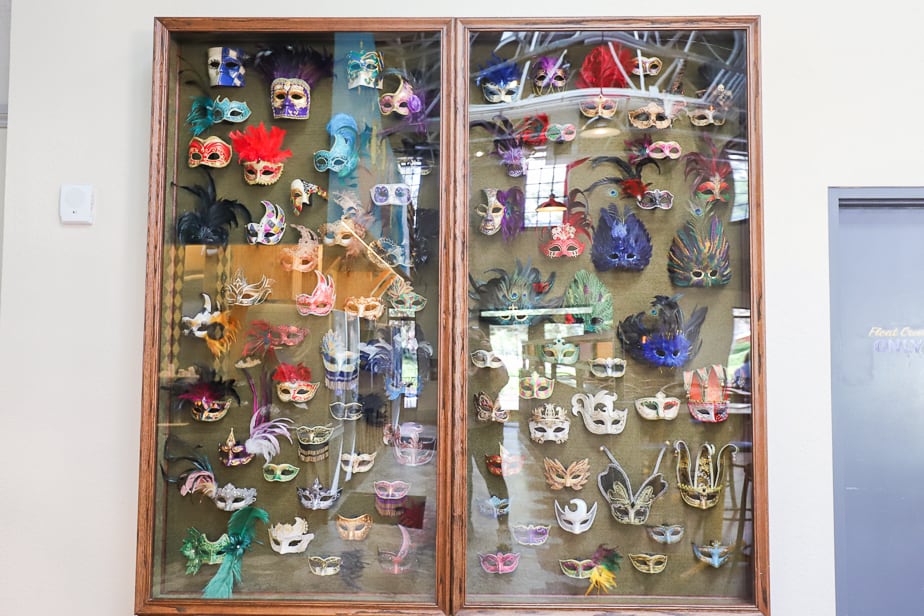 A few grab-and-go items are available at the quick service. Near the register, there are fruit and cereal options.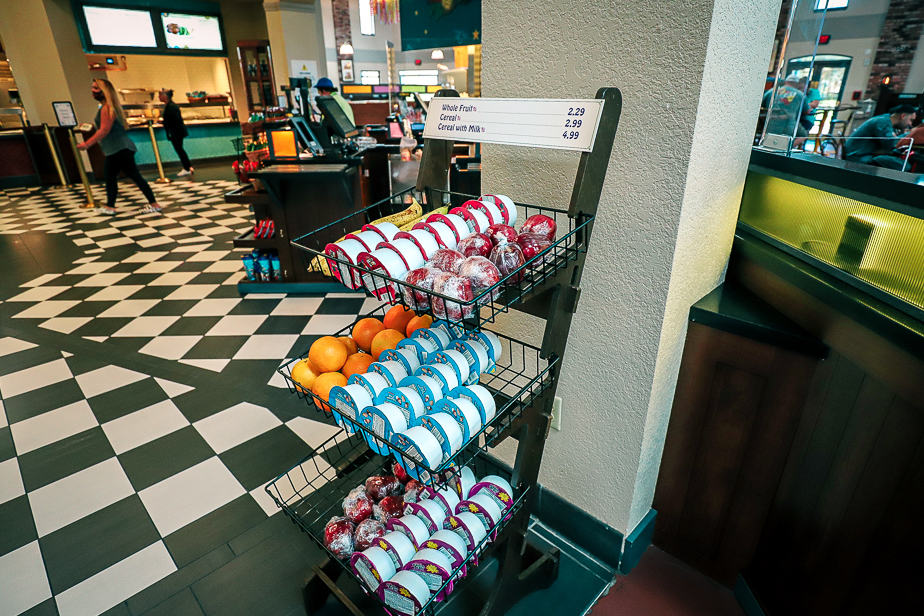 However, most of the snack items, like bags of chips and candy, are across the lobby at Jackson Square, French Quarter's gift shop.
Toward the middle of the food court, there's a large refrigerated case containing a variety of items.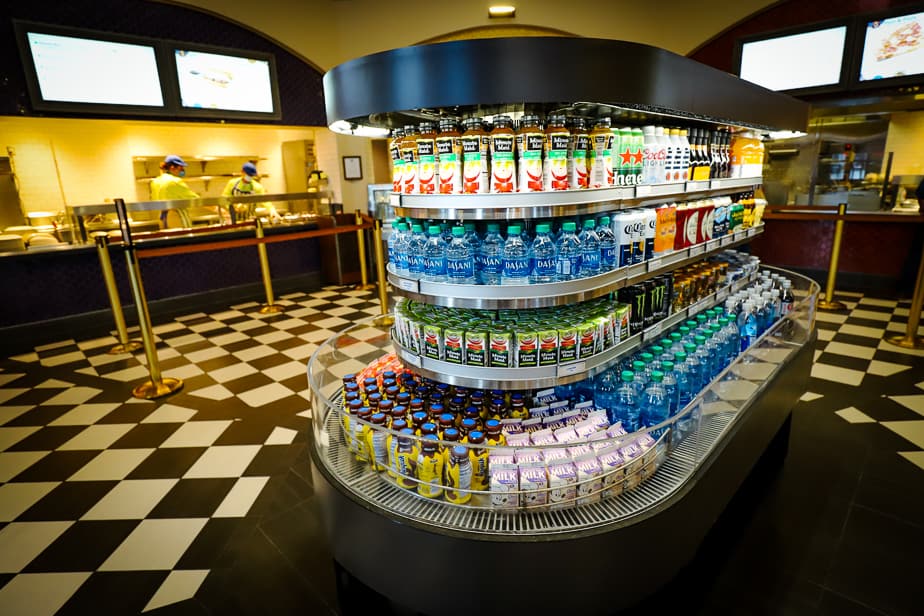 Make sure to walk all the way around the cooler. It's packed with juice, milk, soda, beer, fruit, yogurt, and sports drinks. I was shocked at how many items this thing could hold.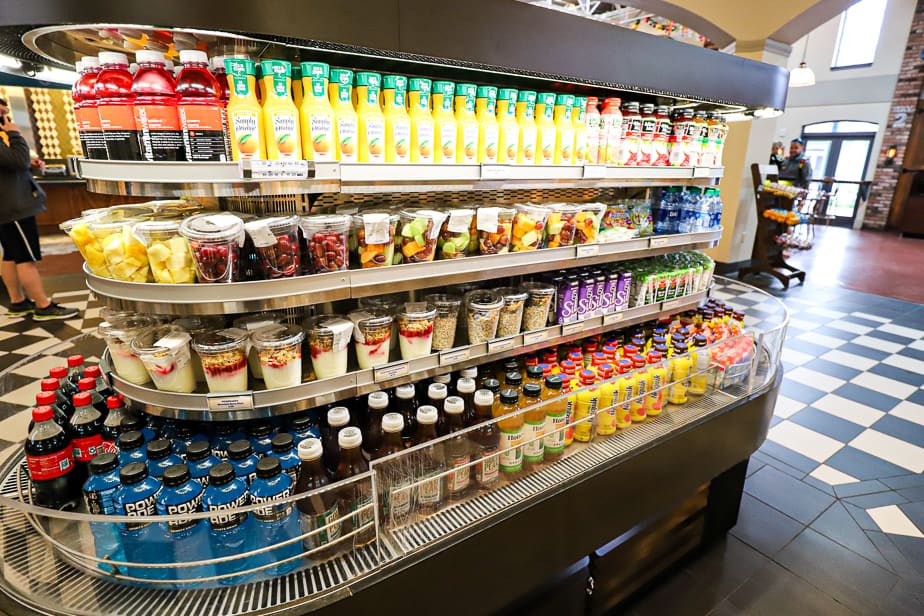 Here's a look at the layout of the food court.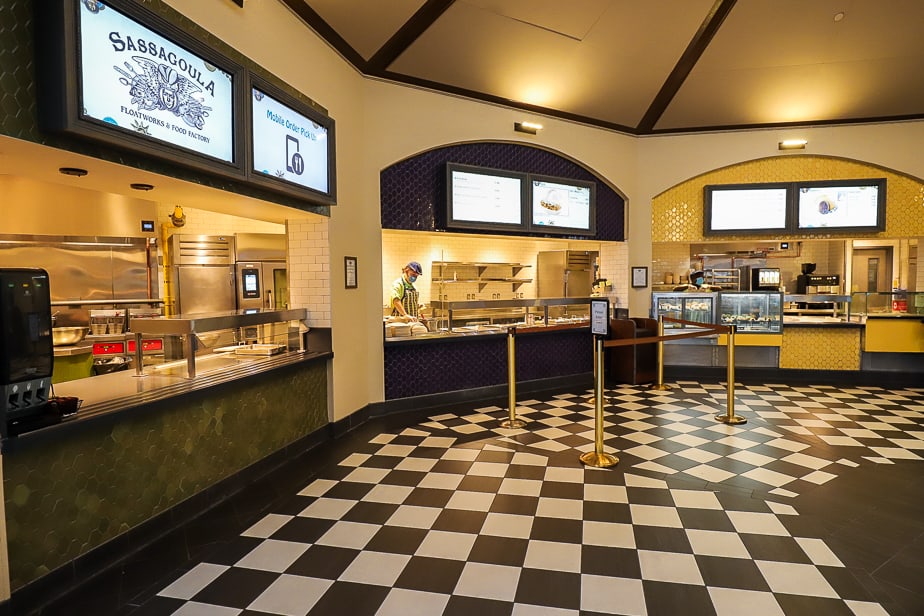 After your order is prepared, you will take it to the cash register and pay.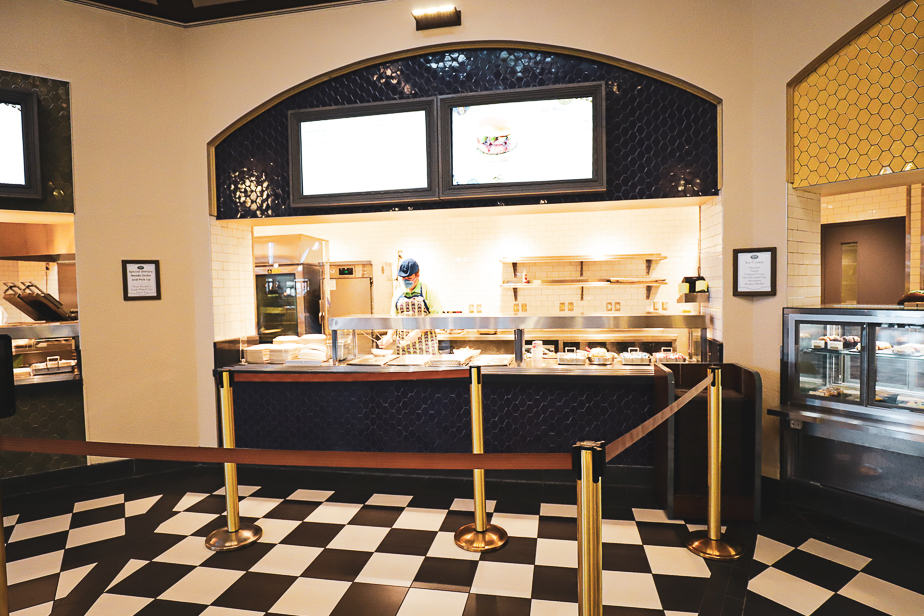 Or you can mobile order. When you receive the notification that your order is ready, you'll show the cast member your order number, and they'll direct you to the correct station to pick it up.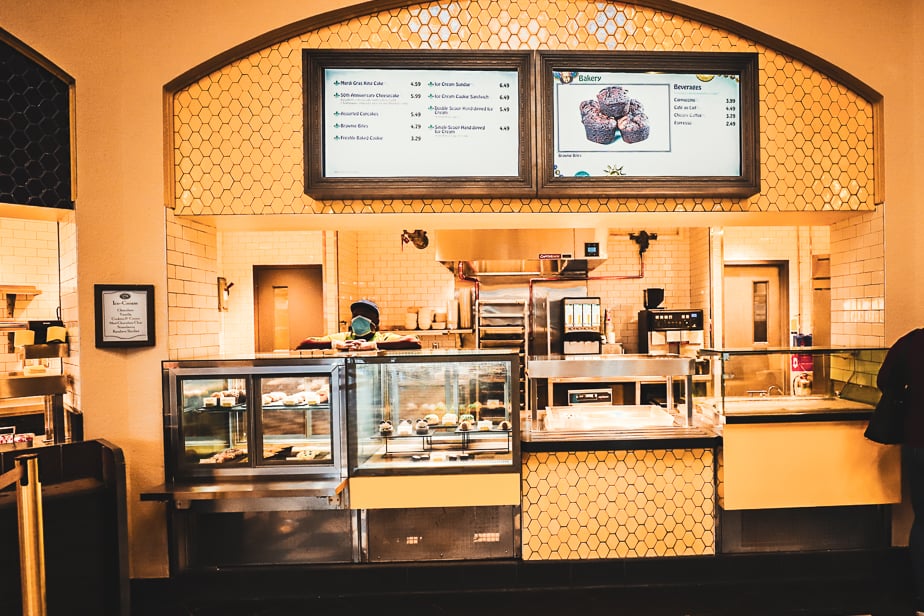 When you use mobile order, you pay on your phone at the time you place the order. I recommend mobile ordering in the evenings when you are returning from the parks.
Order your food on the bus. And as soon as the bus pulls up to the resort, tap the "I'm here, prepare my order." Then take your time walking over to pick up your order.
Hopefully, it will save a little time and keep you from standing in another long line at the end of the day.
Here are a few more items we've yet to discuss, like freshly baked cookies.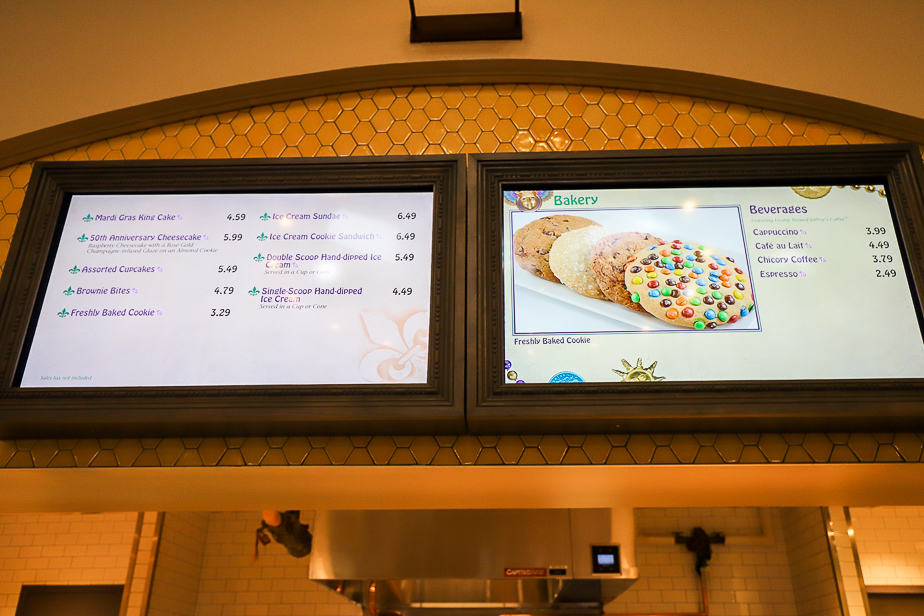 A large beverage and condiment section sits in the middle of the dining room. A toaster and microwave are available should you need one.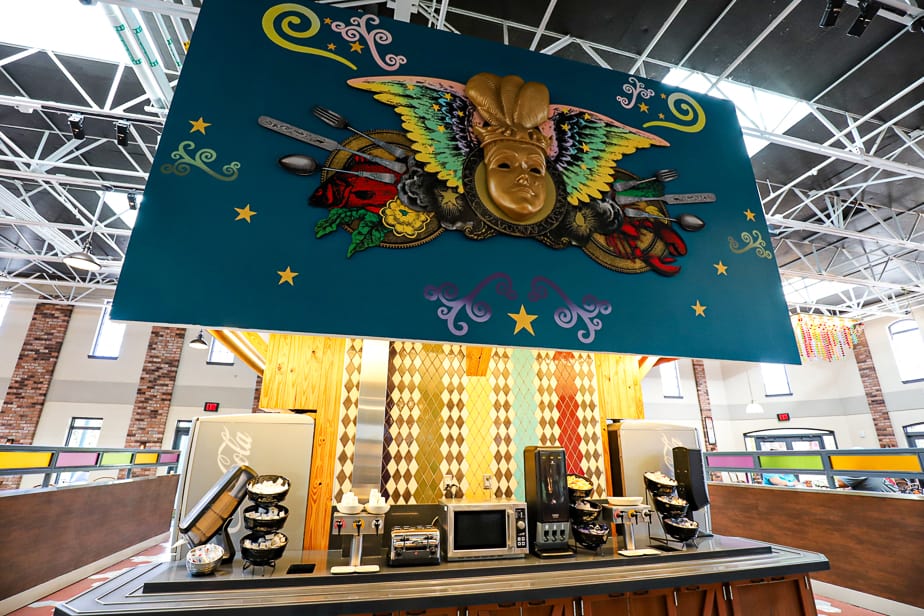 Unfortunately, when the quick service was last remodeled, they added Freestyle soda machines. The common stance on these things is that everything they spit out tastes horrible.
Recently, I went on a cruise that had these machines. On that trip, another guest shared a tip with me. They always select water first and let it run for at least 15 or so seconds to clear out the residue from the previous drinks.
I thought it was a great idea and now do the same. You can also use the water to rinse out your refillable mug.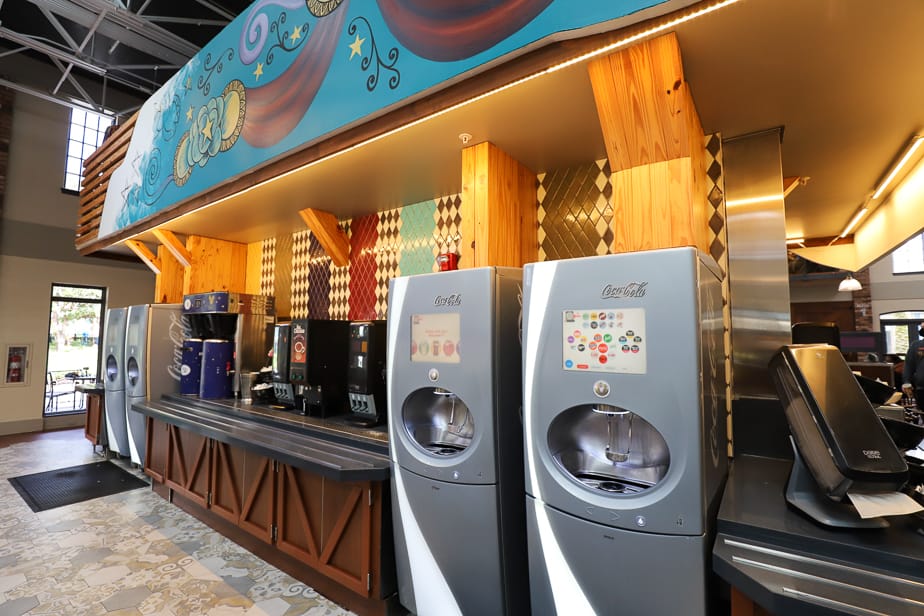 Speaking of refillable mugs, they are available at Sassagoula Floatworks and Food Factory. You can purchase one and refill it at any of the resort's beverage stations.
Refillable mugs are good for the length of your stay. You can use them to refill tea, soda, or coffee.
Regarding dining, there's plenty of room to eat inside at the quick service.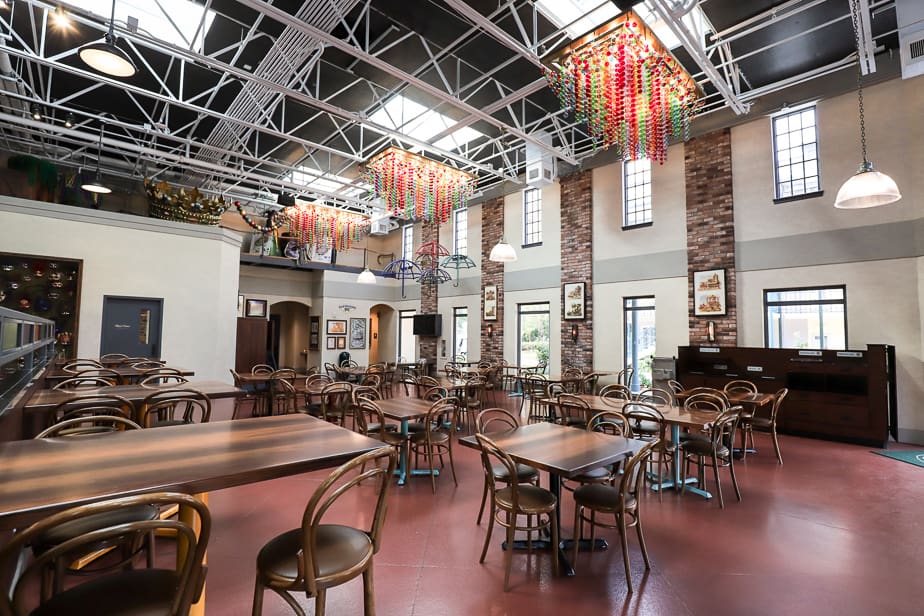 However, outside, there are several tables with chairs. It's hard to beat enjoying an al fresco meal here when the weather is nice.
Hopefully, this review gave you an idea of what you can expect to find at Sassagoula Floatworks and Food Factory. There's a good reason we include this location in our list of the best quick services at Disney Resorts.
For more information about Disney's Port Orleans French Quarter, you can preview all of our articles related to the resort in our guide.
You might also like to preview the resort's dining guide, Dining Options at Port Orleans French Quarter.
Or you might enjoy some of our other Disney World Resort Reviews. Here are a few:
So, have you ever enjoyed a meal at Sassagoula Floatworks and Food Factory? Leave a comment with your thoughts below.
Planning a Walt Disney World or other Disney Destination vacation?
Our friends and travel partner, Firefly Travels, excels at doing Disney differently. You can fill out a plan your trip form on their website, and someone will reach out shortly to discuss the specifics.