Tour a Standard Guest Room at Disney's Port Orleans French Quarter
Quite some time has passed since we last visited Disney's Port Orleans French Quarter here on the site. This charming resort is the smaller of the two Port Orleans Resorts at Walt Disney World.
So for this article, we'll preview a standard guest room at Port Orleans French Quarter. These rooms were completely refurbished only a short time ago.
I'll warn you now. My stay here was much more enjoyable than I would have ever imagined. Because of the room and resort's convenient layout, French Quarter might be my new favorite moderate resort at Disney World.
And I think most of you know that I adore Coronado Springs. So falling in love with the charm of Disney's French Quarter was unexpected.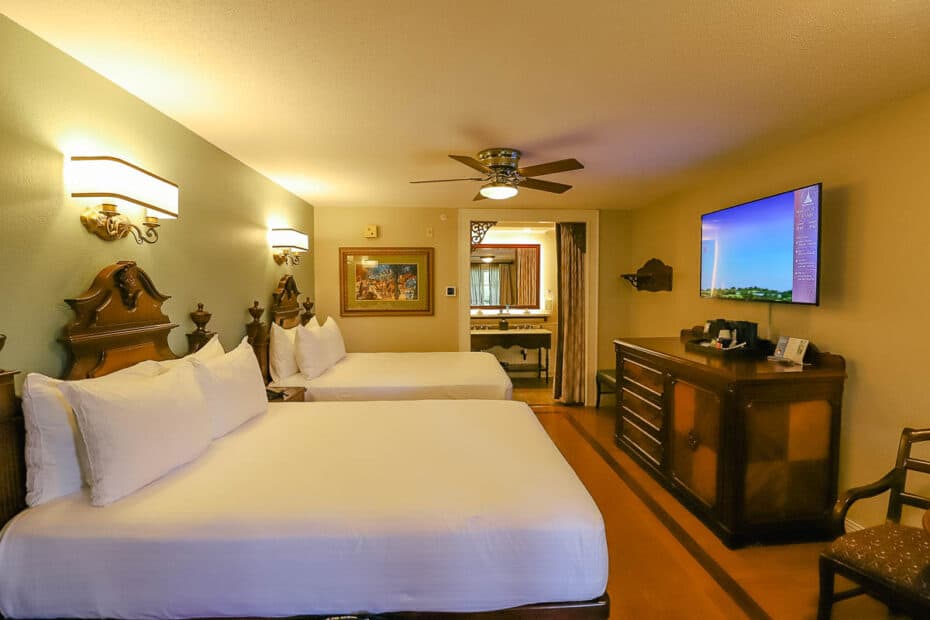 Since French Quarter is a boutique resort, its rooms are divided among seven buildings. Those buildings are centered around the resort's main lobby, dining, transportation, and recreation areas.
Therefore, no matter where your room is located, you'll only have a short walk to reach the various amenities. Given the proximity of each building, French Quarter doesn't have any dedicated preferred rooms.
My room was located in building four on the third floor. This location was exceptionally close to Sassagoula Floatworks and Food Factory. When leaving, I could walk out my door and take the staircase down to the restaurant.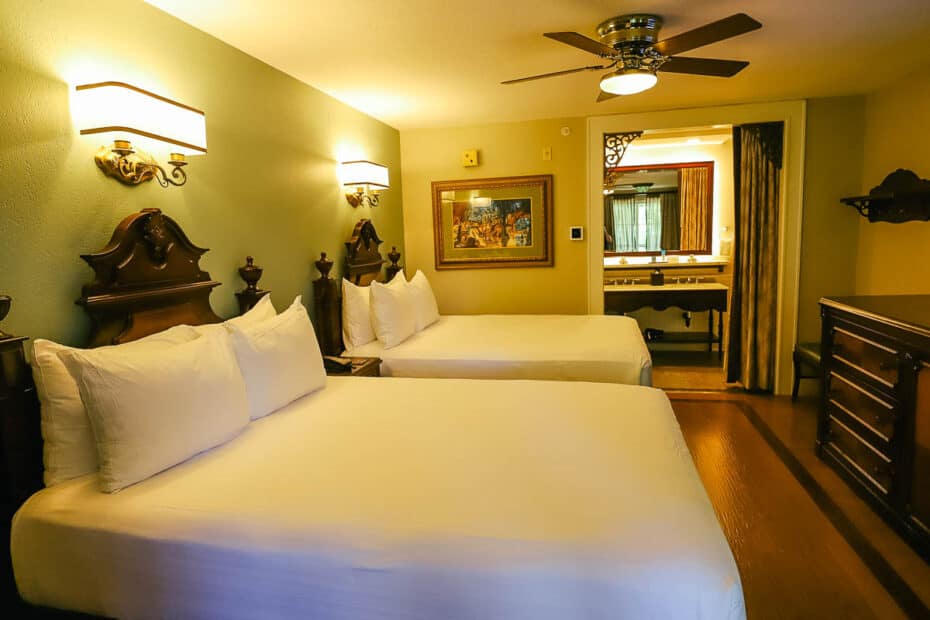 A standard guest room at Port Orleans French Quarter has two queen-size beds and sleeps up to four guests. Unlike the other moderate resorts, there is no option for a fifth sleeper.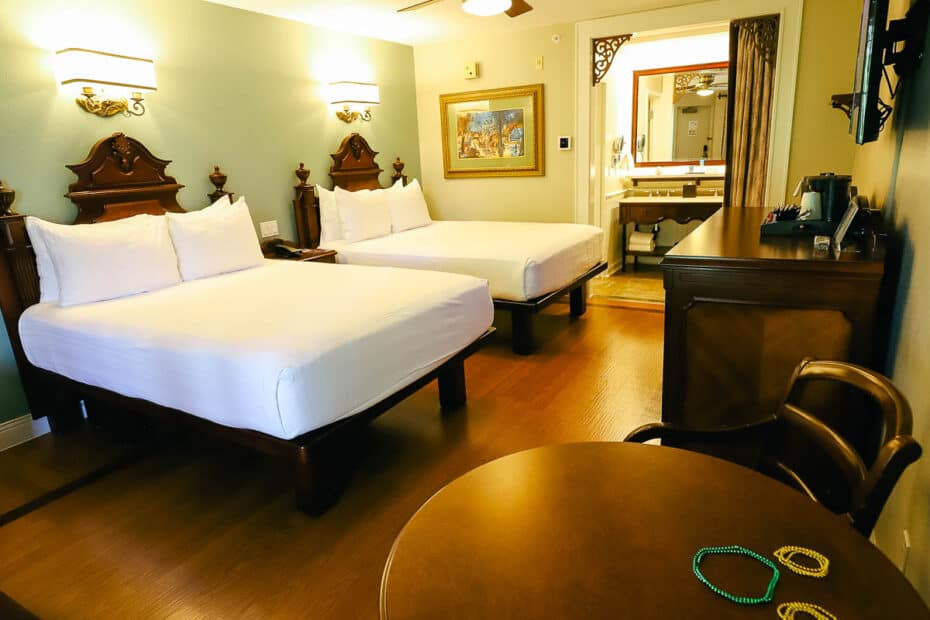 A table with two chairs sits in the front corner of the room. You might notice a few Mardi Gras beads shaped to form a Mickey Mouse lying on the table.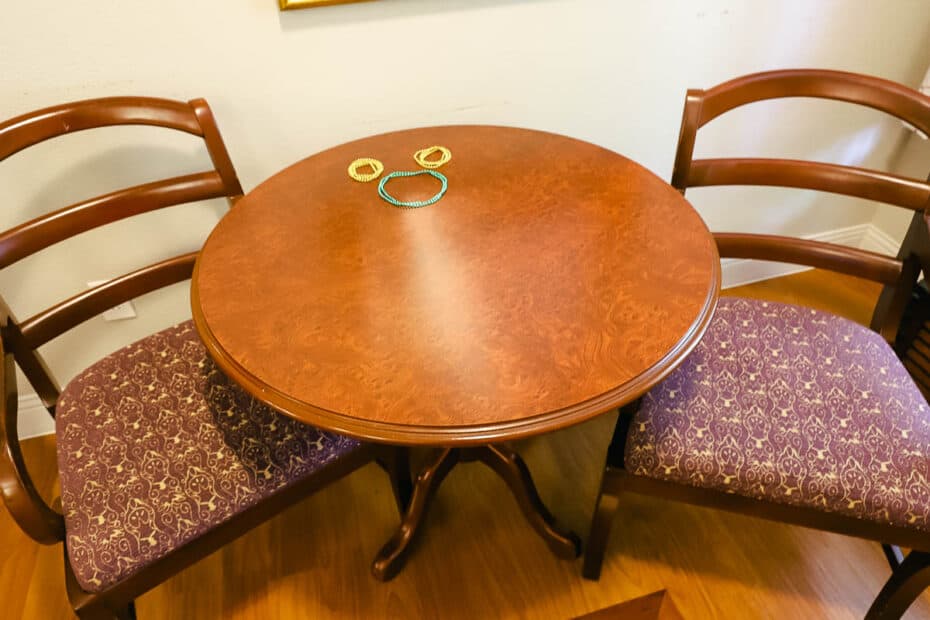 The decor in the room gives a subtle nod to the real French Quarter and Disney's The Princess and the Frog.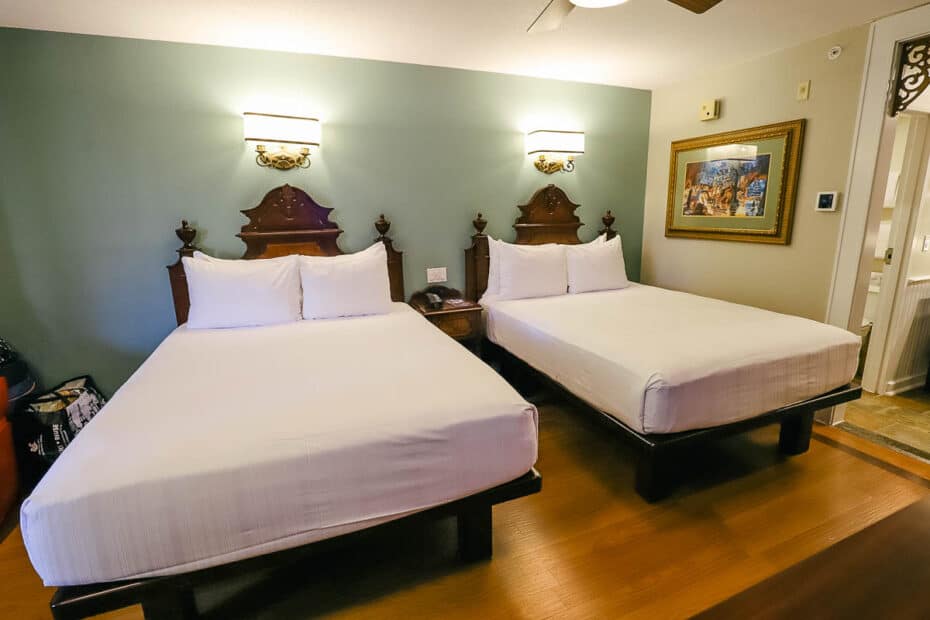 Here is a closer look at the painting on the wall.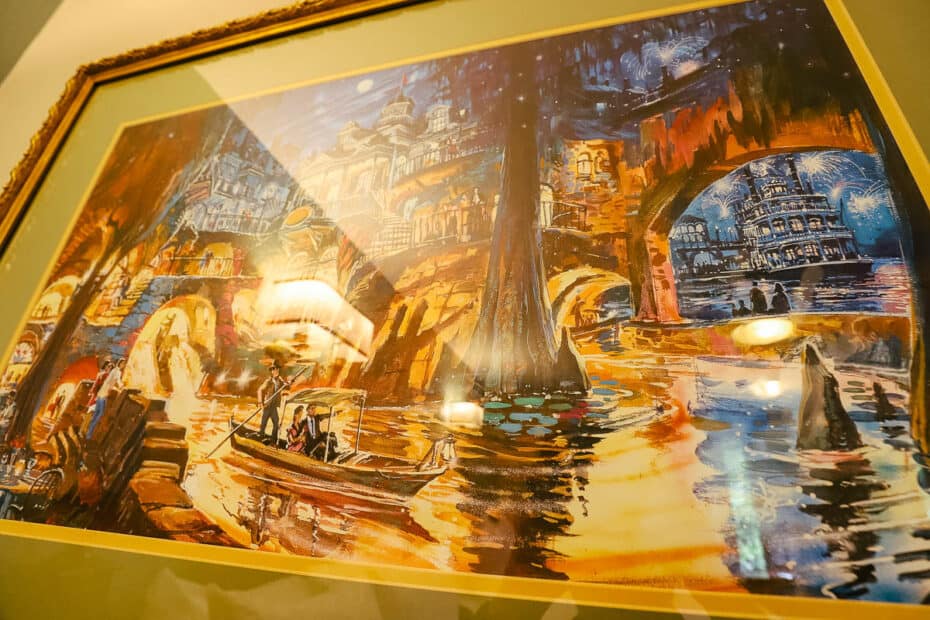 A shelf provides a place to hang a few items on the wall. Also, a bench provides a good place to remove your shoes with enough room to store them underneath.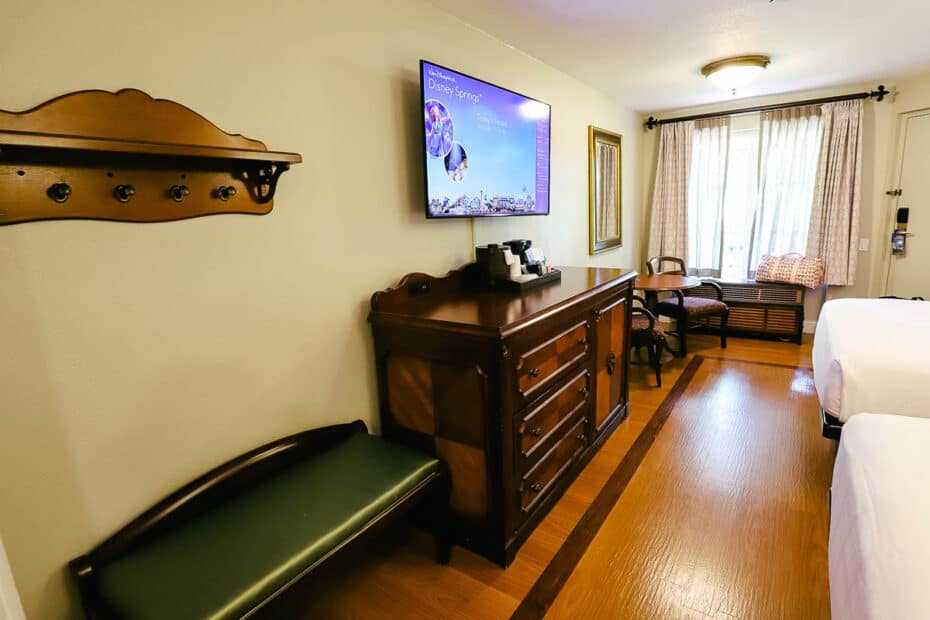 Here we have a dresser with several drawers to store your personal items.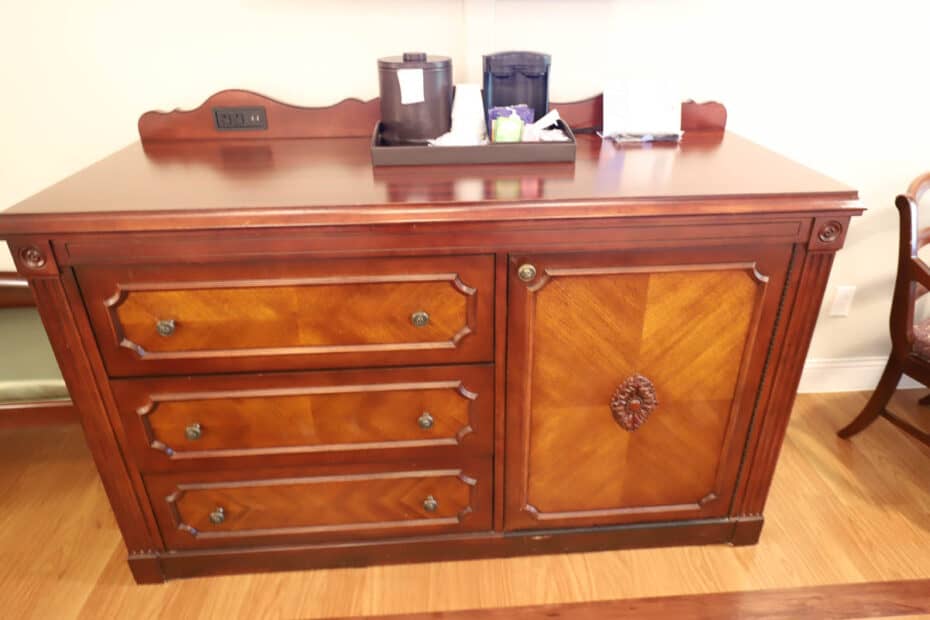 On top of the dresser, there's an ice bucket and individual coffee maker with accompaniments. I don't know about you, but I'm over this kind of coffee in the hotel room. It's not good.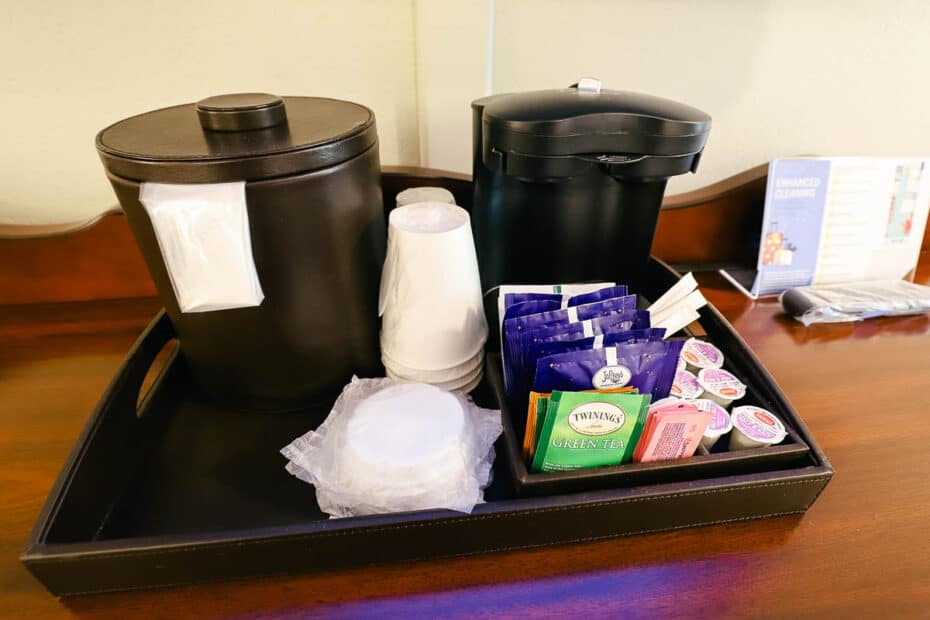 Several outlets and USB ports were available on top of the dresser.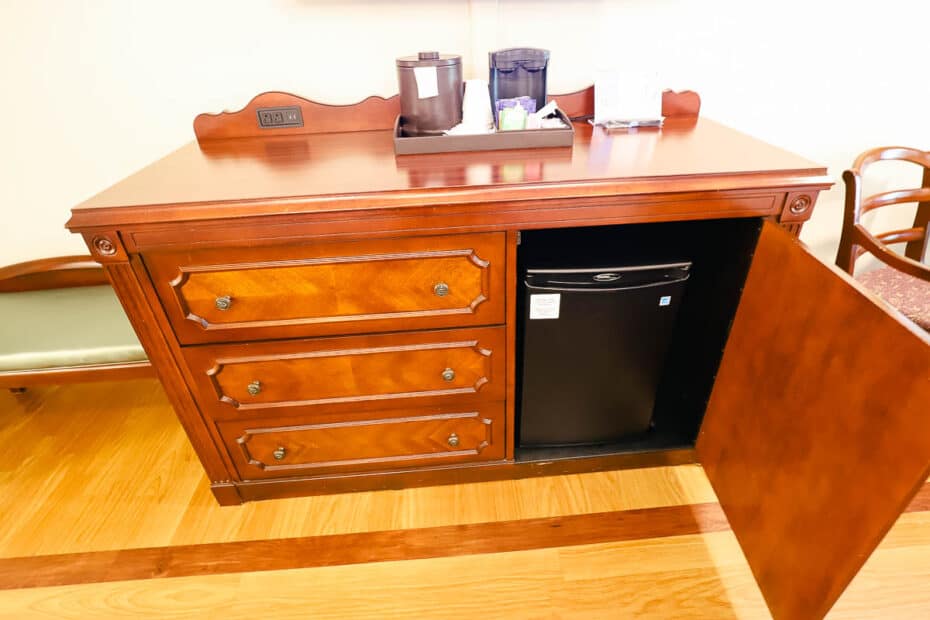 Here is a look at the beverage cooler behind the panel door. We used to call these mini-fridges. However, most now have a disclaimer stating they only cool to 41 degrees. So they are not intended for preserving items that require a cooler temperature.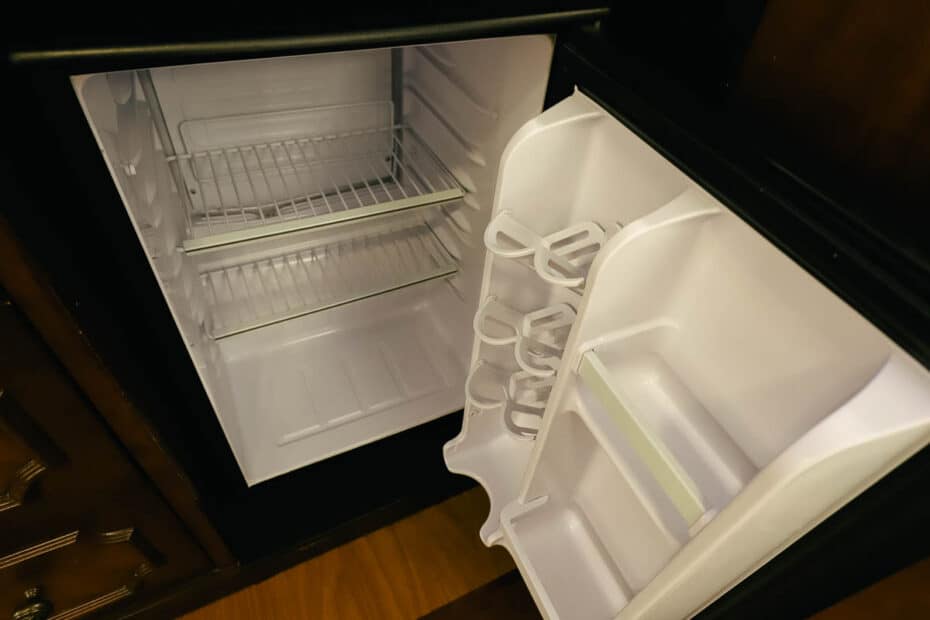 Below is a view looking back at the room from the opposite direction.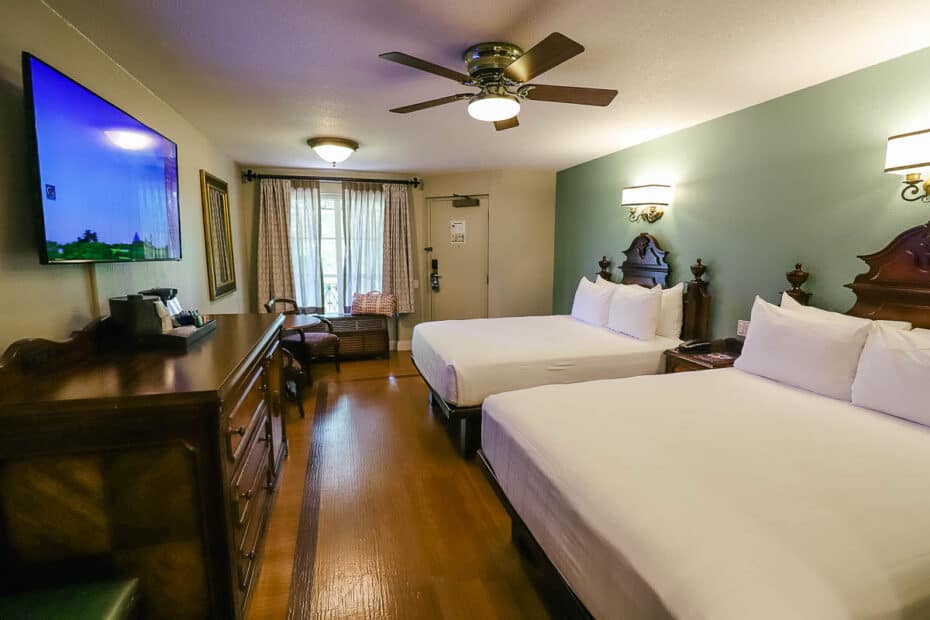 There's plenty of room underneath the beds to store your luggage. You may notice I have hidden most of my luggage underneath the bed closest to the door.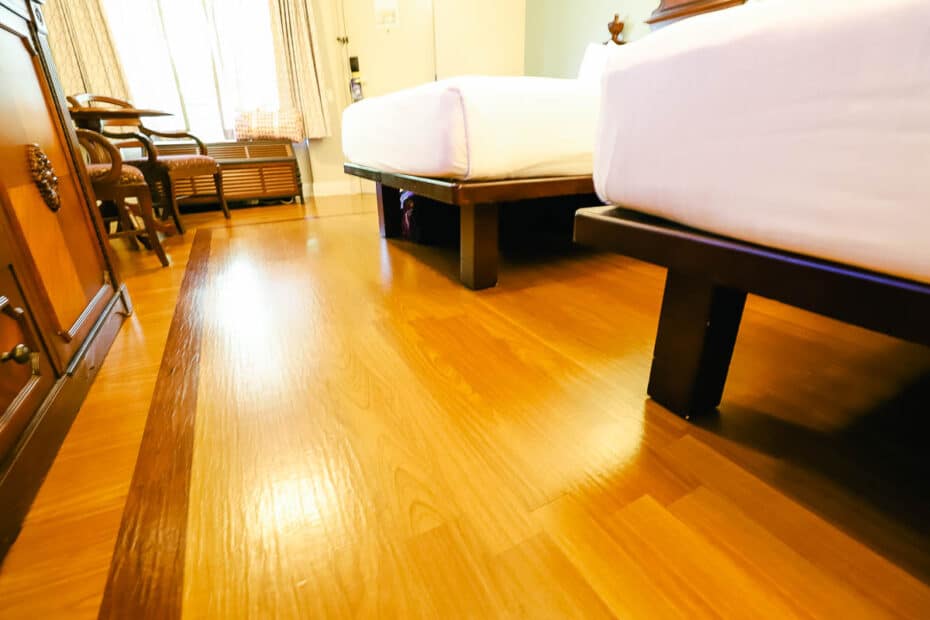 You could also use this bench as a luggage rack if needed. Over many years of traveling, I have found that I prefer to have some sort of rack for my larger suitcase.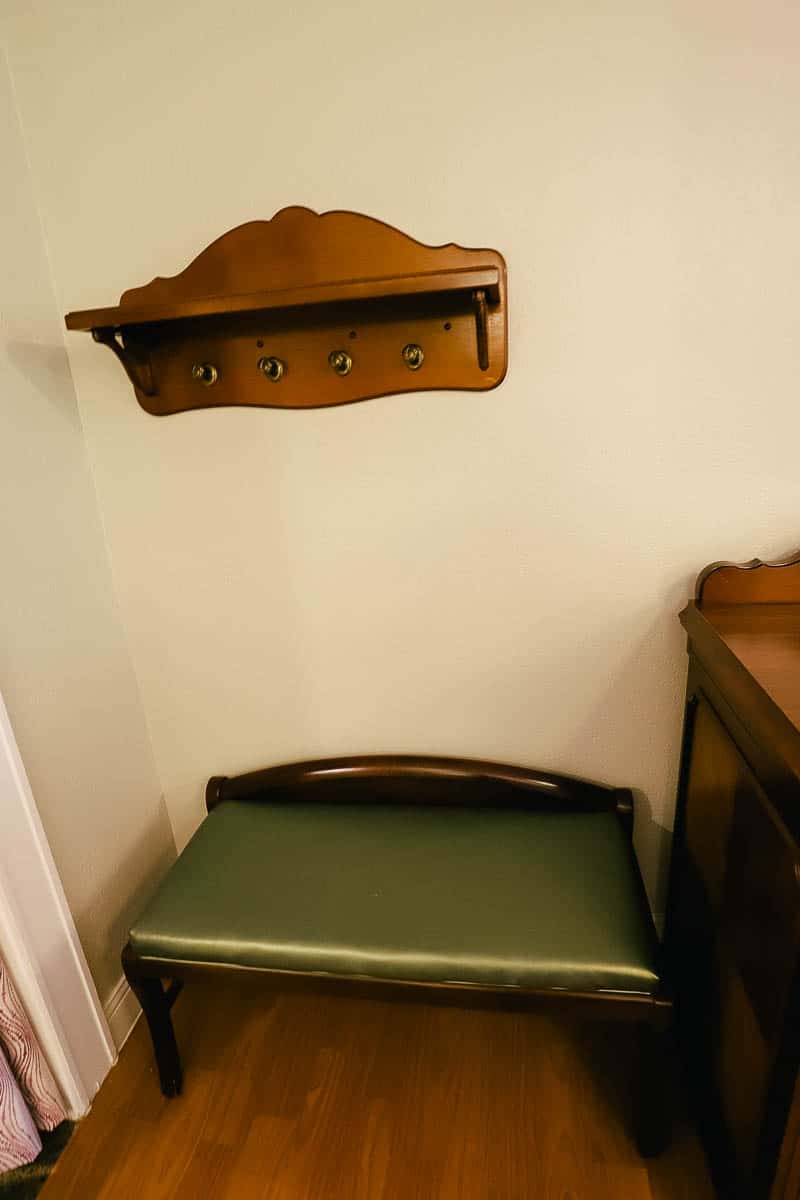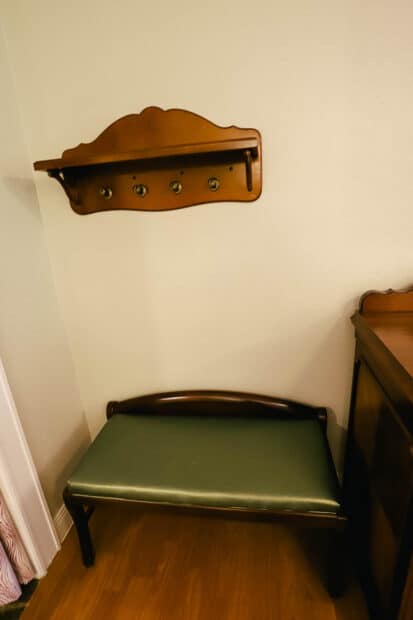 The guest bathroom has a nice layout. There are two sinks, and instead of having a formal closet, there's a rack with plenty of room to hang up your personal items.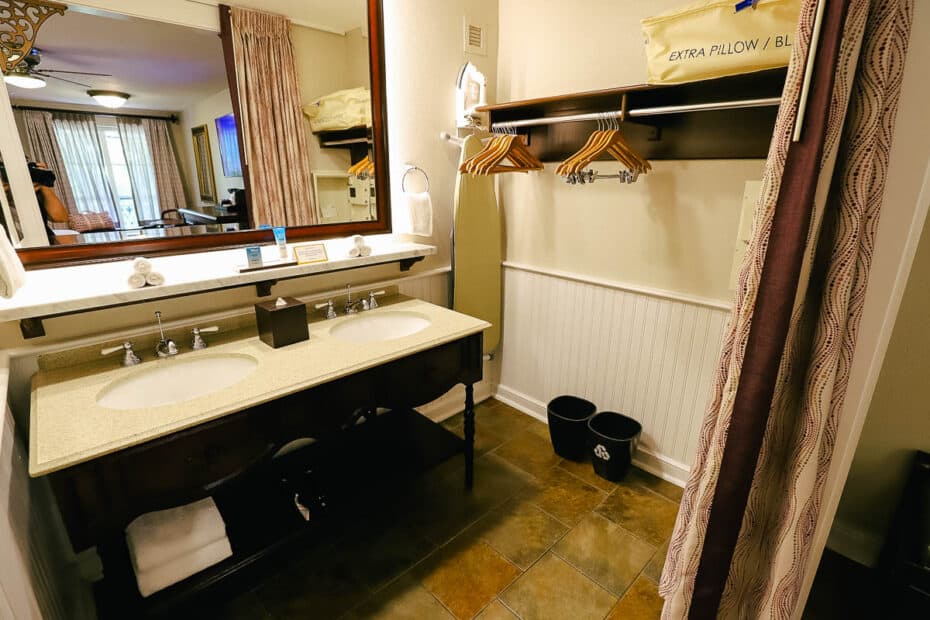 All of the usual amenities you would find in a closet were in this area. There's an iron with an ironing board, a wall safe, and an extra pillow with a blanket.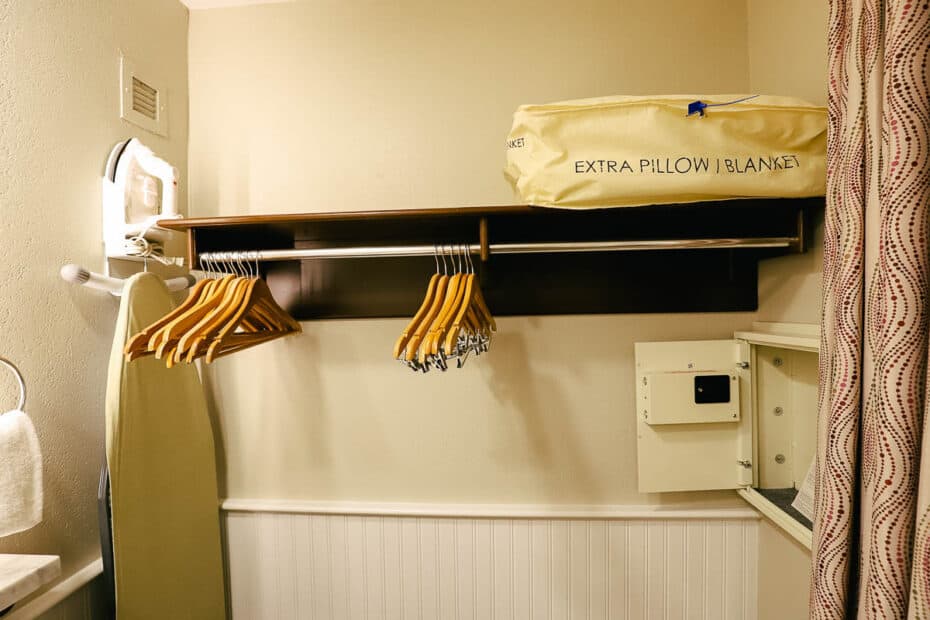 As far as the wall safe goes, it's large enough to store my Macbook and a few other items.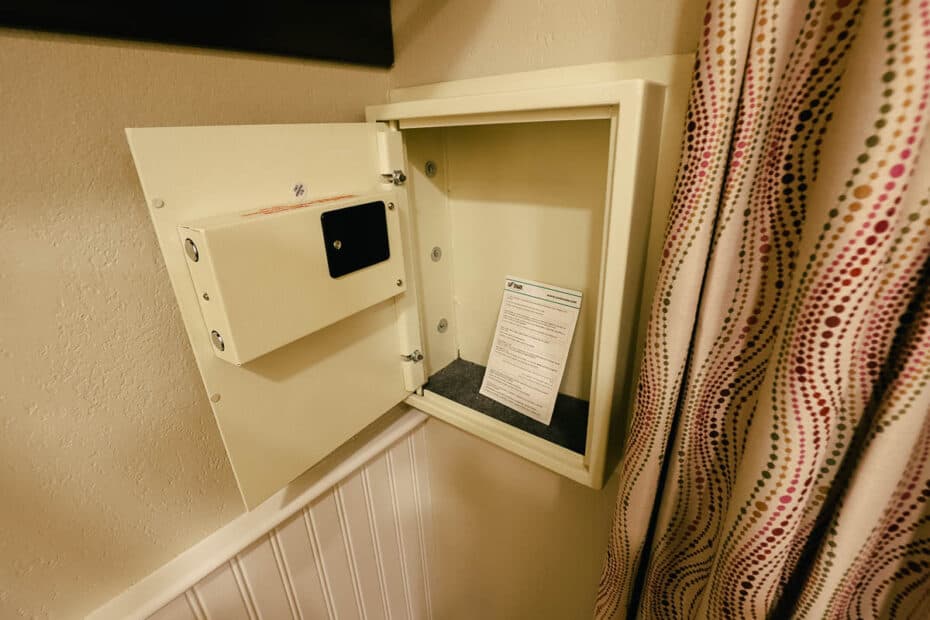 When I took these photos of the toiletries, we had yet to learn that H20 was planning to close permanently. Expect to see a new preferred brand of toiletries in the future.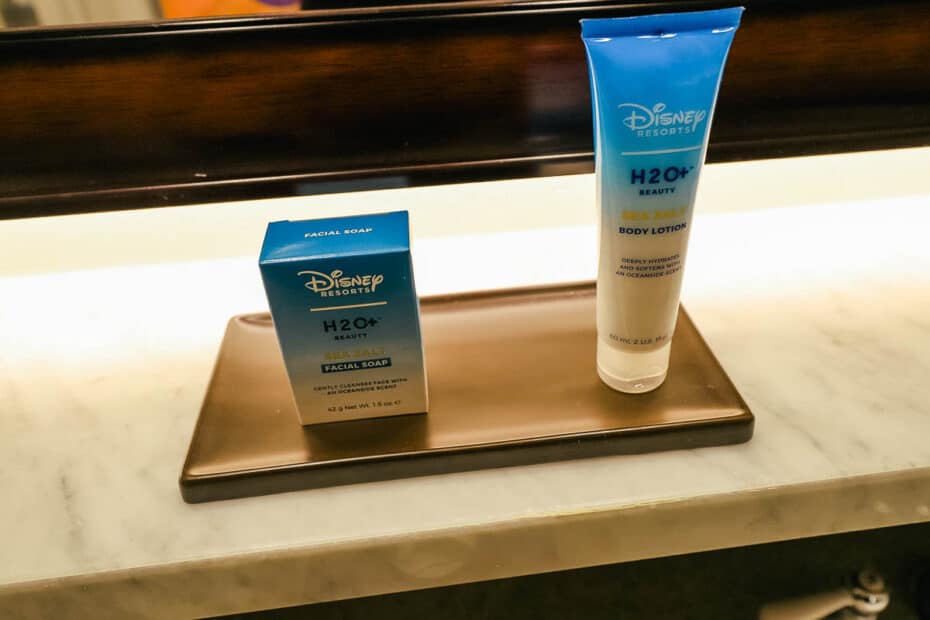 The nod to The Princess and the Frog continues in the guest bath.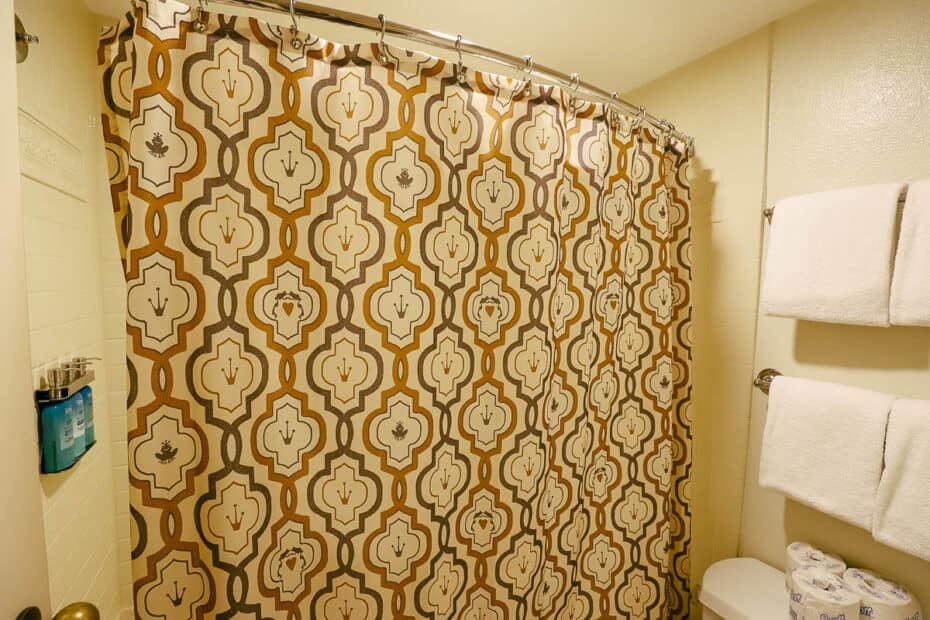 A subtle shower curtain features Prince Naveen in frog form and the two frog-turned lovers sharing a kiss over a heart.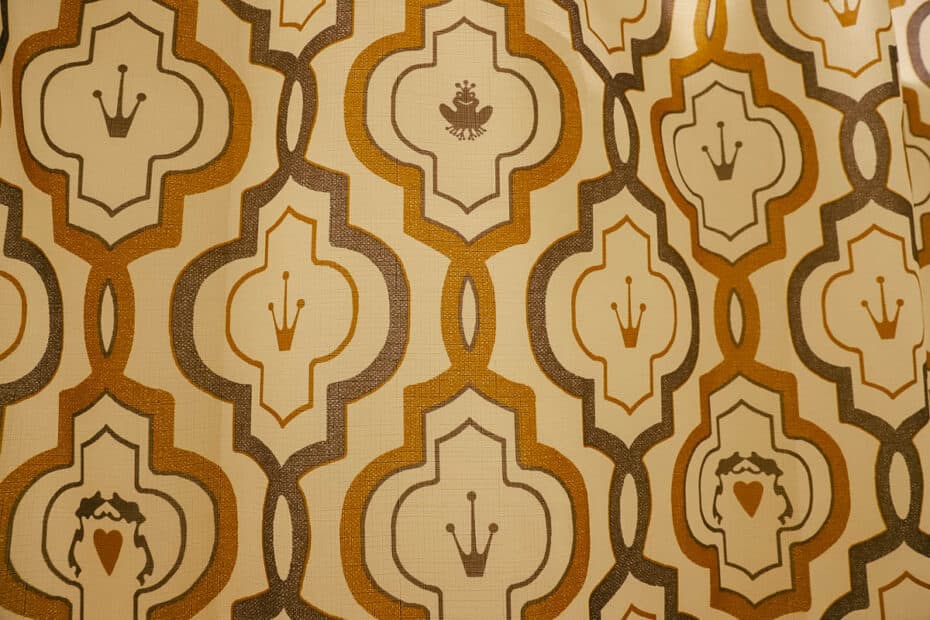 Thankfully, all of the showers at Disney World have excellent water pressure. It's nice to be able to pressure wash the Disney off you at the end of the day.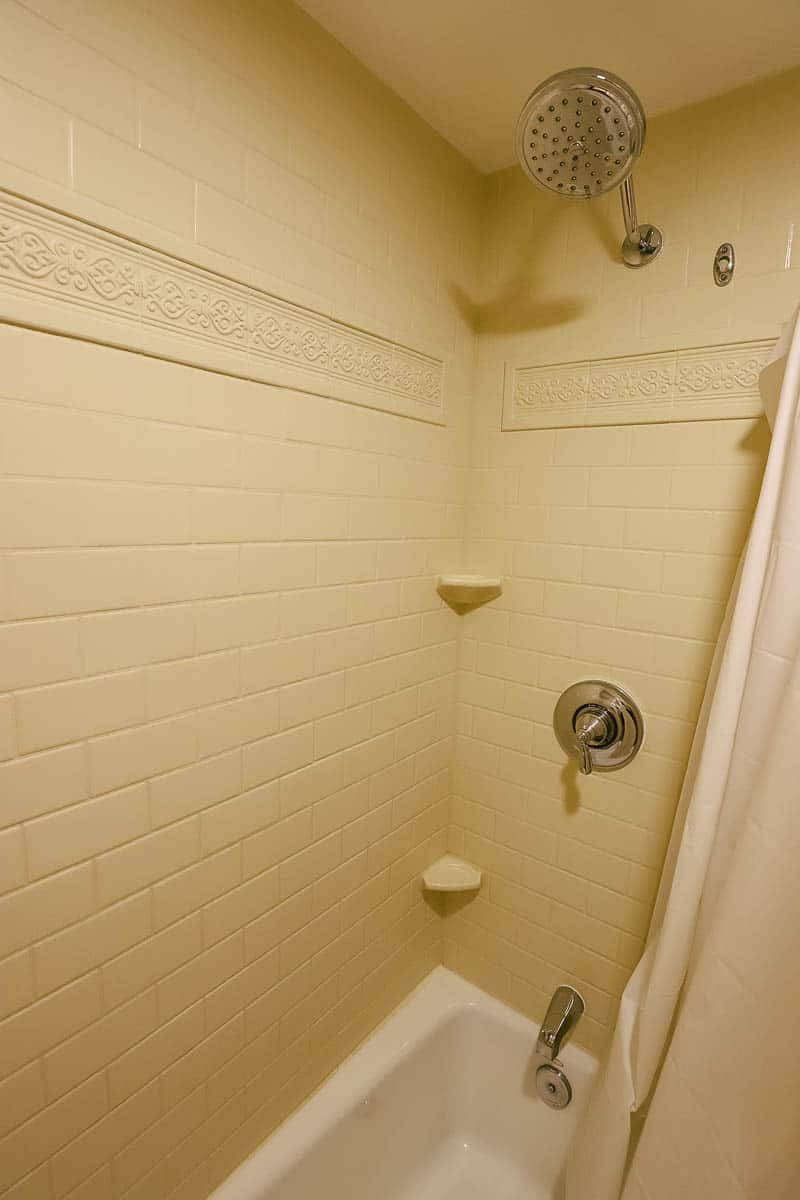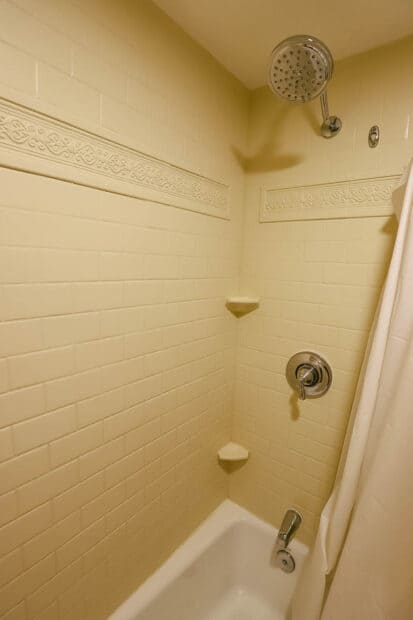 Here's more of the soon-to-be no longer H20 branded bath products. Hopefully, we'll have a replacement similar in quality. I can only imagine these fixtures were designed specifically for these bottles.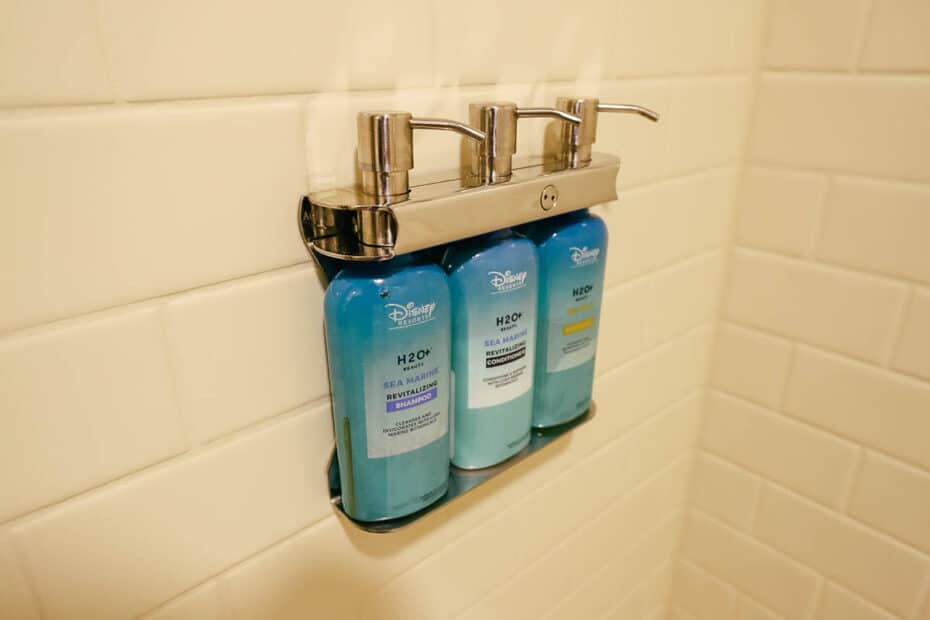 Between the bedroom and the vanity area, there's a curtain for privacy. This allows multiple people the ability to get ready at the same time.
Additionally, there's a door between the water closet and the vanity area. So someone can use the water closet while another uses the vanity area simultaneously.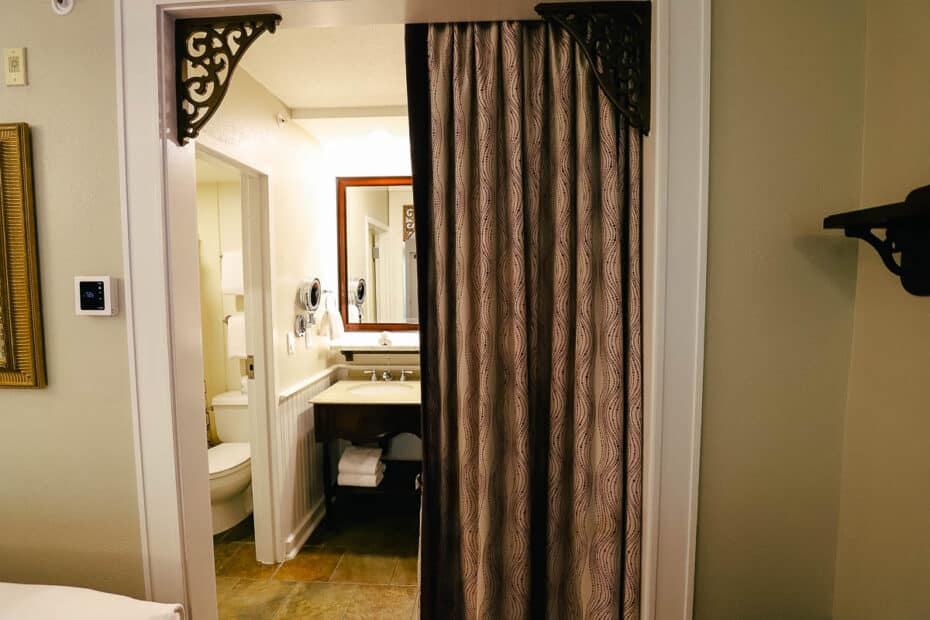 A flat-screen television hangs on the wall. One of the channels shows the theme park hours and weather forecast for the day.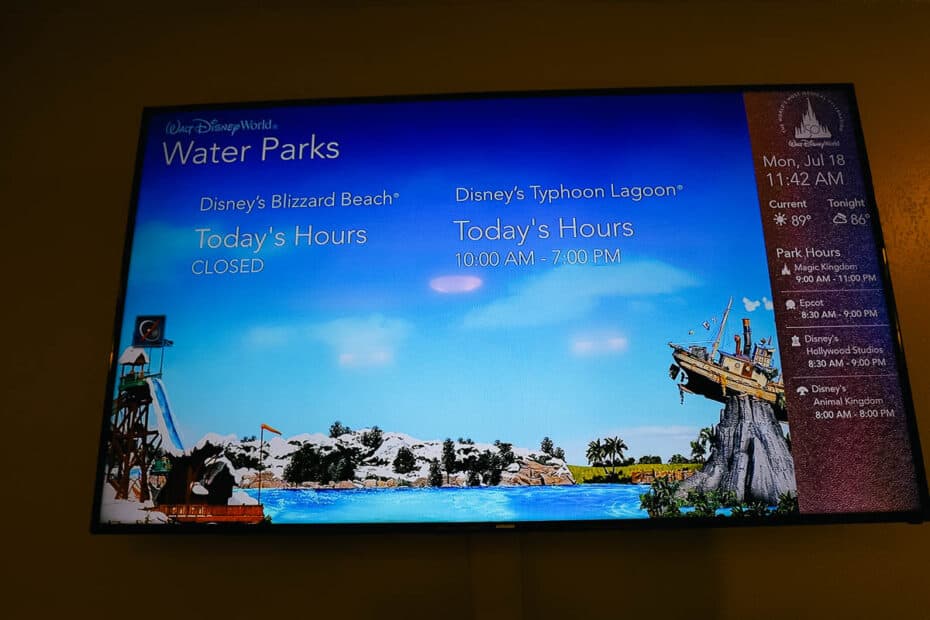 Since Disney's Port Orleans French Quarter is a moderate resort, there are no rooms with private balconies. The door of my room faced out to a garden area, and you could see a parking lot in the distance.
One day during this stay, there was a good deal of storms. So I elected to stay in and work on the blog.
Since I was staying in, I decided to open the curtains to let in some natural light. As you can imagine, when the weather got bad, many guests returned to the resort.
All at once, a good deal of people walked past my window. There were so many that I decided to get up and close the curtains.
My point is that it's not necessarily worth upgrading to a room view at a moderate resort. People will walk by your room and are often curious to see if all the rooms look the same as theirs.
If not having a balcony is a deal-breaker, you'll want to move up to the deluxe resort class or consider a stay at a Disney Vacation Club Resort.
Here are a few of my favorite room options that are more budget-friendly than others when upgrading:
In addition to the above-listed studio rooms offering a balcony, they will also have a few upgrades, like a small kitchenette with a microwave and a mini-fridge (not a beverage cooler).
Overall, the standard room at Disney's French Quarter had everything I needed for a week's vacation. I appreciated the solid surface floors throughout the unit and the subtle decor.
You might also enjoy our room tour:
Several times during my stay, I caught myself thinking that it felt like I was at a deluxe resort. We'll look at some of the resort's amenities and benefits of staying here in an upcoming resort review.
In the meantime, you might enjoy our complete resort guide:
Or you might like these individual articles:
In the comments:
What are your thoughts on the layout of a standard room at Disney's Port Orleans French Quarter? Do you like the decor in the room? Have you stayed in one of the updated rooms yet?
Planning a Walt Disney World or other Disney Destination vacation?
Our friends and travel partner, Firefly Travels, excels at doing Disney differently. You can fill out a plan your trip form on their website, and someone will reach out shortly to discuss the specifics.