Beach Club Marketplace (Counter Service at Disney's Beach Club)
Beach Club Marketplace is the counter service dining location for Disney's Beach Club Resort. So if you're planning a trip to Disney's Beach Club, you'll likely wind up enjoying a meal or two here during your stay.
This article will look specifically at the counter service dining location at Beach Club Marketplace. Similar to the Yacht Club, the resort shares this dining location with its gift shop. I recently covered the merchandise at the Beach Club's gift shop in a separate review.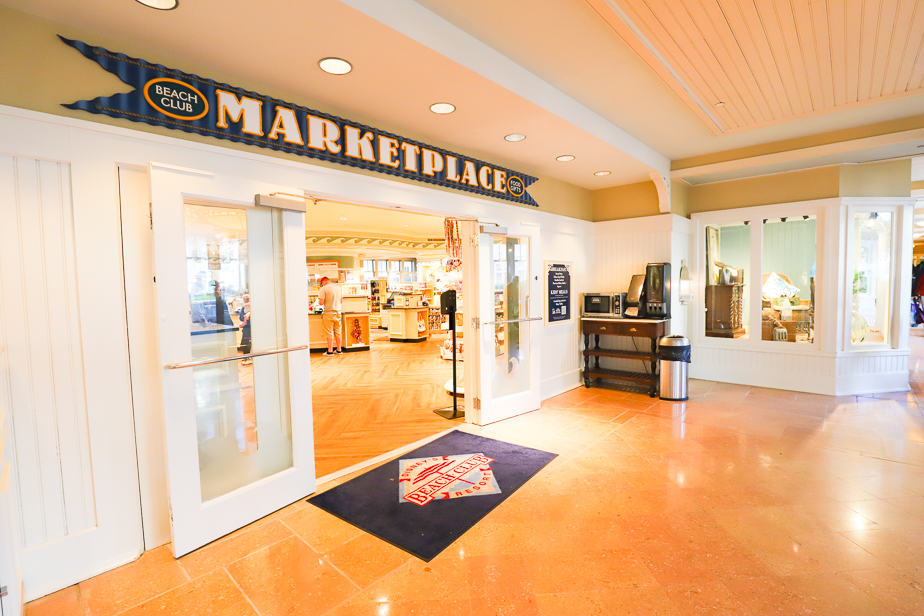 At this time, you'll need to use mobile order for any freshly prepared items. I took these photos in late 2021. And you can see in the picture below; the store provides an area to pick up your order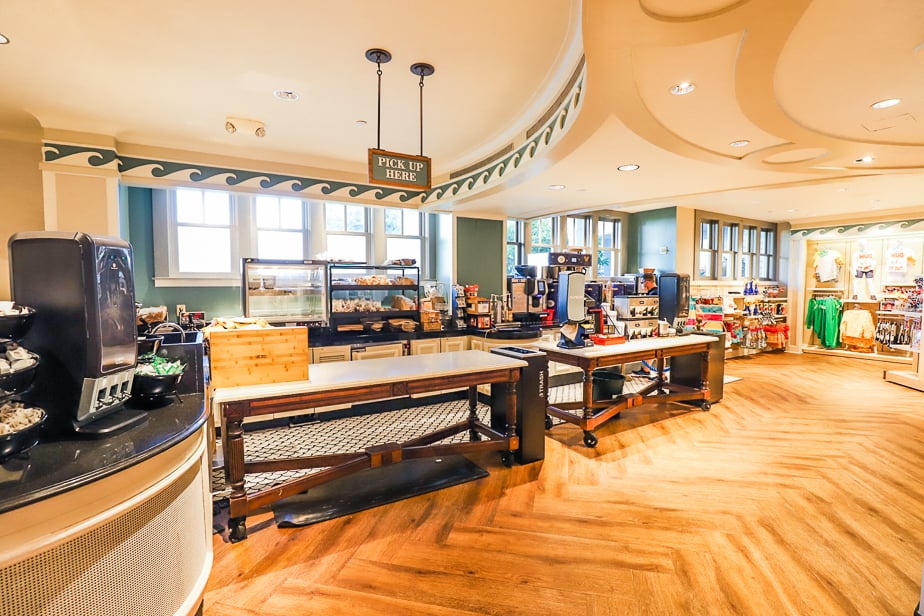 There used to be a line to place your order and pick it up. But that hasn't returned at the time of this update.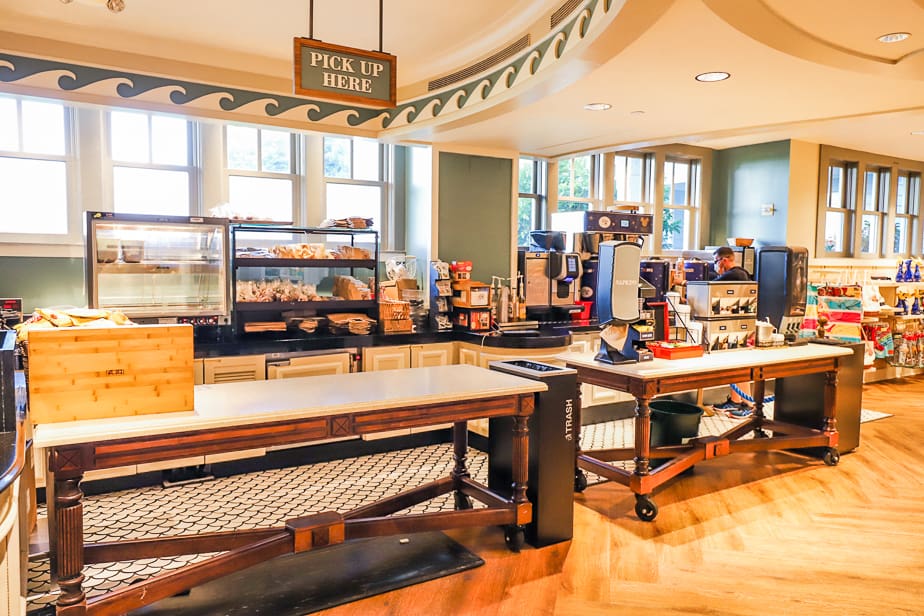 Below is a look at the made-to-order items on the menu available during this visit. If you preview the online menu here on Disney's site, you'll notice a variety of sandwiches are listed in addition to the items below.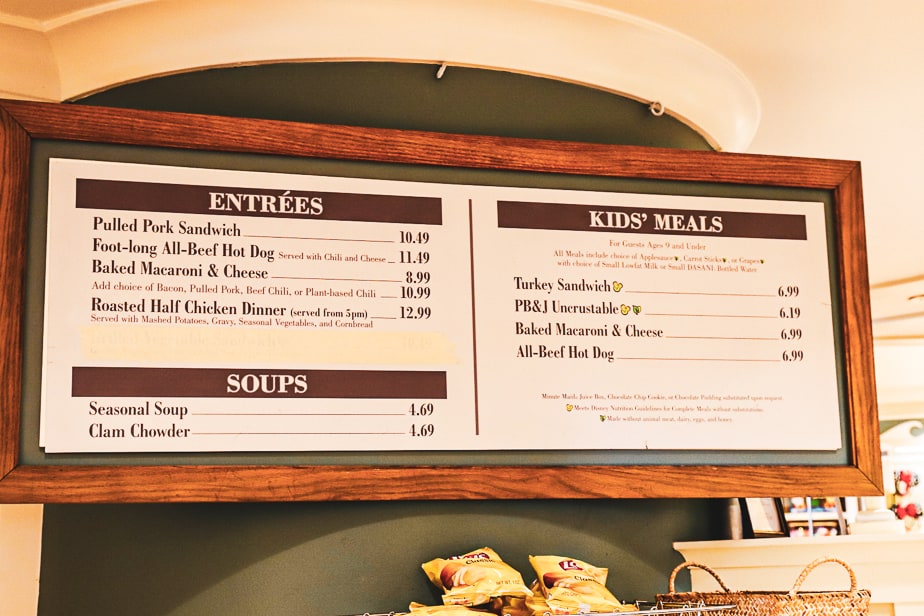 Note that some of the sandwiches listed online are pre-made. They are available in a refrigerated case inside the Marketplace with other grab-and-go items. Therefore, you could walk in and pick one up of those up without placing a mobile order.
However, I'm not a fan of pre-made sandwiches at Disney World or anywhere else for that matter. In my Boardwalk Bakery review, you may remember that I refer to such items as gas station food in a high-end hotel.
I can recommend the clam chowder, especially if you're visiting during cooler temperatures. And if the roast beef sandwich with house-made chips ever comes back, it's a great option. But, of course, that is a freshly-prepared sandwich served warm.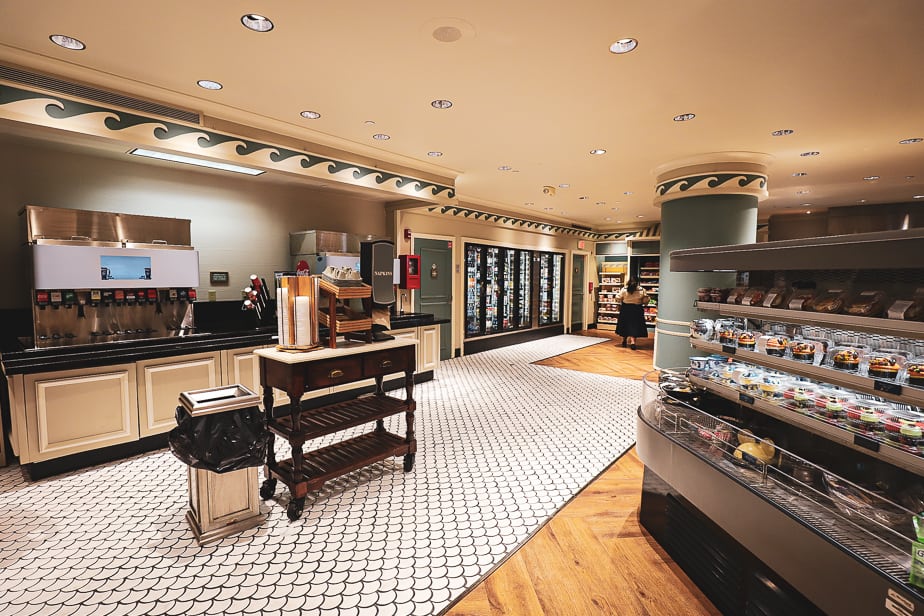 Beach Club Marketplace has a large beverage station with the usual Coca-Cola products.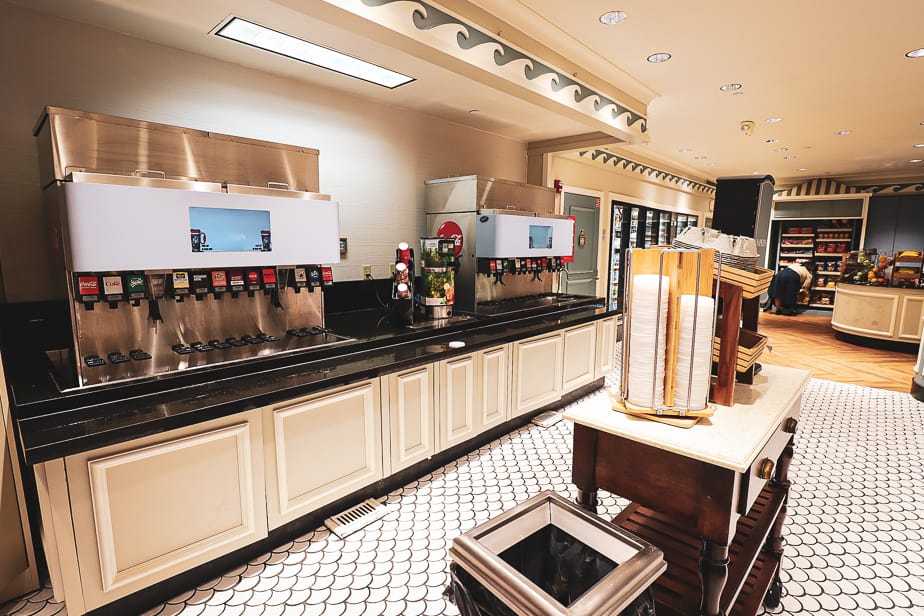 You might see them a little better in this picture.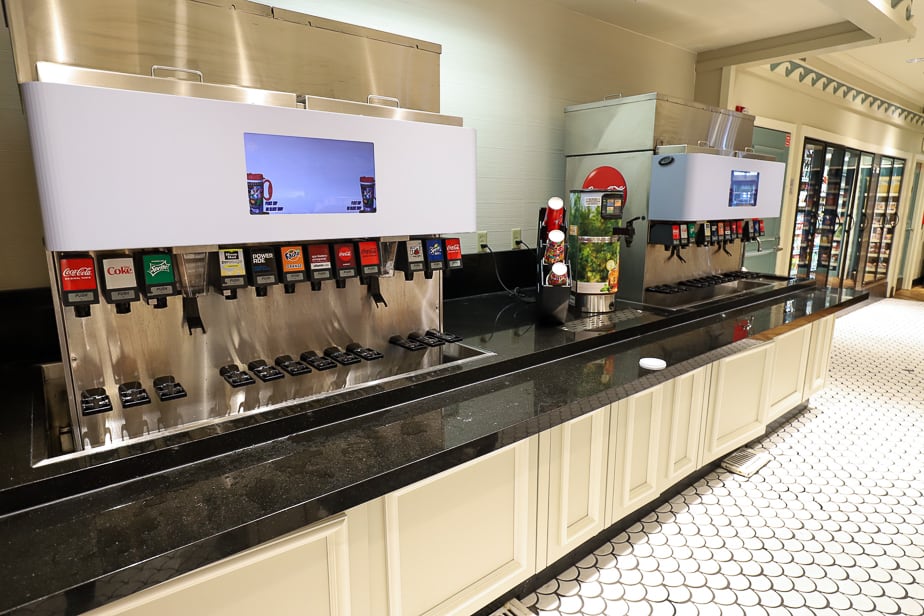 Right outside the entrance, there is a menu listing the breakfast items. Breakfast includes a bounty platter, Mickey-shaped waffles, breakfast sandwiches, plant-based waffles, and kids' meals. Somehow the microwave got stuck out here as well.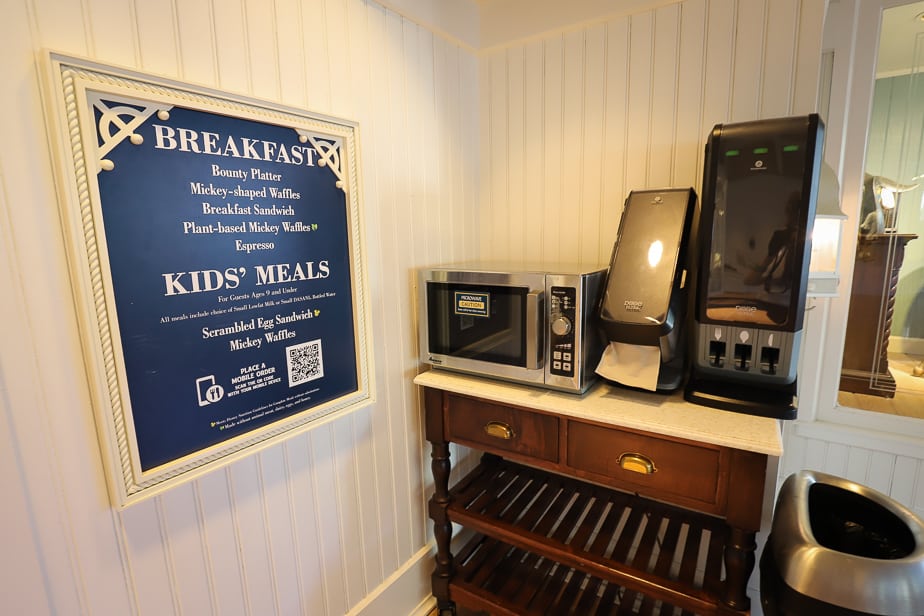 A coffee station is available. In addition, I've seen a pop-up coffee bar at the Beach Club during busier times. If one is available, there will be a sign in the lobby.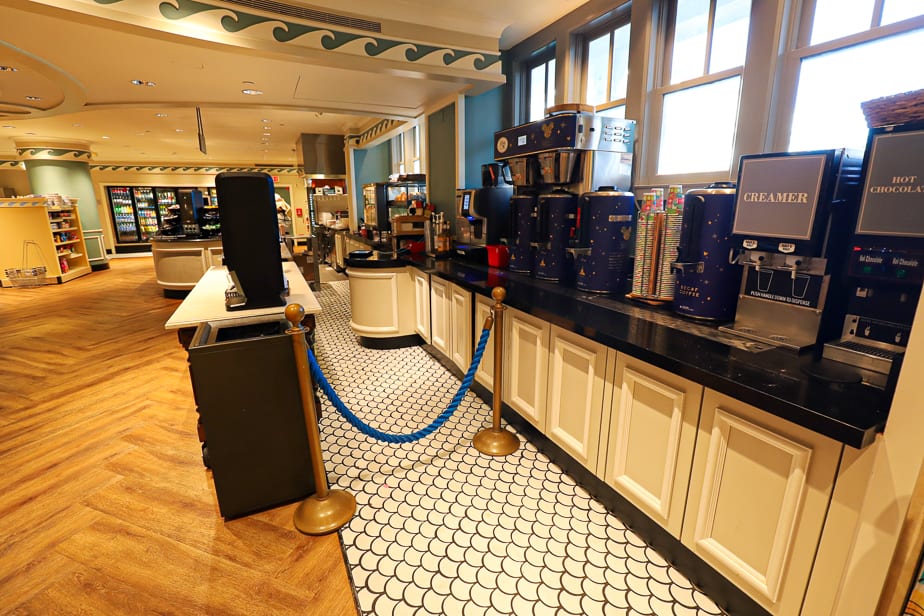 But if not, you might do better next door at The Market at Ale and Compass. They have a better selection of different coffee drinks.
Pastries and a few fruits were available.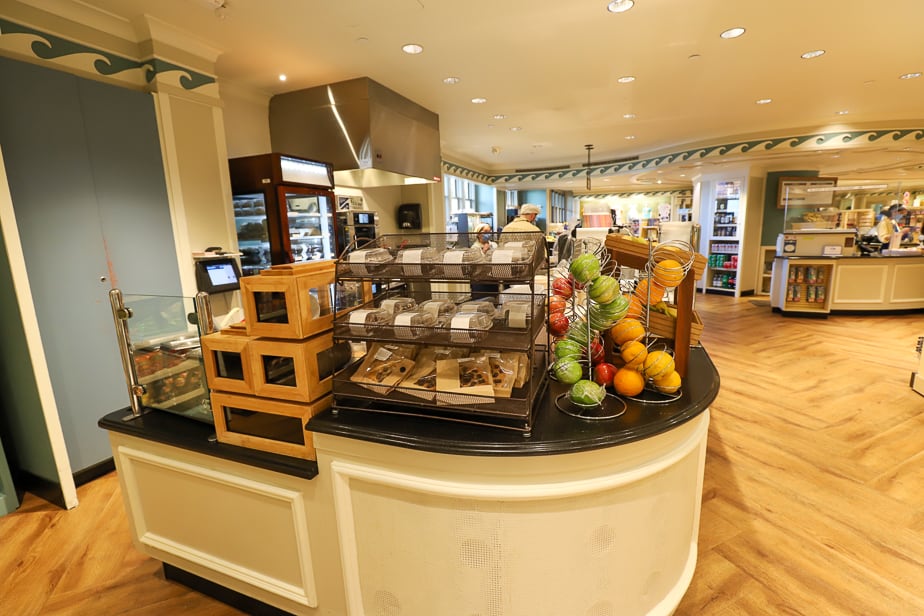 The beverage case had a wide range of sodas, juice, sports drinks, milk, wine, and beer.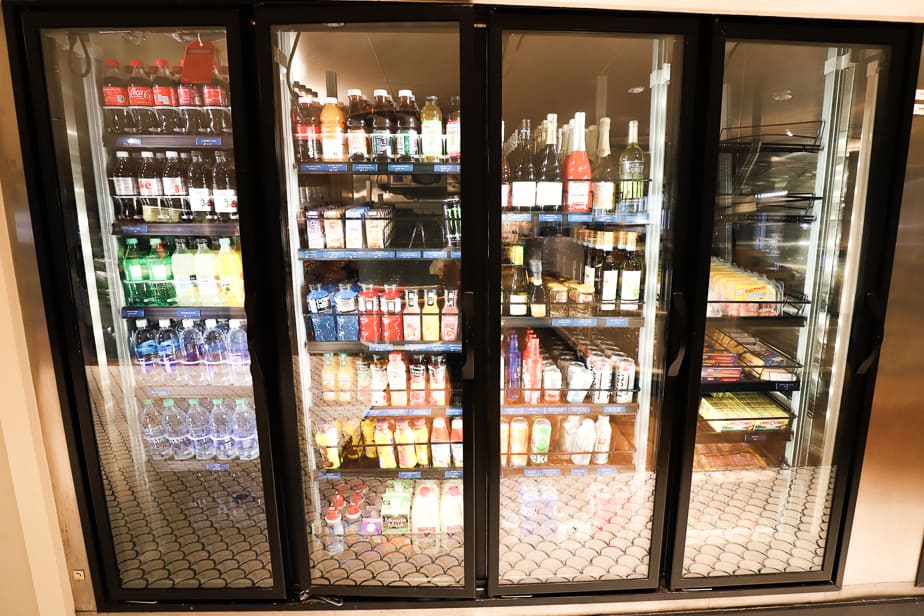 Since the Beach Club is home to a Disney Vacation Club Resort, you'll find items that can be prepared in a kitchen, like frozen pizza and pot pies. So, of course, you'll need a room with a kitchen to prepare these items.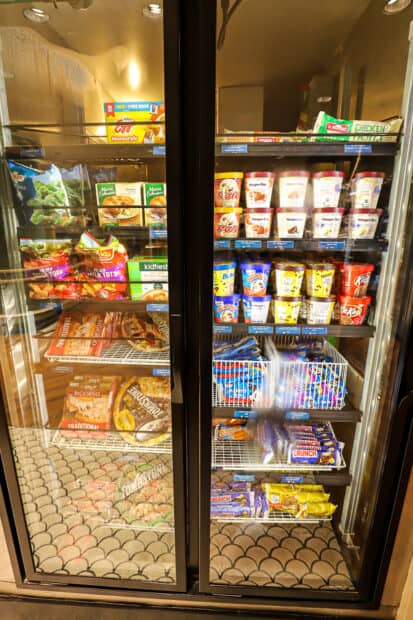 Disney-branded popcorn and candies are available.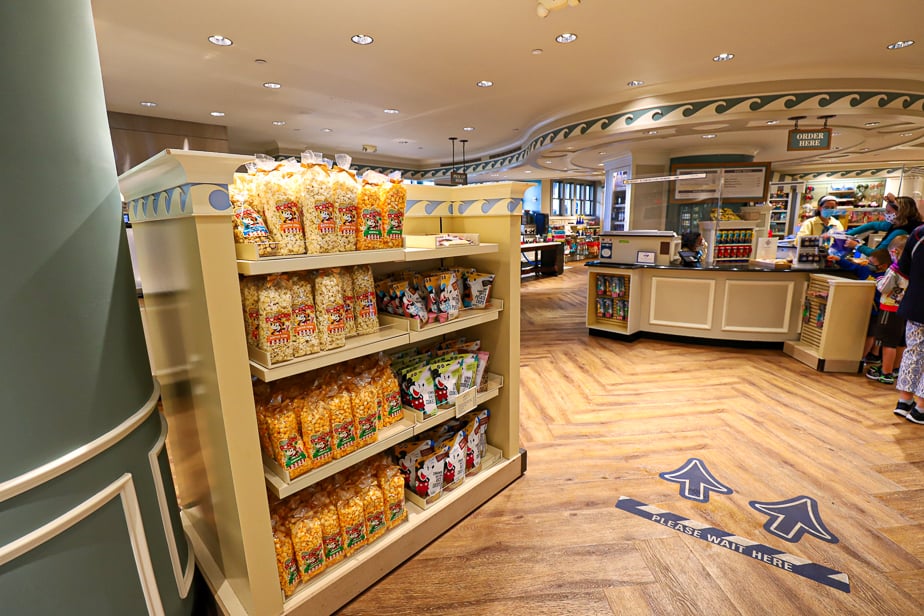 Toward the back, there is a whole wall of treats.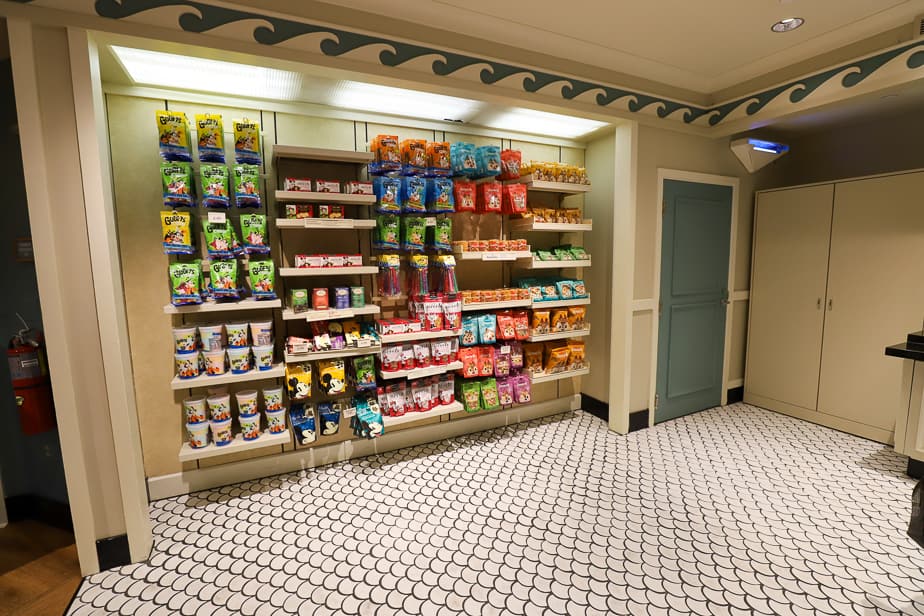 A sizeable refrigerated case sits in the middle of the counter service. This one is stocked with a variety of items.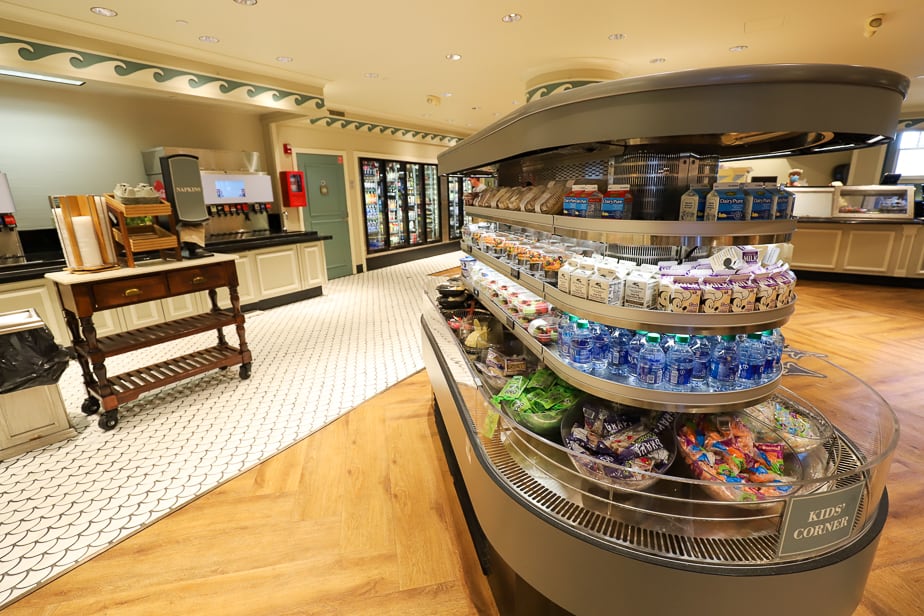 The case had several items like cupcakes, cinnamon buns, and a few large Mickey-shaped dome cakes.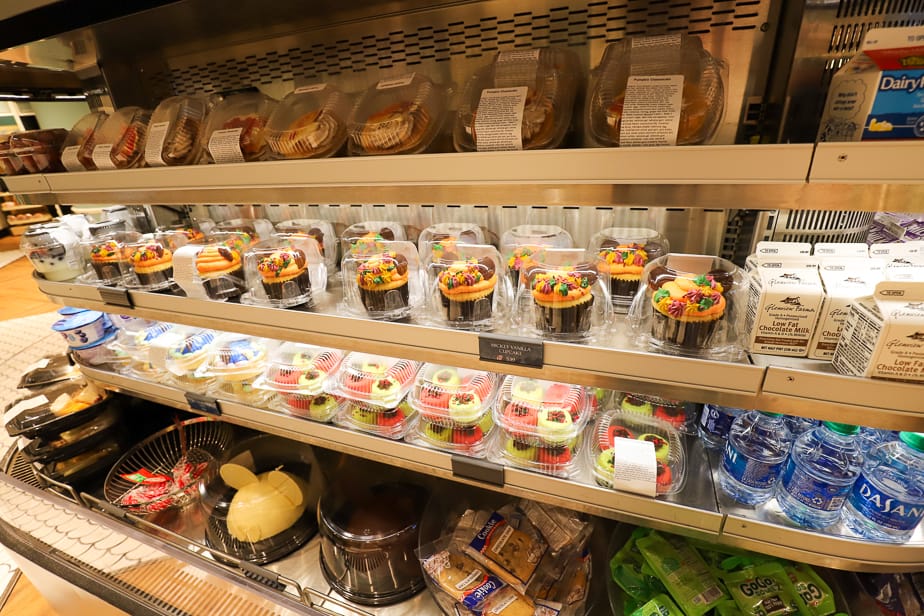 Pantry items like bread, chips, donuts, and cookies are available.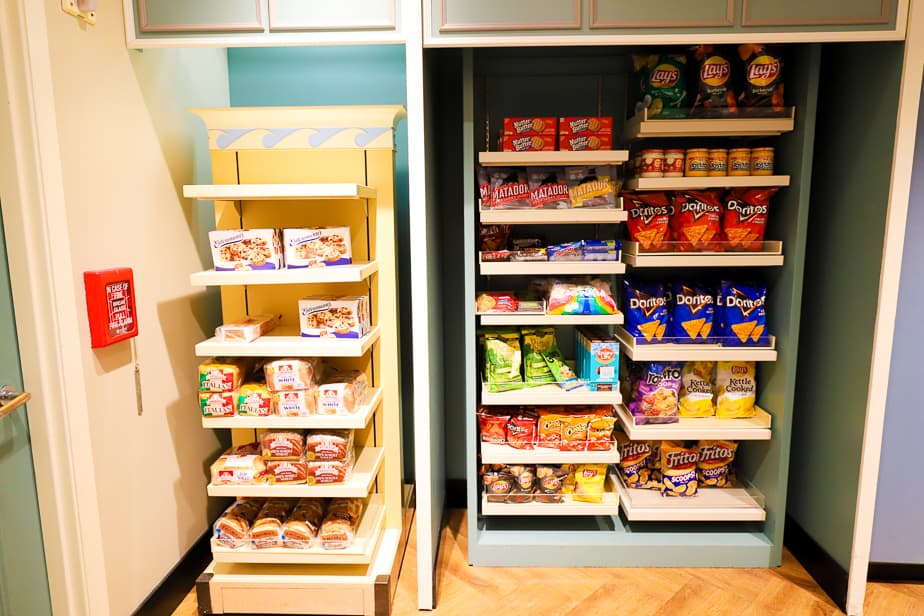 Additionally, there was a decent selection of cereal, syrup, jams, and other items.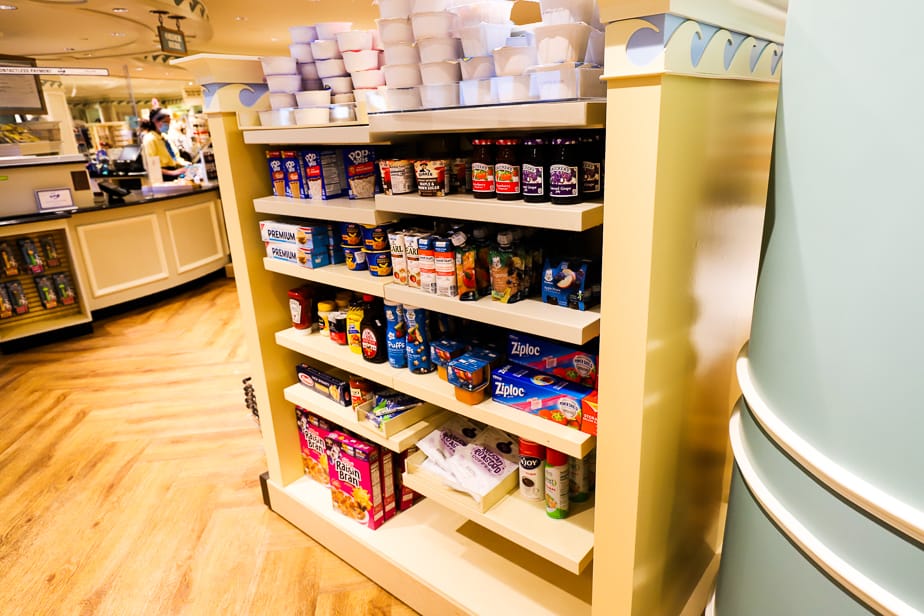 I hope this review gave you an idea of what to expect as far as food goes at the Beach Club Marketplace. Additionally, the resort has a secondary counter service at the pool area called Hurricane Hanna's.
Unfortunately, while I love the entire Epcot Resorts Area, I find that it is lacking in counter-service dining options. Thankfully, there are several good table service locations nearby.
And you can take the Skyliner over to Riviera and pick up a meal at Primo Piatto. That is an excellent counter service location.
Related: Best Quick Service at Disney World
For more information about staying at Disney's Beach Club, all of our articles related to the resort are available here. Or you might enjoy the following:
What are your thoughts on the Beach Club Marketplace? Do you think that this kind of location should have more offerings? Or do you rarely eat at the resort during your vacation? Leave a comment down below.