Beach Club Marketplace (The Counter Service at Disney's Beach Club)
Beach Club Marketplace is the primary counter service dining location at Disney's Beach Club Resort. If you plan to stay at the resort, you will likely rely on the quick-service restaurant for a few meals.
We recently visited the resort for an updated look at Beach Club Marketplace. Below, we'll preview the menu and what you can expect to find if you have an upcoming stay.
Beach Club Marketplace is located in a hallway off the resort's lobby. It has two entrances. The resort's gift shop is part of the Marketplace, while the other half is a quick service.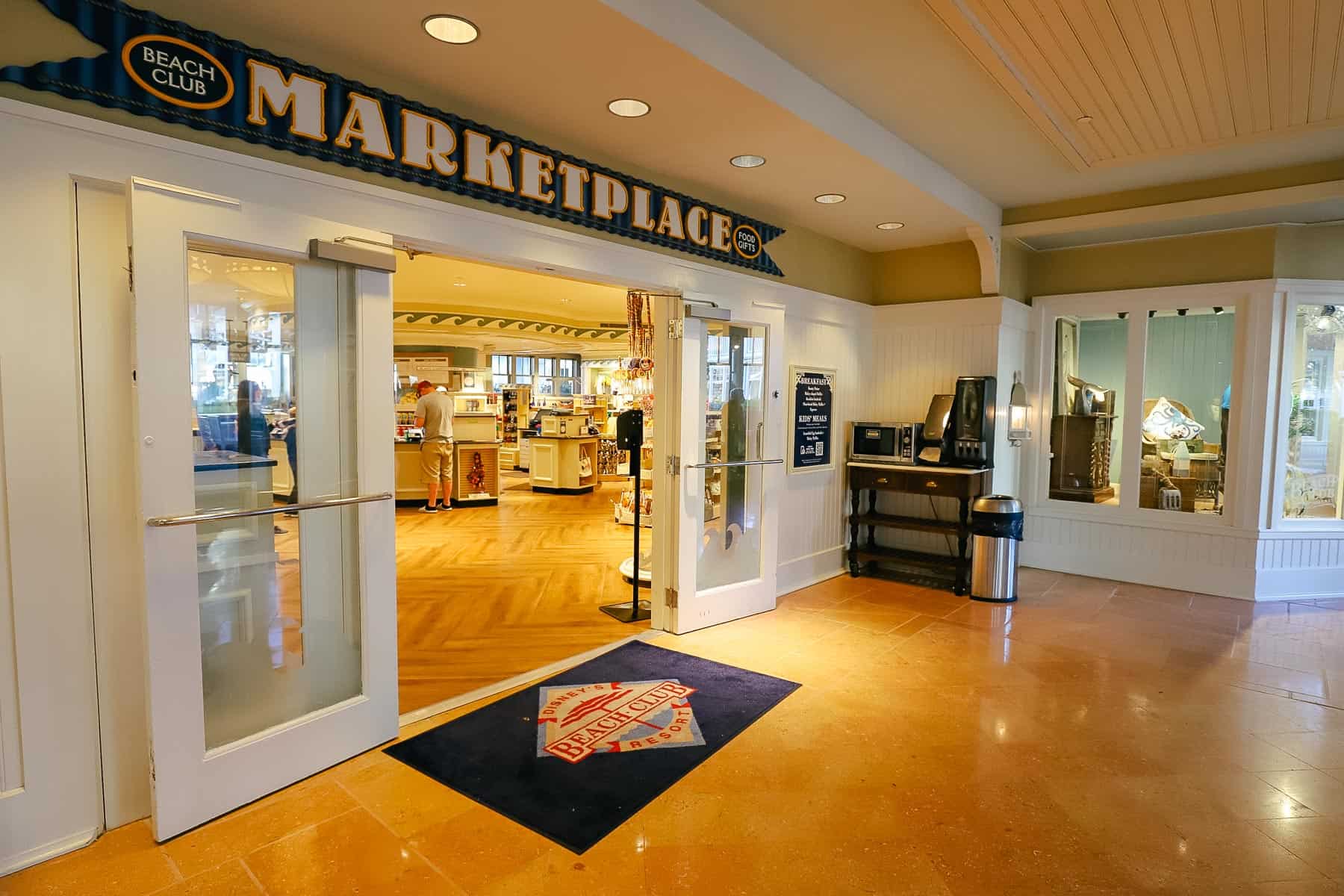 Unfortunately, Beach Club Marketplace doesn't have a formal dining area. Often a few tables and chairs are set up in the hallway outside the restaurant. However, on my last visit, they had been removed.
Across from the main entrance, a pair of double doors leads out to a covered dining area. This is an excellent place to dine if the weather is pleasant enough. Additionally, tables with chairs are provided in the Beach Club's Solarium, within a short walk of the restaurant.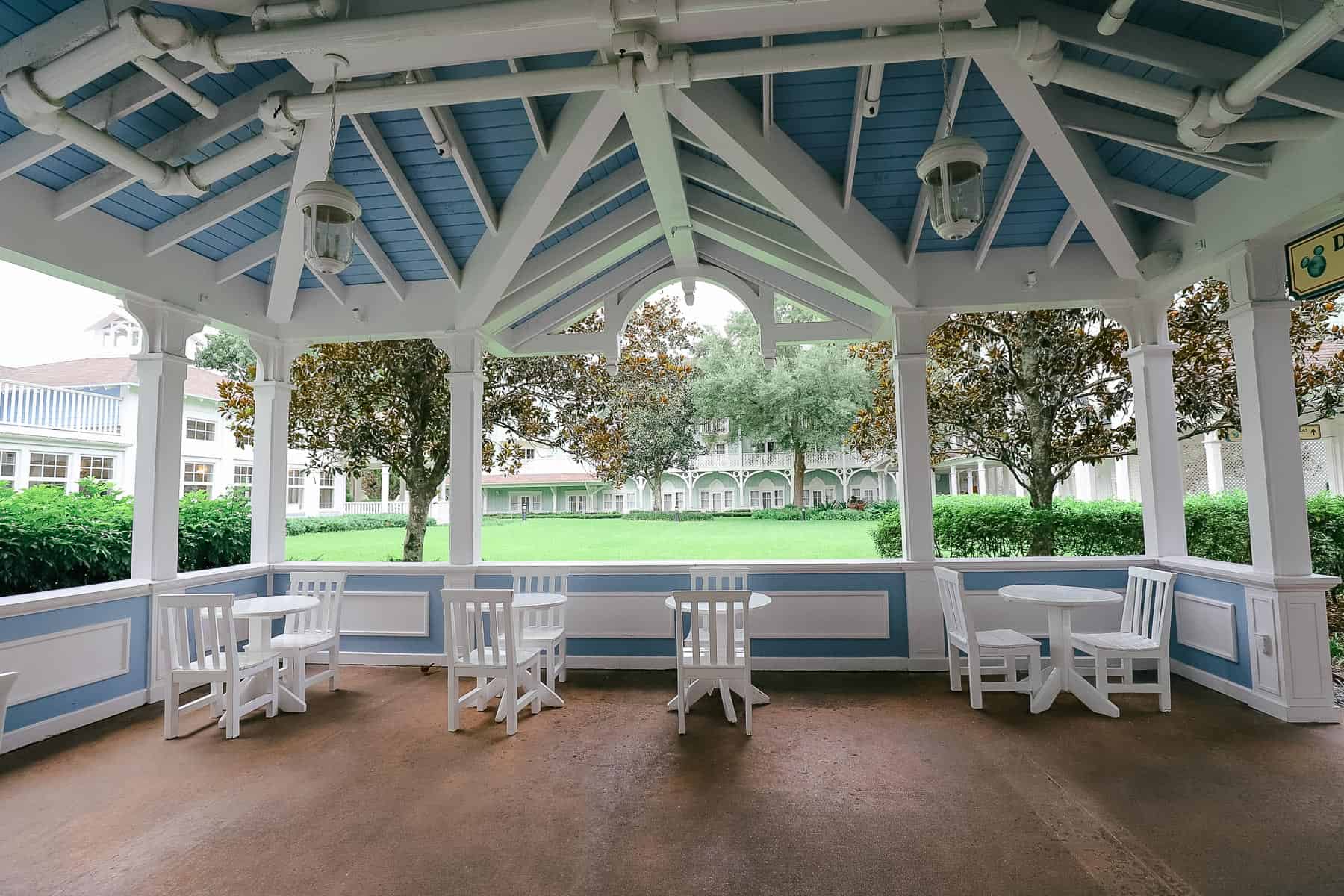 Outside of Beach Club Marketplace, a sign lists menu items and kids' meals. A microwave is available on a table to the side should you need one during your stay.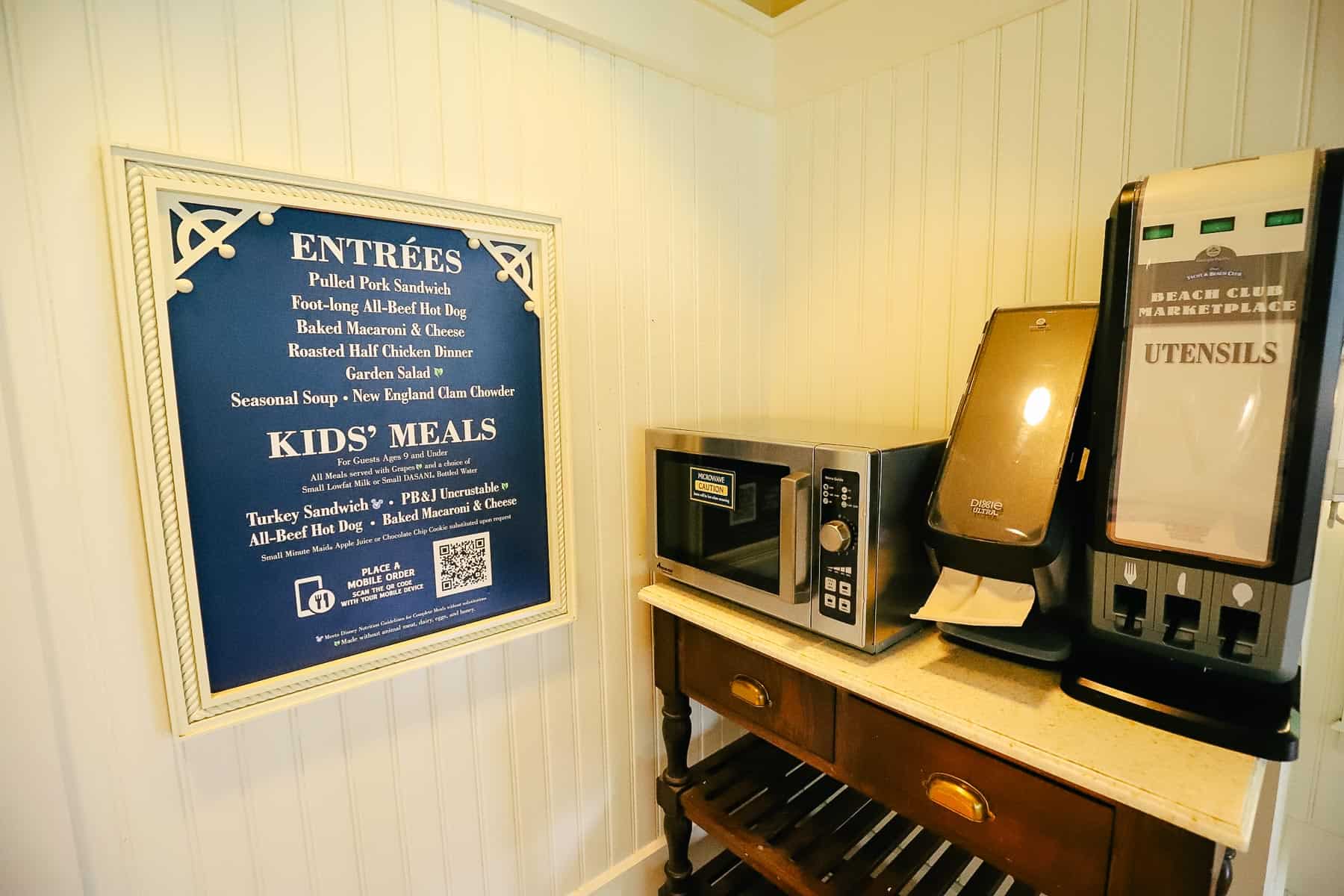 Here is the menu that was posted during this visit.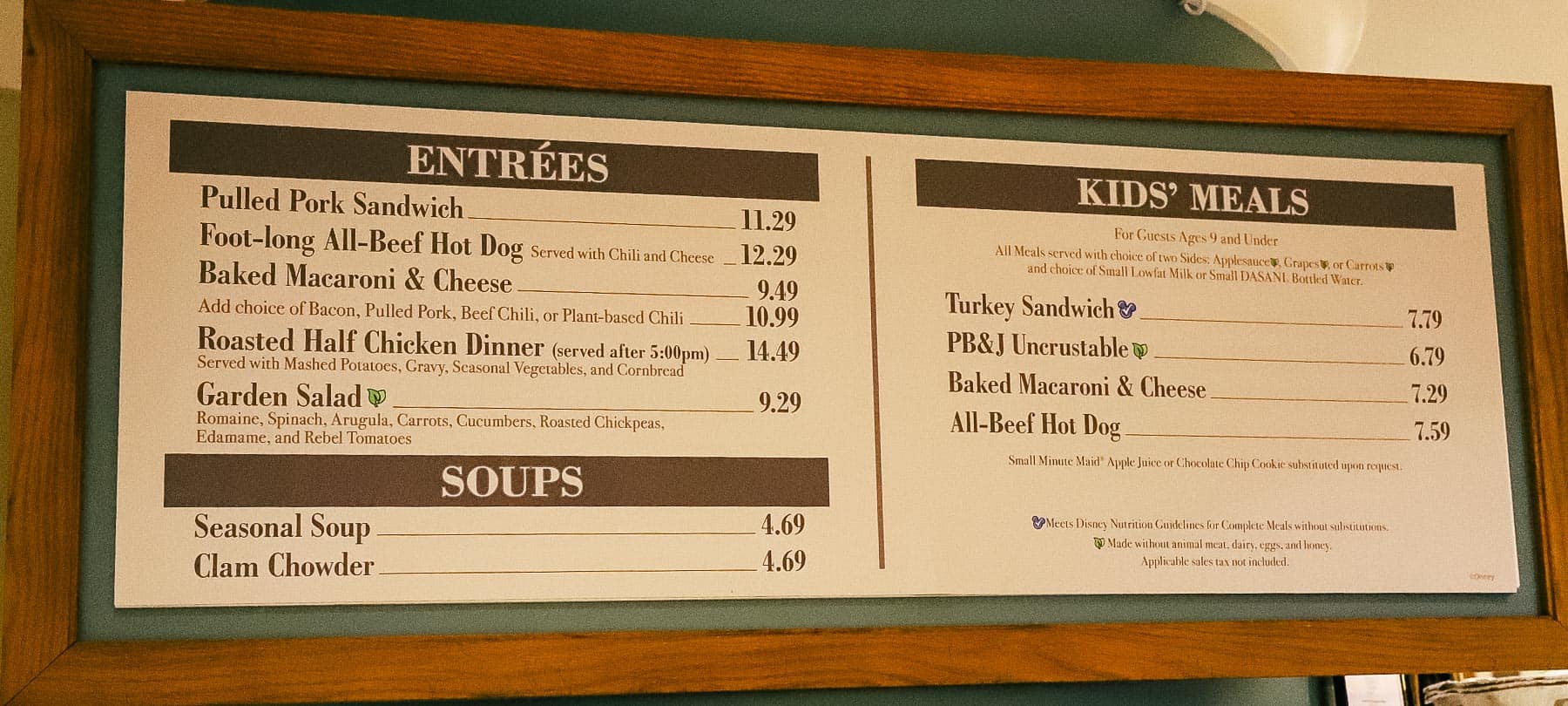 Unfortunately, the lunch and dinner items haven't changed (other than the price) since we originally wrote this article a few years back. It's a pretty hodge-podge menu with random items.
Freshly prepared offerings include:
Pulled Pork Sandwich
Foot-long All-Beef Hot Dog
Baked Macaroni and Cheese
Pork-topped Baked Macaroni and Cheese
Roasted Half Chicken Dinner (only available after 5:00 p.m.)
Garden Salad
Seasonal Soup
Premade items are available in the display case like:
Roast Beef Sandwich
Caprese Sandwich
Turkey and Swiss Sandwich
Spicy Italian Sandwich
Ham and Swiss Sandwich
*Disney's Beach Club used to have an excellent roast beef sandwich that was freshly prepared and served hot with Disney's house-made potato chips. Unfortunately, if you order a sandwich now, you'll receive a premade sandwich outsourced from another location.
Kids' meals include:
Turkey Sandwich
PB&J Uncrustable
Baked Macaroni and Cheese
All-Beef Hot Dog
For Breakfast, meals include:
Steak and Egg Breakfast Sandwich
Bounty Platter
Breakfast Sandwich
Mickey-shaped Waffles
Plant-based Mickey-shaped Waffles
Kids' Meals Include:
Scrambled Egg Sandwich
Mickey Waffle
Side items include scrambled eggs, sausage, biscuits, bacon, and breakfast potatoes.
*Kids' meals come with a choice of side and a small Dasani water or a choice of small lowfat milk or juice. Substitutions include fountain drinks.
You can view the entire Beach Club Marketplace menu on Disney's site. Options for Disney Dining Plans will be noted on the menu when it returns.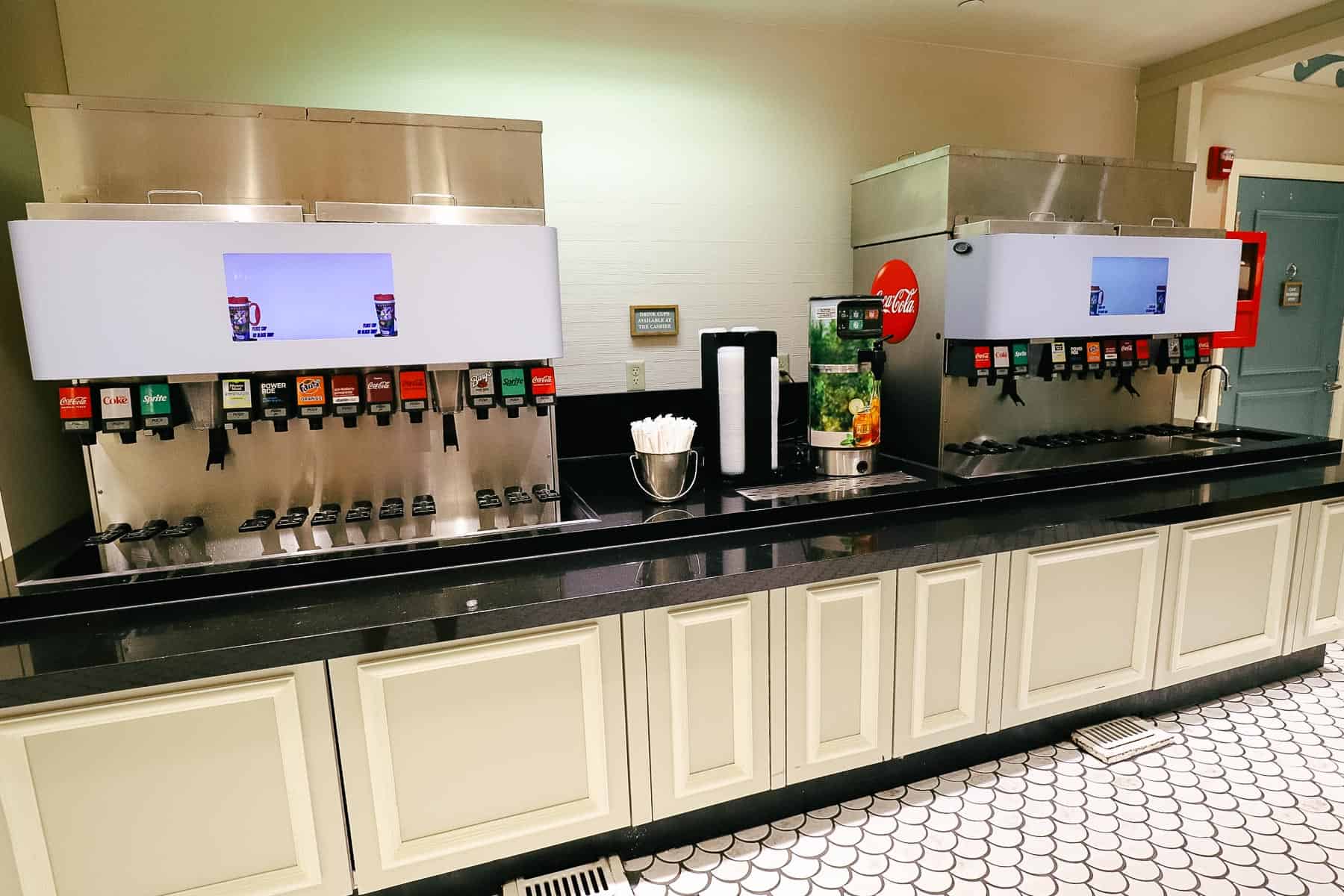 You'll find a beverage refill station on the far side of Beach Club Marketplace. Drinks include Coca-Cola products like Coca-Cola, Diet Coke, Sprite, Minute Maid Zero Sugar, Powerade, Fanta, Acai-Blueberry Vitamin Water, Cherry Coca-Cola, Coca-Cola Zero Sugar, and Barg's Root Beer.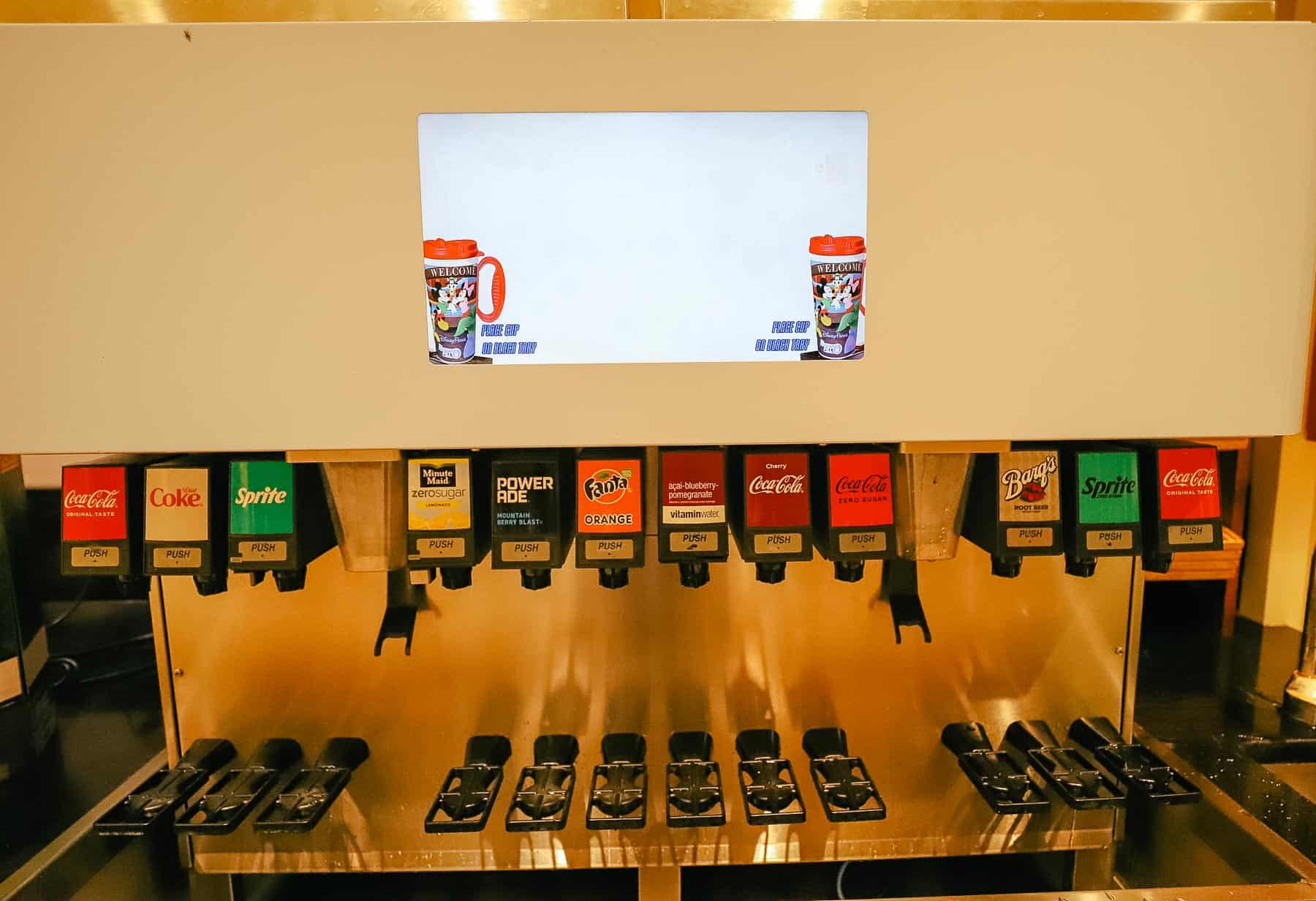 Gold Peak Tea is also available.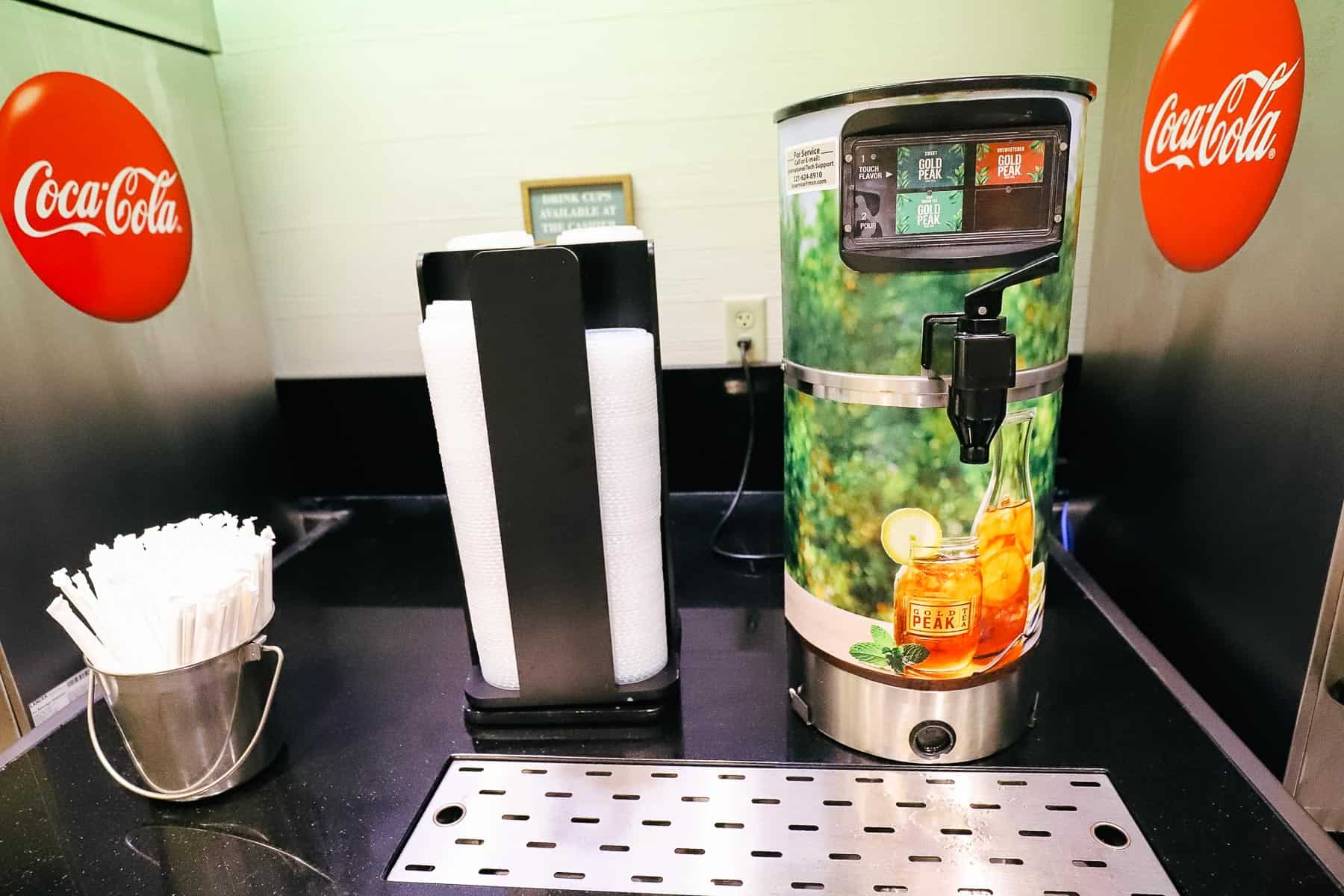 Rapid Fill drinks are available at Beach Club Marketplace. Guests can enjoy refills of fountain drinks, coffee, and tea at any resort's self-service beverage location for the entire length of their resort stay.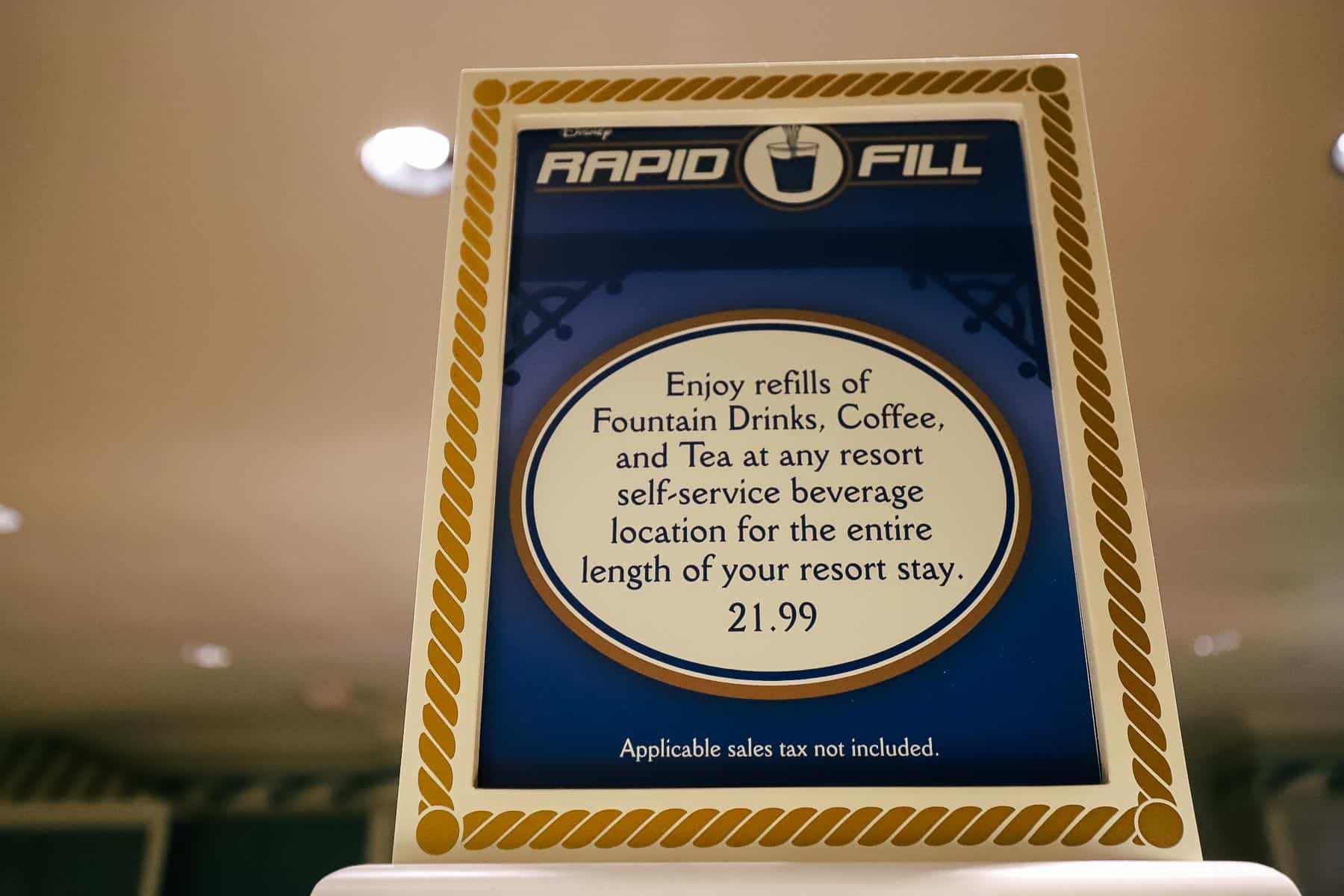 Toward the back of the restaurant, you'll find an area with coffee, hot tea, and accompaniments.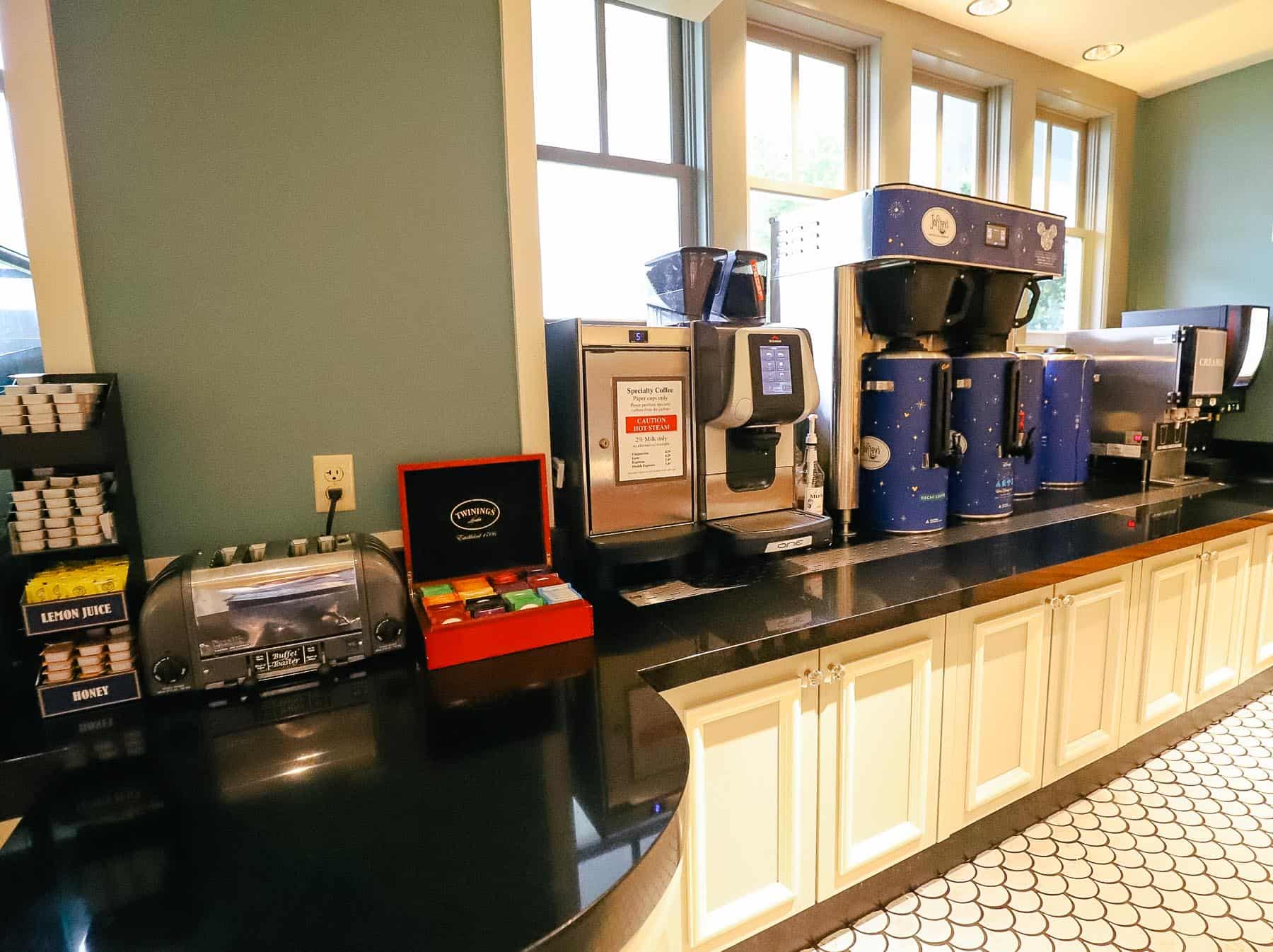 Joffrey's Coffee is the brand used at the Walt Disney World Resorts.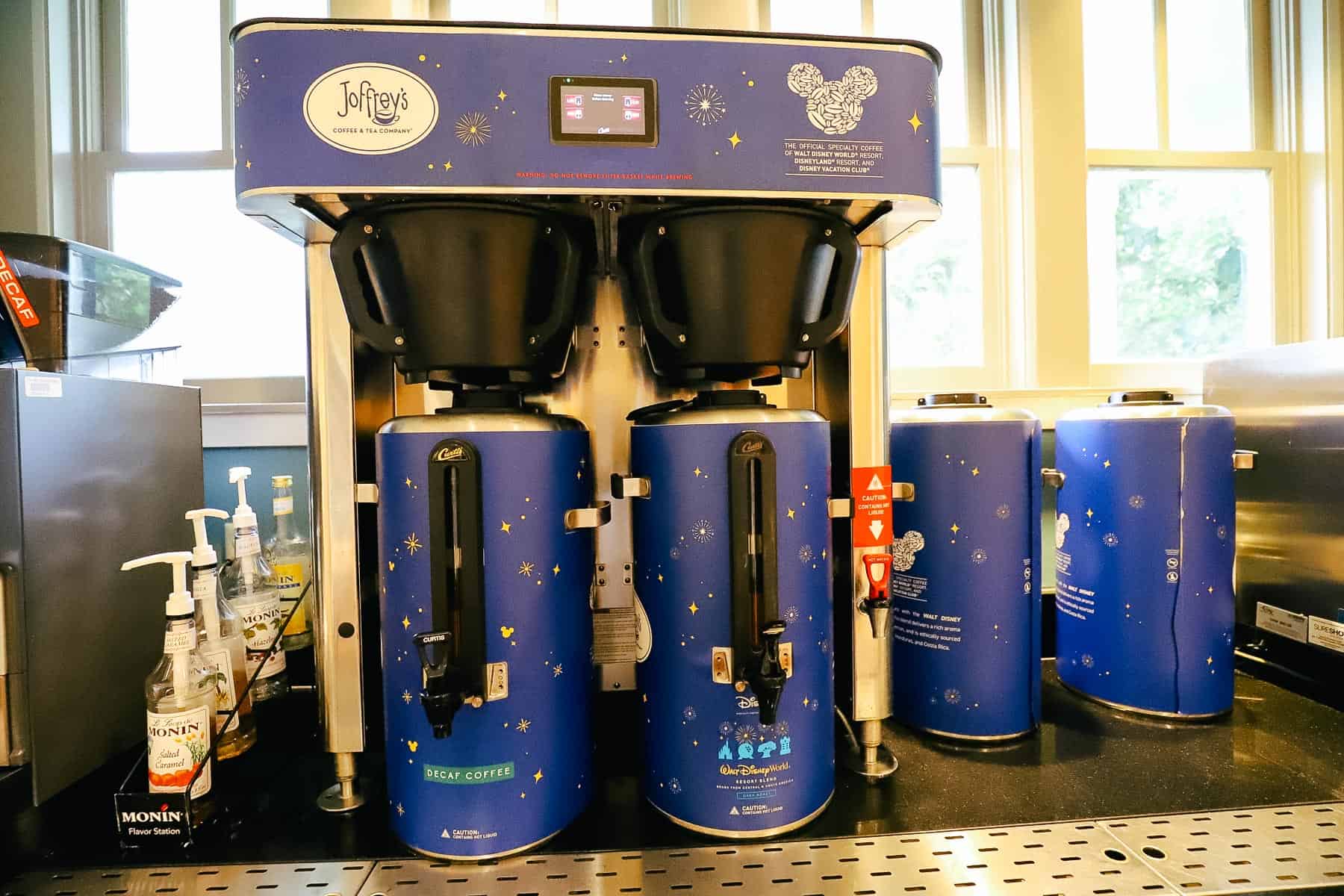 You'll also find creamer and a specialty coffee machine.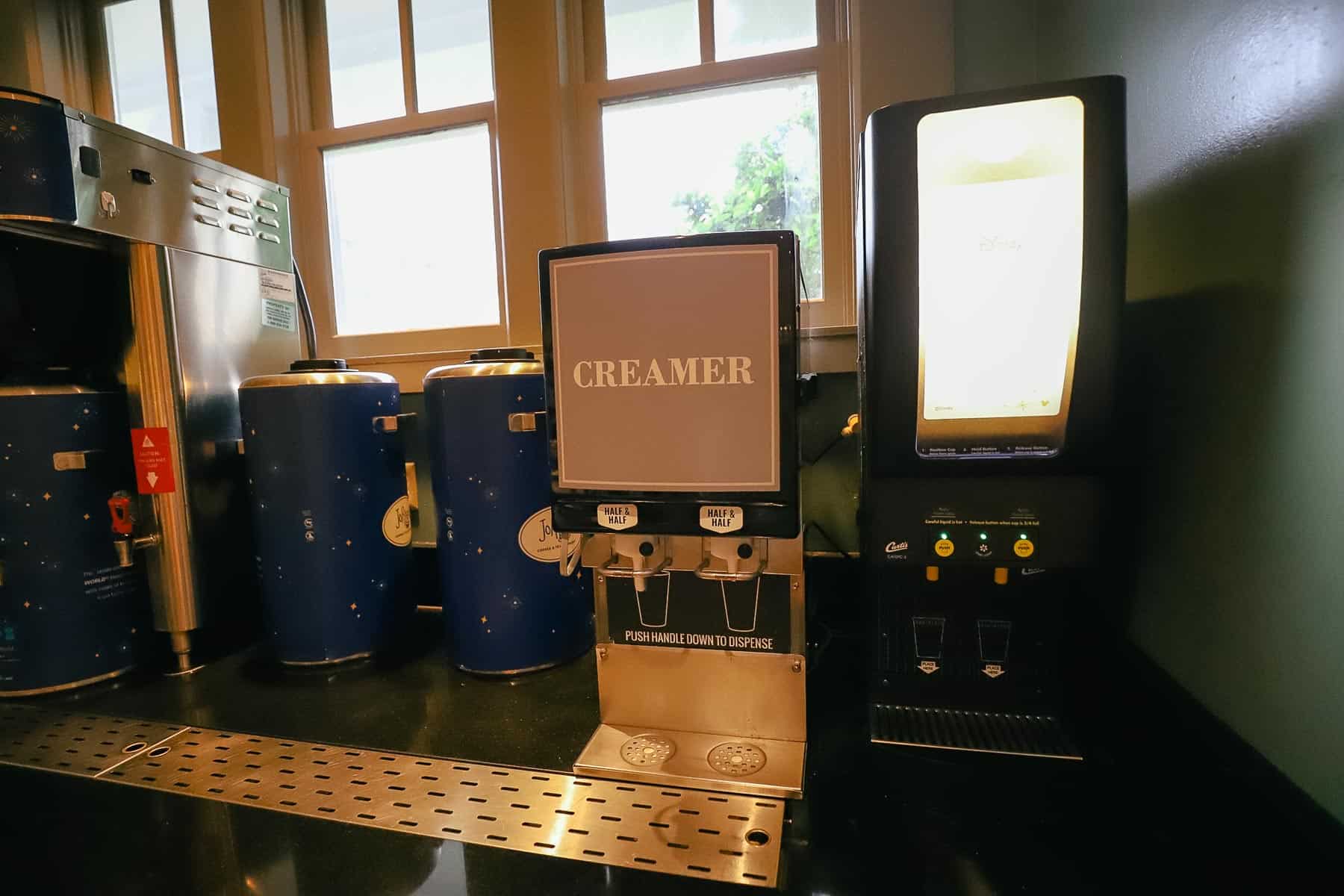 Speaking of specialty coffee, I was surprised to find this coffee machine. We recently had access to one at the Chronos Club at Gran Destino Tower. Make sure to select whether you want decaf or regular. You can purchase a cup for this machine at the register, and you'll have a cappuccino in less than a minute.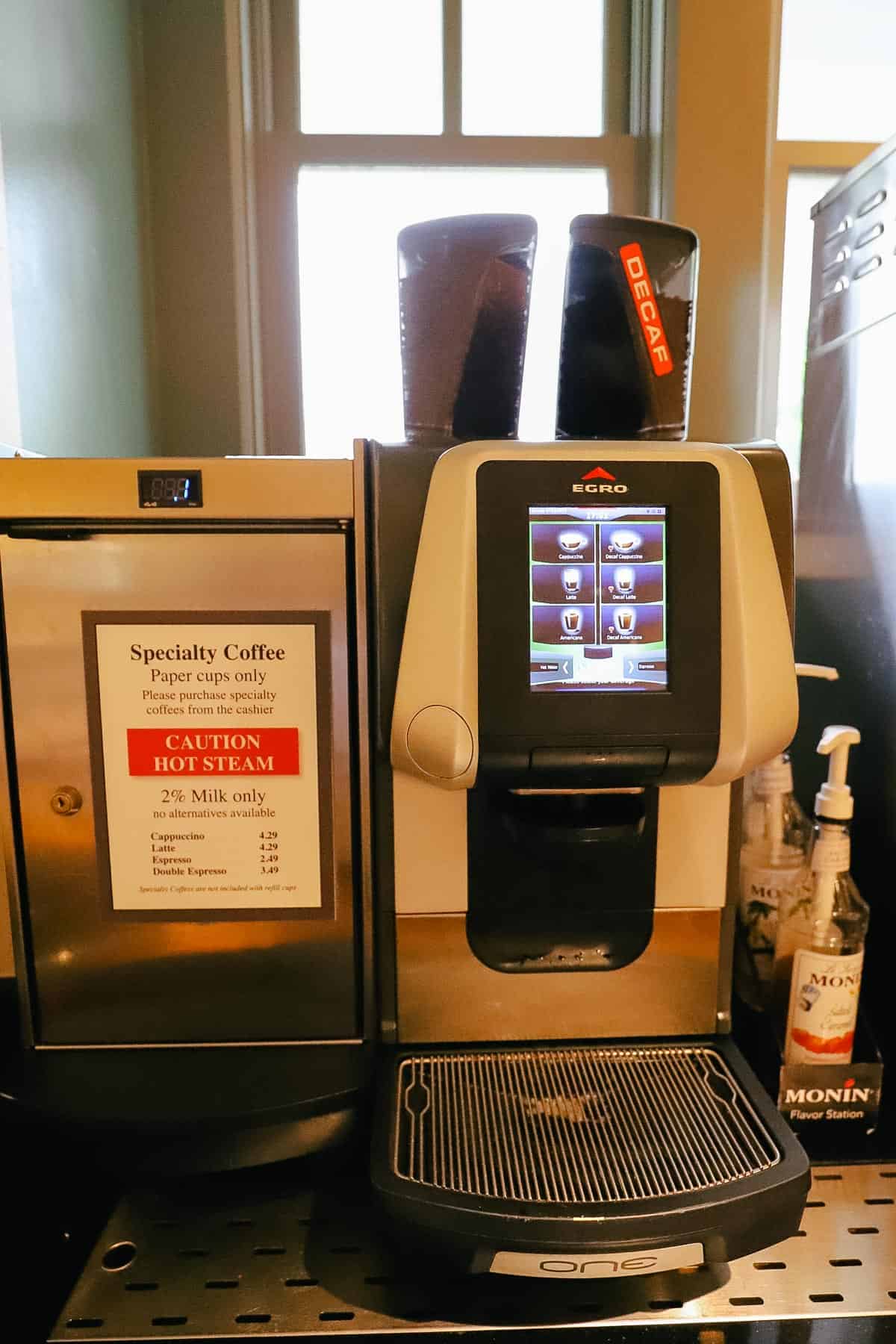 A toaster oven, condiments, and a selection of tea bags are also available in this area.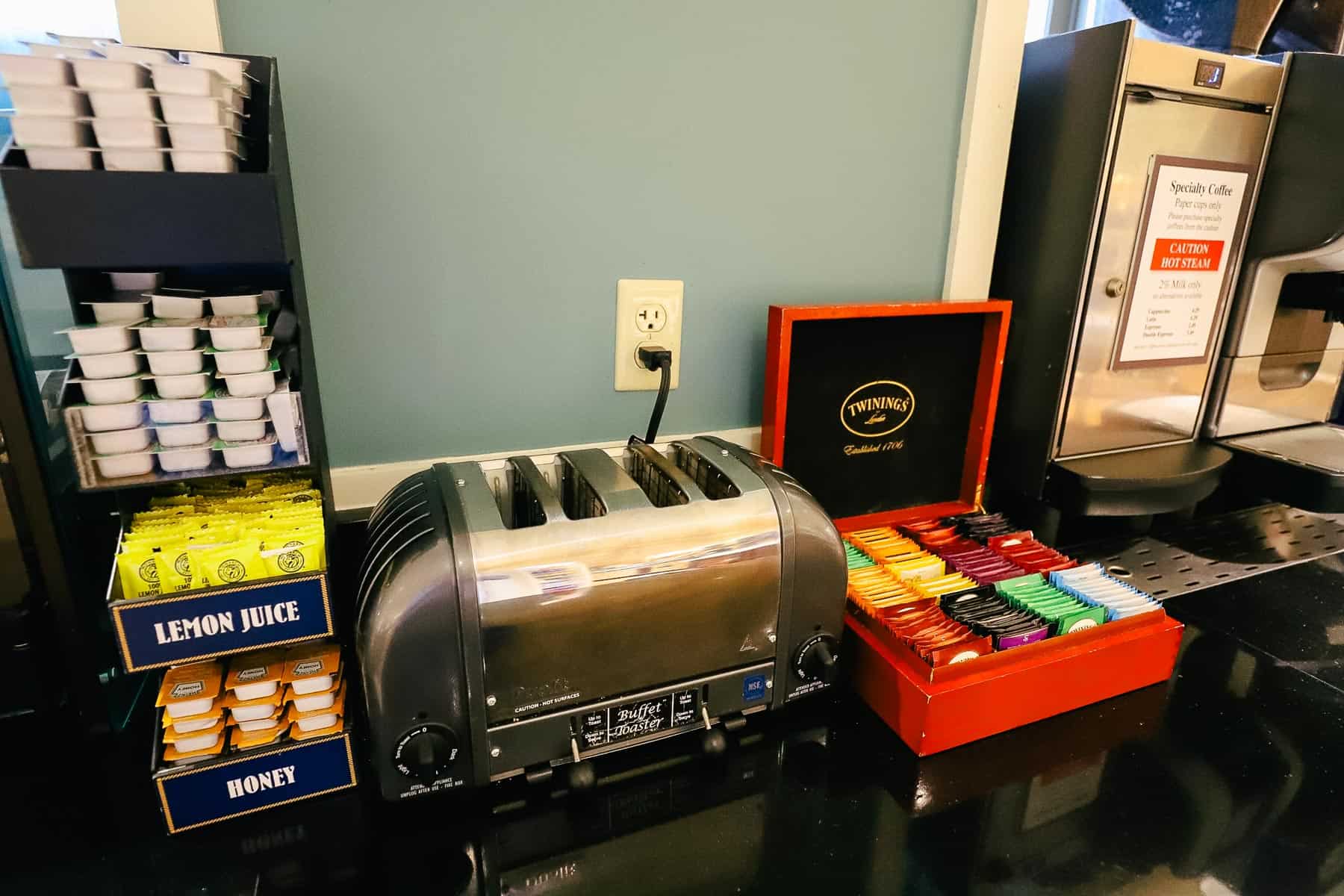 I didn't get a great picture, but a display case had cinnamon buns, cherry danishes, apple blossoms, banana bread muffins, bagels, and more.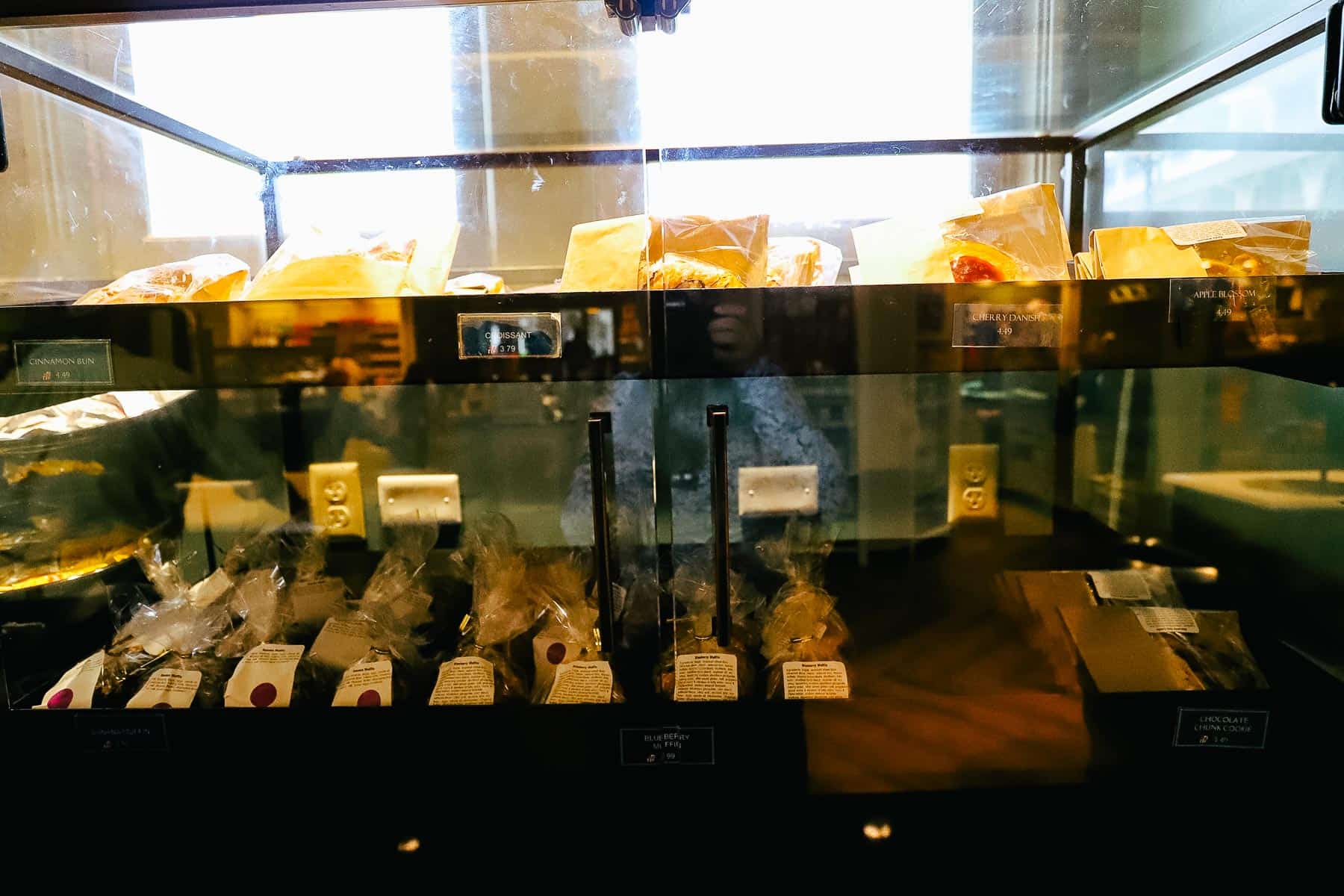 This case has the Mickey Brownie and a plant-based brownie.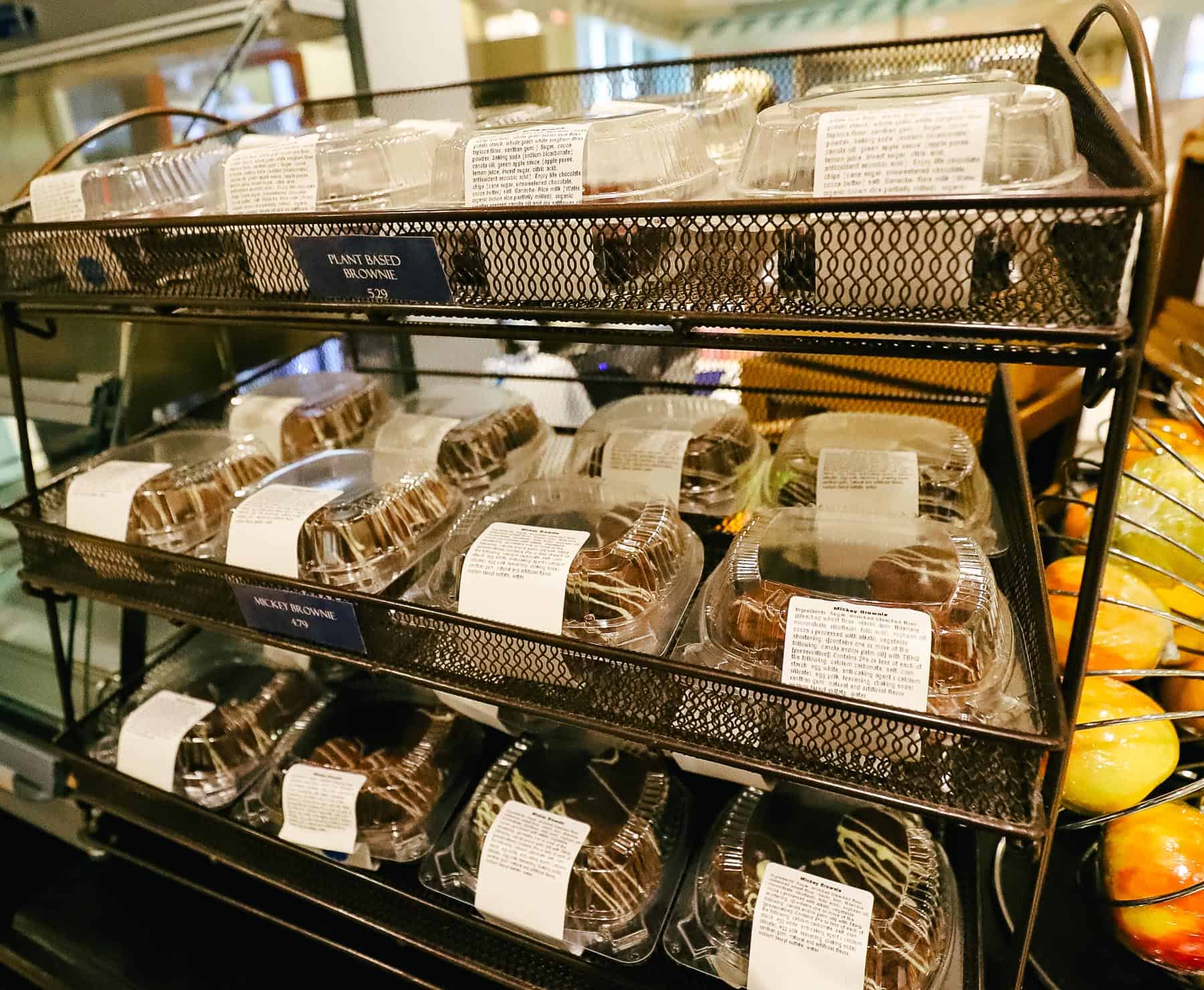 I can confirm that the plant-based brownie is delicious. Someone told me I had to try it a few months ago, and they were right. That chocolate icing gets a 10/10!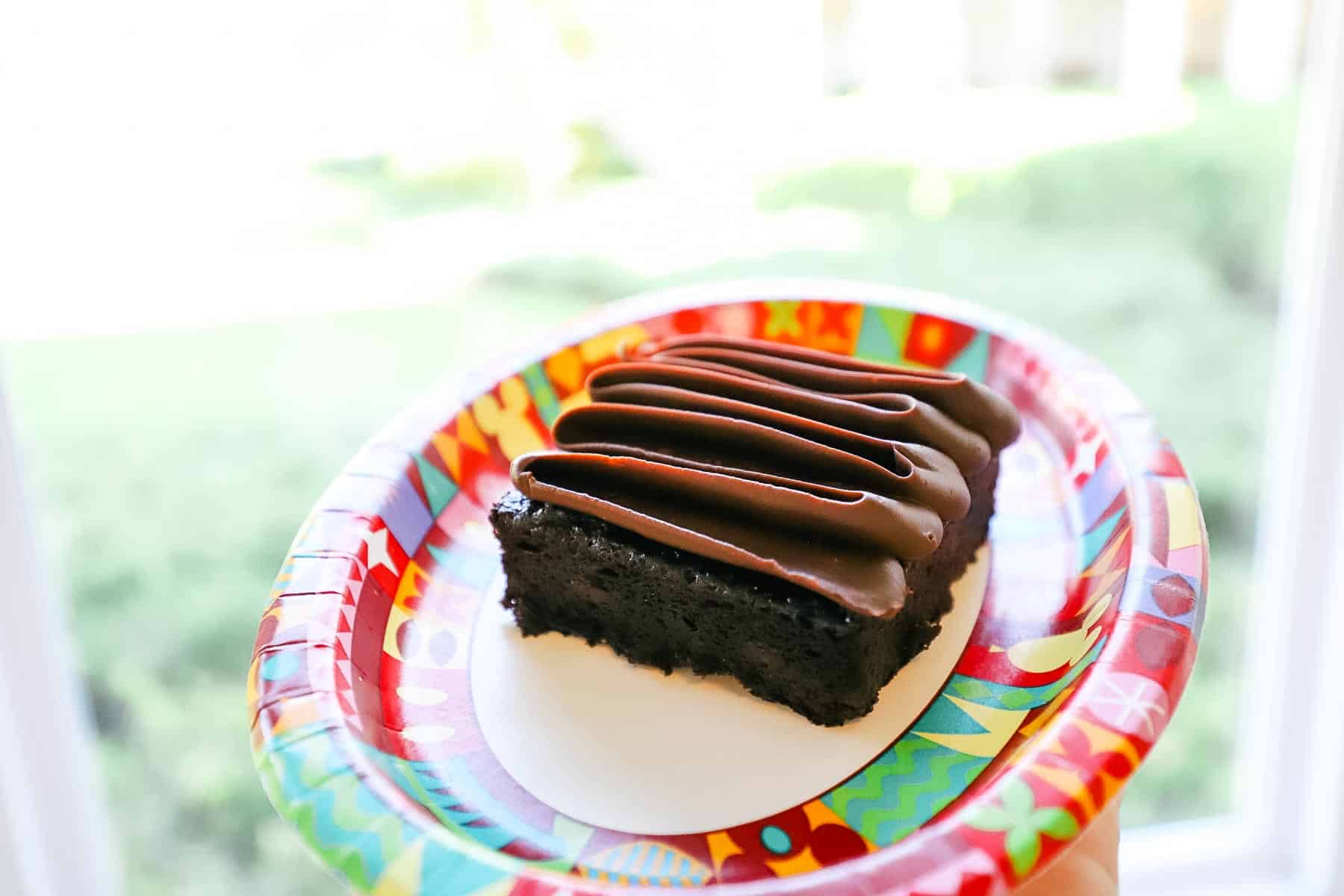 Along the back corner of Beach Club Marketplace, a beverage case has a wide range of sodas, juice, sports drinks, milk, wine, and beer.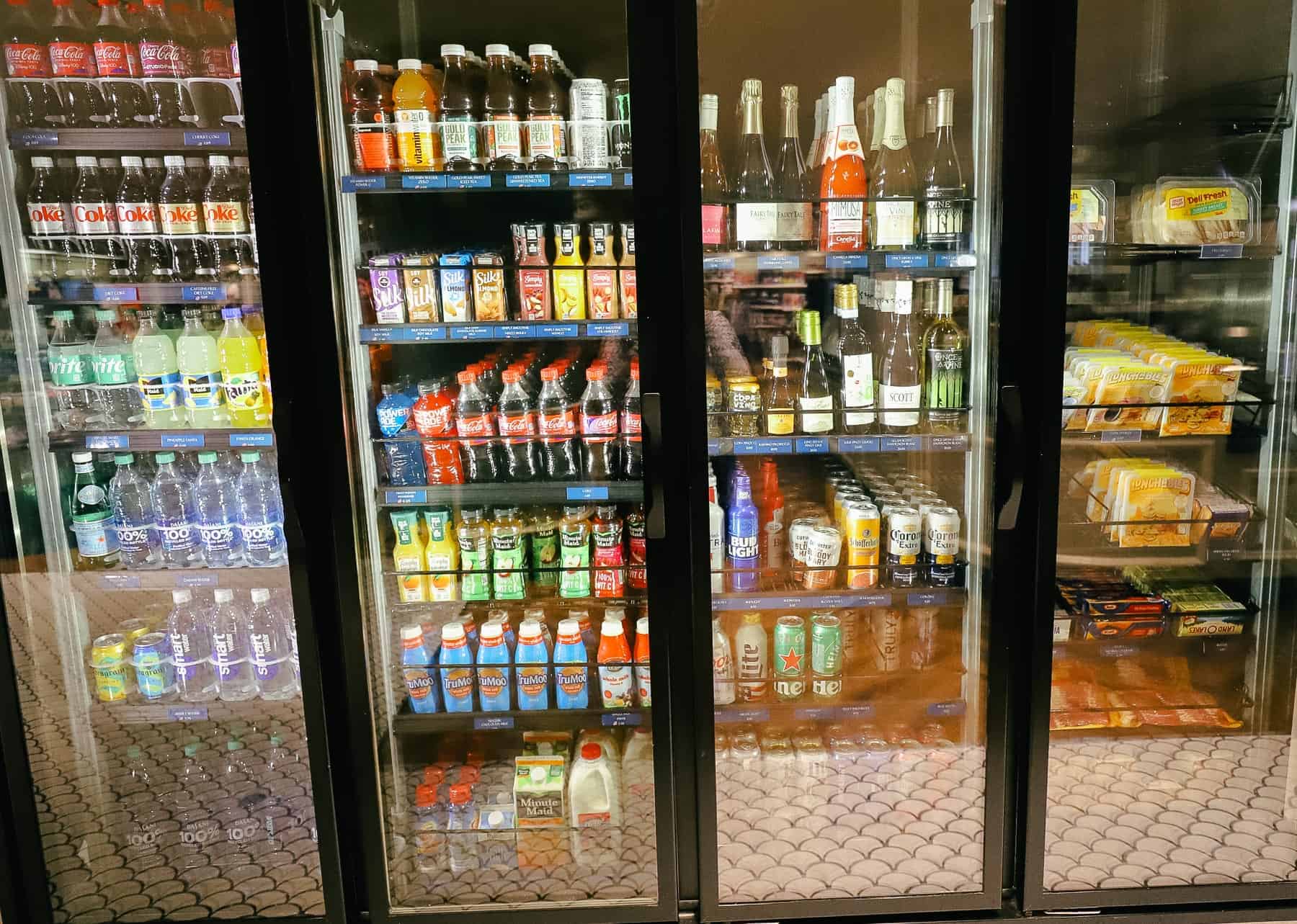 Frozen items include burritos, Mickey ice cream bars, and other frozen novelties.
If you're staying in one of the larger Beach Club Villas, you'll have access to a kitchen in your room. So items like waffles, sausage, pot pies, frozen dinners, pizza, and frozen vegetables are available.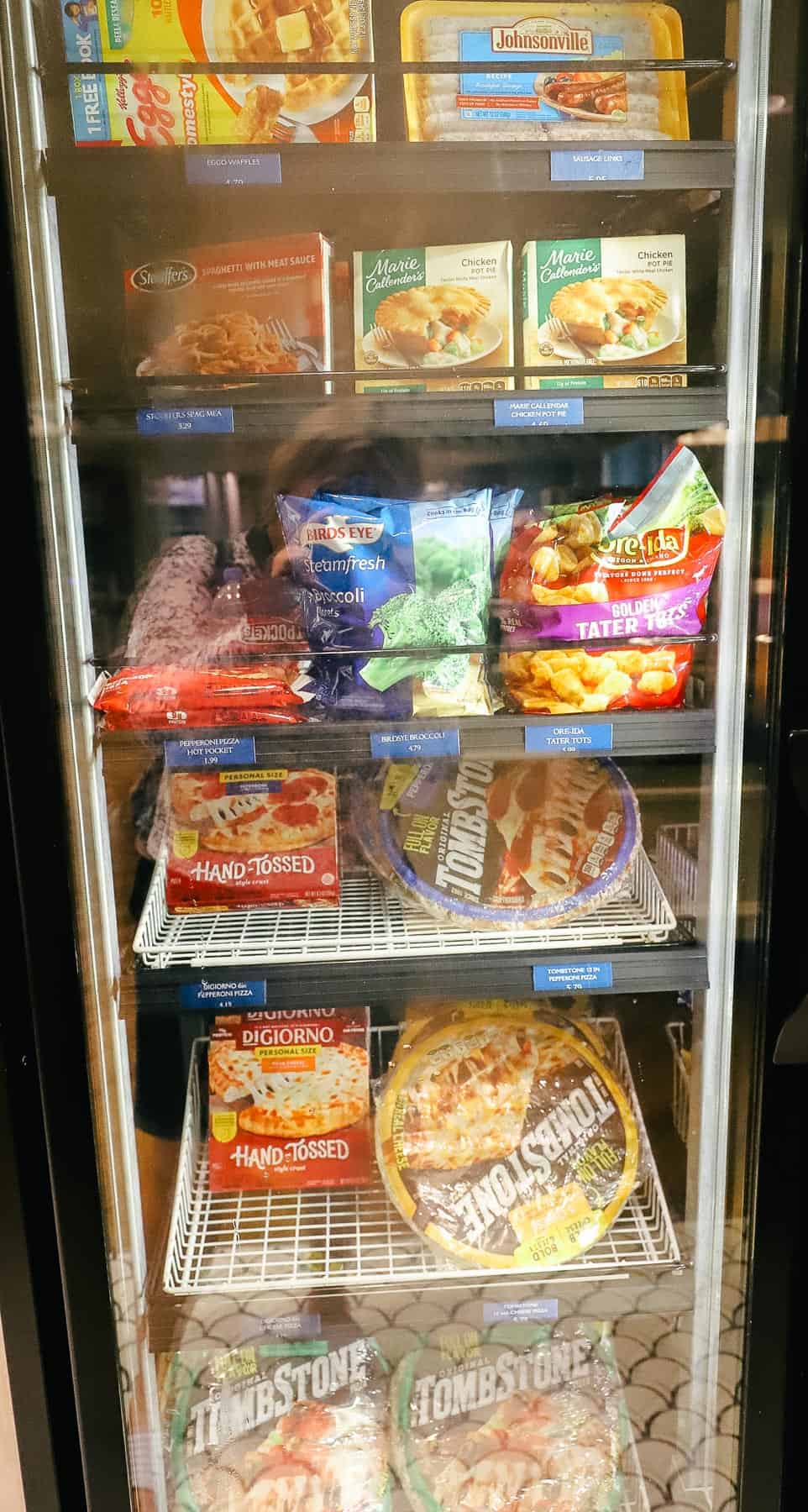 Here we have Lunchaables, pre-packaged sandwich meat, cheese, eggs, and butter.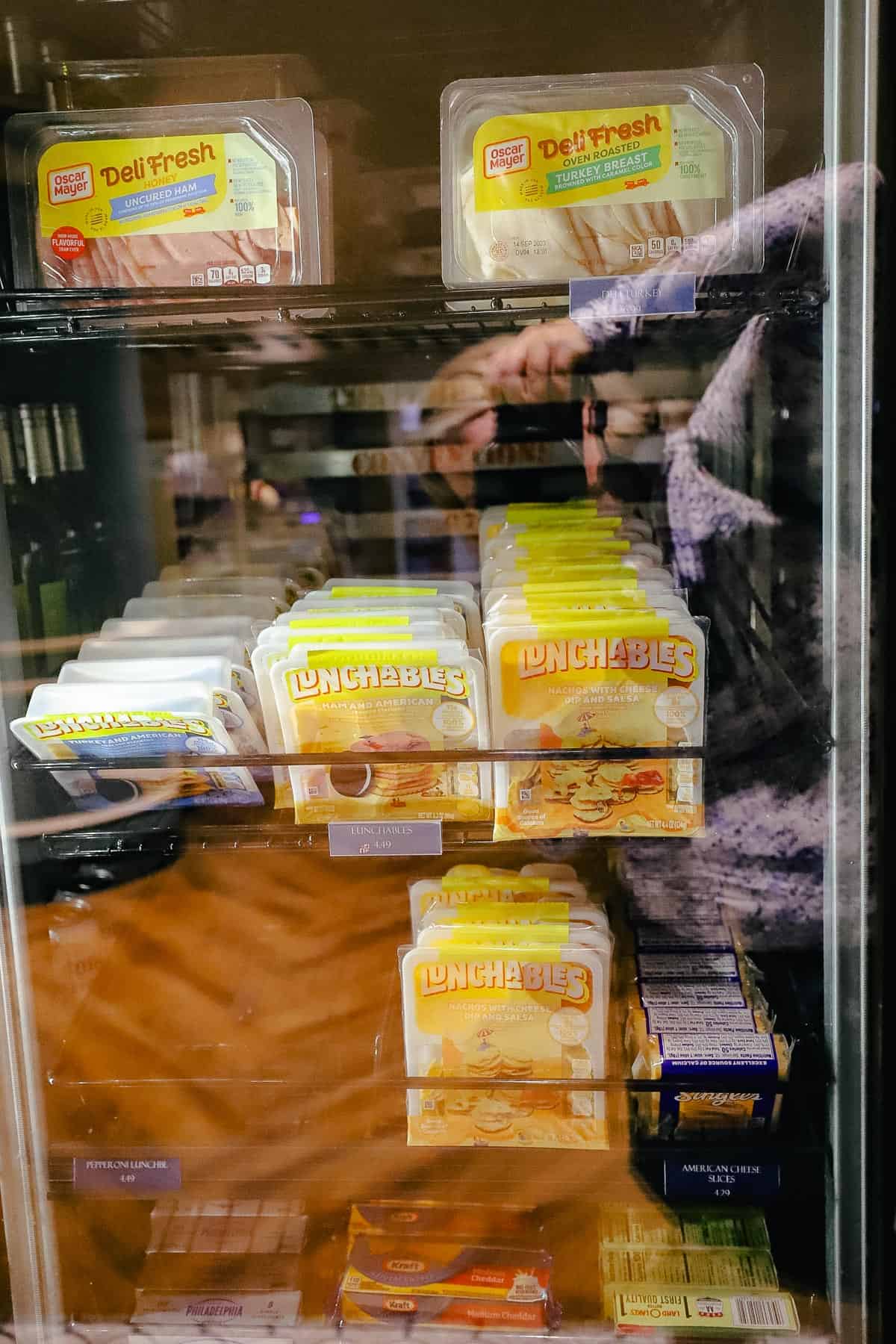 Another case had chilled wine, champagne, and beer.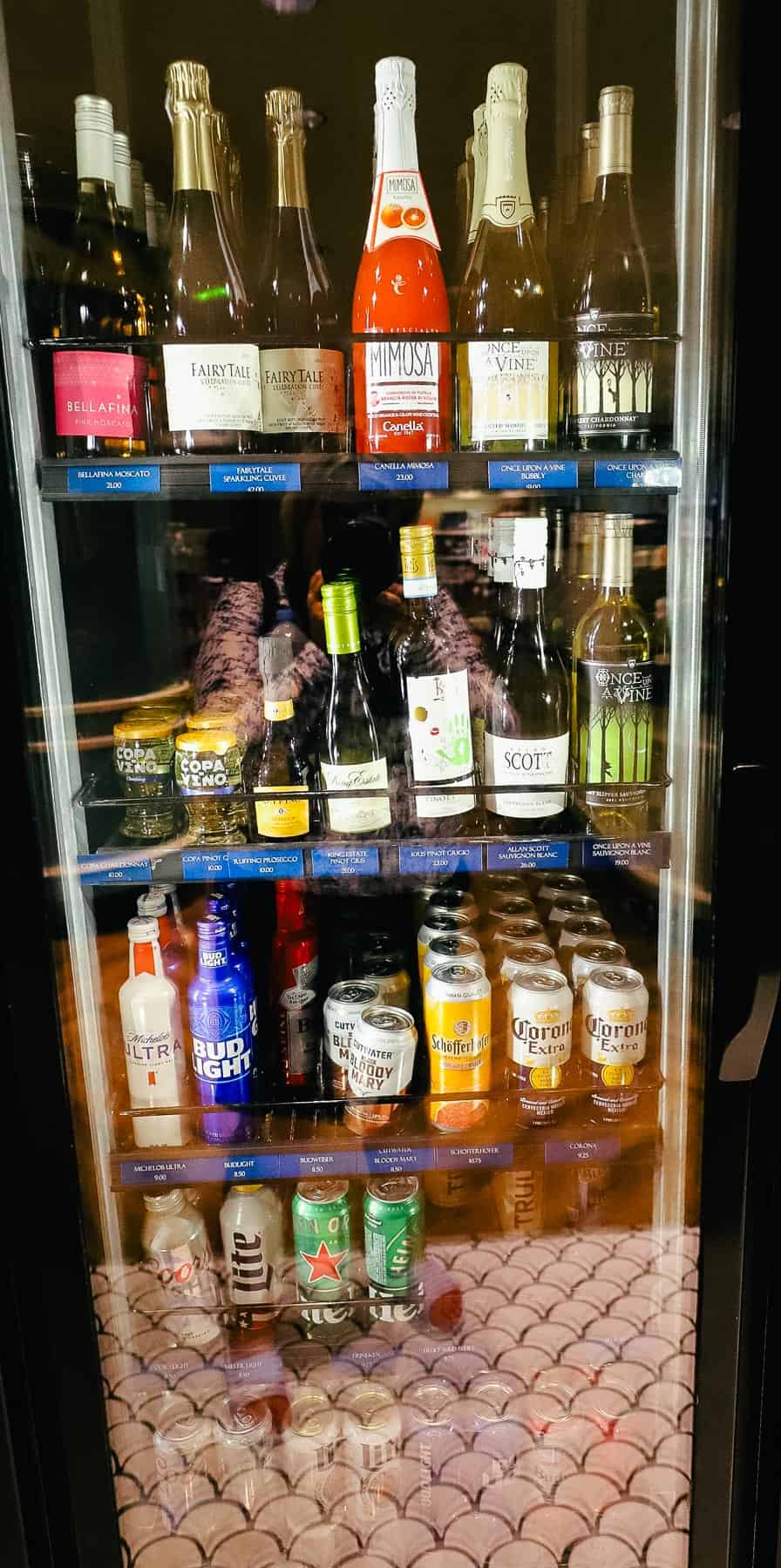 Here we have a few energy drinks, sports drinks, milk, juice, and other beverages.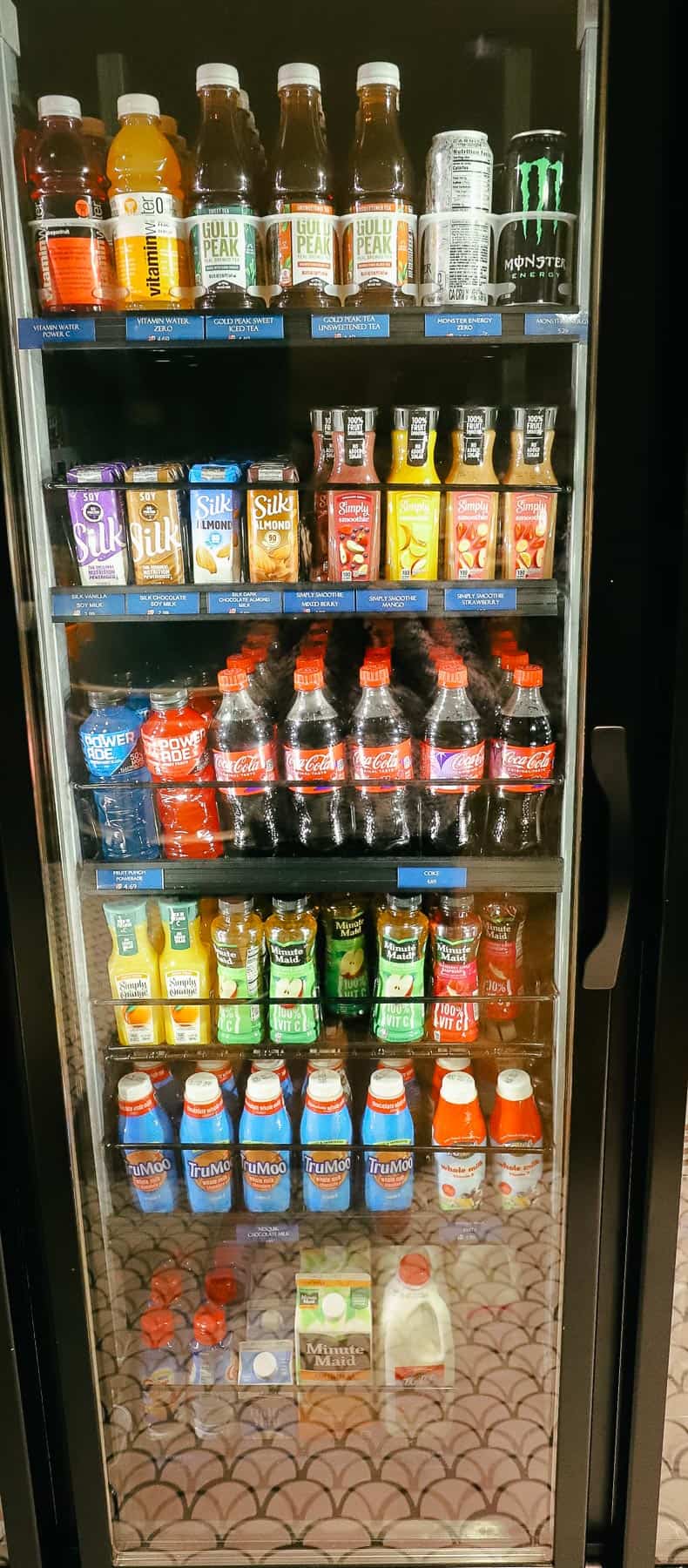 A separate case with various liquors sits behind the register.

Another display has several wine selections.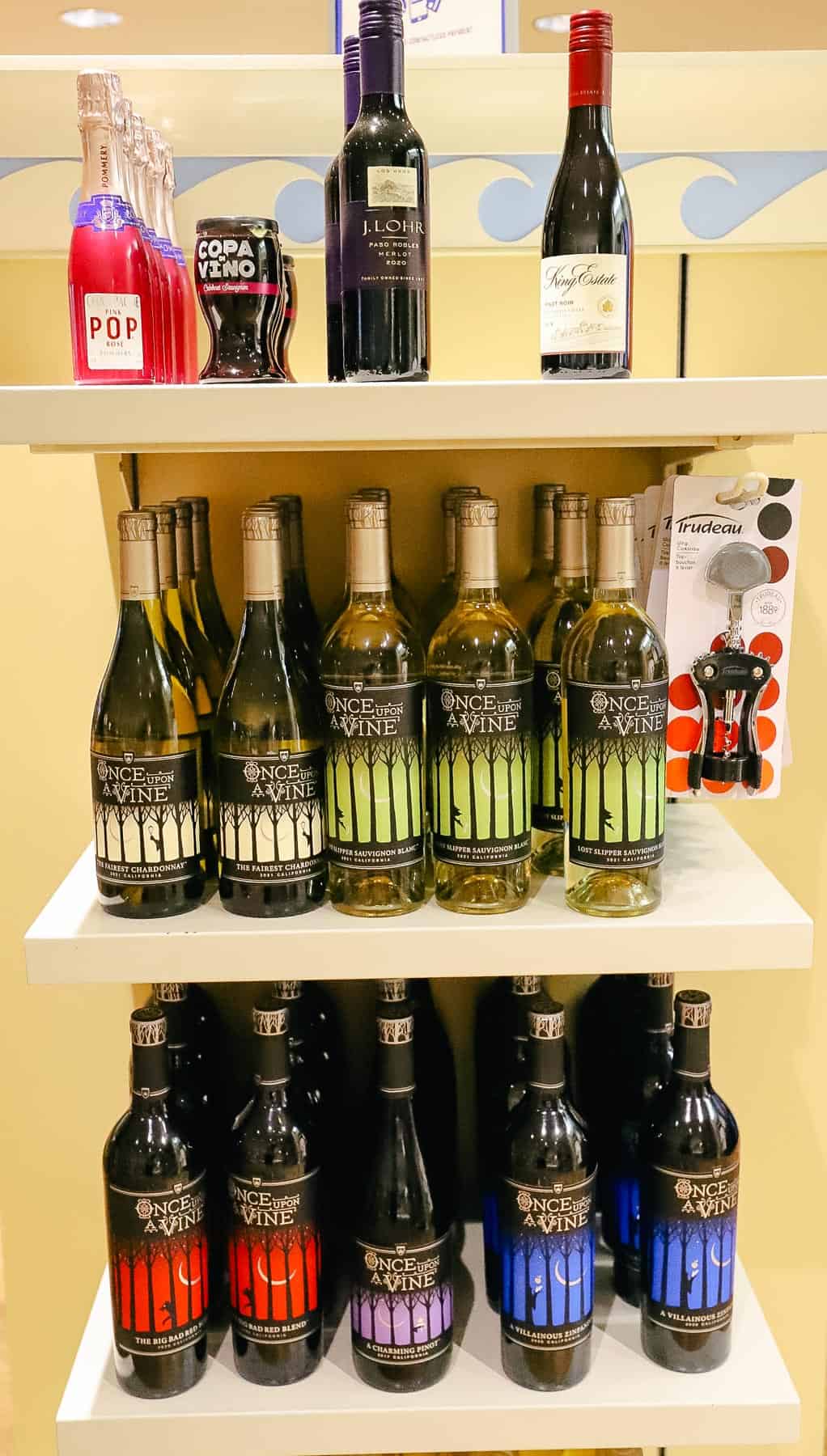 Pantry items include cereal, Pop-Tarts, Crackers, oatmeal, baby food, tomato sauce, condiments, etc.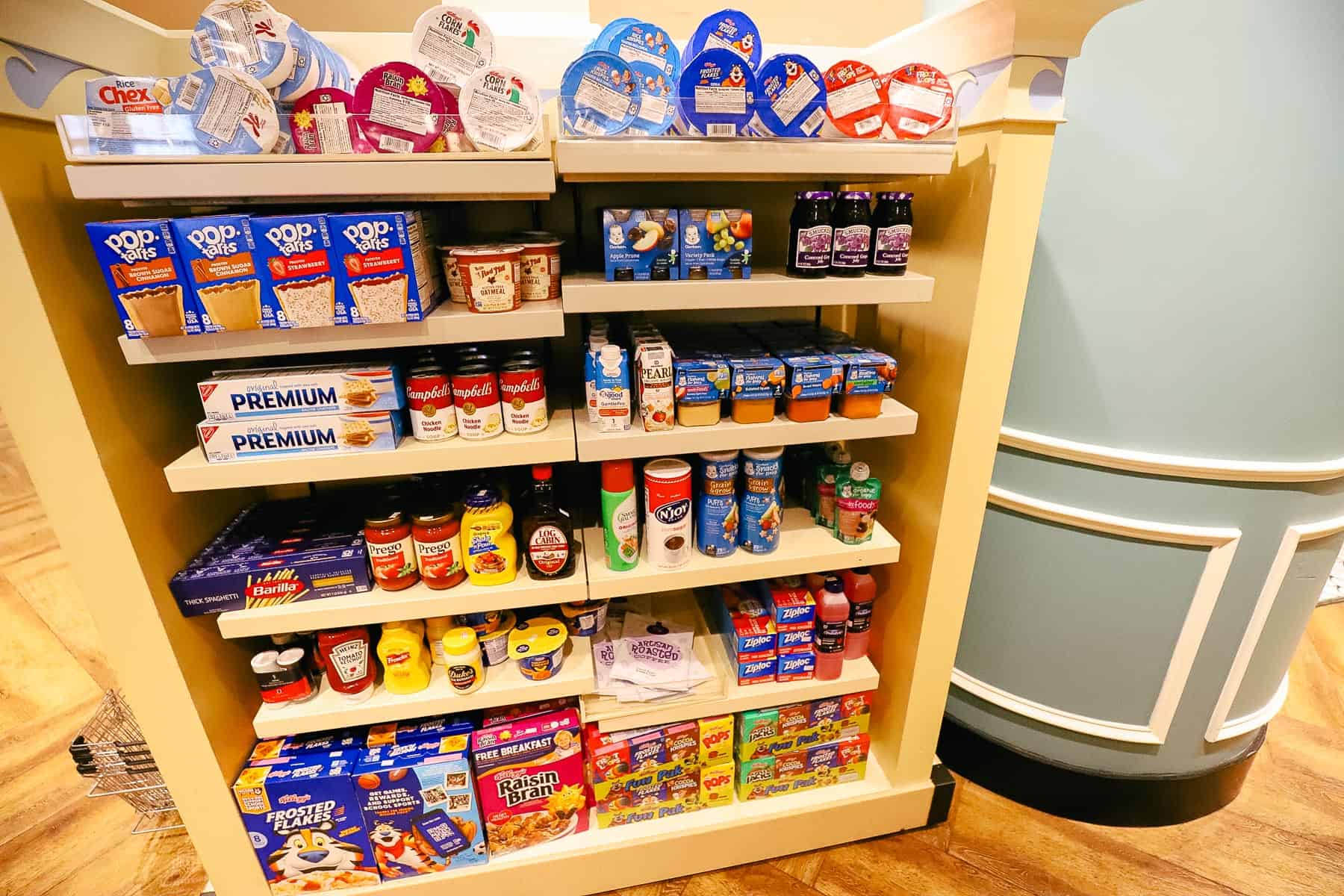 Chips and dips.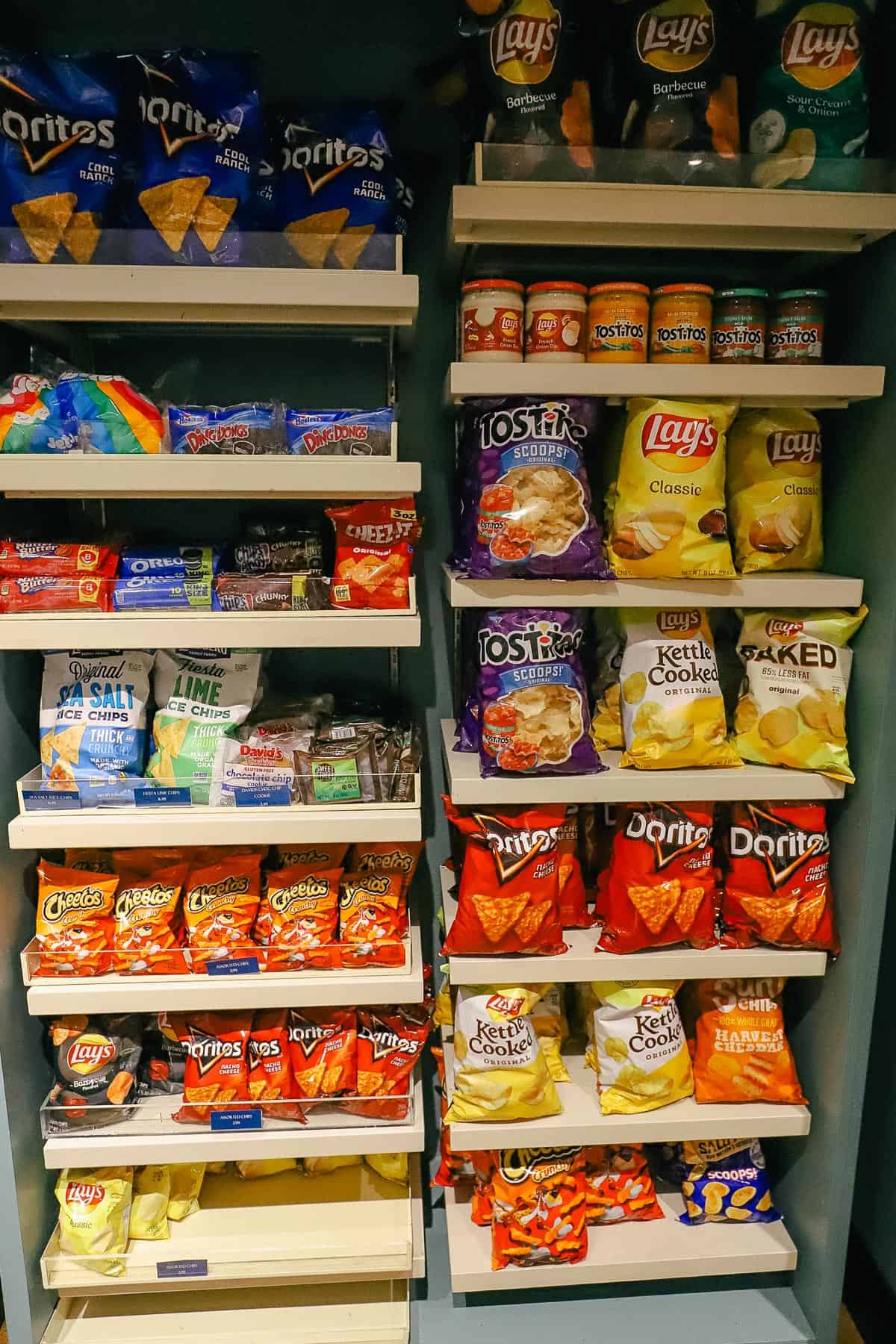 Here we have Entenmann's donuts, pastries, and other bread selections.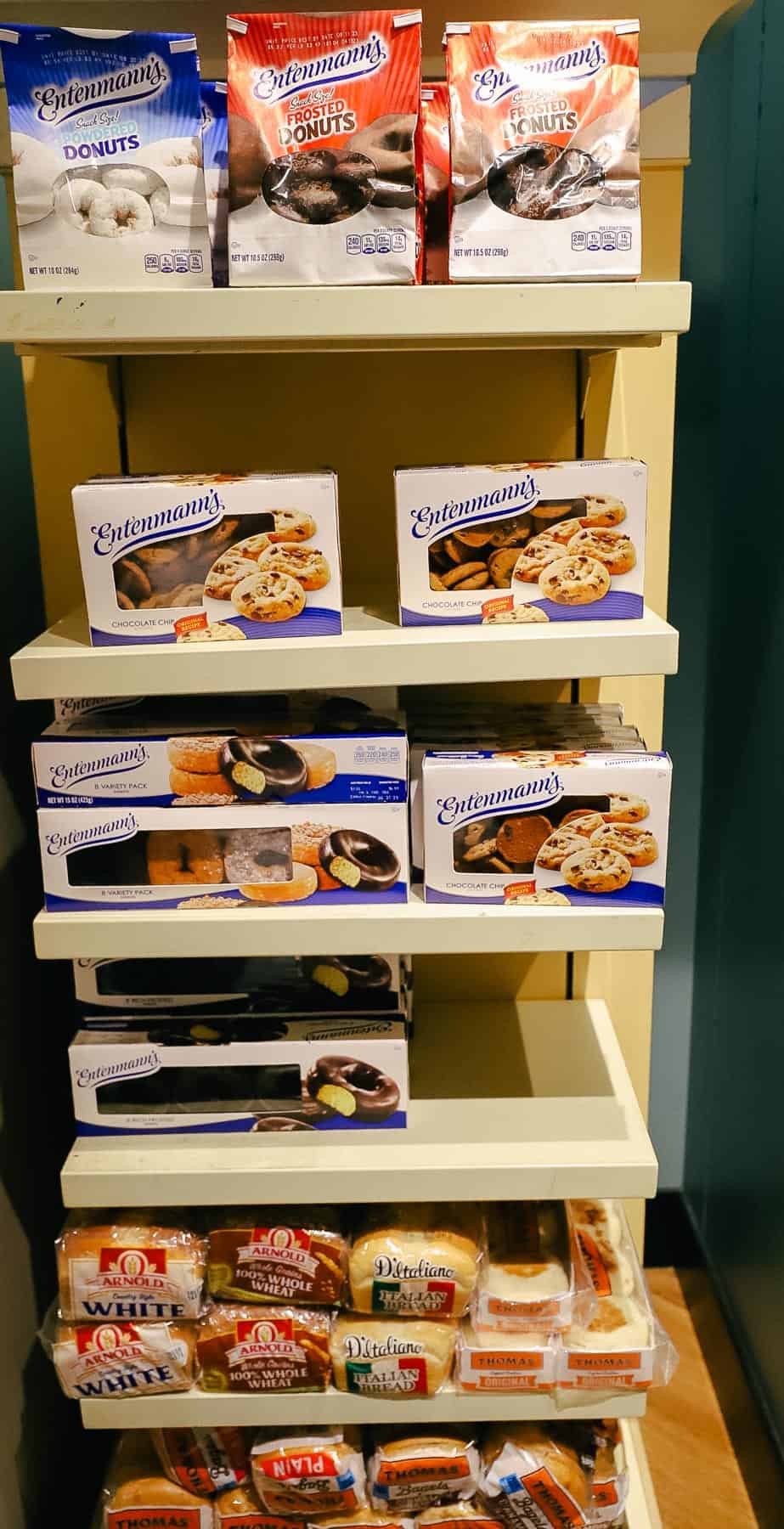 This case features various Disney-branded candies, Walker's shortbread cookies, Twinings Tea, popcorn, and cotton candy.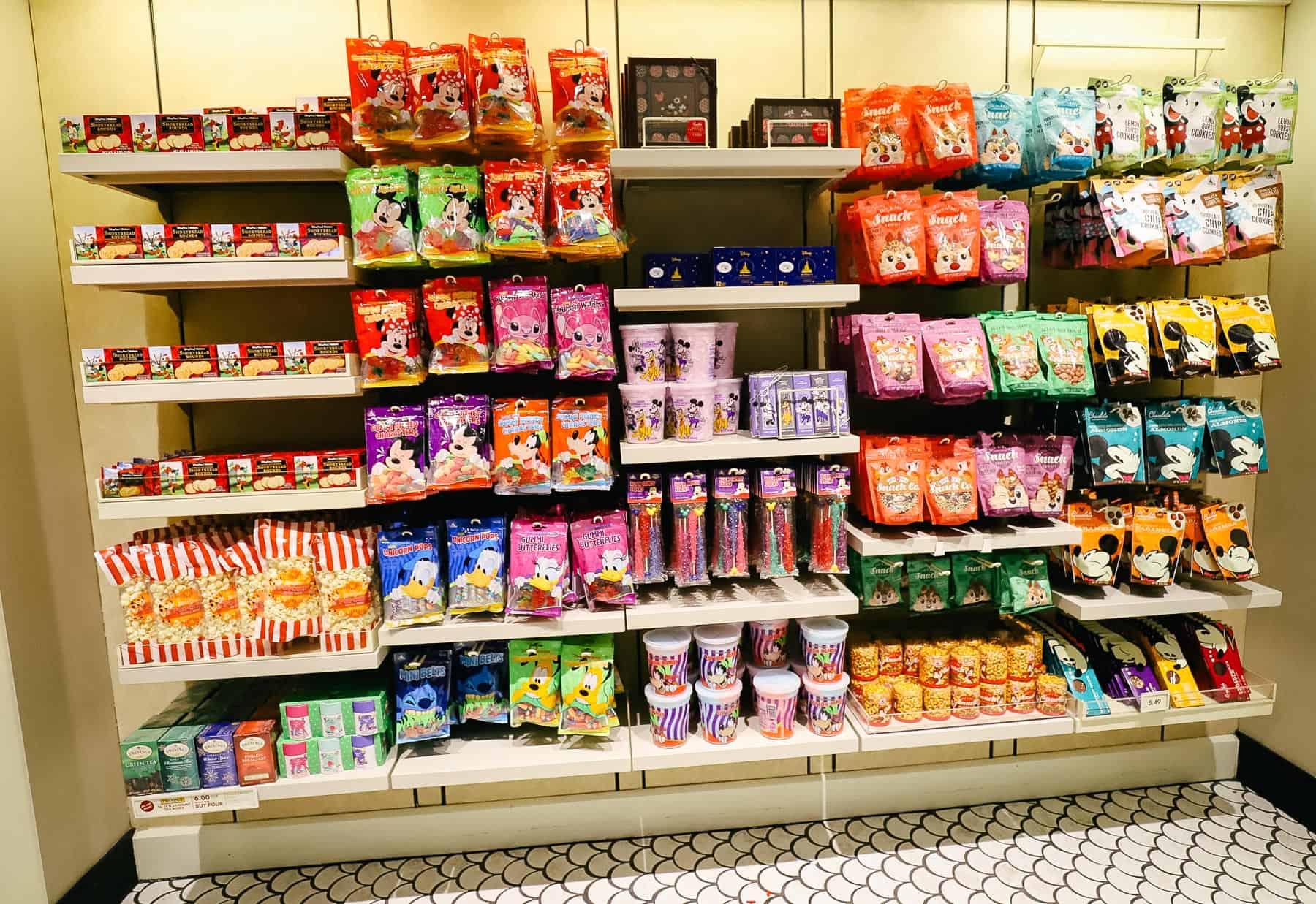 Here we have coffee and various flavored popcorn.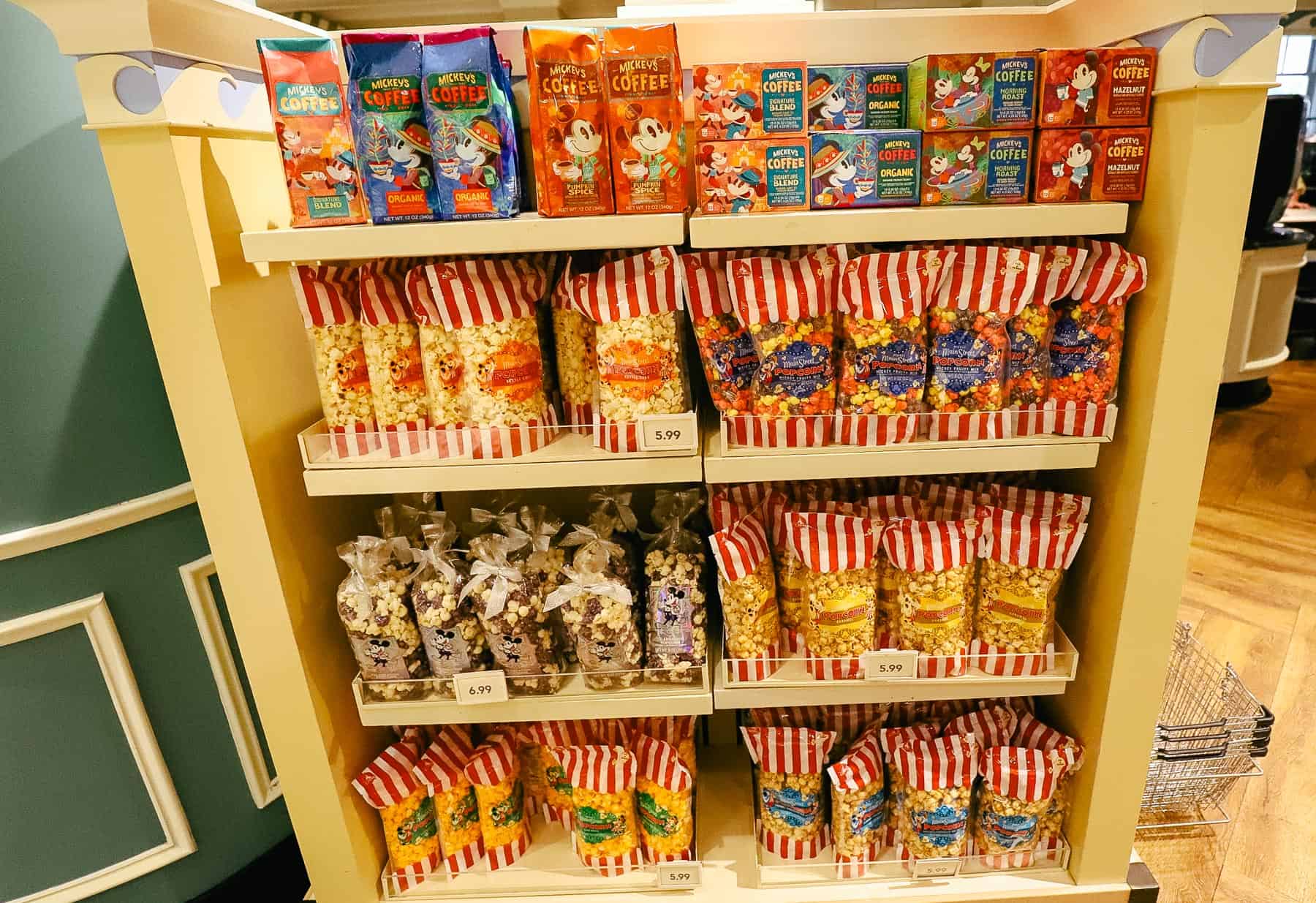 Toward the front of the store, we see lollipops with individual packages of candy.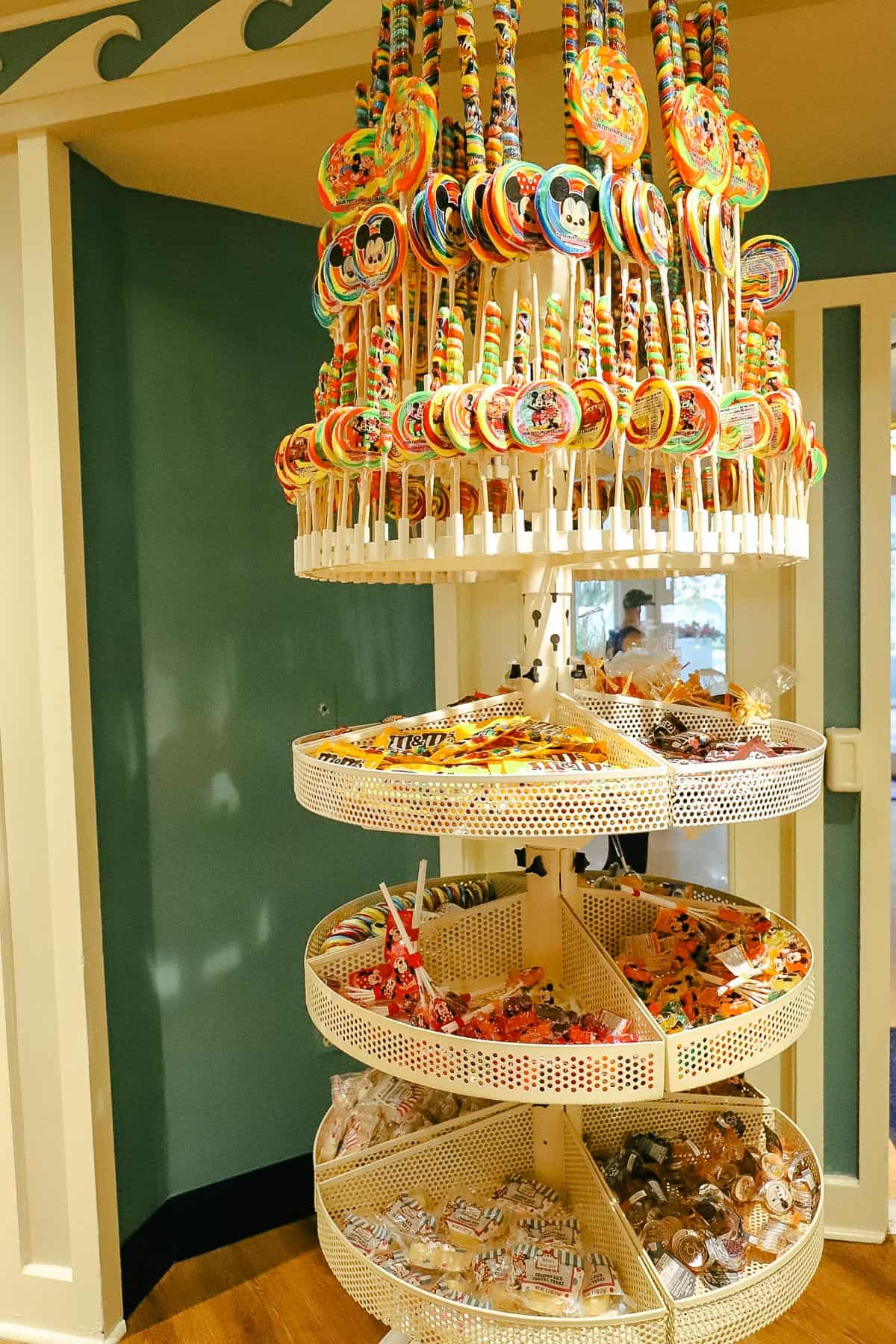 Lastly, we'll look at the refrigerated case in the middle of the store. This is where all the premade sandwiches are located.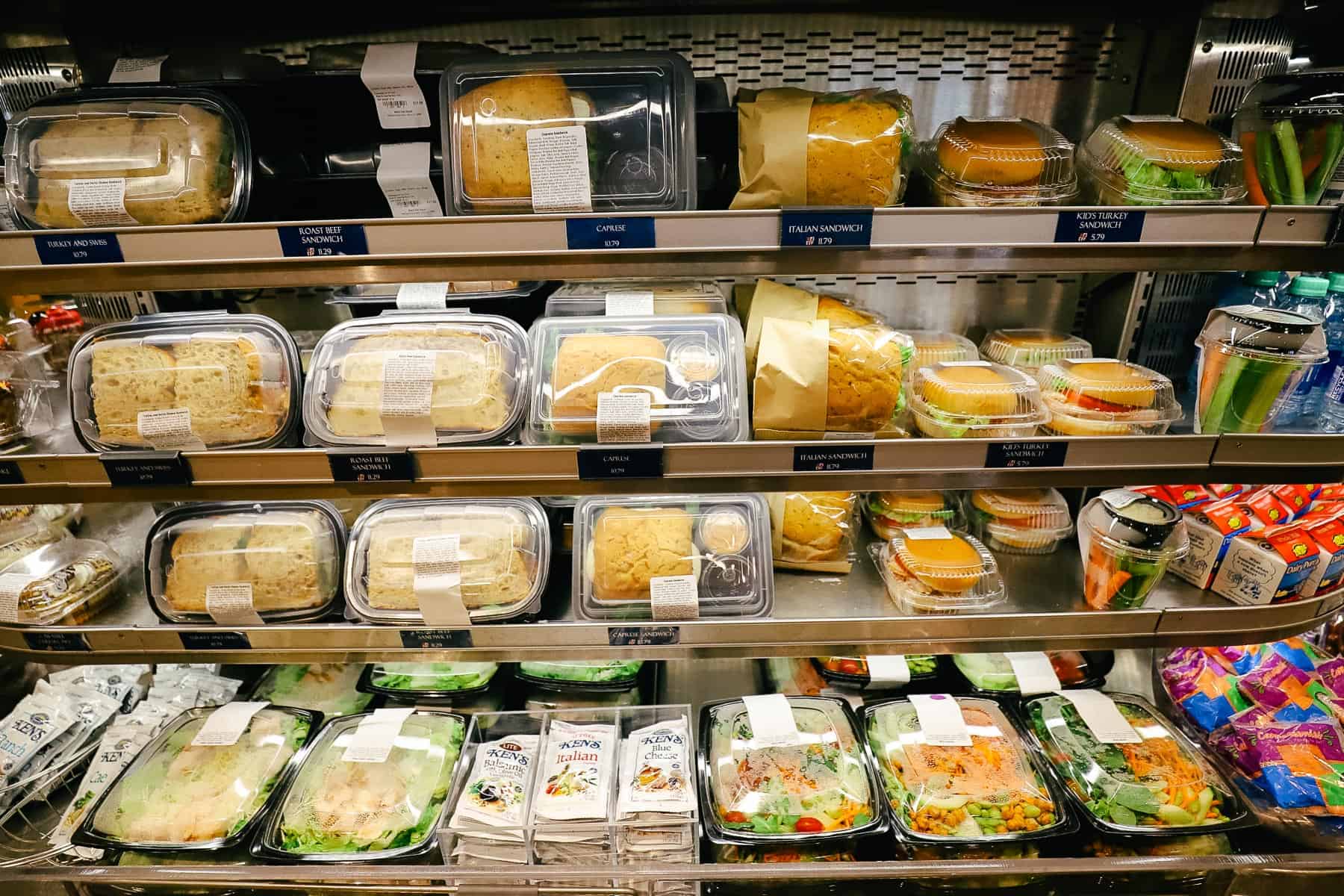 As someone who spends considerable time in hotels, I'm appalled at the lack of freshly prepared items at Disney's Beach Club (and surrounding resorts). This is my favorite hotel. But I know when I stay here, I have to take care of quick meals elsewhere.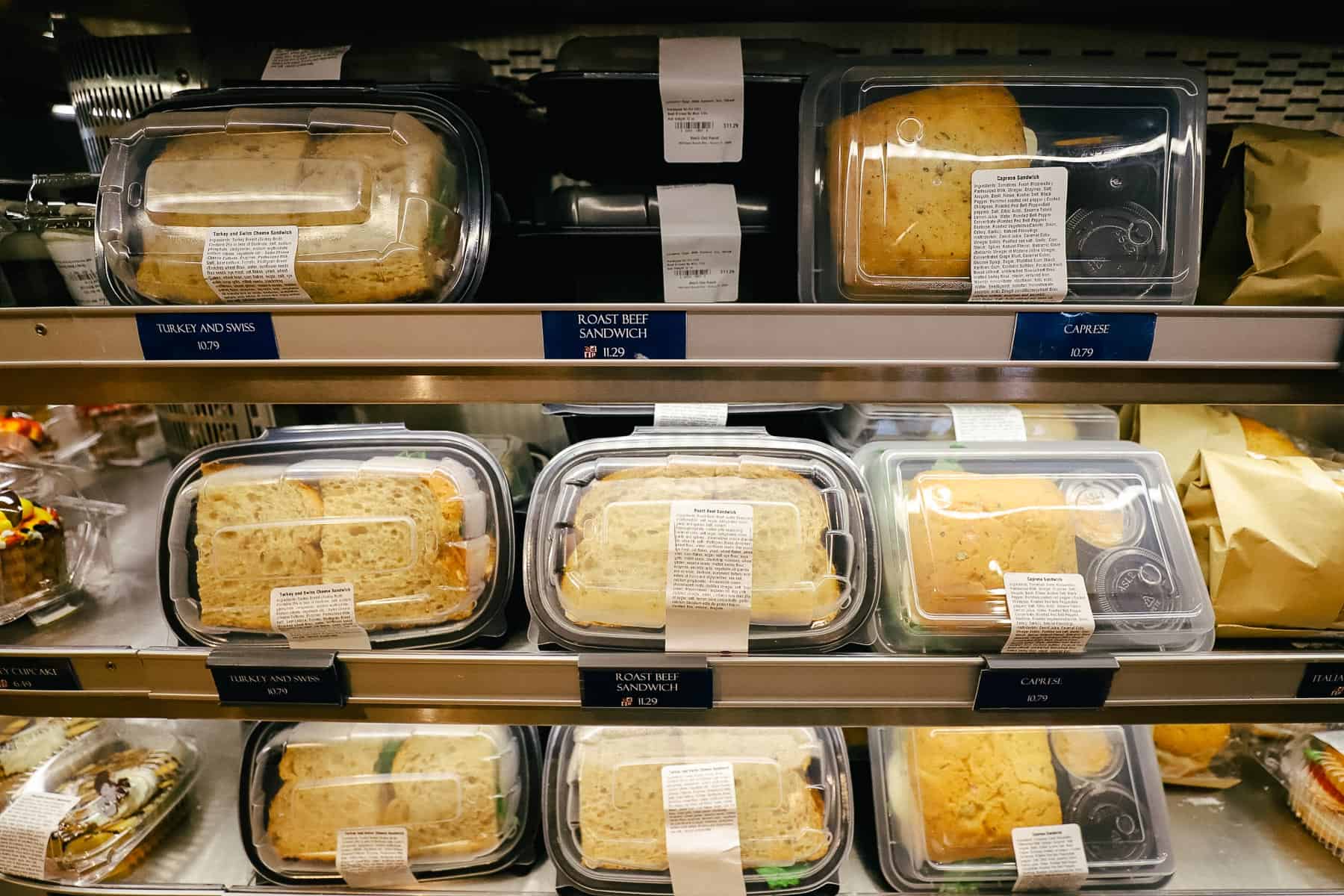 Thankfully, Ale and Compass (next door at the Yacht Club) has mobile order options. So I can usually order a kids' meal at a comparable price to counter service and get something freshly prepared.
Additionally, you can walk out to Hurricane Hanna's, the pool's quick service when they are open. They have a few entrees.
In addition to sandwiches, we see seasonal trifles, cupcakes, and a Mickey dome-shaped cake.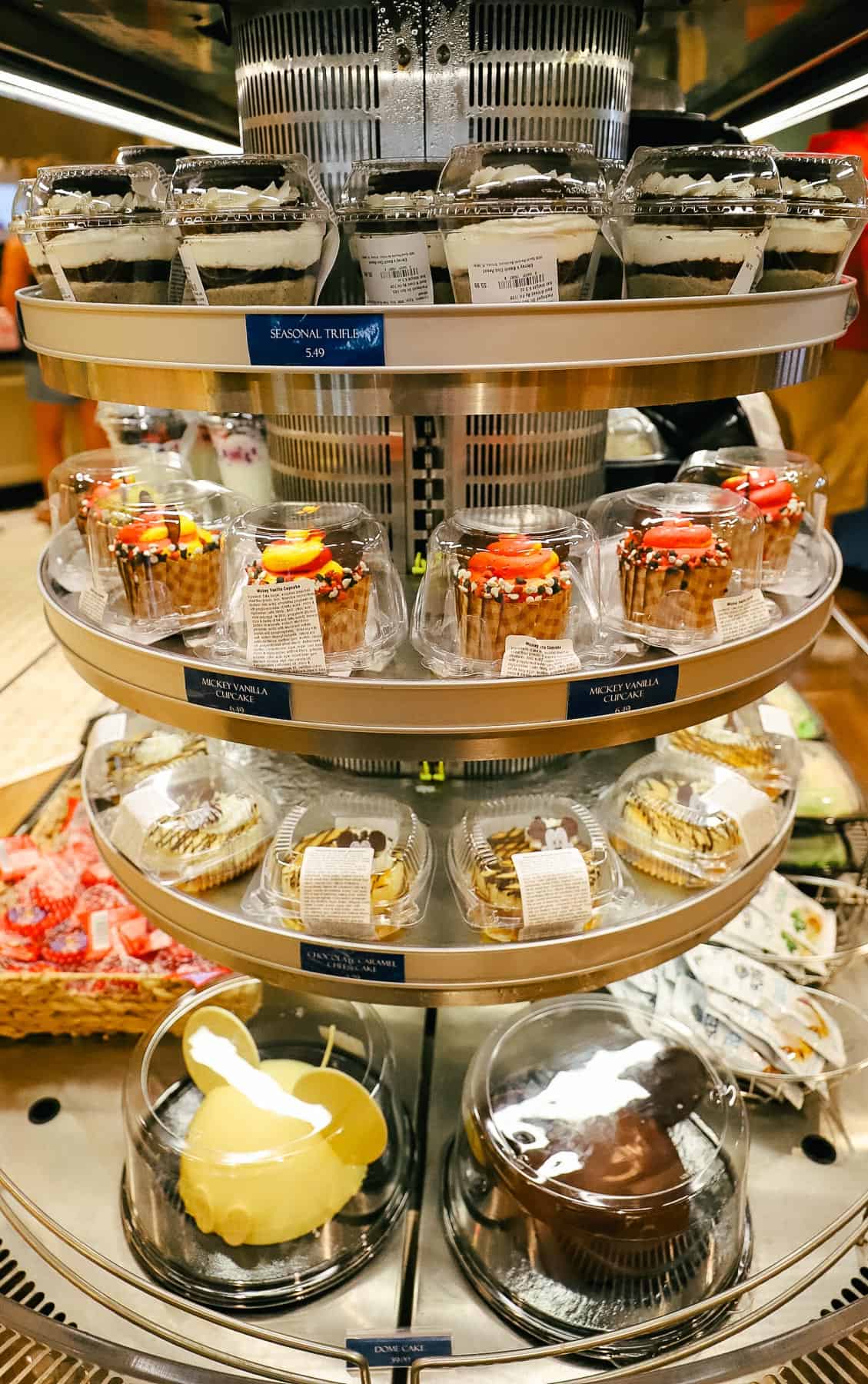 This chocolate caramel cheesecake looks delicious.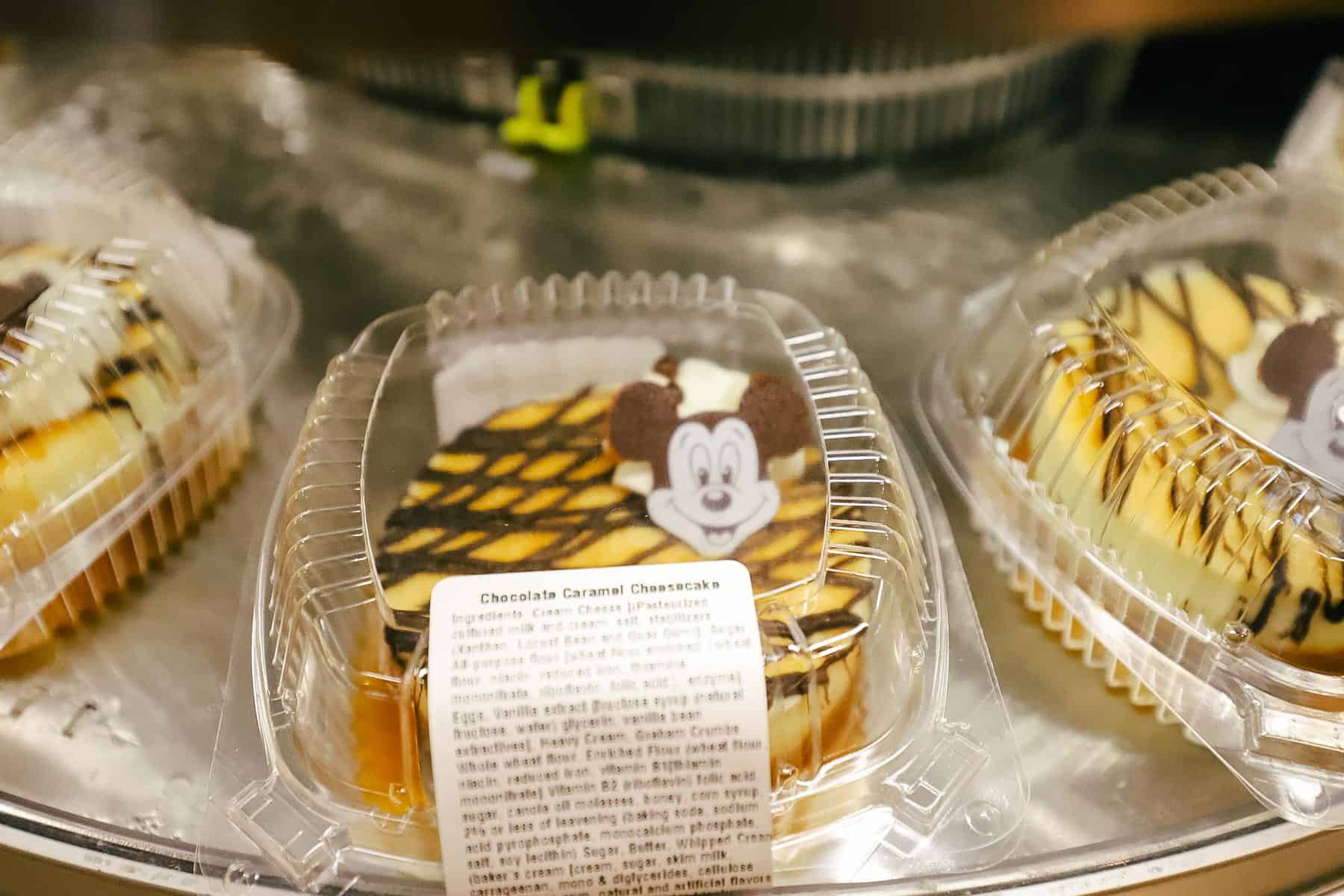 A few cups of fruit, yogurt parfaits, and other items are available. A cheese tray features dried figs with various kinds of cheese, like Brie and blue cheese, among other things.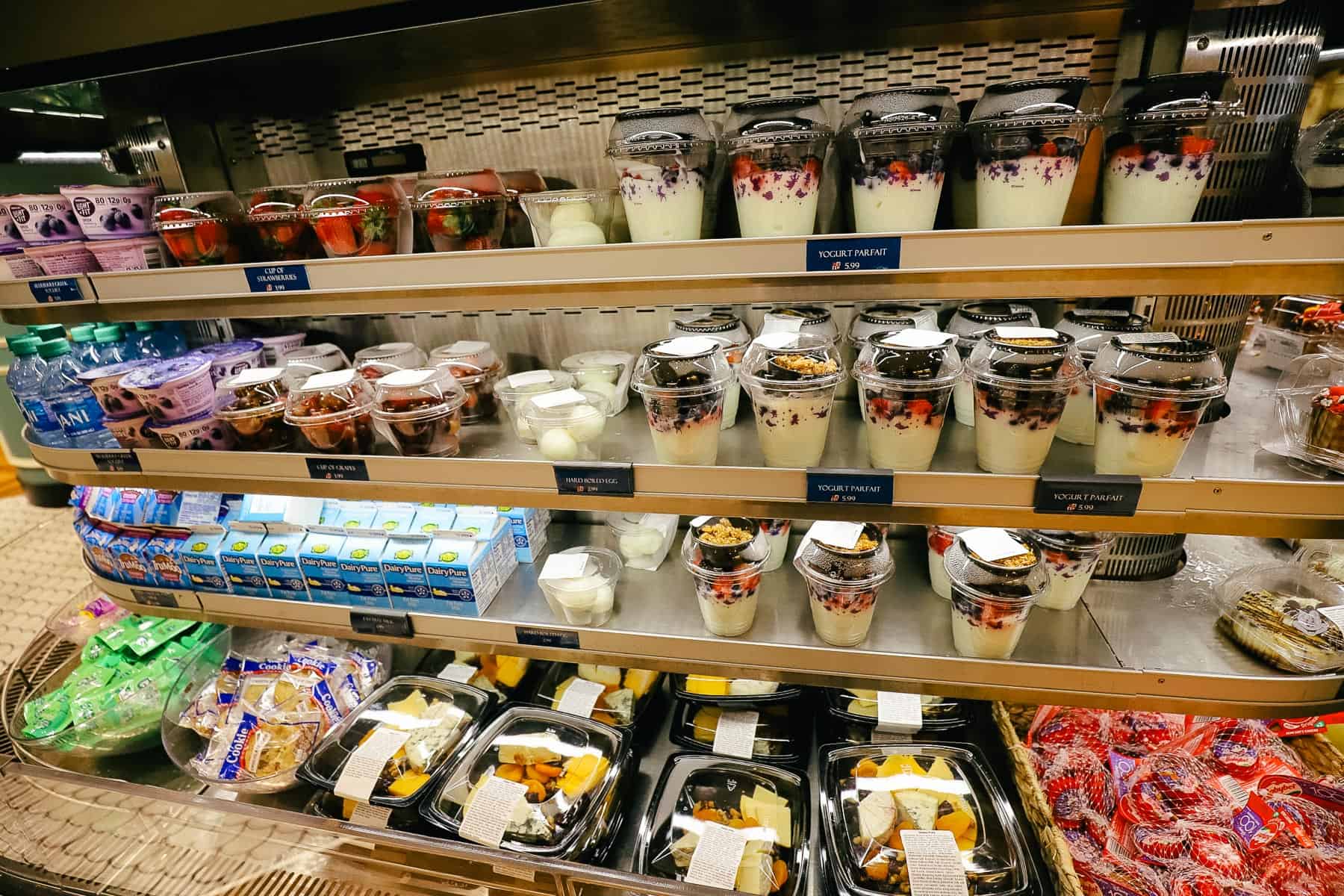 Overall, Disney's Beach Club Marketplace has a decent selection of items. However, the actual entrees for lunch and dinner are seriously lacking. A few years ago, I knew I could get a freshly prepared sandwich (served warm) to take back to the room after a long day in the parks. Now–not so much, and the Yacht Club's counter service next door isn't any better.
So if you're planning a stay at Disney's Beach Club, keep these things in mind. If you have the extra time, we love to take the Skyliner to Disney's Riviera and have a meal at Primo Piatto, the resort's quick service. Or you might pick up something at Disney Springs, like D-Luxe Burger, and bring it back to your room.
For more information on this resort, you might enjoy the following:
What are your thoughts on the Beach Club Marketplace? Do you think that this kind of location should have more offerings? Or do you rarely eat at the resort during your vacation?
Planning a Walt Disney World or other Disney Destination vacation?
Our friends and travel partner, Firefly Travels, excels at doing Disney differently. You can fill out a plan your trip form on their website, and someone will reach out shortly to discuss the specifics.