Disney's Grand Floridian Cafe Breakfast Review
This article provides a review of breakfast at Disney's Grand Floridian Cafe. We'll preview several menu items and discuss our overall dining experience.
When it comes to having breakfast during a Walt Disney World vacation, most people grab a quick bite at their resort's counter service before heading out to the parks. But that's no fun!
Since it's your vacation (translate= a time to relax), we think you should plan a full resort day or at least one day where you sleep in and enjoy a leisurely breakfast. One of our favorite places to do just that is at Disney's Grand Floridian Cafe.
Having breakfast at the Grand Floridian Cafe is an excellent way to start your day! This charming restaurant sits off the lobby of Disney's Grand Floridian Resort & Spa.
Whether you want an order of Mickey waffles or something more elaborate, the Grand Floridian Cafe tends to deliver. Plus, it's always fun to visit the iconic Victorian-style hotel, whether staying as a guest or only visiting for a meal.
Over the years, we've enjoyed many breakfasts at Grand Floridian Cafe. Let's look at the details and see if planning a breakfast here is right for your group.
This article was updated on March 12, 2023.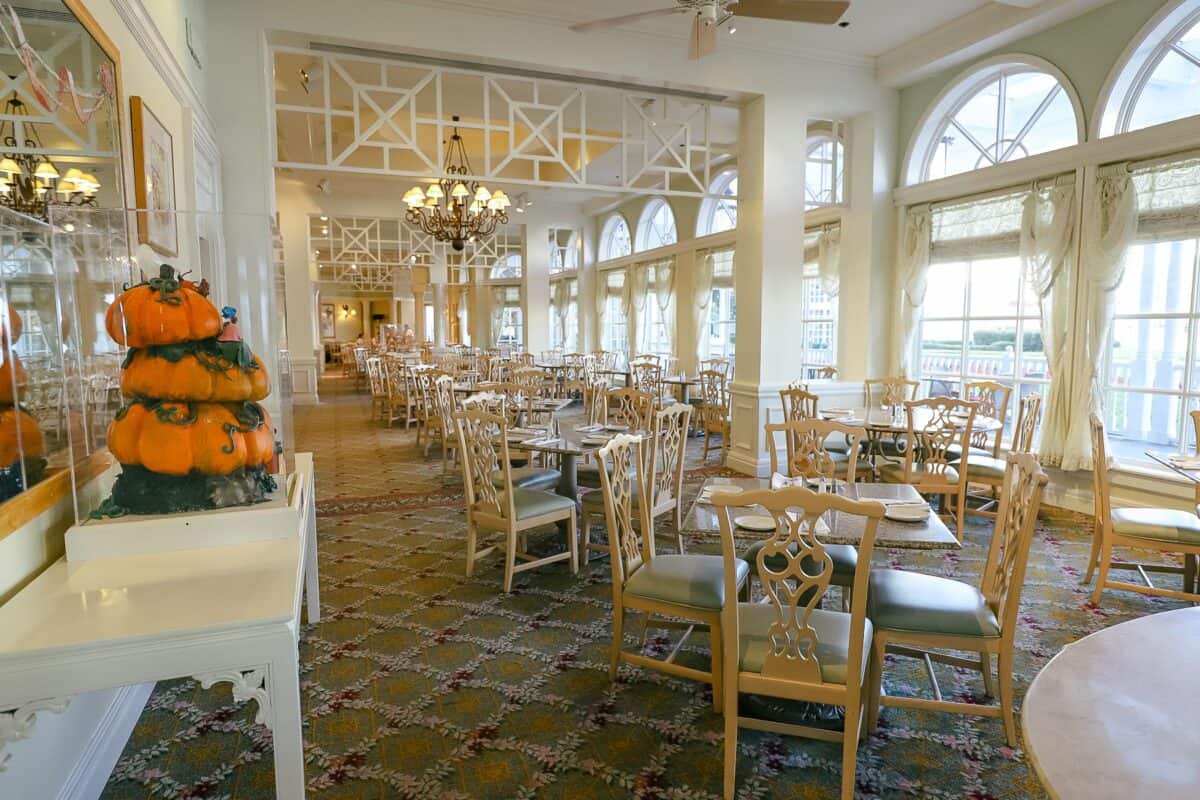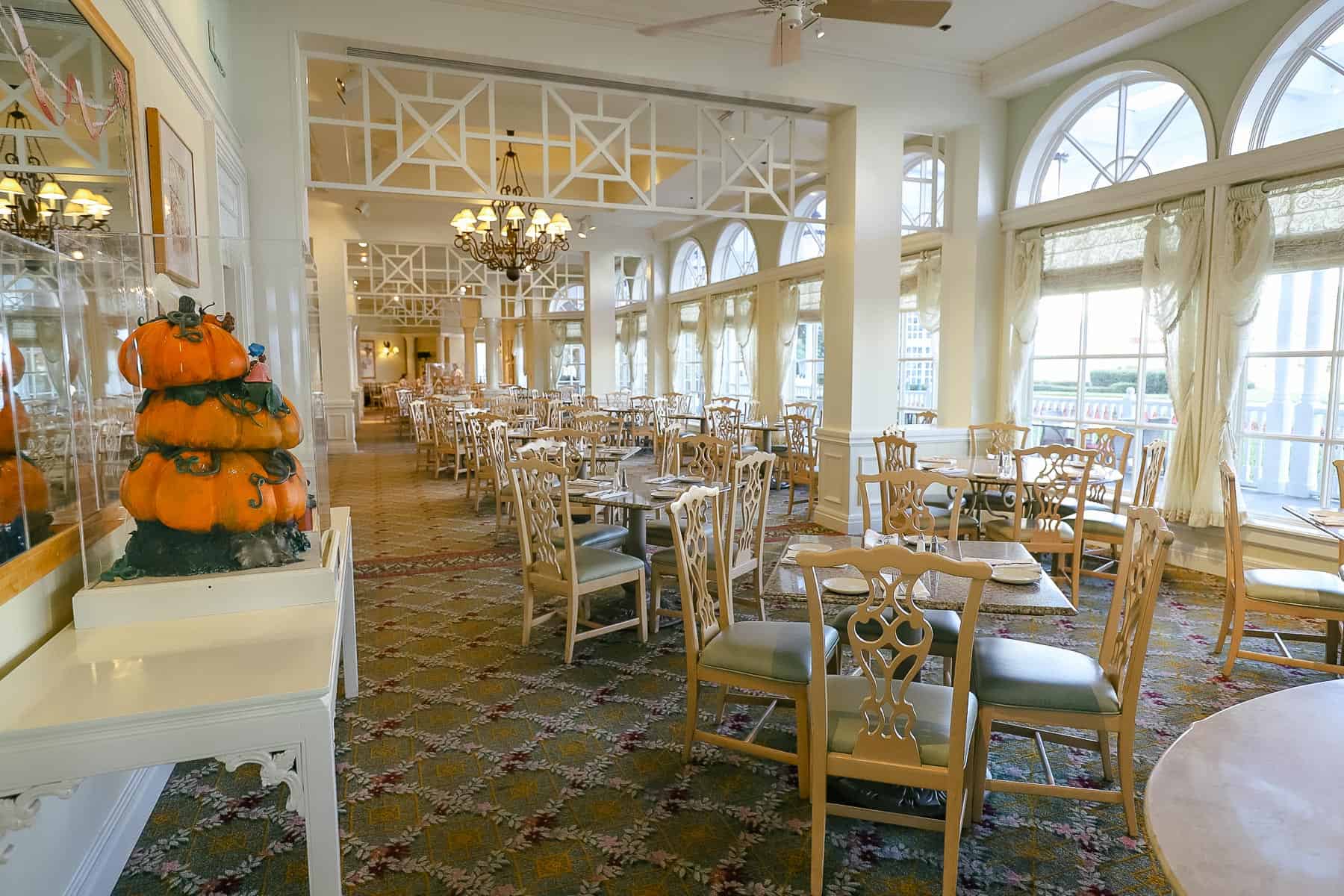 When planning a breakfast at Grand Floridian Cafe, you'll want to secure a reservation in advance. However, the restaurant does take walk-ups based on availability.
If you're in the area and want to dine here, you can check the walk-up list in the My Disney Experience app. If seats are available, you can usually join the list from the app. Of course, you can also always check with a cast member at the restaurant's entrance.
A menu is posted outside the restaurant. Grand Floridian Cafe is open for breakfast between 7:30 a.m. and 11:00 a.m. However, their breakfast menu extends through lunch which is served until 2:00 p.m.
You can preview the breakfast menu with current prices here on Disney's site.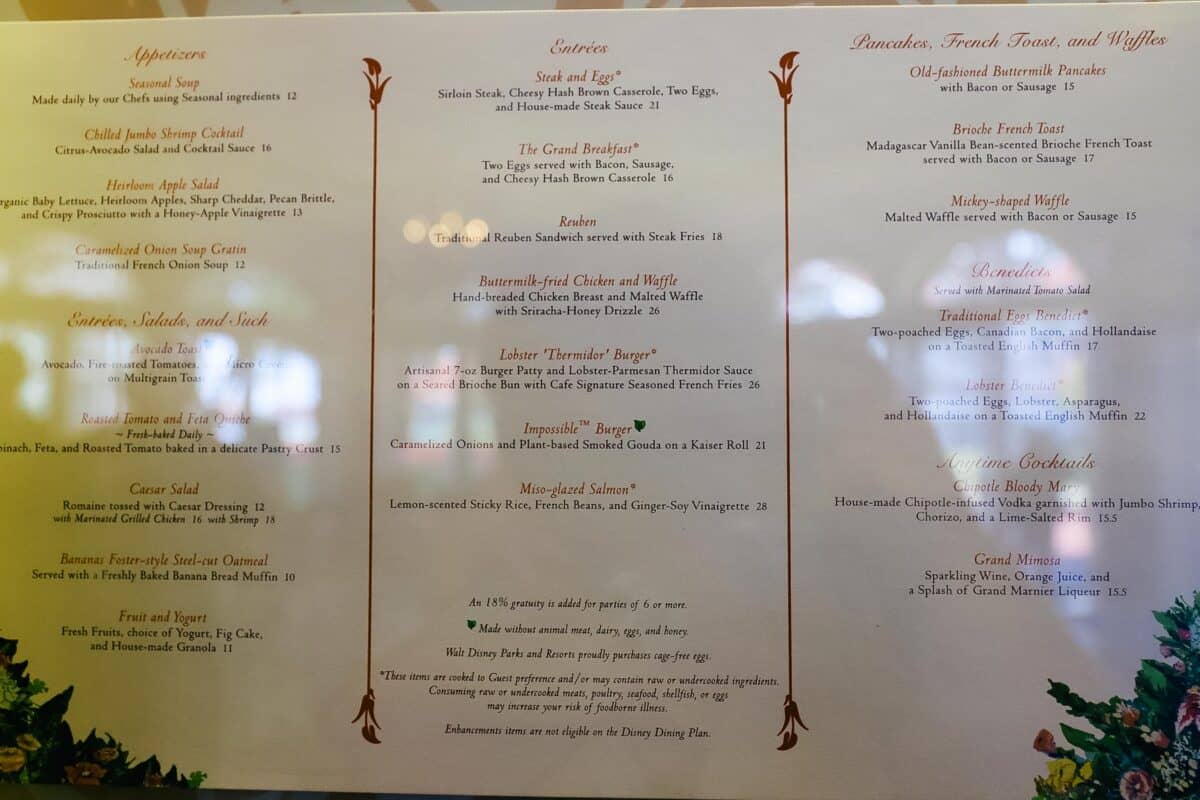 Grand Floridian Cafe is a casual restaurant with soft tones, wallpaper, and patterned carpet. Overall, the restaurant has a pleasant Victorian ambiance. Seats near the window look out to the resorts bright green lawn and flowerbeds.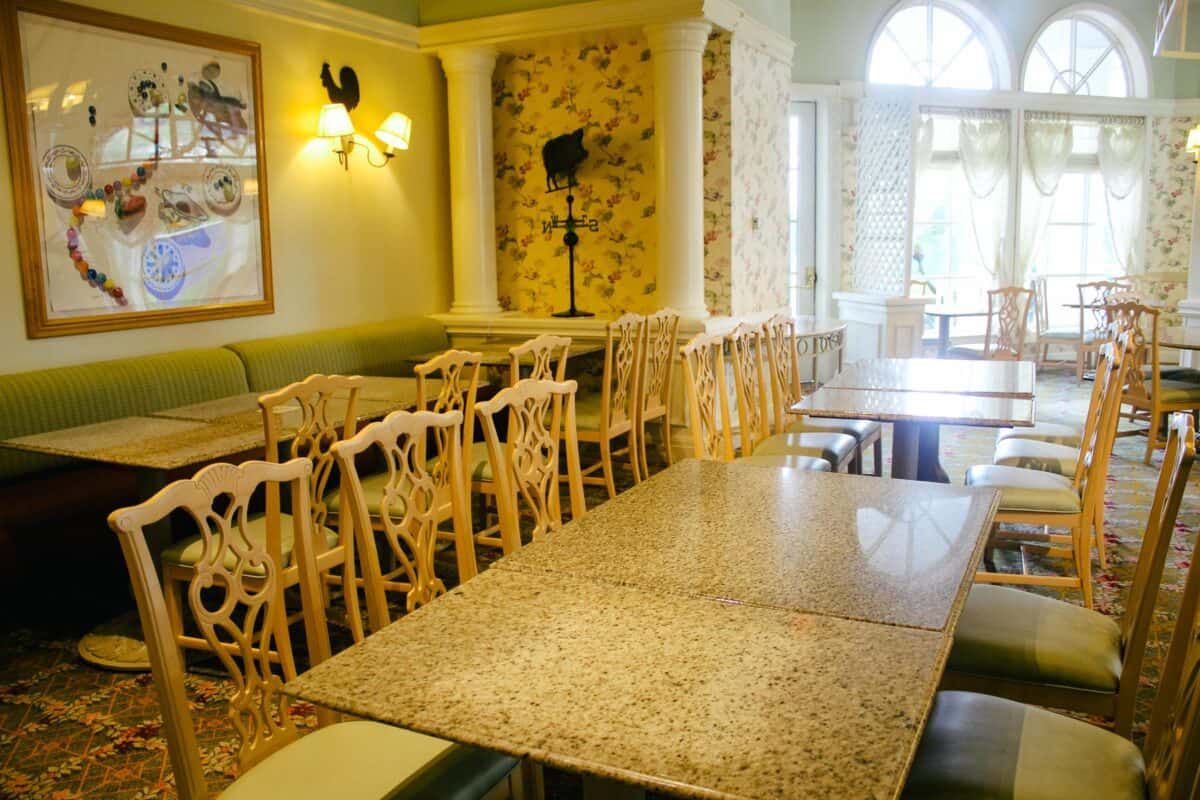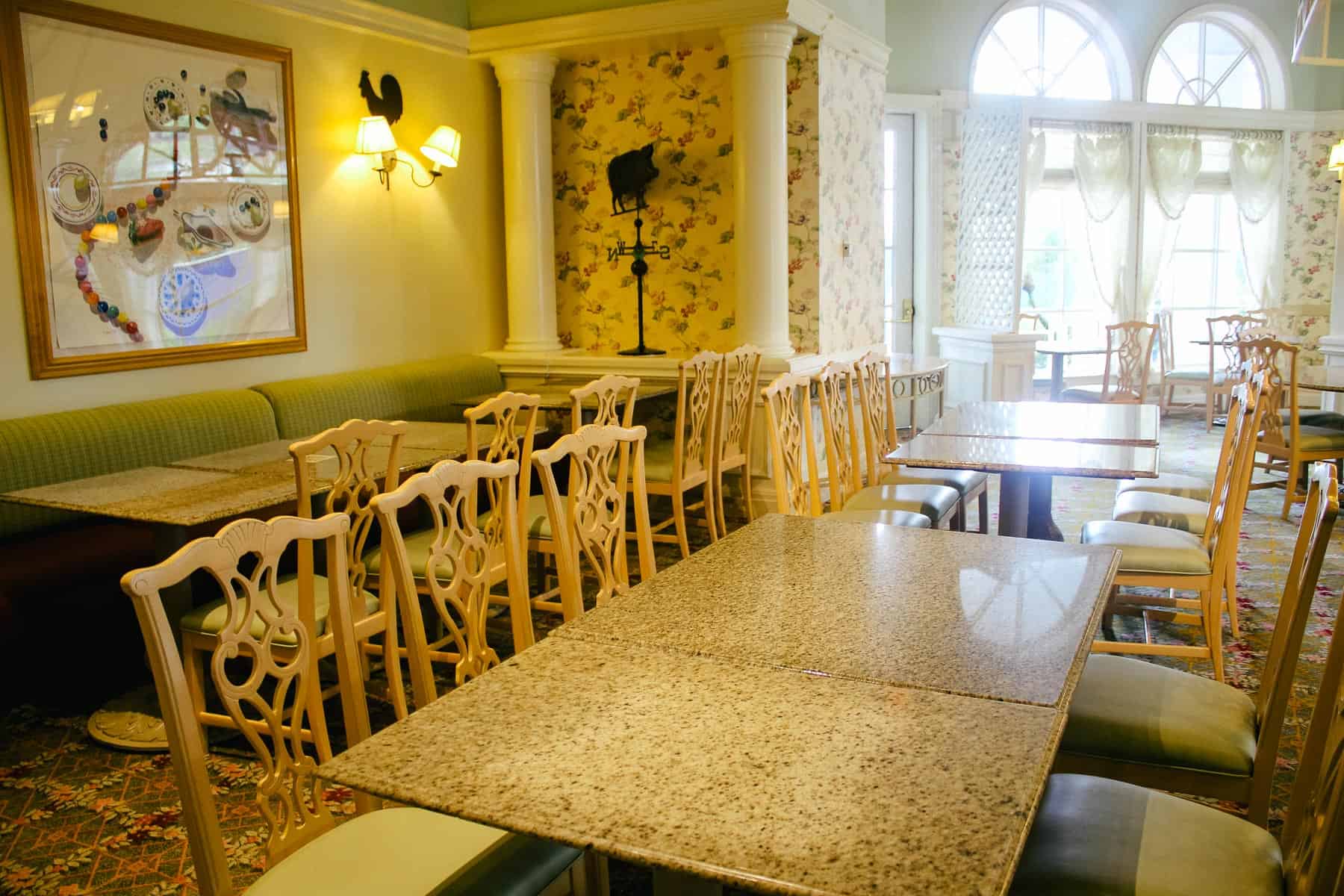 On this visit, I enjoyed breakfast with a group of friends. Our server brought a platter of biscuits with orange butter while we waited for our meal. They were hot and fresh from the oven.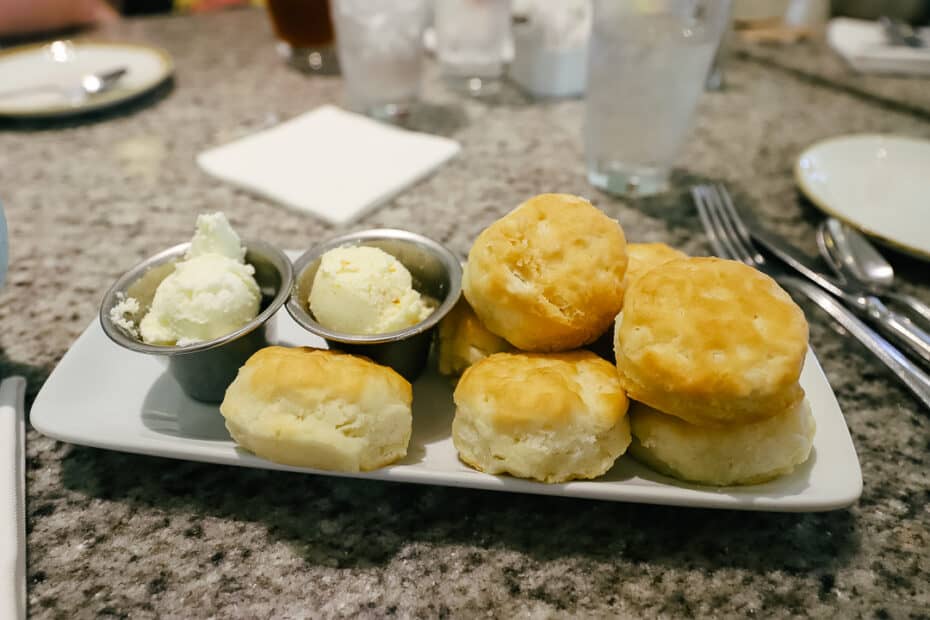 Jessica ordered a hot chocolate. When the waitress dropped off this indulgence, she exclaimed, "Alright, NOBODY JEALOUS!"
Needless to say, we all envied the drink. And with this presentation, who wouldn't?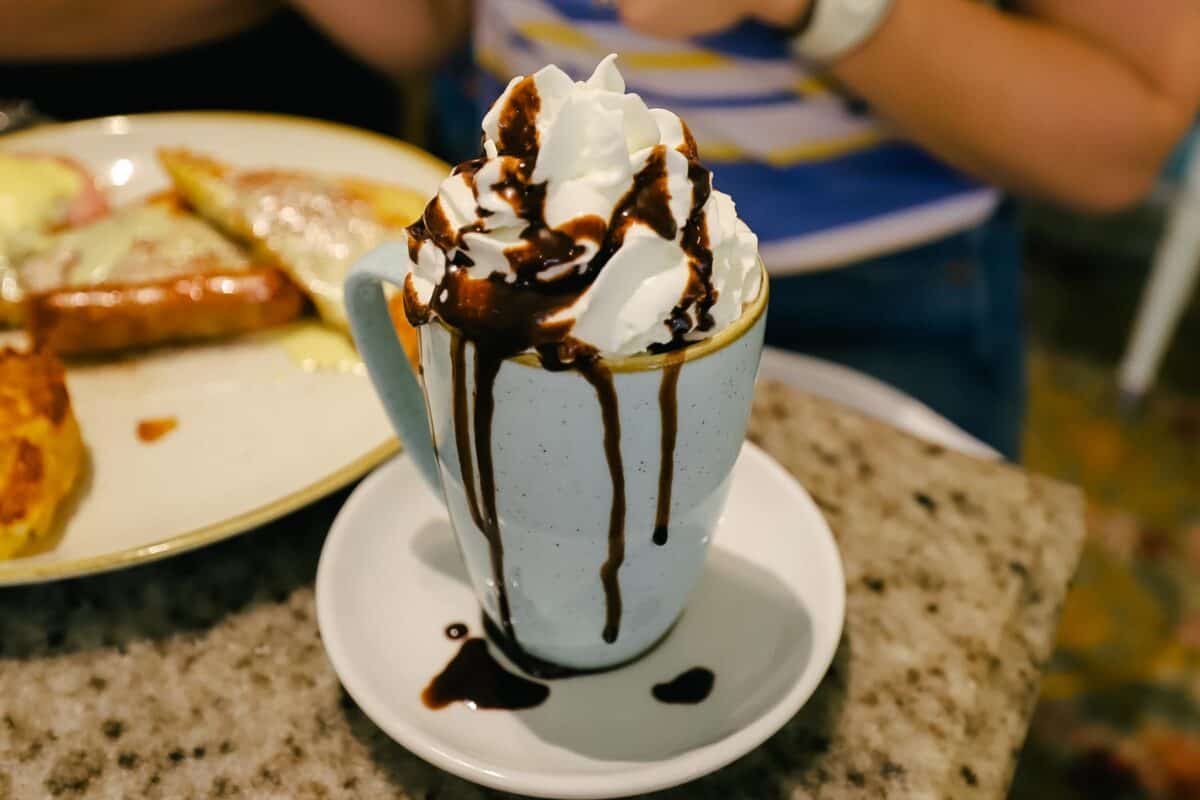 Jess also ordered the Brioche French Toast. This item is described per the menu as Madagascar vanilla bean-scented Brioche French toast served with bacon or sausage.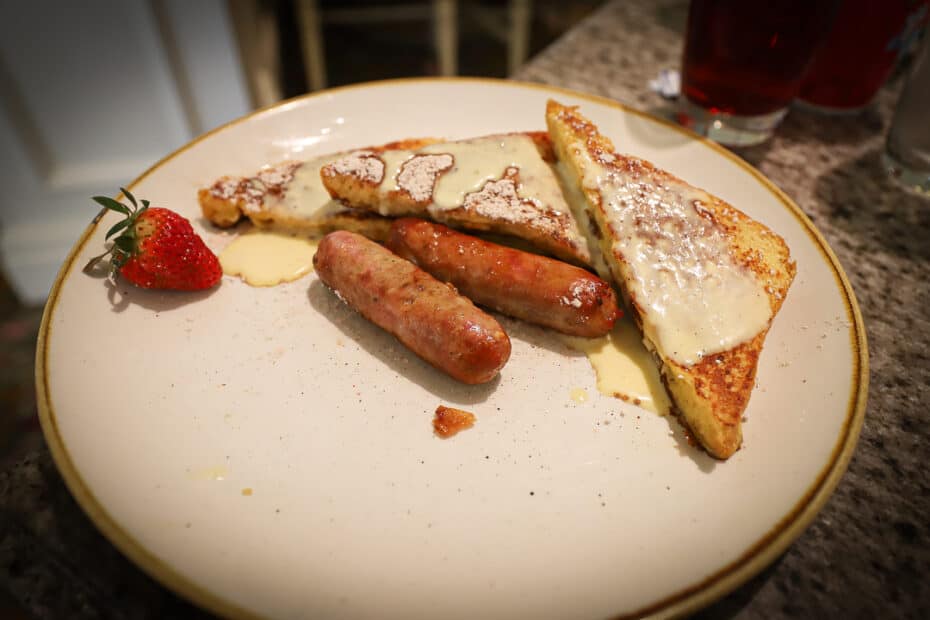 While the French toast wasn't the most appealing plate to photograph, it was delicious. The vanilla sauce won everyone over. It came with a side of sausage.
I went with the old-fashioned pancakes, which come with a choice of bacon or sausage.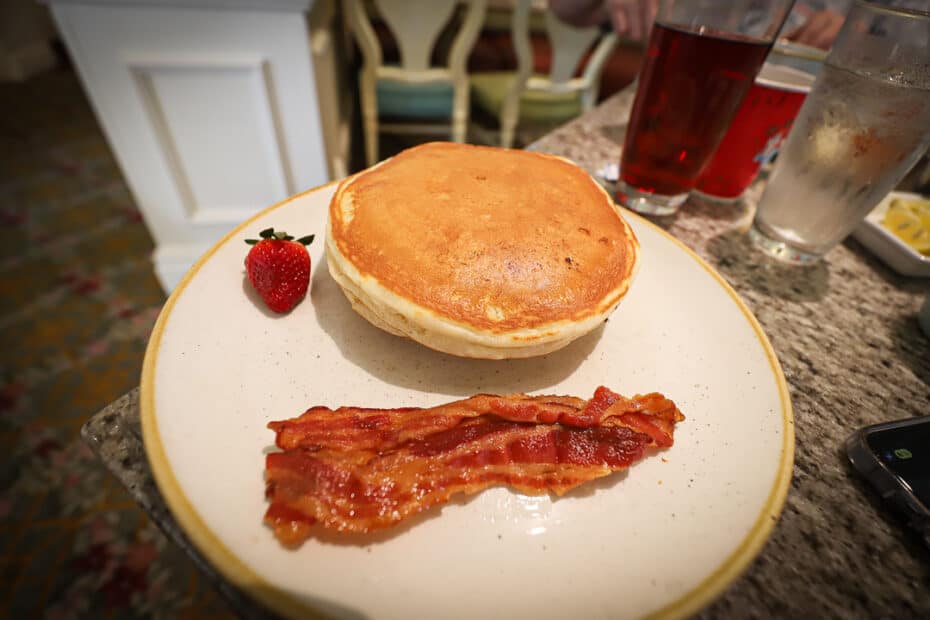 These were traditional pancakes. While they were good, they weren't anything to brag about. They were nothing like the scrumptious thin and crispy pancakes at Steakhouse 71.
Related: Breakfast at Steakhouse 71
However, if you are looking for something standard or have a picky eater, the pancakes are a fine choice. Unfortunately, I probably wouldn't order them on a return visit because of their simplicity.
Stacey ordered the traditional Eggs Benedict. Per the menu, these are described as two-poached eggs, toasted English muffin, Canadian bacon, and hollandaise served with marinated tomato salad.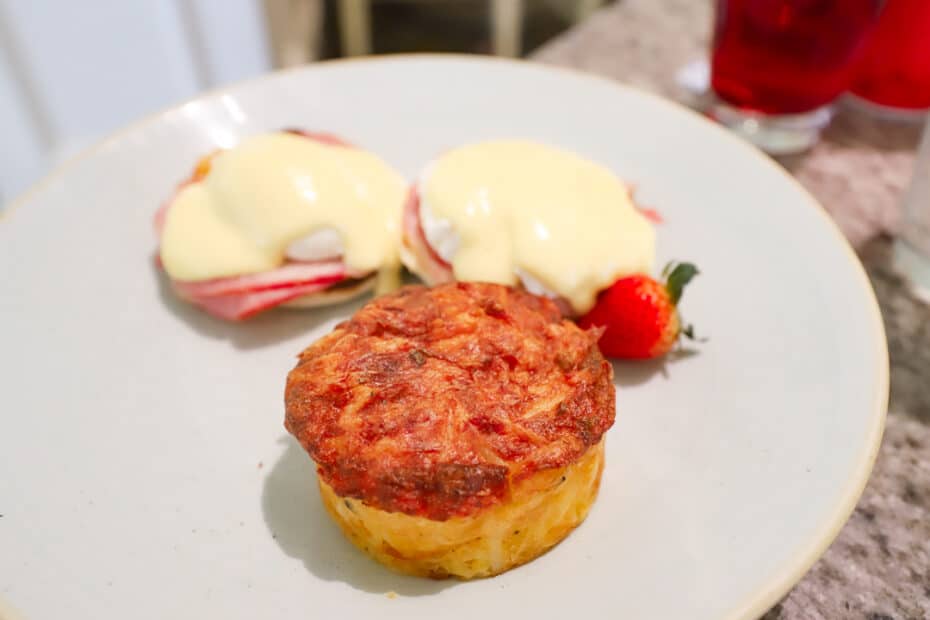 She substituted the marinated tomato salad for the Grand Floridian Cafe's famous cheesy hash brown casserole.
Since I'm avoiding eggs, I didn't try the Eggs Benedict, but she said the dish was terrific. However, I think we would all agree that the real star of the dish was the casserole.
Let me tell you. I'll order a side of the hash brown casserole next time I dine here for breakfast. It was so yummy.
Additionally, I wanted to mention that Grand Floridian Cafe has a Lobster Benedict on the menu. It's described as two-poached eggs, lobster, asparagus, and hollandaise on a toasted English muffin.
Unfortunately, as of this update, the Benedict flight is no longer available. That dish combined three types of eggs Benedict, including one that came with chorizo.
Lastly, for this visit, several in our group ordered the buttermilk-fried chicken and waffle. This menu item is described as hand-breaded chicken breast and malted waffle with sriracha-honey drizzle.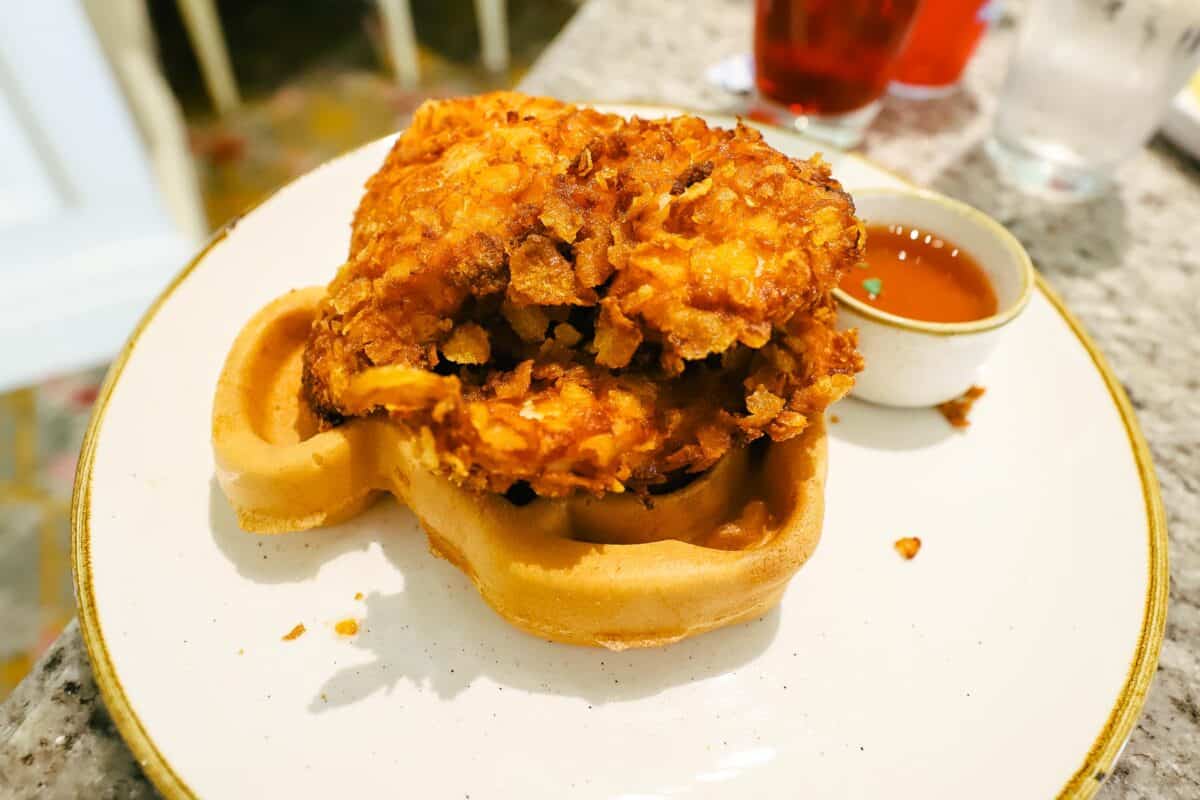 Yes, it even comes on a huge Mickey waffle! The breading on the chicken was perfection. It was similar to a cornflake cereal coating.
The sriracha-honey drizzle provided just the right amount of heat while balancing the sweet flavor. This is something I look forward to ordering in the future.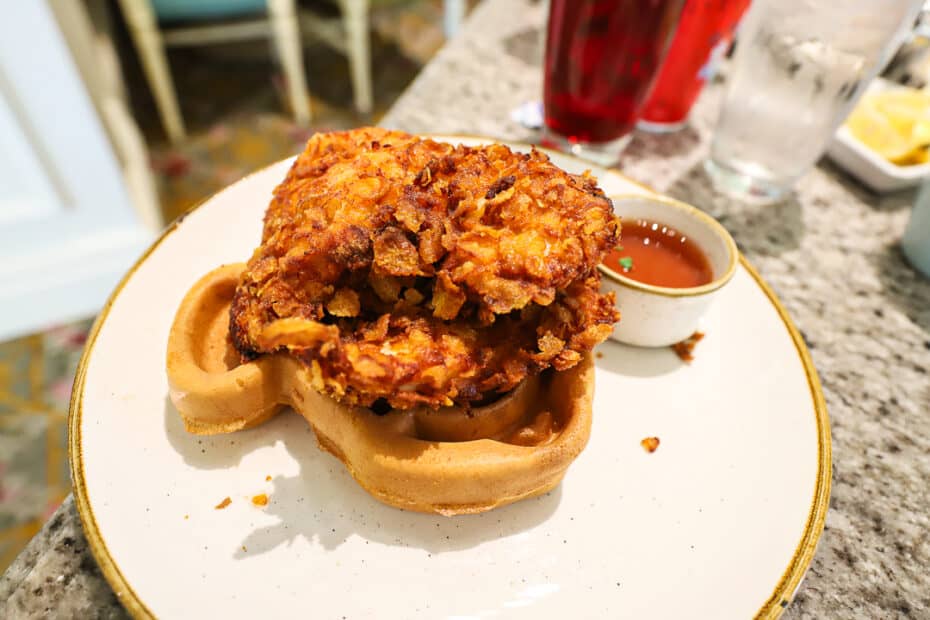 On another visit, I ordered avocado toast, another excellent option. The menu describes this as avocado, fire-roasted tomatoes, and micro greens on multigrain toast. This is a plant-based dish.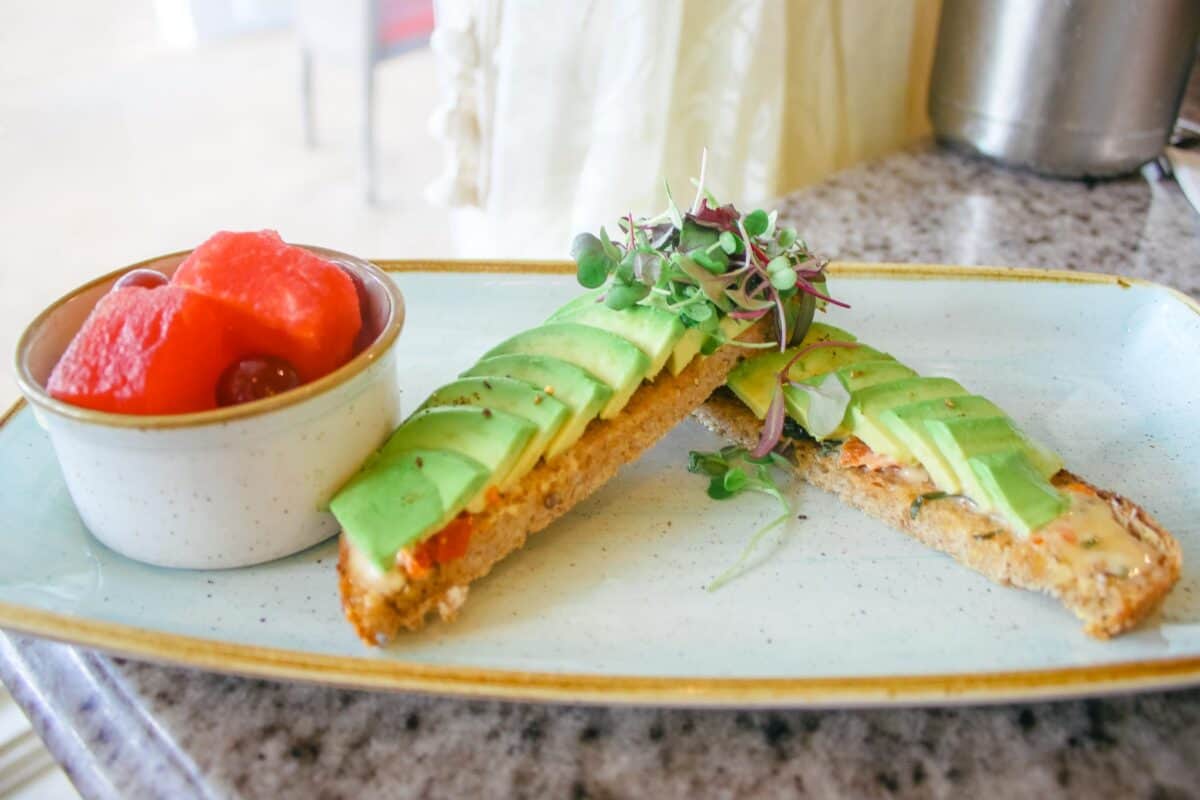 For this order, I substituted the tomato salad with a side of fruit. The toast was filling and had an almost buttery-like sauce underneath the avocado slices. I would not hesitate to order this again in the future.
Another popular item you might enjoy is the chilled jumbo shrimp cocktail, described as citrus-avocado salad and red rooster cocktail sauce.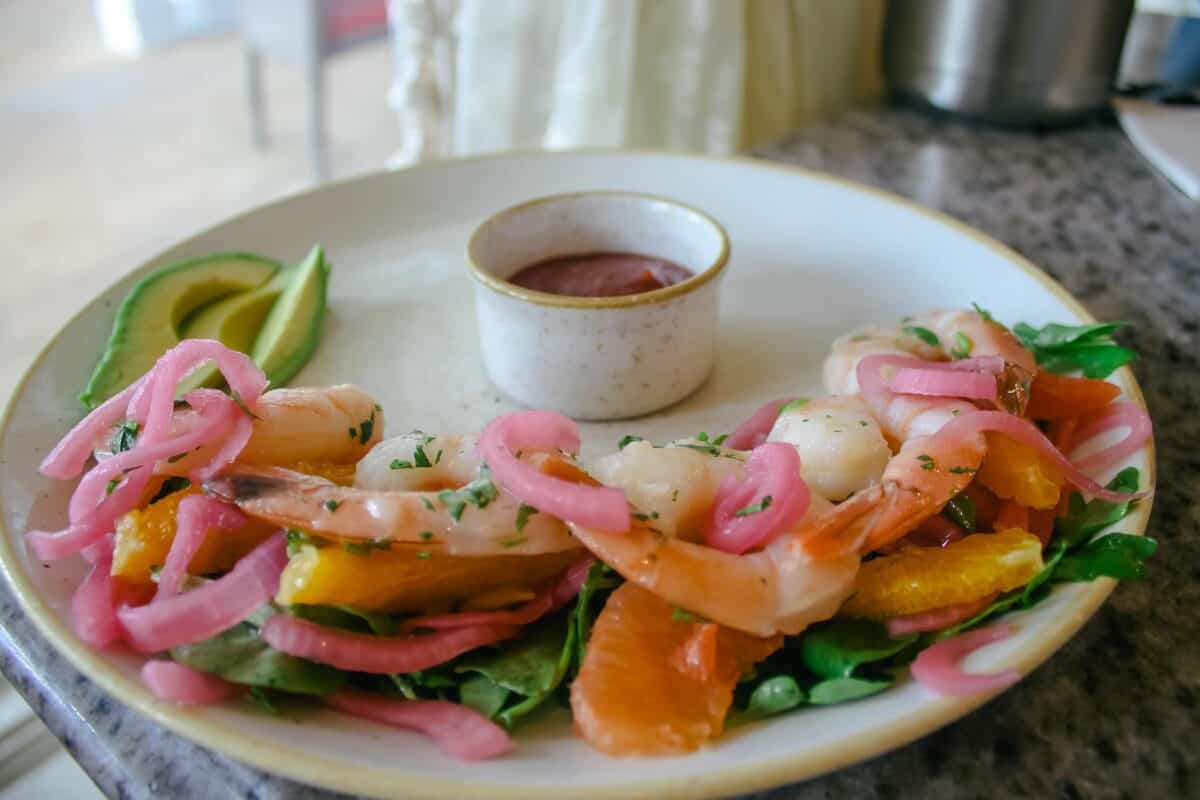 I have to restrain myself from not ordering this every time we visit. But constantly ordering the same thing would not help you decide what to order. So, I don't.
Regardless, if you like shrimp, this is the way to go. The citrus and pickled onions provide a nice balance to the high-quality pink Florida shrimp. Top that off with the zesty cocktail sauce, and you've got a real winning flavor combination.
Lastly, my son usually orders the Grand Floridian Cafe breakfast. However, they prepare an allergy-friendly version for him.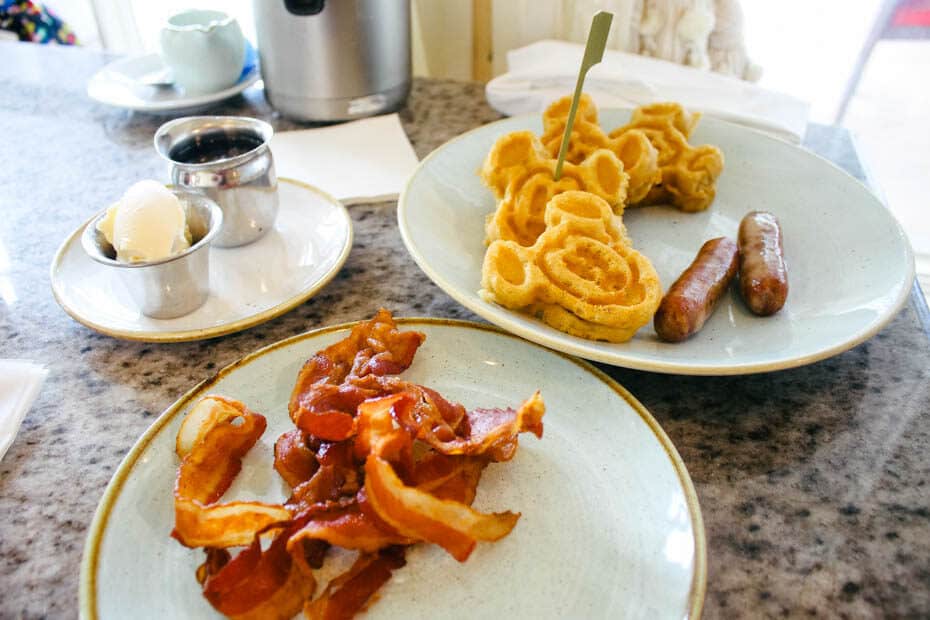 This menu item comes with two eggs served with bacon, sausage, and cheesy hash brown casserole. He changes things up a bit to make it work for him. His dish comes with lots of waffles, sausage, and bacon.
As mentioned, Grand Floridian Cafe has a combined breakfast and lunch or brunch menu. Some of their other popular items include:
Steak and Eggs (Sirloin Steak, Cheesy Hash Brown Casserole, Two Eggs, and House-made Steak Sauce)
Lobster Thermidor Burger (Artisanal 7-oz Burger Patty and Lobster-Parmesan Thermidor Sauce on a Seared Brioche Bun served with Cafe Signature Seasoned French Fries)
Miso-Glazed Salmon (Lemon-scented Sticky Rice, French Beans, and Ginger-Soy Vinaigrette)
Heirloom Apple Salad (Organic Baby Lettuce, Heirloom Apples, Sharp Cheddar, Pecan Brittle, and Crispy Prosciutto with a Honey-Apple Vinaigrette)
We try the salmon and salad in our dinner review, along with several other items.
Related: Grand Floridian Cafe Lunch and Dinner Review
If you're visiting the Grand Floridian Cafe from another resort, we recommend taking the monorail. From most resorts, you can take transportation to Magic Kingdom. Then you can take the monorail or resort boat to the Grand Floridian.
Overall, the Grand Floridian Cafe is an excellent place to enjoy breakfast. It's one of our favorite dining spots among the Magic Kingdom Resorts.
For more information about the resort, we have a guide that lists all of our articles:
Or you might like the following:
For other dining at Disney World, you might enjoy these:
In the Comments
What are your thoughts about having breakfast at Disney's Grand Floridian Cafe? Have you dined here before? Do you prefer to eat breakfast early before hitting the parks or enjoy a leisurely morning that includes a great meal? Leave a comment below and share your thoughts.