Review: Disney's 'Ohana Breakfast with Characters
Disney's 'Ohana character breakfast is formally known as the Best Friends Breakfast with Lilo and Stitch. The restaurant is located at Disney's Polynesian Village Resort and, when available, offers two very different meal experiences.
The first is 'Ohana's Best Friends Breakfast with characters. The second is for dinner service, which is not a character dining meal. Both are family-style meals, but breakfast is the only place you'll run into a few classic characters.
'Ohana has re-opened and is offering a breakfast called the Rise and Shine breakfast. No characters are present at this meal during this time. I'll provide another update when the characters return to this breakfast. You can reference the announcement here on the Disney Parks Blog.
This review will cover the 'Ohana character breakfast in full detail. This experience was prior to last year's park closing. However, from the menu, the food at the Rise and Shine breakfast appear to be the same.
If you are curious what 'Ohana means, it is a Hawaiian term that translates to family. And at this meal, you can expect to receive a little Disney 'Ohana along with a little interaction from a few beloved characters.
The 'Ohana characters at breakfast are the following:
Pluto
Hawaiian Mickey Mouse
Stitch
Lilo
Unfortunately, our visit to the popular dining venue gets a mixed review. Some of our experience was based on a few external factors that I will explain. My initial impression was that we were victims of a busy holiday morning where the restaurant was overbooked.
However, after doing a little research, I found it very common for 'Ohana to be overbooked. It's one of the consistent complaints I have read or been told about repeatedly. I guess when the restaurant reopens, I'll have to follow up and see if things improve.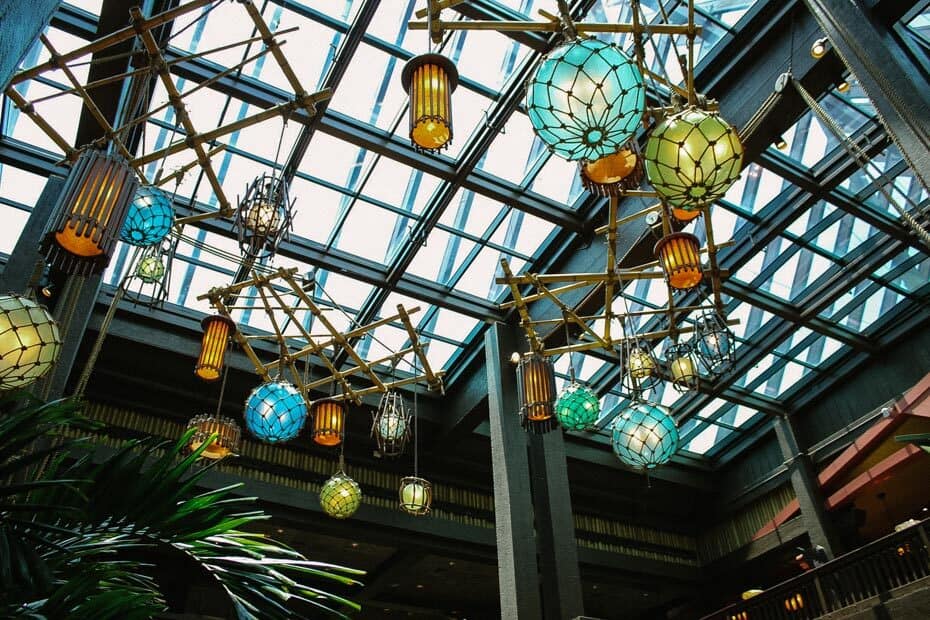 'Ohana Breakfast at Disney
When we arrived at Disney's Polynesian Village Resort on this holiday morning the lobby was fairly busy compared to normal. There was a long line to check-in for our reservation.
I had made our 'Ohana character breakfast reservation for 11:15 a.m. due to the fact we were checking in for a stay at the Contemporary Resorts garden wing that morning. My hope was we could get our luggage to our room and then take the monorail over to the Polynesian. (During the refurbishment the Disney World monorail is not running or stopping at the Polynesian.
Pluto was out in the lobby greeting guests when we arrived. As we made our way to the check-in stand it was right at 10:45 a.m. At that point, we were approximately 30 minutes early.
The hostess told us that it was too early to check-in and directed us over to meet Pluto while waiting. That wasn't a big deal. It was a holiday, we were early, and I understood.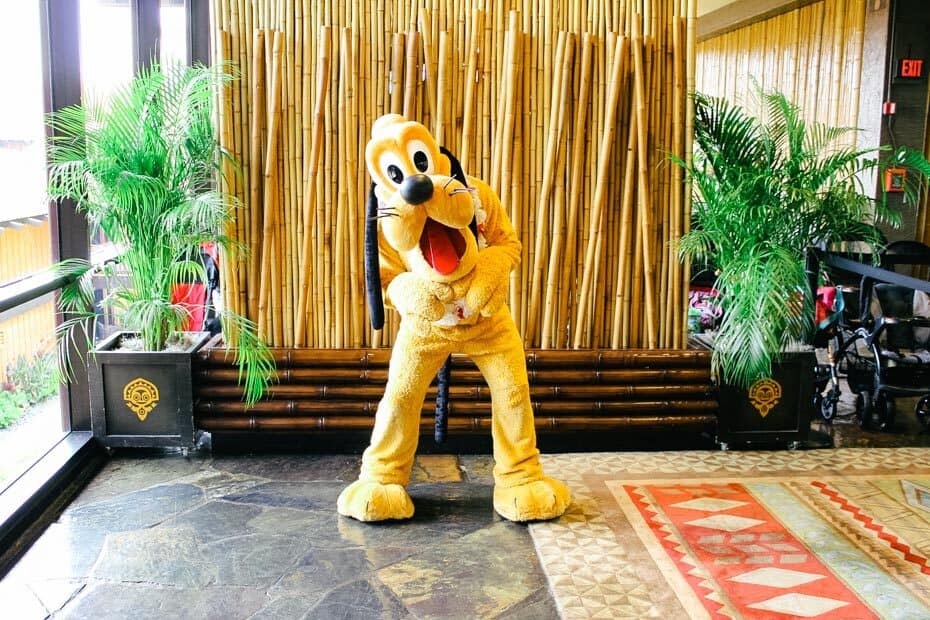 Unfortunately, it was after 12:15 p.m. when we were finally seated, a full hour after our confirmed reservation time.
We were hungry, tired, and all of our plans for the day had to be pushed back. I do not mind waiting for a meal. We even run late from time to time. But over a full hour past our reservation time was unacceptable.
There were also groups of people, like us, camped outside the restaurant entrance. As you can probably imagine, everyone was frustrated and venting.
Tambu Lounge, in the lobby, even opened early and started offering complimentary juice to guests waiting. At that point, it should have been complimentary Lapu Lapu drinks, but it was a little early. Needless to say, it was a really disappointing start to our day.
At one point, I did walk up to the hostess to make sure we were checked in and hadn't gotten skipped over. She checked the reservation and kept stammering something about it was all-you-care-to-enjoy once you were seated. Okay, I wasn't worried about what I was going to eat but more about when!
Finally, we received a text and were escorted to our table. We were seated next to this table with the most lovely view.
Normally, I would have requested to move over to the table so we could enjoy the view. But given that we felt like we were starving, we didn't want any other issues delaying our meal.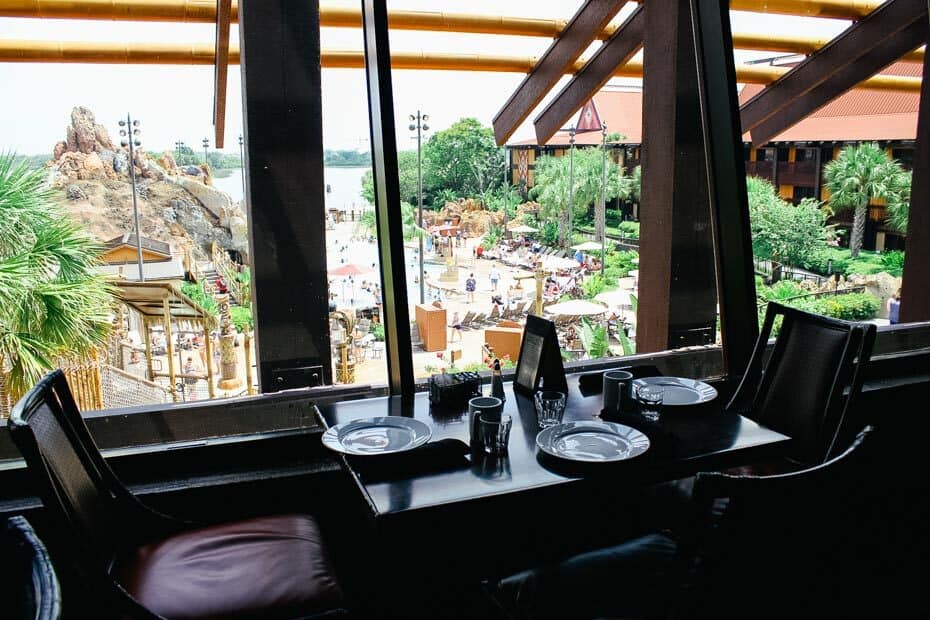 Looking back, it was extremely annoying not to have been able to enjoy this view. It probably would have made our experience and this review sound more appealing.
Before I forget, when you enter 'Ohana, there's a long counter full of fresh coconut bread. I had never eaten at 'Ohana before, so I didn't know that you are supposed to pick one up and take it with you to the table.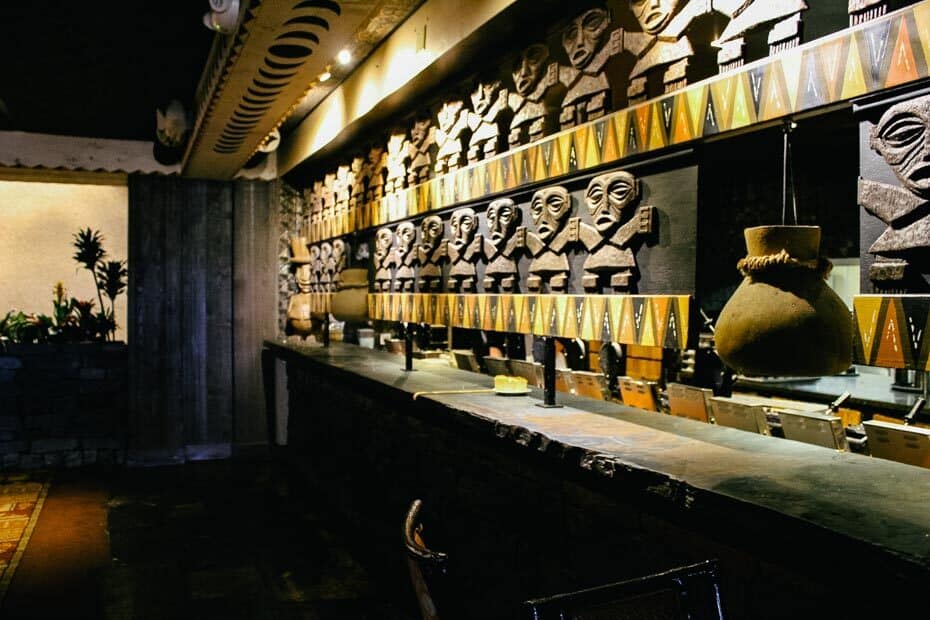 My son has food allergies, to be fair, so they didn't mention it because the ticket indicated the allergies. And there's no way I would have started eating without him, given the fact we both felt famished.
So for your experience, you will more than likely stop here and pick up some 'Ohana breakfast bread with pineapple and coconut.
Thankfully, after we were seated, the chef came to our table and cleared us to receive some items pretty quickly. This is a look at that delicious (yes, you want it) coconut breakfast bread that everyone raves about. The bread consists of pineapple and coconut flavors.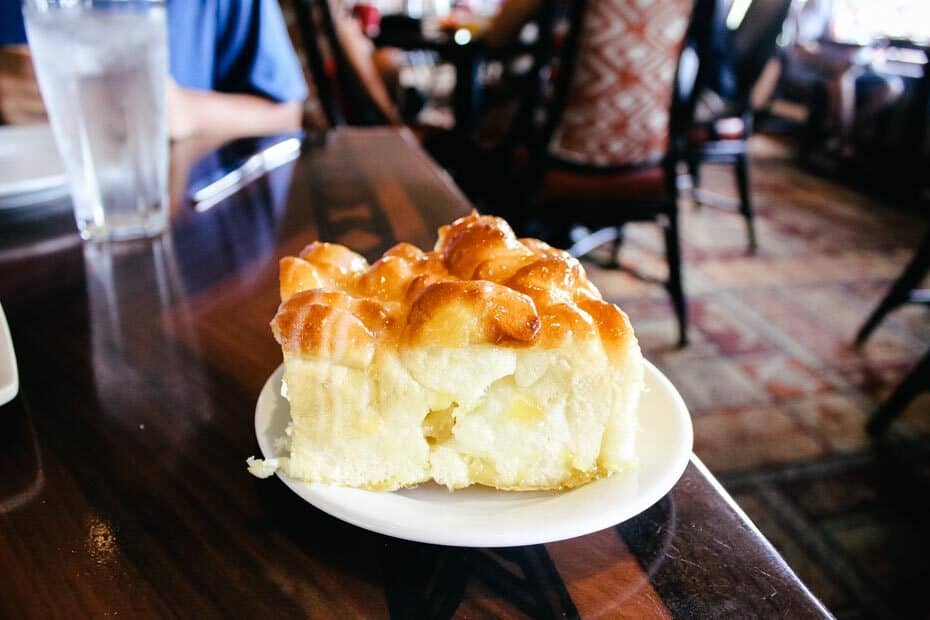 It is a light and airy style of bread with a sweet glaze over the top. While it looks like a large serving, I would describe it as one of those things that tend to disappear quickly.
Here is a look at the allergen-friendly bread they provided. Sorry, the kid was hungry. He forgot and took a bite before even thinking about the picture. But I want to mention this for anyone with food allergy interest. This is a cinnamon donut from Erin McKenna's bakery at Disney Springs.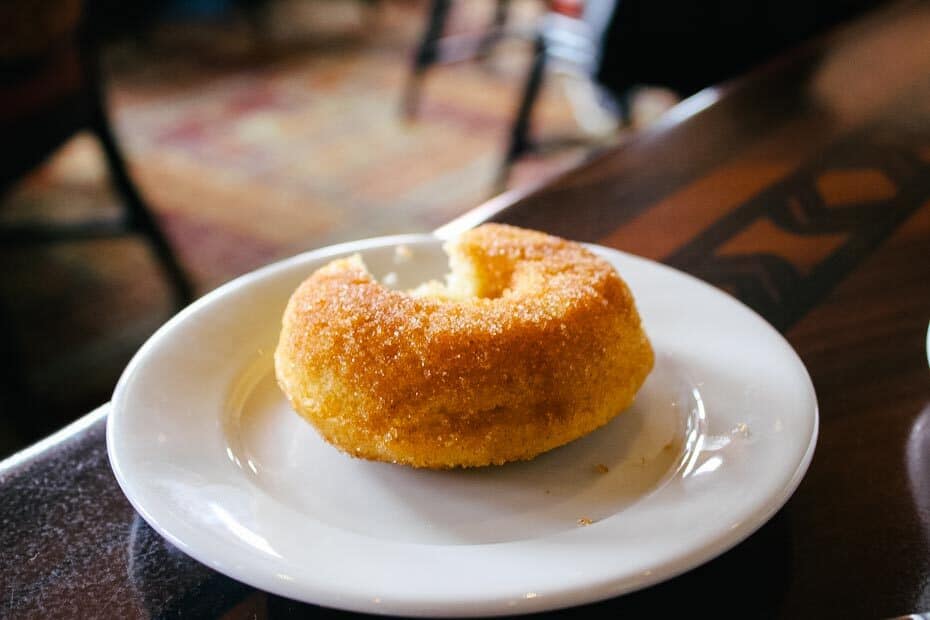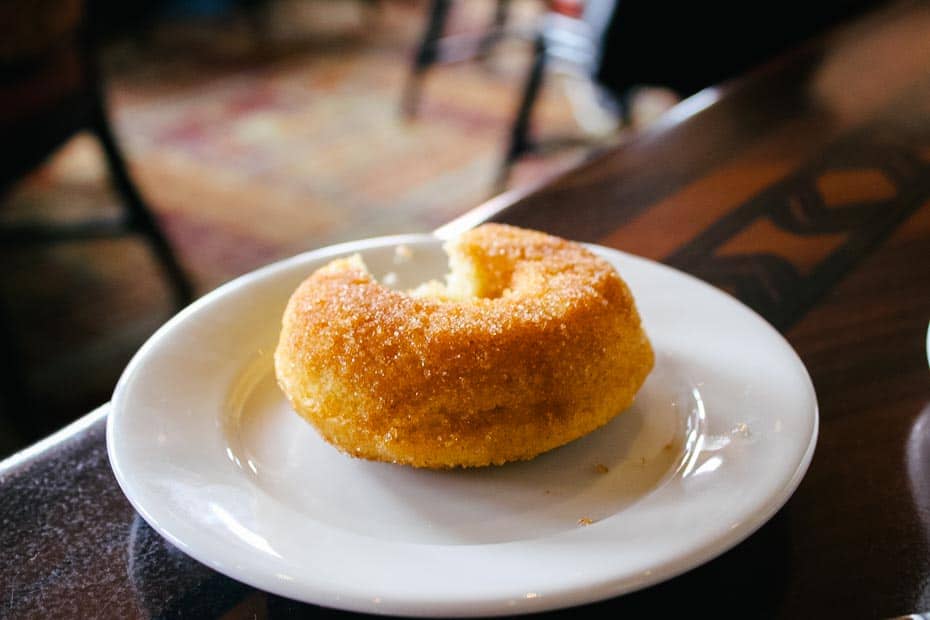 One of the reasons that I have hesitated to dine here in the past is because of the family-style meal. We don't go to a lot of buffets because of food allergies. It ends up being a hassle, and my son is a picky eater on top of everything else.
While this restaurant doesn't offer a buffet, it is somewhat similar since families share offerings from the same platters. After dining at 'Ohana for breakfast, I can say they were more than prepared to handle a diner with food allergies.
We were quickly brought a fresh fruit platter to share after the chef visited our table. This is something that is normally brought to the table when you are initially seated.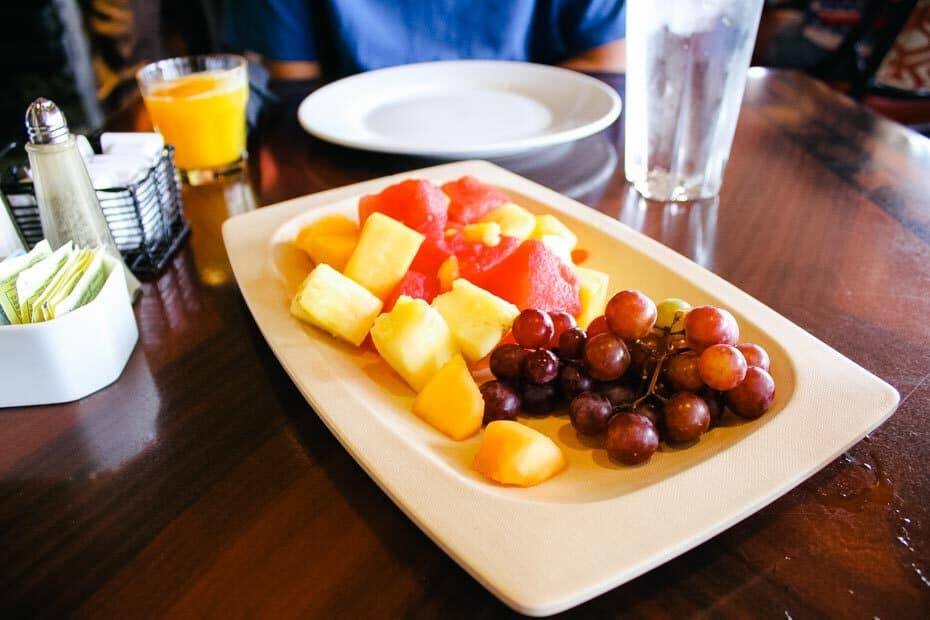 The juice is known across Disney as POG juice which stands for a mix of Passion Fruit, Orange Juice, and Guava. It reminds me of the juice I had recently shared with you in the Boma breakfast review. That location doesn't offer characters but does have a buffet selection of over 75 items.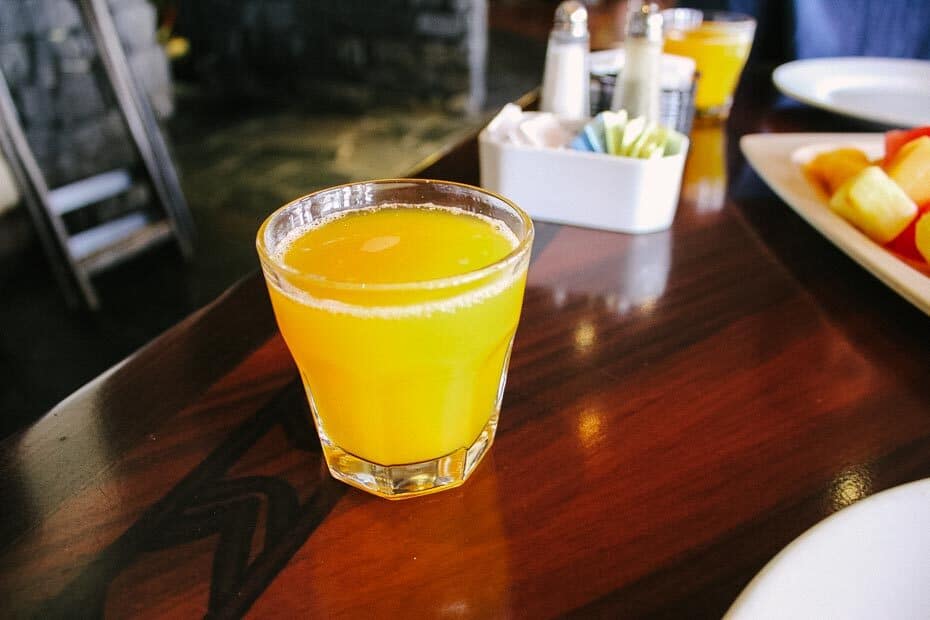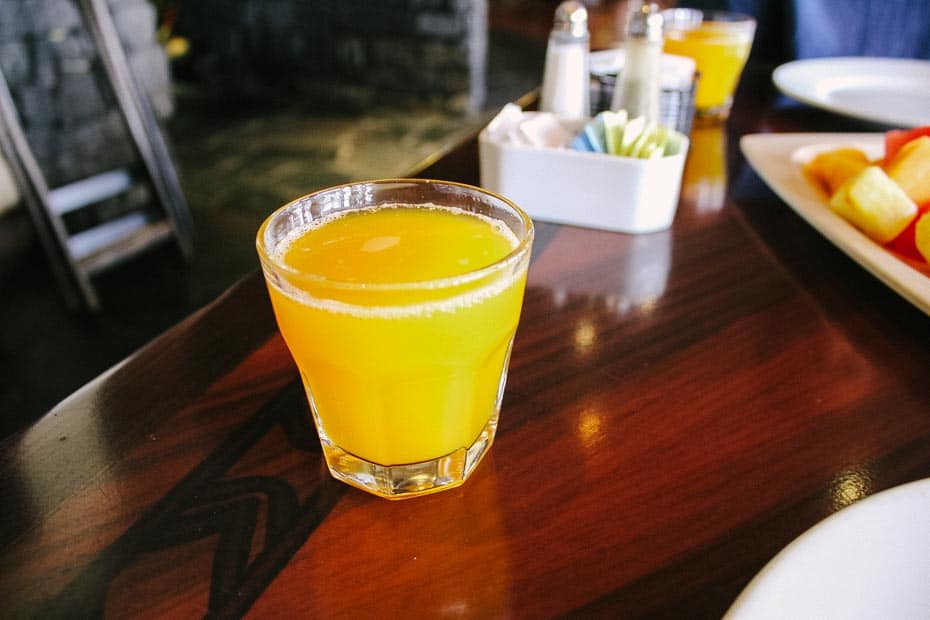 Breakfast offerings are brought to the table in an all-you-care-to-eat style. Each breakfast skillet has a selection of meat, potatoes, waffles, biscuits, and scrambled eggs. Since there were only two of us and one had food allergies, the server brought us individual skillets.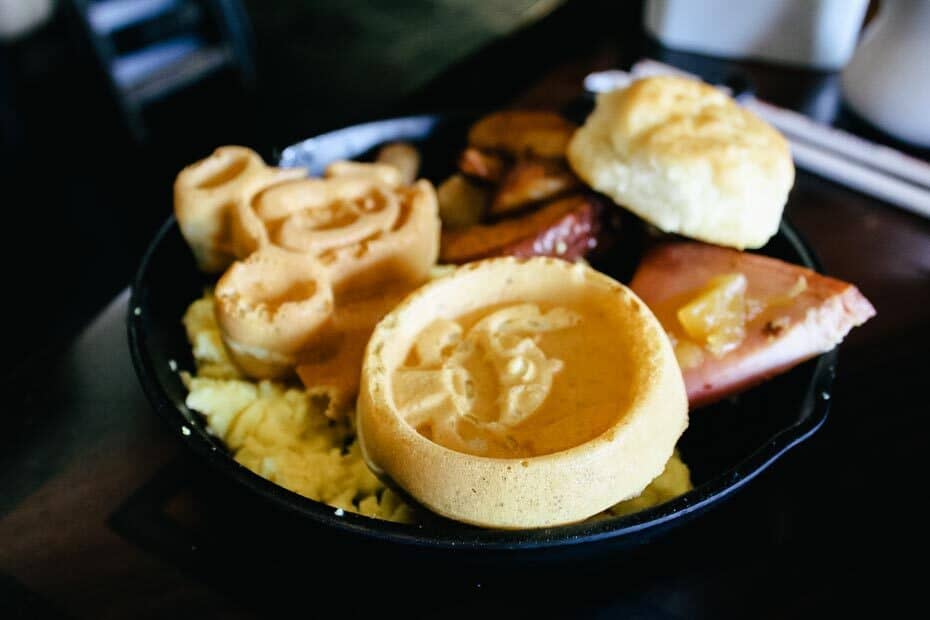 Typically, large skillets are brought to the table with serving spoons. Think family meal or get-together where everyone sits, and the food is on the table.
If you run out of something or would like to request a specific item, they will bring out a new skillet of that item.
And yes, those are Stitch Waffles for the win! One of the fun things about the 'Ohana breakfast is that they serve Stitch waffles. I ended up with a Mickey waffle as well.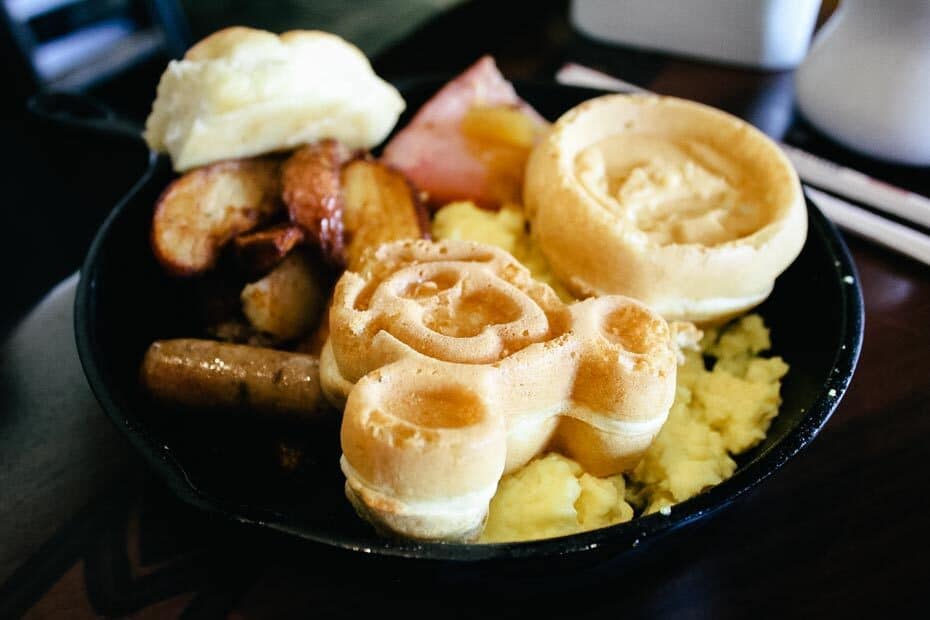 Allergy-friendly waffles come in the standard Mickey shape. I'm sure these are cooked separately to avoid cross-contamination. They also brought my son a nice selection of ham, sausages, and potatoes.
These were all things that he could enjoy without having to worry too much. Let me tell you, that child has eaten a lot of allergy-friendly Mickey waffles and chicken nuggets over the years.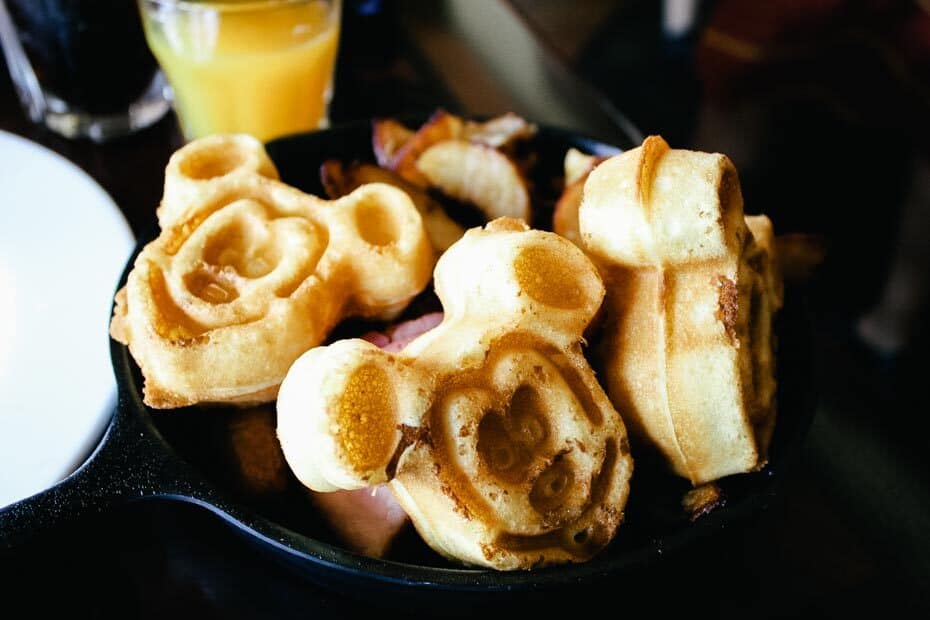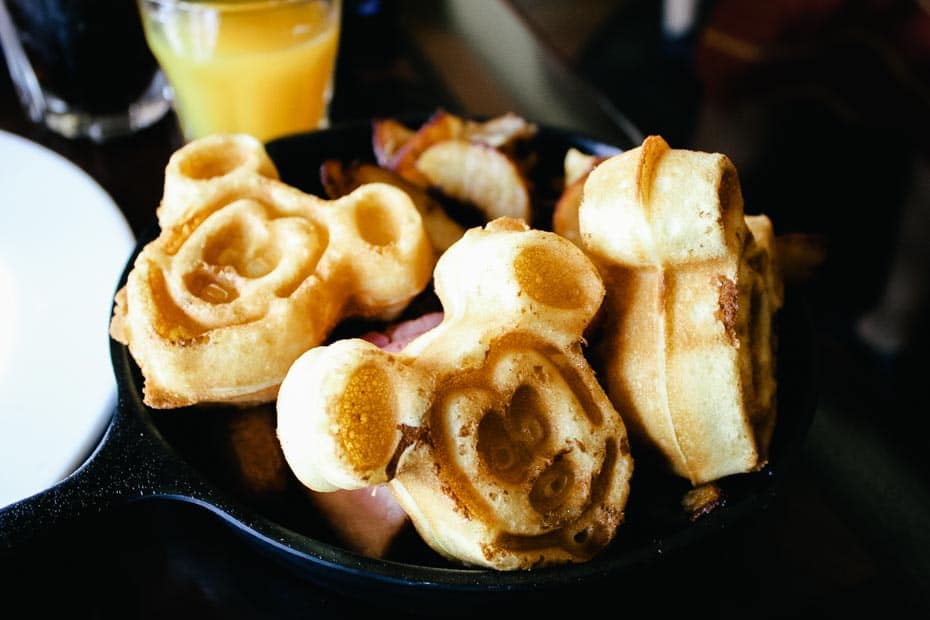 The ham is served with a pineapple compote and was my favorite item of the meal. I ended up requesting a second serving.
'Ohana Characters
As mentioned, breakfast at 'Ohana is a character meal. Not to be confused with the evening service, which is not a character meal. One of the reasons this meal is so popular is that you can meet four different characters.
This character breakfast is one of two places on Disney property that you can meet Lilo from Lilo and Stitch. The other place is Disney's water park, Typhoon Lagoon. I consider her to be a unique meet.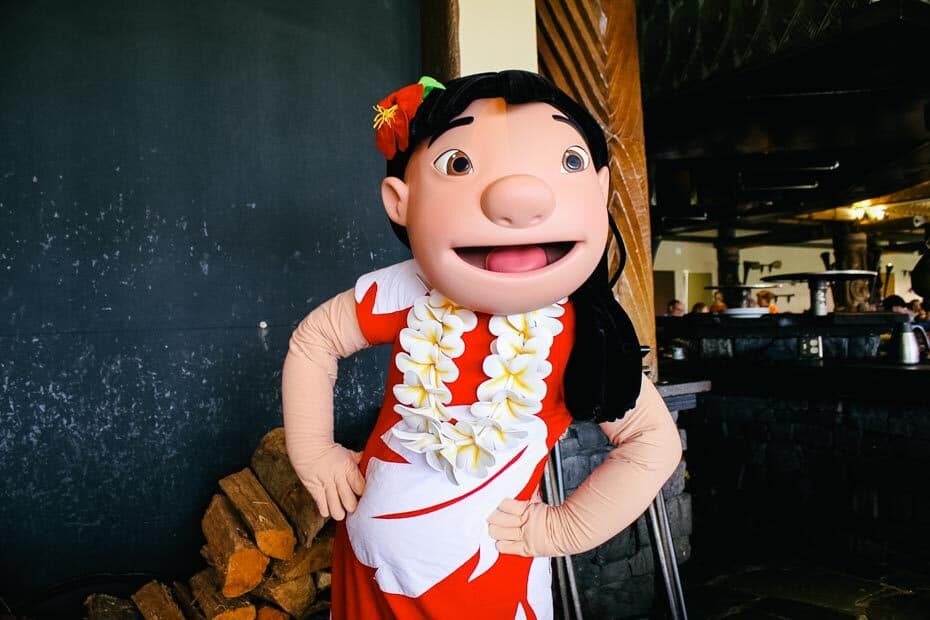 There is usually a cast member hovering somewhere around the area accounting for the meets and ensuring each table sees all the characters.
Mickey Mouse was up next and ready to Hang Ten with us for a bit. He is decked out in a fabulous Hawaiian shirt and lei. I figure the shirt probably came from Bou-Tiki downstairs in the lobby.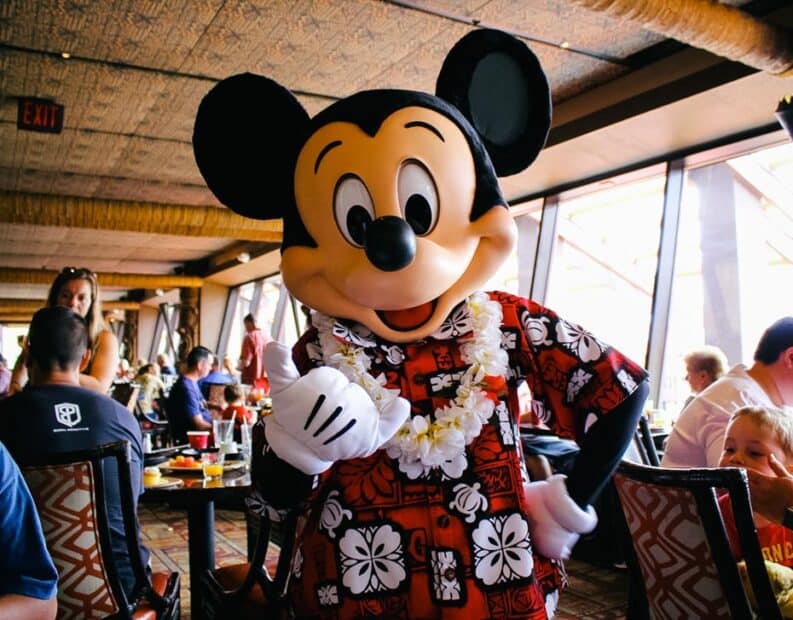 I might be a bit of a fan. Meeting characters is fun, but sometimes it can be a little intimidating. I mean, Mickey Mouse is a big deal and you know it's true! (I wonder if Walt would chuckle now after all these years over his little cartoon character's continued success?)
Don't worry. I saved that special space-doggie Stitch for last! How can you not love him? My son and niece grew up watching the Lilo and Stitch television series on the Disney channel. So he holds a special place in my heart.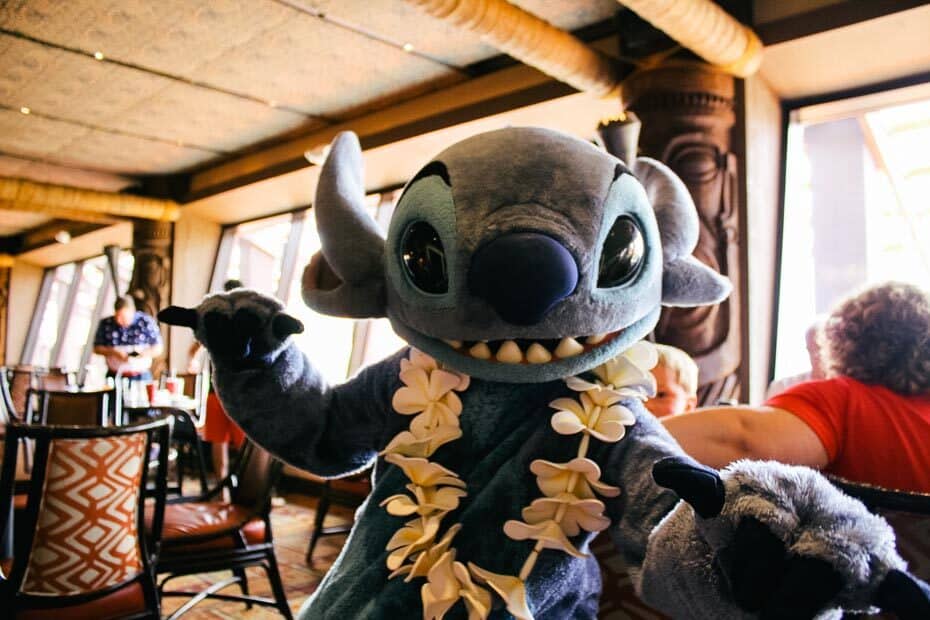 The series really used to get on my nerves because they both watched it so often. But I really love Stitch and Lilo and the movies they represent. I have nothing but fond memories now.
So full of energy and excitement–that's Stitch.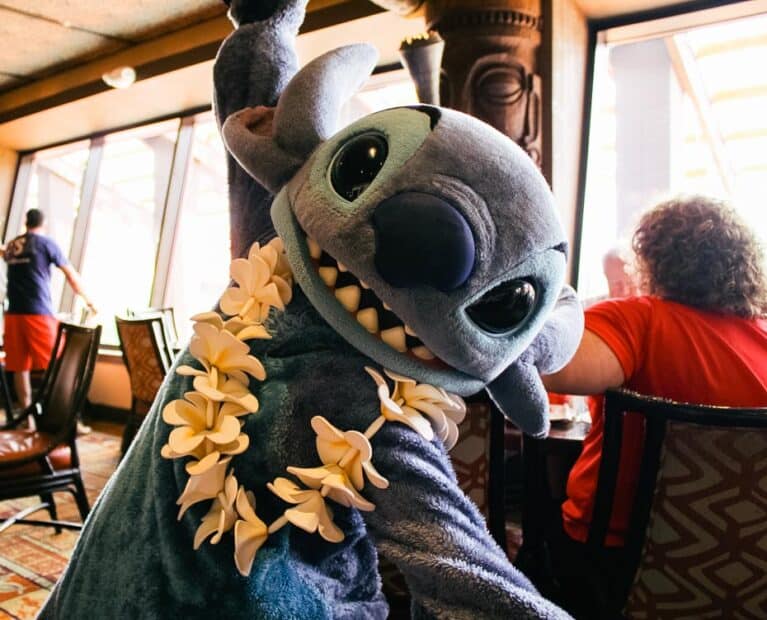 The other character meet that is available is Pluto. He was out front in the lobby area upstairs in front of 'Ohana. From my understanding, this is typically where you will find him before breakfast reservations.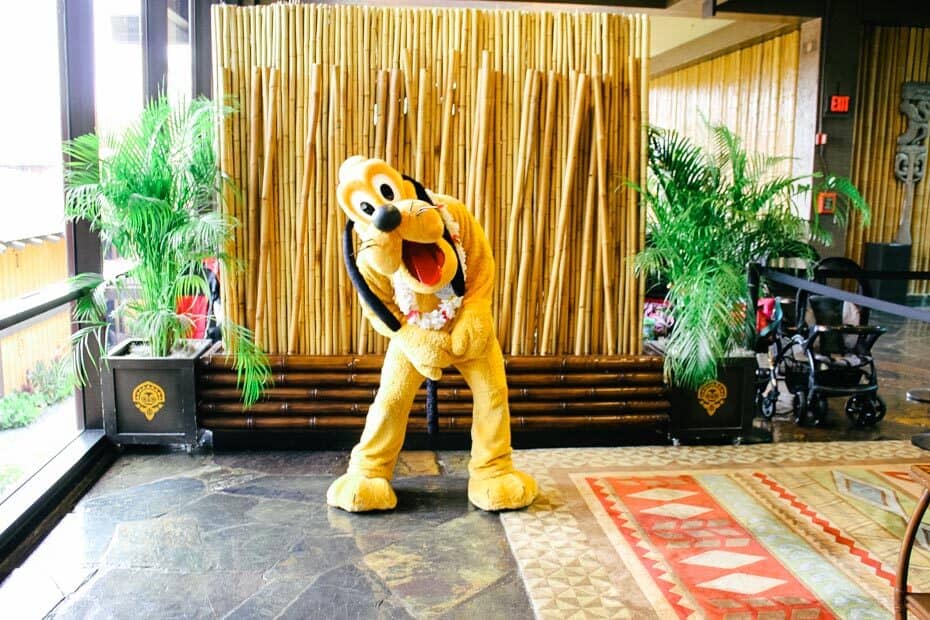 'Ohana Breakfast Prices
The character breakfast at 'Ohana was running $41 for adults ages ten and up and $25 for kids ages nine and under. If you were considering the price for the actual food items, I would have to say it's a no.
You do get a good amount of food, but not near the variety you can get at other restaurants. Plus, the food is fairly generic. It's comparable to what you would receive ordering a platter-style breakfast plate at a counter service resort restaurant. One of those platters would probably cost less than $15 per person, and you could easily share one.
With that being said, I do feel like the 'Ohana breakfast prices are much more reasonable than when I had at the Akershus princess character breakfast over at Epcot.
And I had no qualms about paying a higher price tag for quality food at the new Topolino's Terrace Character Breakfast at Riviera Resort. That review is worthy of a read and a dining reservation.
Below is a look at the overall restaurant toward the end of the breakfast service. Remember, this was well after 1:00 pm when the restaurant should be near empty.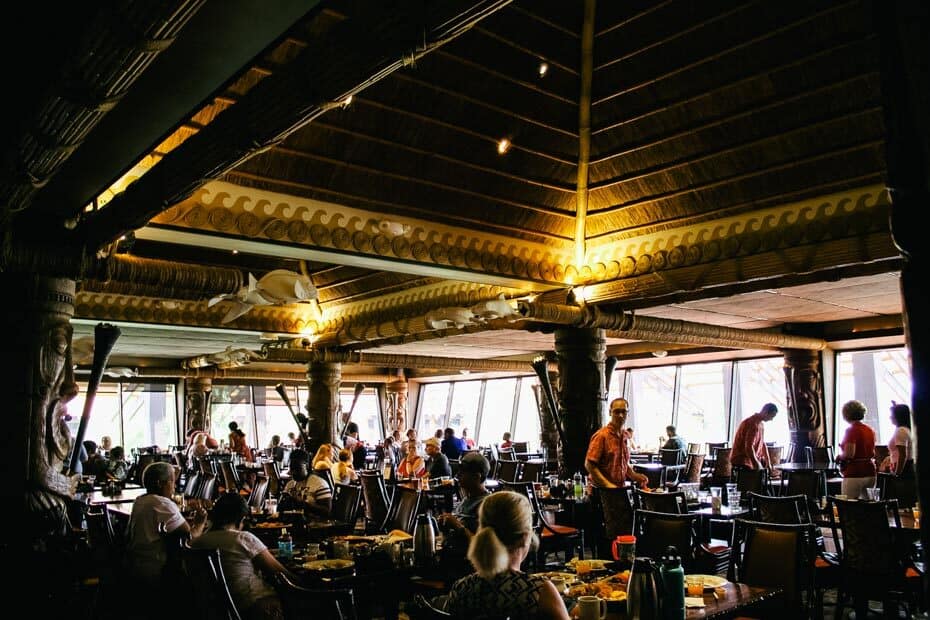 Final Thoughts
If you are visiting 'Ohana for the characters (which you should be), you will end up having a wonderful time. It's a nice opportunity to have a leisurely breakfast, meet a handful of Disney characters tableside, and spend some time at Disney's Polynesian Resort.
Related: Disney's Polynesian Resort Review
For other resorts in the immediate area, you might enjoy these reviews:
Make sure to check out the full guide that covers everything you need to know about character dining at Disney World. It discusses all the character meals at Disney, what characters are at each meal, and what kind of food you can expect.
You might also be interested in the following Disney Dining Reviews at the Polynesian Resort:
Or check out the full list of Resorts Gal articles for planning a vacation at Disney's Polynesian here.
Feel free to leave me a comment below with your thoughts on 'Ohana.
'Ohana Breakfast with Characters