Captain Cook's Review at Disney's Polynesian
Captain Cook's is the main counter service dining option at Disney's Polynesian. This location is well known among guests who visit the Walt Disney World Resort regularly.
Whether you want a reasonable meal to take back to the room or need a dining option without a reservation while visiting the resort, Captain Cook's truly has something for everyone.
In this review of Disney's Captain Cook's restaurant, we'll take a look at a few of those items. If you have read any of our articles about the Polynesian Resort, then you know I highly recommend visiting the tropical resort at some point during your vacation.
Related: Disney's Polynesian Resort Review
Having a quick meal at Captain Cook's might end up being that unexpected wow that solidifies your entire vacation. I know that sounds a little extreme, but my visits to the Polynesian have always left me feeling, well, like I was on vacation. Let me explain.
Below is the entrance for Captain Cook's restaurant. The quick-service is located off the lobby of Disney's Polynesian Resort.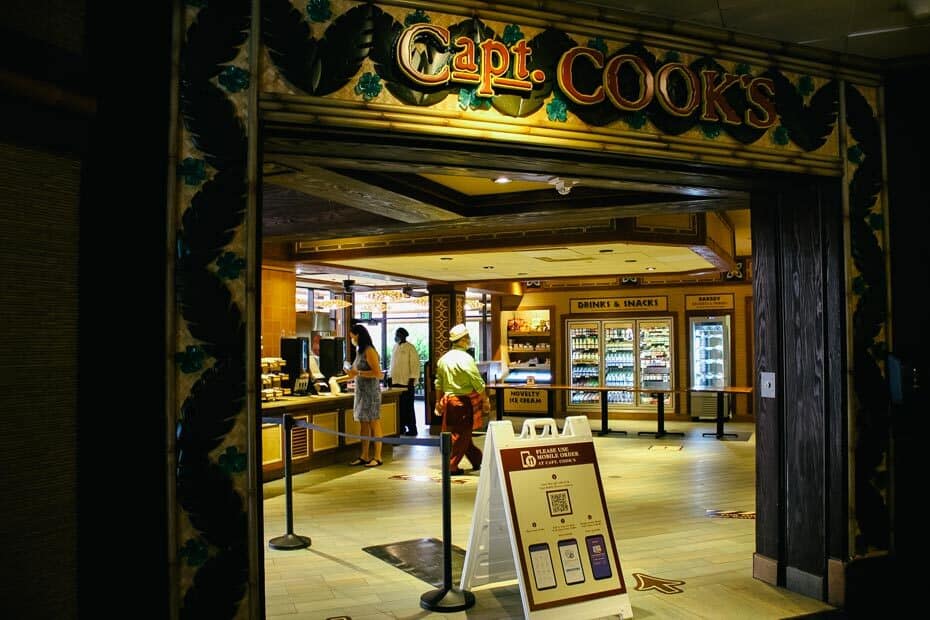 Captain Cook's offers Disney's mobile order. You'll definitely need to familiarize yourself with using Disney's mobile order service while on vacation.
Most quick-service locations in the resorts and theme parks would like guests to use it. Plus, the service is a tremendous time-saver. However, it's no longer a requirement. So, you can order at the restaurant if you would like.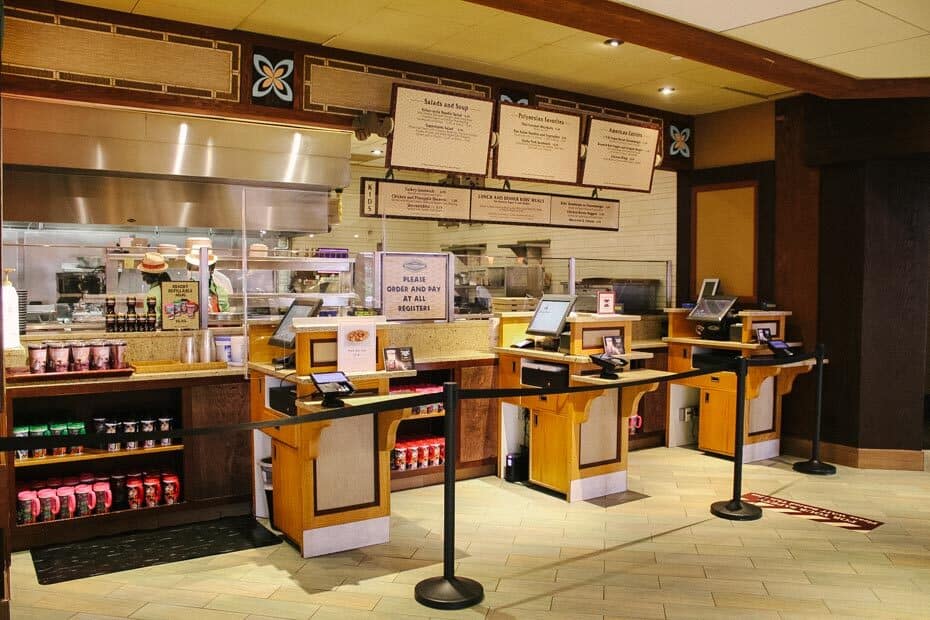 You can preview Captain Cook's menu here on Disney's site or pull it up in the My Disney Experience app.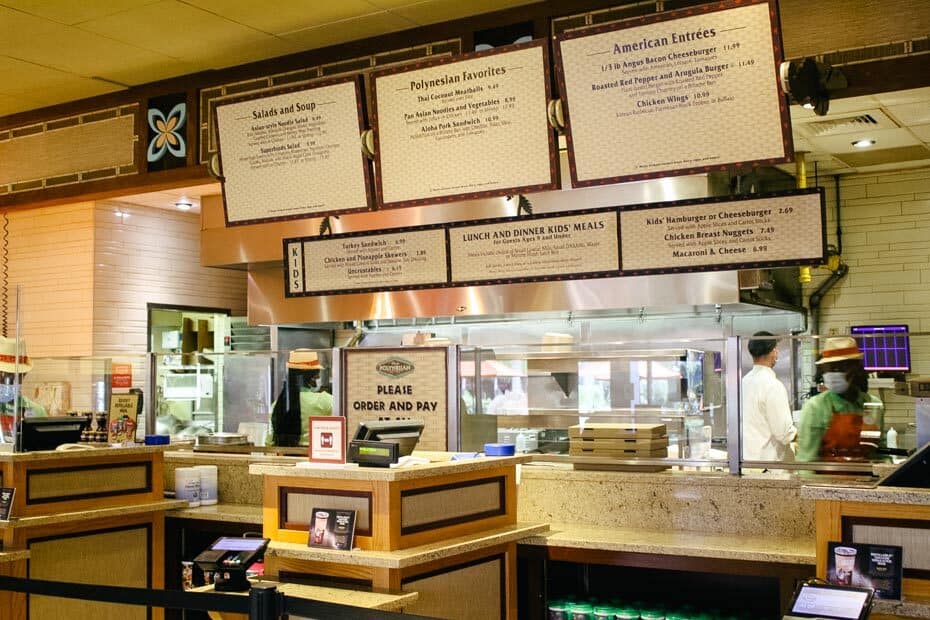 When mobile ordering from Capt. Cook's, you'll be prompted to select, "I'm here, prepare my order" when you get within the vicinity of the restaurant.
It usually takes a good ten minutes from my experience for your order to be ready. While you are waiting, I would browse Boutiki, the gift shop, or check out the Great Ceremonial House lobby.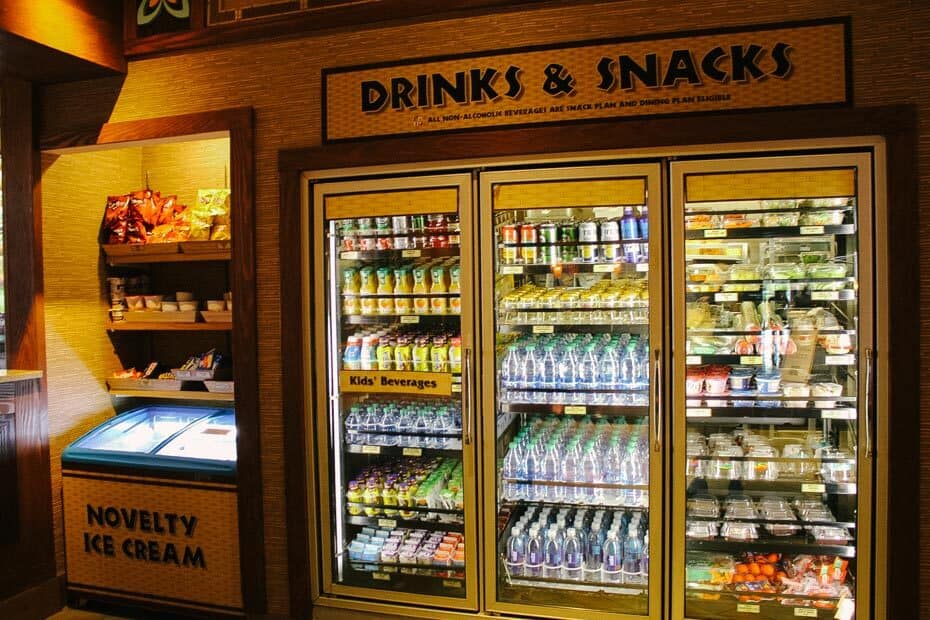 Most of the items in the cases are available to order within the app. When your order comes out, the cast member will check and add these items before you leave.
The restaurant has a self-service beverage station. Refillable mugs are usually available.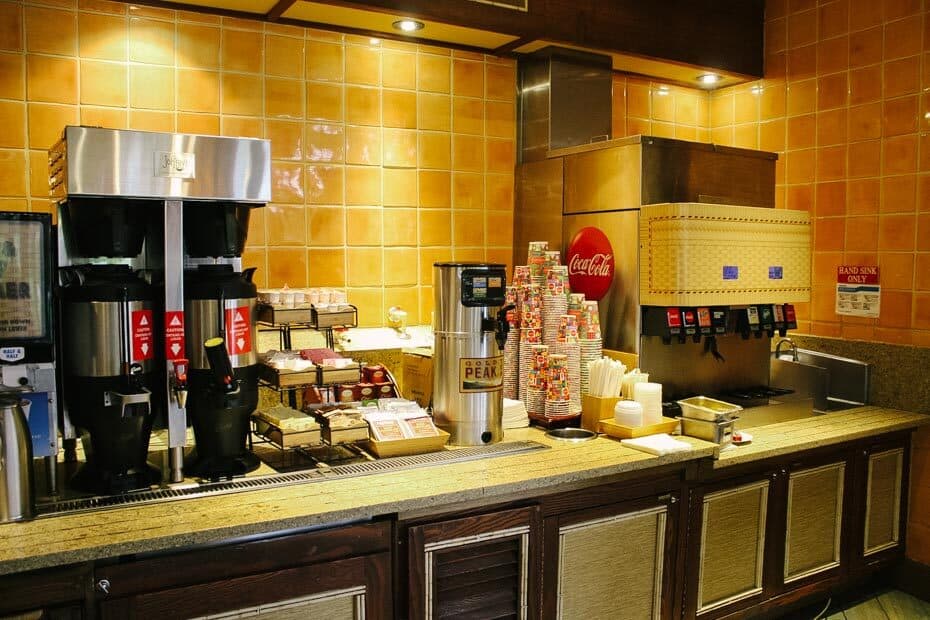 On the opposite side of the beverage area, there's a place to pick up any utensils, sauces, and other condiments.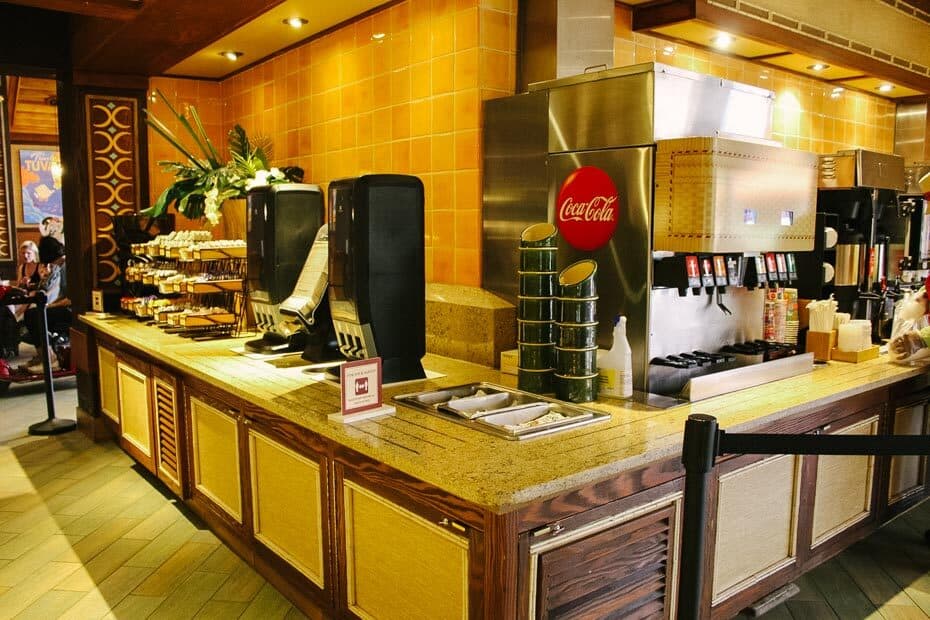 Captain Cook's has the cutest dining area with banquette-style seating along the far wall. There are a few tables and chairs in the mix as well.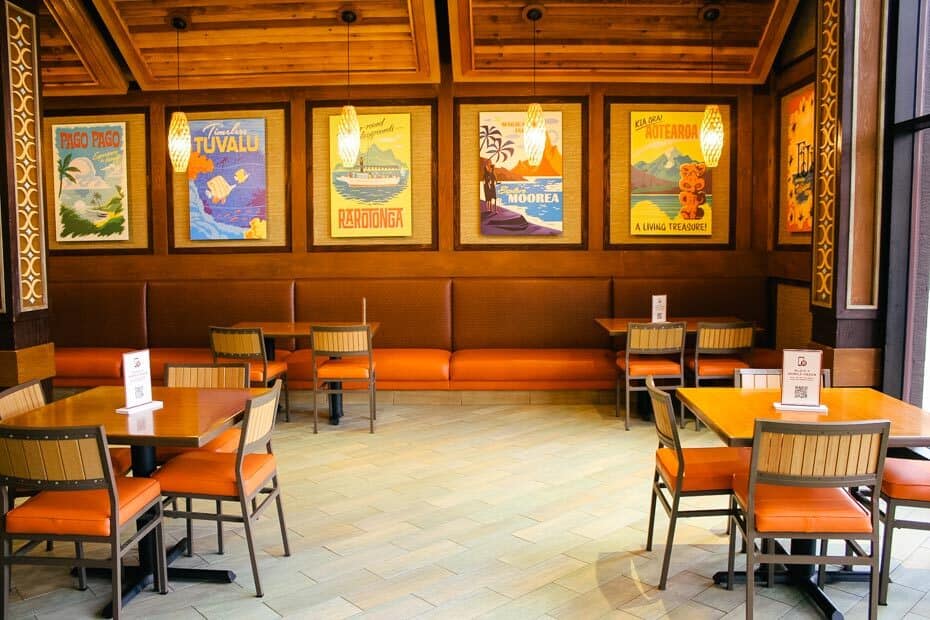 I've always enjoyed dining inside here when the weather wasn't cooperating for al fresco dining.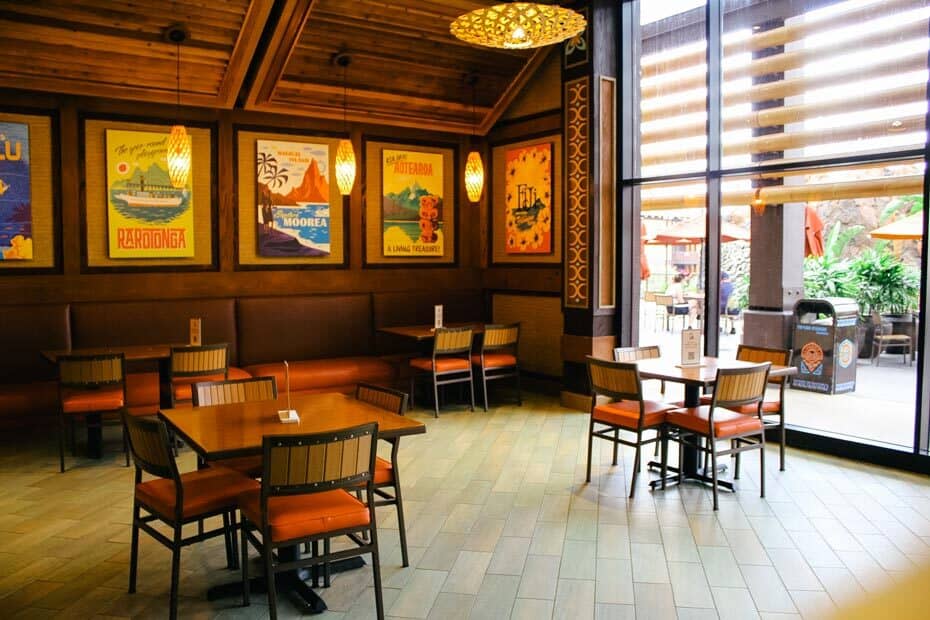 On the opposite side of the condiment station, there are a few more tables with chairs.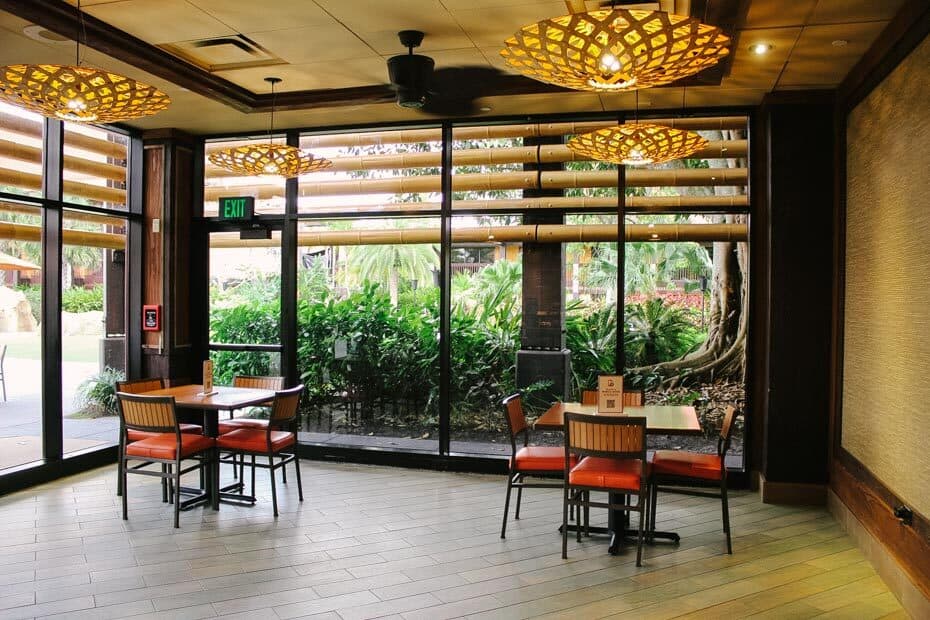 When you head out the back of Captain Cook's, you'll be greeted by this beautiful outdoor eating area. This space is shared with the neighboring Trader Sam's Tiki Terrace.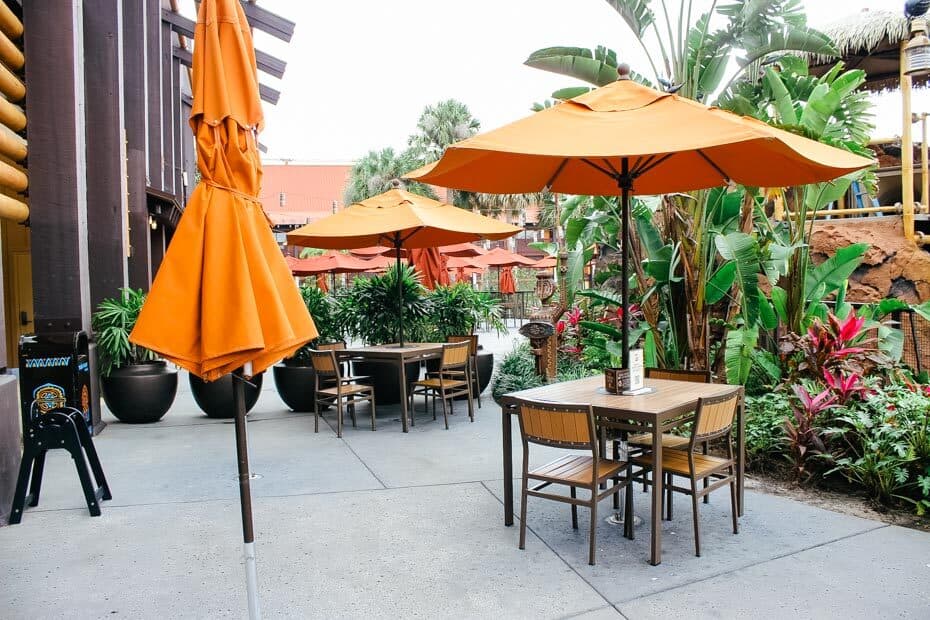 I prefer to walk over to the Tiki Terrace side of the large deck and enjoy my meal with a view of the water. There is something to be said about enjoying a little fast food with these extravagant views.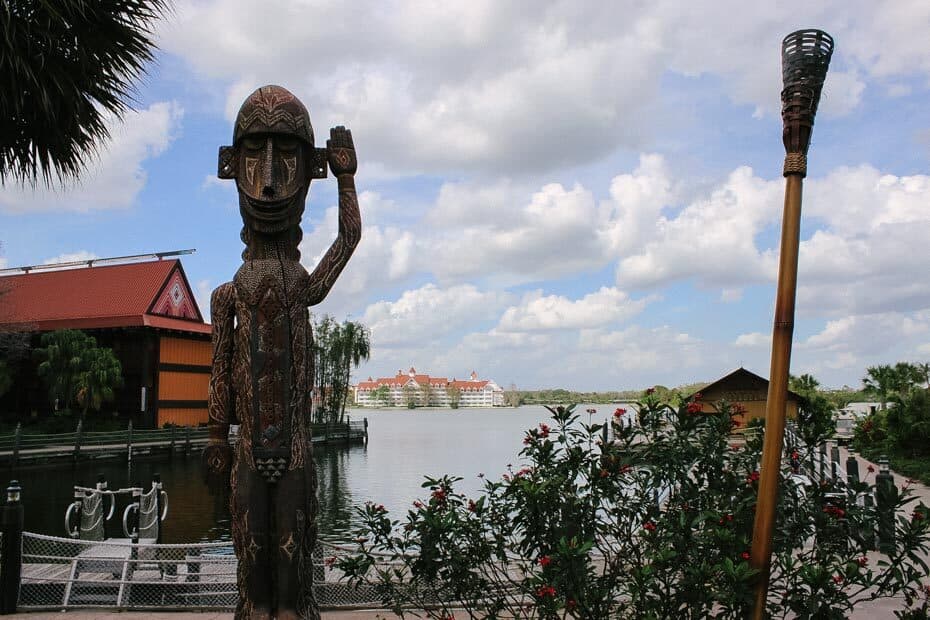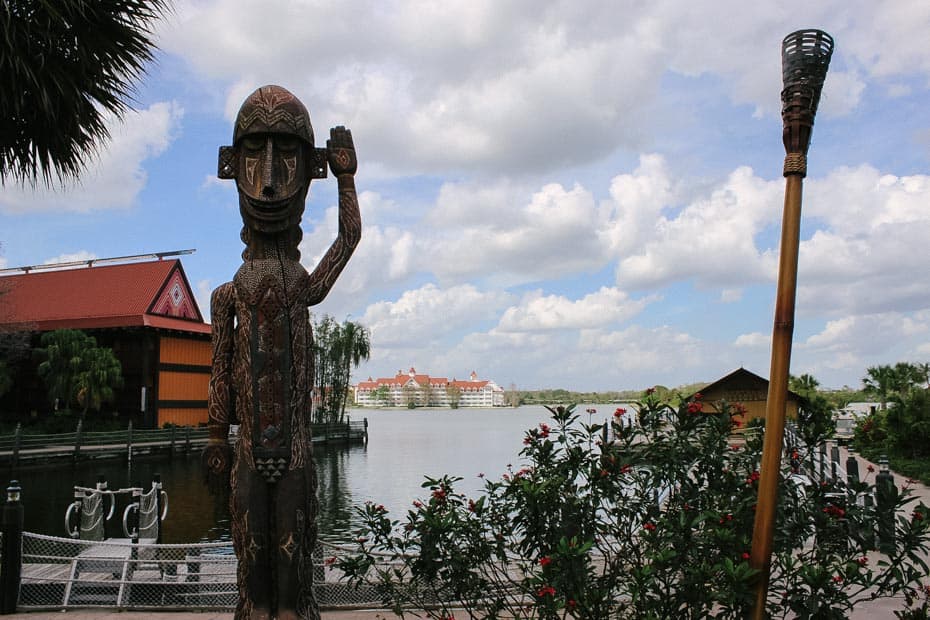 There's a waterfall feature providing pleasant background noise. It all really sets the mood for an enjoyable lunch or dinner. You could have breakfast here too.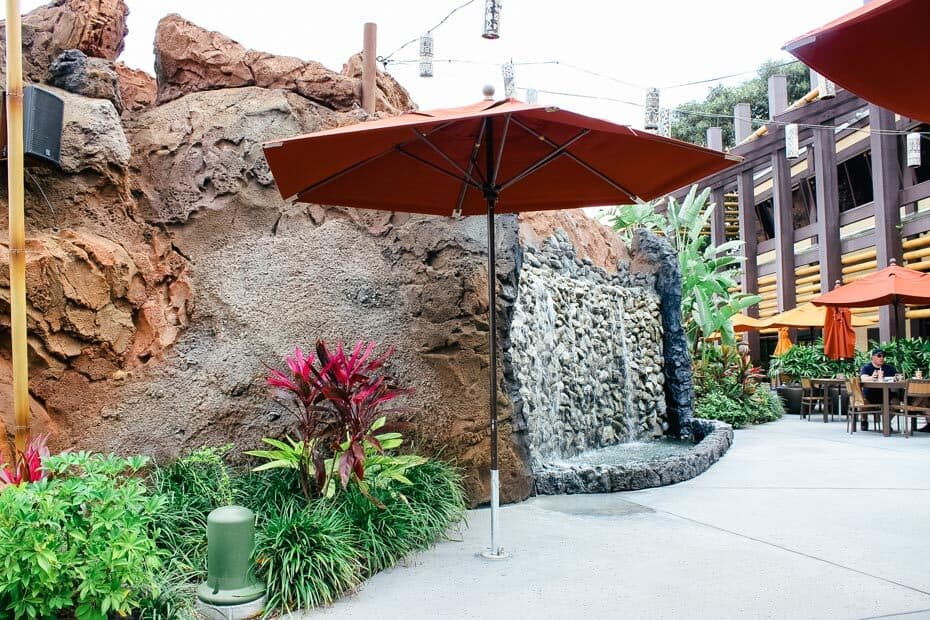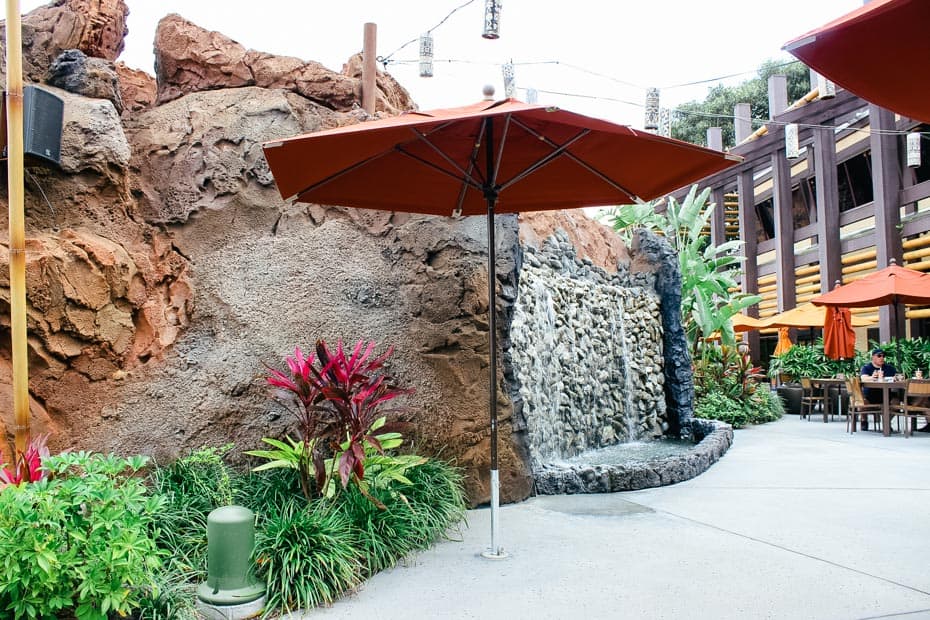 On this visit, I was at the resort taking a few photos to update my reviews. As you can imagine, things at Disney change fairly often. Therefore, I try to get to the larger resorts about once per quarter to keep things up-to-date here on the site.
Anyway, I went with the roasted red pepper and arugula burger. The menu describes this as a plant-based burger topped with roasted red peppers, arugula, and a tomato jam served on a brioche bun.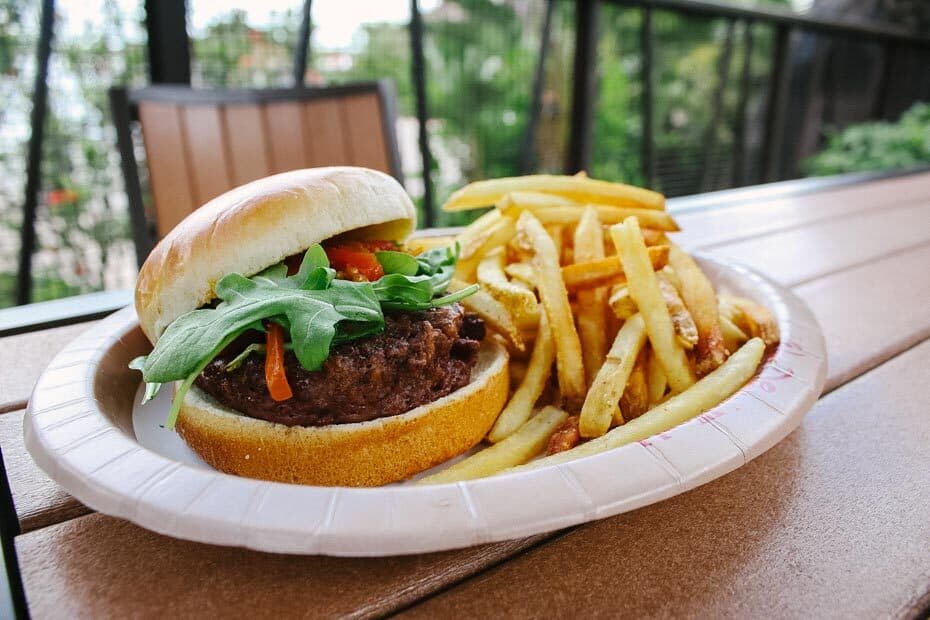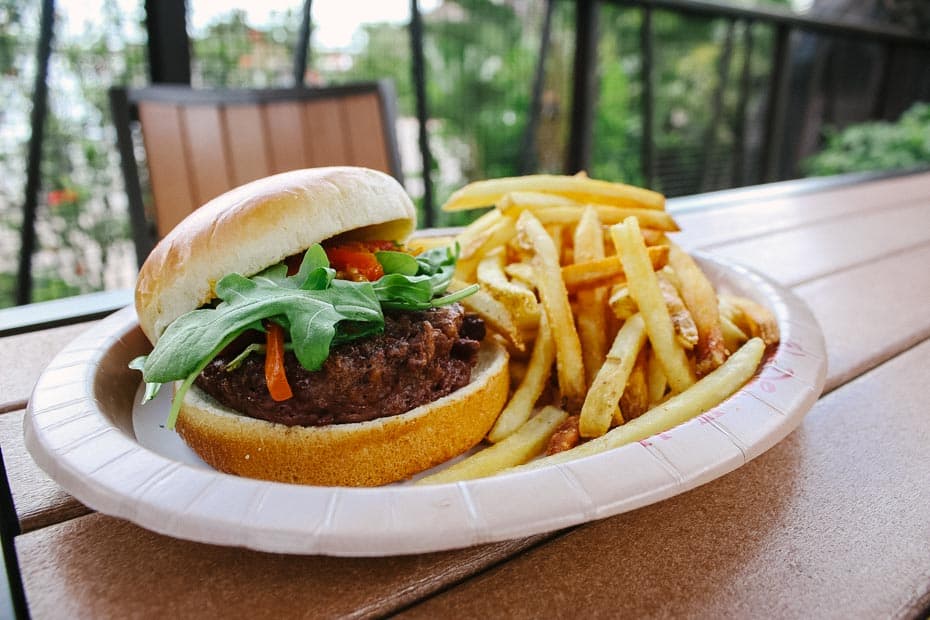 This vegan-friendly burger came with a side of French fries. I really enjoyed the burger and have to say of all the different vegan burgers I've tried at Disney, this was my second favorite.
In case you were wondering, my favorite is the vegan burger at the Grand Floridian Cafe. It has "smoked gouda" and caramelized onions.
Related: Grand Floridian Cafe Review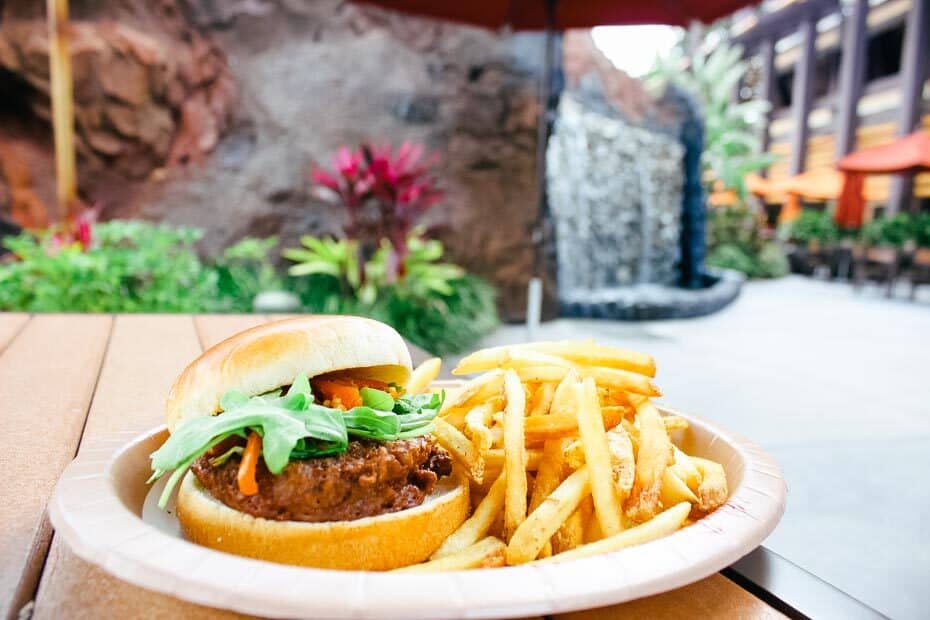 As far as Captain Cook's goes, I've ordered the allergy-friendly chicken nuggets for my son more times than I would care to share with you. This is his favorite counter service. They tend to remember us because we've eaten there so often over the years.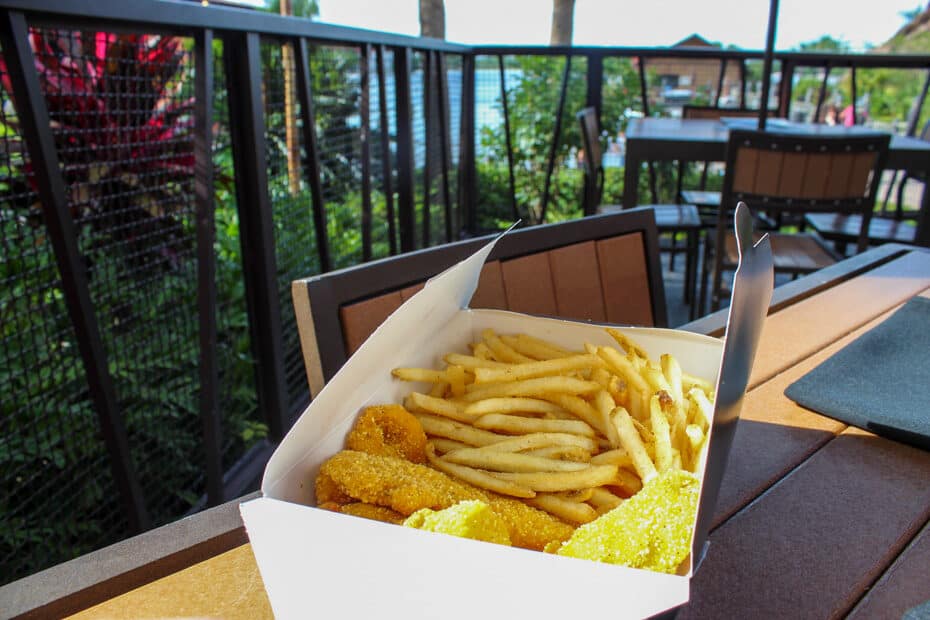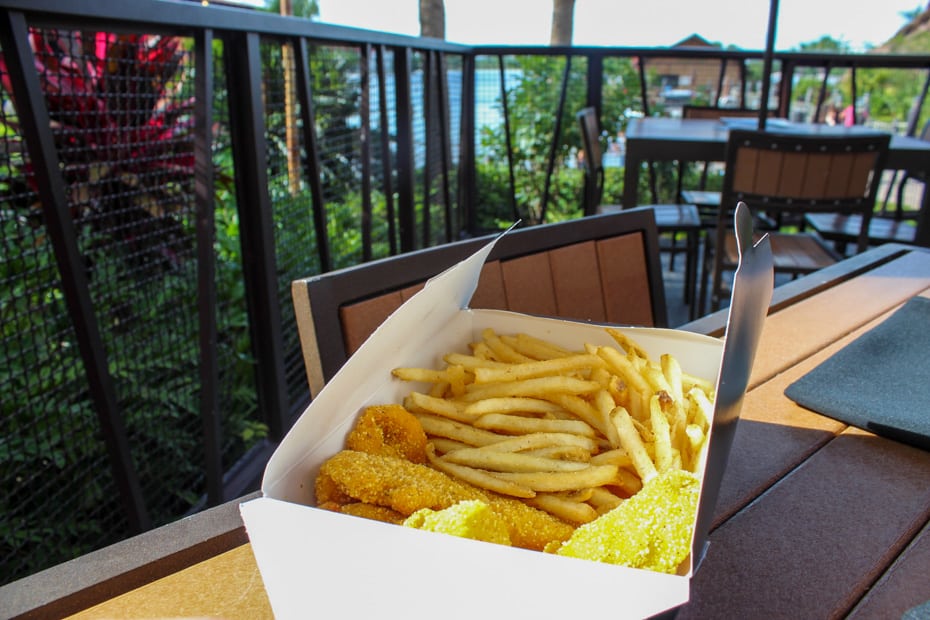 Additionally, I've had a few items not pictured. For example, when we stayed in the deluxe studio at the Grand Floridian Villas (that building sits next door to the Polynesian), I ordered the Asian-style noodle salad from Captain Cook's.
Related: Grand Floridian Villas Review
The menu describes this item as rice noodles, Mandarin oranges, mixed vegetables, and candied cashews served with honey-miso dressing. I'm not for sure why the noodle dish isn't considered plant-based.
They ended up being a huge, filling meal. However, it was one of those things that felt like a little one-note, so I probably wouldn't order it again.
A few years back, I tried the Thai coconut meatballs at Captain Cook's. They have been on the menu here forever. Personally, I didn't care for them and would not order them again.
Lastly, I haven't tried Capt. Cook's pulled pork nachos. With that being said, I see people raving over these nachos on social media all the time. The nachos have been on the menu for several years.
If you stay at the Polynesian, you can also walk next door to Gasparilla Island Grill (review) at the Grand Floridian to pick up a meal.
As far as Disney's Polynesian restaurants, there are several options. Another one that I highly recommend for a table service meal is Kona Cafe (review here). You will need reservations, but they are fairly easy to secure. This is also a wonderful place to order sushi at Disney.
There's a review of the character breakfast at 'Ohana, which is not necessarily one I would return to given our last experience. However, the character meets are unique and enjoyable.
Try here for the entire list of Walt Disney World restaurant reviews. Or you might enjoy our full list of articles related to Disney's Polynesian Village Resort.
As for Captain Cook's, this location serves the popular Tonga Toast for breakfast. Whatever you decide, I'm sure you will enjoy your meal, especially if you decide to dine outside on the terrace!
Leave a comment and let me know your thoughts on Captain Cook's and whether or not you've tried those nachos!