Captain Cook's Review at Disney's Polynesian
This article provides a review of Captain Cook's at Disney's Polynesian Village Resort. Below, we'll preview the menu, hours of operation, and other items we've tried during our stays.
Aloha! If you plan to visit Disney's Polynesian, you might want to get familiar with the resort's primary counter-service restaurant, Capt. Cook's. This popular restaurant is open daily from 7:00 a.m. until 11:00 p.m. They serve breakfast, lunch, and dinner.
Captain Cook's sits off the lower level of the Great Ceremonial House, the resort's main building, home to a two-story lobby. It's right around the corner from Trader Sam's Grog Grotto.
Captain Cook's has two dining rooms, a refillable beverage area, and a selection of grab-and-go items. Tables are available on a first-come, first-serve basis. Additional seating is available outside on the terrace.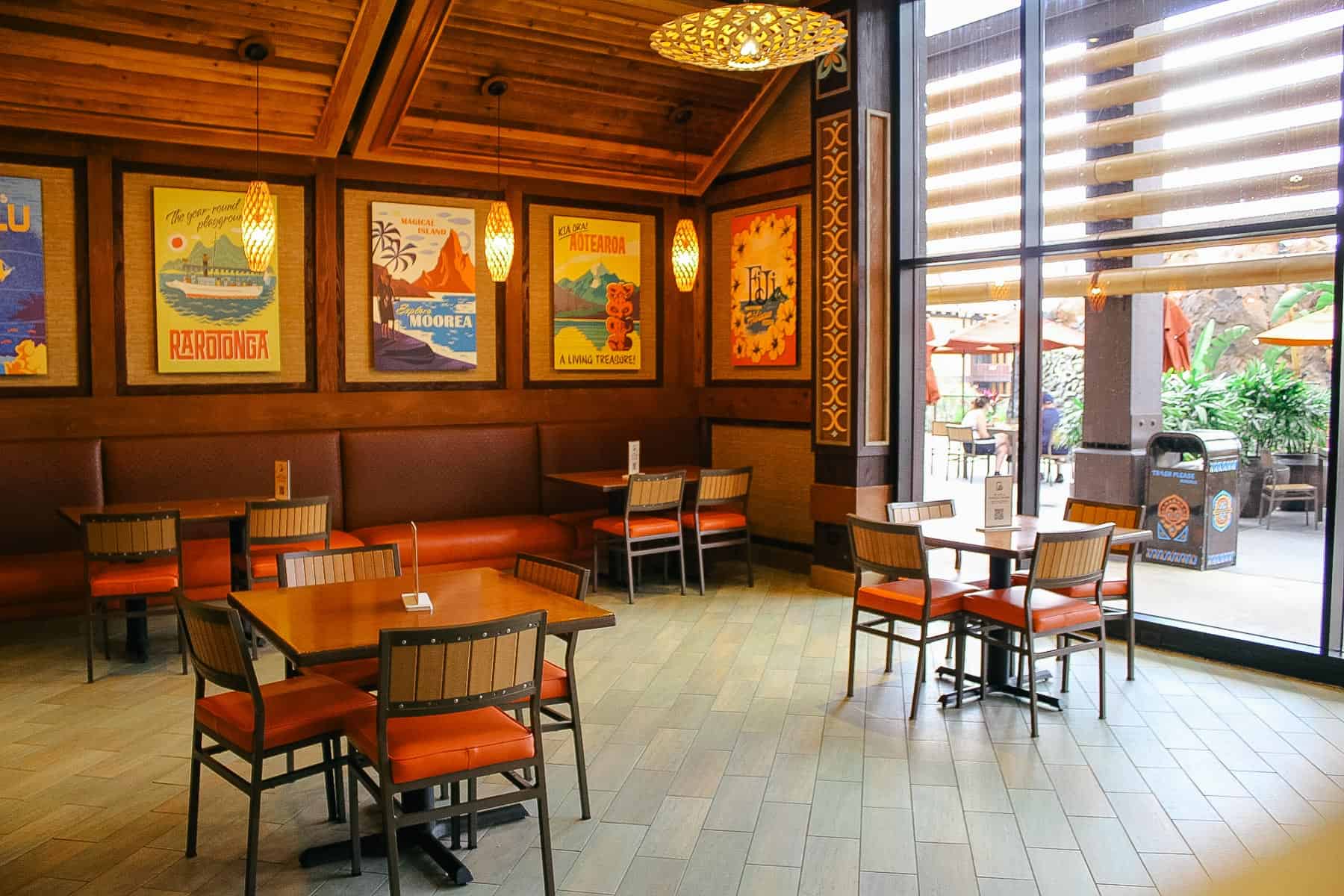 Captain Cook's has tropical vintage decor. Posters line the restaurant's walls, representing the Polynesian islands.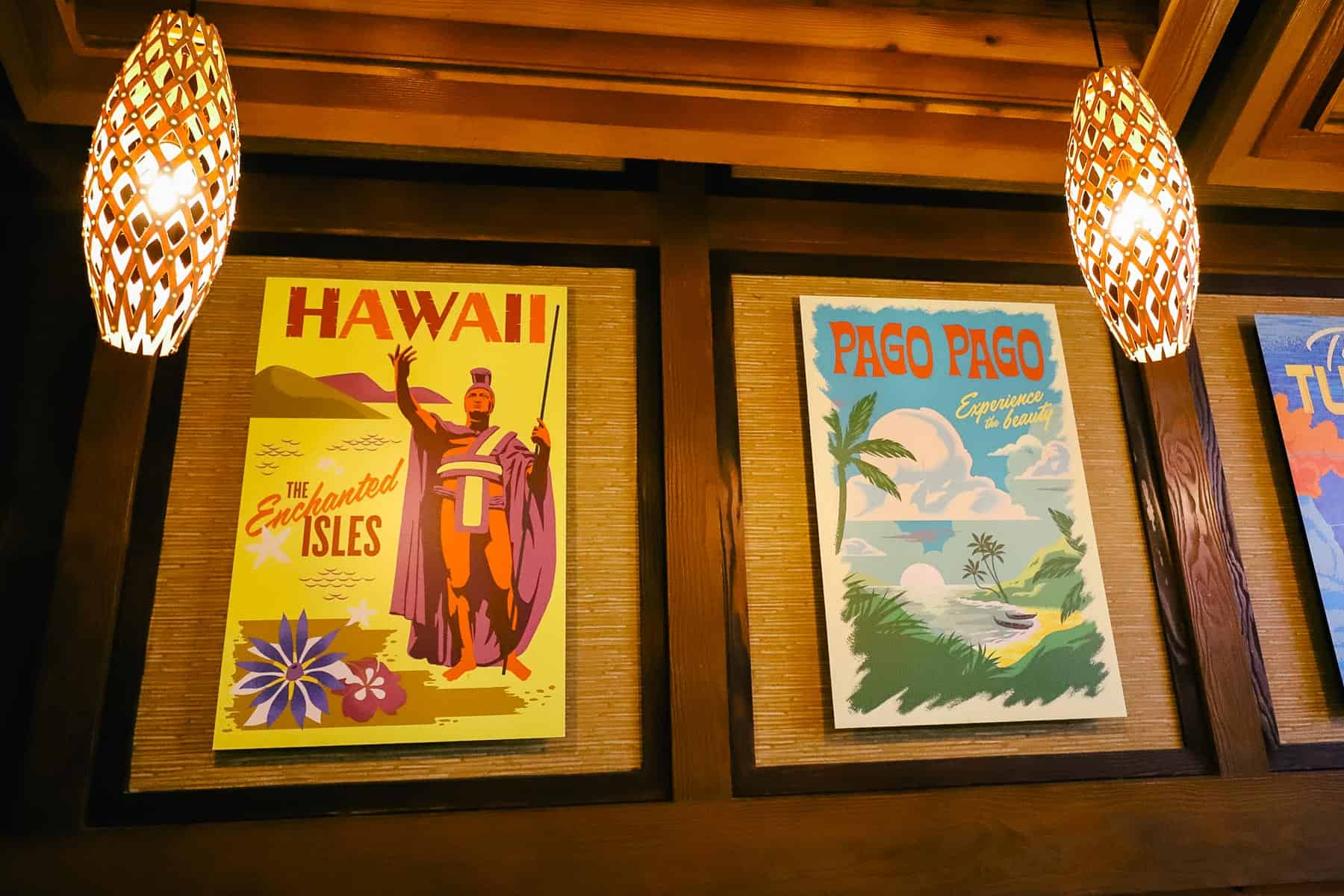 We prefer to dine outside when the weather is pleasant.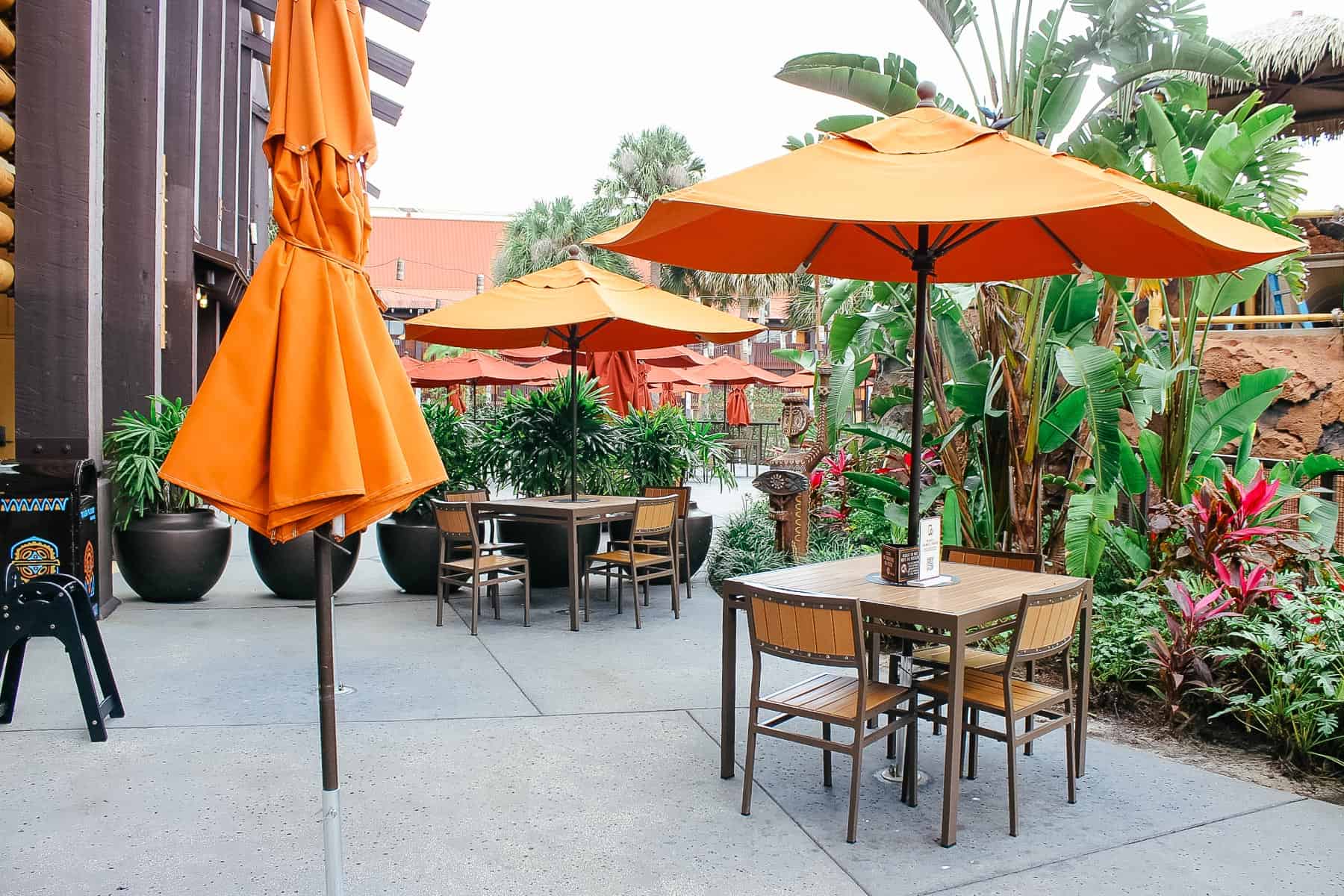 Captain Cook's accepts mobile orders via the My Disney Experience app.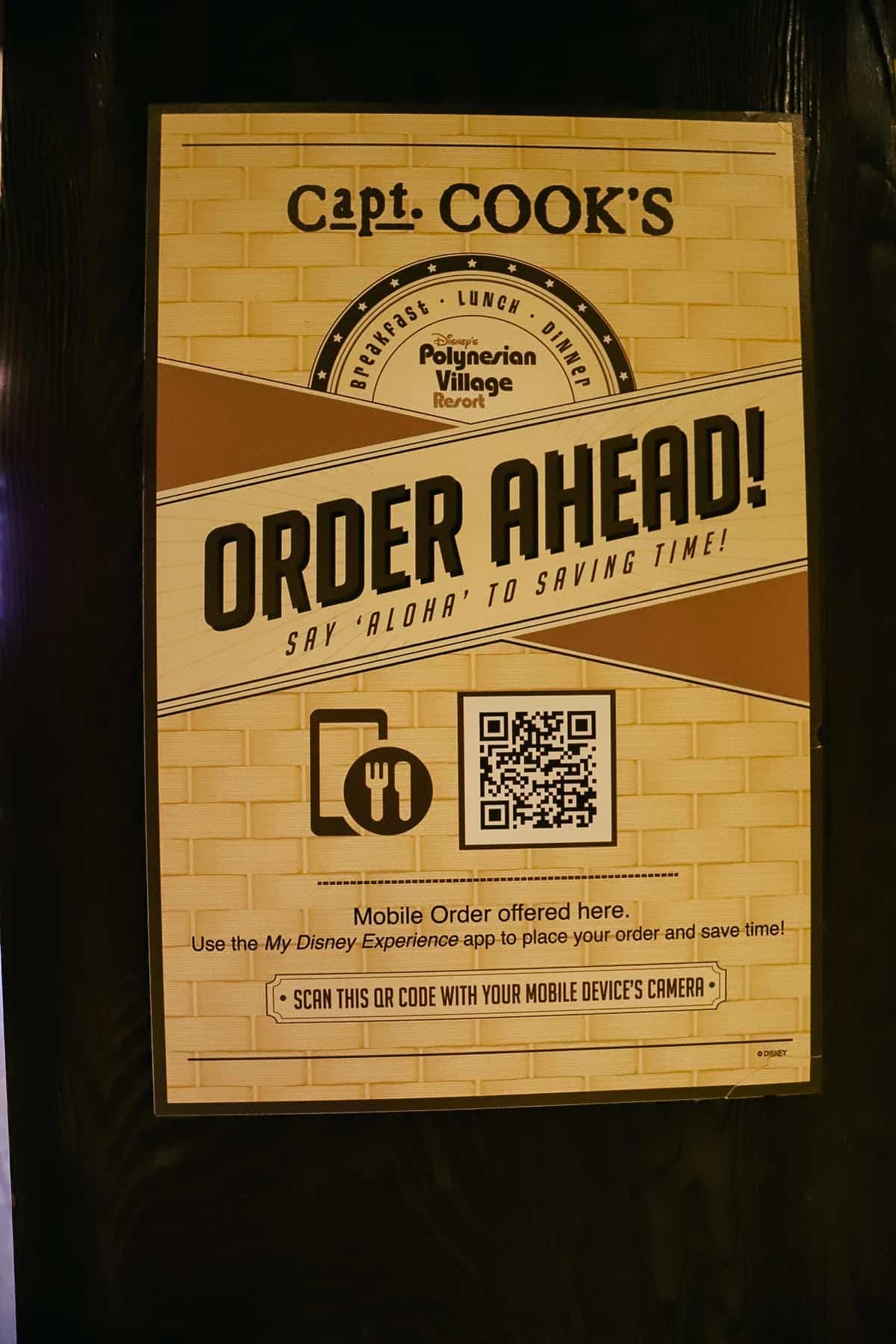 We almost always mobile order when we dine here. Captain Cook's is a popular quick service and almost always has a line. So when mobile ordering, you might browse one of the nearby gift shops or get a table while you wait for your food instead of standing in line.
Captain Cook's has a separate breakfast menu. However, the lunch and dinner menus remain the same.
For breakfast, you can expect traditional items, including:
Bounty Breakfast Platter
Tonga Toast
Mickey Waffles
Morning Flatbread
Breakfast Burrito
Tonga Toast is one of the Polynesian's signature breakfast items. It's also available upstairs at Kona Cafe. Per the menu, it's a banana-stuffed sourdough bread, battered, deep-fried, and dusted with cinnamon sugar. It comes with a side of bacon or sausage.
Plant-based options include:
Power Breakfast Bowl
Steel Cut Oatmeal
And Kids' Meals:
Mickey-shaped Waffles
Egg White Scramble
Oatmeal
Sides include breakfast potatoes, bacon, and sausage. You can preview the breakfast menu with prices on Disney's site. (Capt. Cook's Breakfast Menu)
For lunch and dinner, we see the following American entrees:
1/3 lb Angus Bacon Cheeseburger
Roasted Red Pepper and Arugula Burger (Plant-Based)
Chicken Wings
Aloha Pork Sandwich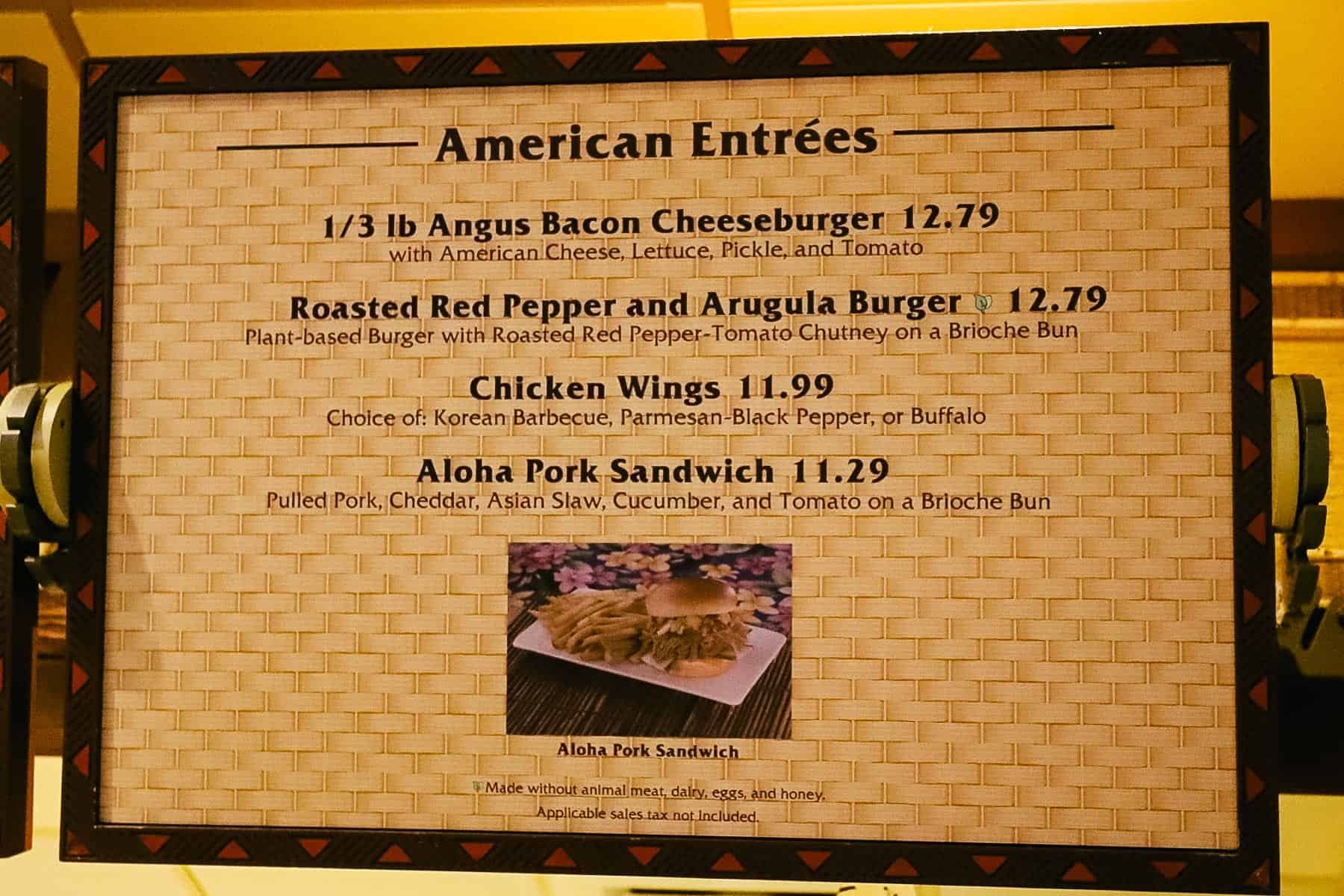 Polynesian Favorites include:
Thai Coconut Meatballs
Pulled Pork Nachos
Pan-Asian Noodles and Vegetables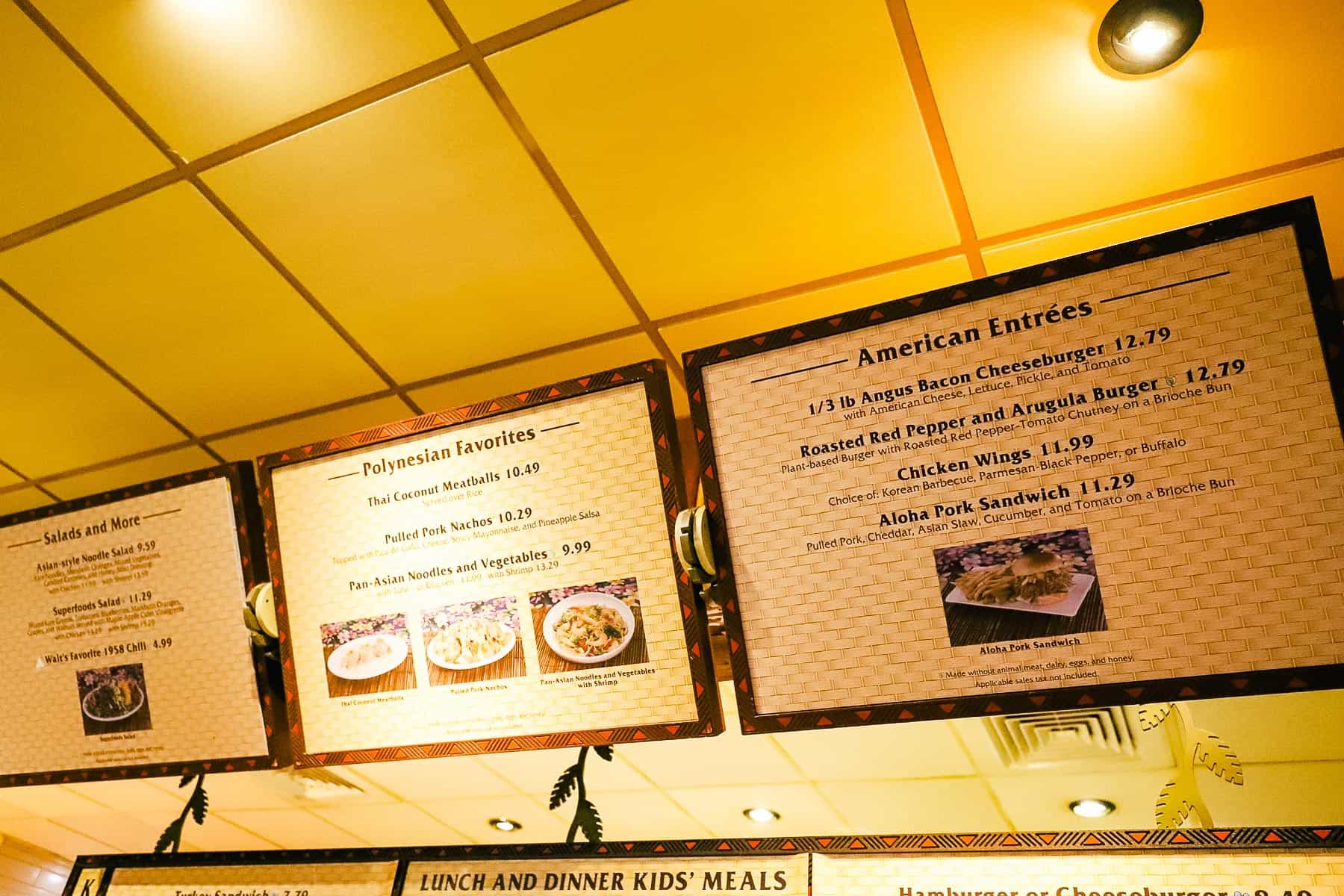 Salads and More:
Asian-Style Noodle Salad
Superfoods Salad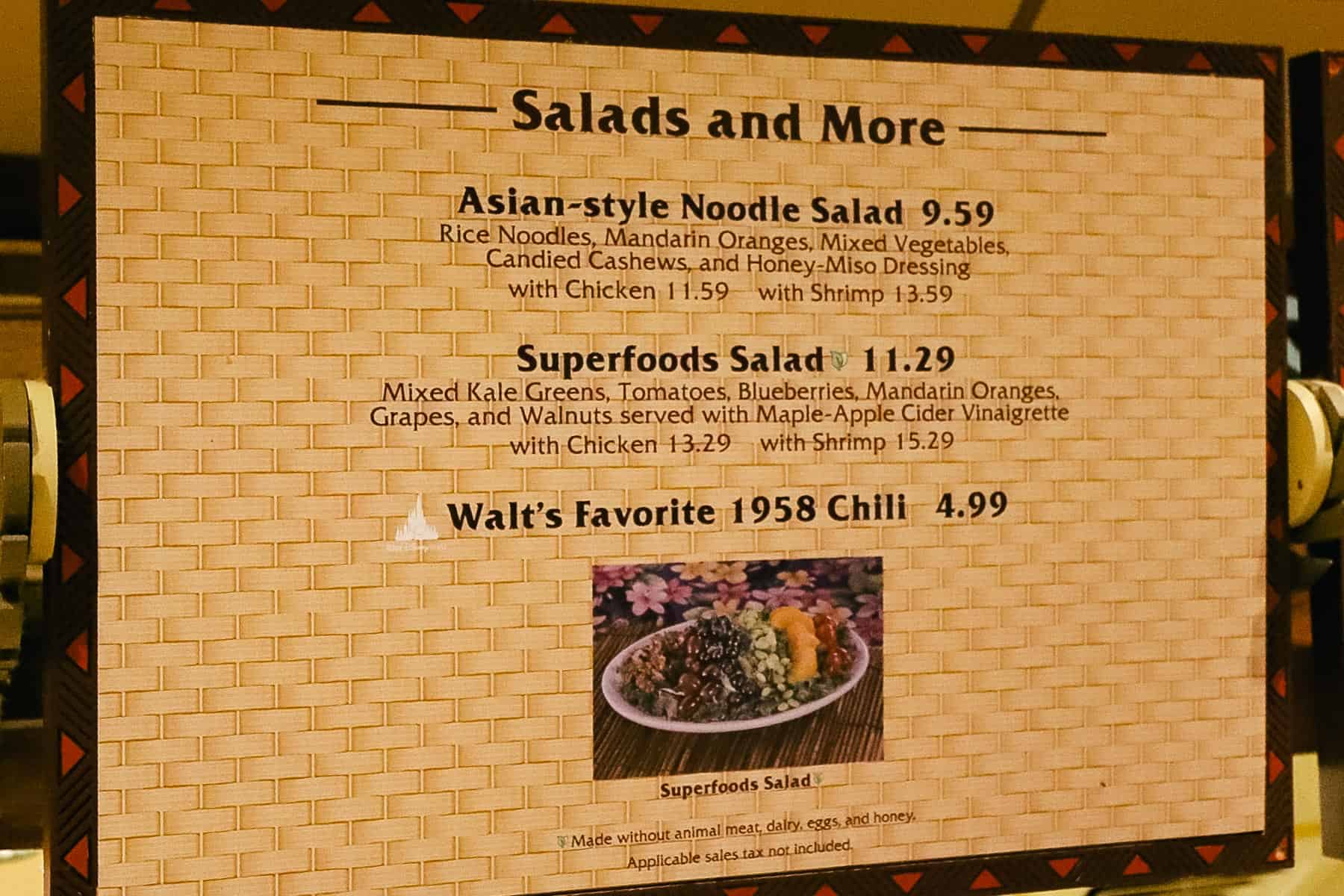 Kids' Meals include:
Cheeseburger
Chicken Breast Nuggets
Chicken and Pineapple Skewers
Turkey Sandwich
PB&J Uncrustables
Macaroni and Cheese
You can preview the entire lunch and dinner menu with prices on Disney's site. (Capt. Cook's Lunch and Dinner Menu)
I tried the plant-based roasted red pepper and arugula burger a while back. The menu describes this item as a plant-based burger topped with roasted red peppers, arugula, and tomato jam served on a brioche bun.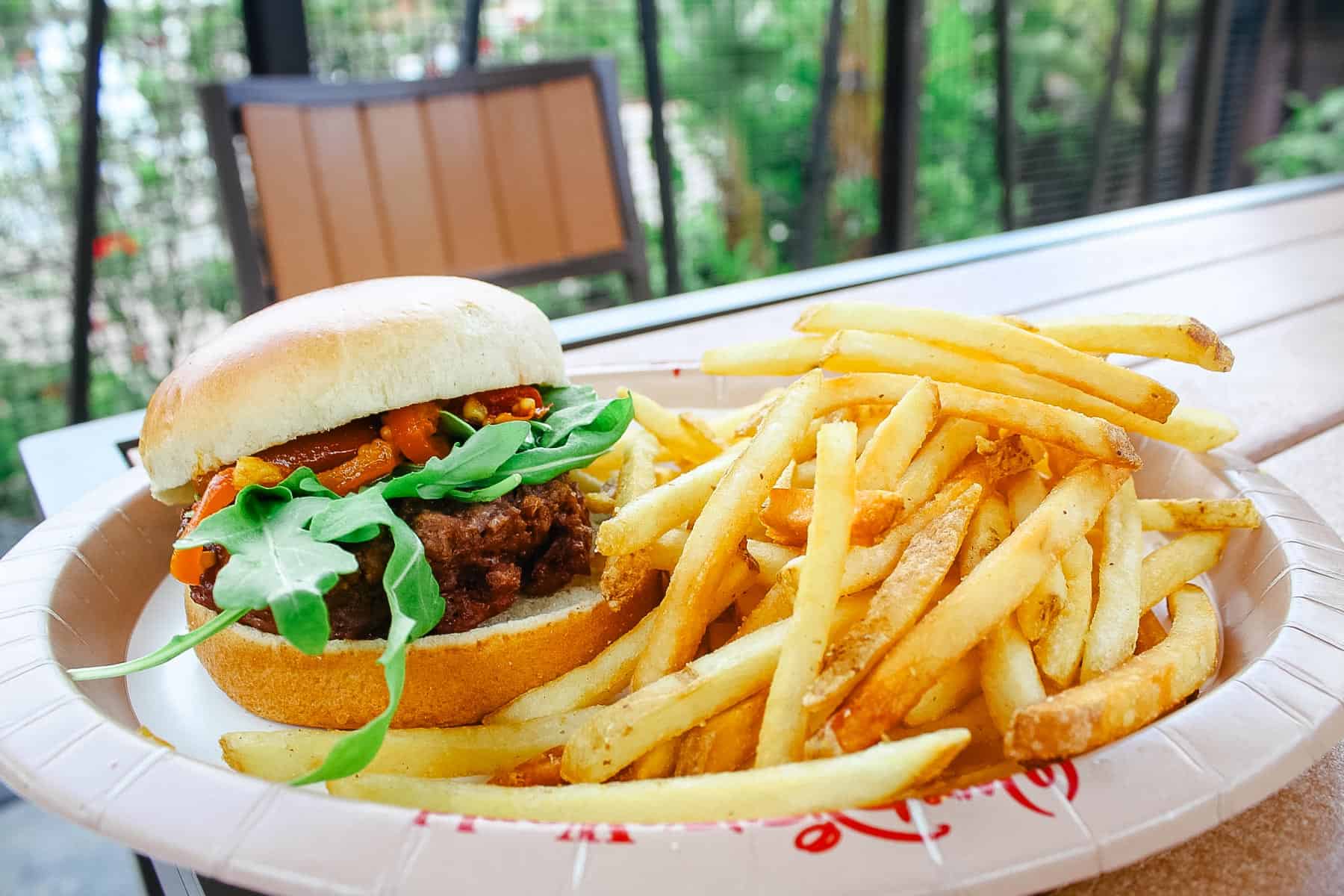 This vegan burger came with a side of French fries. But if Poly chips are available, I would go that route. They are house-made chips mixed with wontons. All of Disney's house-made chips are delicious. As for the burger, I thought it was an excellent offering and enjoyed the toppings.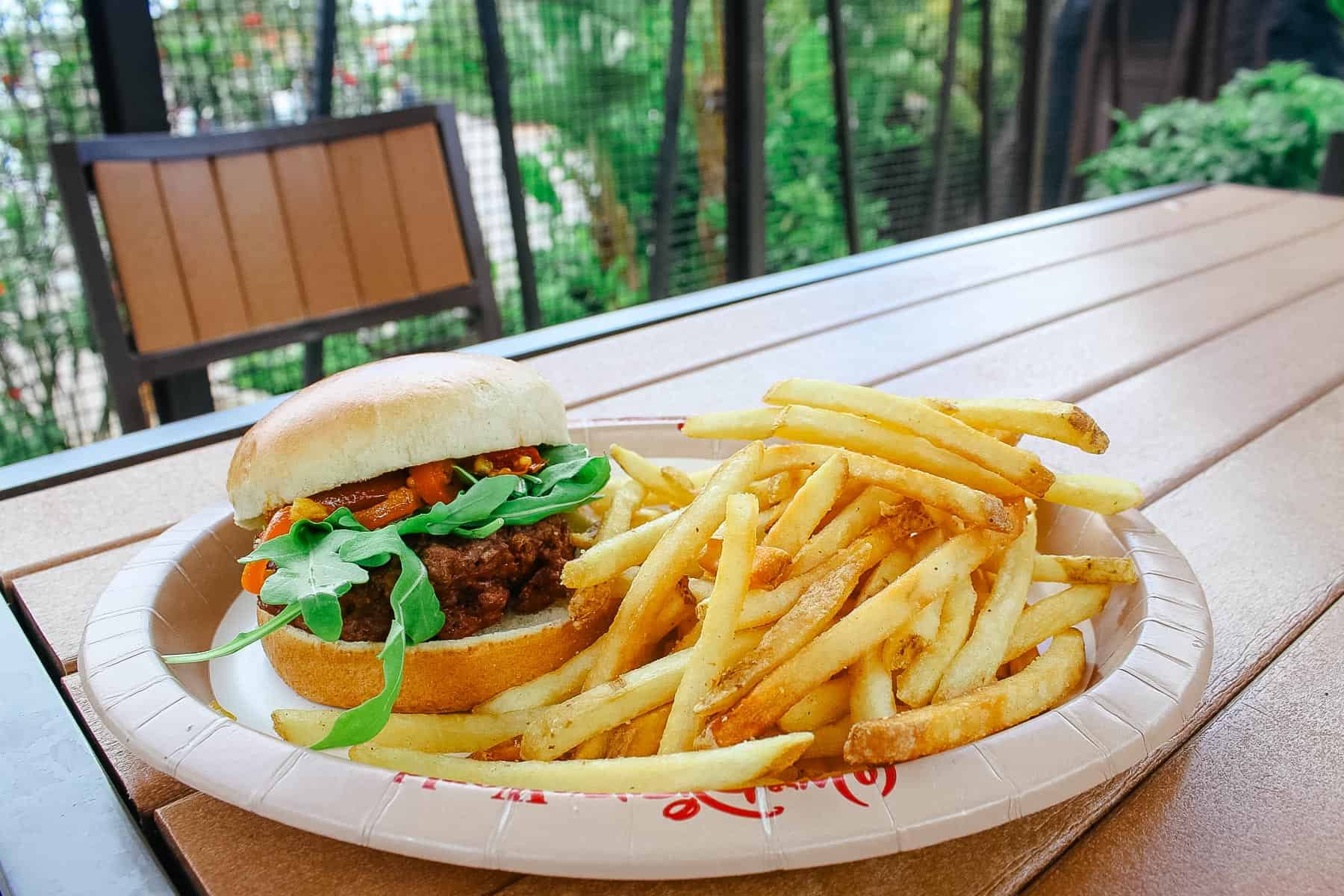 As far as Captain Cook's goes, I've ordered the allergy-friendly chicken nuggets for my son more times than I would care to share with you. This is his favorite counter service. They tend to remember us because we've eaten there so often over the years.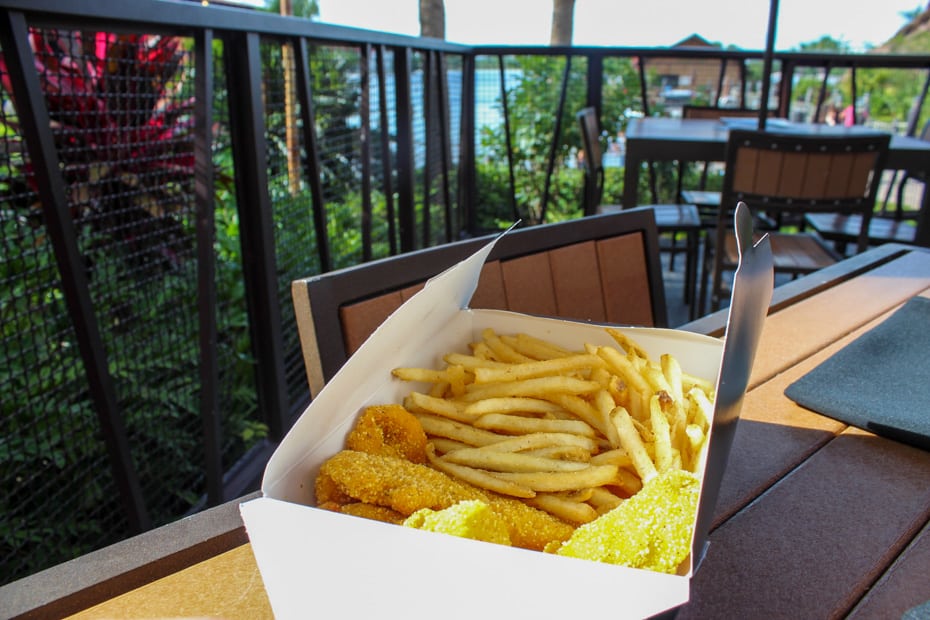 Recently, I tried the Thai coconut meatballs. They are described as house-made all-beef chili-garlic meatballs cooked in coconut cream served over white rice.
To my surprise, I enjoyed this dish. I had tried them close to ten years ago and didn't care for them. Yes, they are a staple menu item and have been on the menu for a long time. I would order these again in the future.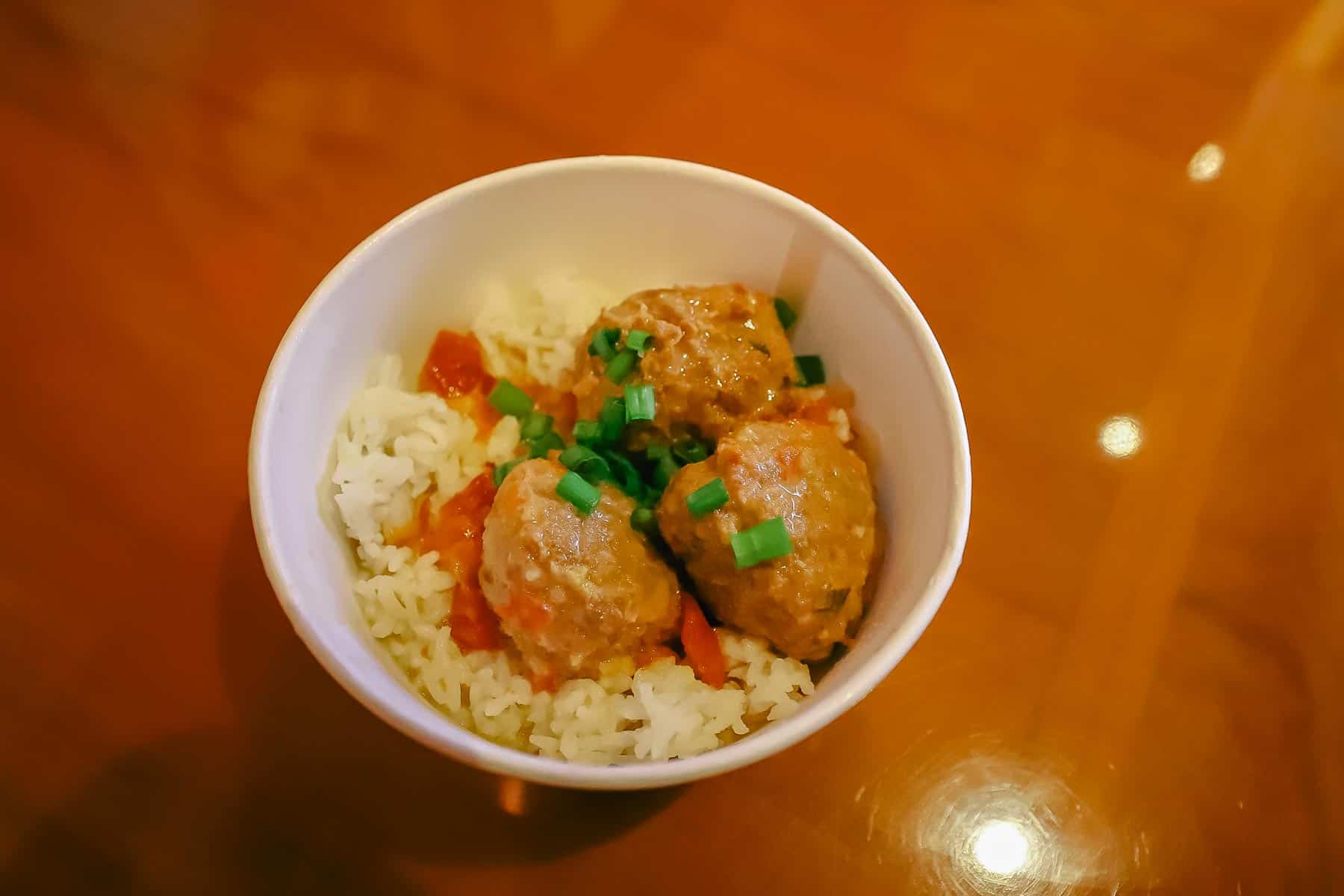 On our recent club-level stay at the Polynesian, I stopped in at Captain Cook's and picked up the superfoods salad. It's described as kale and cabbage tossed with quinoa, edamame, walnuts, grapes, blueberries, and Mandarin oranges served with apple cider vinaigrette.
I was impressed with this salad and will order it again. It was fresh and filling, which is sometimes the exact kind of meal you need after a long morning in the parks.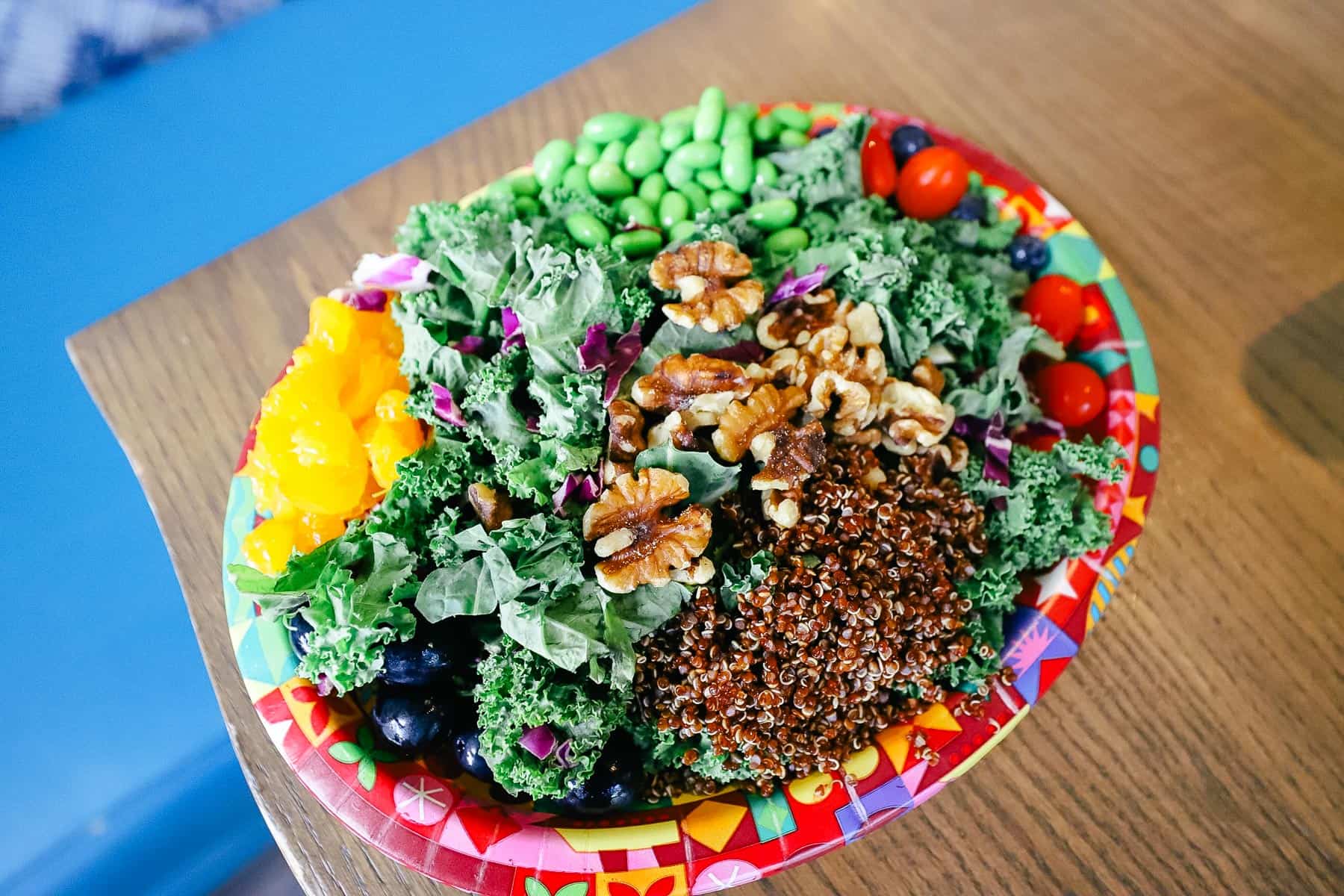 I've also had the Asian-style noodle salad, not pictured. The menu describes this item as rice noodles, Mandarin oranges, mixed vegetables, and candied cashews served with honey-miso dressing.
The noodles were a huge, filling meal. However, it was one of those things that felt like a little one-note, so I probably wouldn't order it again. All of the noodle dishes are served cold. It would be nice if they added a warm noodle dish.
Unfortunately, I haven't tried the pulled pork nachos, but they tend to get rave reviews. Like the meatballs and the noodles, these items have been on Captain Cook's menu for quite some time.
In addition to made-to-order menu items, Captain Cook's has a significant amount of grab-and-go items. Since things have become more routine and stocked, I took photos of everything so you would know what would likely be available.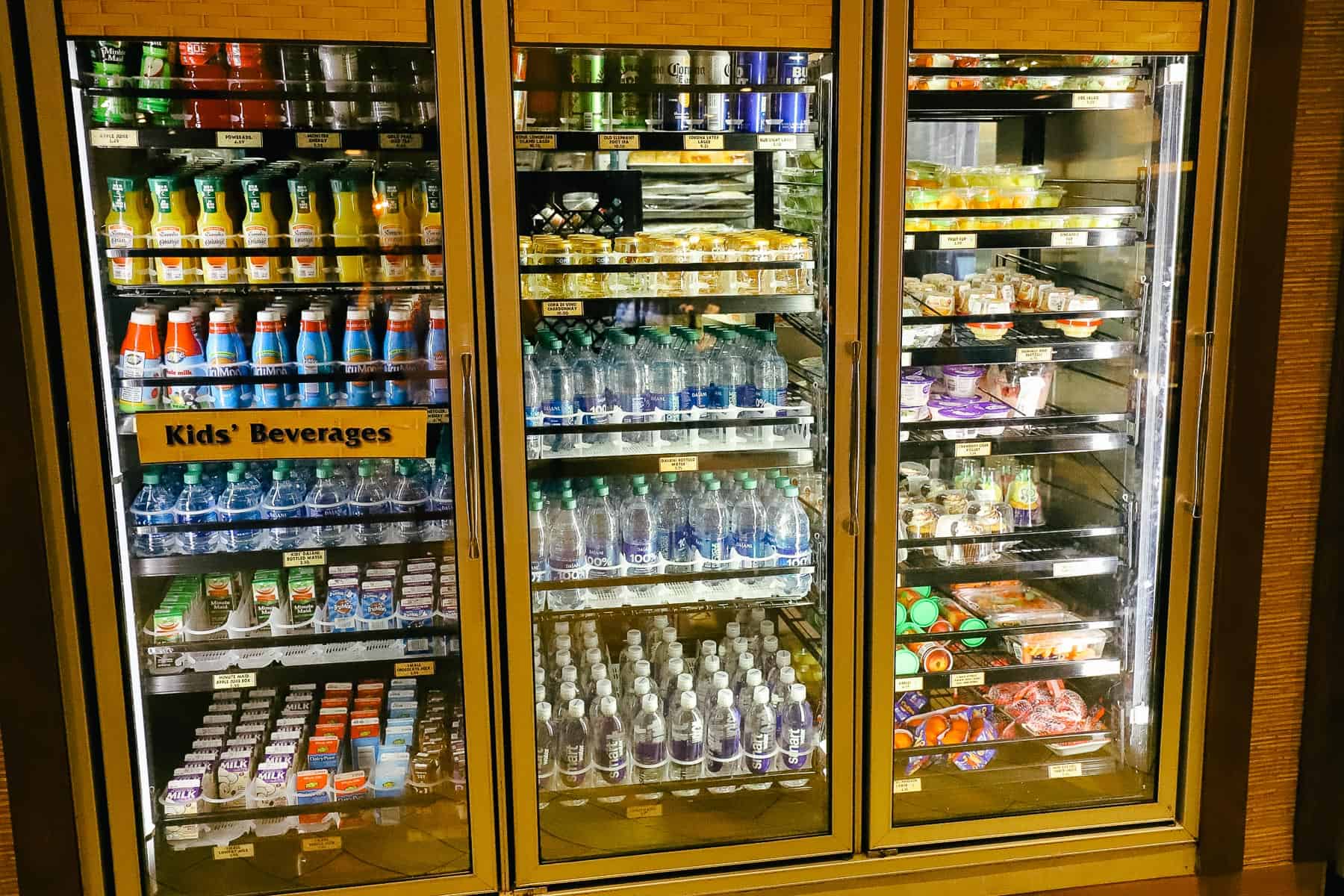 Beverage choices include juices, sports drinks, energy drinks, bottled water, milk, and juice boxes. These kids' beverages are options for kids' meals but can be purchased separately.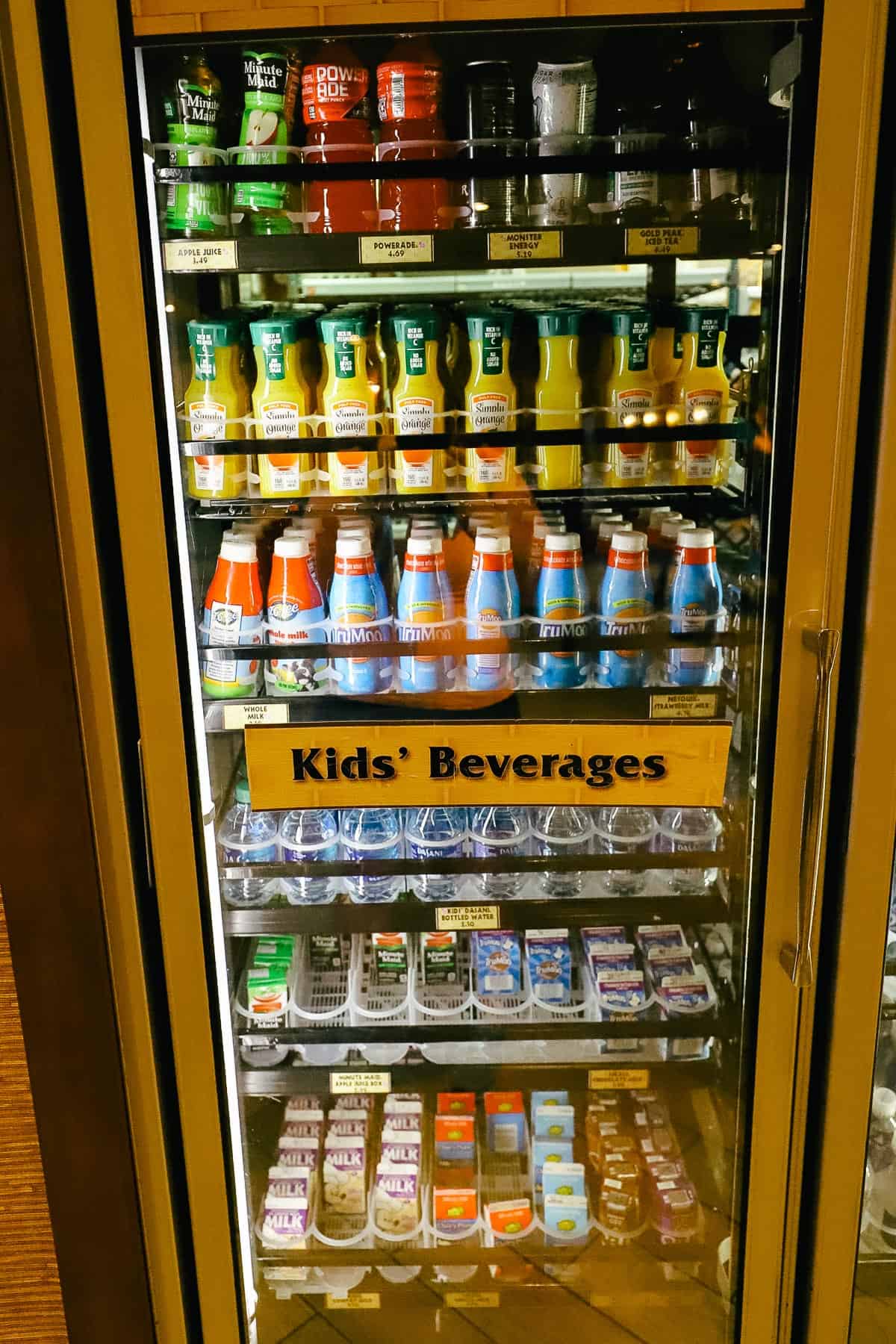 Here are some beer options, along with Dasani and Smart Water.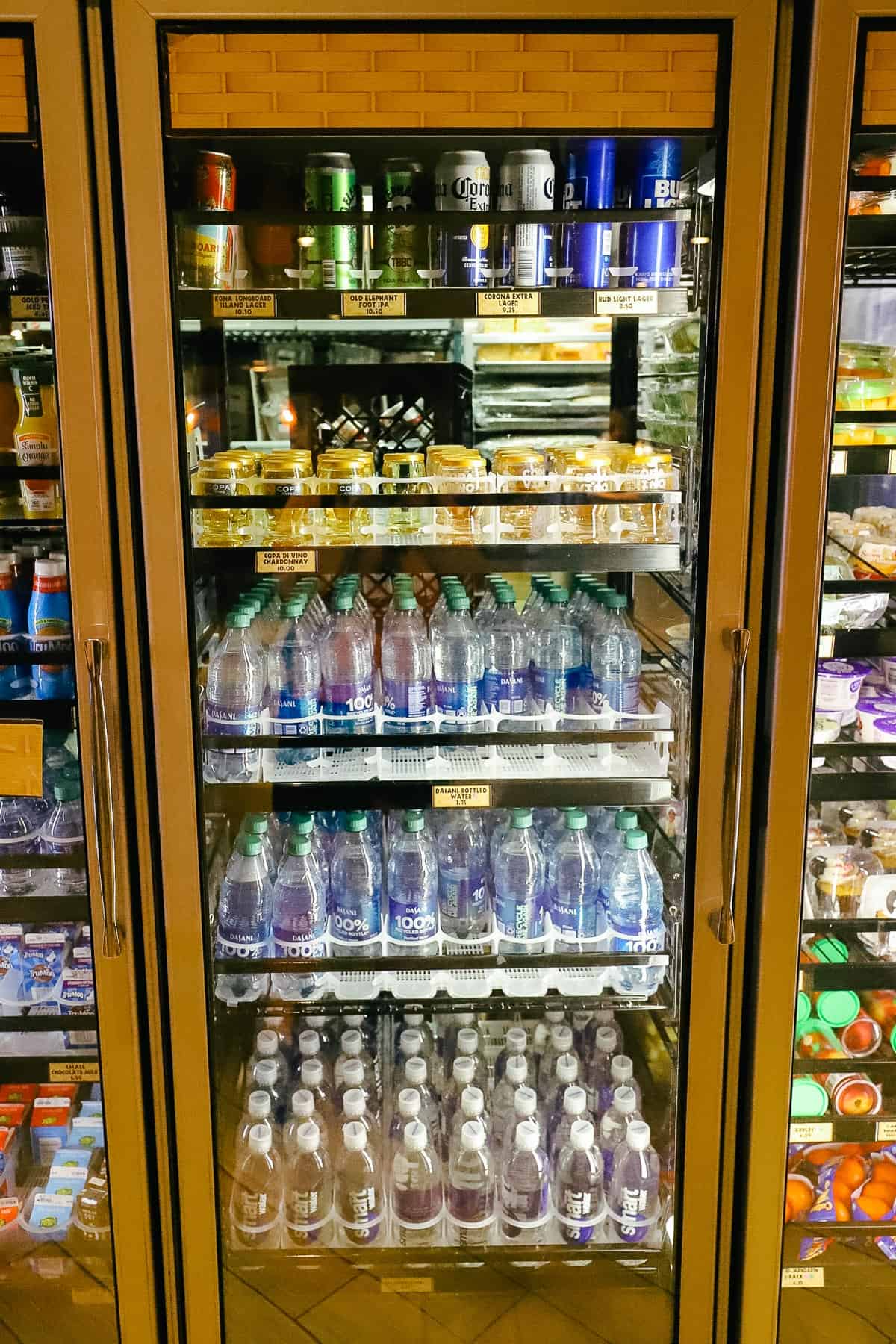 This cooler had pre-made salads, veggie trays, fruit trays, yogurt, and other items.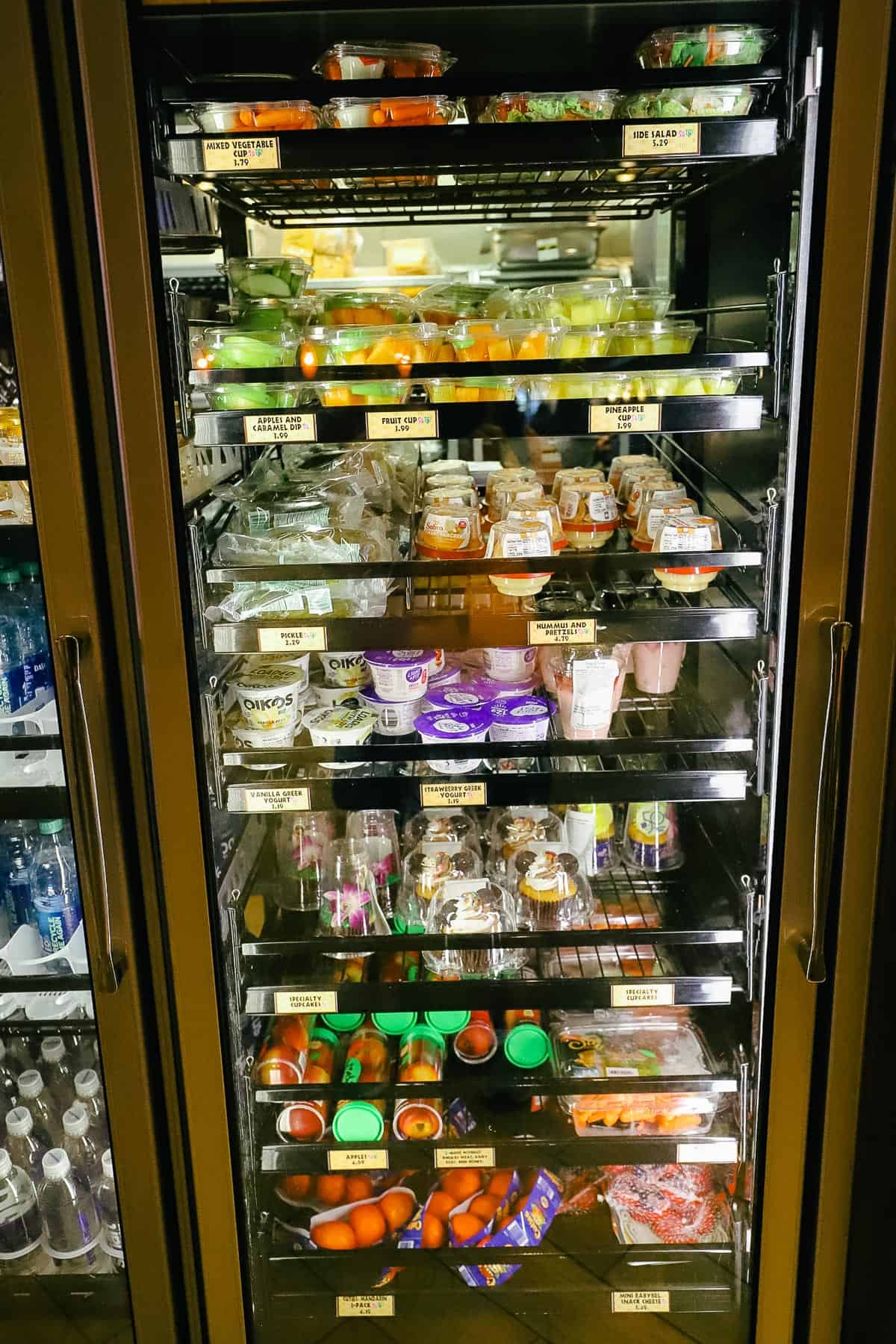 I was happy to see a fully-stocked and presentable case of pastries and desserts. There were cookies, muffins, cupcakes, danishes, donuts, and brownies.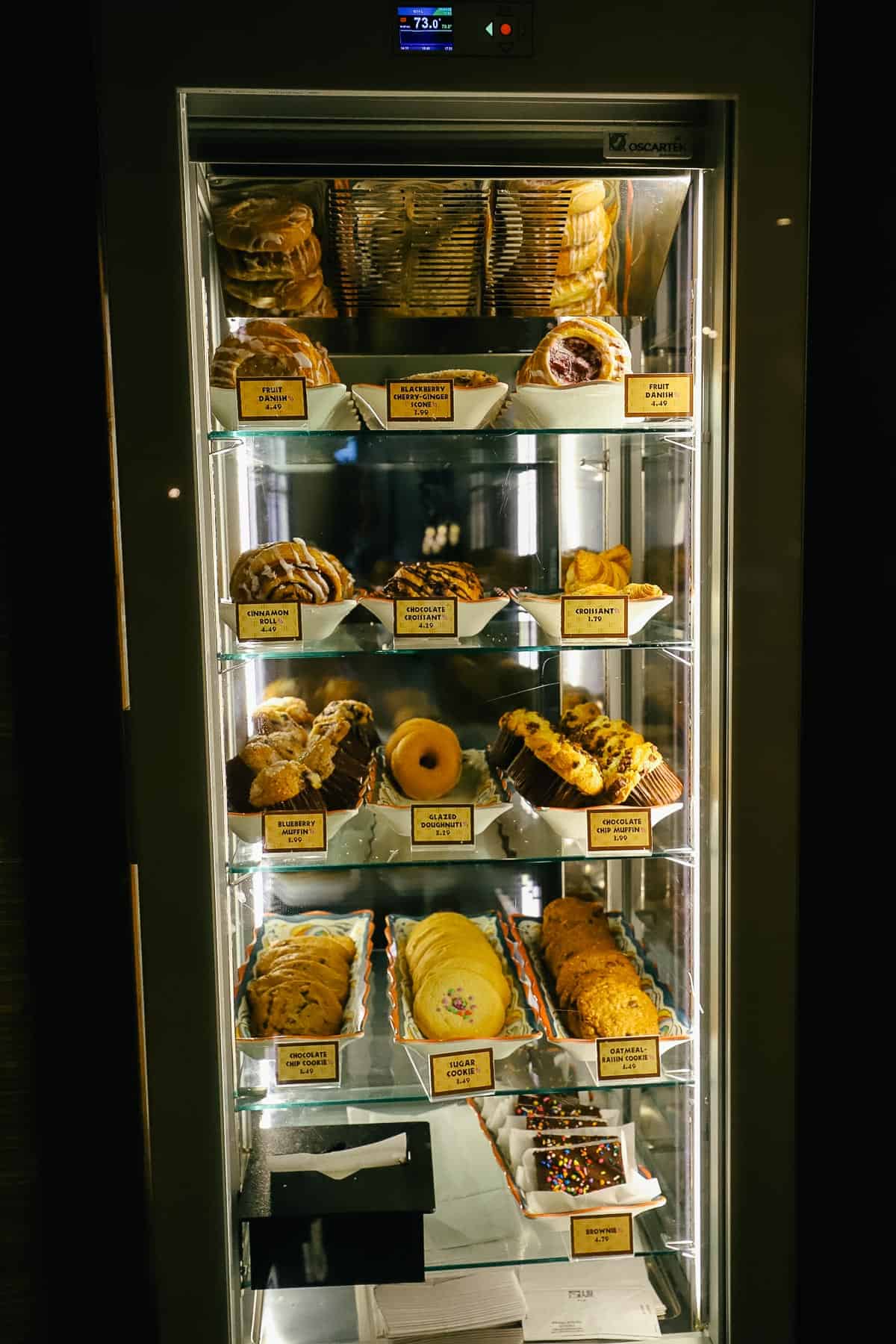 Here, we have bags of chips, oatmeal, candy, cereal, breakfast bars, and other items.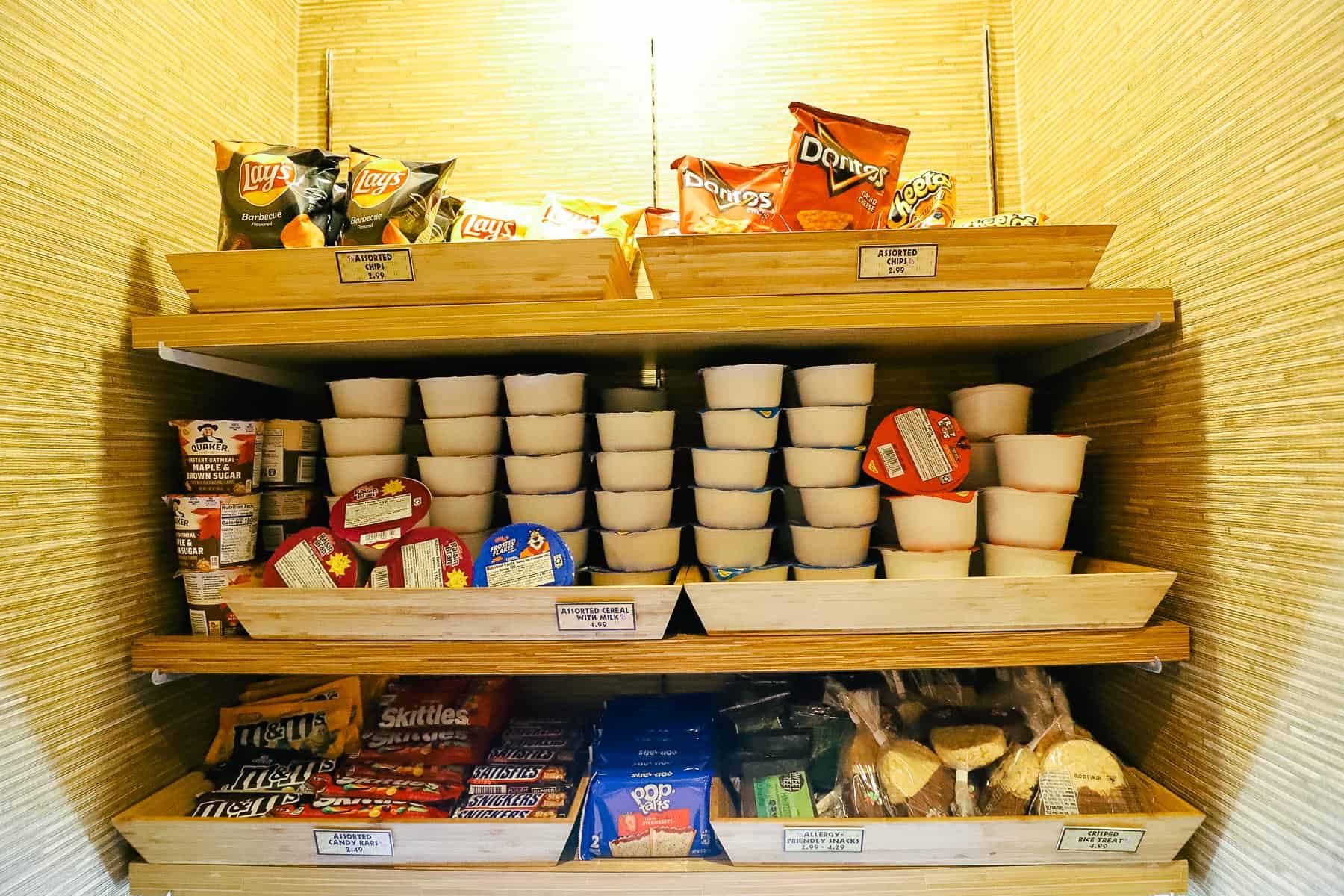 Toward the register, there's a case with novelty ice cream treats.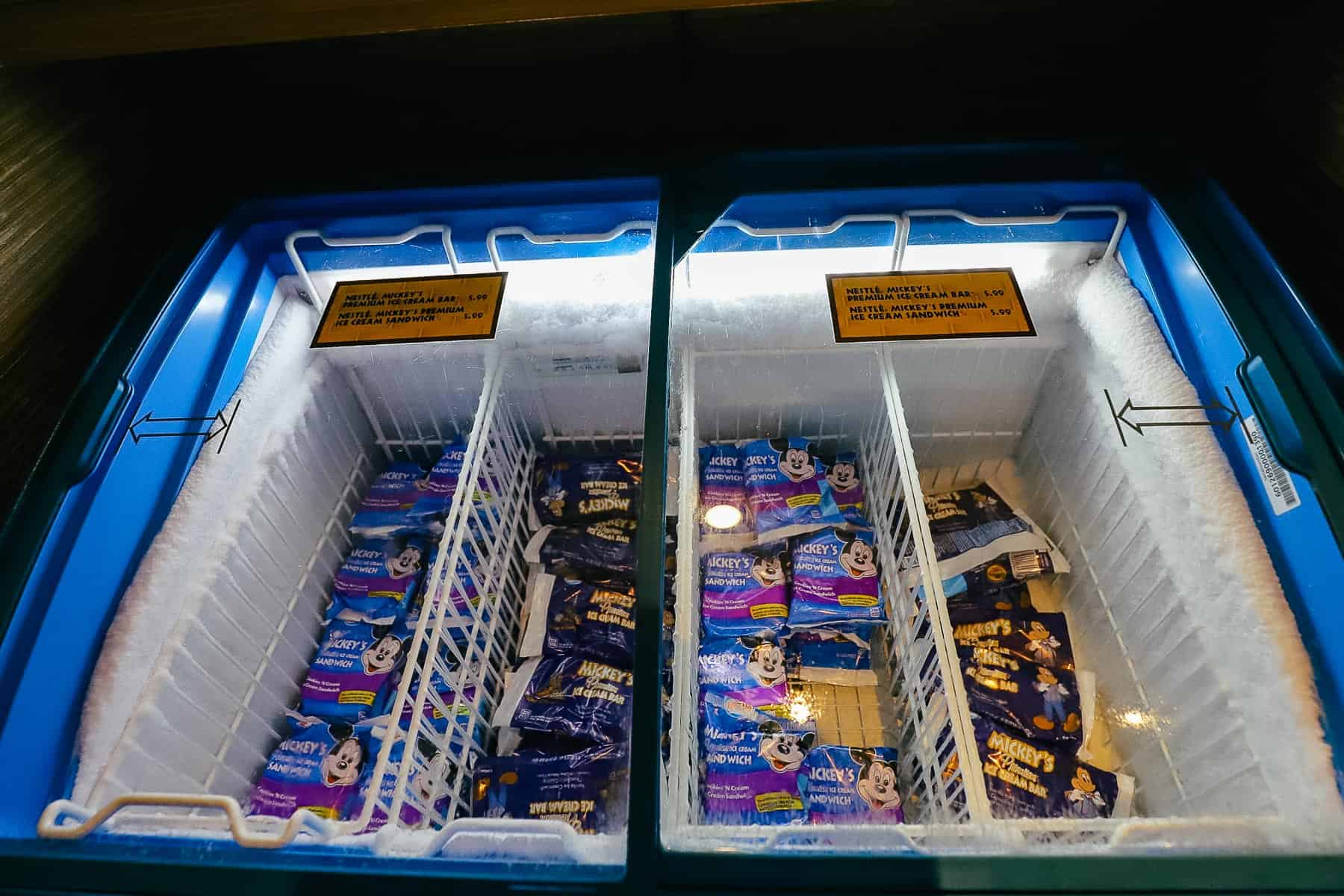 Other grab-and-go items are available at Moana Mercantile, the resort's sundry shop on the second floor of the Great Ceremonial House.
Additionally, Captain Cook's is the location to purchase a resort refillable mug. At the time of this update, refillable resort mugs are $21.99. They are good at any resort's self-service beverage location for the length of your stay. You can use them to refill soda, coffee, and tea.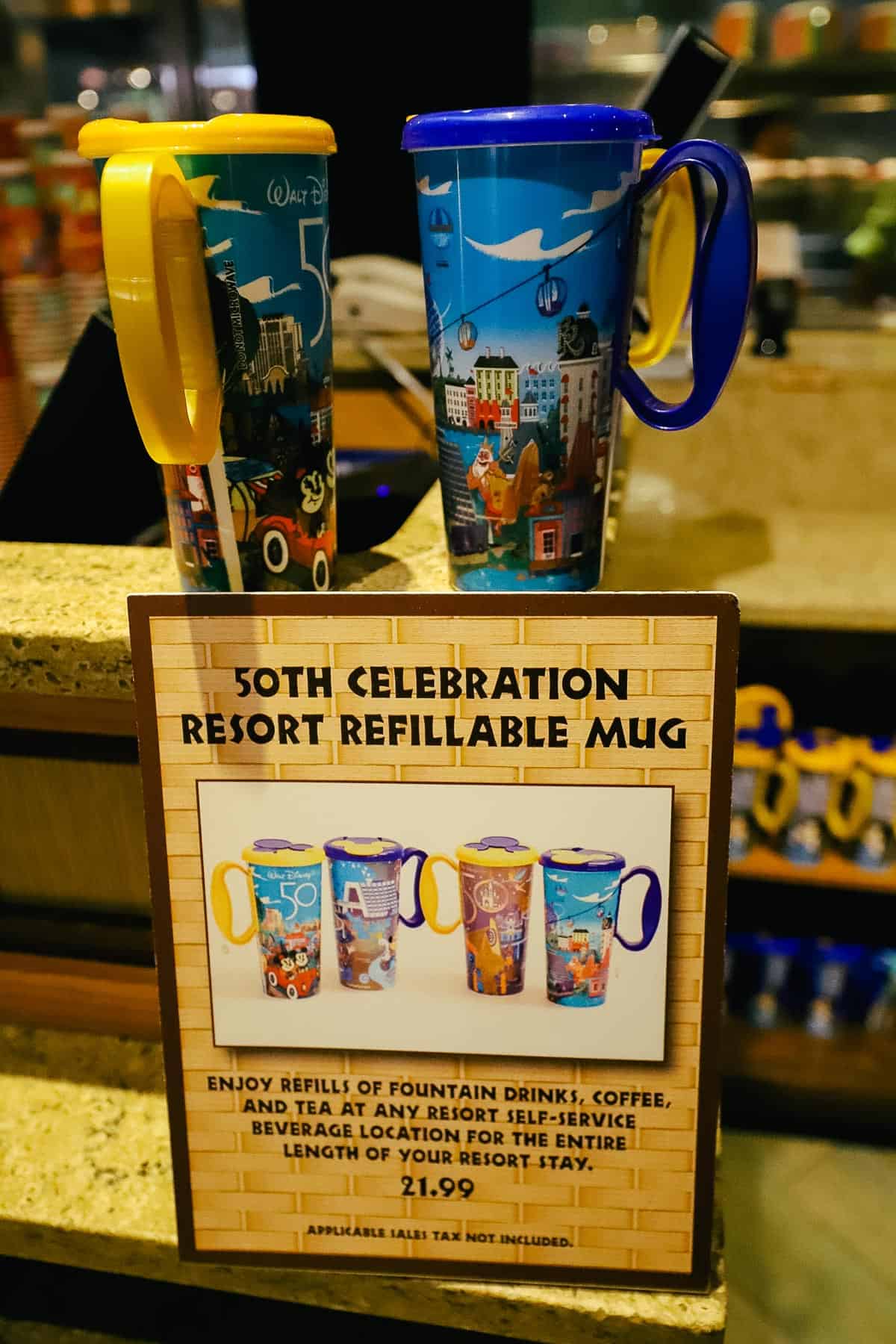 Here is a photo of the mobile order pick-up area inside Captain Cook's.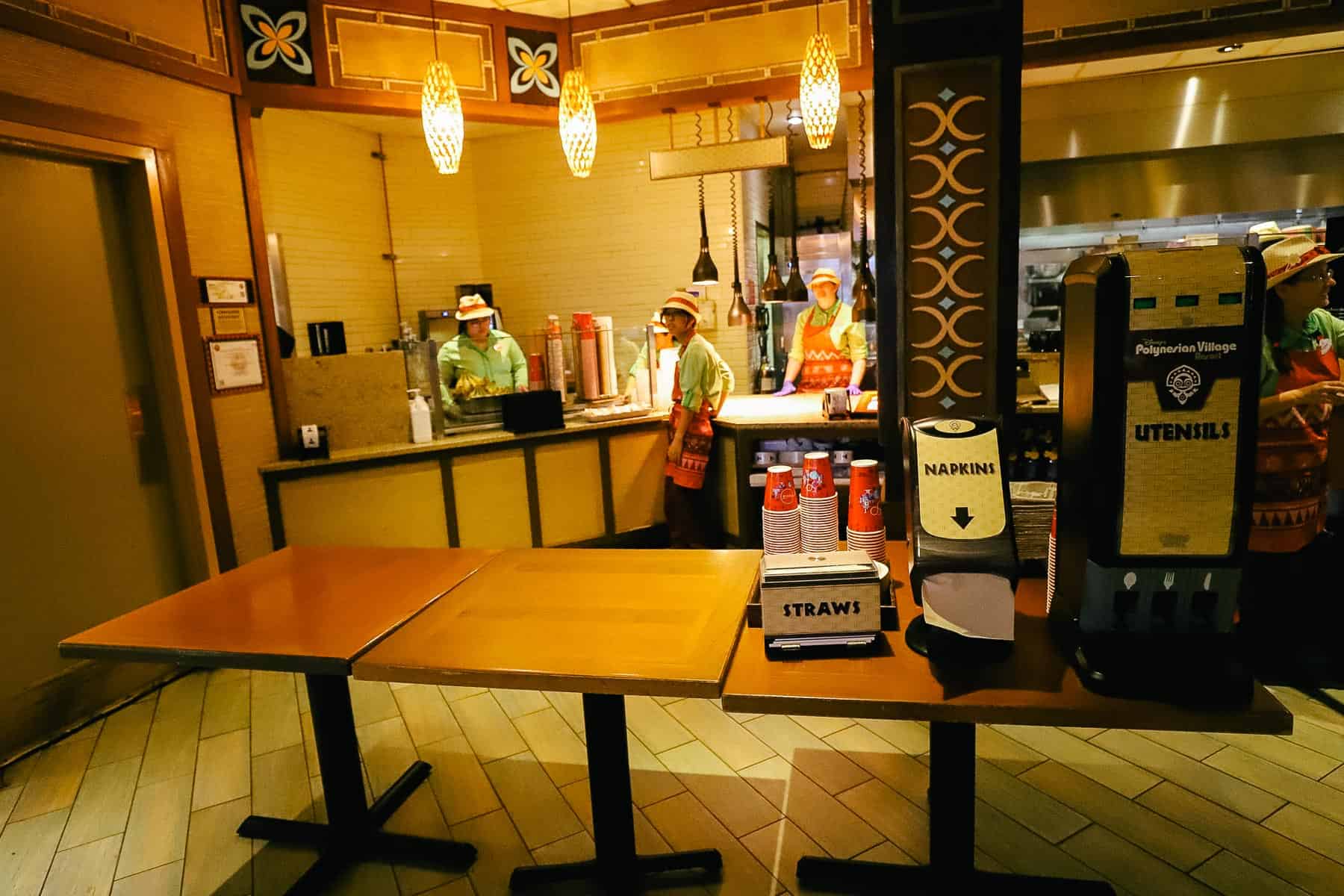 Captain Cook's has two soda stations featuring Coca-Cola products.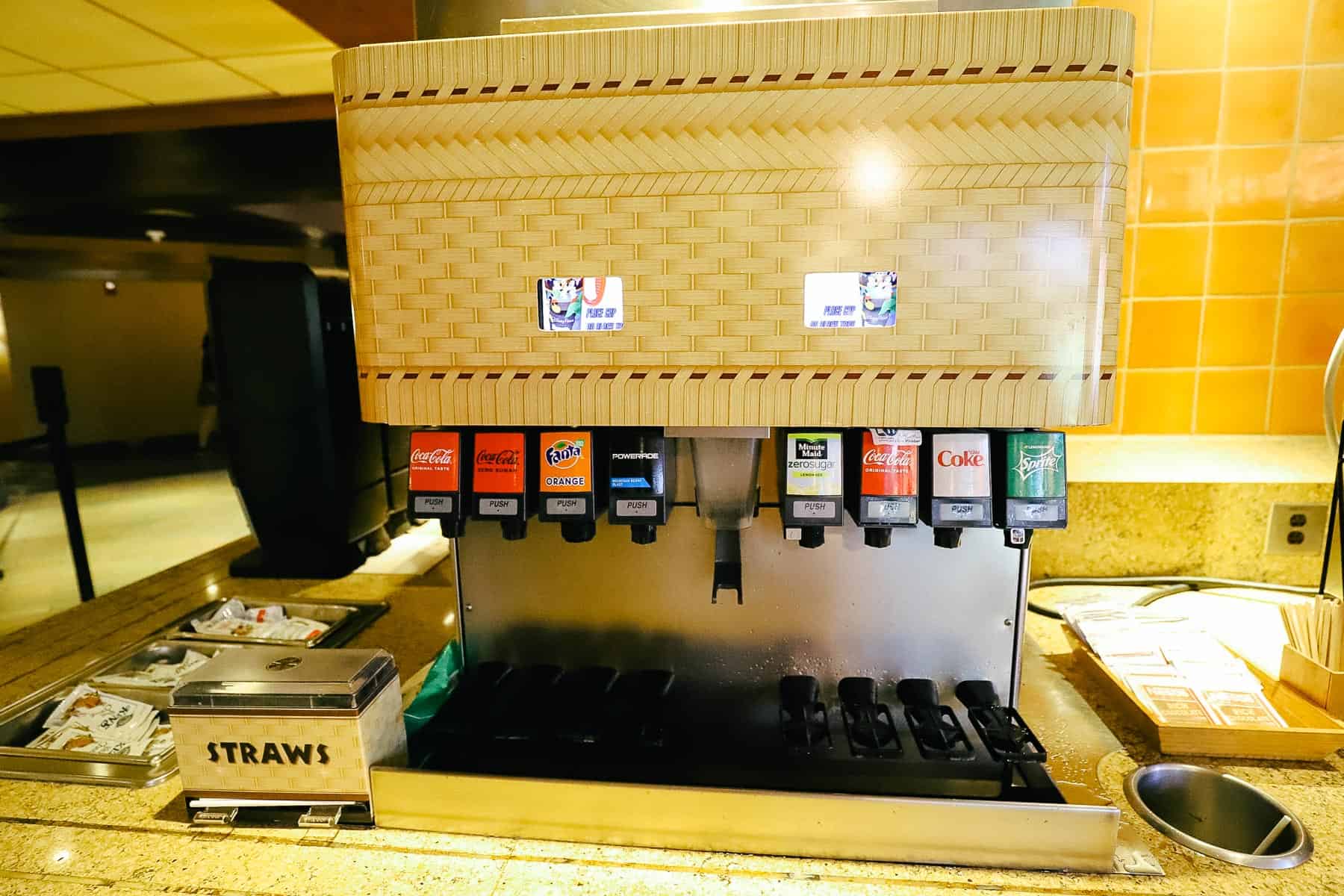 One of the stations has a sink next to it where you can rinse your refillable mug if needed.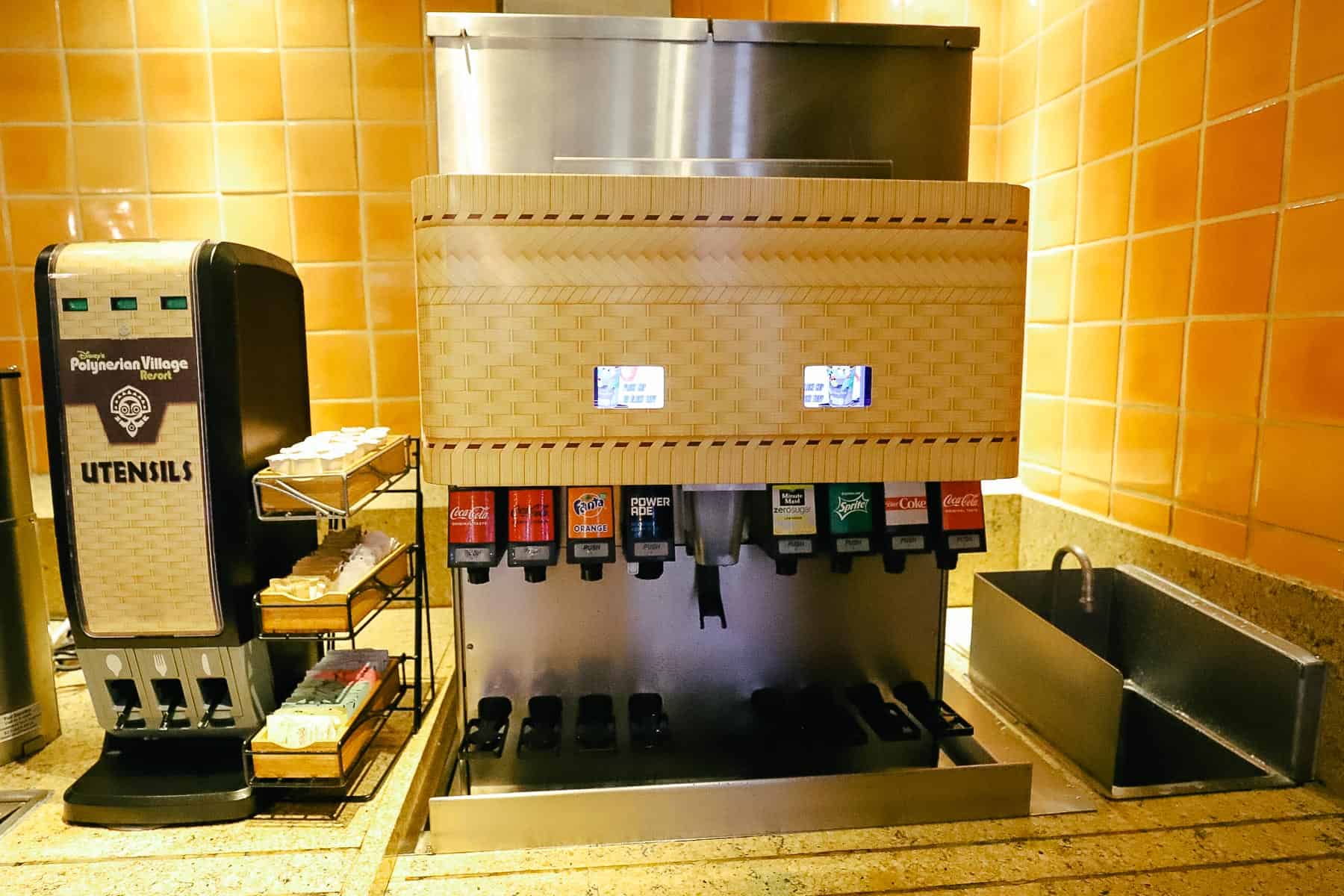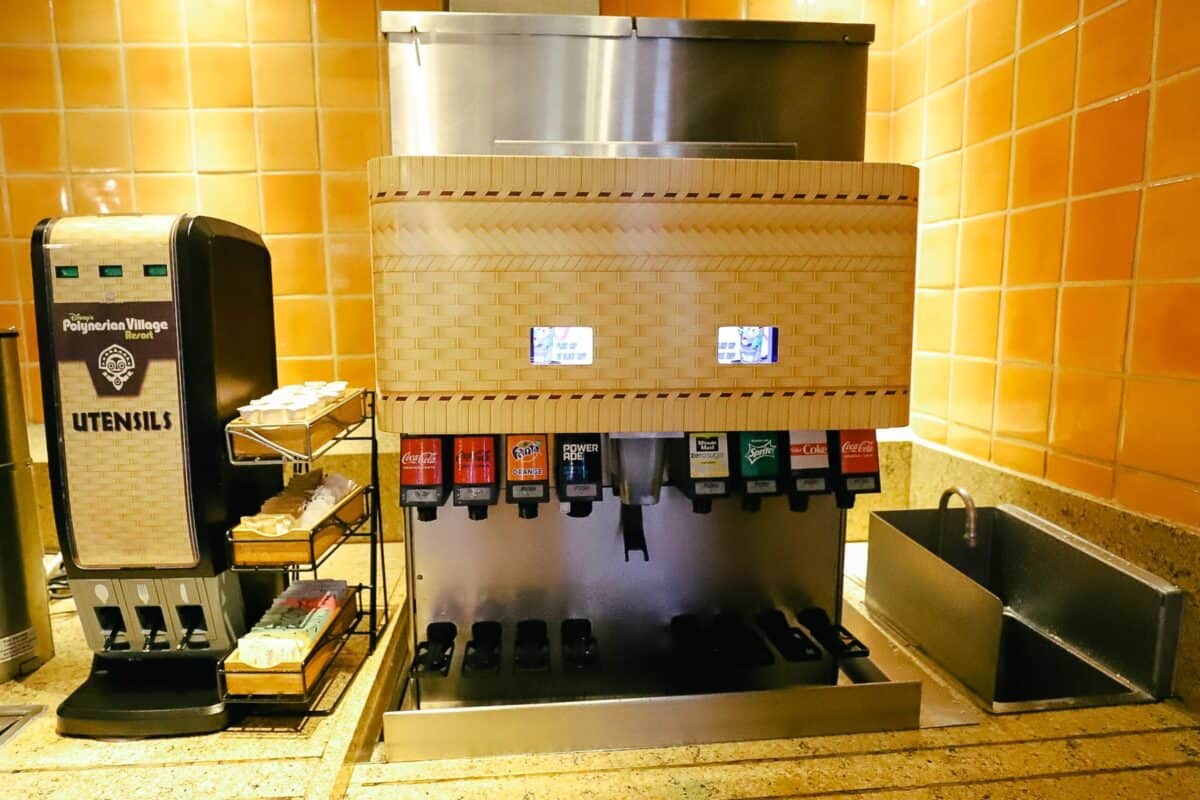 Gold Peak Tea is available, or there are a few individual tea bag options if you prefer something hot.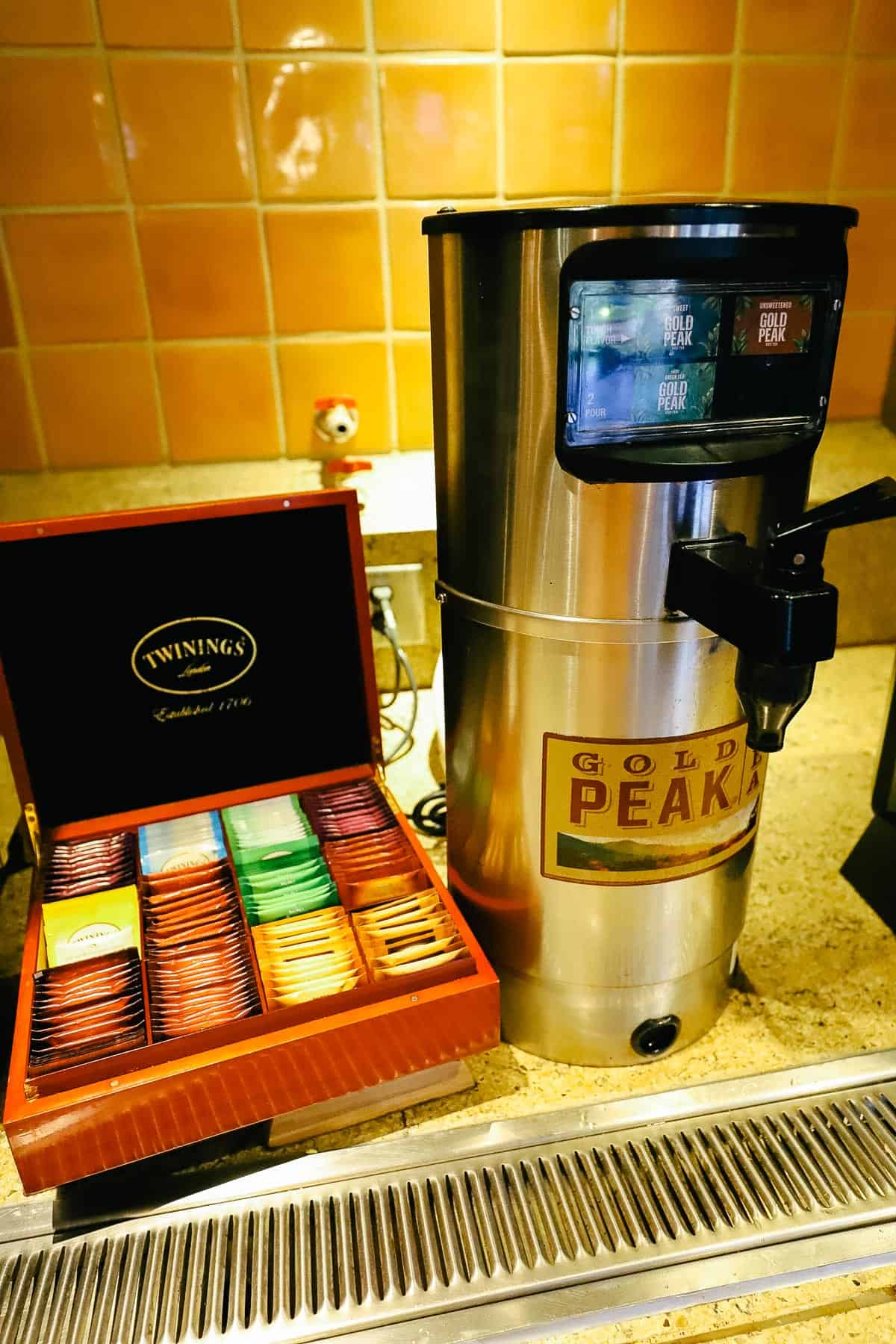 Joffrey's coffee and half-and-half, whole milk, and skim milk are available. In addition, a few individually packaged options are in the condiments section.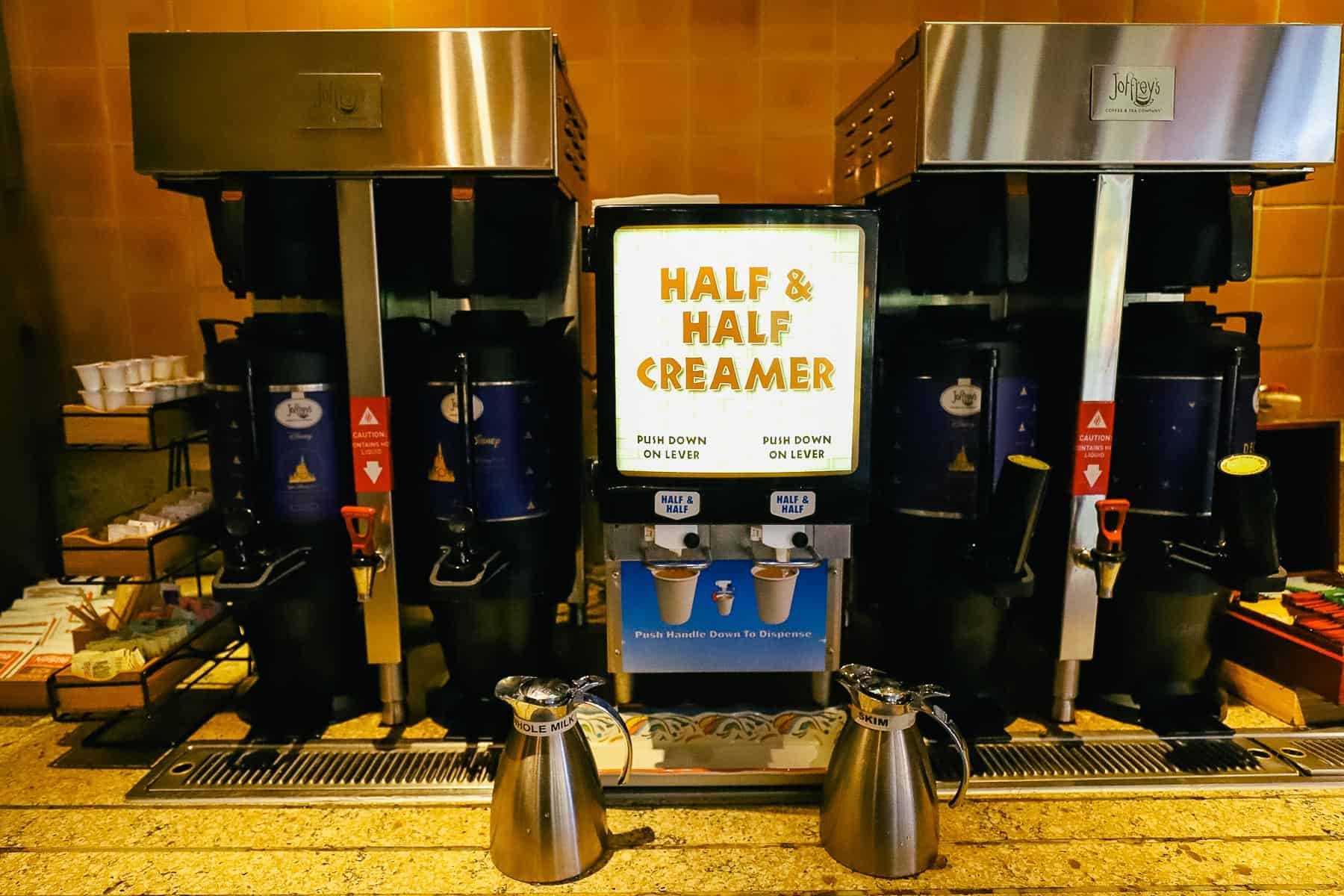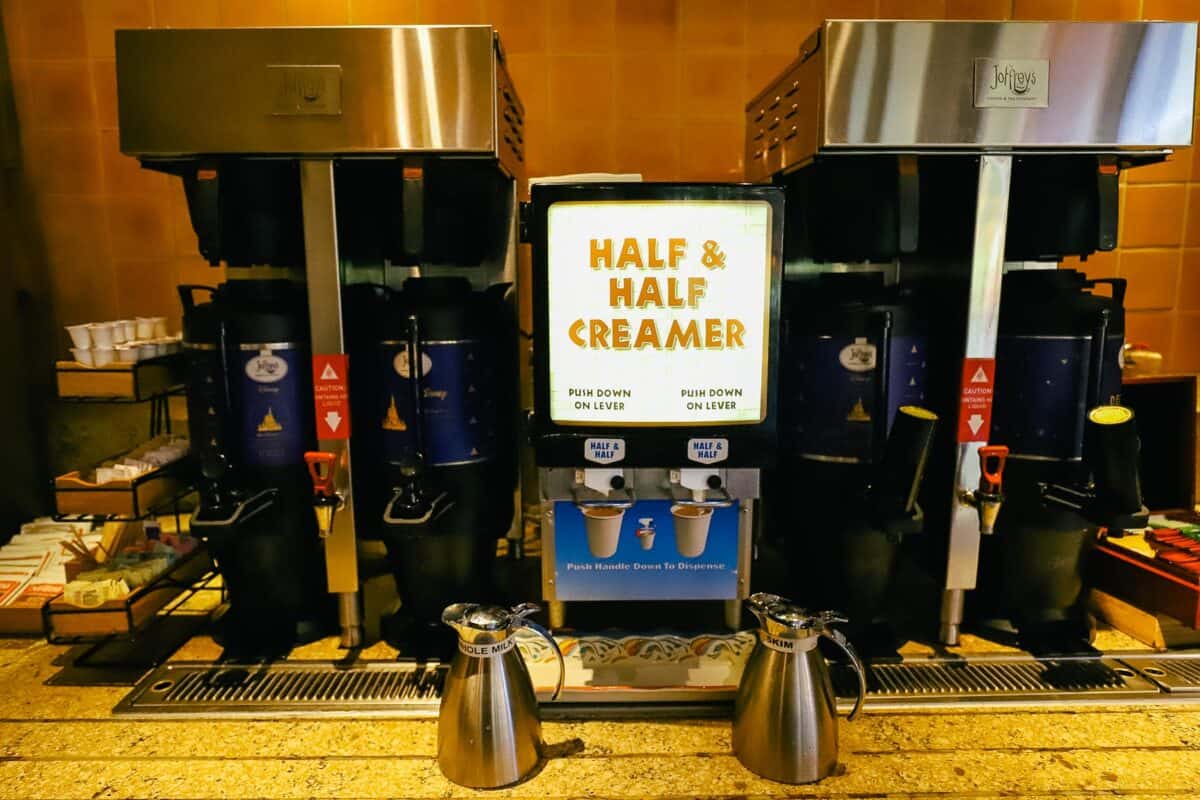 Lastly, I wanted to mention that a microwave is available in one of the dining rooms at Captain Cook's should you need one during your vacation.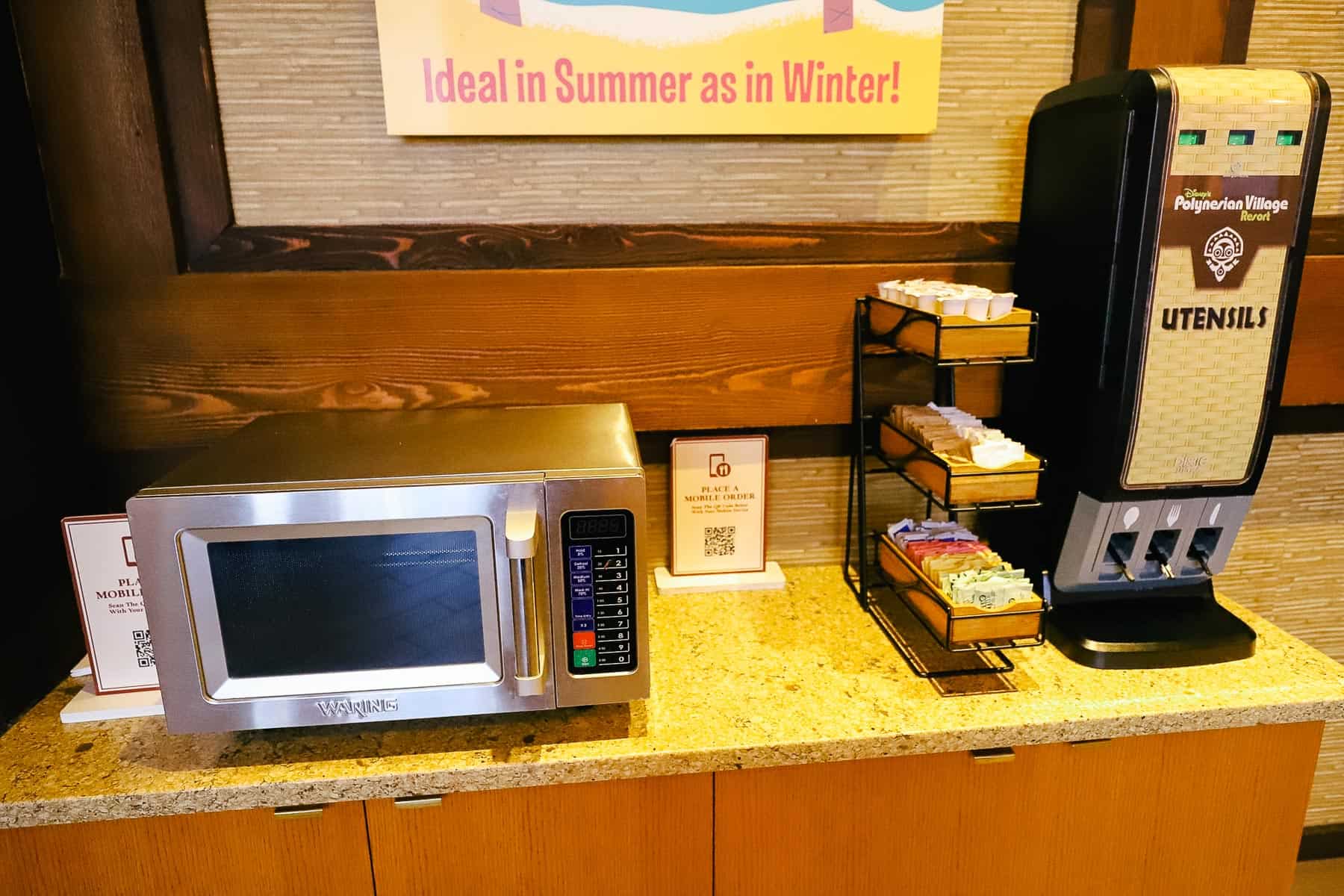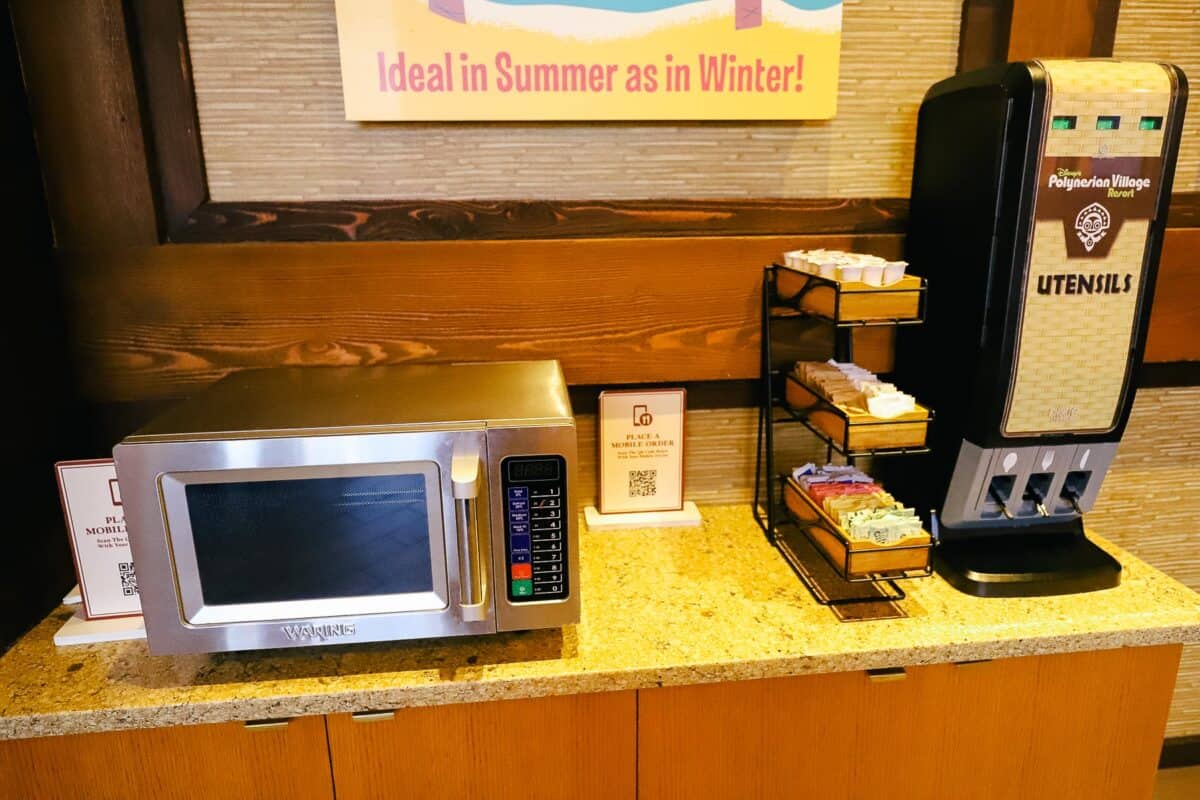 How to Get to Capt. Cook's
If you're visiting Walt Disney World but not staying at the Polynesian, there are several ways to get to Captain Cook's. Most will want to take transportation to Magic Kingdom. You can take the resort monorail or boat service from Magic Kingdom to the Polynesian.
Those coming from another resort area might do best to take a bus to the Magic Kingdom and then a monorail or boat to the Polynesian. If you're leaving one of the three other parks or Disney Springs, take a bus or monorail from that destination to the Polynesian.
Related: Transportation to and From Disney's Polynesian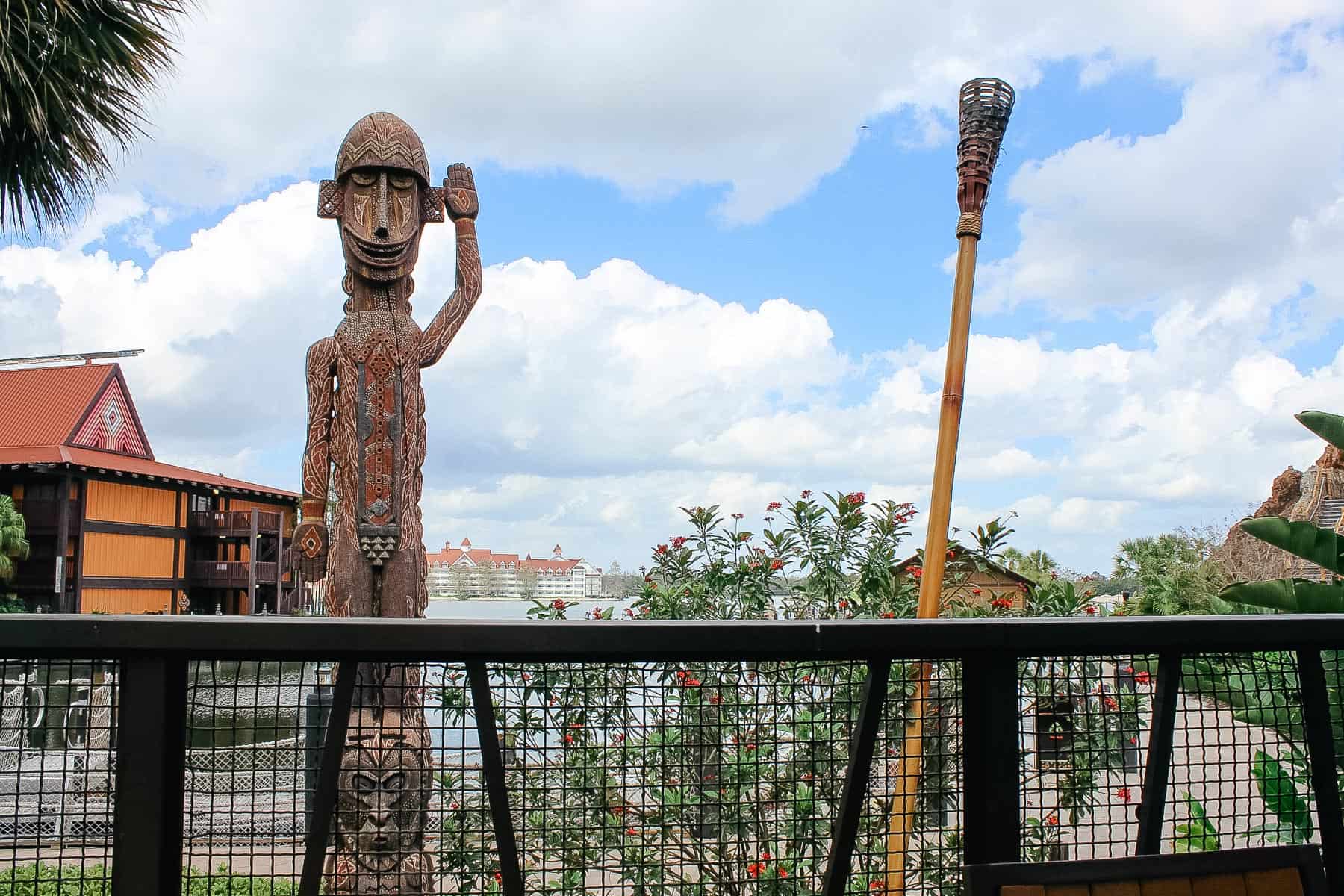 Final Thoughts on Capt. Cook's
Overall, we hope this review of Captain Cook's was beneficial to your vacation planning. This restaurant is a fun stop for day guests visiting the resorts and a necessity for anyone staying here.
For more restaurants at Disney's Polynesian, you might enjoy the following:
Or you might like to preview the restaurants at Disney's Grand Floridian, which sits next door to the Polynesian. We have these reviews:
For more information about Disney's Polynesian Village Resort, you might try these:
Have you visited Captain Cook's before? Do you have a favorite item on its long-standing menu? What items do you think you would enjoy? Share your thoughts below in the comments. We would love to hear from you!