'Ohana Dinner Review (Does this Fan Favorite Meal Meet Expectations?)
In this article, we review dinner at 'Ohana at Disney's Polynesian Village Resort. We'll discuss the evening meal period in detail, including reservations, what to expect, photos of the food, and whether or not it lives up to the hype. This review is not to be confused with the character breakfast at 'Ohana, an entirely different meal we cover separately.
If you've ever been to 'Ohana, the mere mention of the restaurant often stirs up a deep sense of nostalgia. More than likely, those memories can be attributed to vacations past and memories of time spent with loved ones.
Other memories might include a cast member bringing large meat skewers to the table. Or sipping on that drink served in the shell of a pineapple you only ordered because everyone else had one. Who knew they were so strong?
And there's always noodles.
You go to Disney World; you have dinner at 'Ohana. It was always this thing that went hand in hand with a trip to Walt Disney World before the days of online reviews and endless options.
So, in a world (Disney World) with hundreds of dining options–does dinner at 'Ohana still stand out? Does this once-fan-favorite endure as a must-do dining reservation for the masses? Should you spend countless hours refreshing the My Disney Experience app to secure a reservation on the day you need it most?
We'll strive to answer those questions and more as we walk you through our experience.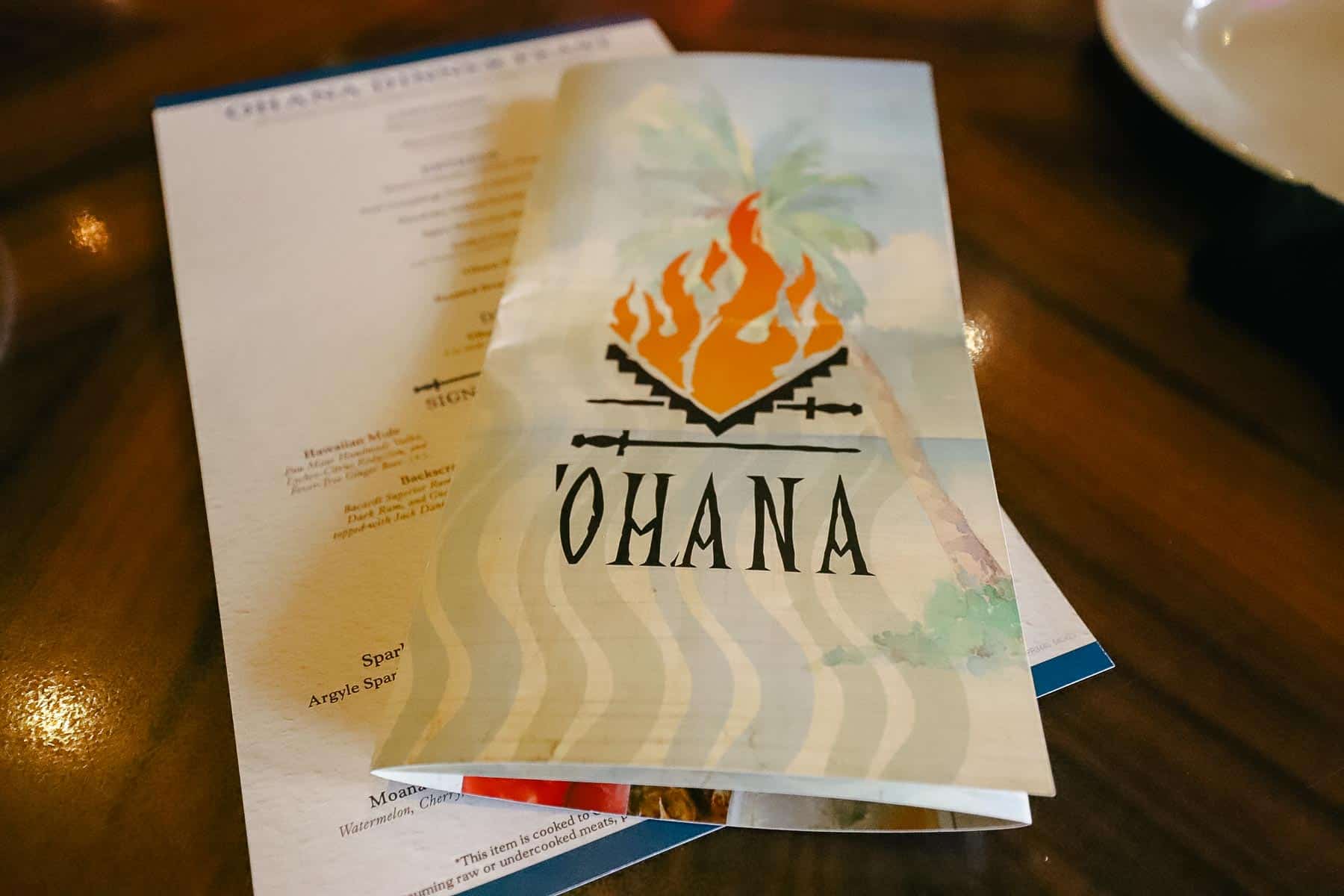 'Ohana is on the second floor of the Great Ceremonial House at Disney's Polynesian Village Resort. If you're traveling from another resort or park, you can easily get to 'Ohana by taking transportation to Magic Kingdom and then a boat or the monorail from Magic Kingdom to the Polynesian.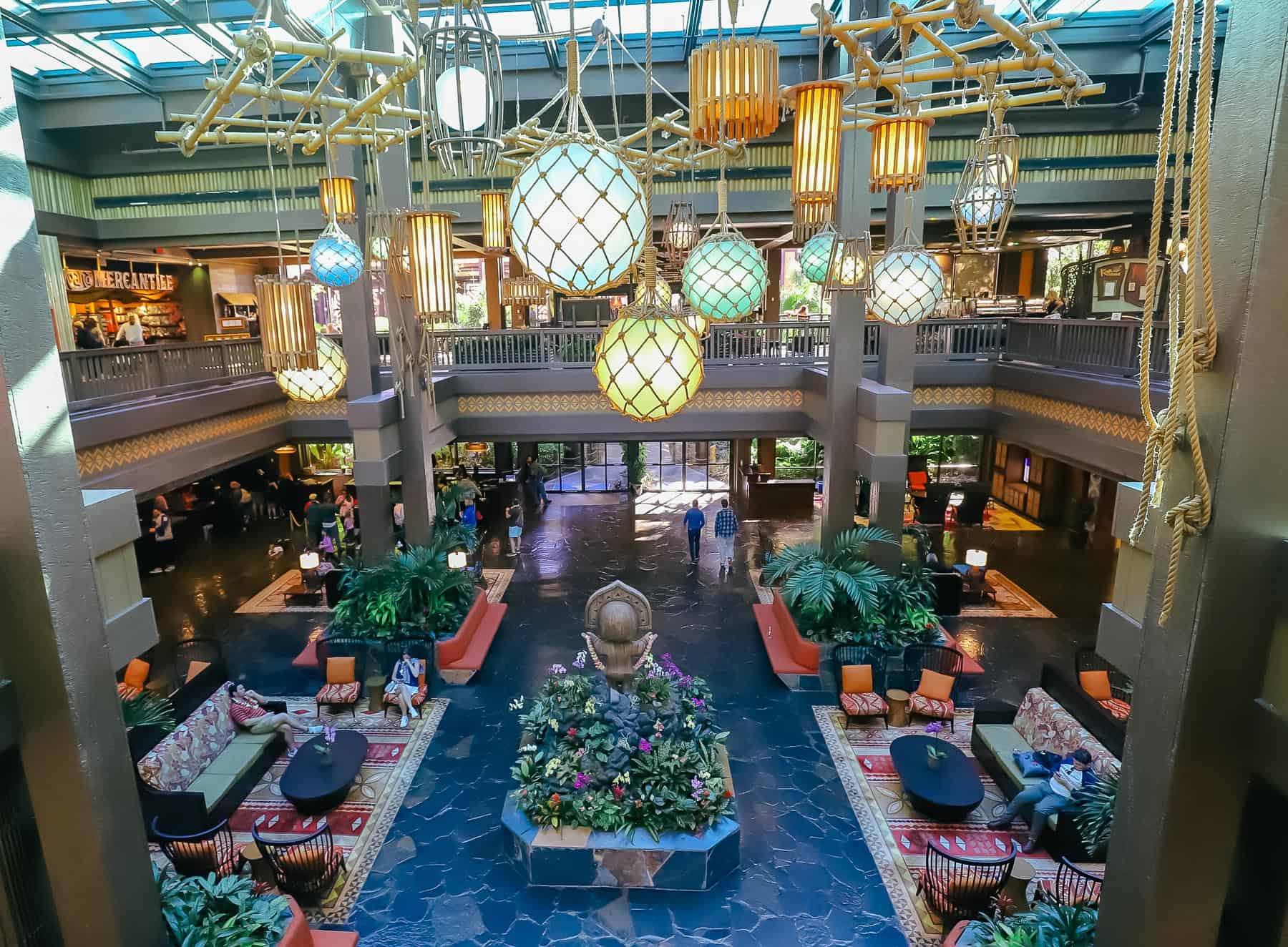 If you take the resort monorail, 'Ohana is on the same floor where you exit, toward the back of the upper-level lobby. It sits immediately behind Tambu Lounge. A check-in area is available inside the lobby area. You might care to pick up a pre-dinner drink while you wait for your table.
Tambu Lounge is often where guests order the drink in the pineapple, aka the Lapu Lapu. Other original drinks include the Backscratcher and the Polynesian Mai Tai.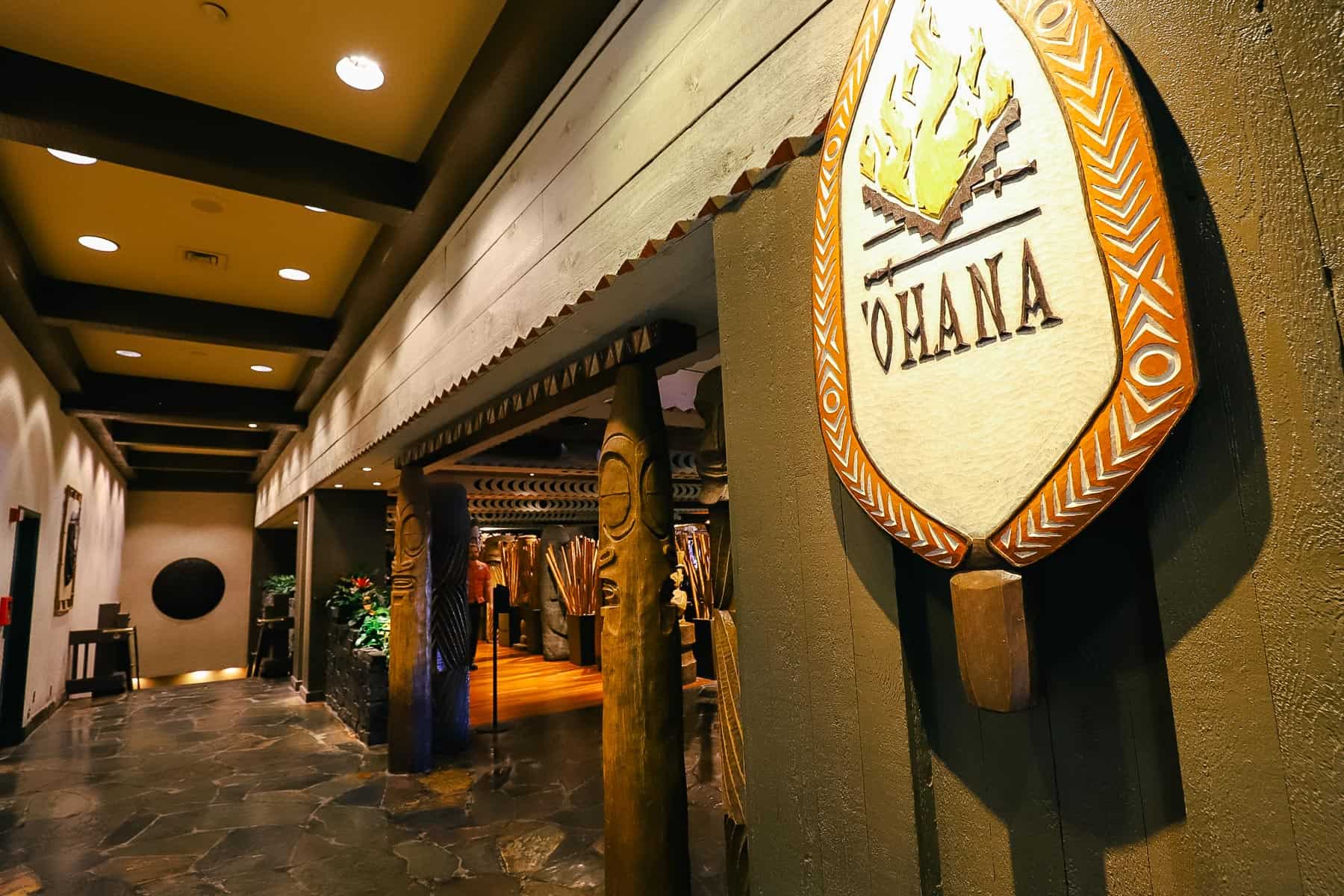 Dinner is served family style. Here are a few photos of the restaurant's interior.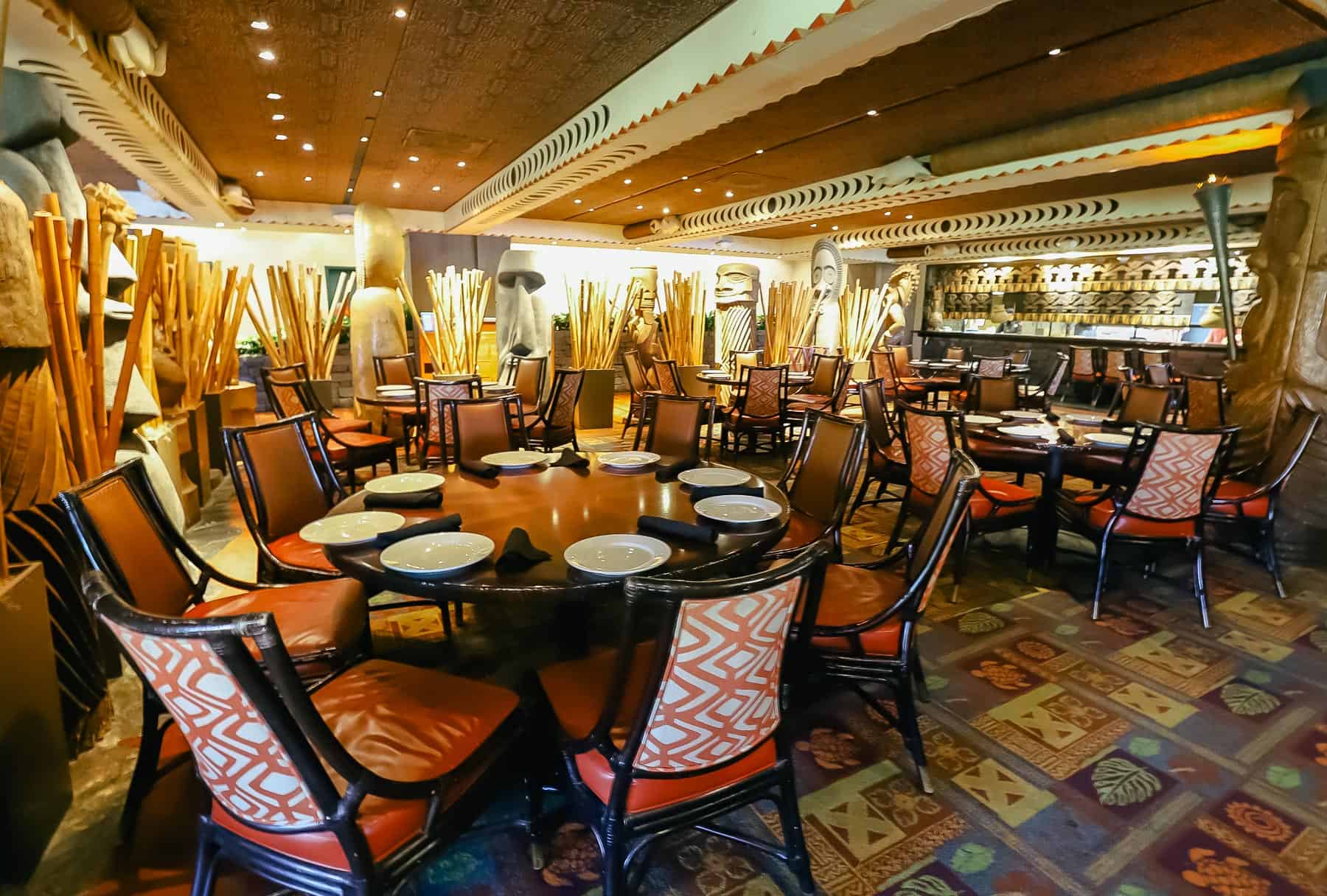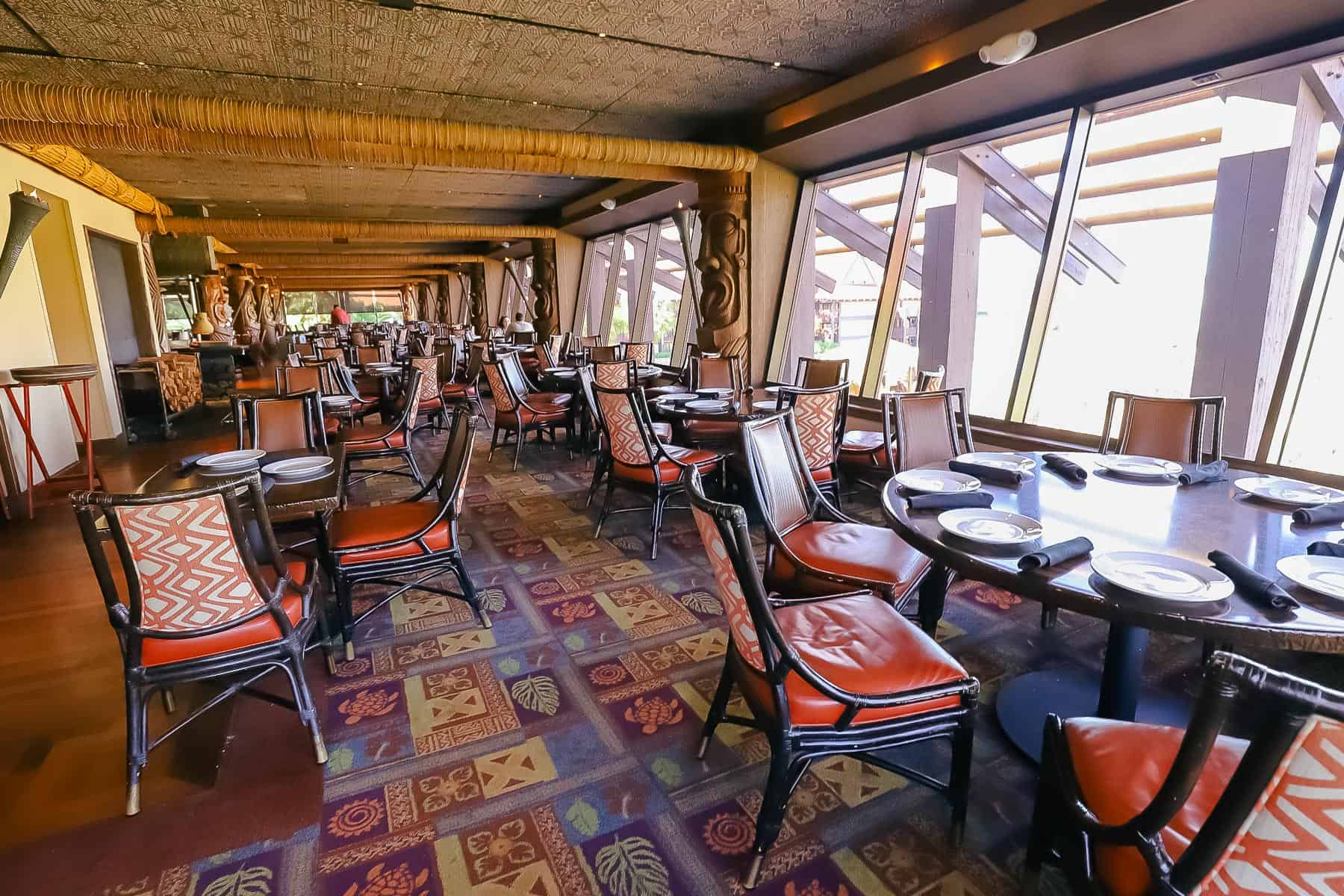 Those lucky enough might get one of the few window seats near the back of the restaurant. We've eaten here several times and have yet to be so fortunate.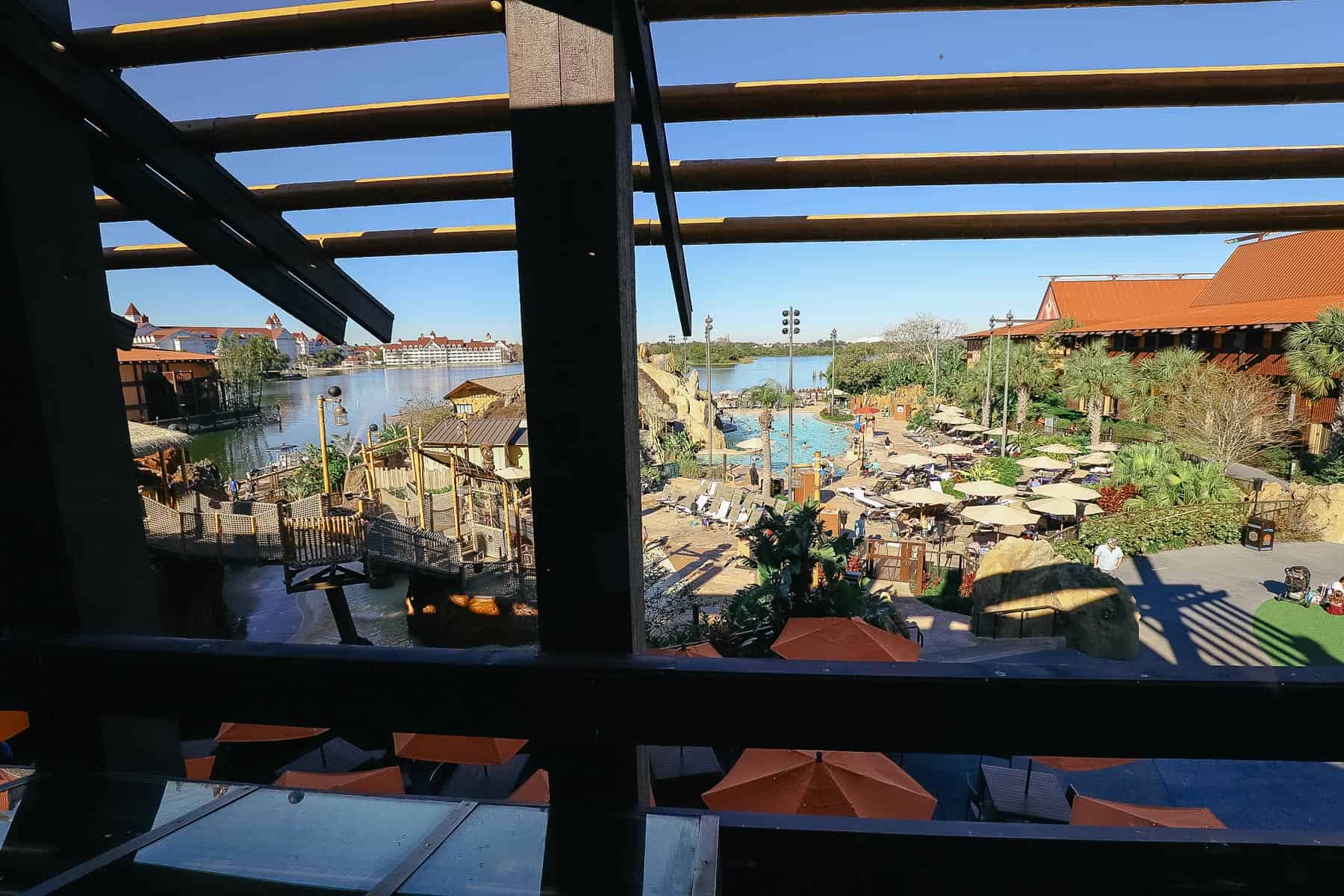 But a view of the Lava Pool with Cinderella Castle in the distance would arguably make the meal more memorable. At least, I imagine it would. You might dine here late enough to see the fireworks when it gets dark earlier in the winter. However, note that you could only see them from a few select tables.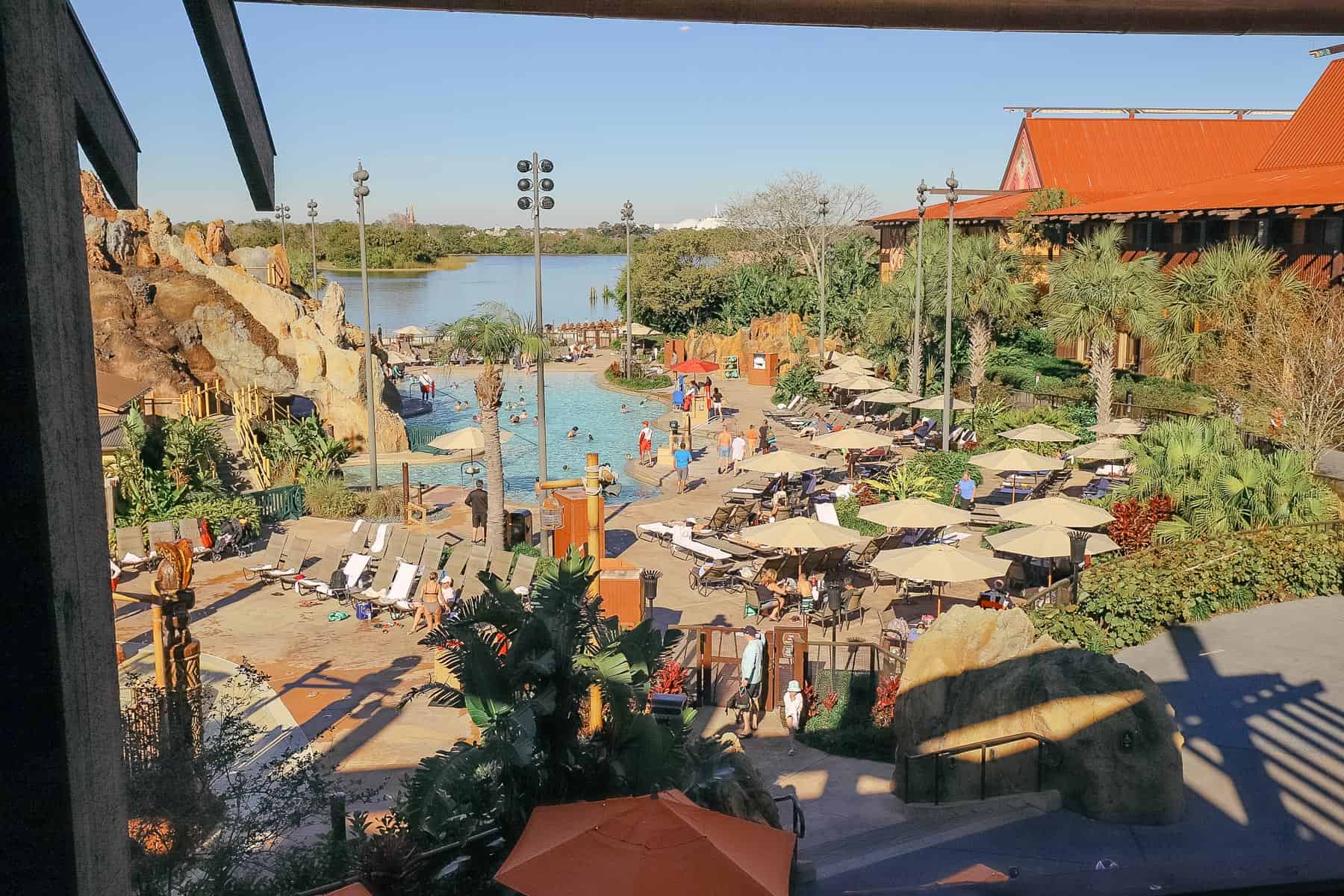 When you're first seated, a cast member delivers a menu titled 'Ohana Dinner Feast. It says all-you-care-to-enjoy family-style feast served right to your table. Then, it lists the appetizers, entrees, and desserts included. Optional cocktails, beer, wine, and non-alcoholic specialties are available for an additional cost.
Check the current 'Ohana menu prices on Disney's site.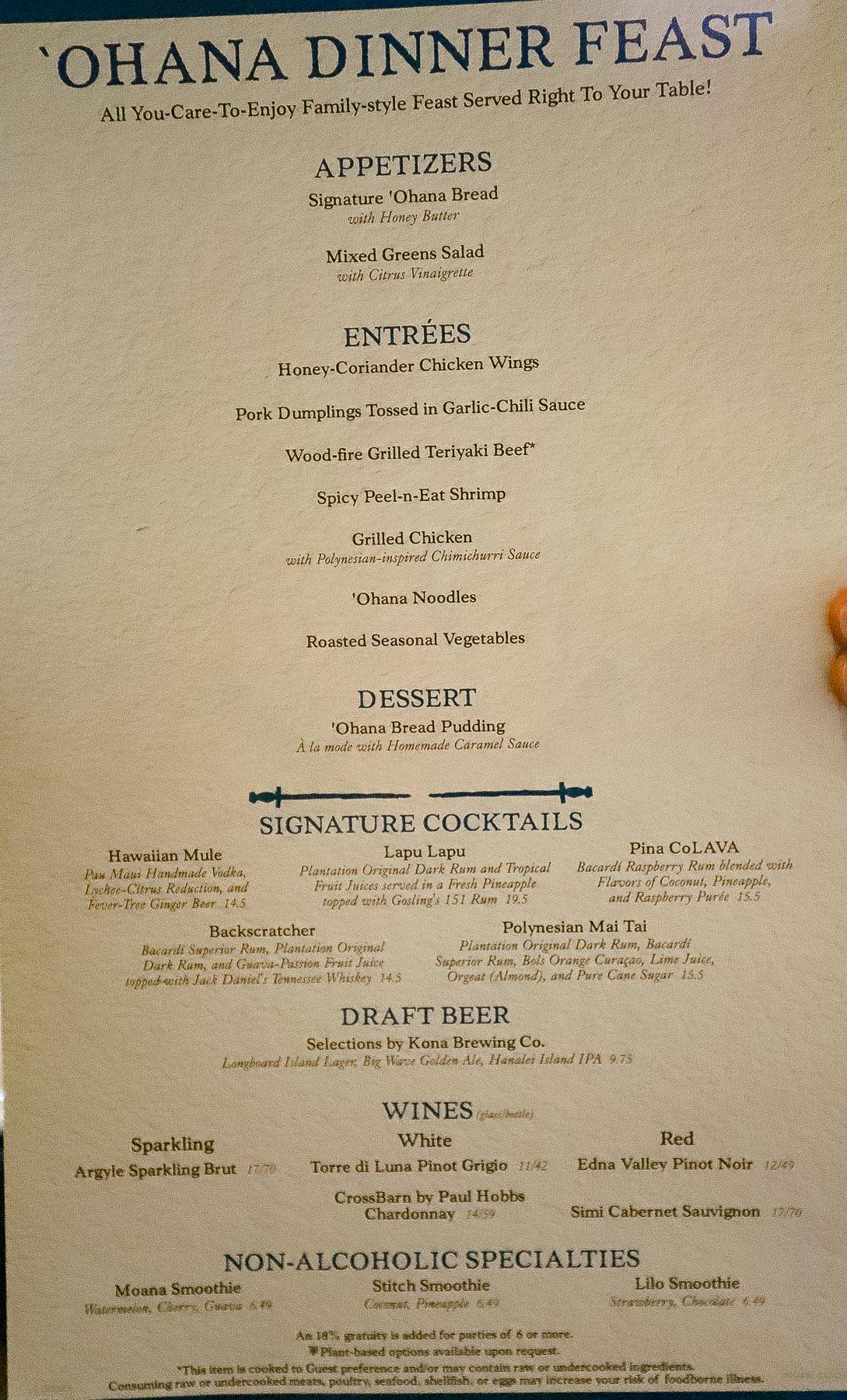 Soon after, starters are brought to the table, including a mixed greens salad with vinaigrette and signature 'Ohana bread with honey butter.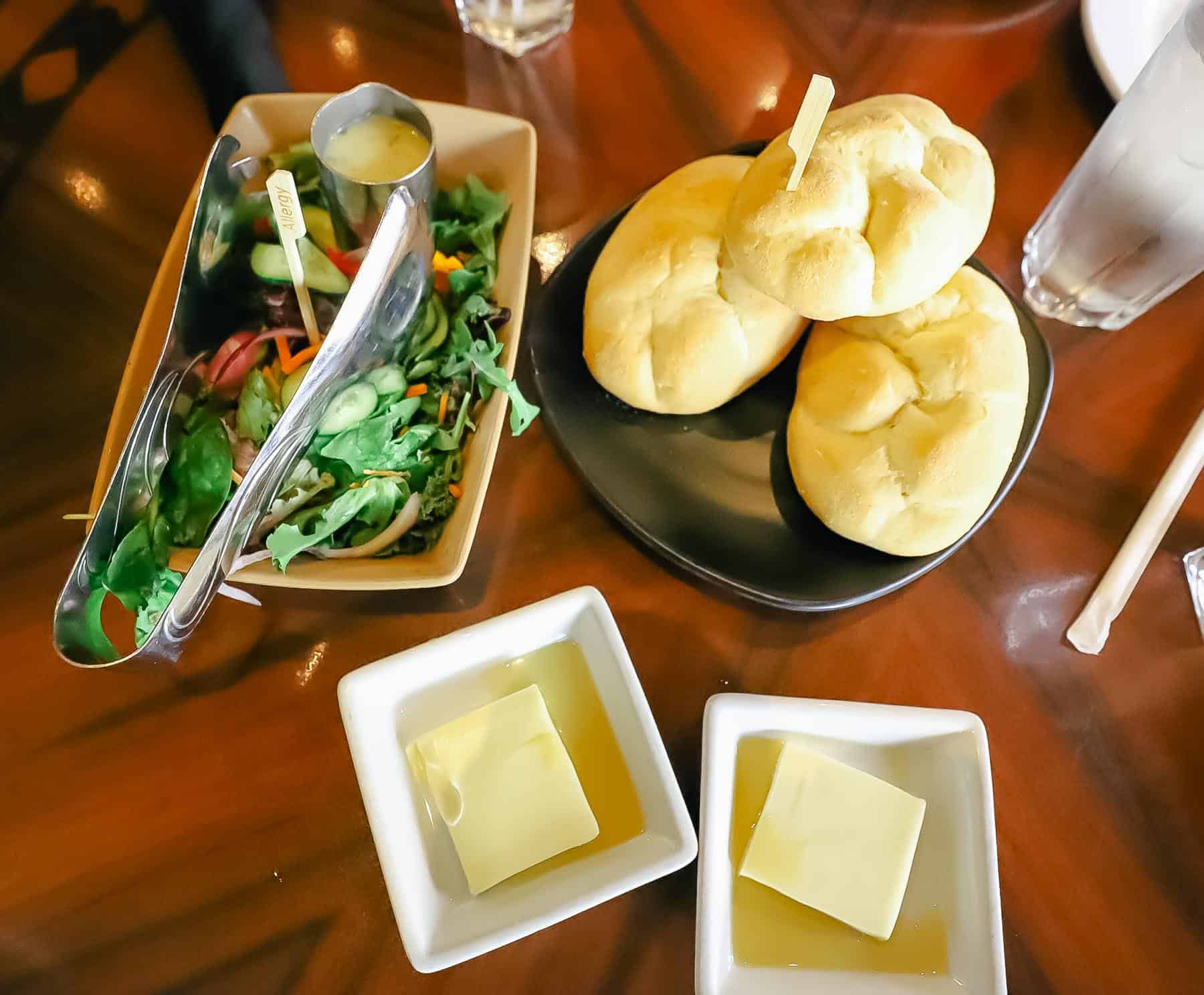 Our bread service was delicious and paired well with the honey butter. The sauce reminded me more of a pineapple sauce than honey. It was difficult to only eat a bite, but with this kind of meal, you'll want to save room for the rest.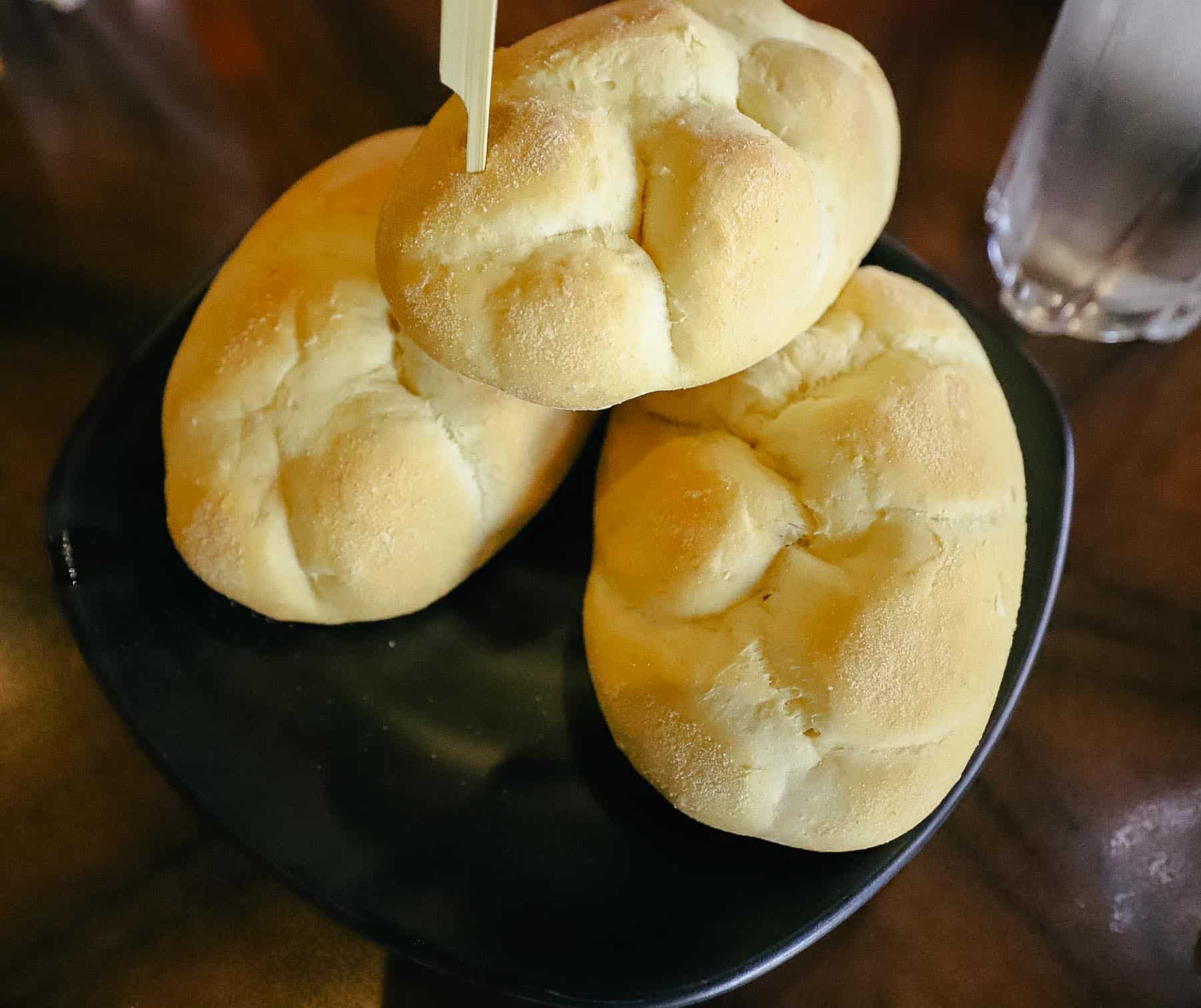 Our salad was also fresh and made for a nice start to the meal.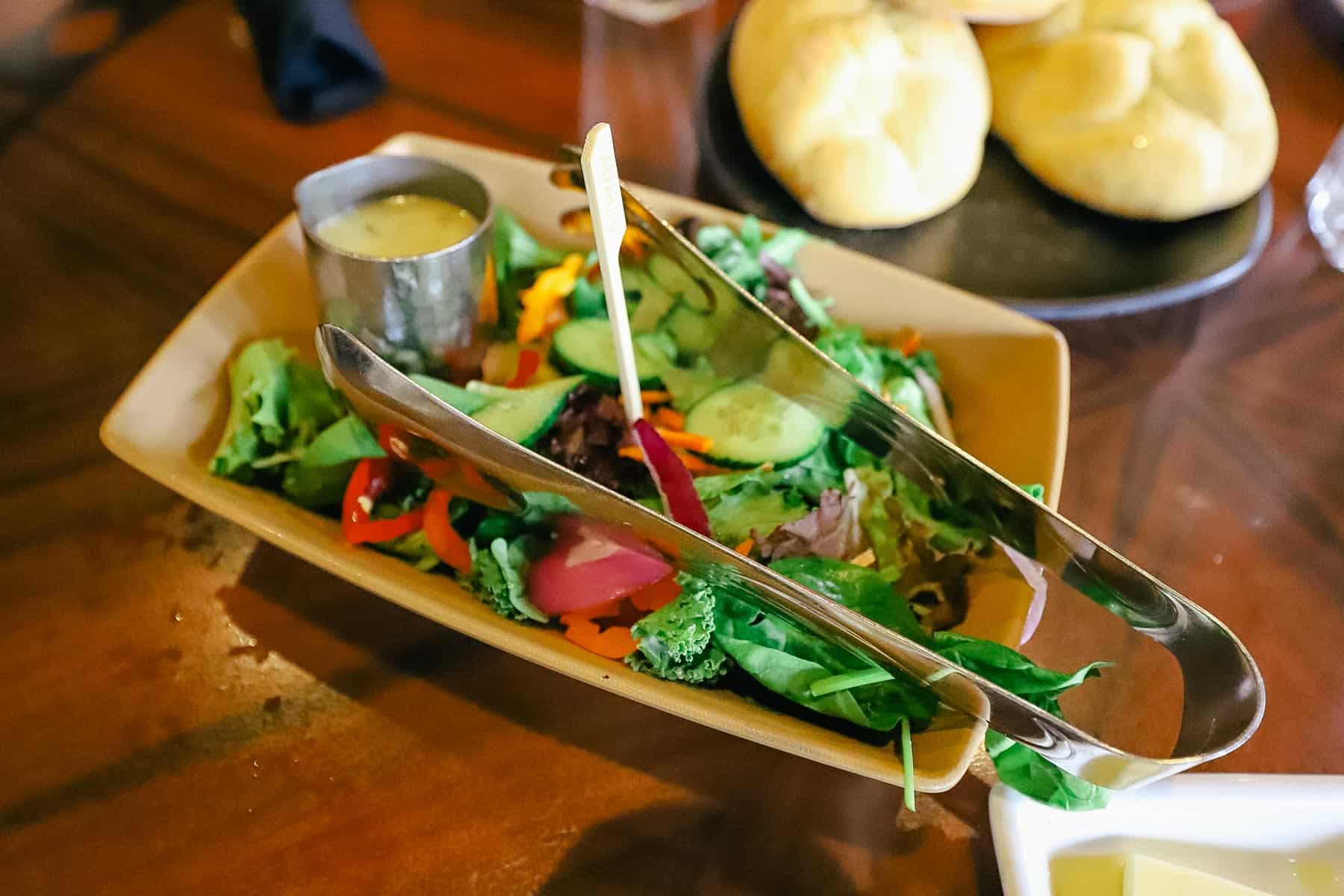 The entree items arrived before we could get a few bites of our first course. First, we received a skillet with honey coriander chicken wings, stir-fried vegetables, 'Ohana noodles, and pork dumplings tossed in a garlic-chili sauce.
Formerly, a peanut sauce and sweet-and-sour sauce were brought out with these items. However, they are no longer offered because of food allergies. You may notice we have allergy markers in each food item because a diner in our group has a severe nut allergy.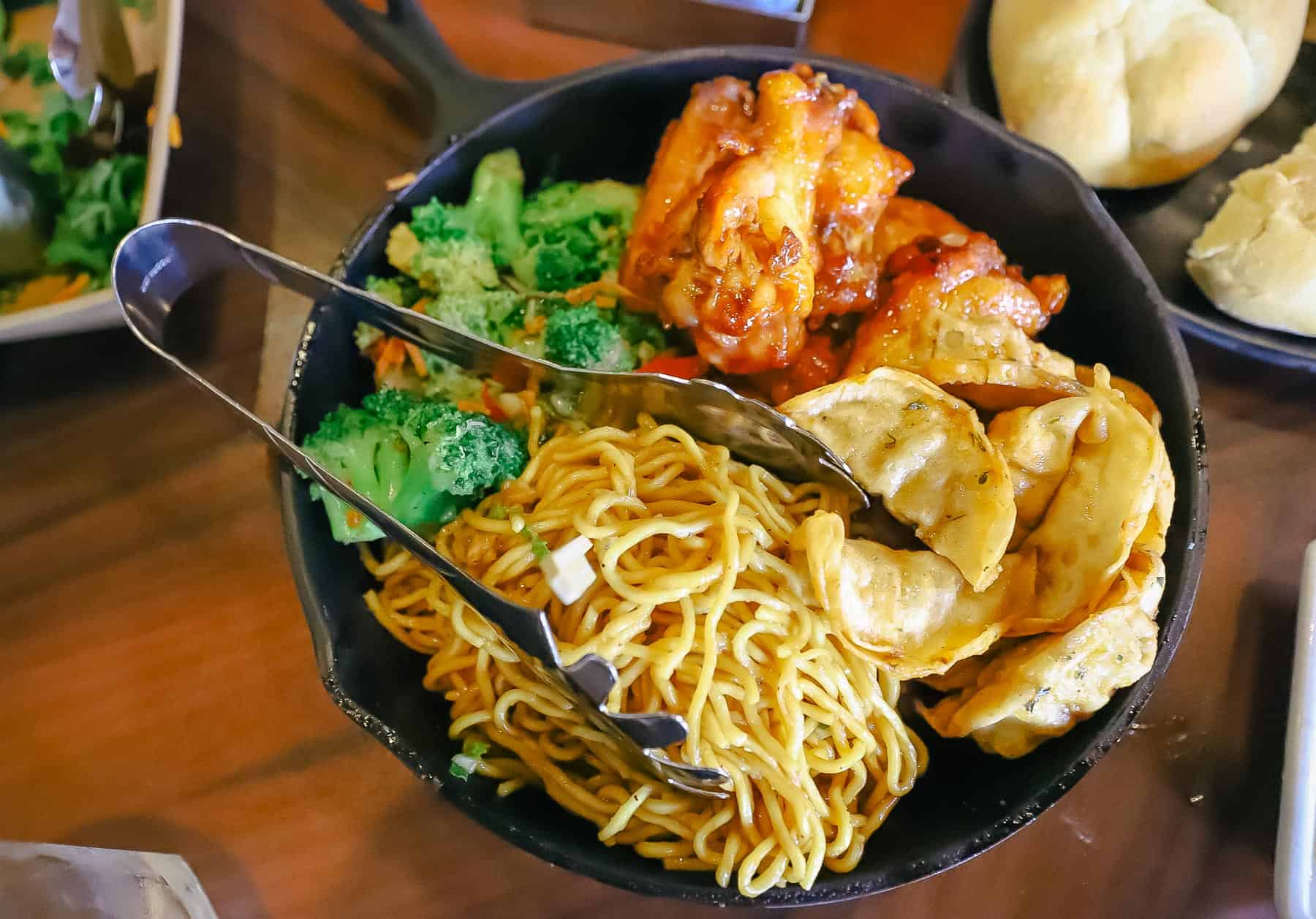 We enjoyed the pot stickers, but you are correct. They could have benefited from an additional sauce.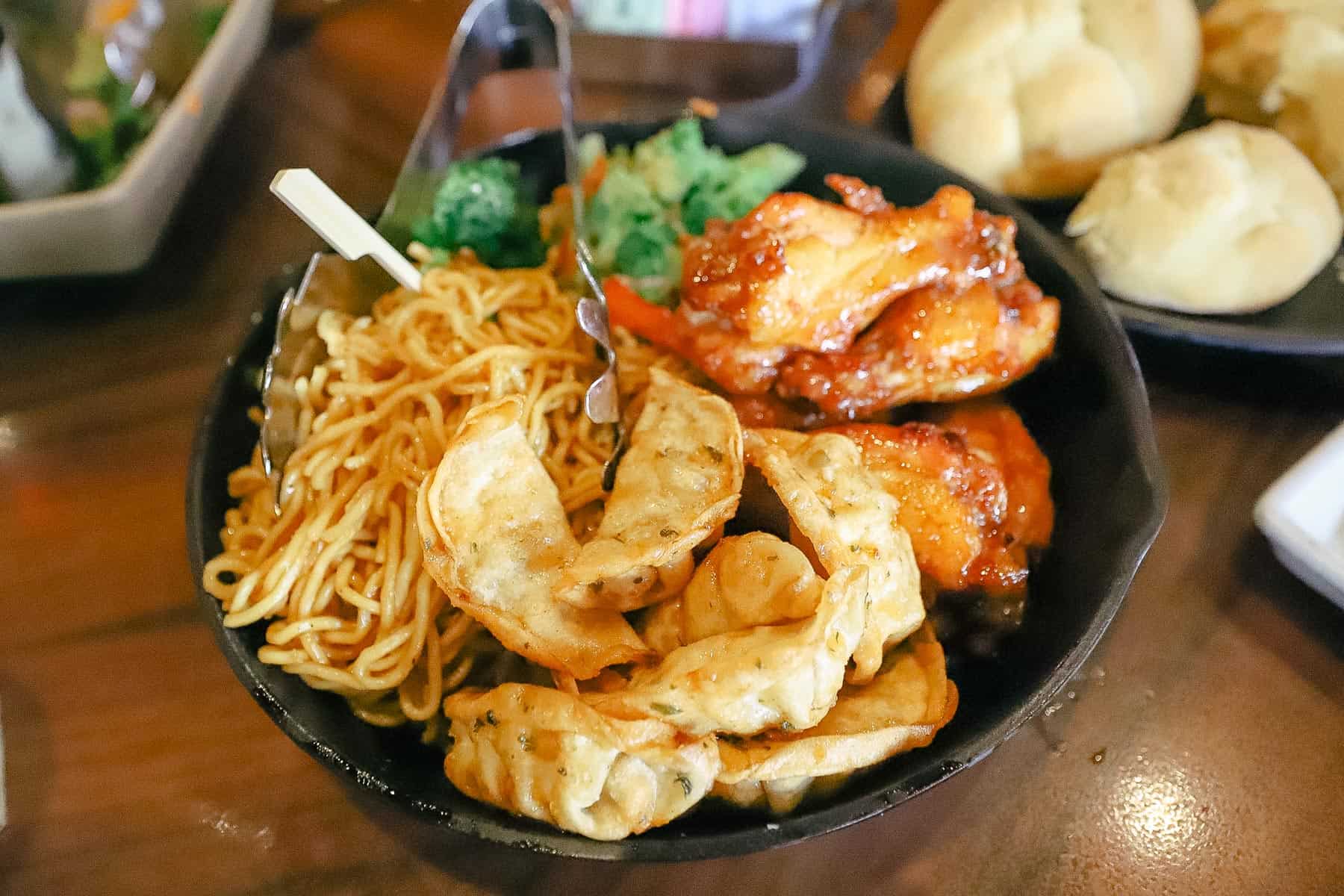 Before we could get any further, a server brought teriyaki beef and spicy peel-n-eat shrimp.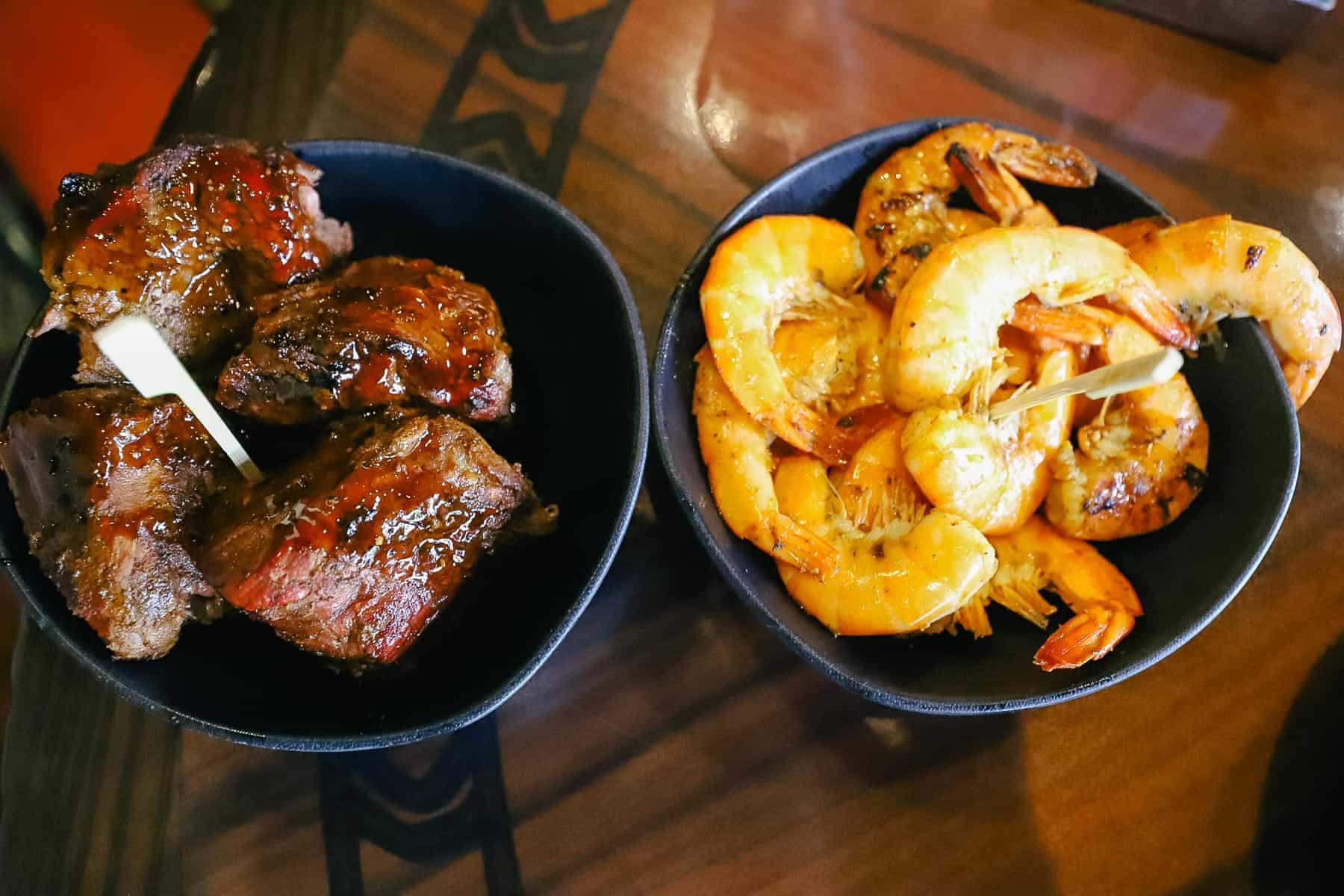 The beef reminded me of a sirloin steak. However, it was more tender than expected. Unfortunately, it was also fairly dry and lacked flavor. It was okay, but not the kind of steak that keeps your attention.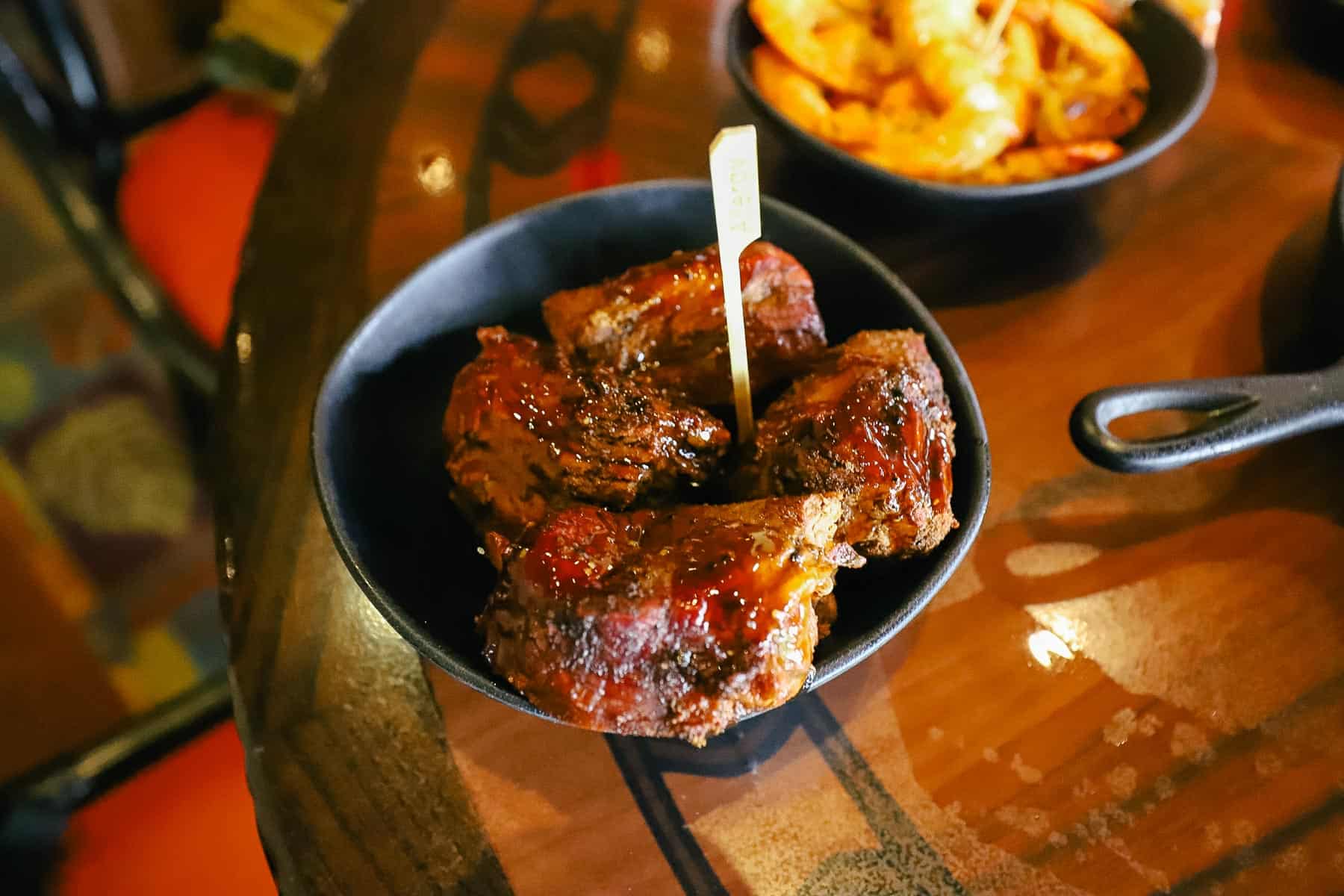 The peel-n-eat shrimp were also popular. But having to peel them first is annoying and messy.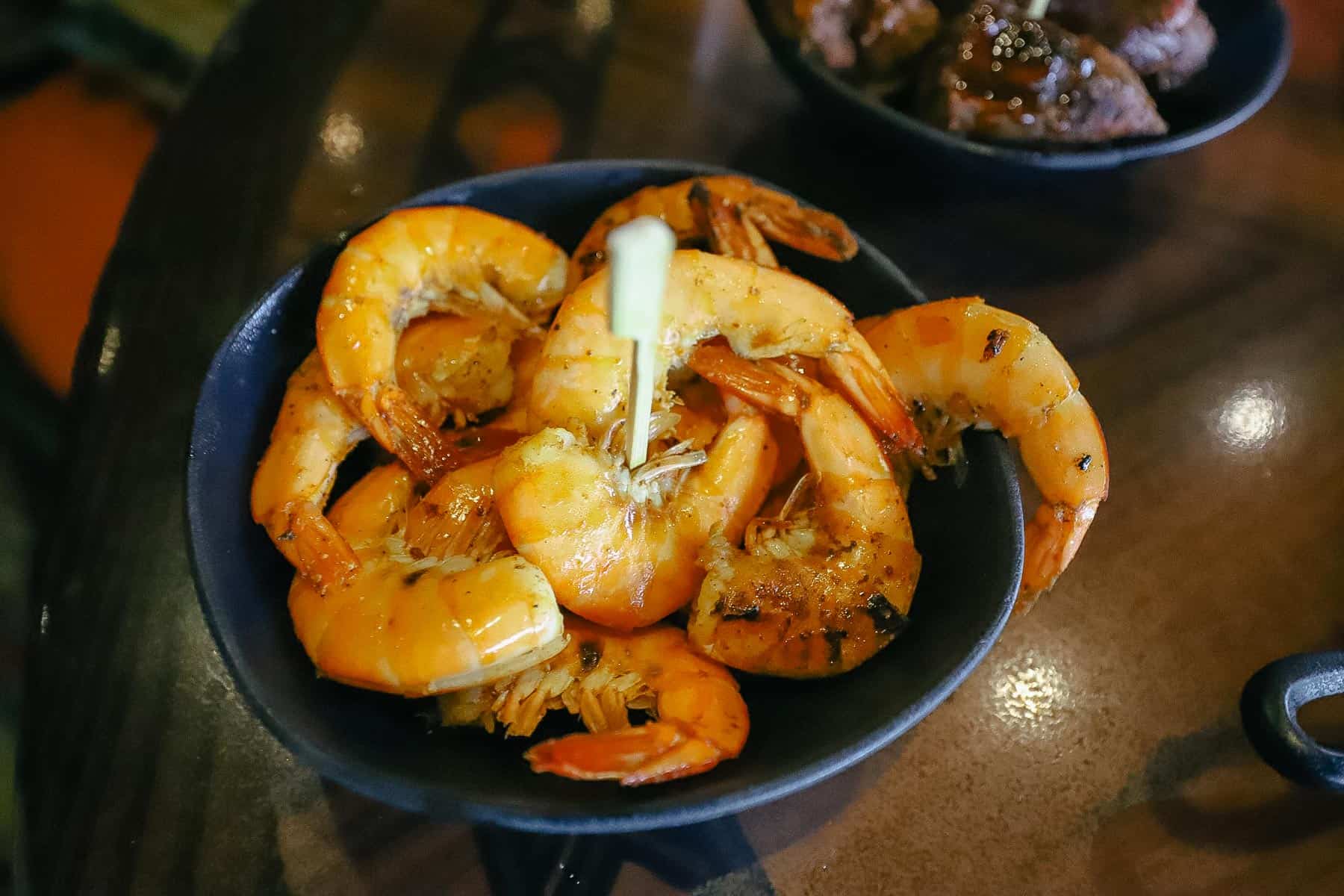 A few minutes after the initial meats arrived, we received the grilled chicken with Polynesian-inspired chimichurri sauce. I'm pretty sure I was the only person in our group who tried the chicken and only had a bite. It was a bowl with two chicken thighs, and the sauce was mediocre.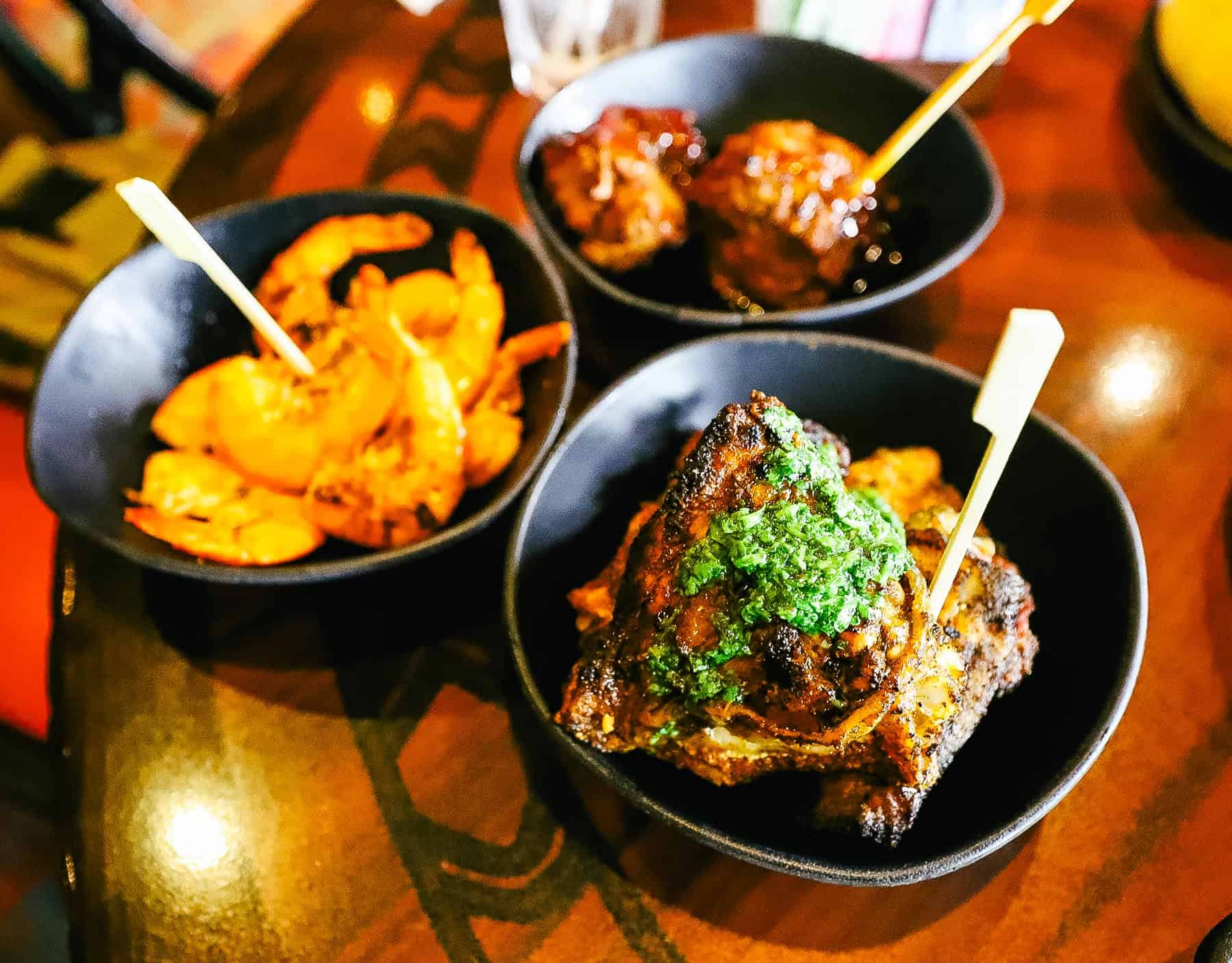 This menu item, like the shrimp, was also difficult to eat or share.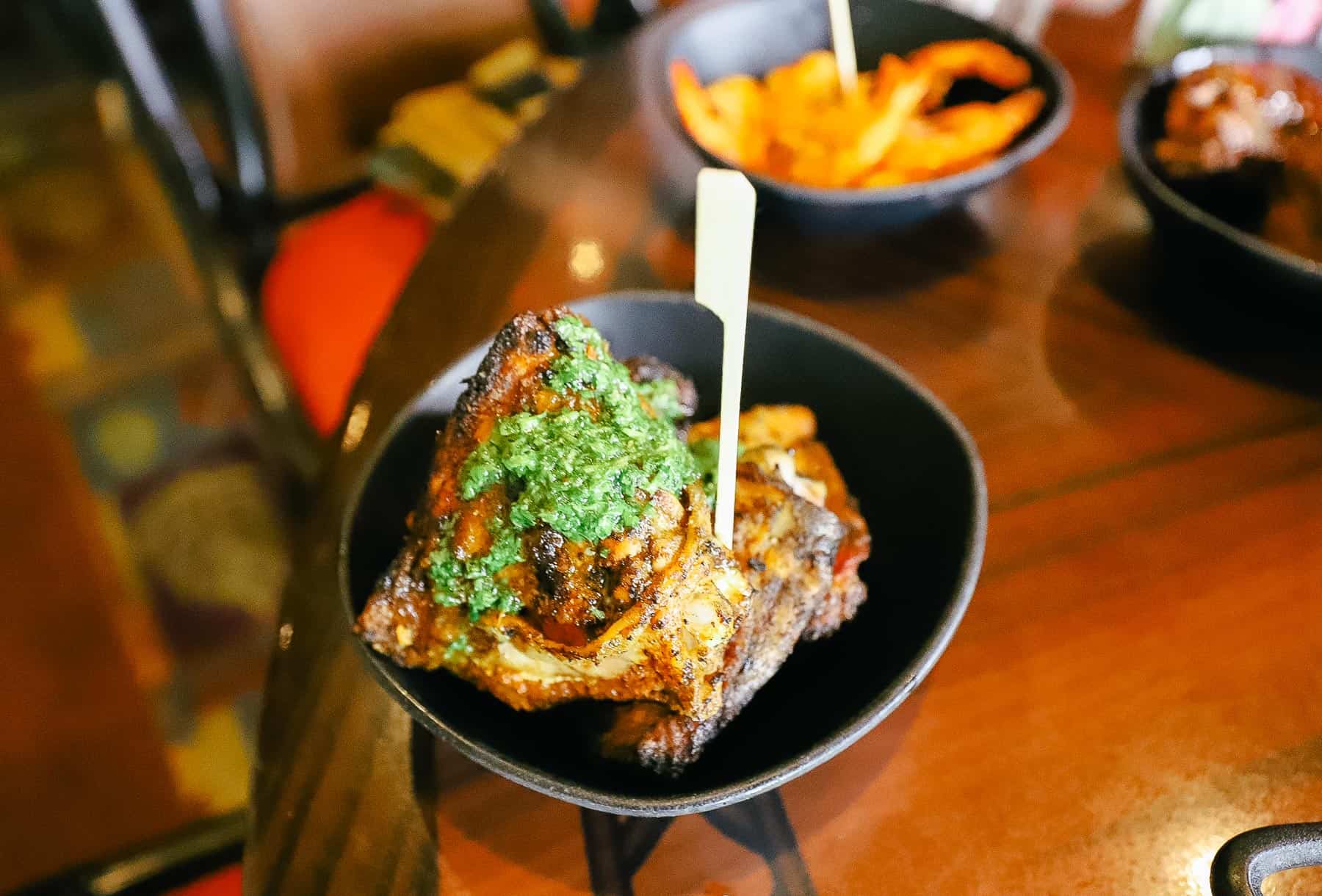 We had a brief break before dessert, and during that time, we discussed the meal. Kristen and her husband Kevin talked about how much they enjoyed 'Ohana when meat skewers were brought to the table, and you got the entire Polynesian experience.
They enjoyed the pot stickers, lo mein noodles, shrimp, and chicken wings the most. After some thought, I realized that my favorite items were carb-heavy–the bread and the noodles. These were also likely the cheapest items.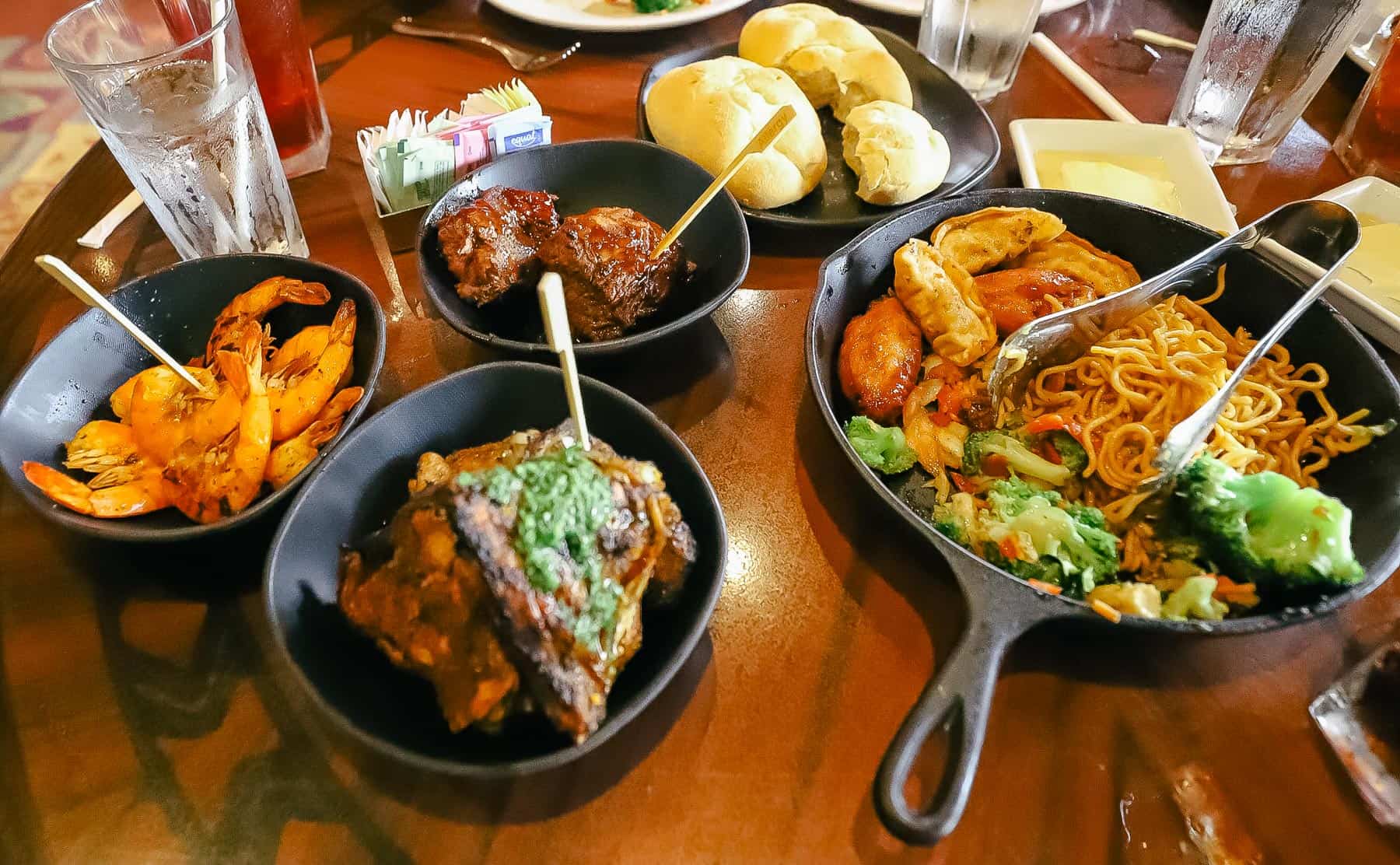 We all agreed that dessert was the best part of the entire meal.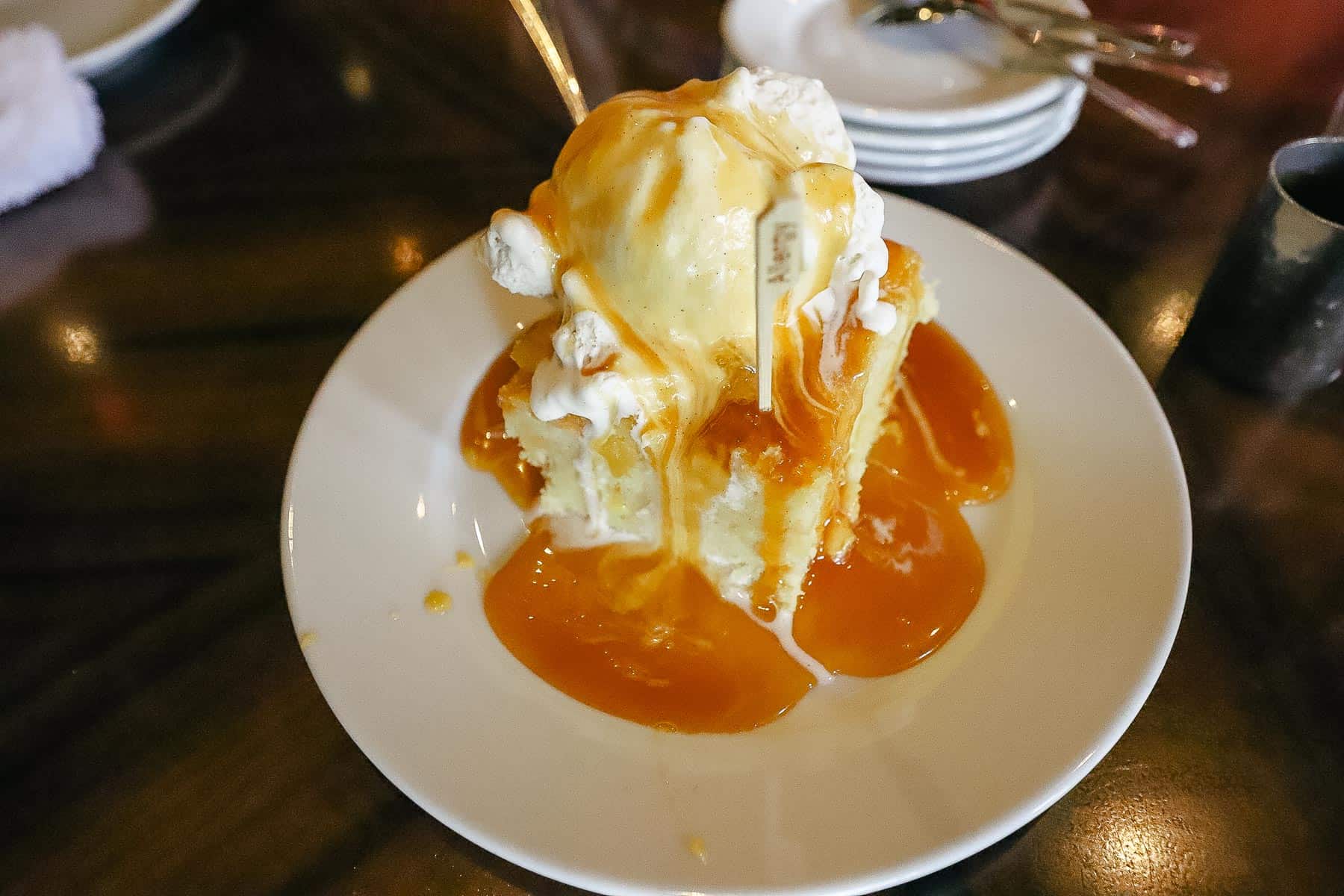 Dessert is 'Ohana bread pudding that's topped with ice cream and served à la mode with a homemade caramel sauce. When it arrives, you can see the coconut cake base topped with ice cream. The server then drowns it with caramel sauce right in front of you.
So, not only is dessert a nice presentation–but it tastes incredible.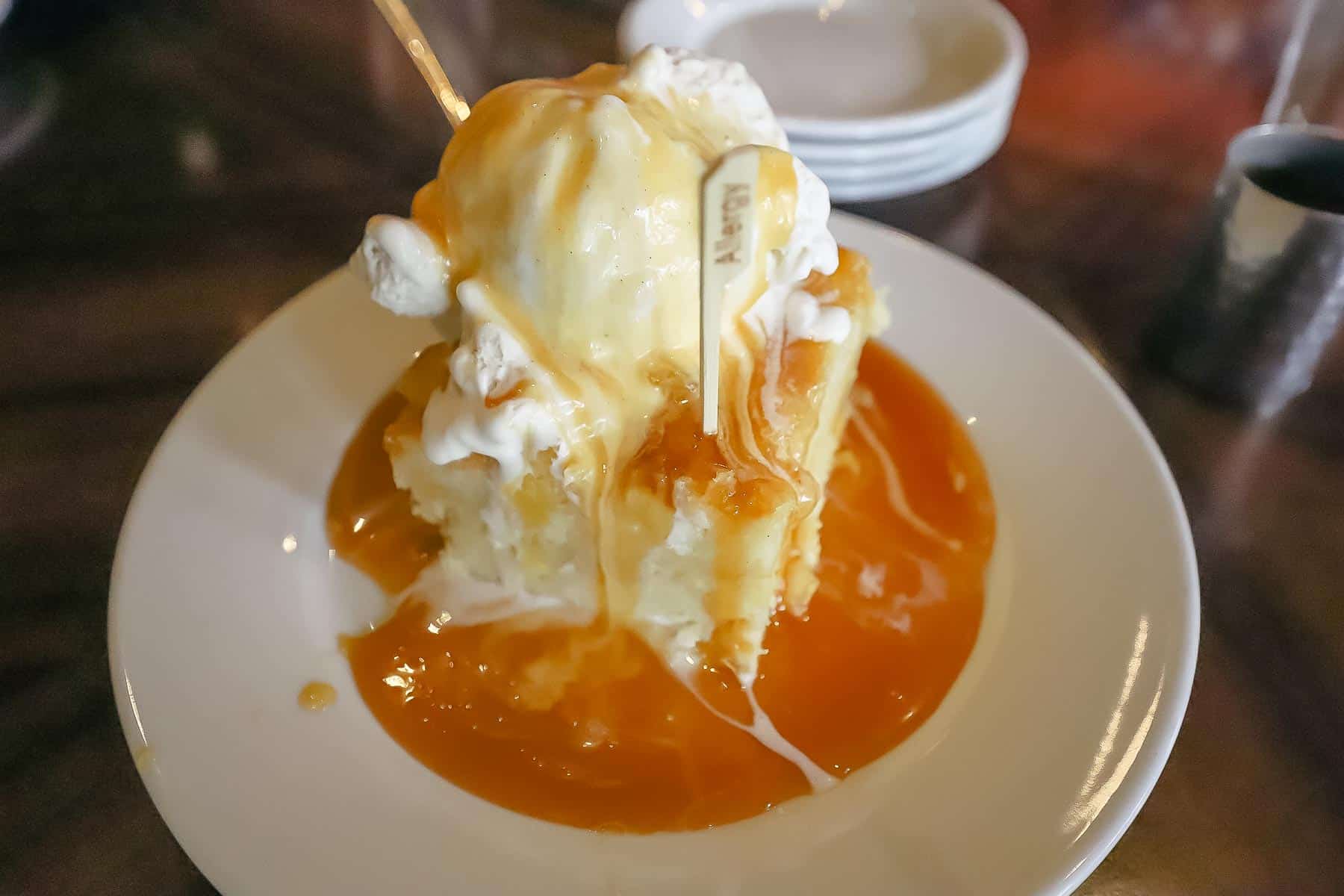 It was also nice that they brought our allergy-friendly diner a few Rice Krispies treats to enjoy.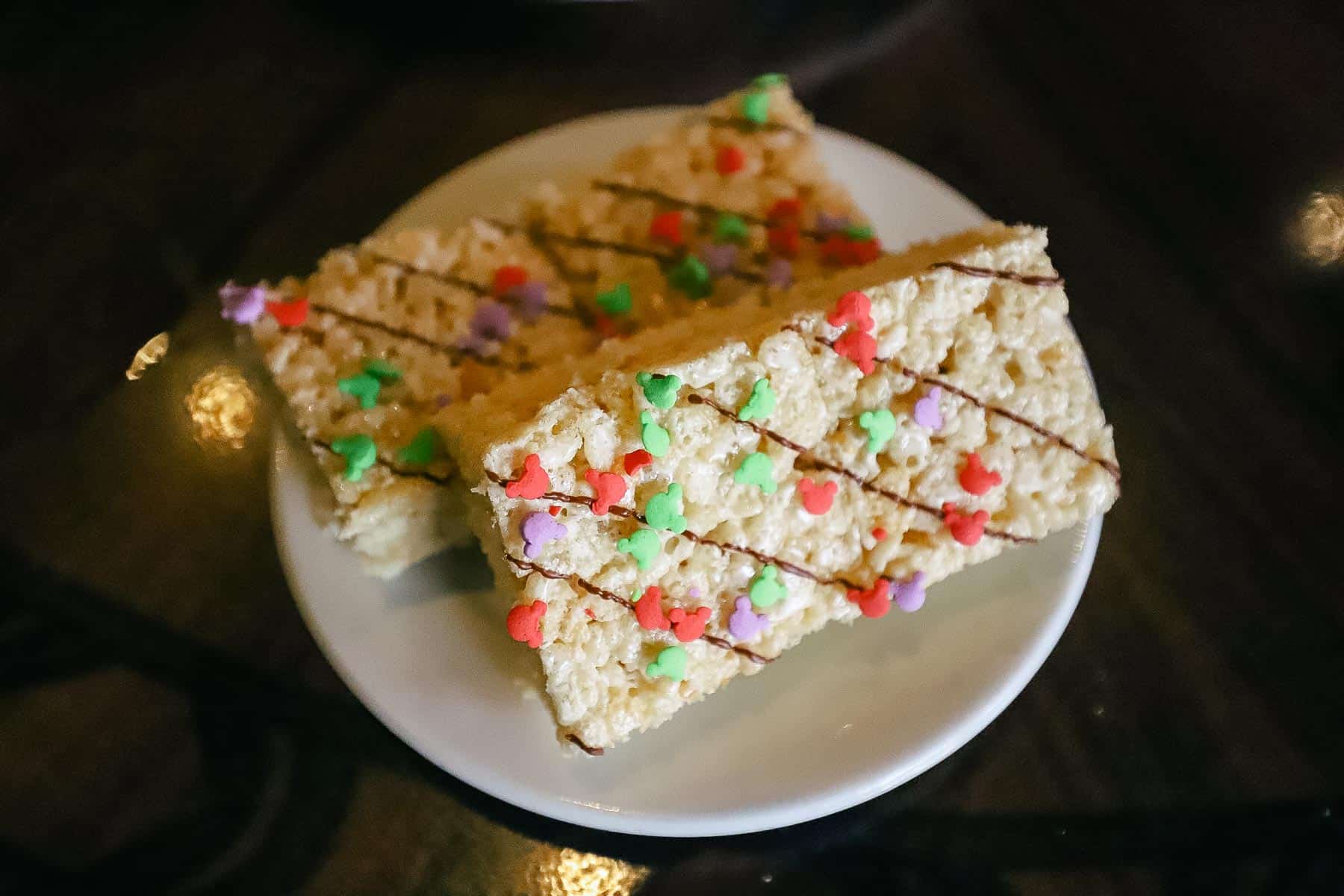 Final Thoughts
Overall, our dinner at 'Ohana was a satisfactory meal. We had plenty of food and excellent service. However, regarding the food quality, nothing that commanded the high price tag stood out.
We would have rather received fewer items that were of higher quality in a less is more fashion. But the setting is pleasant (even more so if you snag a window seat), and visiting the Polynesian is always lovely.
Those are the main things you'll want to consider when it comes to this long-time fan-favorite restaurant. For now, 'Ohana has become more of a one-and-done type of meal. We didn't leave feeling bad about the experience, but I doubt anyone is eager to return.
Unfortunately, the nostalgia and overall appeal the restaurant previously conveyed were missing. Hopefully, one day, it will return, maybe even better than before.
For more information about Disney's Polynesian Village Resort, you might enjoy the following:
What do you think of this 'Ohana dinner review? Have you ever enjoyed a meal here? Are you considering making a reservation? Do you have any hesitations or bad experiences with this location? Or does 'Ohana give you all the Disney vibes? You can share your thoughts and opinions below in the comments. We welcome them, even if you disagree with our opinion.