Disney's Kona Cafe Review with Updates
Kona Cafe is a Disney dining location that we tend to return to time after time. The food is always good, the service fantastic, and who doesn't like to visit Disney's Polynesian Village Resort? Even if you are only visiting as a day guest?
You've probably heard of Kona Cafe in passing. It's the Disney restaurant where you can order Tonga Toast for breakfast, and sweet rolls come to the table during lunch and dinner. In case I didn't have you at rolls, they come with a unique Macadamia nut spread.
This Disney's Kona Cafe review will look at several appetizers, entrees, and sushi orders. This venue is considered a table service restaurant offering breakfast, lunch, and dinner.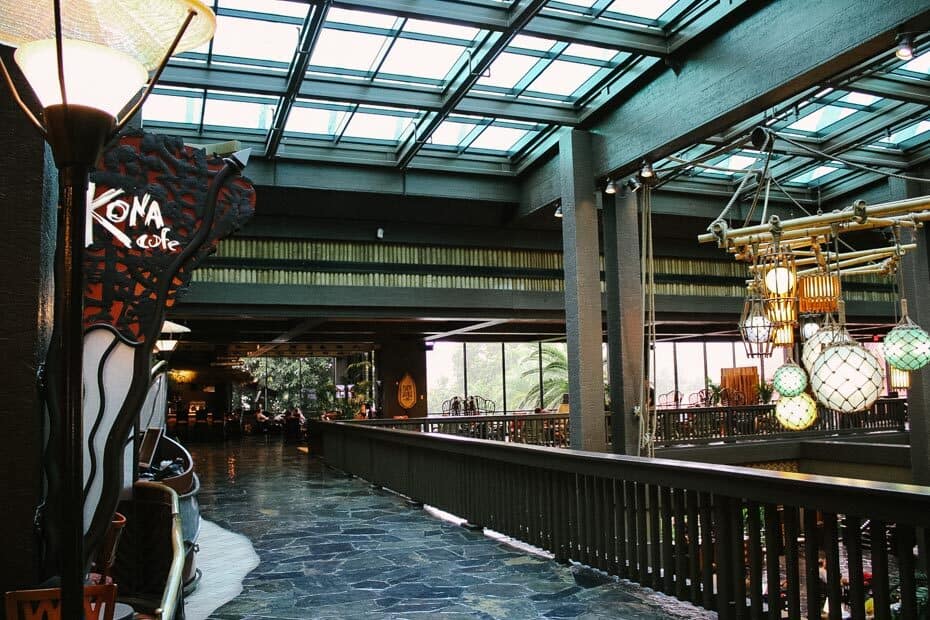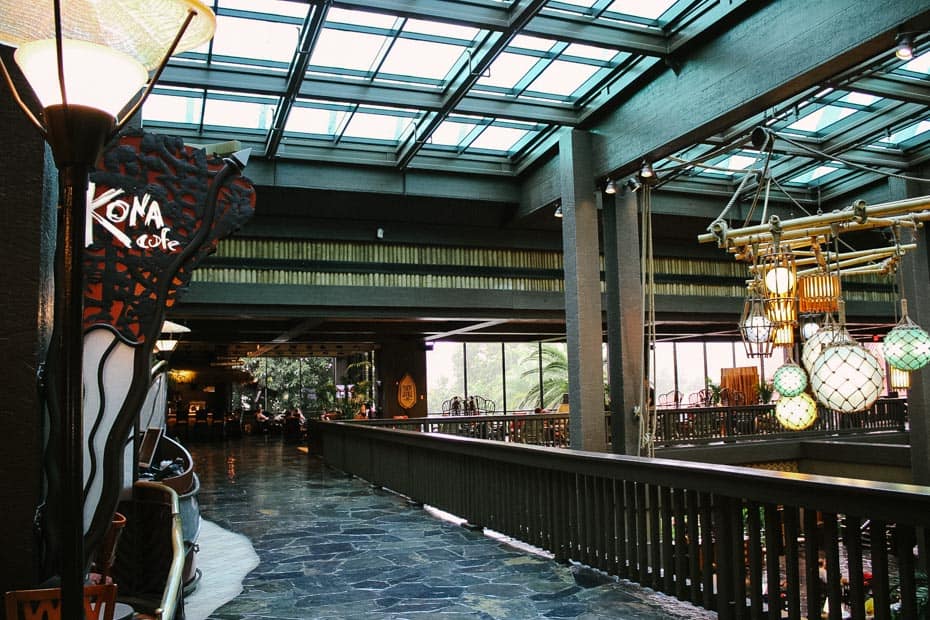 Kona Cafe Review
Kona Cafe is located on the 2nd-floor lobby of Disney's Polynesian Resort. The restaurant is light, airy, and has an open style. By open, I mean the entire restaurant faces out to the lobby.
Therefore any passerby can gaze into the restaurant. Likewise, diners can see out into the lobby.
However, I think it's important to note that it doesn't feel that way once you step inside the restaurant's boundary. There are rarely guests walking by on this side of the second floor. The majority of this level is a large open area that looks down to the main lobby.
Upon entering the Polynesian via the Disney World monorail, guests will head to the right after exiting the platform area. During the busier times of the day, you might run into a crowd waiting for their 'Ohana reservation.
Speaking of dining reservations, you'll want to secure one in advance for Kona Cafe. While this location does stay pretty busy, they have a relatively large capacity. Usually, you can get availability if you are flexible on timing.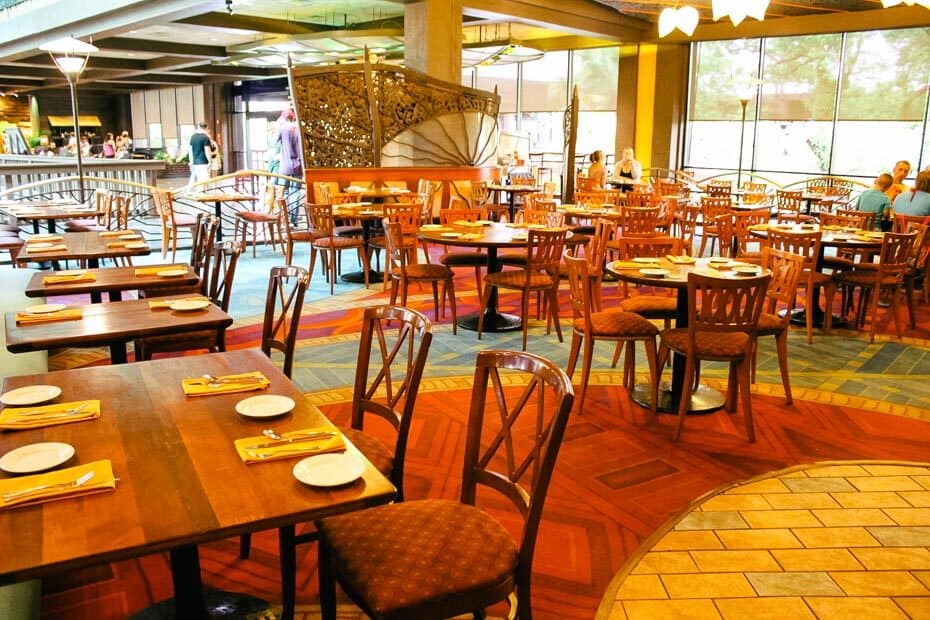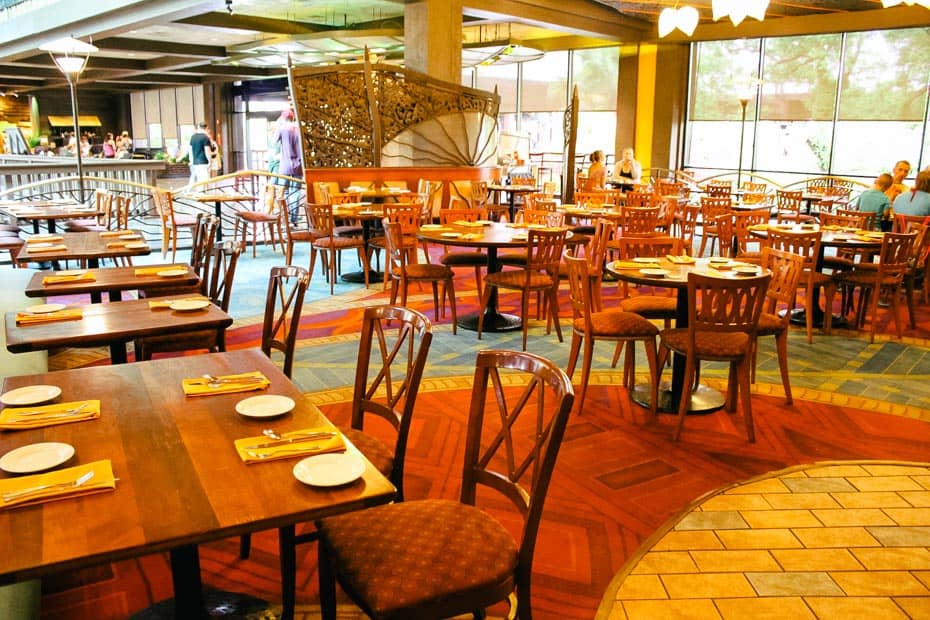 While Kona Cafe isn't considered Disney signature dining, I believe it can be viewed as an excellent table service option. All of the Magic Kingdom resorts have excellent table service options like Grand Floridian Cafe or Steakhouse 71 at Disney's Contemporary Resort.
Related: Grand Floridian Cafe Review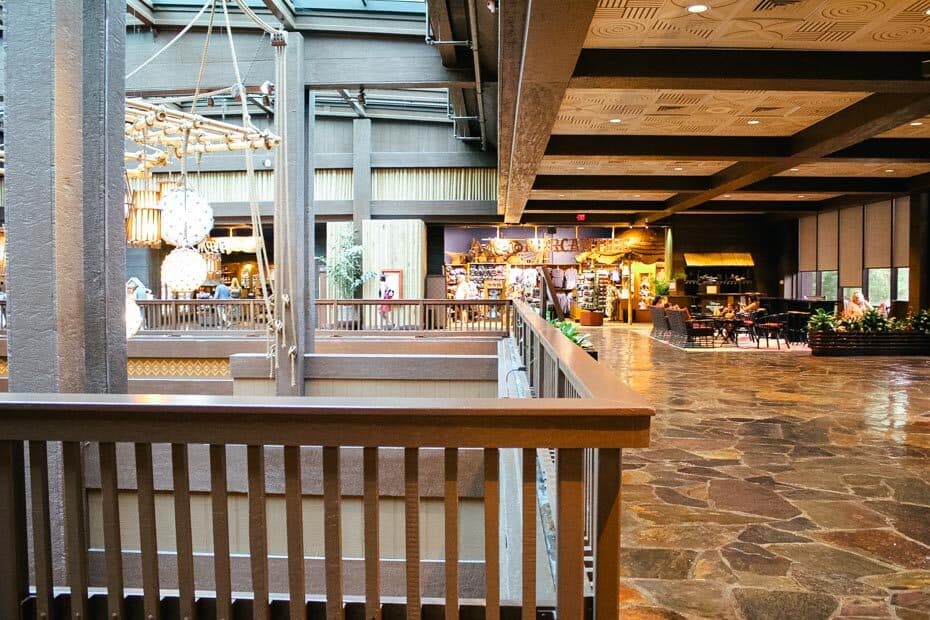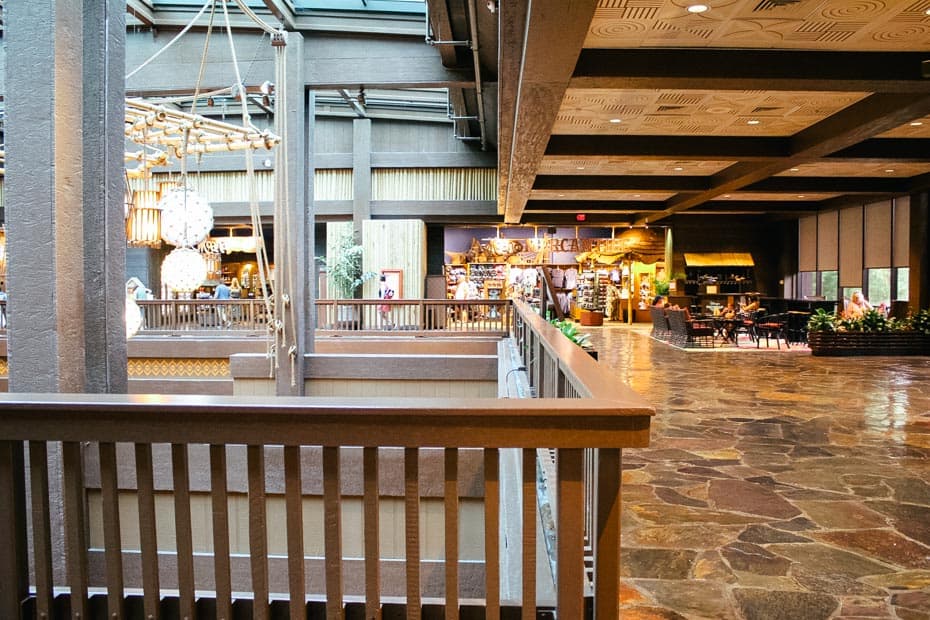 When you arrive at Kona, you'll need to check-in using Disney's mobile check-in service. Or, when you get to the general area of the Polynesian's lobby, you can open up the My Disney Experience app on your phone. There you select your dining reservation and confirm your arrival.
After checking in, expect to receive a text or notification when your table comes available. Additionally, menus are now delivered to the table in the same manner. A QR code will be provided to pull up the menu on your phone.
In case you were wondering, this is the standard procedure at every Disney World restaurant right now. While you are waiting, you might like to enjoy a cocktail from the nearby Tambu Lounge.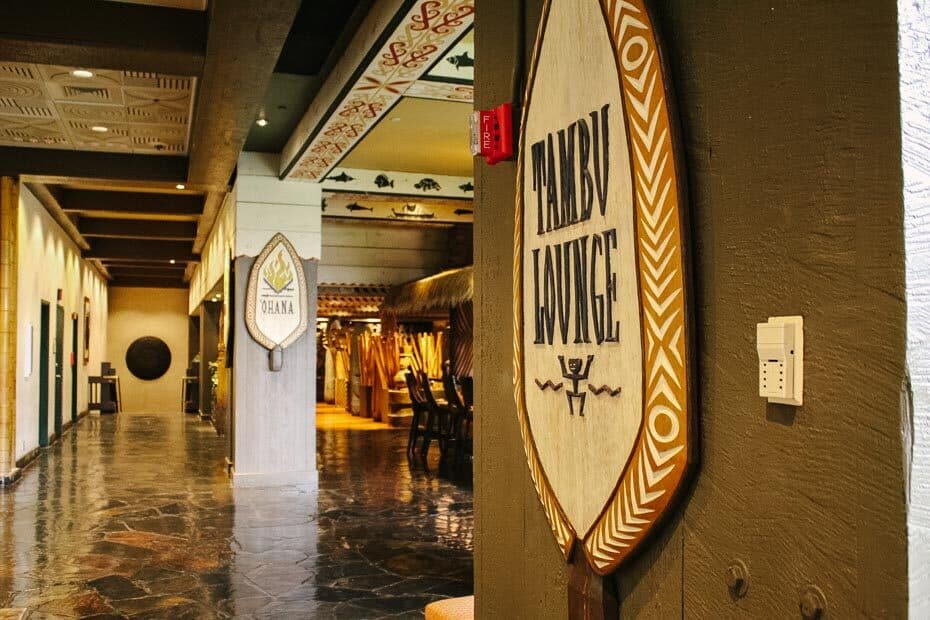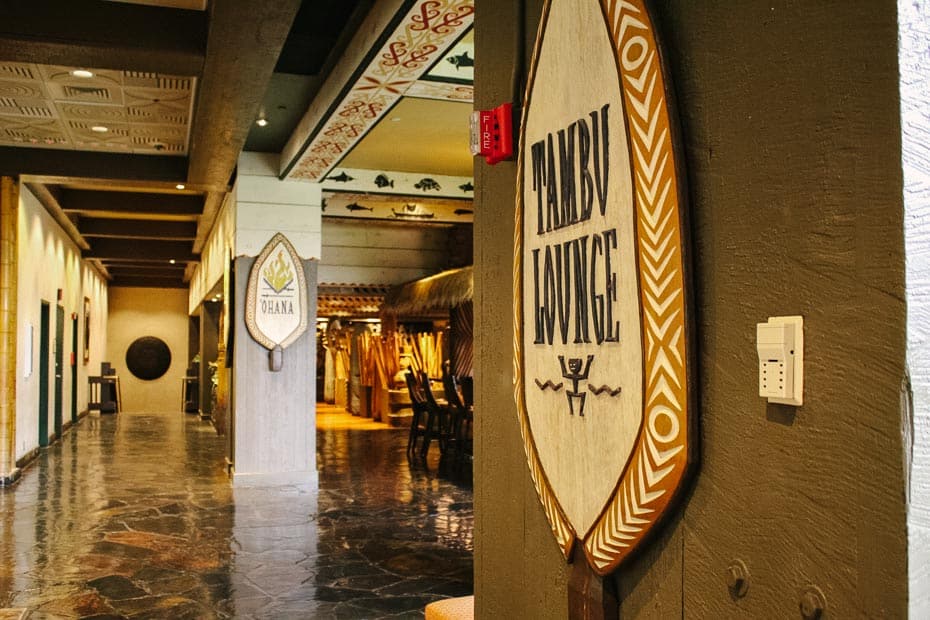 Not long after you are seated, your server will bring Kona's sweet bread rolls that come with that Macadamia nut butter mentioned prior.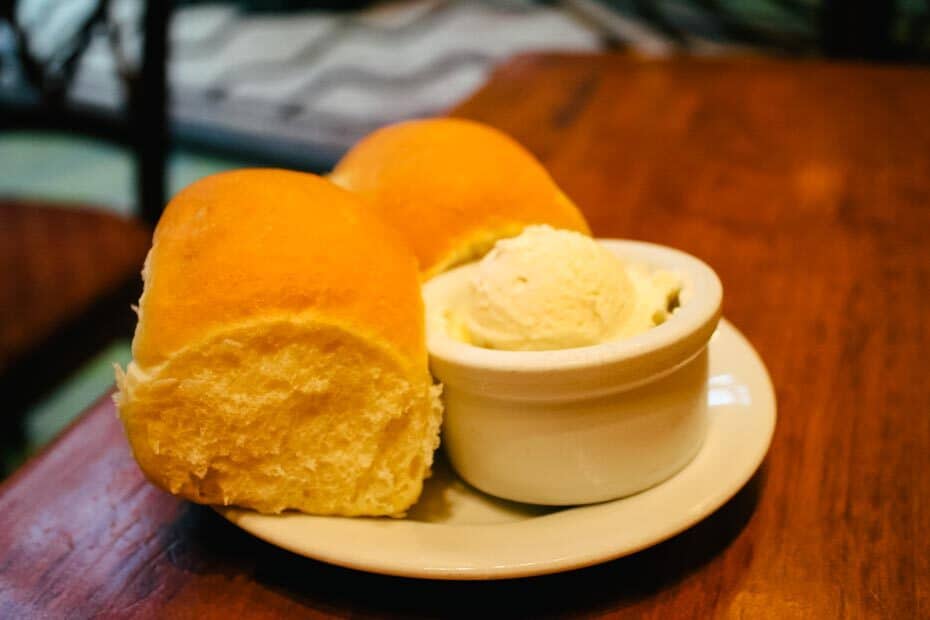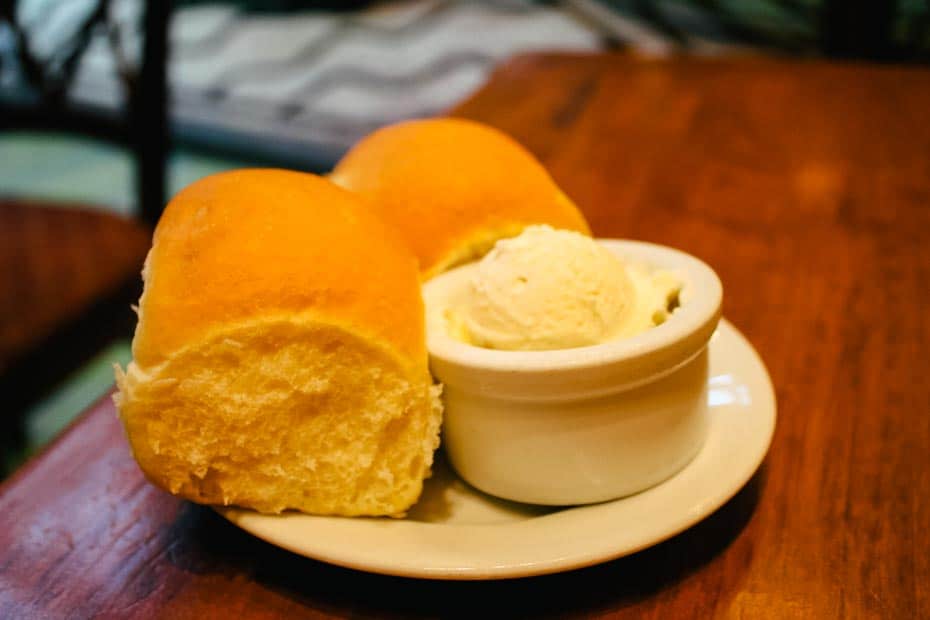 These rolls are divine, and the butter is incredibly soft, making it super spreadable. Don't worry if you devour them too rapidly due to spending the whole day traipsing back and forth across Magic Kingdom. They will bring another round.
Another favorite item I've had at Kona is this Seafood Coconut Curry. The curry comes packed full of shrimp, scallops, and crab meat. All I can say is you won't be disappointed. ALL I CAN SAY IS YOU WON'T BE DISAPPOINTED!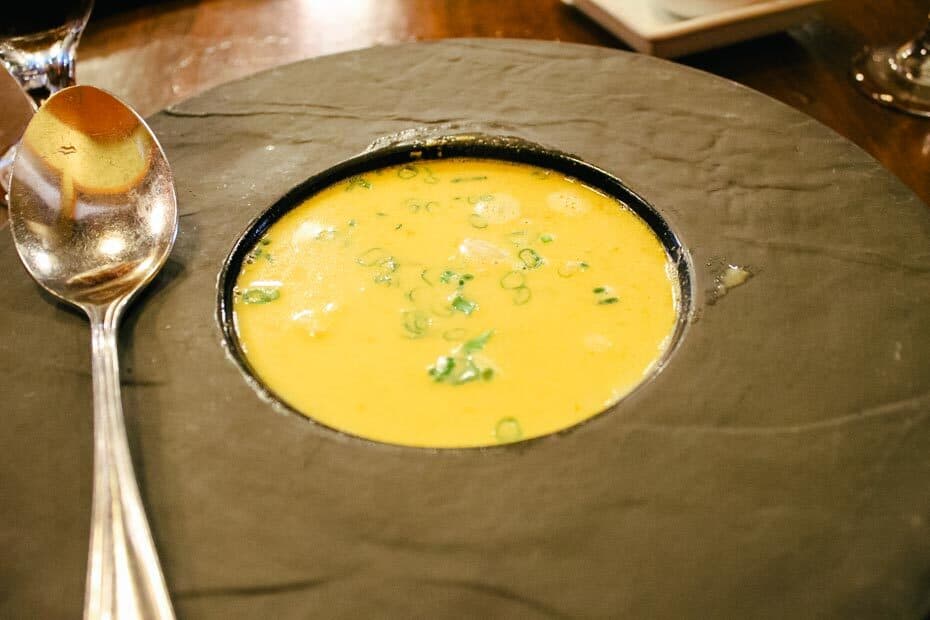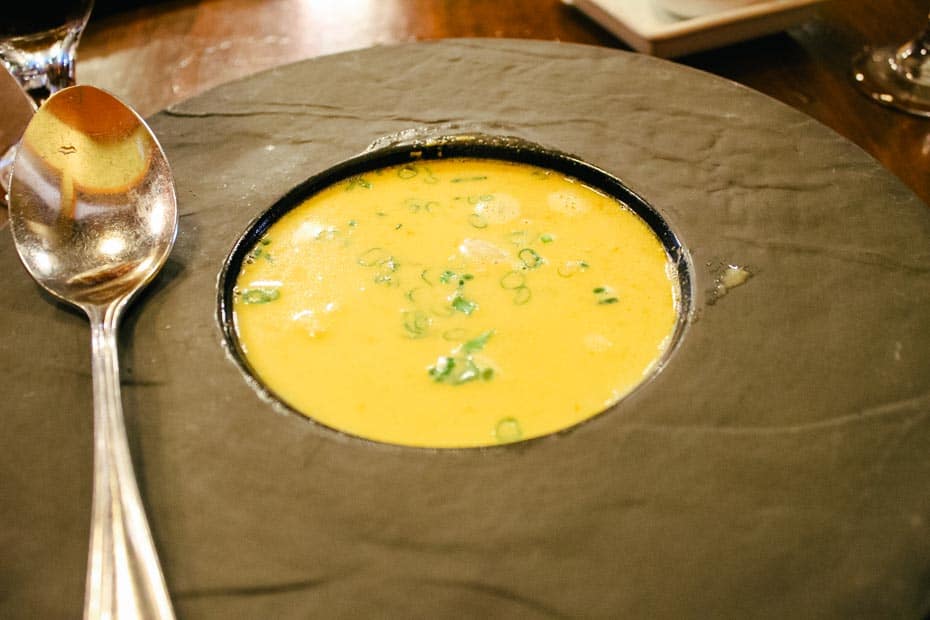 Okay, sorry, I was trying to think of a better way to express this soup that is very bland in appearance. I didn't mean to yell at you, but when push comes to shove, you wanna try the curry here.
After discovering the curry was packed with seafood, I decided to pull this number. I lifted what I could on my spoon and zoomed in for a picture. The amount of seafood in this broth was enough to remind me I needed to head back to the gym soon. As you can see, it was challenging to lift.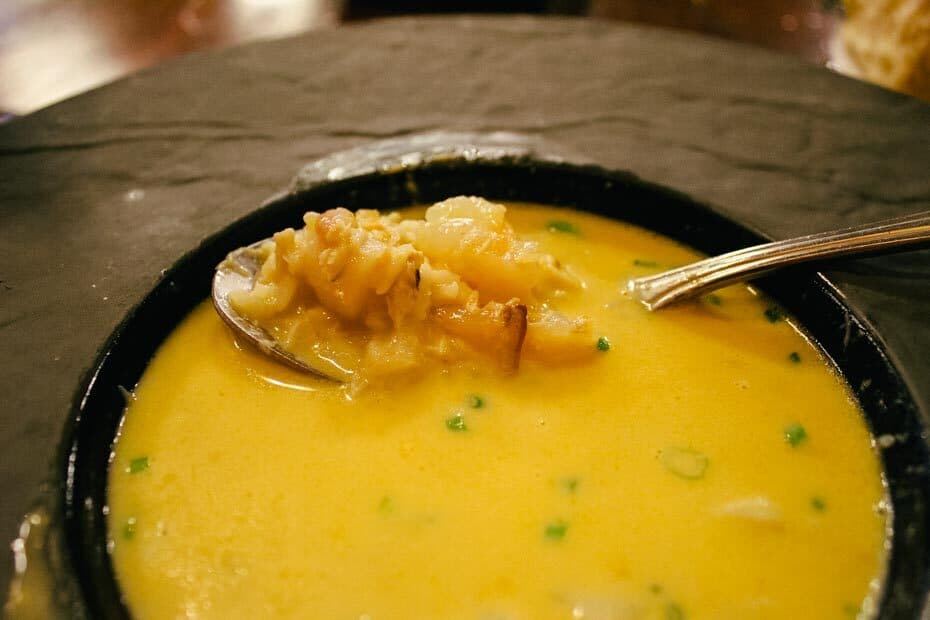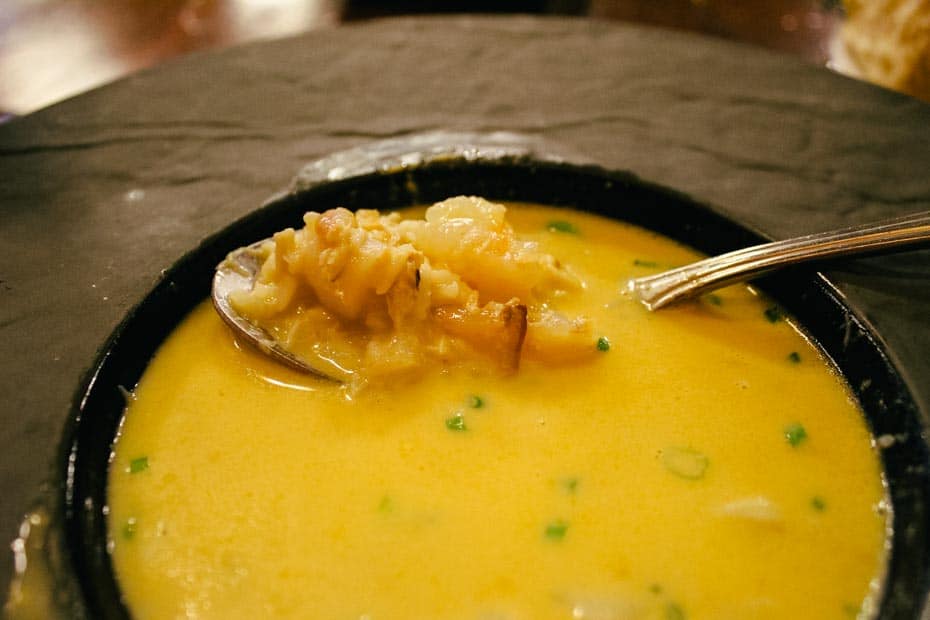 All joking aside, the curry has a smooth texture complemented by the hearty nuggets of seafood. Then there's a bit of heat leftover on the palate after consuming your first few bites. It is a very pleasing dish.
But if you aren't in the mood for soup, the Crispy Pork-Vegetable Pot Stickers is a fine choice. This dish came as such a surprise. I was expecting multiple potstickers (plural) when this arrived.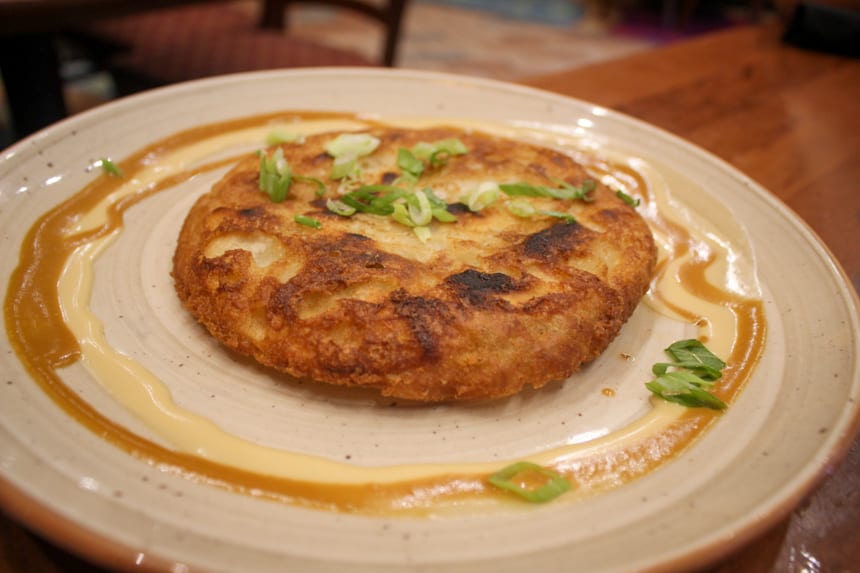 I wasn't even sure how to approach it. But really, it didn't matter, because after you take your first bite, it won't be around for long. This large pot sticker kept me coming back for more and more.
It's not often I find something that's difficult to quit eating. The dish reminded me of a slice of cake where I kept telling myself, "just one more bite."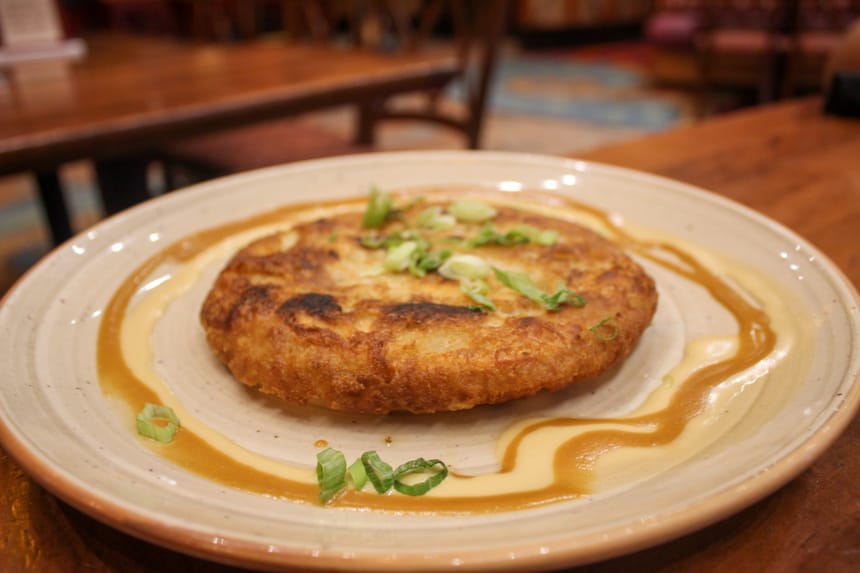 And think, we haven't even gotten to sushi yet! No Kona Cafe review would be complete without dessert. In my case, dessert means sushi. Nearly every meal we get at Kona comes with a side of sushi.
Let's face it, when I go to Kona, it's usually because I'm craving sushi. The restaurant is known for this special cuisine. They even have a sushi chef preparing rolls at an open bar area.
To date, I've tried a variety of sushi rolls, starting with this Shrimp Firecracker roll.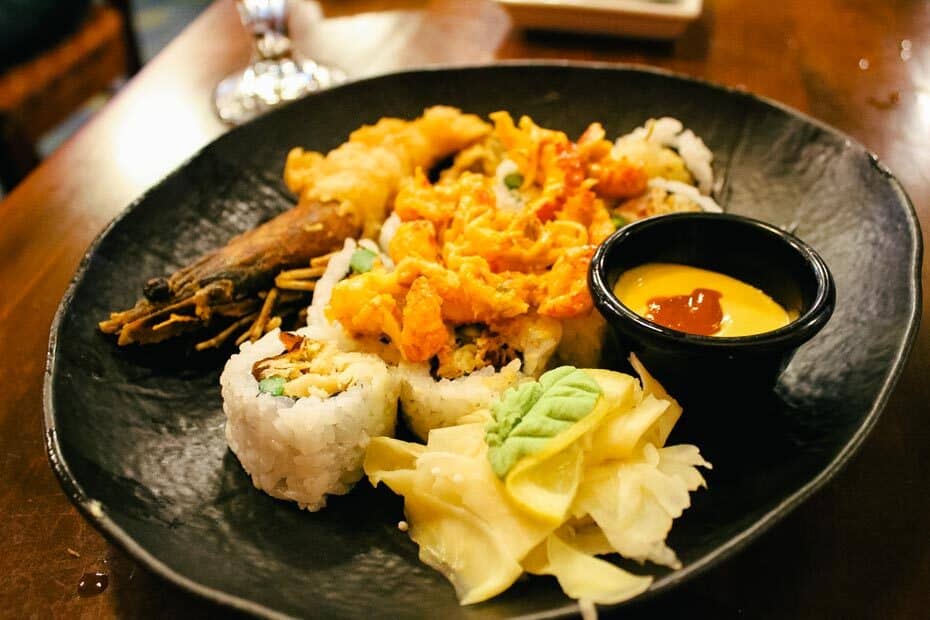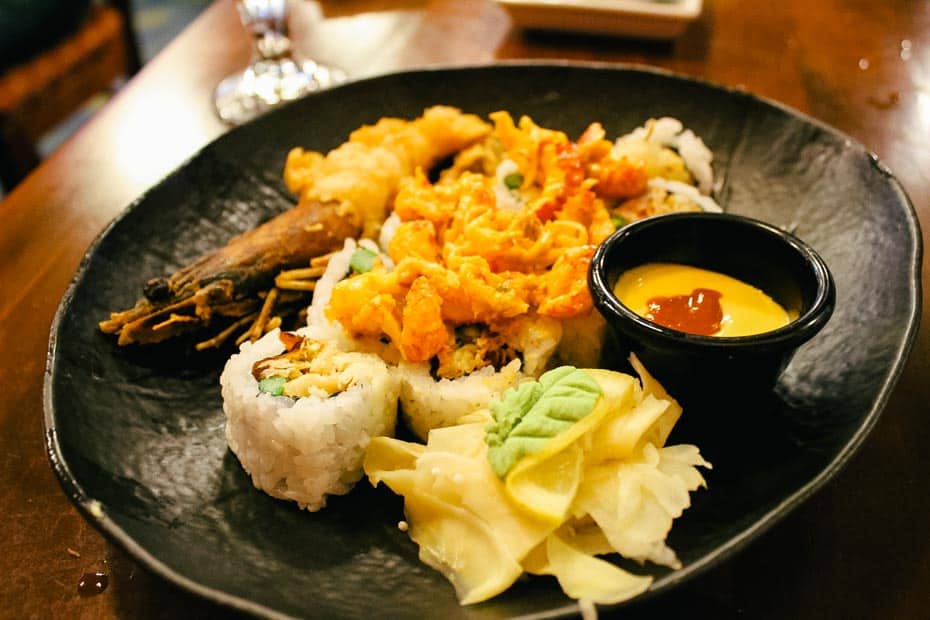 This dish is described as tempura shrimp, crab, avocado, spicy tuna, cucumber, and chili sauce.
It was for sure a winner in my book and something I would potentially order again. The sushi has a nice spicy flare to it but nothing overbearing.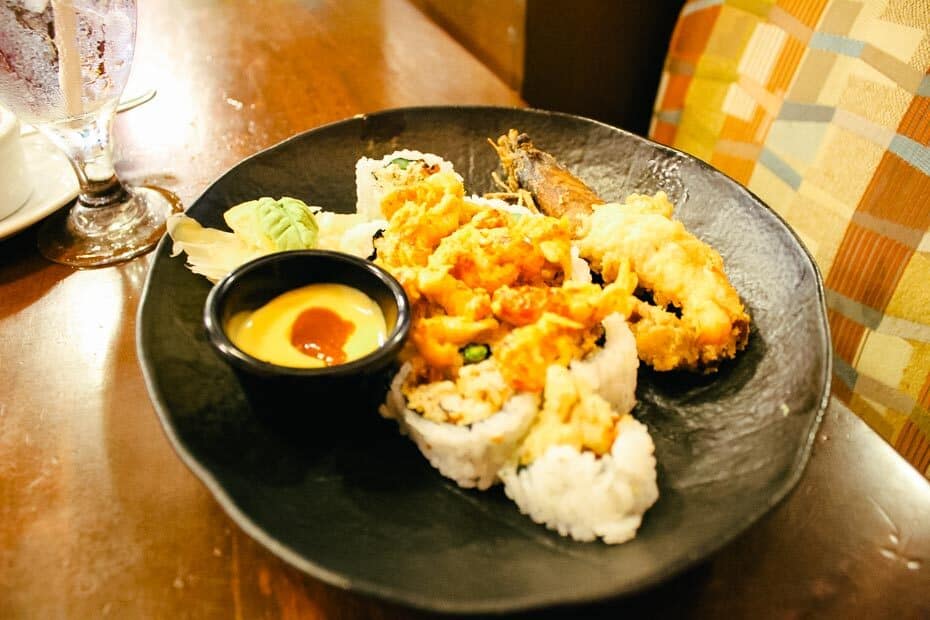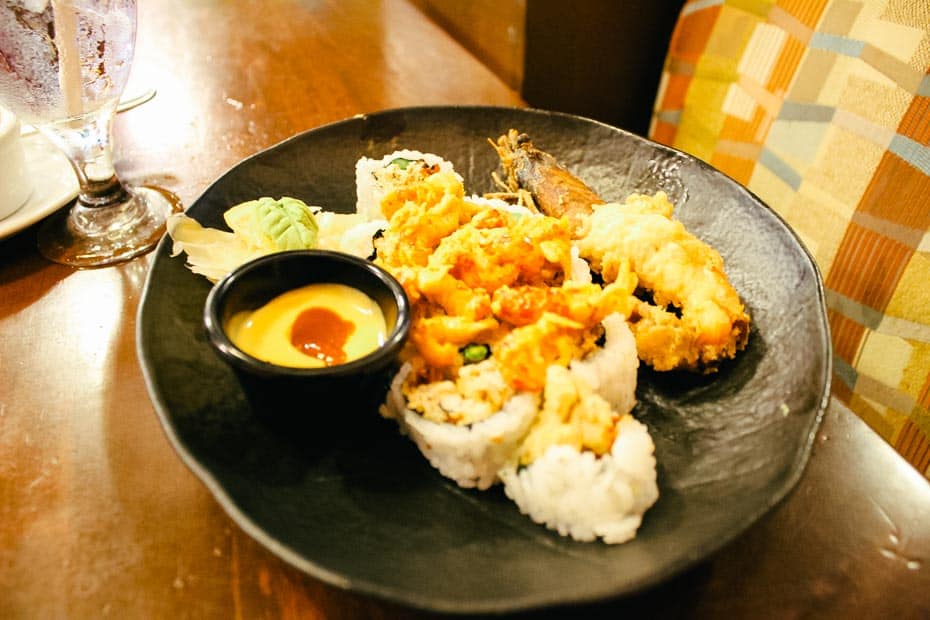 Next is the small Kona Sampler Sushi. There isn't anything small about this dish, in my opinion. This is the best selection of sushi I've had here. It's so good that we added to the list of where to find the best sushi at Disney World.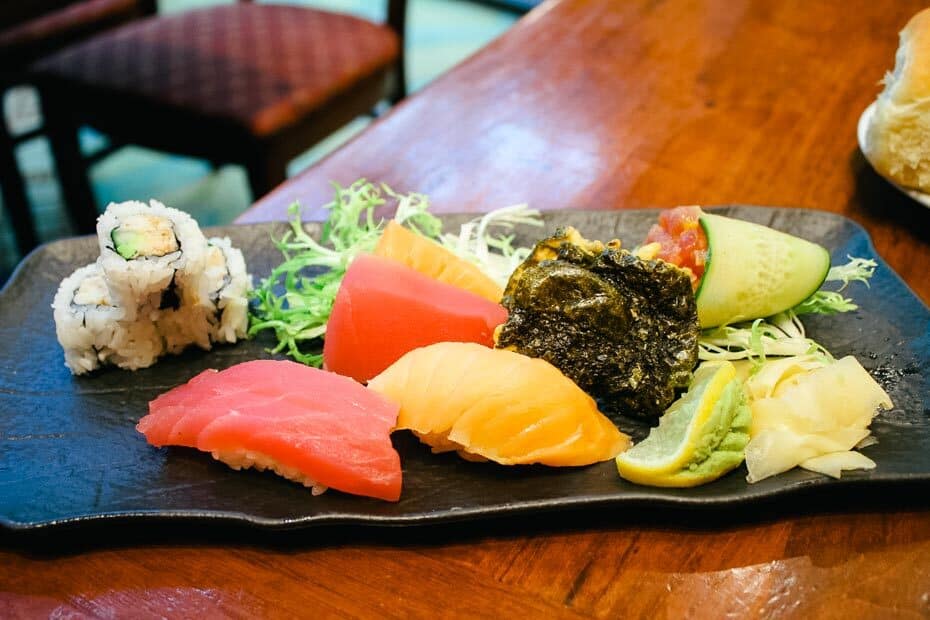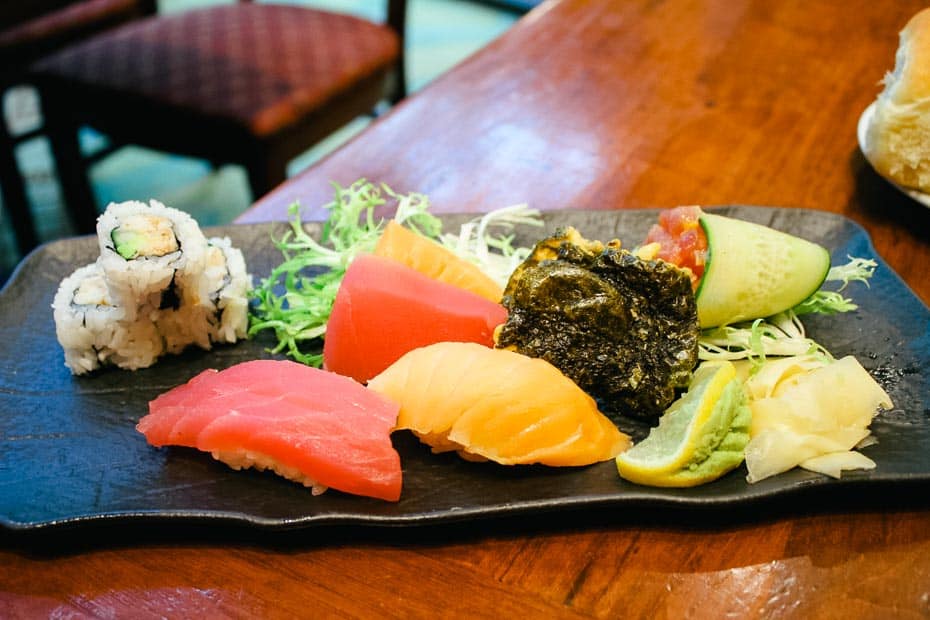 The small sampler at Kona Cafe comes with tuna poke, two nigiri pieces, two pieces of sashimi, and three pieces of California roll.
As you can see, it's quite a large platter. The sushi chef also sent out a piece of seaweed tempura on the dish.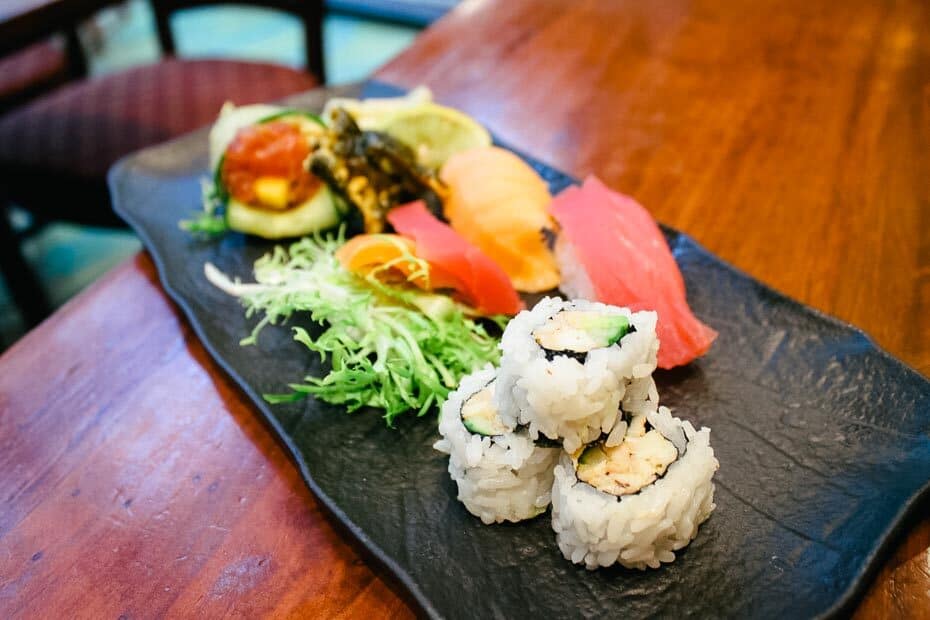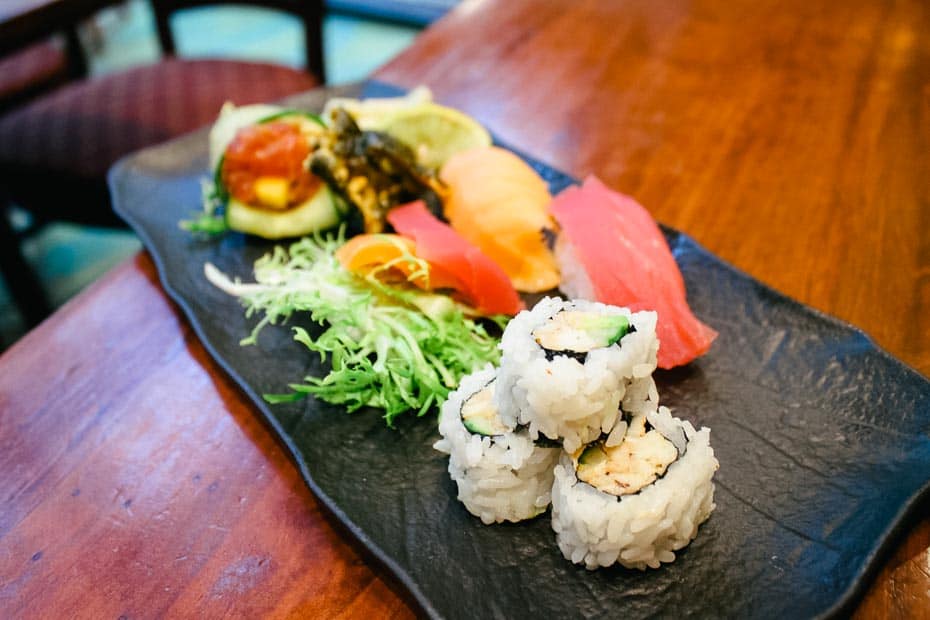 The salmon selection was my favorite, followed by the tuna.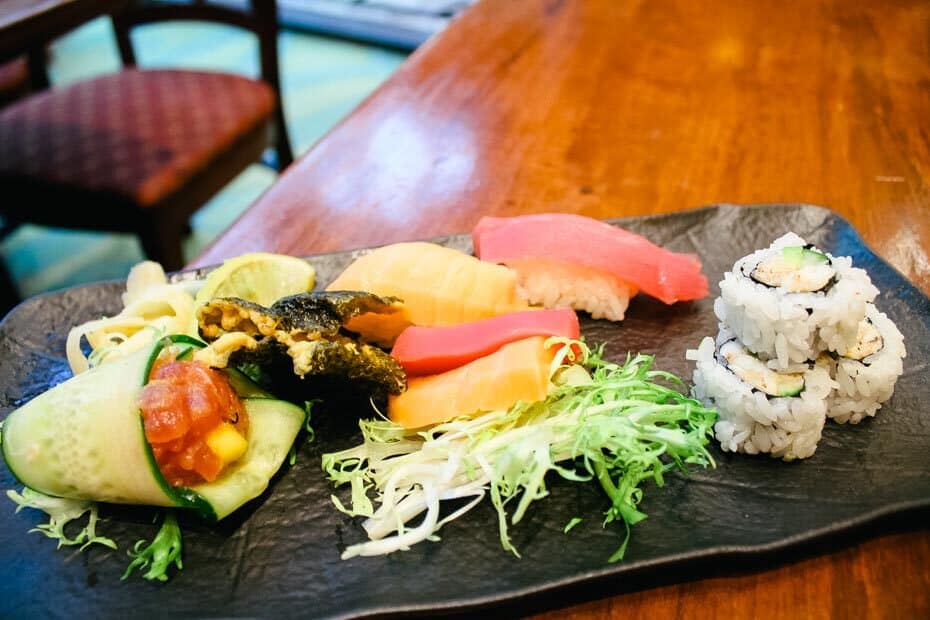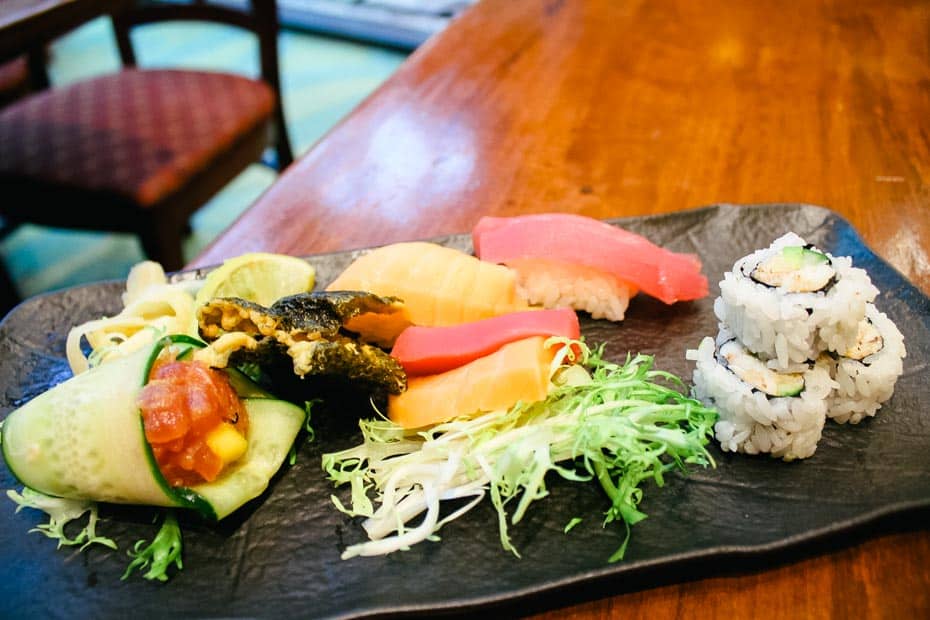 The tuna poke was questionable when it first made its appearance at the table. This tuna poke is described as passion fruit bobo, micro chives, wasabi chips, and citrus yuzu. My first bite was a tad bitter, and I felt like I wouldn't care for this one.
After electing to take a second bite, I felt wrong about the whole thing and found it quite delightful. I don't know if it was just one of those mind over matter things or what. It hit the spot.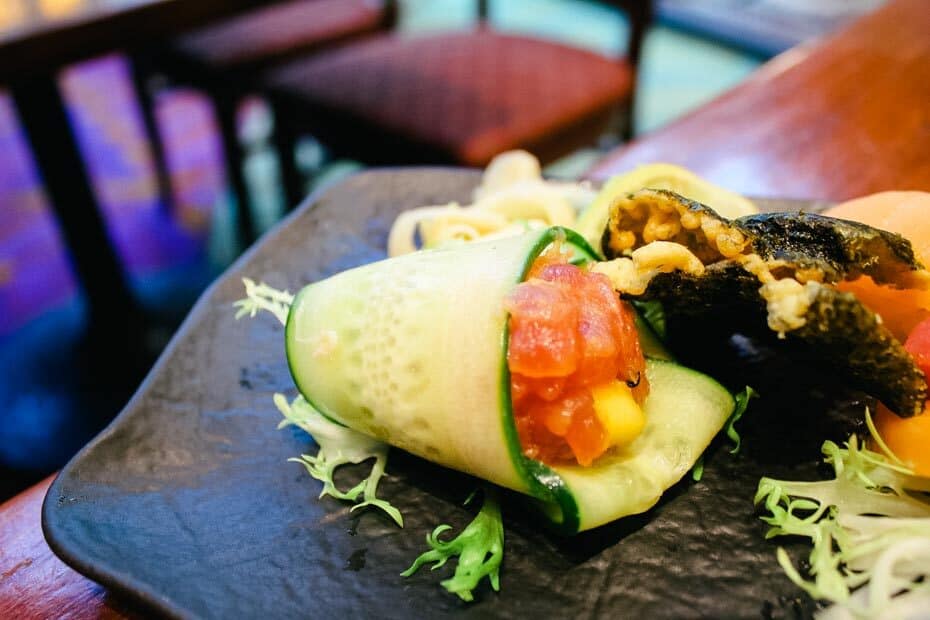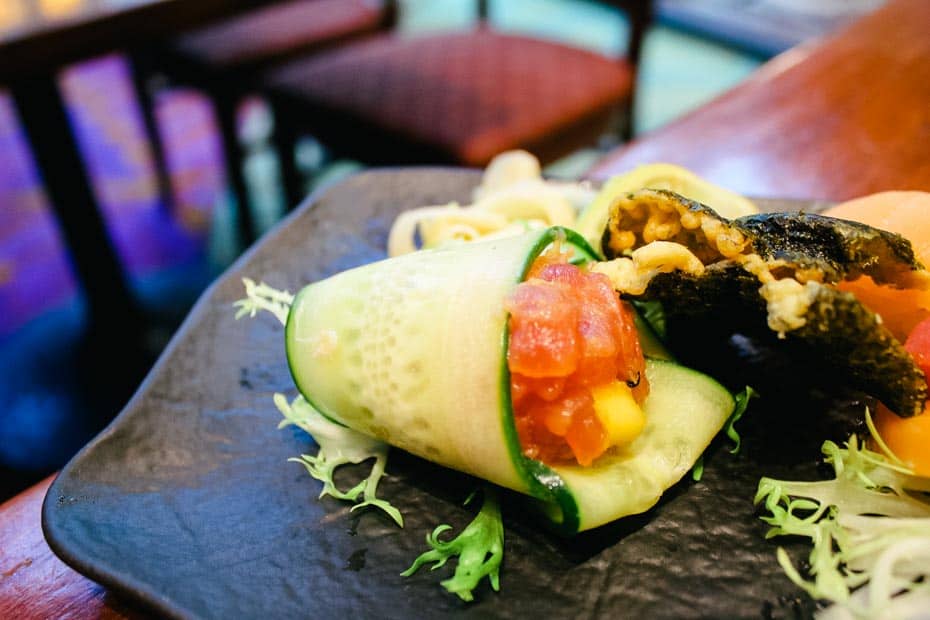 And on my last visit, I went with the Rainbow Roll.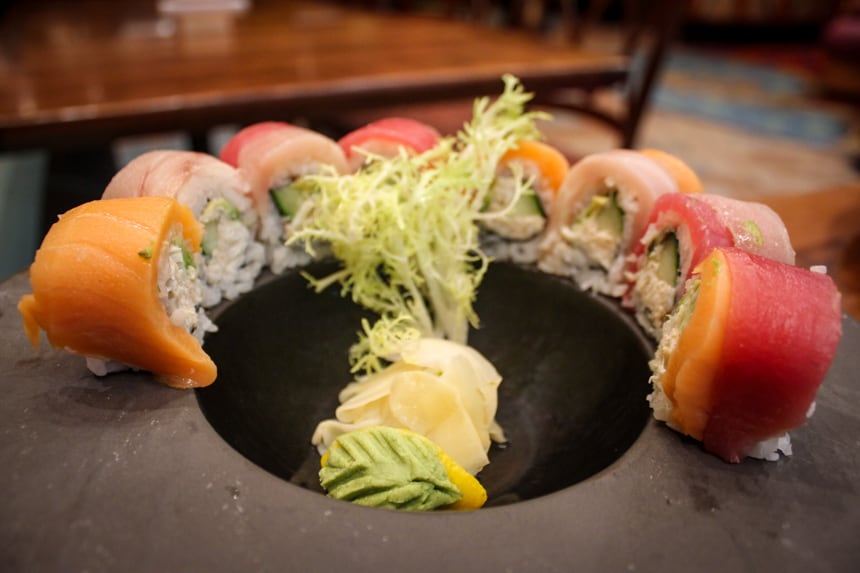 The menu describes this roll as tuna, salmon, mackerel, hamachi, lump crab, cucumber, avocado.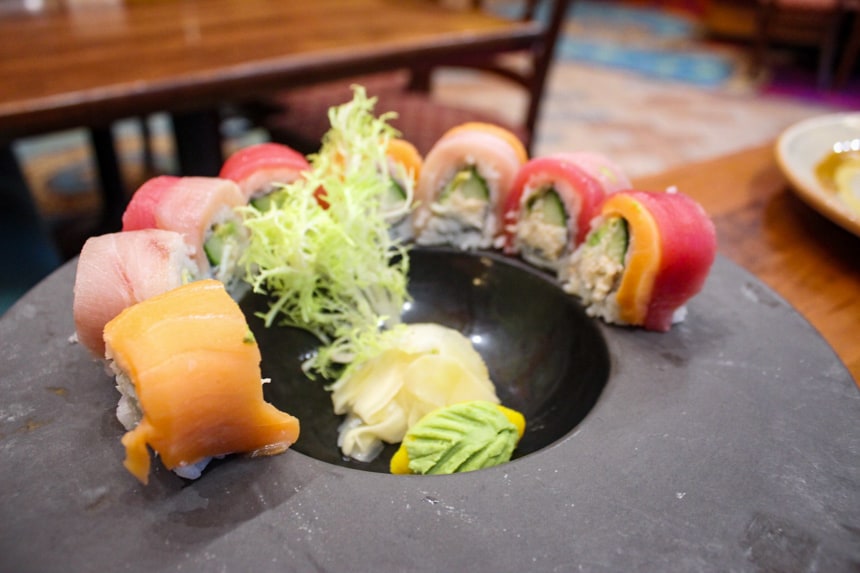 What can I say? Another rave review, I enjoy the sushi rolls here.
Other popular items at Kona Cafe include the following:
Asian Airline Chicken (Sticky Rice, Bok Choy, Asian Glaze)
Jasmine Broth, Glass Noodle, Pineapple Tofu, Umami Tomato (Plant-based, Vegan)
and for breakfast, you might enjoy:
Tonga Toast (Banana-stuffed French Toast rolled in Cinnamon Sugar and served with a Strawberry Compote and your choice of Ham, Spiced Ham, Bacon, or Sausage)
Loco Moco (Plant-based Eggs, Plant-based Sausage, Coconut Milk, Rice, Pico de Gallo, Vegan)
Macadamia Pineapple Pancakes (with Macadamia Nut Butter, Pineapple Sauce, and your choice of Ham, Spiced Ham, Bacon, or Sausage)
You can preview either of the menus here on Disney's site. If you scroll down to the bottom, you should be able to preview allergy-friendly and gluten-free options.
And if you have room for dessert, you might be able to order the infamous 'Ohana bread pudding here. Unfortunately, I don't think it is listed as a menu item. However, if you are interested, ask your server if the bread pudding is an option.
As we begin to wrap up this Kona Cafe Review, let's look at a few more pictures of the restaurant.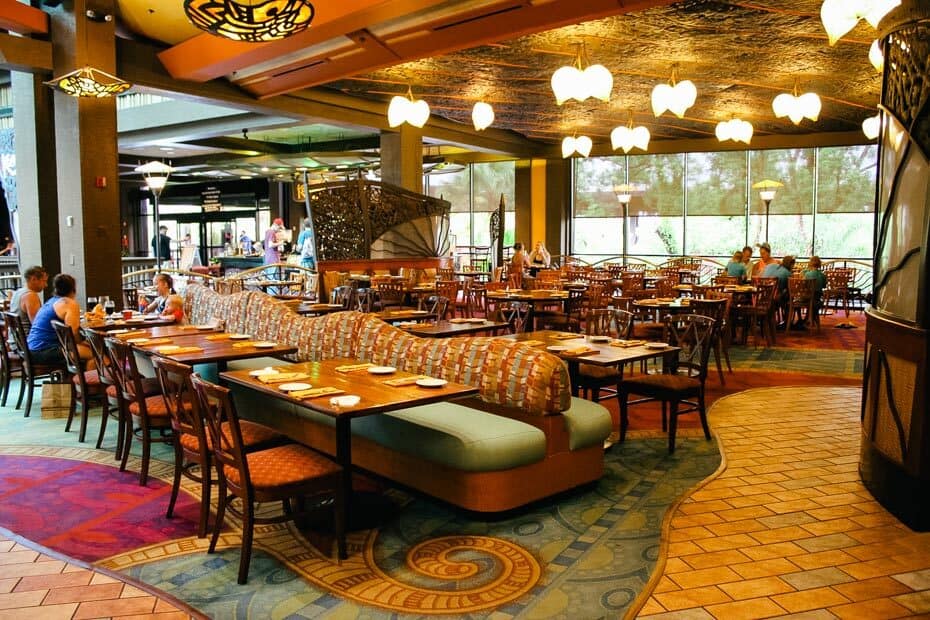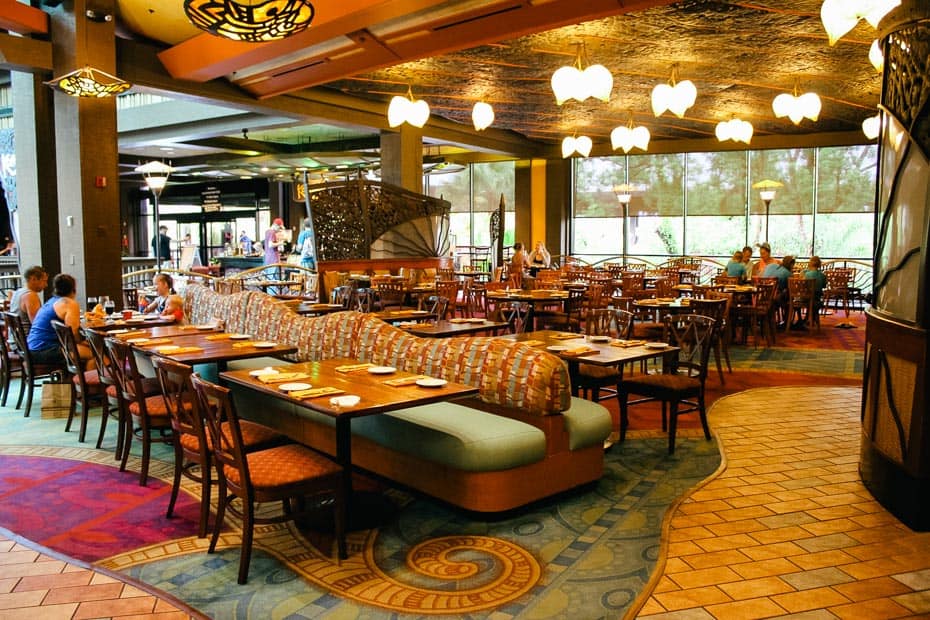 Above is a picture of how open the restaurant is from the exterior. This outside area is mainly a walkway and looks down at the open lobby. There are several different styles of seating arrangements.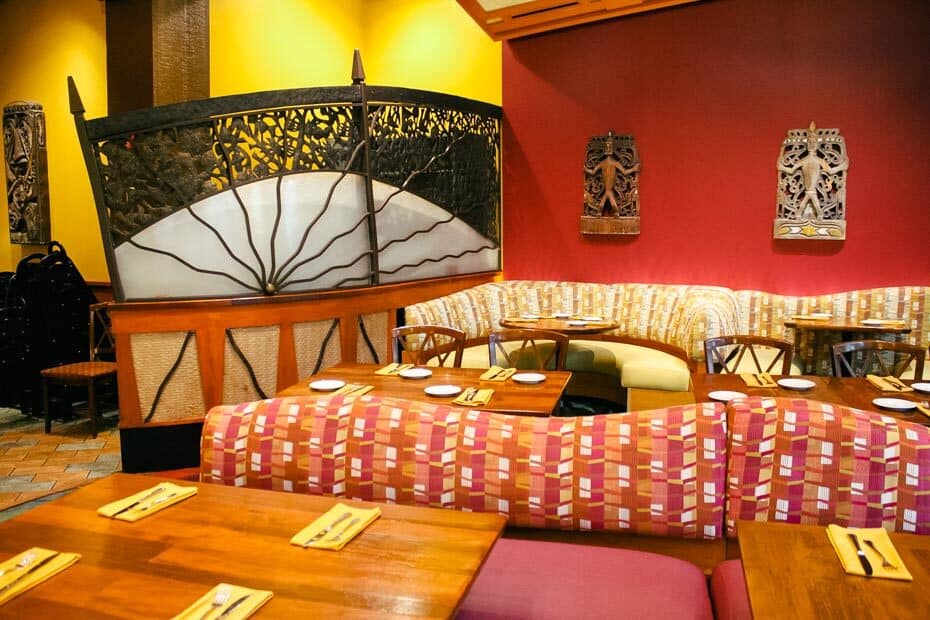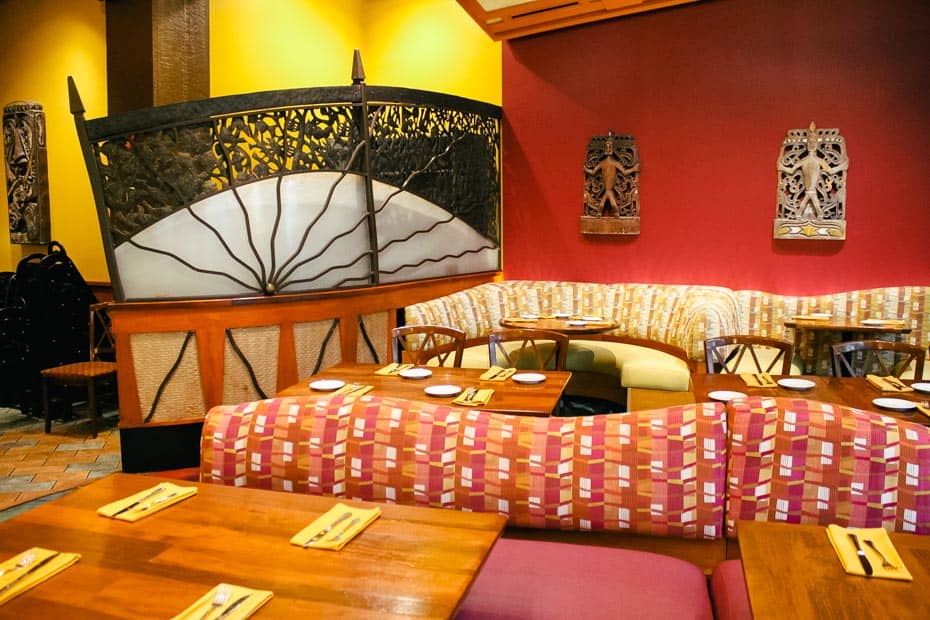 Along with open tables featuring different viewpoints.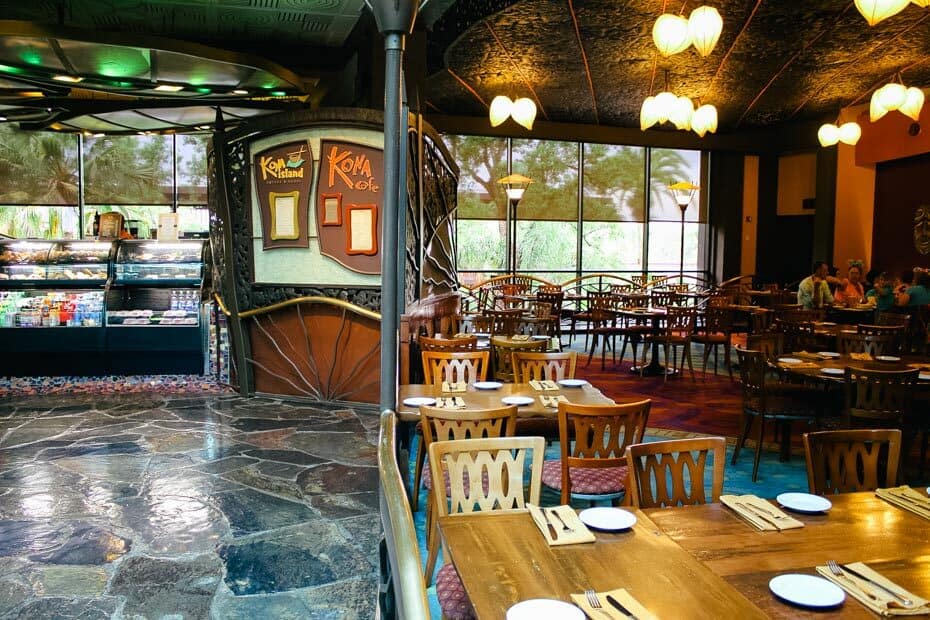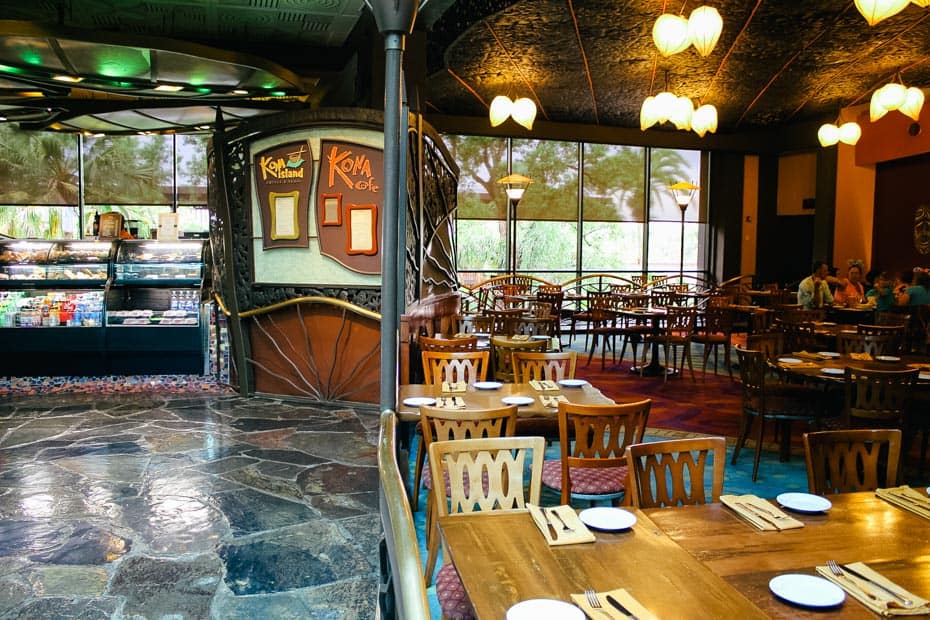 The sushi preparation area is at the center of the restaurant, close to the entrance.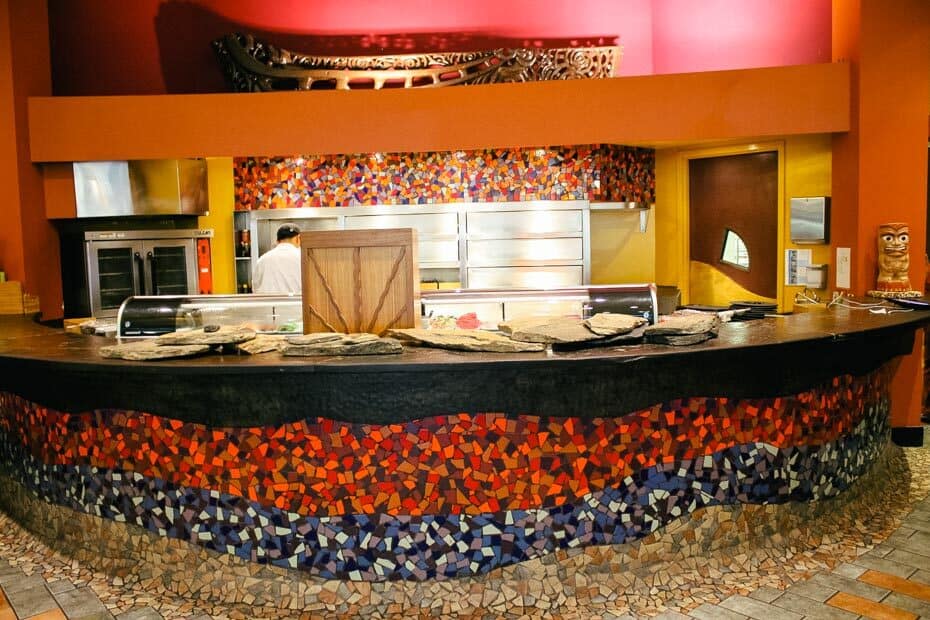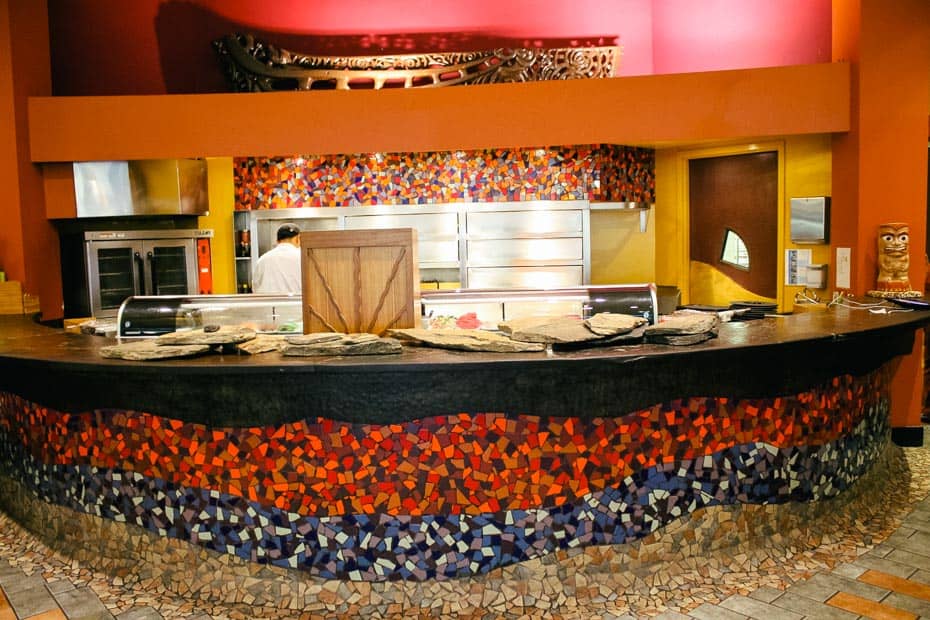 There is usually a case with fresh fish on display.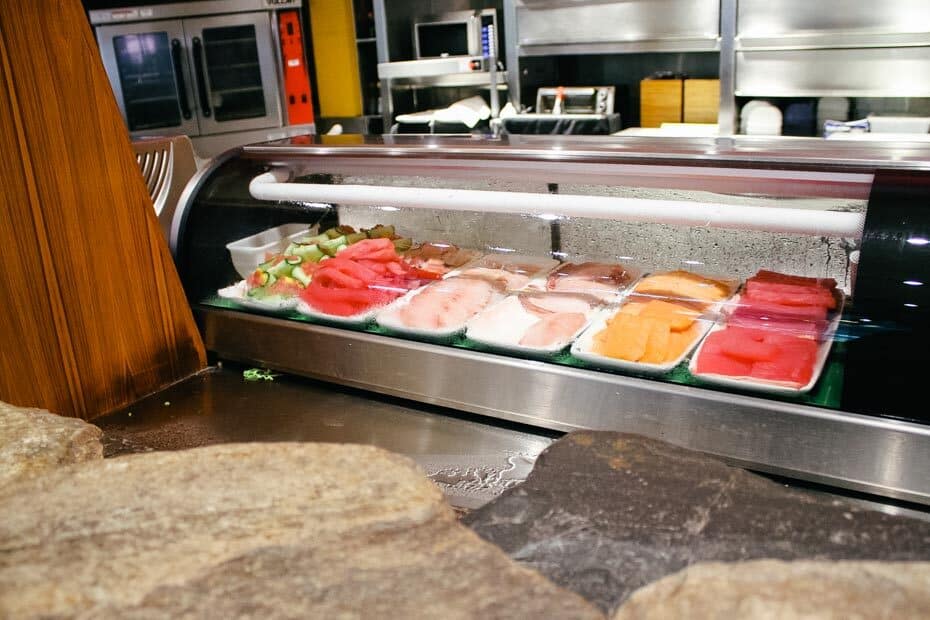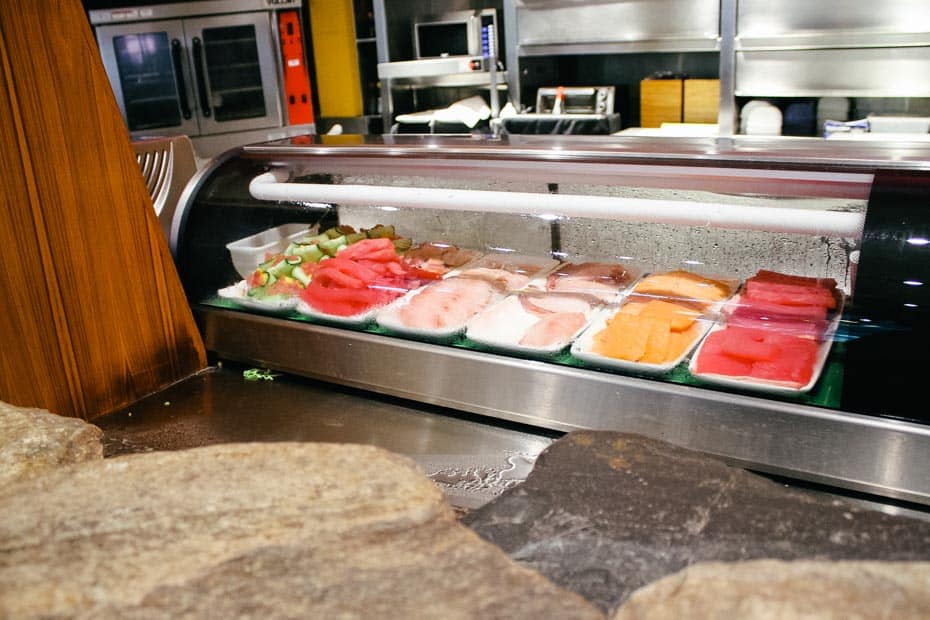 If you are interested in higher-end sushi preparations at Disney World, I recommend checking out my California Grill review and my review of Morimoto Asia. You cannot go wrong at either.
Additionally, we have a review of the 50th-anniversary dinner at California Grill. That experience is going on to celebrate Walt Disney World's anniversary.
Wrapping things up, I would like to point out that the Polynesian is a destination within itself. I encourage anyone visiting Disney World to stop by for a visit.
If you are planning a resort stay, make sure to check out the entire review of the Polynesian. Additionally, we have a guide to transportation options at the Poly. It includes updates on how to get to and from the resort to other popular destinations.
For more dining information specific to the Polynesian, check out our Polynesian Restaurants Guide. Or try these individual restaurant reviews:
Or you may enjoy browsing our complete list of Disney Restaurant Reviews.
And if you missed it, there's a recent review of the Topolino's Terrace character breakfast. I highly recommend it over breakfast at 'Ohana. Topolino's has become our favorite character dining experience at Walt Disney World to date.
Additionally, the Polynesian makes our list of best Disney World pools and has a restaurant that's listed in our Top 10 Quick Services at the Disney World Resorts.
I hope you enjoyed this Kona Cafe review and will consider planning a meal there on your next vacation.
Leave a comment and let me know your thoughts on dining at Kona Cafe. I welcome your experiences and knowing what you might be looking forward to on your visit.