Review: Disney's Sanaa with Mouth-Watering Bread Service
Sanaa is one of the top places to enjoy a meal at Walt Disney World. When I think about past vacations, good times, and meals worth bragging about at Disney, Sanaa is one that instantly comes to mind.
Most anyone who considers themself a regular visitor knows that Sanaa is a dining venue you'll return to again and again. It's just that good.
In this Sanaa review, we'll take a look at all the many reasons you'll want to dine here on your next visit. Including the main reason, something you've probably heard of before, the famous bread service.
Let's face it. I love bread, you love bread, we all love bread. And when it comes to dining at Sanaa, this is one meal you'll want to start with bread. Then, maybe you'll leave room for an entree. Maybe.
This article was updated on February 17, 2022.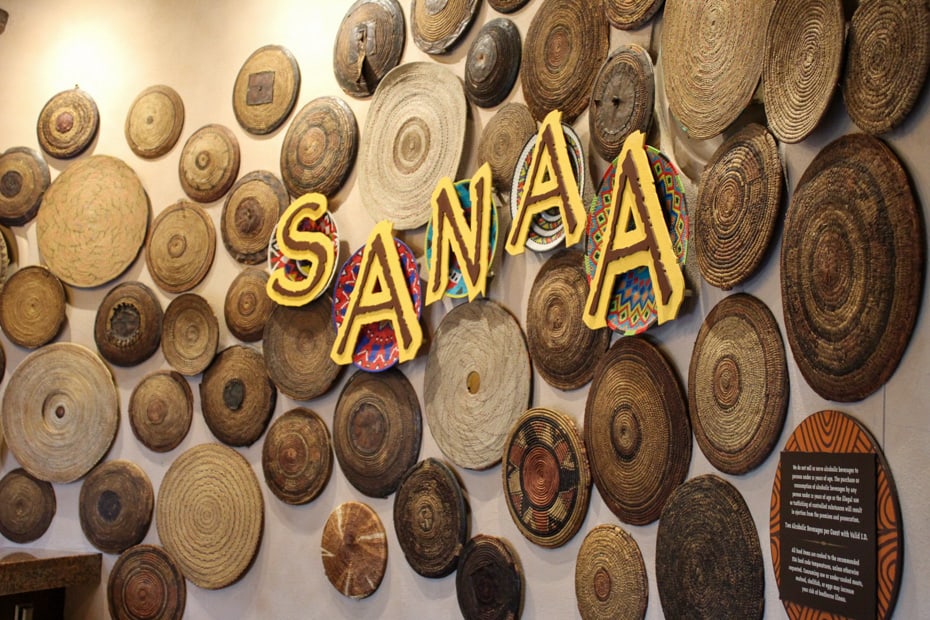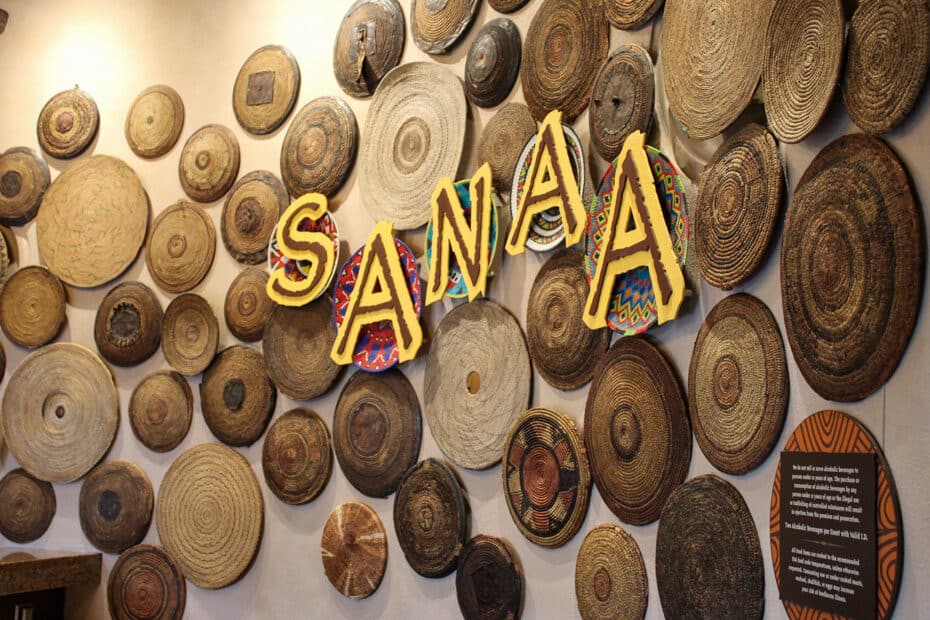 So grab a snack and mark Sanaa down on your must-do dining reservation list. Because you will want to eat here by the time we get through!
Sanaa Review
One of the many reasons Sanaa is worth a dinner or lunch reservation is the opportunity to visit Kidani Village at Disney's Animal Kingdom Lodge. Kidani is the smaller resort next to Jambo House, the actual large lodge.
Related: Kidani Village Resort Review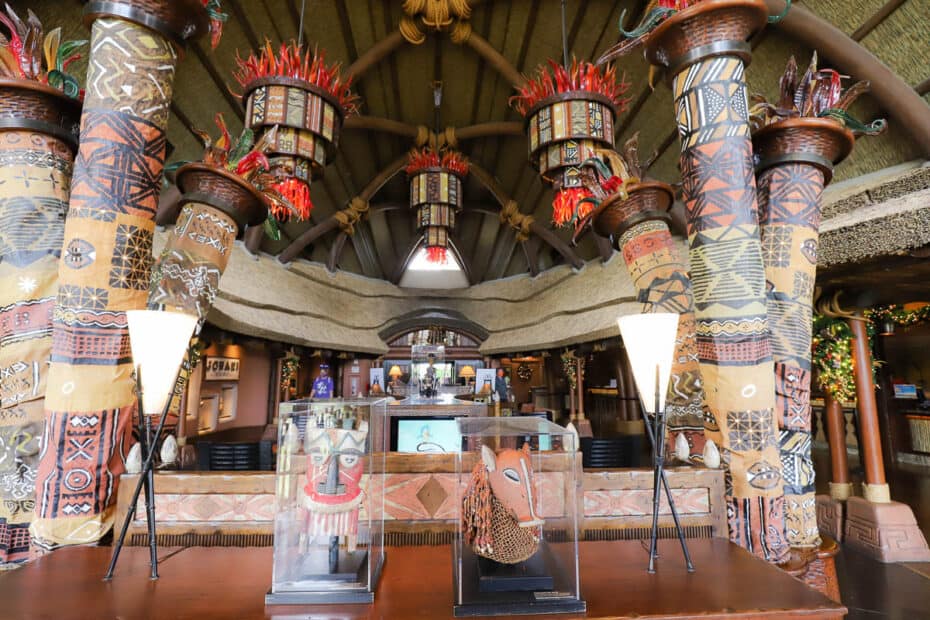 If you are driving your vehicle over, you'll want to park in the parking garage at Kidani Village. It's a great covered place to park and relatively easy to access the restaurant.
Sanaa is located on the lower level, just off the main lobby. Follow the signs to the lobby and take the stairs or elevators down one floor to Sanaa.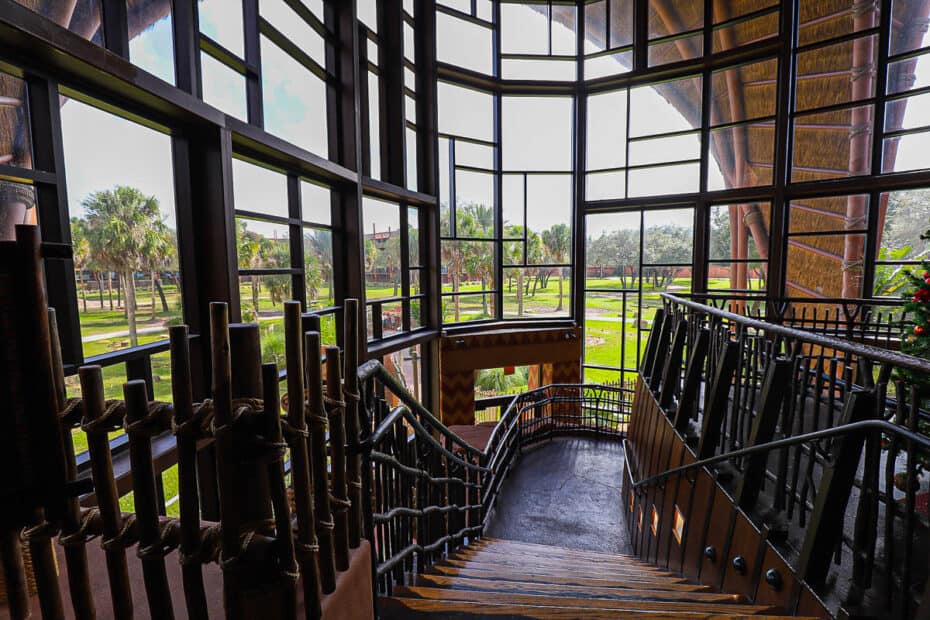 Right outside of Sanaa is a large savanna viewing area. Anyone visiting the resort can enjoy this public viewing area. It's another perk for planning a meal at the restaurant.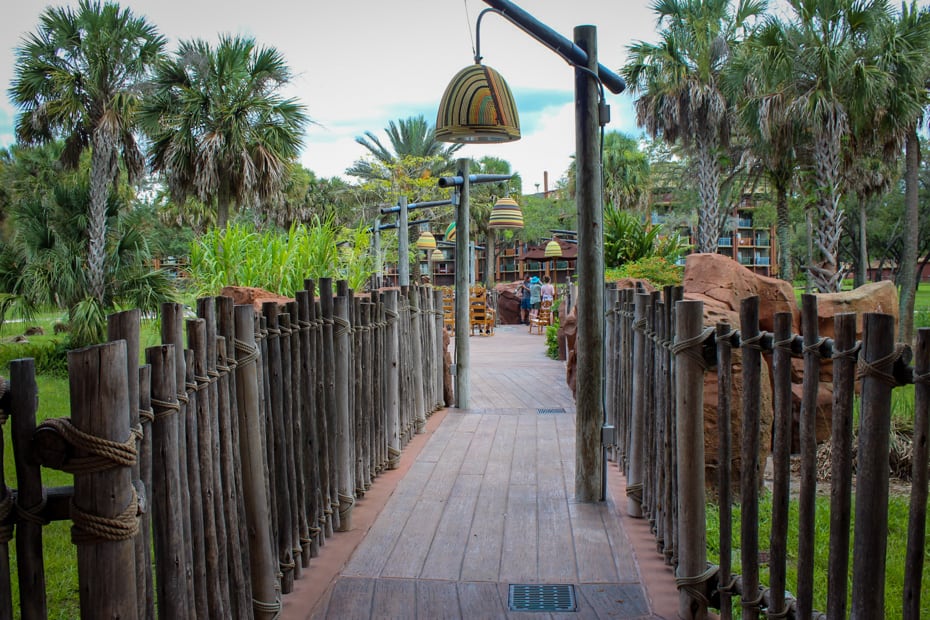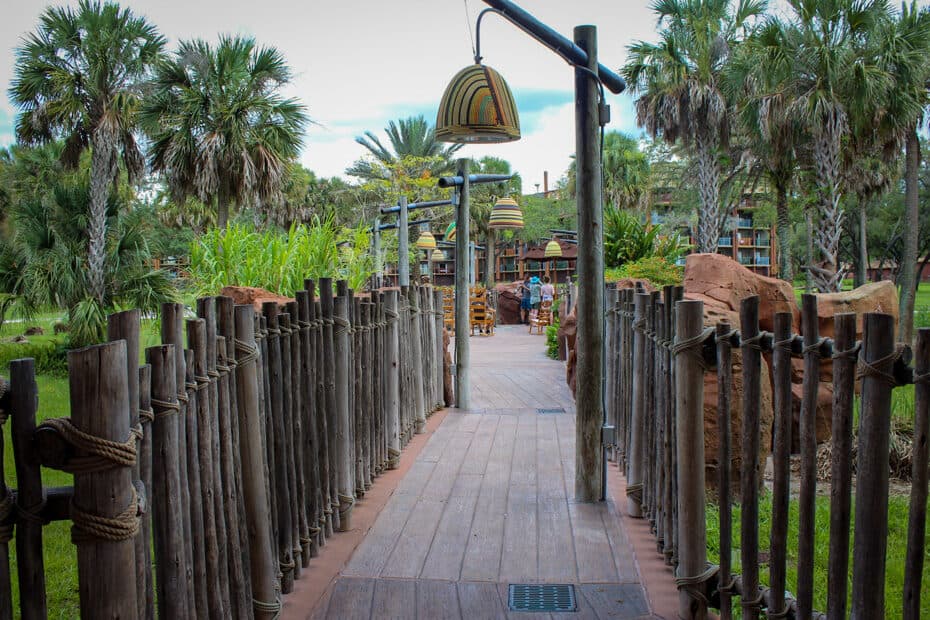 If you don't have a car with you, there are several ways you can get to Sanaa from other places at Disney World.
First, you can take a bus from any theme park to Animal Kingdom Lodge. When you get to the resort, you'll want to make sure to get off at the Kidani Village stop.
The bus driver will play an announcement stating Kidani and Jambo House before each stop. However, often people aren't paying attention, so you can always ask if you are unsure. The main thing is to remember that Sanaa is at Kidani Village.
If you leave from a resort, I would take a bus to Animal Kingdom theme park and then transfer over to the resort. The Animal Kingdom Lodge is near the theme park, and that bus frequently runs due to the proximity.
Lastly, you can take any bus to Disney Springs and board a bus to Animal Kingdom Lodge. Give yourself a good hour to an hour and a half in advance when opting to use Disney transportation.
Upon arrival, you'll receive a QR code to scan to preview the menu.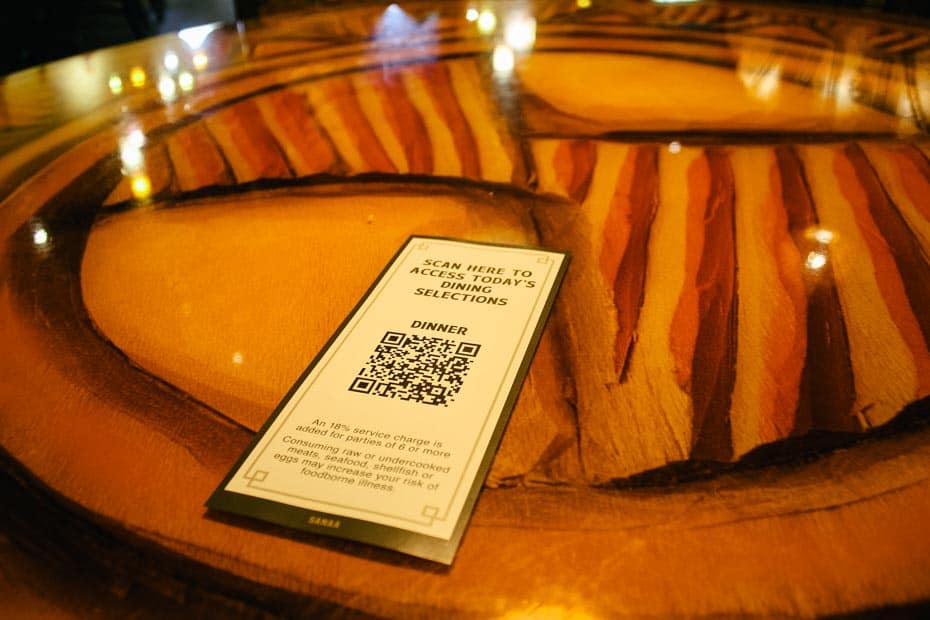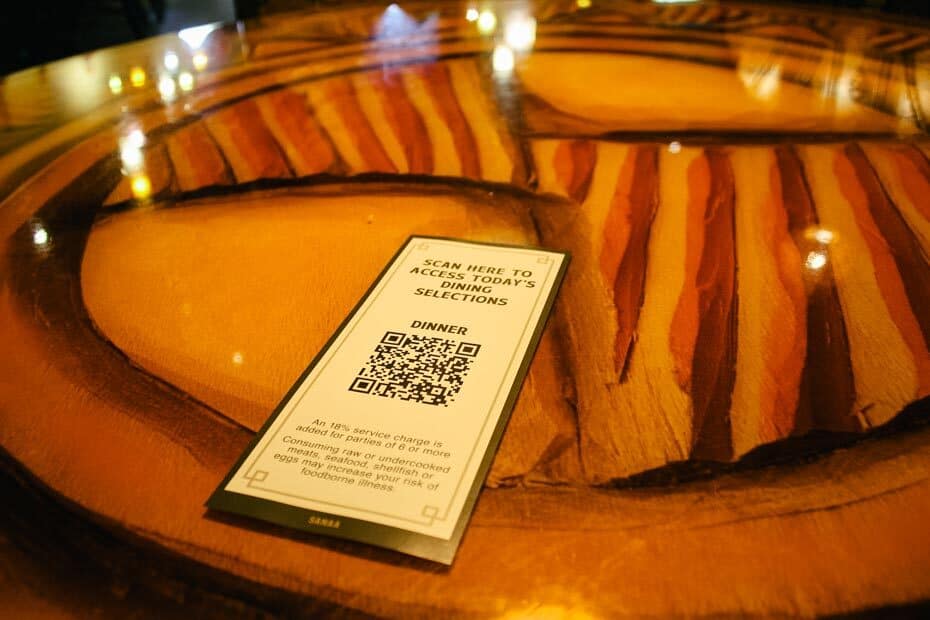 You can ask the server to bring you a disposable menu if you prefer.
If you want to preview the breakfast or lunch menu, you can do that here on Disney's site. At the top of the menu, change the drop-down box to whatever meal you want to preview.
Sanaa is an African-themed restaurant. Expect cuisine offering notes of Indian spices combined with unique cooking methods like a Tandoori oven.
In addition, the restaurant is full of warm color tones and hidden coves.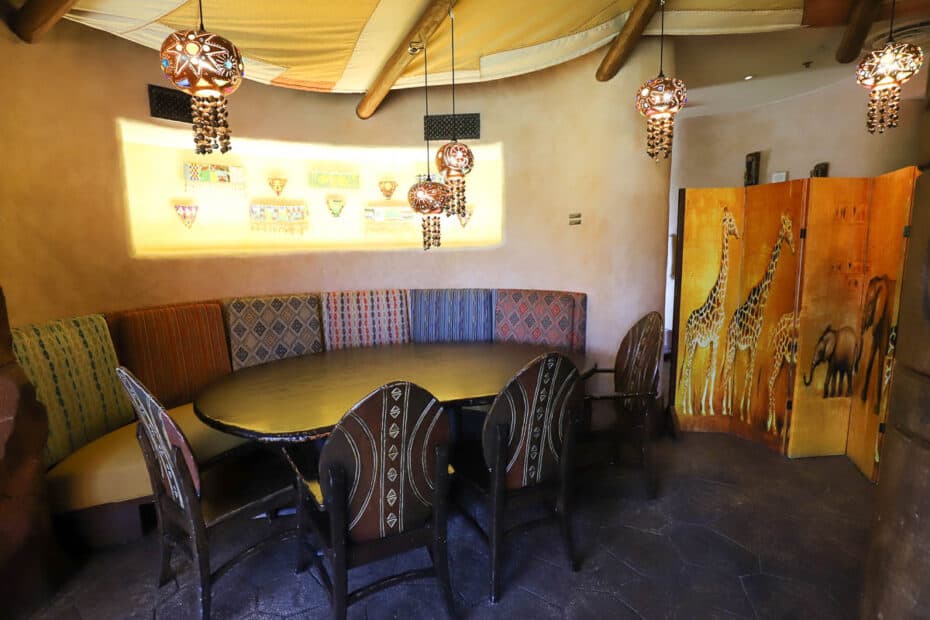 A few of the seating arrangements look directly out onto the savanna.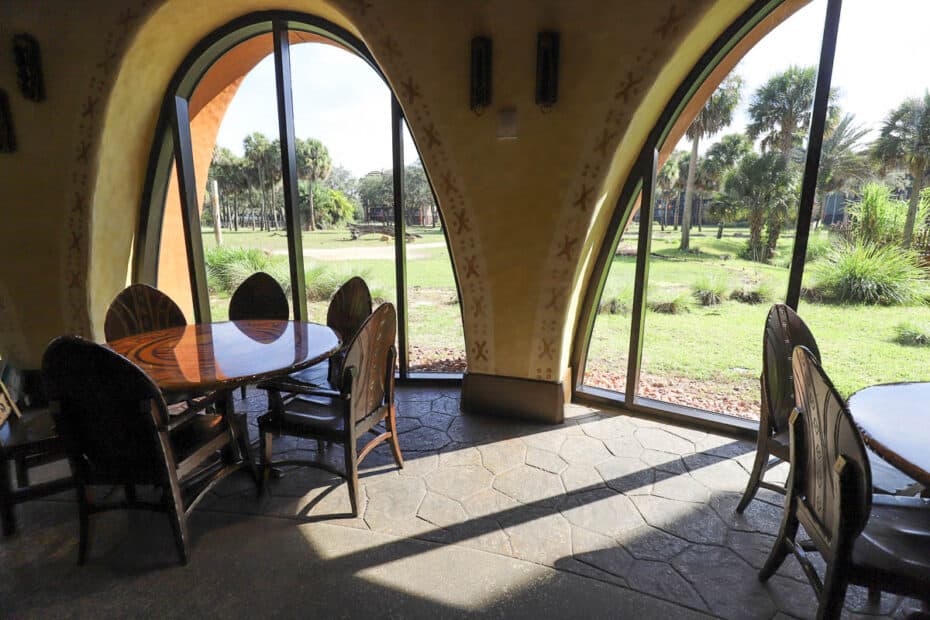 In addition, Sanaa has a separate lounge with bar. So while it's best to have a reservation for Sanaa, the restaurant does take walk-ups.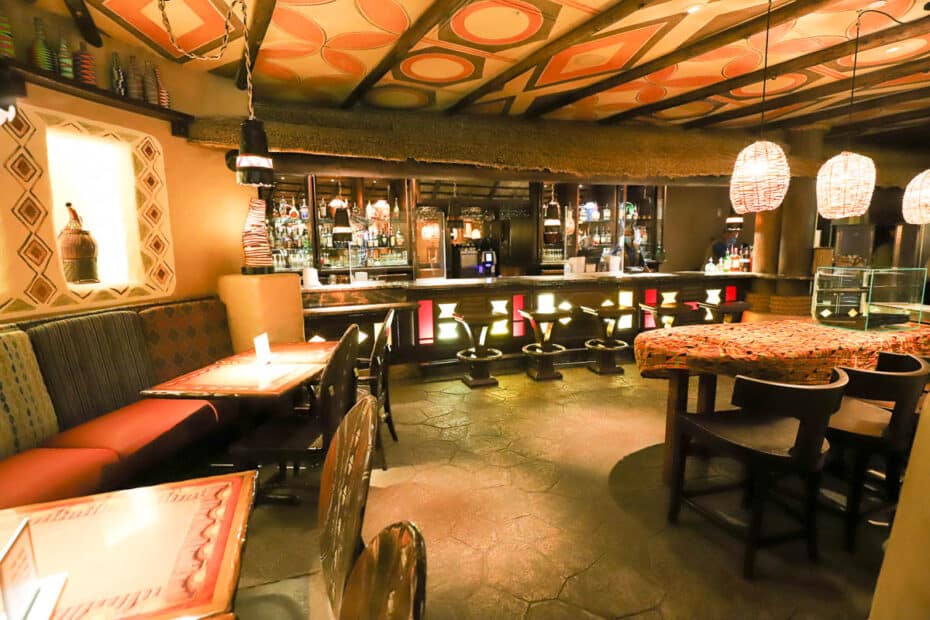 Even though Sanaa is a reasonably busy restaurant, you can usually get a last-minute reservation or join the walk-up list. This location also accepts mobile orders.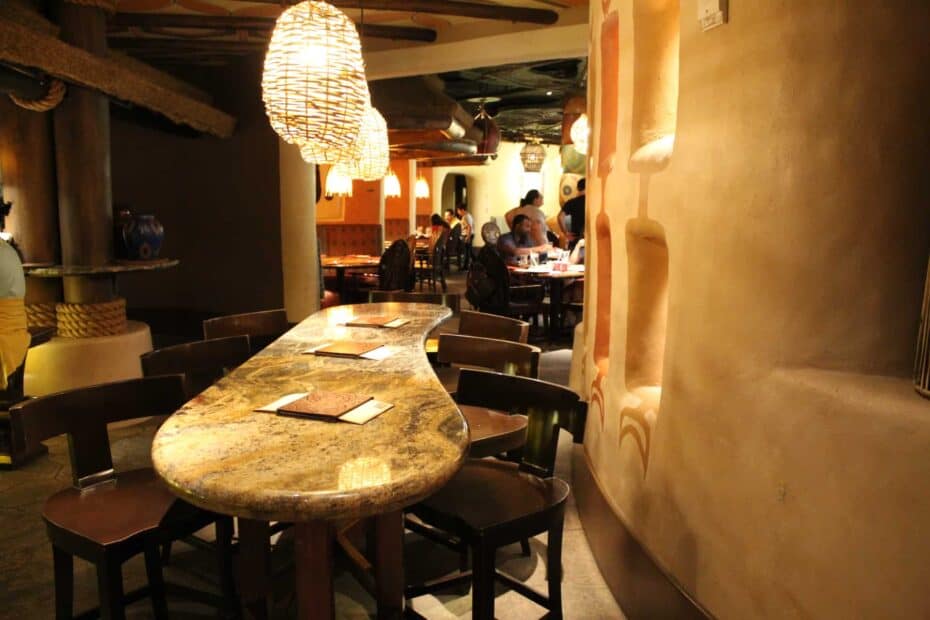 So if you're staying at the resort, you can easily order bread service and take it to your room.
Mobile order is an excellent option as well for those staying up at the main lodge. You can take a leisurely walk down to Sanaa, pick up your meal, and enjoy it out by the pool or wherever you like.
Both resorts have plenty of outdoor dining options. We recently covered the extensive outdoor seating area at the Samawati Springs Pool.
Inside Sanaa, the ceiling is spectacular. The light fixtures are hanging from the trees.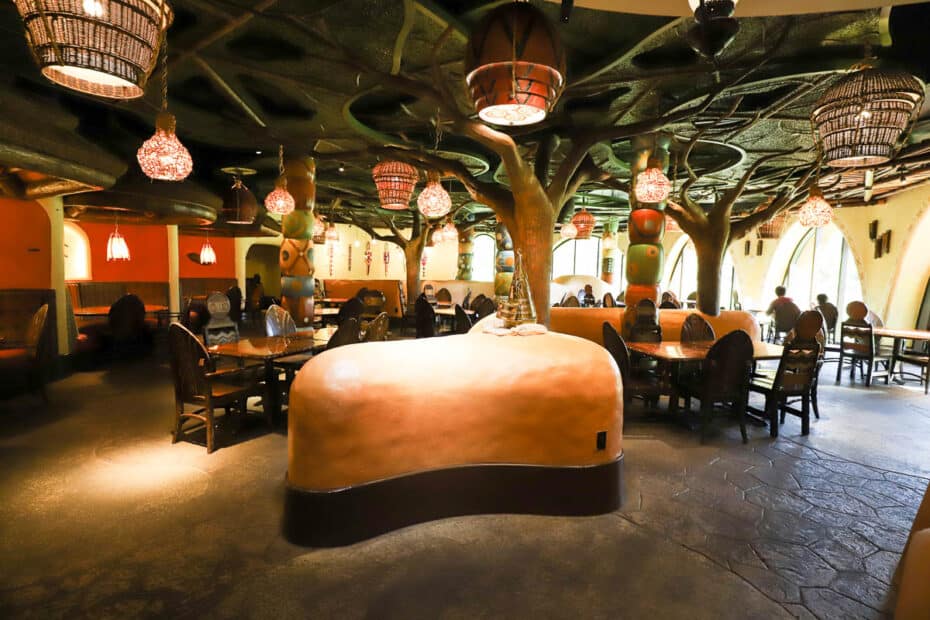 But the best part is being able to view the savanna from inside the restaurant. Those of you lucky enough to get a seat nearby a window will have this bonus of live entertainment from your table.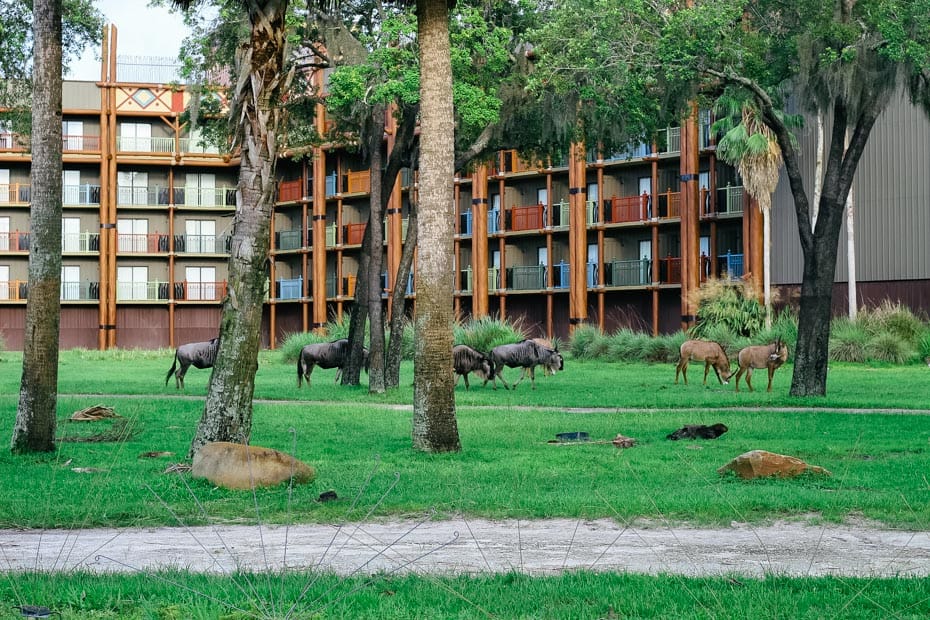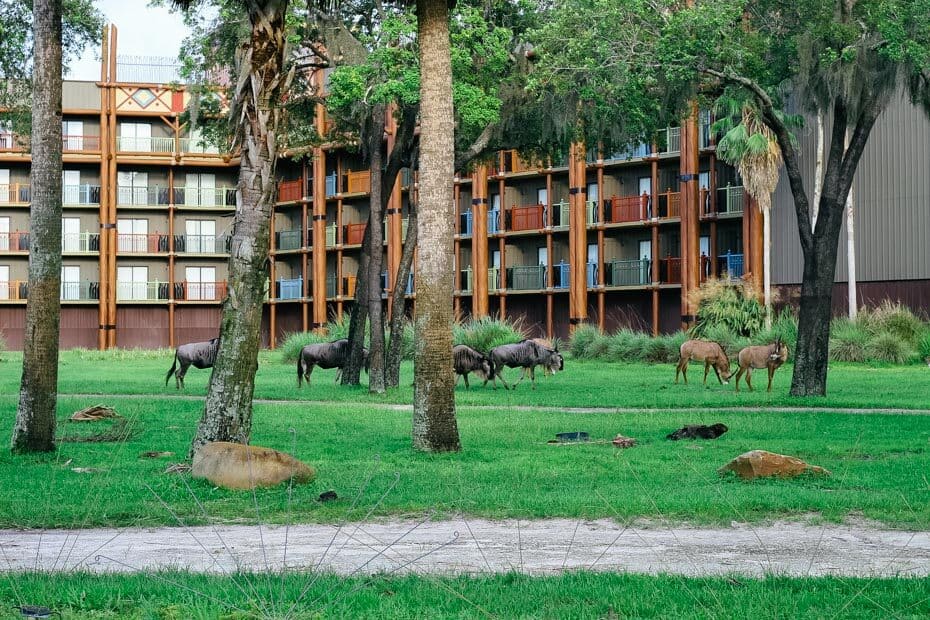 If seeing the animals is a big deal, you might want to request a table near the window area.
The main thing is considering what time of day you make your reservation. Many suggest an early lunch, but I had excellent luck with a recent meal around sunset.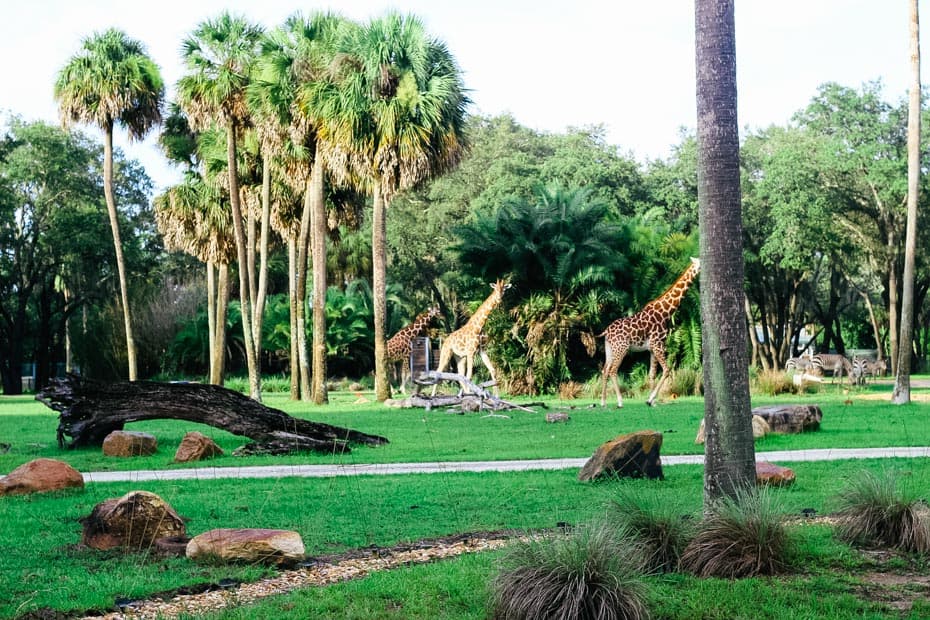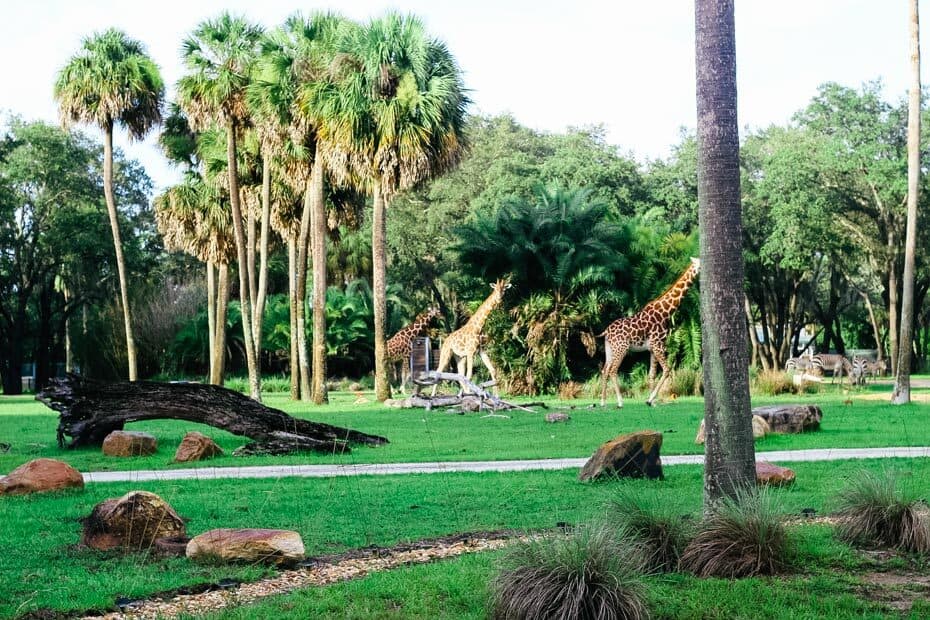 That's where I got all these fun pictures of the animals grazing.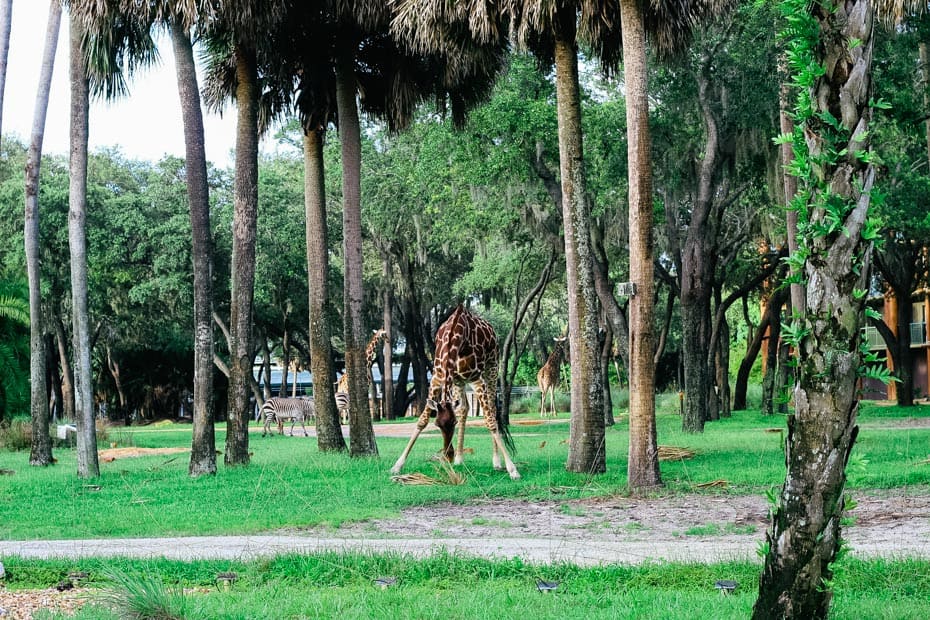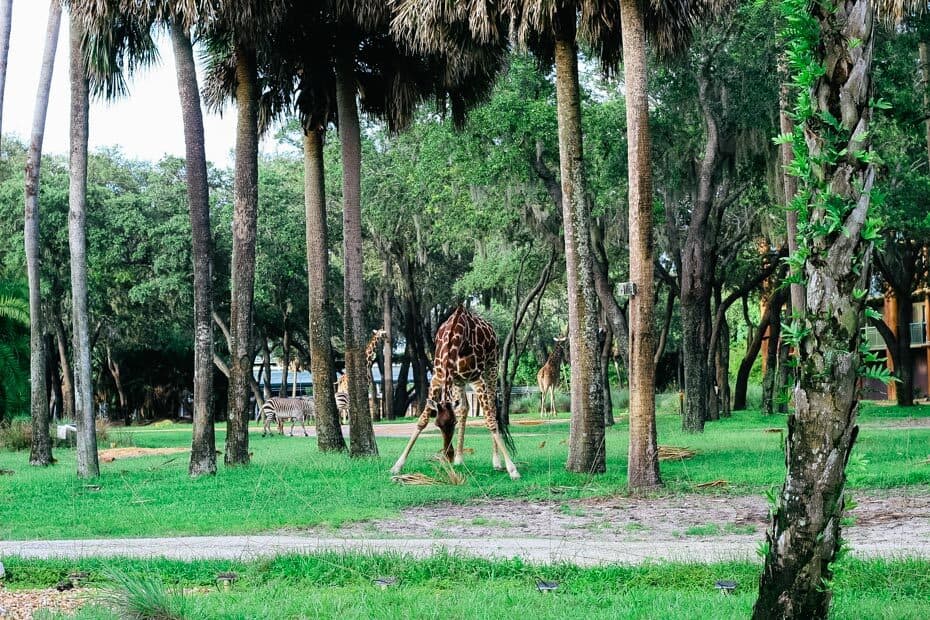 And I took this one from inside the restaurant when the new baby zebra came our way. Unfortunately, we didn't have a window seat, but I was close enough to still see some of the animals from time to time.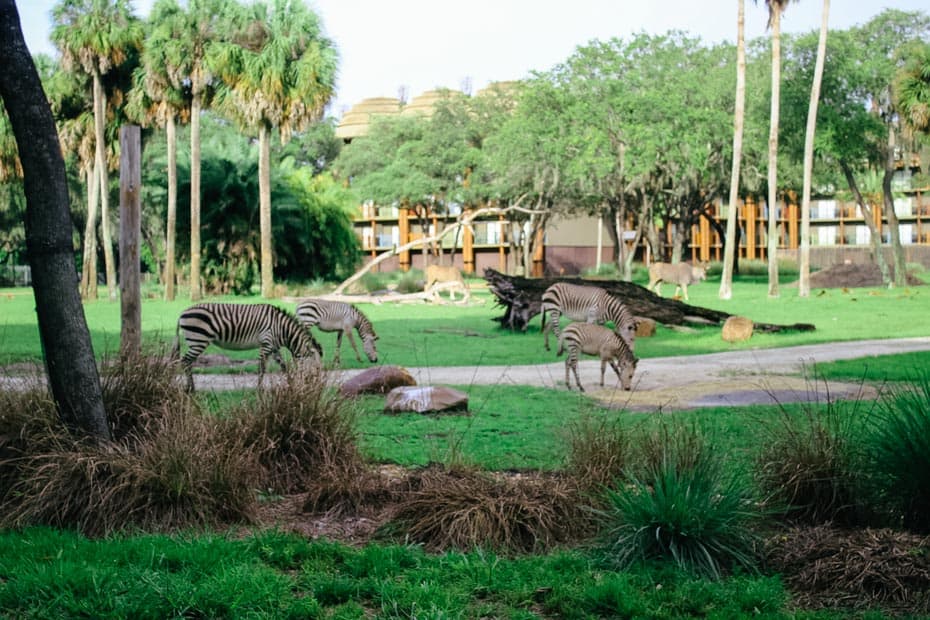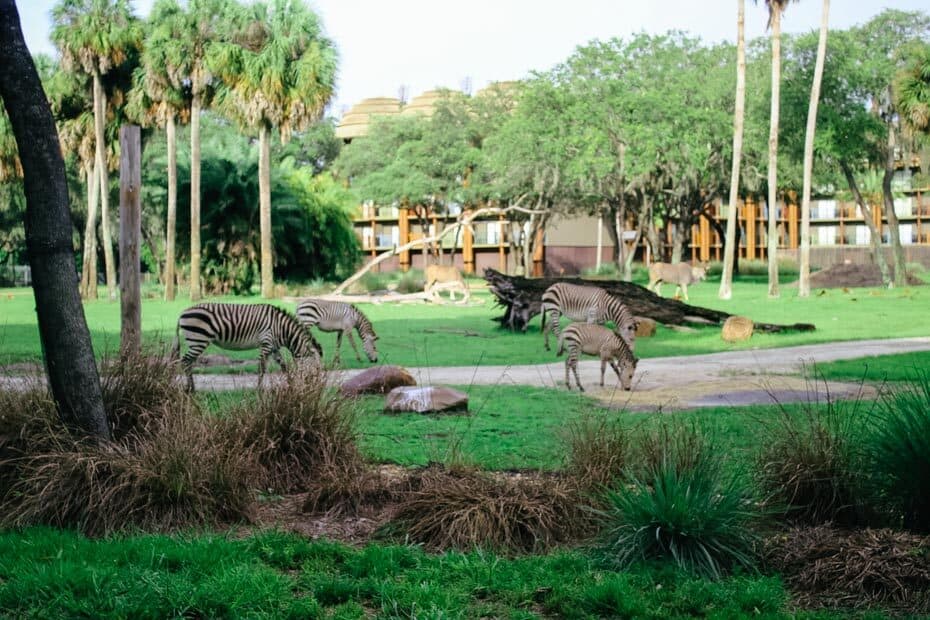 Sanaa Bread Service
Finally, we'll take a look at the main event at Sanaa, the bread service. This fan-favorite bread service is probably one of the most famous dishes around Disney.
It's what brings people back to eat here time and time again. And once you try it, you'll probably become part of the club.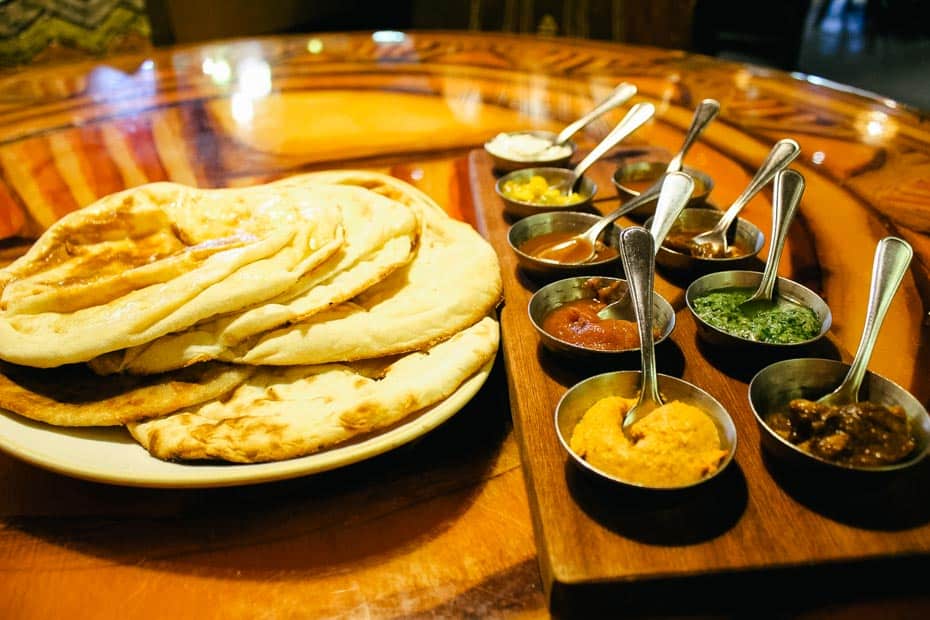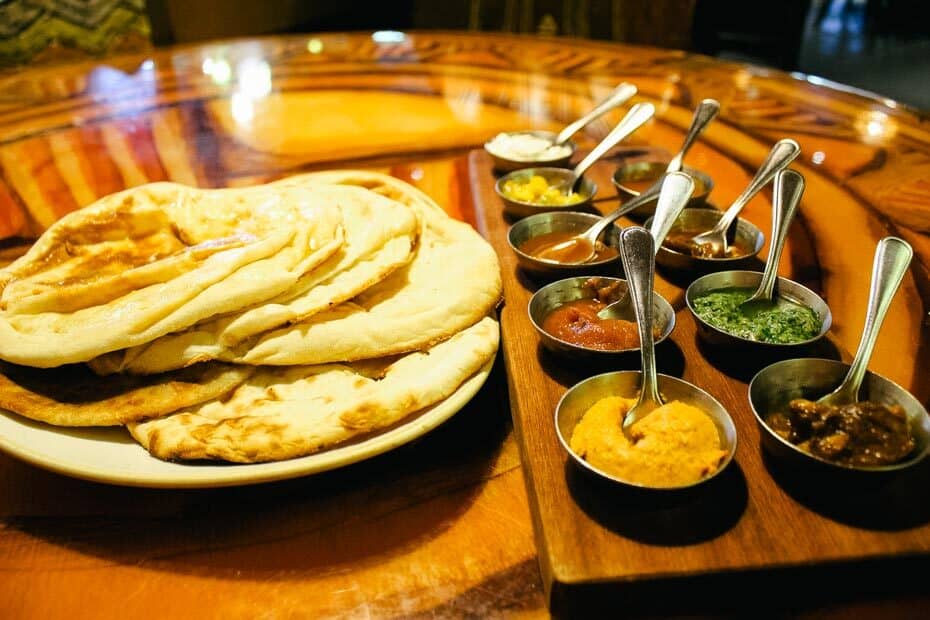 For starters, you'll receive a choice of five different pieces of Naan bread. Choices are Traditional Naan, Garlic-Ginger Naan, Spiced Naan, Onion Kulcha, or Paneer Paratha.
The service part comprises nine different dipping sauces: Cucumber Raita, Roasted Red Pepper Hummus, Mango Chutney, Tomato-Date Jam, Tamarind Chutney, Coriander Chutney, Garlic Pickle, Red Chile Sambal, or Spicy Jalapeño-Lime Pickle.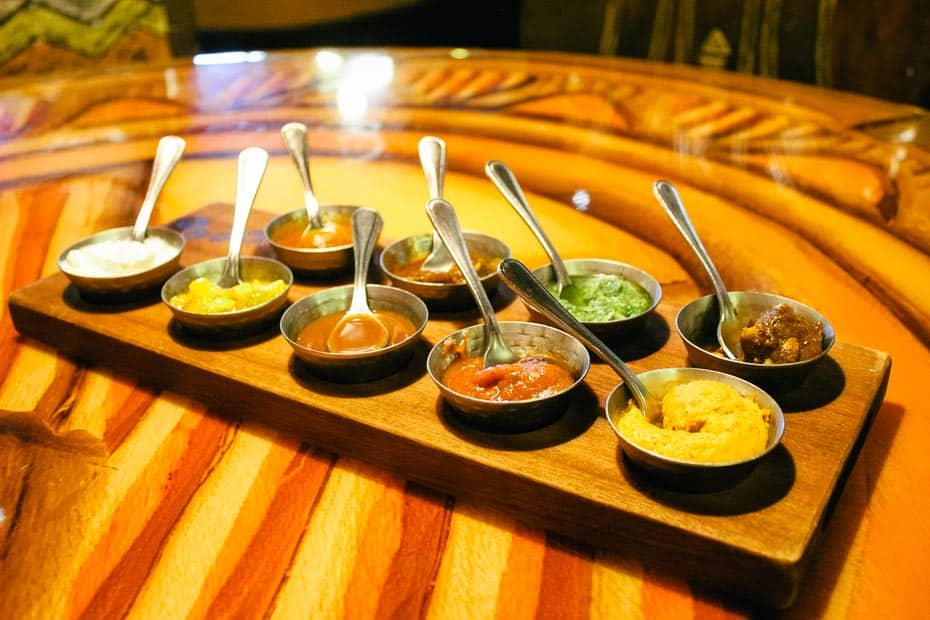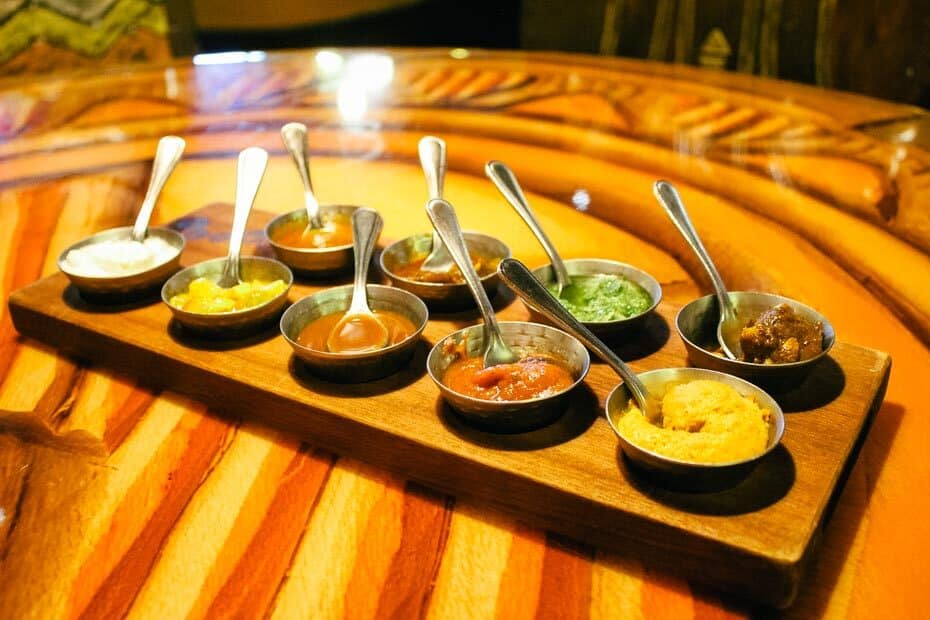 Your server will go over which one is which, but the main thing you'll want to know is the order of heat. The selections start with mild and go up one side and back down the other to the hottest.
An order of bread service is an extremely large and shareable menu item. If you are a party of one or no one else in your group is interested, ask the server for an option to try a smaller portion.
As far as entrees go, Sanaa has an excellent selection of items that you would be hard-pressed to find elsewhere. For example, this is the "Today's Sustainable Fish" menu item that turned out to be salmon.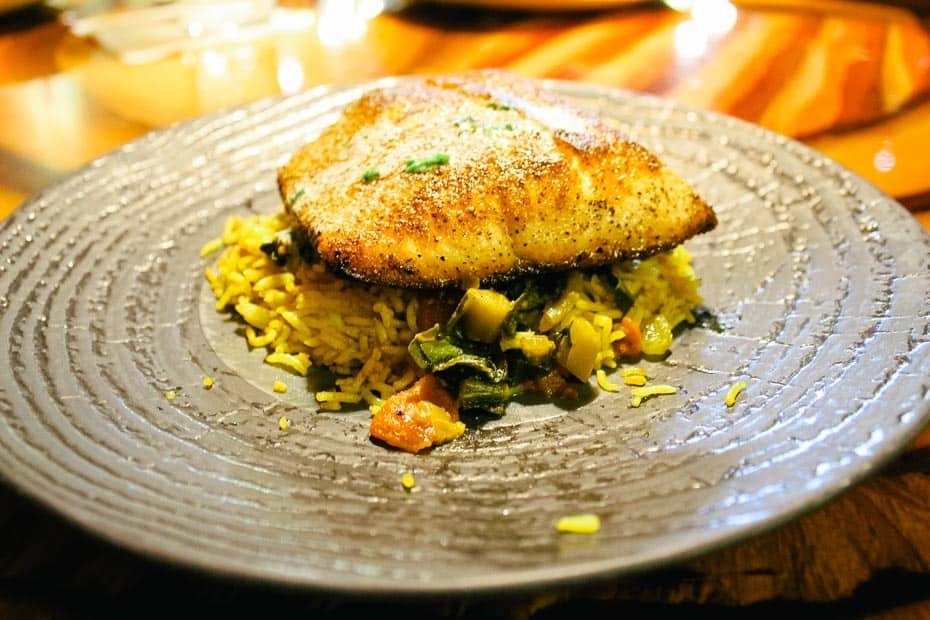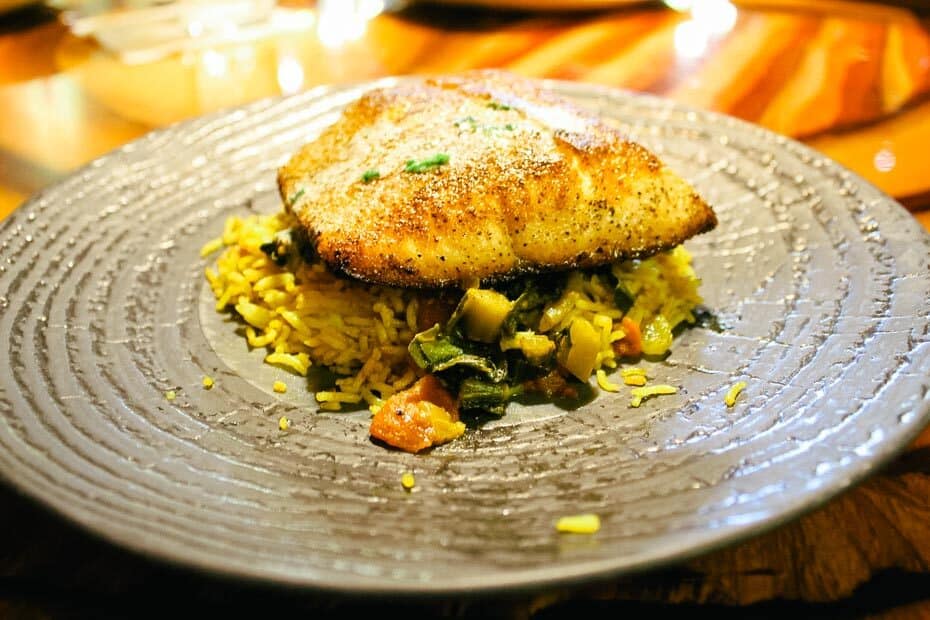 As a person who prepares and enjoys a reasonable amount of salmon, I was thoroughly impressed with this dish.
It came out piping hot, which sent off a warning sign that it might be overcooked. But it ended up having perfectly crispy skin, delicious seasoning, and an appropriate internal temperature.
The salmon was a great dish to follow up the bread service. It wasn't too much, and I felt good about the entire meal after we left.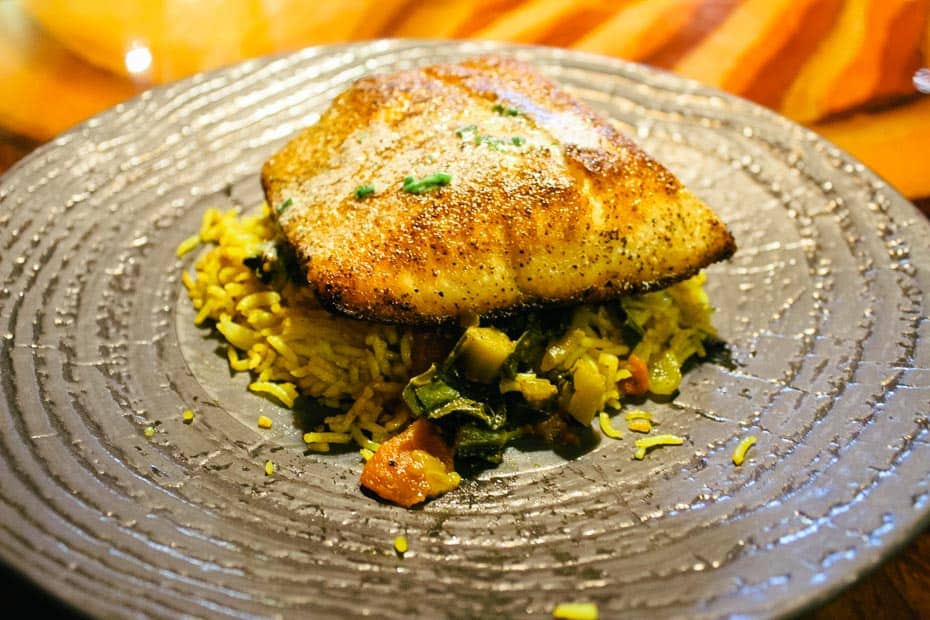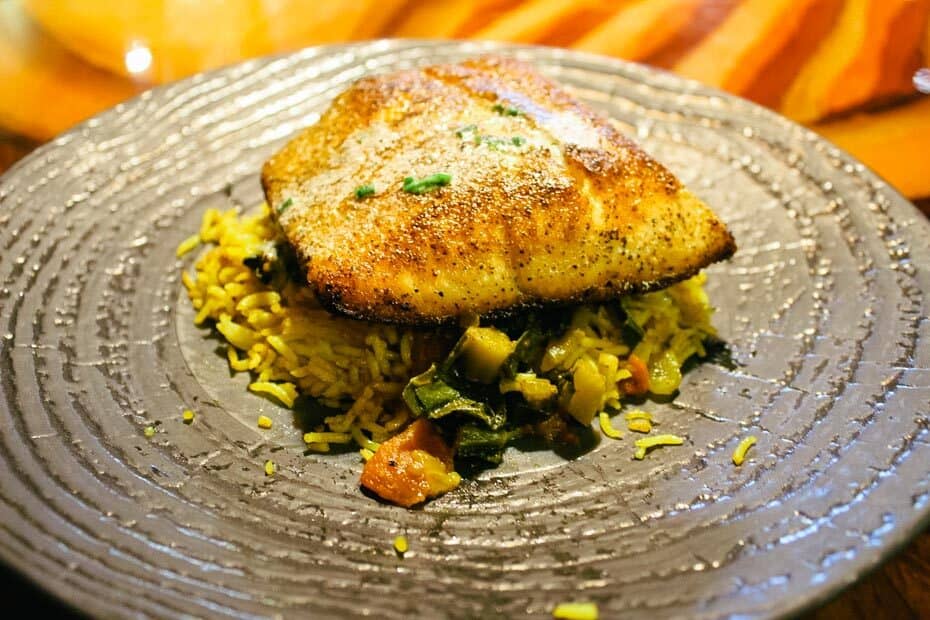 My son ordered grilled New York Strip from the allergy-friendly menu. The steak came with green beans, crispy potatoes, and avocado cream.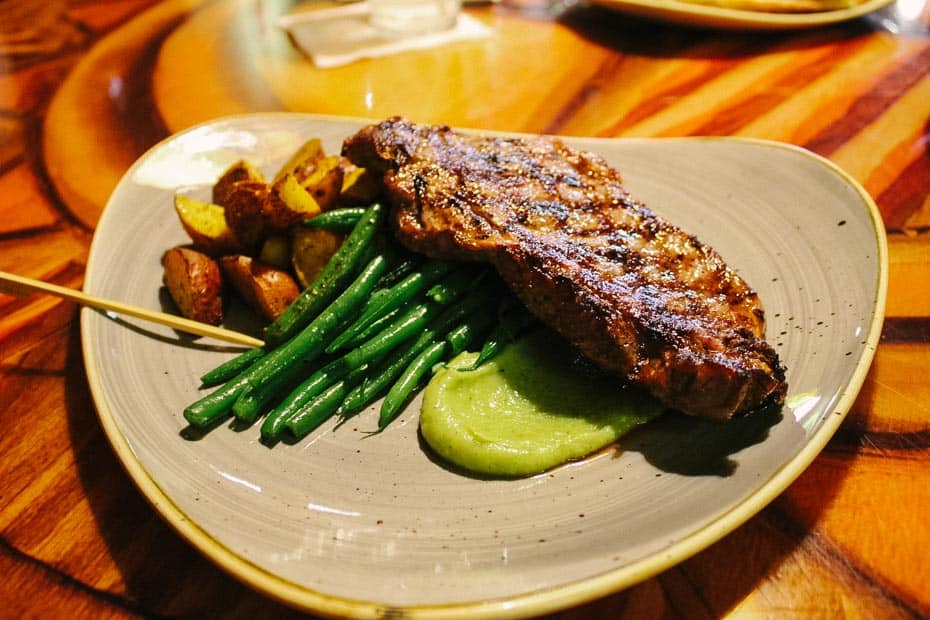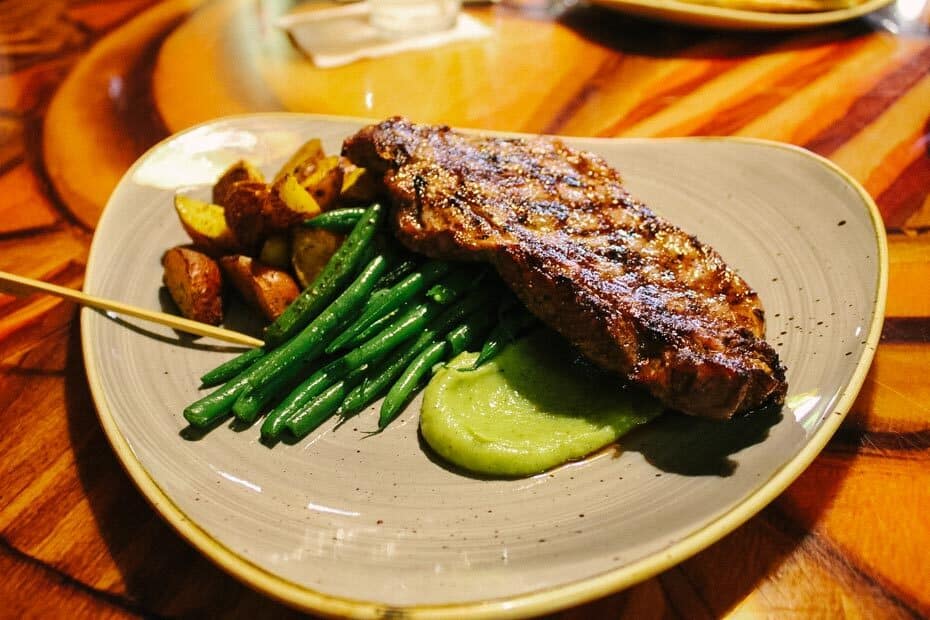 The steak was a nice portion, and I felt it came in at a much better price than many of the other steaks we had on the property. This item was, of course, modified, so it was safe for his specific food allergies.
Also, we were pleased with the server and the level of knowledge she had about food allergies and dining at Sanaa. It was one of the rare instances where we didn't feel the need to request a chef.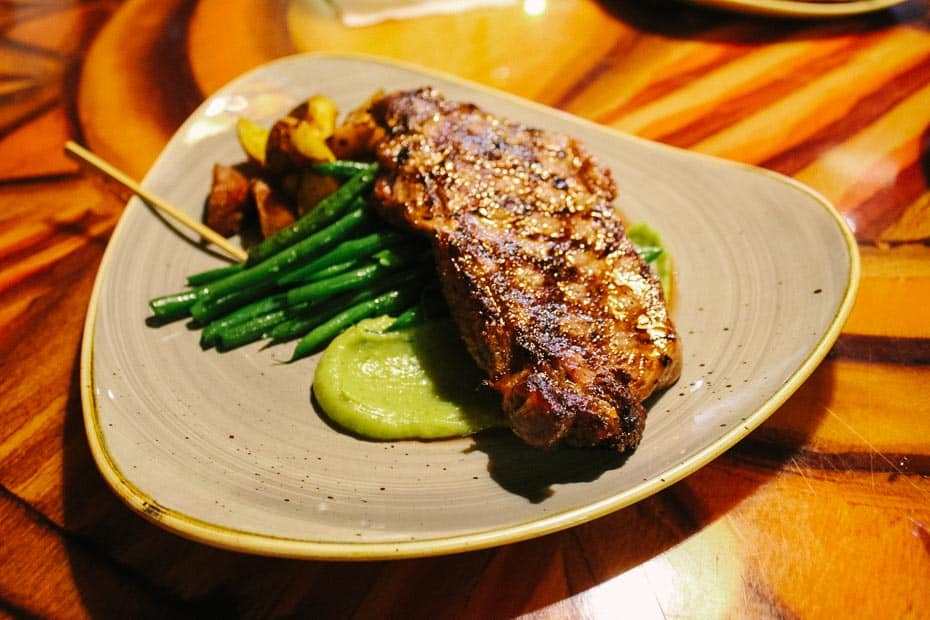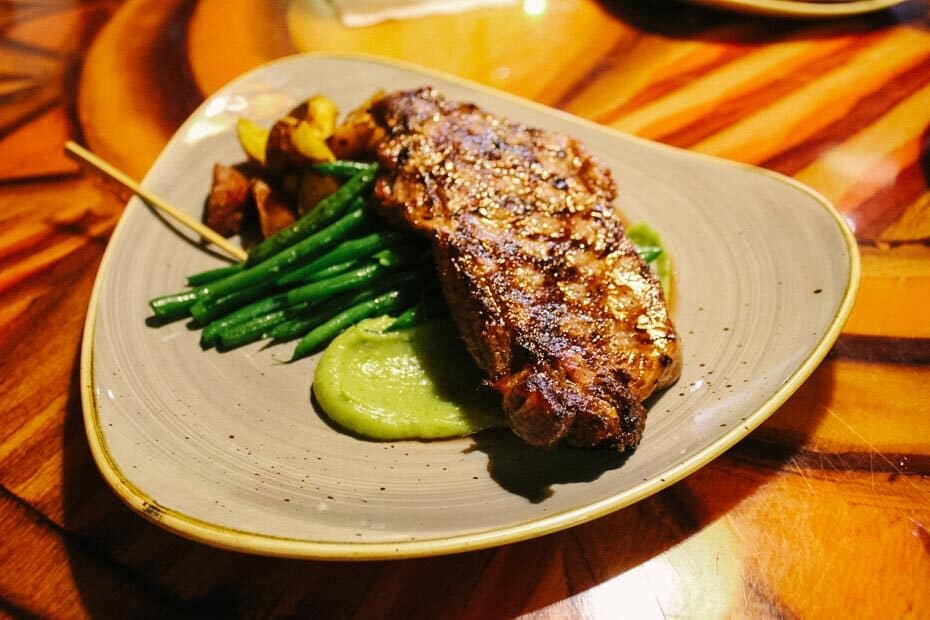 On another visit to Sanaa, I ordered the Mishkaki, described as a gingered Braai Beef Kabab with Kenyan Mukimo and Braised Greens.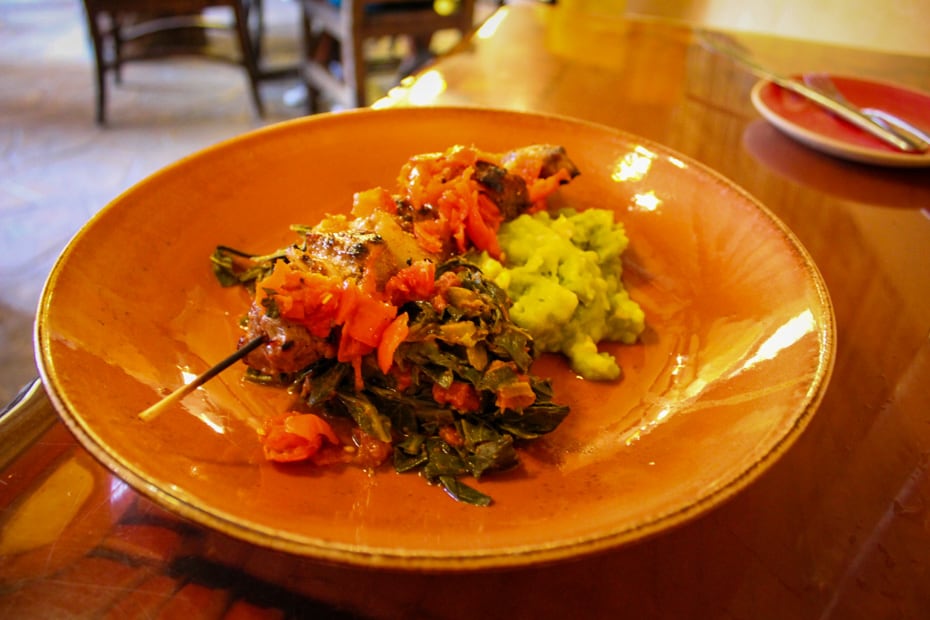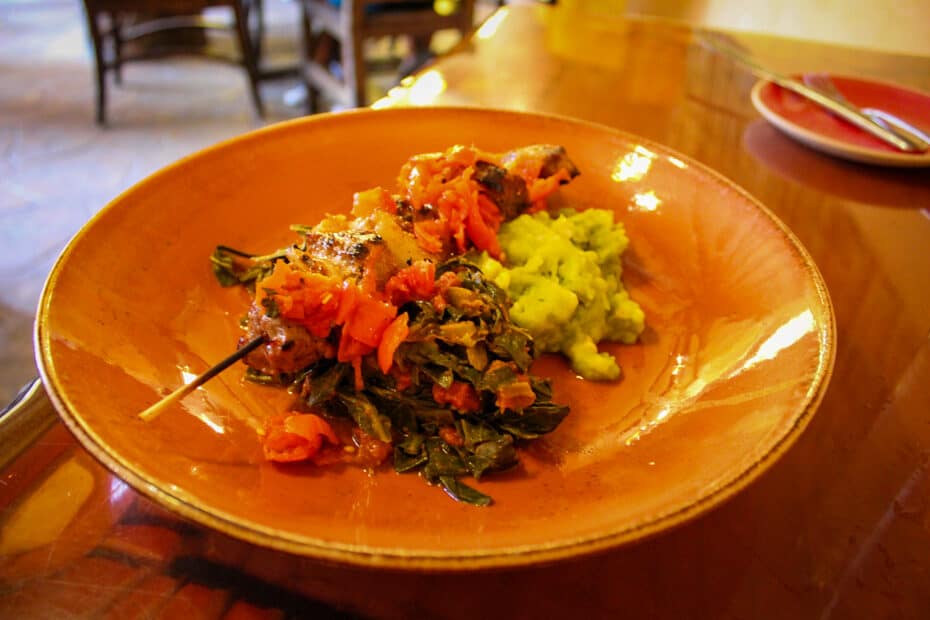 This beef kebab was another delicious option. One of the nice things about Sanaa is the side components of the dishes. I especially like the purees and braised greens accompanying many of the meals.
What you probably didn't see on the online version of the menu is the Specialty Cocktail offerings at Sanaa. For example, the drink in the picture below is the Malawi Mango Margarita.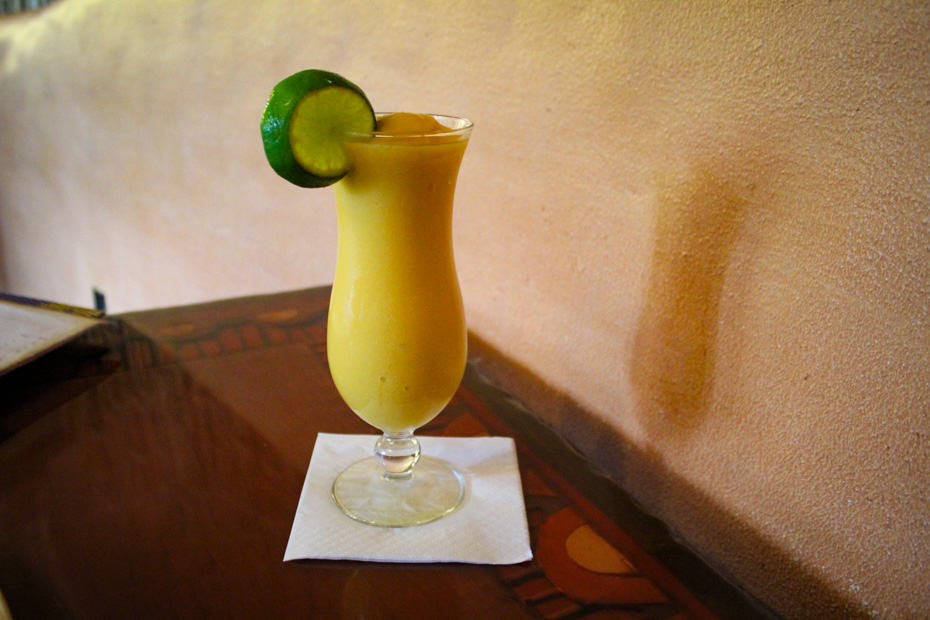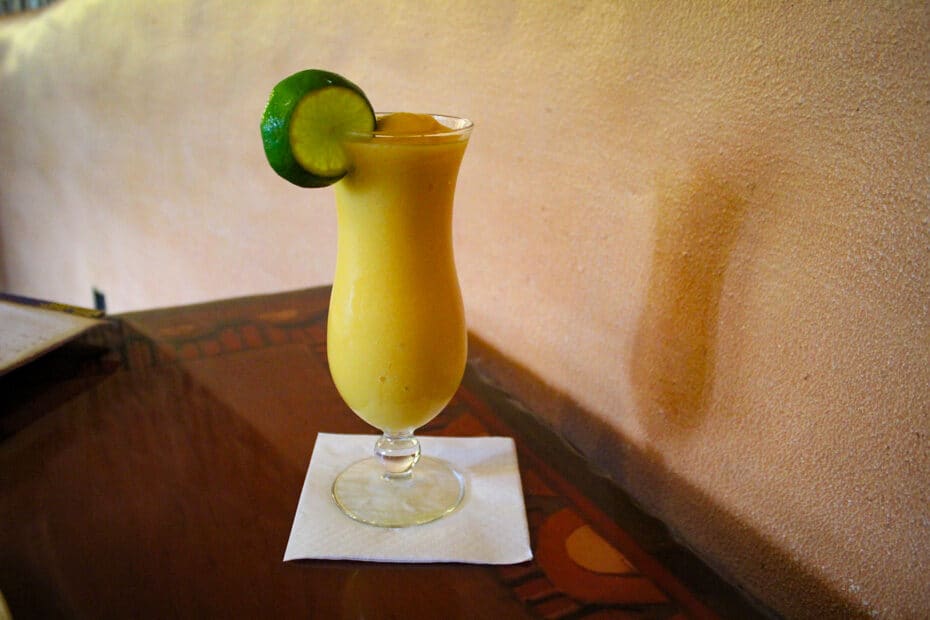 This drink is a frozen blend of tequila, tangerine liqueur from South Africa, mango puree, and fresh lime juice.
While I don't typically indulge in frozen drinks or drinks in general, I will say this is a pleasant choice. The server recommended it to me on this visit, and it is something I would try again.
As far as drinks go, Sanaa has a separate menu offering various specialty cocktails and non-alcoholic specialties.
Final Thoughts on Sanaa
When it comes to dining at Walt Disney World, I can't help but highly recommend a visit to Sanaa. The restaurant's overall ambiance offers the feel of escaping to a foreign destination.
But, really, the whole Animal Kingdom Lodge provides that feeling.
Related: Animal Kingdom Lodge Review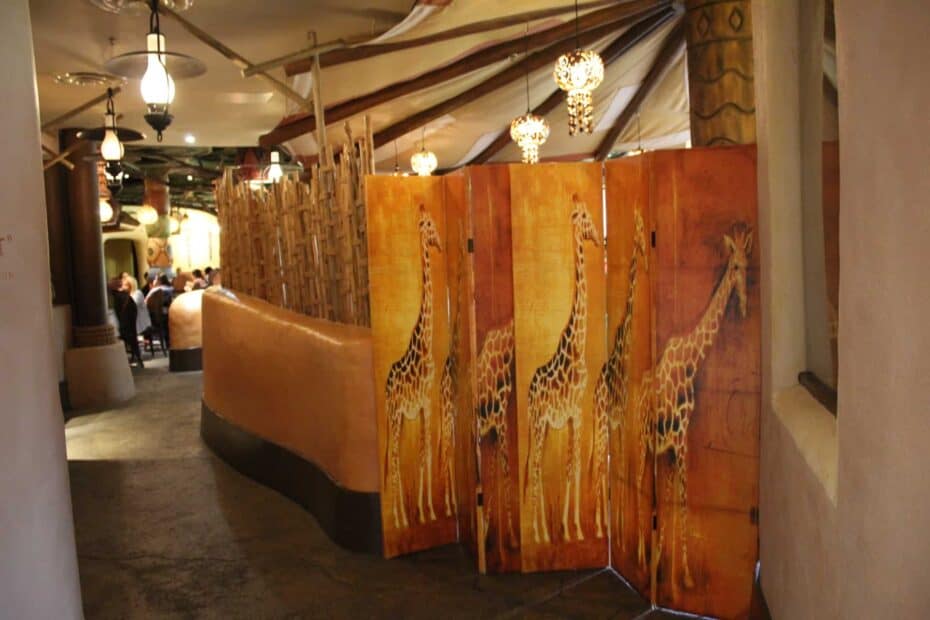 Sanaa is the perfect place to escape the vacation kingdom that is Disney World. Guests can sit back, relax, and enjoy a very distinctive meal. I've yet to have a bad meal here, and I doubt you will either.
Additionally, Sanaa offers a 10% annual passholder discount and participates in Tables in Wonderland. Make sure to keep these things in mind and let your server know of any discounts upfront when you dine. It is so easy to forget to use those extra perks unless you make a habit.
For more dining information, check out the Disney Signature Dining and Character Dining resources on the site.
Additionally, all of our articles for the Animal Kingdom Lodge are available here. Or you might enjoy these specific articles:
And a few of my favorite Disney Hotel Restaurants include:
Considering a stay at one of the many Disney Resorts? Make sure to check out our overview of every Disney World Resort Hotel.
As for Sanaa, are you planning a dining reservation here? And if so, are you going to order the bread service?
Planning a Walt Disney World or other Disney Destination vacation?
Our friends and travel partner, Firefly Travels, excels at doing Disney differently. You can fill out a plan your trip form on their website, and someone will reach out shortly to discuss the specifics.