The Best Sushi at Disney World (Top 6 Locations!)
When it comes to finding the best sushi at Disney World, there are plenty of options. Not only that, they are good options. Most people like to indulge in favorite food items while on vacation. For many, one of those favorite items is sushi!
In this review, I will share the best places to order sushi while at Disney World. Of course, this is not an exhaustive list of every restaurant at Disney that offers sushi. However, it would be pretty hard to top some of these!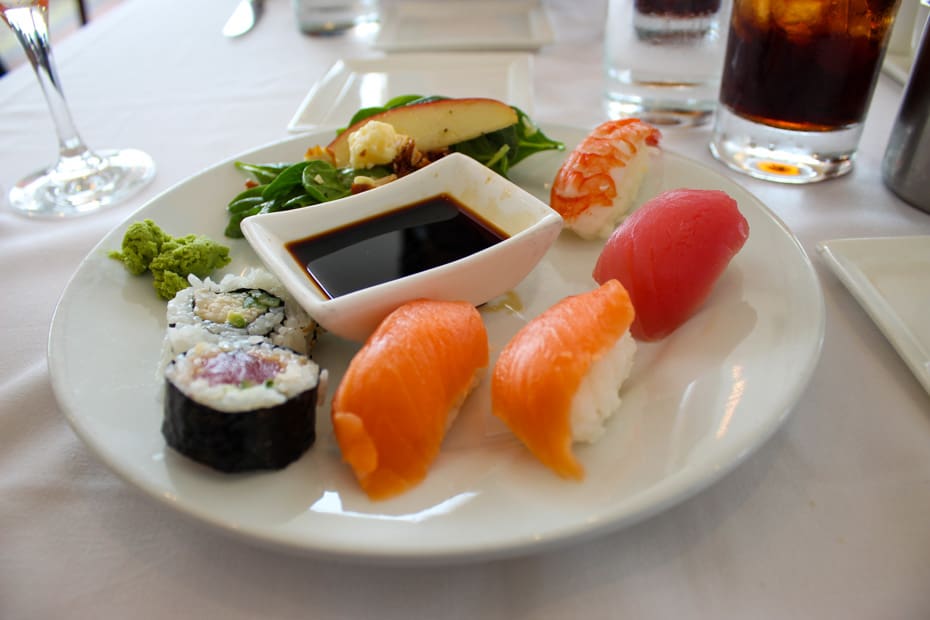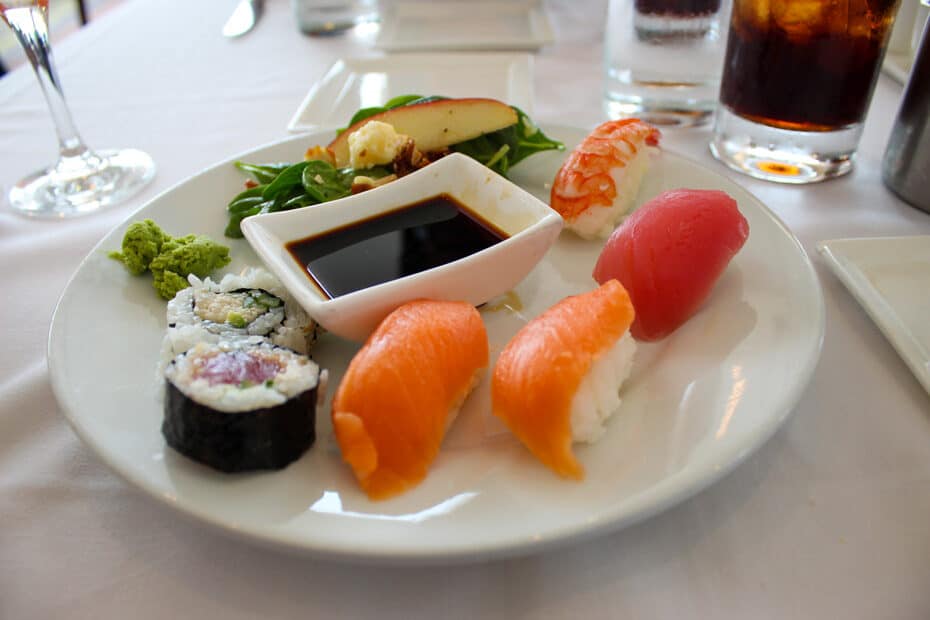 Best Sushi at Disney World
The best places to pick up sushi at Disney World are:
Splitsville
Kimonos
Kona Cafe
Takumi Tei
California Grill
Morimoto Asia
Now let's take a closer look at each one and a few pictures of the sushi we've had on our trips.
#6 Splitsville at Disney Springs
Splitsville is a bowling alley at Disney Springs. So what does that have to do with sushi? Well, they've got over 12 different sushi rolls on the menu at this time! In fact, this location is known for being a great place to pick up sushi!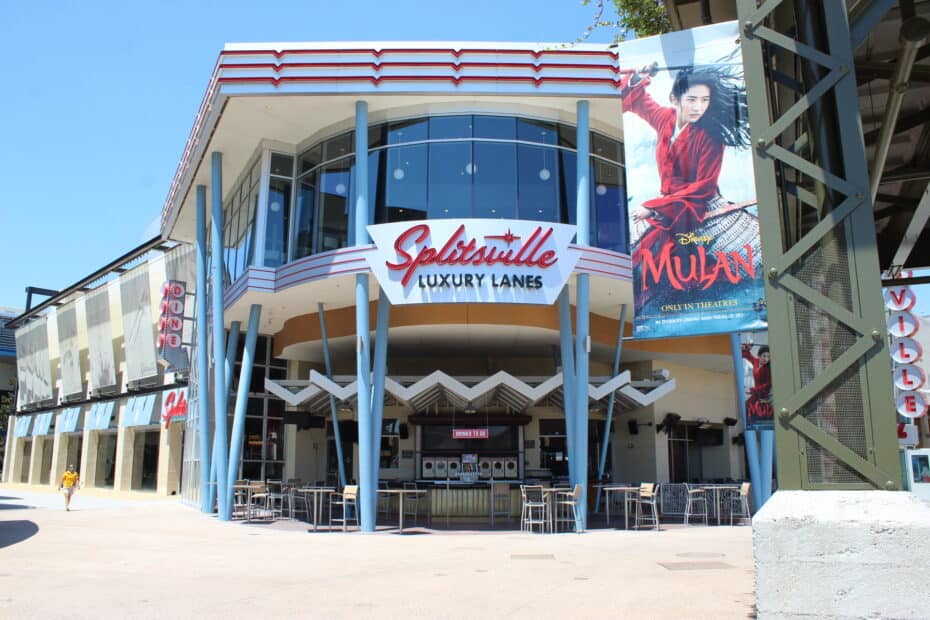 Want to preview what's on the menu? You can view the full menu here on Disney's site. And if everyone in your party is not on board for this delicate seafood cuisine, don't worry. There are plenty of other options available. Plus, bowling.
To learn more about getting to and around Disney Springs, check out our transportation guide here. You might also enjoy browsing the entire list of best restaurants at Disney Springs.
#5 Kimonos at Disney's Swan and Dolphin
Moving on, Kimonos at Disney's Swan Hotel is well-known for their sushi. In fact, they've won several awards, including being voted "Top Sushi Restaurant" by Orlando Magazine. I would say that's probably something worth bragging about.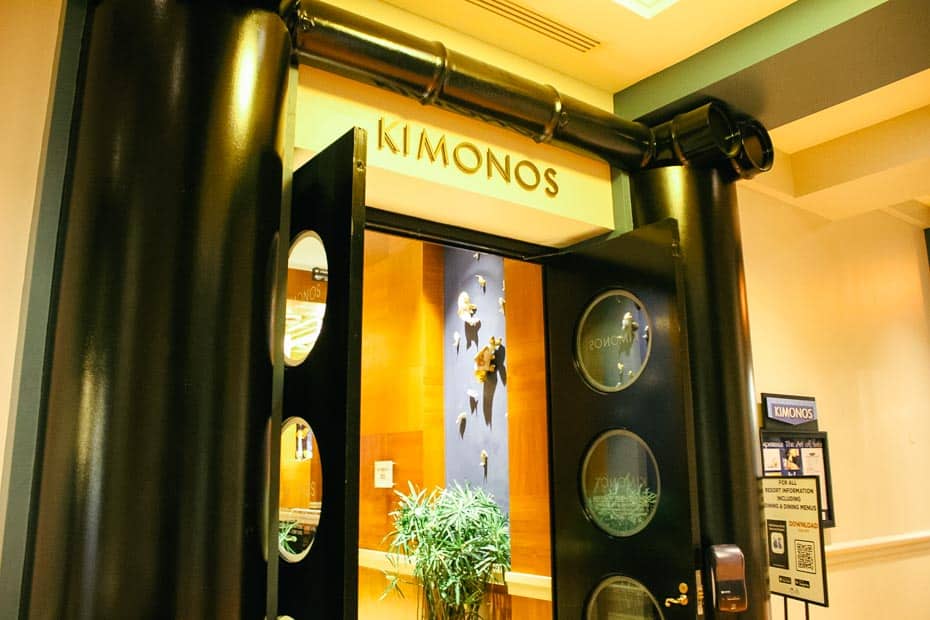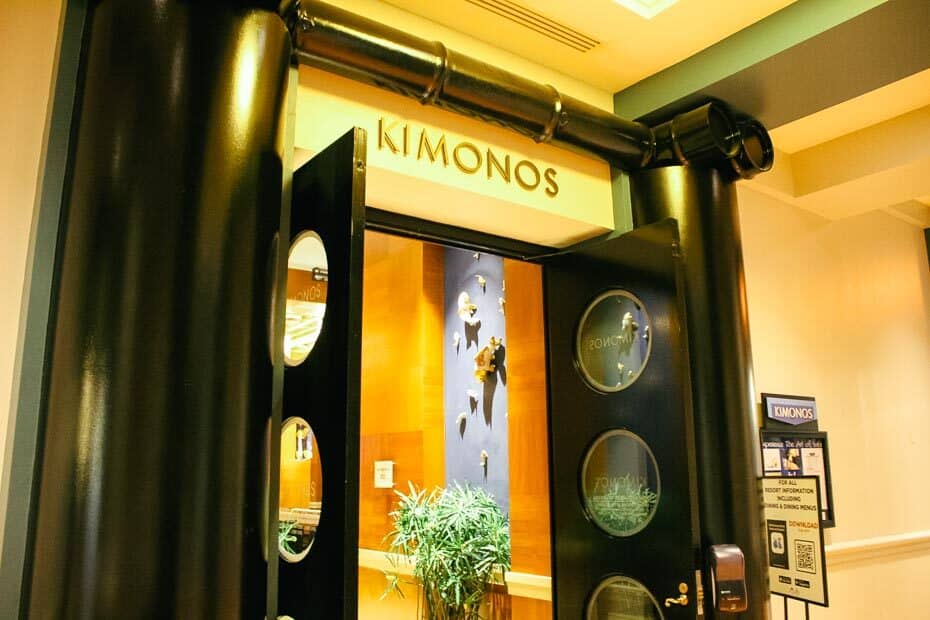 You can preview Kimonos full menu here that includes several vegetarian rolls. For anyone who's looking for a true sushi-focused meal, this will probably be your best bet.
Make sure to read over our restaurant guide for the Swan and Dolphin for more information about dining at this hotel. Additionally, we have a full resort review here.
#4 Kona Cafe at Disney's Polynesian
Over the last few years, I've been fortunate enough to enjoy several meals at Kona Cafe. The popular restaurant is located on the 2nd floor of the Great Ceremonial House at Disney's Polynesian.
Below is their small sushi sampler. And you can probably tell it wasn't small. This was probably my personal favorite of the sushi I've tried at Kona to date. I liked it because of the variety, and it included the sashimi preparation.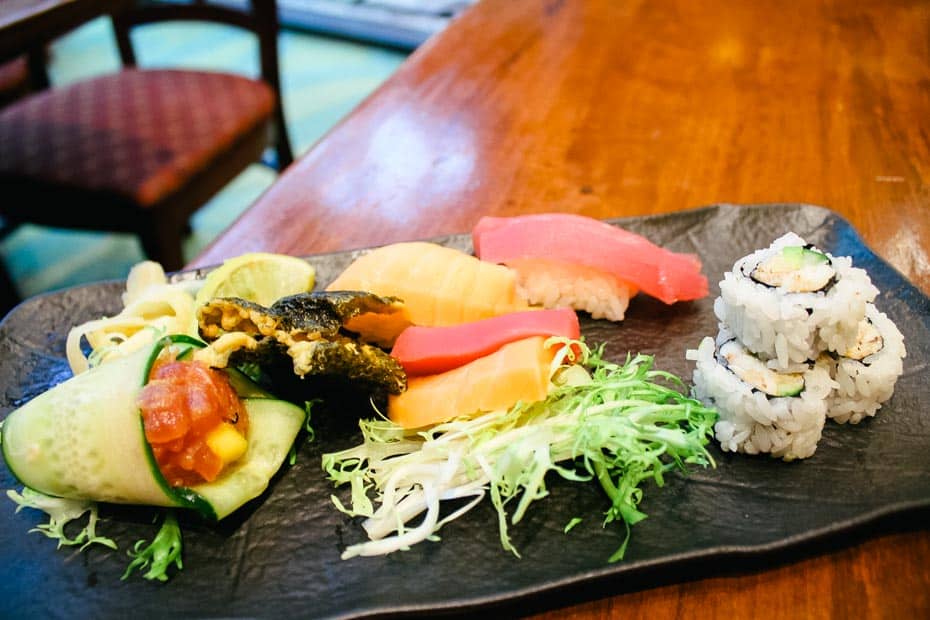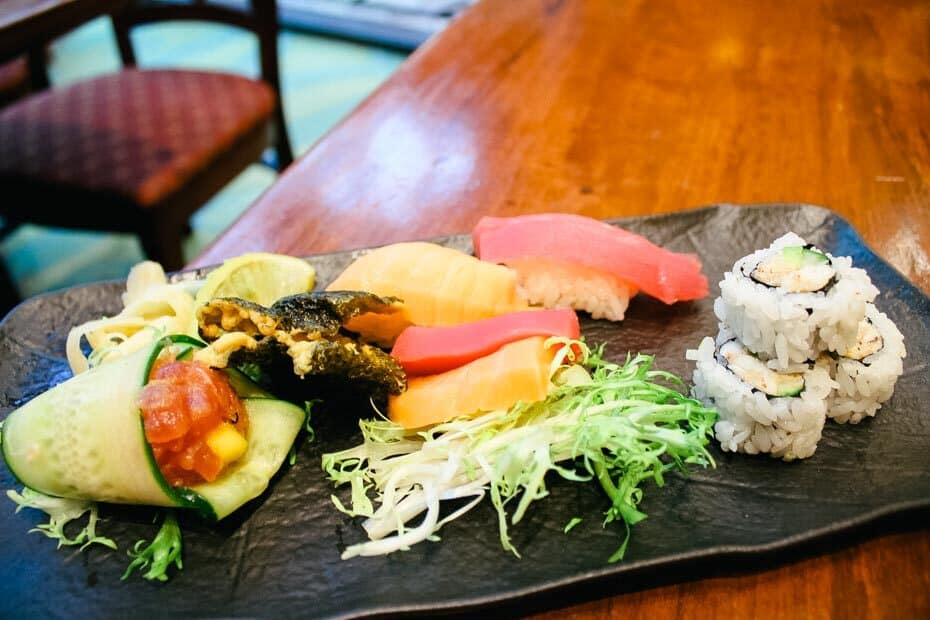 On a different visit, I had this shrimp tempura roll, and it was wonderful.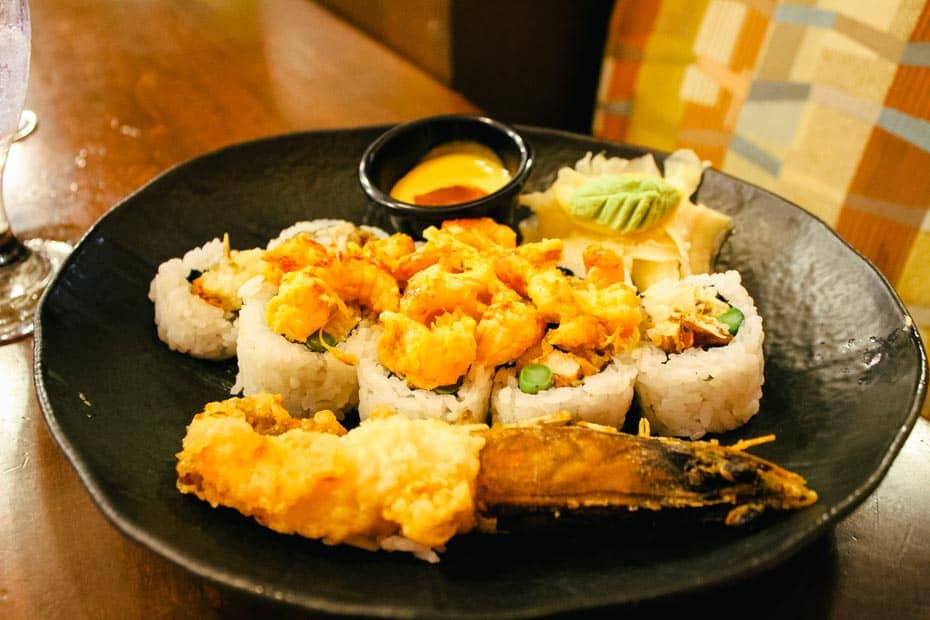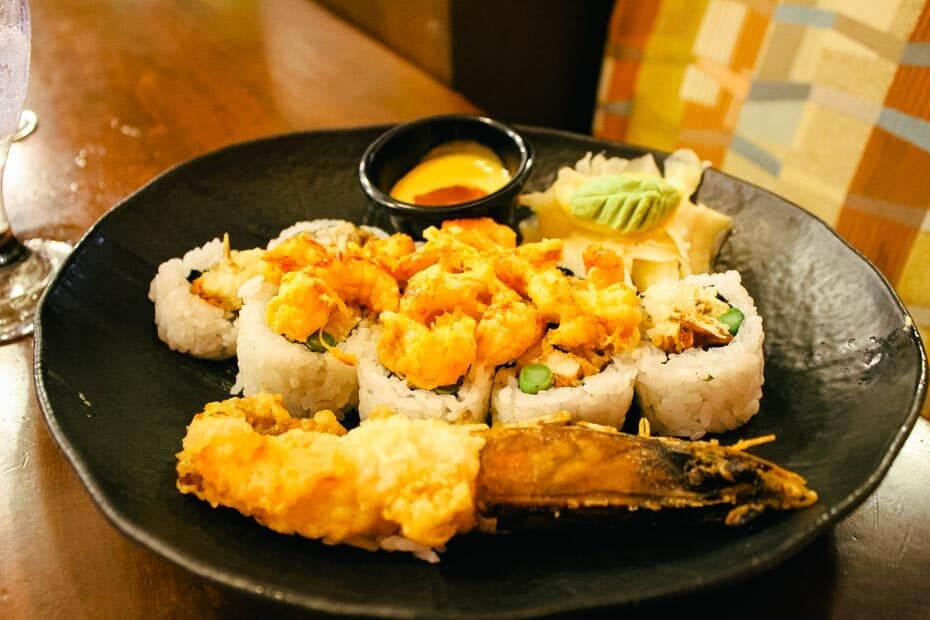 And this is their rainbow roll.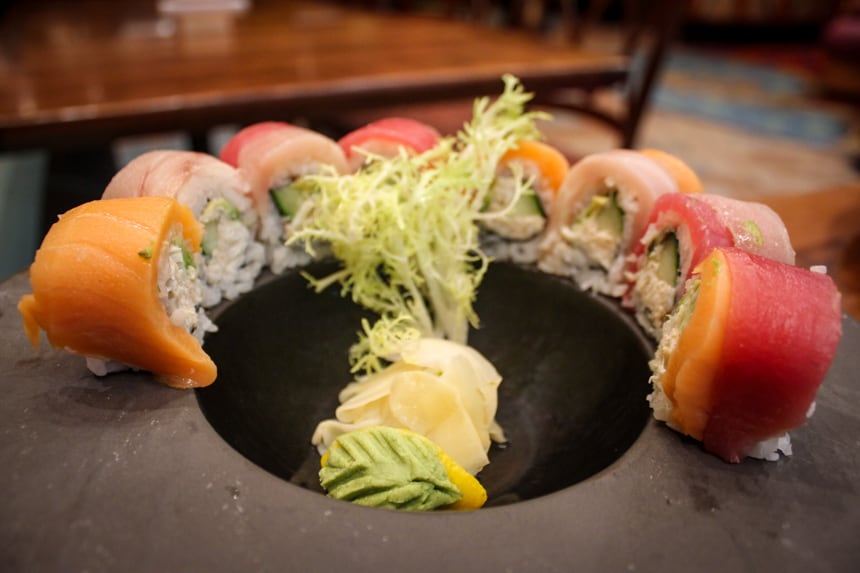 There's a full review of Kona Cafe that shares some of the different things we've tried there to date. Or you can learn more about Disney's Polynesian Resort in our full hotel review here.
#3 Takumi Tei at Epcot
Over at Epcot, Takumi Tei has several excellent sushi options. Takumi Tei is a Disney signature dining restaurant that is newer to the scene at Epcot. It's located in the Japan Pavilion next to the large Mitsukoshi department store.
Below is the Temari sushi, which comes as part of the Omakase Tasting Menu.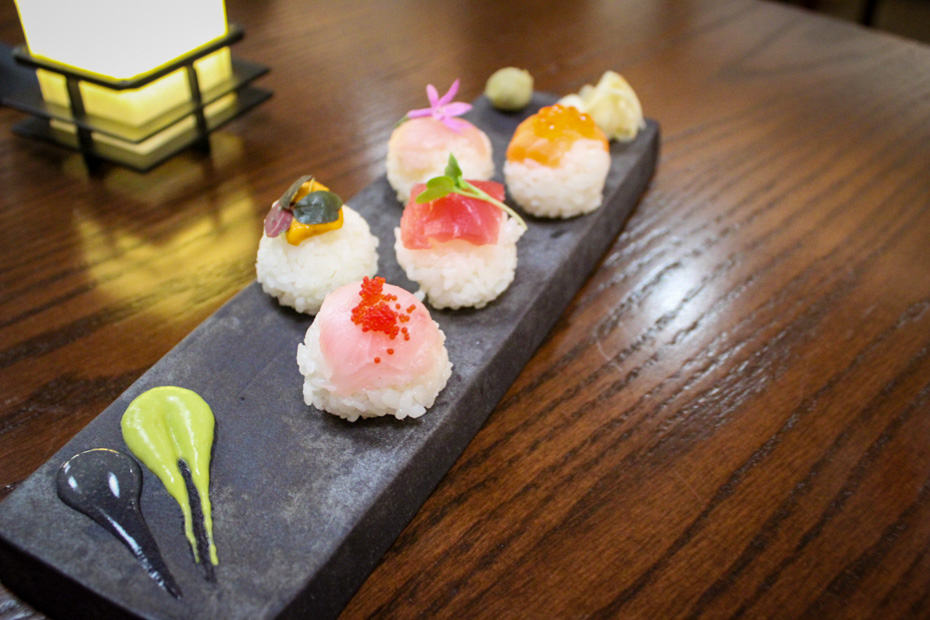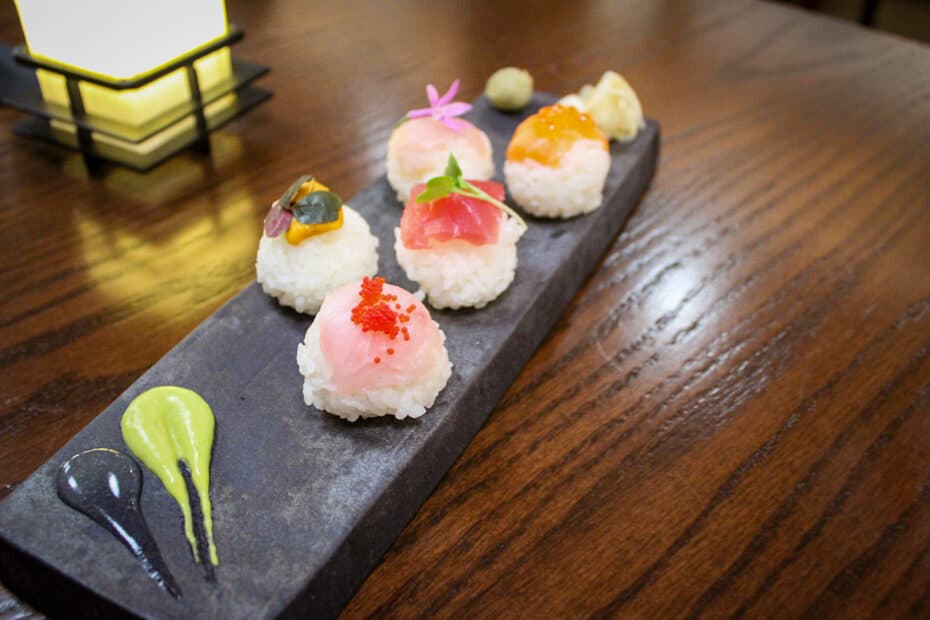 And this beauty is the Takumi Sashimi. Hands down, this was the best presentation of sushi I've ever been served at Disney World or anywhere else.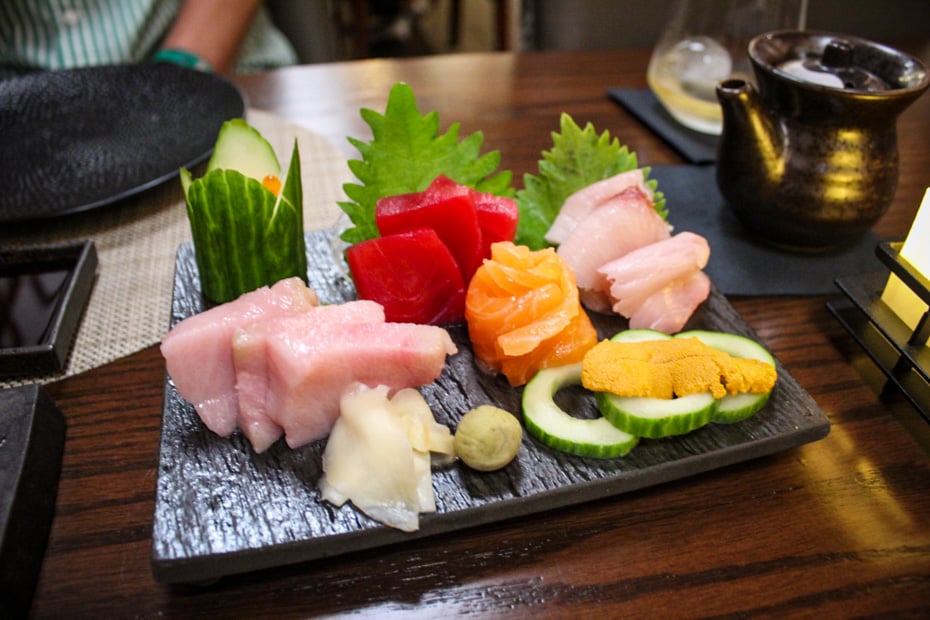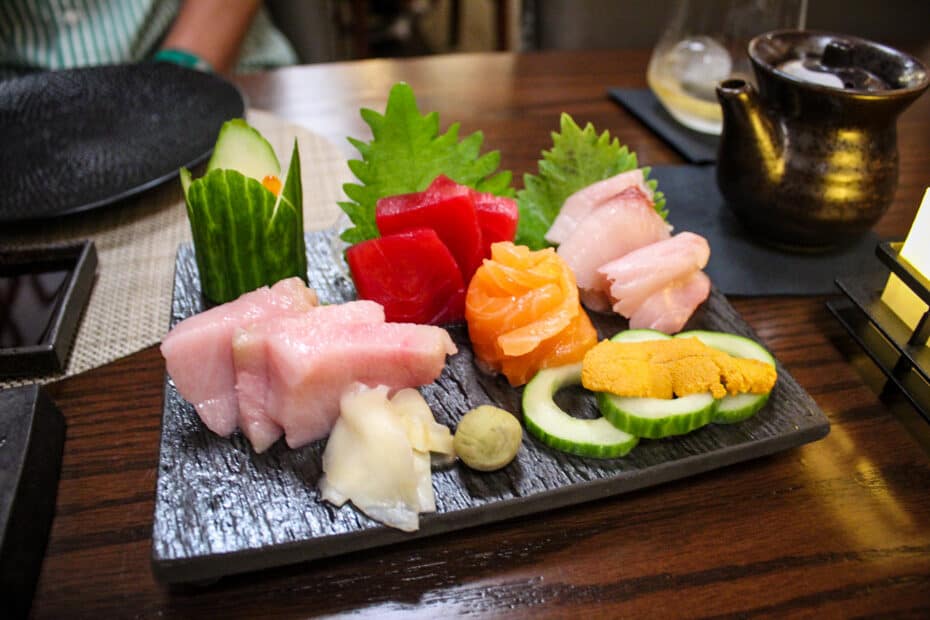 You can check out the full review of Takumi Tei if you'd like to see the rest of the tasting menu we had on this particular evening.
*Make sure to check availability here.
#2 California Grill at Disney's Contemporary
Our next location for best sushi at Disney World is the California Grill at Disney's Contemporary. Below is the new moon roll that was topped with barbecued eel.
This roll remains memorable as far as taste goes. And it's one of those things that I probably would have never ordered had it not been for the chef's recommendation. It was absolutely delicious, and I'd definitely order it again.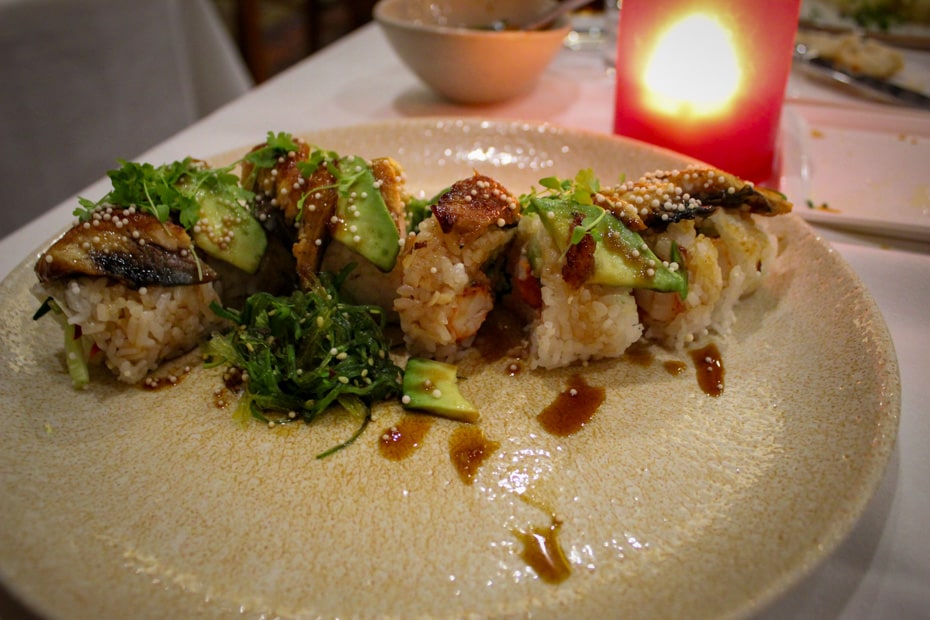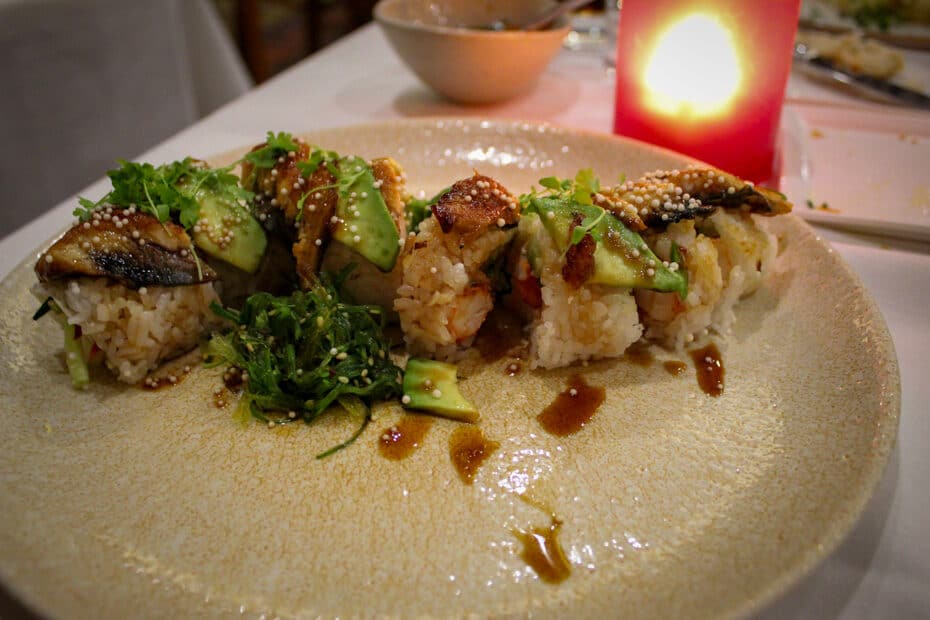 Additionally, I've enjoyed sushi at this restaurant during their Sunday brunch offering. There are typically several different preparations on the buffet portion. Hopefully, that experience will return soon.
For more information about dining here, try our California Grill Review. Additionally, when brunch is available, they have sushi on the buffet. There is a review with pictures of everything on the brunch buffet here.
#1 Morimoto Asia at Disney Springs
Back over at Disney Springs, we have our number one option for sushi at Disney World. It's none other than the popular Morimoto Asia. So if you love sushi or Asian cuisine, you definitely want to plan a meal here.
Below is the spicy tuna roll. You can probably tell from the picture that's some pretty high-grade tuna with its light pink color.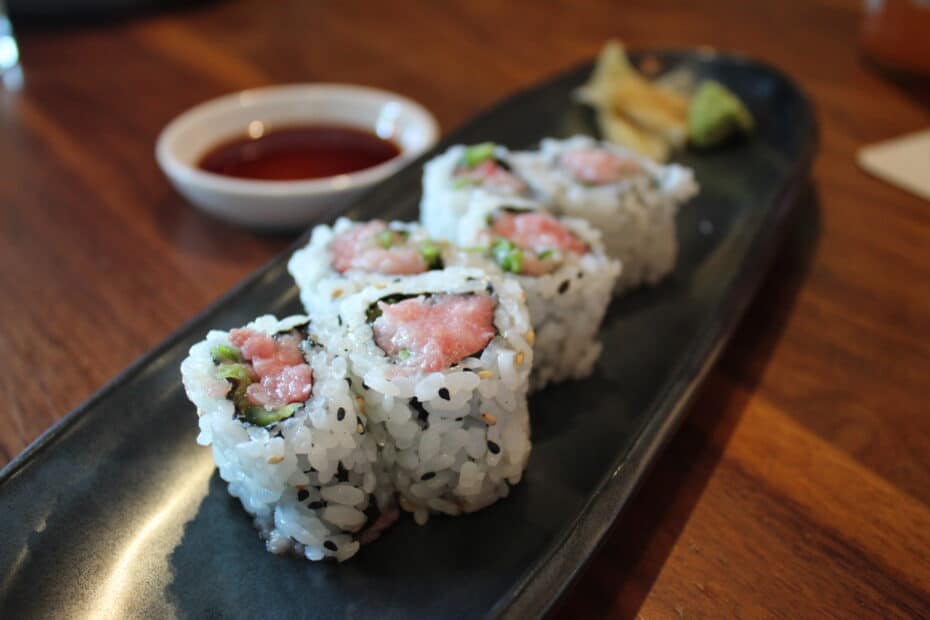 And this is the spicy salmon roll, which was at one time my favorite, until…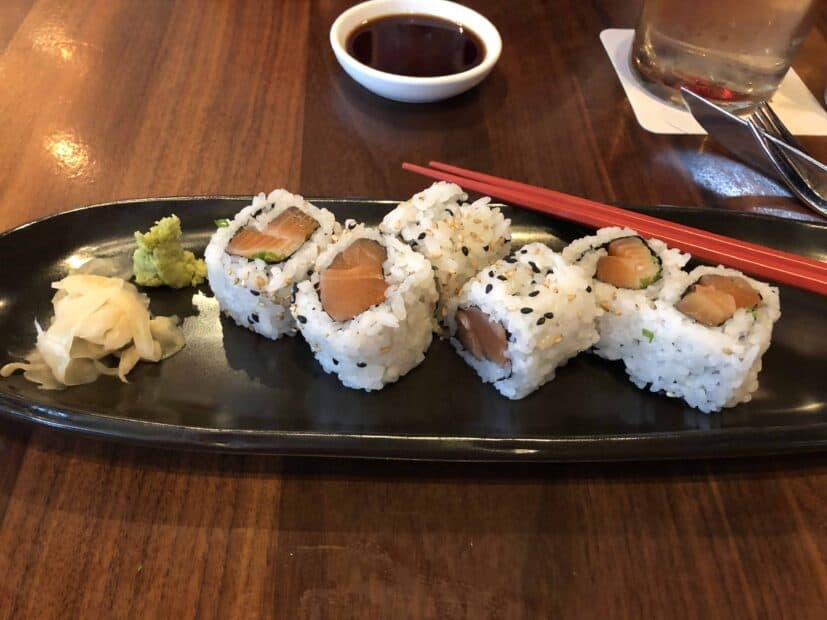 I ordered the Toku-Jyo platter.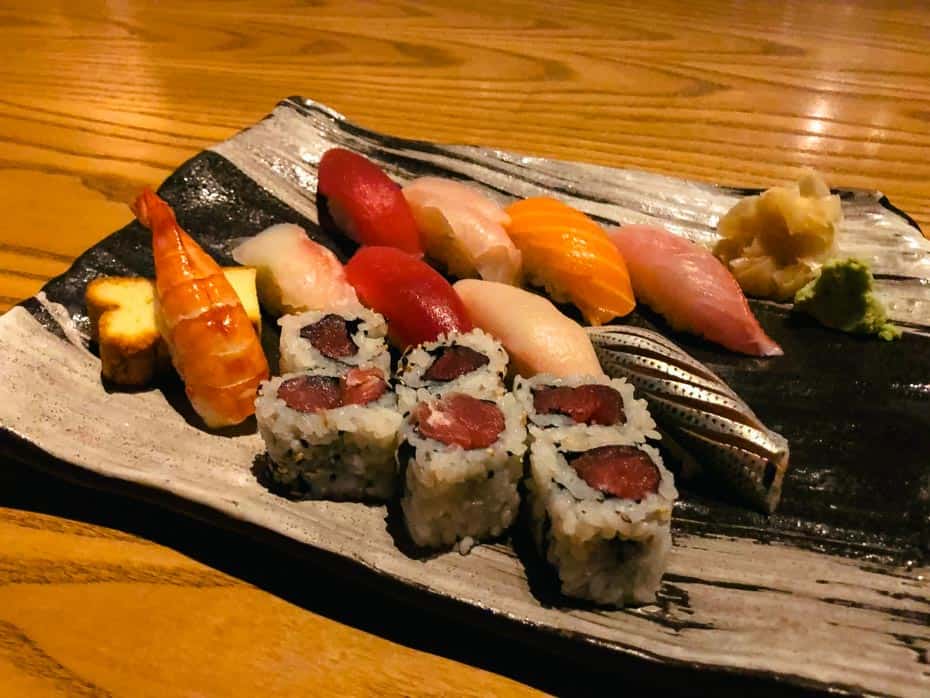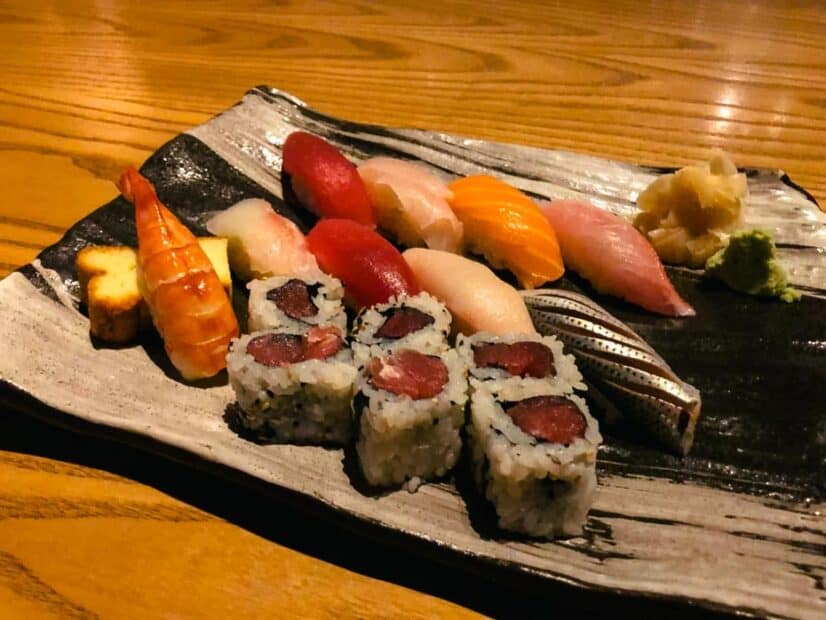 One evening, I was at Disney Springs and craving sushi. So I went up to the Forbidden Lounge at Morimoto Asia and ordered this for a meal.
The selection was so much larger than I anticipated. But it was so good I didn't regret ordering it a bit. And neither will you!
When I first dreamed up writing this review of the best sushi at Disney, there was no question about which location would come in first. And that's mainly because of this experience at Morimoto.
This platter runs around $55.00 at this time and includes the chef's daily selection of 9 pieces of nigiri and 1 roll.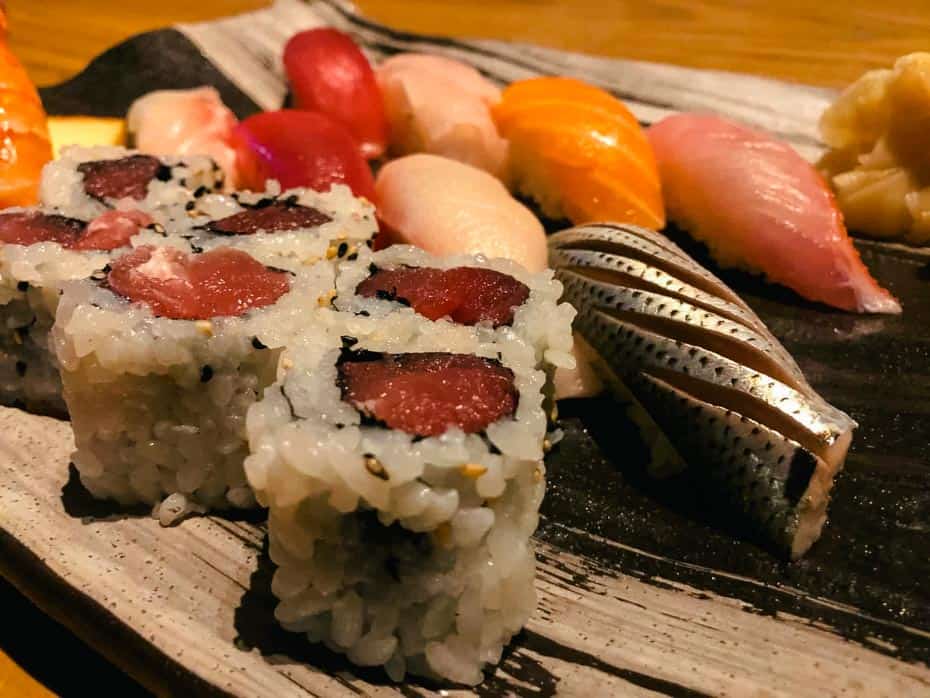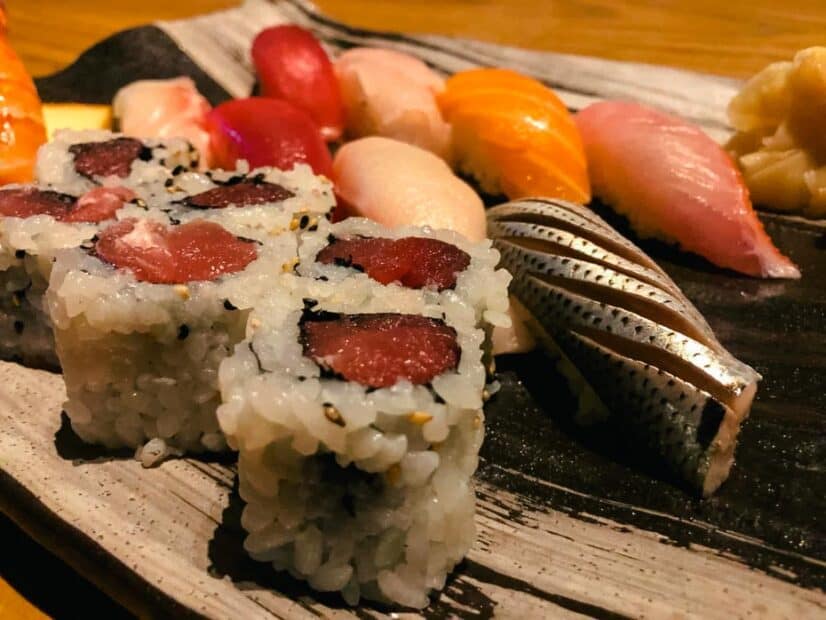 Additionally, Morimoto comes in as one of our best restaurant recommendations at Disney Springs. You can visit our full review of Morimoto Asia to learn more. It includes several different meals we've enjoyed at the restaurant.
Planning a Walt Disney World vacation? You might enjoy browsing some of our other popular reviews. Anyone planning a stay might enjoy browsing our list of the best Disney deluxe reviews. It goes over some of our popular hotel reviews like:
You might also enjoy learning how to plan a split stay at Disney World or browse our top quick-service selections for Disney Resorts.
Lastly, we always recommend using a travel agent to help secure your Disney World reservations. Read over our guide on why we recommend this and how to find the best Disney World travel agent.
Now that we've gone over all the options for the best sushi at Disney World, what do you think? Is there anyone that stands out a little more than the others? Leave a comment below with your thoughts or share your experiences.