Disney's Polynesian Resort Restaurants & Dining Guide
When it comes to dining options at Disney's Polynesian Resort, you will find a multitude of choices. Over the years, I've spent a good deal of time at the Polynesian.
Since I visit regularly, I've had the opportunity to dine at all of Disney's Polynesian Resort Restaurants, with one exception. That exception is the Spirit of Aloha show, which is more of an experience that includes a meal. We'll get to that.
The fact is there are several excellent dining options when it comes to Disney's Polynesian Village Resort. Besides that, who can resist a visit to this tropical hideaway that's only a short ride away from Magic Kingdom via the monorail?
So pull out those hula skirts and start taking the latest dance class at your local gym. You're going to be so glad you burnt all those extra calories when you arrive on vacation at the Polynesian.
Before you know it, you'll be swaying back and forth in a hammock under tropical palms. Can you imagine that drink in your hand served straight from the core of a pineapple?
In the distance, the sun sets over the lagoon. This is definitely going to be a Disney vacation you'll remember for a long time to come.
In this article, we'll take a look at each restaurant available at Disney's Polynesian Village Resort. And since I have my hula skirt readily available for these kinds of moments, let me shake things out for you.
This article was last updated on January 15, 2022.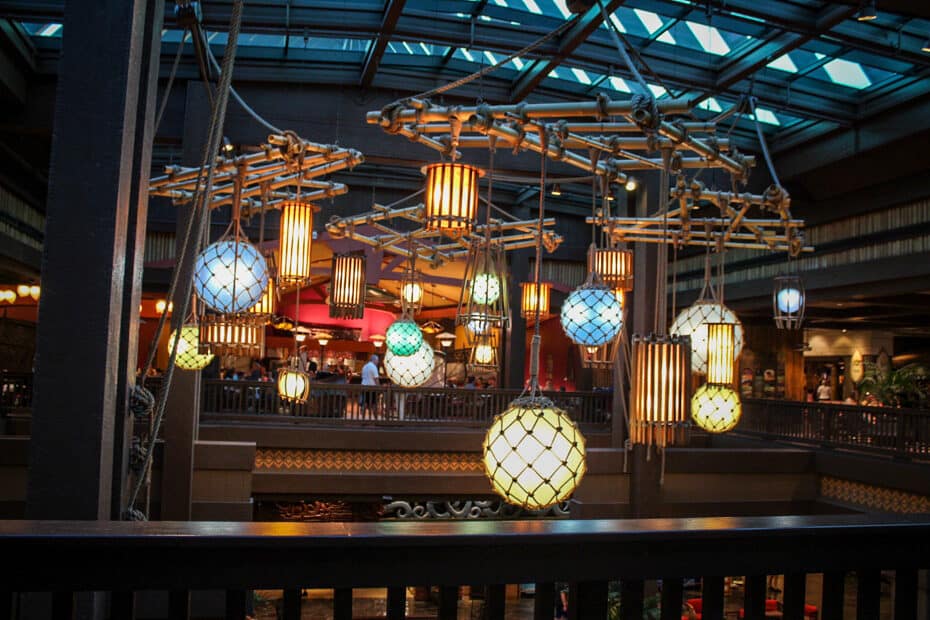 Polynesian Resort Restaurants List
Here is a list of restaurants at the Polynesian Resort. In addition, I'll provide links to menus and specific meal reviews where applicable.
Probably, the most well-known Polynesian restaurant is 'Ohana. We'll get into more specifics below, but this is the restaurant where they serve meat on skewers for dinner. They also have the infamous bread pudding for dessert!
Those looking for a tropical drink will not be disappointed with the variety of bars at Disney's Polynesian Village Resort. It's a tough decision between Trader Sam's, the Tiki Terrace, Tambu Lounge, or one of the pool bars. If you are spending an entire week's vacation at the Poly, you might end up at all of them over the course of your visit.
And if you want to try the most popular treat at the Walt Disney World Resort, you'll definitely want to stop in for a Dole Whip at Pineapple Lanai. It's hard to go wrong with this tasty, low-calorie soft serve.
Let's take a closer look at each option.
If you were to mention having dinner at the Polynesian, anyone familiar would probably chime in with, "Oh, you went to 'Ohana." This dining option is just that popular.
To be fair, if you mention dining at the entire Walt Disney World Resort, in general, you'll probably be answered with some type of nod toward the South Seas-themed venue.
Those lucky enough to receive a window seat can enjoy views of Magic Kingdom theme park in the distance. Additionally, the restaurant is usually a participant in the Disney Dining Plan when it is available.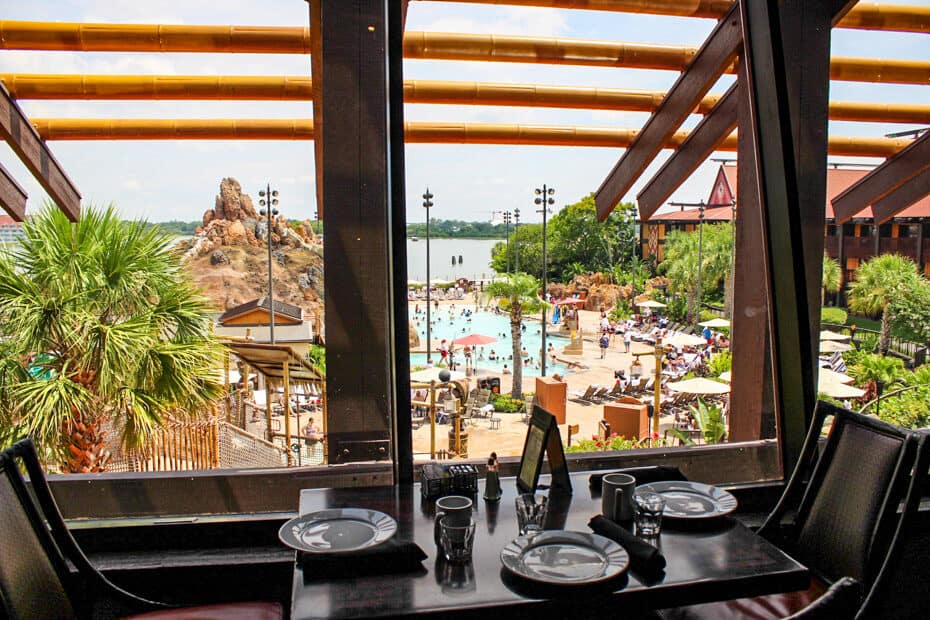 'Ohana is located on the second floor of the Great Ceremonial House, also known as the lobby. The establishment is tucked in the back corner near a staircase, directly behind Tambu Lounge. Tambu is a great place to pick up a cocktail before your dining reservation.
The restaurant has a separate dining option for breakfast than what's offered at dinner. Both experiences are entirely different, requiring the restaurant to make a complete changeover in the middle of the day.
The first option is the Polynesian's character dining experience; the Best Friends Breakfast with Lilo and Stitch. This meal provides the opportunity to meet with Lilo, Stitch, Hawaiian Mickey, and Pluto.
On our last experience, I enjoyed the characters but wasn't crazy about the food quality we received. However, there were a few highlights.
For instance, the 'Ohana breakfast bread (pineapple coconut) was a great start to the meal.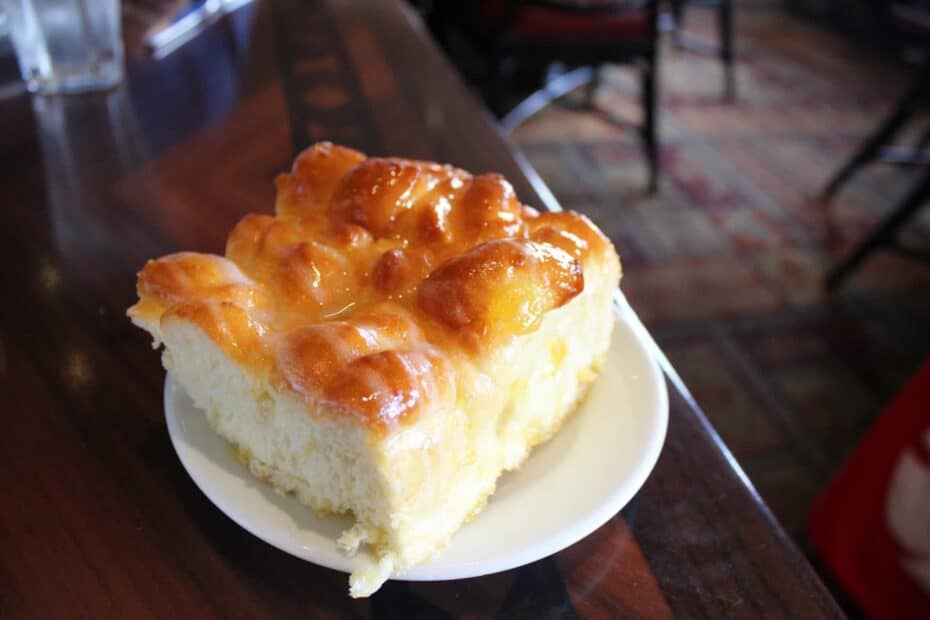 However, I felt the all-you-care-to-enjoy skillet wasn't great considering the cost of the meal. Most of the items were comparable to what you would receive at a counter service restaurant.
Unfortunately, I found similar luck at the Akershus princess breakfast over at Epcot. It has been my experience that most of the character dining experiences at Disney World are mediocre meals.
Related: Disney World Character Dining Guide
If you are looking for a good quality meal that includes characters, I recommend Topolino's Terrace. It's the best all-around character dining experience I've had at Disney to date.
Related: Breakfast a la Art with Mickey and Friends at Topolino's Terrace.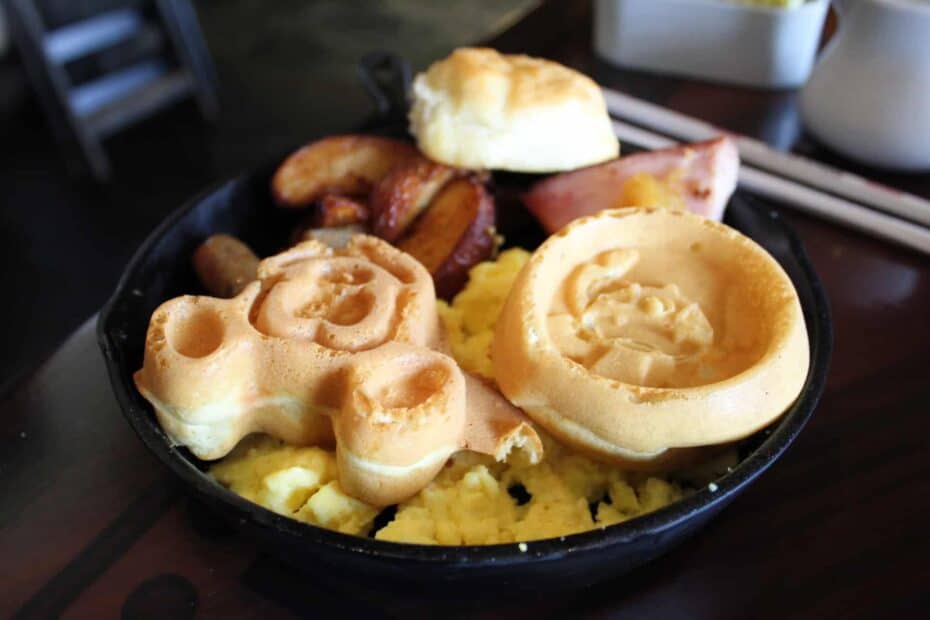 The evening service at 'Ohana consists of a family-style meal where various skewers are brought to the table. These skewers consist of steak, chicken, and shrimp. In addition, vegan options are available by special request. You can preview the menu here on Disney's site.
Either of these meals will need to be reserved as soon as your dining reservation window opens. They are both popular, and reservations fill up quickly. Additionally, breakfast at 'Ohana is the only meal period where characters are present.
Kona Cafe is a table service restaurant at the Polynesian, located on the lobby's second floor. The restaurant is open to the lobby. If you have ever visited the Polynesian before, you've probably noticed people dining here.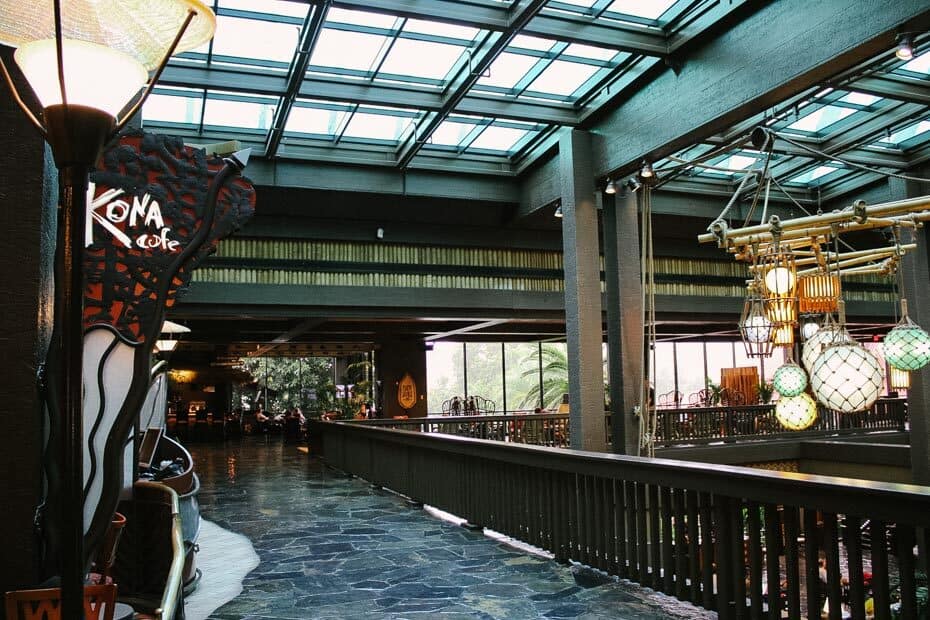 Kona Cafe is one of those restaurants at Disney that I highly recommend. Given its popularity, I don't think it's fair to call it a hidden gem. But I can definitely call it a not-so-hidden gem.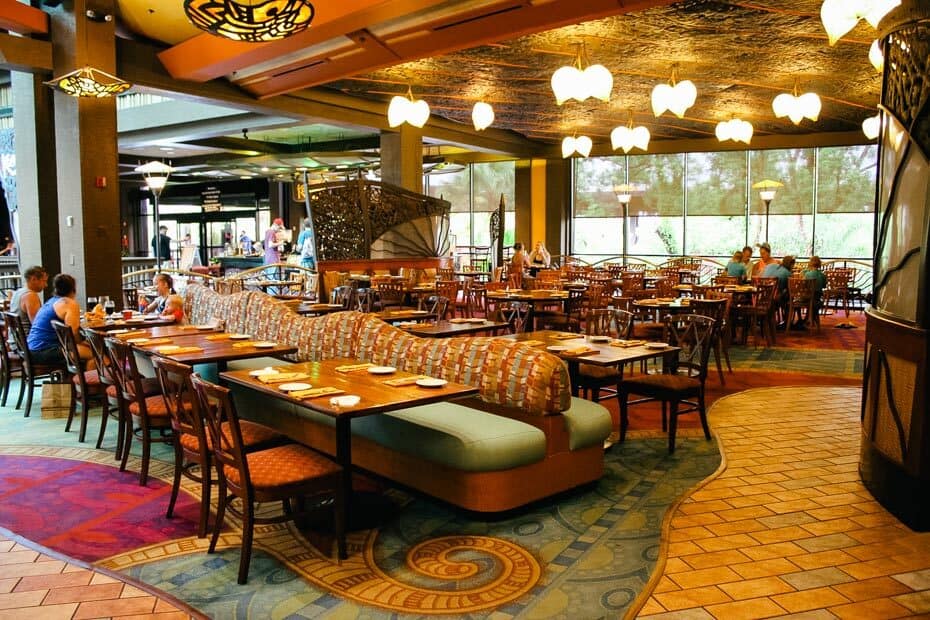 Kona Cafe has become one of my go-to places for sushi on Disney property. The only other places I enjoy sushi are Morimoto Asia at Disney Springs and California Grill at Disney's Contemporary Resort.
Related: Best Sushi at Disney World
As far as recommendations go, the small sushi platter at Kona is the best value. You can probably tell from the picture below that it's anything but small.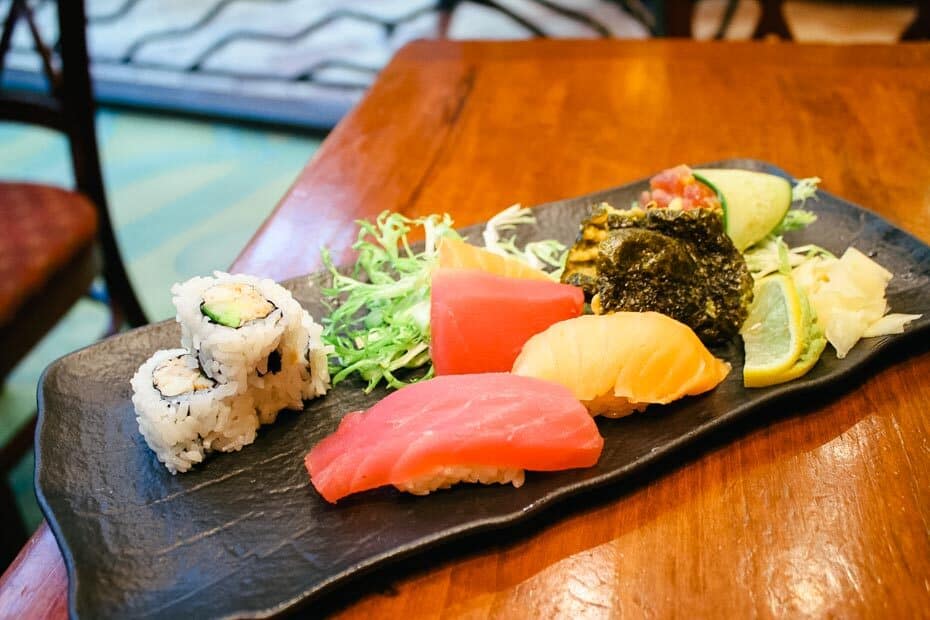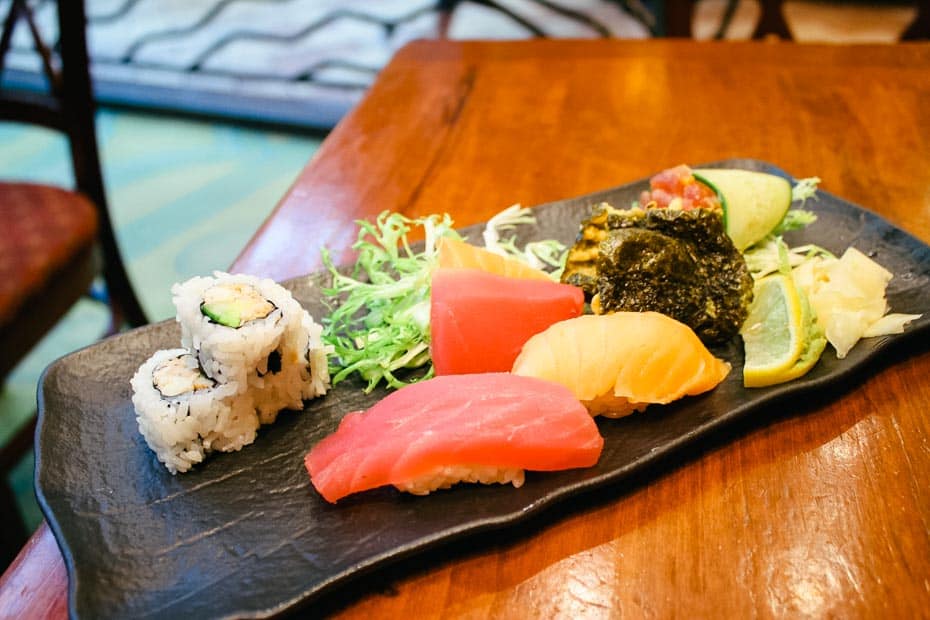 Kona has a full American menu for those of you who don't care for Asian cuisine. And I love that they offer a variety of menu options for kids' meals. You can view their menu here on Disney's site if you like.
Lastly, Kona Cafe serves breakfast, lunch, and dinner. So if you've ever heard of Tonga Toast at Disney (think fancy French Toast), this is where you can order it for breakfast. Oh, and the Macadamia Nut Pancakes are pretty popular too!
Tambu Lounge
Tambu Lounge sits next door to 'Ohana on the second floor of the Great Ceremonial House. Occasionally, you'll find they have a small bar set up in drink cart fashion on the first floor of the lobby. This is typical during busier times.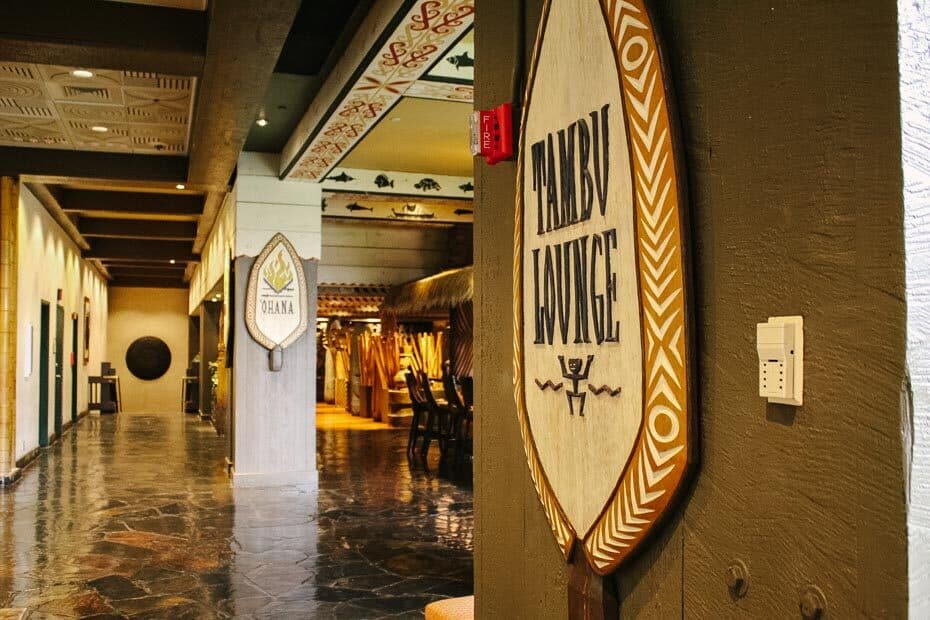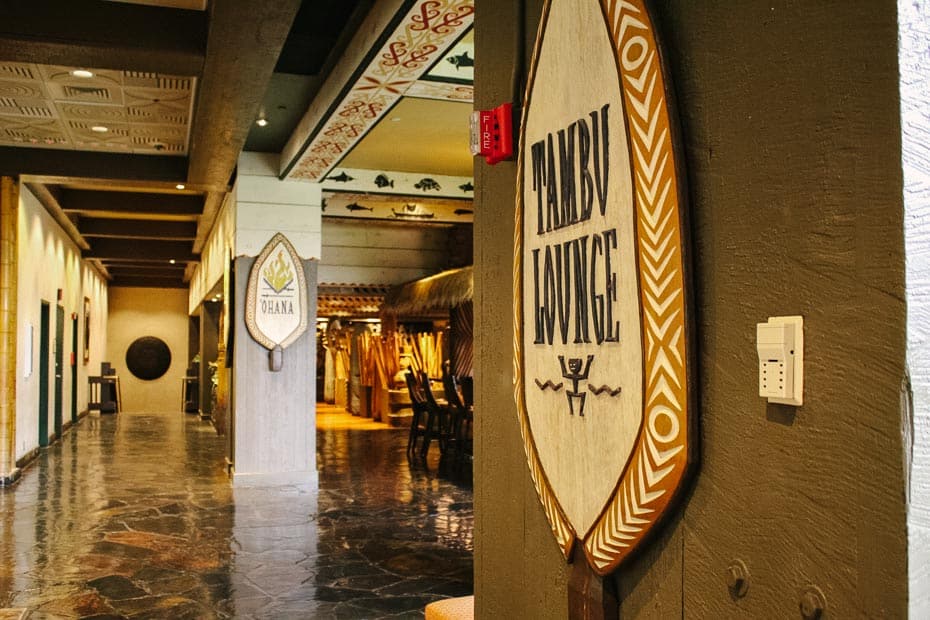 Tambu Lounge has a large bar area with additional seating that expands into the second-floor lobby of the Polynesian.
This entire area can be extremely populated in the evenings. Therefore, guests tend to fill these seats while waiting for reservations at the popular upstairs restaurants.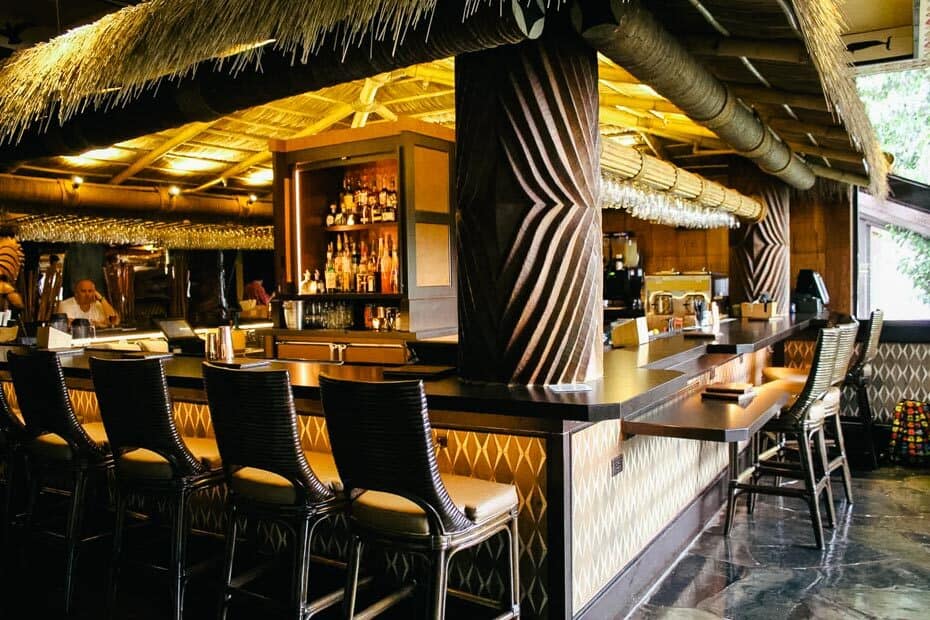 Additionally, this Polynesian bar is ideal for picking up that drink served in a pineapple we daydreamed about earlier. Not only that, but they serve a few special drinks that were part of the opening act at this famous Disney deluxe resort.
Here is a list of the signature drinks at Disney's Polynesian Village. There are actually three signature 1971 drinks that are available at various places, including Tambu Lounge. These drinks are:
Backscratcher–Bacardi Superior Rum, Myers's Original Dark Rum, and Passion Fruit Juice topped with Jack Daniel's Tennessee Whiskey and a Bamboo Backscratcher
Lapu Lapu–Myers's Original Dark Rum and Tropical Fruit Juices served in a fresh Pineapple topped with Goslings 151 Rum
Polynesian Mai Tai–Myers's Original Dark Rum, Bacardi Superior Rum, Bols Orange Curacao, Lime Juice, Orgeat (Almond), and Pure Cane Sugar
A while back, I tried the Backscratcher, which is a delicious knock-your-socks-off cocktail. It comes with a real backscratcher, as shown below.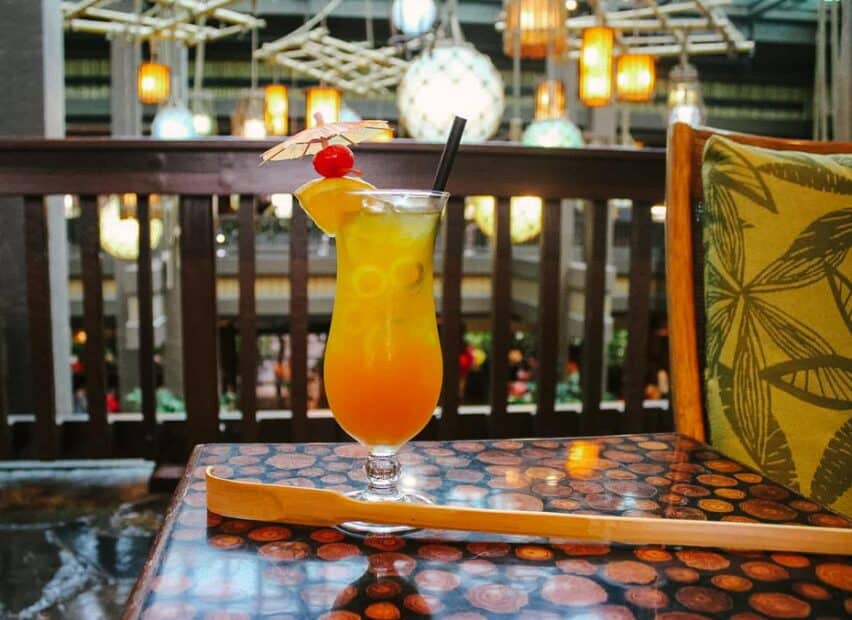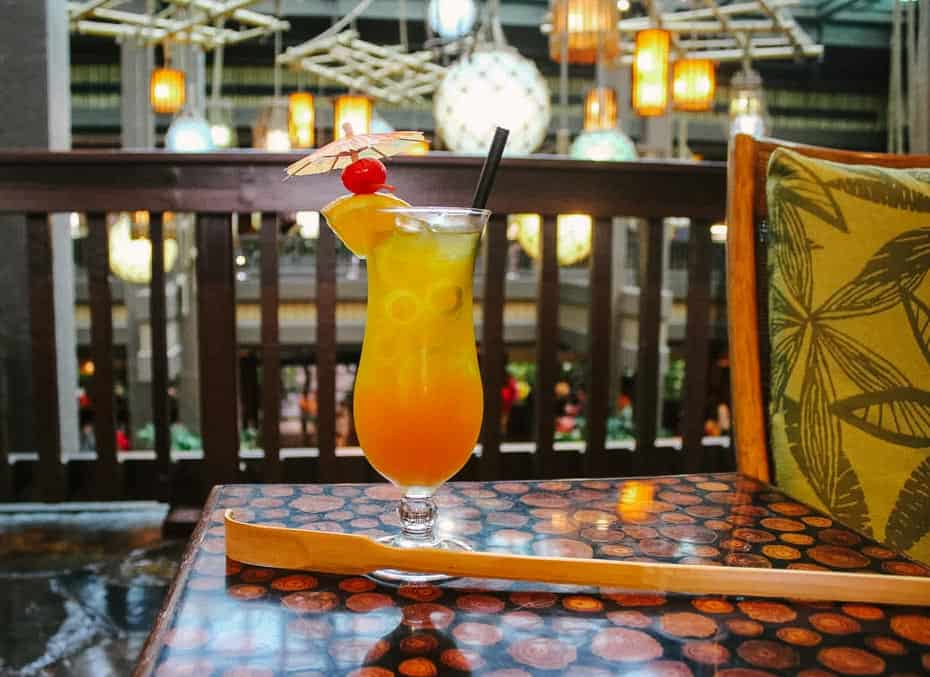 The Lapu Lapu is probably the most well-known drink at the Polynesian. That's the fun, tropical drink that comes in a pineapple. If you like, they will serve it in a regular glass instead.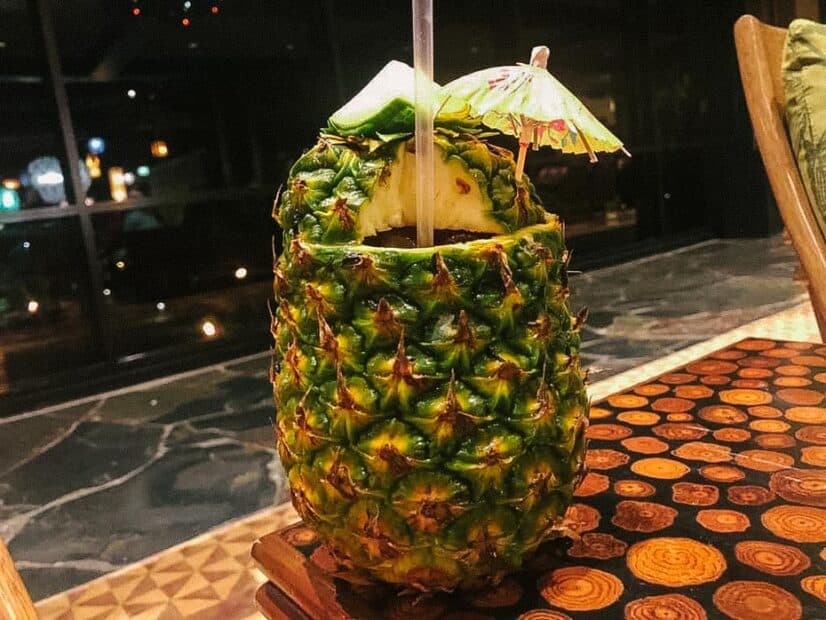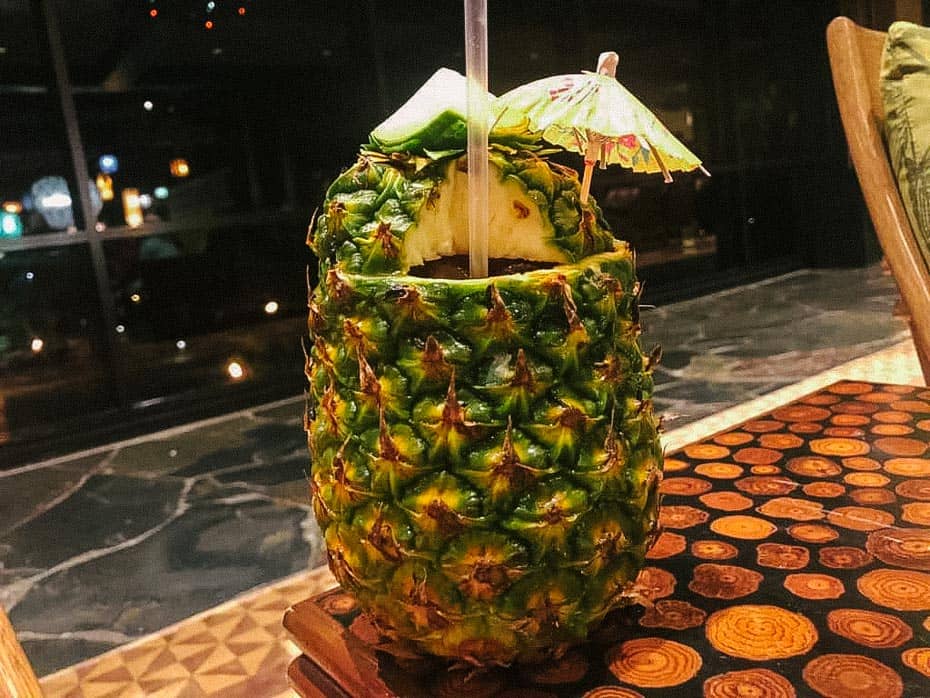 When ordering a second, the cast member will refill the pineapple you already have if you bring it back when placing your order. And if you are lucky enough to stay in a bungalow, enjoy it there in your own personal hot tub. A girl can dream, right?
Related: Bungalows at Disney's Polynesian
Disney's Spirit of Aloha Dinner Show
Unfortunately, I'm not a big dinner show person, so I don't have a formal review of Disney's Spirit of Aloha. For those with reservations, check-in for the dinner show is located on the lobby's second floor.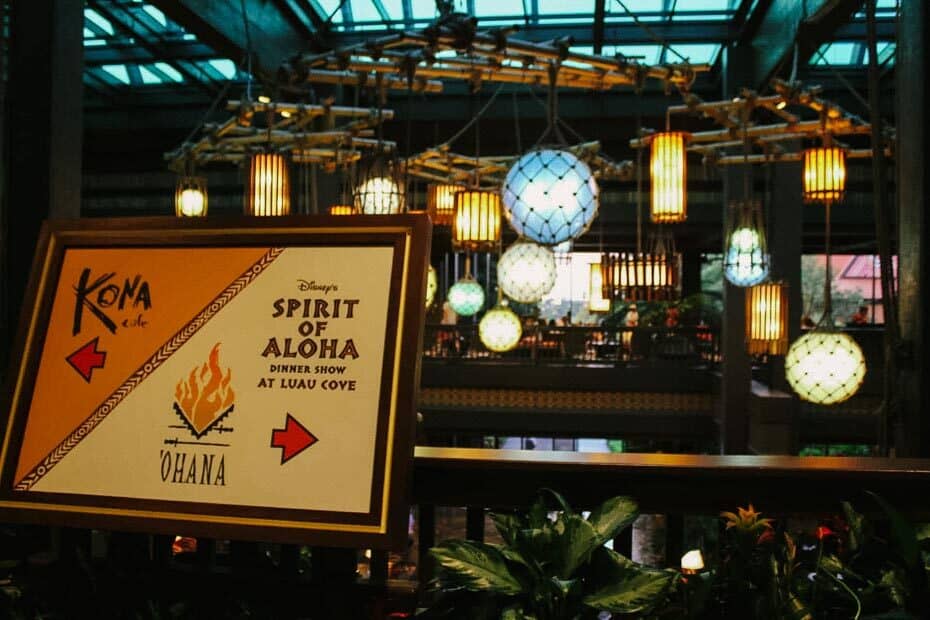 The dinner show is actually held on the walkway between the Polynesian and Disney's Grand Floridian Resort. Cast members will check guests in at the lobby. Then they will walk them in groups over to Luau Cove.
When available, guests with the Disney dining plan can use 2 meal credits for the category 2 and 3 seating areas. You can read more about Disney's Spirit of Aloha here on their site if you like.
The Spirit of Aloha has not returned at the time of this update in 2022.
Next, we'll look at the resort's main quick-service dining location, Captain Cook's. This location is additionally one of our go-to counter service dining locations at Disney World.
Capt. Cooks is located on the Polynesian's first floor, not far off the lobby. The counter service location provides classic favorites like Disney chicken nuggets, including the allergy-friendly version.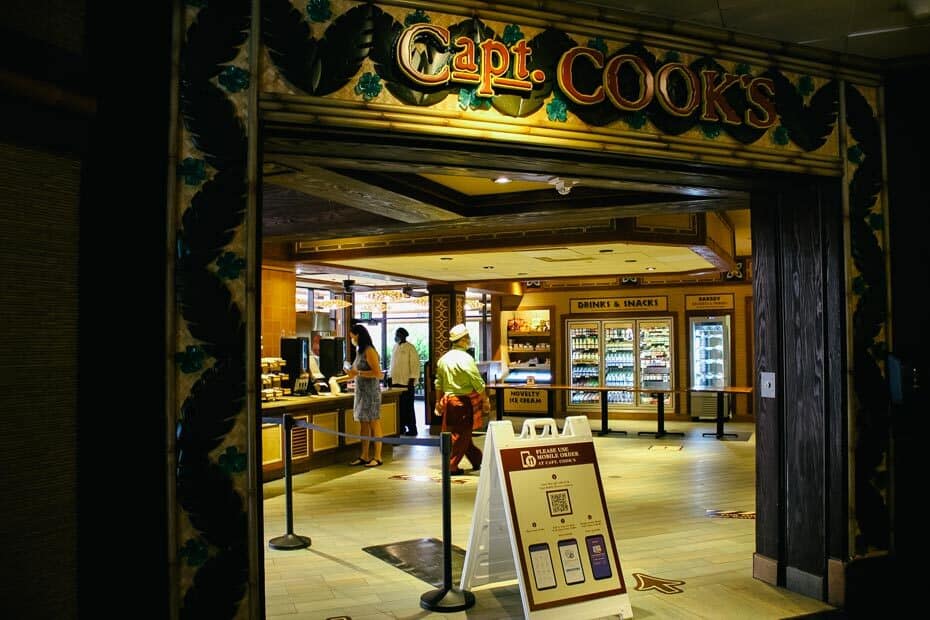 My son says the ones they serve here are a little different than some of the other locations. These appear to have more of a panko crust than traditional flour breading.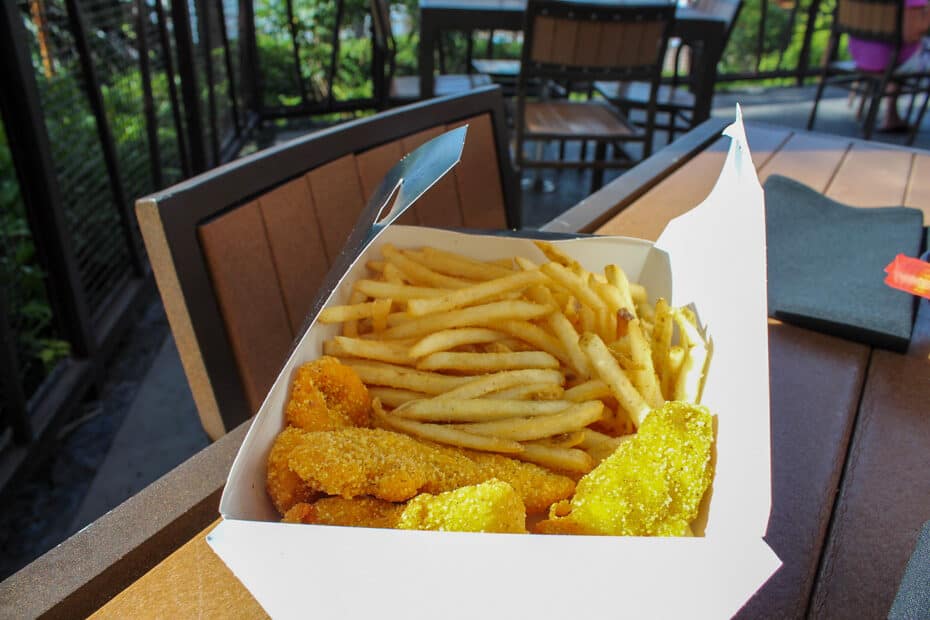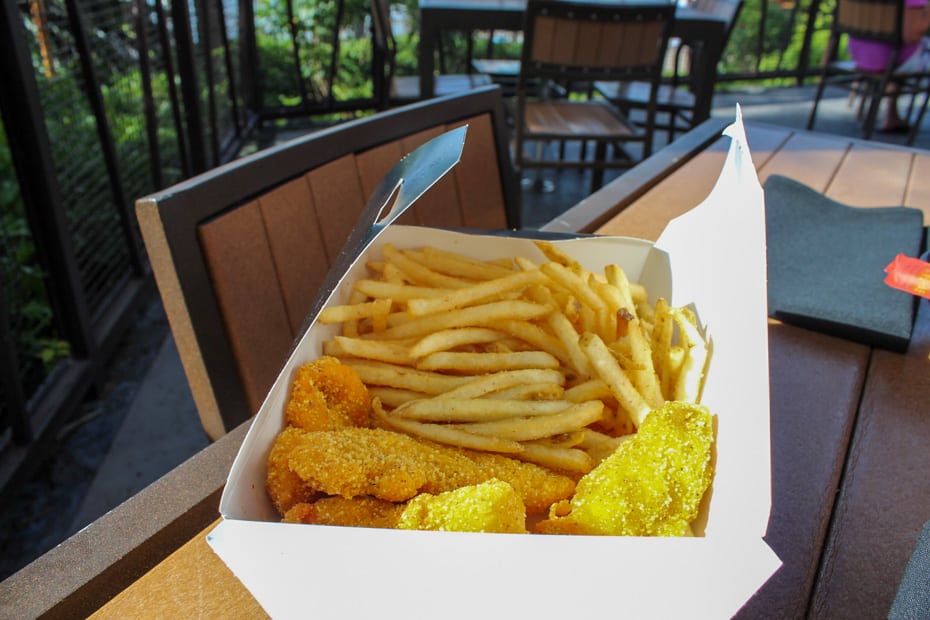 Similar to the other Polynesian restaurants, Capt. Cook's offers a menu featuring Asian and American cuisine. The menu below shows Polynesian favorites like the Thai coconut meatballs.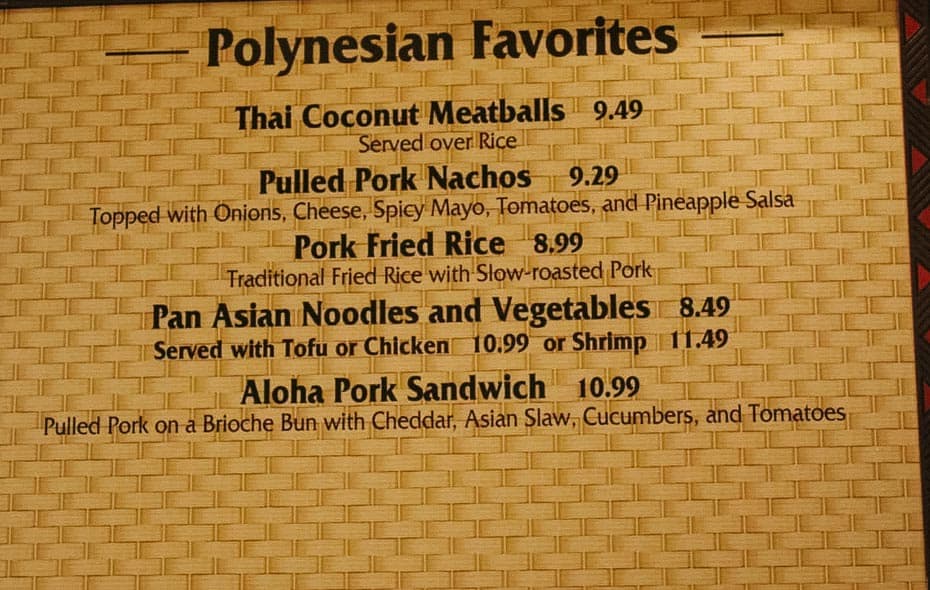 The last time I tried them, I wasn't crazy about the overall flavor. And while I haven't had the opportunity to try the pulled pork nachos, they get consistent rave reviews on social media.
Additionally, you'll find a full menu with American entrees.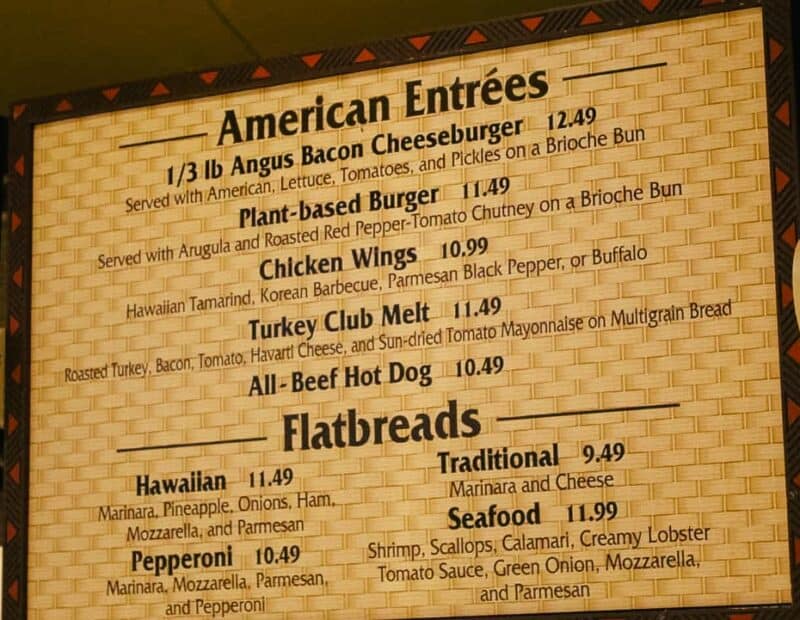 A few salads and soup items round out the menu.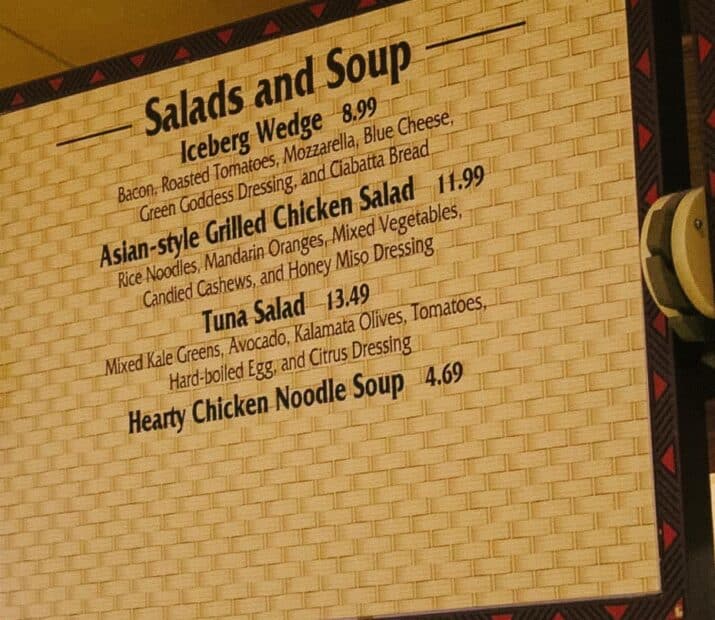 And they have a decent selection of kids' meals.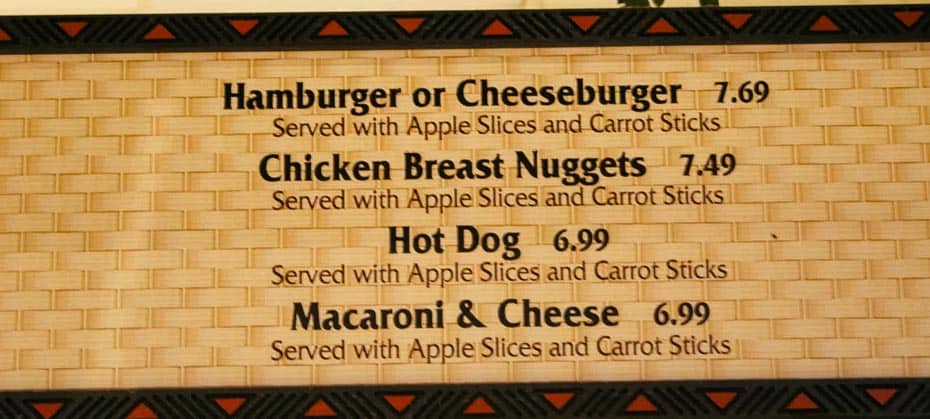 I often order a kids' meal with a double side of fries for myself.
Capt. Cook's is also where you'll find a good selection of grab-and-go items.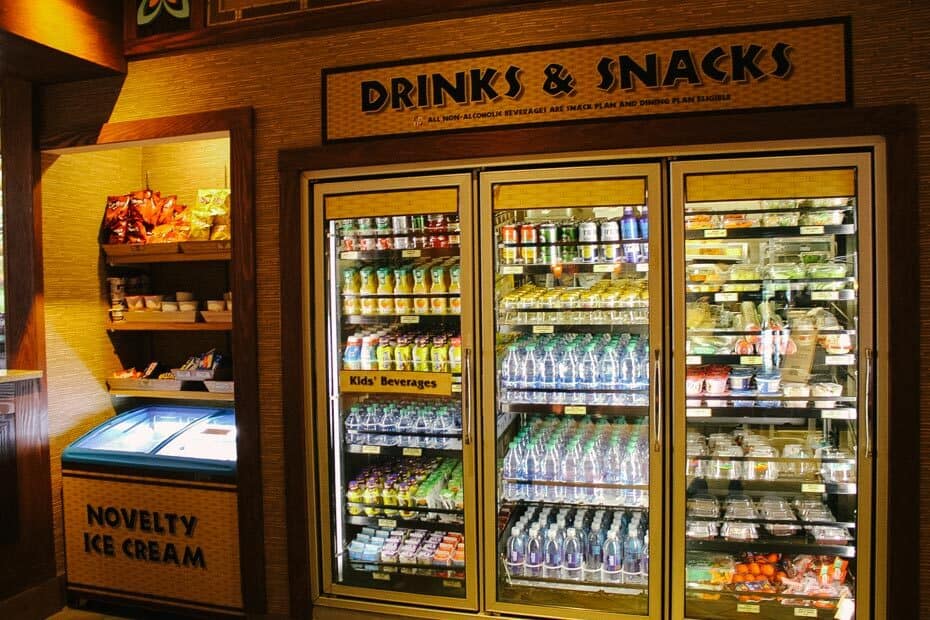 One of my favorite tips is to pick up a meal at Capt. Cook's and enjoy it out on the Tiki Terrace during the sunset. It makes for a relaxing evening, away from the crowds. And if you stay long enough, you'll see the Electrical Water Pageant and the evening fireworks.
Related: Captain Cook's Review
Trader Sam's
Off the hall of the Polynesian's main lobby, you'll find an entrance to Trader Sam's Grog Grotto. This Polynesian Resort bar requires guests to be 21 years or older for admittance after 8:00 p.m.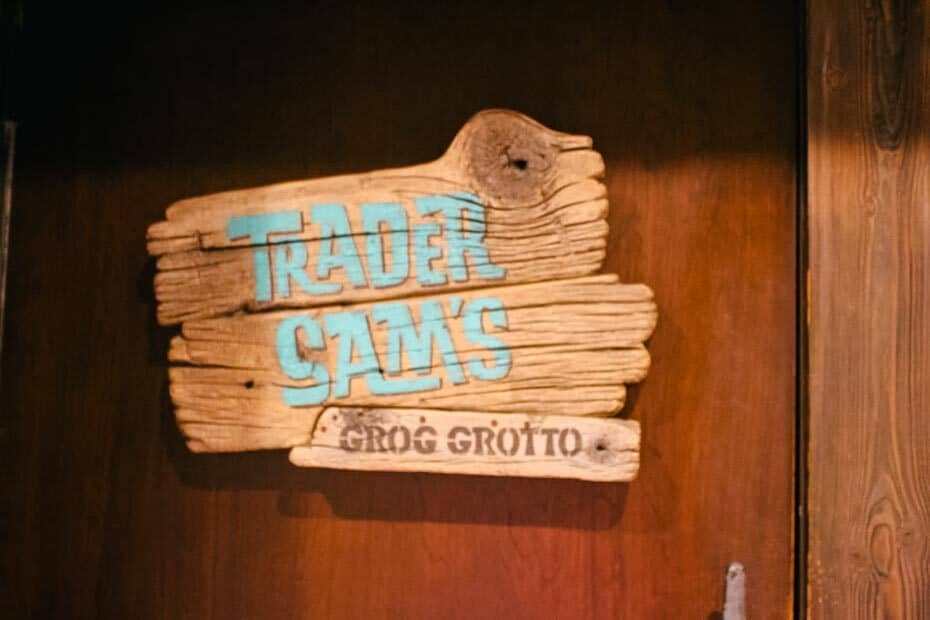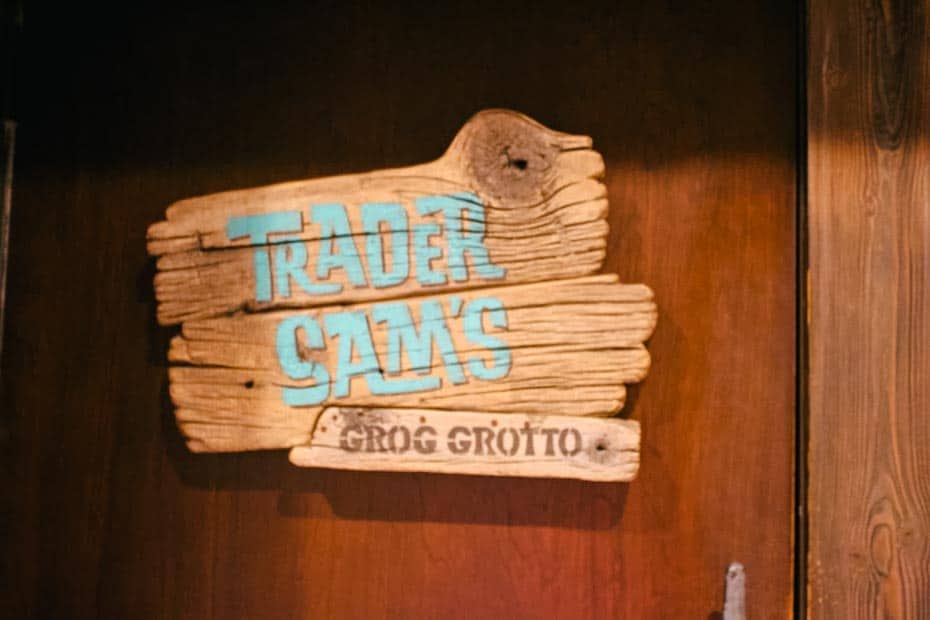 Trader Sam's offers a unique drink menu with the opportunity to purchase souvenir mugs when in stock.
A popular alternative to Trader Sam's Grog Grotto is Trader Sam's Tiki Terrace, which is the outdoor side of the bar. The Tiki Terrace is my favorite stop at the Polynesian. The terrace is considered a back patio of sorts and shares a dining area next door to Capt. Cooks.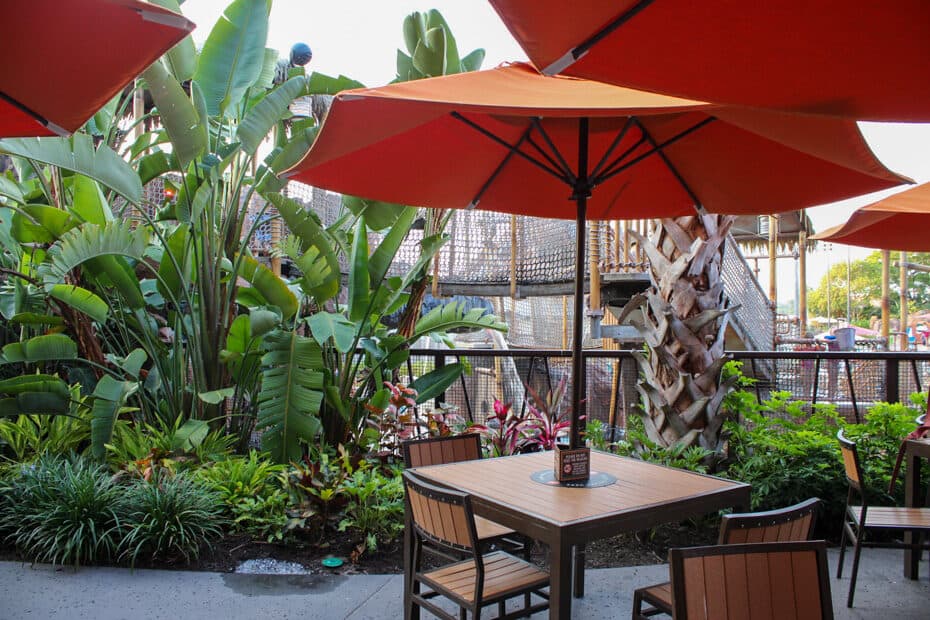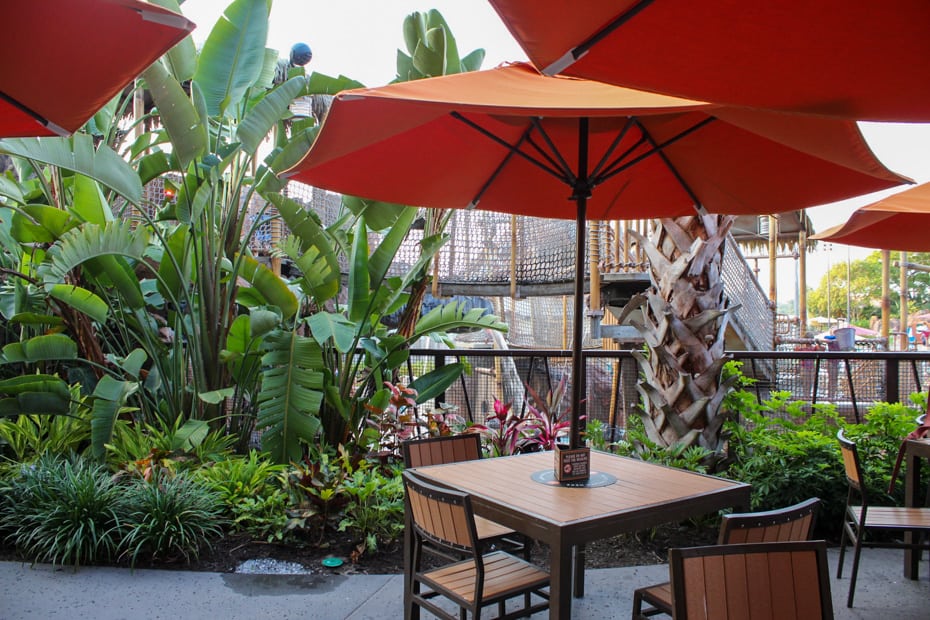 Tiki Terrace has a menu featuring appetizers that make for a nice snack. Or you could easily make a meal out of them. Below is a photo of the chicken lettuce cups I had on my last visit.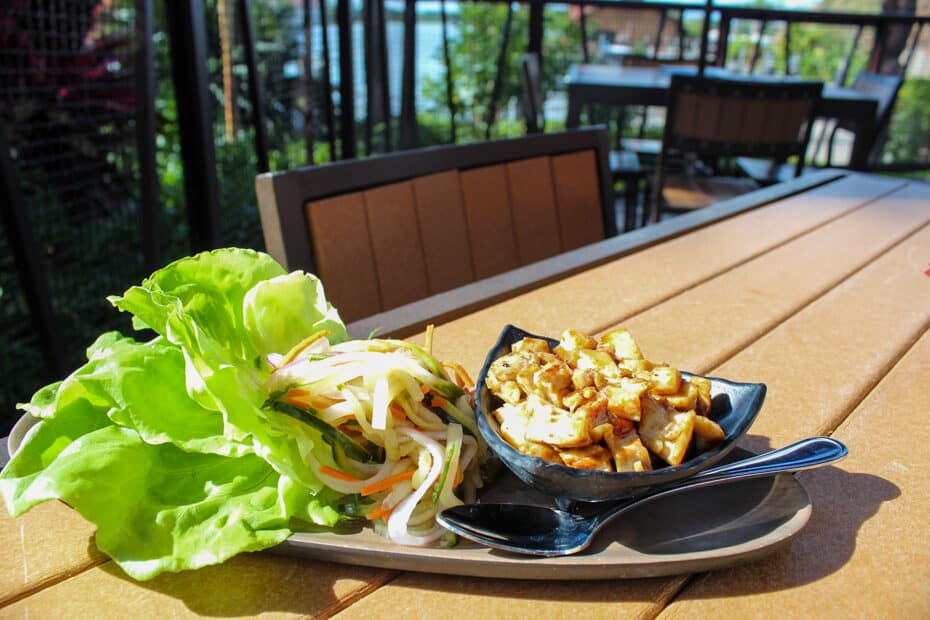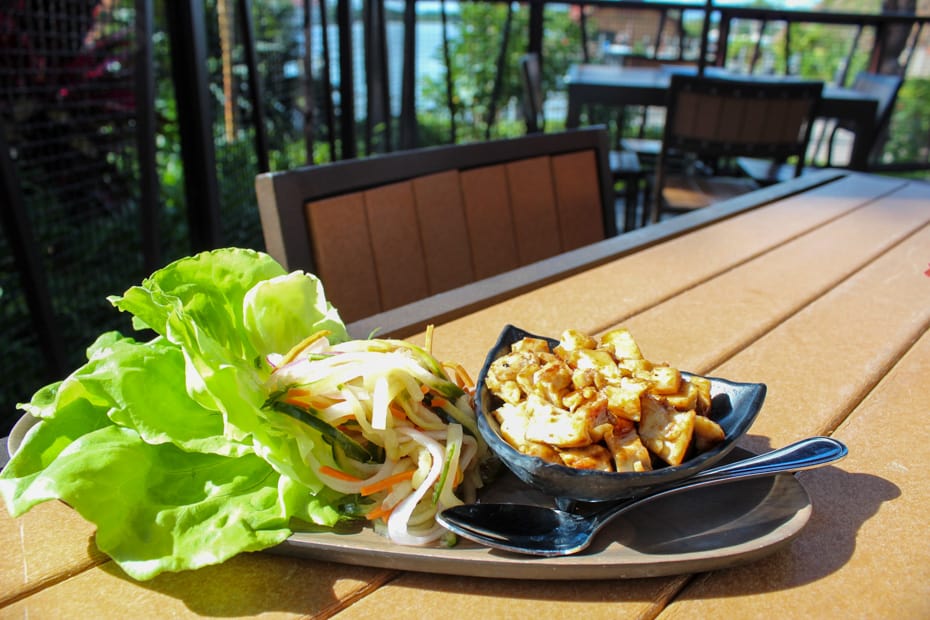 The menu at Tiki Terrace is the same as Trader Sam's, offering fun concoctions exclusive to the Polynesian. Here we have the "Tiki Tiki Tiki Tiki Tiki Room" drink that is a fun play on Walt Disney's Enchanted Tiki Room.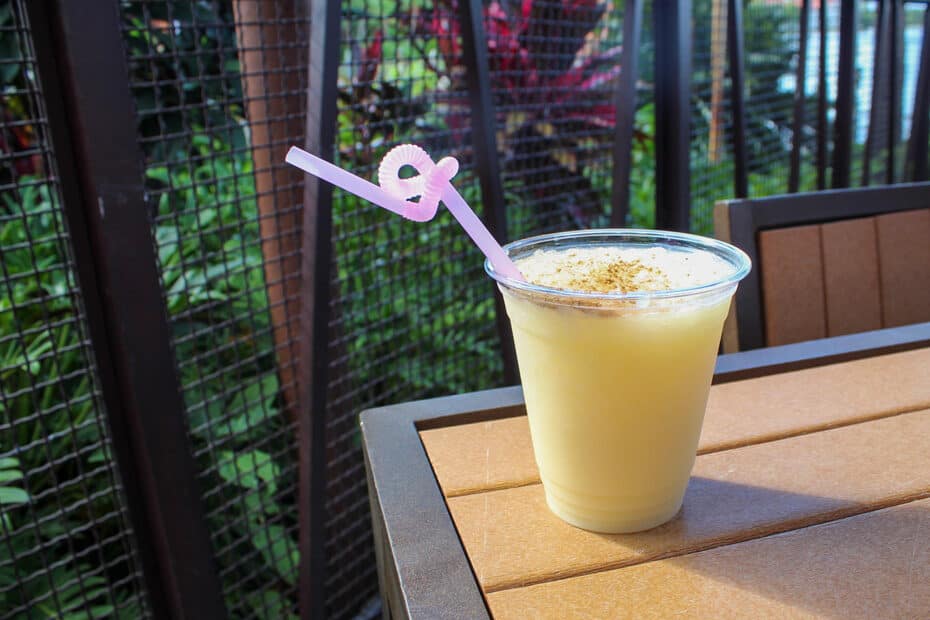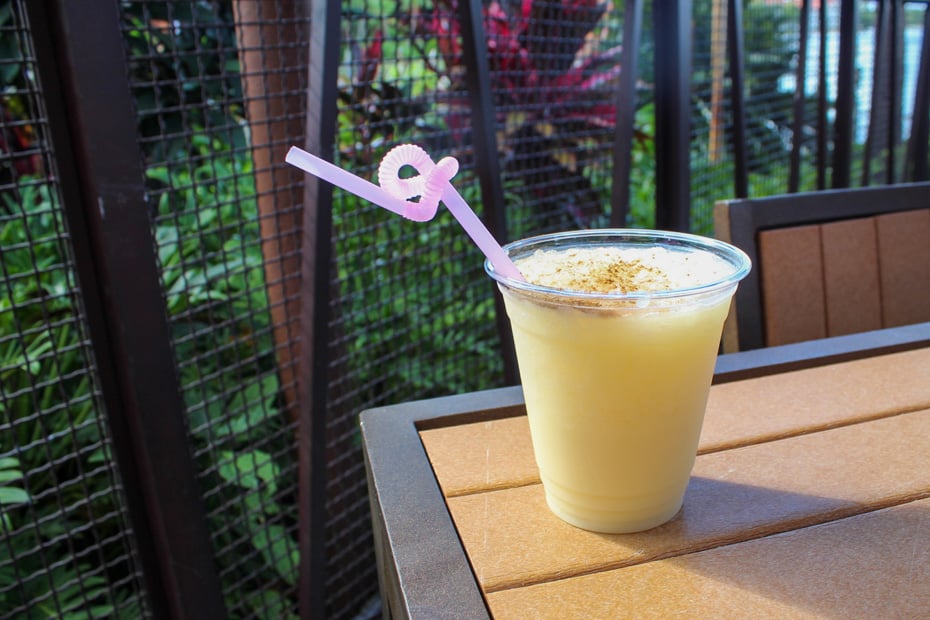 This drink was surprisingly refreshing, with hints of cinnamon and nutmeg.
Related: Trader Sam's Tiki Terrace Review
Barefoot Pool Bar
If you travel to Disney's Polynesian via the resort boat launch, you'll run directly into the Barefoot Pool Bar after disembarking. The Barefoot Pool Bar has two sides. One side is open to pool guests. A fence separates the opposite side for those visiting the resort as day guests.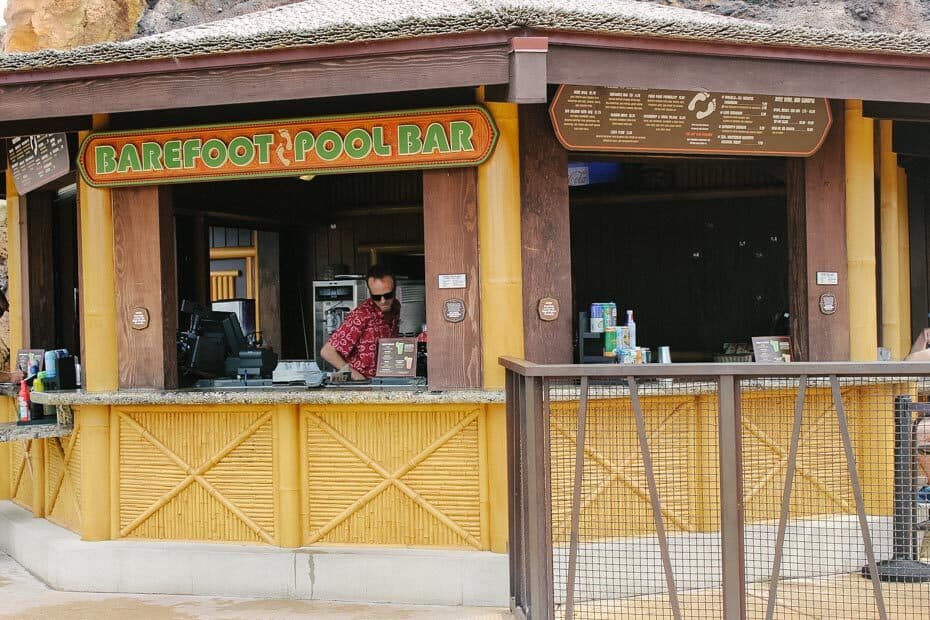 Below is a look at the Barefoot Pool Bar's cocktail menu. From my understanding, the Pago Pago Painkiller is the popular drink on the menu here.
Per the menu:
Pago Pago Painkiller – Plantation Original Dark Rum, Orange Juice, Pineapple Juice, and Cream of Coconut served over Crushed Ice.

While I prefer the Tiki Terrace, sometimes Barefoot has specialty drinks available, like the picture below.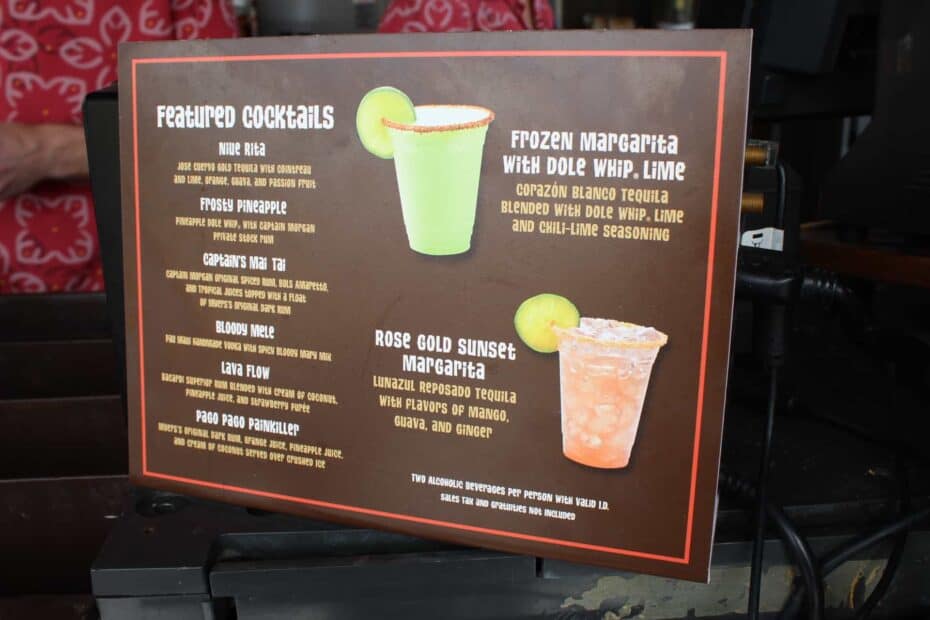 I tried the lime-flavor Dole Whip margarita a while back. Unfortunately, I didn't care for it because I'm not fond of lime Dole Whip.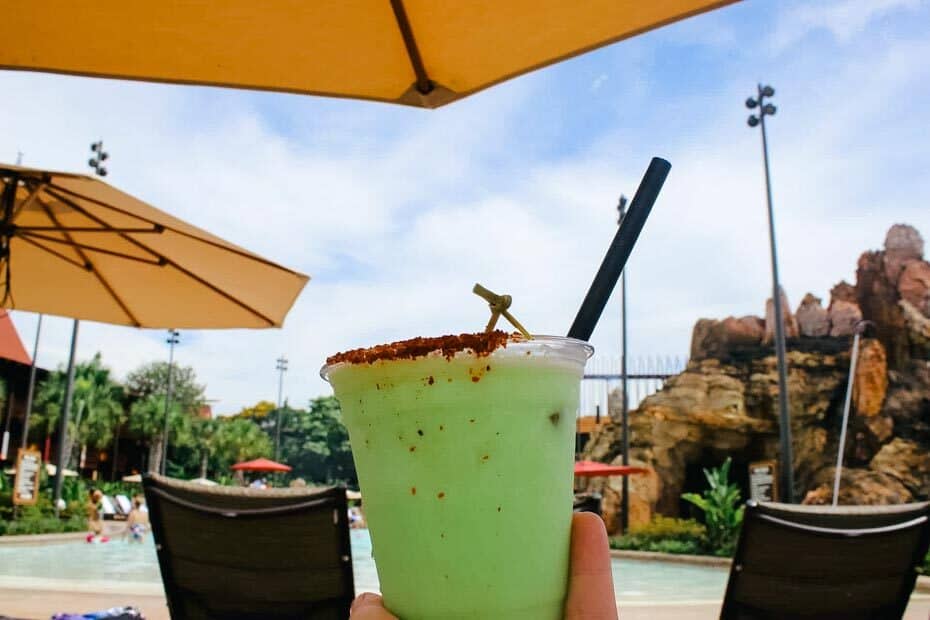 However, the original pineapple flavor is good. And the strawberry Dole Whip at Magic Kingdom is the best I've tried to date.
And for the record, the drinks in this review were all from different occasions.
As glad as I am to share portions of my travels with you, I understand that alcoholism is a huge problem in today's society. And we all have problems. I am by no means trying to portray a lavish lifestyle full of indulgences because that is not the case.
Oasis Pool Bar
For guests staying at Disney's Polynesian Resort, you might find similar offerings to Barefoot over at the Oasis Pool Bar.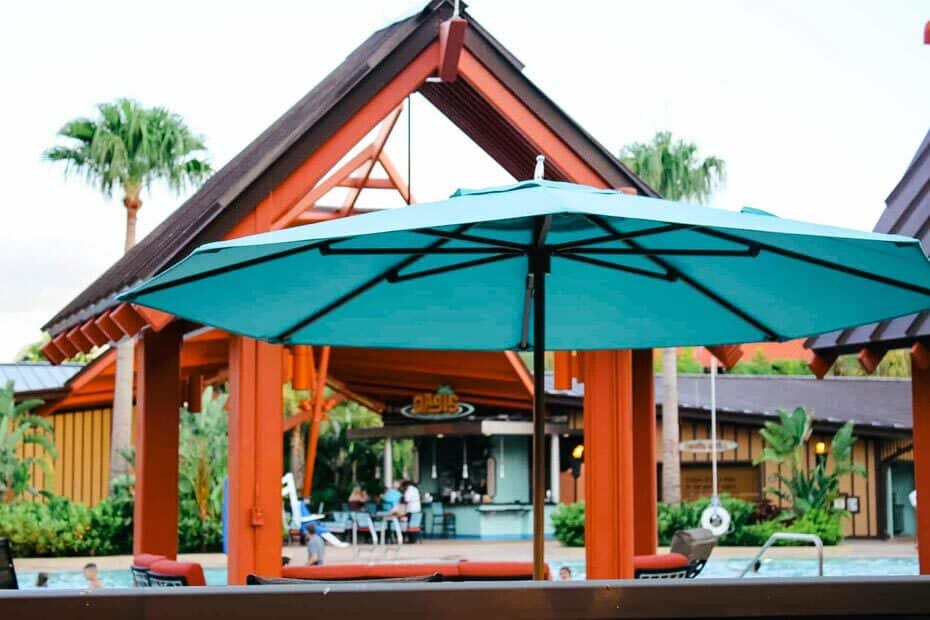 Here is a link to their menu. This pool is closer to the Polynesian Villas and tends to be a little lower key than the Lava Pool area.
Pineapple Lanai
Next on our list of Polynesian Resort restaurants is the Pineapple Lanai. Pineapple Lanai is on your immediate right when entering the back door of the Great Ceremonial House. This location is a walk-up window offering cold treats.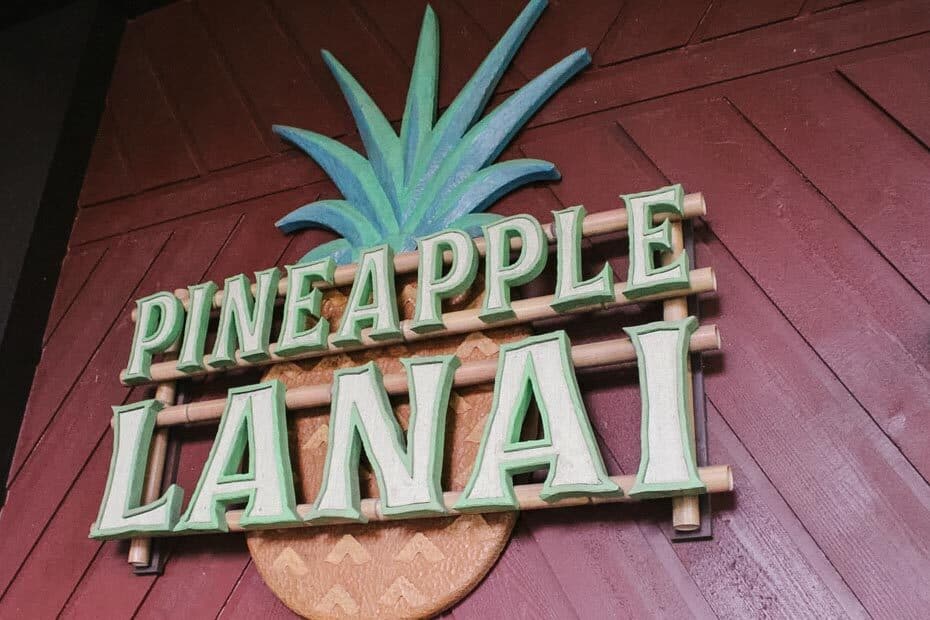 Pineapple Lanai is the place to pick up a Dole Whip soft-serve treat at Disney's Polynesian. Dole Whip usually comes in several different flavors. The traditional pineapple flavor is always available here. Additionally, they usually have at least one other flavor available.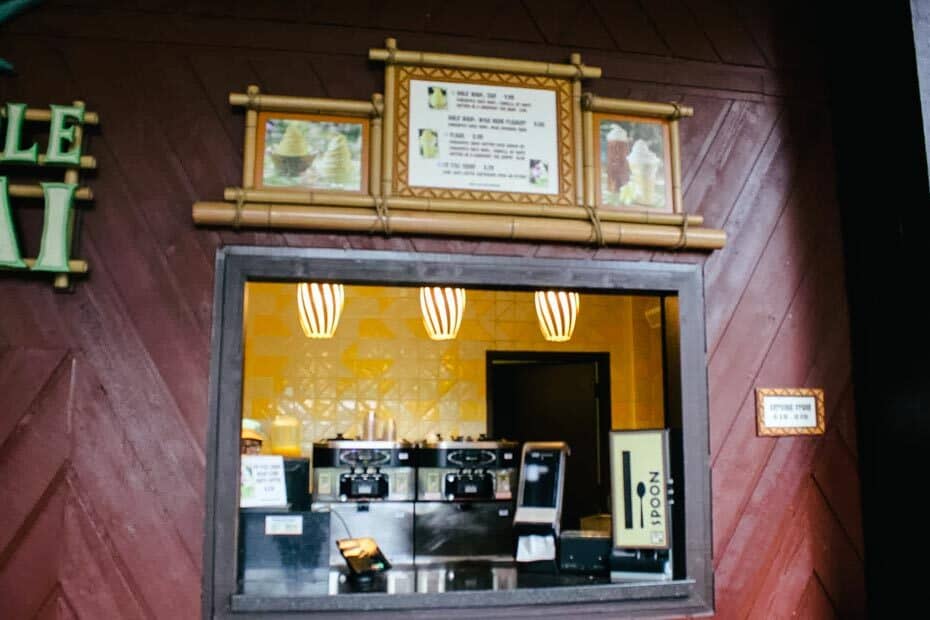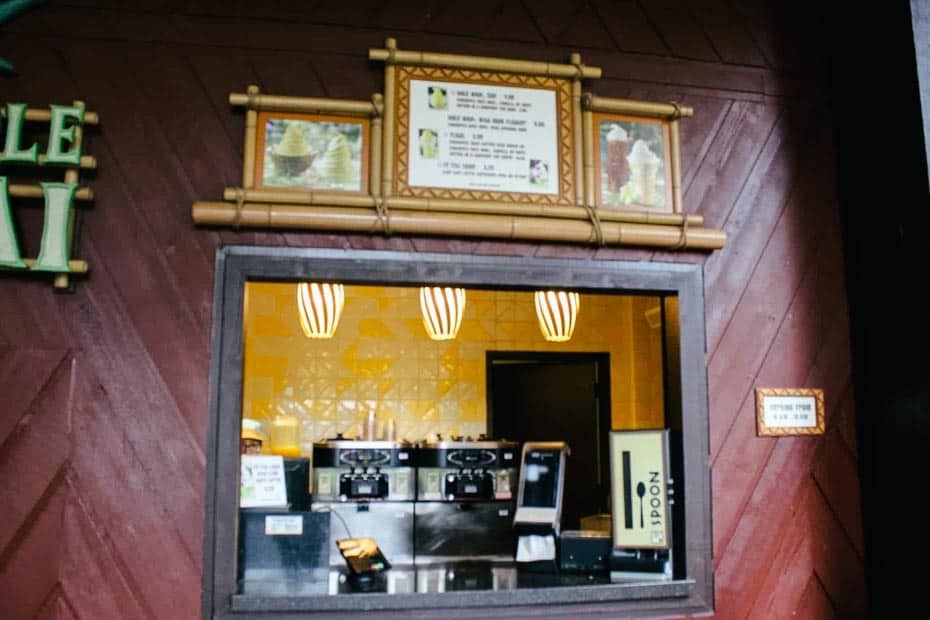 Usually, they'll have a sign at the counter when they have a unique flavor available. In case I forgot to mention, Dole Whip is diet-friendly, dairy-free (except when the soft serve is mixed with it), and vegan! There's not much to complain about here.
For those following a strict or plant-based diet, I have put together a list of all the different vegan items at Disney World that I've tried to date. It might help you locate a few items to try on your next vacation!
Kona Island
One last mention for dining at the Polynesian is Kona Island. Kona Island is located adjacent to Kona Cafe. They offer treats like the ones in the picture below, along with coffee and sushi. There is a sit-down sushi bar to the right of the dessert case.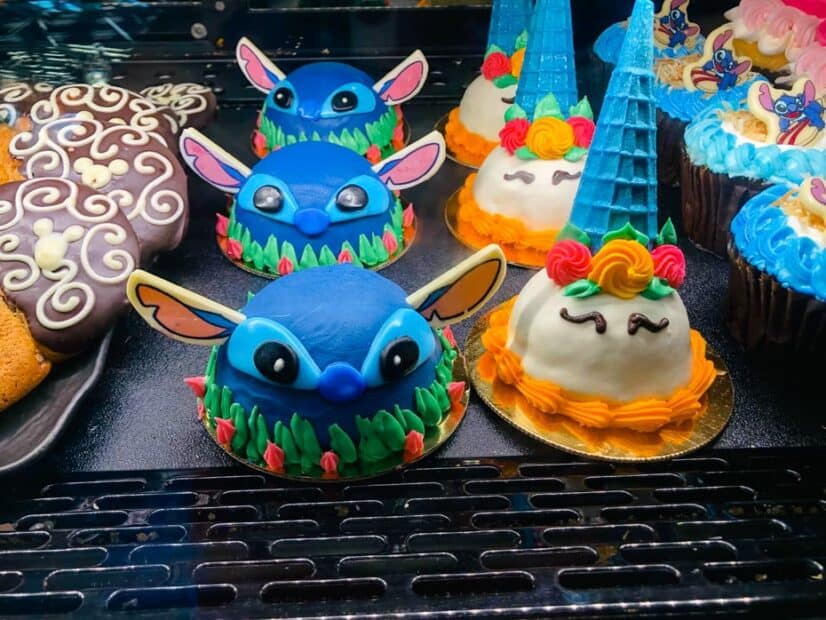 The case is always full of a fun variety of options, from cupcakes and cookies to chocolate-covered strawberries and bacon. It's a great place to stop when grabbing something on the go or if you can't get a seat at Kona Cafe next door for sushi.
There is a long bar with bar stools set up along the window. The window faces out to the monorail platform. It's a fun place to sit and enjoy the monorail coming and going from the Magic Kingdom.
You might even notice this "hidden Mickey" set of nail heads. When the Polynesian was finished, the builders added this little touch. The entire area has recently been revamped, so I'm hoping this little detail remains.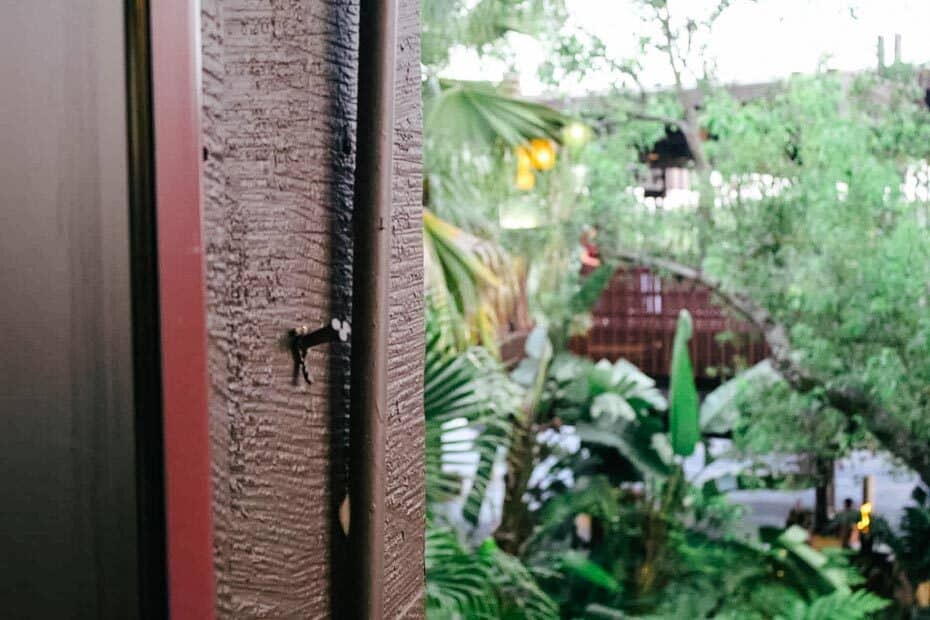 Polynesian Resort Restaurants Final Thoughts
When it comes to dining options at the Polynesian, you can probably tell the choices are overwhelming, but in a good way. These Polynesian restaurants make the perfect stop for anyone needing to relax and escape the busyness of the theme parks.
Whether it's a rainy vacation day or you are tired of dealing with crowds, you'll find a true, tropical dining oasis at the Poly. And after dining at any of these fabulous restaurants, I recommend taking some time to tour the grounds, especially around the sunset hour. Or you might enjoy hanging out in the lobby with that tropical umbrella drink.
For those who want to know the best ways to get to and from this Disney Resort, I've put together a guide (here) with tips on transportation at Disney's Polynesian. If you arrive at the resort for dining via personal car, you will need an advanced dining reservation to park there.
Are you planning a stay at Disney's Polynesian? We have a full resort review available.
Related: Disney's Polynesian Resort Review
In addition, all of our articles related to Disney's Polynesian are available here.
If you are still unsure about which resort works best for you, you might enjoy browsing our entire list of Disney Hotel Reviews.
Are you interested in dining options at Walt Disney World? Make sure to check out the entire list of Walt Disney World restaurant reviews.
Additionally, we have several resort dining guides available:
Thanks for joining along! Feel free to leave a comment below and let me know your favorite of the Polynesian Resort restaurants!
Disney's Polynesian Restaurants