Disney's Polynesian Village Resort Restaurants (Everything You Need to Know)
This article provides a list of the restaurants at Disney's Polynesian Village Resort. We'll preview the menus for each restaurant, discuss dining reservations, and everything else you need to know for dining at the Polynesian.
Aloha! Whether staying there or not, you'll probably want to visit Disney's Polynesian Village Resort on your next vacation. So what better way to see the resort than to plan a meal there?
Of course, if you're staying at Disney's Polynesian, you're in for a real treat. So, you'll definitely need to know what dining options are available during your stay.
Thankfully, this tropical hideaway has plenty of restaurants. Additionally, you'll find a considerable amount of other options only a monorail ride away!
Below, we'll discuss each of the restaurants at Disney's Polynesian Resort and a few popular choices for other nearby dining options. So throw on your hula skirt and start swaying those hips. Before you know it, you'll be swinging back and forth in a hammock under tropical palms.
Can you imagine that drink in your hand served straight from a pineapple? In the distance, the sun sets over Seven Seas Lagoon. This is definitely going to be a Disney vacation you won't soon forget.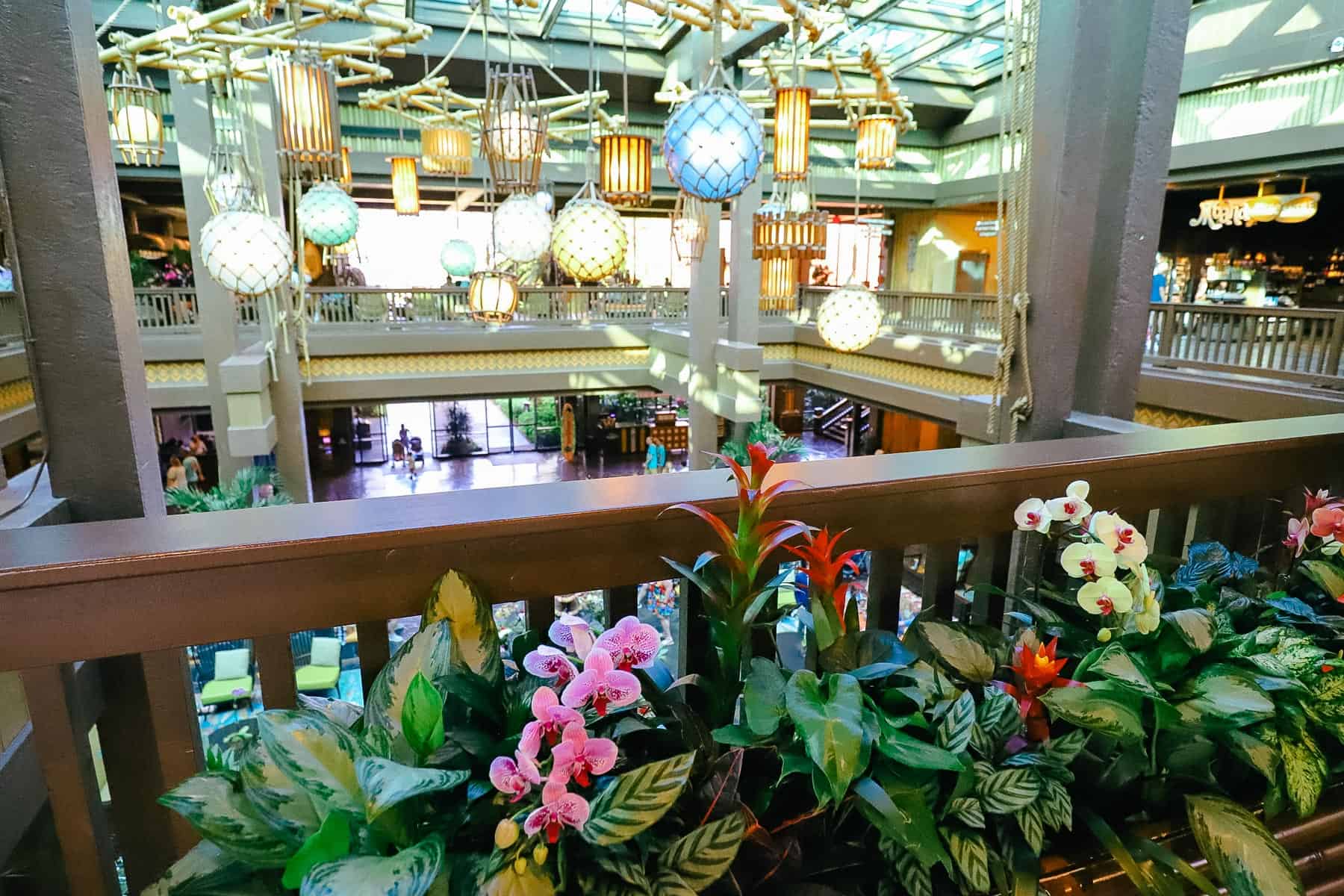 Polynesian Resort Restaurants List
Here is a list of restaurants at Disney's Polynesian Resort. Below, we'll go over each one in more detail.
'Ohana
Kona Cafe
Tambu Lounge
Capt. Cook's
Trader Sam's
Trader Sam's Tiki Terrace
Barefoot Pool Bar
Oasis Bar & Grill
Pineapple Lanai
Kona Island
*Unfortunately, Disney's Spirit of Aloha dinner show is permanently closed. This area is now being used for the construction of a new Disney Vacation Club Tower at the Polynesian.
'Ohana
If you were to mention having dinner at the Polynesian, anyone familiar would probably chime in with, "Oh, you went to 'Ohana." This dining option is so popular that the mere mention of visiting Walt Disney World is often reciprocated with some type of nod toward the South Pacific-themed venue.
'Ohana is located on the second floor of the Great Ceremonial House, also known as the Polynesian's lobby. You'll find the restaurant tucked in the back corner near the staircase.
'Ohana sits immediately next door to Tambu Lounge, which serves as a large public lounge for the resort lobby. Tambu is an excellent place to pick up a cocktail while waiting for your table.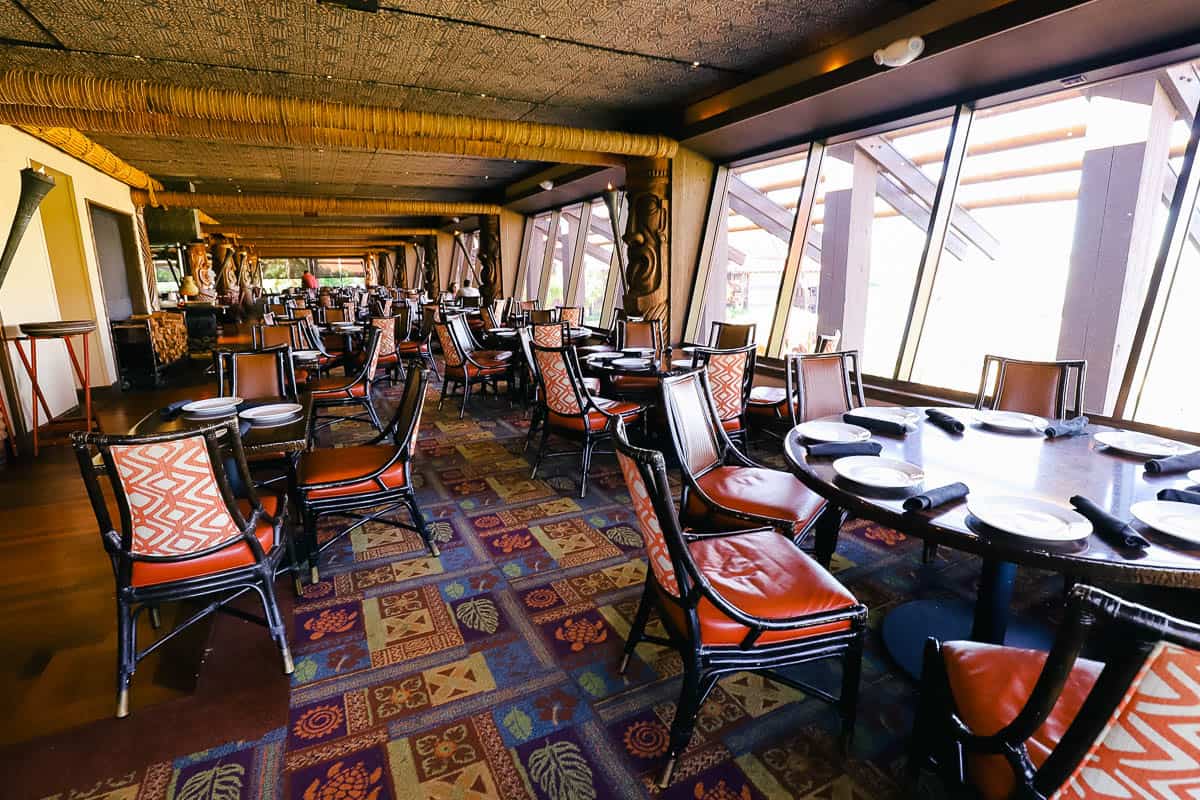 When dining at 'Ohana, there are two distinct options. For breakfast, the restaurant offers a character dining experience. While at dinner, 'Ohana serves a traditional Polynesian family-style meal that does not include characters.
First, we'll discuss the Best Friends Breakfast with Lilo and Stitch. This breakfast is available daily from 7:00 a.m. until 12:00 p.m. Reservations are required, and given the popularity of this location, they can be challenging to obtain.
Breakfast at 'Ohana
At breakfast, family-style skillets are brought to the table containing scrambled eggs, sausage links, Hawaiian-style ham with a pineapple compote, island-roasted potatoes, biscuits, and Mickey-shaped waffles.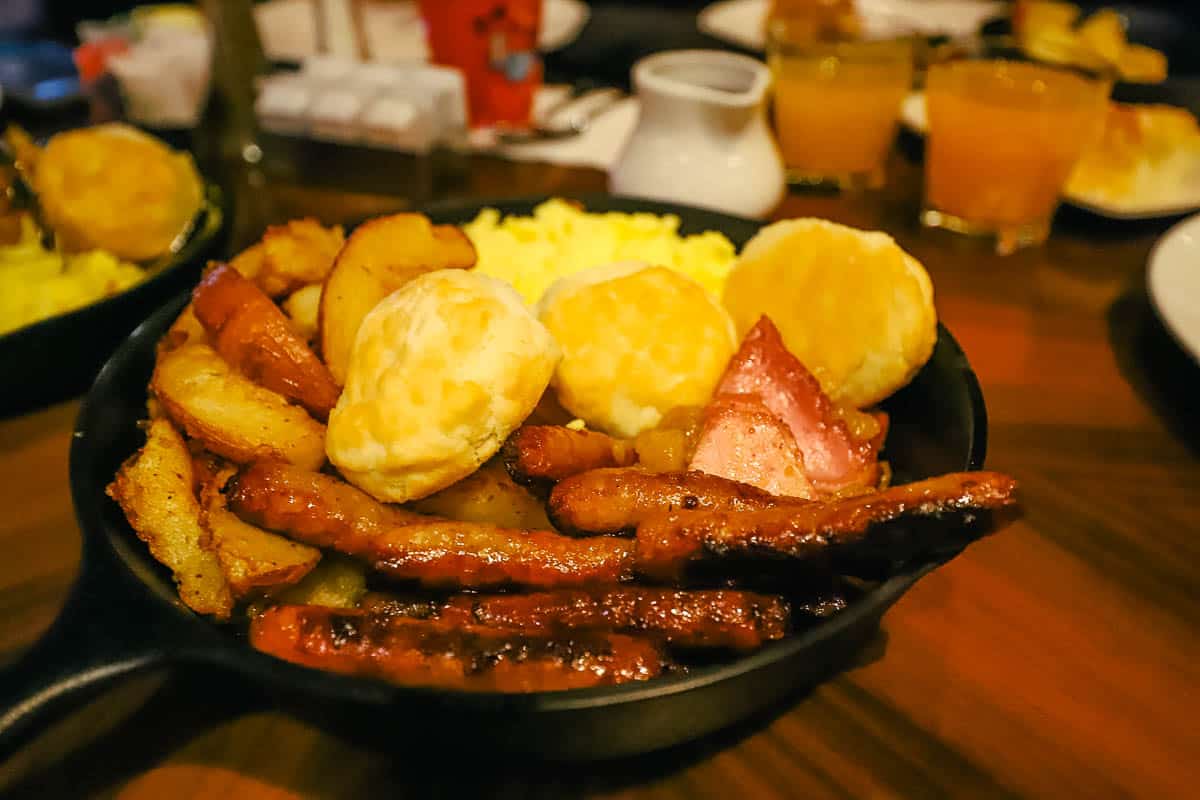 Additionally, each table receives a platter of fresh fruit and the famous freshly made pineapple-coconut breakfast bread. Yes, it's delicious.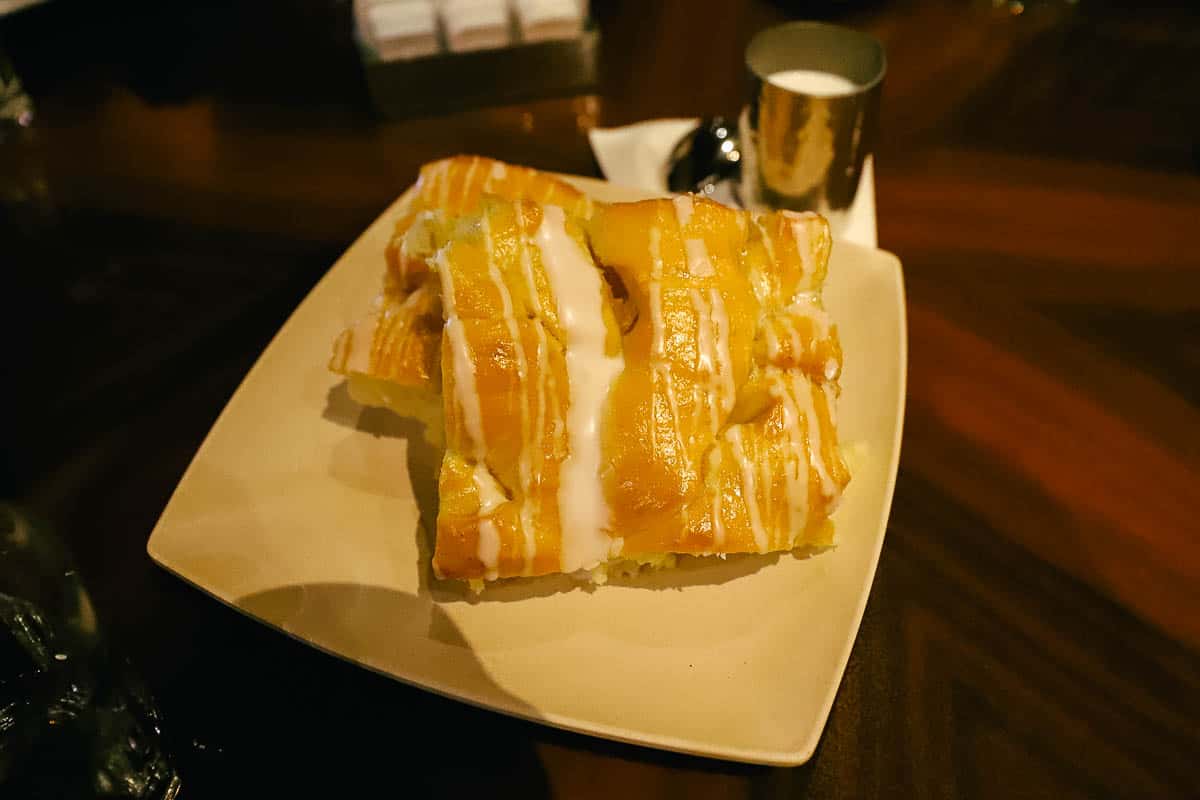 Lilo, Stitch, Mickey Mouse, and Pluto take turns visiting each table during breakfast. Occasionally, Hawaiian Roller Coaster Ride plays in the background, and the characters parade through the restaurant for everyone to see them.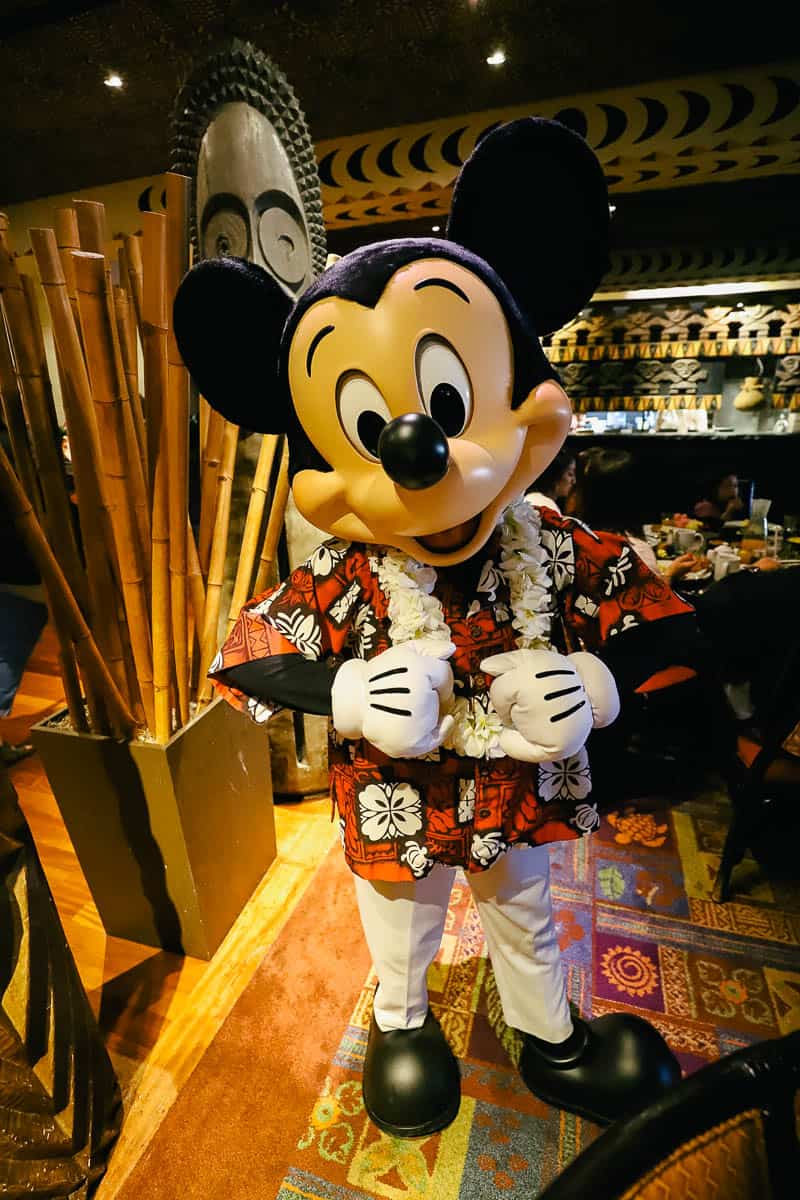 Overall, the breakfast is fun, and the food is decent. However, note that with most character dining at Disney World, you're primarily paying for the characters attending the meal.
We have an updated review if you would like to learn more about this specific breakfast.
Related: 'Ohana Breakfast Review with Lilo and Stitch
Dinner at 'Ohana
'Ohana is open for evening service from 3:30 p.m. until 10:00 p.m. This meal is trendy, so don't be surprised if you find tons of guests in the waiting area.
For dinner, each table receives the following:
Mixed Greens Salad
Honey Coriander Chicken Wings
Signature 'Ohana Bread
'Ohana Dinner Skillet
Pork Dumplings
'Ohana Bread Pudding
*The 'Ohana dinner skillet consists of teriyaki beef steak, spicy peel-n-eat shrimp, grilled chicken with a Polynesian-inspired chimichurri sauce, 'Ohana noodles, and roasted broccolini.
Plant-based items can be substituted as needed at each meal. We have also had good experiences with allergy-friendly dining at breakfast.
You can preview the current menu with prices for both 'Ohana dining experiences here on Disney's site. You'll want to change the drop-down menu at the top to change back and forth between the breakfast and lunch menus.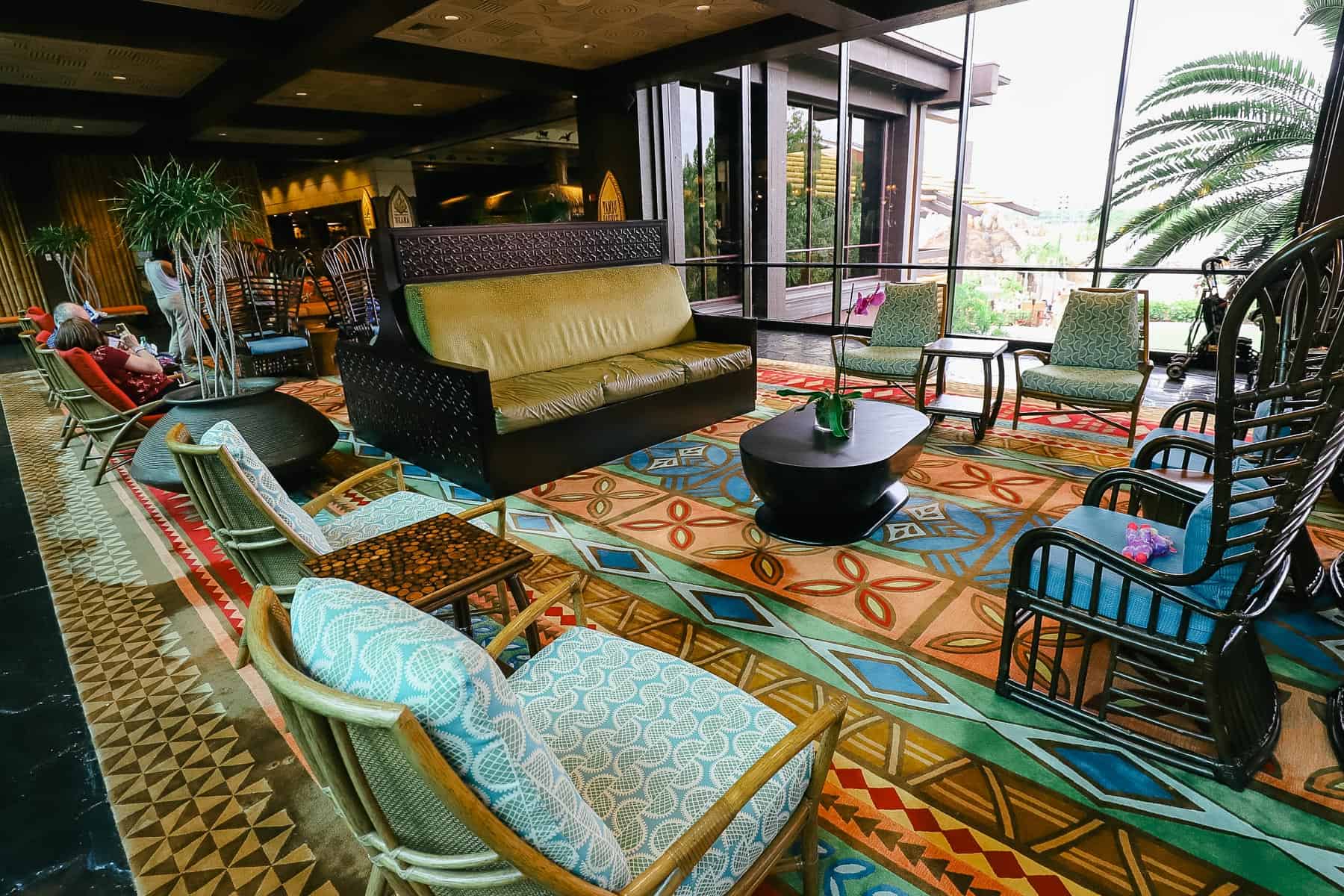 Kona Café
Kona Cafe is a table service restaurant at Disney's Polynesian Resort. This restaurant is also located on the second floor and takes up one entire side of the open-air lobby.
This restaurant recently underwent a complete remodel and reopened with a new look. However, the menu still offers plenty of familiar favorites. It turned out great.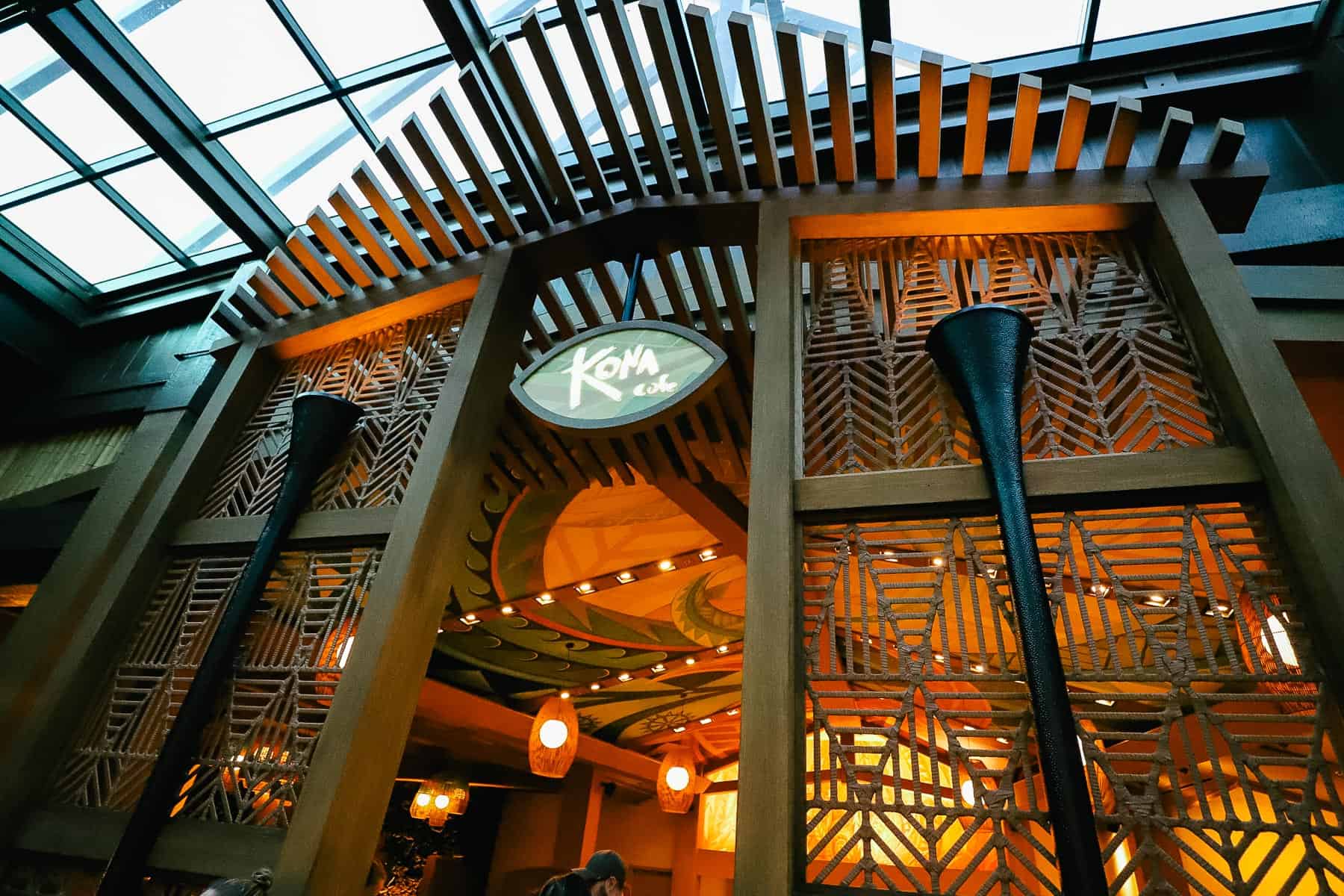 Kona Cafe is open for breakfast daily from 7:00 a.m. until 11:00 a.m. Then the restaurant serves lunch from 11:30 a.m. until 2:00 p.m. It then closes and reopens for dinner between 5:00 p.m. and 10:00 p.m.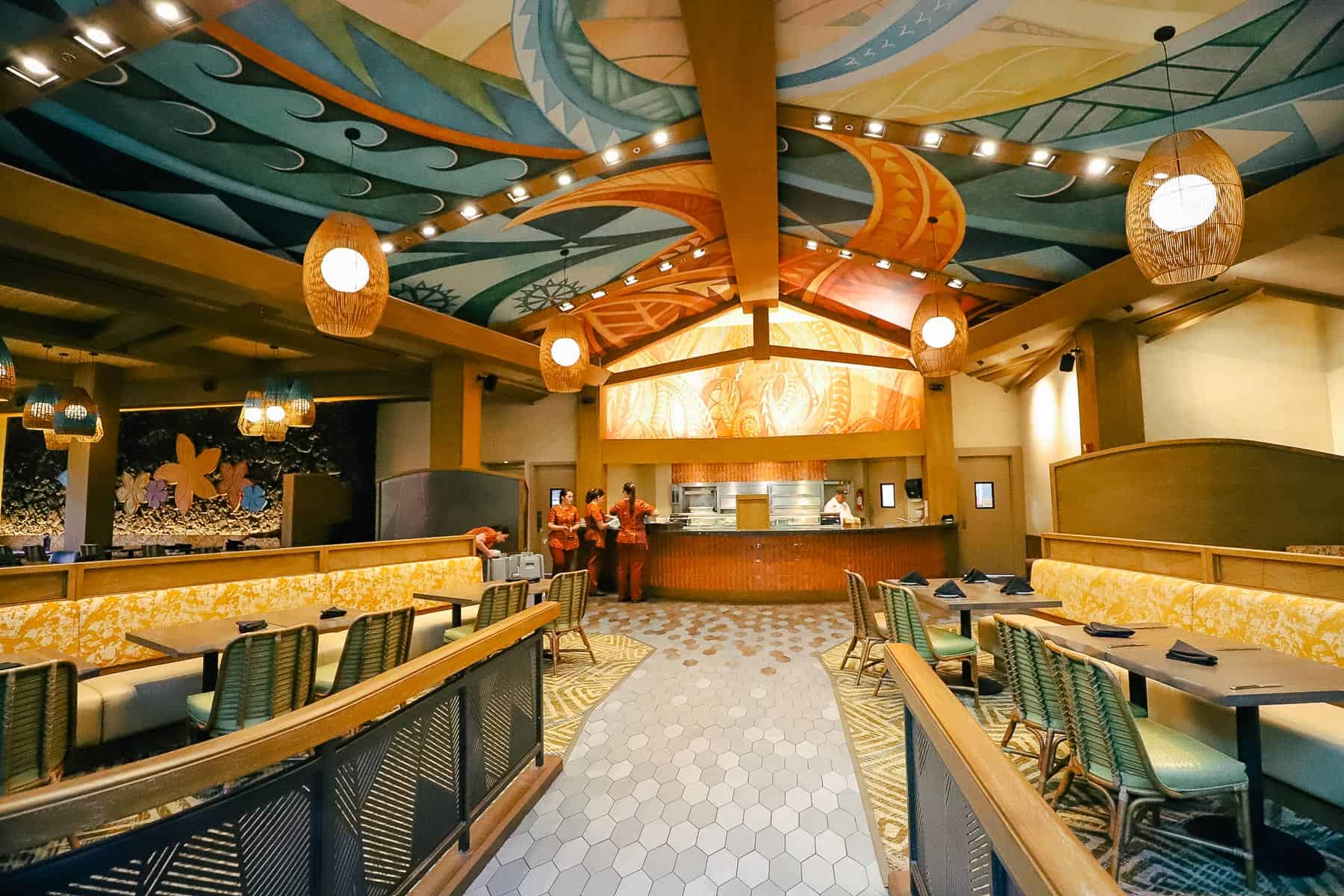 Kona Cafe is one of those restaurants that we've visited many times. Given its popularity, it's difficult to call the restaurant a hidden gem. However, we can definitely refer to this Polynesian restaurant as a not-so-hidden gem.
The photo below shows how one side of the restaurant is open to the lobby.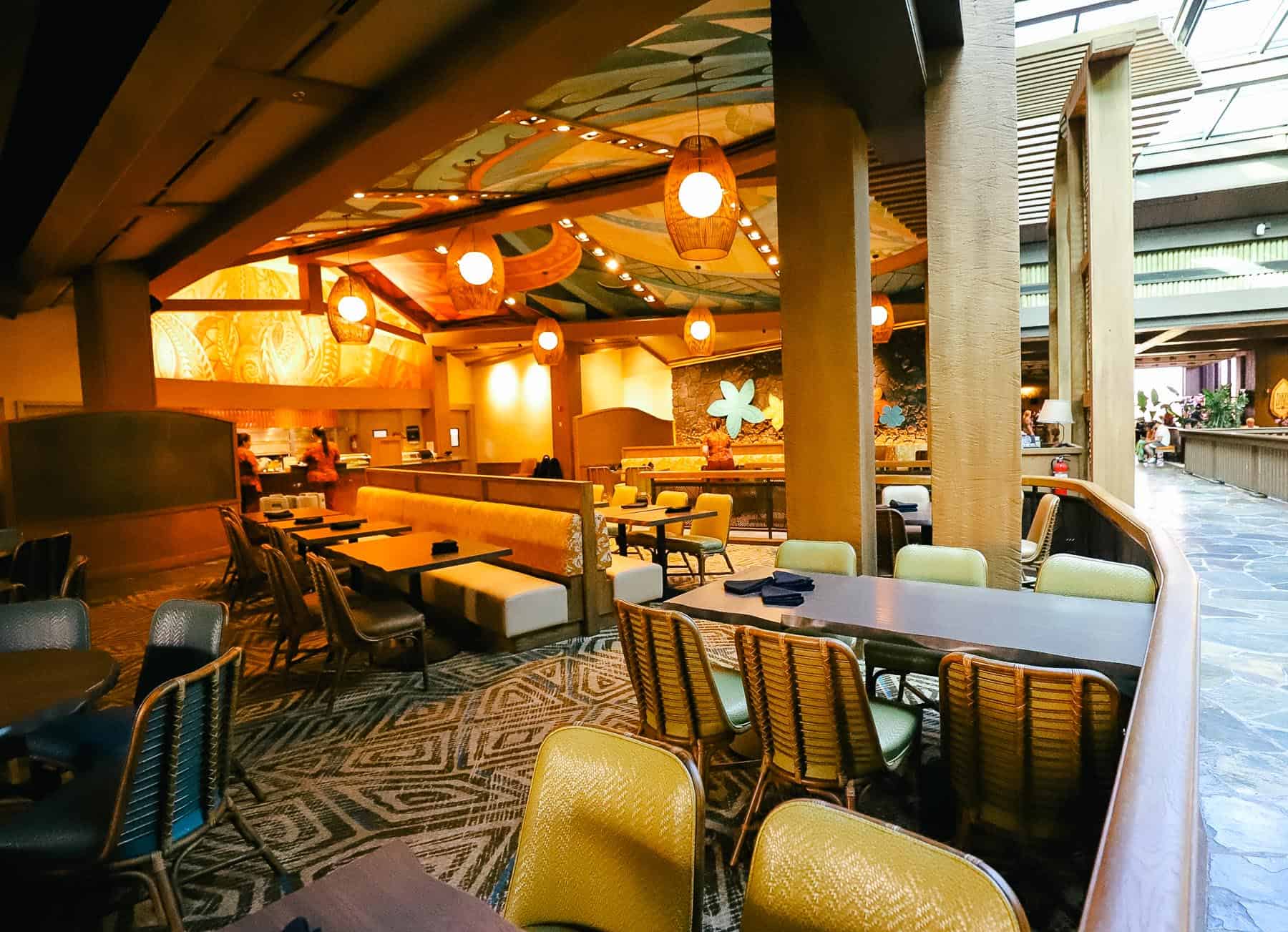 For breakfast, Kona Cafe has two exceptionally popular menu items you may have heard of in the past. They are the Tonga Toast (think toast coated with cinnamon sugar) and the Macadamia Nut Pancakes.
Of course, they are plenty of other options. You can preview the entire breakfast menu for Kona Cafe here on Disney's site.
Most of our visits to Kona Cafe have been for lunch or dinner. It's one of my favorite places to order sushi.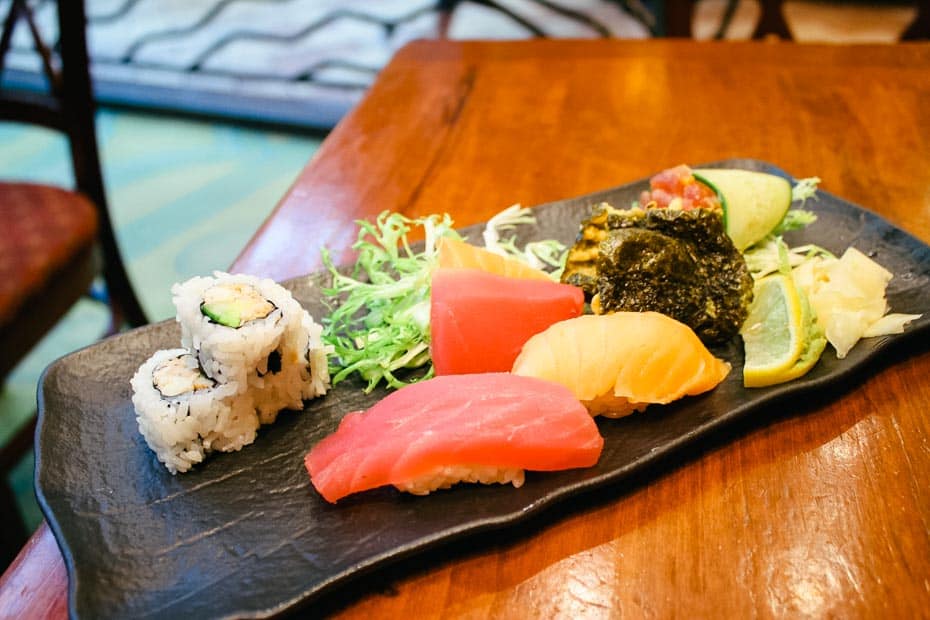 Kona Cafe serves a mix of Polynesian and American items. So if you have picky eaters, don't worry. The menu features burgers, sandwiches, and standard kids' meals are available.
Additionally, they have a well-known dish called Airline Chicken that's been on the menu for as long as I can remember. Here is the menu posted while I was taking photos for this update.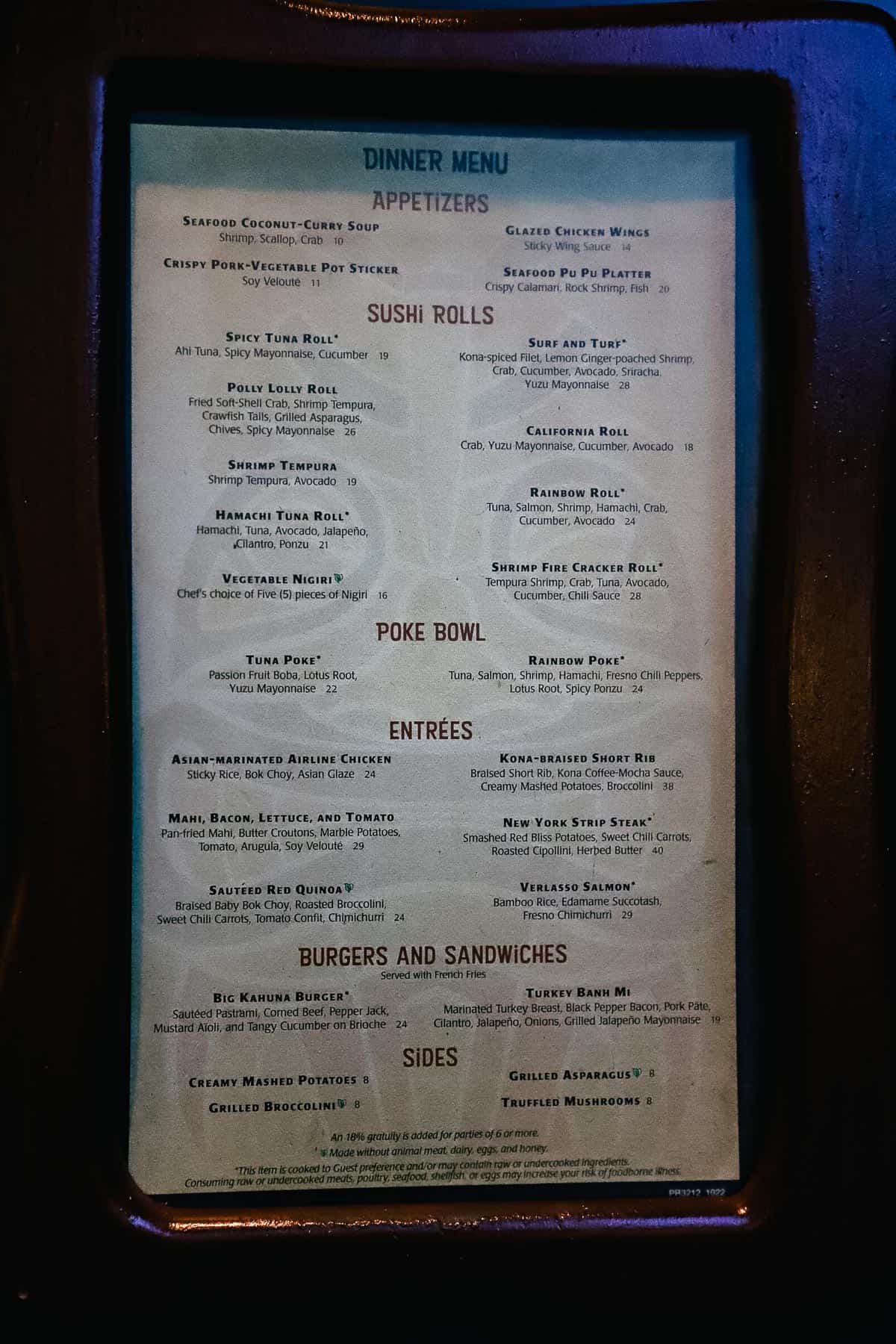 Tambu Lounge
Tambu Lounge sits next door to 'Ohana on the second floor of the Great Ceremonial House. From time to time, they will have a drink cart on the first floor of the lobby. So you might see it during your visit.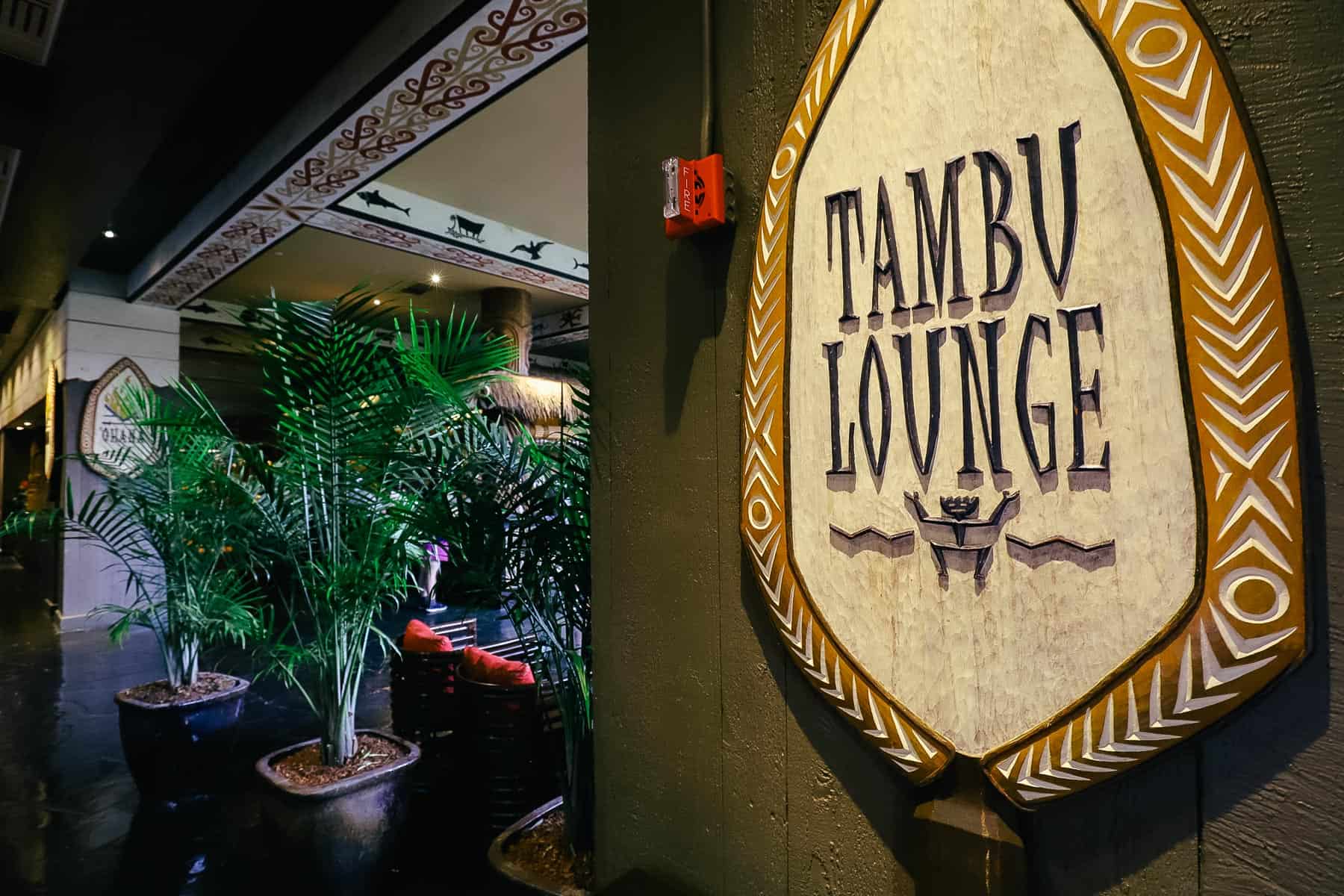 Tambu Lounge has a relatively large bar area with additional seating that expands into the second-floor lobby of the Polynesian. Between guests waiting for dinner reservations at 'Ohana and others who only want a drink, this entire area gets jam-packed on most evenings.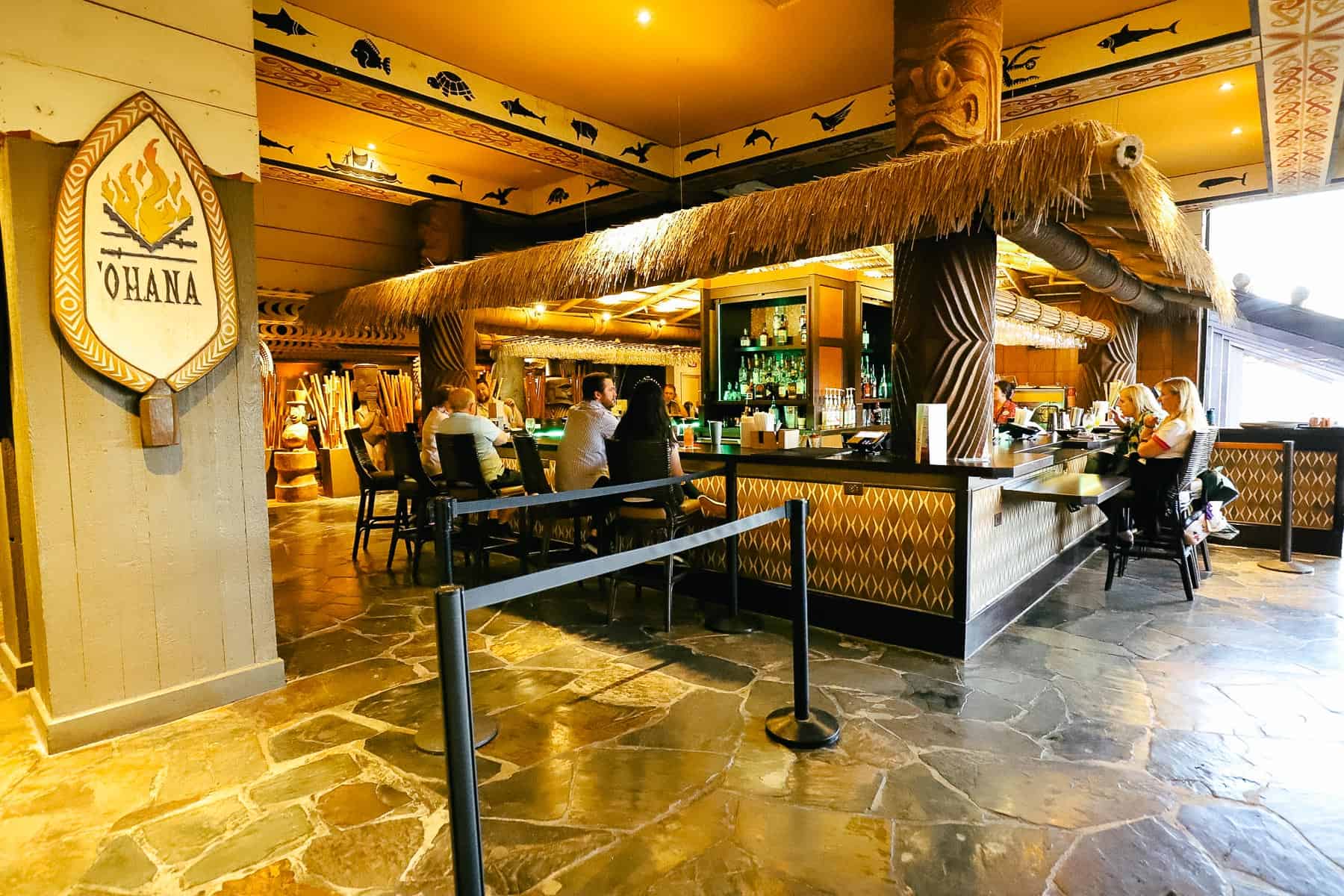 Tambu Lounge is also an ideal location for picking up that drink served in a pineapple we daydreamed about earlier. Not only that, but the bar serves a few alcoholic beverages that were part of the opening act when the Polynesian opened.
Here is a list of those three 1971 signature drinks at Disney's Polynesian Village.:
Backscratcher–Bacardi Superior Rum, Myers's Original Dark Rum, and Passion Fruit Juice topped with Jack Daniel's Tennessee Whiskey and a Bamboo Backscratcher
Lapu Lapu–Myers's Original Dark Rum and Tropical Fruit Juices served in a fresh Pineapple topped with Goslings 151 Rum
Polynesian Mai Tai–Myers's Original Dark Rum, Bacardi Superior Rum, Bols Orange Curacao, Lime Juice, Orgeat (Almond), and Pure Cane Sugar
A while back, I tried the Backscratcher, which is a delicious knock-your-socks-off kind of cocktail. It comes with a real backscratcher.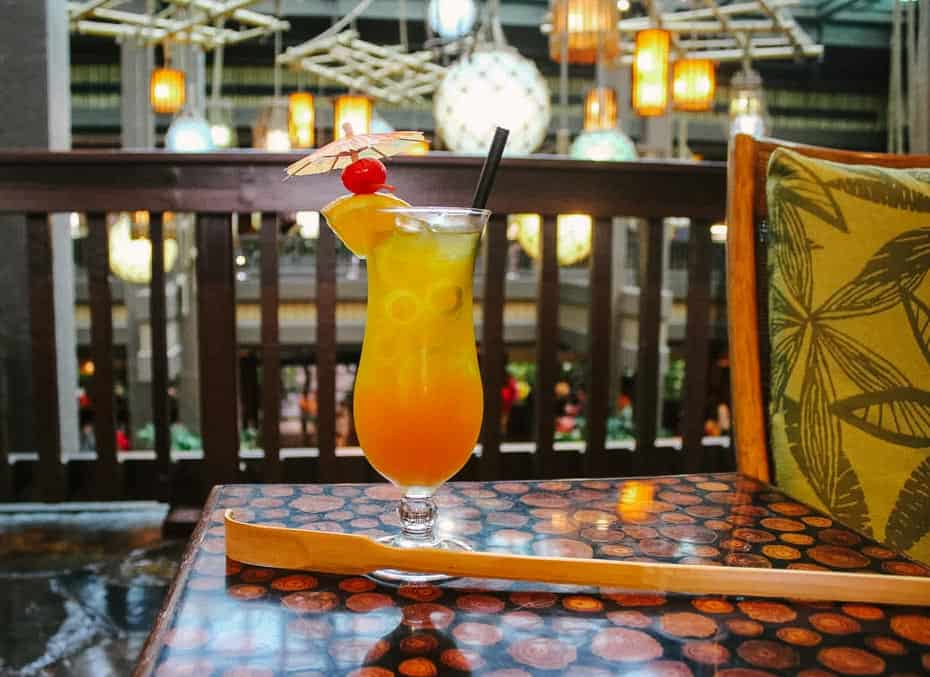 However, the Lapu Lapu is probably the most well-known cocktail at Disney's Polynesian. That's the fun, tropical drink that comes in a pineapple. If you like, they will serve it in a regular glass instead.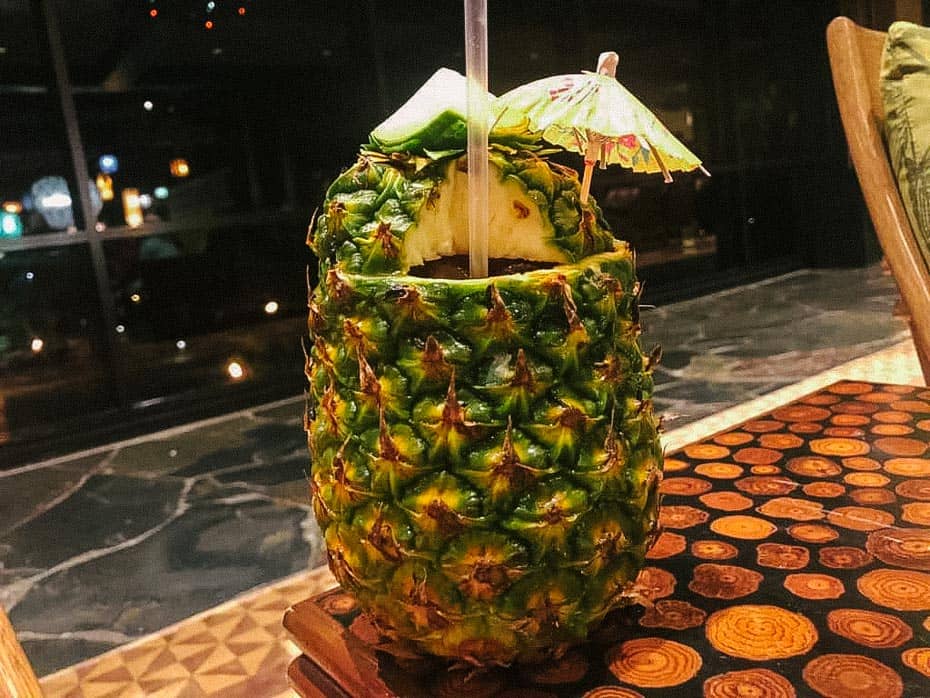 When ordering a second, the cast member will refill the pineapple you already have if you bring it back when placing your order. I don't know about you, but I wouldn't mind taking one of the back and enjoying it at one of the bungalows.
Related: Bungalows at Disney's Polynesian
Capt. Cook's
Capt. Cook's is the Polynesian Resort's primary quick-service restaurant. For many, it's another go-to dining spot when visiting Walt Disney World.
Capt. Cooks is located on the Polynesian's first floor, around the corner from the lobby. They are open daily from 7:00 a.m. until 11:00 p.m. and serve breakfast, lunch, and dinner.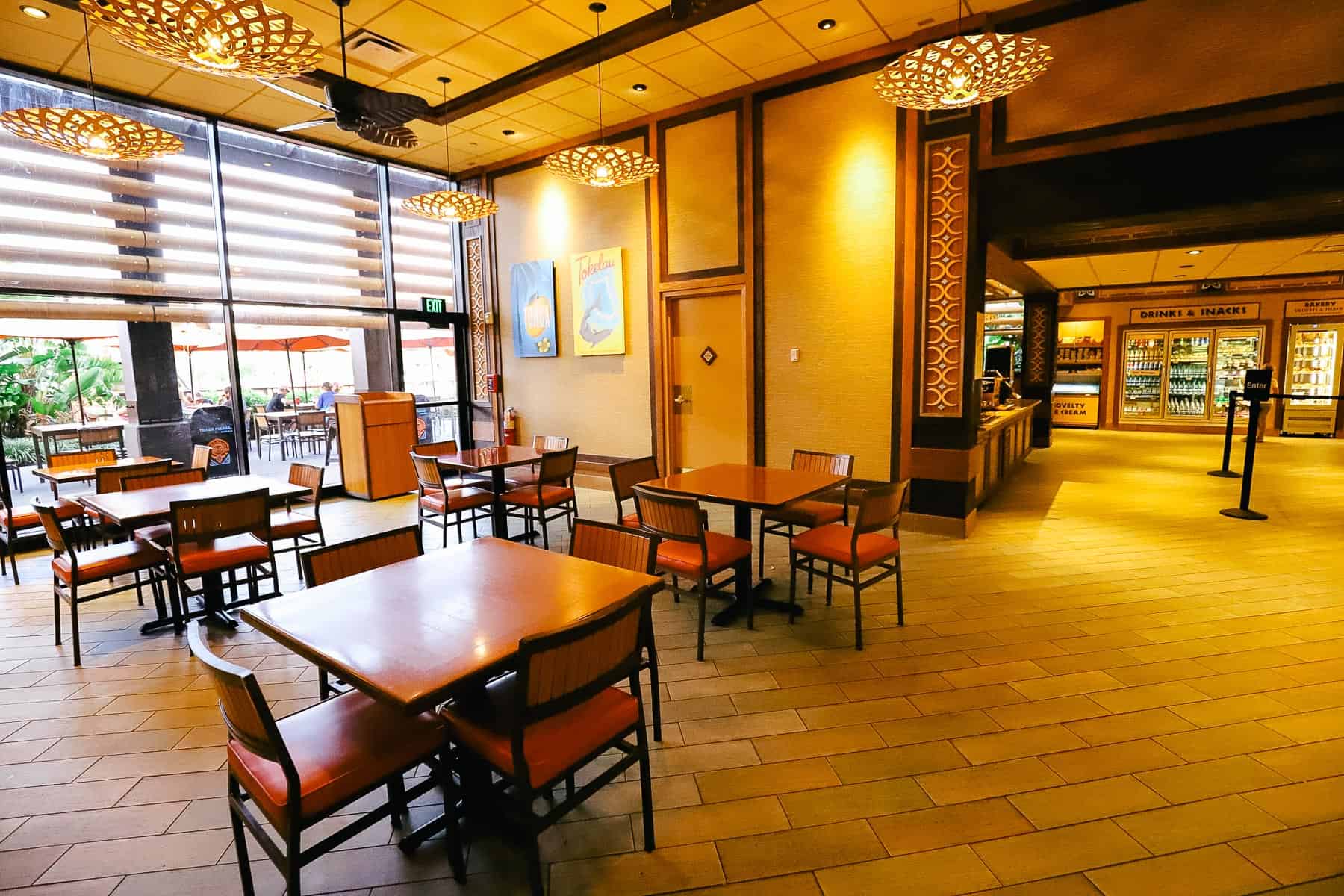 Captain Cook's has two indoor dining areas on each side of the restaurant.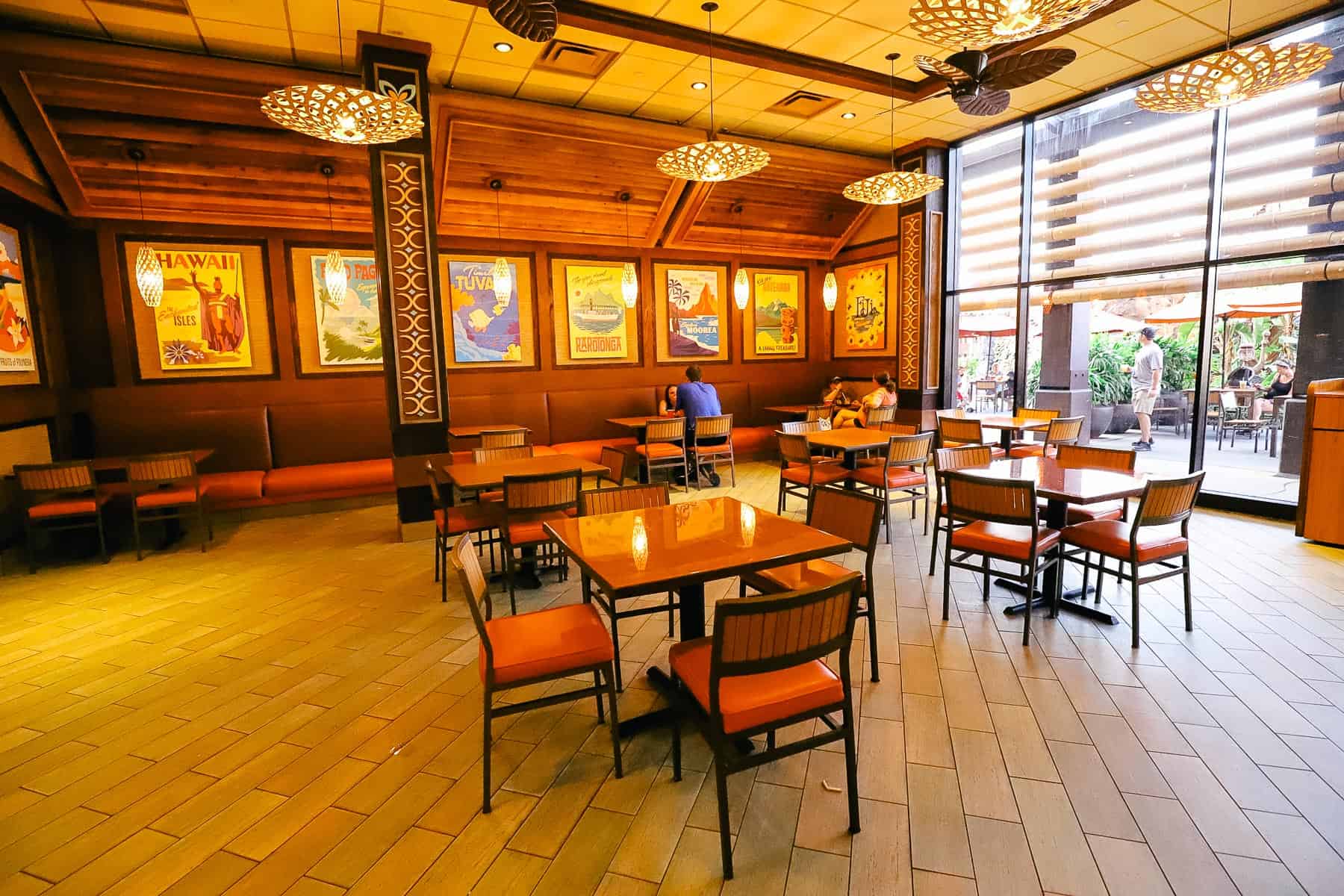 Vintage posters line the back walls.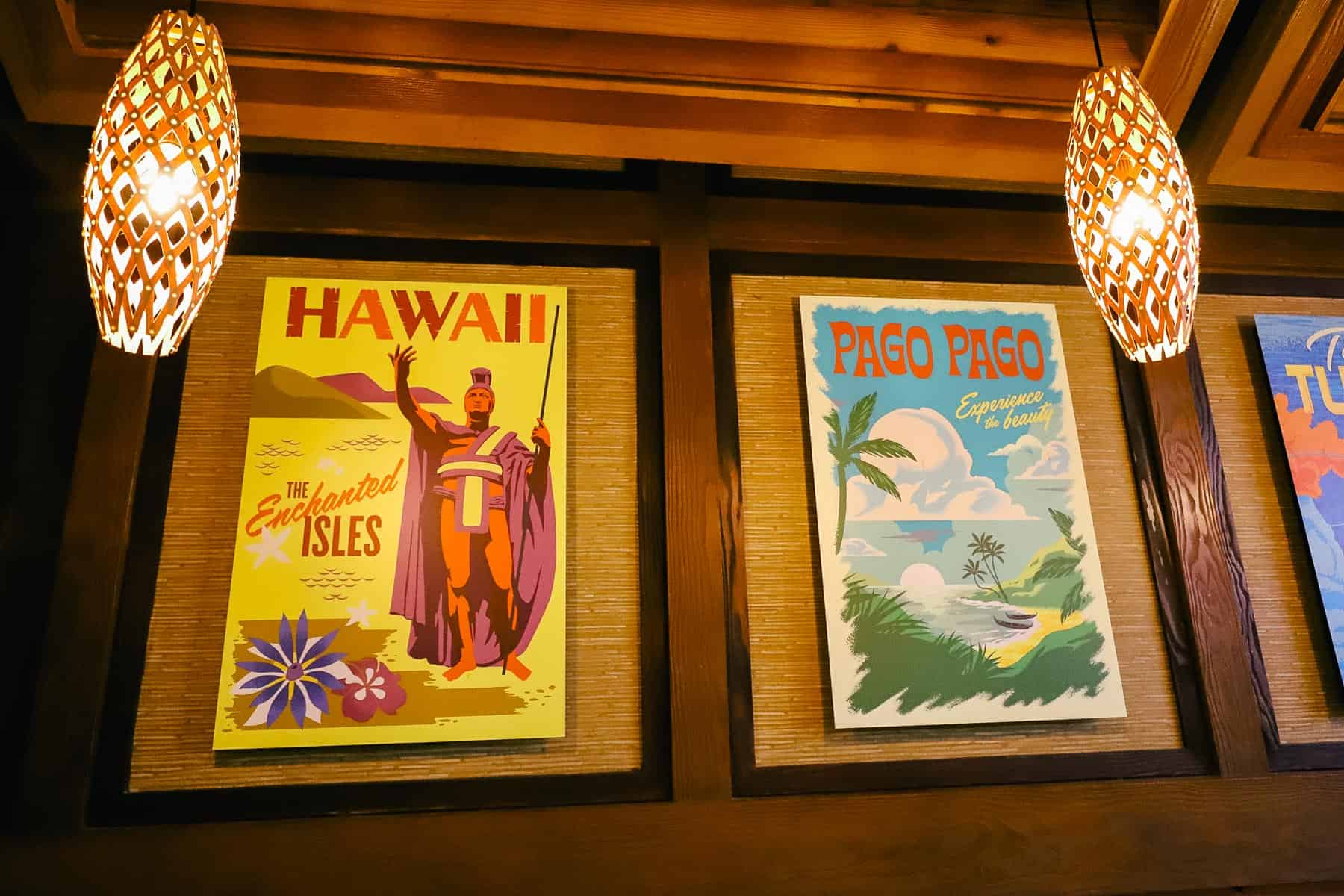 In addition, the restaurant has a pleasant outdoor dining area directly behind it.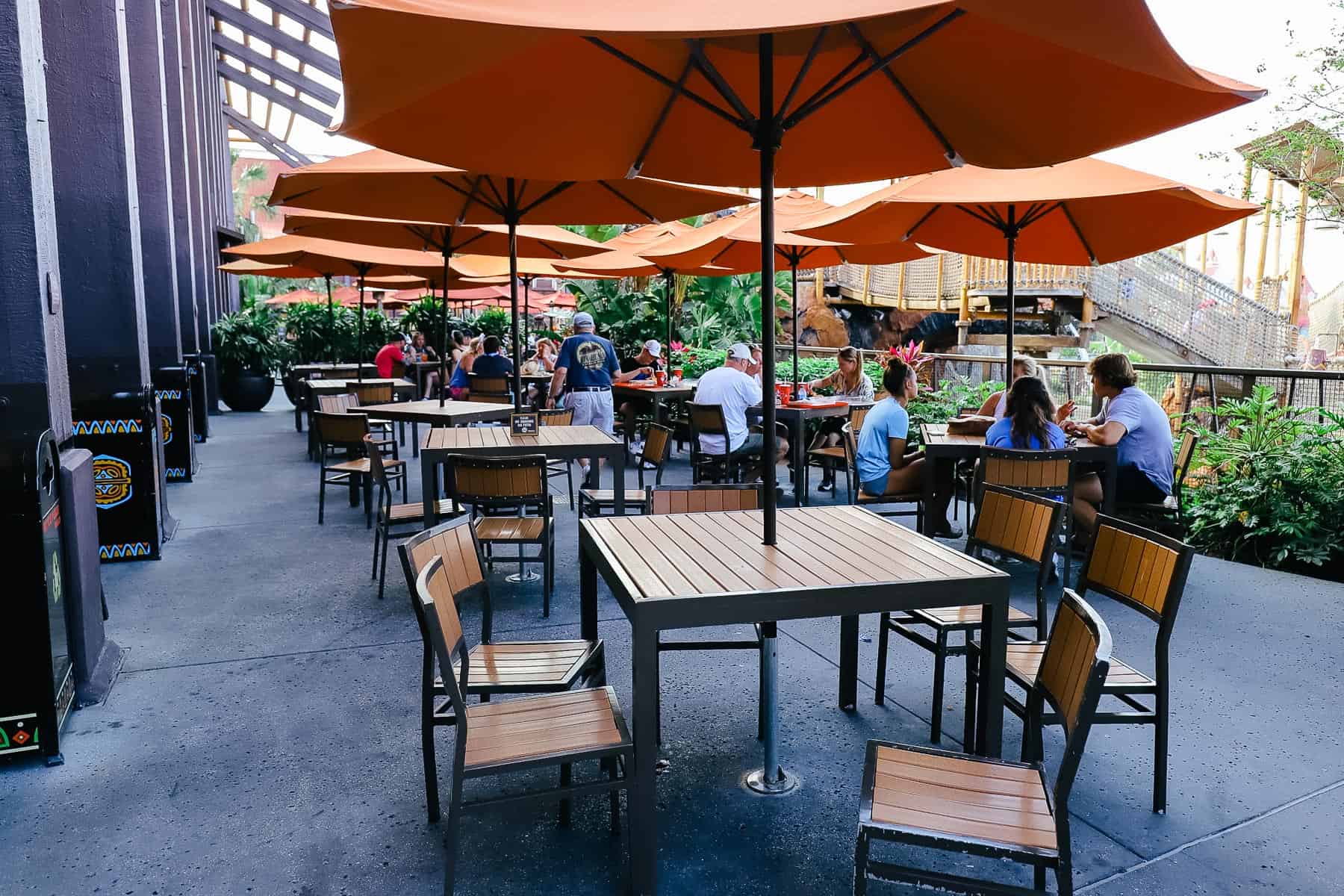 Similar to the other restaurants at Disney's Polynesian, Capt. Cooks has a menu featuring a mix of Asian and American cuisine. Below is a preview of the American menu that includes:
1/3 lb Angus Bacon Cheeseburger
Roasted Red Pepper and Arugula Burger (Plant-Based)
Chicken Wings
Aloha Pork Sandwich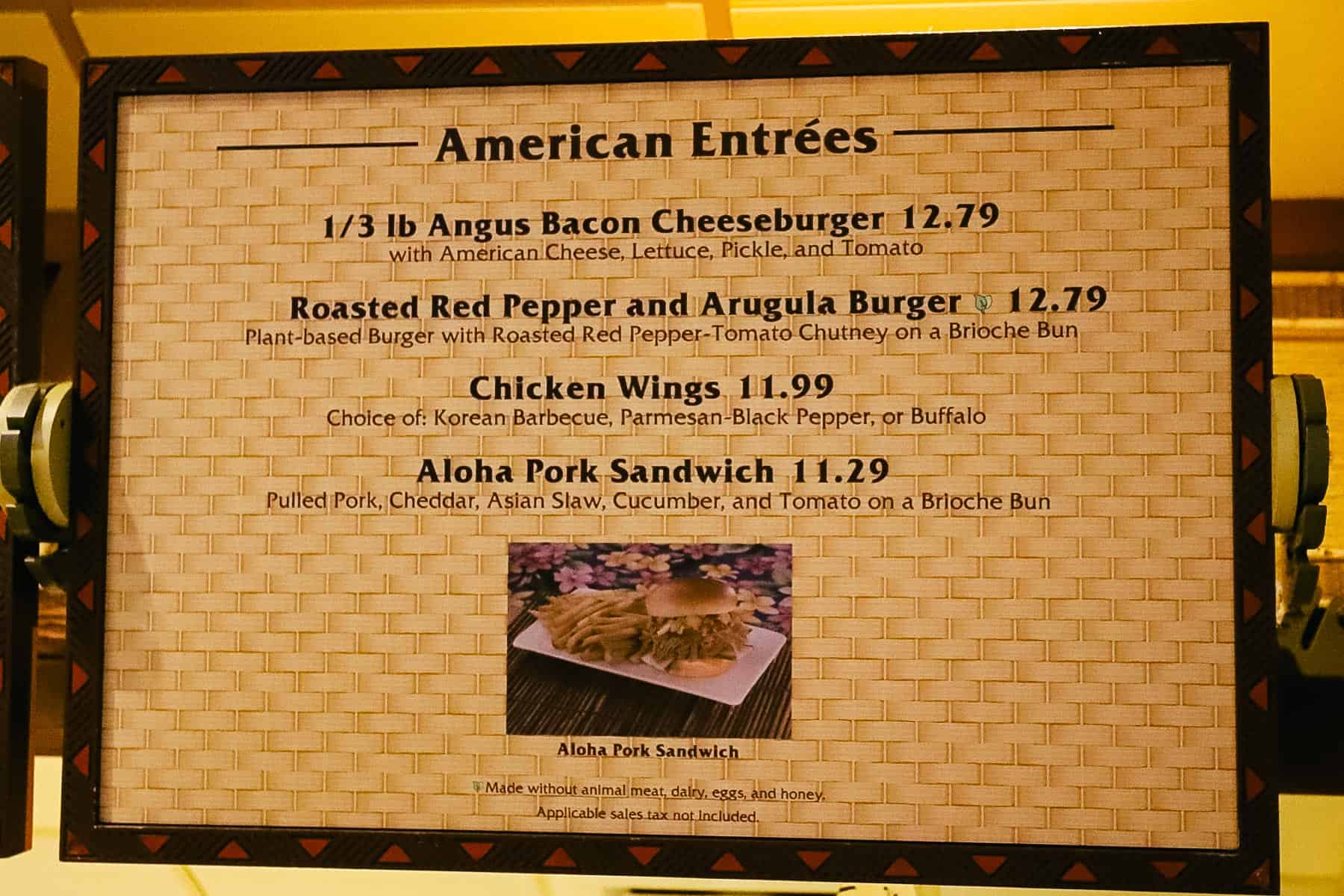 Polynesian favorites include:
Thai Coconut Meatballs
Pulled Pork Nachos
Pan-Asian Noodles and Vegetables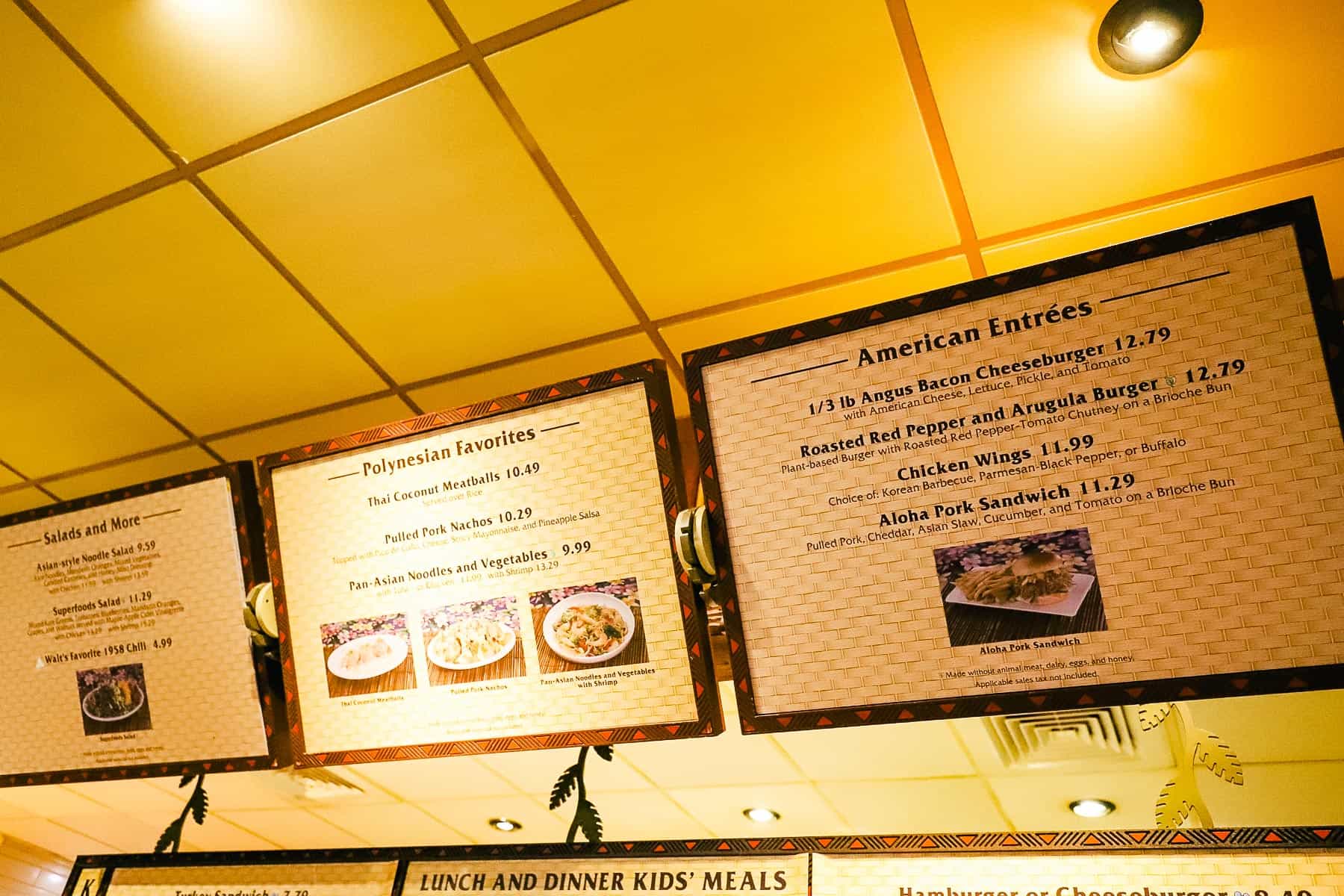 Salads include:
Asian-style Noodle Salad
Superfoods Salad
Walt's Favorite 1958 Chili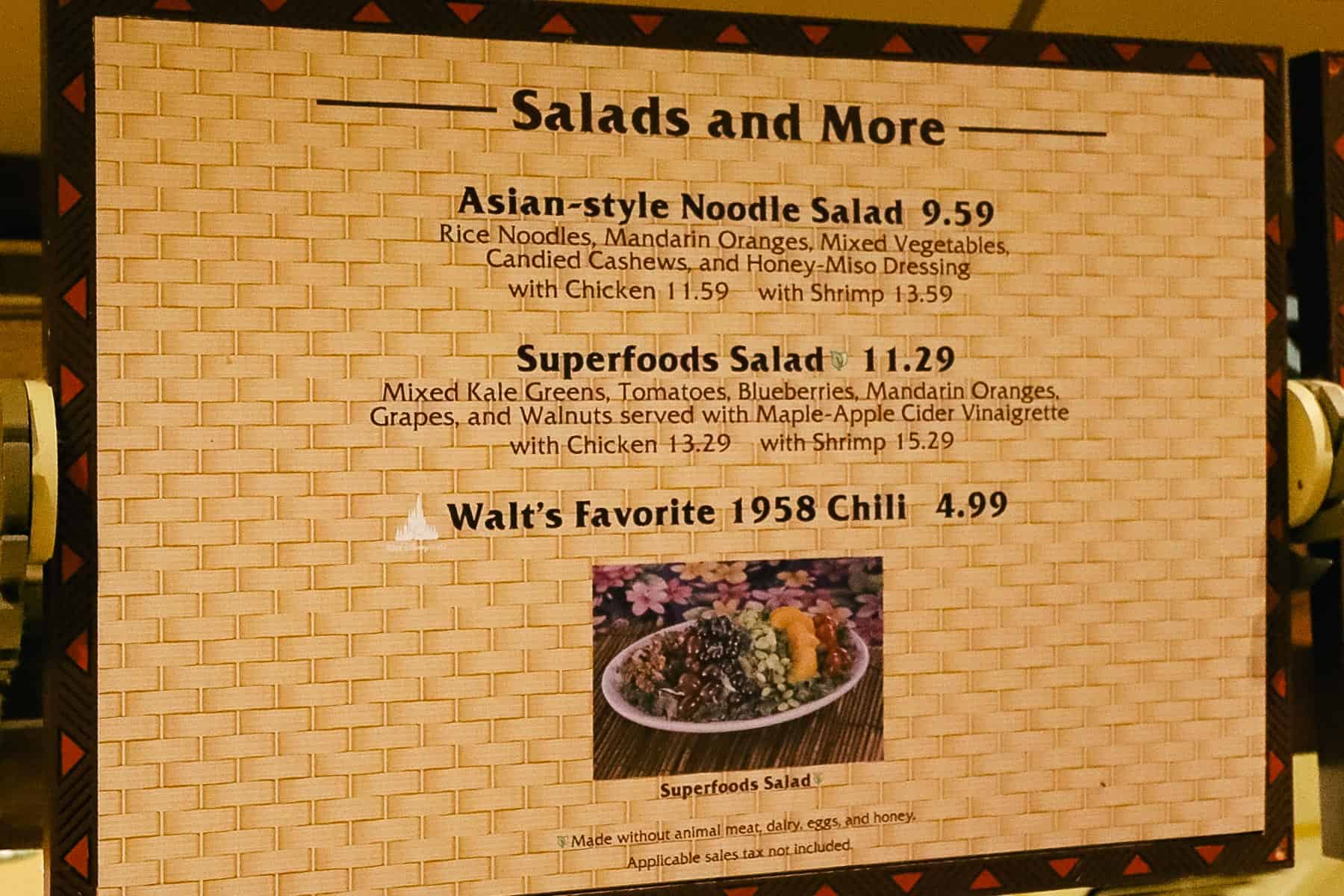 Kids' meals include:
Chicken Nuggets
Cheeseburgers
Chicken and Pineapple Skewers
You can preview the entire menu with prices here on Disney's site.
For breakfast, Capt. Cook's offers a variety of options, including the Tonga Toast that's also available at Kona Cafe. Additionally, Mickey-shaped waffles are available at breakfast. You can preview their breakfast menu here.
Signage at Captain Cook's encourages guests to order ahead. If you are inclined to do so, this will save you loads of time.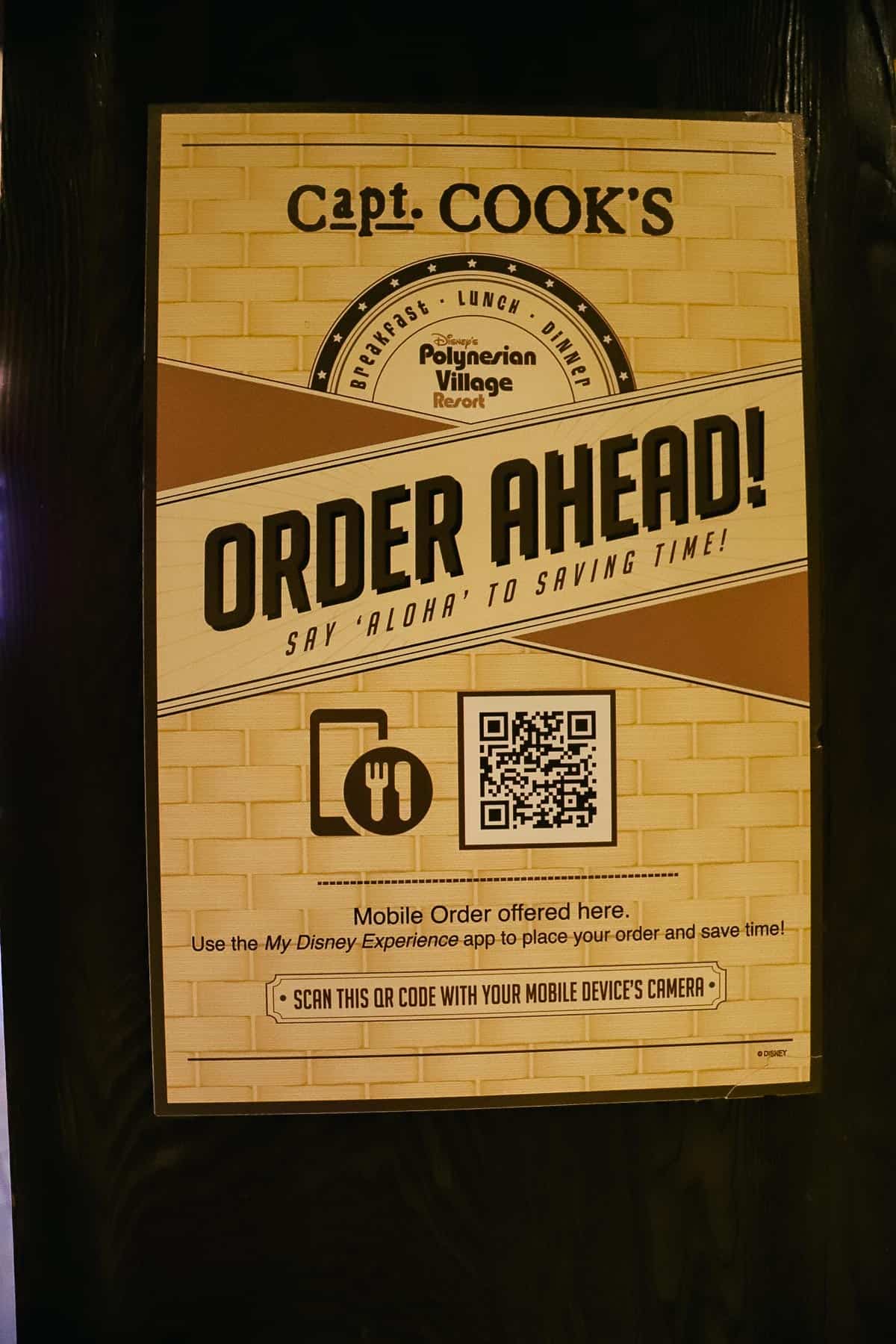 Captain Cook's also has a decent selection of grab-and-go items. They should all be listed in the mobile order section of the My Disney Experience app.
So you can add the grab-and-go items to your mobile order. We'll add photos of the entire selection of items to our review of the counter service.
Related: Capt. Cook's Review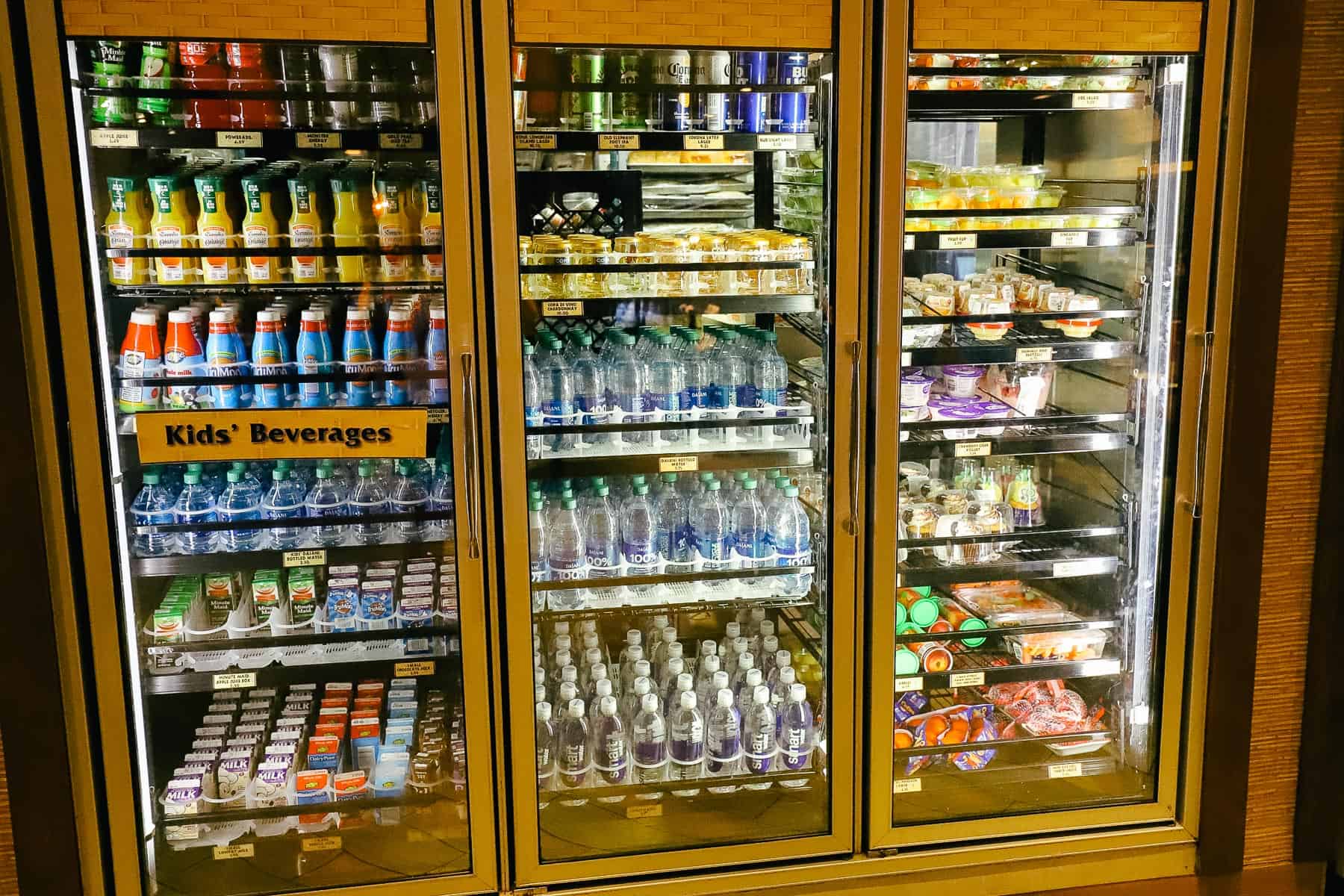 A microwave is also available toward the front of the first dining room, should you need one.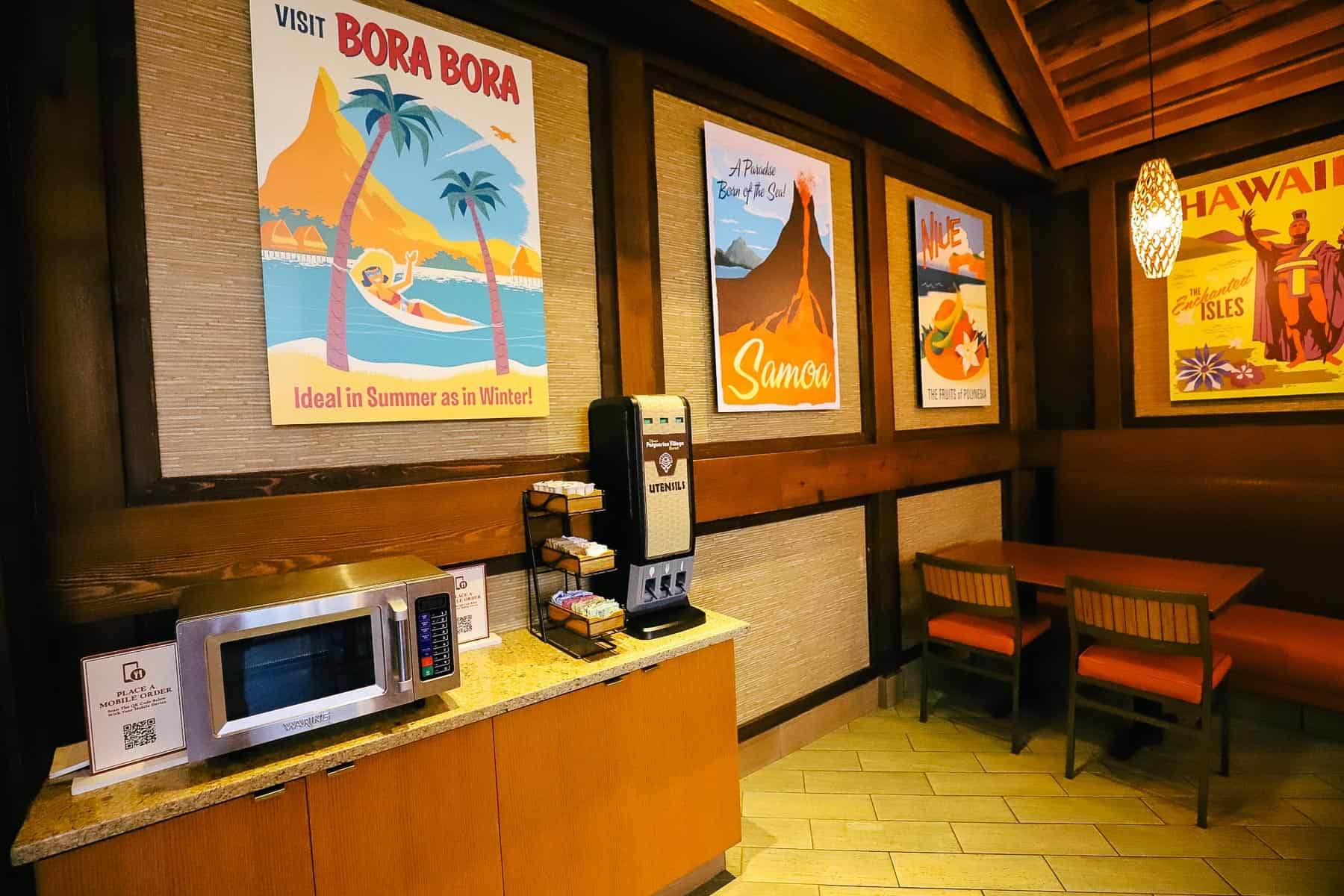 Capt. Cook's is where you can pick up a resort refillable mug. These will change to a new design soon. Currently, they are $21.99 for the entire length of your resort stay. Refillable mugs are good for tea, coffee, and soda.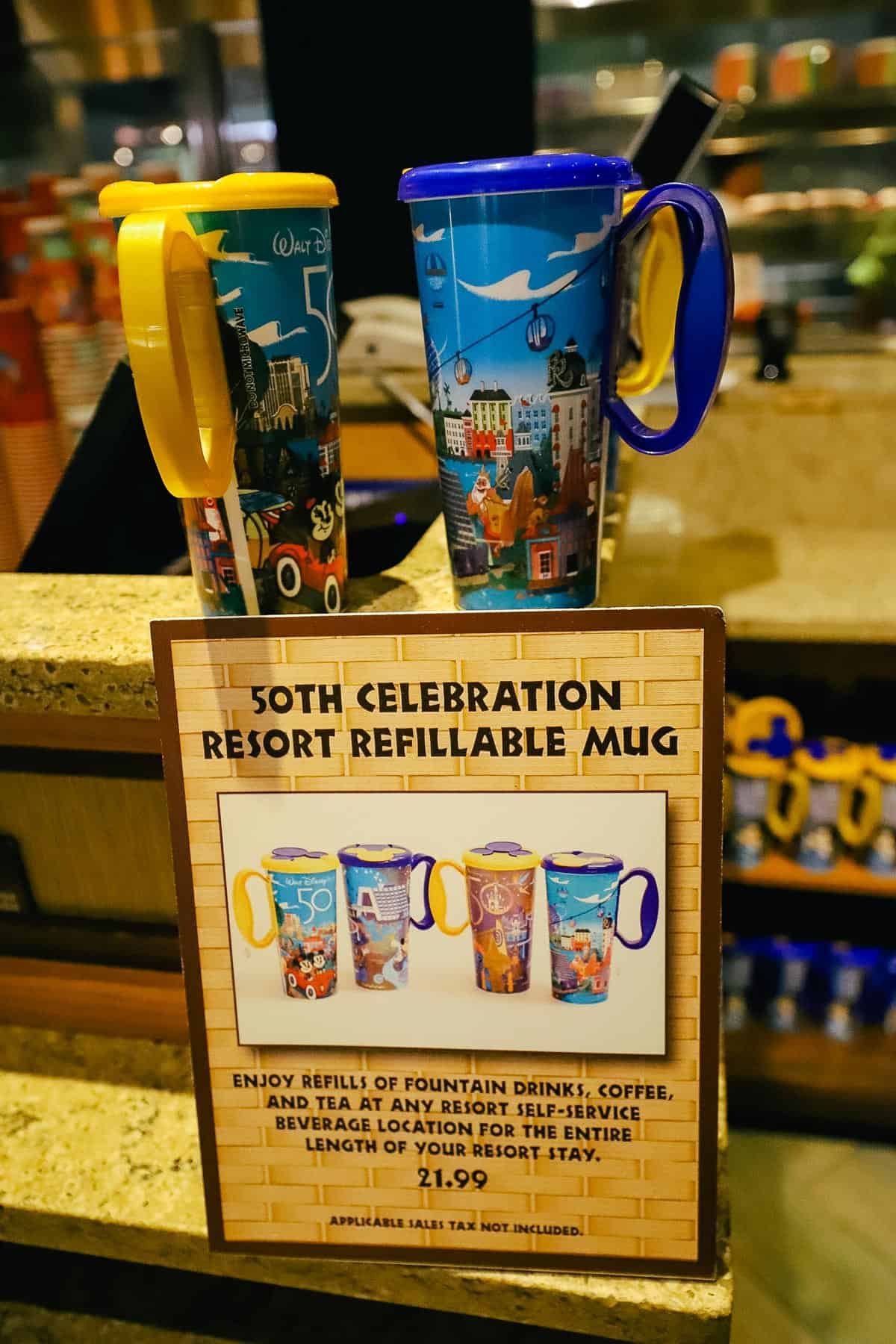 A while back, I tried the plant-based burger at Capt. Cook's. This is a delicious take on an Impossible burger if you like that sort of item.
We've also tried the Pan-Asian noodles with vegetables, chicken nuggets, and the Thai Coconut Meatballs. Unfortunately, I wasn't a fan of the meatballs, but it's been some time since I tried them.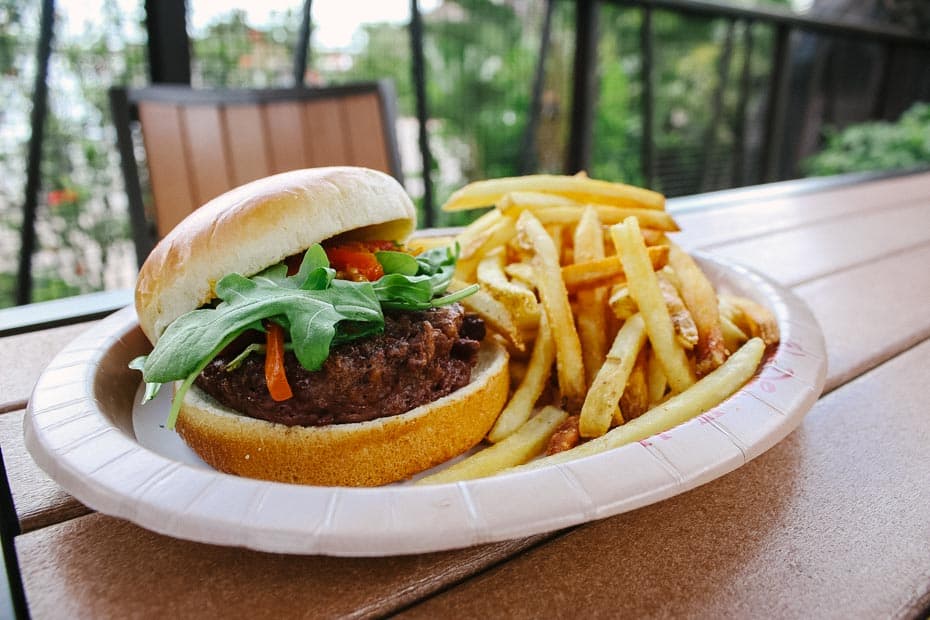 Trader Sam's Grog Grotto
Off the hall of the Polynesian's main lobby, you'll find an entrance to Trader Sam's Grog Grotto. This Polynesian Resort bar requires guests to be 21 years or older for admittance after 8:00 p.m.
Seating is on a first-come, first-serve basis. Often, a line of guests stretches down the hall, hoping for admittance.
When it's that busy, cast members usually take your name and contact info and text you when a seat becomes available. In the meantime, you might try to find a seat on the Tiki Terrace, Tambu Lounge, or in the lobby.
You could also walk out to the Barefoot Pool Bar and grab a drink to take to the Polynesian's white sand beaches.
Trader Sam's offers a unique drink menu with the opportunity to purchase souvenir mugs when in stock. You can preview their menu here on Disney's site. We'll look at some of these items in the Tiki Terrace section below.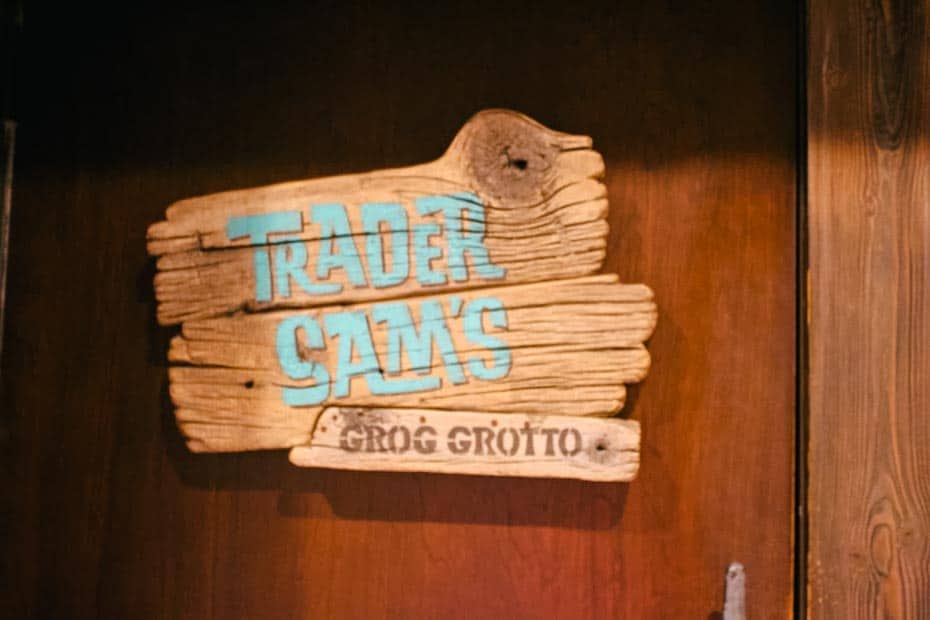 Trader Sam's Tiki Terrace
A popular alternative to Trader Sam's Grog Grotto is Trader Sam's Tiki Terrace, which is the outdoor side of the bar. Its seating area is adjacent to the one at Capt. Cook's.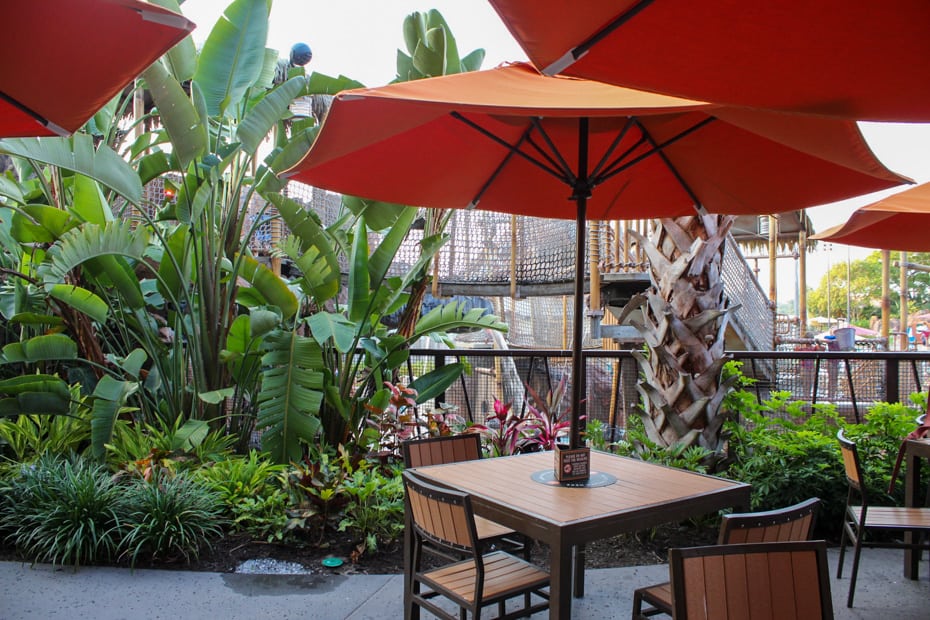 Since Trader Sam's and Tiki Terrace share the same kitchen, they offer the same menu. We've tried several of the appetizers and a few of the drinks.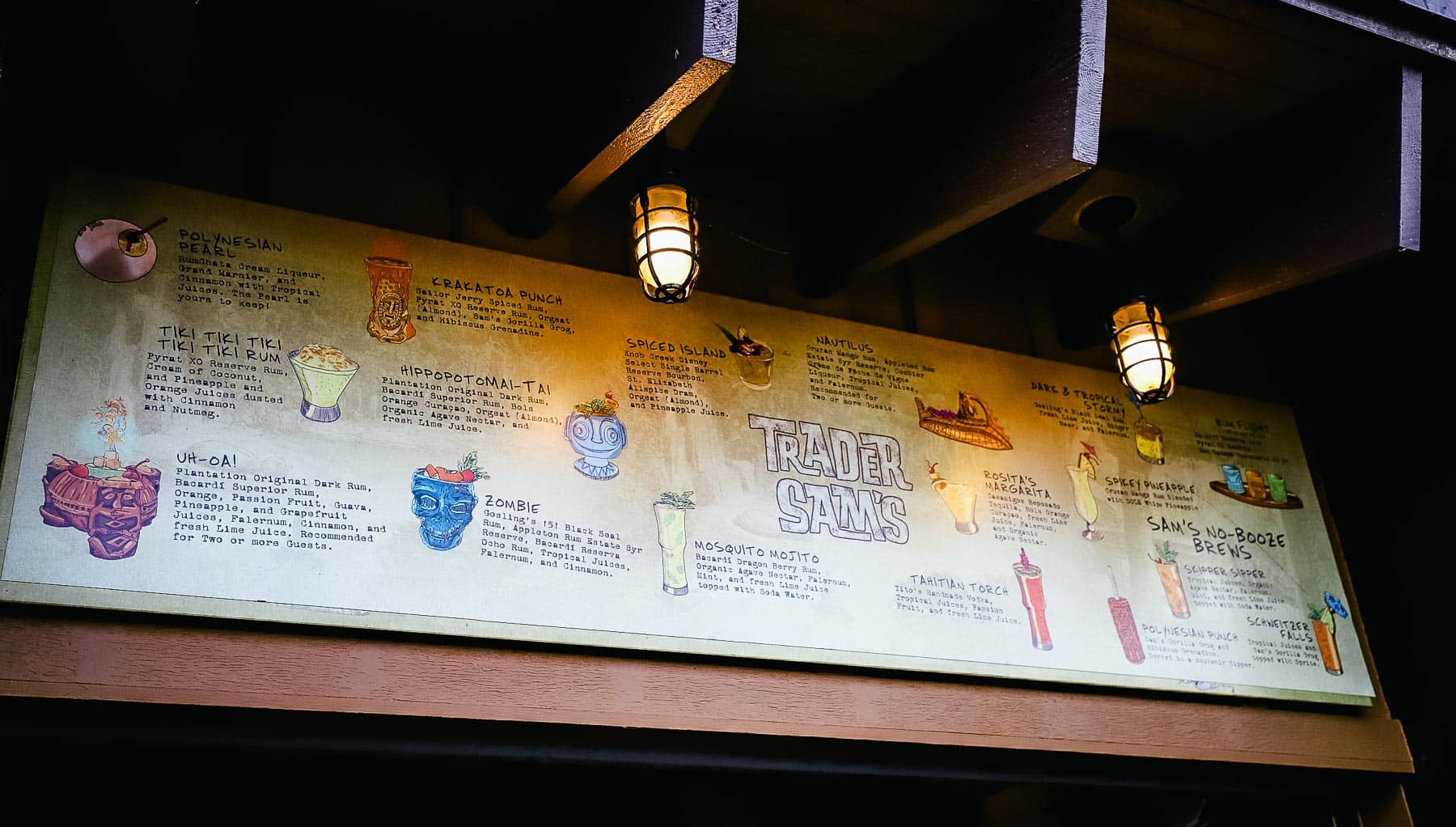 Below is a photo of the chicken lettuce cups. This is an excellent item that I found refreshing and fun to enjoy.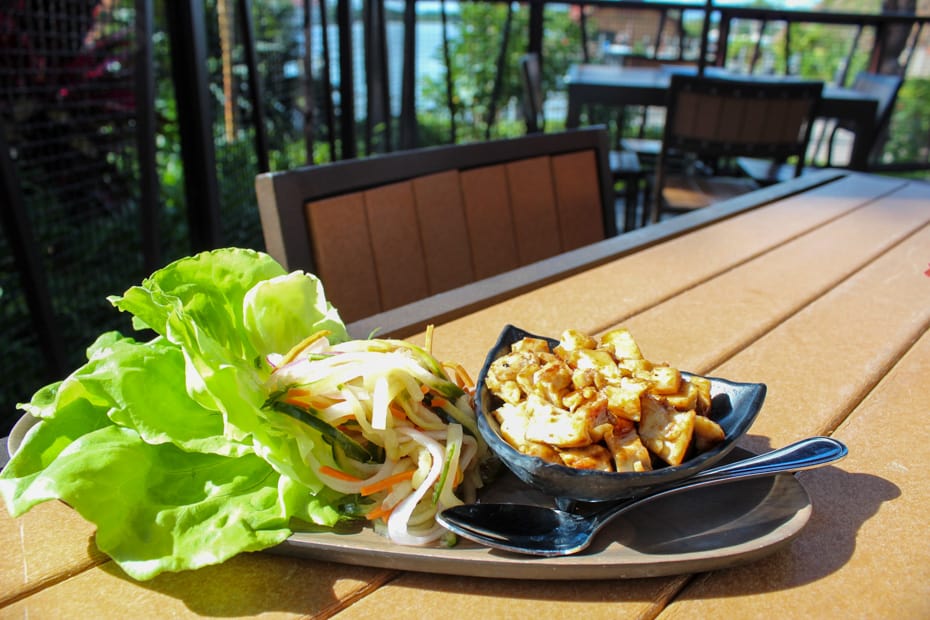 On another visit, I had the veggie rainbow roll. Actually, I have enjoyed this item on more than one occasion.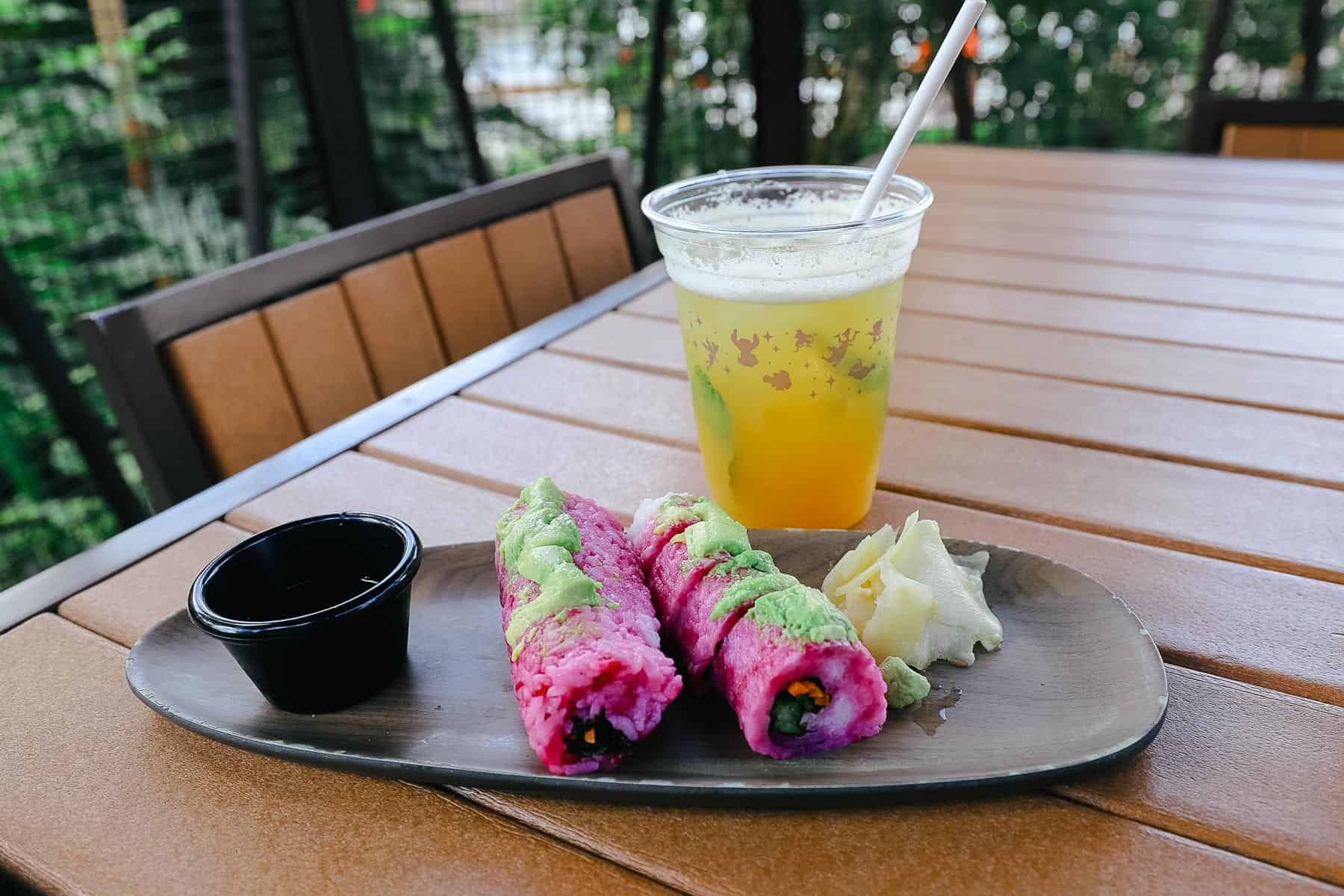 That's the Skipper Sipper I ordered with the sushi. It's one of Sam's No-Booze Brews. This is also a drink I've had more than once. It has kind of a tropical fruit flavor with a hint of mint.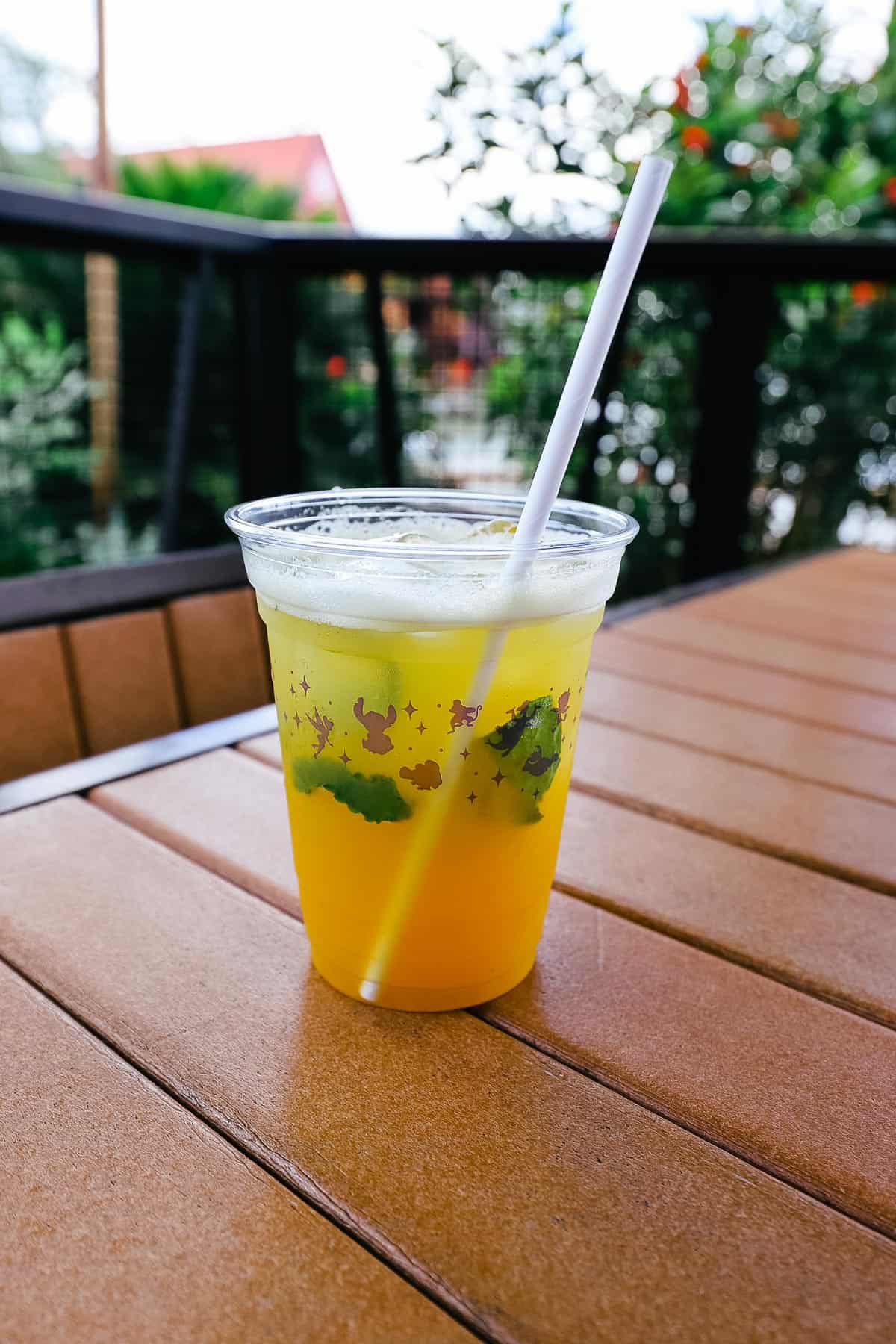 Another fun concoction is the "Tiki Tiki Tiki Tiki Tiki Room" drink, which is a fun play on Walt Disney's Enchanted Tiki Room. This drink was surprisingly refreshing, with hints of cinnamon and nutmeg.
You can read over our full review for more items we tried at this location.
Related: Trader Sam's Tiki Terrace Review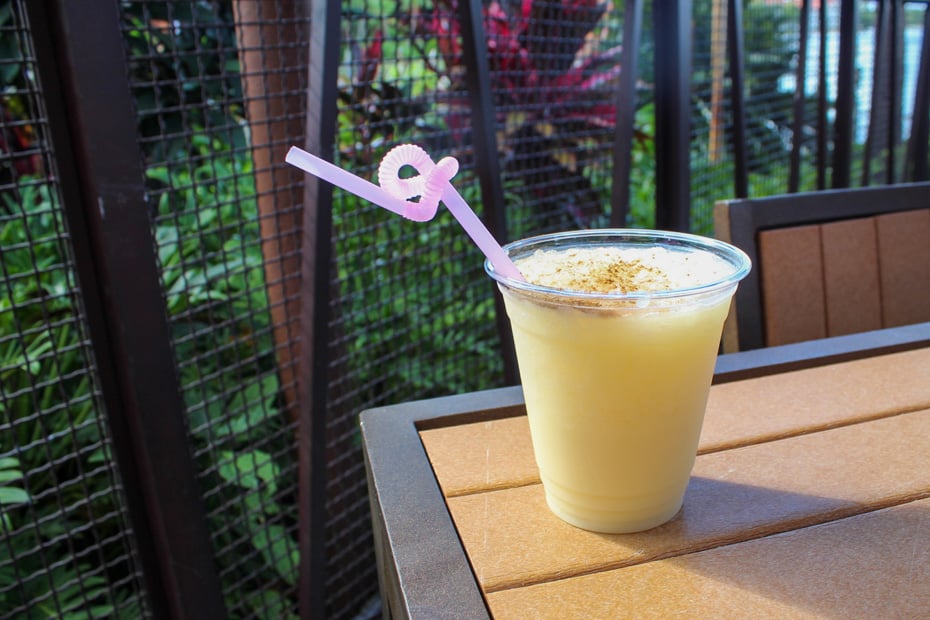 Barefoot Pool Bar
Disney's Polynesian Resort has two pools, each with a pool bar. Barefoot Pool Bar is the name of the bar at the Polynesian's feature pool, the Lava Pool.
Like most pool bars at Walt Disney World, the bar has a side open to the private guest-only pool area. However, the opposite side has a walk-up area with a few seats where anyone can order a drink.
If you're traveling to Disney's Polynesian using the resort boat launch, you'll run directly into the Barefoot Pool Bar as you walk toward the lobby. It's on the far side of the marina.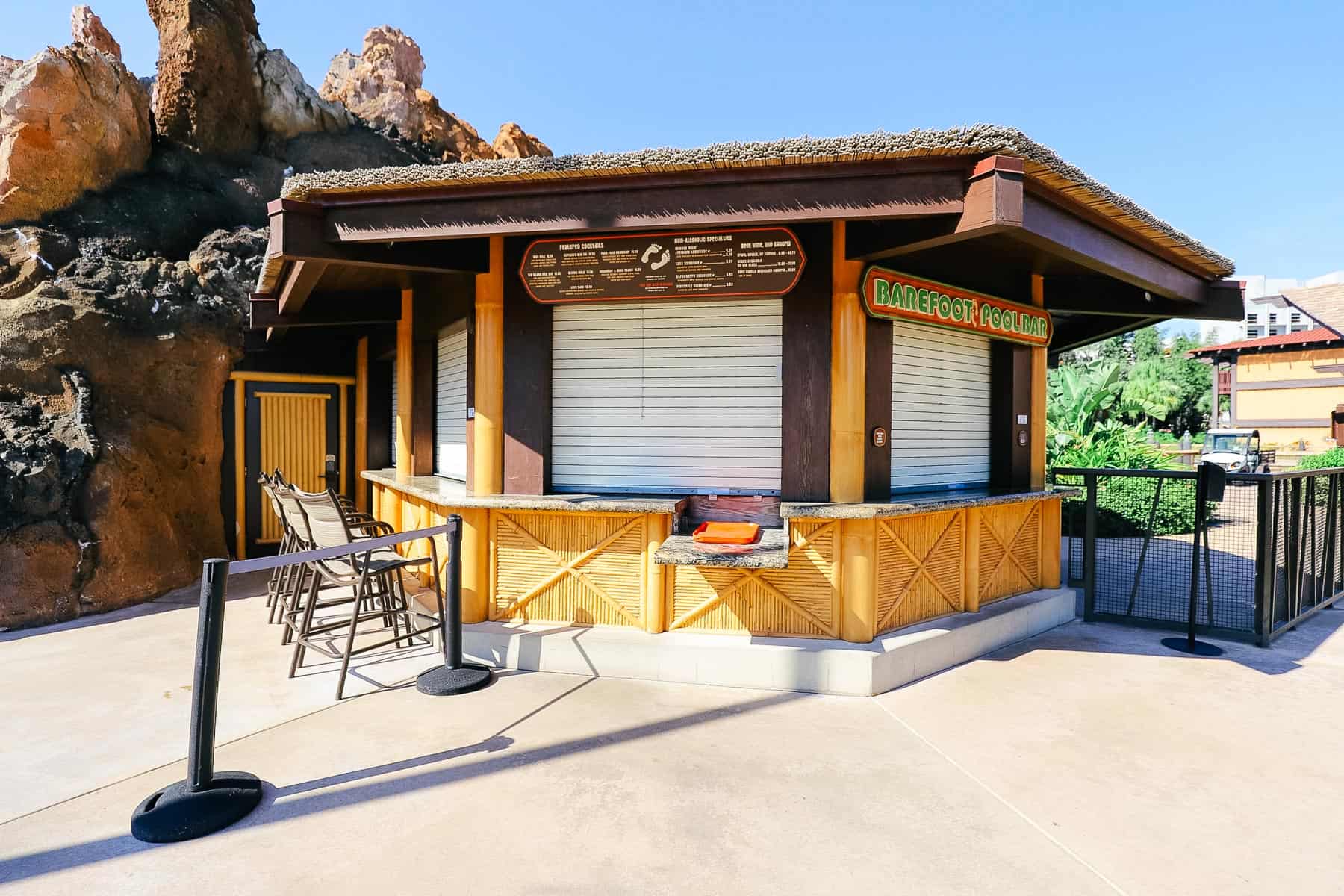 Below is a look at the Barefoot Pool Bar's cocktail menu. From my understanding, the Pago Pago Painkiller is the most popular drink at this location. They also have several non-alcoholic specialties, beer, wine, and sangria.
Additionally, Barefoot Pool Bar has a separate menu for pool guests that offers food items. Below is a photo of their menu.

Oasis Pool Bar
The Oasis Pool Bar is only available to resort guests. It sits inside the fenced area of the Oasis Pool.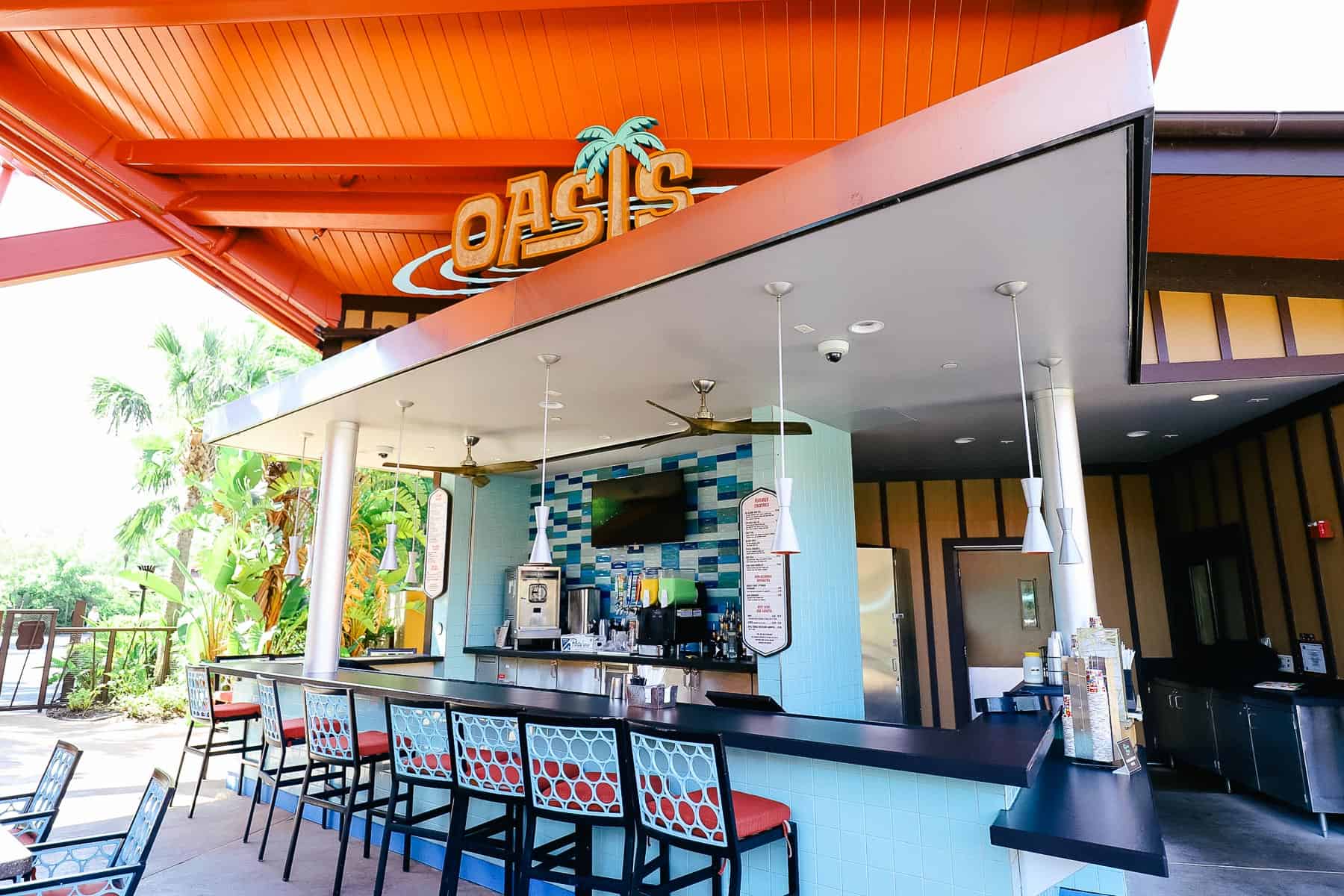 They have a quick service window that's available between lunch and early dinner. Additionally, they have a full-service bar. Here's a look at the menu.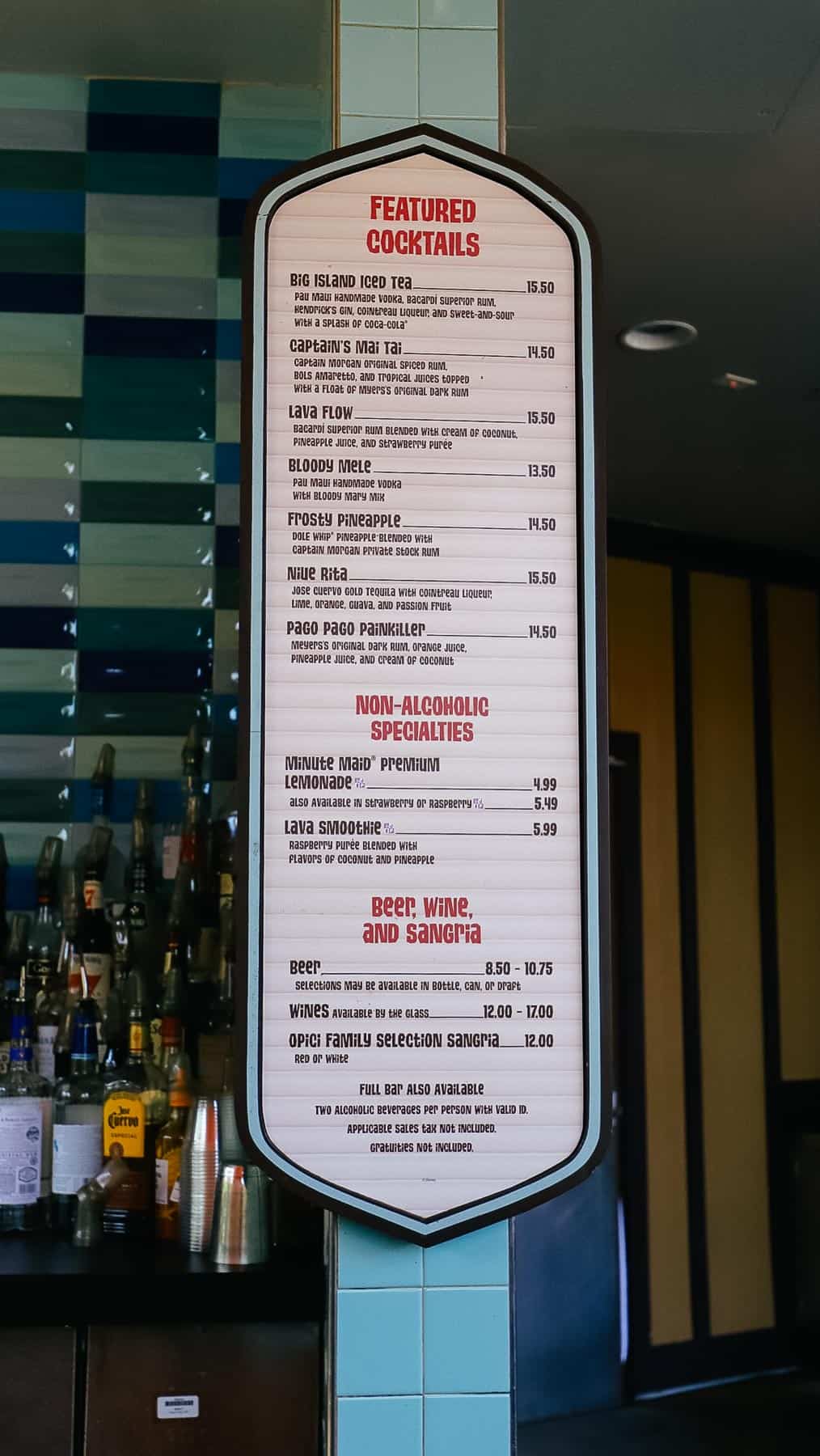 Pineapple Lanai
Next on our list of Polynesian Resort restaurants is the Pineapple Lanai. Pineapple Lanai is on your immediate right when entering the back door of the Great Ceremonial House. This location is a walk-up window offering cold treats.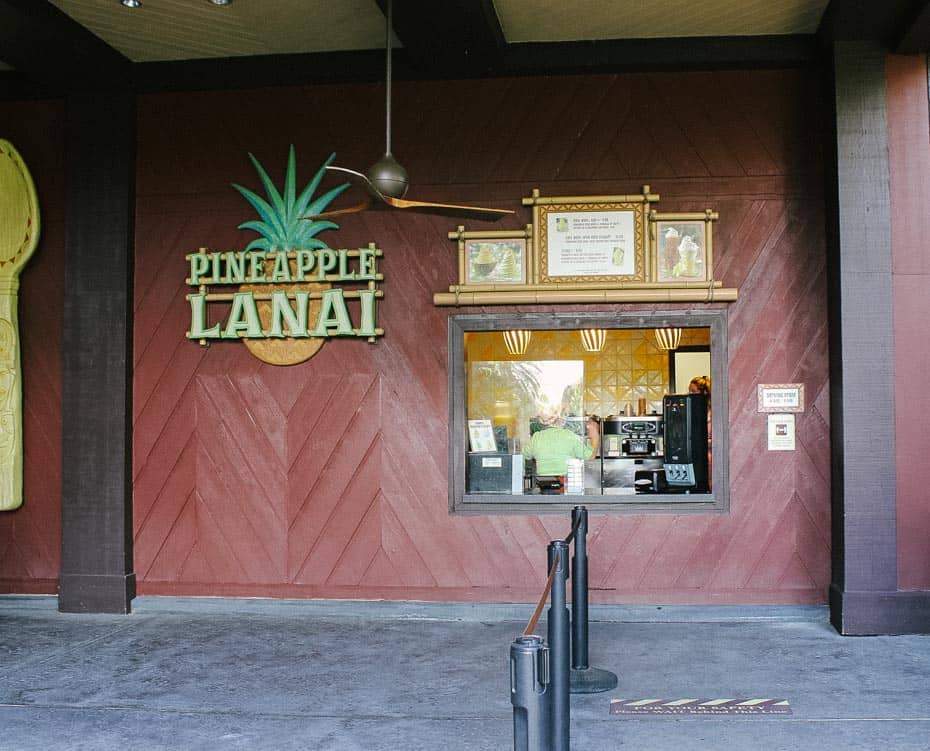 Pineapple Lanai is the place to pick up a Dole Whip soft-serve treat at Disney's Polynesian. Dole Whip usually comes in several different flavors. The traditional pineapple flavor is always available here. Additionally, they typically have at least one other flavor.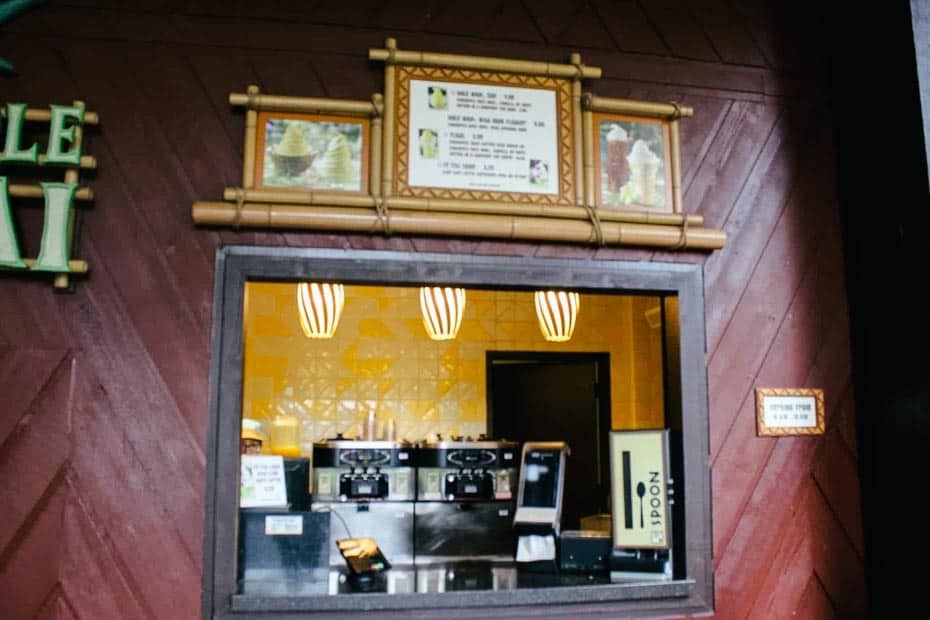 Usually, they'll have a sign at the counter when they have a unique flavor available. In case I forgot, Dole Whip is diet-friendly, dairy-free (except when the regular soft serve is mixed with it), and vegan!
Kona Island
Lastly, Kona Island is a quick-service kiosk next door to Kona Cafe. This location is known for its specialty coffee, pastries, candied goods, and sushi.
Behind this location is a long counter facing out to the monorail. Guests can sit here and enjoy their snacks or coffee.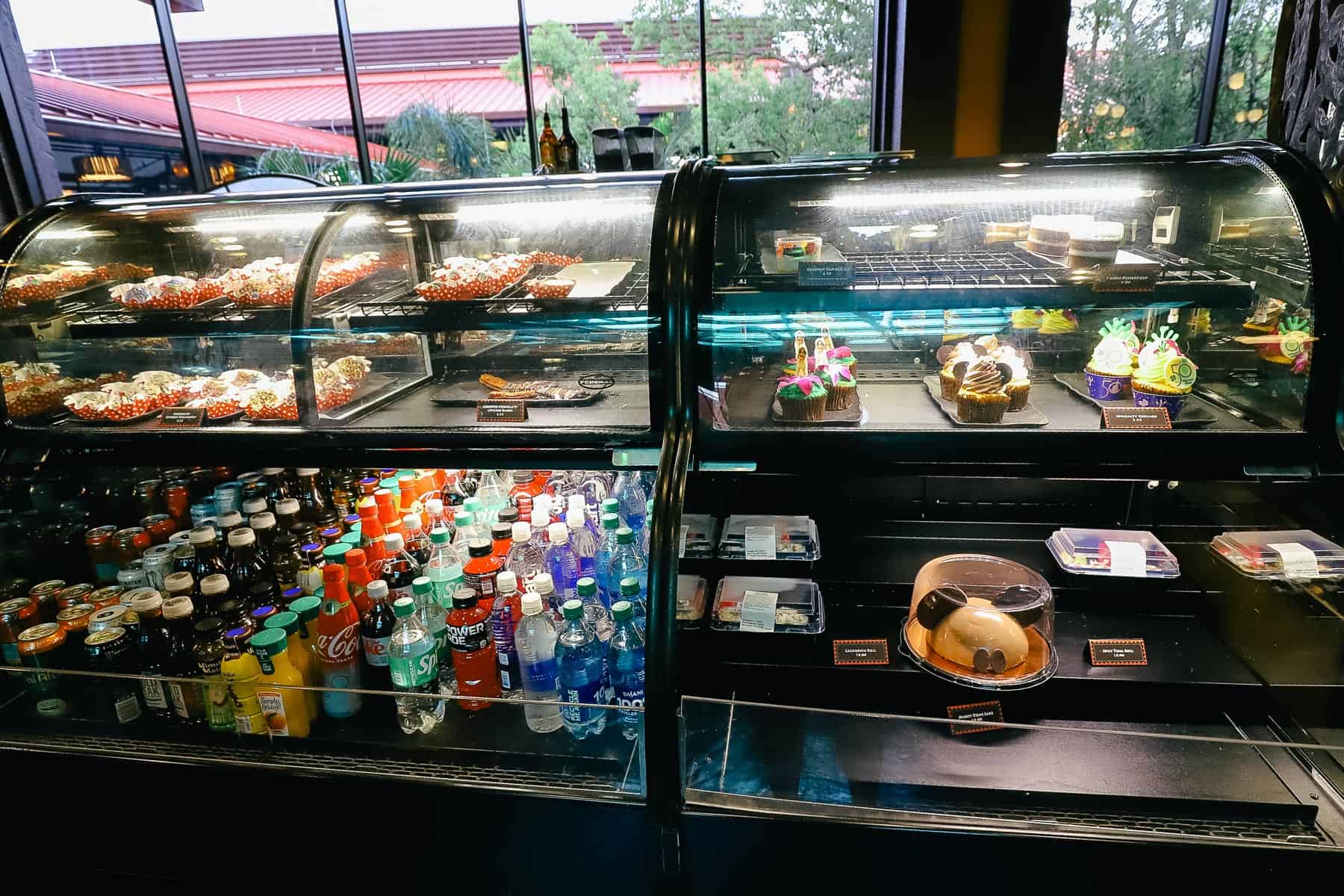 Here is a photo of their coffee and cocktail items.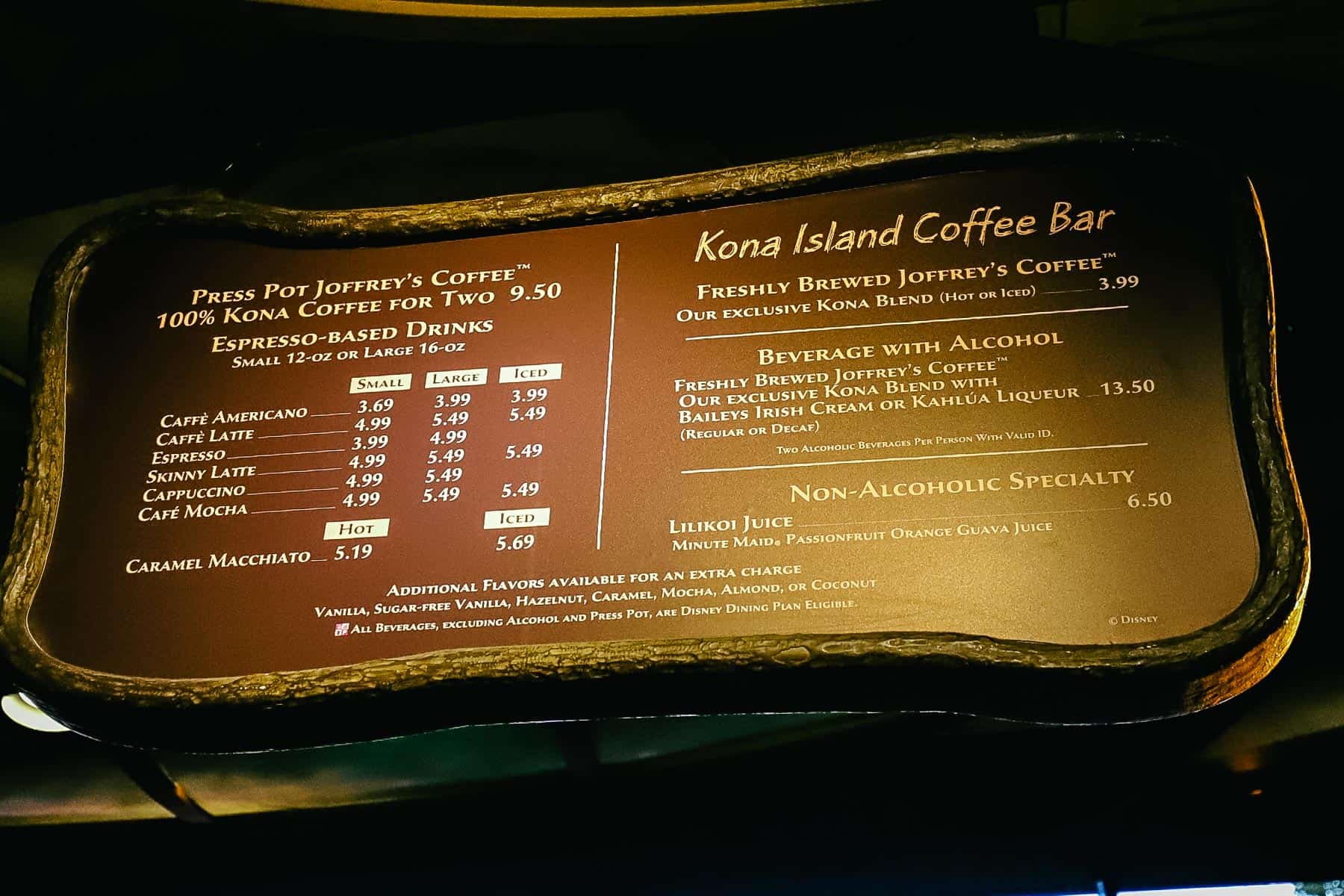 Additionally, here are a few items of the refrigerated cases. Unfortunately, these cases often have fogged-up windows, so the photos aren't great.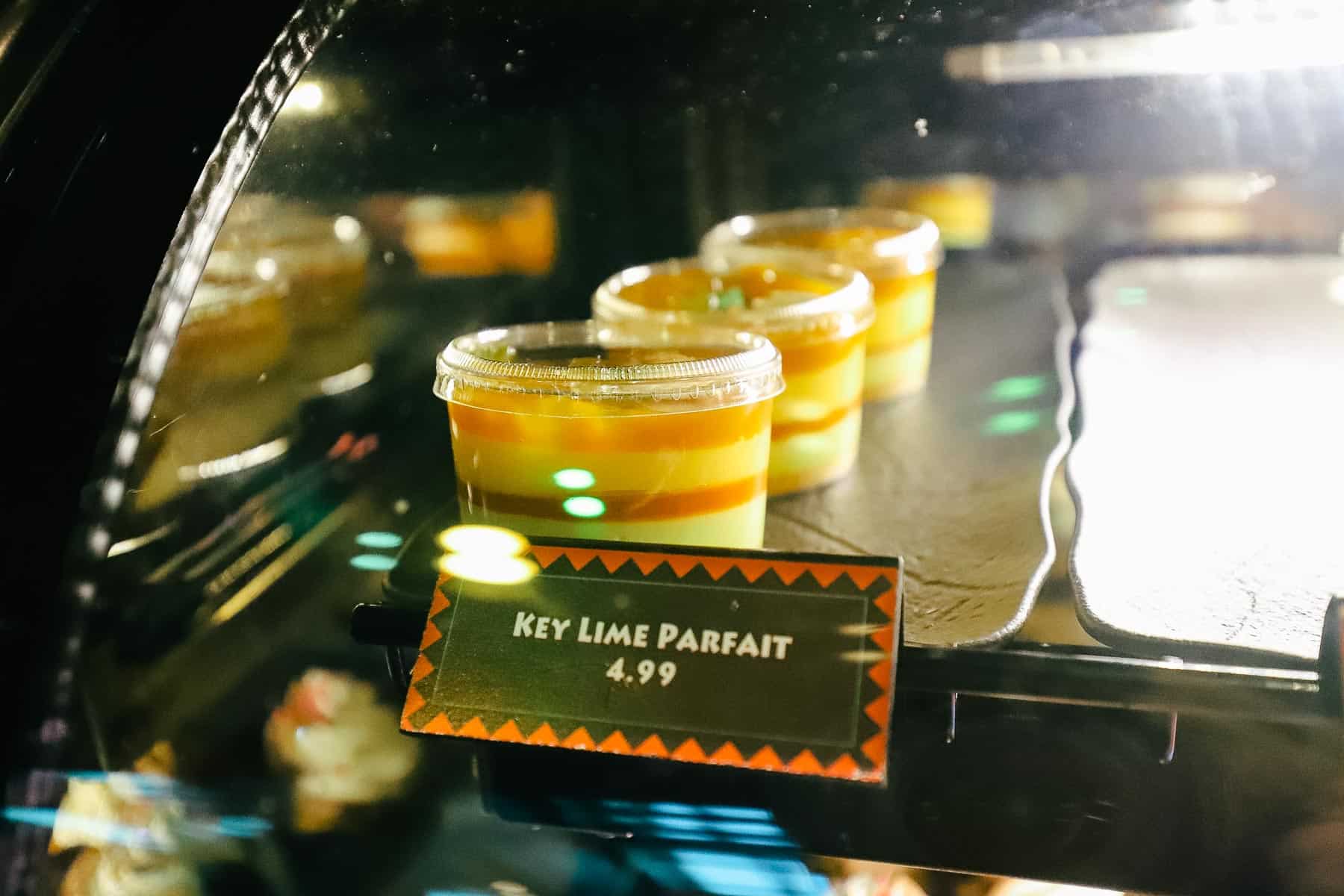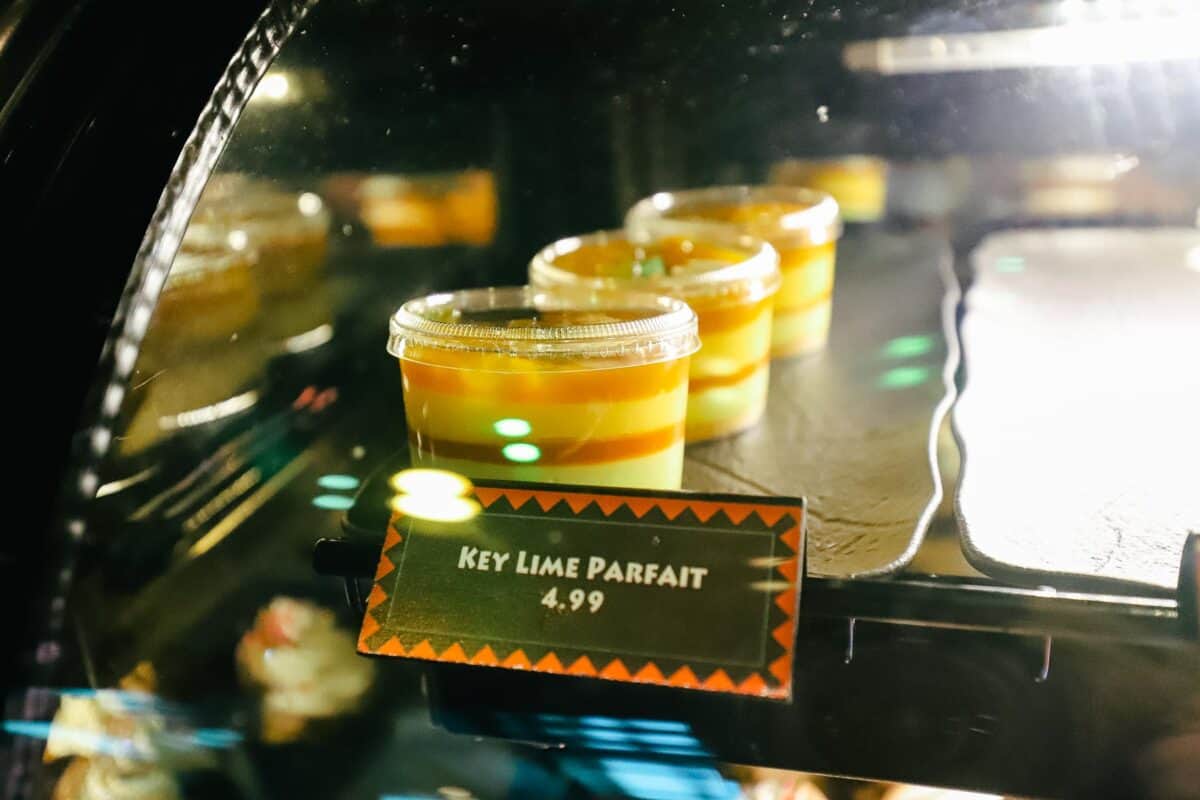 However, they should provide an idea of what to expect.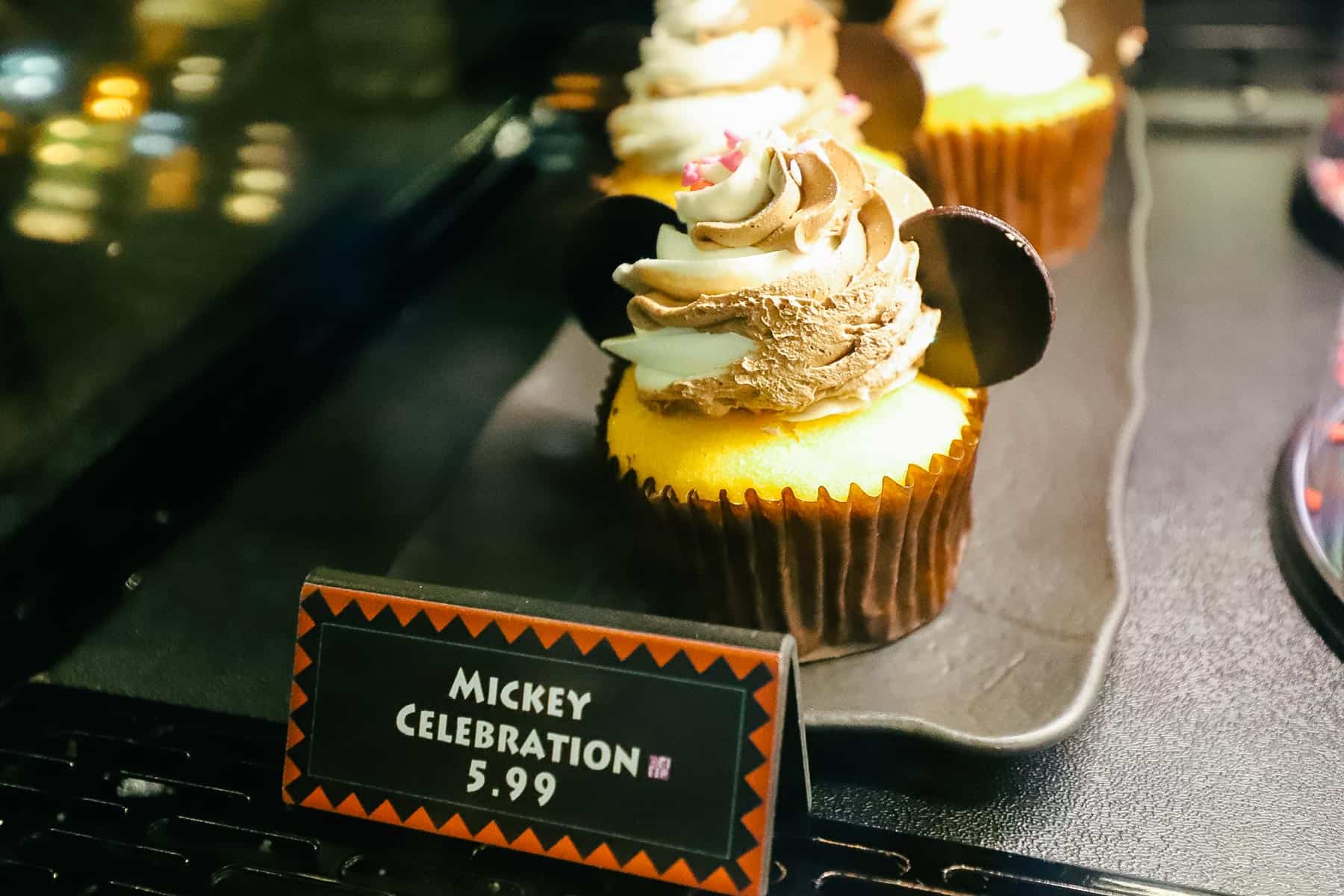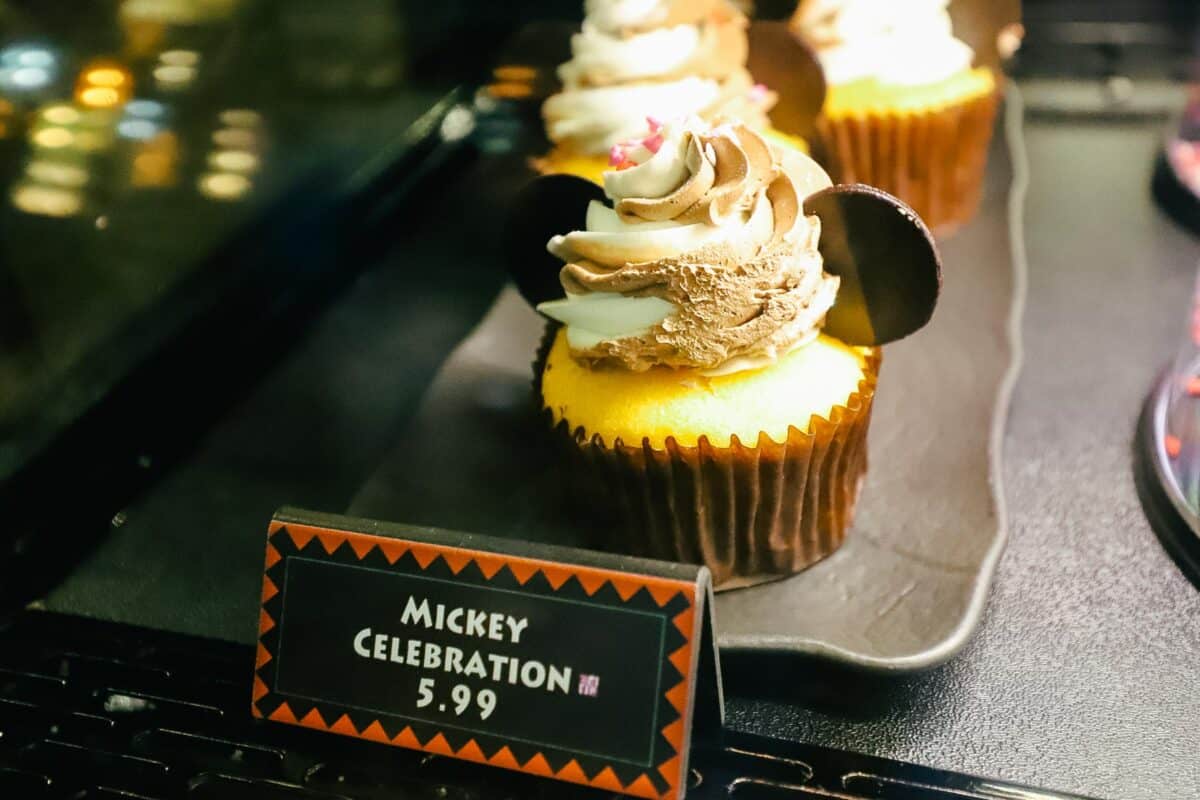 These cupcakes were available over Valentine's. I had not seen them before.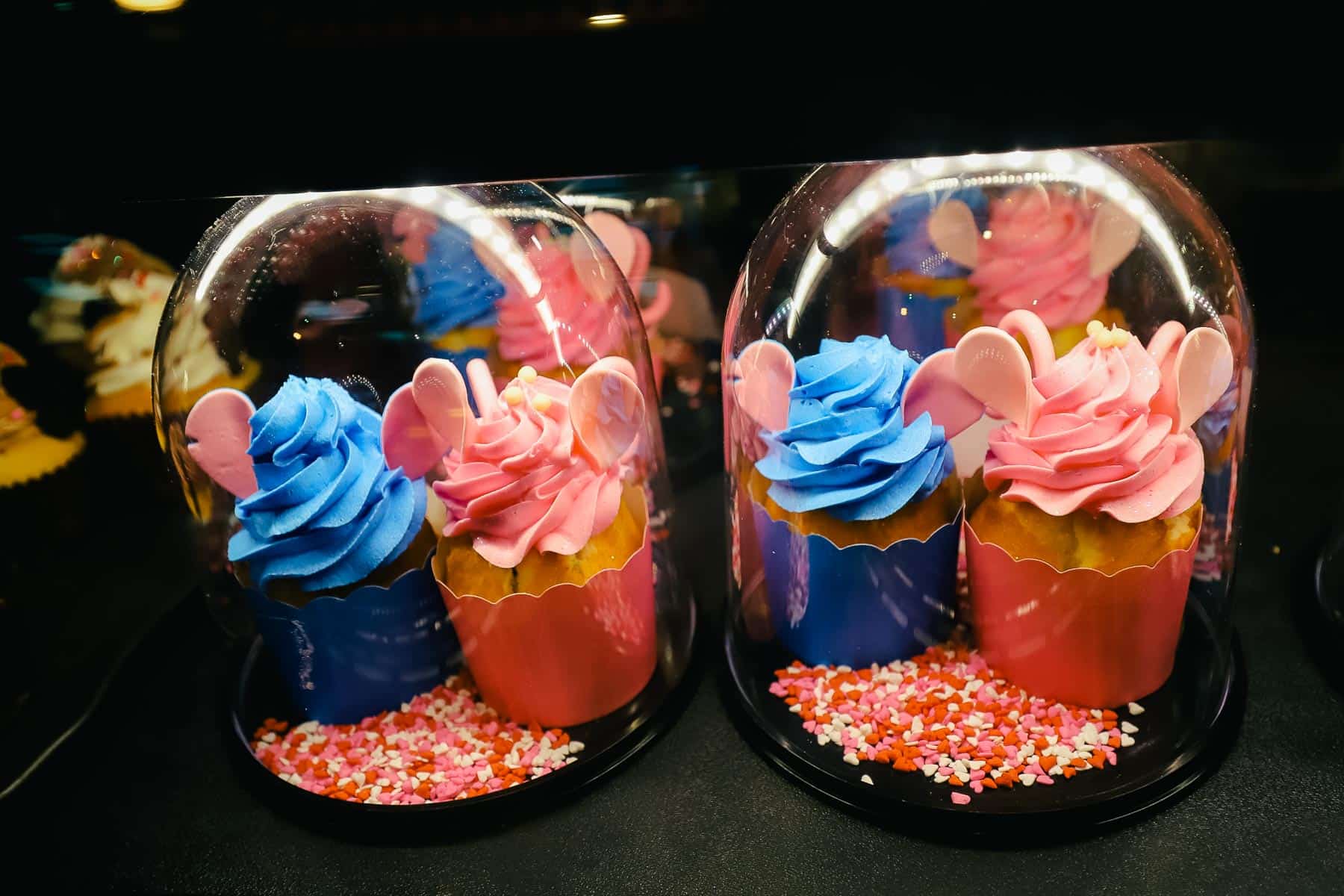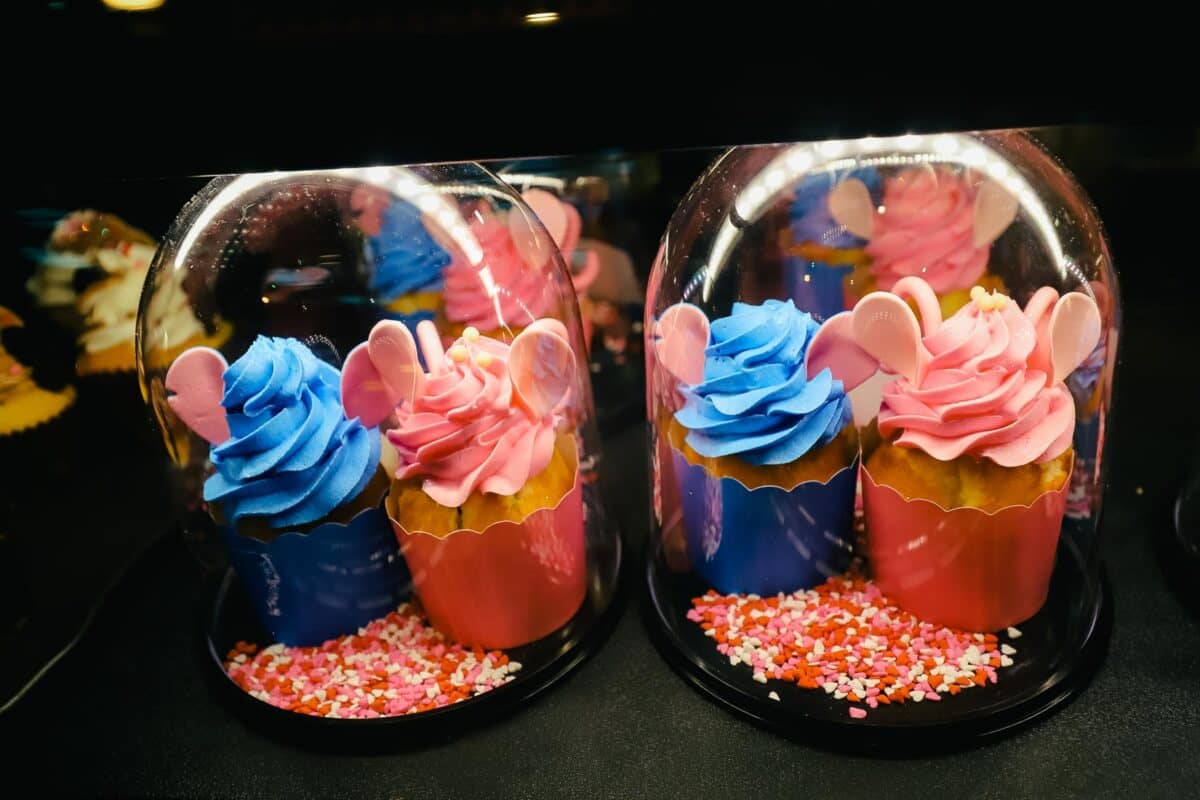 Most of these items are available year-round.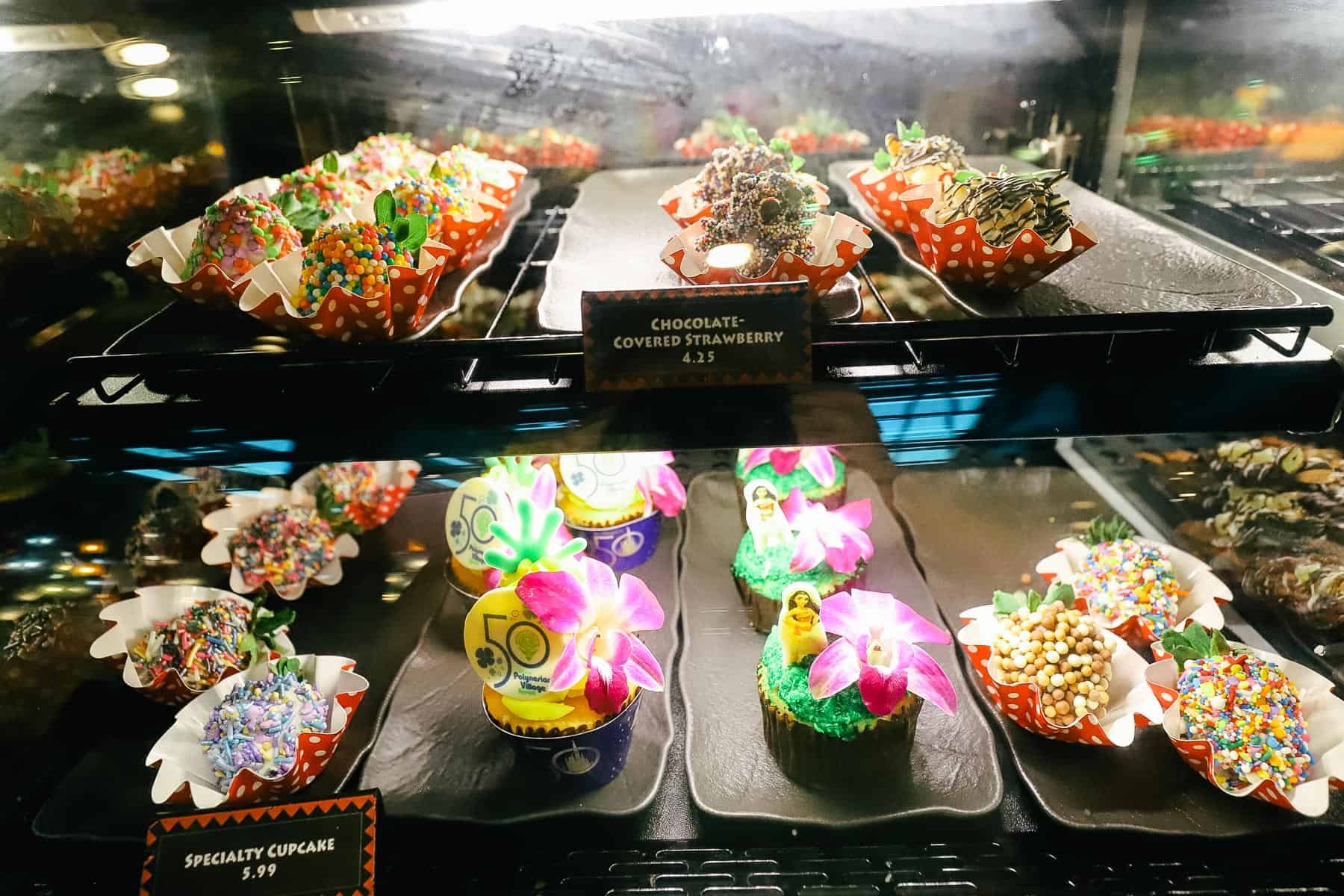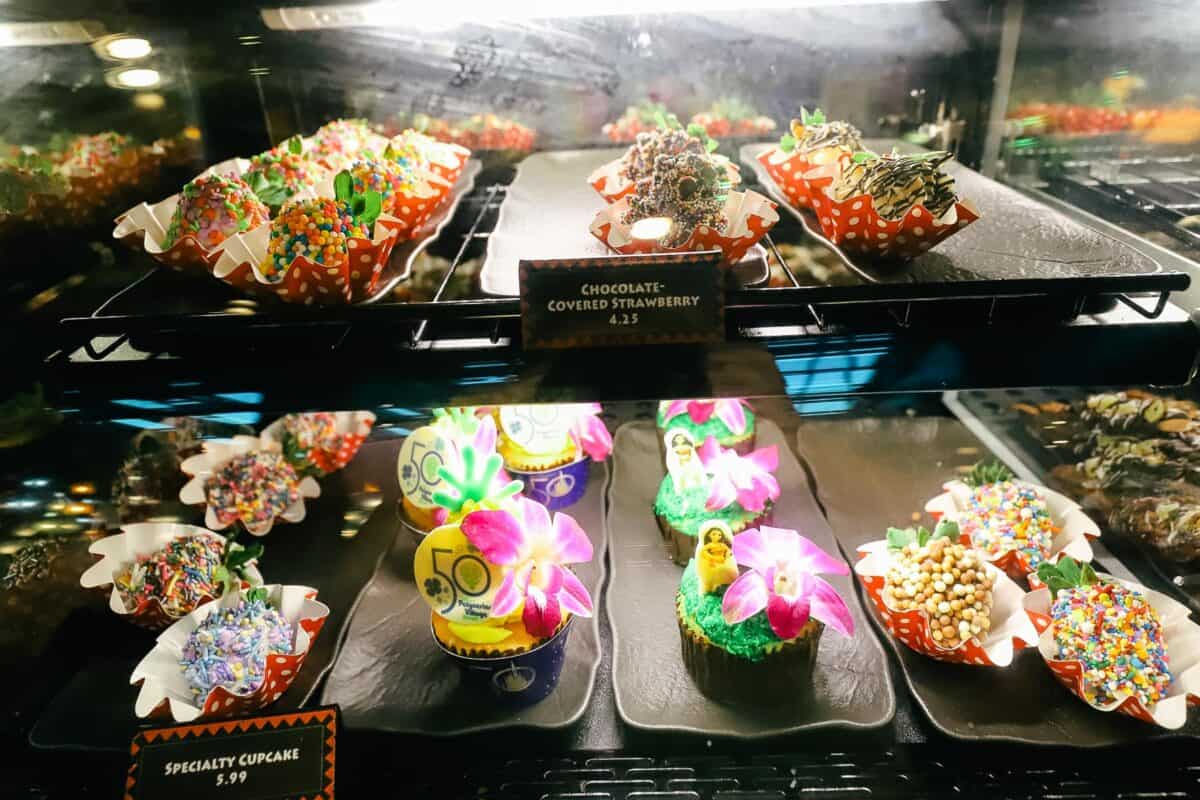 These candied items were added a few years ago and have proven popular.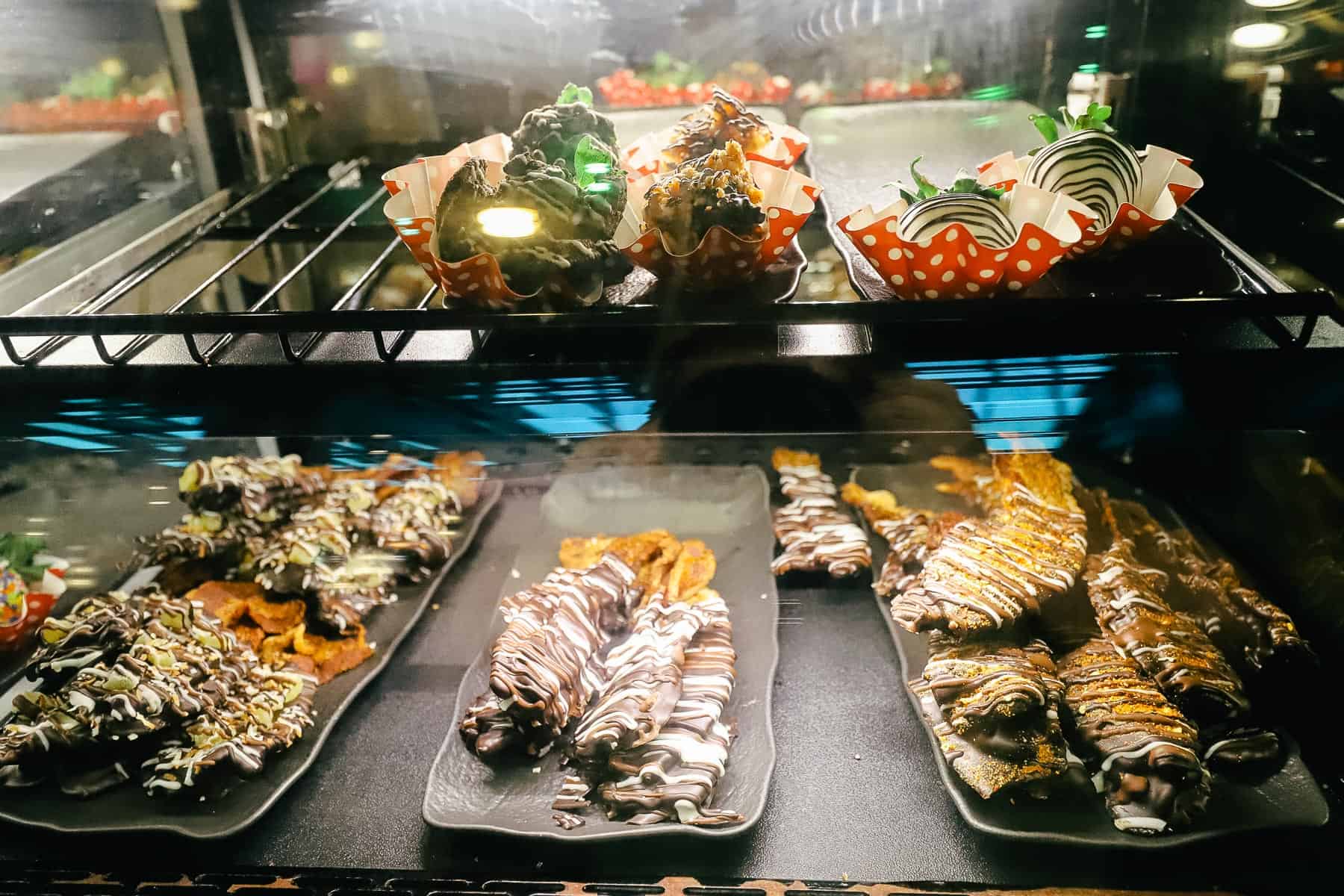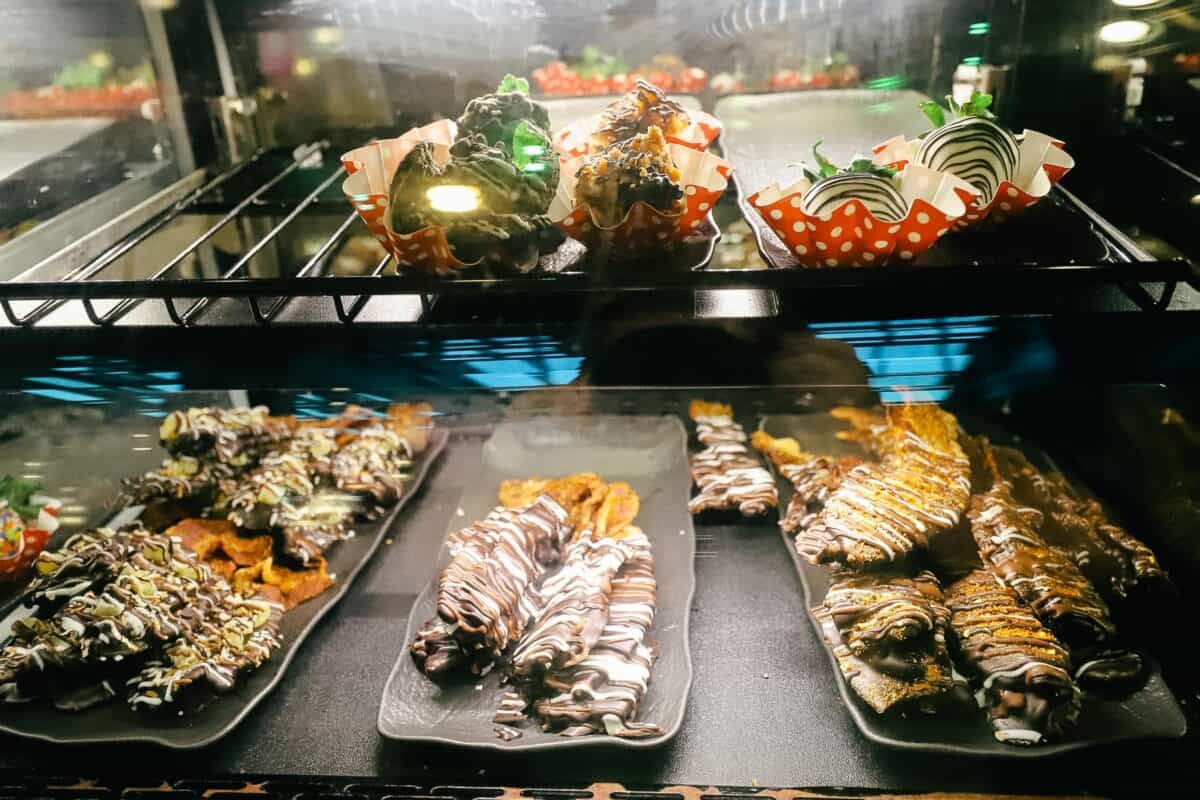 Yes, that's chocolate-dipped bacon. From what I can tell, it tends to disappear quickly.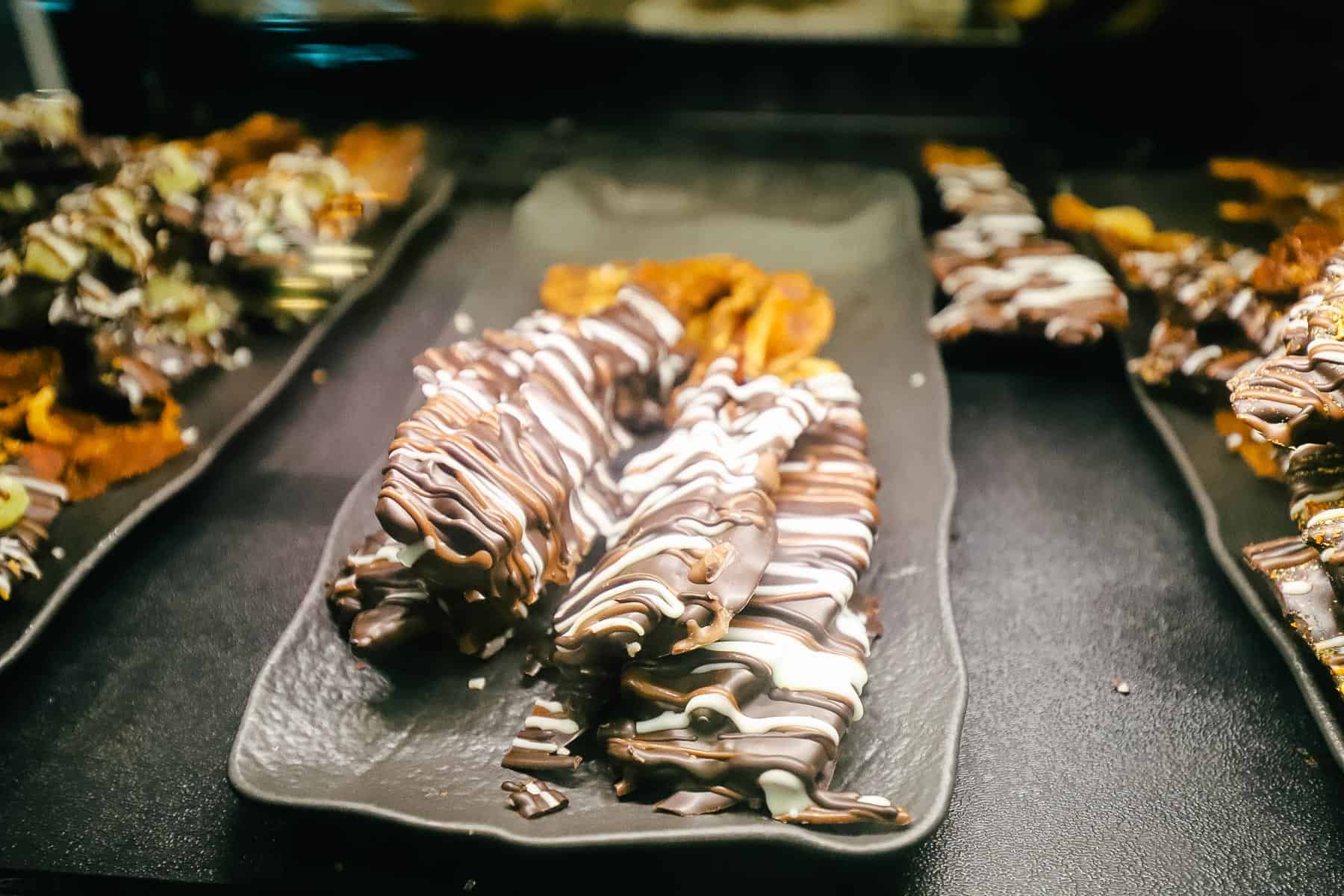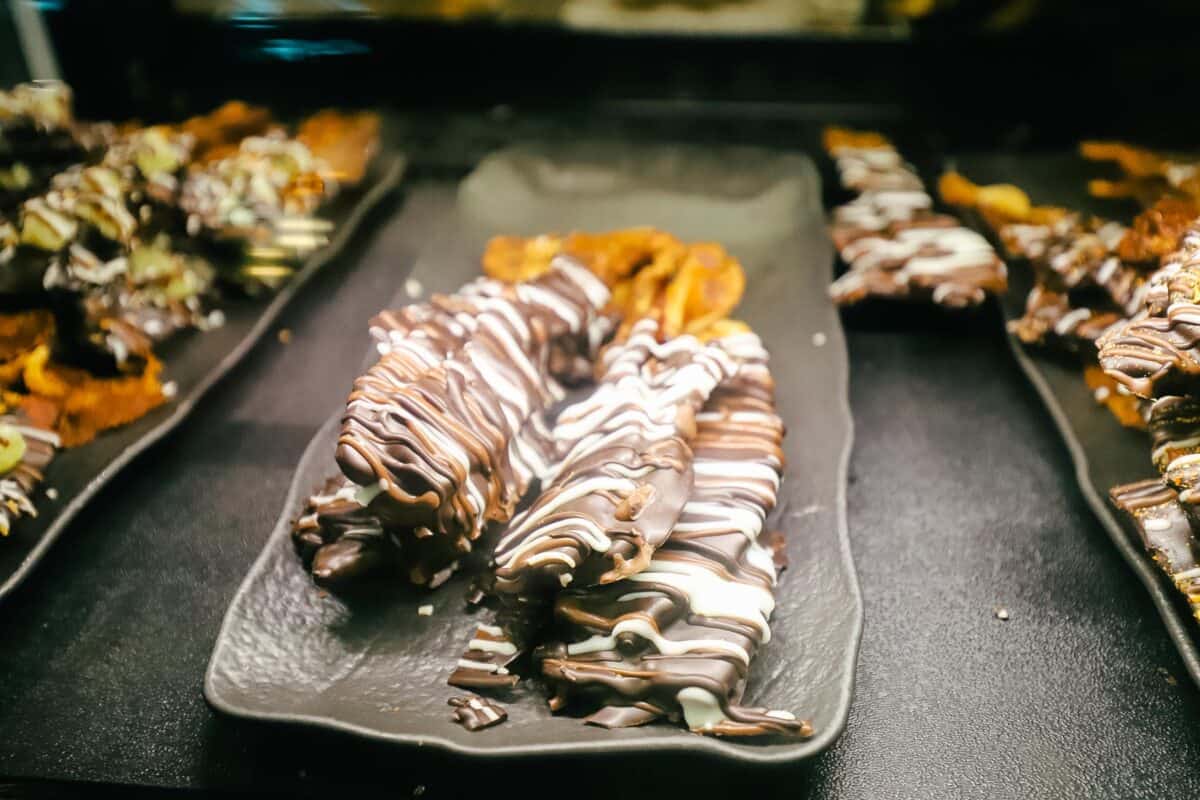 Disney's Polynesian Resort Restaurants Overview
When it comes to dining options at the Polynesian, you can probably tell the choices are overwhelming, but in a good way. Many of these locations make for the perfect stop when you need to escape the busyness of the theme parks.
Whether it's a rainy vacation day or you are tired of dealing with crowds, you'll find a true tropical dining oasis at Disney's Polynesian. After your meal or snack, take some time to tour the resort's grounds, especially around the sunset hour.
Or you might enjoy sitting for a spell in the Great Ceremonial House. We enjoy sitting on the second floor and looking at the Magic Kingdom in the distance. It's not the worst way to spend the afternoon.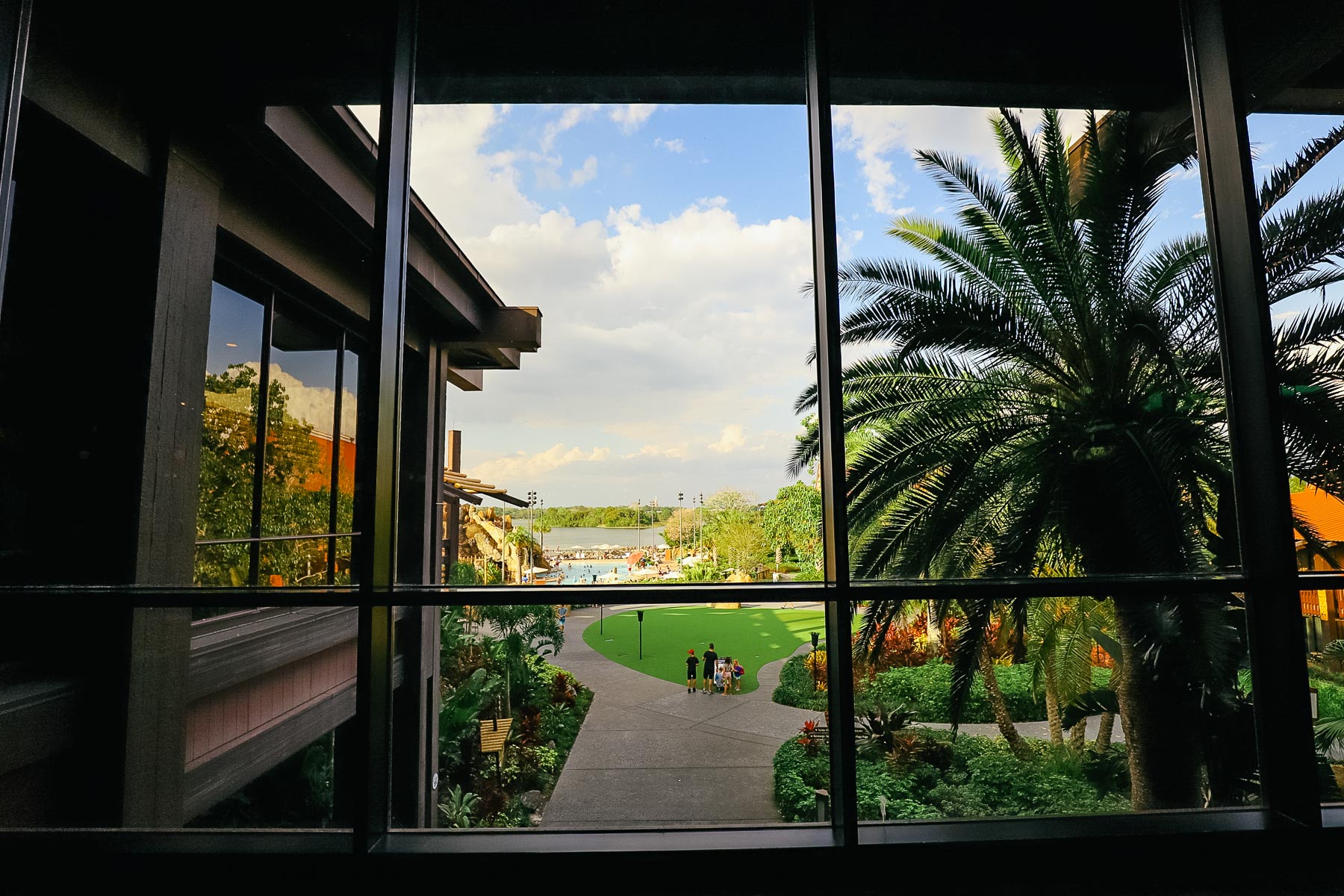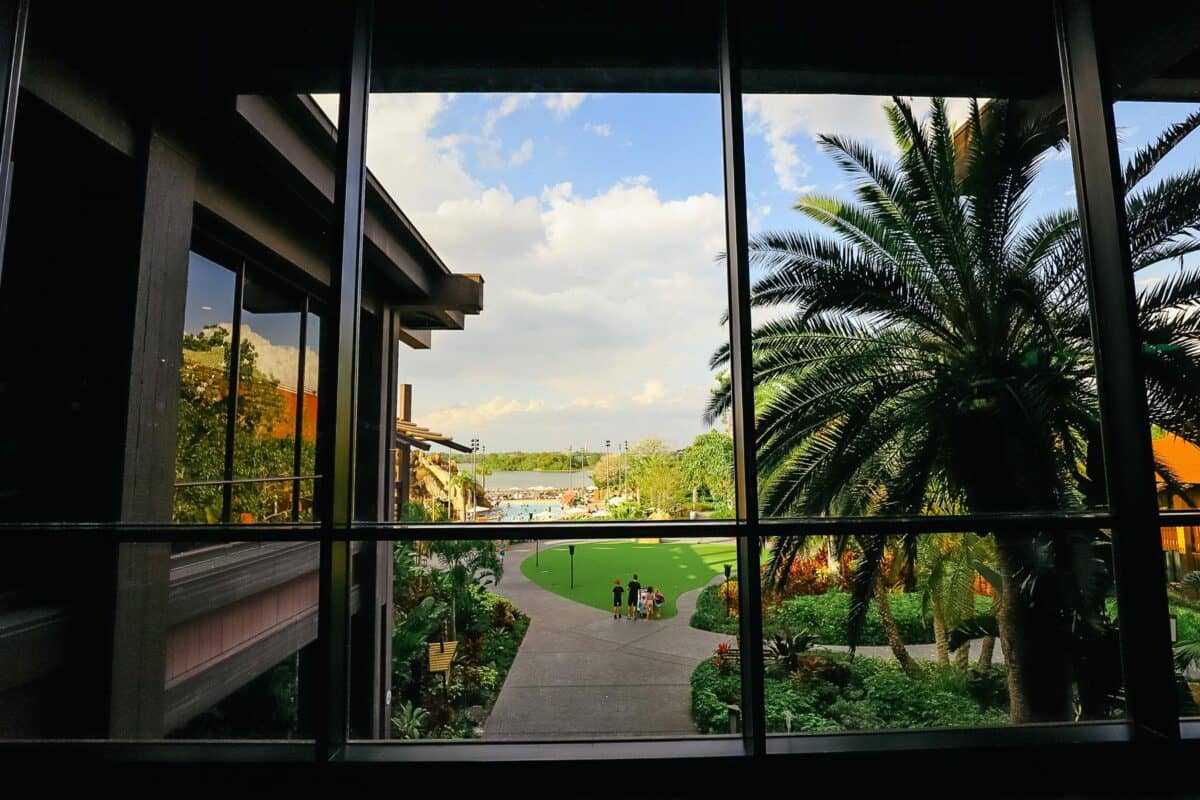 For more information about the resort, we have a complete guide that lists all of our articles:
Or you might enjoy the following:
Related: Walt Disney World Resorts
For nearby dining options at the other resorts near the Polynesian, you might enjoy the following:
Additionally, these other resort dining guides offer popular restaurants:
Related: Disney World Restaurant Reviews
In the Comments
What are your thoughts on these restaurants at Disney's Polynesian Resort? Are there any you are looking forward to trying? Is there a restaurant you must visit on every trip?