Trader Sam's Tiki Terrace Review
Trader Sam's Tiki Terrace is a favorite watering hole for many at Disney's Polynesian Resort. The bar/terrace is outdoors and offers a distinct beverage menu, appetizers, and small plate-style meals.
You probably already know that deciding on a restaurant at Disney's Polynesian is quite a chore. You might even find yourself in a bit of a dilemma when selecting from the different options.
That's where Trader Sam's Tiki terrace comes into play. I have to admit it's one of my favorite dining locations, and I find myself there often. Even better, anyone can stop here almost any evening for a drink, appetizer, or a full meal.
Reservations are not required. And that's another perk this spot has going for it.
In this Trader Sam's Tiki Terrace review, we will look at the different drinks and food items you can find here. I will also provide a few tips for picking up a meal at the resort's nearby counter service. You can combine meals and beverages from both locations to make a complete meal for the family.
Dining outside at Tiki Terrace is the perfect evening, especially when you are too worn out to return to the parks and the kids need a simple meal. Let's look at how you can make it work for your group!
Trader Sam's Tiki Terrace Review
Trader Sam's Tiki Terrace is located on the terrace of the Great Ceremonial House (lobby) at Disney's Polynesian Resort. The location offers tables with chairs for seating. I prefer to get one close to the water with a view. It's a delightful setting.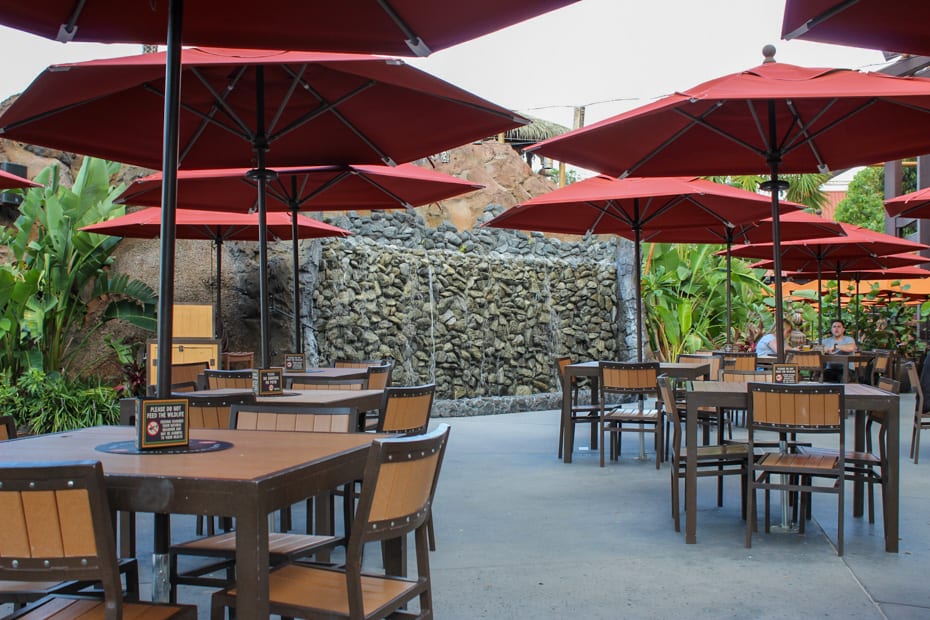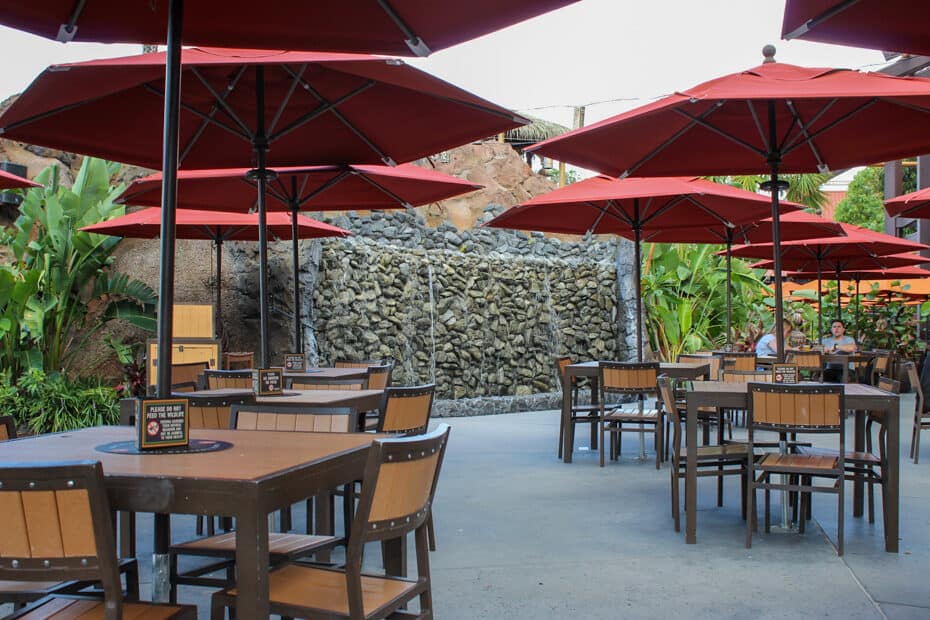 This dining location gets high remarks because of the unique menu, flavorful food items, specialty drinks, and outstanding location. I doubt anyone that spends a warm evening out on the Tiki Terrace will find any disappointment. This is one of those places that you'll probably think about revisiting repeatedly.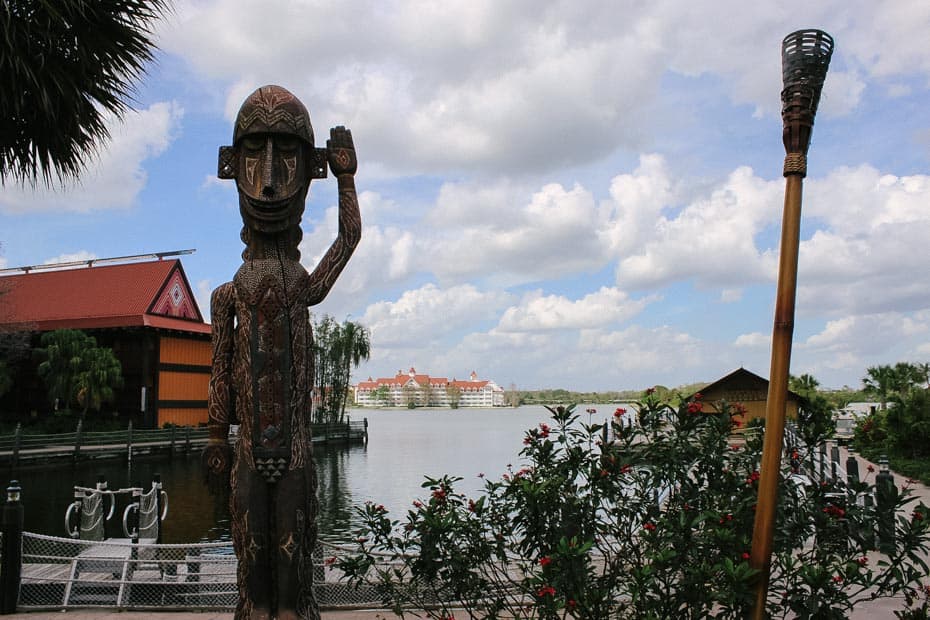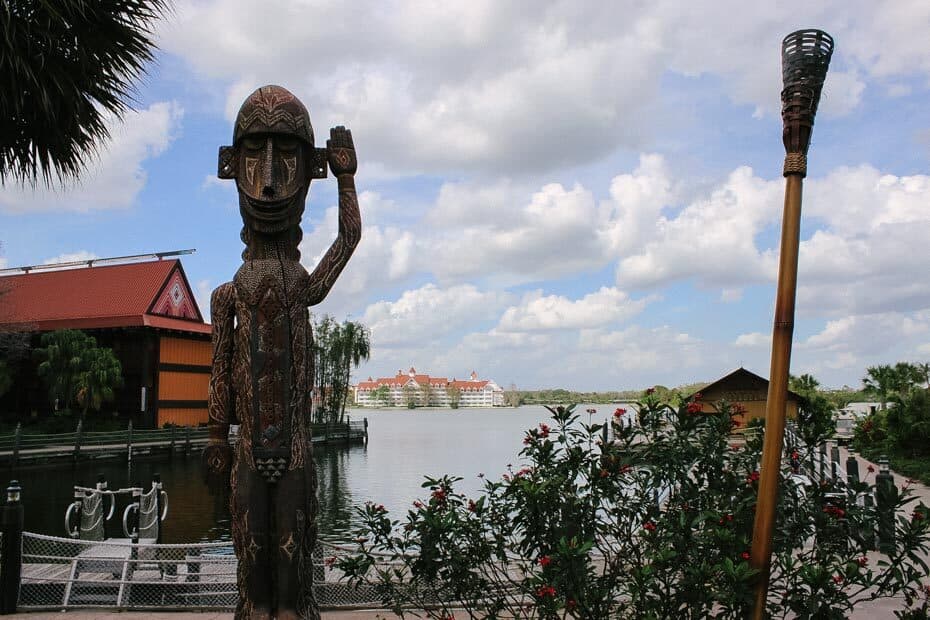 Sometimes, a musician can be found in front of the rock wall with a waterfall during the evening hours. The waterfall wall is an excellent divider between the terrace and the Polynesian's main lava pool.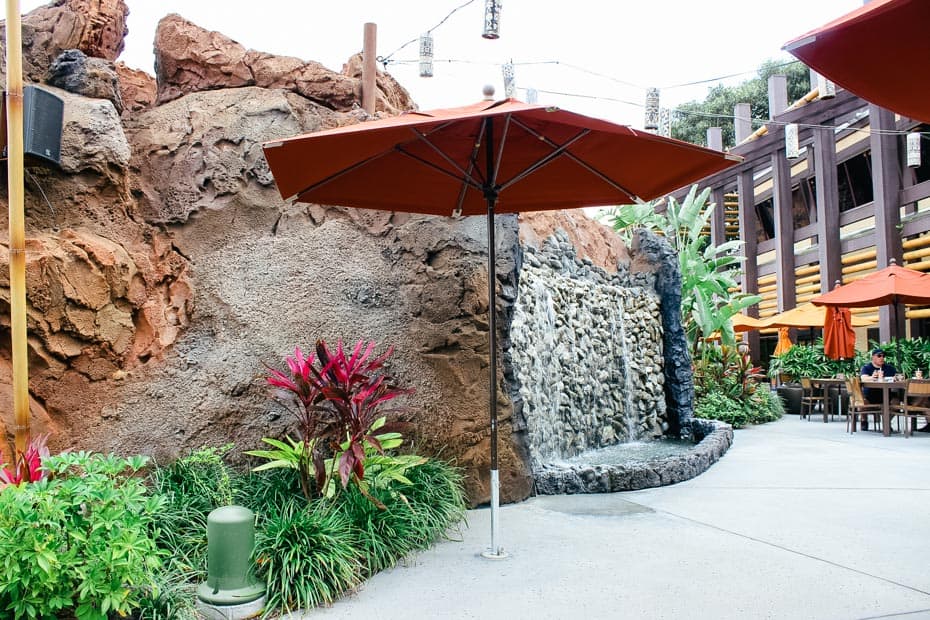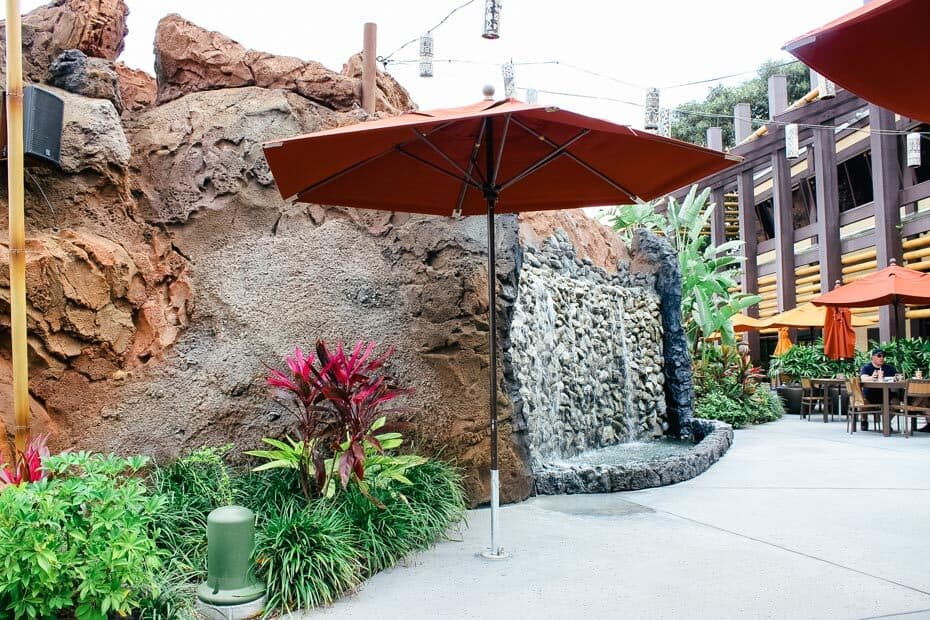 Guests can grab a seat anywhere available, and a server will be with you shortly. You might also grab a drink from the open bar window and take it with you on a walk around the resort.
Trader Sam's Tiki Terrace is one of Disney's unique places to pick up a cocktail or refreshing beverage. Their drink menu is only offered here and at the interior Trader Sam's location.
Trader Sam's interior location does have age restrictions in the evening. But there are none here at the Tiki Terrace. Instead, this is a kid-friendly, outdoor dining area with an additional walk-up window bar.
The drinks at Tiki Terrace are not something you would find on the average cocktail menu. Nevertheless, here is a look at a few of the items. You might notice that this is where you can pick up a collector souvenir mug if desired.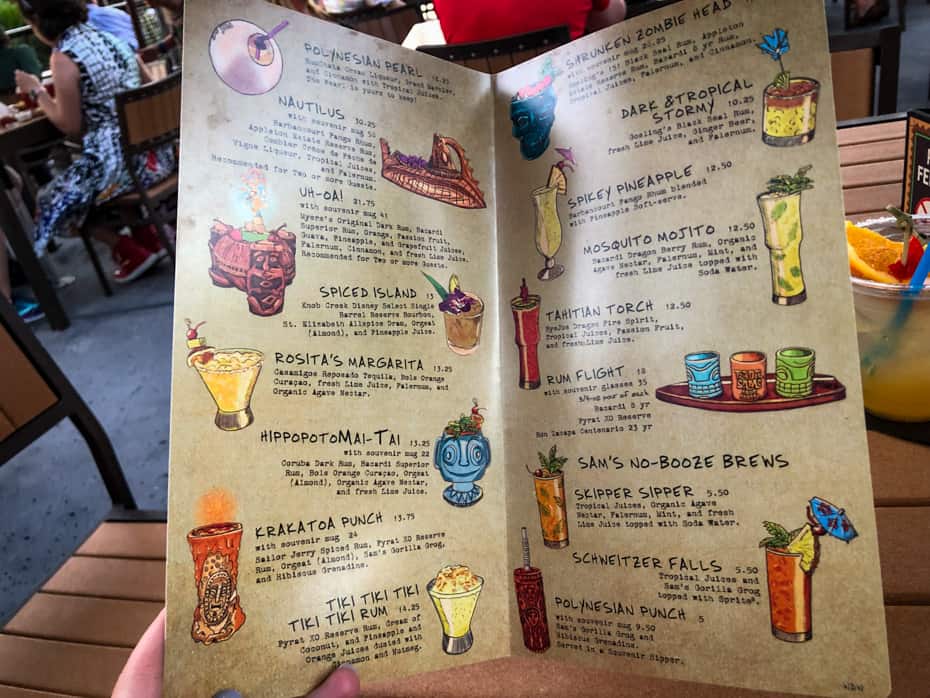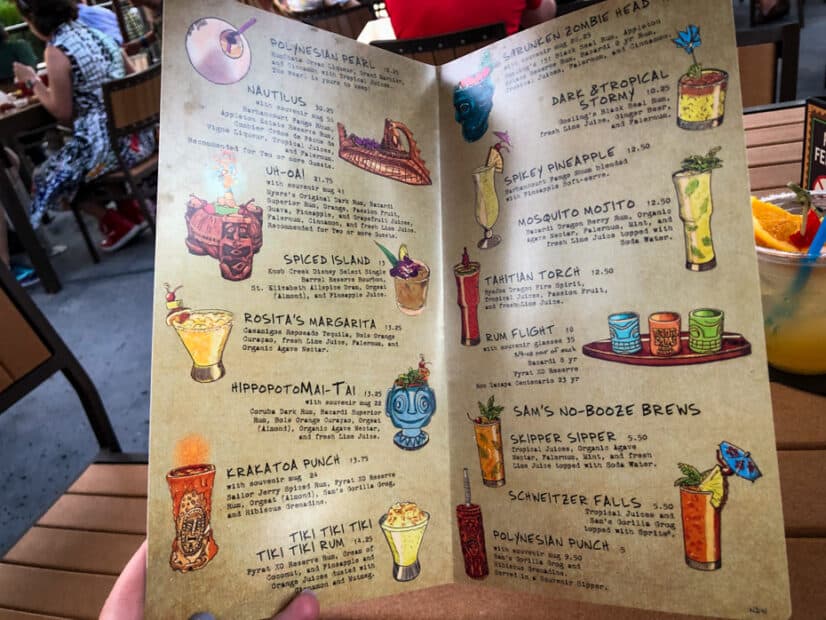 First up, we have the Tiki Tiki Tiki Tiki Tiki Rum — Pyrat Xo Reserve rum, cream of coconut with pineapple, and orange juices, dusted with cinnamon and nutmeg. (This drink reminds me of the T-16 Skyhopper at Oga's Cantina.)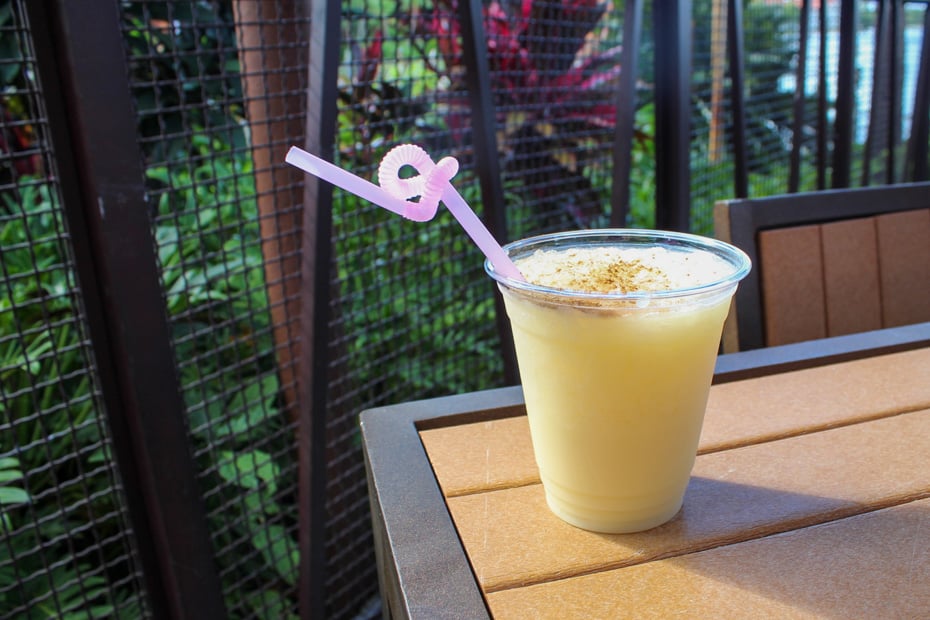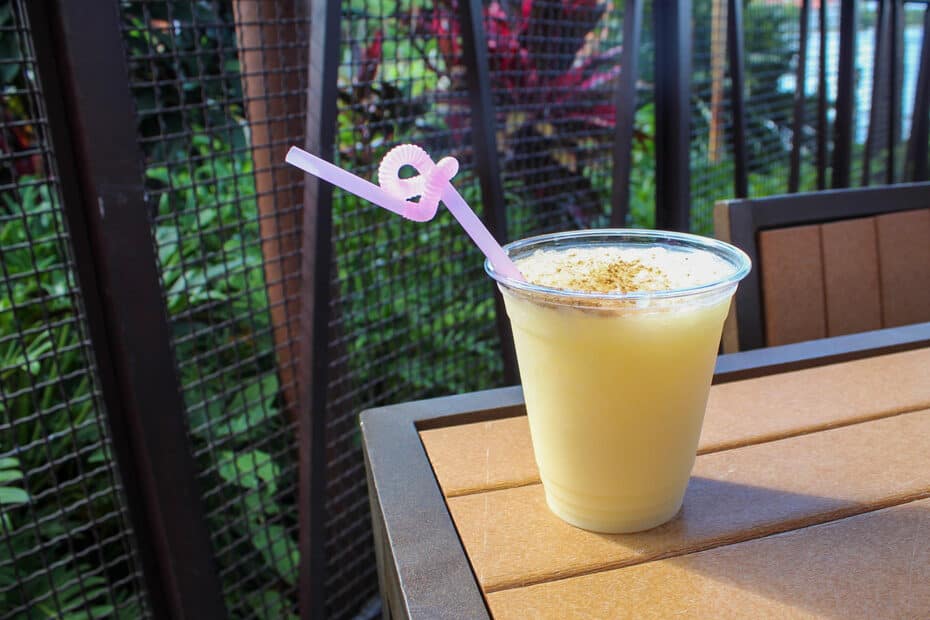 This drink is a play on Walt's Enchanted Tiki Room at Magic Kingdom. The fun-named glass is not something I would typically order. It sounds creamy and milky-like, per the description. And like you might get a tad of texture with the cream of coconut. But not really.
The Tiki Room is a unique drink that is served on ice. With the mention of nutmeg and cinnamon, it reads almost warm on the menu. But, again, that's not the case with this drink. Looking for something different that's cool and refreshing? Give it a try. I would reorder this one on a return visit.
Next, we'll look at Rosita's Margarita–Casamigos Reposado tequila, Bols Orange Curacao, fresh lime juice, Falernum, and organic agave nectar.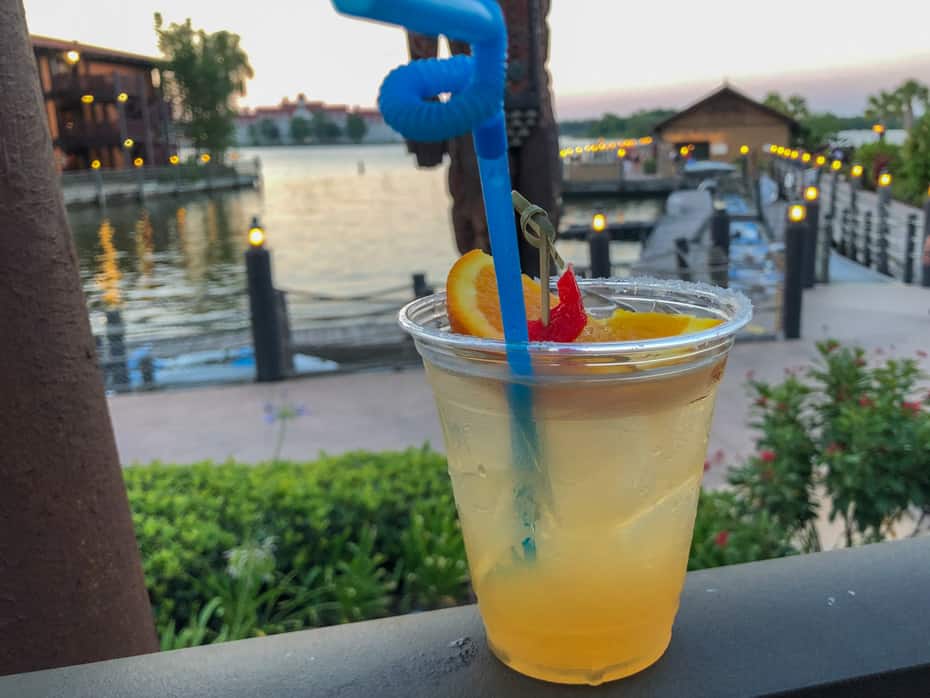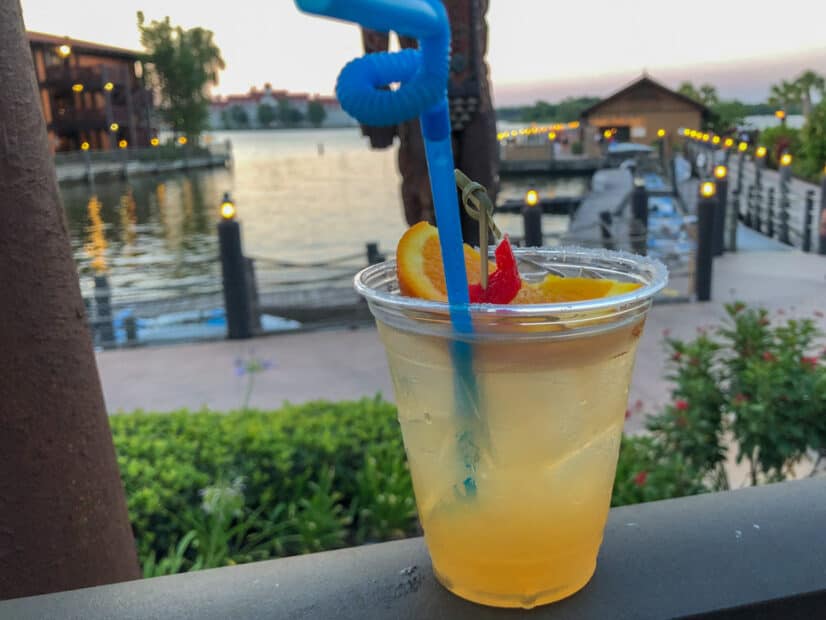 What is Falernum? Falernum is a staple in authentic tiki-style cocktails. It is similar to a simple syrup or can be found in an alcoholic version containing rum. In this mix, flavors are a combination of lime, almond, cinnamon, cloves, allspice, and ginger.
This drink offers a citrus punch with subtle spicy flavors. It's not a spicy drink in any way. Thinking about how to describe it, I immediately thought it was over before you wanted it to be. By that, I mean it's good and goes down easy.
As far as this review goes, I've also had the HippopotoMai-Tai (not pictured). This classic drink is described as Plantation Original Dark Rum, Bacardi Superior Rum, Bols Orange Curaçao, Orgeat (Almond), Organic Agave Nectar, and fresh Lime Juice.
Personally, I don't care for the Hippopoto Mai-Tai drink. It's a powerful concoction.
On a return visit in 2021, I enjoyed the Skipper Sipper. This is a non-alcoholic beverage that I highly recommend ordering on a hot day when you need something refreshing. It was great, and I'm looking forward to enjoying one again.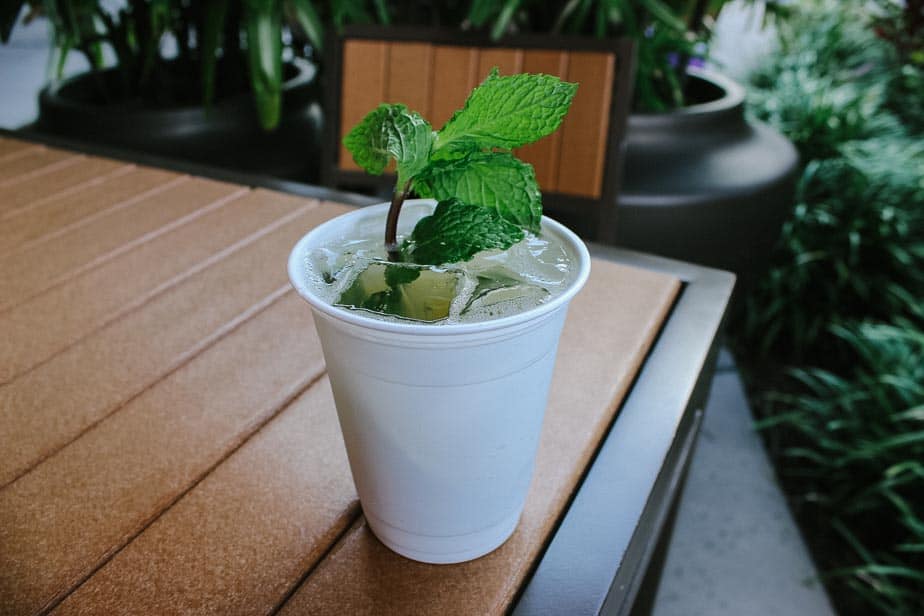 You can view the online menu for Tiki Terrace on Disney's site. As mentioned above, the drink menu for the Tiki Terrace and Trader Sam's is the same. Some of the drinks can be ordered in souvenir mugs when in stock.
If you would like something to go, there's a menu posted over the walk-up bar area. This is a fun idea if you are enjoying the Polynesian beaches. I have been known to stop in from the monorail, grab a drink here, and walk it over on my way back to the Grand Floridian.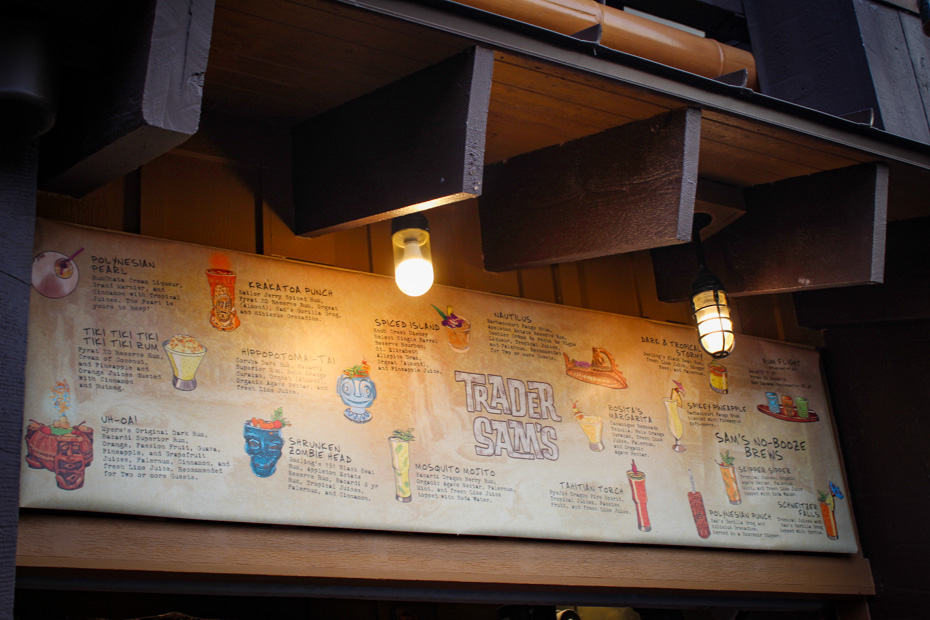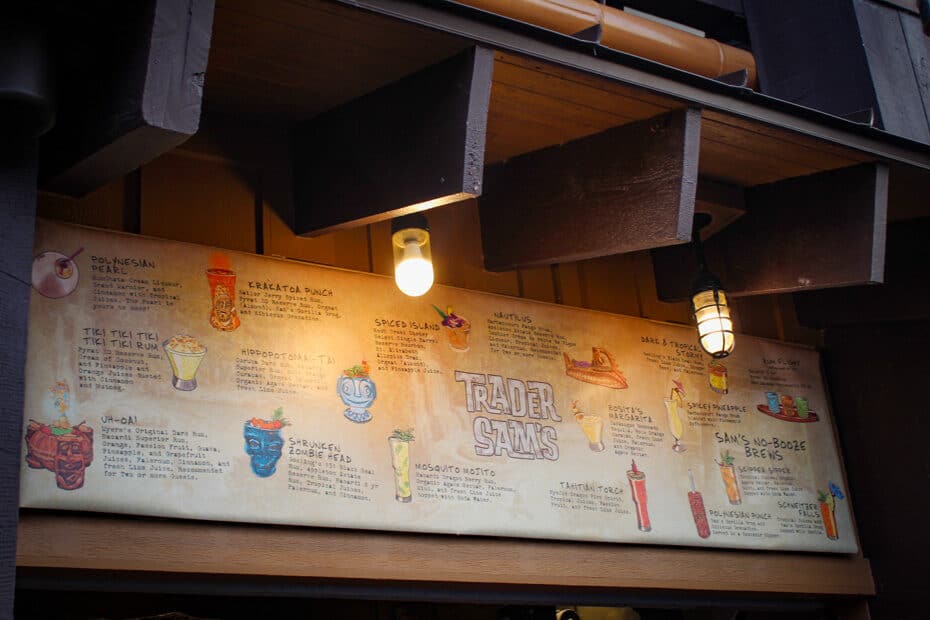 If you visit one of the resorts for dinner, like the Grand Floridian Cafe, you might enjoy stopping here for a pre-dinner drink. You can then take the short, scenic walk to the neighboring resort. Or even better, walk out here and grab a chair to enjoy the sunset.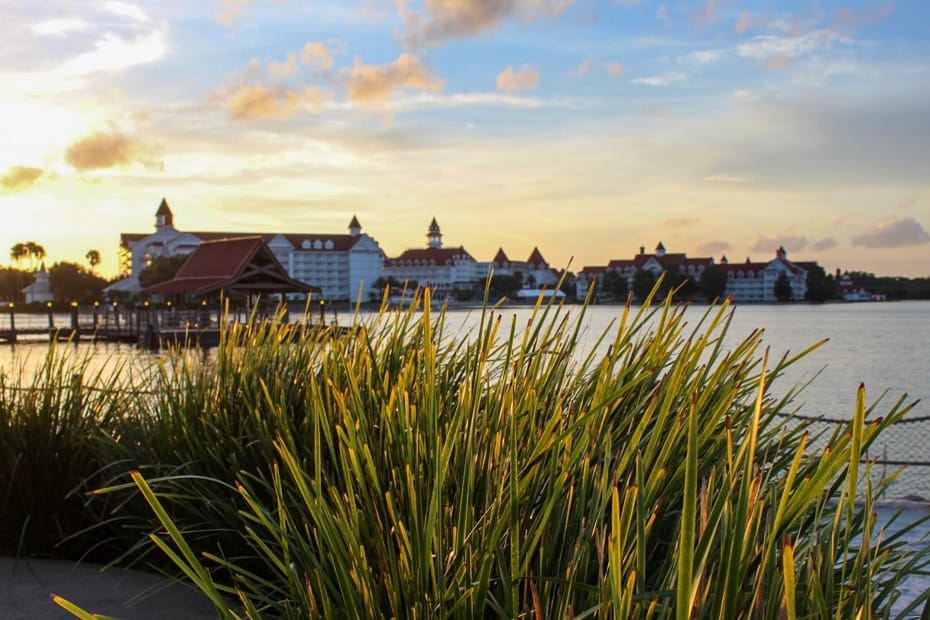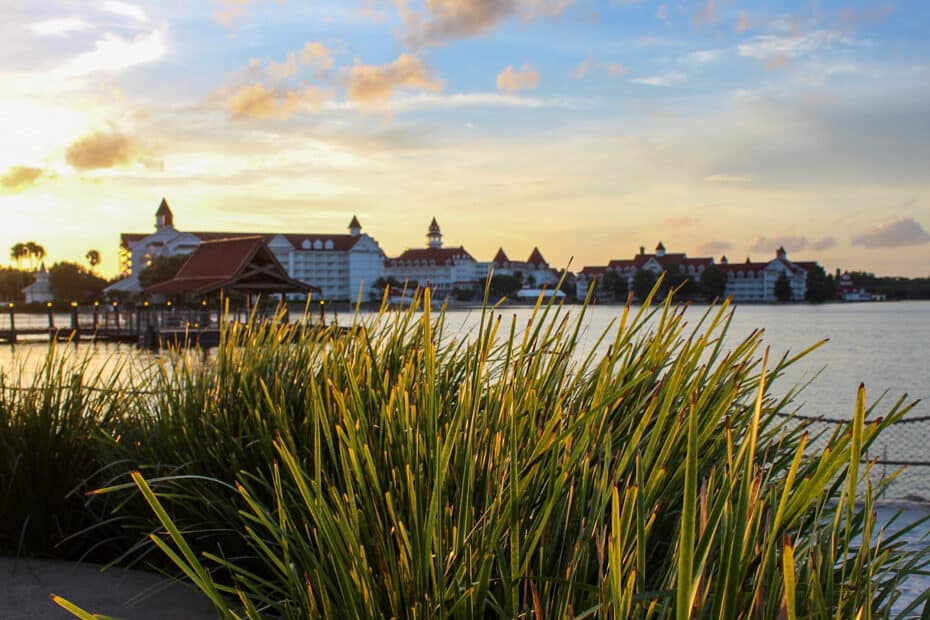 We usually prefer to grab a table when we get to the Tiki Terrace. Eventually, a cast member will come over to take your order.
Usually, our favorite time to eat at Trader Sam's Tiki Terrace is on an evening when nighttime entertainment is offered at Magic Kingdom. We have enjoyed many meals in the past as the sun sets. Then we like to enjoy the Electrical Water Pageant as it passes by on the water and finish things off with Magic Kingdom's fireworks.
These meals are among the things we look forward to when visiting Walt Disney World. You might already know, but the Polynesian has an extensive speaker system where they stream in the audio for the fireworks. You can't see the castle projections, but the view of the fireworks from the Polynesian is a fun perspective.
Regarding food, Trader Sam's Tiki Terrace menu has several appetizers. The following items were available on our last visit:
Chicken Lettuce Cups
Tofu Lettuce Cups (Vegan, Plant-Based)
Headhunter Sushi Roll
Kalua Pork Tacos
Veggie Rainbow Roll
Tai Chicken Flatbread
Hawaiian Poke
Roasted Chicken and Pork Sliders
First, we have the chicken lettuce cups. They come with chicken, shredded vegetables, and Butter-style lettuce leaves. This ended up being quite a filling dish for one person. It could also be nice to share if you want to try more than one item.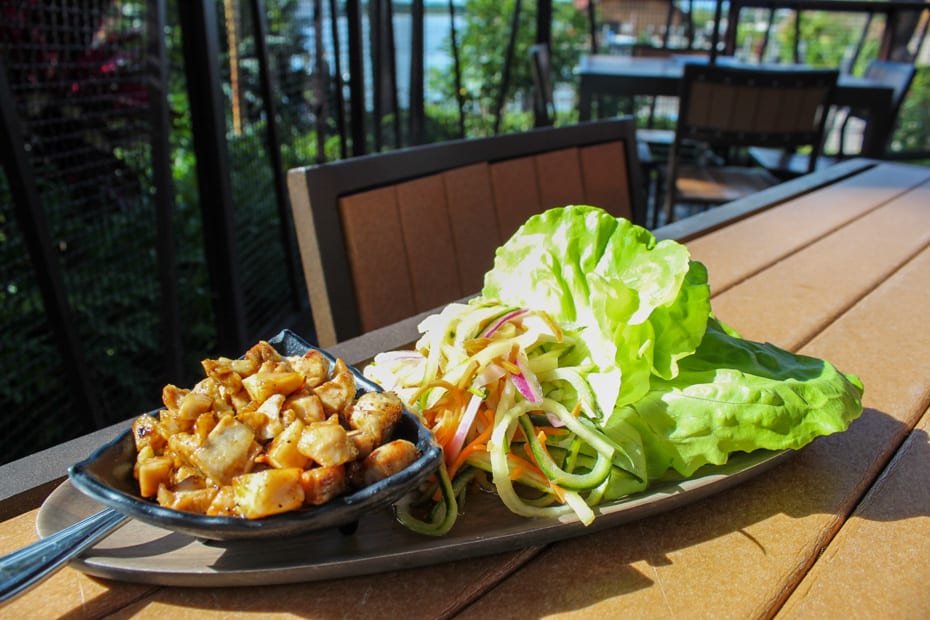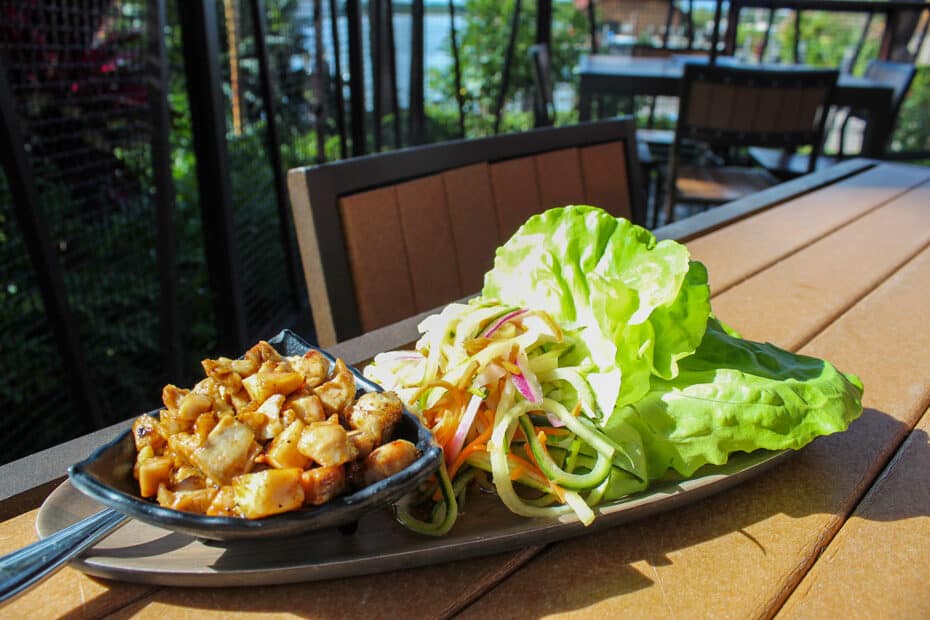 Below is a picture of the Kalua pork tacos. Our server told us they were the most popular item on the menu the night we had these. I can see why. It's a lot of food for the money, and they are pretty tasty. I would order these any day, and as you can see, they are another easily shareable dish.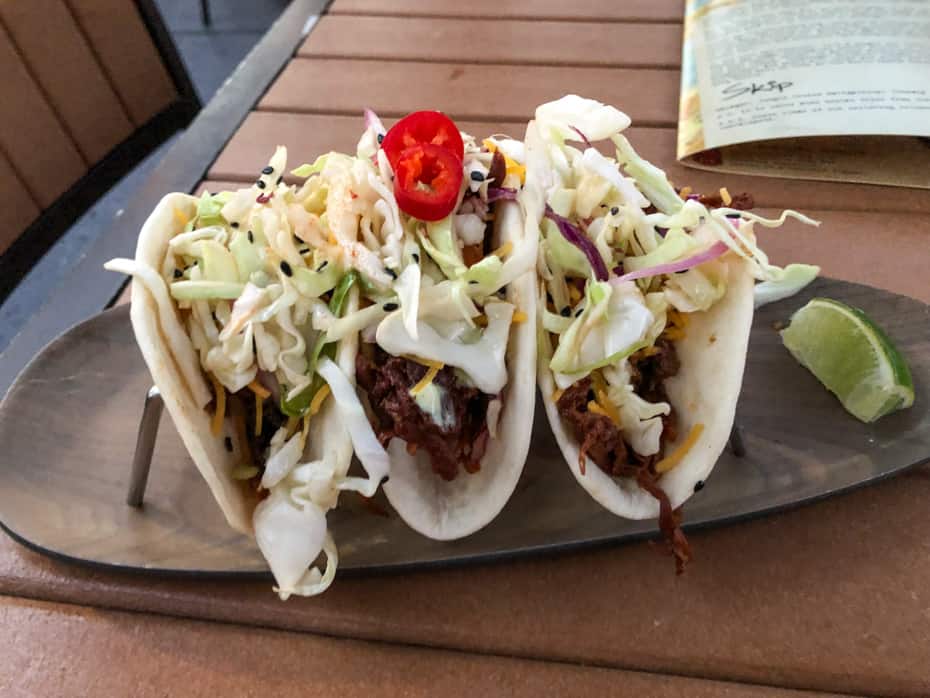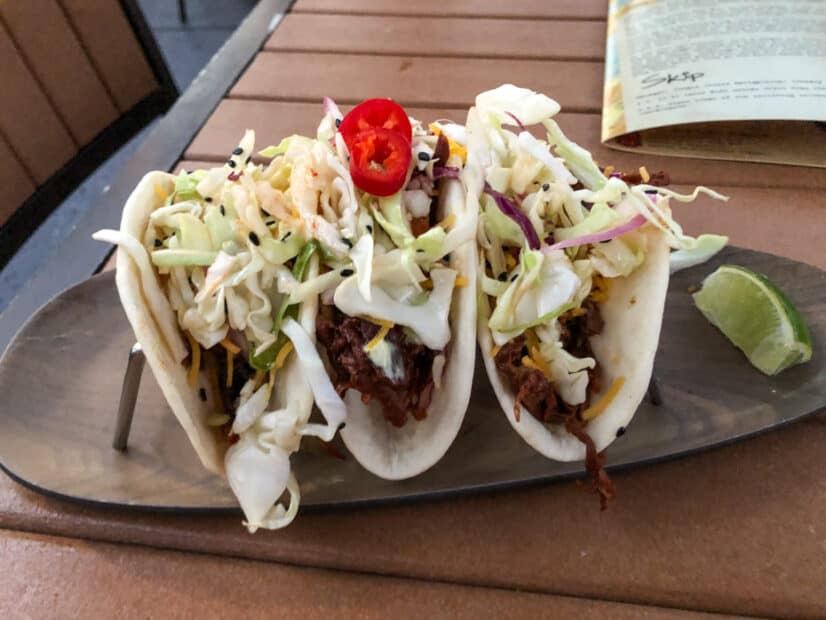 The barbecue has a great flavor and is complemented by shredded cabbage and pickled vegetables.
Next is the Headhunter sushi roll. This one has no menu description, but I recall it included salmon and tuna plus veggies. The rice exterior had a nice pinky-purple color to it.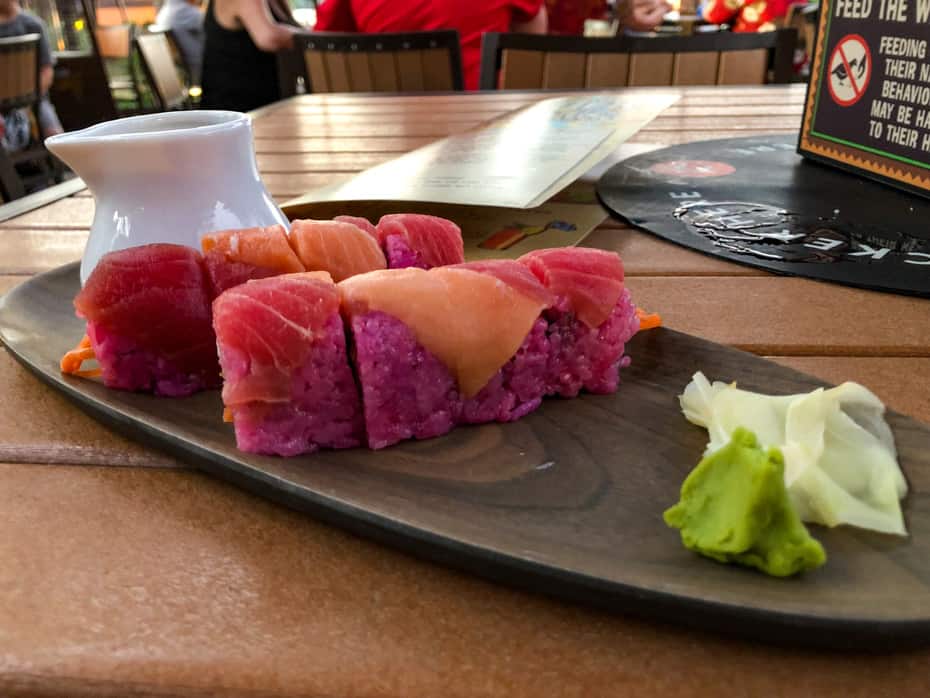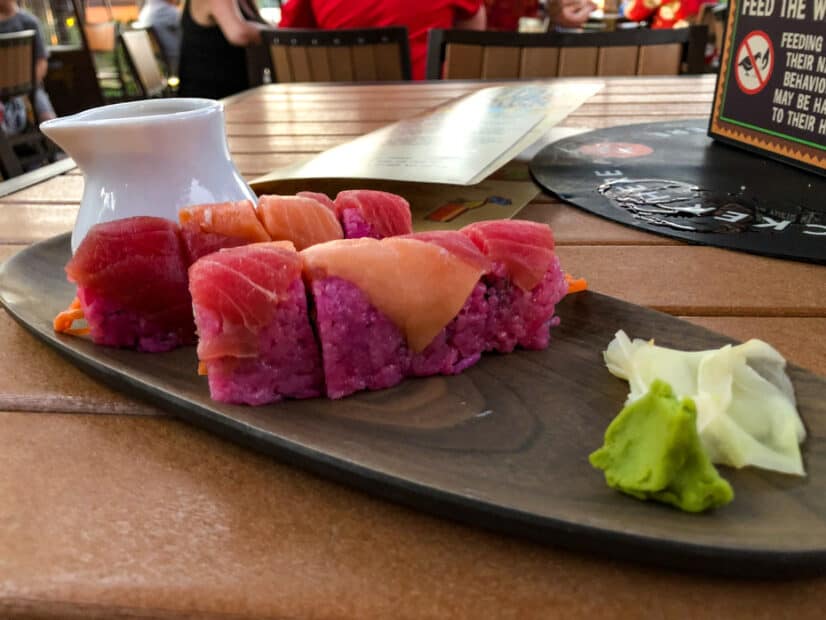 Sushi is an excellent option if you are looking for something cool, refreshing, and freshly prepared.
While I love the options, the menu at Trader Sam's Tiki Terrace probably isn't something that most children will find appealing. There isn't a kids' menu available here.
The good thing is that Capt. Cook's is located next door, and they both share a large outdoor seating area.
Capt. Cook's is a quick-service (think fast food) location. Usually, one of us will grab a table out on the terrace while the other goes and orders the menu items we want from Capt. Cooks. That process is even more straightforward since the restaurant participates in Disney mobile ordering.
As you may already know, my son has severe food allergies. So, in general, dining can be challenging for our family. Capt. Cook's provides us an excellent opportunity to pick up an order of allergy-free chicken tenders.
Related: Captain Cook's Review
My son is a teenager and partial to a few quick services on Disney property. Capt. Cook's is his favorite. Some of the cast members are on practically a first-name basis because we stop there so often. For the record, the allergies we are dealing with are dairy, fish, eggs, peanuts, tree nuts, and a mild allergy to tomatoes.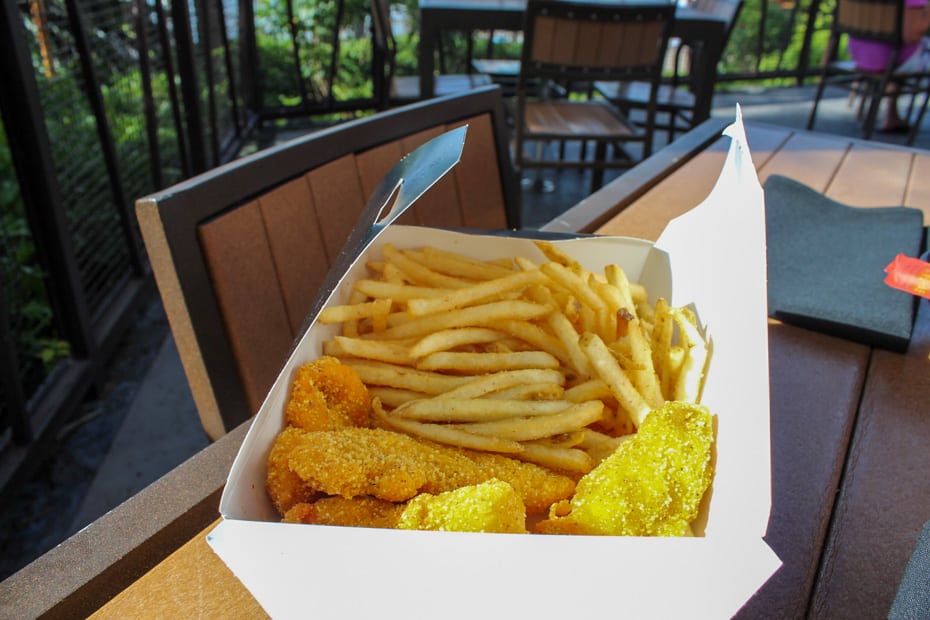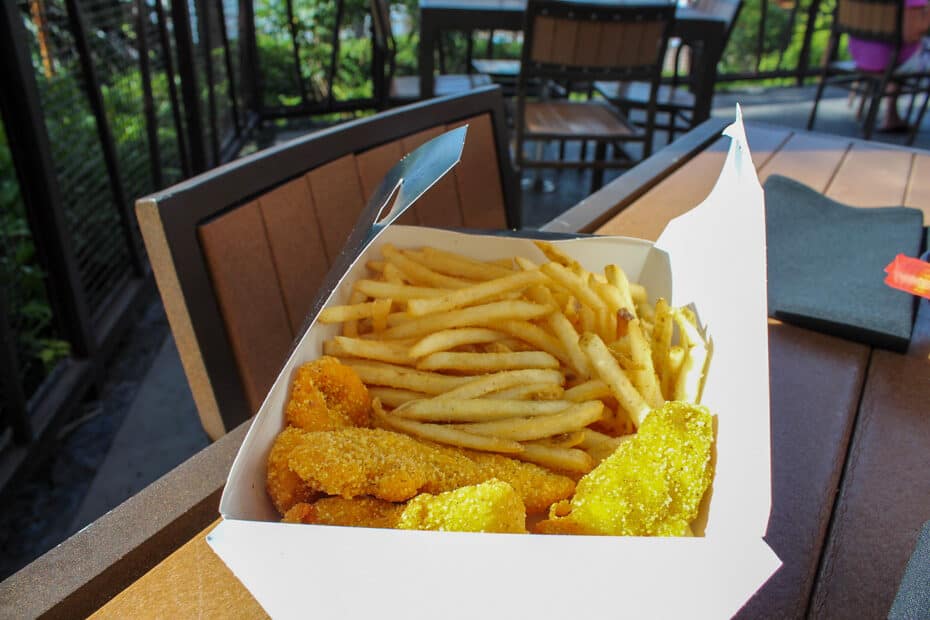 When you place your order at any quick-service restaurant, alert the cast member you have food allergies. They have guidelines and a procedure for how these orders are prepared.
Typically at a quick service, the cast member will alert a manager or chef. That person will then come out and take down your allergens. They will have a little checklist to note your allergies.
Most of the chefs know automatically what you can or can't have. However, sometimes they have to take out an ingredient list and review it, especially on items that might be cross-contaminated.
Here we know we want the "allergy-friendly" chicken nuggets with fries in an adult-size order. It does take a little longer for his items to be prepared. However, in most instances, it's not a big deal. We are always very grateful for the care that is given.
And we sure don't mind waiting for a meal while sitting out on the beautiful Trader Sam's Tiki Terrace. Mom is happy, the kid is happy, and no one is hungry. Sounds like a vacation to me.
When visiting the Polynesian Resort without a dining reservation, I highly recommend having a meal at Trader Sam's Tiki Terrace.
The views are great, and the servers are knowledgeable. You can't beat the entertainment between musicians, fireworks, and the Electric Water Pageant if you time things just right.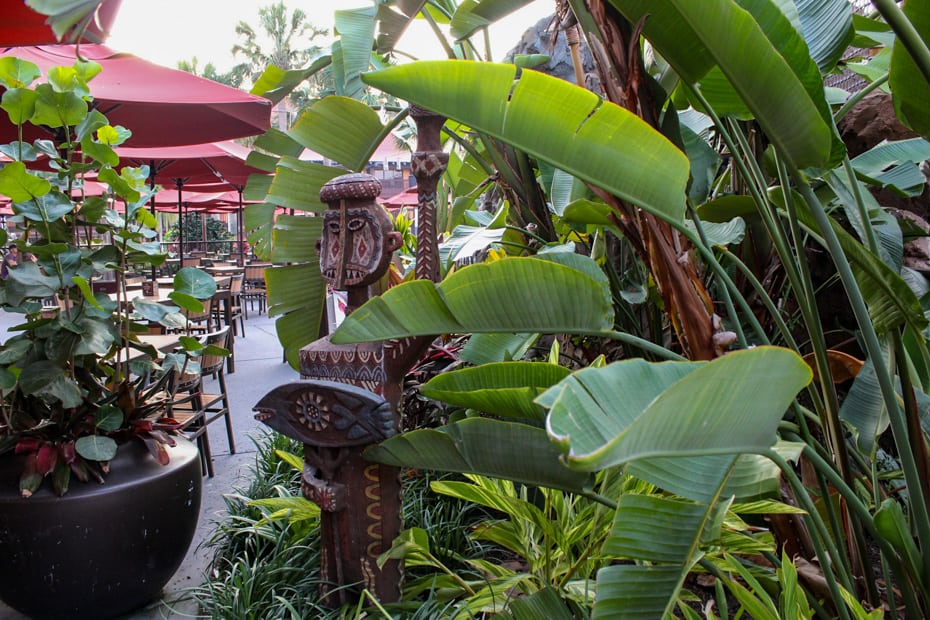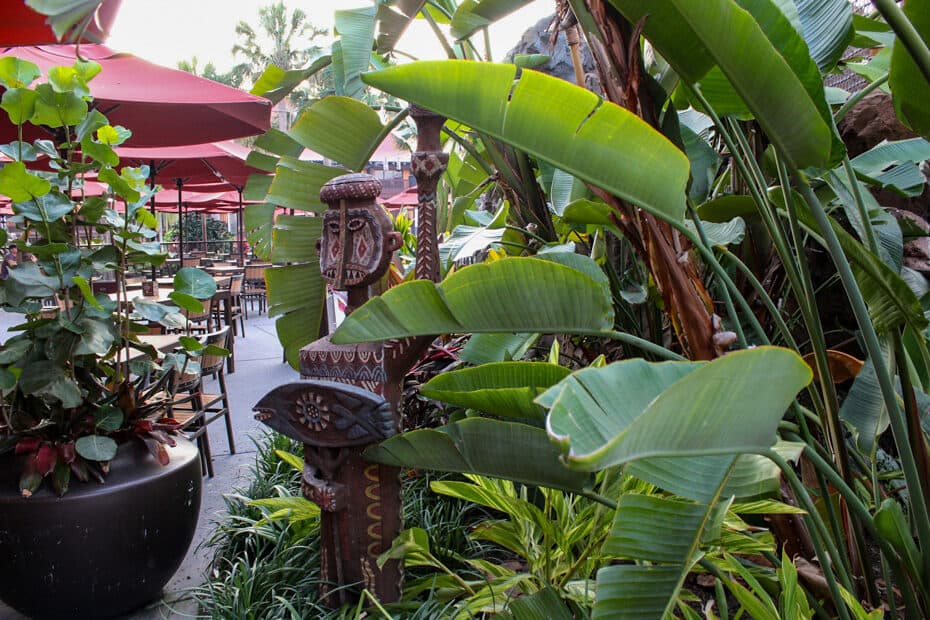 Dining at Tiki Terrace makes for a relaxing evening. And Capt. Cook's being next door makes for a win-win situation when dealing with children or picky eaters.
For more about Disney's Polynesian, you might enjoy our resort guide:
Or try these articles:
If you are looking for more dining reviews at Disney, in general, make sure to visit our complete list of Walt Disney World Dining Reviews. Or try these popular dining articles:
Lastly, remember you are on vacation. I have a feeling you will after you visit the Tiki Terrace!