Disney's Swan and Dolphin Restaurants Guide
When it comes to restaurants, there are plenty of options at Disney's Swan and Dolphin. From multiple signature dining locations to table and quick-service options, both resorts have a little of everything regarding dining.
In this dining guide, we'll go over the different restaurants at Disney's Swan and Dolphin. So, if you are planning an upcoming stay, our guide will help you discern where you may or may not want to dine.
Additionally, guests staying at one of the nearby hotels in the Epcot Resorts area might enjoy a meal or two at the Swan or Dolphin, given its proximity. Those nearby hotels include Disney's Beach Club, Boardwalk Inn, and Disney's Yacht Club.
For reference, Disney's Swan and Dolphin are slightly different from the surrounding resorts. That's because the hotels are owned and operated by Marriott. So while they have most of the same benefits as Disneys Resorts, there are a few differences.
This article was updated on April 1, 2023.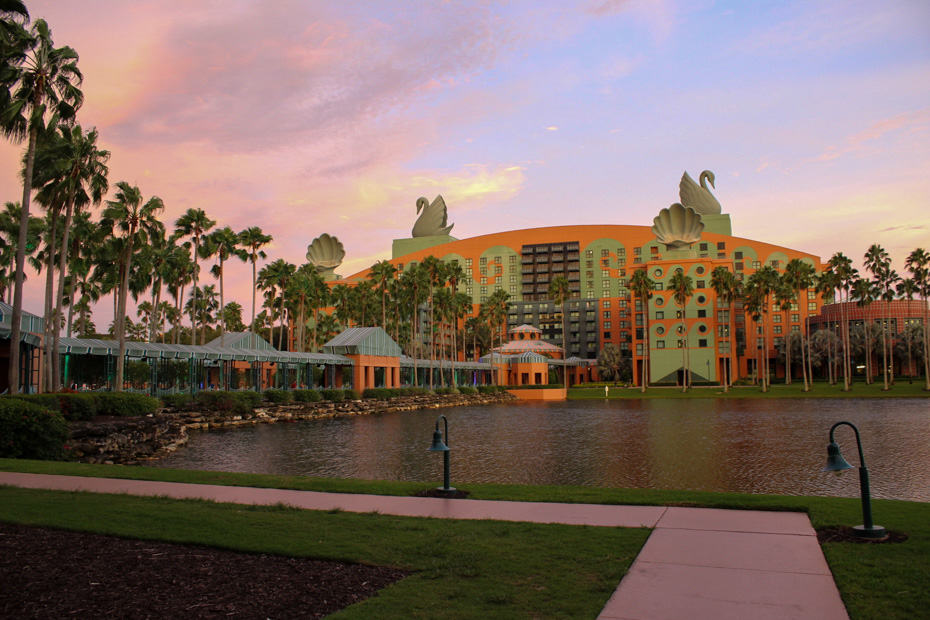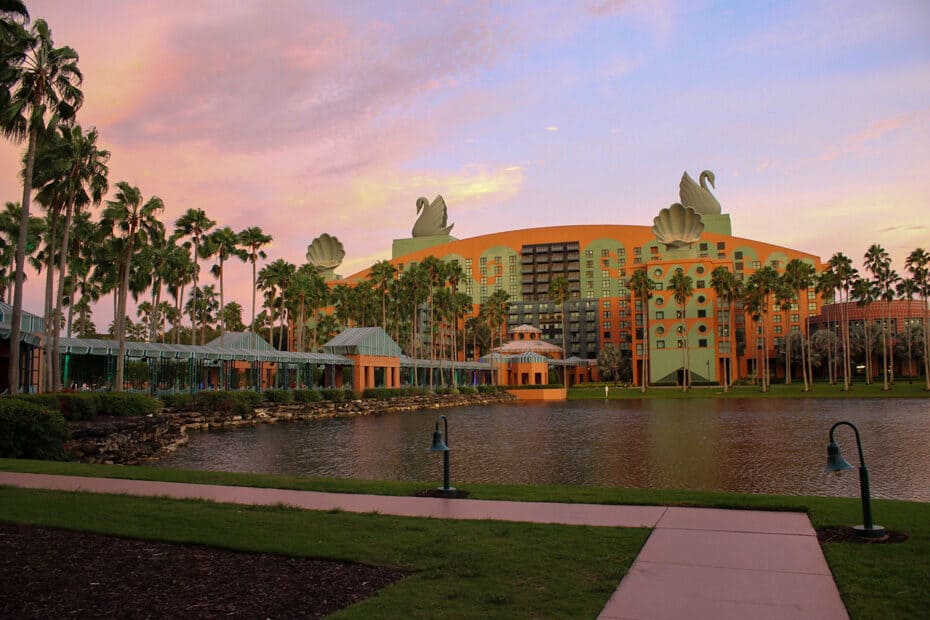 Disney World Swan and Dolphin Restaurants
Below there's a list of each restaurant at Disney's Swan and Dolphin. We'll look at each one in more detail as we continue.
Disney Swan Restaurants
Il Mulino
Kimonos
Garden Grove
Java
Chill
Disney Dolphin Restaurants
Shula's Steak House
Todd English's Bluezoo
The Fountain
Rosa Mexicano
Cabana Bar and Beach Club
Picabu
Fuel
Lounges at the Swan and Dolphin
Shula's, Kimono's, Bluezoo, and Il Mulino have separate lounges within their restaurants. Here is a photo of Phins, the stand-alone lounge in the Dolphin's main lobby.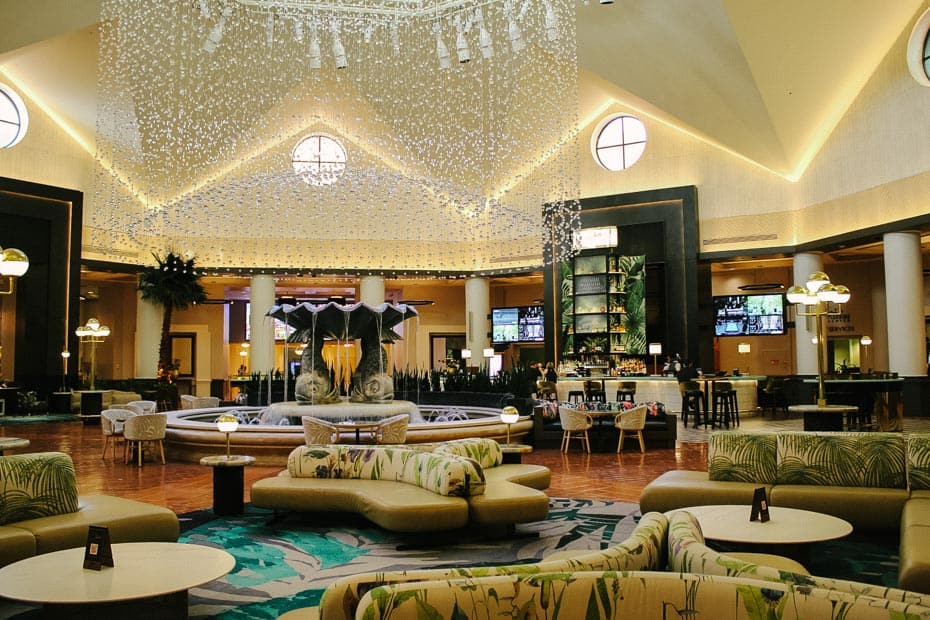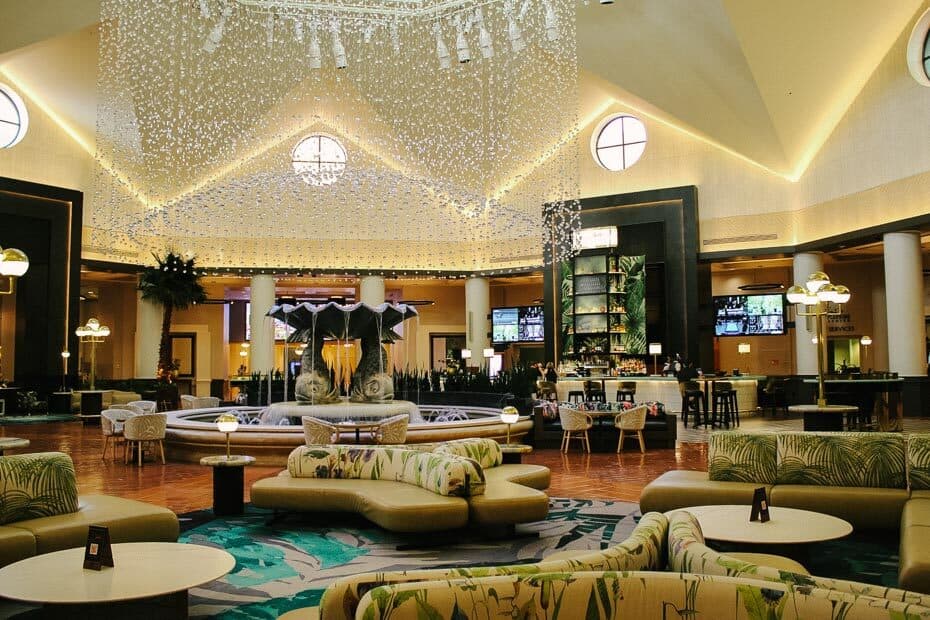 Disney's Dolphin Restaurants
We'll start on the Dolphin side of the two hotels. Our first stop is Fuel, which is a quick-service restaurant. But really, it's more of a convenience store that mainly offers grab-and-go items.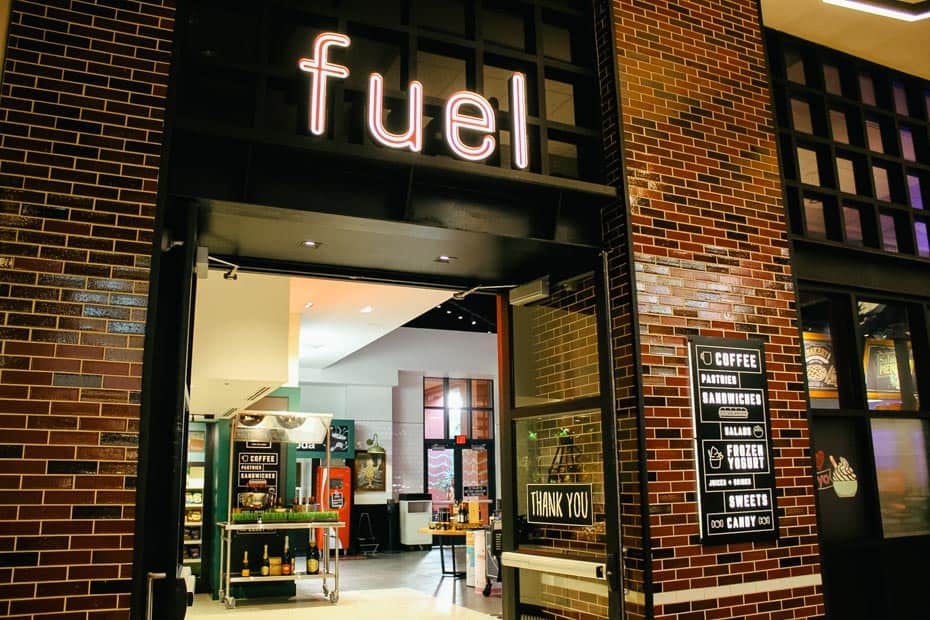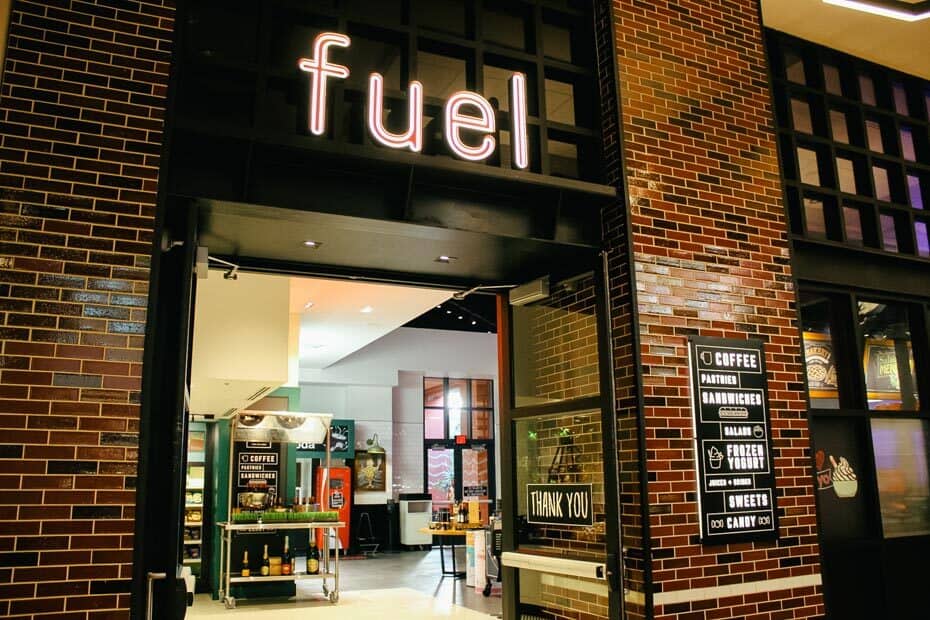 Fuel
Fuel is located off the main lobby of the Dolphin hotel. It's the largest store of its kind at Disney.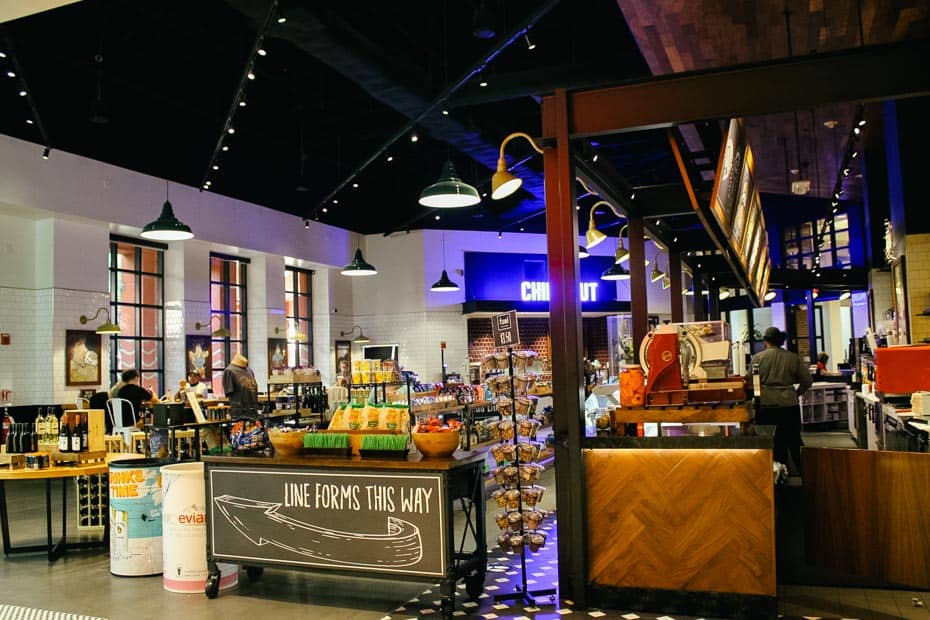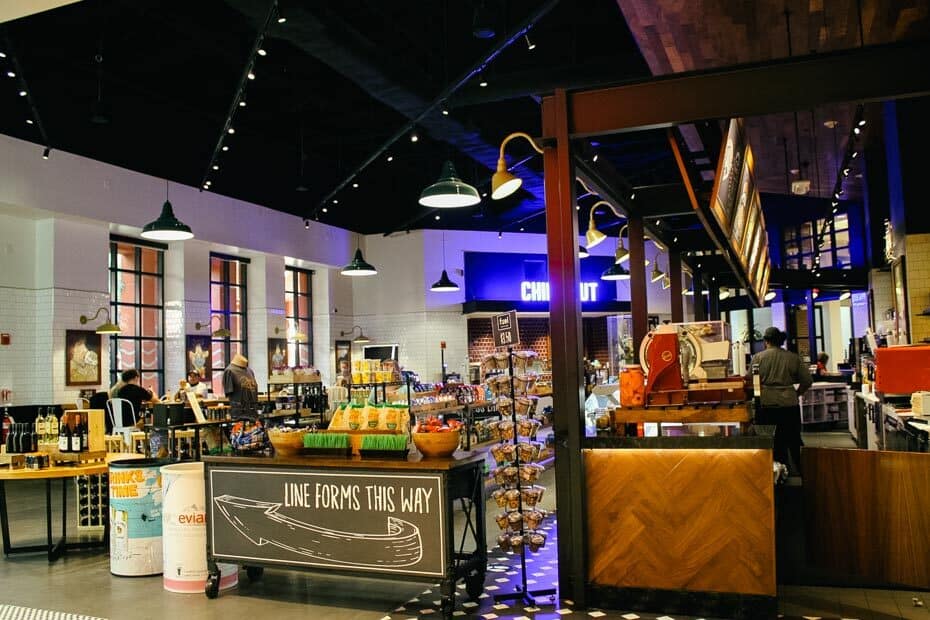 Fuel has a variety of beverages, including water, sodas, sports drinks, and juices.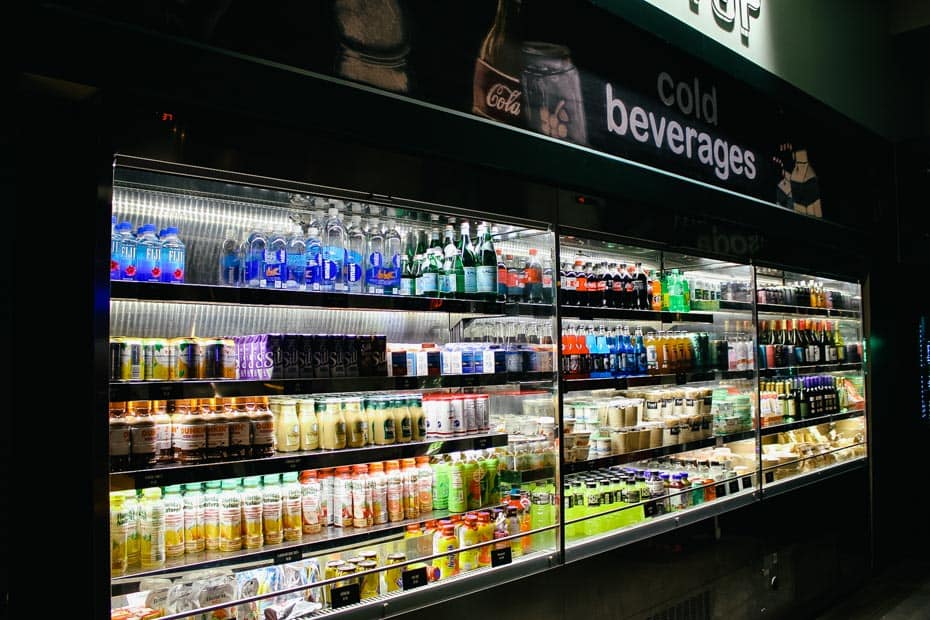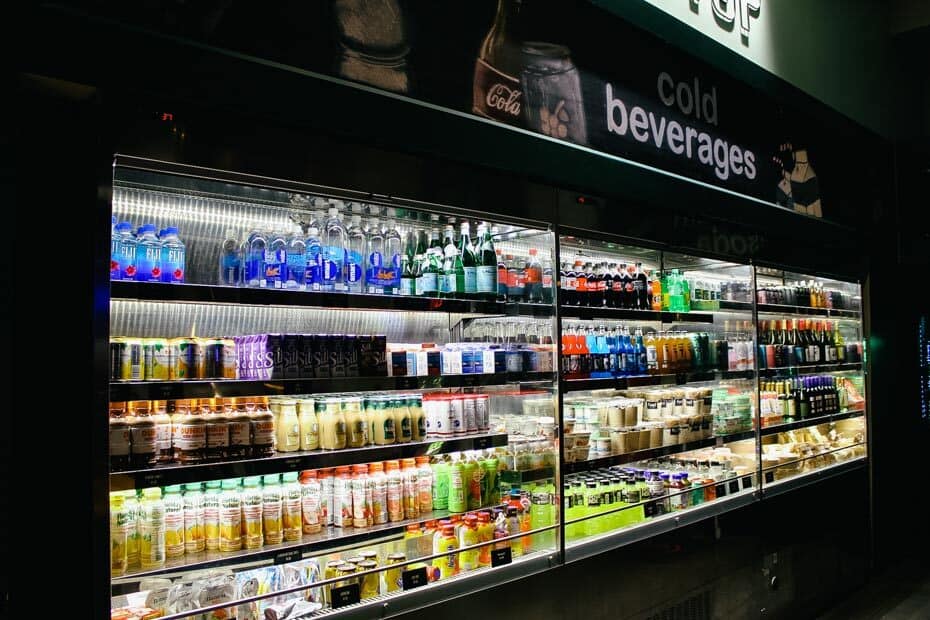 There are plenty of snacks, chips, crackers, and similar items. In addition, Fuel has plenty of unique brands that you won't find just anywhere.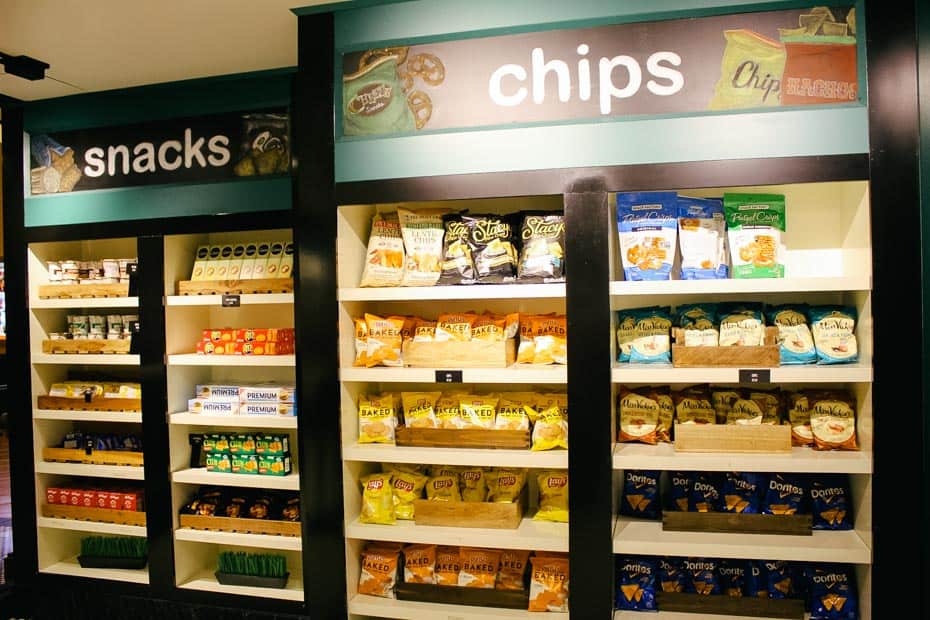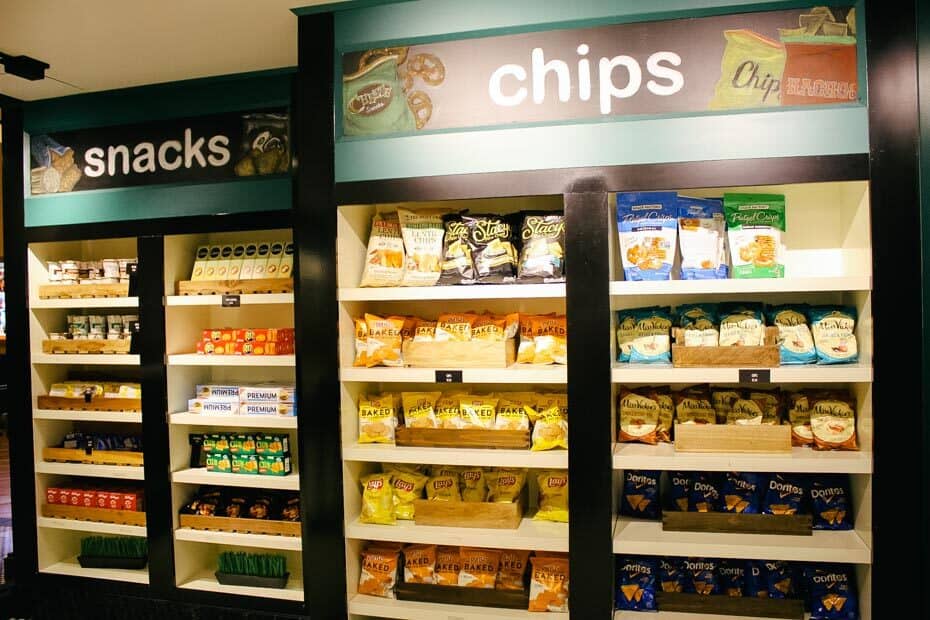 Fuel generally has a large selection of wine. You'll find anything from a classic bottle of red wine to small pre-packaged individual servings.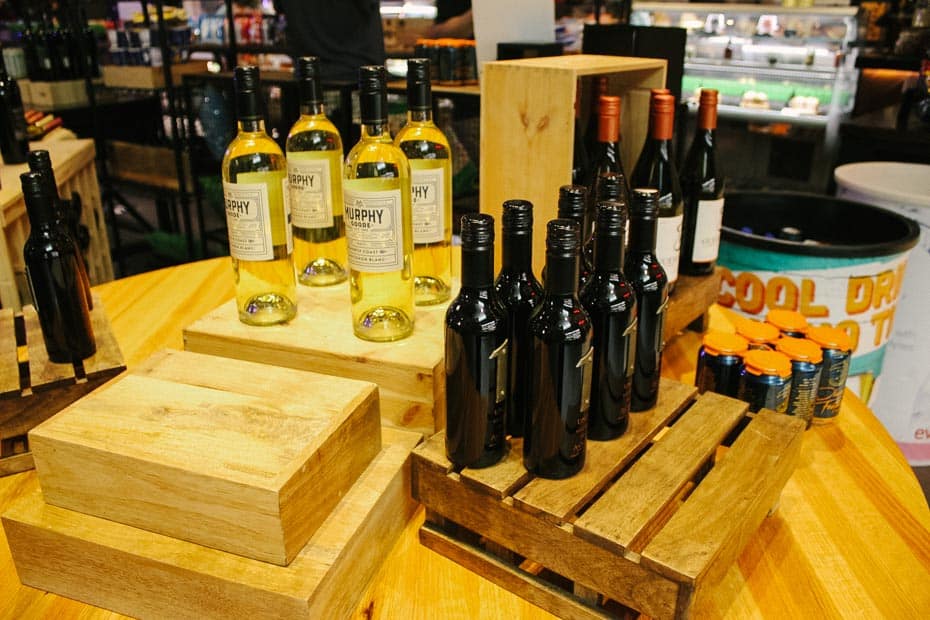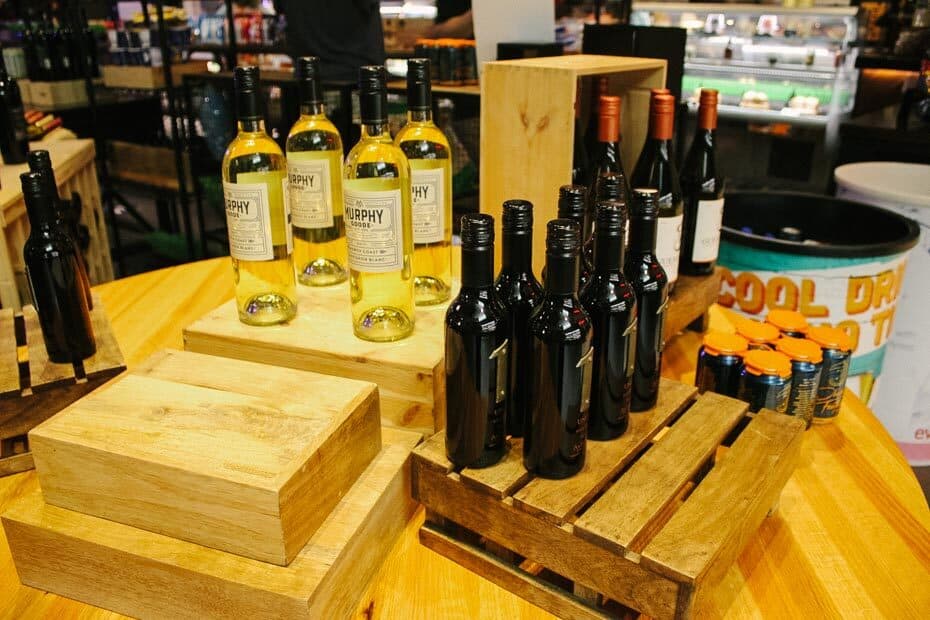 The quick service also has a large selection of pre-made sandwiches and salads. Additionally, there are a few made-to-order items available at the counter.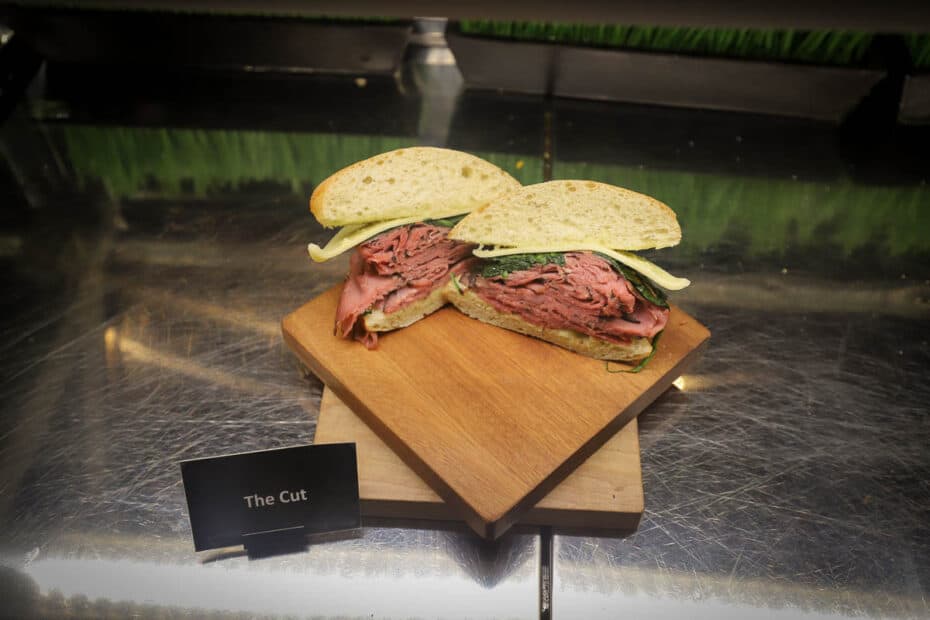 Here is a photo of the menu.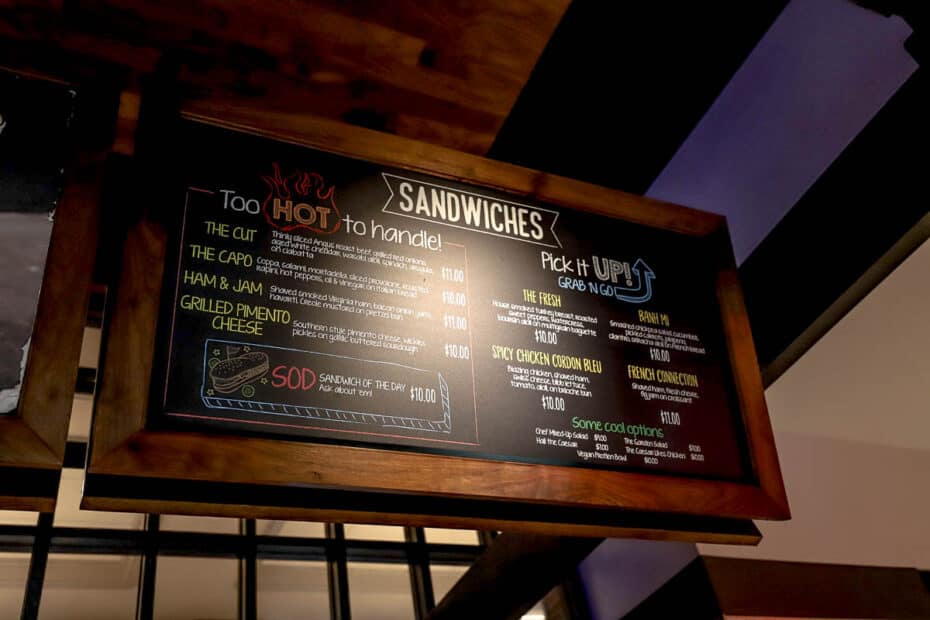 In addition, you can order custom coffee drinks, teas, and similar items.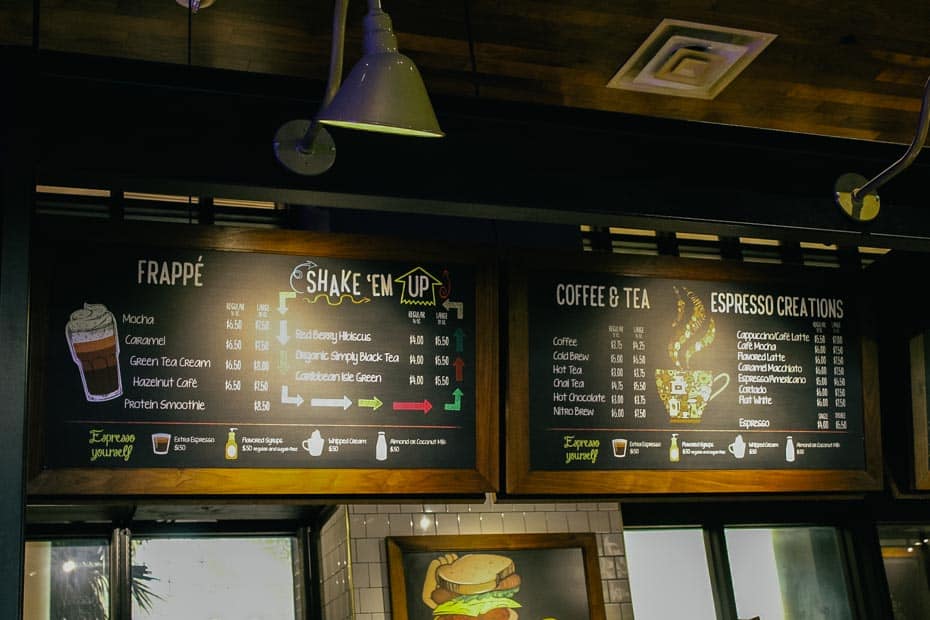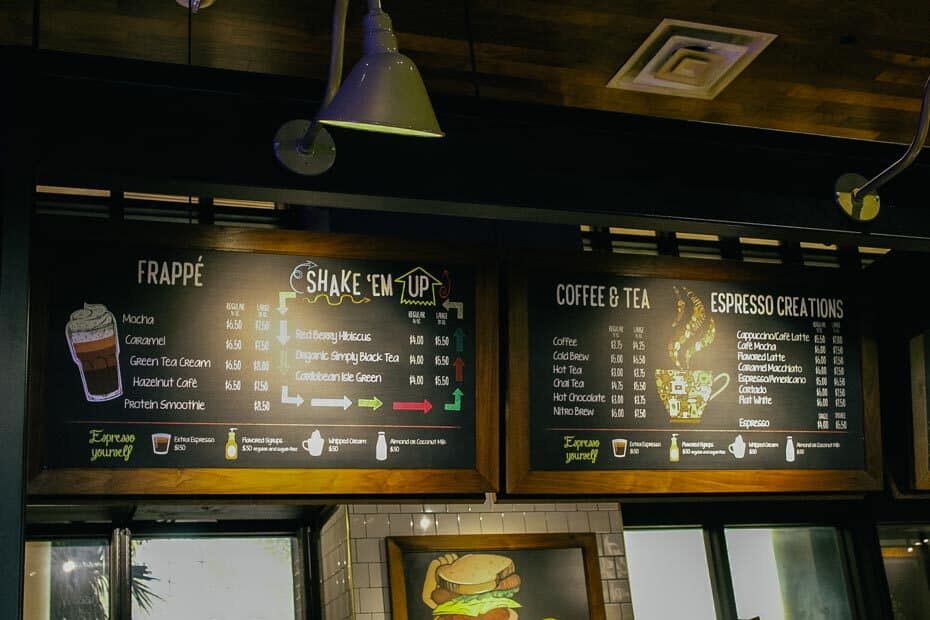 Over on the far side of the store, there's an ice cream bar with toppings.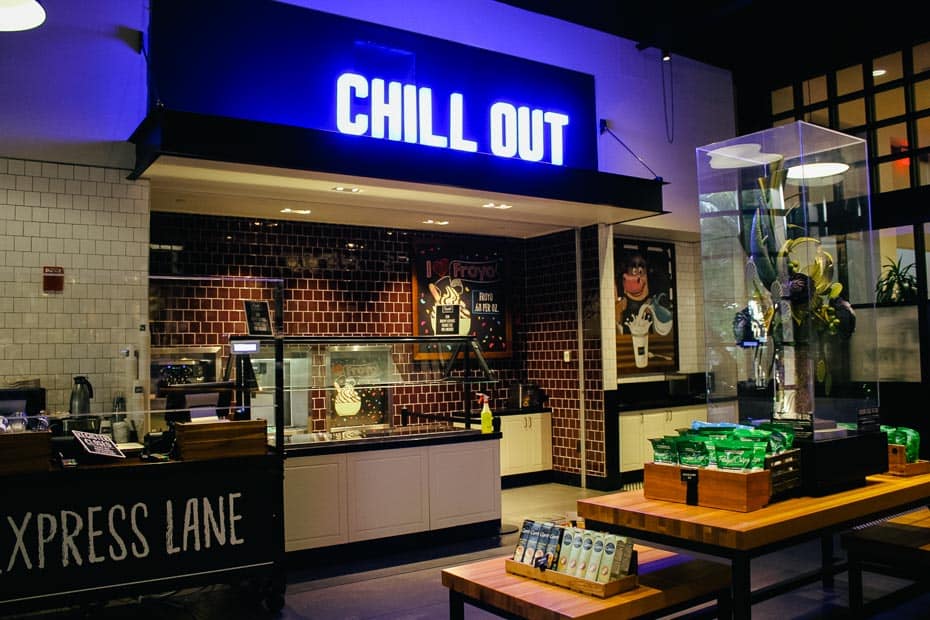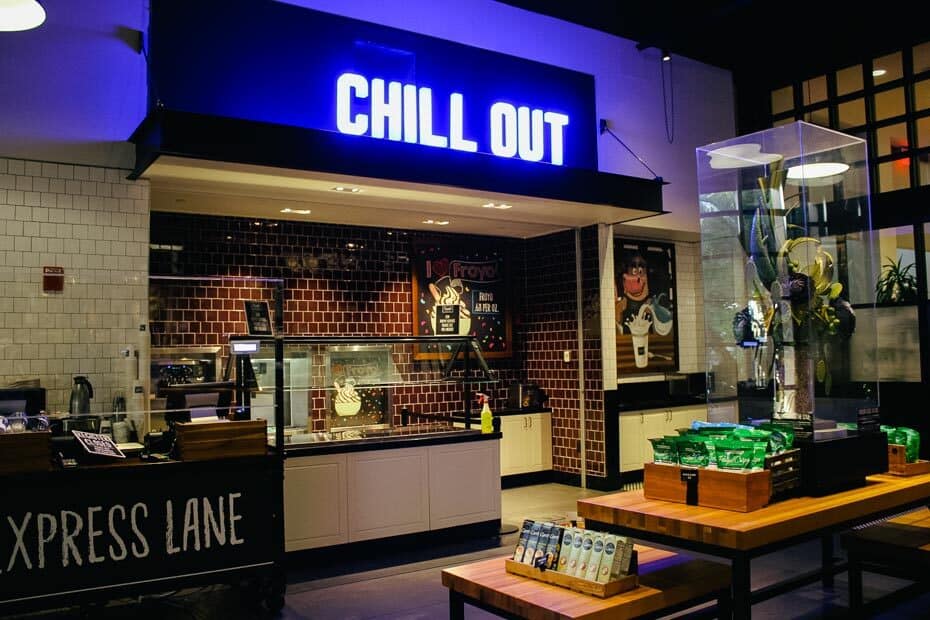 Across from the counter, you'll find a couple of tables with chairs. However, this location is predominantly a to-go type of counter service.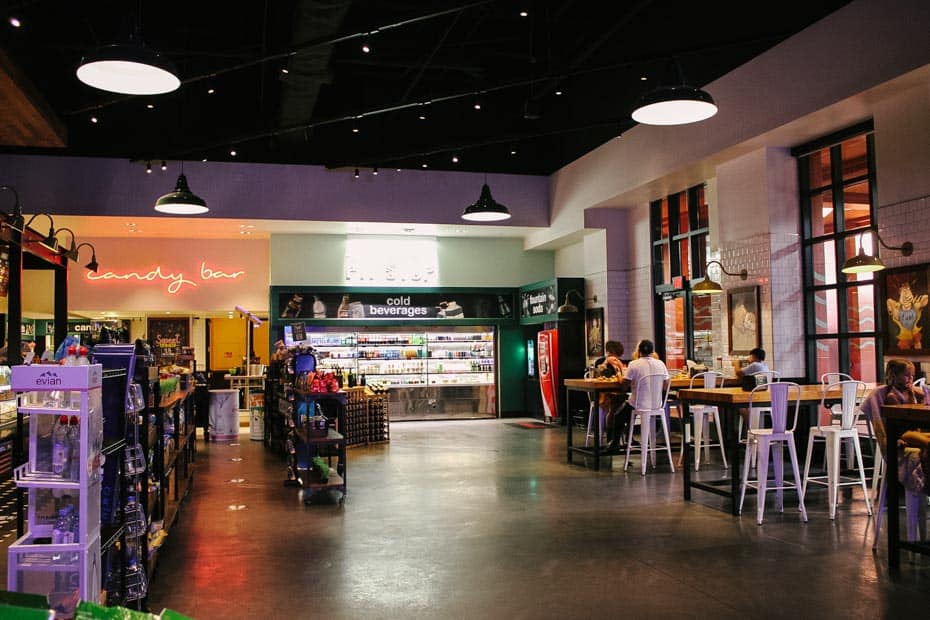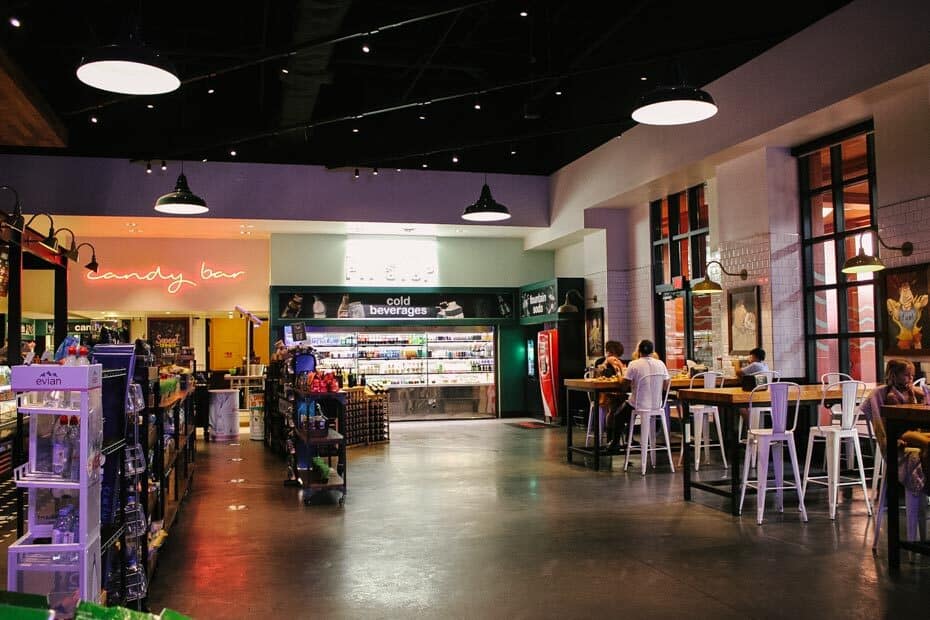 We frequent Fuel for snacks and drinks during our stays at the resort. Sometimes, when walking from Hollywood Studios to Epcot, I'll stop for a water and snack mid-way, especially when it's hot.
The Dolphin's lobby is an excellent place to take a break. Or, if you prefer, there are usually a few tables and chairs outside of Fuel close to the walkway that leads to the bus stop.
Fuel usually has a few chocolate and candy art sculptures on display. It's fun to see what was created by the resort's chefs.
We have a separate article with more details on Fuel. It includes photos of everything available on our last visit.
Related: Fuel at Disney's Dolphin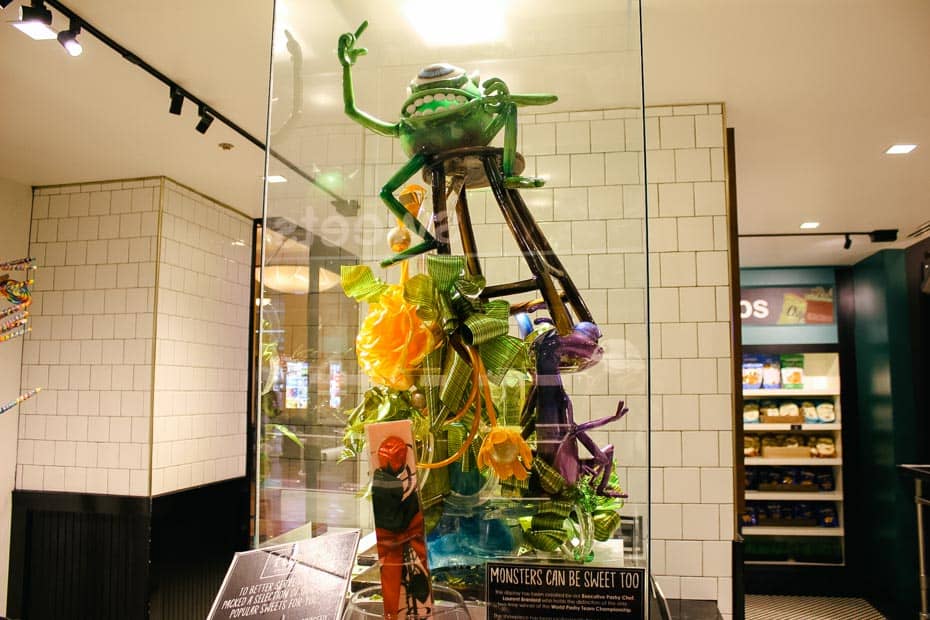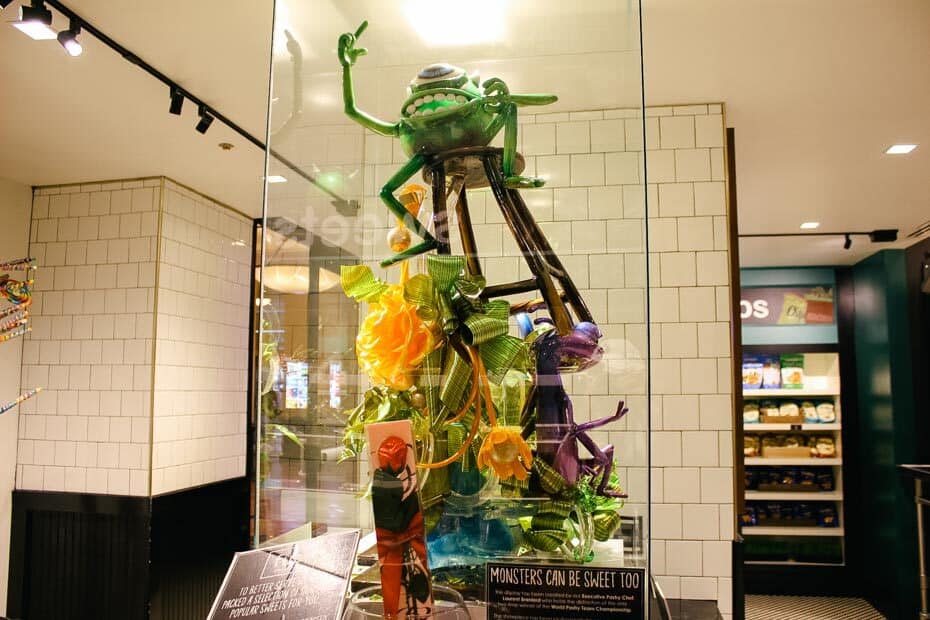 Rosa Mexicano
Unfortunately, the former Fresh Mediterranean Market has permanently closed. However, a new restaurant, Rosa Mexicano, has opened in its place.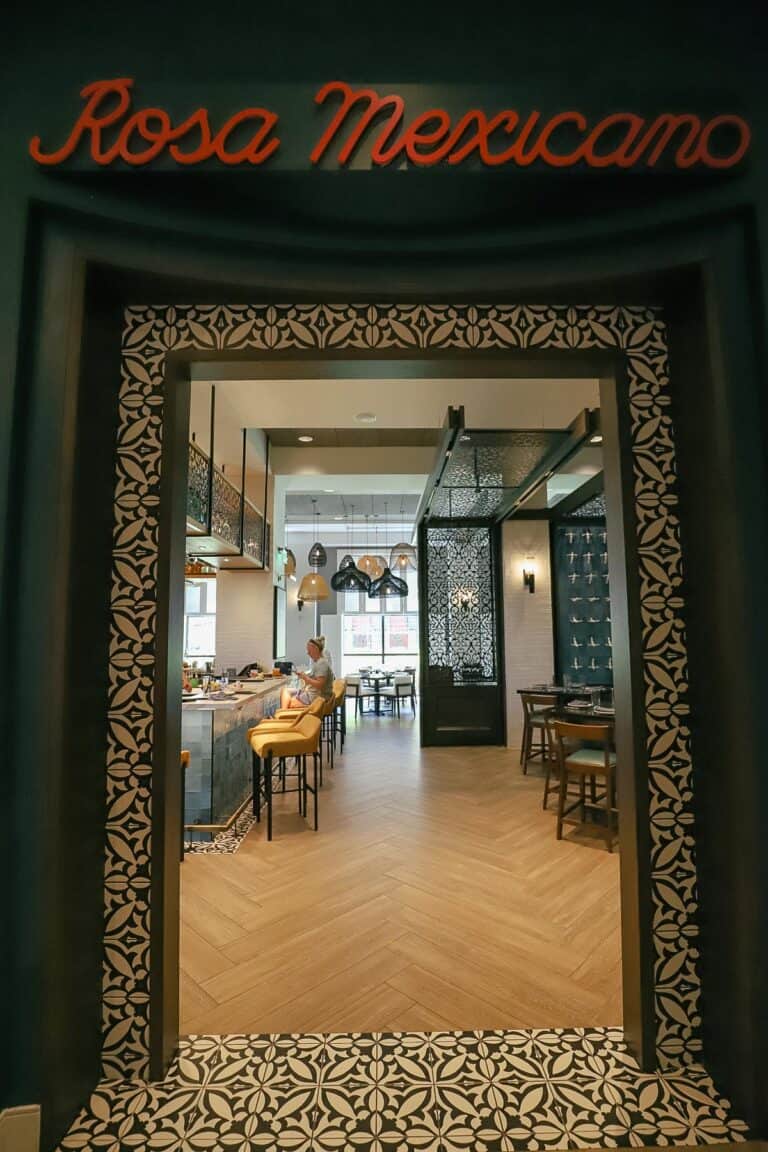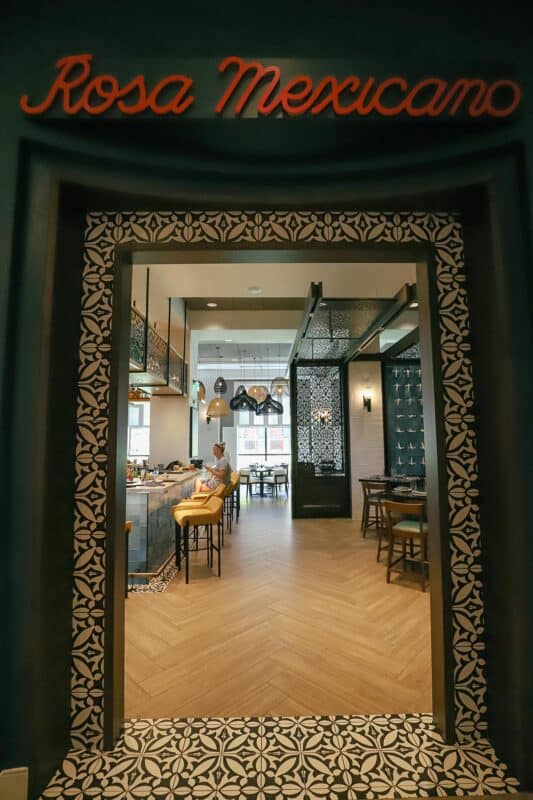 Rosa Mexicano has a modern contemporary vibe with a unique spin on Mexican cuisine. So far, we've visited once and were impressed with the menu and the food items we tried.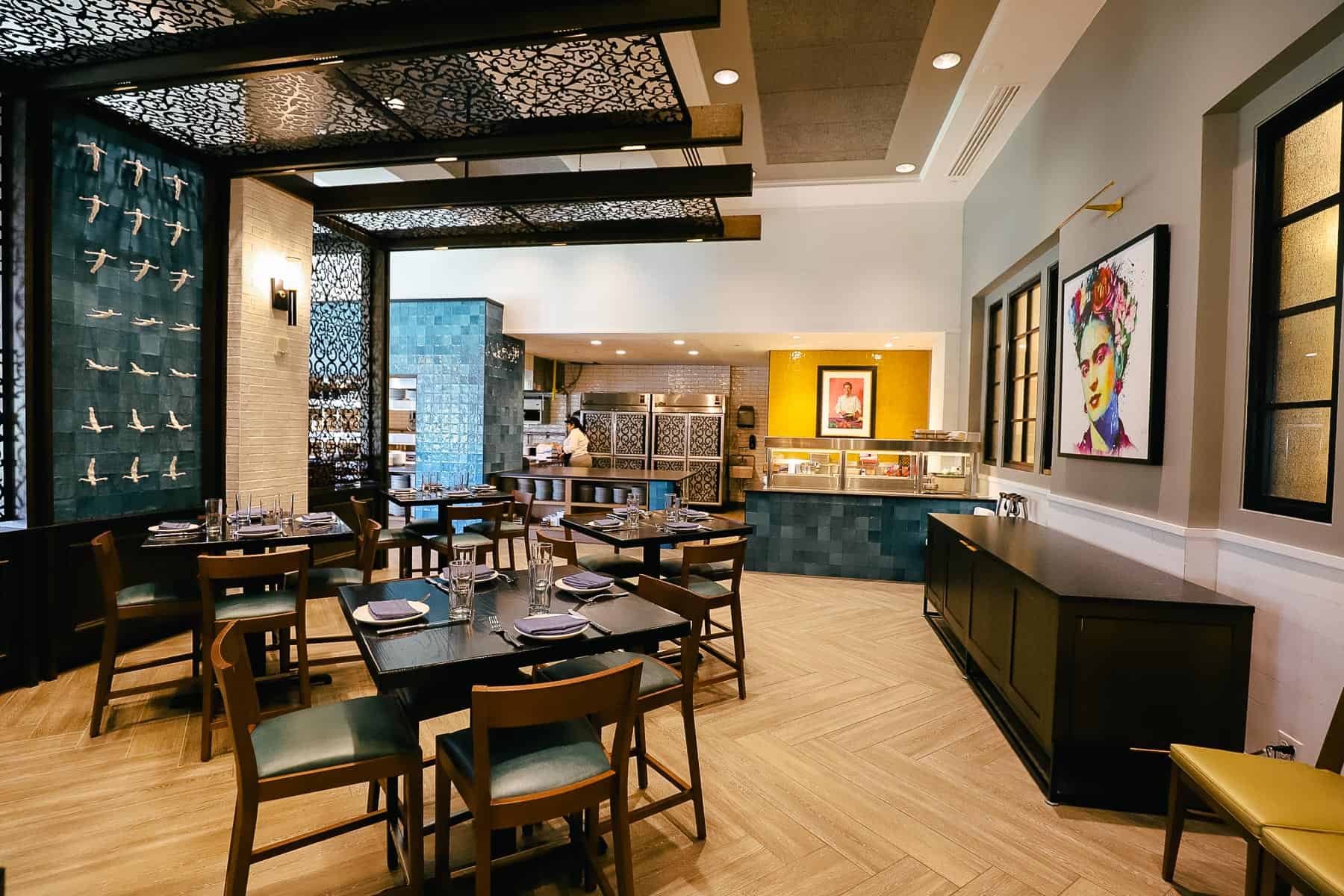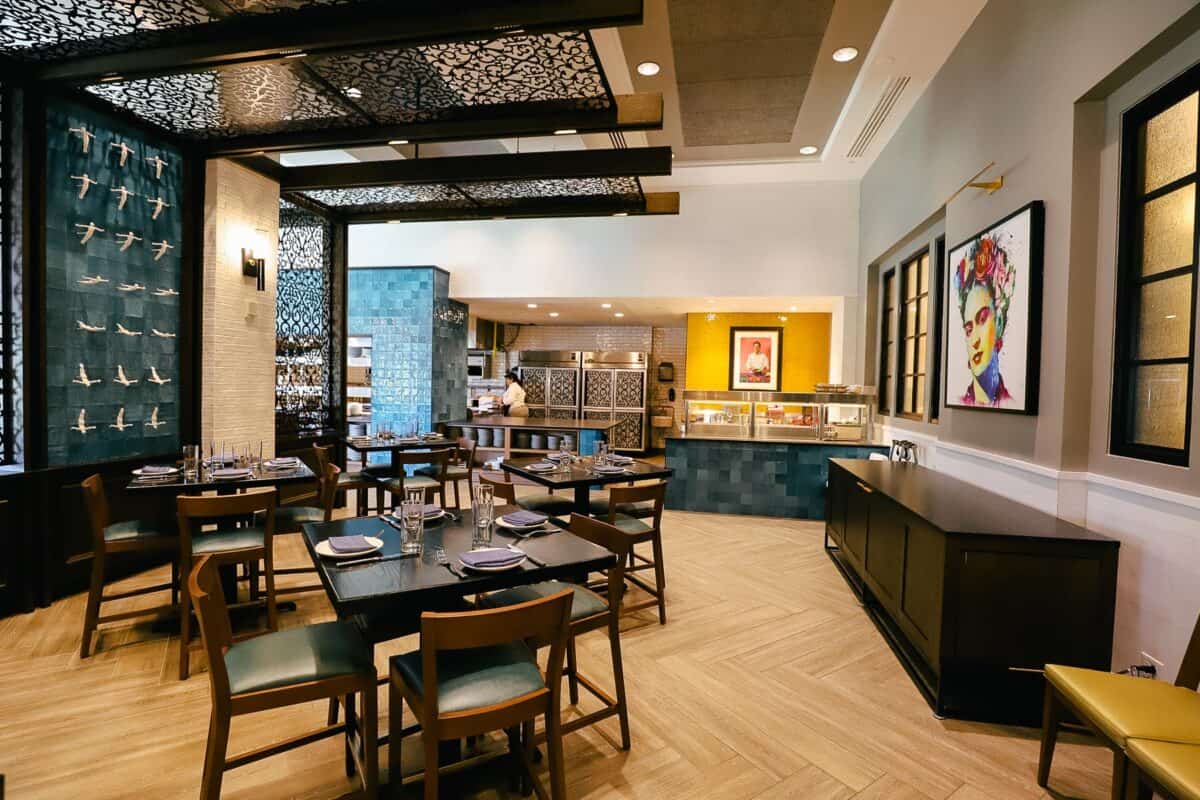 Here are the fresh Ahi tuna tacos that are available on the lunch and dinner menu. They are an excellent item if you enjoy sushi-grade tuna.
Related: Rosa Mexicano Review at Disney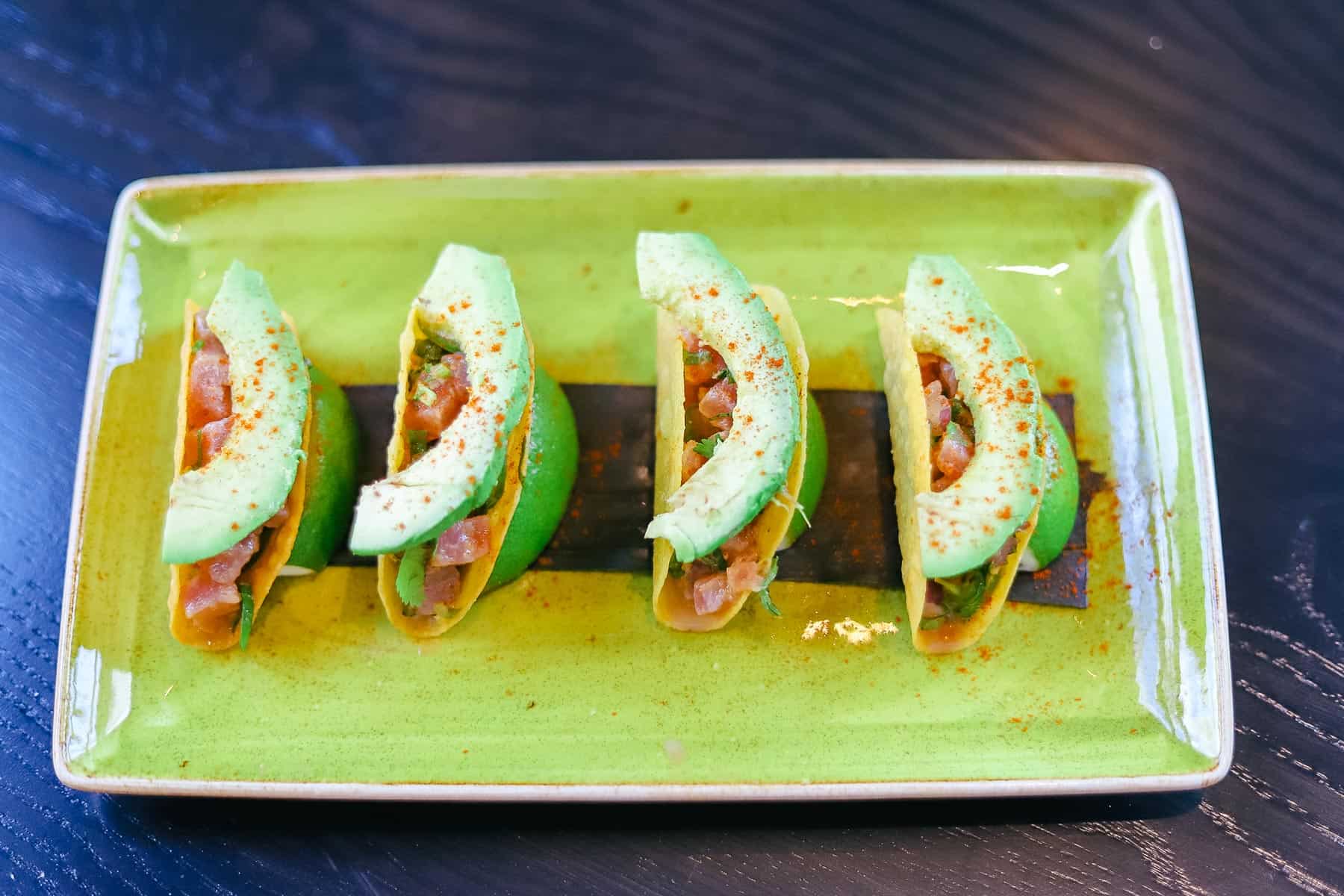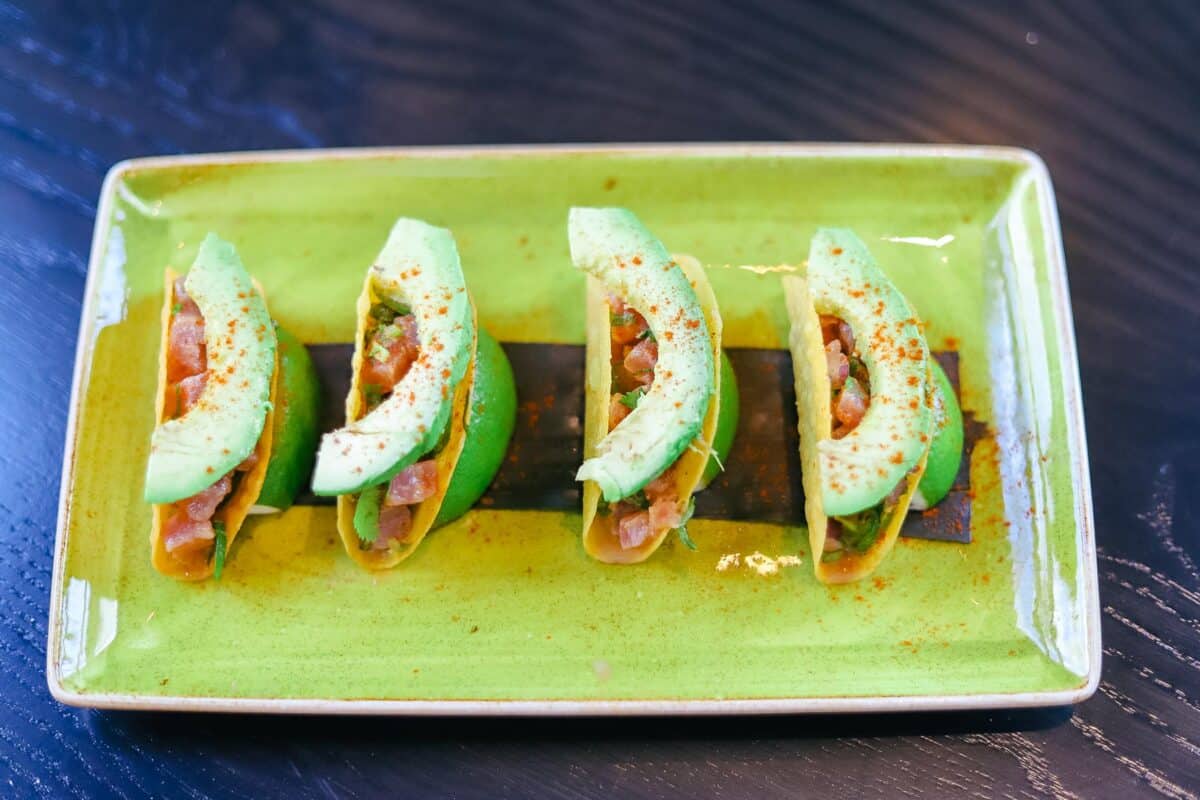 Picabu
Picabu is located around the corner from Fresh Mediterranean Market and is considered a buffeteria. We have enjoyed several meals here over the years.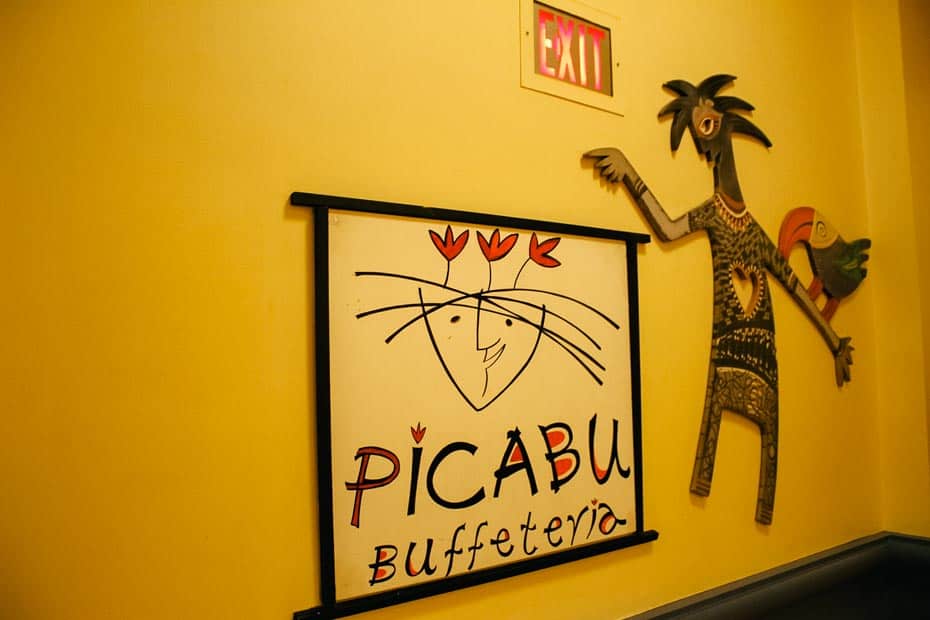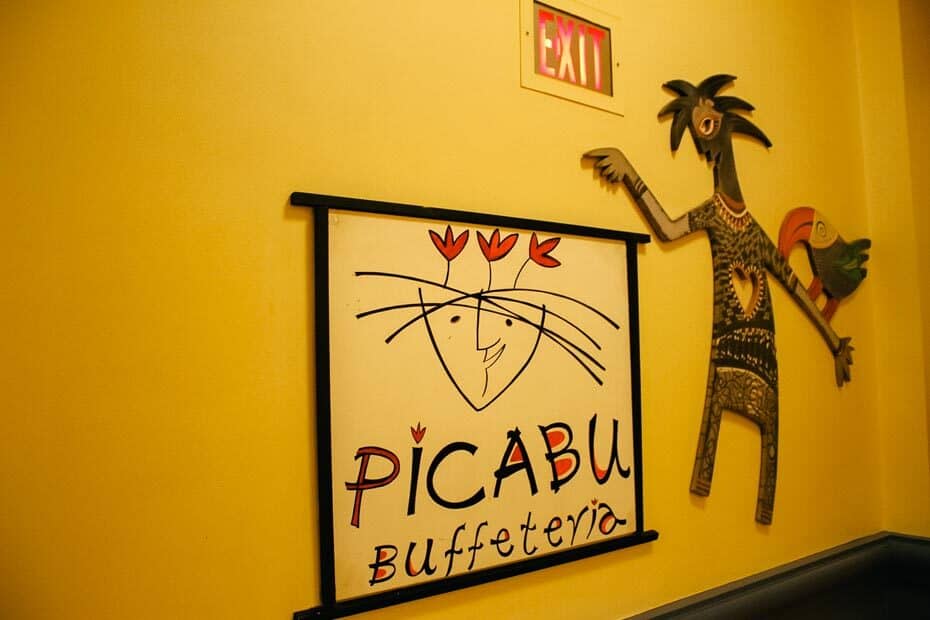 Picabu used to be open 24 hours, making it a prime location to pick up a meal after a late night at Magic Kingdom. Thankfully, the restaurant has been staying open until midnight as of late.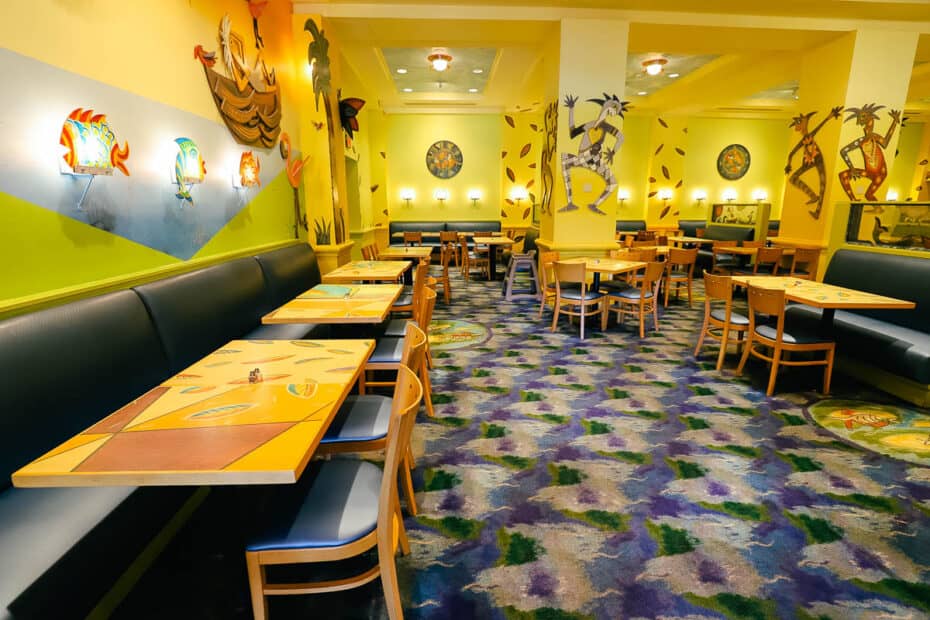 Picabu serves breakfast, lunch, and dinner. You can expect anything from rotisserie chicken with country-cooked vegetables to items like pizza and chicken fingers.
In addition, Picabu has a selection of Mexican food, like tacos and salads. You can preview the menu here on Disney's site.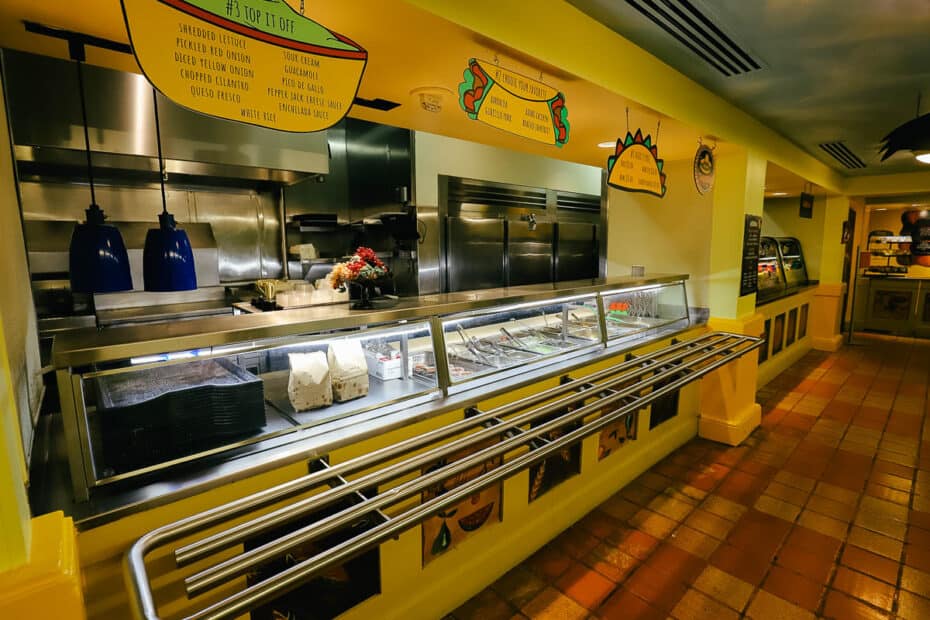 The Fountain
Our next restaurant at Disney's Dolphin, is one I consider a hidden gem. The Fountain is located on the ground level of the Dolphin.
This restaurant is located on the immediate left of the escalators when you enter through the resort-side entrance.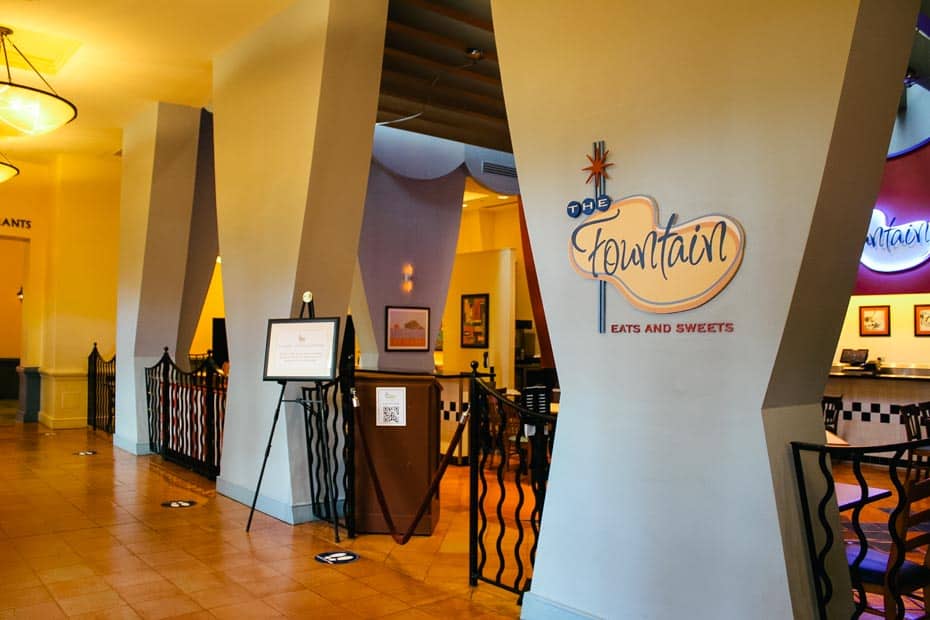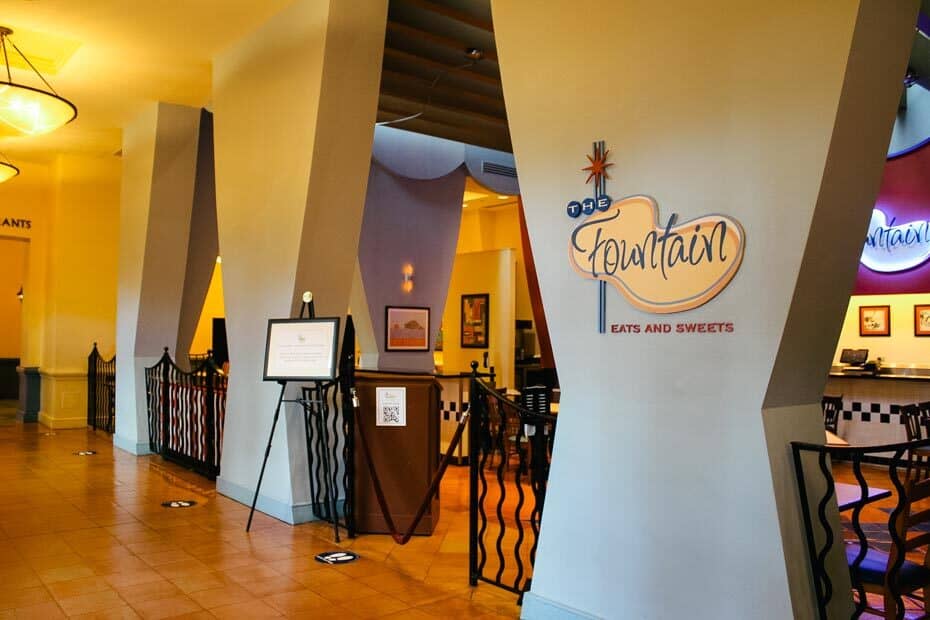 The Fountain takes walk-ups on a first-come, first-serve basis. However, it can be quite a popular dining spot, so expect a wait during regular dining hours.
Menu items include burgers, chicken fingers, fries, salads, and soup. Expect a similar experience to Beaches and Cream next door at the Beach Club.
Related: Disney's Beach Club Restaurants
Additionally, The Fountain has several vegan and vegetarian options. And there are a few menu items that lean toward the healthier side, like turkey burgers.
You can preview The Fountain's menu here.
Todd English's Bluezoo
We run into Todd English's Bluezoo on the right-hand side of the escalators. This Disney signature dining location gets rave reviews.
Related: The Best Signature Restaurants at Disney World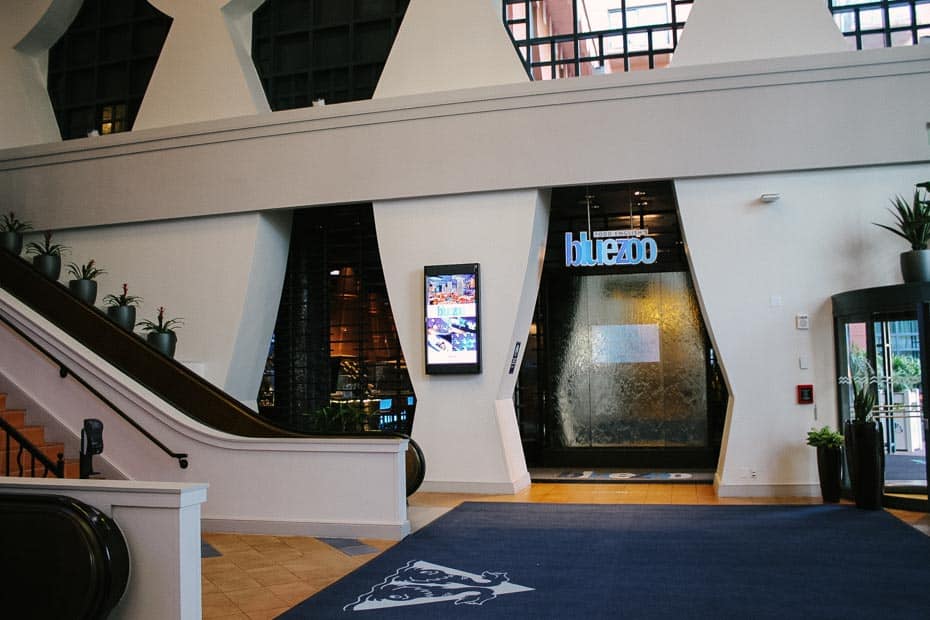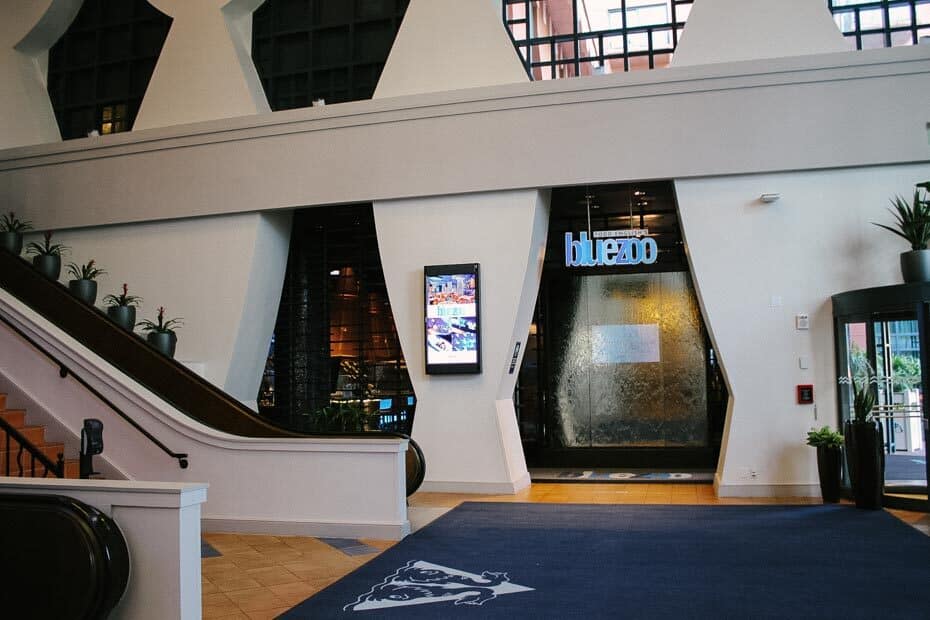 Bluezoo is known for its high-quality seafood menu selections. However, if you aren't a fan of protein from the sea, several other choices include pasta and beef.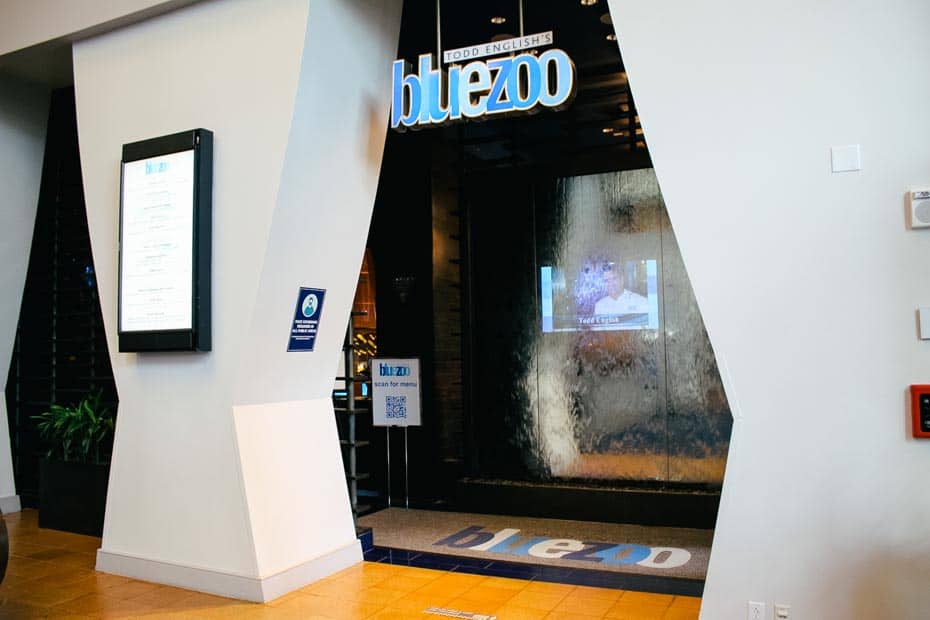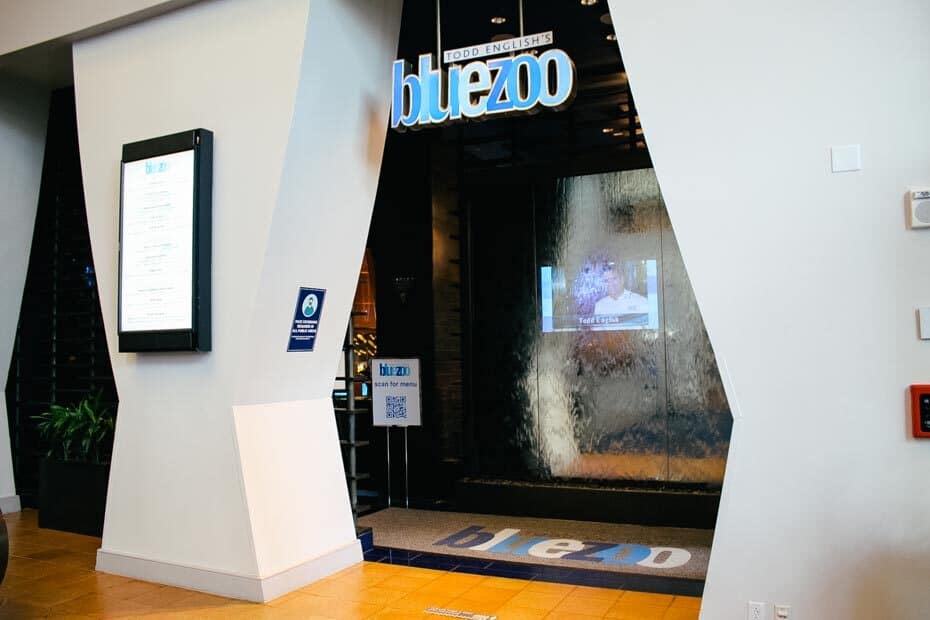 This Dolphin restaurant has a modern vibe and is worthy of securing a reservation. You can preview the entire menu here.
Shula's Steak House
Most of you have probably heard of Shula's Steak House.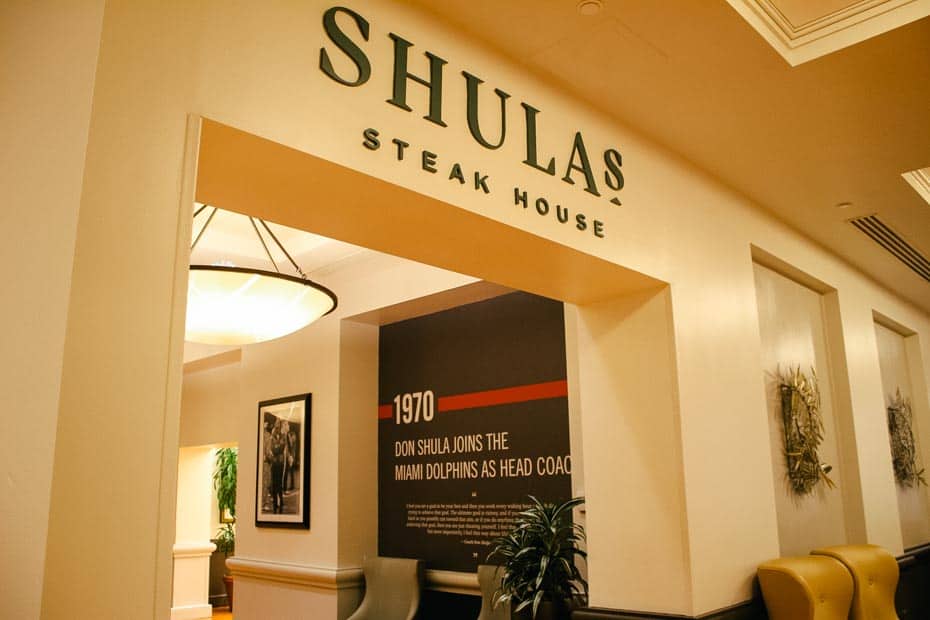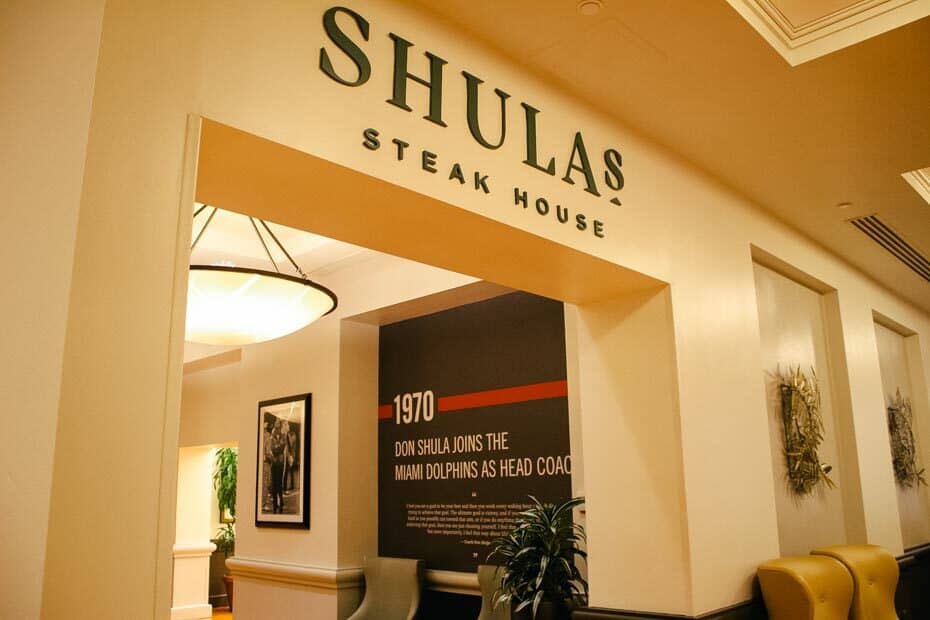 As you probably know, Don Shula was a former Miami Dolphin head coach that led his team to many wins. They even went undefeated for an entire season.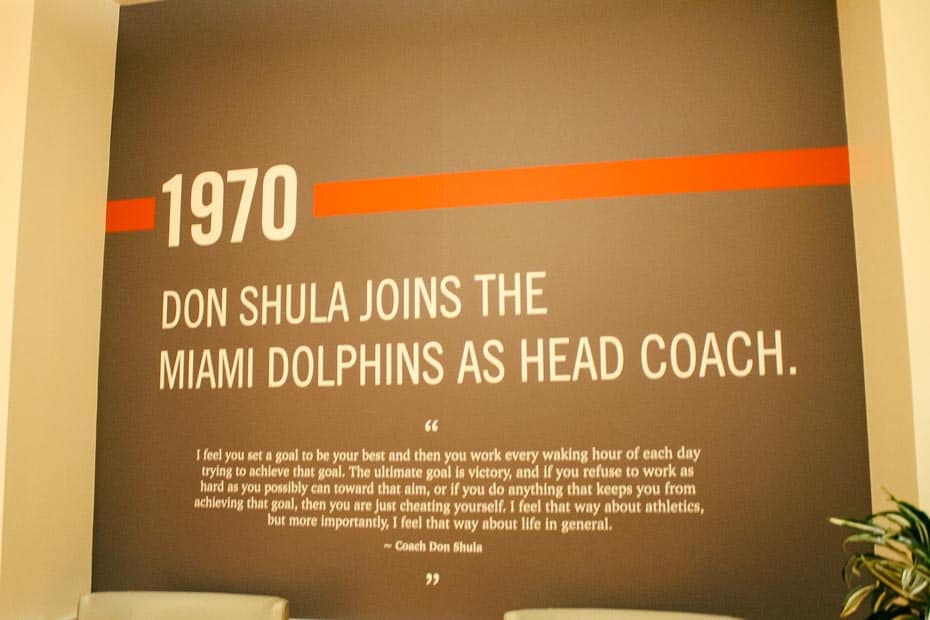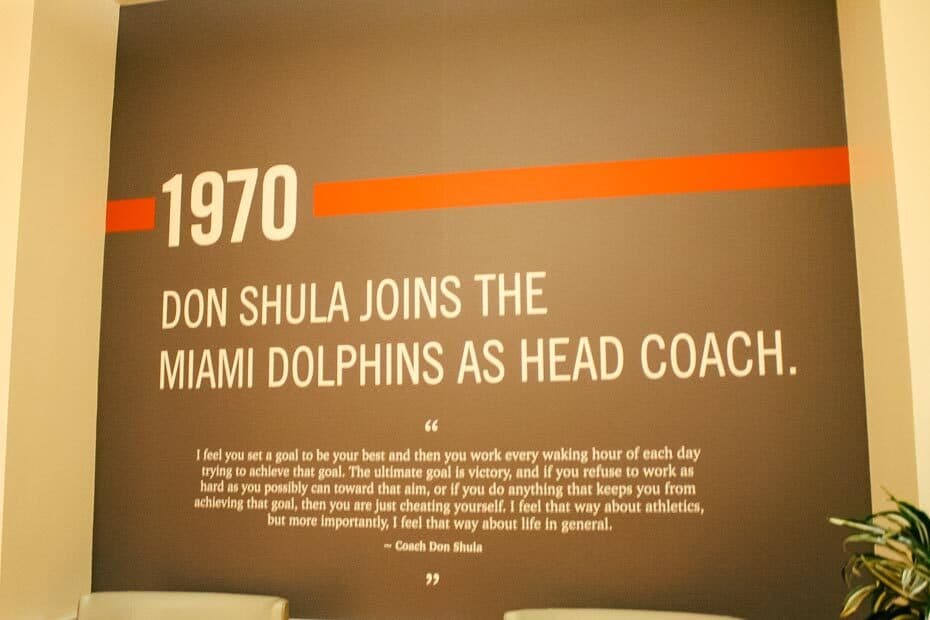 Since I'm from Alabama, I like to think I know a thing or two about football. And an undefeated football season is a pretty big deal.
Likewise, a meal at Shula's will get you a pretty good steak. Well, delicious.
Shula's Steakhouse is open for dinner only and is considered signature dining. You can preview their menu here.
This signature dining establishment is located on the second floor of the Dolphin in a corridor off the main lobby. While the restaurant specializes in steak, other options are available.
Cabana Bar and Beach Club
Before we head to the Swan, we'll briefly touch on Cabana Bar and Beach Club. This poolside restaurant is located beside the fabulous Grotto Pool.
Related: Pools at the Swan and Dolphin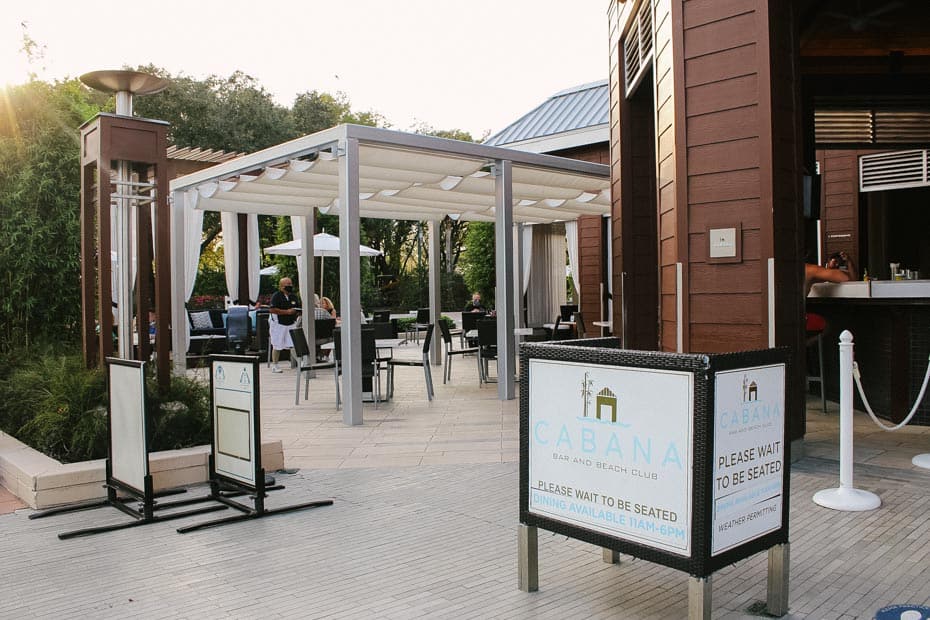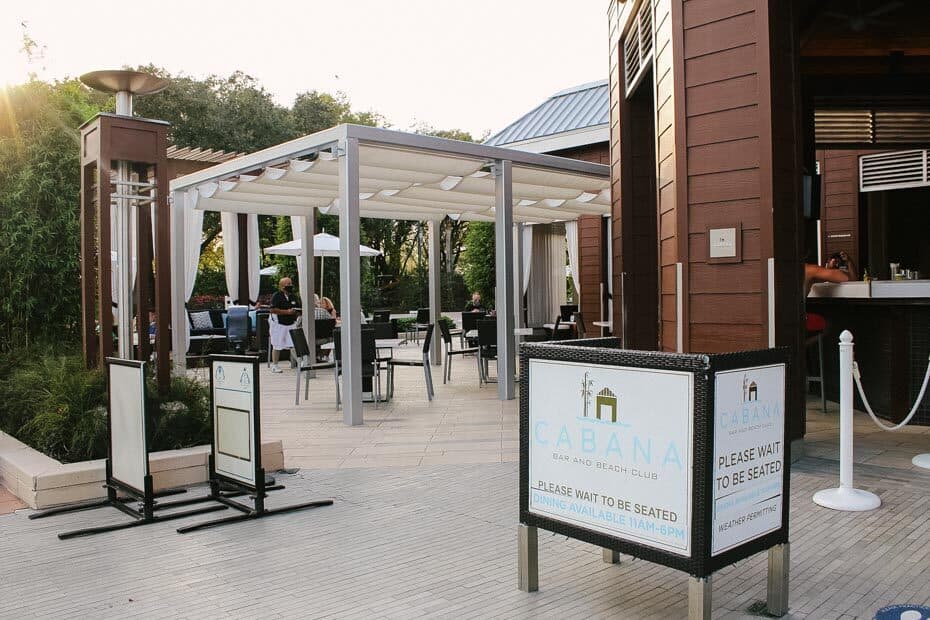 Cabana Bar and Beach Club doubles as the pool bar. There is a separate seating area where the restaurant serves walk-up guests. Additionally, mobile ordering is available if you prefer to enjoy a meal out by the pool.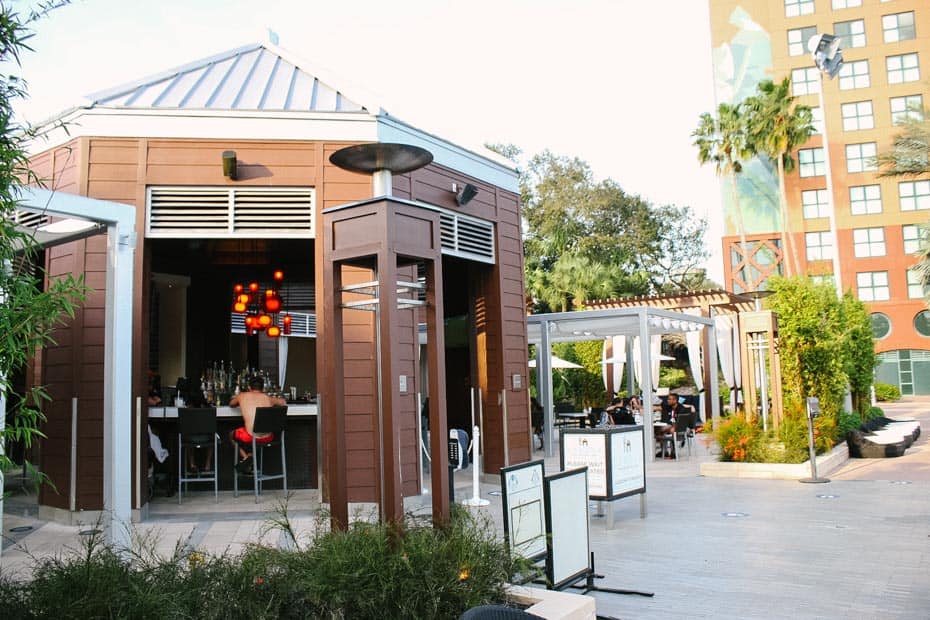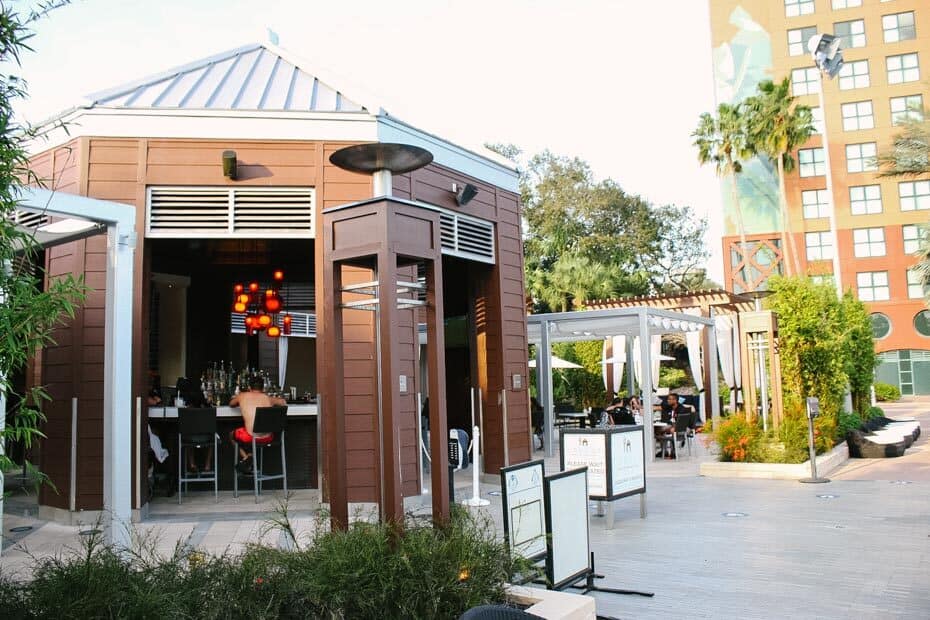 On a previous visit, I enjoyed a salad and order of fries at the Cabana Bar and Beach Club.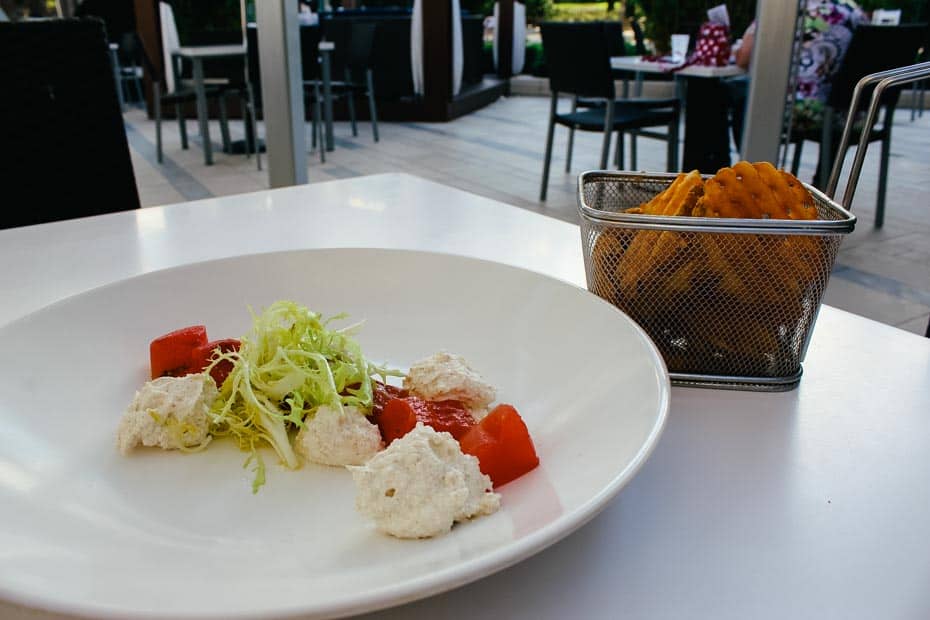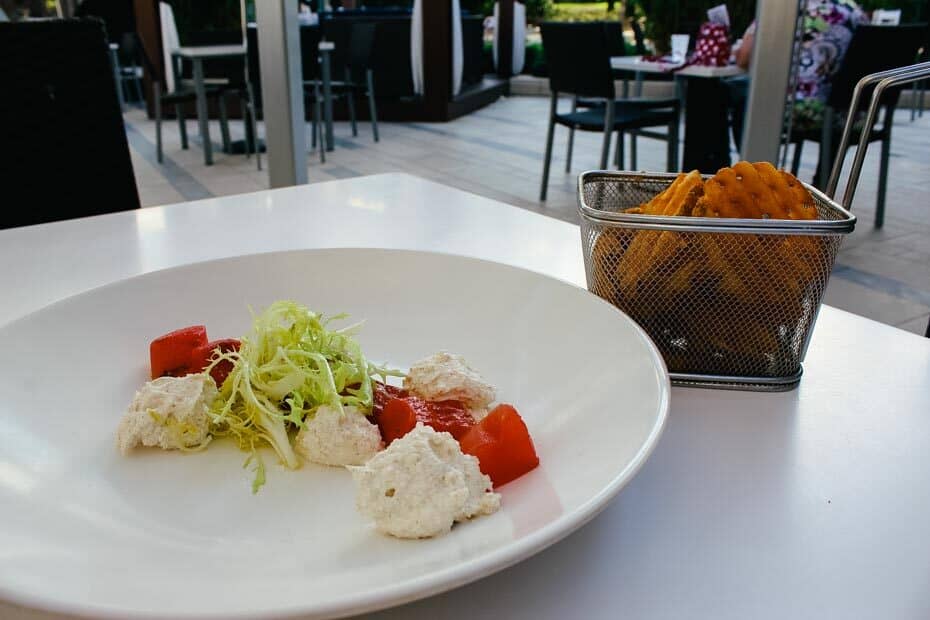 The atmosphere was perfect, the service excellent, and the meal was delightful. Make sure to get in a meal here while staying at the resort. You can preview the menu here.
Related: Cabana Bar and Beach Club Review
Disney Swan Restaurants
Across the lake, we have the Swan hotel. Since the resorts are only a few steps apart, guests can easily enjoy either hotel's restaurants and amenities.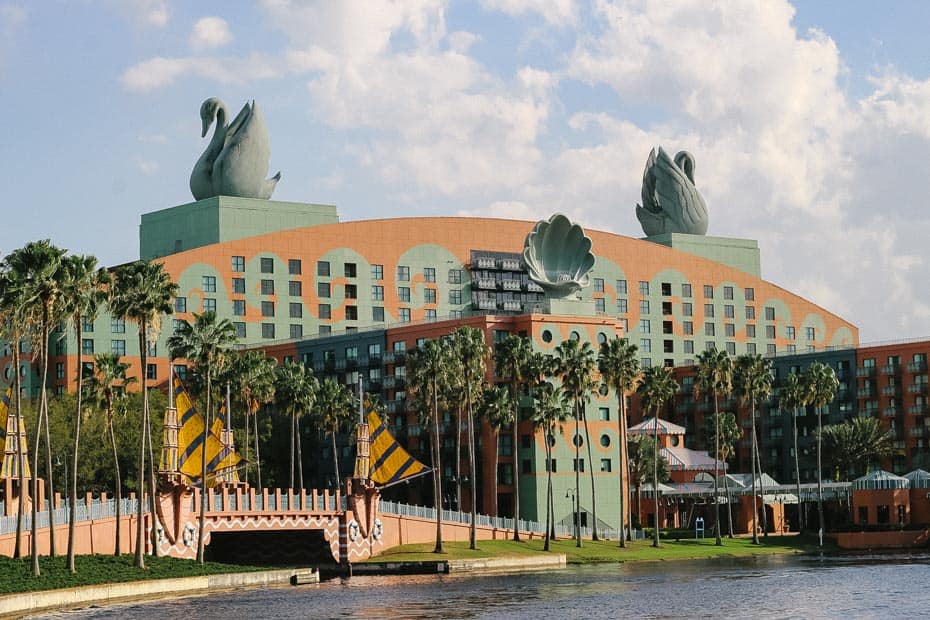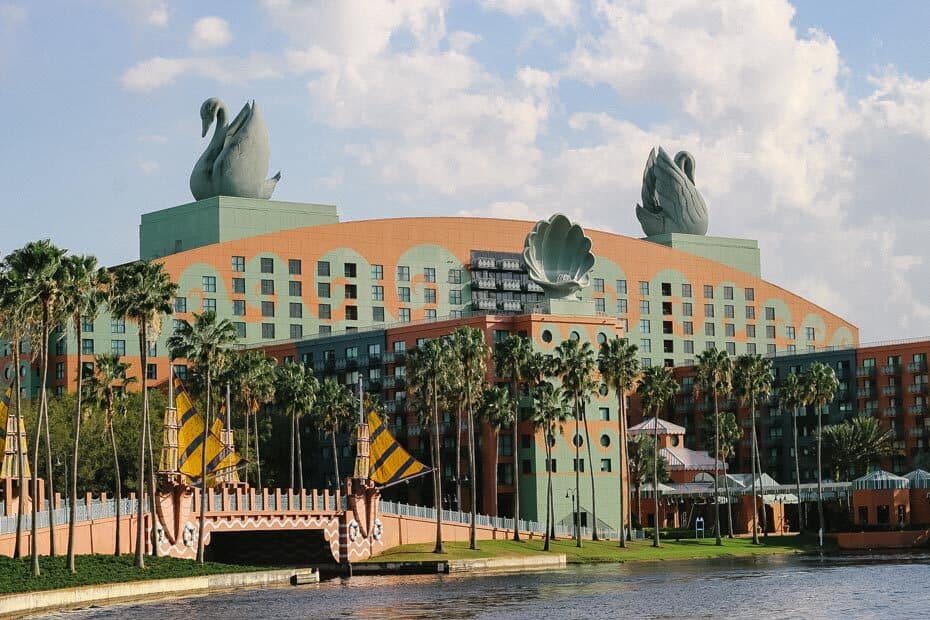 Disney's Swan is more of a boutique hotel with fewer crowds. While the Dolphin has a convention center attached and is often busier.
Java
Java is a coffee bar located on the ground level of the Swan. Unlike the Dolphin, all of the resort's dining, lobby, and retail stores are located on the first floor.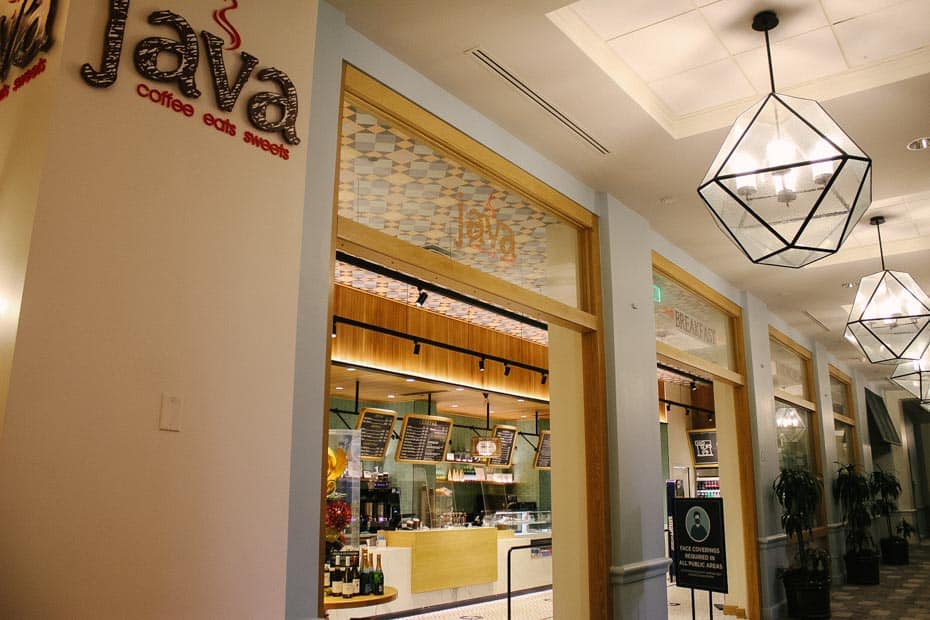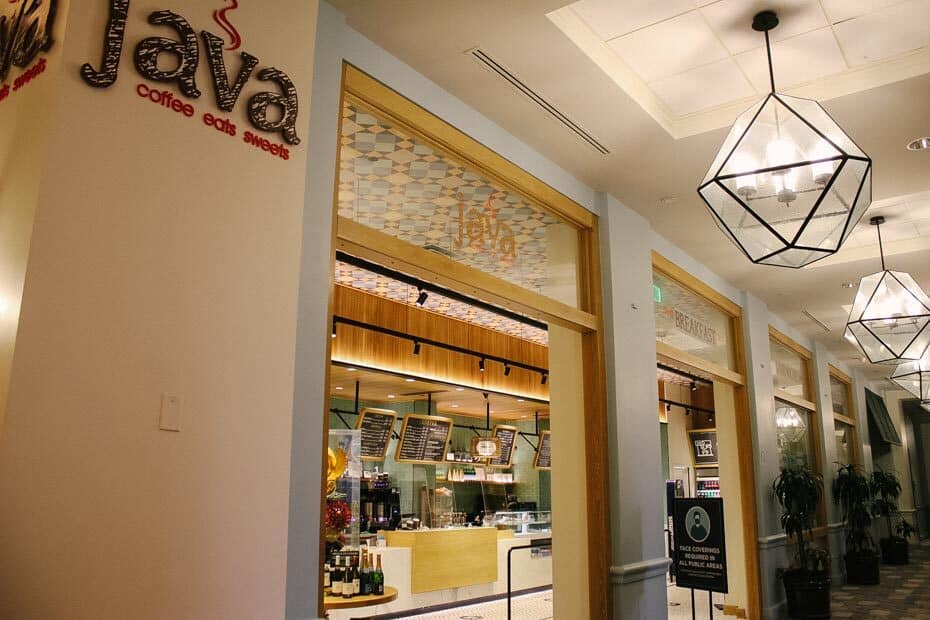 Java is an excellent place to grab a coffee or a pastry.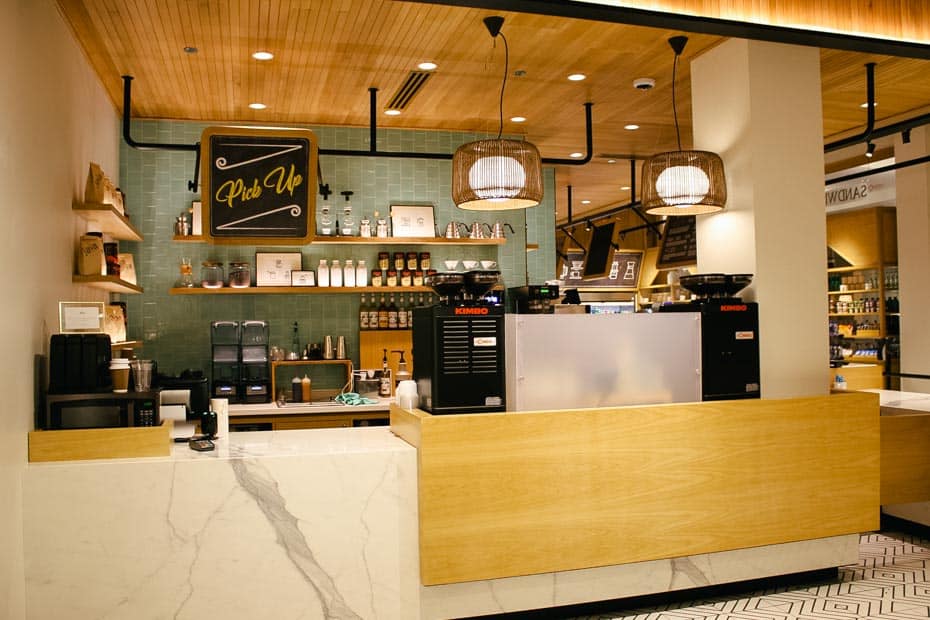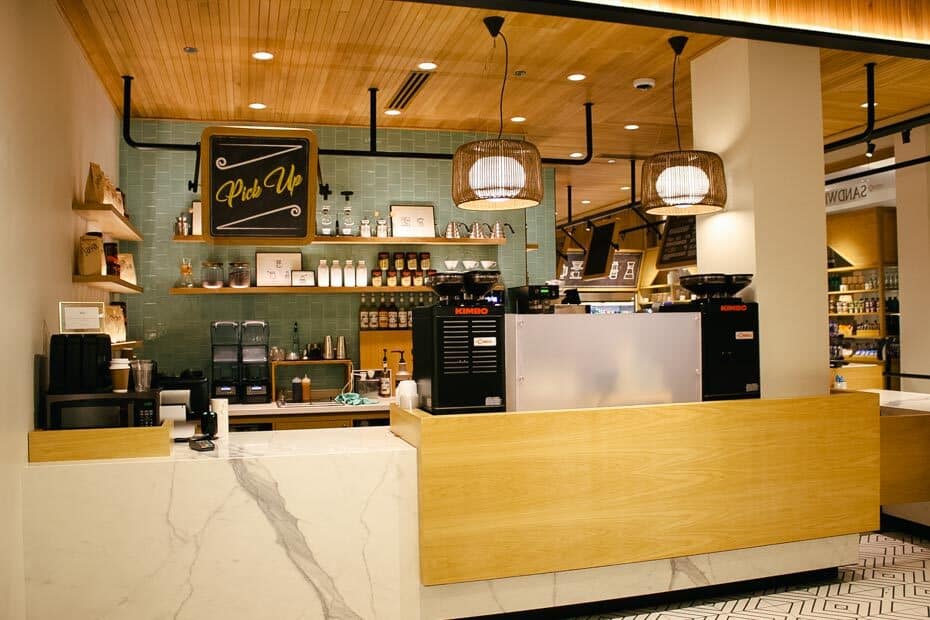 Additionally, they have a decent selection of grab-and-go items.
Related: Java at Disney's Swan
Make sure to check out their sandwich options here too! In addition, there are several items you can order that are freshly prepared.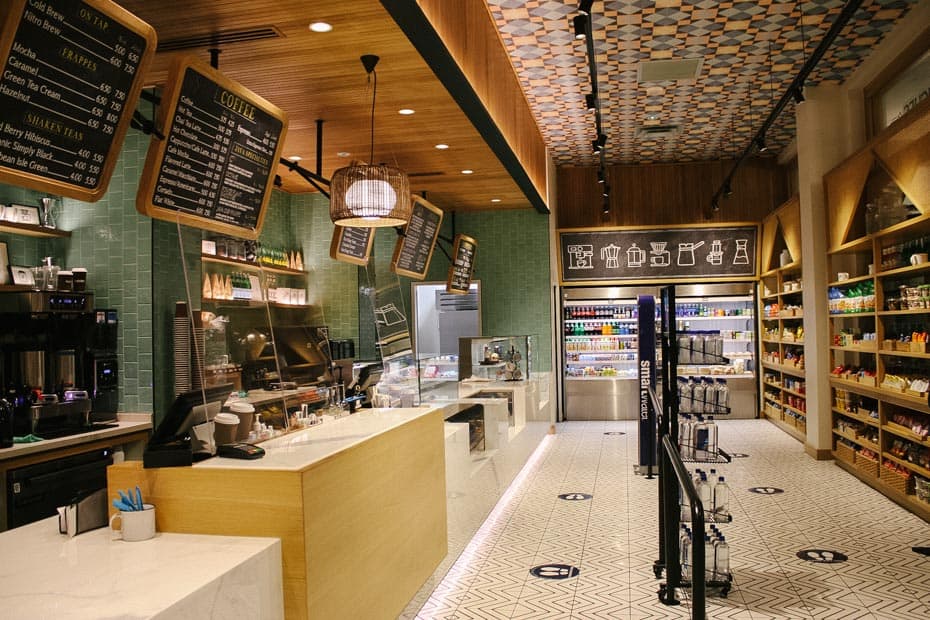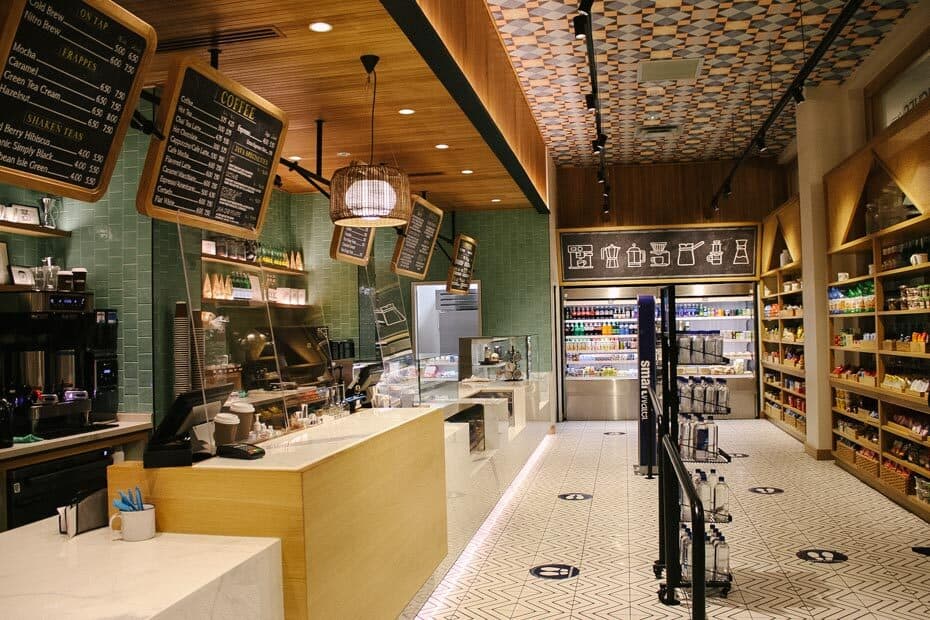 Chill
Chill is another dining stop unique to the Swan hotel. You can pick up a variety of juice, cocktails, beer, and wine here.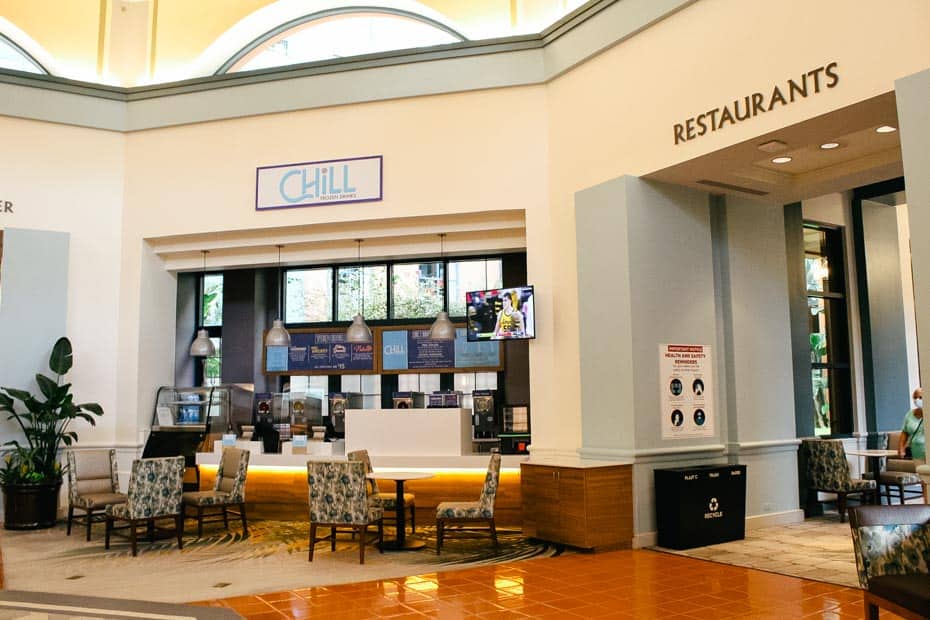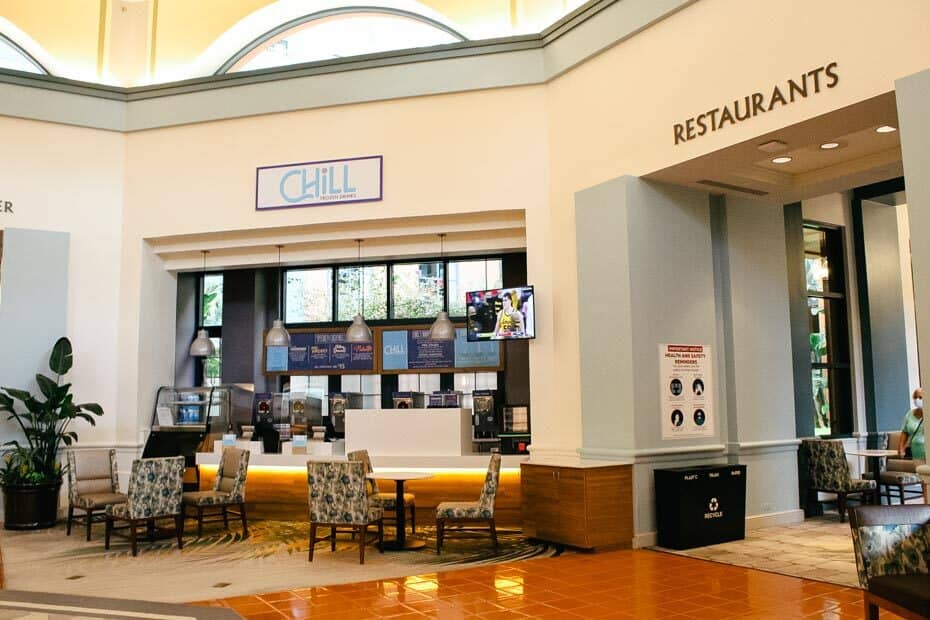 Garden Grove and Kimonos are located on the resort's Swan side.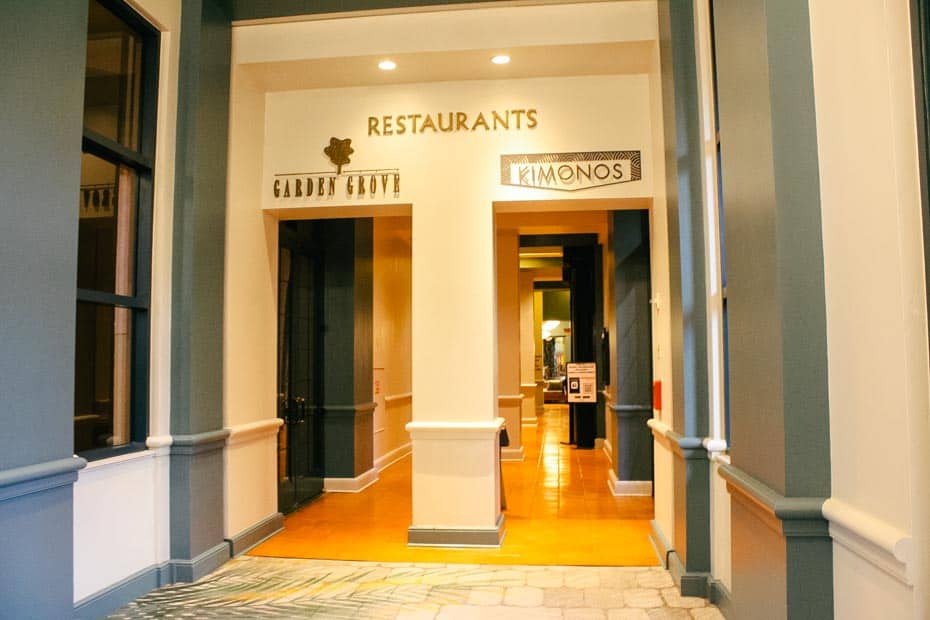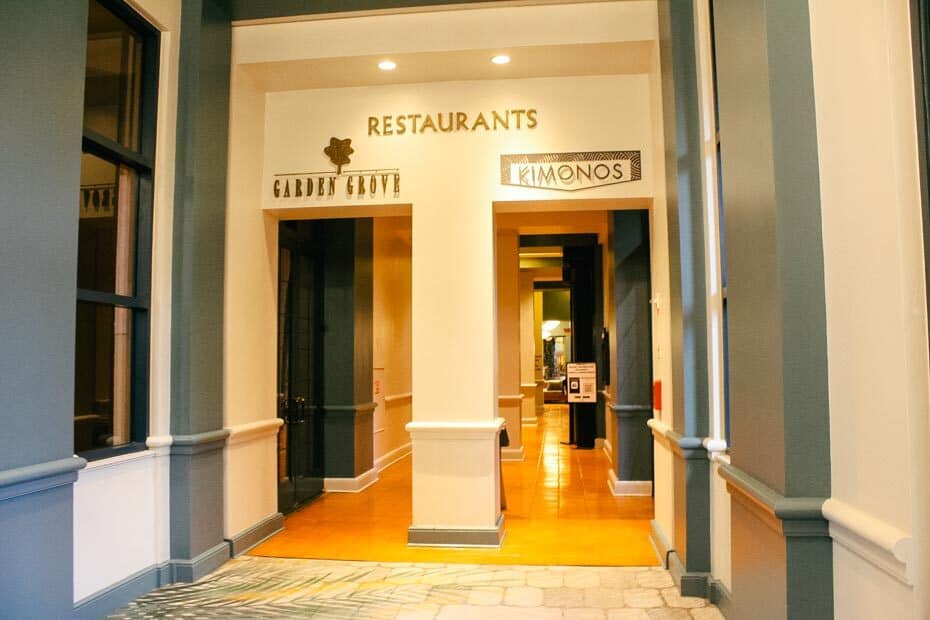 Kimonos
Kimonos is another signature dining location at Disney's Swan and Dolphin. The restaurant is well-known for its Asian cuisine and sushi menu.
While I haven't had the opportunity to dine at Kimonos, the restaurant is definitely on my list to try. They've even been voted the top Orlando restaurant for sushi by Orlando Sentinel readers.
Related: The Best Sushi at Disney World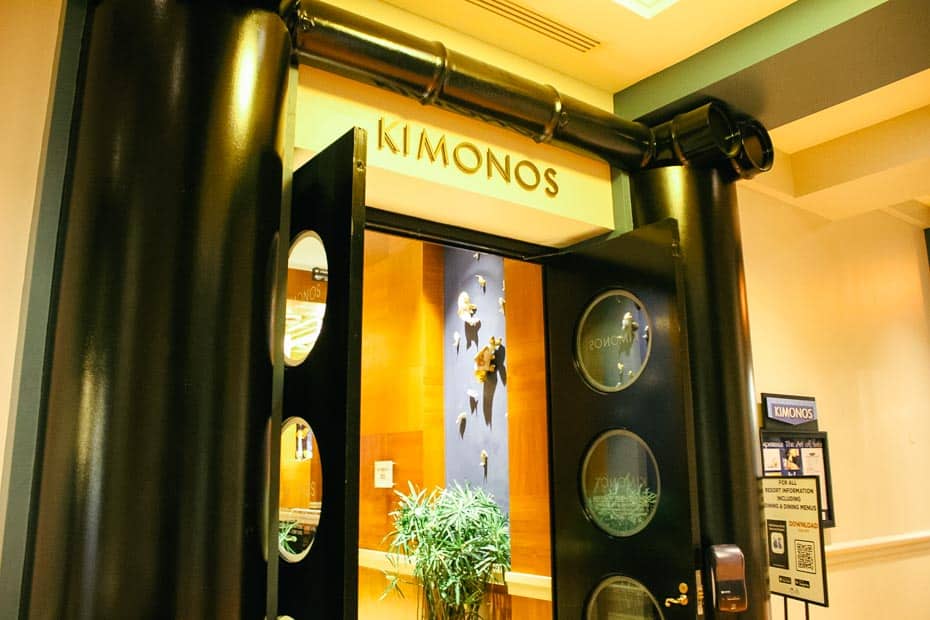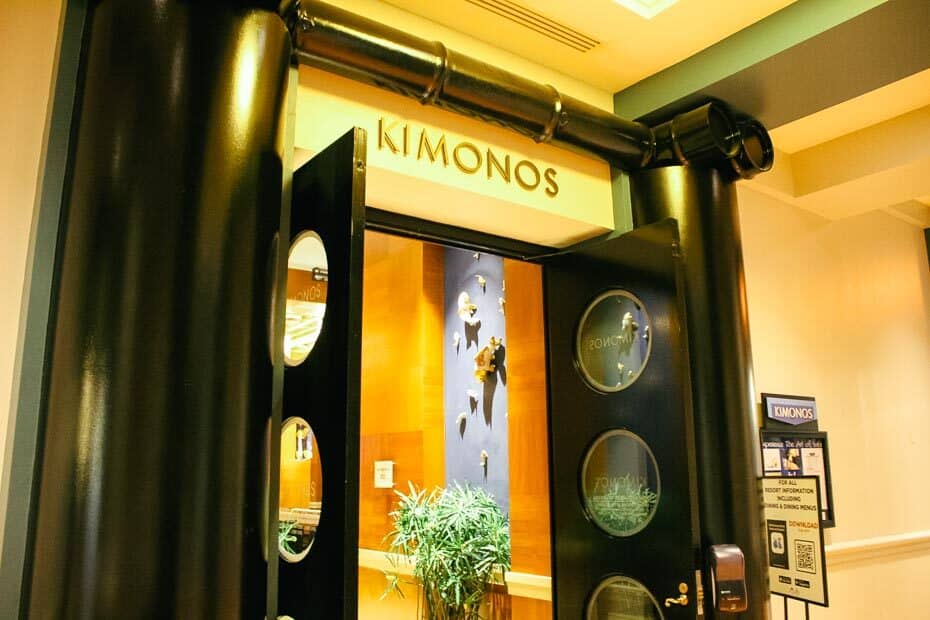 Garden Grove
Garden Grove sits next door to Kimonos and was formerly known for its character dining option. Unfortunately, the character dining option is not available at this time.
However, they are now open from Fridays through Sundays from 7:30 a.m. until 11:30 a.m. If you are looking for this type of experience, check out the Disney character dining guide before your trip.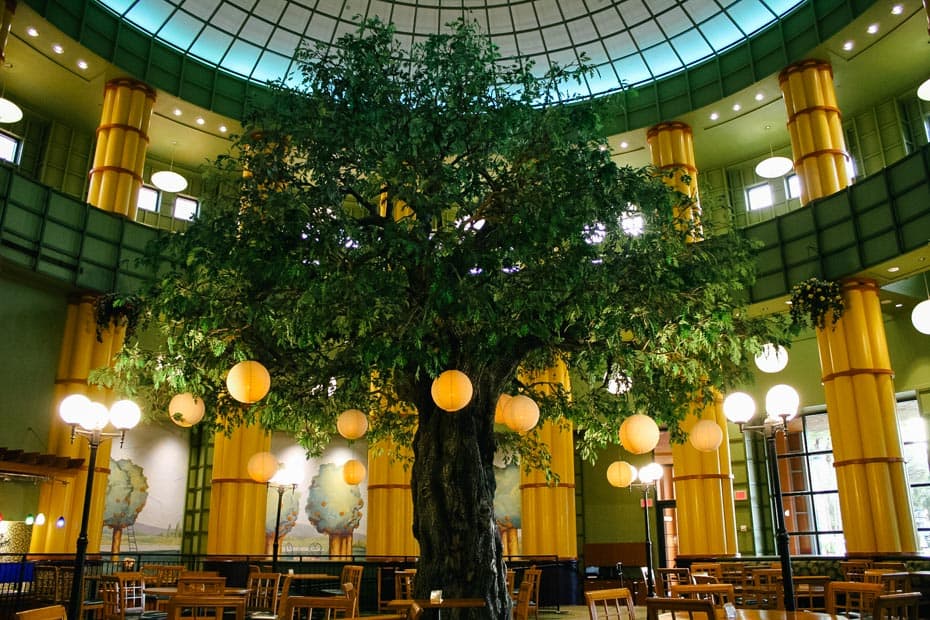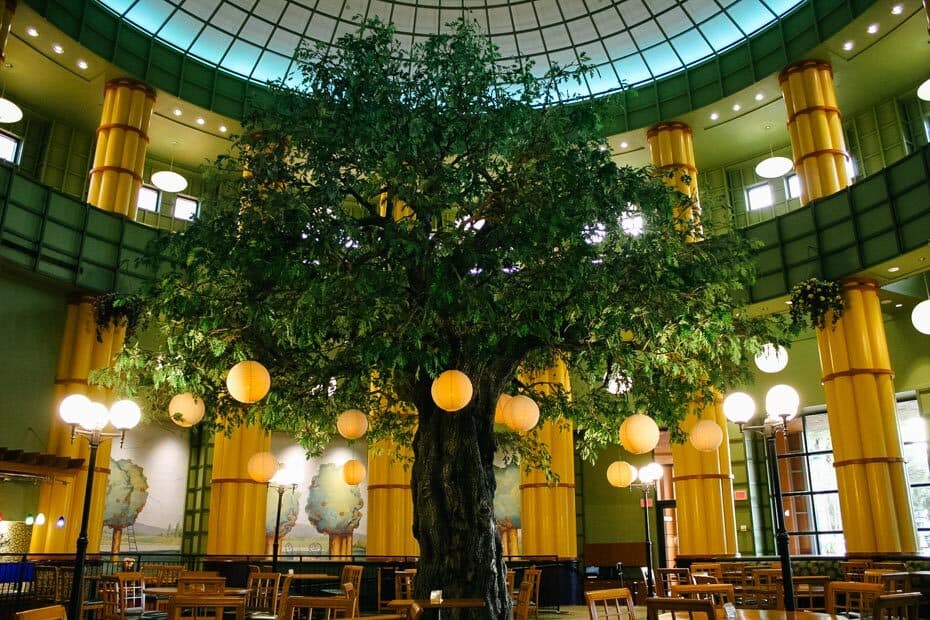 As for Garden Grove, it's designed to resemble New York's Central Park with a large tree in the center of the dining room. At this time, Garden Grove serves breakfast from 7:30 a.m. until 11:30 a.m. on Thursdays through Monday.
You can preview Garden Grove's menu here.
Il Mulino
Lastly, we have another popular signature dining location at the Swan. Il Mulino is an Italian restaurant featuring menu items like risotto, pasta, and a commendable antipasti selection.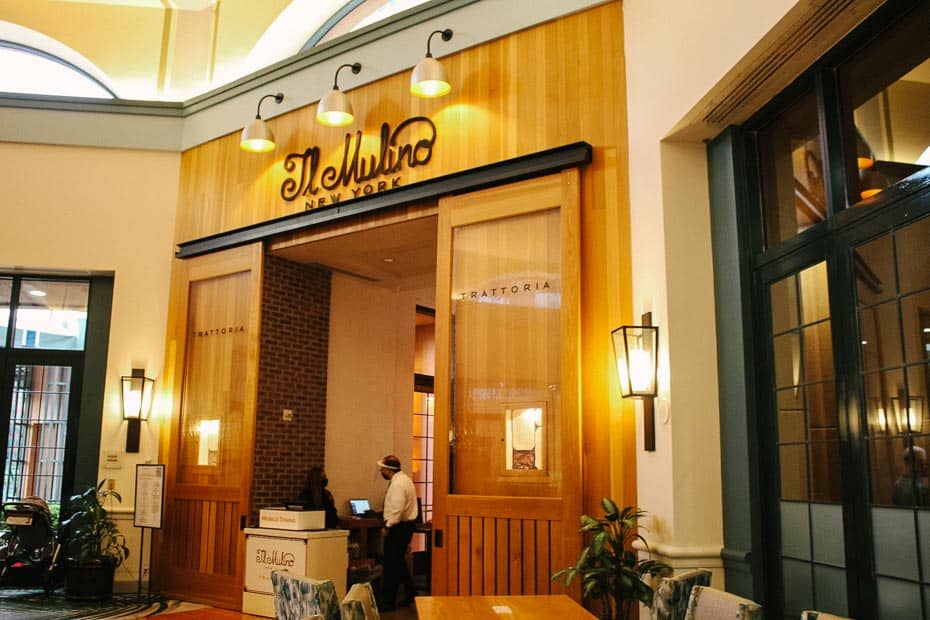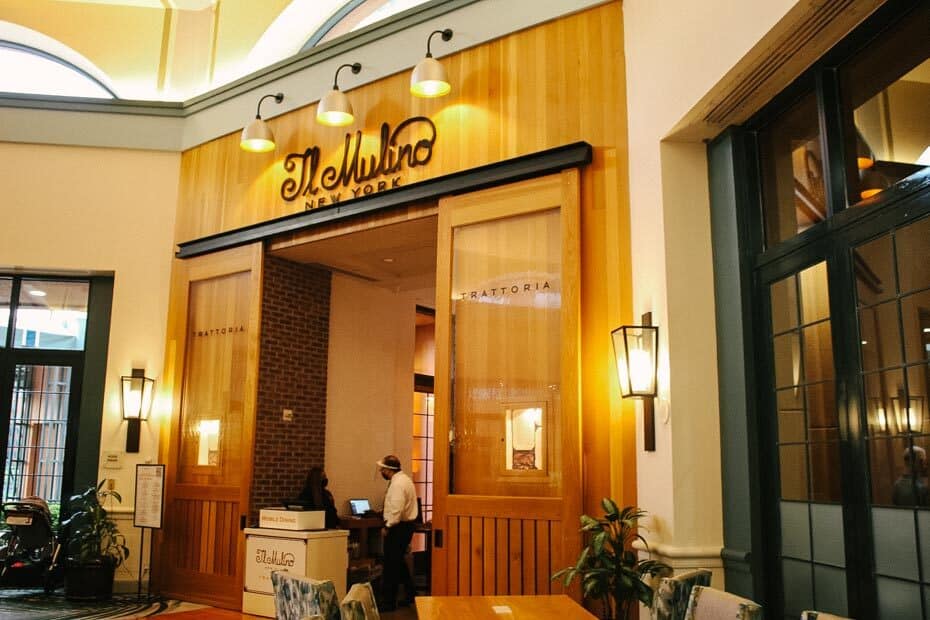 Unfortunately, I don't have a current review of the restaurant. However, the last time we dined here, a while back now, the food was excellent. I wouldn't hesitate to return.
You can preview the menu here, but fair warning, it might make you a little hungry!
If you weren't counting, that makes four fine dining restaurants between the two hotels.
Not only that, there are several signature options within walking distance of the neighboring resorts. For instance, Yachtsman Steakhouse at the Yacht Club and Flying Fish at Boardwalk Inn are nearby.
Related: Yachtsman Steakhouse Review
Final Thoughts on Restaurants at the Swan and Dolphin
This wraps up our look at the different restaurants at Disney's Swan and Dolphin. Hopefully, this article provided you with a good overview of dining options for your upcoming vacation.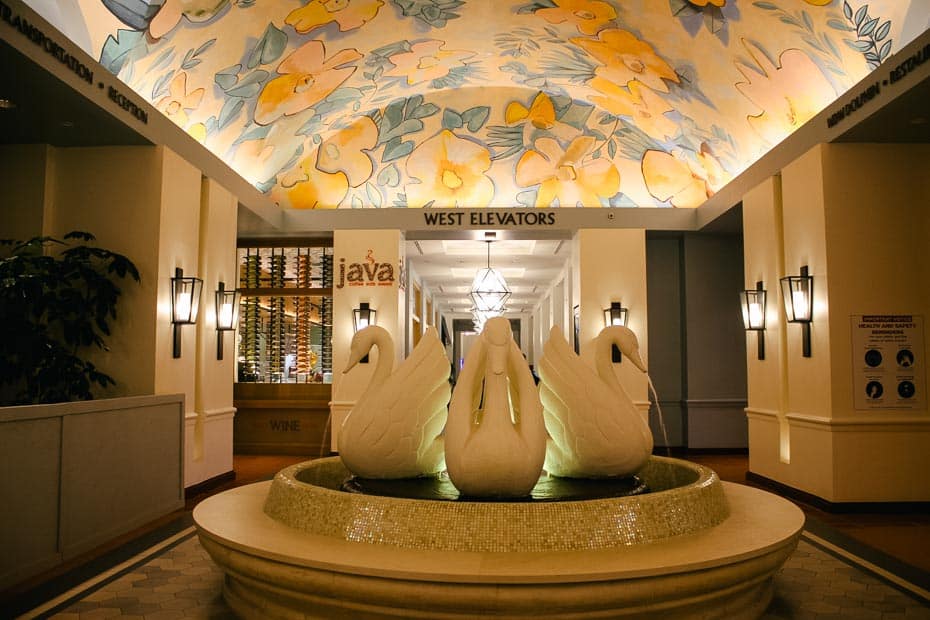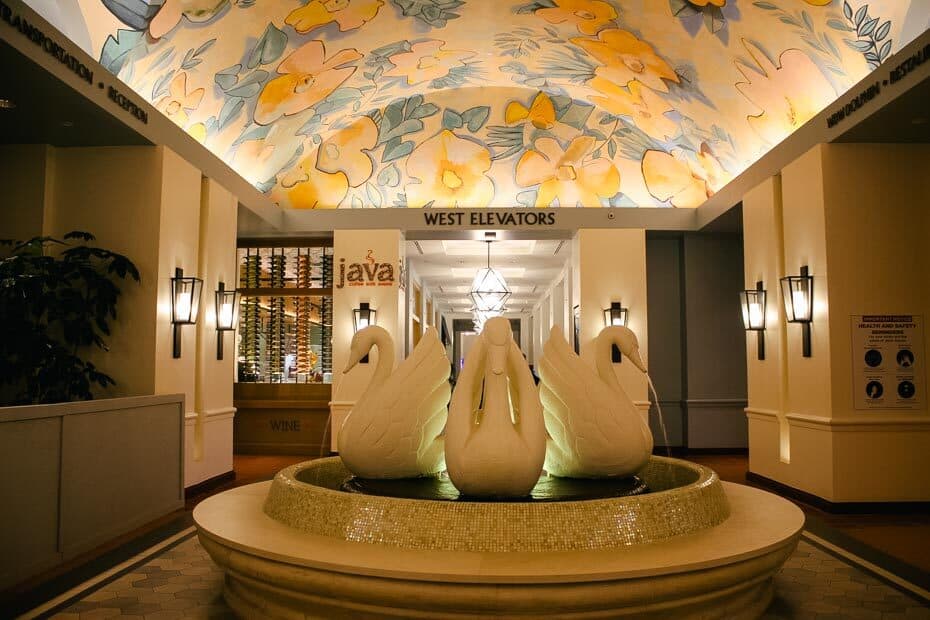 Both hotels are exquisite, and their prime location on Disney property is difficult to beat. Additionally, with the Swan Reserve open next door, more dining options are available nearby.
Related: Photo Tour of the New Swan Reserve
Eventually, I'll have a separate dining guide that includes restaurants at the Swan Reserve. In the meantime, we did a walk-through of Grounds if you'd like to preview the Swan Reserve's primary counter service.
Related: Grounds at the Swan Reserve
For more dining options in the immediate resort area, you might try the Ale and Compass for breakfast one morning. And the new Boardwalk Deli is a decent place to pick up sweet treats. (I love their grilled cheese.)
Related: Restaurants at Disney's Boardwalk
Or you could take the Skyliner over to Disney's Riviera Resort and try the character breakfast at Topolino's Terrace. Additionally, the Riviera has one of the best Disney counter services at Primo Piatto.
For more information, all of our articles for the Swan and Dolphin are listed in our complete guide: Disney's Swan and Dolphin Resort
Or you might enjoy these other related articles:
Resorts Gal specializes in providing information about resorts, characters, and dining. You might enjoy browsing our complete list of Disney Resort Reviews. That page links to every single resort review we have available.
And the complete list of Disney Restaurant Reviews has every dining experience listed along with our restaurant guides similar to this one for the other resorts.
Don't forget to plan a few character meetings for your trip if you're into characters. The Disney World Characters list is a great place to get started.
In the comments:
Do you have a favorite restaurant at Disney's Swan and Dolphin? Do any of these restaurants sound appealing?