Disney's Beach and Yacht Club Restaurants Guide
Disney's Beach and Yacht Club have an ample selection of restaurants between them. From counter-service to signature dining, you'll find there's something for everyone.
This dining guide will go over the restaurants at Disney's Beach and Yacht Club. Below I'll list each restaurant and provide a summary of what to expect.
For some of the restaurants, we have entire restaurant reviews with photos. So I'll link to those if you would like to explore a restaurant in more detail.
Usually, we do a separate dining guide for each moderate and deluxe resort. However, since the Beach and Yacht Club are connected, I decided to combine them into one guide.
Guests of both resorts share amenities and benefit from the number of offerings between them.
Additionally, guests benefit from the proximity of surrounding resorts in the Epcot area. So I'll finish this guide with a few tips for dining options nearby the Beach and Yacht Club.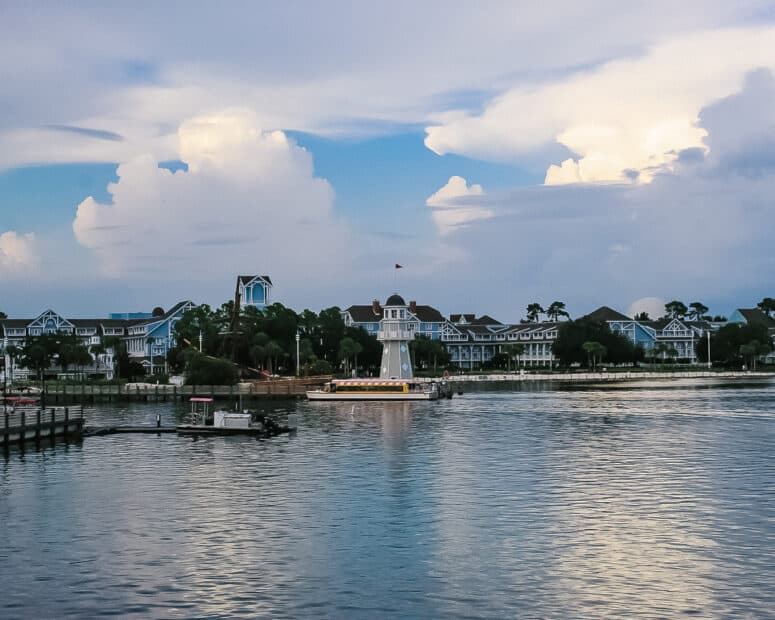 Restaurants at Disney's Yacht and Beach Club
Here is a list of the restaurants you'll find between the two resorts.
Counter Service
Beach Club Marketplace
The Market at Ale and Compass
Hurricane Hanna's Waterside Grill
Lounge
Ale and Compass Lounge
Crew's Cup Lounge
Martha's Vineyard
Table Service
Ale and Compass Restaurant
Beaches and Cream Soda Shop
Cape May Cafe
Yachtsman Steakhouse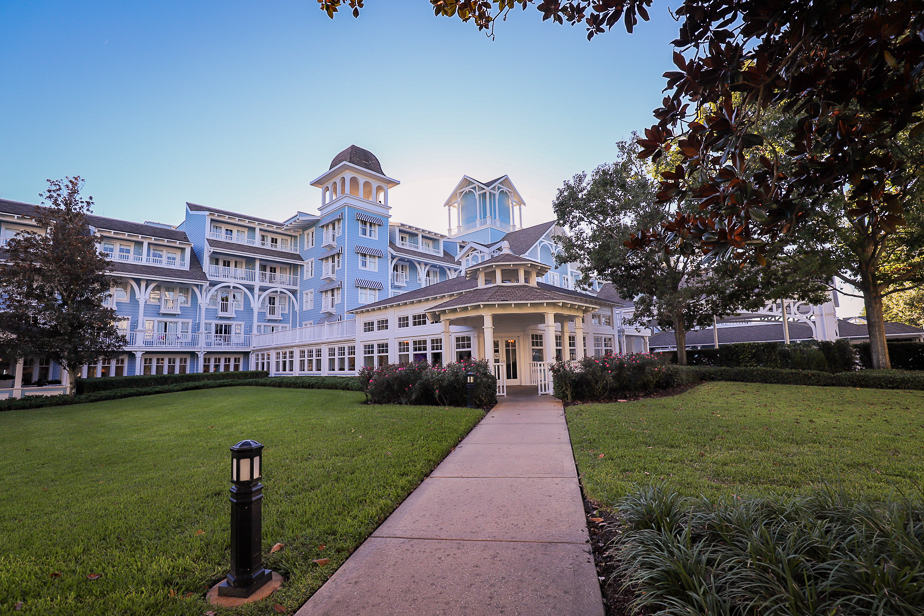 Beach Club Marketplace
Beach Club Marketplace is a quick-service dining location on the Beach Club side of the resort. The restaurant is located off the resort's lobby.
Part of the Beach Club Marketplace serves as the Beach Club's gift shop. The other half is dedicated to the quick service offering grab-and-go items and a beverage station.
Toward the back, there's a large counter where you can place an order or pick up a mobile order.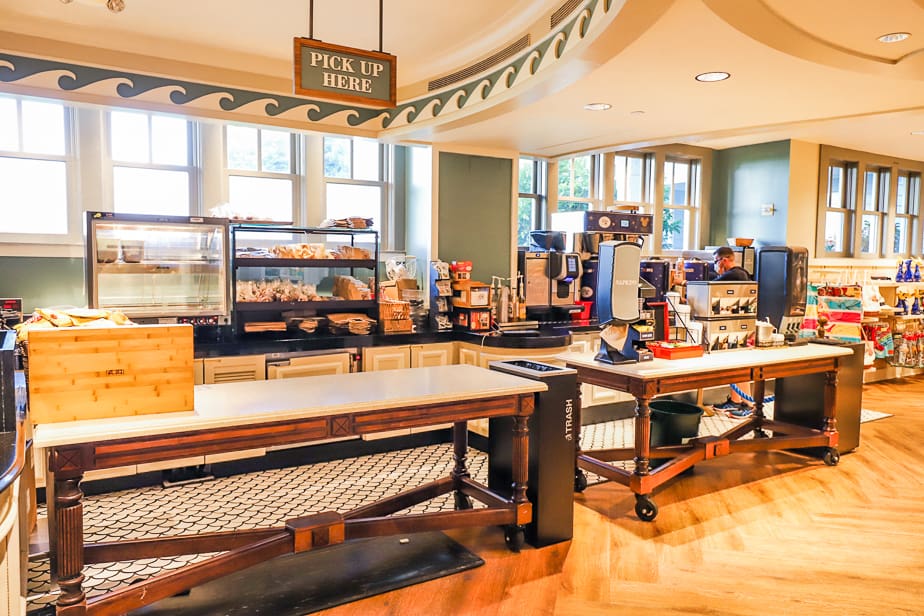 Beach Club Marketplace serves breakfast, lunch, and dinner and is usually open from 7:00 a.m. until 11:00 p.m. You can preview their menu here on Disney's site.
Several sandwiches are made to order, and a few different pasta options are available. I recommend staying clear of the premade sandwiches.
However, I enjoy the roast beef sandwich, which is made-to-order when it's available. And occasionally, I'll pick up a clam chowder here to take back to the room.
Additionally, you can order Mickey waffles for breakfast here, among other things.
Outside the main entrance, there are usually a few tables and chairs. A patio across the walkway provides plenty of space for outdoor dining. Or you could enjoy your meal inside the Solarium which is nearby.
Related: Beach Club Marketplace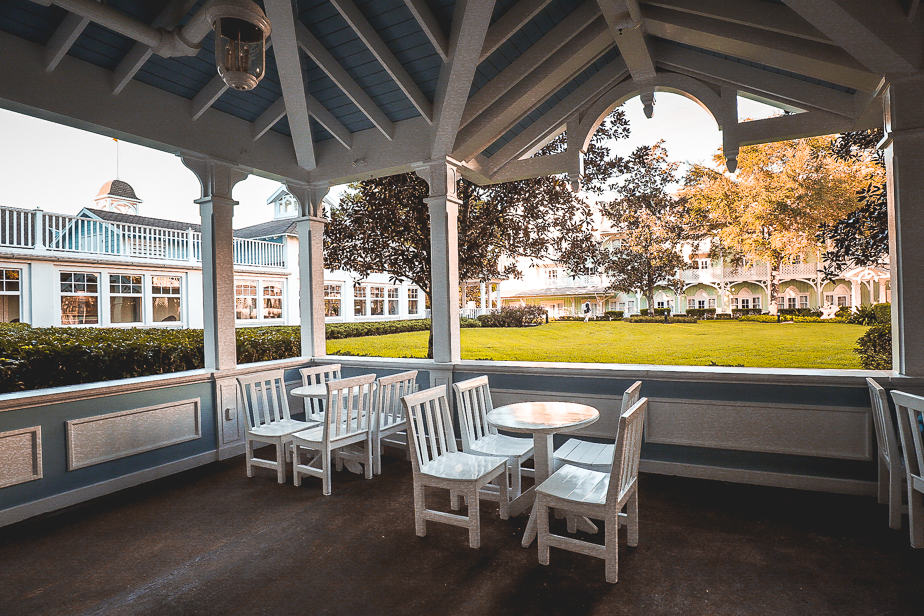 The Market at Ale and Compass
The Market at Ale and Compass is almost identical to Beach Club Marketplace. You'll find The Market located down a hall, only a few steps away from the Yacht Club's lobby.
This location offers mainly grab-and-go style sandwiches, salads, and pastries. However, there are a few made-to-order selections available.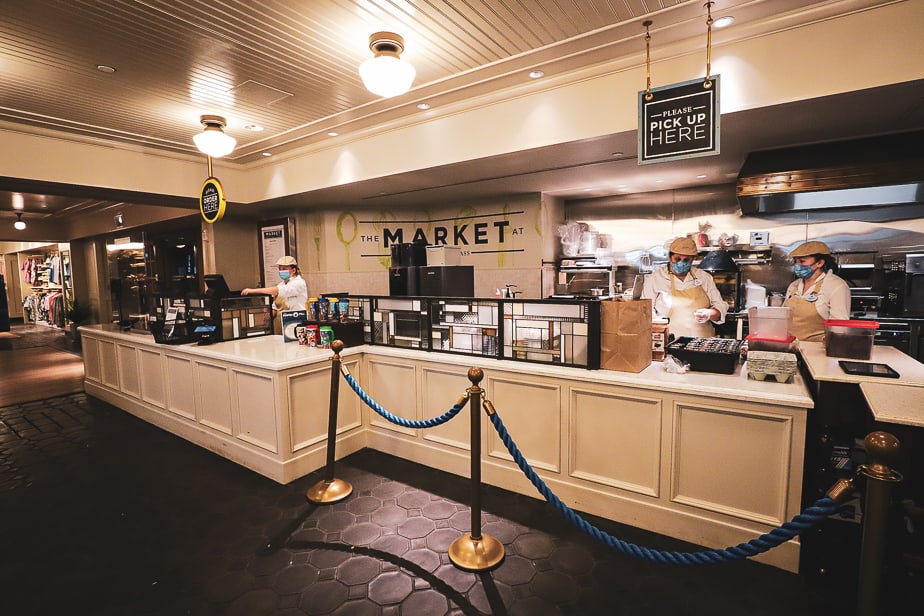 Hours of operation are daily between 7:00 a.m. and 11:00 p.m. You can pick up breakfast, lunch, or dinner at this location.
You can preview the menu here on Disney's site. There is a small seating area inside this location.
Additionally, The Market has a relatively extensive list of specialty coffee drinks. So, this might be an excellent stop to pick up a caffeinated beverage.
Related: The Market at Ale and Compass
Hurricane Hanna's Waterside Grill
Hurricane Hanna's Waterside Grill is the quick-service dining location at Stormalong Bay. For those unfamiliar, the pool area shared between the resorts is so large that it has its own name.
Hurricane Hanna's serves American food such as burgers, chicken nuggets, and salads. The restaurant has an outdoor dining area that's separate from the pool.
Or, if you're staying at the resort, there are plenty of lovely places to enjoy a meal inside the fenced pool area.
I ordered a grilled chicken sandwich here on our last stay. We had rented a cabana and ordered lunch from the poolside quick-service.
Related: Cabana Rentals at Disney World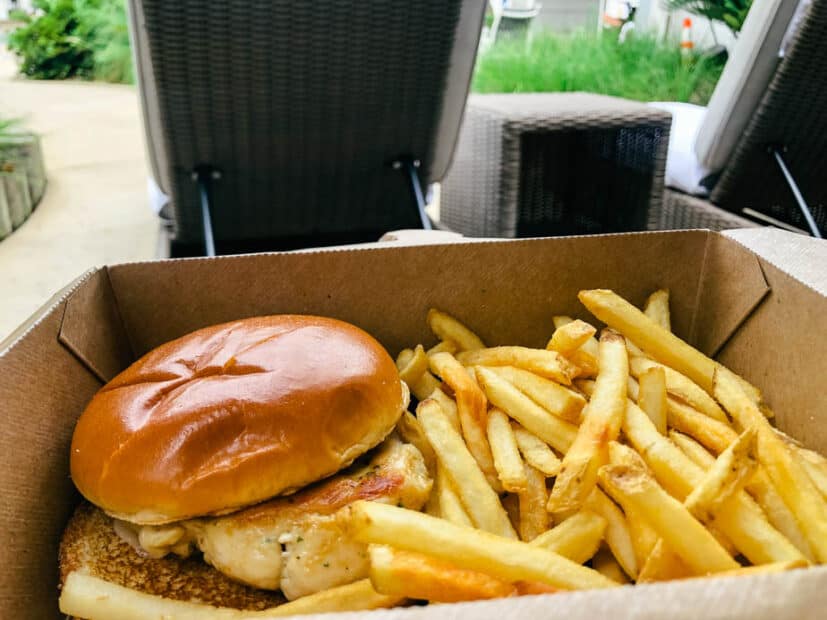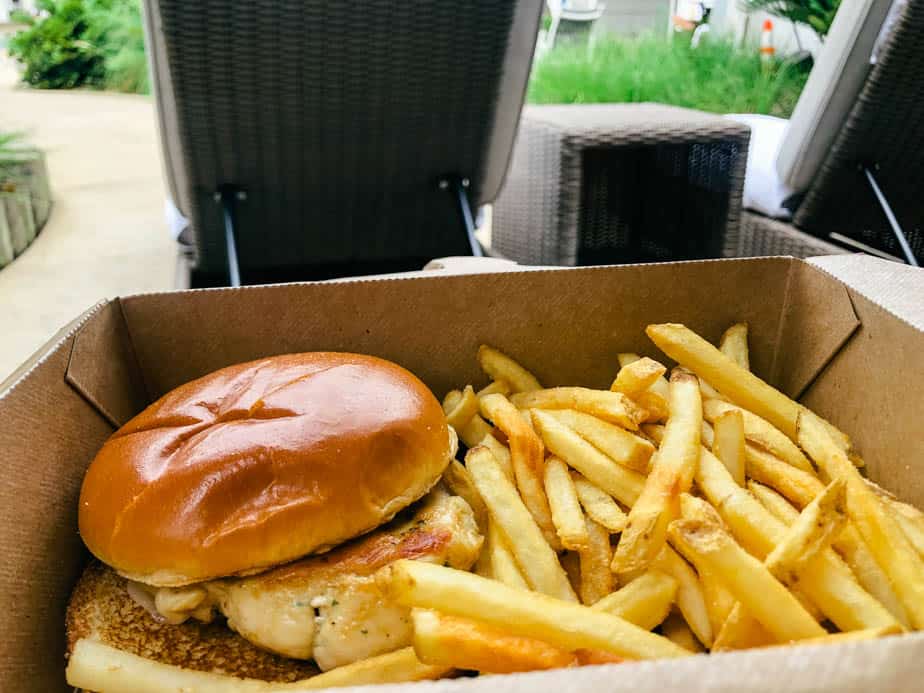 I've often ordered food from Hurricane Hanna's and took it back to our room. This spot has always been our go-to location for allergy-friendly chicken nuggets when we've stayed at the resort.
You can preview the menu here on Disney's site.
Hurricane Hanna's is usually open from 11:00 a.m. until 11:00 p.m. However, during cooler months and lower crowds, those hours will adjust. Check the My Disney Experience app for the exact hours during your stay.
Related: Hurricane Hanna's Review
Lounges at Disney's Beach and Yacht Club
There are three lounges between Disney's Beach and Yacht Club. I use the word lounge loosely because they are all excellent locations to enjoy dinner without a reservation.
In fact, I've had dinner at all three locations and consider each one a bit of a hidden gem.
The first lounge is the newest of the bunch, Ale and Compass Lounge. This lounge is located off the lobby of Disney's Yacht Club.
The lounge at Ale and Compass is open daily from 4:00 p.m. until 11:00 p.m. You can order items like Parker House Rolls with spreads (which are delicious) or an entire burger.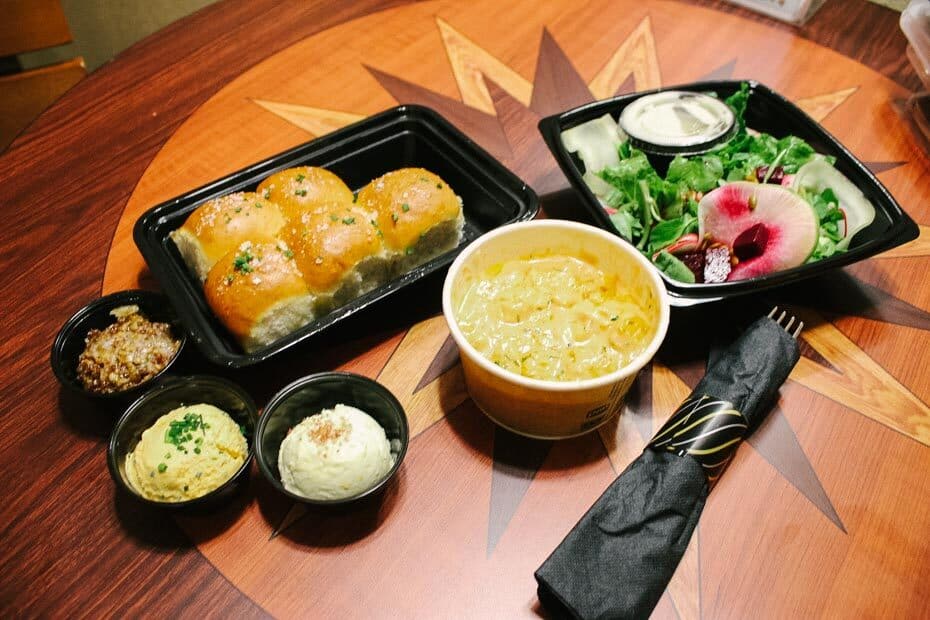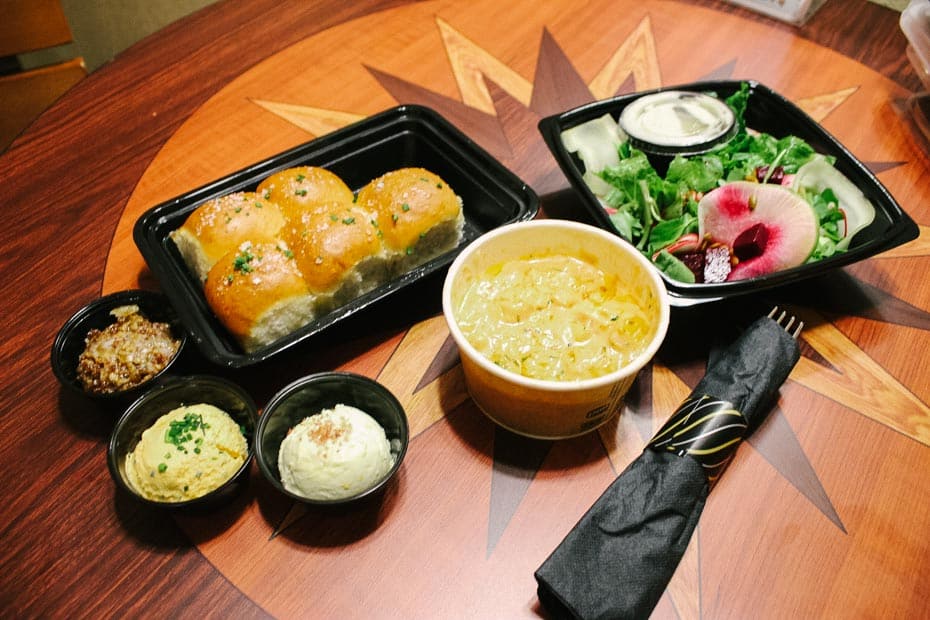 Additionally, the lounge has an extensive cocktail and beverage list. The menu is available here.
Related: Ale and Compass Lounge
Down the hall, you'll find Crew's Cup Lounge situated next to Yachtsman Steakhouse. Crew's Cup appears to be a bit of a hole in the wall.
But once you spend a few moments inside, you'll be glad you came. It's one of the friendliest places on the property.
At this time, you can order items from the Yachtsman Steakhouse menu at Crew's Cup. Unfortunately, that will make the price of a meal here expensive, so preview the menu first.
In the past, Crew's Cup had a separate menu with items like Ceasar salad and prime rib sliders. Those sliders were really something.
I appreciated the person who recommended them to me so much. Let's hope a more practical lounge menu eventually returns.
Lastly, Martha's Vineyard is a lounge located on the Beach Club side of the resort. This location offers a tasty New England Clam Chowder.
I often stop here for a bowl on cooler evenings. The chowder is delicious and comes with a side of cornbread. (This chowder is supreme over the one at Beach Club Marketplace.)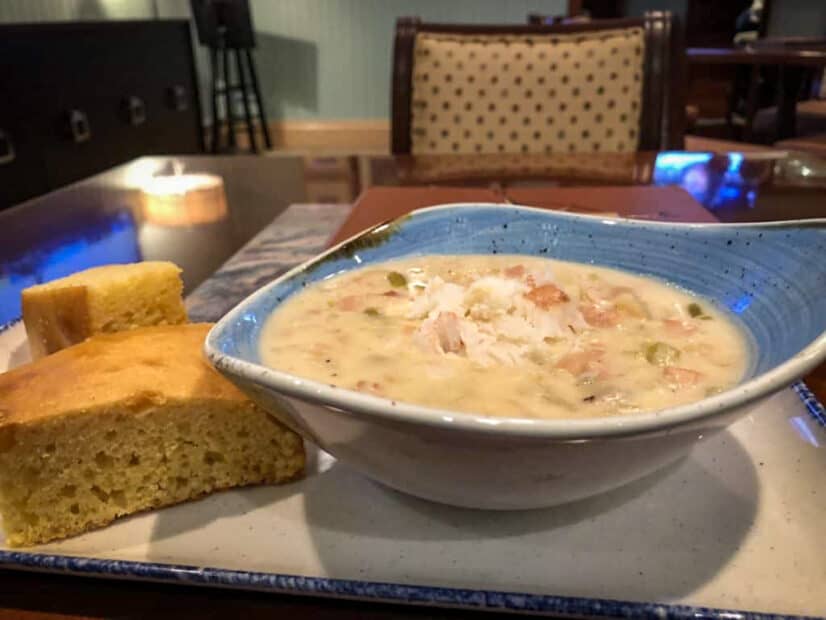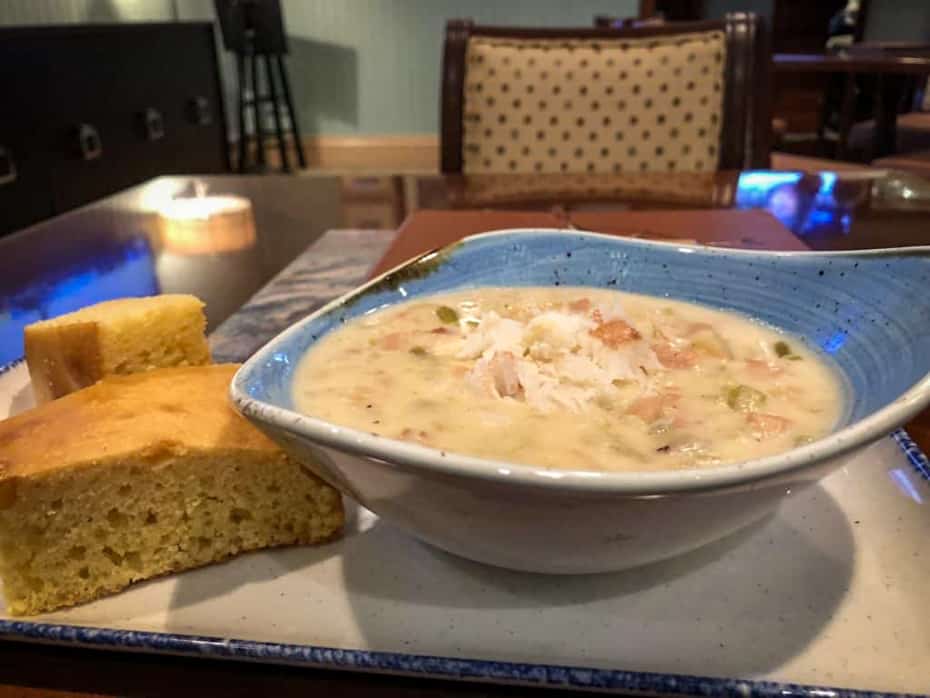 Additionally, you can pick up various other items like loaded potato barrels, Buffalo-glazed wings, mussels, and more. You can preview the food and beverage menu for Martha's Vineyard here.
If you're looking for a cocktail or a meal, I wouldn't hesitate to try any of the lounges. They are much more appealing than either of the resort's counter services.
Ale and Compass Restaurant
Ale and Compass is a restaurant that comes up fairly often on the site. That's because we usually eat there multiple times throughout the year.
Thankfully, this popular table service restaurant has returned to regular hours of operations. Ale and Compass serves breakfast, lunch, and dinner.
In addition, the popular breakfast buffet that includes an entree returned in 2022.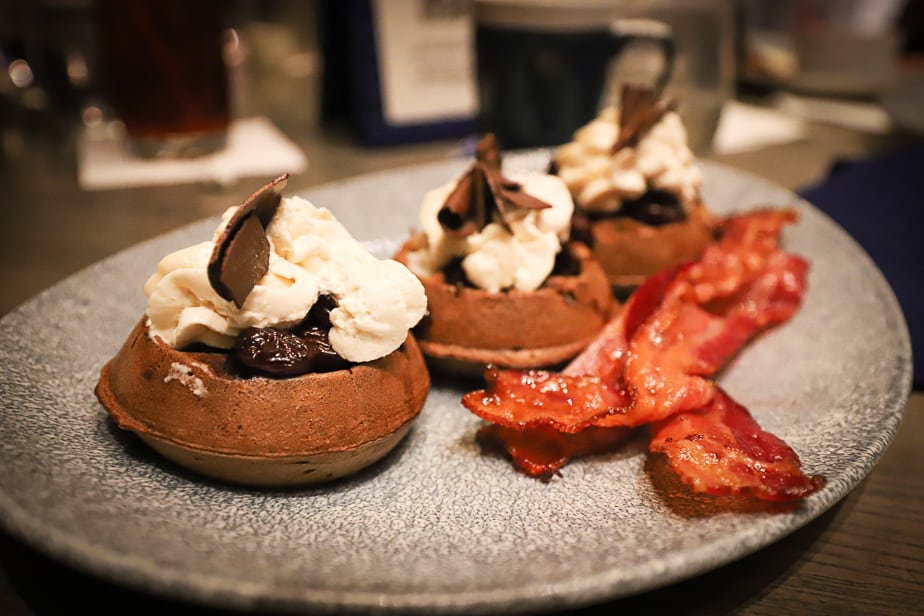 This location is included on our list of best breakfasts at Disney World. You can't beat spending a nice leisurely morning here before heading to Epcot.
You can preview the menu for Ale and Compass here on Disney's site. But even better, we have two reviews for this location.
Related Articles:
Beaches and Cream Soda Shop
Most everyone planning a stay at either Disney's Beach or Yacht Club will want to secure a reservation for Beaches and Cream Soda Shop. This diner-style restaurant is located directly behind Stormalong Bay pool.
Beaches and Cream serves burgers, fries, grilled cheese sandwiches, fries, and onion rings. You can order an array of popular sundaes, milkshakes, and banana splits for dessert.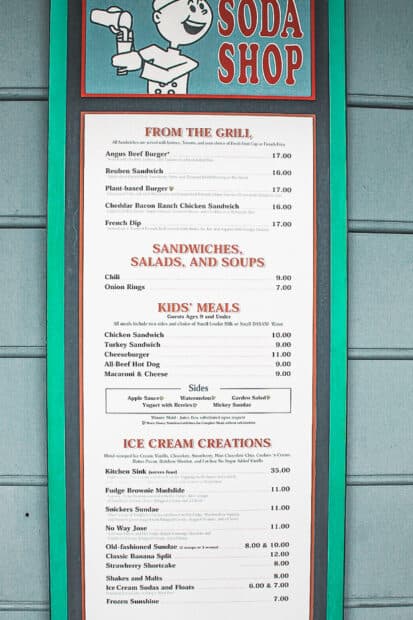 Beaches and Cream takes walk-ups based on availability. However, to ensure a table, you will want to make reservations. Due to the restaurant's popularity, reservations are sometimes difficult to obtain.
And if you're only going for ice cream or would like a treat to enjoy by the pool, you're in luck! Beaches and Cream has a walk-up window that serves ice cream only.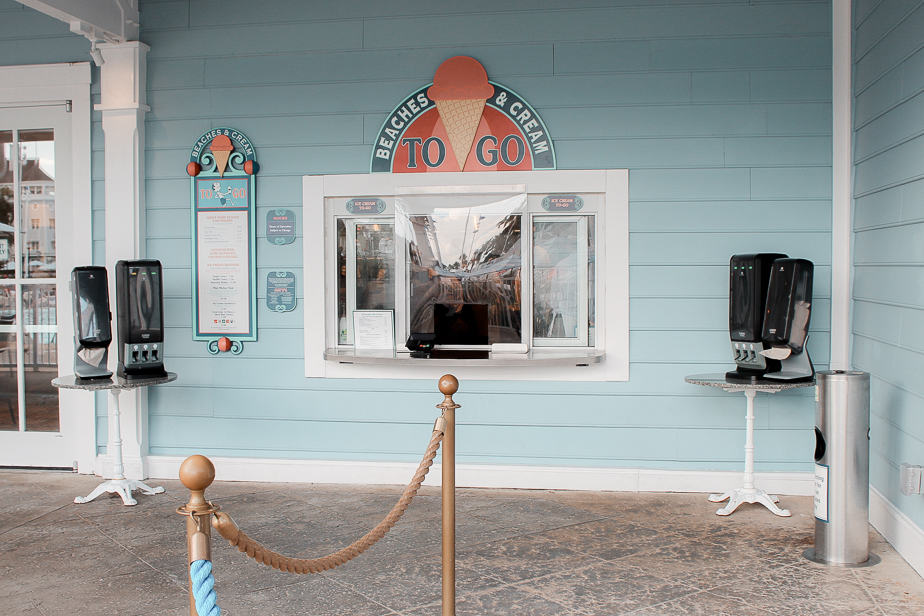 You can get pretty much everything except the kitchen sink! Well, actually, you can even get the kitchen sink. Just make sure you have someone(s) to help you.
Cape May Cafe
Cape May Cafe is located on the Beach Club side of the resort. This restaurant offers two different dining experiences.
One is a breakfast buffet, which is open daily from 7:30 a.m. until 11:30 p.m. This breakfast formerly had characters. Unfortunately, the characters have not returned to date.
Related: Disney World Character Dining Guide
For dinner, Cape May Cafe is open from 5:00 p.m. until 9:00 p.m. You can expect a seafood buffet that runs around $42 per adult and $25 per child.
The seafood buffet includes items like soups, salads, roasted beef, desserts, and a seafood boil. The seafood boil is a mix of clams, mussels, shrimp, corn, and potatoes.
Unfortunately, snow crab legs are no longer part of the all-you-can-eat buffet. Instead, there is now an additional charge, and they are brought to the table. At the time of this article, the extra crab legs cost $29.00.
Cape May Cafe is one of the few places I've yet to eat at Disney World. I'm not much of a buffet person unless we're talking Boma, Flavors of Africa. Now, that's a meal worthy of a visit to the Animal Kingdom Lodge.
Related: Boma Breakfast Buffet Review
Yachtsman Steakhouse
Yachtsman Steakhouse is a signature dining establishment located on the Yacht Club side of the resort. It's so good that it's included in our list of the best signature dining options at Disney World.
Like its name, Yachtsman serves a variety of quality meat cuts aged in-house at the restaurant. The restaurant's signature steak is the New York Strip.
Unfortunately, I haven't tried the strip steak yet. But so far, we've had the filet mignon, ribeye, and prime rib.
All were delicious, but there's a special place in my heart for the ribeye with blue cheese butter.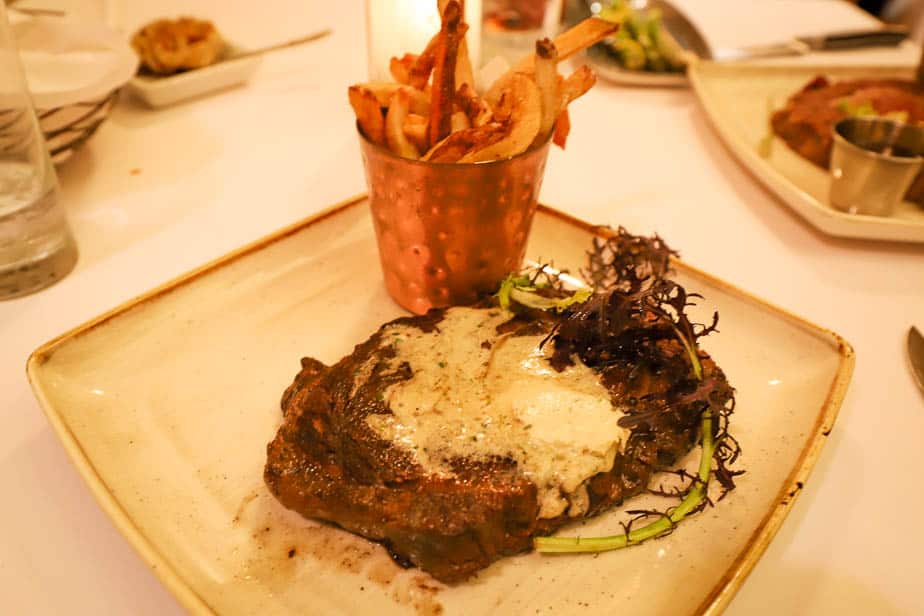 And the asparagus was flavorful, even though a side of it costs $12.00. Unfortunately, I've yet to be able to reproduce it at home.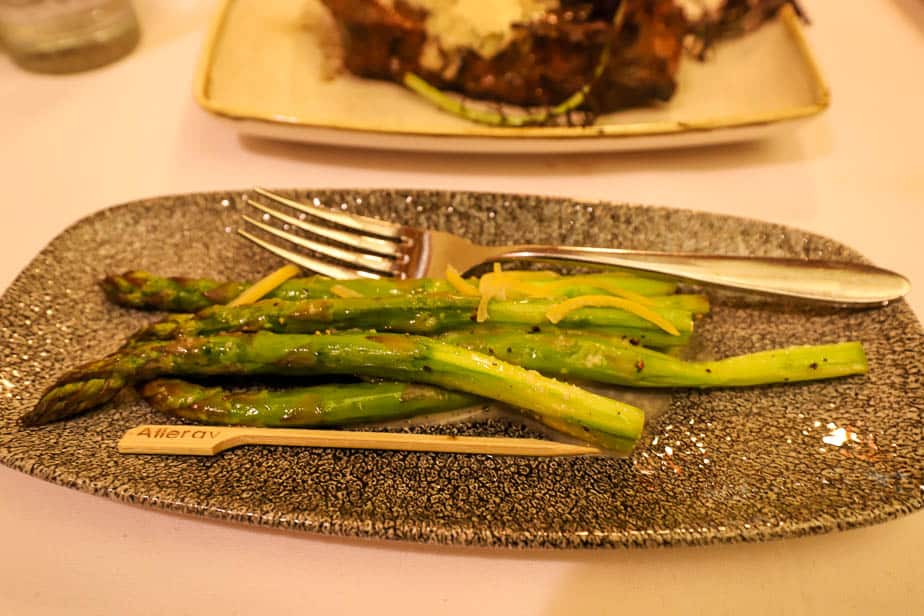 Yachtsman Steakhouse is open nightly from 5:00 p.m. until 9:30 p.m. You can read our full review for more details.
Related: Yachtsman Steakhouse Review
Restaurants Near the Beach and Yacht Club
Lastly, I thought we'd look at a few other dining options near the Beach and Yacht Club. With Disney's Boardwalk and the Swan and Dolphin within walking distance, table service dining is abundant.
However, the quick-service locations are lacking in the entire area. But I do have a few suggestions to overcome the dilemma.
Disney's Boardwalk Inn sits across Crescent Lake from Beach and Yacht. You can walk over to the resort or take one of the Friendship Boats.
As we recently discussed, the Boardwalk Inn will undergo an extensive refurbishment. That refurbishment will include the addition of a new table service restaurant and a re-imagined quick service.
Related: Changes Coming to Disney's Boardwalk (2022)
You might plan breakfast or dinner at Trattoria al Forno. Breakfast here was formerly the Bon Voyage Breakfast that included characters. We hope to see the characters return.
Additionally, Boardwalk is home to Flying Fish, a popular signature dining restaurant. Expect elegantly prepared seafood dishes and excellent service.
The Boardwalk is also home to Boardwalk Bakery and Big River Grille. The bakery is the location that will be re-imagined moving forward.
Additionally, Big River Grille and Brewing Works takes walk-ups and is similar to a chain restaurant like an Applebees. I've enjoyed several casual meals here over the years.
For more information, try our Boardwalk Restaurants Guide.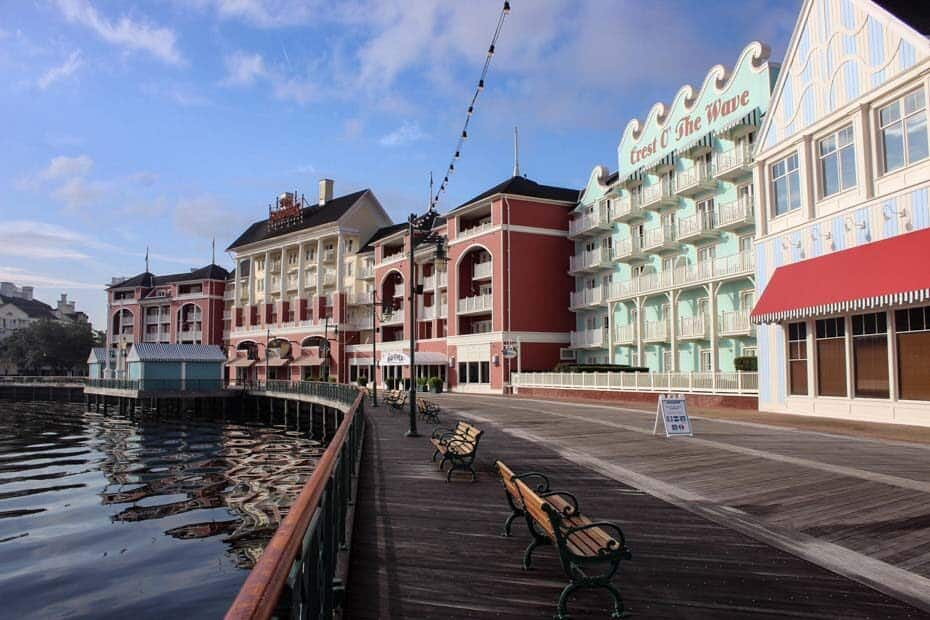 Over at the Swan and Dolphin, there are several signature dining options like Il Mulino, Todd English's Blue Zoo, and Shula's Steakhouse.
If you're looking for something more casual, we love to eat at The Fountain, located on the first floor of the Dolphin. This restaurant is similar to Beaches and Cream and offers various menu items.
And if you prefer to eat outside, the Cabana Bar and Beach Club Grill is located out by the pool. This location takes walk-ups, and they have several tasty menu options.
Related: Restaurants at Disney's Swan and Dolphin
And with the addition of the Disney Skyliner, I feel it's appropriate to mention a few options at the Riviera. Who am I kidding? EVERY restaurant at the Riviera is outstanding.
In fact, the Riviera is where you can go to get a quality counter service meal. Primo Piatto has quickly become our top choice for the best quick service at Disney World.
And if you're looking for character dining, you can't miss the character breakfast at Topolino's Terrace. This breakfast is going to be the best option available at Disney World.
Or, if you would like to casually tour the resort, you might enjoy a treat from Le Petit Cafe. If you ask the cast members what's good, they will tell you the truth, everything.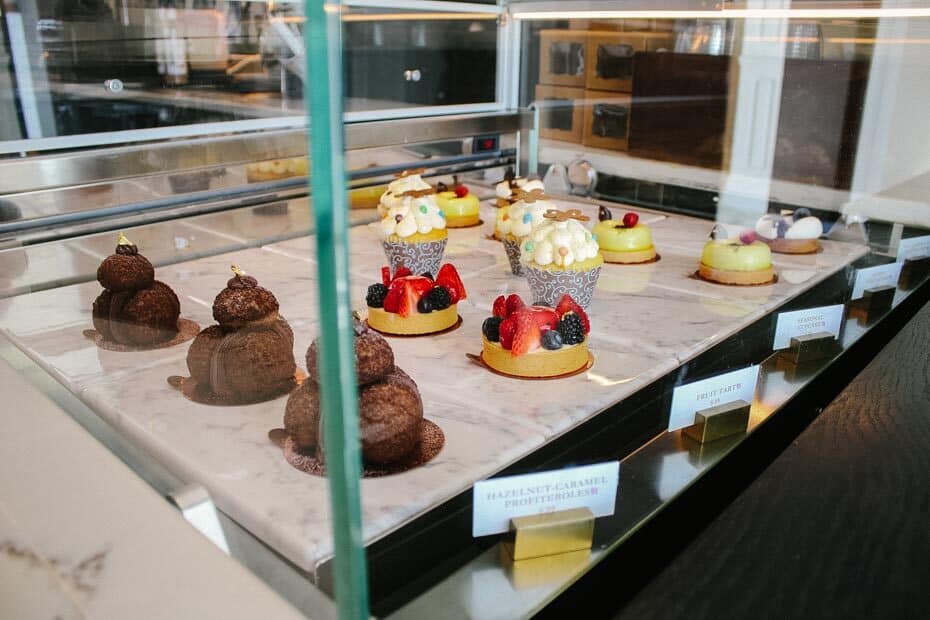 And Bar Riva, the indoor/outdoor lounge by the pool, is fantastic. On my last visit, I enjoyed a salad packed with shrimp. The salad was excellent, but it was also healthy compared to most options.
Related: Restaurants at Disney's Riviera
Final Thoughts on Dining at Disney's Beach and Yacht Club
Hopefully, this guide provided you with a complete overview of dining at Disney's Beach and Yacht Clubs. Also, I hope that it helped give you a few other suggestions for nearby restaurants.
I've spent more time at Disney's Beach Club than any other resort. It's a place I think of as home.
When I'm not there, I miss it, and even if I'm not staying there, I always find a reason to return. Usually, that reason is for a meal.
For more information on Disney's Beach Club, all of our articles are available here. And all of our content for the Yacht Club is listed here.
You might also enjoy these individual reviews:
In the comments: What are your thoughts about dining at Disney's Beach and Yacht Club? Do you have any favorite restaurants here? Are there any you are looking forward to trying?