Grand Floridian Cafe Review & Menu
Disney's Grand Floridian Cafe has been a family favorite for the past several years. The restaurant is one of our go-to places for a nice, relaxing lunch or late breakfast.
There are many perks about visiting this little cafe nestled in the back corner of the Grand Floridian's main building. And a visit to the resort, in general, is something well worth the time for most on a Disney vacation.
This Grand Floridian Cafe review will cover a few lunches and one dinner. We'll take a look at the menus, entrees, appetizers, and the overall atmosphere you can expect to find when visiting. I'll also include a few tips on dining here with food allergies.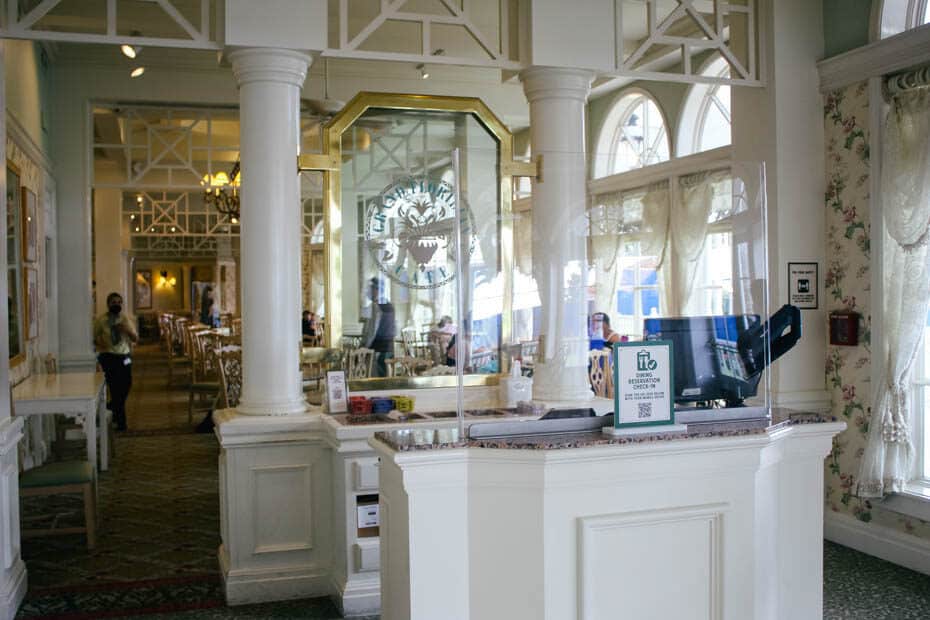 Grand Floridian Cafe is located in the back of the Grand's main building next door to 1900 Park Fare. Both restaurants are in a hallway just off the lobby.
Below is a photo of the entrance to the restaurant. You might notice that there's a mobile check-in sign in front of the regular hostess stand. When you get to the entrance of any table service restaurant at Walt Disney World, you'll encounter one of these signs with a QR code to check-in.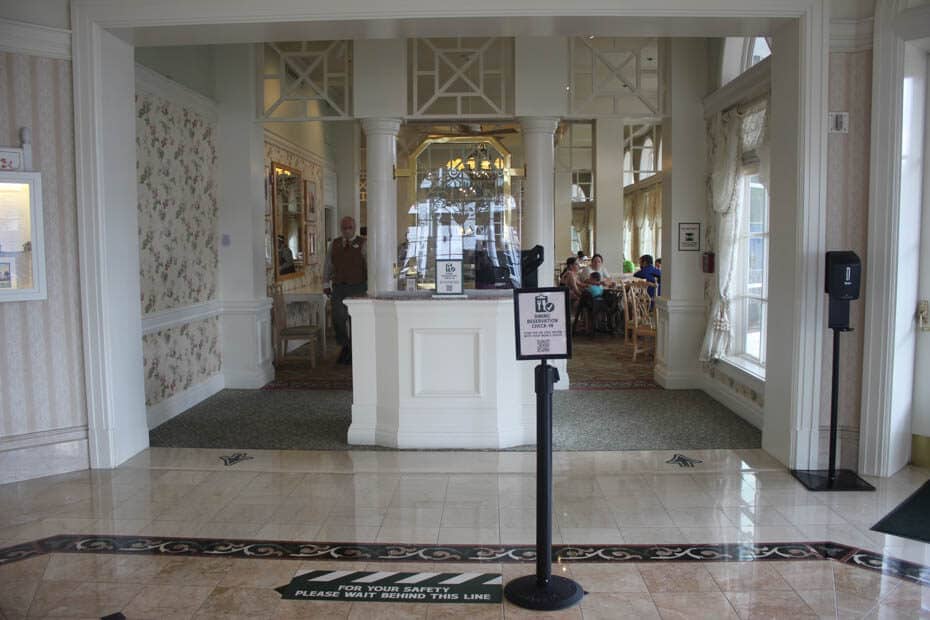 All you have to do is open the photo application on your mobile device and hover over the QR code. This will prompt your phone to open a mobile browser and instruct you to check-in for your reservation.
Additionally, when you arrive anywhere in the vicinity of a restaurant, you can open the My Disney Experience app and select your reservation to check-in. At this point, the app will ask you to provide any details like special celebrations or food allergies.
Usually, this step is done upfront when making the initial reservation. Since this new process started, I have found that I can no longer add these exceptional items initially. So now I make the reservation, and when I check-in at the restaurant, I add in a member of my party's food allergies.
Grand Floridian Cafe Menu
Since we stayed at the Grand Floridian recently, we ended up having dinner there one evening after returning from Magic Kingdom. If you'd like to learn more, there is a full review of our stay at the Grand Floridian Villas.
Here's a look at the allergy-free dinner menu. You can view the full menu on Disney's site here.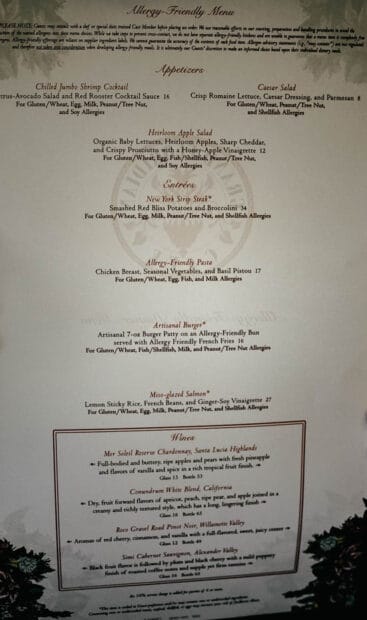 Because we love Grand Floridian Cafe so much, we went back on a different day for a lunch comparison. That day we were given a disposable paper lunch menu.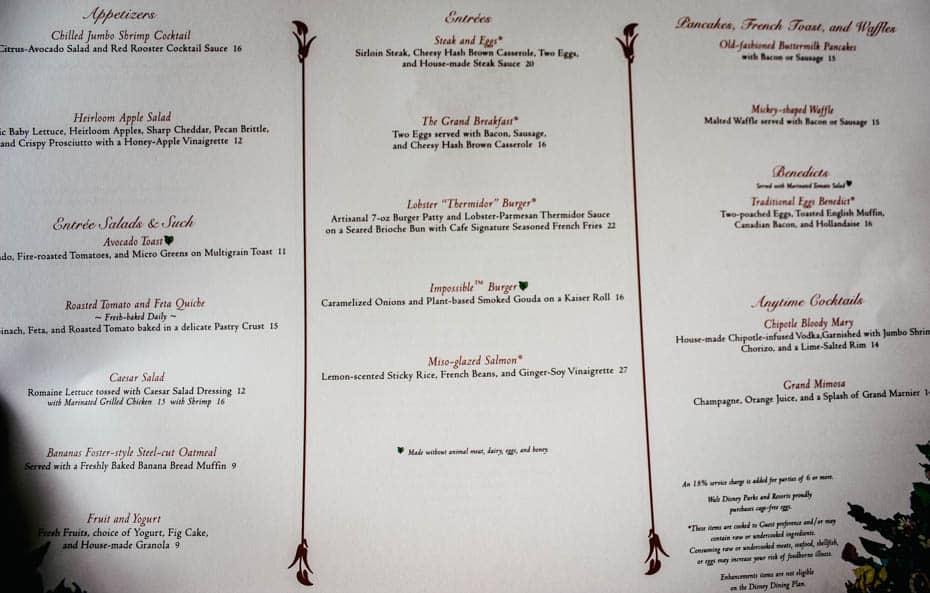 If you require a menu, a cast member will bring you a disposable one to the table. This keeps cross contamination low and protects the cast from having to touch them repeatedly. You'll also find that checks are now brought to the table in disposable envelopes as well.
However, the majority of guests will be seated and find a scannable QR code at the table. This is the same process as mobile check-in, where you scan the QR code, and the menu comes up on your mobile device.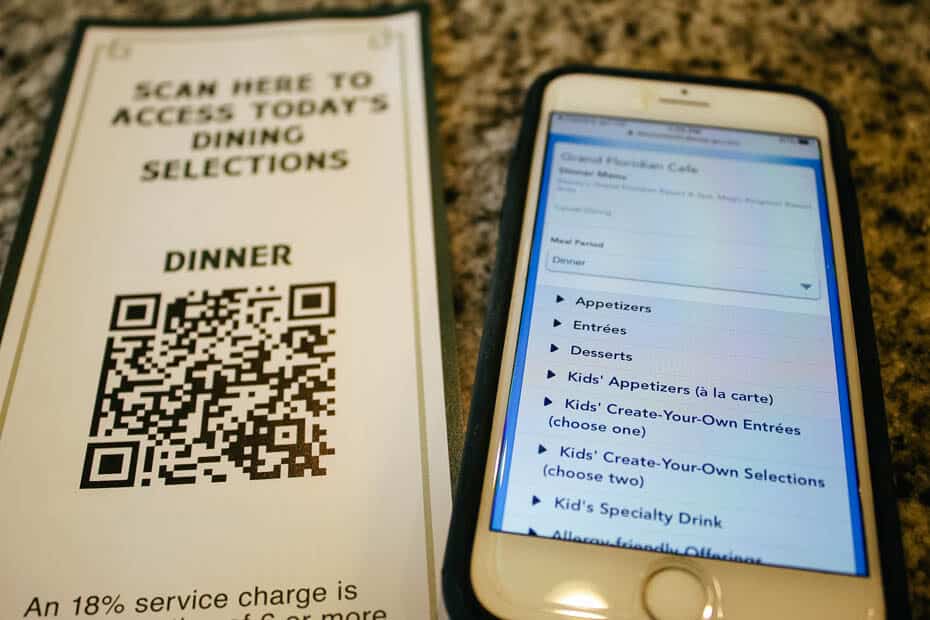 One of my favorite things about dining at Grand Floridian Cafe is that they offer a lunch menu combined with their breakfast items. Therefore, if you feel in the mood for breakfast items at lunch, you have plenty of options. This is also nice for children, as they have more selections on the menu than average.
Grand Floridian Cafe Review
The Grand Floridian Cafe is a long and narrow restaurant that kind of fans out into an octagonal shape toward the back. From the outside, this portion of the hotel resembles a gazebo. A majority of the restaurant faces a wall of windows with light shades and sheer curtains.
The restaurant, like the resort, is very Victorian. However, I think you'll find that the cafe name holds to the casual vibe you can expect to find here.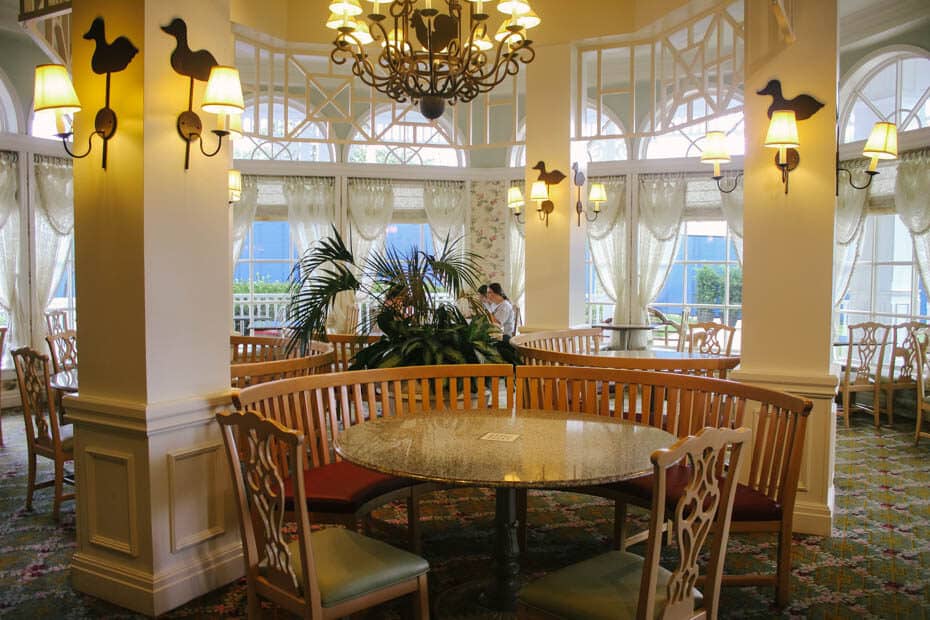 We were seated at the restaurant's very back, and it's actually where I prefer to sit when dining here. Even though I rarely make those kinds of special requests.
On this day, we had a lovely view of the large blue fence that was temporarily in place to create a barrier for the NBA. Most of the teams arrived when we stayed here in July, and we even caught a few glimpses of several players. But, unfortunately, I'm clueless and have no idea who any of them were.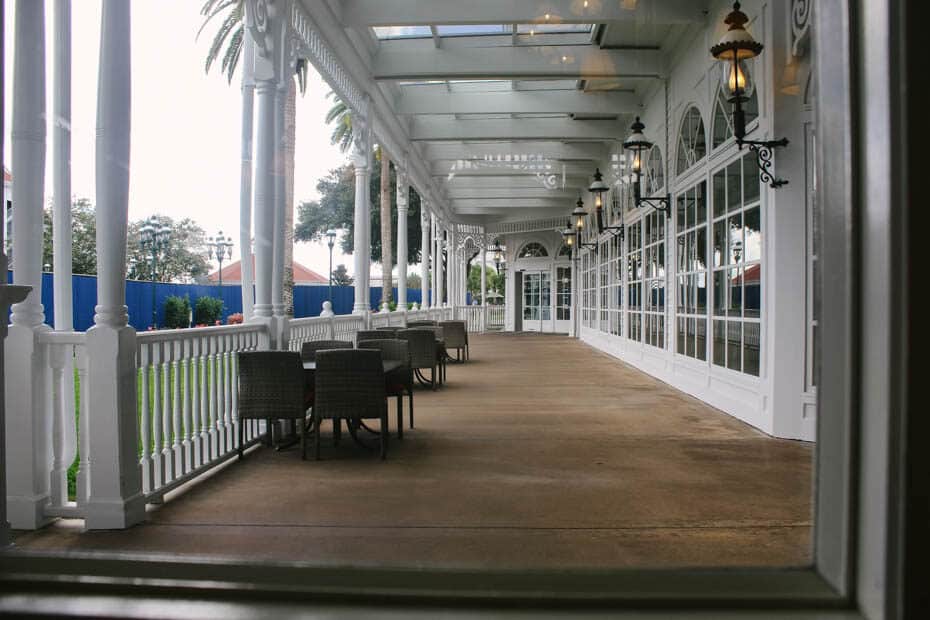 Nevertheless, it was still kind of exciting, I guess. Of course, at this point and time, really anything is exciting, after months and months of not going anywhere.
Here's a look at the specific view from our table. Normally, you can expect to find a single; fresh rose at each table. But these days there aren't many fresh flowers at the resorts.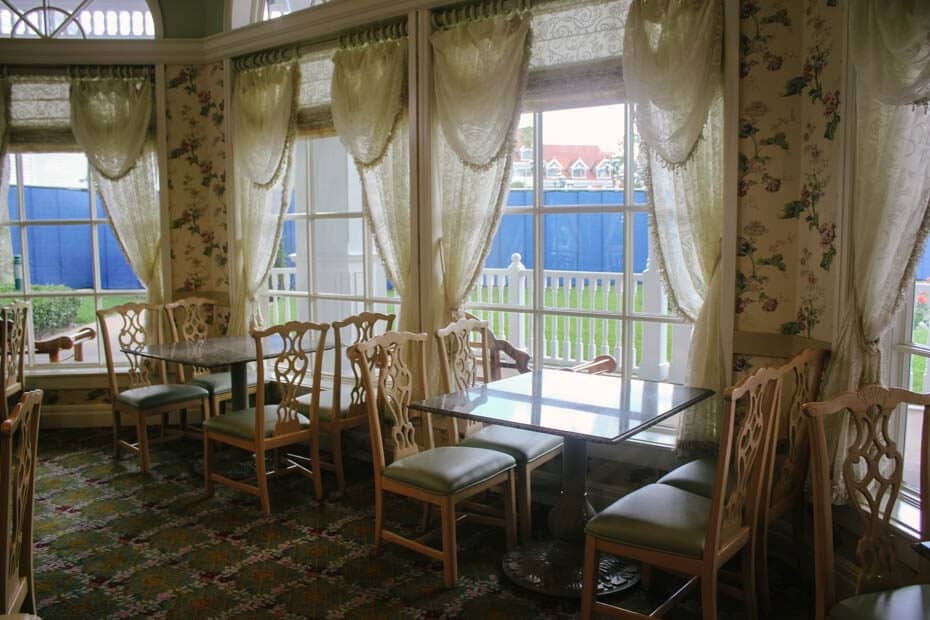 This is understandable given the lack of crowds and overall capacity limits. Also, there is now an option to dine outside, which I've made mention of down below.
As a reminder, you can order most breakfast items for lunch when dining at the Grand Floridian Cafe. This is a great plus if you want more of a brunch-type meal.
During our lunch visit, my son ordered the allergy-friendly Mickey waffles. The waffles come with a choice of bacon or sausage. This was more of a late breakfast and early lunch for us, so he ordered an additional side of bacon. Disney is using a different allergy-free baking mix from what we have been told since they re-opened.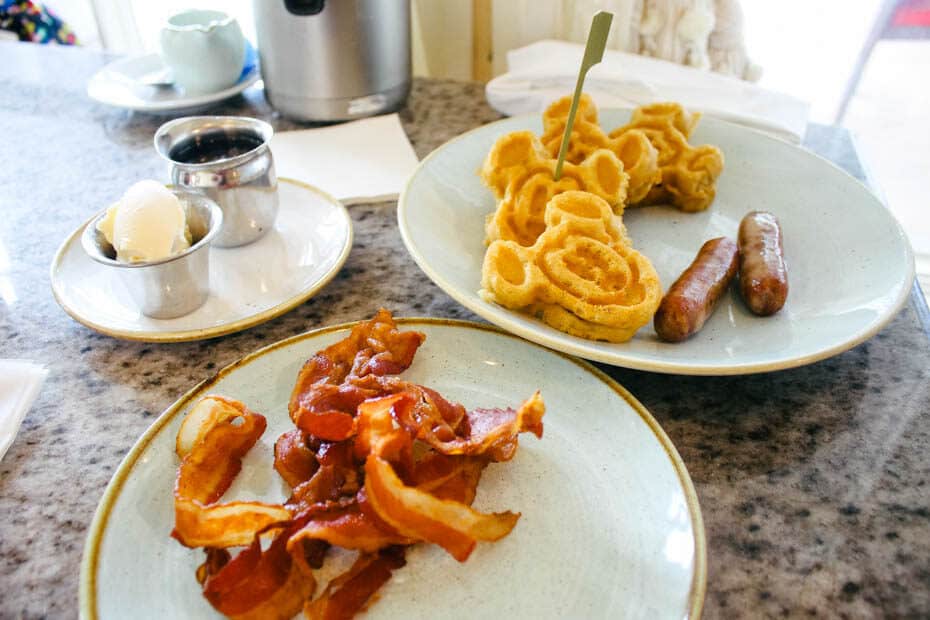 My son enjoys the Mickey waffles, but he said he didn't care for this new mix as much. That's a soy spread in the background above that is used as a butter replacement.
On this visit, I went with an item off the appetizer portion of the menu and an item from the "salads and such" section. If you want to try multiple things, I always suggest going with one or two appetizers. Or you can combine one with a soup and salad instead of ordering a traditional entree.
First, we have a look at the Avocado Toast. This is also considered a vegan, plant-based item on the Grand Floridian breakfast menu.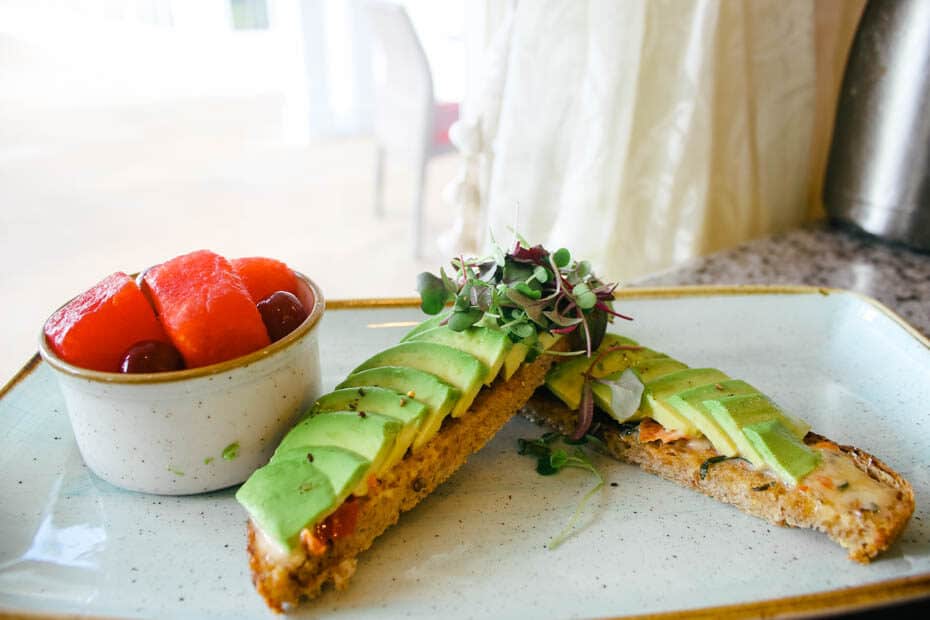 The toast is described as avocados, fire-roasted tomatoes, and microgreens on multi-grain toast. The bread portion was delicious topped with some melted buttery-spread, then adorned with fresh slices of avocado and a few micro greens as a garnish.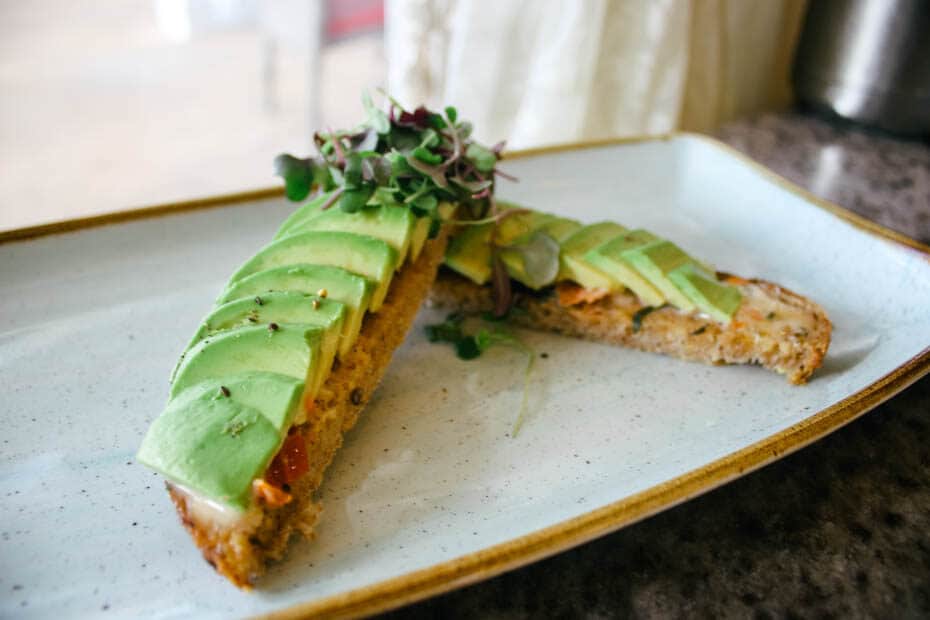 I ordered the toast without the tomatoes and elected to have a fruit salad on the side instead. This dish was filling and made the perfect bite to accompany the shrimp cocktail that I had ordered.
This next dish was the superstar of this meal. Having eaten at the Grand Floridian Cafe many times prior, I knew the shrimp cocktail was a popular item. However, this version is different from what I've seen other guests receive on prior visits. Hopefully, it's here to stay. I'd have a tough time not ordering it on a return visit.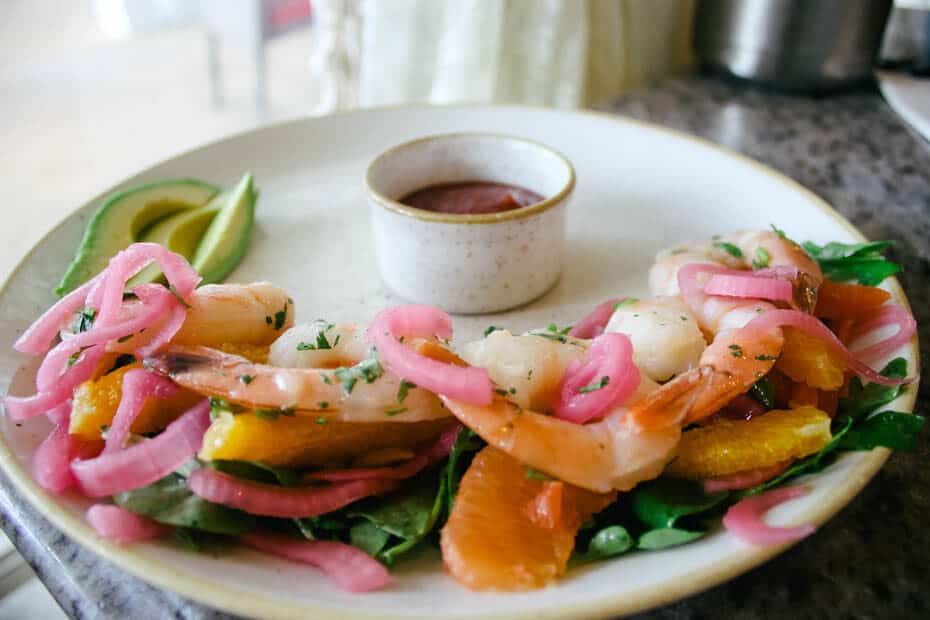 The salad came with six tremendous-sized shrimp layered with pickled onion, grapefruit, orange slices, and arugula. There was a cocktail sauce in the middle and sliced avocado on the side of the plate.
I didn't anticipate receiving this many shrimp, and I was impressed with the quality of the food presented. The only thing I wasn't crazy about was the bit of cilantro garnish sprinkled over the top. But it was by no means a deal-breaker.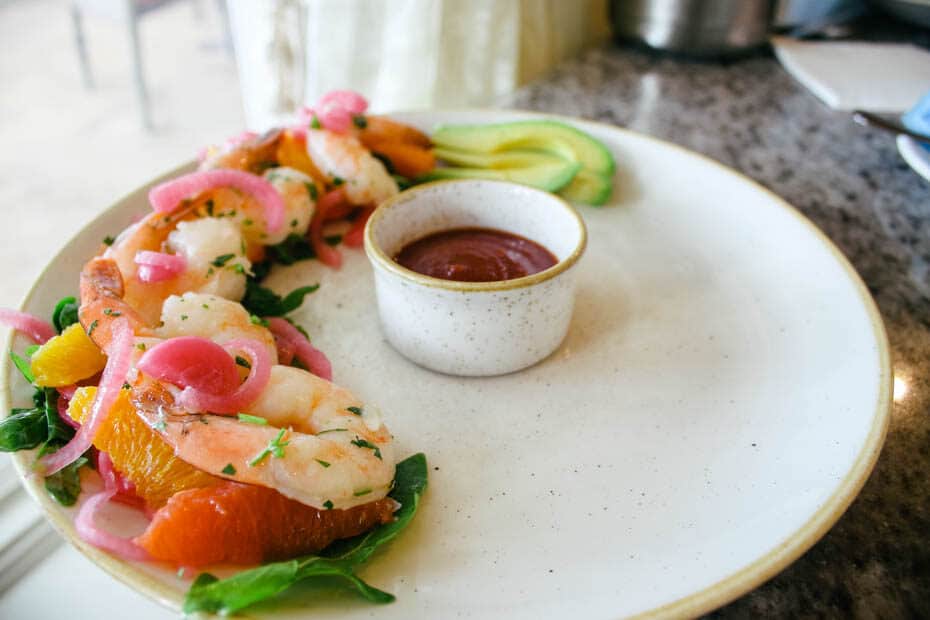 They say that cilantro is an herb that either you love or hate. For me, I've just never been crazy about it. But I wouldn't let that stop you from ordering this dish.
Before we move on to dinner, I wanted to share another meal I had when I was photographing Christmas decor on a more recent visit. Below we have the miso-glazed salmon lunch entree. This is also available on the dinner menu.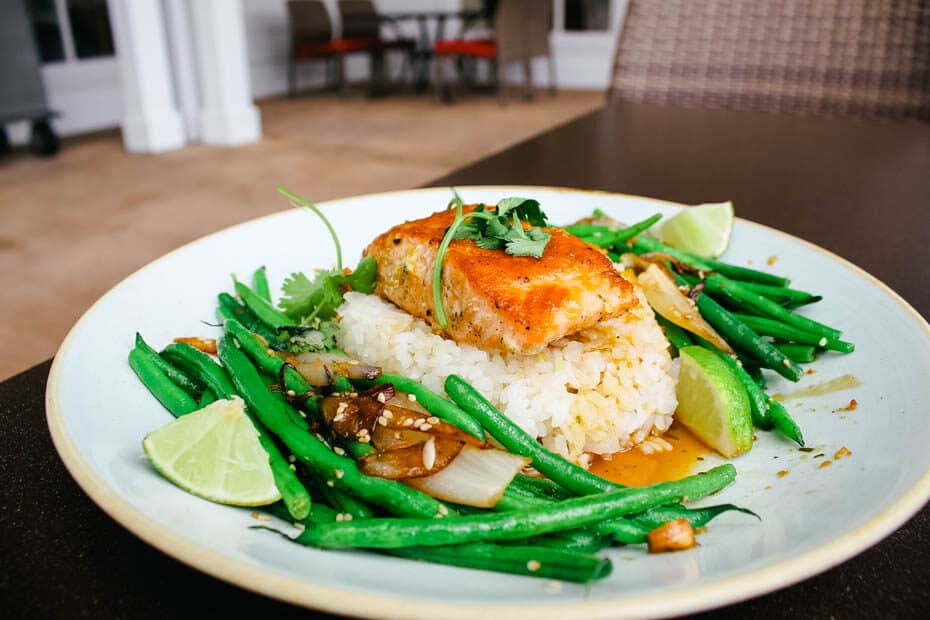 I have gotten into the habit of eating most of my meals outside at Disney this last year. Thankfully, the Grand Floridian Cafe has added the option to eat out on the patio adjacent to the restaurant.
As for the salmon, it was one of the best meals I had on a week-long stay at Disney. The green beans were fresh, and the rice had a lemon-y ginger twang that was quite refreshing.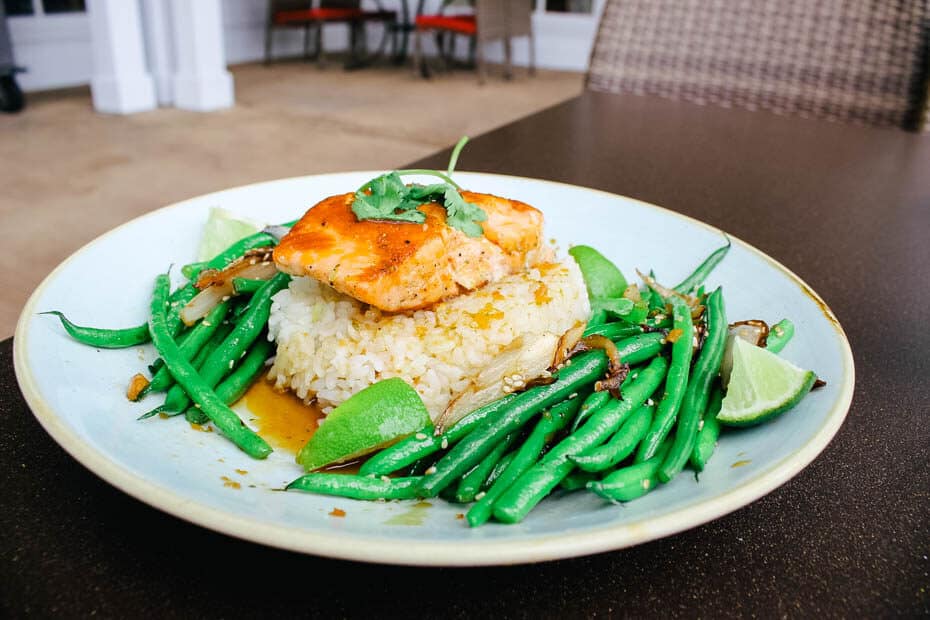 If you like salmon, I wouldn't hesitate to order this. In fact, I would highly encourage it.
Before our former lunch excursion, we had an evening dinner at Grand Floridian Cafe. On that visit, I started with the Heirloom Apple Salad. This is an excellent option for anyone looking for a lighter fare menu item. The salad comes with organic baby lettuce, crispy prosciutto, sharp cheddar, and a honey-apple vinaigrette.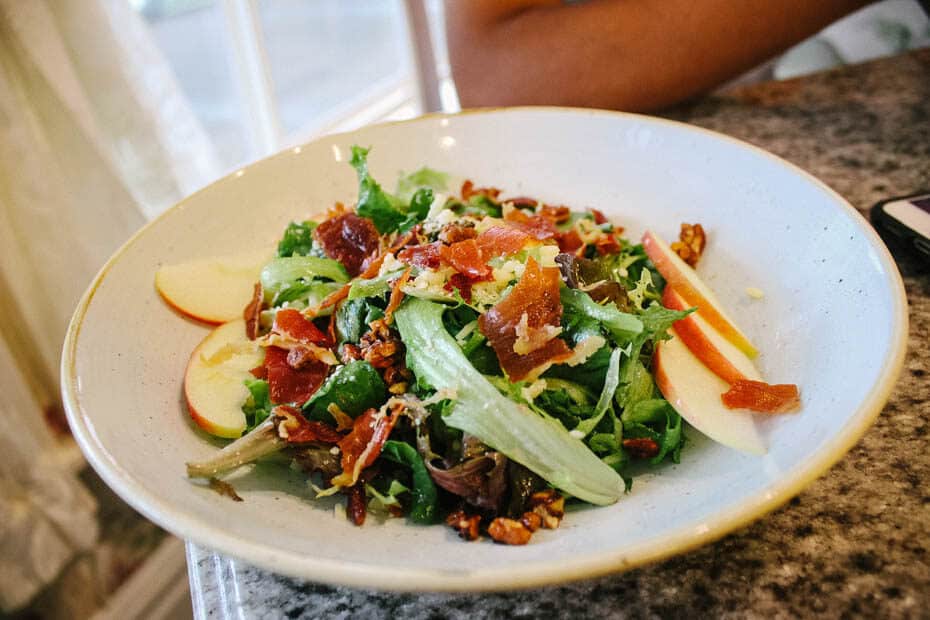 Next, we have the Impossible Burger plant-based meal. I feel like the photos I took of this burger do no justice at all.
So while not perfect in appearance, this is another delicious option. The French fries here were similar to steak fries. I hadn't had this kind of fries in so long, and I found myself devouring them.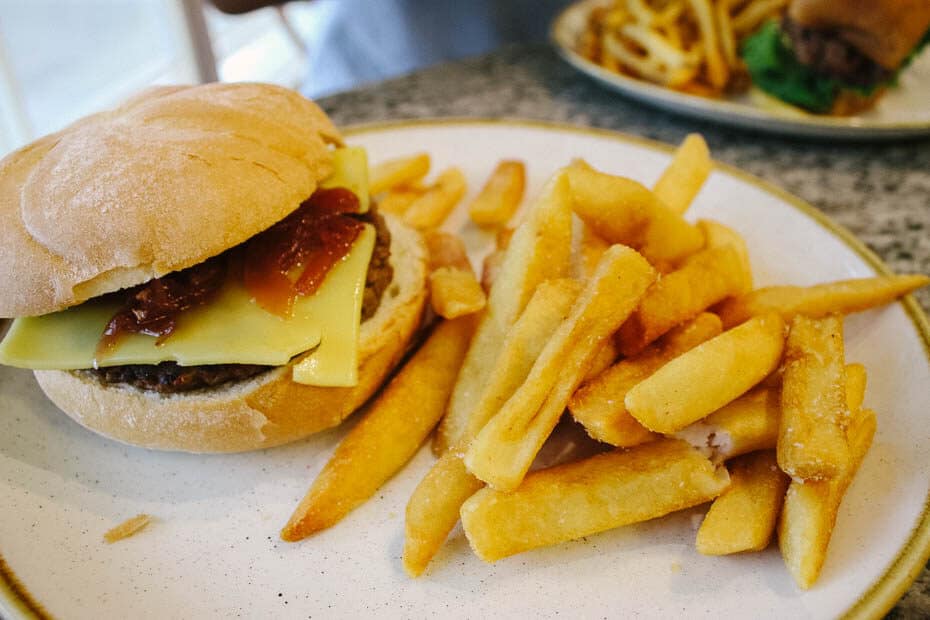 As far as the Impossible Burger at Grand Floridian Cafe, it comes on a Kaiser roll with plant-based-smoked gouda and caramelized onions. Like all of the other plant-based options I've had from Impossible, I would never know the difference between this and a regular burger.
Since I initially enjoyed this meal, I've had several variations of Impossible Burgers at Walt Disney World, and so far, this has still been my favorite. Coming in second place is the one next door at Polynesians quick-service, Captain Cook's (review). They have a roasted red pepper and arugula burger.
Is it healthier? I want to think so, but calorie-wise, probably not. I mention this because most of us like to think we are making a good decision when we order "plant-based." But I think the items are more to accommodate a vegan diet than they are healthy.
Since I originally wrote this review, I went vegetarian for a period of time and have since tried a lot of vegan food options at Disney World. That review lists every item I've had to date and I update it when I try new things.
On this evening, when we spoke with the chef, she asked my son what he would like to eat, and he mentioned a burger. There wasn't an option on the menu with any bun that my son could actually eat.
However, the chef said she did have rolls that were safe, and she could make sliders. So while these aren't actual menu items, they represent a good idea of how the chefs typically handle food allergies at Disney.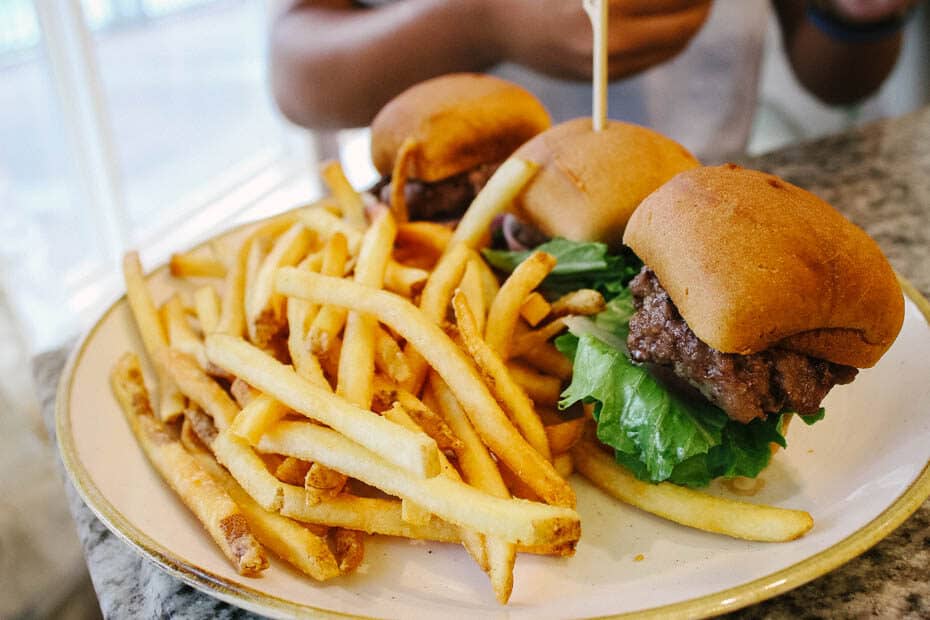 This turned out to be a great option for him, and I was glad it was anything other than allergy-free chicken nuggets. A good chef at Disney will go above and beyond to make sure anyone dealing with food allergies has a wonderful meal.
We've had so many good experiences with the chefs and the cast members attending us in the restaurants. I feel like I can never express how thankful I am for these dining opportunities. I'm sure if you have food allergies, you probably understand the sentiment.
Since we last visited the Grand Floridian Cafe, I returned with a large group for breakfast one morning during the holiday season. There is a separate review of that breakfast at the Grand Floridian if you would like to see more options.
It includes popular items like lobster Benedict, chicken and waffles, and that yummy cheese hashbrown casserole.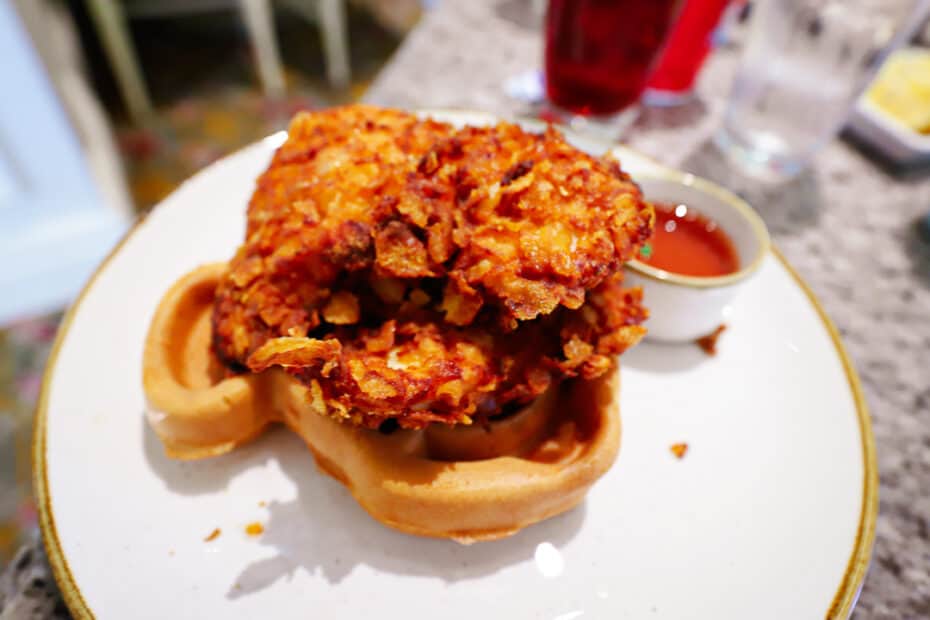 Final Thoughts on this Grand Floridian Cafe Review
Whether you stay at Disney's Grand Floridian or are just visiting as a day guest, you can't go wrong with a trip to this hidden gem. The prices are very reasonable, and the service we have received here has always been excellent.
Grand Floridian Cafe is one of my few go-to dining places. It's listed pretty high at the top of my favorite Disney restaurant reviews.
In most instances, we do prefer the variety of the lunch menu at Grand Floridian Cafe over the dinner menu. It's usually a little more private earlier in the day than later in the evening.
For more information on dining at the resort, I have a full overview of the Grand Floridian restaurants. It covers every dining option available. Other options include the resort's three signature dining locations and a character dining option at 1900 Park Fare.
Additionally, we have an updated review of Gasparilla Island Grill, the resort's quick-service location. I enjoy mobile ordering a meal here and taking it out to the pool when I'm visiting.
Or you might enjoy a few of these other favorite resort restaurants at Disney.
Whatever you decide, I'm sure you'll enjoy the visit. You can take the Disney resort monorail, resort boat launch, or you can walk from Magic Kingdom to access the Grand Floridian Cafe. You might also elect to drive over and park at the resort with a confirmed dining reservation.
Would you like to learn more about the Grand Floridian? Check out our full page devoted to the resort here.
Enjoy your meal, and leave me a comment below letting me know what you love about Grand Floridian Cafe! I'm always excited to visit and try new things to improve this review!