Roaring Fork (Counter Service at Disney's Wilderness Lodge)
Roaring Fork is the primary counter service dining location at Disney's Wilderness Lodge. This restaurant is located down the long hallway toward the back of the hotel lobby.
If you have an upcoming stay planned at Disney's Wilderness Lodge, you'll likely end up having a meal or two at Roaring Fork during your visit. So for this article, we'll preview what you can expect at the quick service location.
Fair warning, there are several delicious treats in the pastry case that you'll only find at the Wilderness Lodge. So make sure to save room for dessert!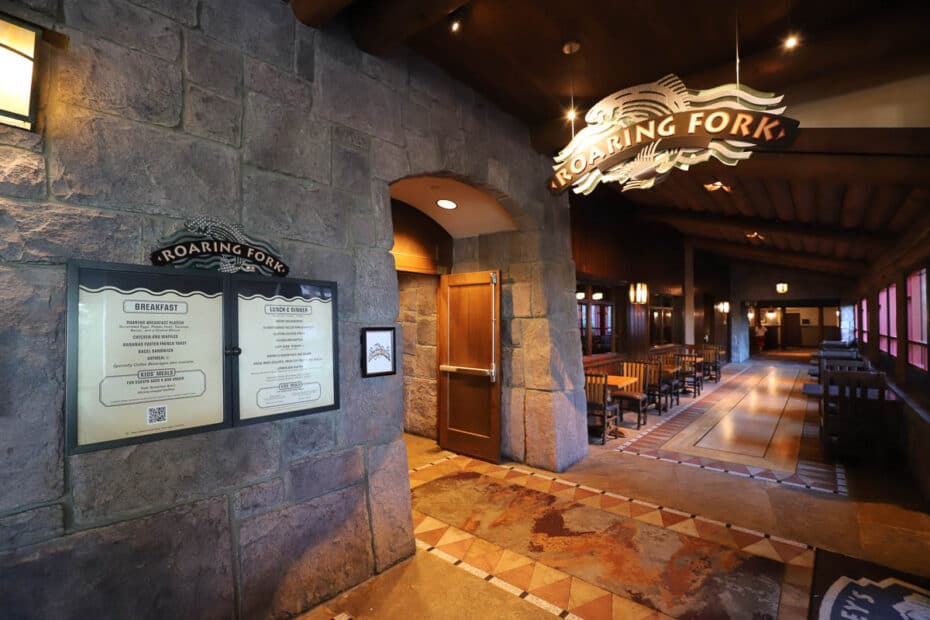 To locate Roaring Fork: from the Wilderness Lodge's lobby, you'll walk down the main hall. At the end of the hall, you'll turn the corner and find Roaring Fork immediately on the left.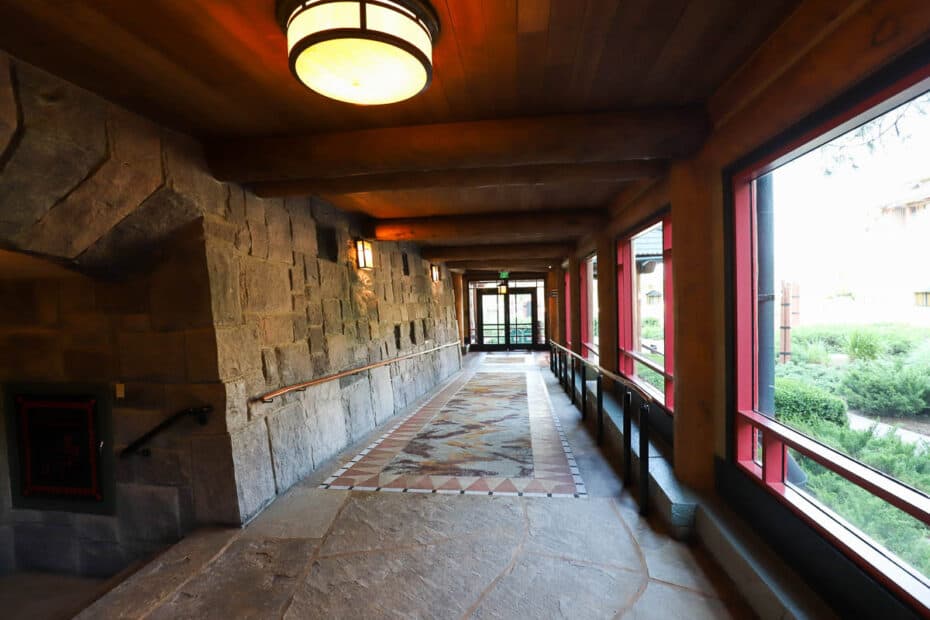 Roaring Fork is open daily between 7:00 a.m. and 11:00 p.m. This counter service dining location serves breakfast, lunch, and dinner.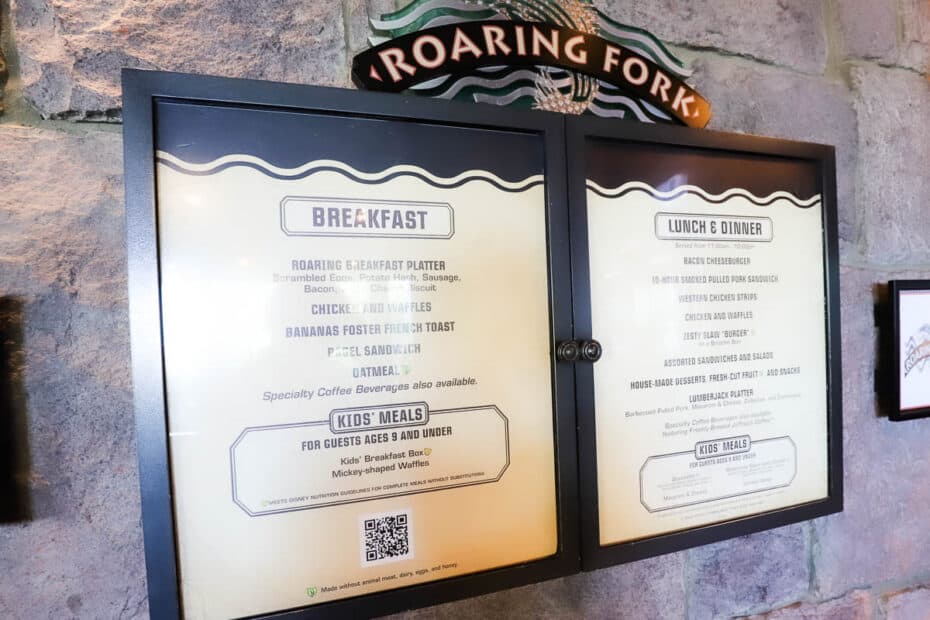 A menu is posted outside the restaurant. You can preview the most updated menu here on Disney's site.
Inside, there's a decent-size dining area with tables and chairs.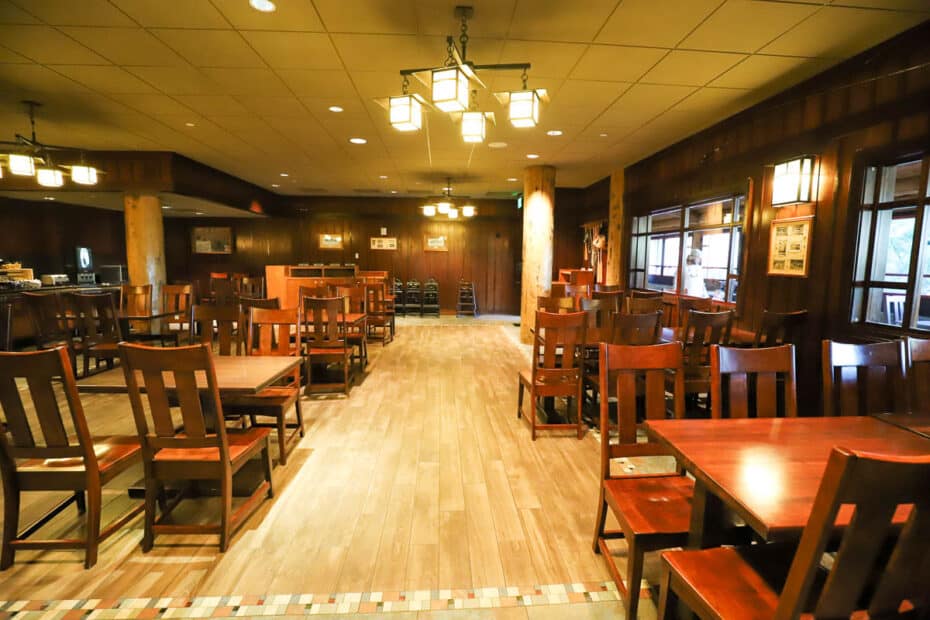 Roaring Fork prefers that you mobile order your meal and pick it up at one of these tables inside the service area. However, I noticed they were again taking guests' orders at the cash register. So you are welcome to order and then wait.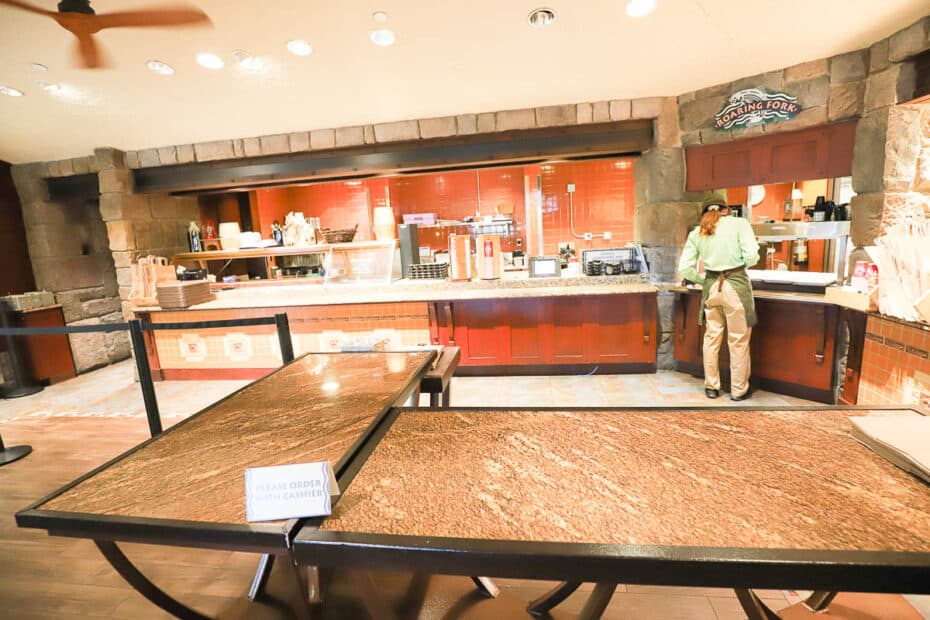 I was delighted to see that many of the items in the bakery had returned.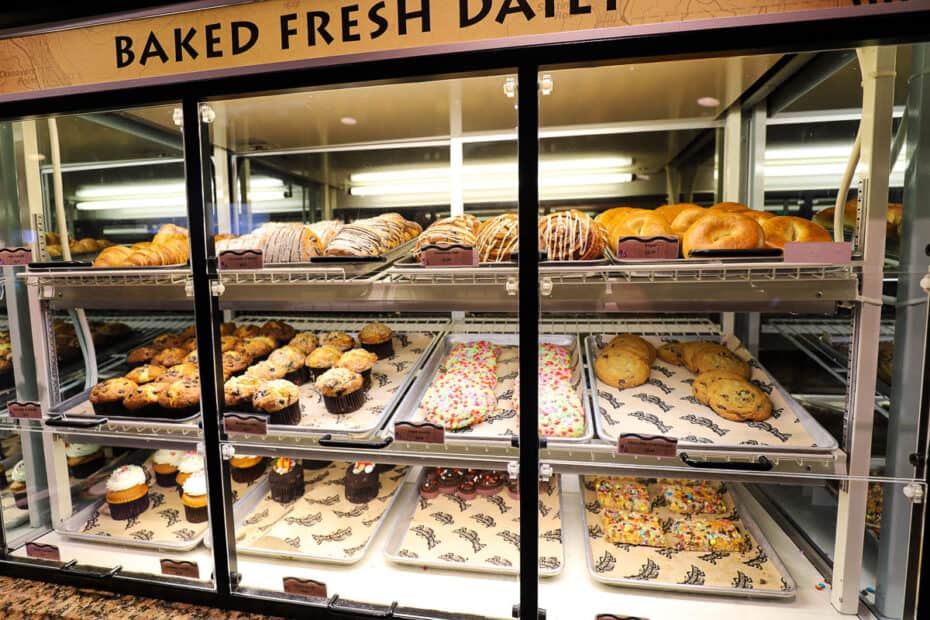 These magic bars are delicious.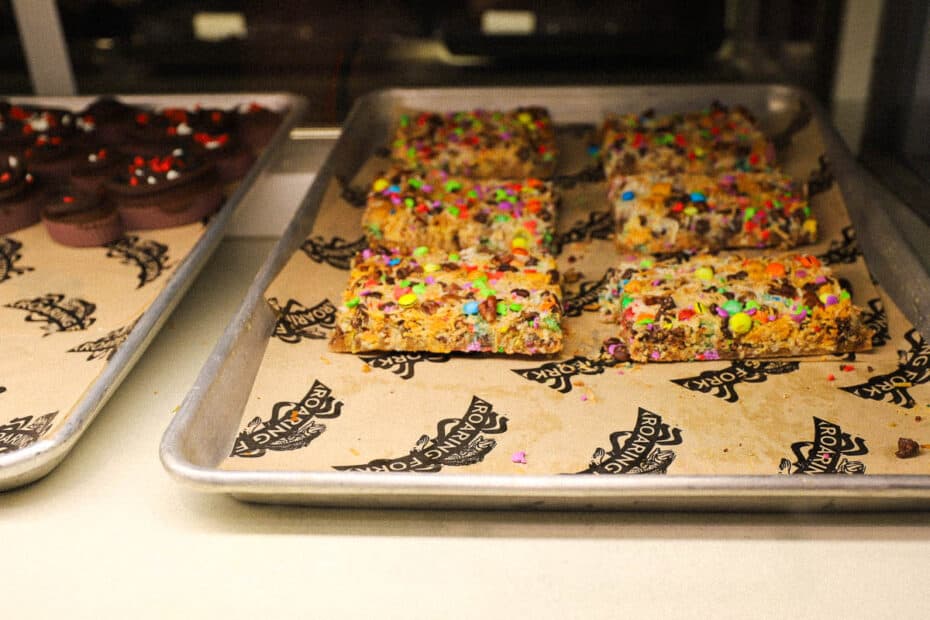 Here is the infamous Campfire S'more's cupcake. I can vouch that this is another tasty option.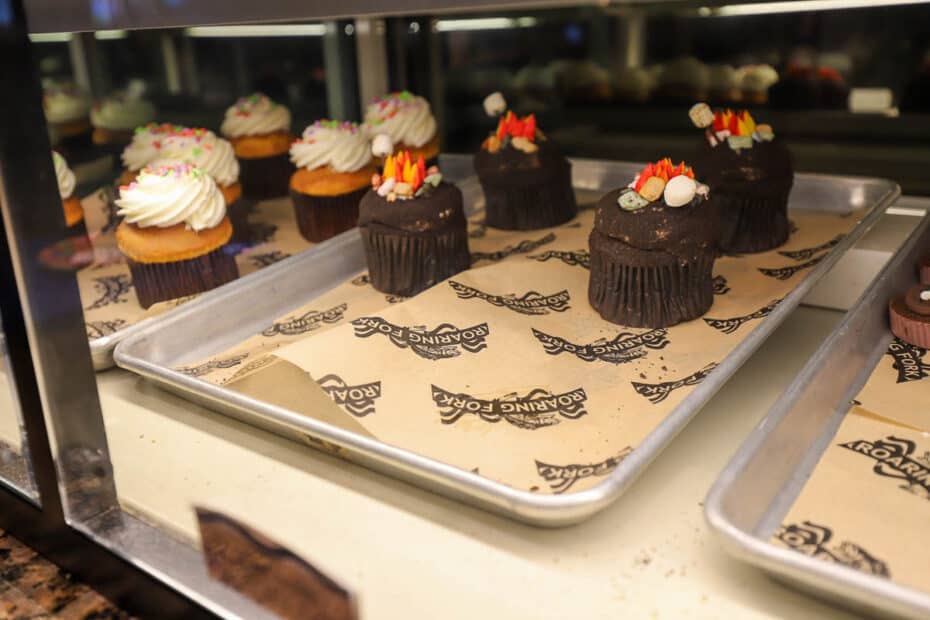 Additionally, these vanilla cupcakes look good.
I haven't had a chance to try these Mickey-shaped brownies, but I have heard good things.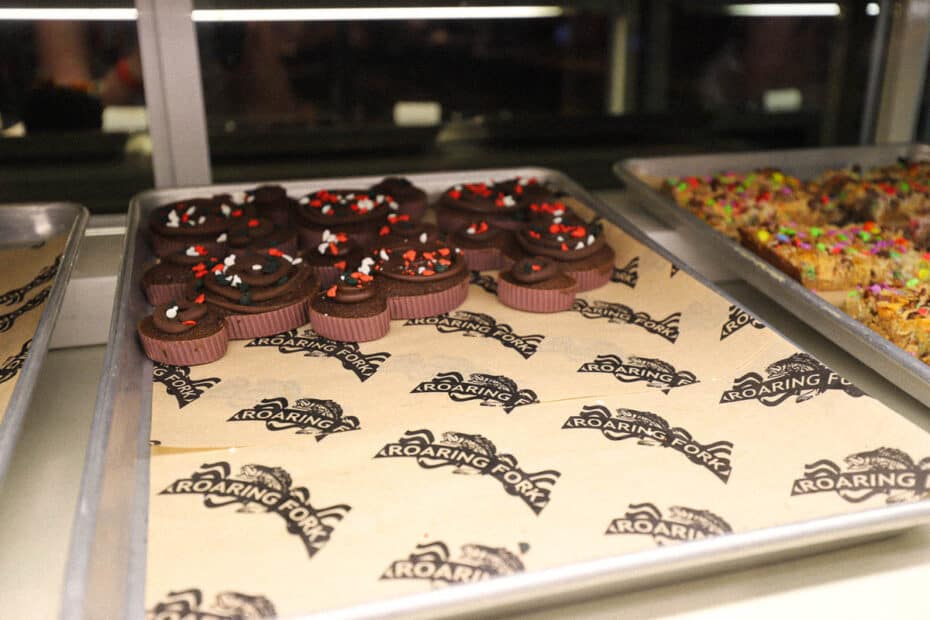 And this Roaring Smore cupcake is pretty new.
These refrigerated cases have the usual Coca-Cola products. The bottom had Dasani, Smart Water, and Pellegrino.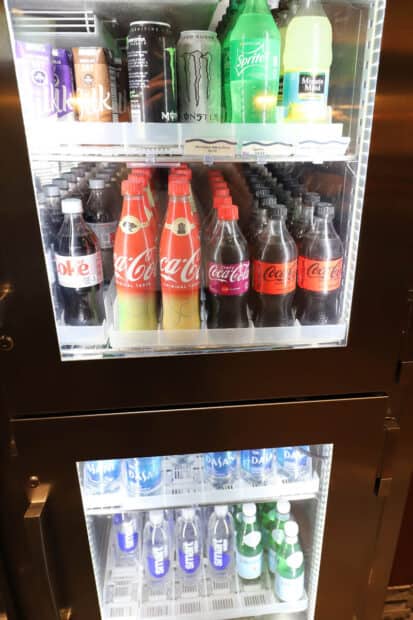 In this case, we see several beer selections and then fruit juice.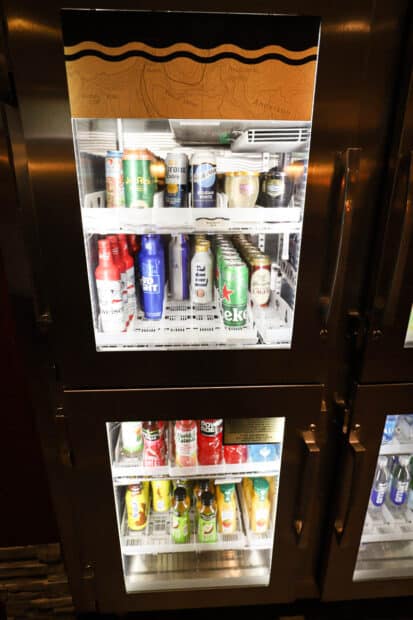 And, of course, there were Mickey Mouse ice cream bars available.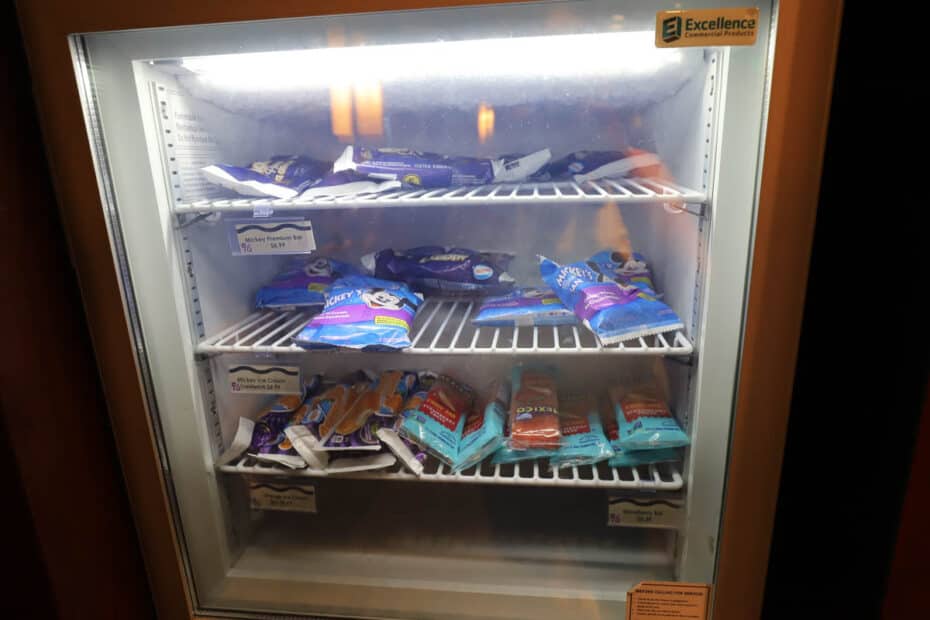 A stand in the corner of the room has fresh fruit, a few bags of chips, and individual cereal cups.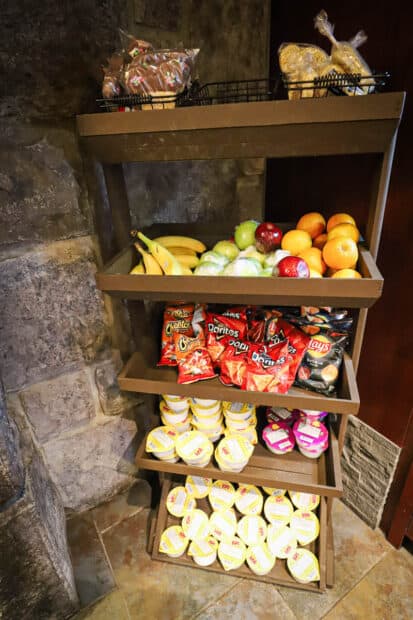 Lunch and dinner items include:
Bacon Cheeseburger
Pulled Pork Sandwich
Tuna Salad Sandwich
Zesty Slaw "Burger" (The use of quotation marks signals a plant-based item.)
Barbecued Brisket and Burnt Ends
Chicken Strips
Country-Style Baked Meatloaf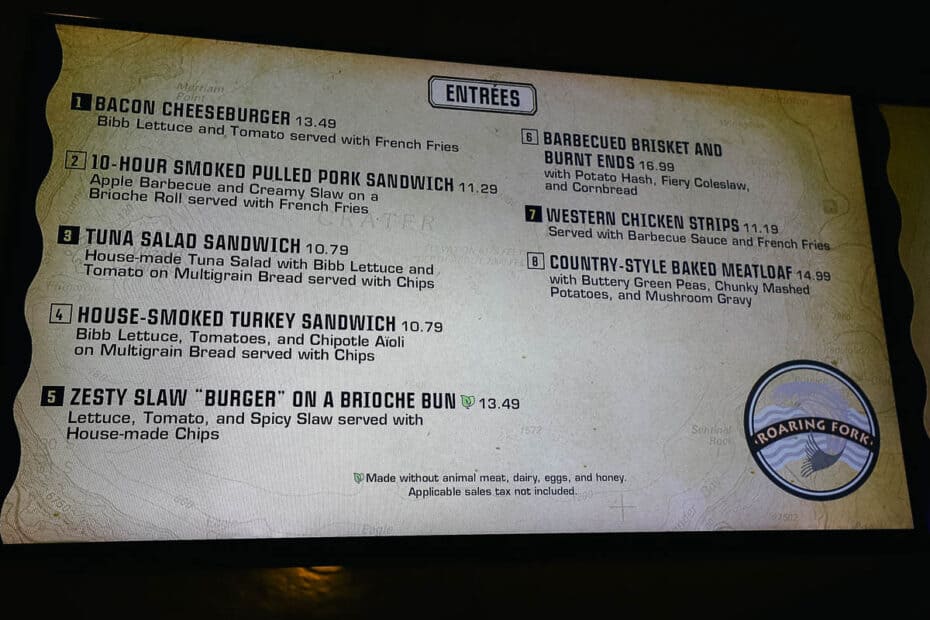 A separate menu lists a couple of salad options:
Caesar Salad with Chicken
Asian-style Tofu Salad
Heirloom Tomato Salad
Wilderness Salad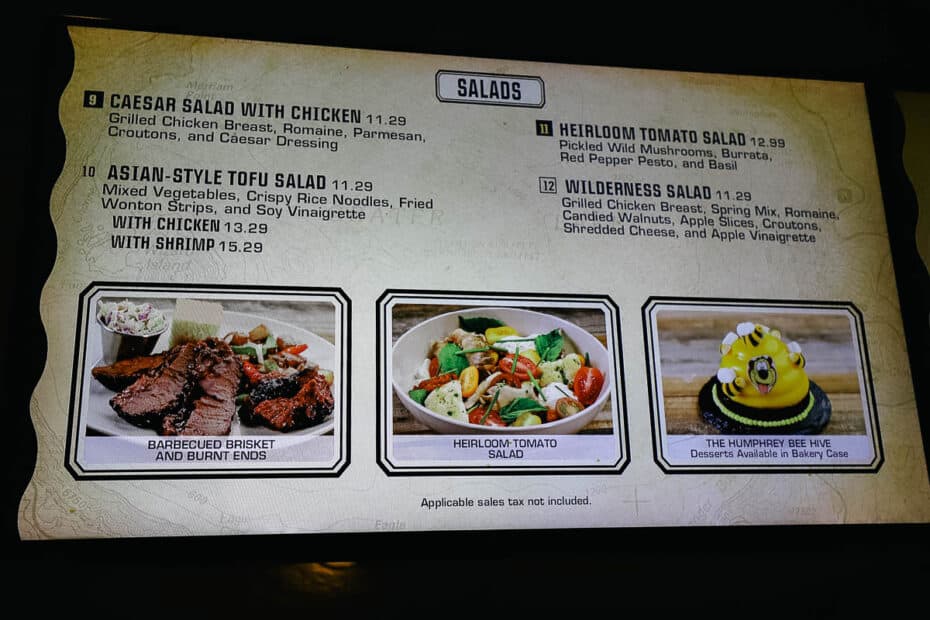 If only we could order freshly prepared items at every resort counter service like Roaring Fork. Additionally, I was impressed with the kids' meals options:
Chicken Quesadilla
Wilderness Salad
Chicken Strips
Mickey Macaroni and Cheese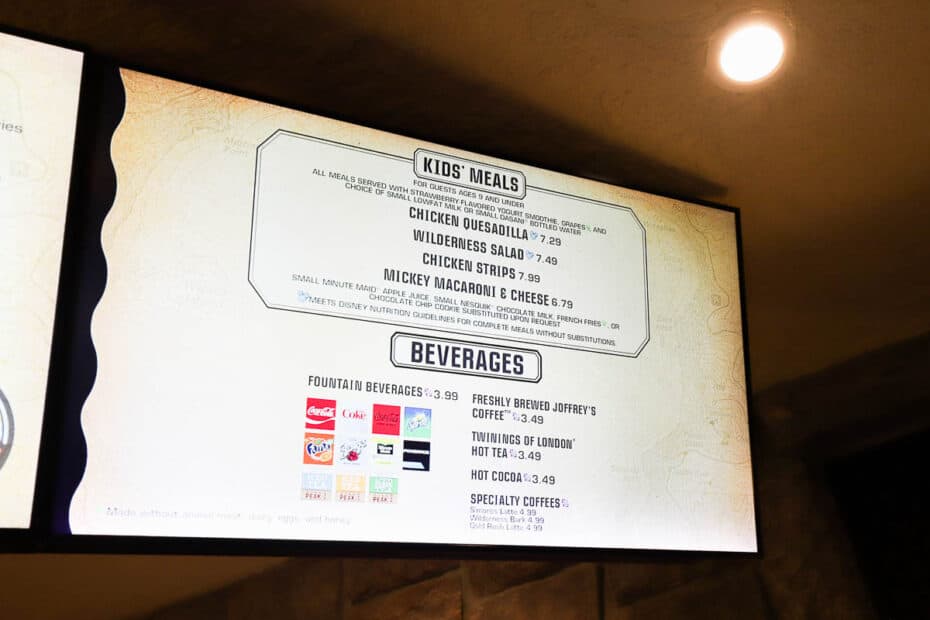 Here is a look at the fountain drinks. You can purchase a Rapid Refill mug at Roaring Fork that will last for the length of your stay.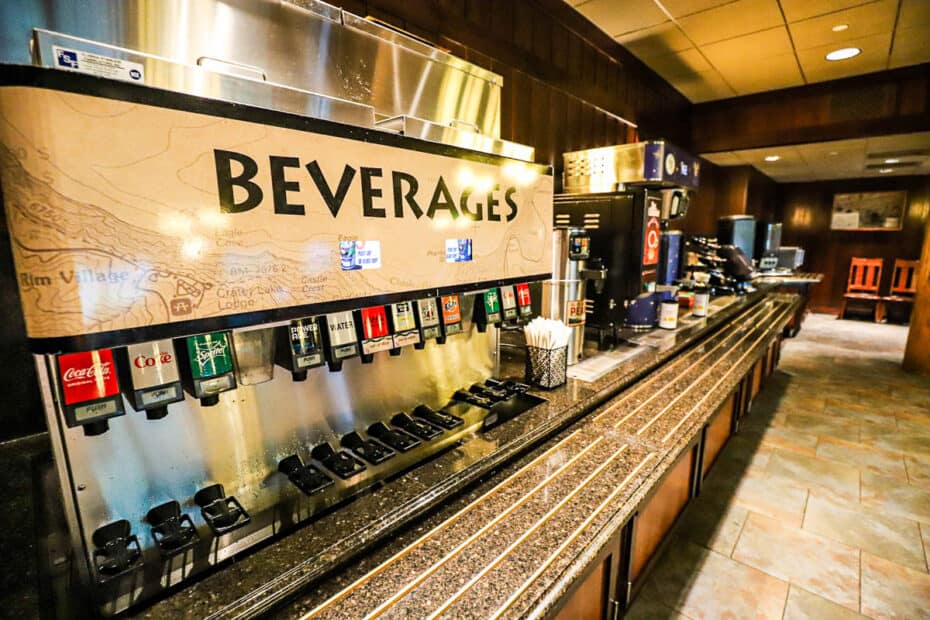 They are good for fountain drinks, coffee, tea, and water at the resort's quick service.
It's always nice to see a decent selection of herbal tea.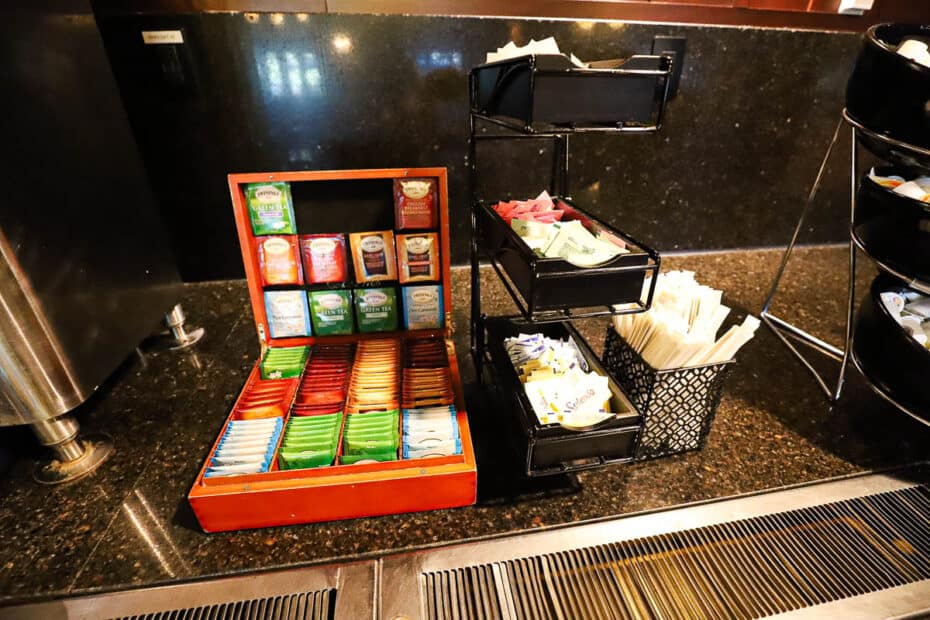 Often, I'll grab a few extra creamers and sweeteners for coffee in my room.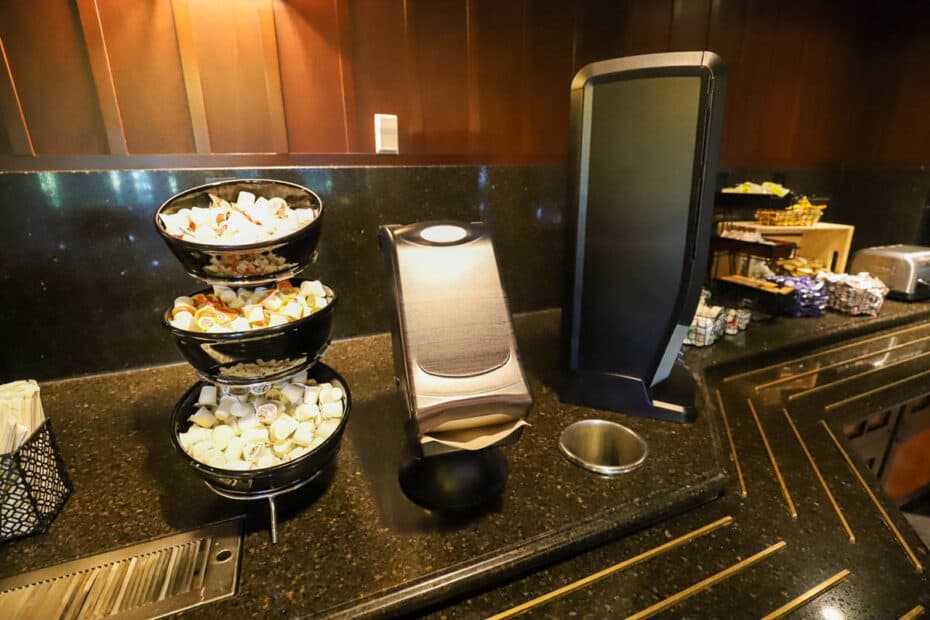 There were also several other condiments like peanut butter, jelly, honey, and various sauces.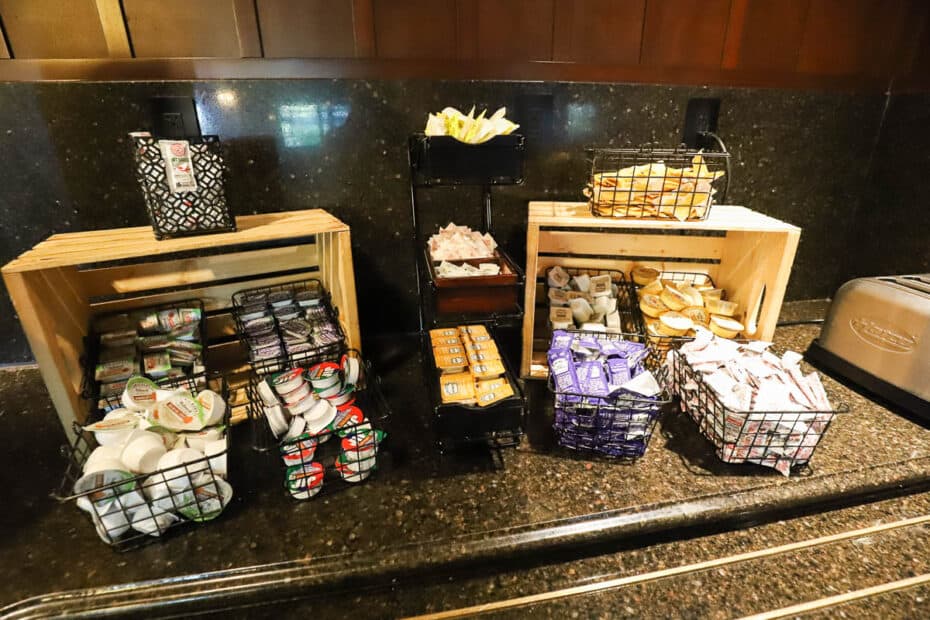 And should you need a toaster during your stay, you can use the one at Roaring Fork.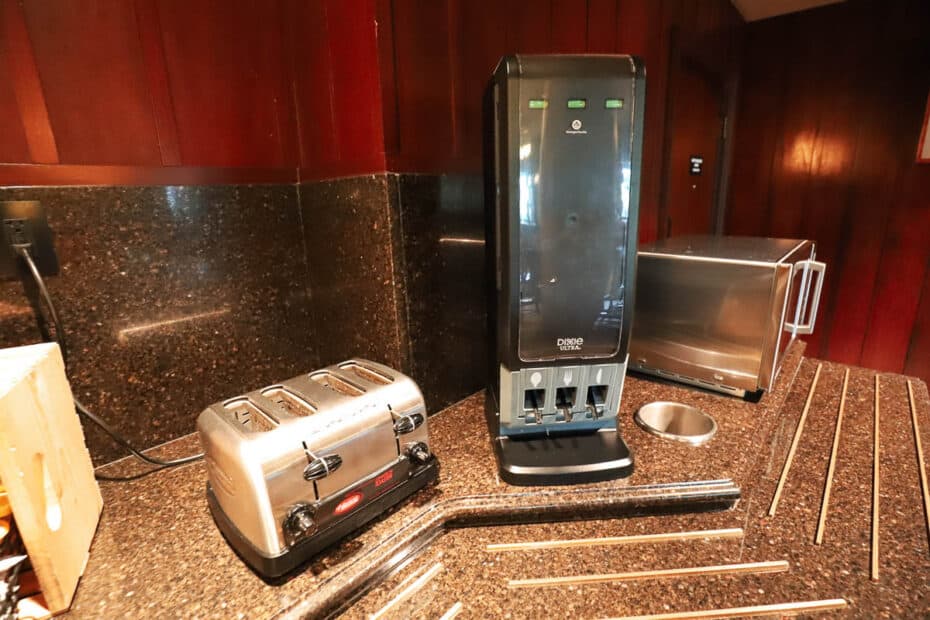 There's a microwave available too.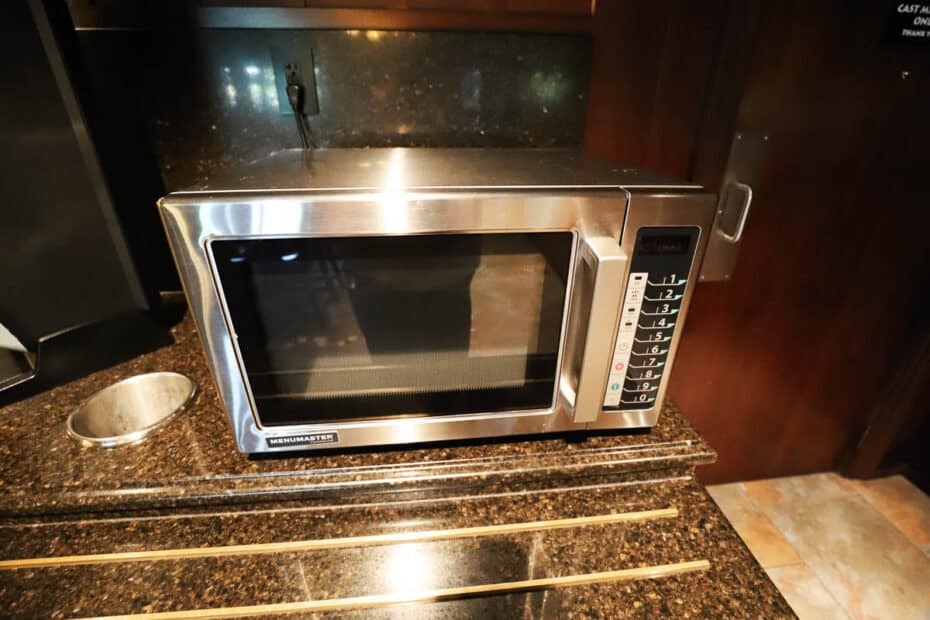 And a place to rinse your mug.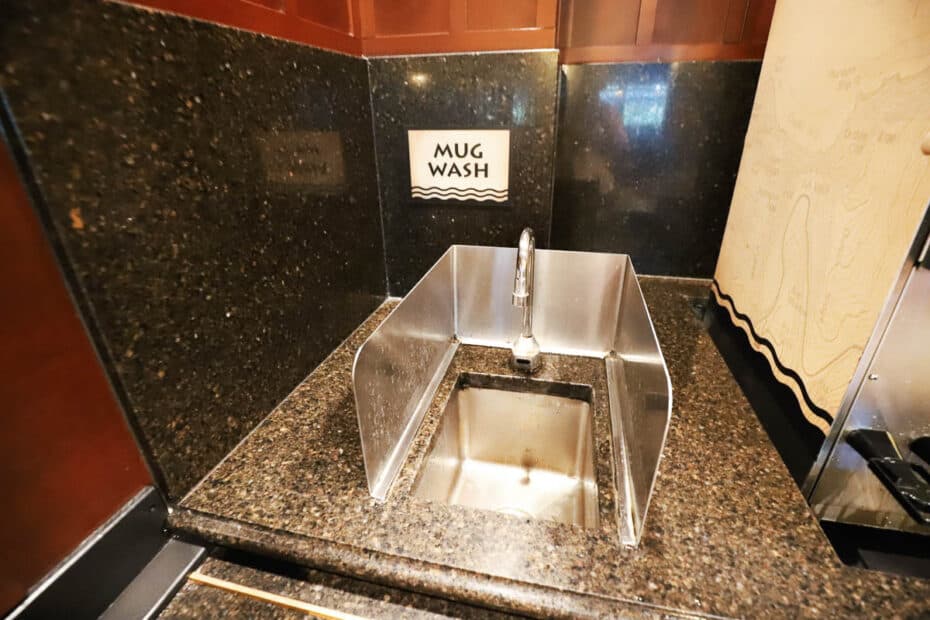 Lastly, there is an outdoor eating area across the hallway from the restaurant.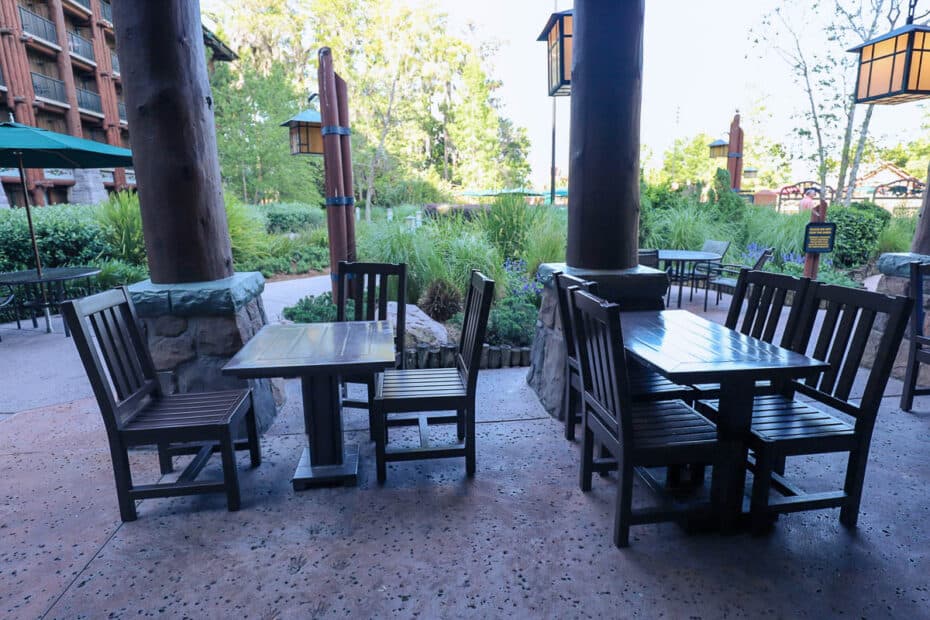 If the weather is nice enough, you might enjoy a meal outside. That's what I did on my last visit.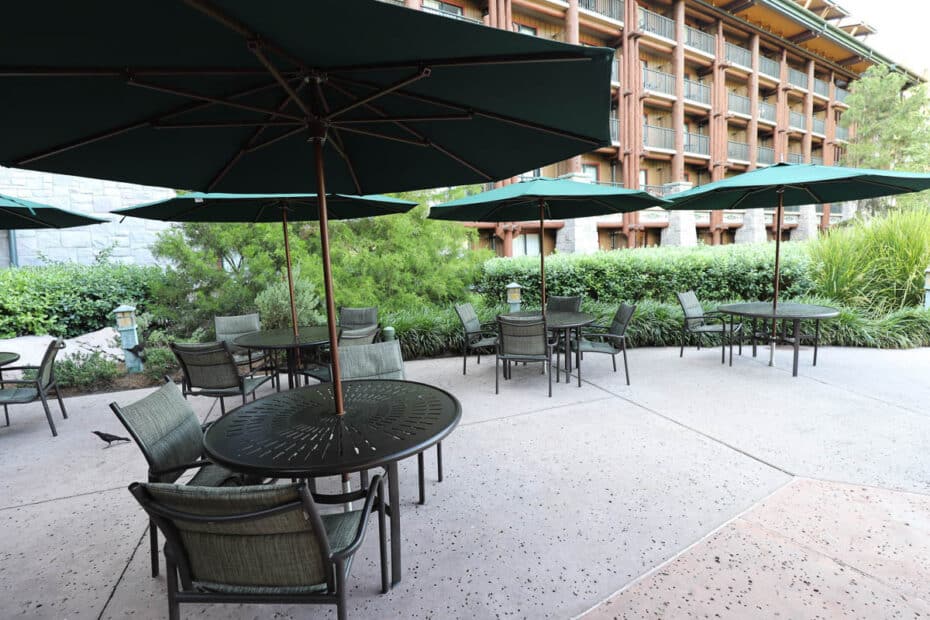 Since we initially visited Roaring Fork, they've introduced several new menu items. Two of the new items are the Barbecued Brisket and Burnt Ends and the Country-Style Meatloaf.
I ordered the brisket dish, which normally comes with a side of slaw and roasted potatoes. However, I wanted to swap out both my sides for the mashed potatoes with gravy that comes with the meatloaf. There was a bit of confusion, so I ended up with both styles of potatoes.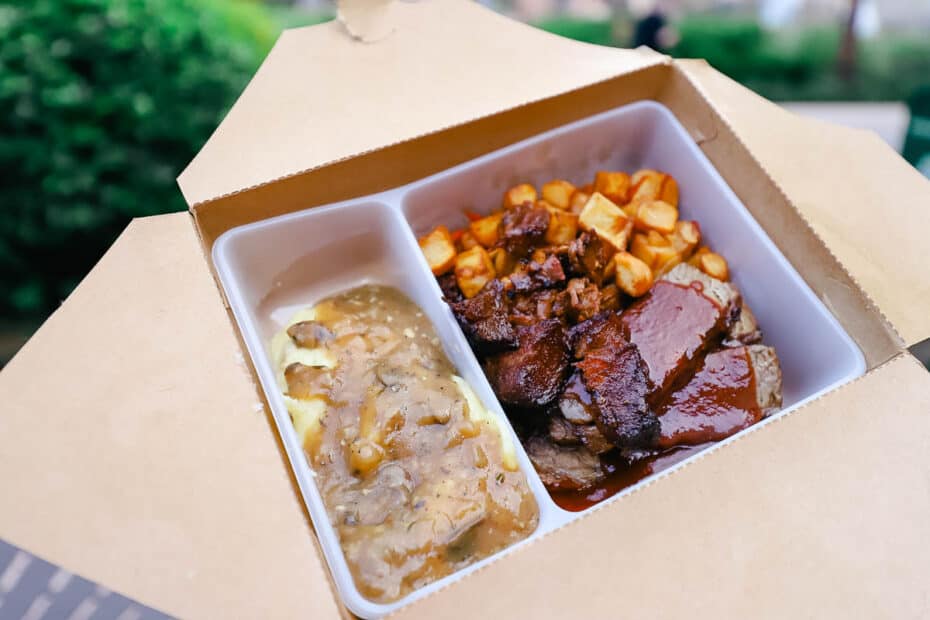 When I ordered this meal, I asked the cast member which one was best. She said that the brisket was the same one served at Whispering Canyon Cafe and the most popular.
I don't know if you can tell or not but this was a massive portion. It was so large that I probably didn't eat half of it. So if you're considering ordering this, you could probably split it with someone.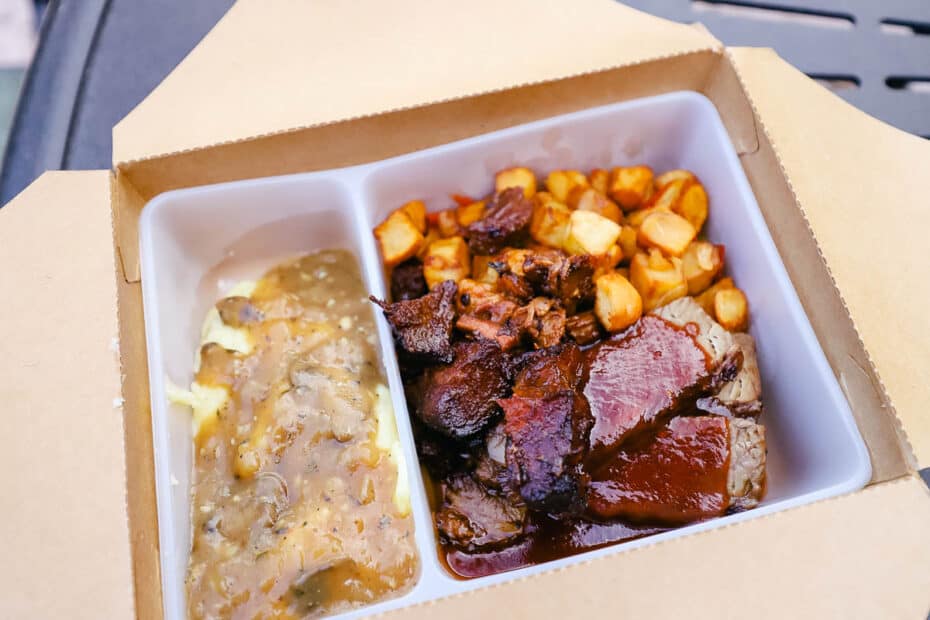 This was a quality meal. However, after a few bites it felt heavy as most anything like this would.
In addition to the brisket and potatoes, cornbread comes on the side. This was similar to a Jiffy cornbread mix, which has a slightly sweet tanginess to it.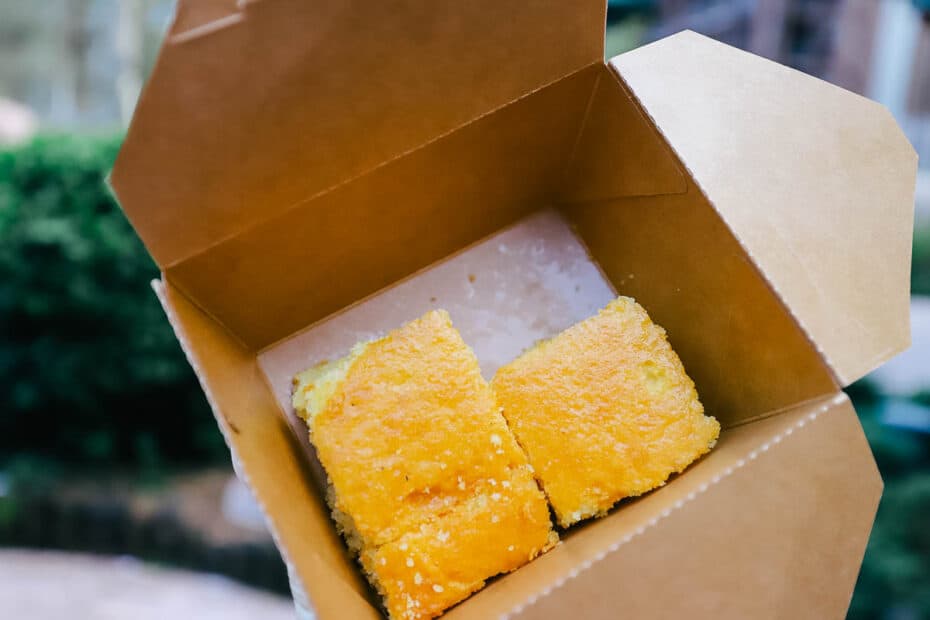 Overall, I am continually impressed with the selections available at Roaring Fork. The resort has numerous excellent dining options, and this quick service is one of them.
For more information about the resort, we have a full guide that lists all of our articles:
Or you might enjoy these individual posts:
In the Comments
What are your thoughts on Roaring Fork at the Wilderness Lodge? Did you see anything that you might want to order on your next visit?