The Best Breakfast at the Disney World Resorts
Breakfast is one of the most important meals of the day, and it's also the most delicious. So if you want a good breakfast at Walt Disney World, look no further than your resort.
In this article, we'll look at where you can find the best breakfast at Disney World. We'll look at everything from buffets to character dining at the resorts. I've even included my top two choices for inexpensive breakfasts.
Most of the locations listed will require dining reservations. However, reservations are usually simple to acquire, given that so many guests visit the theme parks first thing in the morning.
And I know you might be planning to go to the parks first thing yourself. So, my recommendation is to plan one to two leisurely breakfasts at a resort during your vacation.
We usually plan our breakfast reservations toward the end of our trip, when we don't have as much energy. In addition, we nearly always plan a nice breakfast option for the morning of our departure date.
You might also want to plan breakfast for the mornings after you've been in the parks late the night before. The last thing you'll probably want is to stay at Magic Kingdom until midnight and then be back at another park at 7:00 a.m. the following day.
Additionally, some of you might want to visit one of the theme parks at rope drop or for early theme park benefits. After getting in a few rides, you can head over to a nearby resort for a late breakfast or brunch. You'll just want to make sure your breakfast reservation is close enough that's it's worth the hassle of leaving and returning.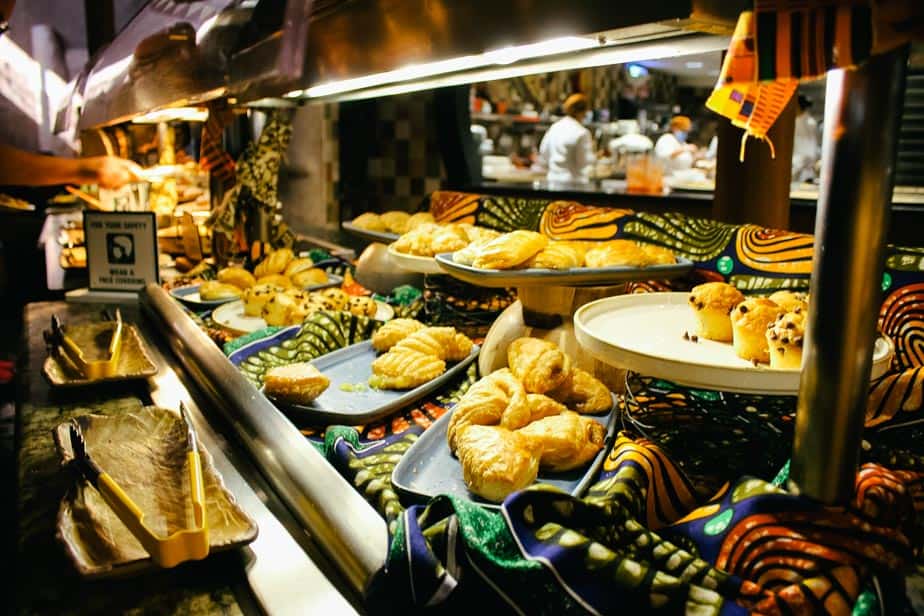 List of the Best Breakfast Spots at Disney World
Below are the restaurants that we'll cover.
Boma, Flavors of Africa
Topolino's Terrace
Primo Piatto
Ale and Compass
Grand Floridian Cafe
Kona Cafe
Capt. Cook's
Steakhouse 71
Whispering Canyon Cafe
First, let's go over the best breakfast buffet on Disney property, Boma Flavors of Africa. Boma is located at Disney's Animal Kingdom Lodge and serves a fabulous buffet for breakfast and dinner.
I will be the first to admit that I'm not a fan of buffets, in general. However, I will make the exception for breakfast here any day of the week. To sum up my thoughts on breakfast at Boma, things like "it's so good" and "you have to eat there" come to mind.
Why? They have upwards of 75 items available on the buffet, so there's something for everyone, including breakfast staples like bacon, sausage, oatmeal, biscuits, and fruits. Yes, there are Mickey waffles too!
Then there is the whole "flavors of Africa" part. Serious foodies will love the unique dishes like turkey bobotie, Western African sweet plantains, ham with Boma mustard, and watermelon salad with mint pistachios.
If that's not enough, there's Boma bread pudding, sticky buns, and all the carbs you can imagine!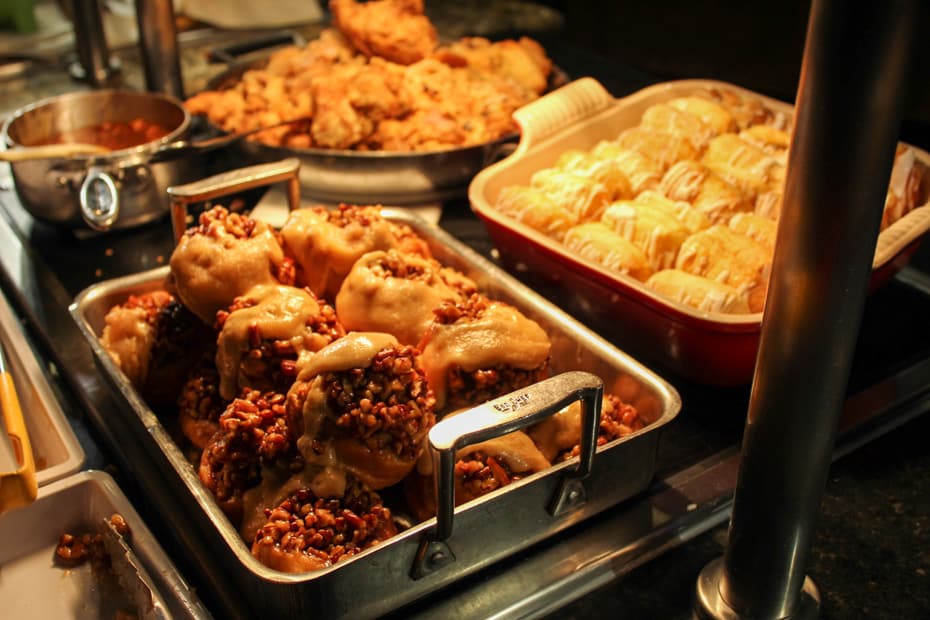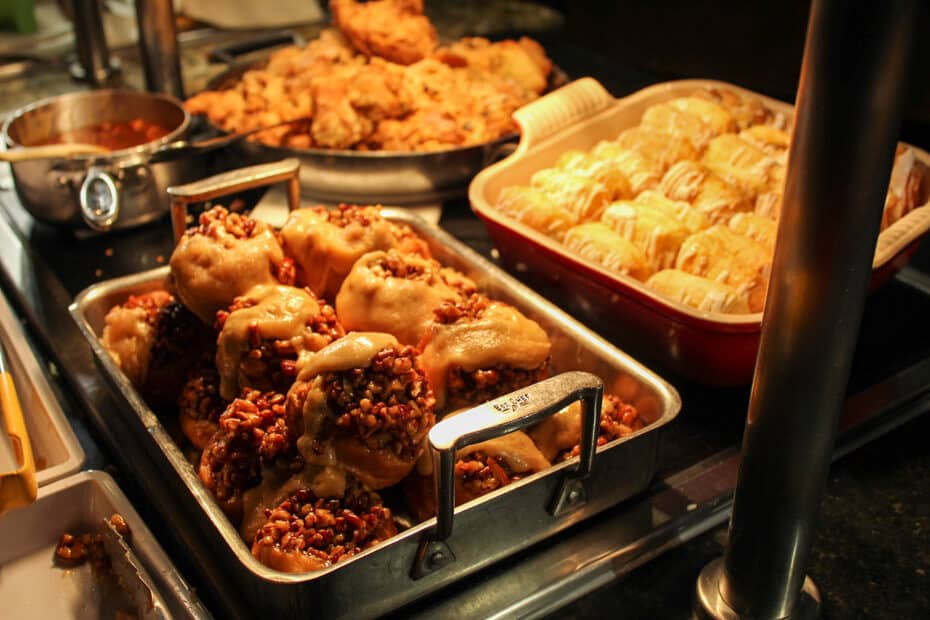 Bottom line, the Animal Kingdom Lodge is worth visiting to see if you haven't before. So why not plan your best breakfast at Disney World here while you're at it?
Related: Boma, Flavors of Africa Review
Next up, we'll take a look at the best character breakfast at Disney World. Topolino's Terrace Breakfast a la Art at Disney's Riviera Resort is superb! This restaurant has the best character dining experience I've had to date at Walt Disney World.
Related: Every Character Dining Location at Walt Disney World
Topolino's is located on the top floor of the Riviera and offers the opportunity to meet four classic characters representing their artistic side. Characters include Mickey and Minnie Mouse and Donald and Daisy Duck.
The characters dance around the restaurant at different times during the meal. Then, they'll come nearby the table and pose for pictures, and wave from a distance.
And as good as the character interaction is here at Topolino's, the food is better. The meal is a prix fixe menu, and you'll receive a basket of pastries, a choice of beverages, and an entree selection.
Additionally, you can order a second entree, if desired, that's included with the price of the meal. This is the standard for the prix fixe menus at Disney World. Someone in your party might do this if they have a hearty appetite, or maybe your group wants to try something else, so your order an extra to split.
On our last visit, I ordered the quiche, and my son went with the special Mickey waffle with sides. We also ordered the fruit platter entree to share between us.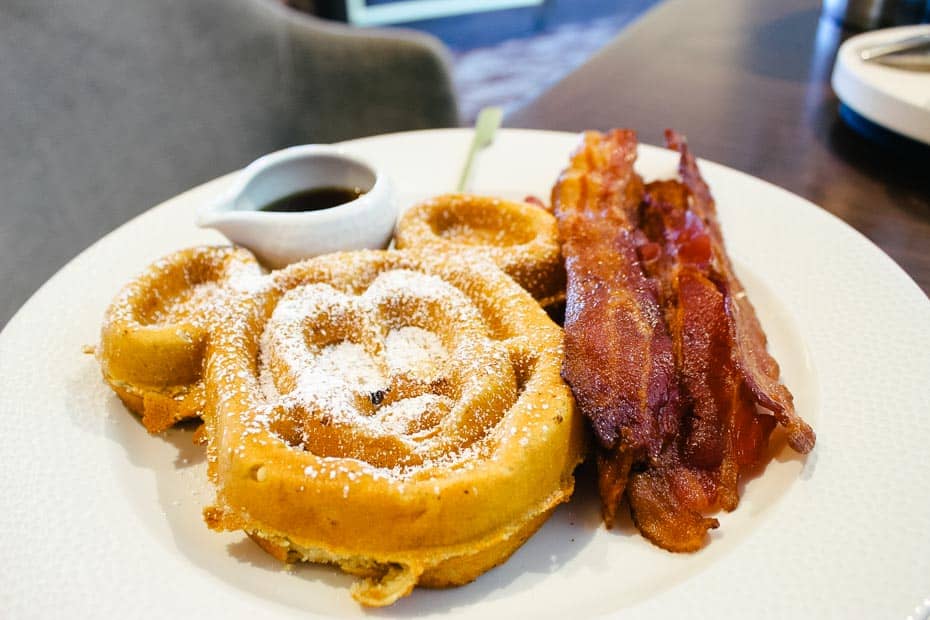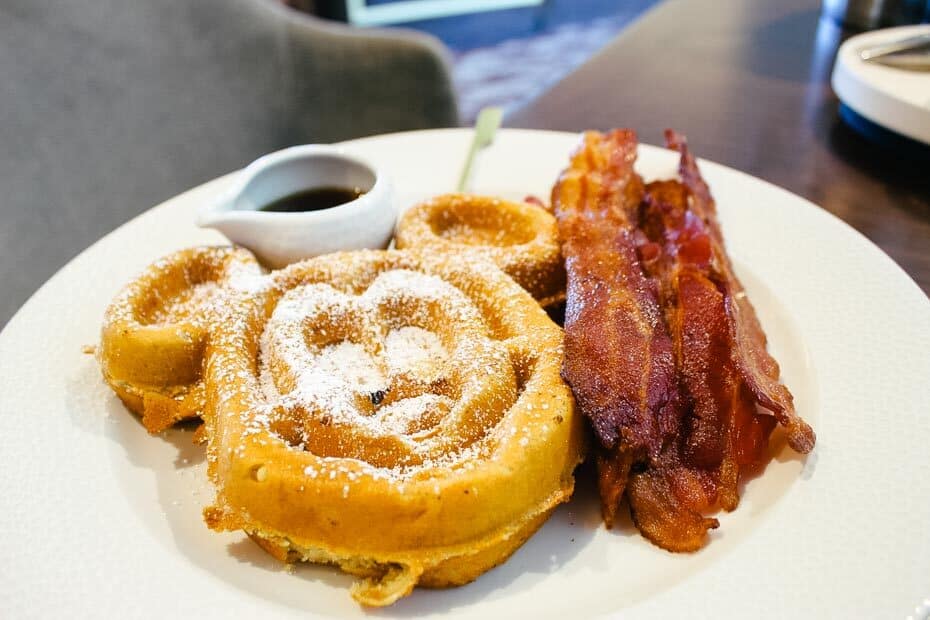 Want a great breakfast at Disney World that includes characters? Then, Topolino's Terrace is your best bet. Plan it on your Epcot day, and you can take the Skyliner over to the park when you're finished.
Related: Breakfast a la Art Review at Topolino's Terrace
For those staying at the Riviera or a resort nearby like Disney's Caribbean Beach, there is another inexpensive breakfast option you'll want to be aware of here. Primo Piatto is the counter service dining option at the Riviera, and it's better than good.
In fact, this restaurant tops the list of our best resort quick service at Disney World. Now would I go out of my way to enjoy a meal here? I would if I were going to tour the resort or wanted to ride the Skyliner.
You can expect elevated counter service at a reasonable price. Plus, Primo Piatto takes mobile orders, making it simple to order your meal, pick it up, and enjoy! If the weather is pleasant, find a table outside, and you'll have a wonderful meal.
My recommendation is the lemon blueberry pancakes that come with your choice of a side of meat. I enjoyed these by the pool one morning and was all the better for it.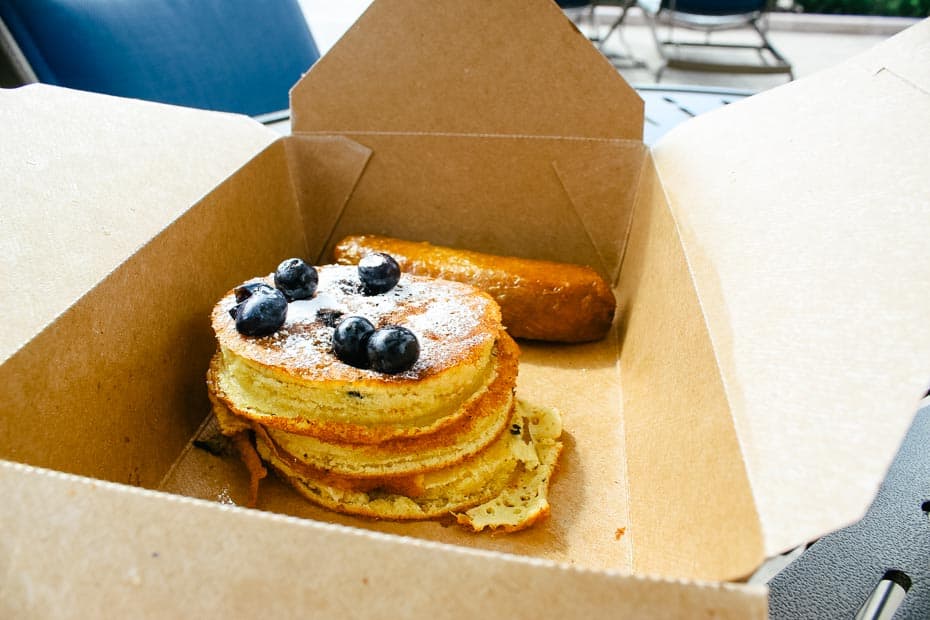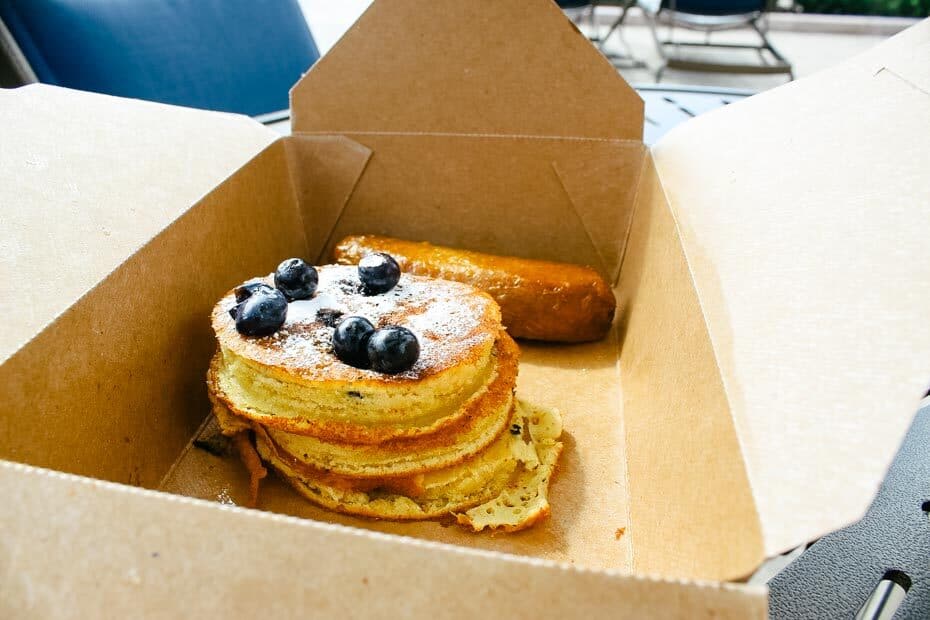 What will you have?
Related: Primo Piatto Review at Disney's Riviera
Moving on over to the Crescent Lake area, we'll take a look at another contender for the best breakfast at Disney World. Ale and Compass is located at Disney's Yacht Club Resort right off the lobby.
I have eaten here more times than at any other restaurant ever at Disney World. What's to love? The food is good, the service is friendly, and the price is reasonable.
A table service breakfast here runs around $15 -$20 per person, depending on your order. And this location offers mobile ordering.
So you can order food on the way over, pick it up at the entrance, and then enjoy it outside if you like. But most of the time, I prefer to eat inside. The restaurant has a nice layout, and it's usually a pretty peaceful place to enjoy a meal.
What should you order here? That's a tough one because everything I've had to date has been worth re-ordering. But the classic choice here is chocolate waffles, hands down.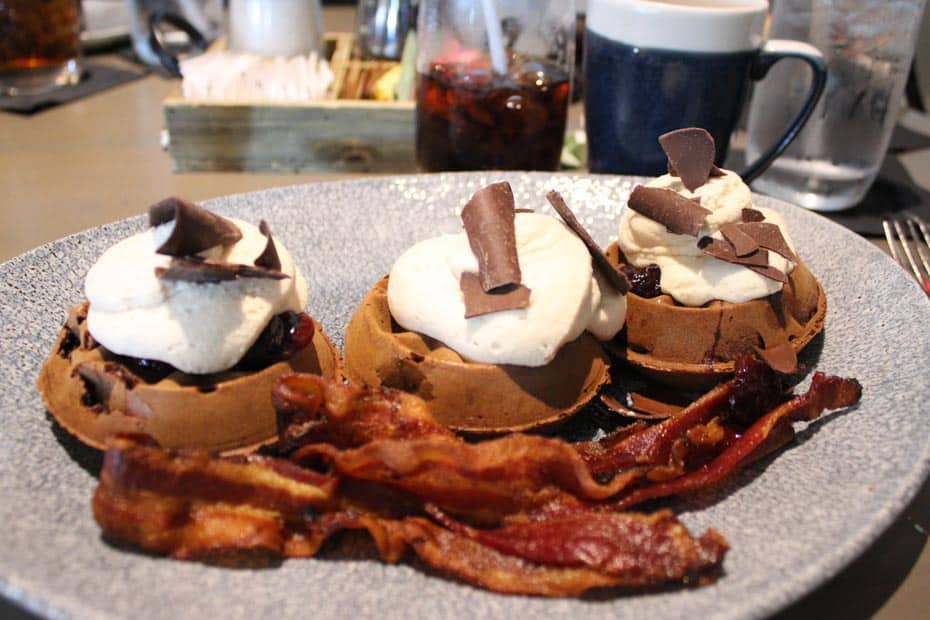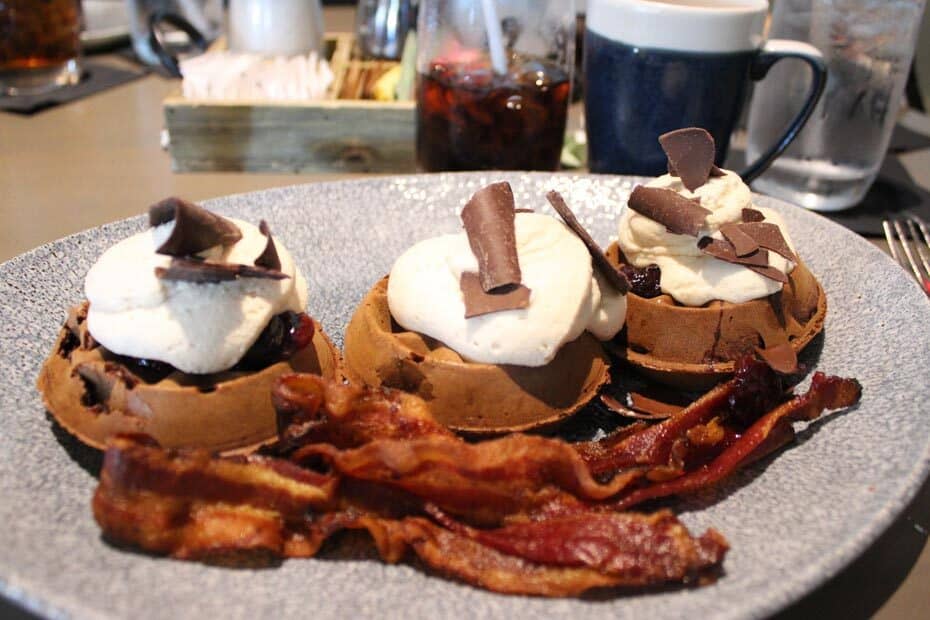 They are a true guilty pleasure, and I think that's what most of us are looking for when it comes to enjoying the best breakfast at Disney World.
Related: Ale and Compass Breakfast Review
Our next breakfast spot offers the opportunity to enjoy a meal at Disney's flagship resort, the Grand Floridian Resort and Spa. A few months back, I had family visiting Disney. They called toward the end of the trip wanting to know where they could eat a good breakfast the next day.
I got on the My Disney Experience app and found a reservation the following day in their desired time range for the Grand Floridian Cafe. After their meal, they texted me and said it was the best breakfast they'd had all week.
Grand Floridian Cafe is good no matter what time you eat there. But scheduling a meal between breakfast and lunch is such an excellent choice. That's because the Grand Floridian serves a combined breakfast and lunch menu, which means there's a variety of options to select for your meal.
For instance, I had an avocado toast paired with this fantastic shrimp cocktail one late morning. This meal ended up being my late breakfast and early lunch for the day.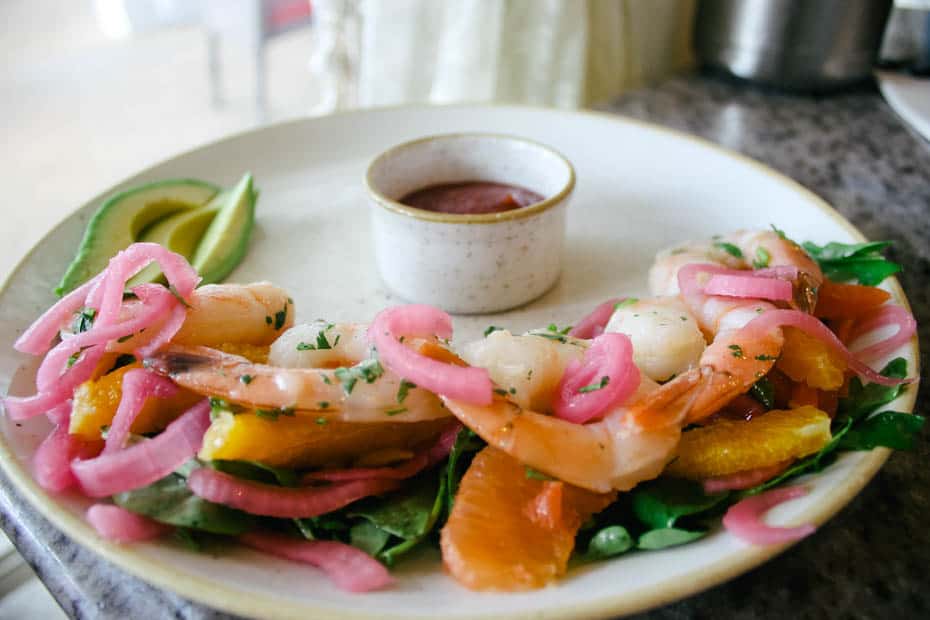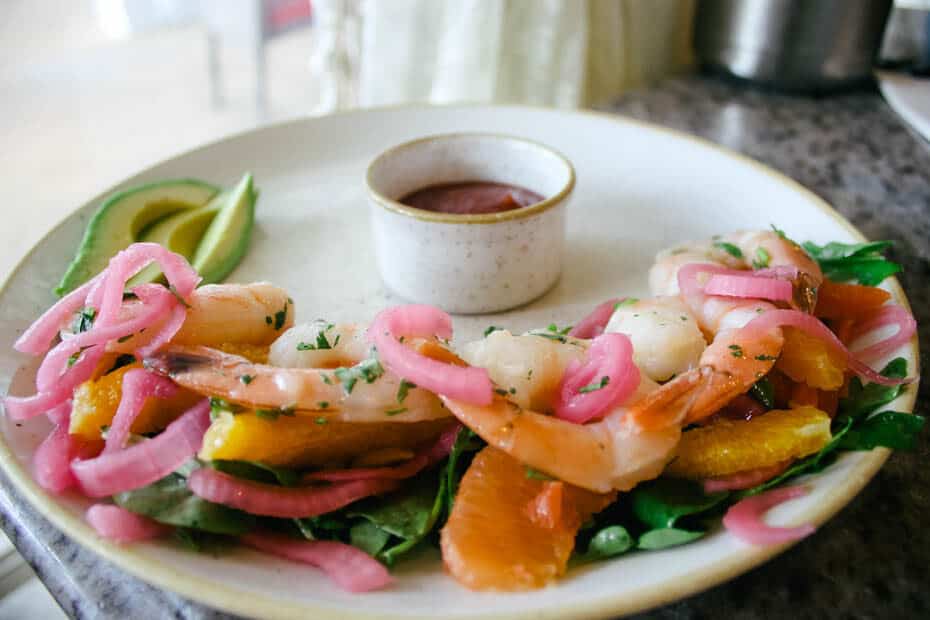 And Chris enjoyed his favorite Mickey Waffles with bacon that was specially prepared for food allergies.
Plan this on one of your Magic Kingdom days if you aren't staying near the Grand Floridian but still want to enjoy a meal here. Or you can always take transportation from the resort to whatever park you're headed to after you finish.
Related: Breakfast at Disney's Grand Floridian Cafe
Next door to the Grand Floridian sits Disney's Polynesian Resort. You can skip the 'Ohana character breakfast here and head straight to Kona Cafe. Trust me; it's so much better.
Kona Cafe is located on the second floor of the Great Ceremonial House at the Polynesian. The restaurant serves breakfast, lunch, and dinner.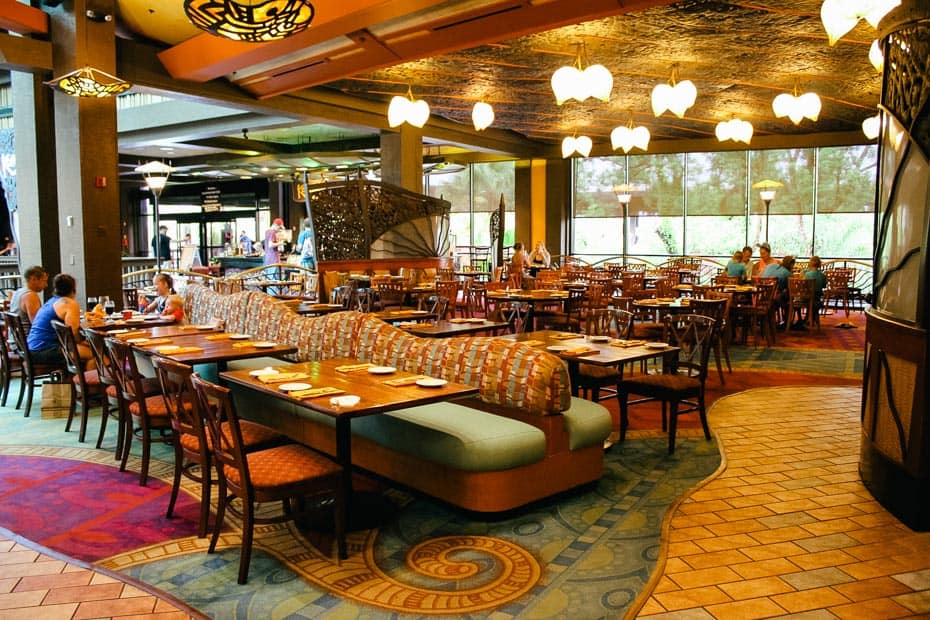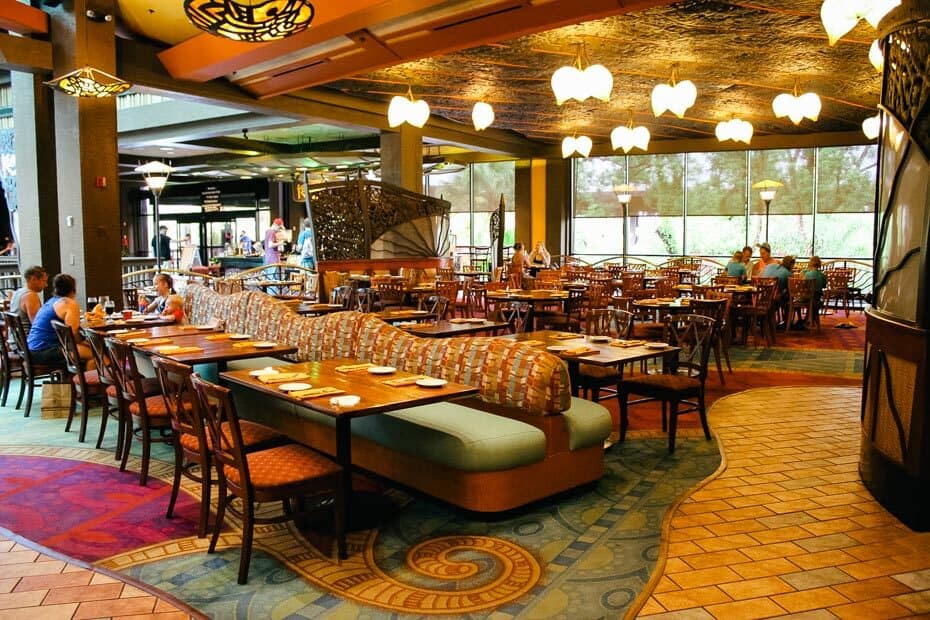 Kona's menu offers several well-known menu items like Tonga Toast and Macadamia Nut Pancakes. I don't know about you, but I'm getting hungry already just thinking about the pancakes.
And if you want a more budget-friendly breakfast, consider eating downstairs at the resort's counter service, Capt Cook's. This location has an indoor dining area and an outside patio that faces Magic Kingdom in the distance.
I prefer to eat outside here, but if the weather isn't great, the dining room has a fun vibe.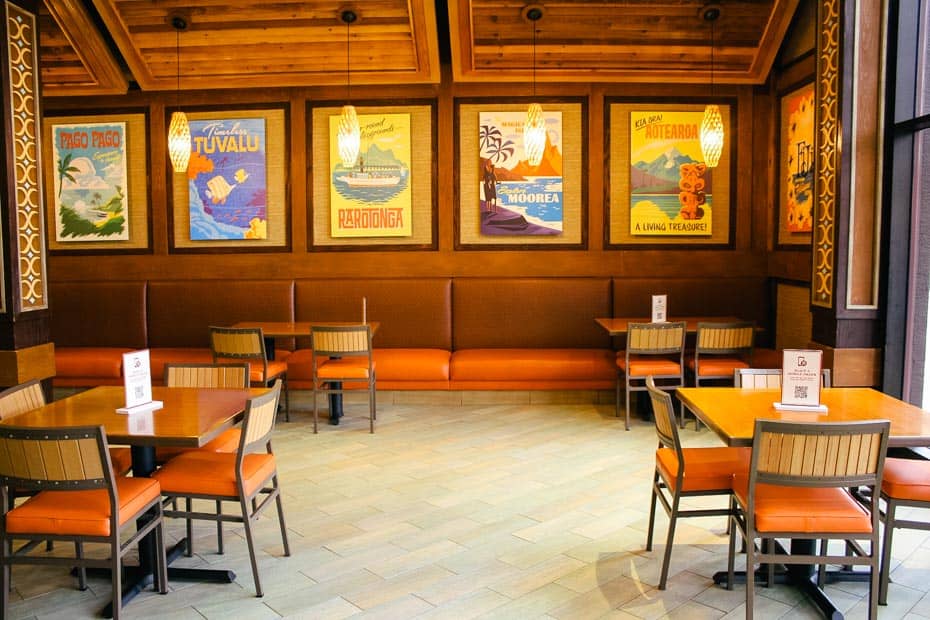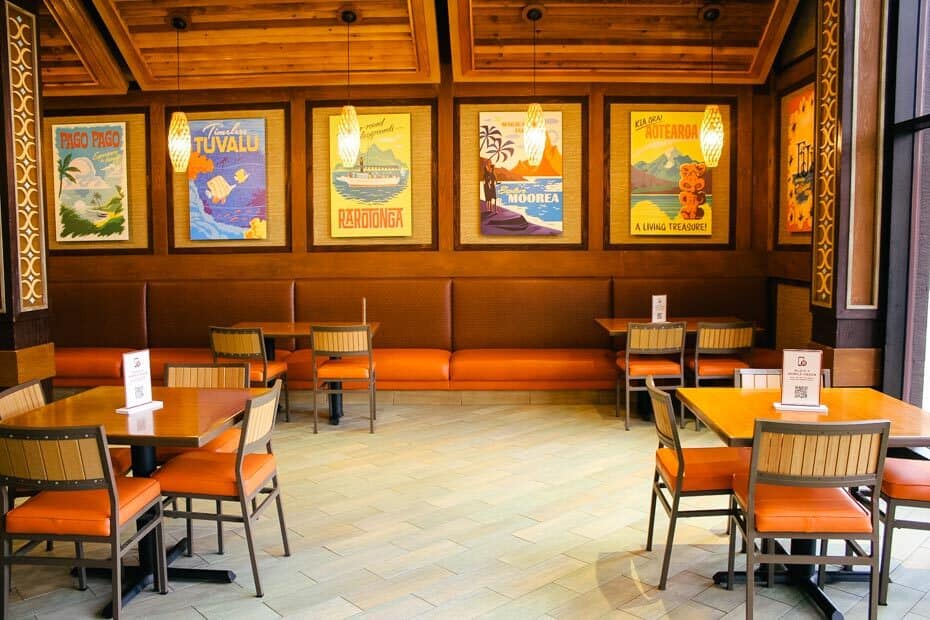 Additionally, you can order Tonga Toast here as well. Or you might even consider one of their newest options, the Wonderful World of Roast Beef Hash. I haven't tried that one yet, but it sounds…interesting. (Menu here.)
As we approach the end of our list of best breakfast locations at Disney World, I want to share a new restaurant. While I haven't had breakfast at Steakhouse 71 yet, I'm confident it will be good.
Since I wrote this article, we have visited Steakhouse 71 and it was great! These are the pancakes (way beyond average) with sausage and the cheddar bacon grits.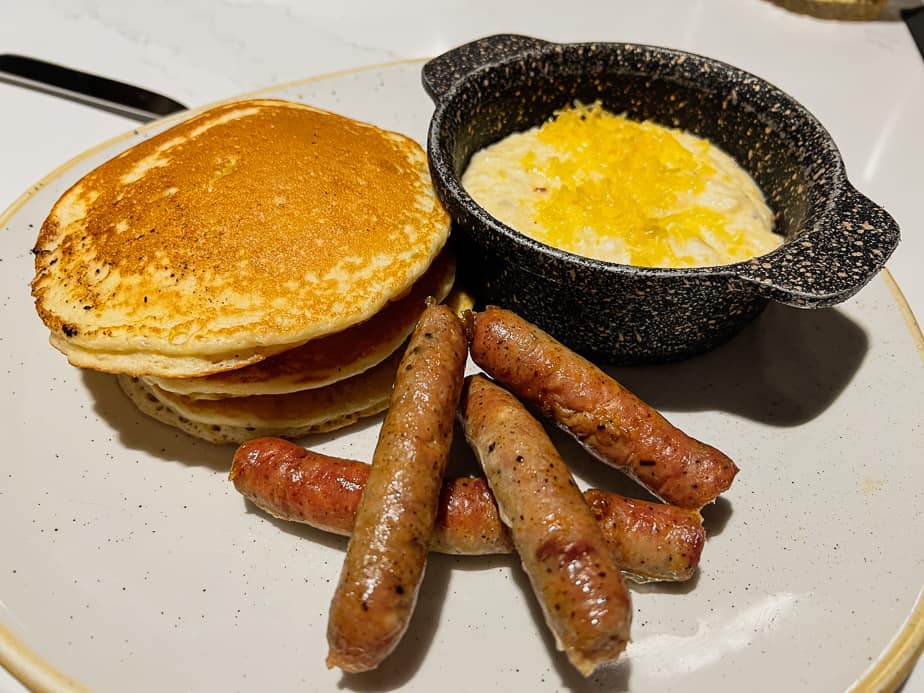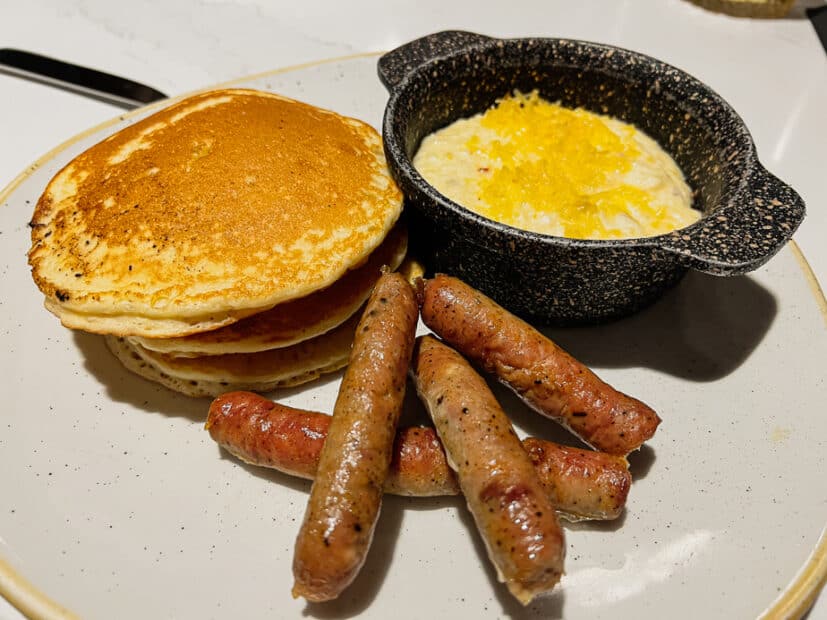 Steakhouse 71 is the new casual, table-service restaurant at Disney's Contemporary Resort. It replaced The Wave, and I anticipate the restaurant being of a similar caliber, if not better.
Had The Wave not closed earlier this year, it would have been on this list as well. Consider a meal here on your Magic Kingdom morning. You can easily walk back and forth from the Magic Kingdom to the resort.
I'll update when I've dined here, which will hopefully be within the next few weeks. See the review below!
Related: Breakfast at Steakhouse 71
And that brings us to my last recommendation for the best Disney World breakfast, Whispering Canyon Cafe. This restaurant is located at Disney's Wilderness Lodge and is a sure bet for starting your day.
You can expect a hearty meal at Whispering Canyon Cafe along with loads of shenanigans. It's the kind of restaurant where the servers double as actors of sorts.
Be warned you might get put in jail if you ask for ketchup! And remember to mind your manners…or don't.
As far as the food goes, that's usually our main reason for ending up here. Plus, it's at the Wilderness Lodge. And we are always looking for an excuse to visit this resort.
We've had a variety of items here on our different visits. But the main event is the all-you-care-to-enjoy skillet-type meals that come with a heapin' portion of food. For example, my last breakfast skillet had several different types of meat, with biscuits and gravy on the side.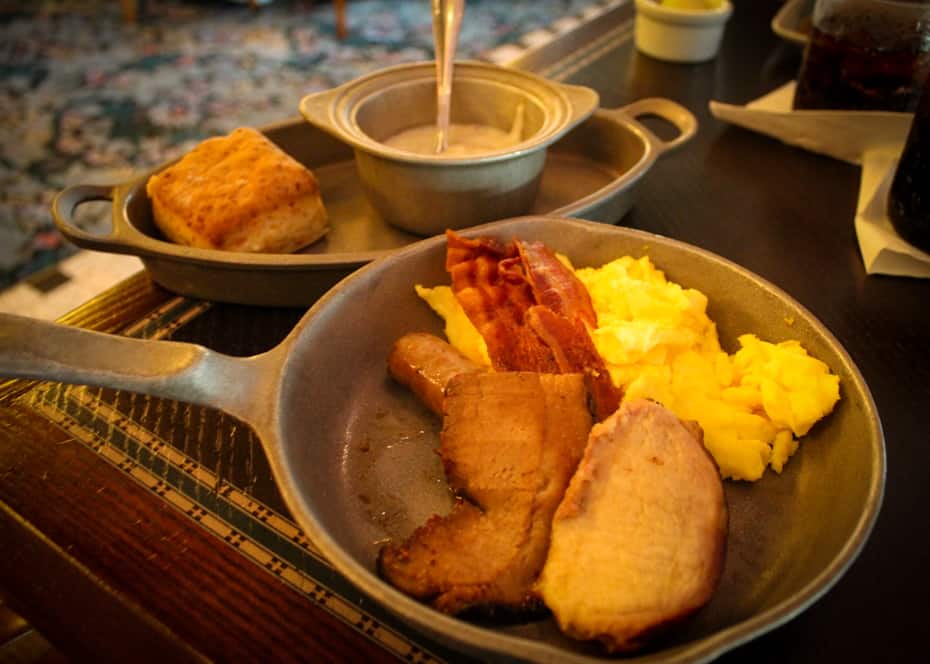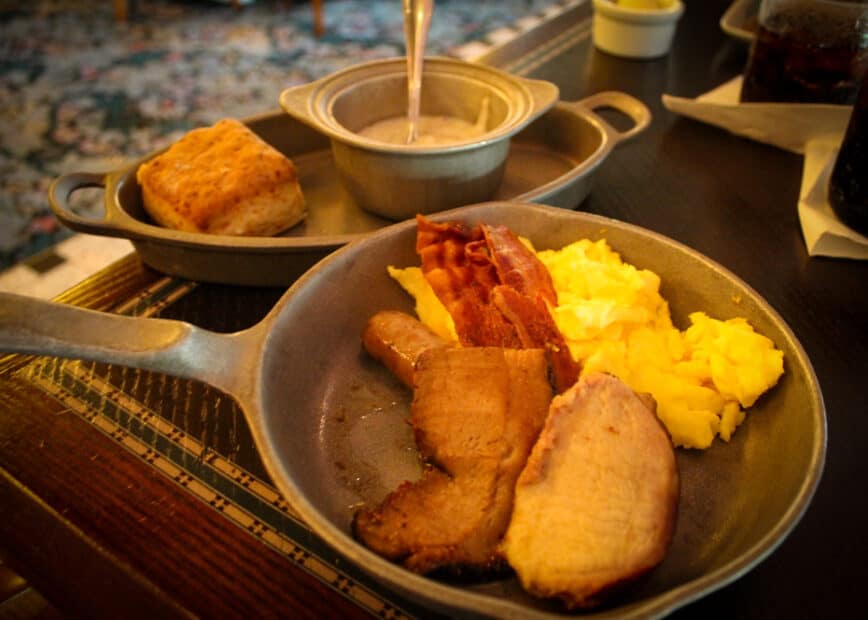 If somehow you run out of food or want more of a favorite item, don't worry. They'll be glad to bring you as many refills as your heart desires.
Related: Whispering Canyon Cafe Review
If you want to start your day on the right foot, head over to any one of these best breakfast locations at the Walt Disney World Resorts. Whether you're staying nearby or are visiting for just a few days, there's no shortage of options that will satisfy any craving.
You can't go wrong with a classic order of Mickey Waffles, but if something more adventurous is calling your name, head straight to Boma, and don't look back! Just remember to allow for plenty of time to enjoy the meal! There's so much food!
When it comes down to deciding which resort restaurant is best for breakfast–I honestly can't decide. All of these choices are worthy of making this list. I hope you'll enjoy whichever one you pick.
Planning a vacation and want to learn more about the Walt Disney World Resorts? Then, try these articles to enhance your vacation:
For more information on dining at Disney World, all of our restaurant reviews are available here.
Not for sure whether or not to stay at a Disney World Resort? You might like to read over this: The Benefits of Staying at a Disney World Resort. Or you can start browsing our list of the best off-site resorts near Disney World.
Have you tried breakfast at any of these restaurants at Disney World? Which one do you think is the best? Leave a comment or any questions below.
Planning a Walt Disney World or other Disney Destination vacation?
Our friends and travel partner, Firefly Travels, excels at doing Disney differently. You can fill out a plan your trip form on their website, and someone will reach out shortly to discuss the specifics.